All my life I've had slight trepidation about getting in other people's cars and sitting in the driving seat. Road cars, race cars, whatever – I always feel I should ask permission before getting inside. To me it's like an invasion of privacy – like sitting at someone's office desk or walking into their home and plonking yourself down on the best sofa without asking.
Working for Speedhunters hasn't helped that – it's a respect thing. The cars we feature are the results of extraordinary personal endeavour, labours of love and built by passionate people. Interiors are personal. They are also where you find out the true character of a car, even if you don't actually drive it in anger.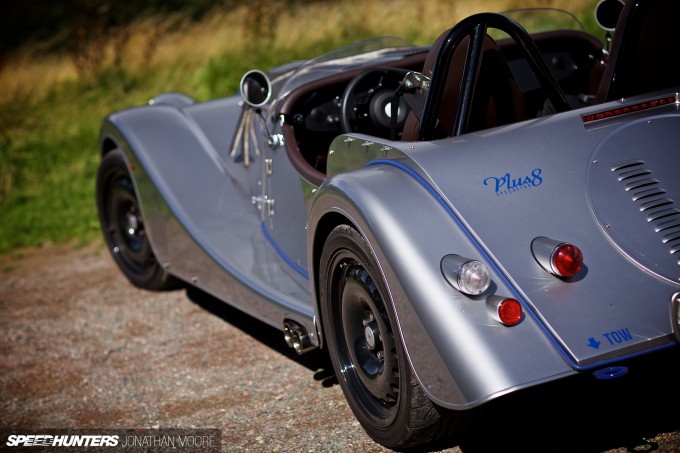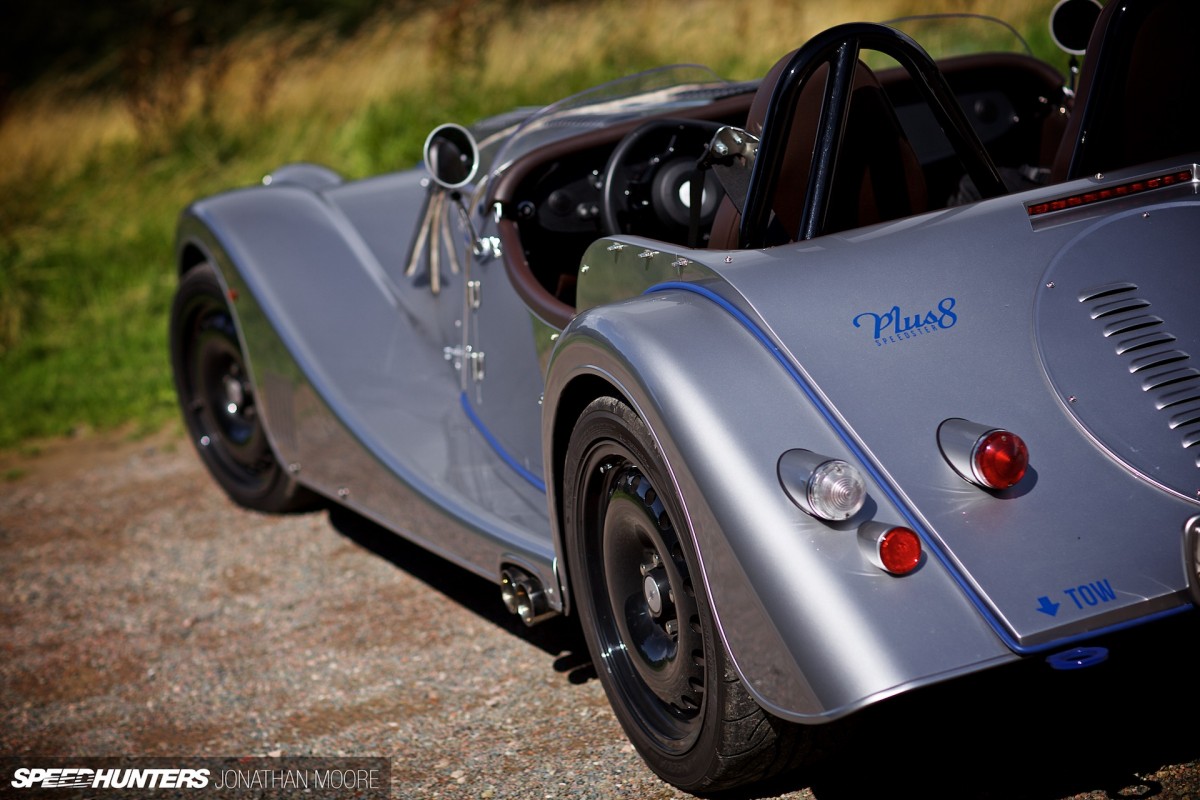 Mostly it's a case of shooting a car, talking through its build with the owner, getting a ride-along where possible, understanding what the car's story is. After all, we're not a car review site, talking about luggage space and fuel economy…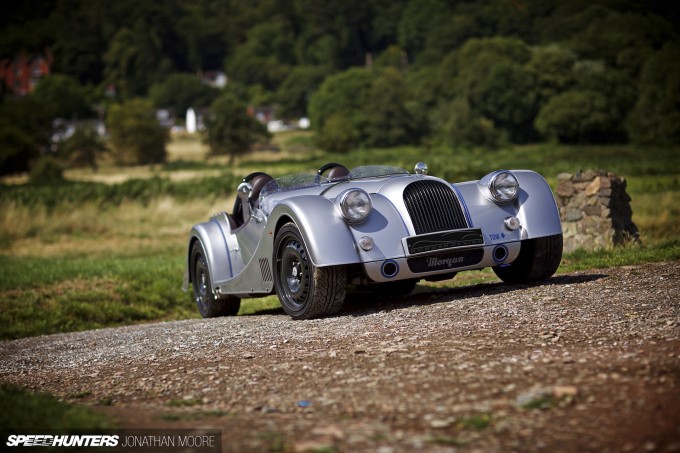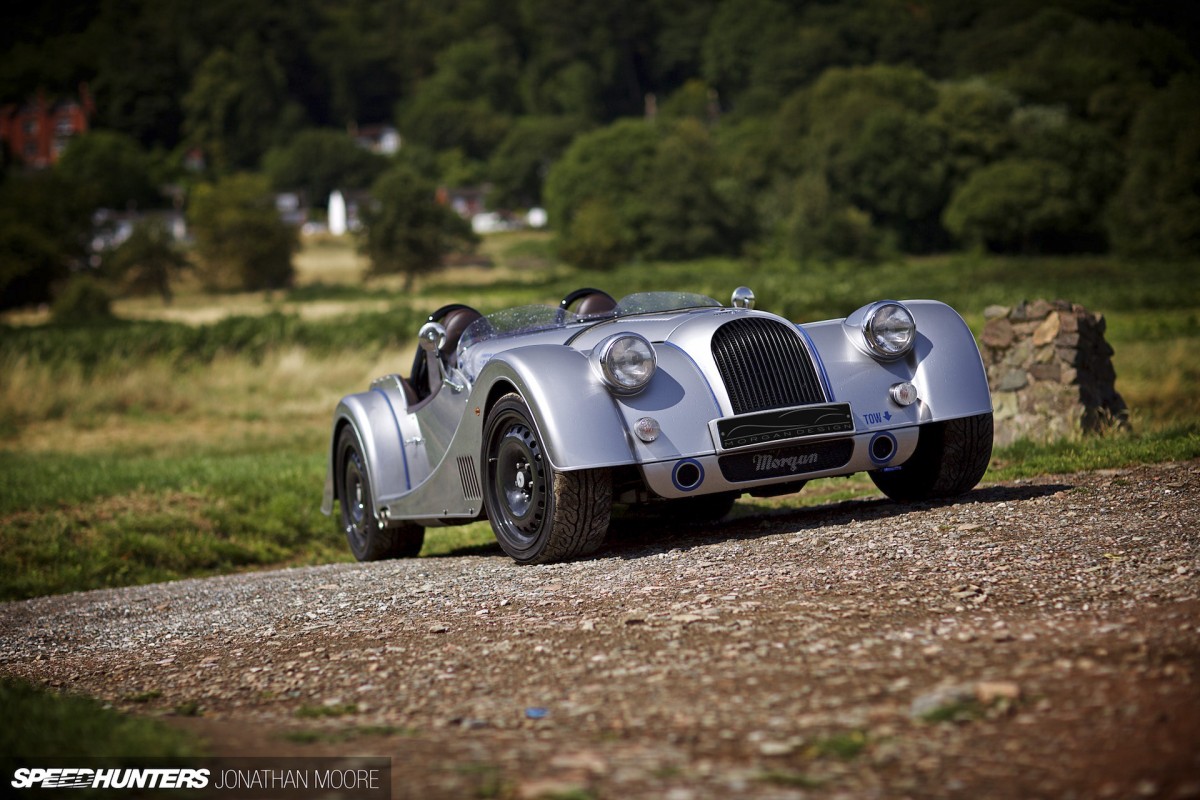 This means that to be handed the keys to a car like this and told to get in and simply drive it, and to come back when I was done (within reason) is actually quite a rare treat, and the best of both worlds. Although this wasn't someone's individual build, I'd say the car here is the next best thing. This is the Morgan Plus 8 Speedster, a lightweight hot-rodded special from the Morgan Motor Company in the UK, a limited edition roadster made by this most unique of car crafters to celebrate one hundred years at their famous Pickersleigh Road factory.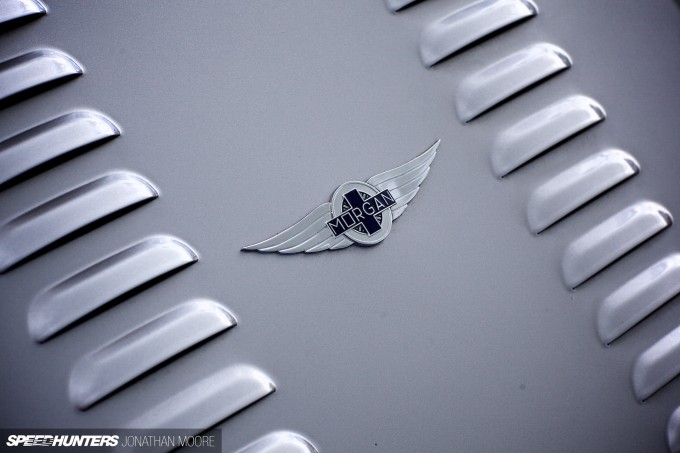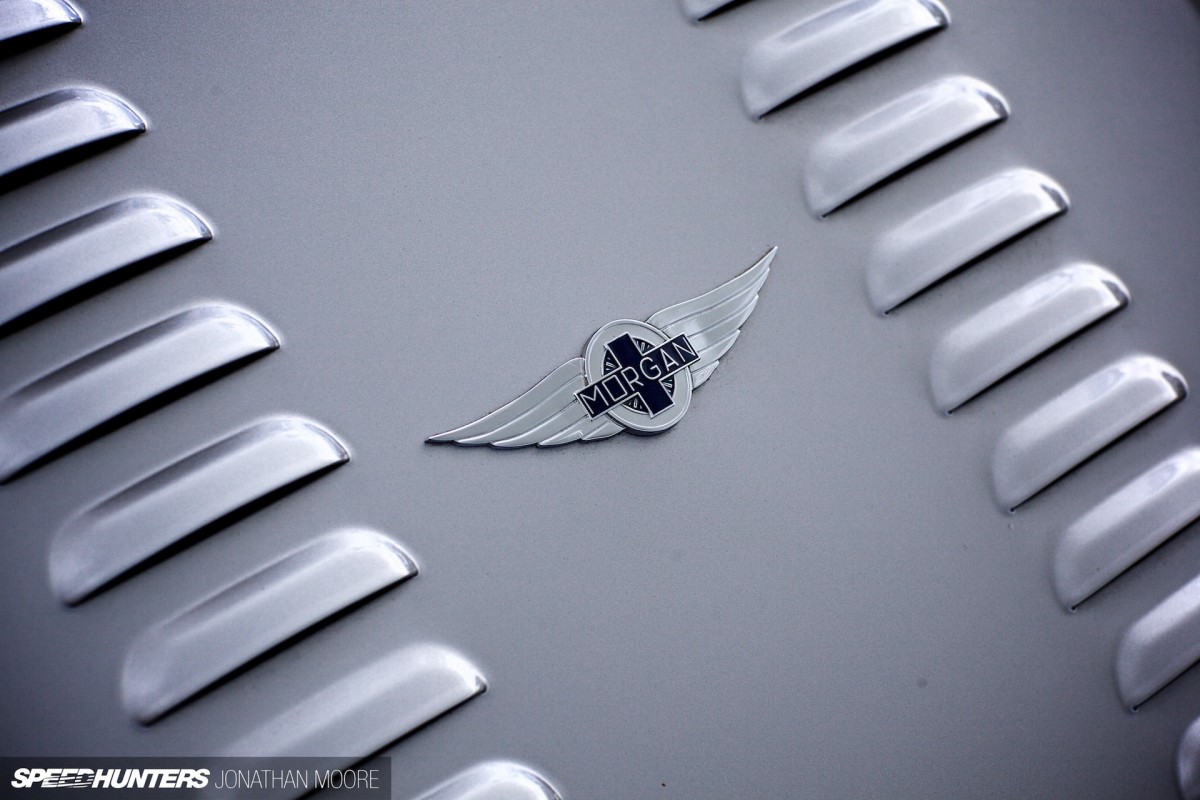 Character. That's a key word in the case of the Speedster – and Morgan in general. It's what so many cars lack, the point that designers so often miss – especially in the mainstream, as though the general public neither want nor deserve something special. Not so with Morgan, each car is a personal project, a bespoke creation for customers with specific visions of what they want, hand-built to order. You never see two cars the same roll out of Pickersleigh Road, that's for sure.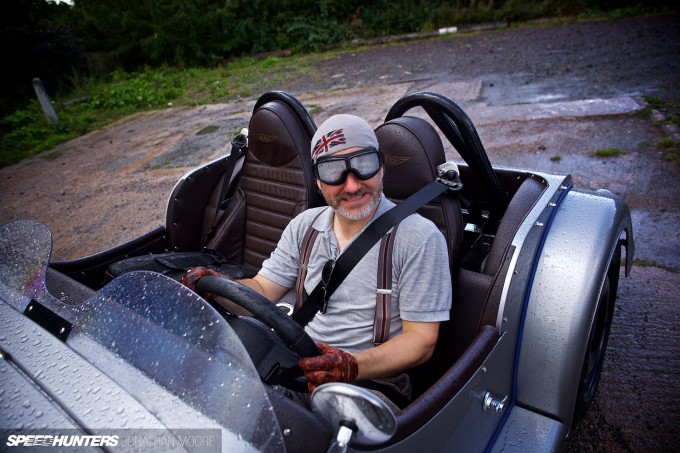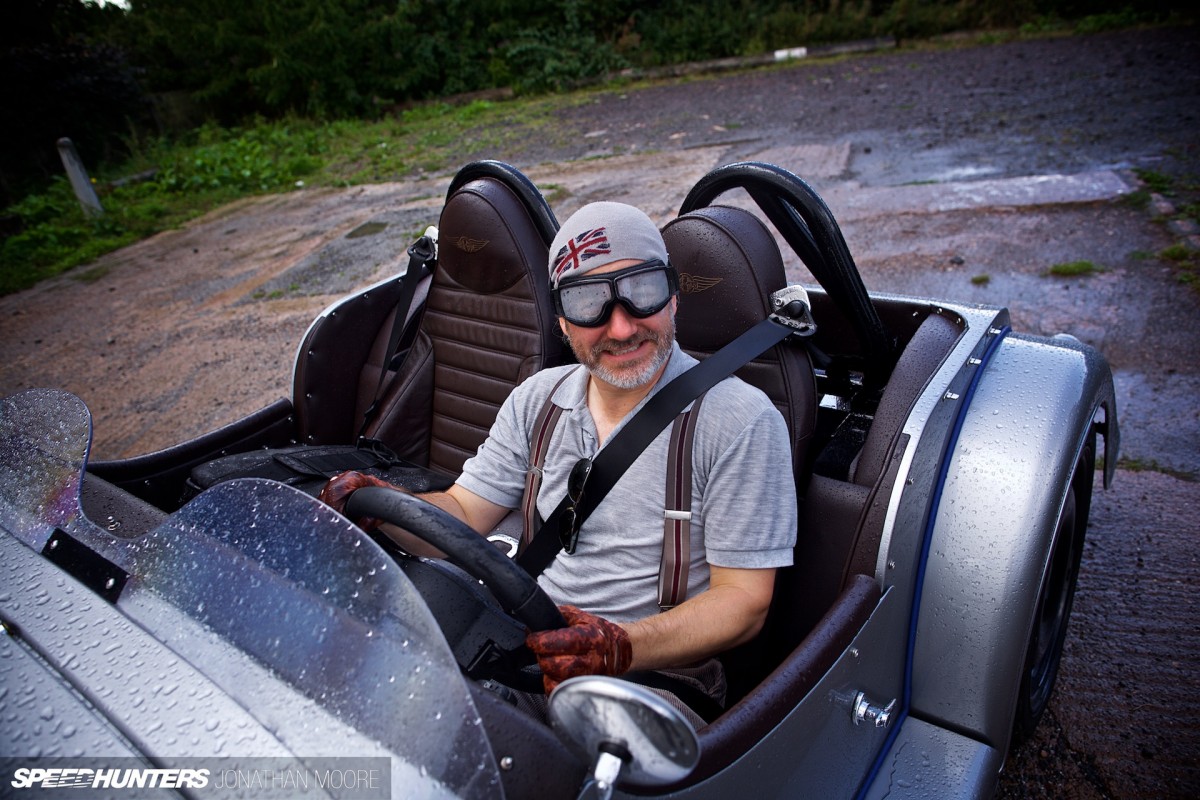 I don't think I've ever driven a car which has personified the positive use of that word character more than this Speedster. It was the first time I'd driven a Morgan, but within 10 minutes my jaw was aching – not from being battered by the wind and rain, but by the enormous grin that was took over my face from the moment I pressed the starter to the moment I reluctantly handed back the key. It required hospital treatment to remove – the smile, not the key that is, though there wasn't much in it…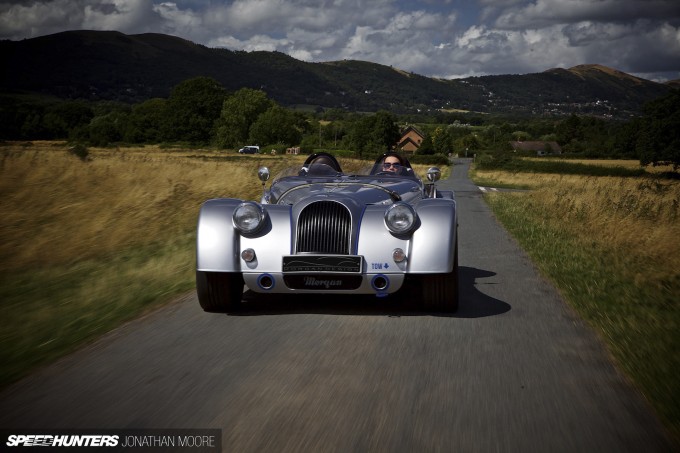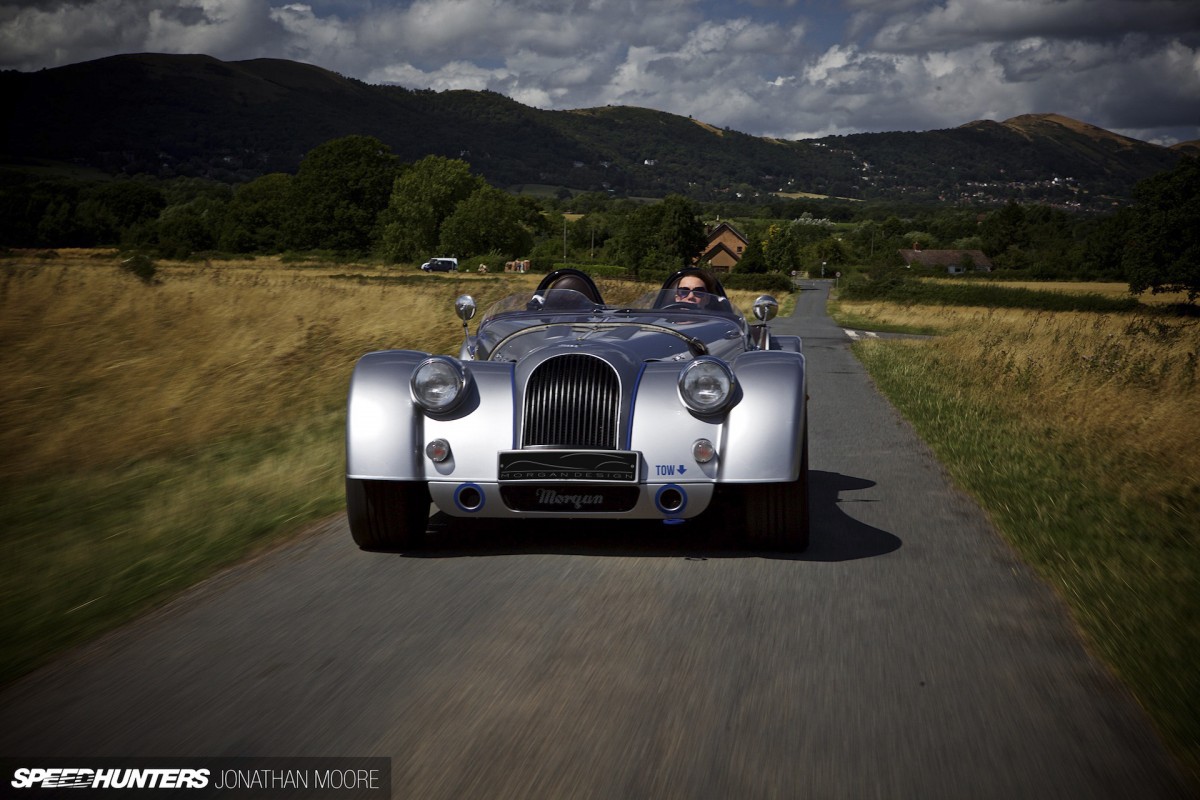 The car I would be taking for a ride around the awesome, twisting roads of the Malvern Hills was being used as a bit of a test-bed for the production Speedsters that were already beginning to take shape around the Morgan factory. During my factory tour the first customer cars were approaching completion. 'My' car was mostly there – just the steel-effect wheels and low-line wind deflector showing pre-production origins, not that you'd particularly notice. This car was the one demonstrated up at Goodwood back in June's Festival Of Speed, so it was no stranger to hills – or the savage application of throttle.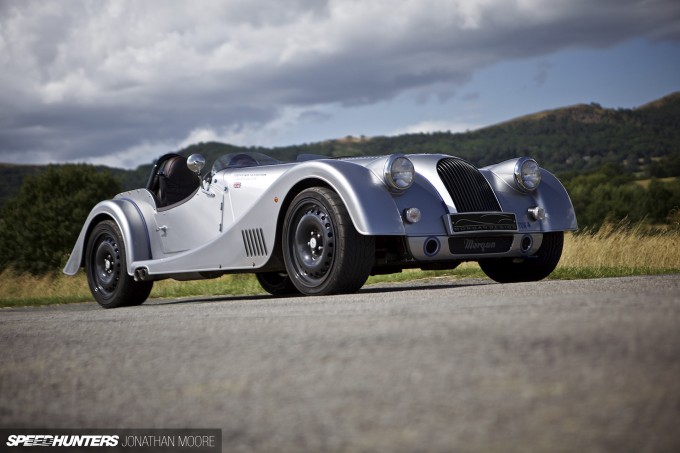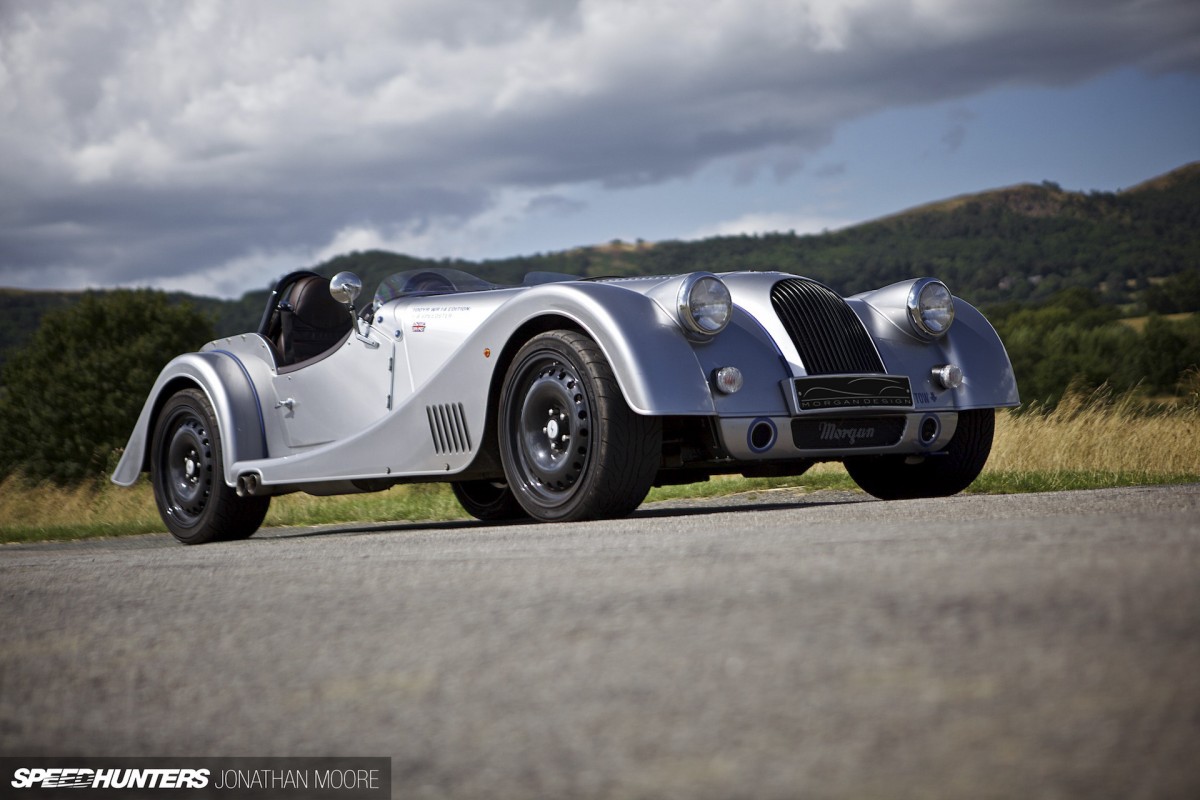 The first thing that was apparent when I came face to face with the Speedster was just how low it was. It wasn't so much coming face to face with the Speedster as waist to face. But unlike the car with the nearest equivalent layout I can think of, the diminutive Caterham, where everything is in relative proportion, the Speedster was a completely different proposition.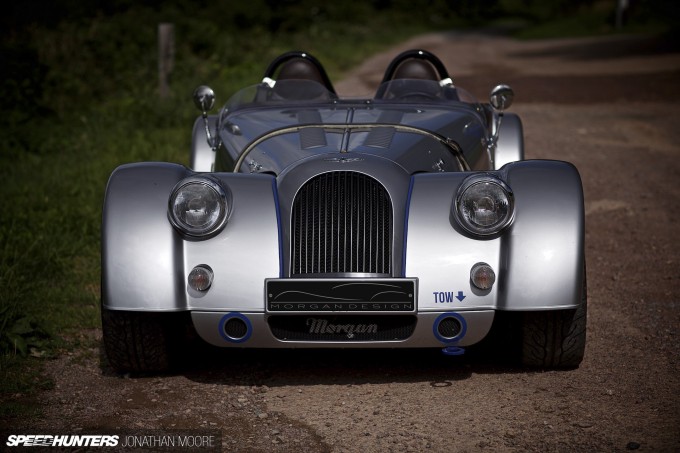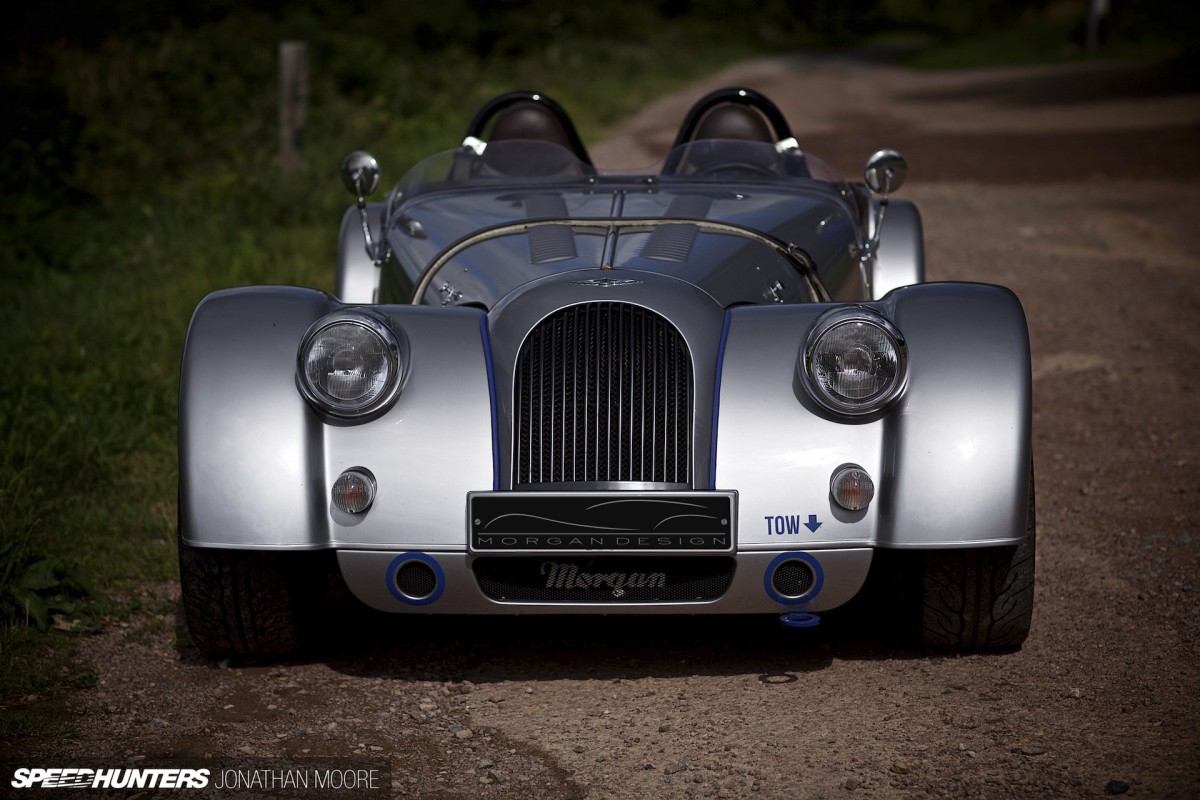 It might be low, but the Speedster felt like a huge car. It's long. It's also very, very wide. Morgan took the original, softer Plus 8 design of last century and hardened it all up, pulling out panels here, filing down curves here, to make it into an expanded, modernised battle version of the old car. For example, the front fenders have been set dramatically wider than on the wood-frame car, the intermediate bodywork stretched almost double.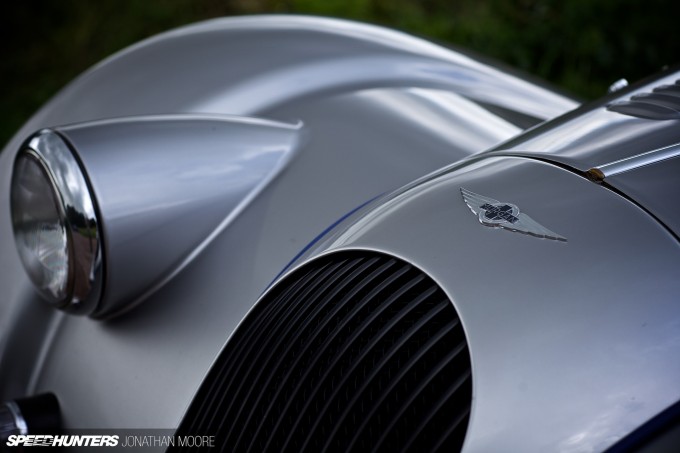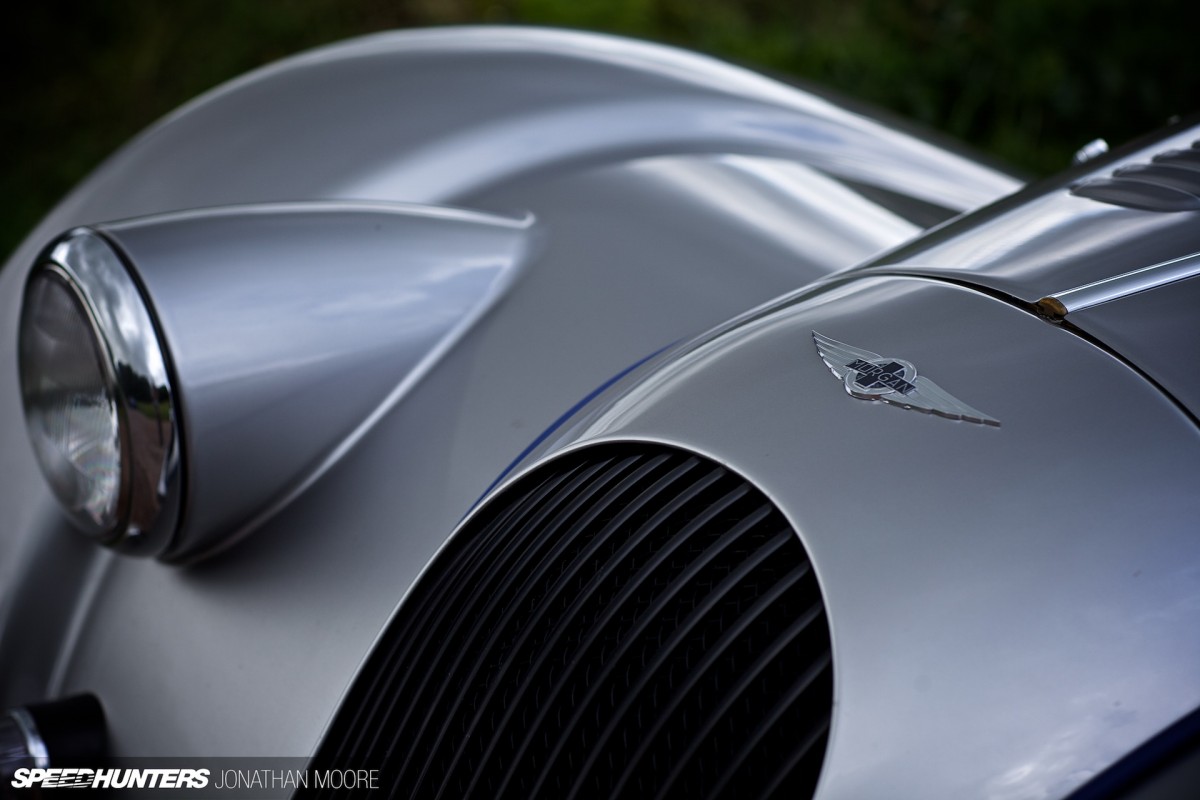 The Speedster was definitely imposing, in the most positive way. We can add presence to character.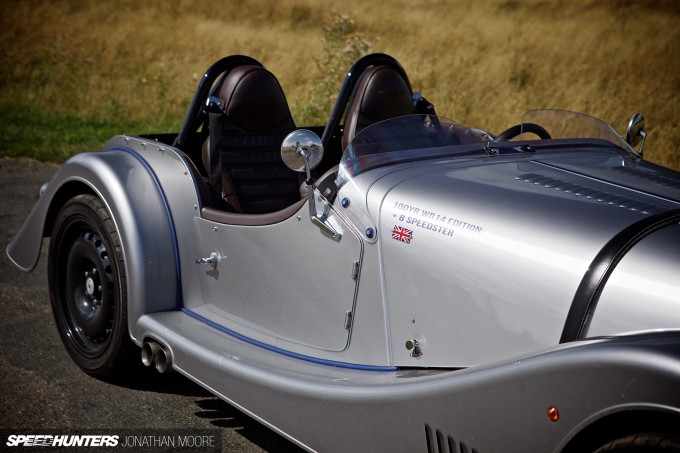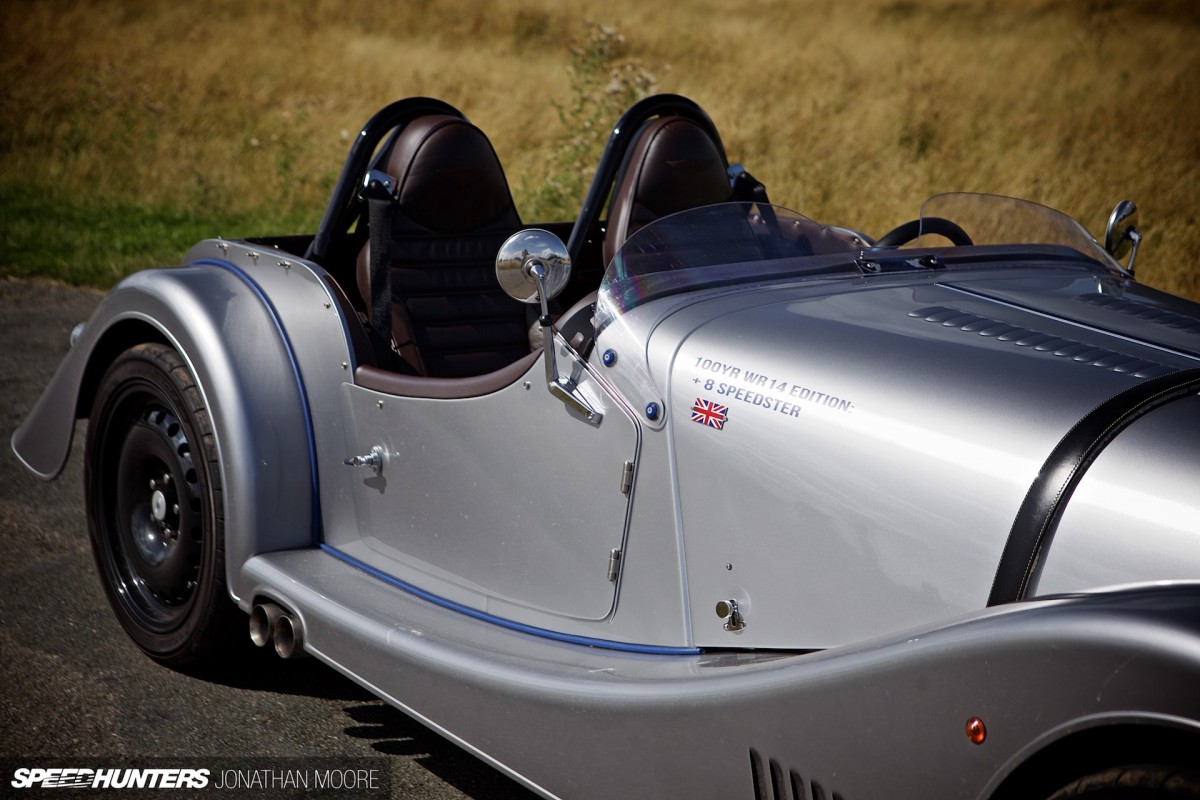 Like a Caterham, the cockpit is way back along the body, so you're tucked up against the rear wheels. The tiny doors flap open and provide a slightly larger aperture to squeeze thorough, but it's still like climbing onto the back of a car rather than into one. It's only when over the wide sills and with body dropped down into the seat that you realise just how at one with the car you quickly become.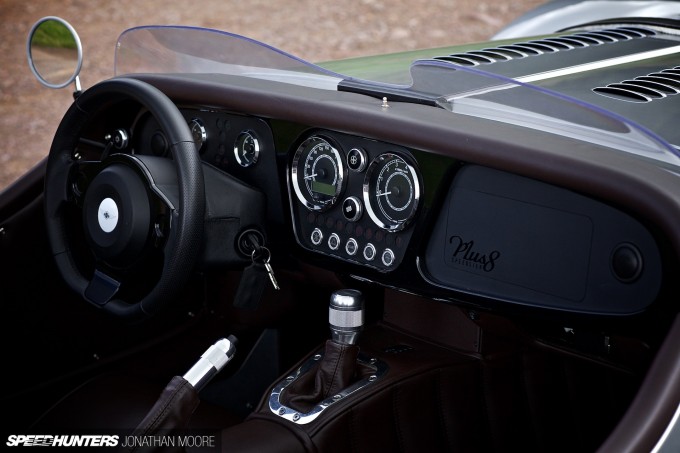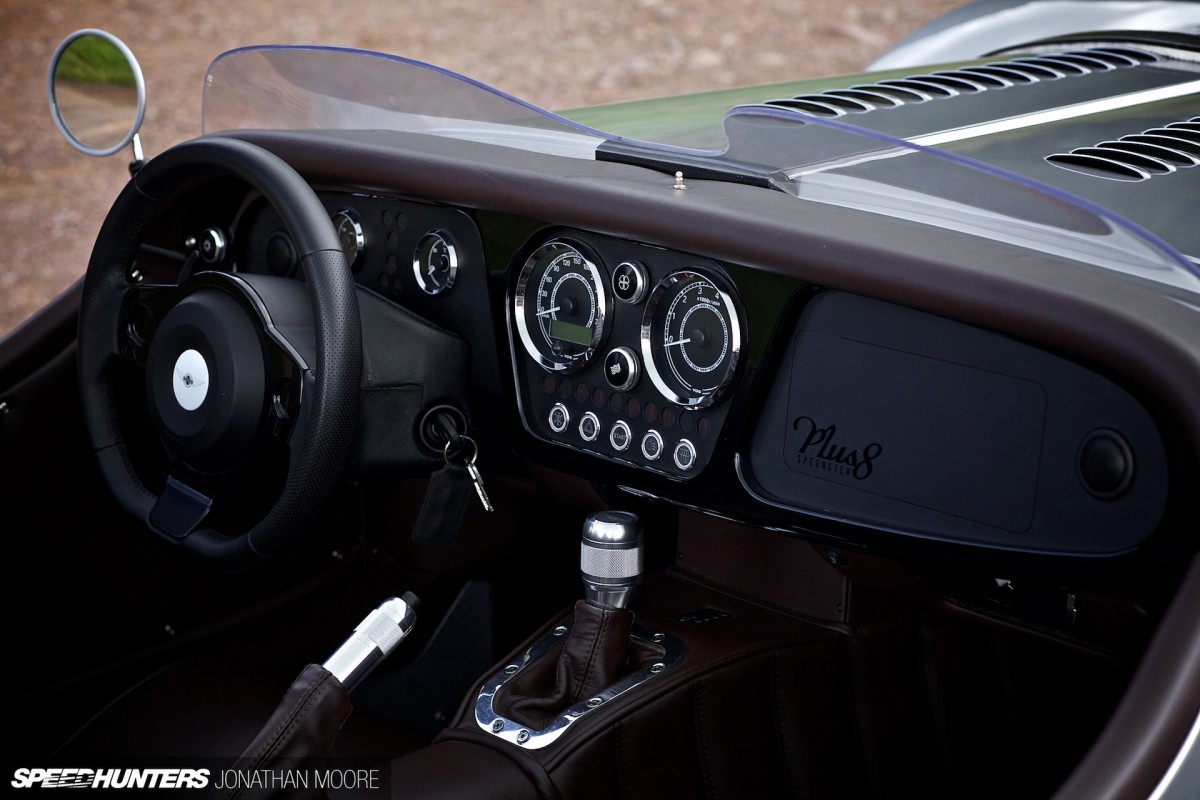 Once secure in the snug bucket seats – beautifully finished in a deep tan leather, matching the trim – there was the chance to soak up the surroundings. Looking down and around, the feeling was how different it felt to sit in compared to any regular car on the road, even before taking in the niceties of the supple leather finish and beautifully presented switchgear.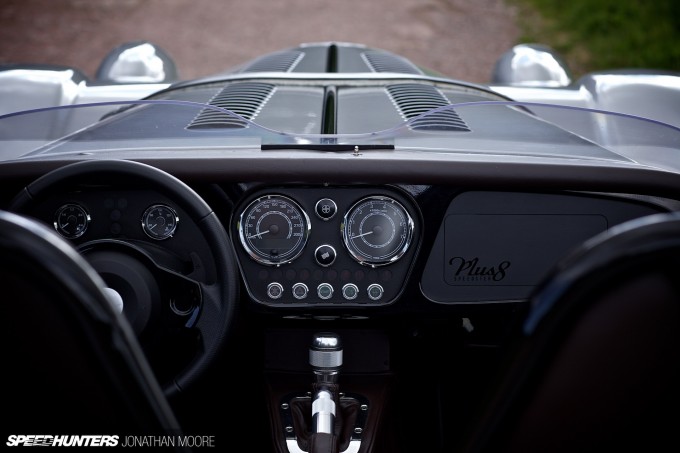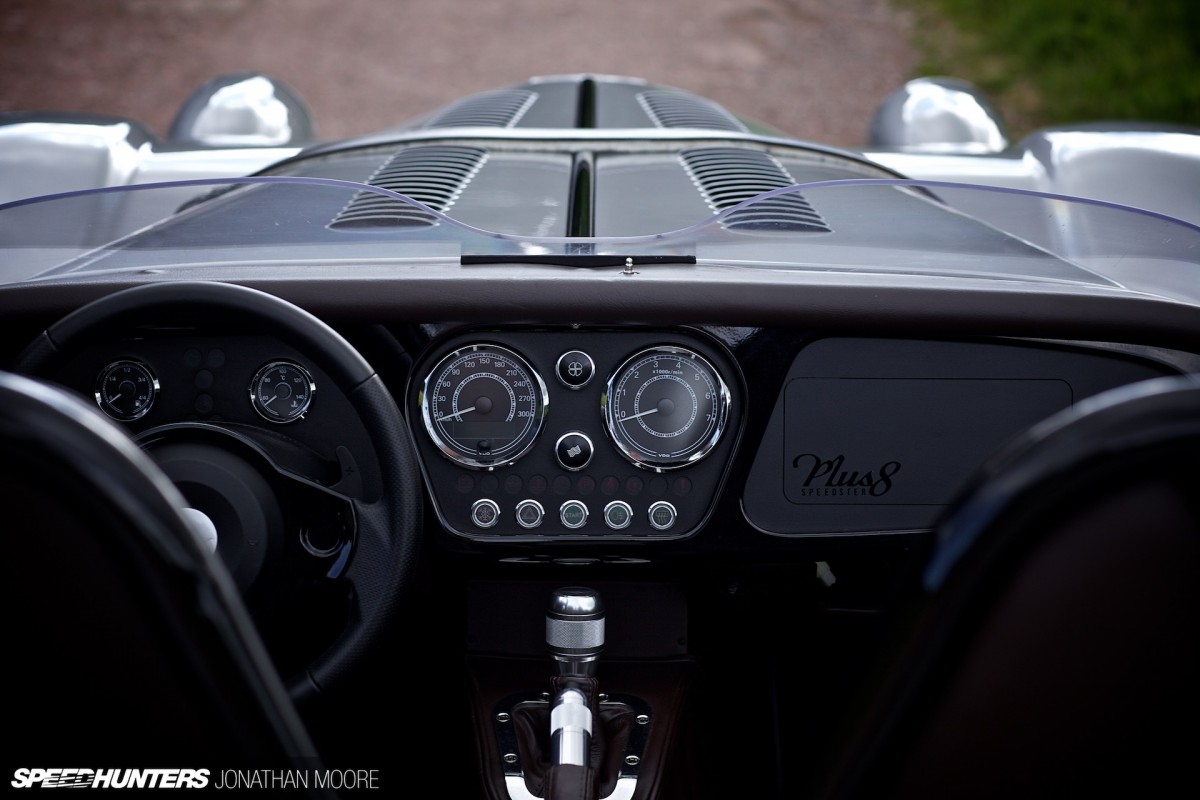 Looking up and ahead, it was the utter fear of just how far ahead the end of the bonnet was. I felt like the captain of a supertanker – but a supertanker with a rocket engine. I supposed it was time to press the button.
Make It Raw, Make It Roar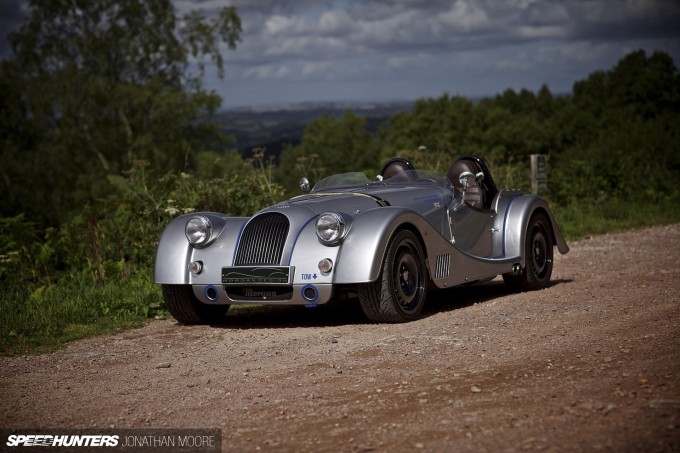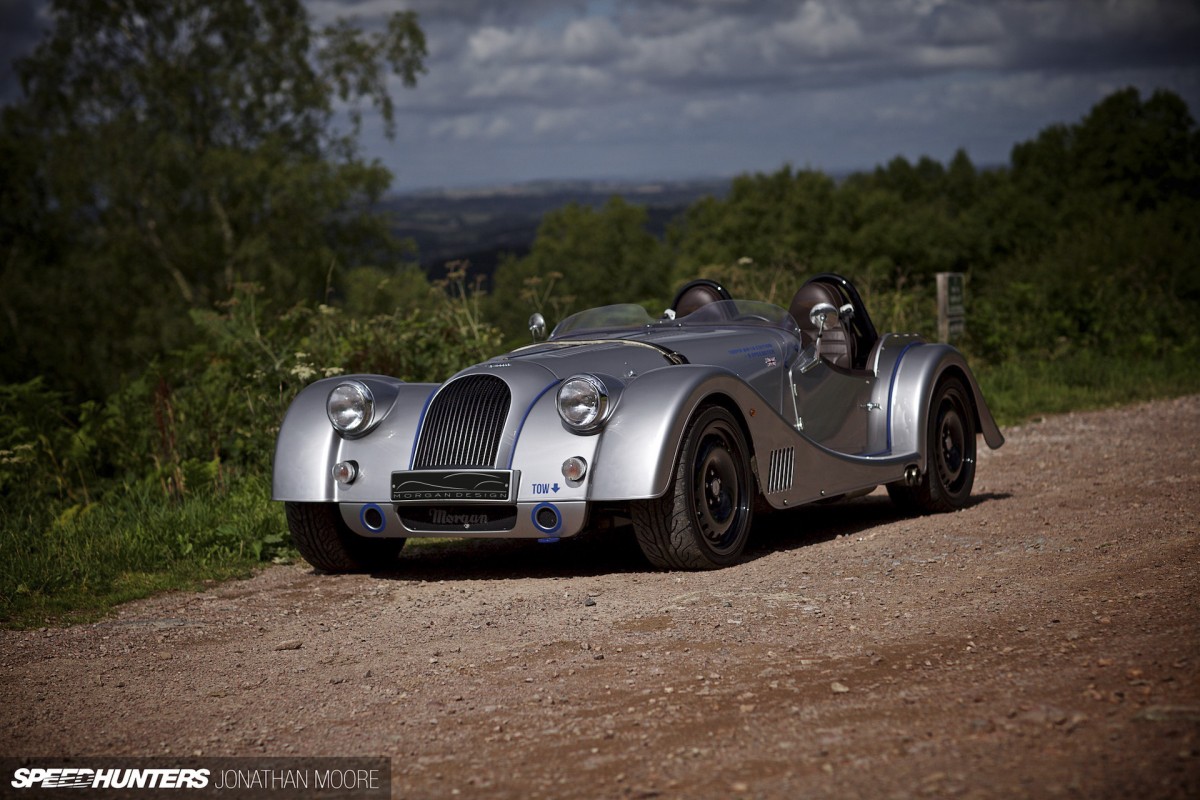 Standing still, the Speedster looks pretty aggressive already. It doesn't sit that low to the ground, but it carries itself like a nose-down hot rod, an art deco dragster. I don't know many people who have come across this car in the flesh and not fallen for its perfect poise and undeniable individuality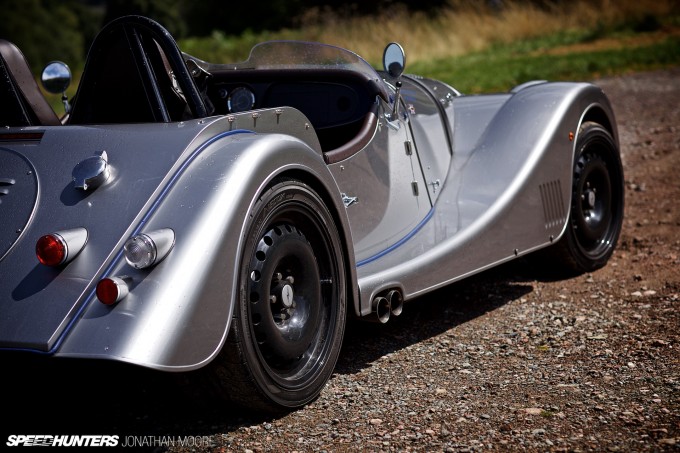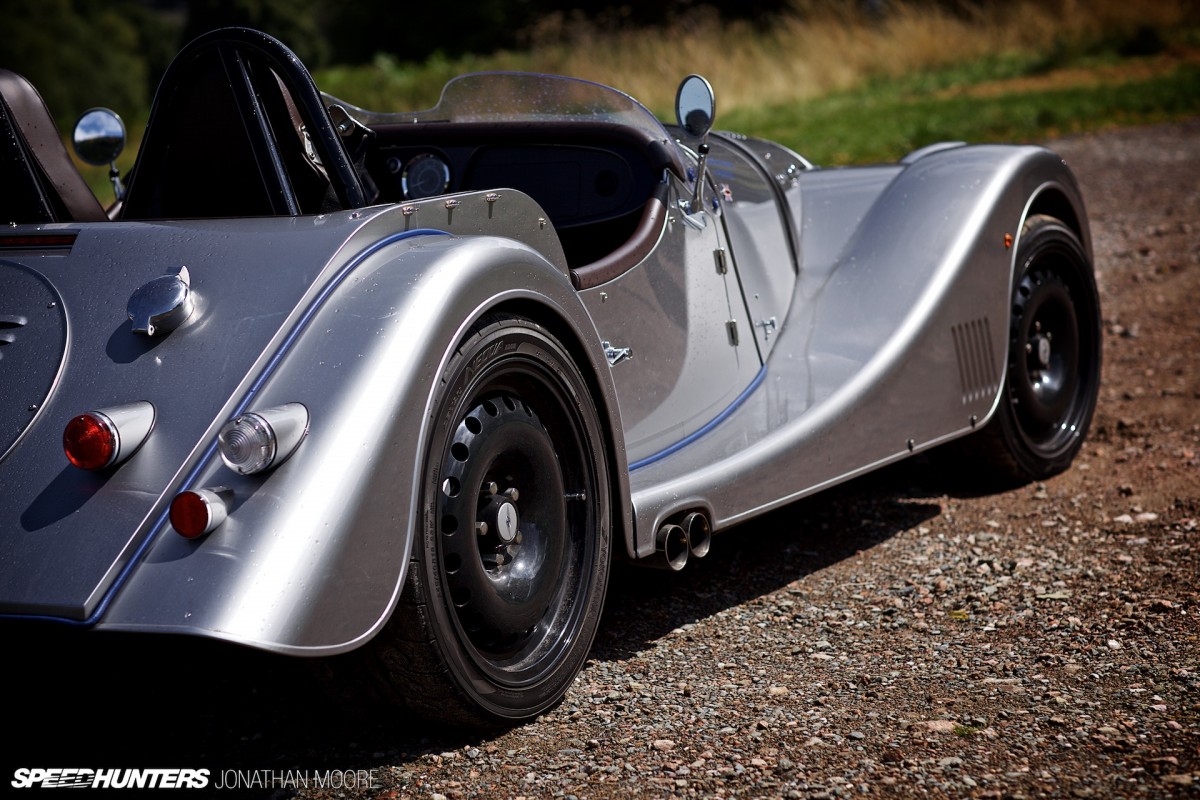 You can draw the side profile with one pen stroke and it would be instantly recognisable as a Morgan, yet the Speedster demonstrates the other side of the firm. A ferocious, no-holds-barred insanity of noise and power. It's what you get when you press that button.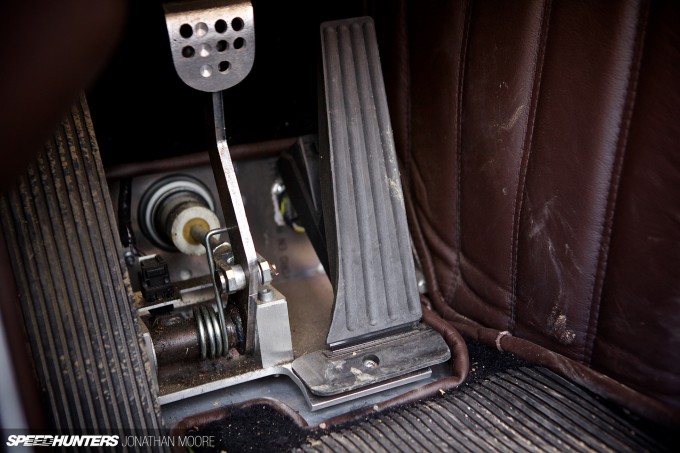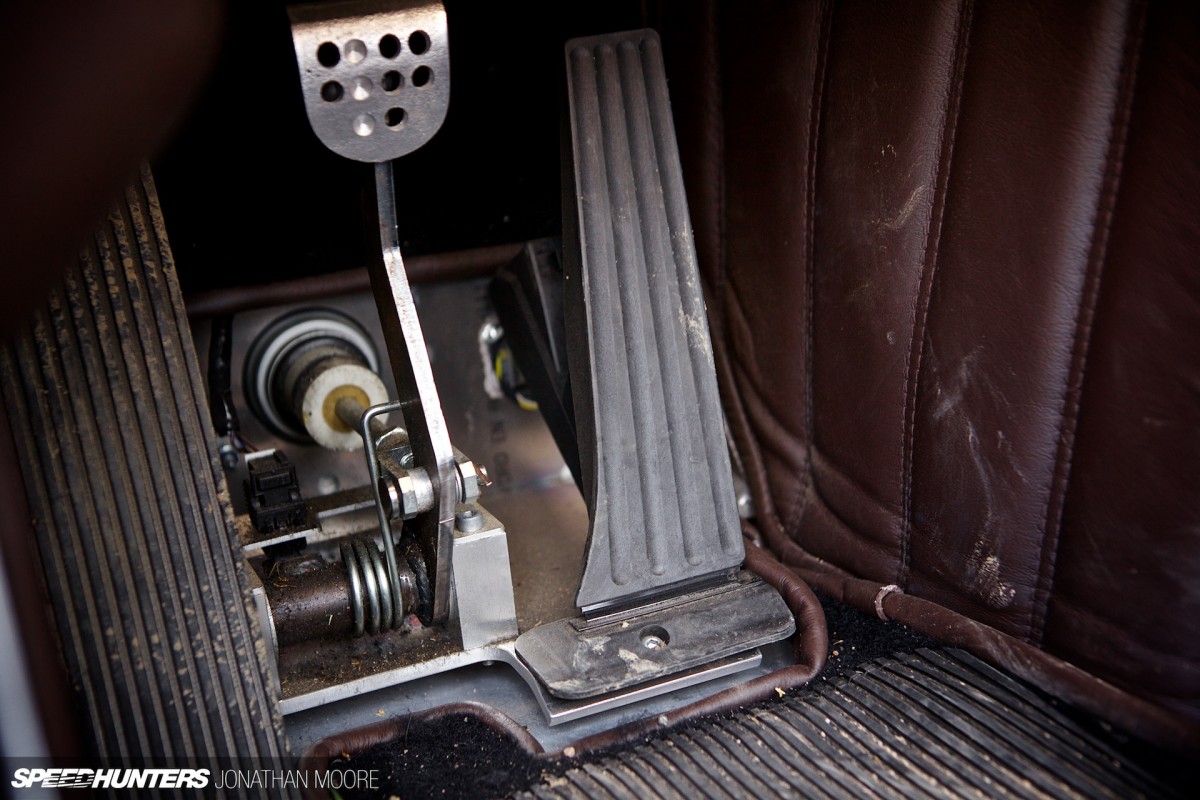 The effect is simply glorious. Being in this car and being in charge of the throttle will stay with me as one of the most enjoyable moments of my life. No superfluous technology; no trick electronics in between you, the engine and the rear wheels; nothing above your head except sky… Even the inevitable result of the latter point and being in the UK in no way dampened my enthusiasm.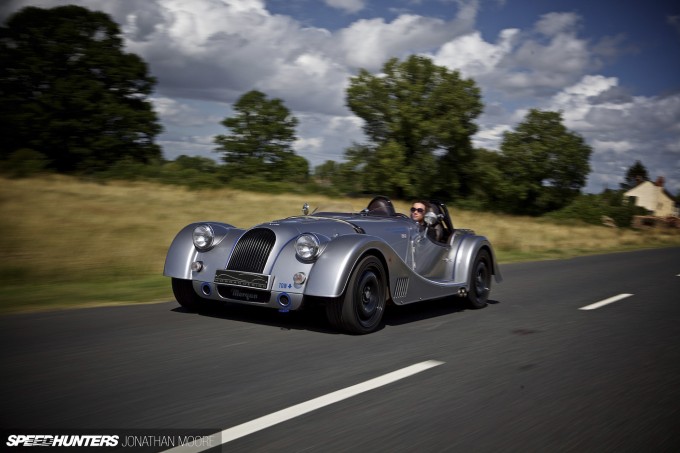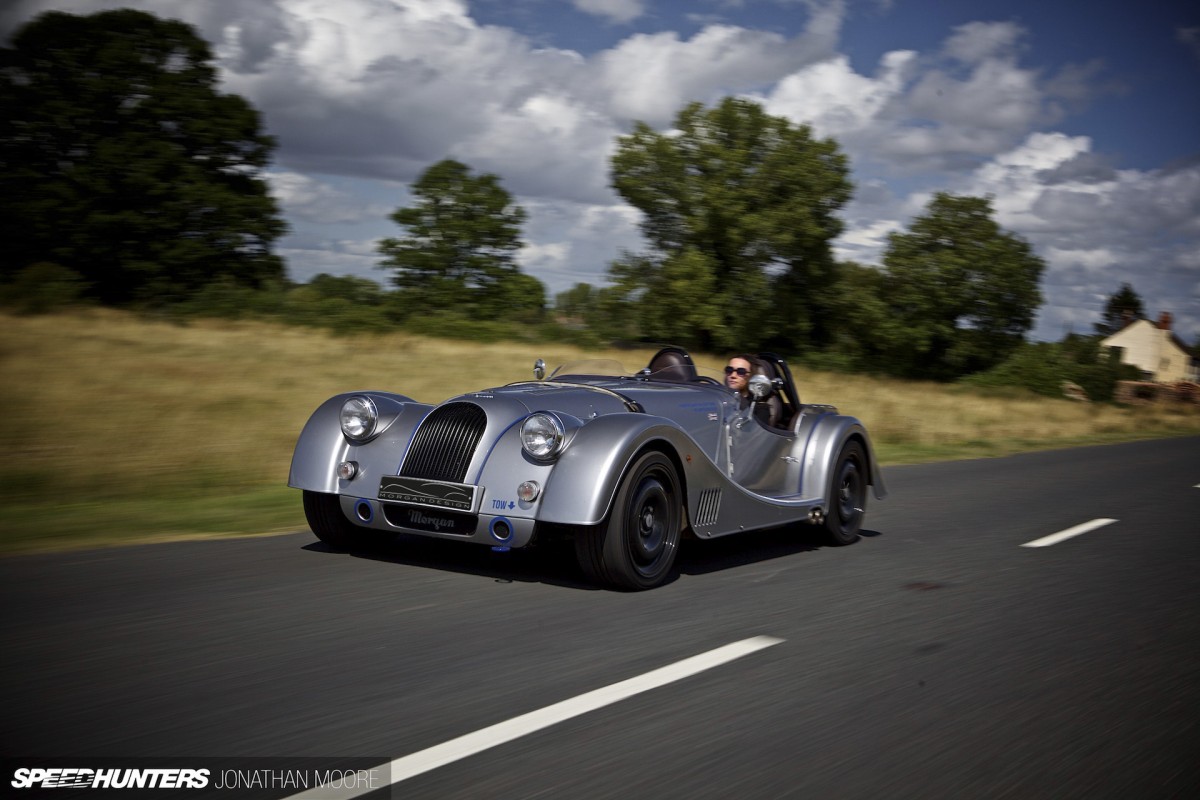 A lot of large-engined cars are full of bravado and noise when fired up to make their owners feel better, but then quickly and deliberately calm down to a less ear-smashing number of decibels. The Speedster starts at pub shouting levels and just gets louder every time you even look at the throttle pedal.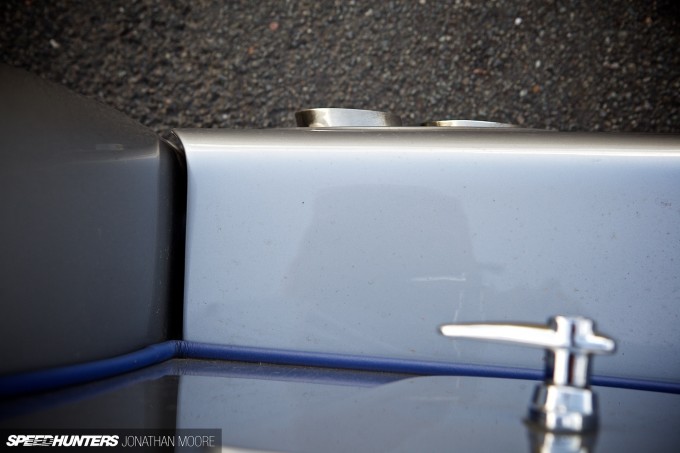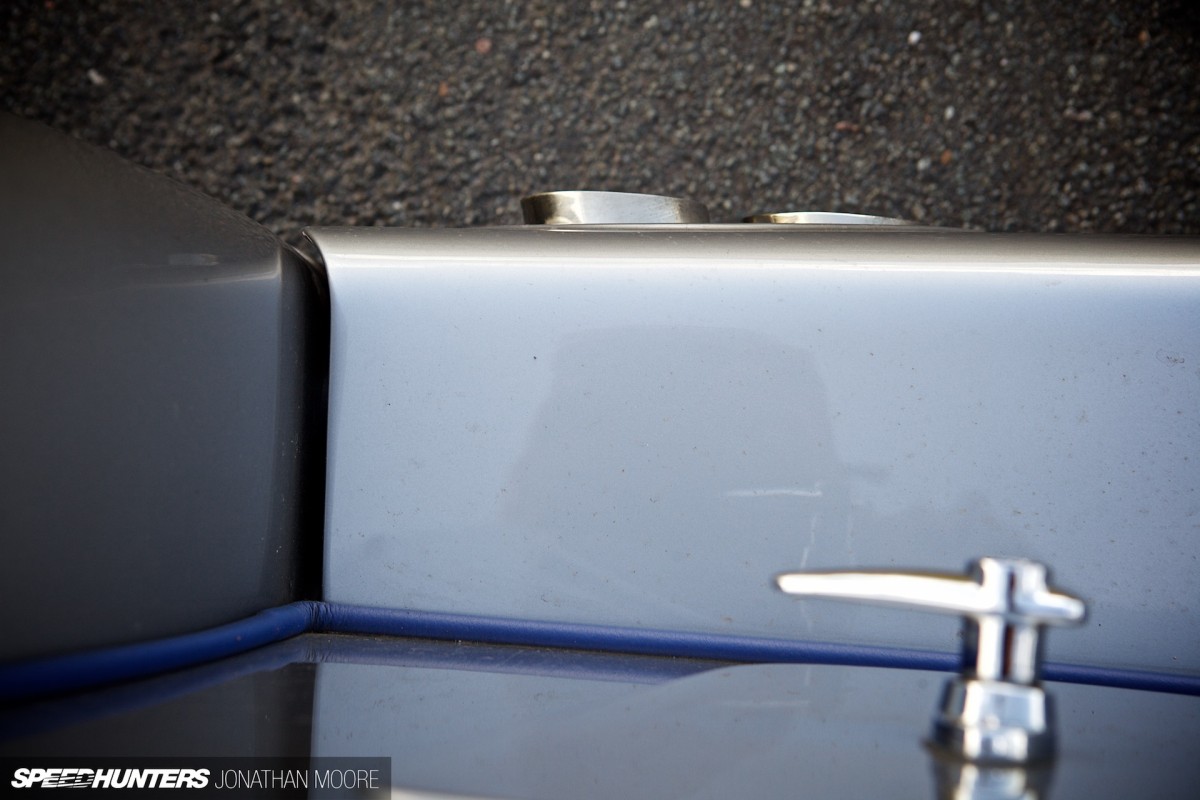 The main reason is clear – all you have to do is peer over your shoulder and straight down at the ground, and you see the twin pipes that exit on each side, making sure that absolutely everyone in every direction knows you've arrived.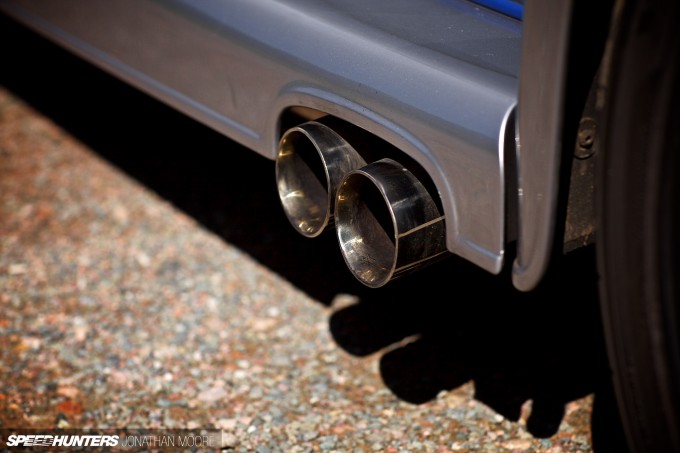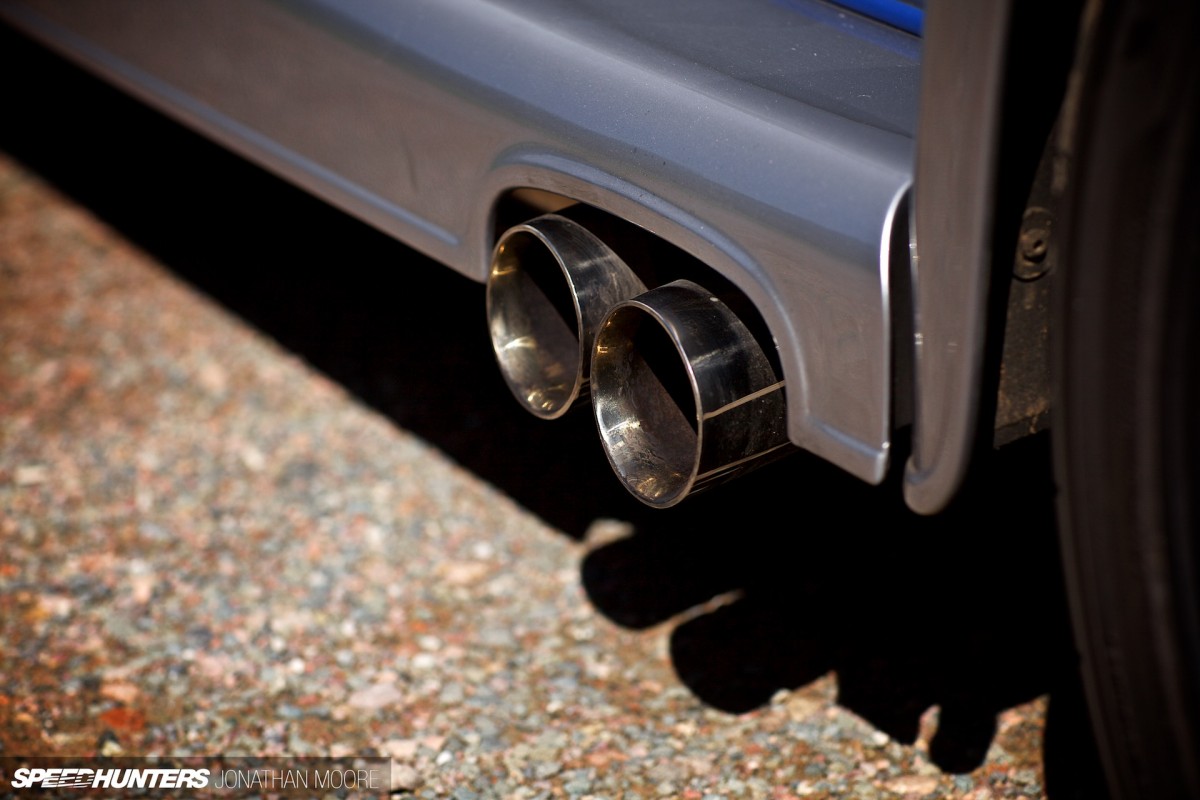 Compared to the 'trad' Morgans, the ash-framed models that have their origins in the 1930s, the Speedster is based on the modern, aluminium-chassis Plus 8 range, introduced a couple of years back.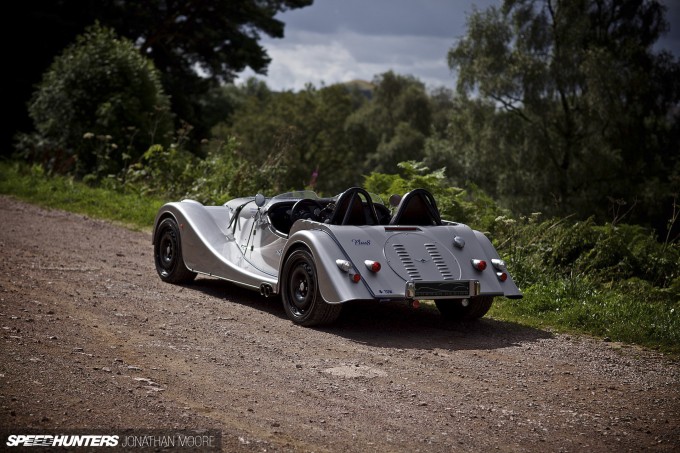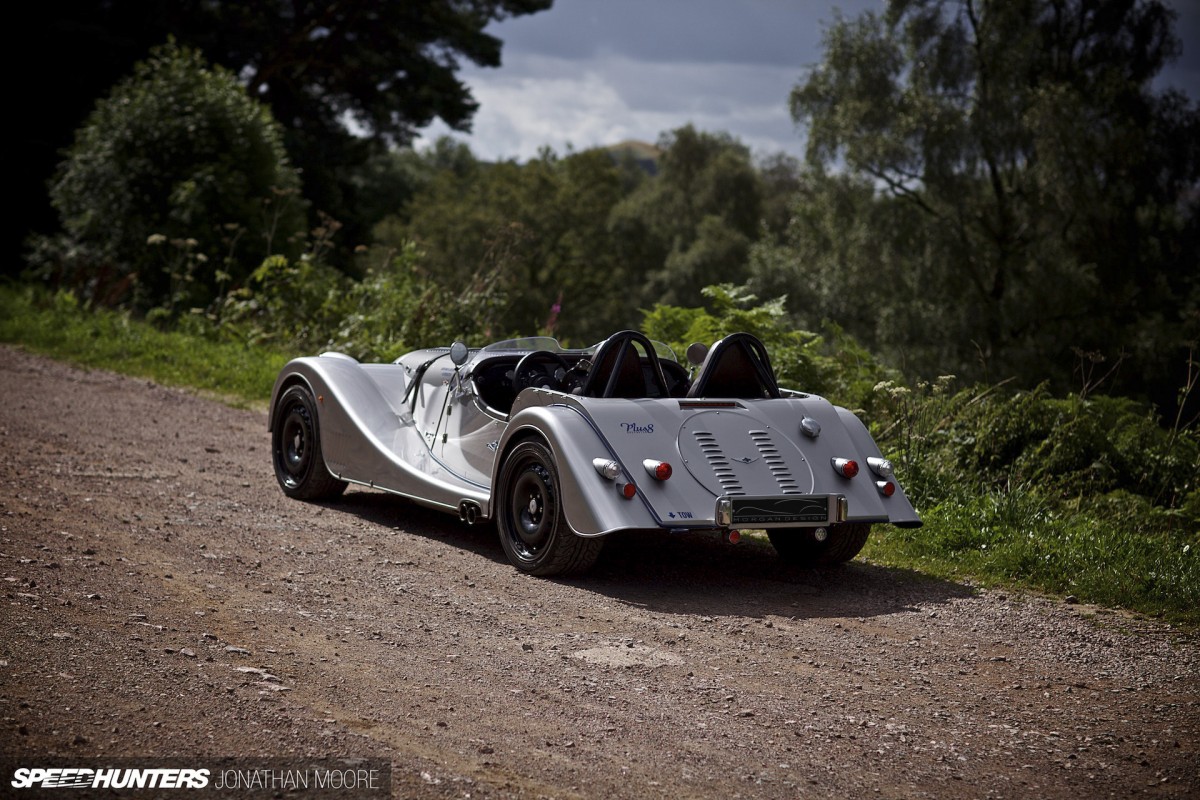 This revamped the original 1968 car that first demonstrated the crazy idea of putting a V8 lump into a Morgan – the equivalent of turning a demure and sensible period roadster into a deranged monster. You might as well put a bowler hat on a rottweiler.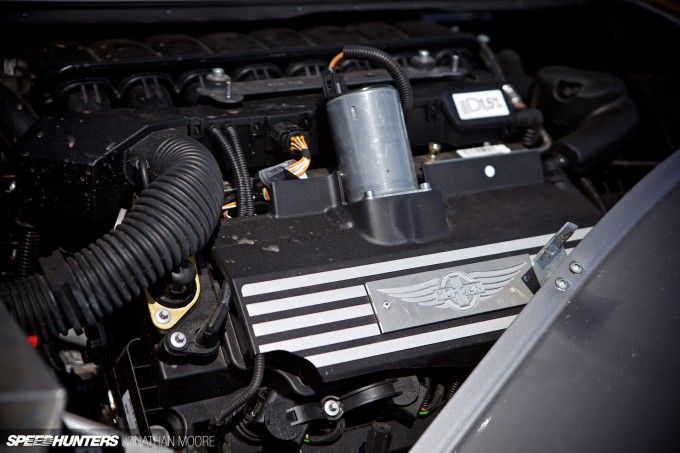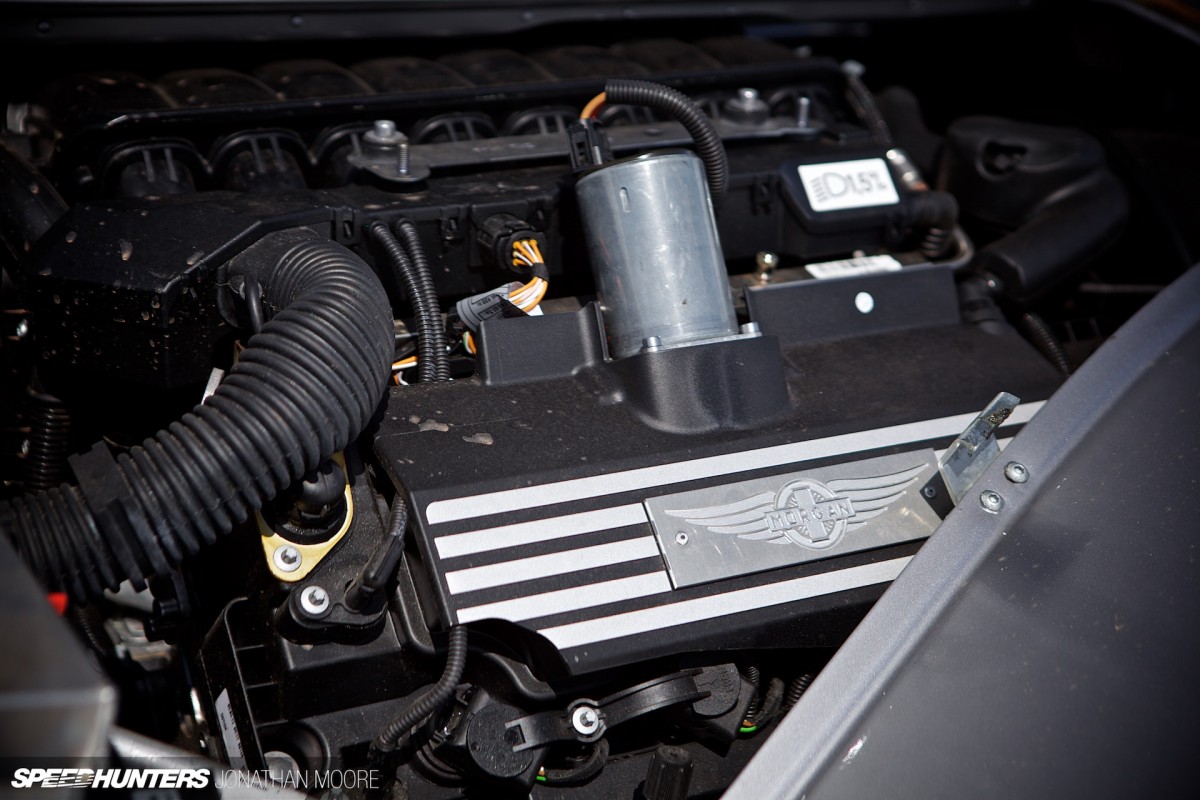 The Speedster keeps the same 370hp, 4.8-litre BMW V8 as the regular new Plus 8, but does more with it as it has less.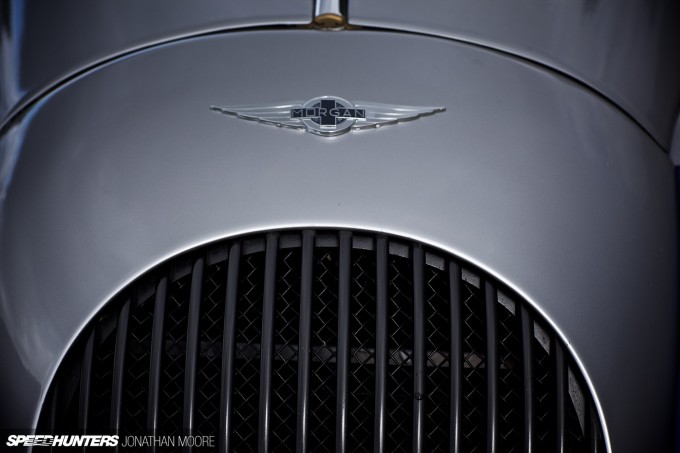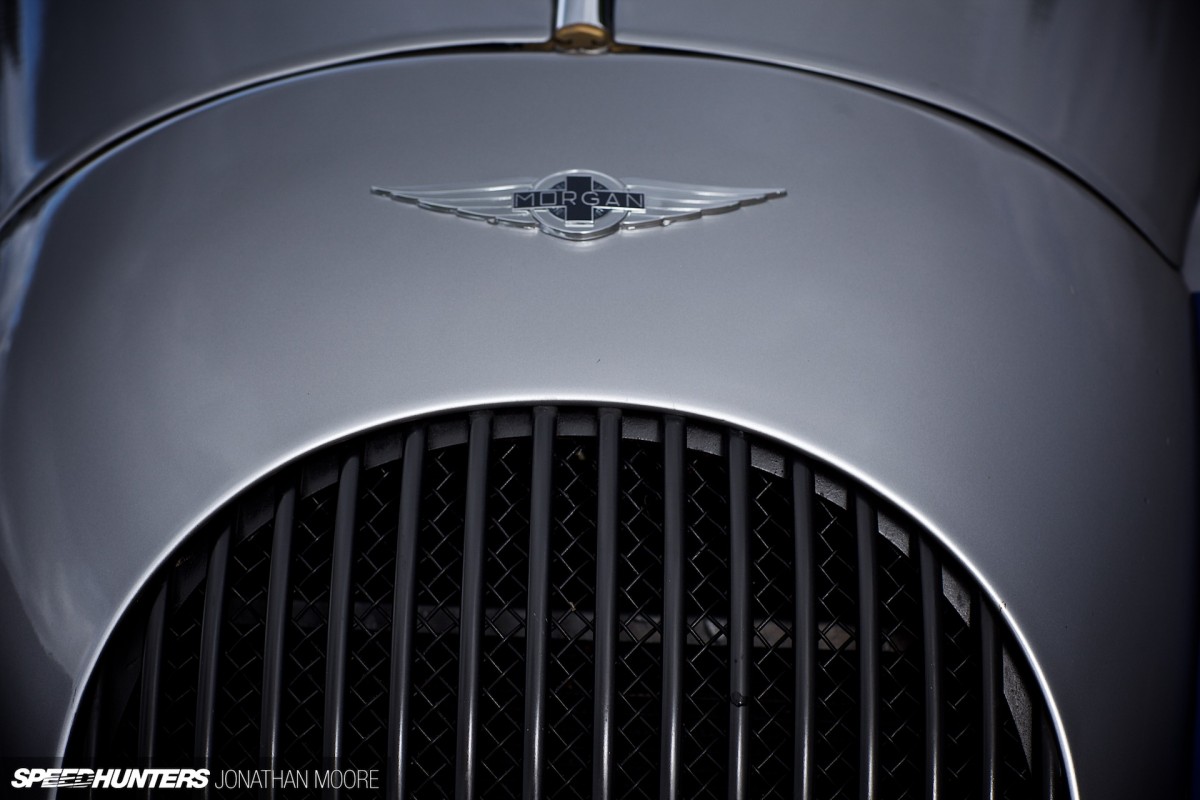 Less? The Speedster goes back to Morgan's roots of producing stripped-down road racers. Talking to Morgan's head of design Jonathan Wells, he'd explained the outline brief. Make it lighter, make it more aggressive. Celebrate the Morgan ethos.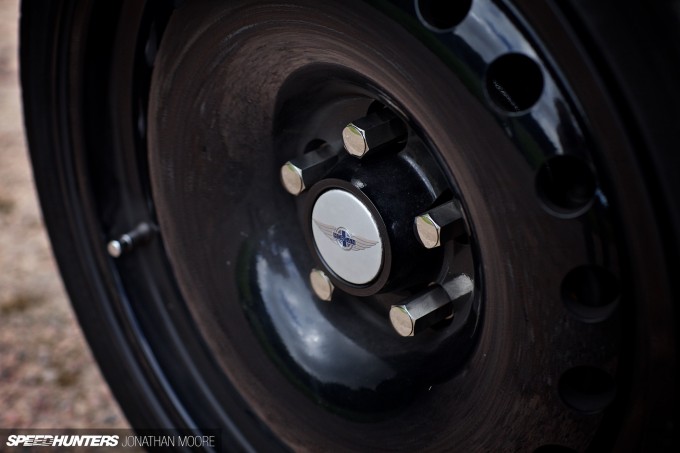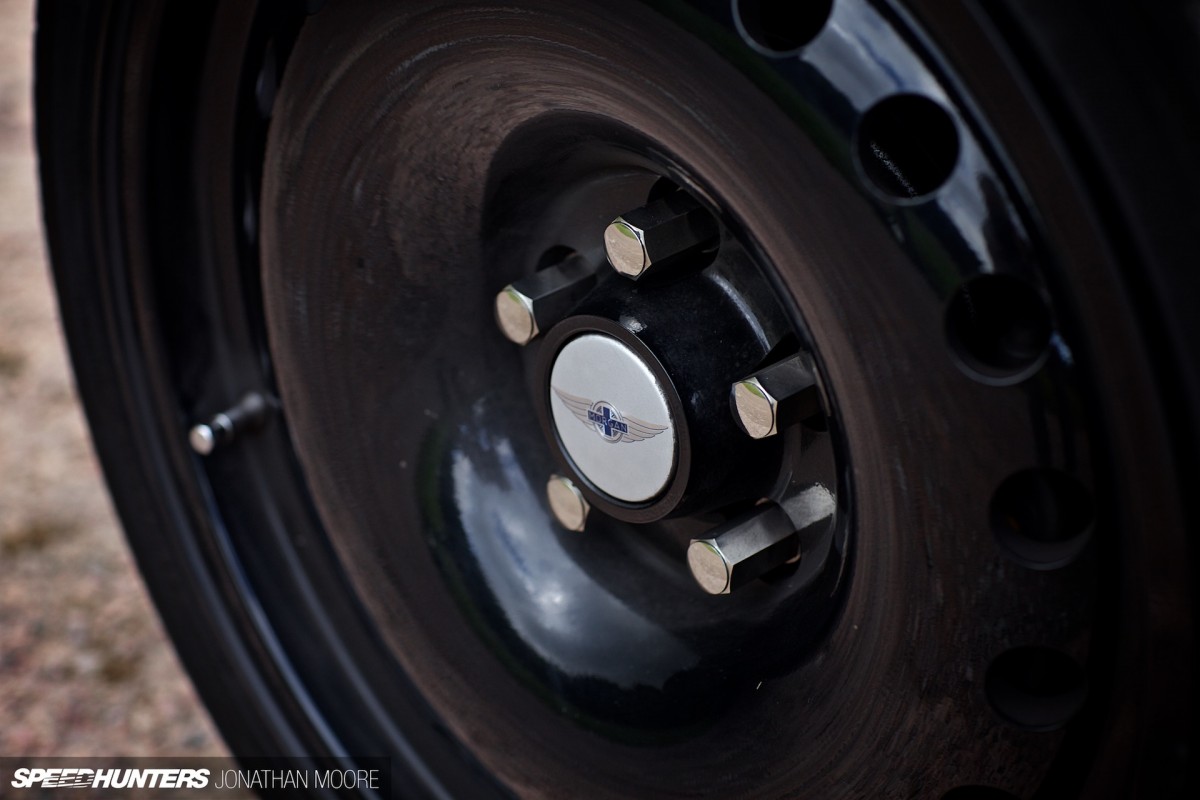 There are little deliberate retro touches – like the genius of the steel-effect rims (actually aluminium), optional leather bonnet strap and light blue detailing at all the body panel joins – but they're not overplayed.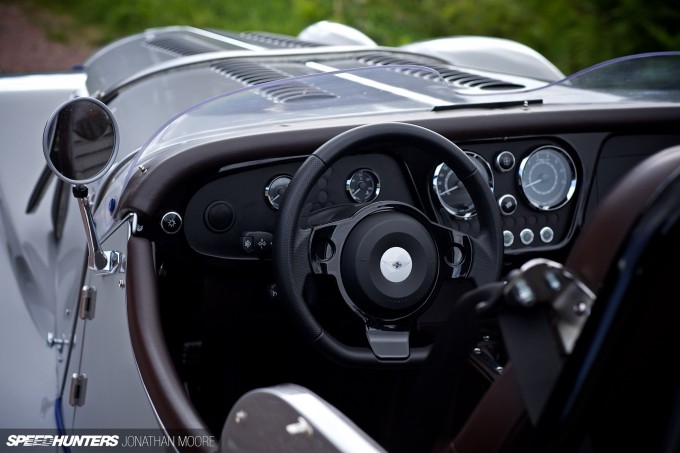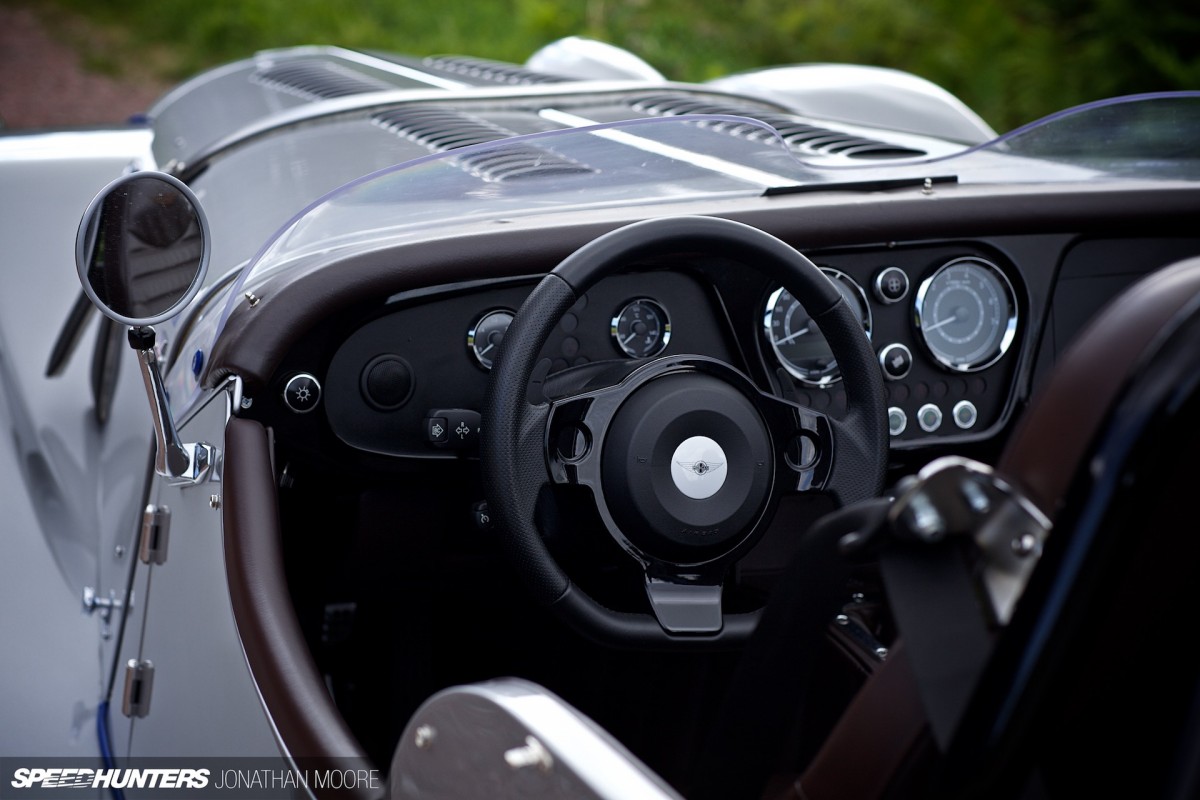 The shocking thing is that not only did Jonathan and his team strip the weight down, but then Morgan stripped the price down as well. When have you ever heard of a company making a lightweight performance special and then charging less for it? Normally you can add 20 per cent on top, on the excuse will be that they've used even more expensive new materials to replace all the expensive stuff they've, uh, taken out.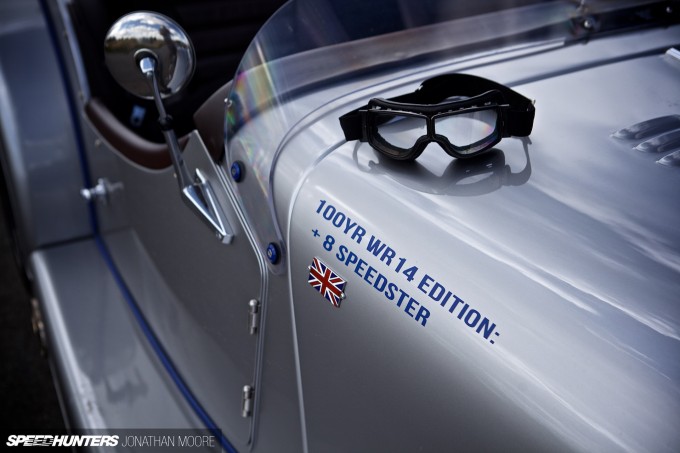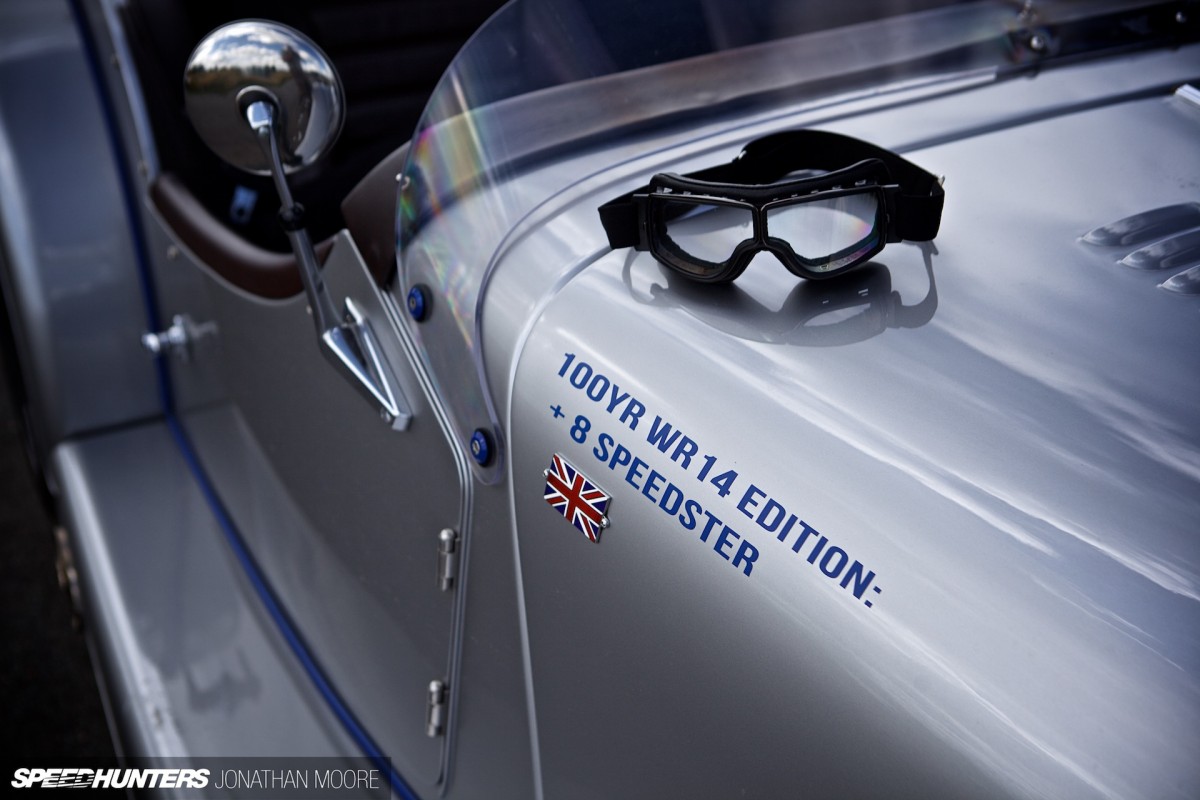 Maybe it just means that most people are using the wrong materials in the first place. Morgan knocked 20 per cent off, the crazy people! With an inherently lightweight car, it was a case of shaving off all the extraneous comforts (like, everything above bonnet level) to create an almost racecar-like environment. It even comes with a set of goggles. You end up with something pure, raw and completely different to pretty much anything else on the road.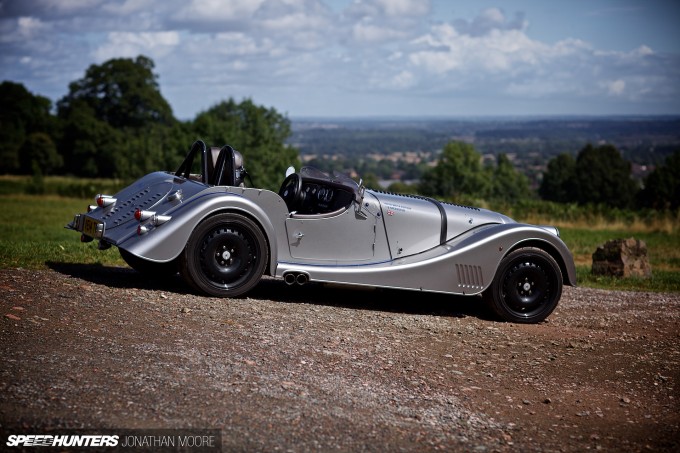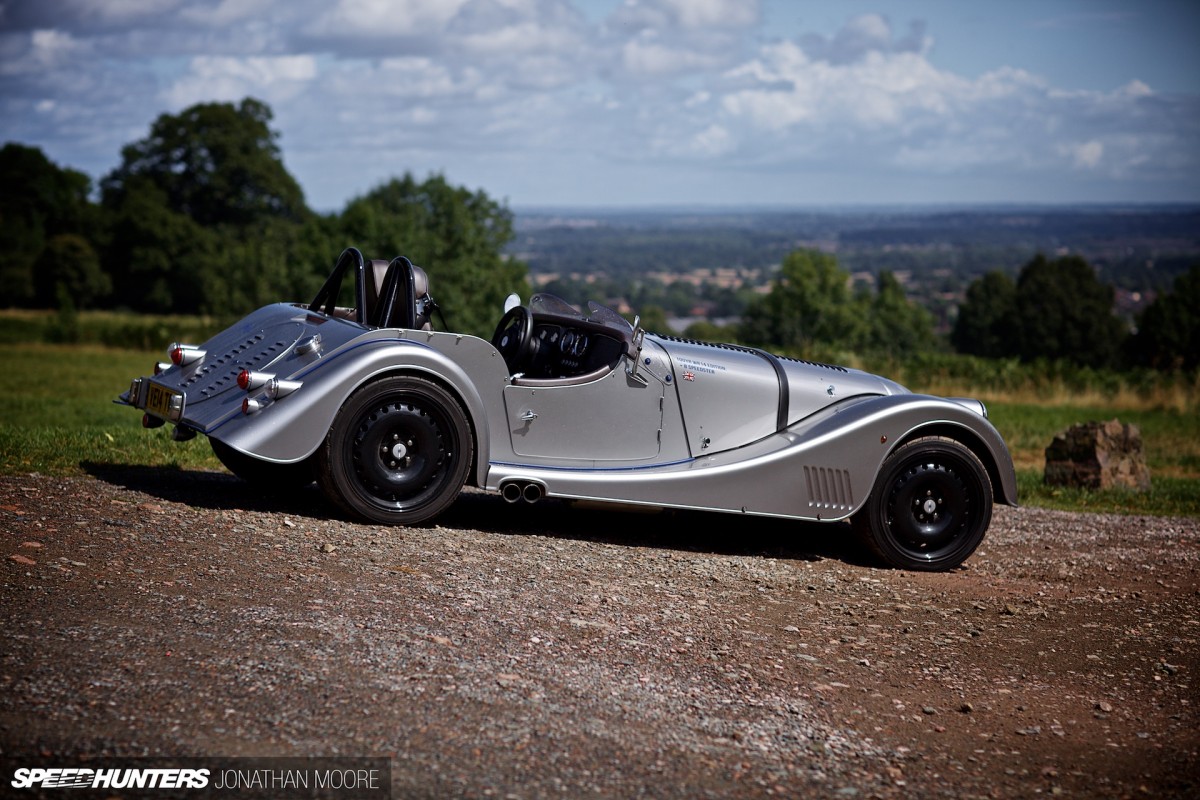 Even external door handles don't come as standard, so this one was really pushing the boat out, spec wise.
Keep Driving Fun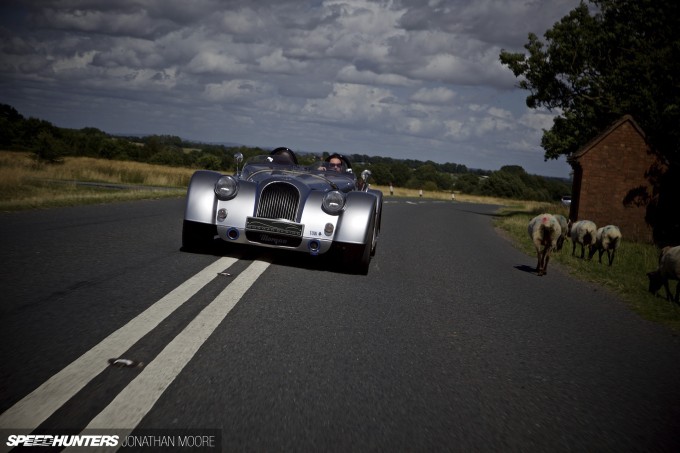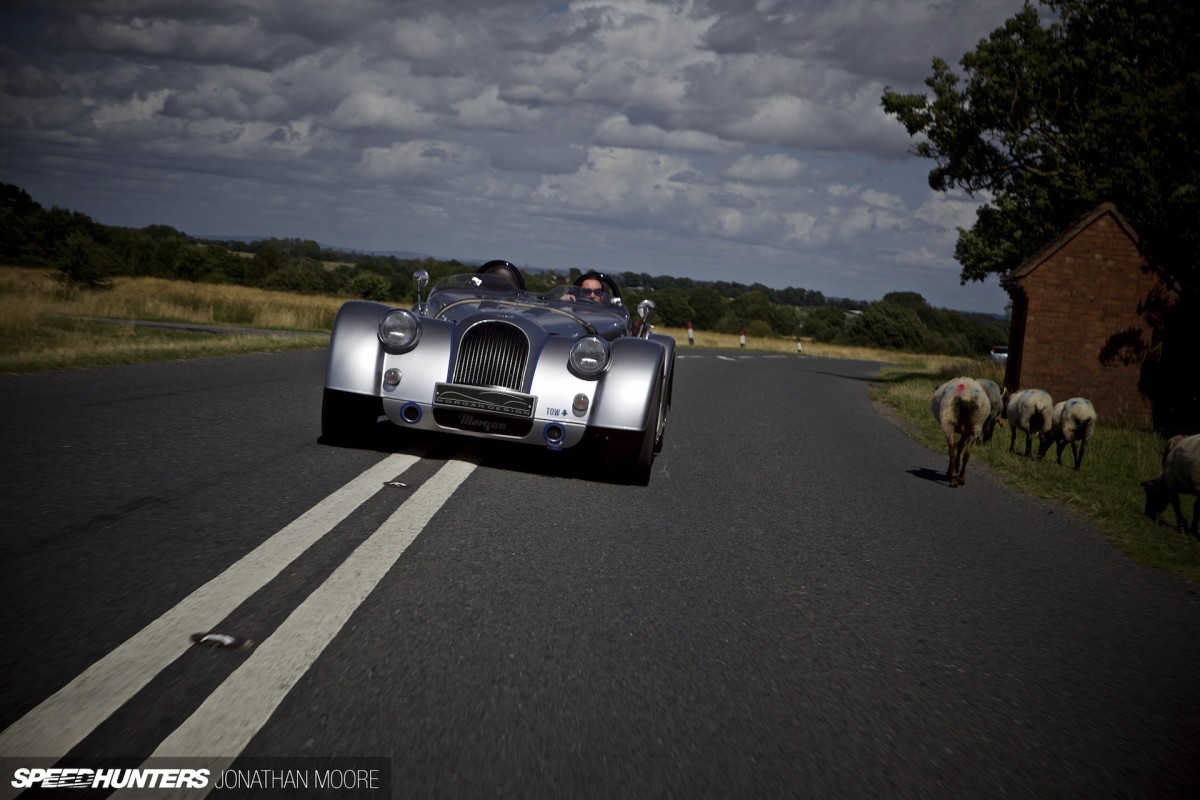 Right, so I had pressed the button and happily drowned in noise. Was that it? Not at all. There was a good couple of hours in the hills to enjoy. This Speedster utilised the ZF 6-speed paddle-shift that Morgan have recently introduced, and I have to say the blasphemous thing that it just made the whole experience even better.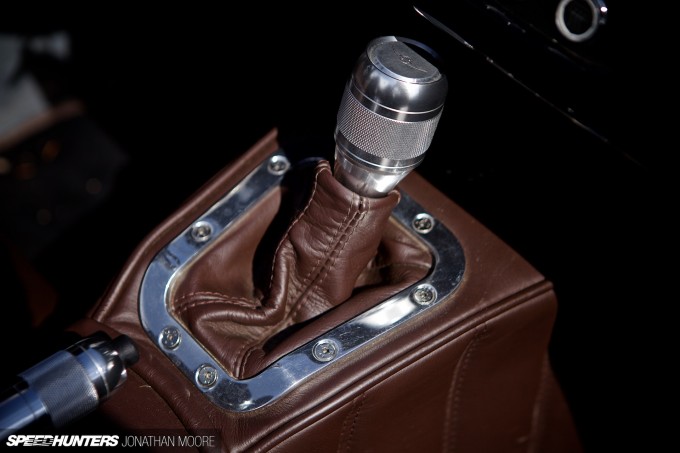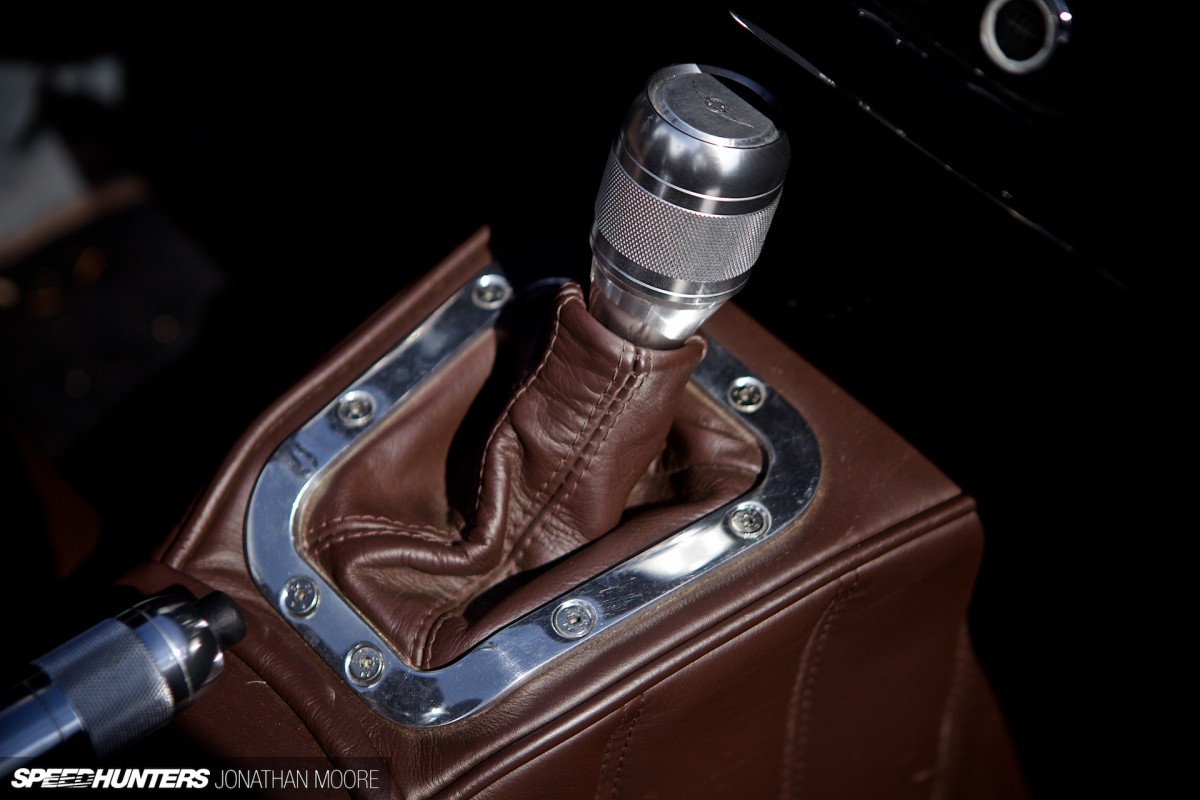 I didn't even bother using the paddle shift. I barely touched the sequential. I hardly ever even put it into sport mode. There, I've said it. And I'm proud, dammit.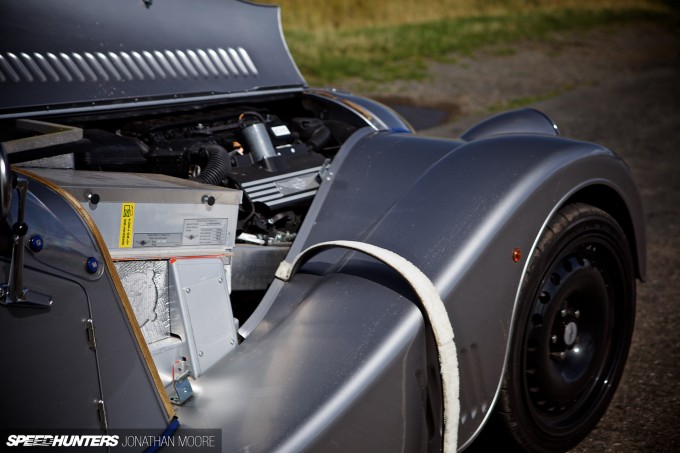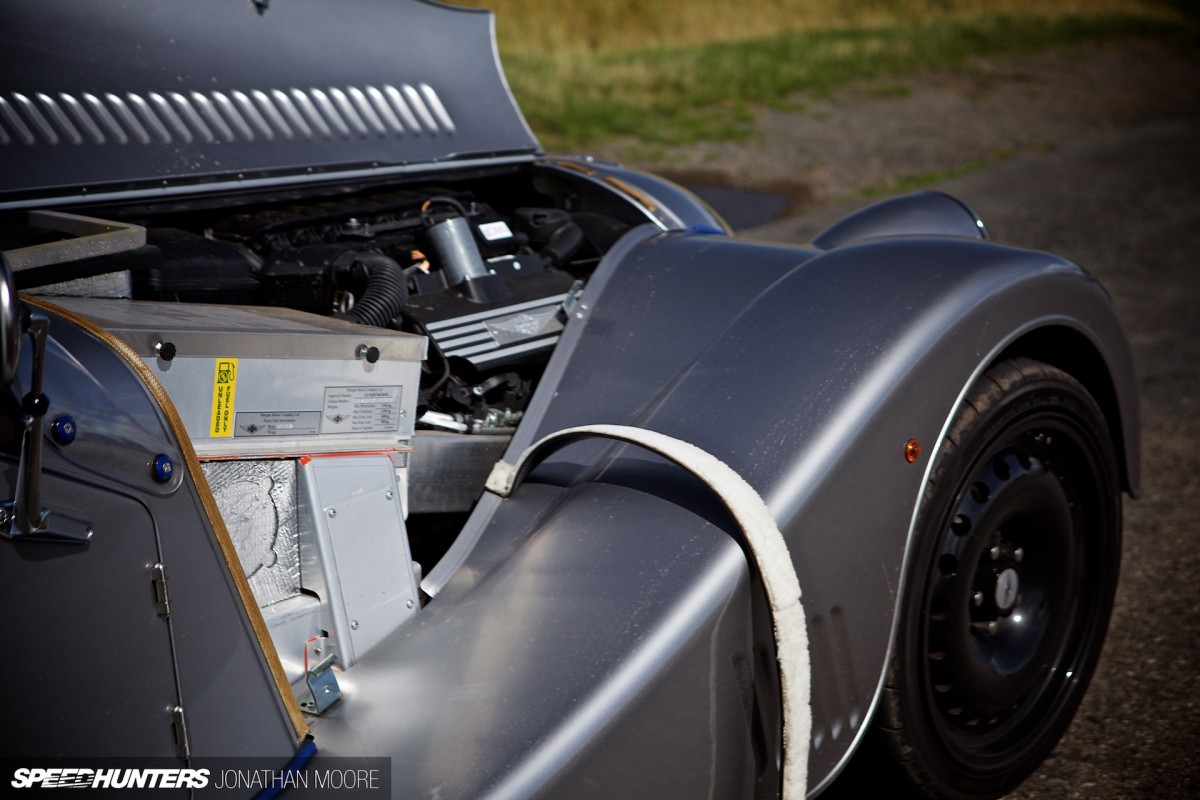 There's a veritable onslaught of power available should you choose, and perhaps in a different environment – somewhere boring like a motorway – you'd probably want to bang it into crazy mode and paddle-shift your way out of traffic hell.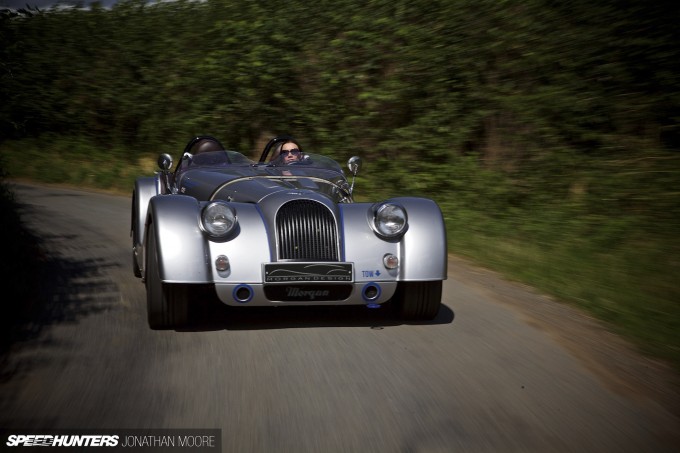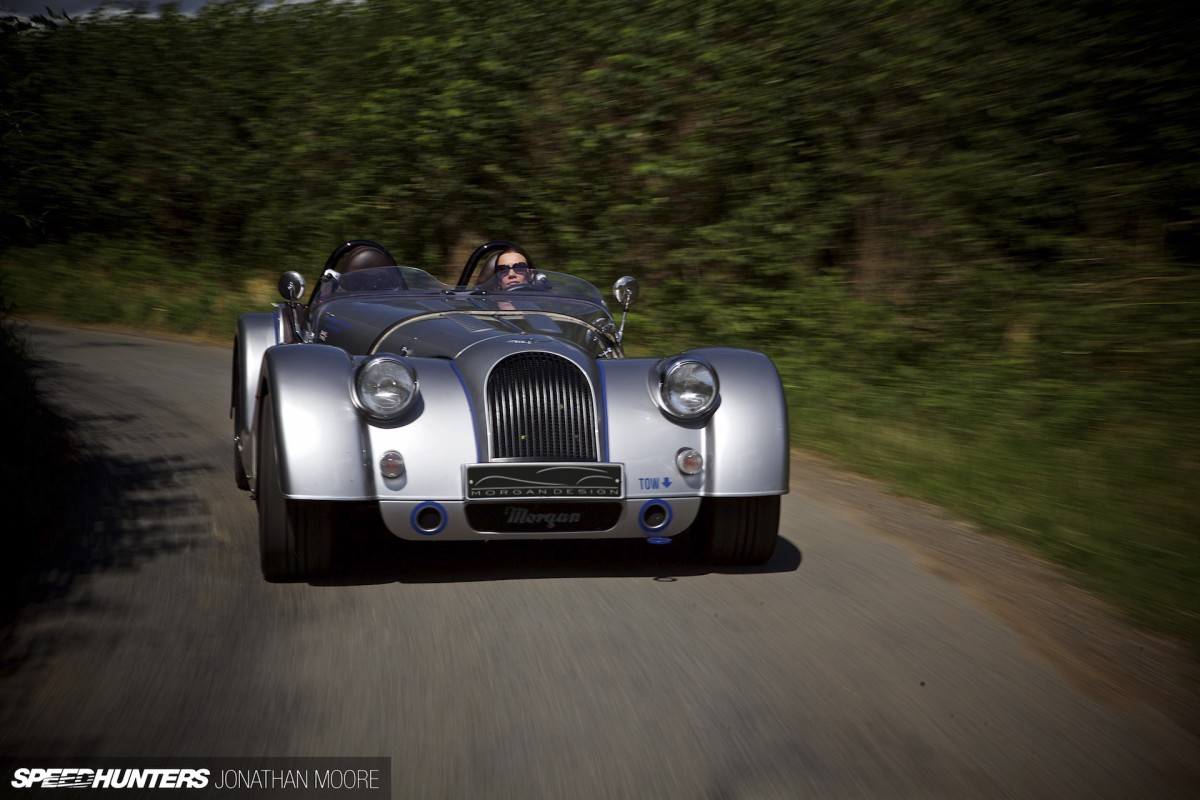 The Speedster's power was obvious, but there's just no need to go on about it. You can get bored of people saying they've got a million horsepower, when they can never use it sensibly. The Speedster's V8 has so much torque that on small roads there was just no need to do any more except give the throttle an enthusiastic prod every so often, feel the punch of acceleration and revel in the thunderous noise that erupted.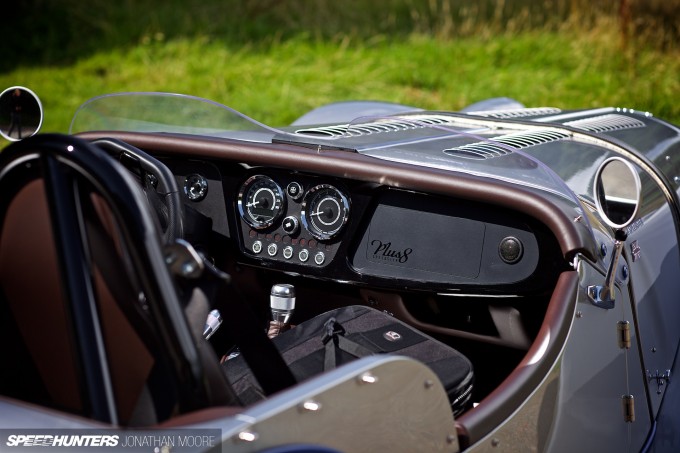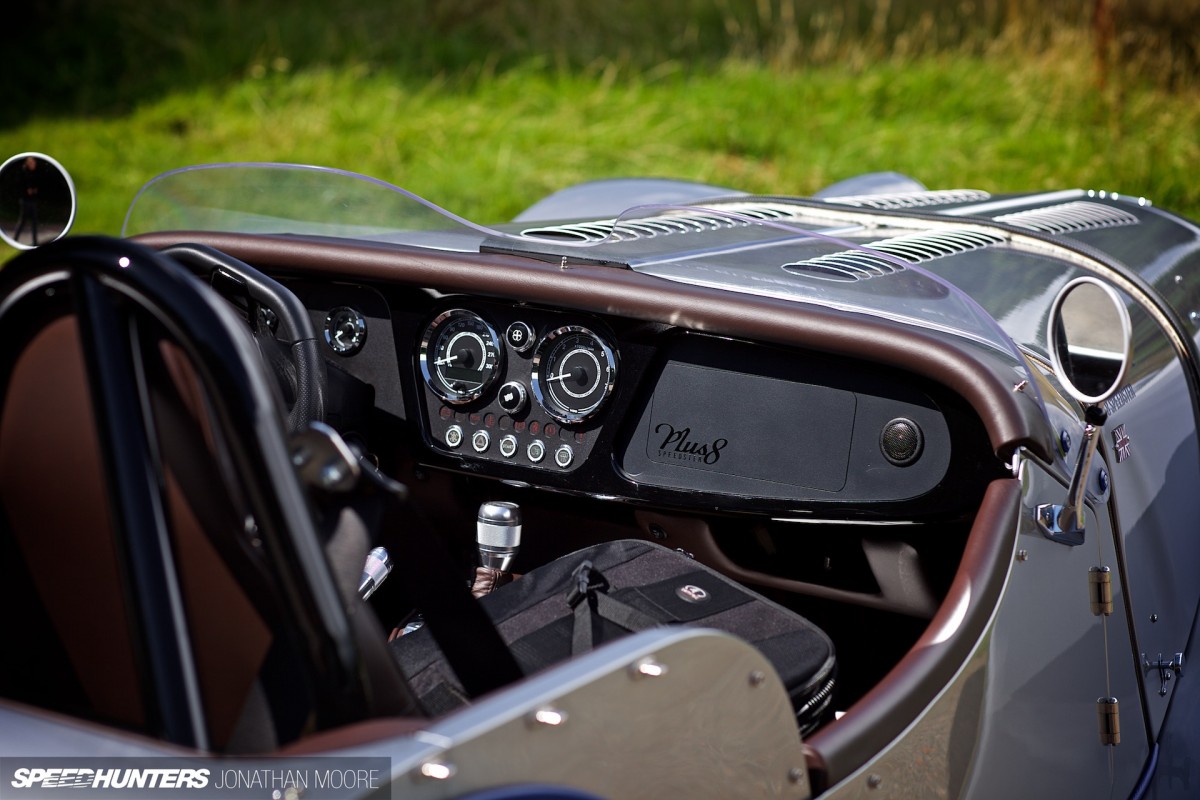 I'm going to use the F-word next. This Speedster just made the whole experience of driving… fun. It's a car you'd want to take out, just for kicks. Just to bring that feeling back.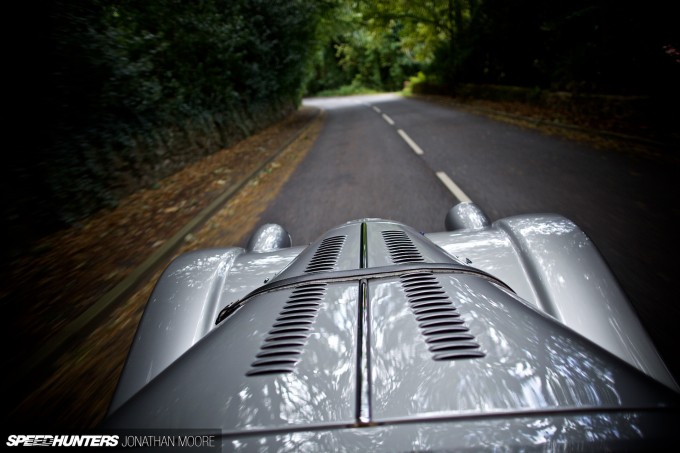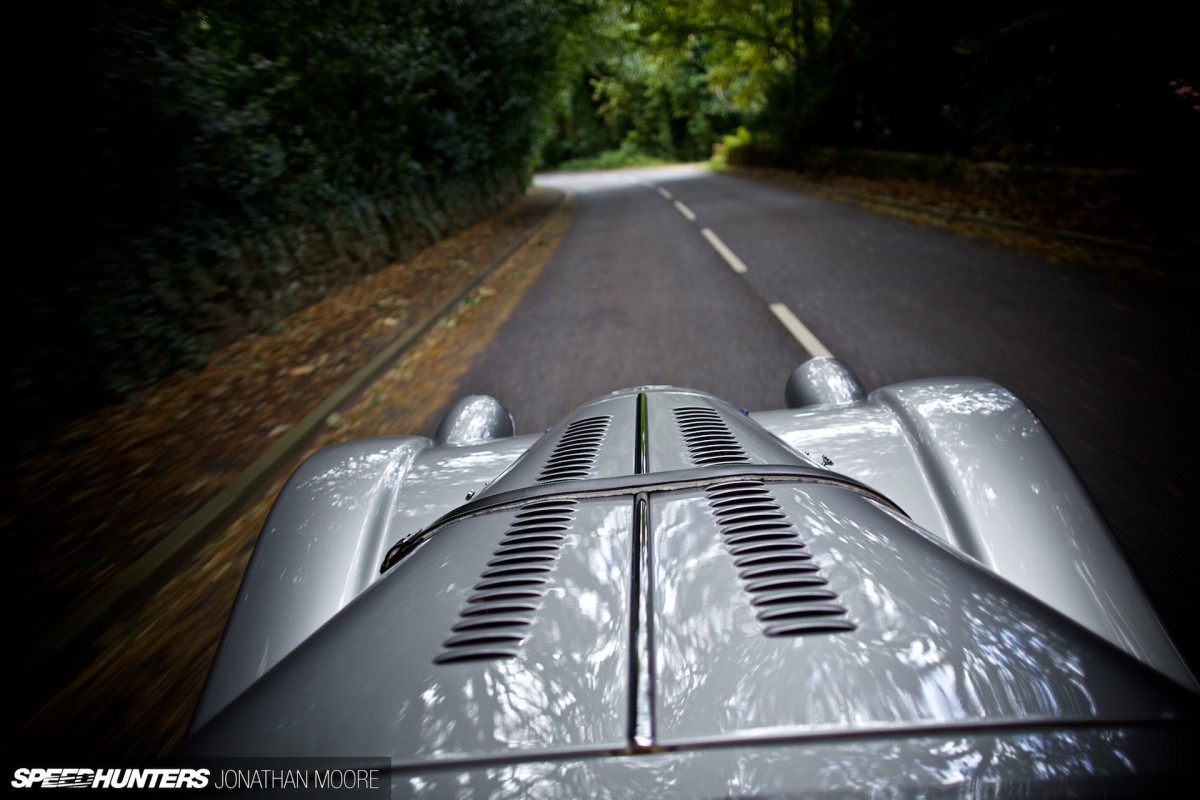 'That feeling' was a constant dialogue between driver and car. Okay, the car was shouting to my talking quietly, but still. The width you quickly get used to, ditto that long bonnet out front. You even stop feeling like you might fall out, which the low sides tend to accentuate at first. But it's what a car like this does to you as a person which is more interesting. There are plenty of cars out there (mainstream and personal builds) that are open top, that are powerful, that talk about driving experience, but this really was different.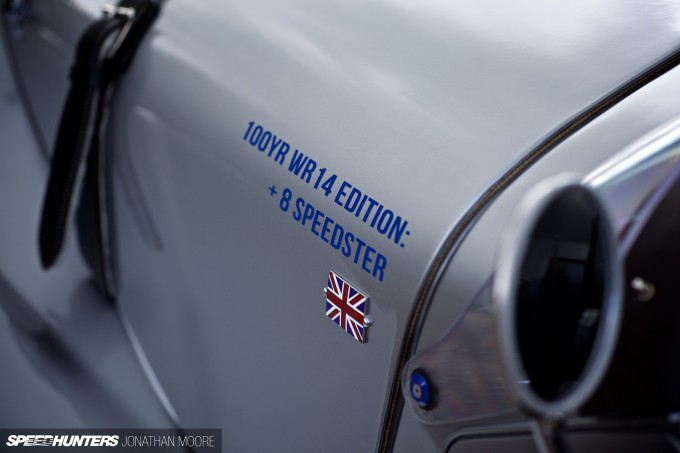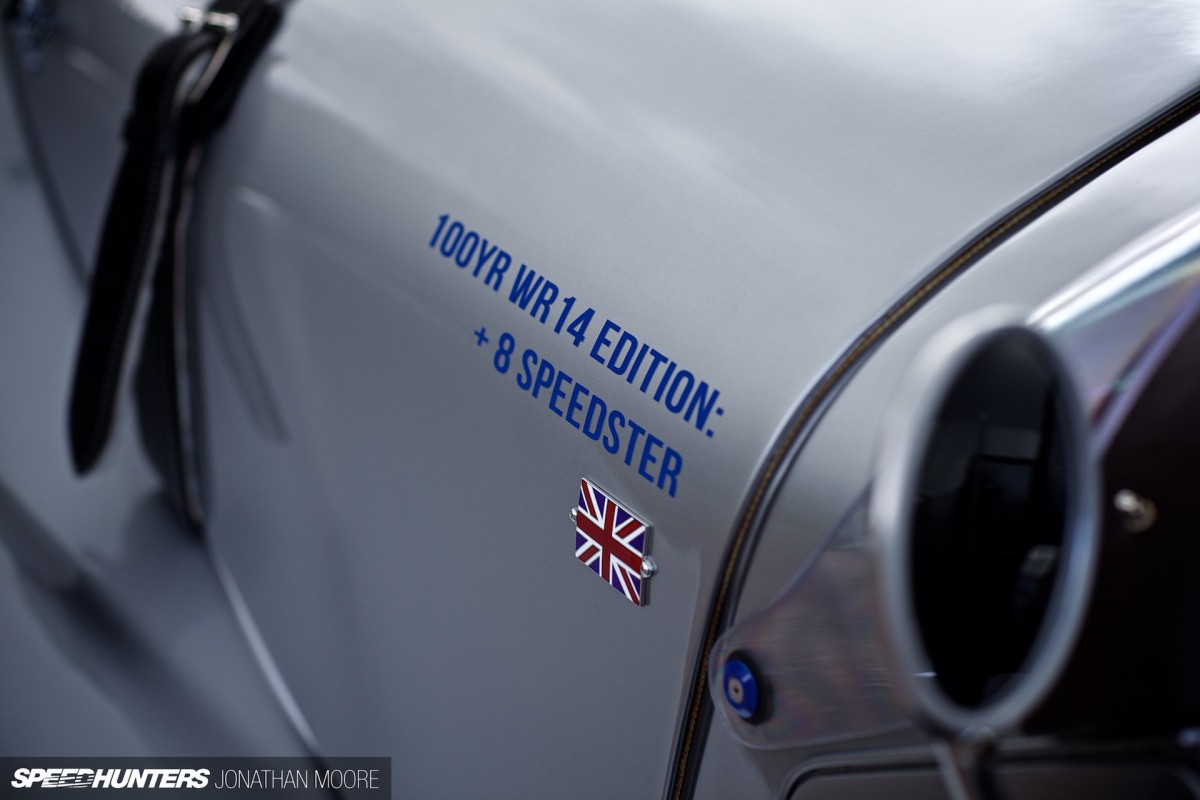 You start driving like you're on a difference plane to everyone else. It's not to harp on about Morgan's rich heritage, the wood frame beneath the body, or whether their cars are retro-future or throwbacks, or whatever, it's just that a proper stripped-down, low-line roadster like this makes you drive in a completely different way. It's just not about being in a better car, or worrying whether someone else has more power and will beat you off the lights (in this, they probably won't, but anyway).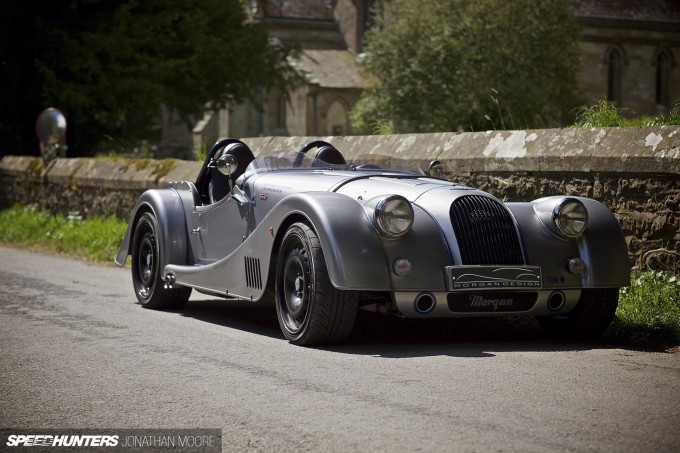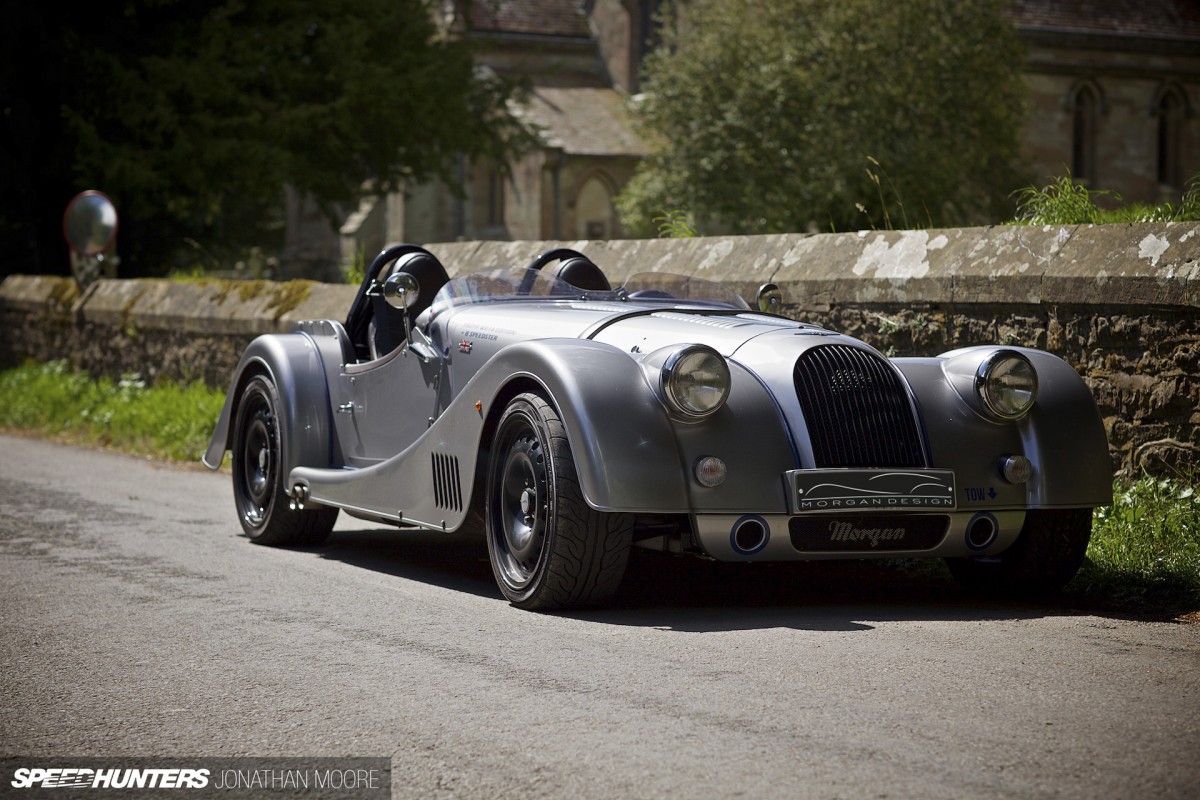 Being in a Morgan seems to change everyone's attitudes for the good – not just those in the cockpit. As this thunderstorm-on-wheels approaches, necks crane as the drivers of other cars and poor pedestrians are aurally assaulted. And everyone looks happy about it when they see it's a Morgan. I've never been in a car that gets this kind of reaction.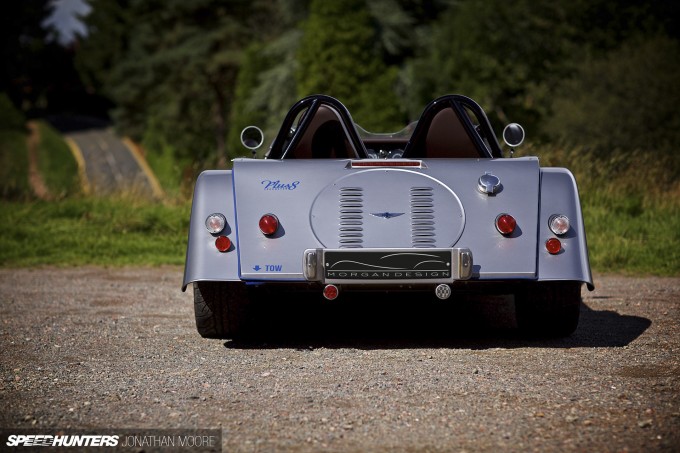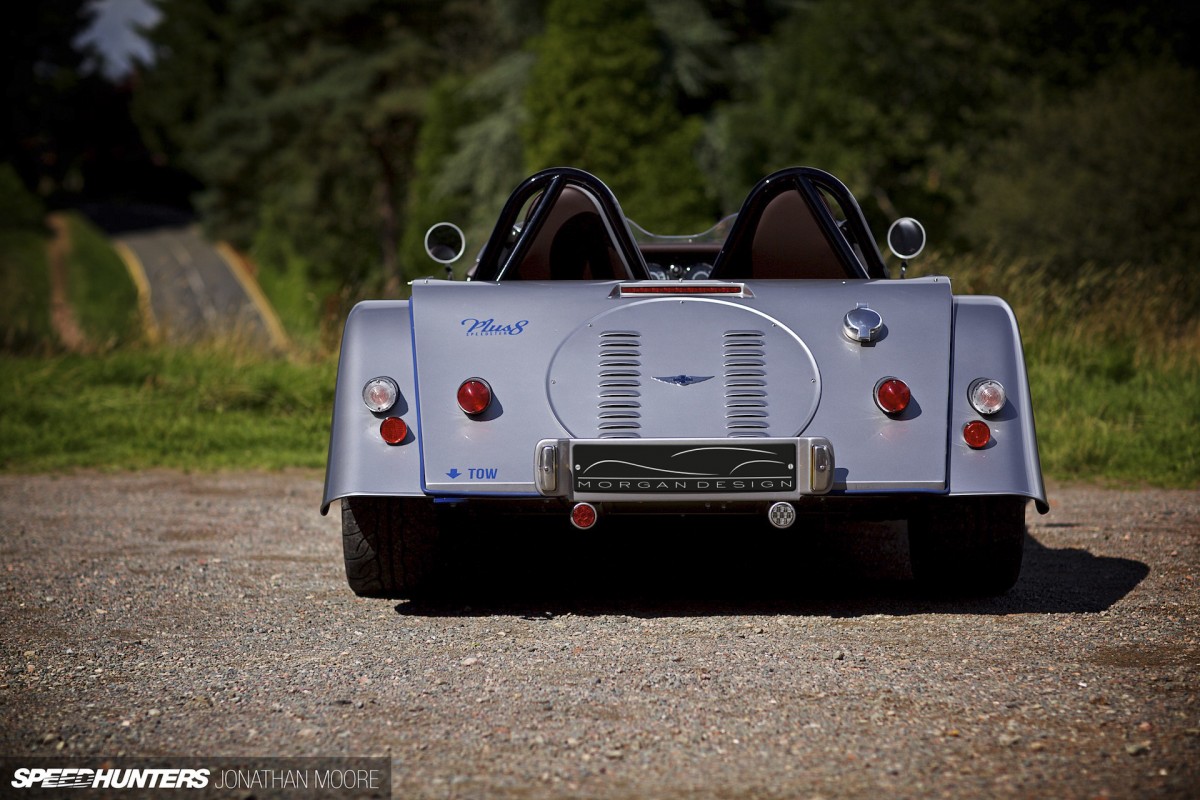 You start using hand signals (polite ones, I might add, rather than the road-rage jabbing more typical of urban driving) as though the car doesn't have indicators. You can't help but fall into a being a character yourself in a Morgan story. I happened to have some leather driving gloves with me and my Union Jack beanie, and I haven't felt so English since driving a Lotus down the strip in Vegas…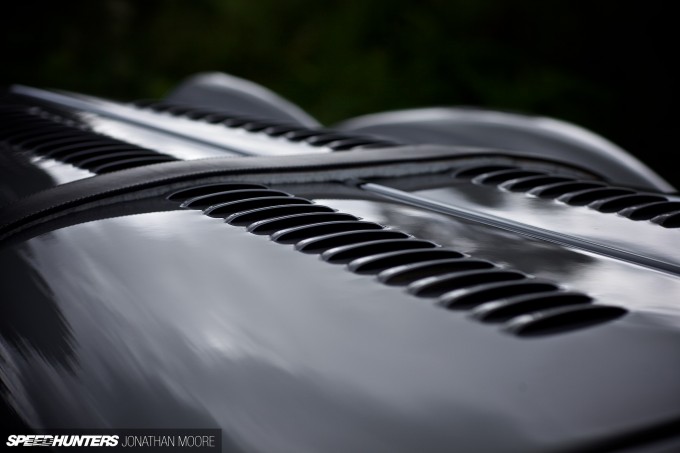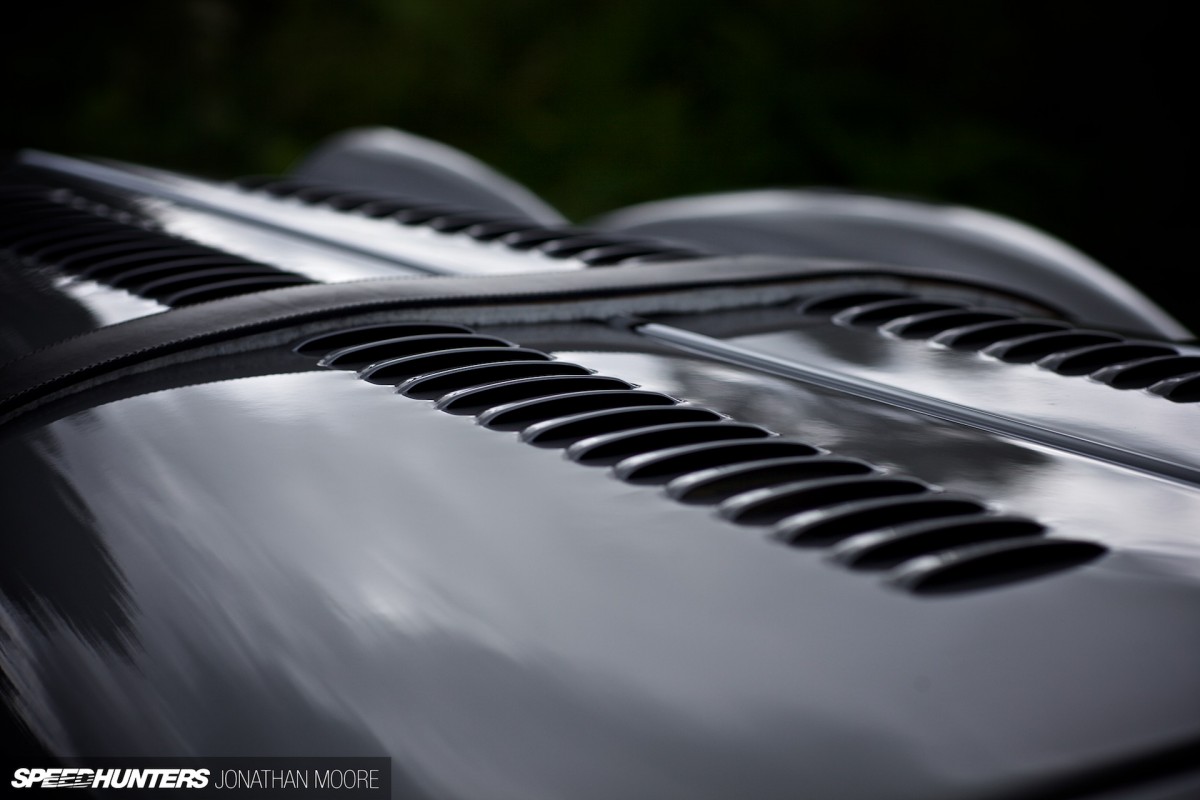 But driving a Morgan does involve playing your part in a great play that is about reconnecting with why you love cars. It doesn't seem to matter who you are or what you're wearing – flat cap or baseball cap, helmet or headscarf, but as long as your car's a Morgan nothing else matters. It's not that the car defines you, more that it's a car that helps you avoid definition.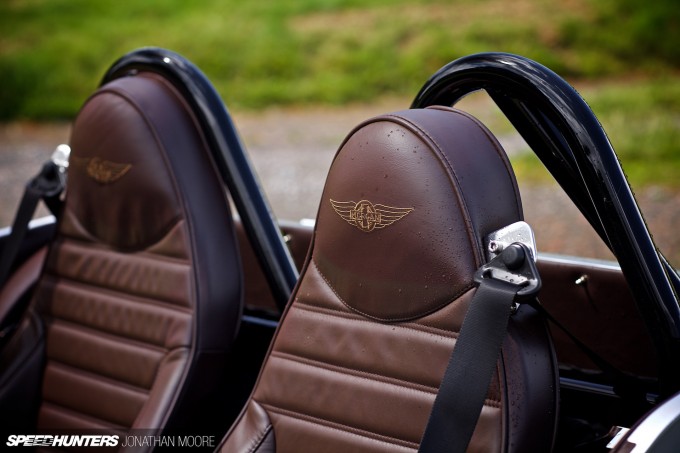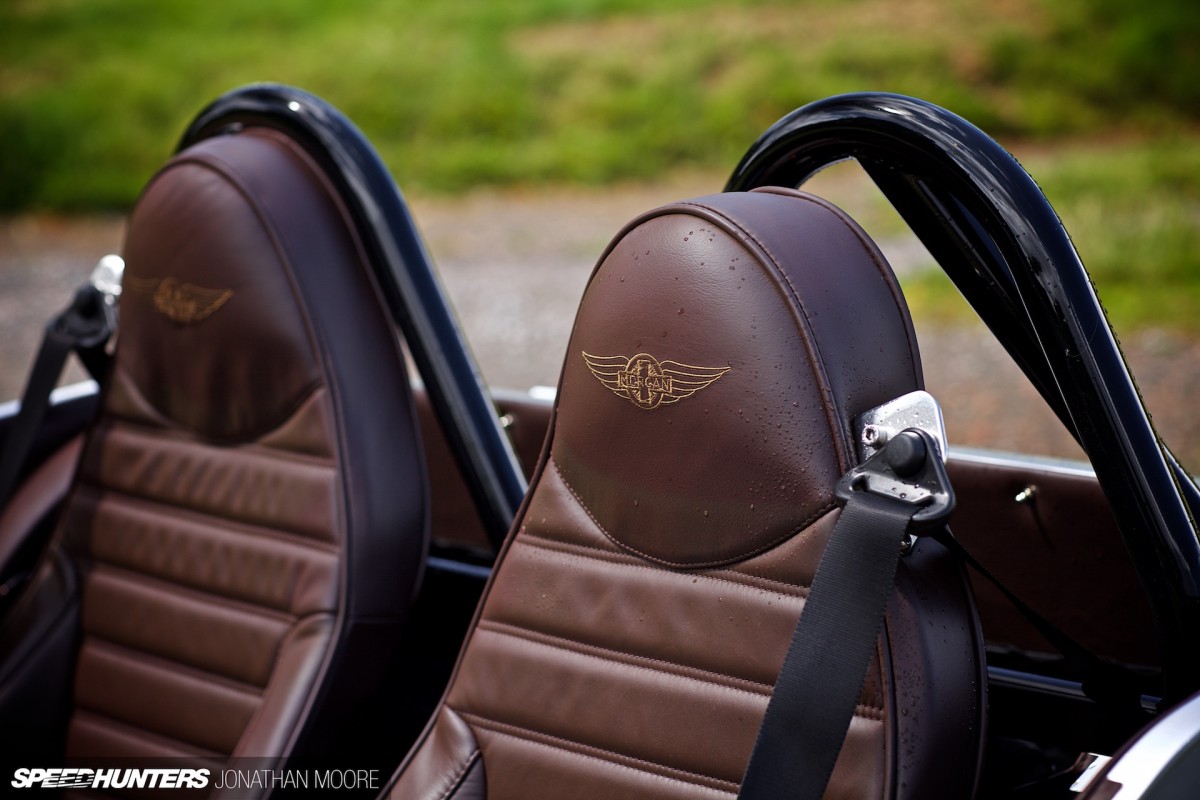 I continued my happy blast around the hills, under the excuse of finding shooting locations, communicating with joyous facial expressions and gesticulations at my poor friend who was weighed down under my camera bag, wedged into place on her lap – the only place for it. There is a tiny slit of luggage space behind the seats, but that's it for storage. There's nothing behind the rear deck, which has a louvred fascia where the optional spare wheel could sit on a regular Plus 8. Oh no! I've mentioned luggage space. I'll have to talk about fuel economy next…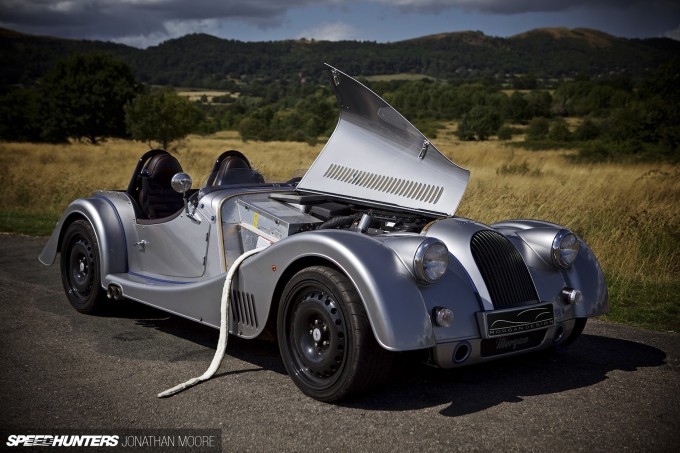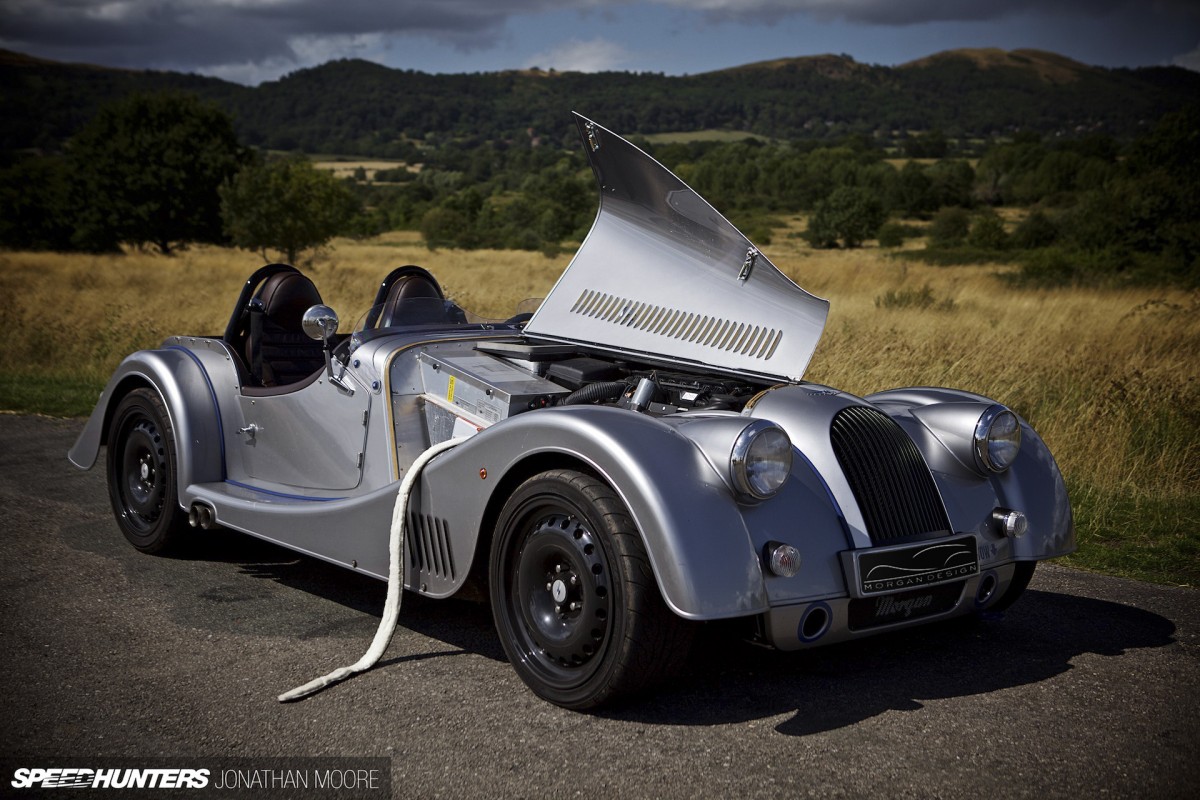 Or not. Instead, I'll turn to the high point of the day. Which was when it rained. In a roadster with no roof? Where's the fun? Well, after a couple of hours of glorious skies an almost cartoon stretch of black cloud gathered on the horizon, finally unleashing hell.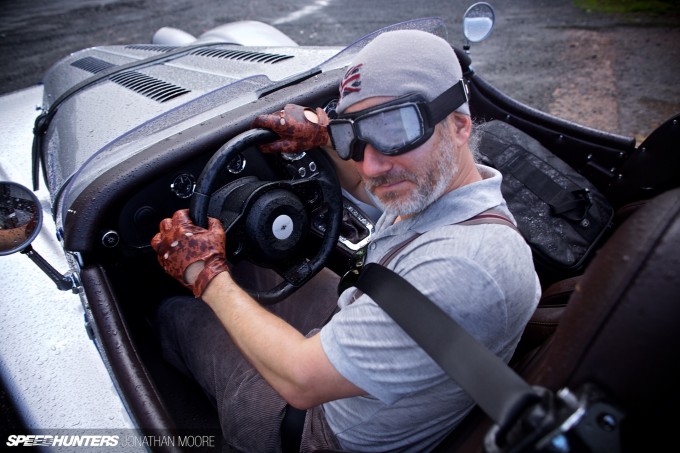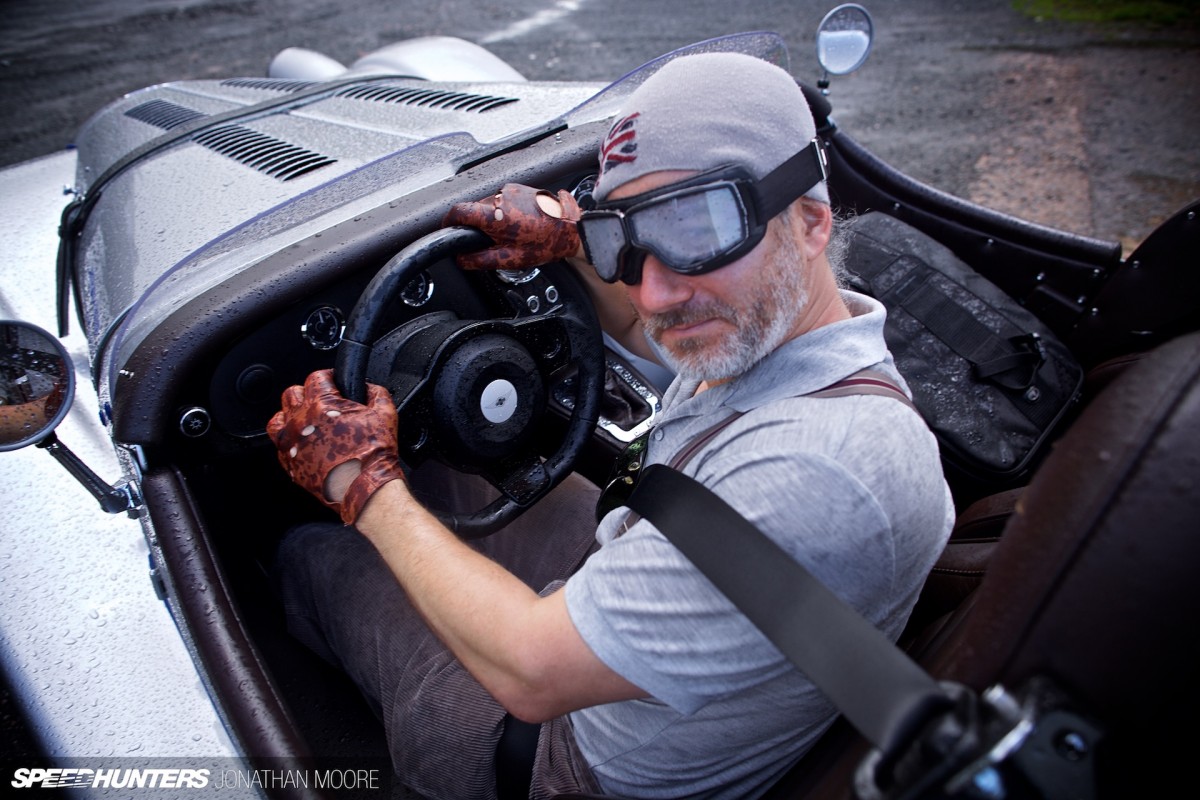 It rained comedically hard. Horizontal rain battered me as my friend changed up my sunglasses to the goggles, me desperately trying to drive like hell to the edge of the cloud where the rain ended and the blue sky beckoned. Utterly soaked, I finally made it to the blue. We stopped, and just collapsed in fits of giggles like children. It was a perfect moment.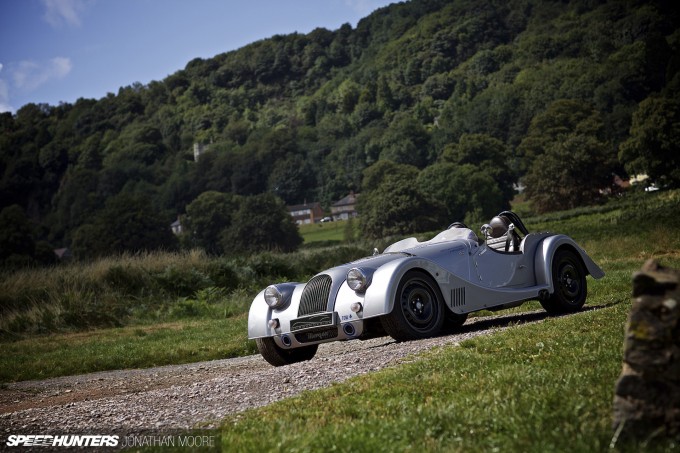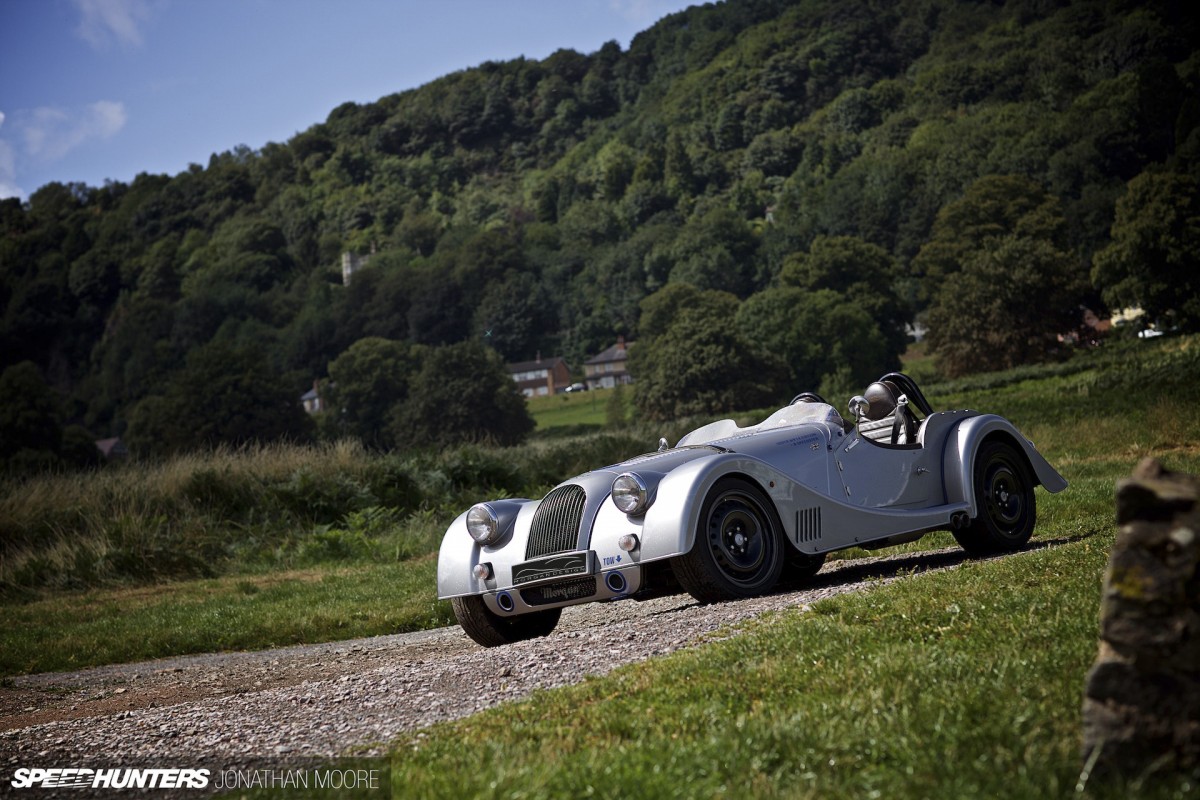 Why would you get a car like this and stick a roof on it anyway? What would be the point of that?! I put Morgan into the same bracket as people who build hot rods, or insane air-ride machines, or try and make a 1960s MG into a road-legal GT3. Innovators, mavericks, pioneers, those who know that daring to be different is anything but being wrong. So the Speedster isn't practical – it's completely against everything that most modern cars stand for from looks to power, and yet for me it delivers everything you'd want from a car. I just want to keep driving fun – and a Morgan can be added to that list of cars that do just that.
Jonathan Moore
Instagram: speedhunters_jonathan
jonathan@speedhunters.com