A Familiar Face
It was just a little over five years ago, which in our fast-paced, constantly connected world may as well be an eternity. A chap by the name of Linhbergh headed to Northern California to photograph a ratty, slammed 240Z and the internet hasn't been the same since. The Datsun was owned by a young man named Yuta Akaishi and his Z quickly became a thing of legend, igniting flame wars and earning flocks of both admirers and haters along the way. But none of that was Yuta's intention.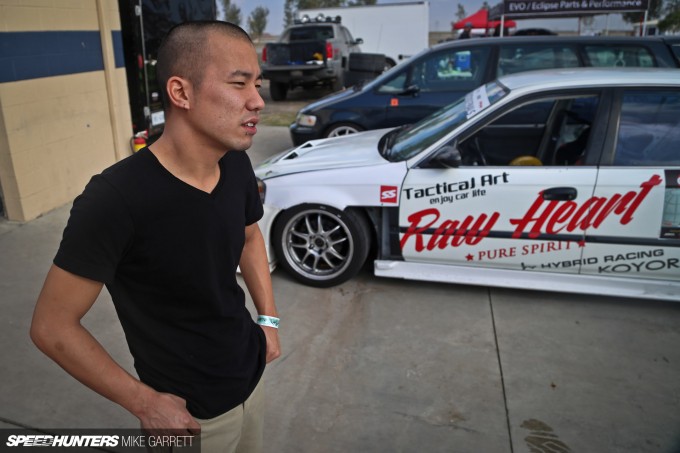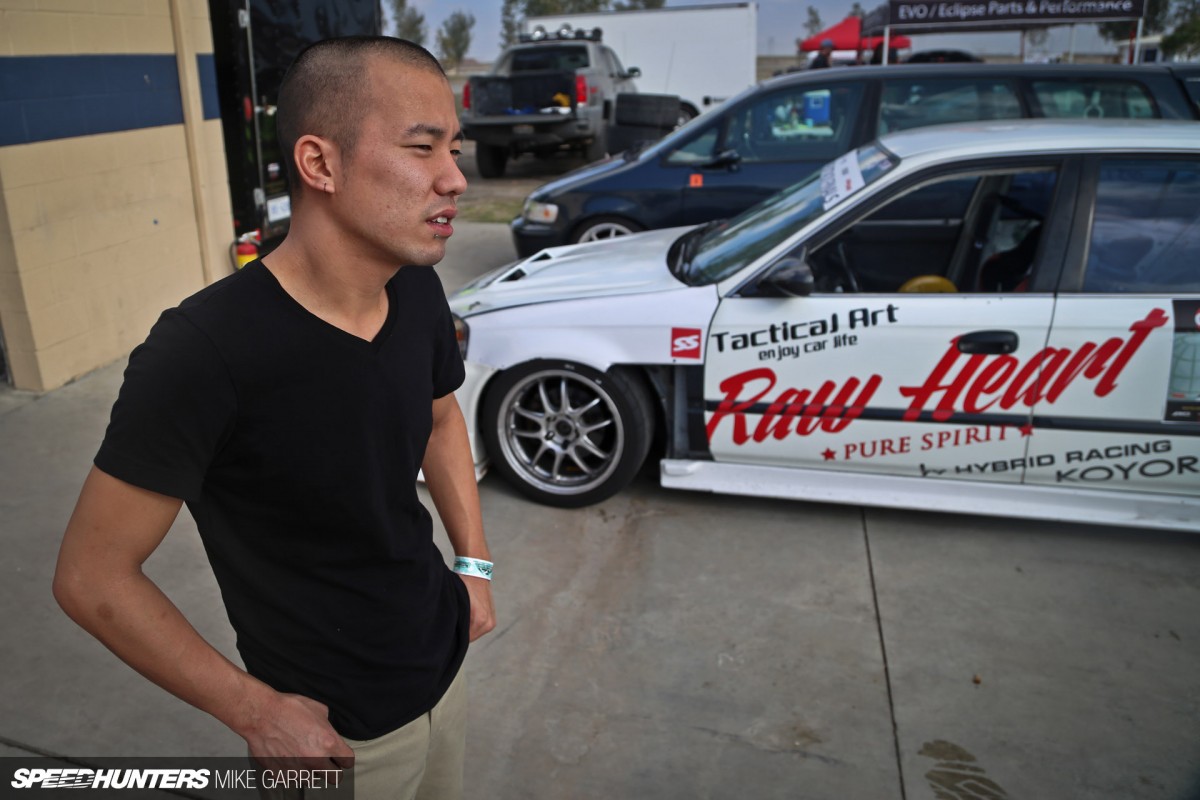 For him, the Z was but one light-hearted project in a long line of cars he's owned going back to his teenage years. It's a list that includes S13s, Corollas, Cressidas and other enthusiast vehicles from Japan. He was actually driving 'that 240Z' everyday until 2010 when his mom sent him a couple of grand to buy a more 'reasonable' daily driver. He settled on a 1996 Civic LX sedan, knowing that the four-door Honda would be a far more practical choice for commuting than the old Z.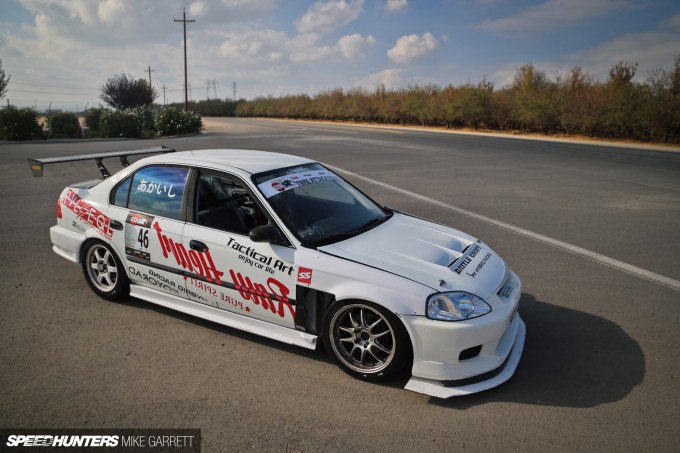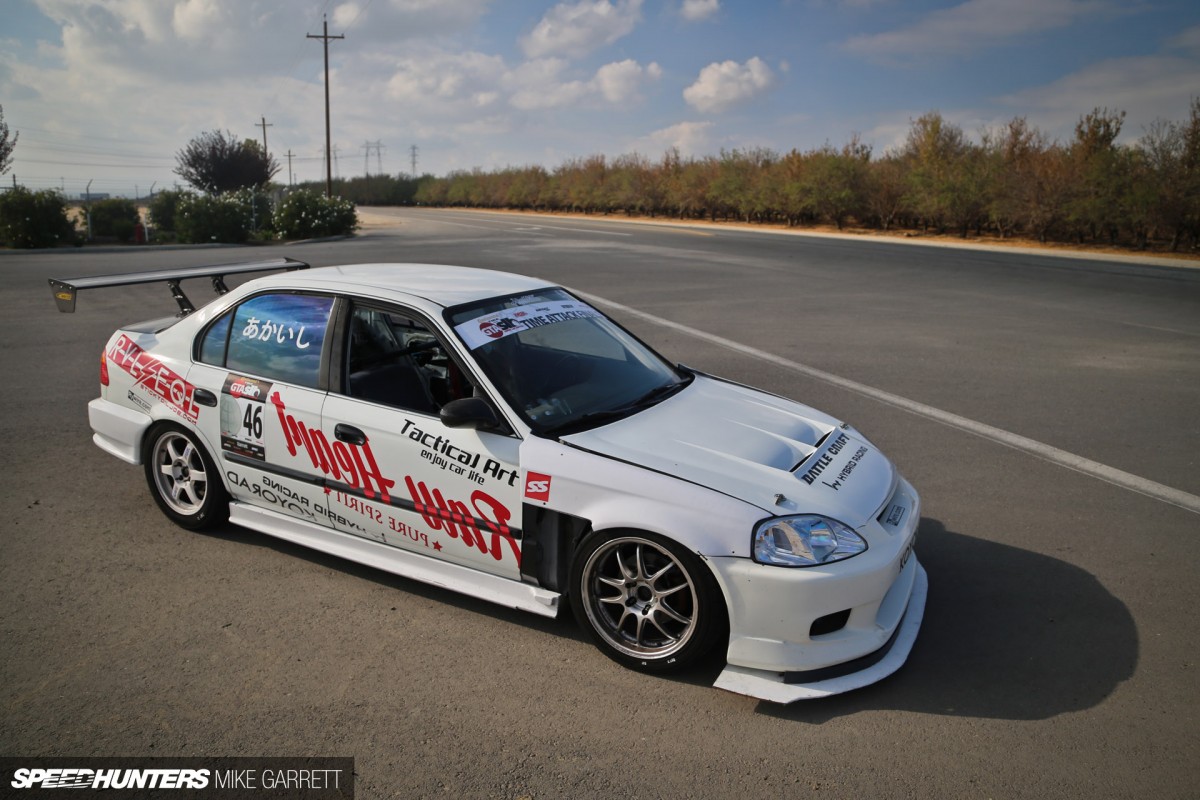 But this would not be Yuta's first experience with a Honda. As a teenager, a close friend of his owned a mint Integra GSR, and Yuta would work on the car for his buddy in exchange for driving privileges in the local mountains. It was on those twisting roads that Yuta began to truly appreciate H-badged machines. He would take his driving test in another friend's stripped-out Integra, and at age 18 he helped build a swapped Civic hatchback which he later took ownership of after it was stolen and recovered.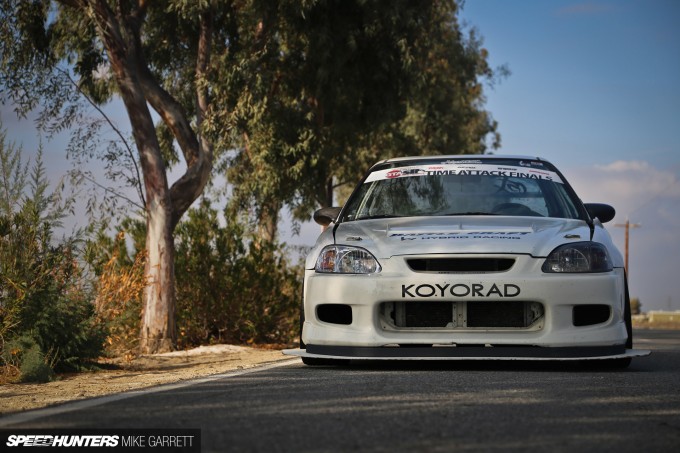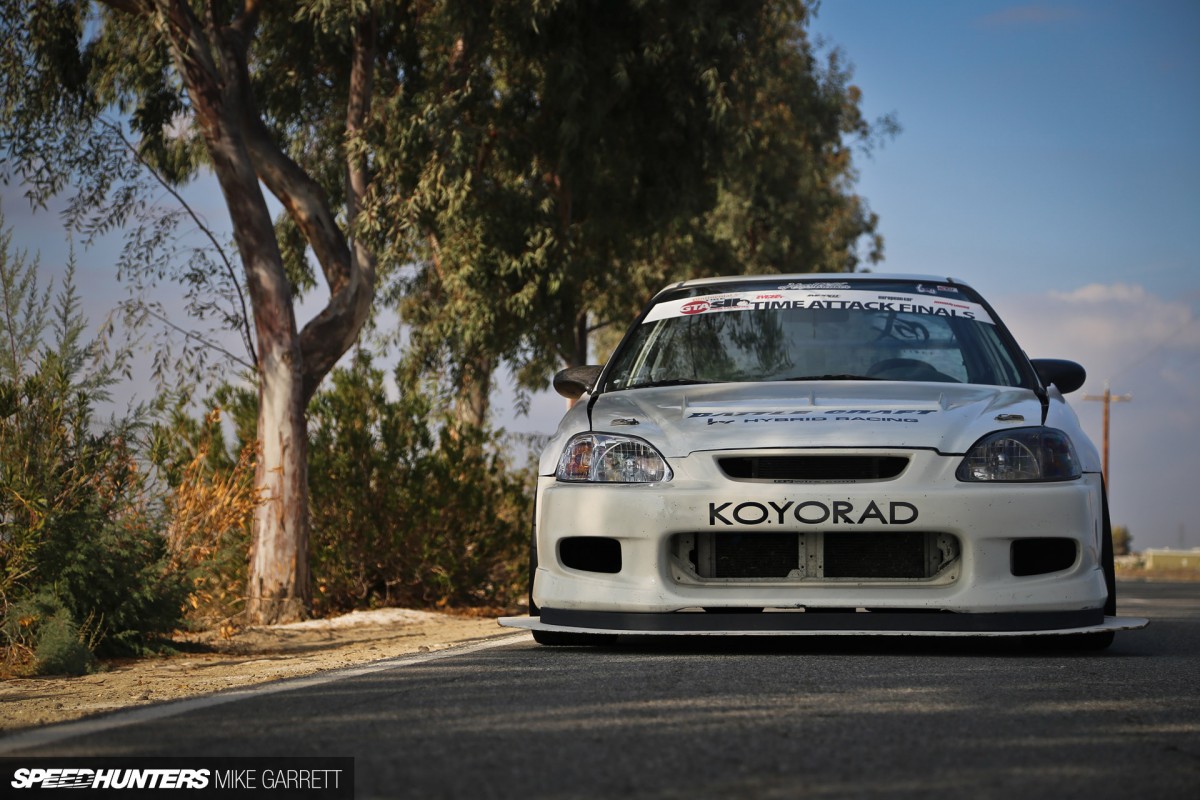 While the newly acquired Civic would remain a daily driver first and foremost, the modifying quickly began. Yuta installed new suspension, fitted a set of secondhand wheels from Japan and eventually swapped out the old single cam motor for one of Honda's proven B-series DOHC VTEC powerplants. And the more he did to the car, the more he liked it. When he began tracking the car he fell in love with it.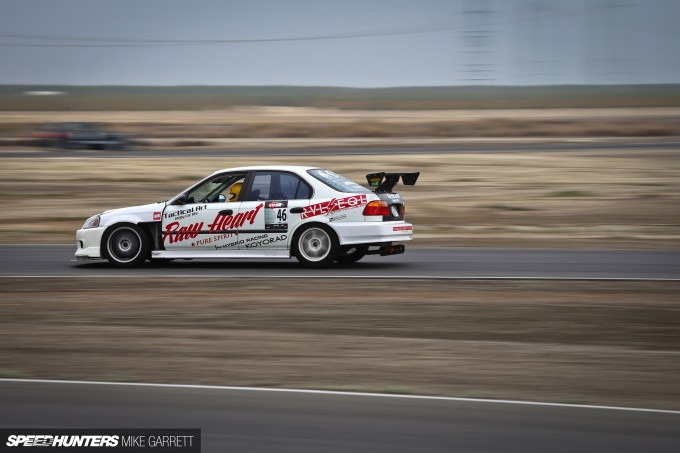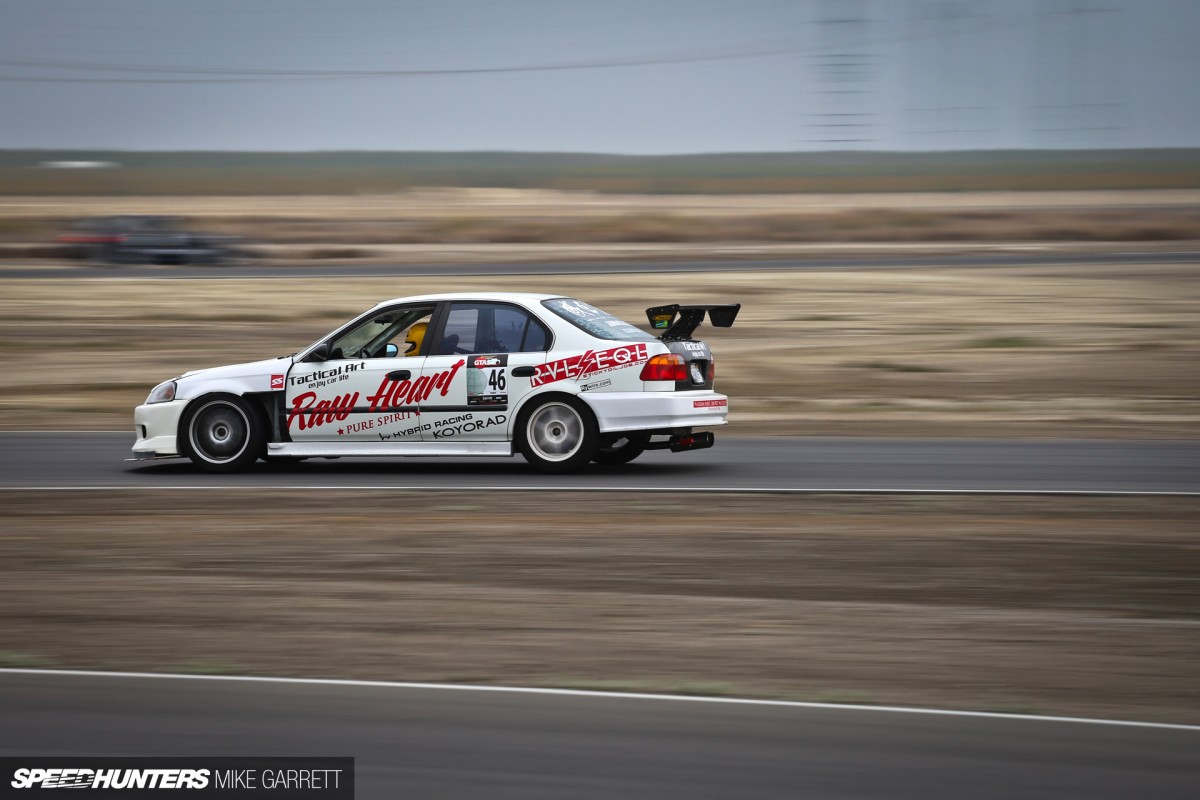 For Yuta, who had grown up preferring rear-wheel drive cars and drifting, there was something fresh about being out on the track. He was never interested in the judged competition side of drifting, but time attack was different. There was no bias, no debate and no BS – just numbers.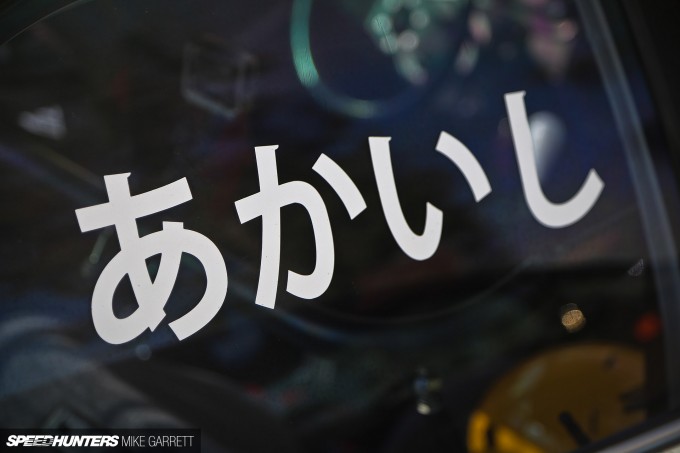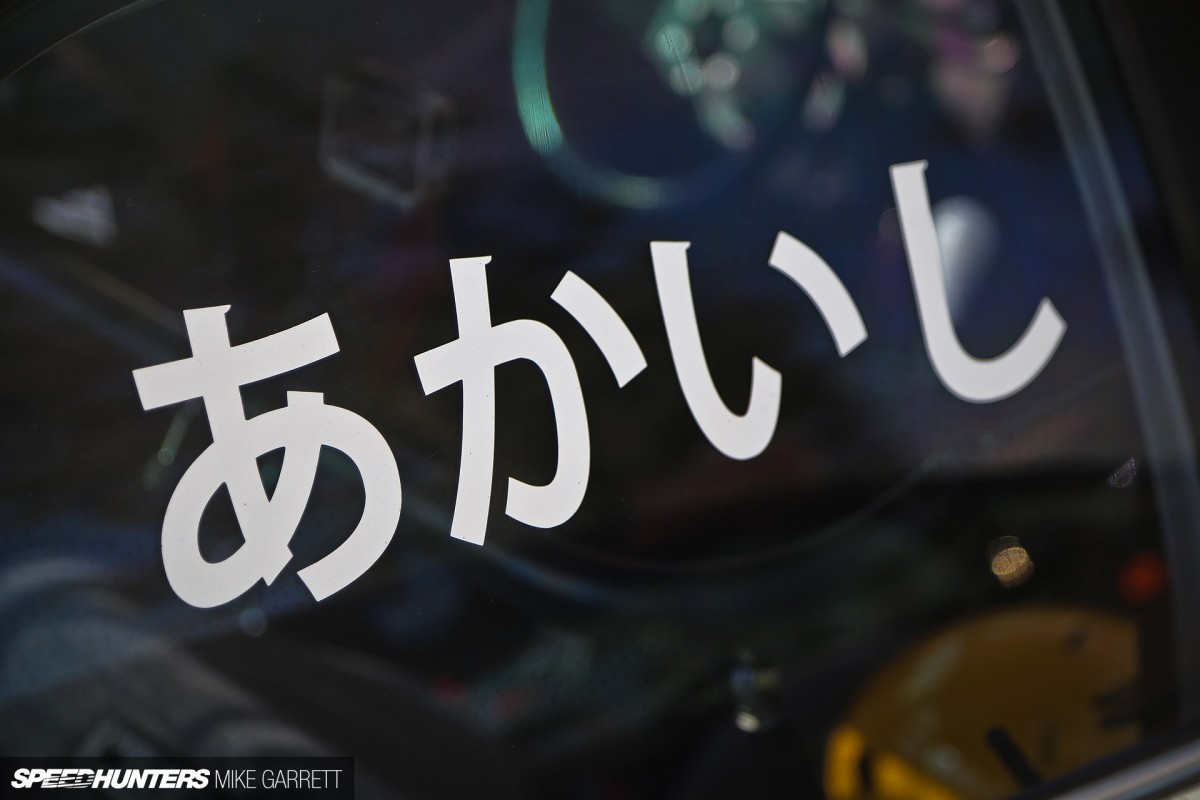 Yuta continued to daily drive the Civic until January of last year when the car was hit and totaled. While there were no injuries, it was very hard to see the car that he liked so much get written off. Yuta pulled all of his parts off the car, said goodbye to the battered Honda and began searching for a replacement.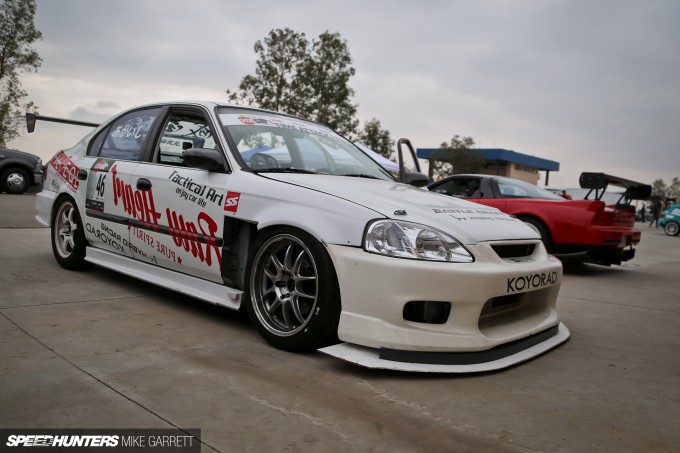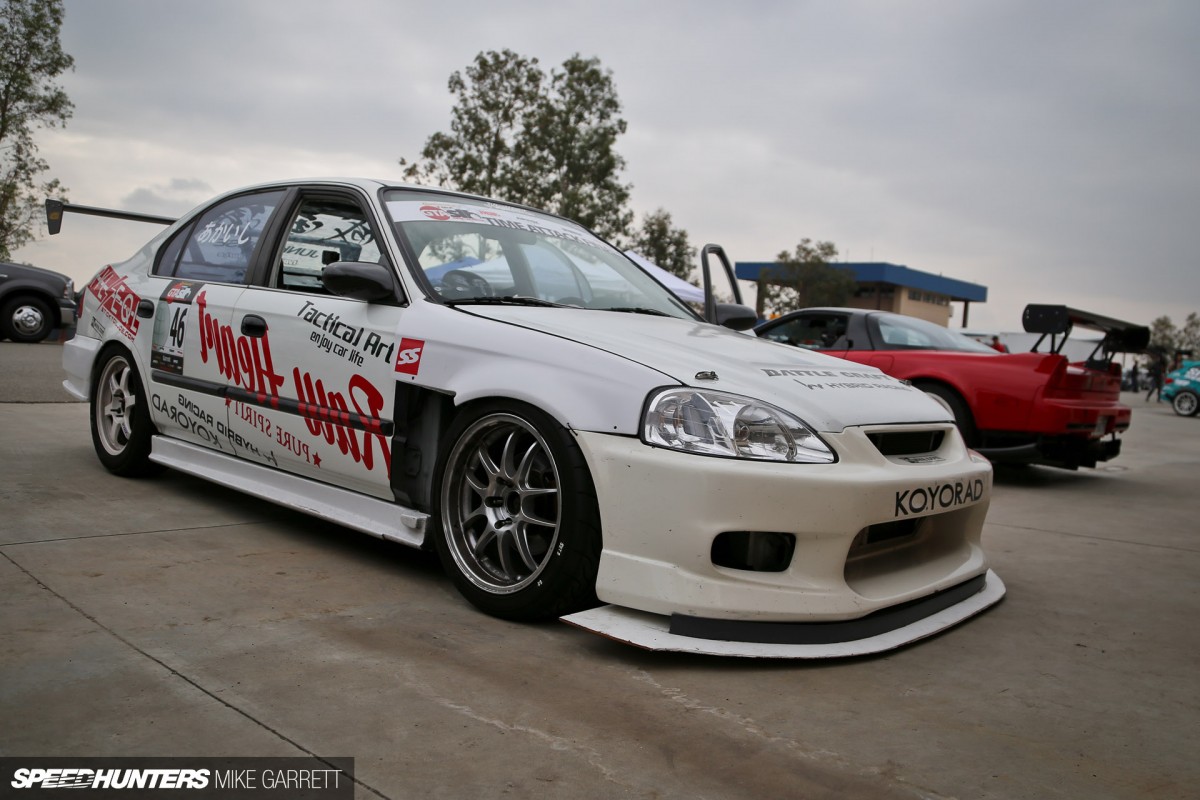 While the parts he'd gathered could have been swapped over to any number of Hondas from the 1990s, Yuta was intent on replacing the wrecked Civic with another white sedan. These days finding an unabused Civic in California is not easy, and it wasn't until September of 2013 that he finally found the car he was looking for – a white 1999 Civic LX sedan.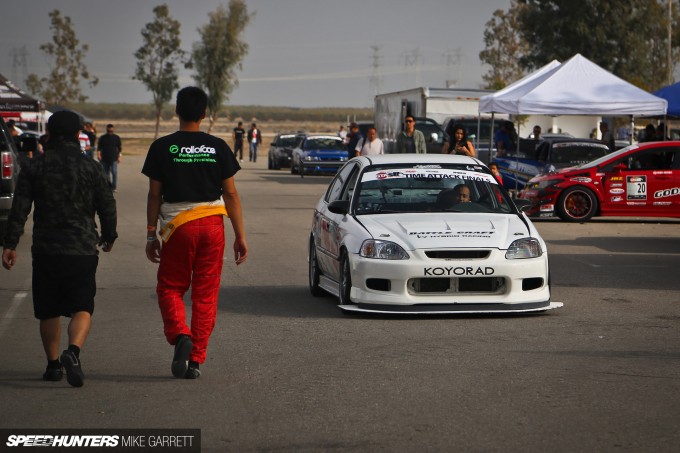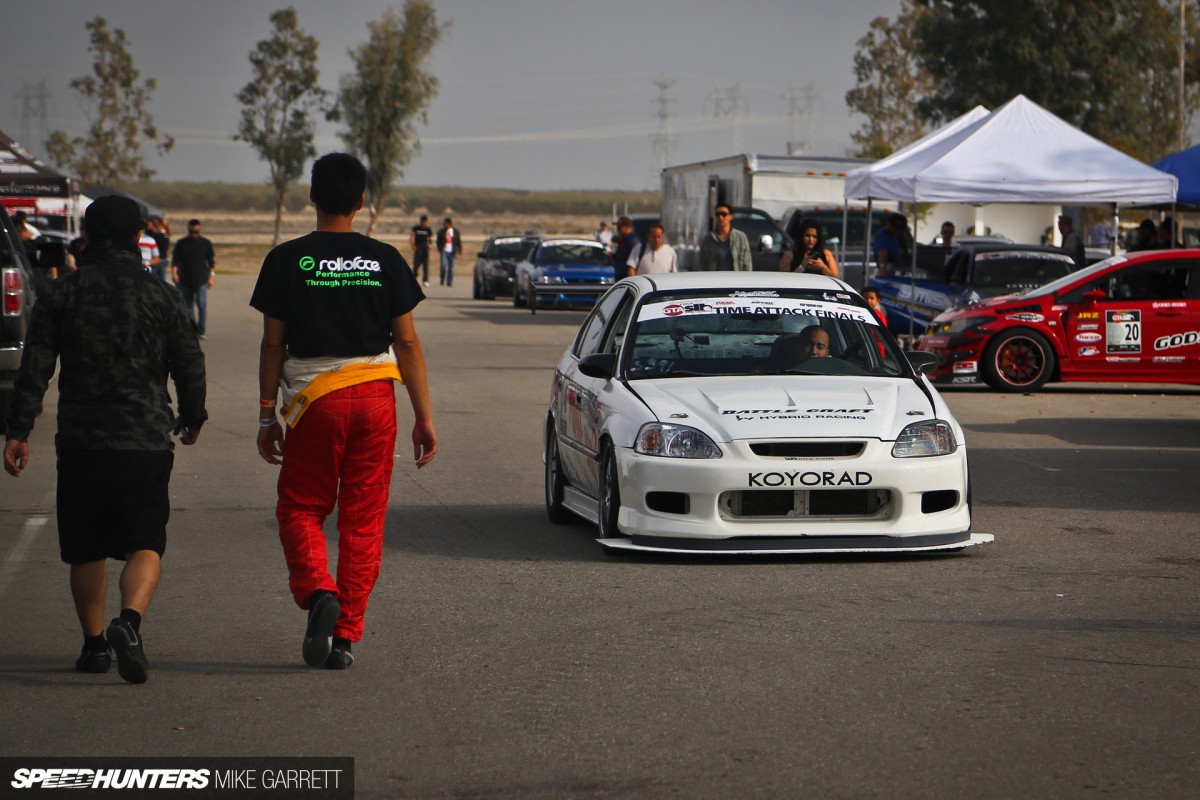 As soon as he had the EK-series Civic in his possession, the car was torn down so that Yuta could begin installing all of the parts he'd pulled off the wreck. Along with that, he'd also been gathering additional parts while he waited for the right car. On went new aero parts, new wheels, new coilovers and more, as version two of Yuta's Civic began to take shape.
Privateer Spirit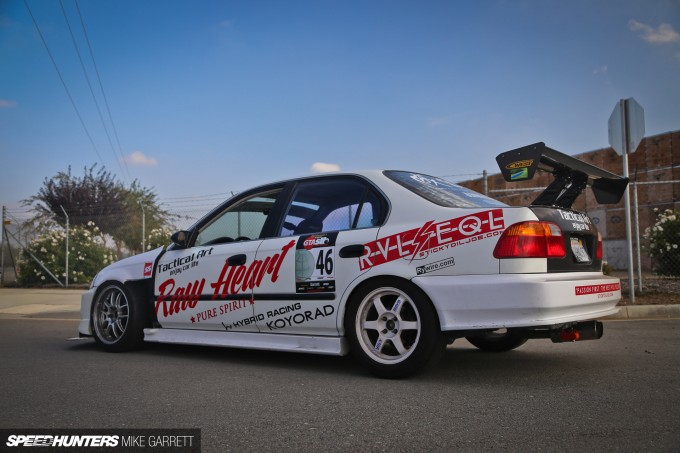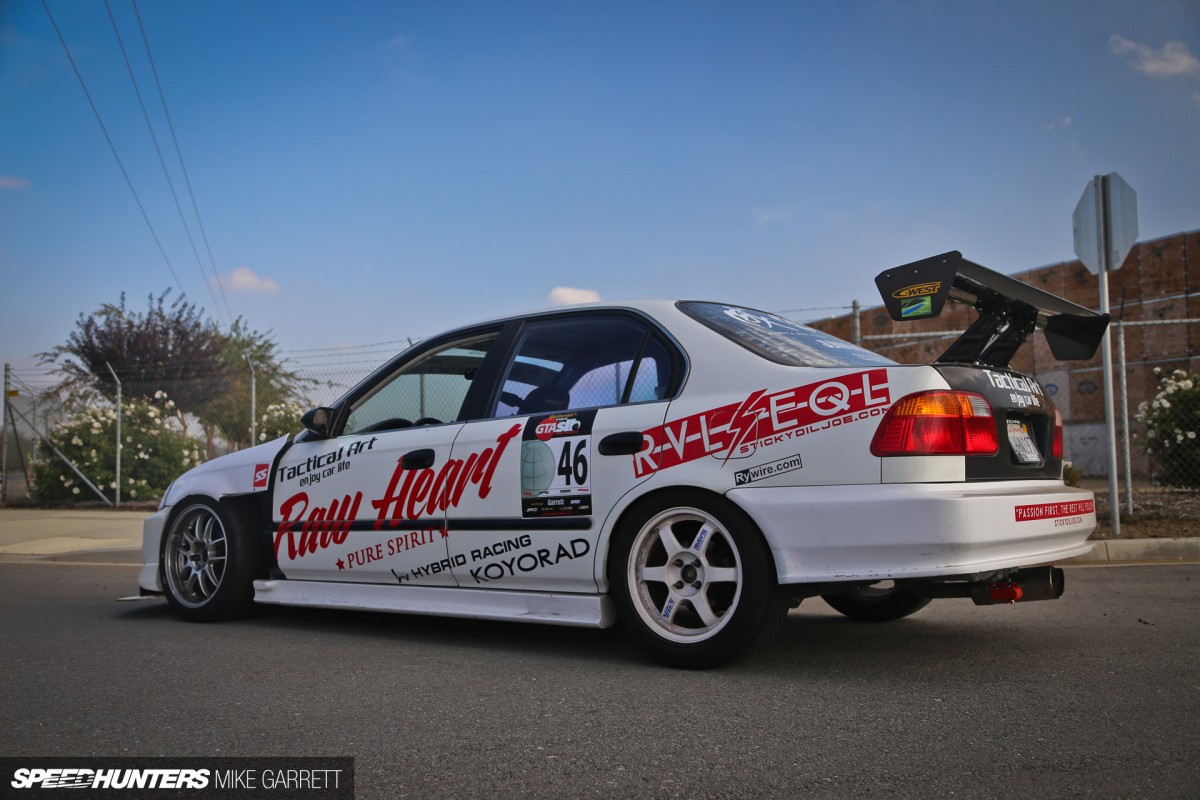 The plan was to have the car ready for the annual meet hosted by Joey Lee from The Chronicles, and Yuta worked tirelessly to have the new Civic up and running by then. On the day of the event, he'd just barely gotten the car running and drove it out to the meet with no tune or wheel alignment. Whatever the case, Yuta was ecstatic to finally be behind the wheel of a Civic sedan again. Days later he took the car to Streets of Willow for a shakedown run, and then he made the trip from LA back to his hometown in the Bay Area where he ran the car on the same mountain roads he did so many years ago. Things had come full circle.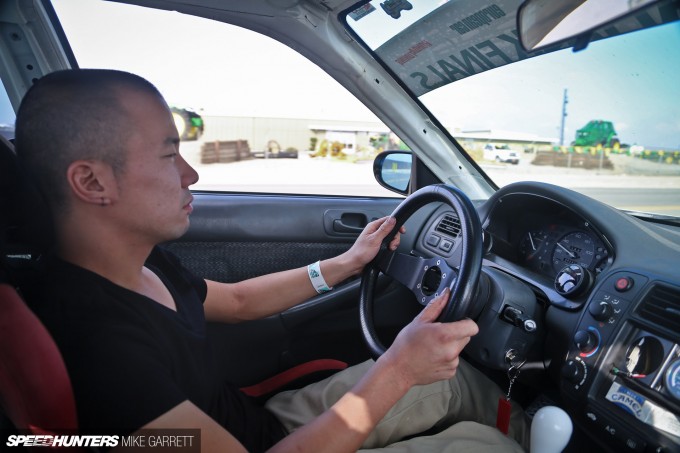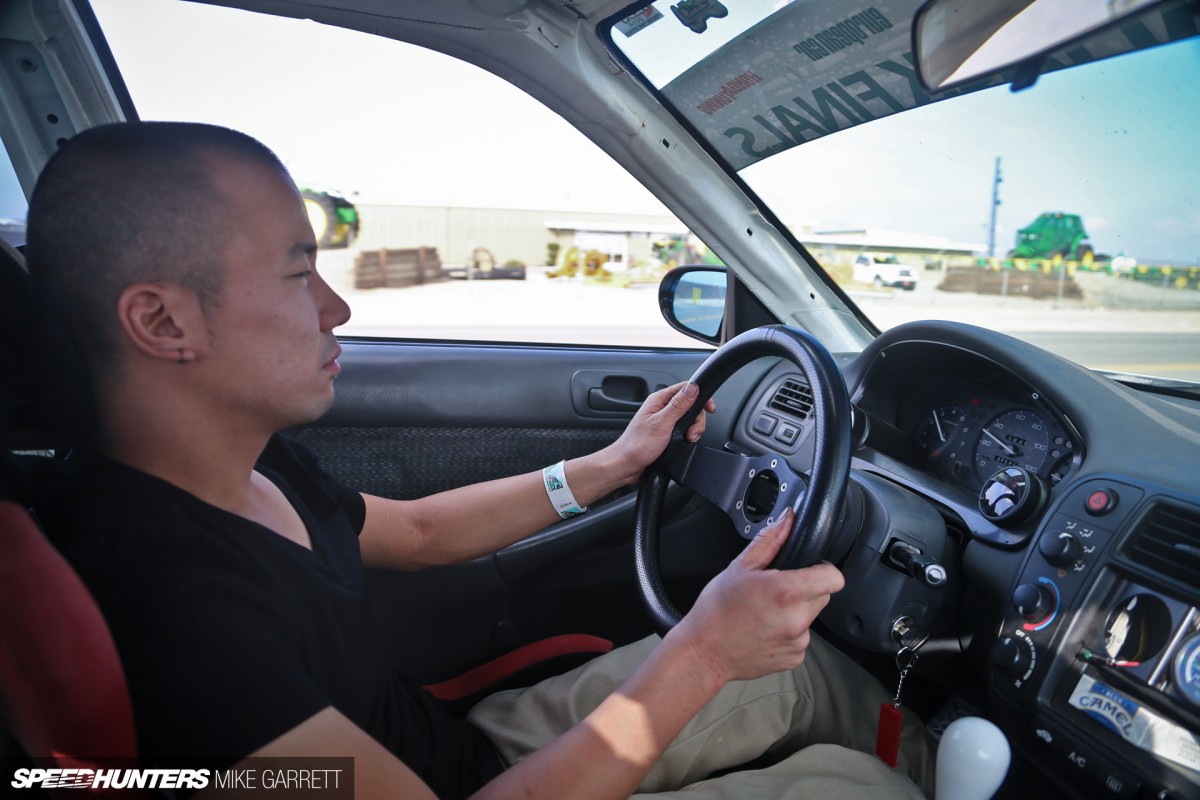 This time around though, Yuta decided he wouldn't be using this Civic has a daily driver. He's since picked up a beater EG Civic as well as a Corolla wagon that he uses for the daily commute. The sedan has been dedicated to track use, although it's still road legal and driven to events.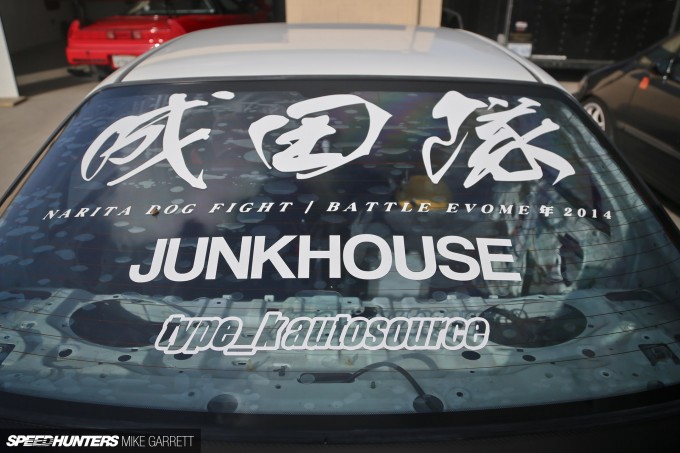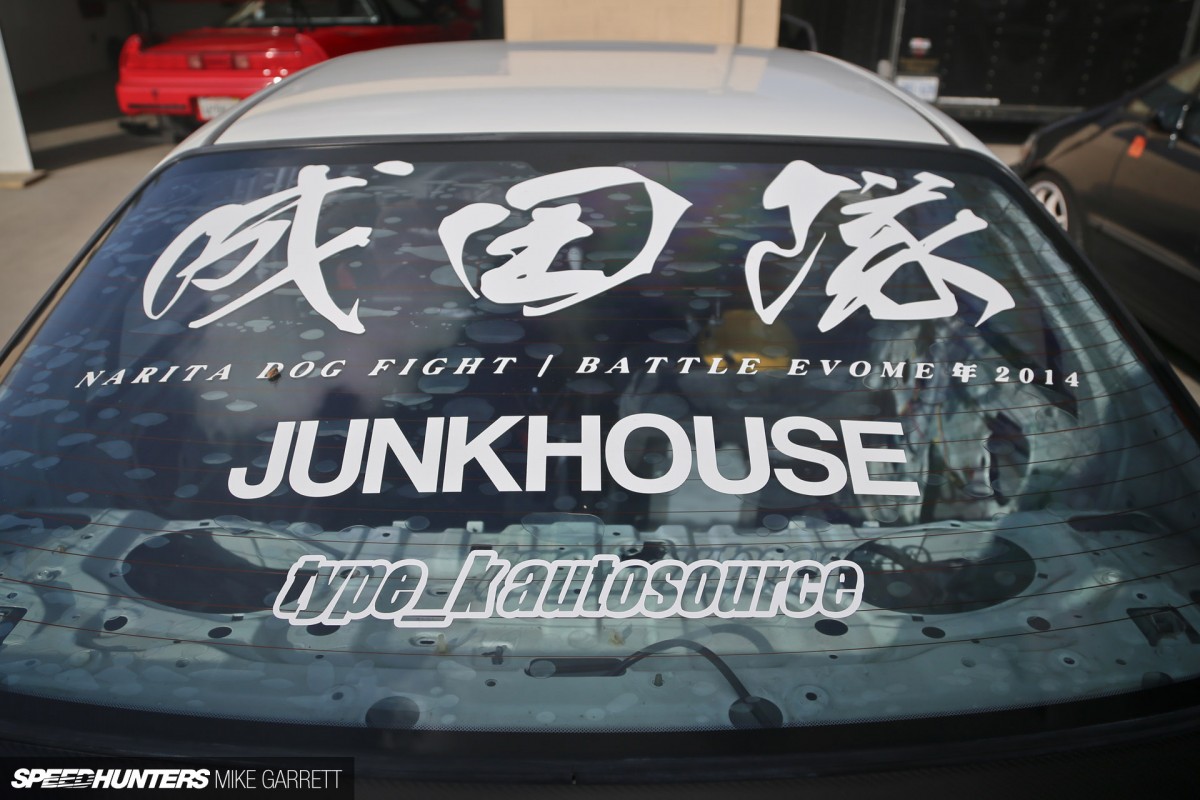 In the year since then, Yuta has continued to refine the setup, and he's also become more and more interested in competitive time attack. When I ran into him a few weeks ago at the Buttonwillow Super Lap event, he was actually in the process of shaking the car down for a new package that's coming next year.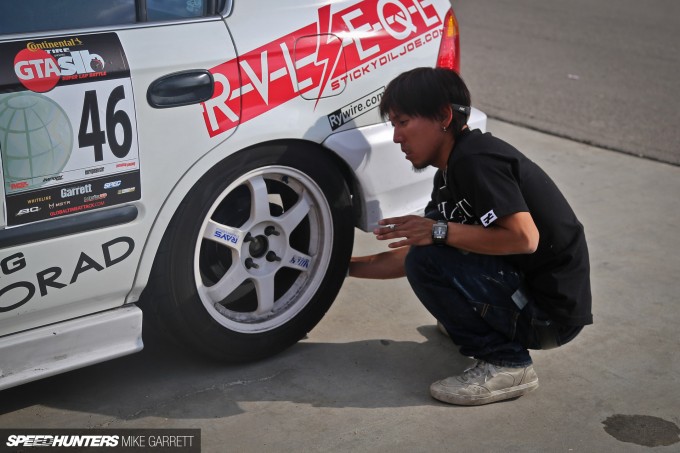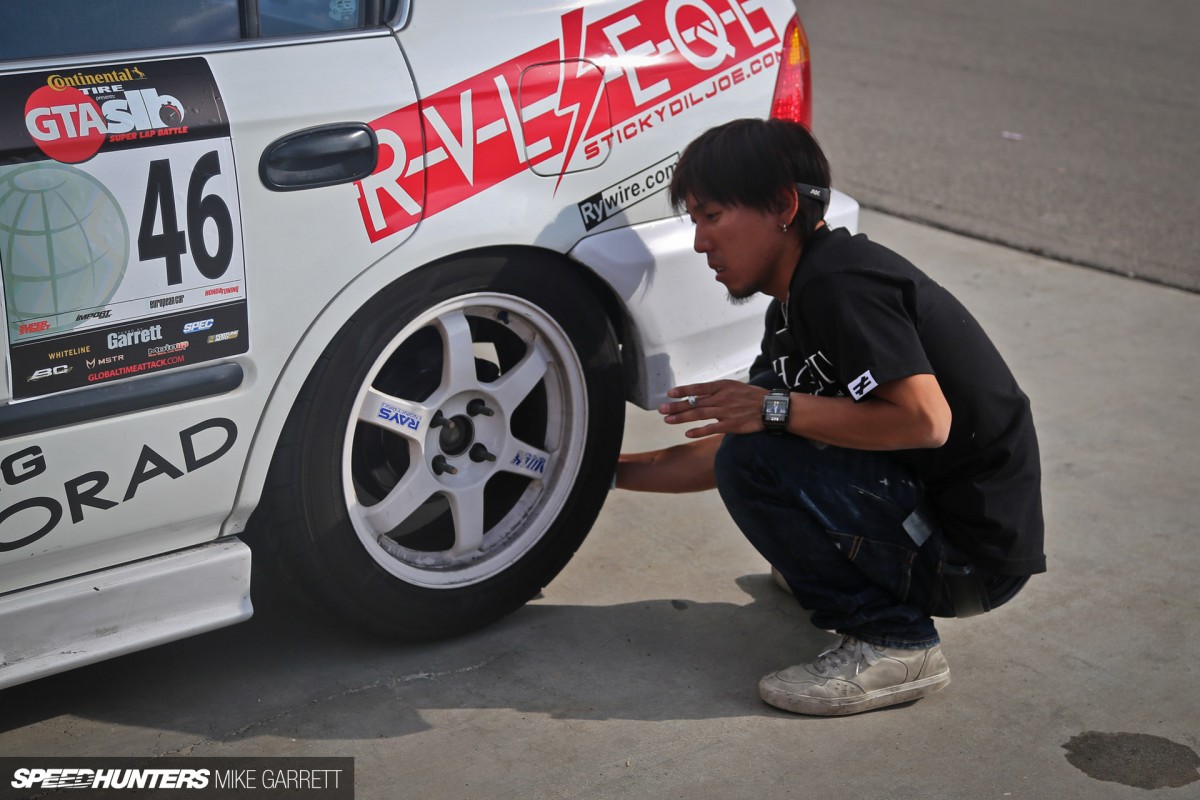 Also joining him was Yasutaka from Tactical Art in Osaka, who was assisting Yuta with the the suspension settings. Tactical Art is planning to get more involved in the American scene, and given Yasu's experience building and racing Hondas in Japan, it's hard to think of a more valuable partner to have on board. The relationship between the two was made by possible by Joey from The Chronicles, who is also supporting Yuta in his time attack ventures.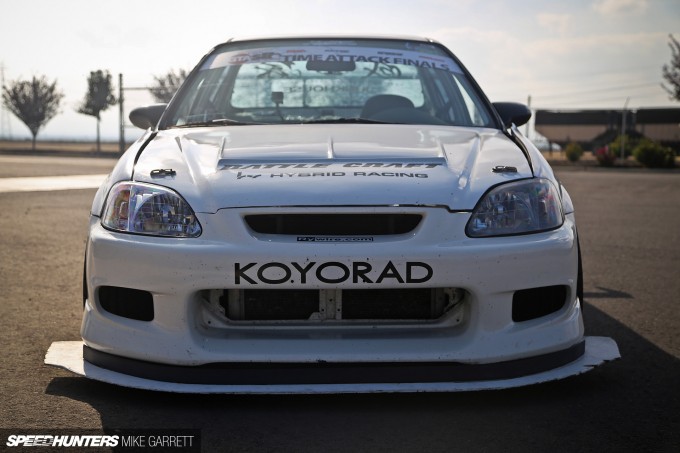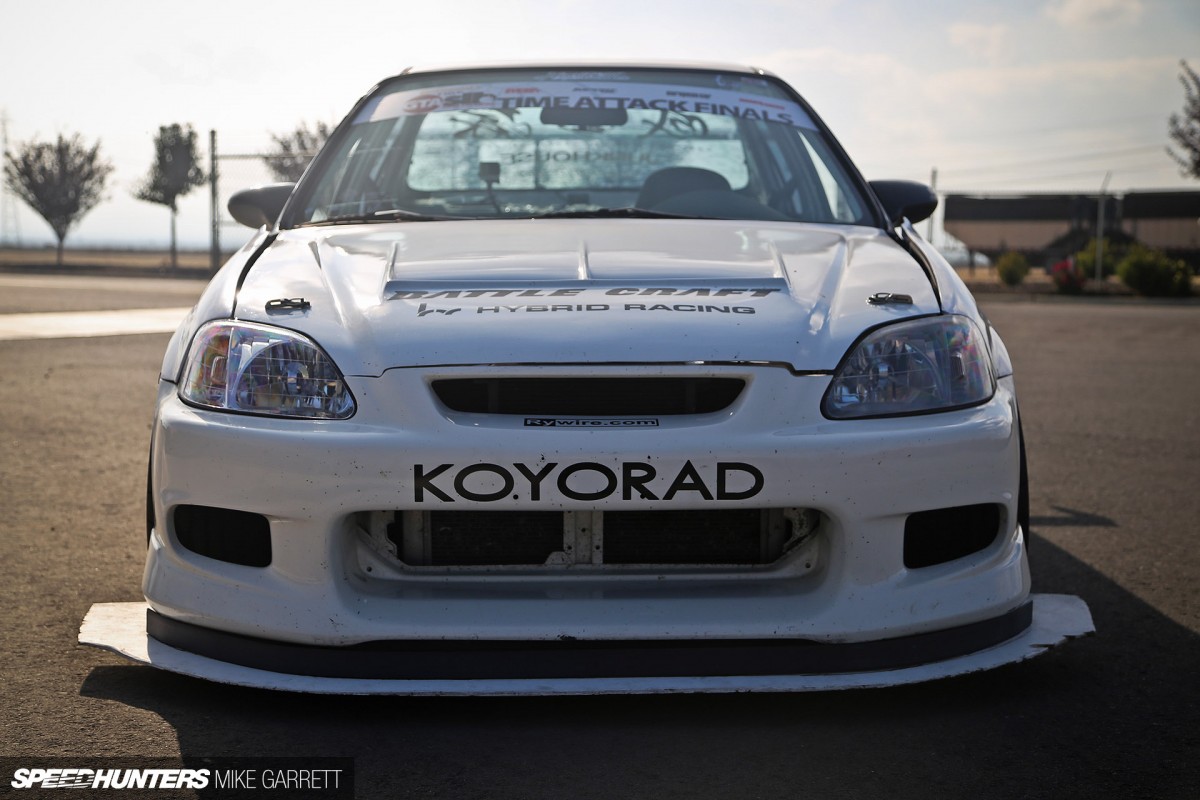 So what exactly is it that makes Yuta's Civic tick? Like most successful time attack cars operating under any budget, he's given equal attention to the powerplant, chassis and aero setup with the result being a machine that can be pushed to its full potential on the track.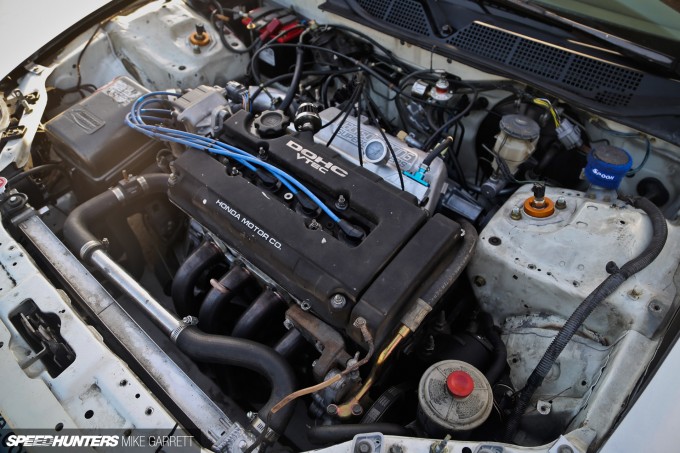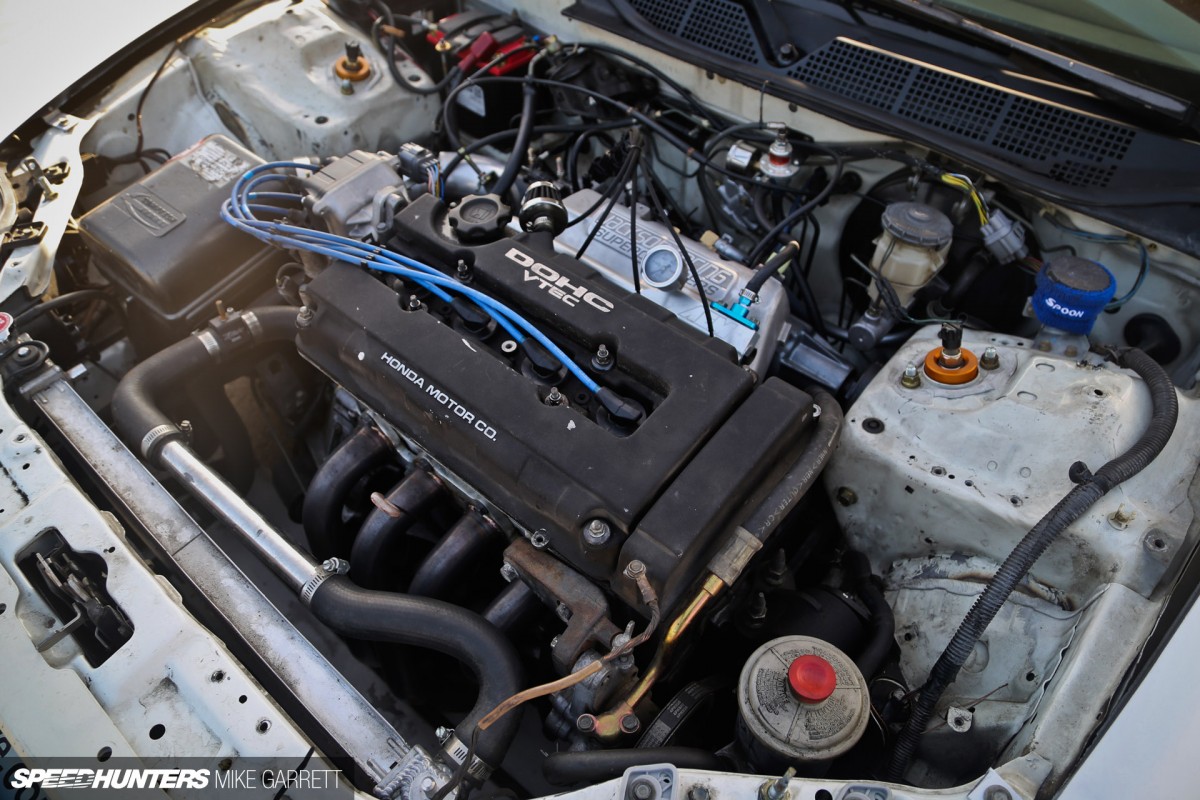 There is no trickery involved when it comes to the car's specs – instead, Yuta has applied a proven selection of parts that aim to keep the car competitive while adhering to his modest budget. After all, being affordable is one of the things that drew him to Hondas in the first place. Reliability has also been stressed, as we all know there's nothing worse than showing up to a track day or time attack meet and having to retire with mechanical issues.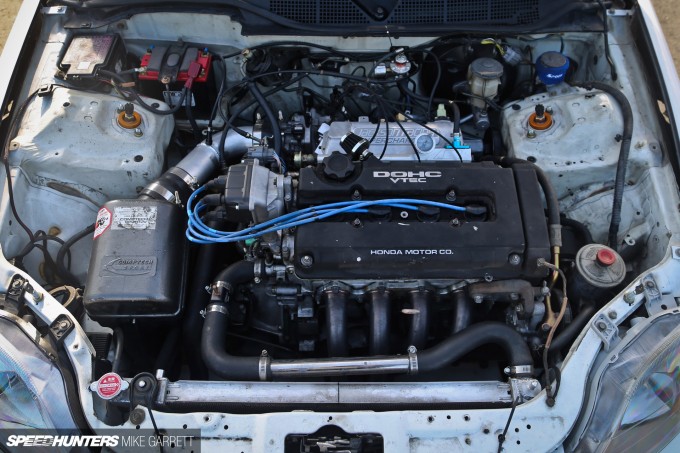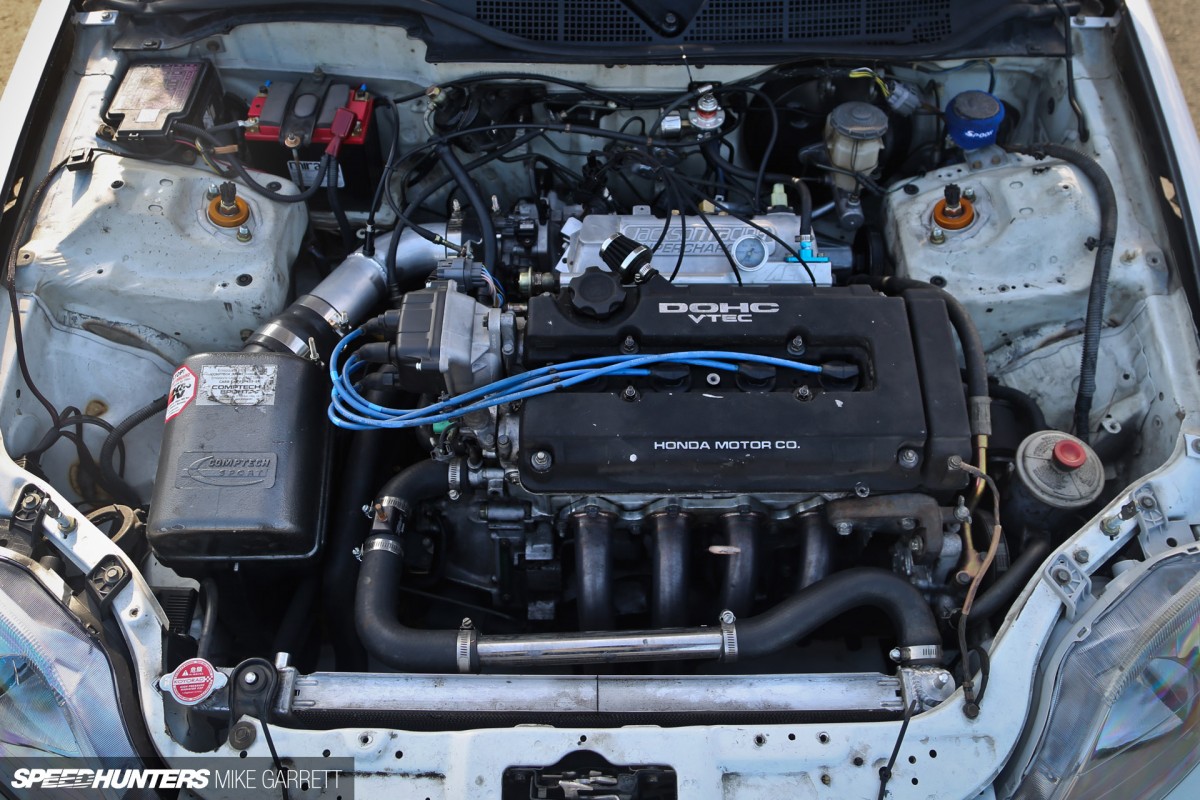 The engine is B18C1 DOHC VTEC mill from an Integra GSR and it's been fitted with some basic upgrades to help free up additional horsepower and to make sure it can take the kind of abuse that endless track days bring. All of the essentials are there – a Comptech intake, Spoon throttle body, PLM header and a Buddy Club exhaust.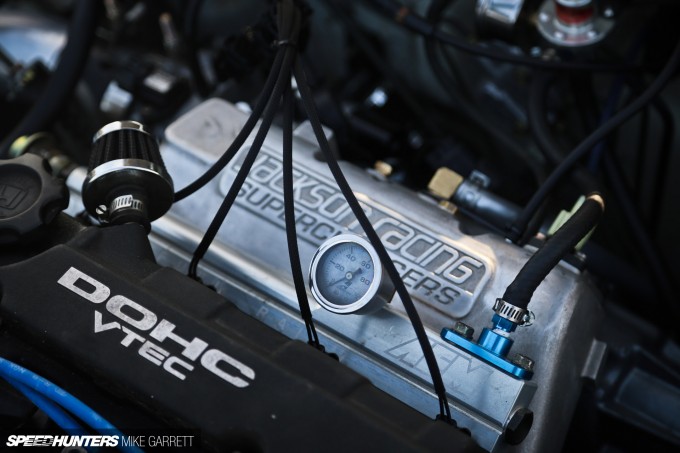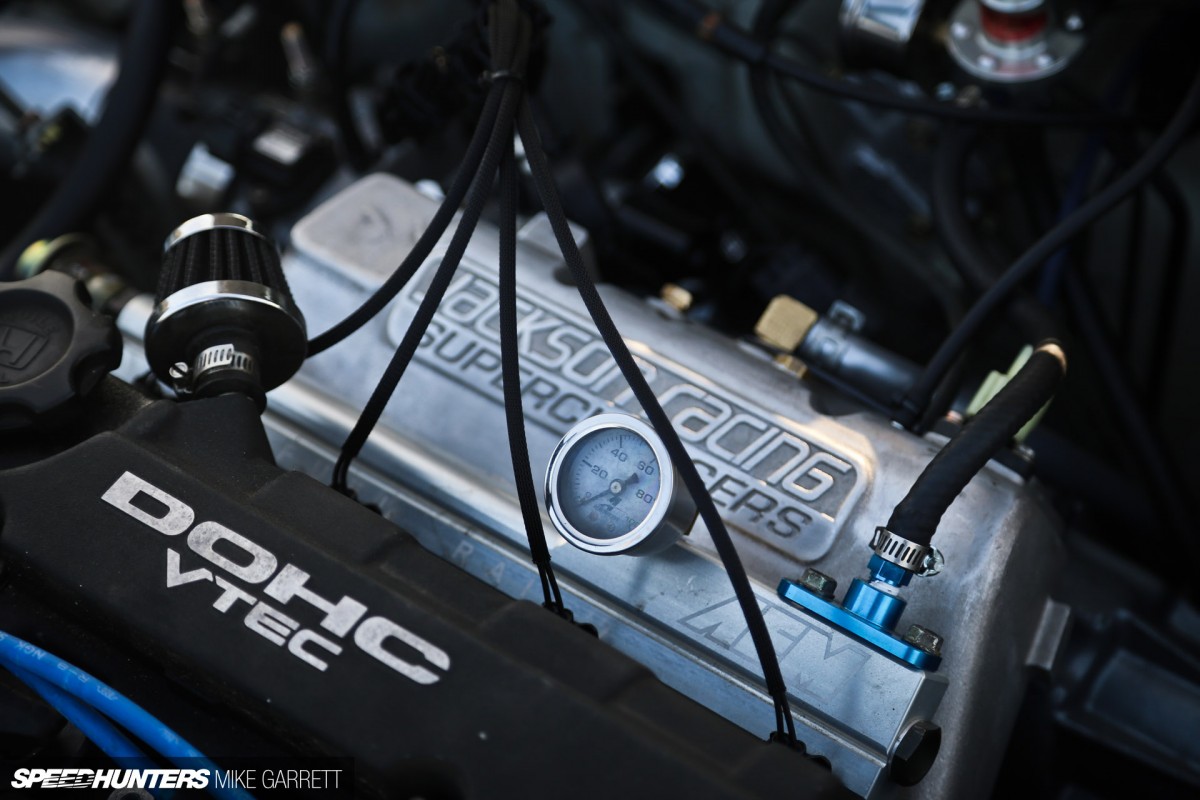 You might also notice that in these photos the car is equipped with a Jackson Racing supercharger kit. The blower was picked up secondhand and installed on the engine so that Yuta's buddy Kristian could borrow the car and attempt to take the season title at Redline Time Attack. The supercharger has since been removed, although the added power did help when it came to getting the car ready for its 2015 renovation.
Style Meets Grit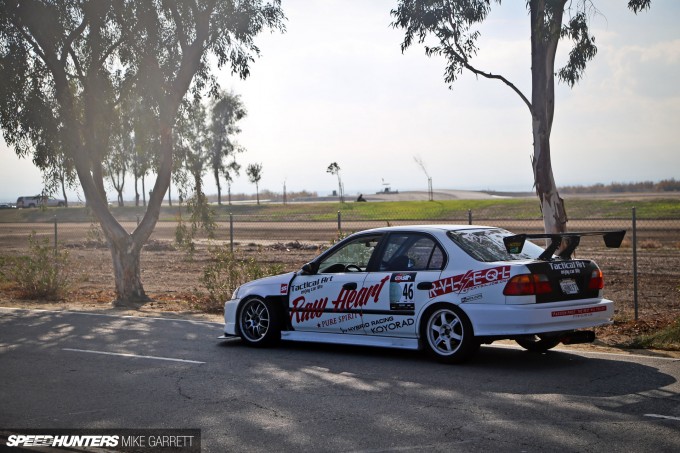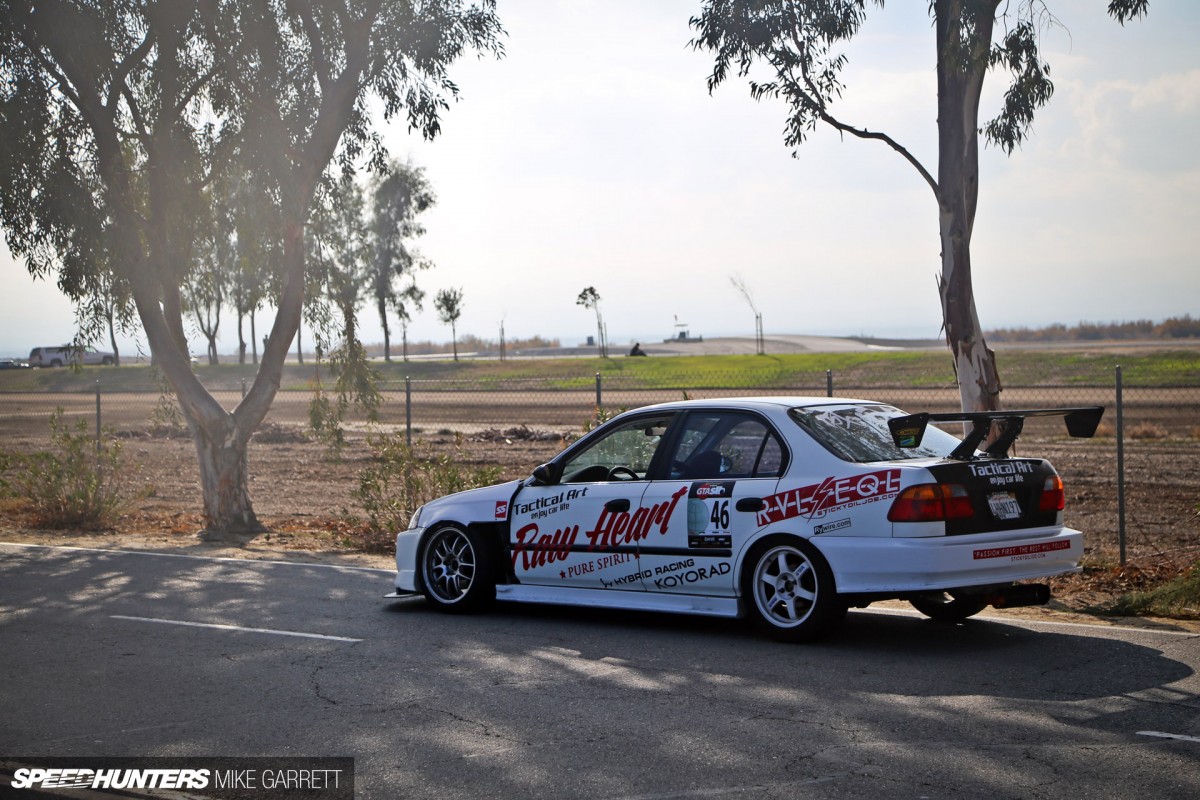 One of the great things about racing a Honda is the wealth of parts and information available when it comes to setting one up. And when it comes to footwork, Yuta's car runs a full package of both OEM and aftermarket upgrades.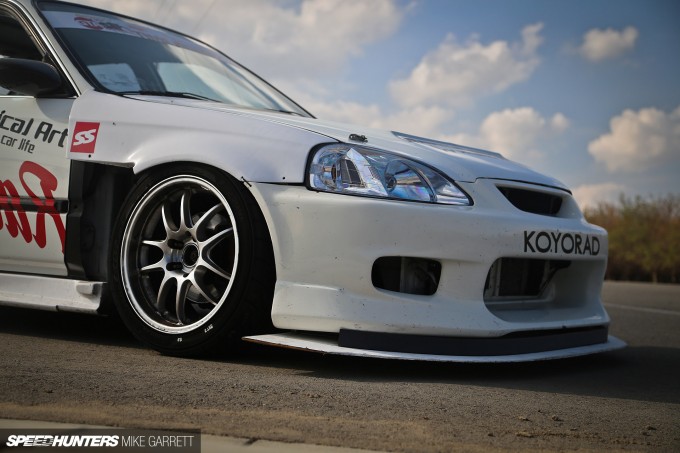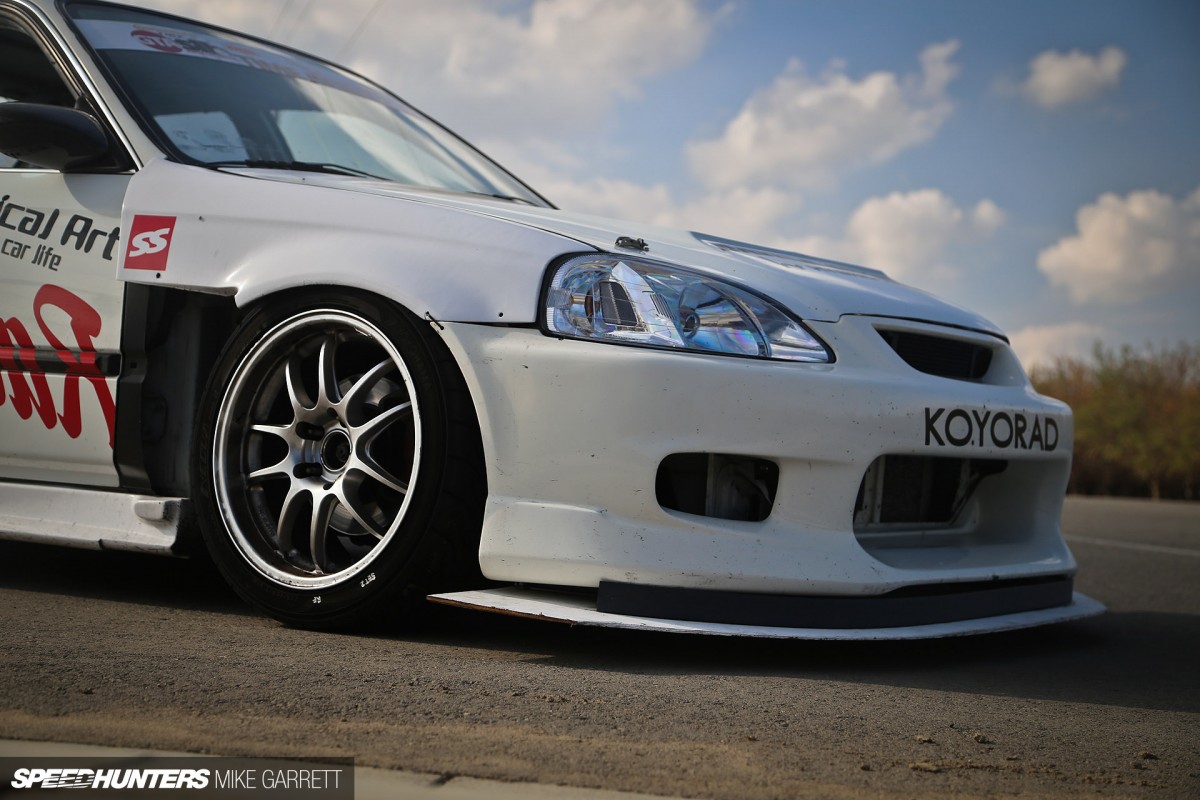 Up front are five-lug Integra Type R spindles with Acura Legend calipers and Type R rotors. In the rear are Civic Si trailing arms and disc brakes to replace the stock LX drums. The front sway bar comes from an EK9 Civic Type R while the rear bar comes from Neuspeed, and Yuta has also replaced all of the stock control arms with adjustable equivalents. Also in the mix are a set of Tactical Art's new adjustable coilovers.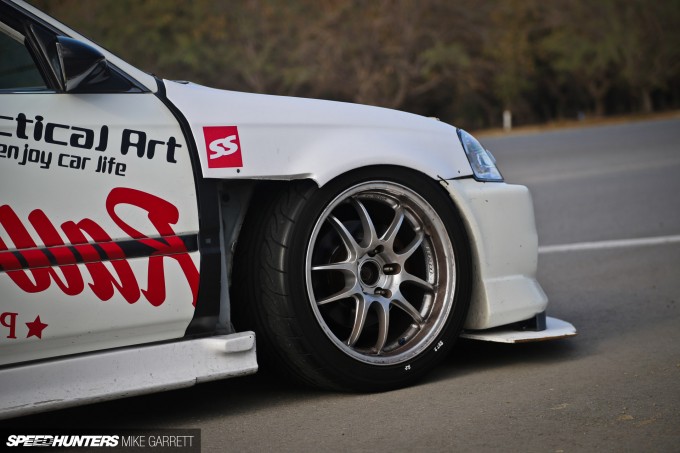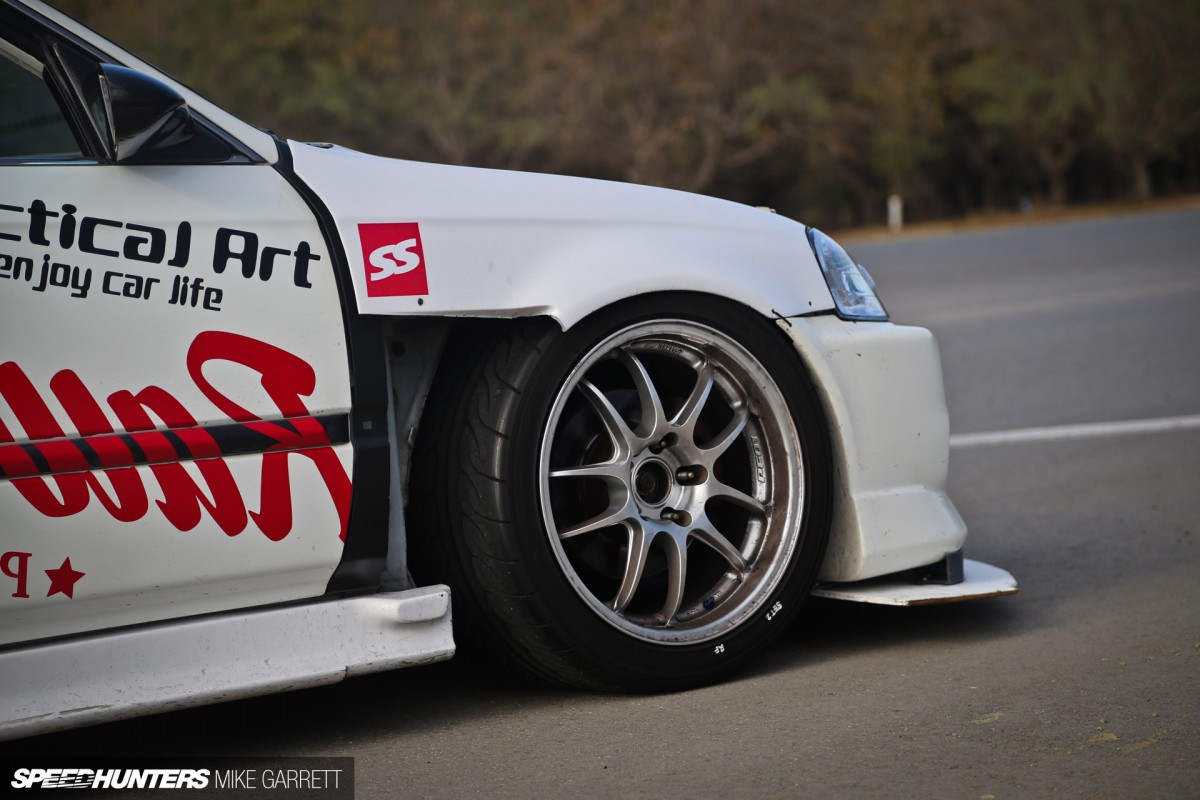 Staggered wheel and tire setups are very common on track-going Hondas, and this car follows suit with five-lug 17×9-inch Enkei PF01s and 245-section Advan AD08Rs up front.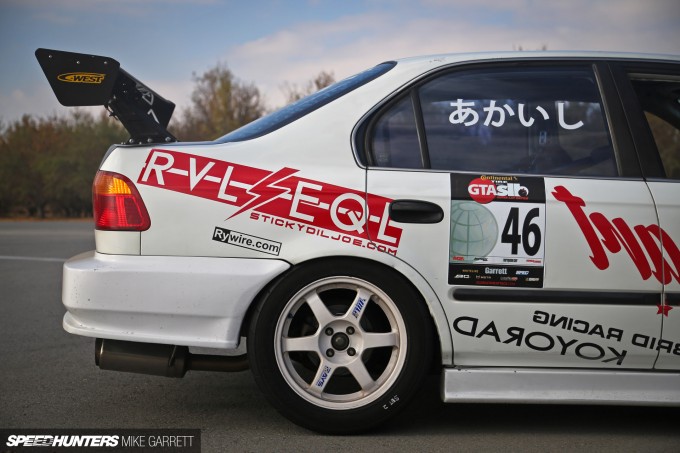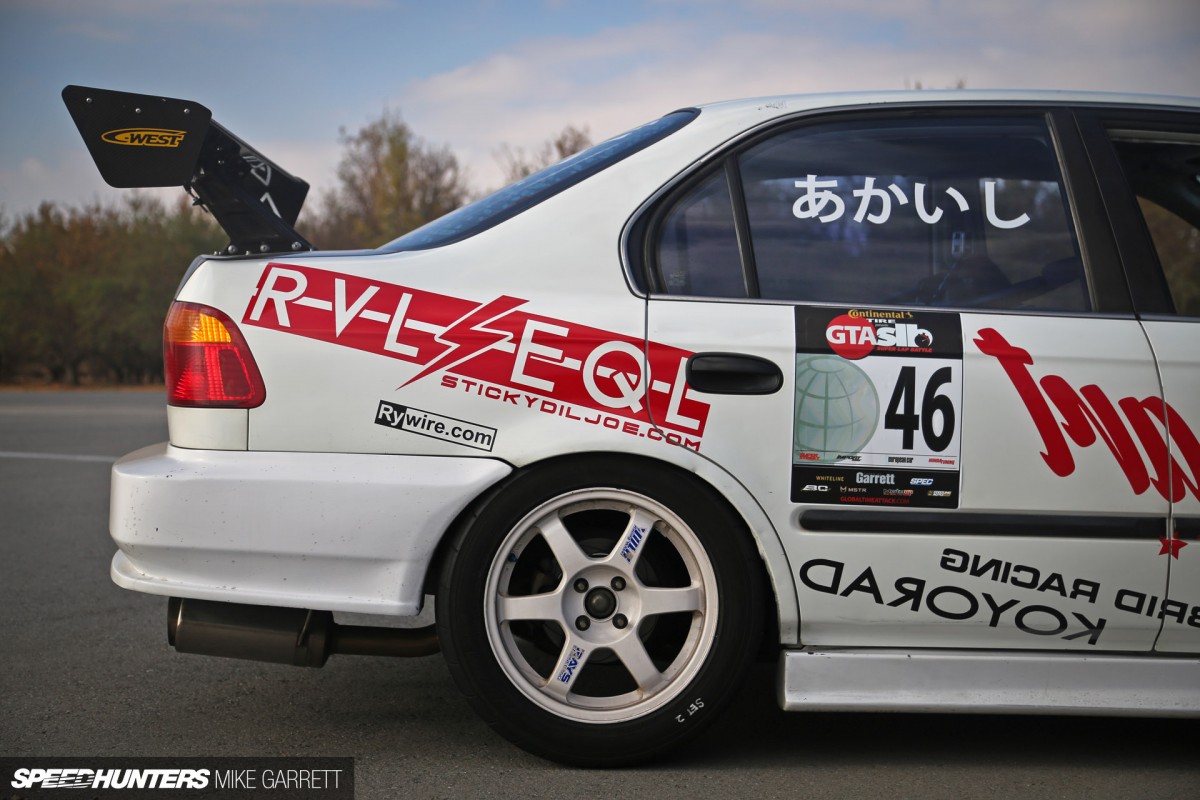 Out back are four-lug 16×7-inch RAYS Volk TE37s with 205-width AD08Rs. Pure function here.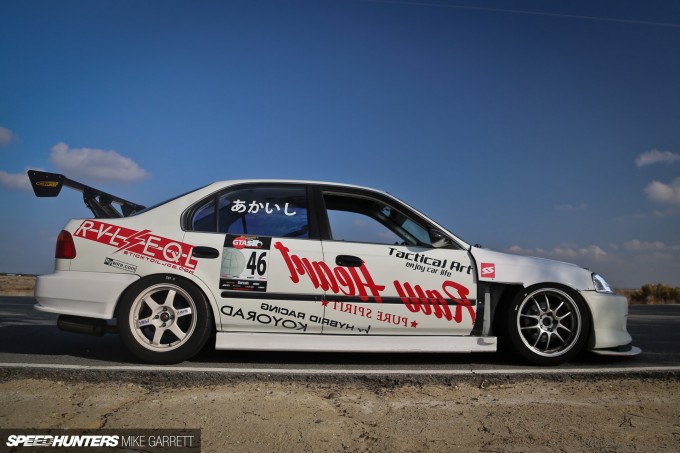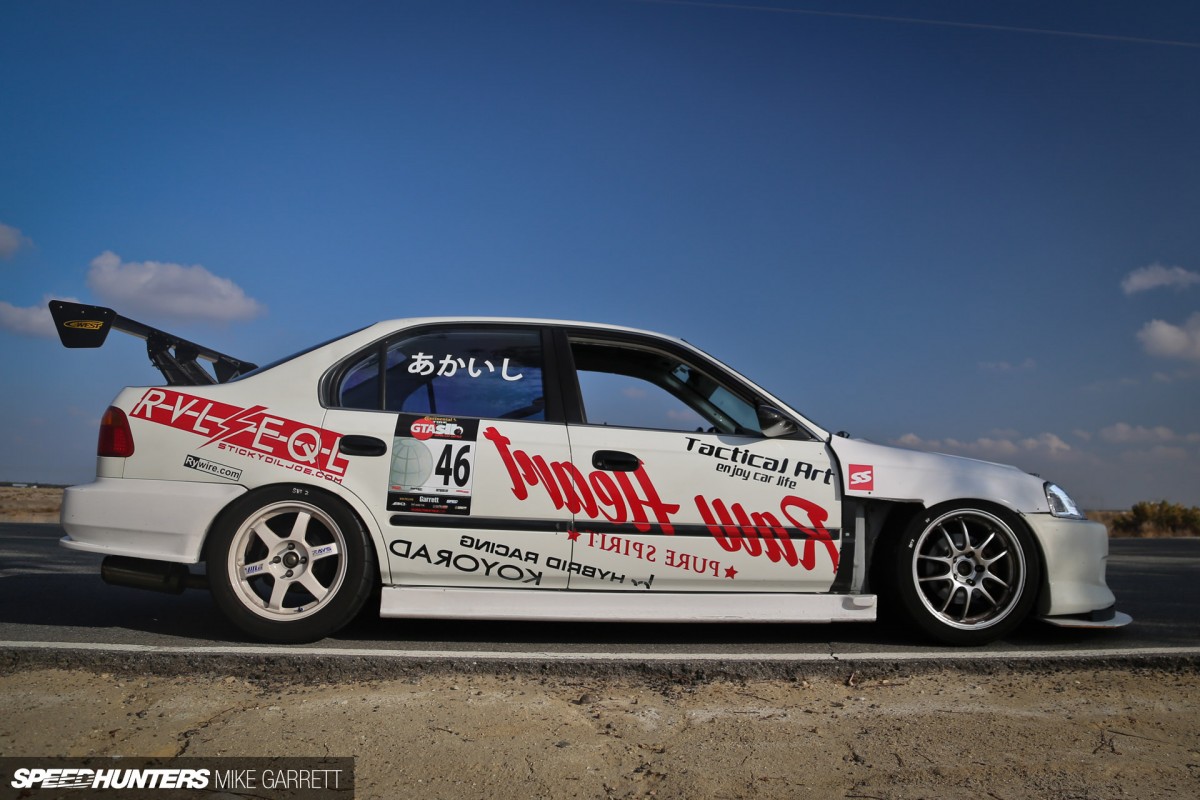 When it comes to the exterior, Yuta has gone with a combination of parts that not only help to improve the car's aerodynamics, but give it a look reminiscent of the Japanese track cars that inspired him.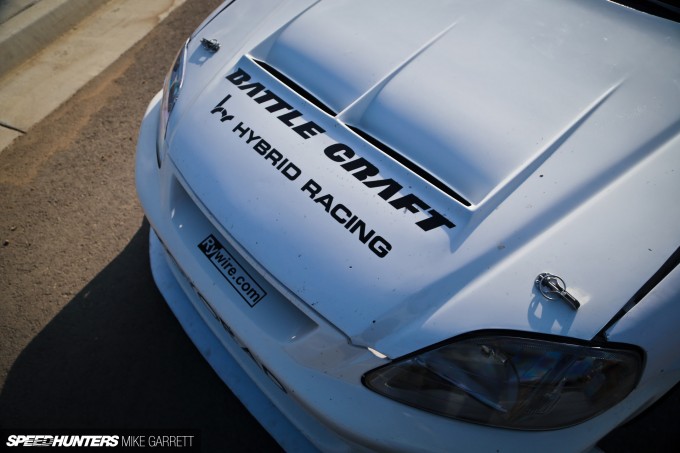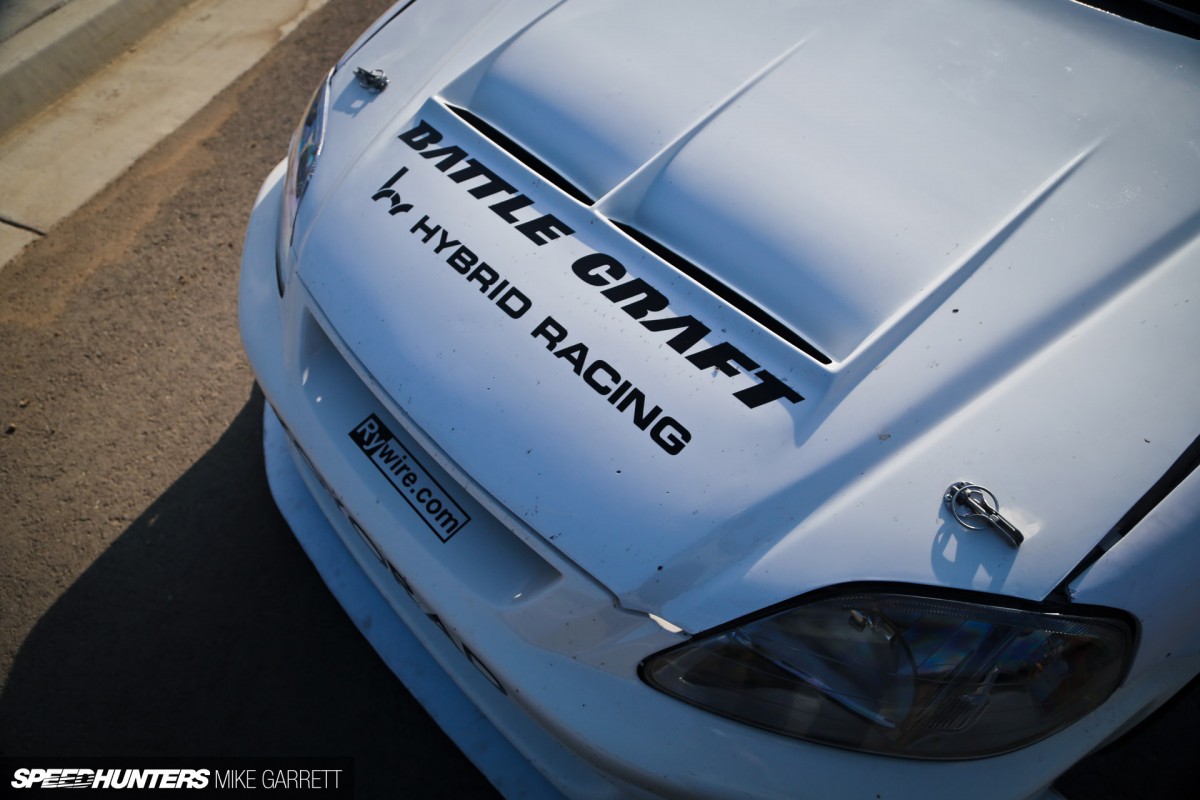 Up front you'll find a C-West front bumper with a custom front splitter and a Battlecraft vented hood for additional cooling and some weight savings.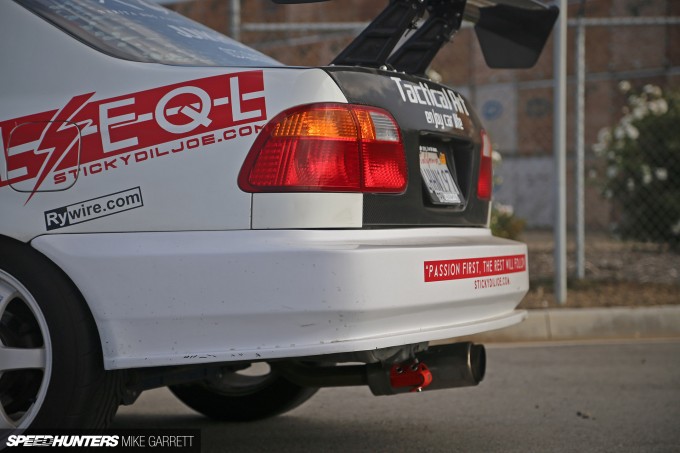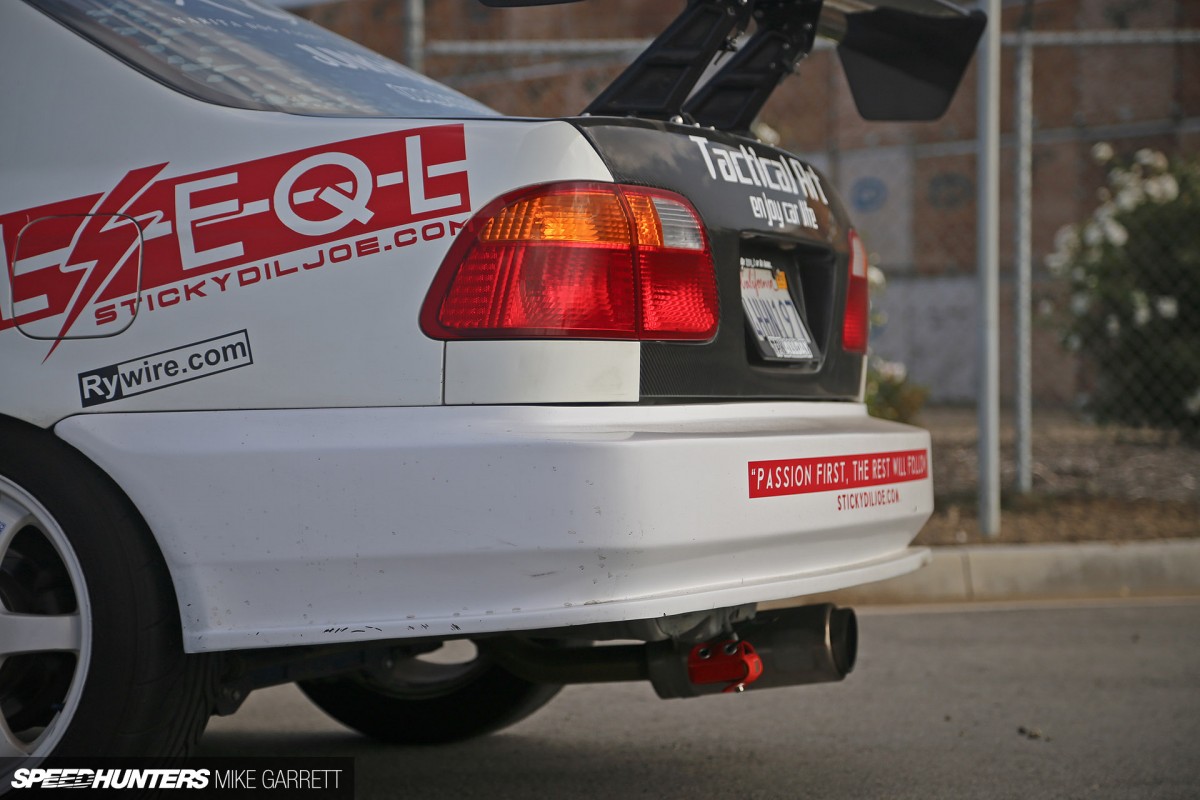 The rear meanwhile has been fitted with a Bomex-style bumper, VIS carbon fiber trunk and a C-West GT wing.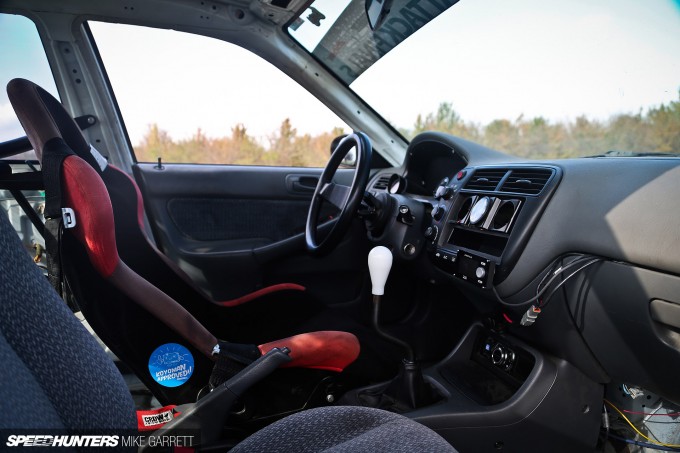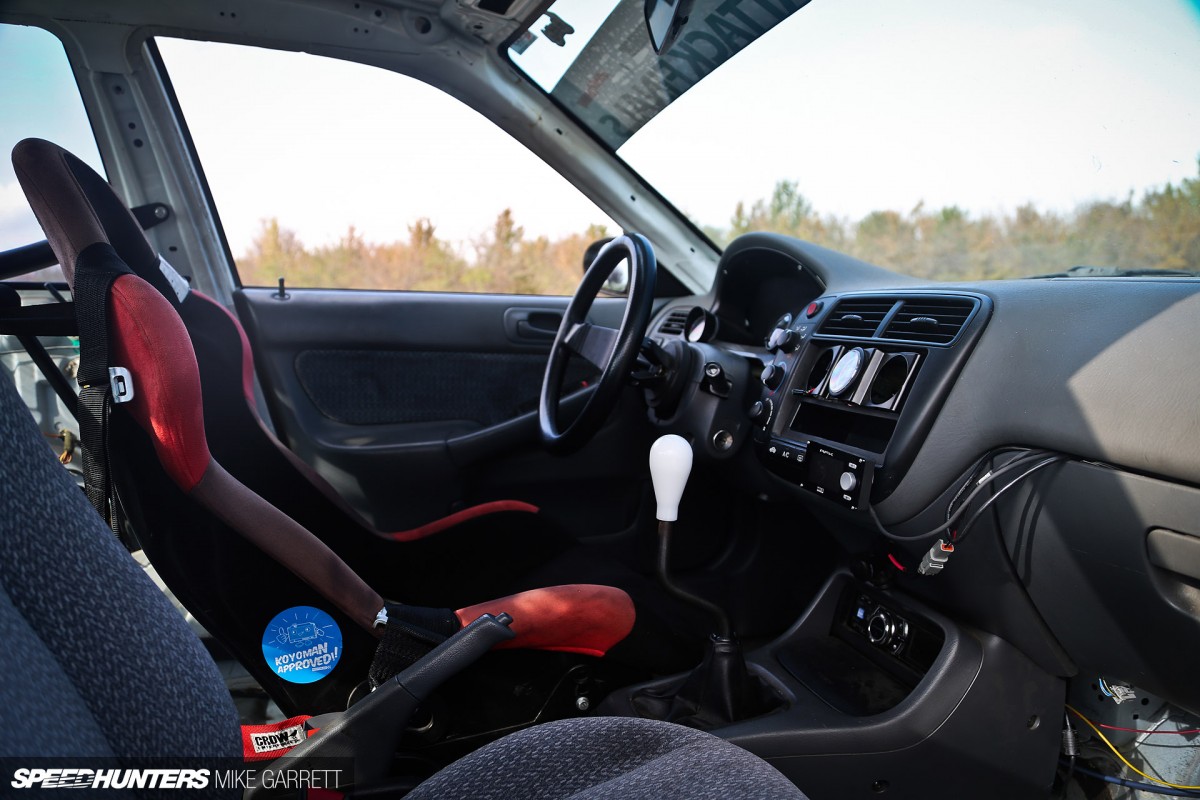 The interior is as simple as it gets. The driver sits in a Buddy Club P1 bucket while any passengers get to ride in a stock Honda chair.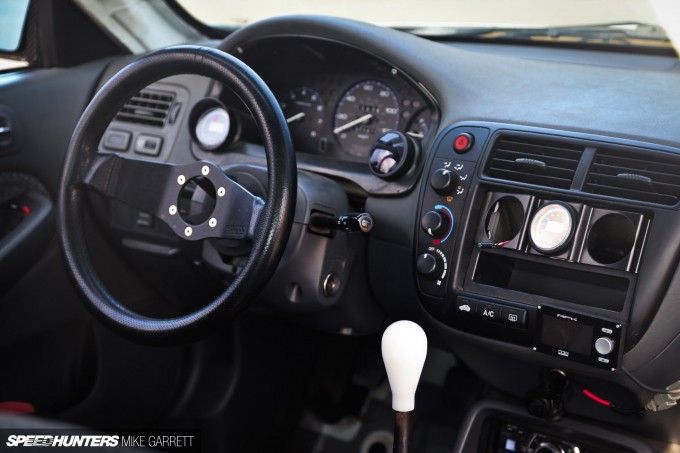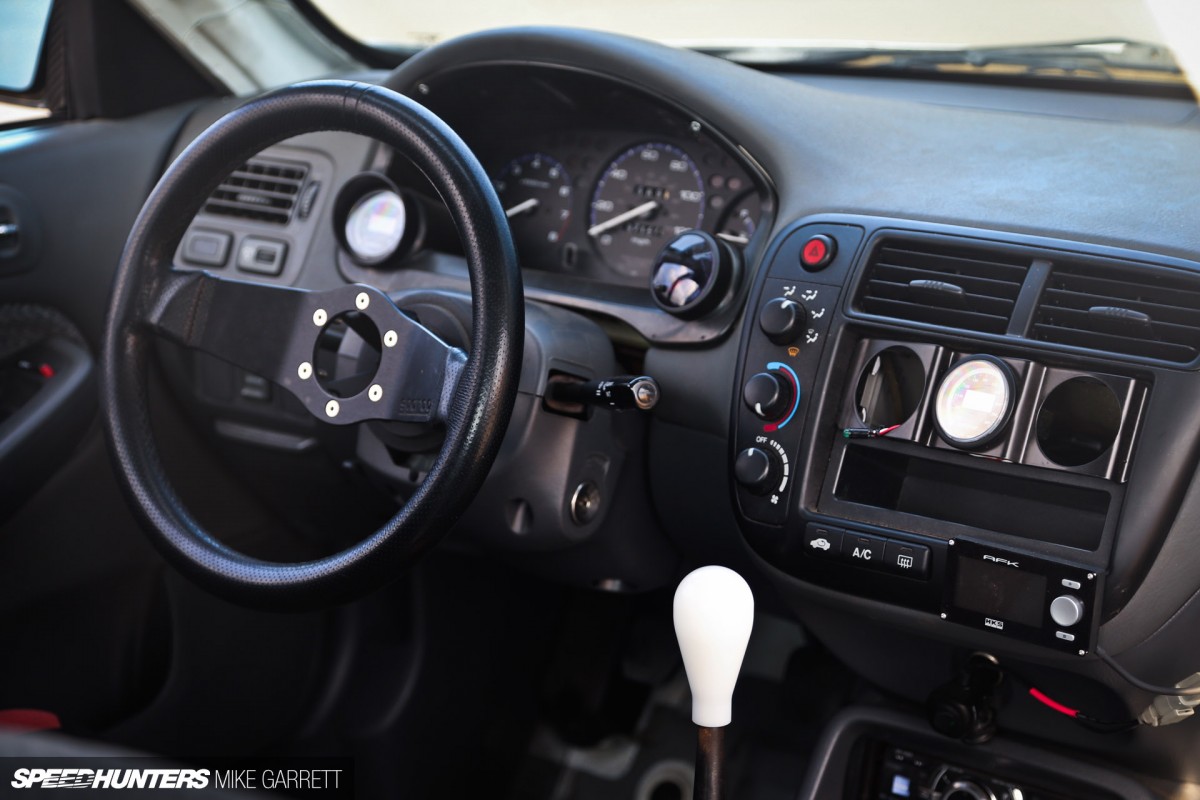 The steering wheel is a simple Sparco piece while a Fastline shifter helps make for quick and accurate gear changes through the Integra GSR transmission.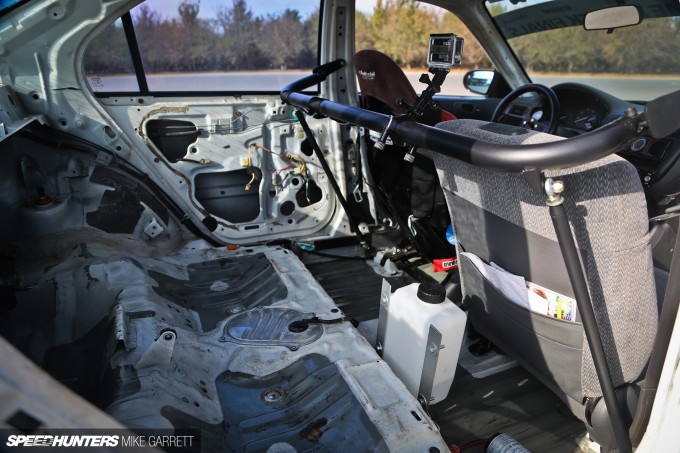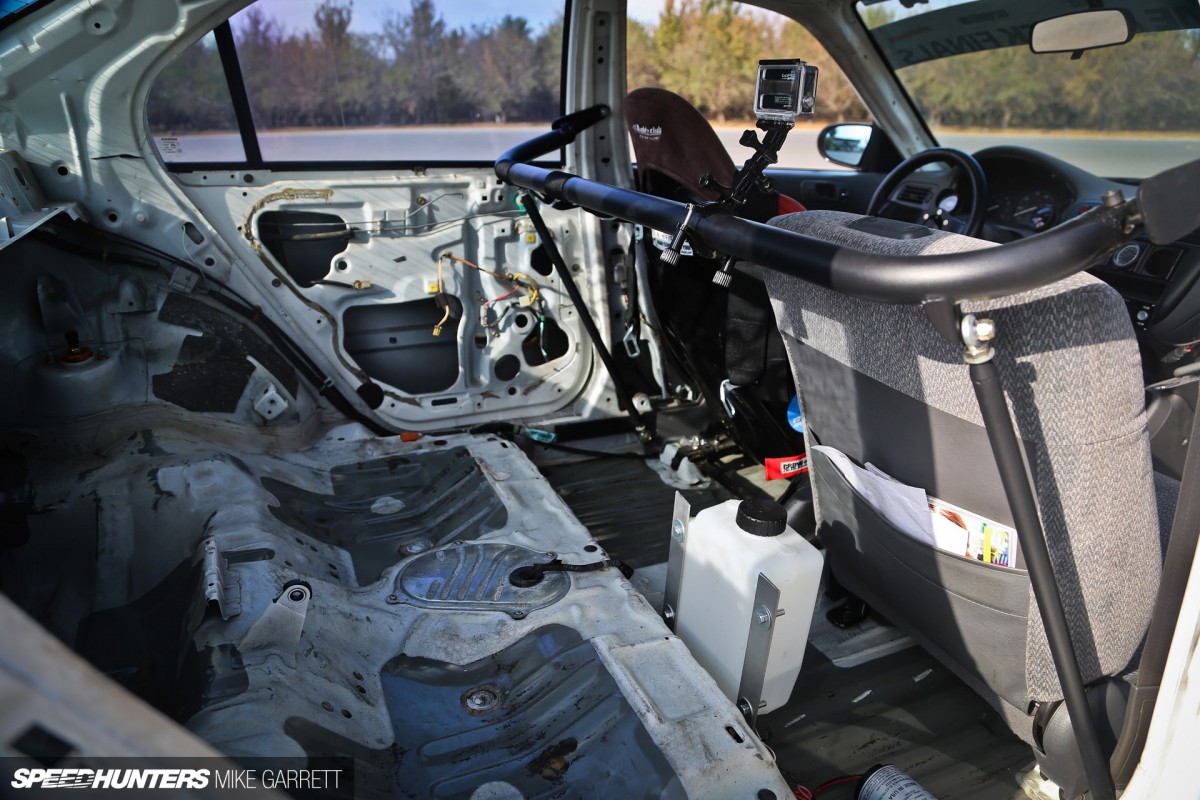 Yuta says the removal of the back seat and rear interior panels have made the car a bit louder on the freeway, but to compensate all he needs to do is raise of the volume of the Taylor Swift tunes being emitted from the Alpine deck.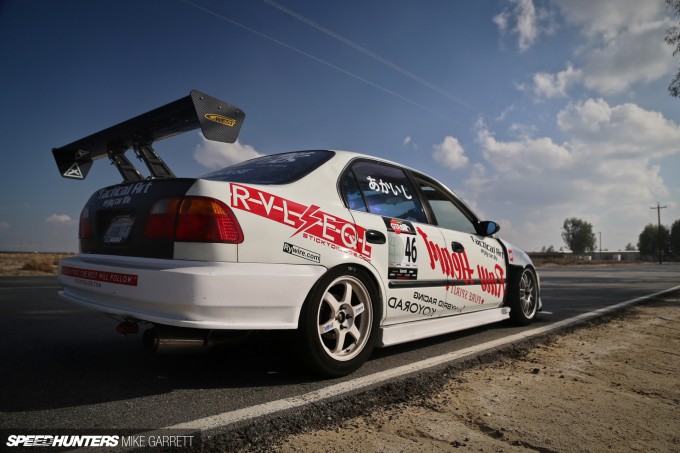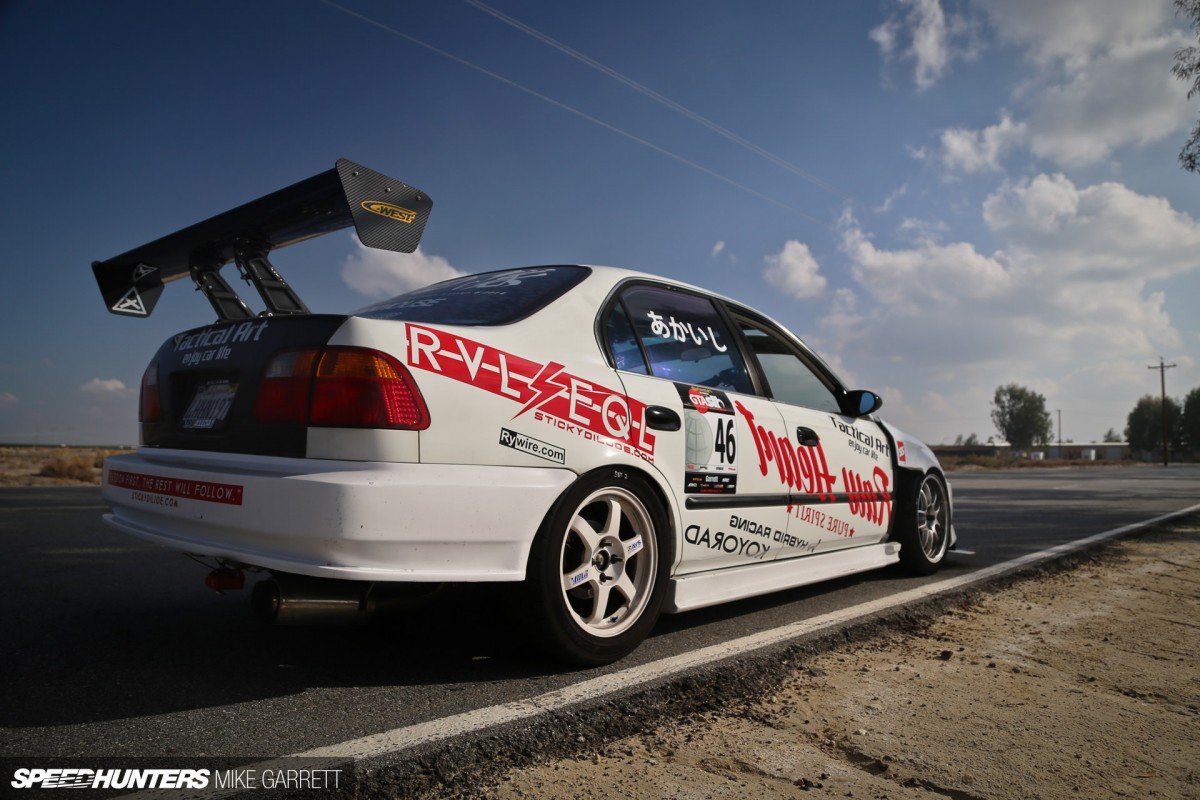 As with all time attack cars, Yuta's Civic is an ever-evolving project. As I briefly mentioned earlier, there are some major plans underway for next season, the biggest of which will be the switch to a more powerful K-series powerplant. It should be exciting to watch.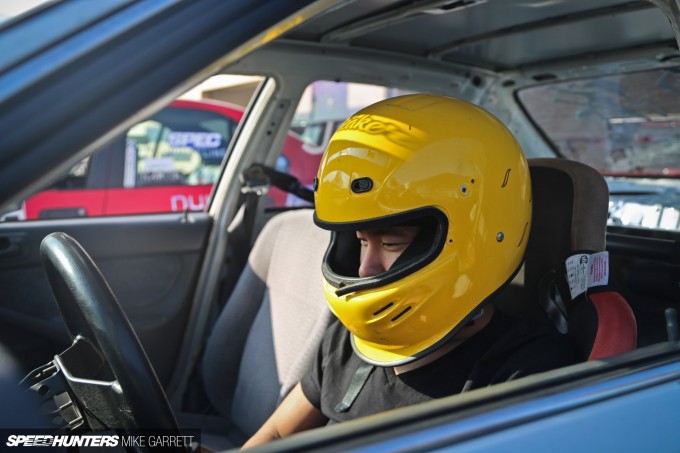 What drew me to Yuta and his car is the idea that time attack racing doesn't have to be a big budget affair. Sure, it's fun to watch the big teams go at it with their frighteningly-quick machines, but for me the little guys are just as fascinating to follow – if not more so.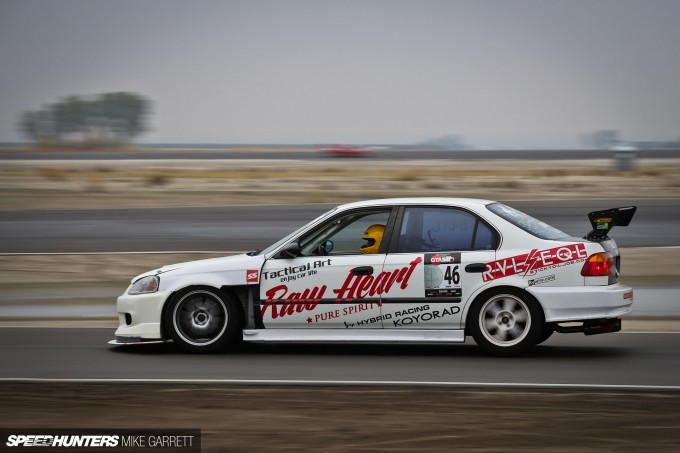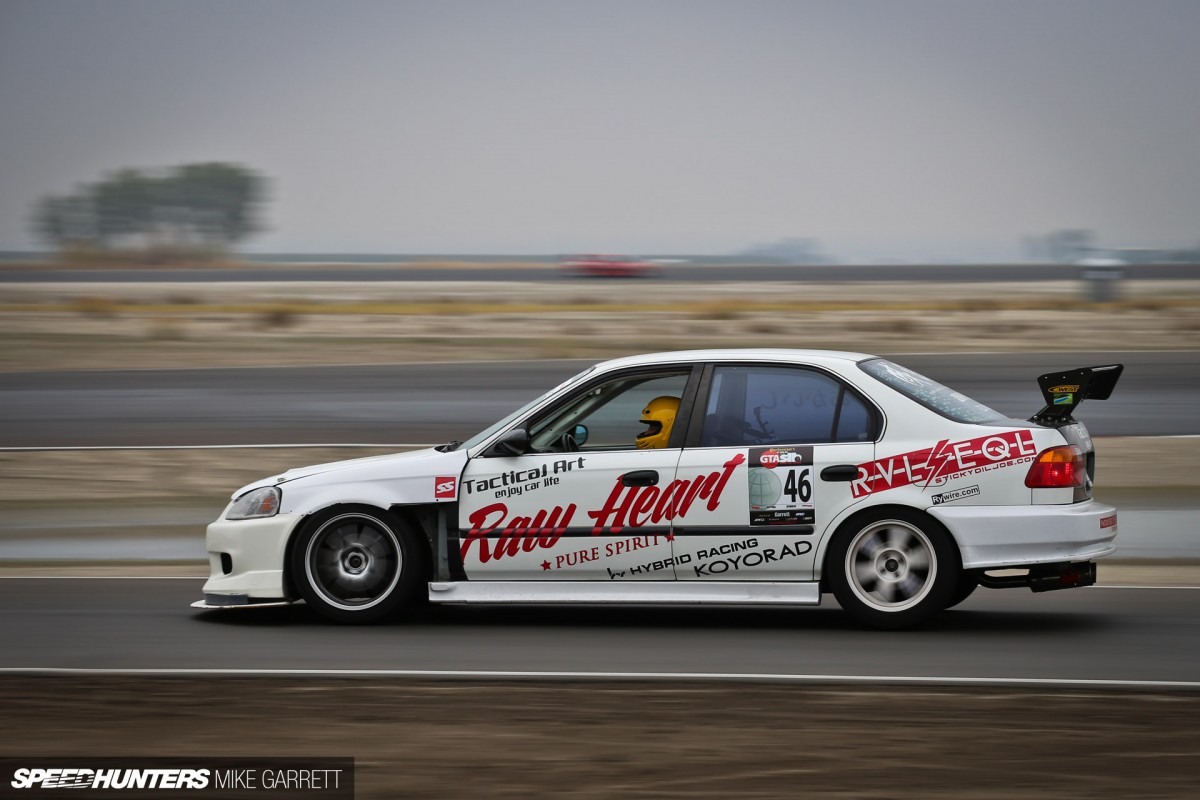 Half a decade ago Yuta Akaishi set the internet on fire with his Datsun (which he still has by the way), but I don't think him or anyone else could have predicted that the reasonable commuter car he bought to supplement his Z could have wound up becoming such a big part of his life.
From rush hour traffic to the quest for time attack glory, it's just another example of how automobiles have a way of doing crazy things to us.
Mike Garrett
Instagram: speedhunters_mike
mike@speedhunters.com