Pioneering A Printed Future
I can recall an anti-piracy ad some years ago that read 'You wouldn't download a car!' to which the Internet responded 'I would if I could!' Well Internet, soon you might be able to. Introducing the Local Motors Strati, the world's first 3D printed car…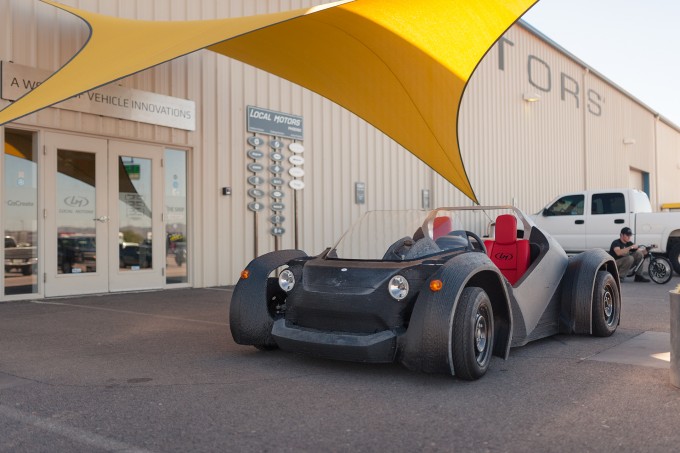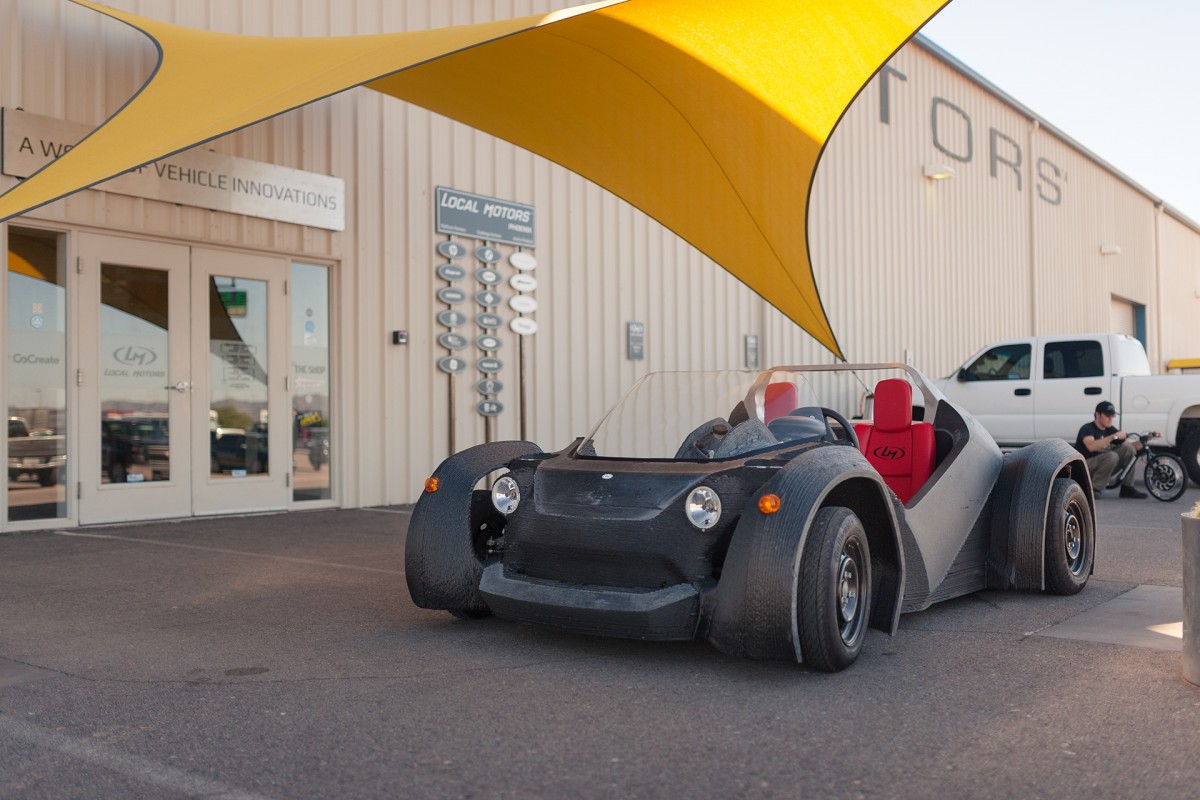 3D printing has started to become commonplace, having been adopted by schools and universities for educational purposes, as well as by major manufacturers of all kinds for research and development. Large scale uses of 3D printing however, are still rare.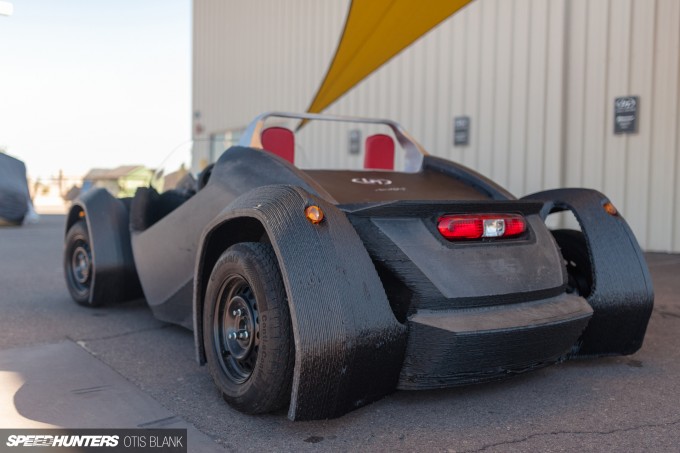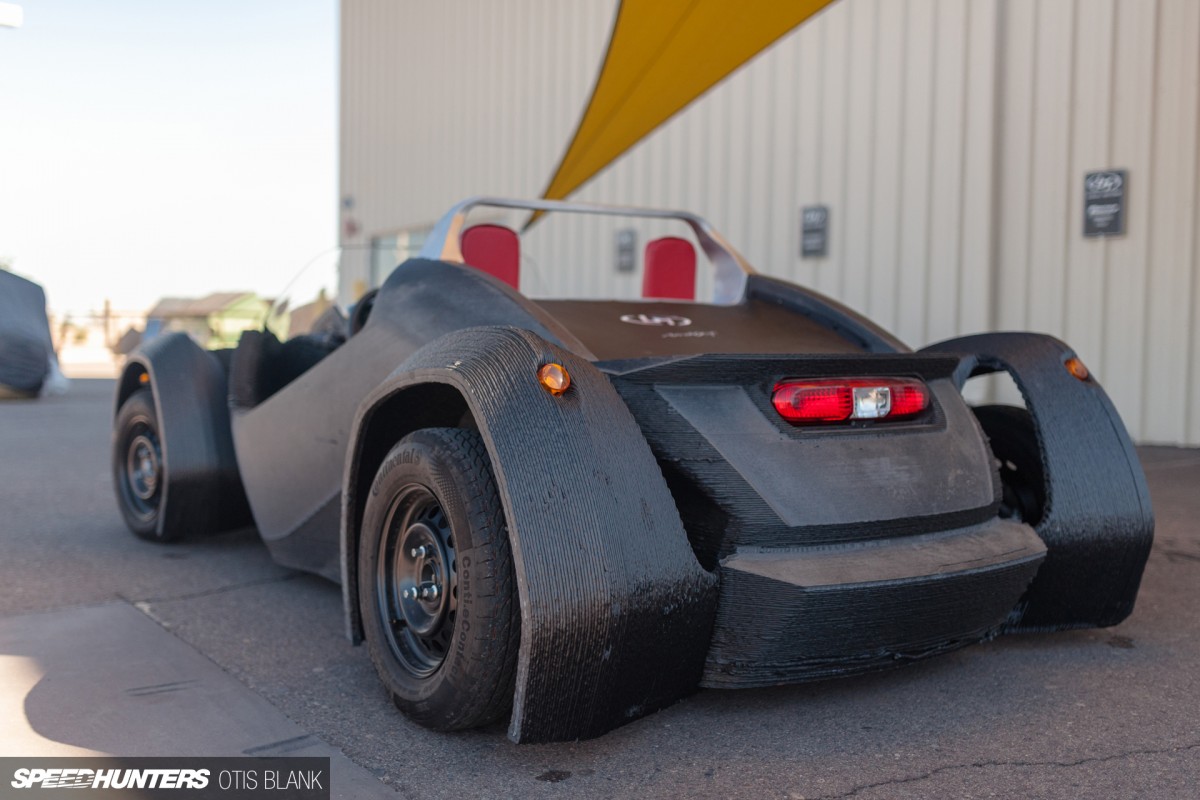 It would only be a matter of time before someone printed a car, and it has finally happened thanks to a unique open source company called Local Motors.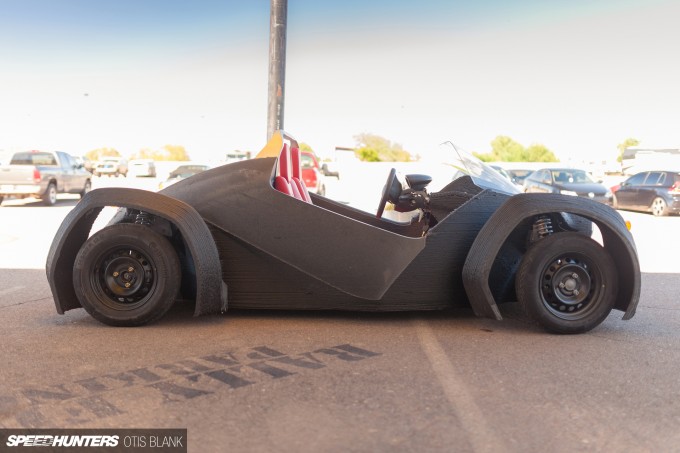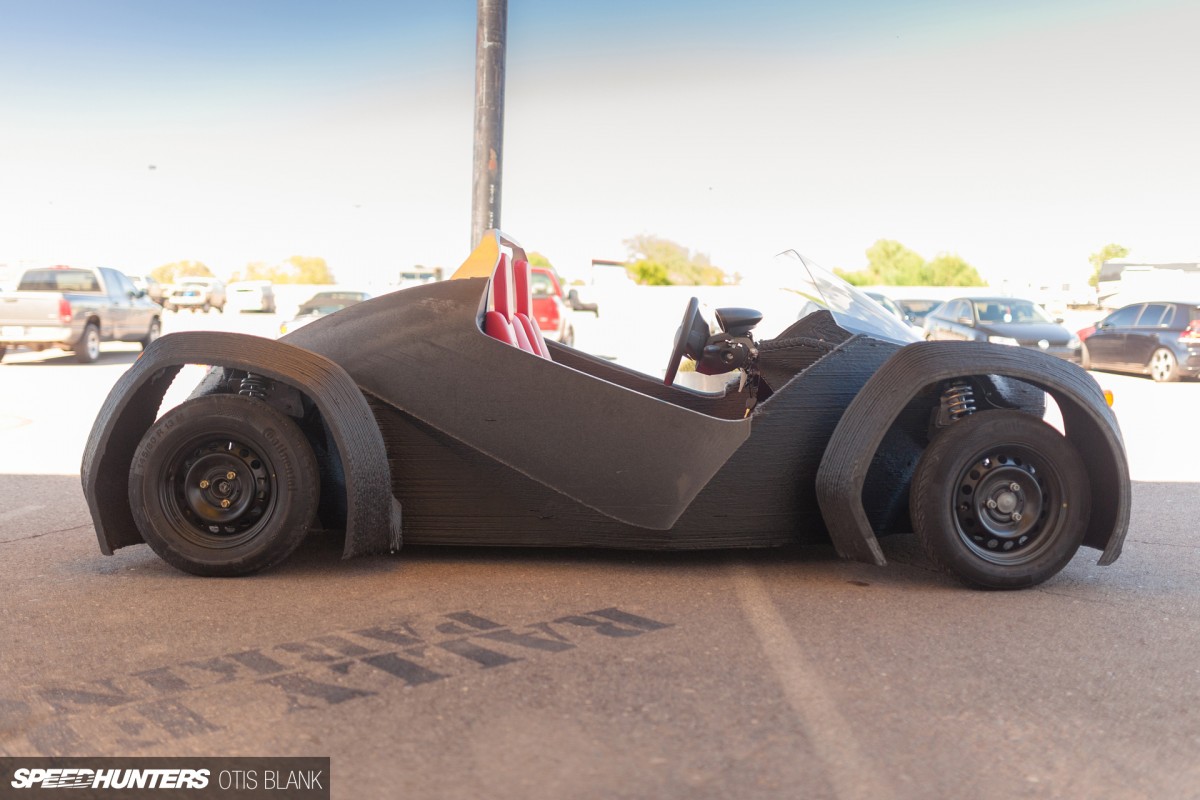 It's called the Strati, and its body and fenders are printed with what's called a Big Area Additive Manufacturing (BAAM) machine. The BAAM is like a large-scale version of the MakerBot 3D printers many people now have in their homes.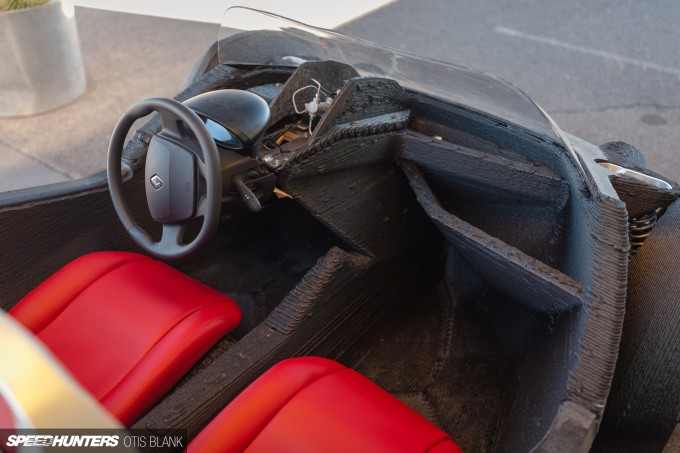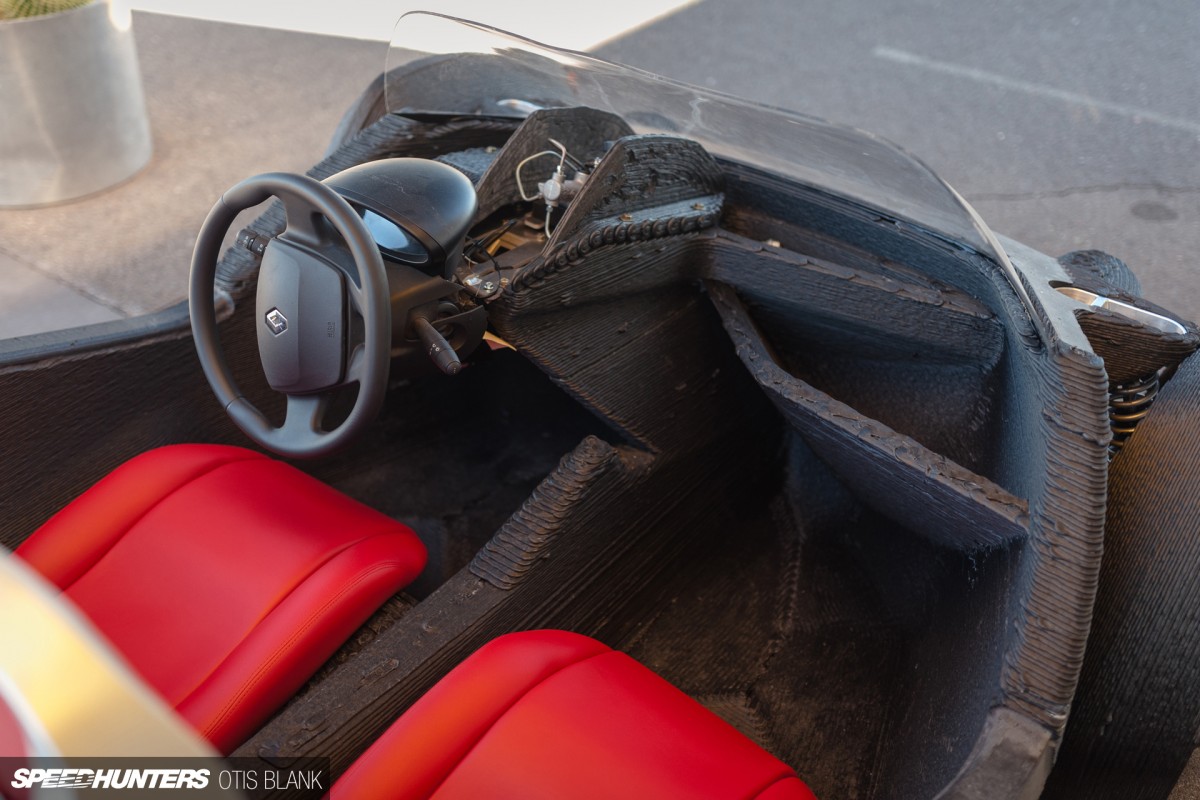 The printed components of the car take about 44 hours of production time to be completed. That might sound like a while, but the more traditional processes of full scale prototyping require much more time, hands-on work, and financial expense. 3D printers can print based off CAD files that could be created in an afternoon and printed by the next day depending on the scale and complexity of what has been designed. This allows manufacturers to rapidly test new part designs in an inexpensive way.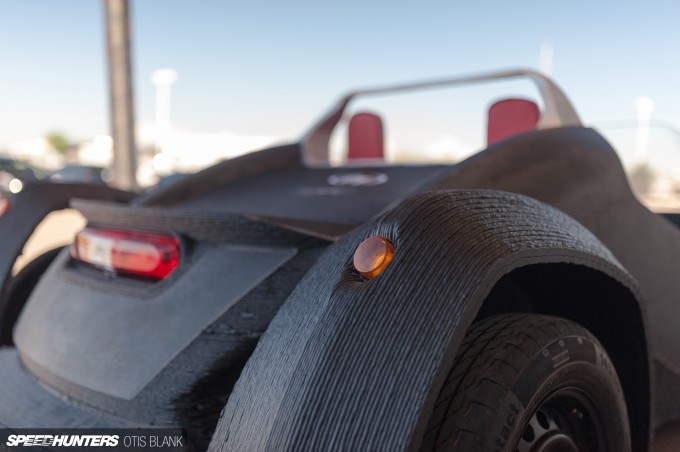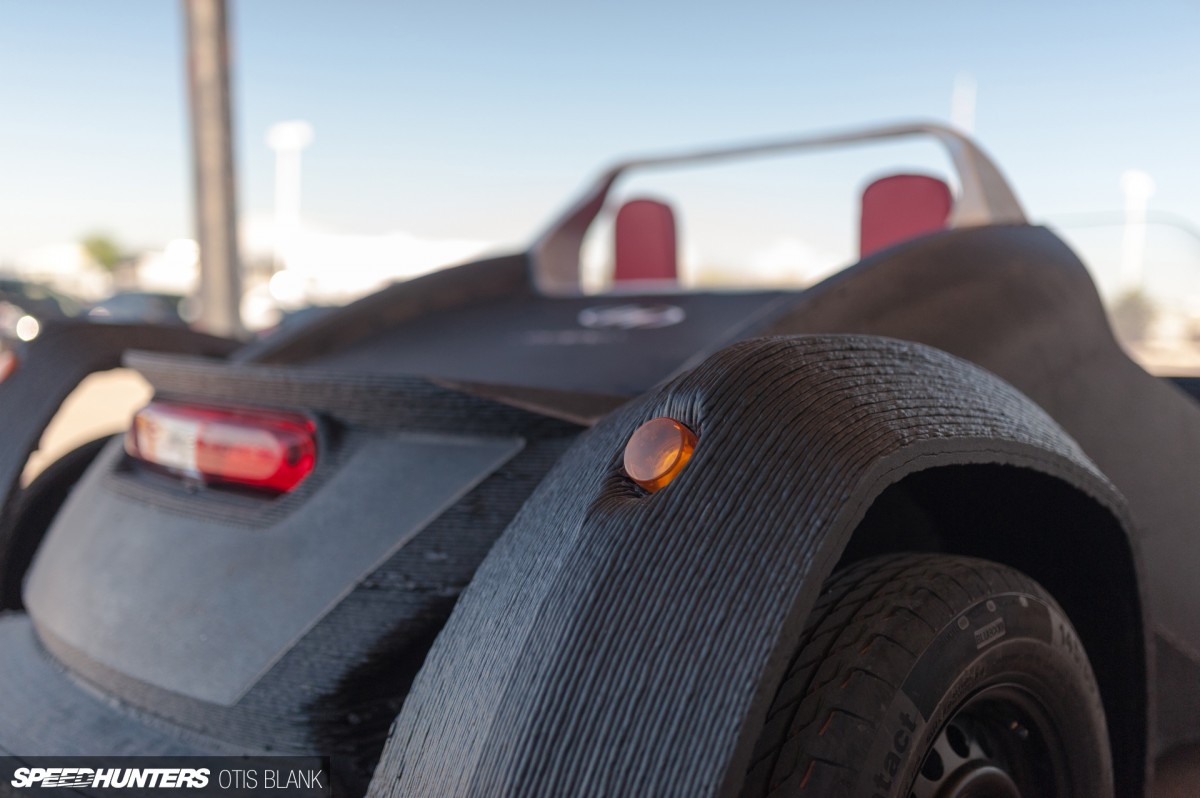 As you can see, the surfacing of the car is pretty rough compared to the sheet metal we're so used to seeing. This is due to the nature of the 3D printing process – especially on this larger scale. The BAAM machine lays down thicker layers of material than the more common small printers which is why parts of the Strati look like a topographical map.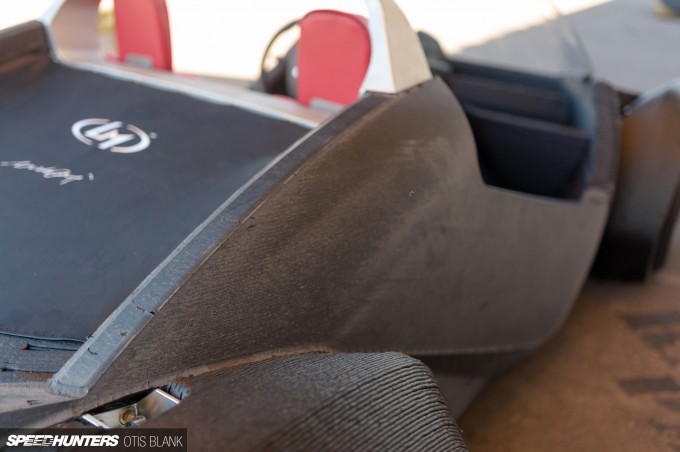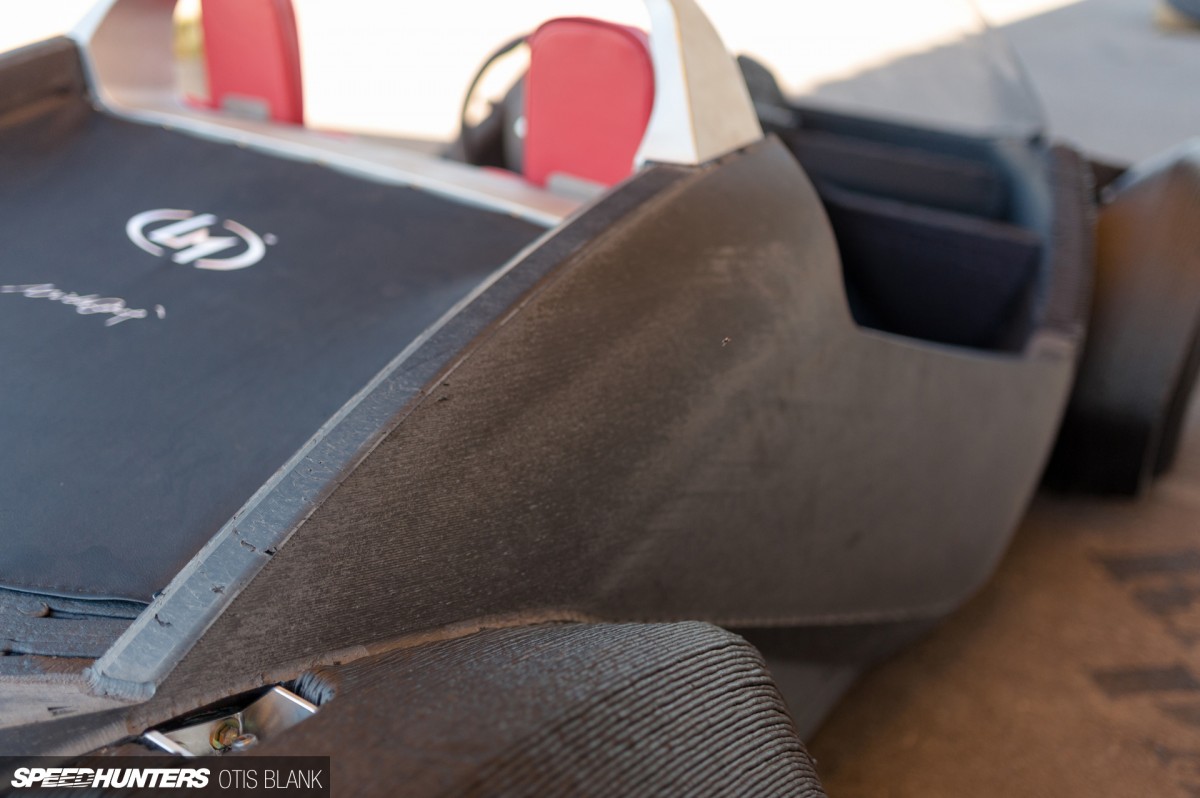 Local Motors chose to machine certain surfaces of the car to a smoother finish to accentuate design characteristics, which works really well in my opinion. As rough as the texture of the unmachined surfaces are, I like seeing it because it's indicative of the car's unique manufacturing process.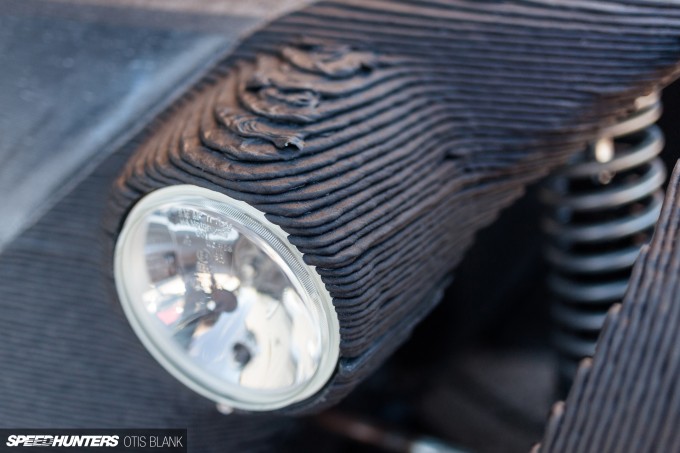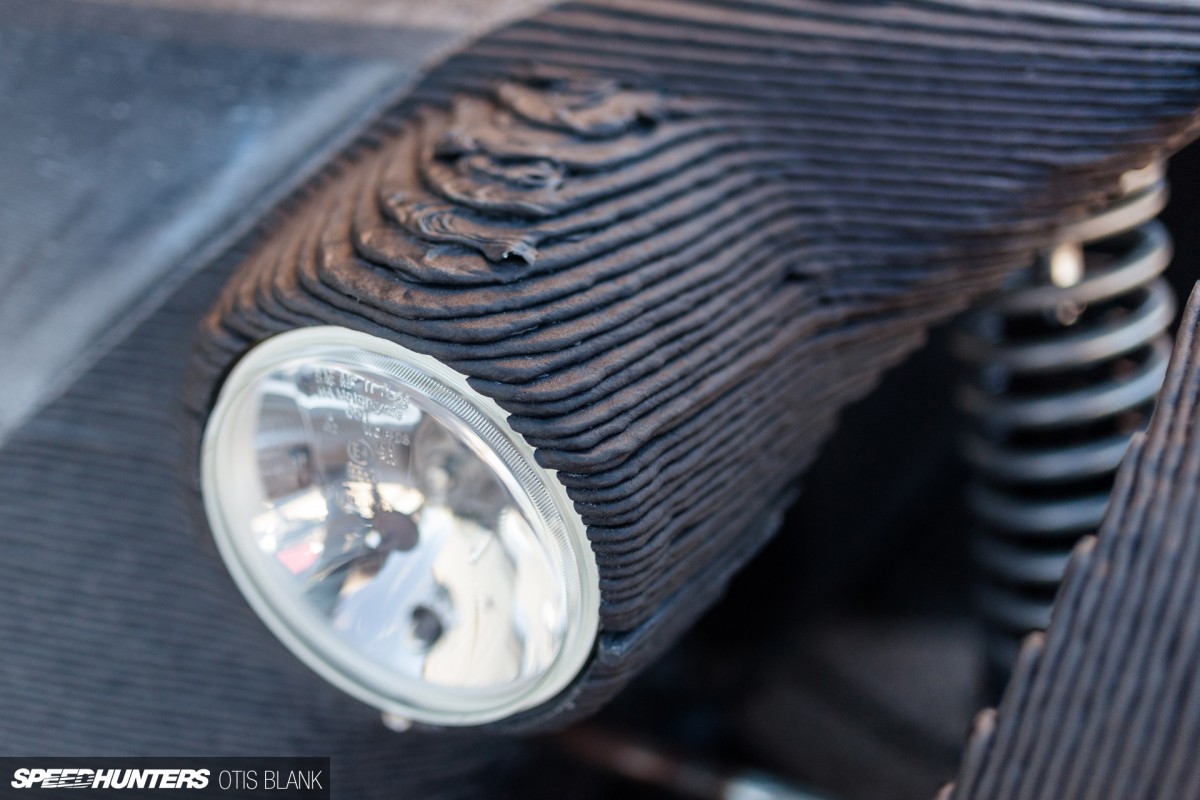 Made up of less than 50 major components, the Strati's simplistic approach to its construction is a refreshing shift from the arguably over-complex cars of today.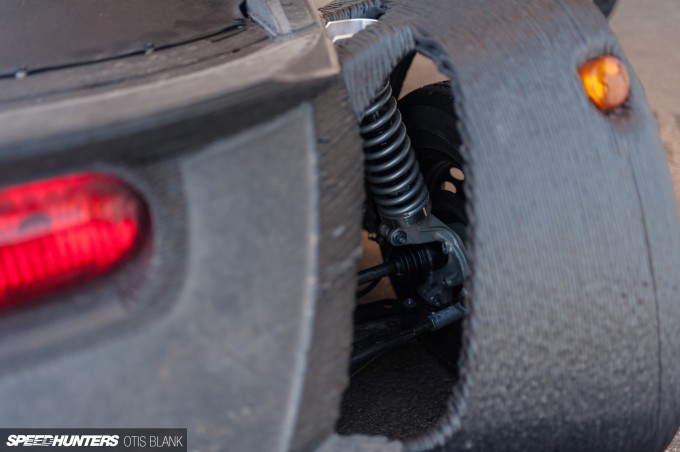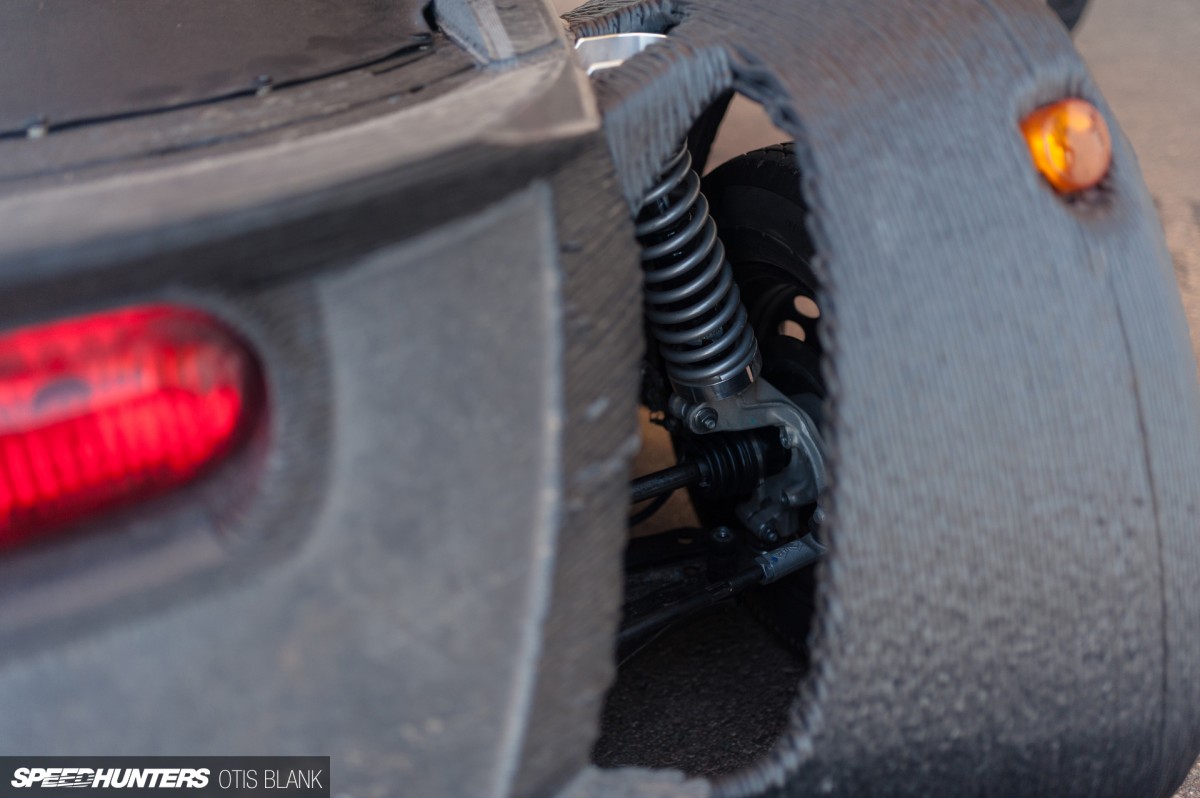 The Strati is a completely driveable prototype. It has the drivetrain and suspension from a Renault Twizy – a city car that is technically classified in Europe as a 'Heavy Quadricycle.'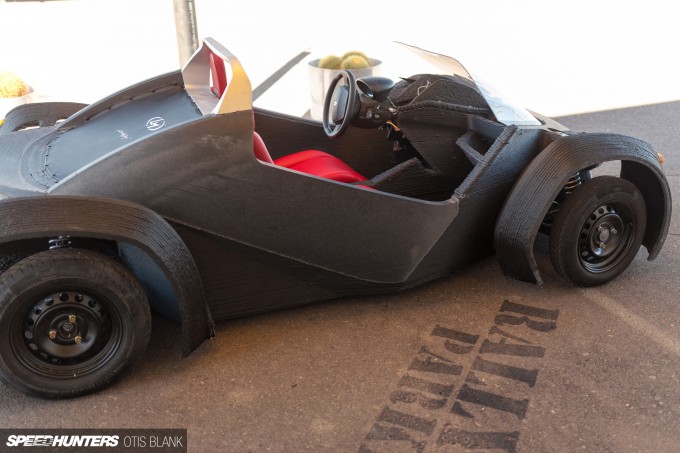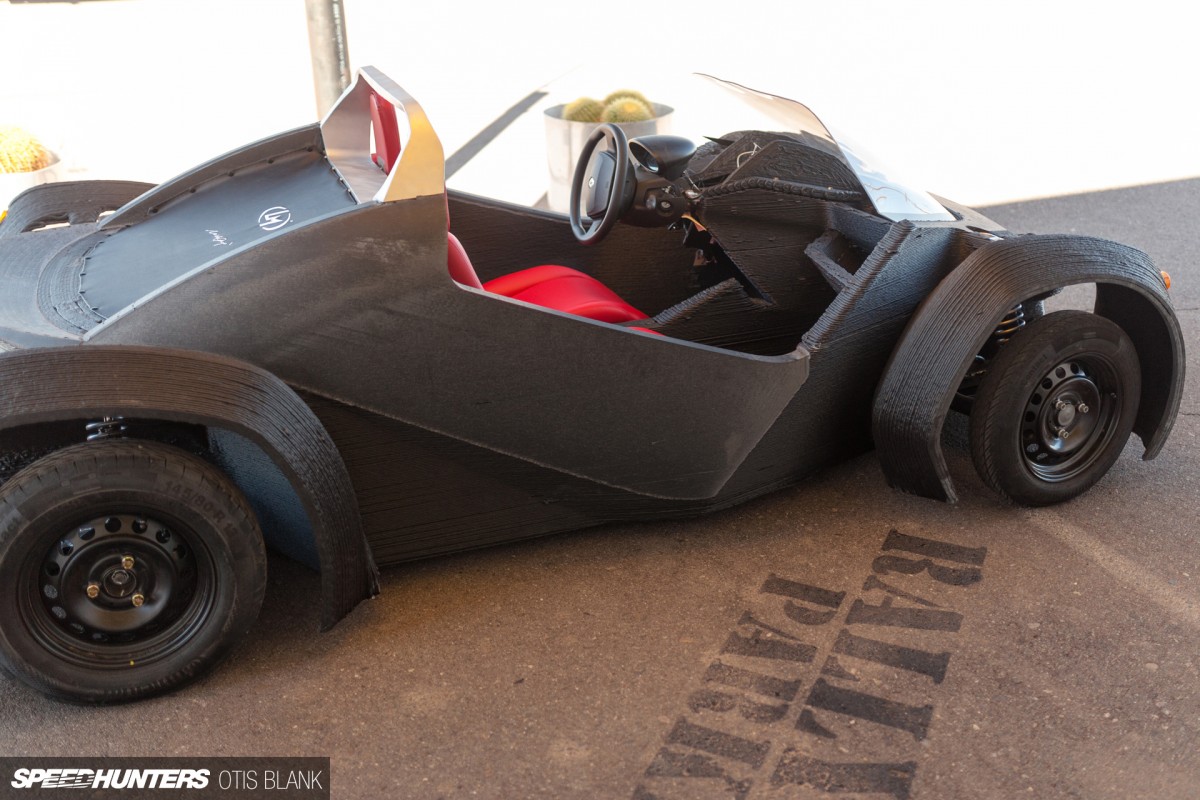 Not many people have been given the chance to drive it yet, but I found out that I was going to be lucky enough to be one of the first few outside of the company to get behind the wheel. But before that, it was time for a race.
Driving Impressions & Forthcoming Possibilities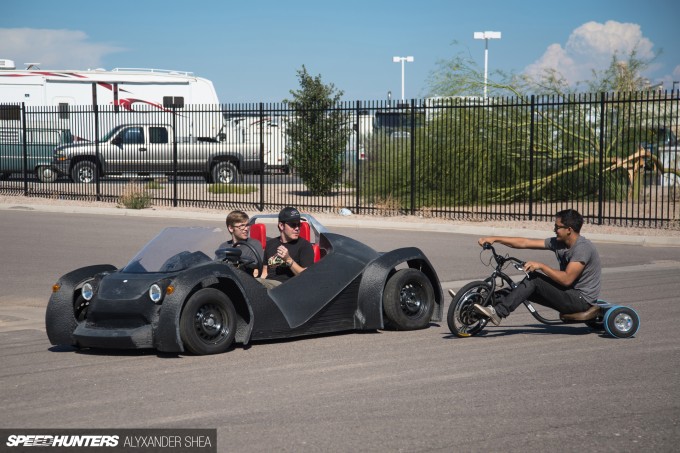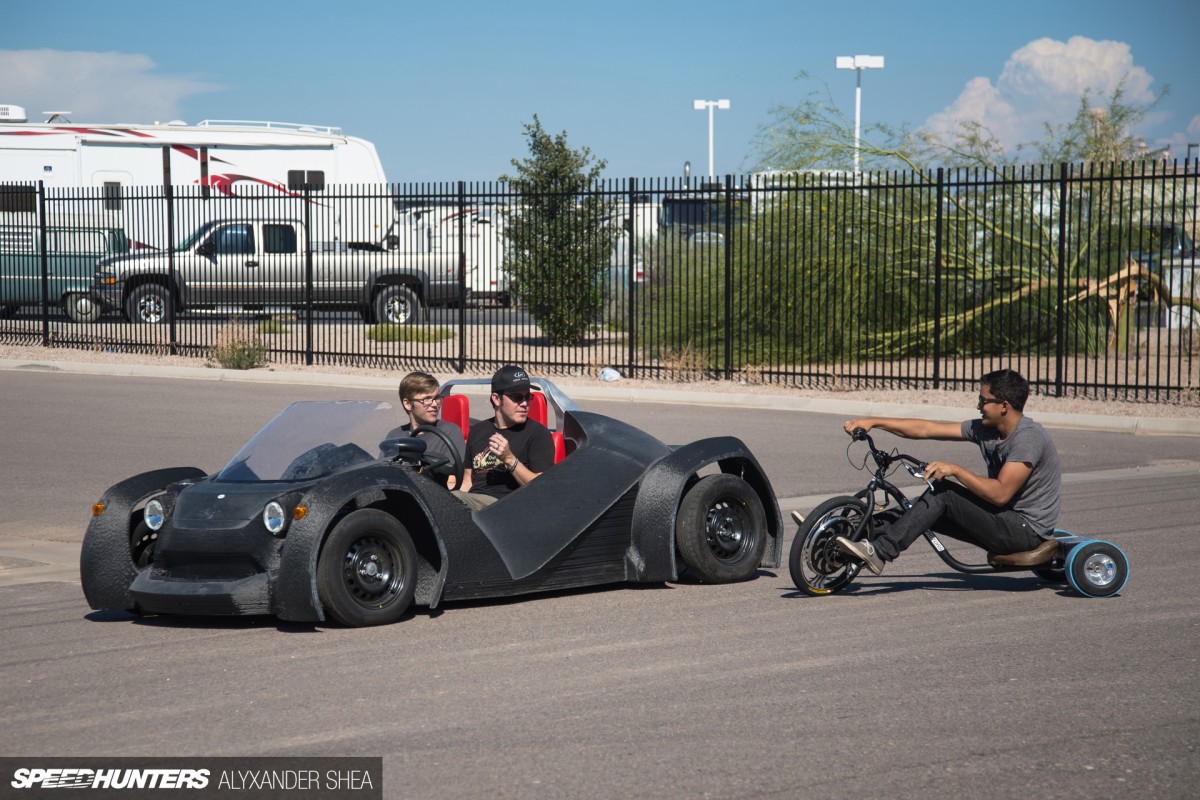 Specifically a drag race against Local Motors' fantastic electric drift trike, the Verrado (look it up, you'll want one!).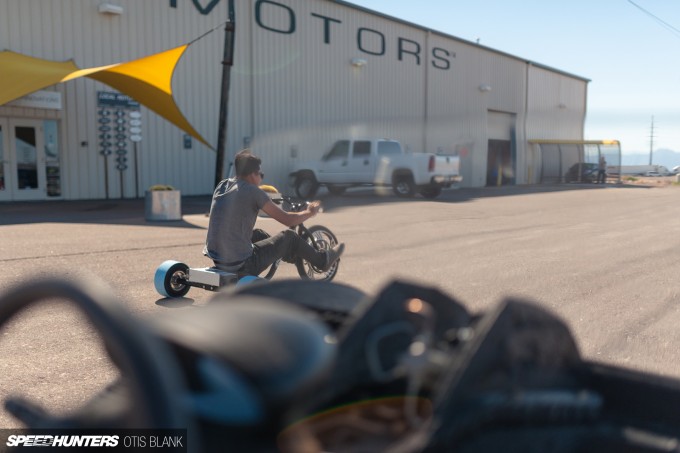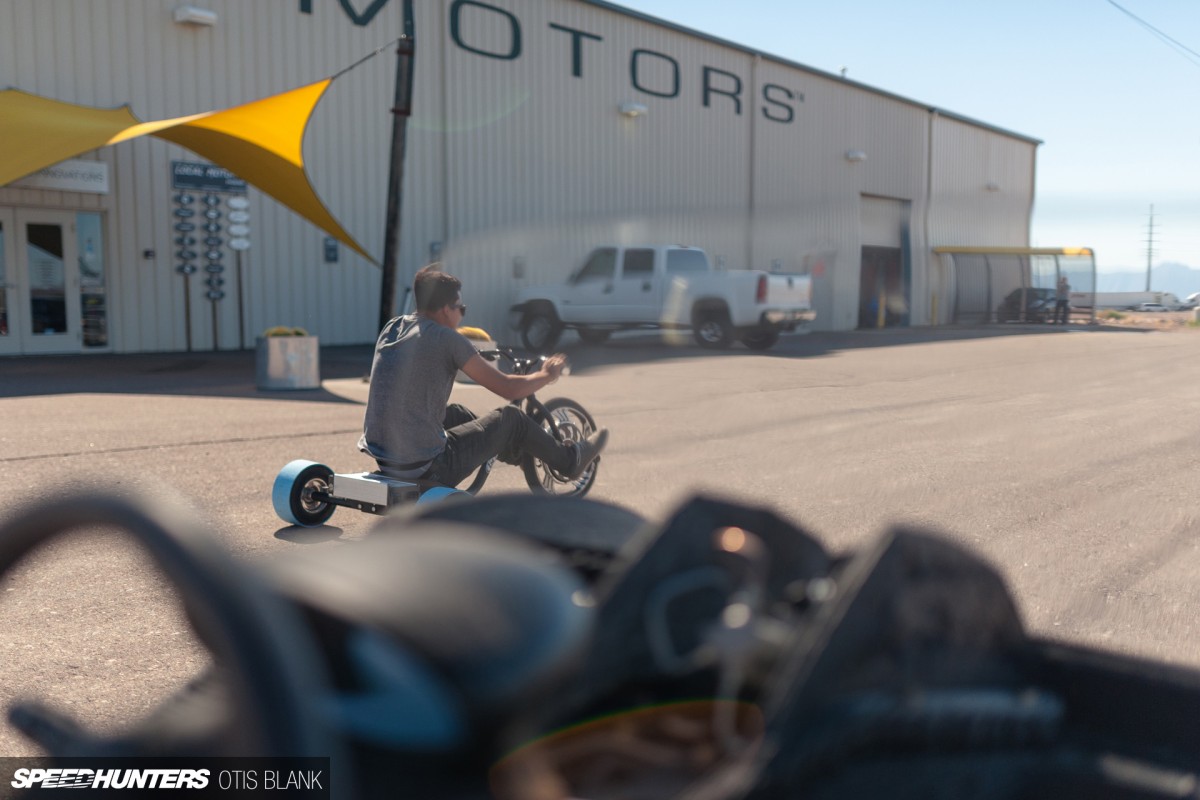 We lined up with the trike and on three launched down the parking lot at an absolutely blistering pace of what must have been at least 5 or 10 miles per hour. Speed slowly climbed though, and we possibly got into the 20s…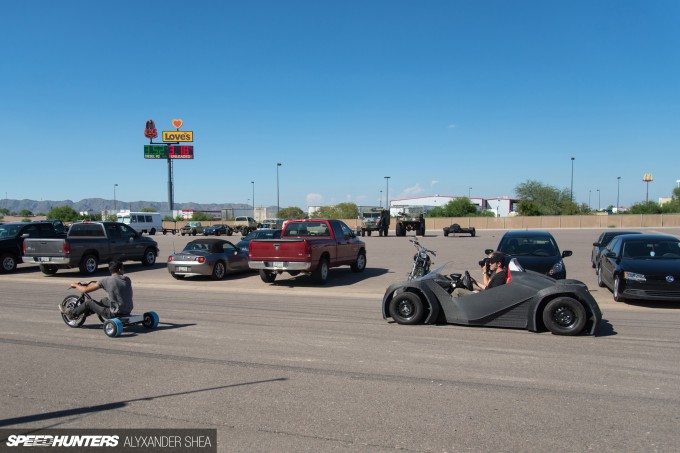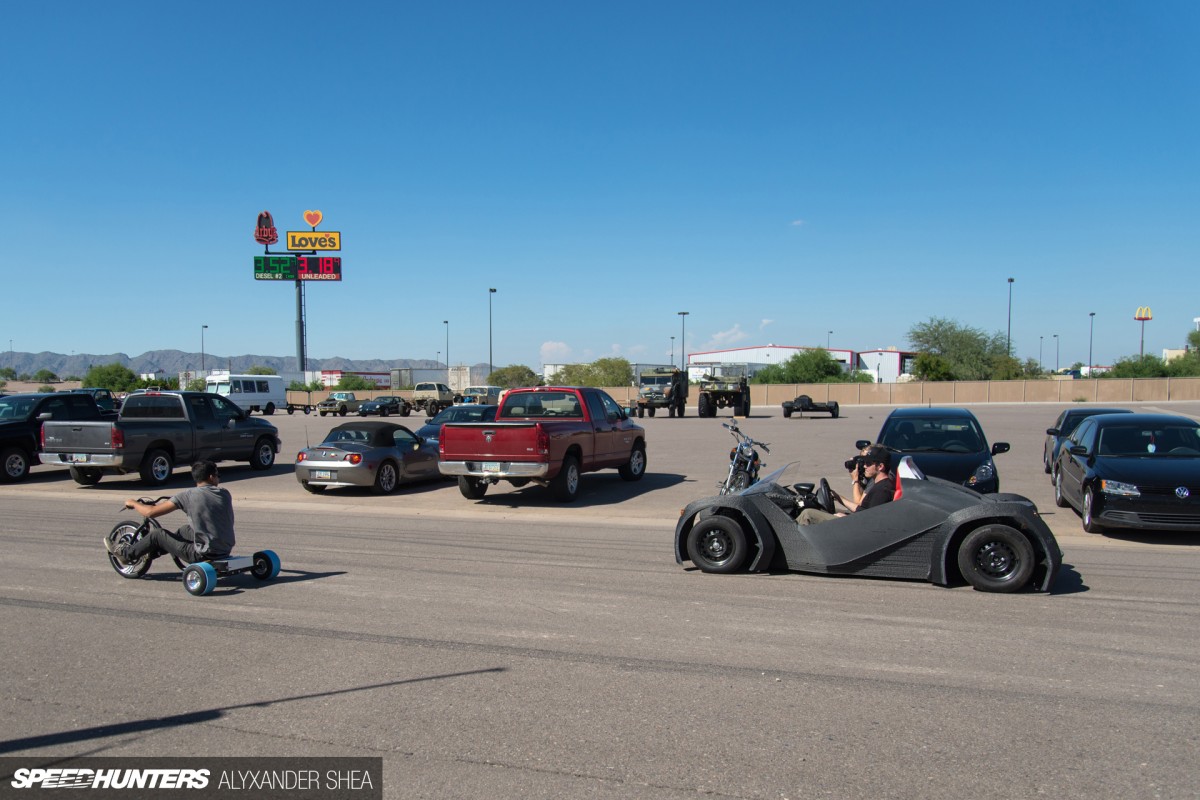 Sadly the Strati was no match for the lightweight Verrado, which handily beat us to the finish line.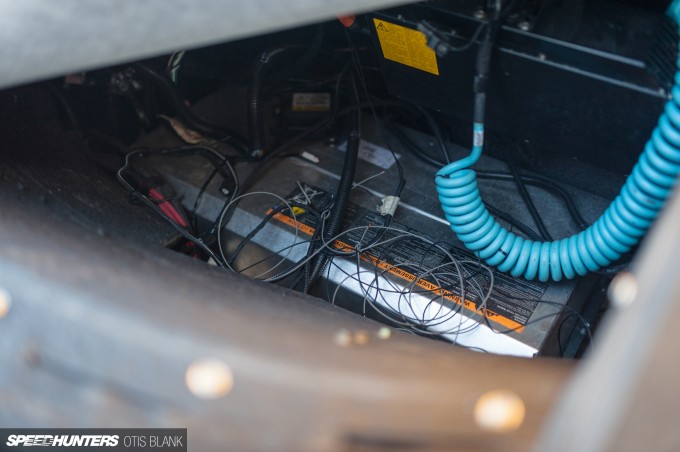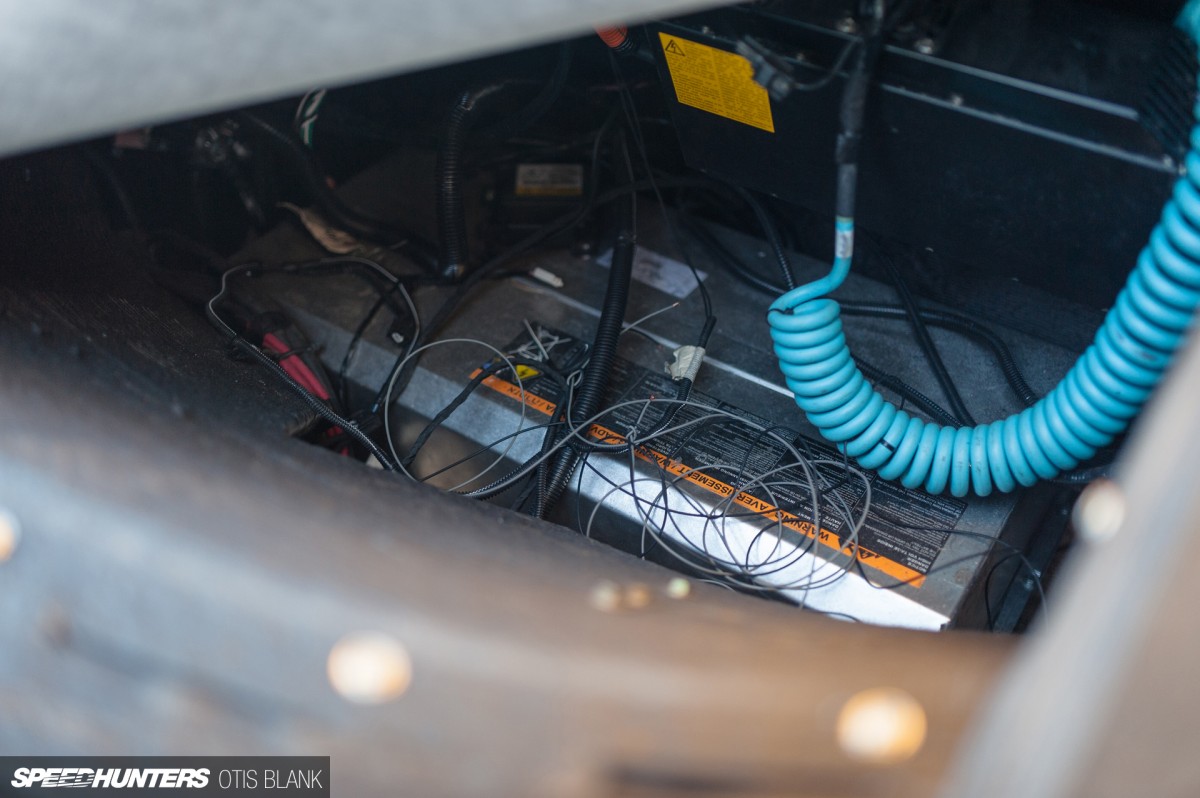 The Strati isn't exactly a firebreather, in fact it's just the opposite. For those who don't know, the Renault from which it gets its engine is an electric car with two powertrain options rated at 5hp and 17hp respectively. Only two Strati were in existence when I visited Local Motors, and this one has the less powerful option, hence the big loss at the drag strip.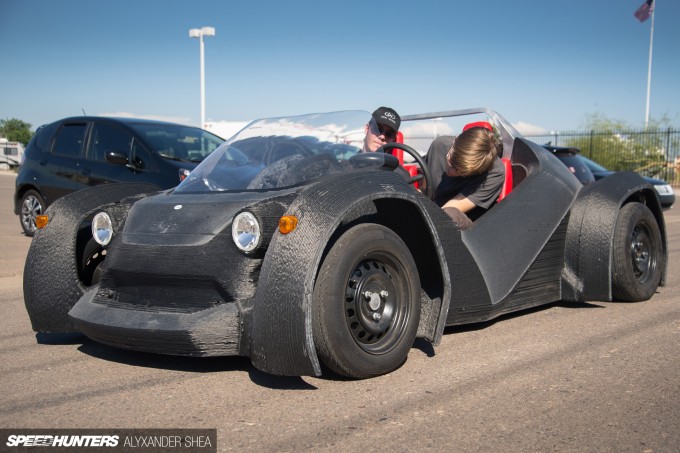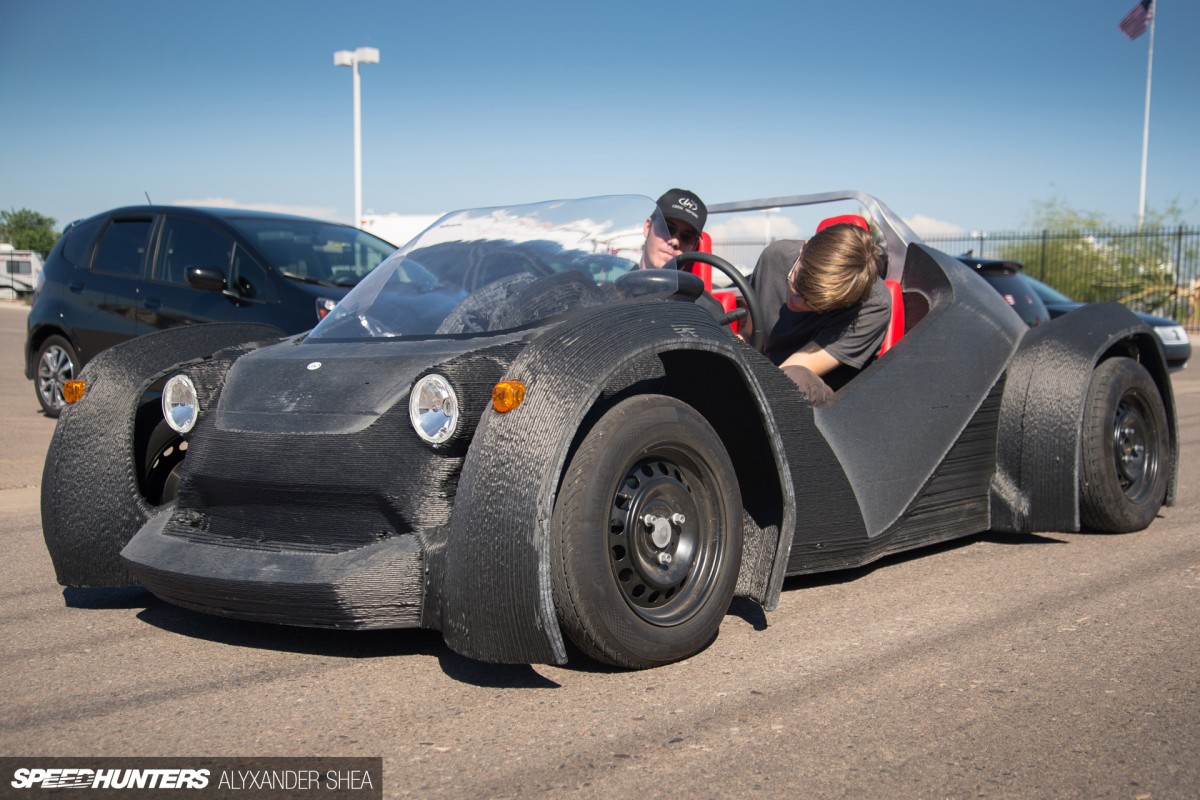 After the race it was my turn to drive the Strati for a quick hands-on experience. Driving the car felt pretty normal while in motion, it was very solid over bumps and managed turns with poise. It feels very rigid in a way that evokes a sense of quality about its construction.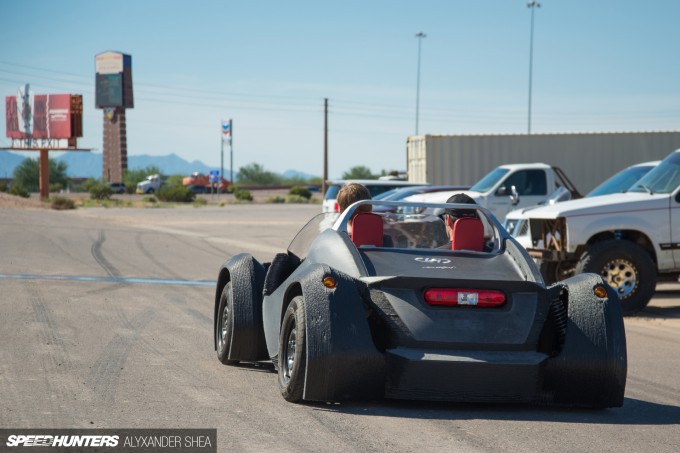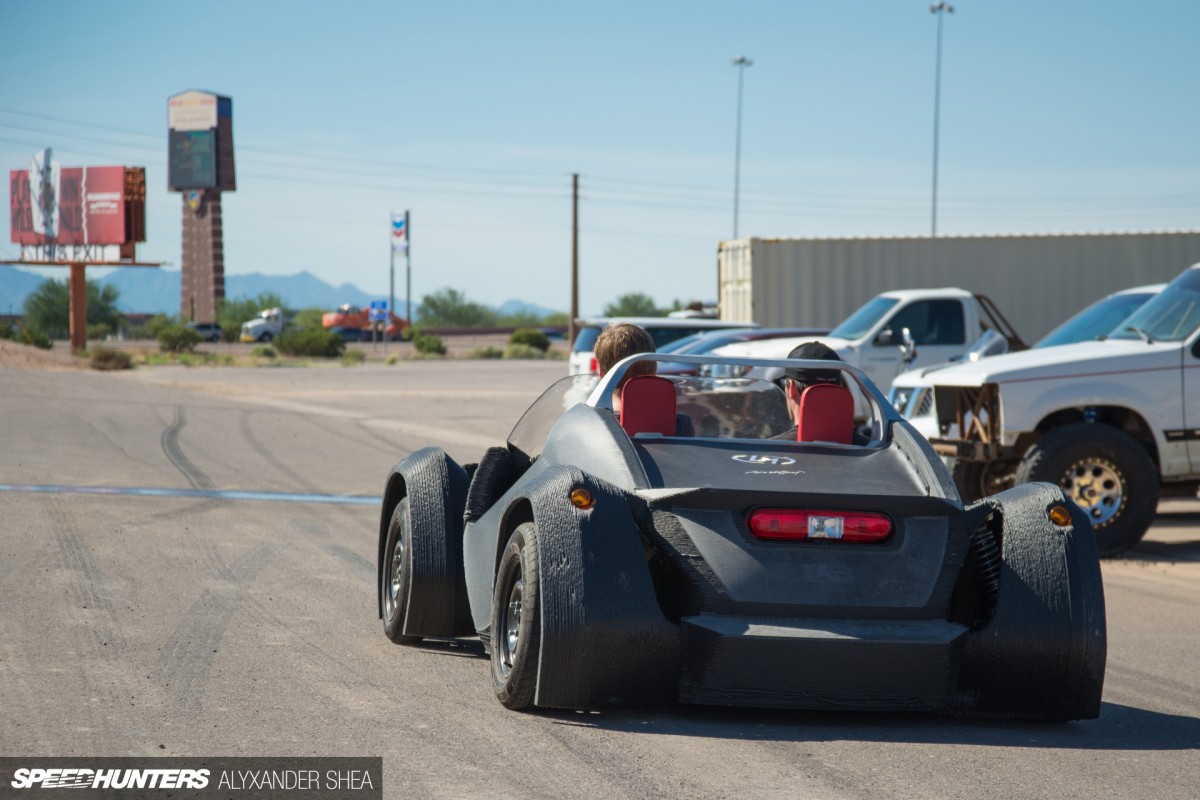 I must admit that I was initially weary of the strength of the material that the Strati is manufactured from. To me, it seemed like the plastic could flex in a way that was off-putting, but that wasn't at all the case. The Strati was creak free, even at this early stage.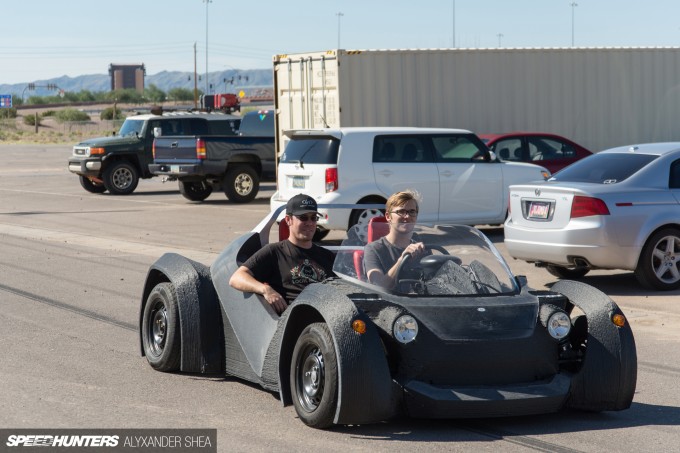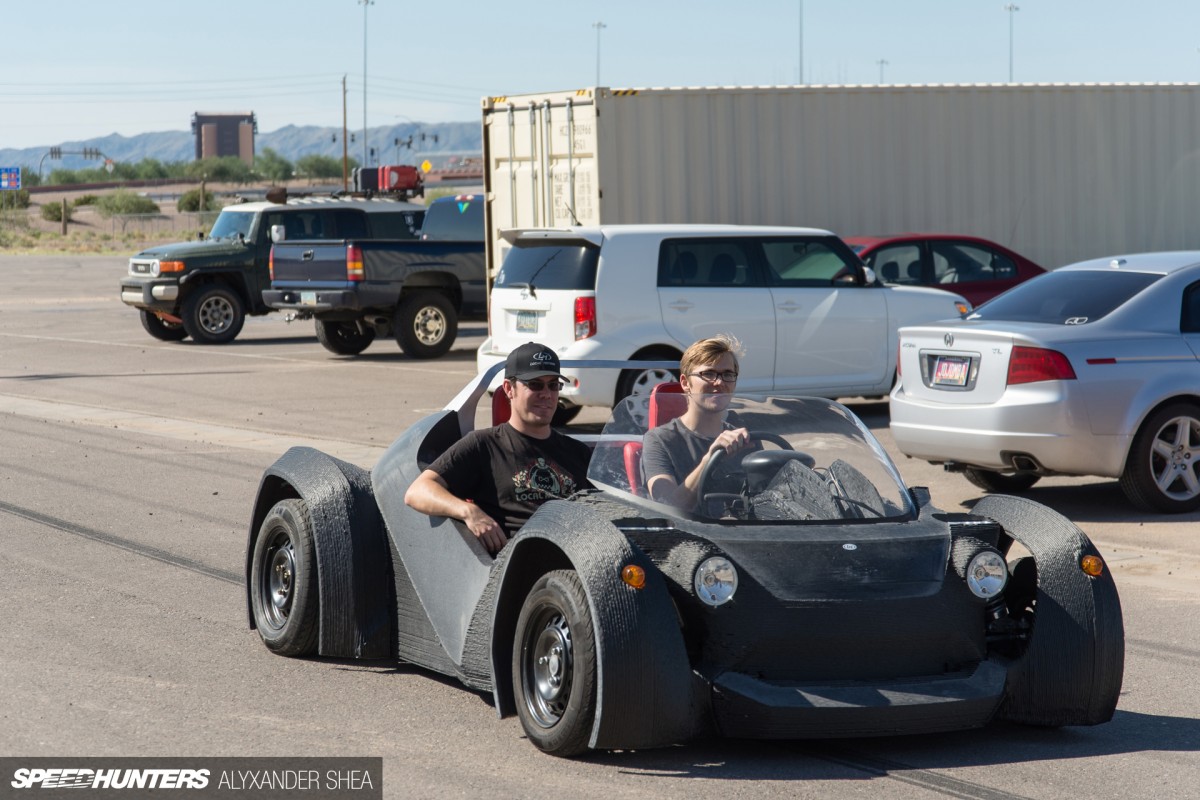 As I started to get comfortable with it, I had to remind myself that this was a million dollar prototype that I was certainly not prepared to afford to fix. I took great care while pulling it back in to its parking spot in front of the factory entrance.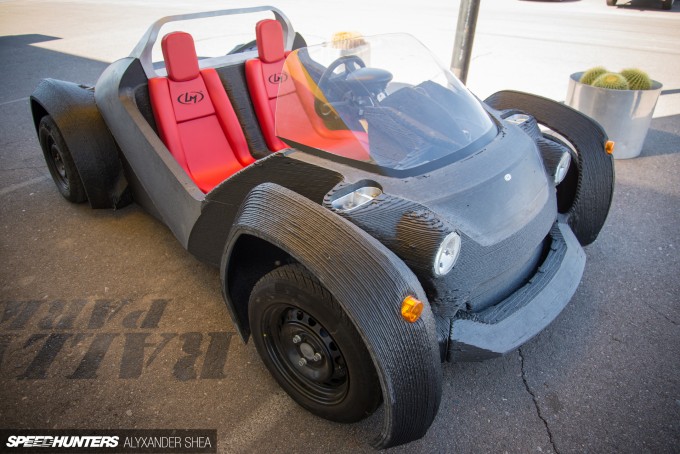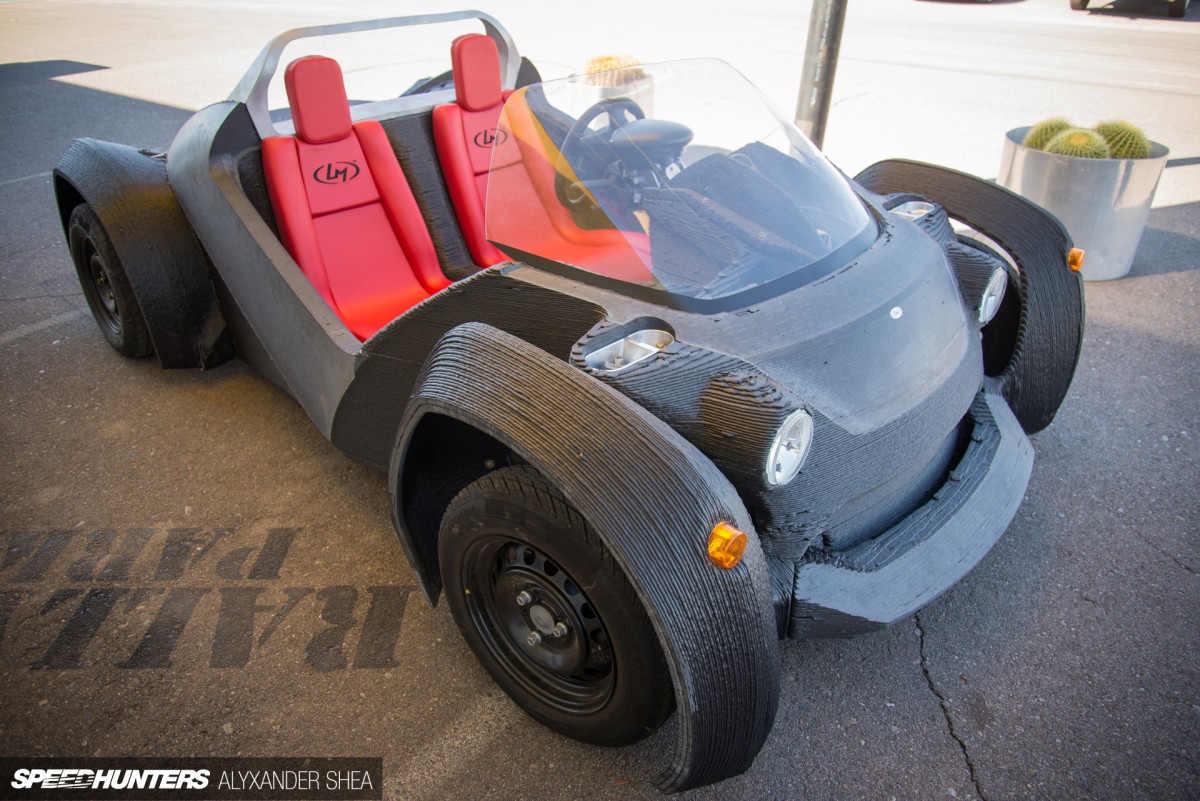 So it's not an amazing performer, but it feels like a real car that works, and works well. To me just the fact that something like the Strati now exists is exciting enough. It's the first of its kind, a rough sketch of what the future of automobiles could look like.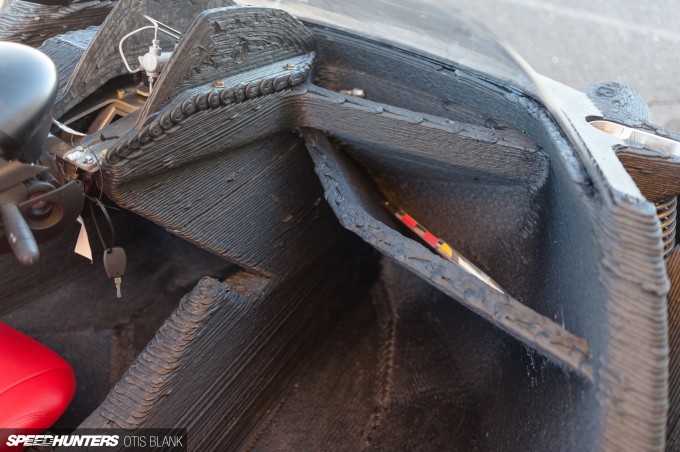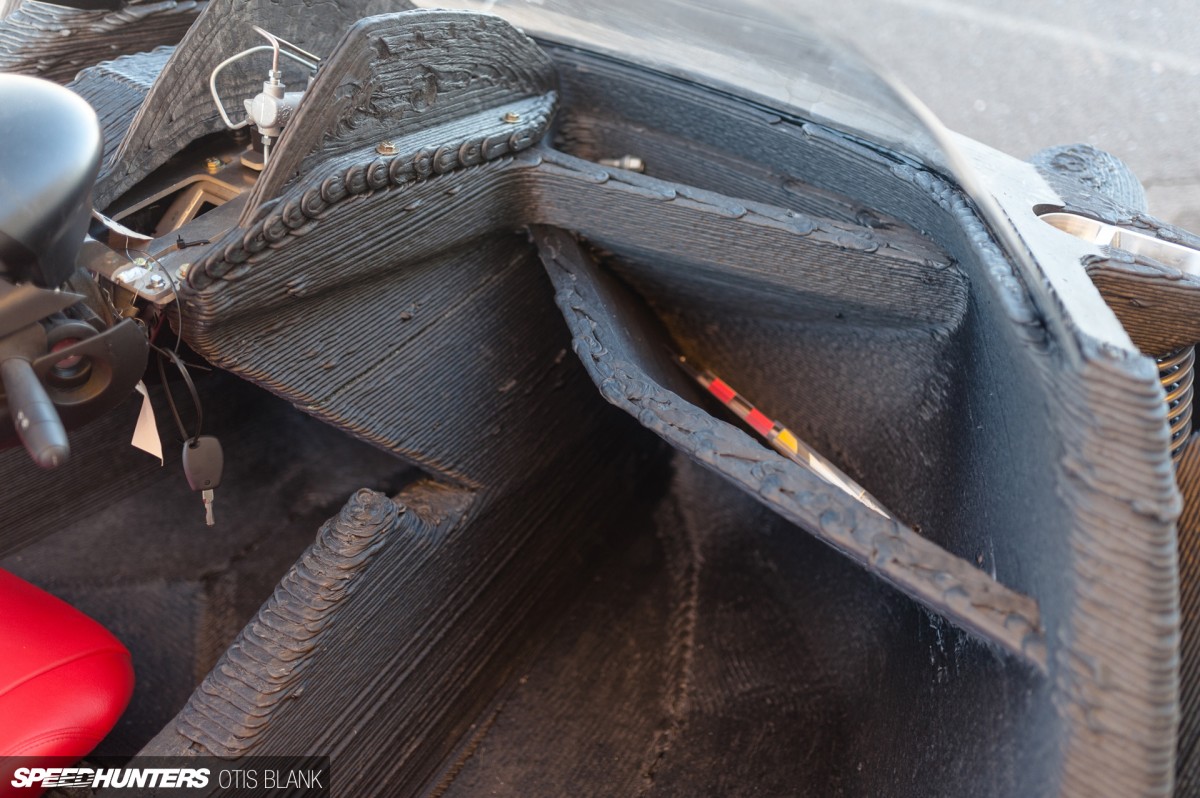 I don't expect 3D printing to completely take over traditional automotive manufacturing processes for major companies like Toyota or Ford, but it creates an exciting realm of possibilities for smaller companies like Local Motors. The flexibility that 3D printing affords allows for great levels of individual customization. This means that a customer could drastically personalize the look of the car as well as make modifications that might not appeal to the majority of car buyers.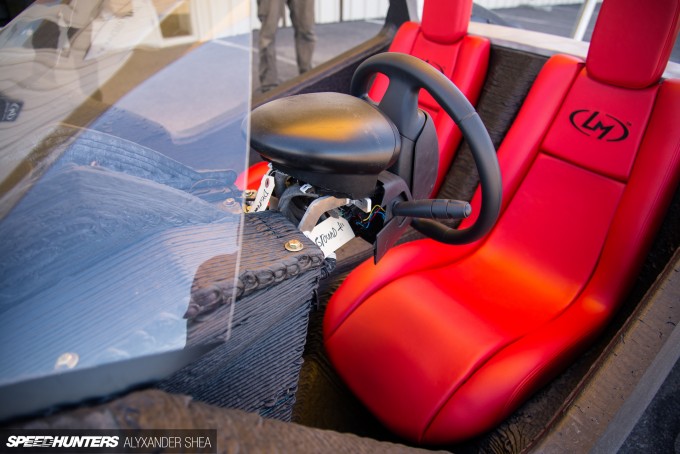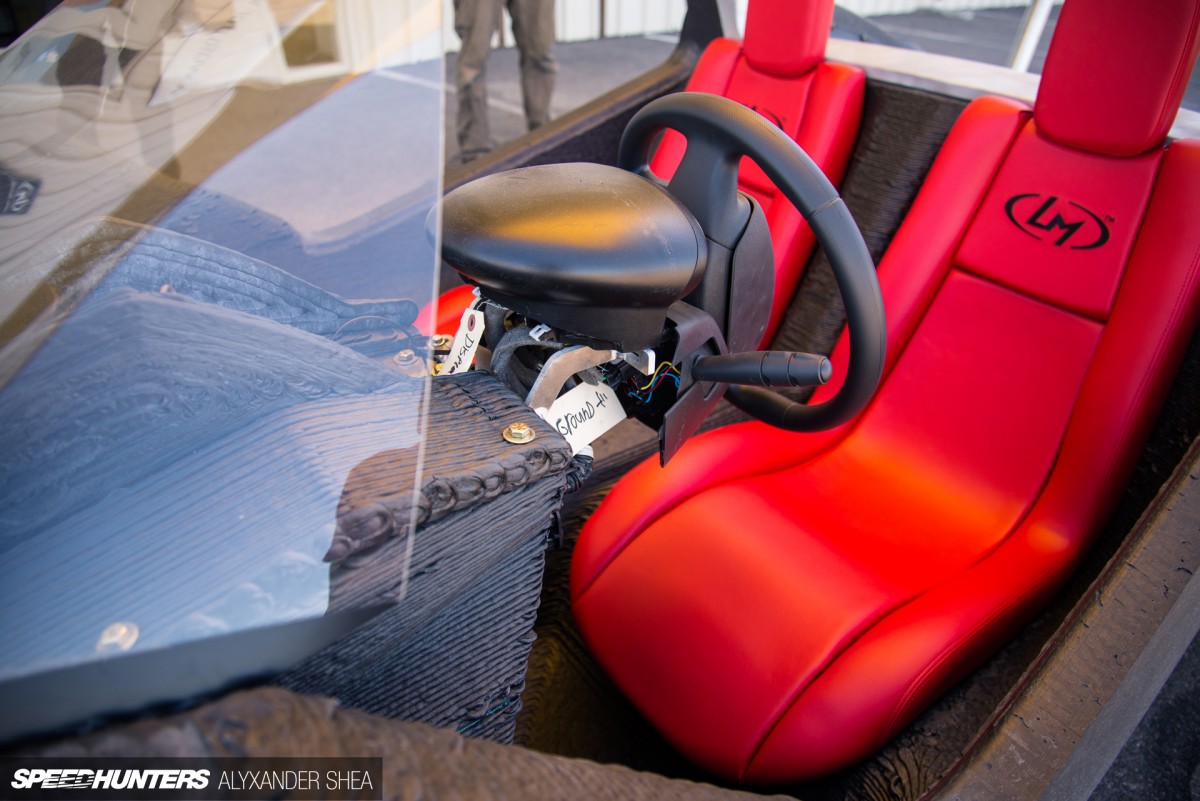 Even more exciting than that though – to me at least – is what 3D printing could mean for the restoration of cars. Plastic parts have been used in cars for more than half a century – and more and more as time has gone on. Today's owners of cars from the '80s are likely to be very familiar with cracking plastic interior pieces and dusty ancient circuitry causing a myriad of inconveniences.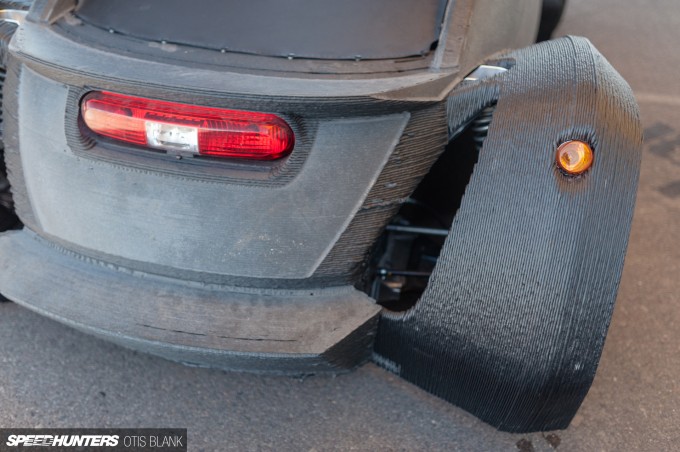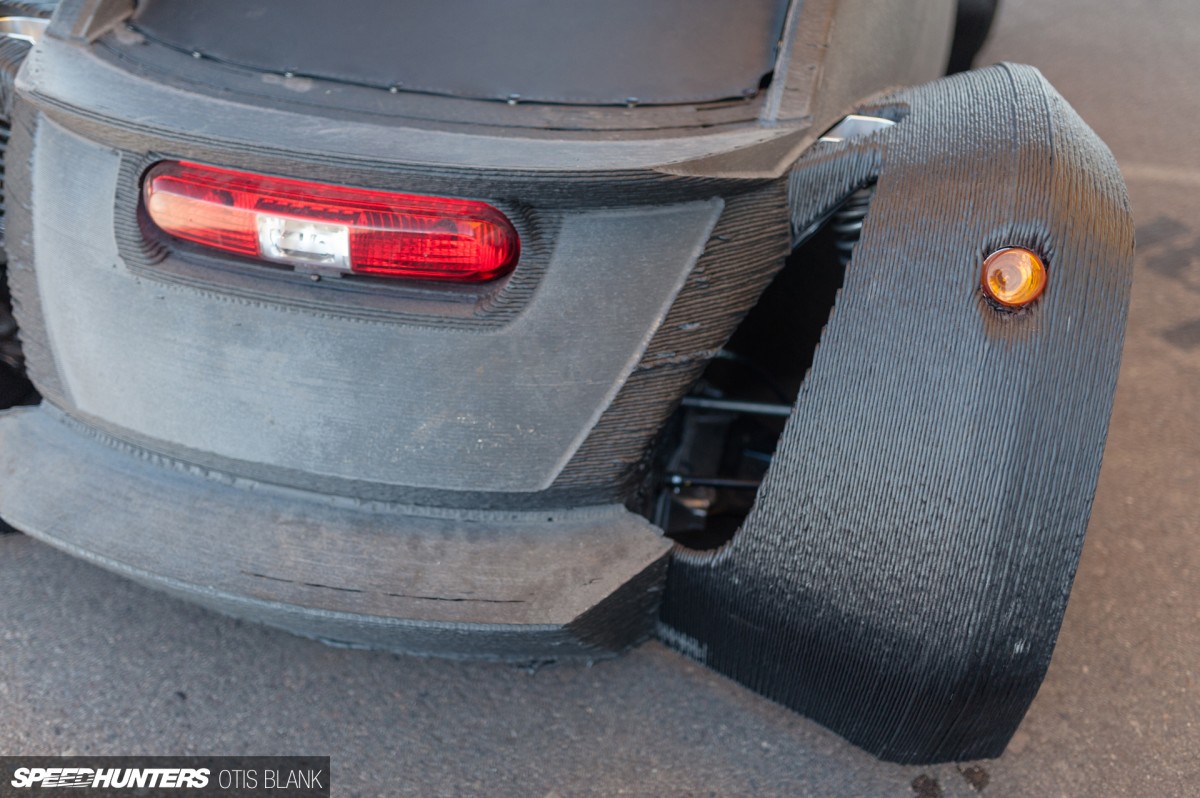 Once 3D printers become accurate enough to reproduce these long-since-discontinued parts, you'll be able to replicate them without even having to leave the house. We already have 3D printers that can print other materials like metal (the titanium tailpipe end piece fitted to Koenigsegg's One:1 is a great example) which further broadens the horizon of the types of parts we will be able to create.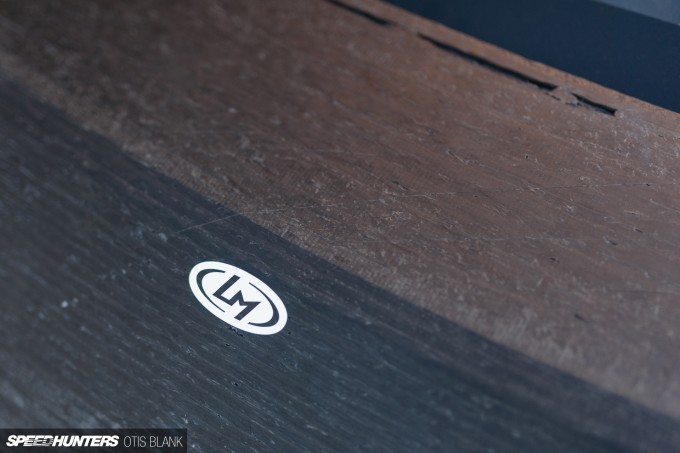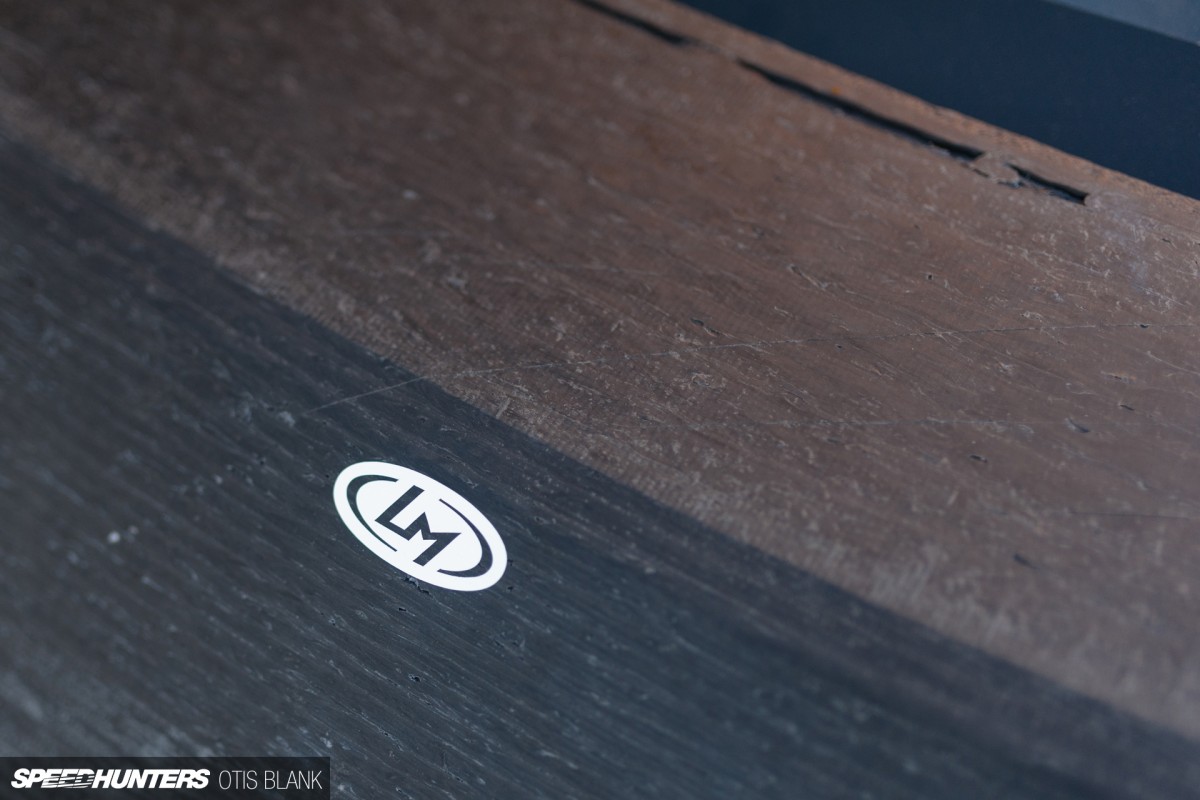 There could be entire companies that simply sell the CAD models of these specific parts to the public so that we can print them at home. I hope to see printers get to the point where they can print entire circuit boards and major engine components. I like the idea of a future where cars like R32 Skylines or E46 M3s aren't doomed to the junkyard because of parts scarcity.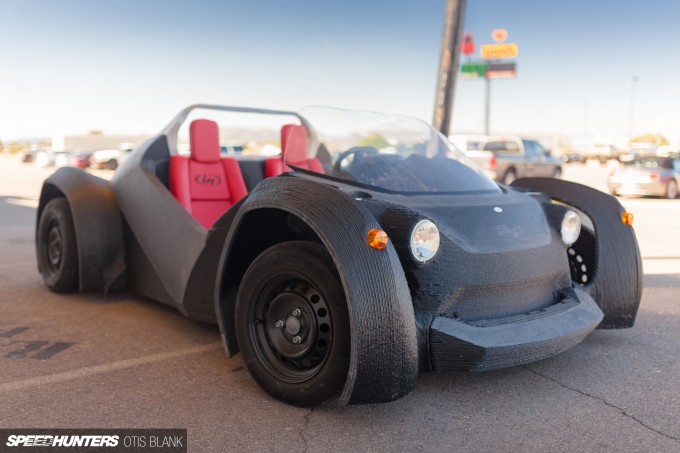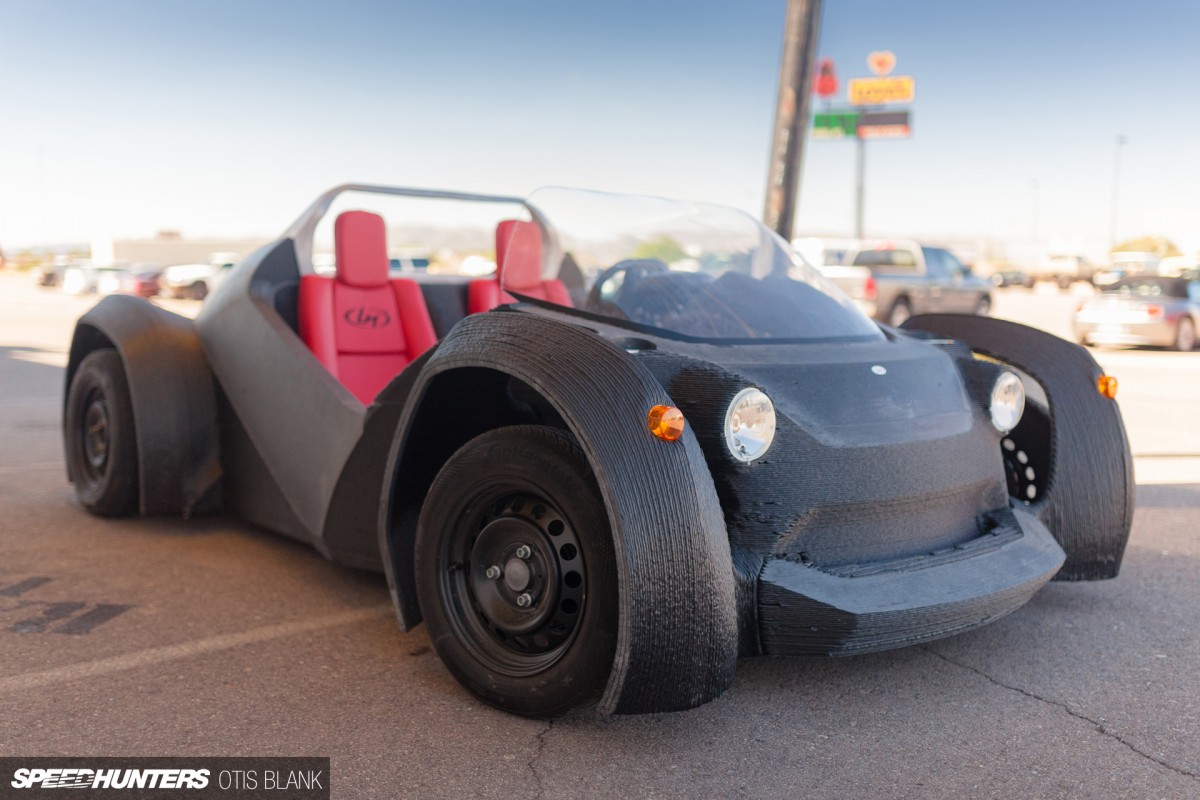 3D printing in general is extraordinarily exciting, and I think it will continue to change the car world. Having had some hands-on time with the Strati makes me feel like the future isn't so far away. There are many exciting years ahead for the automotive universe and the potential-packed Strati is just a small sneak peek in to that future. I can't wait!
Otis Blank
Instagram: @otisblank
otis@speedhunters.com
Photos by Otis Blank & Alyx Shea
Dedicated in loving memory to my dear friend and favorite photo buddy Alyx Shea.
Cutting Room Floor