Hello Sin City
Well here it is, the melting pot of global car culture all under one roof. Well many roofs … and lot of open air spaces too, but you get the point! The annual SEMA Show is a monster in its own right – a huge, intimidating show that will take you days upon days to walk through, and even then there'll still be cars that you'll probably miss.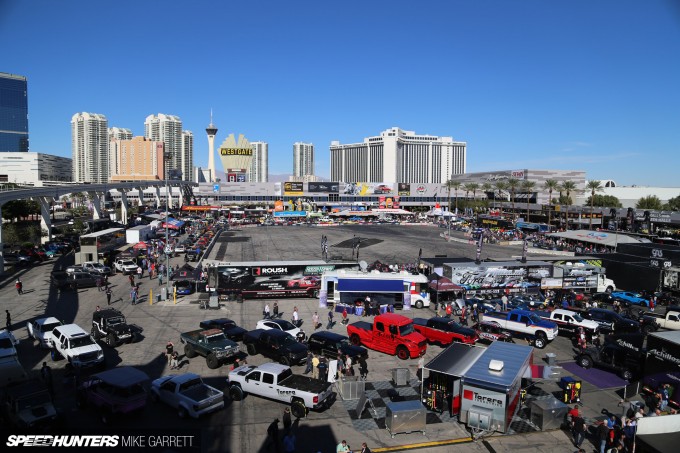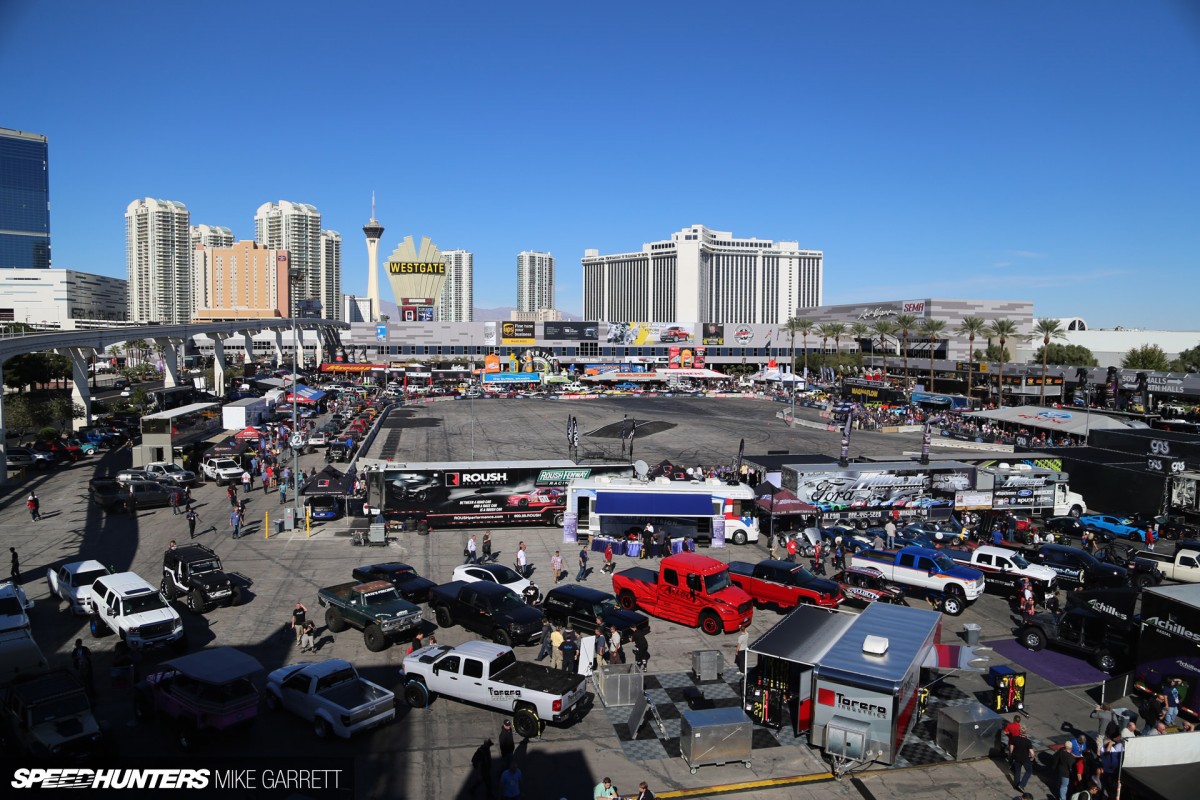 So even though between Mike and myself we probably haven't physically seen half of what the 2014 event has to offer so far, I thought we would share a quick post of the coolest things we did manage to uncover during the first day…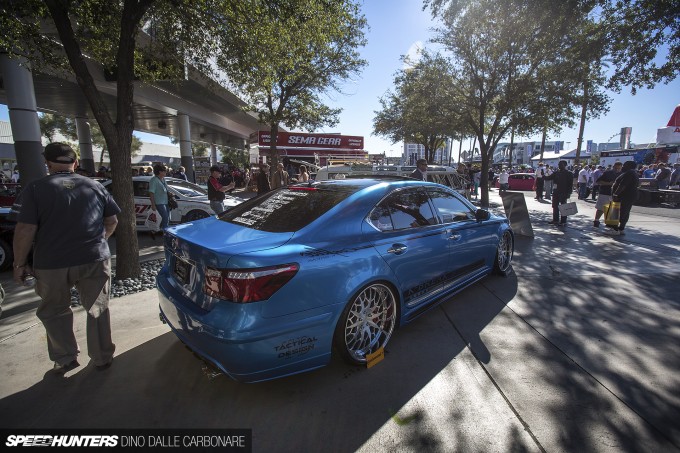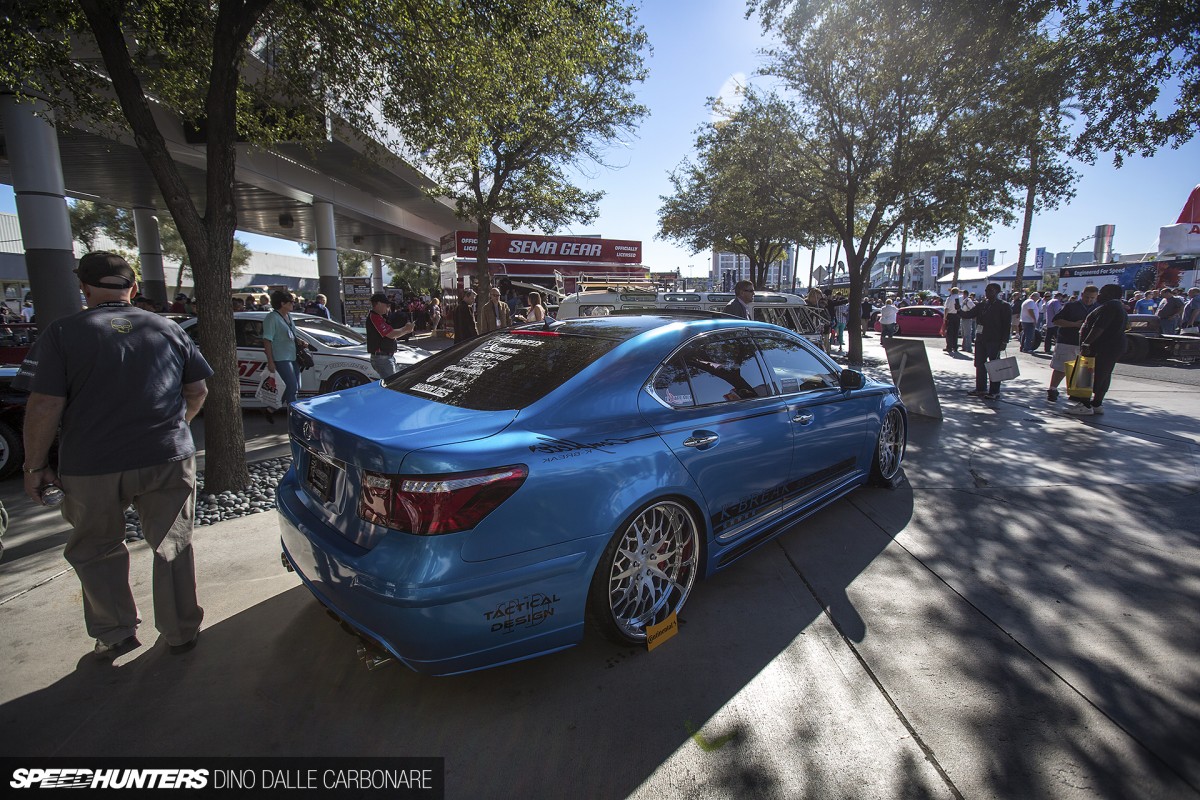 I haven't visited Las Vegas since my last SEMA Show back in 2008, and while the tangible energy and overall atmosphere is very much the same, this time around I've been enjoying the wider mix of cars that are now on the scene. And as you can imagine, coming from Japan I was naturally drawn to those machines that had an obvious JDM feel about them, like this VIP-styled Lexus LS sporting full K-Break aero.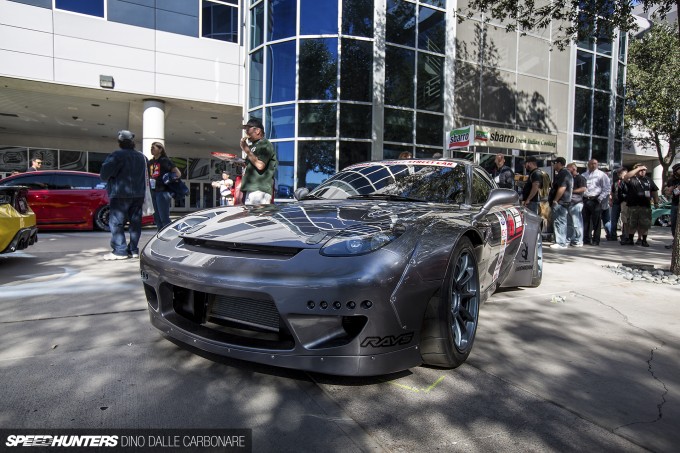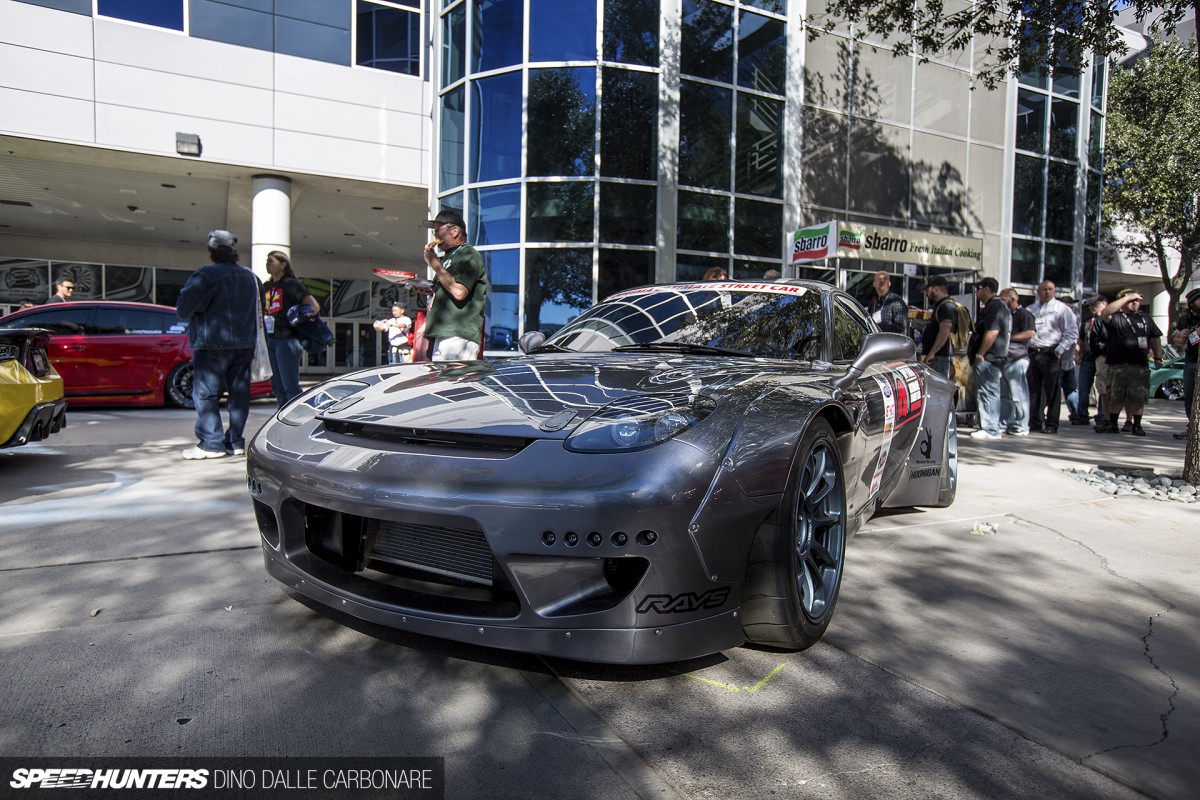 It should come as no surprise that Miura-san has been rather busy of late shipping out countless bodykits for cars that Rocket Bunny has either built or collaborated on. Case in point: this cool FD3S RX-7 – one of at least three that I saw in and around the Las Vegas Convention Center. I didn't actually realise just how big of deal overfenders have become in the US scene, but I'll touch on that in some of my other coverage from the show.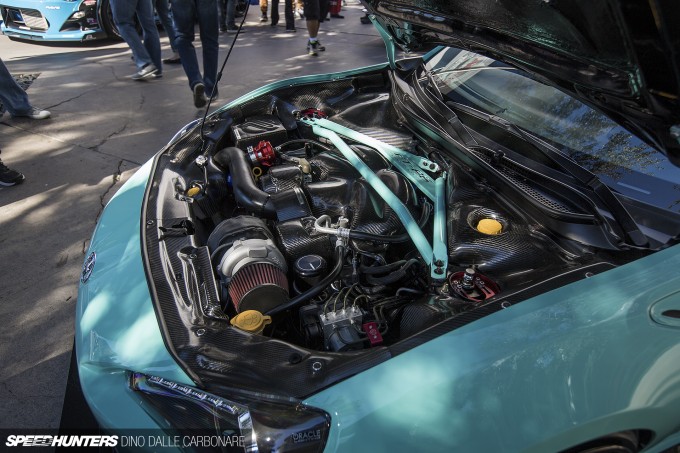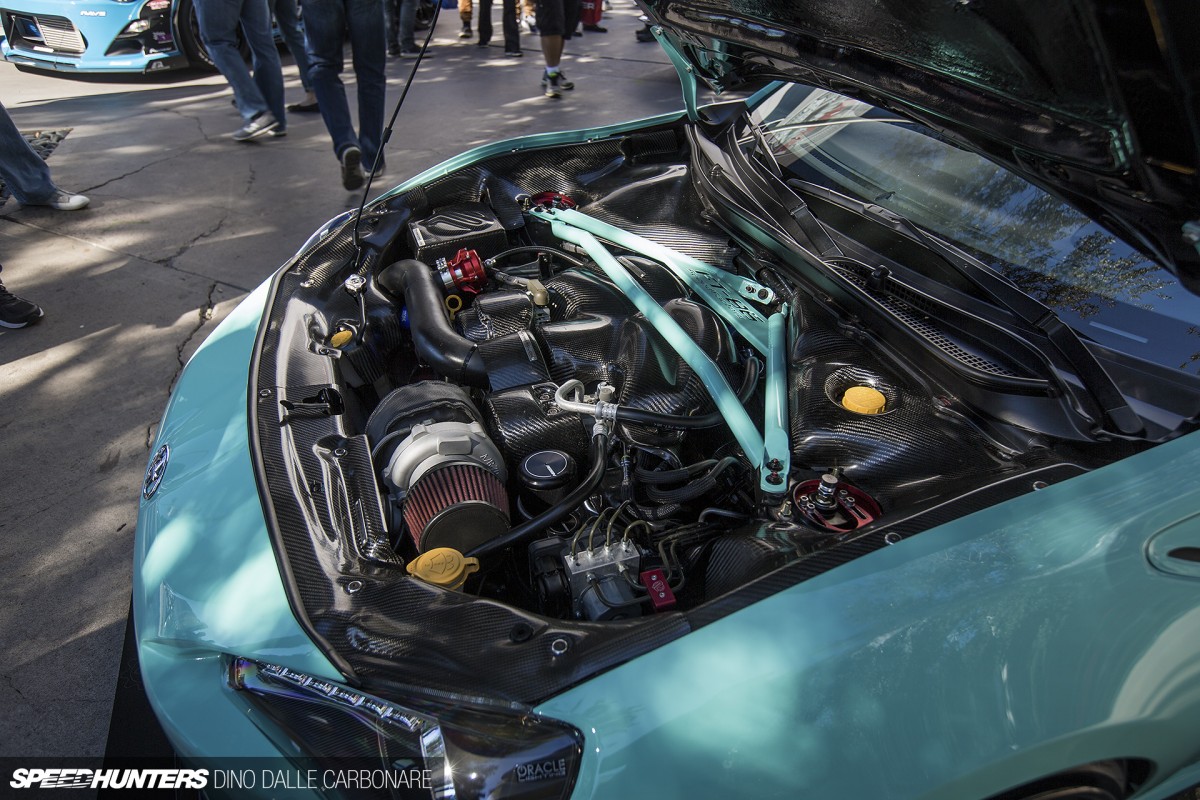 Another FR-S? Sure, there are tons at this year's show, and all sporting their own twist on the attractive modern-day FR offering. What stood out the most for me on this particular build is that finally someone has come up with an elegant way to hide the ugly stuff in the engine bay. Plus all those covers are made out of carbon fiber, so double points for that in my book!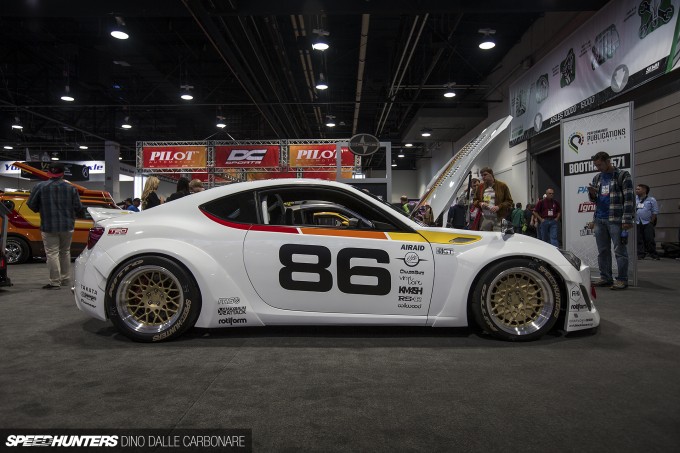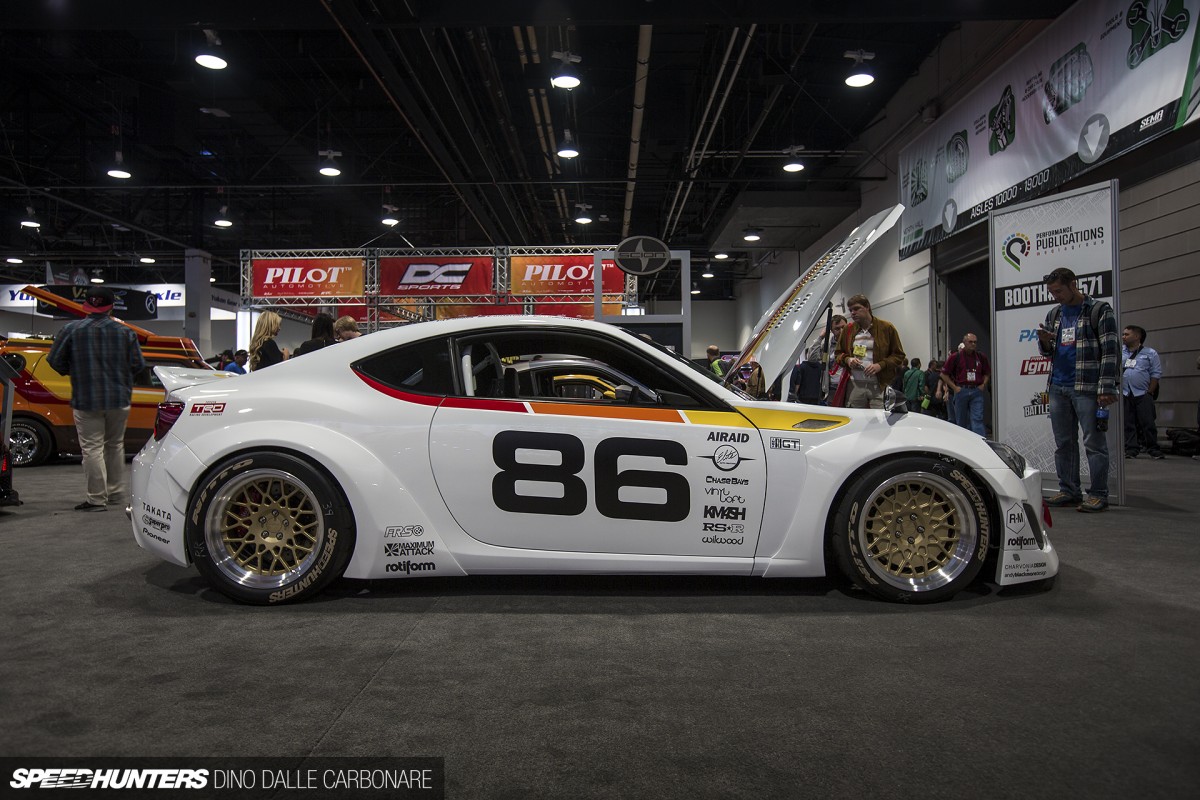 Okay, I'm biased, but I just love what Keith, Andy and the rest of the team and sponsors have done with Speedhunters' Scion Tuner Challenge entry. The MAXIMUM ATTACK FR-S oozes details, from the Cosworth supercharger in the engine bay, to the shaved bolts on the KM4SH aero kit, to the shaved door handles, and the beautifully appointed interior – not to mention the overall '70s IMSA style and retro TRD coloring. The fender mirrors get a huge thumbs up from me, but it's all down to the judges now and they'll be casting their final votes tomorrow.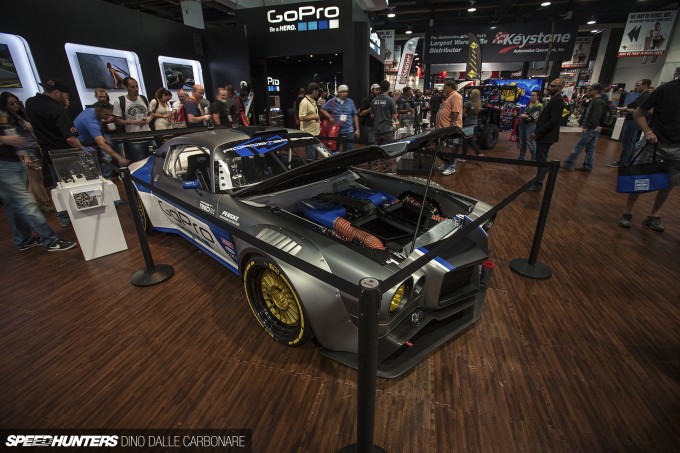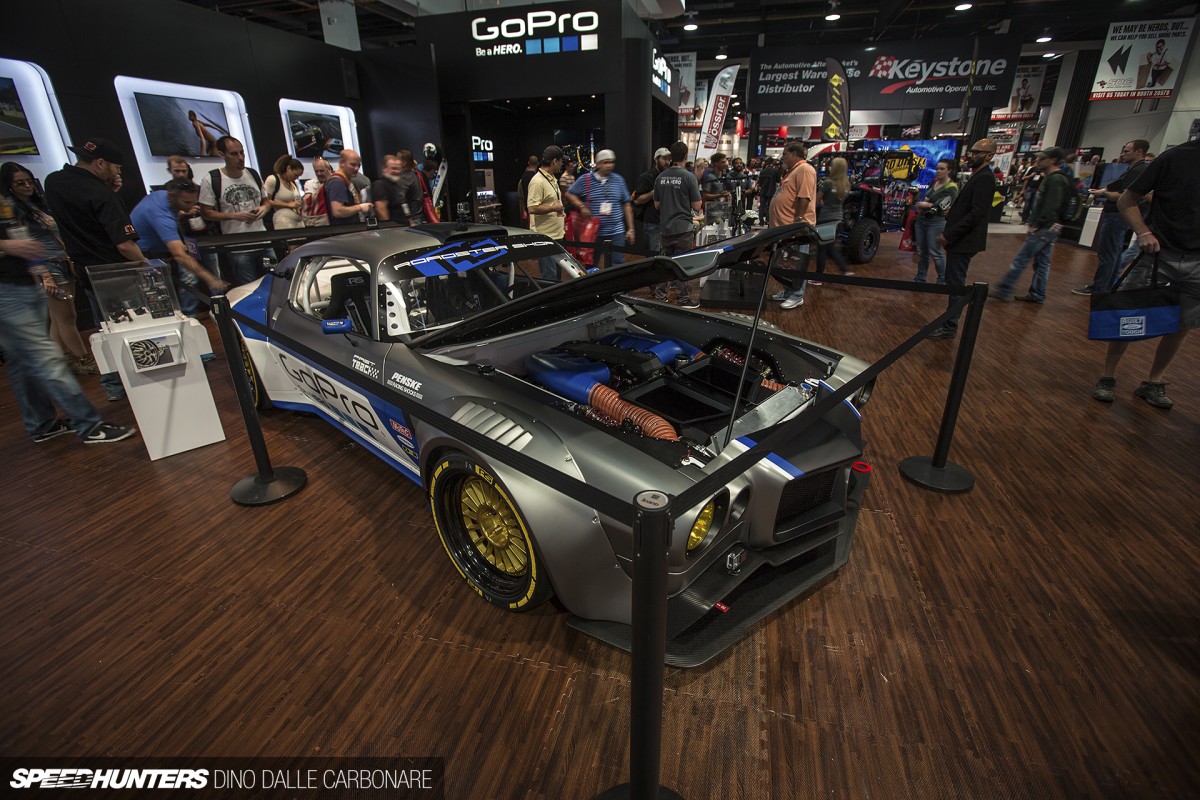 GoPro has the Roadster Shop Camaro on display at their both, and it's an impressive, detailed build which Mike will be telling you all about in one of his upcoming Spotlight-O-Rama posts.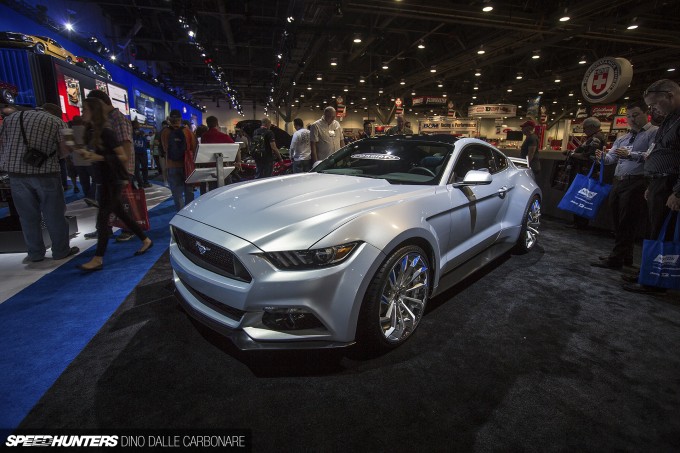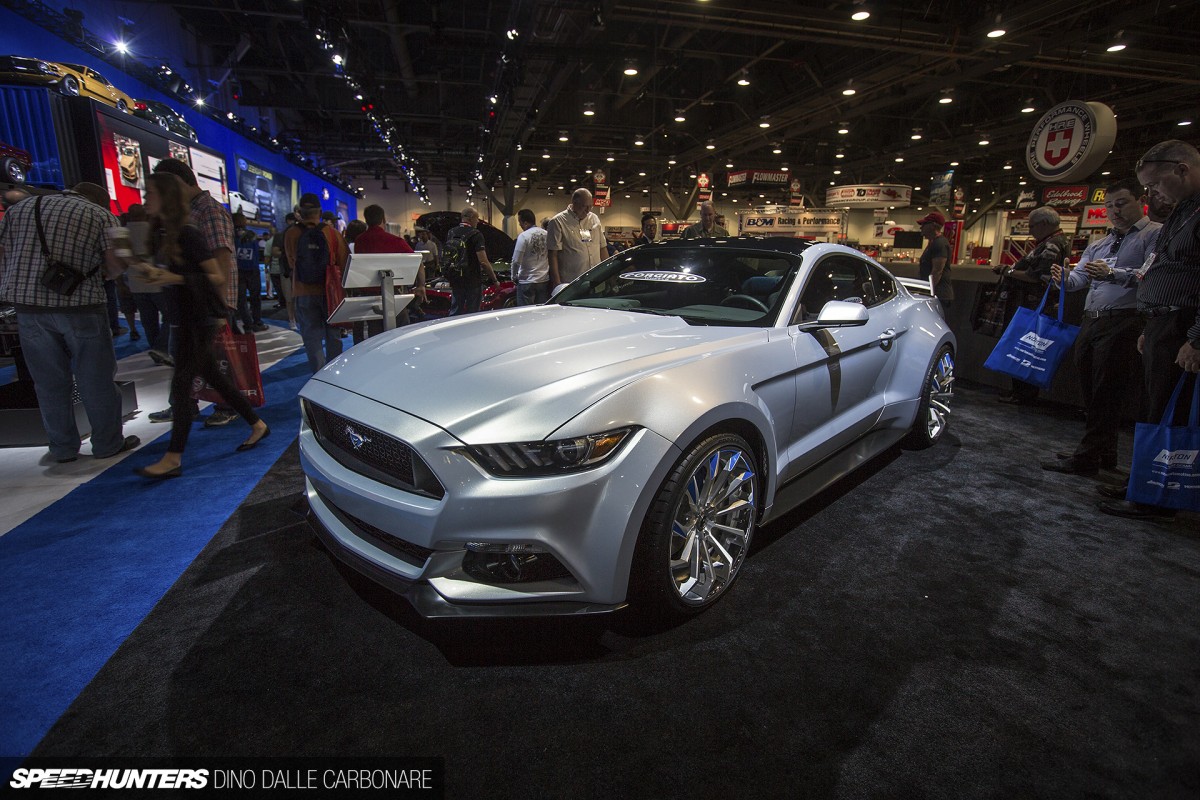 I admit that I've always politely disregarded the Mustang – I've just never been a fan personally. But that just changed. Ford has been doing some awesome things lately – first going with the twin cam 5.0L engine, and then with this new car even offering rear independent suspension. I also have to say that this is one hell of a nice looking car; even out of the box it has a ton of potential.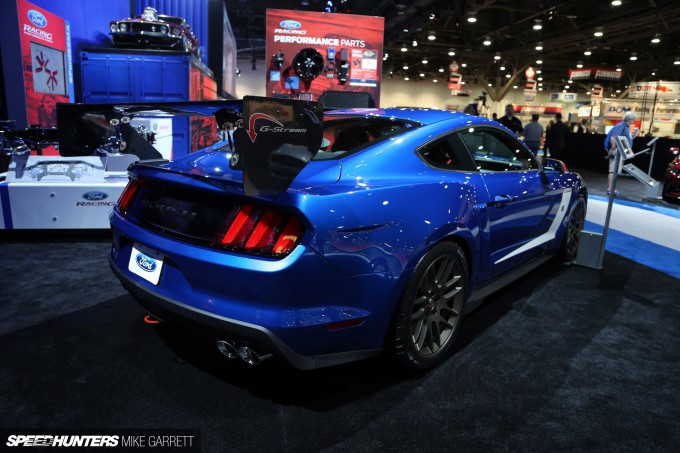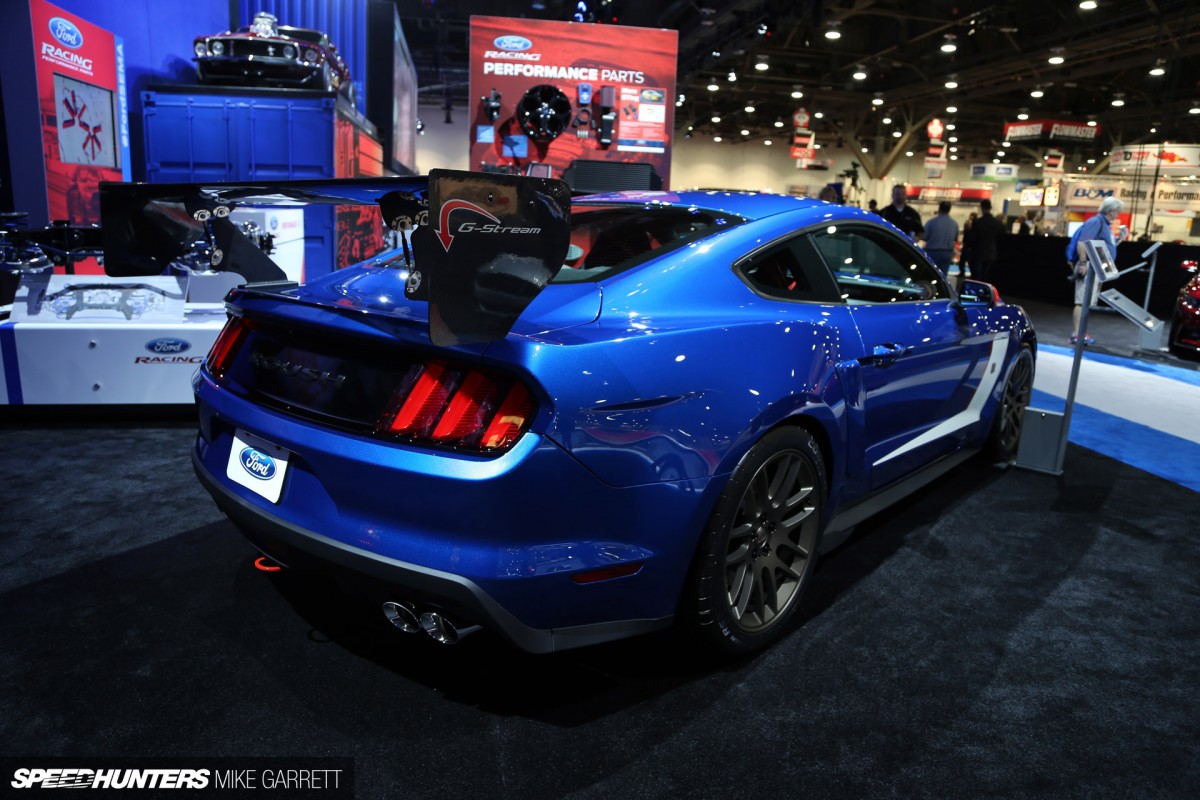 And there are ton of tuned versions on display, showing just how many different routes you can take with this new 2015 car.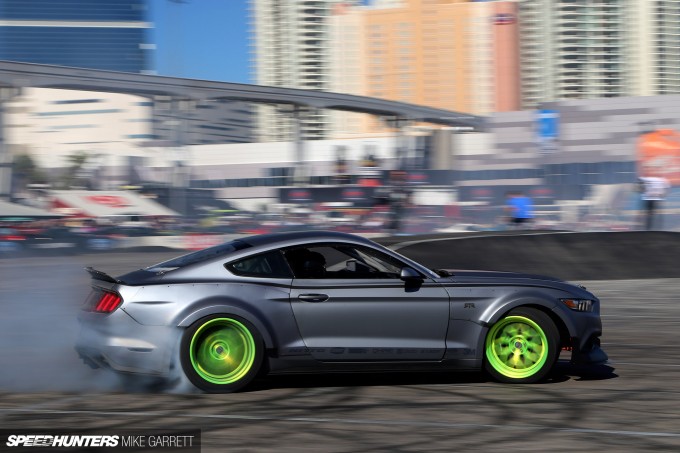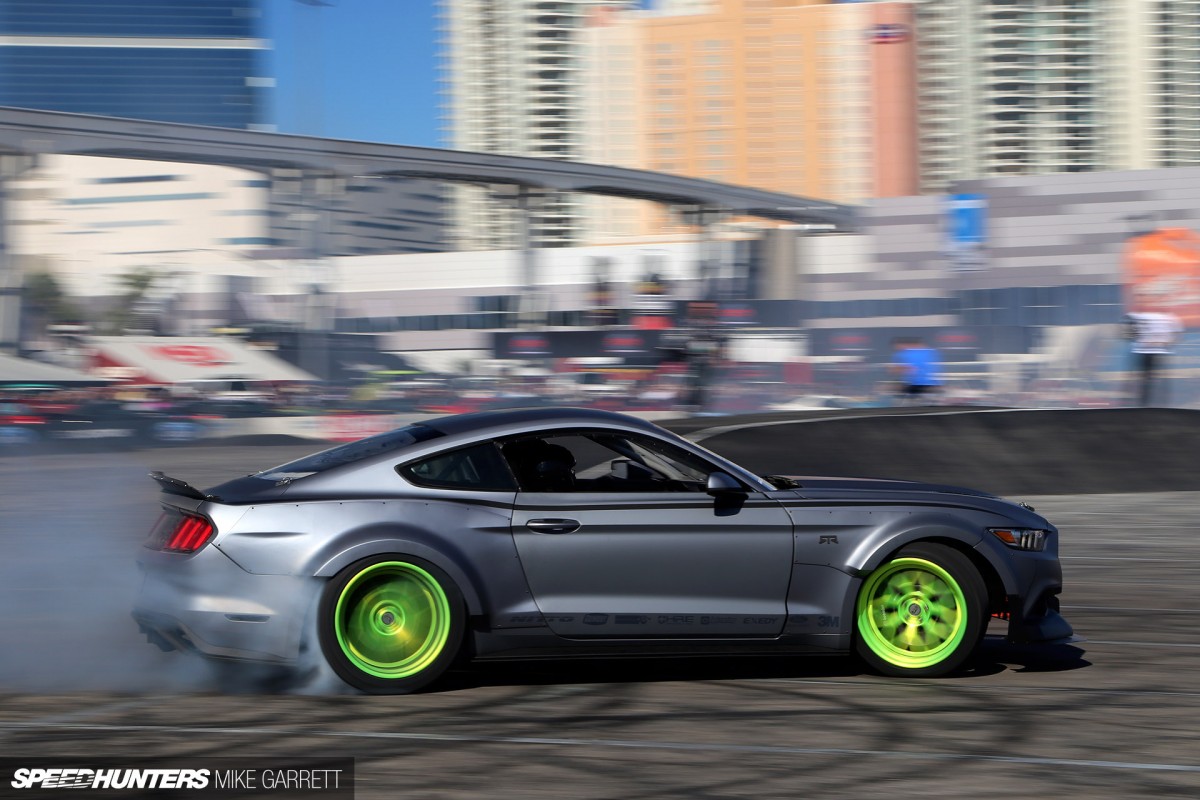 However, the one that's turning the most heads is easily Vaughn Gittin Jr.'s all-new 2015 Mustang RTR demo car, which was just unveiled at the show. Obviously you will able to see and read about this beast in full detail in an upcoming feature. As always, we're hand-picking the coolest stuff for you guys!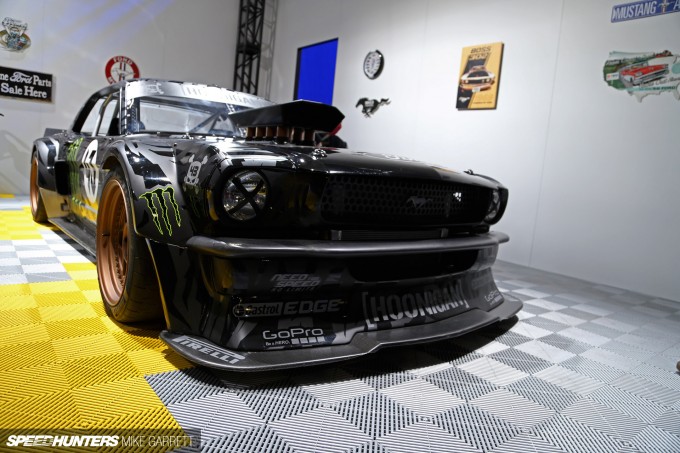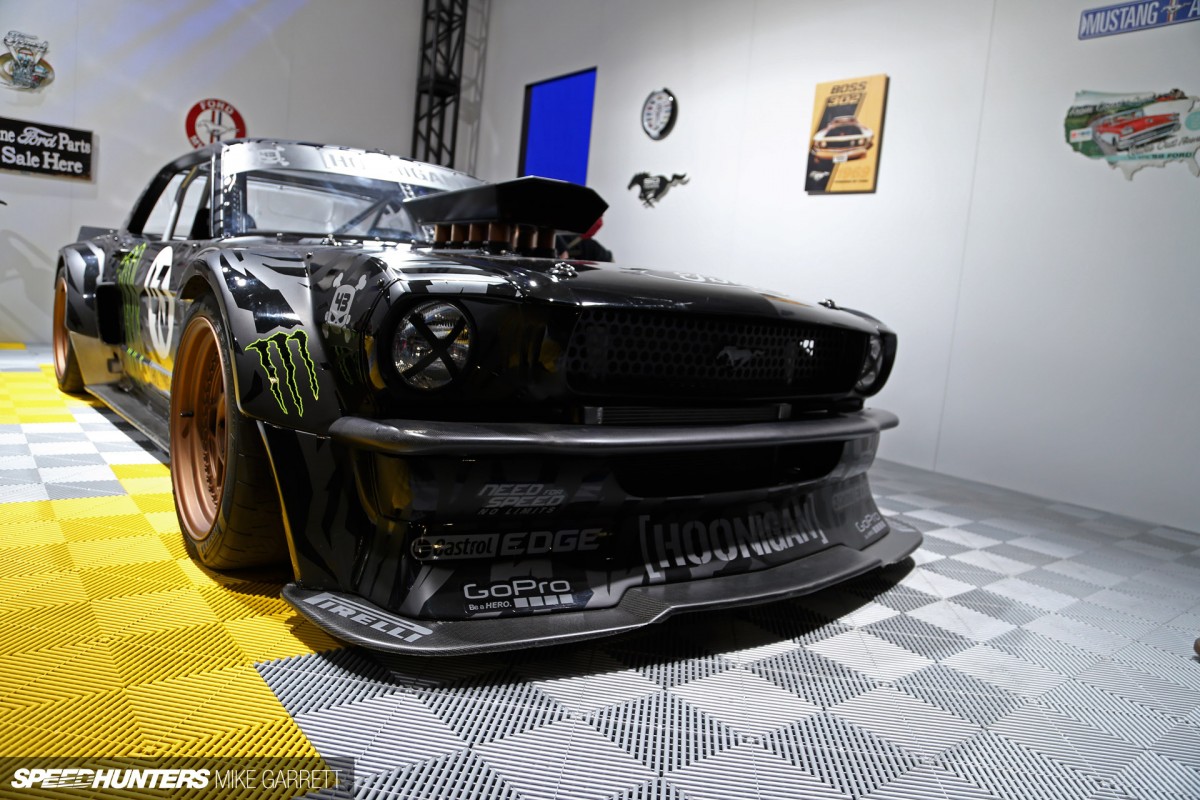 As cool as the new car is, some, however, still prefer the older look. But really, that's where it stops with Ken Block's new Gymkhana car, because this thing is off-the-chain crazy and packed with new tech. And yep – we've got a full feature on this 845hp all-wheel drive machine coming up soon too!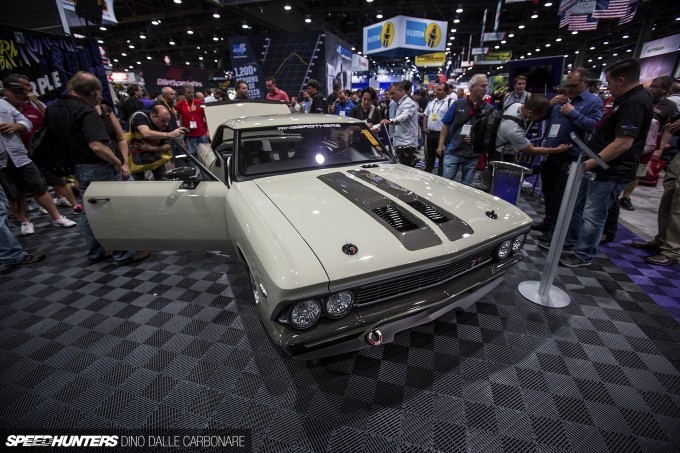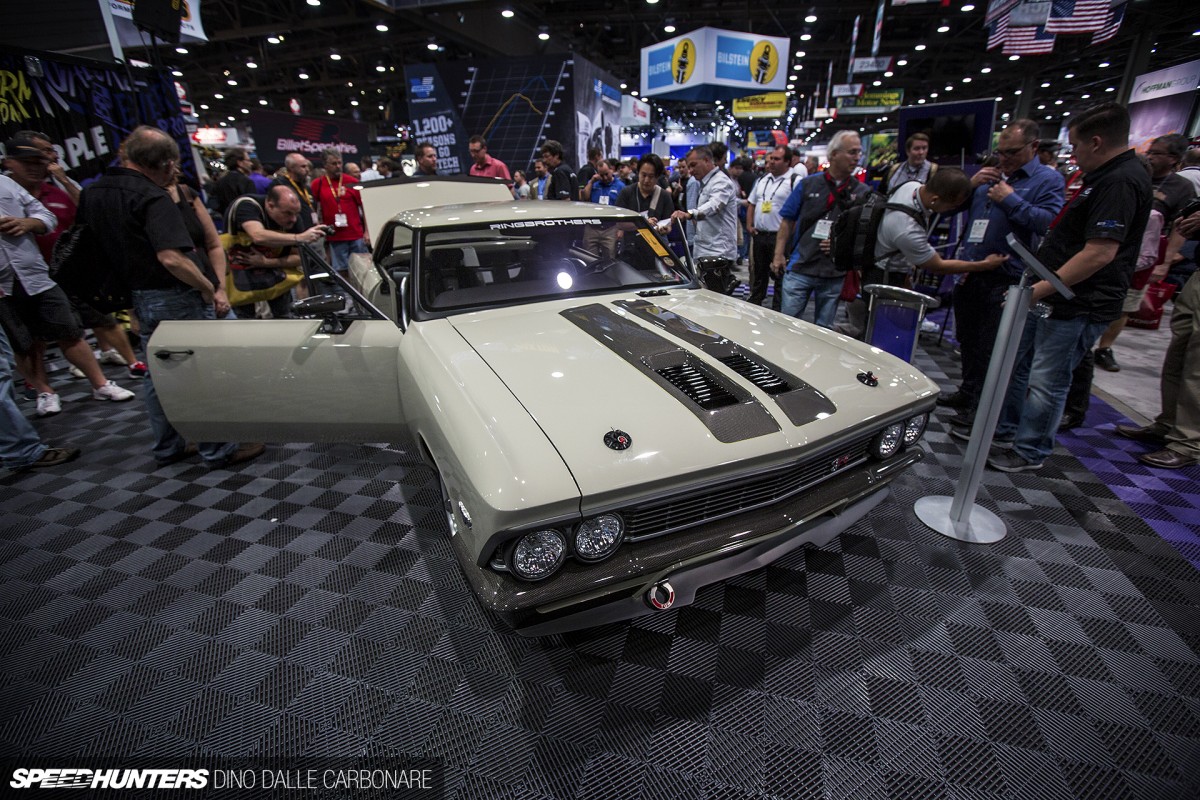 One car that I'd been hearing a lot about on the lead up to SEMA was the Ring Brothers Chevelle, and here it is. We definitely need to take a closer look at this one!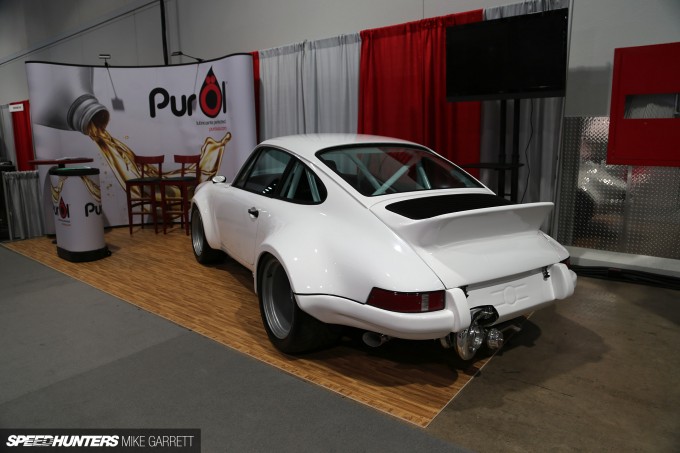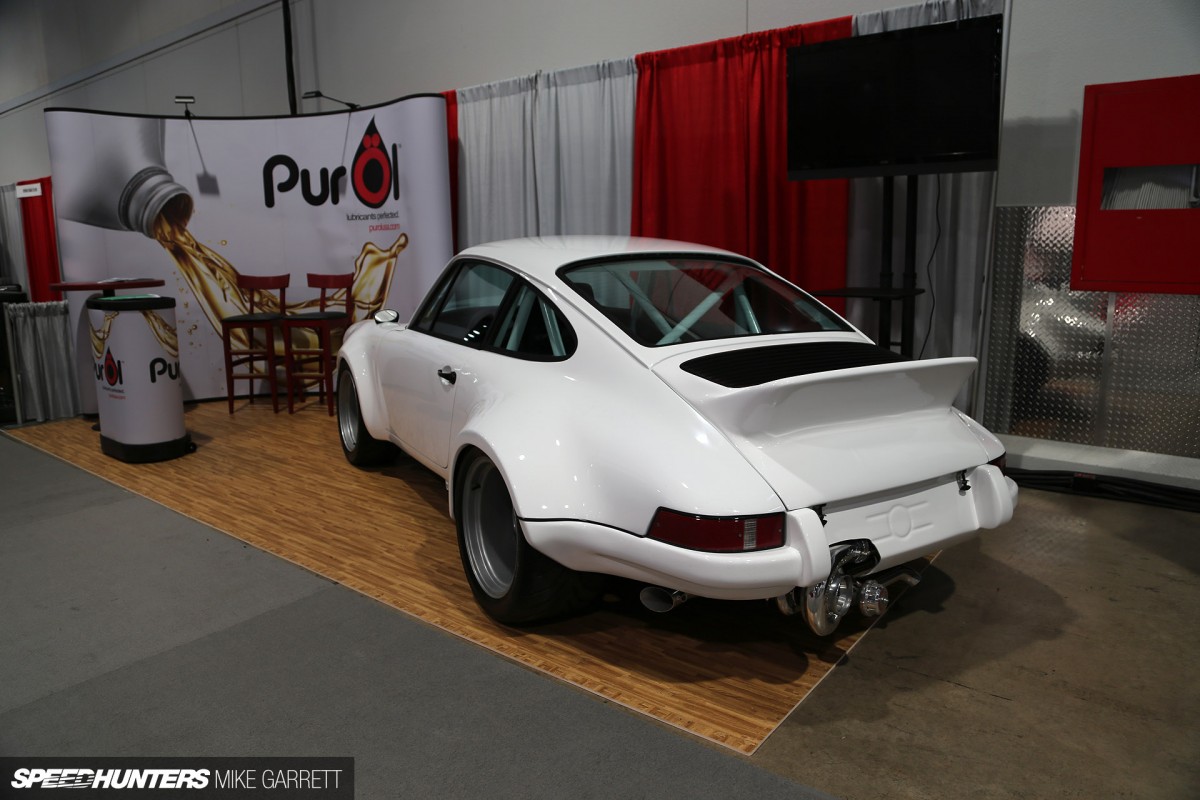 If you prefer your classics to be of the German variety, then this tasty RSR replica should go down nicely. It was hiding – well attempting to at least – a little shiny surprise up its back side!
JDM Is Strong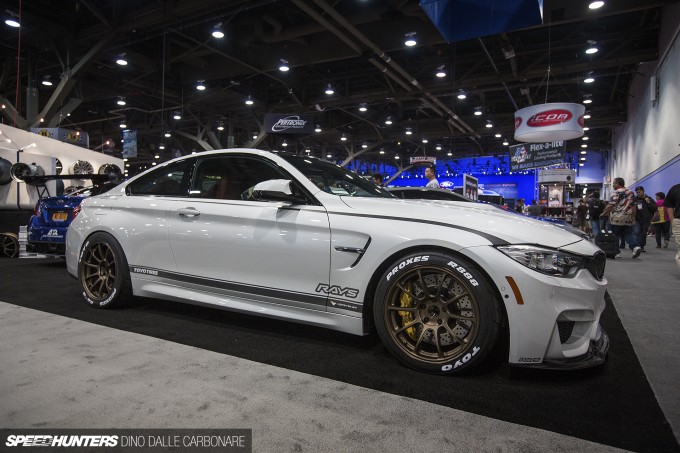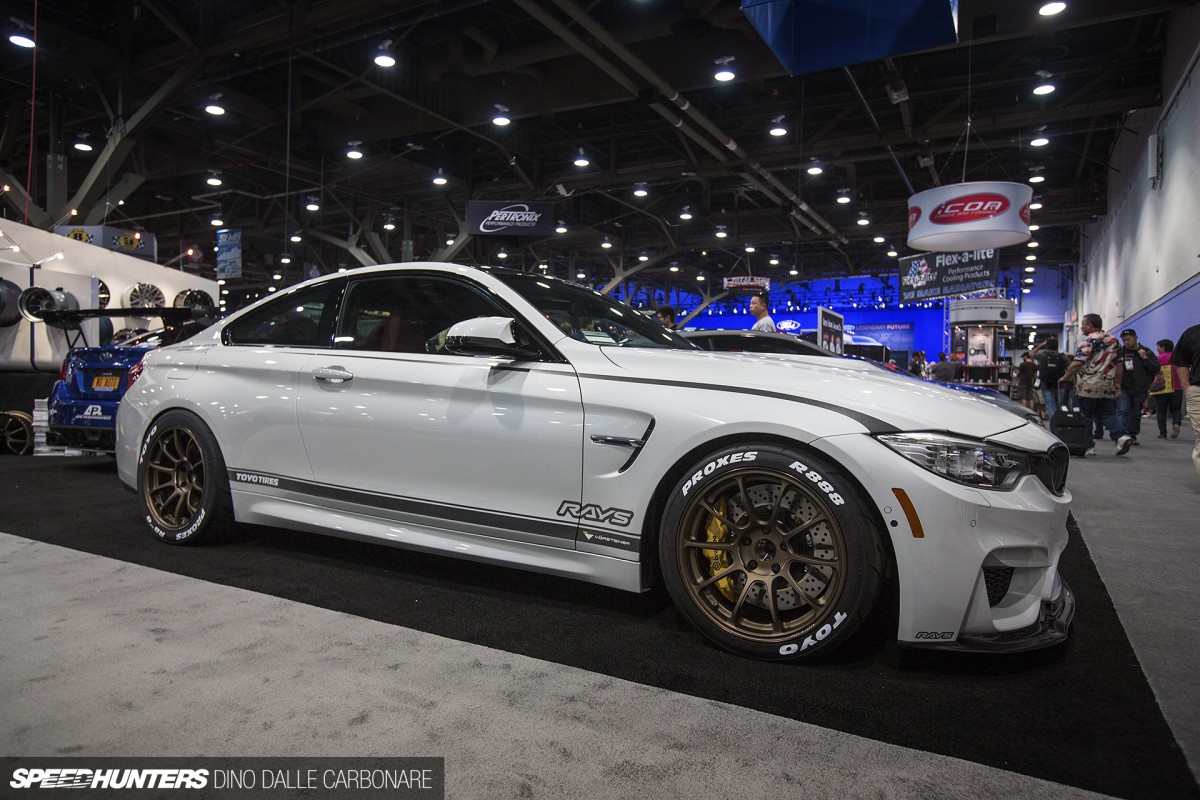 If there's one trend I've got a lot of time for it's running Japanese wheels on German cars. And RAYS are really teasing us with this brand new BMW M4 sitting on equally new Volk Racing ZE40s. With Vorsteiner details and some big Brembo brakes to replace the puny stock stoppers the M3/M4 comes with standard, I'm loving the direction here.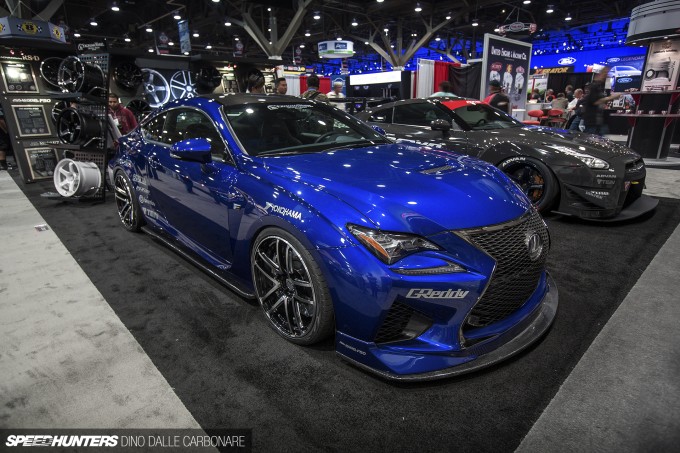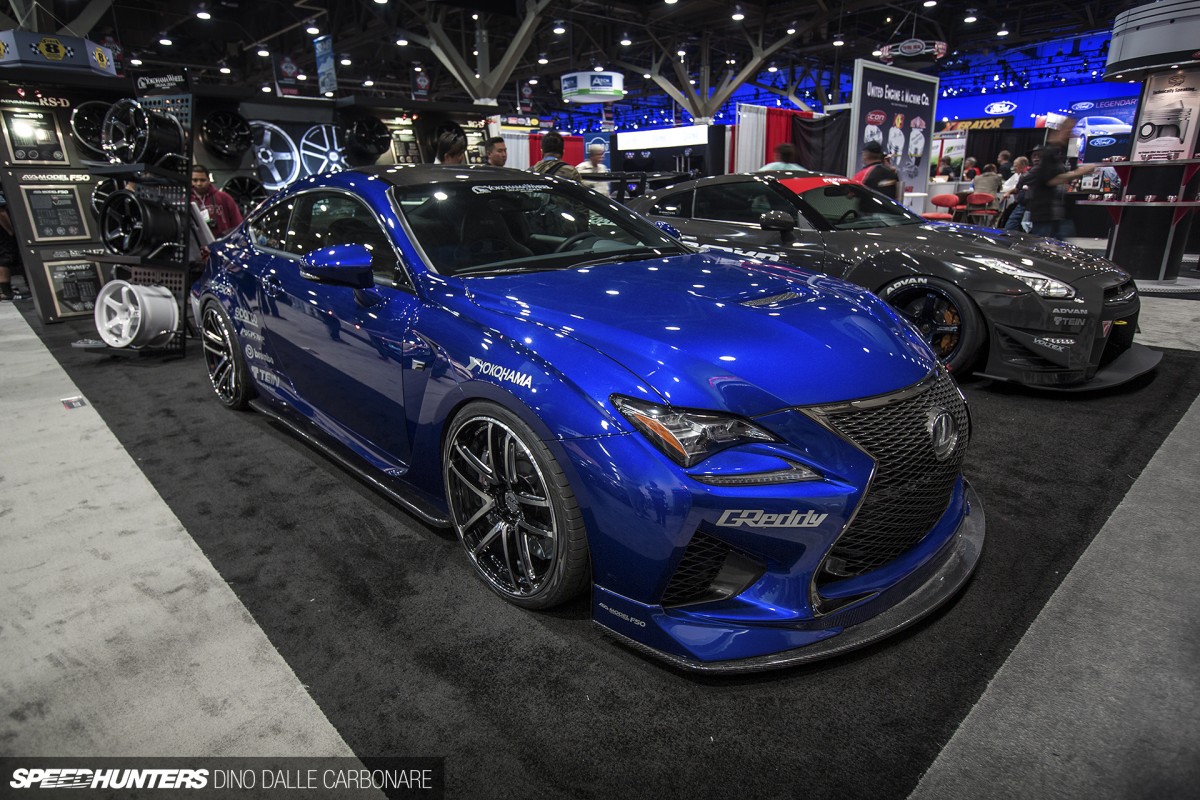 The M4 killer? Well, while we'll need to take the new Lexus RS F out for a spin before we can pass judgement, there's certainly no doubting that it's lacking anything in the looks department against its Bavarian rival. Finally the Japanese are pumping out daring designs! This blue example was built by GReddy and was sitting in the Yokohama wheels booth. The carbon front lip and side skirts – very nice!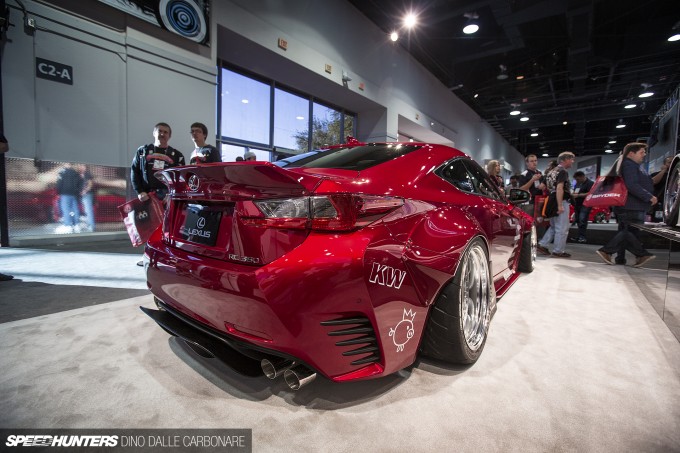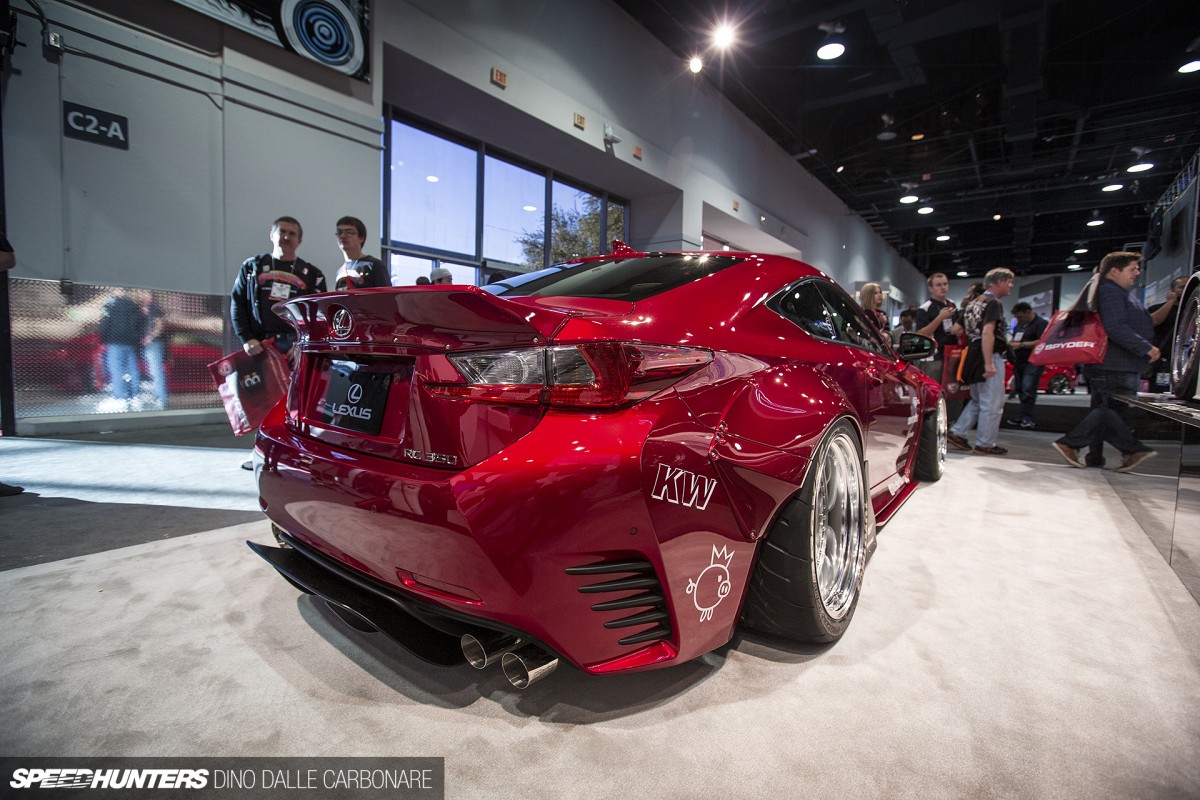 Leave it up to Miura-san to extract the most out of a car's design though… This RC F, also built with in conjunction with GReddy, brings the Rocket Bunny look to what will be one of the most important Japanese cars of 2015. Anyone care to guess how many different flavours we'll see this Lexus in at the Tokyo Auto Salon in January?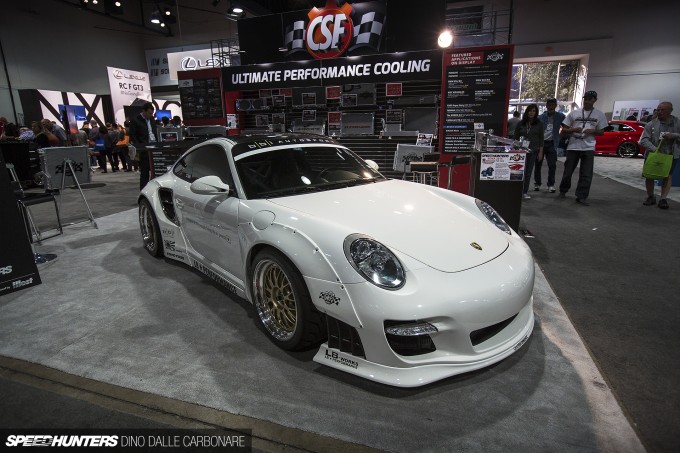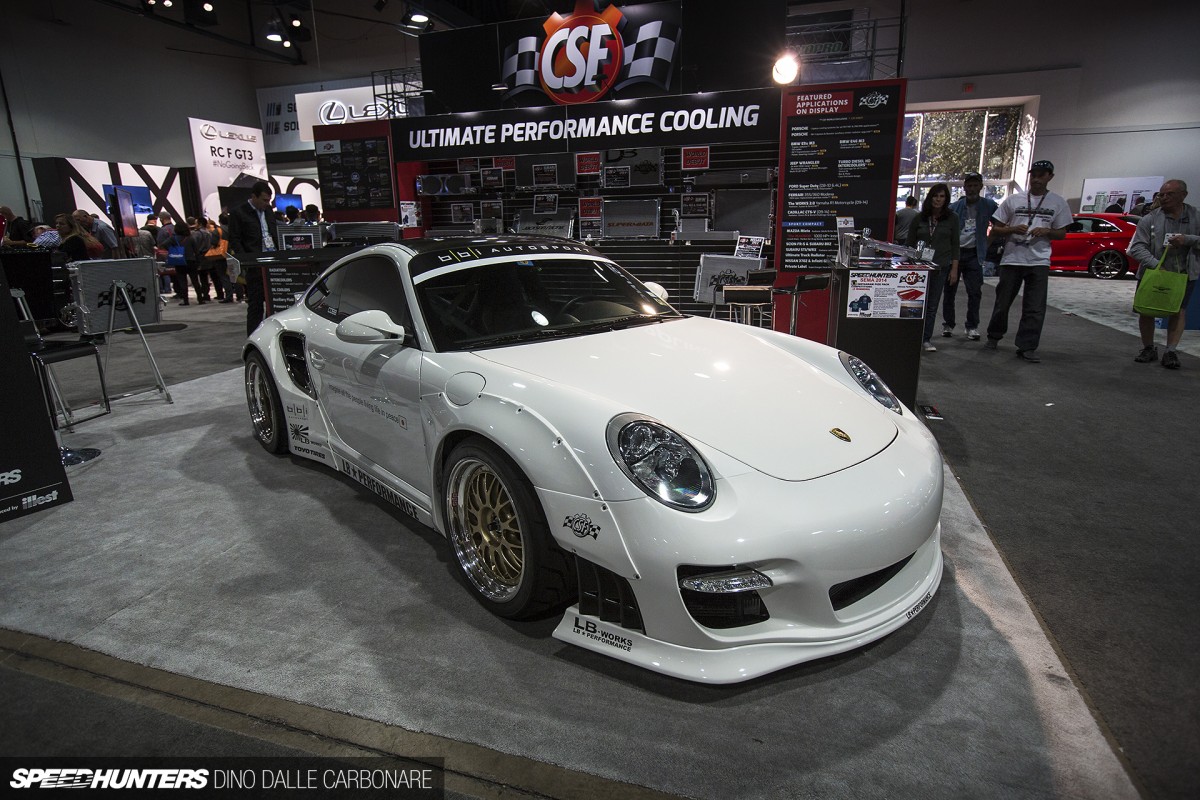 If you haven't checked out Larry and Mike's feature on this 700hp 997 Turbo built by BBI and CSF with help from Liberty Walk, I suggest you do as soon as you're finished here. It's an amazing machine!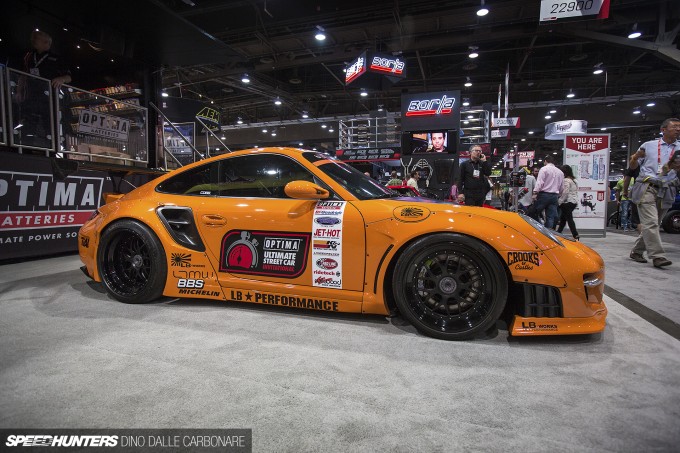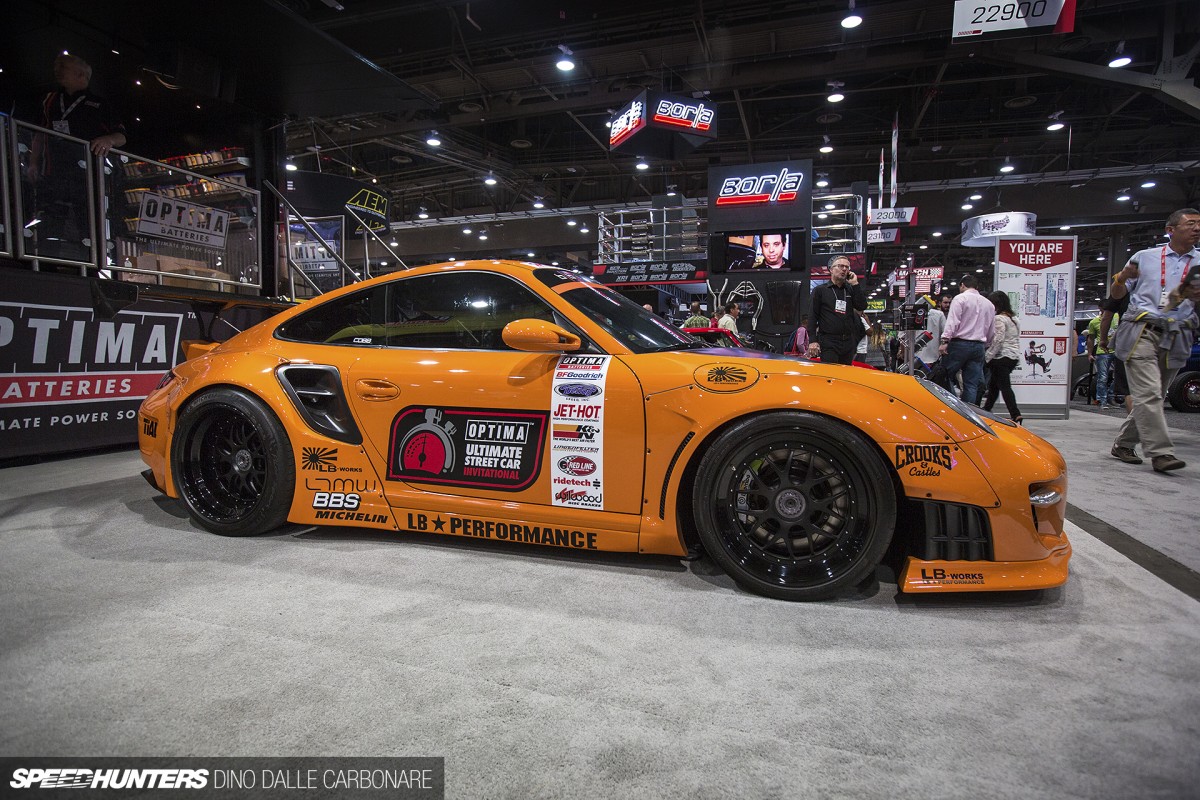 Think the 997 deserves a more colourful hue? Well, the other LB Works Turbo might just do the job! I really like the front bumper design on these cars; Liberty Walk showing that there's room for other takes on the widened Porsche look for the street.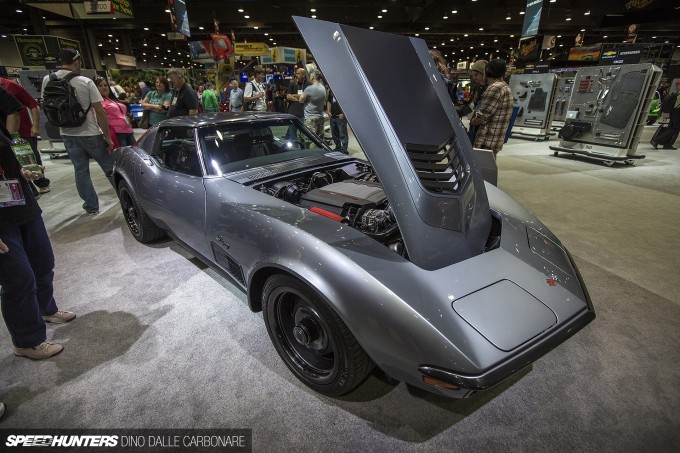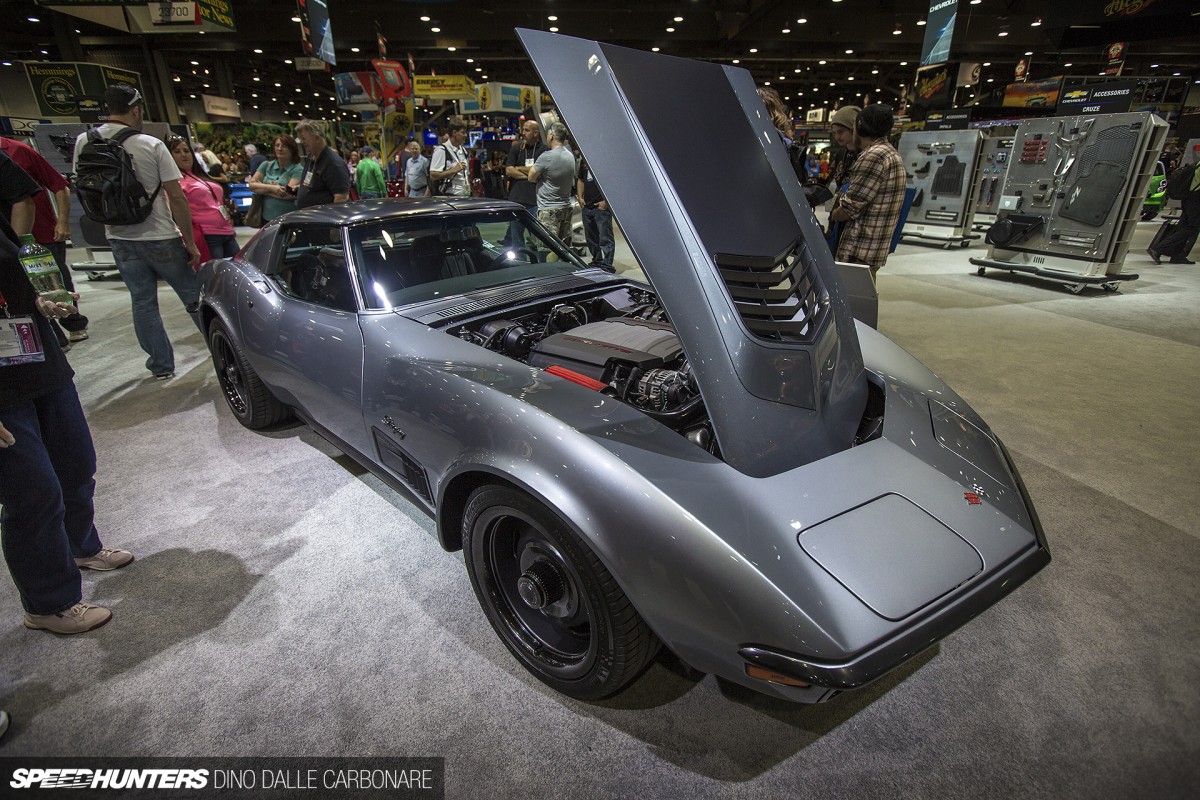 When in Rome… you know the saying goes. Let's just say that it's pretty hard to not take notice of all the crazy domestic builds that feature on every other booth at SEMA. This Stingray is parts of the massive Chevy display, and it stopped me dead in my tracks. The execution of its resto-modding is absolutely first class.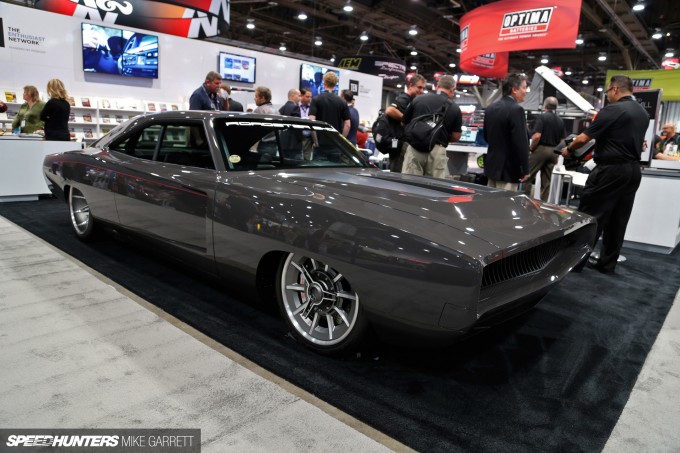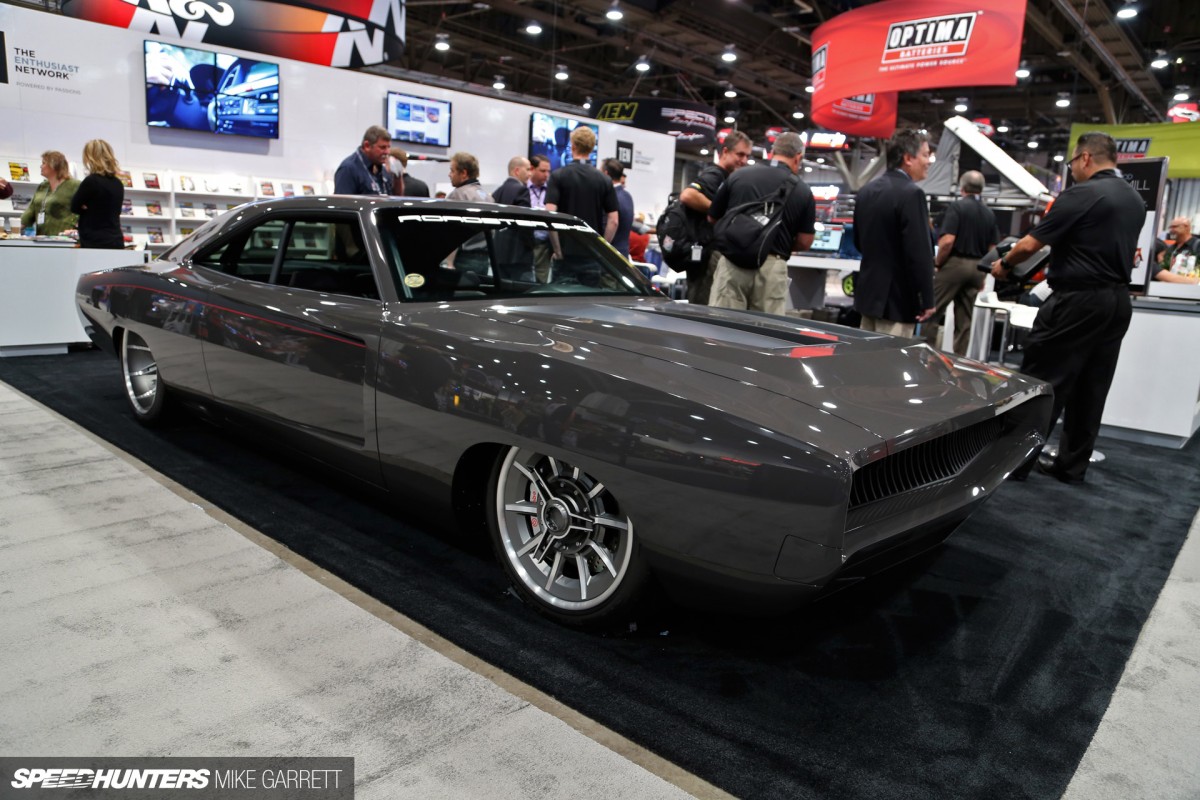 There are, of course, many different takes on this – anything to suit all the styles and tastes that are out there.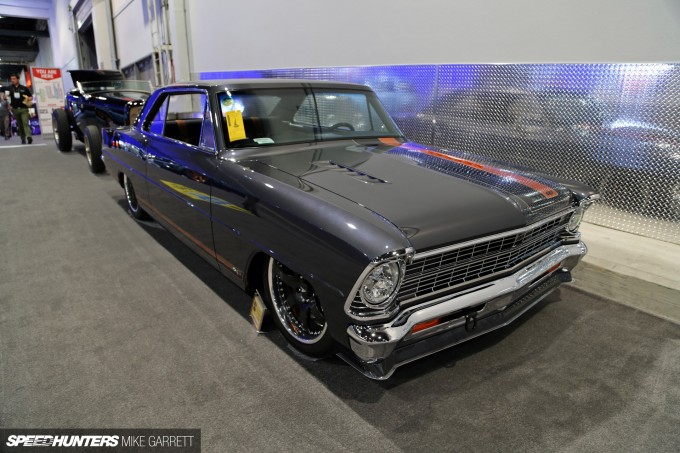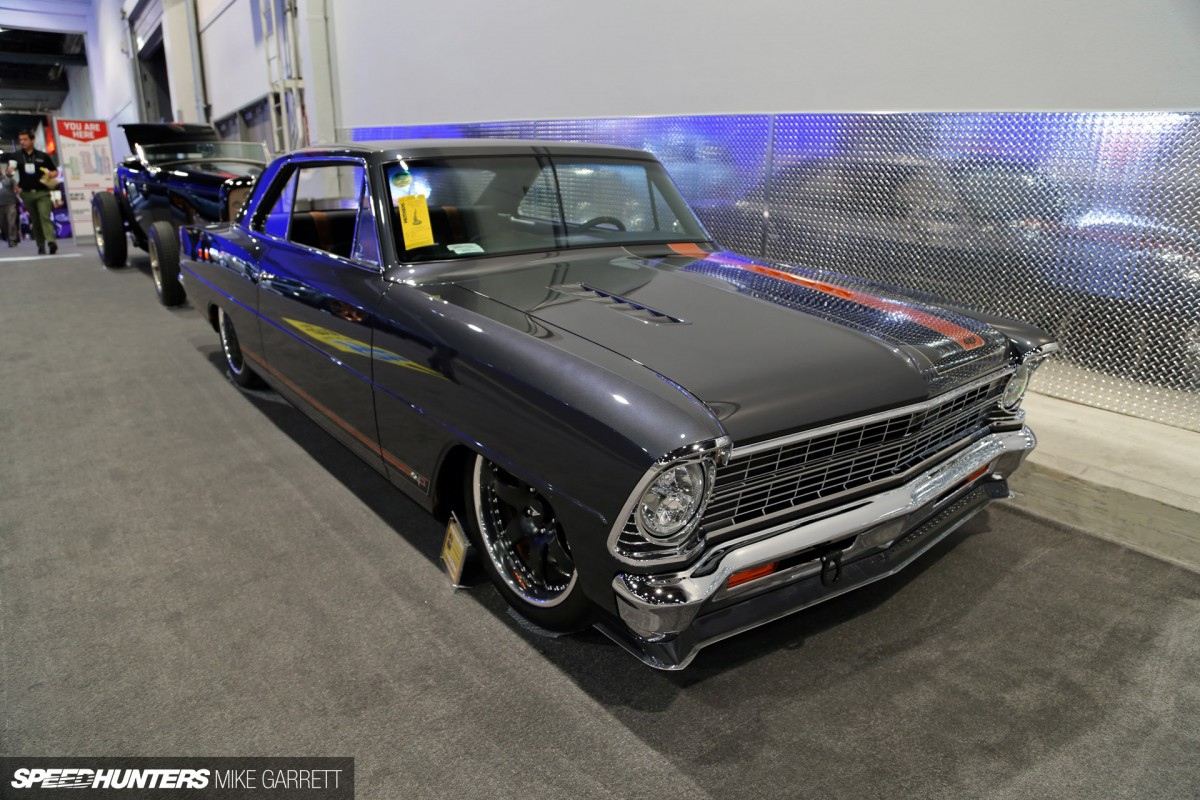 I really have to take my proverbial hat off to all these builders – you guys truly redefine what this scene is all about. The attention to detail, the innovation, and all out-of-the-box thinking that I witnessed on the first day has simply blown me away. In my mind, the US scene is definitely where we should all still be looking towards for inspiration.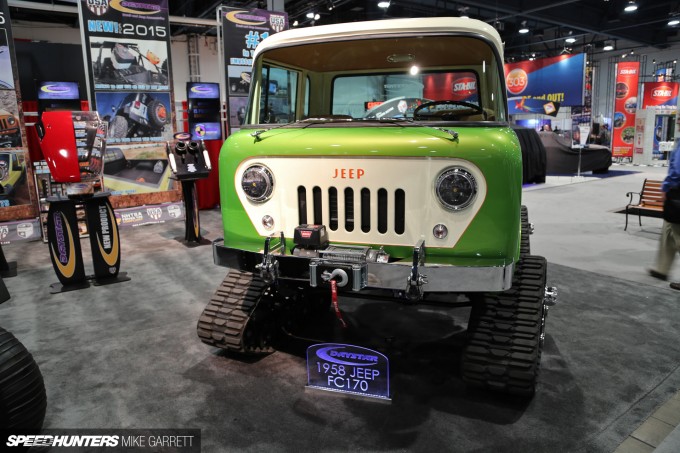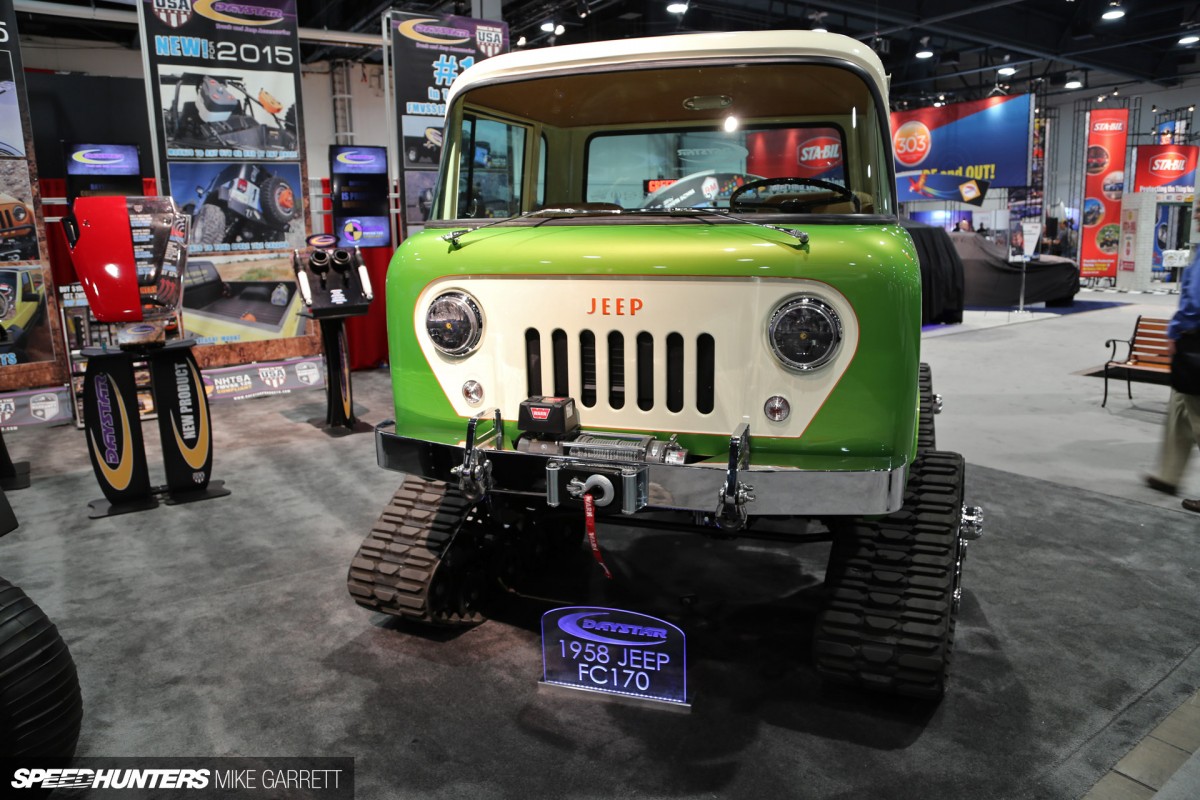 You name it: fabrication, custom work, prep, paint – it all really stands out no matter where you look. Even in the most unexpected cars that the show has to offer…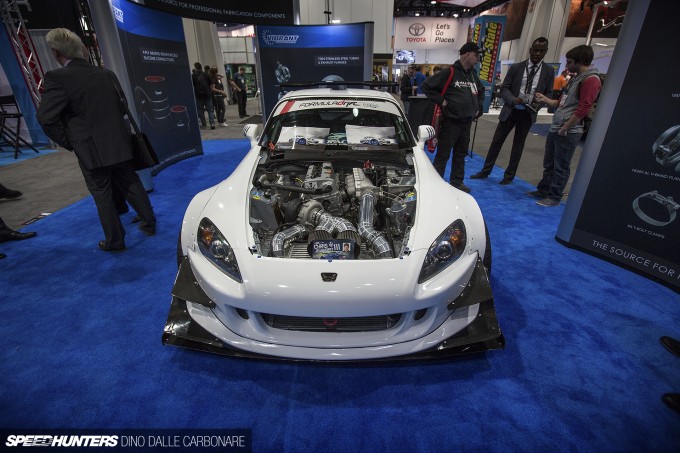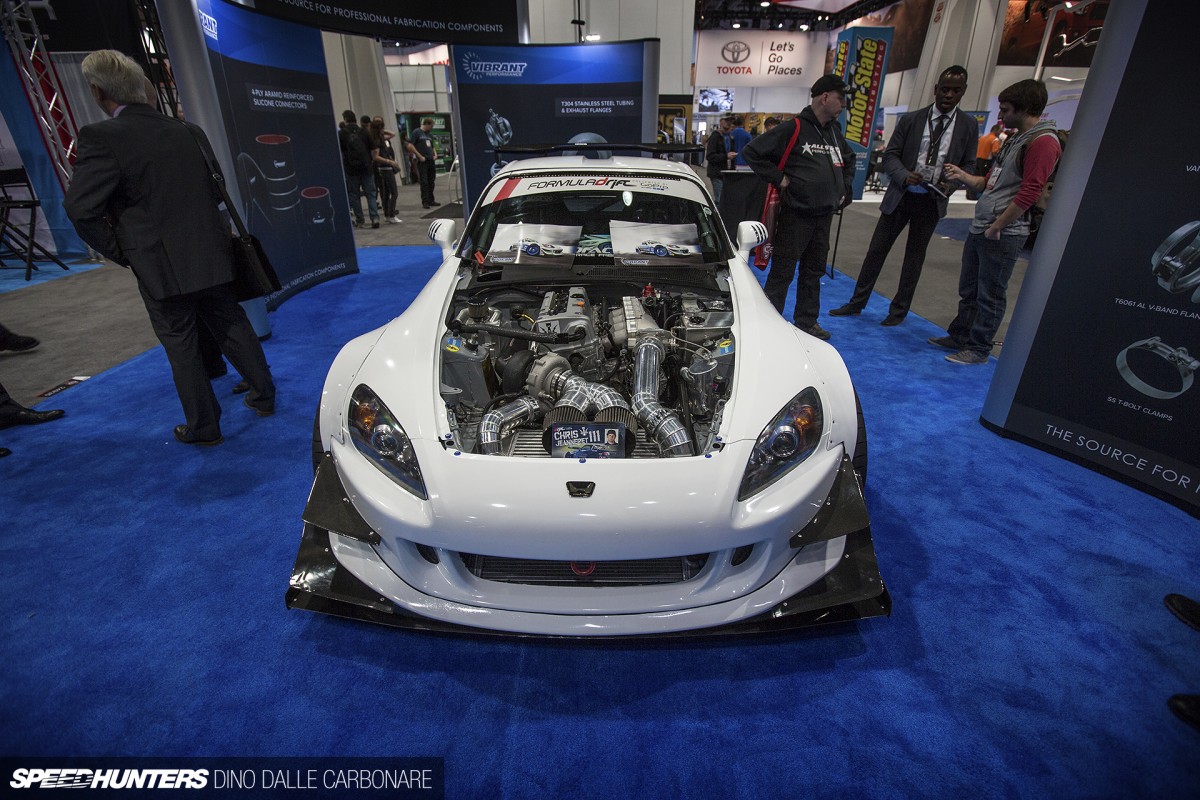 If the good old hot rod and custom scene wasn't enough, there is one area that the US still impresses in: power. Just like our friends Down Under, power is a big deal and people aren't afraid to push those boundaries. That's when you not only see crazy builds like this Formula Drift Honda S2000, but how the entire industry supports and promotes it.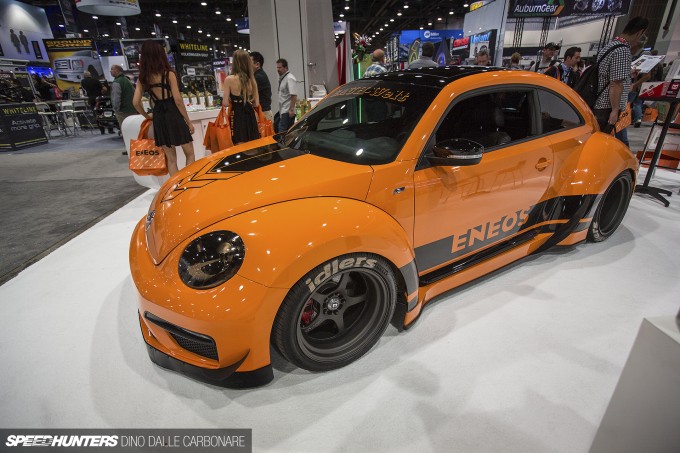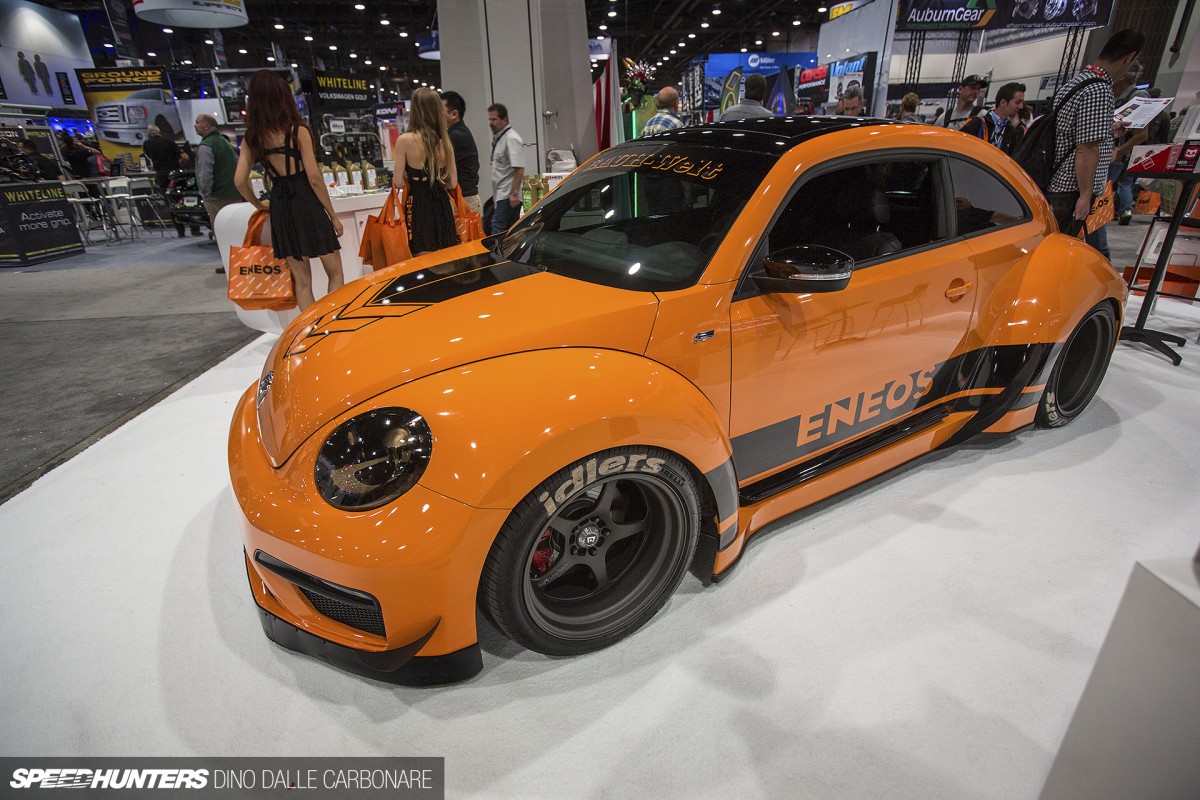 Our friend Jon Sibal has been a busy man this year and this Beetle is one of quite a few cars that he designed for the 2014 SEMA Show. I think this VW could potentially represent where these sort of body conversions may be leading to in the near future. Could we possibly be witnessing the departure of visible bolts that hold fender flares to stock bodywork? Perhaps not just yet, but it makes you think!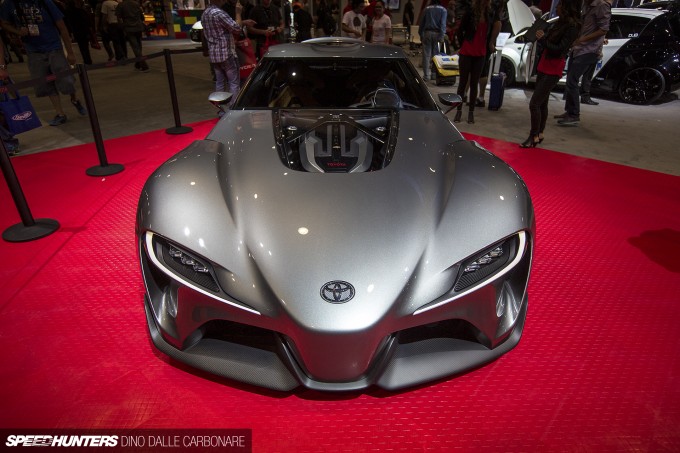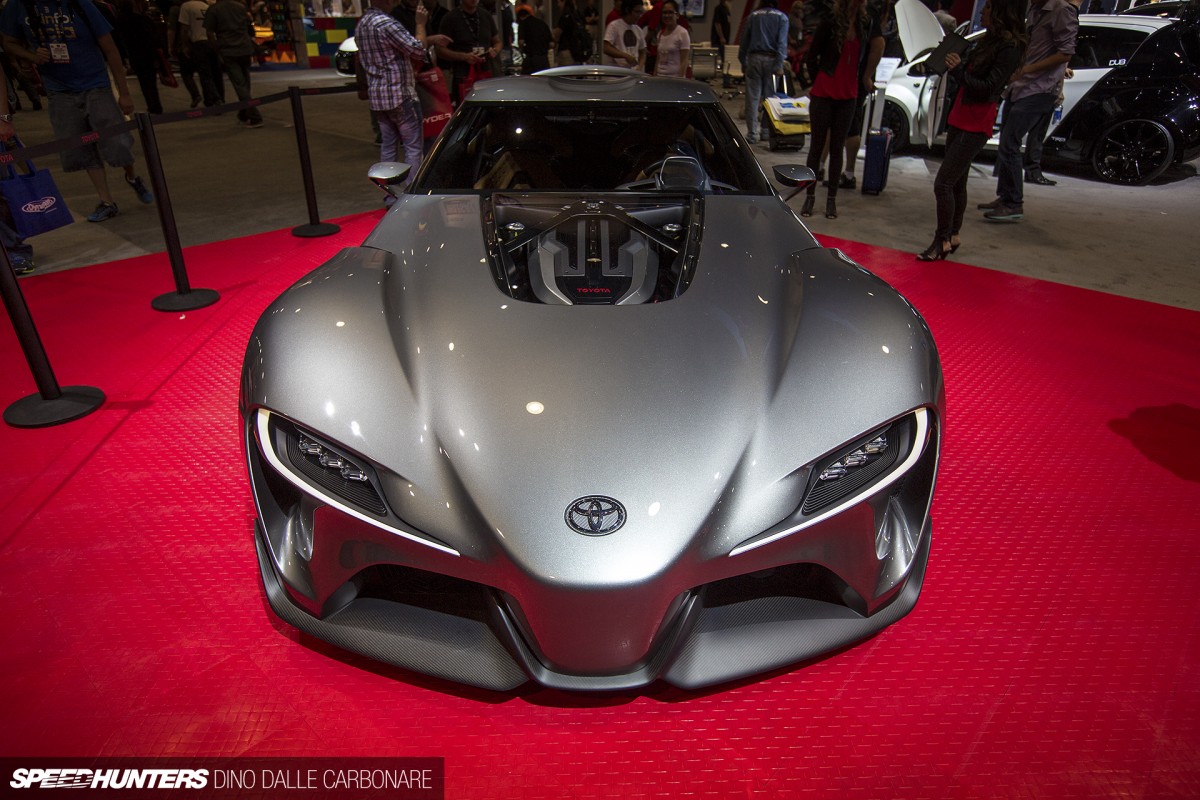 I was really happy to finally get a glimpse of the car that Toyota has been teasing us with for quite some time. Nothing much to say except, make it. Please make it. Seriously, Toyota, you have to make this!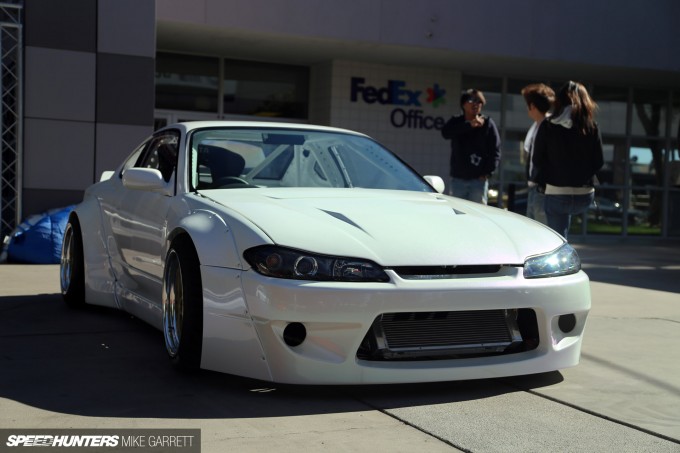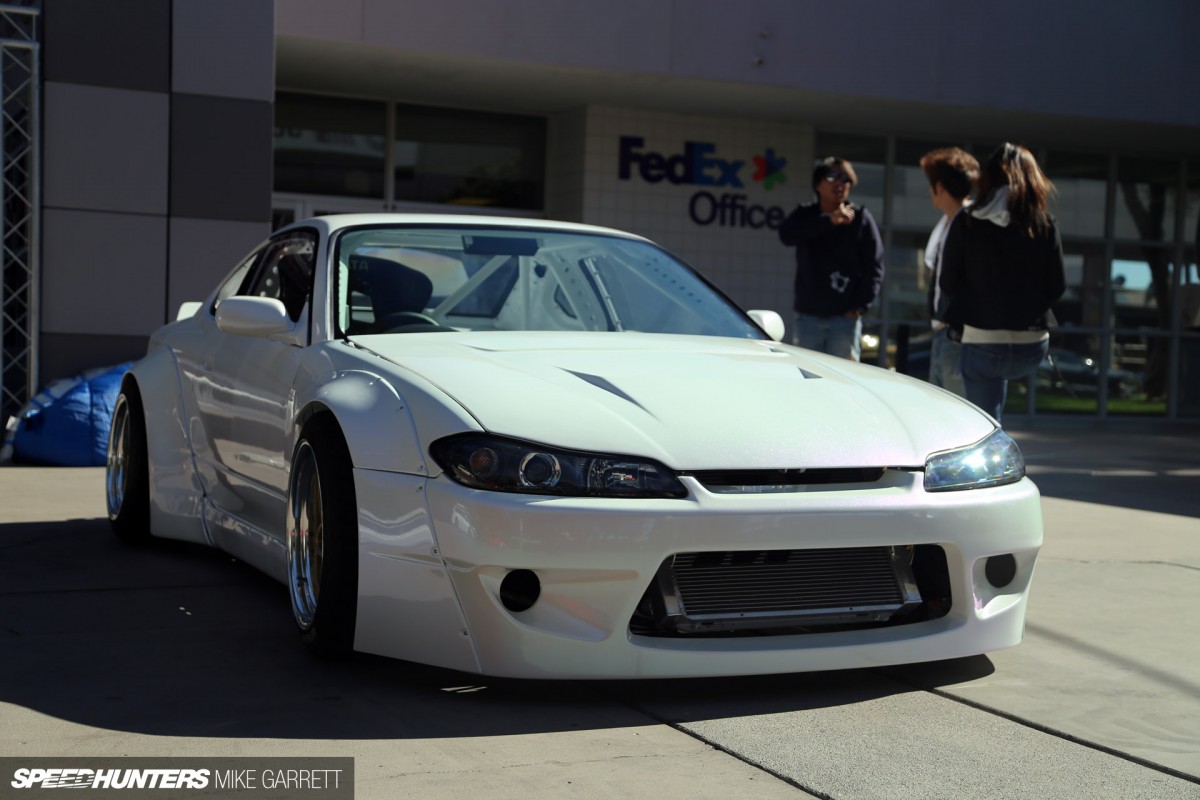 There's been a lot of talk about Japanese driver Kenji Yamanaka making a return to Formula Drift next year, and he brought out his new V8-powered, pearl white S15 for the crowds to see. Of course, the V8's there so that he can keep up with the current pace in FD, but that aside, the style couldn't possibly be more Japanese.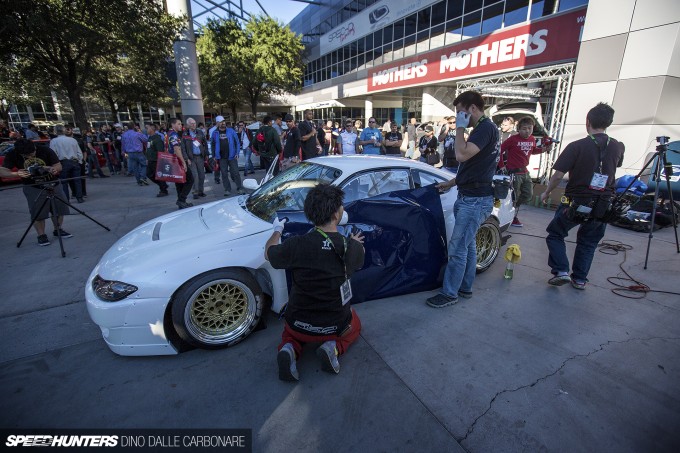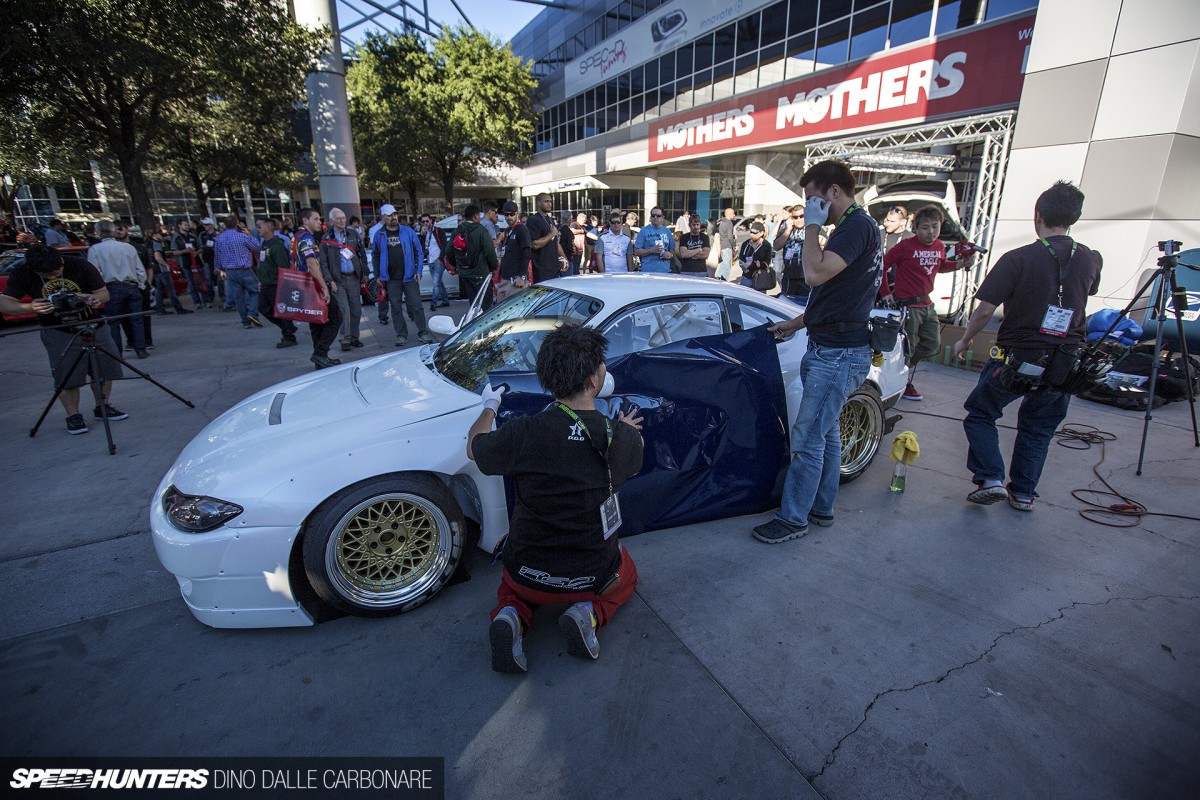 The Rocket Bunny kit is a must to get the wheels to sit just right, and those too are 6666 Custom items from Miura that compliment the look perfectly. Yamanaka-san ended up having his car wrapped right in the middle of the show during the afternoon – something that attracted a lot of attention from the media.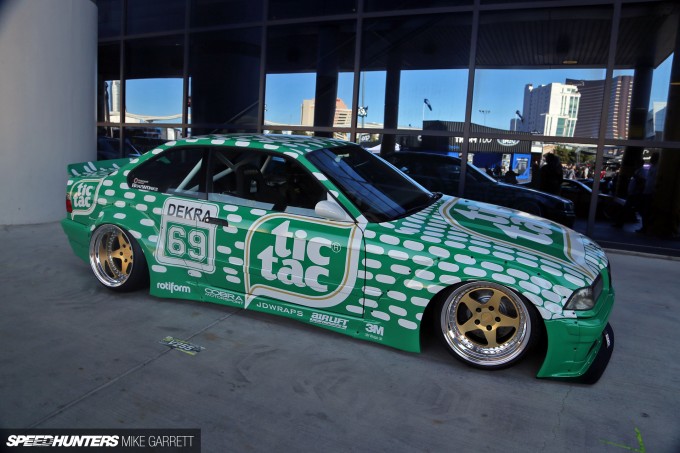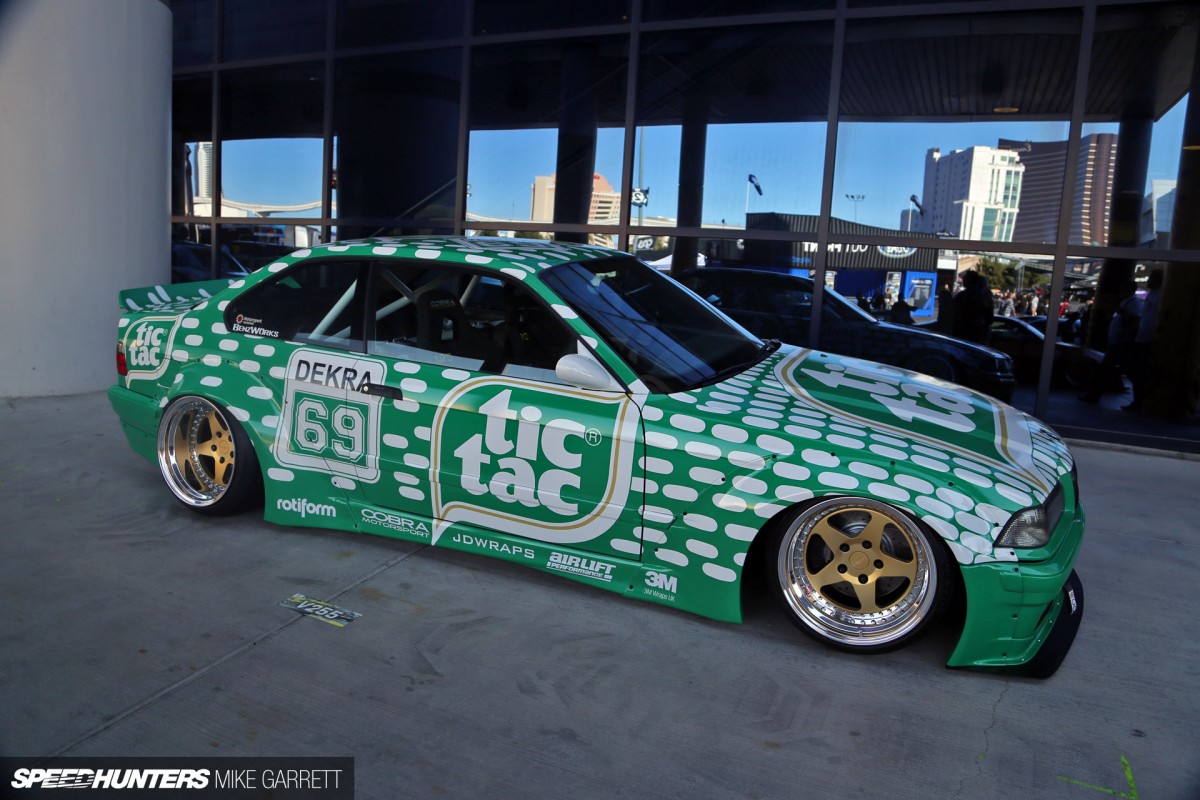 This is our first glimpse of this year's SEMA Show, and really only represents a small fraction of what the halls have in store for us. But there is much resting that needs to be done before we head back in the morning for yet more 'hunting. If there's anything in particular you guys want to see, make sure you speak out in the comments below and we'll do our best to bring it to you. Until then, we really need some sleep…
Dino Dalle Carbonare
Instagram: speedhunters_dino
dino@speedhunters.com
Additional Photos by Mike Garrett 
Instagram: speedhunters_mike
mike@speedhunters.com