The Best Japanese Supercar
The NSX has gone down in history as one of Japan's very few 'true' sportscars. Before you jump on that statement and begin to unleash the hate, let me at least elaborate on it. You see, over the last few decades Japan has churned out an impressive number of fast and capable cars – some with the potential for more power, which has kept us grinning and enjoying ourselves throughout the years.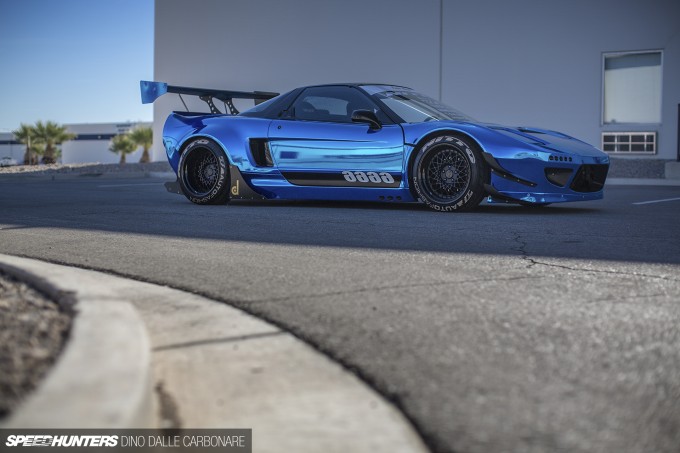 But if you think about it, most of these cars were just enhanced versions of regular production vehicles. You know the drill; develop a chassis that sells well, make two or three variants of it and then publicise it all by creating the halo car of the line-up: a hot-version with a blown engine, wider fenders and some wild color. There's nothing wrong with that of course – these cars have fuelled our passion for years, after all – but there have only been a few proper, one-off sportscars created by the Japanese automakers.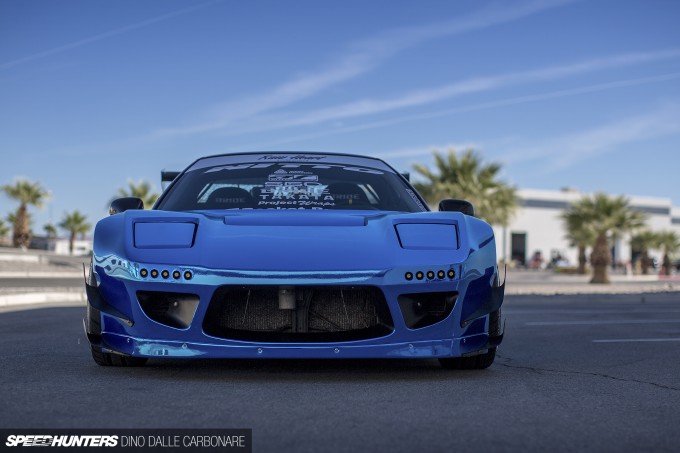 And a long, long time ago, when Honda still shared some of its impressive knowhow with us enthusiasts instead of making hybrid city cars, it created the NSX. The idea was to steal sales away from Ferrari and Porsche – a pretty big goal to set itself, but we all knew that Honda had everything it needed to pull it off.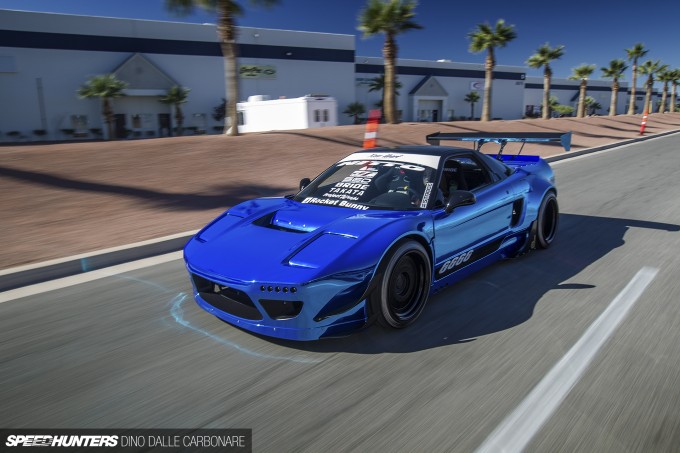 In theory the NSX was a sublime machine – one developed from the ground up to be the best possible driver's car ever made by the company. If you've ever driven one in anger you'll know what a sweet and communicative chassis they managed to create. This was an era when Ferrari and Lamborghini chassis and suspension arms resembled poorly-welded garden gates at best, so when Honda came out with an all-aluminium car – that's the chassis and body panels – the whole world took notice.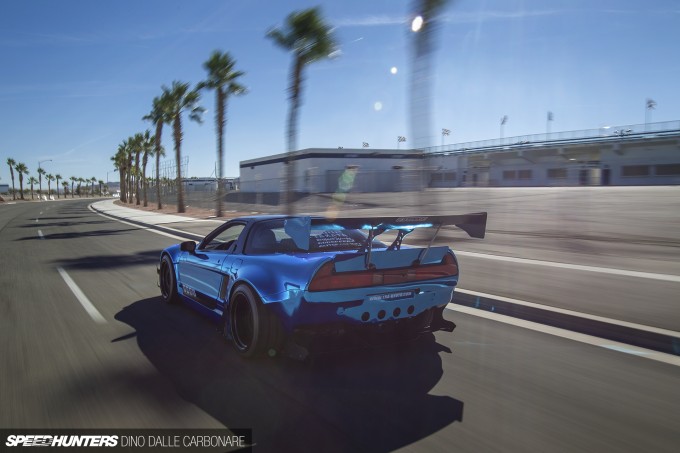 So the recipe was as follows: a relatively light chassis, a handling package tuned by the great Ayrton Senna himself, and what turned out to be one of the most ageless designs ever conceived. What you had was one of the most iconic cars to come out of Japan…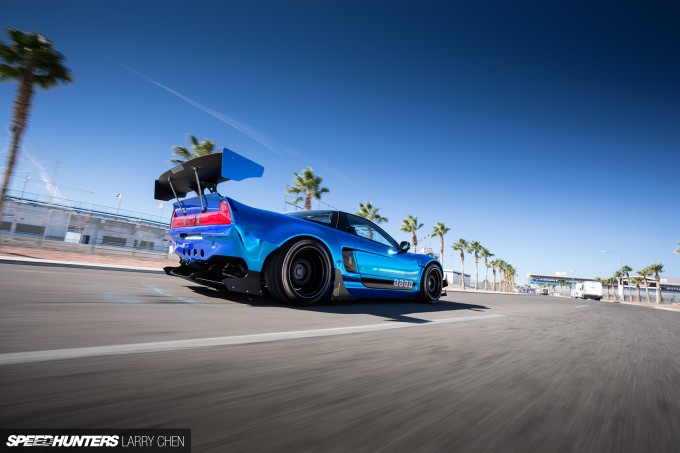 Ah, but wait – what about the engine? Well, I left that out on purpose. You see, this is where Honda could have, and should have done better. Of course, there's nothing wrong with the transversely-mounted C30A (or C32A that followed later) – it was a great motor with acceptable power, but it didn't belong in the NSX. What this car really needed was a V8. The Honda engineers knew it and enthusiasts knew it, but in total Japanese style, the top floor executives at Honda decided to go the V6 route – maybe because they were scared they'd make too big of an impact and attract too much attention.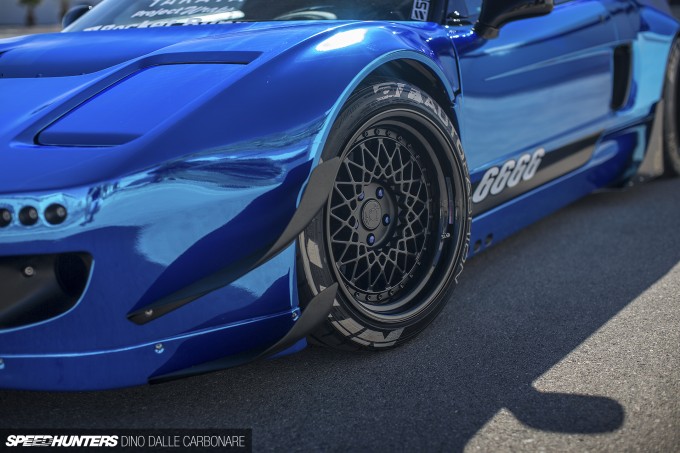 It's precisely for the unique way that it came into the supercar world that the NSX was also one of the most expensive cars to ever come out of Japan. Over the years, this is a car that has held its resale value pretty well too – until now, that is. Kei Miura at Rocket Bunny has been keeping an eye on NA1 prices for some years, because that brain of his never really stops thinking…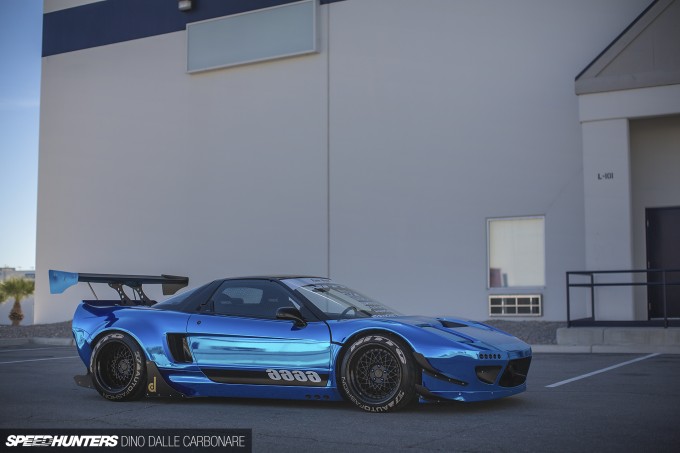 He wanted to create a full body conversion for the NSX for a long time, but patiently waited for the right moment. The car would not only be one of the wildest projects he'd ever embarked on, but also help him go on a tangent and show people that he's not just all about bolt-on overfenders.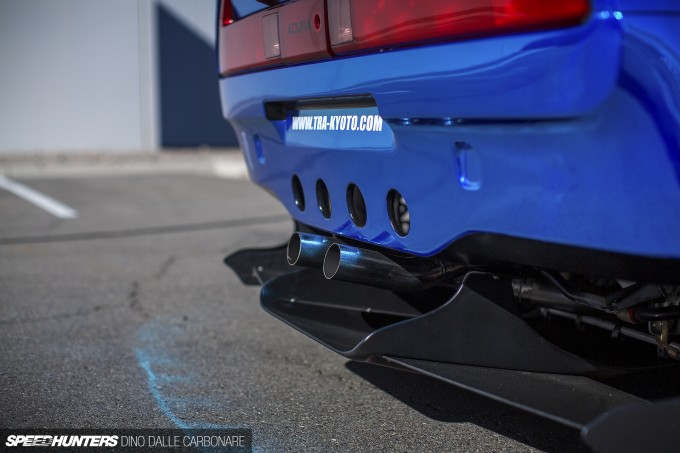 And seeing that a great car is never complete without actual substance, it's the back of this SEMA 2014 show car that I'm starting off with. You see those two pipes that stick out from the center of the bumper? That's a custom GReddy exhaust system designed to go along with the overall feel of the car.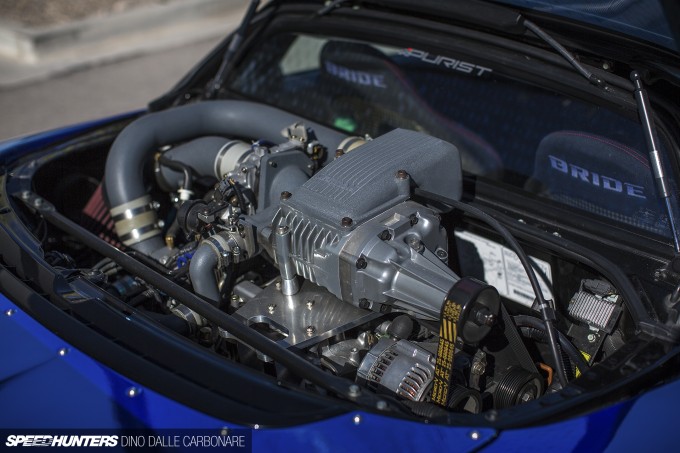 It's part of an interesting ensemble of parts that joins up to the once-famous, but now discontinued, Gruppe M supercharger kit. It's far from inconspicuous, sitting atop of the C30A that powers this car – and seeing the stock heat shield won't clear it,  also very visible through the see-through engine hood.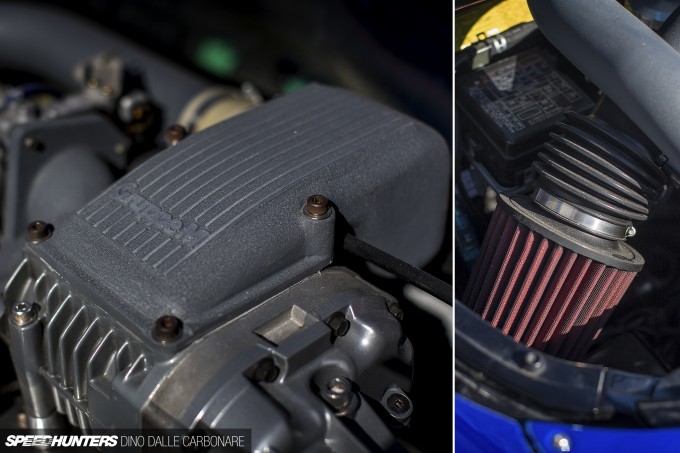 It's instant confirmation that this NSX must be a true blast to drive; power boosted to around 365hp thanks to low compression forged pistons and an AEM engine management system. See, this is what I was getting at – with a sweet chassis like this, these are the kind of numbers that Honda should have been gunning for!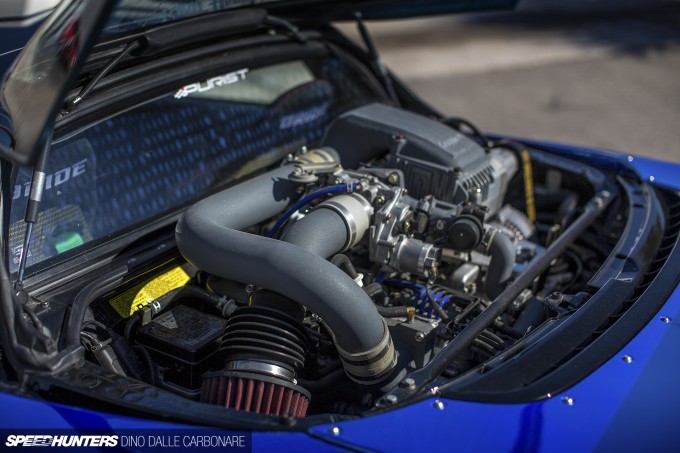 This sight is just the sort of thing that I want to see when I show up to shoot a car, because, let's be frank here – nobody really cares about a widebody, crazy-looking beast of a car with a stock engine! Bear in mind that it would be as painful to shoot as it would be for you to read the feature, but hey, at times it just can't be helped – especially if the car is new, or if the project is all about shocking and impressing in the aero department. The engine upgrades are matched with a few nice touches in the driveline – namely an NSX-R shorter gear set and a Science of Speed clutch and flywheel upgrade.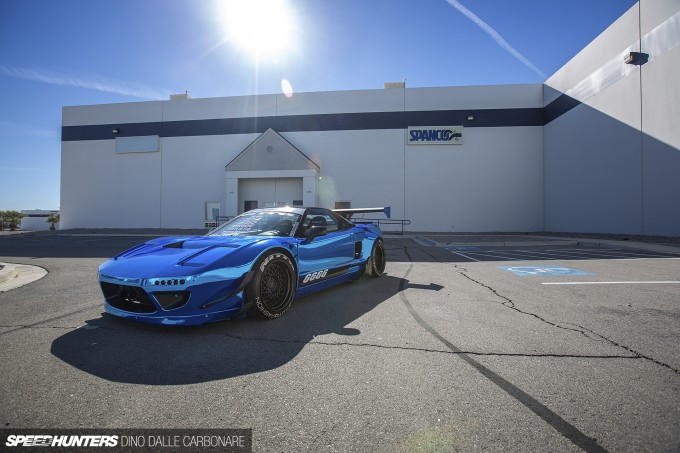 So all of a sudden, this NSX that we saw last week sitting in the Nitto booth at the SEMA Show in Las Vegas, become even more special than its looks could ever suggest.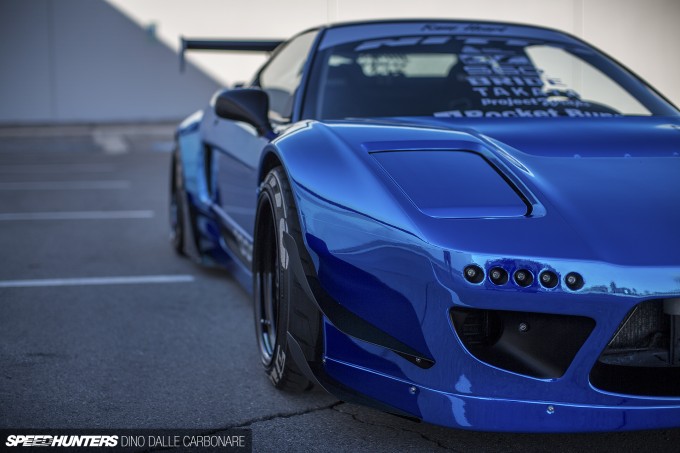 And boosting the track of the car by pumping out its front and rear made sense.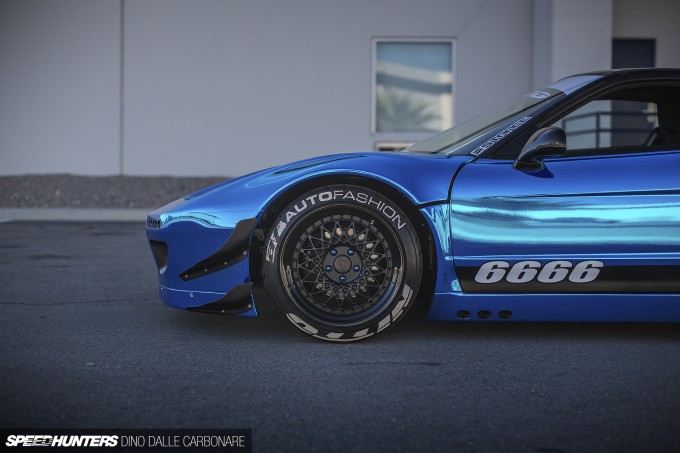 And it's a breath of fresh air to see no bolts or rivets holding on overfender strips. While there's no question that look has its place on some cars, I'd have to say the NSX is not one of them. This car runs on Stance adjustable coilovers which have been set at a height that would allow the car to cope with American roads (something that ain't too easy!). Sure, it can be slammed right to the ground, but that would defeat the purpose of being a well-sorted street car.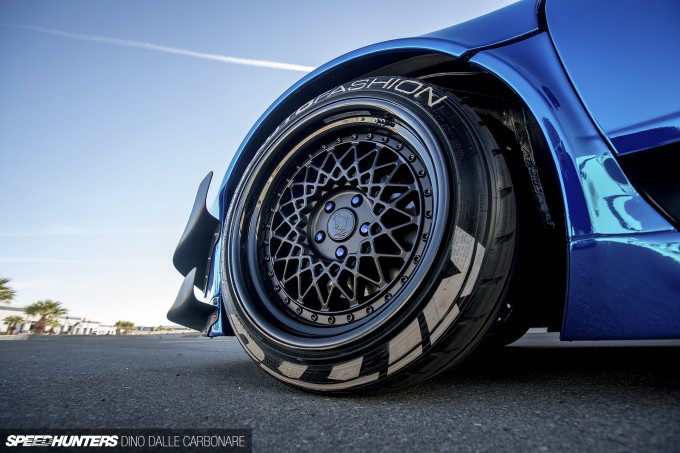 Appropriately, the NSX sits on Miura's own 6666 Wheels which are manufactured in collaboration with Enkei in Japan. The chosen satin black color creates a nice contrast against the impossibly-hard-to-photograph blue chrome wrap. I'm sure you'll have a great time hunting my reflection on the detail shots! Miura-san collaborated with Jim Pan and his crew at Tuner Galleria in Chicago, who put their car forward for what is the first Rocket Bunny NSX conversion in the world.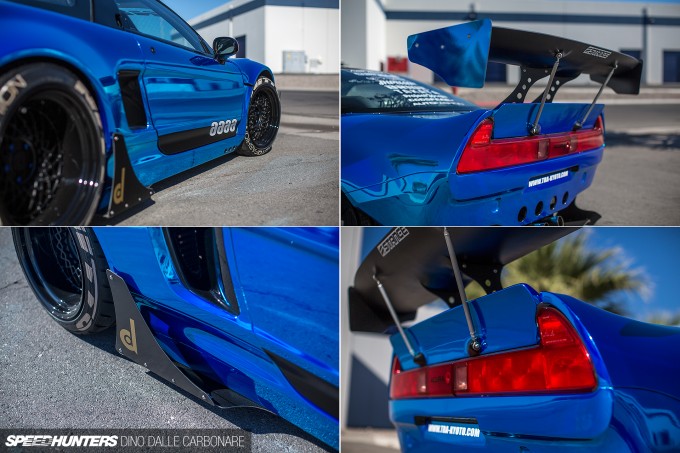 To make it happen Miura-san sourced a USDM Acura NSX in Japan – a car that has been his daily driver for quite some months now – and built each piece of the kit around that. Once all was constructed, fitted, aligned and prepped, it was dismantled and sent over to the US where it was fitted to this car. I just love hearing of these cross-cultural, across-the-world type projects.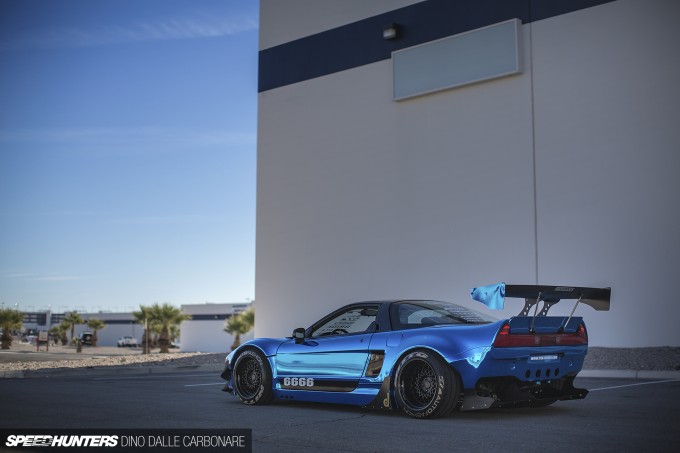 But what does the conversion entail, I hear you ask?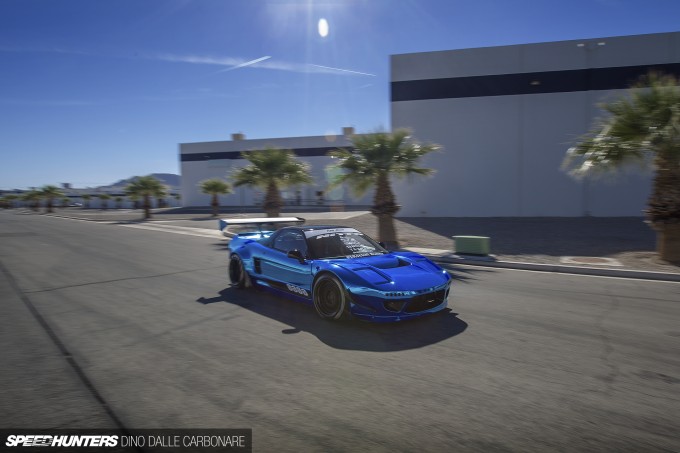 Well, before I get to that I better give you a little disclaimer here. If the thought of chopping up, cutting and binning aluminium body parts from an NSX makes you queasy, please look away now. Go to Google Images and search for pictures of tranquil landscapes or something.
Not A Fan Of Cutting Up An NSX? Look Away Now!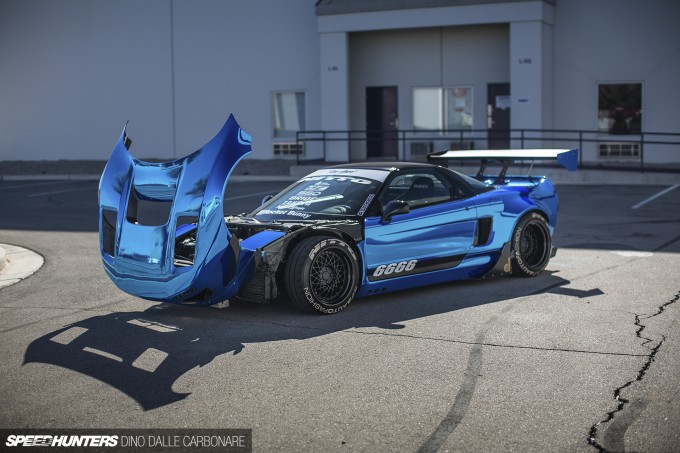 As you can imagine, there were a lot of modifications needed to make this car look the way it does, starting with the front end design.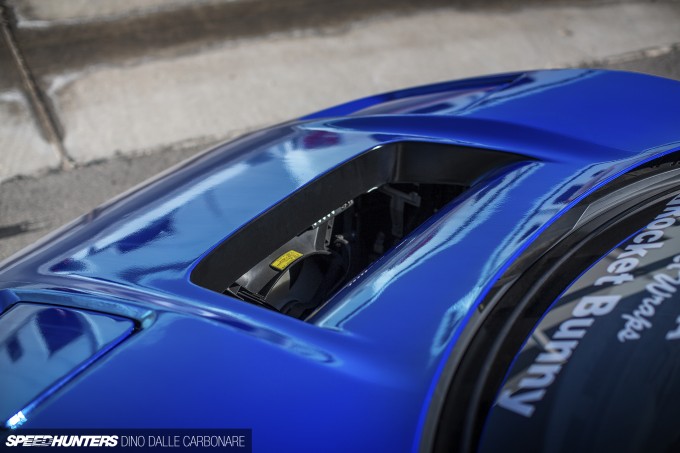 Much like with the BenSopra conversion for the R35 GT-R, there was no real way of giving the NSX a JGTC-look without creating a one-piece front cowl that would fuse the bumper, hood and fenders into one.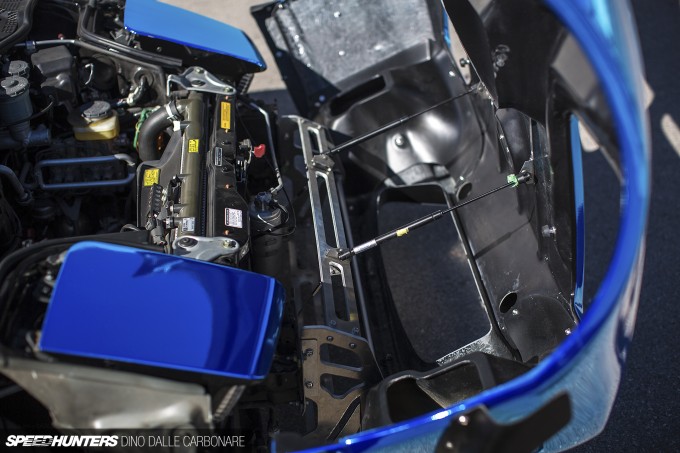 A small frame was then constructed and bolted onto the front end of the chassis, from which the big single-piece FRP cowl is hinged and supported from. Those gas struts help make the whole opening and closing procedure easy, and for something aftermarket it all works pretty effortlessly.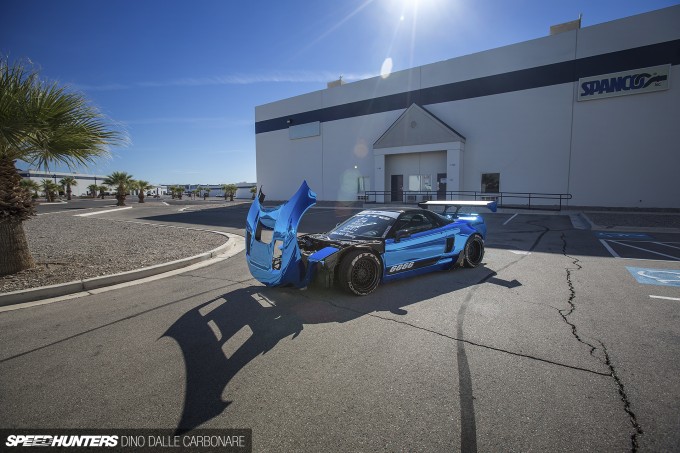 When lifted up, it definitely looks pretty wild! That center opening is there to help the radiator expel its heat – just the sort of detail you would want if you were building a track-going NSX.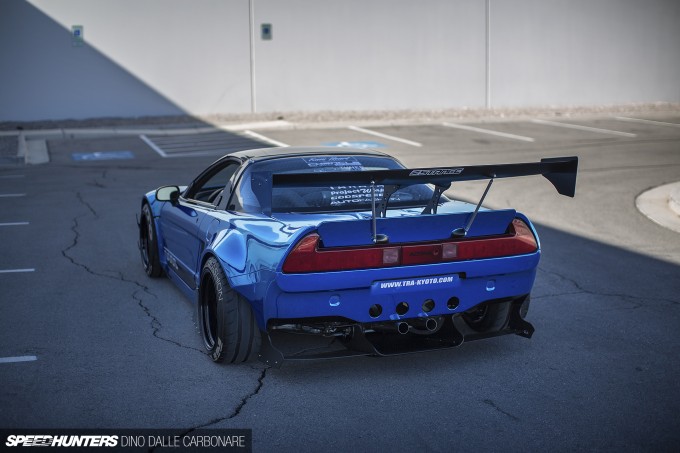 The rear is where lots of cutting and chopping had to be done in order to accommodate Miura's own fender design. The bumper-less look we first saw on the BenSopra 380SX works very well with the NSX – except this car isn't totally without one. Miura designed his own rear bumper section which matches up to the wider fenders and tucks in to give that signature look to the rear end.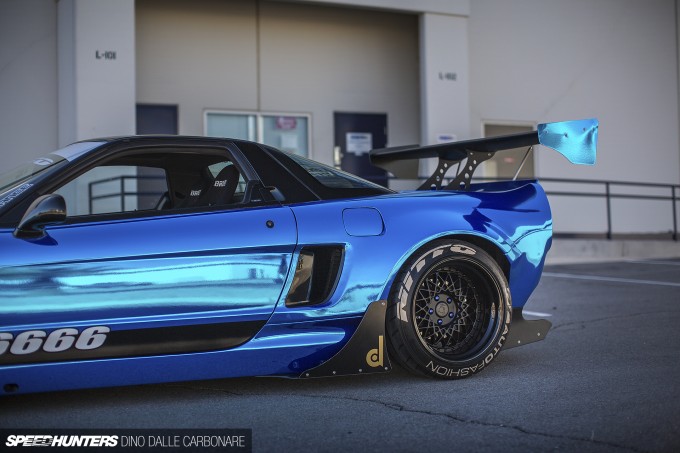 From this angle you can see how the rear end gently curves upwards to meet the steeply-raked ducktail spoiler.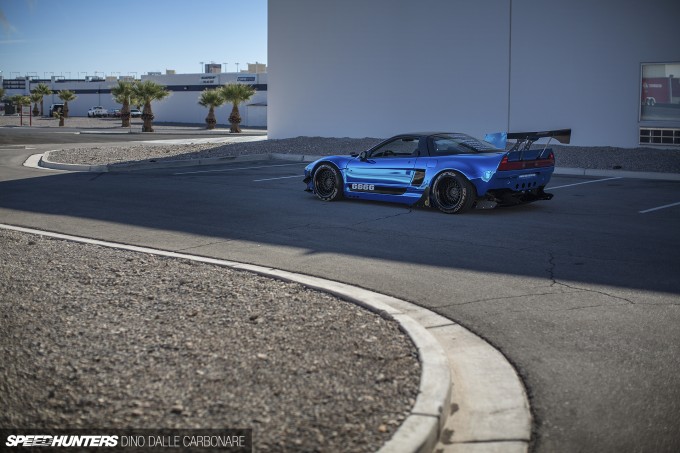 Front and side canards join the multi-piece rear diffuser for added effect – finishing touches that add yet more aggression. Oh yes, and there's the rear wing of course!
Simple Is Best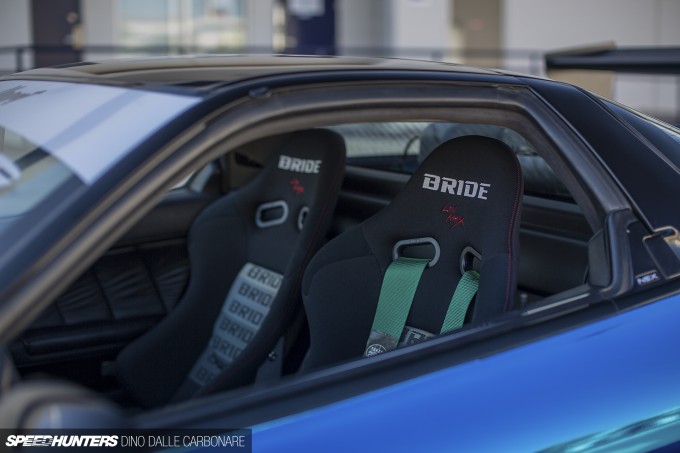 A sense of completion is added with a simple yet well-appointed interior, which can be really appreciated when you swing open the driver's side door.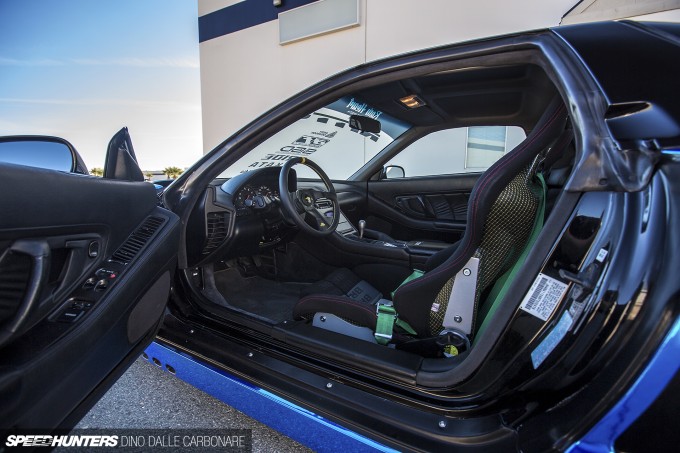 Carbon-Kevlar Bride seats certainly fit the whole theme of the car rather well.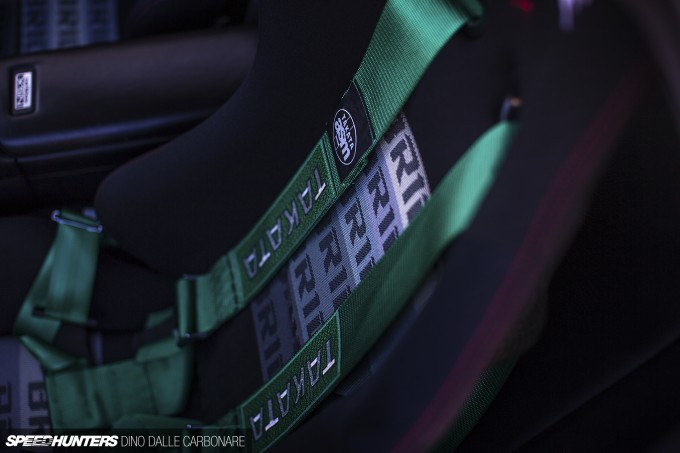 And I'm pretty sure you will get arrested if you don't fit Takata harnesses to an NSX. That JGTC GT500 link just can't be broken!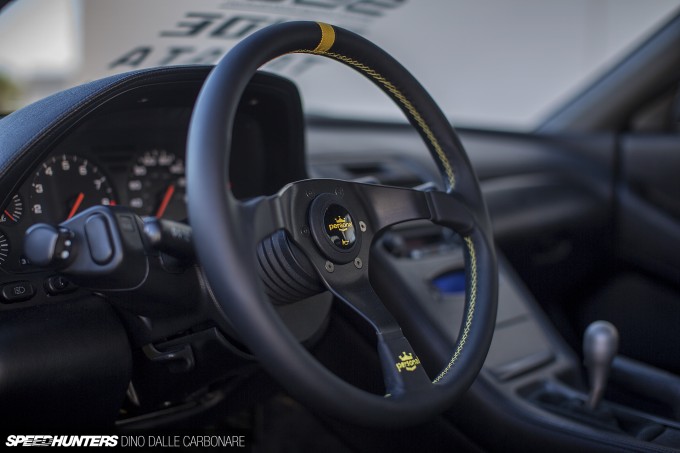 Simple things are always best and with an interior as ageless as the NSX's there wasn't much else that was needed to lift the overall quality than a leather Personal steering wheel.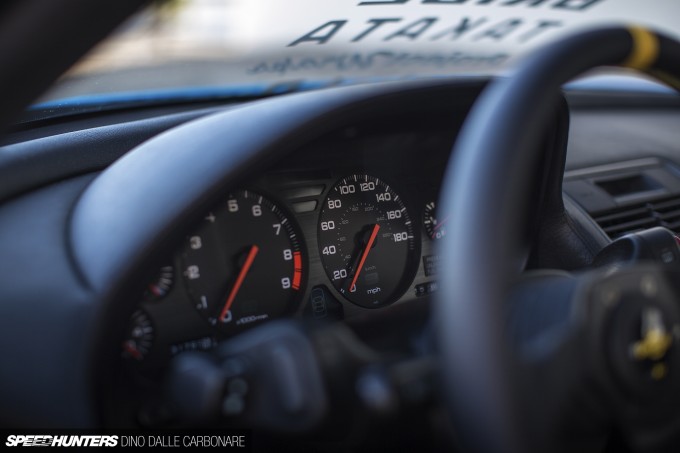 This is one car that has obviously been well cared for. If Honda actually developed a V8 for the NSX, then maybe it would have had no issues reaching that 180mph top speed indicated on the speedometer!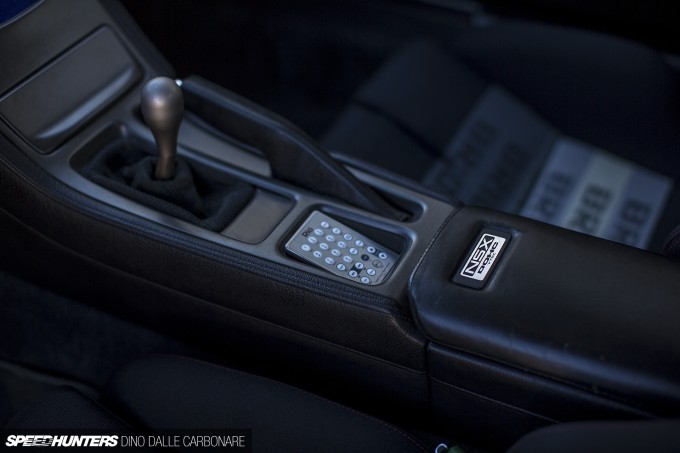 The badge says it all.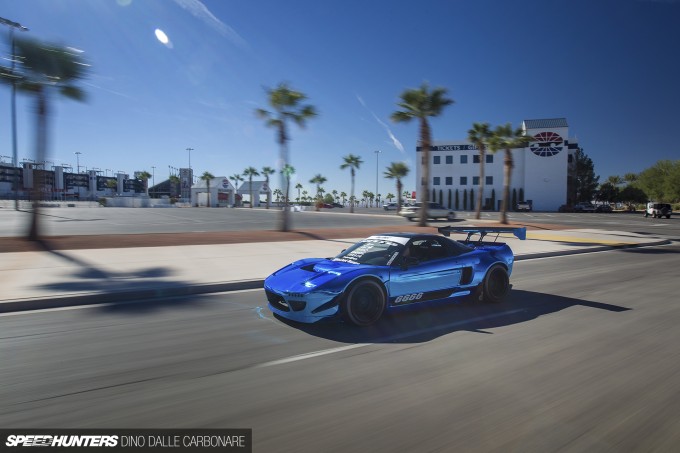 I won't go overboard and call this innovative, but at the same time it's nice to see Miura-san bringing a new angle to Rocket Bunny brand.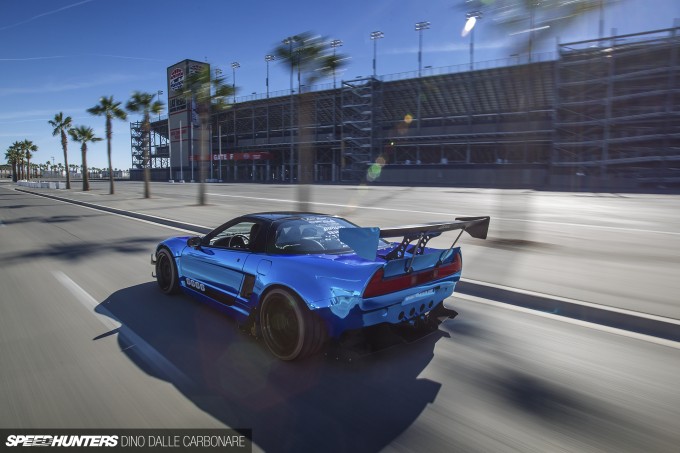 Call it a mix of wildness, coupled to a more grown up way of executing things. Yep, that's a fair enough assessment. Although the overfender craze is far from over, I for one am pretty excited to see where this will take him. Maybe carbon fiber production? I know I'm not the only one that would love to see this coming from TRA Kyoto, because if you replace aluminium with carbon it does make more sense, right?
Dino Dalle Carbonare
Instagram: speedhunters_dino
dino@speedhunters.com
Additional Photos by Larry Chen
Instagram: larry_chen_foto
larry@speedhunters.com