Don't Call It A Throwback
Do you ever stop and think about just how good today's cars have become? They are better than they've ever been, and it doesn't matter which brand you are talking about. Modern automobiles are safer, more fuel efficient, more comfortable and more reliable than those from years past. They are also faster than they've ever been. Much faster…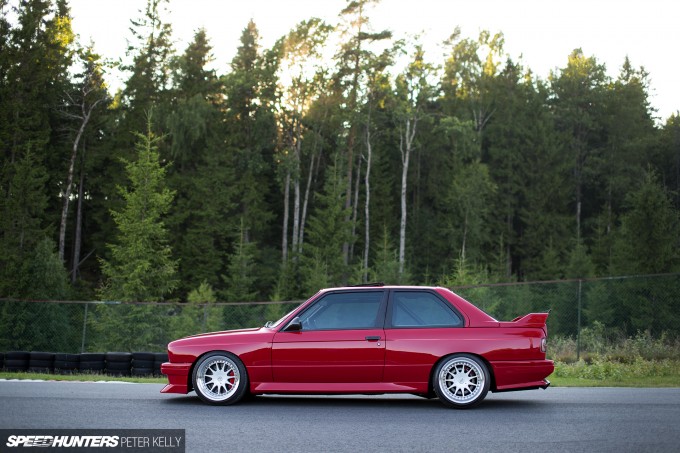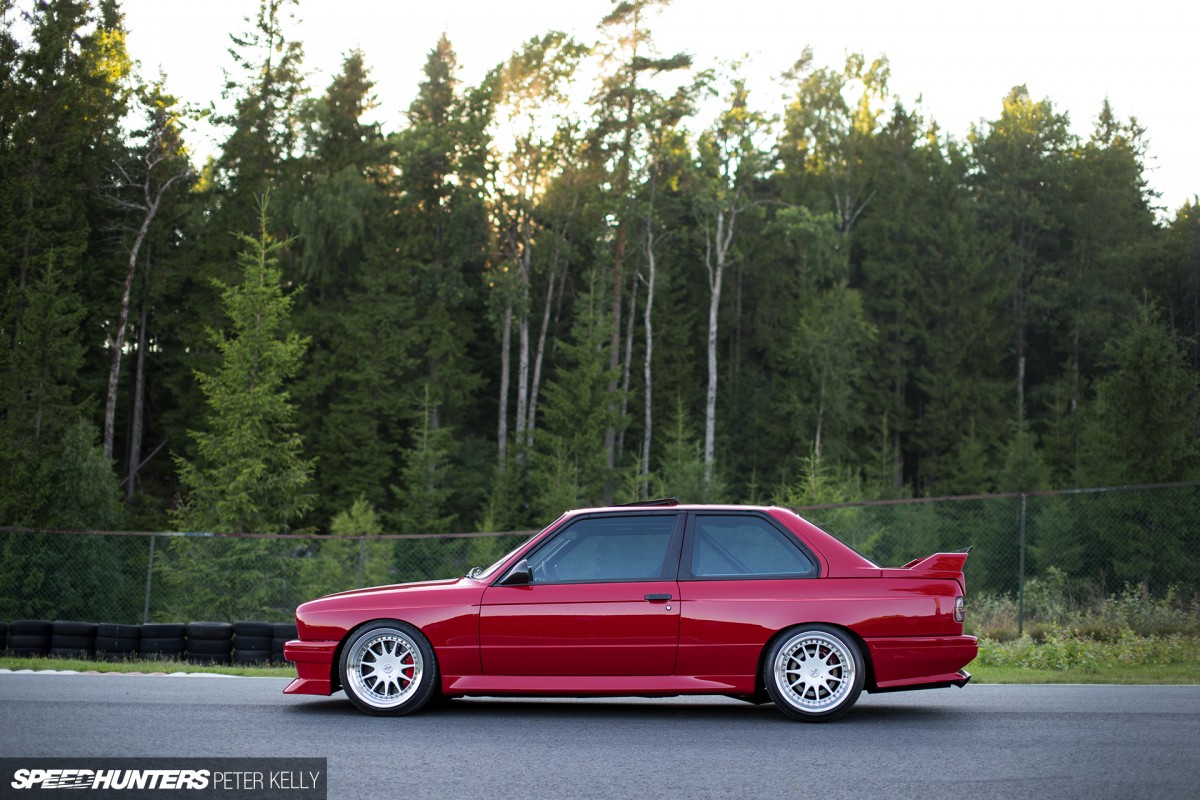 Take a rudimentary family sedan like the Honda Accord for example. Even in basic four cylinder trim, a brand new Accord would be able hang with right some of our favorite cars from the '80s and '90s on the drag strip or road course. If you choose to equip a new Accord with the optional V6 engine, then you'll get the sort of acceleration and performance once limited to the realm of high-end sportscars.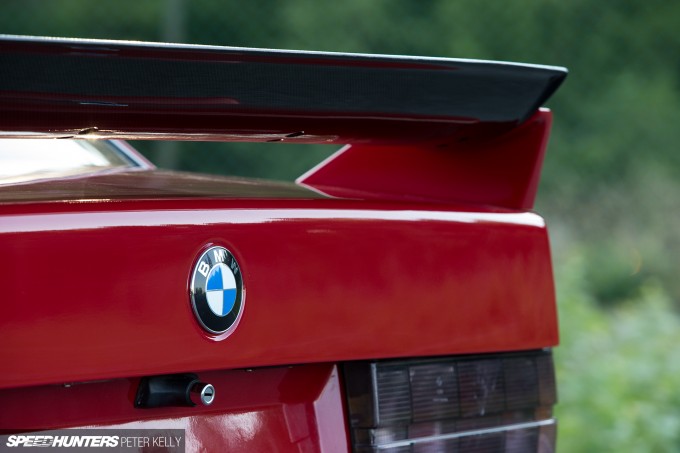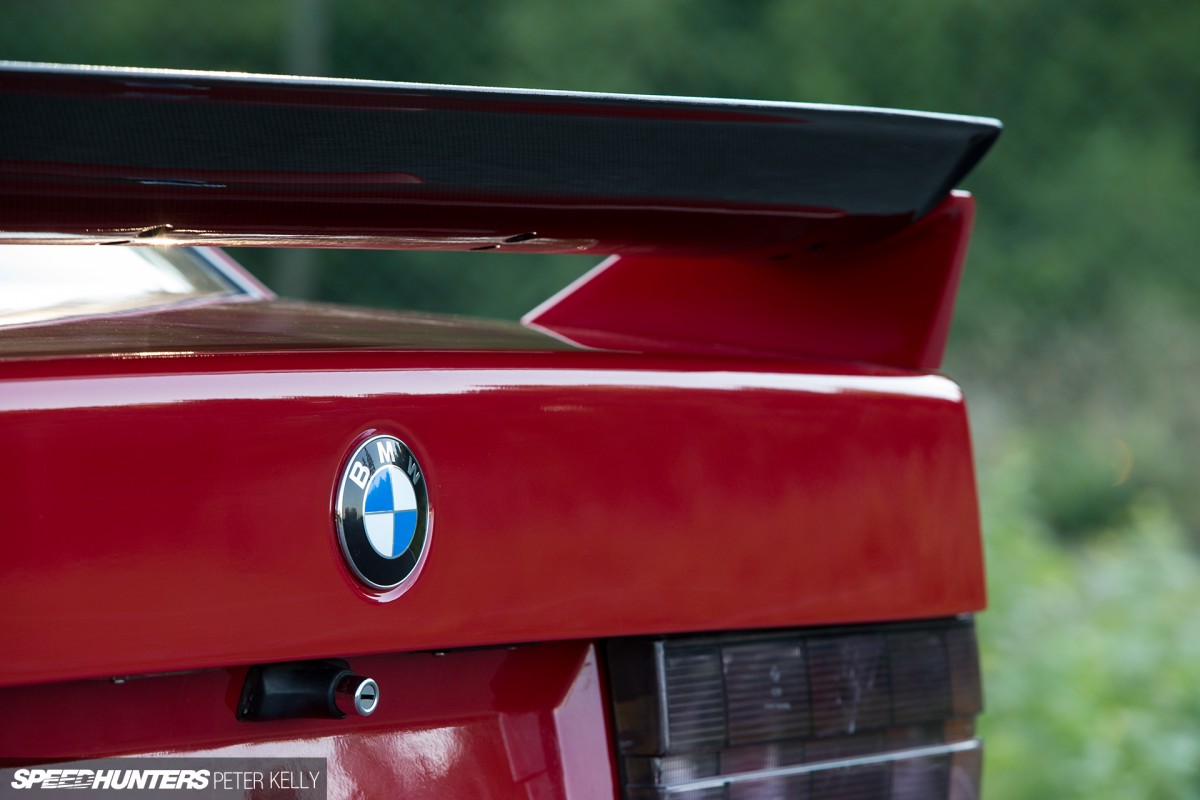 But what does this mean for our favorite performance cars of the past? Cars which were considered fast when new, but today would struggle to keep up with a typical family sedan. The legendary E30 BMW M3 is a perfect example of this. Although its driving dynamics and style is still praised, its on-paper performance might seem disappointing to those spoiled by modern cars.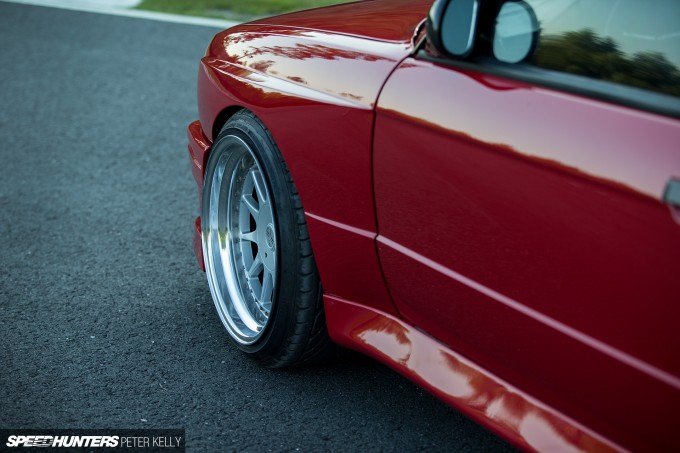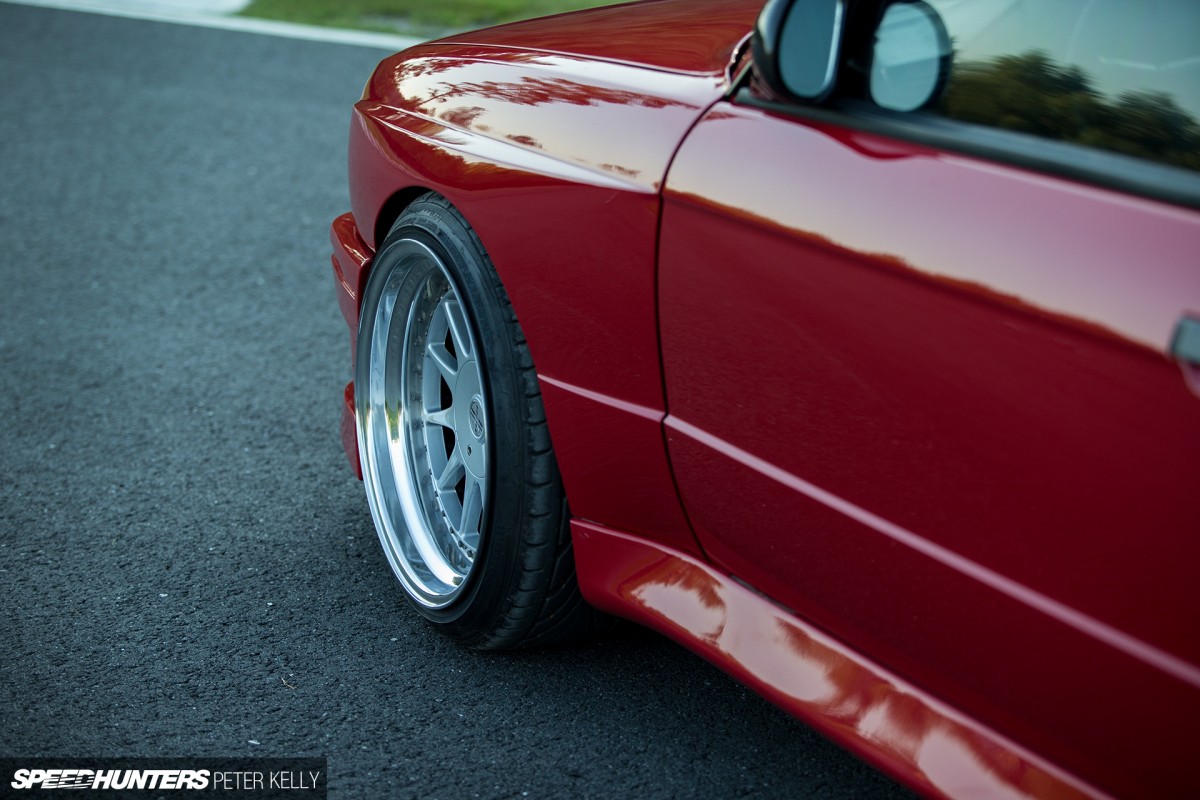 Many enthusiasts are completely content with enjoying their E30 M3s as they were, and the model's ever-increasing value can attest to that. But what about those who love the shape and style of these classics, but want performance that's on par with today's incredibly fast machines? Stig Helland is one of those people. He's a 25-year-old from Hellandsjøen, Norway, who likes to spend his free time messing around with old BMWs, including the M3 clone you see here.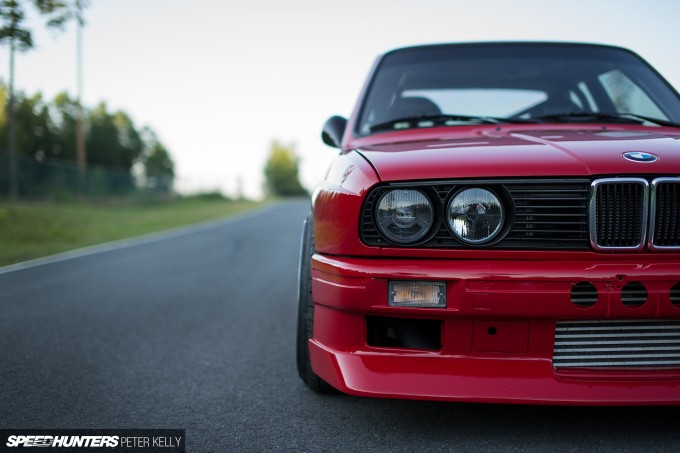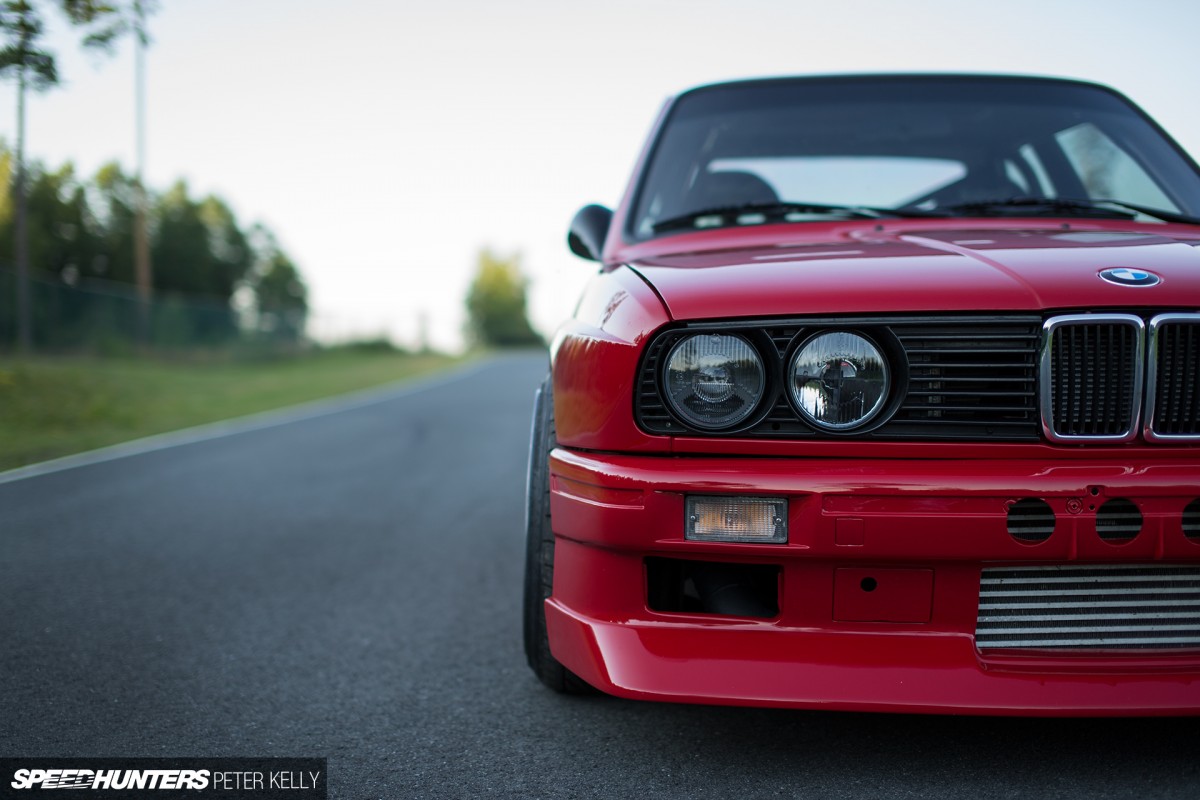 Stig had always loved the style of the E30 M3 – especially the car's aggressive wide body panels. What he wasn't so fond of was the M3's S14 engine. He appreciated its traits of course, but knew that a naturally aspirated four cylinder would simply get left behind in Norway's world of big-power builds.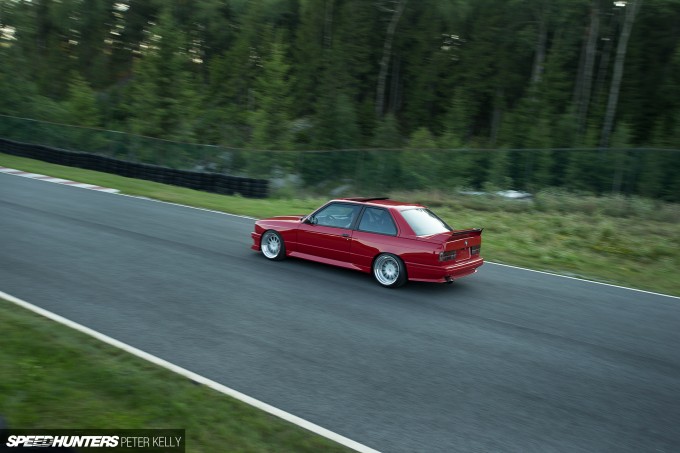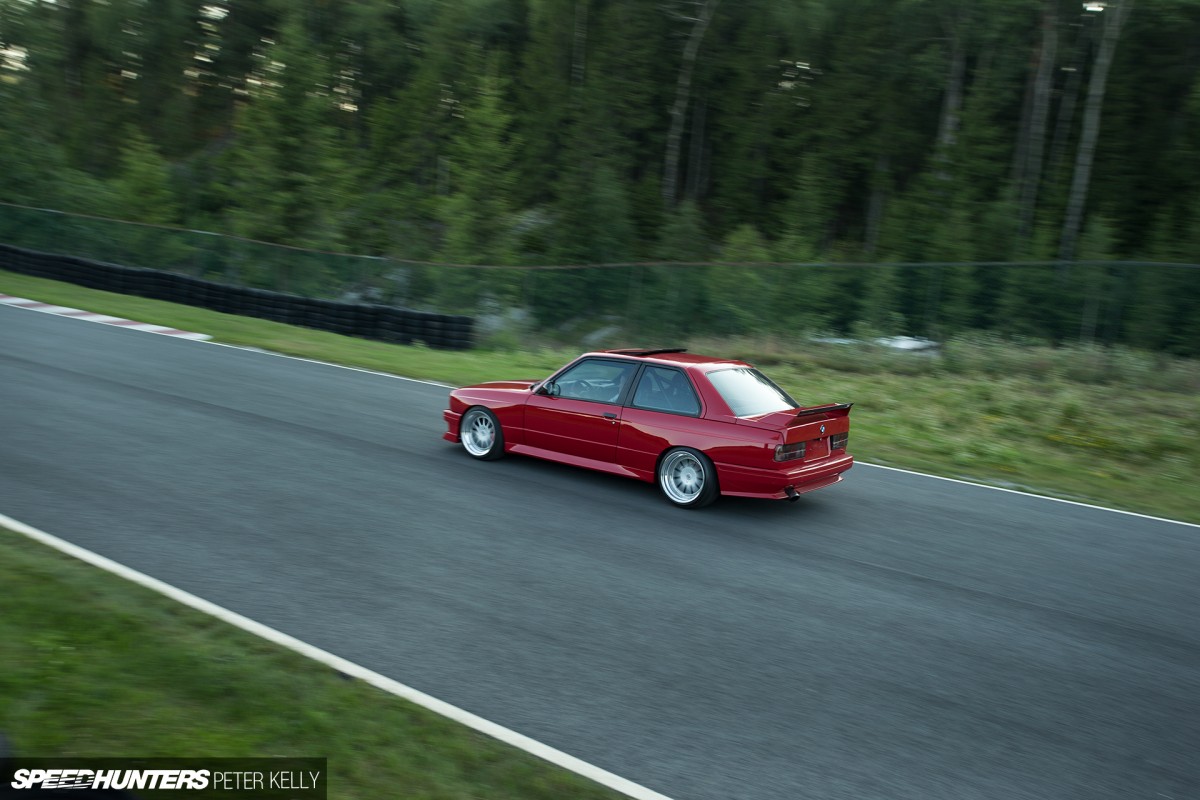 So last year when Stig had the opportunity to acquire a heavily-modified 1986 325i that combined the iconic look of the E30 M3 with with big time, tire-smoking performance, he couldn't resist.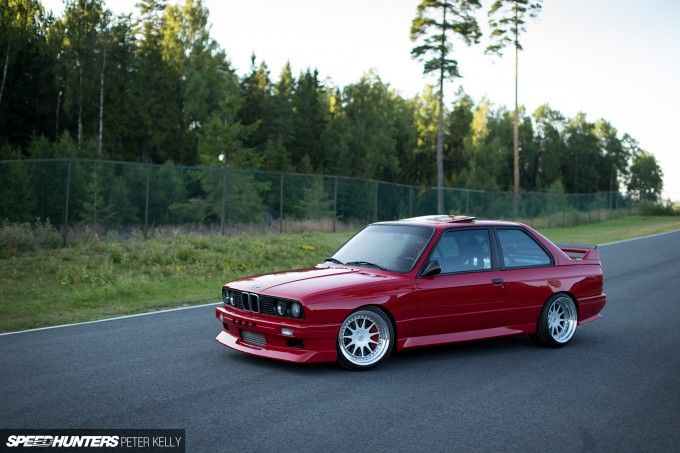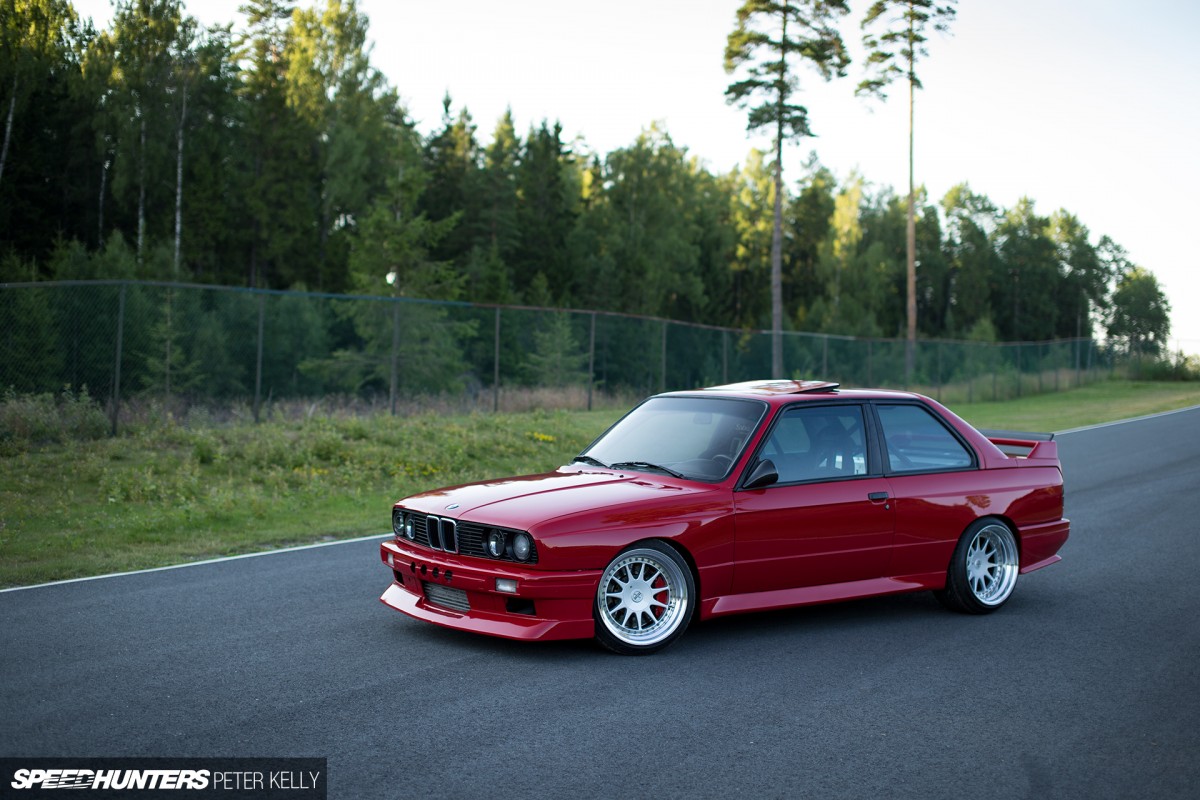 At first glance, it just looks like a nicely-preserved E30 M3 with a few aftermarket touches. But as you get closer it becomes apparent that there's a bit more to it than that.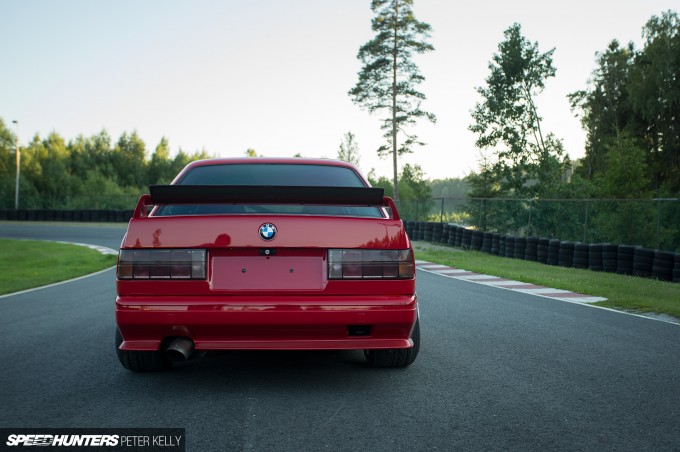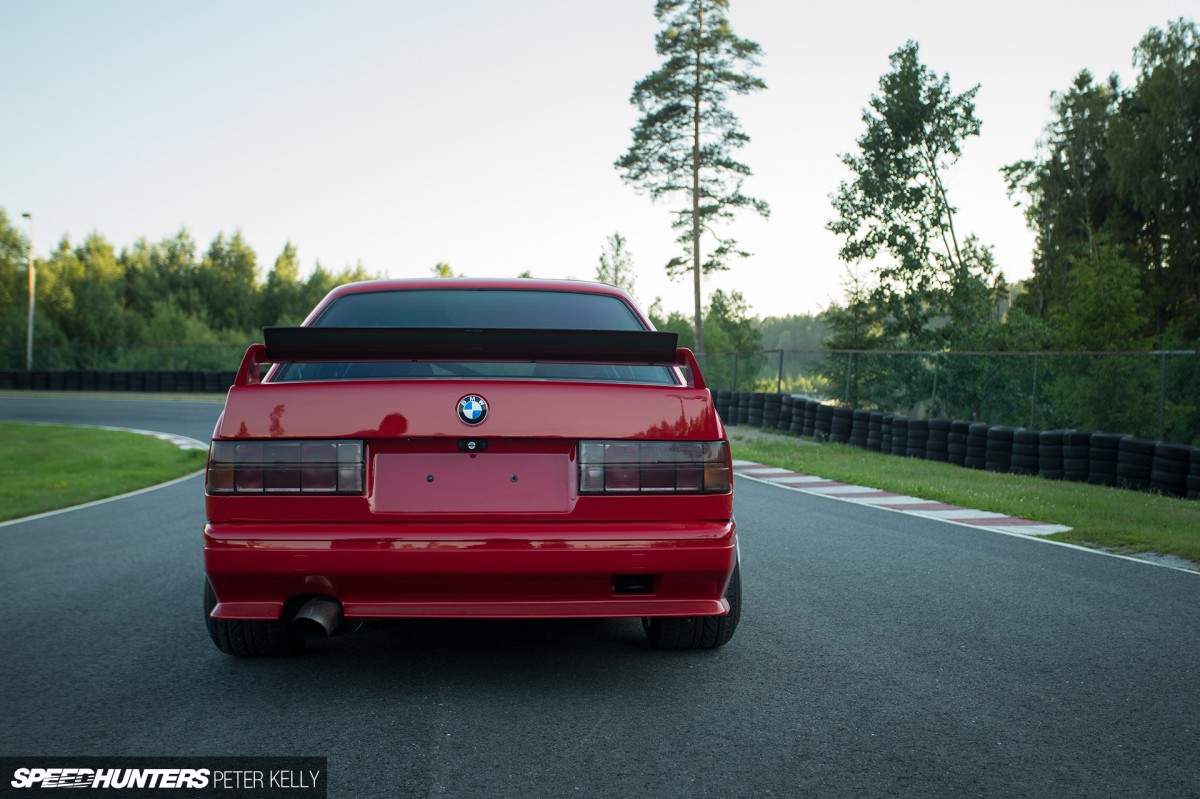 Keen eyes will begin to notice things like the wider than usual tires, the large-diameter exhaust system and the full rollcage that's been fitted in the cabin.
Big Power Lives Here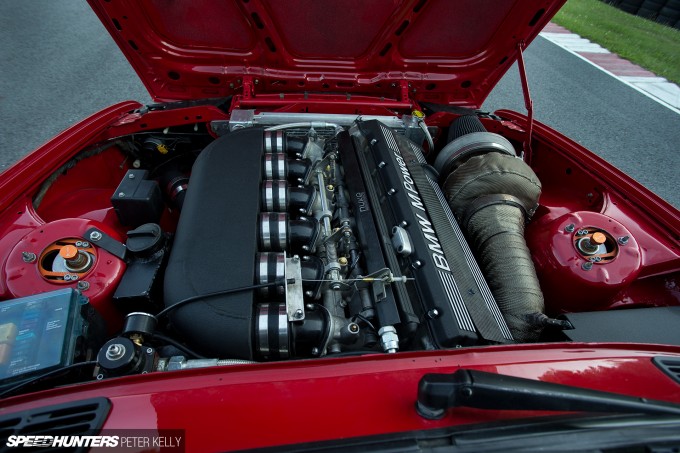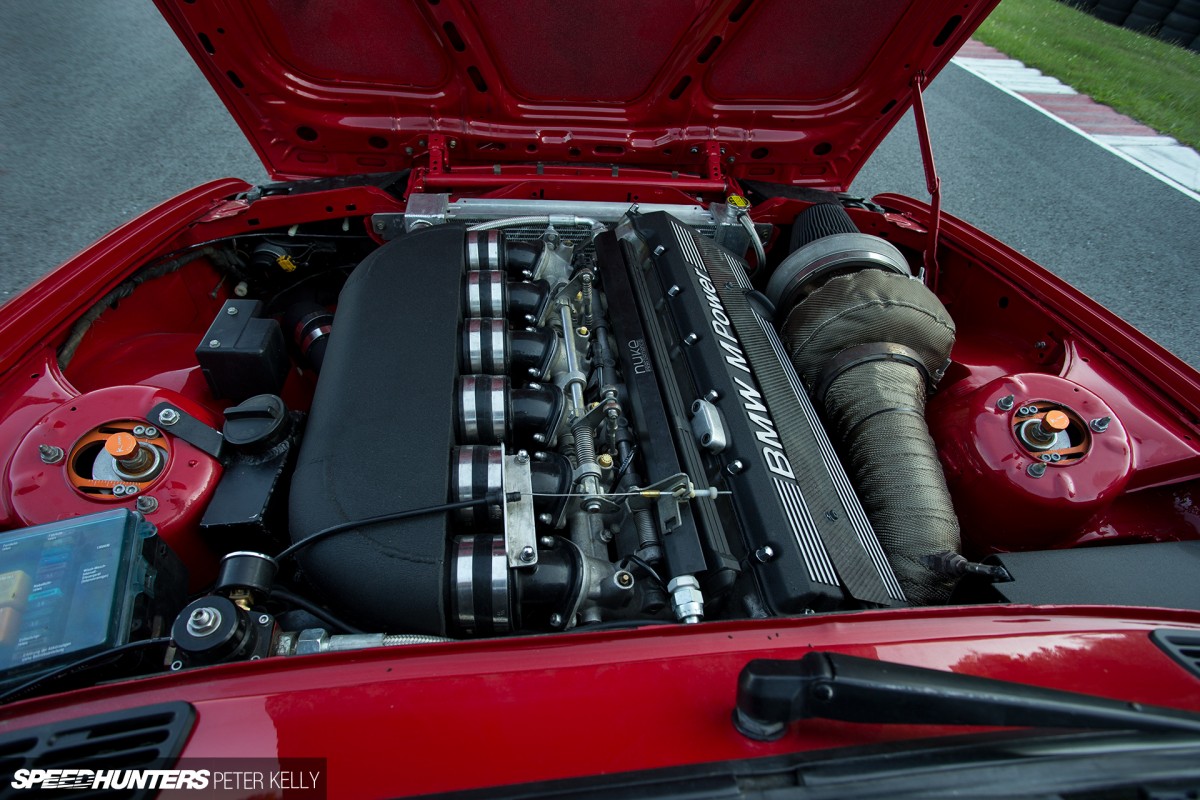 All delusions of this being a stock M3 are erased when you open up the E30's hood and see a big hunk of BMW inline six with a giant snail hanging off the side of it. The engine itself is an 3.5-litre S38B36 sourced from an E34 M5, and it's been fully built and prepped for big boost.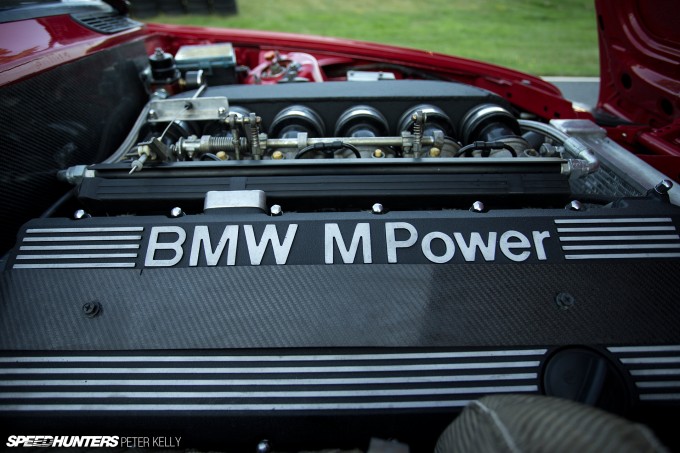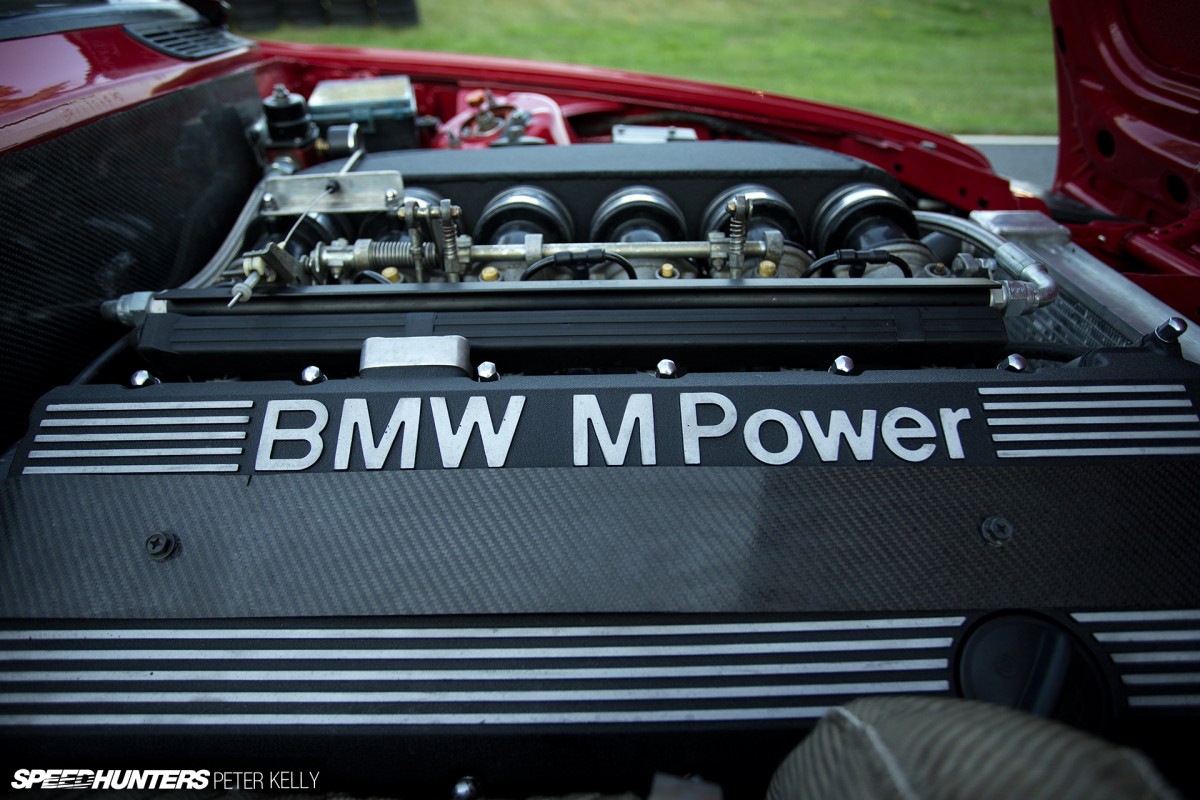 The block fit-out includes CP forged pistons with heavy duty pins, a polished crank and forged H-beam rods, while up top in the cylinder head the valvetrain has been strengthened with uprated springs and retainers. The fuel system has been overhauled too and now includes twin Bosch 044 fuel pumps, Precision 1,260cc injectors and a Nuke Performance Blackline fuel rail.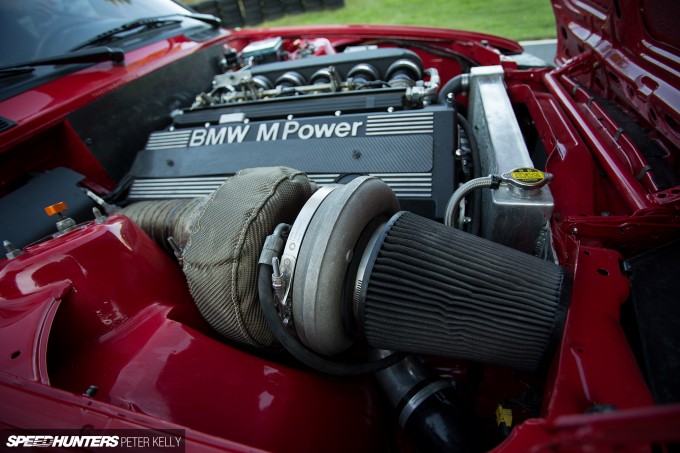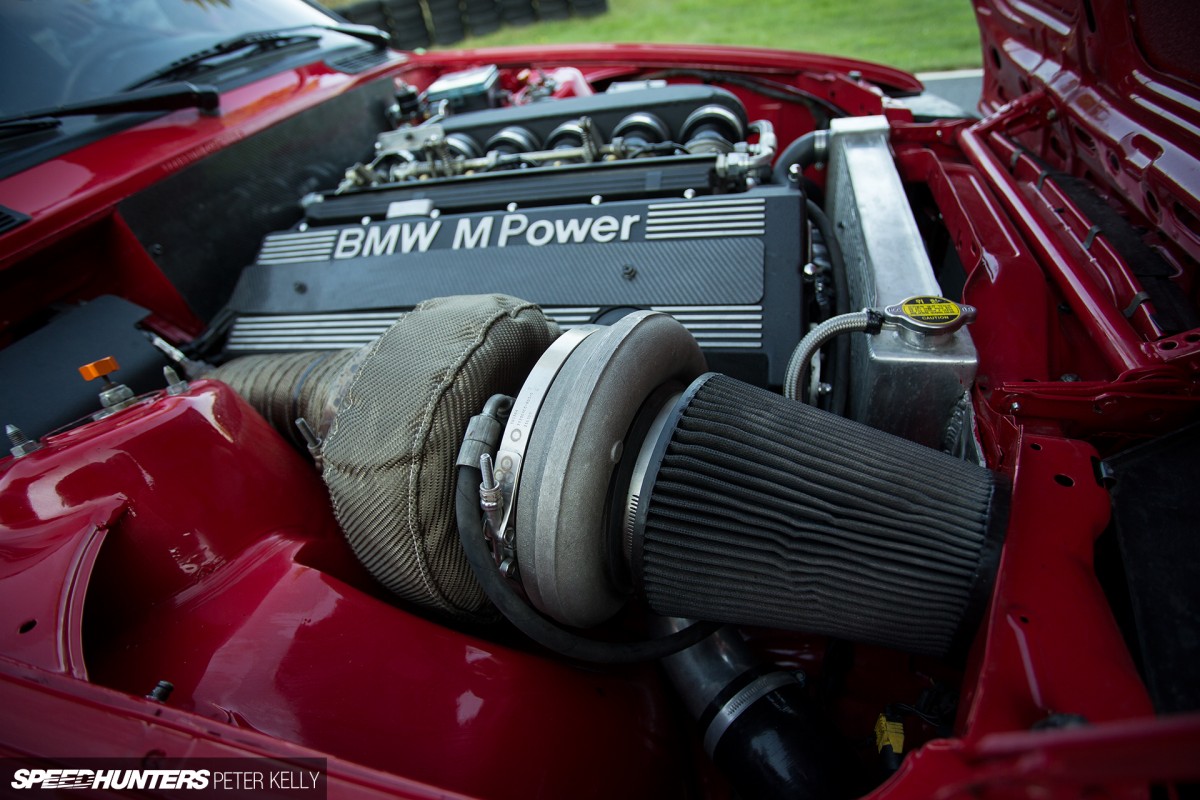 The turbocharger is a BorgWarner S475 race unit mounted on a custom manifold fabricated by JAAS Performance. A 4-inch downpipe sends pressure out through a custom 3.5-inch exhaust system.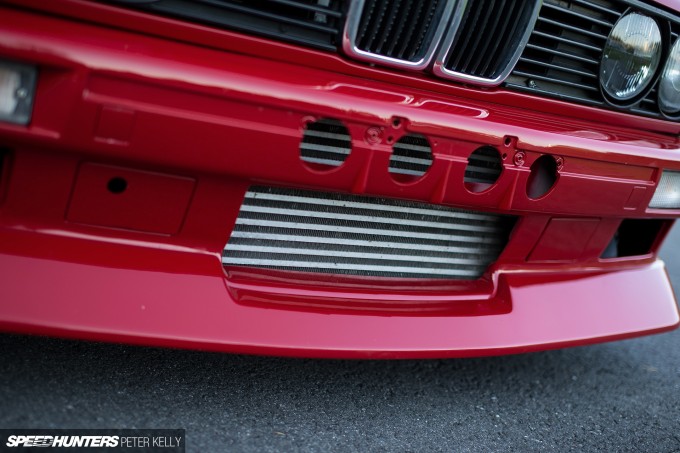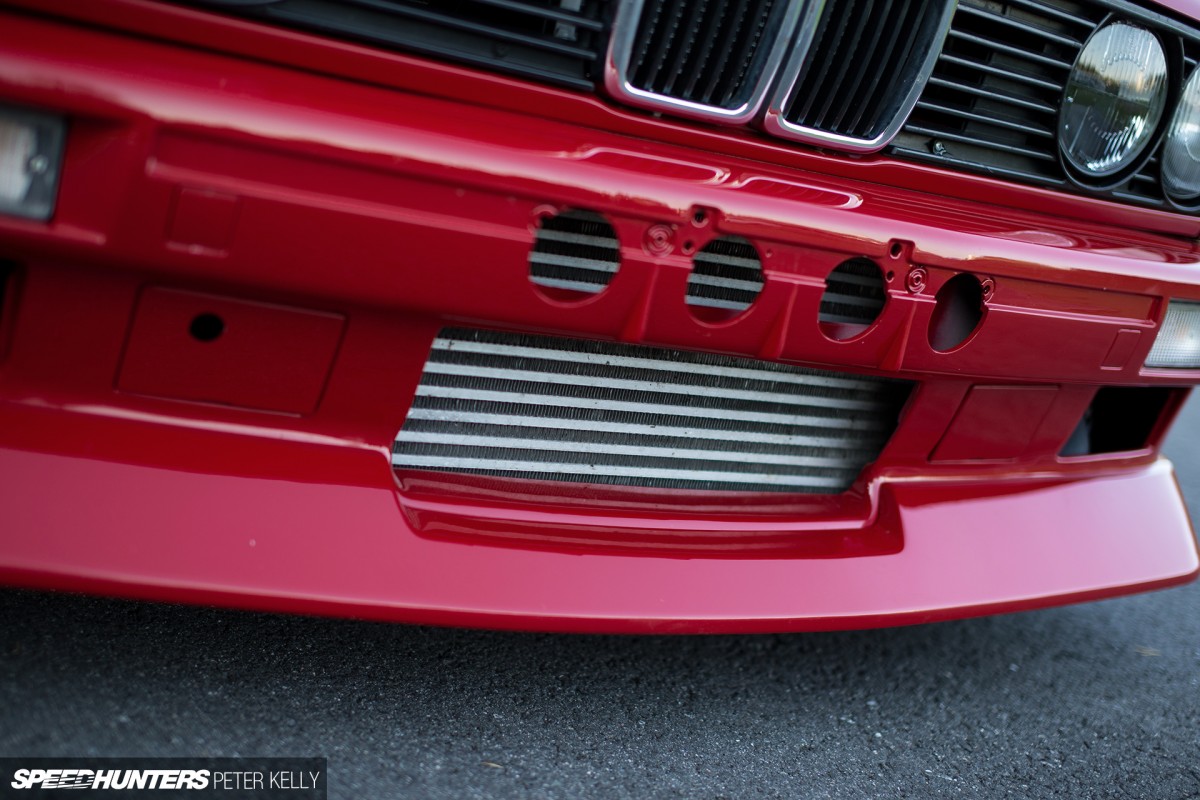 Perhaps the biggest external hint at what's going on under the hood is the front-mounted intercooler and 3-inch piping tucked nicely into the E30's bumper.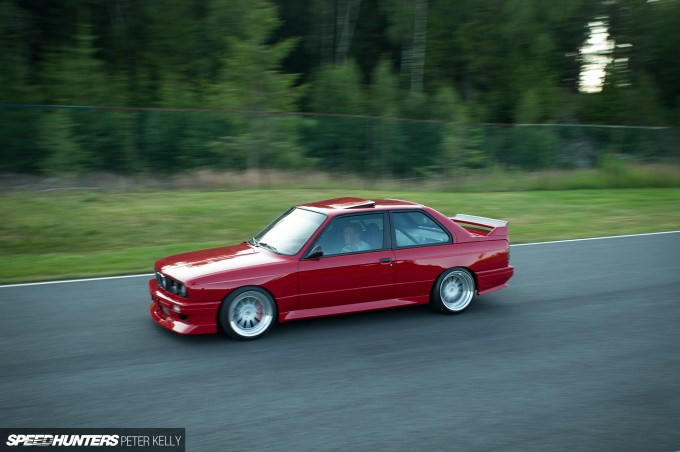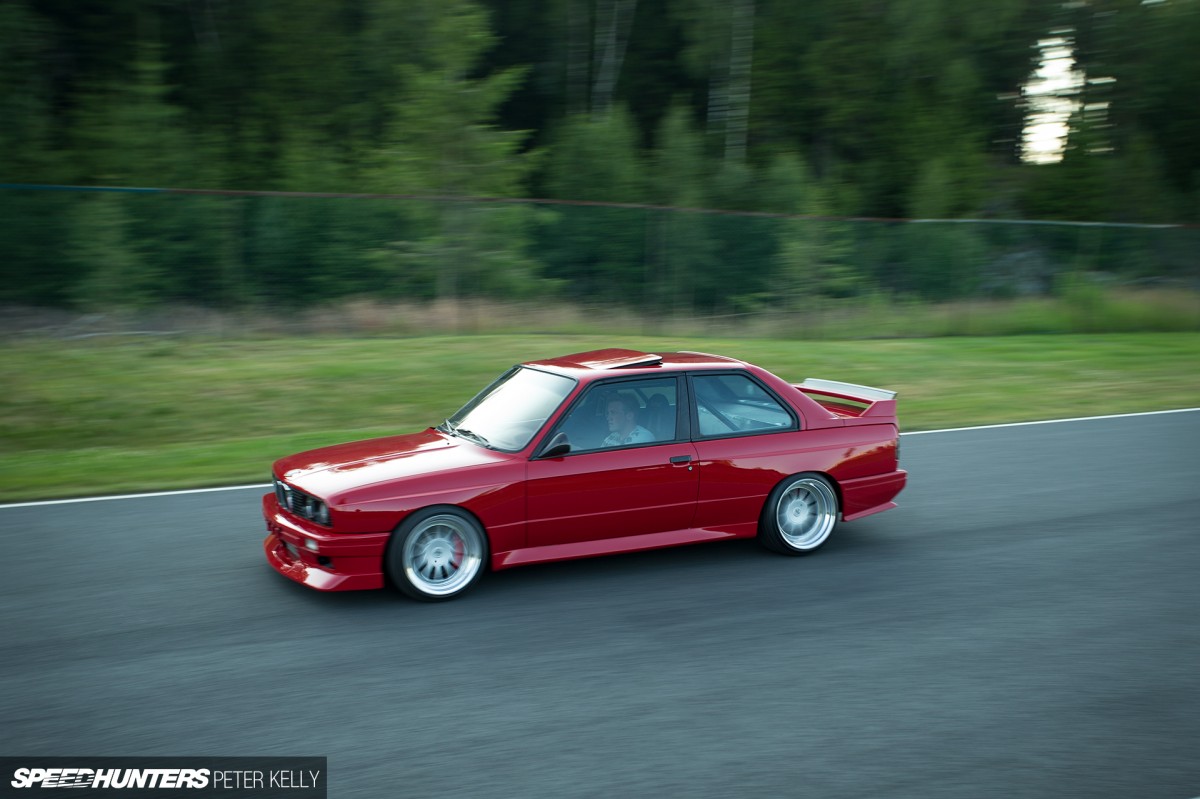 With boost pressure set to 1.7-bar (25psi), the setup is good for exactly 900 horsepower to the rear wheels. But what Stig enjoys even more is the peak torque figure of 849lb/ft. He says that you can put the pedal down in any gear and be treated to instant wheelspin for as long as you desire.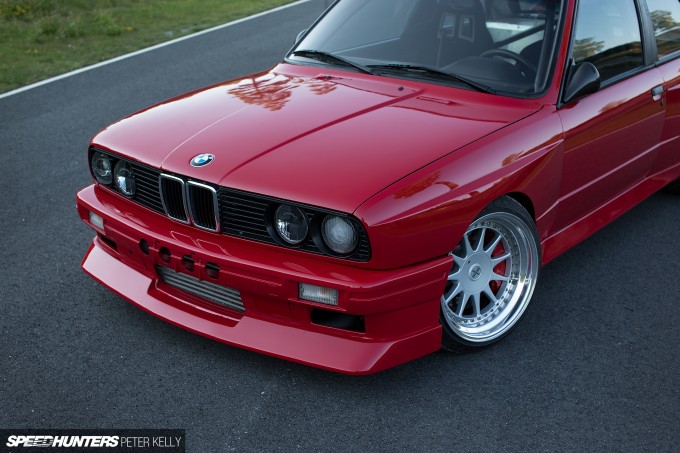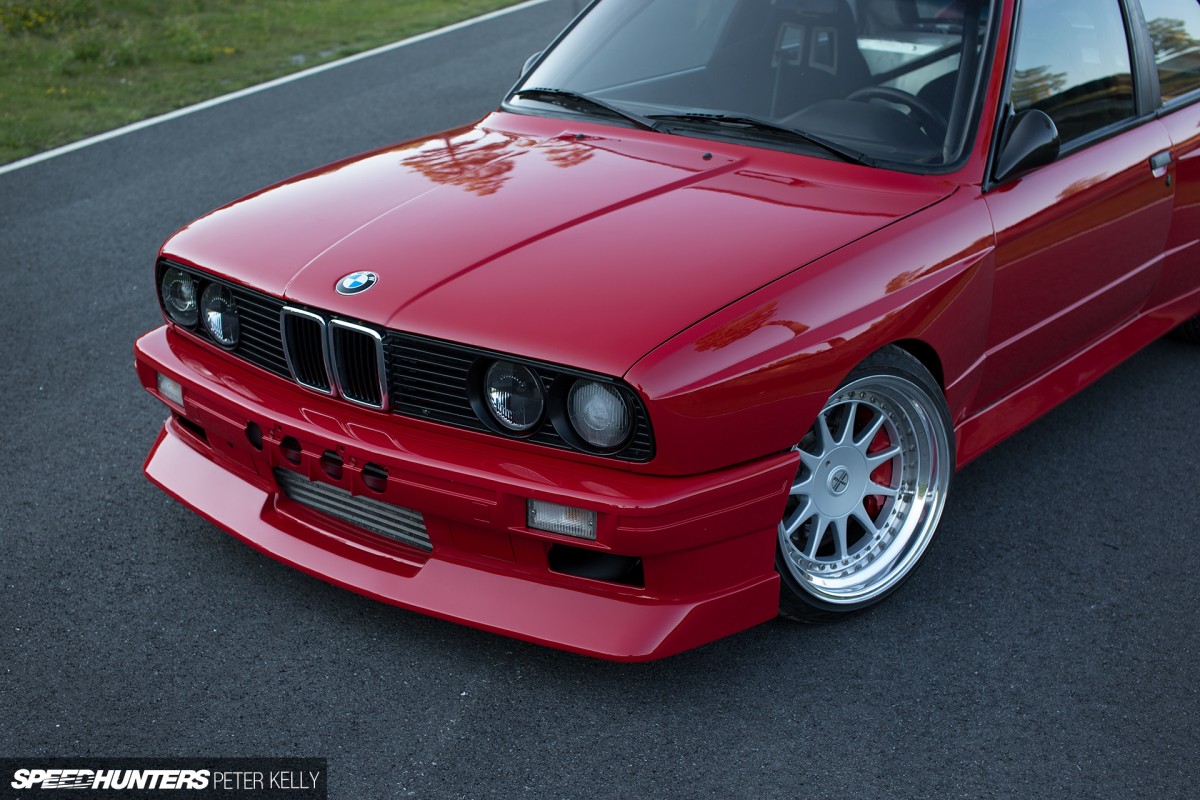 With so much power and torque on tap, it was necessary to bring the rest of the E30's drivetrain up to spec. The gearbox comes from an E39 5 Series diesel, the clutch is a twin-plate, rally-spec unit from Tilton, and drive is delivered to an E28 M5 differential with heavy-duty axles.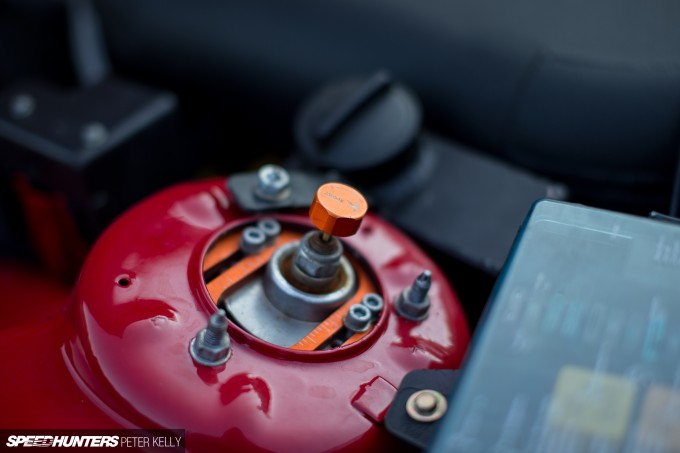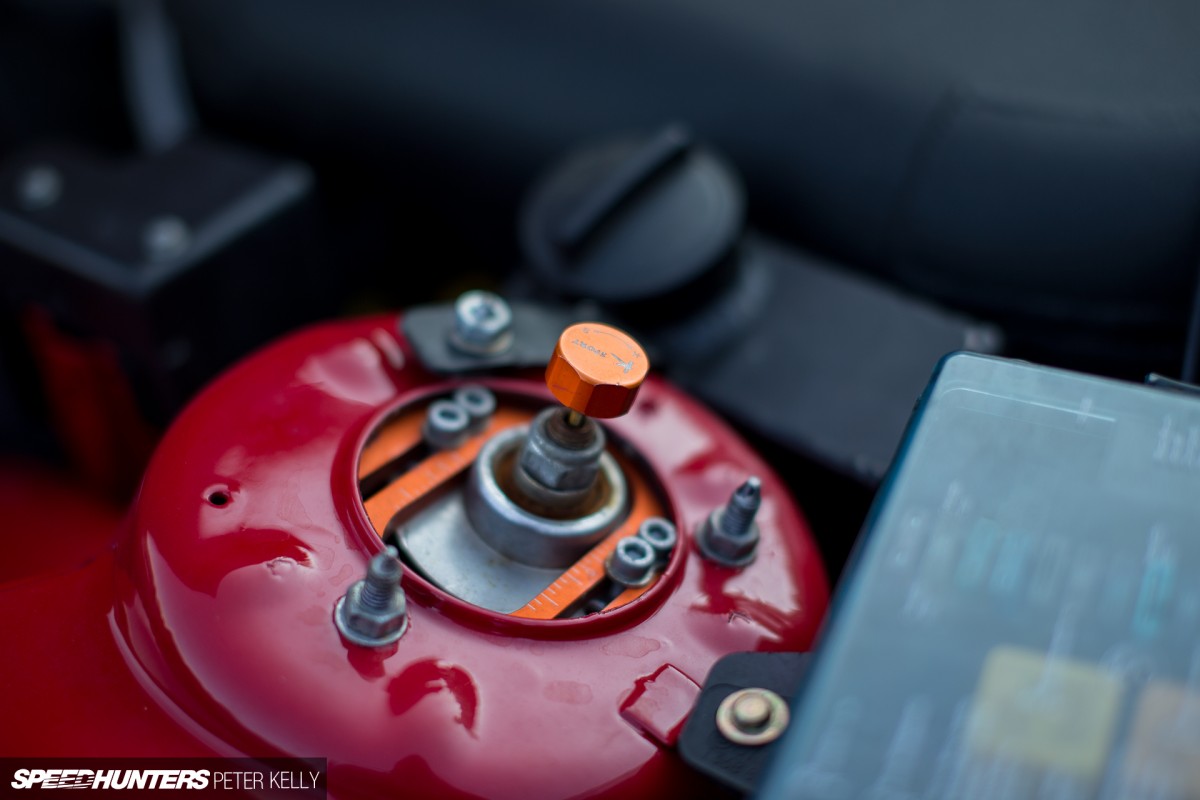 Suspension-wise, the car uses mostly factory E30 M3 components, along with K-Sport adjustable coilovers and Powerflex polyurethane bushings all around.
Style To Match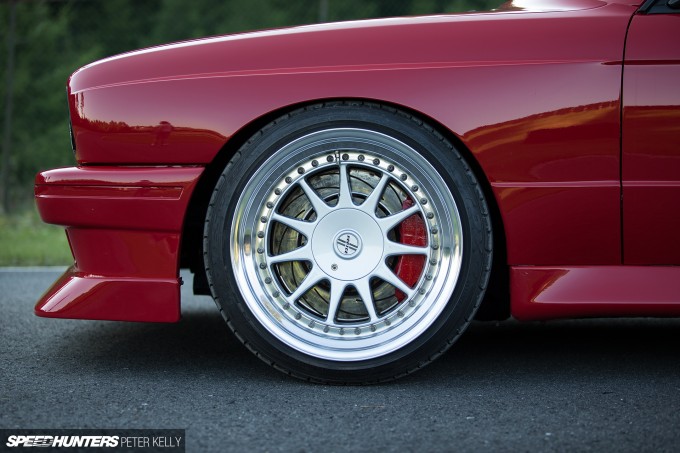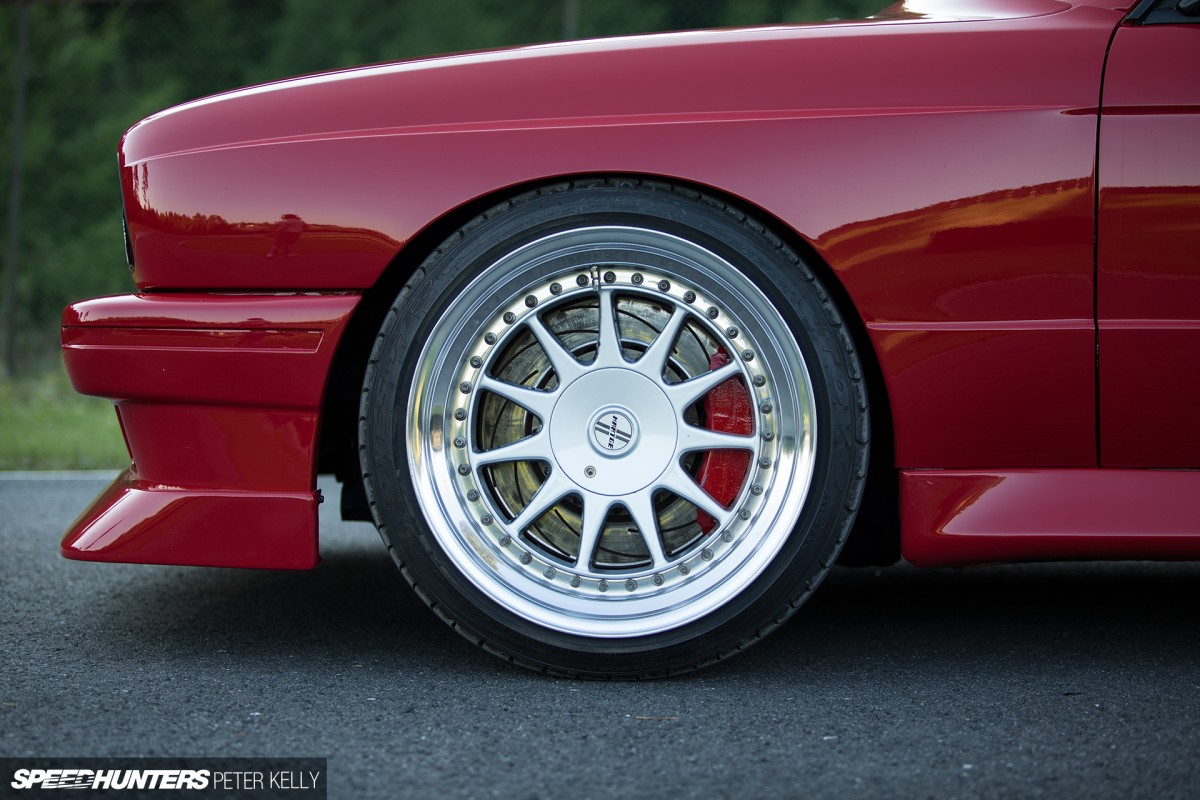 When it comes to the ever-important wheel and tire combination, there's a decidedly period-correct look with deep-barrel OZ Hartge wheels that perfectly suit the wide M3 bodywork.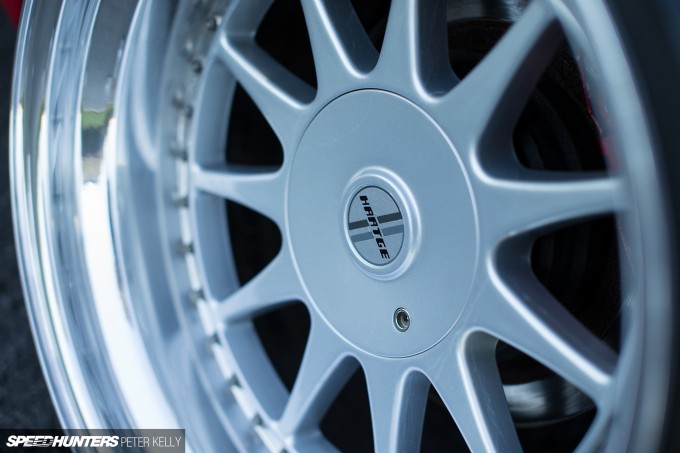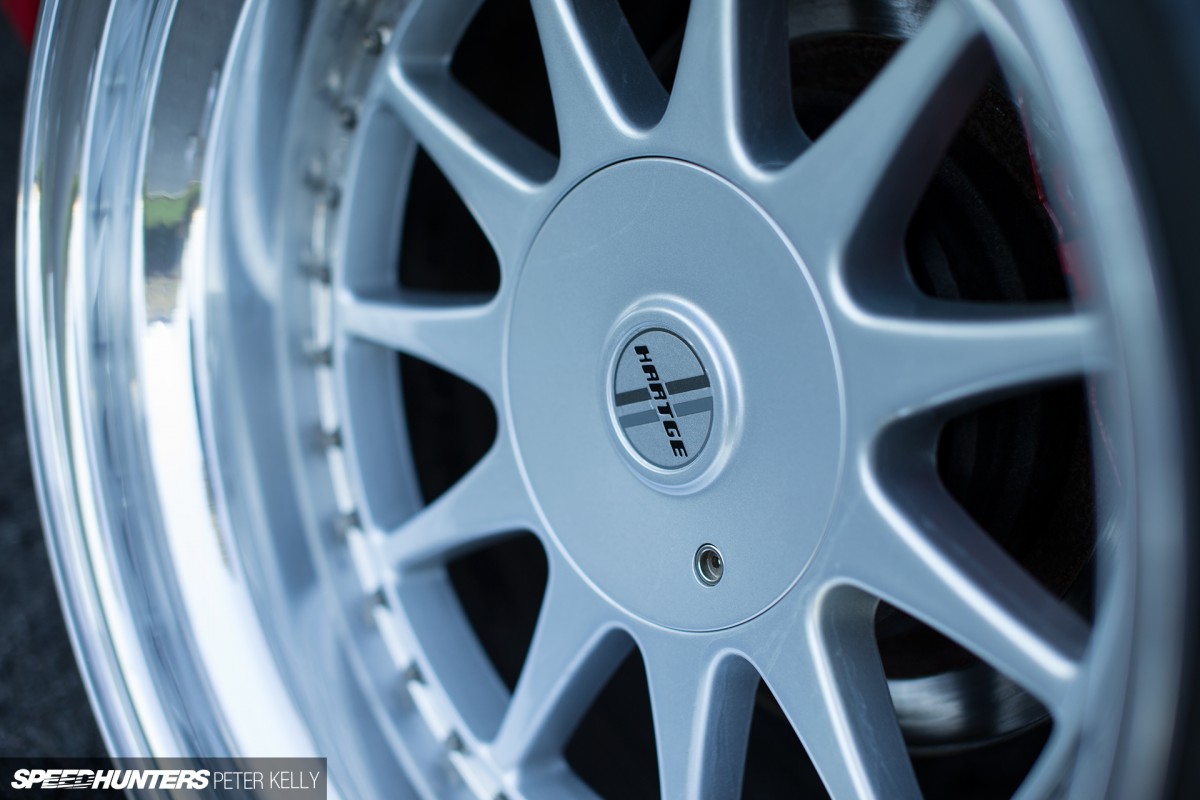 The wheels measure 17×9.5-inch in the front and 17×11-inch in the rear with 215/40R17 and 245/35R17 tires respectively.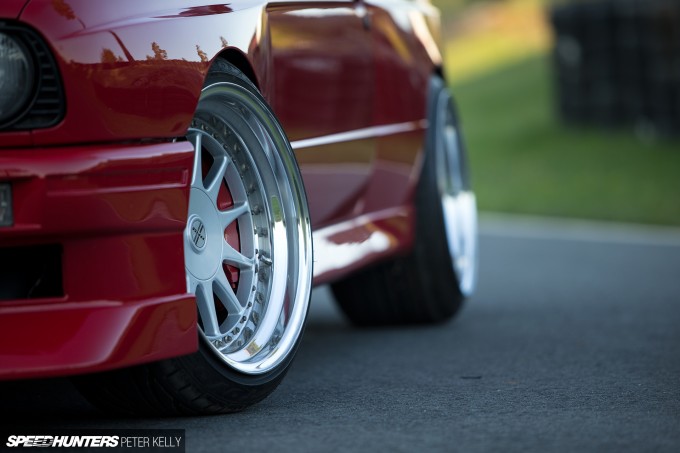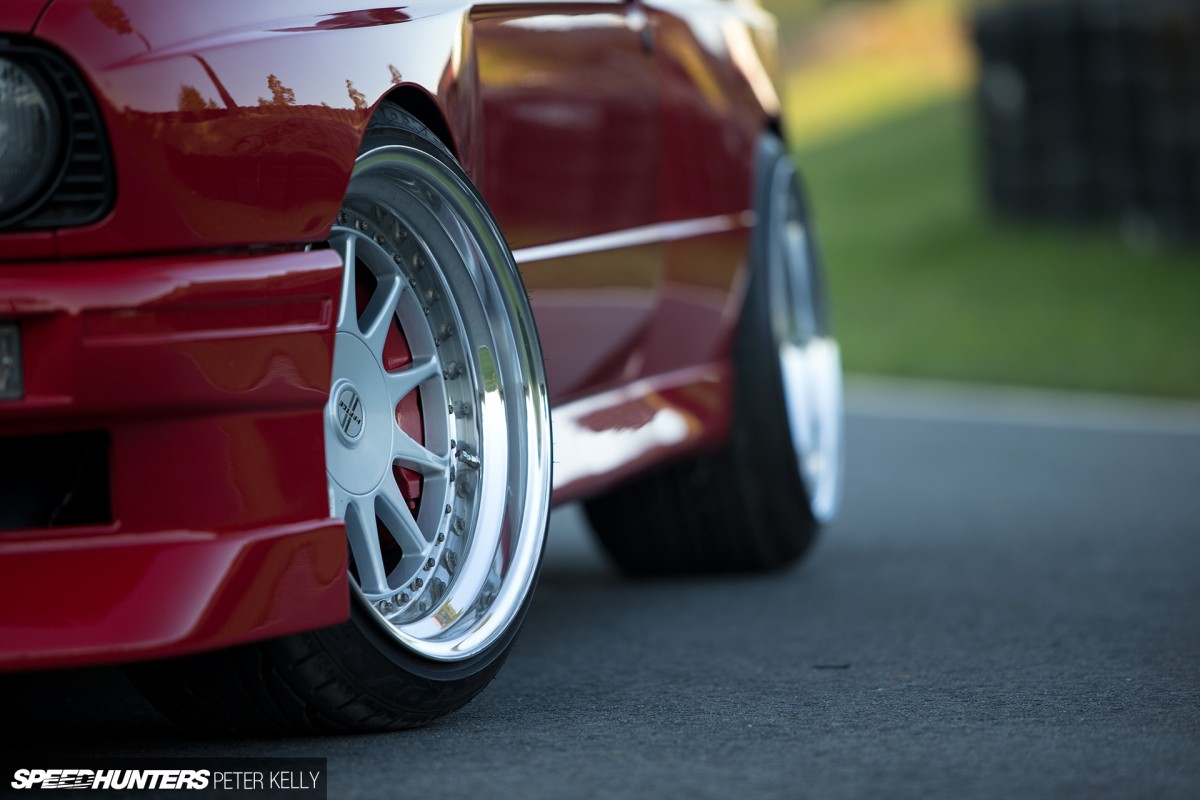 Glancing through the spokes of the OZs, you can also see the E30's upgraded braking system which uses a 330mm K-Sport setup in the front and factory E28 M5 brakes in the rear.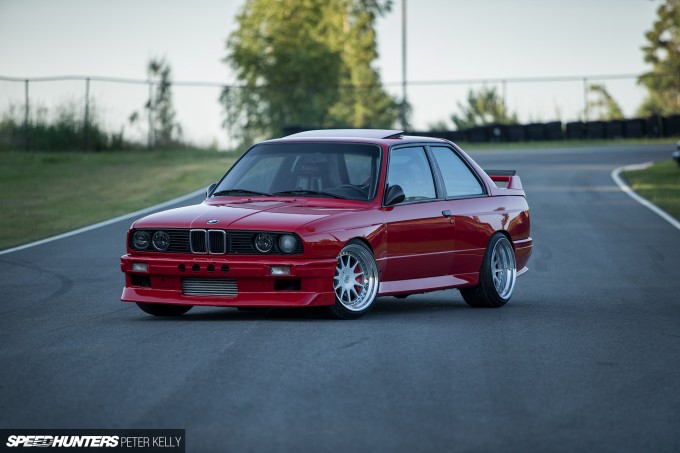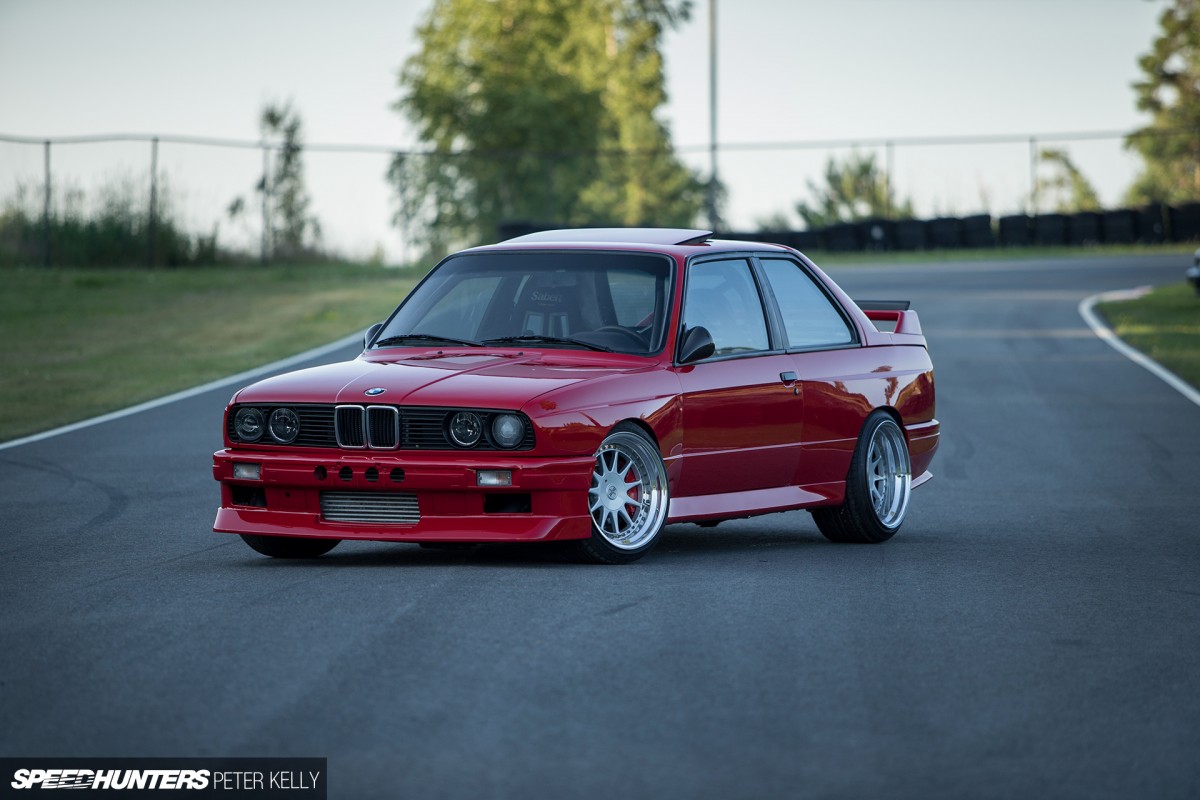 As for the body, aside from the M3 conversion modifications have been kept simple. Why mess with perfection, right?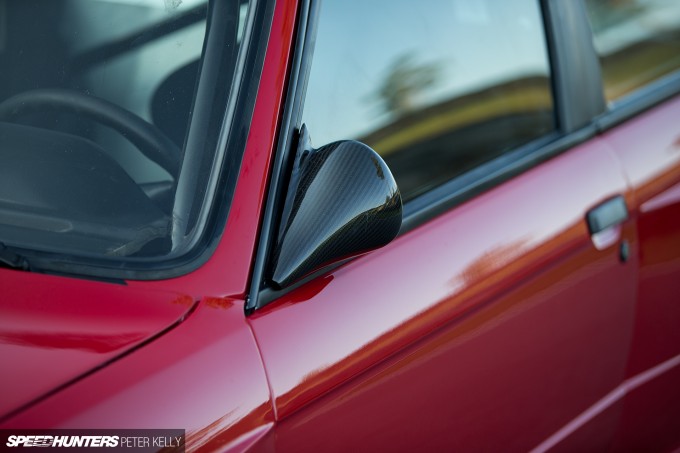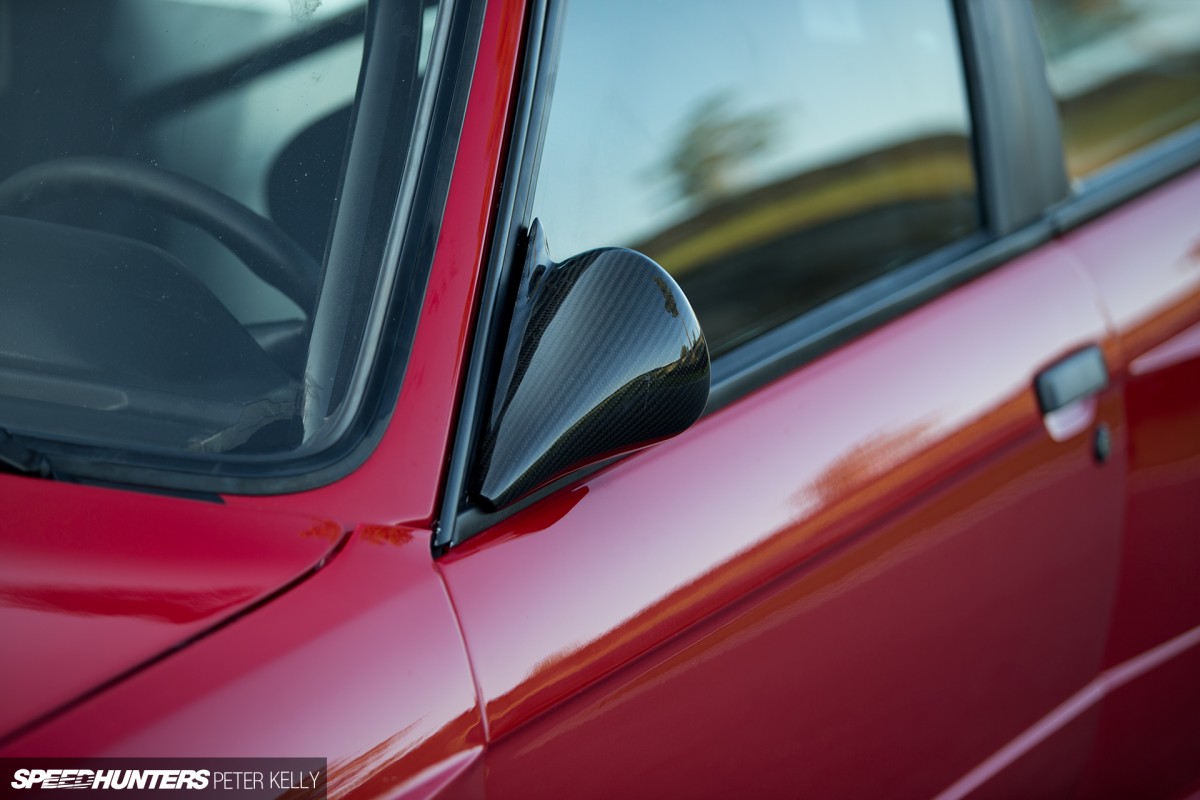 The aftermarket changes that have been made are subtle – an M3 Sport Evo front spoiler, upgraded Hella lights and a set of DTM carbon fiber side mirrors.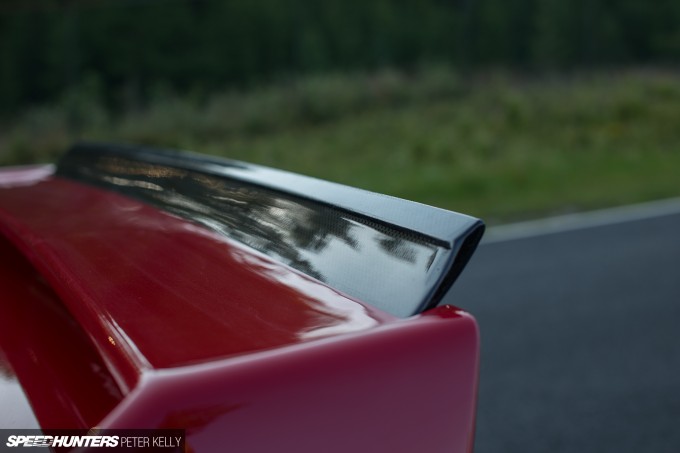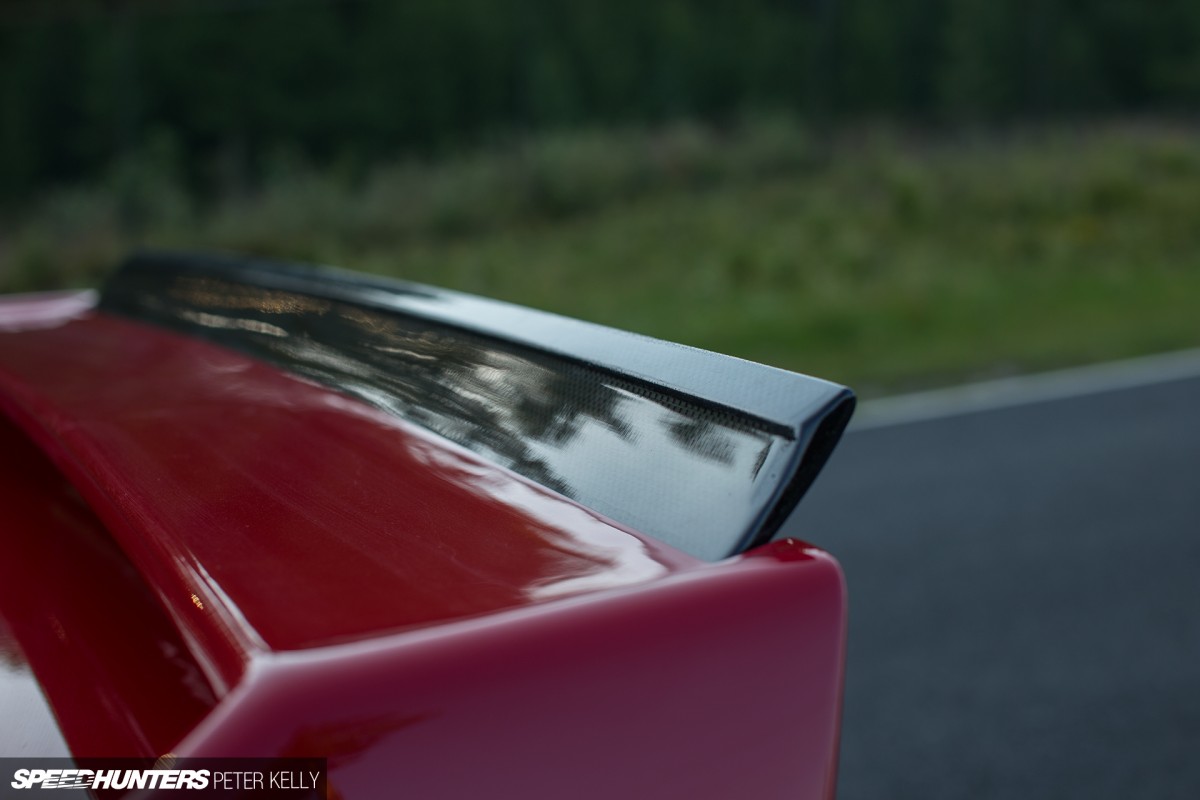 Out back, you'll find a a carbon fiber rear spoiler along with a set of Startec taillights. The finishing touch is a coat of Zinnoberrot Red paint applied by Øyvind Leiknes.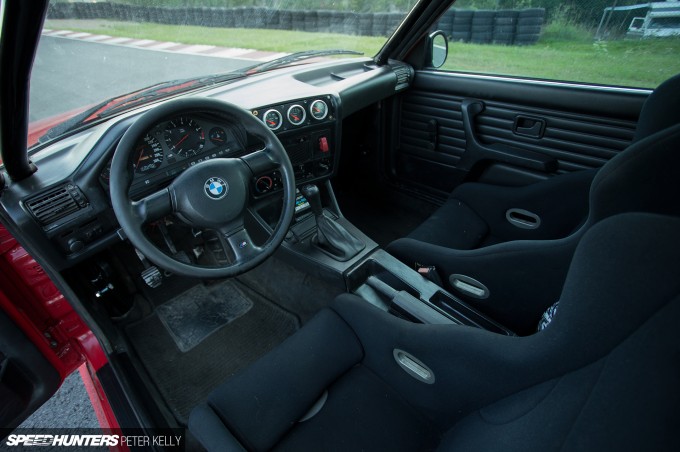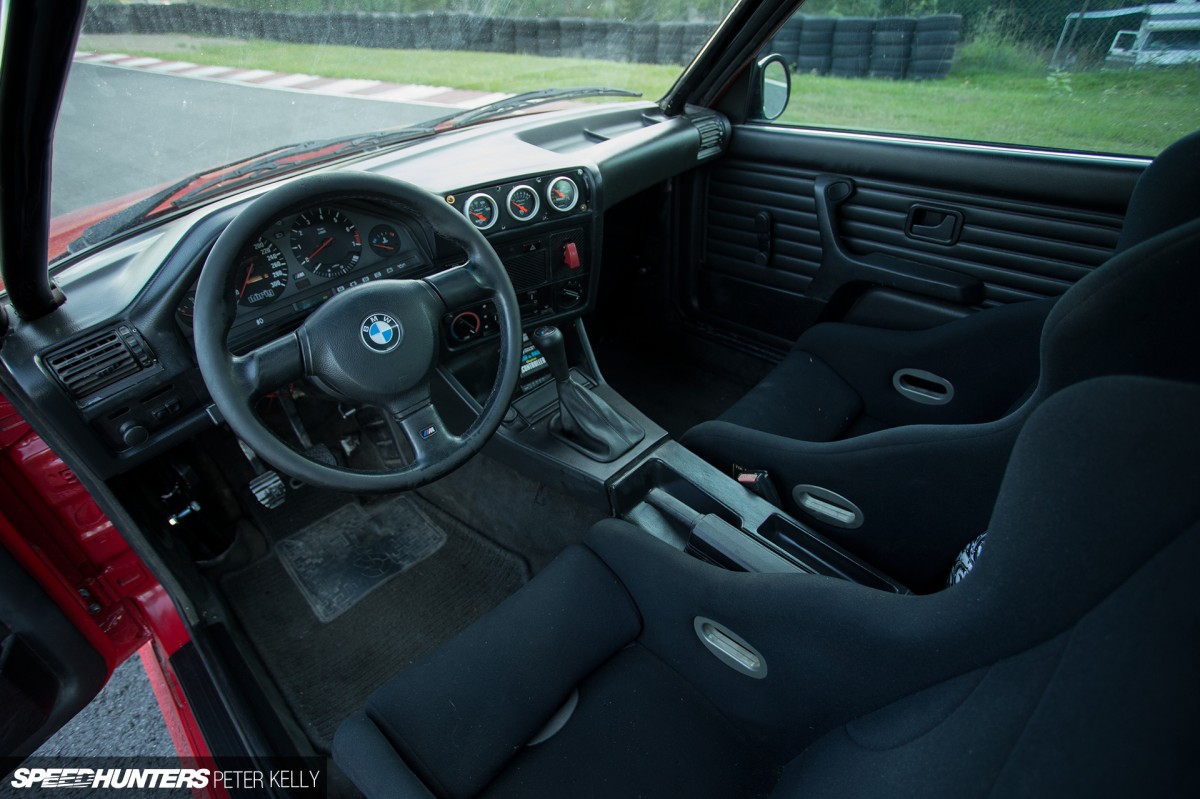 Inside the cockpit the same sense of simplicity has been carried over. Much of the equipment is standard issue E30 M3, while the steering wheel and shift knob have both been upgraded with M-Tech pieces.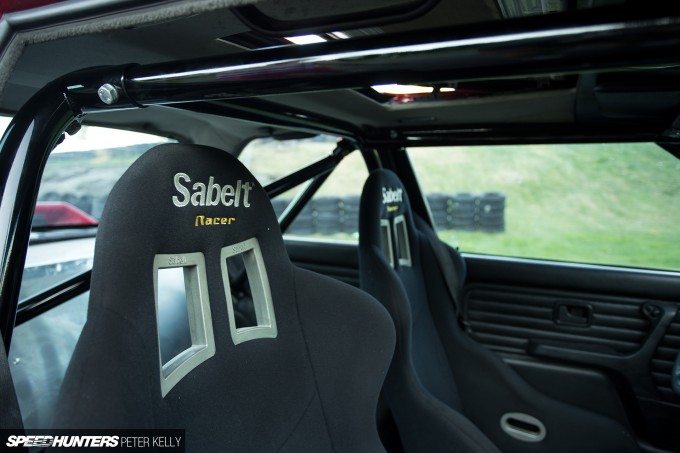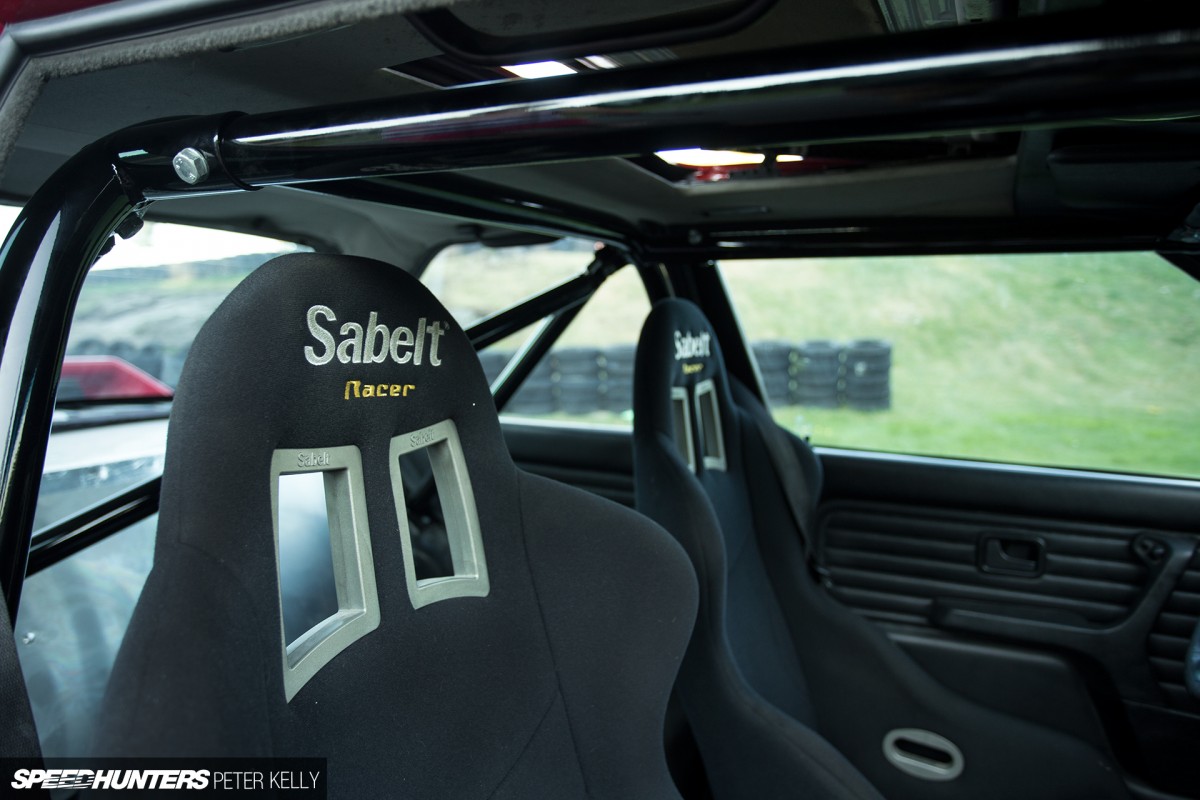 Given the hard driving that this car sees at Gatebil and other track events, the aforementioned rollcage and a pair of Sabelt Racer bucket seats have also been installed.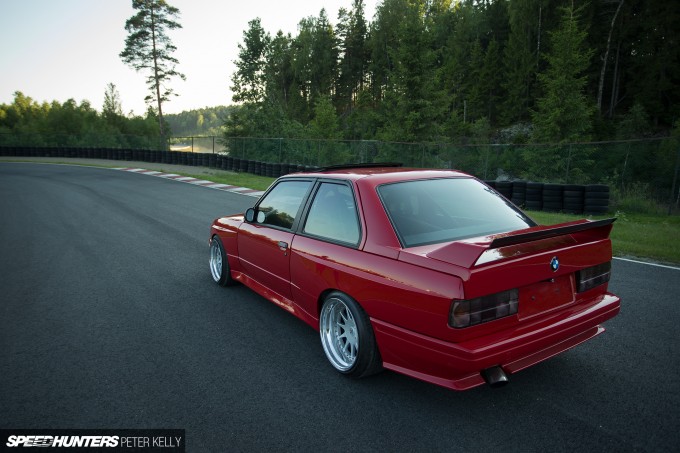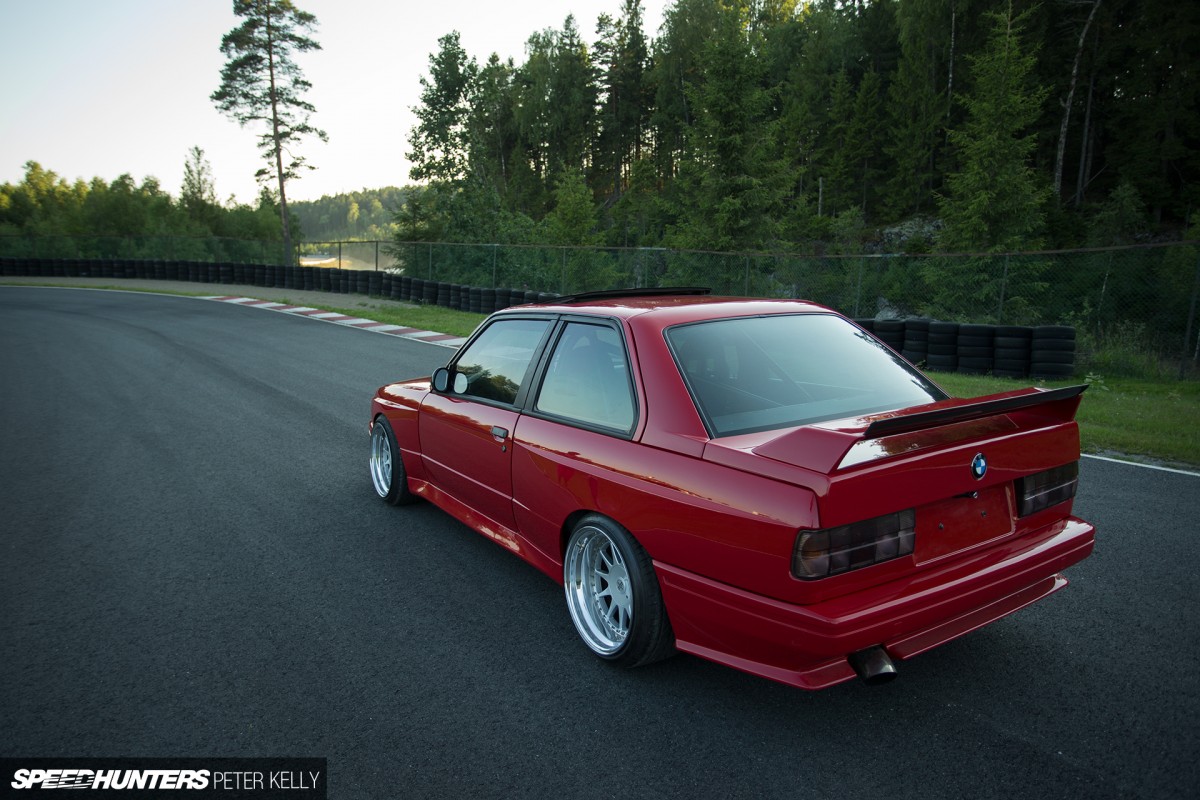 To call this E30 a 'sleeper' might be a stretch, but its subtle styling does little to hint at the the beast that churns beneath its bonnet. I think the way this car manages to combine obscene amounts of horsepower with a show car level of detail is worthy of much praise.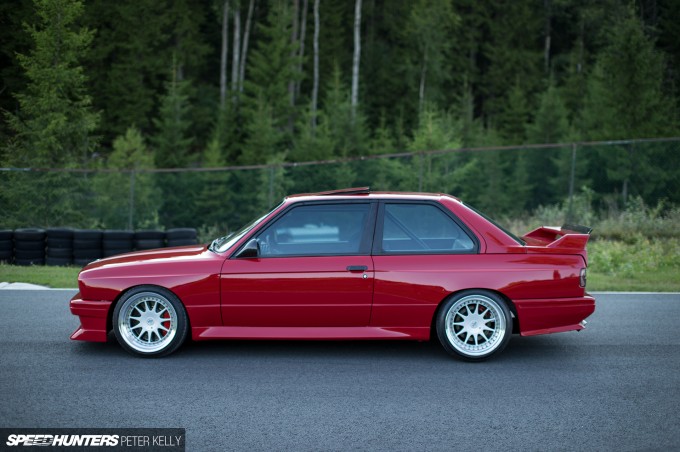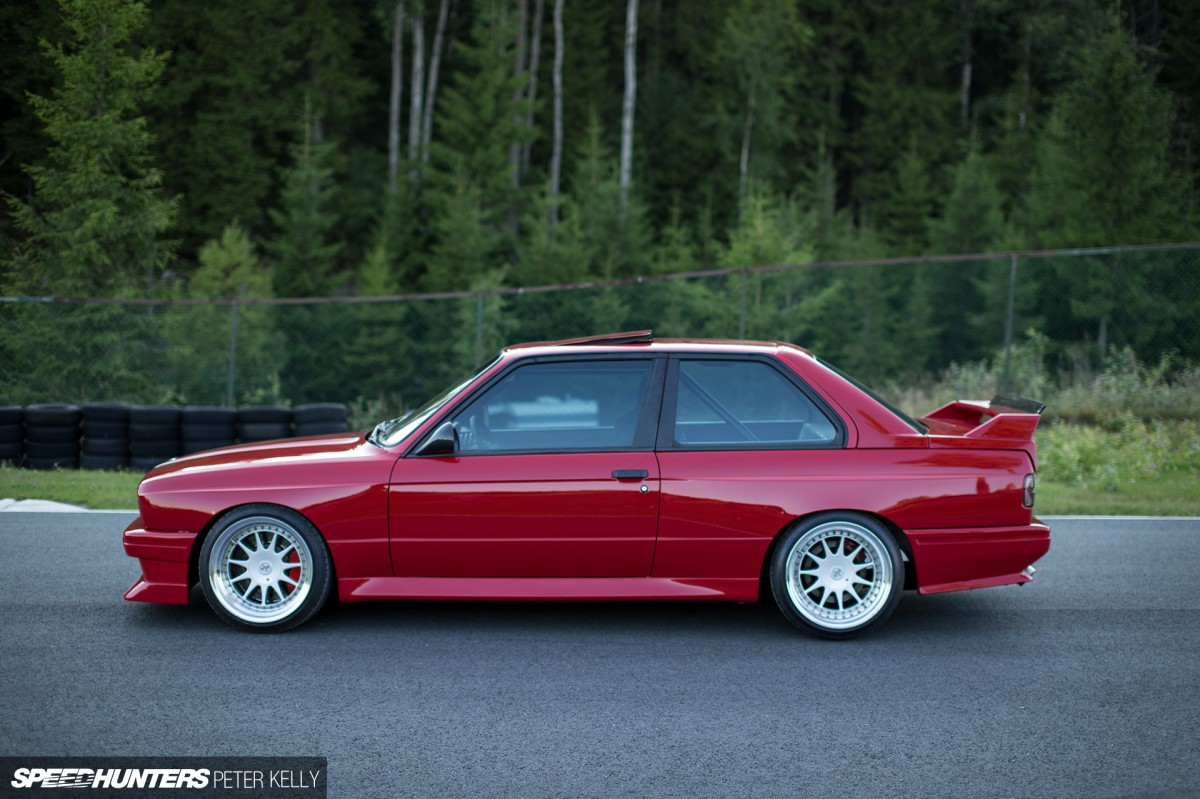 Typically a 'clone' or 'tribute' car will attempt to at least match the performance of the car it's trying to imitate, but in this case we have a machine that's making over four times the horsepower of a stock E30 M3. How's that for paying homage!
Mike Garrett
Instagram: speedhunters_mike
mike@speedhunters.com
Photos by Peter Kelly
Instagram: speedhunters_pedey
pedey@speedhunters.com