Future Proofed From The Present
For me, this story starts back at Silverstone in 2008 and blossoms in 2009, though it stretches back to 1996 in evolutionary terms, to around 1936 for style and 1909 in origin. As so often with stories about cars, it involves sound and shape.
The sound of a Morgan GT3 car is brutal and uncompromising; the shape – well, it's undeniably a Morgan!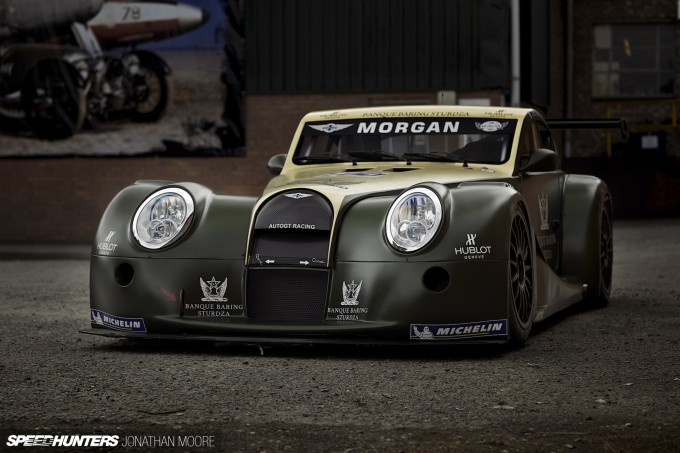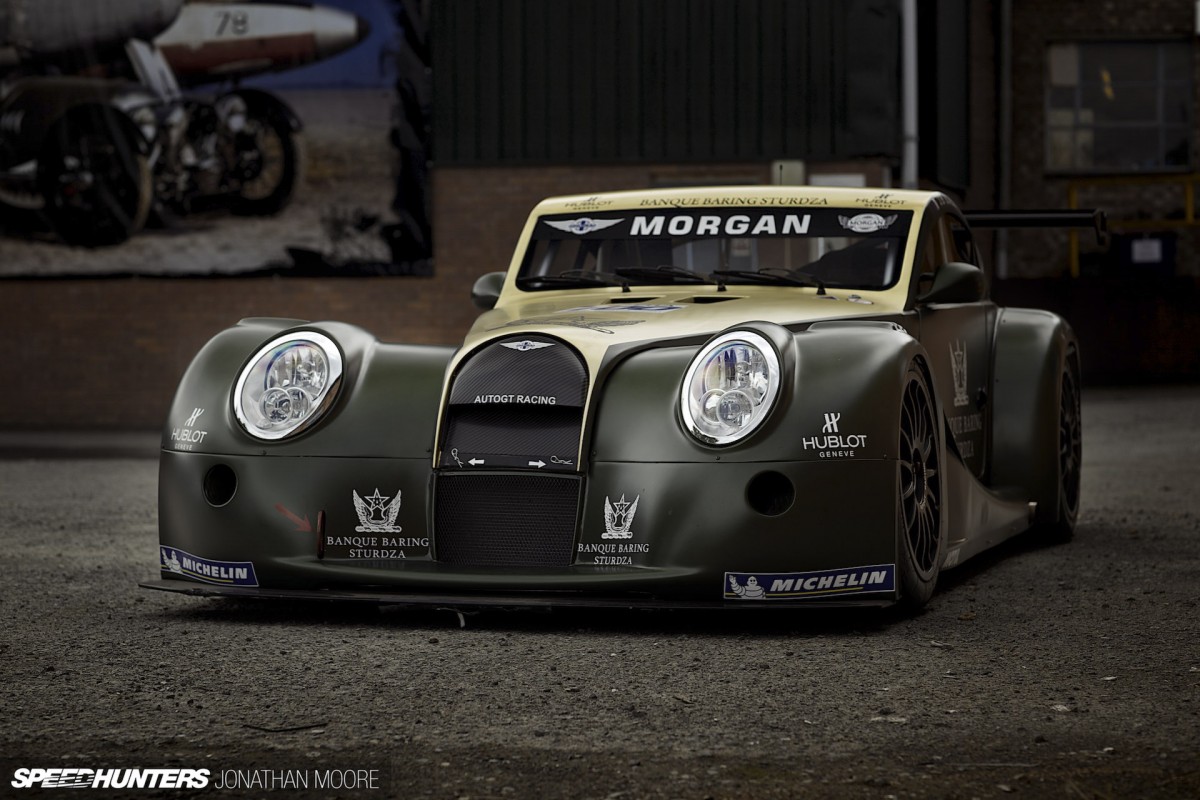 This 2009 Aero Super Sports GT3 had been parked outside the main factory building at Morgan when I'd dropped in for our recent factory tour. Did I want to take a closer look whilst I was here? It was simply too good an opportunity to catch up with a car I'd fallen in love with five years before at a misty Silverstone, where this green and gold beauty had put its FIA GT opposition to the wooden sword.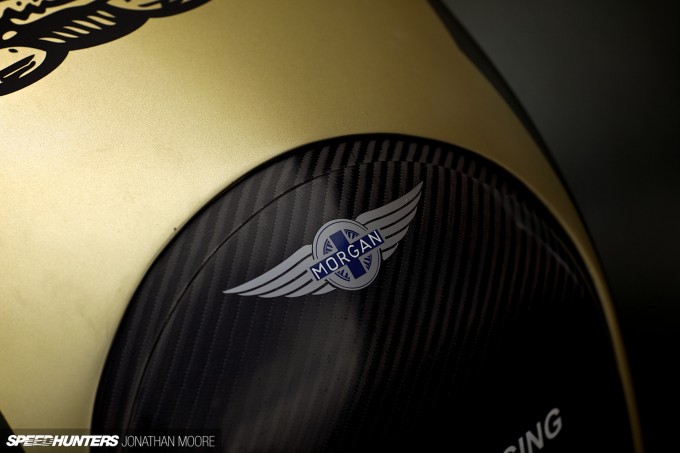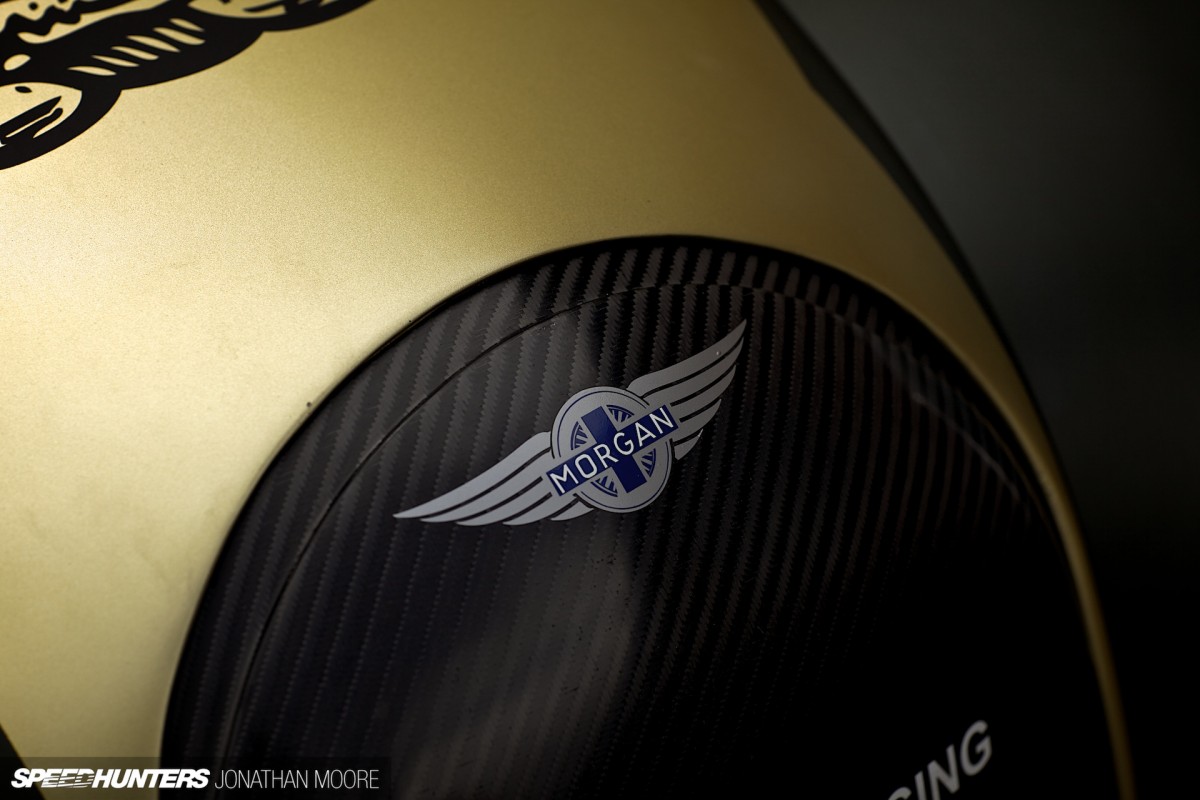 A Morgan racecar. There are few more incongruous things you can see on a track. They're like a thumbing the nose to whatever else is going on, whether in national club races or on the international scene, and invariably the recipient of maximum love from the fans. But the Aero Super Sport was anything but an underdog – this was a brutal racing machine, built to eat Lamborghinis and Ferraris and laugh (very loudly, very deeply) whilst doing it.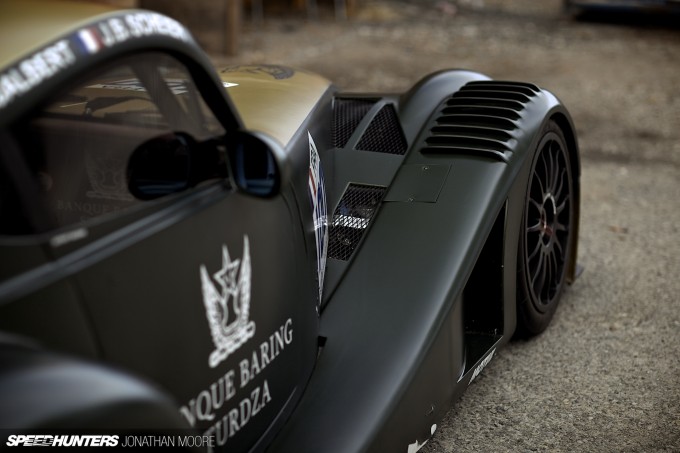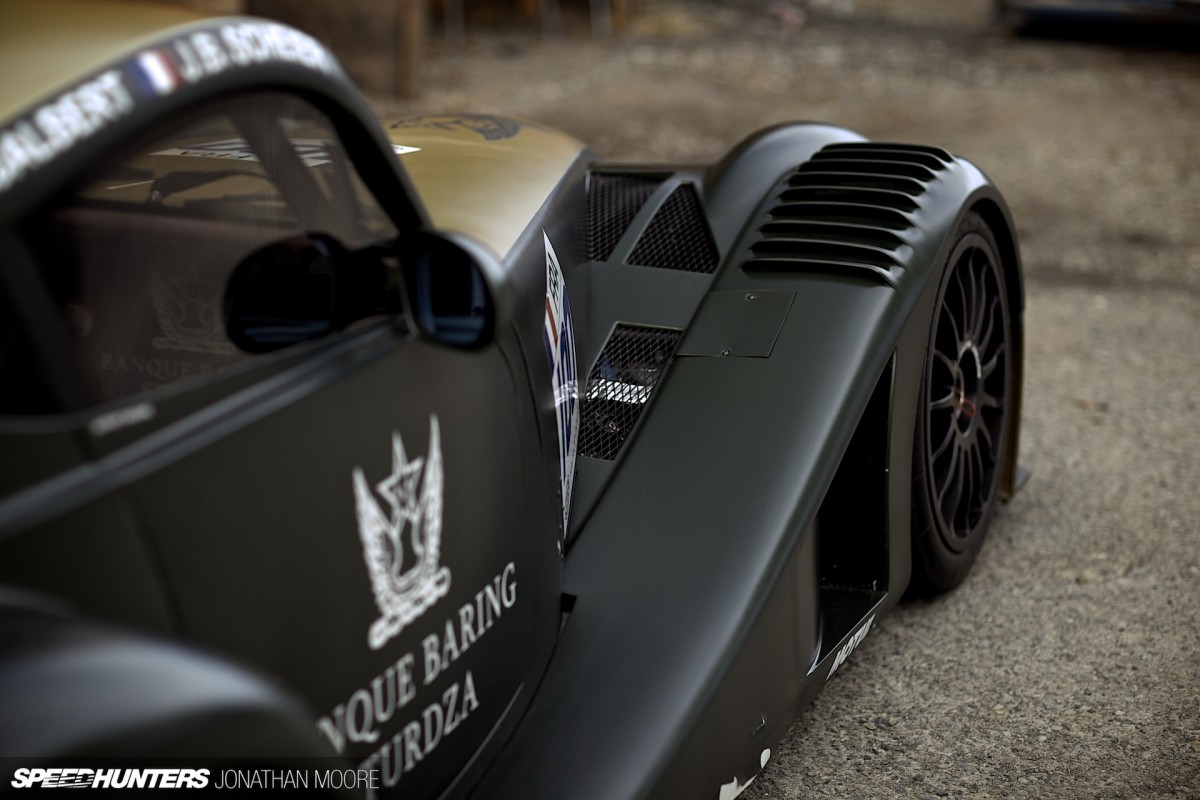 The irony is that when Morgan first started racing in the 1920s (which is basically tautological: Morgan came into being, Morgan went racing) their cars looked like UFOs compared to the opposition. Although, UFOs hadn't really been invented then… But whatever, they looked like the future.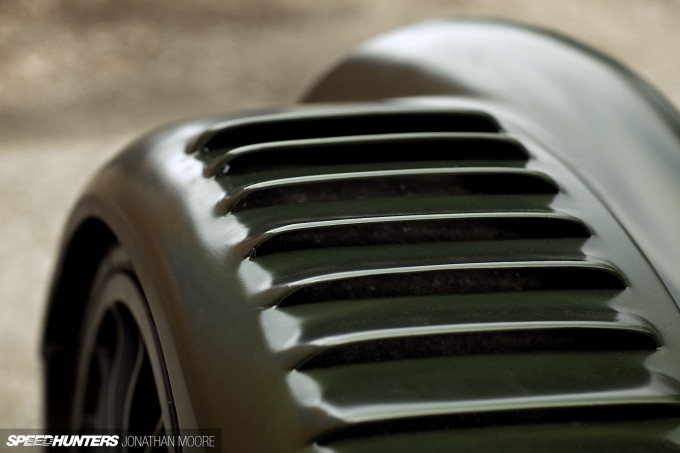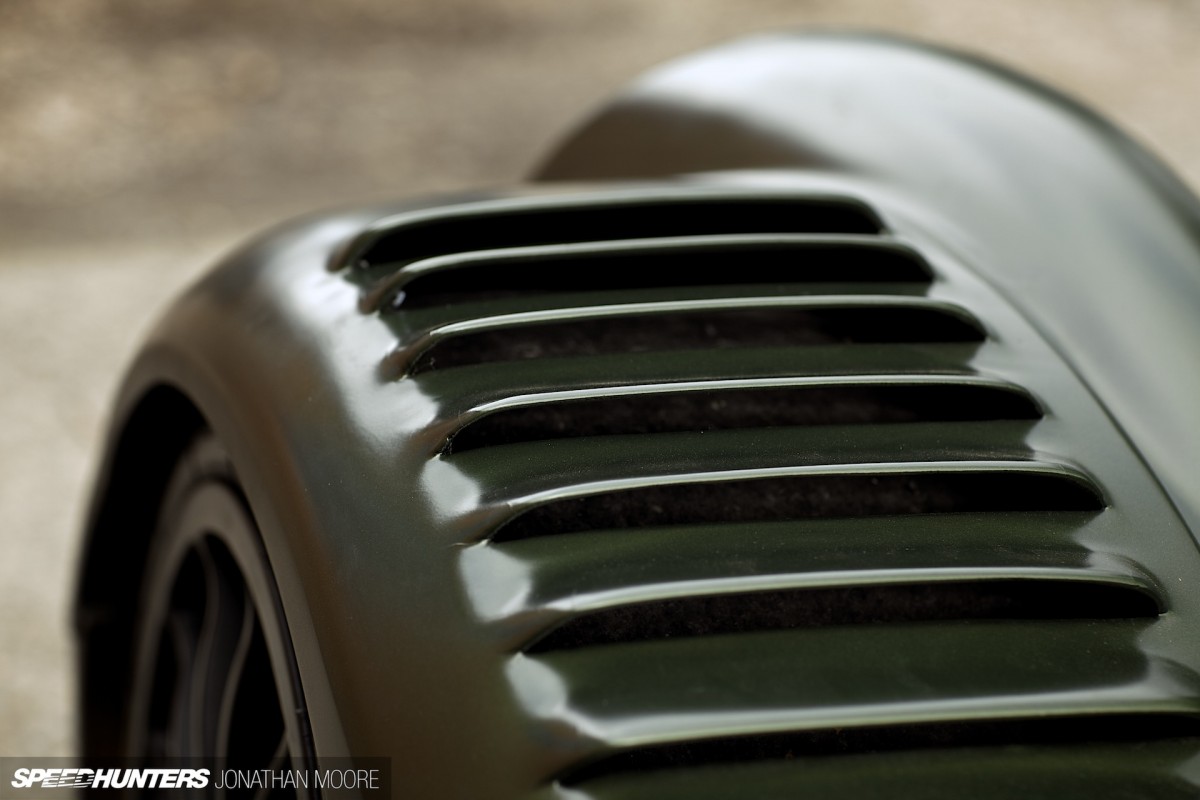 There was a crossover point, maybe in the '50s, when Morgans looked of their time, then everything went a bit out of kilter again. Morgan sat still, happy in the knowledge that they had something that just looked awesome, and have stuck with it for, well, 60 years so far.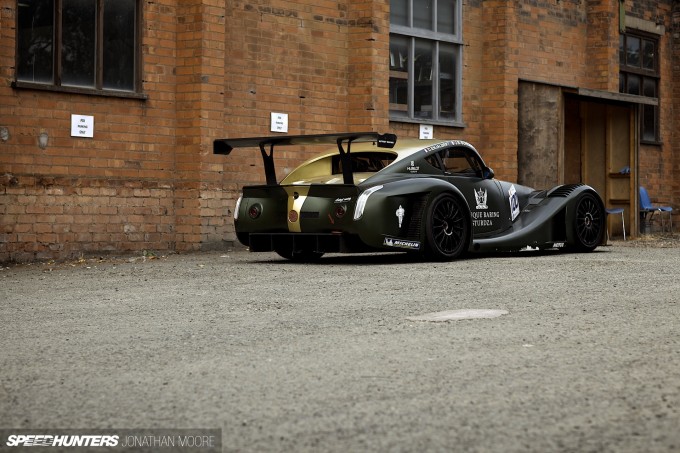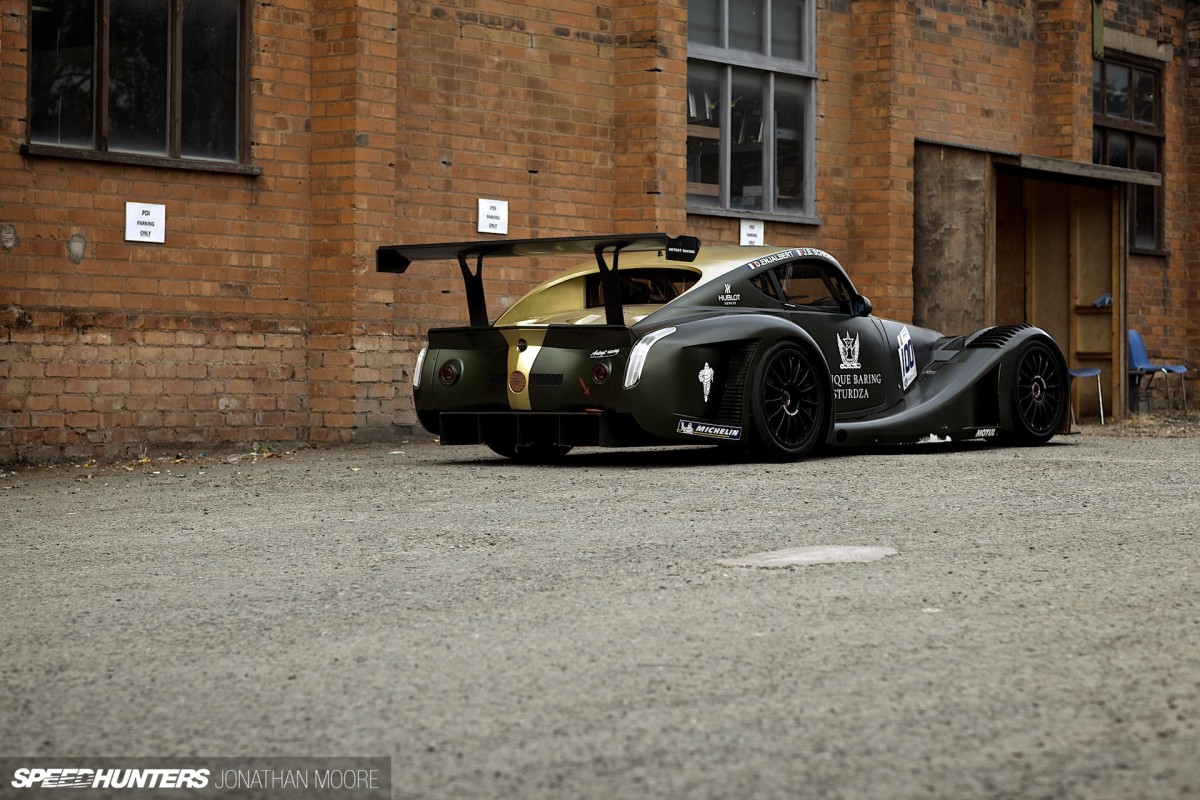 To me, the Aero Super Sport GT3 looks as much 1930s as it does New Century, which is what makes it just so beautiful and perfect. Slapping on a vast rear wing and bolting it to the ground just makes it even more irresistible. The brute-force cacophony that is the 5.0-litre BMW V8 mounted up front is the unexpected cherry on the cake.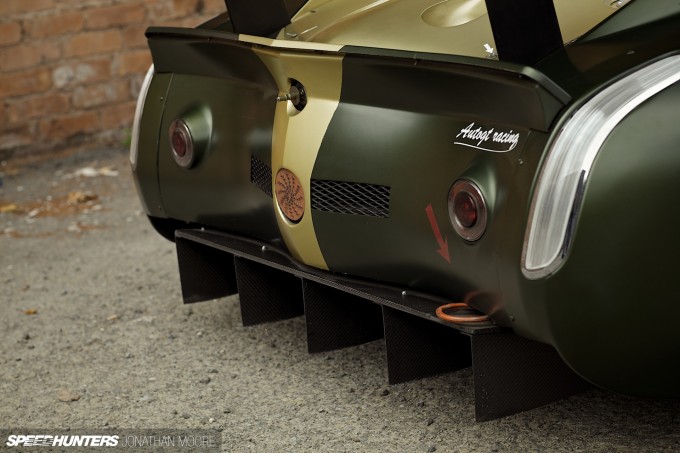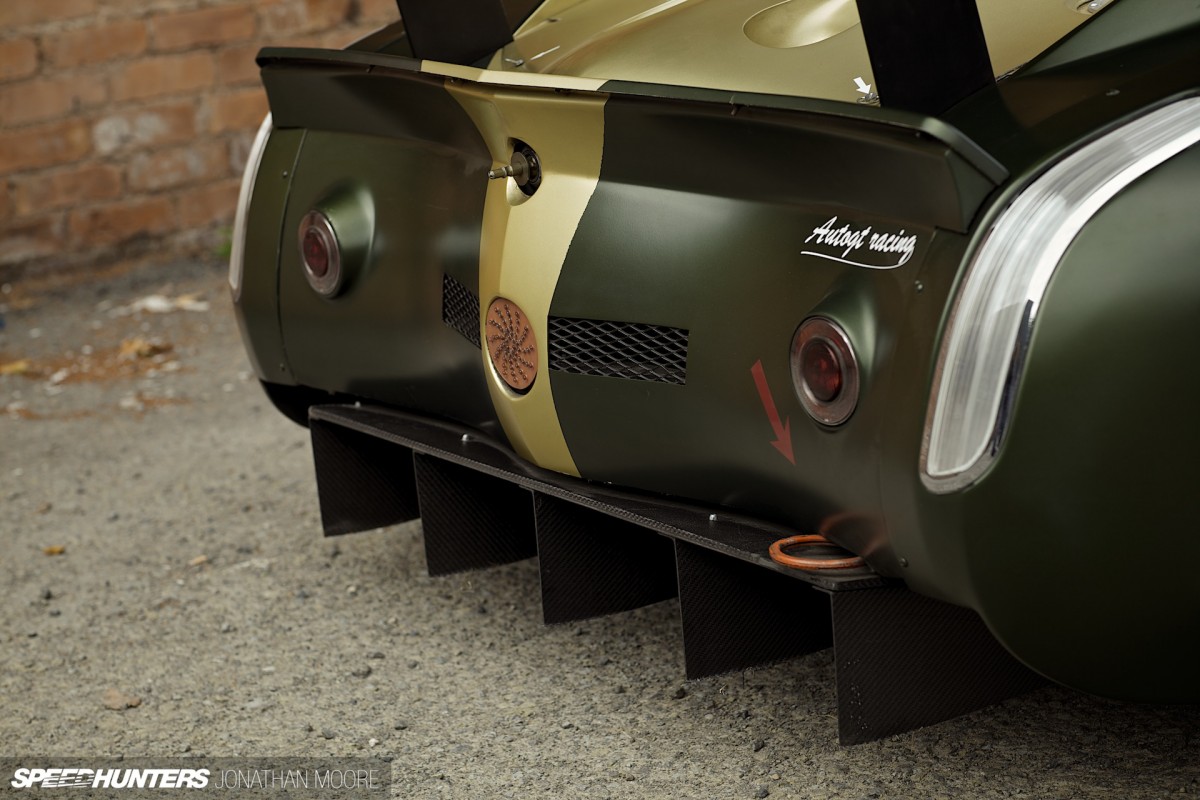 The Aero Super Sport isn't a pastiche, it's not a throw-back, it just works as a design, effortlessly encompassing the old and new. Art deco and aero. Carpentry and carbon. Daring to be different? That's too contrived a phrase, and makes it sound like Morgan deliberate set out to do things differently, looking at what's going on and taking a different path. Morgan are just… Morgan.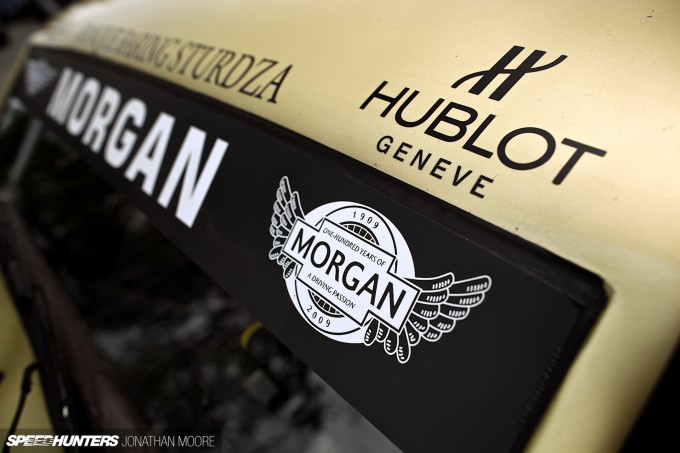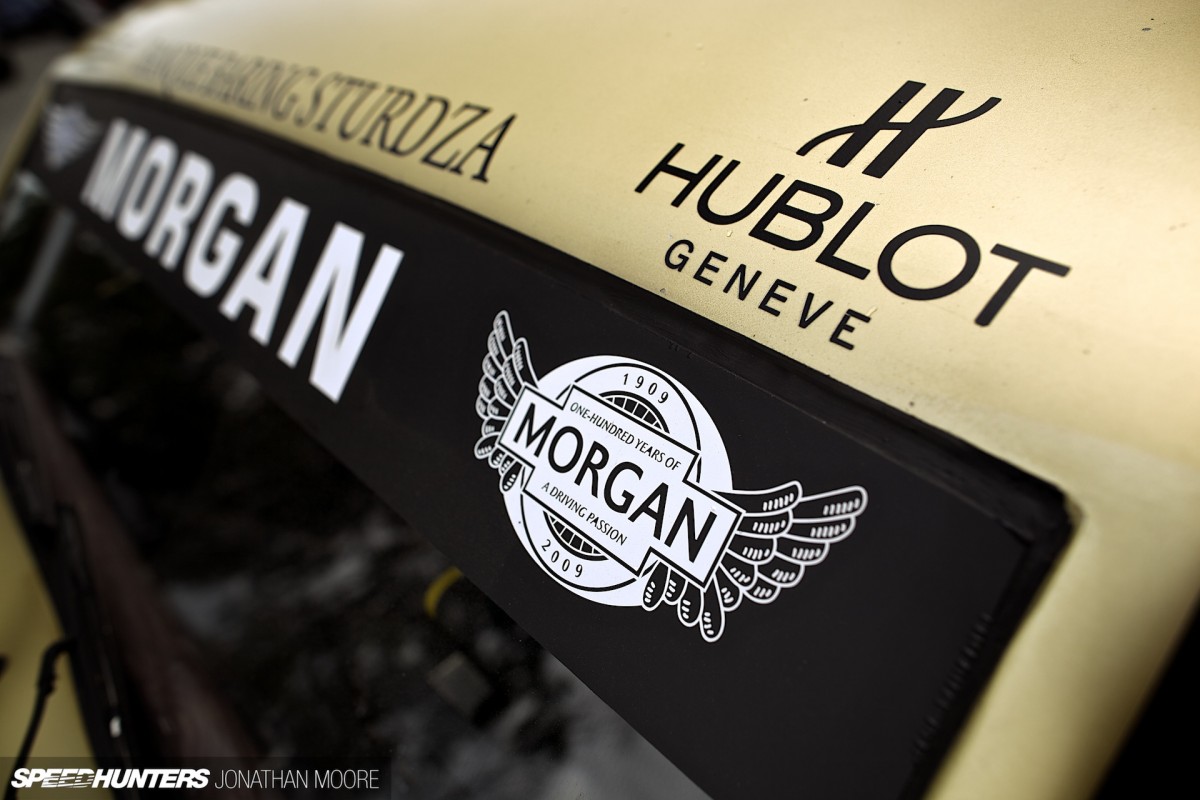 Like road-going Morgans, the Aero Super Sport GT3 was (and still is) a machine that instantly causes joy universal to break out, and it was the result of a healthy evolution that started 12 years before. That it raced for just a single season in 2009 is the biggest shame.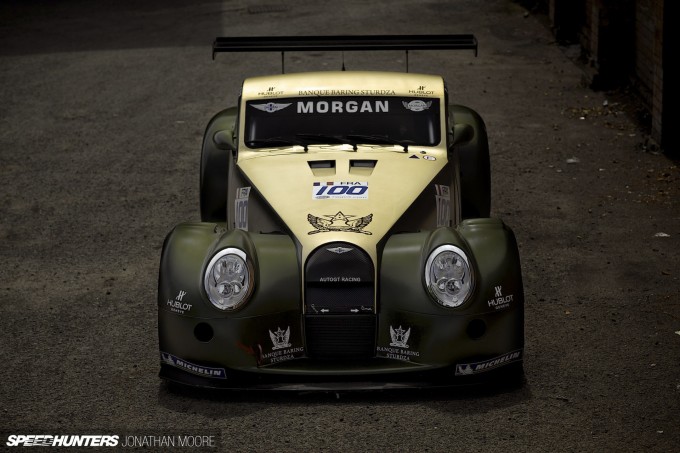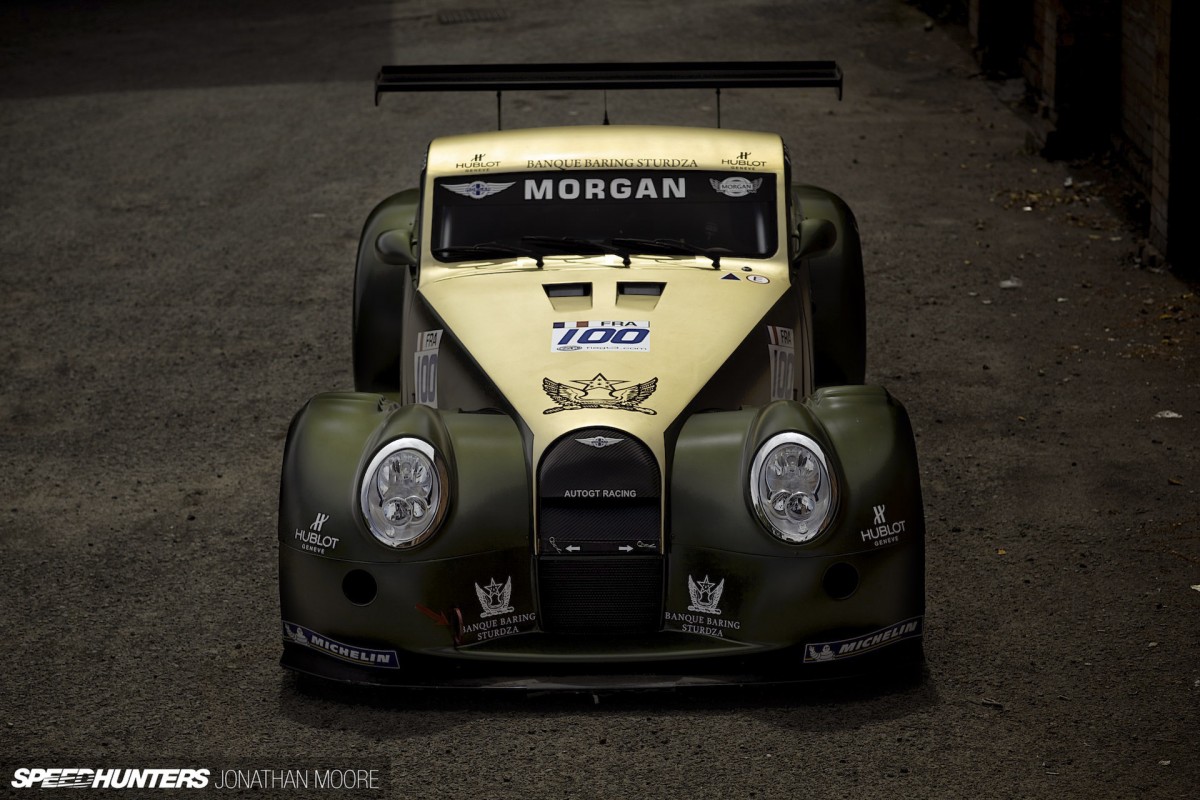 The concepts behind the modern Aero platform were proved by Big Blue in 1996-97, when Morgan ran their first aluminium-chassis car, the Plus 8 GTR in the – wait for it – FIA GT Championship. Yes, that meant a pretty much straight – though bright blue – Morgan with a tacked-on roof, looking like it had beamed in from the 1960s, sharing the track with Saleens, McLarens, Vipers and Porsches!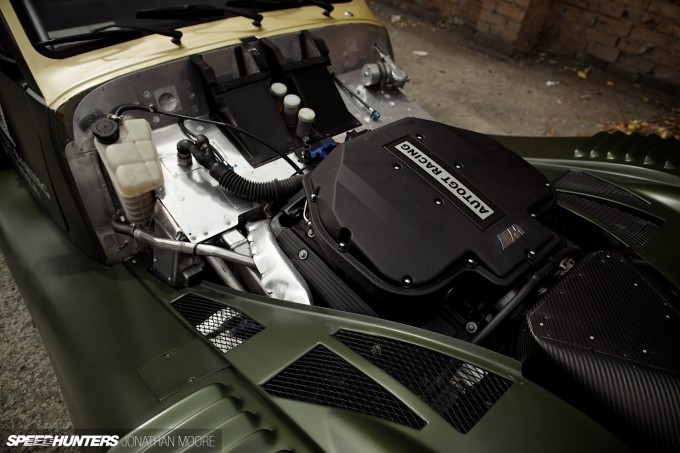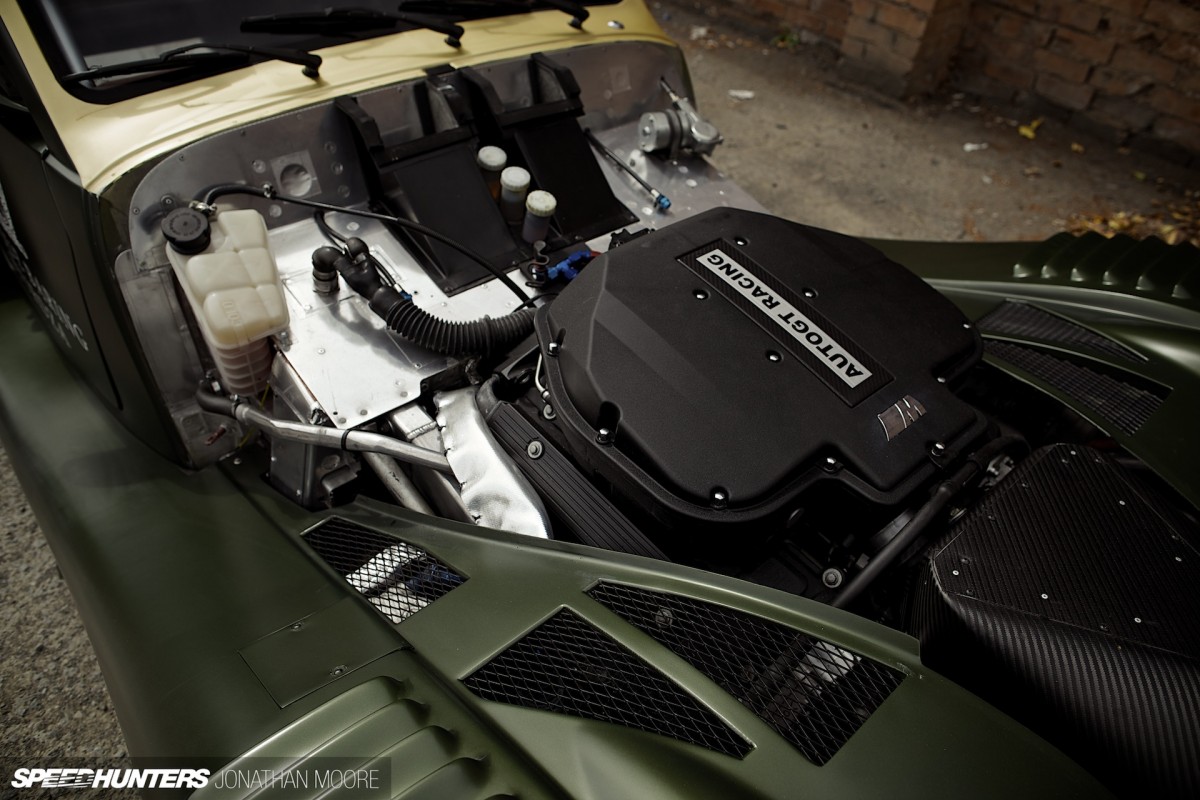 This period was also the beginning of Morgan's relationship with BMW, as the company supplying the mighty F1 with its power-plant agreed to provision this quirky English firm with a supply of engines. That relationship grew to the current situation, where it now supplies bluff V8s for all the current Aero range.
Passed By The Past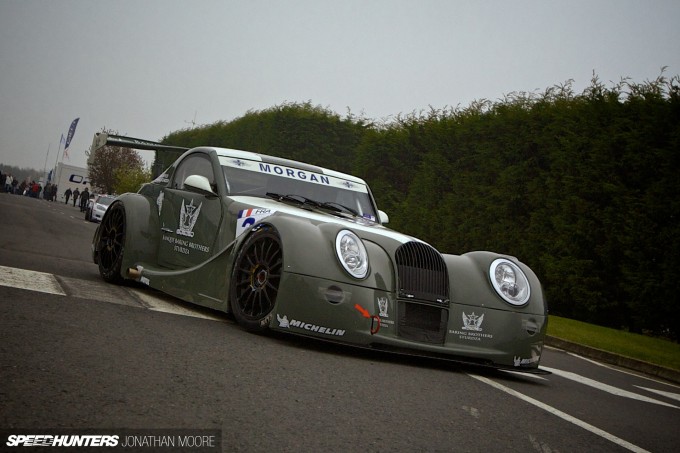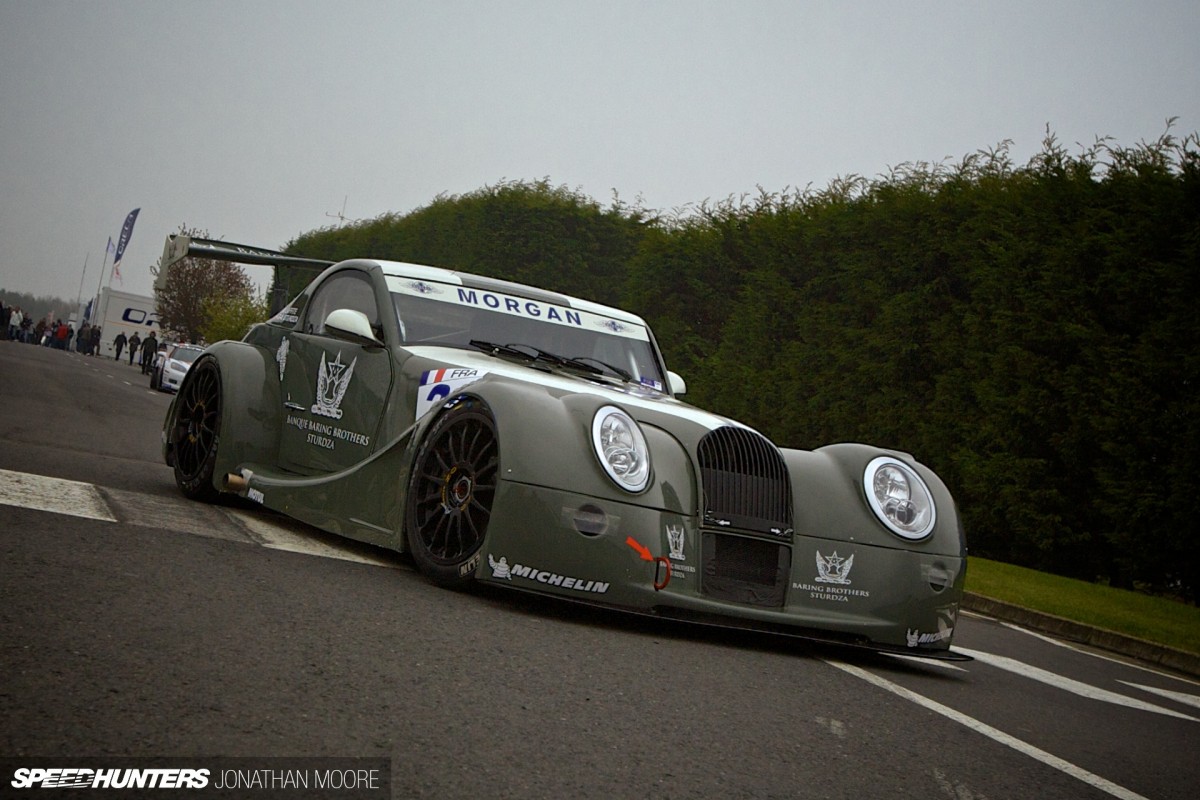 The chief development engineer on the Aero 8 road car, Christopher Lawrence, had been part of the driver line-up that achieved a class win for Morgan at the Le Mans 24 Hours back in 1962, so a tilt at Le Mans with the new car was almost inevitable. A British privateer ran with factory support in 2002 and 2004, and I remember the almost frenzied support on the tribunes for the bright yellow DeWalt-livered Morgan at the 2002 event. It was still wooden framed, of course. Morgan's GT3 programme was very much a French-run affair however, masterminded by the AutoGT team and helmed by ex Formula 1 driver and national hero Jaques Laffite.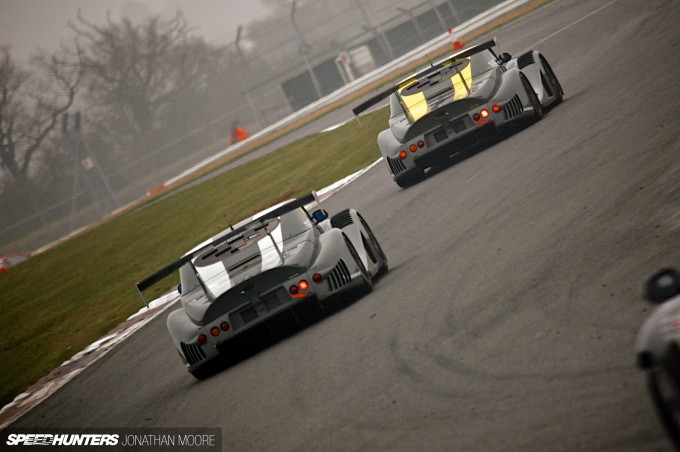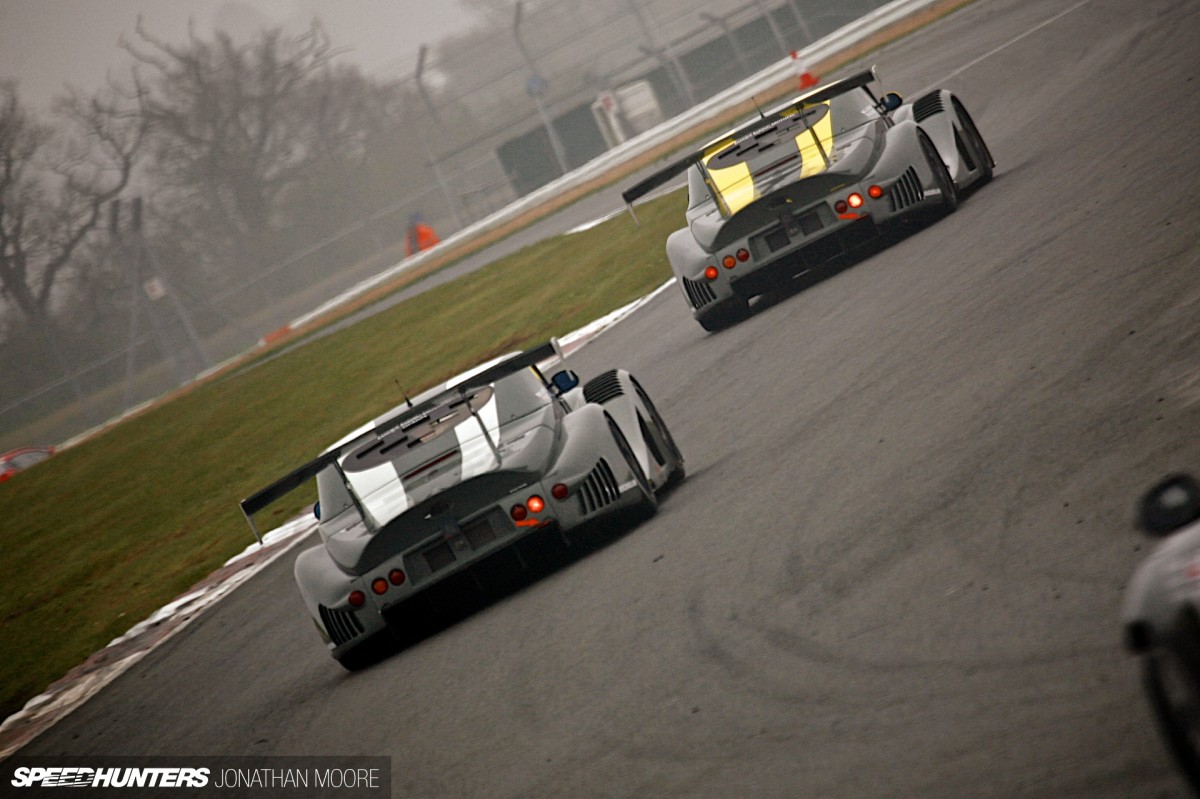 Laffite had driven an Aero 8 at the 2003 Spa 24 Hours and fallen in love with it, which is perfectly understandable. He was then joined by his racing daughter, Marguerite, and another French F1 legend, Jean-Pierre Jabouille in a three-car team. Being bankrolled by a car nut who happened to be the chairman of a Swiss private bank didn't hinder things.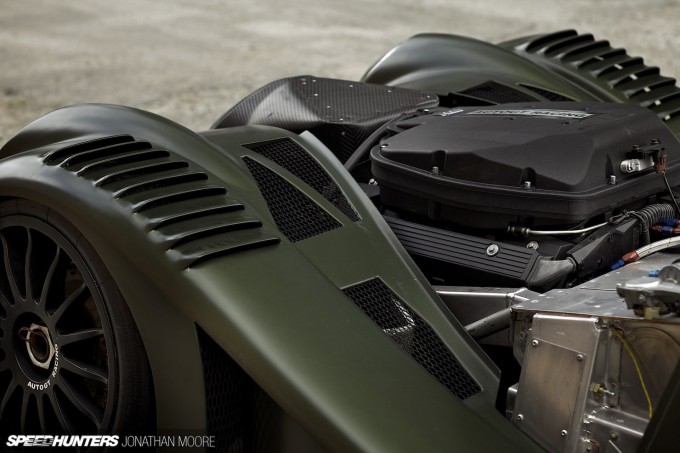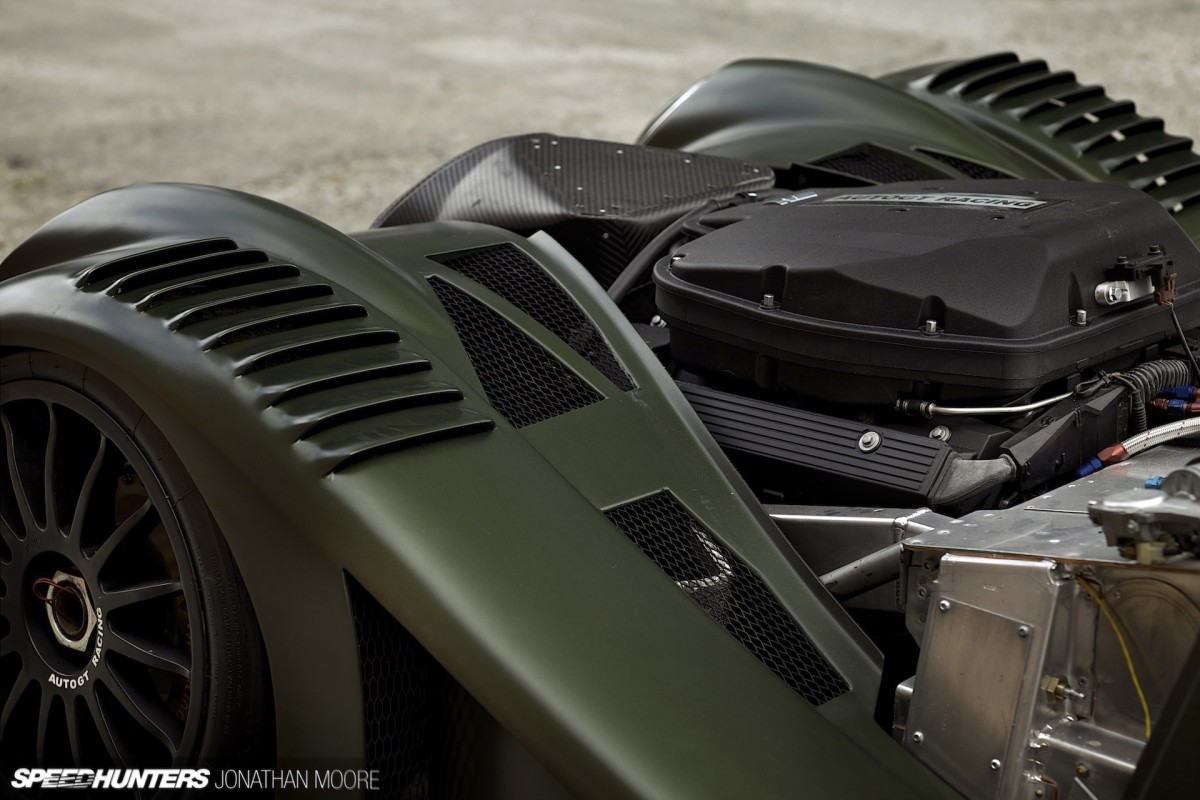 The weak point for the original Gallic-flavour 2007-8 Aero 8 GT3 was the engine, which was pretty much stock and prone to cut-outs under cornering stress, and the shape of the Morgan was surely just all wrong, wrong, wrong. At Le Mans, Morgan had very much played the role of plucky featherweight against heavyweight opposition, fighting a popular struggle just to make it to the end. But for GT3, any idea that they were there to make up the numbers was soon put to bed, as the Aero 8s proved surprisingly effective, scoring a bag of top 10s across 2008. Maybe there was something in the Morgan shape after all?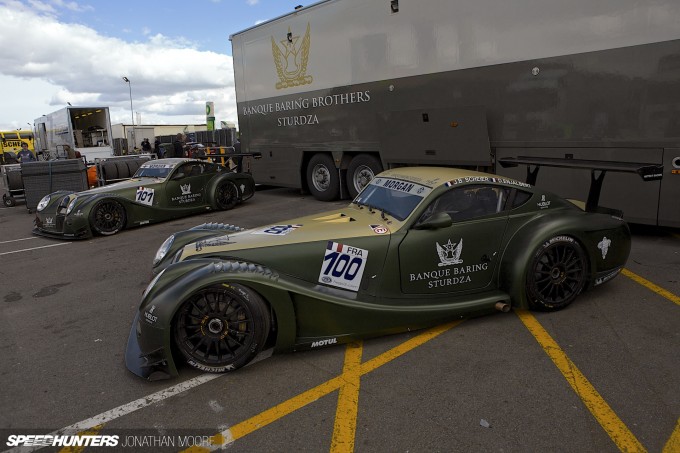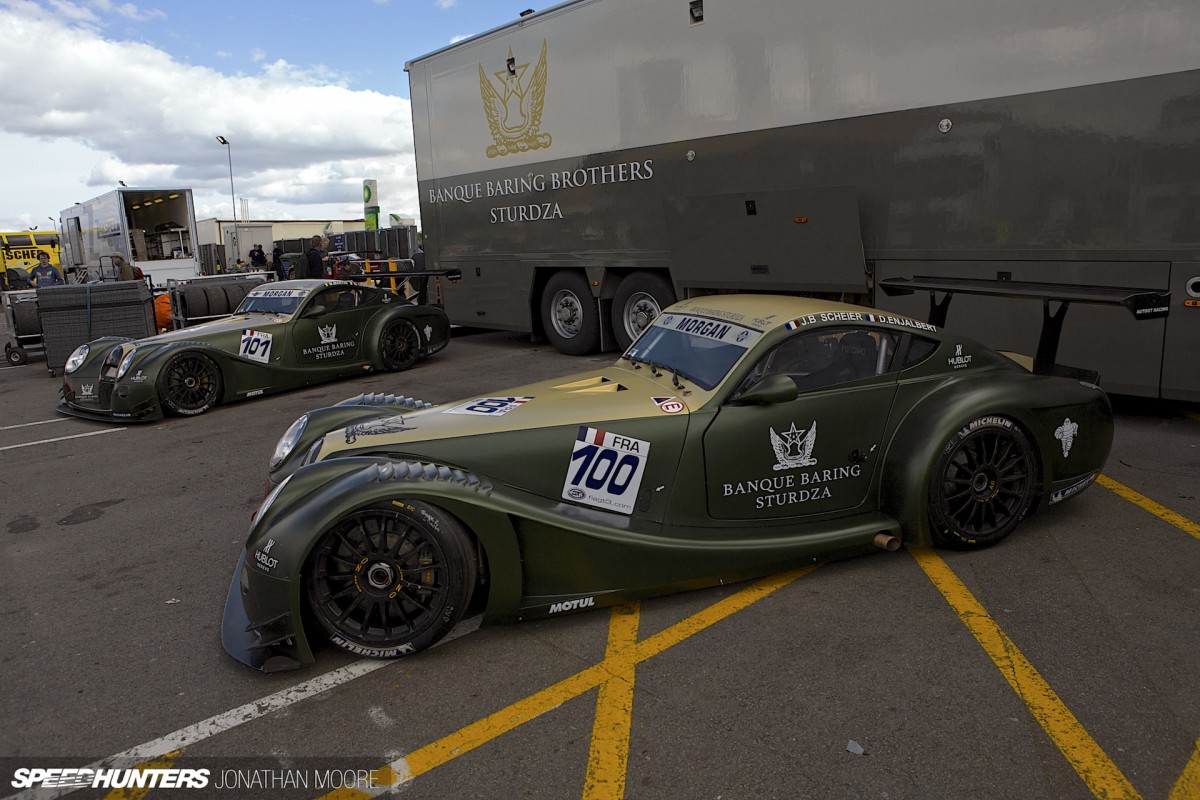 2009 was when this car, the new GT3 based on the imminent targa-topped Super Sport, hit – and hit hard.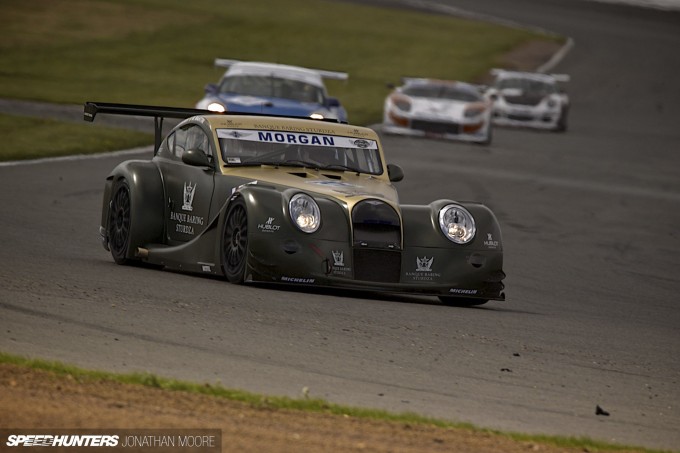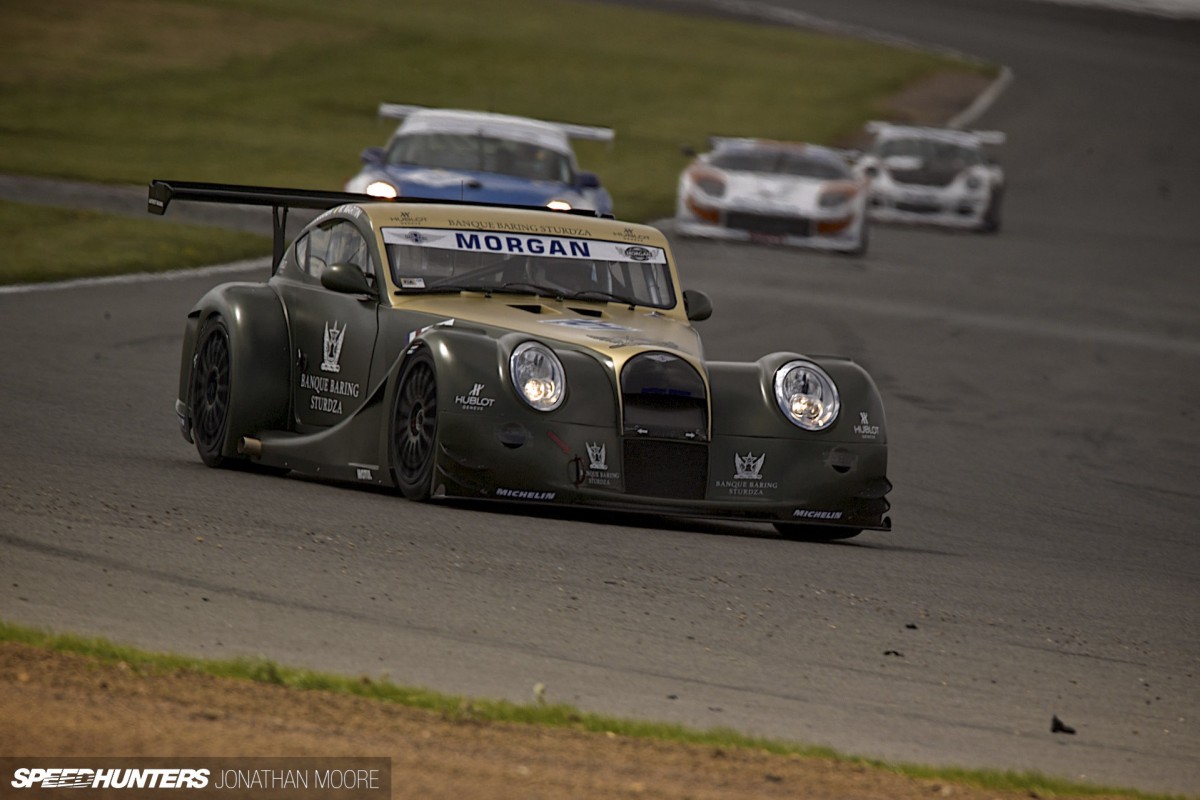 As I'd approached Silverstone's Grand Prix track back in 2009, amongst all the familiar engine noises of rasping Porsches and howling Ferraris was a different, far more urgent sound. What was that?… It sounded like a couple of World War II fighters had been let loose. Low, guttural whump-whump-whumps, completely at odds with all the other regular, smoother-sounding race engines.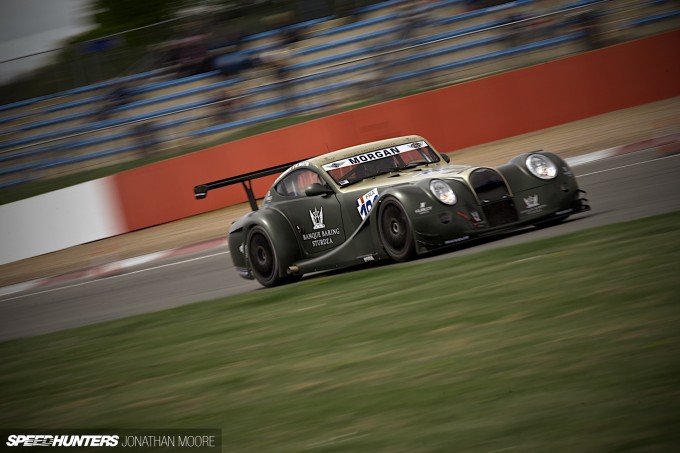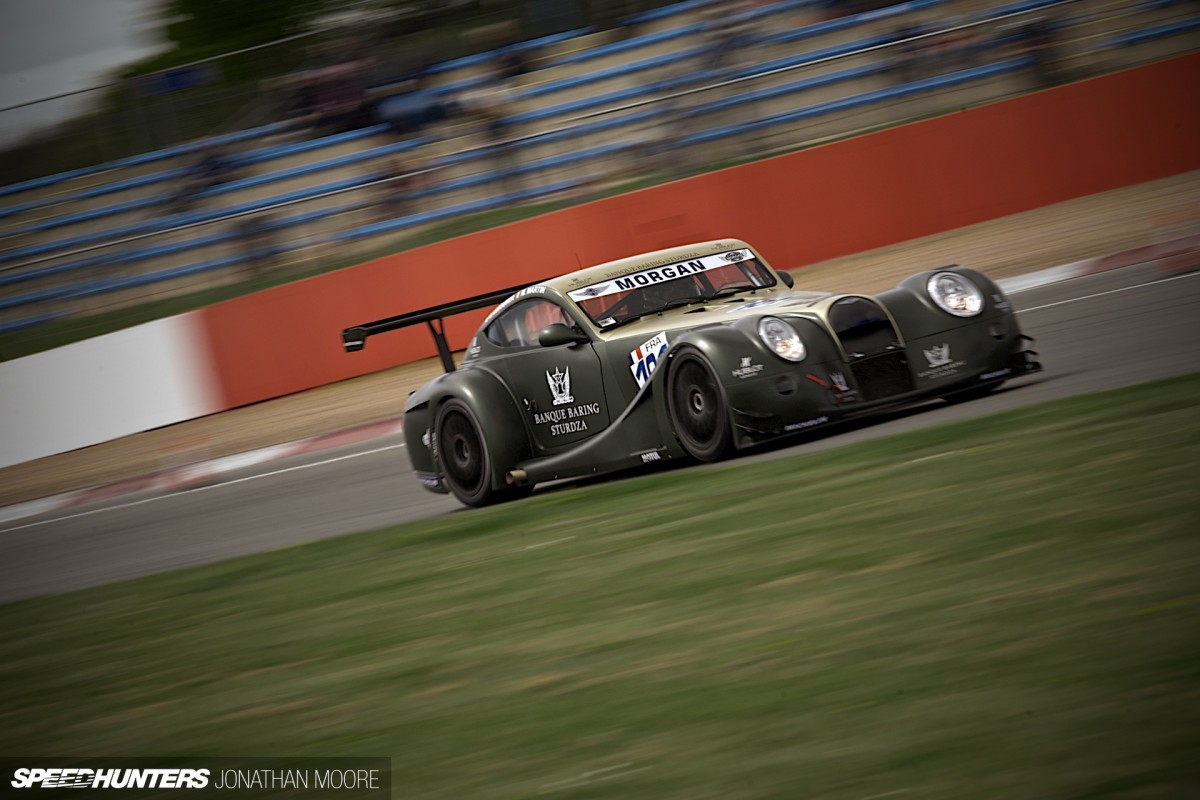 On the track, I was confronted with the fantastic sight of a duo of Morgans hammering around Silverstone, their raked lines and bulging headlights making them look like they were shaped by the force of the wind they were bludgeoning their way through.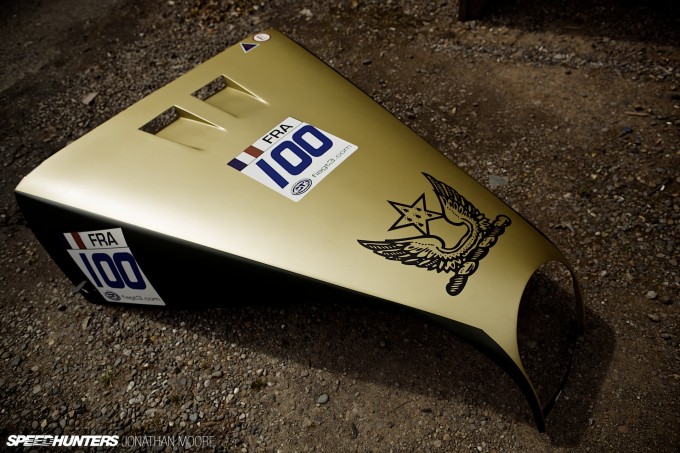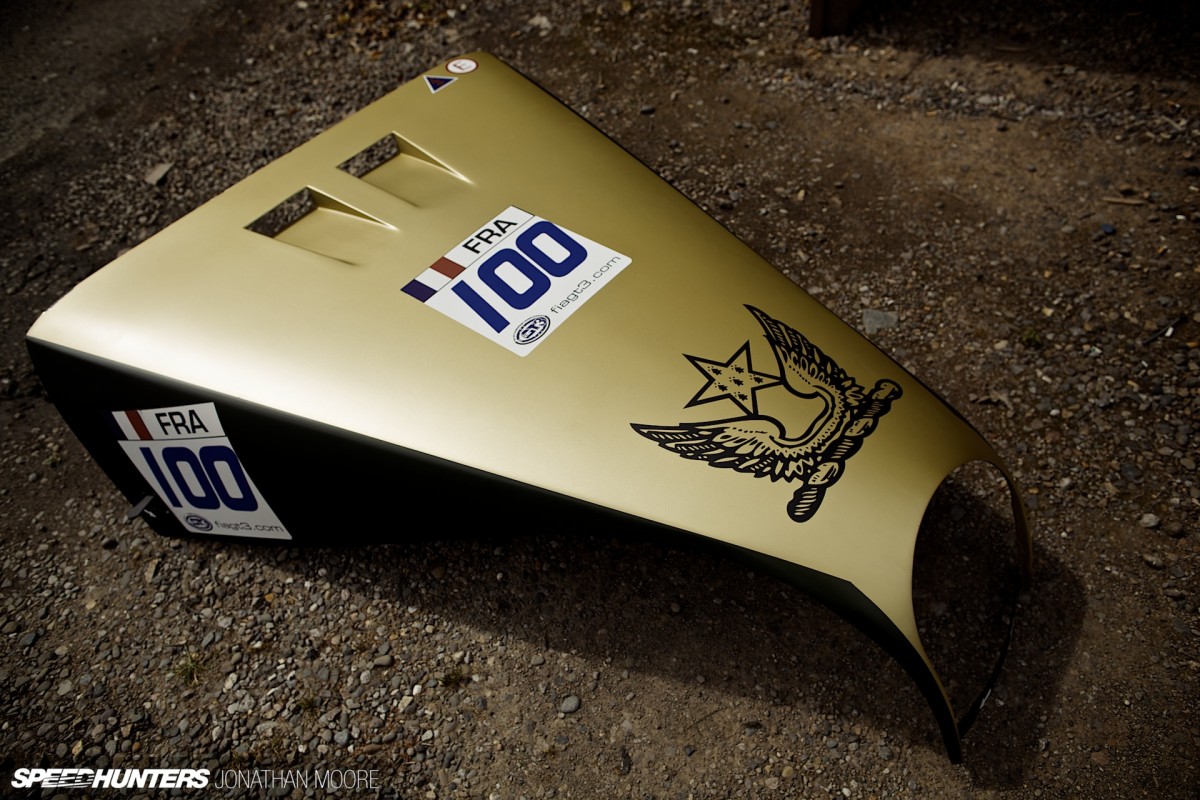 The most hilarious thing in 2009 was that all the guys in their super-expensive, highly developed Porsches, Lamborghinis and Ferraris had to deal with this aesthetic throwback blowing them into the weeds at Silverstone. It was Morgan's centenary year, and they won both the opening races: #100 won the opening race at Silverstone, its sister #101 the second. Happy 100th birthday indeed!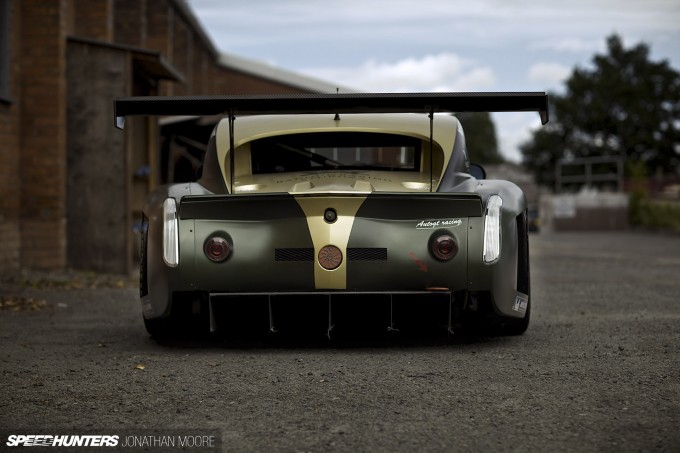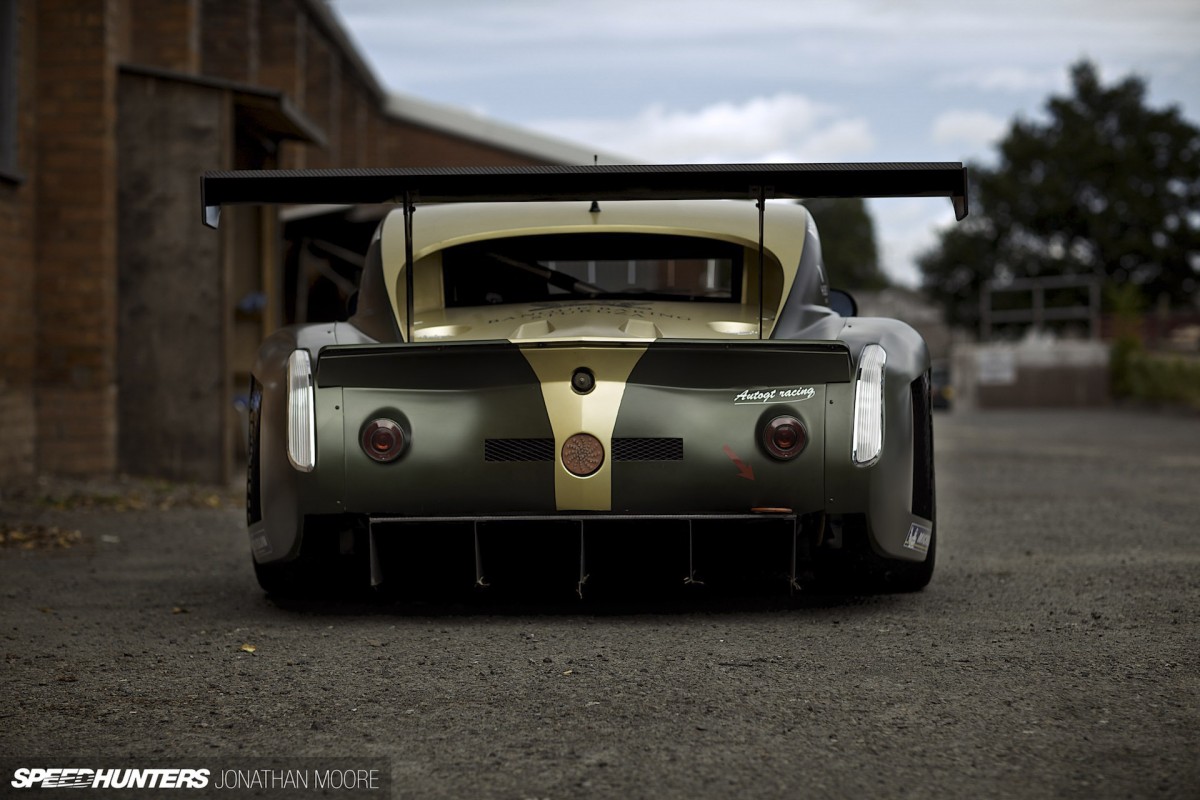 The Super Sport's biggest change from the preceding Aero 8 was at the rear, with the rounded, sculpted curves creating a more elegant tail shape and just the aero tick of the small spoiler to interfere with the lines. The coupé was quite a departure from the swooping down flick fenders and pronounced central rear lip of the obviously more roadster-with-a-roof Aero 8. Oh, and of course there's the bloody great big GT3-spec wing.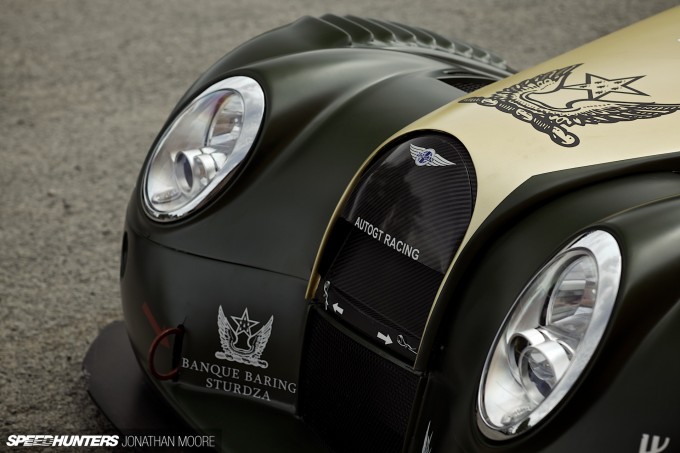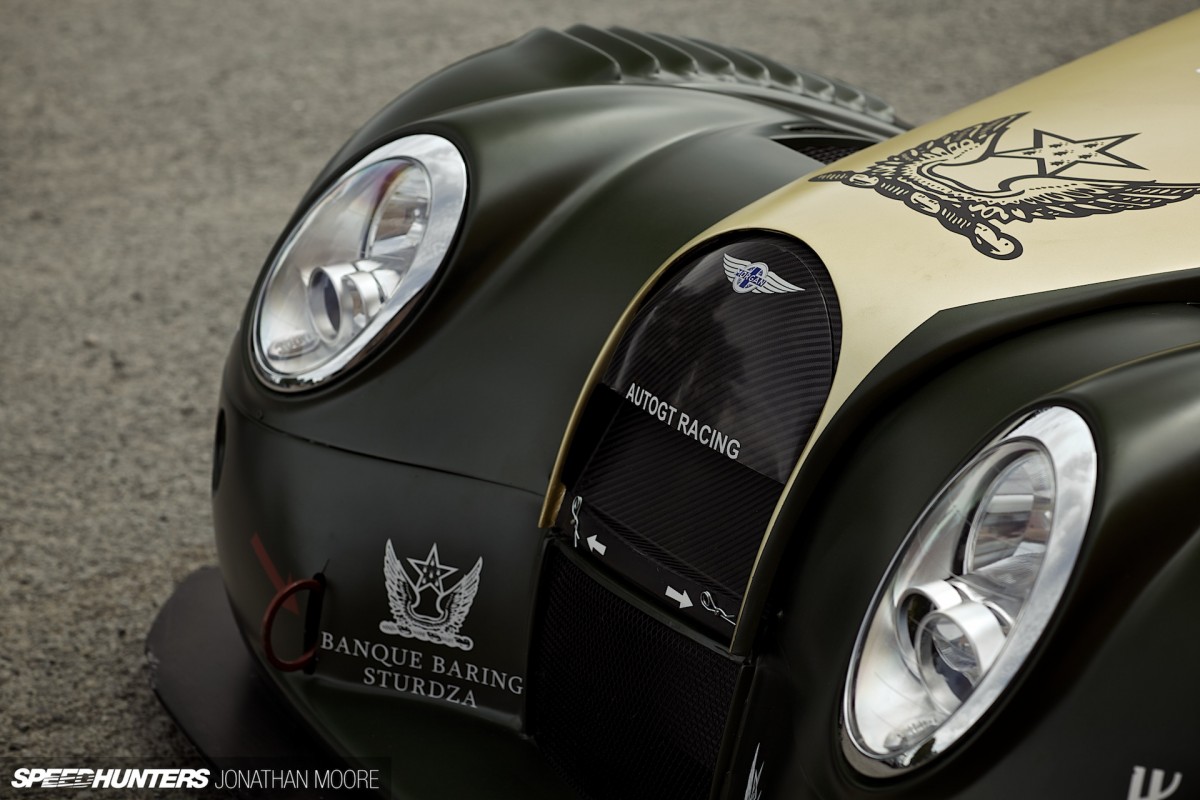 One of the other changes with the Super Sports was its swap from using Beetle headlights for MINI units, and moving them slightly further outboard to counter the slightly harsh cross-eyed comments about the Aero 8. The Morgan admittedly didn't have lethal aero from birth, the relatively bluff front of the car providing a pretty big obstacle to air flow, but then it is slippery all the same. It's four metres long, but barely waist high, and feels like you could walk over it in a stride. Weight is also on its side, running at 1,080kg – about 200kgs less than some of the opposition. Balance is good, and the weight nicely distributed along the platform.
Wood Working With Carbon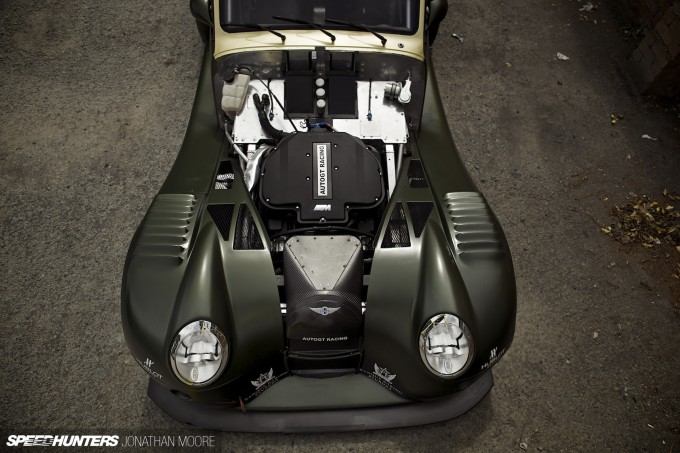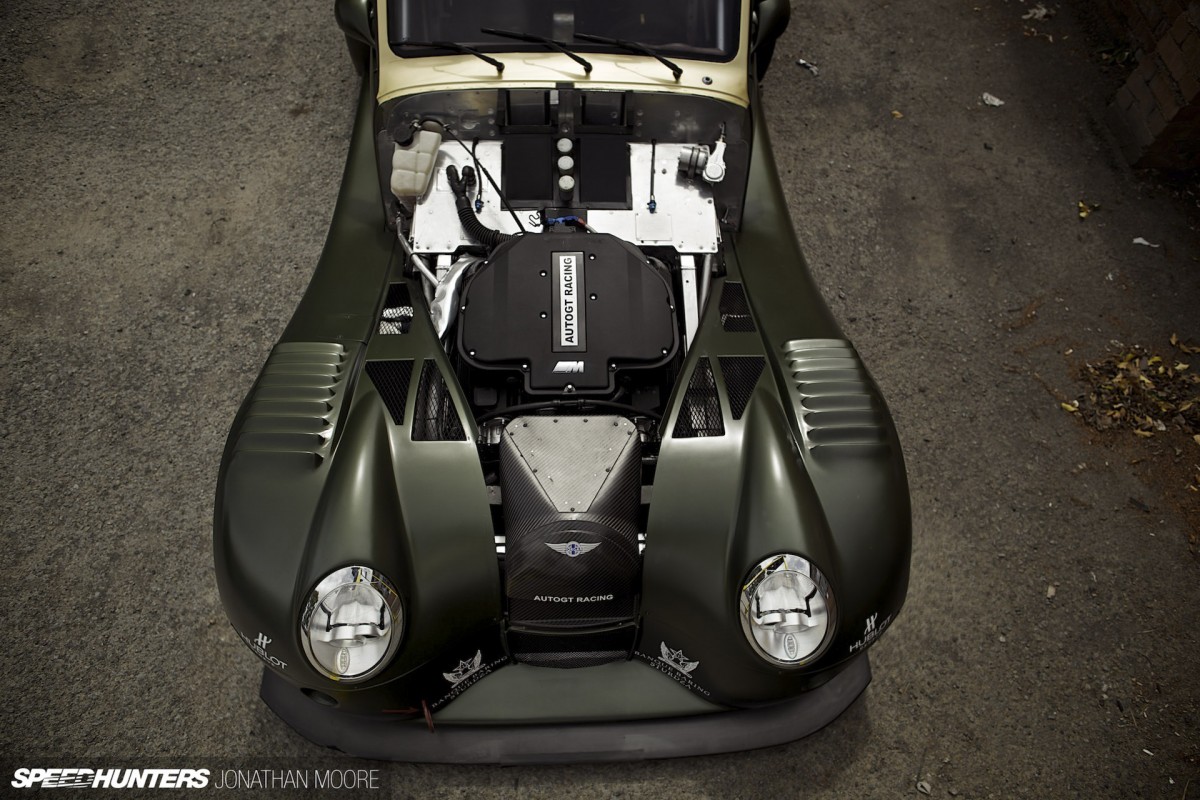 With the cockpit so far back, the Aero is about as mid-engined as a front-engined car can be; the 90-degree S50LA V8 from BMW put out a handy 440hp – but more importantly 550Nm of torque. Here you really get an idea of its cinched waist as well.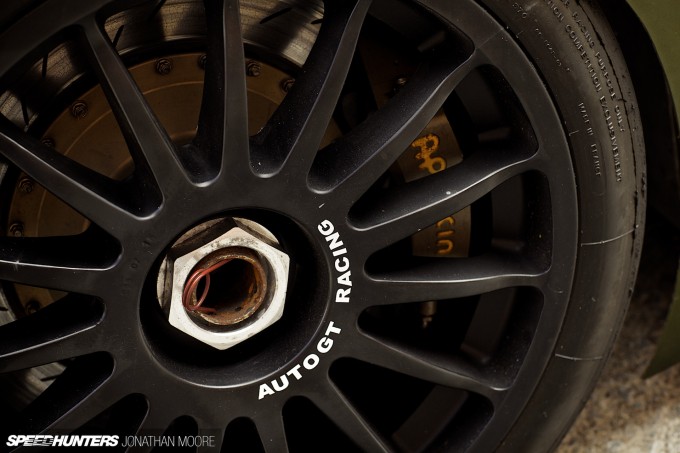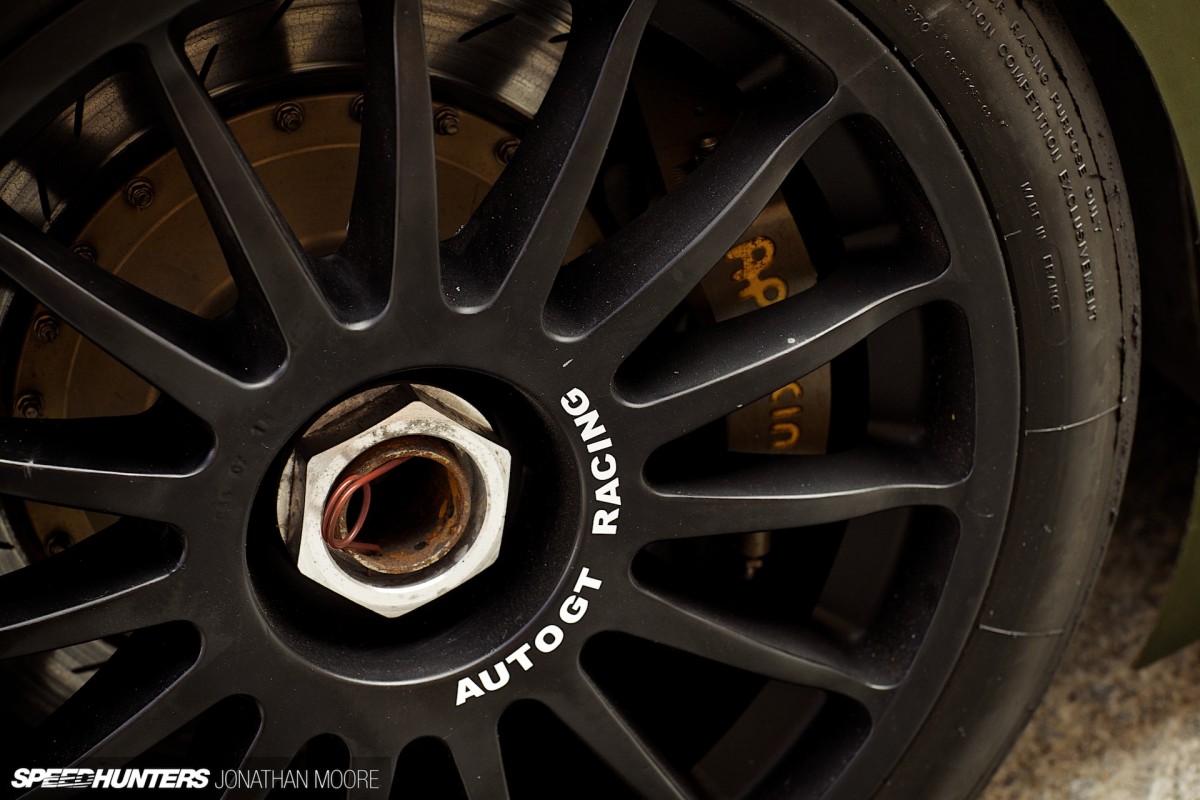 Transferring that power to the wheels goes through a 6-speed Holinger sequential, and chunky AP Racing brakes keep speeds in check.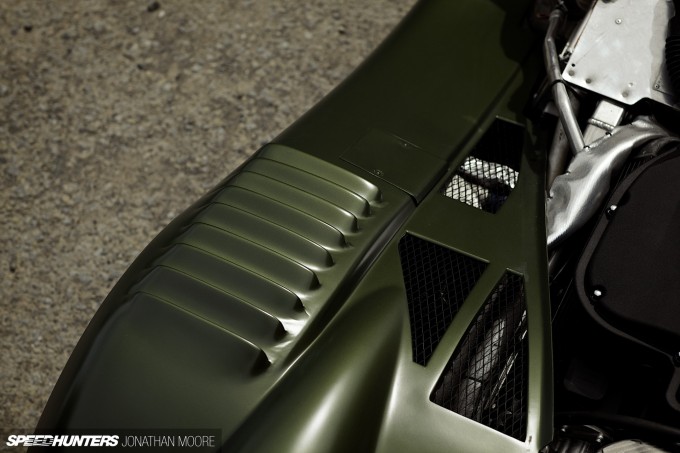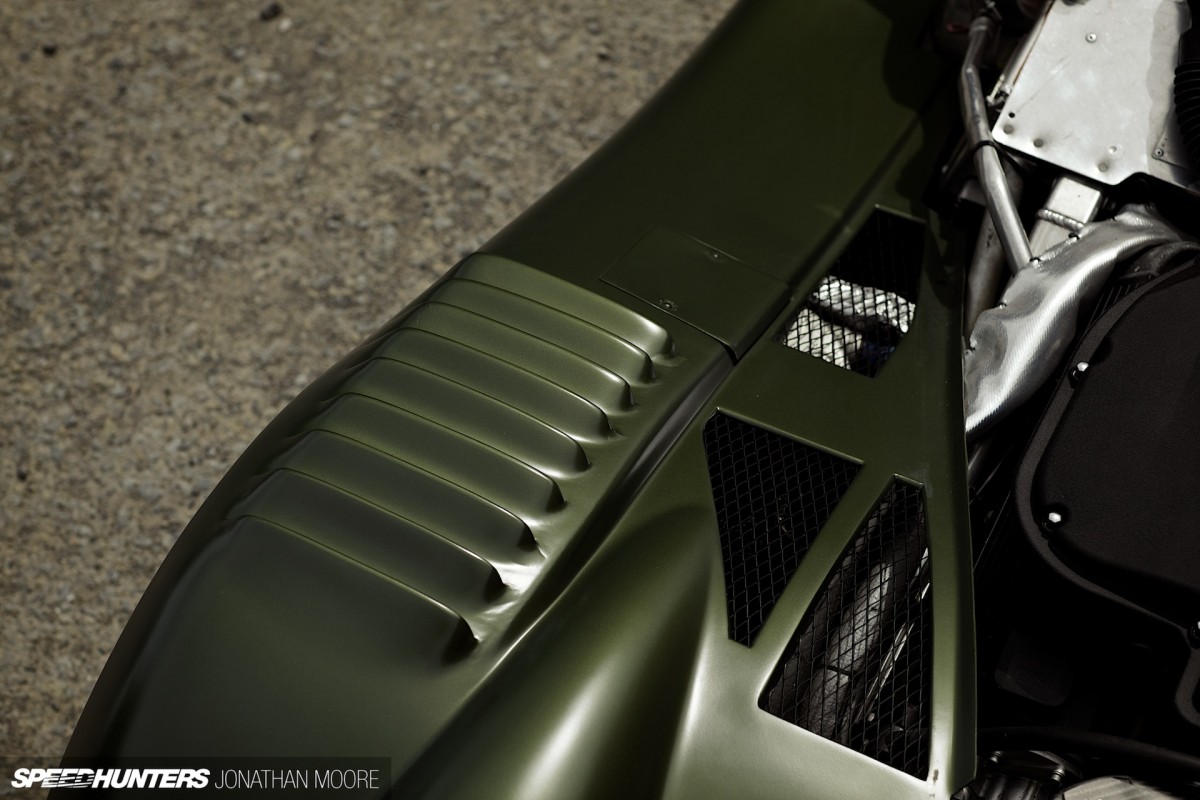 Again, it's important to stress that Morgan don't 'do' retro for fun or to be difficult. For instance, there are solid reasons to use wood even in the race car: a material they know well that's both strong and light. You don't see it from the outside, with the curvaceous carbon panels draped over the bonded aluminium chassis.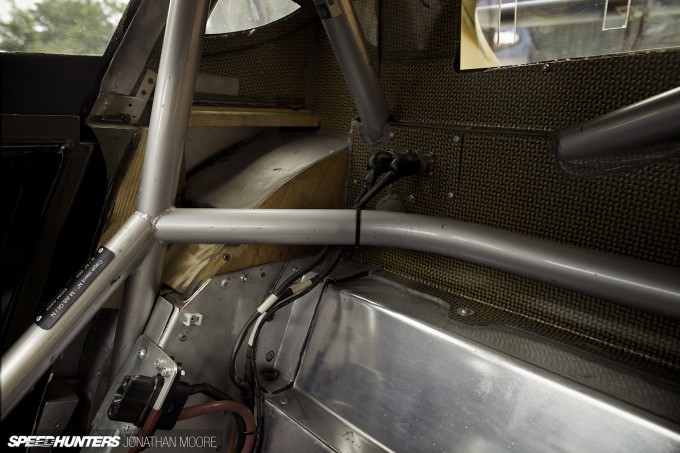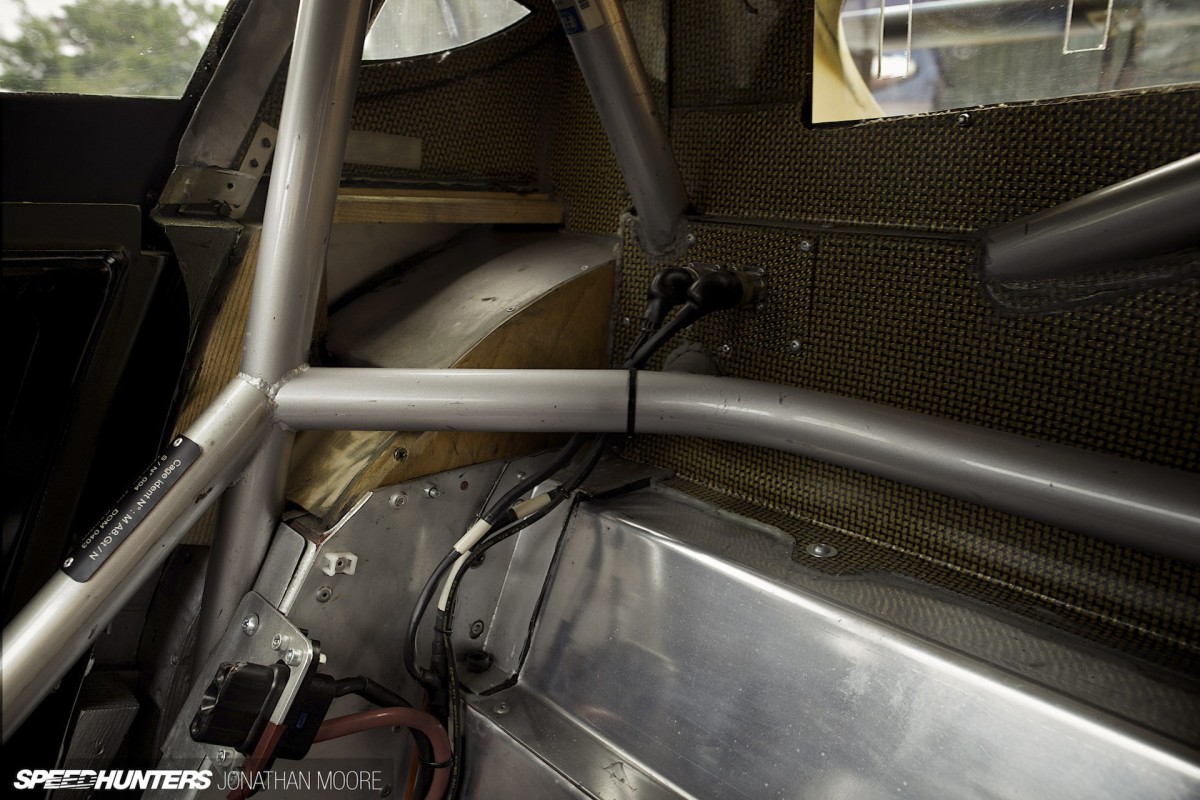 But inside you can see little glimpses of the ash laminate that's sandwiched between the aluminium and carbon. It makes sense. Think of the expense of creating structures in metal that are as strong and or light…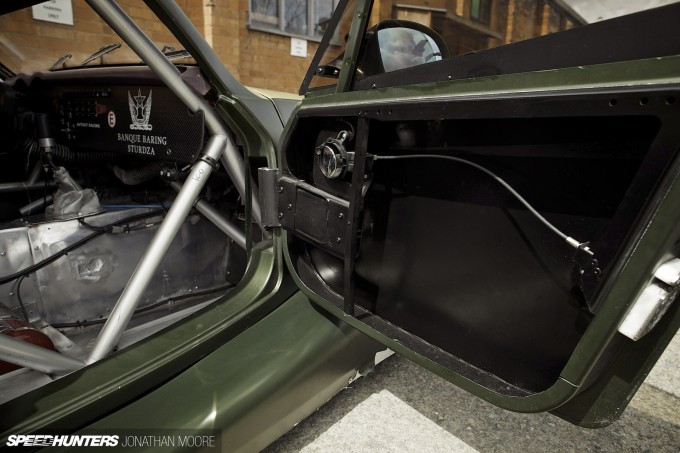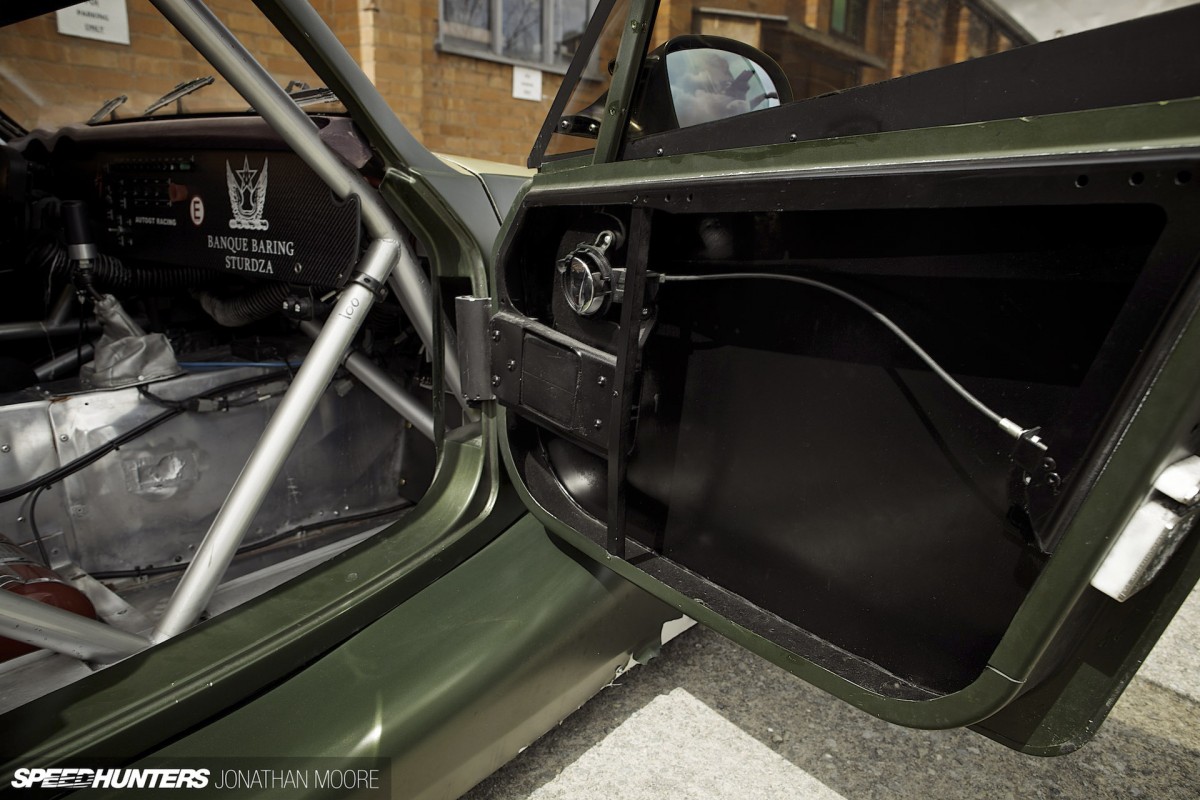 However, for things like panels carbon takes over, with pull-cable, featherlight doors that you'd find on any modern racecar. It's about having the best of both worlds.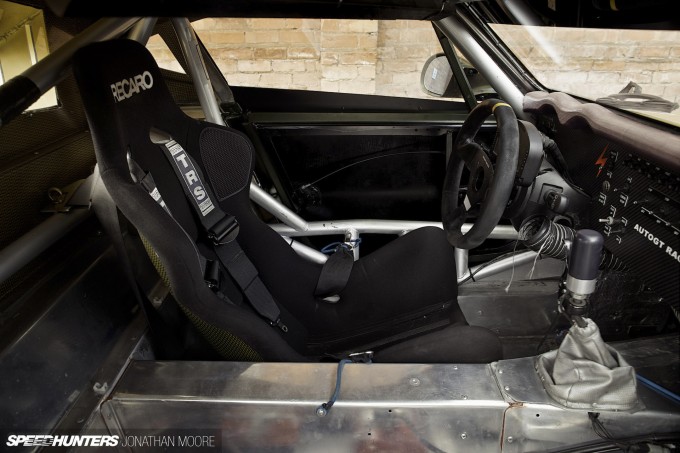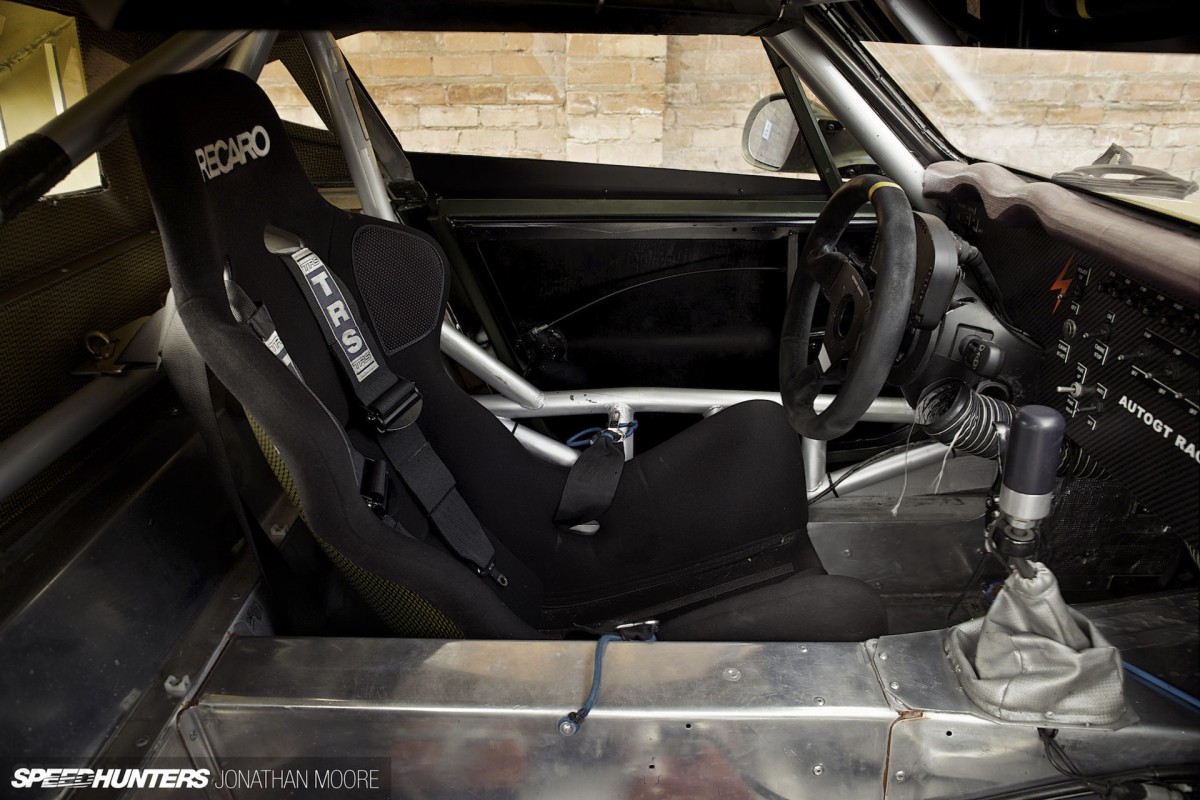 Stripped of all the road car trim and paraphernalia, the Kevlar-lined cockpit isn't as cramped as you'd possibly expect. Snug, sure, but then there's not really any wasted space. The door sides are basically vertical. The windscreen is flat and far less raked than most modern sportscars, so seem a lot more in your face, which is the same feeling you get in the road car Aero coupé.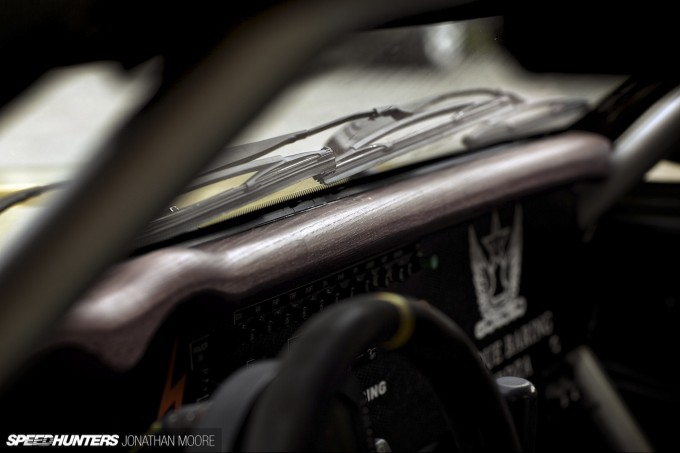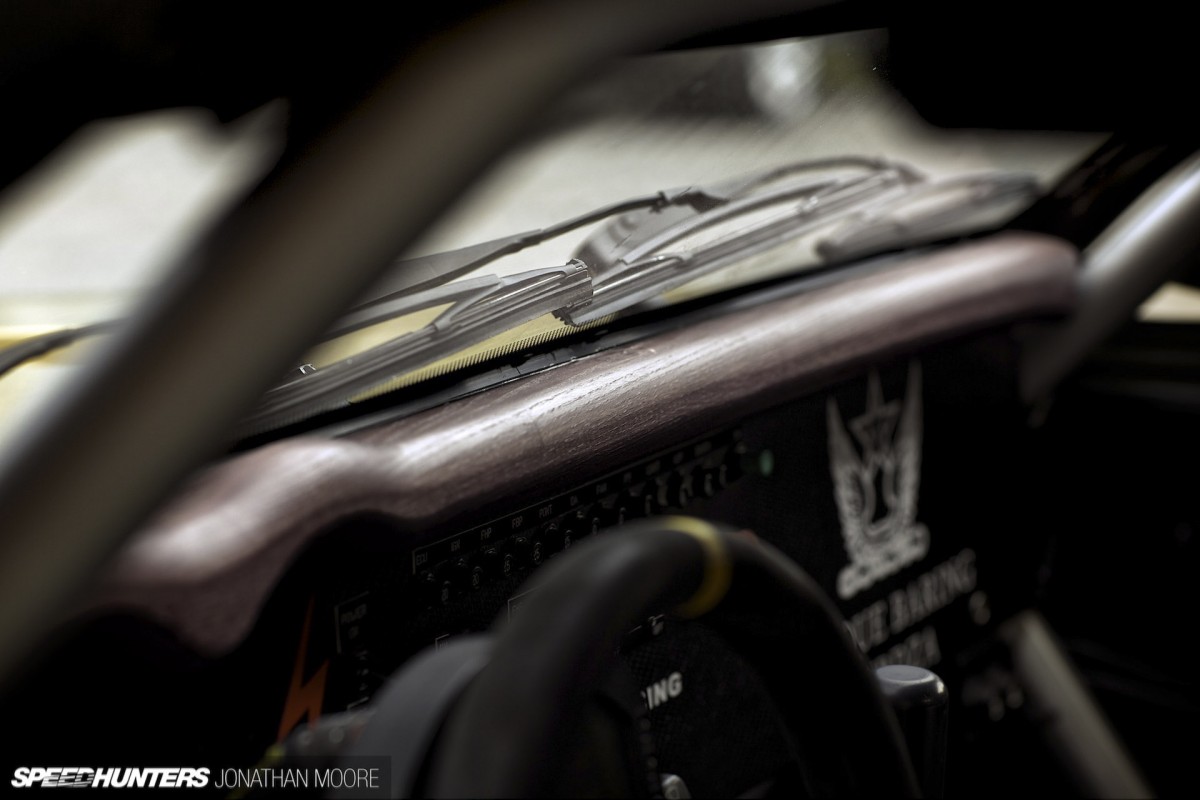 There's also wood trim across the top of the dash. Okay, that bit really isn't necessary, but still.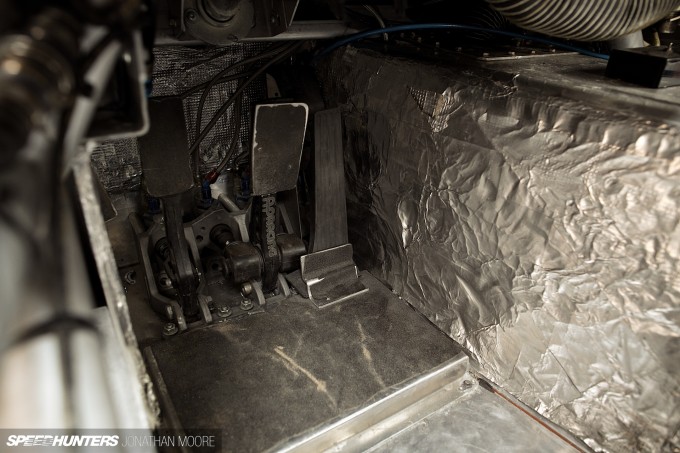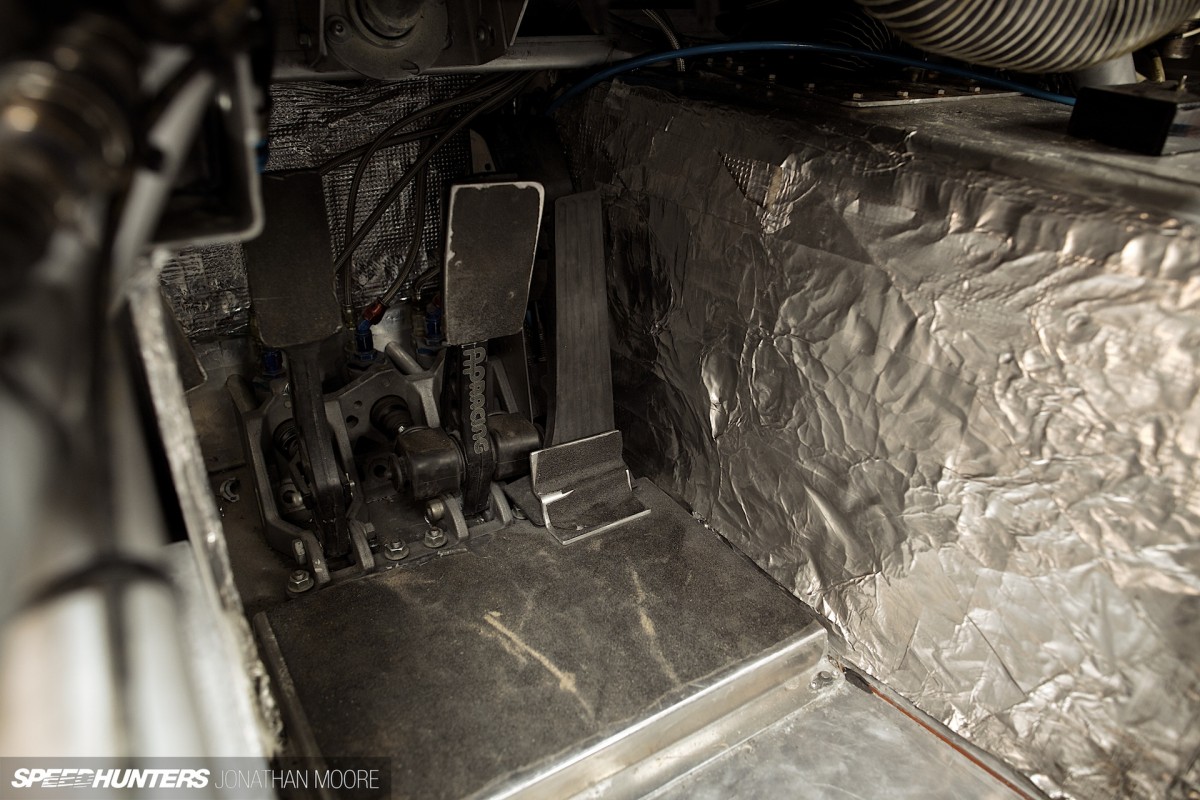 The footwell is all function – a basic but rugged floor-mounted pedal box with the brake pedal looking like it's had its fair share of use.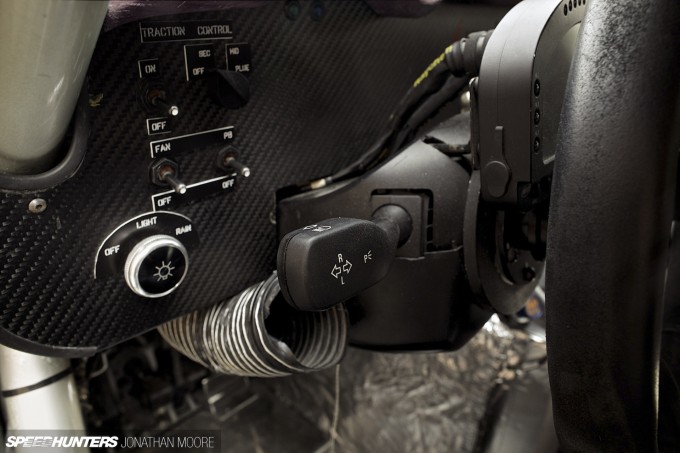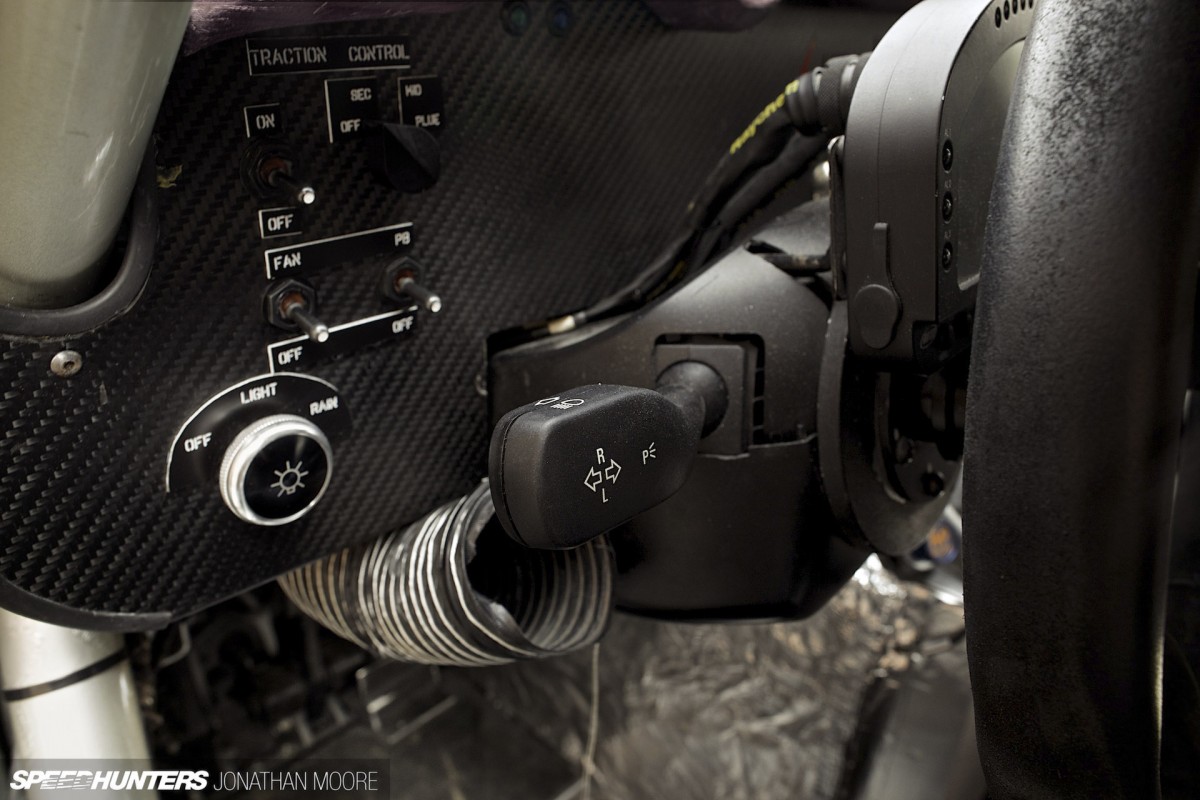 Even the start procedure is appropriately involved: insert primer into bonnet; main power on; switch on the engine power dial; engage both fuel pumps; engine start button with foot to the floor; activate two diff pumps; finally hit the power steering switch and you're good to growl. GT3 allows traction control, and here you can see a bit of the French origin: a basic four-point dial with dry, intermediate and rain settings.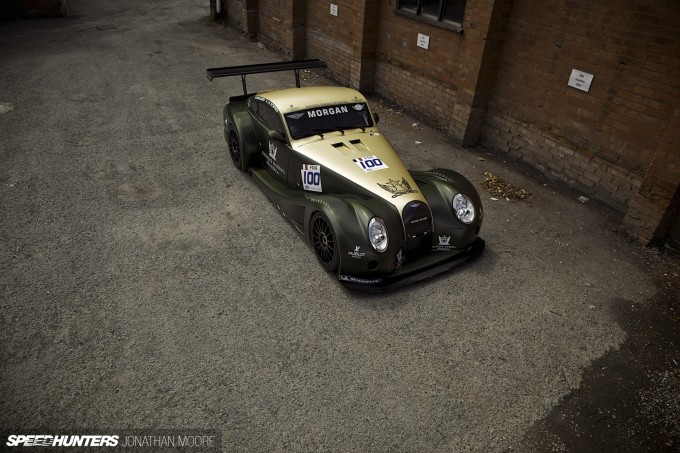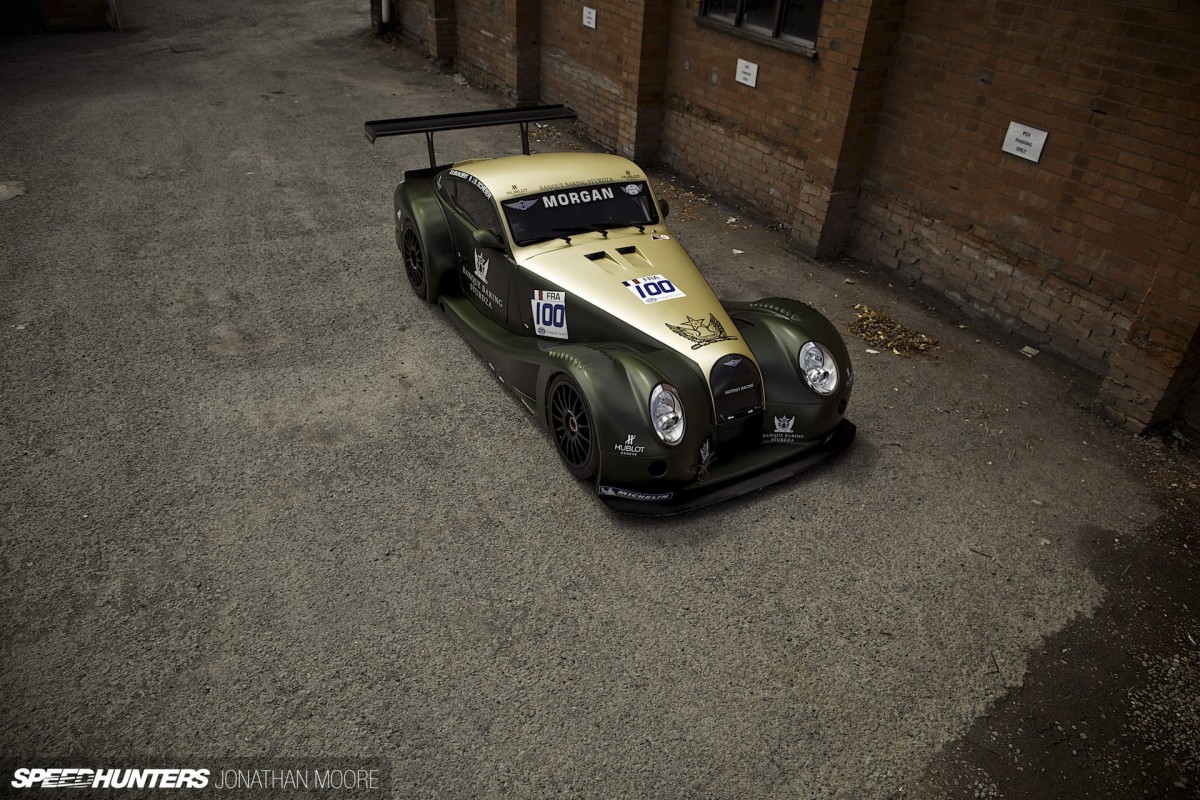 The compact rear contains the fuel cell and oil coolers, but the shaping makes it look like air would just slide off it. For every straight line there's a curve that reaches from front to back. There's a beautiful simplicity in the car in both packaging and styling terms, and to have retained the Morgan aesthetic but created a brutally effective GT car is something I know Morgan and AutoGT are proud of.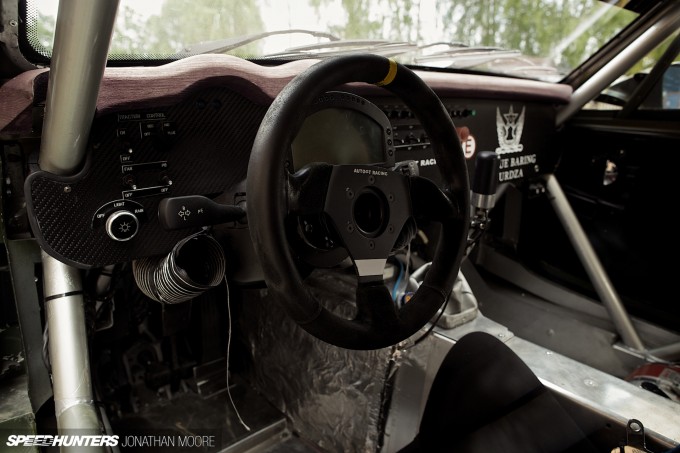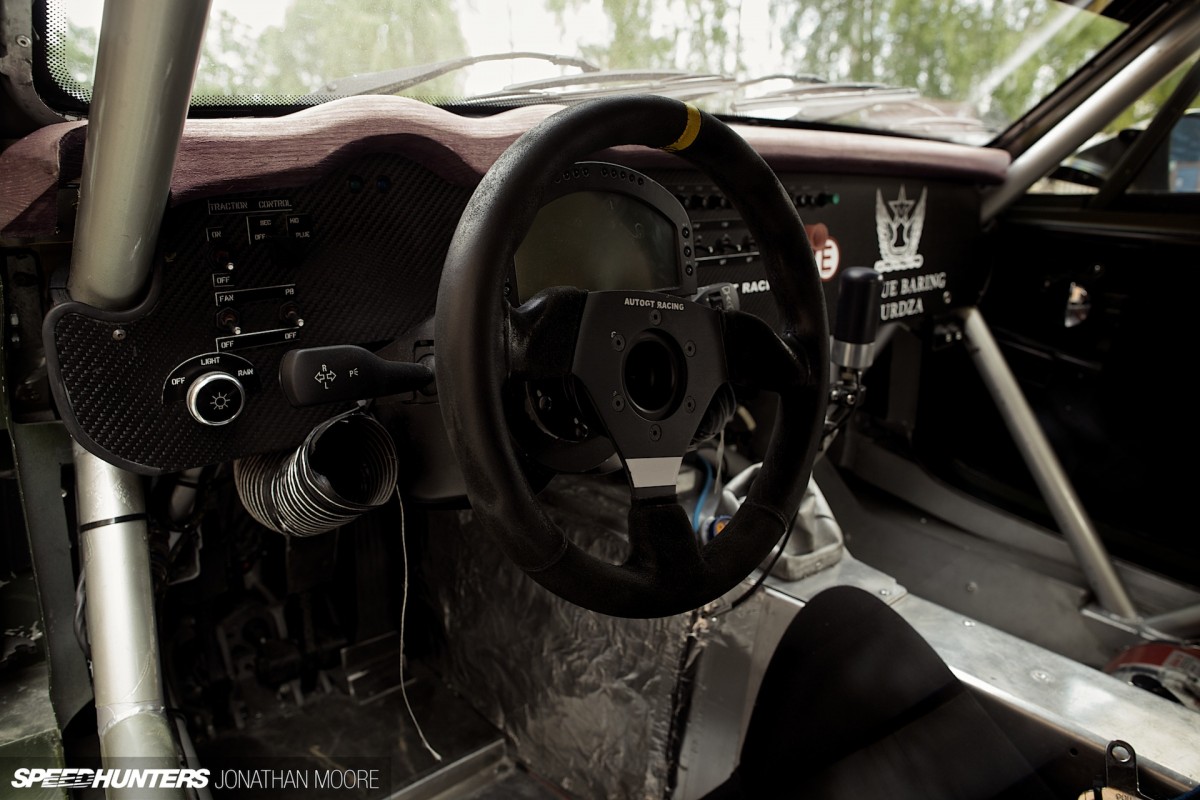 Car #100 has been on display at the Morgan factory, part of a series of racecars that the factory have either reacquired or got back on long-term loan for display. Technically it's still a valid GT3 car; though of course the spec has moved on leaps and bounds since 2009. I'm sure I'm not alone in wishing that there were still Morgan GTs livening up today's grids…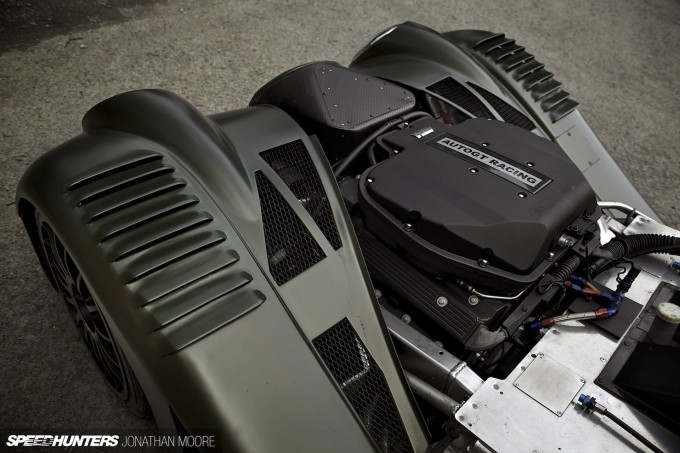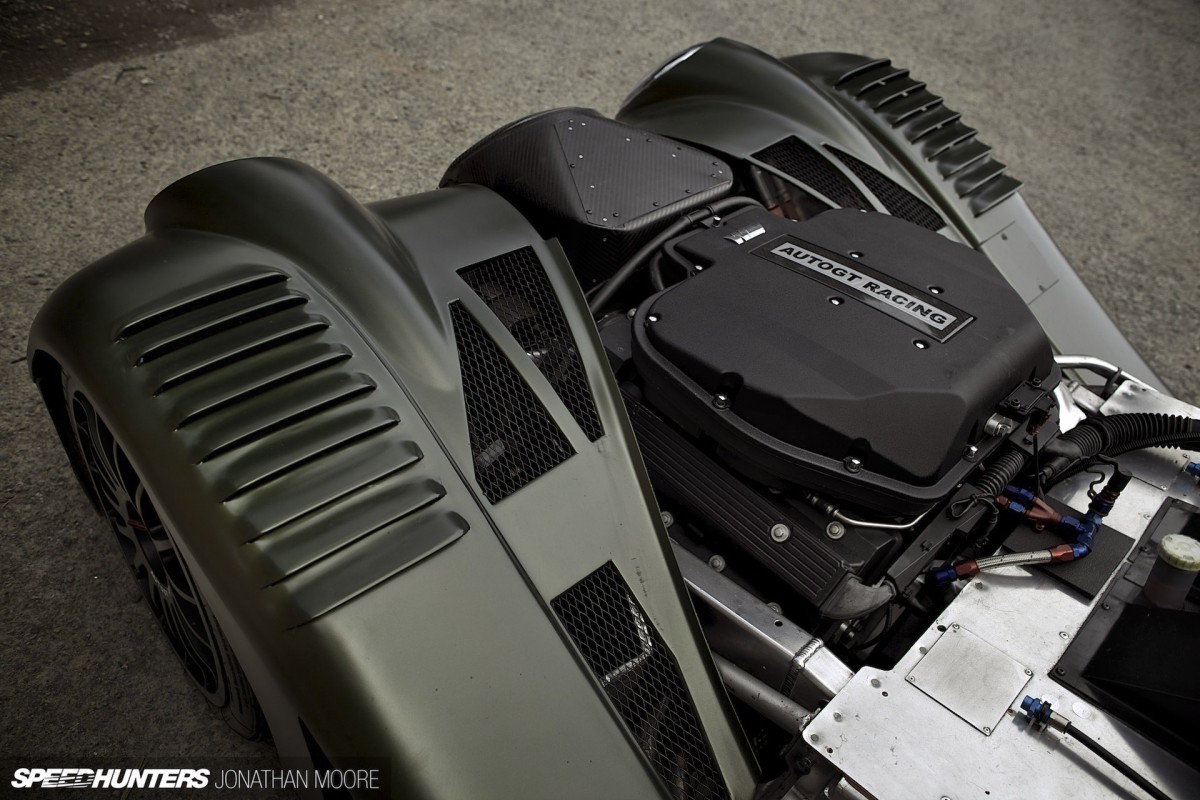 If there's any part of you that isn't convinced, that thinks this is still an anachronism, then you really just need to listen the Aero in action.
The iconic Shelsley Walsh hill climb, the oldest motorsport venue in the world, is just a 20 minute blast from Morgan HQ at Malvern, and with #100 now restored to fully working order it's been stretching its legs (read: given a barely-controlled, tyre-destroying run). Check out the in-car at the end of this video, at its local home from home. Not an ideal test for a GT3 car, but still it gives you an idea of the car up close.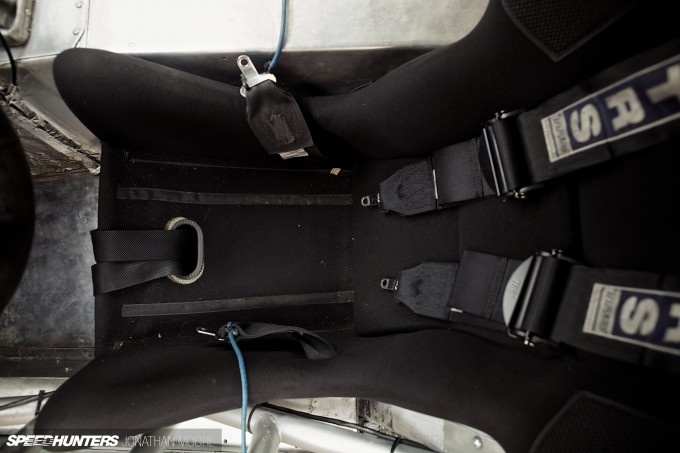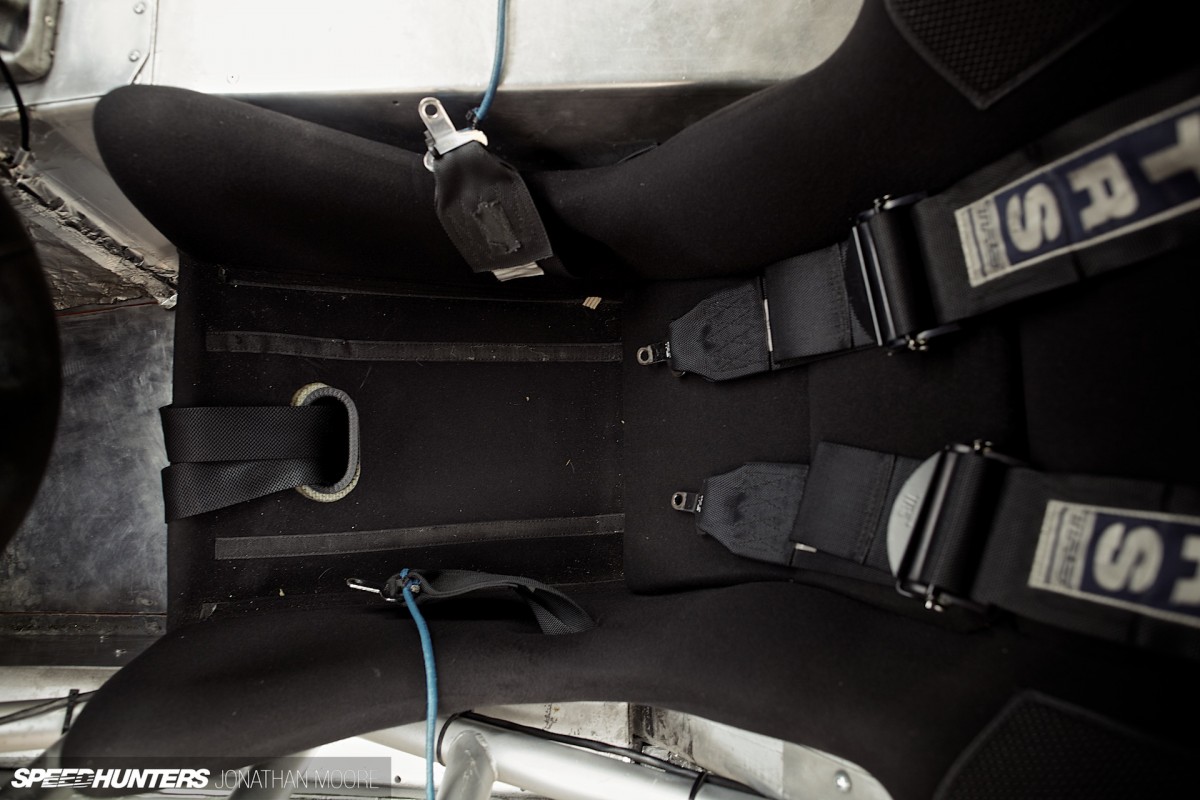 It's the off-throttle roar and growling idle that sounds like the car just wants to pick a fight with everything in the vicinity. A gentleman thug?! Oh to be in this seat, just once.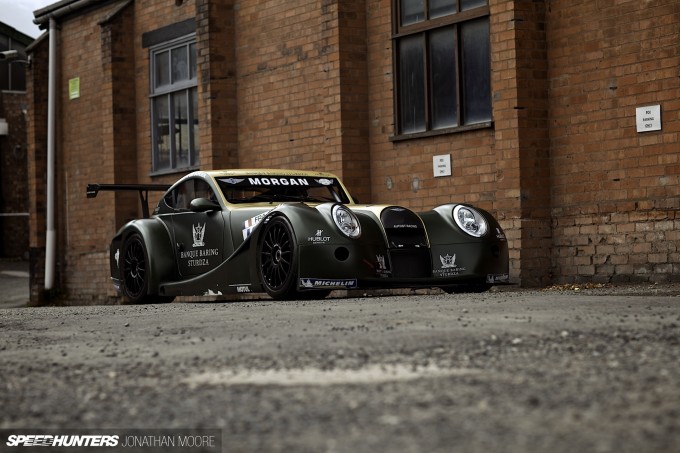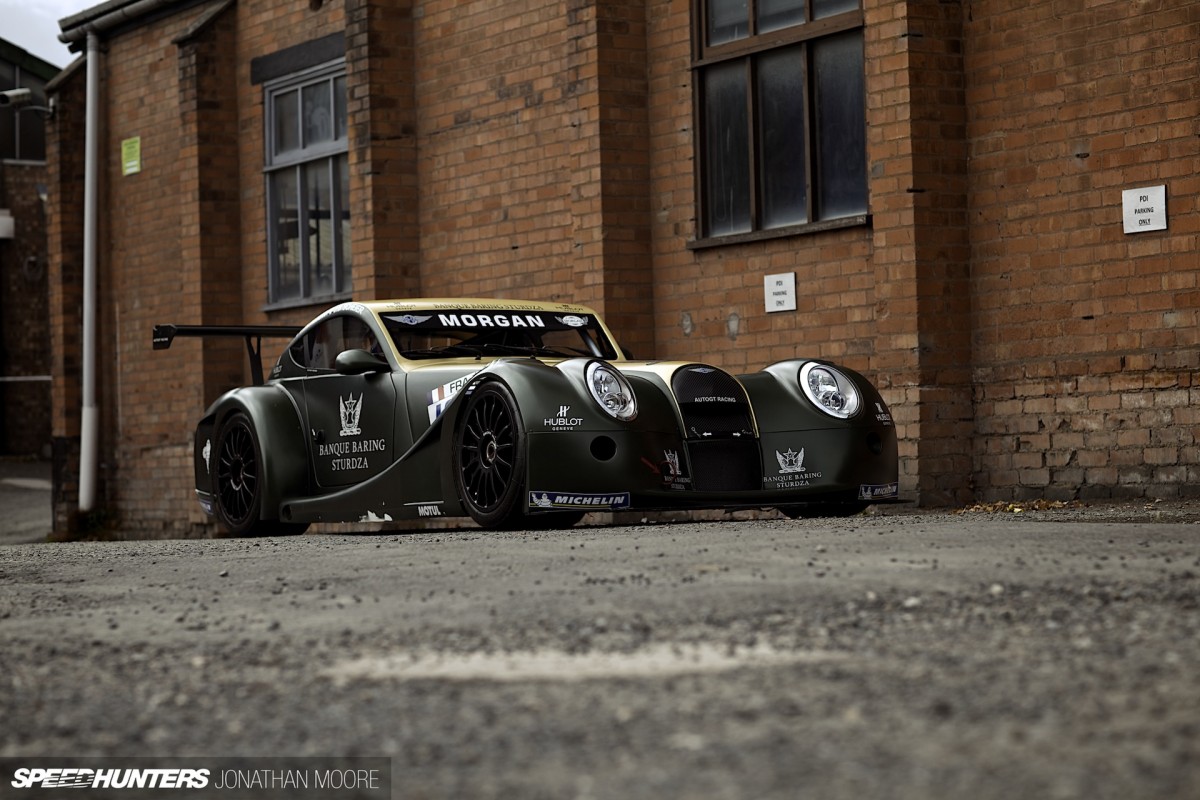 1938, Morgan against Alfa Romeo 8C. 1962, Morgan against Ferrari 250 GTO. 1997, Morgan against Viper. 2004, Morgan against Ferrari 360. 2009, Morgan against Lamborghini Gallardo. It's amazing to think that somebody from '30s could see a Morgan racing today and recognise the outline, against what would be completely alien cars around it. The direct lineage is almost unique – the only thing I can think of that comes close is a 911, but that's only a pup at 50 years old.
Morgan's unwavering dedication to the cause looks set to continue into the foreseeable future on the road, and in racing though a tie-up with another French team that sees Morgan badge an LMP2. But that's not a 'real' Morgan. For that, I think we have to trust the enthusiasm of the company, who still sell club racers by the bucketload, to take the Morgan spirit back into international racing. The good thing is that history shows it's inevitable. It can look exactly like this, and I'd be more than happy. Some things just don't need to change.
Morgan Aero Super Sports GT3
Body
Bonded aluminium, ash-reinforced chassis; carbon panels and wing
Engine
Front, longitudinally mounted 4,941cc BMW S50LA 90º V8, four valves per cylinder, DOHC, fuel injected and naturally aspirated; 440bhp @ 7000rpm, 550Nm @ 4500rpm
Driveline
Holinger six-speed sequential
Suspension/brakes
Double wishbones, coil springs, gas shock absorbers
AP Racing Ventilated discs
Dry weight
1,080kg
Jonathan Moore
Instagram: speedhunters_jonathan
jonathan@speedhunters.com