Pickup Power
I'm not exactly sure what the stats are, but from just walking around it seems like at least half of the vehicles at the SEMA Show are pickup trucks or off road vehicles of some sort. For newcomers it can be pretty staggering to see, but while some might write off all the trucks off as uninteresting, the truth is, the pickup builds are some of the coolest and most inspiring things at the annual show.
I'm not talking about the lifted, blinged-out show trucks that you see parked out front – I'm referring the group of expertly-crafted and unique trucks that come to SEMA each year. So why don't we go ahead and take a look at a few from this year's event and see if you agree…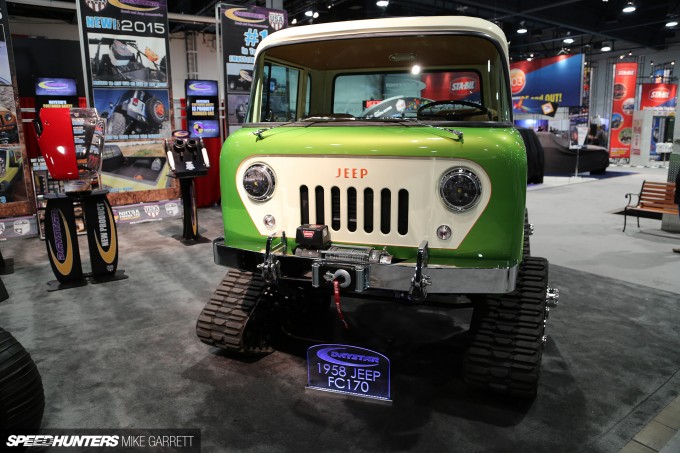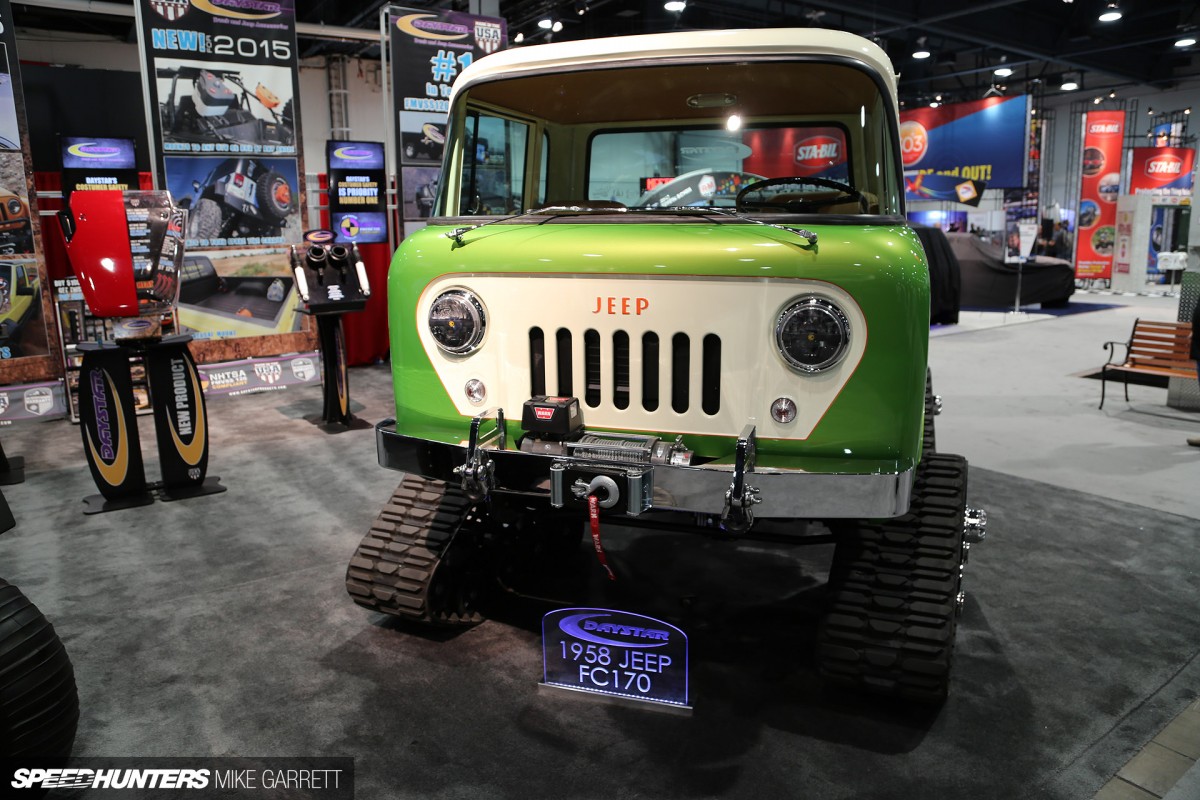 Jeeps are guaranteed to be plentiful at the SEMA Show, but you won't see too many like this one. It's a 1958 FC170 – a variant of the rare cab-over commerical workhorse that Jeep built in the '50s and '60s. While seeing any Forward Control Jeep in person is a rare thing these days, this project from Daystar Off Road takes things to a whole different level.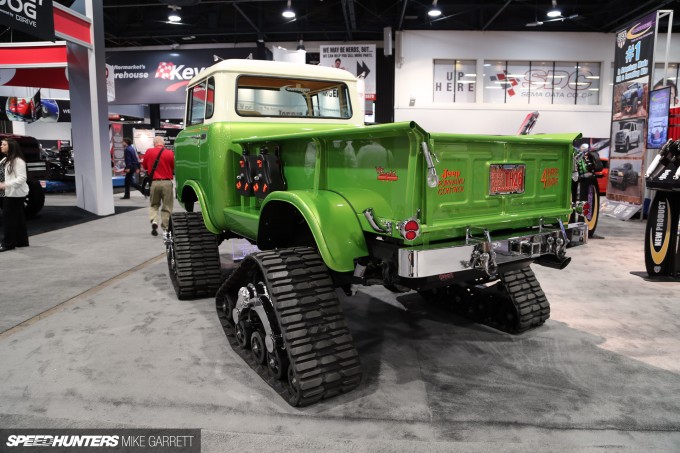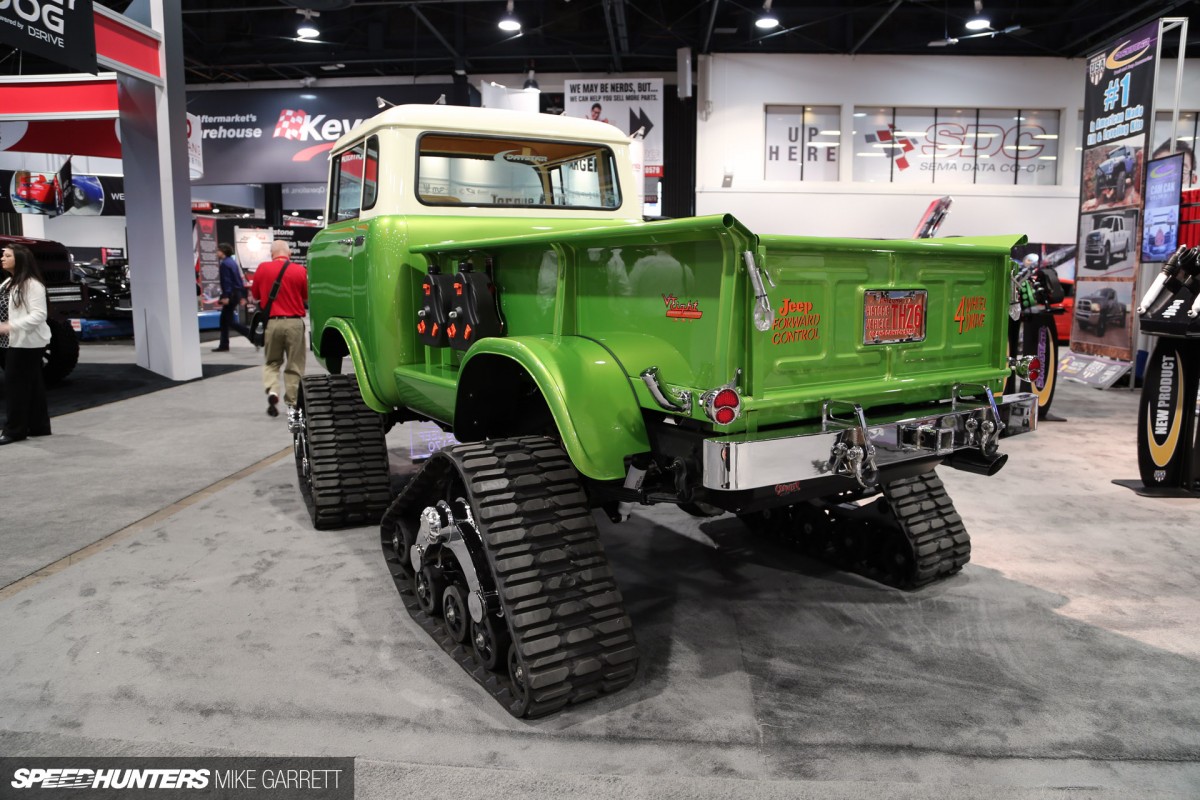 The project was completed entirely by Daystar employees, and their efforts have resulted in a vehicle that many called one of the best at SEMA this year. Once you get a look at this thing, it's hard to disagree.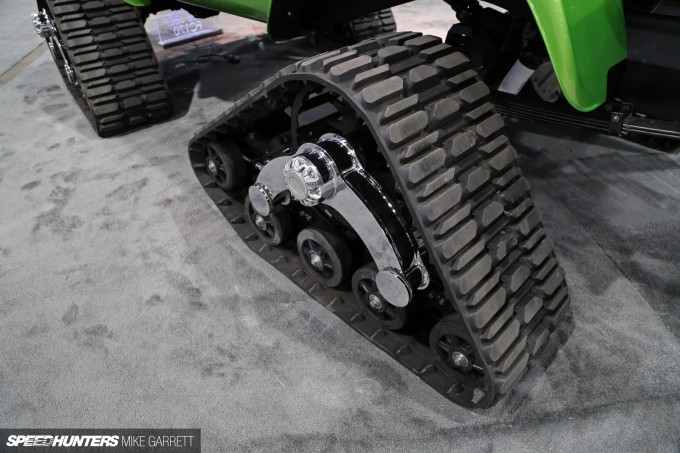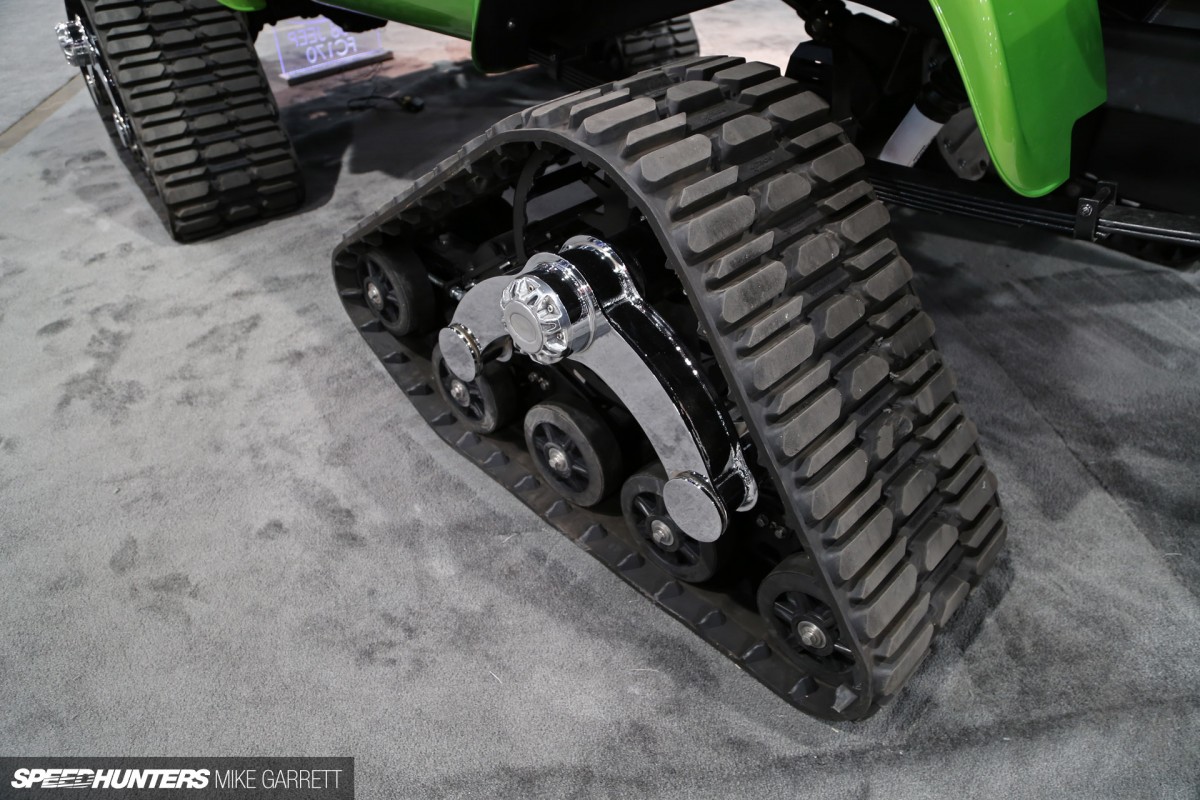 The most outstanding modification on the vintage Jeep is easily the tracks conversion, which gives the FC some serious all terrain capability. But there's a whole lot more to it than that.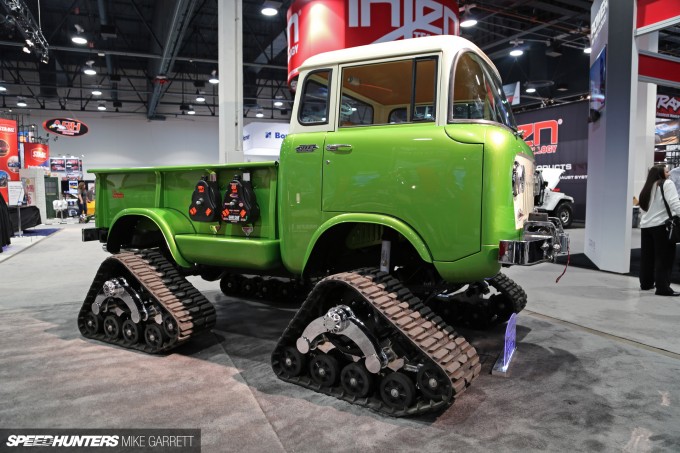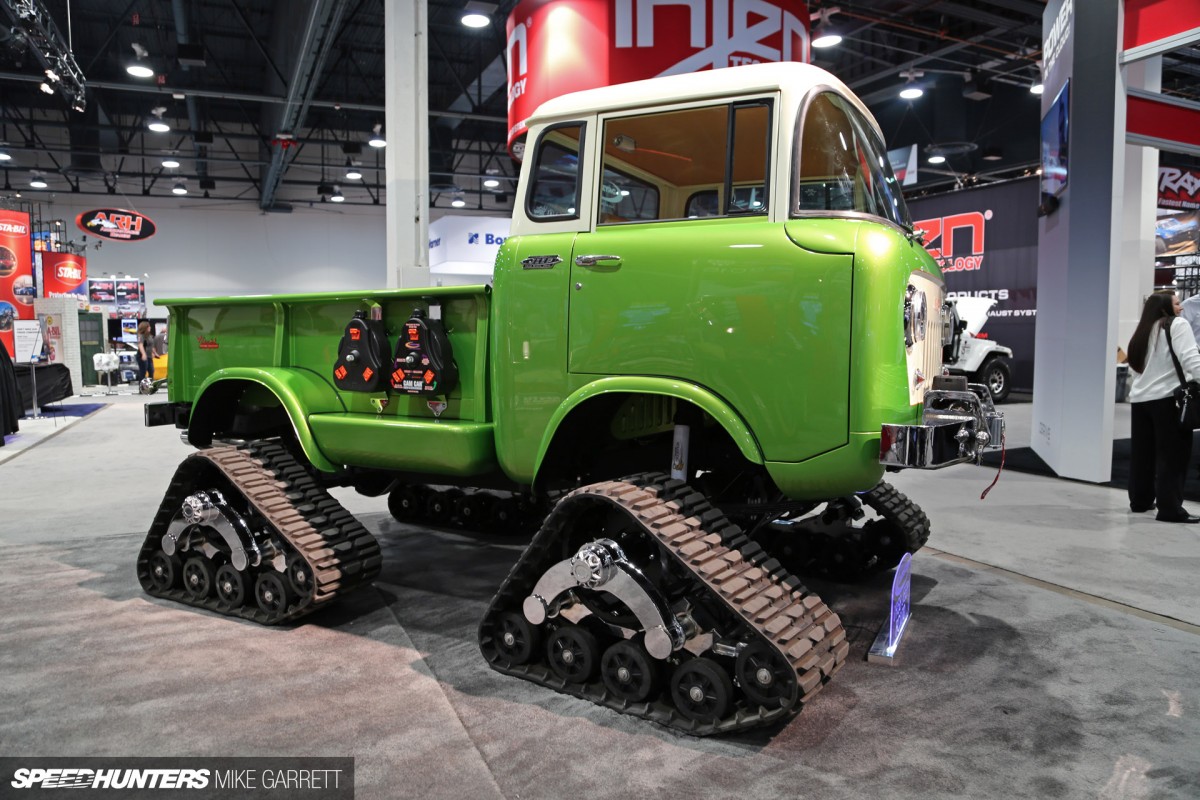 There's a late model HEMI engine swap under there, along with all of the mandatory heavy-duty chassis and suspension upgrades.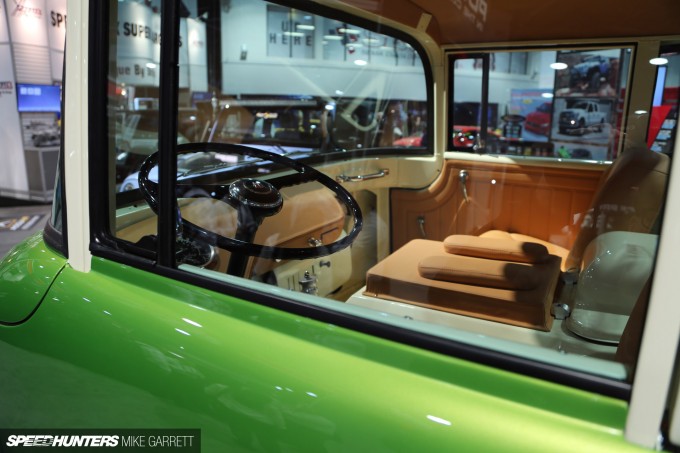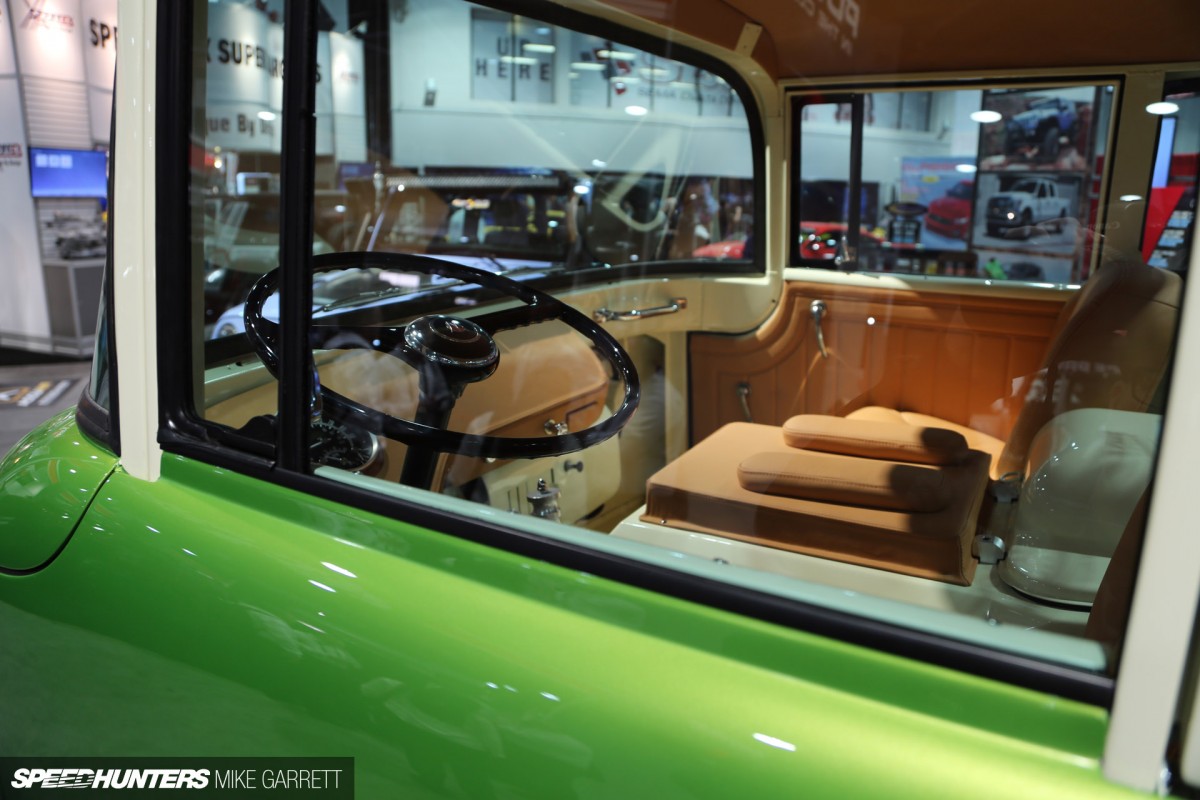 To top it off, the whole thing's been finished in a beautiful two-tone paintjob and a custom brown leather interior. Throw it all together and you've got one of the coolest 4×4 projects we've ever seen.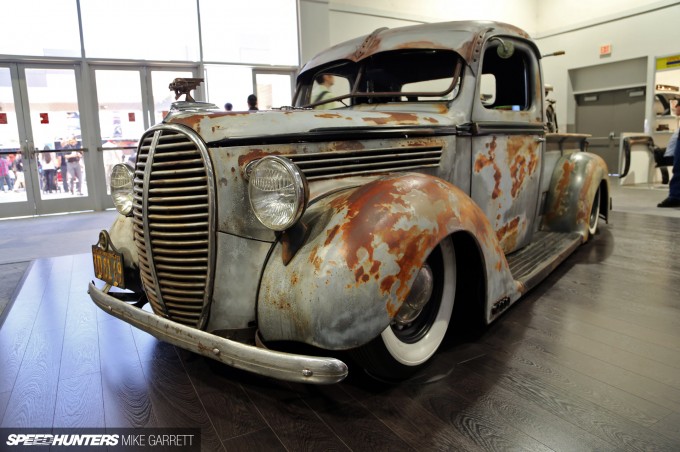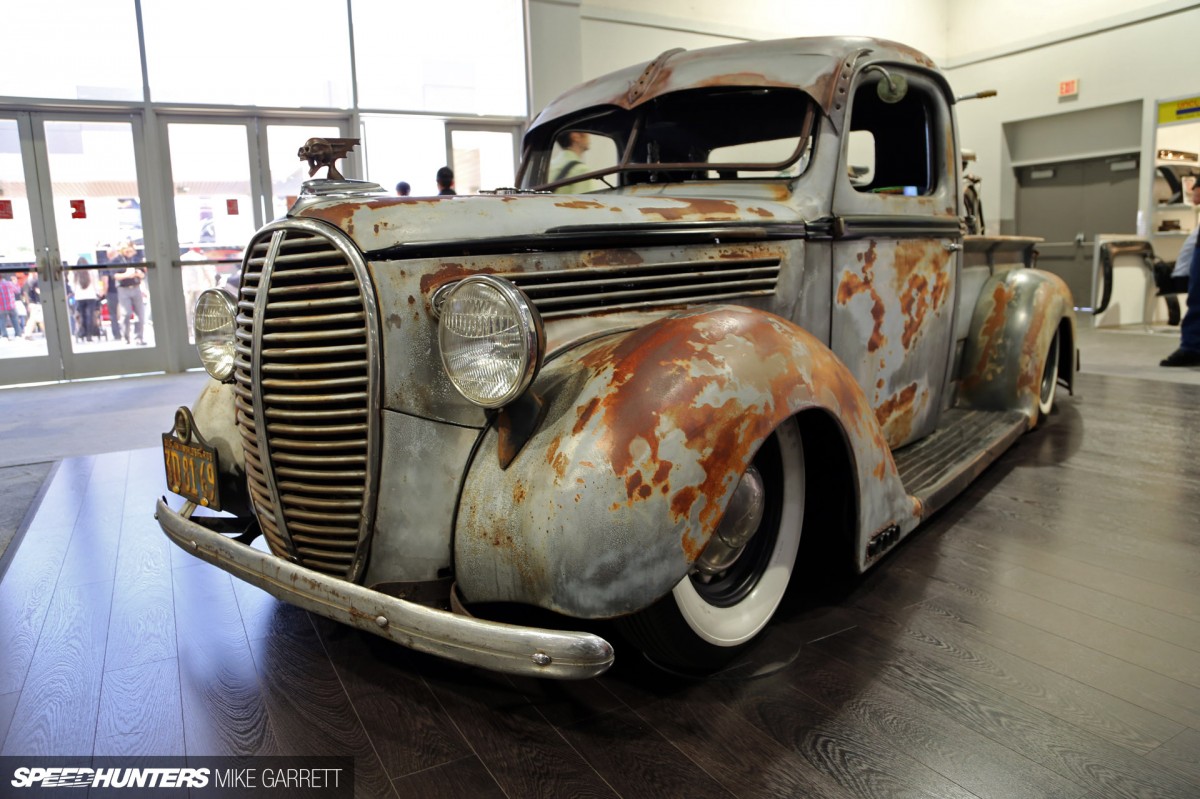 Next, we move over to AccuAir's booth which was home to this amazing '39 Ford Pickup built by The Hot Rod Service Company in Northern California. If there was a patina award at SEMA, this rig would have easily taken it home.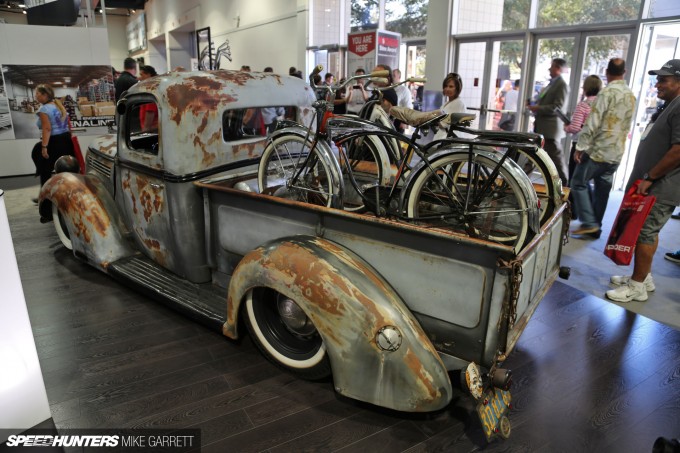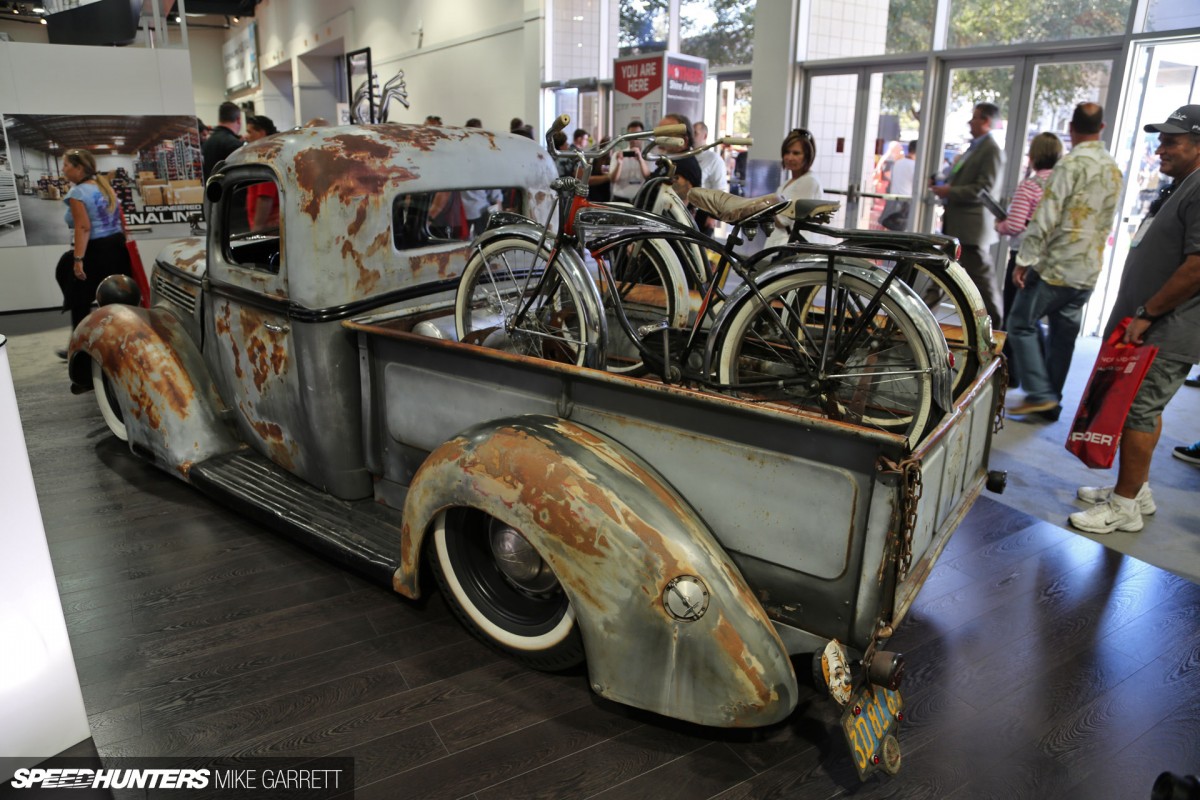 But despite having the initial appearance of a rat rod, the Ford is as far from a backyard hack-job as it gets. It's one of those builds where the closer you look at it, the more impressive it becomes.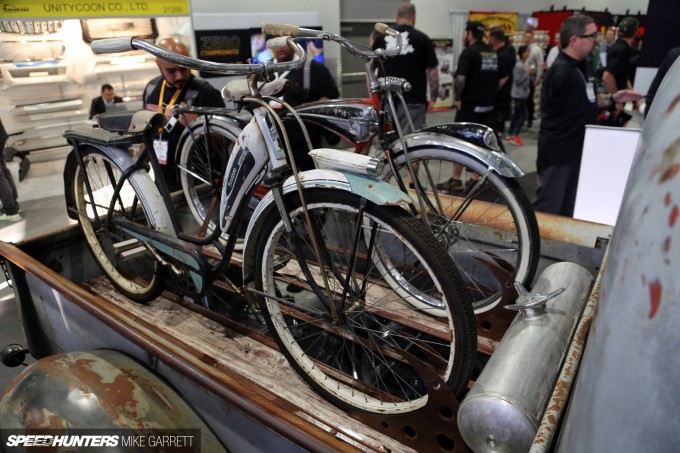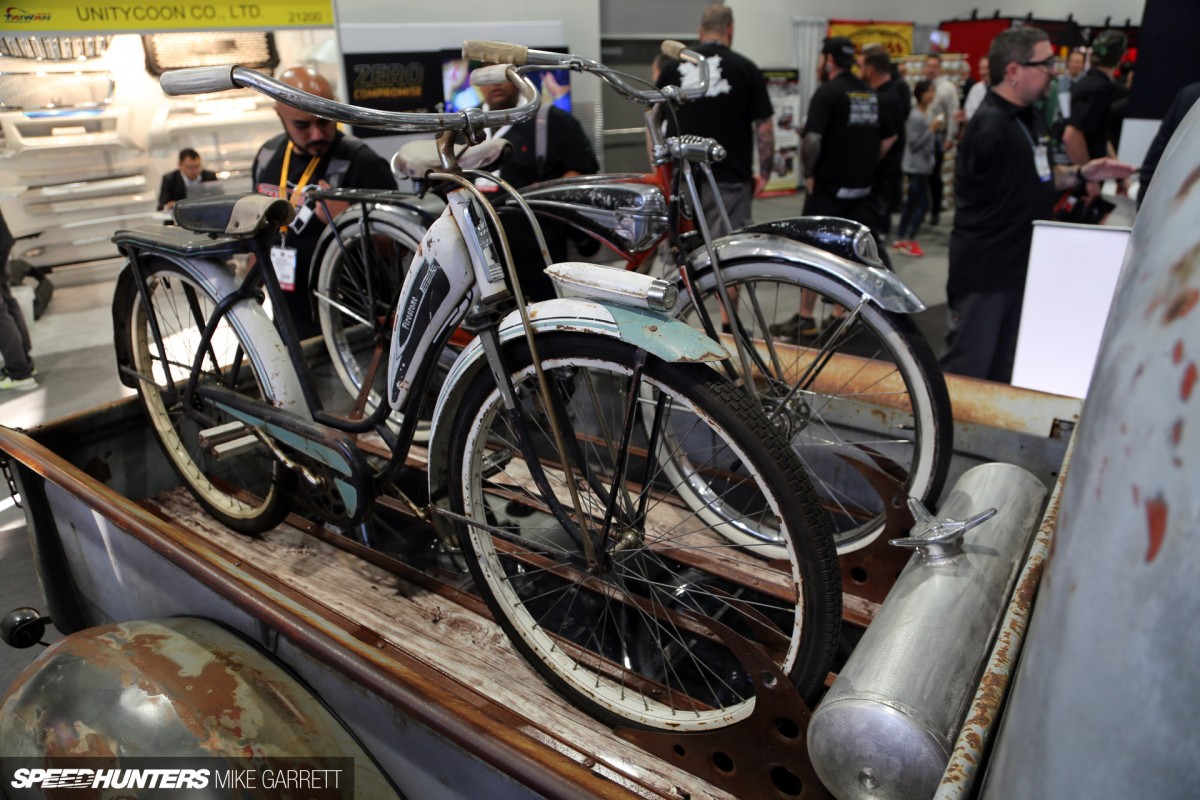 While many eyes were drawn to the pair of vintage bicycles sitting in the bed, you could also peek through the transparent floor to get a look at the custom chassis and air ride setup.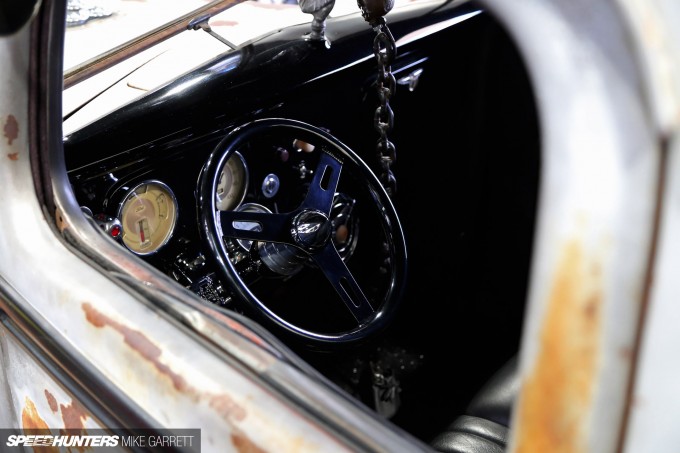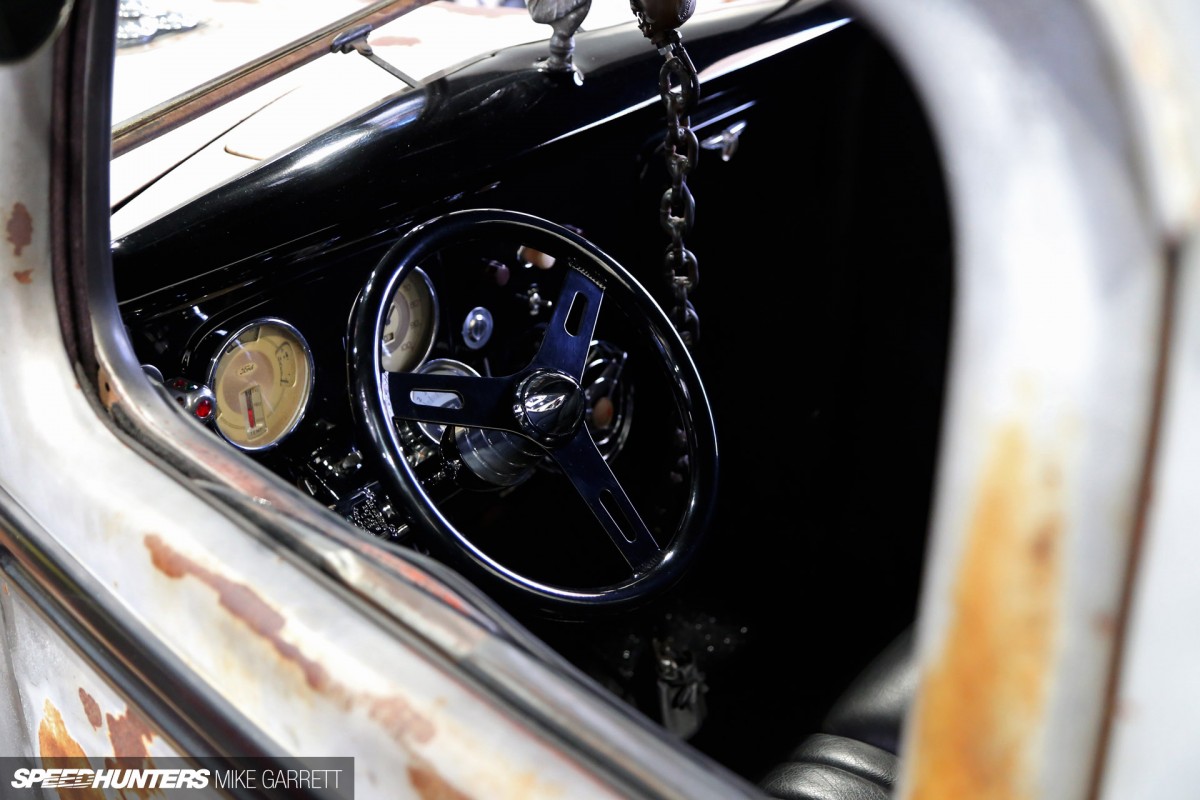 And the interior was presented with the same patina-infused attention to detail as the outside. It might have been my favorite part of the truck if it weren't for the engine bay…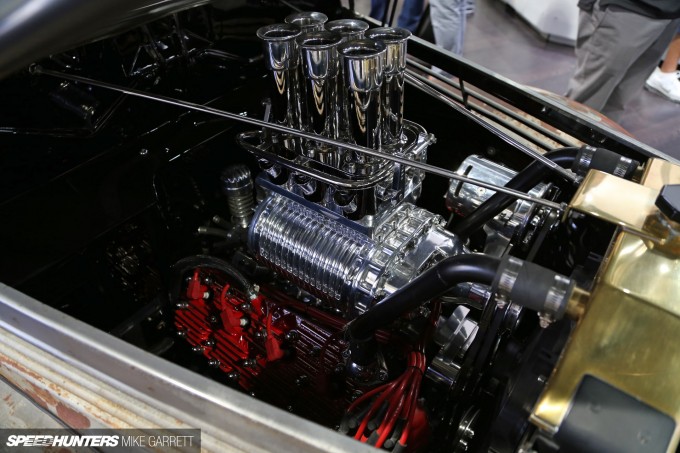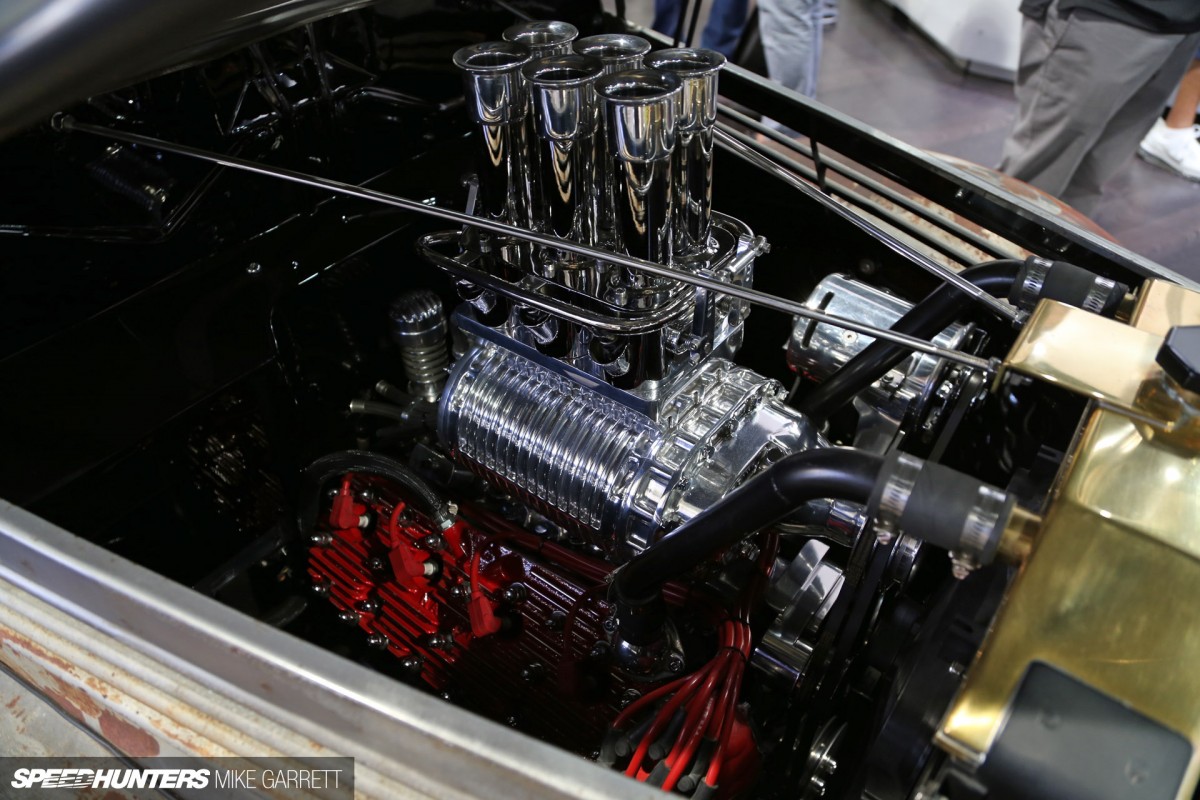 There's no LS or small block swap to be found here. In proper old school fashion, the '39 gets its power from a blown and injected flathead V8. I couldn't approve more.
The Blue Oval & The Bowtie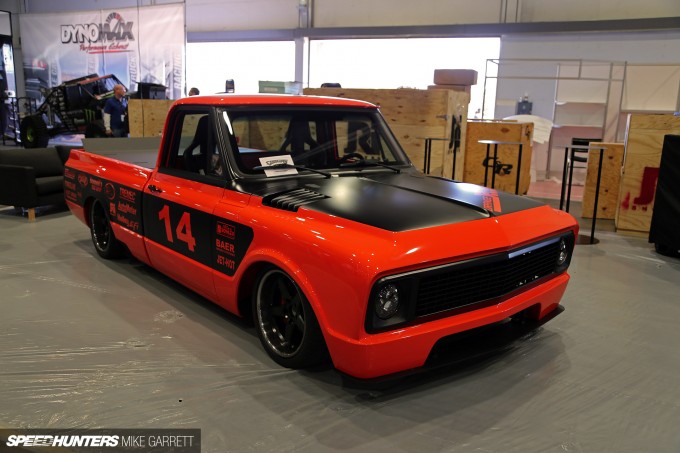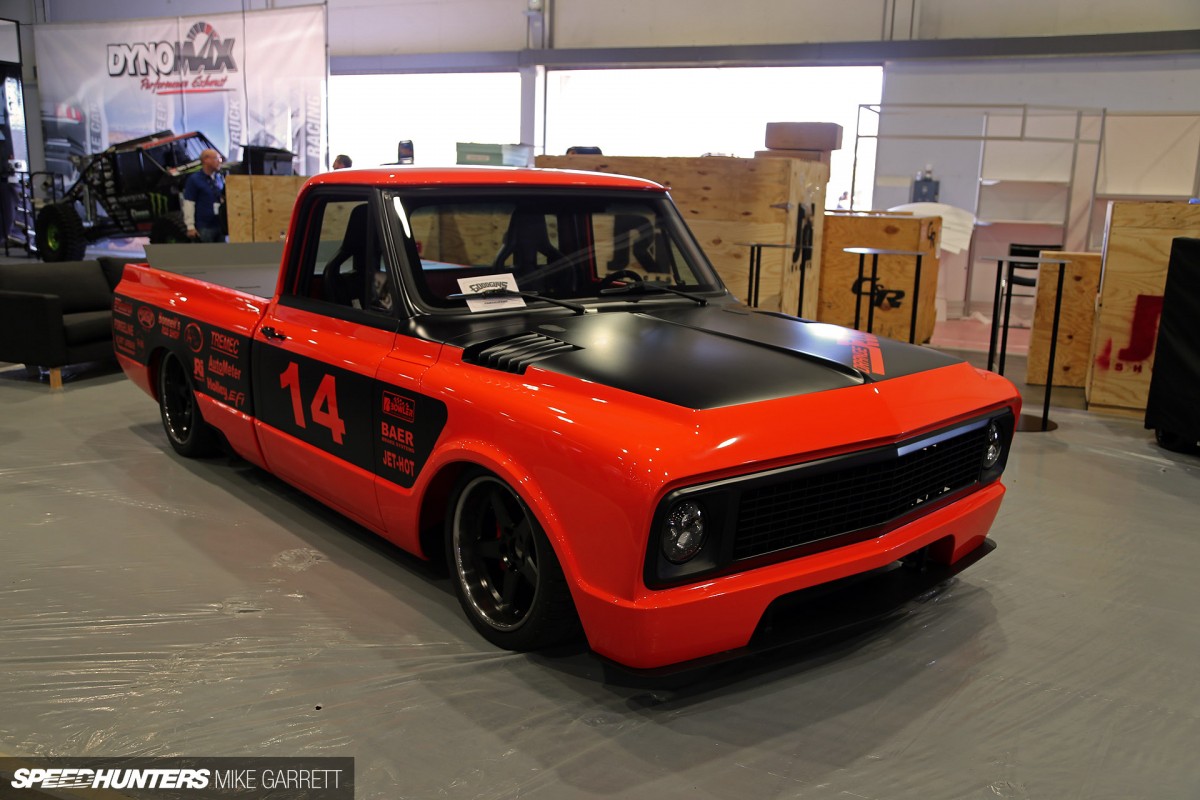 The Chevy C10 pickup has always had a strong following, but lately it seems as though the model is becoming a very popular choice for all-out pro touring builds. The most extreme of the bunch could well be Bob Bertelsen's Orange Rush.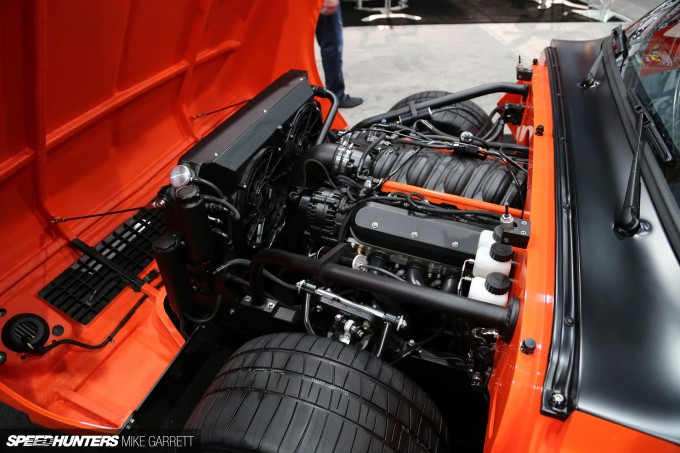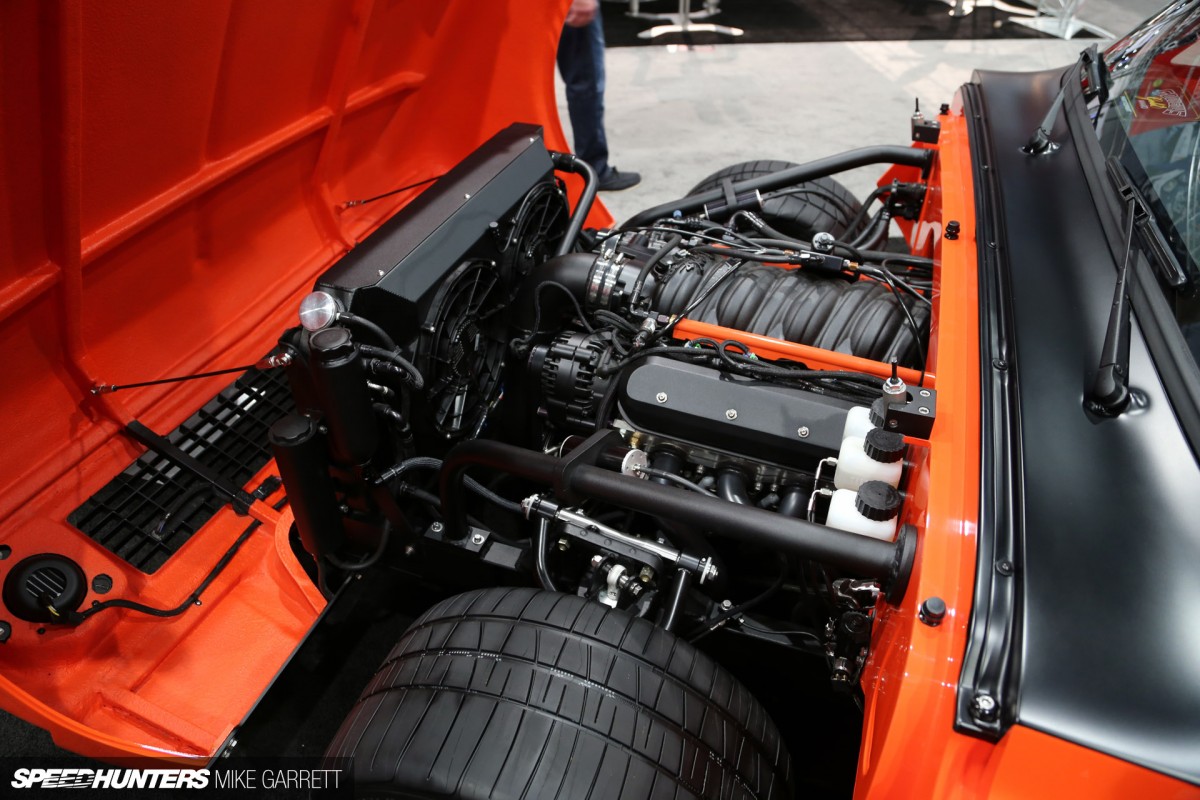 While Bob's truck might be based on a '69 Chevy shortbed, there isn't a whole lot this one shares with a stock C10. It's been built from the ground up to be a corner-shredding monster, powered by a 529 horsepower LS7 nestled in a Detroit Speed subframe.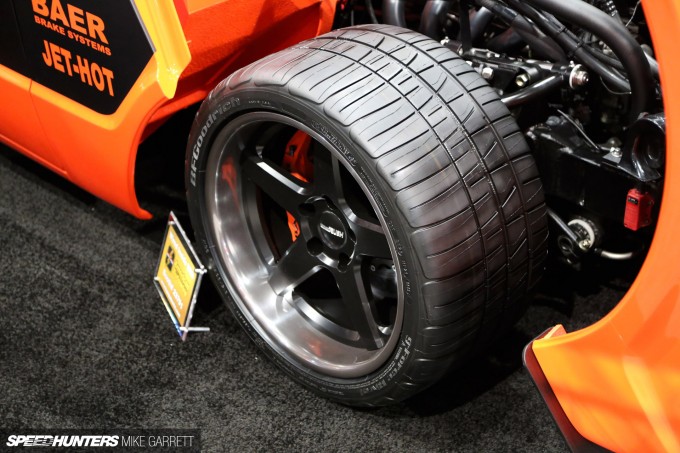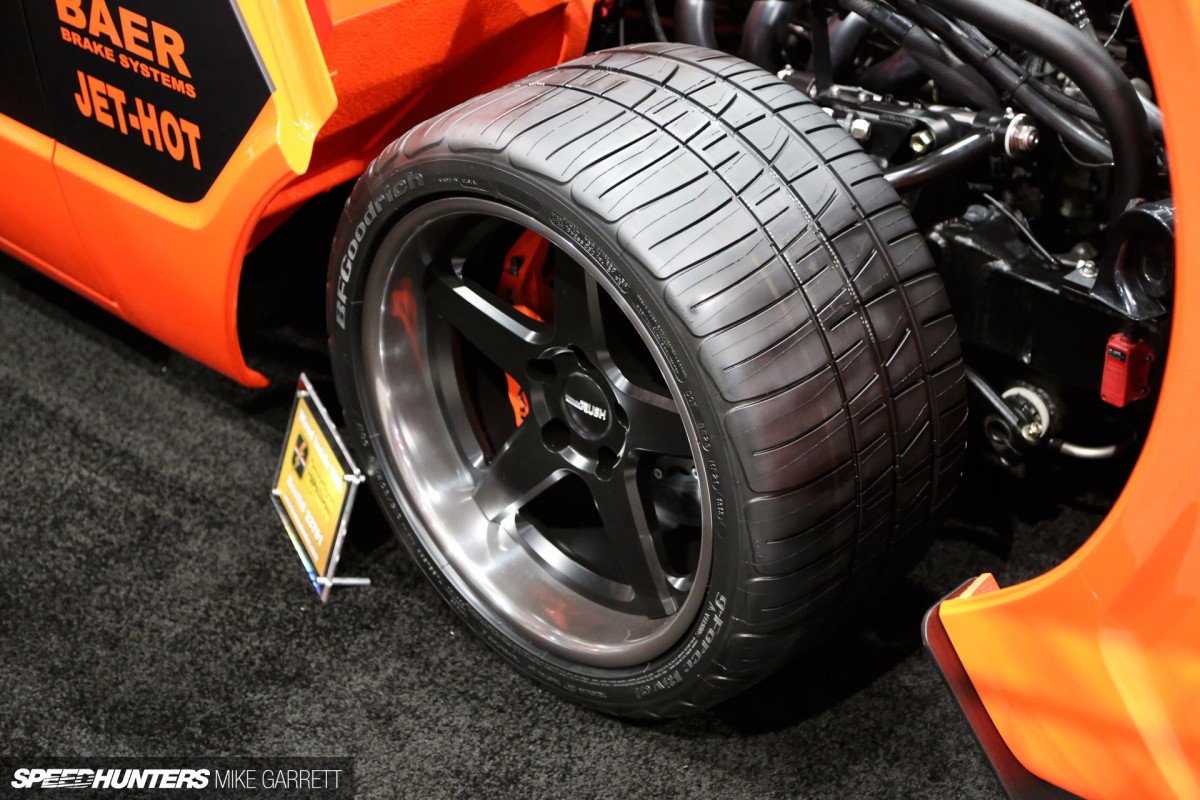 Other goodies include hydraulic ride height adjustable JRi coilovers, Baer brakes and wide BF Goodrich tires mounted on Forgeline wheels.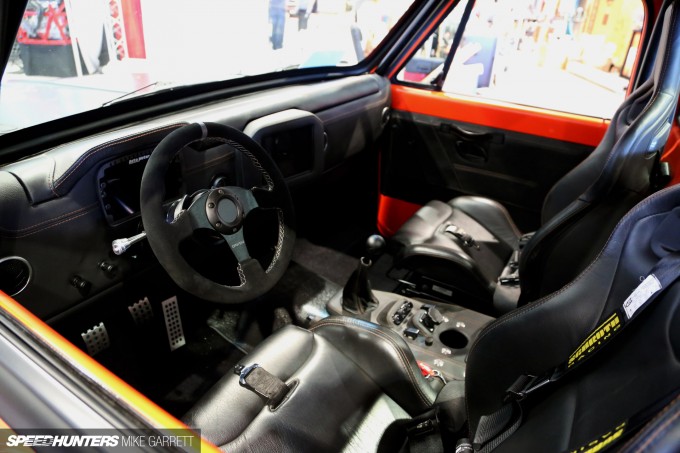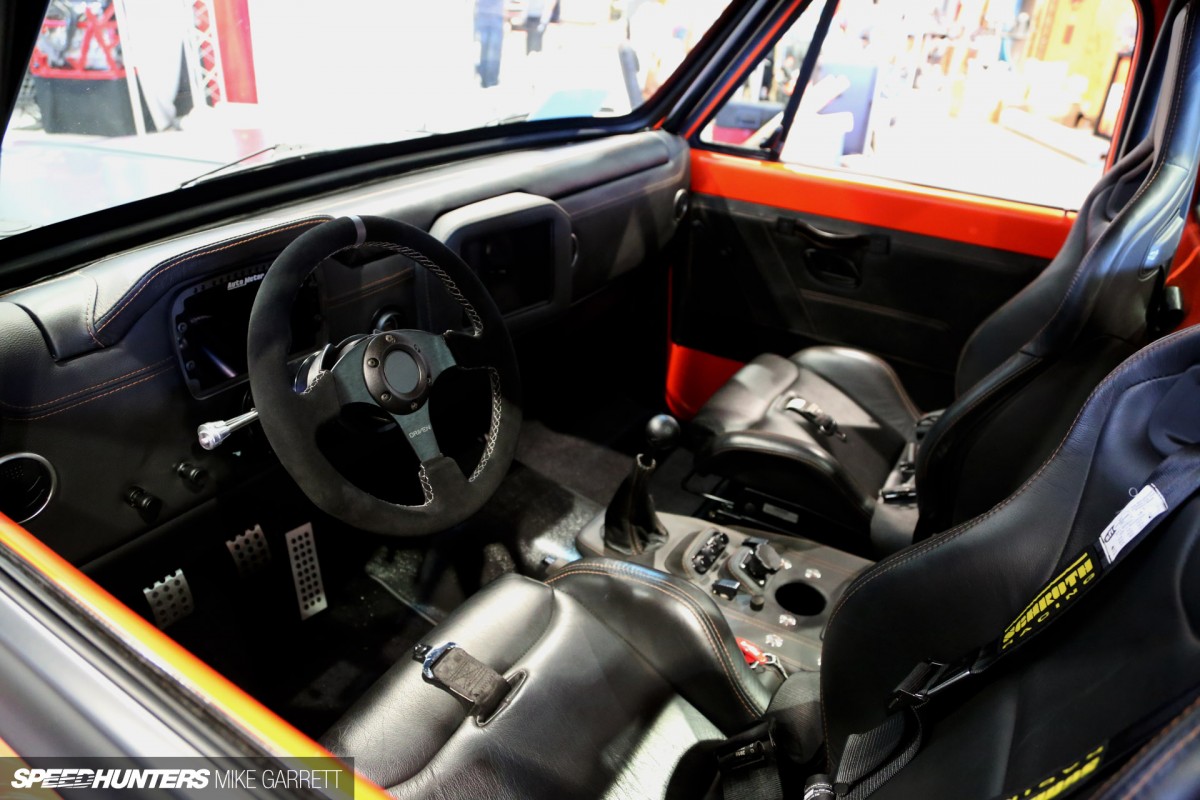 The cab has also been fully modernized and prepped for track use with leather-clad racing buckets, a suede steering wheel, digital instruments and console-mounted adjusters for the suspension.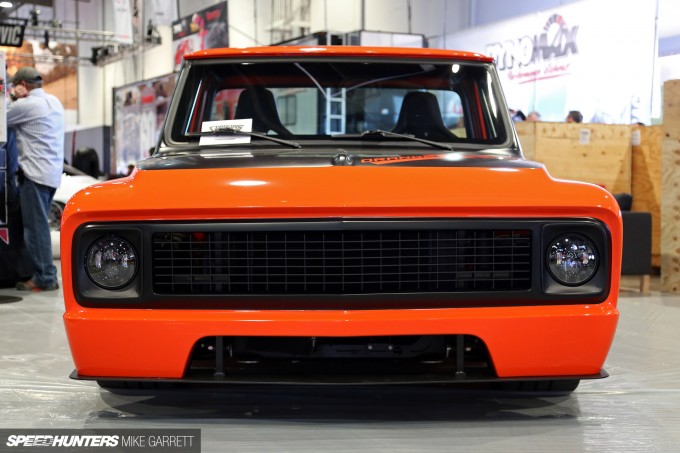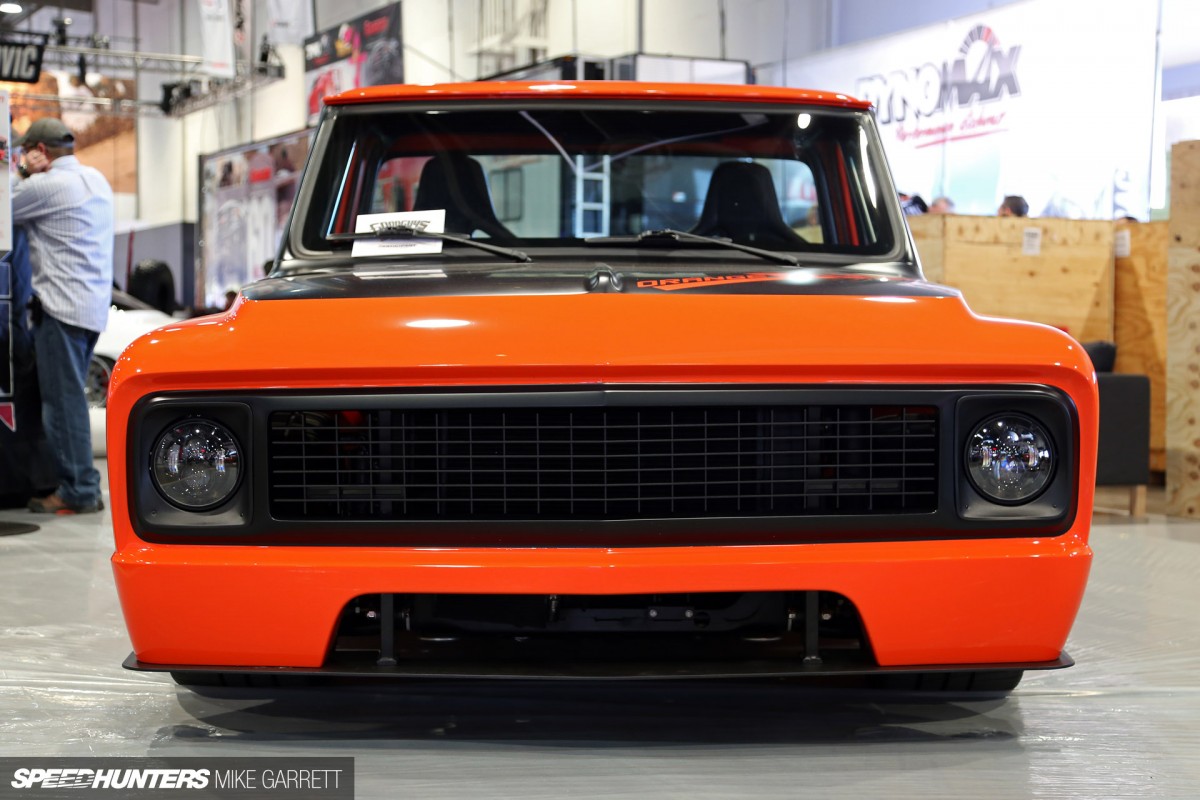 Outside, the one-off bodywork gives the old truck a very modern and aggressive look, with touches like custom double projector headlights. This is pickup-based pro touring at its very best.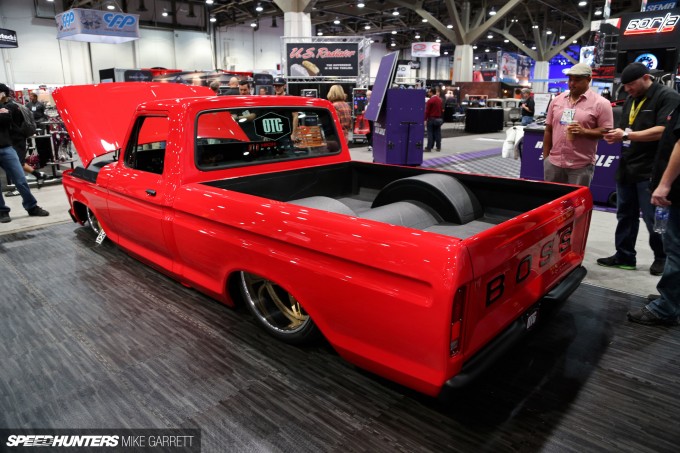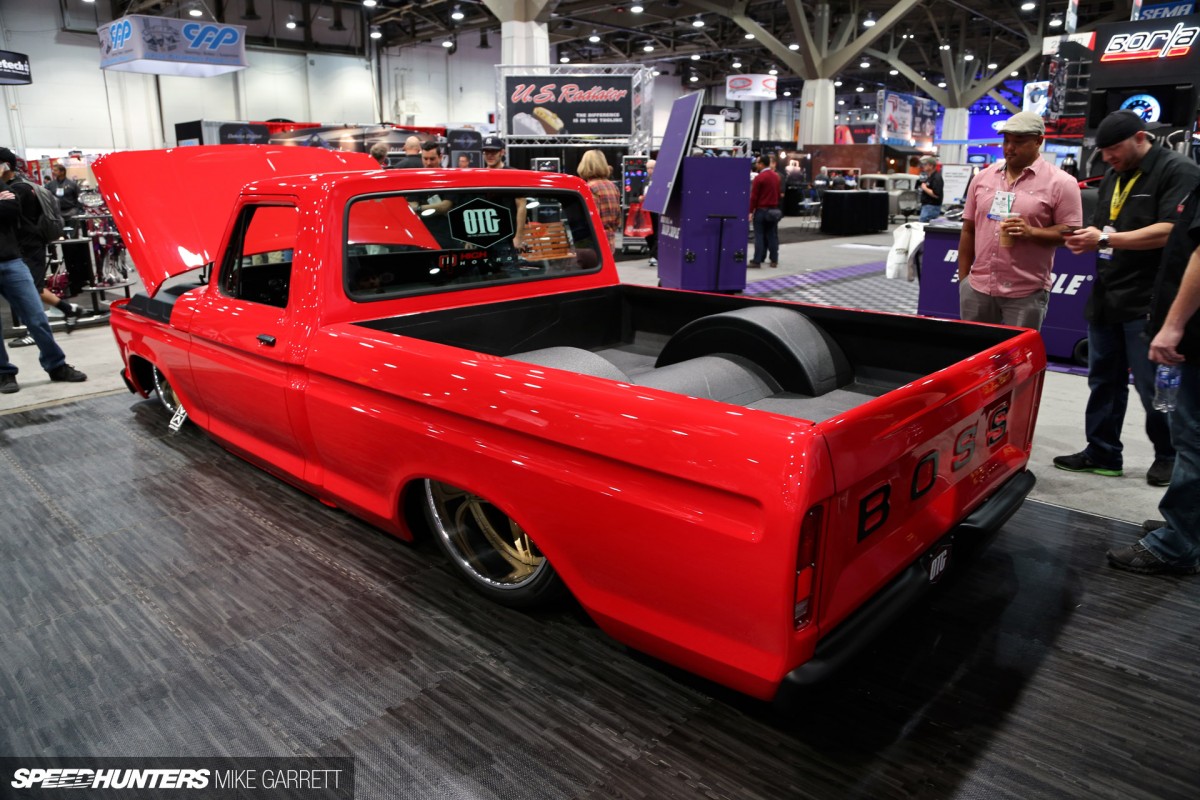 From there we move to a build skewed a little more to show side of things, but one that is no less impressive in its execution. Meet the Boss F100 from On The Ground Designs and High Octane Hot Rods out of Pennslyvania.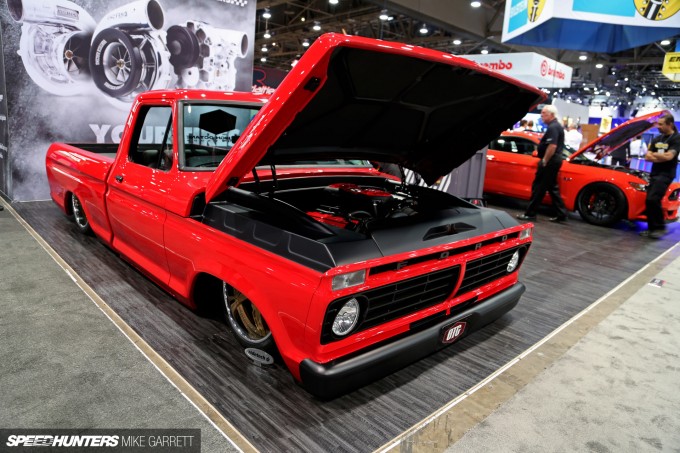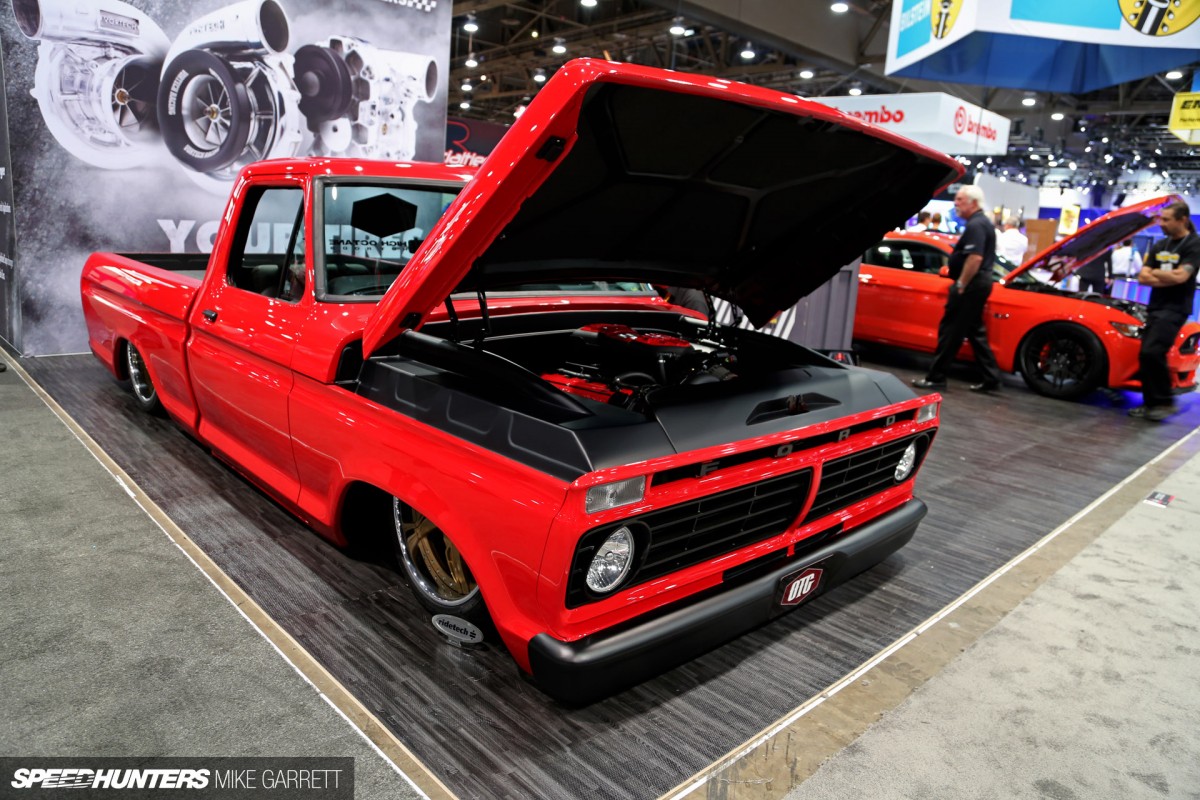 I loved this build not only because it uses the rarely seen fifth generation F-series as its base, but because it was simply one of the coolest pickups at the entire show.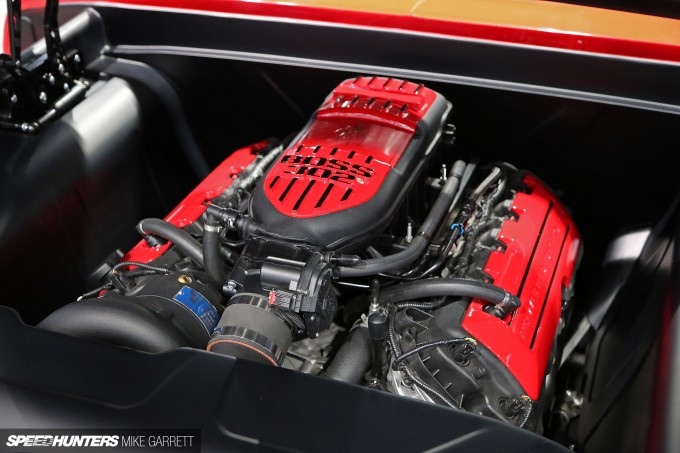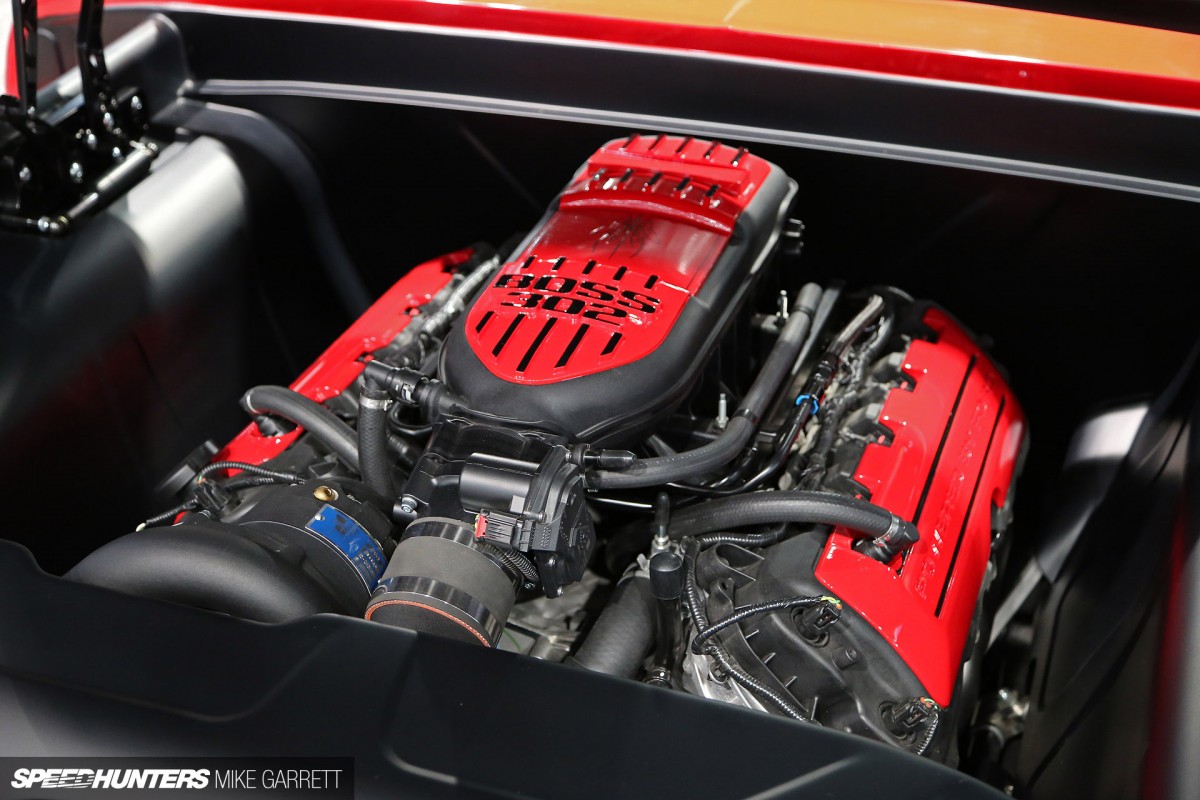 The project takes inspiration from high performance Mustangs both past and present, and under the hood sits a 5.0-liter Coyote V8 fed by a Vortech supercharger.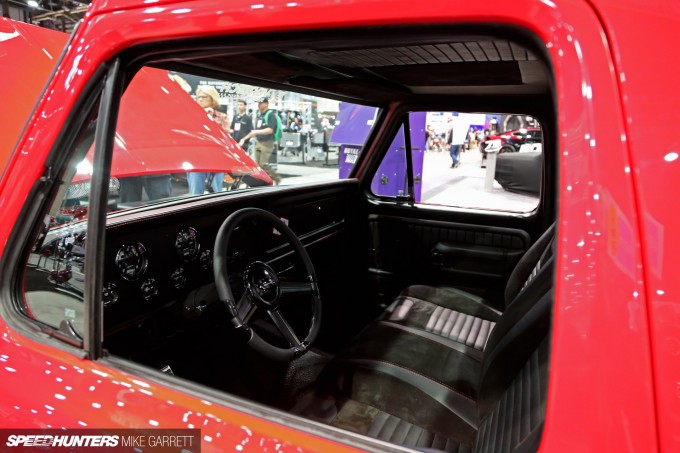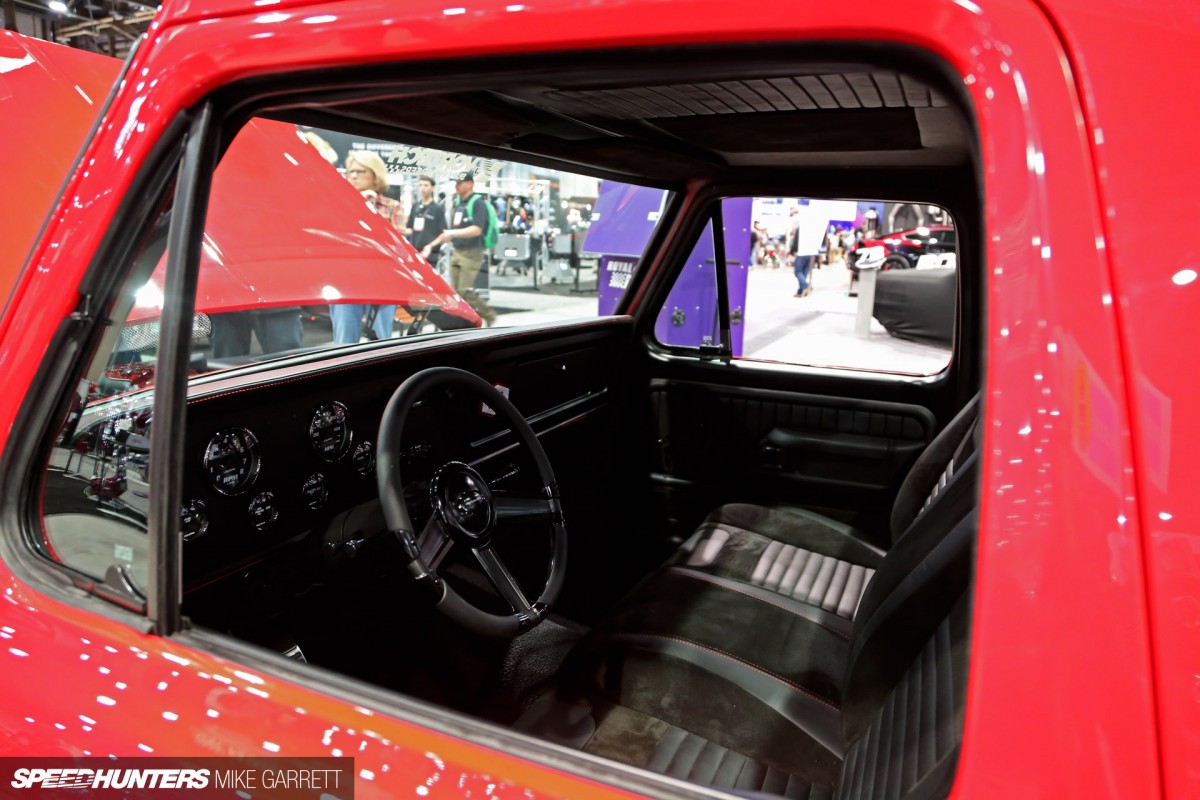 The custom interior has a decidedly-vintage theme, with both the seats and headliner taking inspiration from the patterns used in classic Mustangs.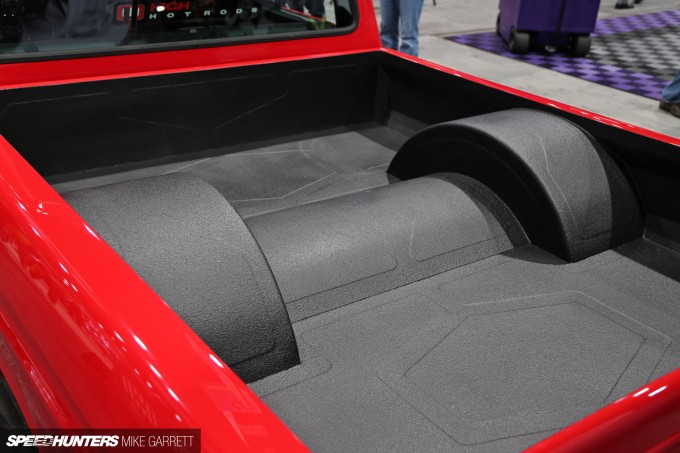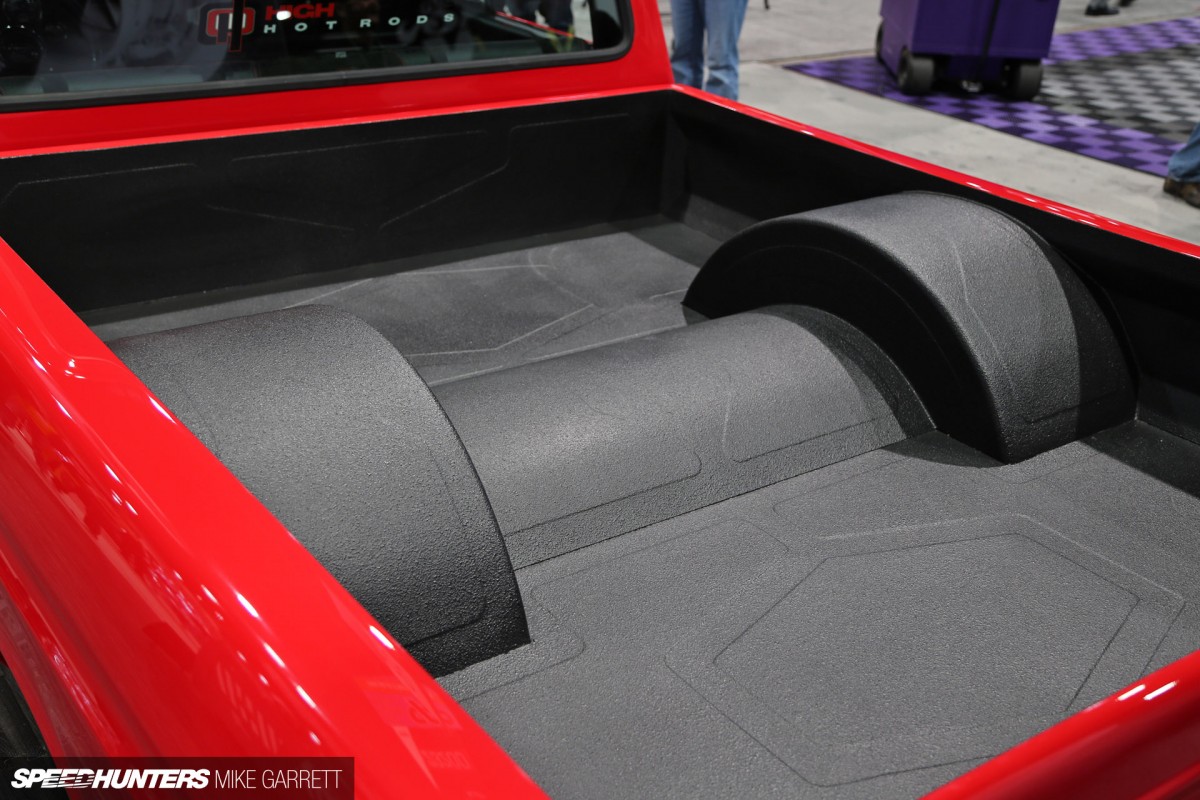 Once you see the ridiculously large wheel and tire sizes that this thing has managed to tuck beneath its body, you'll realize this truck takes 'stance' to next to the level. The bagged chassis has been worked to accommodate wheels measuring 22×9-inch in the front and 24×14-inch in the rear with 405-width tires. Unbelievable!
New & Old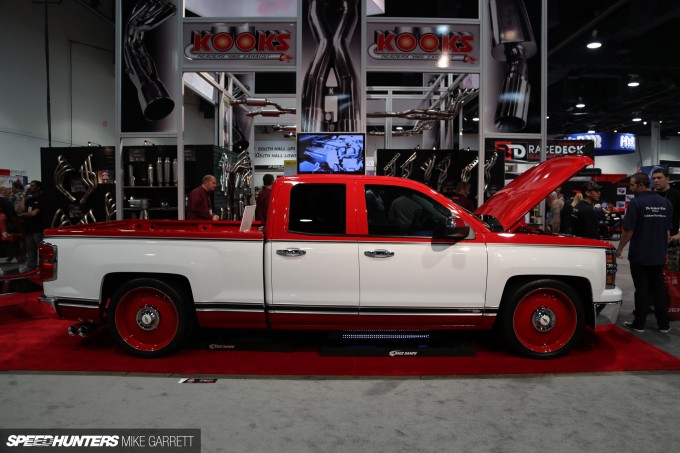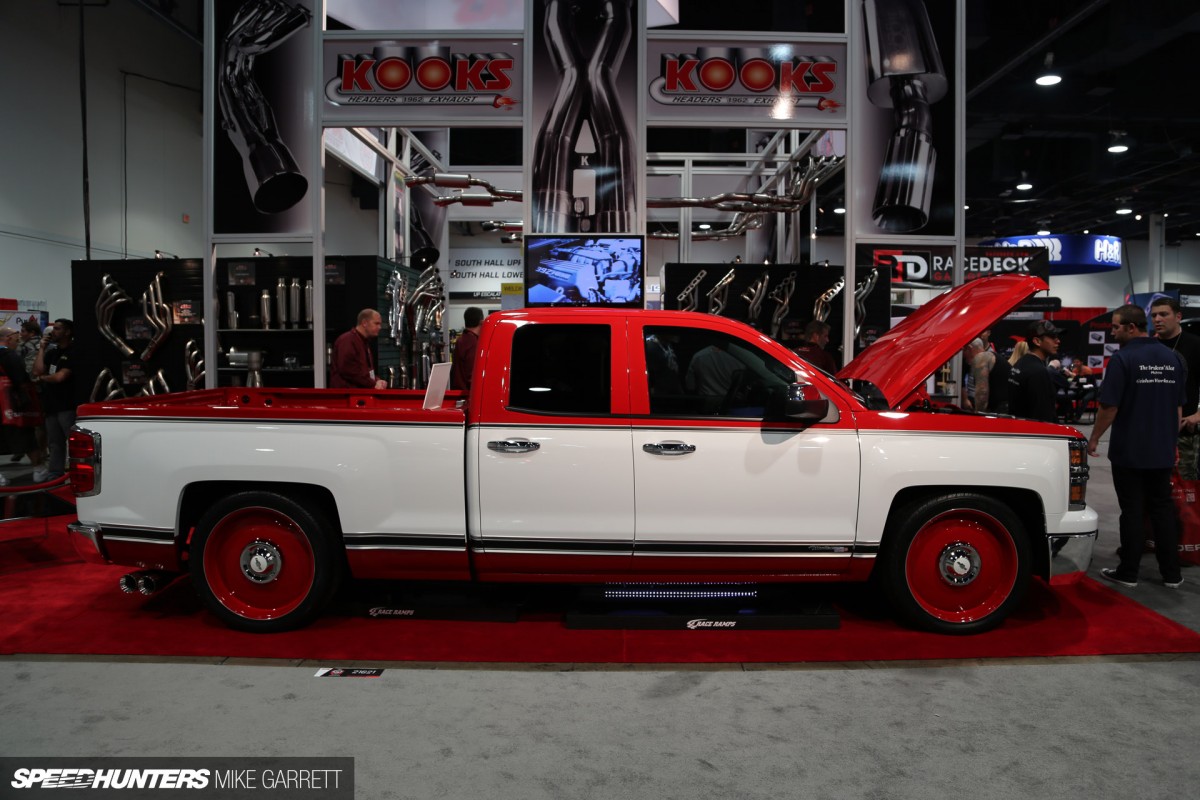 Typically, I don't get too excited about the late-model pickup trucks at SEMA, but there was definitely something different about the 2015 Super C10 from Mallet Cars, which was on display in the Kooks Headers & Exhaust booth.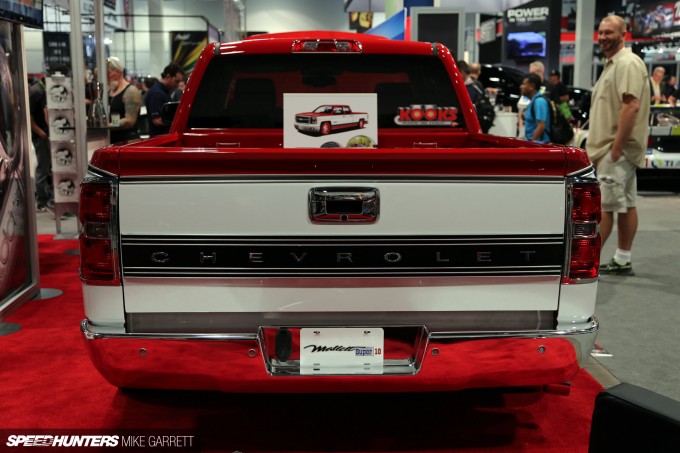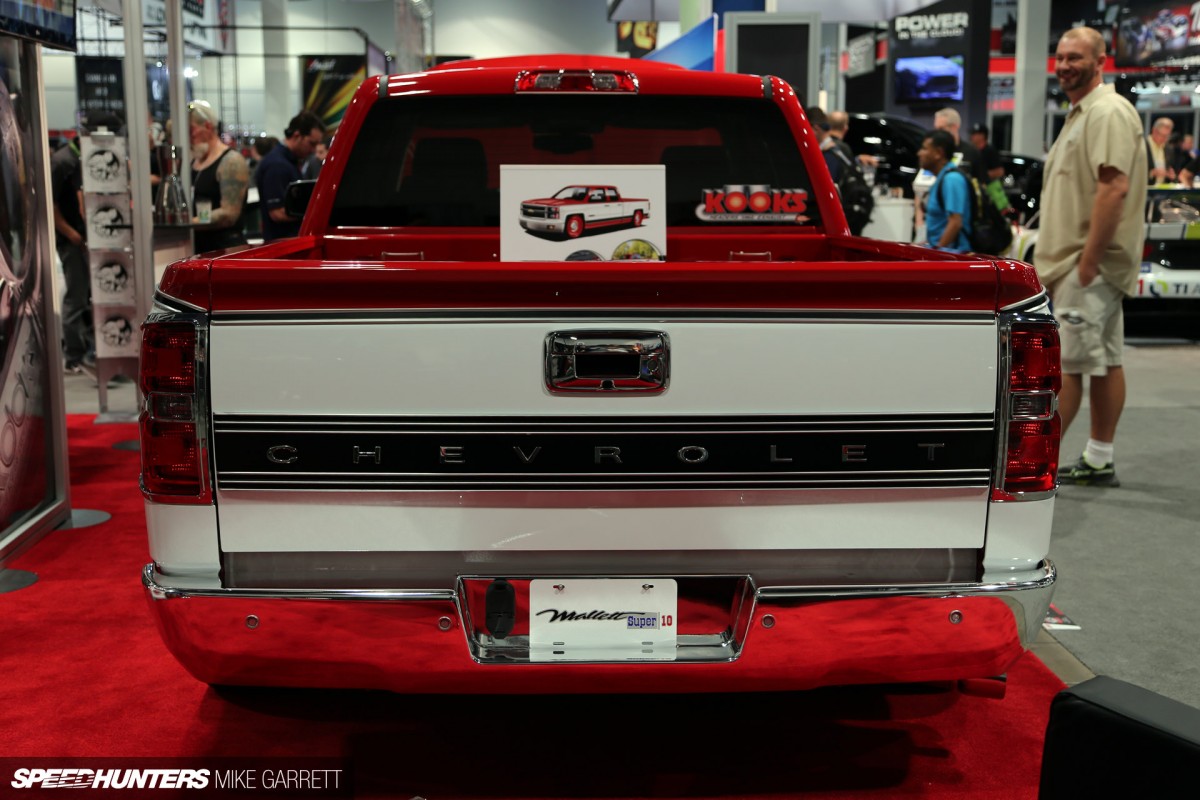 The build is based on a brand new double cab 4WD Silverado, but the truck has been customized for a look reminiscent of the Chevy pickups from the 1970s. Details include modified bumpers, two-tone paint and a tailgate altered to look like one from a '72 C10.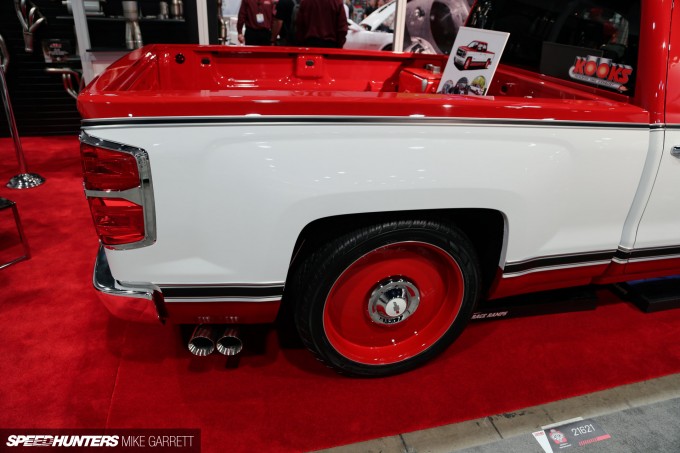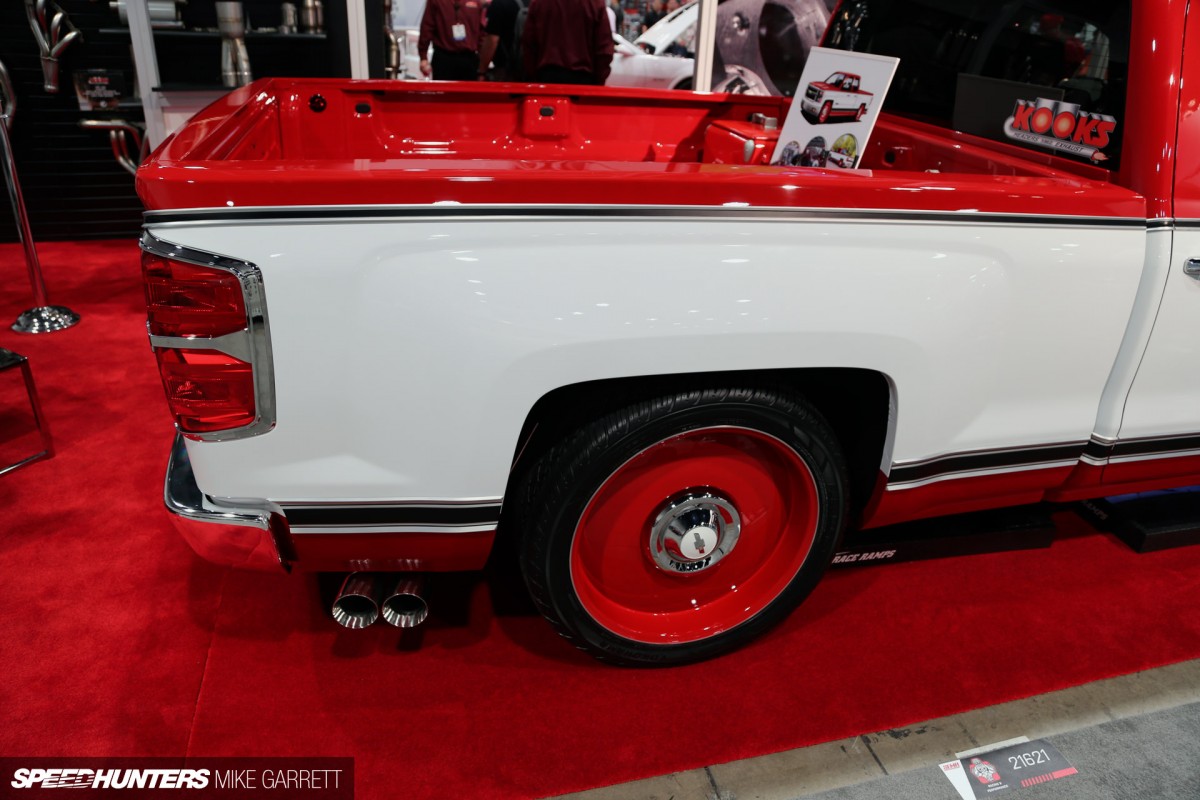 Staying to true to the retro-inspired look are a set of color-matched 22-inch Centerline Smoothie wheels with custom Chevrolet dog dish center caps.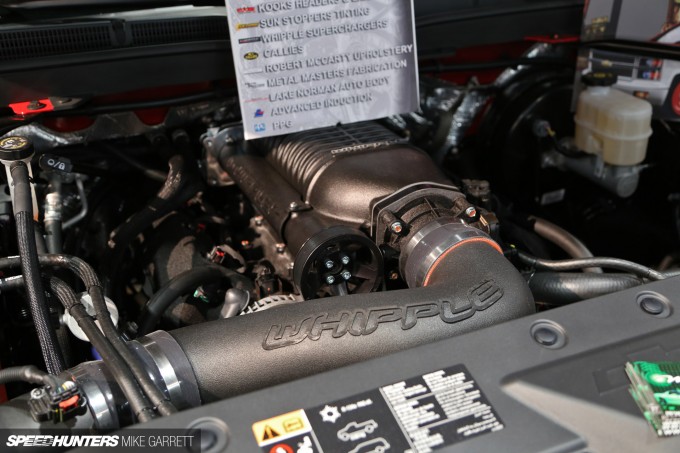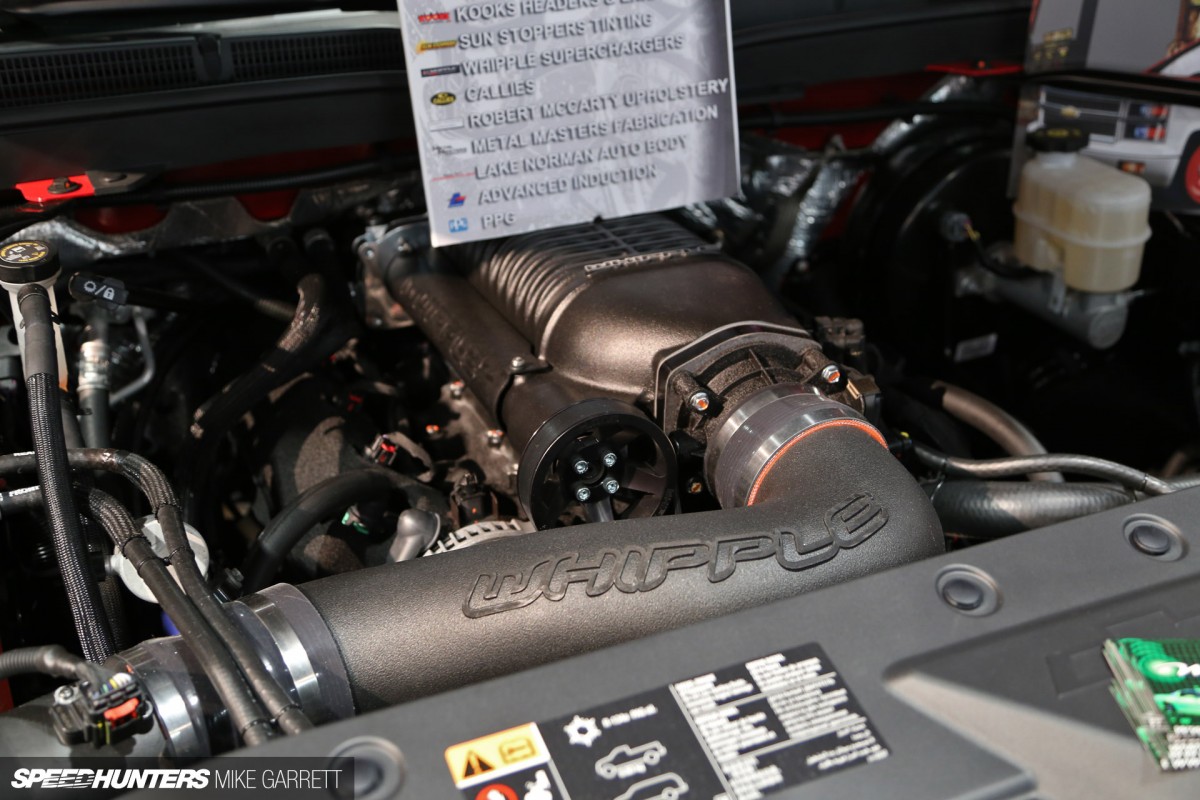 What's especially cool is that the build is a lot more than just a cosmetic exercise. Under the hood sits a fully built motor with ported heads, a beefed-up bottom end and a Whipple supercharger.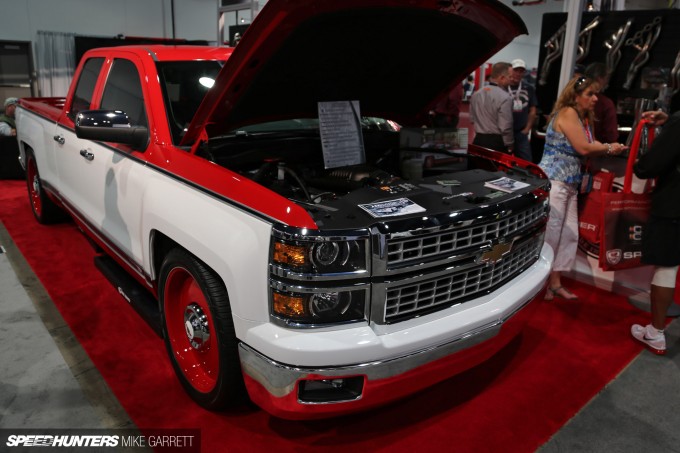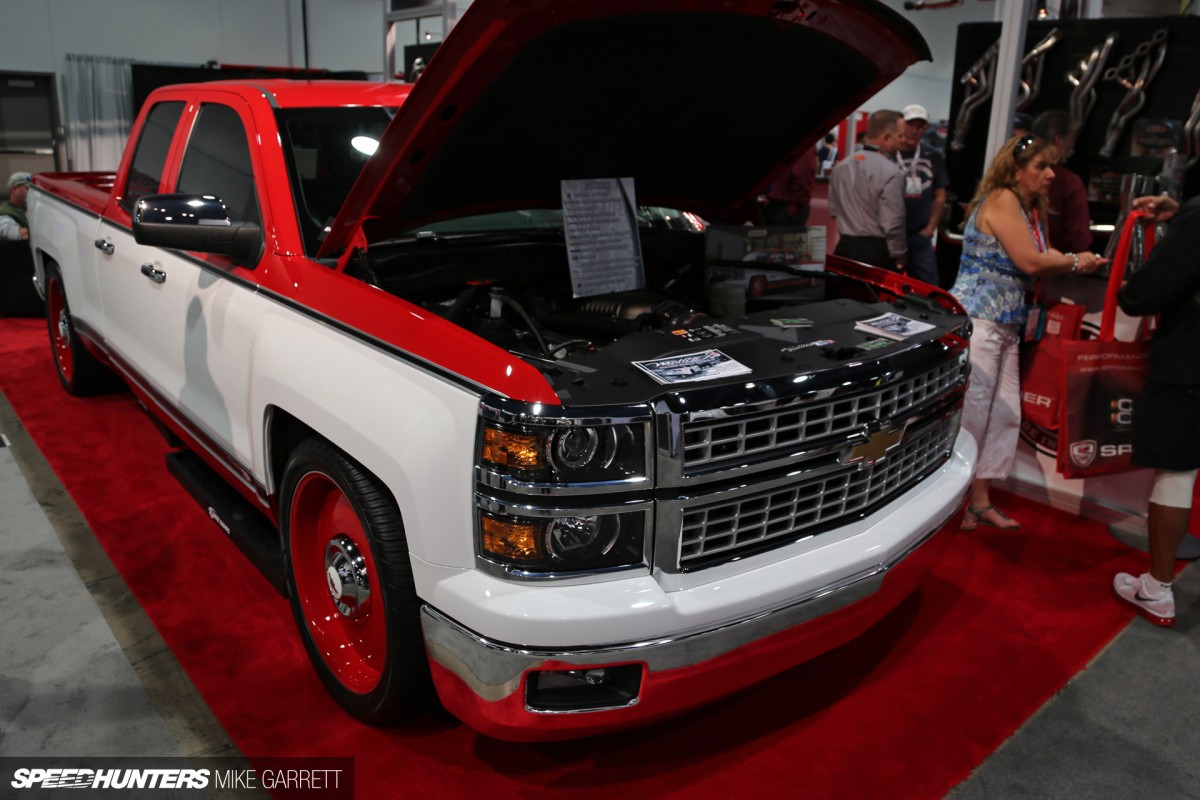 All together, the blown V8 is good for an impressive 747 horsepower, and when you thrown in other details like a custom houndstooth interior you've got the recipe for one of the coolest modern truck builds at the SEMA Show this year.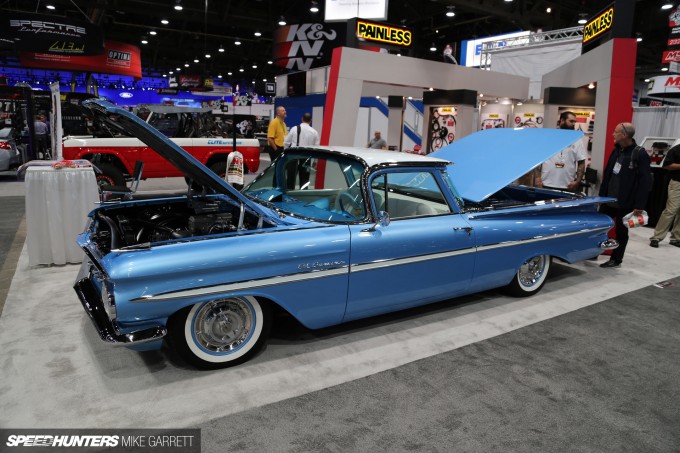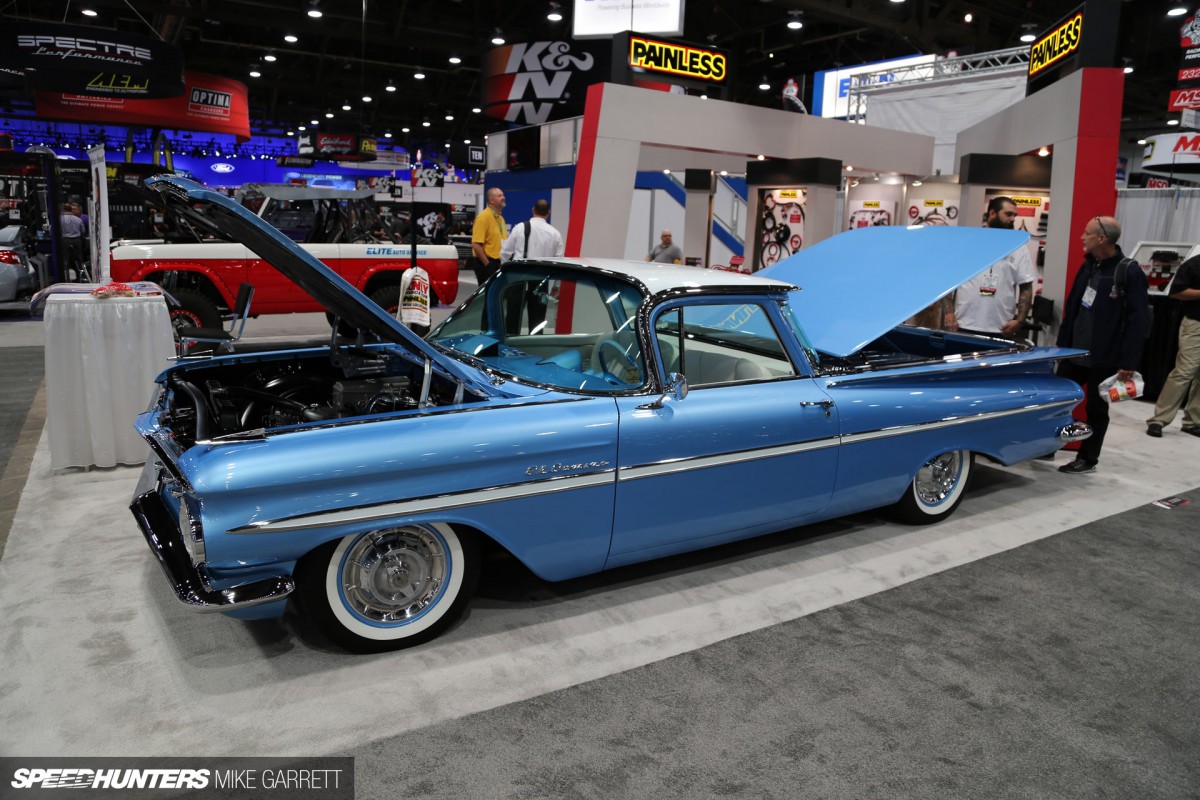 Now we move from the modern to the completely old school. If you were to pass by this car, you'd probably just think it was a nicely restored '59 El Camino. But there's actually a little more to it than that…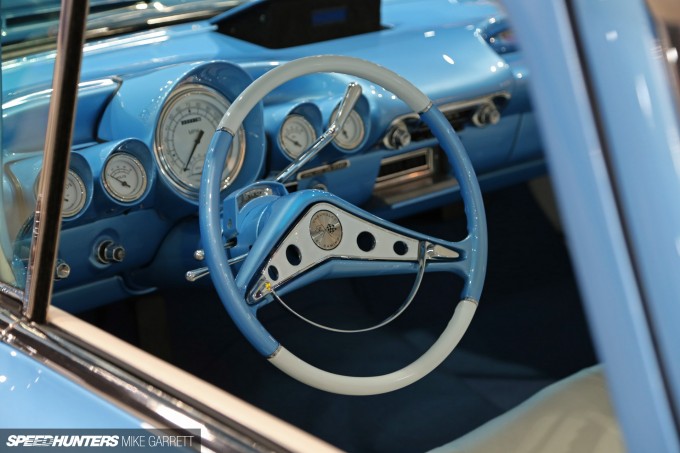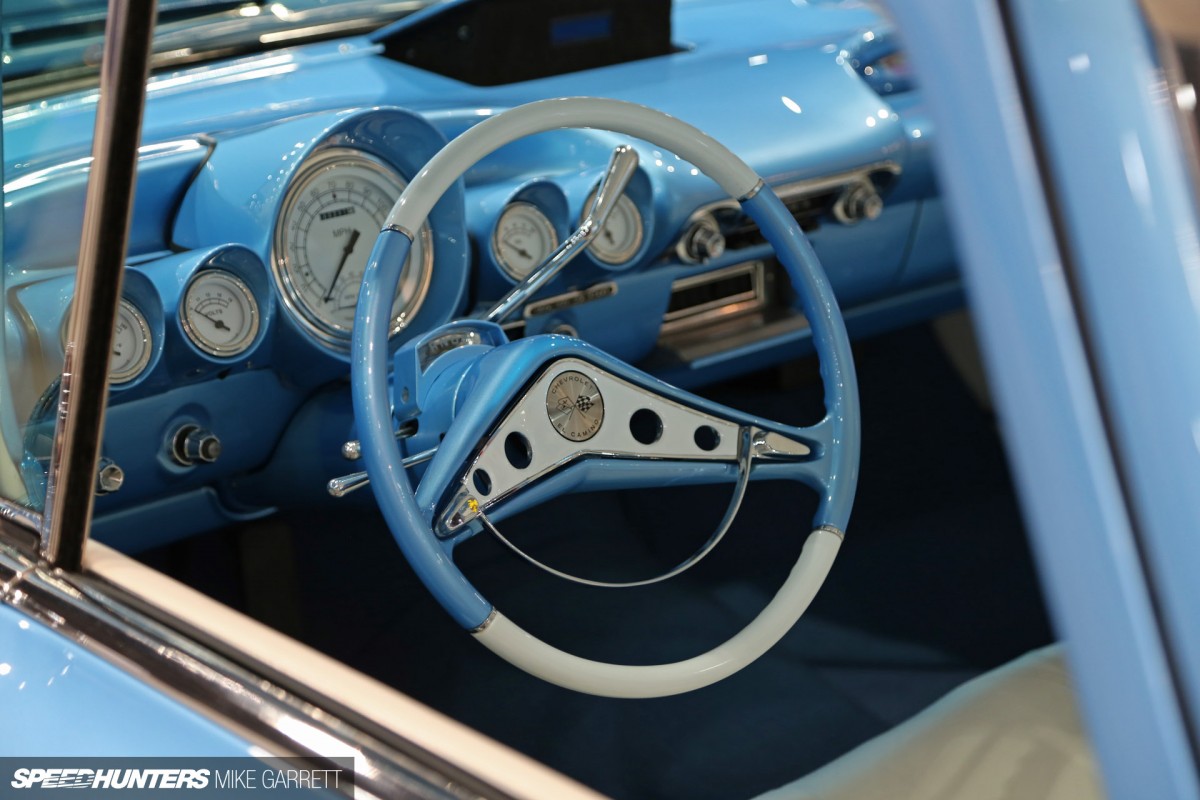 Built by Hot Rods & Custom Stuff out of Southern California, the idea for this project was to build a 'what if' prototype El Camino that GM might have taken to auto shows back in 1959. And the period-style treatment hides many cool mechanical upgrades.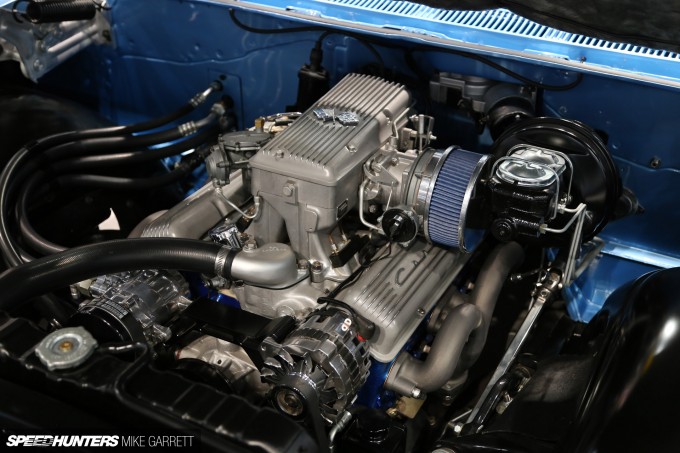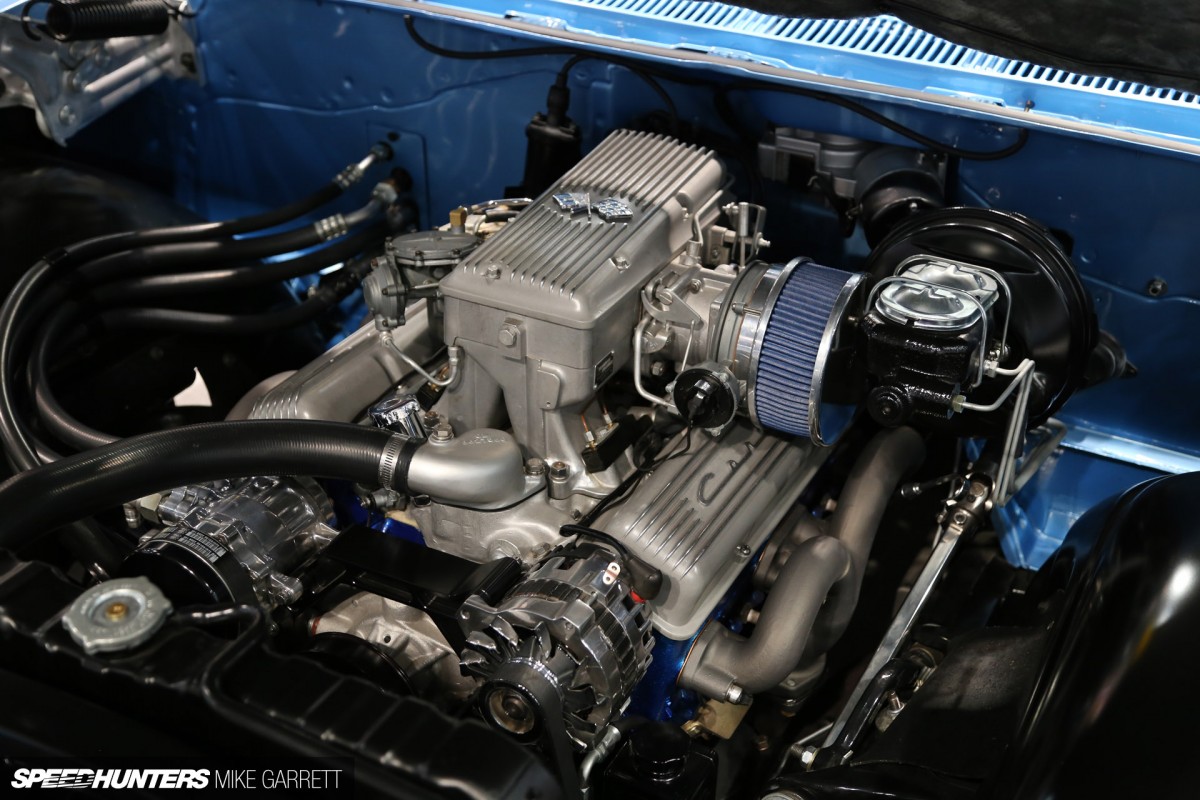 The engine, for example, is a 375hp Corvette 327 with a vintage Rochester fuel injection system, all backed up by an overdrive automatic transmission.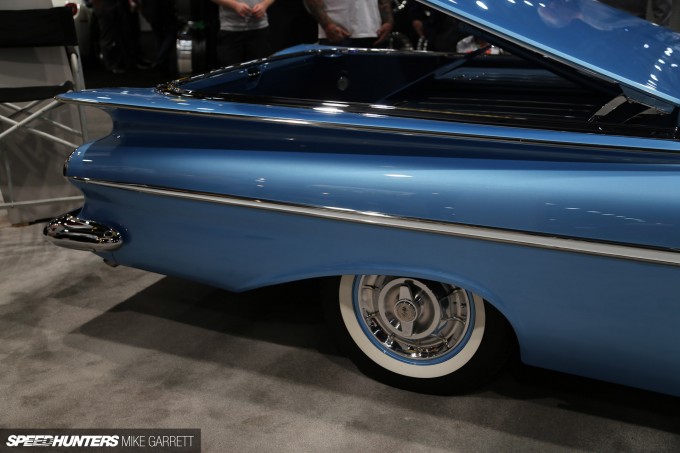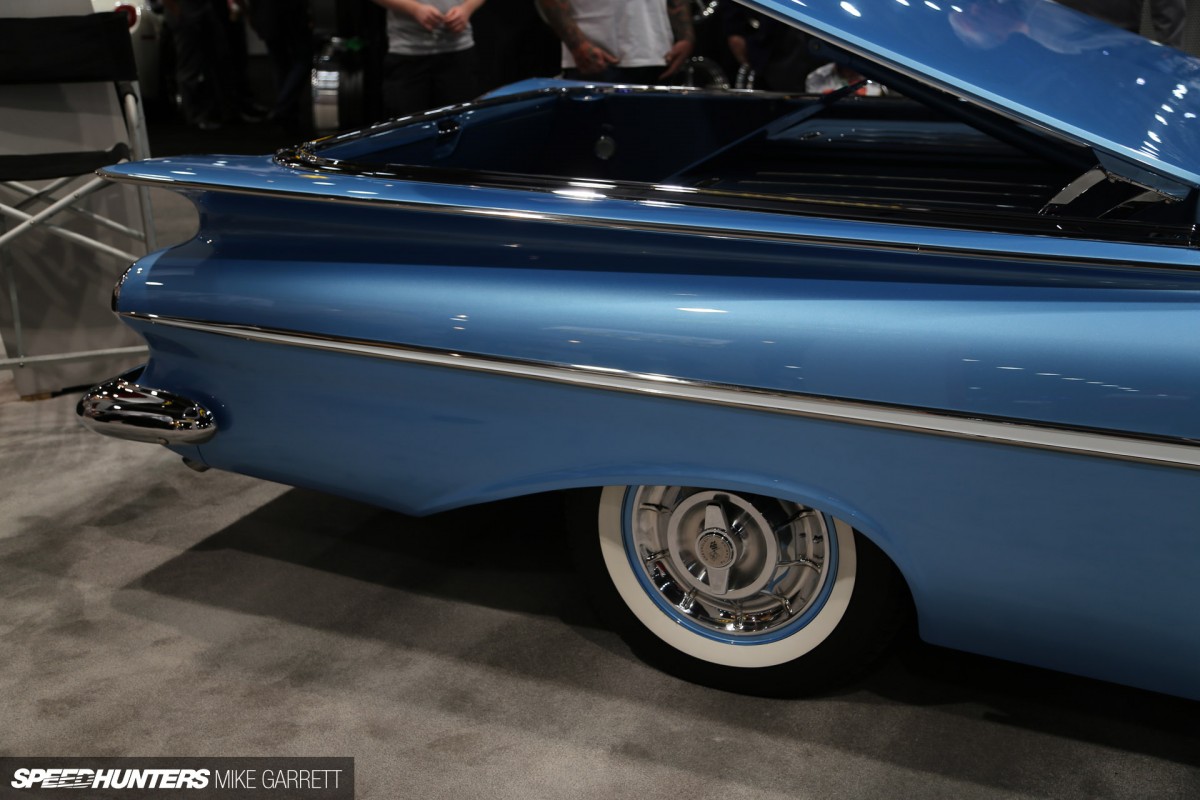 Other details include a power-operated bed cover, and hidden behind the white walls and stock hubcaps are four-wheel disc brakes that most certainly weren't available on any standard-issue '59 El Camino.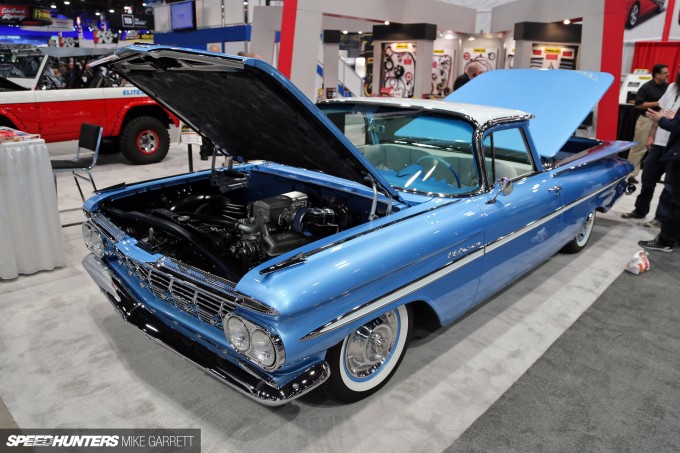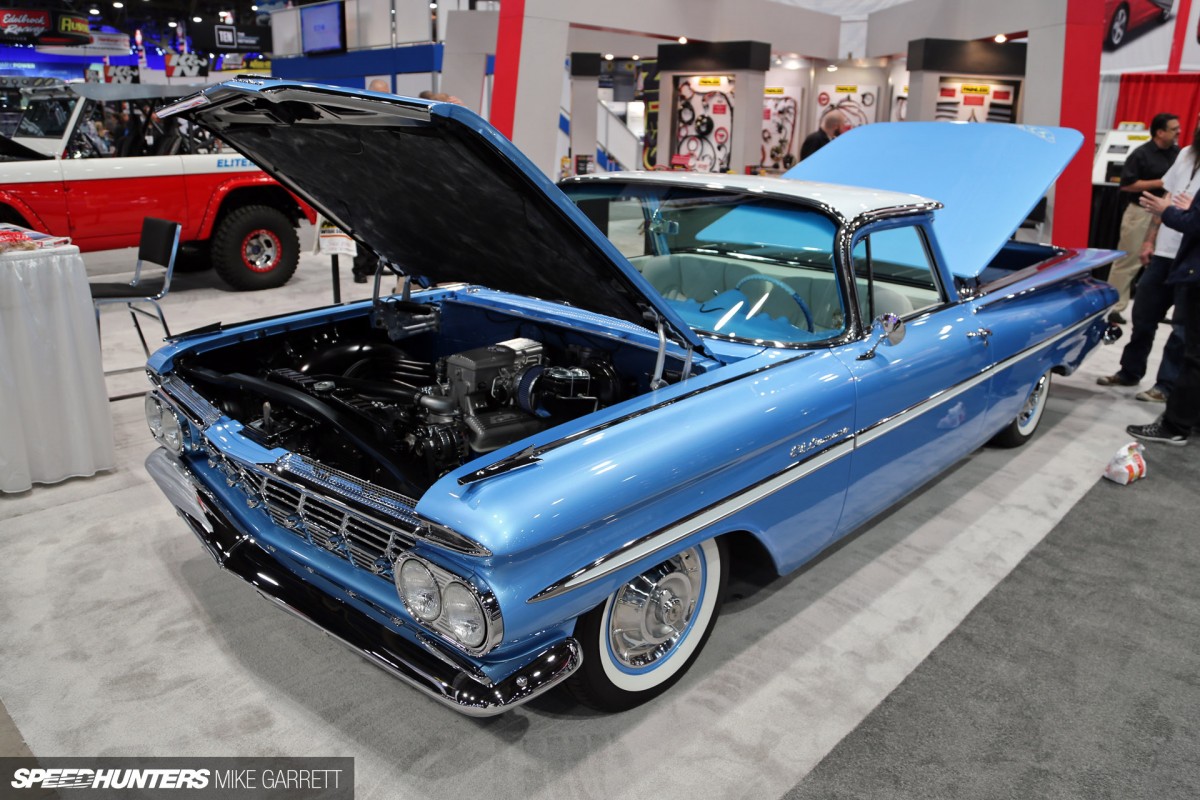 With so many over-the-top vehicles at the 2014 SEMA Show, I really enjoyed looking over this understated and unique Chevy. There's always something to be said for subtlety.
So there you have it – a selection of pickups as diverse as America itself. No matter what you drive, events like SEMA are about finding inspiration, and my feeling is that these trucks deliver it in a big way.
Mike Garrett
Instagram: speedhunters_mike
mike@speedhunters.com