Liberty & Happiness
What is Liberty Walk? Despite all of the mixed opinions and comment wars that seem to break out whenever their stuff pops up on this site, at its essence Liberty Walk is about the relationship between cars and happiness.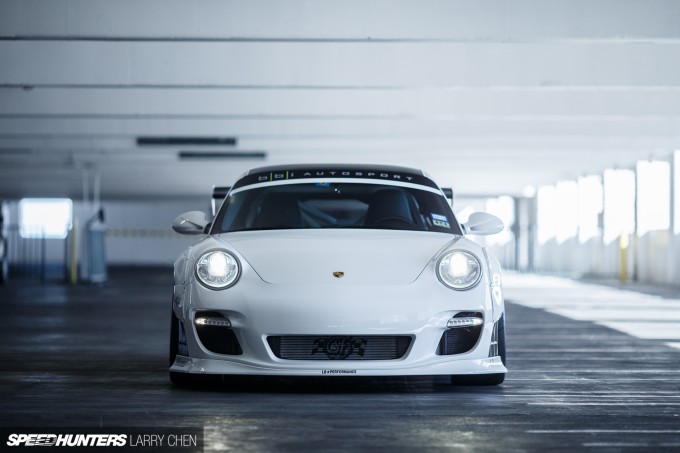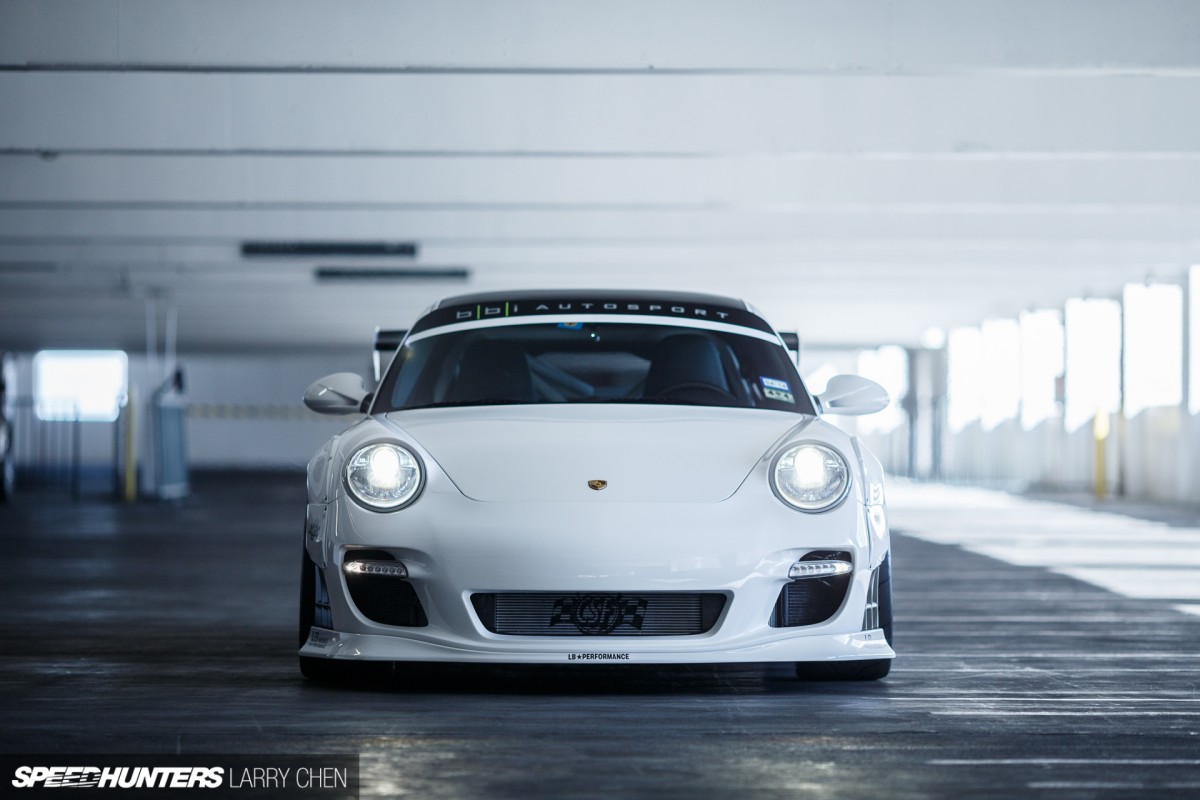 Spend a few minutes with boss Wataru Kato and you begin to get a feel for this. His goal isn't to start arguments, piss off purists or stir up controversy. No, despite the internet putting its own spin on the Liberty Walk boom, Kato just wants to have fun.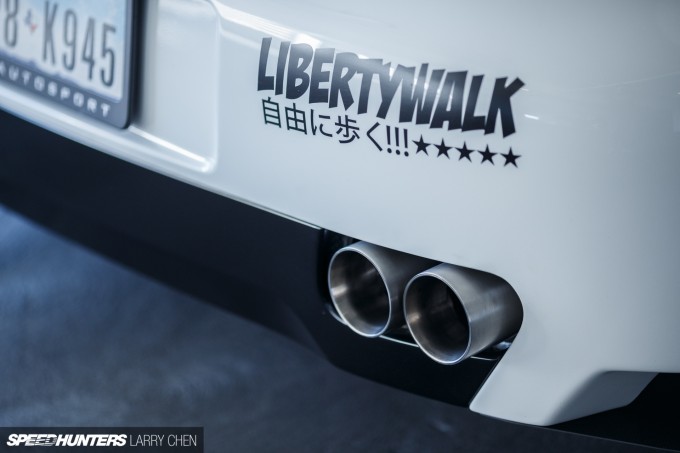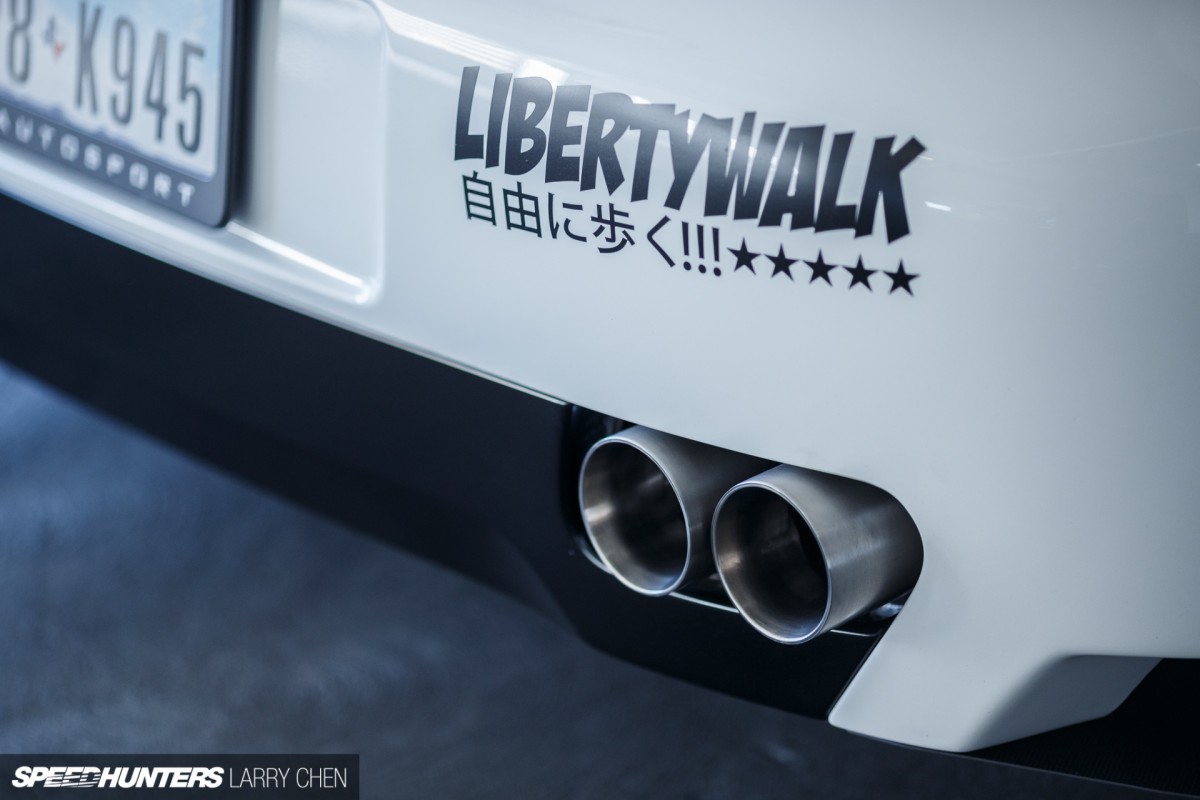 You don't have to love the aesthetics of the Liberty Walk body parts or the idea of cutting fenders and dropping the ride height on high-end supercars, but it's impossible to not be intrigued at the very least, and more than likely crack a smile after talking to the man for a bit.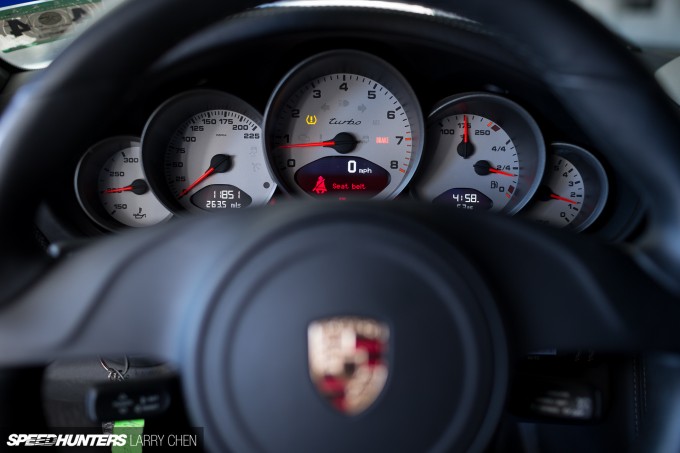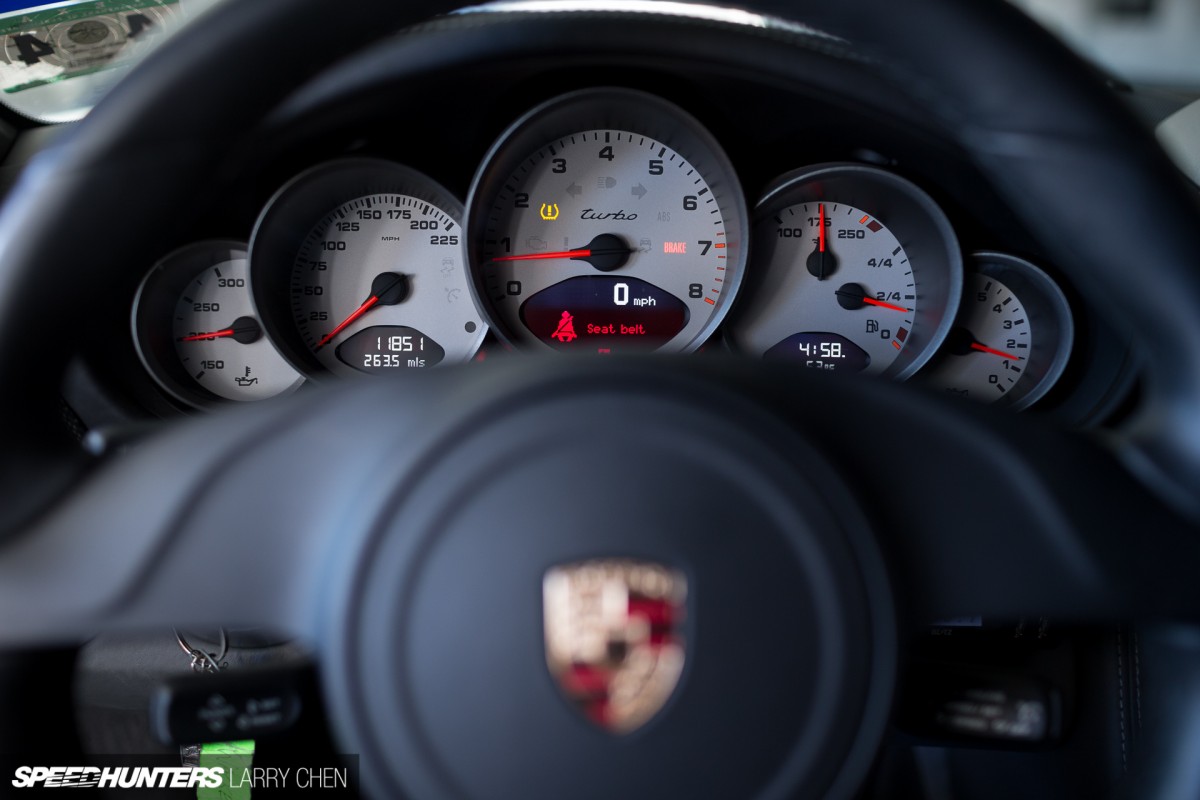 When he speaks in his rapid tone, two of the most common words you'll hear are tanoshii and shiawase – the Japanese terms for 'fun' and 'happy' respectively. He might be a successful businessman, but at heart he's just a car guy that wants to play with cool automobiles, and that's why it's hard to dislike him.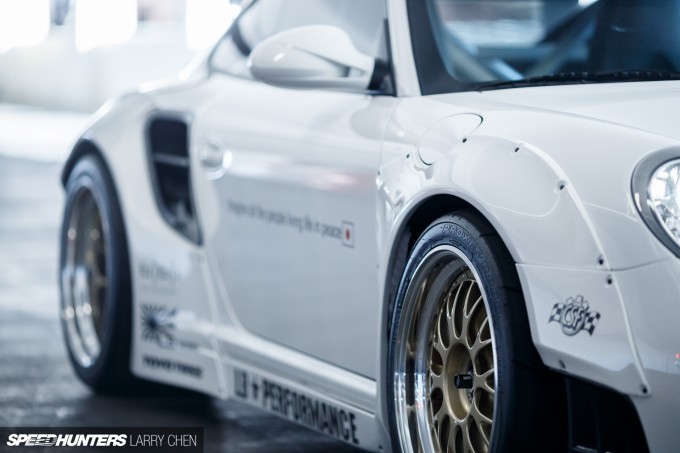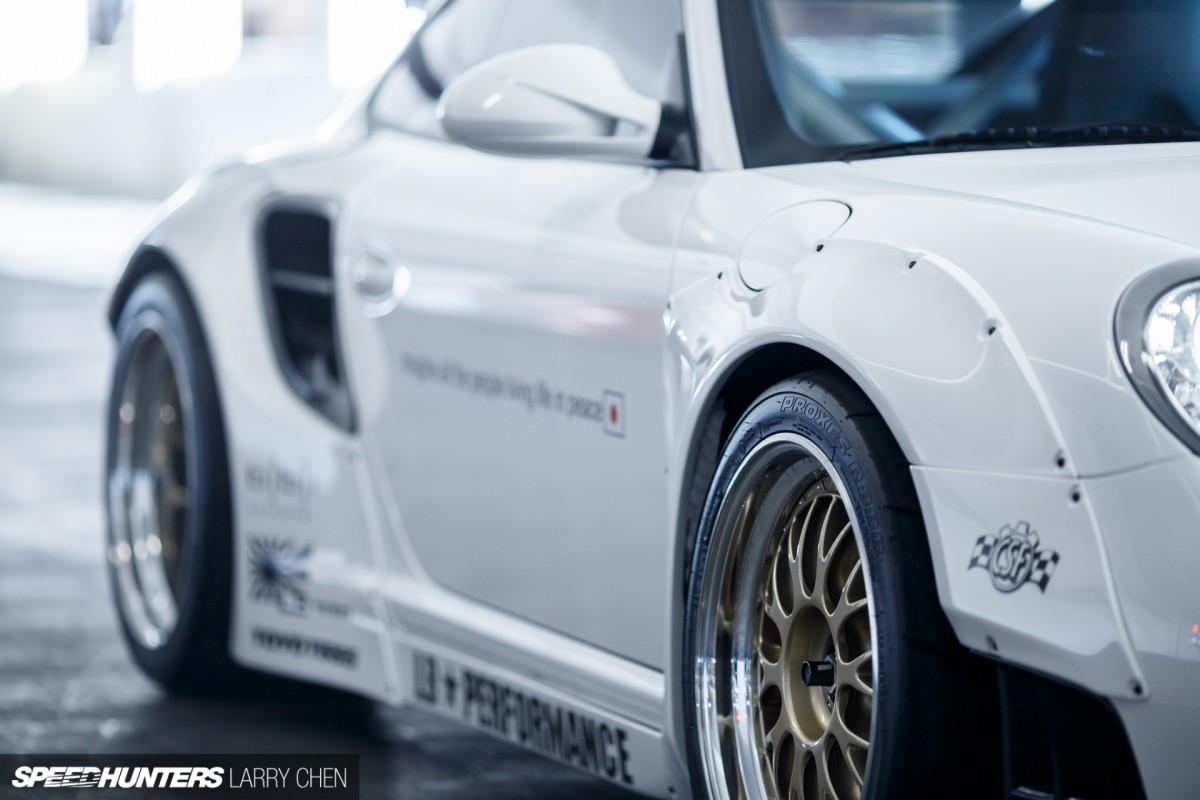 His idea of what a cool car is goes way back – before the Ferrarris and Lamborghinis – to the Nissan Skylines and Laurels of his youth. The cars might have changed, become more complex and more expensive, but the spirit hasn't. And that's what makes Liberty Walk so fun to watch.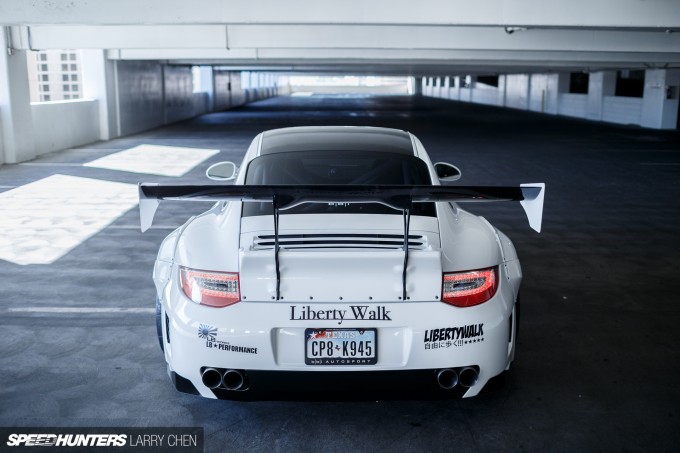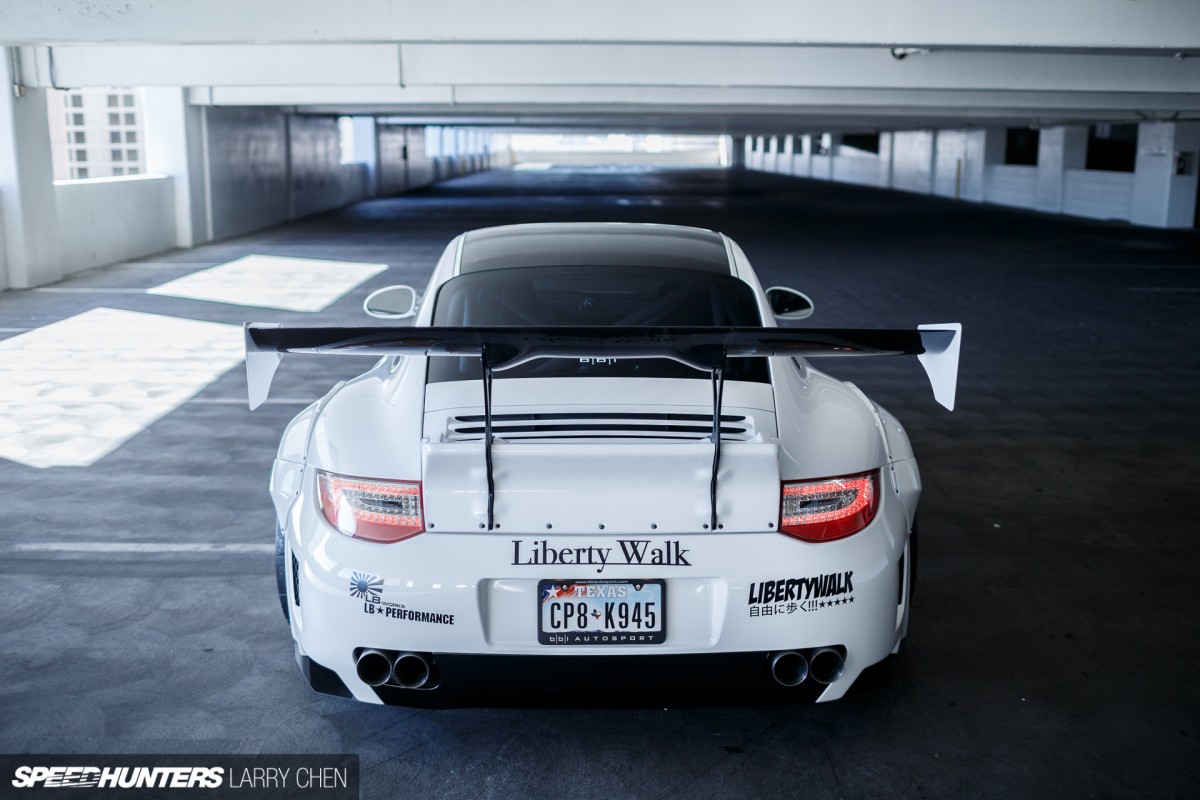 For him and the growing number of folks around the world who have bought Liberty Walk parts, cutting expensive bodywork and sacrificing some hypothetical track performance is a worthy trade off to make the car look how they'd like it to. And why the hell not? If you can afford it and it makes you happy, that's all that really matters…
Special Collaboration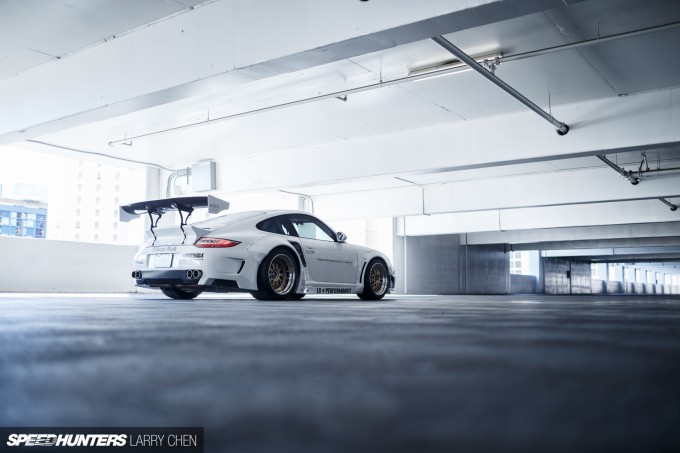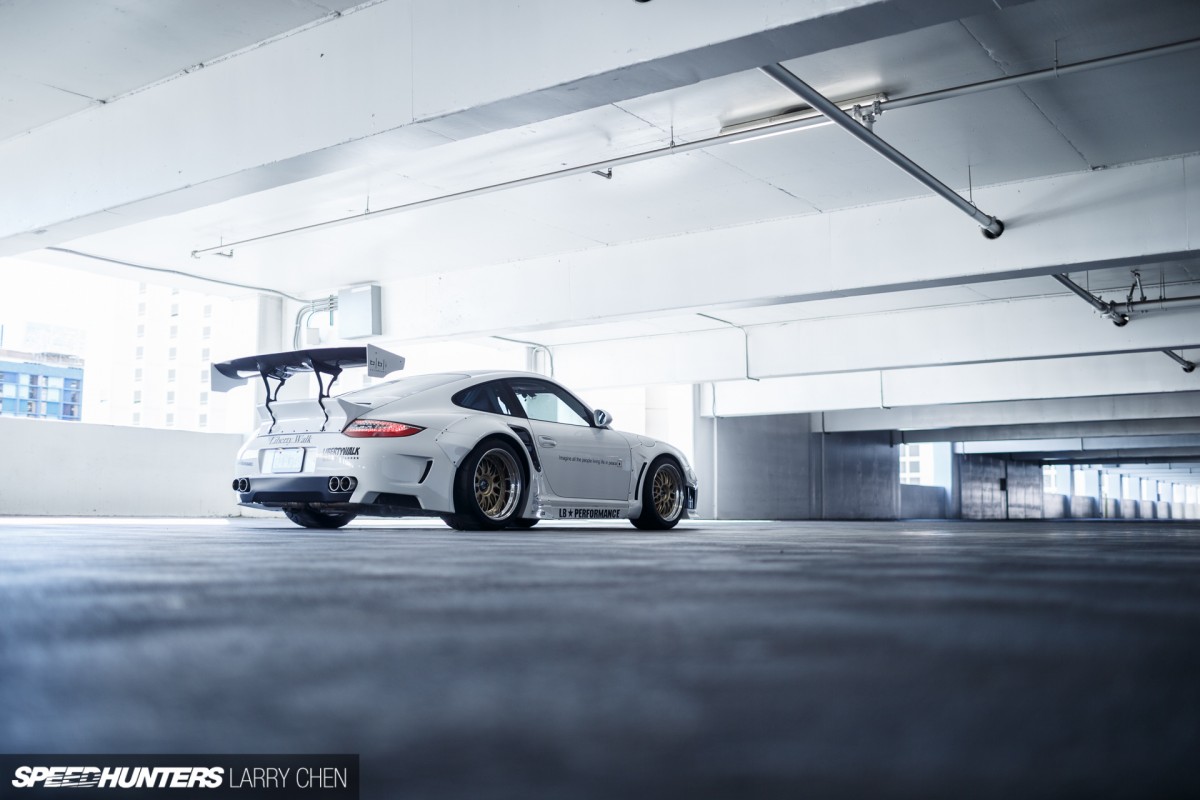 But sometimes you don't even need to make those sacrifices. When it comes to Liberty Walk, the function doesn't have to give way to the form, and the widened Porsche you see here is rolling proof of that.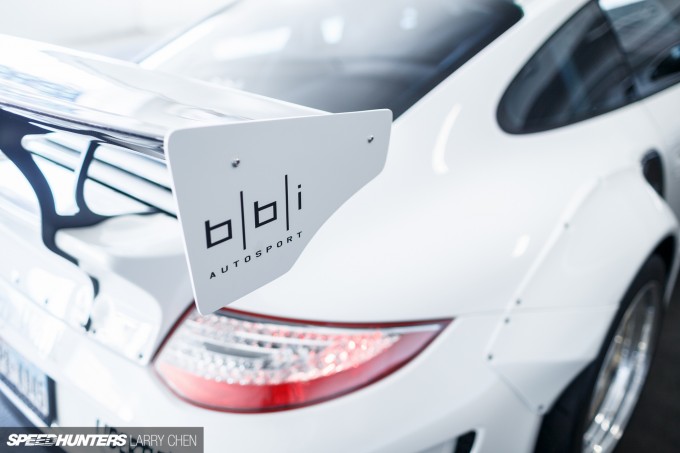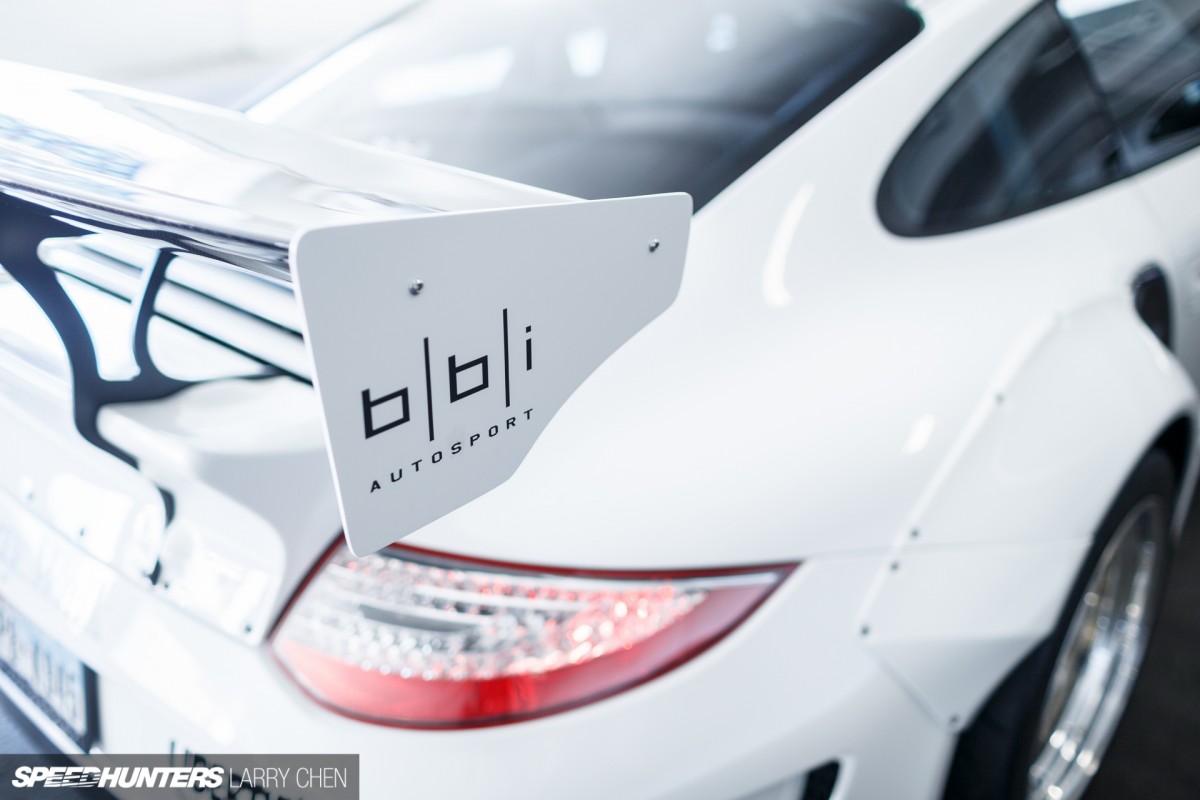 If you've been a regular visitor to Speedhunters over the last few weeks, you should recognize this car from the build progress stories we've been running. The project is a collaboration between CSF Cooling, BBI Autosport and of course, Kato-san and the Liberty Walk crew – and it's been built for this year's SEMA Show. From the beginning, the idea was to show that a Liberty Walk car can run as hard as it looks. It doesn't always have to be about stretched tires and air suspension…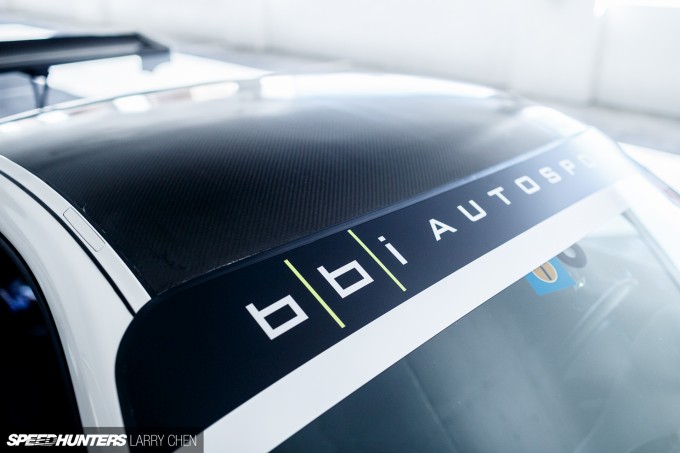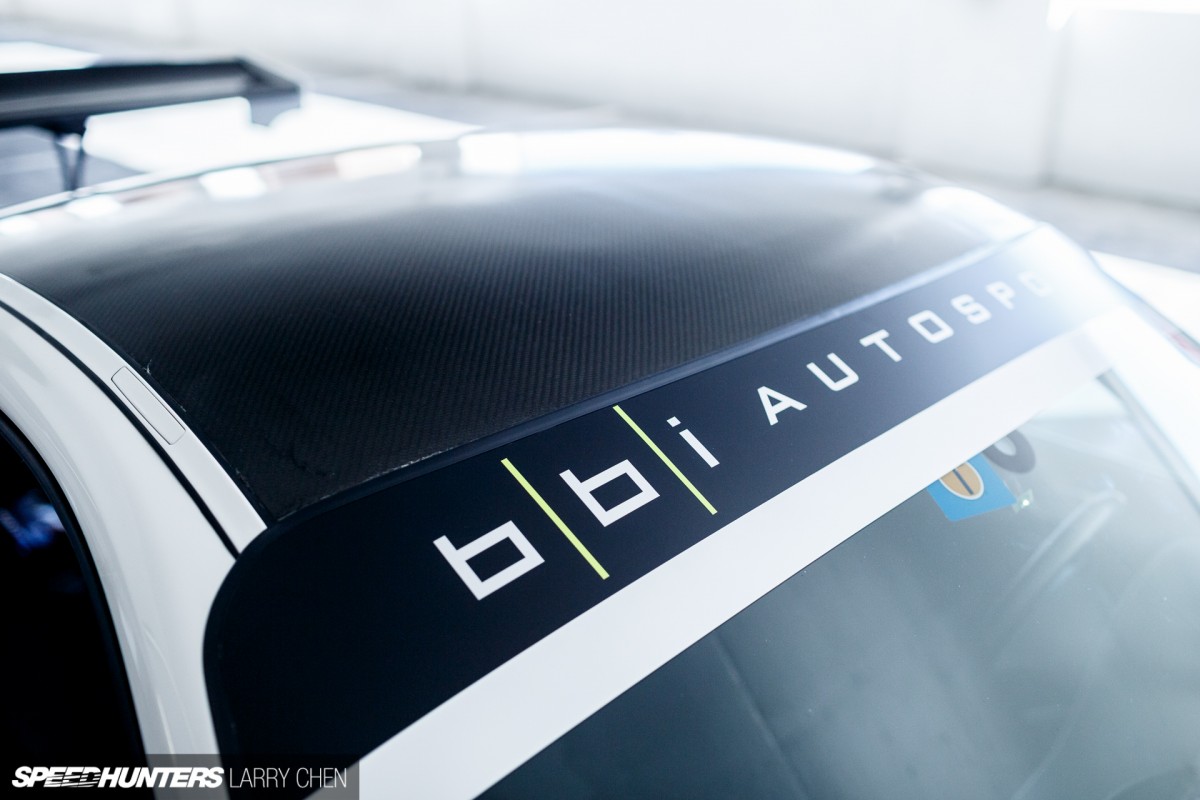 The Porsche 997 was really the perfect canvas for a collaboration between these outfits from opposite sides of the Pacific. BBI is known for building and tuning some of the fastest Porsches in the world, and the 997 just happens to be the latest high-end European sports car to get the Liberty Walk treatment. Throw in some support from the cooling crew at CSF and you've got the recipe for a kick-ass build.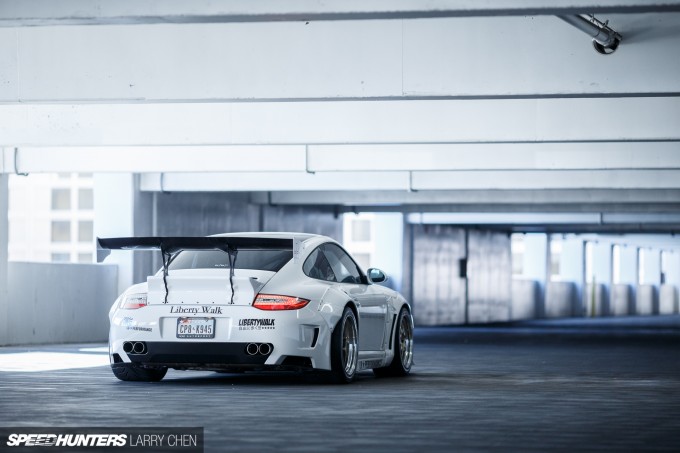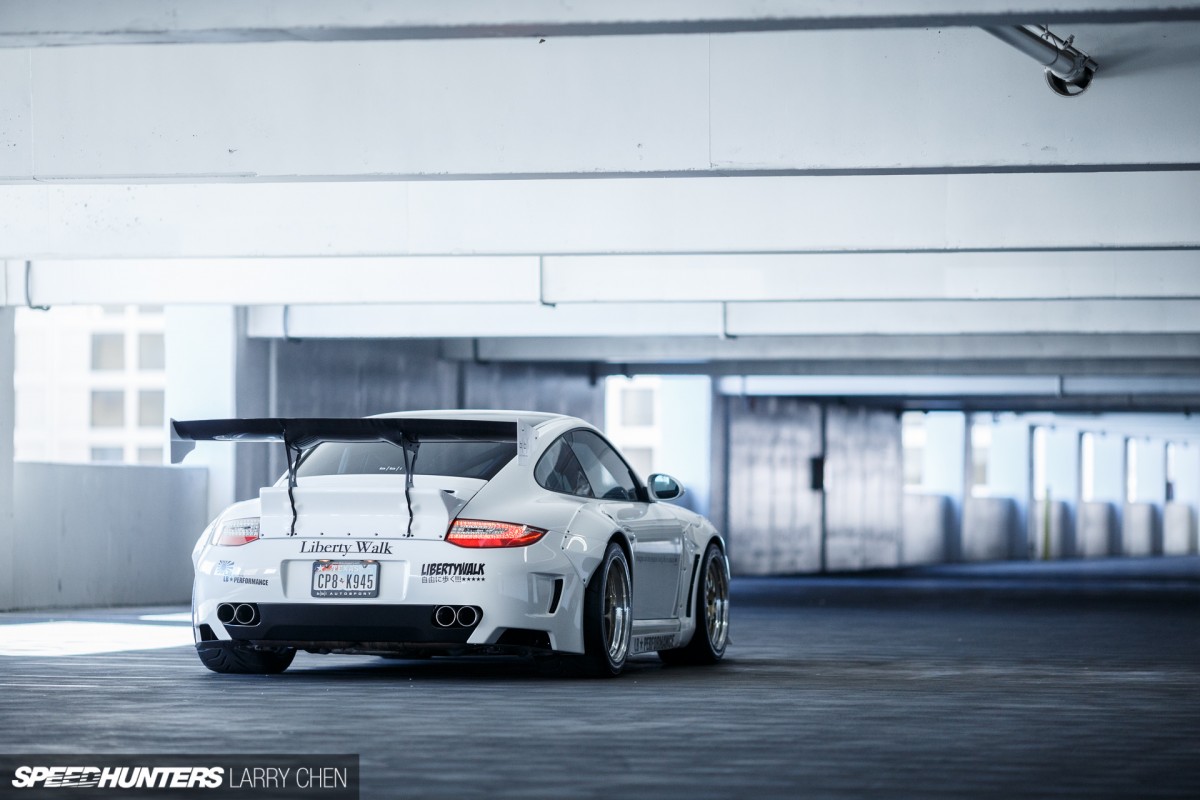 As opposed to some SEMA Show projects which involve a lot of experimentation, the groundwork for this build was actually fairly straight forward. You can credit BBI's Porsche tuning experience for that. While a standard issue 997 Turbo isn't a car any of us would kick out of the garage, BBI knows a thing or two about making a good car better, and to that end this machine has actually served as a testbed for the brand's future endeavors.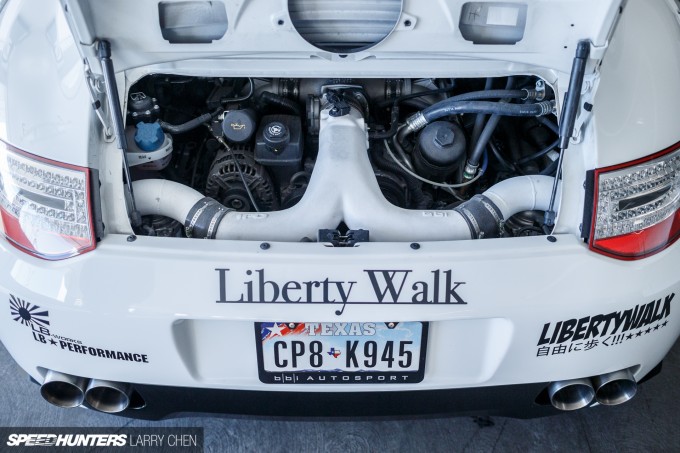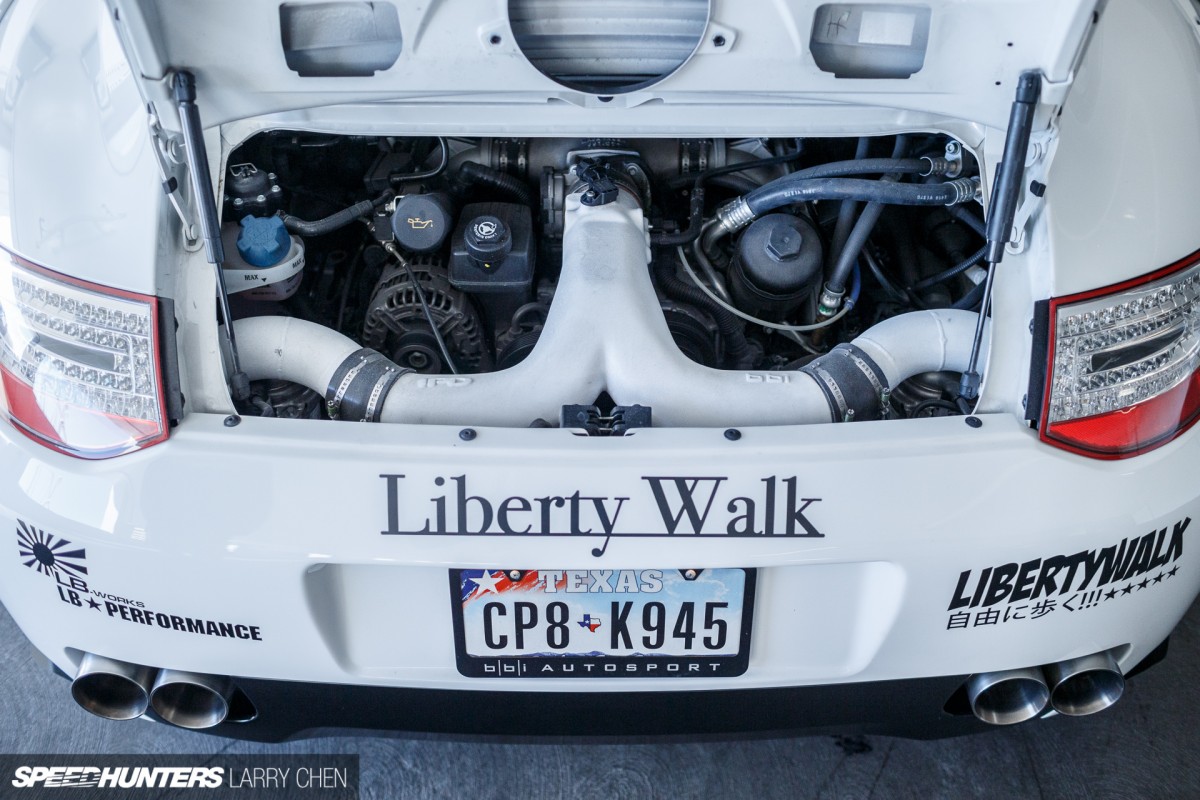 As Betim from BBI explains – "This build is a bit unique in that we started on the 2011 911TT a little while ago. This car has Porsche's new '9A1′ direct fuel injection engine in it. It has very similar architecture to the [current] 991TT. We wanted to see how hard we could push this new engine so we can learn what our future of tuning this new breed of 911s would look like. We did away with the VTG turbos and opted to go with a more traditional TiAL ball bearing turbo. We were able to adopt about 50 per cent of our B8 package that is used on the 997.1TT (2007-2009) to this new engine package. Our biggest challenge was to de-tune the power and sneak up on possible limits in fueling or weak links in hardware."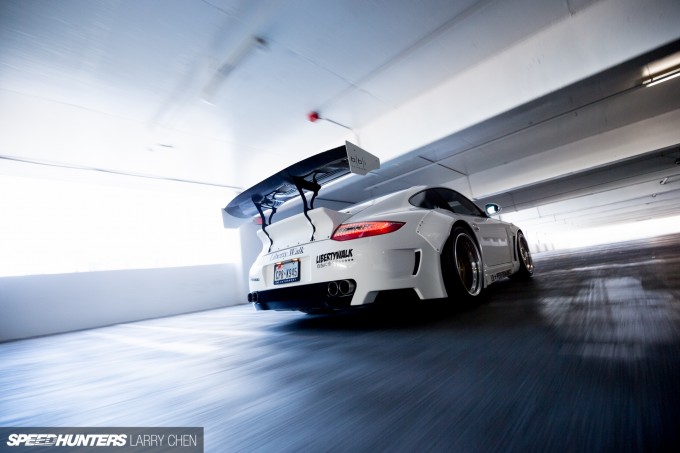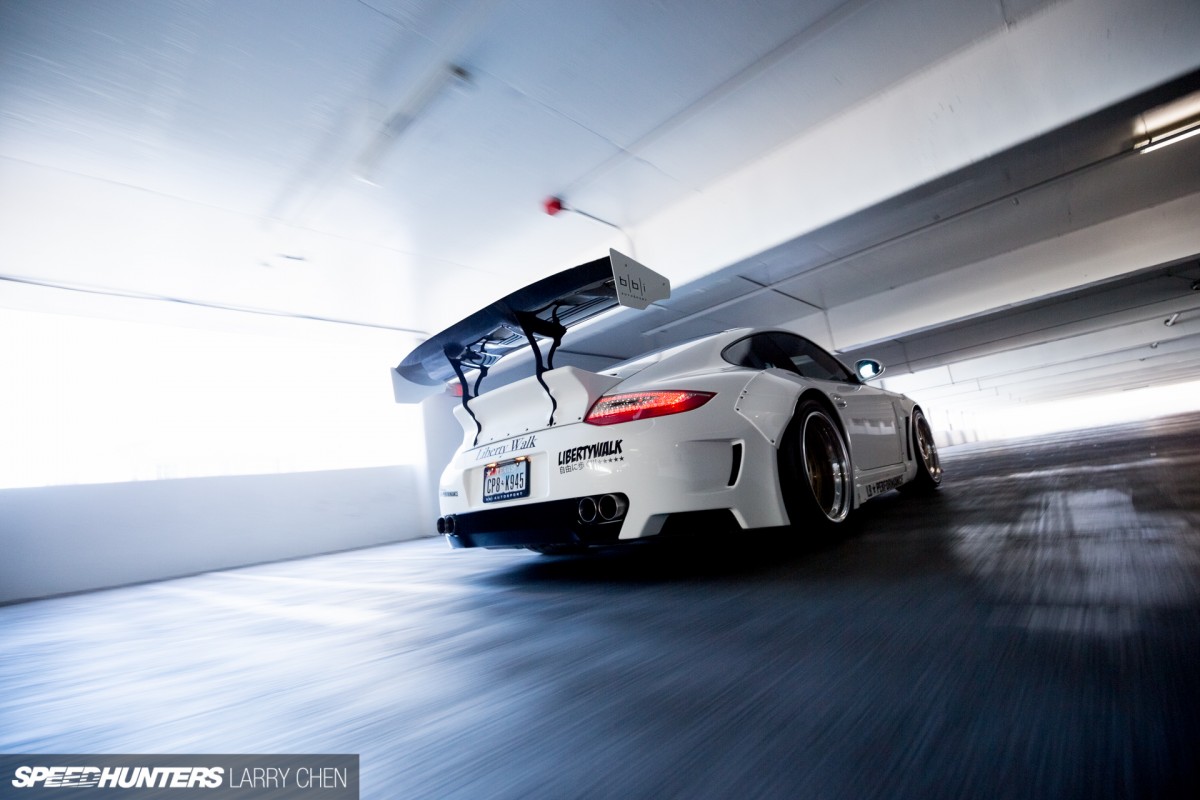 When all was said and done, the car put down 688 horsepower to the wheels on a 91 octane pump gas tune. Betim says there is plenty more in the tank, but because the car is designed for street use and running stock internals they aren't looking to exceed the 700 mark just yet.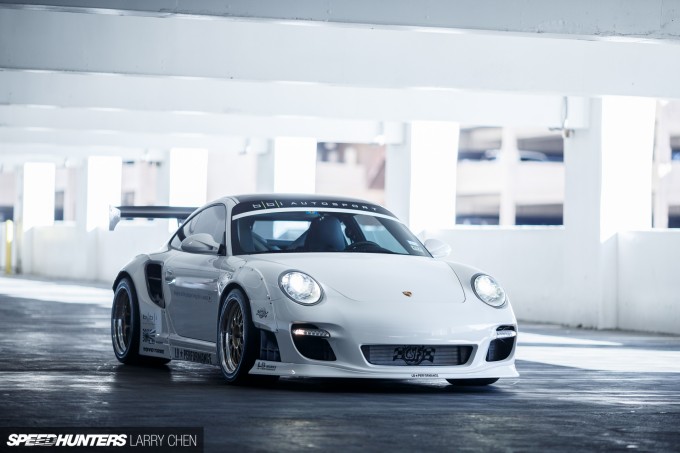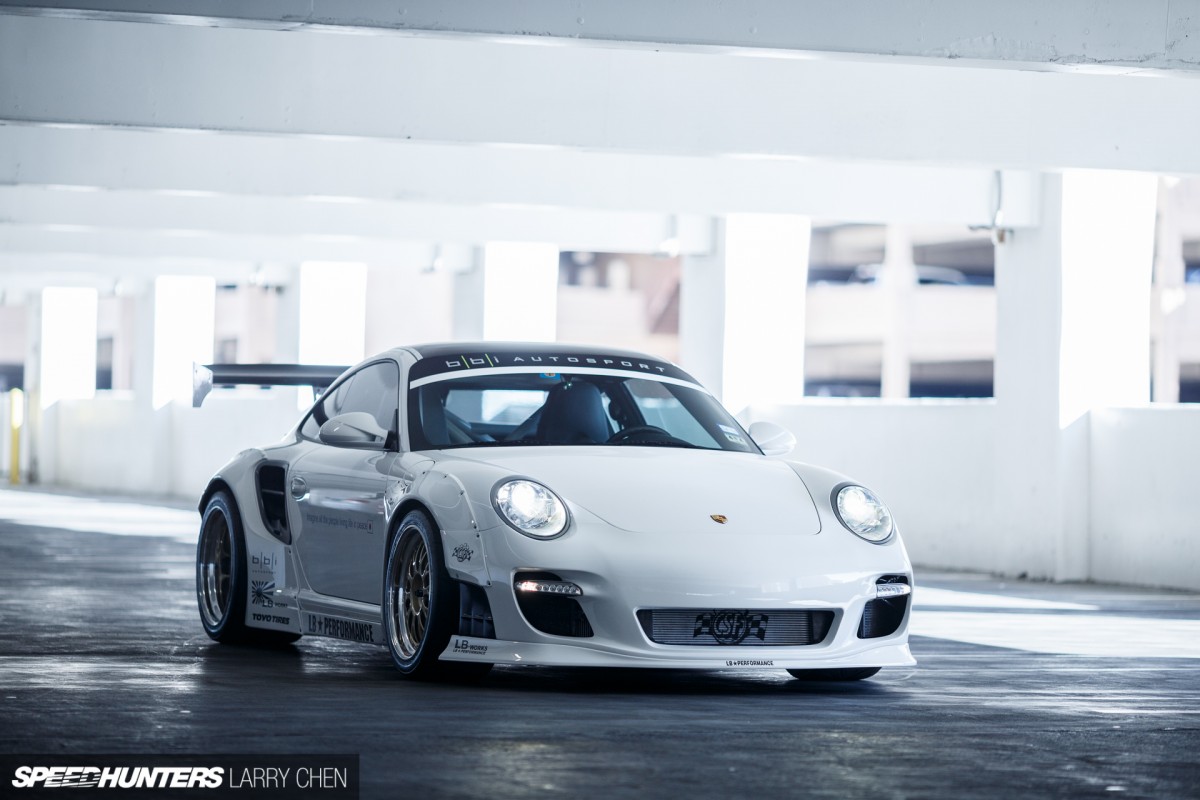 The reliability side of the project is where CSF comes in, supplying one of their racing spec three-piece radiator kits designed specifically for the 997. This is far from the first time that BBI and CSF have teamed up, with a number of the shop's projects running CSF radiators including the 'King Kong' 996 that we watched dominate at Airstrip Attack a couple of weekends ago. With CSF marking their fifth year at SEMA in 2014 – the radical Porsche project seemed like the perfect centerpiece for the booth and a symbol of the strong relationship between the two brands.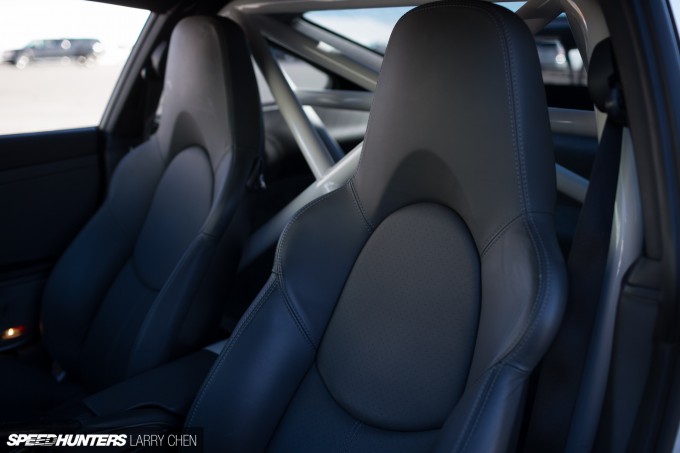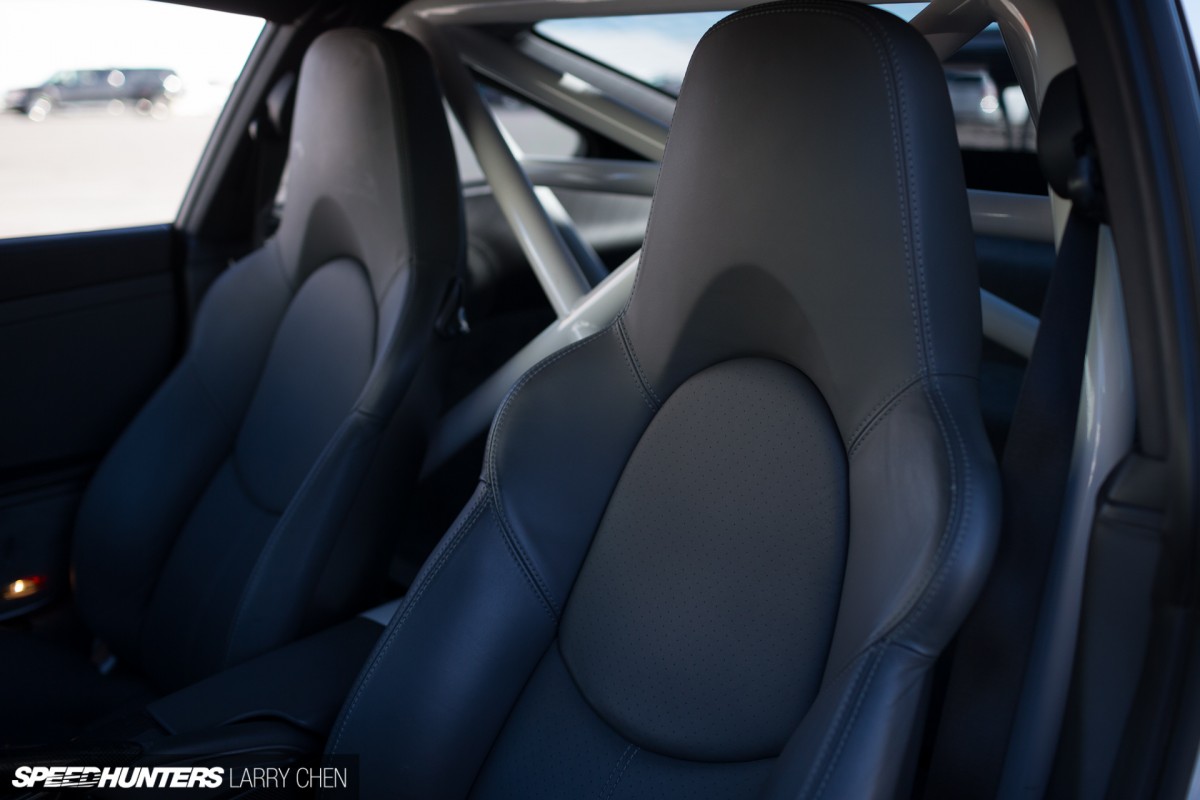 Aside from the powerplant, other areas of the car have been given some attention too. As we saw in the most recent build update, the factory sunroof setup was ditched in favor of a lighter, more rigid carbon roof panel. BBI also fitted the Porsche with one of their half cage kits for additionally safety and stiffness.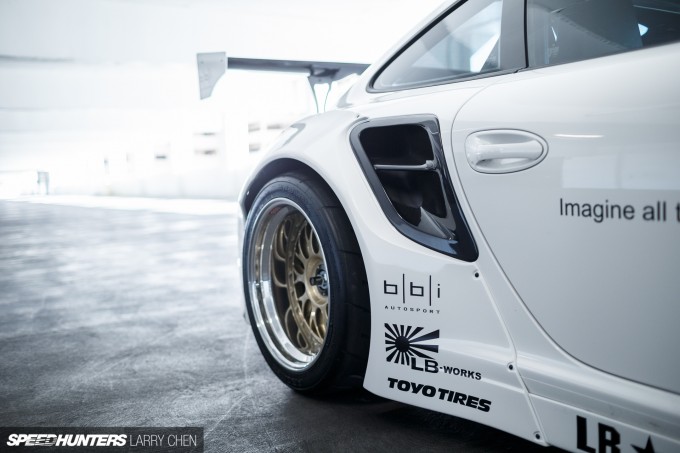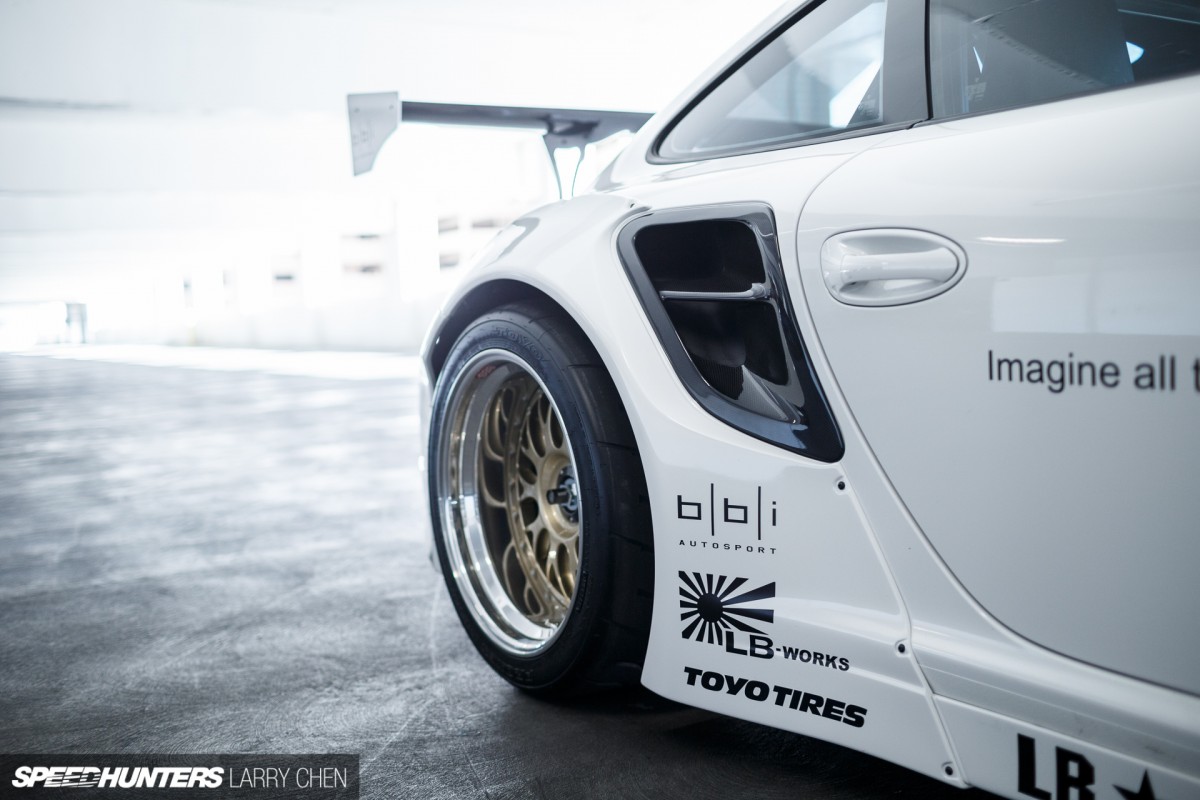 As hinted earlier, there's no air suspension to be found here. In keeping with the functional nature of this project, suspension consists of a BBI Stage III package with adjustable Öhlins TTX dampers, Swift springs, BBI upper control arms and Porsche RSR lower control arms.
Everybody Wins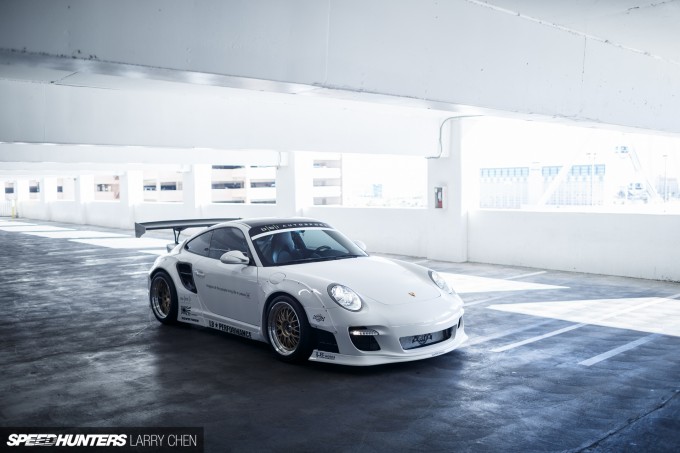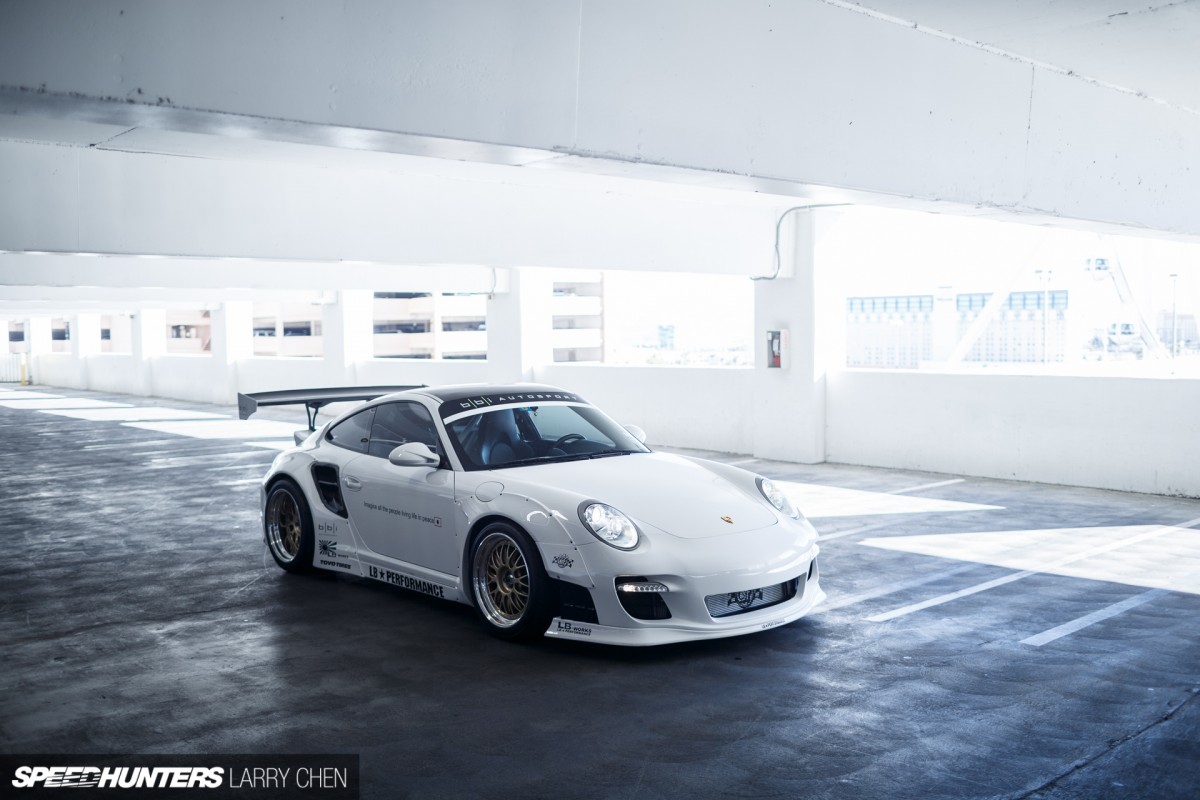 While all of the testing and tuning was going down at BBI's facility in Southern California, Liberty Walk was busy in Japan putting the finishing touches on the wide body kit before sending the parts across the ocean to the US. Kato-san actually reached out to Betim for his input when it came to creating the kit's look and functionality, so it was only natural that America's first kits would be fitted on BBI project cars.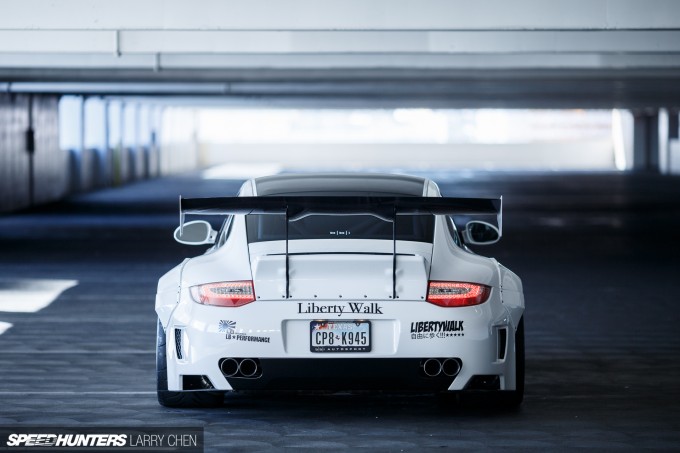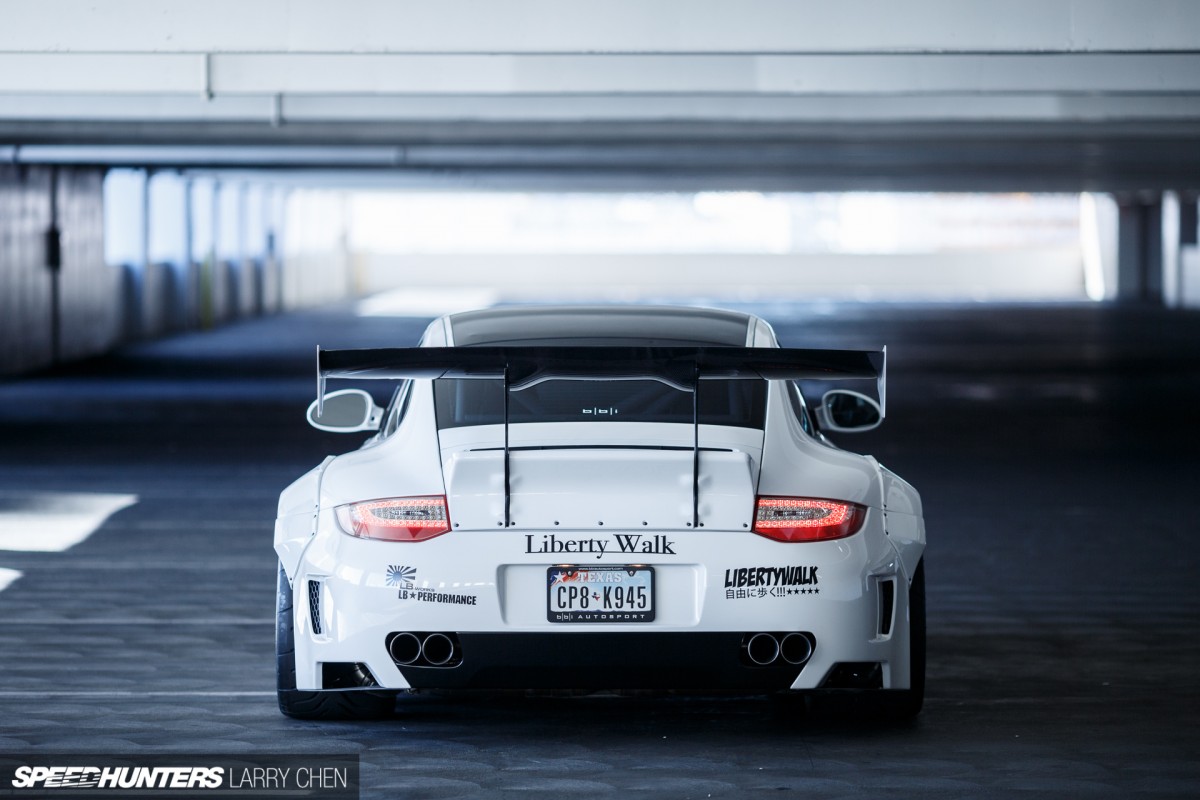 While the renderings of the Liberty Walk 997 have been circulating the net for a while now, you really have to see one in person before passing judgement. Looks will always be subjective, but my feeling is that the raw style of the widened fenders match very nicely with 997's simple lines. It's much different from the more intricate shapes of the Liberty Walk Lamborghinis and Ferraris.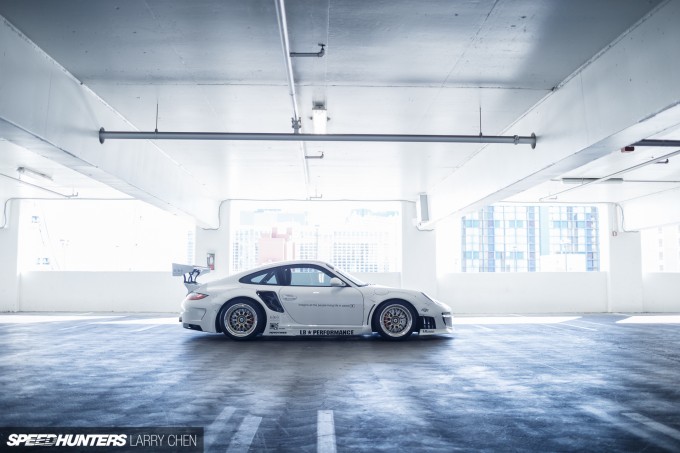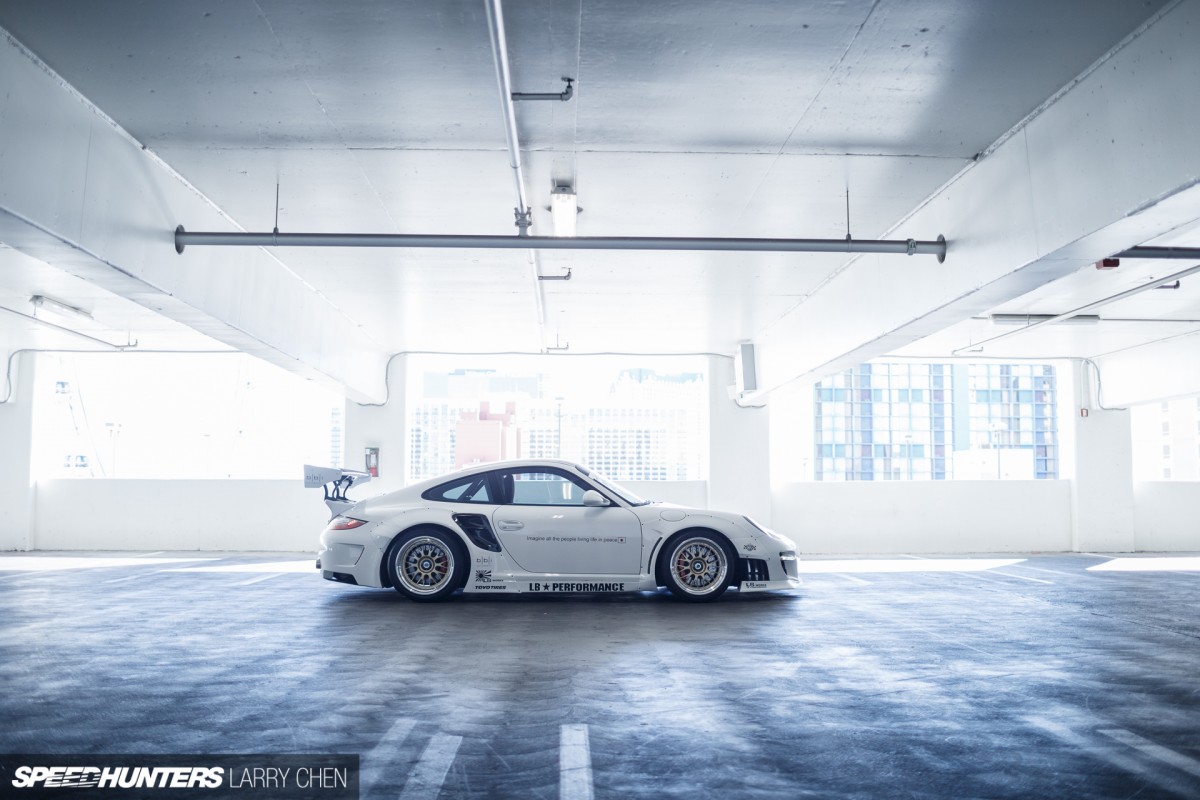 In my eye it might be the most cohesive of the Liberty Walk cars yet, mixing the look of a 997 GT racer with bad-boy Japanese street racer vibes.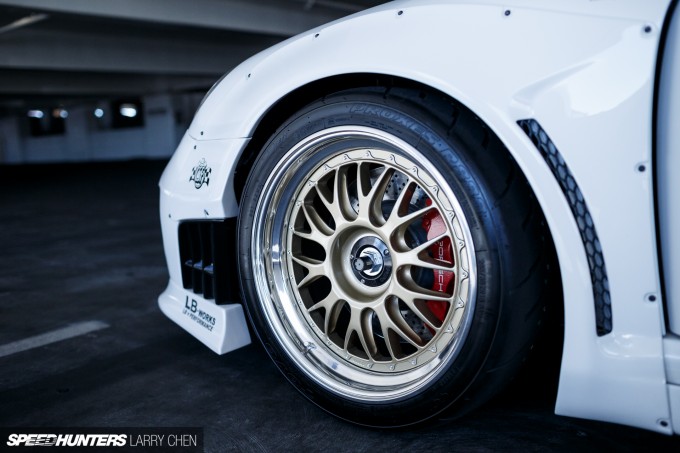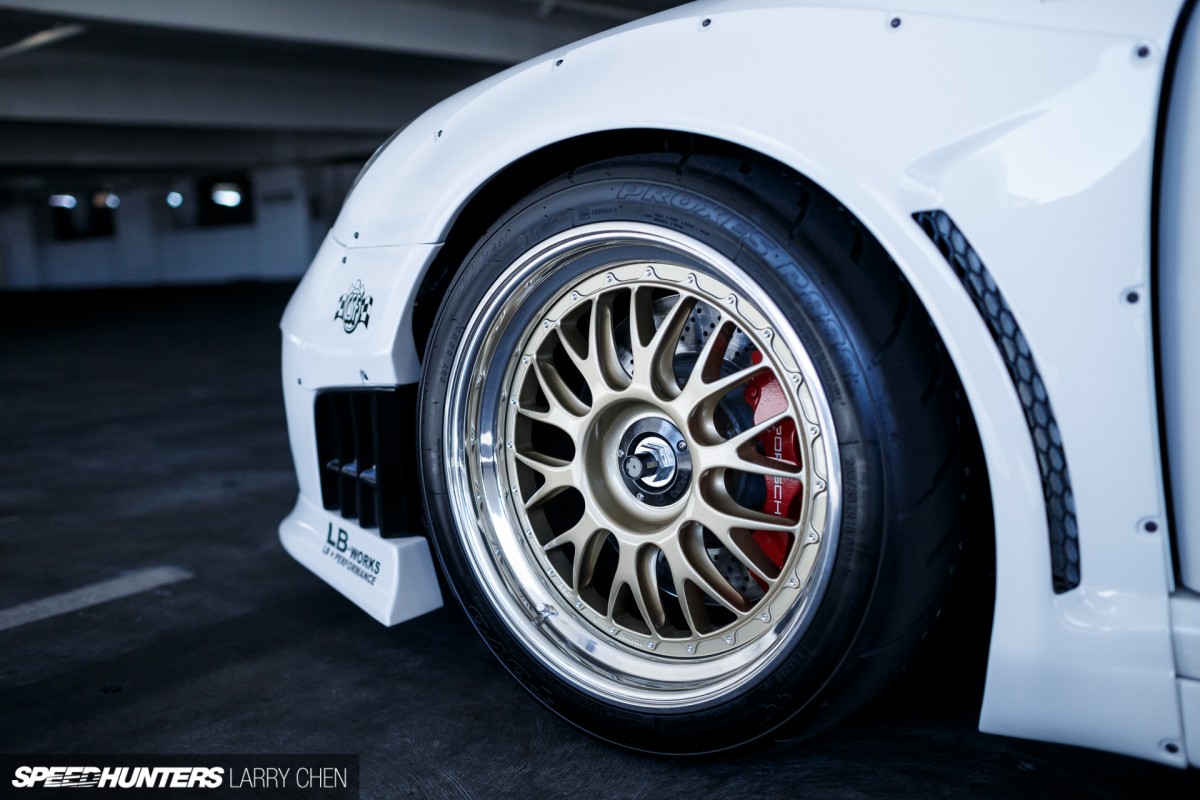 The wheel and tire setup meanwhile has also been selected to look good and fill the widened bodywork without sacrificing any of the grip that a 700 horsepower, street and track Porsche needs. BBI actually took things one step further here and fitted the car with a Porsche Motorsport GT3 RSR center-lock hub conversion.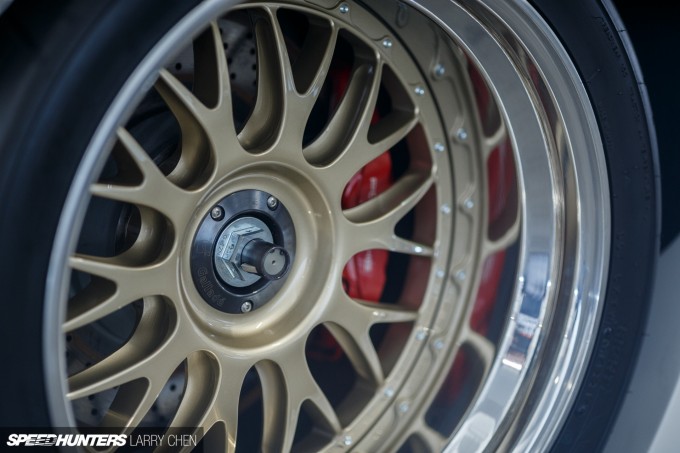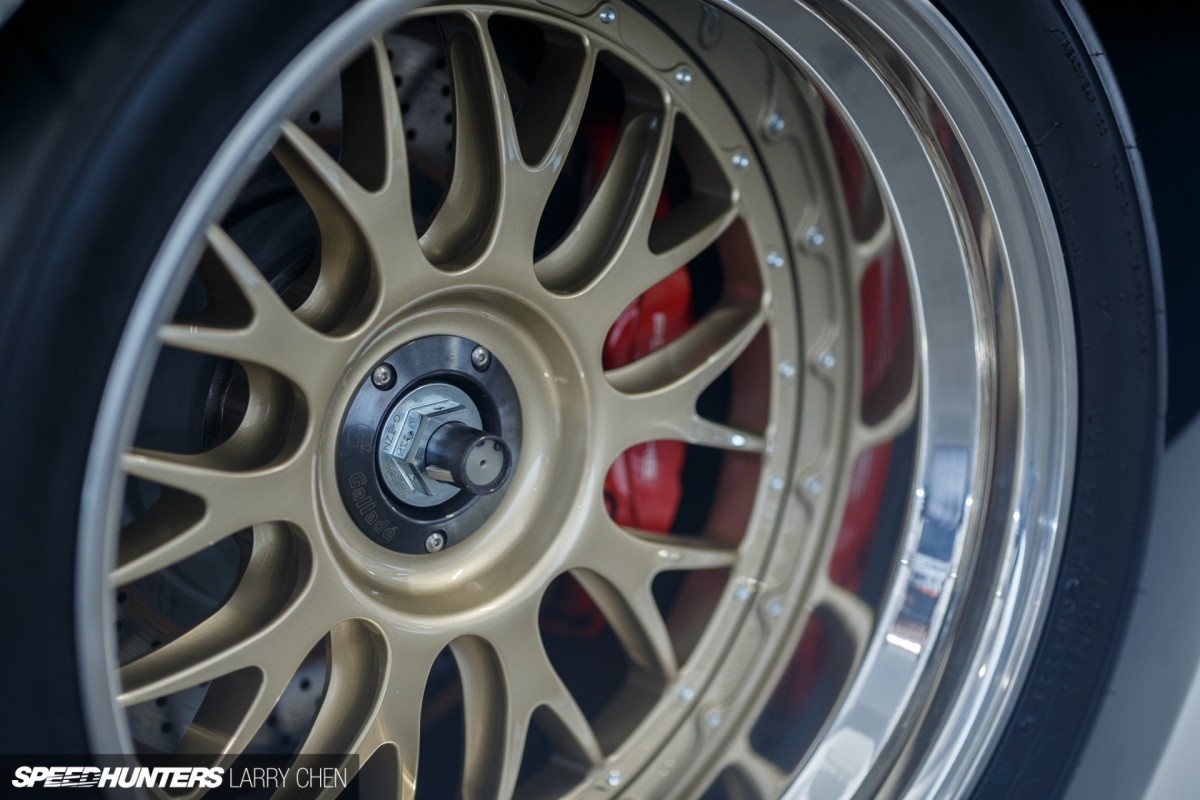 The wheels are BBS E88 center-lock pieces measuring 18×10.5-inch in the front and 18×13-inch in the rear with 265/35R18 and 335/30R18 Toyo R888 tires respectively. I'm guessing the stretched tire haters will approve?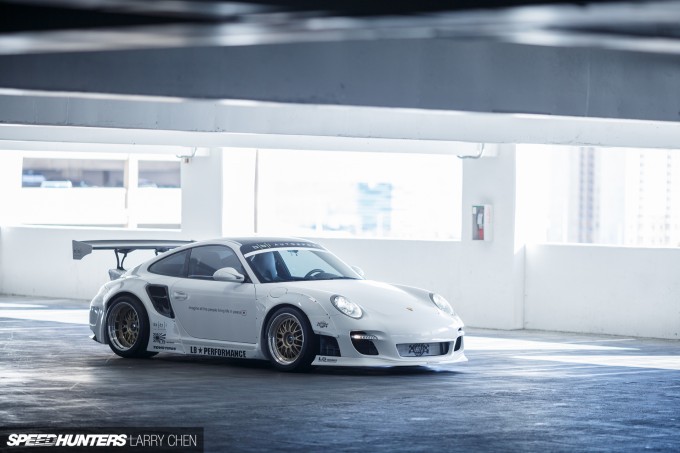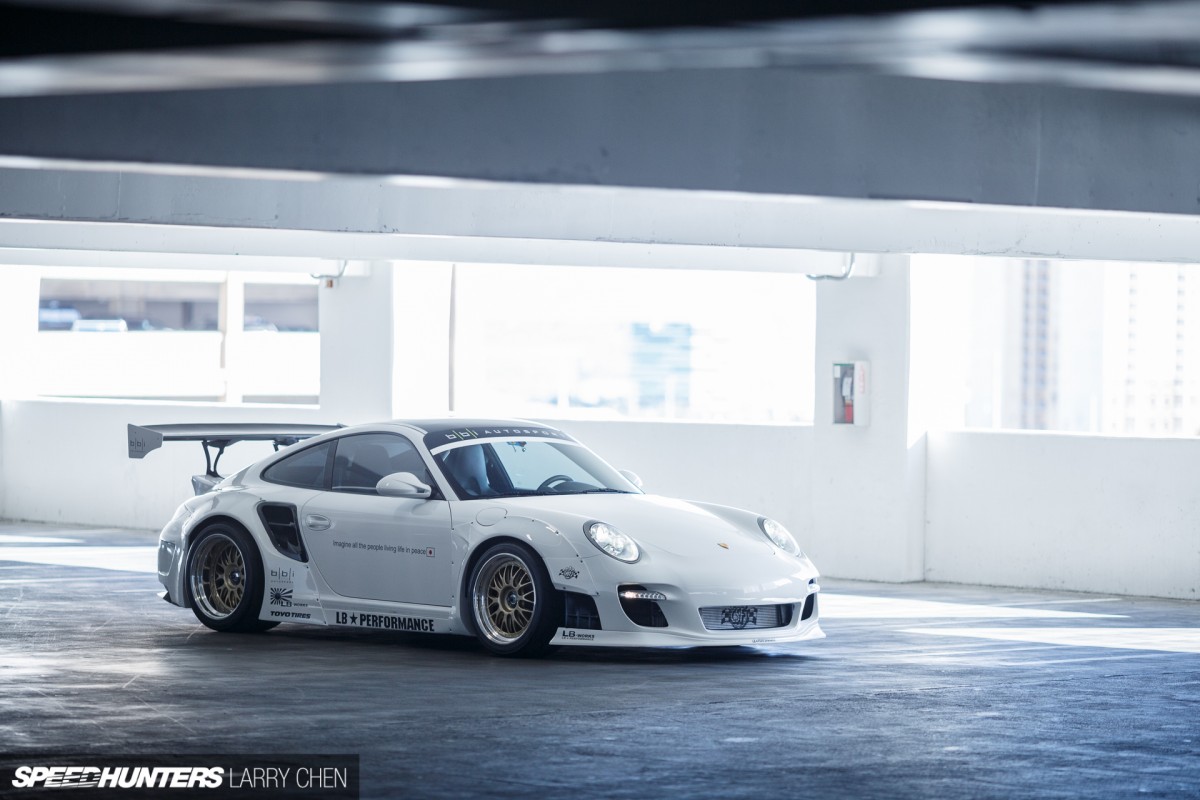 Seeing as how the car has already proven itself with a 197mph pass at the Texas Mile, the performance credentials are already solid and we are told there's plenty more to come. We'll be watching future developments closely.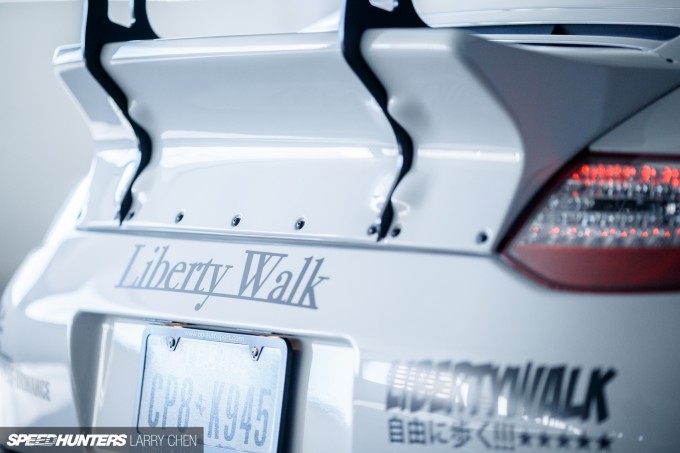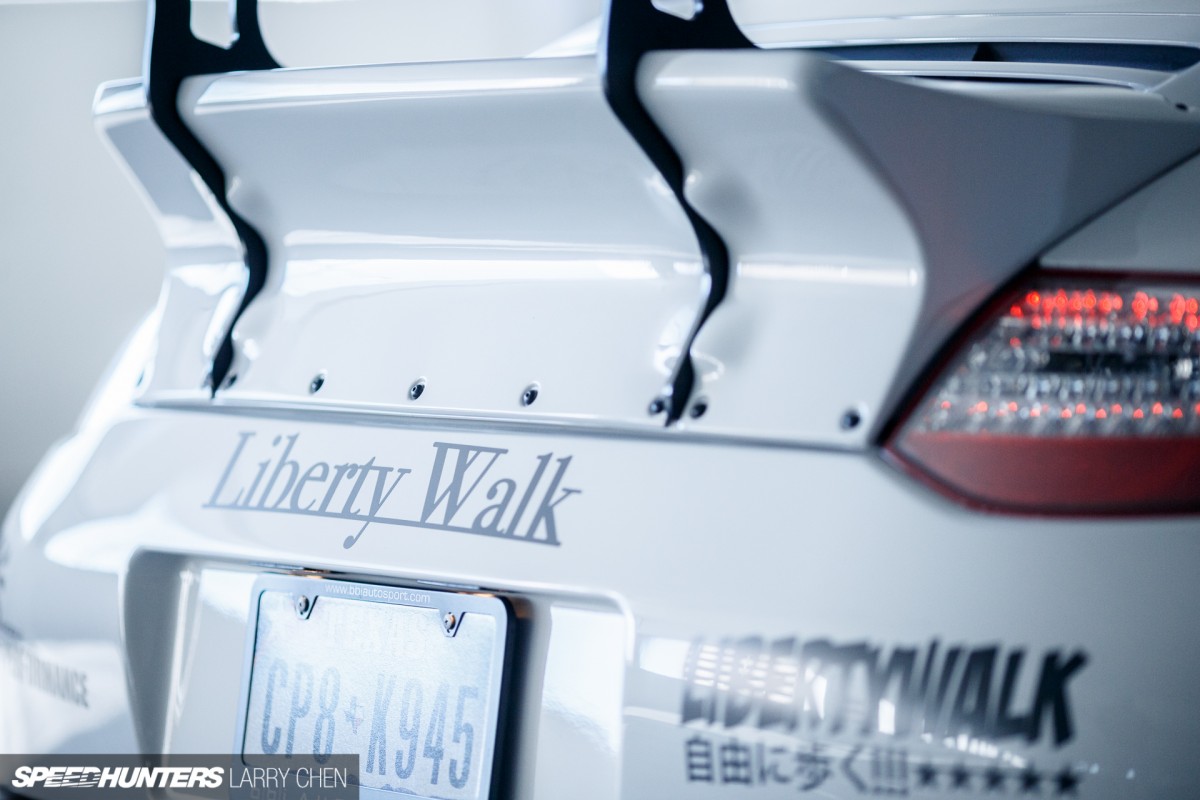 So there you have it – the car that we think is one of the most well-rounded machines ever to wear Kato-san's signature look. When form meets function like it does here, everybody wins. What else can we do but be happy?
Mike Garrett
Instagram: speedhunters_mike
mike@speedhunters.com
Photos by Larry Chen
Instagram: larry_chen_foto
larry@speedhunters.com
If you happen to be at SEMA this week, be sure to stop by the CSF Radiators booth 21509 in the Central Hall to say hi and see the car for yourself.
BBI/CSF/Liberty Walk Porsche 997 Turbo
Numbers
688whp at 21lbs of boost on California 91 octane pump gas
Engine
Porsche 9A1 3.8L Twin Turbo. BBI B7 Tuning Package including TiAL Alpha GT30-6 turbos with custom-made lines, BBI 321SS headers, BBI full exhaust (race) , TiAL blow-off valve, BBI 4.5-inch custom-built intercoolers, BBI/IPD cast y-pipe, IPD plenum, CSF Cooling 3-piece all-aluminum Porsche 997 Turbo high performance radiator package (left, right, center), fully tuned by COBB using the COBB AccessPort V-3
Driveline
Factory 6-speed manual gearbox, BBI Stage III clutch, Aasco lightweight flywheel
Suspension/Brakes
BBI Stage III StreetCup suspension package including Öhlins TTX dampers and Swift springs, BBI upper control arms, Porsche RSR lower control arms, GT3RS sway bars and Tarett drop links, Porsche Motorsport GT3 RSR center-lock hub full conversion, Endless brake fluid, fully corner balanced & aligned
Wheels/Tires
BBS E88 Center-lock only, 18×13-inch ET 0 rear, 18×10.5-inch ET 29 front, Toyo R888 335/30R18 rear, 265/35R18 front
Exterior
Carrera White paint, Liberty Walk Porsche 997TT full body conversion fitted by BBI, touched up & painted by Tony's Garage Auto Body in Huntington Beach, CA, Porsche GT3 Cup fender liners, carbon fiber roof conversion, carbon fiber intercooler inlet ducts
Interior
BBI RSR half cage, Porsche GT2RS headliner
BBI Autosport
CSF Cooling
More Liberty Walk Stories on Speedhunters