The SKE Legend
Not long ago I produced a story on car culture in Nagoya, Japan, and in that story I pointed out some of the similarities between Nagoya and Los Angeles – another world capital of car culture. The more I think about it too, the more resemblance I see between the two cities. The urban areas have been official sister cities since 1959, but they share a lot more than just an honorary partnership. Both geographically and culturally, the parallels between LA and Nagoya are hard to ignore.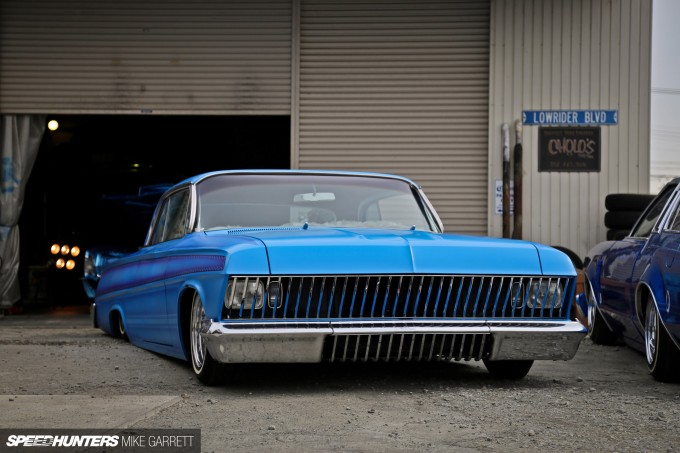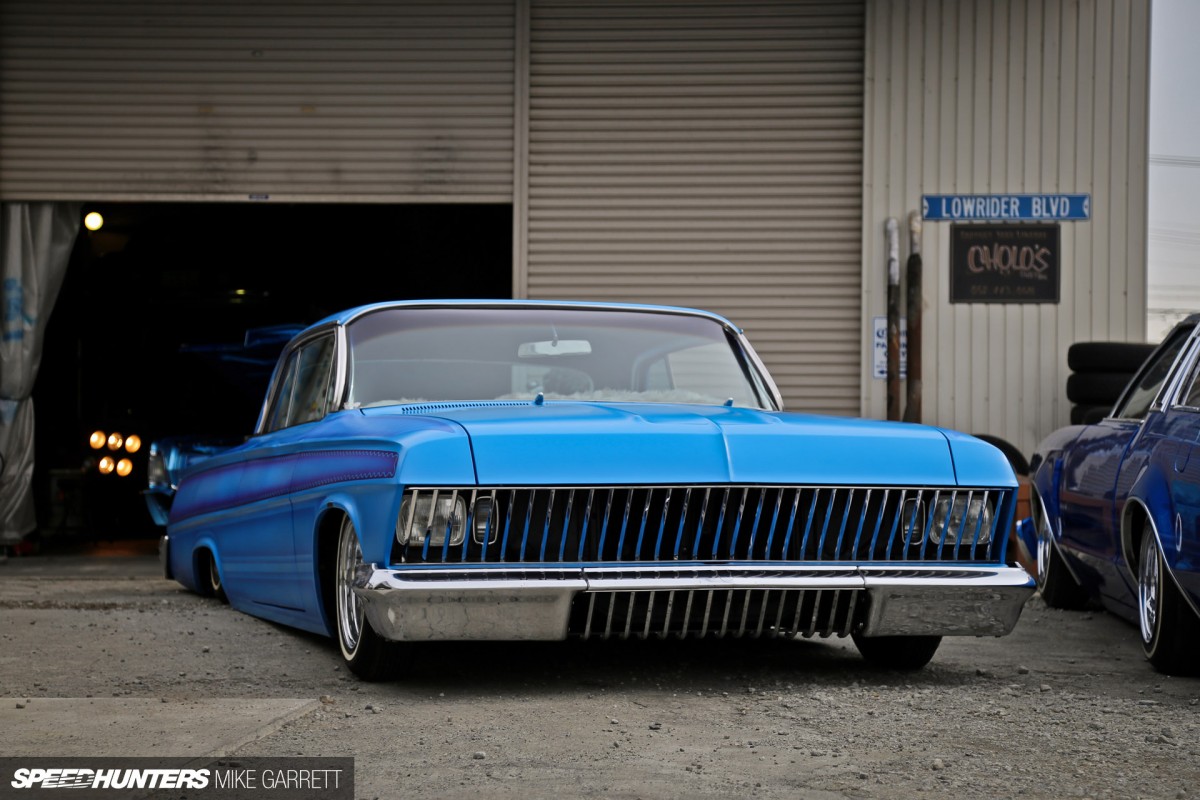 Compared to the towering skylines of Tokyo or Osaka, Nagoya is a much more spread out, low-rise type of city, just as LA is compared to other large American cities. And unlike most major urban areas in Japan, the automobile is the preferred mode of transportation for many of Nagoya's residents – much like Los Angeles and its famous freeway culture.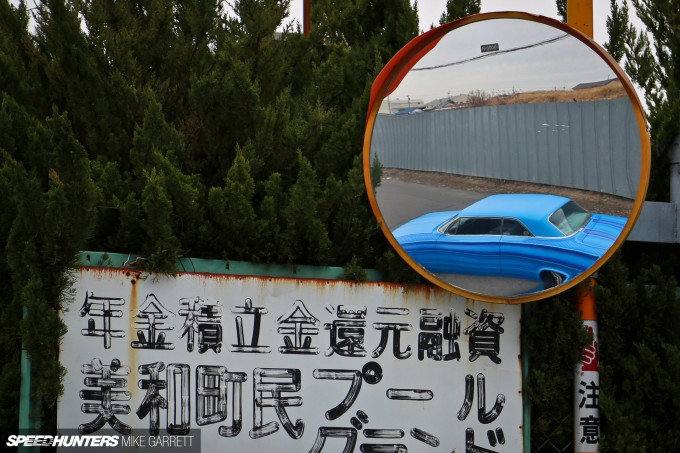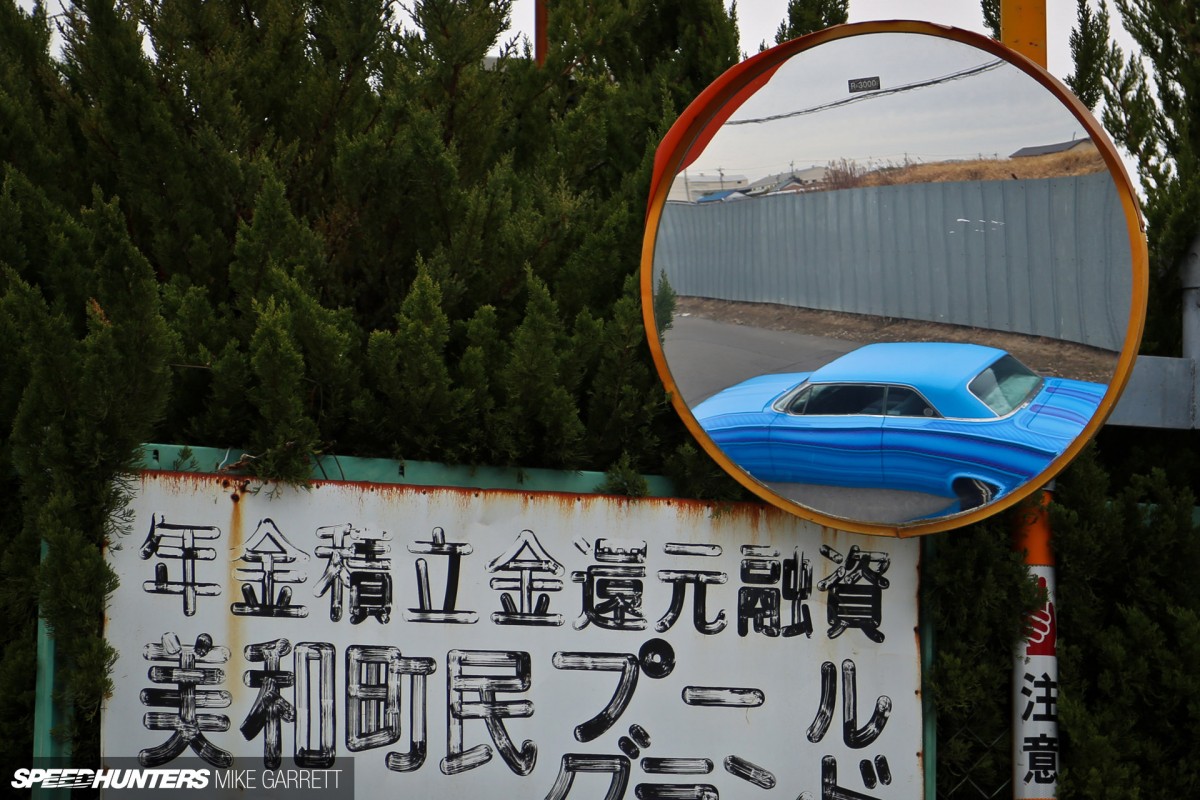 So it's not surprising that all of that has made the area famous for its custom car culture – particularly when it comes to American-style hot rods, lead sleds and lowriders. Nagoya has not only become known as the custom capital of Japan, but is one of the world's hot spots for the genre.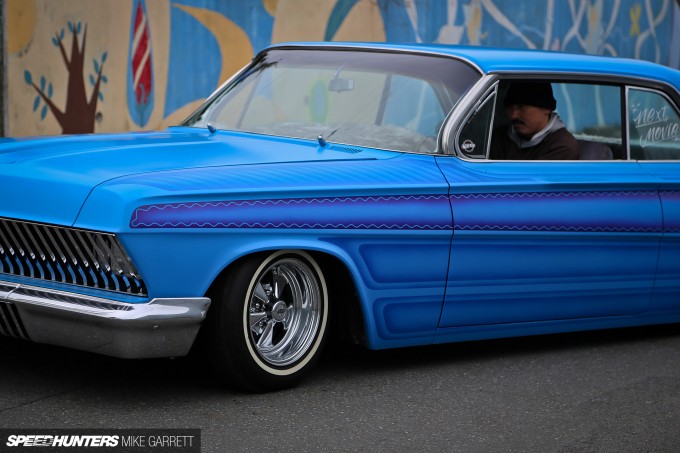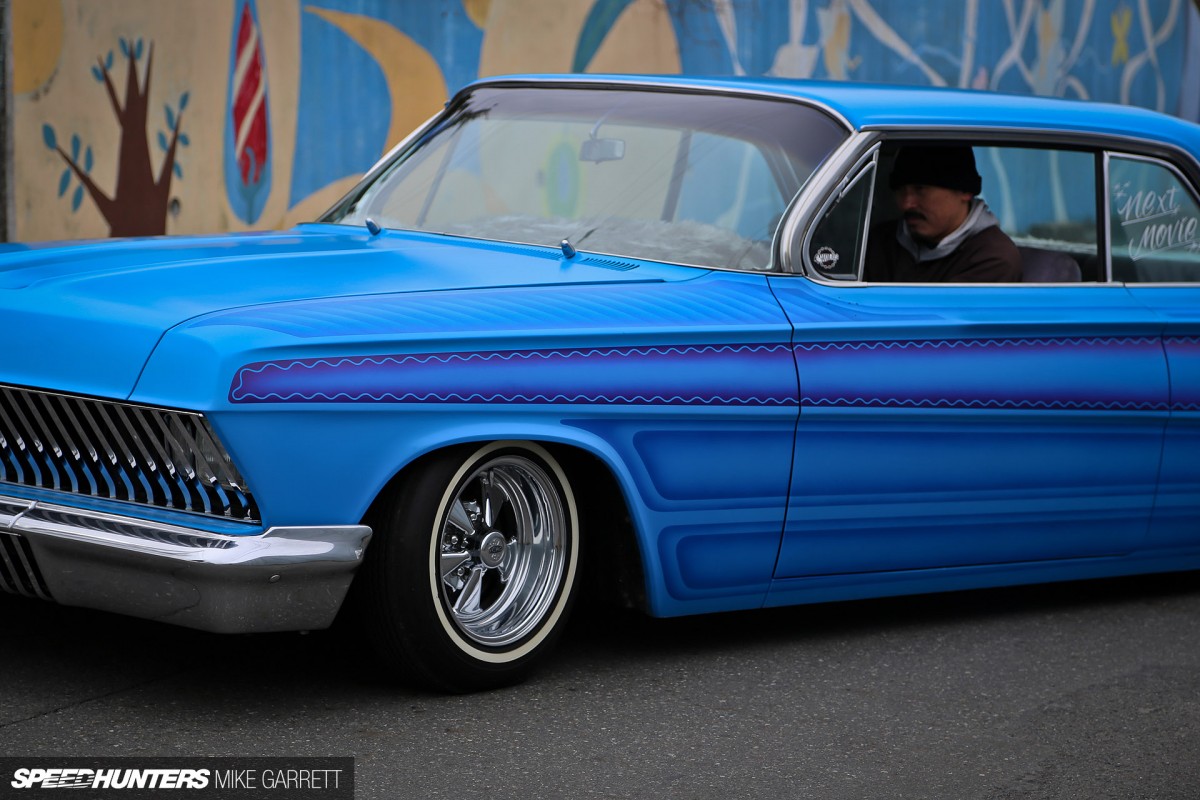 Nowhere does this become more apparent than on the streets of Sakae – or SKE as it's come to be known by the locals. It's one of Nagoya's most popular shopping and entertainment districts, comparable to Shibuya in Tokyo – and it regularly becomes a cruising spot for the area's custom car fanatics.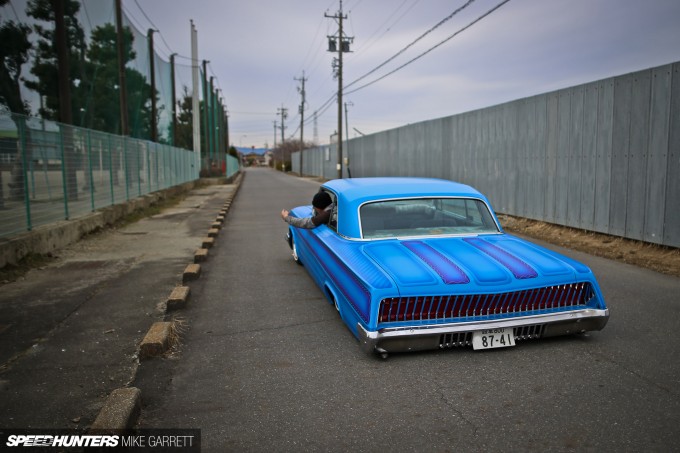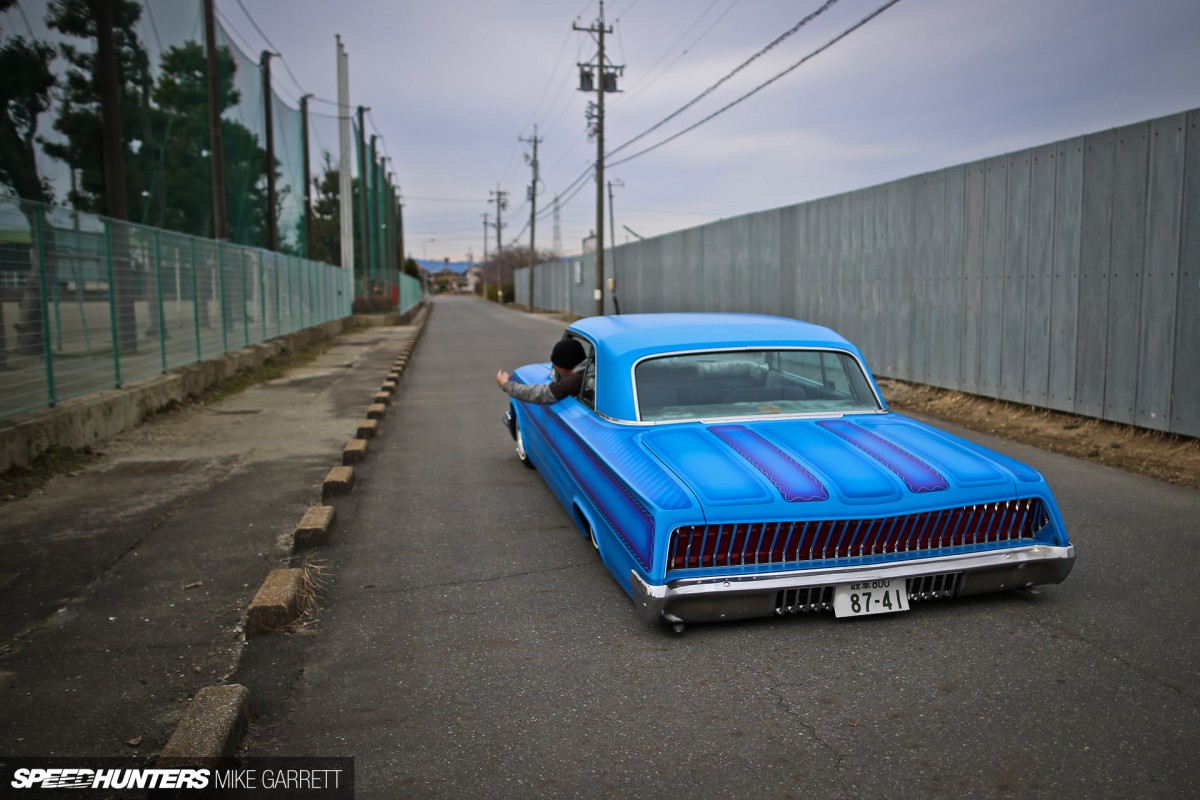 These SKE cruise nights are a spectacle to behold, as customized machines take to the brightly-lit streets by the dozen. There are lead sleds scraping their bellies along the pavement, 'bomb' Chevys with their straight six growls, all while Caprices and Lincoln Continentals hop down the street on their hydraulics. It's wild stuff.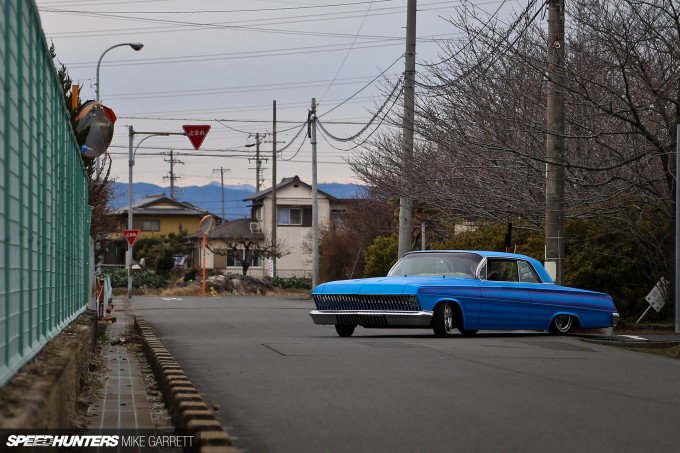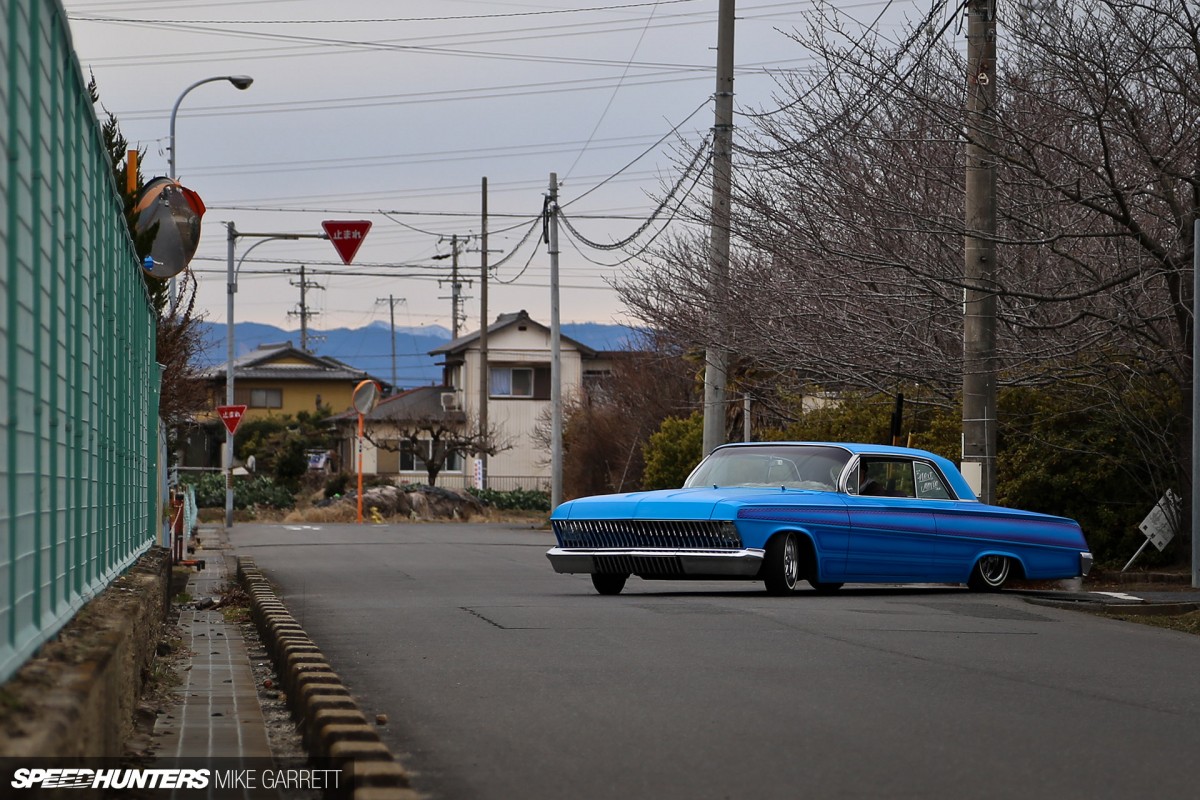 When it comes to this tight-knit group of cruisers, few of the cars are more famous than this one – a 1962 Chevrolet Impala known by the locals as Next Movie. Not only has this Impala become a thing of legend among the Nagoya community, it's also garnered plenty of attention on both a national and international level.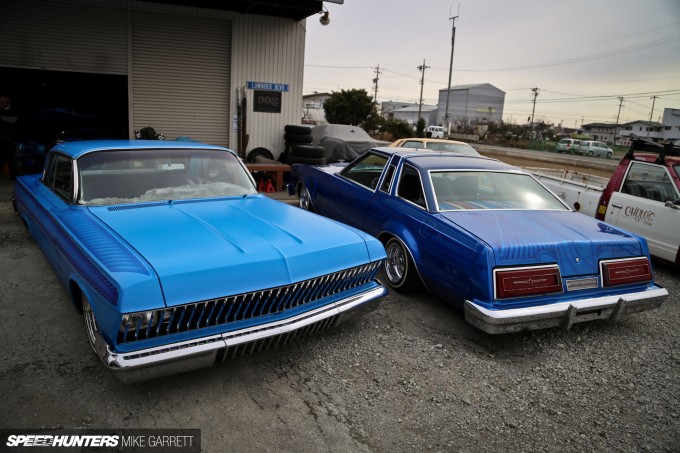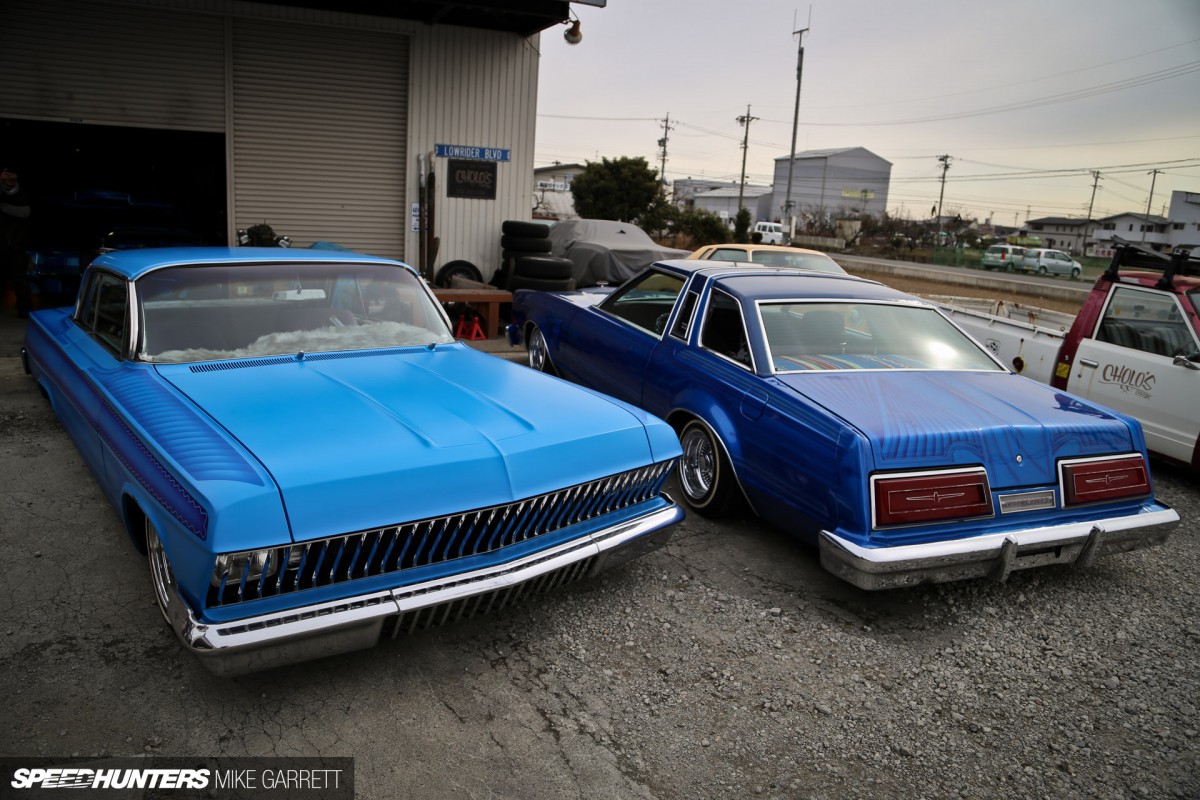 The car was built by Cholo's Custom – perhaps Japan's most well known lowrider shop. I'll have more on the shop itself in a later story, but for now let's focus on the Impala.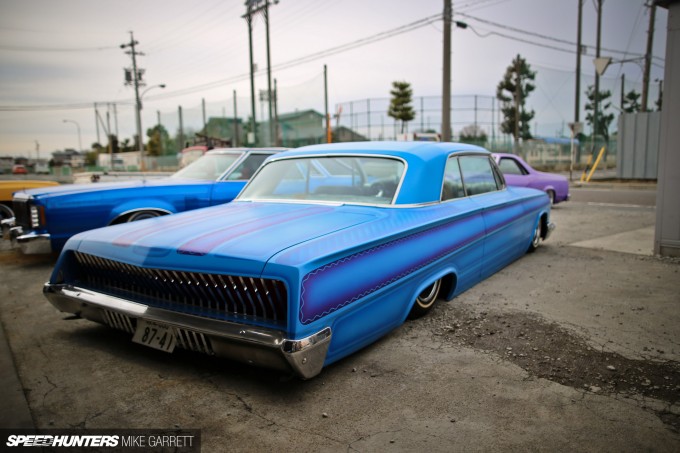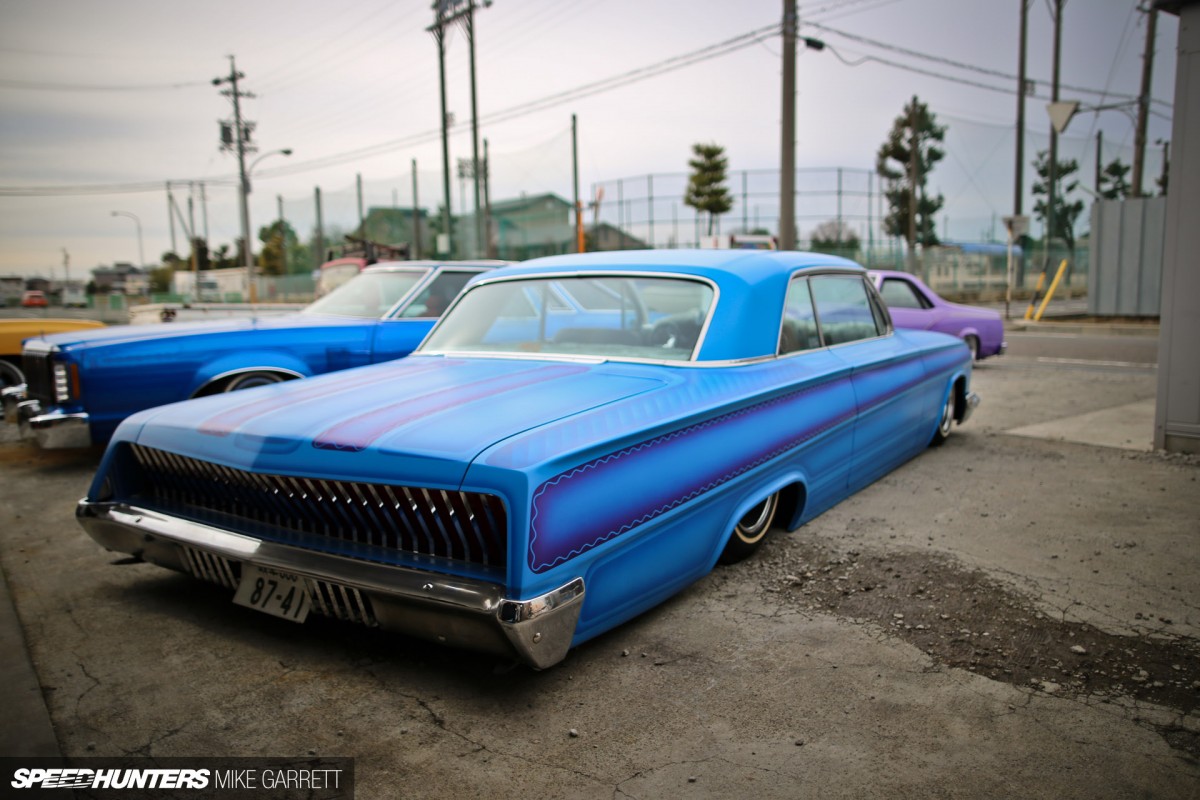 When I was planning my visit to Nagoya this year, a photo session with this car was right at the top my to-do list. It was hard to put a finger on exactly why I was so fascinated by this car. Sure, it was damn cool looking, but there was more to it than that. When we finally arrived at the Cholo's garage and saw Next Movie sitting outside, it was hard to hide my giddy excitement.
Built To Cruise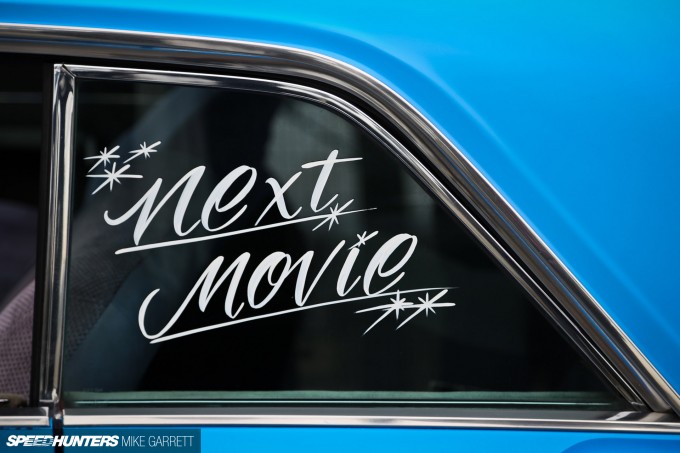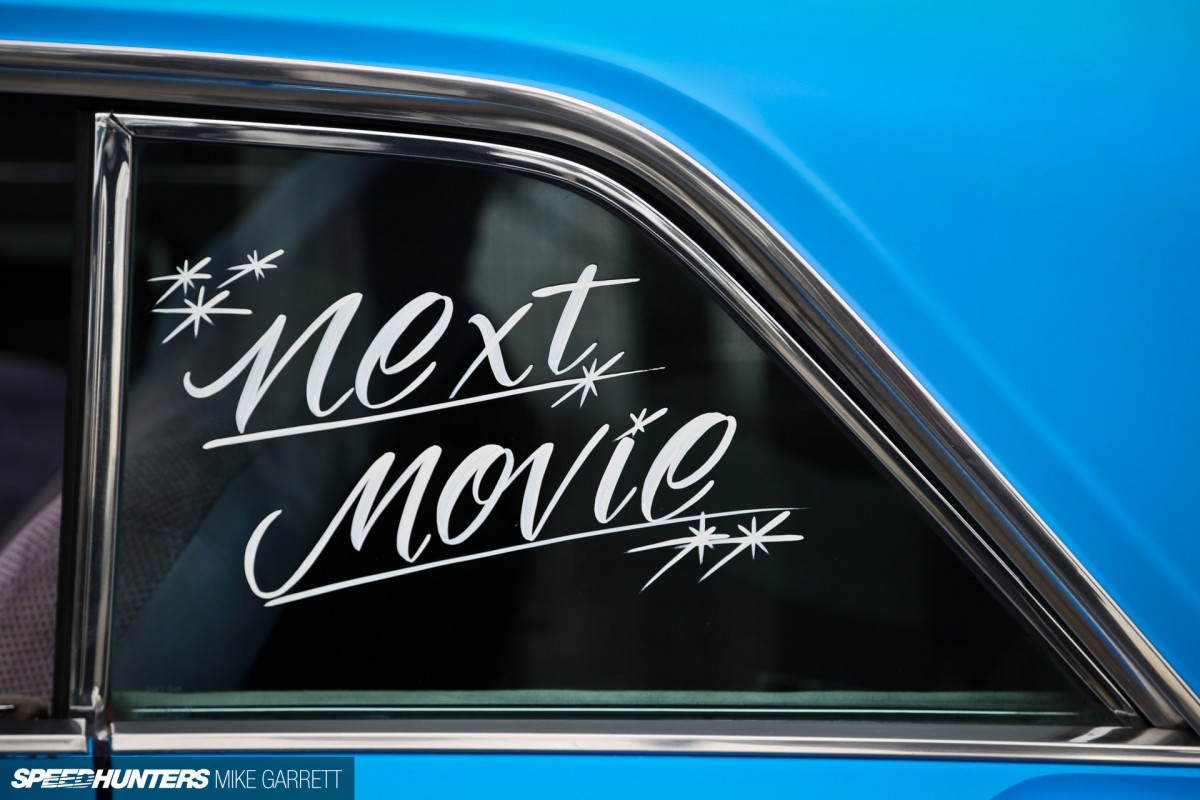 Chances are you're wondering exactly where the Next Movie name comes from, and so was I. Well, if you are familiar with the comedic work of Cheech & Chong, then you might know their 1980 movie of the same name. This car not only takes inspiration from Cheech & Chong films, but also the lowriders that roamed the streets of Los Angeles during the '70s and '80s.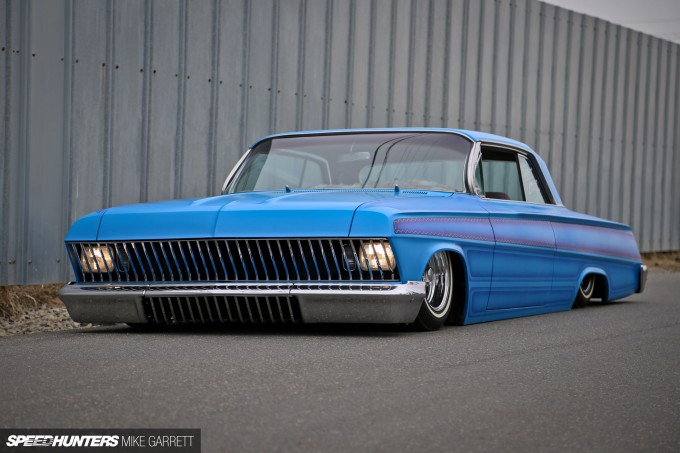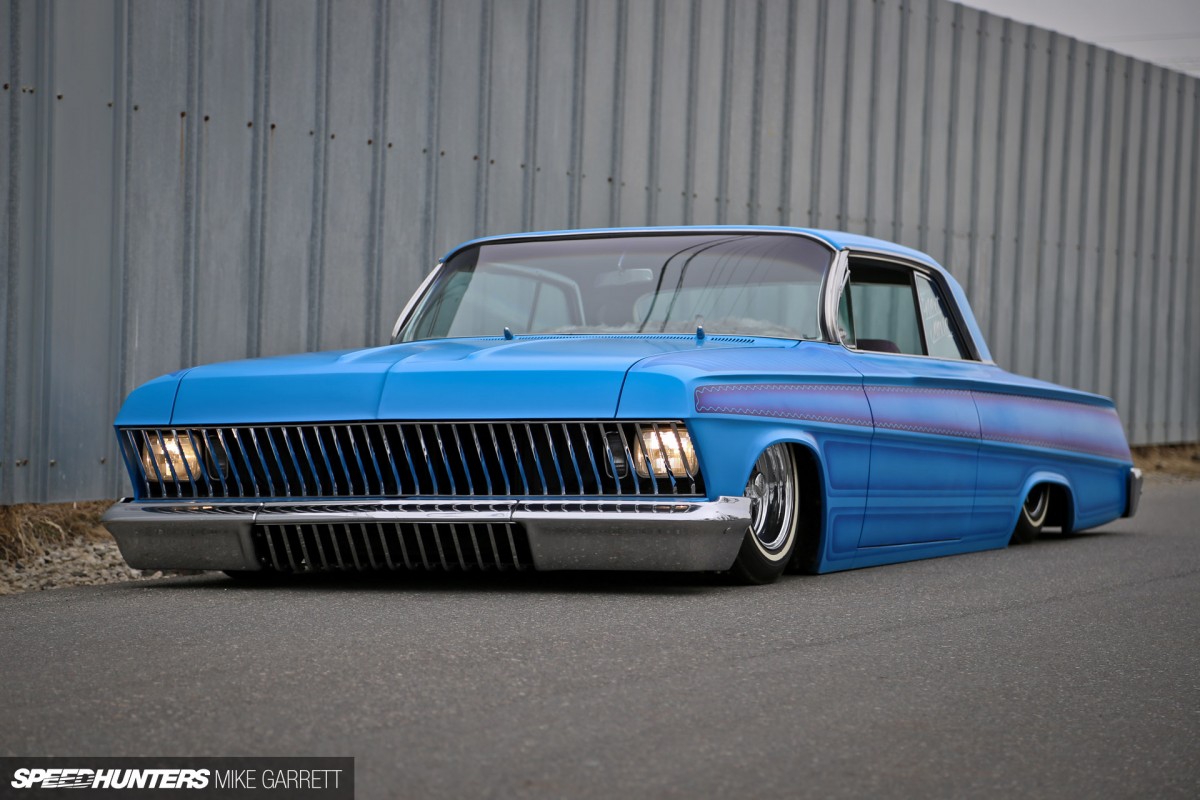 But rather than trying to be an authentic recreation of a car you might have seen cruising down Whittier Boulevard back in the day, Next Movie has taken the old school Southern California vibe and reinvented it with a modern touch. This might just be the ultimate cruising machine.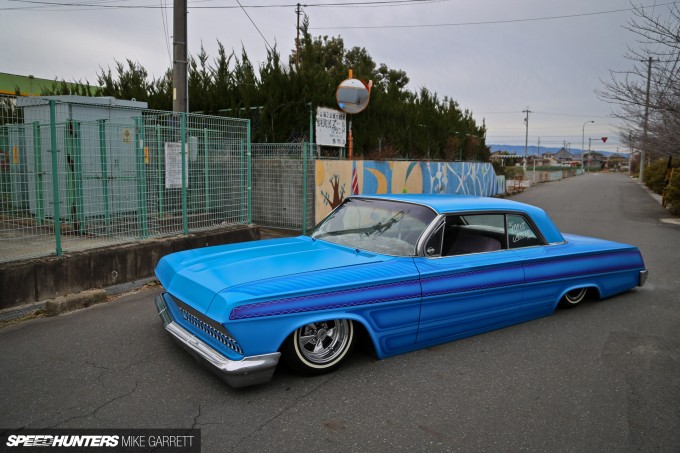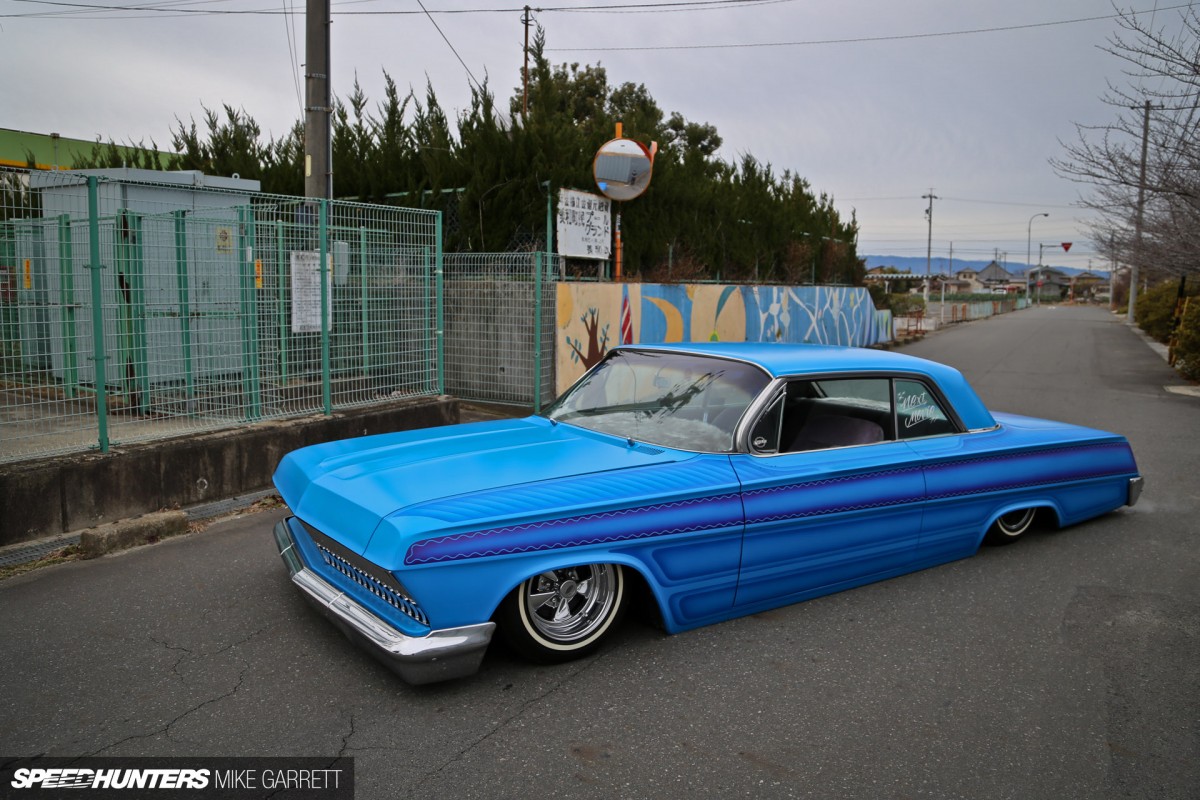 And 'cruise' is the the operative word here, because while this car has received international attention and been the star of many events, it's by no means a show car. It's actually far from it.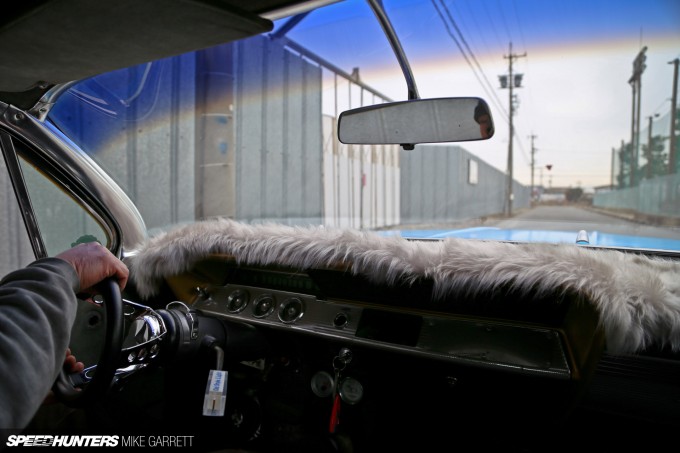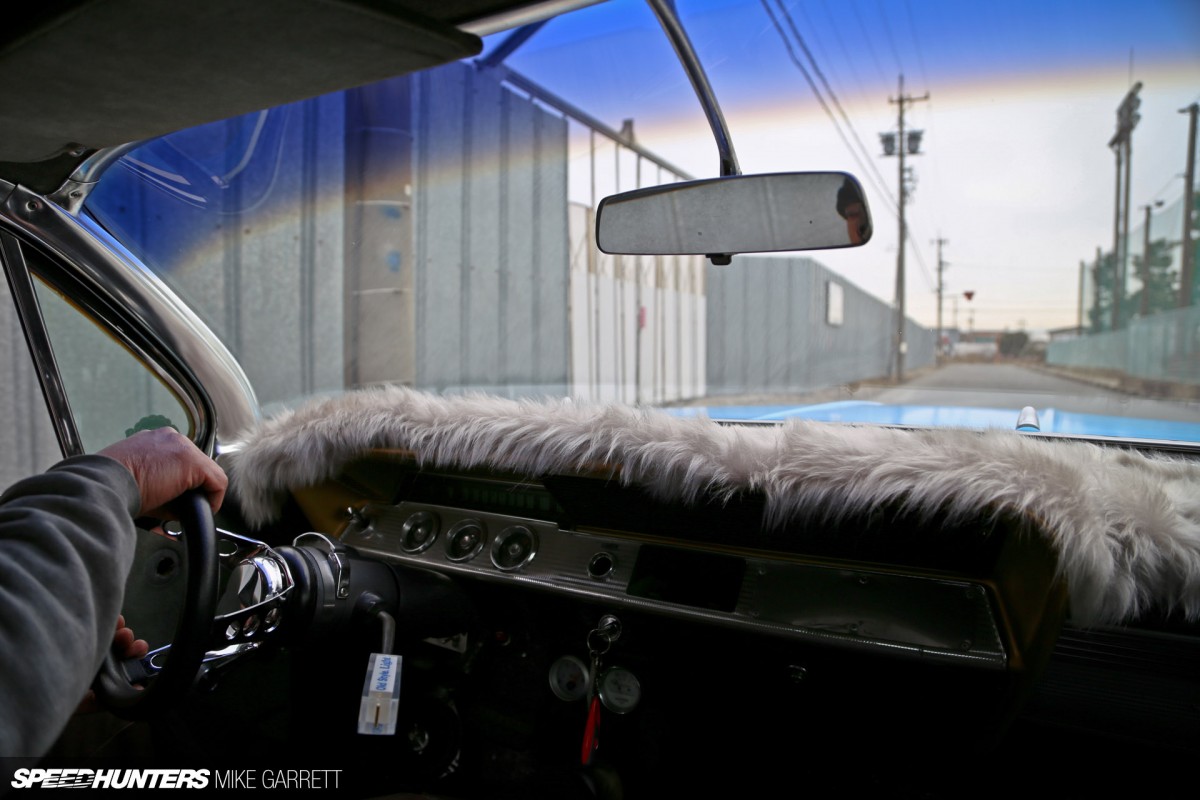 Rather than being built for the bright lights of car shows or the eyes of meticulous of judges, Next Movie has been built for the street, just like the working class lowriders of LA that inspired it.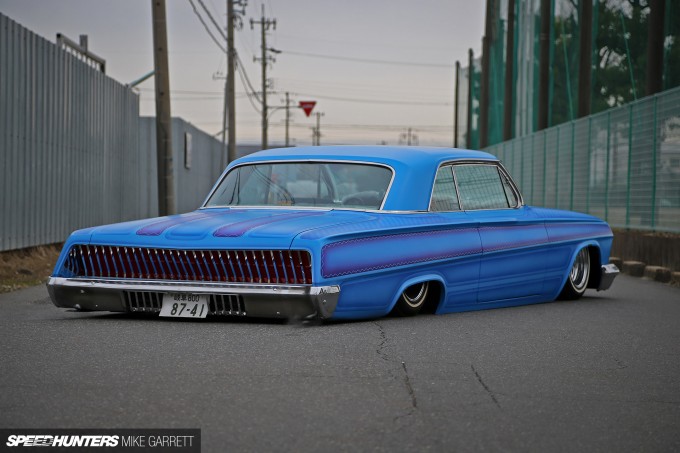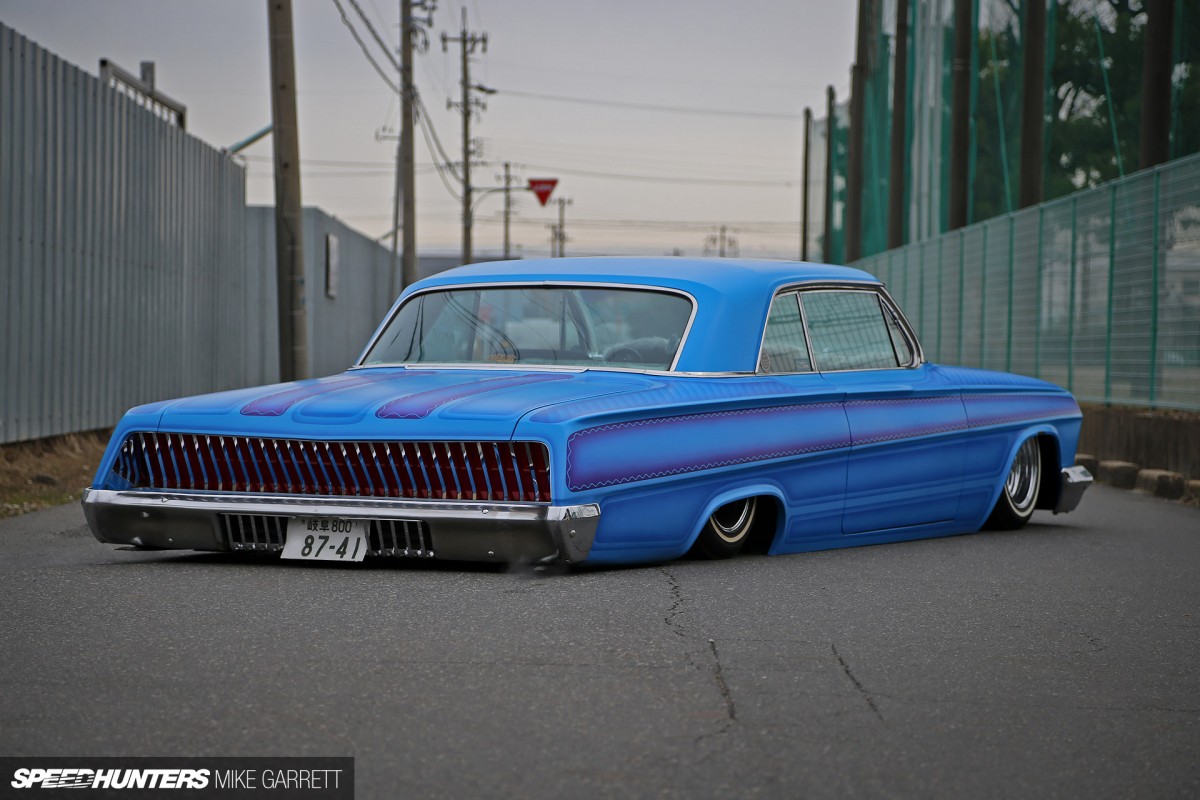 When it comes to the actual custom work involved in building this car, things are actually pretty straightforward. The scraping stance is certainly key to the car's street appeal, and the laid-out height is something that most '70s lowrider guys could only dream of.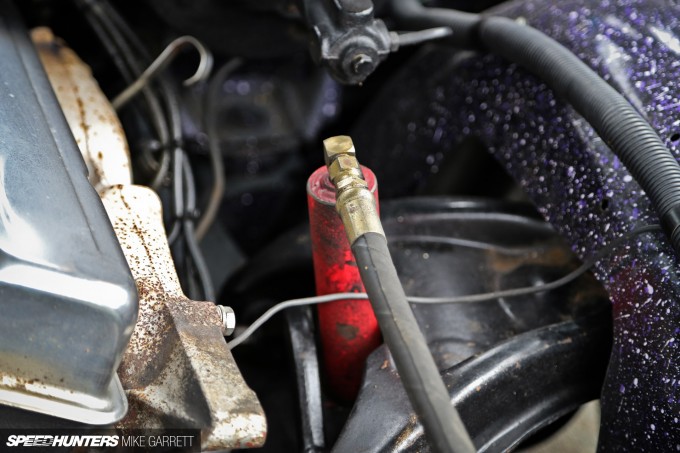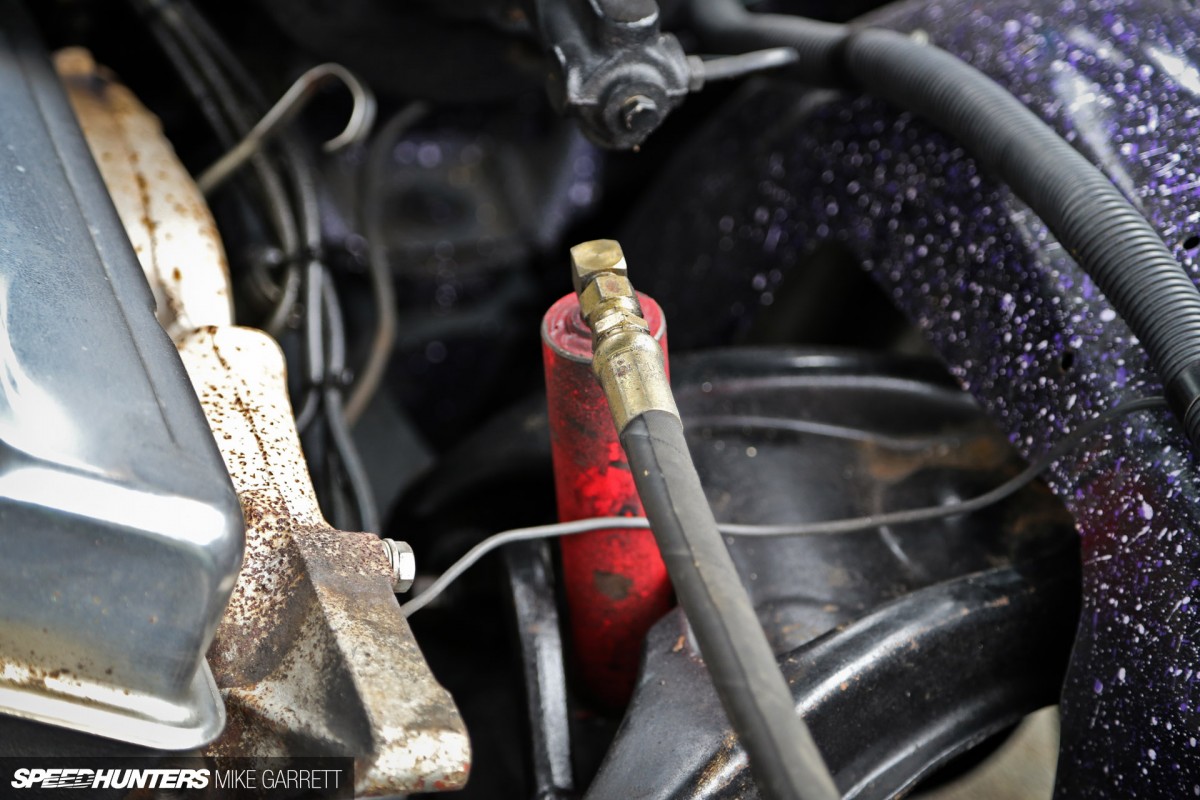 Thanks to the art of channeling, the front of the Impala has been dropped by four inches while the rear has been lowered by six inches. As for the suspension itself, a traditional set of hydraulics adjusts ride height, fed by two pumps and a pair of batteries.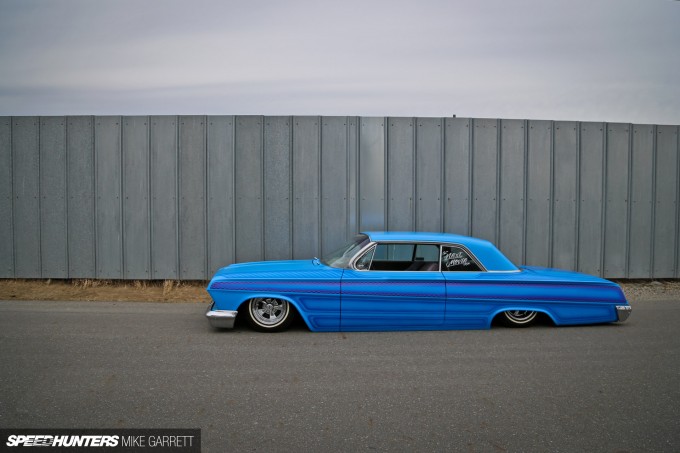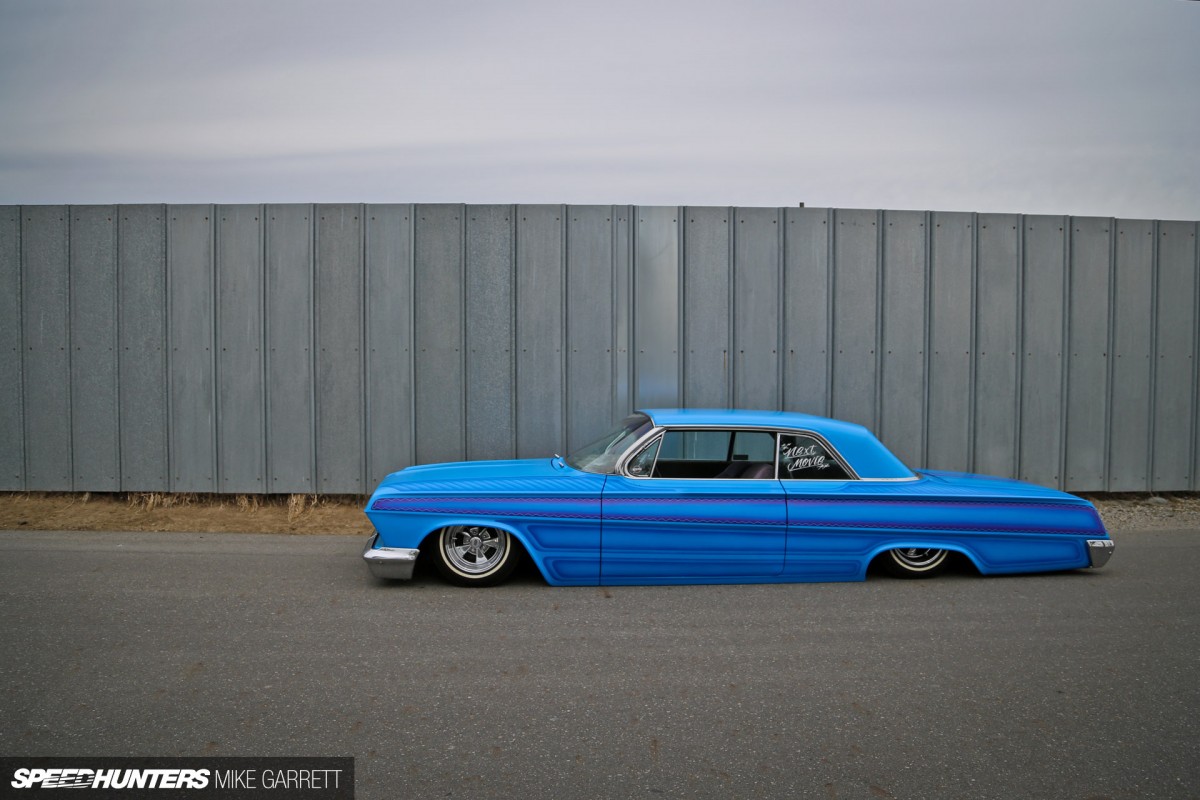 With the body resting directly on the ground, the Impala has a dramatically bitchin' look, and the style has been further enhanced by some creative body modifications.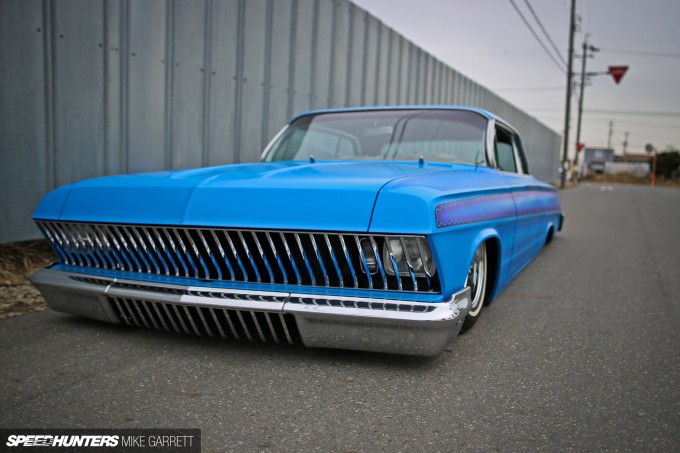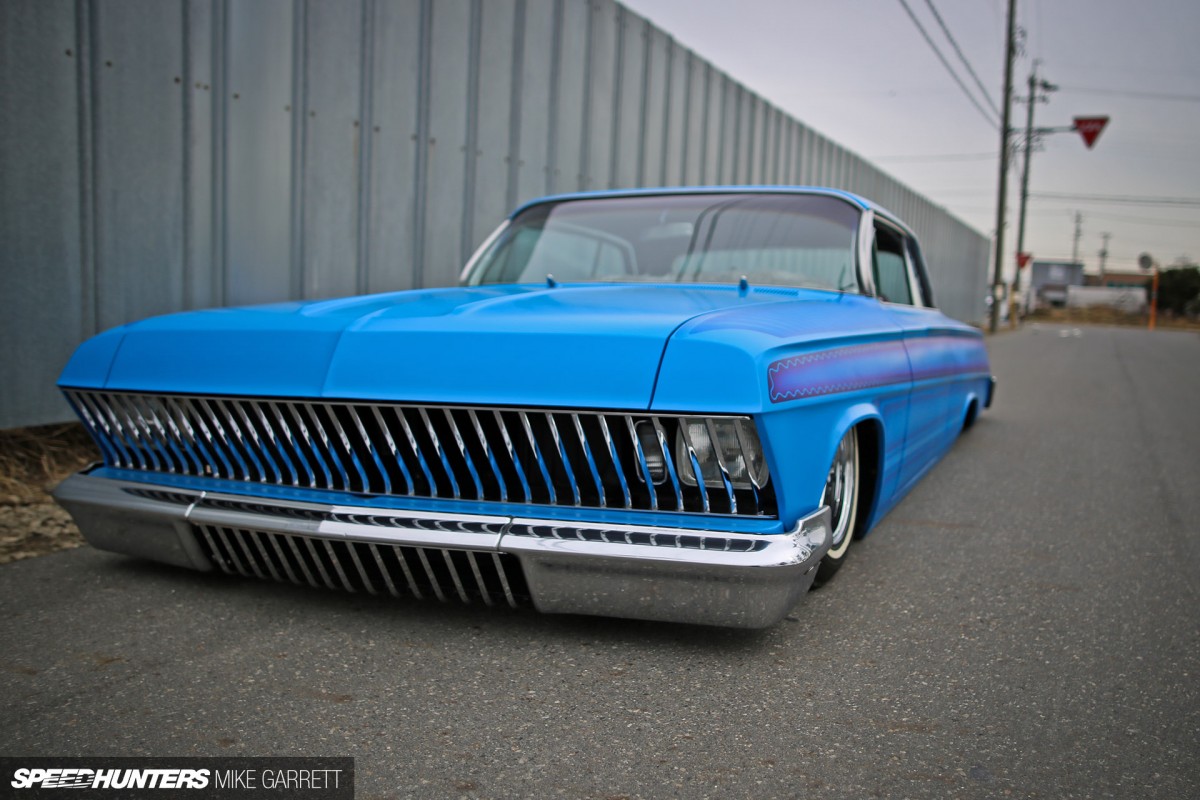 For starters, both the door handles and side trim have been shaved for a cleaner look, but the big changes involve the front and rear fascias.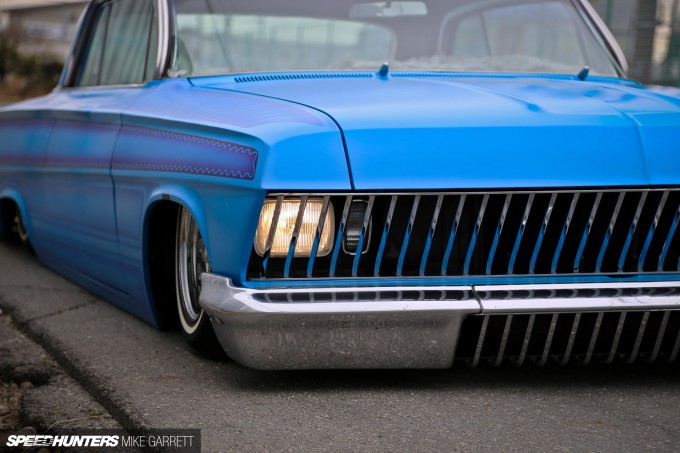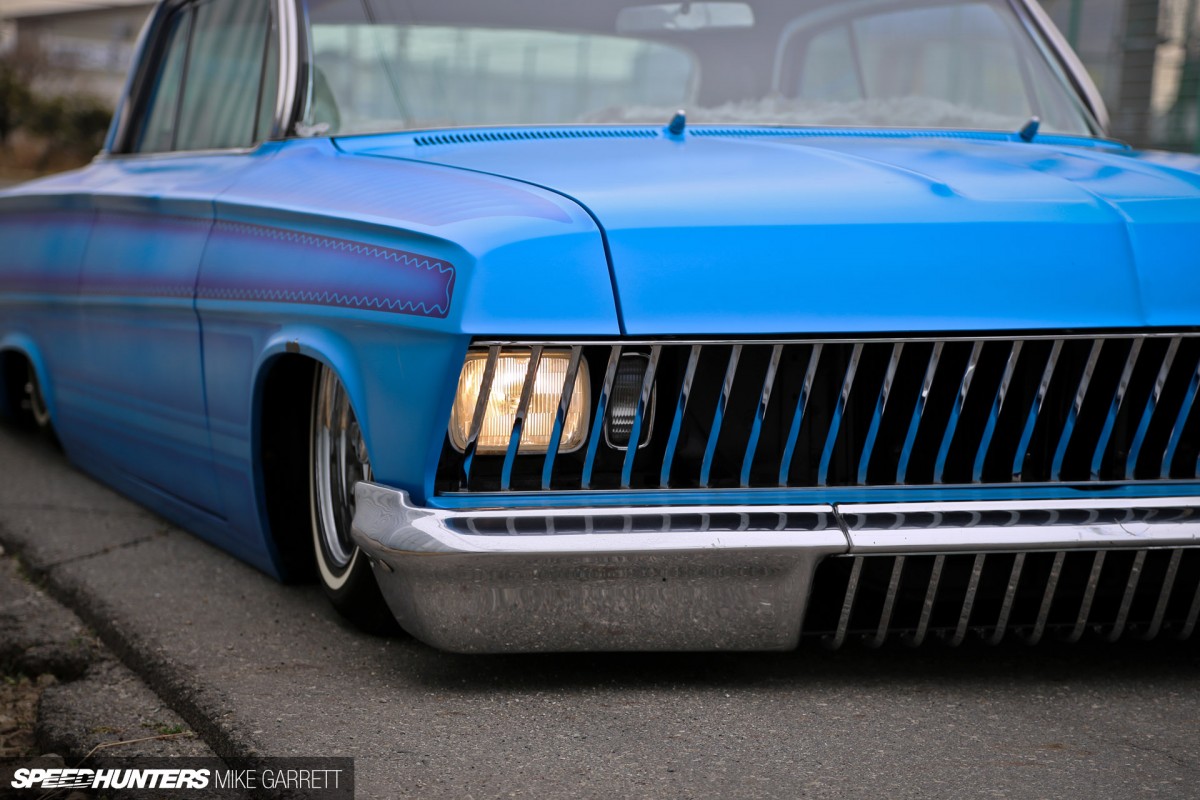 Up front the nose has been extended and the stock Impala grille and headlight setup has been completely removed and replaced with a on-off rectangular grille with hidden headlamps and turn signals.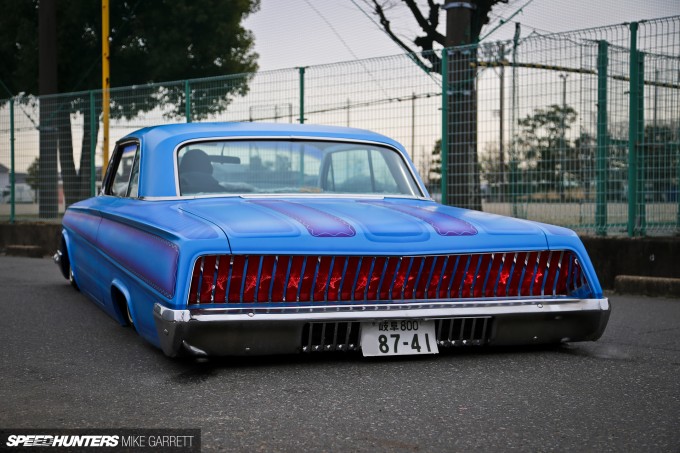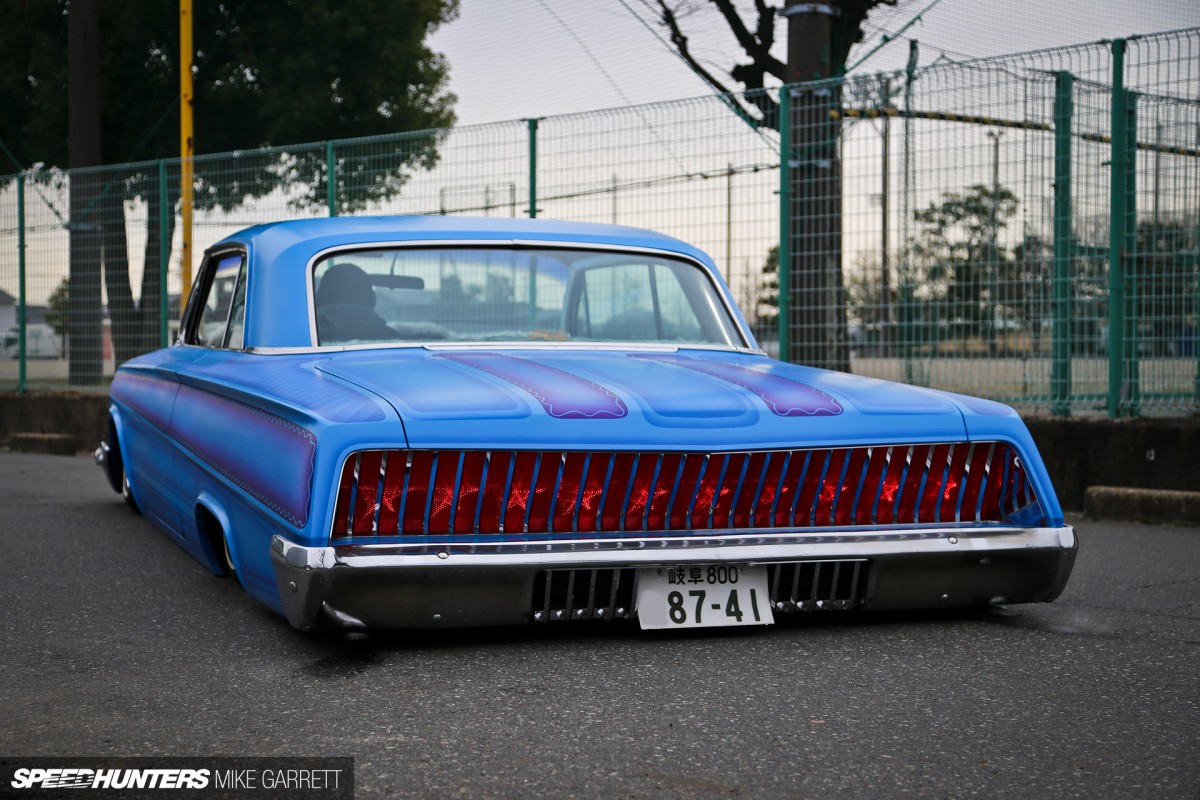 The same treatment has also been given to the car's rear section. Gone are the '62's signature six round tail lamps and silver trim, and in their place is a custom-built rear grille section with a wide taillight panel set behind the rectangular slits.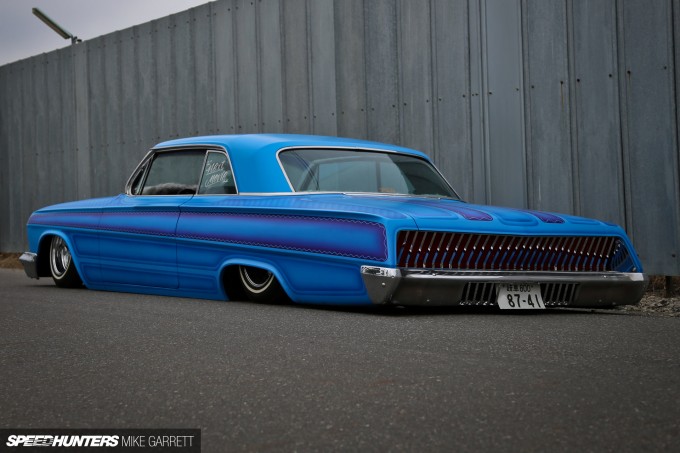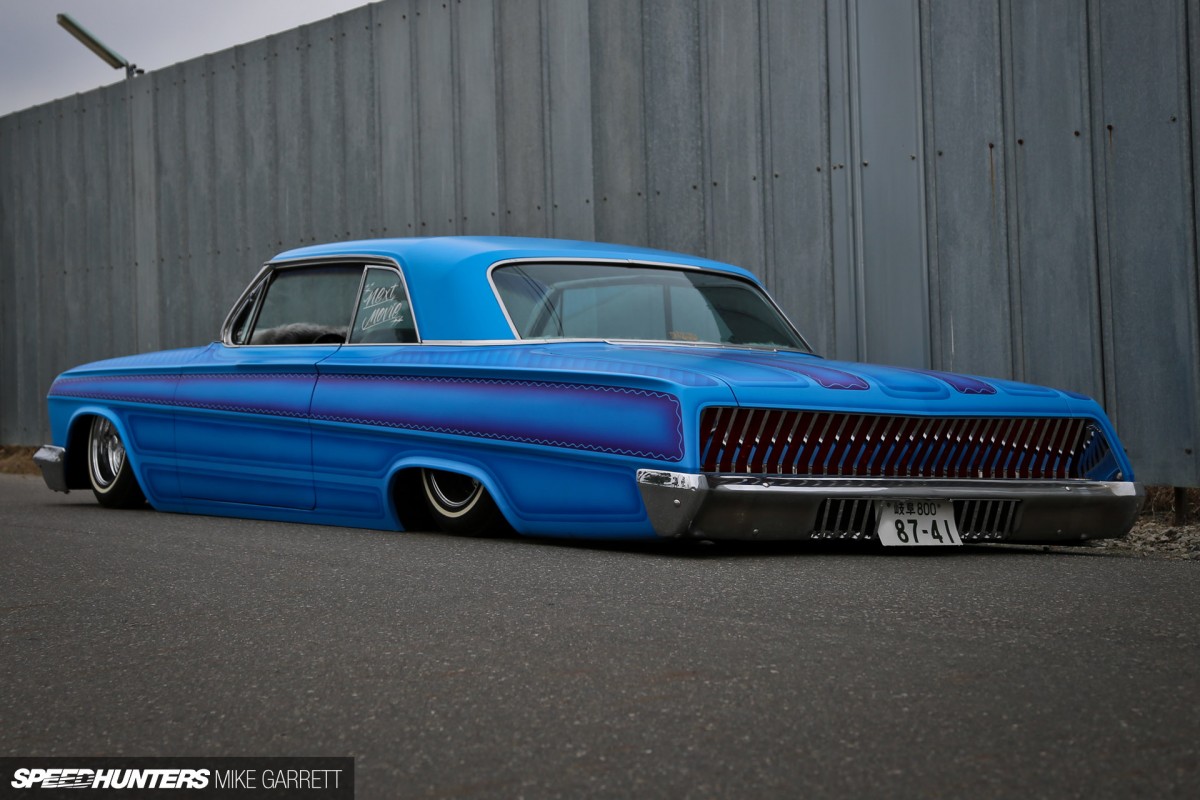 While the final look is radically different from your standard lowrider Chevy, the car still carries the unmistakable lines of a '62 Impala, and I think that's important.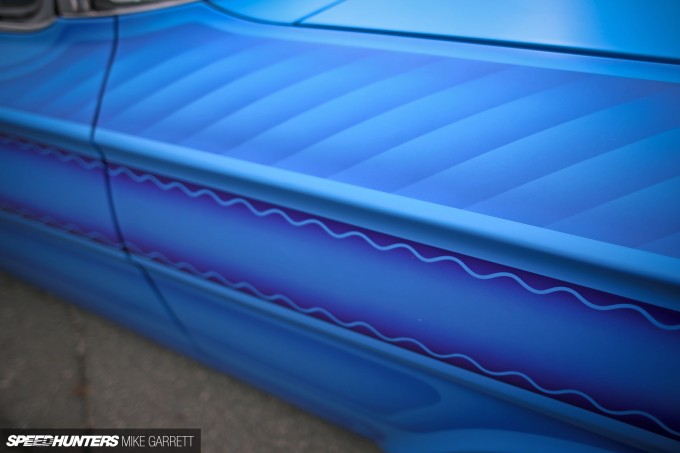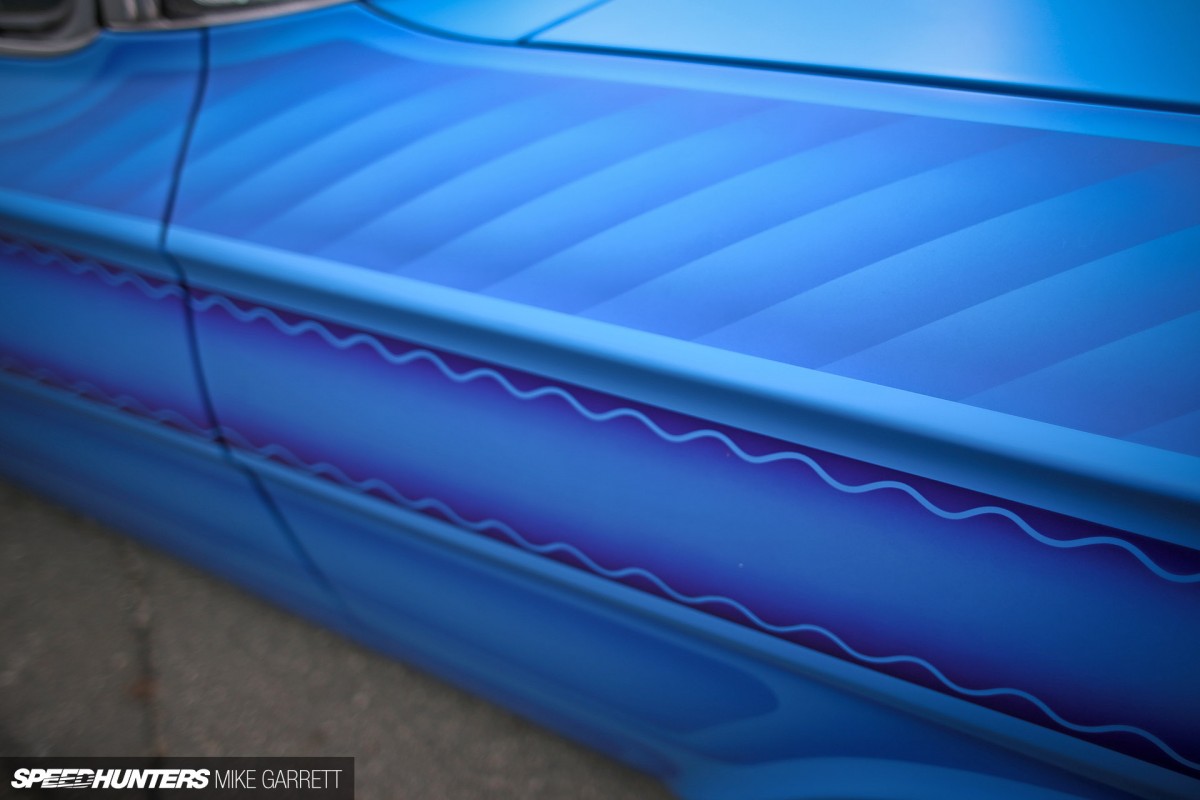 Then there's the paint job – an intricate, vintage-inspired scheme which uses all the tricks in the book. There are multiple shades of blue, striping, fading and scalloping, all wrapped into one cohesive package.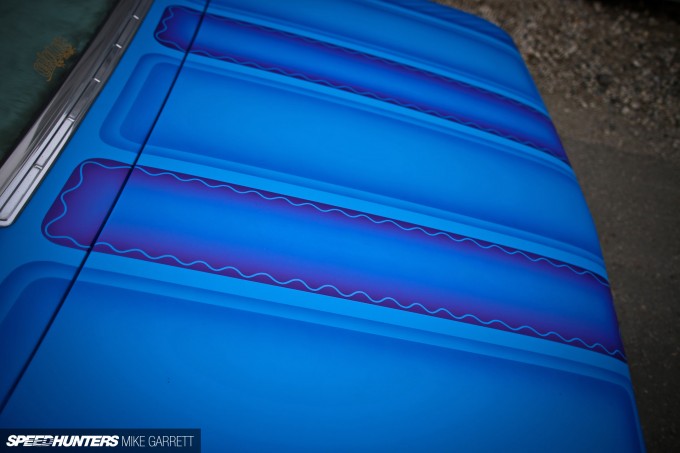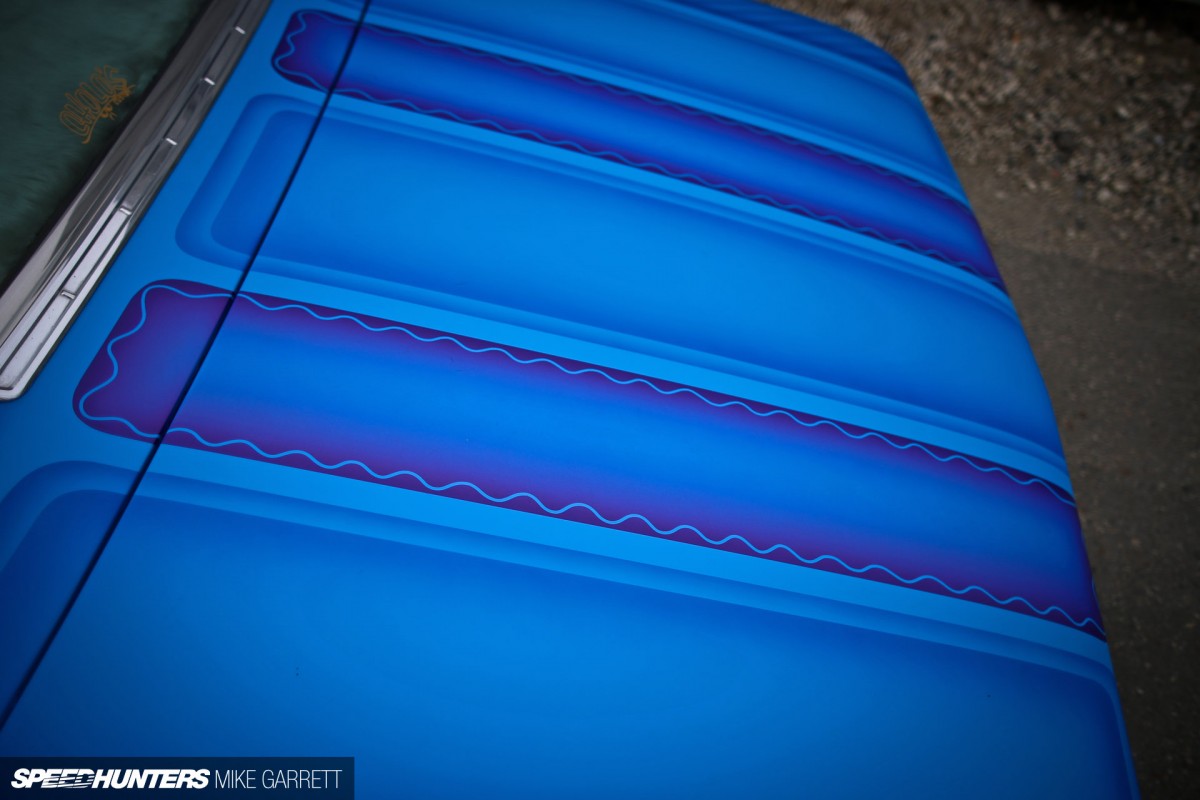 The especially cool thing is that the paint job is free from the glossy shine that you expect from most high-end lowriders. Instead, the matte finish helps speak to the car's 'for the streets' attitude.
California Connection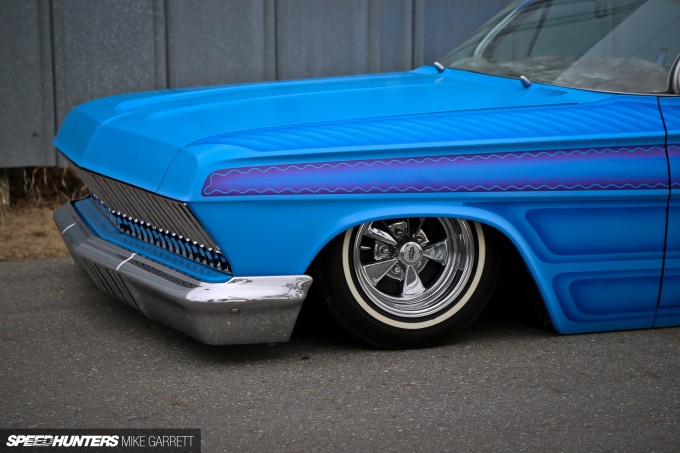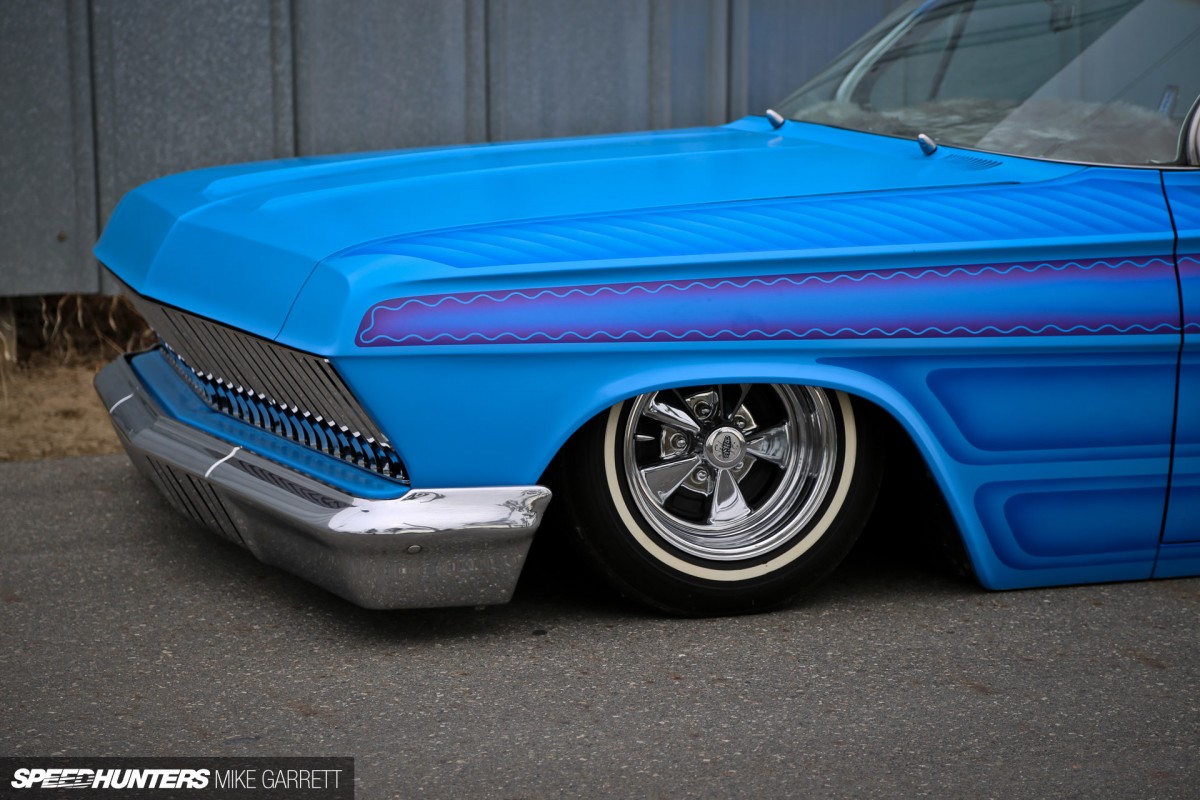 While you usually expect lowriders to be rolling on Daytons or other types of wire wheels, Next Movie's 1970s character is made even more apparent with a set of 14×6-inch reverse Cragars with appropriate 5.20-14 Premium Sport thin white-wall tires. This was a hot setup to have back in the day.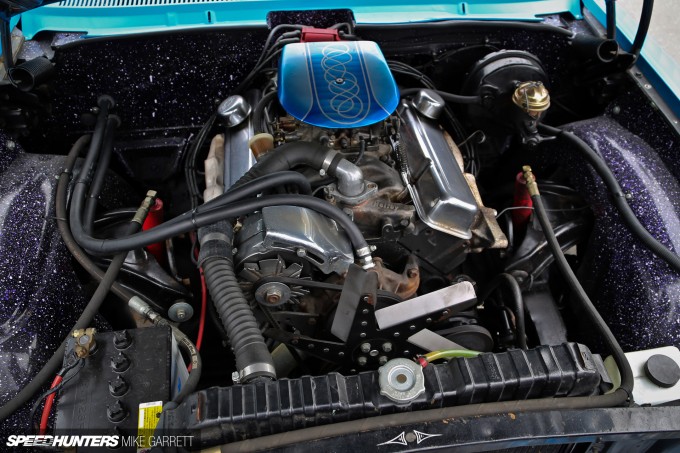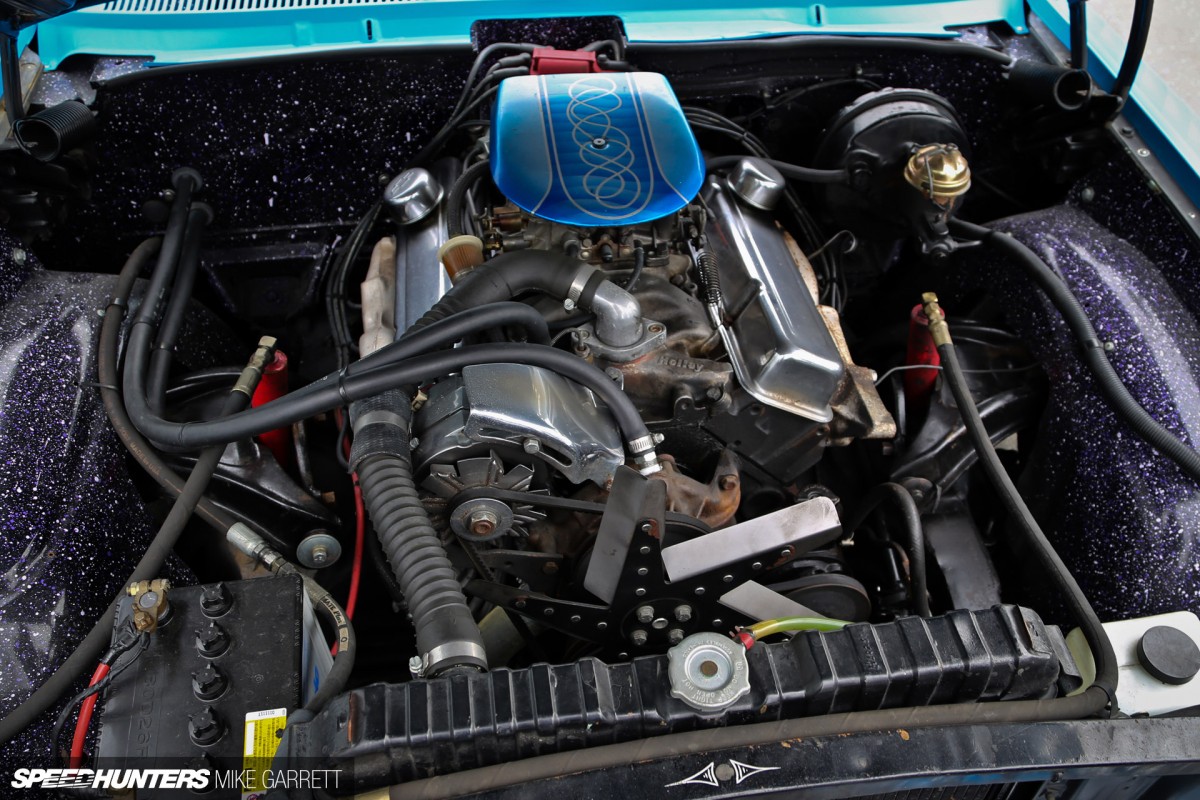 I mentioned a moment ago that Next Movie is built to be driven, not to be placed on mirrors at a car show – and its engine bay attests to that. There's no excessive use of chrome or parts so clean you could eat off them. What we do have is a simple 350 cubic inch small block with a Holley manifold and four-barrel carb, along with a custom dual exhaust system. Also note the effective "starry night' splatter scheme that's been applied to the bay.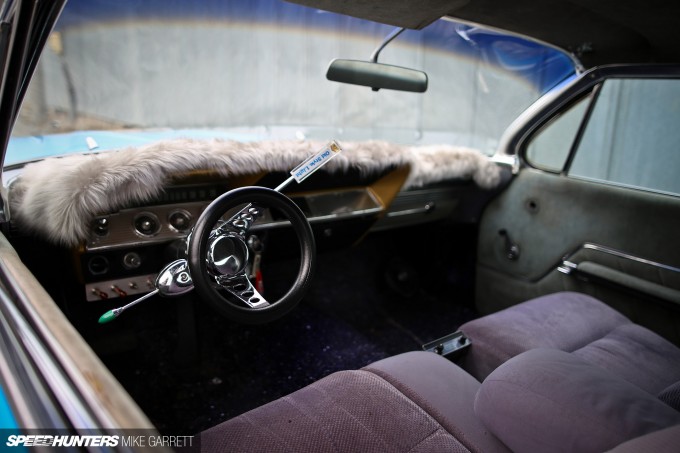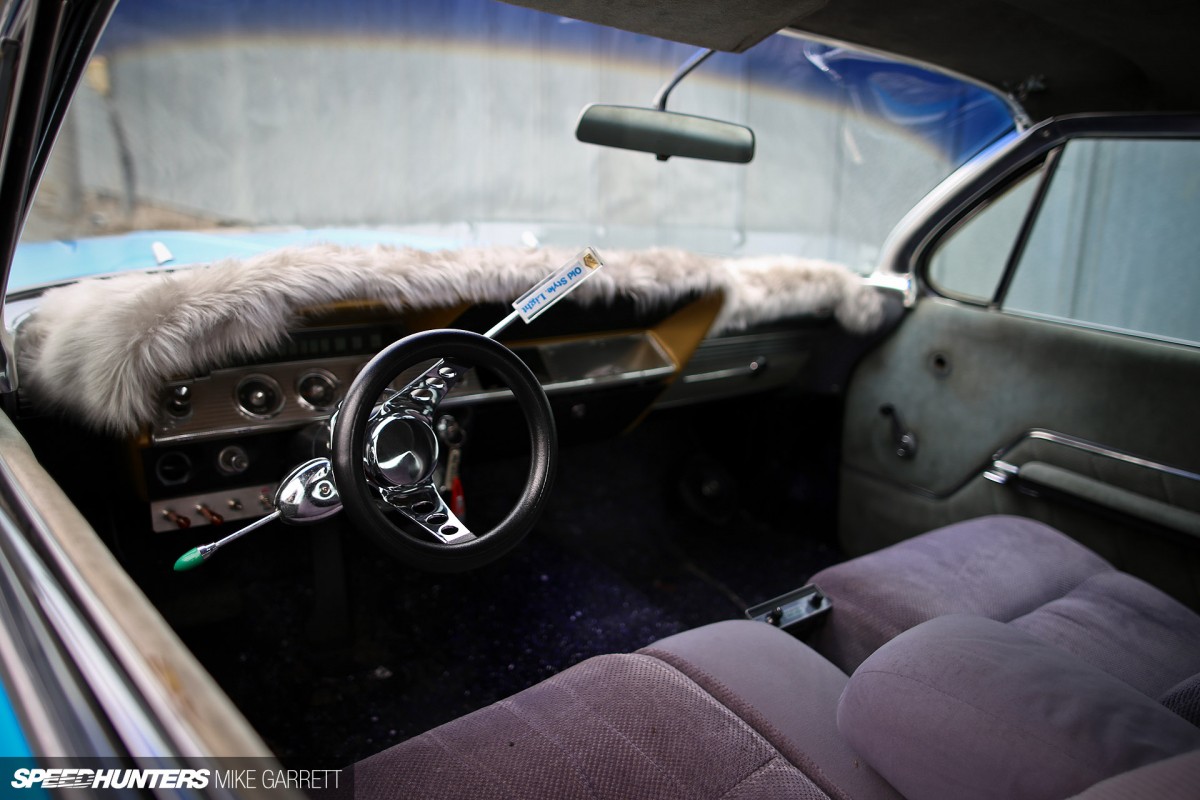 While lowrider show cars might have been known for their extravagant, velvet-filled interiors – Next Movie's cabin is much more grounded in reality. With that said, Cheech & Chong would certainly dig that dashboard cover as well as the tiny steering wheel.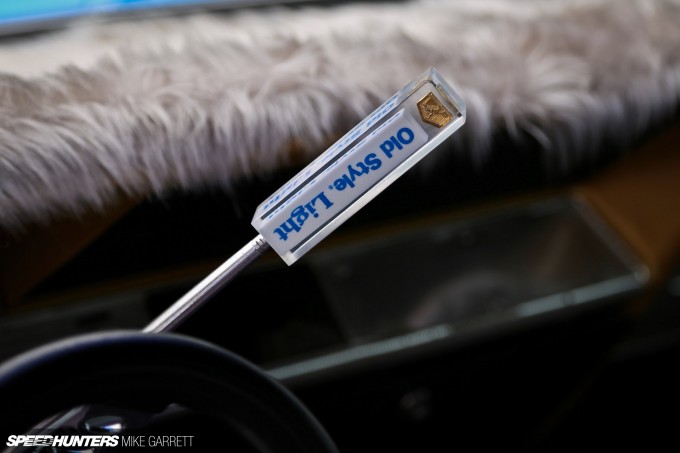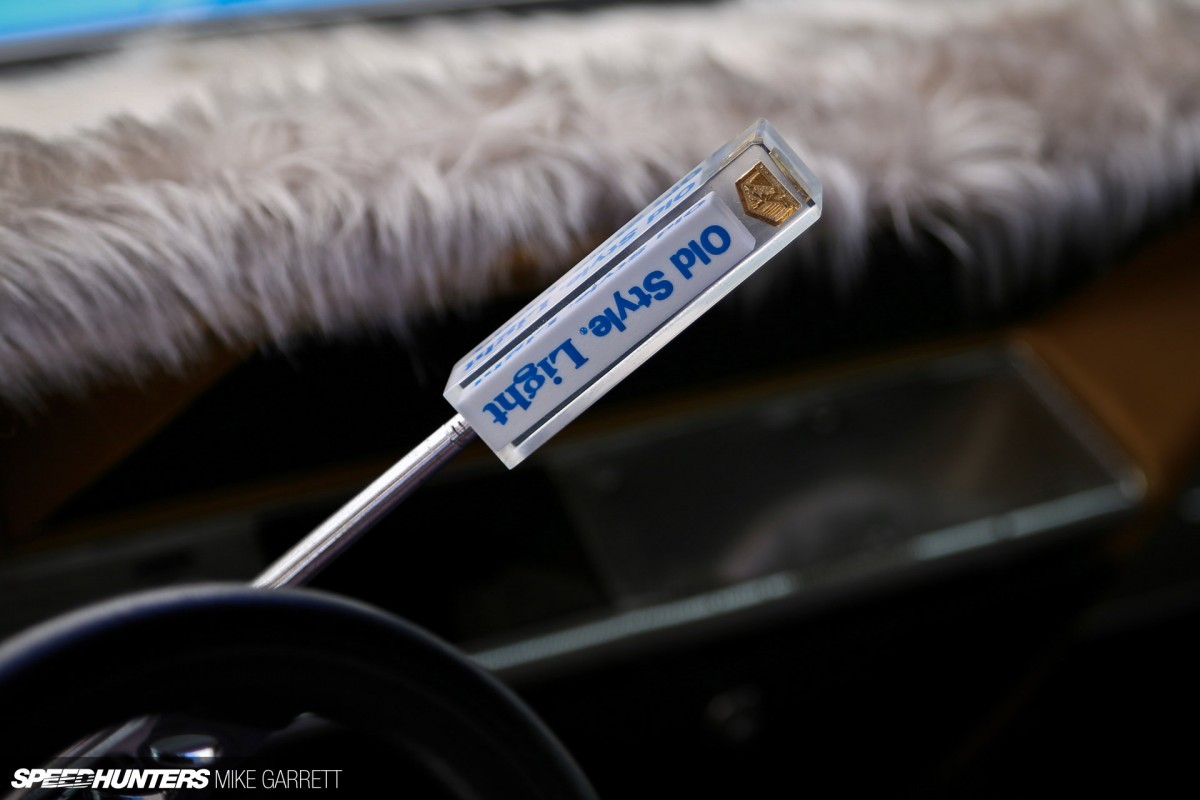 Let's not forget the Old Style Light beer tap shift knob mounted on the TH350 transmission's column shifter.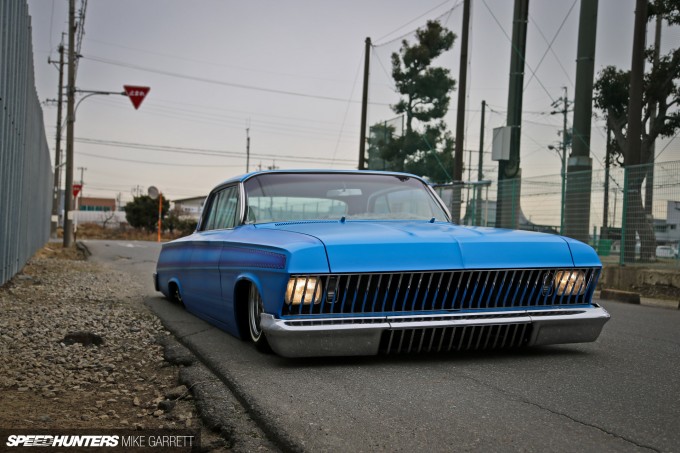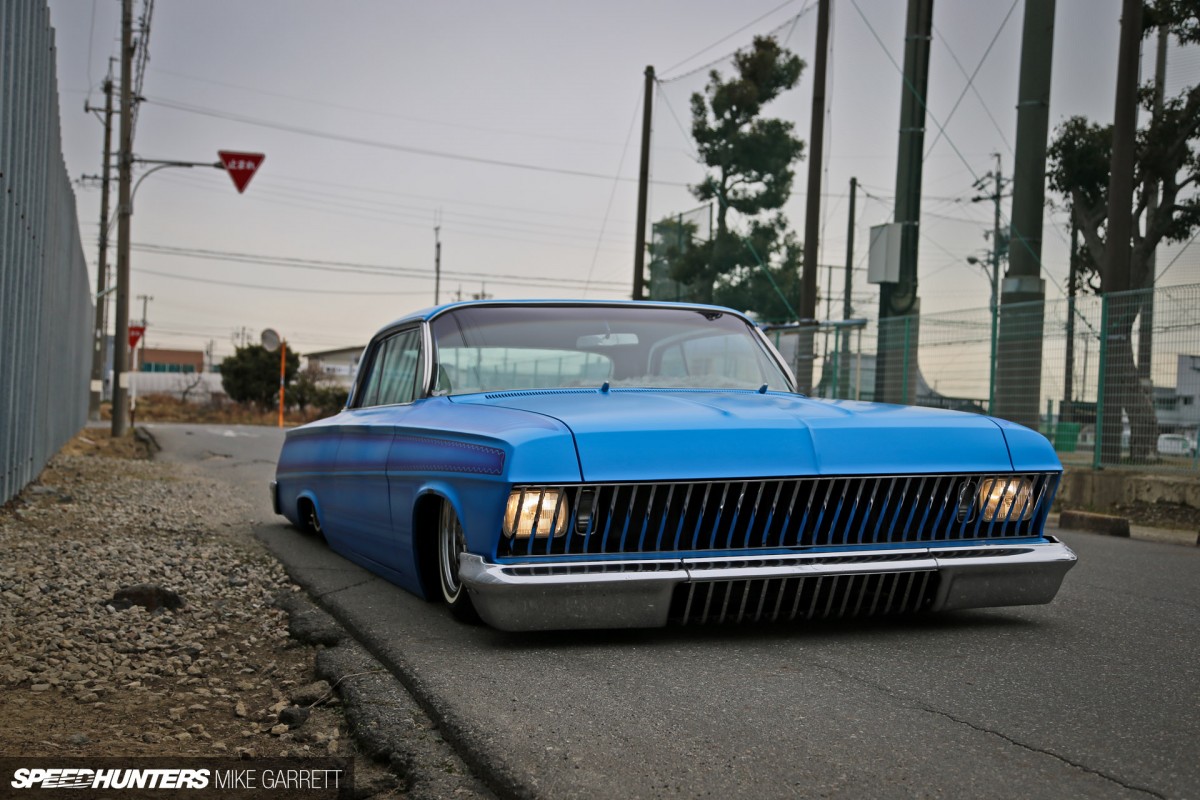 There's something I love about a car that's built to do one thing and do it well, and when it comes to cruising Next Movie just might be number one.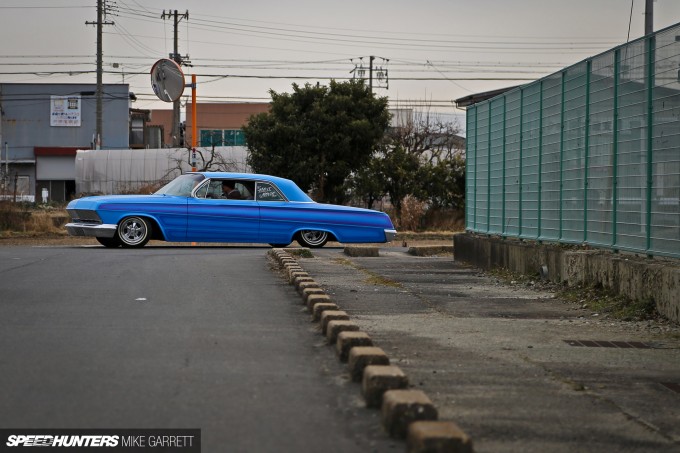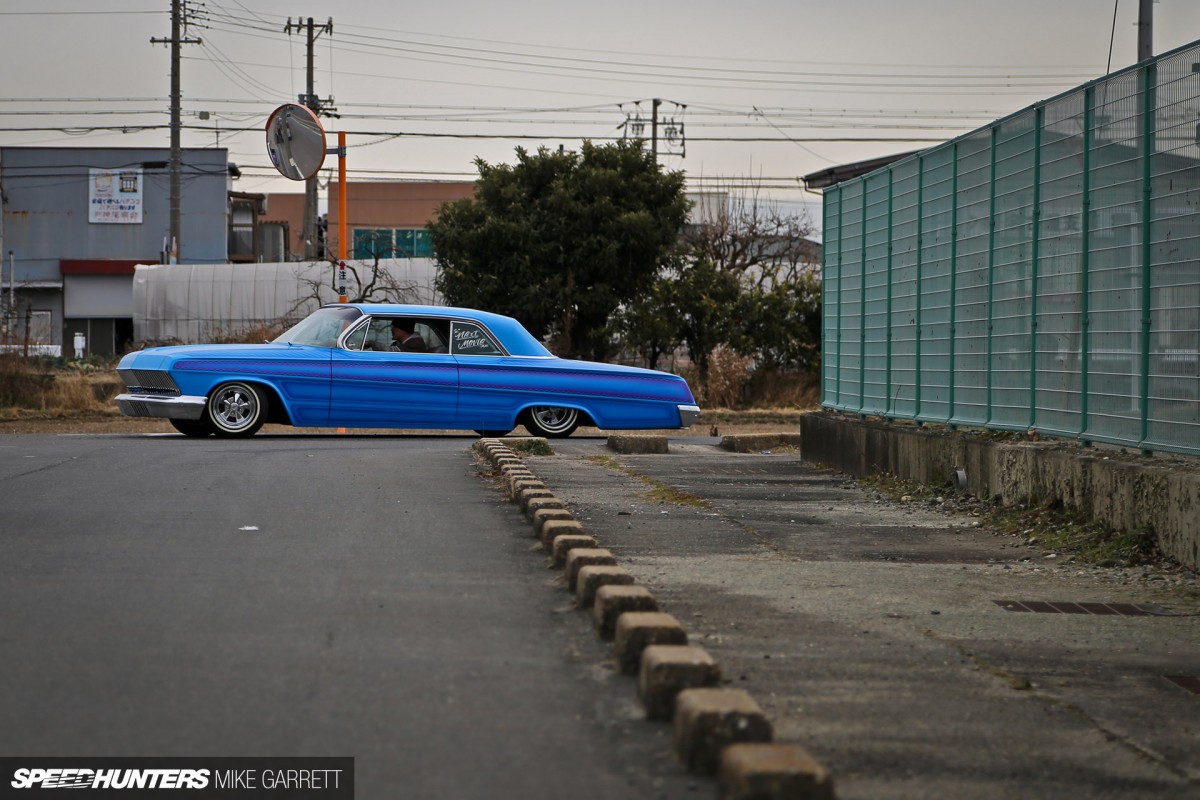 From Whittier Boulevard to the streets of Sakae, who could put their own spin on the classic LA lowrider better than our custom-crazed friends in Nagoya?
Mike Garrett
Instagram: speedhunters_mike
mike@speedhunters.com