Bad News, Mr. Block
Dear Mr. Block,
We regret to inform you of some terrible news: You've been replaced. That throne upon which you once sat, the one marked King of Hooning? It's been taken and it's your own damn fault, because you had to go off and build the Hoonicorn RTR, our new favorite Gymkhana superstar.
Sincerely,
The Internet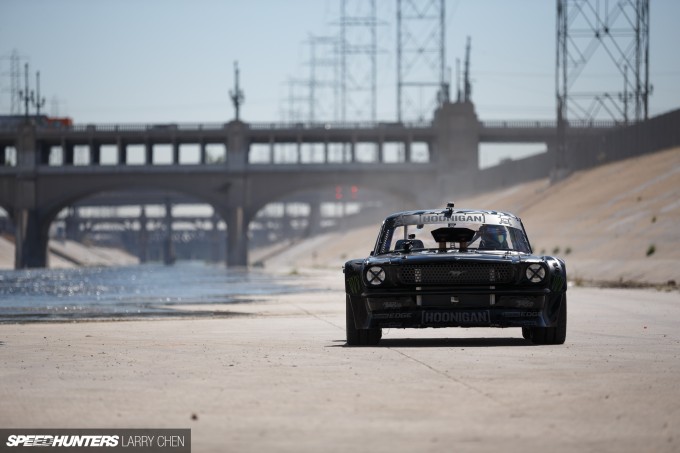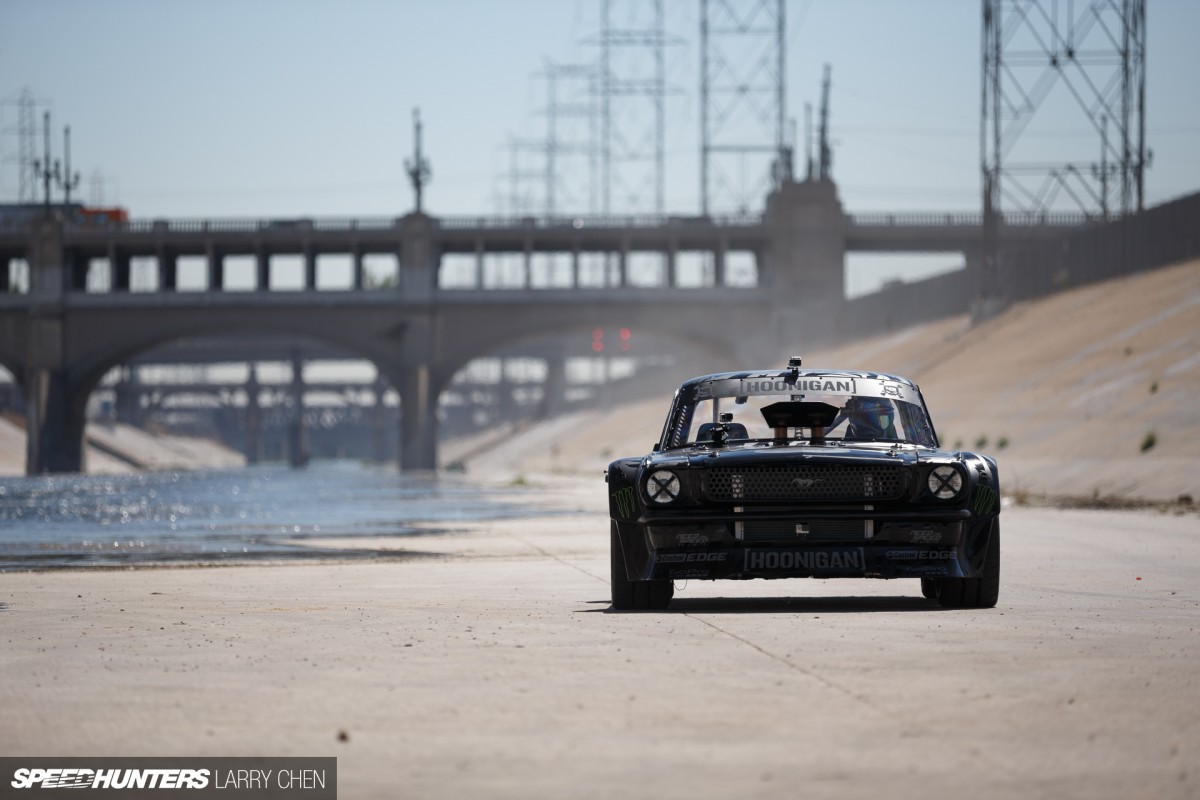 And so, here we are. Gymkhana Seven: Wild In The Streets just dropped, and the world just realized that Ken Block isn't the only hero sliding across their screens.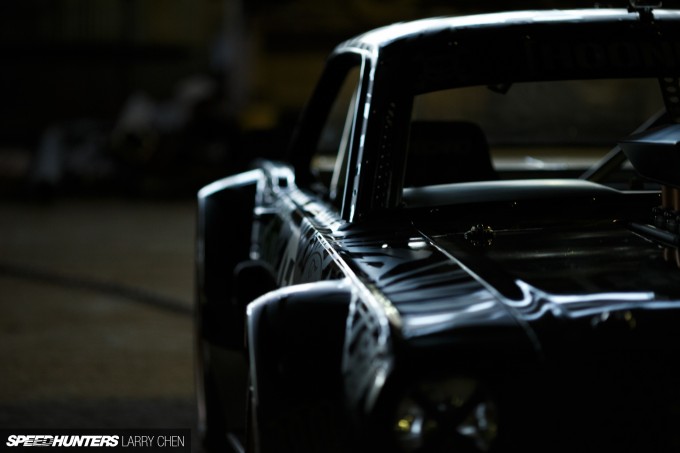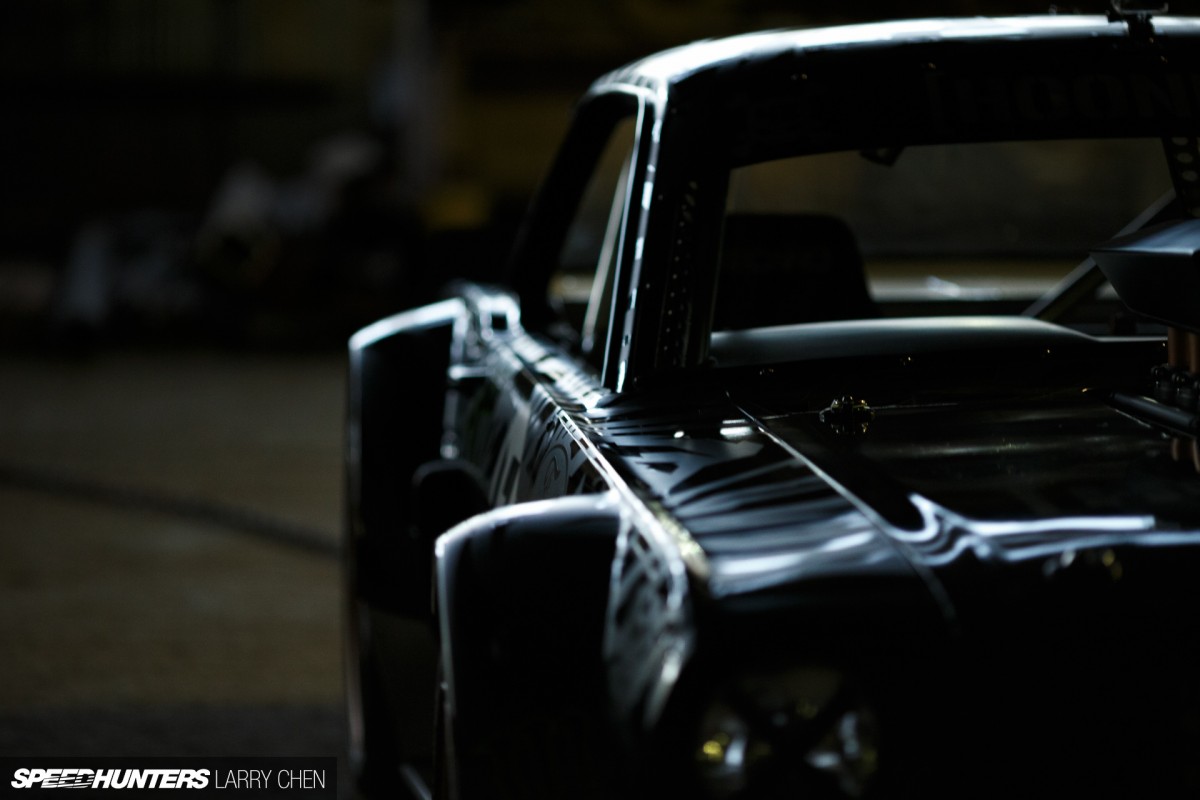 The Gymkhana franchise has entertained us for years with race-prepared STIs and Fiestas, and while those were plenty impressive for the time, the game just changed.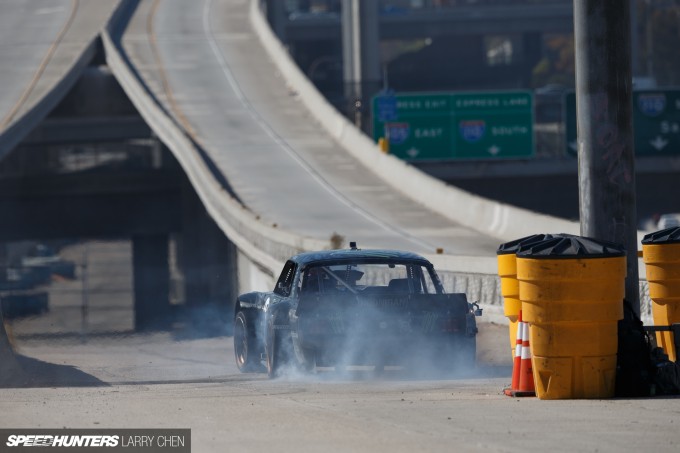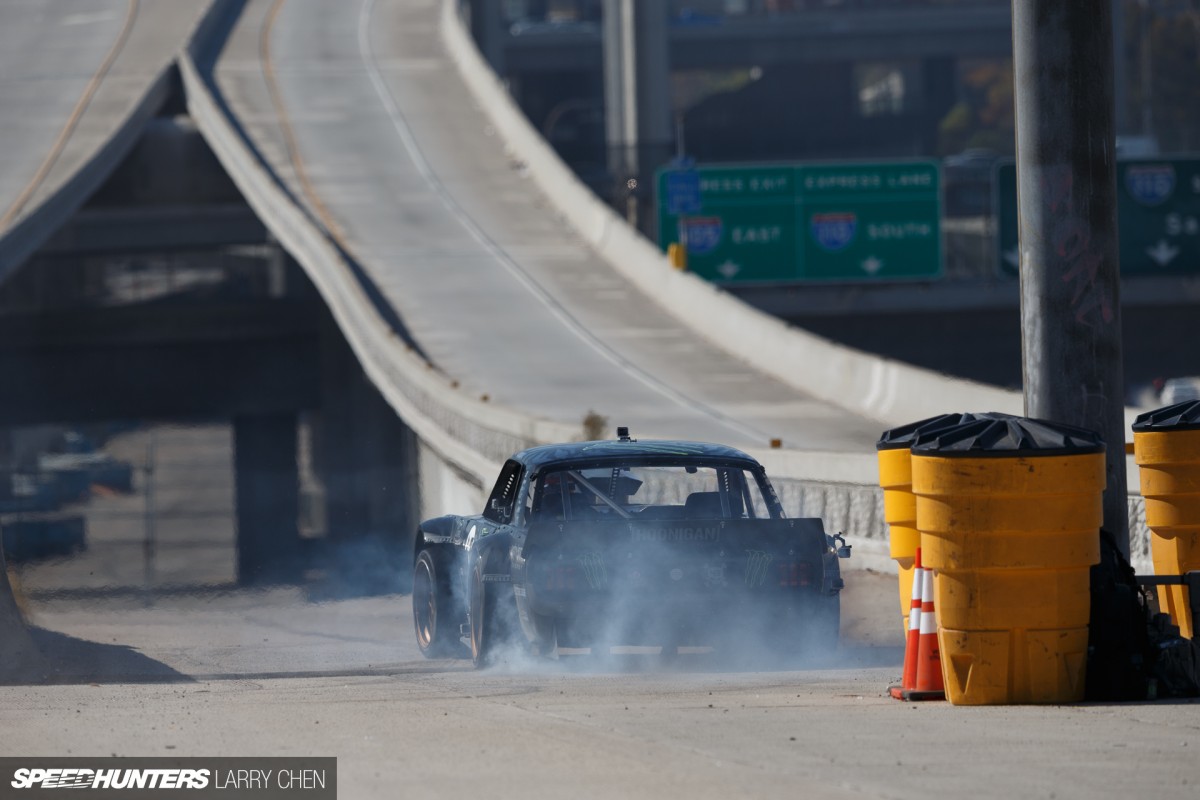 There's no doubt Gymkhana is serious business to all involved, and surely they spend all year trying to cook up ways to outdo themselves. It can't be easy, because every time a new film is released, it's the greatest version yet.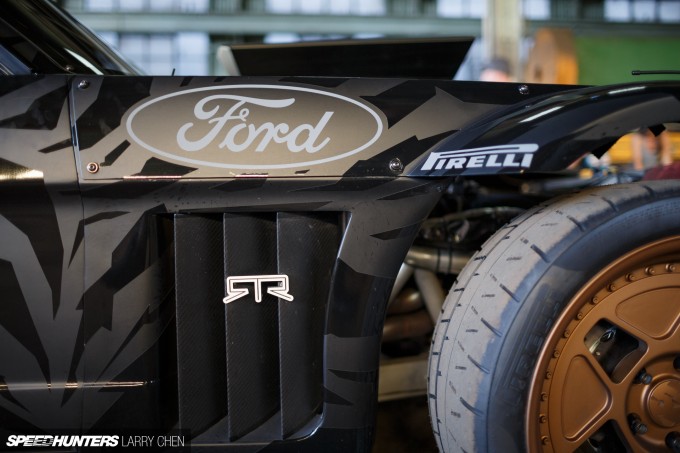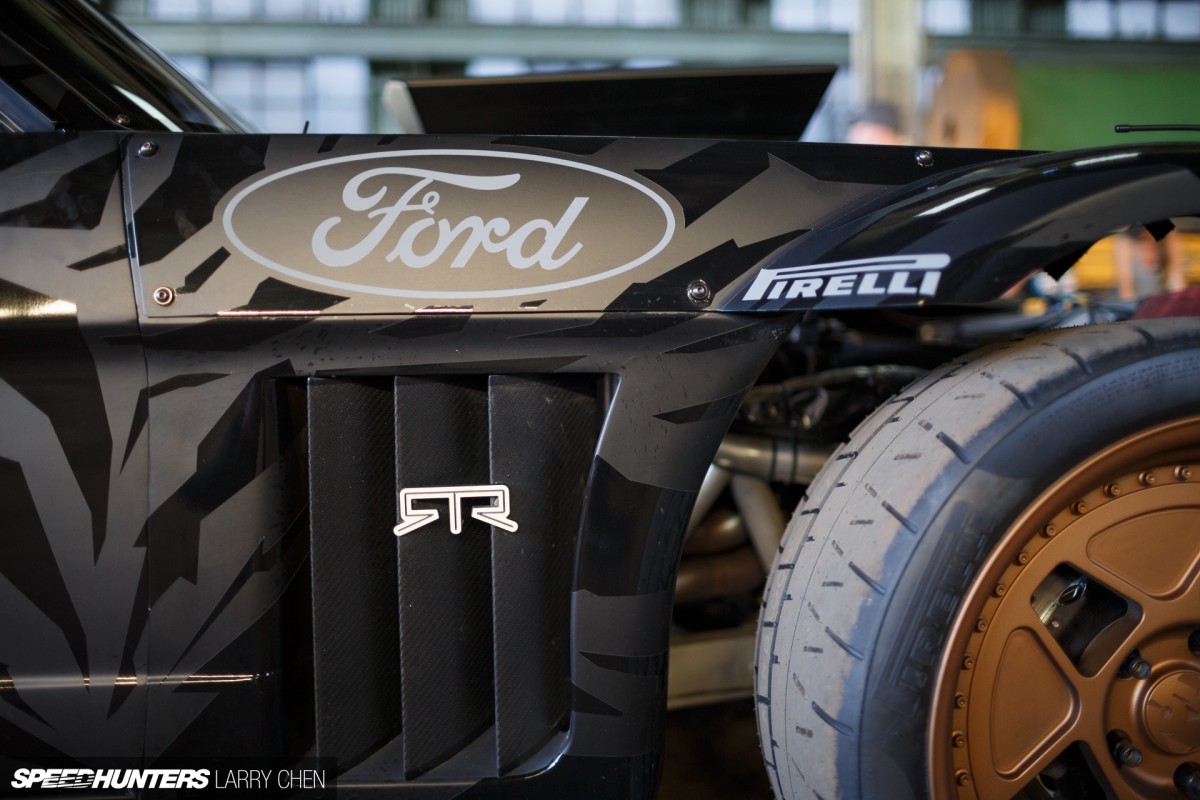 That's why Mr. Block assembled a dream team to not only think up the plot of their newest film, but also its newest star – a truly bespoke creation that's a perfect fit for our The Creators theme. It took Hoonigan Racing Division, RTR and ASD Motorsports, plus a host of other players to conceptualize and create the Hoonicorn RTR over a secrecy-shrouded span of two years.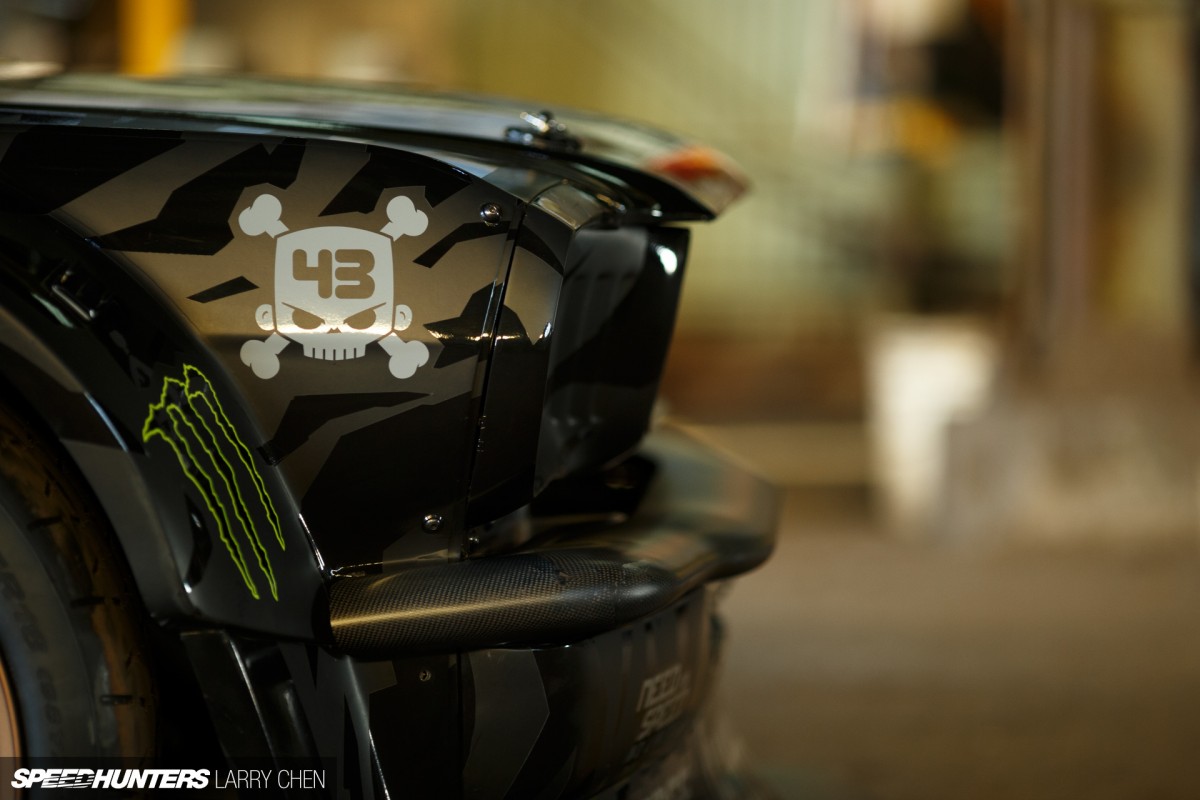 It was this extreme degree of secrecy that intrigued me most. Ken wanted it to be special by the time Gymkhana Seven was released, so the code name 'Unicorn' was used in all correspondence during the build. From there, 'Hoonicorn' just seemed natural.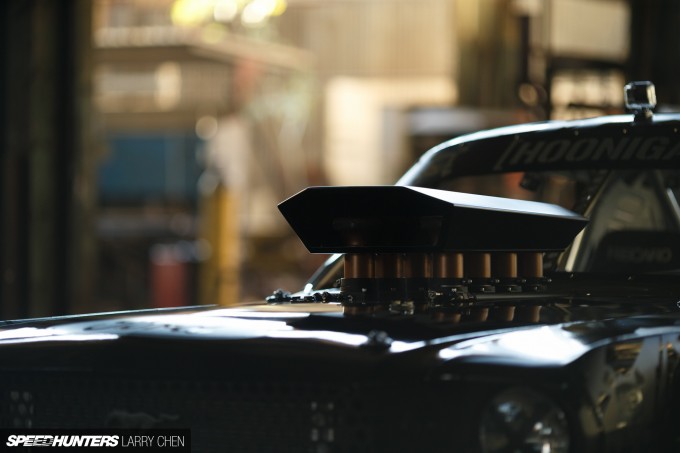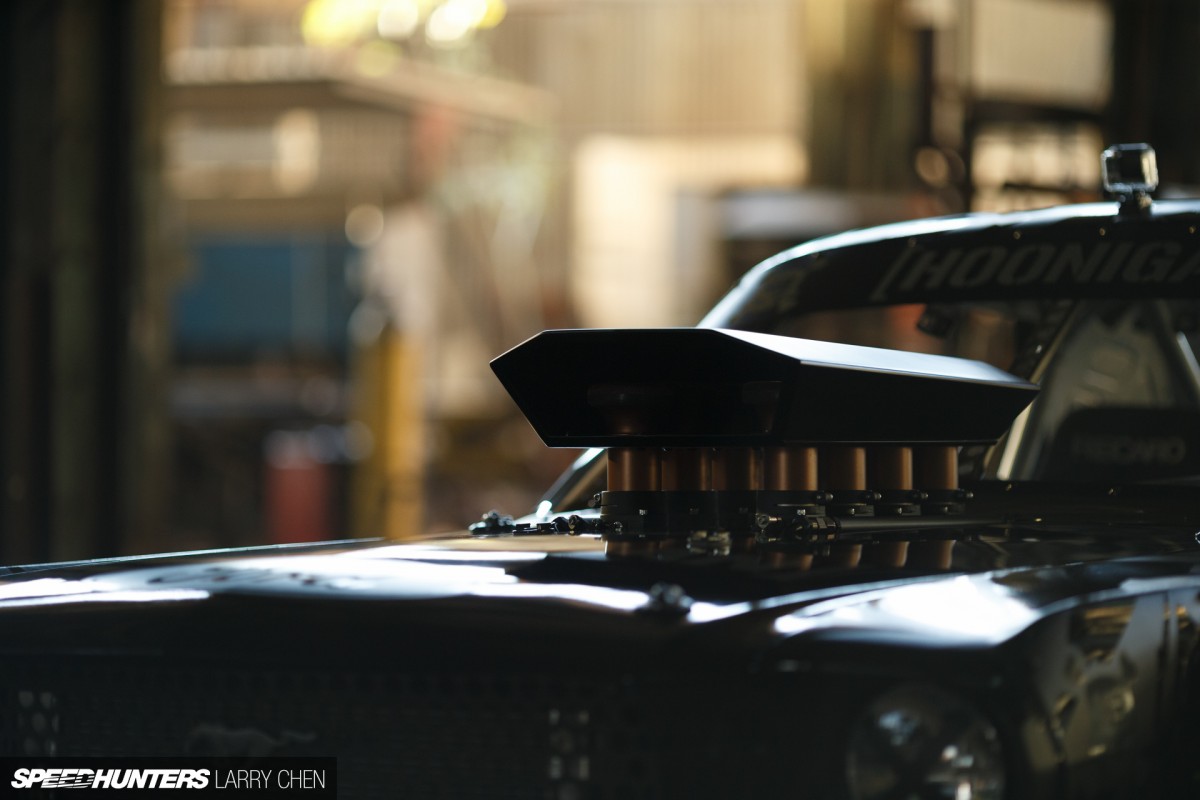 Want to know more? Yeah, I did too. Fortunately Derek Dauncey, Team Director of Hoonigan Racing Division, was willing to fill me in on this epic build.
Where Do You Get A Hoonicorn?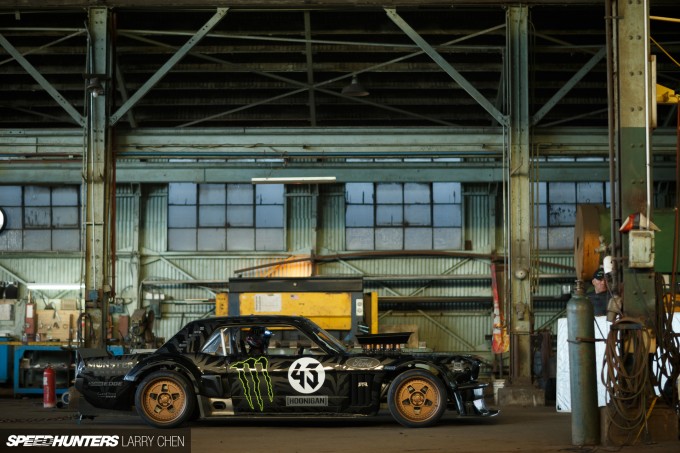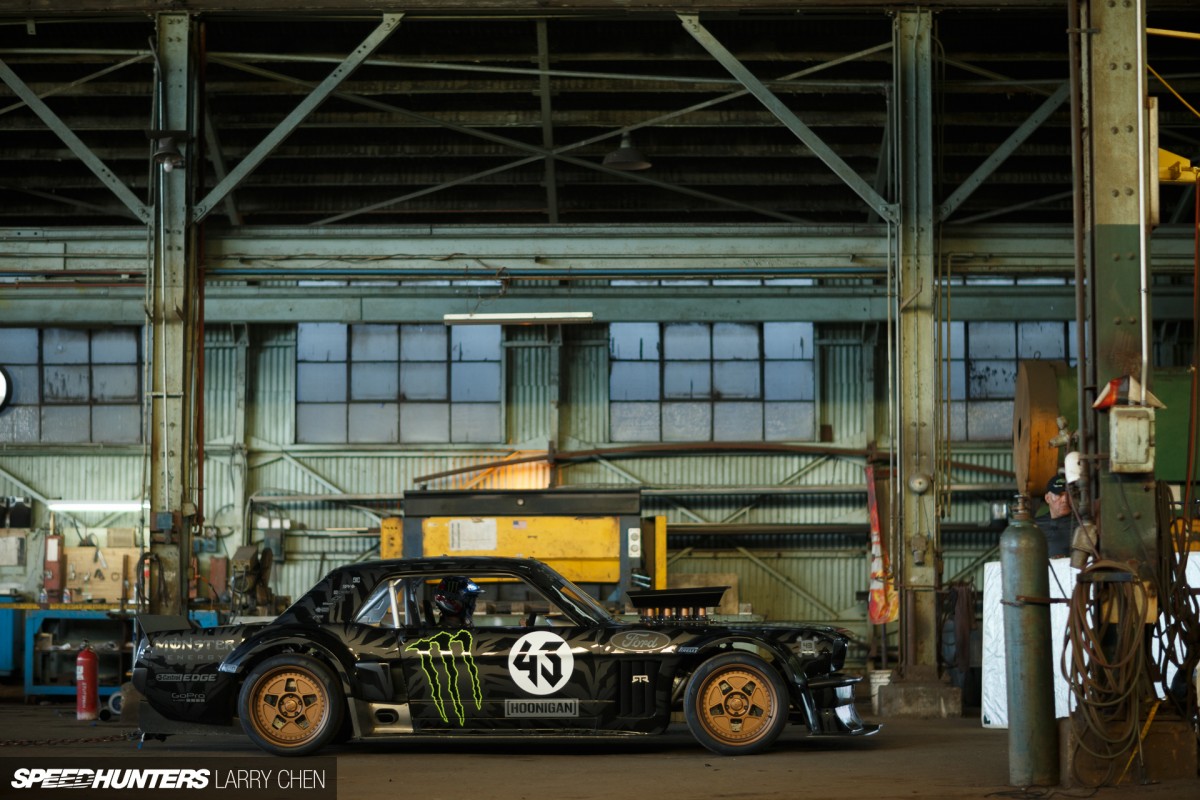 Like any inspired design, the Hoonicorn RTR came with a very specific set of requirements: It had to be nimble, powerful, rotate quickly, shoot flames and cause anyone nearby to plug their ears. Oh, and obviously melt tires like a champ. While fulfilling these requirements, Hoonicorn RTR also had to look badass – which has a lot to do with the silhouette you see here. You think it's easy to make a '65 Mustang sit like this? Think again…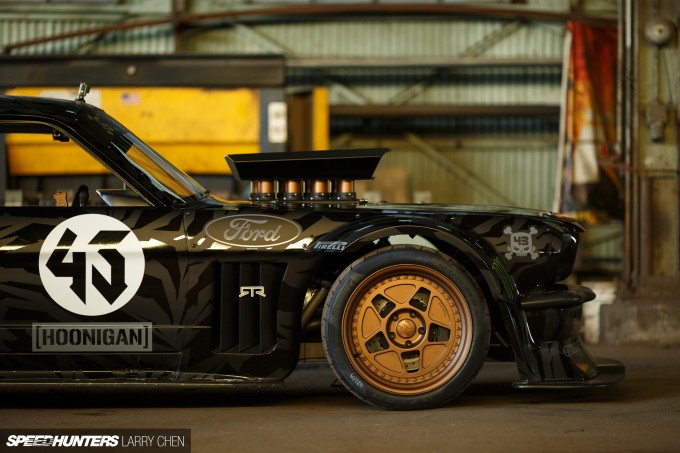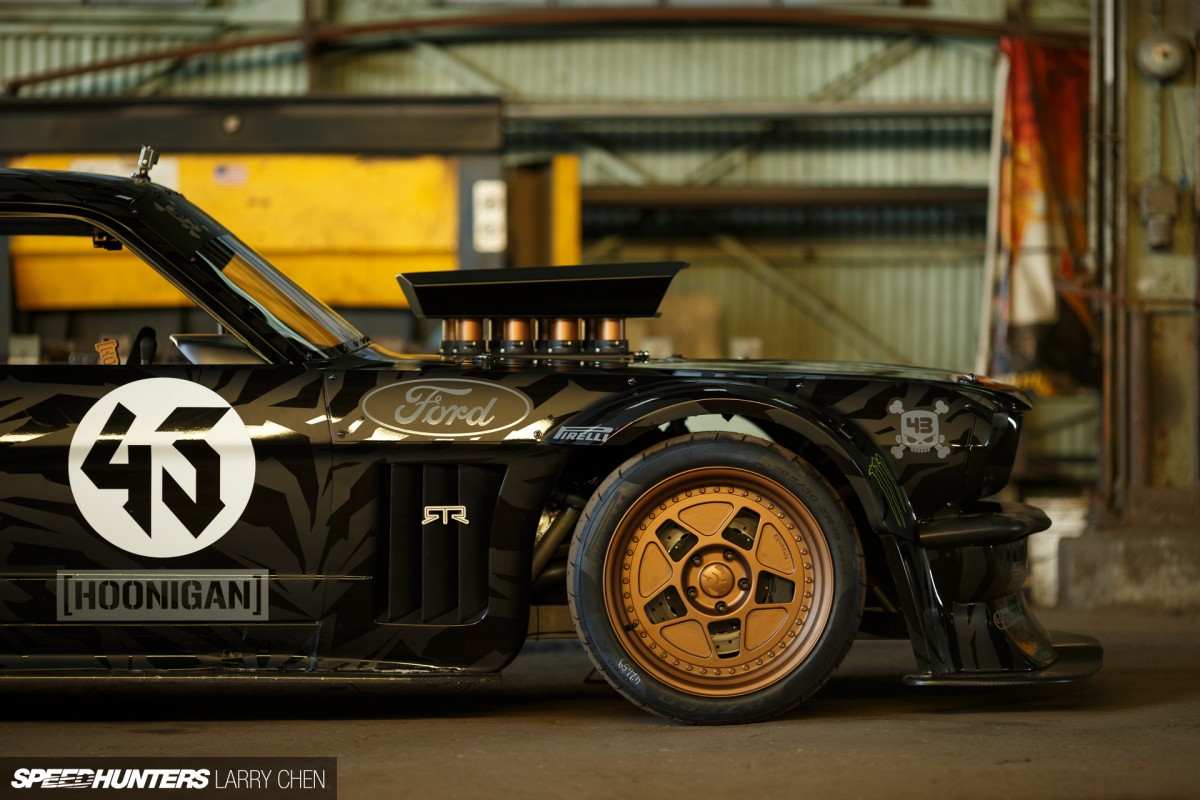 The amount of daylight showing through the front wheelwells is the first clue that this is far removed from the unibody ponycar it once was. Starting with a '65 bodyshell, ASD Motorsports quickly scrapped the stock floors and subframe in favor of an entirely new structure. The scratch-built chassis required tons of fabrication, but don't forget about the months of engineering that took place even before the tubing was bent and notched.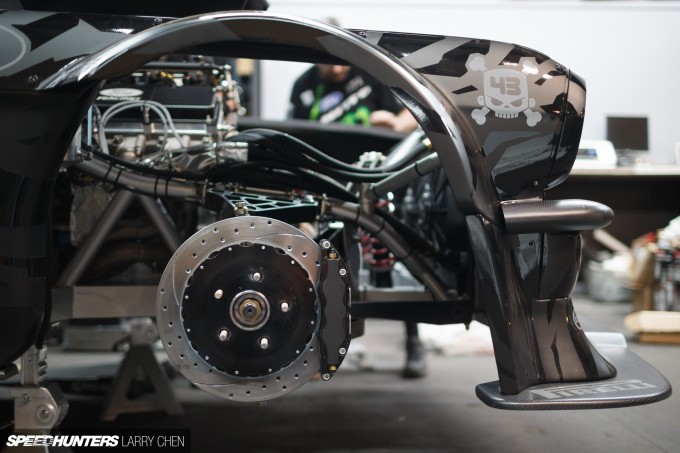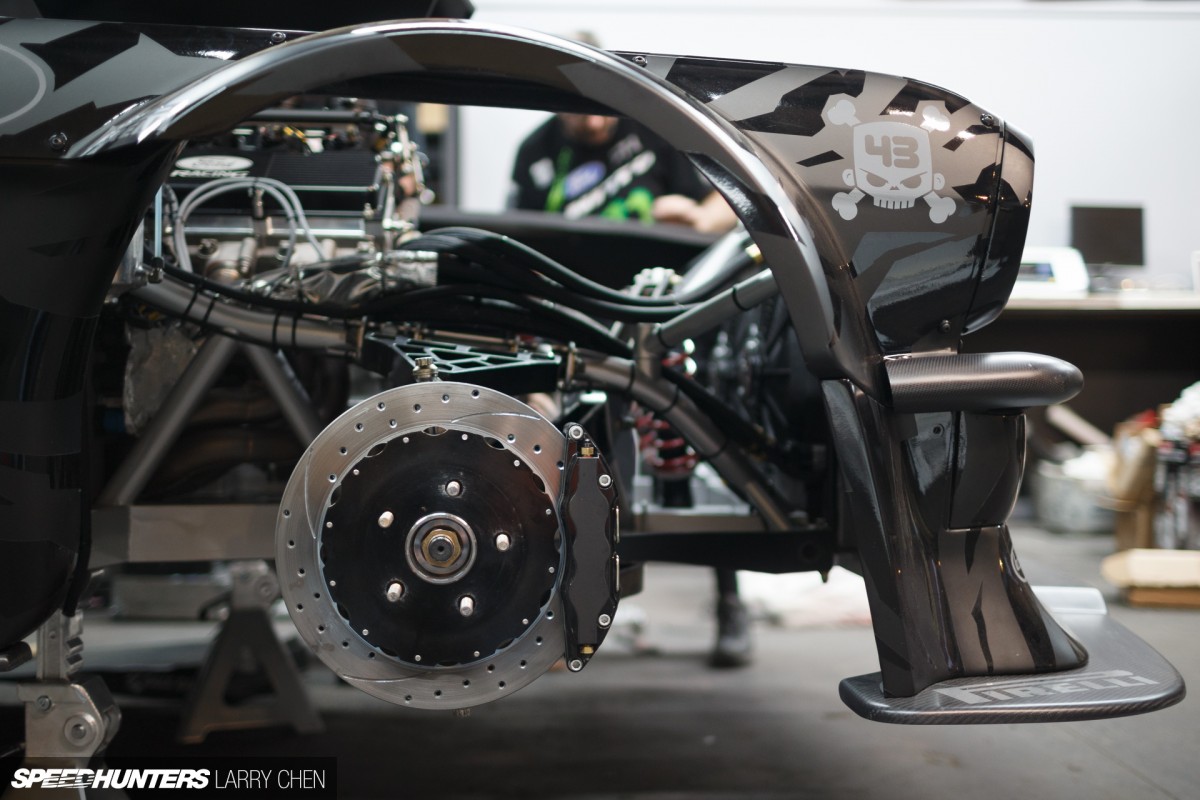 With the wheel removed, we can start to see some of the intense design and fabrication that happened at ASD; like the one-off, CNC-machined, double wishbone suspension with inboard cantilever dampers. Also notice the new location of the wheel arch, which is limited only by the top edge of the Mustang's fender.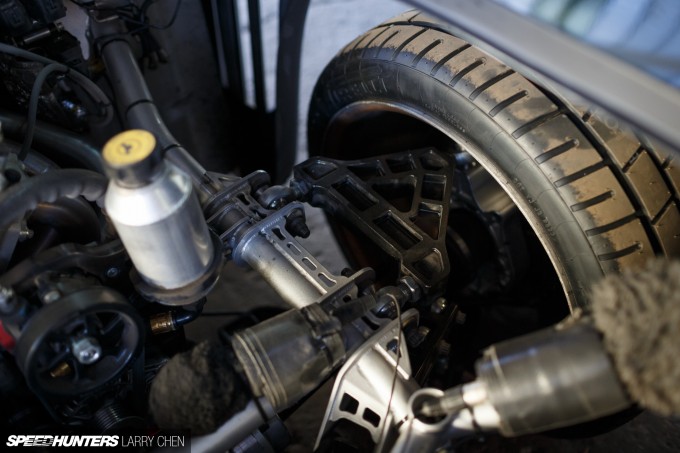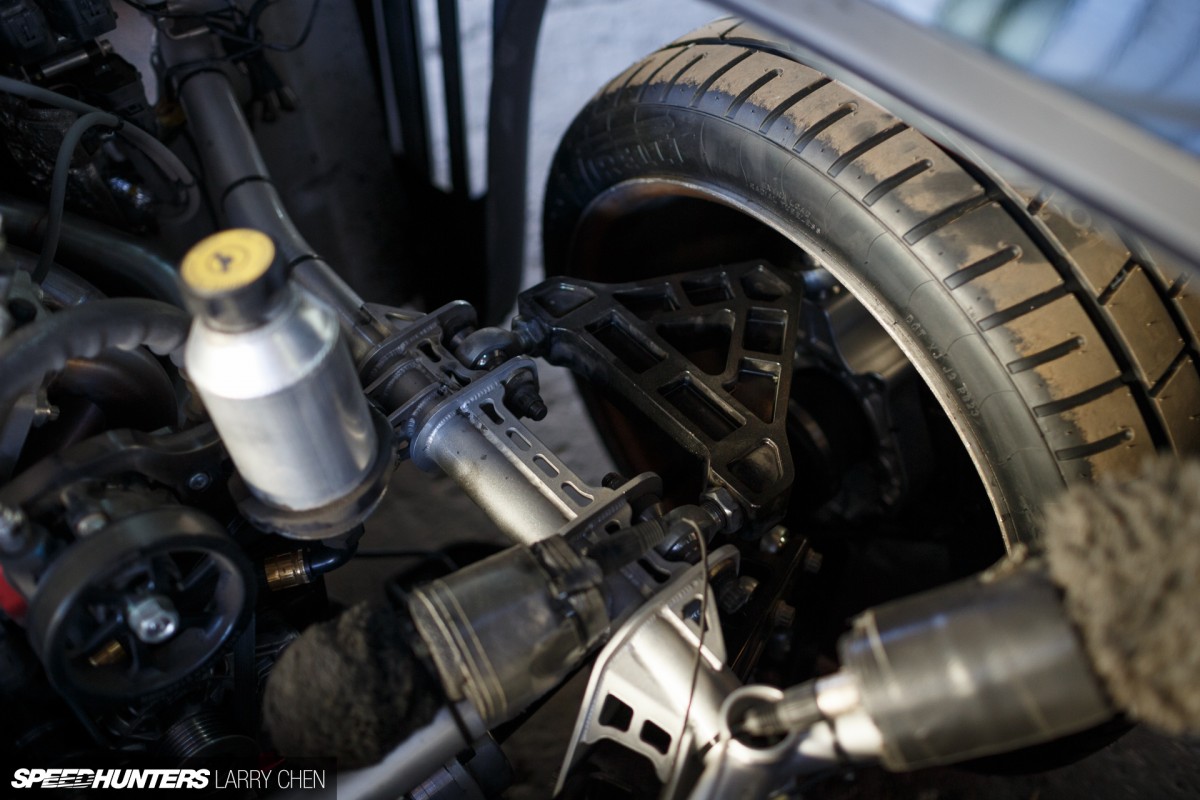 Taking a closer look we can see the intricately fabbed, fully adjustable mounts and the CNC'd upper arms, made of 6061 aluminum billets. This isn't the only set either – there are spares of everything in case something gets wadded up. It's much easier to just cut two while the program is loaded into the CNC, after all.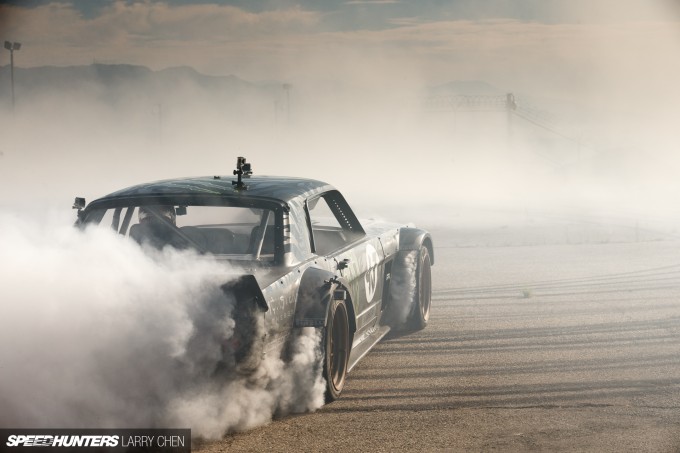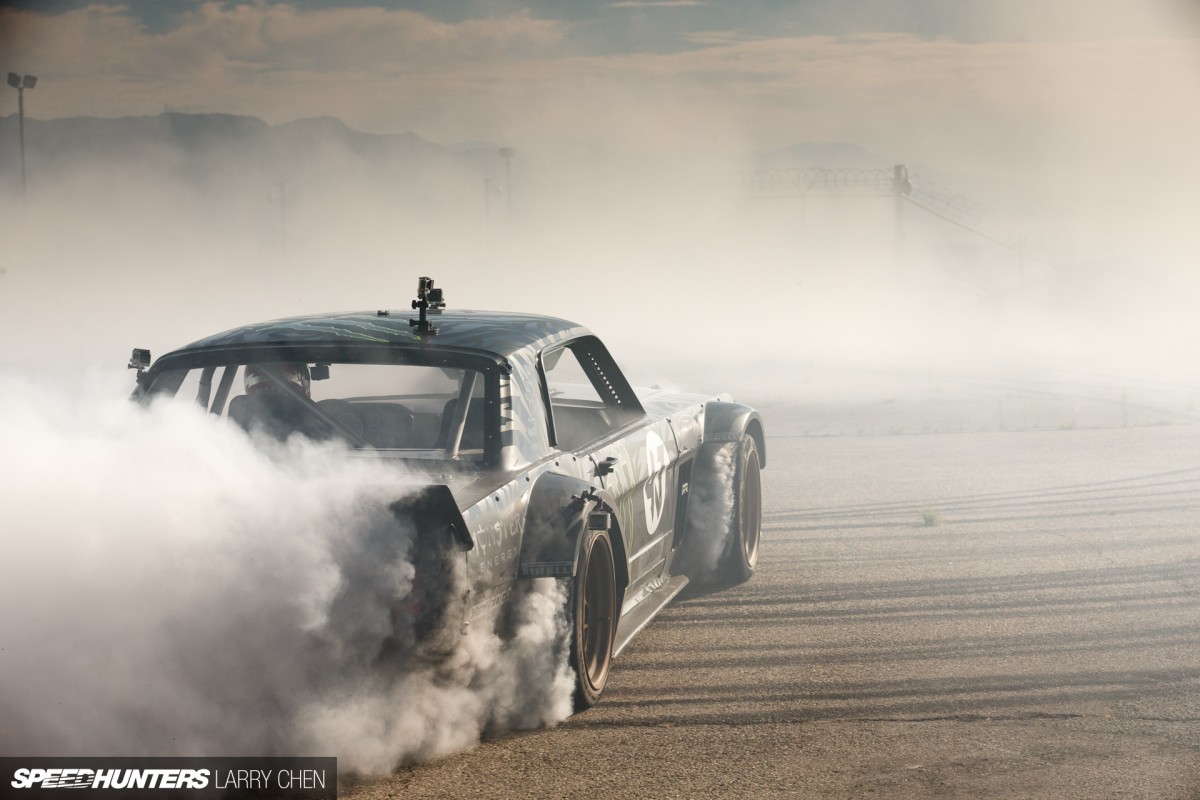 While they were engineering a chassis from scratch, the boys at RTR and ASD had one more huge requirement to satisfy, and that was to make the front tires smoke too. Yes, if you haven't already noticed, Hoonicorn is AWD.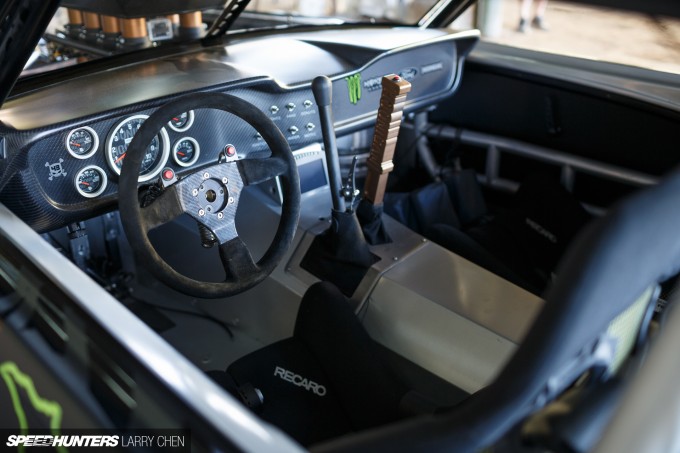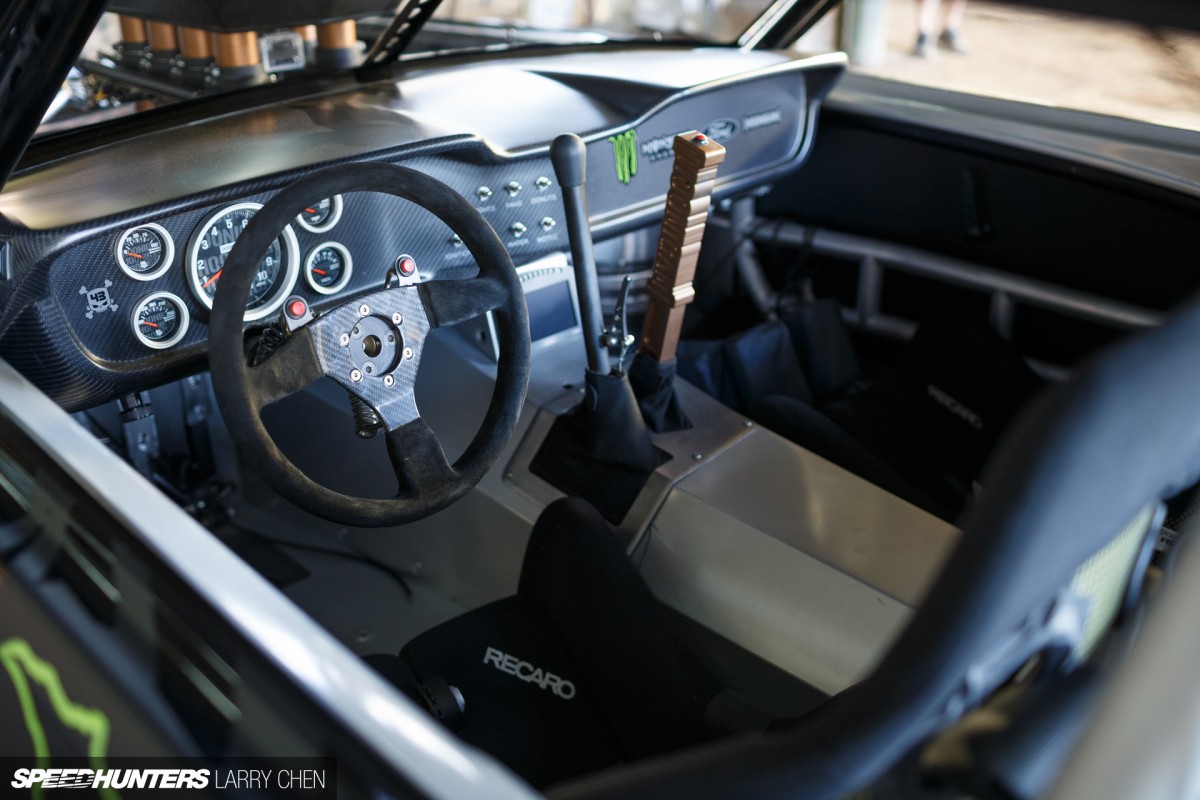 It's really no surprise if you've followed Ken Block's career driving AWD rally cars, but on the other hand it's quite shocking to realize that you're looking at a 1965 Mustang that can send all four tires desperately clawing for grip across any surface.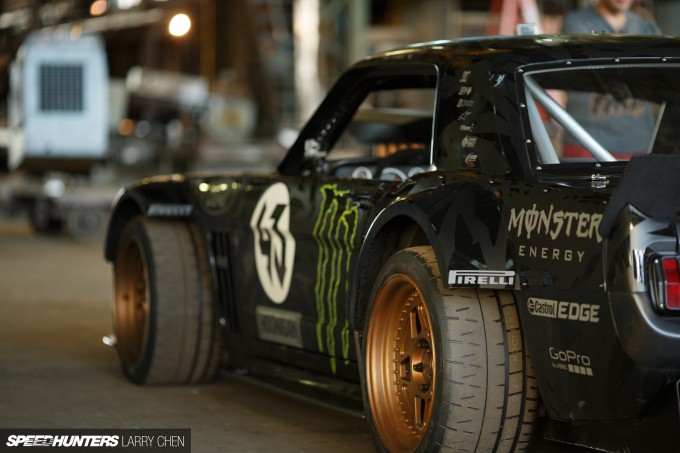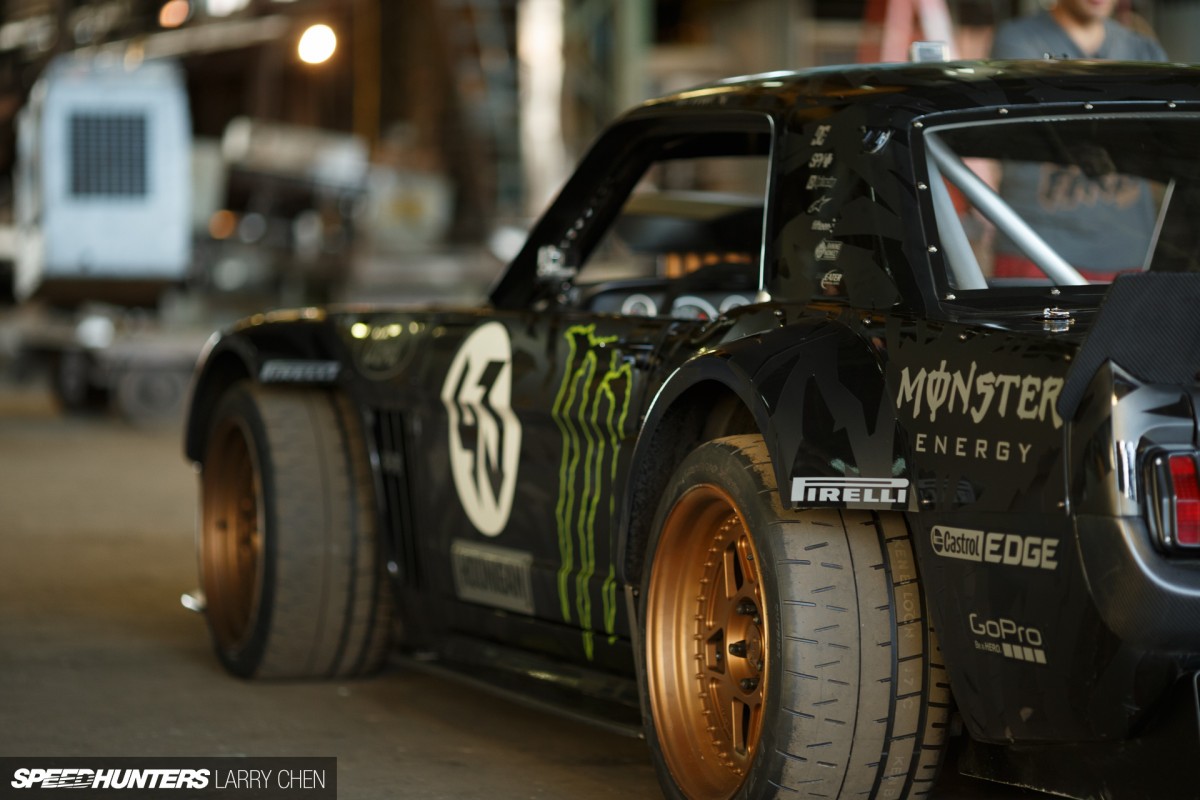 So, while packaging an extra ST03 diff in the front, ASD also had to plan around a modified Sadev SC90-24 offroad transmission. There's also the special hydraulic handbrake which not only locks the rear wheels, but simultaneously cuts power to them by disengaging the center differential.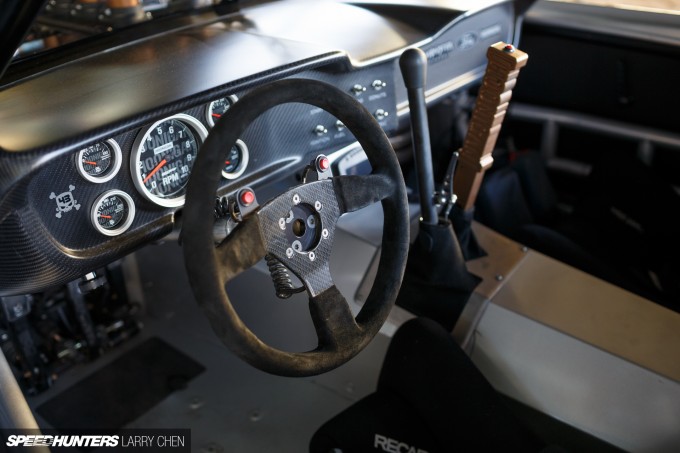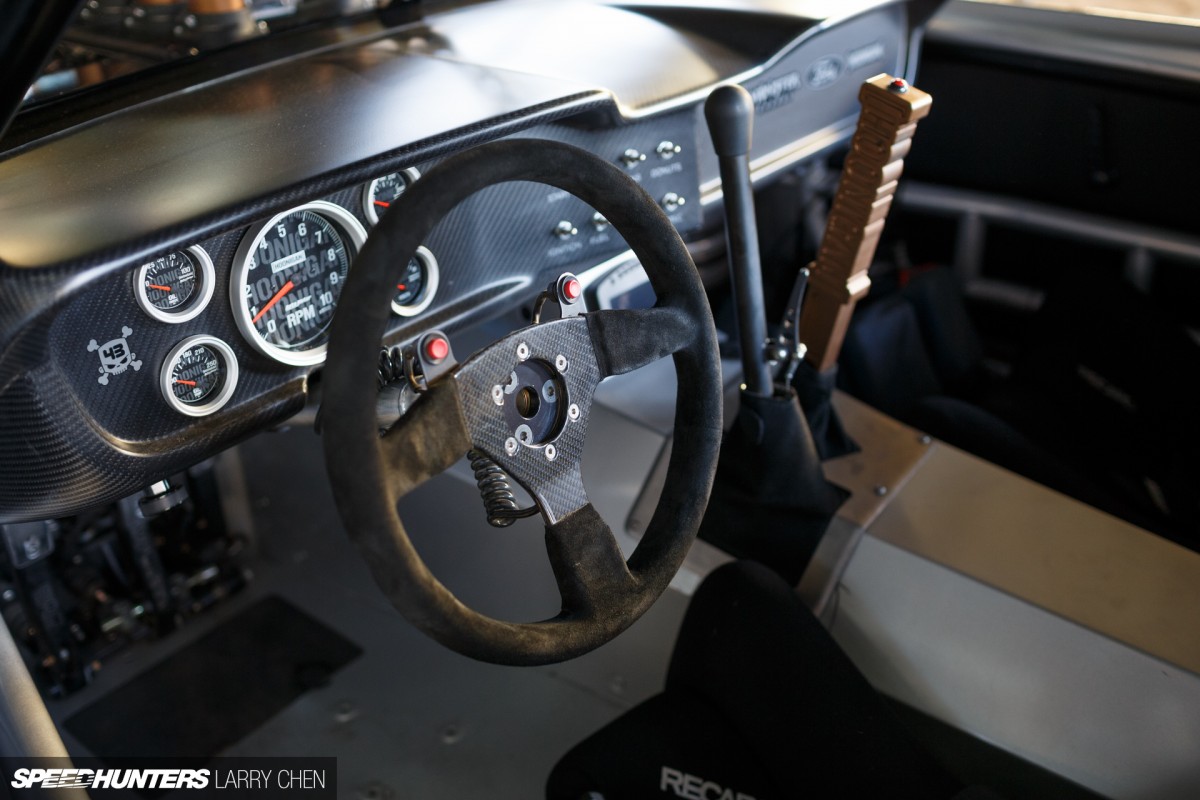 The transmission tunnel is easily removable, because replacing the Quarter Master 7.25-inch triple-plate clutch is a daily chore when you're filming a Gymkhana video. To make the task quicker and easier, a custom two-piece bellhousing was machined by ASD so the clutch can be changed in 90 minutes (or less). The clutch also serves as the 'fuse' in the driveline, so if something gets shocked it's a consumable clutch disc rather than the transmission or an axle shaft that's difficult to source or replace.
Design With A Purpose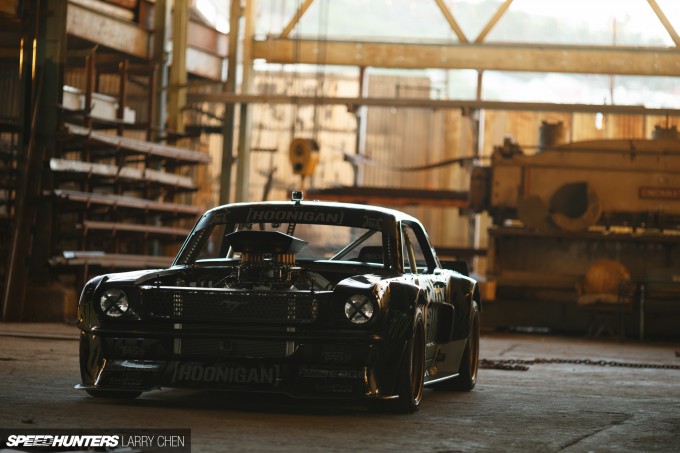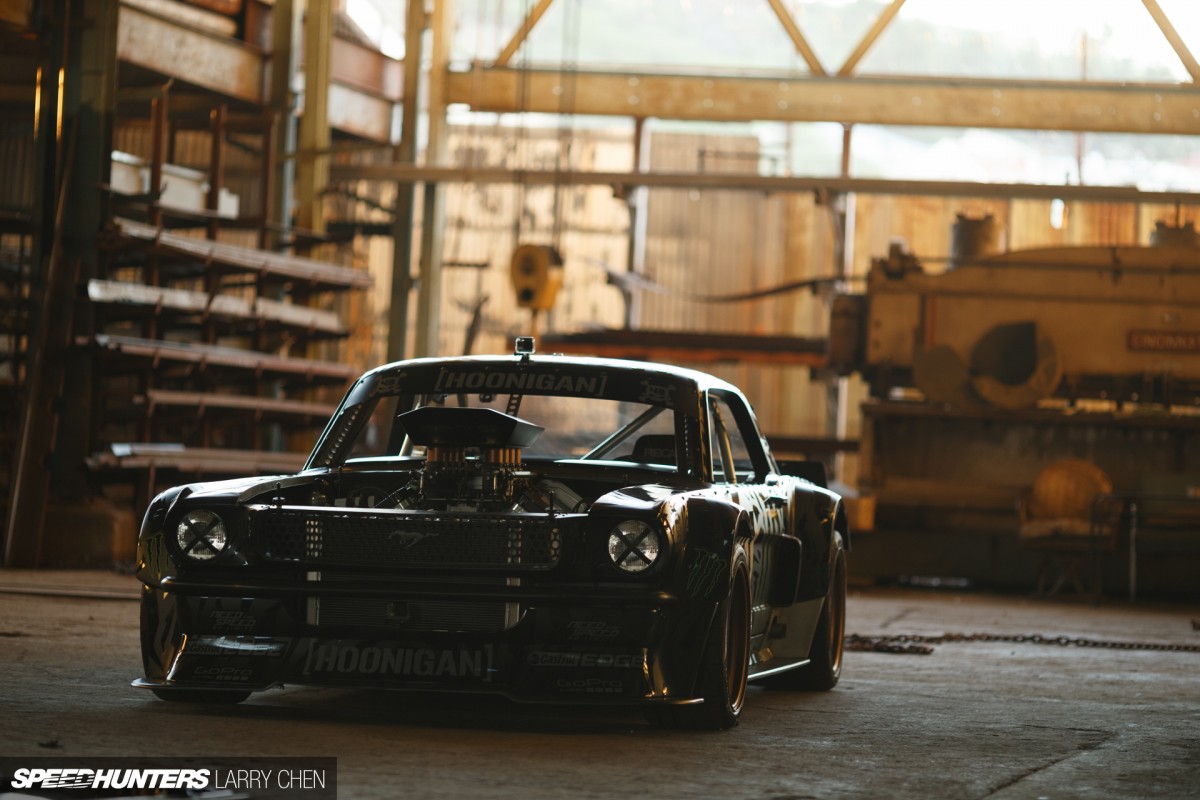 It's important to realize that this car was built with a very specific intention. There would be only one driver, Ken Block, and it would be used primarily for the production of Gymkhana Seven. To fit Ken inside and still keep a low roofline, the floorpan was rebuilt 2.5-inch lower and the tires stuffed way up into the bodywork.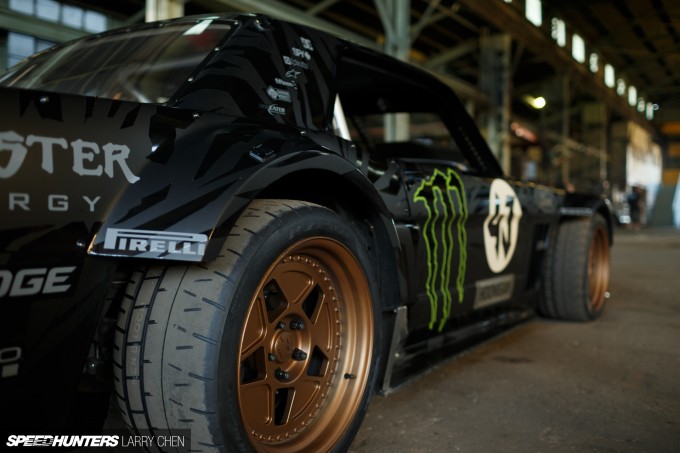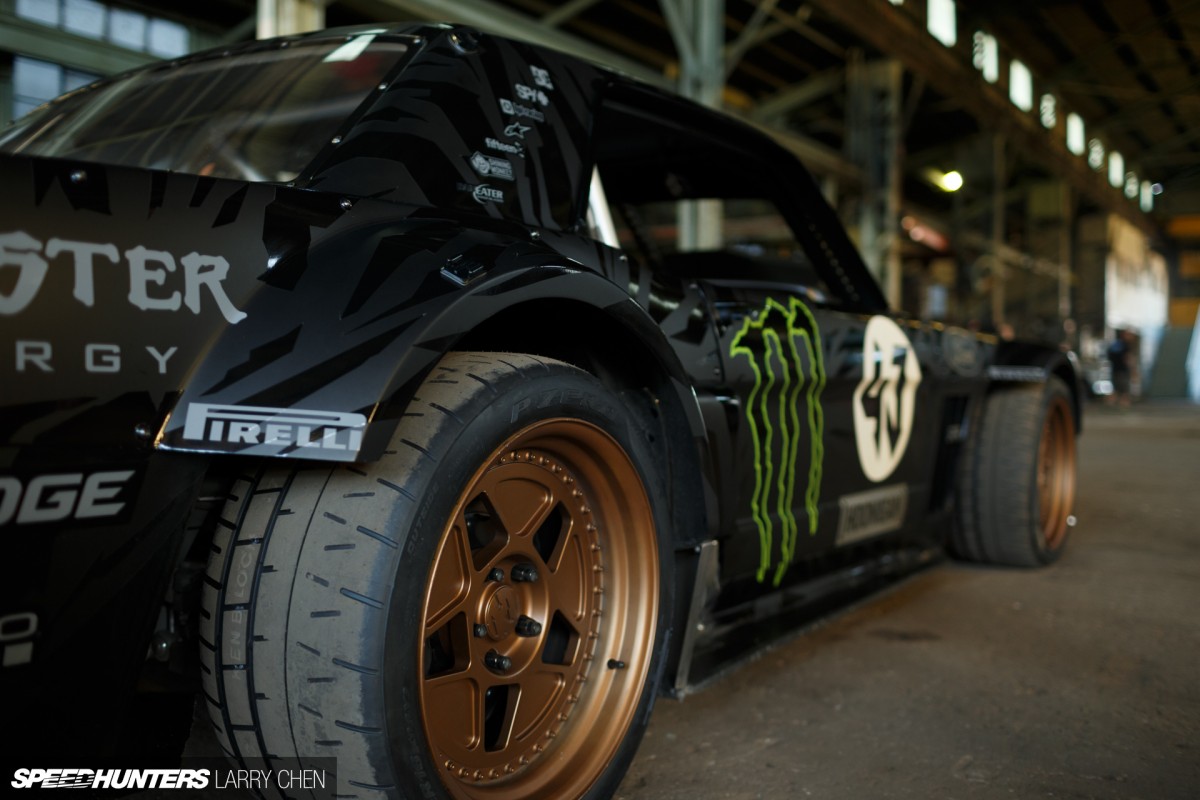 While moving upward, the tires were also shoved out. Way out. This required a set of bespoke, carbon fiber bolt-on flares, with a cutaway look reminiscent of a World Rally Car that slept with a late-model stock car. The true benefit though is that tire smoke can be released at will, thanks to the massive amounts of exposed tread. The Pirelli Trofeo Rs are a Ken Block special too, with deeper sipes and a custom compound that makes extra puffs per revolution. He even gets his name printed on each one.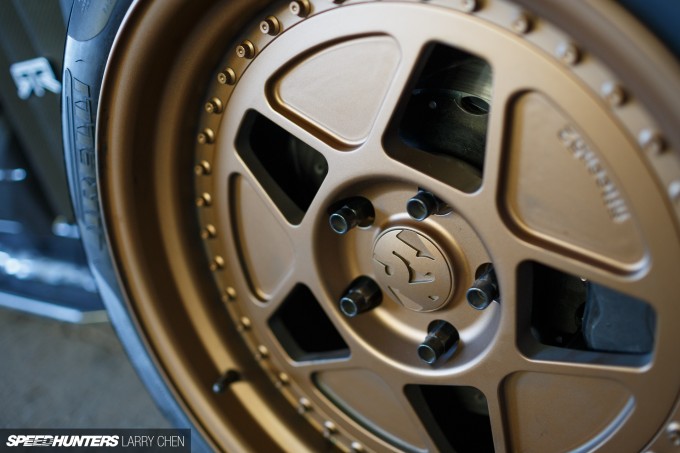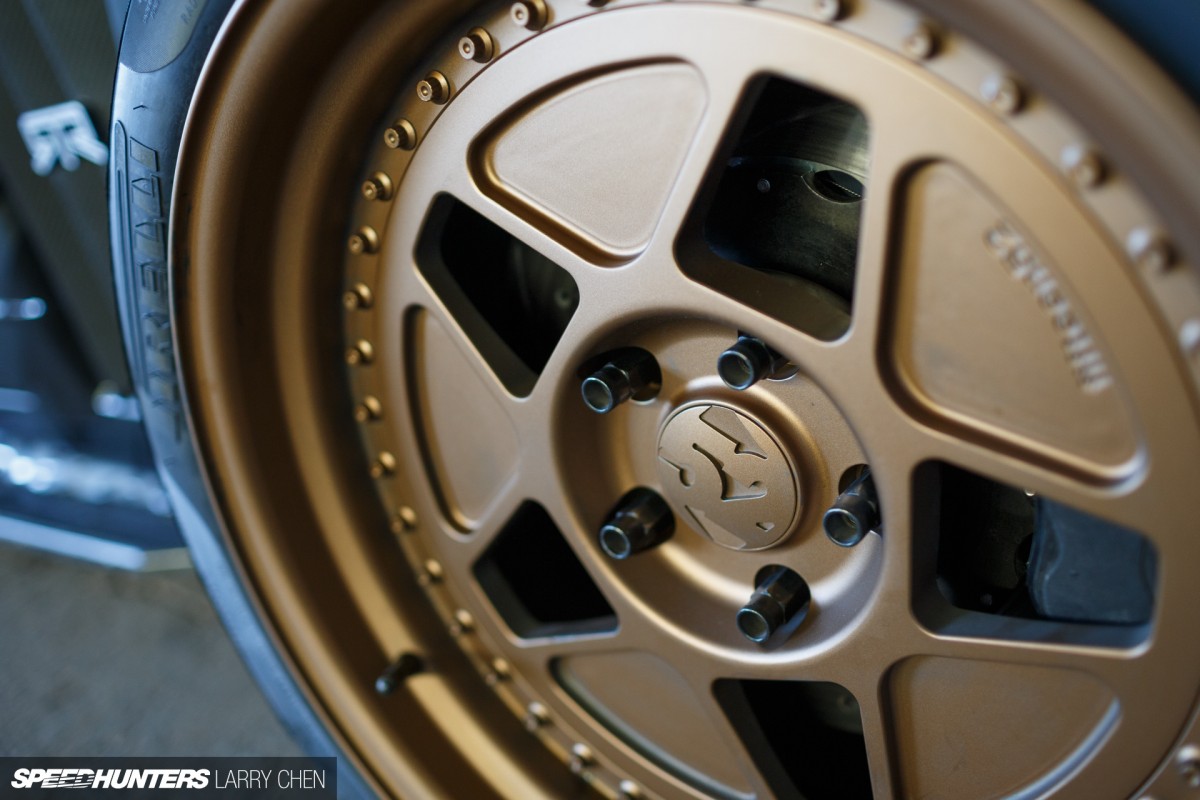 The team showed up with around 20 of the three-piece fifteen52 R40 wheels, tires already mounted, for a day of filming. With a film crew on standby, time is of the essence. Destroyed tires are thrown in a pile so filming can commence as quickly as possible.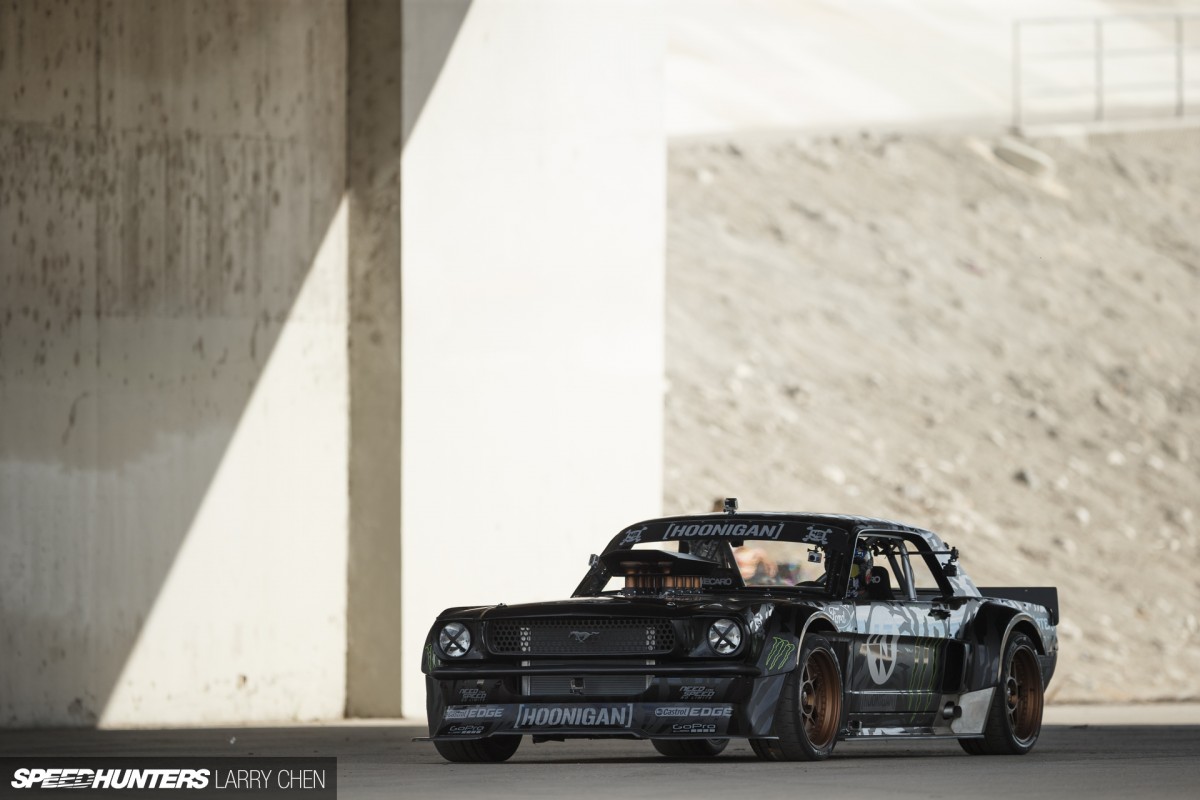 Looking through these photos you'll spot things like mounts, microphones and GoPros stuck all over the car. It doesn't stop with attaching a few cameras though, and after seven Gymkhana films the team has learned to build a car that plays nice with movie production. Tricks like a removable windshield and quick-release doors allow the film crew access that would never happen with an ordinary car.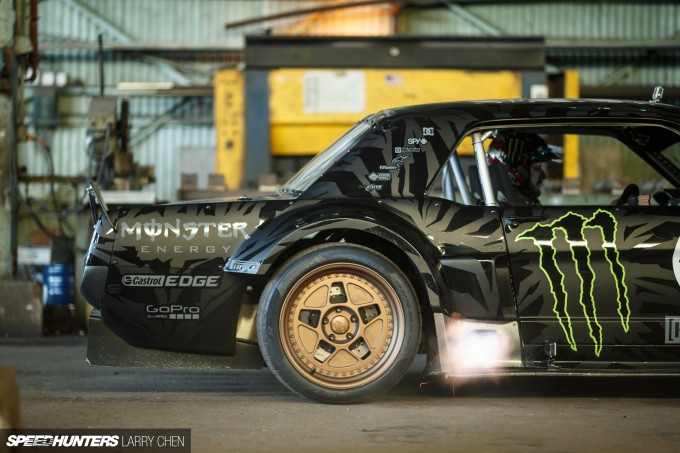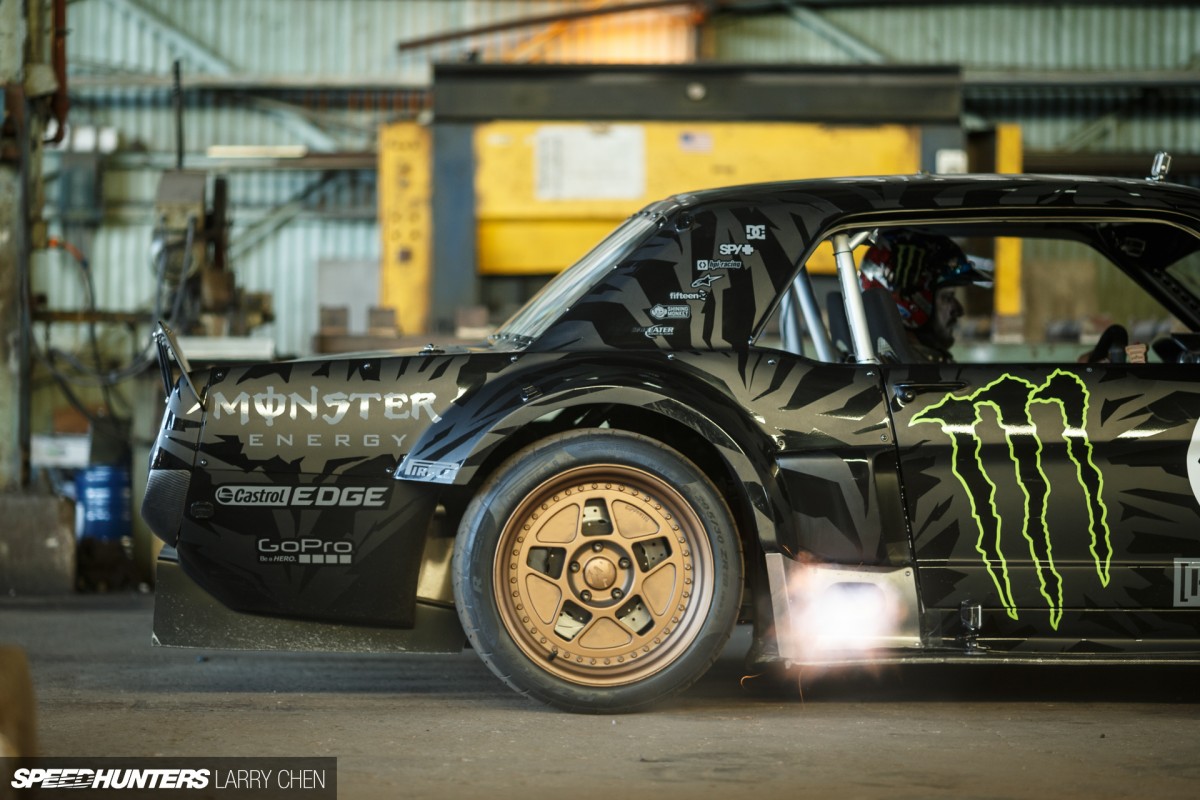 Ken's previous Gymkhana cars were always good at shooting flames, being turbocharged and all. This was a theatrical feature that they wanted to retain in the latest film, so the tune was altered to dump lots of fuel on decel, sending fiery bursts out the unmuffled tail pipes.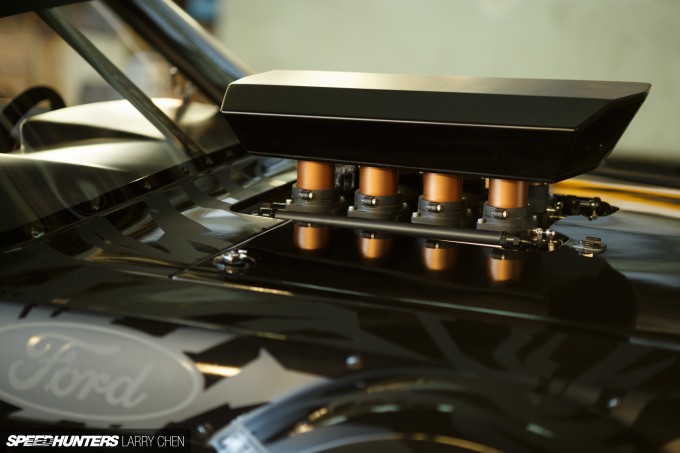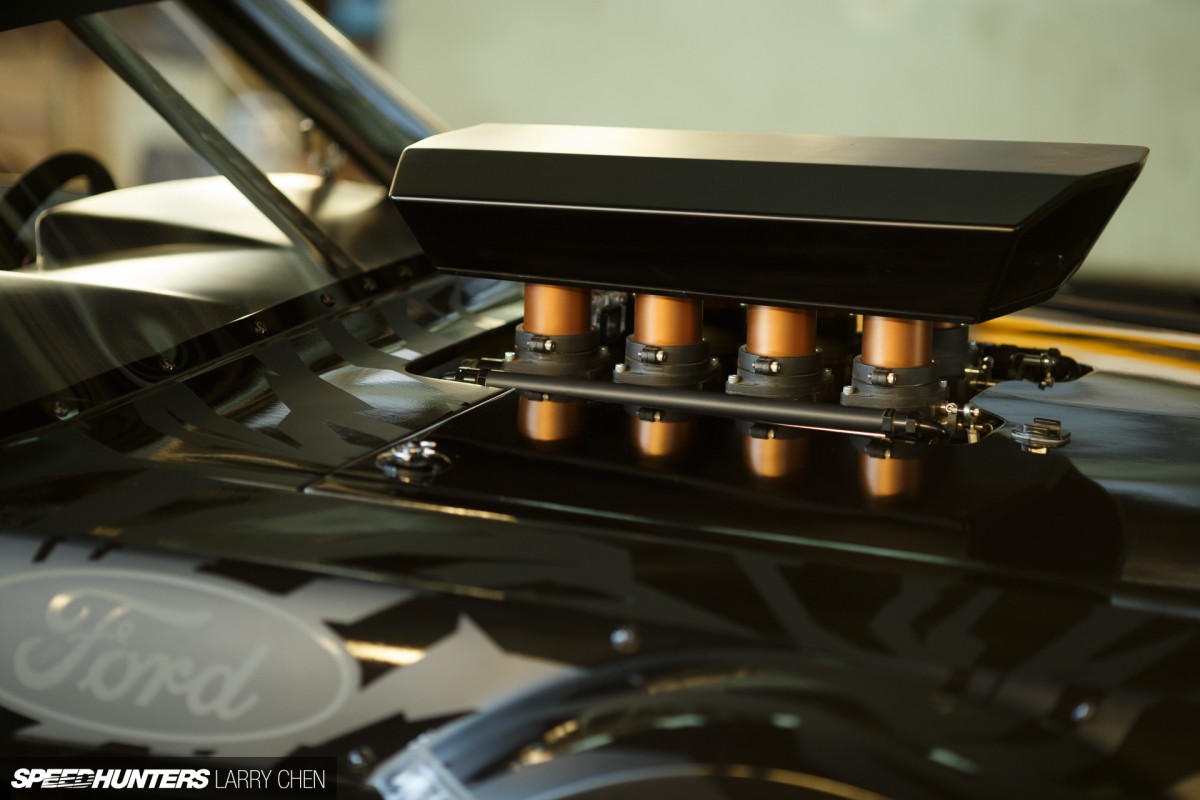 I only bring this up because the engine of choice is far removed from the pressurized four cylinders we've seen in the past.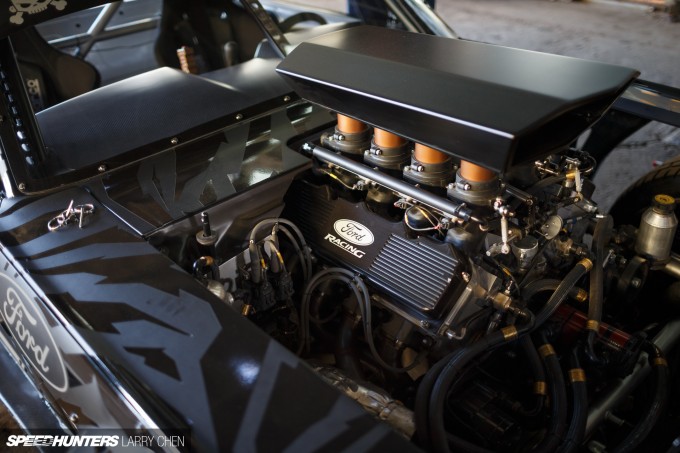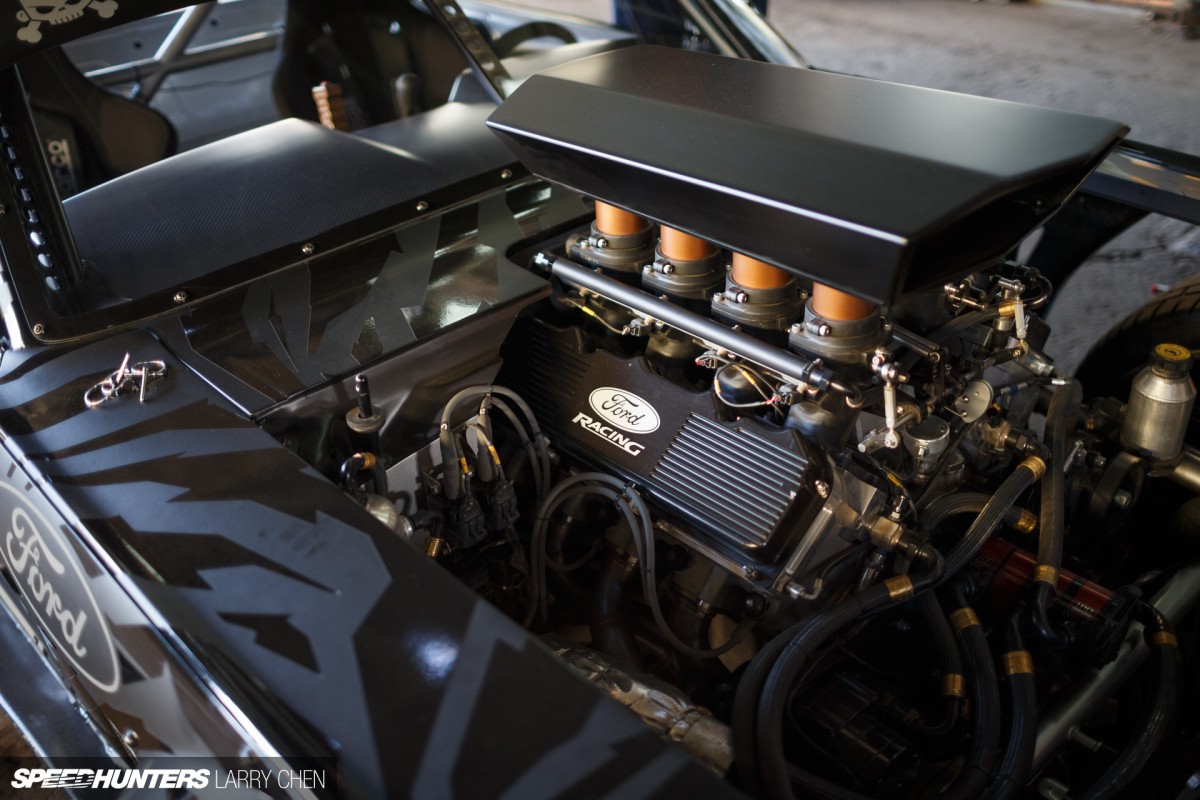 With the involvement of RTR, you'd better believe this Mustang was going to have a big V8 engine. Ford Racing provided a 410 cubic inch Roush Yates V8 that makes 845hp and 720lb/ft, au natural. It's quite similar to the powerplant in Vaughn Gittin Jr.'s drift car, in fact.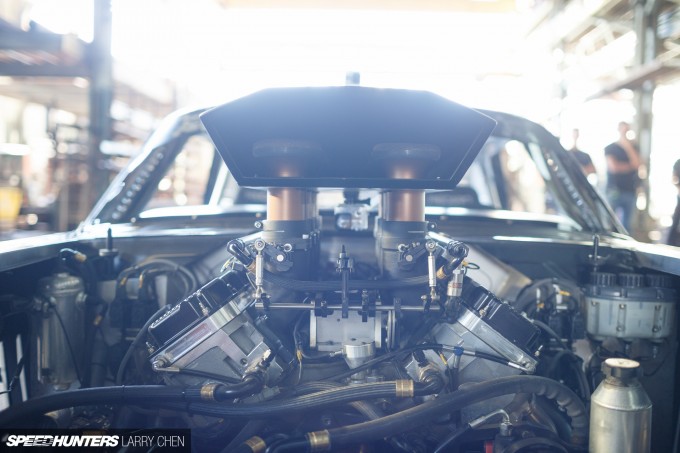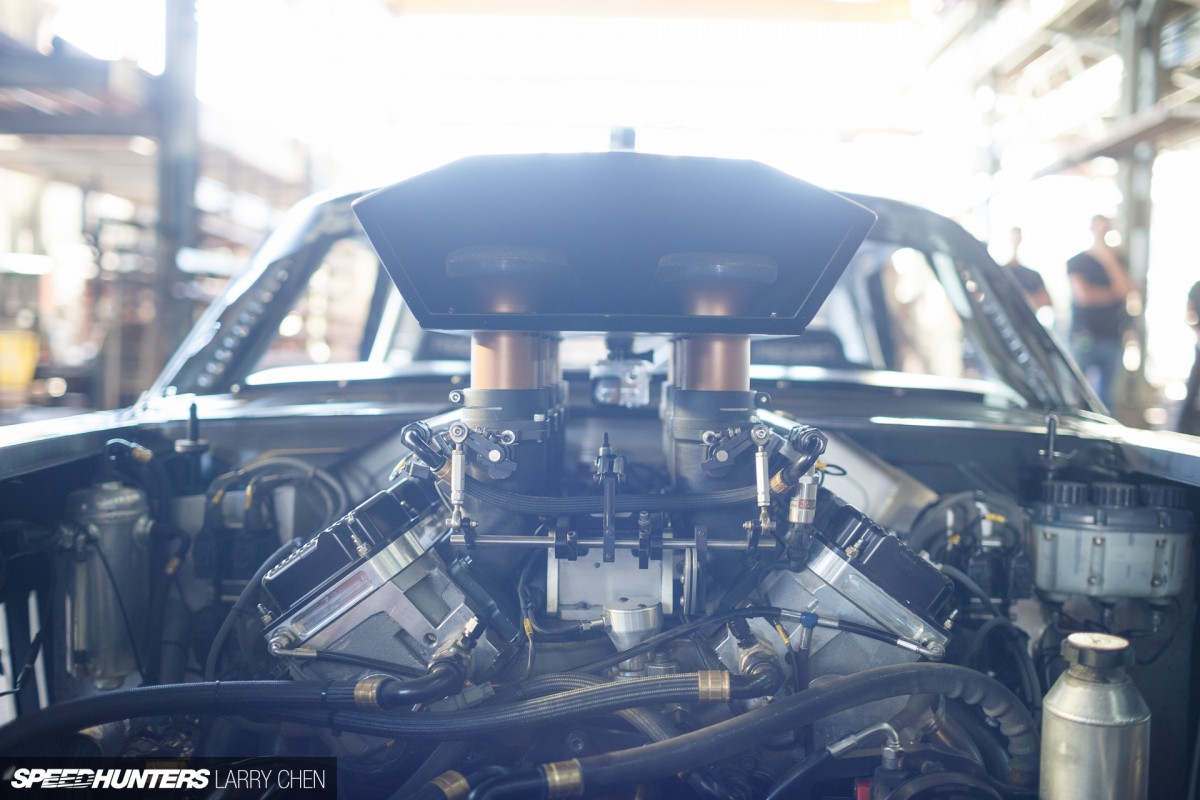 The eight Kinsler ITBs are the same ones ASD had used and abused to great success in the RTR drift car since 2012. The tried and true combo is fed by a hand-fabbed sheetmetal hood scoop that looks like it was plucked from a vintage '60s dragster. This is the kind of stylistic mash-up that makes a Speedhunters get all tingly.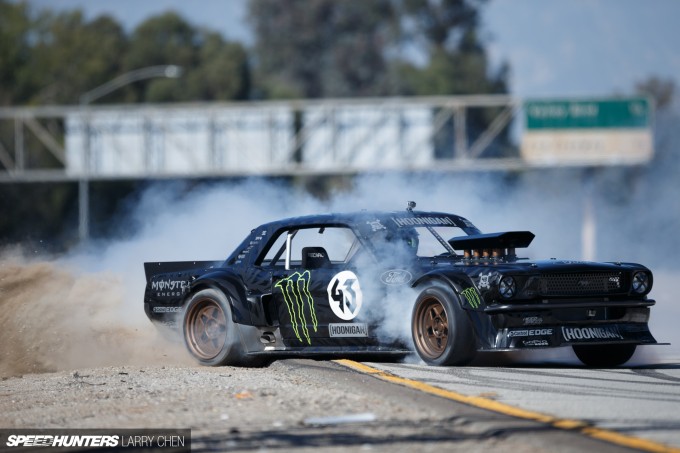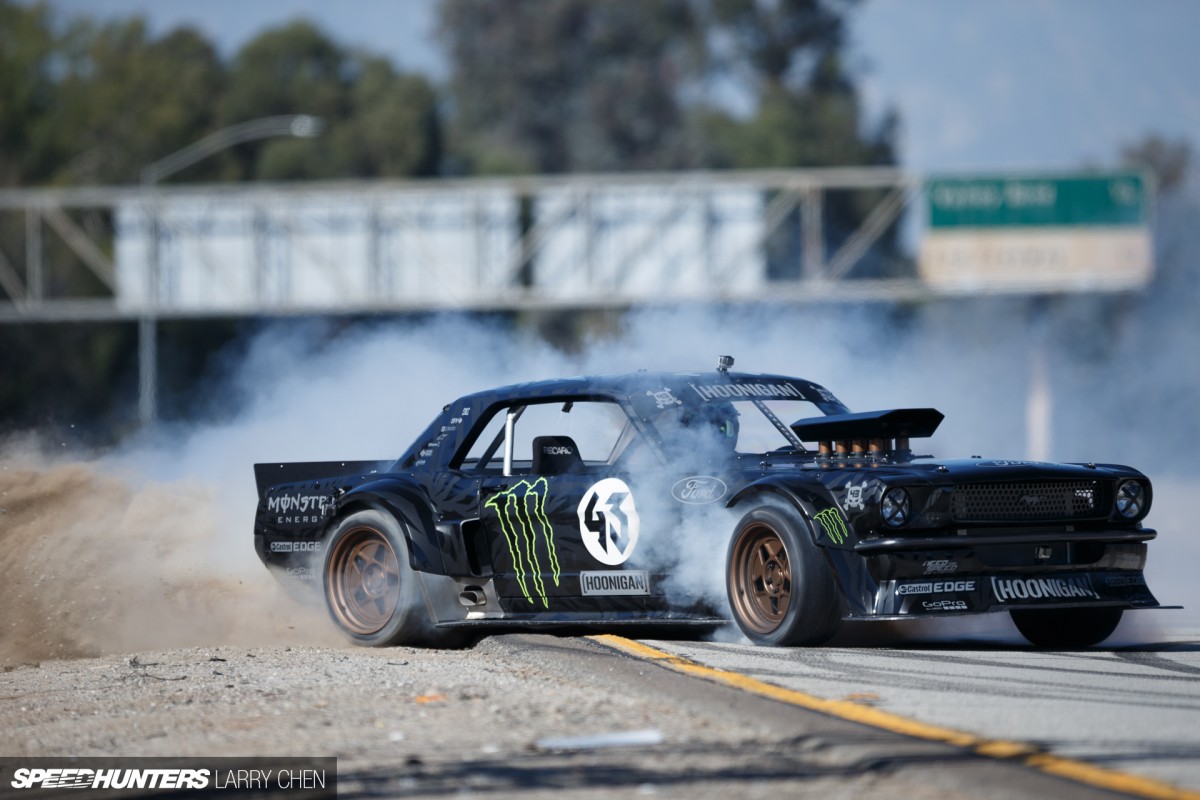 So what if it obstructs his view out the windshield? Ken planned on being sideways the whole time anyways. The hood scoop was actually a feature that was decided upon very early in development, and I would argue that it is the one piece that absolutely defines the visual identity of Hoonicorn.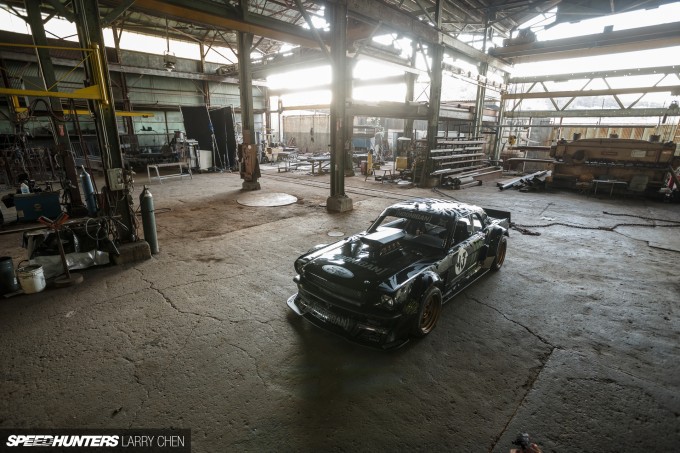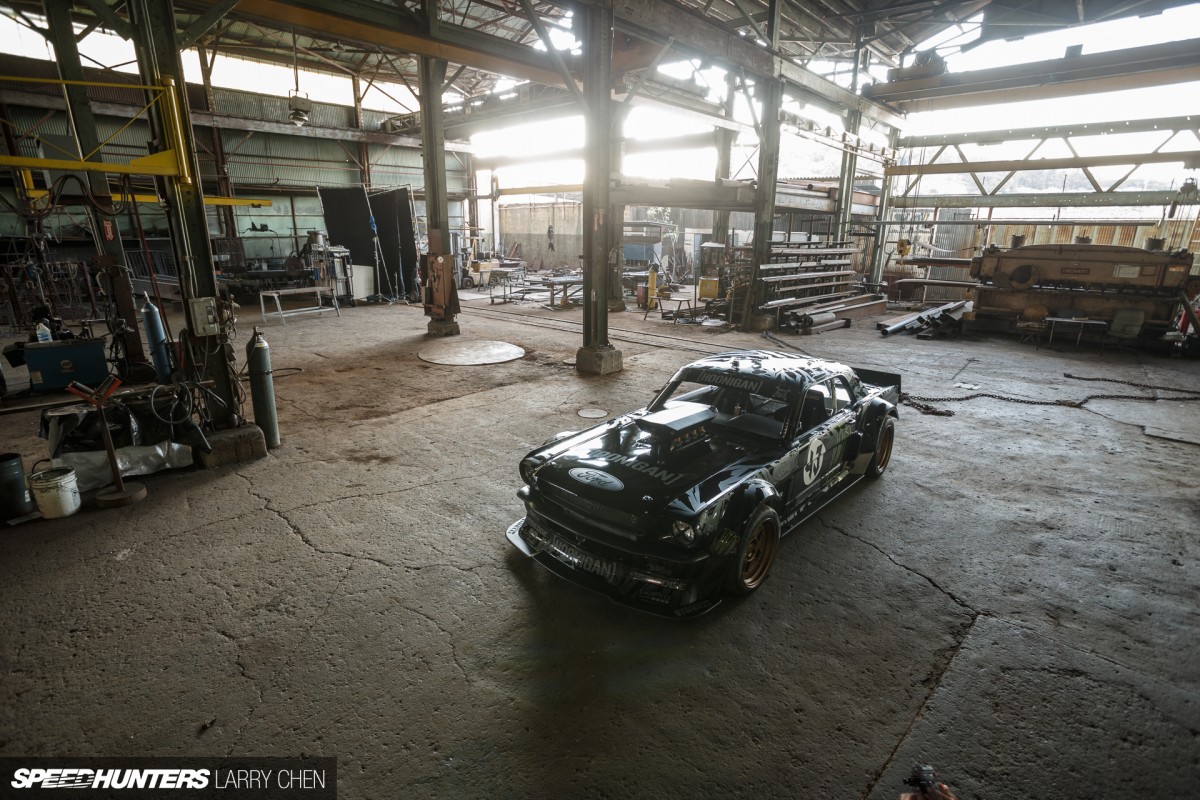 The Ford Mustang just turned 50 years old, which means we've had five decades to tune, modify and build them to suit our tastes. So why do so many of them look the same? Why so many Eleanor and Shelby clones?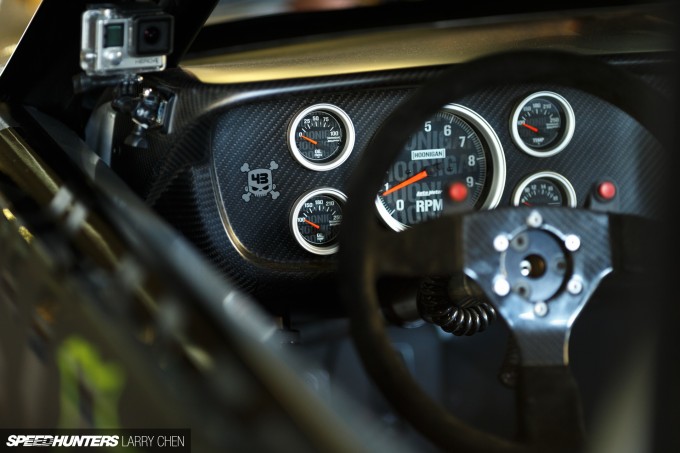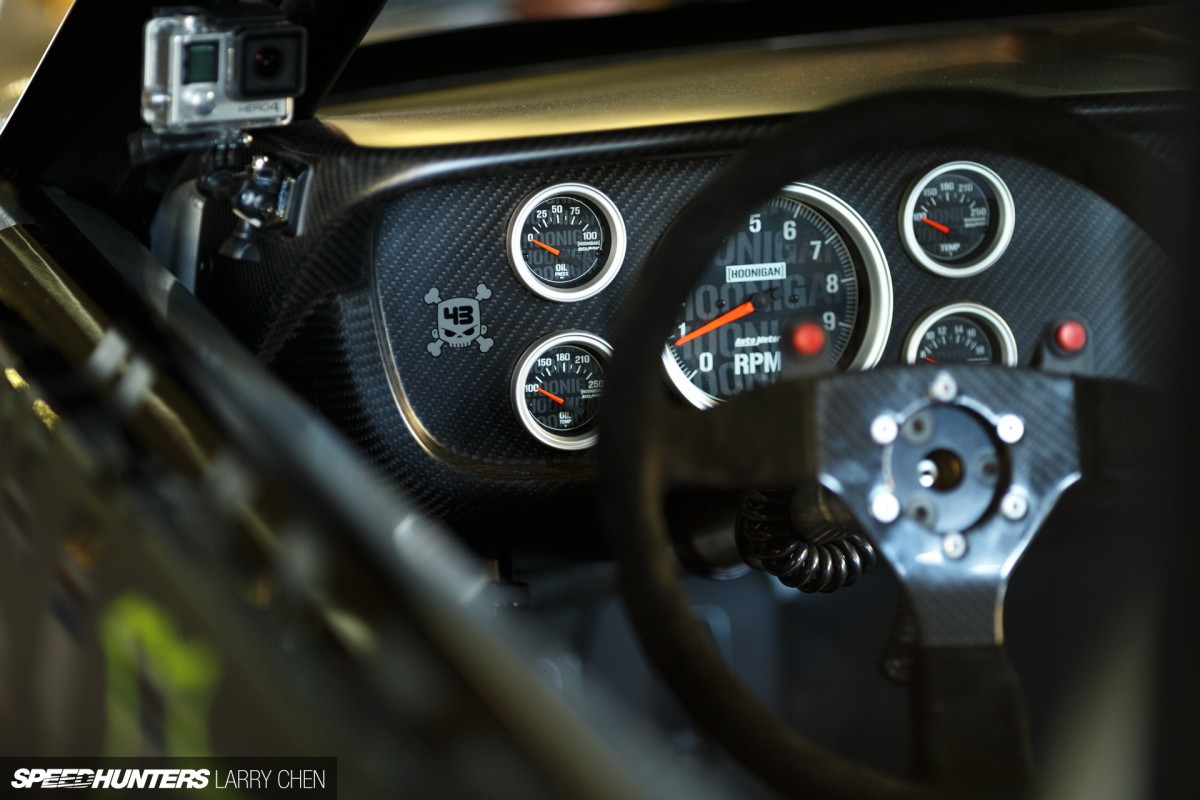 Why did it take this long for someone to look at the iconic pony and visualize something as wild as Hoonicorn RTR? I suppose it's because guys like Ken Block only come along every so often.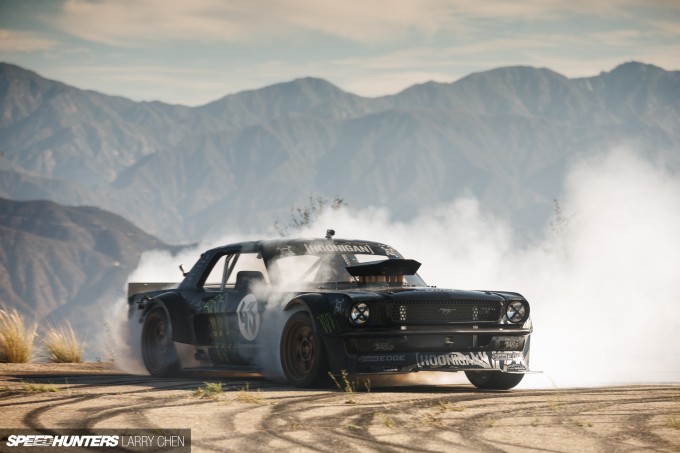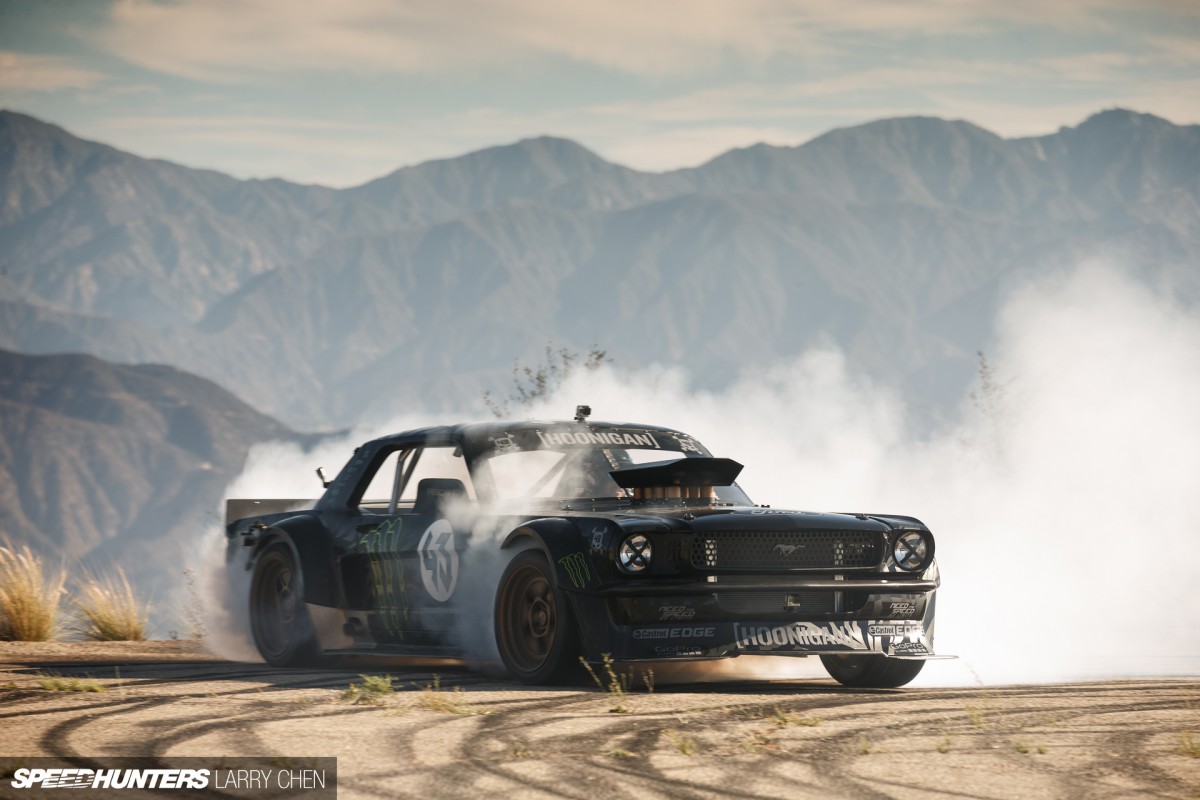 There's just one problem Mr. Block. This time the car's outdone you.
Keith Charvonia
Instagram: SpeedhuntersKeith
keith@speedhunters.com
Photos by Larry Chen
Instagram: larry_chen_foto
larry@speedhunters.com
Cutting Room Floor