Old Could Be New (And New Is Quite Likely Old)
What is a classic car exactly? The term can have a very vague definition, and one that as I attend more and more shows and events becomes wider still in a wholly positive and embracing way. I find there's a blurring of lines between old and new nowadays, where the pure enjoyment of the car as a general concept is key. Purists be damned, I want to go to places where cars aren't considered worthy because of style or age – whether having too many or too few years behind them – but as different offshoots of a single strand of continuous automotive evolution.
That's why I went to the Classic Motor Show in the UK's National Exhibition Centre. Taking everything in needs all of the three days it's open for: it's like a lesson in car history where everything slots into place.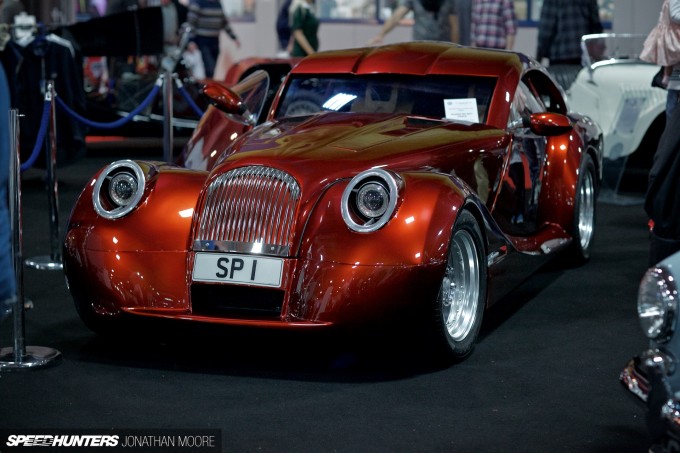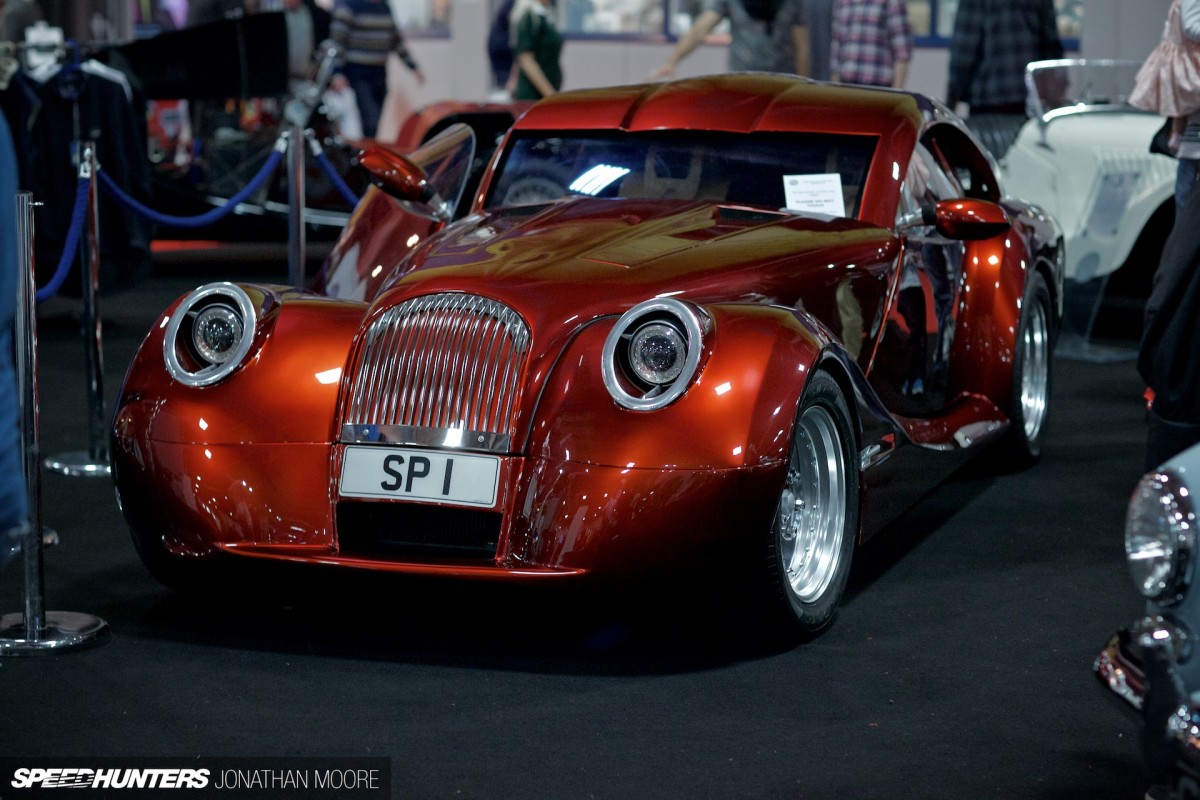 There are so many variations on the theme. Old cars restored to period glory, old cars modified and modernised, newer cars with old styling or taken back to basics. Take the wedge-shaped wonder Triumph TR7 in the lead shot – a matt wrap and some anthracite Minilites and you've got an old car that looks contemporary. Then, there was also Morgan's stunning bespoke proto-hotrod, the SP1, pushing their '30s meets New Millennium thing up another notch.
Personally I don't care whether a car fits into a style or genre. Does the year of manufacturer really matter, is older worse – or better? To me, classic means having soul. It's also about understanding that heritage and the roots of modern trends.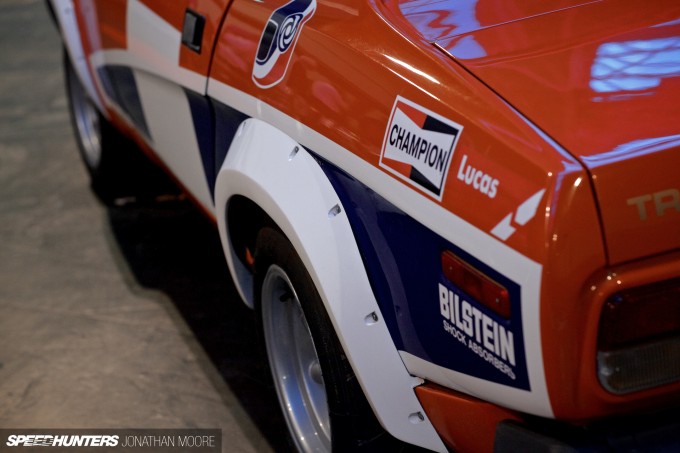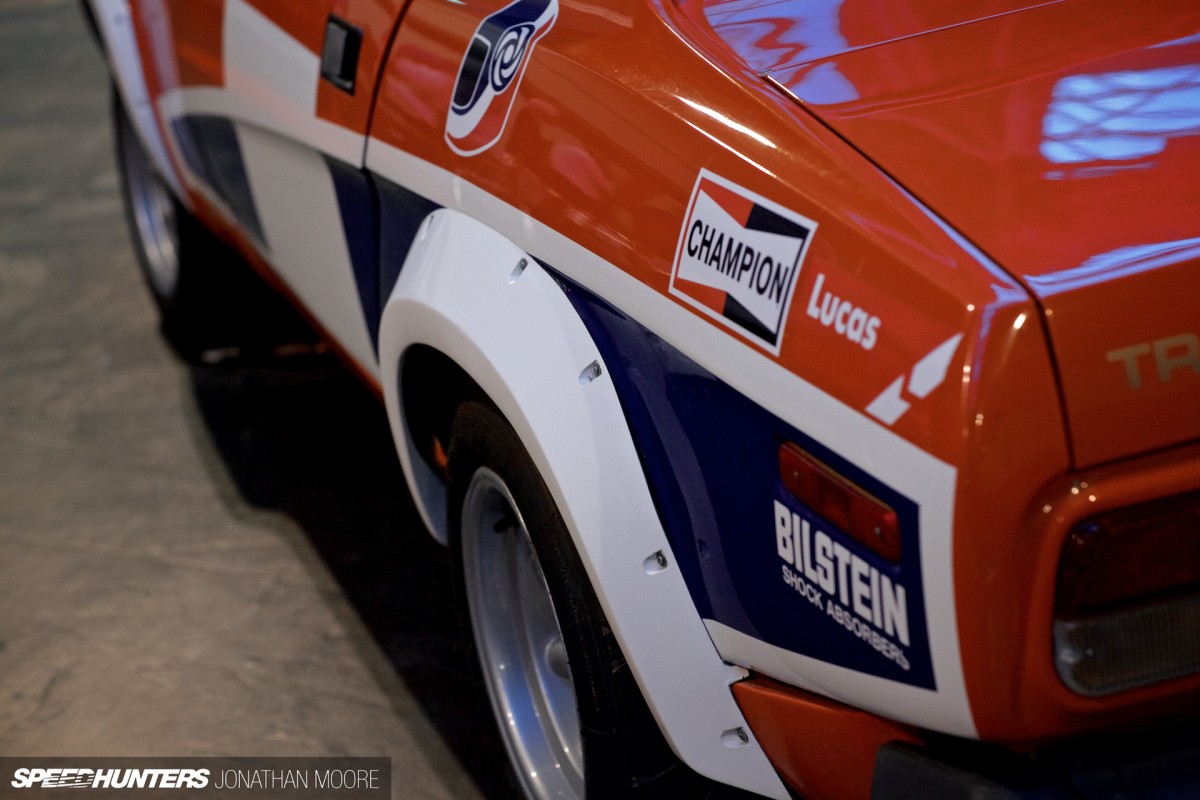 What year are these bolt-on over-fenders from? It's an easy one to start: 1979, and a rally-spec Triumph TR7 V8, which in any case is hardly an early appearance of this kind of mod.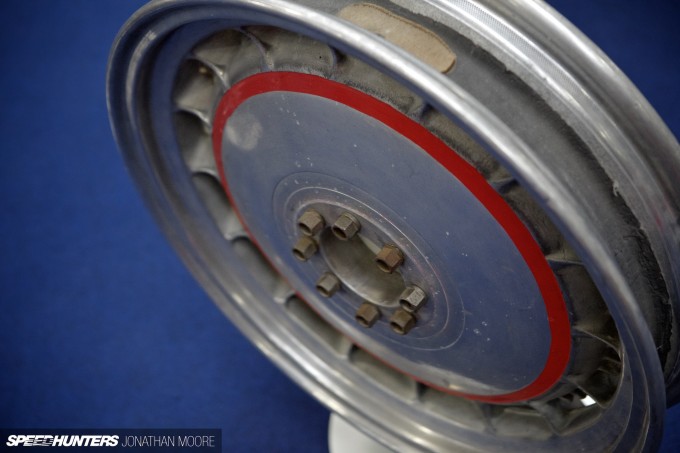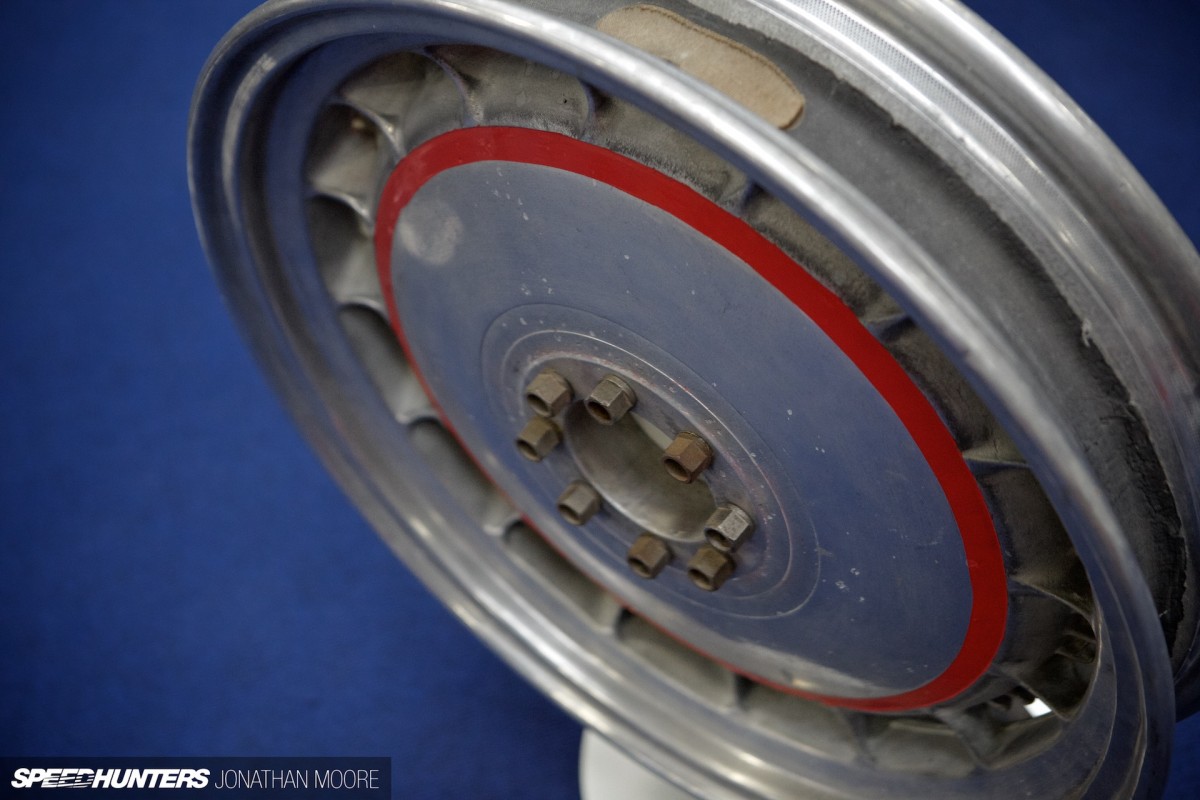 These amazing aero-finned wheels? From a 1930 Bugatti Type 46, complete with integral brake disks.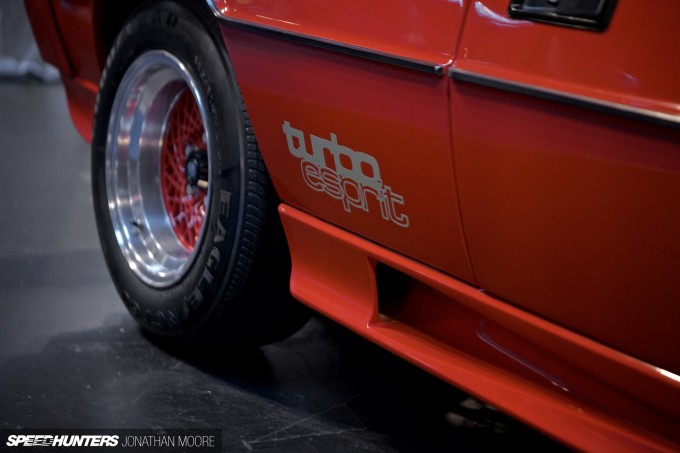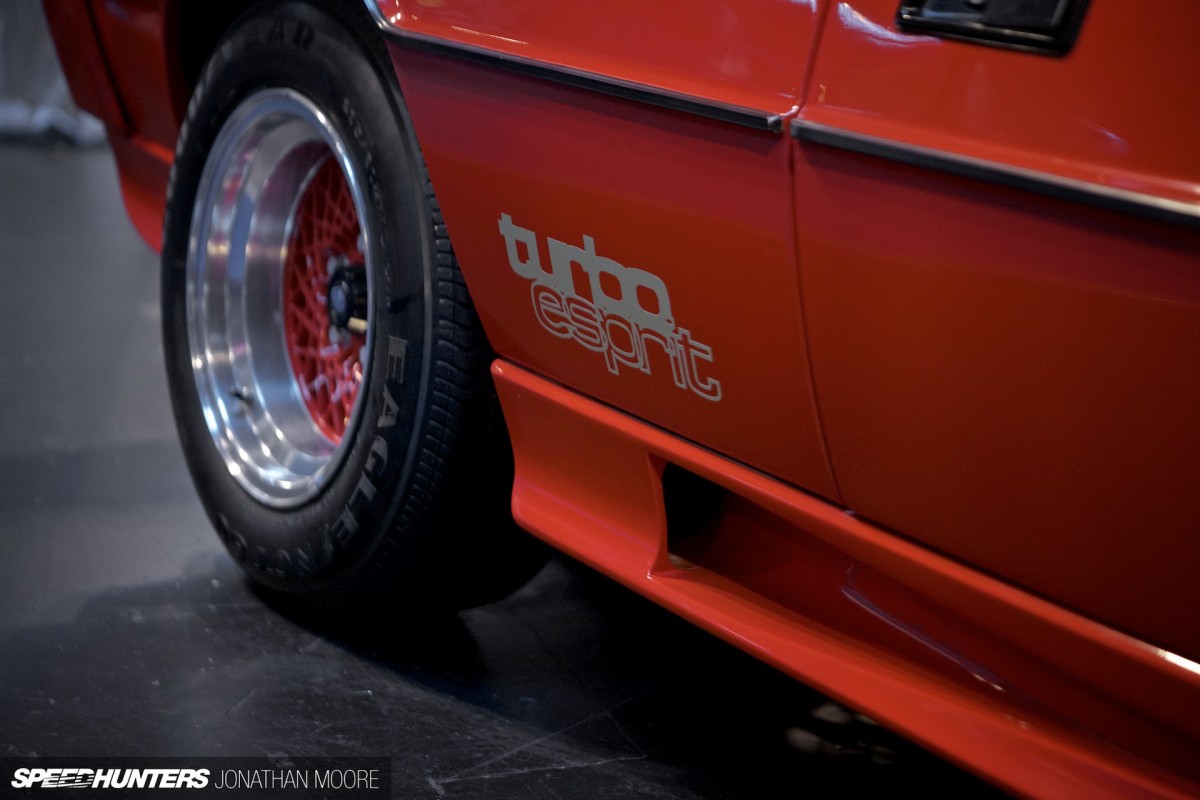 Turbocharging and split-rim wheels? A 1984 Lotus Esprit Turbo, which flowed from the pen of Giugiaro. Cool things just remain cool.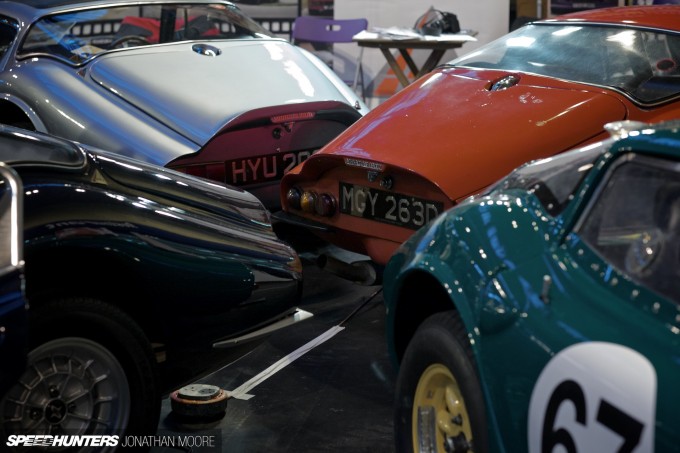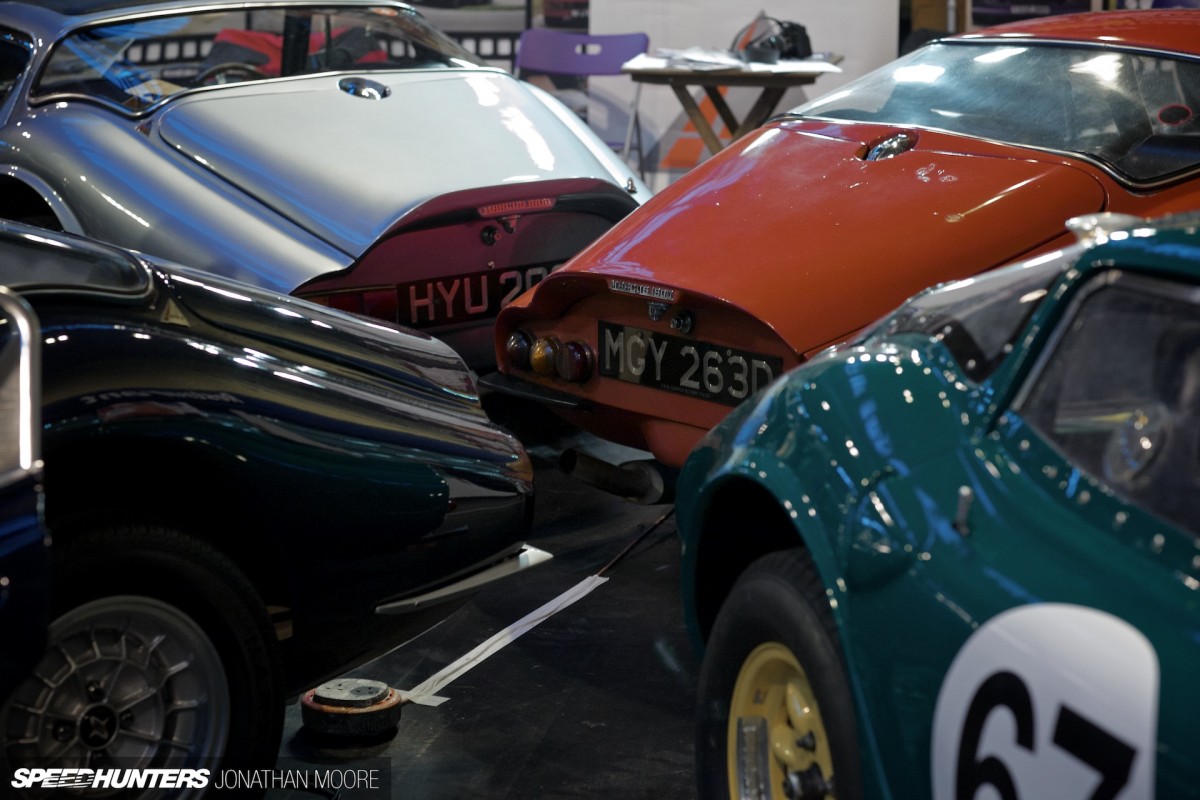 The biggest pleasure of walking the sprawling halls of the Classic Motor Show is all about the discovery. Every time I've gone to the show I come away having found out something new – usually a lot of new things, if I'm honest. You can learn so much not just by talking to the ever-enthusiastic club members and car owners on stands, but even by overhearing conversations from passing visitors. "Well, of course they only made 15 of this particular model, which were hand fabricated by Ivor Hammerantongs in Solihull in 1969…"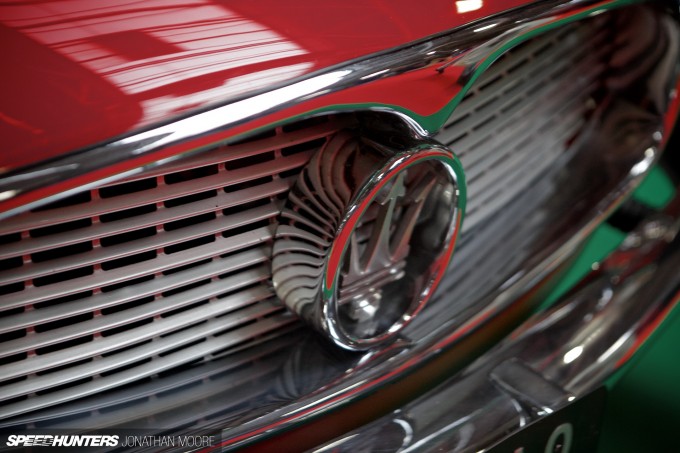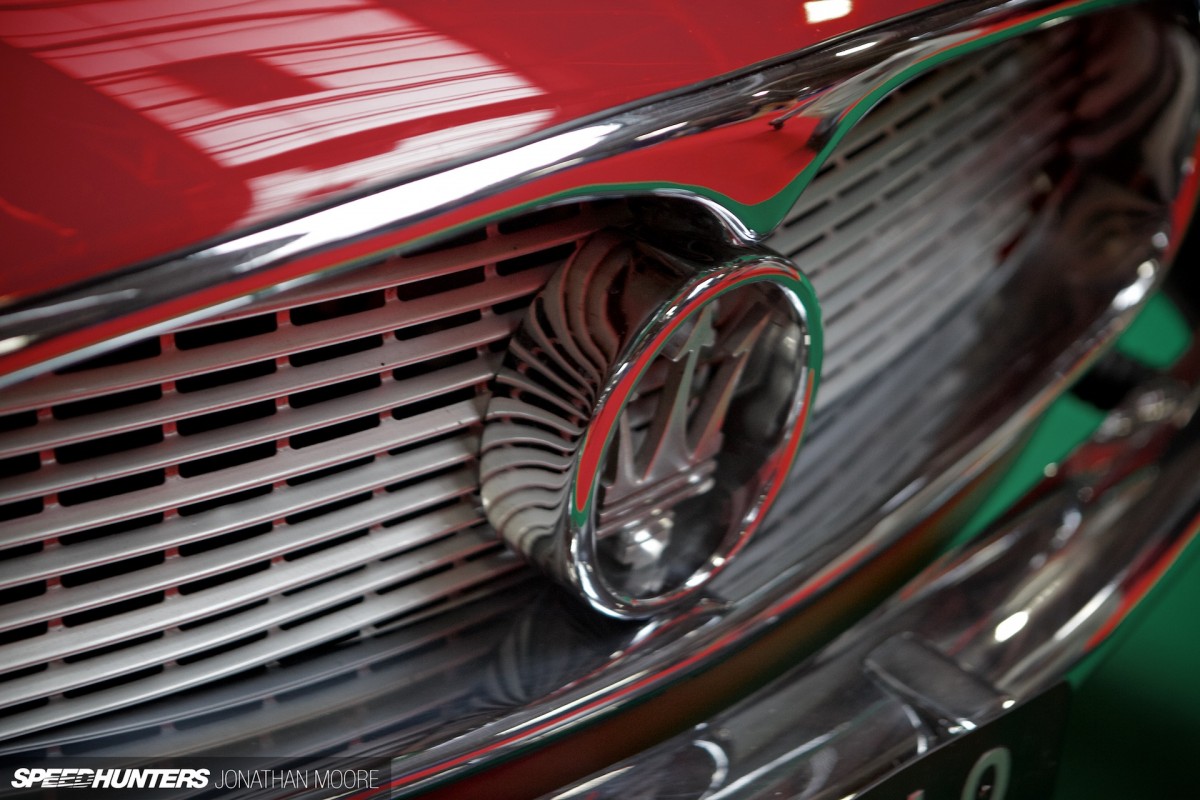 CMS has a heavy slant towards domestic UK product in terms of numbers, but incorporates everything and anything else you could imagine from Europe and further afield. It features all the marques you'd expect.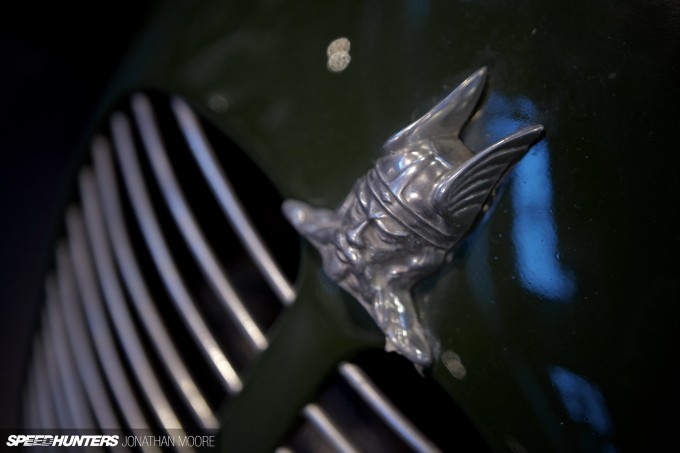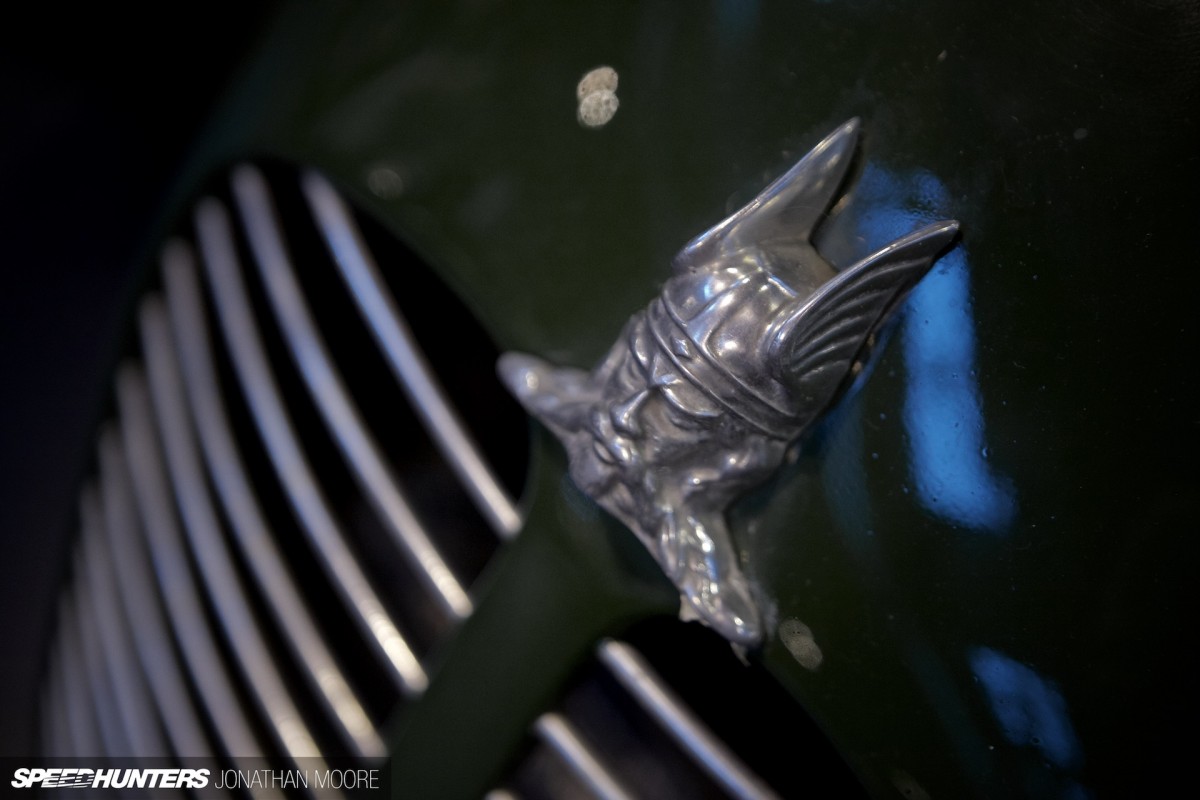 But CMS is also a celebration of other brands you might never have heard of, or perhaps previously held in little regard. It's too easy to walk through any show pointing out the cars you don't like; well, at CMS, any time I felt myself doing that I'd see the car next door that put it all in context. Even the ugly ducklings and apparent basket cases have relevance – and deserve appreciation.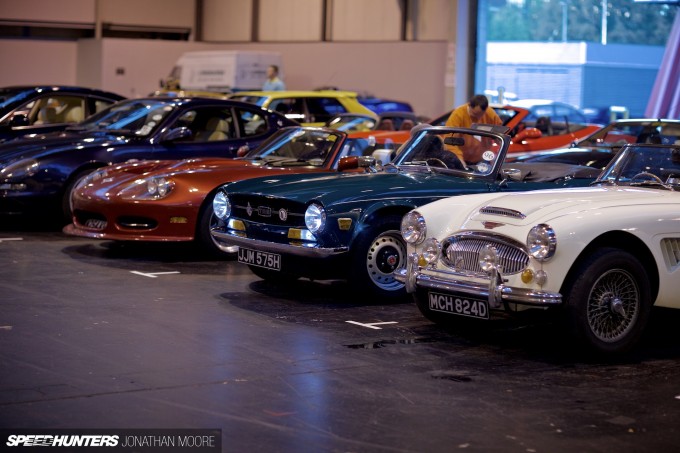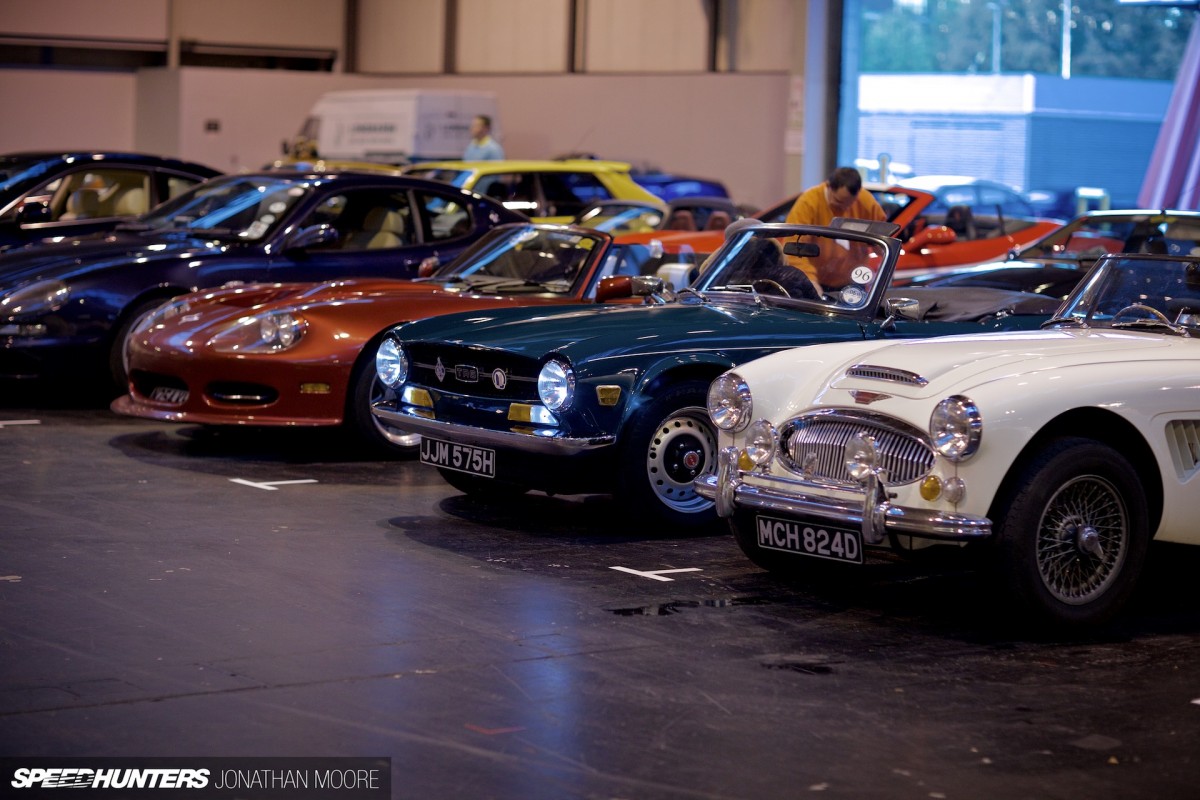 What makes a classic? Well, being a car that's at least 10 years old would perhaps be judged a good starting point. And yes, I know that counts out the SP1, but still, who wants to get too uppity about specifics? I want stories.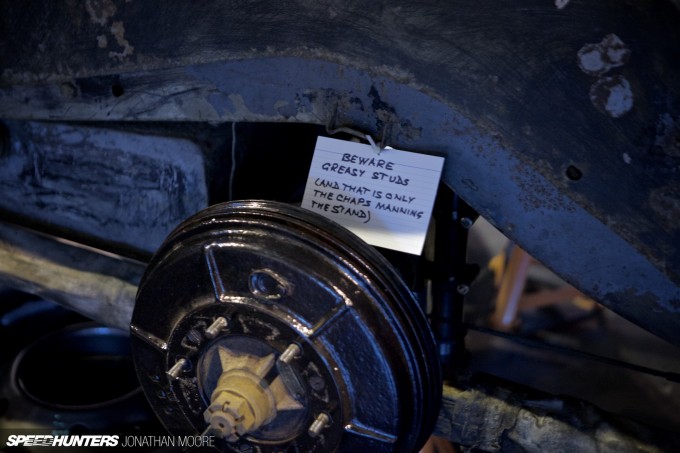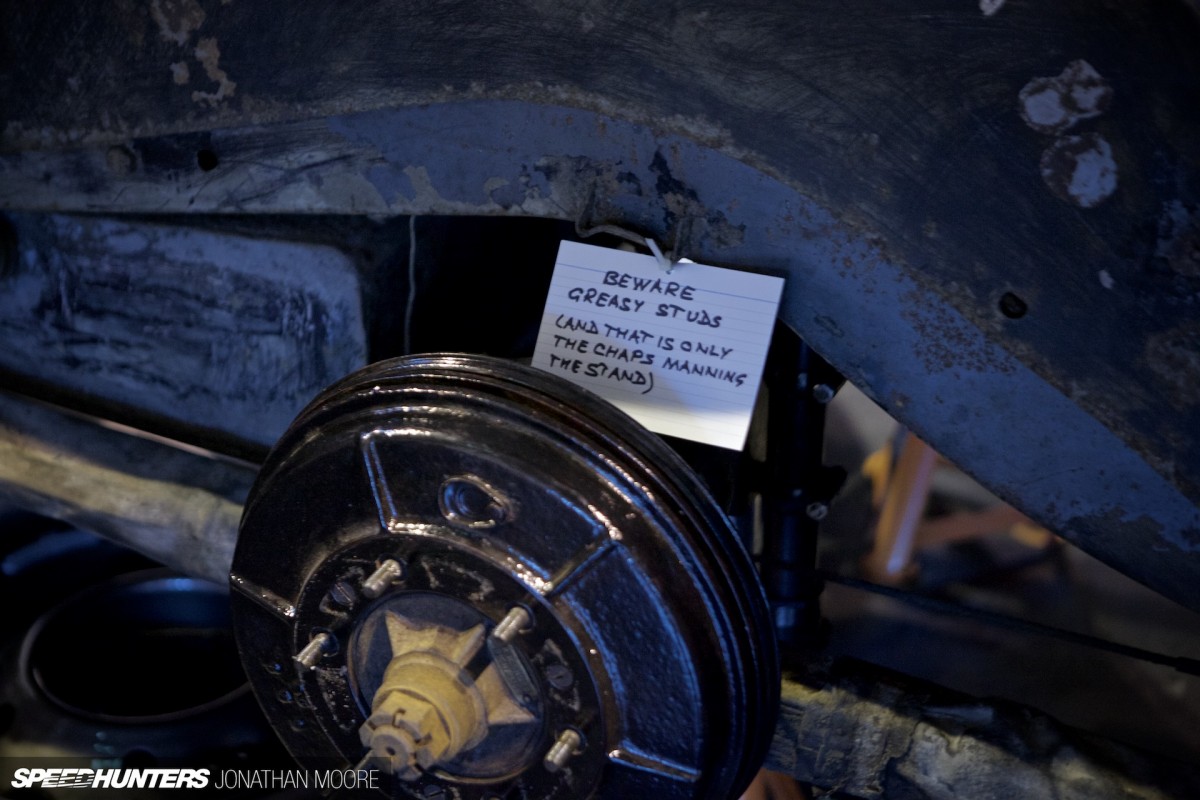 CMS is about entering into a world of hand-beaten metal, opening car doors and being bowled over by the sweet smell of gently musty interiors. It's all about those narratives: exposed engines, dripping grease and proud rust standing fender to fender with spotless engine bays, immaculate preparation and pristine bodywork. Nothing is better or worse, just different.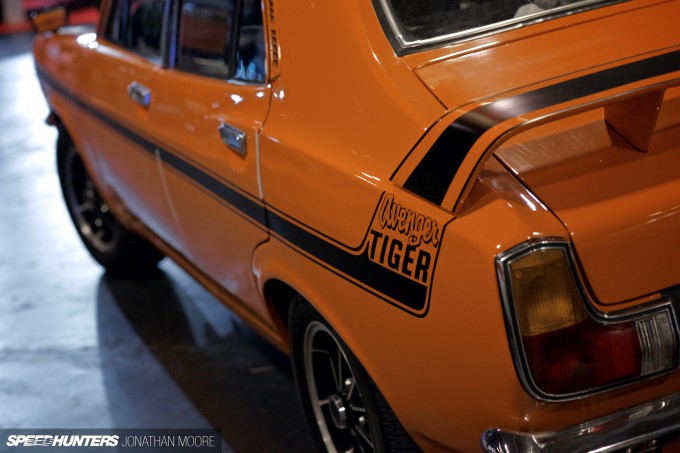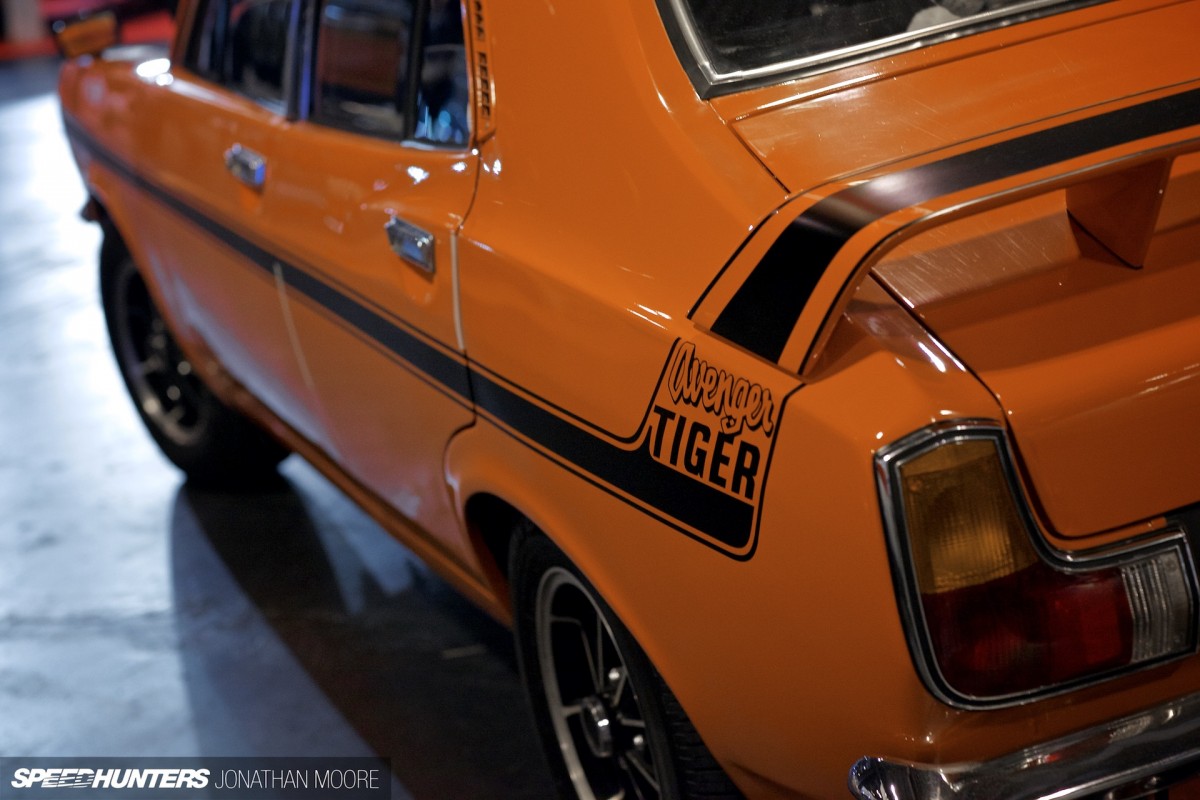 This is also a place for cars that have proper names, and the more the better, like this Hillman Tiger Avenger. Not just Tiger or Avenger you note, but both. I now want a Dodge Viper Ninja or Ford Fiesta Beserker.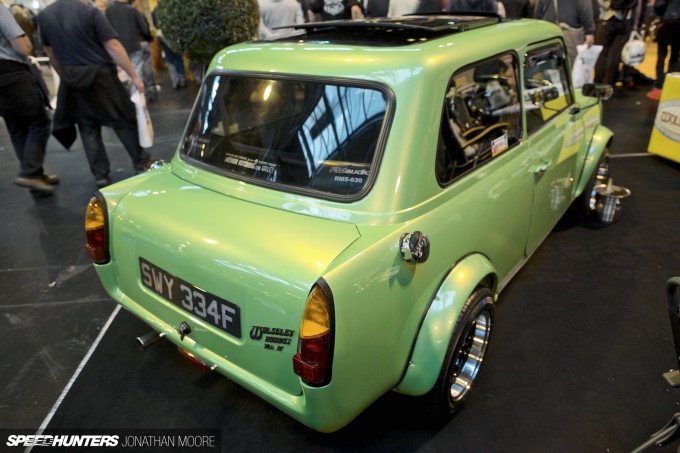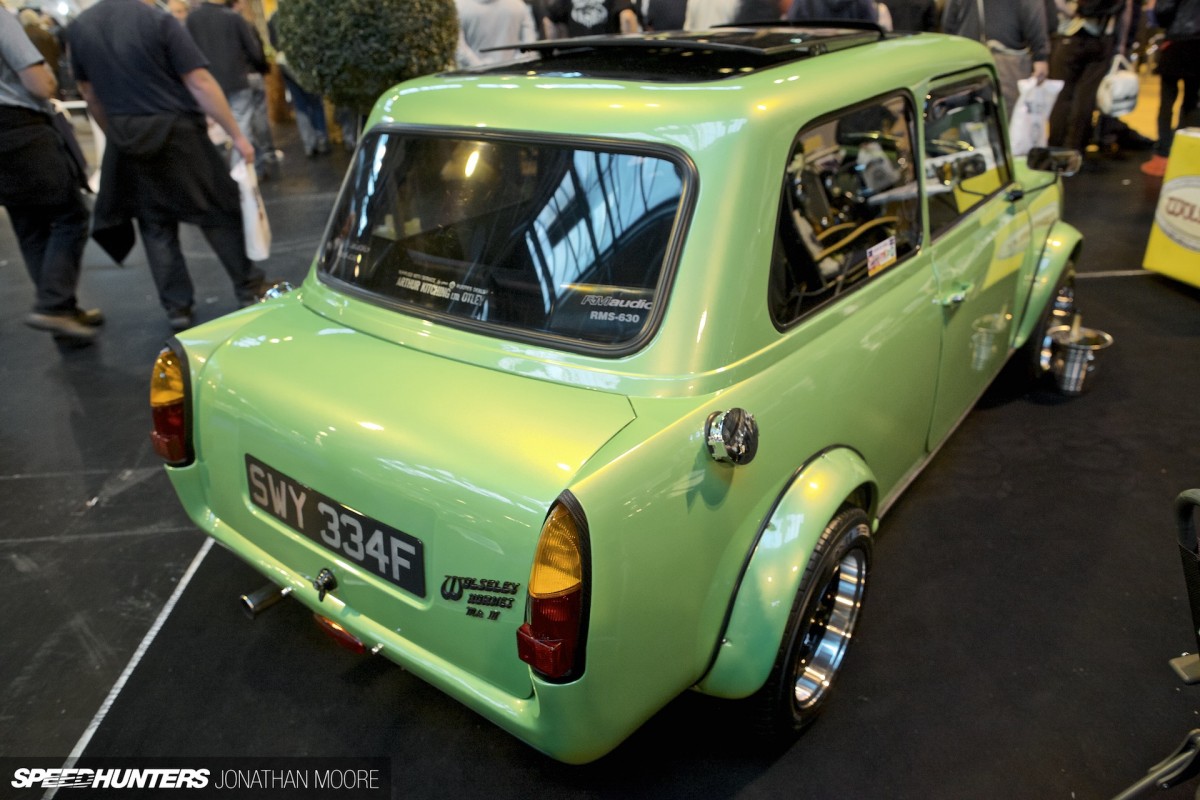 Even this little Wolseley was called a Hornet; not bad for an up-gunned Mini with a boot. This was a case in point for CMS, bridging the gap between old and new, but taking a model which the stylistas wouldn't normally touch with a bargepole. They'd be wrong: this Wolseley is so right!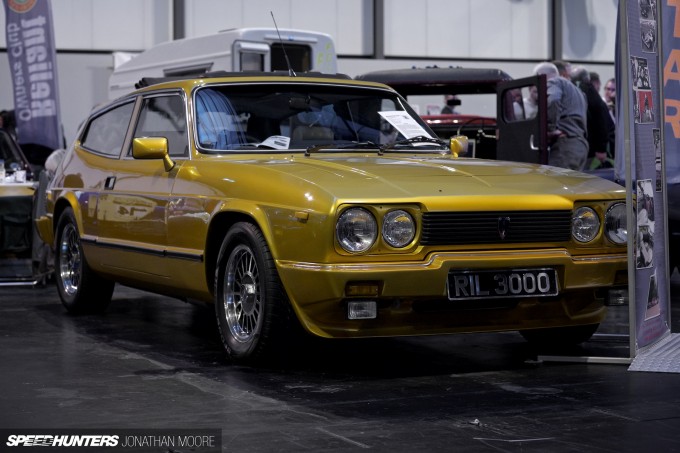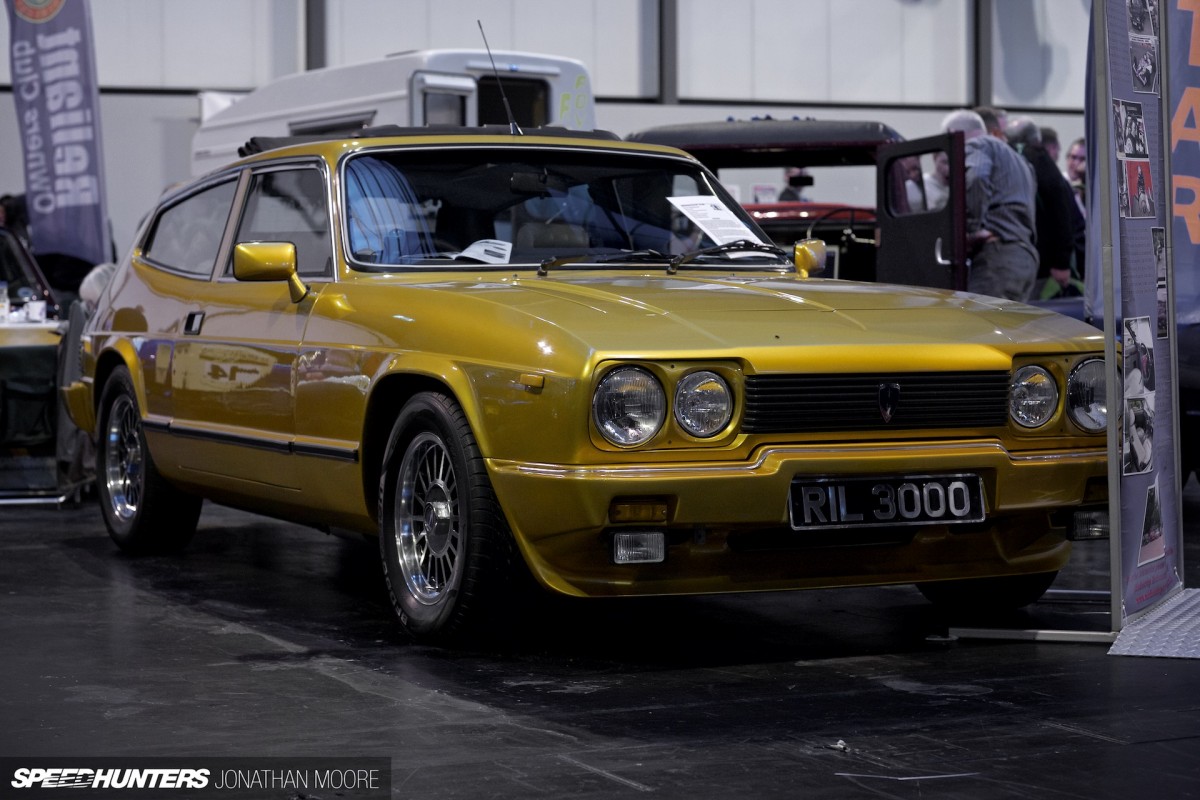 But this is the thing – it's about looking at cars with eyes open and blinkers firmly removed. For instance, every year I spend an inordinate amount of time on the Reliant stand, who are perhaps best known for their much abused three-wheeler Robin. Their four-wheel output is a different story, particularly with the Scimitar (another great name of course, and they later produced the almost tautological, but dual-title ticking Scimitar Sabre).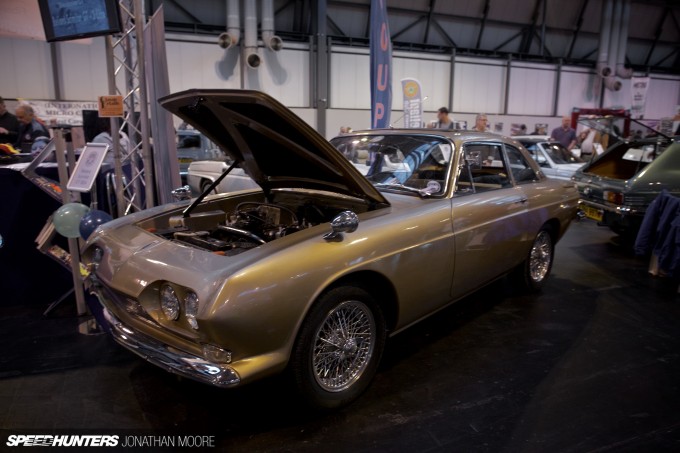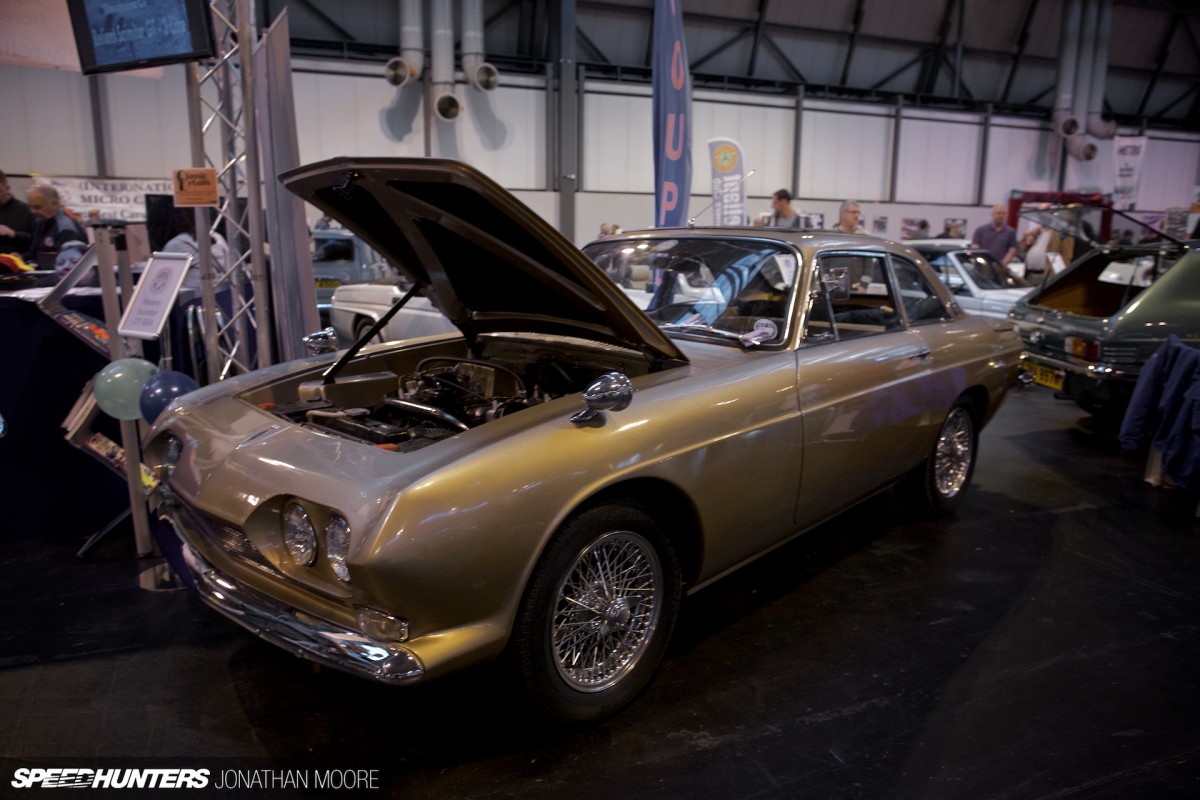 Focussed on lightweight designs, Reliant became composite specialists and later would produce the bodyshells for Ford's Group B weapon, the RS200. This year the Reliant stand also had the GT prototype unveiled at the Earls Court Motor Show 50 years ago, and fully rebuilt just over a decade ago. I love these graceful grand tourers; I'm a sucker for wire wheels (except for the cleaning) and the way the waistline breaks off from the front wheel arch.
Start Small, End Up Driving A Wedge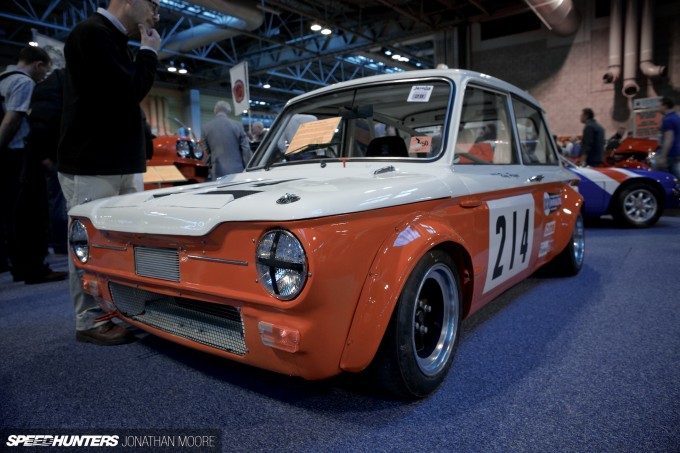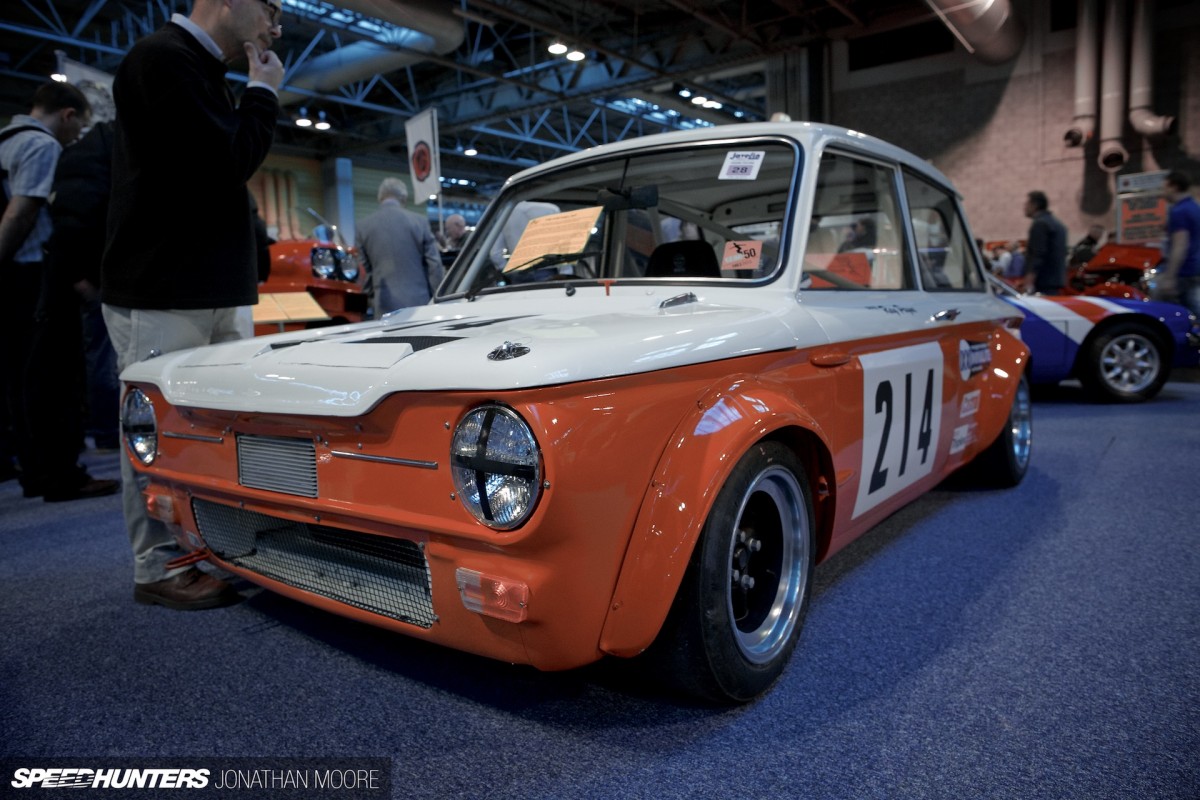 Tuning cars is as old as the sun, and there were some awesome examples of hot road and race classics at CMS. There are definitely ways to prove that smaller is sometimes better, and the Hillman Imp is one of them. I'm seeing more and more Imps out at modified car shows, which is where they deserve to be. It's what they invariably were in period – the ideal original hot hatch. You can flatten them to the floor and they're like manic go-karts. Perfection.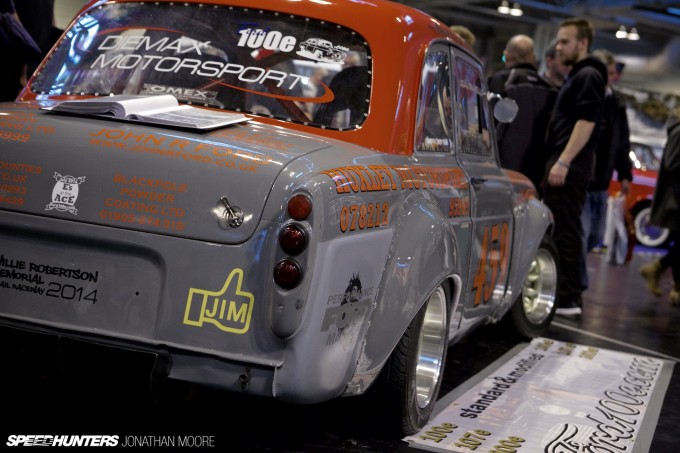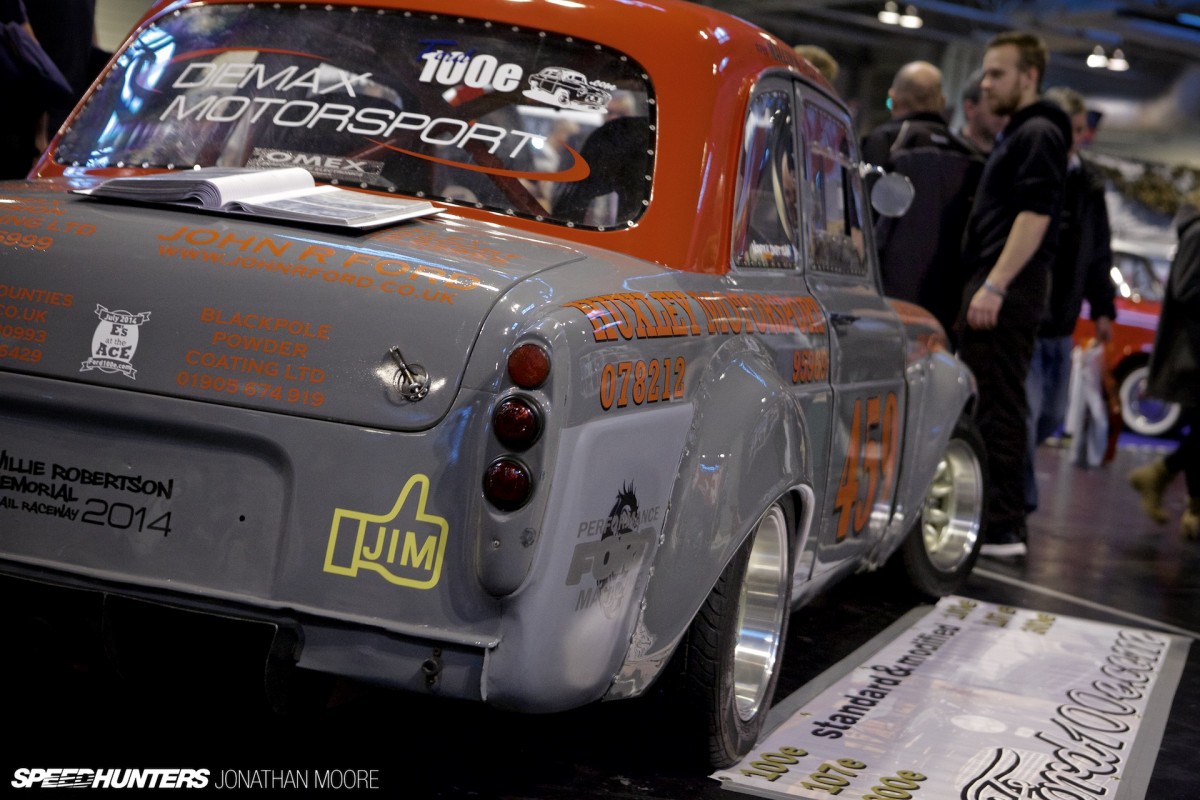 Fast Fords never lose their flavour either, and there's a whole world of variations you can try. Huxley Motorsport are no strangers to making cars go sideways, and Huxley Sr. raced a 100E Prefect in the '60s. Now they're campaigning this awesome bubble-arch 100E to blitz the tracks and strips. It weighs less than nothing and has more horsepower than should be legal.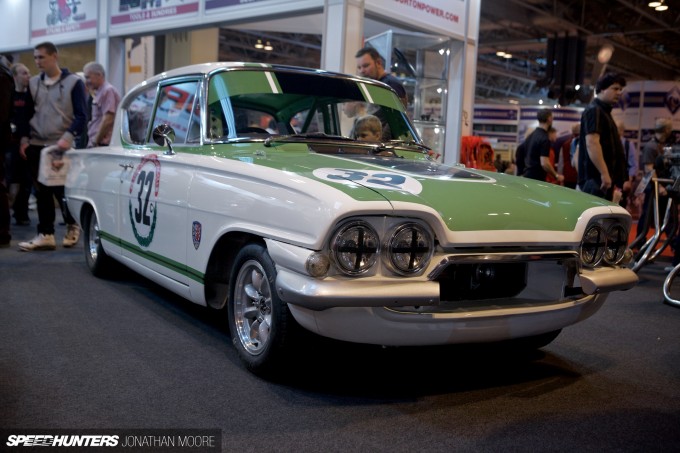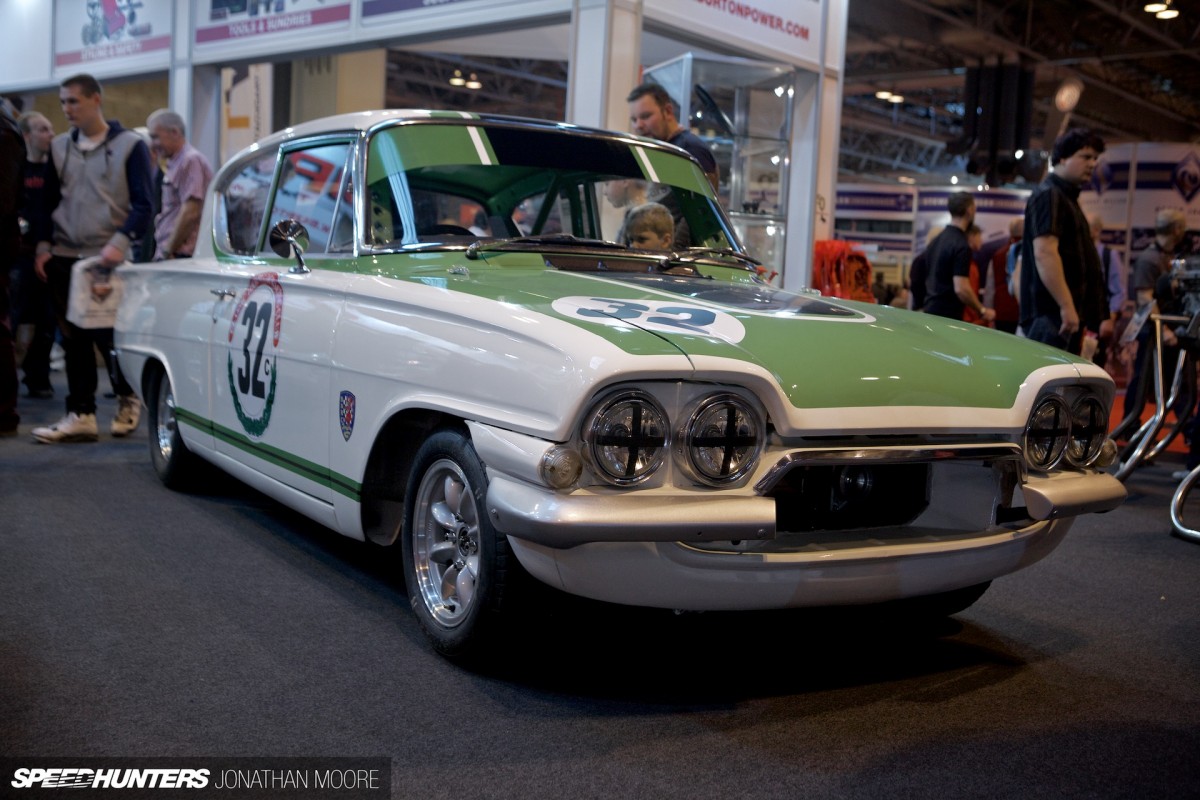 It seems like anything racing in the Classic Touring Car Racing Club will be rare, unexpectedly awesome or both. There was an amazing 500hp Escort MkII I'll be featuring in an upcoming Spotlight and a glorious '64 Toyota Corona (rescued from a field and restored to immaculate condition), but also this 150hp/800kg '62 Consul Classic being built to campaign in 2015. Its DNA flowed down into both the Lotus Cortina (through its LSD and brakes) and the later Capri in styling cues.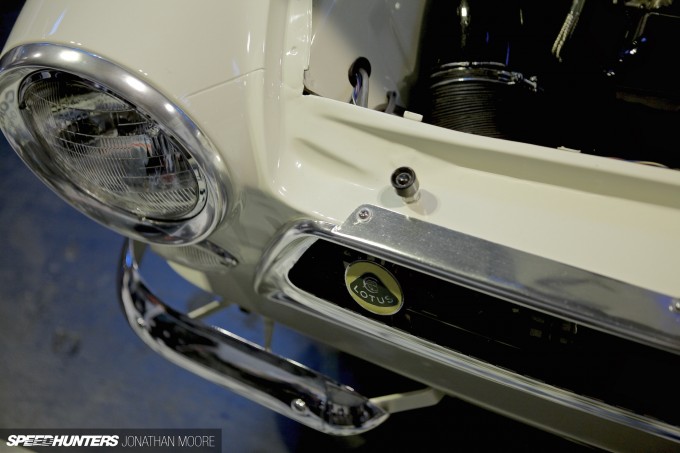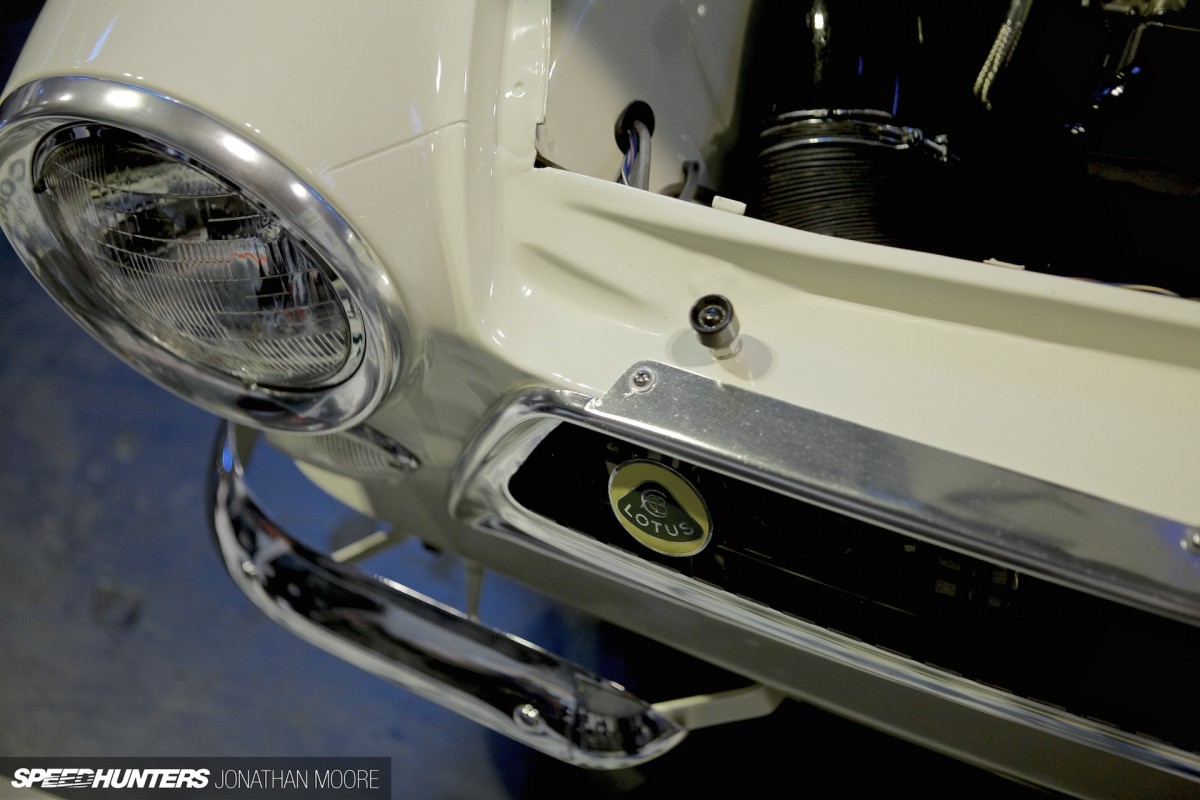 Lotus may still do plenty of under-the-counter work for the auto industry, but their most famous collaboration is still the iconic Lotus Cortina. You haven't lived until you've seen one of these innate drift machines in action. One of a quartet on show, this one was no ordinary example.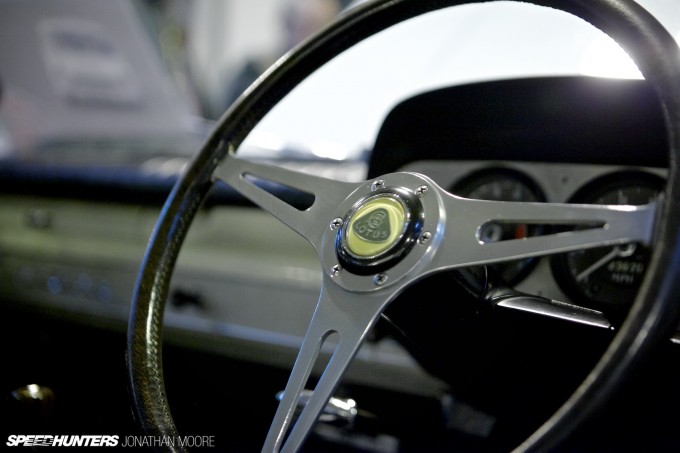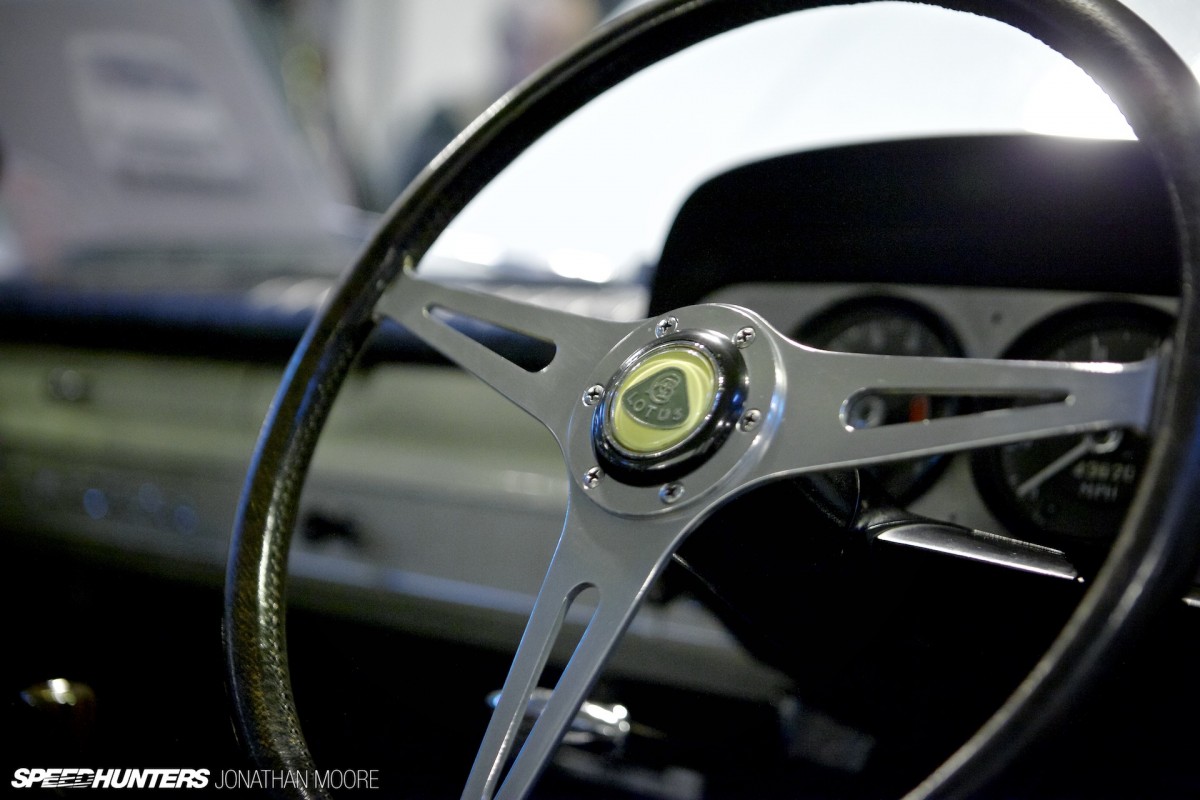 This Lotus Cortina ticked so many history boxes that I'm amazed it wasn't under lock and key. The unique car was used as a development mule by Lotus to test their independent rear suspension system and handed over to Jim Clark to test. He drove it to his home in Scotland and never gave it back! It became Clark's daily driver.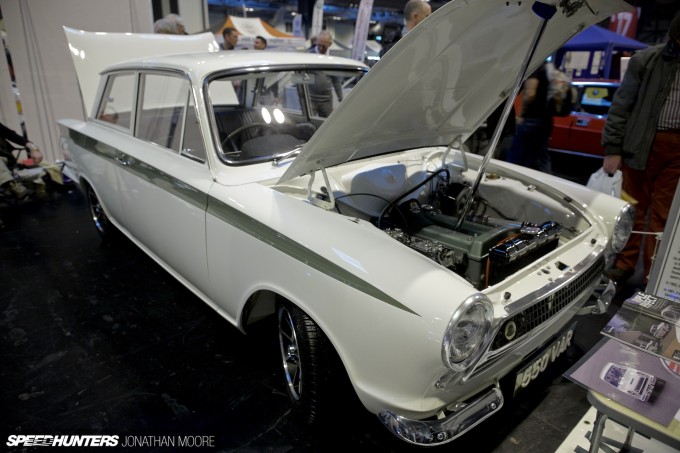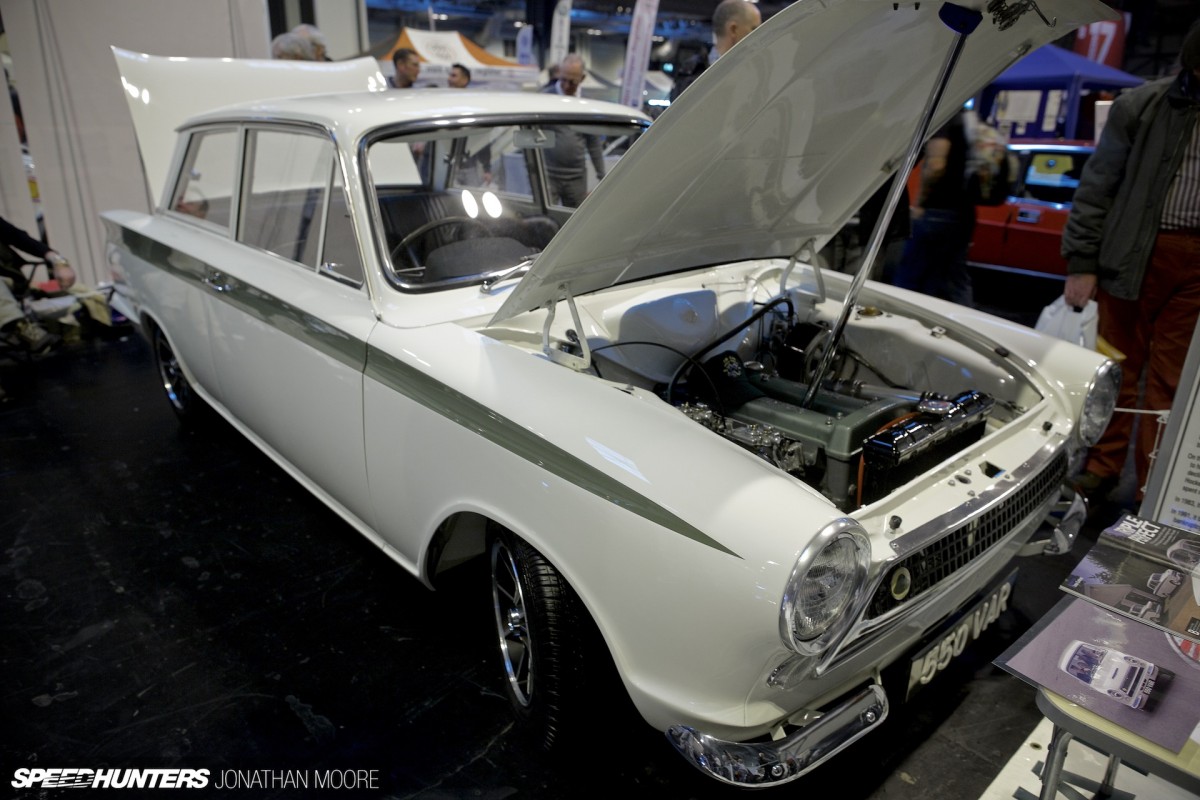 It was only saved from destruction (Ford decided not to use the design, and as is so often the case would have wanted the prototype destroyed) because Lotus sneakily re-registered it and Clark's brother-in-law hid it away in Scotland!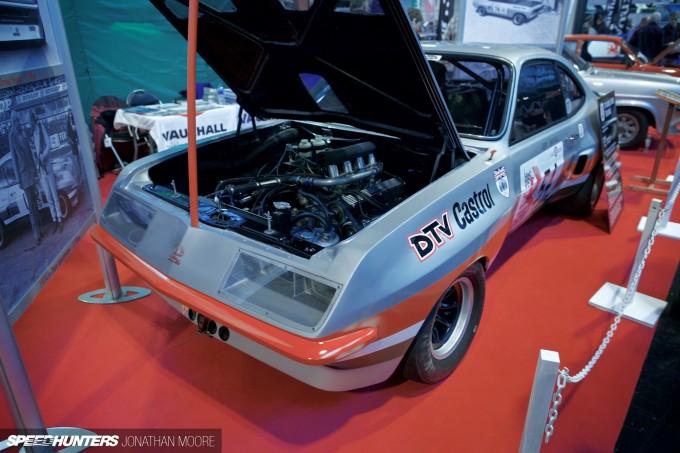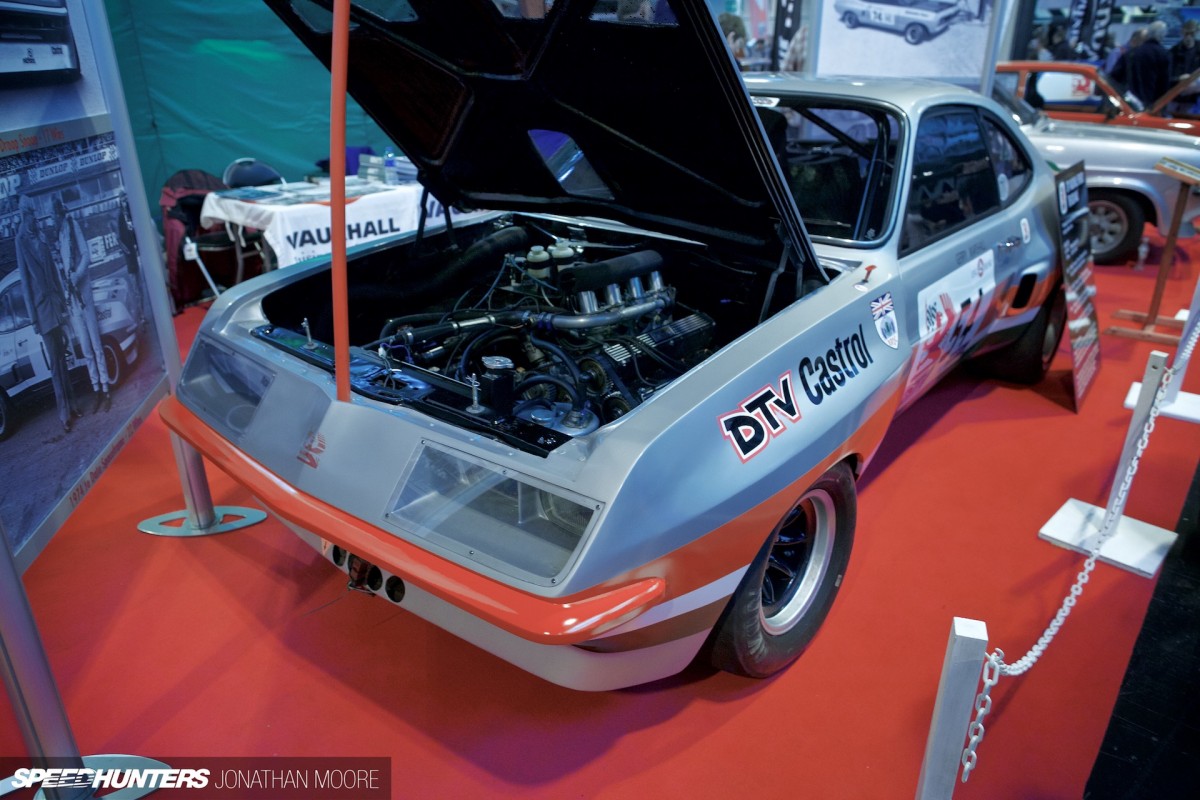 In these days of increasingly homogenised and soulless road and racecars I can't help but look at old machines like this Gerry Marshall-driven (if you haven't heard of him, look the legend up) Vauxhall Firenza with glee and delight. Slant-nose, big arches, huge slicks and a Blydenstein-tuned 2.6-litre slant-four somehow producing 265hp… Who cares if it was relevant to the average road-user?!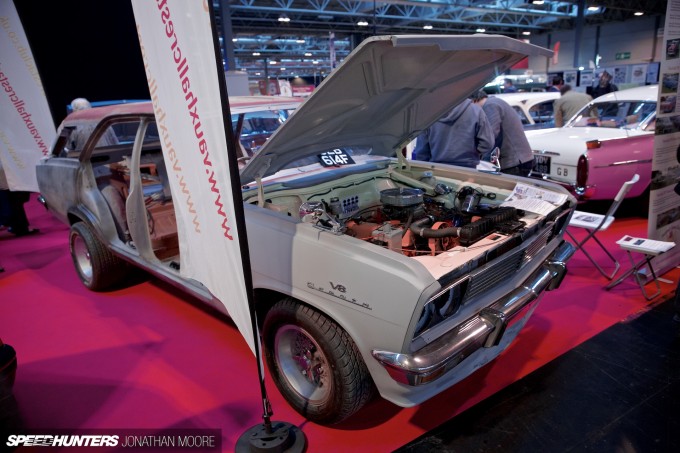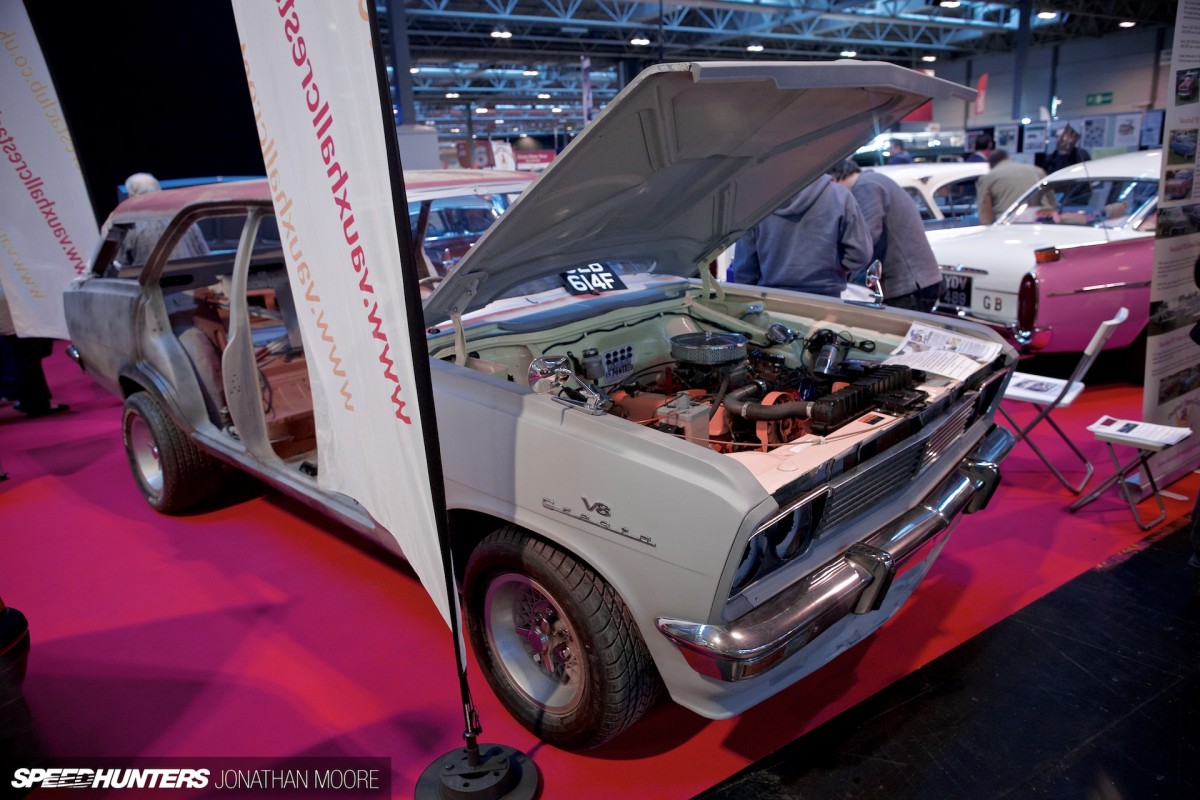 I'm sure that's why older cars are so inviting. There's such inspiration to look back on and so much more potential. CMS club stands all seemed incredibly democratic, with every style welcomed whether stock or heavily modified. On the Vauxhall stand standard modern fare stood side by side with the Firenzas and Chevettes, and then there was this Cresta PC estate. This '68 car was jacked up in the '70s and made into… The Prowler! Despite being almost destroyed in a fire and then left standing for two decades, The Prowler is now back, complete with a Rover V8 and a whole lot of new bodywork.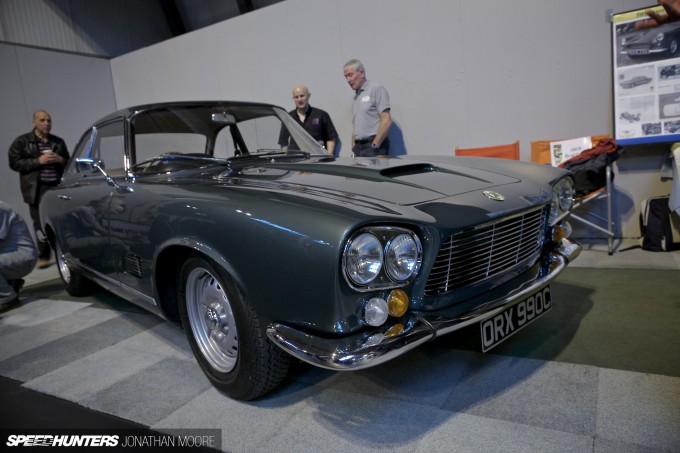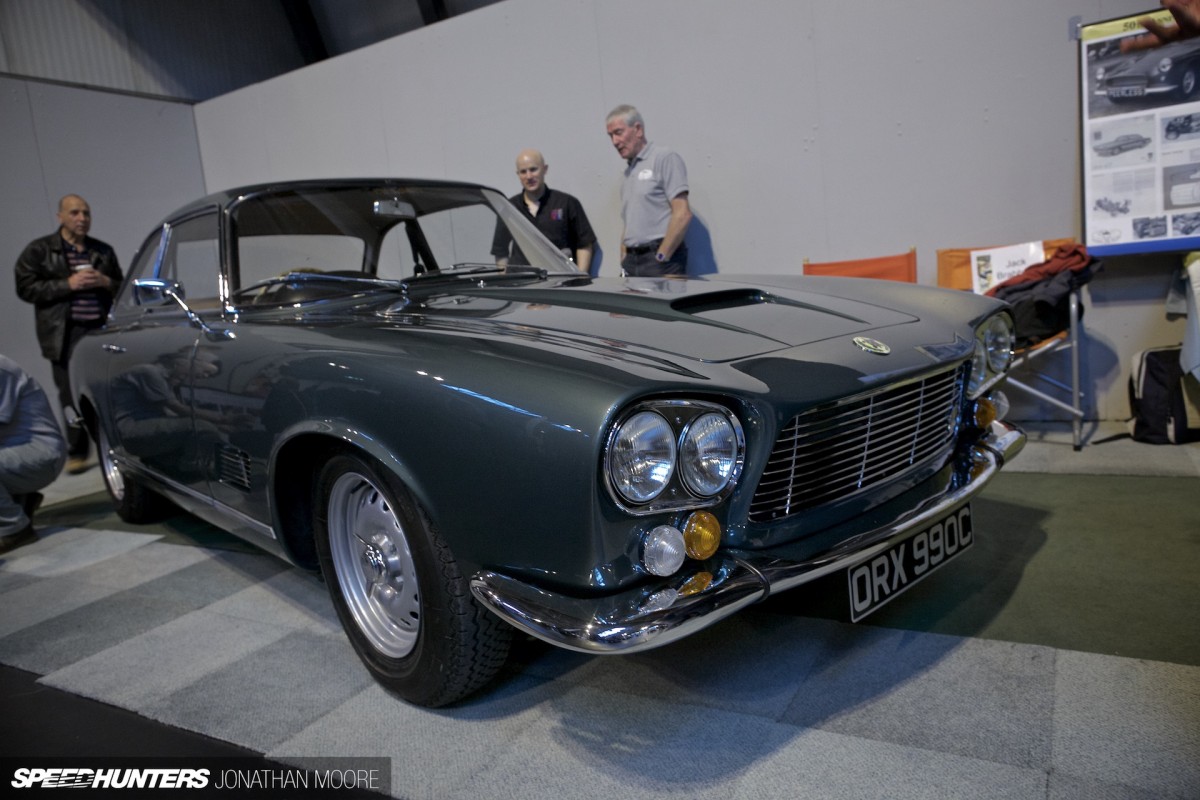 There's something about V8s. Maybe it's a British thing, as they're such a relatively rarity: such extravagance! Also, when the Brits use them, they tend to make sledgehammers in velvet gloves. Ever heard of a Gordon-Keeble?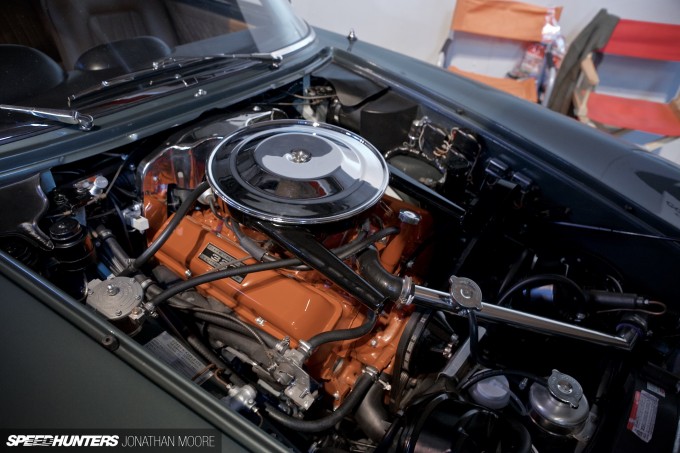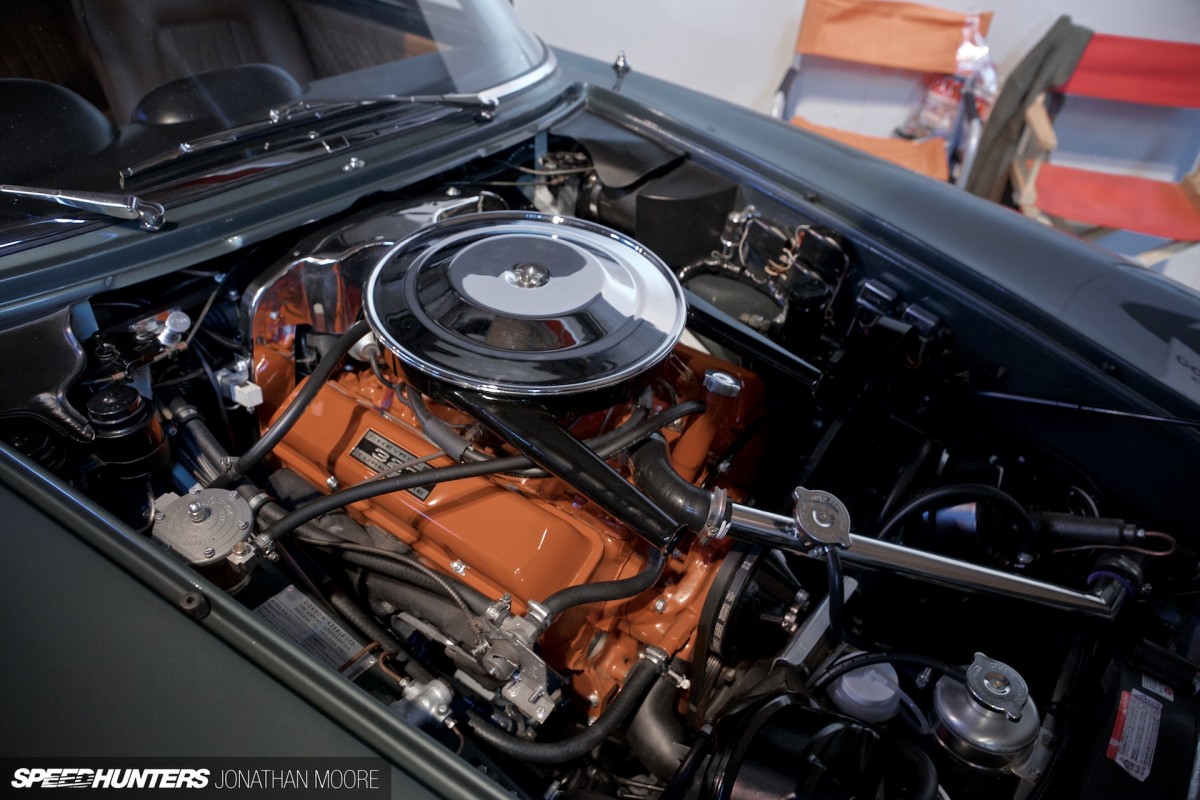 I first came across Gordon-Keebles at the Donington Historic Festival a couple of years back – more classic grand tourer perfection and supercar performance, with just 100 made in a brief three-year period between '64 and '67. The prototype's steel body was designed by Giugiaro and built by Bertone, on a spaceframe chassis, with the production version swapping to GRP and throwing in a small-block 5.4-litre Corvette V8 for good measure.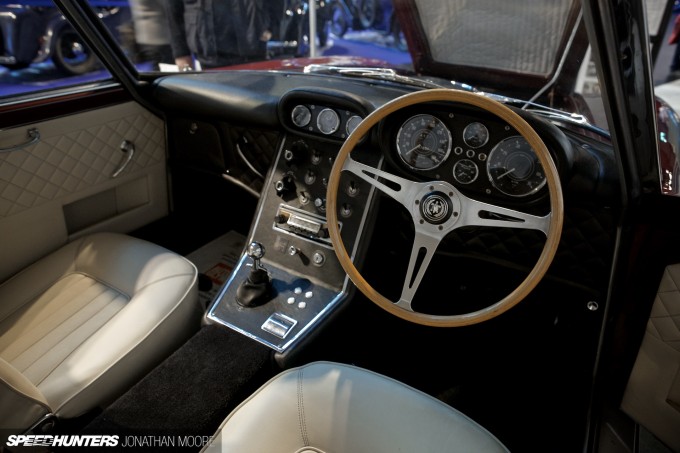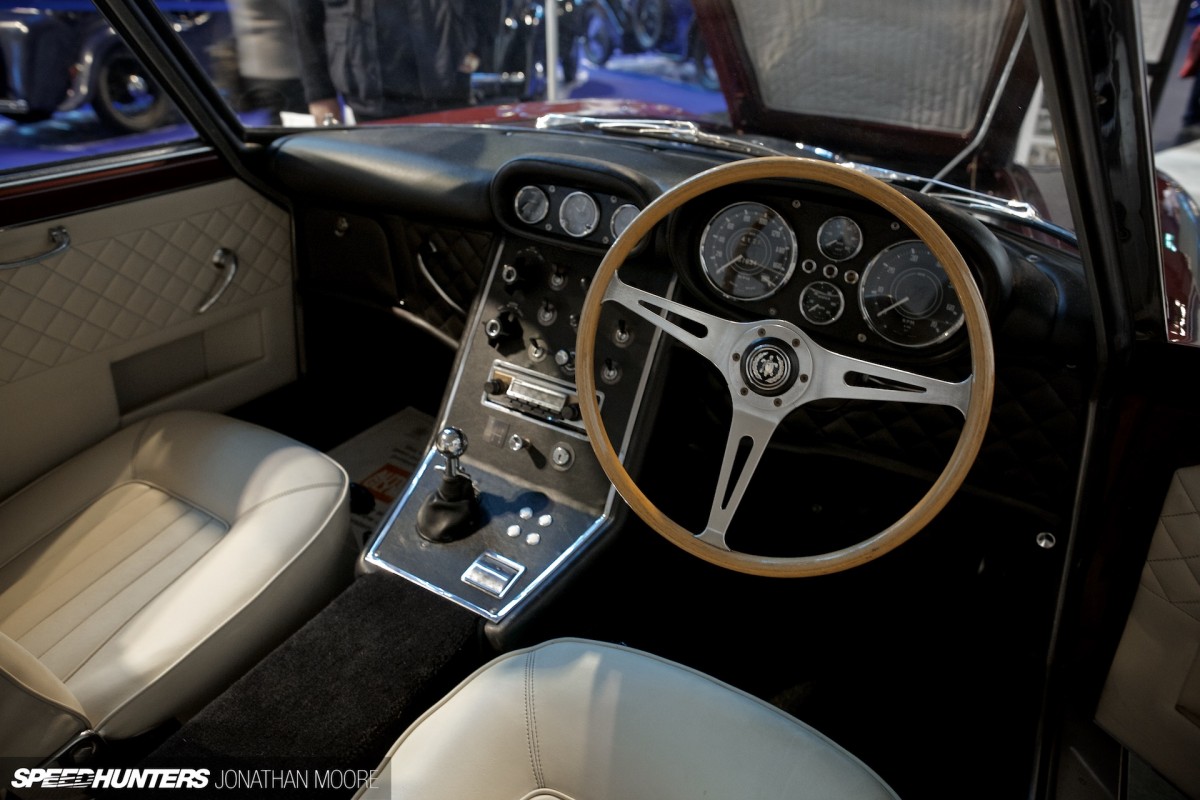 An order for 1,000 Chevy engines turned out to be optimistic, but what a car. The interior of this authentically restored gem is gloriously luxurious, with its tasteful contrast switchgear and beautiful stitched leather. The tortoise on the wheel boss? That was Gordon-Keeble's badge, the story being that during a photoshoot a tortoise crawled along in front of the car… The irony wasn't lost, and the animal was adopted as the proto-supercar's icon.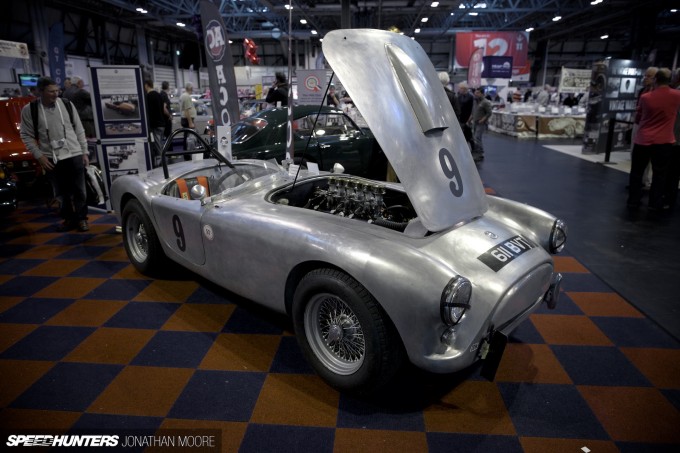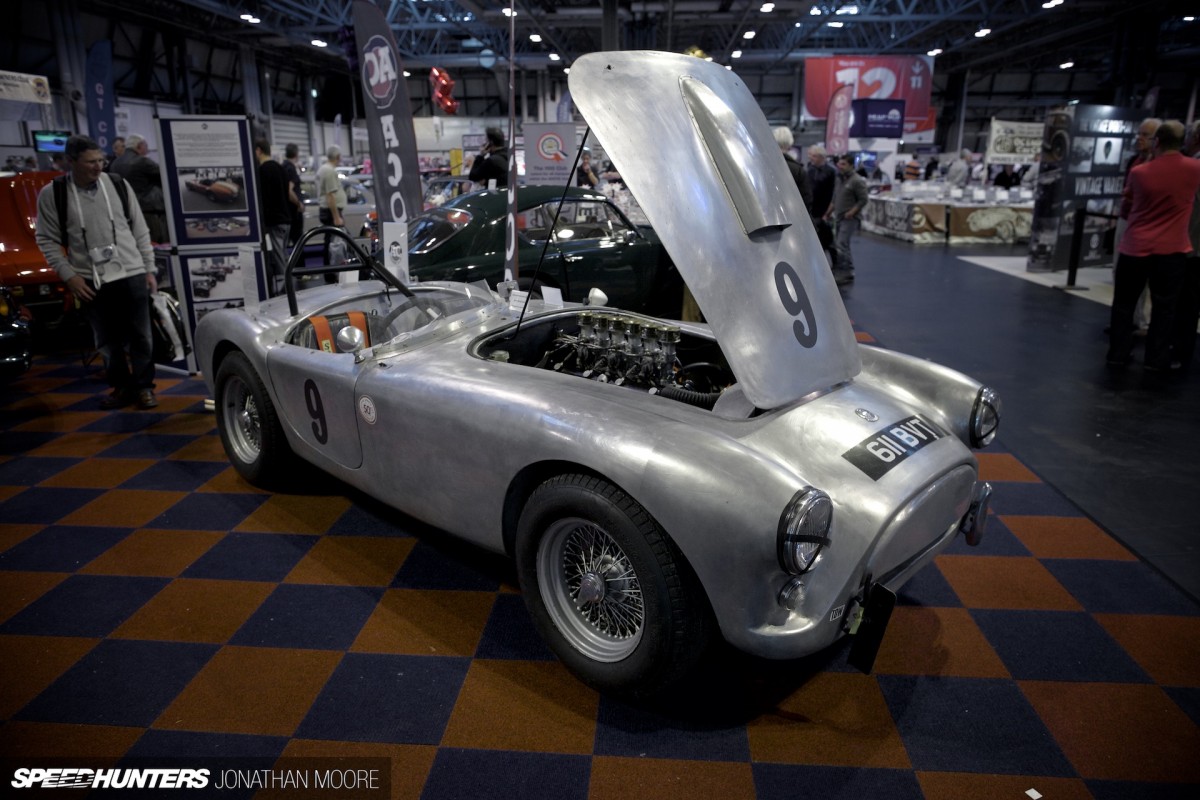 The Cobra is probably the most famous match of British chassis know-how with American grunt, but the car that spawned that particular snake was no slouch either. This is an AC Ace Bristol (ah, double-naming again!) from 1957.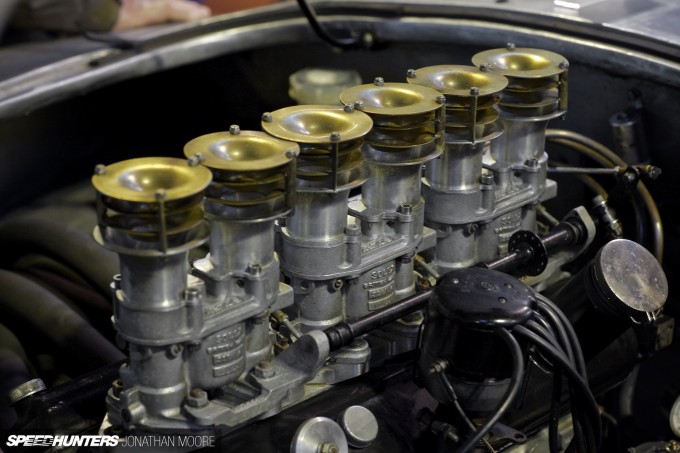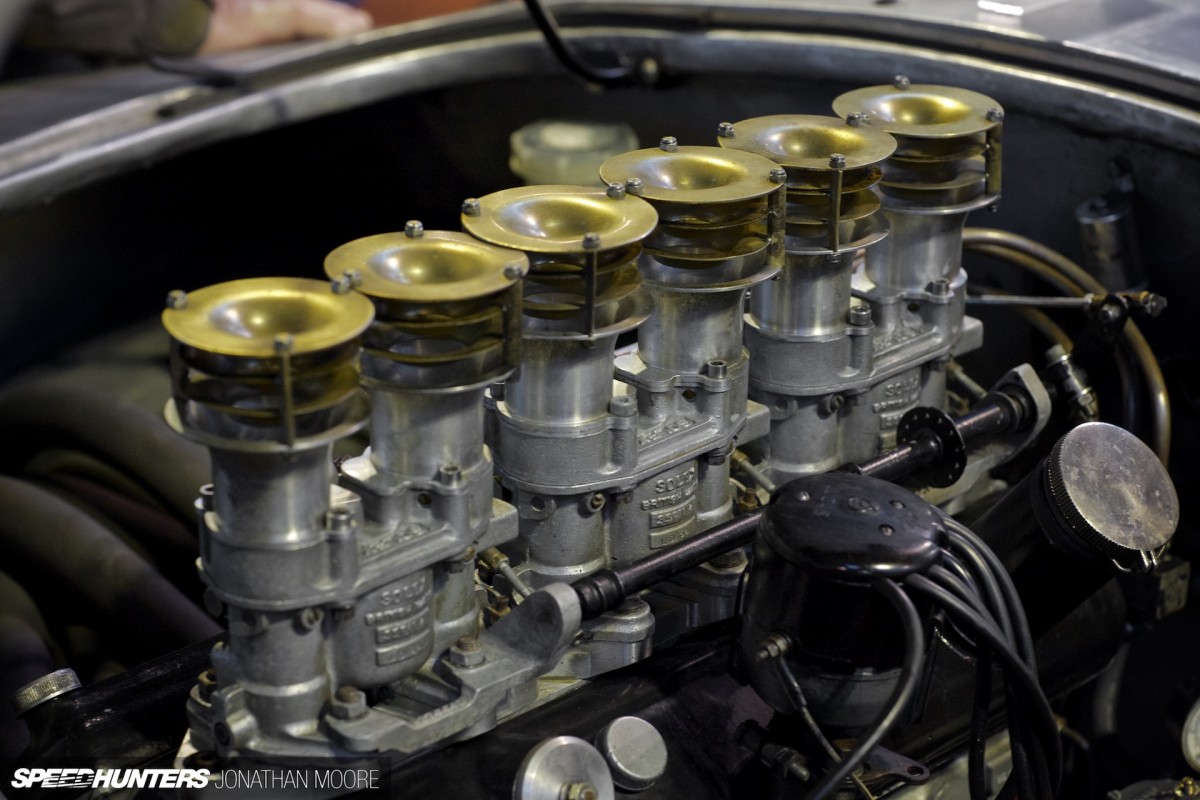 It was fitted with a six-port head and triple Solex twin-choke carbs developed for racing at Le Mans – hence the bonnet scoop, which already shows the beginnings of the bulking up that car would go through on its evolution to full V8 evilness.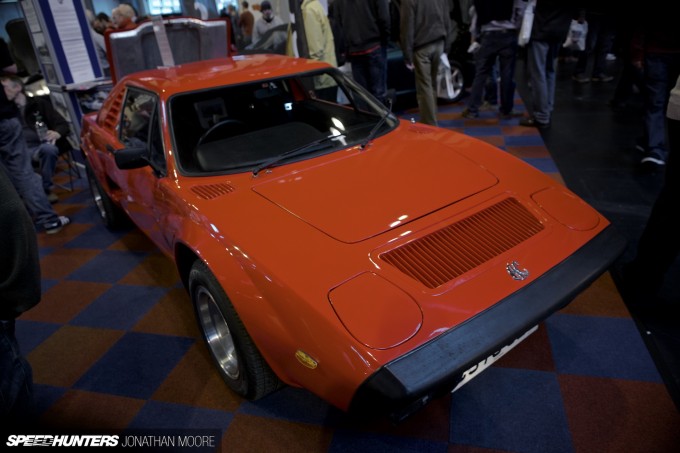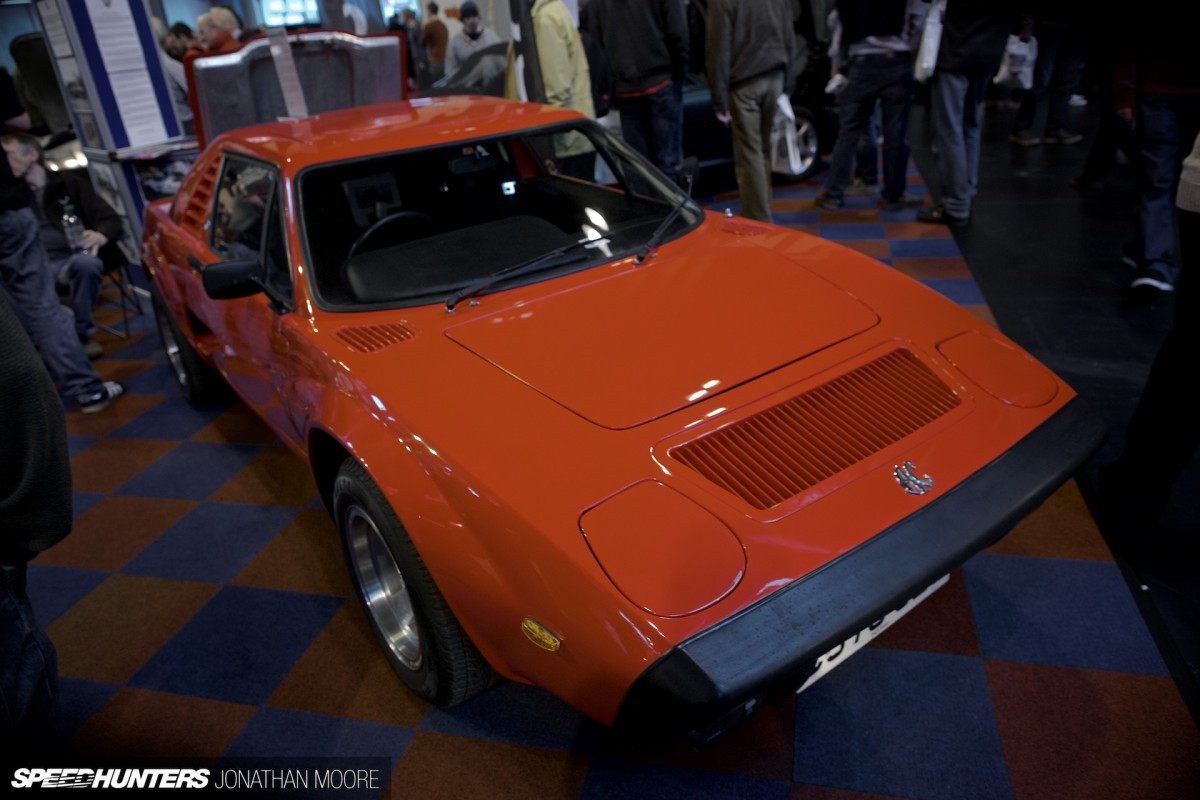 AC might have got slightly lost after the Cobra story, but they did go on to make several more interesting – if unfortunately unsuccessful – cars. This is the mid-engined 3000ME of the '70s, a mash-up of Ferrari, Fiat X1/9 and Porsche 914.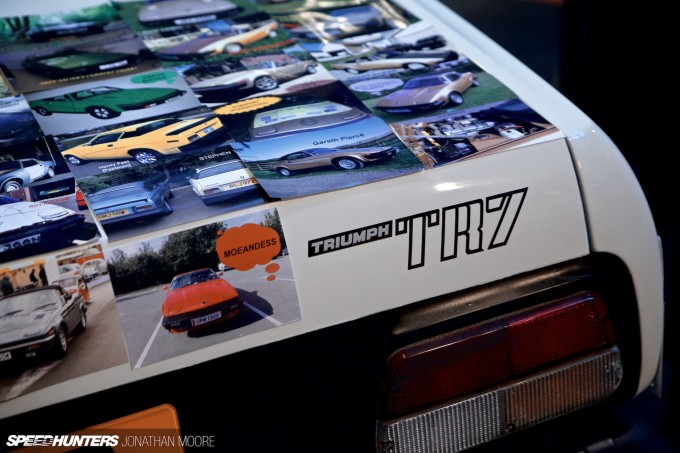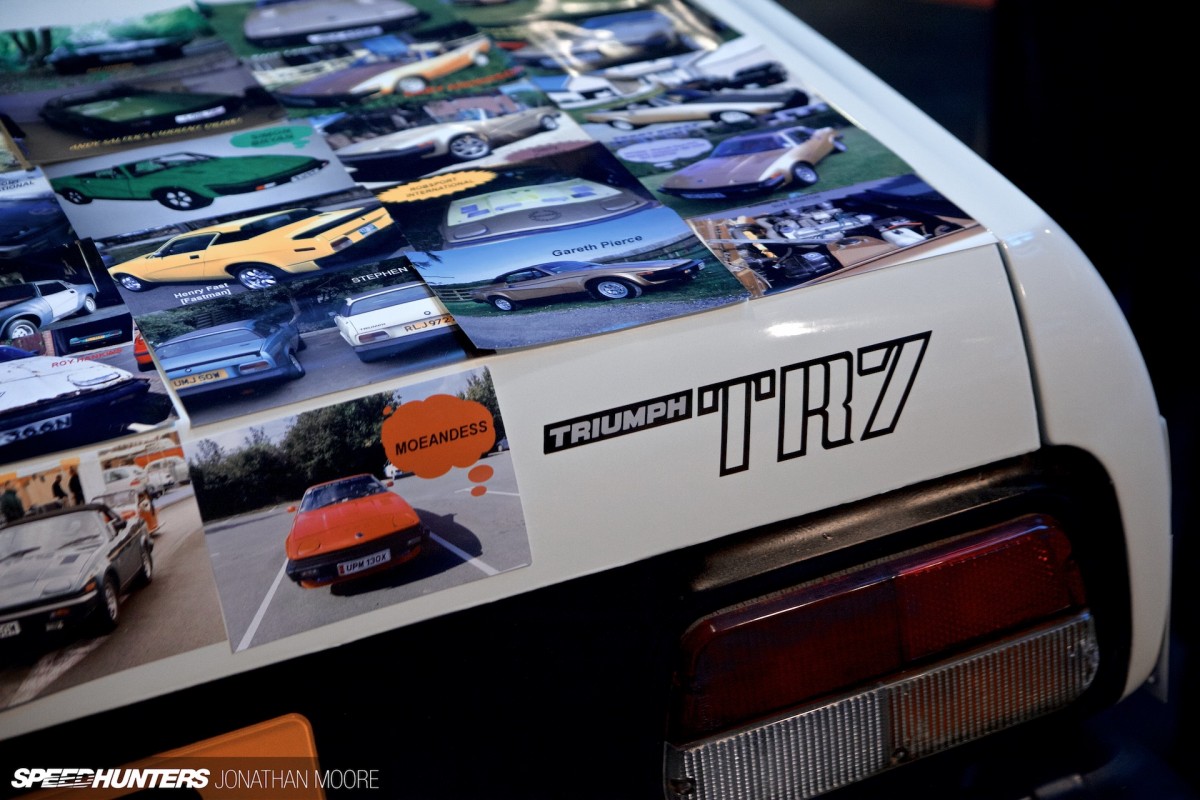 The AC3000ME also spawned a futuristic concept shaped by Ghia and some incredible out-there silhouette racers that were galaxy-wide and based on Formula chassis. But it was all part of the wedge revolution shaking the world at the time…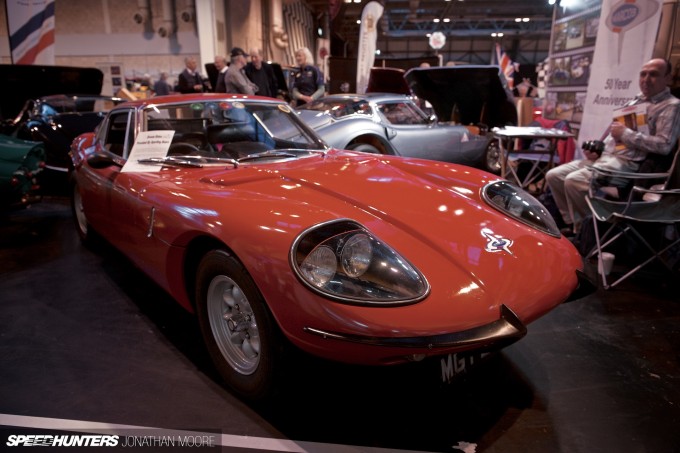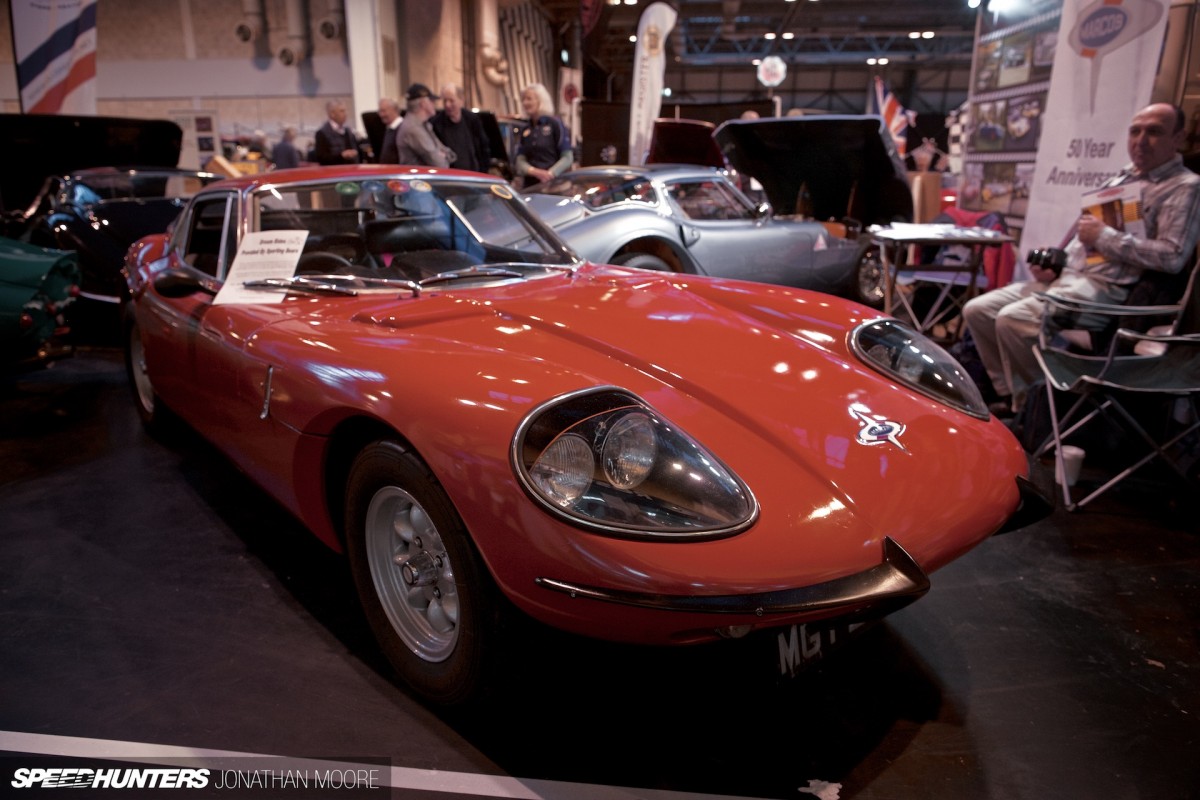 A second stand I spent much happy time at was the one Marcos dedicated to their 1800GT – another car celebrating its 50th anniversary. Like Morgan, the Marcos was originally based on a wooden monocoque, with a two-piece fibreglass body and Volvo two-litre buried in that insanely long nose. The arrangement of the four 100GTs back to back in a cross shape was inspired – accentuating just how long and low they are. Whether as a racer or a street machine, they're just glorious.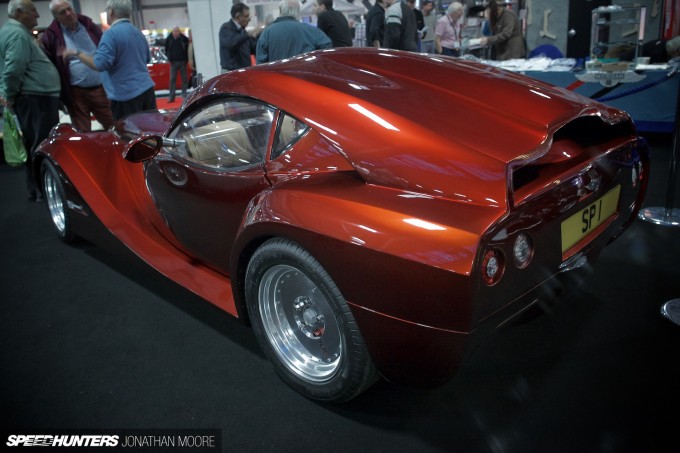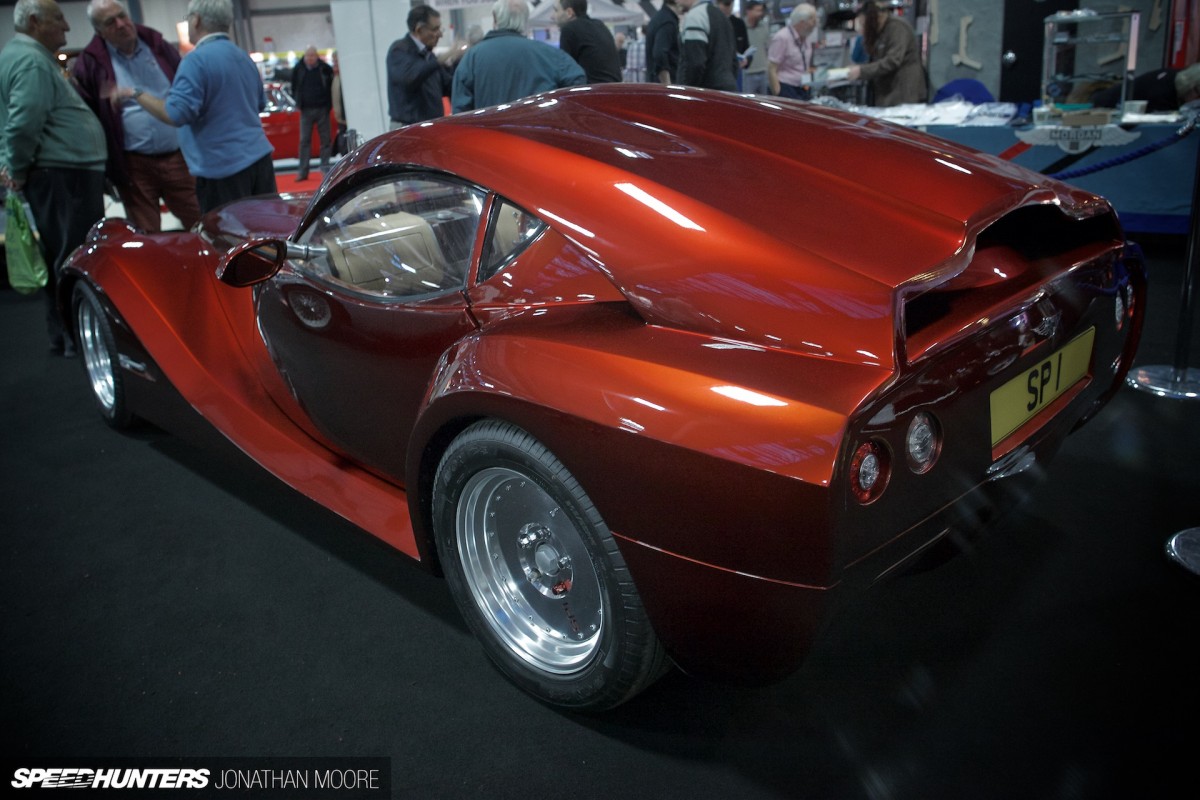 CMS was the first time I'd seen Morgan's spectacularly retro SP1 in the flesh. I'd seen various parts in progress during our recent factory tour, which had given some idea of the organic shapes it would incorporate. For instance, the flowing one-piece wooden seats, which feature simple leather pads as the only concession to softness – the shaping is the key. The fastback rear and Kamm-style tail aren't there for show either: it's a speed demon. A future classic from the past!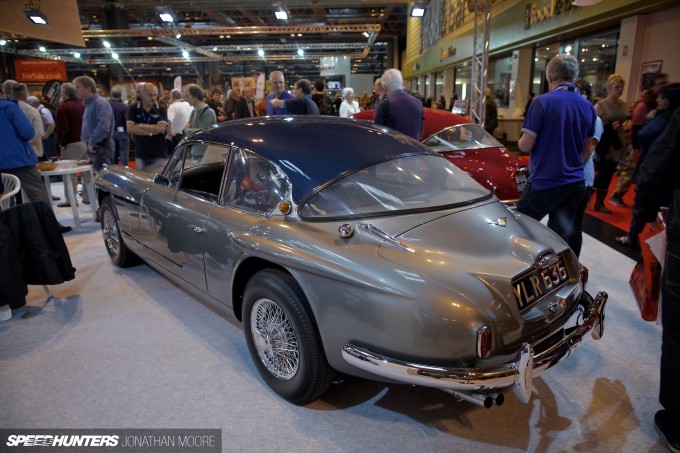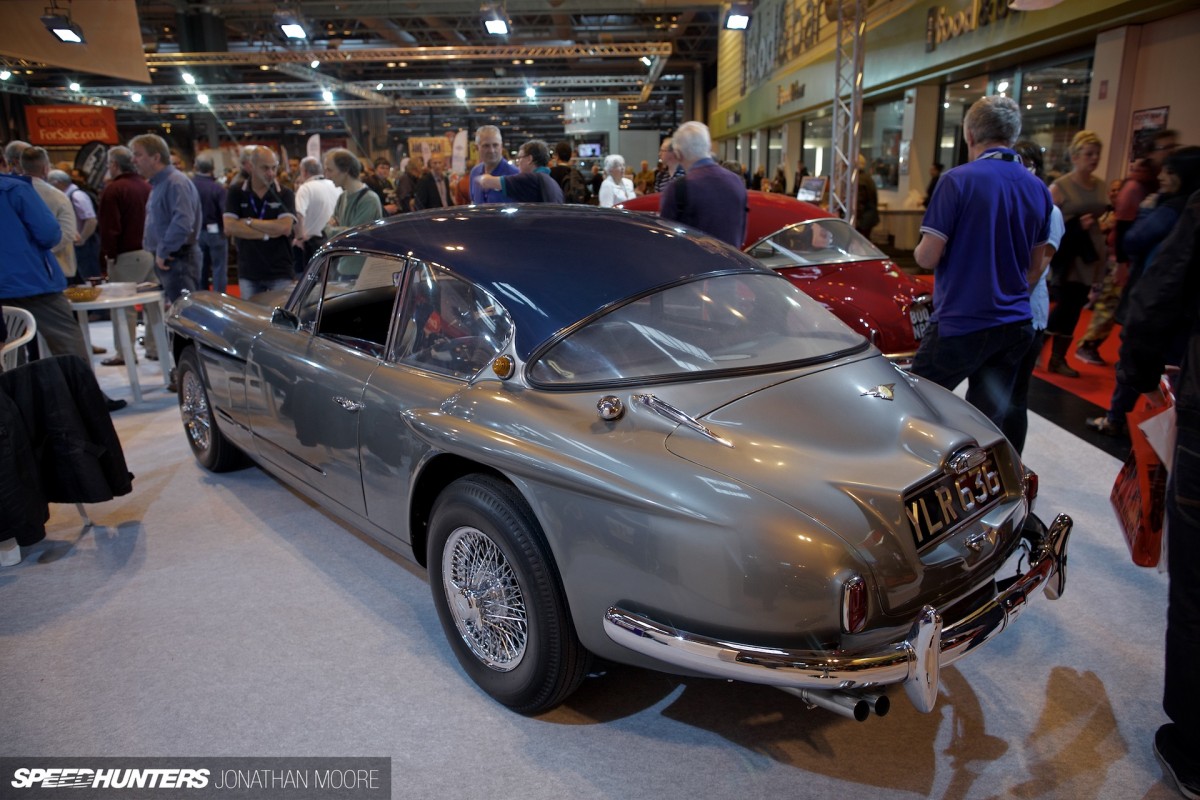 Every year there seem to be more and more Jensens coming out of the woodwork – and not just the better known Interceptors (useless fact: Jensen built bodies for the original Wolseley Hornet). It's the revolutionary 541 I want to start with. I can't believe this car came out in '57: it's a riot of curves and how about that low-line wraparound rear screen? I obviously have a weak spot for big grand tourers.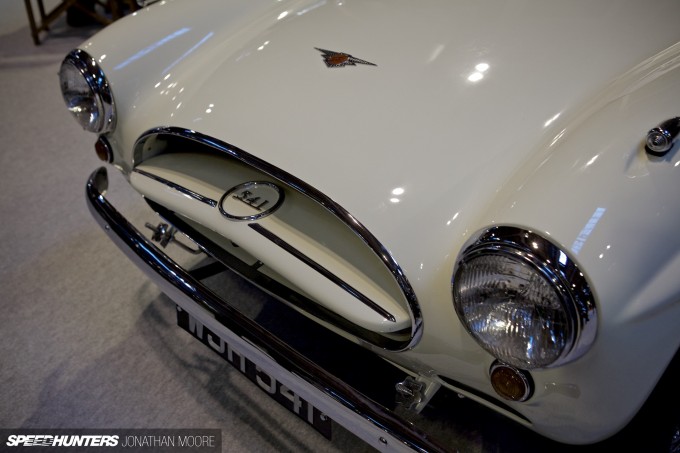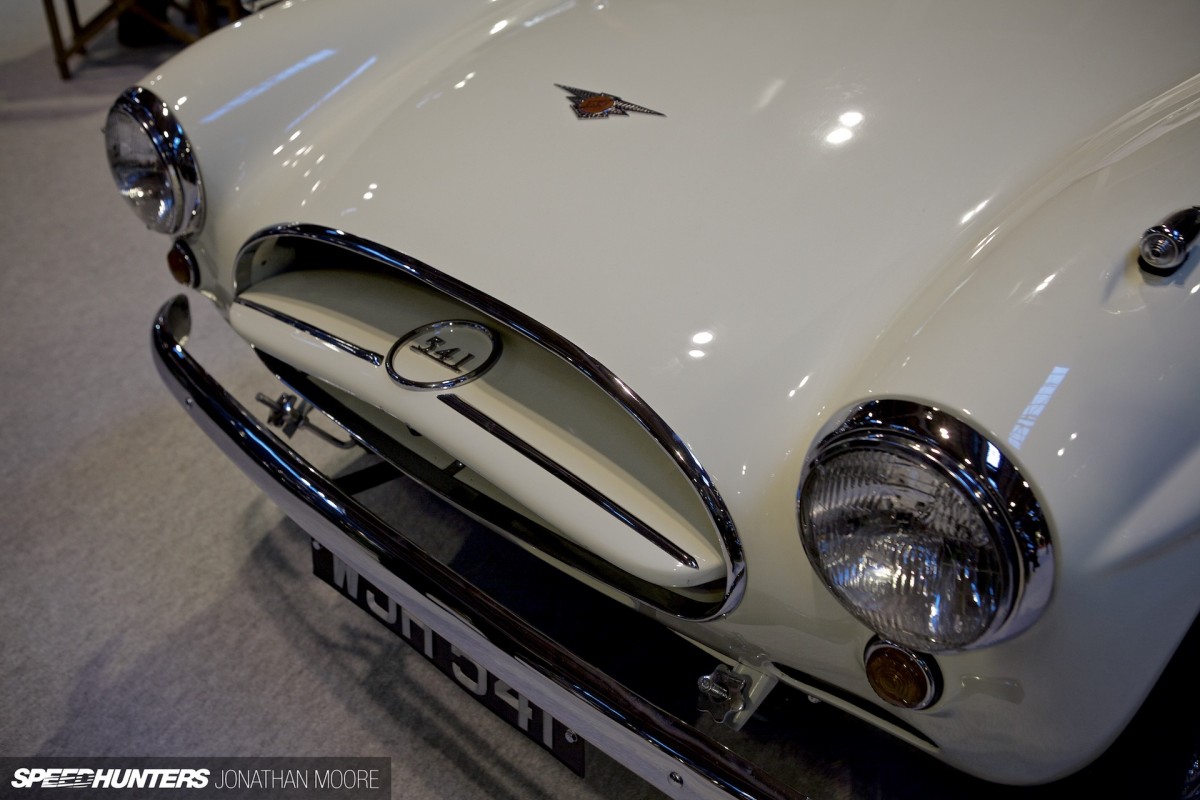 These are handy cars as well – they were pioneers of using lightweight fibreglass for the body and the four-litre straight six under the bonnet was ripe for tuning. The 541 even featured variable aerodynamics: the front grill angle could be controlled from the cockpit, making its drag coefficient equatable with many modern cars. That was a result of the car being tested in Austin's full-size wind tunnel.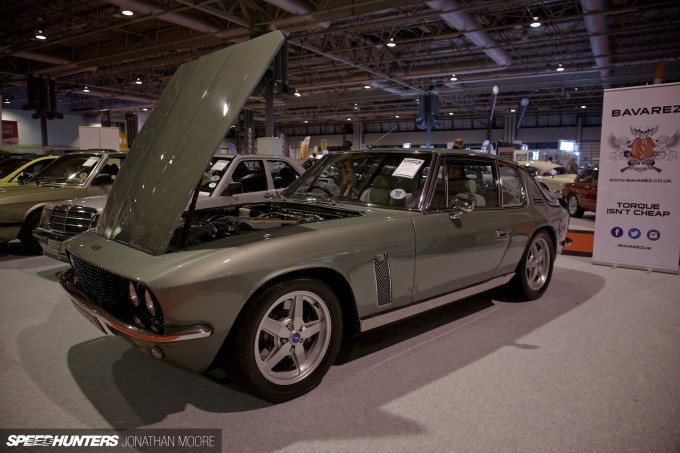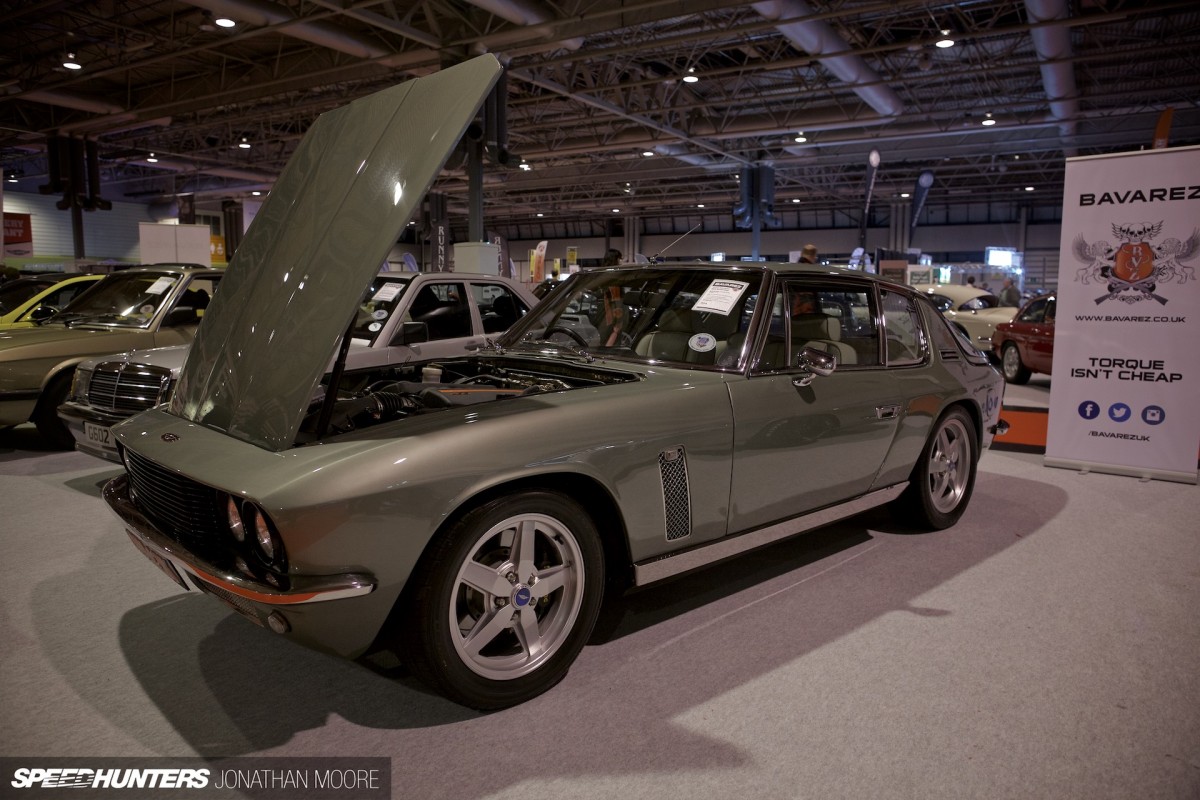 I'll be picking up on Bavarez's amazing '69 FF (with seven litres of supercharged madness poking out of the bonnet) in a Spotlight, but they also had this modernised classic Interceptor. On the outside, restoration perfection in authentic style from muscle car nose to gorgeous panoramic glass rear – you don't mess with a Carrozzeria Touring design.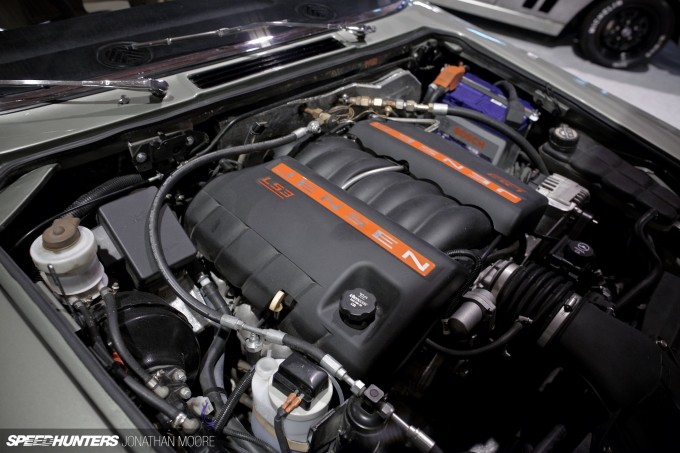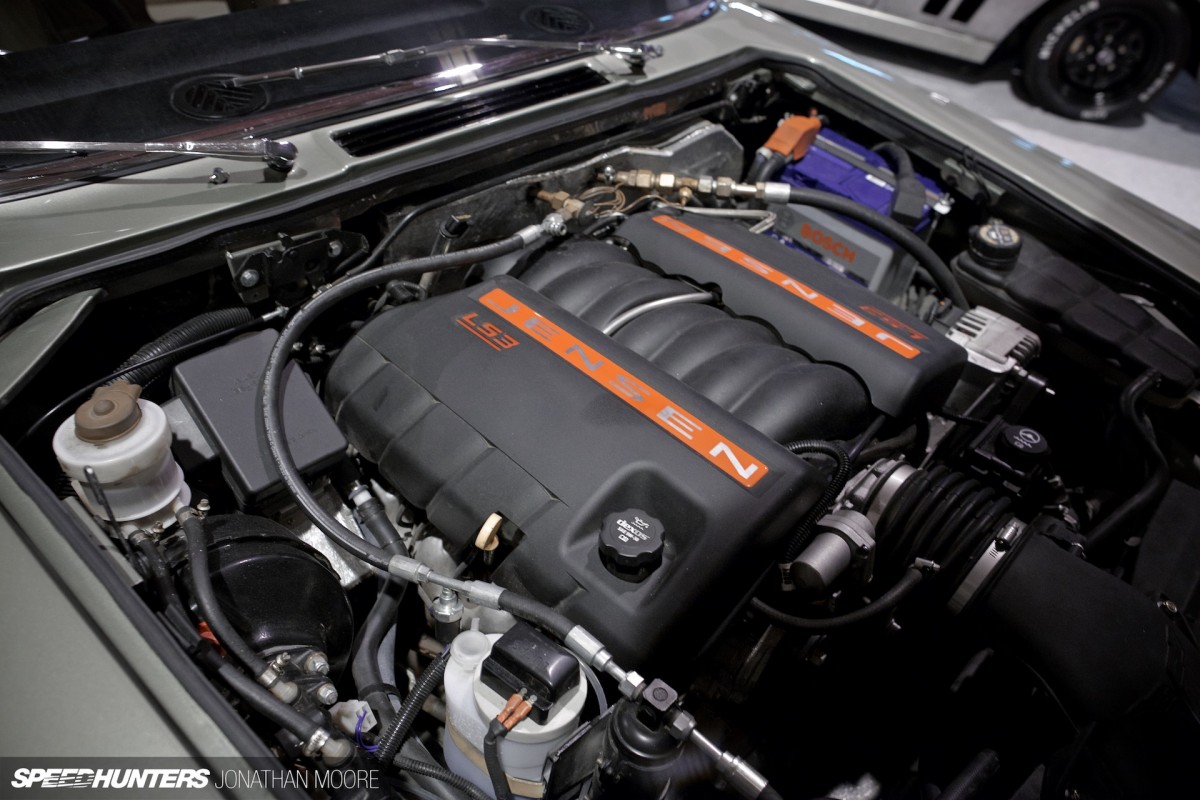 Under the hood, this beast. Somehow they shoehorned an LS3 into the Interceptor's bonnet – though this is hardly out of character, as the original also featured bluff US V8s. Even better, they were 6.3-litre Golden Commando V8s, which sounds so much better than LS3 as a name. Show more imagination, modern people!
Restore, Then Finish With A Continental Breakfast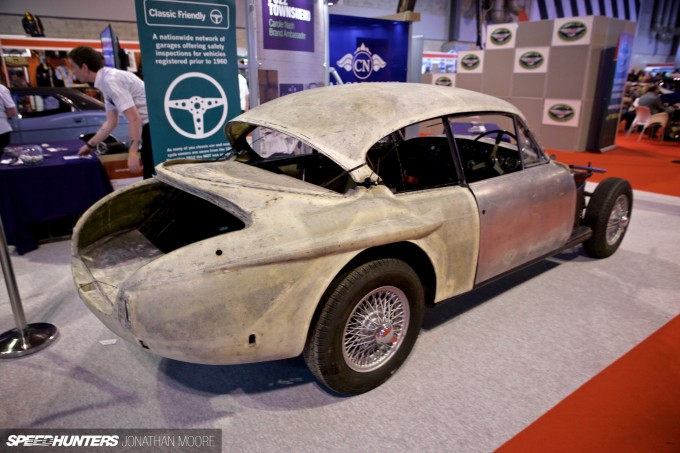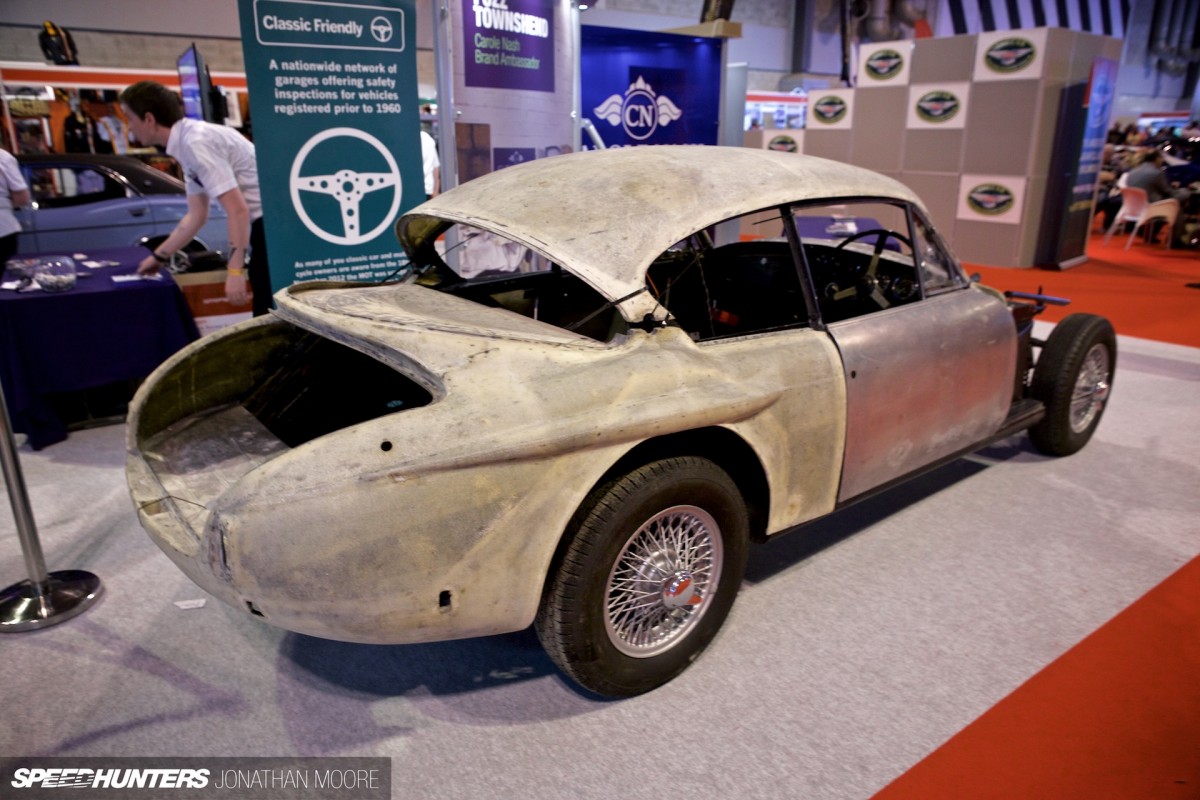 To recreate any car, well you've got to have something to start with. An entire hall at the Classic Motor Show was dedicated to tools and equipment to help you do the job properly, but there was also a good number of rolling chassis (and worse if you had the time) to whet your restoration appetite.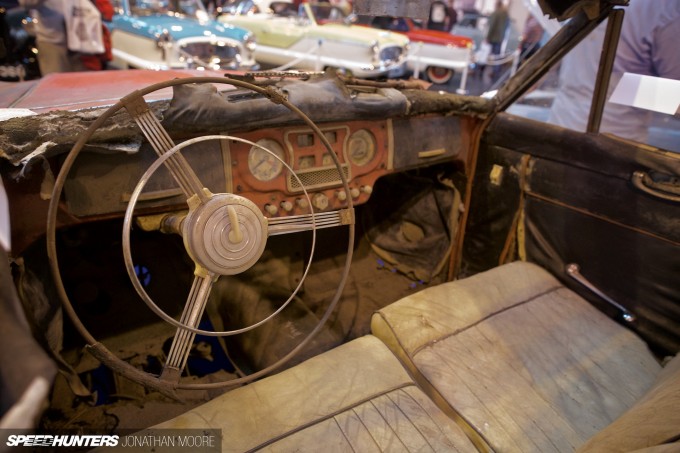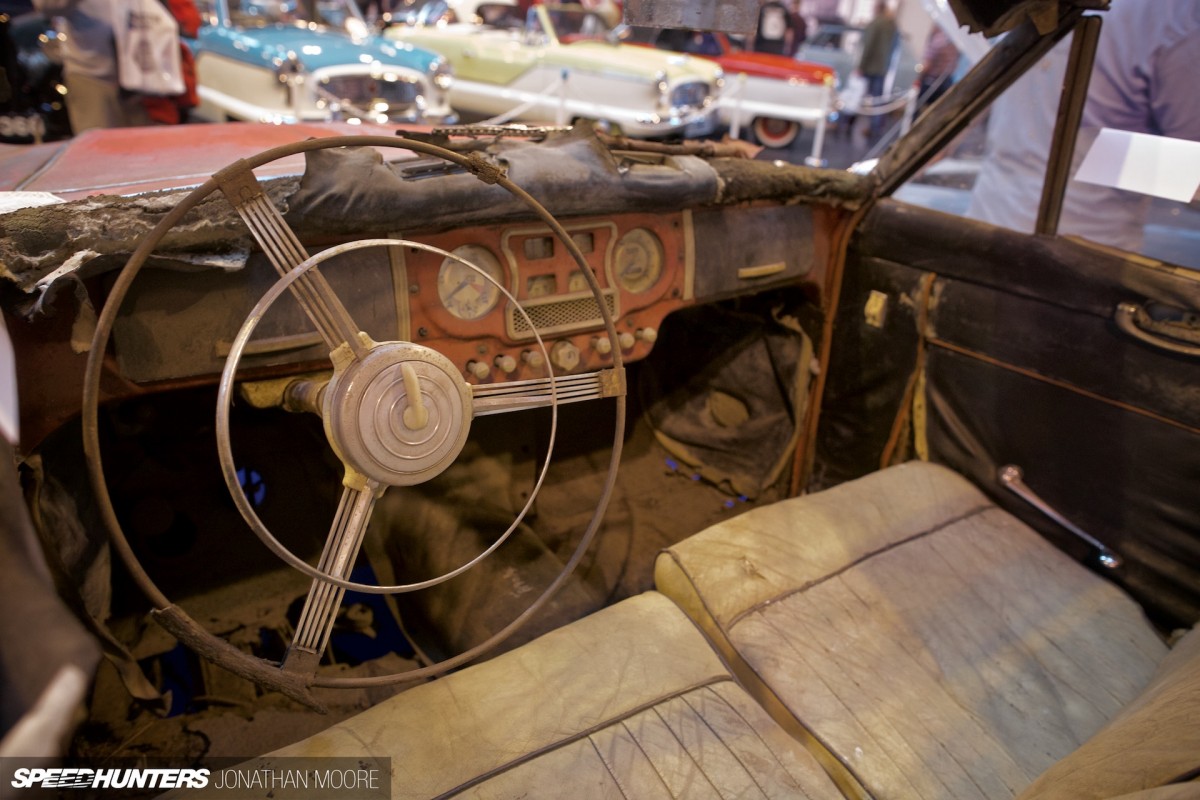 You really could start at any level, from rust-ridden barn finds to cars taken to bare metal and ready to rock. Somehow the older ones allowed more imagination – even for ageing rollers like this US-styled Austin Atlantic.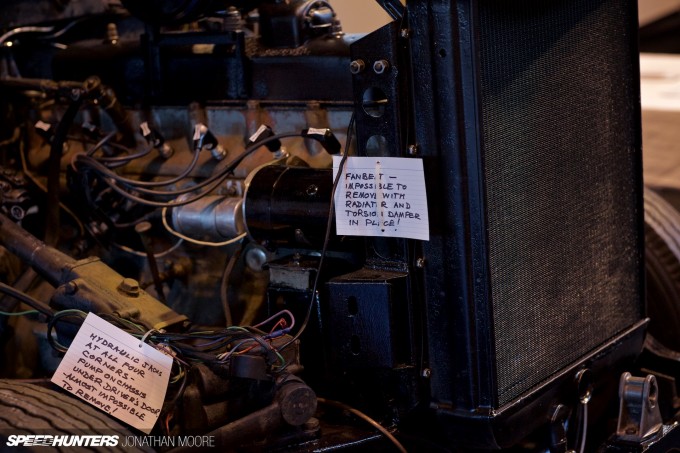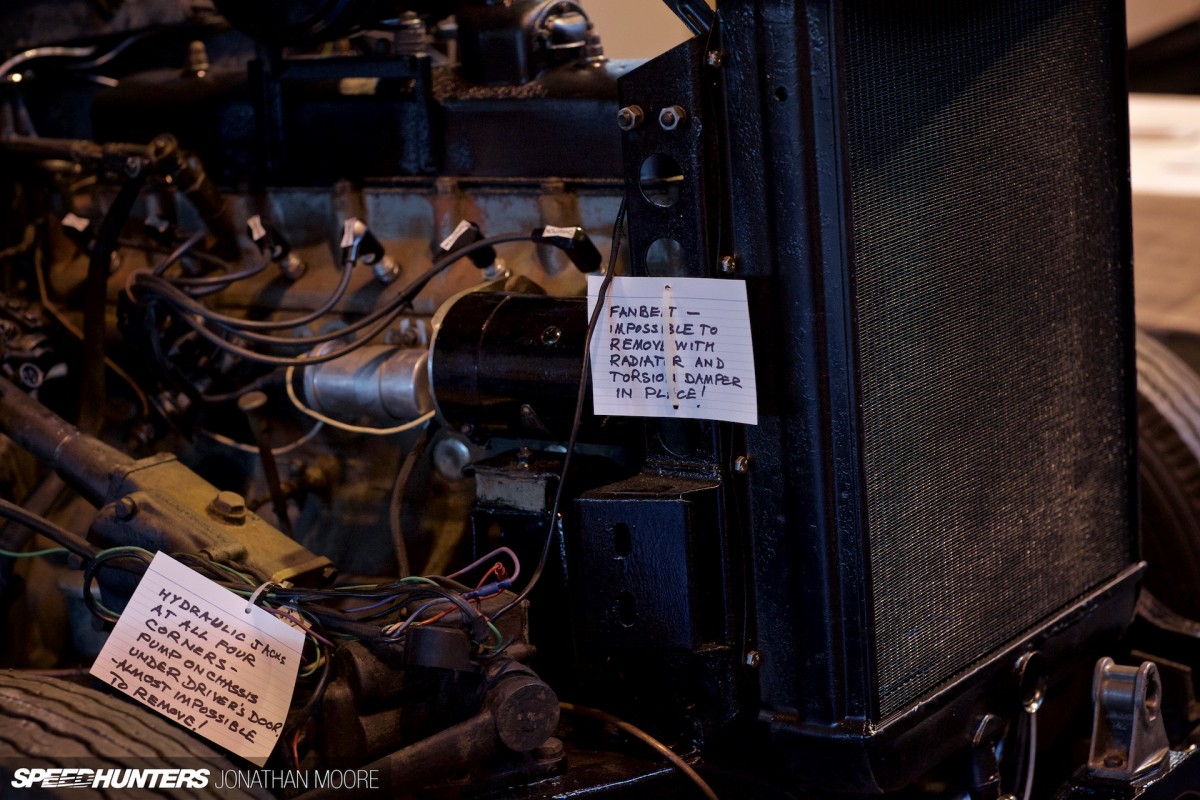 Restorations in progress provided plenty of interest, like on this big old Austin Sheerline limo, where the team had added cheeky commentary to their work. The Austin was as big as a house and appeared just as complex, with an engine that wouldn't have looked out of place on a battleship and cockpit dials that were straight off an Edwardian mantlepiece.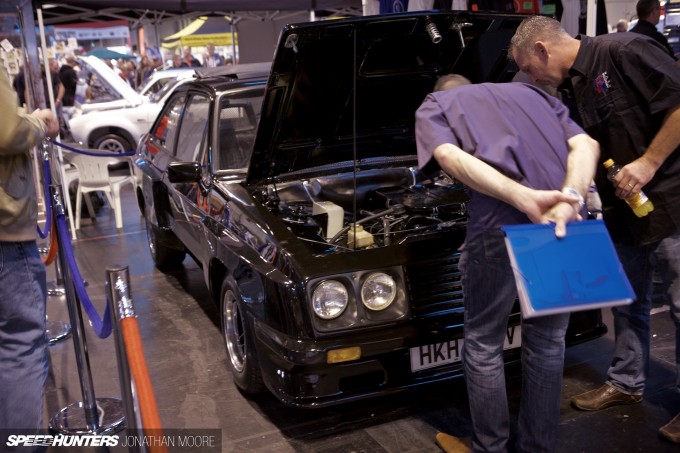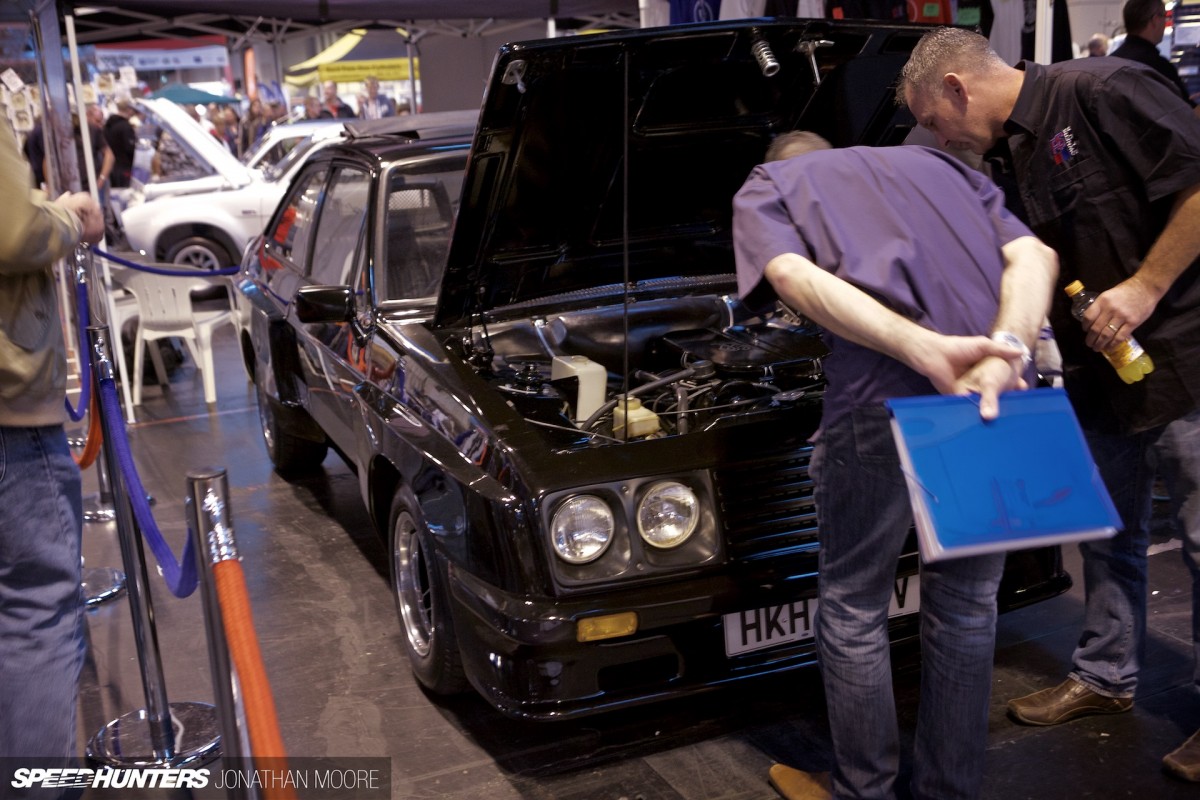 Then, when you're done, at the other end of the story you get the joy of completion, the appreciation of the onlookers and the scrutiny of the owners clubs.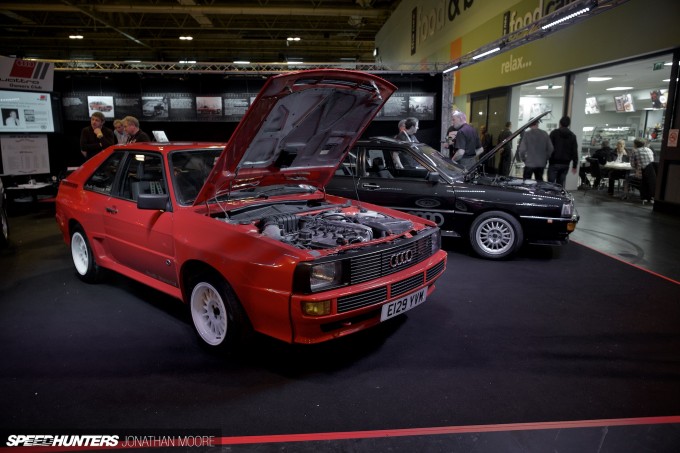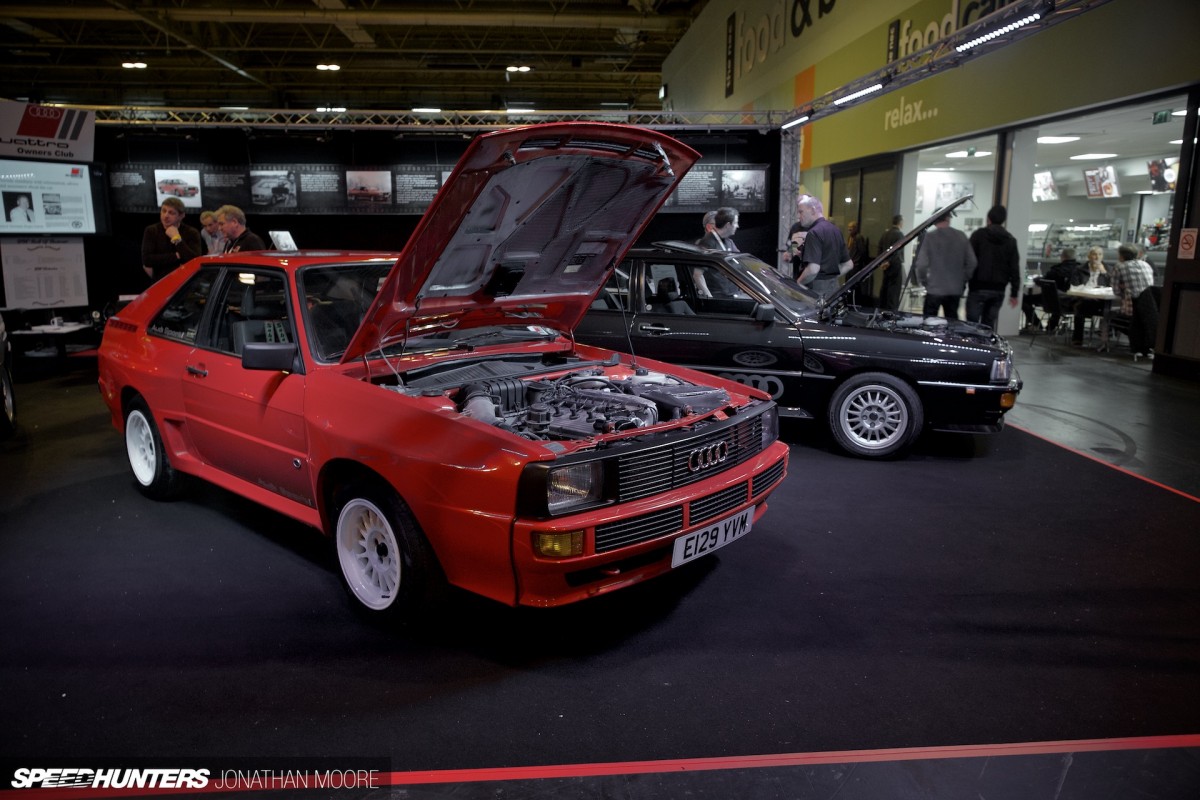 The quattro Owners Club bought an appropriate quartet of cars to CMS, all in utterly immaculate condition. The short-wheelbase Sport version was one of the half-dozen UK specials. The cars were still left-hand drive, the only changes basically being the dash units and headlights. Still, it was the thought that counted. Scratch that – it was the five-cylinder turbocharged madness under the bonnet that counted…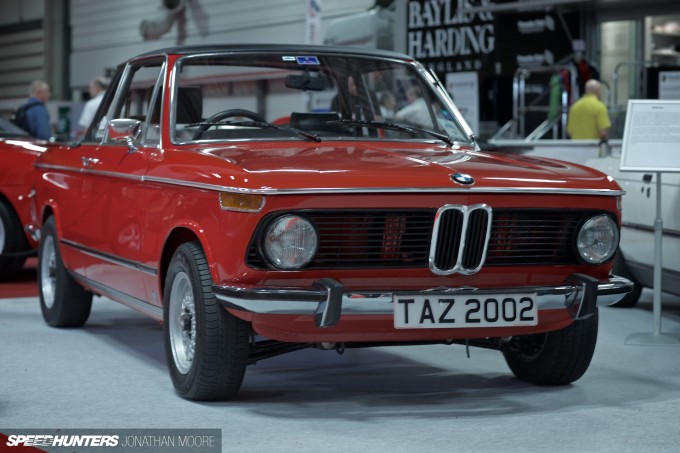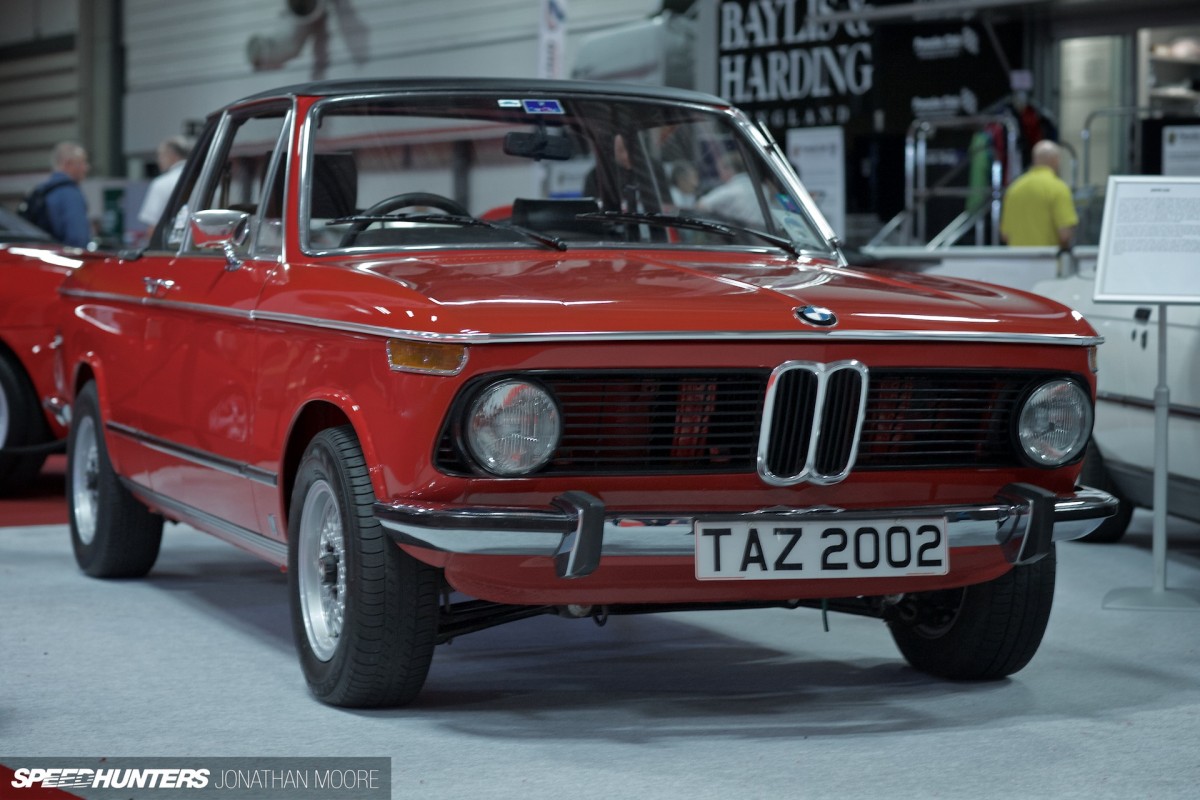 Over at BMW an i8 took centre stage, but it was this Neue Klasse that was really the star of the stand. From the front, so far so '02.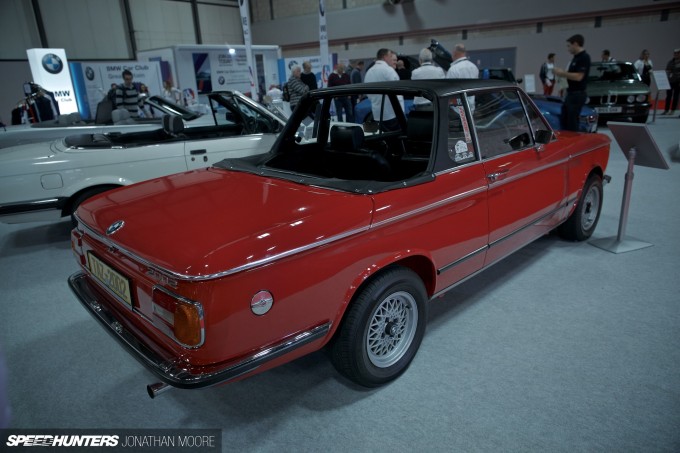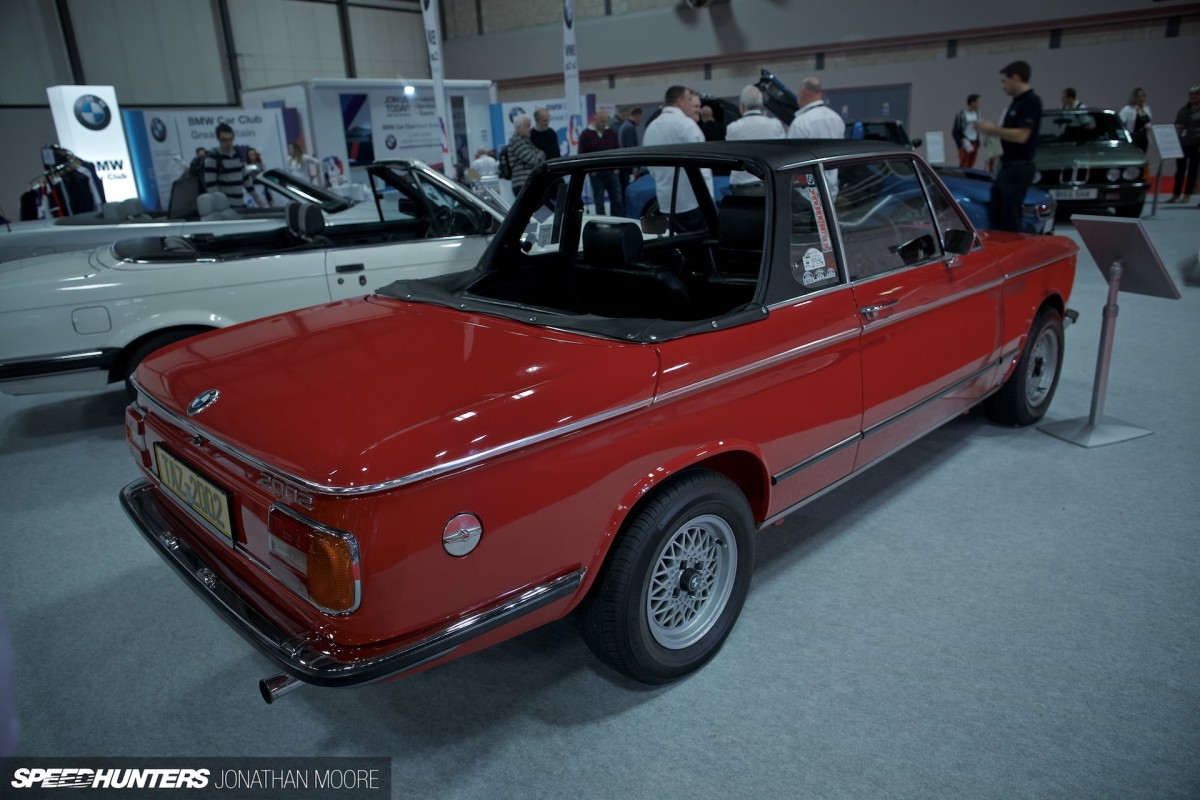 But moving to the rear revealed its secret: this was a super rare Karosserie Baur 2002 – a German firm renowned for their droptop conversions (they also made the Sport quattro's body). The current owner restored the car with genuine parts back in the '90s, and it sees heavy usage: mileage is now approaching 200,000.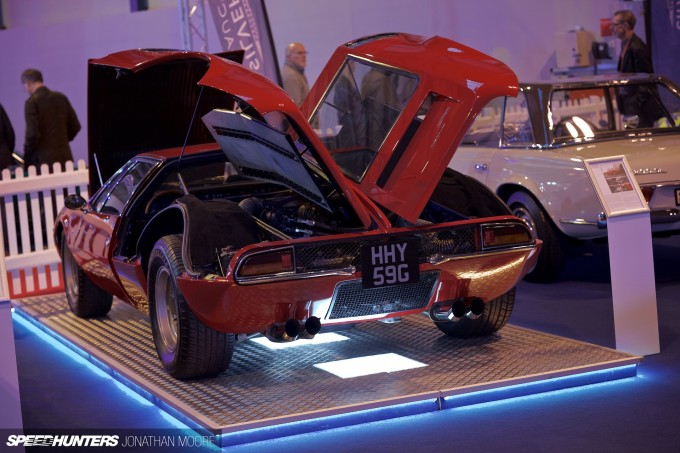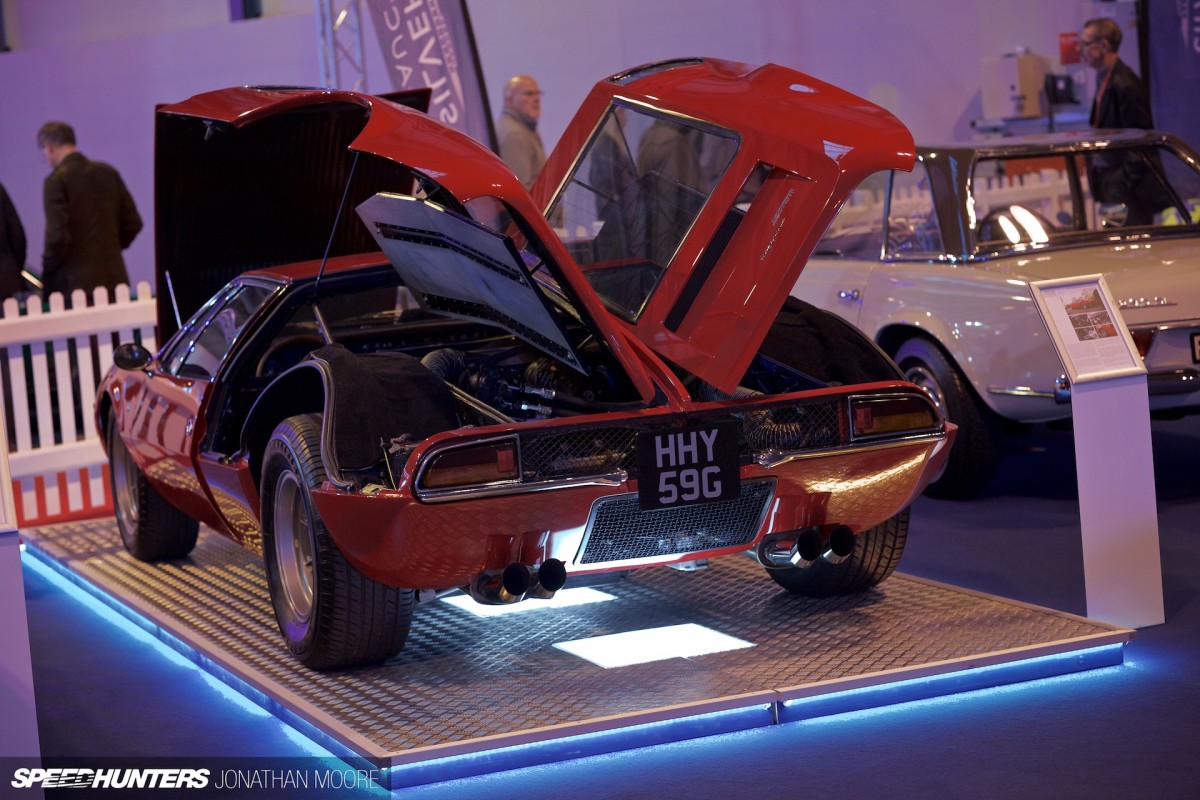 The auction hall had its usual diverse line-up of machinery, with 911s and a Jag XJ200 taking centre stage, but I was taken by the 1969 De Tomaso Mangusta. Designed by Giugiaro (taking the win for the most number of cars designed in this story…), the clamshell engine doors and super low profile make this a such a beautiful car – and its V8 made it quick.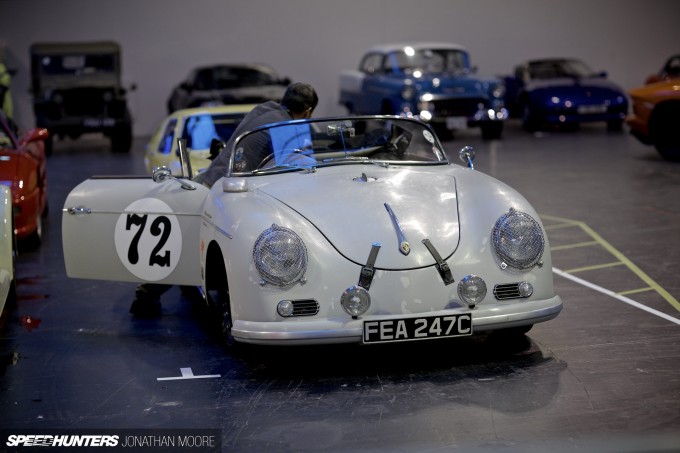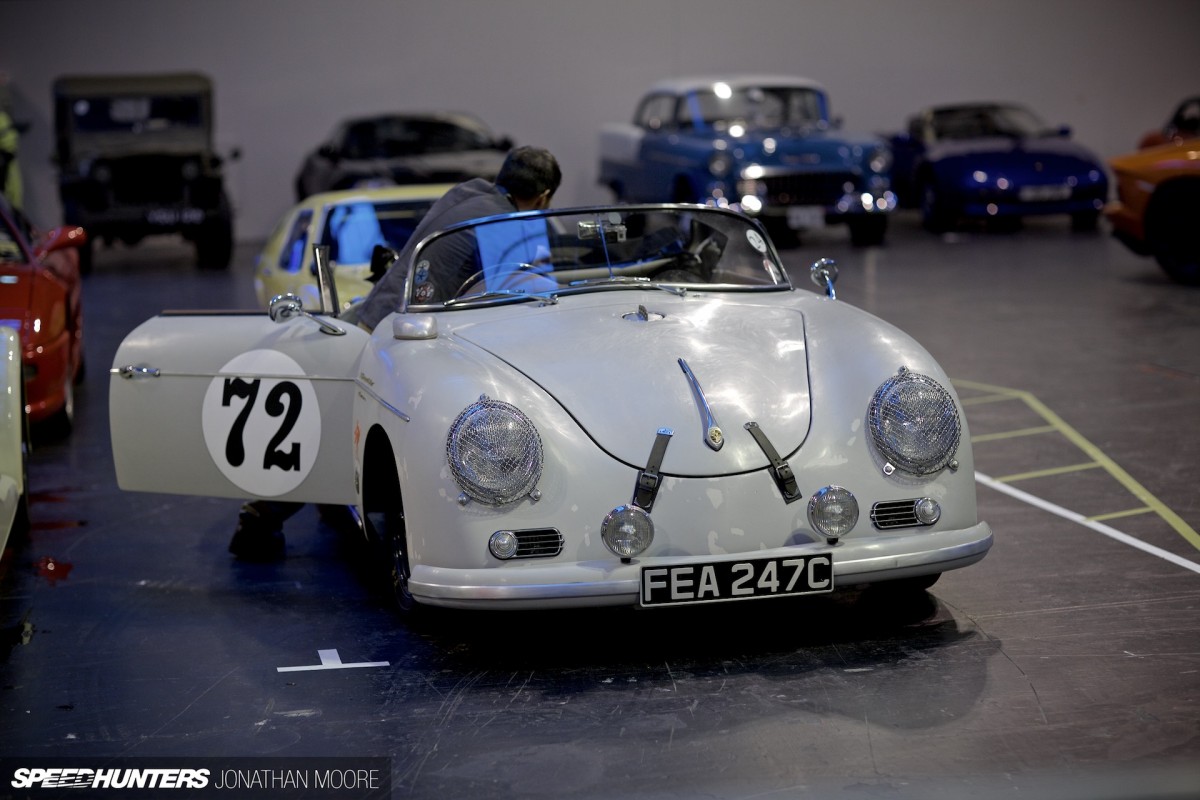 Not only could you appreciate cars from the outside, but CMS allowed you to get in the passenger seat as well. An entire hall of cars awaited those donating a reasonable sum to charity, mostly brought along by private owners to share their passion and raise money at the same time.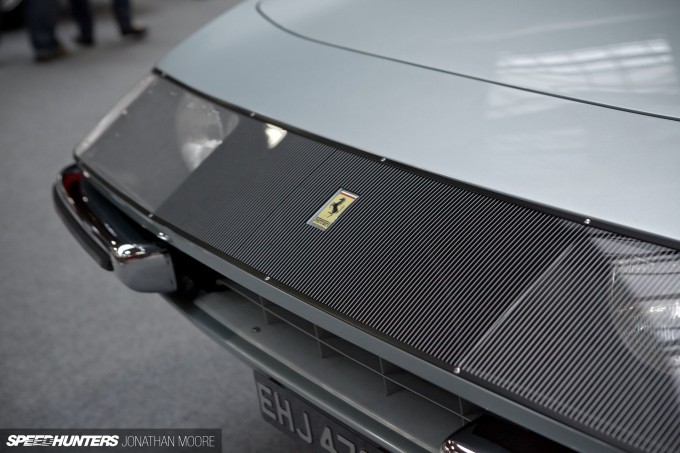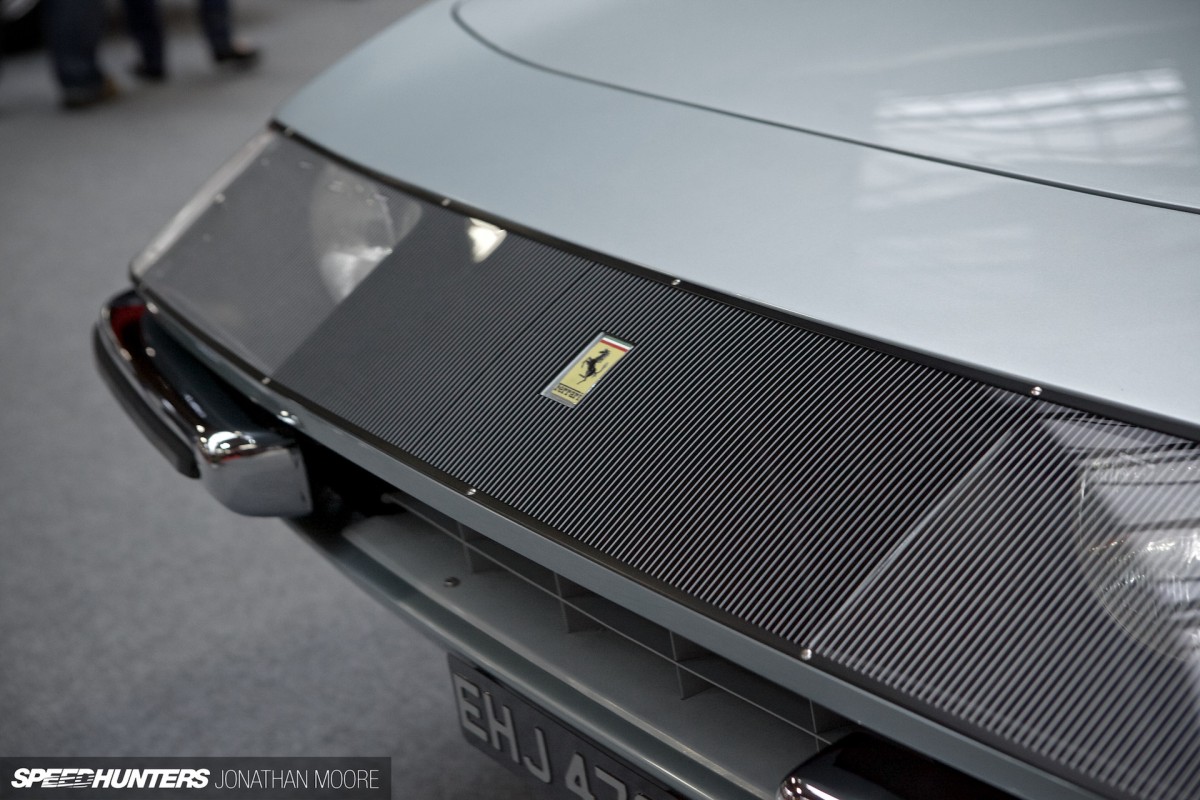 It so often comes back to wedges… Ferrari got in on the act in with the 365 GTB/4 – the classic Daytona, designed by Pininfarina and built by Scaglietti. This was an early version on the Ferrari club stand, with the headlights fared into the chiselled nose rather than the pop-ups of later cars.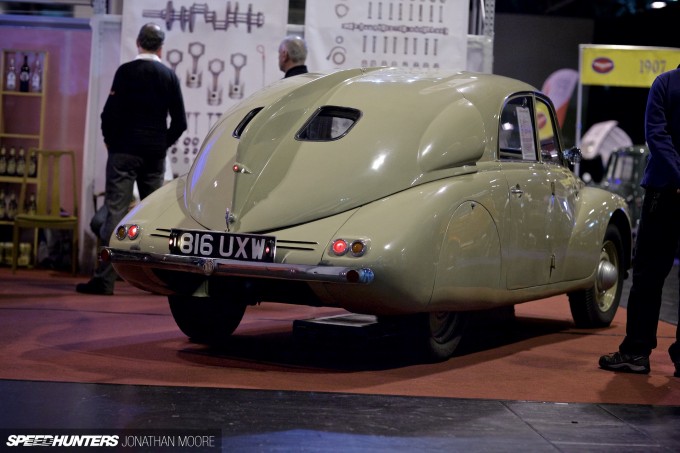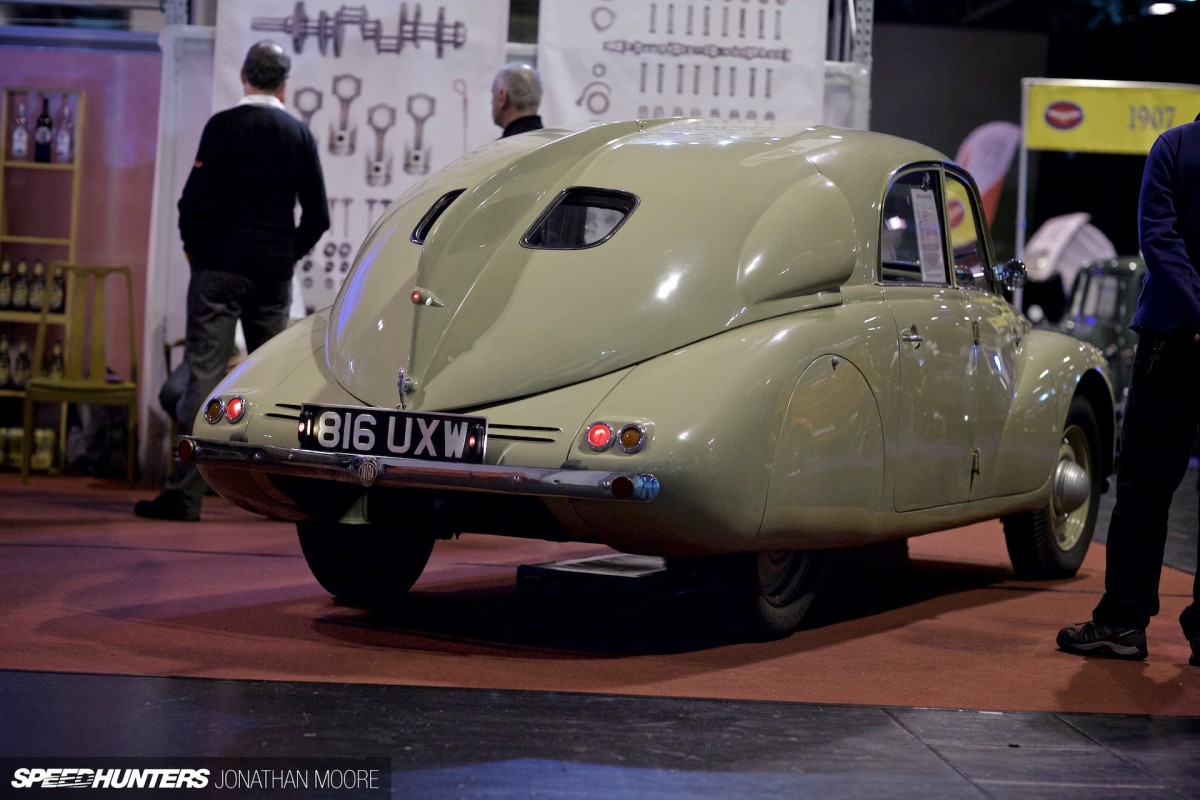 I'll finish up with a reverse wedge… the Rocketeer! One of the many underrated marques that deserved attention at the Classic Motor Show, this was a Tatra T97 from 1938. The Czech streamliner was ground-breaking – and certainly influential, with the front being particularly familiar looking. Tatra would later sue Ferdinand Porsche for copying the design in his Beetle…
We're not totally finished with our Classic Motor Show coverage just yet, so keep an eye out for a Spotlight-O-Rama feature coming up soon.
Jonathan Moore
Instagram: speedhunters_jonathan
jonathan@speedhunters.com
Cutting Room Floor