Excellence In Execution
I'll get straight to the point here. I don't normally shoot cars like this – I just don't. My time in Japan is mainly spent featuring rides that are usually a collection of bolt-on parts, finished off here and there with a few custom touches – just enough to call the project unique. Granted, when we're dealing with modern cars, there isn't really much else you can do. You rely on what the industry supports and backs you and tuners with, and call it a day. But when it comes to the older stuff, that's when we truly begin to see the actual skills in fabrication that a builder has. It's then that you really see a true transformation and a coherent theme come alive in a specific build.
Nowhere is this more evident than in the US, and especially so at the SEMA Show where the latest and most badass custom builds are brought out…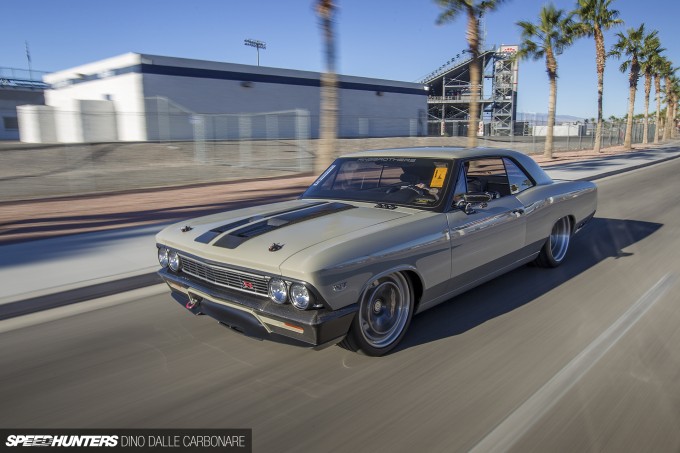 At this year's event one machine in particular stood out. So much so in fact, that it's one of the few cars that I revisited multiple times to get a better look at, and of course, add to the top of my 'to feature' list.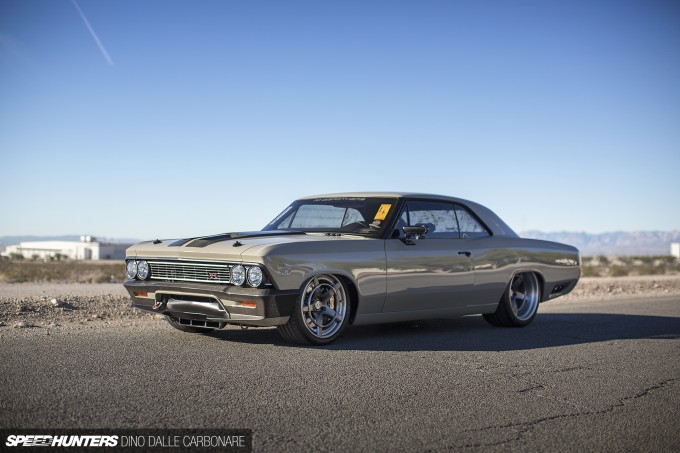 Seeing that I do live on the other side of the world I hadn't heard much about Ringbrothers up until a few months ago. In my downtime I always check out Jay Leno's YouTube channel, and that's where I first came to hear of these guys and be introduced to the type of work they do. Looking at the DeTomaso Pantera they took to Jay's Garage, I remember thinking that restomodding sure has evolved over the years – something that was further emphasised by actually seeing the car in person at SEMA.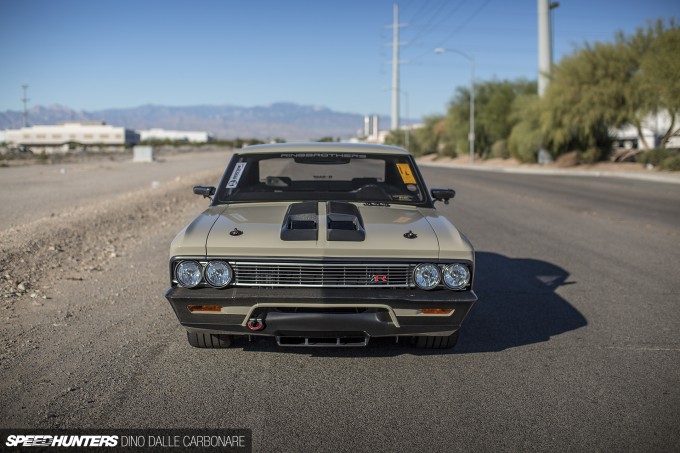 But then I saw the other car they built, and my mind was blown.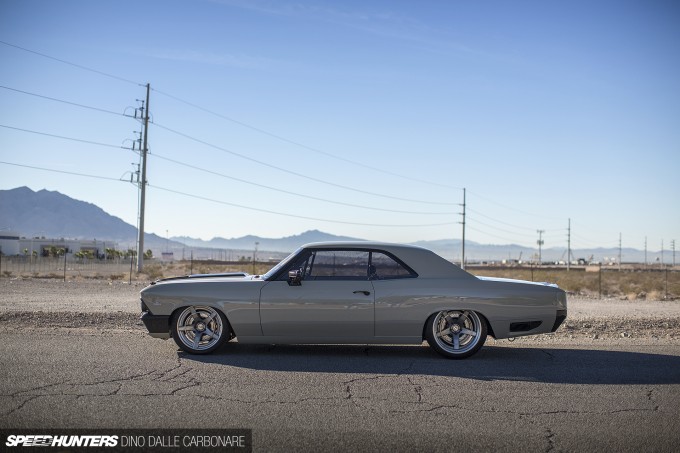 Such is the level of detail in this build, that it took a really long time to go over the 1966 Chevelle and its underlying jet fighter theme. As you make your way through this story you will see this for yourselves – a build where literally every surface, every addition as well as every omission works beautifully together to create something very special.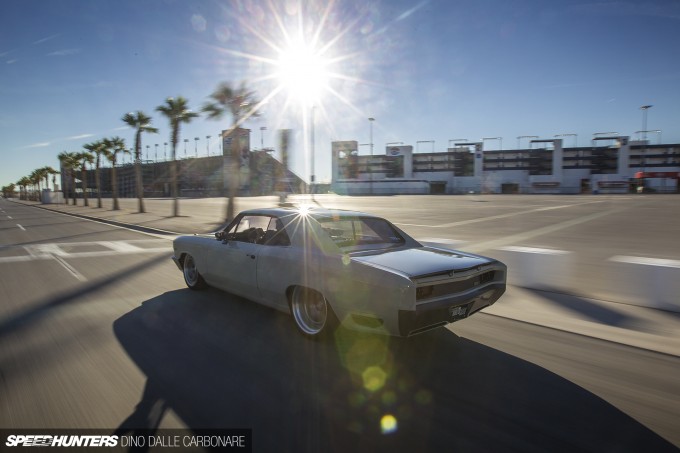 I guess this is the stuff you can achieve when you invest half a million dollars into a build, but like I've already said, I've just never seen this level of execution before. 'Recoil' as the Chevelle is known, is nothing short of restomod perfection!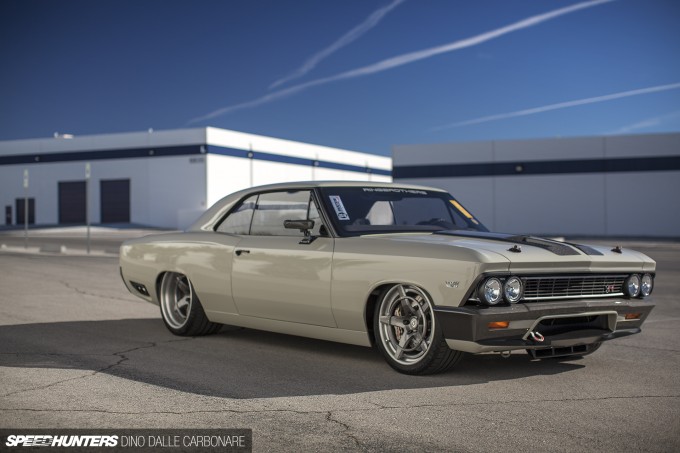 It's almost hard to believe now, but back in June this car was still in a bare metal state. Aside from showing just how fast Ringbrothers work, it also gives you an idea of where a full restoration process of this caliber has to start from. It's necessary to get the most important stuff right, and that starts off with the bodywork.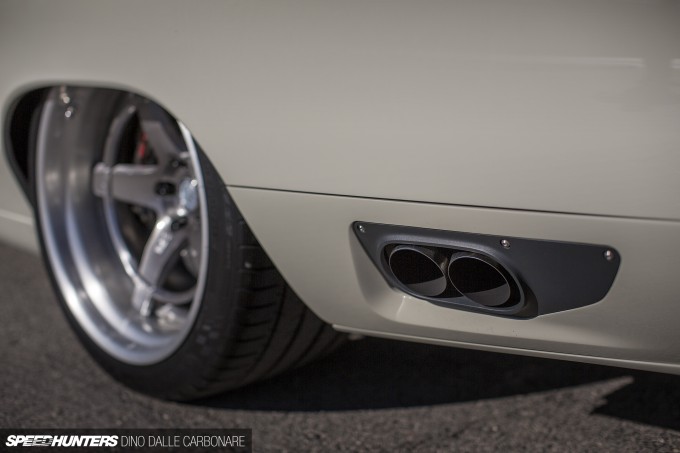 Sculpting bodywork into a form that not only looks factory enough to fool the eye, but at the same time contains subtle features that somehow make it look more modern, more flowing and with a lot more aggression, is something that Ringbrothers are well known for. The way they have integrated the side-exit exhausts on each side of the rear lower flanks is a perfect example. All of this sits over a Roadster Shop custom chassis sporting the sort of goodies you would want to see on a car that's been designed and built to hit the corners.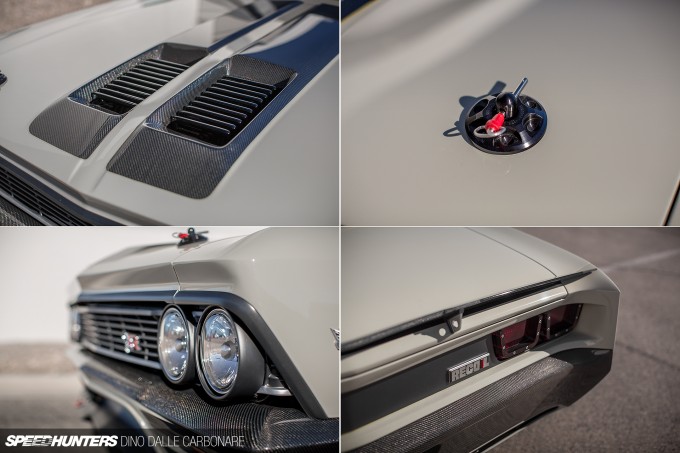 One quick ride in the car to sense the immediate and savage acceleration that the blown engine delivers is all you need to realise just how appropriate the Recoil name is. But let's stick to those body details for a little longer, because they're what really sets the visual tone of the reimagined Chevelle. Carbon fiber would probably be the last material you'd expect to find adorning an American muscle car from the mid-'60s, but literally everything that was once chrome has been replaced with the composite. The vented bonnet is a work of art, from the way it's designed and constructed to fall over the louvered intake, to the way it's been painted in order to highlight its composition. To keep things secure it's been pinned down with a pair of Ringbrothers billet bonnet pins which are themselves little works of detailed art.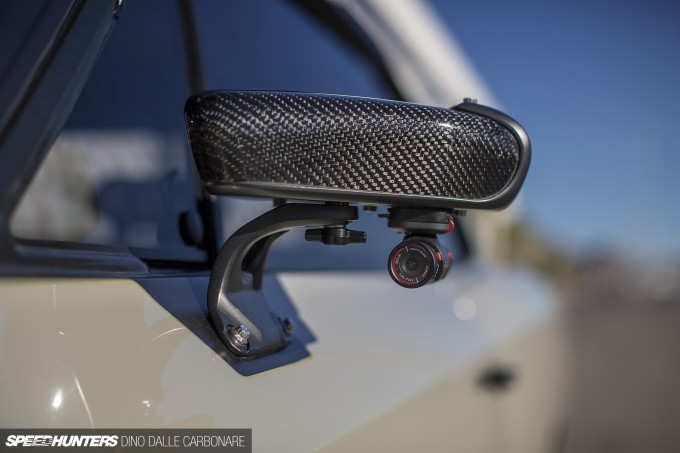 Take a look at the side mirrors, which again are built from a combination of carbon fiber and billet aluminium, and are formed to further support the jet fighter feel.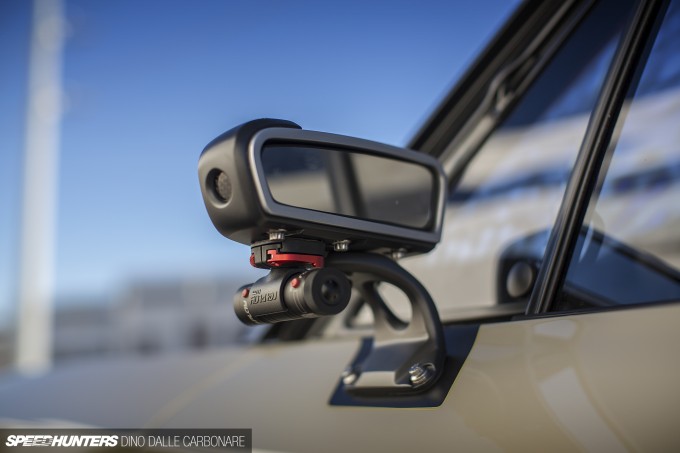 And yes, there is a bullet-shaped RePlay camera mounted underneath each one. But look beyond the design of it – enlarge this picture via presentation mode and savour the faultless fabrication and the quality of the billet aluminium parts that make up the support and main structure. Bolt-on catalogue parts eat your heart out!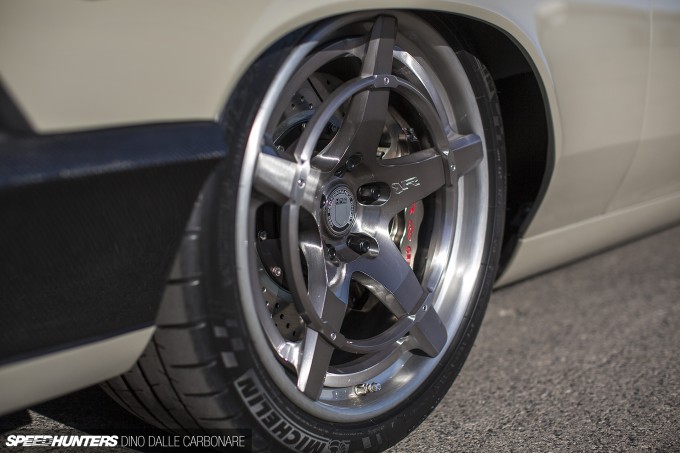 Recoil sits low but at a purposeful ride height. AFCO shocks are fitted at each corner and support a C5 Corvette independently-sprung front end and a Roadster Shop 4-link setup in the rear.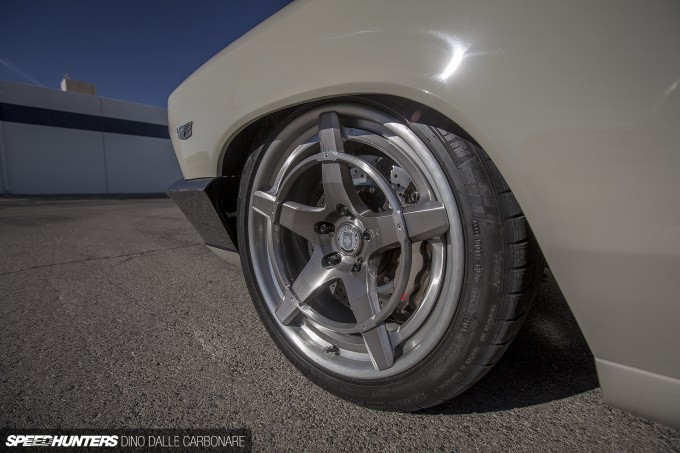 It all allows the custom HRE wheels to tuck nicely inside the gently blistered fenders. These collaborative wheels – the second design the two companies have worked on together – are sized at 19×9.5-inch up front and a barrel-wide 20×13-inch out back. Grip is provided by Michelin Pilot Super Sport tyres – 275/35R19 and steamroller-sized 345/30ZR20 monstrosities front and rear respectively.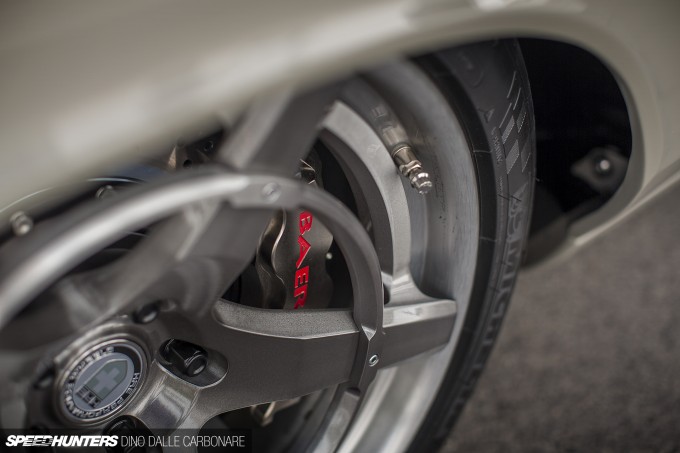 Braking is taken care of by a quartet of Baer 6-pot callipers that bite down on big 2-piece rotors. The front-to-rear balance easily adjusted through a Wilwood bias knob on the dashboard.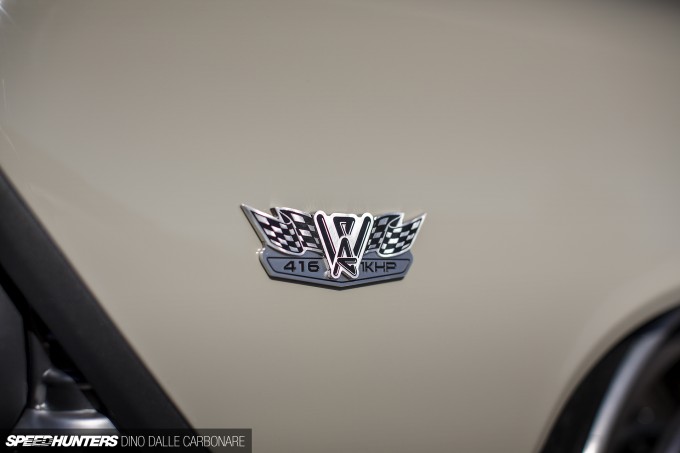 A custom car deserves a custom badge and if you look closely enough this one reveals a little secret. 1KHP. What do you think that refers to?
Motor Madness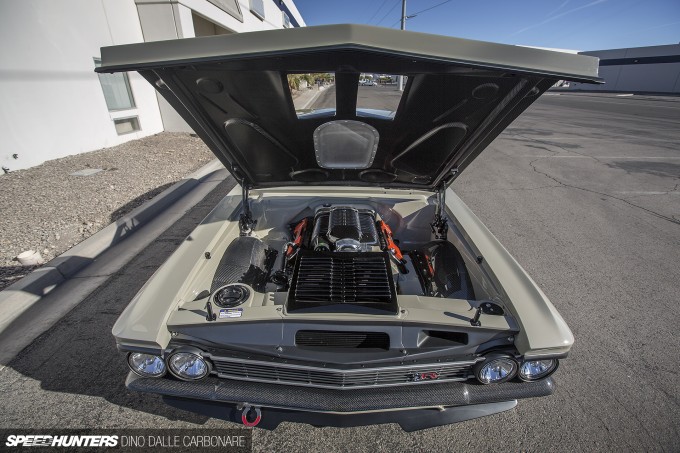 The motor of course. Truth be told it's not quite 1000hp – 20hp shy to be precise – but who the hell cares when it's presented in a fashion like this!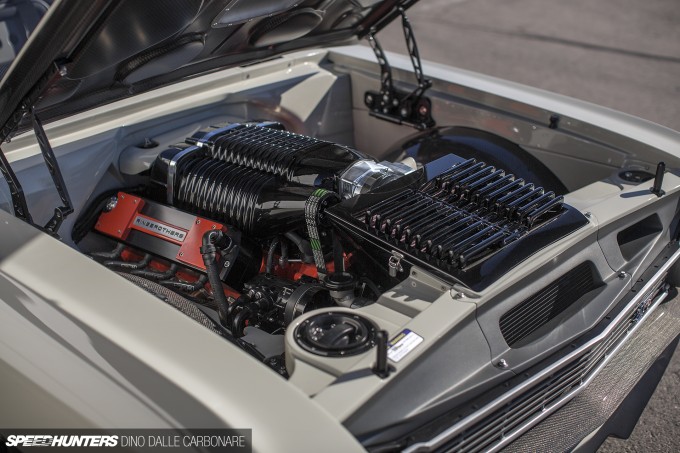 Given the feeling I was getting from the car, I had high expectations lifting up the lightweight carbon hood for the first time – and I was certainly not let down. The Wegner Motorsports dry-sumped LS7 almost looks compact in the center of the Chevelle's expansive shaved and smoothed engine bay. For pure function's sake, it's been positioned right back against the firewall to give the car great front to rear weight balance.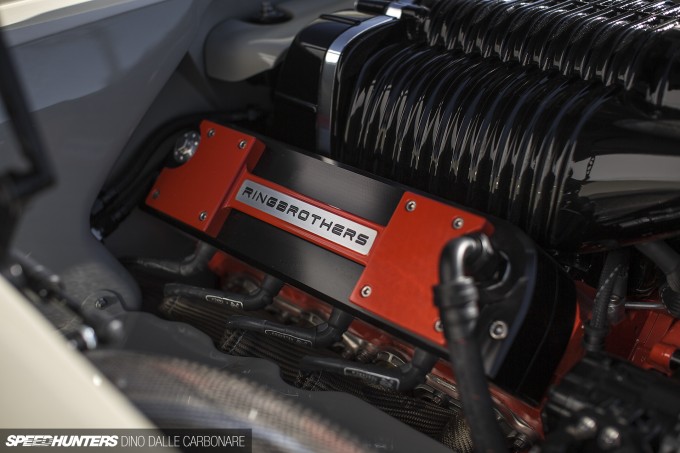 The LS7 is built around an RHS block and heads and features a forged bottom end that provides the bulletproof base that a blown setup like this needs to reliably churn out solid numbers. And that's 980hp to the wheels let's not forget!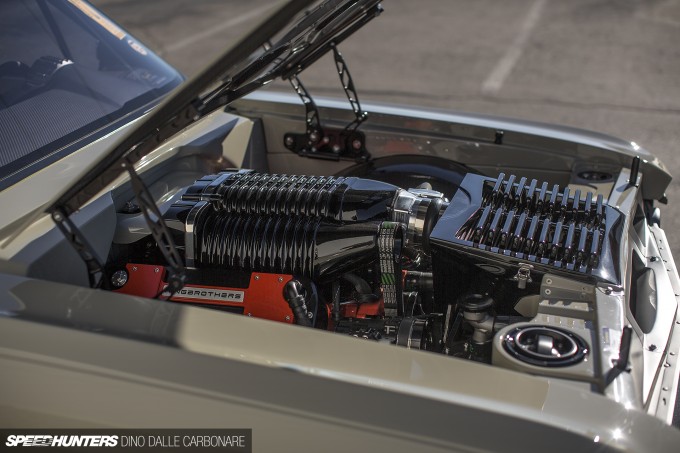 Pump gas is provided by an Aeromotive pump and Holley fuel injection system, while forced air comes from a Whipple twin-screw supercharger that supplies boost from idle for instant throttle response. There is power and torque everywhere throughout the rev range – enough to light up the massive 345-section rubber through the first three gears!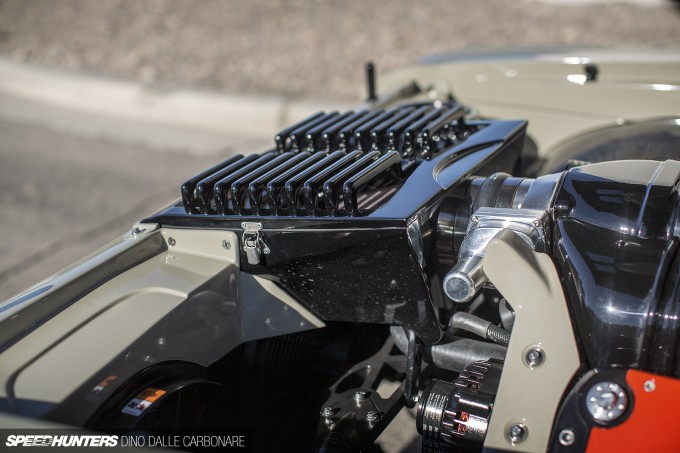 As you can imagine, a motor like this will inhale air at an alarming rate once you start working your way up the rev counter. To ensure that it's never starved of oxygen, Ringbrothers fabricated this airbox, of which the two louvered sections peak through the carbon bonnet.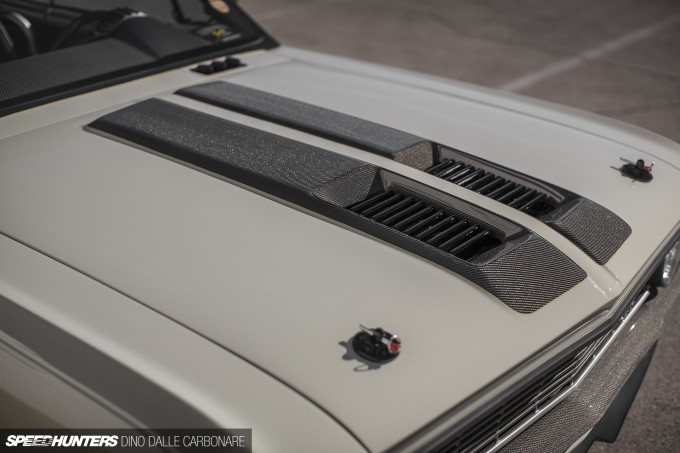 I'm sure that at speed there is positive pressure being generated in there, and that in turn helps ram air into the blower.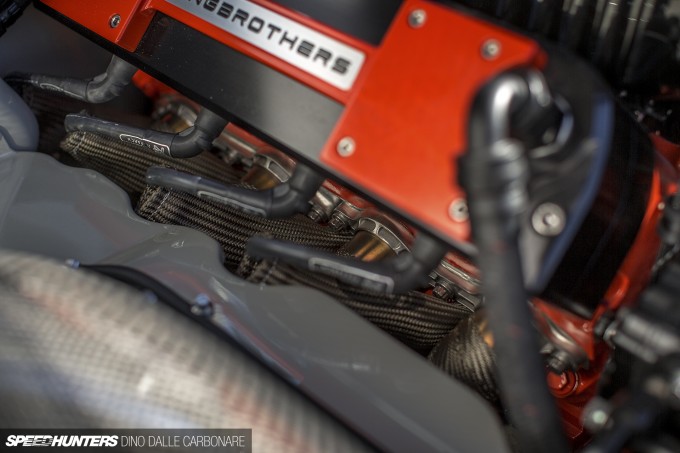 Ringbrothers modified a set of Flowmaster stainless steel headers to get them to the specs they were after, and continued them on with the custom twin-exit exhaust we saw earlier on. The sound, as you might imagine, is pure thunder!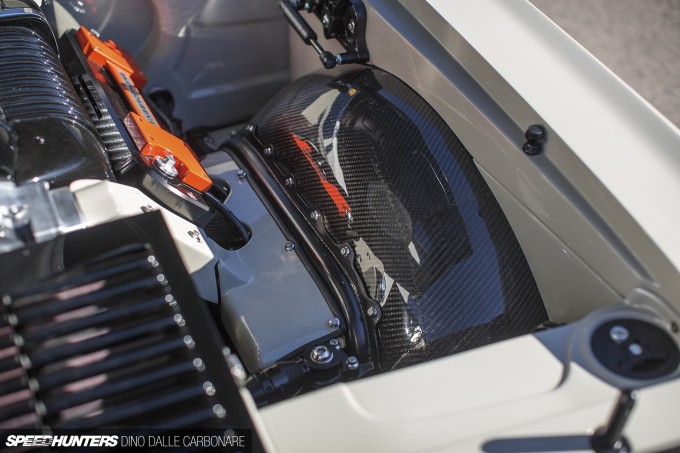 Here's a further example of just how much work it took to not only allow the HRE wheels to sit just right with the custom suspension setup, but also allow them enough space to turn. And since fender wells tubbed in metal is just so last year, Ringbrothers executed these ones in carbon fiber. As you do….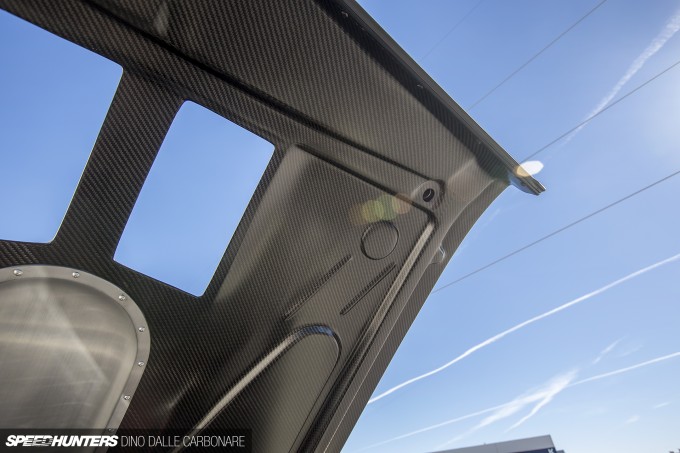 I haven't seen this quality of carbon fiber since I was at the Pagani factory in Italy last year. The hood is double skinned of course, and has structure to it and impressive rigidity. The center is protected with some metal because that blower gets pretty hot when the car is unleashed in anger around the track.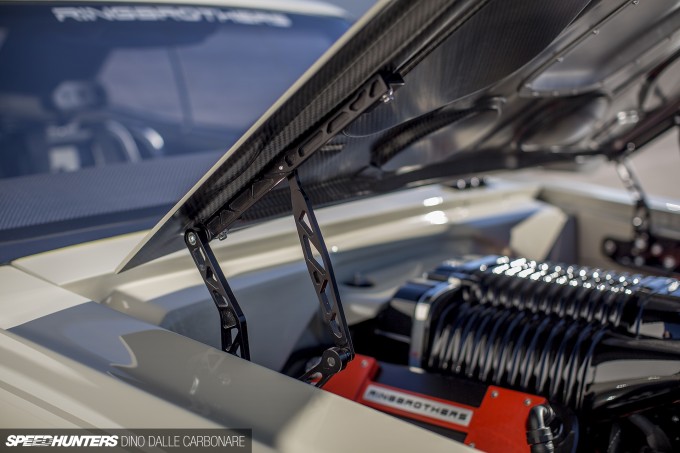 The details continue wherever you look. Check out these billet double-hinged bonnet supports, which have a little horizontally-mounted gas strut to even make lifting the hood a sensory experience. The good thing is, they are right out of Ringbrothers' catalogue, so anyone with a period muscle car wanting to spice things up a little can head over to the website and put an order in.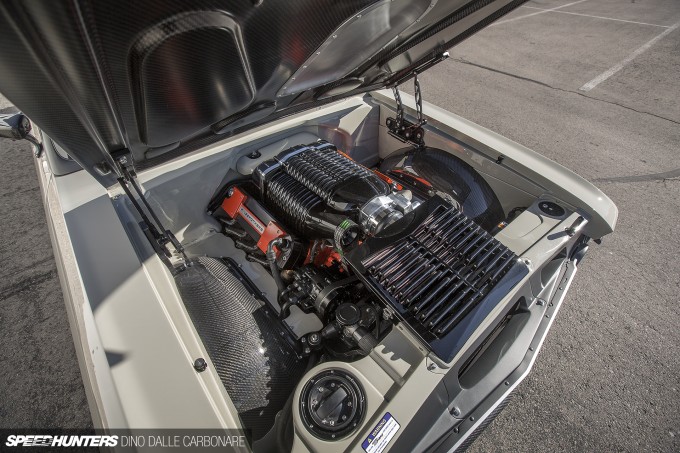 980hp of fury may be nice and all, but somehow you need to channel all that power to the wheels. That's why Recoil has nothing but the best in the driveline department, starting off with a reworked Tremec T56 from Bowler Transmission. The gearbox sends drive to a hefty John's Industries 35-spline Ford 9-inch rear end, finishing off with Dynotech driveshafts.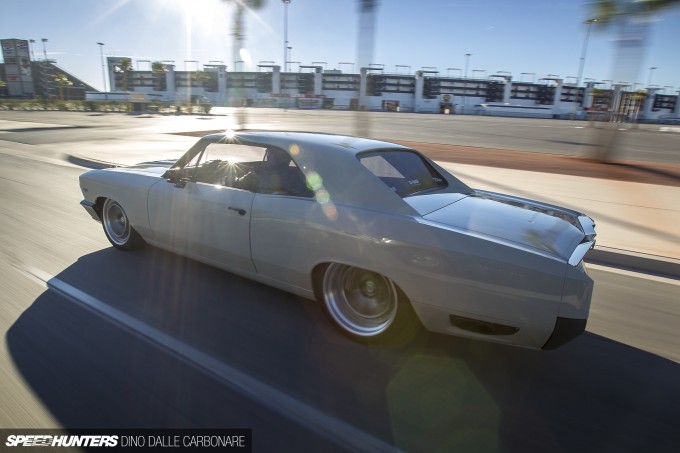 With six ratios to play with there's never a corner exit that Recoil isn't able to exploit all of its grunt.
Ringbrothers Signature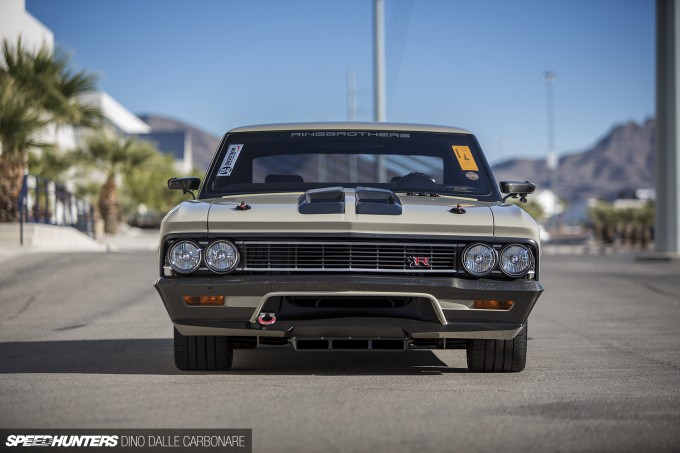 To get the feel of the car just right, paint was always going to be a tough choice. But after much debate, Ringbrothers decided that a custom mix from BASF was the only way to go. They call this military-inspired hue Sand Storm.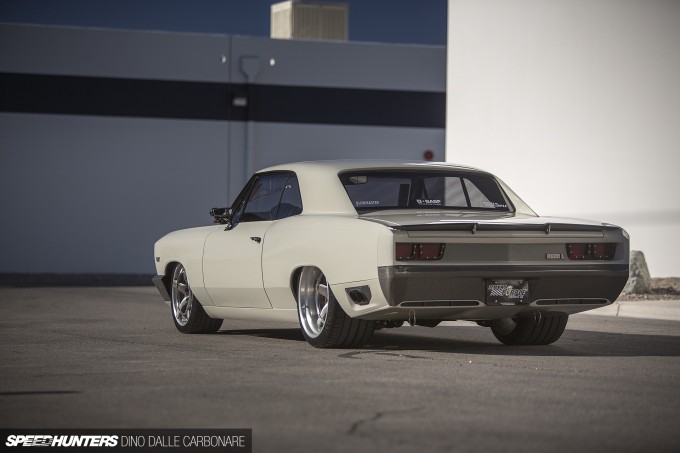 I always say that a good looking car should look its meanest from the rear three-quarter view. Well just look above… I rest my case! There is so much detail back there too – carbon bumpers and a custom smoothed out fascia that proudly wears the Recoil badge, all topped off with AM Hot Rod Glass taillights that are fixed in place with polished bolts for added contrast.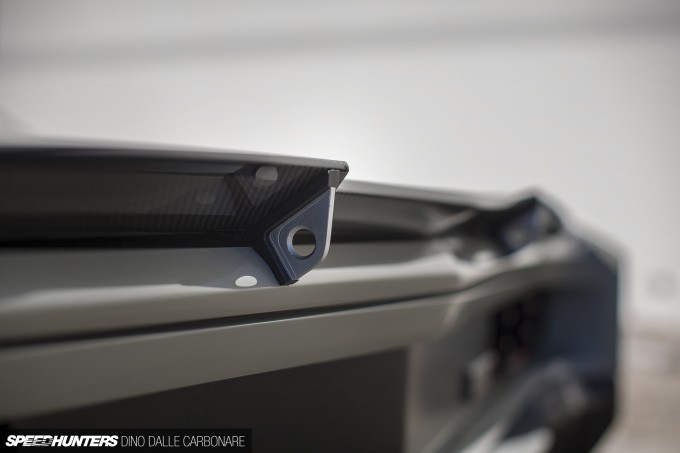 From a distance the trunk spoiler may look like a simple addition, but get up close and the level of fit and finish is totally in tune with all the other details we've seen.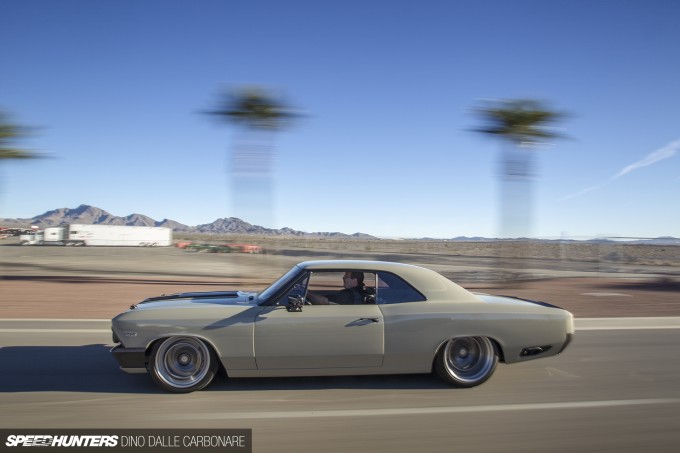 And yes. it looks a thousand times better out on the open road! Thankfully we were able to get some action shots of the Chevelle doing its things around Las Vegas Motor Speedway's access roads.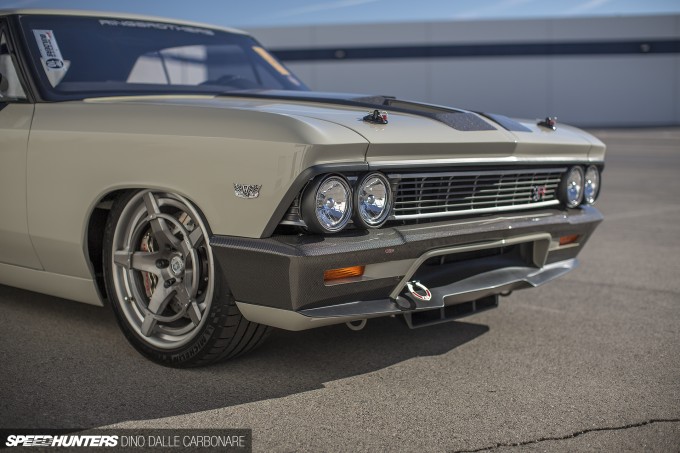 I'm pretty sure I've never posted a car feature with so many pictures, but like I said at the beginning of this post – I just don't get to see this level of execution very often in Japan.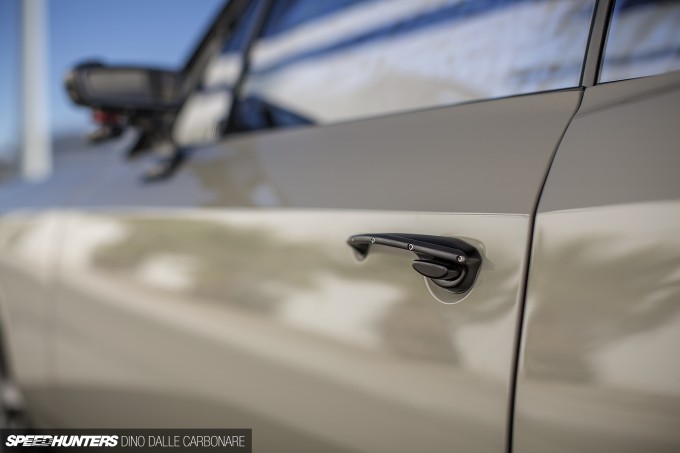 The time eventually came where I had to pull myself away from the exquisitely appointed exterior and actuate the Ringbrothers billet door handle on the driver's side door. What followed next had my jaw on the floor…
Welcome To Top Gun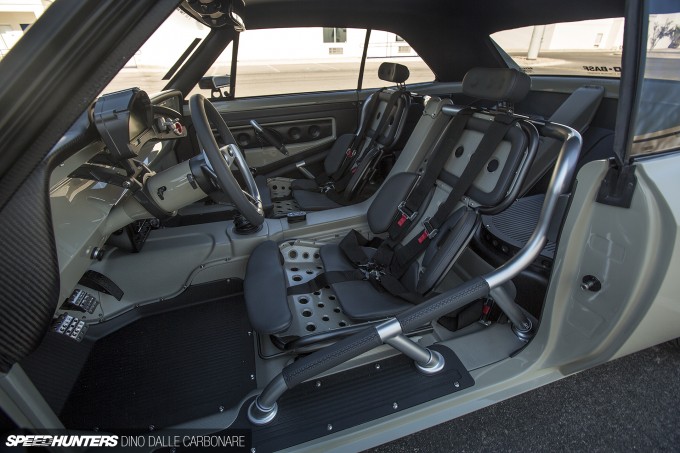 And I thought I was impressed with the exterior! If the car executed some of the highest levels of craftsmanship on the outside, I'm unable to quantify the skill that has gone into designing and physically crafting the interior.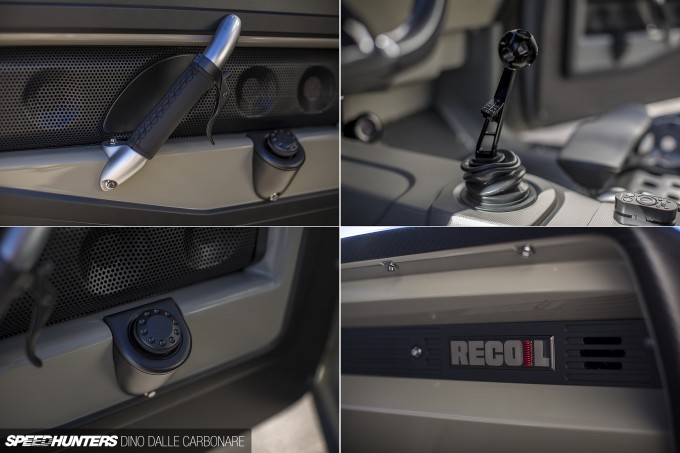 Recoil's cabin puts most concept cars to shame, and it's here that the money involved in the build begins to make sense! Look at the door trim, the aluminium door handle wrapped in hand-stitched leather, the bicycle brake lever you need to pull on to open the door, and the round billet rotary switch that activates the electric windows.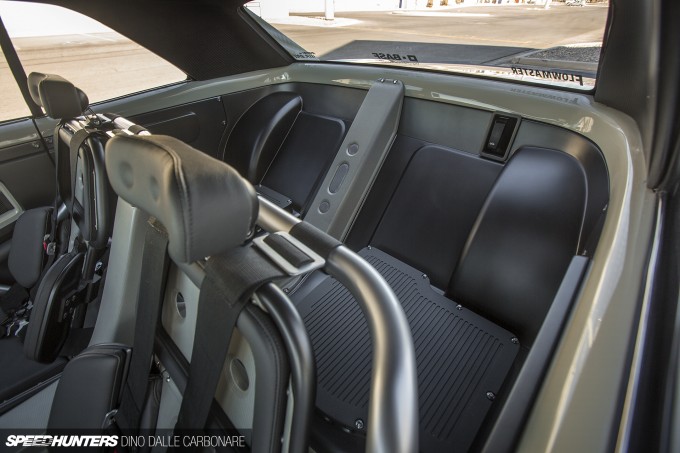 Behind the jet-fighter-like front seats – which are impressively comfortable and supportive I should add – the rear bench has been deleted. But take a look at the aluminium metal work that wraps around the cabin, down to the sills and across the whole floor and transmission tunnel. Those are all handcrafted pieces with a hydrographically-printed pattern that almost looks like carbon fiber from a distance.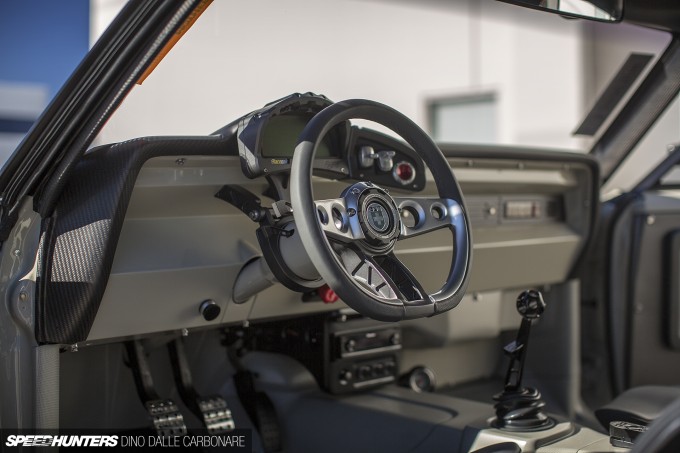 The dash has been shaved and there's nothing there aside from a plastic panel with a Recoil logo on the passenger side. Behind the custom steering wheel and attached right onto the steering column is where all the instrumentation and switchgear is neatly arranged.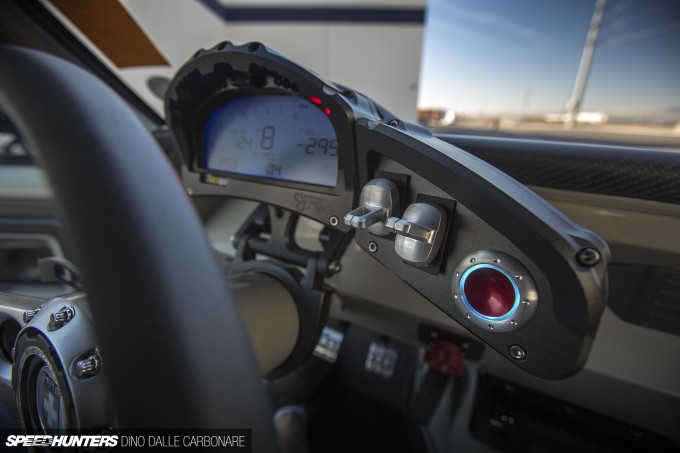 Yep, total concept car stuff right here! That illuminated start button is a Ringbrothers original product called the Terminator Touch Start System. You tap it with you finger and it senses your heat. One tap gets you into accessory mode, two taps starts the engine and a tap after that you kill the ignition. On the same tiltable and adjustable binnacle is where the back-lit Racepak LCD dash display and data logger is located. All you need is right there. Nothing more, nothing less.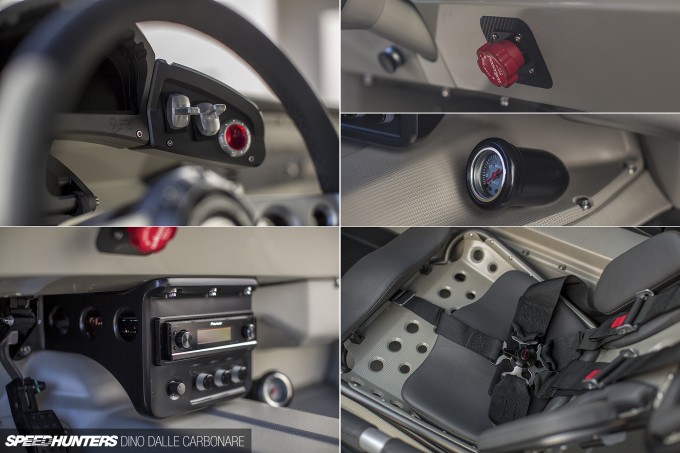 The car is even fitted with an audio system and air conditioning. I won't say more, just look at the details…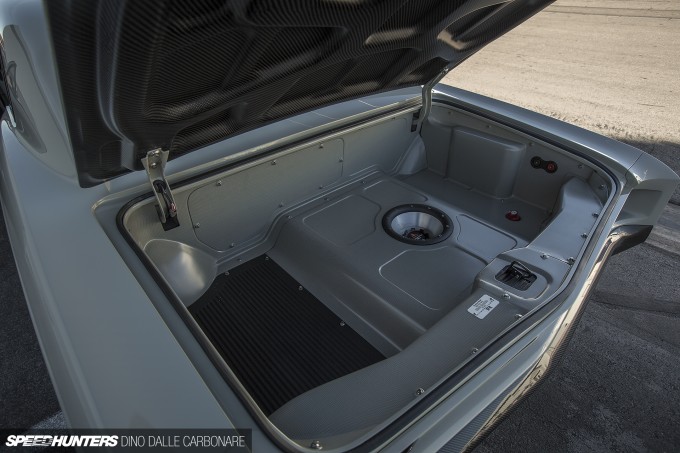 Nothing has been forgotten, and once you lift the carbon trunk lid you are treated to clean and simple space sporting the same aluminium metalwork we saw in the cabin. At the center of it all is the fuel tank with a centrally mounted filler. On the right side – and this is something that appears on most Ringbrothers builds – are terminals to connect a battery charger up to, because let's face it – the cars they build aren't the type that you'd drive on a daily basis. But you absolutely could if you wanted to…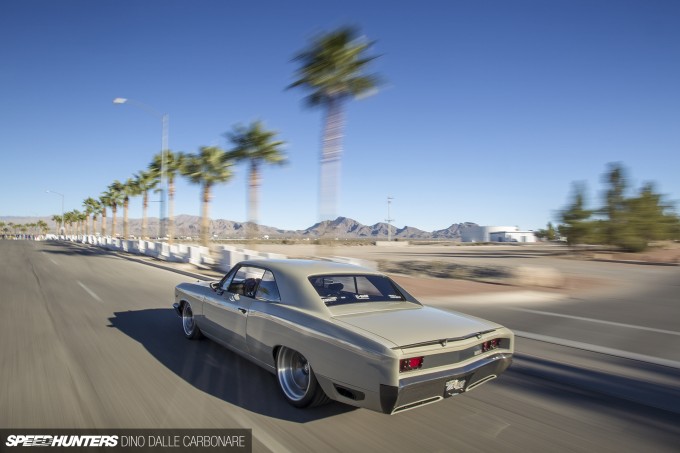 If I had to choose one car that I could take away from the 2014 SEMA Show this is it right here. Once the Chevelle Recoil has made all of its show appearances across the country it will eventually be handed back to its owner, who I'm sure must be beyond anxious to get behind the wheel and drive it properly. It's cars like these that exemplify what the tuning and hot rod scenes are all about – raising the bar by combining top-level craftsmanship along with innovation.
Dino Dalle Carbonare
Instagram: speedhunters_dino
dino@speedhunters.com