Jump In & Feel The Fury
We've driven so many versions of Porsche's latest generation 911 – the 991 – that I'll spare you another introduction. You know it's a great successor to the 997; you know it's grown a fair bit; and you know it comes in a variety of flavours. But if you're anything like me, the only thing you'd really be interested in when handed the keys to a brand new Turbo S, is how it drives.
So let's jump right into the driver's seat of the most powerful and expensive 991 to date…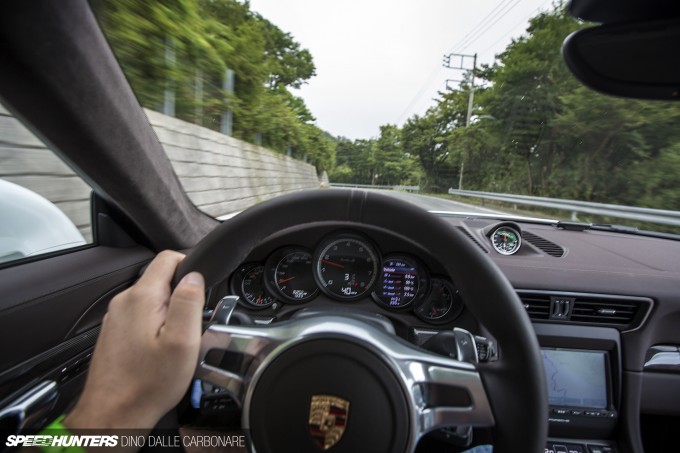 This journey starts at the bottom of a wonderful little road that takes you right up to the Hakone Skyline and over a lovely mountain range that snakes down the Izu Peninsula from the Gotemba area of Shizuoka.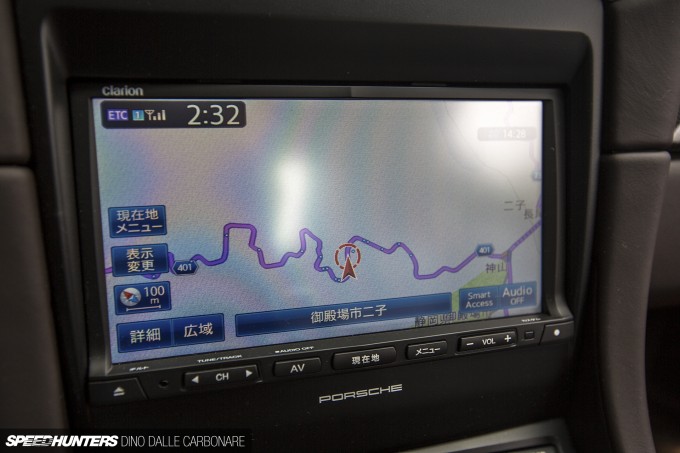 This is what the road looks like on the Turbo's Clarion navigation screen. You know that any road shaped like this is going to be a lot of fun. Like the new 911 GT3 that my fellow Speedhunter Pedey just spent the weekend with in Germany, the Turbo S only comes with one transmission option. And you know what? I get it. I really do. A traditional manual gearbox would be great, but in this car it would really only hamper your pace – something that becomes very obvious when you mash the accelerator to the floor for the first time and punch through a few gears. All I can say is bye-bye GT-R! It's taken Porsche seven years but they have finally given the Turbo an edge over Nissan's physics-defying R35.
Excuse my editing skills, but I'm trying to incorporate as much video as I can in my posts from now on. I know it's something you guys really want to see. By pressing play above, you can at least hear what the Turbo S sounds like; the way those blowers instantly boost and the lovely crackles the exhaust emits on lift-off.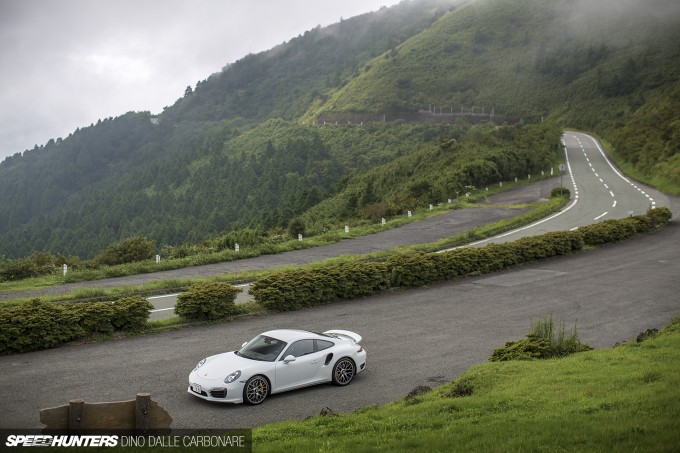 Having driven the car around the busy streets of Tokyo for a week, the road provided a great backdrop in which to discover all the traits the Turbo S had been hiding from me in the city. This is one car that can do many things so well, so I was expecting it to shine through the corners – but I just didn't know how much. When you step into a Porsche you know you are entering a unique and polished level of motoring – one where the dynamics are delivered with poise, refinement and controlled urgency.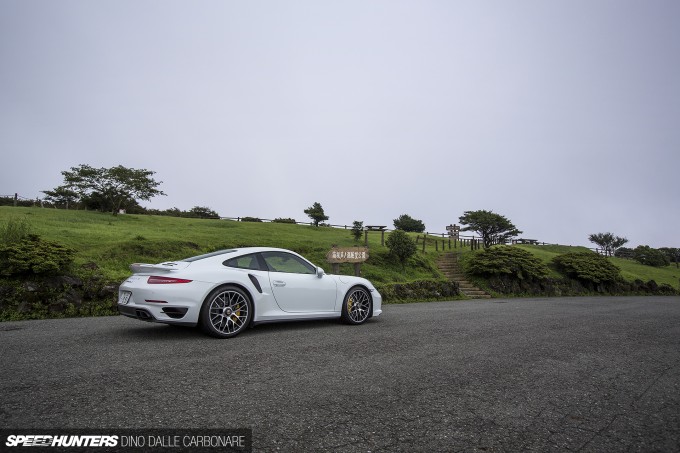 But I just couldn't believe just how damn fast this thing is! I love seeing – and feeling – how turbo technology keeps evolving, and how different manufacturers approach it. Porsche have really pushed the envelope with this engine and its reflected in 560ps and a monumental 700Nm dollop of torque that's delivered from 2,100rpm to 4,250rpm. Think about for a second… As explosive as it is though, acceleration is creamy-smooth and surprisingly accessible and drama-free – provided you have enough space in front of you! You just can't help but drive this thing hard.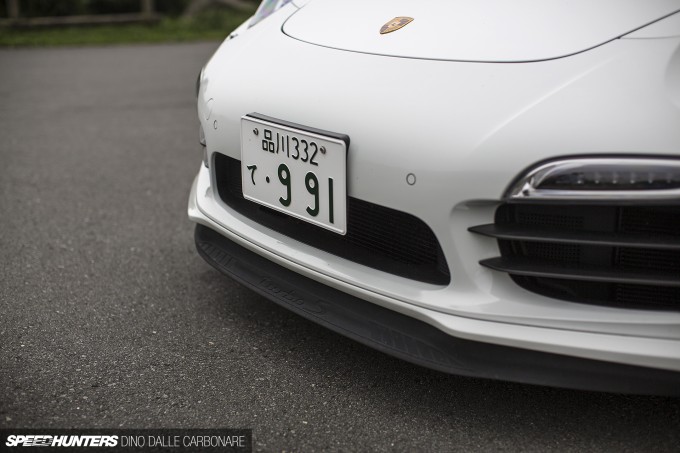 As you will have seen in the video, one of the Turbo's party tricks is the electronic rear spoiler that rises to help keep the rear end planted. Well, at the same time this hard rubber splitter descends down from behind the front bumper to reduce lift and perhaps even generate a touch of downforce. How cool!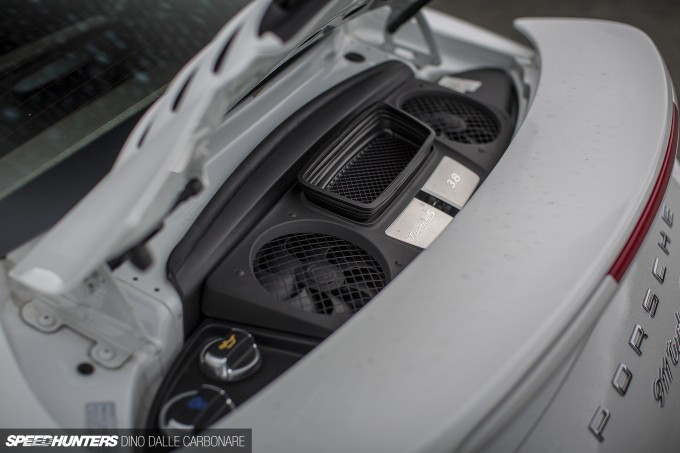 911s are great, but not being able to see the engine in these newer cars is something that bothers me. All you get a glimpse of under the little vented cover that lifts up are a couple of extractor fans, an intake and the neatly-labelled oil and water reservoir caps. There's lots more to this car that you can't see either, like how the chassis has been further stiffened over a regular Carrera, and how the rear end is 7cm fatter to accommodate meatier rubber. And just like in the GT3 – most likely to counteract the fact that the car's wheelbase has grown considerably since the 997 – the Turbo uses Porsche's rear-steer technology. This is nothing new – the BNR32 Nissan Skyline GT-R's HICAS system did pretty much the same thing in 1989 – but 25 years on the setup employed here is far more refined. Porsche's system employs electromechanical actuators – not hydraulics – to steer the rear wheels up to 1.5 degrees against the fronts at speeds below 50km/h, and with the fronts at over 80km/h. In turn, this gives the car a tighter turning circle and makes it feel more agile, and more chuckable than it would otherwise be.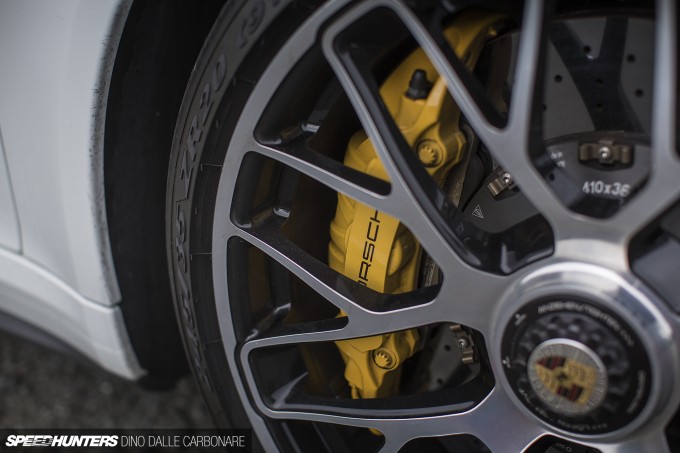 Then there are the brakes. And thank goodness for these optioned carbon ceramic beasts, because I may have found myself in trouble a few times during my week with the car, had this car not been specced up. These may also be the biggest rotors I have ever seen on a road car – a massive 410mm diameter with 36mm thickness at the front, and equally impressive 390mm units in the rear. But then again, Porsche has always taken braking seriously.
When a car can effortlessly accelerate from standstill to 60mph in 3.1 seconds as the short video of a launch control assisted start above shows, good brakes are something you learn to depend on. Check that out – not even a whiff of wheelspin – the 911's heavy rear end and the Turbo's fat 305-section rear tyres maximising mechanical grip to its fullest.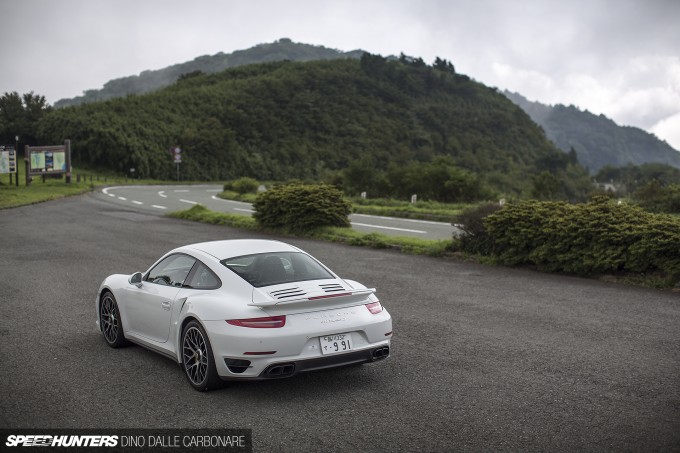 While you'll probably either love or hate how the 911 looks, the Turbo S sure sets itself apart from the rest of the line up with its rear spoiler, big booty, and additional aero touches around the car.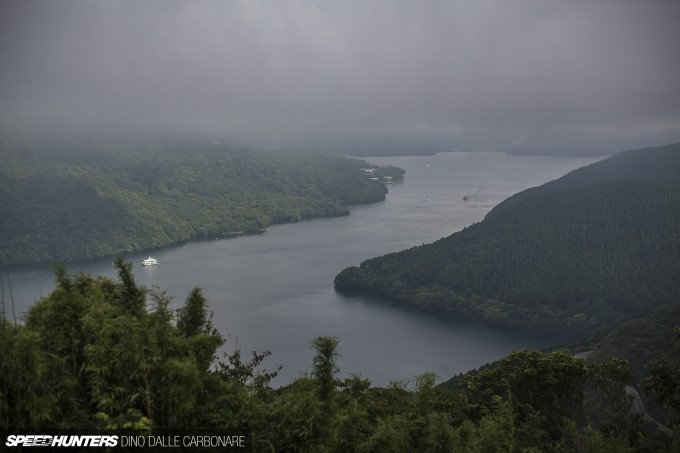 I couldn't help but stop for a breath of fresh air; admire the lovely views of Lake Ashinoko, and allow my palms to dry a bit. The 911 is a very engaging drive, and you really need to hang on for dear life when you unleash its full fury.
Torque + PDK = Killer Combo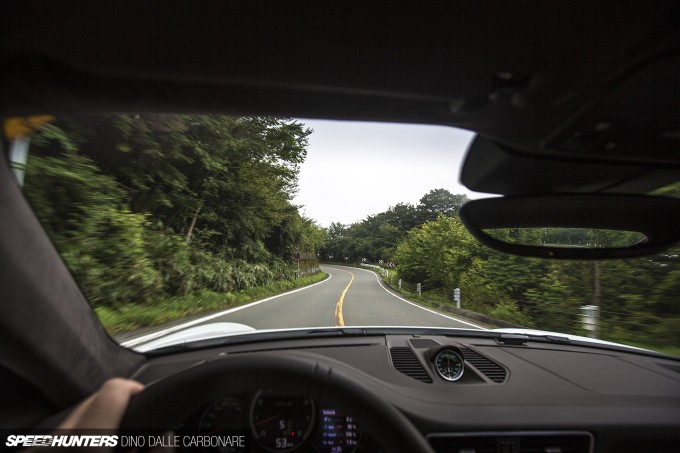 And therein lies my point about the PDK gearbox. Apart from the fact that it's one of the best double-clutch transmissions around, the 7-speed transmission just can't be matched on shift speed, which allows you to just get on with the job of steering – and keeping the thing on the black stuff. If this car used a manual gearbox, your pace through a road like this would drop significantly, and it would make the whole driving experience far too hectic. So yeah, manuals are great and everything, but thank god for DCTs in cars with this levels of performance!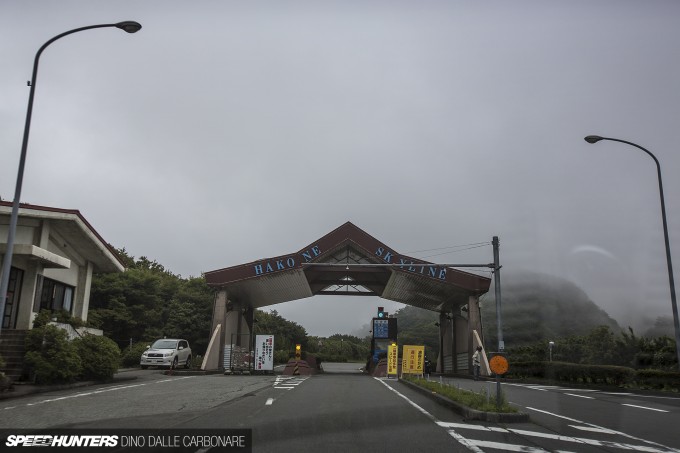 Seeing I hadn't been there in quite some time, I decided I'd drive down and get a closer look at the lake.That, of course, required me to fork out some cash to enter the Hakone Skyline.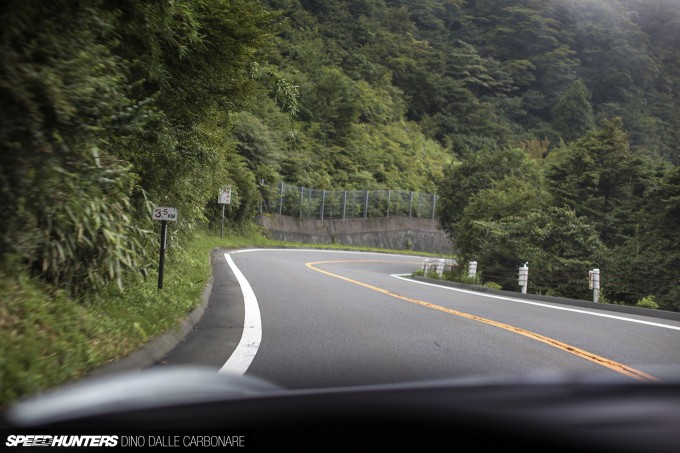 But that's fine, as it's like entering a race track. Most of the time the road is empty, and the route it takes as it carves through and crests the mountain range is nothing short of epic. From this angle you get to see how the camber on the road varies too – it really is a great place to put any high performance car to task.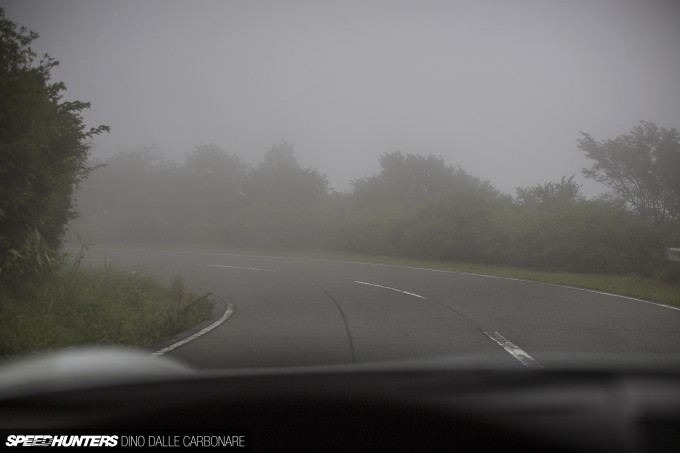 As I climbed higher I had to drop my speed – it seemed like I had driven right into the middle of a low-lying cloud.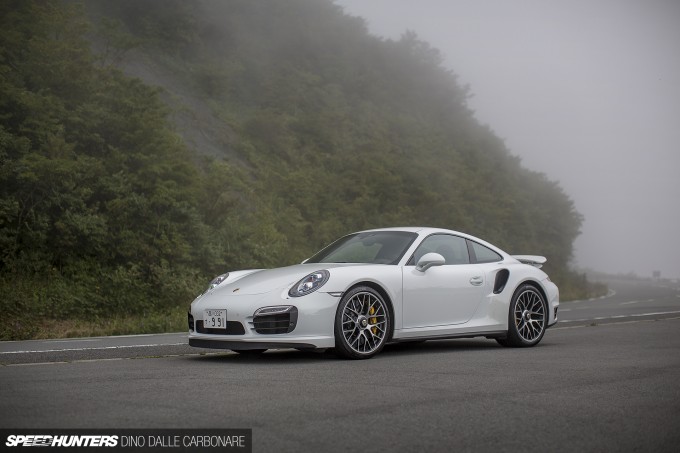 Which meant it was definitely an opportunity for some moody shots! At this point the tyres on the Turbo were nice and warm – the faster corners allowing the chassis to get a proper workout. While the suspension is set up brilliantly with not even a hint of roll until you start to really unsettle the car on purpose, I did find that usual front-end detachment I always note on 911s and other mid and rear-engined cars Maybe 'detachment' is a bit strong, but compared to an R35 GT-R where a lot of the car's weight is over the front wheels, the Turbo S just doesn't feel as planted.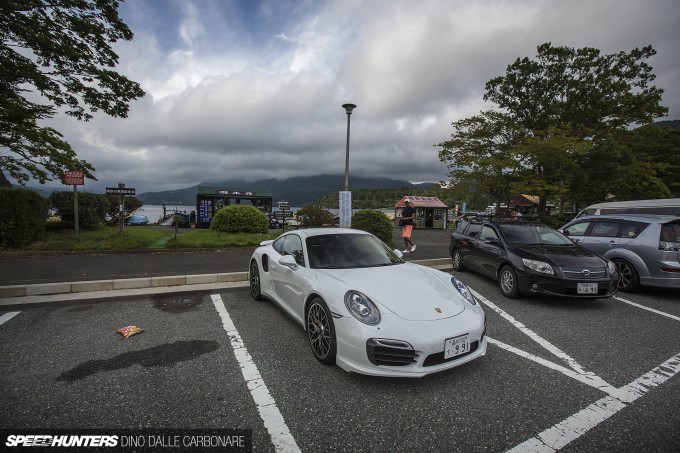 After a rather quick climb followed by a slow descent to allow the car to cool off, I arrived at Lake Ashinoko and promptly parked the 911 up so I could go and grab a bite to eat.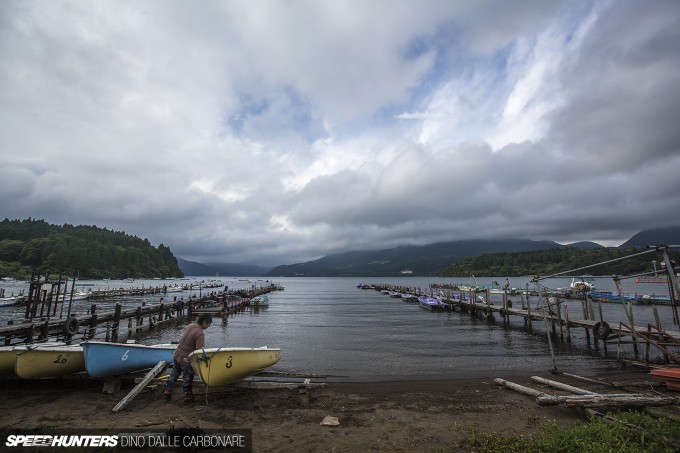 When the sky isn't quite so cloudy you get a stunning view of Mt. Fuji from here, but that was just not going to happen on this particular day. This is a great place to stop and relax after a long and demanding drive – the local food is good and the air is fresh!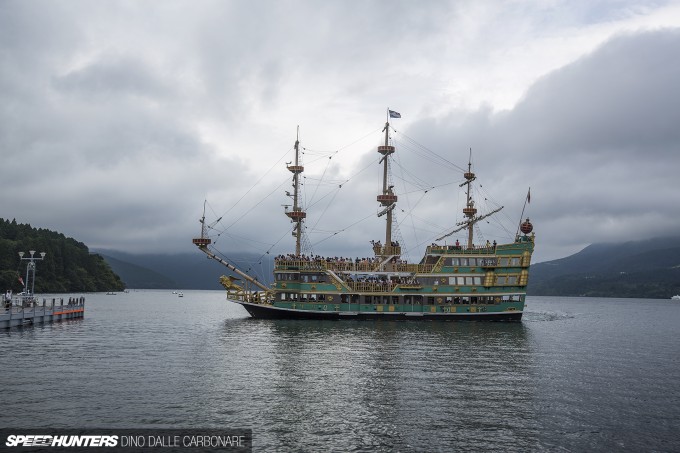 You can also jump on the pirate ship for a quick tour of the lake – but there was just no time for that. The urge quickly hit me and I just had to get back behind the wheel!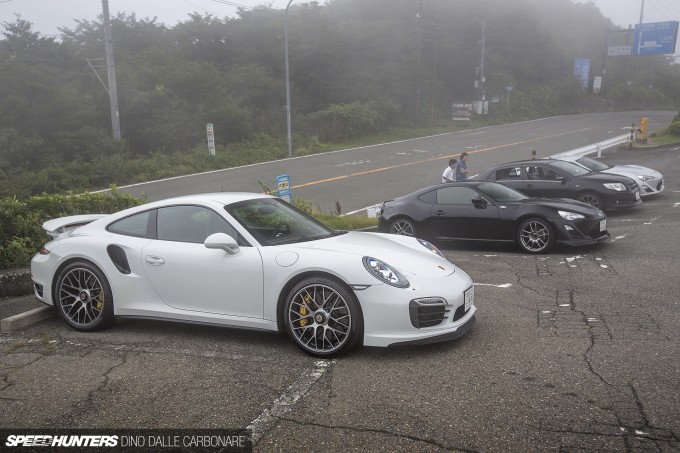 About 10 minutes later I was up the top again. It's a nice climb on a pretty rough and tight road, but it must have put the Turbo's rear-steer to the test as the car felt responsive and poised the entire way.
The Everyday Supercar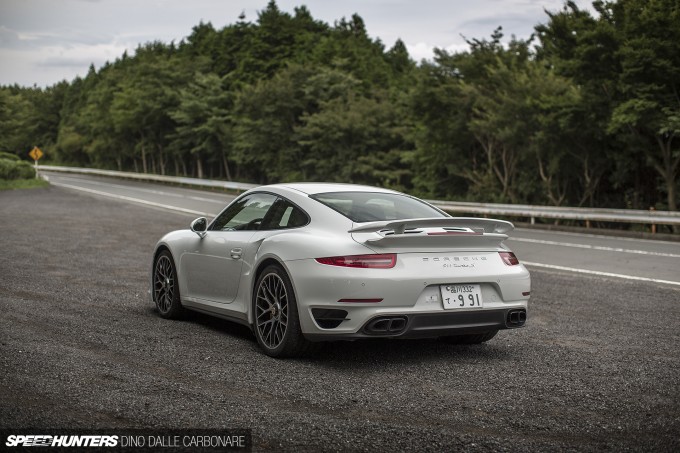 Halfway down the Hakone Turnpike – which leads to Odawara City and then onto the Tomei Expressway for me to get back home – I stopped once again, as I realised I hadn't yet focused on the Turbo's interior.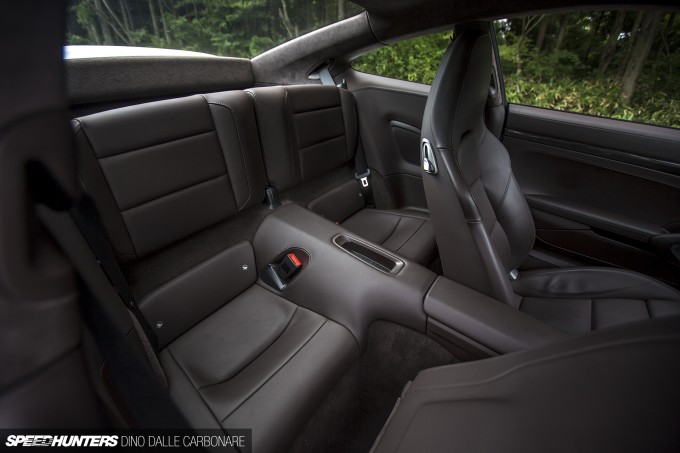 It's an important aspect too, because one of the car's hidden talents is its usability. Okay, so those rear seats aren't too big, but at one point I had three full-sized adults in the 911 and I didn't hear any complaints. This particular car's interior was beautifully appointed in dark brown leather – a rich shade that adds a real touch of elegance.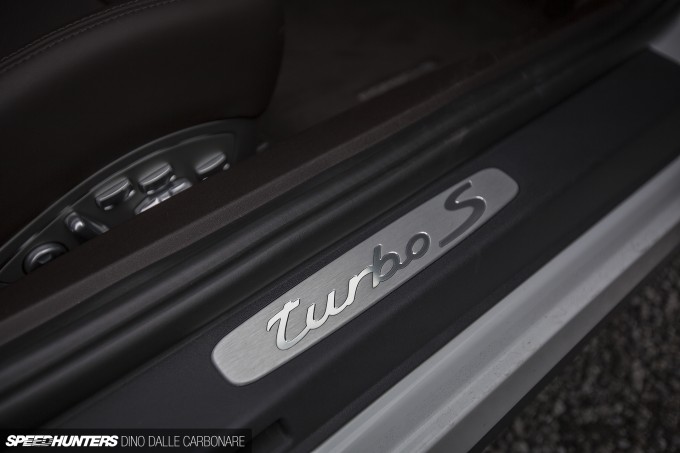 Of course, the front seats have all the electrical adjustment you would ever want, or need. If there's one thing Porsche always gets right it's driving position, and regardless of how big or small you may be, you can always get yourself set up perfectly.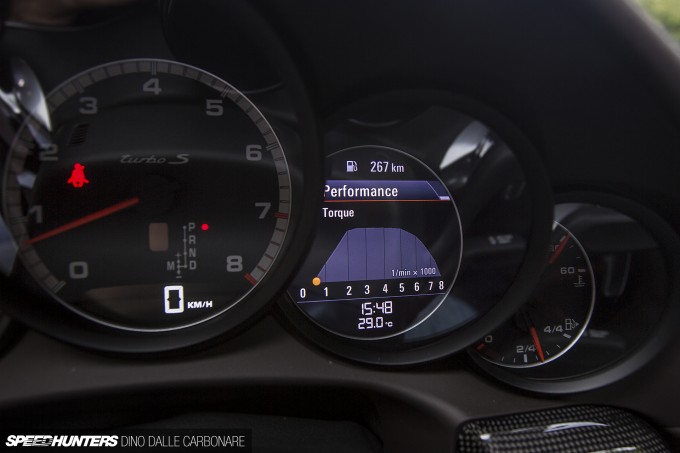 If there weren't already enough gadgets to play with, the Turbo S comes with this torque indicator which tells you where you are within the massive curve. Like I said, torque is everywhere!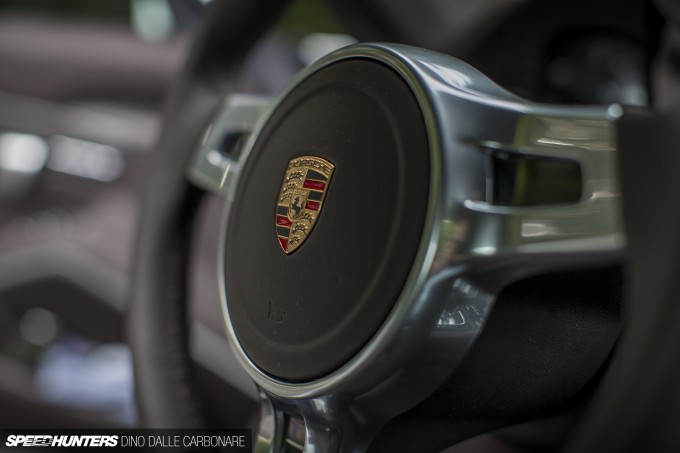 Also in the mix is a sports-oriented steering wheel, which aside from having a nice polished aluminium center section, features proper paddles mounted behind the rim.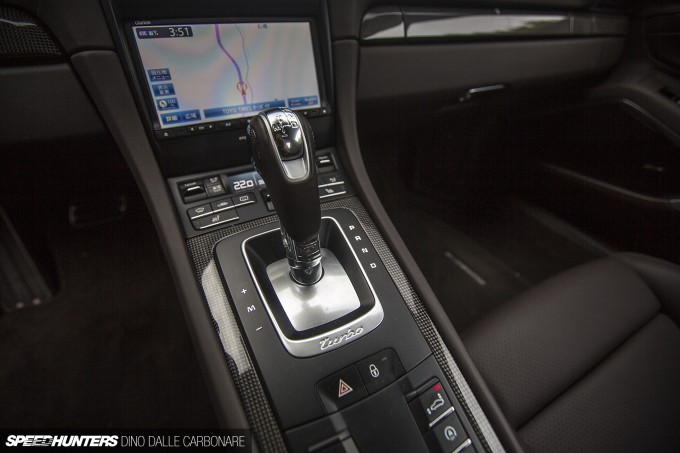 Everything you touch is either soft leather or Alcantara for the pillars and the headliner, while the rest of the trim was decked out with the optional carbon pack. It's a very nice place to be, but I have to say, some areas of the dash and transmission tunnel felt like they should be a little softer to the touch – nothing a bit of padding here and there wouldn't fix though.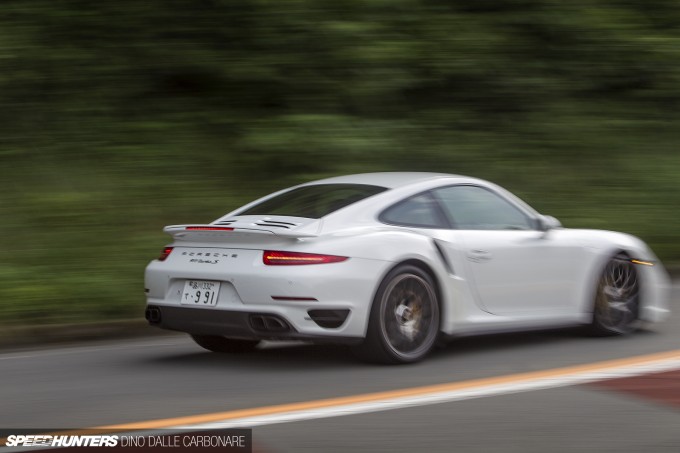 I spent the rest of the afternoon heading up and down the Turnpike – at full pace – where the Turbo S shined and impressed even more. The faster speeds you hold through this road really make the chassis work, and you can squeeze out every last bit of performance from the car. I came to the conclusion that this is indeed the fastest 'everyday supercar' out there – taking that crown away from the GT-R. The only difference is, driving a Turbo S at its limit requires a lot of skill, while the GT-R inspires just more confidence when you get there. We could get into a debate over cost of course, but that's a whole different argument…
I have to ask though, given the choice of R35 GT-R or 991 Turbo S, which one would you take?
Dino Dalle Carbonare
Instagram: speedhunters_dino
dino@speedhunters.com