Smoke On The Water, A Fire In The Sky
There was advanced warning: it wasn't like this street car demolition derby was a secret. We knew what would be happening just off the M20 in Kent in the UK last Sunday. There was no excuse for us turning up to witness the madness other than pure voyeurism. I could imagine the police radio report: 'Thirty-plus IC1 males, varying ages, driving wide range of cars in unpredictable, haphazard manner likely to cause incident'. They've been at it all year – for many years in fact – and the authorities do nothing about it. The drivers never change. They're irresponsible, they have no respect for age, experience or the laws of the road.
But it's because they're British Touring Car Championship drivers. It's just what they do…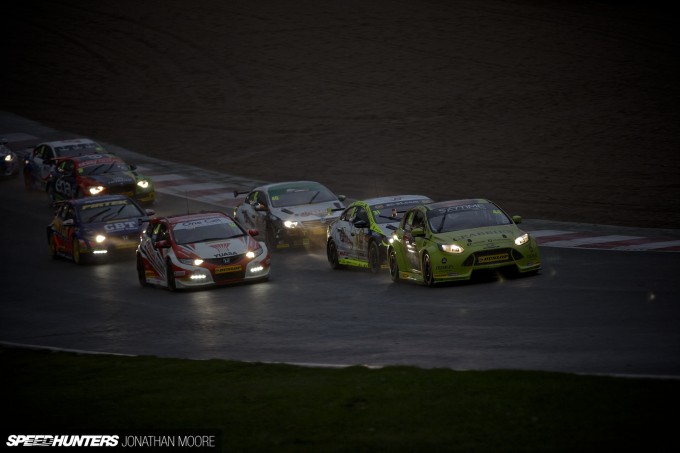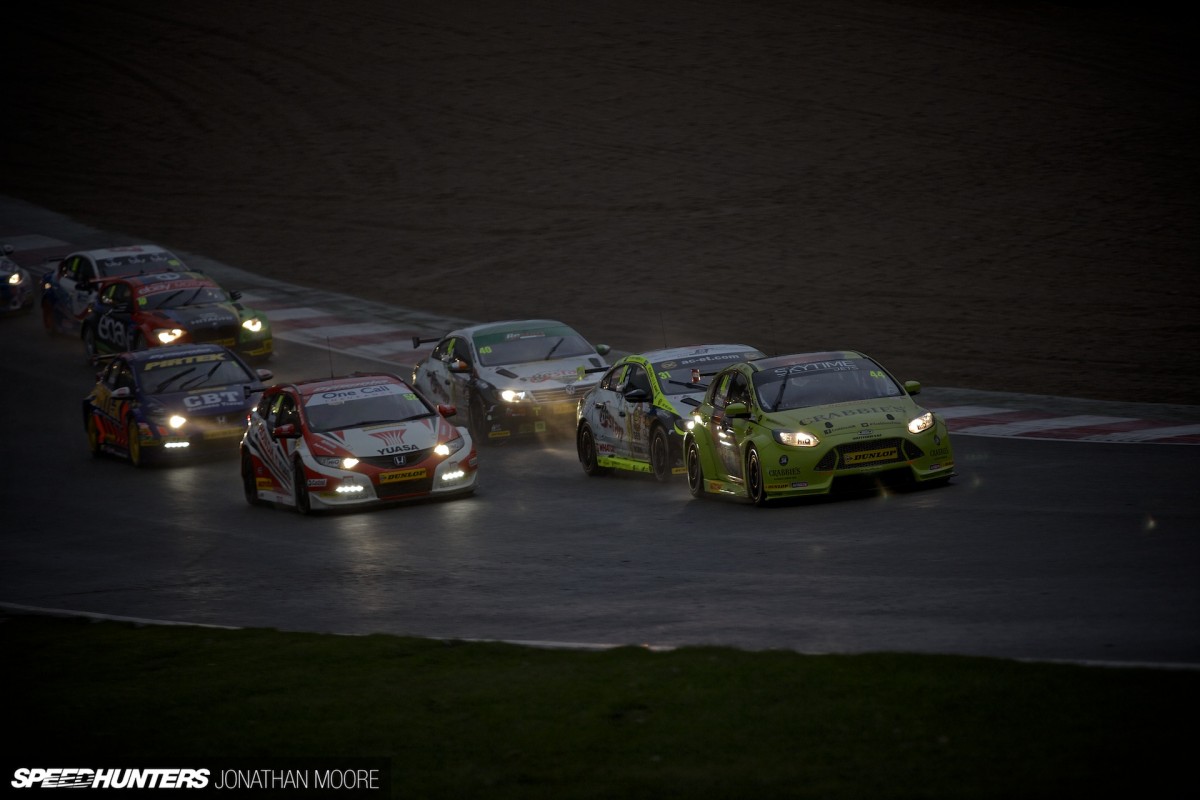 They have no idea about safe distances between cars. They make drivers on the M25 London orbital motorway – one of the most unpleasant pieces of road you can experience – look pedestrian in comparison.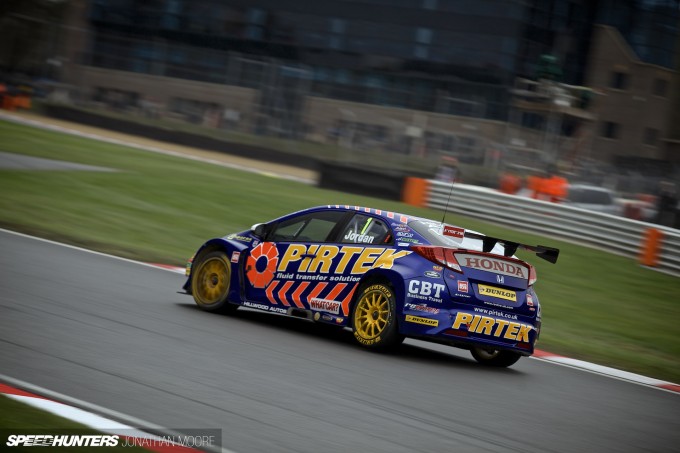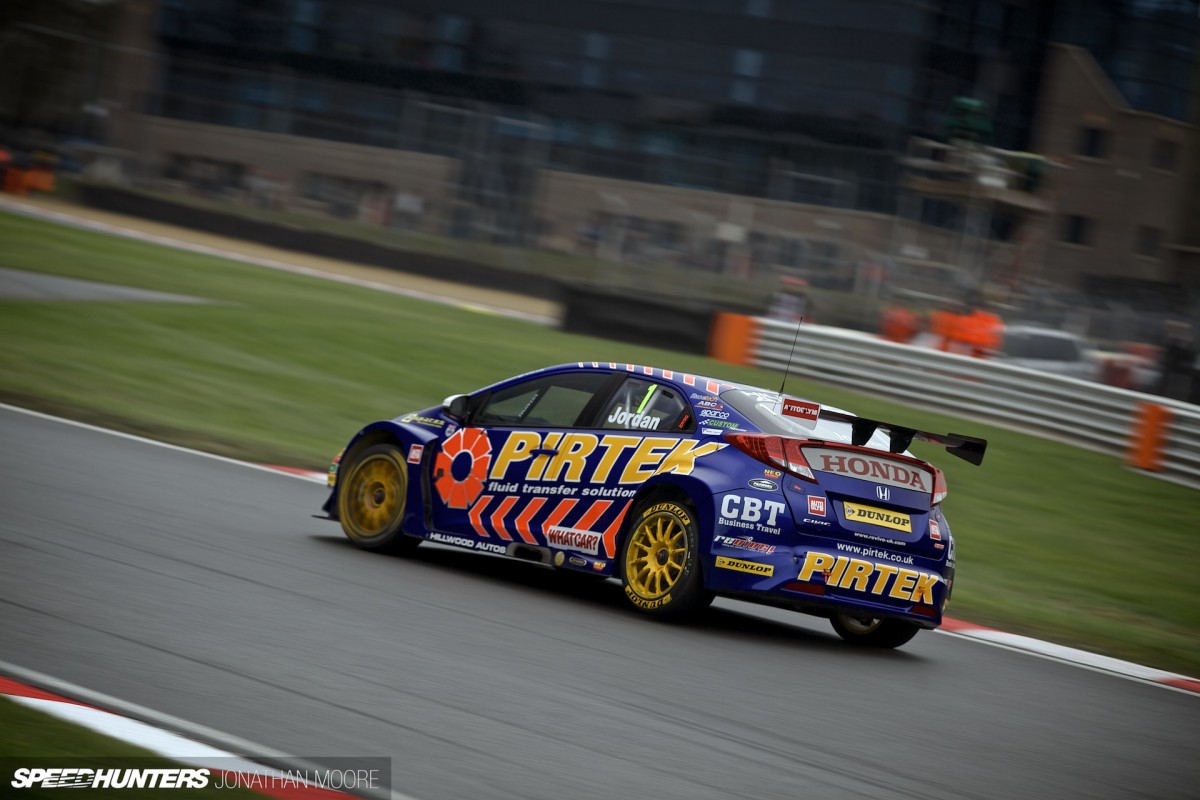 They can barely keep their cars under control. Cars teeter on the edge of adhesion, just waiting for that tap from behind to send them spinning to destruction.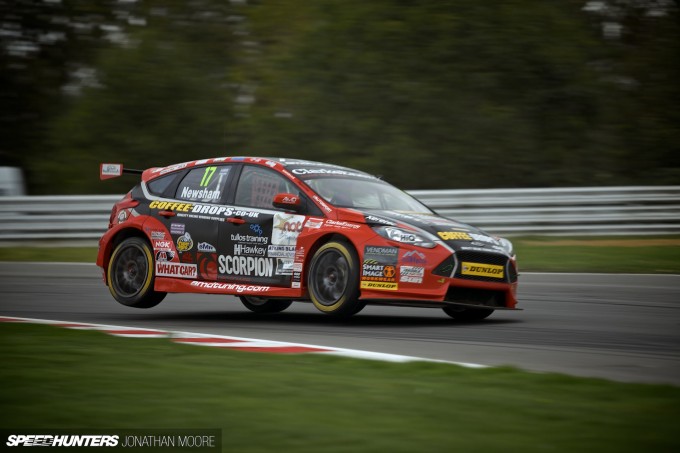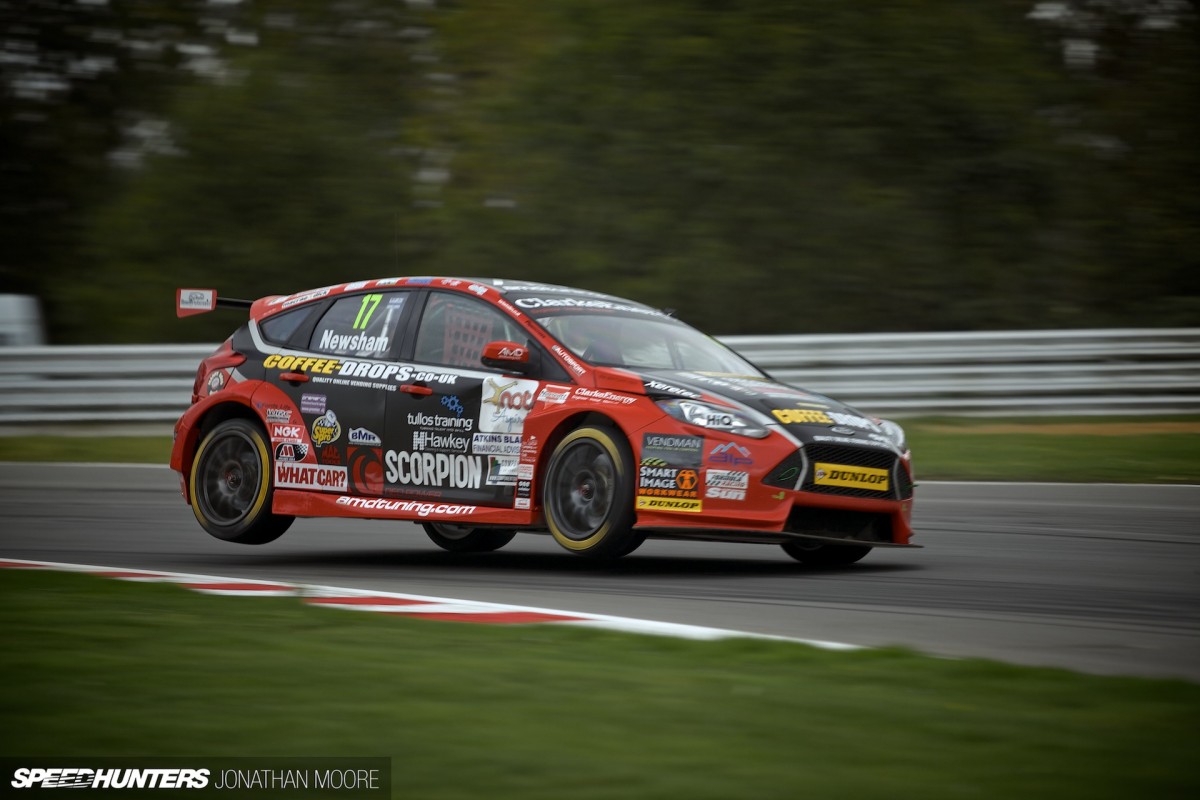 Keeping all four wheels on the ground seems to be impossible for these guys.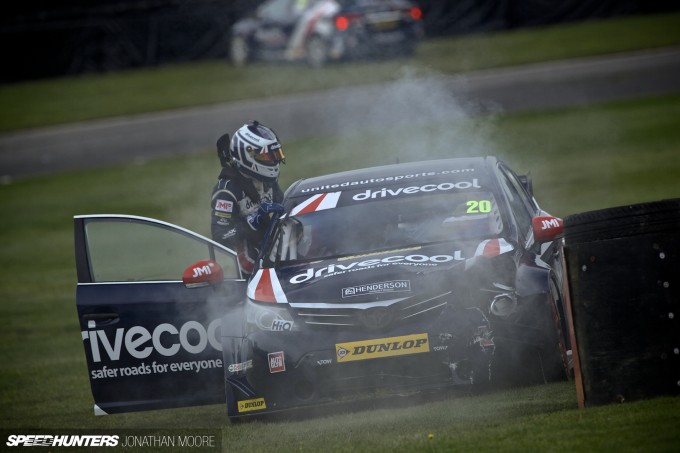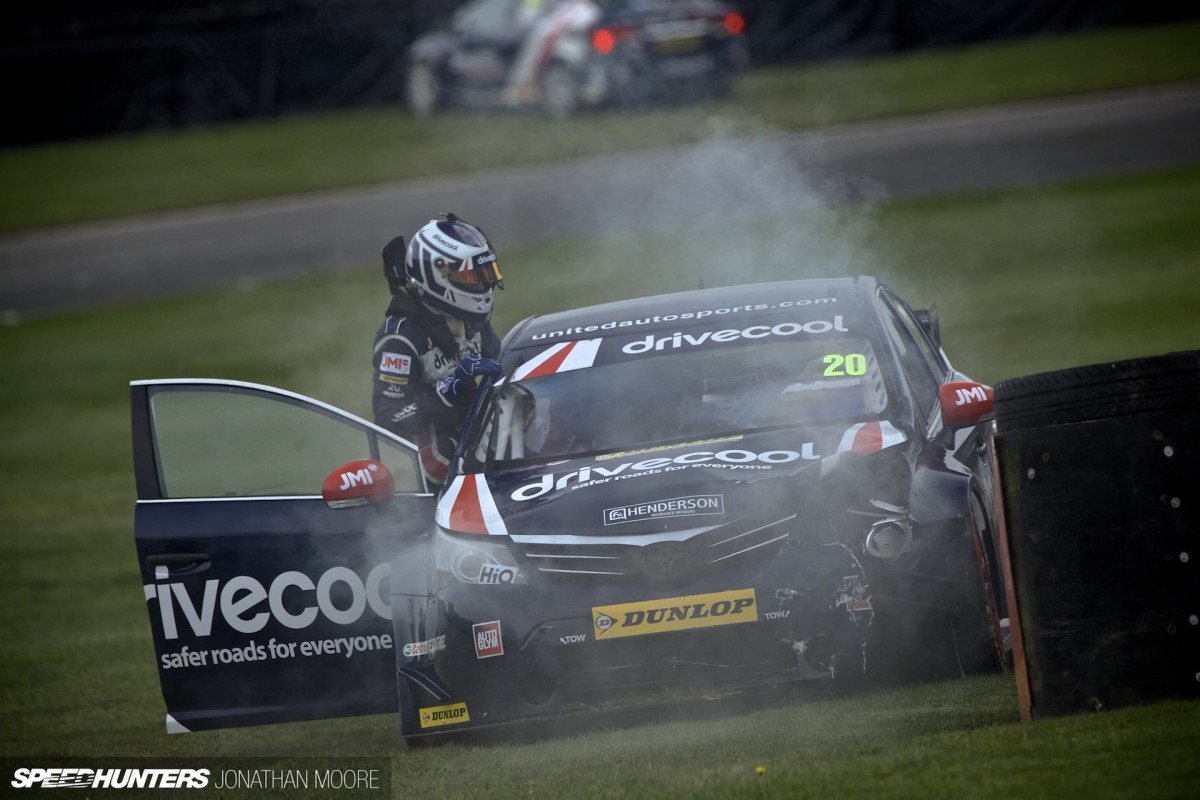 Team-mates? The first person to beat normally, here it seems they're the first person to bang into. Is your insurance up to date, sir?…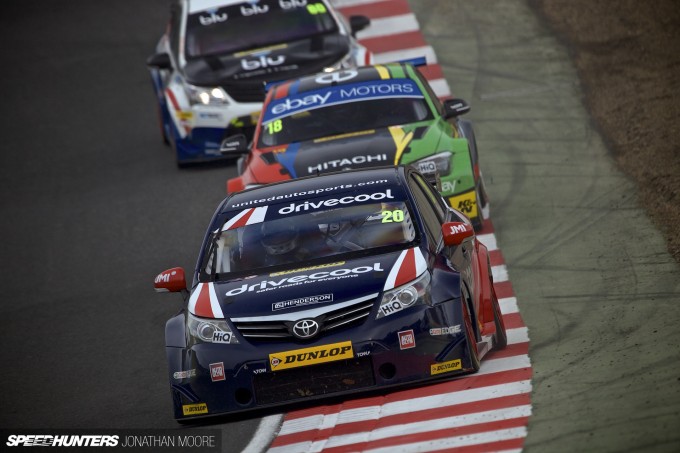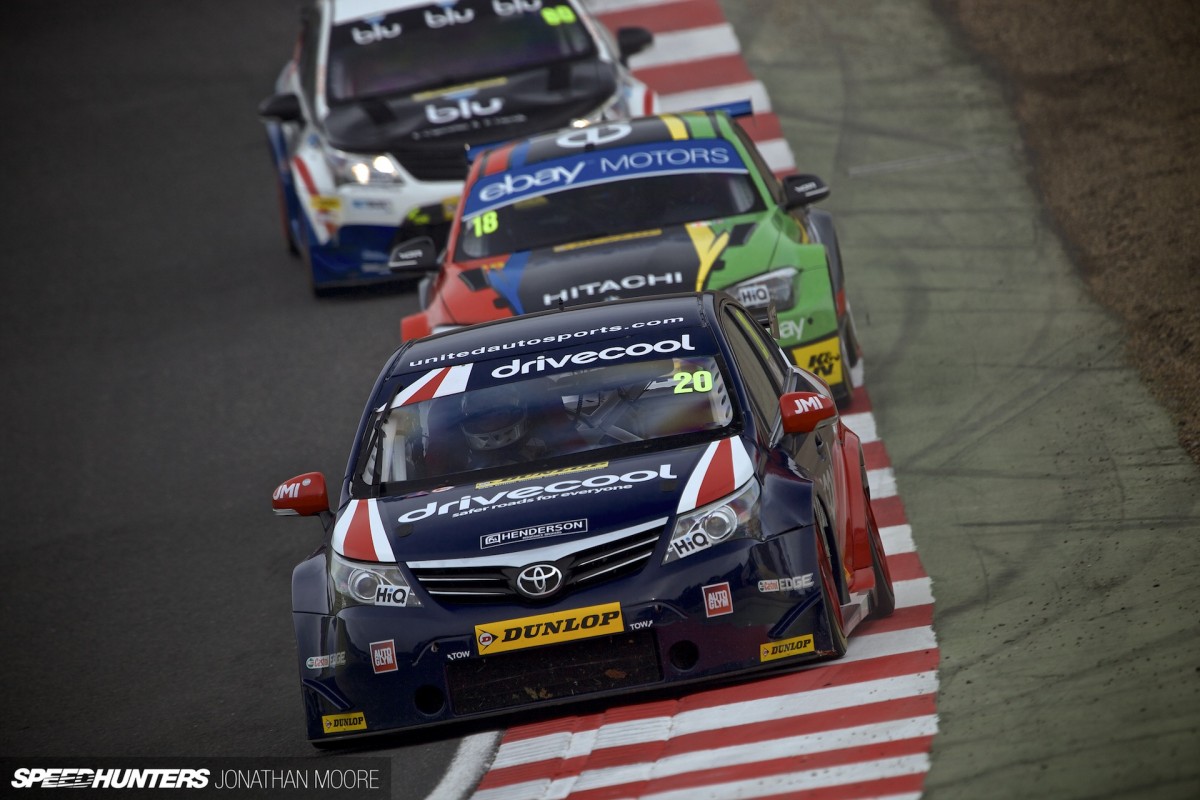 Toyotas that should be tootling along in the slow lane of a motorway are driven to the edge and beyond; Fords are focussed into track weapons; BMWs banging wheels with Volkswagens and more.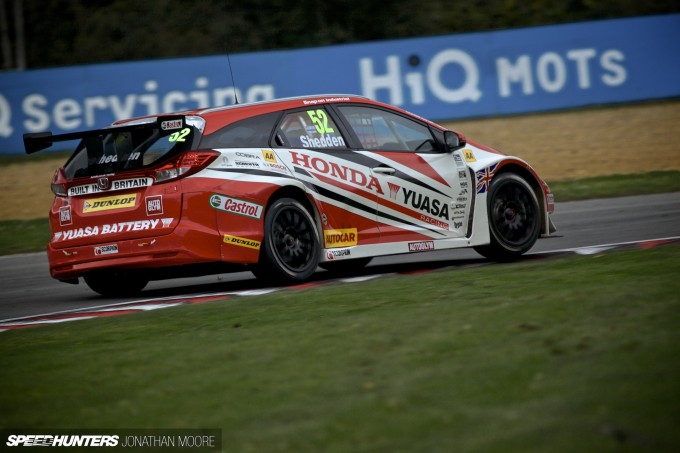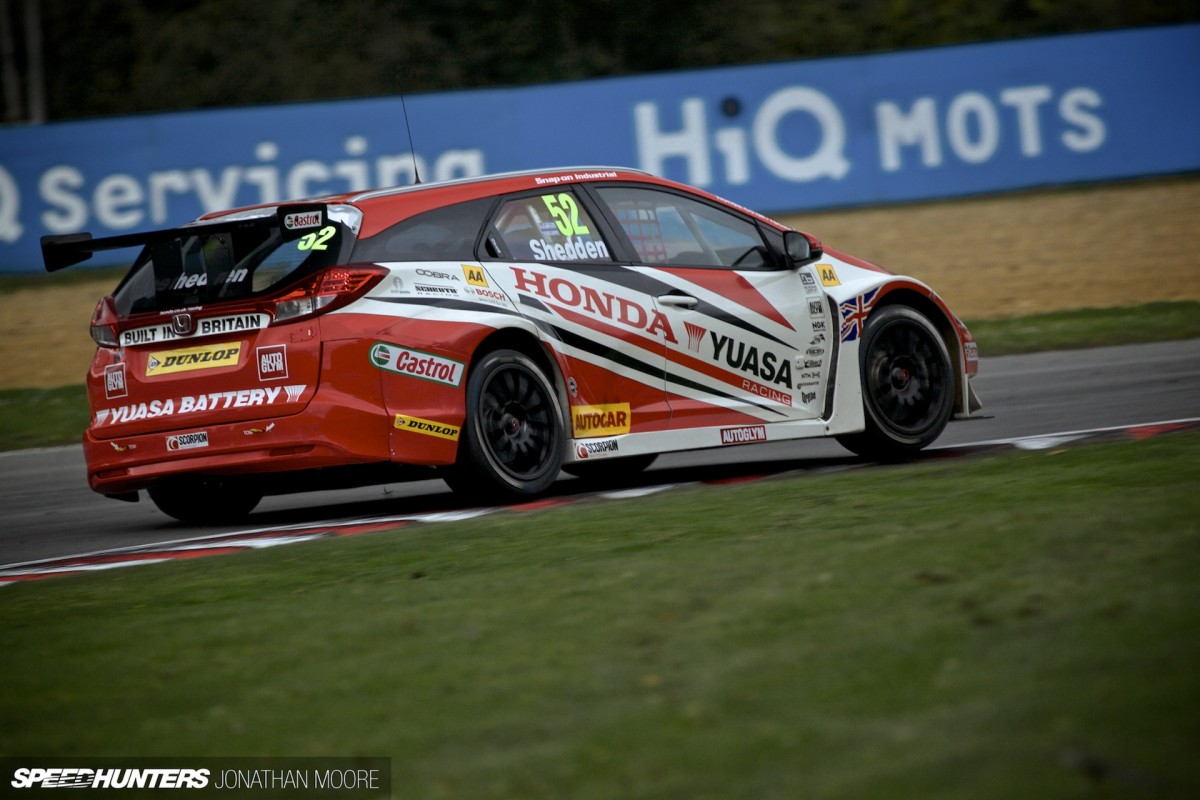 No car is out of consideration. Shopping cars. Compact saloons. Weaponised family cars and rep-mobiles, modified, lowered and up-gunned. There's even an estate.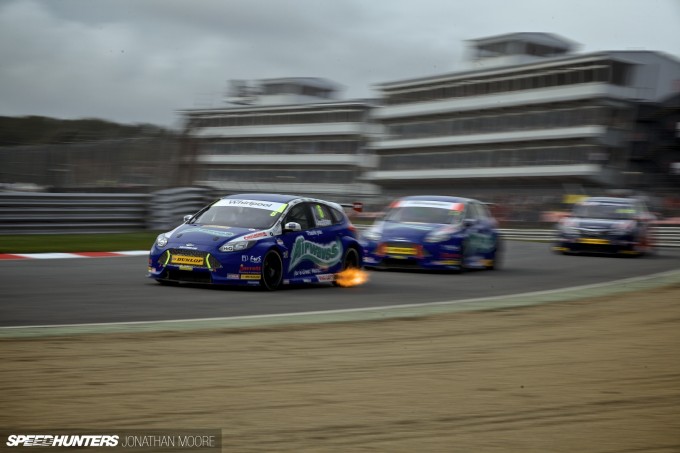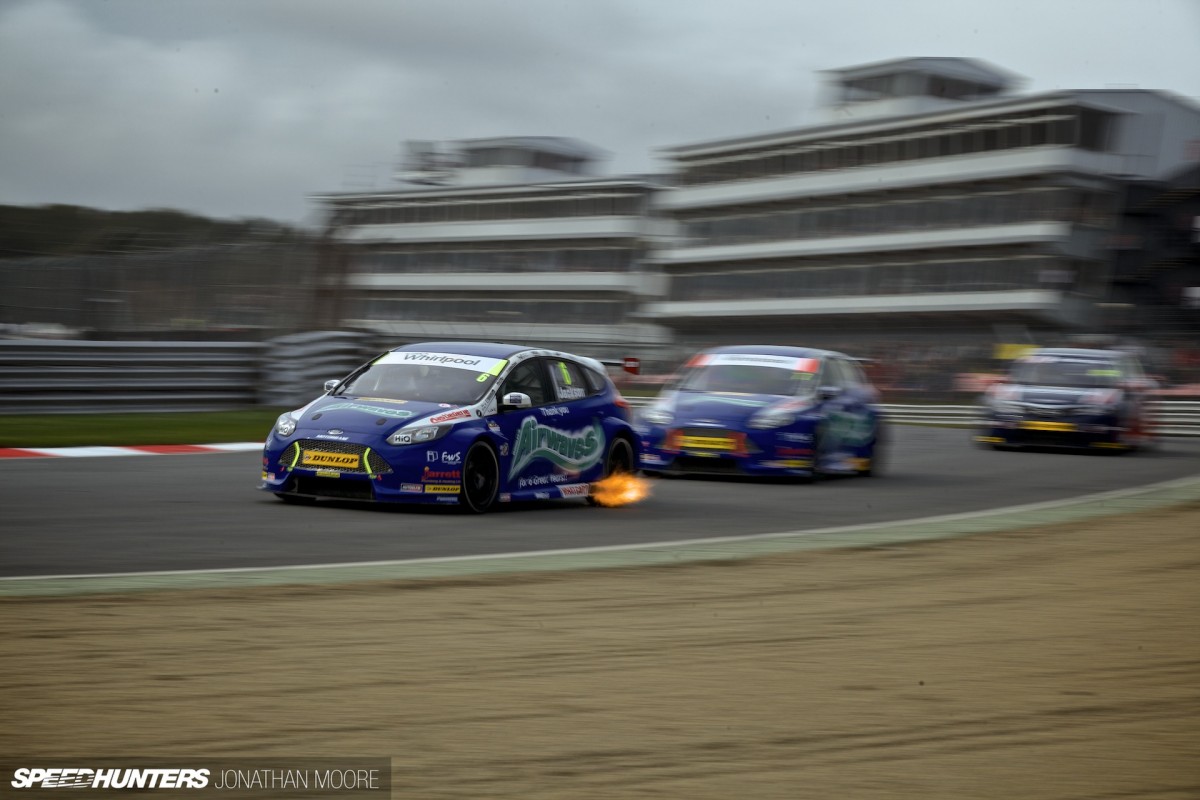 When I eulogised about the golden era of Super Tourers at the Silverstone Classic back in August, that was in no way to denigrate the current crop of cars and drivers in the British Touring Car Championship. If anything, you could argue that the series is even stronger now, more relevant. My trip to the 2014 BTCC season finale just reinforced that feeling.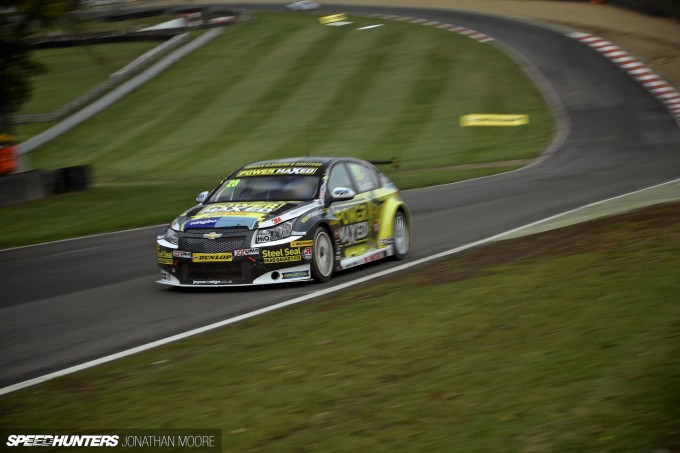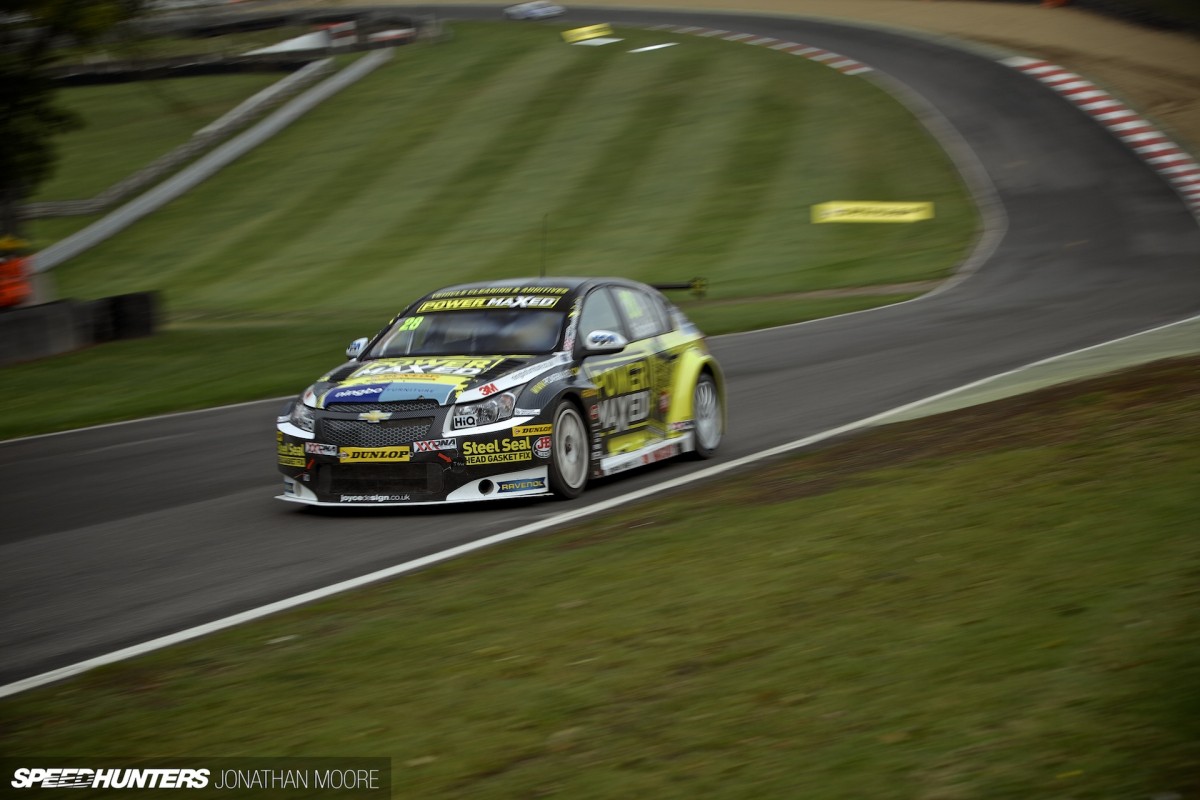 The Super Tourers were almost GT cars by the end, laden with technology. Awesome, but out of reach. The current NGTC cars? It's like you can drive any street car on the road today into a race team's workshop and come out with a BTCC racer – and that's exactly what people are doing.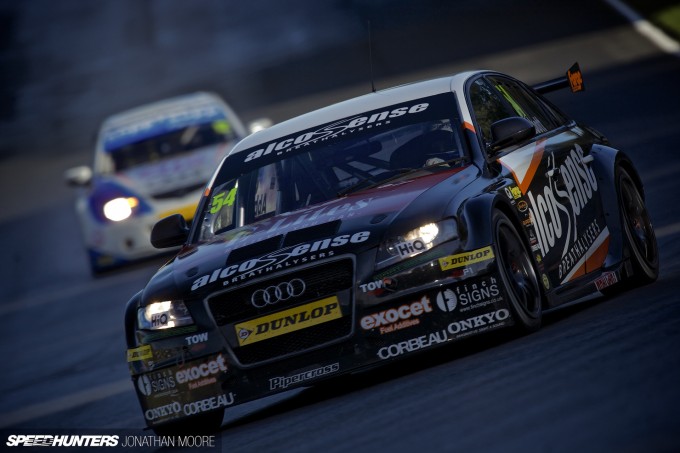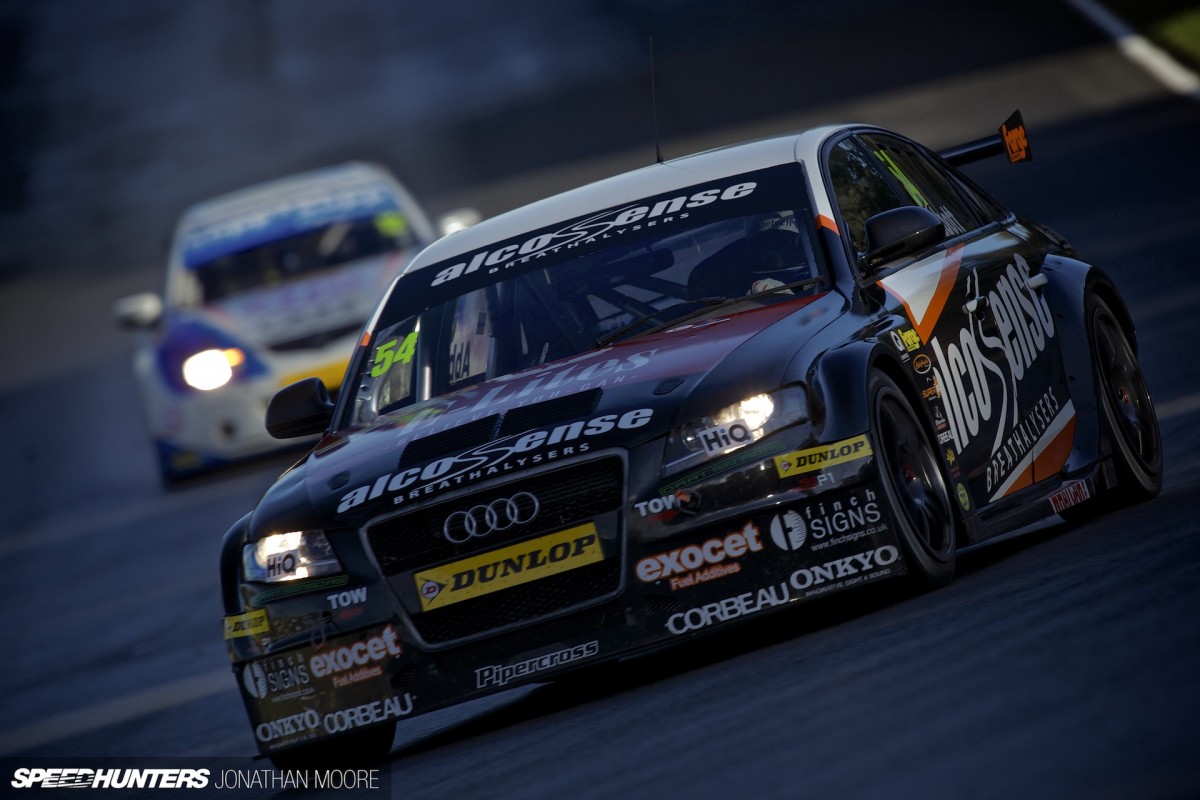 It's an attractive ethos, isn't it? As I've talked in previous BTCC stories, how can you not like a series that is promoting bringing together heavily modified versions of normal cars that we can all buy on a forecourt, and providing a relatively cheap kit of parts to make them effective racecars? Actually, I wonder if you could use NGTC-spec subframes as the base for a road-car project?… Supercars be damned: this is a people's series.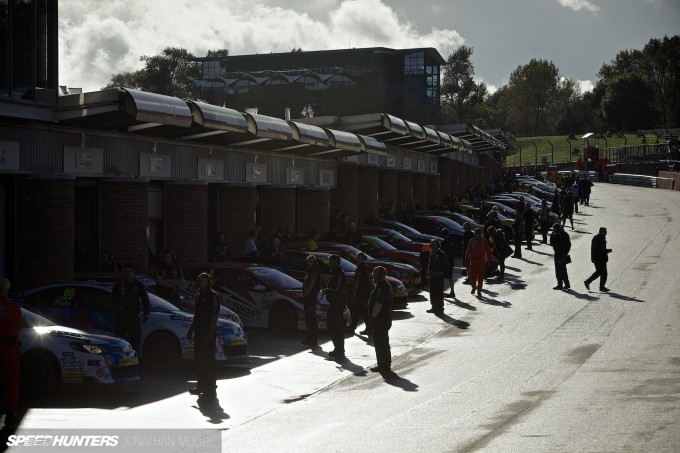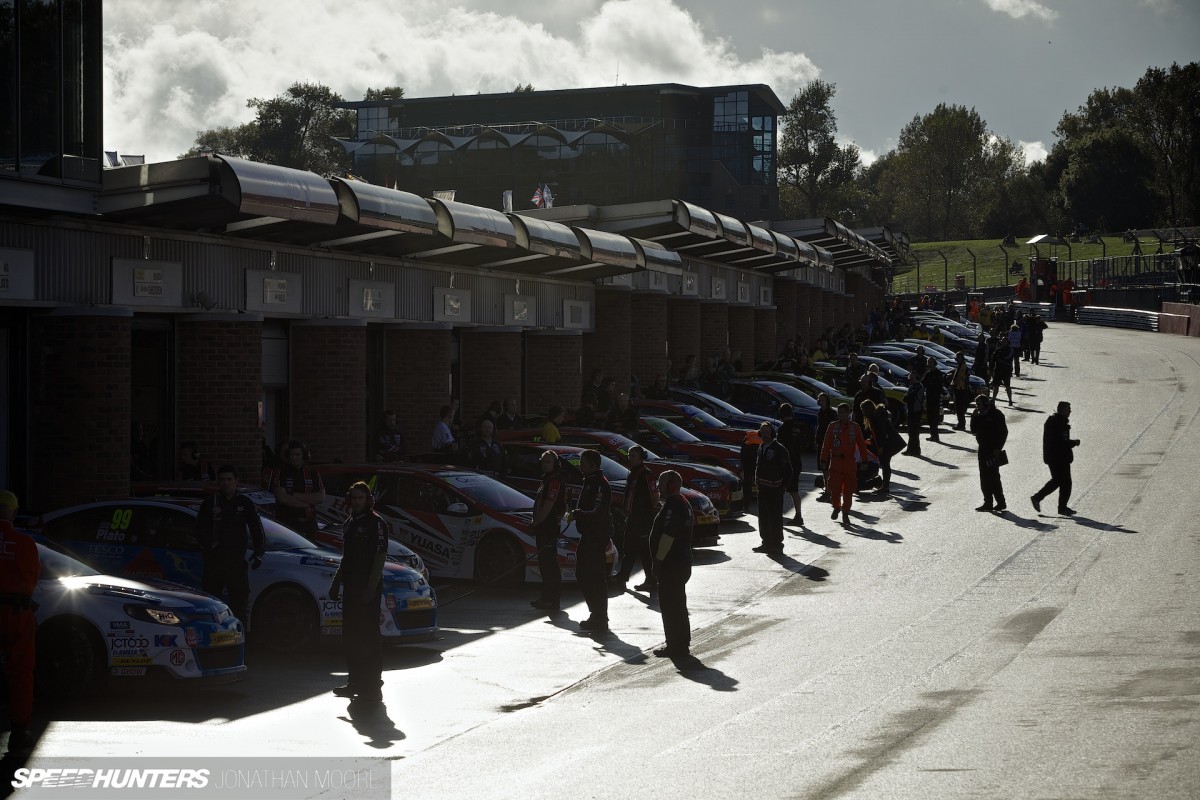 This year a grid of over 30 cars containing 11 manufacturers and 14 models have been duffing each other up on tracks around the UK. It's been awesome.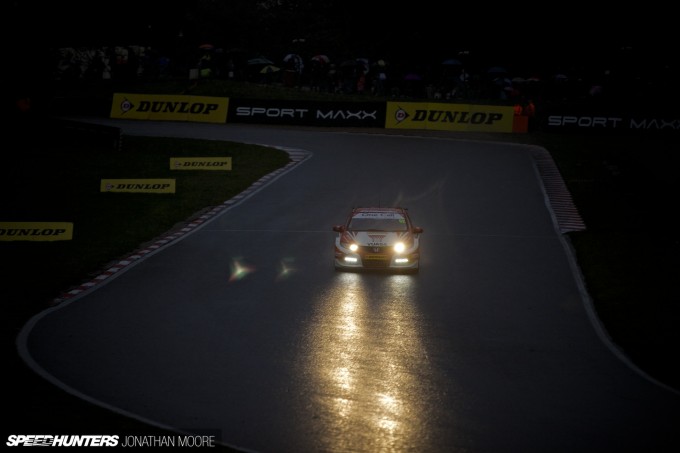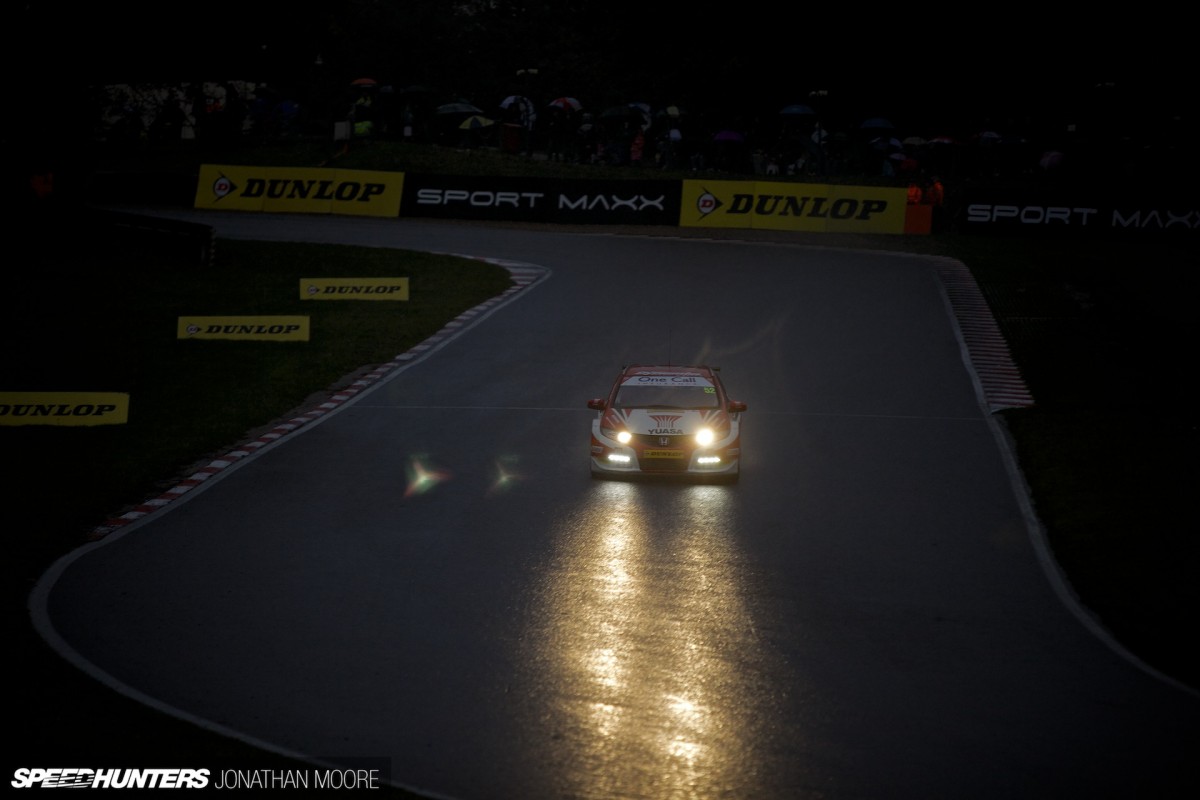 There is limited manufacturer involvement, with Honda and MG's tacit support of the Dynamics and Triple Eight-run programmes respectively, but the BTCC is all about small, independent teams.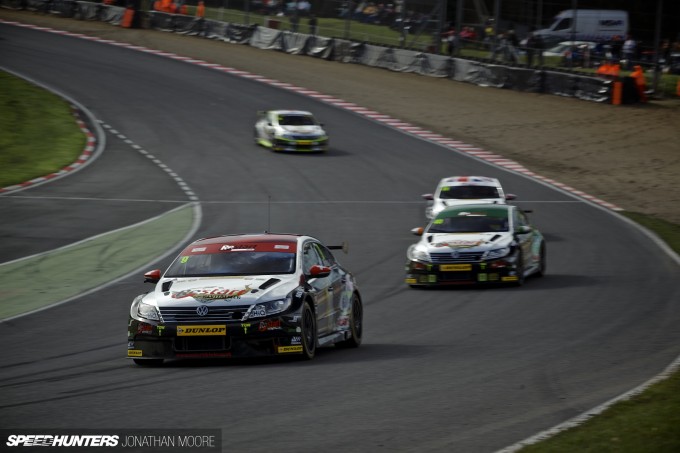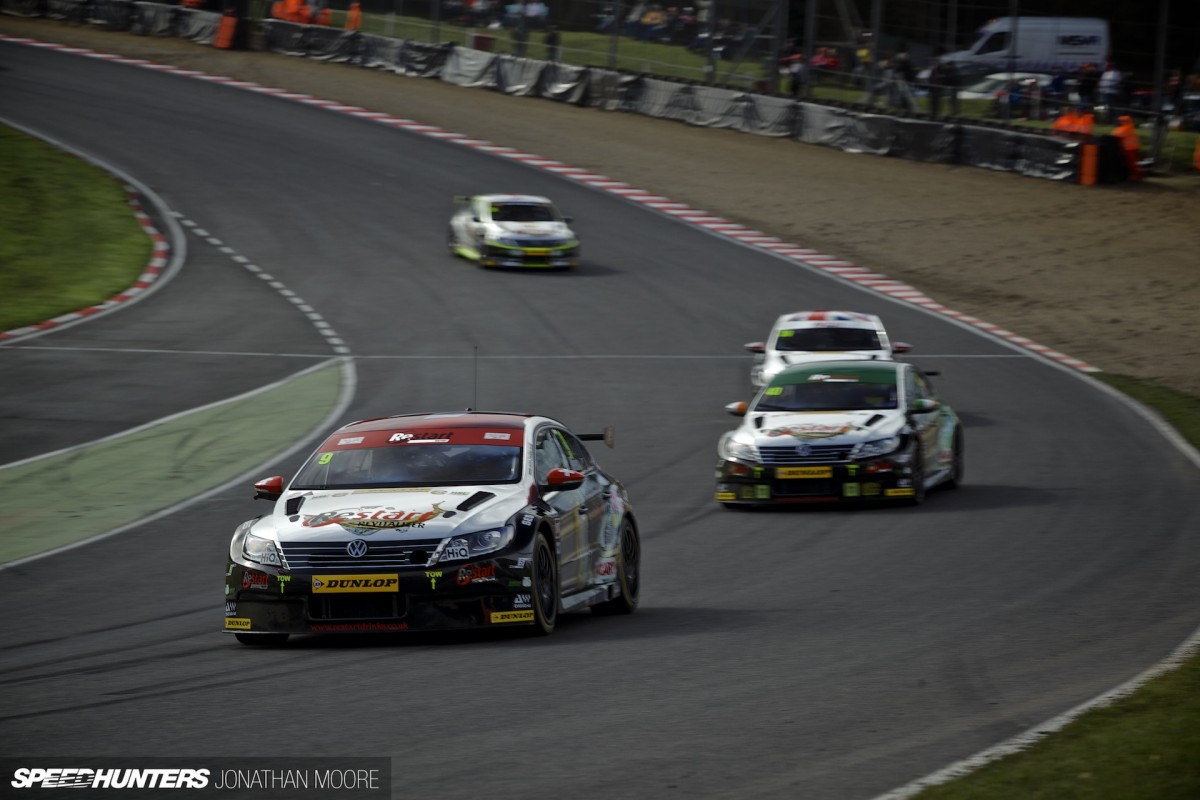 Where else can you get a privateer entering four brand new, self-developed cars, basically run out of a small workshop, but capable of consistently running at the front and even winning? The BTCC is where the supposedly little people get to stick it to The Man. And they do. Gleefully.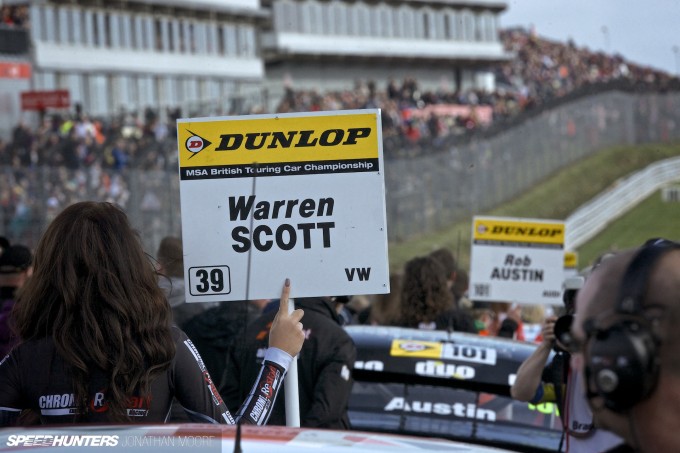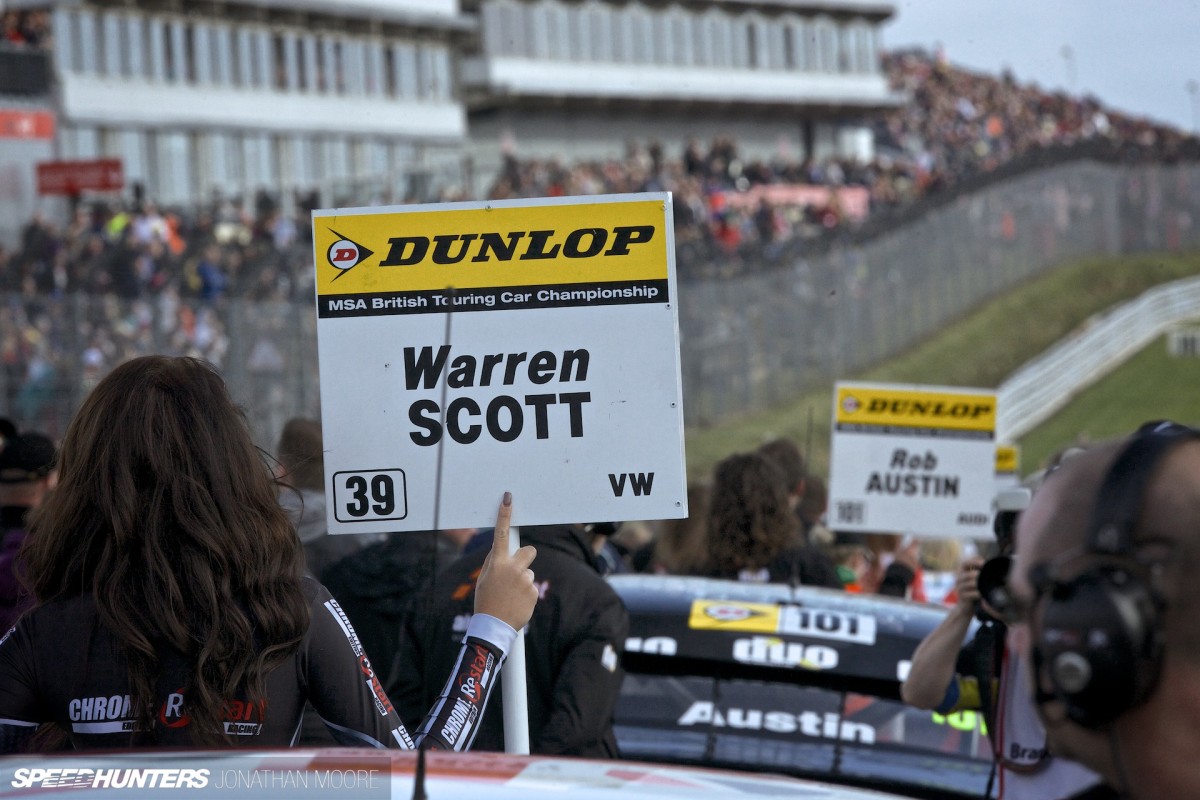 For example, Warren Scott's BMR squad and their quartet of Volkswagen Passat CCs have been a revelation this year. I think the cars look great, which is a good starting point, but the two lead cars of up-and-coming young gun Aaron Smith and veteran multiple champion Alain Menu have rarely been far away from the sharp end.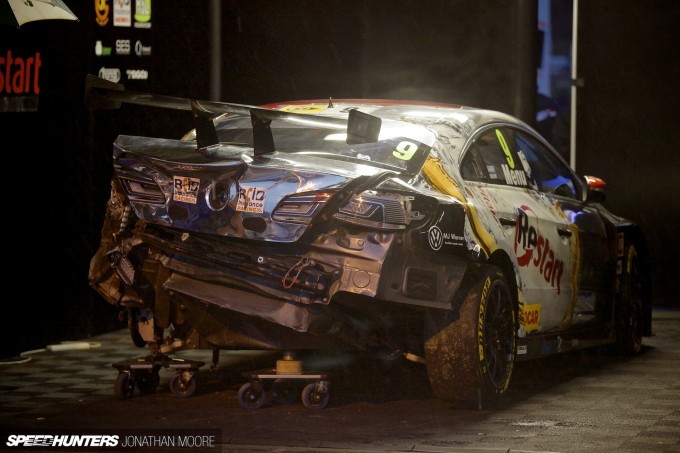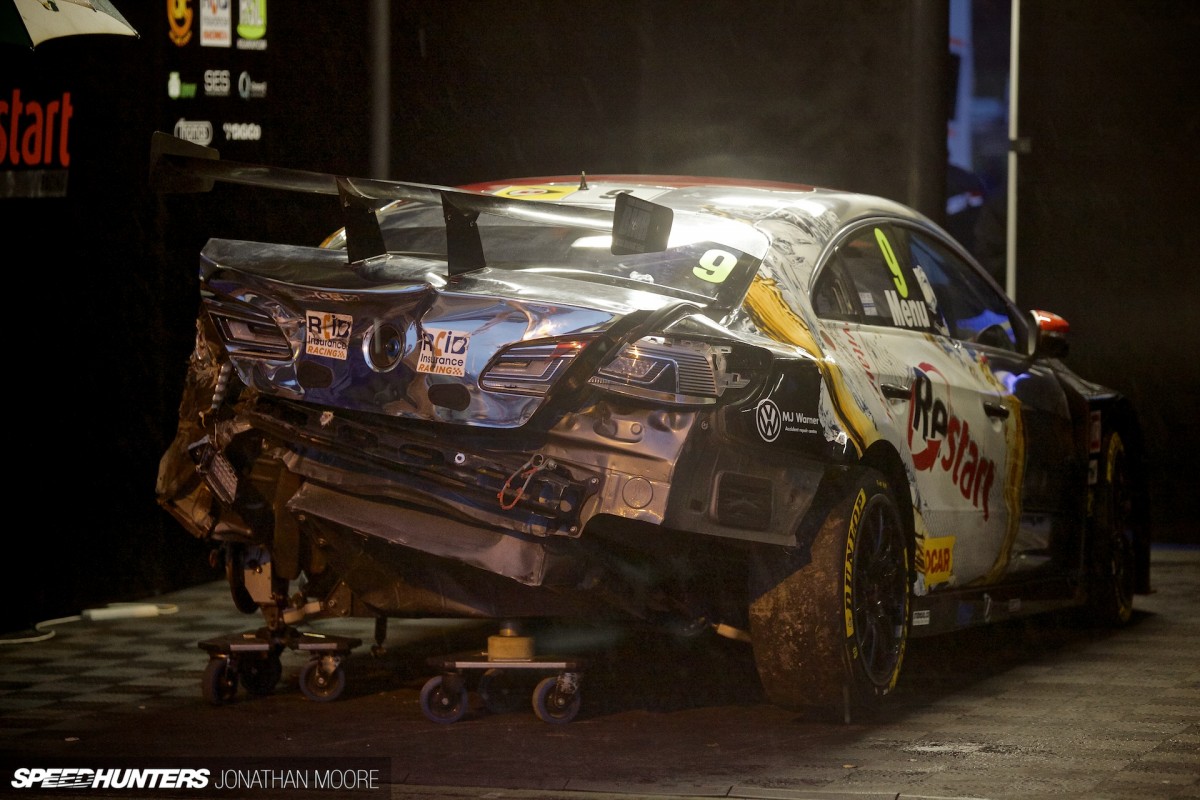 The drawback is that they may have started the Brands Hatch weekend with four cars, but they went home with most of them in considerably more compact form. Ouch. It's going to be a long winter.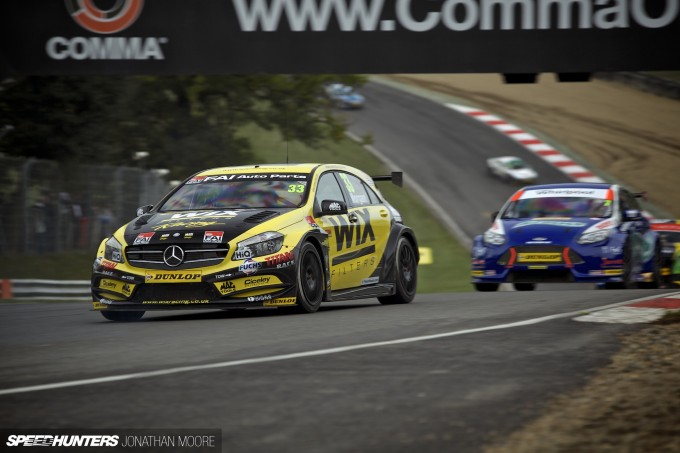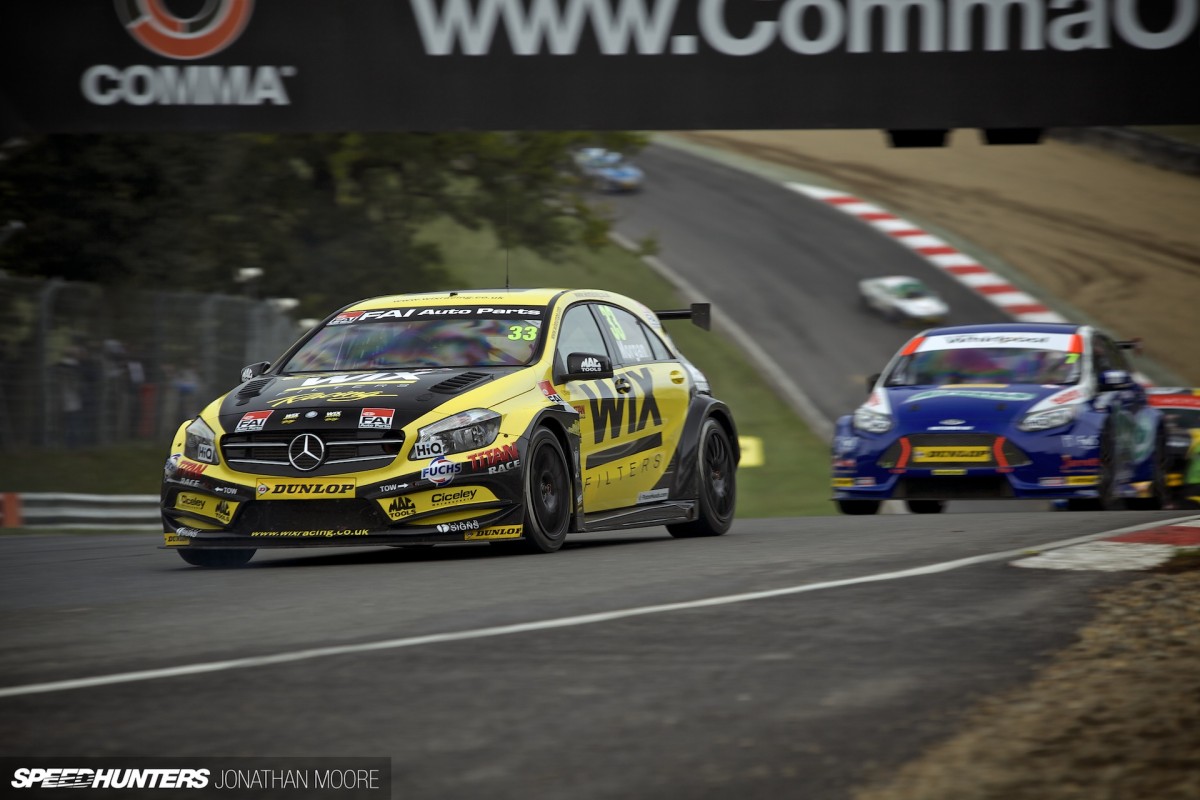 I like big cars and I cannot lie; you say you wanna get in my Benz? Adam Morgan is another young driver who's family-run team (a typical hallmark of BTCC squads) have brought a Merc into the BTCC for the first time in the series' history. I just love seeing these private teams coming in – and being able to win.
You Mean You Don't Like Fun?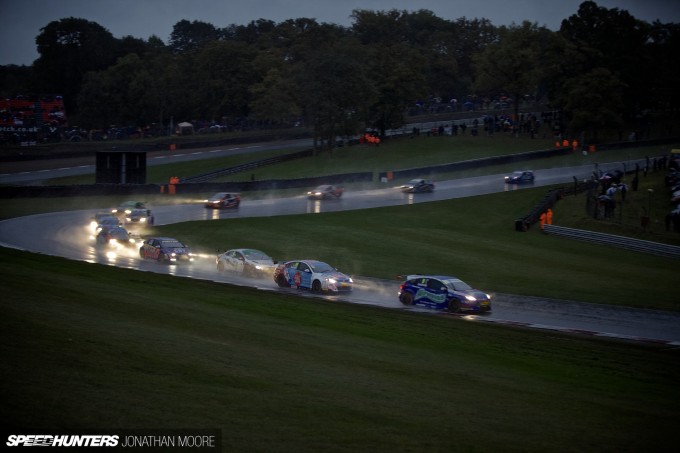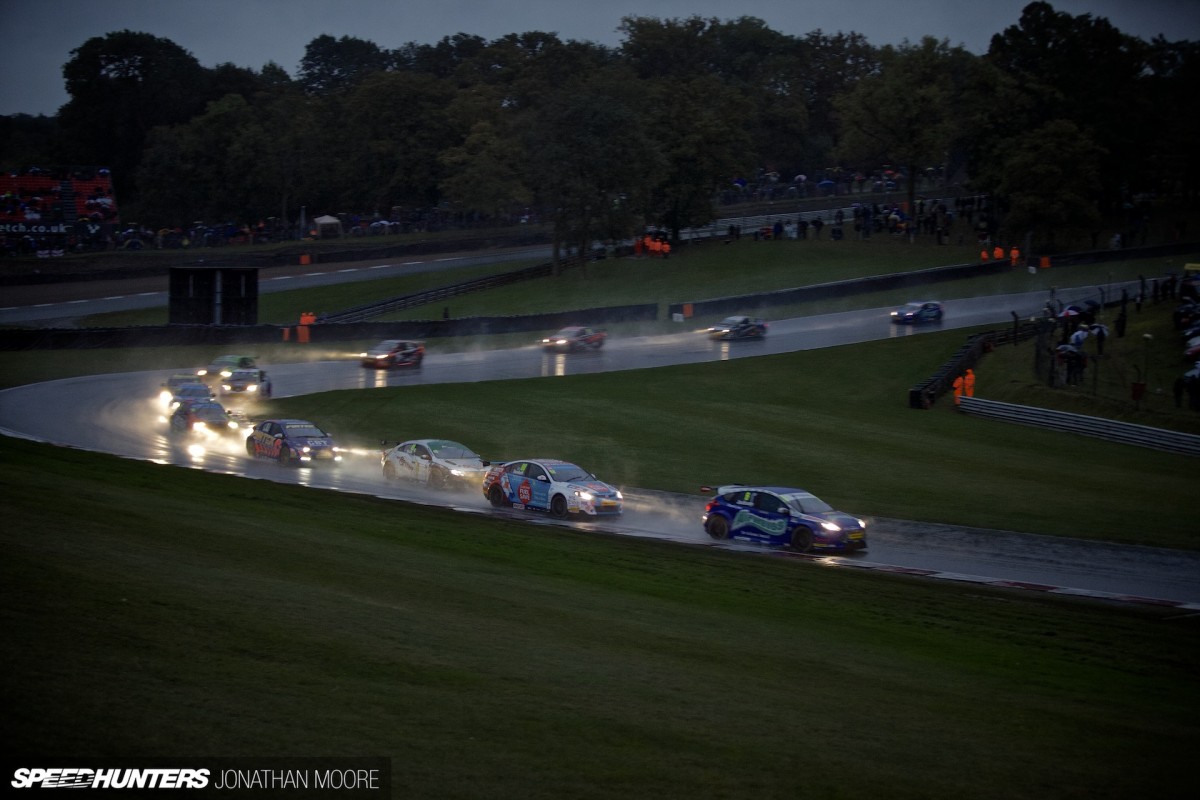 With its performance balancing in the name of the show and skew firmly towards openness and panel-bashing entertainment, racing purists can get all sniffy about touring cars. Then again, they probably don't know what the word fun means. Or entertainment… The tens of thousands that braved out the appalling weather to catch the final race of the day showed where they stood on the matter.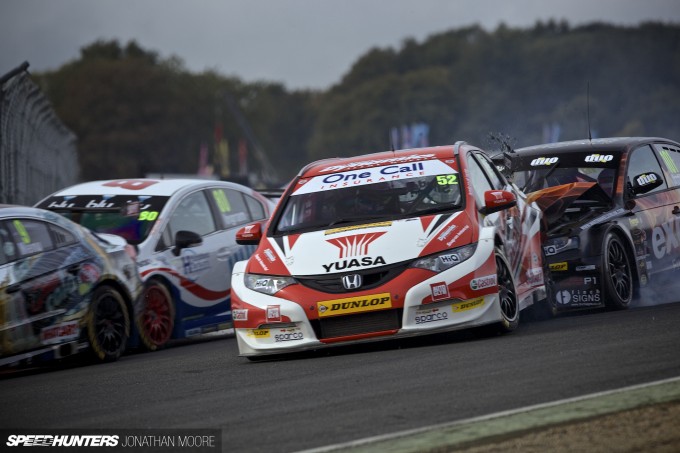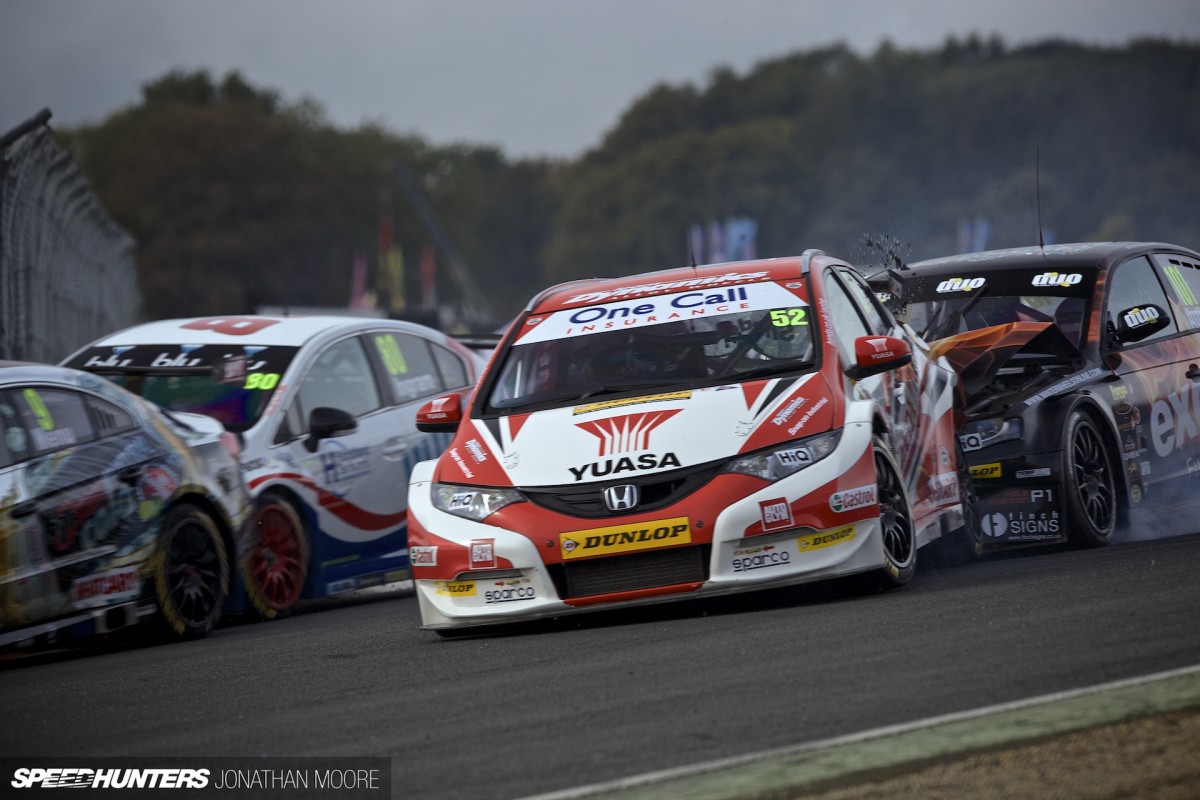 Sure, I love endurance racing, Le Mans is my temple and the Nordschliefe my sacrament. But what's the series that I make sure I catch on TV without exception? The BTCC. This is proper racing, no concerns over ERS levels or when DRS is deployed, just a whole load of racing, period. Yes, you can talk about turbo tweaks and weight breaks, but I wouldn't be listening… I'd be watching the action!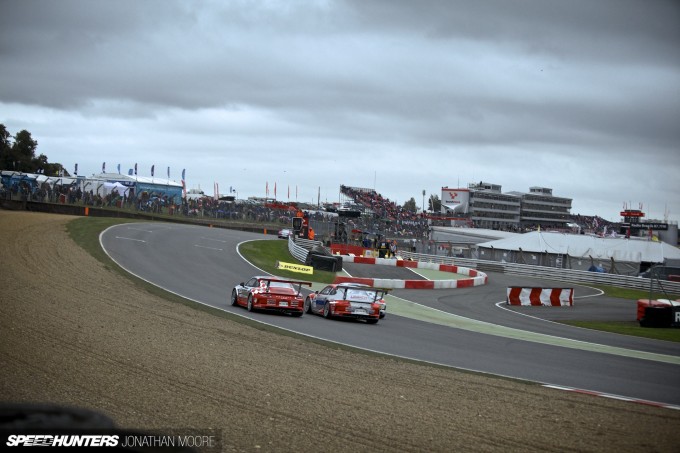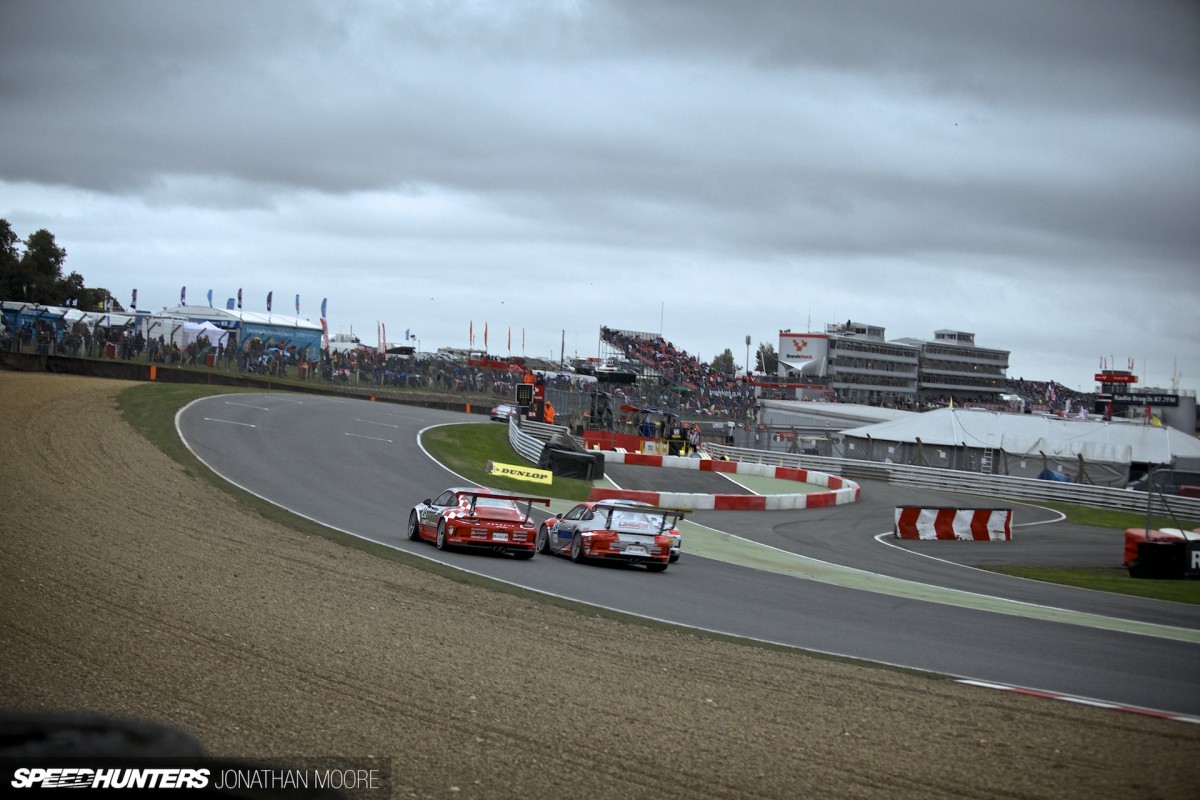 Although I usually try and make it to a couple of BTCC rounds a year, I hadn't seen any races live in 2014. This was an unacceptable situation. As well as the three BTCC races, you also get two Ginetta GT series, single seaters, the chaos of the Clio Cup and a posse of Porsches in the Carrera Cup. And donuts. I couldn't miss an entire season.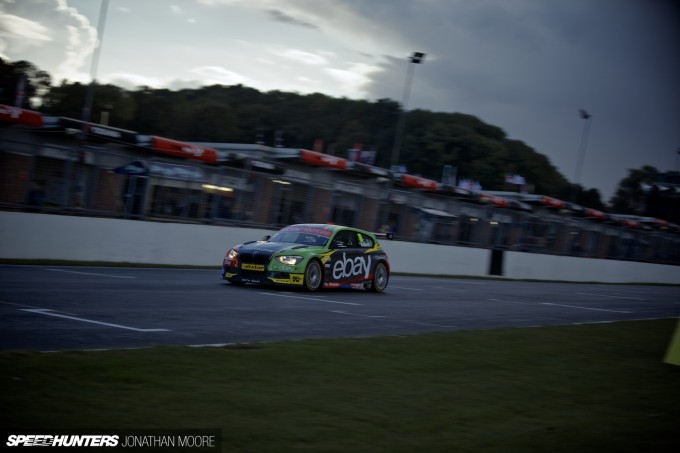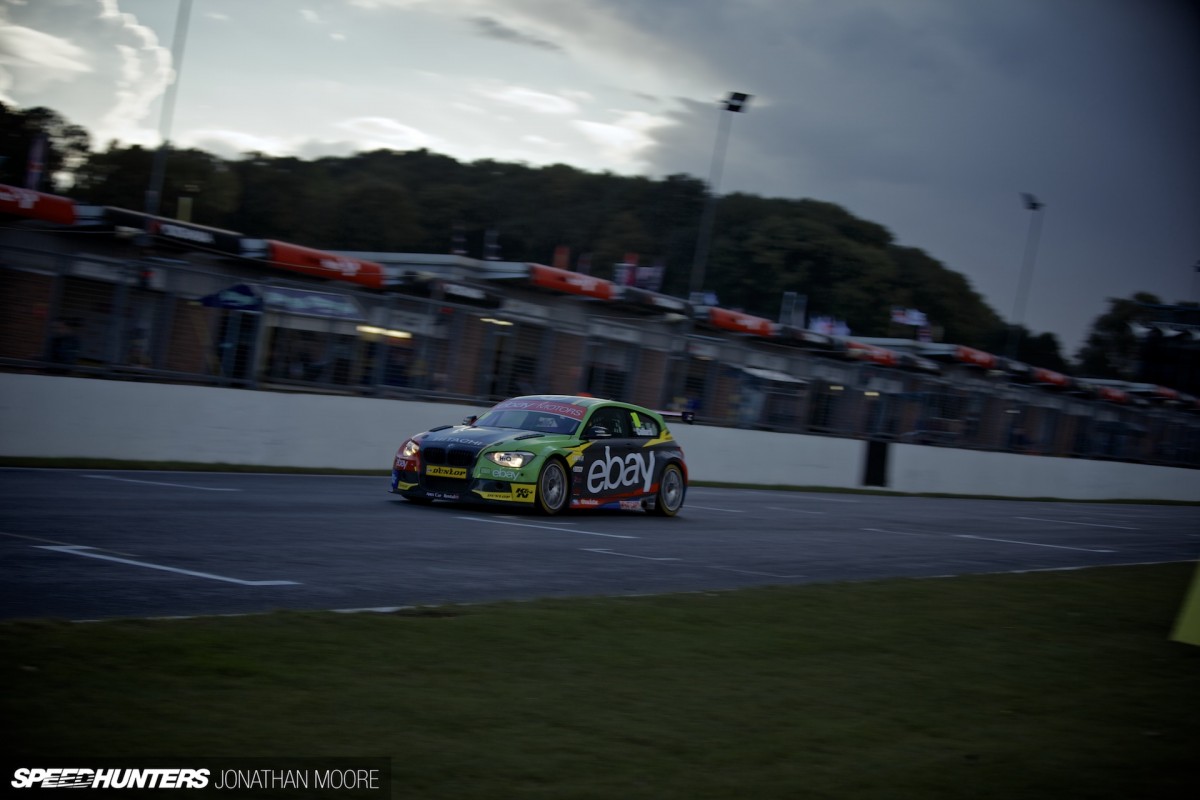 So with Brands Hatch just half an hour down the road for me and this being the finale of the 2014 season, whatever happened I was going to be making my way down to Kent, come hell or high water.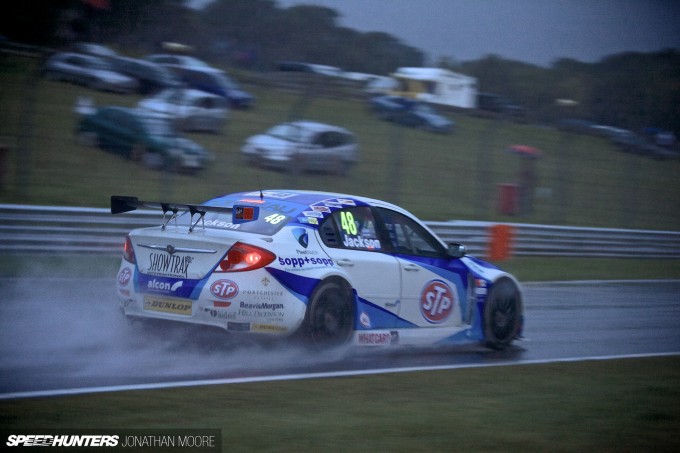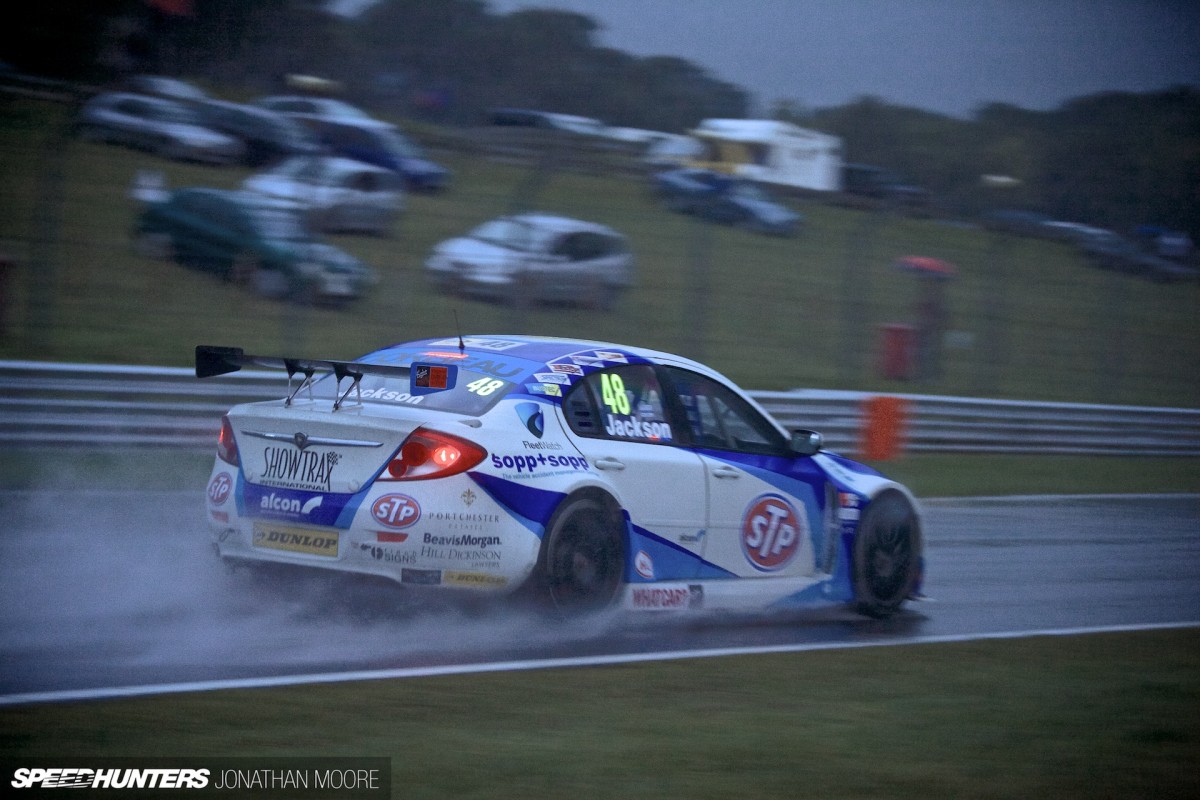 Oh yes, water. There was quite a lot of that for the last race, it turned out.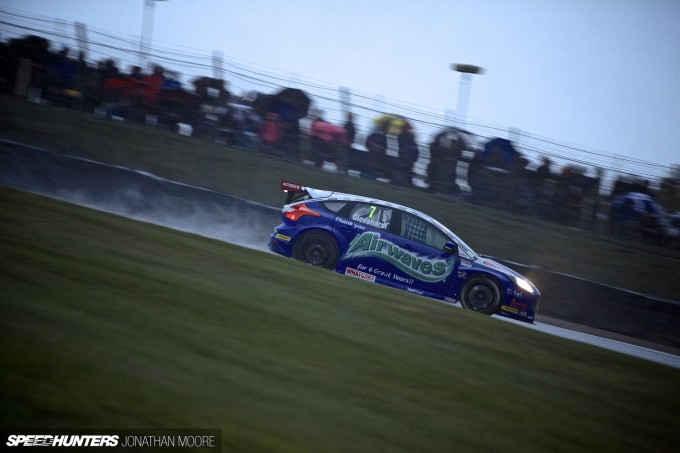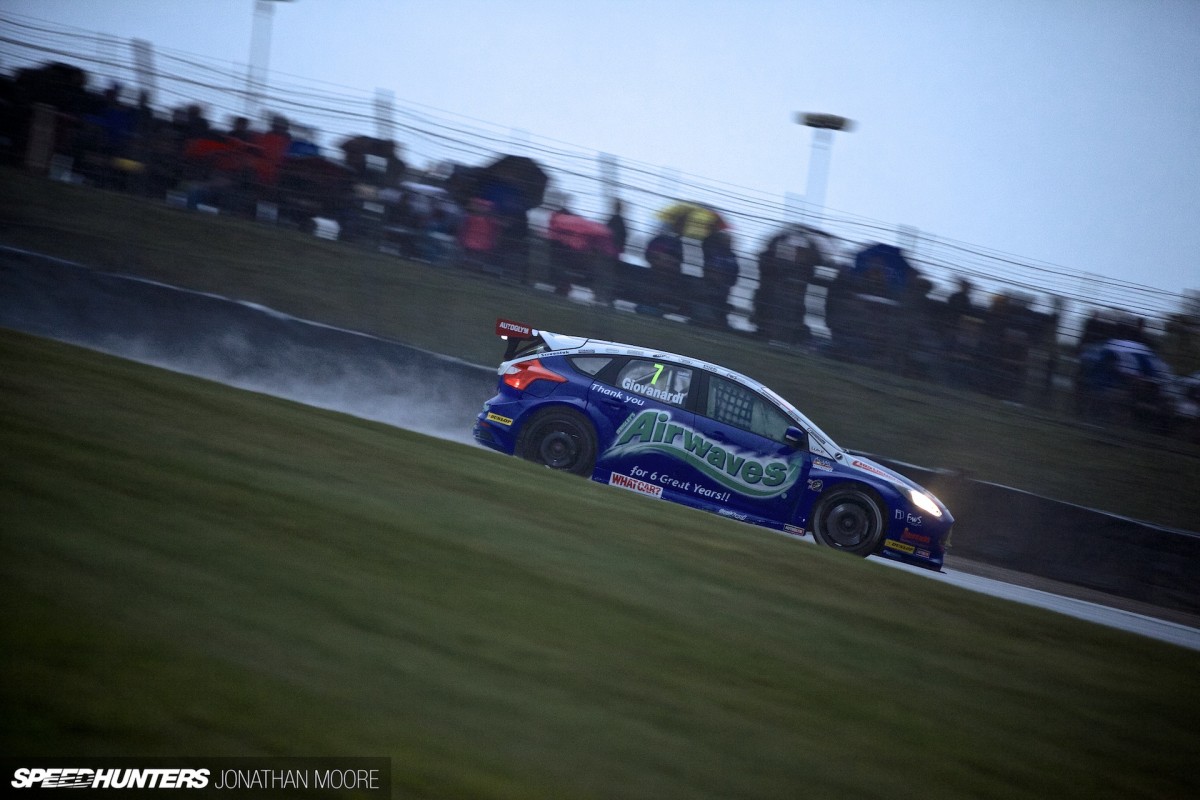 The previous morning over breakfast with some friends, I was full of bravado for the weather. Let it rain! It makes for better shots! Whilst desperately thumbing the weather app for updates and praying it wouldn't actually rain…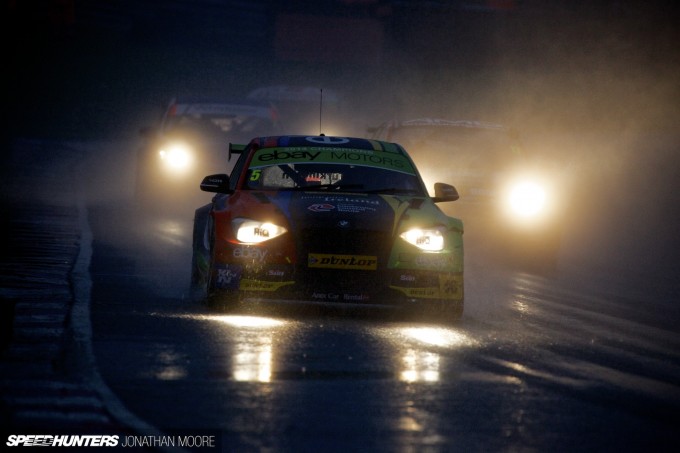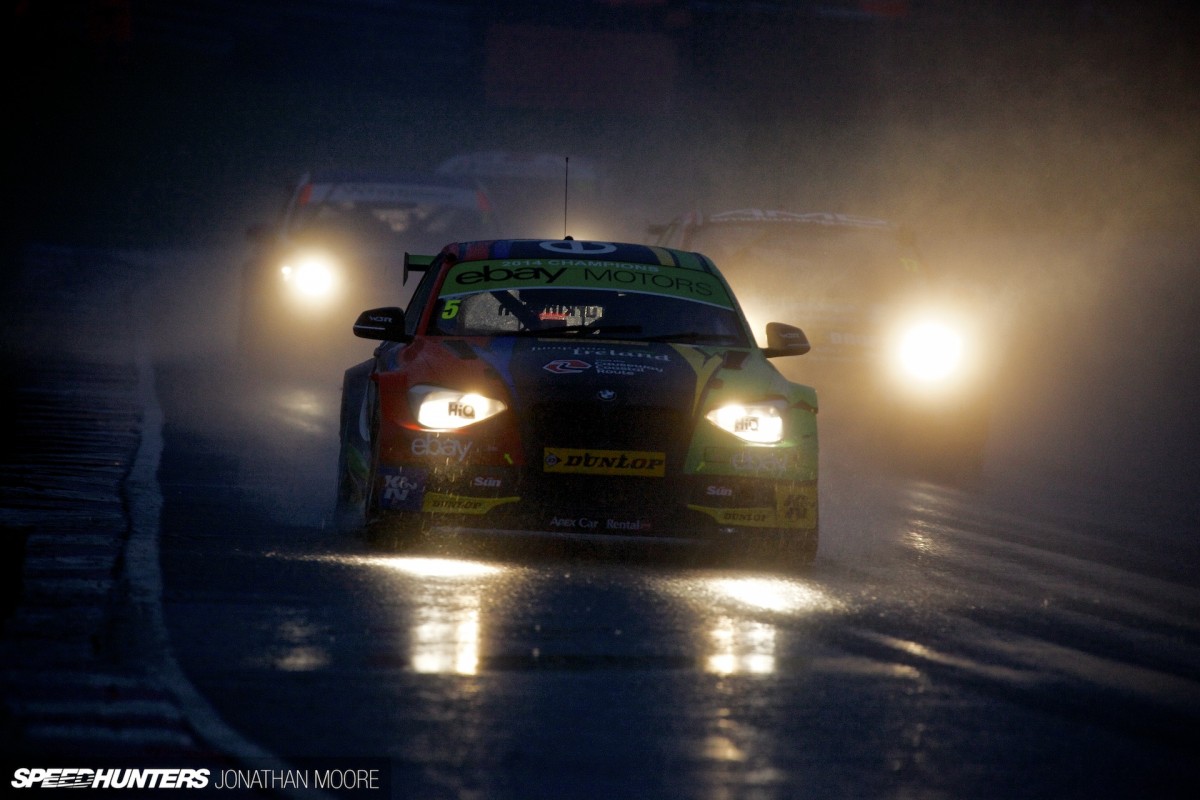 However, despite the numb fingers, soaking clothes and mud-caked boots I carried by the end, it wan't all bluster. Last year's Brands weekend was like shooting in Mordor, all fog and dark, and it was actually really good fun. So, I really was secretly pleased when the weather turned as race day wore on.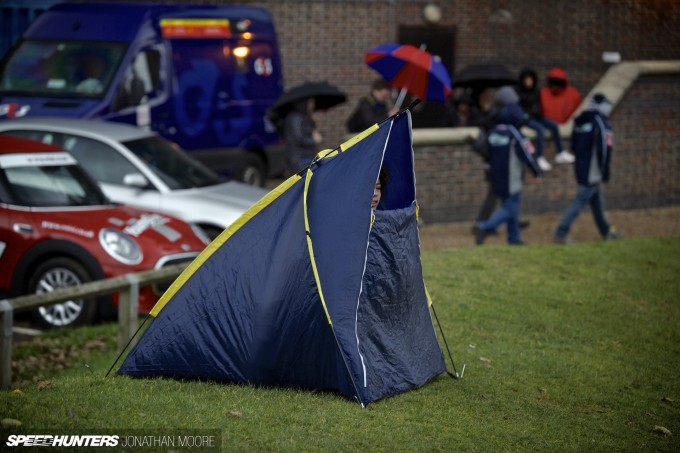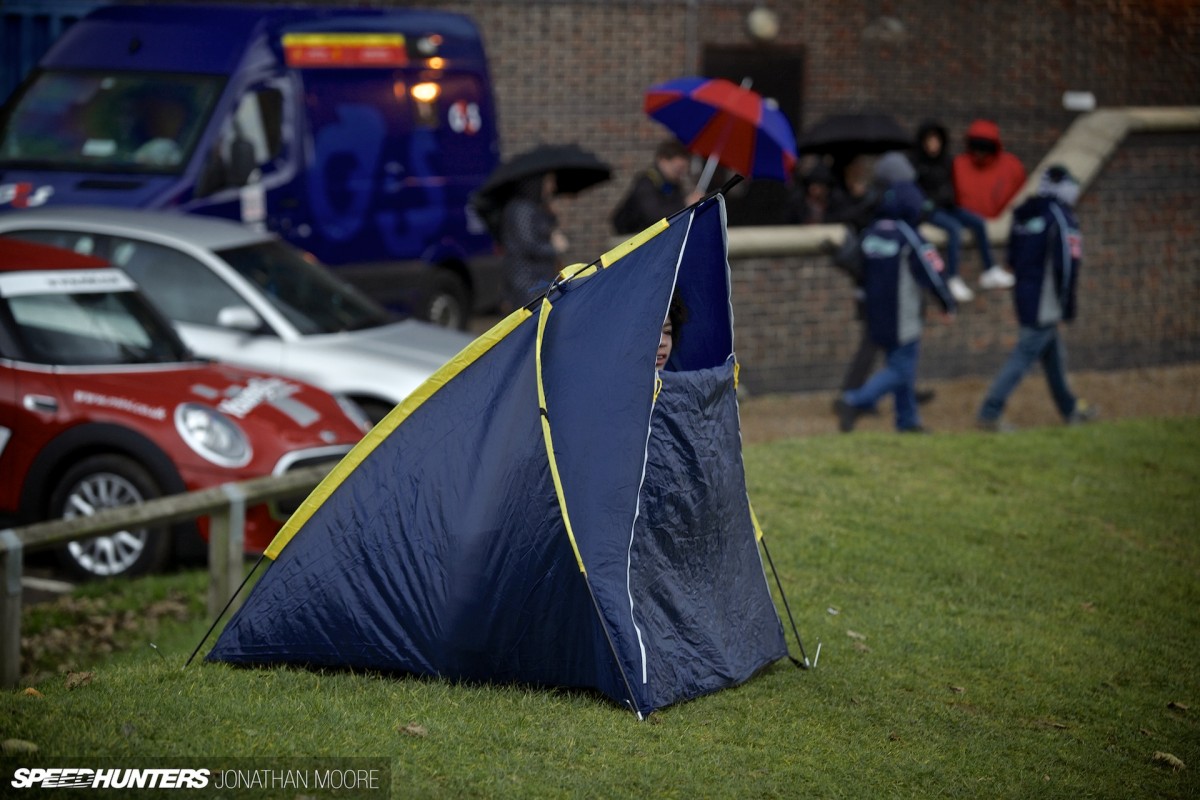 I'm not sure how much my enthusiasm was shared by the rest of the fans at Brands, but everybody found ways of coping. Best tent ever?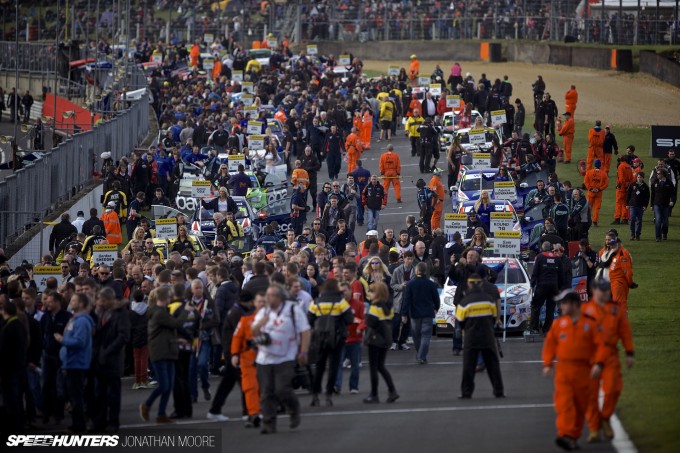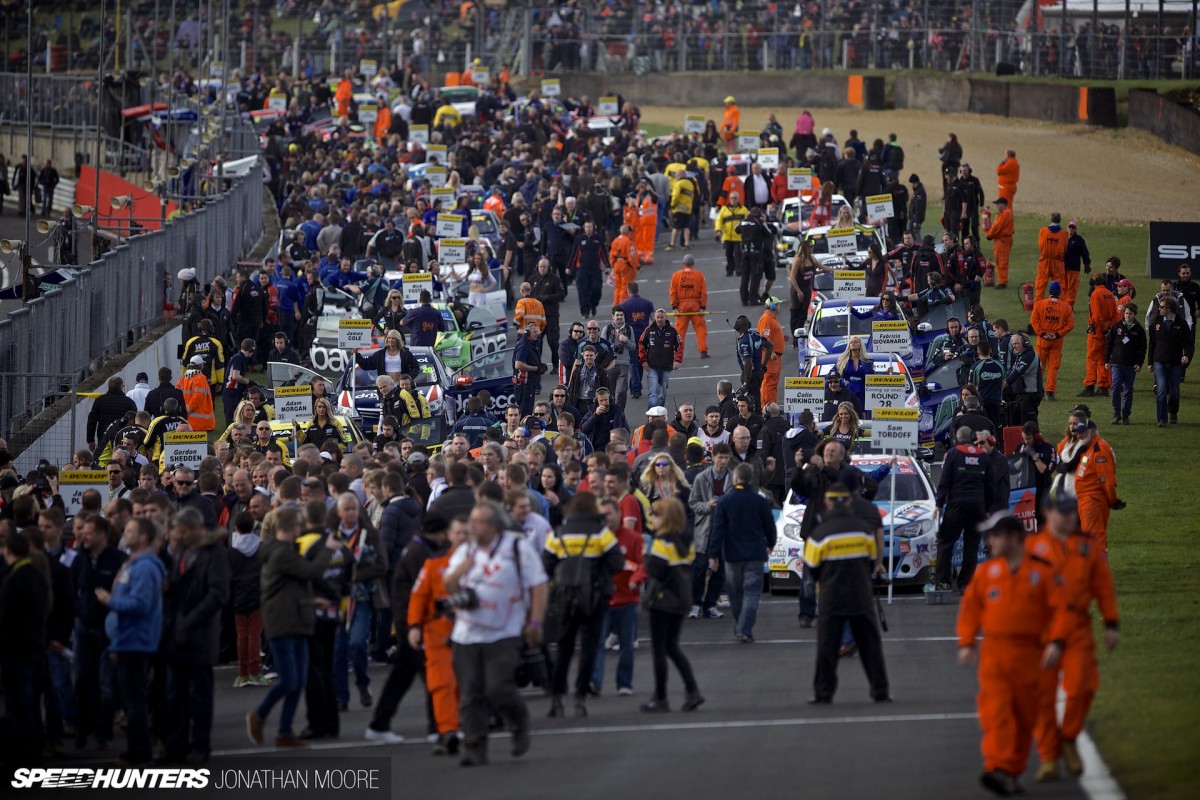 Brands Hatch is one of those properly iconic tracks – you can mention it in the same breath as Spa-Francorchamps, Laguna Seca or Interlagos. All tracks with character and rich histories. But Brands has one important difference: how easy it is to spectate at.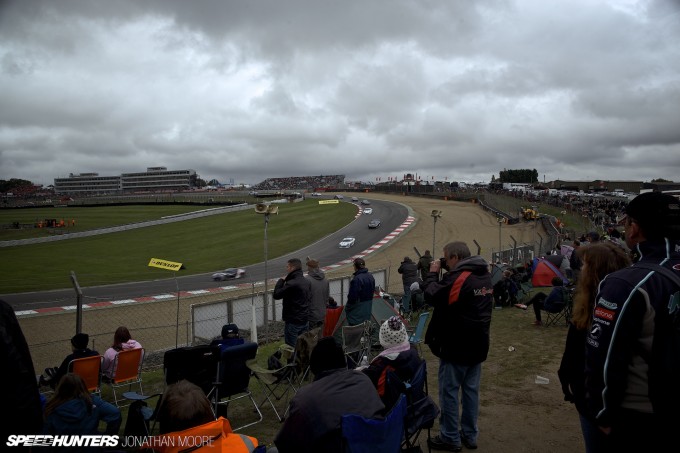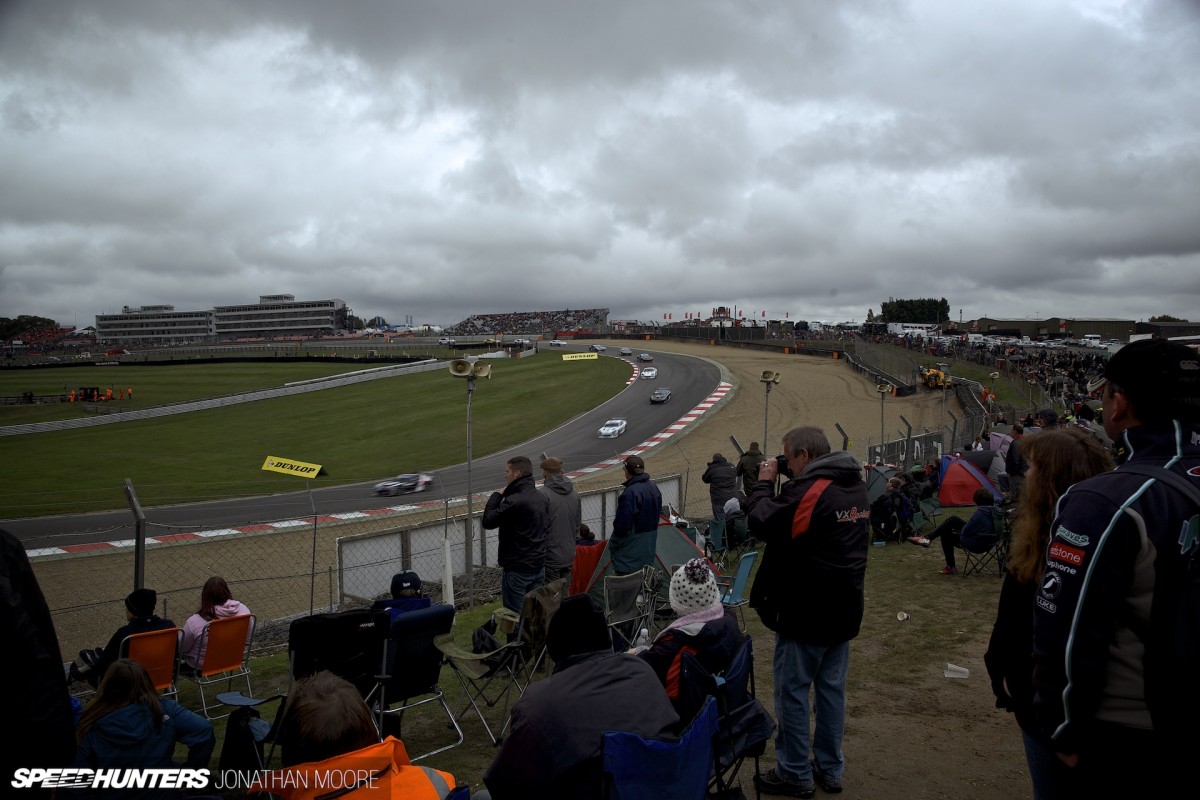 I'm sure that's why it gets such strong turn-outs. If only the Indy layout is in use, you can see virtually every corner of the track from most positions, spread out as it is across a valley. The classic viewing spot on the outside of the first bend, Paddock, is surely one of the best views in motorsport.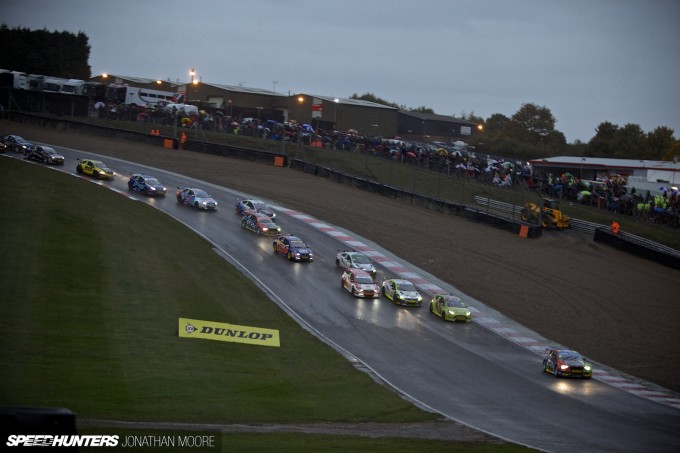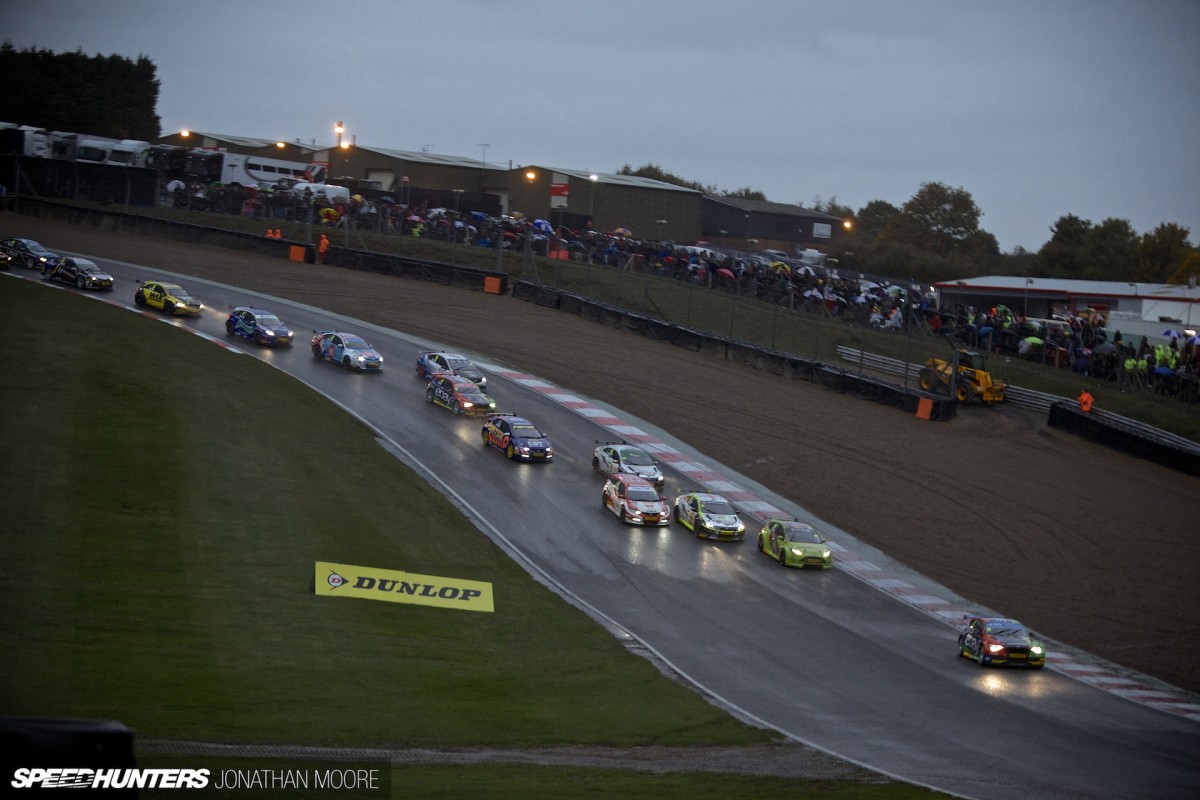 Starts are always fraught. I took a little bit more time on my walk to the first corner for the first race, and I don't think I'd realised how angled the 'straight' on the way to Paddock was – almost like a banked oval! Then there's the bumping and boring as everyone tries to sort themselves out for the steep drop ahead. It doesn't always work out: viz the opening shot of this story – more on that in a bit.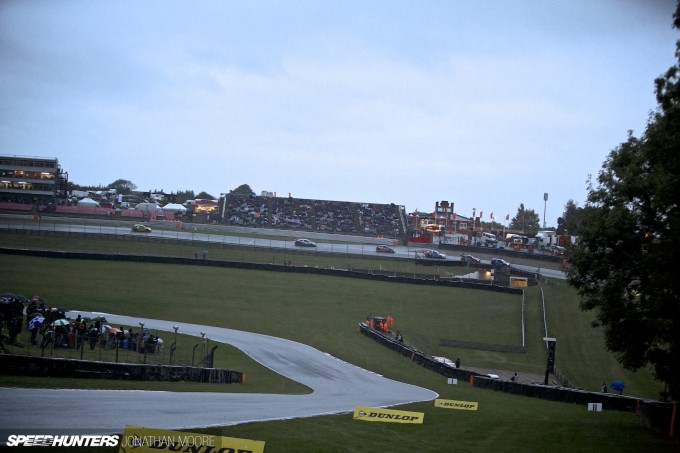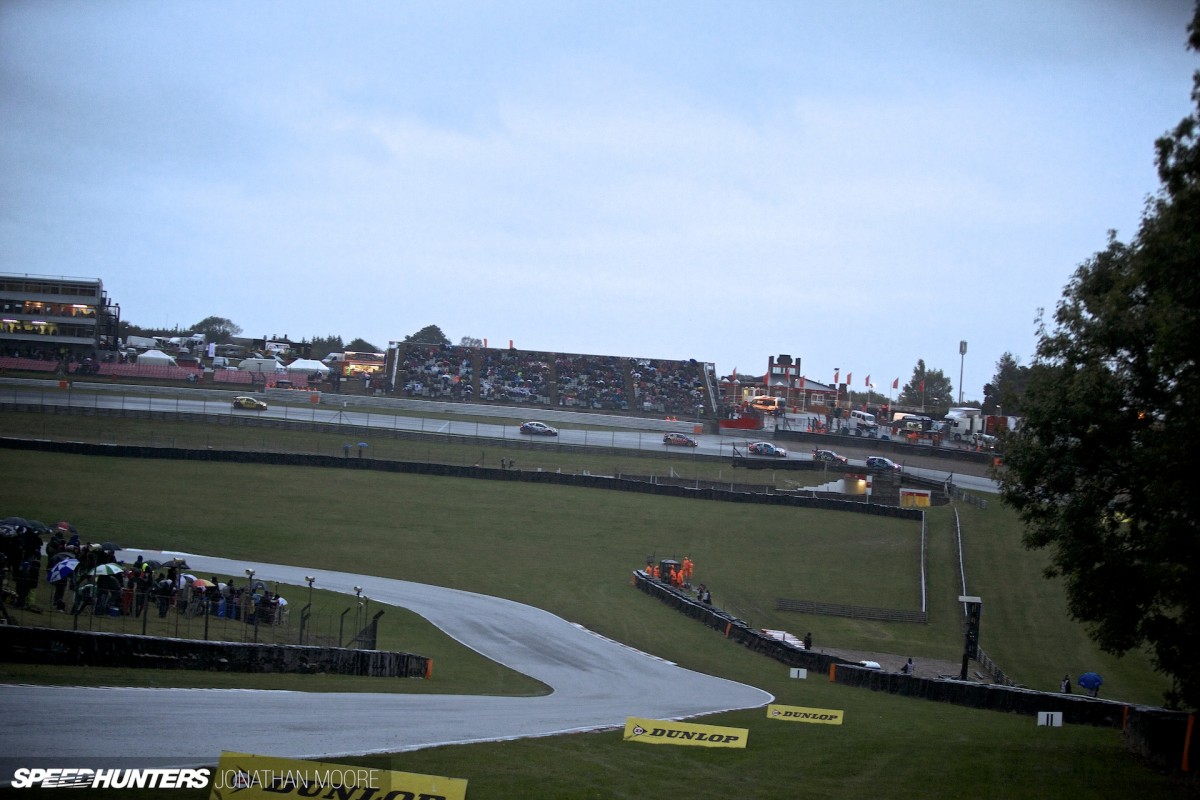 Even from the hairpin up at Druids, you can then see the cars racing across the start-line, dropping down Paddock and up towards you, before dropping back down again on the opposite side.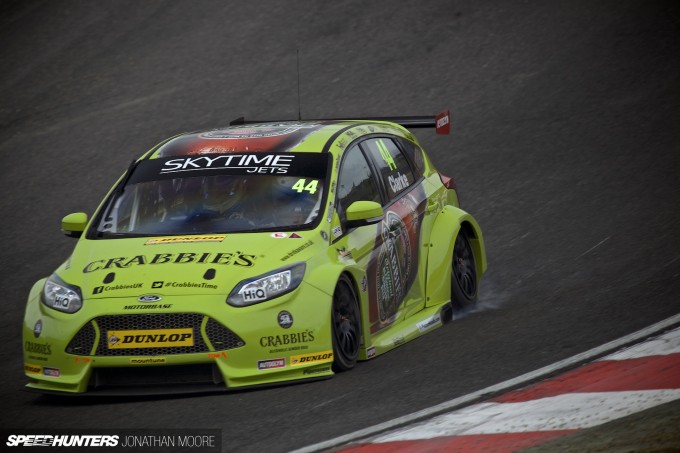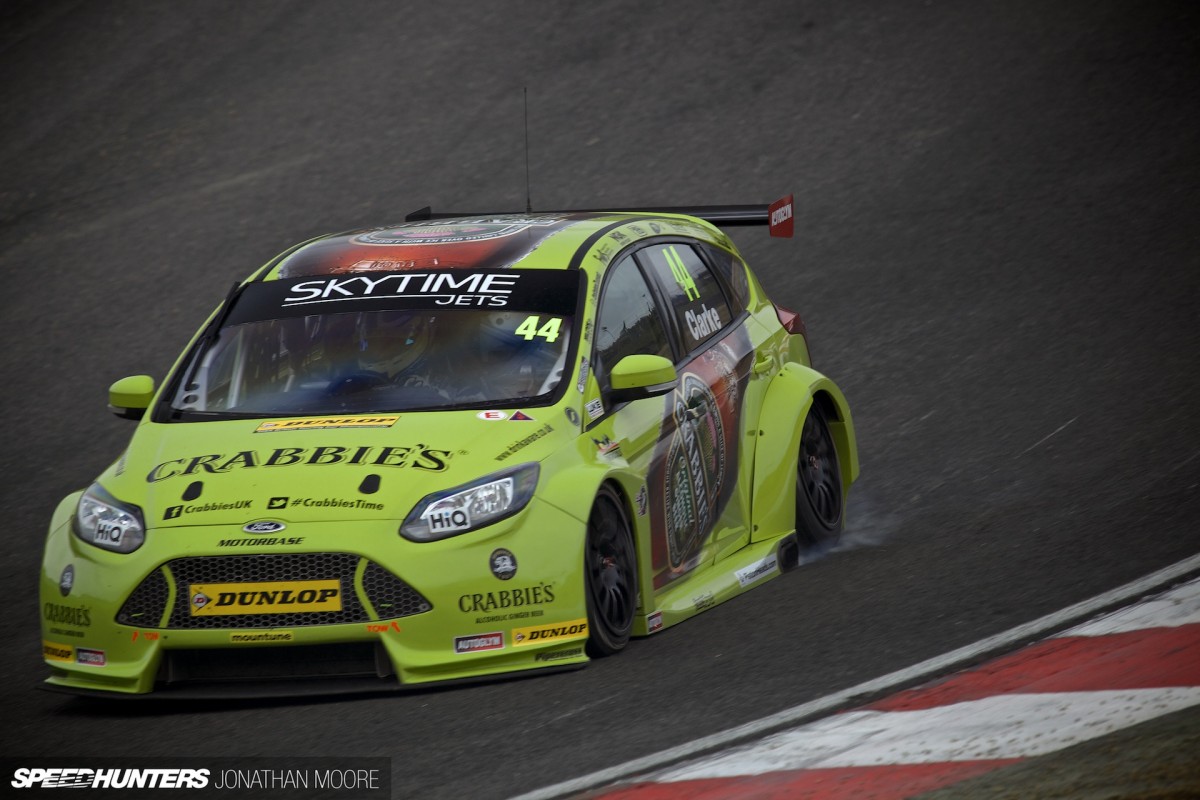 Want an idea of the compression as the cars plummet down Paddock? The suspension is squeezed to its maximum, the cars grinding the surface as they skitter through the concave low-point of the corner. Track days at Brands provide golden memories, no matter the car. It's like Eau Rouge in reverse.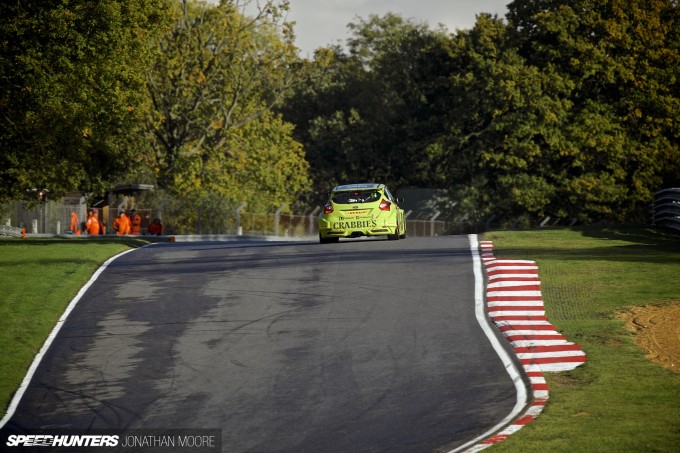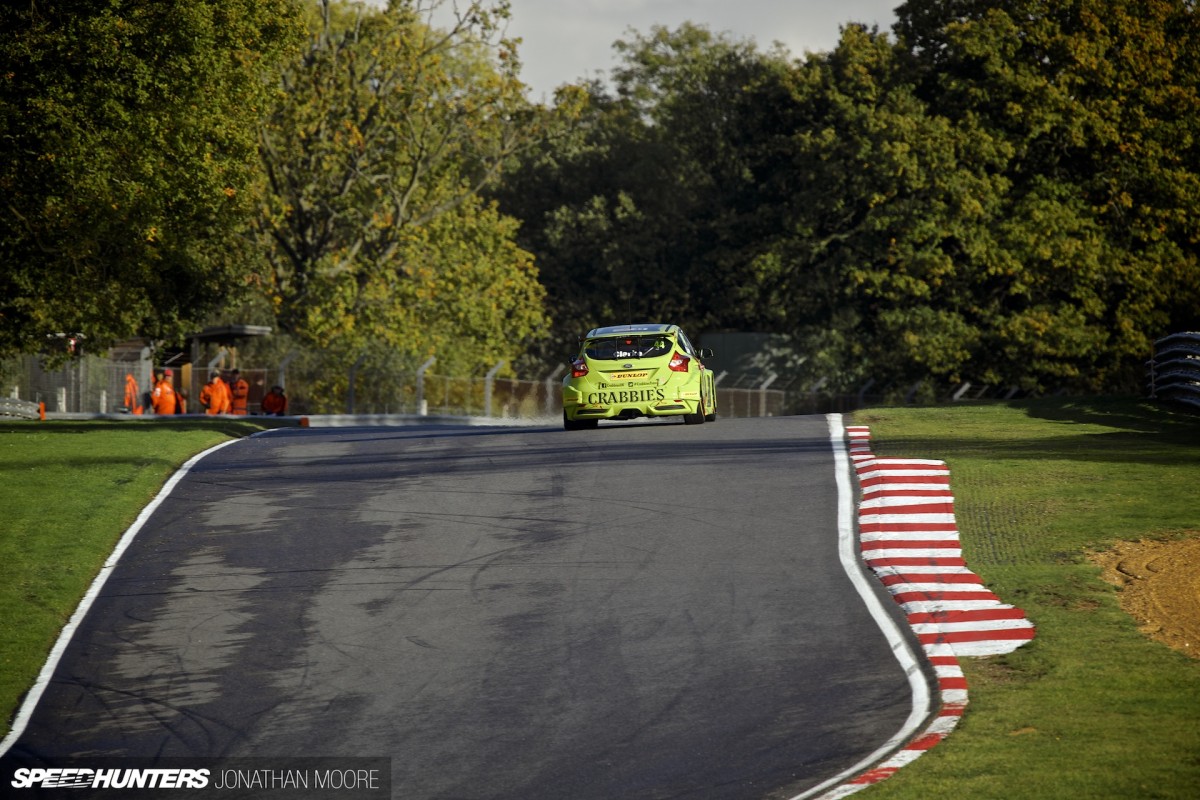 The starting point for the BTCC is usually the Brands Indy track, the finale the full Grand Prix layout, with its long loop out into the countryside. The otherwise excellent PA only covers the more frequently used Indy circuit, so this is fully going out into the boonies.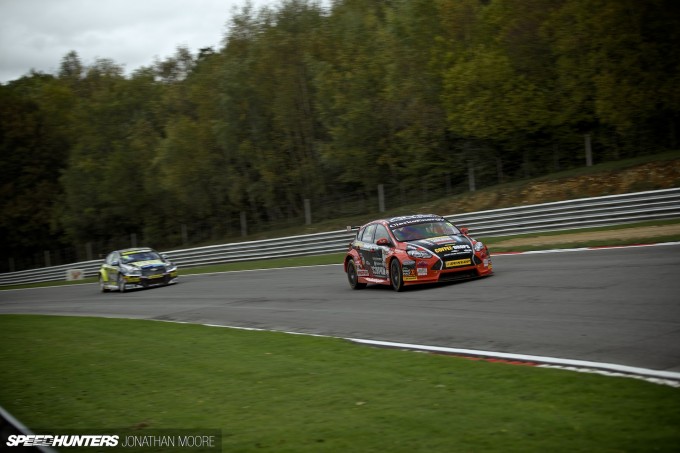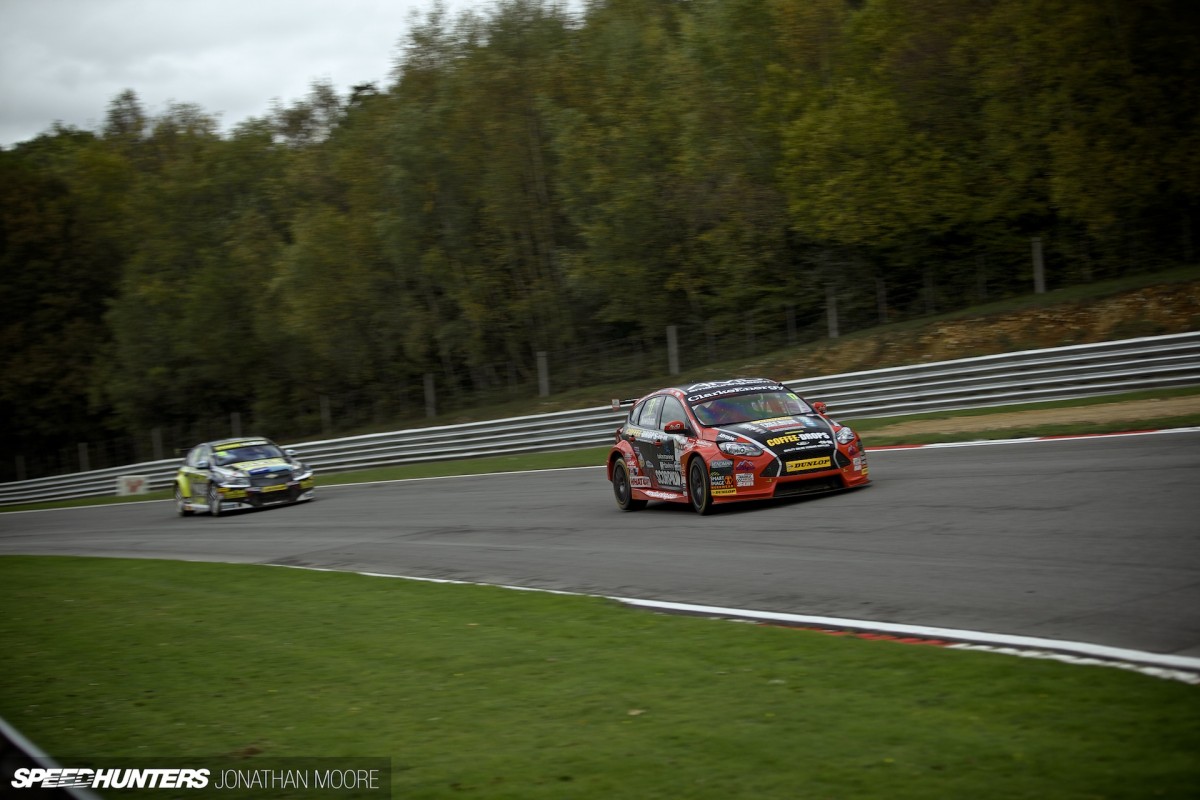 Whereas the shorter layout is non-stop, turning, braking, accelerating, the Grand Prix track is balls-out, full throttle. The corners are immense. Spectating on the inside of Hawthorn, for instance, touring cars look like completely different beasts. Fast and furious, heeling hard over as they crest the rise for the long, opening corner. It's a breathtaking bit of track, where you really see the cars being pushed hard.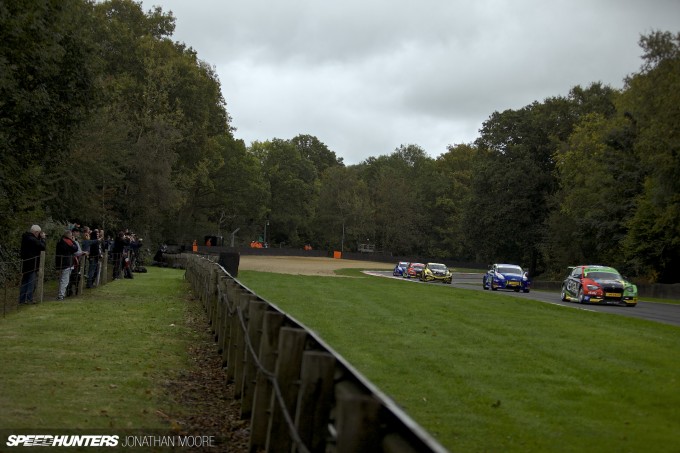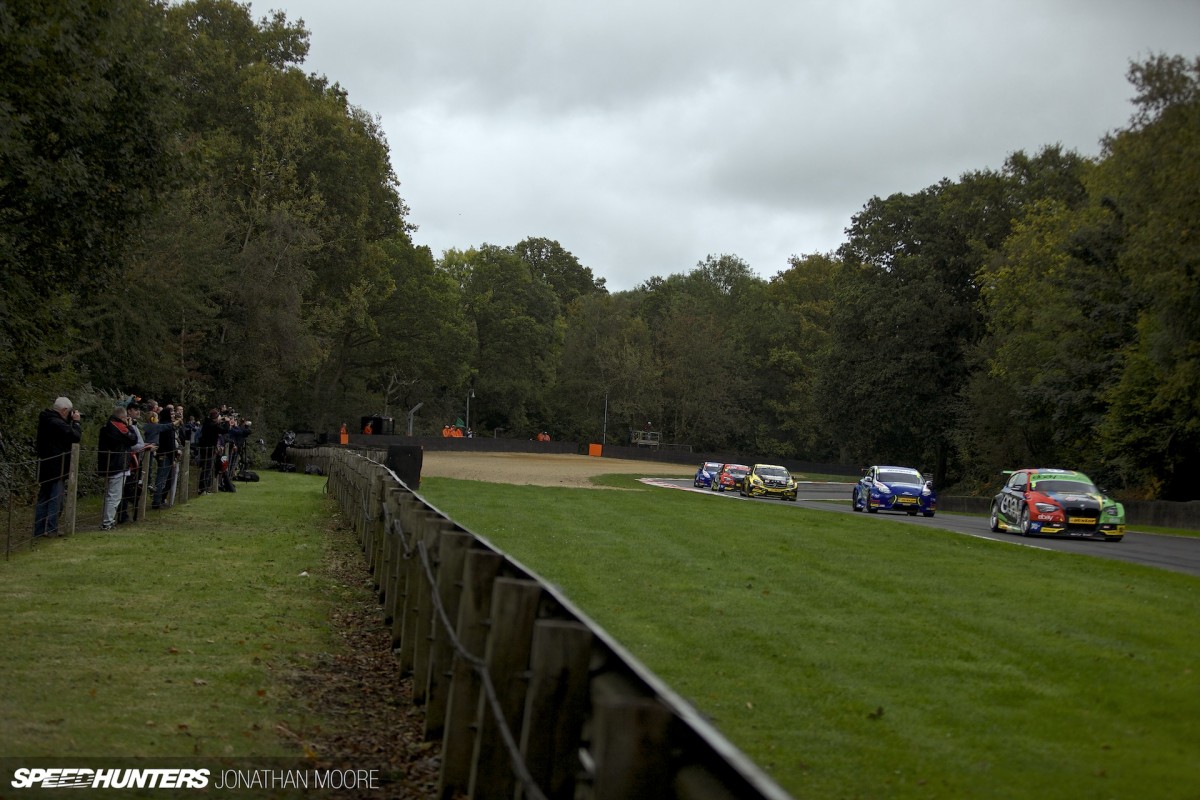 With this part of the circuit not often used, thanks to locals whining as much as anything, it's a must to hike out to. We're rewarded with a completely different experience, and it's not like you're much further away from the track. There are some amazing spots for budding photographers, with only low barriers between you and the cars.
R Is For Racing, H Is For Honda, P Is For Pork Pie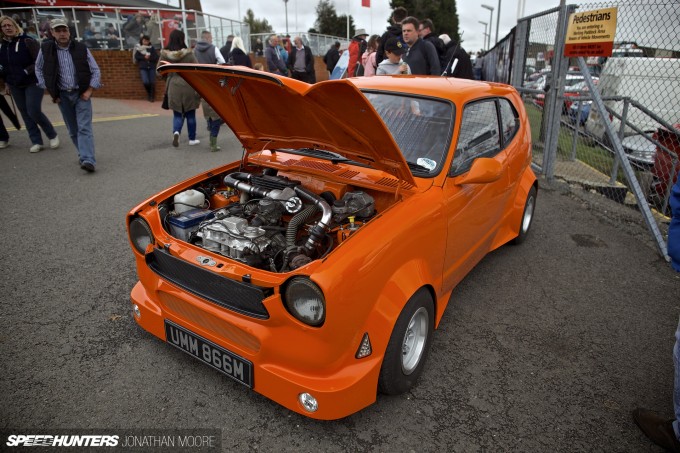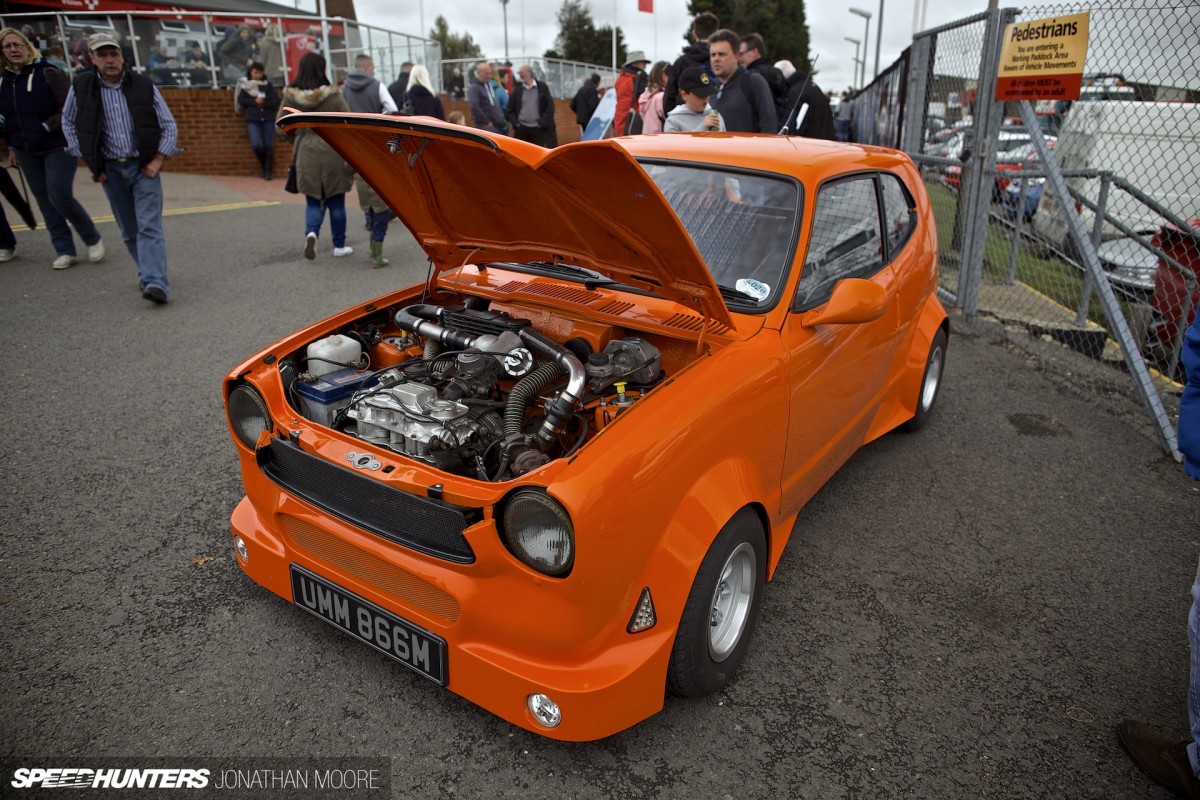 Touring cars are all about road relevance, and an unexpected treat at Brands was a small collection of Hondas from the UK owner's club.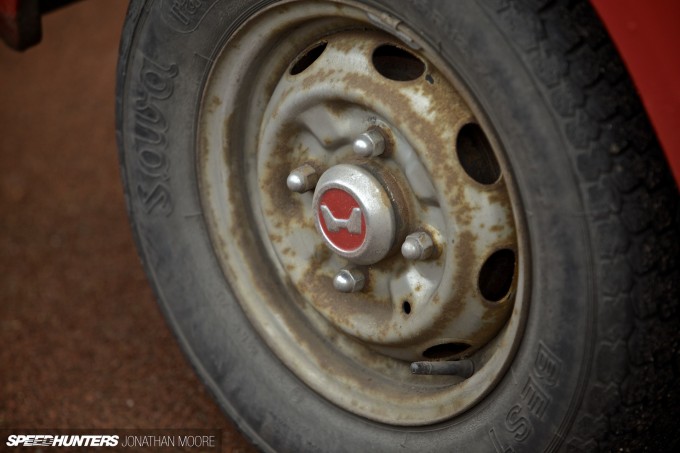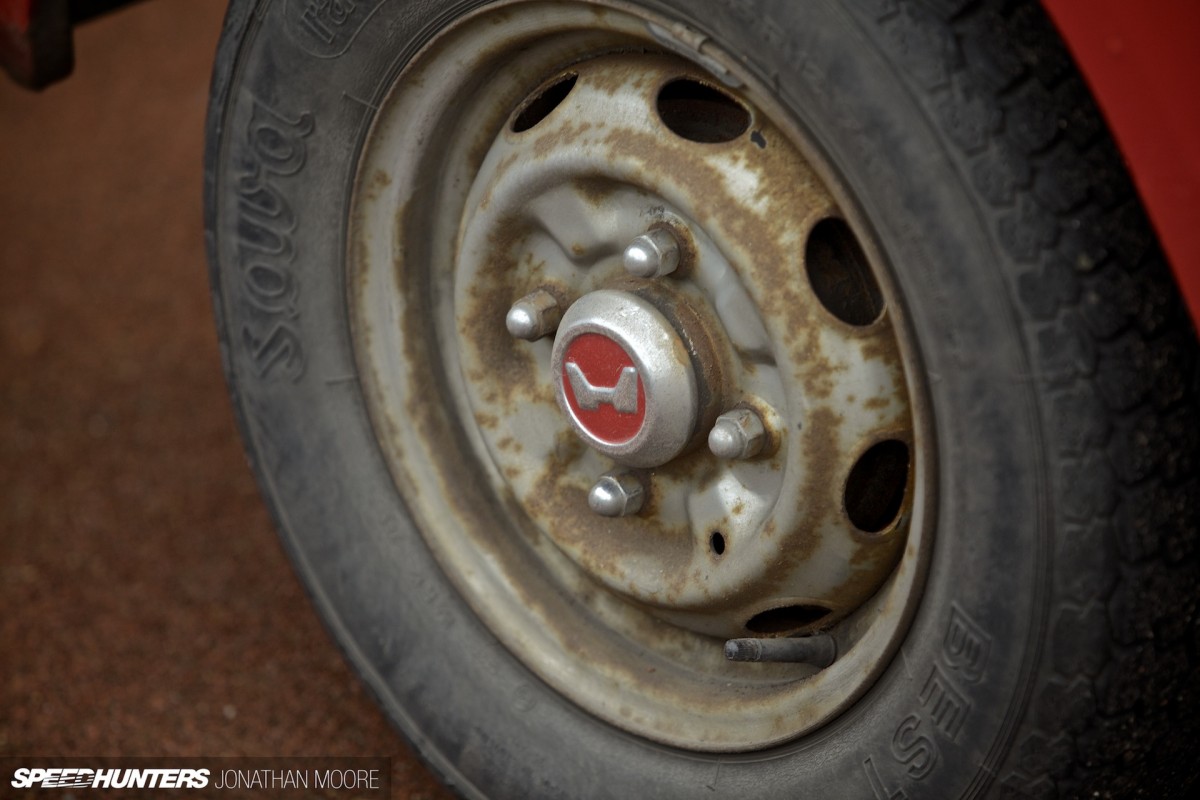 Club gatherings and marque displays always seem to be encouraged in the BTCC; a couple of years back there was an amazing line-up of old Ford racecars from across the decades.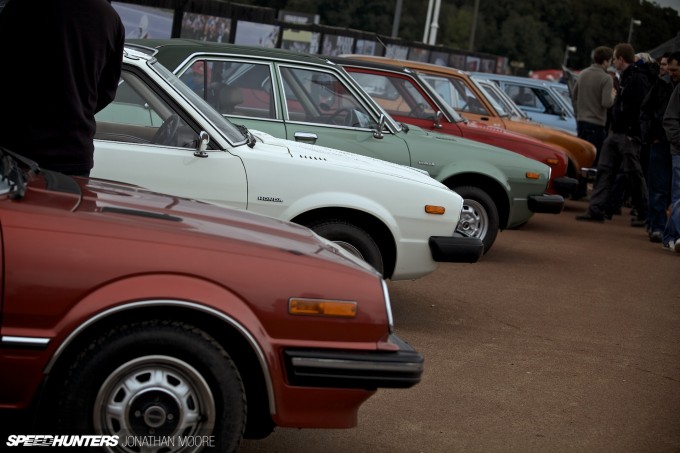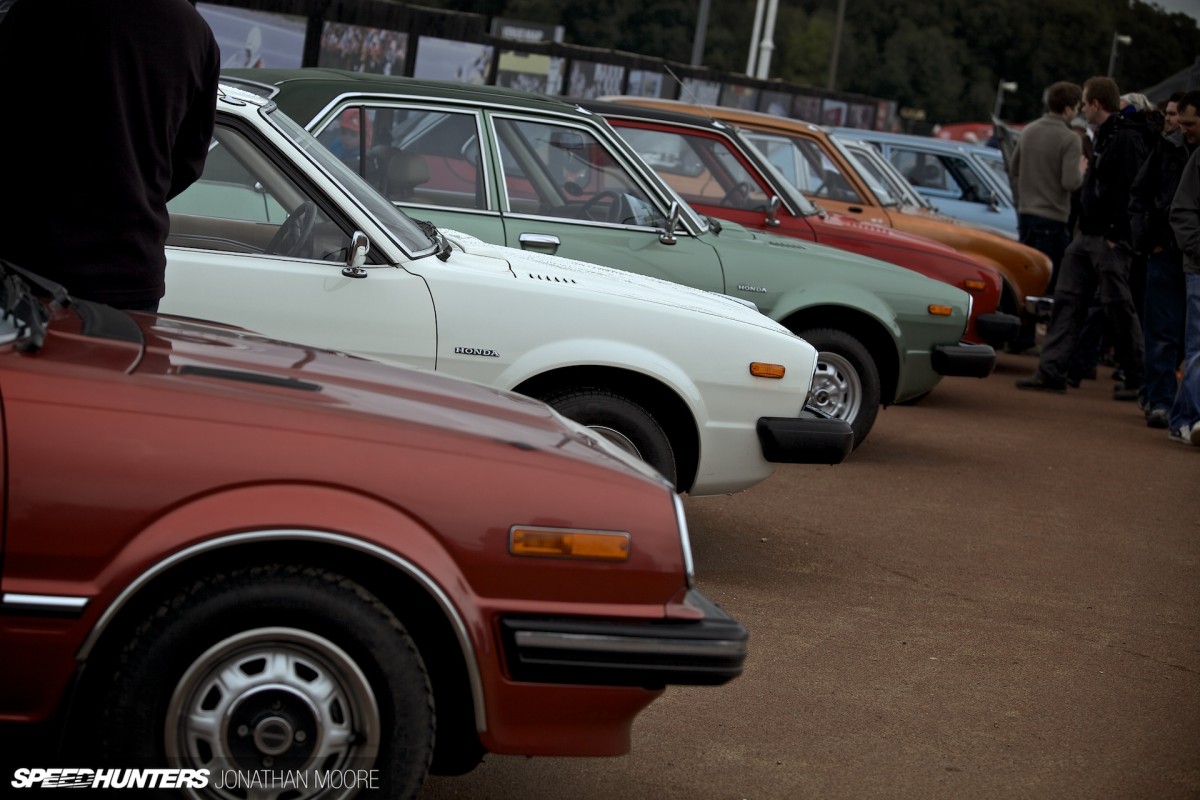 This time old '80s Accords and Civics were given the star treatment – the new generation Civic Type R is expected to be on the BTCC grid next year.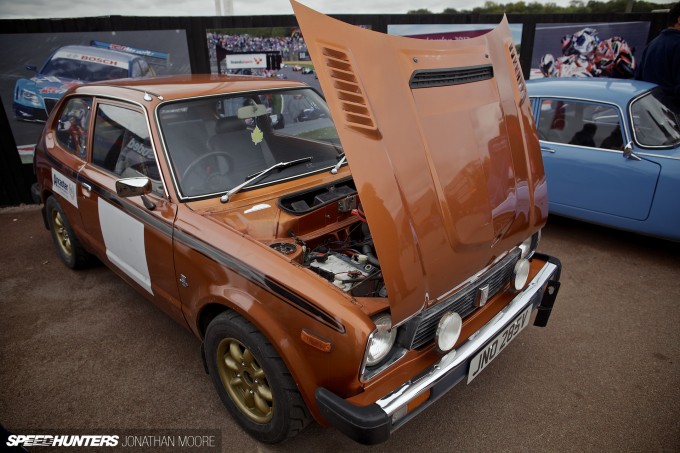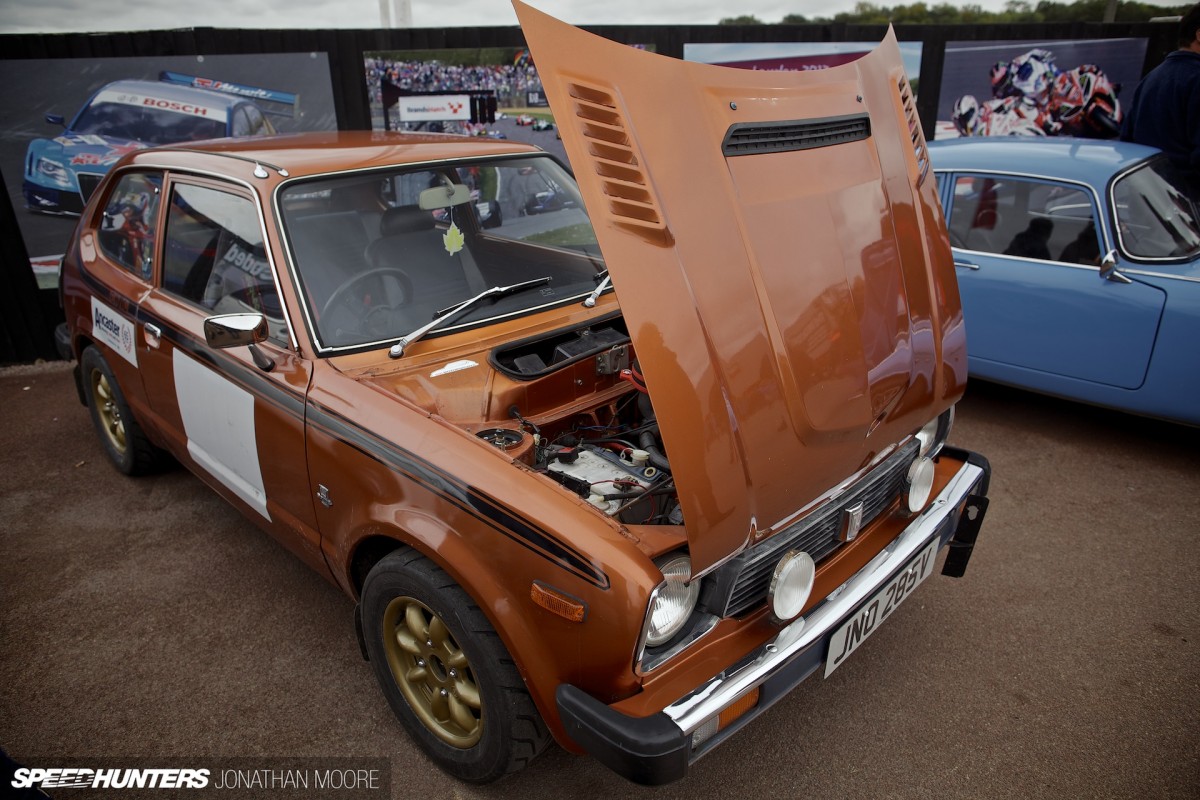 I'm sure I'd seen this hot Civic at the Crystal Palace spring event a couple of years back.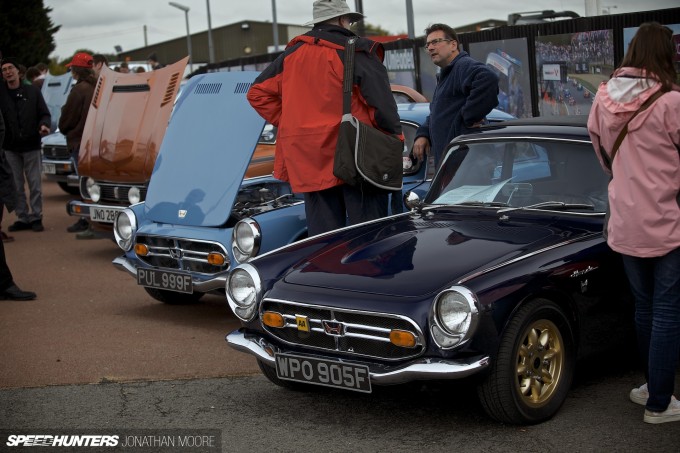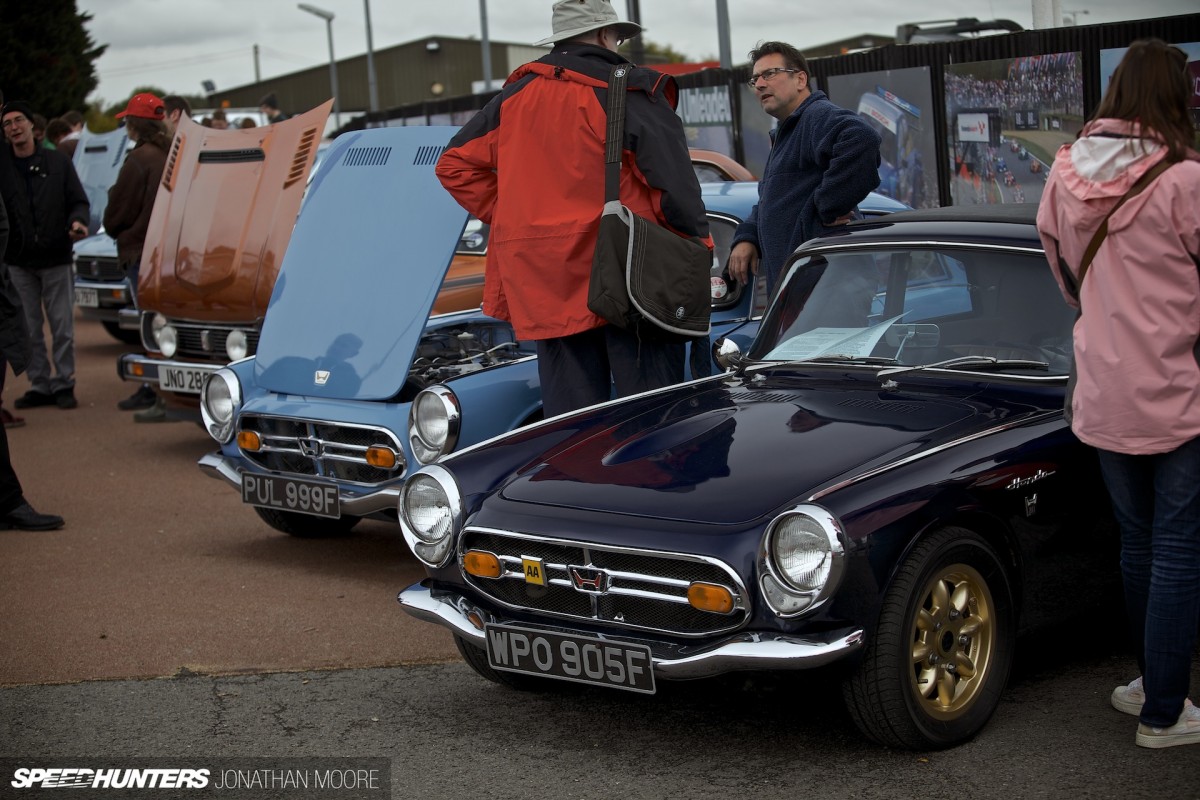 The highlight for me was this pair of S800s: really nice little sports coupés that remind me of Triumph TR6s.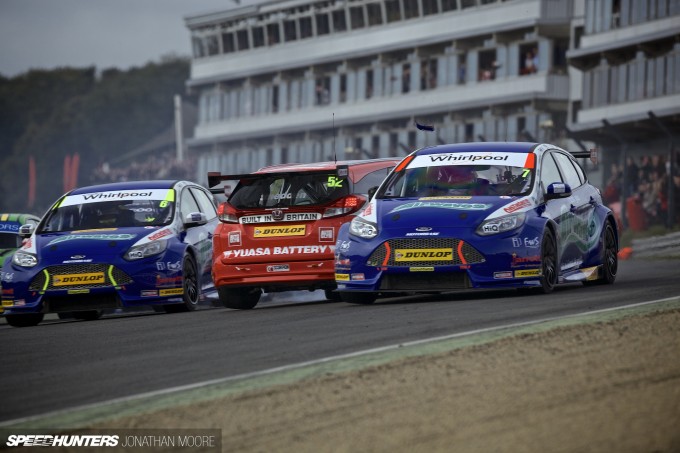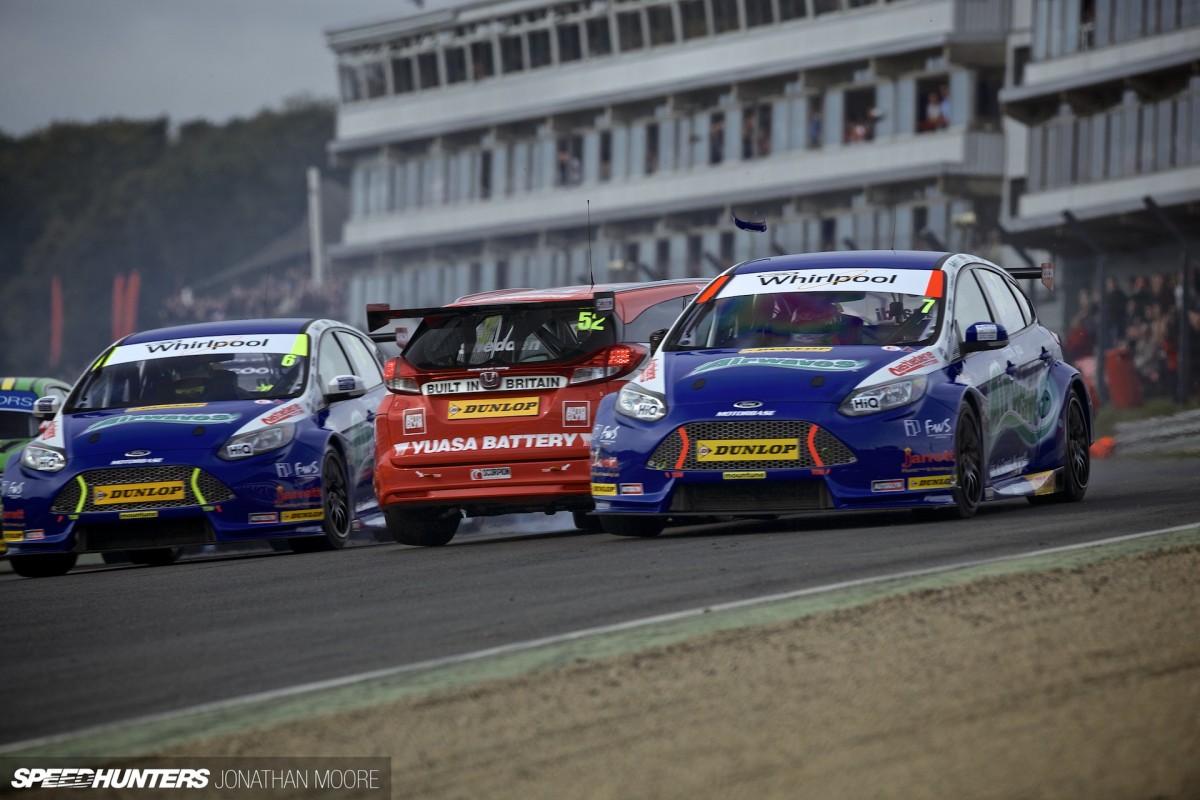 So that first corner of the first race then… The accident started in the braking area, and as the cars inexorably came on Gordon Shedden's Honda was turned around and carried through backwards, sandwiched by cars either side and pushed on by those behind. It was never going to turn out well.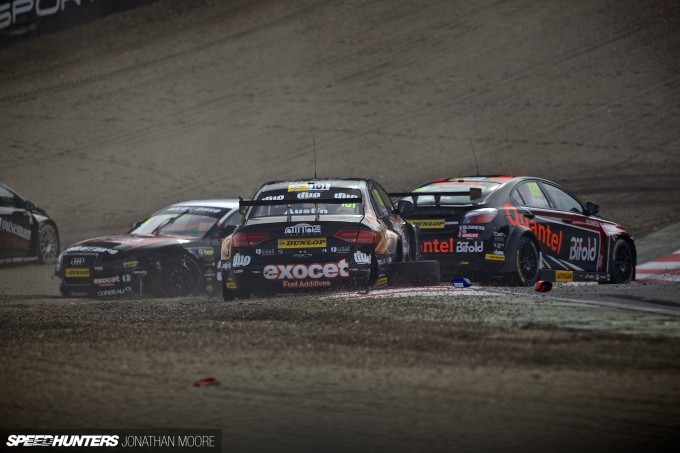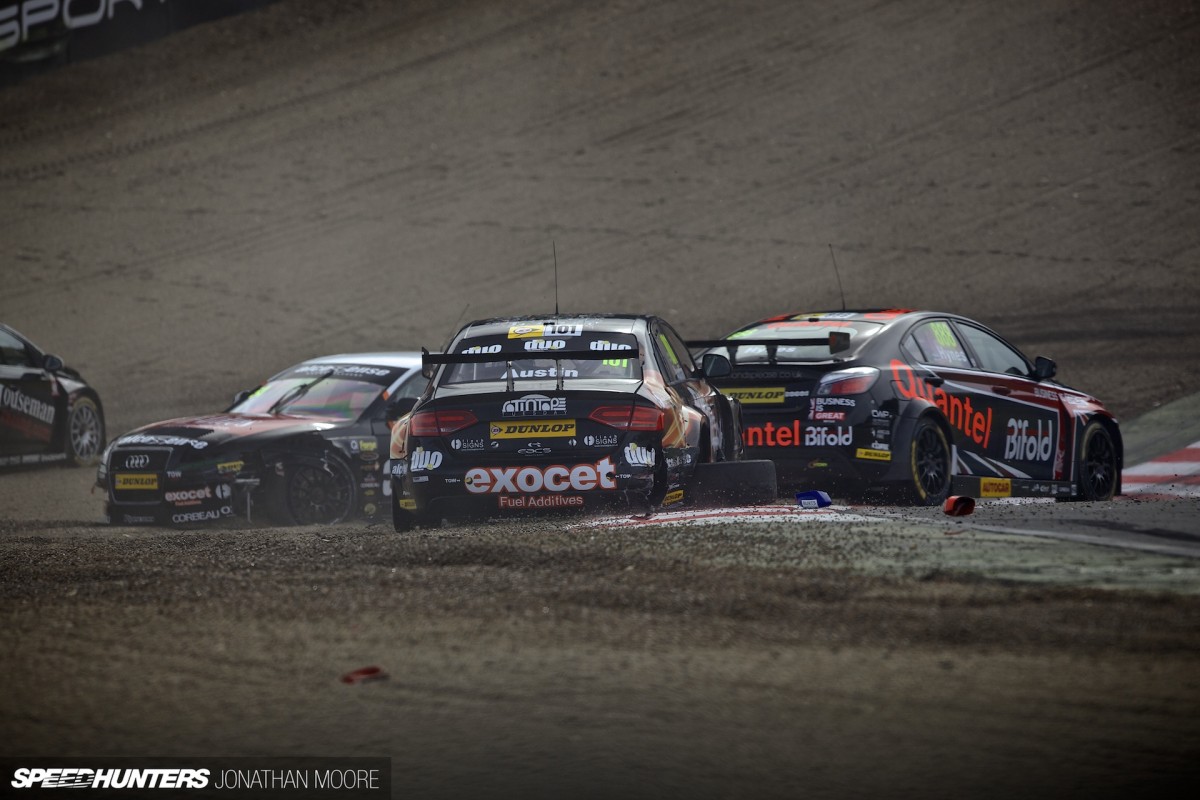 He was immediately collected by half a dozen cars behind, who scattered like skittles, ricocheting off each other as they went. Three, four cars out straight away, more damaged. Both Rob Austin Racing Audis were out on the spot, wheels hanging off, bodywork flapping in the wind. Much as we all like a bit of rubbing, nobody wants to see cars taken out, let alone an entire privateer team…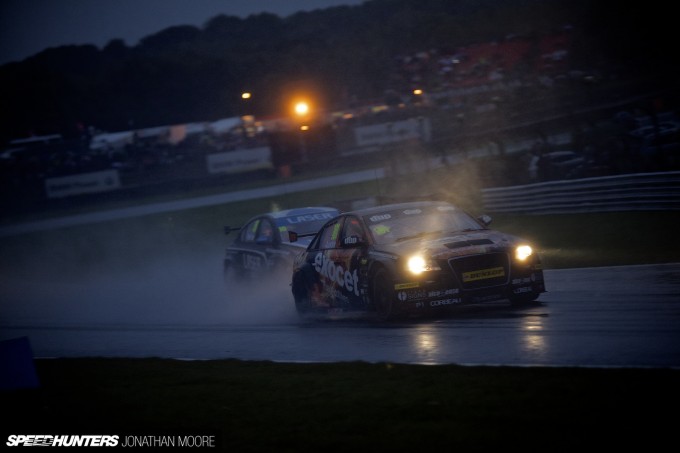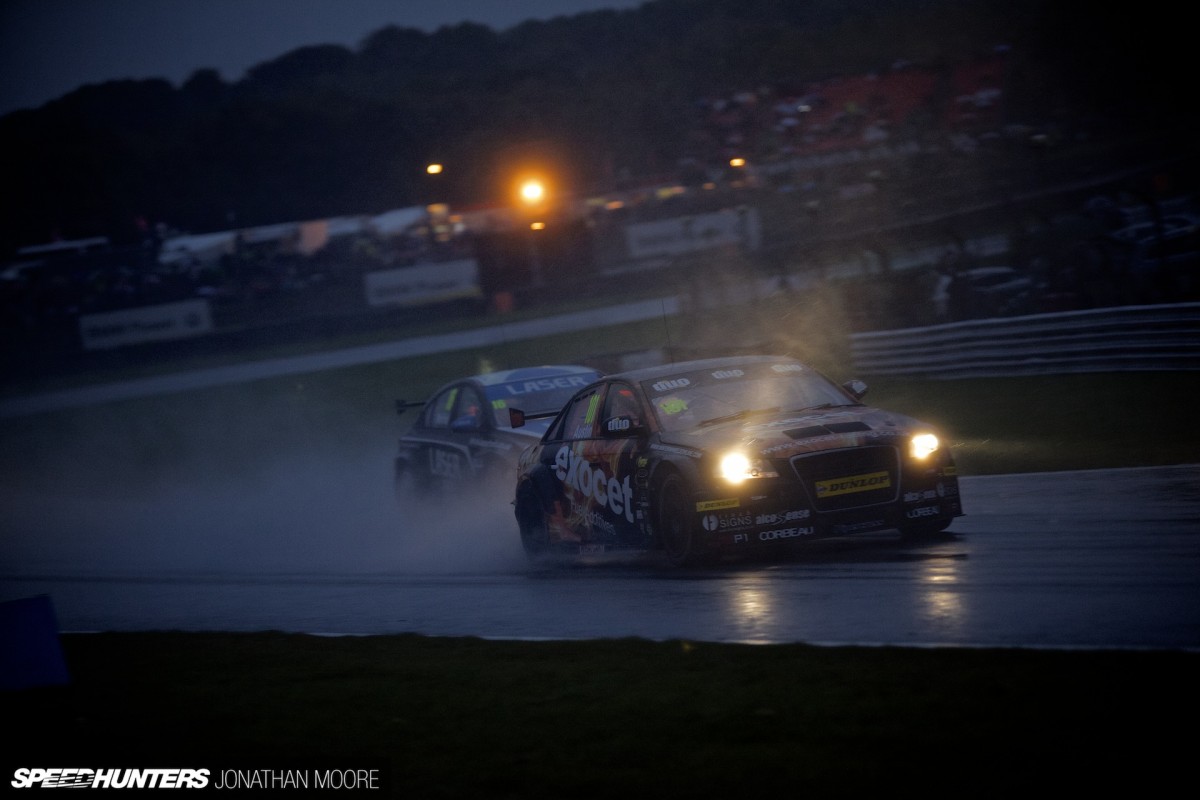 Come the end of the day and the fading light, the fact that most cars were back out on track showed the efforts of the teams involved – even if certain niceties like headlight direction weren't top of the repair list… Constantly repairing cars is standard fare in the BTCC though.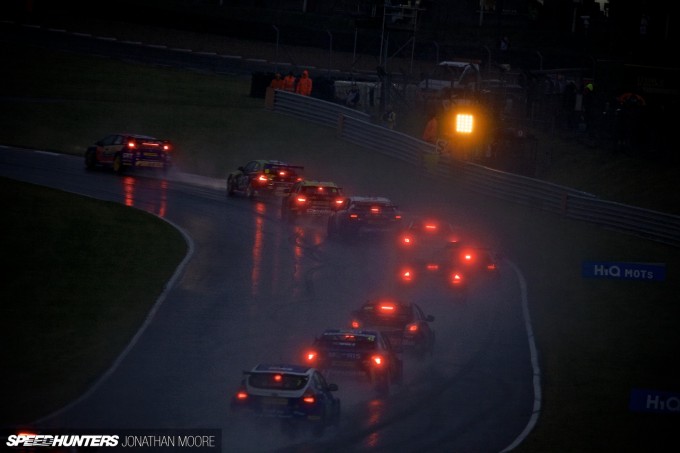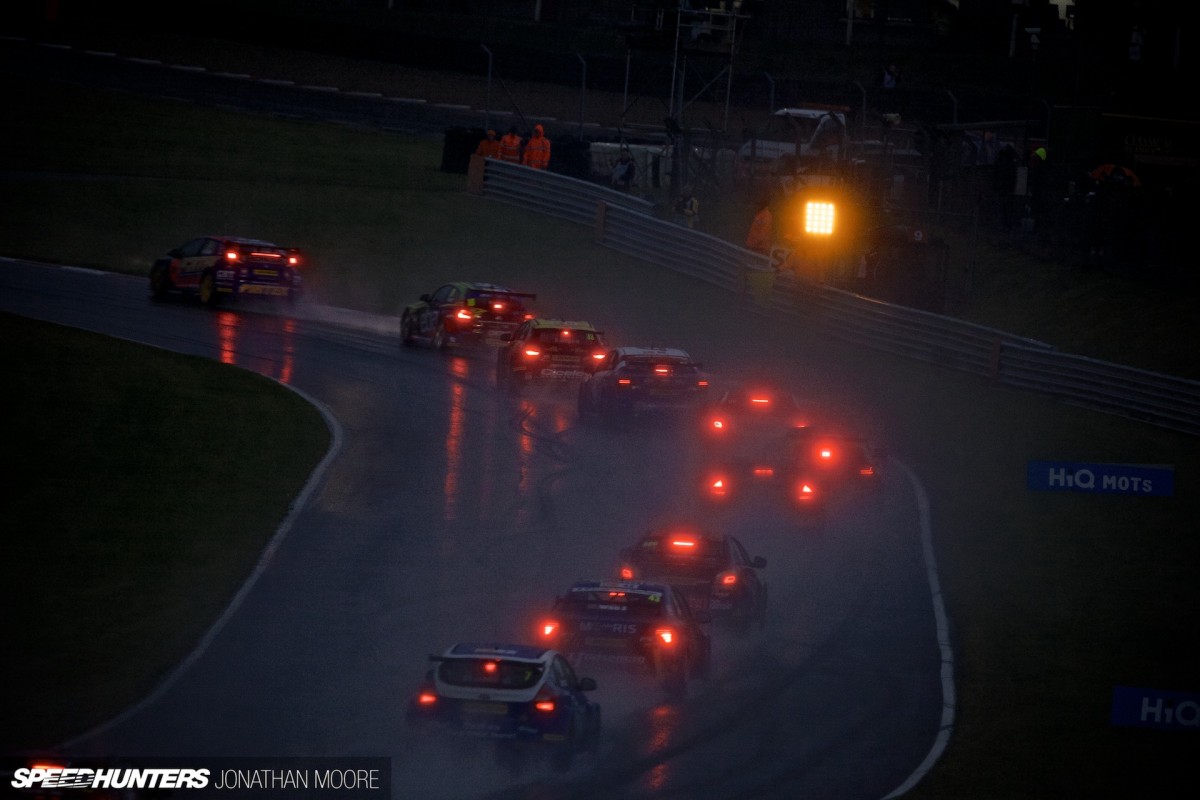 Inevitable crashes need quick resolutions to keep the cars racing. One thing that can't be overlooked is the effort put in by the huge marshalling team, who were put to pretty much constant work with the frequent incidents that punctuated the day. Crash, yellow flags, safety cars, snatch vehicles and sweeping up.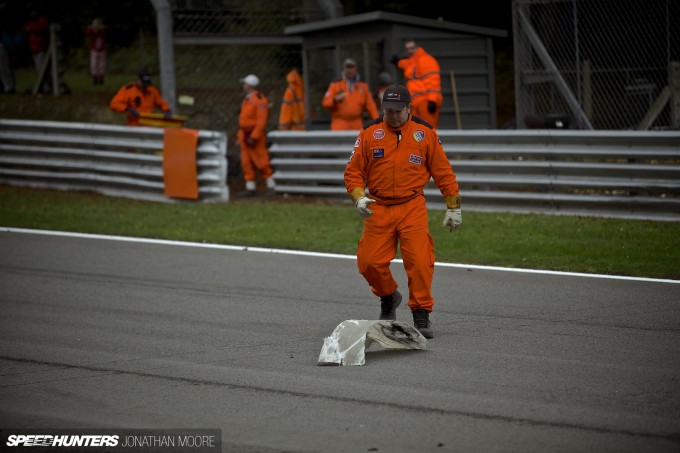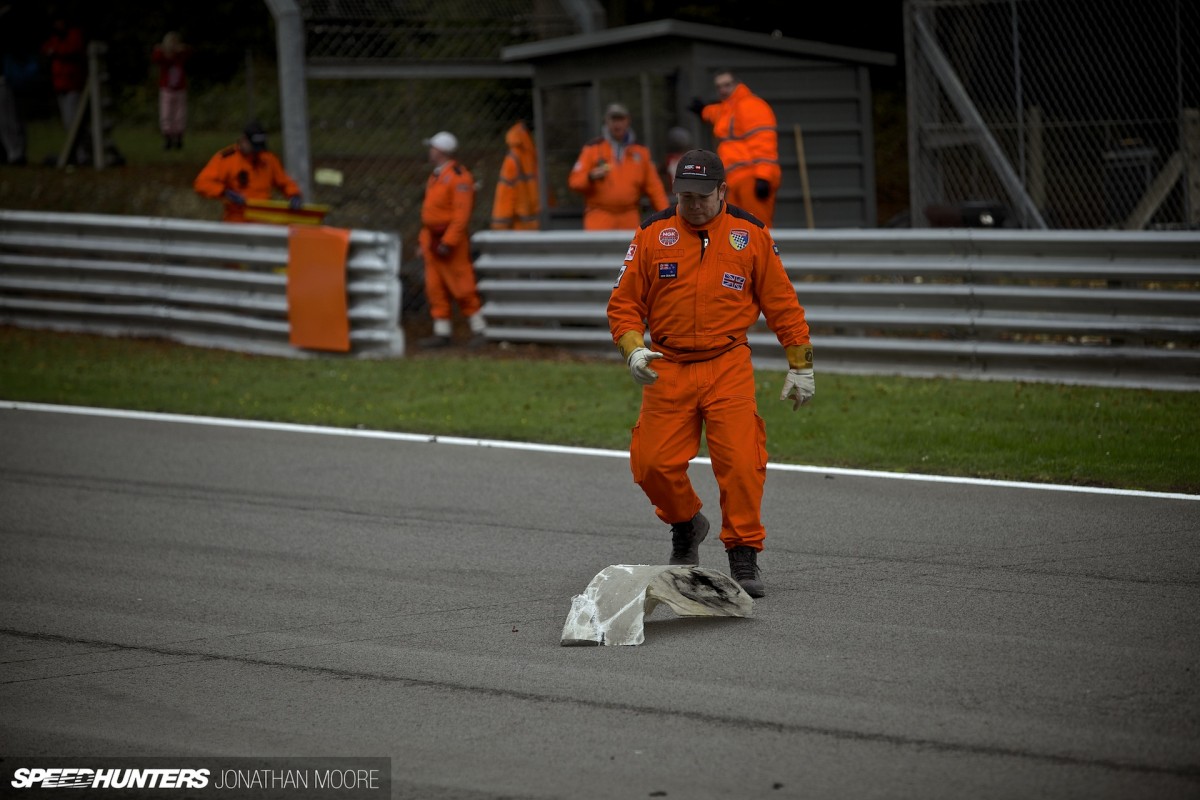 There was always a little bit of dare as well, as marshals sprinted out onto the track to repair various pieces of smashed bodywork. This post on the drop down to Hawthorn reckoned they almost had enough for a complete car come the end of the day!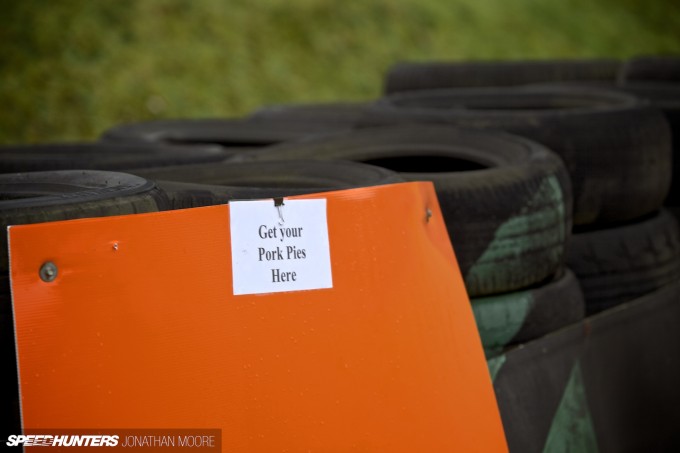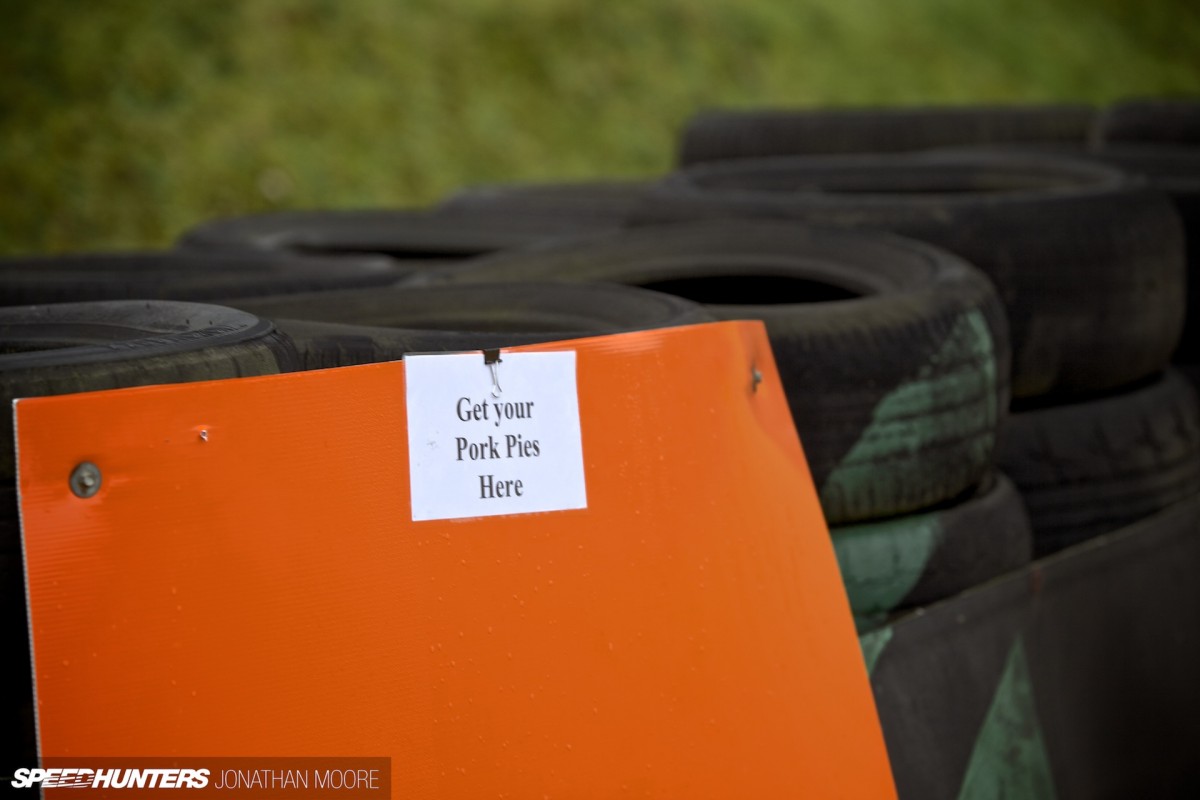 There's real camaraderie on show – and humour. You can't beat chatting to marshals and hearing their stories. Next season I really want to spend a day with a team to highlight the important – and hard – work they do.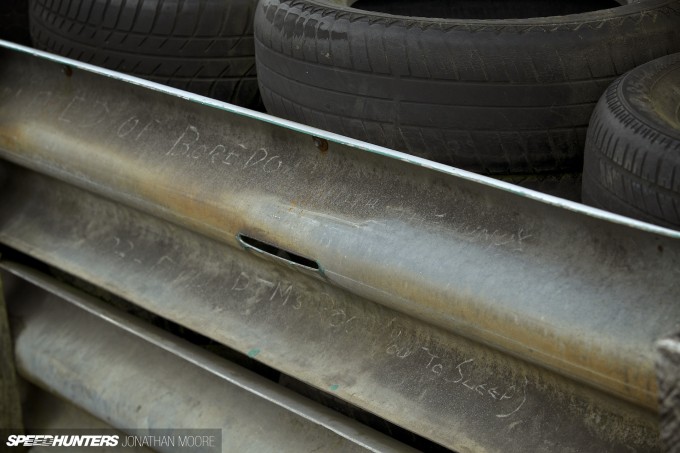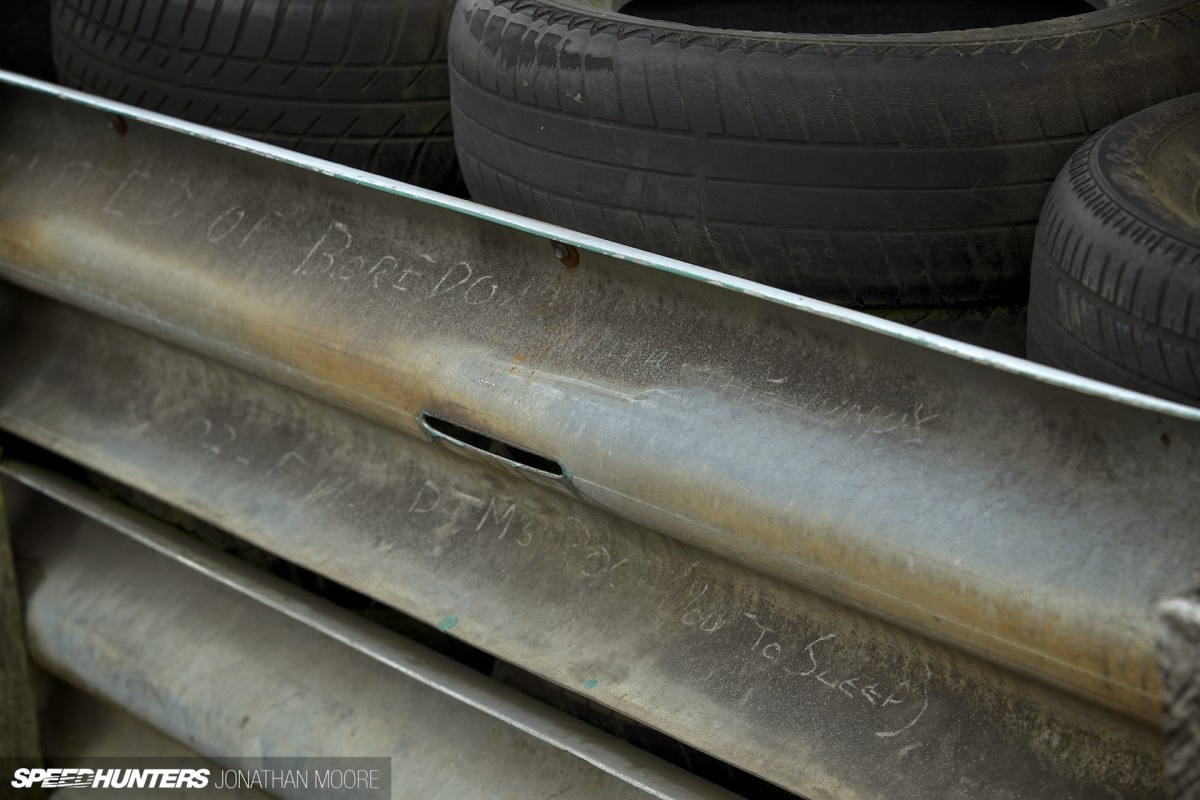 It seems like the DTM's visits to Brands Hatch in previous years didn't really impress this other post…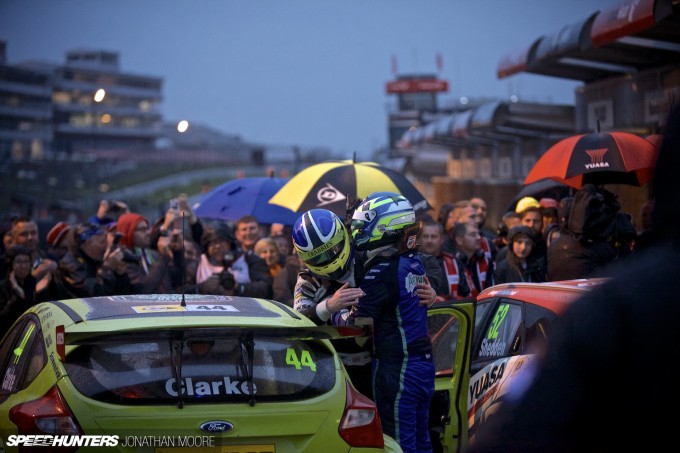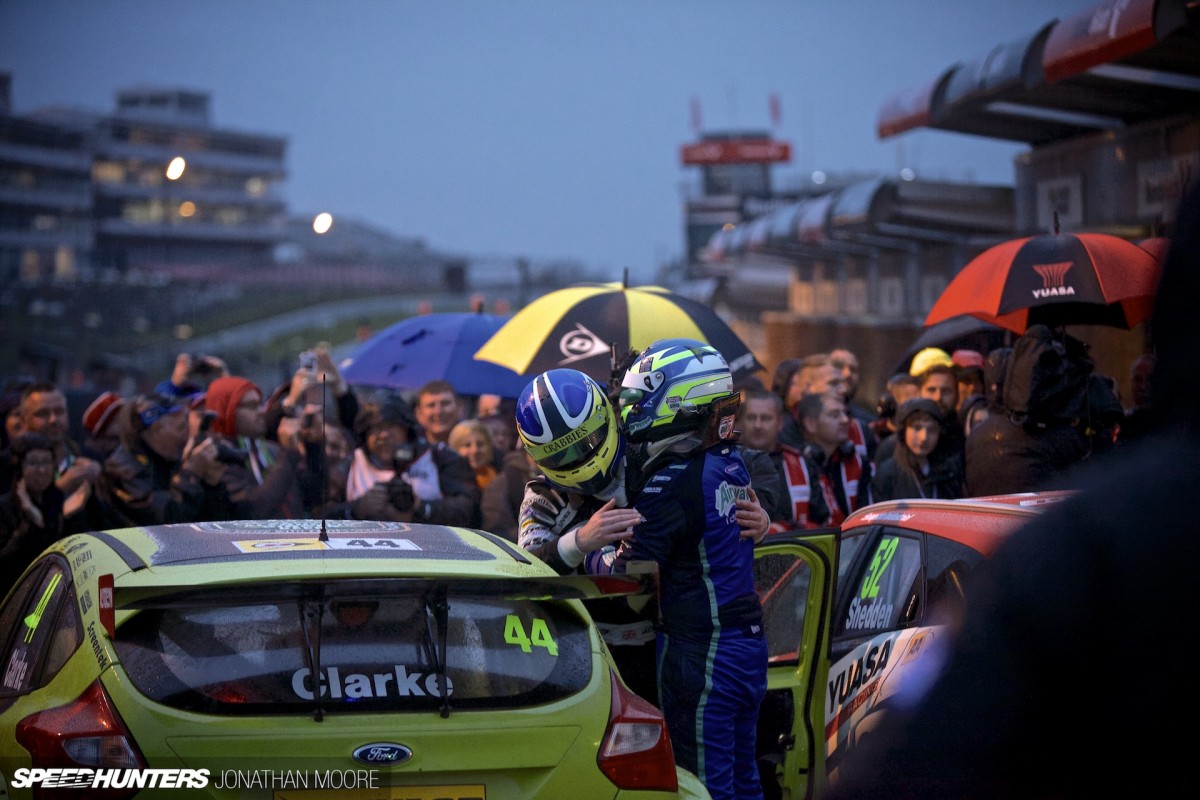 Come the end of the day, with a new champion crowned, a cheering crowd and clouds covering the circuit, the usual buzz of the race end was heightened by the fact this was it for 2014. Plus there was another breakthrough drive resulting in a podium for a young driver, another thing that frequently seems to happen at the Brands season closer. I think drivers who finished were celebrating getting to the end in one piece as much as anything else.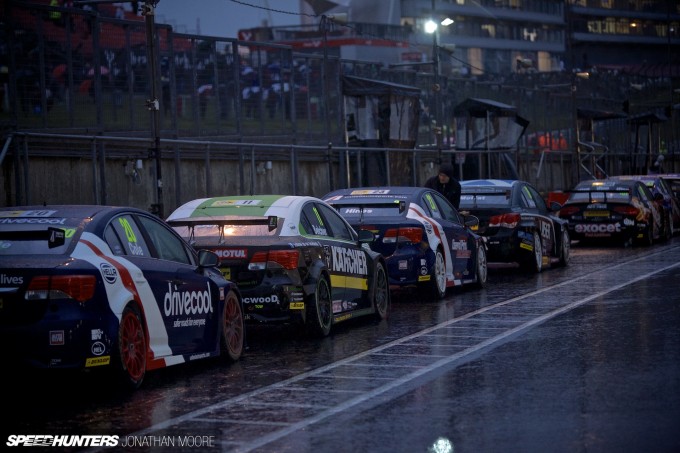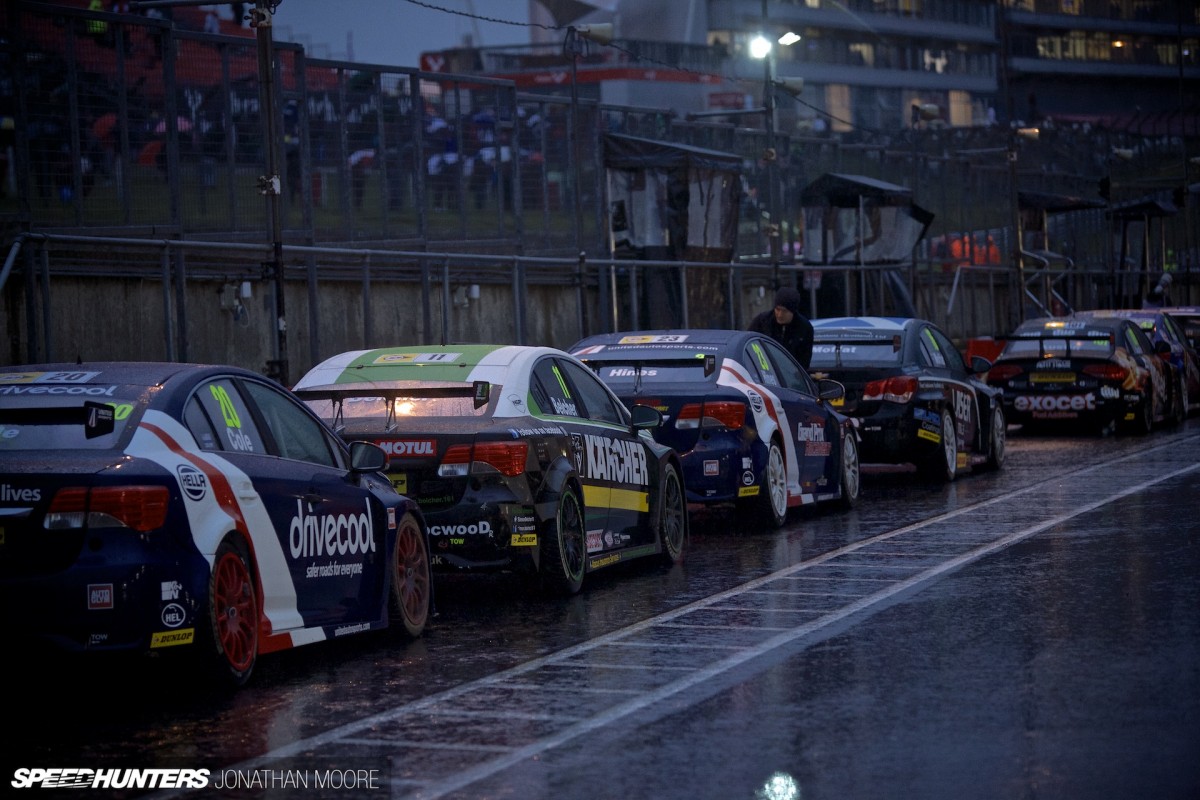 For me, the BTCC seems to provide a racing accompaniment to the modified car scene: regular cars that normal people can afford, made exciting and different, open and accessible. I'm sure there are even bigger things to come in 2015, as the series is on such a roll. New drivers and cars are bound to appear (Infiniti have just announced a two car Q50-based racer for instance). Maybe you'll be the next star driver – or even car constructor?
Jonathan Moore
Instagram: speedhunters_jonathan
jonathan@speedhunters.com
Cutting Room Floor