A Childhood Love Affair
Growing up in India, I never really had a chance to follow motorsport at any level. Despite this I idolised World Rally Championship legends. With what little coverage that was on the government-backed Doordarshan channels, I remember sitting glued to the TV screen every time the WRC highlights were on. I never really understood the technicalities of rallying and its special stages back then, all I concentrated on was the amazing cars – especially the blue 555 Imprezas being piloted by the late legends, Richard Burns and Colin McRae, as they darted across the landscape leaving a plumes of dust in their wake.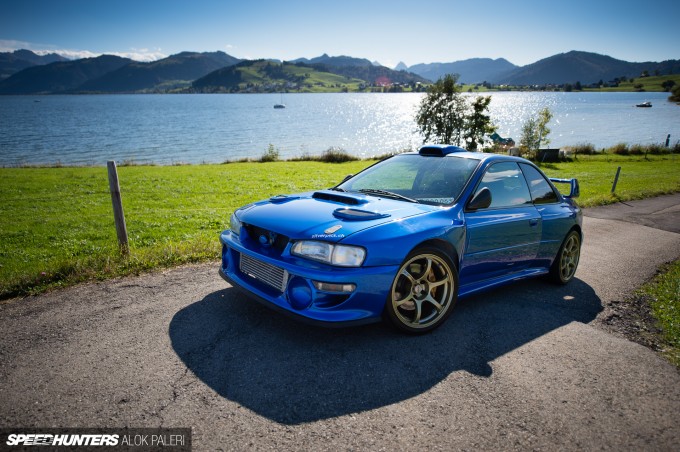 Do you remember the time when you first saw a car and immediately started to lust over it? It's that unshakeable sense of wanting to own one someday, no matter what. When I first saw Speed Industries' WRC replica GC8 Subaru Impreza coupé at one of their Nordschleife track days five years ago, all those childhood memories came flooding back.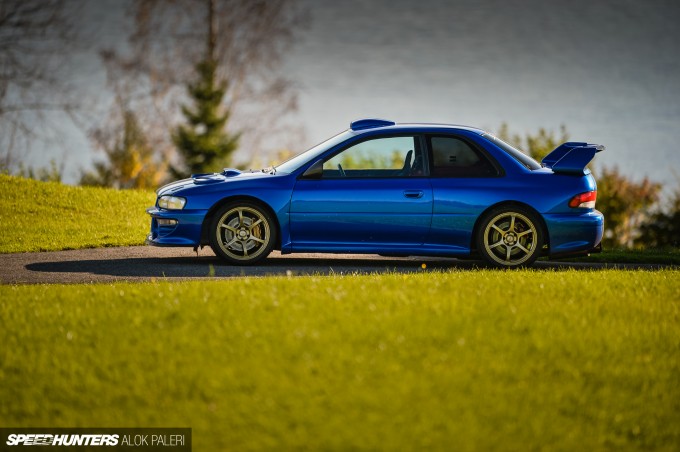 It was the same boxy shape I remember sketching on the back of my maths book in school; the same proportionately-oversized wheels; the classic hood and roof vent and trademark big wing.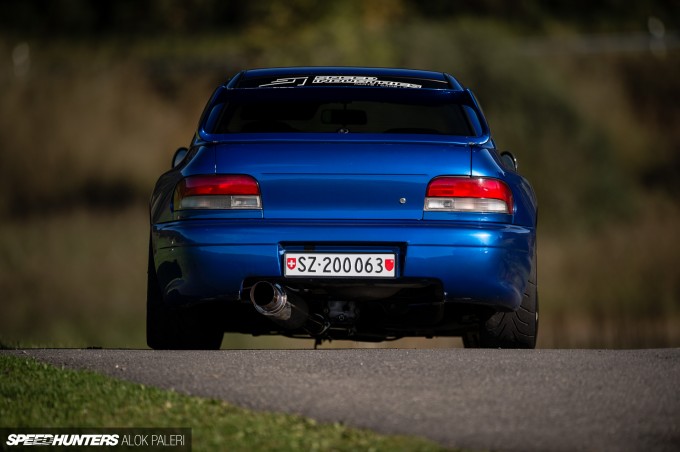 The GC8 belongs to Tobias, a close friend of mine who runs the Speed Industries trackday collective based in Zurich, Switzerland. Long time Speedhunters readers might even remember stories on a couple of their past events.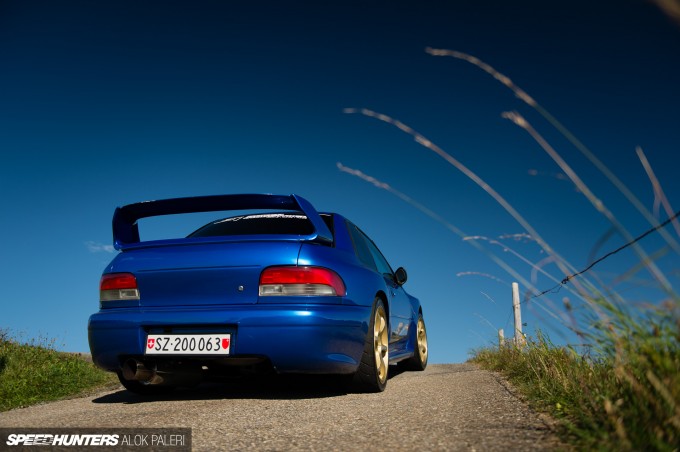 Back then I didn't have a driver's license, so I swallowed my desires and admired the car as a spectator. Even if I had a license, Tobi would have never let me drive it anyway – this is his baby after all. Eventually, those wishes and desires were relegated into the back of my mind.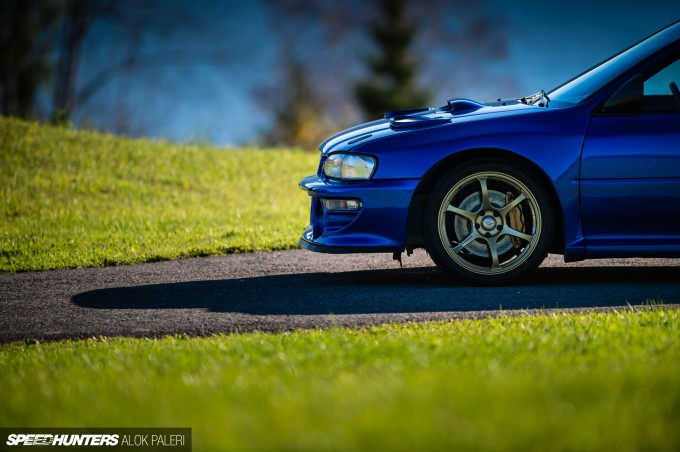 Fast forward half a decade, to a couple of weeks ago when I was scouting for interesting cars to shoot. I remembered that Tobias had put his car up for sale a year ago, but on the off-chance that he still had it I gave him a call.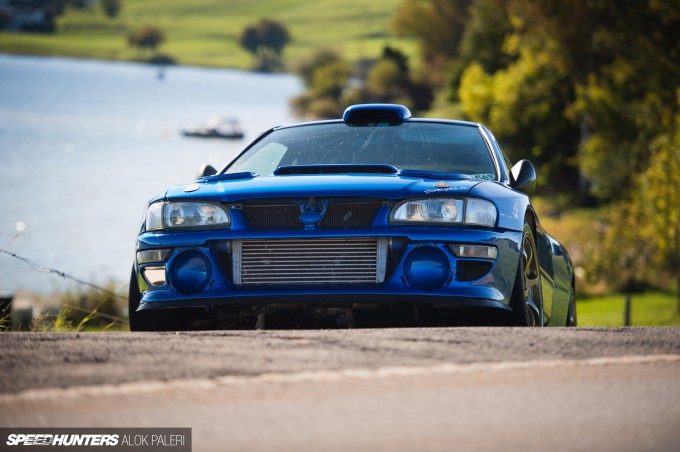 To my pleasant surprise, the GC8 was still very much in his possession and we arranged to meet a couple of days later in Zurich. Tobi said he knew a cool location nearby, so once I arrived we headed out with me following in my E46 Touring diesel. We drove up an amazing stretch of mountain road, where I mostly struggled to keep up with him, but eventually reached the top.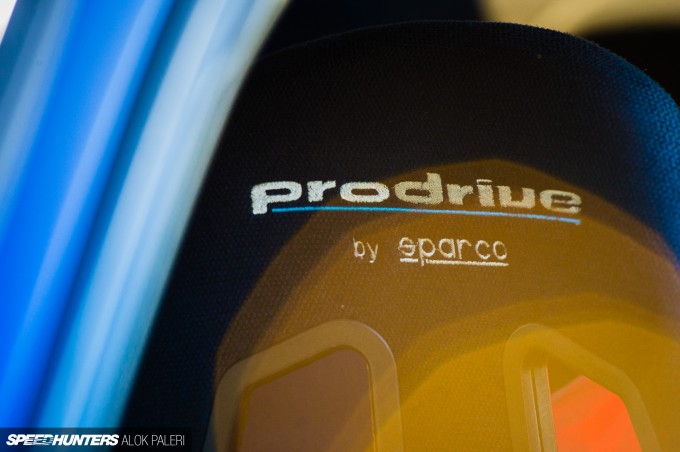 Tobi quickly gave me a walkaround of the car and showed and explained to me the switches that control the alcohol injection and anti-lag system, which I'll touch more upon shortly. We hung out for a bit and then Tobias just threw me the keys and pointed to the far side of the hill where he said I'd fine some really epic driving roads.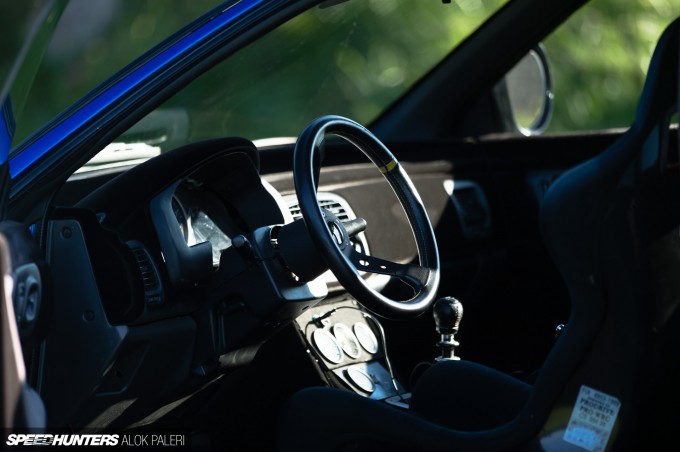 I'm pretty sure I yelped – but probably in a frequency that only dogs and bats can hear. But there I was, standing next to one of my dream cars, keys in hand, with clear instructions to go and have some fun.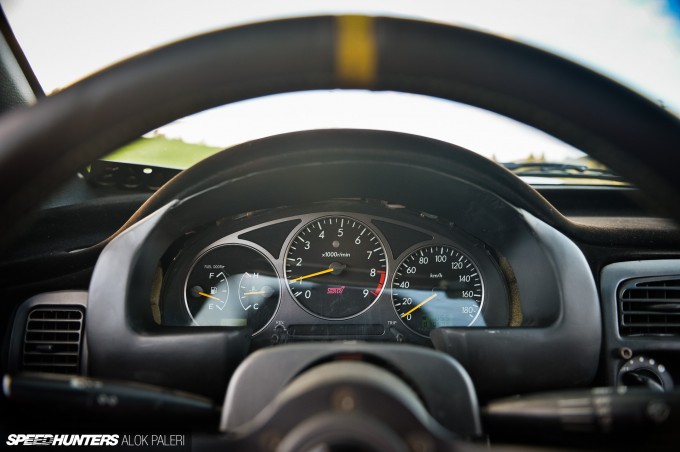 After Tobi disappeared down the road in my car, I sat alone in the Impreza wondering if I was dreaming. I don't want to exaggerate this, but being allowed to get behind the wheel of someone else's private car – let alone encouraged to give it a good ol' thrashing – is something that very rarely happen in Europe.
Meeting Your Hero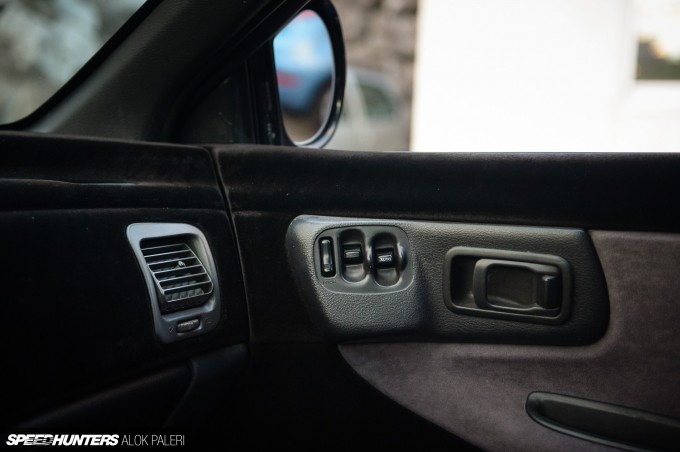 Looking around, one of the things I first noticed was that I couldn't adjust the passenger side mirror from where I was sitting. Why? Because this GC8 was originally a right-hand drive car that was converted to left-hand drive. The original doors fixtures still remain, so as far as mirror adjustment was concerned, I was on the passenger side.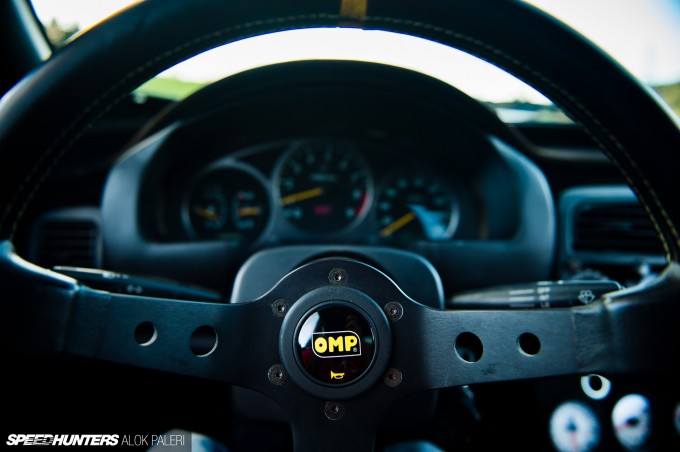 The leather-wrapped deep dish steering wheel with the center marker from OMP jutted out in my face, just like in a racecar.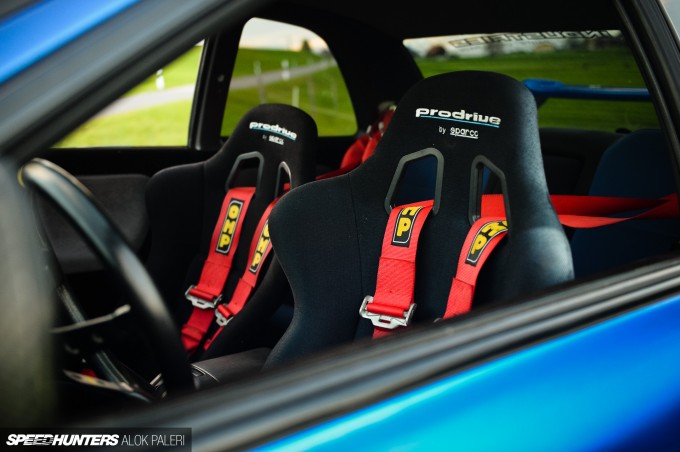 Seats are pukka Prodrive WRC fixed-back buckets by Sparco, flanked by OMP four-point harnesses. In fact, these very seats are the actual ones that held Gilles Panizzi and in his co-driver in place during their WRC tenure with Prodrive.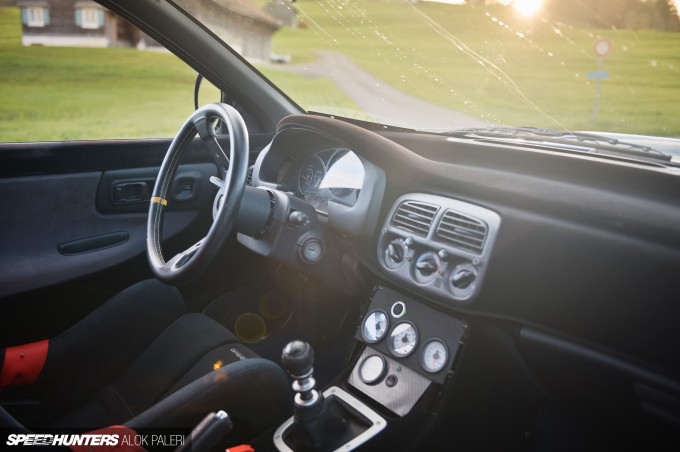 Both the dashboard and door panels are flocked in a velvet-like spray coating to minimize reflections on the windshield on a sunny day. It comes in handy when you're flying across narrow country roads with barely any room to take evasive action should the need arise.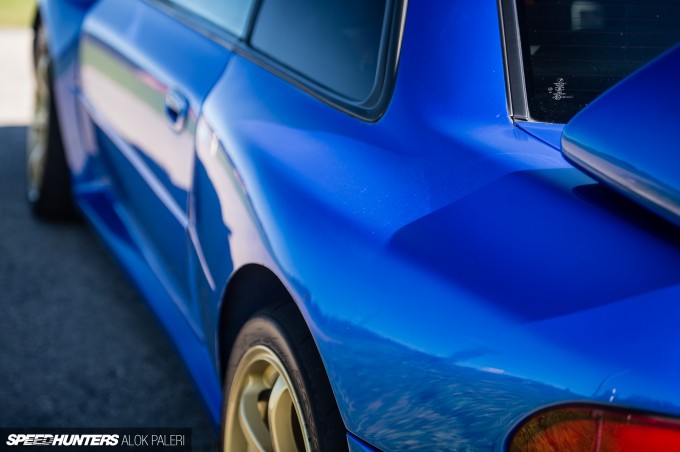 Imprezas of this generation are quite boxy to start with, but this particular car takes it up a notch. The front and rear fenders were custom fabricated from steel, and in this – its final form – Tobi's GC8 is even wider than the ultra rare, and highly sought after Impreza STI 22B!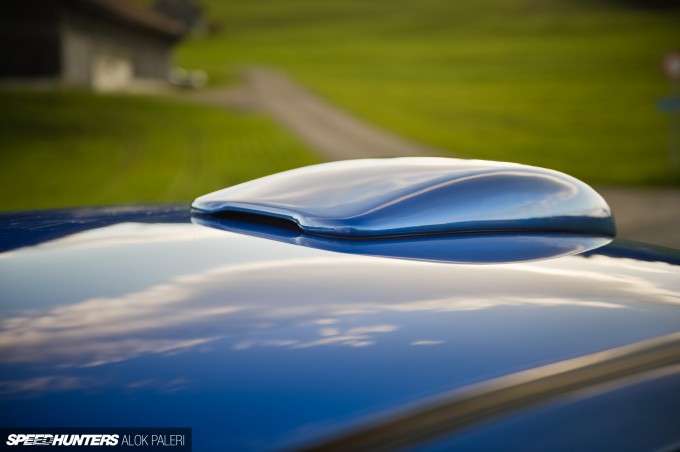 As tacky it might be, my inner child simply loves a roof scoop. Every car I ever modified in Need for Speed Undergound had one.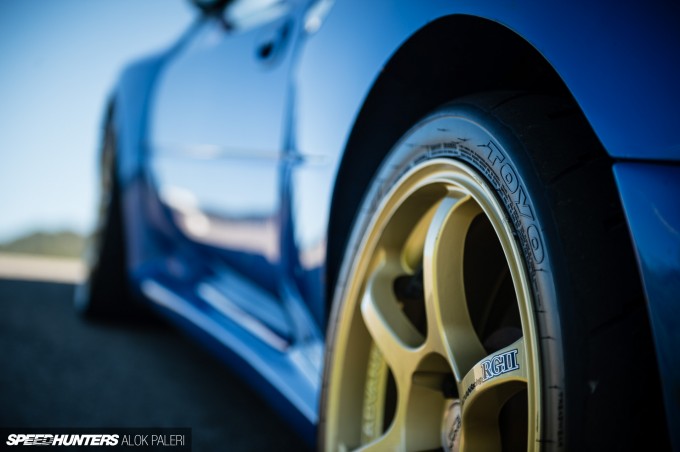 Once you have a blue Subaru and you're aiming for a rally look, wheel color choice is pretty much restricted to one: gold.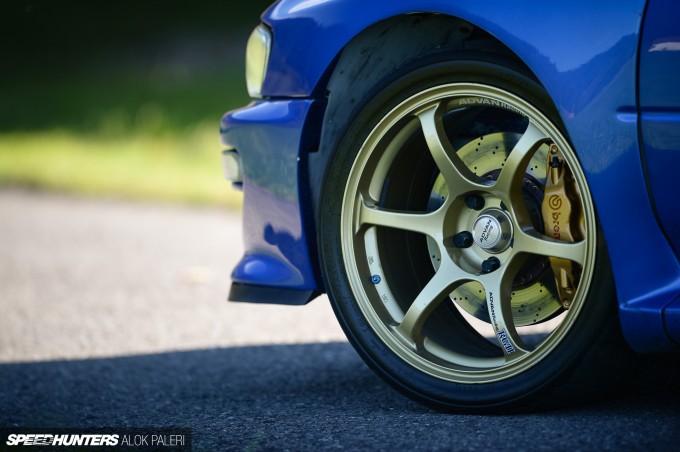 Timeless Yokohama ADVAN Type RGII wheels measuring 18×9-inch were chosen for this project. As the car sees a lot of track use, their staunch dimensions and strong yet lightweight construction is put to good use.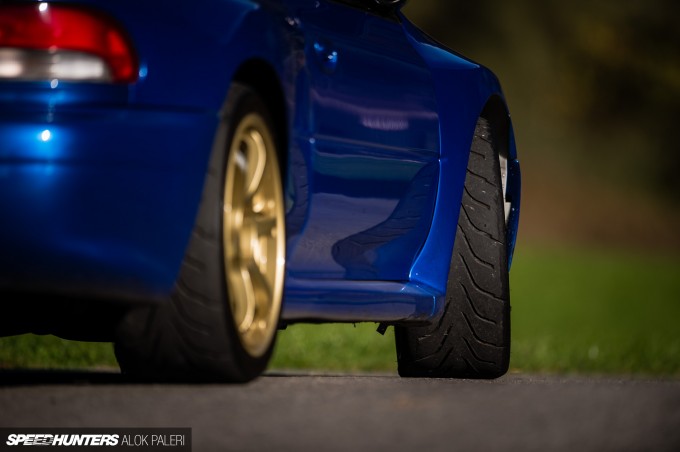 Toyo R888s – the beloved semi slick of trackday regulars – are used at all four corners in a 255/40R18 fitment.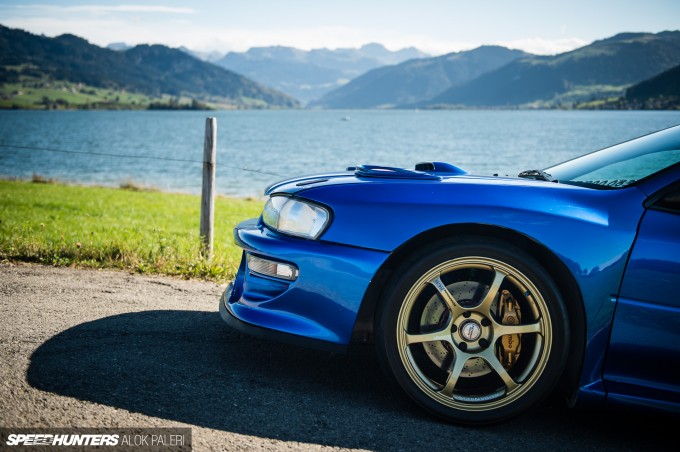 As for scrubbing speed, Brembo callipers sourced from a 2003 WRX STI combined with cross-drilled two-piece Performance Friction discs and Endless CCX pads provide a solid stopping setup at the front.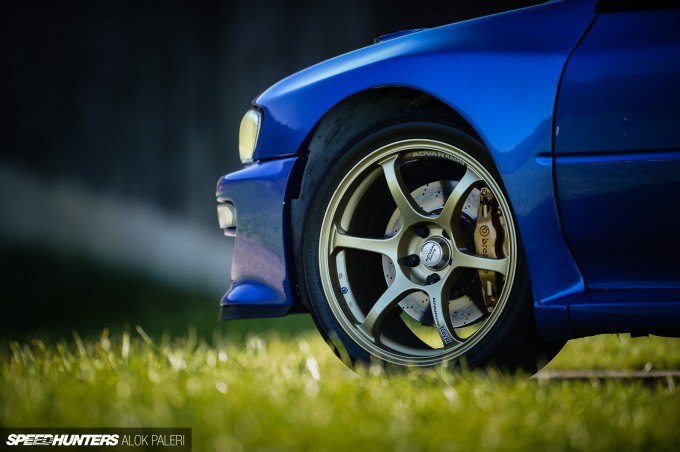 Something I noticed after my first few corners – and appropriately so for a rally-bred machine like this – is the lack of ABS, so you really have to feel the road under braking as to not overcook it and wear the tires square.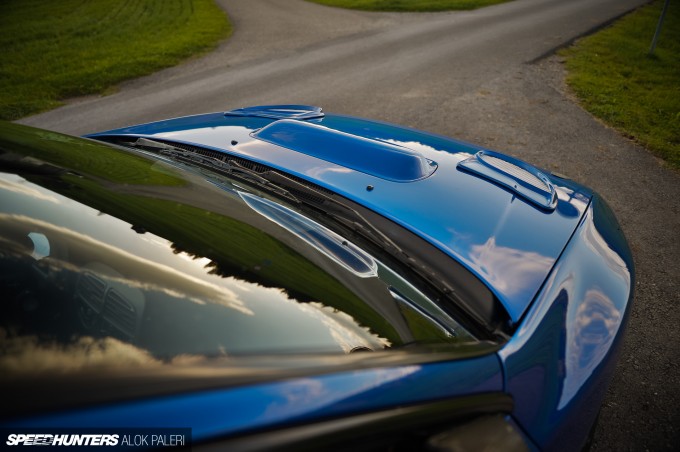 No Impreza is complete without a scoop and vents in the hood to draw in cool air and expel hot air, and this one is no different.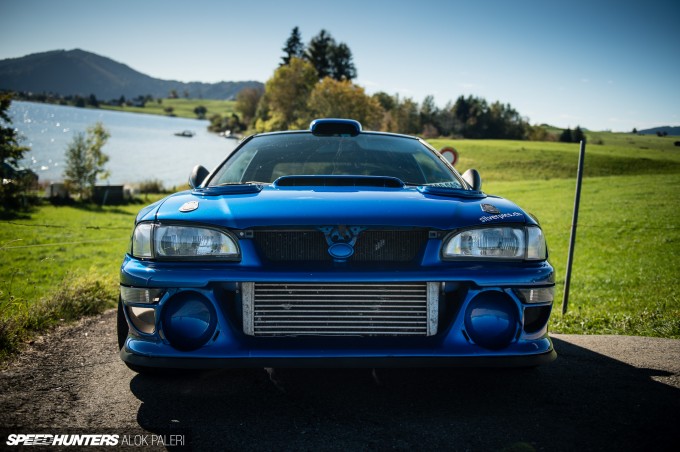 Except the scoop is pretty much redundant now that a large HKS intercooler has been mounted up front.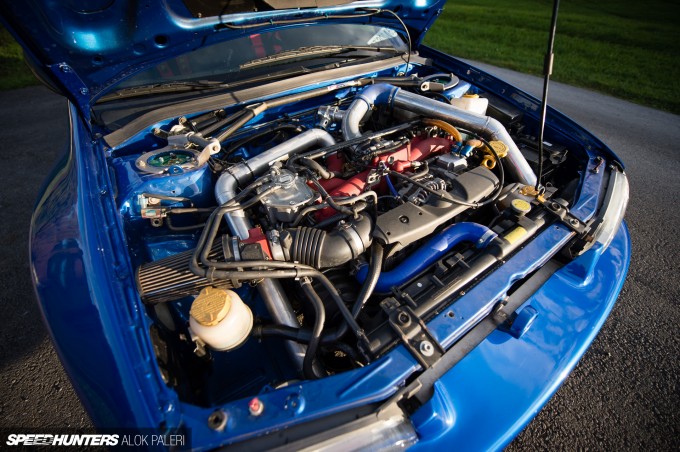 The engine itself has been fully rebuilt using an 2.0L STI block and heads as a base, and an EcuTek ECU upgrade gives the firing orders. To reduce the chances of pre-ignition and knocking, a water/methanol injection system has been added with activation via a flick-switch on the dashboard.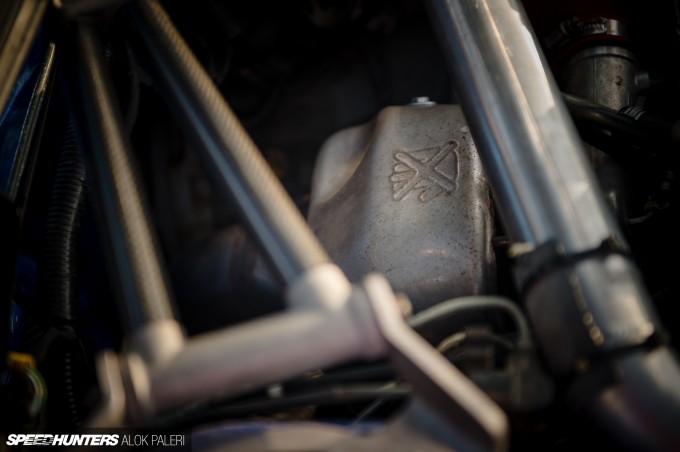 With a Syms header and VF34 turbocharger in the mix, 397hp and 510Nm of all-wheel torque is produced.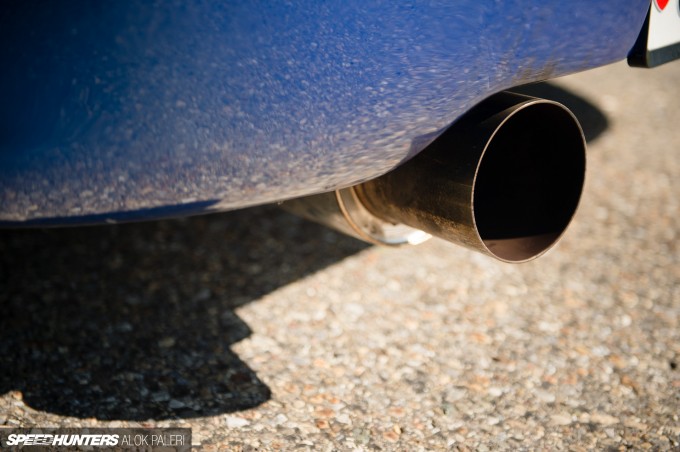 The combusted gases find their way out through a full 3-inch exhaust system from Trust; the signature boxer engine rumble punctuated with pops and crackles on every overrun.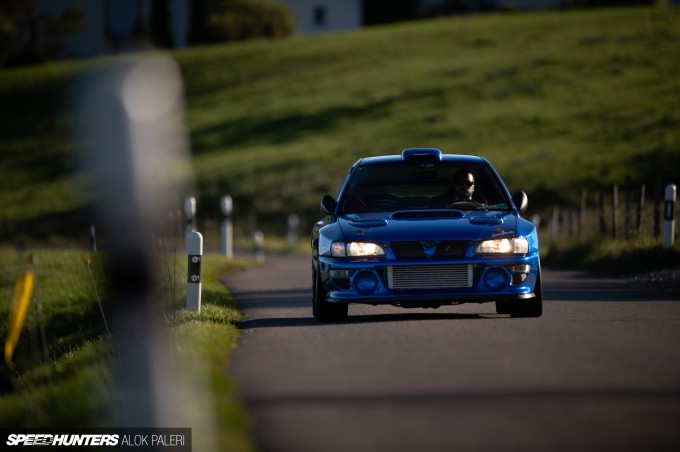 The drivetrain comes from a 2003 JDM-spec WRX STI with a close-ratio 6-speed gearbox complete with DCCD. An HKS triple-plate race clutch has also been added – a bold choice for car that also sees plenty of street use. I found that it was often easier to drive off with wheelspin than to do a proper smooth start for the risk of stalling.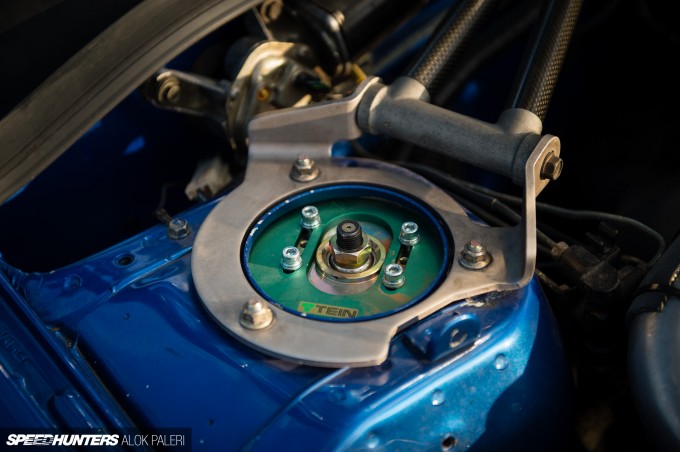 Fully adjustable Tein Mono Flex coilovers allow the car to be set up for a variety of different track or road conditions.
We Have Boost!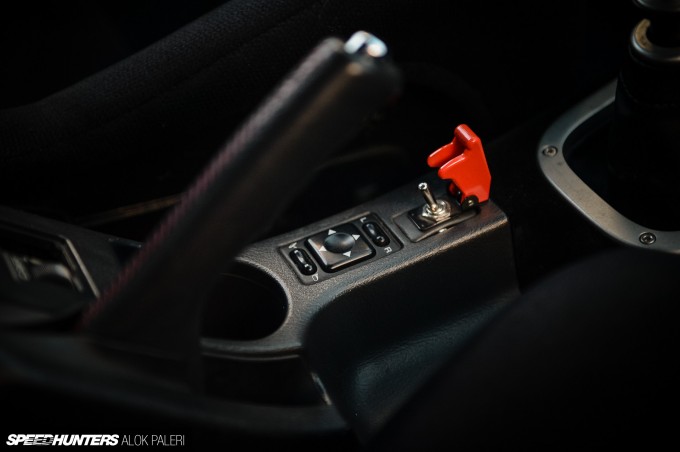 With the sun slowly heading downwards and most of my images in the bag, I decided to pay some attention to this little switch on the centre console. Hello anti-lag…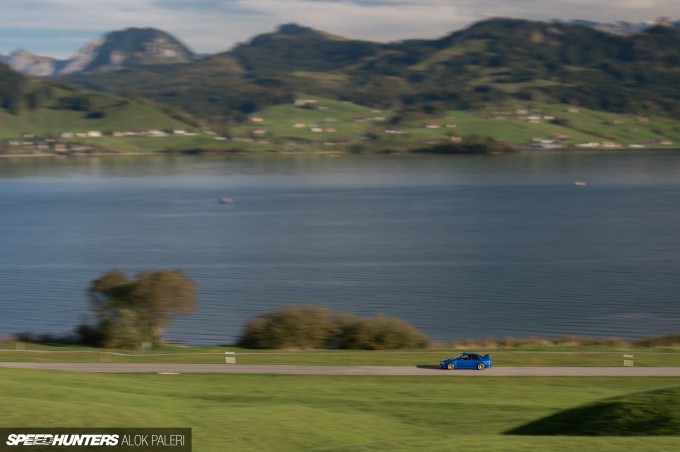 What it essentially does is dump a bunch of fuel behind the turbo, which combusts instantaneously from the heat. This small explosion keep the turbo spooled up when the engine's not delivering enough exhaust gas to do so, giving you boost at a twitch of the throttle pedal.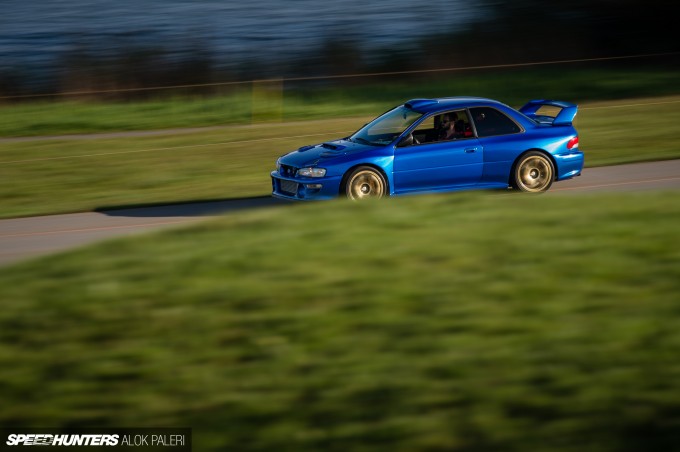 In real life this translates to instant throttle response and all of the power at your whim and fancy. Oh yes, #WeHaveBoost!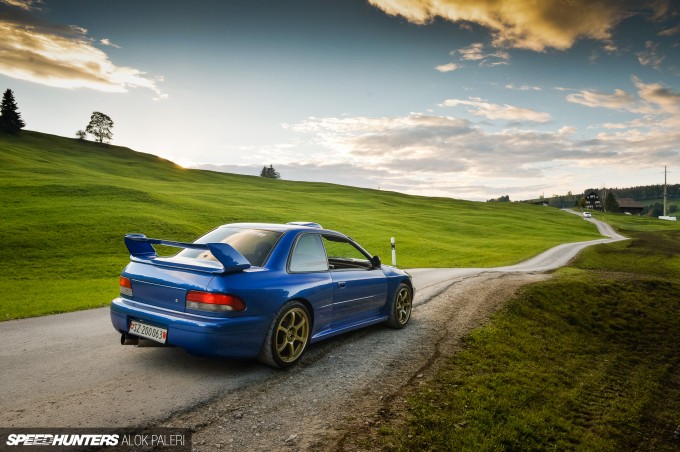 The hour or so I spent behind the wheel of the Speed Industries Impreza were the most frantic I've ever experienced. I discovered some tarmac rally special stage roads where the car just metamorphosed into a ripsnorting beast that simple chewed up and spat out corner after corner with immaculate four-wheel grip.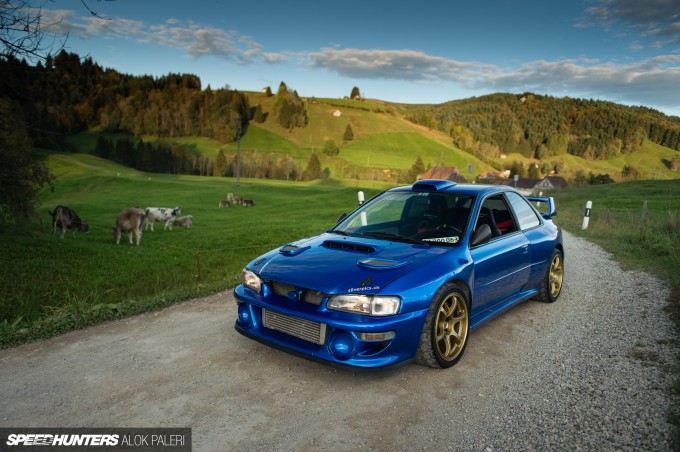 And eventually when the tarmac gave way to gravel, I got the full-on rally experience. For a few moment the inner 8-year-old in me pretended to be Colin McRae. I may or may not have given a couple of those peaceful Swiss cows heart attacks from the shotgun-like bangs from the exhaust…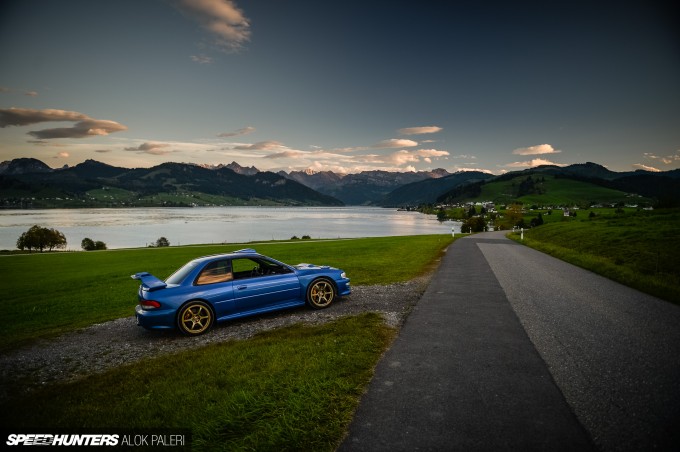 A full tank of high-octane fuel later, I was completely in love with this real life Matchbox car. The speed, the sounds, the looks – it ticks all the right boxes for me. In a way, it's a true shame that this was the last Impreza ever sold in coupé form.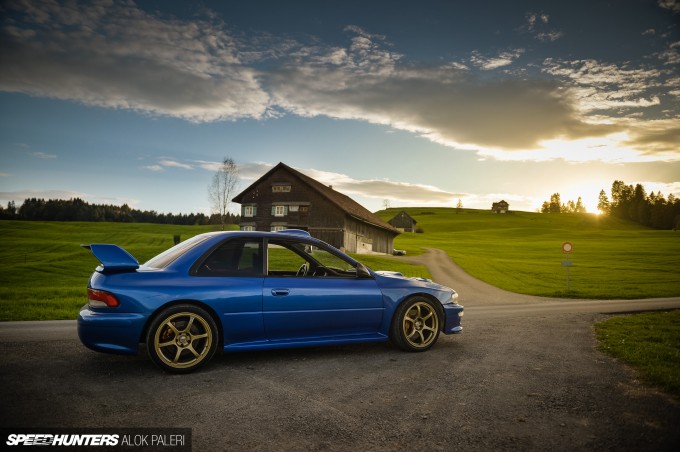 I feel incredibly lucky to have been given this chance to drive one of my all time favourite cars. What are your automotive first loves? Please share them in the comments section below!
Alok Paleri
Instagram: rennworksmedia
alok@speedhunters.com
Cutting Room Floor