Welcome To The Underground
It's just before midnight, and I'm heading south on one of Stockholm's busiest highways at well over 200km/h. Volvo and Saab-shaped streaks of light are whipping past the Lexan window to my right in the strange, never-quite-dark atmosphere that you only find this far north at this time of year.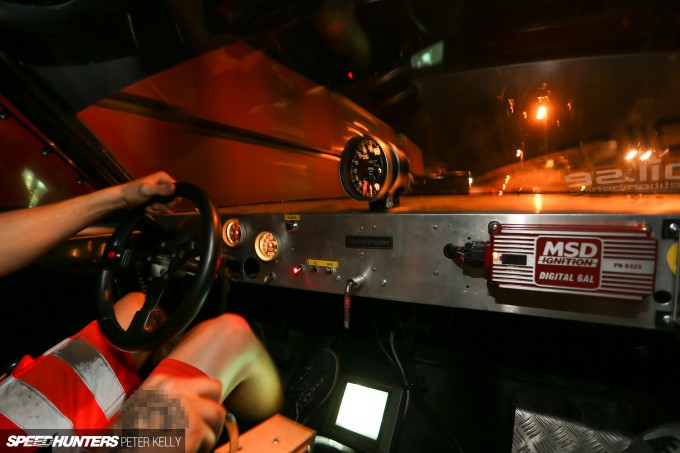 With its seemingly endless days and lush green surroundings, Sweden certainly is a beautiful place in mid-summer. Right now, though, all my attention is focused on 30 minutes ago, when a smiling, sandy-haired man named Johan had offered me a pair of fluro-green earmuffs as I awkwardly scrambled past the rollcage and into the bare alloy Kirkey passenger seat of Magnus's [surname omitted] nitrous-fed, 491ci big block Chevrolet Monte Carlo drag car. I had politely declined.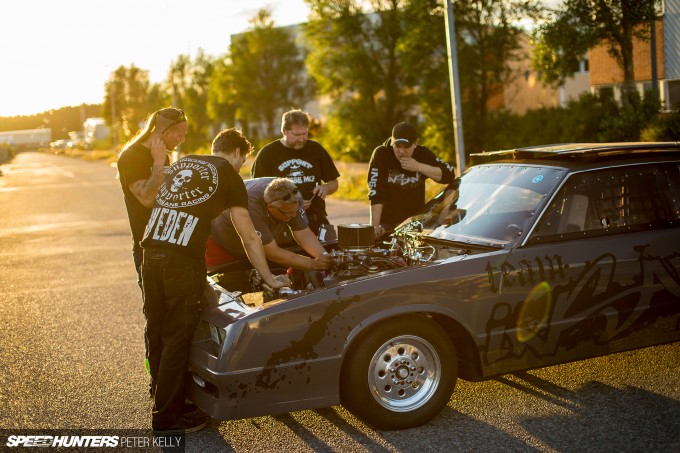 He had raised an eyebrow, shrugged his shoulders and smiled before simply saying "okay" and chuckling to himself as he walked away with a typical Scandinavian nonchalance.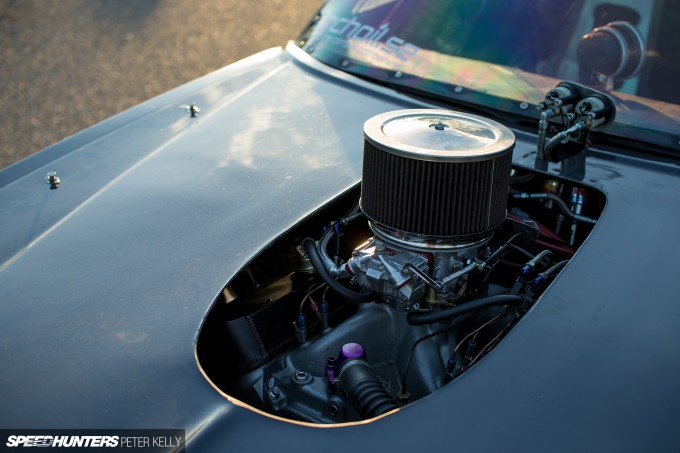 Now, as the heat, the vibrations and the thunderous noise from open headers dumping directly beneath my Nikes travels up through my legs and rattles whatever is left of my brain, I understand. I should have listened to Johan. At the same time, Johan probably should have insisted… This is like sticking your head inside a kick drum while someone with exceptionally strong calf muscles hammers the double kick 20,000 times a minute.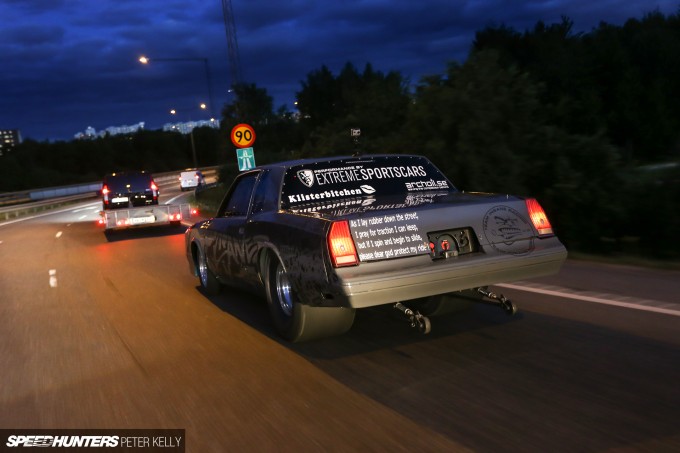 After slowing back down to highway speeds following our quick on-the-fly testing session, we are rejoined by a fleet of support vehicles that had followed us from Team Insane Racing's home base in an industrial area south of the central city. The cars quickly form back into a tight bunch, surrounding the completely unregistered and highly-illegal G-body drag car to create a protective cocoon of steel, glass and rubber.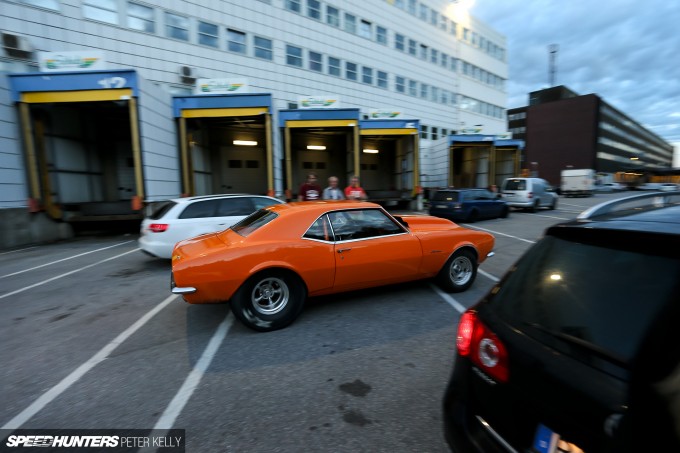 We're on our way to an empty parking lot to meet up with Magnus's challenger in what is known as the Stockholm Top 10 – an underground street racing league that is a part of this city's long-running automotive culture. A big crowd of spectators and their cars are already sitting at the spot when we arrive, and the opponent, driving a '68 Camaro, turns up a few minutes later, announcing his arrival with a healthy stab of the throttle.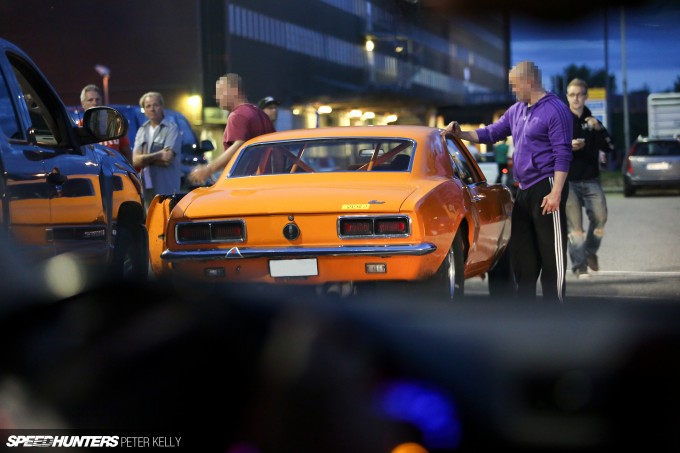 Words are exchanged between drivers and the Monte Carlo gets one last check over. The word then spreads through the crowd and both GMs splutter, then howl into life. Both machines are running big block Chevs and plenty of nitrous, although the Camaro has been built as more of a street car, and still uses mostly steel panels and full glass, giving it a weight disadvantage.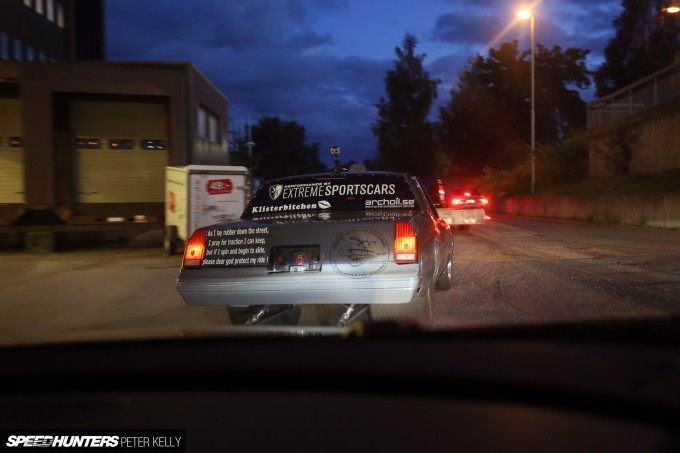 I had no intentions of being inside the Monte Carlo for whatever would unfold in the next 10 minutes. Instead, I jumped in the back of one of Team Insane's 'blocker' team cars (more on that later) and followed the Monte out of the parking lot and out towards the on-ramp to the highway.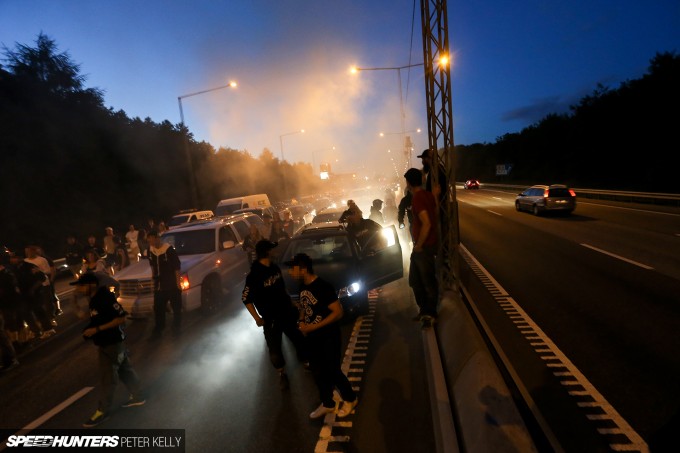 Marcus, the head of Team Insane Racing and the driver of our vehicle, weaves through the hordes of spectator cars that had managed to get out in front. It was, at times, mere millimeters away from a demolition derby, but it was crucial that the team vehicles be at the start line, not stuck behind 50 cars and hundreds of people all clamoring for a spot in which to view the race. After what must have only been a minute of highway driving, the Chevs suddenly hit the picks up ahead, coming to a stop just before an overpass.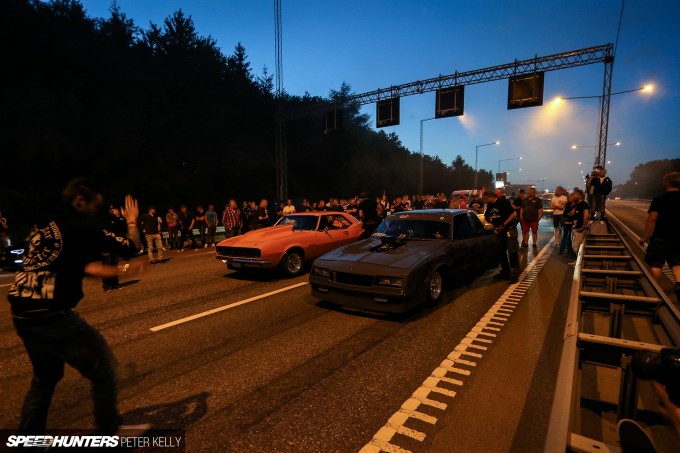 Everyone poured out of their cars and ran to the impromptu startline. I couldn't help but wonder how many 'normal' people had inadvertently found themselves caught up in the middle of all this and are now sitting stationary on a major highway wondering what the hell is going on.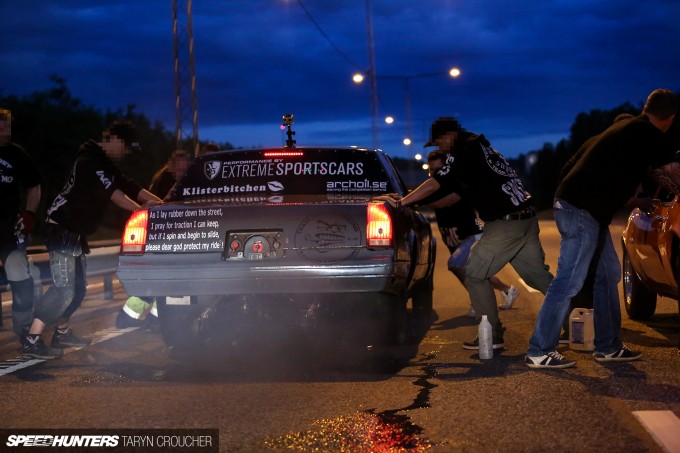 The two teams quickly surrounded their cars, and with a thumbs up, Magnus and his opponent let rip – firing up the rear Mickey Thompson slicks while the teams hold the cars in a stationary position before stepping back and allowing the drivers to ease off the brakes and leave two pairs of thick, arrow-straight lines down the highway.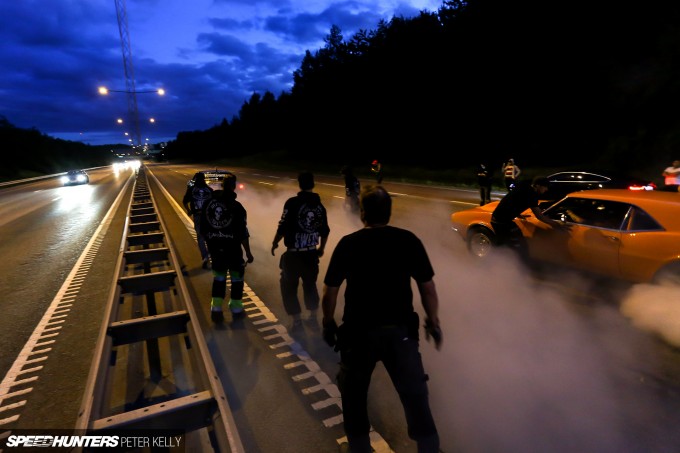 This serves to not just warm the tyres, but also clears any dirt and debris off the road surface and lays down a nice coating of hot rubber that gives something for the slicks to grab come launch time.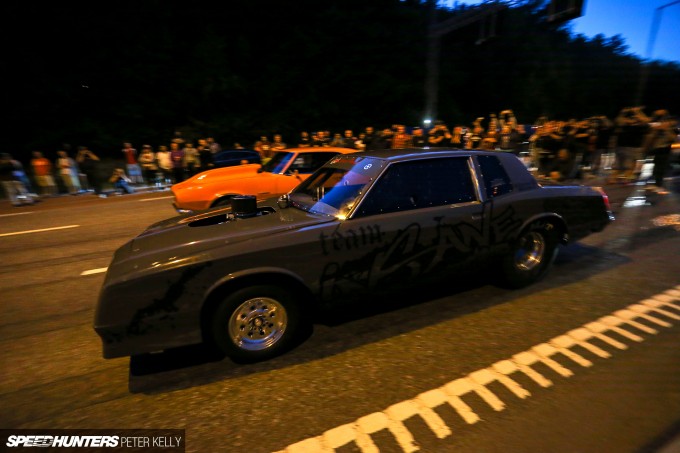 The cars are then backed up to the startline by the teams, and the official starter saunters out in front of the two Chevs. After checking both drivers are ready, the starter swings his arms downwards, and the two machines violently nose up and twist off the line.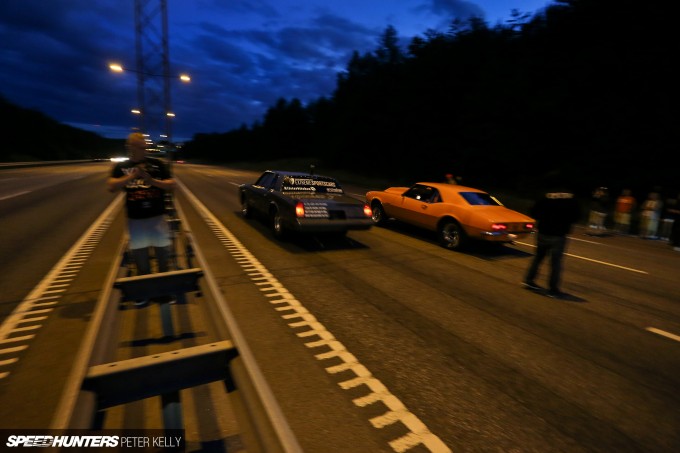 Magnus's reaction time is perfect and he gets a clear jump on the Camaro, surging out in front as cheers erupt from the team. But it wasn't to last. The Camaro begins to rapidly gain at the 150-metre mark. It was hard to tell from our vantage point, but word quickly came through from the finish line – Magnus had lost the race. There was no time to wait around and congratulate the other team, though. Judging by the outcome of the race, Magnus could be in real trouble further down the highway. It was a mad sprint back to our vehicles and I'd barely lifted my foot off the pavement and into the support car before we were sitting on the limiter, ripping down the highway at maximum speed. Time was of the essence: if there was something wrong, the Monte Carlo needed to get off the highway, and fast.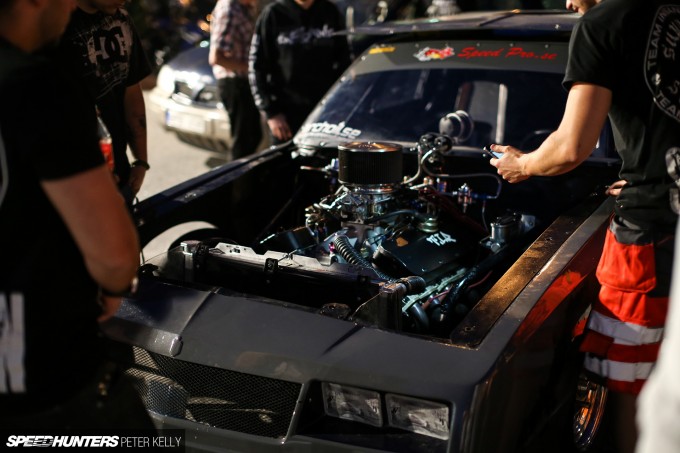 Sure enough, we rounded the bend and there was the boxy G-body, stranded in the middle of the off-ramp. The fleet of Team Insane cars arrived and headed to surround the car, but just as we opened our doors, the 491 coughed, groaned and then thundered into life. Magnus was in no mood to waste his good fortune, slamming the heavily-modified THM400 transmission into gear and lurching off the ramp before rumbling through the local backstreets towards a quiet IKEA parking lot. Although I couldn't understand what the team were saying at the time, it later transpired that the alternator had given up and the Chev's nitrous solenoids couldn't draw enough power to open, leaving the Monte Carlo 400 horse down on the Camaro. A serious misfire had also developed, causing one of the rocker arms to snap in half. Whether or not Magnus won or lost, or whether his car could be quickly fixed or would need to go back to the shop was irrelevant; this entire evening was just for one race. No practice, no qualifying, no eliminations – just one eighth-mile race.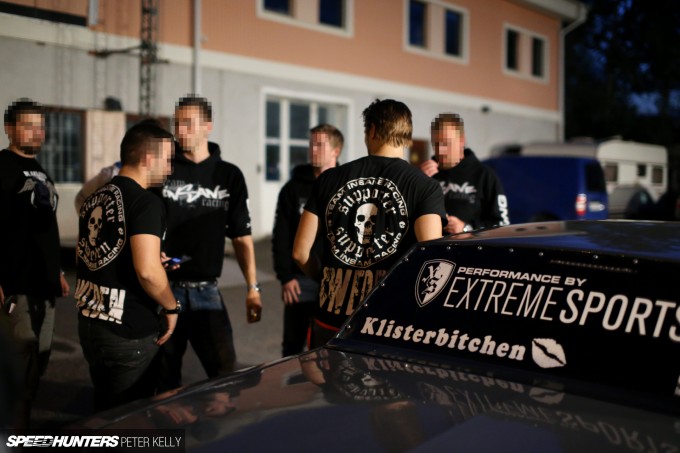 This is the underground world of Stockholm's street racing scene, an incredibly well-organised, semi-professional and most obviously highly-illegal sub culture that has thrived in this part of the world for the last 30-odd years. It probably doesn't need to be said, but just in case; please know that Speedhunters does not suggest readers should participate in illegal street racing, and we always encourage you to find a safe and legal way to race. However, when someone offers you a tiny glimpse into their fascinating, secretive and adrenalin-filled automotive world; you can't just say no…
Weapon Of Choice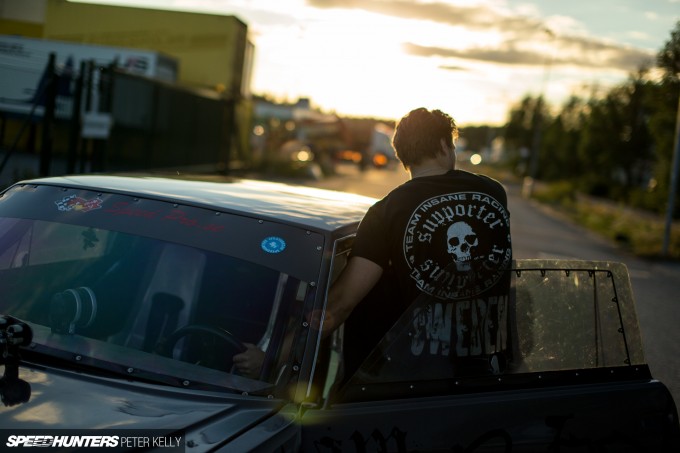 Magnus first became involved in street racing as a teenager, when the allure of staying out all night and chasing secretive racing leagues around the city with your friends seems like the most adult thing you could imagine. But it wasn't until he bought his original dream car, an Audi S2, that he started racing himself. Soon enough the Audi went from completely stock to 500hp AWD launch machine, all whilst he was still driving it to work every day.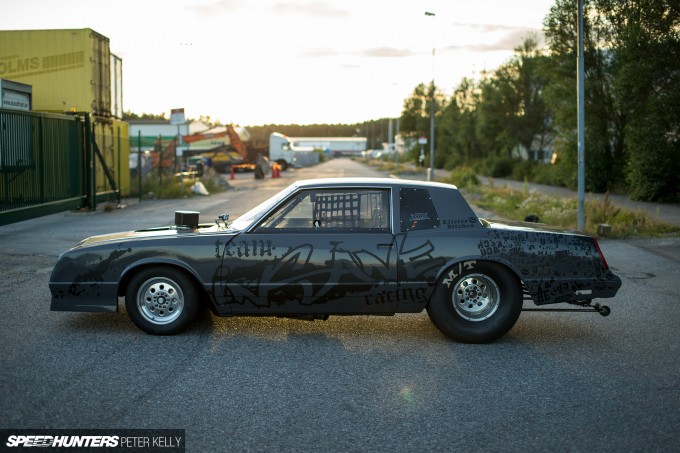 An upgrade to a full-blown drag car was never on the cards, but that all changed when a friend told him about a particular 1987 Chevrolet Monte Carlo rolling shell that had come up for sale in the northern city of Malmö. The car, which was originally built in the States, had come into the country a few years earlier and had spent the last few seasons racing with a simple small block set up.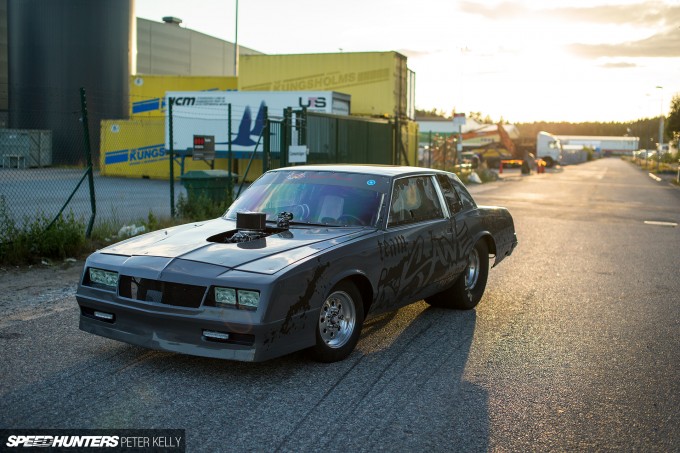 After checking out some photos, Magnus was in love with the tough, angular machine, and rang the owner on impulse, telling him he would come get the car the very next weekend.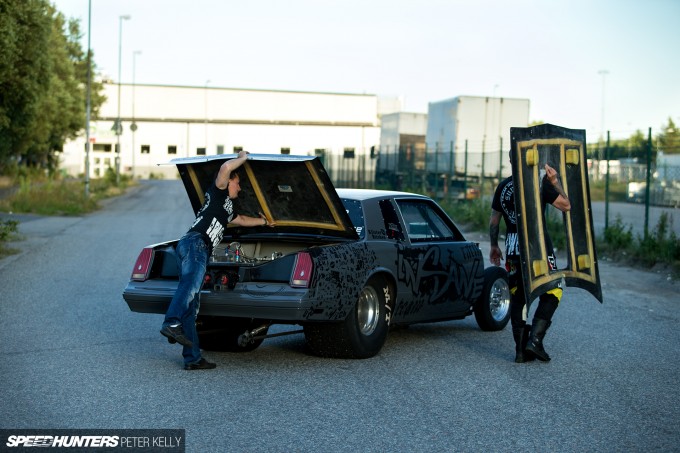 While the main body is still Chevy steel, the two-piece front end, doors, boot and rear bumper are all VFN fibreglass items, and the glass has all been replaced with plastic.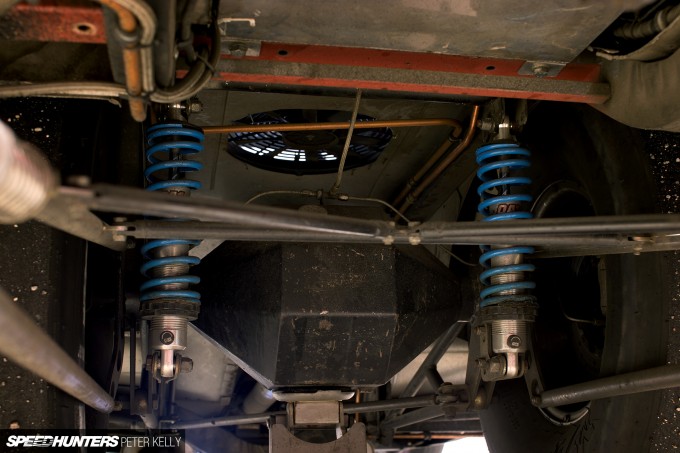 A peak under the rear end of the car reveals Aerospace Components brakes, QA1 coilovers and a ladder bar set up flanking a Moser drag rear end.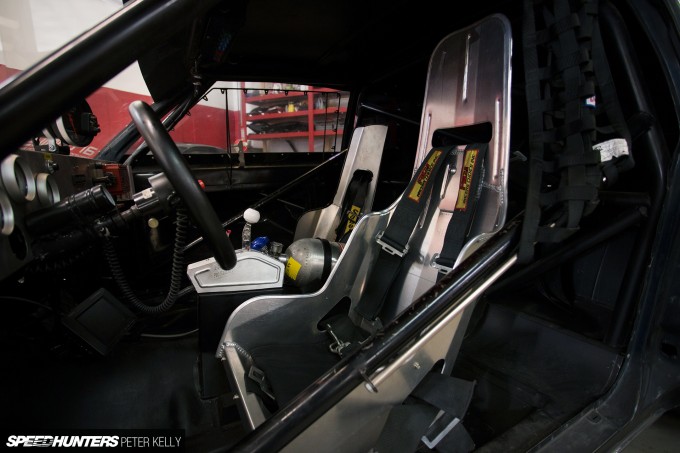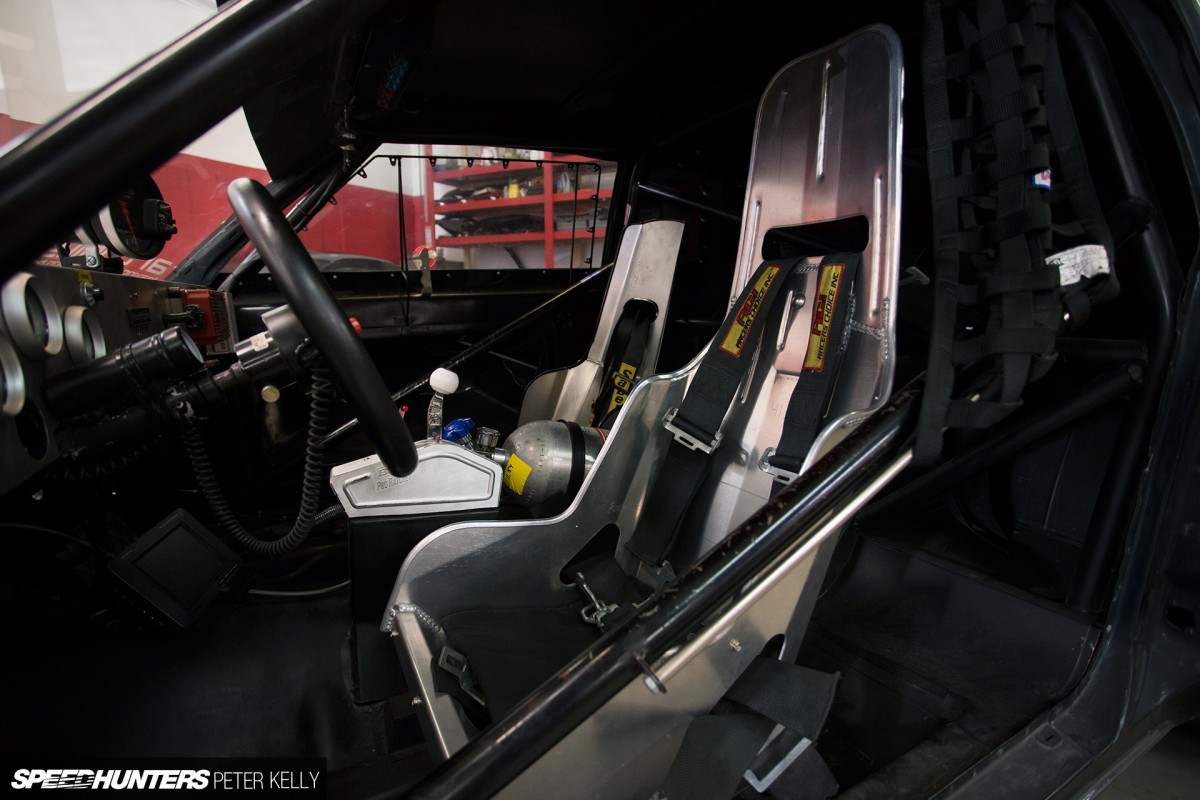 With the aluminium Kirkey seats and weight pulled out of everywhere possible, the car is extremely light at 1,105kg – especially considering its size. All that was needed was the right motor and trans set up. Magnus didn't want some weak small block though, and began pulling together whatever money he could to get his dream nitrous-fed big block Chev set up, even if it meant selling the Audi and subsisting on bread and water for the next year.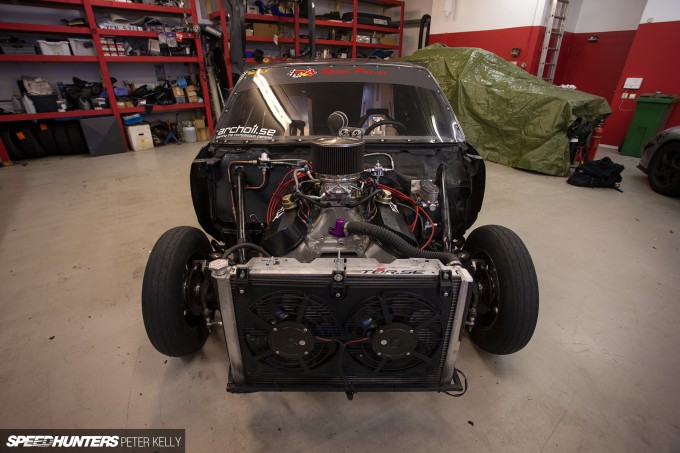 Based on a Chev 454, the big block has been bored and stroked to 491 cubic inches, or 8,046cc. It has been built specifically to take large doses of nitrous oxide, and uses an Eagle 4130 crank with JE forged pistons and rods, all sitting below a pair of CNC-ported Brodix Big Brodie 395 heads.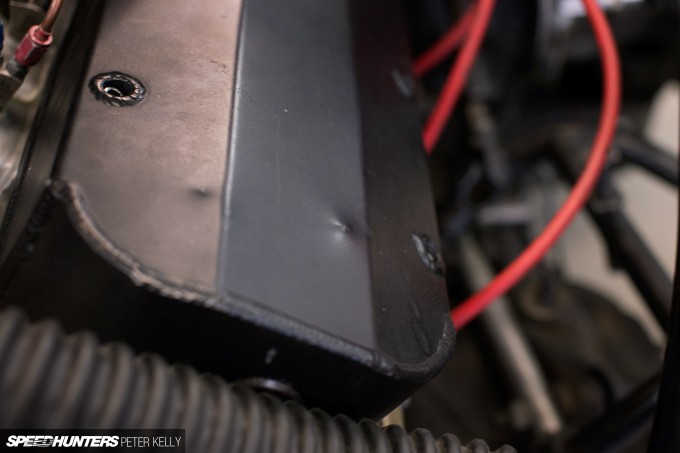 The heads run Jesel Pro Series shaft rockers, dual comp cams springs, 4130 chromoly 5/16-inch pushrods from Manley Performance and mechanical lifters from Comp Cams. The dents in the rocker cover seen above are testament to the fact that Magnus's race against the Camaro wasn't the first time he'd broken a rocker arm…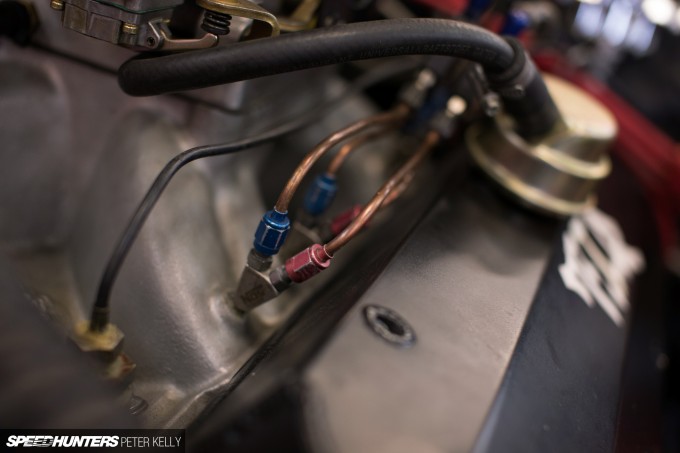 A custom nitrous-specific camshaft allows the engine to make the most of a 400-shot of NOS, pushing power from 900hp in its natural form to upwards of 1,300hp once the Pro Shot fogger system is activated.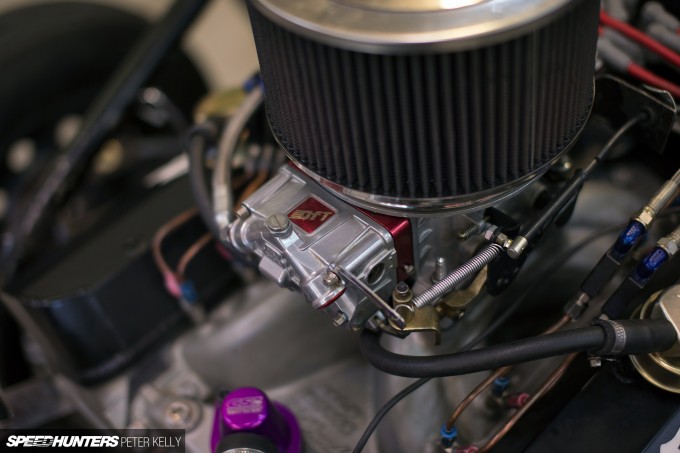 Induction is handled by a QFI 1250 high-flow carburetor, bolted to a match-ported Edelbrock 454-R Victor intake manifold.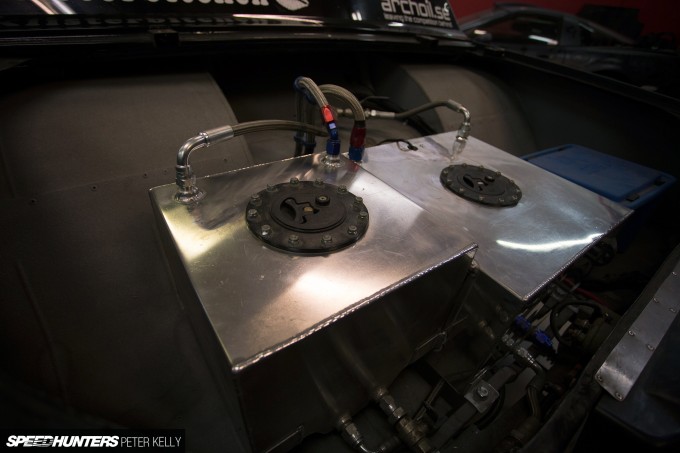 The carb accepts fuel from one of two systems in the boot, changeable with the toggle switch at the rear of the car. This allows Magnus to drive to his races on pump gas, which can sometimes take hours, then change to race gas once he's ready.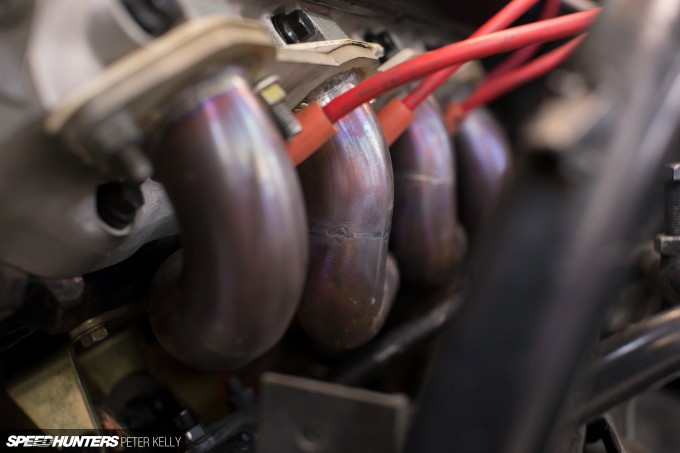 Finally, the exhaust system, which had caused my ears so much trouble, is really less of a system and more of a set of hand-built headers, dumping into a pair of mufflers that exit underneath the car.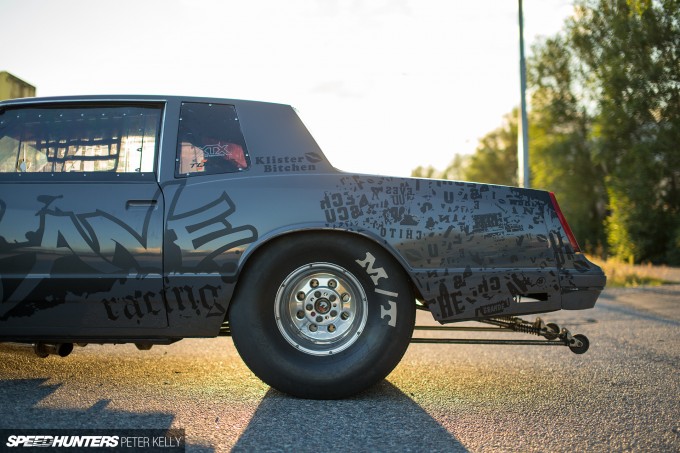 As Magnus happily admits, you either love the Monte Carlo's brutish looks, or you hate them. He can't get enough, obviously, and personally, neither can I. I love this car's square, unforgiving lines and the way the rear quarters sit when they're trying to envelope a 33×16.5-inch drag slick. It's certainly not what I'd call sexy, but it's angry, purposeful and thoroughly American.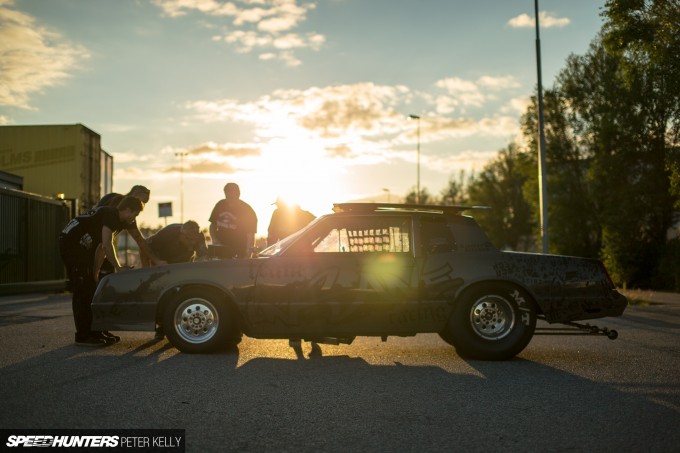 The Team Insane Racing Chev is far from being the first Monte Carlo drag racer, nor is it the quickest or even the tidiest. This car is special because it sees a full season of competitive racing, and yet it lives its life entirely on the street. The question is: how do these guys get away with it?
The What, The Why, & The How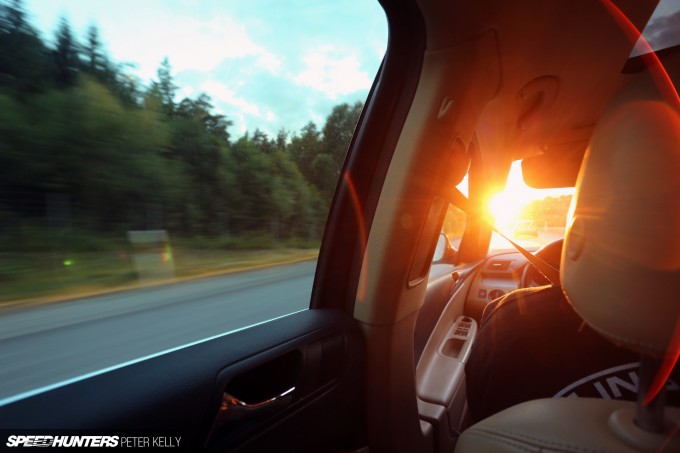 After my first night out with the Team Insane Racing crew, the guys (and girls) were good enough to invite me out again a few weeks later to tag along for another race. Magnus was to be paired up against a '69 Camaro once again, but this time the opponent's car was pushing more power and less weight. This would be the perfect opportunity to learn more about this fascinating sub culture and exactly how it is they do what they do.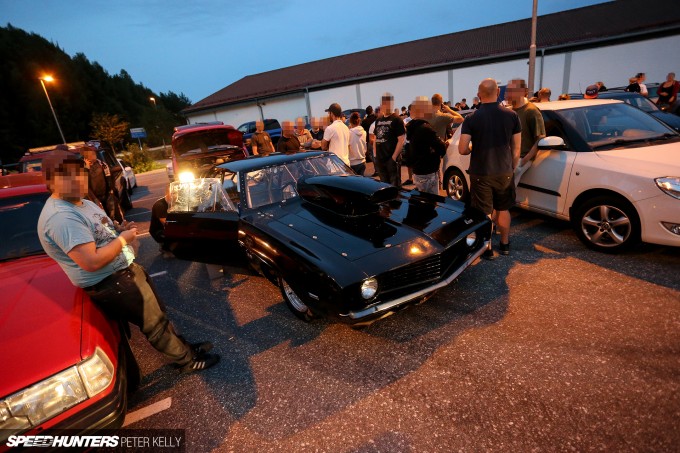 Stockholm's street racing scene has been around for a long time, but it was in 1982 that drivers began to get serious, creating the Stockholm Open, an annual street racing event that would pit the quickest cars from around Northern Europe against one another in a single-night elimination tournament. The Stockholm Open grew bigger and bigger until it finally went legit in 1993, moving to Malmby Airstrip in Strängnäs, but this wasn't to last.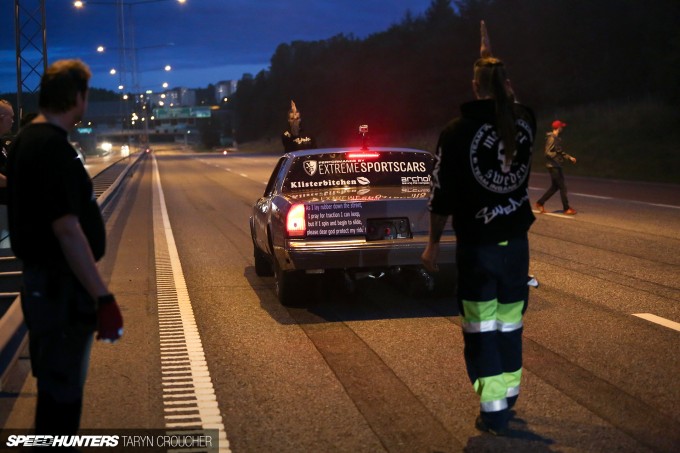 In the early 2000s, the government put a stop to the racing, closing down the legitimate event at Malmby because the cars weren't 'green' enough. Racers protested, saying they would simply head back to the streets if they weren't allowed to race legally. The government wouldn't budge, so that's exactly what they did. Today the Stockholm Open is still the single biggest racing event of the year in the city, but there are now also other tournaments taking place throughout summer, including the Stockholm Top 10, which is one of Magnus's main competitions.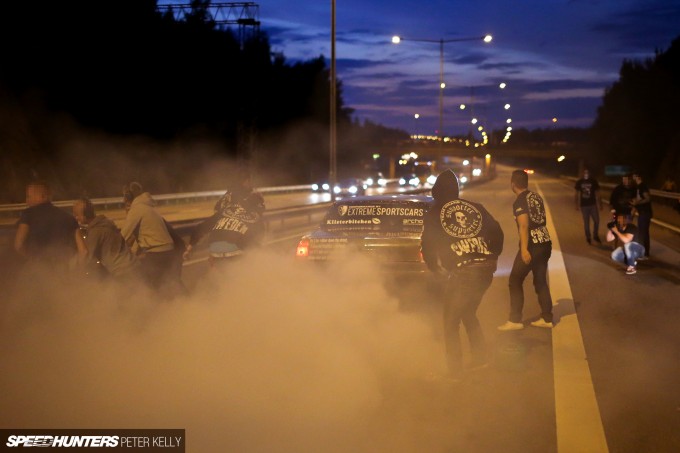 The Top 10 is not constrained to one evening, but is a constantly changing list of the 10 fastest cars in Stockholm that runs over the racing season. At any one time, there are 16 cars competing for a spot on the top 10, and in order to advance up that list (which is constantly updated online), you must challenge the car and driver in the spot above you. The driver then has a fortnight to respond, or automatically forfeits their place on the list (even if their car is not race-ready). The driver who is challenged may choose the spot to race, which is always on a section of highway, due to the good visibility, wide roads, no chance of on-coming traffic and no short run-offs.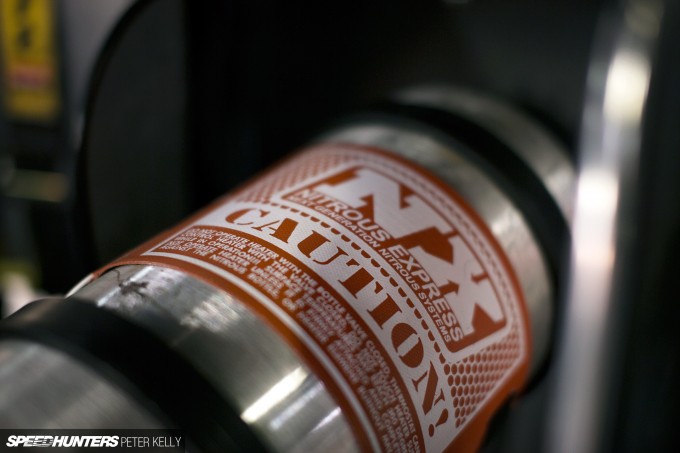 It's not all American muscle and way too much nitrous, either. If your car and your driving is fast, then that's all that matters. Currently, in the top ten you will find a KP Toyota Starlet, an Audi S2, a Mercedes SLK32 and a BMW 2002 amongst the Chev and Ford muscle cars.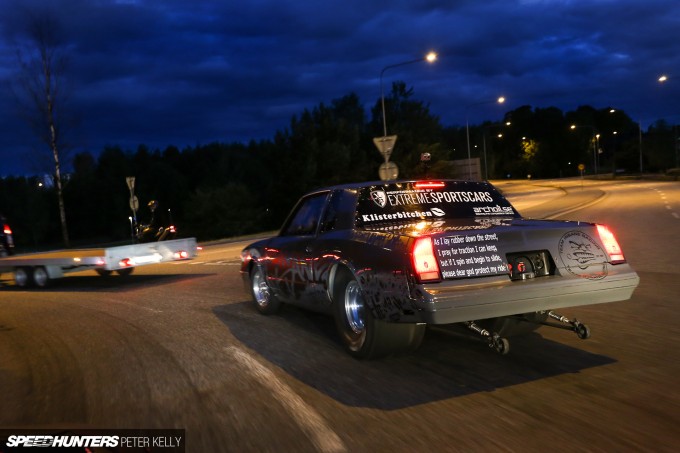 So how is it this is all possible? This entire scene's existence comes down to perhaps one major point in Swedish law. Put simply, for a driver to be arrested or charged with any offense, after witnessing an illegal act an officer must not lose sight of the car in question. The police must then pull the vehicle over and catch the driver still sitting behind the wheel.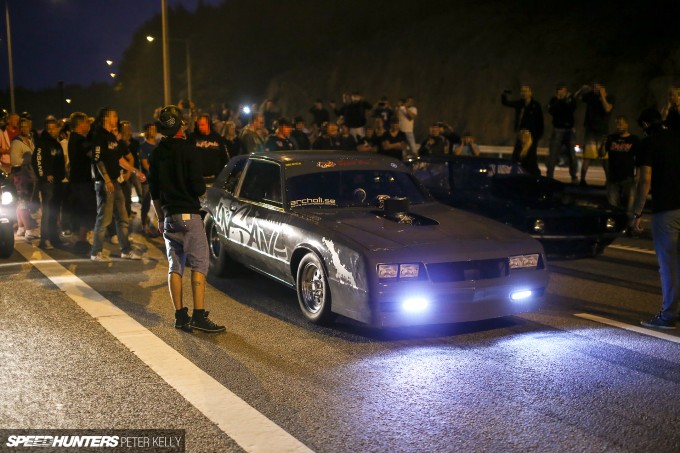 Essentially, this means that if a police car somehow manages to get past the hordes of spectactors and cars that have jammed up the motorway to watch the race, then the team's blocker cars whose specific job it is to stop a police car in the event of a chase, and then catch up to a one-tonne drag car pushing 1,300hp, all the driver would need to do is get off the motorway, swing around a corner, park up and get out his car. Even if he's standing right next to it, the officer cannot prove it was he who was driving.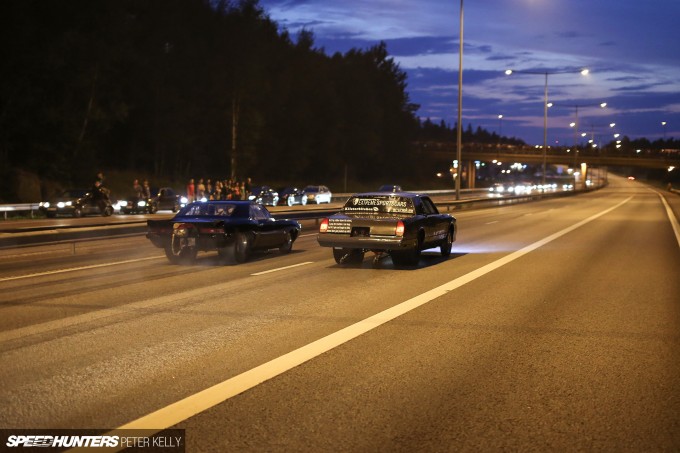 Of course, things like this are never foolproof, and Magnus admits that he's certainly had a few close calls with both the police and the centre barrier – it's not all fun and games after all. These are serious cars that go seriously quick and carry serious consequences should something go wrong.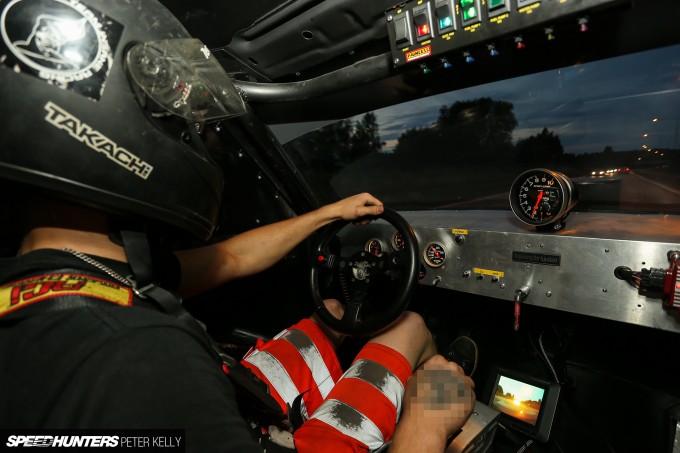 Thus far, there have been no serious incidents, so for now, Magnus, his team and all his fellow racers are happy to head out until the early hours of the morning in search of those illusive wins. Magnus also says he'd be more than happy to take it back to the air strip should it once again be allowed, but until then, it's a life of strong coffee, busted ear drums and big wheel stands on the highway.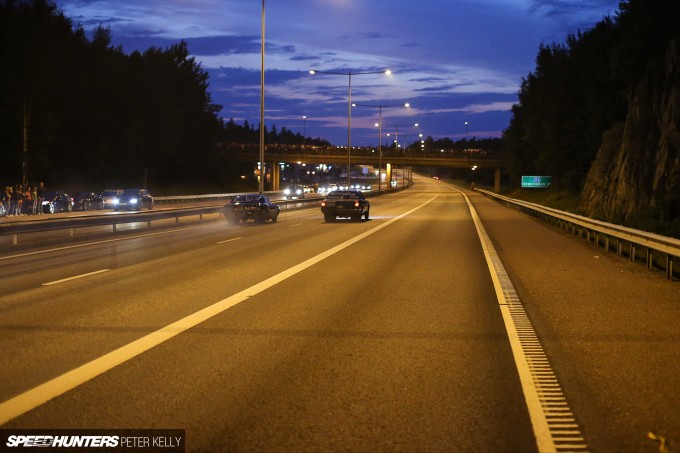 And what about the race against the beautiful black Camaro? Sadly, more technical issues caused a big miss right off the start line and continued, accompanied by giant blue flames belching from underneath the car, right through the run, resulting in another loss. Perhaps that's the last time Team Insane Racing invites a Speedhunter to a race, we seem to be nothing but bad luck…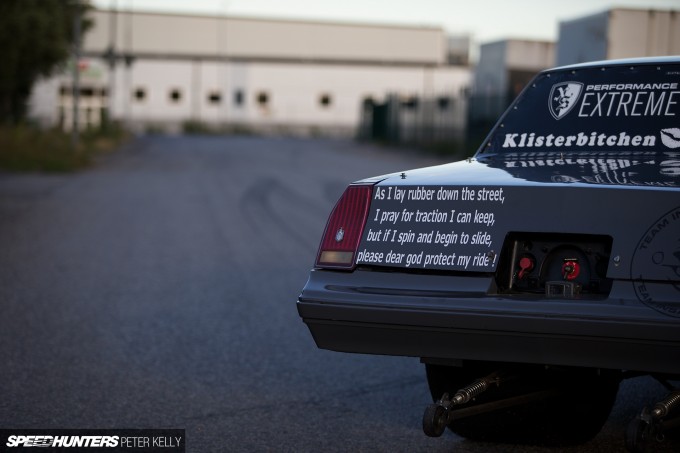 That said, with the season now at an end, the Monte Carlo has clawed its way up to second spot, with only a monster Ford Mustang standing in the way of first place. Despite the good result, Magnus has had enough of the technical problems and says that he has big plans for the Monte Carlo, and it will be back, far bigger and better for the start of Sweden's next racing season. 
A big thank-you to Magnus and the team for showing us their fascinating part of the world, and please, if this story has inspired you to get racing, there's plenty of places out there to go and do it safely and legally, use them!
Peter Kelly
Instagram: pedey_kenmeri_creative
pedey@speedhunters.com
Additional Photos by Taryn Croucher
Instagram: taryncroucher
Twitter: taryncroucher
http://www.youtube.com/watch?v=TXuY8McwN80