Commencing Countdown, Engine On
A Cold War rocket testing site – the location could not have been more appropriate: the still air and gently decaying concrete structures of. In my typically over-active imagination, I could see pencil-moustached RAF personnel manoeuvring their war-winning latest creation into place, ready to fire it up for the pride of Britain. The huge blast wall behind would be tested to its limits, that was for sure.
The subject tethered in place inside the concrete tunnel, the start sequence commenced. Ignition on…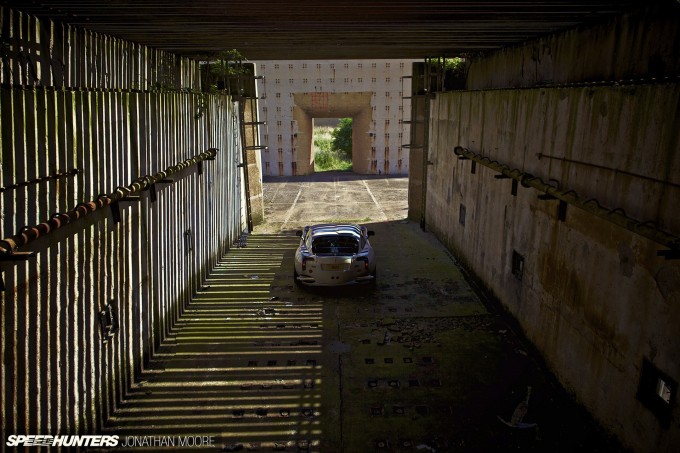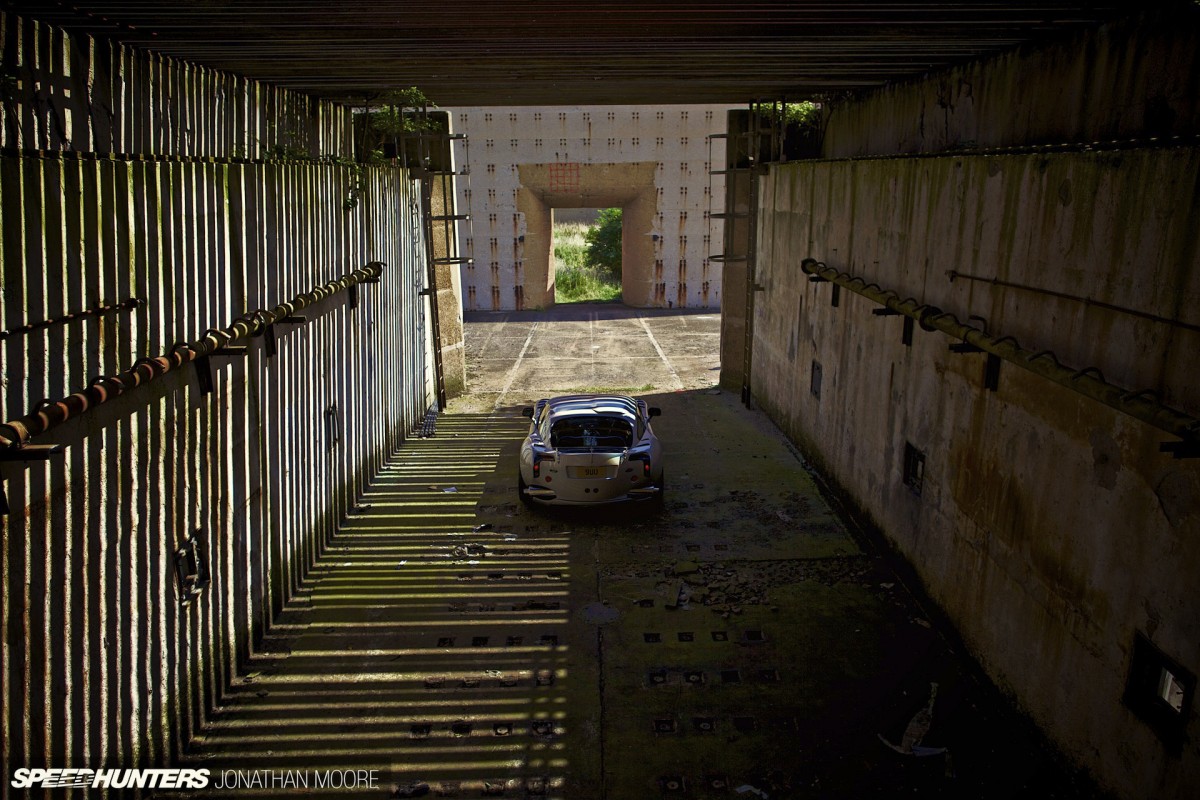 Countdown started in mission control. Electronics humming as life flowed through the machine. The button was pushed: the noise erupted… Flames poured out of the exhausts as the guided missile known as a TVR Sagaris launched into the distance, disappearing in an instant, leaving ringing ears and rising smoke. Another successful launch.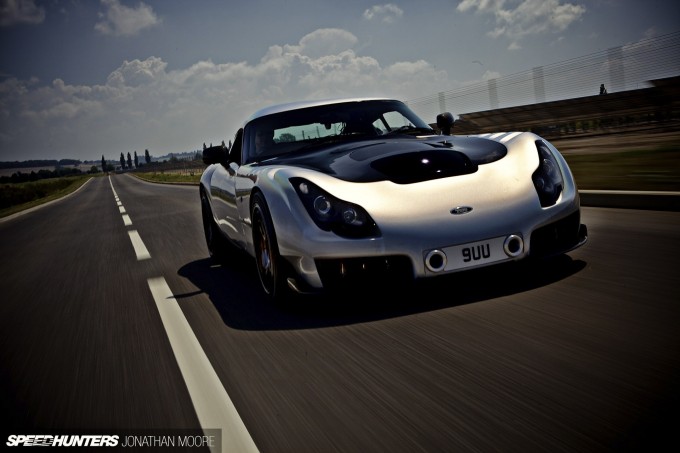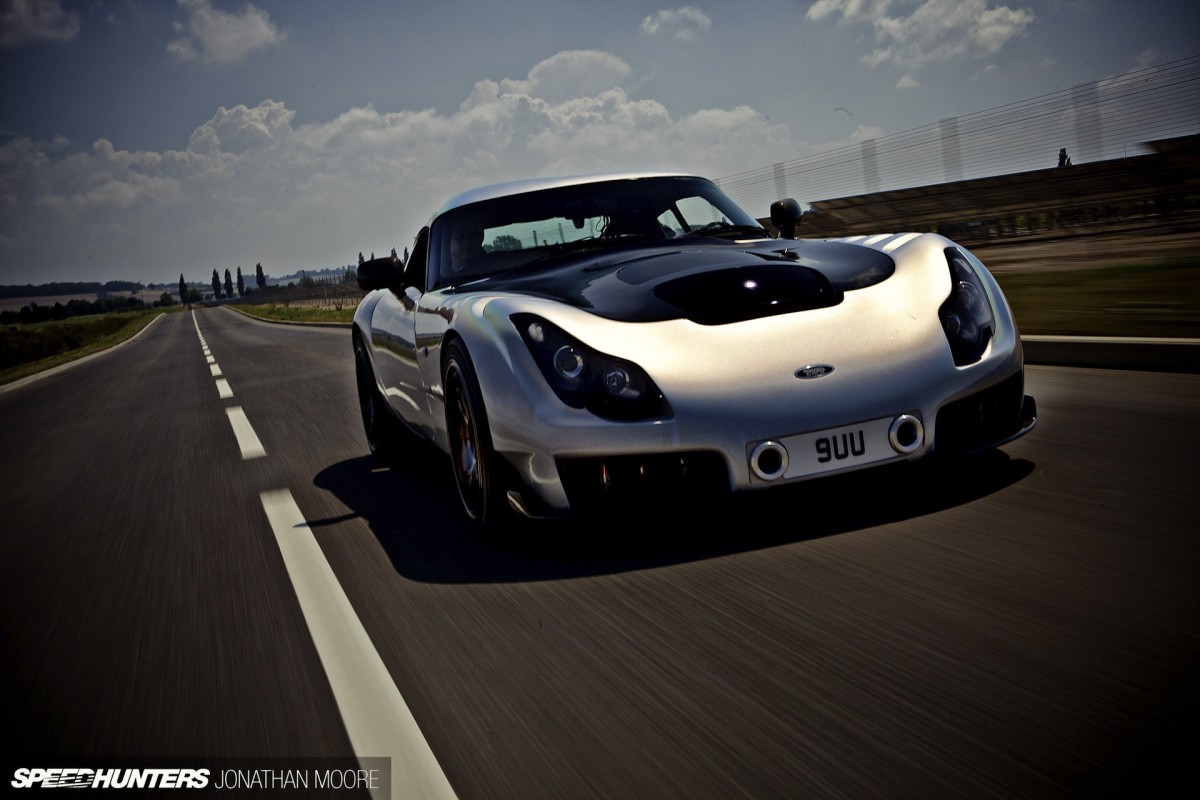 Fantasy? Not entirely. I've seen and heard what this Sagaris can do. I've felt it rattle my bones and scorch my throat. This Sagaris is a four-dimensional thing and one of the most savage road cars I've ever experienced.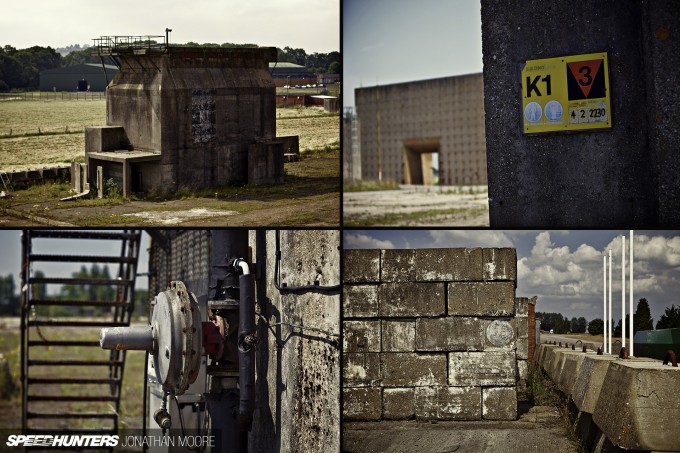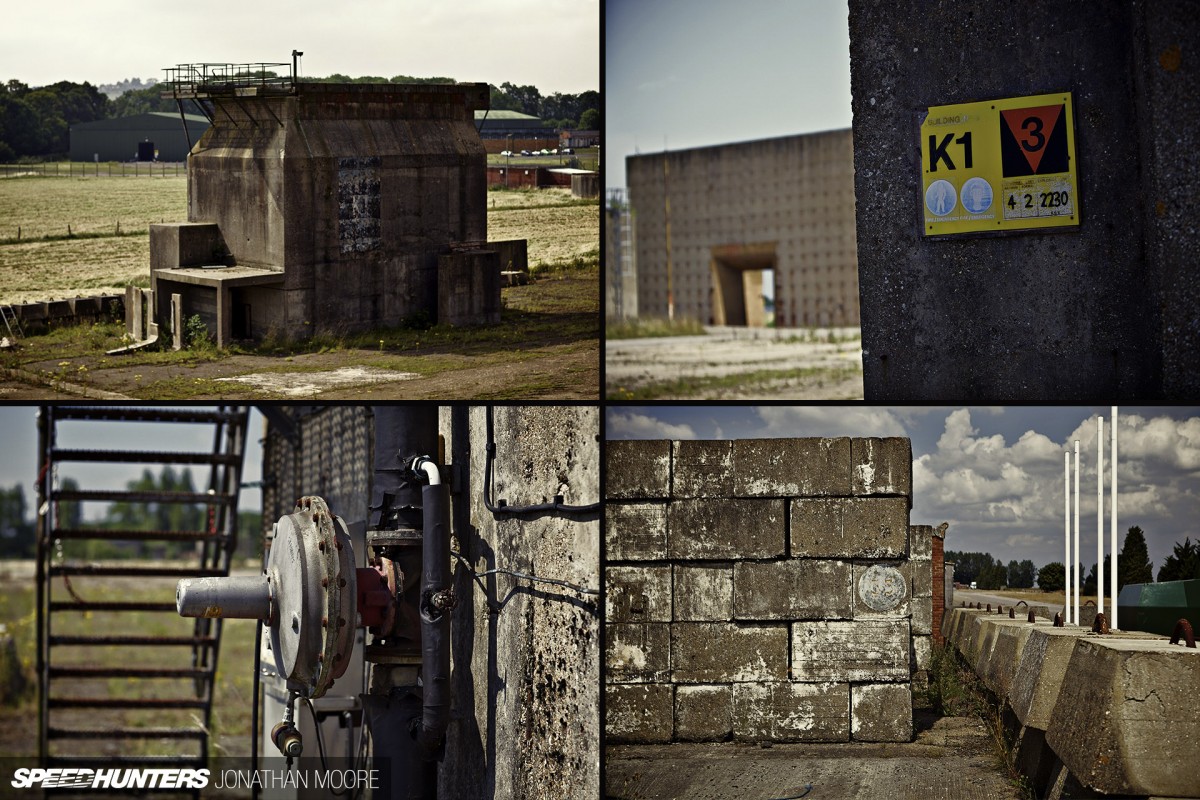 750hp in a car weighing 1,100kg. 680lb-ft of torque blasting in at just 4,200rpm. Rocketship numbers ideally suited to the Propellants, Explosives and Rocket Motor Establishment at Westcott in Buckinghamshire – which is also home to Topcats Racing, the team responsible for mating the Sagaris with its 6.3-litre LS9.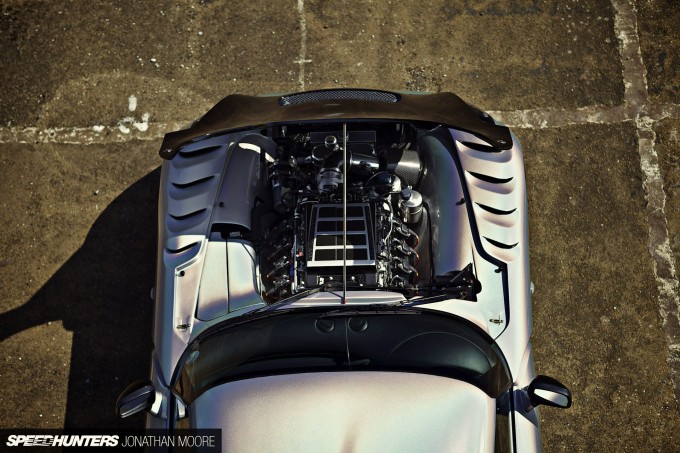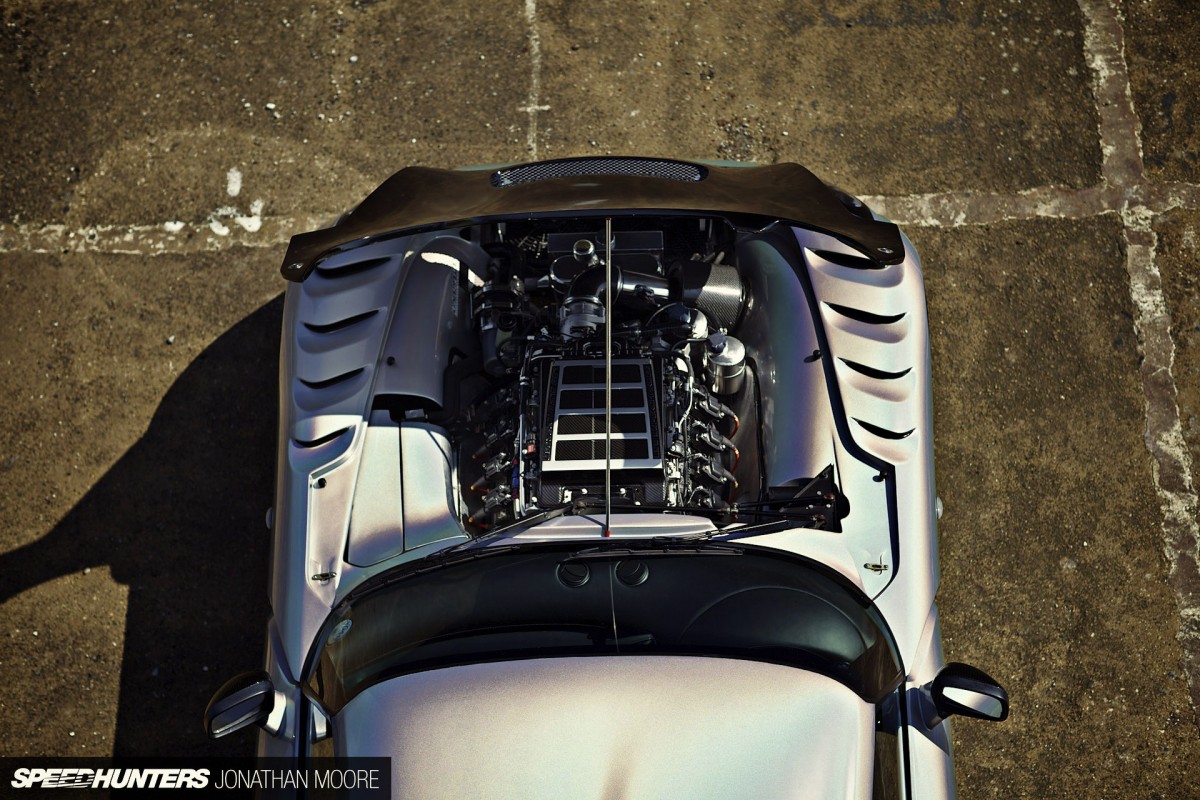 There's a long history of putting big, loud American V8s into lightweight British sportscars. TVR were in on it in the '60s with the Griffith collaboration, for instance – and this Sagaris, literally the last of its breed, continues that tradition. Shoehorning a Chevy engine into the tight confines of a Sagaris engine bay isn't the work of a moment, especially if you want it to work for longer than 10 minutes without going supernova.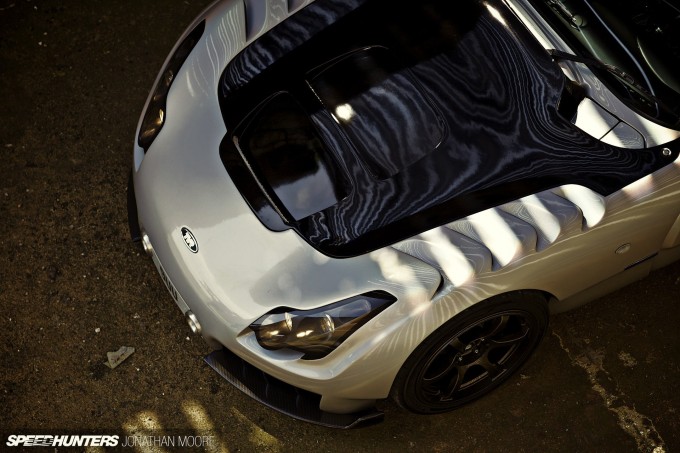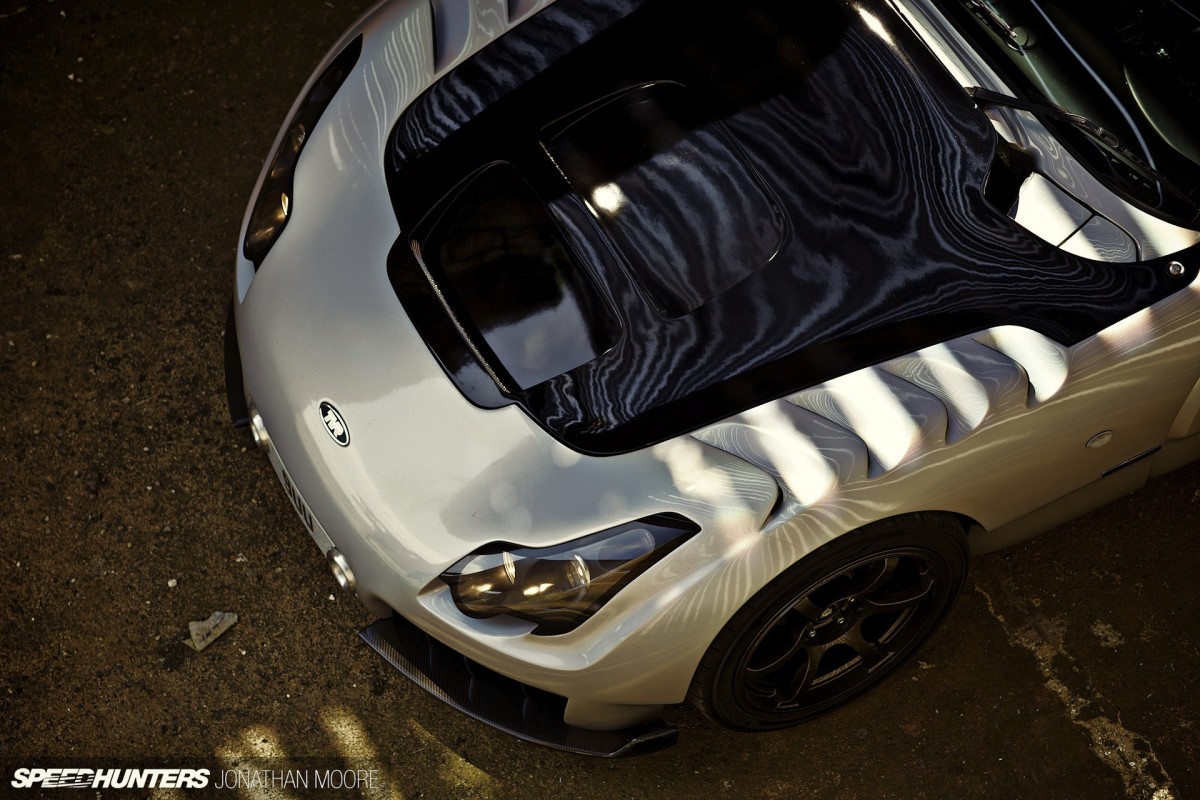 It's all to do with approach. From the outset, owner Paul Black worked with TVR specialists Topcats Racing to make this a halo car in every sense – a reminder of all the good things about a TVR. Looks are a given; performance in the road-holding sense ditto; power, acceptable, something to build on; making it to the end of any given journey, needs serious thought.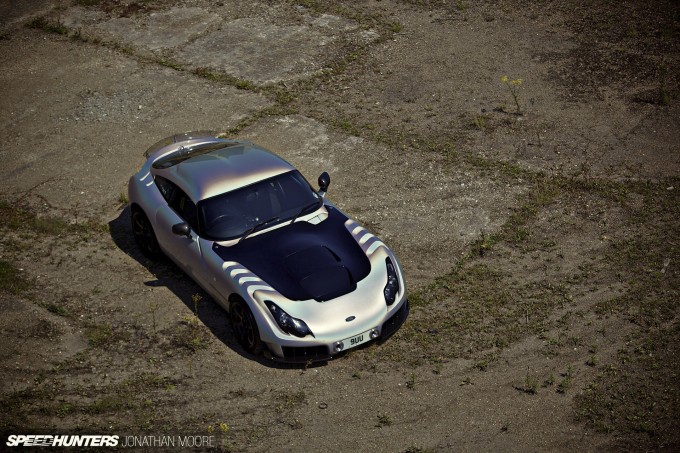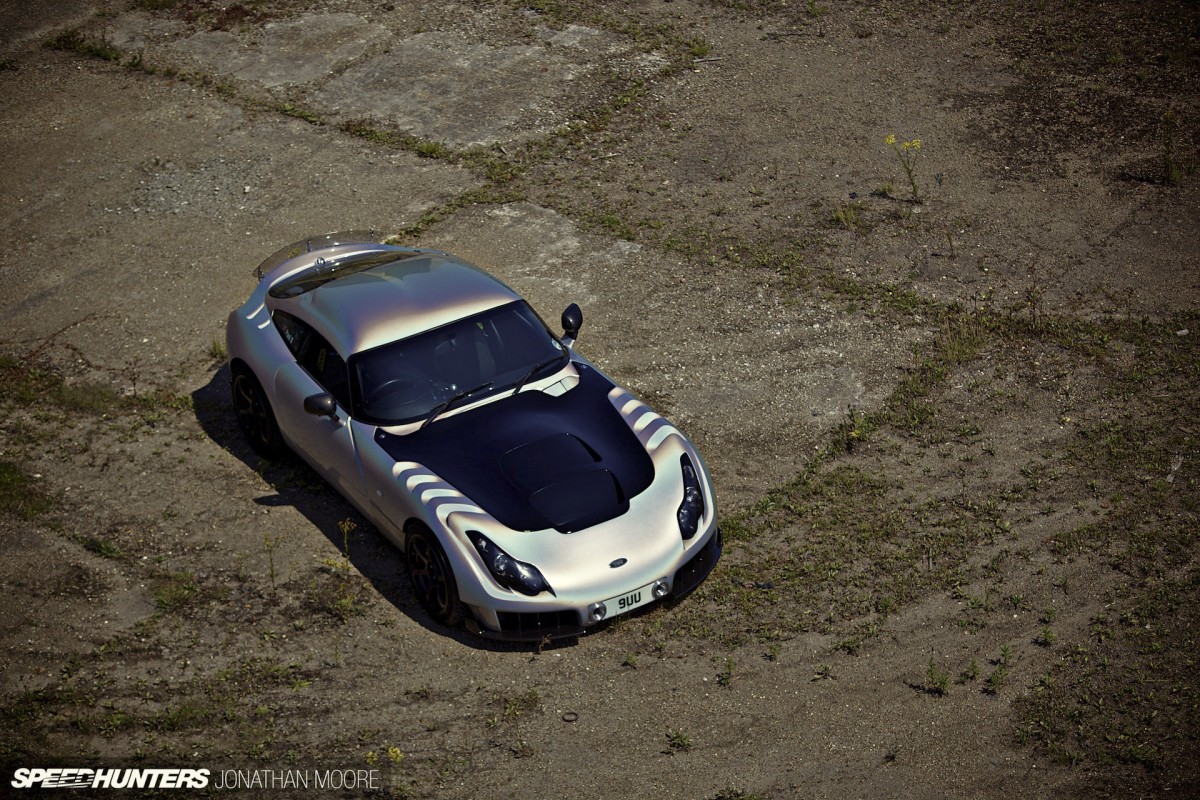 Let's get this out of the way up front: TVRs have a bad rep, it's true. Like so many British sportscar brands of the last couple of decades, mentions of TVRs are met with guffaws and questions about how good your breakdown cover is. This car meets those questions with noise, fury, tyre smoke… and reliability as standard. Yes, you read that right.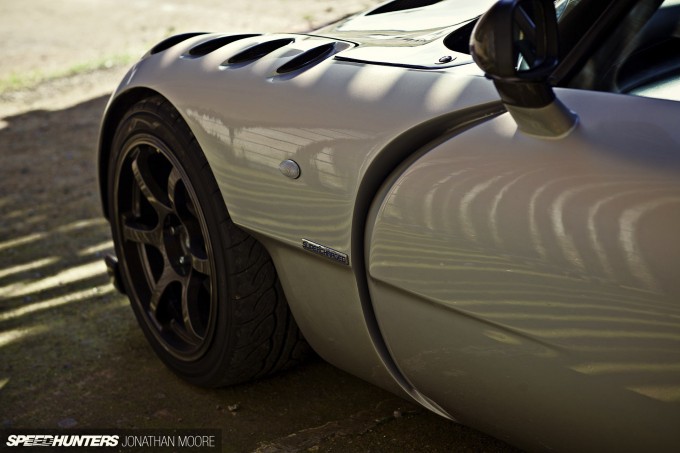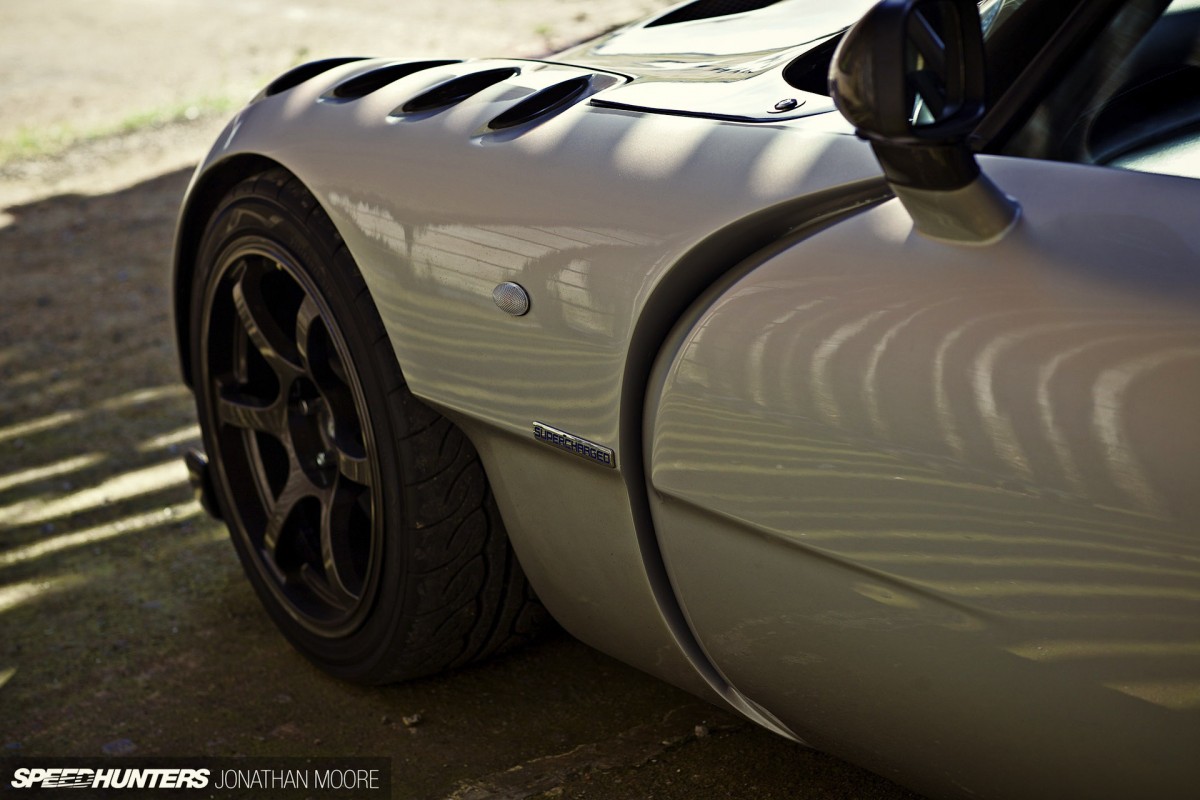 Being British and having a love affair with cars meant that Paul was almost inevitably going to be drawn to a niche English sportscar at some stage. He'd owned various Porsches and had a Nismo 350Z, but back in 2008 his eye was set on a TVR Sagaris – just as the firm tumbled yet again into administration, this time seemingly for good.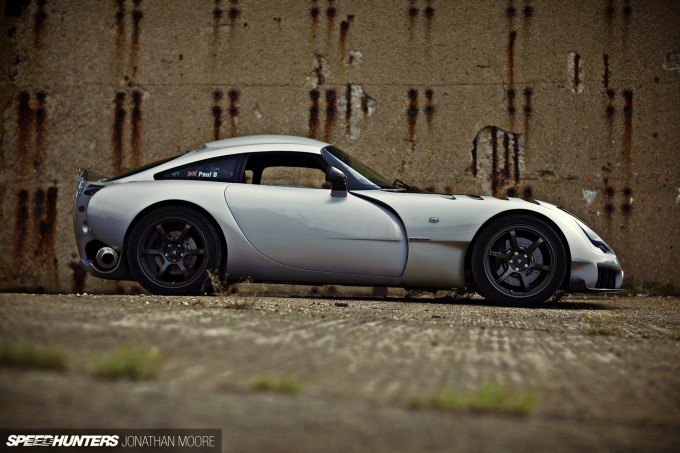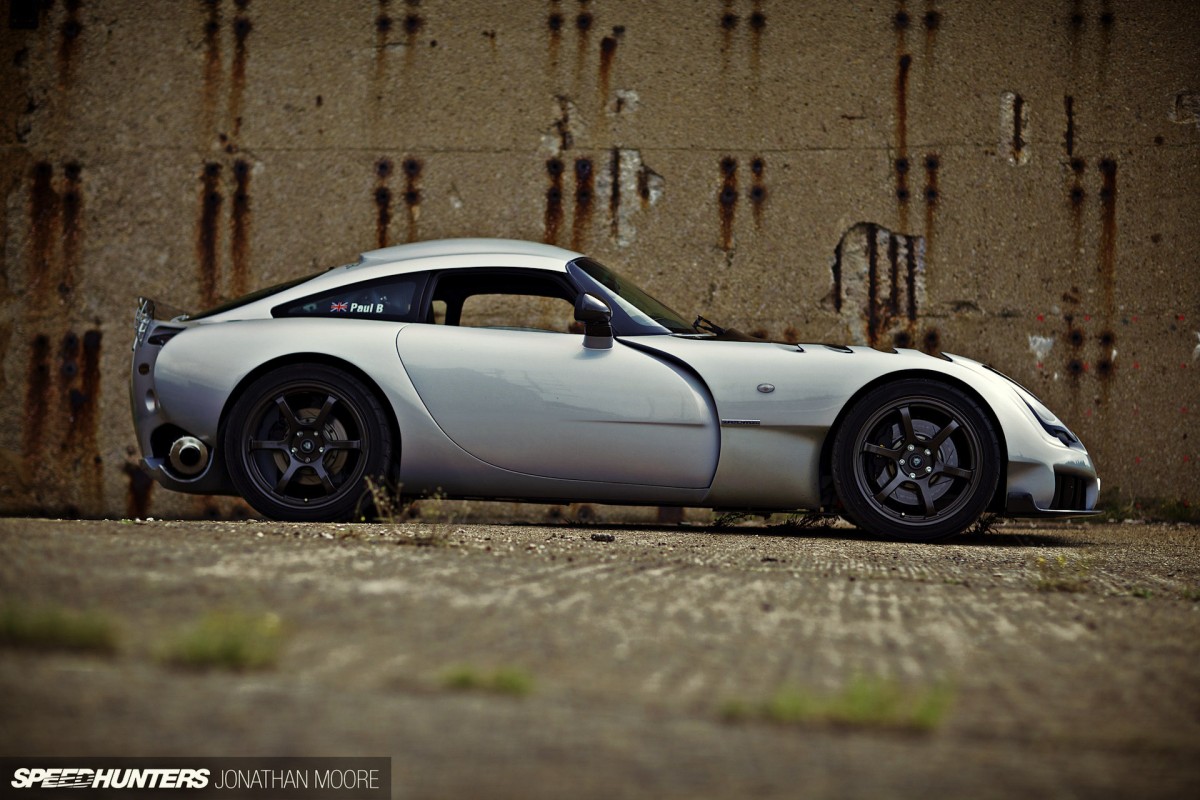 Time was short if he was to satisfy his dream of owning a new TVR, and after a rapid intervention at the receivers Paul became the proud owner of the last two Sagaris to roll off the Blackpool production line. Literally roll off, because neither car was actually finished. As Paul himself admits, though, owning a new TVR meant you really only get a car that's 90 per cent complete anyway…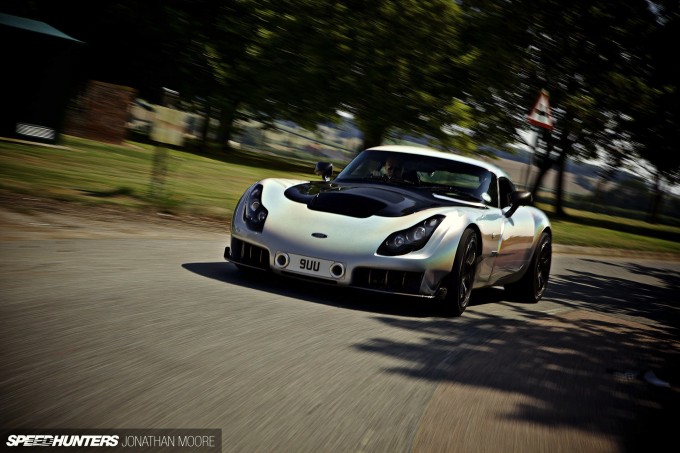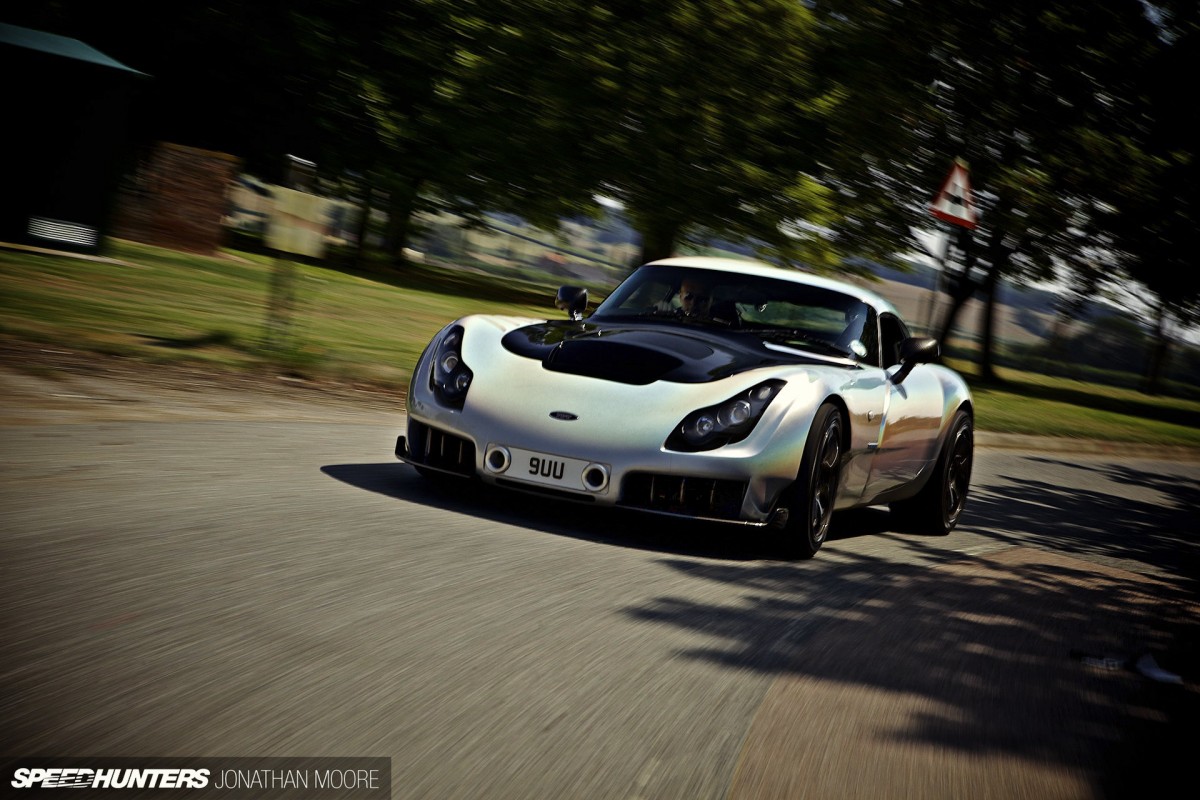 Driving his new baby, several things immediately became clear. There was the default running in period for the race-derived straight-six engine, which was frustrating in itself.  Then, even booting it properly, Paul was disappointed with the actual dynamic pull of the Sagaris – the great sounds of the 400hp four-litre powerplant, notwithstanding. Something could be done, surely?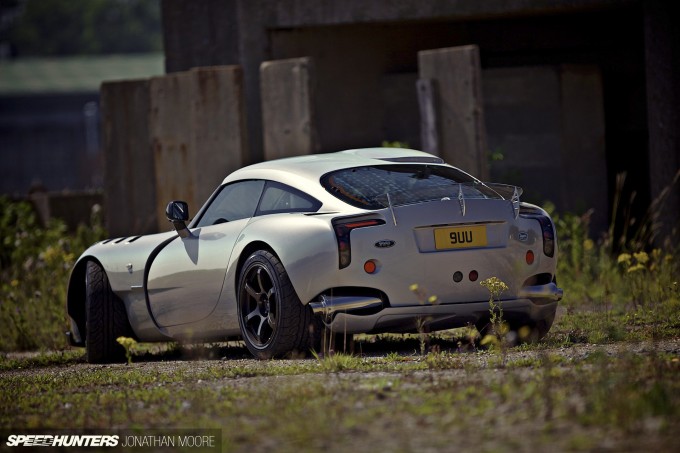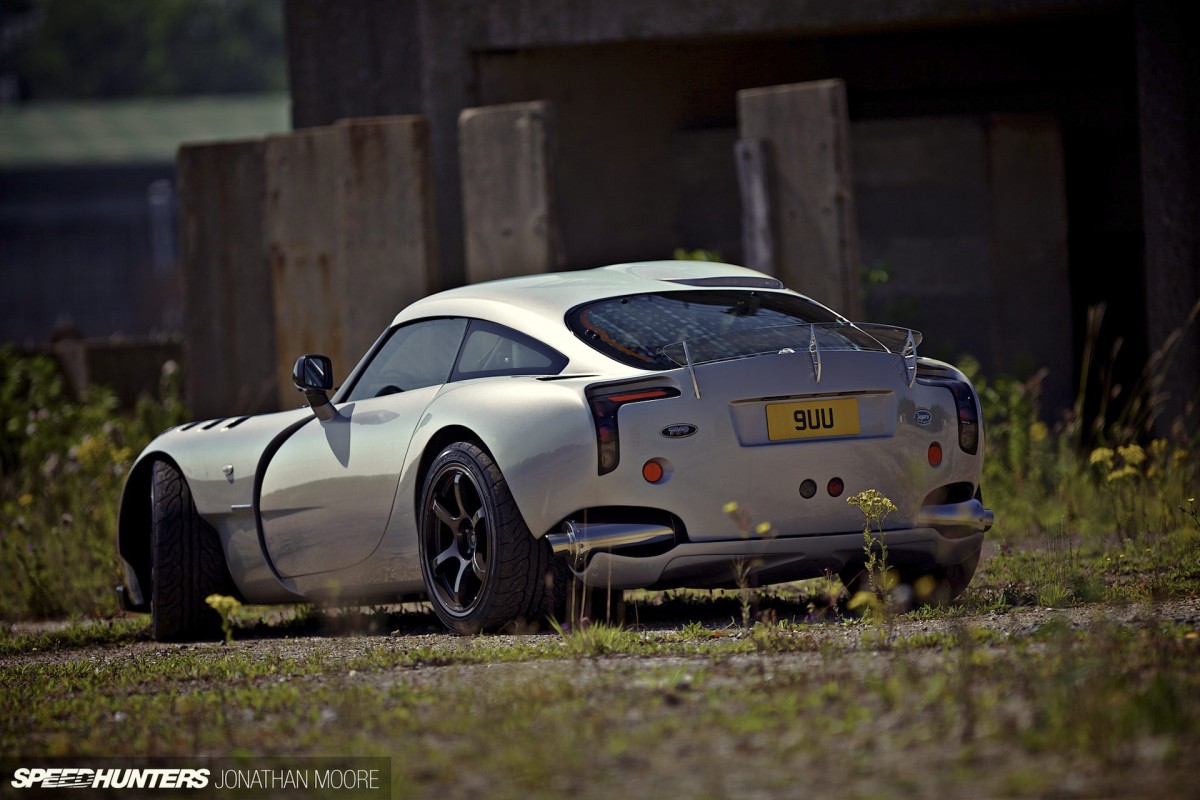 As so often happens, it's just a confluence of circumstances that start off mad car projects. Taking part in a trackday that happened to be organised by Topcats, Paul was offered a ride in their V8 Sagaris GT car. Paul hadn't really done a huge number of track days and hadn't raced at all, but the result was predictable. A run in a Tuscan Challenge racecar was followed by more and more track days and the relationship grew. With Topcats being self-confessed V8 drug dealers, it was the start of Paul's decline into a dangerous, unshakeable habit. He needed more power. And he needed it fast!
Supercharge Of The Light Brigade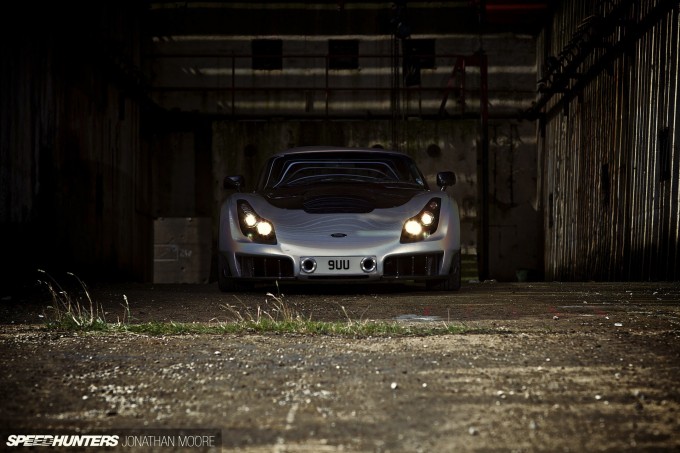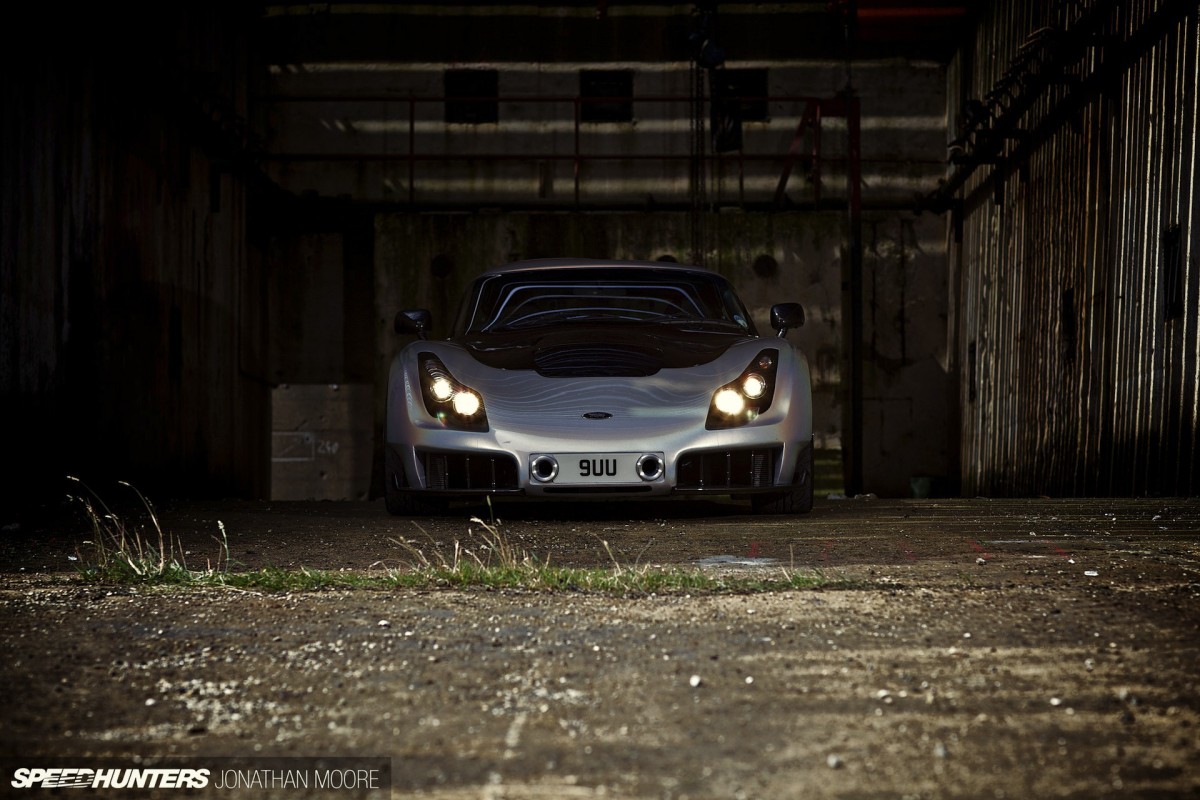 Husband and wife team Warren and Charlotte Gilbert formed Topcats Racing back in 2002, and have a long history with both TVR and Marcos. Both are seasoned racers, and it was their expertise that led them to setting up a road car business to supplement the race team, quickly becoming go-to specialists for both marques. I know them well for their pair of LS7-powered Mantis racecars, which have run in national GT events for years; they've also run an LS7 Mosler MT900 GT3 very successfully. Their experience with small block V8s was developed from running quad-cam V8s in the Marcos – a great engine, smooth and reliable, but underpowered. Upgrading them would cost serious money and also make them less reliable; the option was to try a crate Corvette V8, almost doubling the power with a narrower, lighter engine for a fraction of the cost. The LS7-powered Mantis racers were followed by numerous road-car conversions.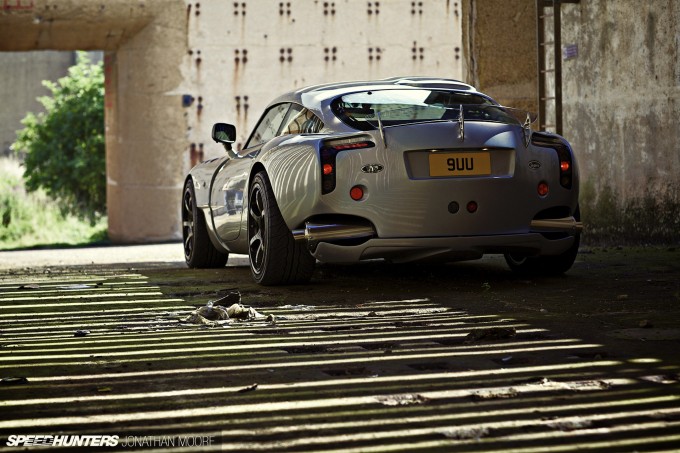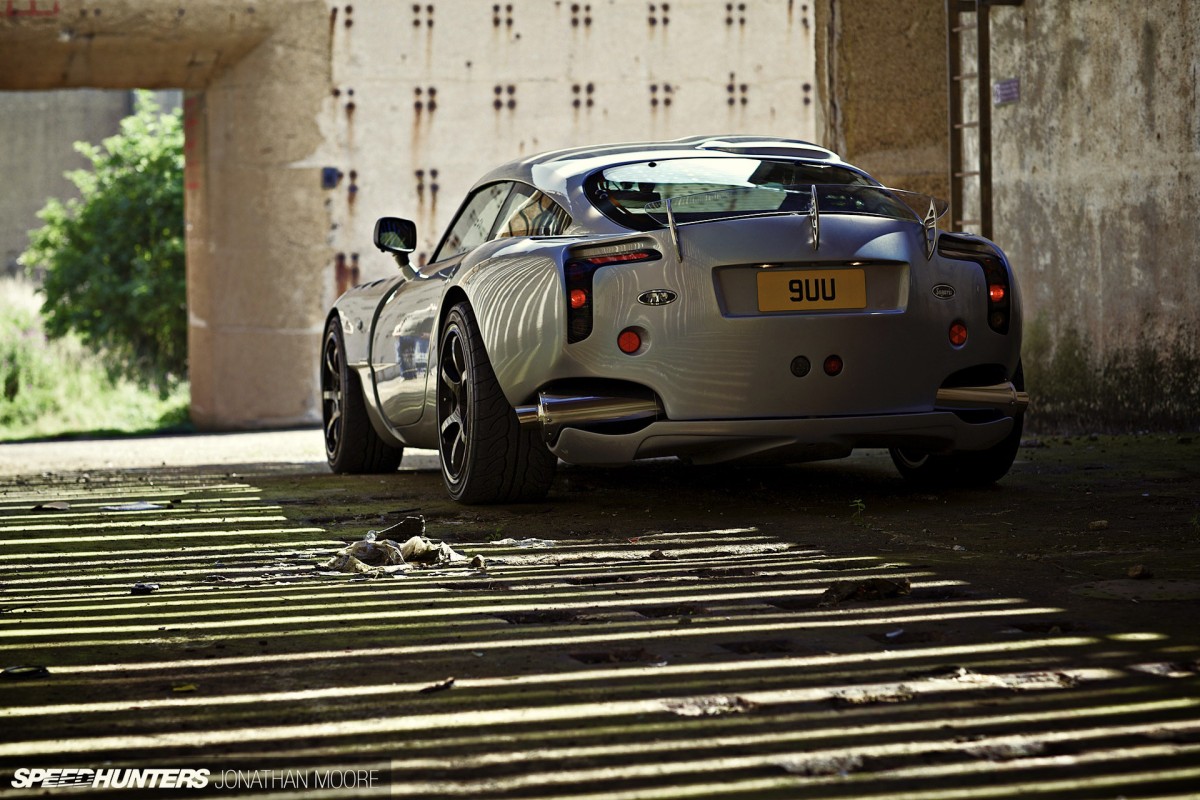 It almost sounds like a set up. One day Paul dropped his Sagaris into the Topcats workshop, where it was frequently, teasingly, parked next to the GT3 Mosler. Warren had just fitted a Cerbera with an LS3, and with a full-length runway outside as their playground Paul pretty much decided on the spot that he wanted an LS engine in his Sagaris. But the 3 seemed… so normal. How about an LS7, like the racecars? Amazingly, Topcats managed the LS7 conversion in just eight weeks. The result, more than satisfying: about 200 more horsepower and mountains of torque. Satisfying at first, that is.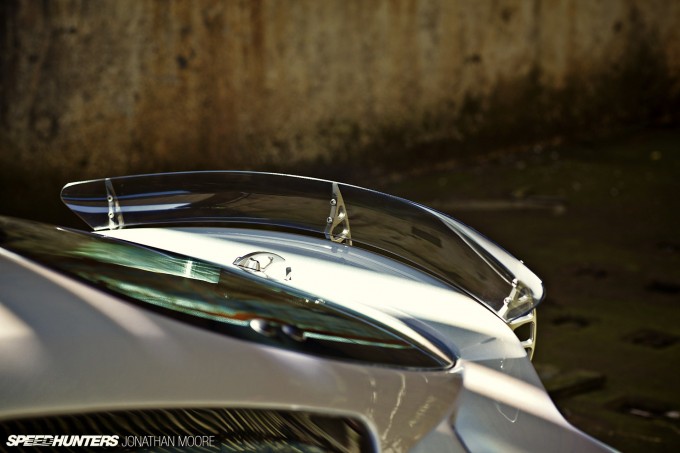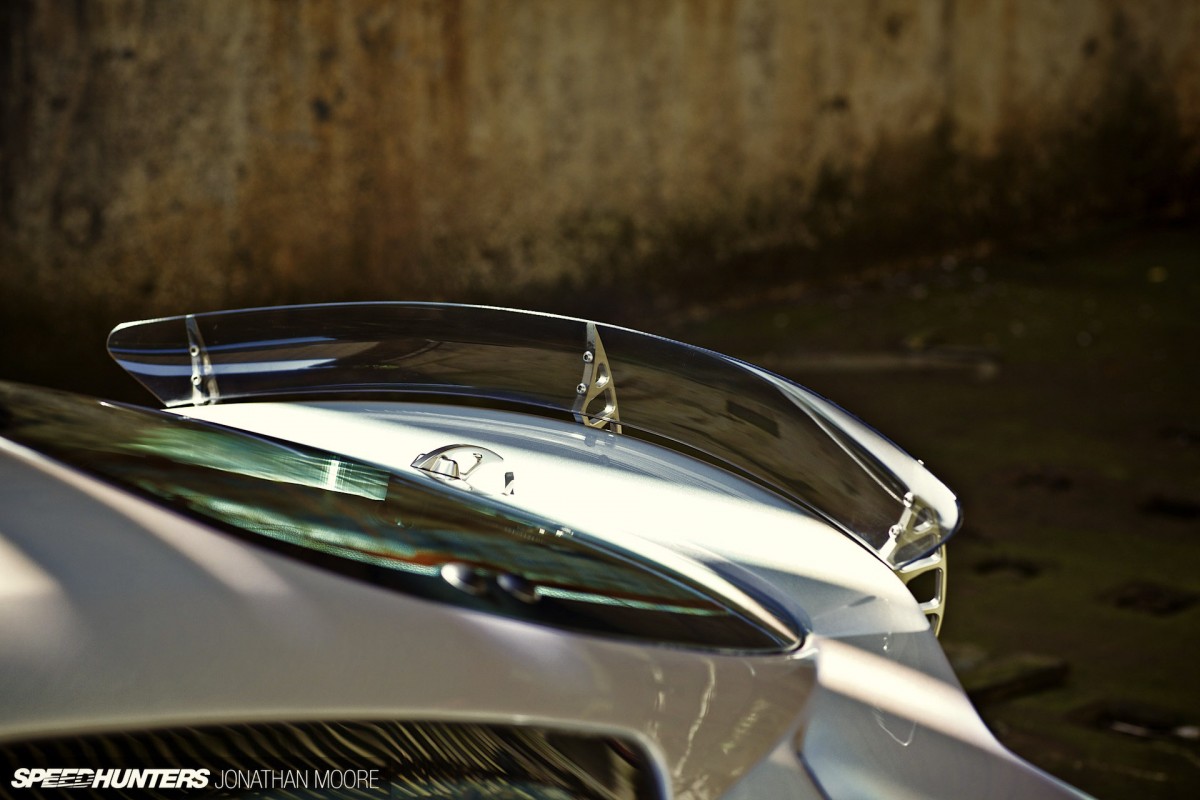 Paul's first thing on picking up his new LS7-powered baby was to drive the car to Spain and back – not something you'd typically attempt in a TVR, and proof of how good the conversion had been. The problem came later when Warren called Paul to tell him that a second LS7 Sagaris conversion was in the offing. Paul's car was back at Topcats within the week – it was time to up the stakes.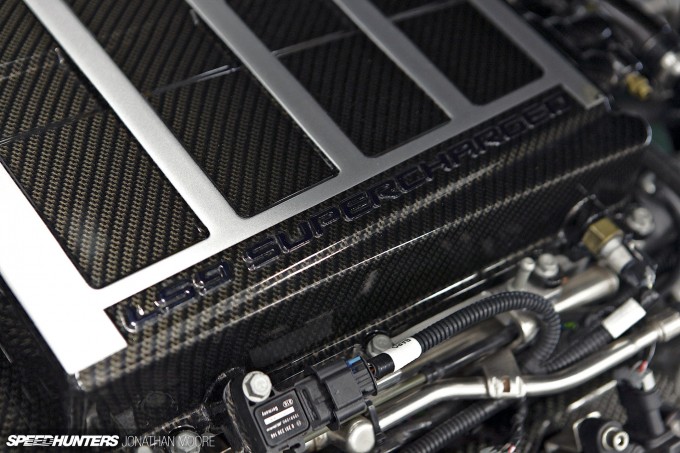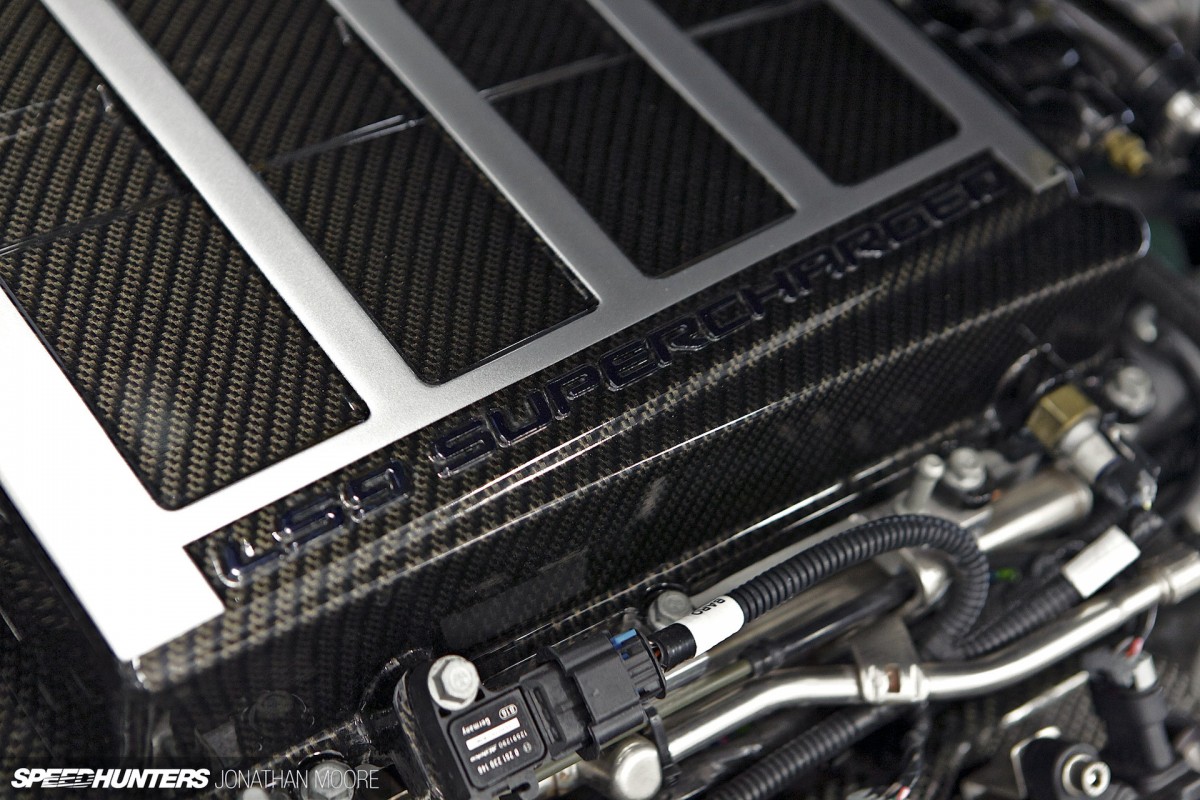 What to do? An LS9 was chosen as the way to go. This would be a completely different beast compared to the LS7 project. From the off, those ever-present TVR niggles proved frustrating. A donor car was used for initial measurements, but that turned out to be off in almost every direction with typical TVR 'bespoke building techniques'. The engine sat about 20mm too high in Paul's car; optimism wouldn't get this car built to the standard they were aiming for. There could be no shortcuts.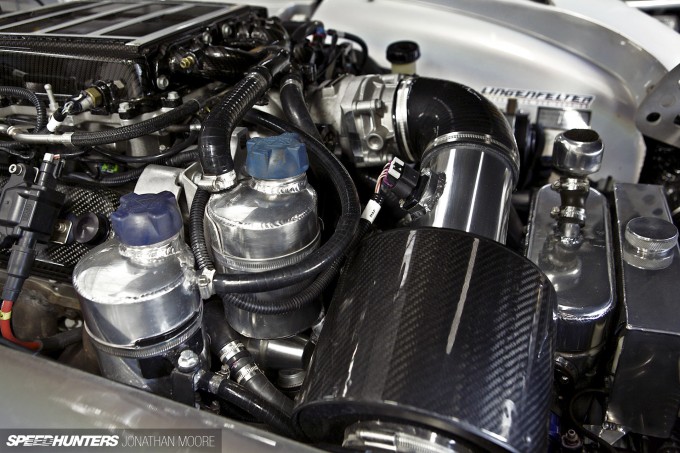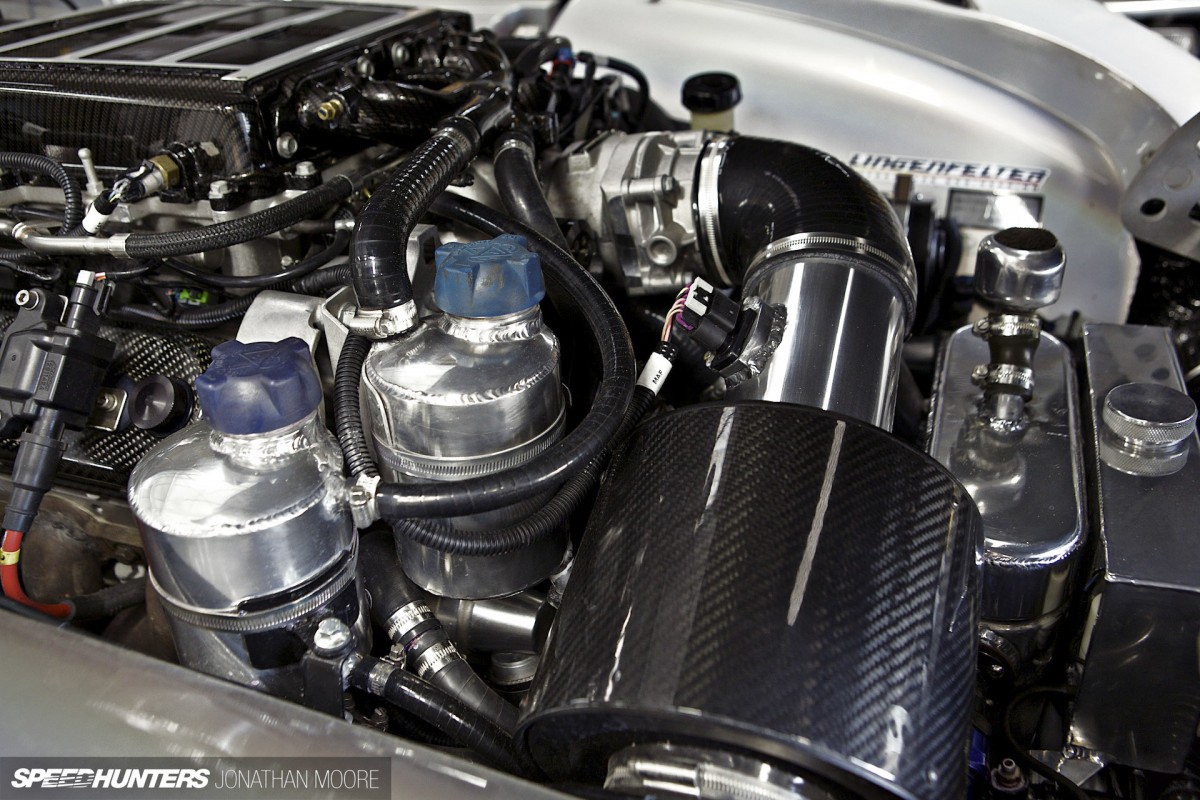 Hundreds of man hours went into planning alone. If this was to work – and look as though it had rolled off a production line – then a meticulous approach would be required. Initial mock-ups with elements held together by clamps, string and whatever was at had meant the layout of the engine could be mapped out and the interfaces between all the different elements measured to ensure a seamless fit.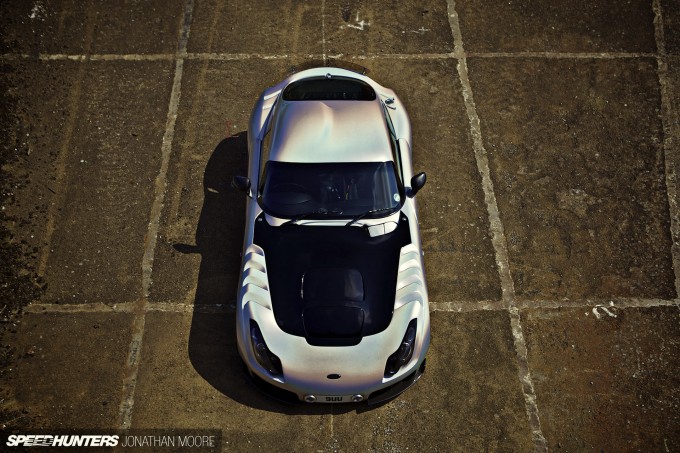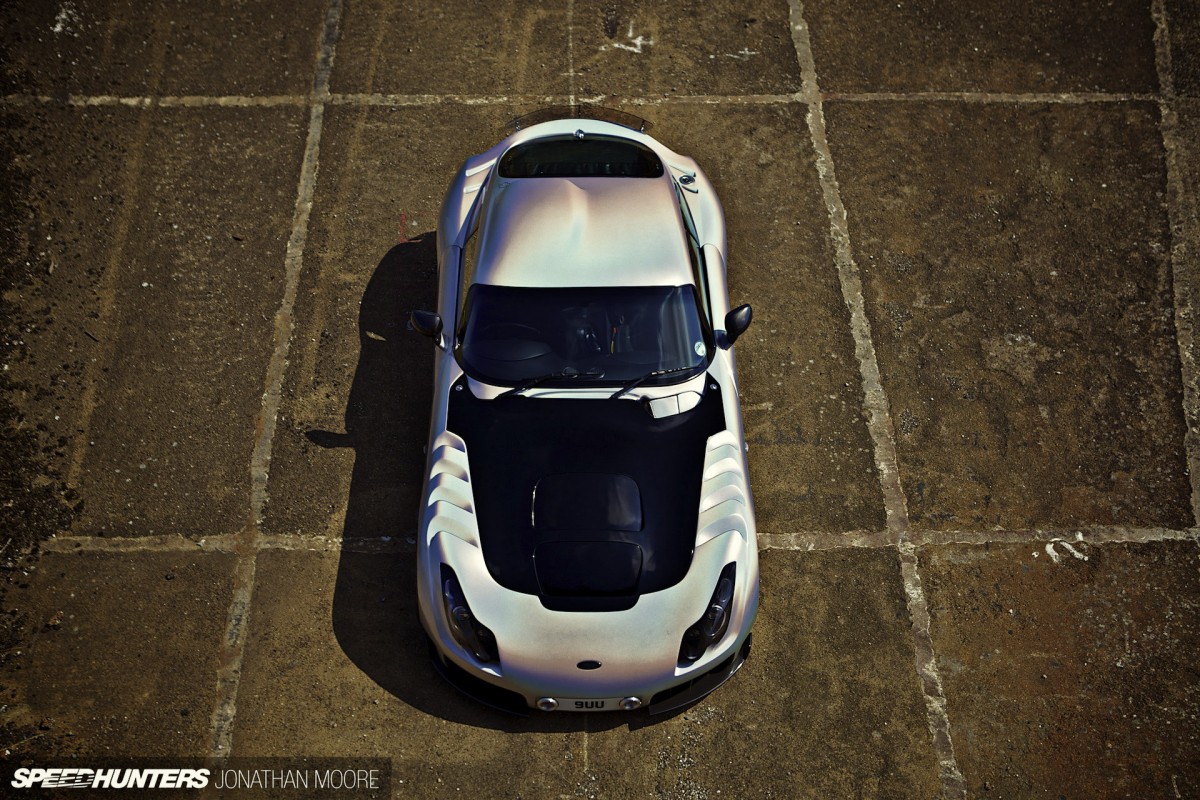 The timescale was left open.  This was a project focused on – and driven by – perfection and performance. A project with engineering specified to deal with the massive power that would be on tap, despite being pretty stock on the outside.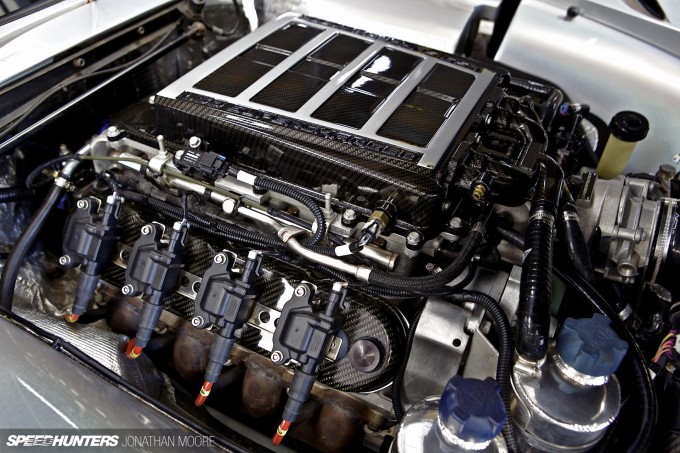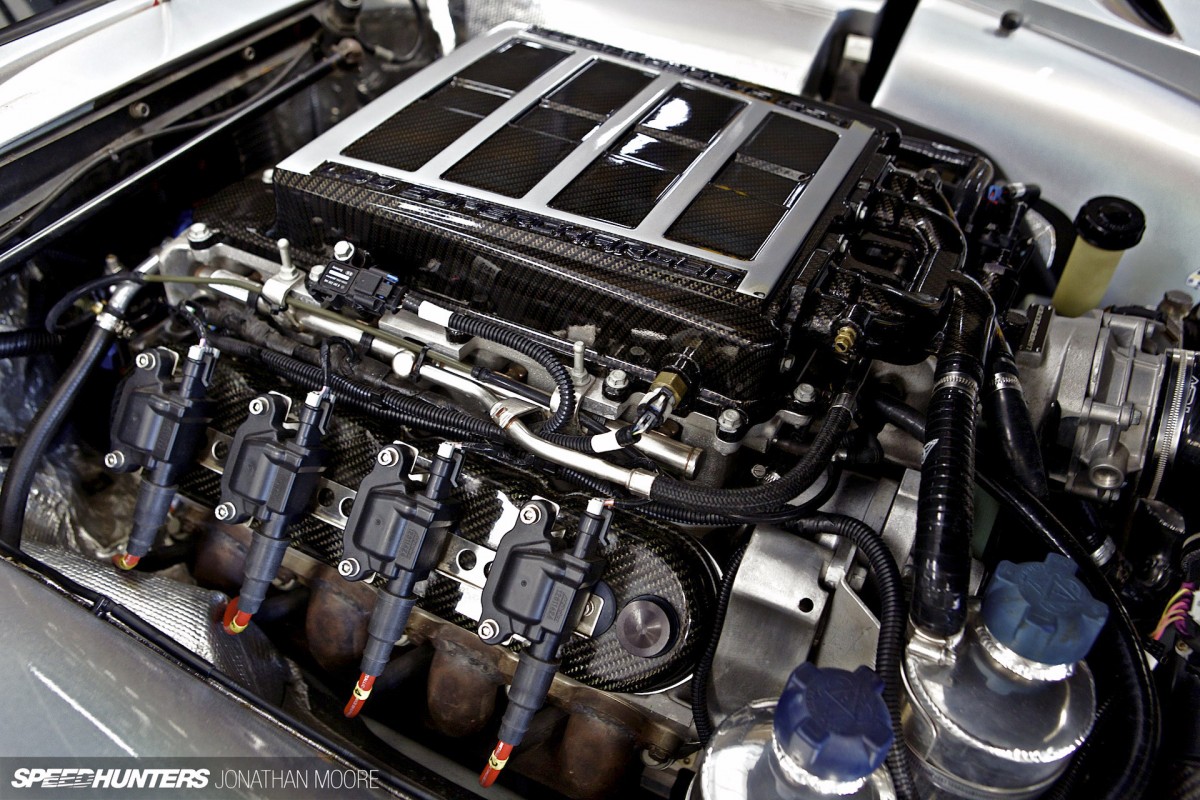 Whereas a number of V8 conversions end up having ancillaries littering the engine bay, Topcats worked the space to ensure that everything could be mounted down low. Warren worked with his engineering and design team, completely uprating every aspect of the car to create the complete package.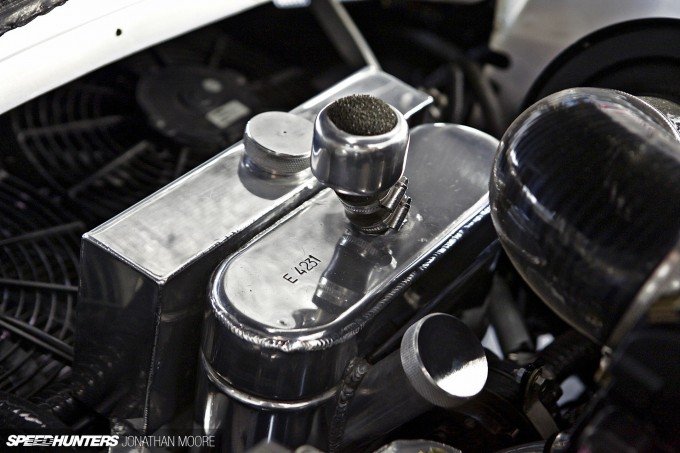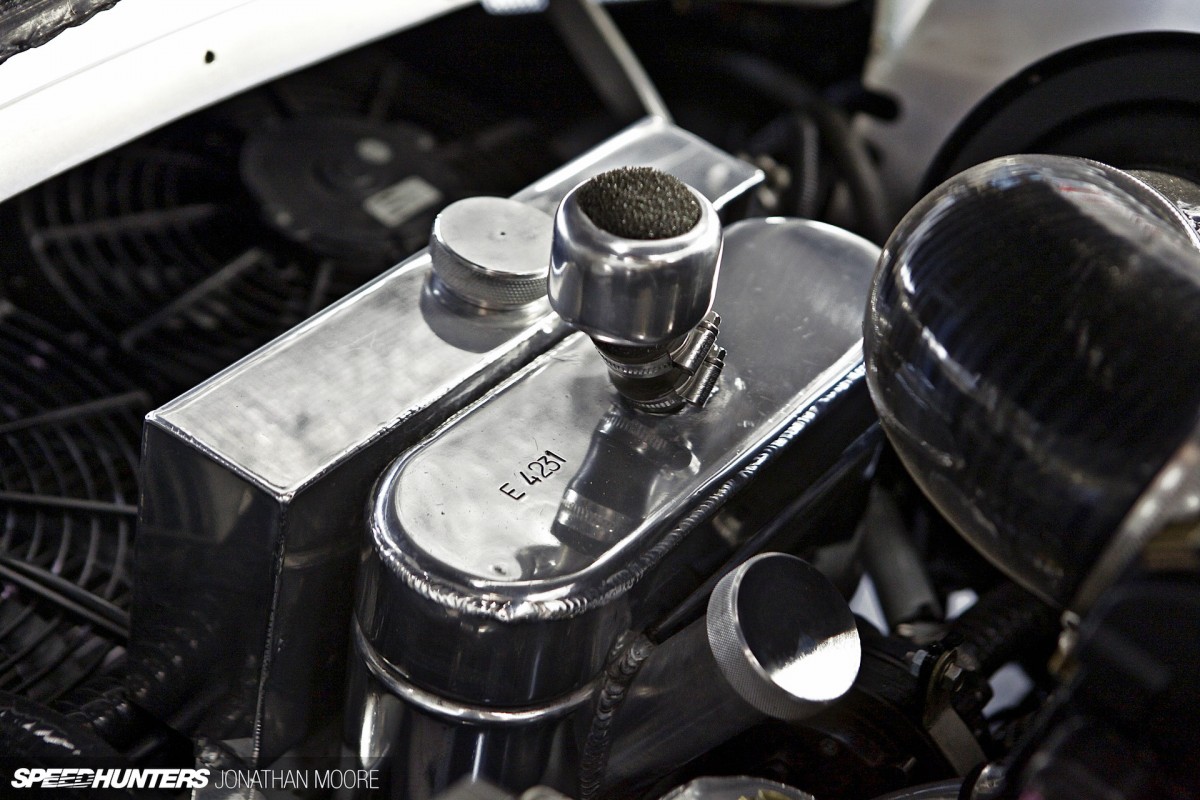 The Hydratrac diff and GKN driveshafts are uprated, the propshaft completely bespoke. Neat mountings on laser-cut brackets mean everything looks like it's where it should be. It all looks… right. The irony is not that it looks as good as when it left the TVR factory, but considerably better.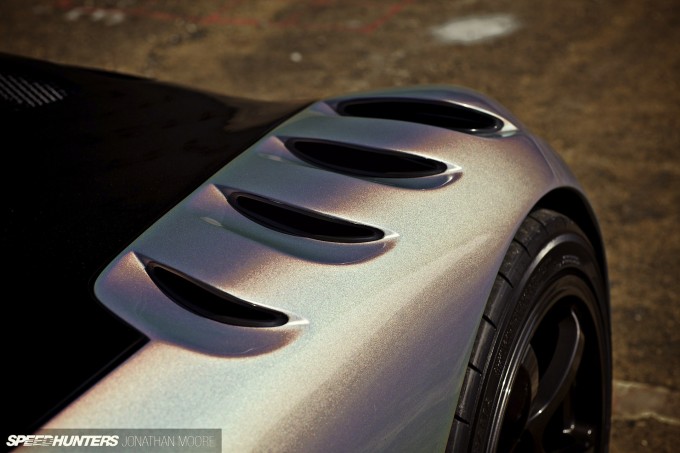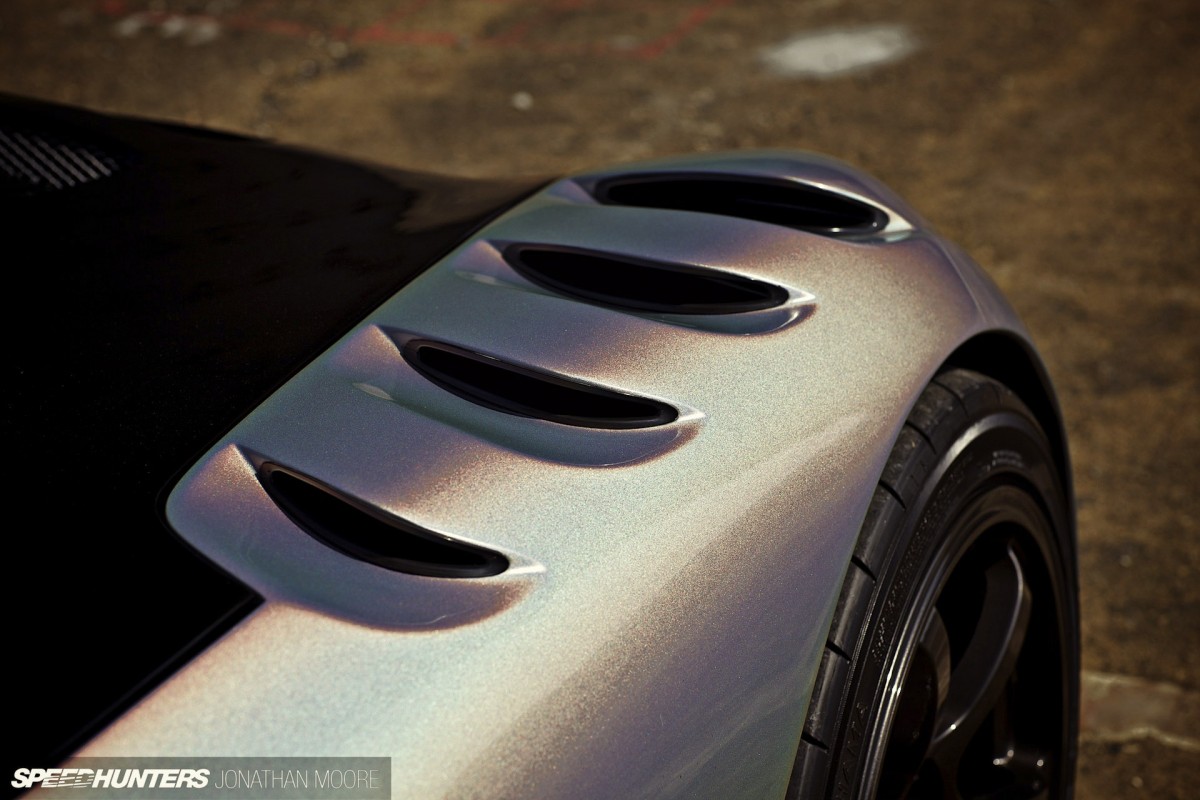 Although the raw power was a hike up from the LS7 to the 9, the heat generated was even more of an issue. Extra cooling would be required, but luckily the design ethos of the Sagaris helped in that regard. Drawn originally as a racecar, it already had a number of ducts and vents that were closed up in production form, but could be cut open. Even so, Paul and Topcats are thinking that additional ducting will likely be required underneath.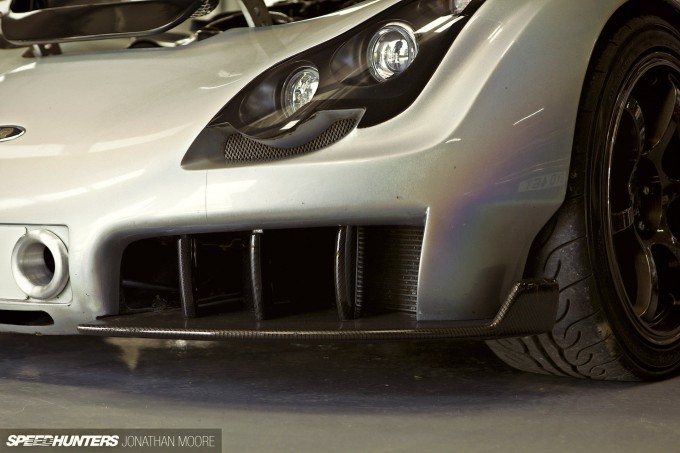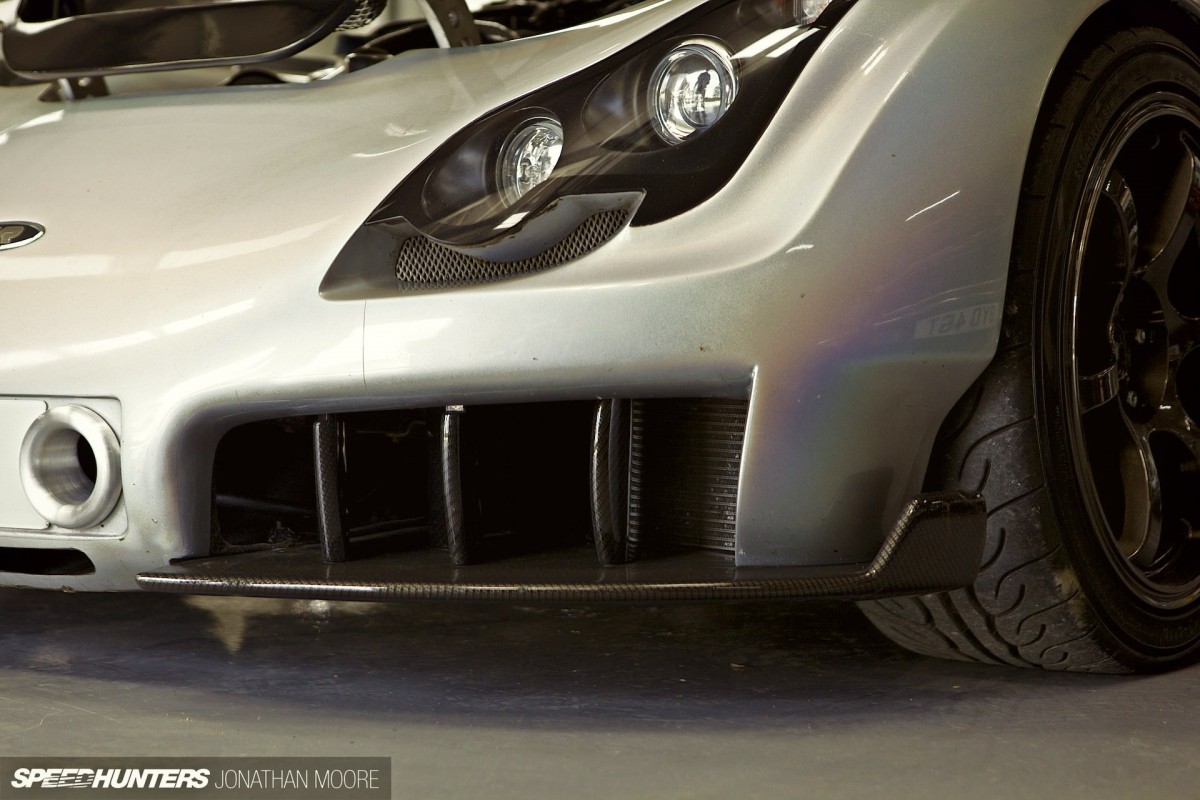 The air and charge coolers are mounted down low in the corners of the nose, with the water and air conditioning radiators up front. Yes, it has air con! That works! The engine oil cooler is mounted right underneath at the axle line, so although it looks super low it's far enough back to rise up with the wheel centre line, preventing it grinding out all the time.
Fuelling The Future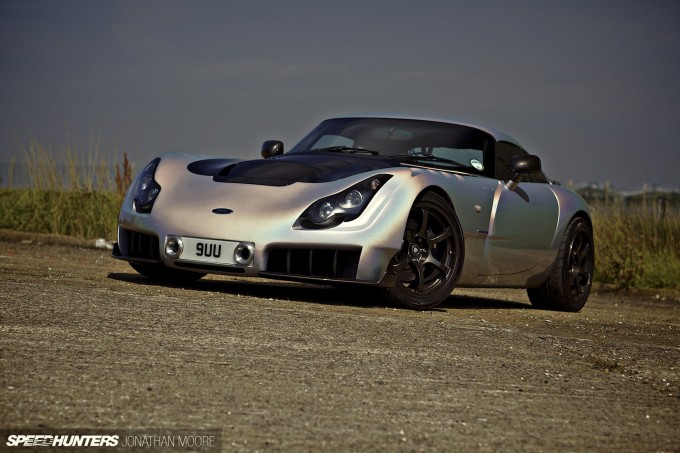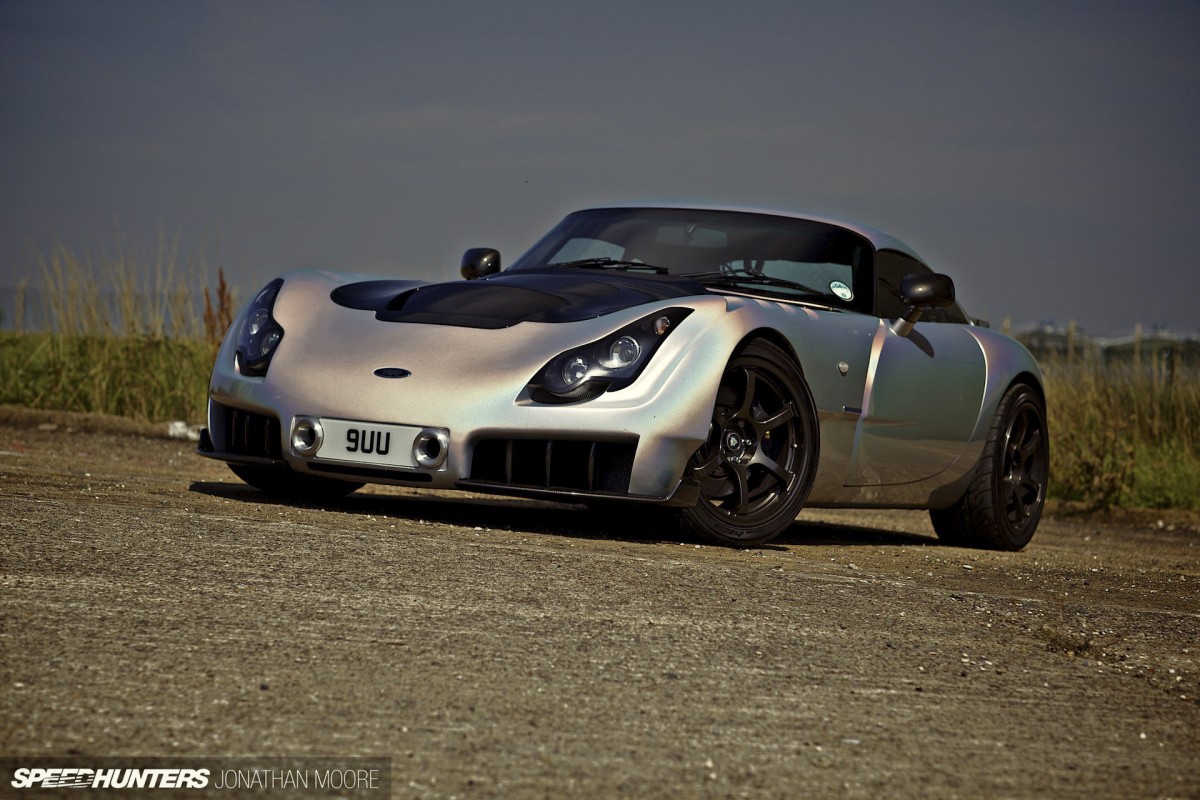 The brutal horsepower would be a natural result of the engine that was being installed, but the entire car evolved around it to support that power and make the car reliable and drivable. Warren talks of the old days, where Cosworth-powered cars were pushed into the 500hp range and would last 10 hours before breaking down. Push them to 600hp and you'd get 10 minutes. That wouldn't happen with the Sagaris.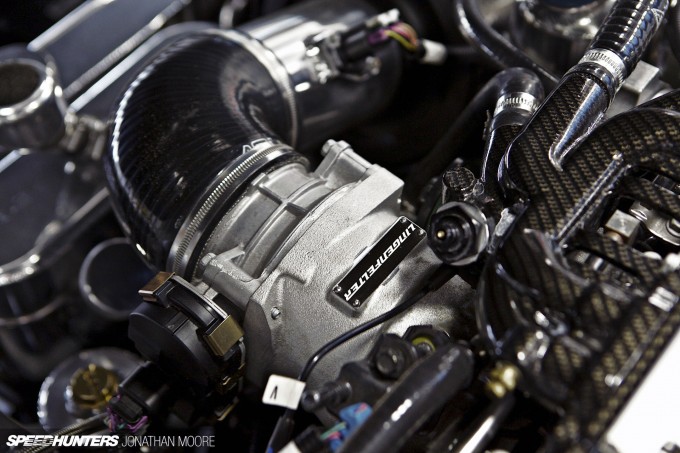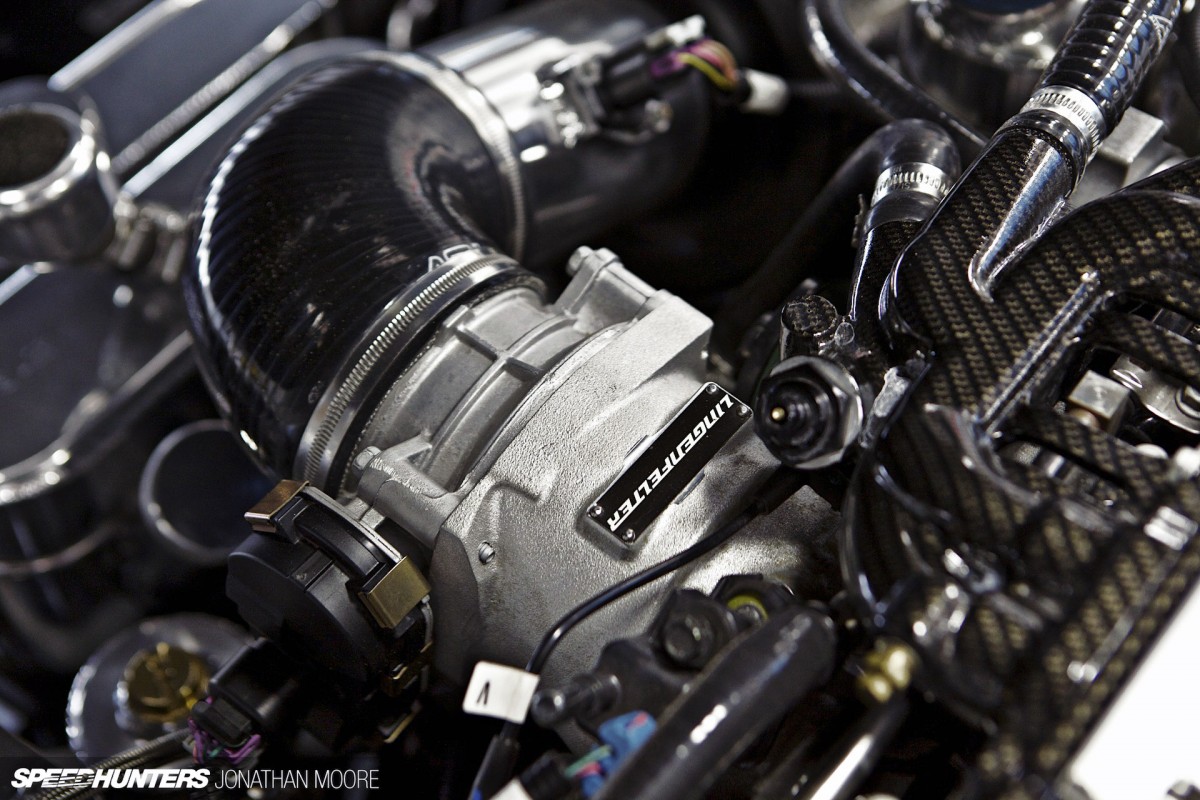 Supplementing the V8 grunt is the standard GM supercharger. Turbocharging was parked from the off as modifications to the body to extract yet more heat would have meant the car ended up looking like a cheese grater. Warren's only regret with the Topcats-tweaked supercharger is that it doesn't whine as much as he hoped, but he admits he's been watching too much Mad Max! They've involved Lingenfelter in the build, using their camshafts, throttle bodies and intake manifold and hope to get the car certified: it's due to head out to SEMA to show this British bulldog off.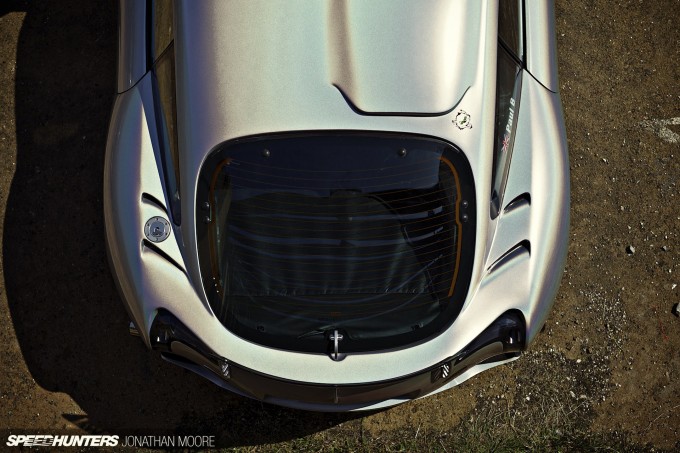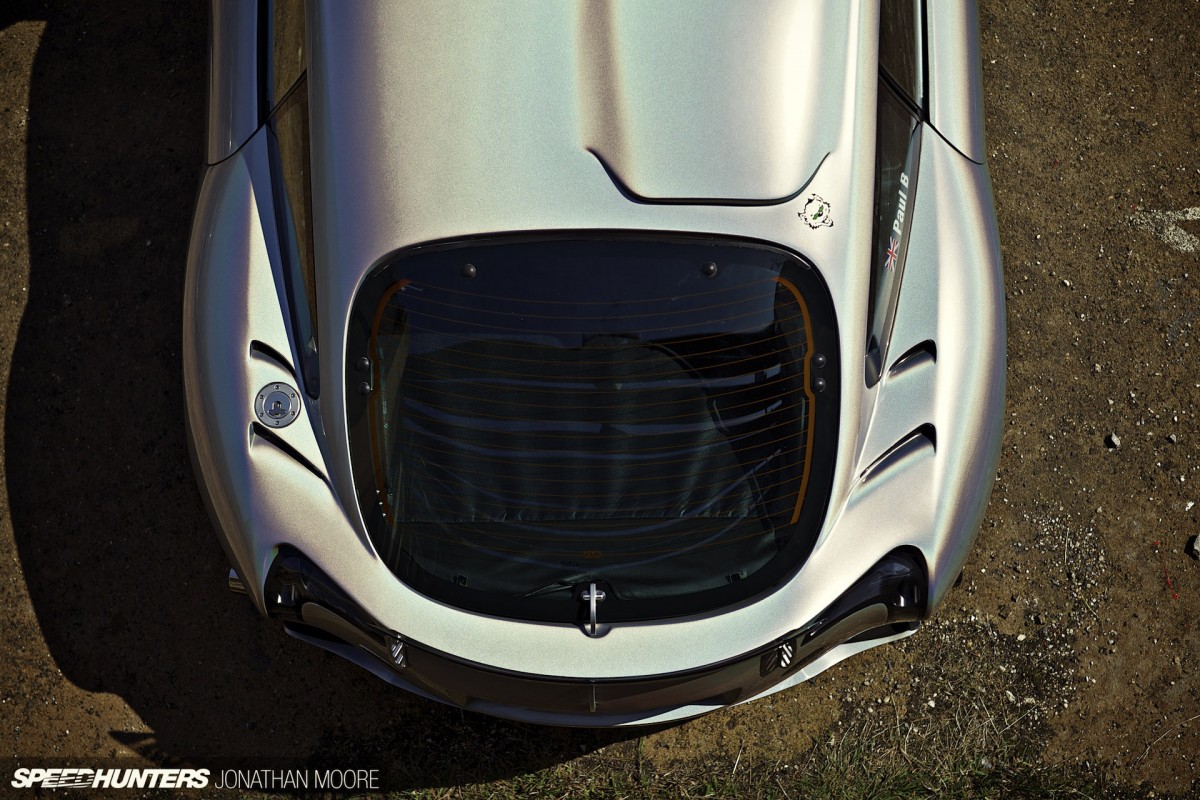 The fuel system needed reinventing at the rear, with new pumps and swirl pot installed on the bulkhead and around the suspension. Although the deliberate, methodical process avoided major disasters, one big problem came when the project was close to completion. A new regulator required an almost complete redesign of the fuel system, with two of the three pumps needing replacement and most of the lines. That was likely not a fun day to be at Topcats.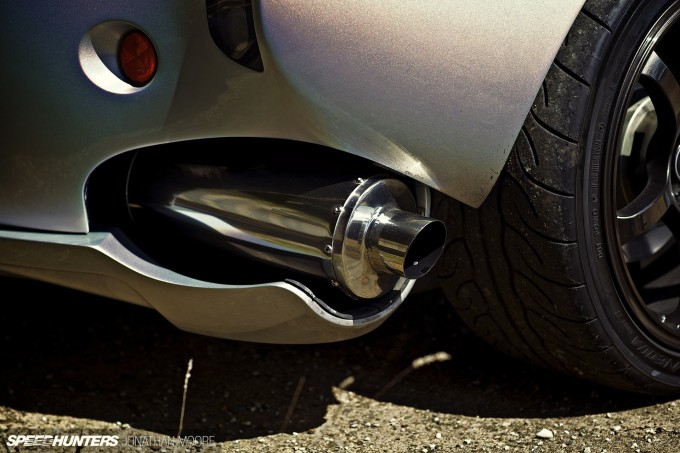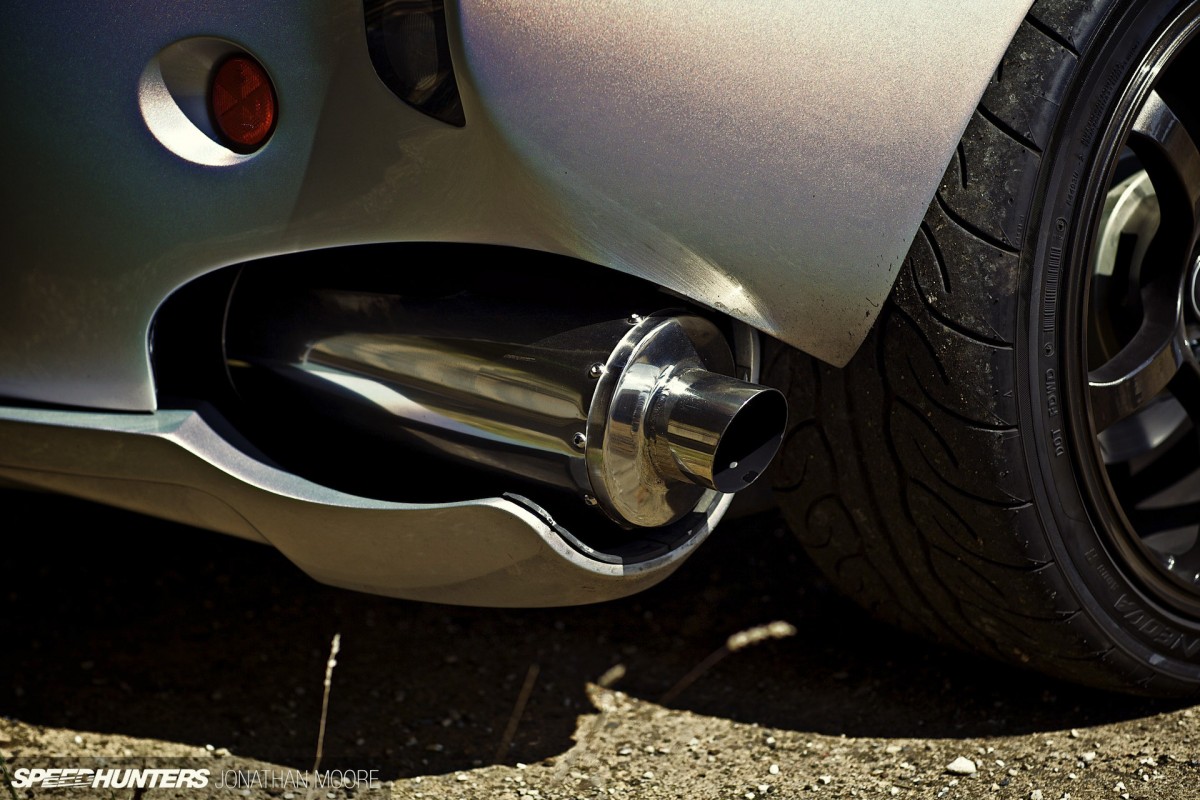 The exhausts are completely custom, created in-house from 24-inch Mosler race cans with Hayward & Scott ends. They are works of art, and sound sublime. Just before your ears explode anyway. Although the three-inch system is larger than the original spec, Topcats managed to route it all through the original patterns whilst allowing for expansion when at full chat, yet give better ground clearance and access.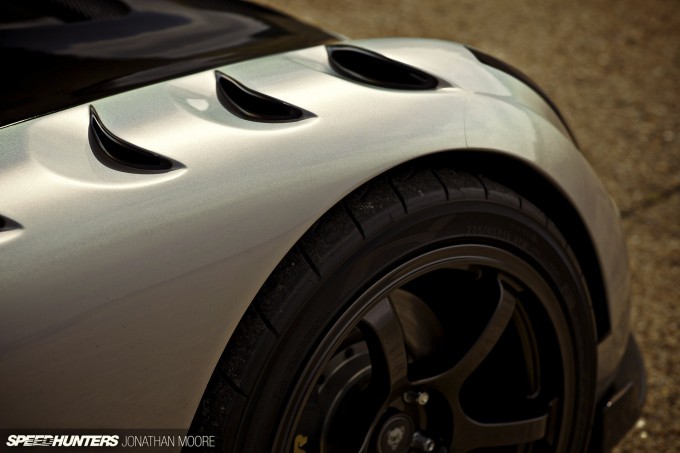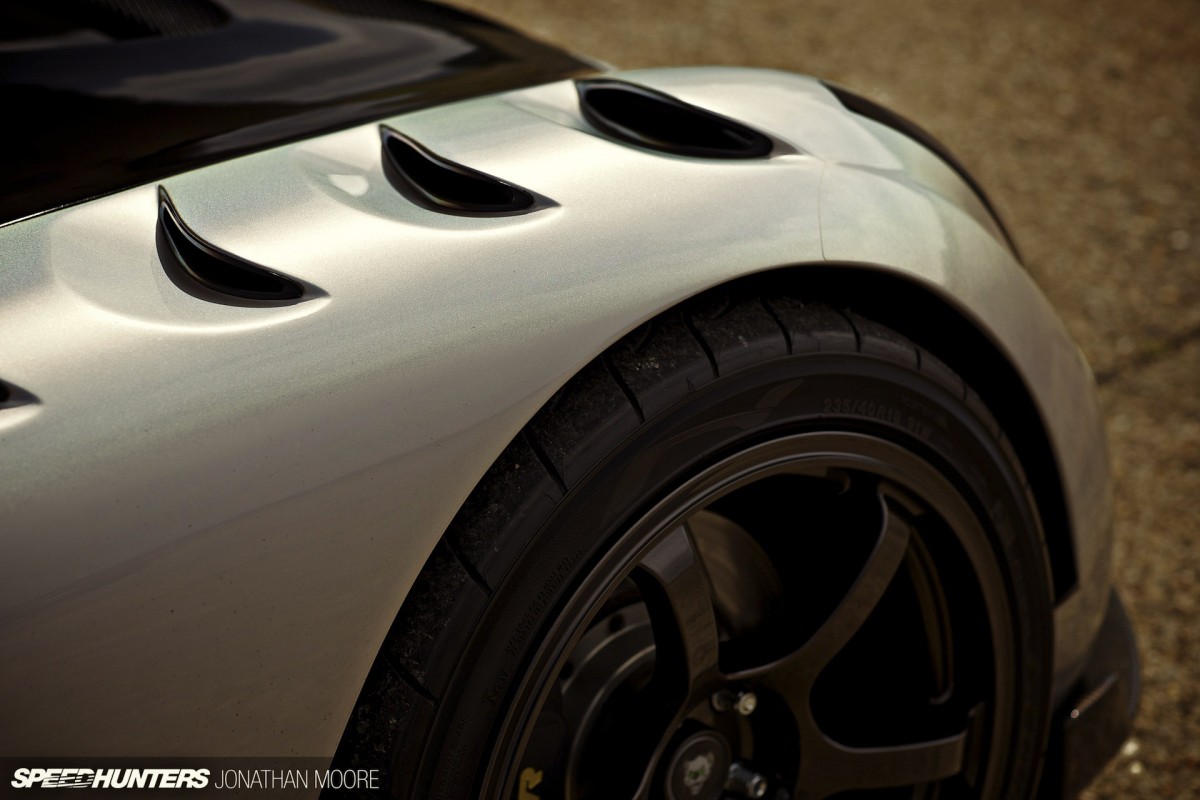 The AP Racing brakes have been upgraded in terms of components, and now have separate rotors and valves. But in the wild they're not proving quite up to the task. Even on the road, they do not inspire confidence, as they cannot match the pace of rapid acceleration delivered up front. Suspension is a combination of Nitron and original TVR components, sprinkled with Topcats know-how. But again, now that Paul is pushing the car hard on track they're finding out more about what needs changing or improving.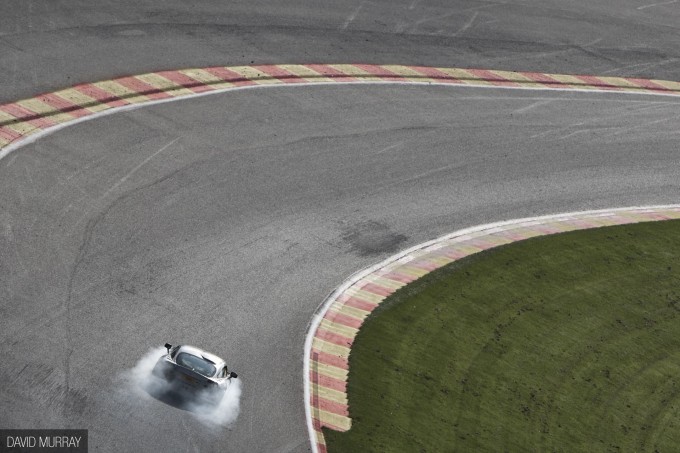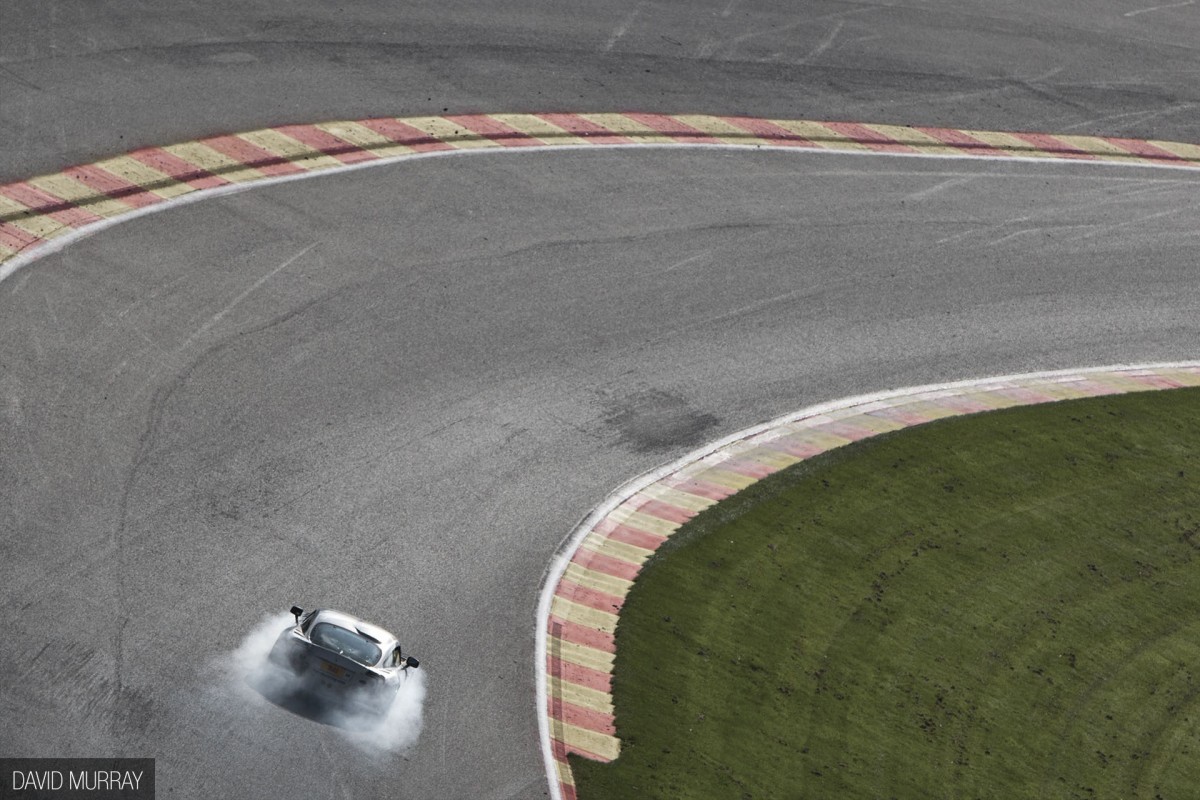 After recent trip to Spa, Paul recounted that the Sagaris was bottoming out on all four corners through Eau Rouge, meaning he was having to almost straight-line it. And although he was hitting 161mph on the run up the Kemmel Straight, again, suspension was strained and the brakes quickly fell off. Having heard too many stories of modern F1 cars removing the challenge of Eau Rouge, it's reassuring to hear that it's still utterly terrifying in a real car. TVRs, by principal, have never carried traction control or any other driver aid systems, and this one never will. This picture should rightly put the fear of god into you.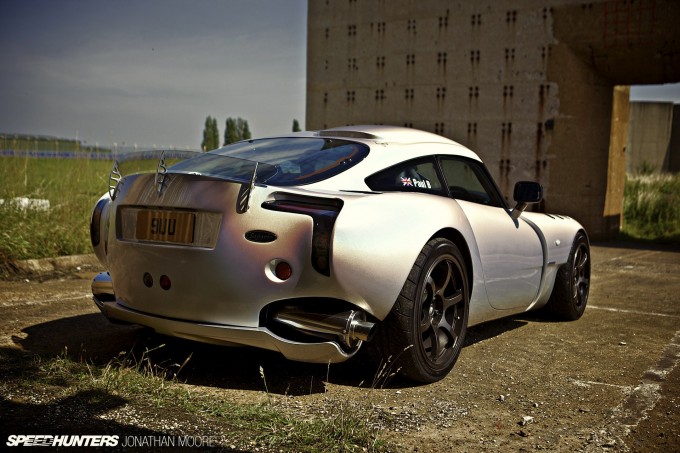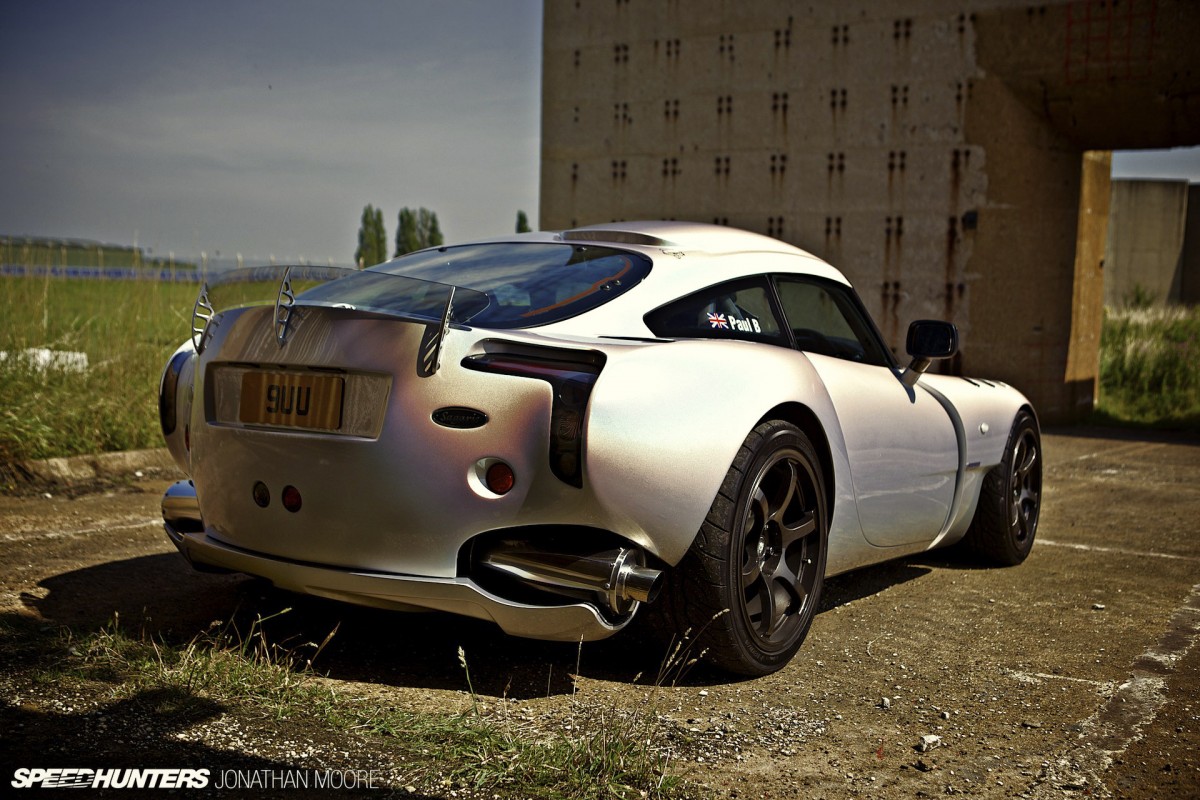 Alcon have designed a new set of six-pots with floating disks for the front, but the two-pot rears are proving an issue because of the packaging for the handbrake mechanism. These are definitely things that will be looked at imminently. The unbelievable thing is not just how perfect the fit and finish is, but how sympathetically all the work has been done. If an original spec Sagaris is suddenly worth a million pounds or whatever, the car can be put back to original spec – no issues. Nothing has been cut, nothing removed: all the original mounting points are still there.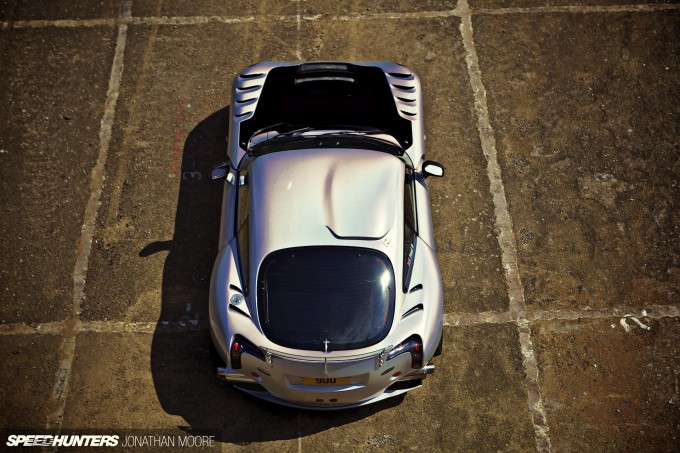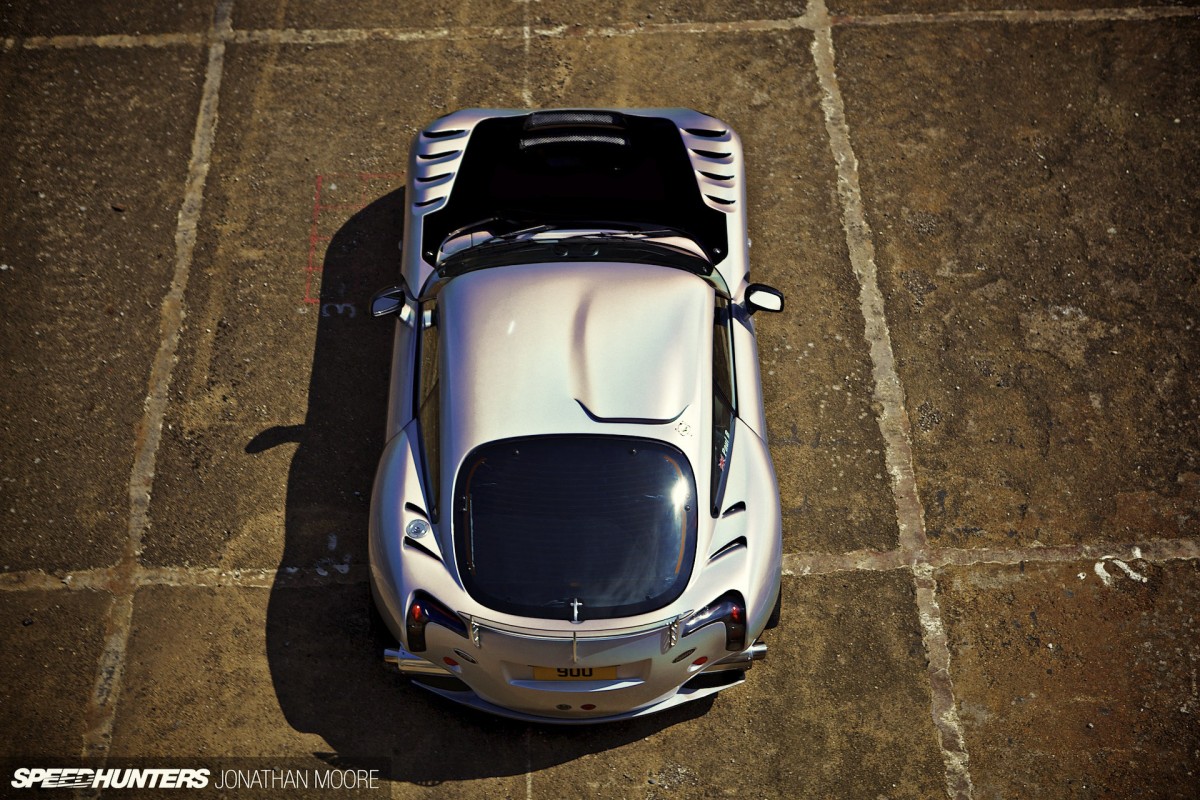 The overall aesthetic of the Sagaris was something that neither party wanted to mess with. It is, you have to admit, a very good looking car. I'd say the most attractive TVR ever by some distance. Compact and lithe, it's got such poise even in standard form – though it was designed as a racer from the off. Even the Zagato-style blister on the roof on the driver's side is a standard feature, and again evidence that this was a car geared for the track.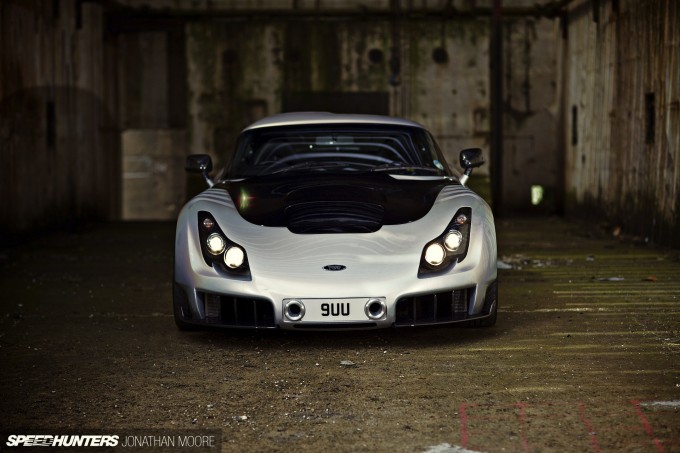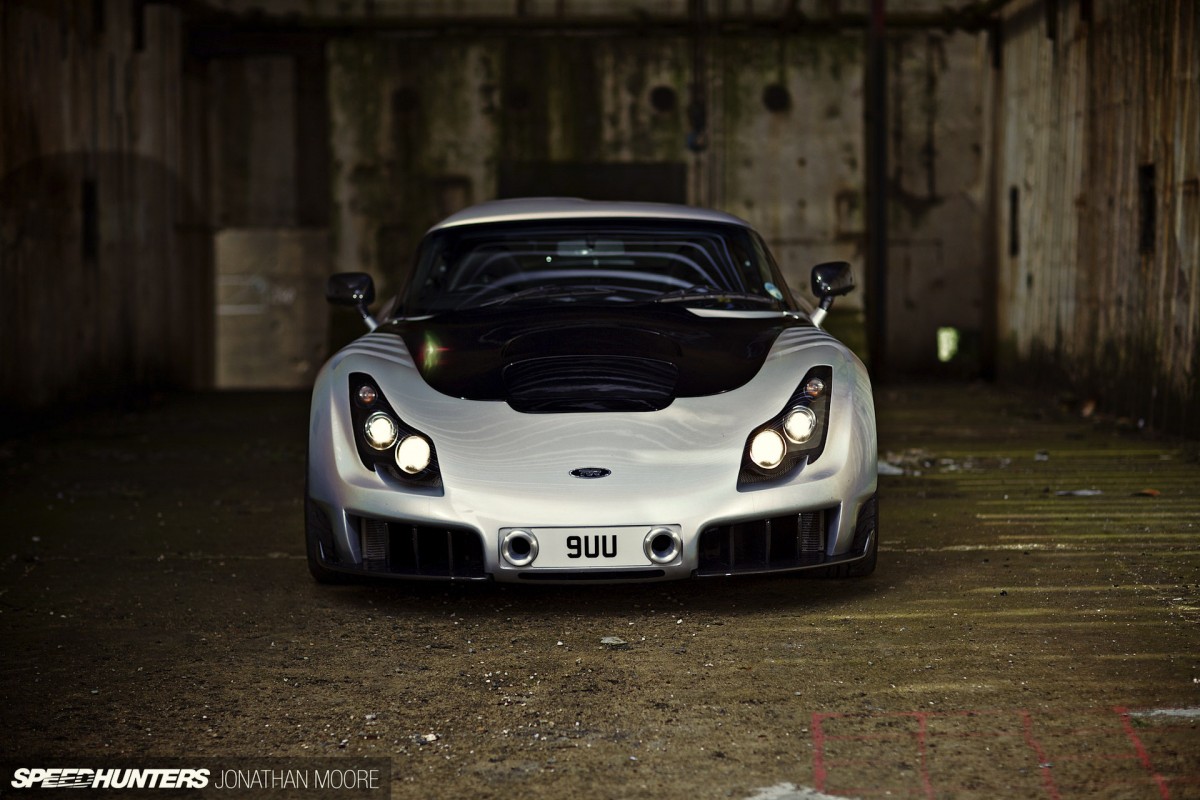 There have been small modifications of course, with things like the carbon front splitter and bespoke bonnet panel added, but in general the lines are pure. An argument over the need for bodykits would not be an easy one to win. The lightweight bonnet is currently plain black, but will be painted to match the car.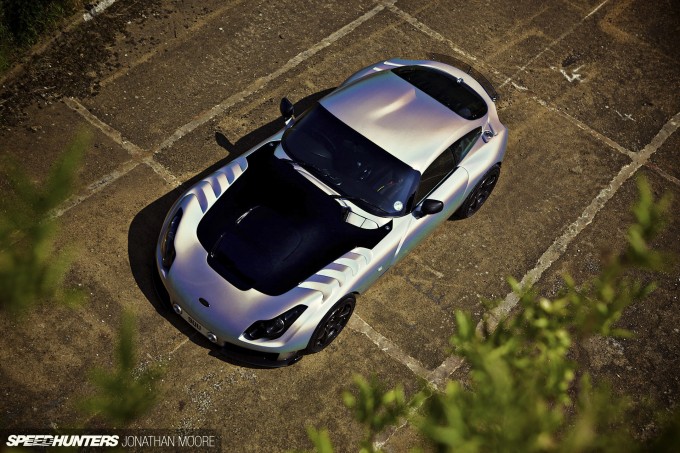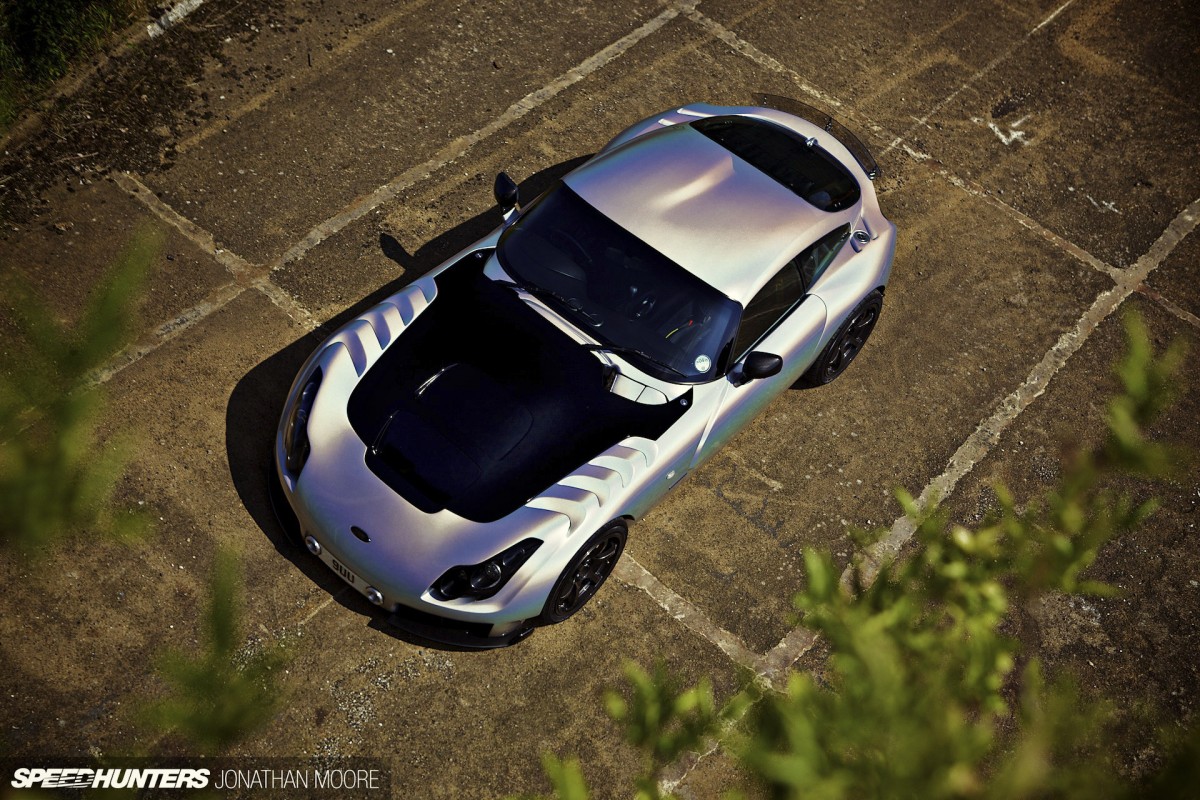 When Paul first bought the car, he thought the paint was silver – until he turned the lights off in his garage and realised it had one of TVR's special pearlescent Spectraflair finishes. Shooting the car at Westcott, initially the sun hid behind the cloud, giving the Sagaris a flat appearance. Then a ray of sun broke through, bathing the car in light and bringing it alive in an instant.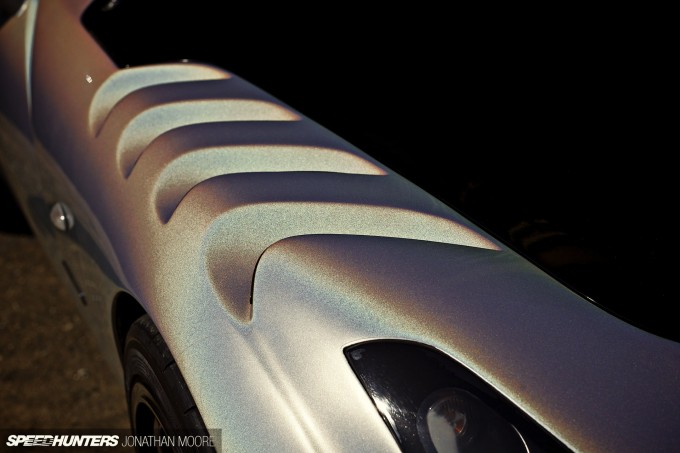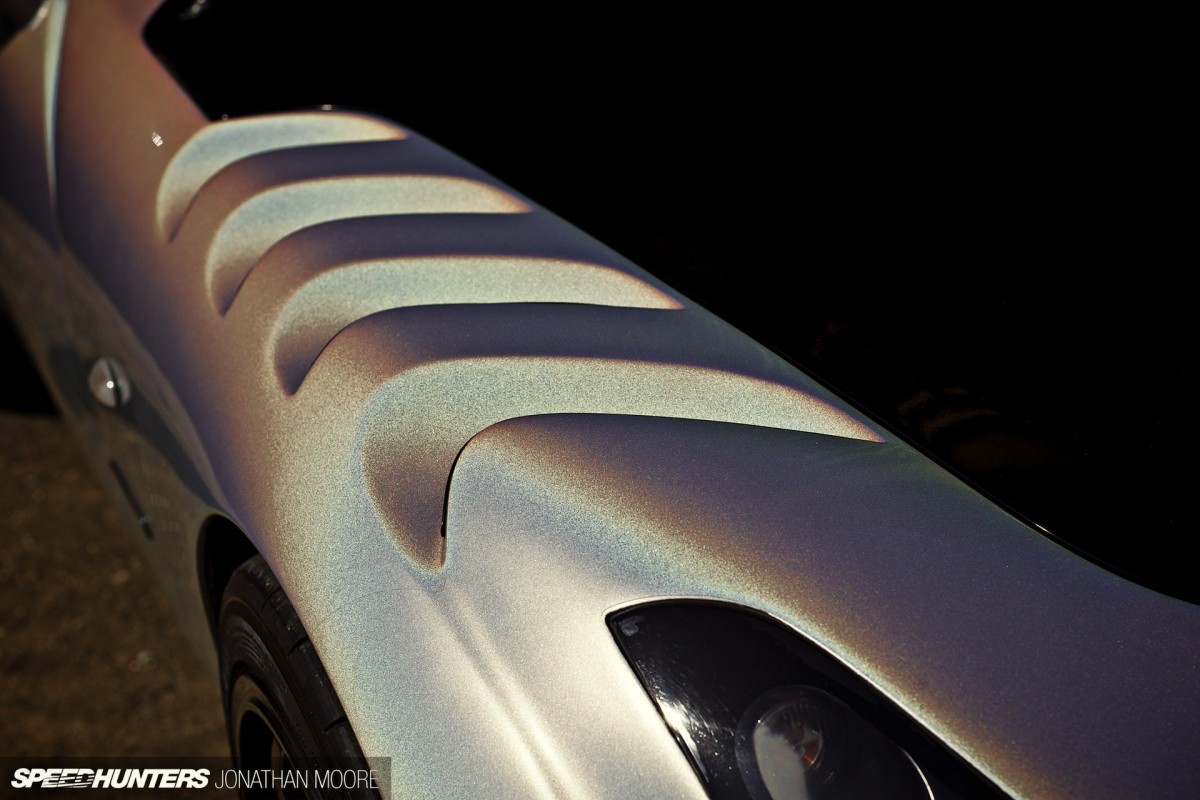 It's an old trick, but it still is stunning to behold. The colour dances and shimmers; this more subtle application really is quite beautiful. Silver? Orange? Blue? Green? A spectral riot of colour.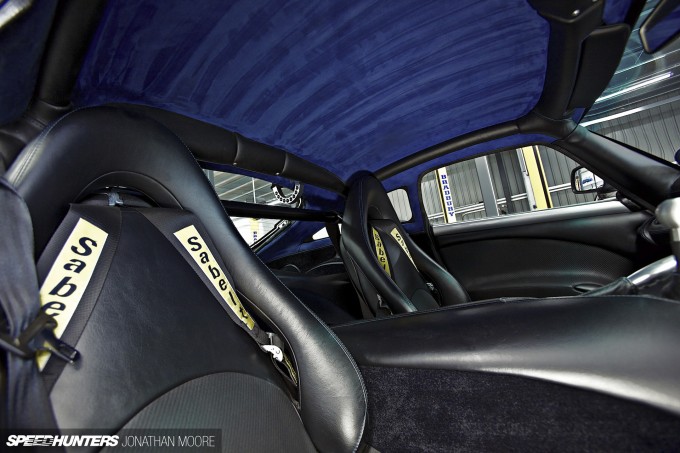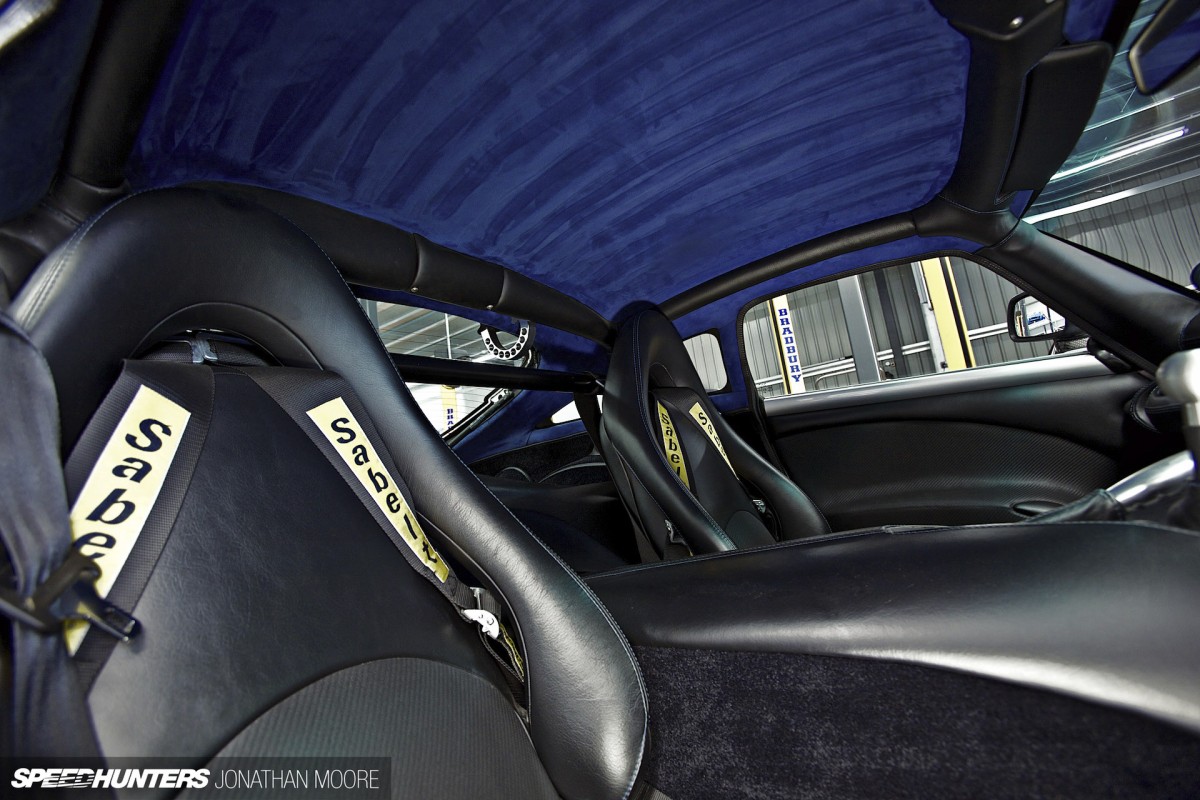 The cockpit is surprisingly standard, and shows that although shut-lines might not have been TVR's speciality, interior finishing was. The rollcage was a standard fit, as was the door protection, which was then covered to make it more aesthetic on a day to day basis.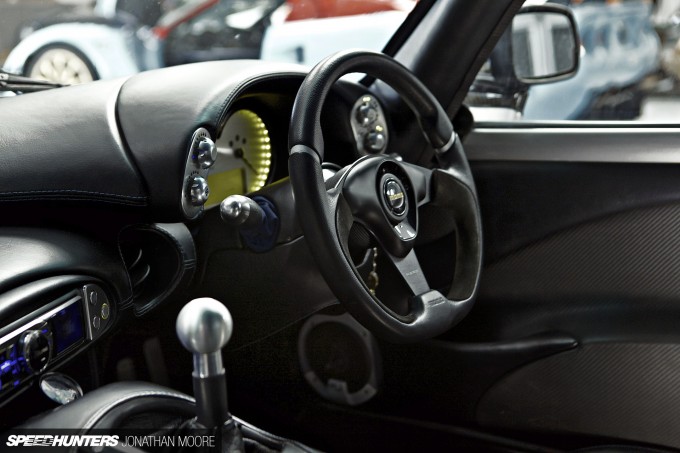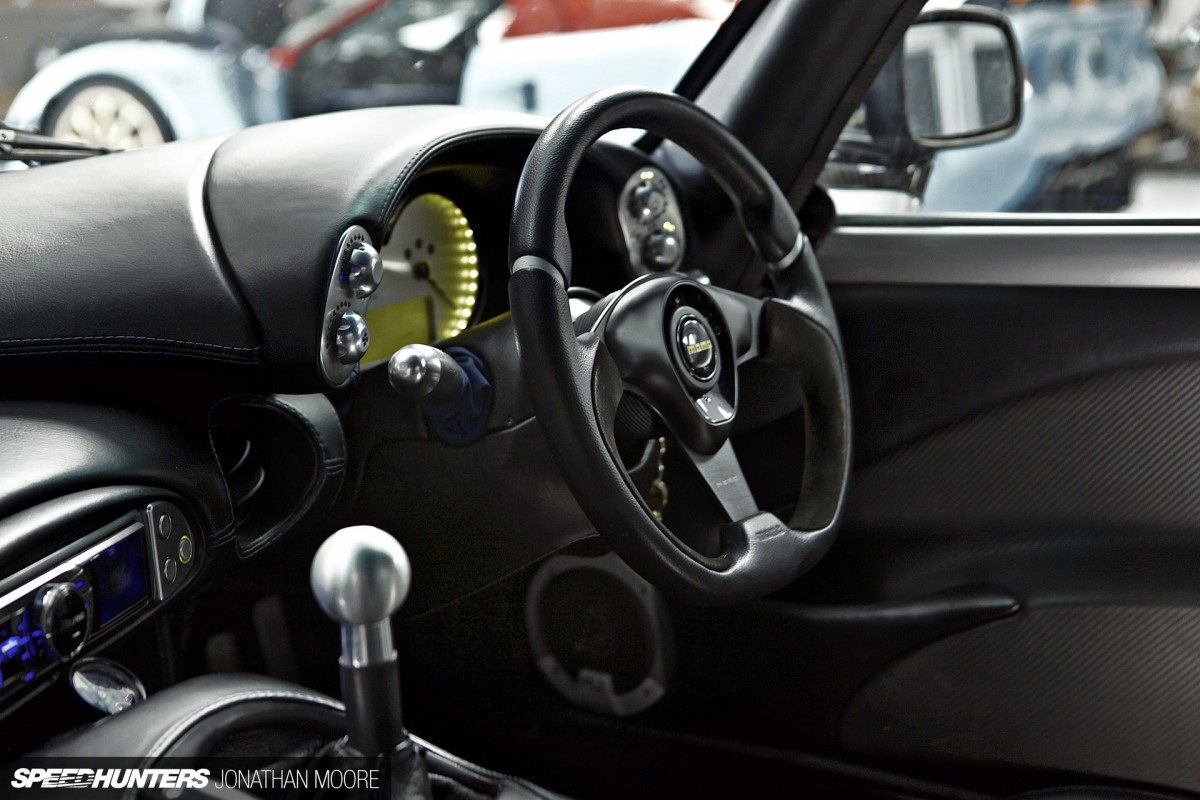 The switchgear is nice and solid; the wheel is still a Momo design, but a different model that Paul had fitted.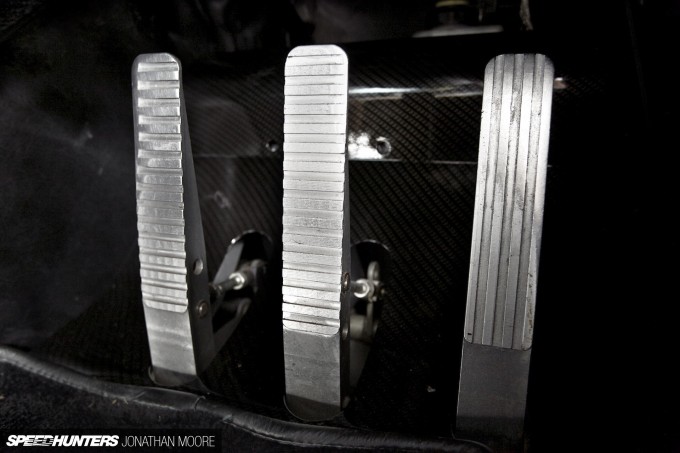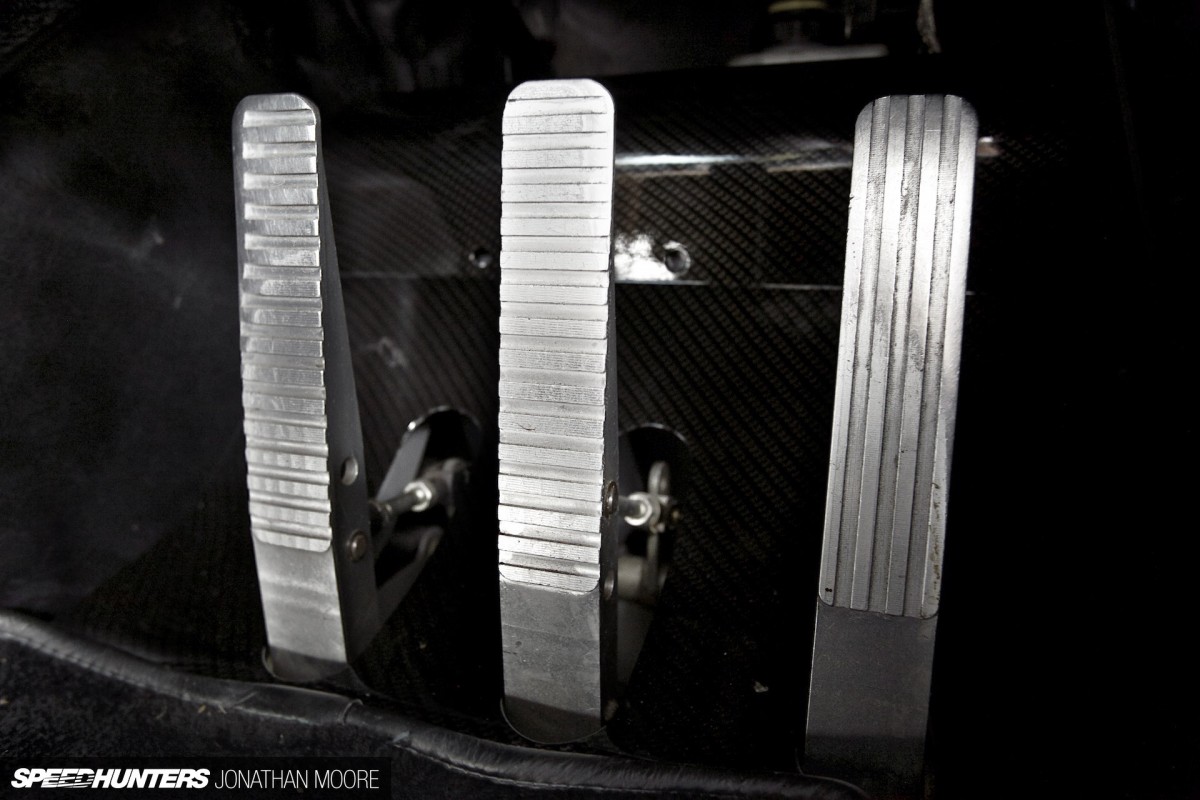 The carbon kick plate behind the pedal box is also new. The box is made of standard parts, but heavily modified by Topcats to make it actually work…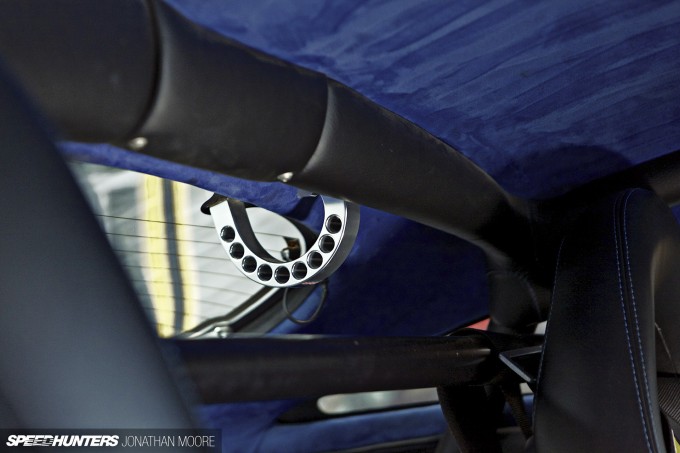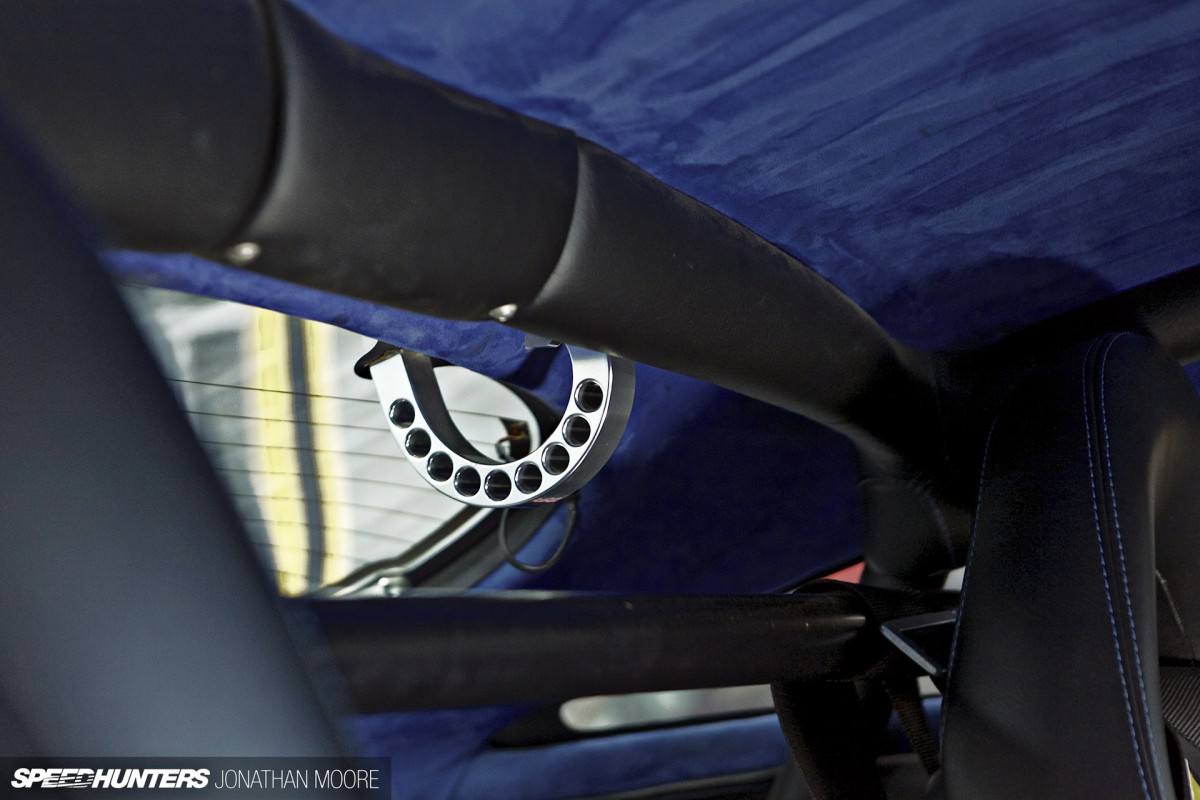 It's actually a really nice environment to be in, which must be reassuring when you're accelerating like a runaway rocketship. The detailing is rather beautiful, with things like the solid-looking drilled brackets holding the rear windscreen and deck, that's mirrored by the style of the mountings for the rear spoiler. Although there was nothing major on the inside that Paul needed to desperately alter, he does plan some changes. There'll be new seats for sure, and likely a retrim.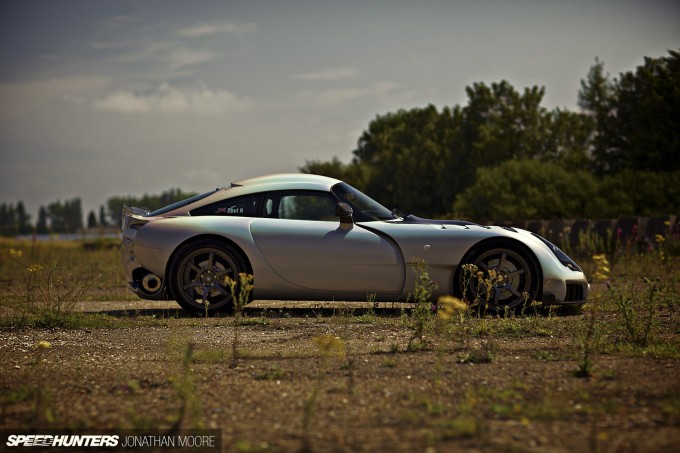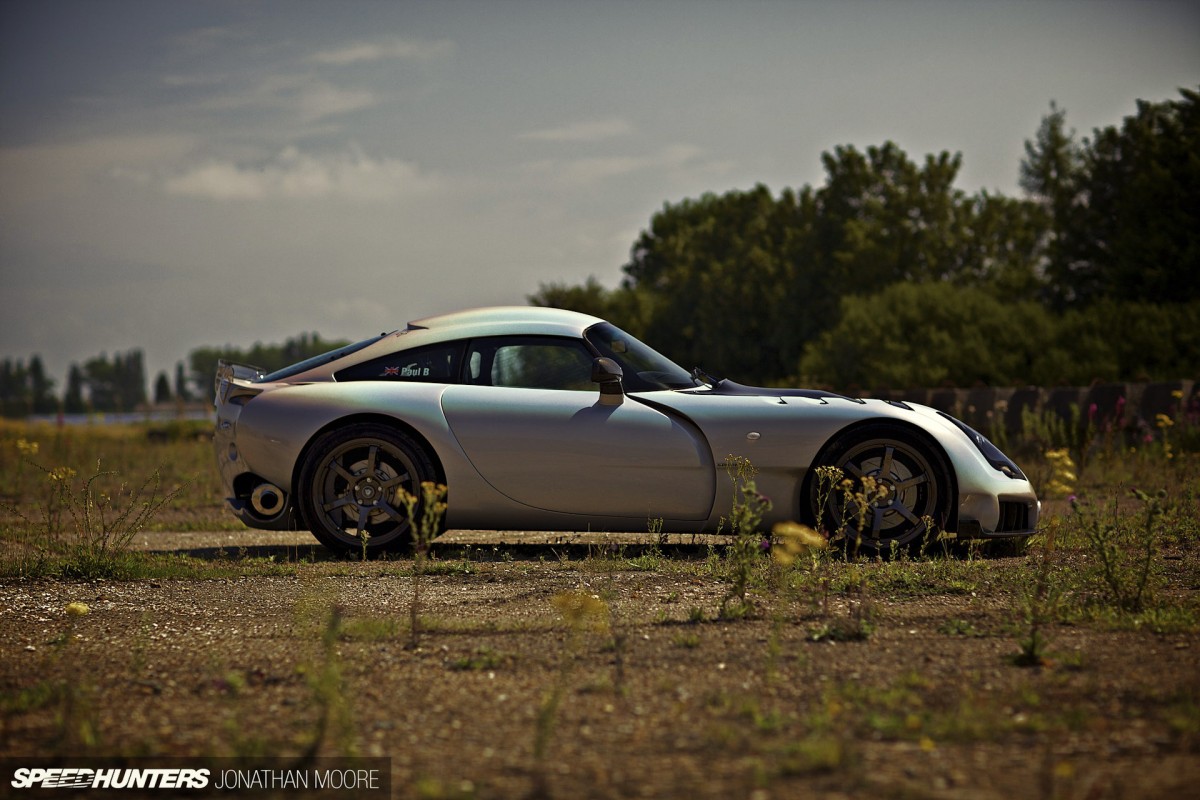 That leads onto the question of what next? What if someone else now builds another LS9 Sagaris? According to Paul, he's completely open. From turbos to nitrous and extreme maps – he's not ruling anything out. His moon-shot Sagaris could be aiming at Mars next, and in the meantime Topcats are looking at putting LS motors into old '70s Range Rovers. Westcott's Cold War days might be over, but its days of producing rockets are far from complete.
Jonathan Moore
Instagram: speedhunters_jonathan
jonathan@speedhunters.com