A Most Beautiful Family
Carozzeria Pininfarina's display of cars in their Cambiano headquarters near Turin is less a museum and more a three dimensional gallery of family portraits. So many cars are just an impersonal collection of metal and plastic, but being shown around the legendary Italian coach-builder was like being invited into a family home. There you could see the heart of a very special family of exclusively beautiful children with an illustrious bloodline, but also one of extreme modesty and graciousness.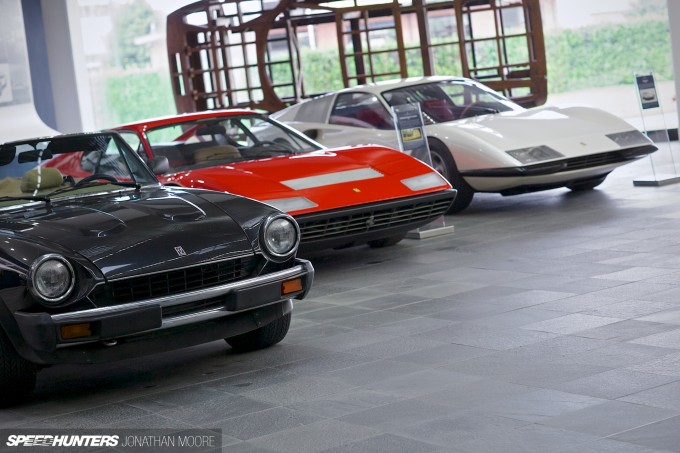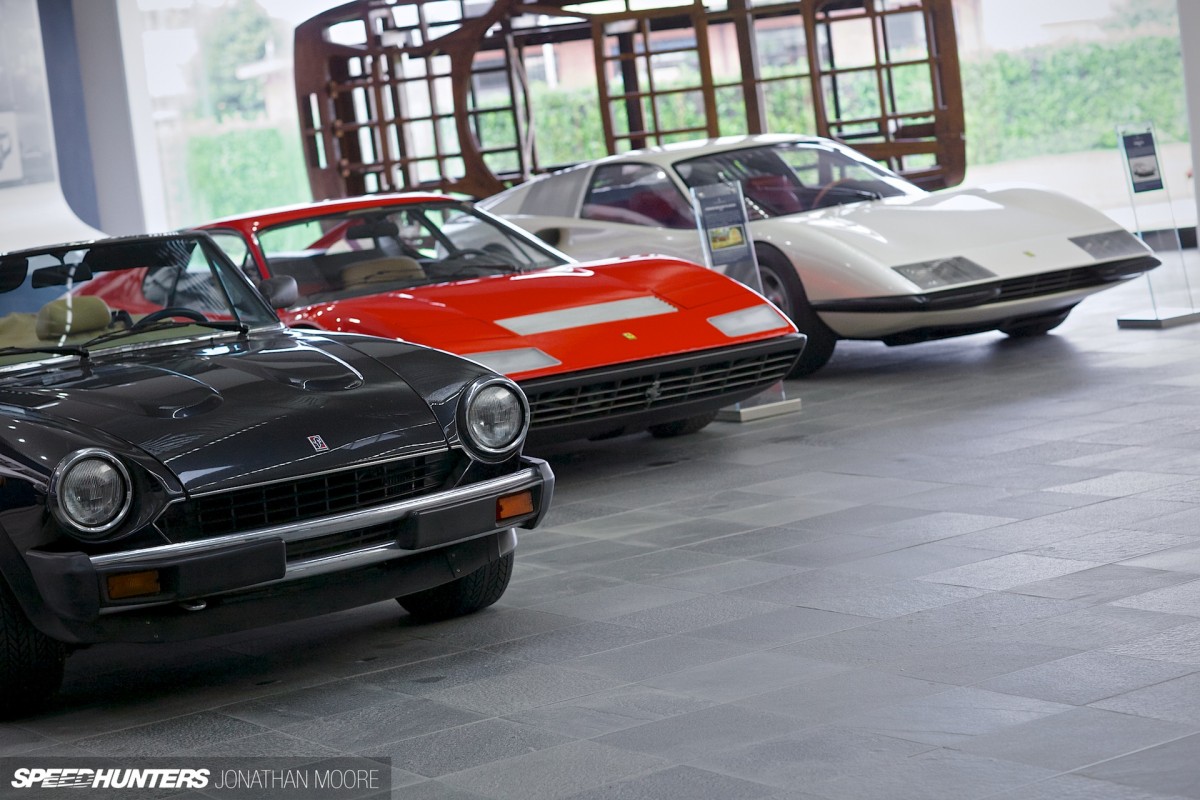 My host for the day, Pininfarina's Lead Designer Luca Borgogno, introduced each car in person like respected and loved older relatives. But then it seems that if you join Pininfarina, you understand that you're responsible for its legacy, and that means knowing its heritage. Throughout each story, the constant was the Pininfarina dynasty – stretching back to 1930 with founder Battista, his son Sergio, and now the latest in the line, grandson Paolo.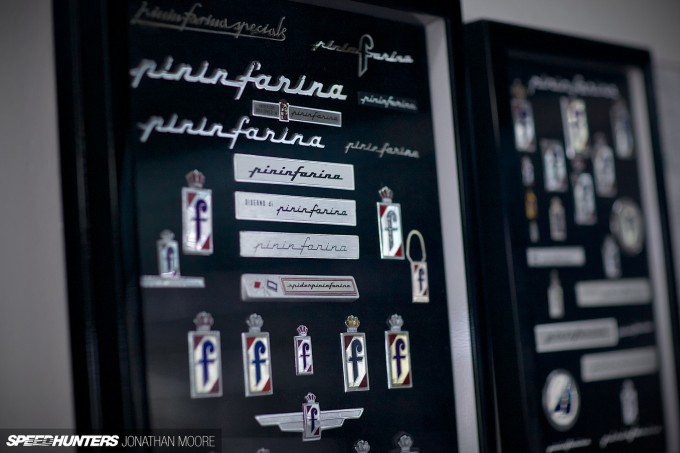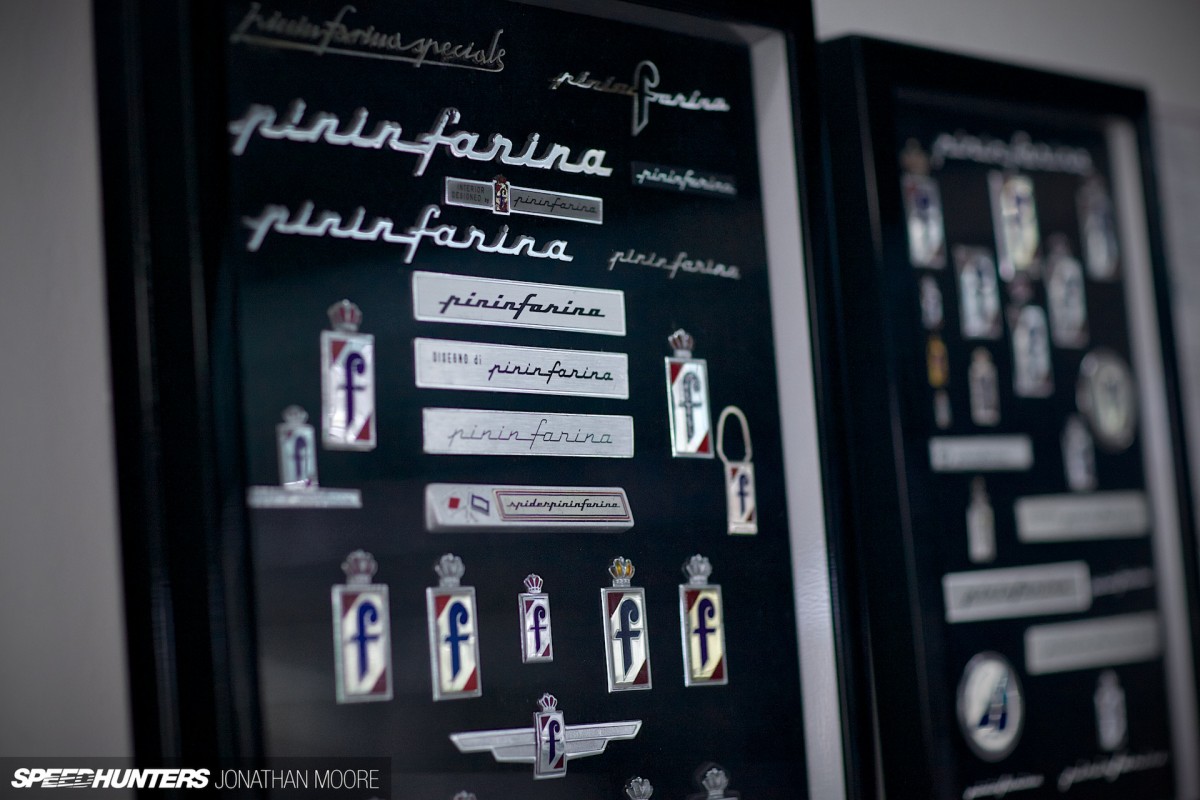 Family is a fundamental part of Pininfarina's history, as it is for so many Italian companies, where passion and emotion often stand above everything else. Sometimes business sense can take a back seat, and like many companies Pininfarina suffered in the last decade with the financial crises, but then took the even bigger blow of losing both their beloved chairman, Sergio, in 2012 and his son Andrea in 2006.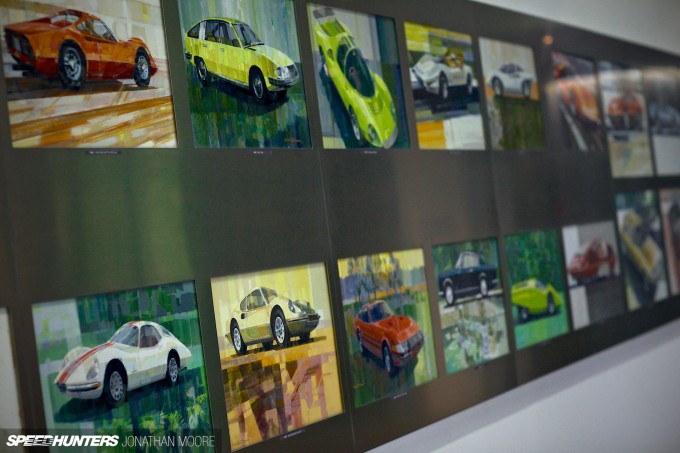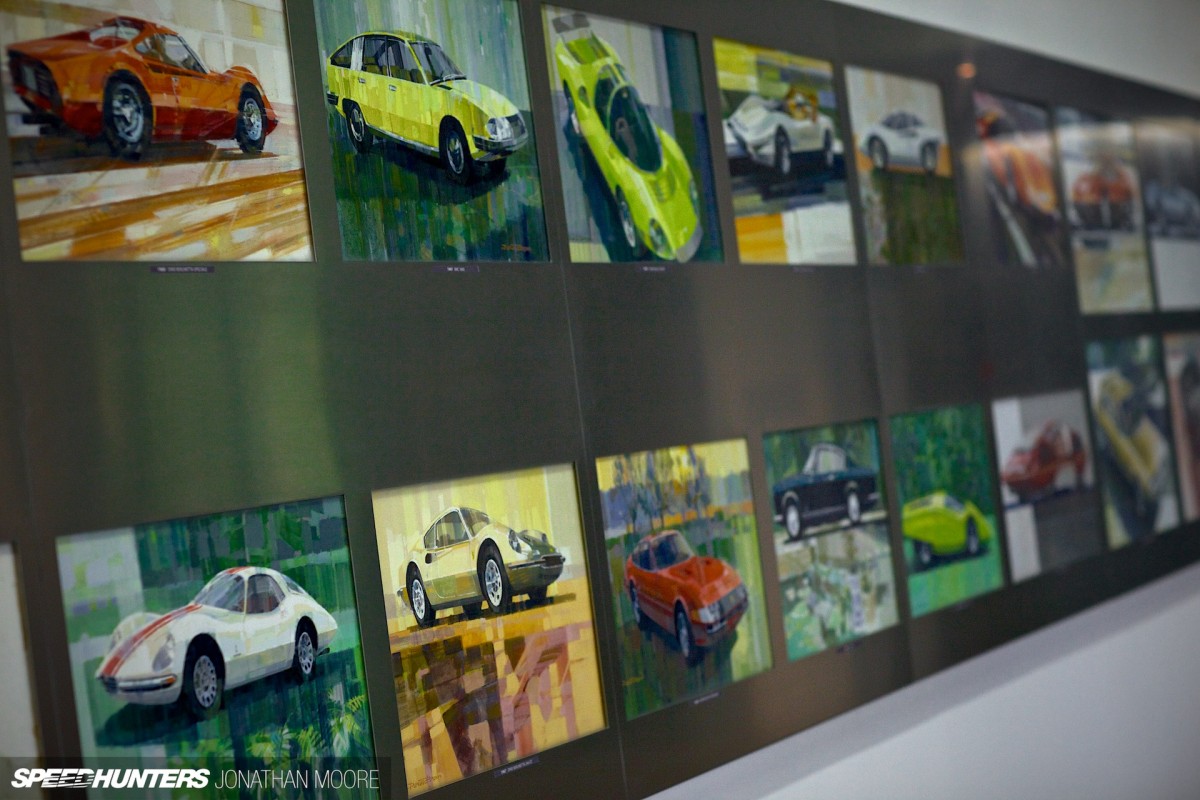 During the '80s and '90s Pininfarina had moved into the world of mass production, producing up to 75,000 cars a year for clients such as Ford, Volvo and Alfa. Those times are gone, with manufacturers retrenching and large-scale projects off the table, but for Pininfarina it's just meant going back to their roots. Bespoke design, cutting edge research and exclusive engineering – which is what the cars here represent. You want beautiful cars, you go to Pininfarina.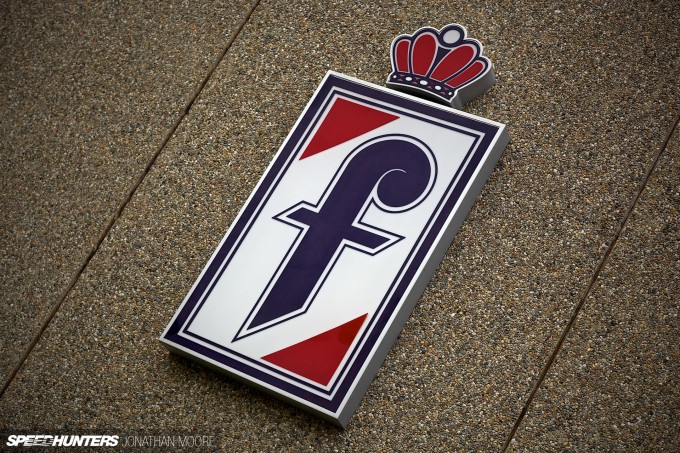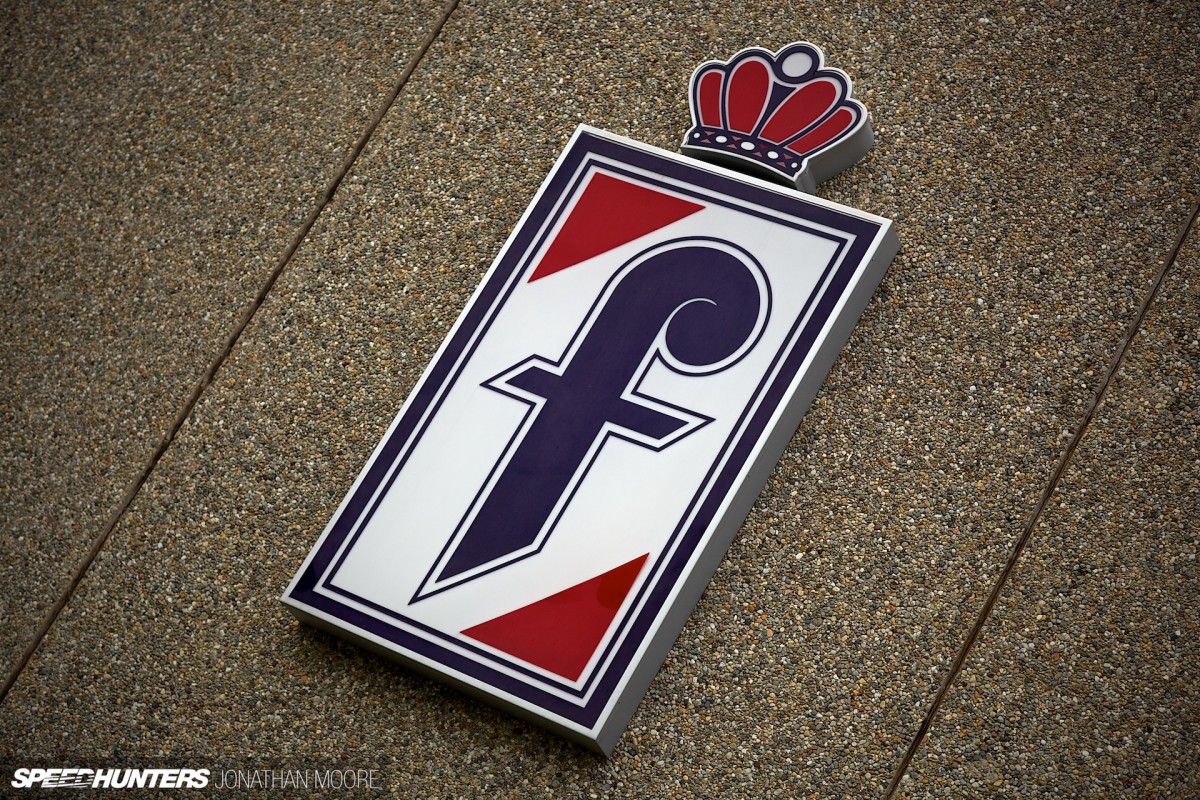 That the majority of cars they design aren't called Pininfarinas is of little concern really. The family name might change, with Ferrari, Alfa Romeo, Maserati, Honda or whoever else's name on the badge – but there's recognisable DNA running through them all. Pininfarina are always content to be the bride to a more gregarious groom when necessary, knowing the offspring will be beautiful without exception and their bloodline made richer still.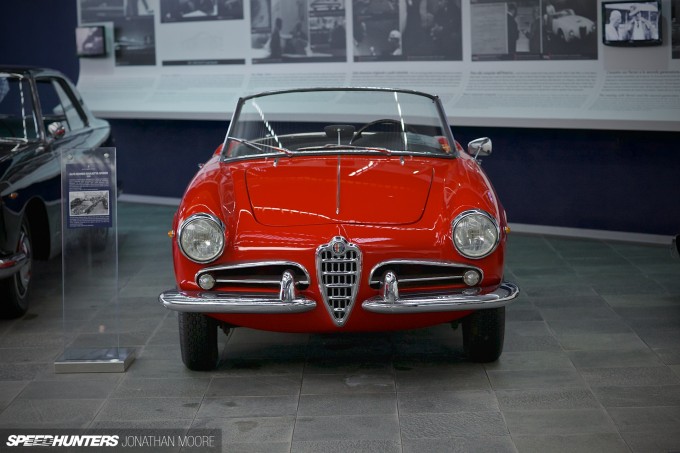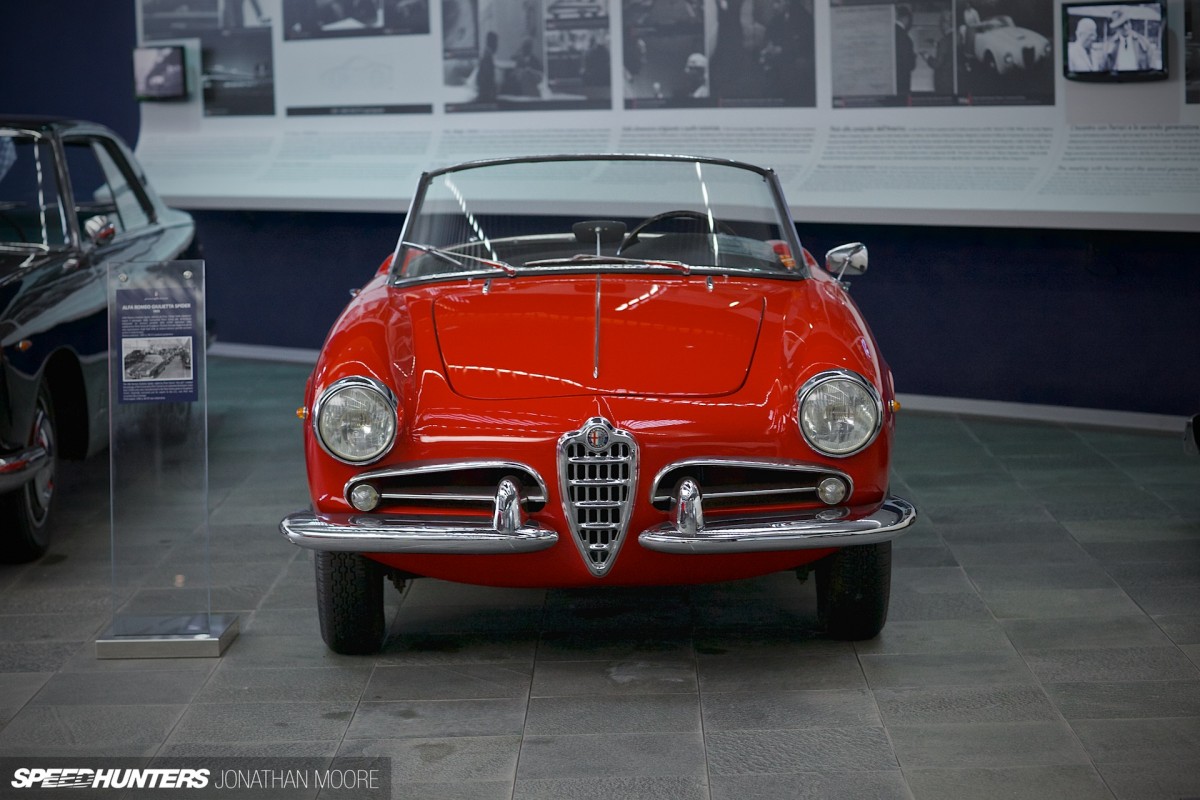 Occasionally a small Pininfarina logo will grace the flanks of a car, but often their design input has no obvious external recognition. But just look at the list of cars they've collaborated on… The Ferrari F40? Designed by Pininfarina. Alfa Romeo's Giulietta Spider? The same. The 458 Italia, seen as the epitome of modern sportscar design? Flowed from the pens of Pininfarina's design team. So many more besides: hundreds of icons straddling both the production and prototype fields.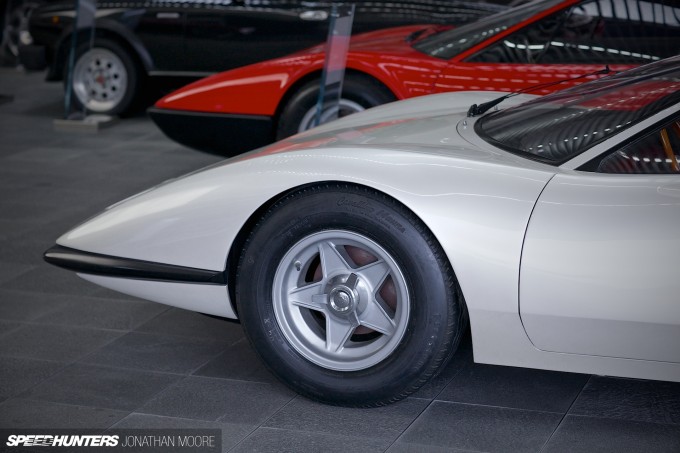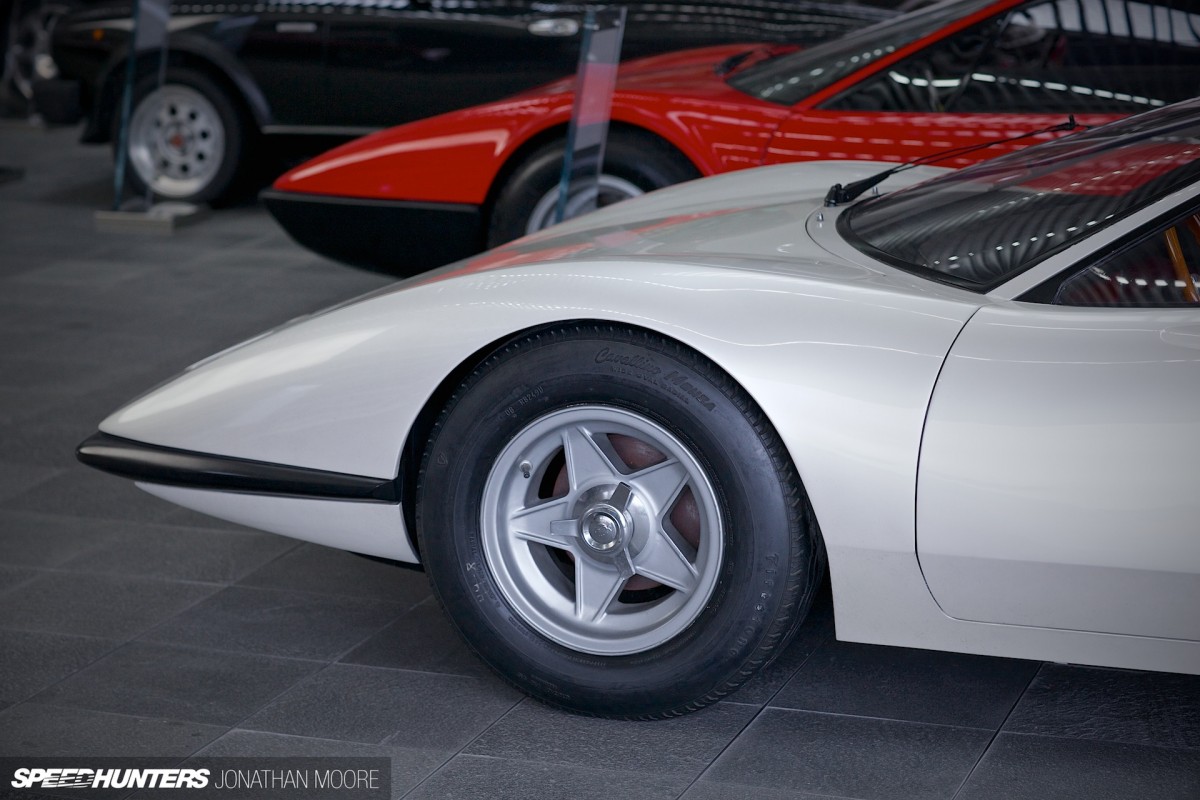 In fact, the majority of Ferraris are a result of an on-going collaboration between Pininfarina in Turin and Ferrari in Modena that stretches back to the 1950s, just one of the many companies who court the Pininfarina influence. When you realise a particular car has been created by Pininfarina, it often makes a lot more sense.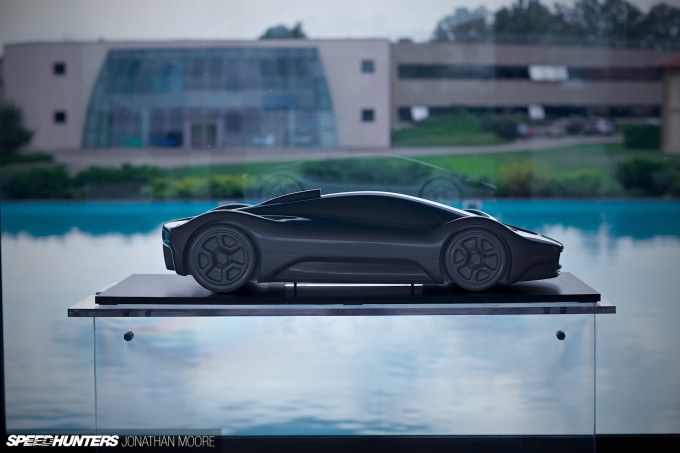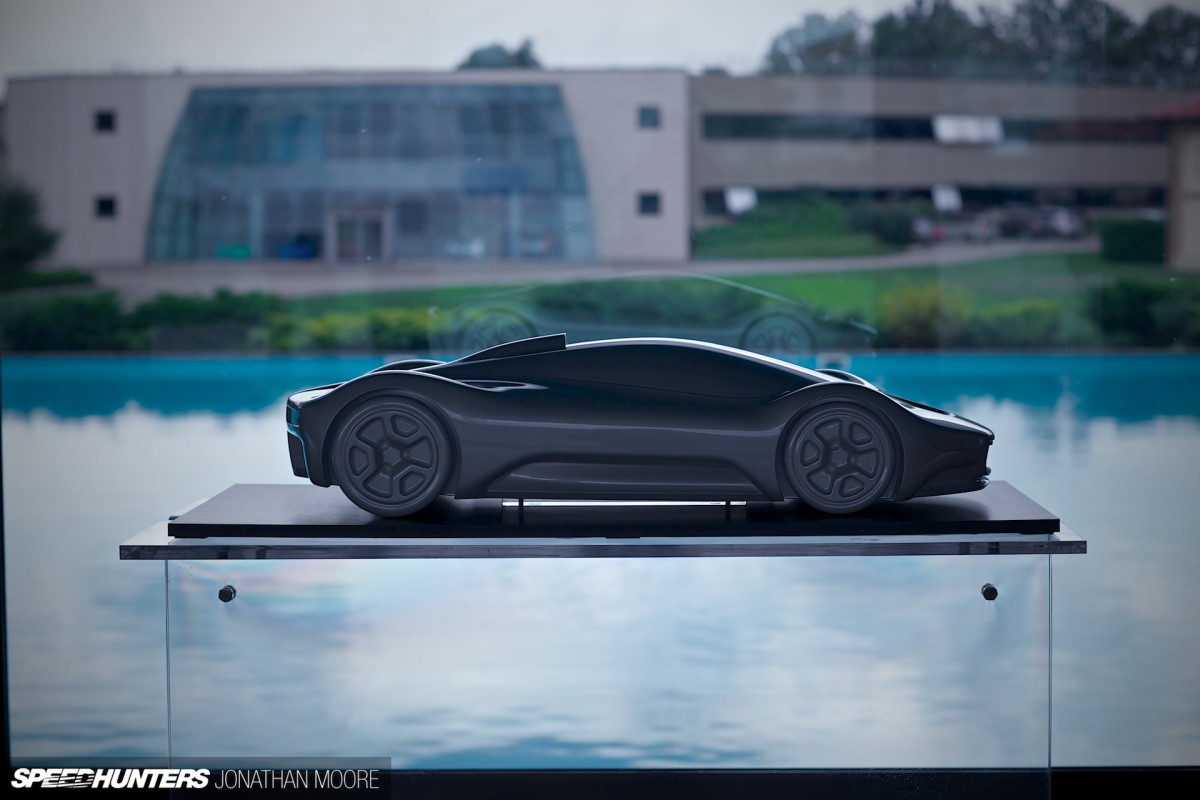 But then this a company who have an unbroken 84-year history of being one of the most respected coach builders in the world. They've created some of the most iconic and beautiful cars ever. And yet the irony (and something I think underlines their lack of vanity) is that even the company name is based on a nickname, 'Pinin' being Piedmontese slang for smallest – Battista was the youngest brother. The epithet was taken on with pride, to the extent that the contraction became the family's legal name in 1961. Small the name might be, but large their legacy.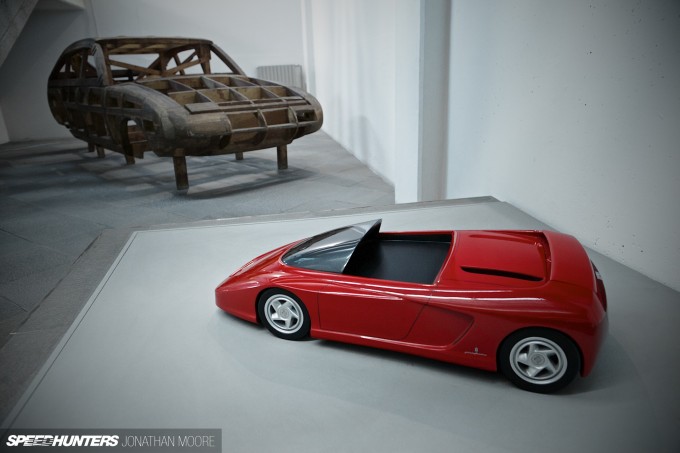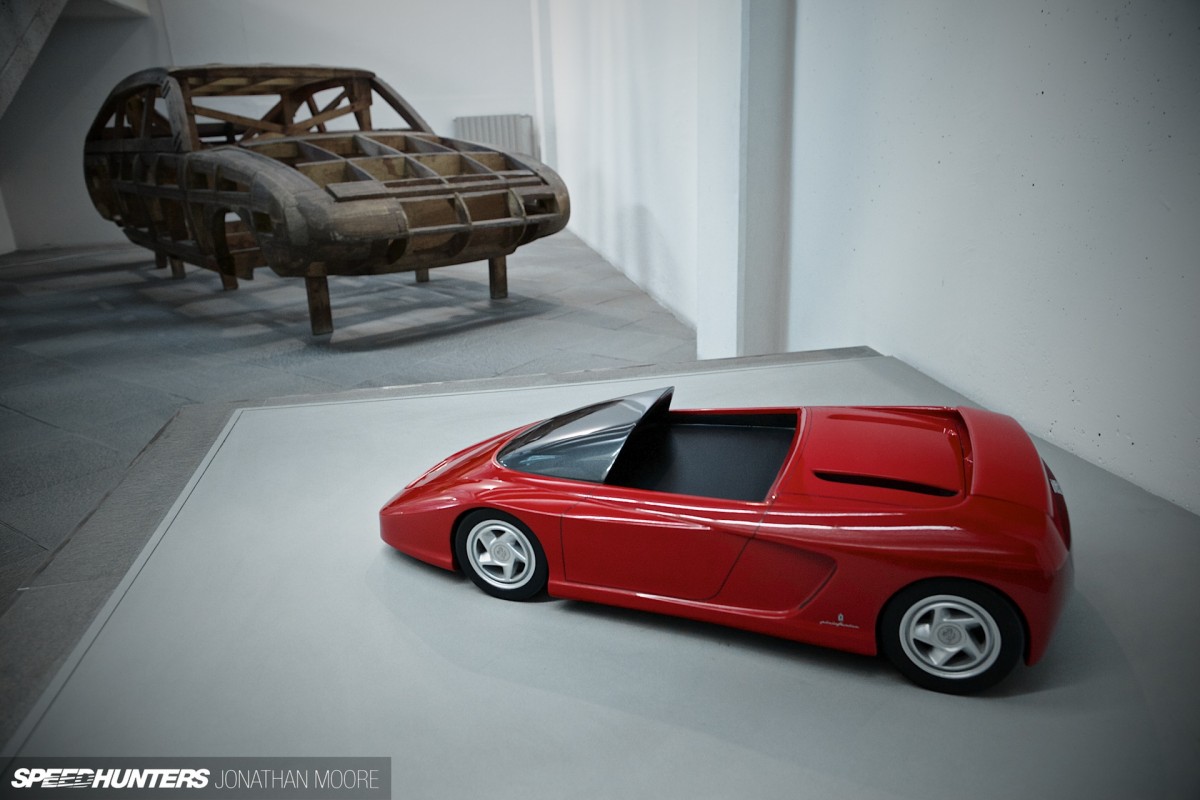 Pininfarina have somehow managed to operate at both ends of the scale, from bespoke one-offs to industrial scale production and everything in between, yet retain their exclusivity and flair. Maybe it's to do with a love of materials, which the current design team still stress.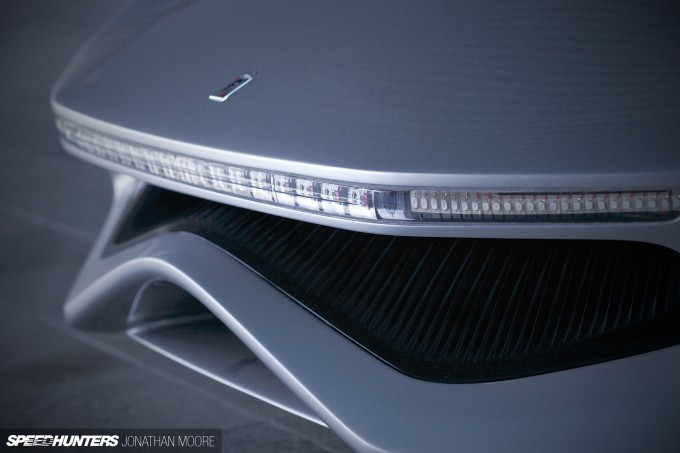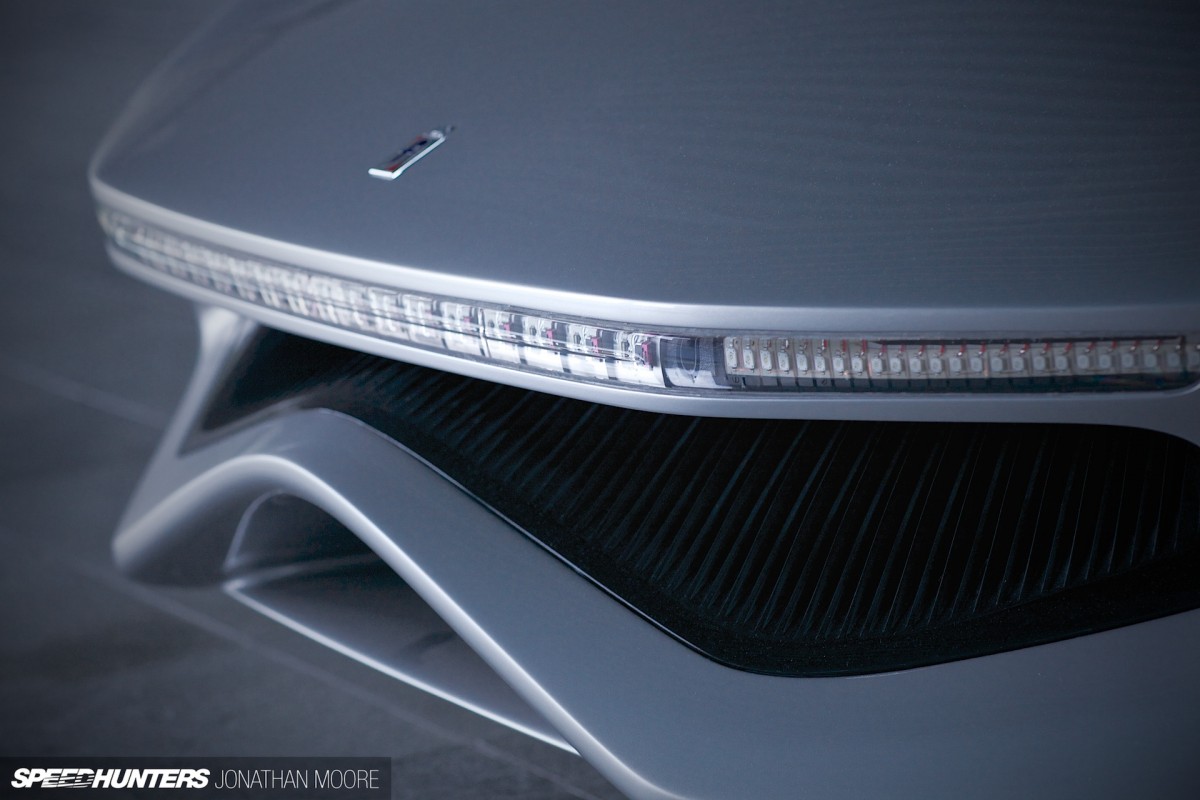 Pininfarina's collection contains but a small selection of their immense output – key ingredients in a company history which is pushing on strongly towards its centenary and still at the forefront of automotive design, as it has always been.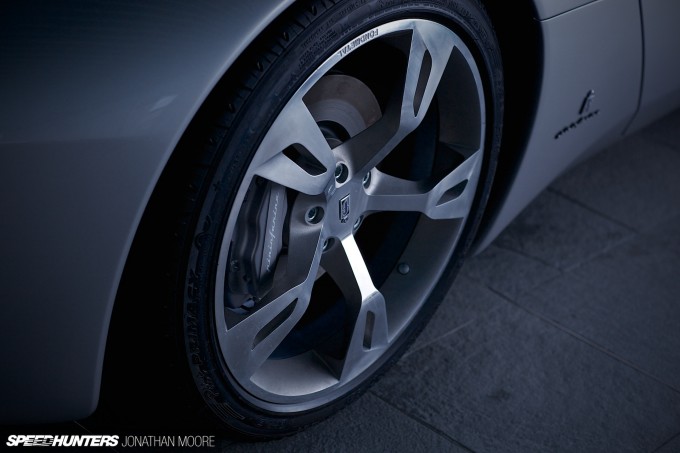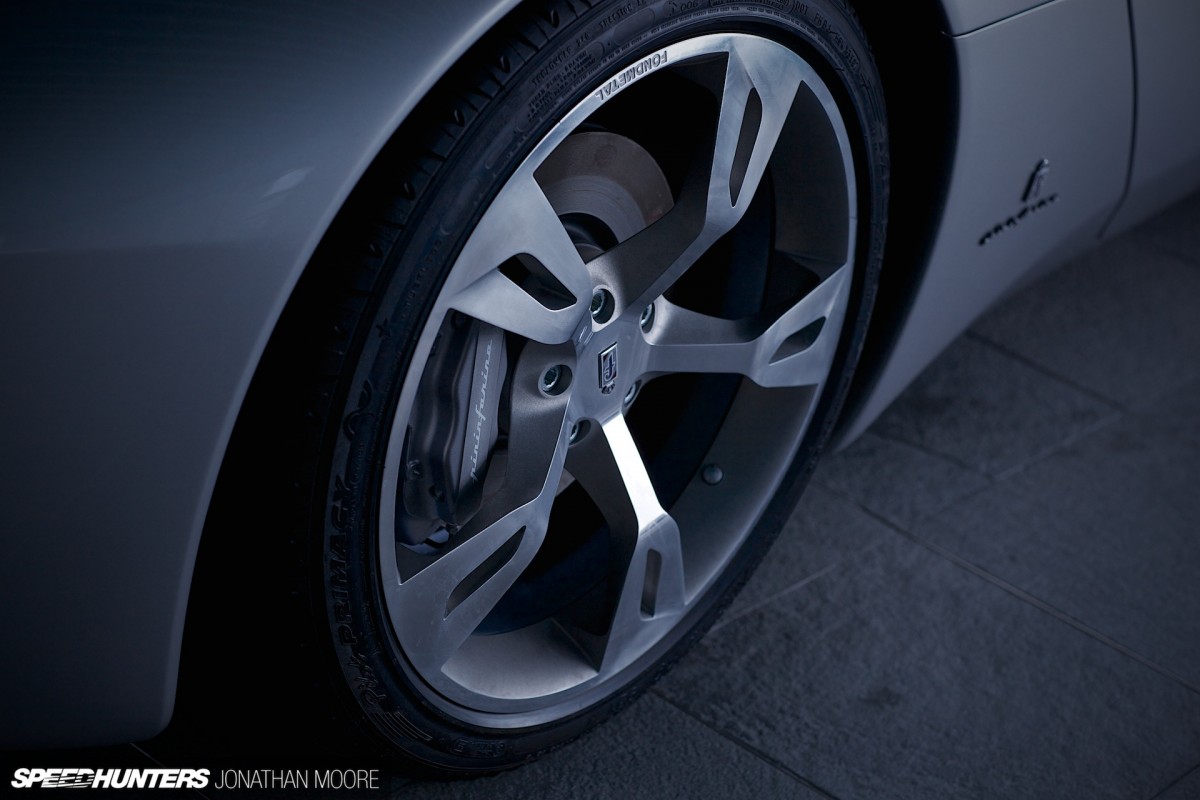 Because of the nature of a lot of their projects, Pininfarina's designs are often now in the hands of the customers who originally ordered them, spread around the world. But they have retained a good number, of which a round dozen cars were on show, spanning 67 years of Pininfarina design.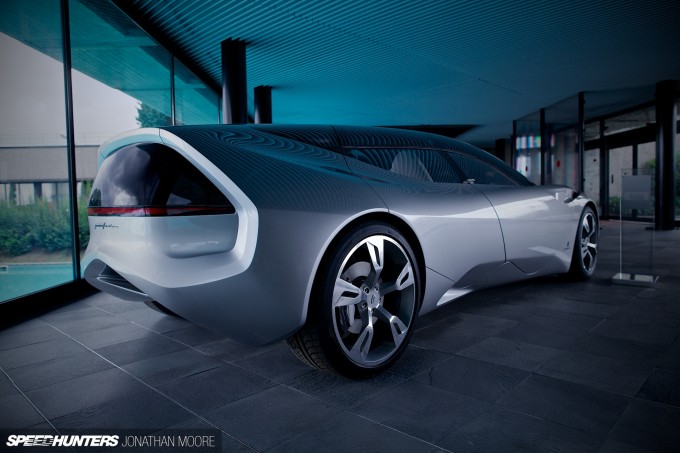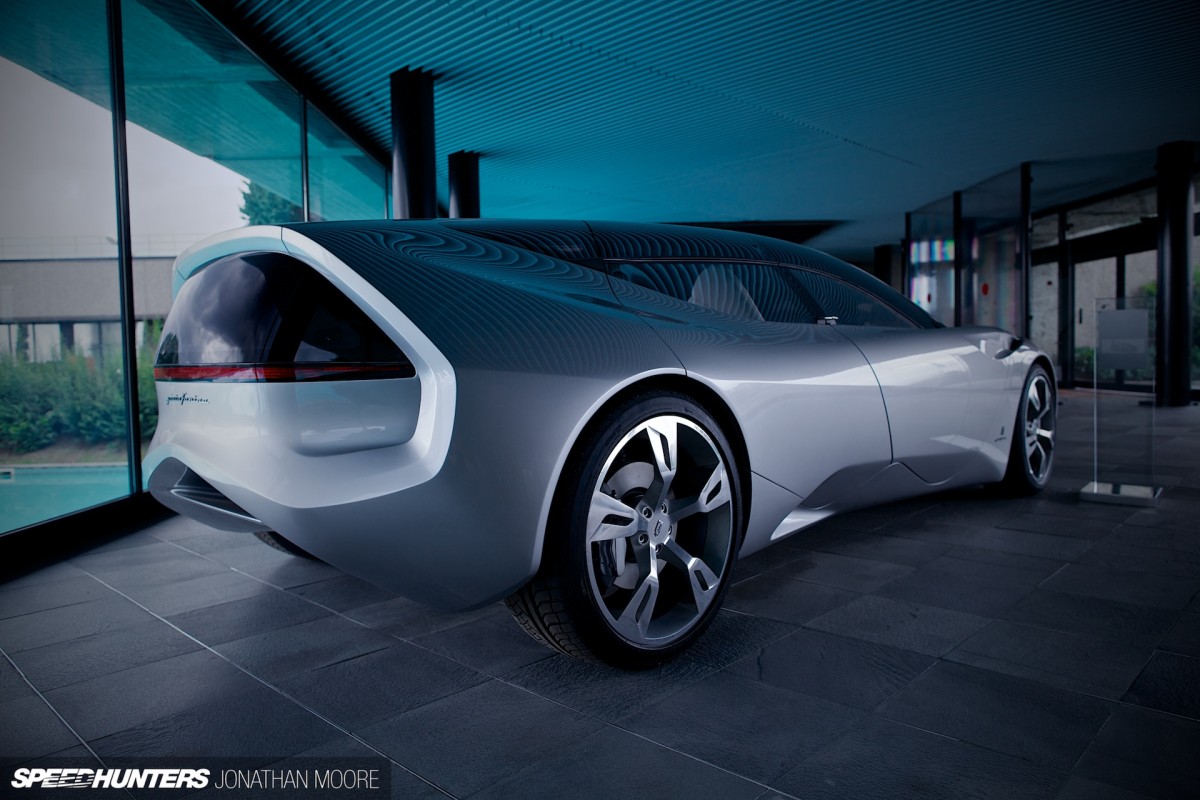 In the foyer was the Sintesi concept from 2008. In itself an impressive thing, the only issue was that what was next to it caused one of those horrible, 'I wish I hadn't even seen it' moments. A prototype based on a 458 about to be shown to a particular special customer: no photos please. The pain!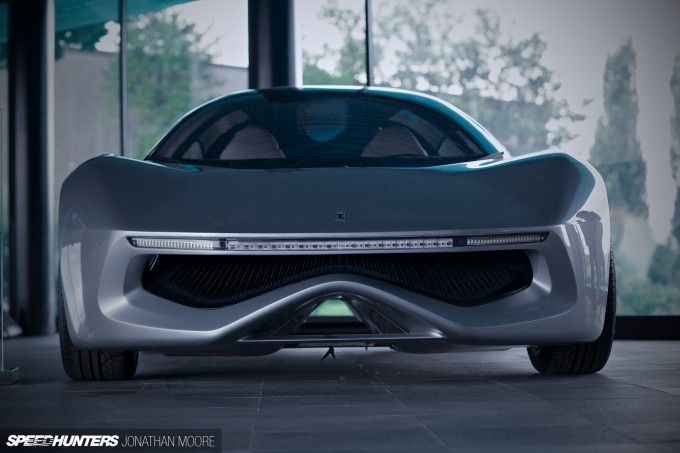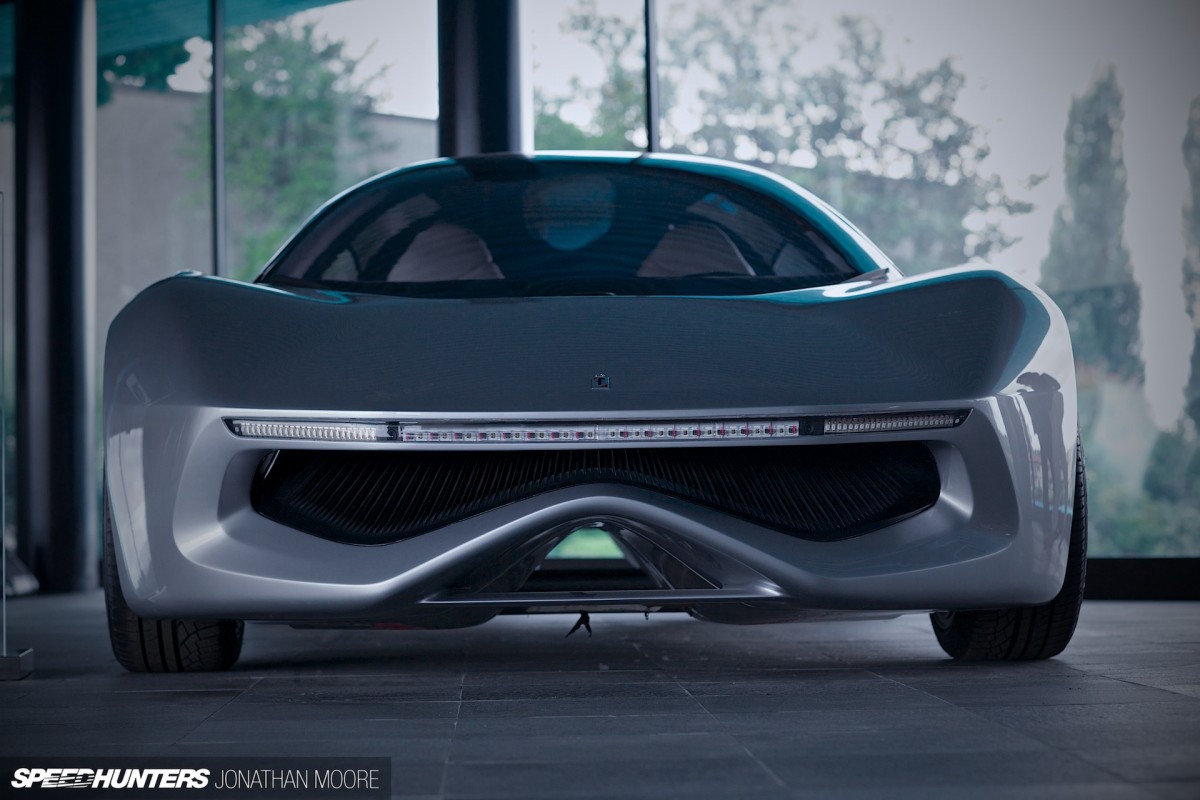 The Sintesi was shown off at the Geneva Motor Show, a low-slung hybrid four-seater with scissor doors front and rear, opening in opposing directions, for maximum accessibility to the cabin. Pininfarina have always been incredibly strong on aero – they installed one of the first full-size automotive wind tunnels in Europe back in 1970 – and the Sintesi showed that off, with this interesting full-length tunnel running front to rear.
Pride In Prancing Horses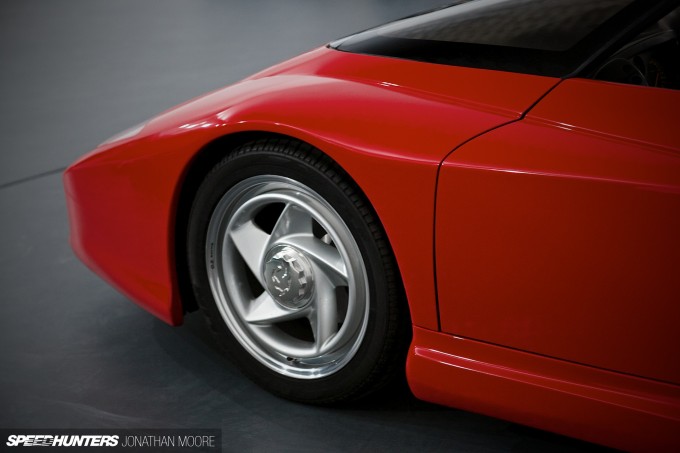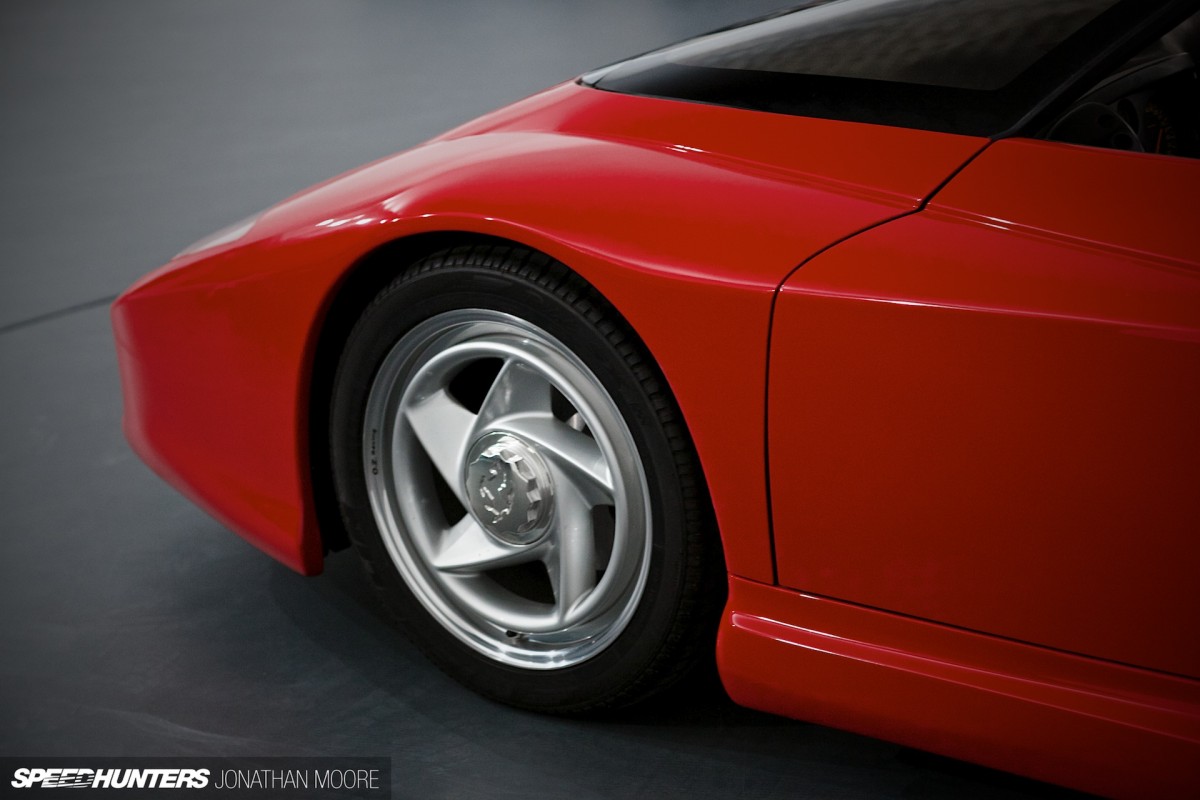 Pininfarina are synonymous with Ferrari. The two families have been interlinked ever since a fateful meeting between patriarchs Battista and Enzo, engineered by Pininfarina's son Sergio in 1951. That meeting of great and proud men led to a relationship that has produced, well, to say a number of iconic cars would be an understatement.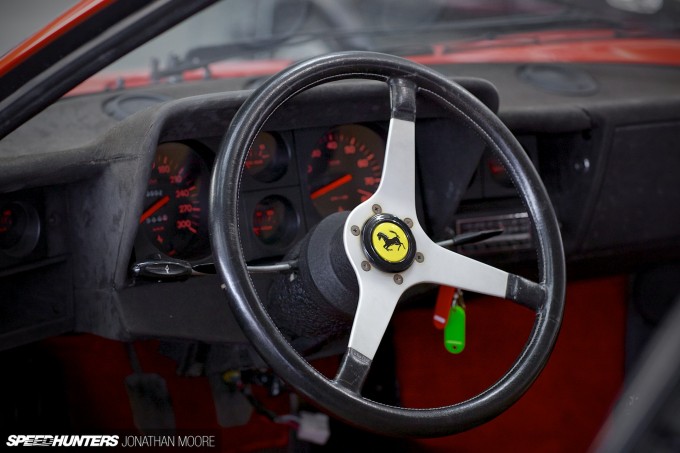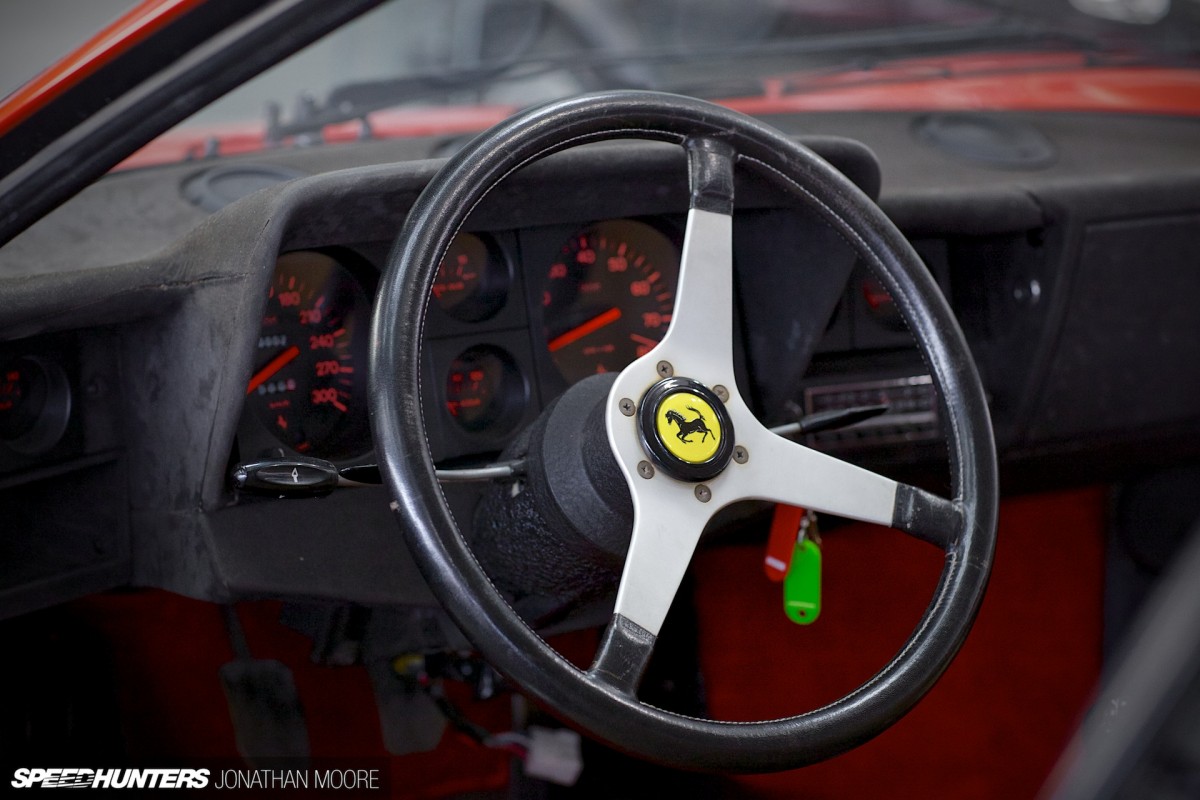 I knew that Pininfarina had a hand in designing a significant number of Ferraris, but the breadth of their involvement is so much deeper; the 250, the Dino and its descendants, the Daytona, virtually all current models except the LaFerrari. In fact it's easier to name Ferraris that haven't had Pininfarina involvement. Breathtaking really. Surprisingly, Pininfarina often act as competition to Ferrari's in-house team in initial briefs, then reverting to their more normal collaborations as projects progress. That shows a level of intense trust.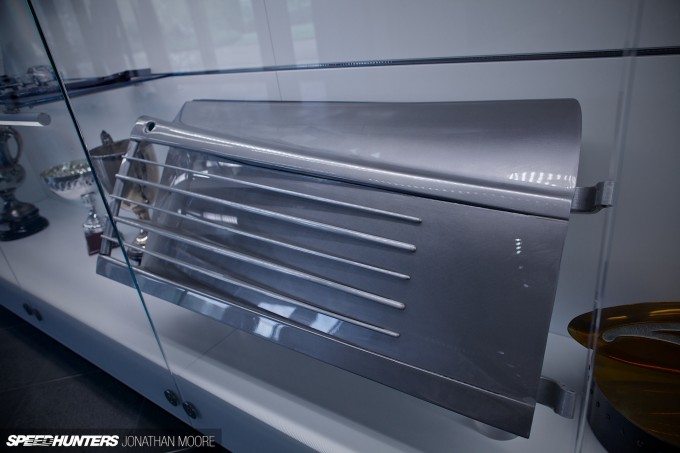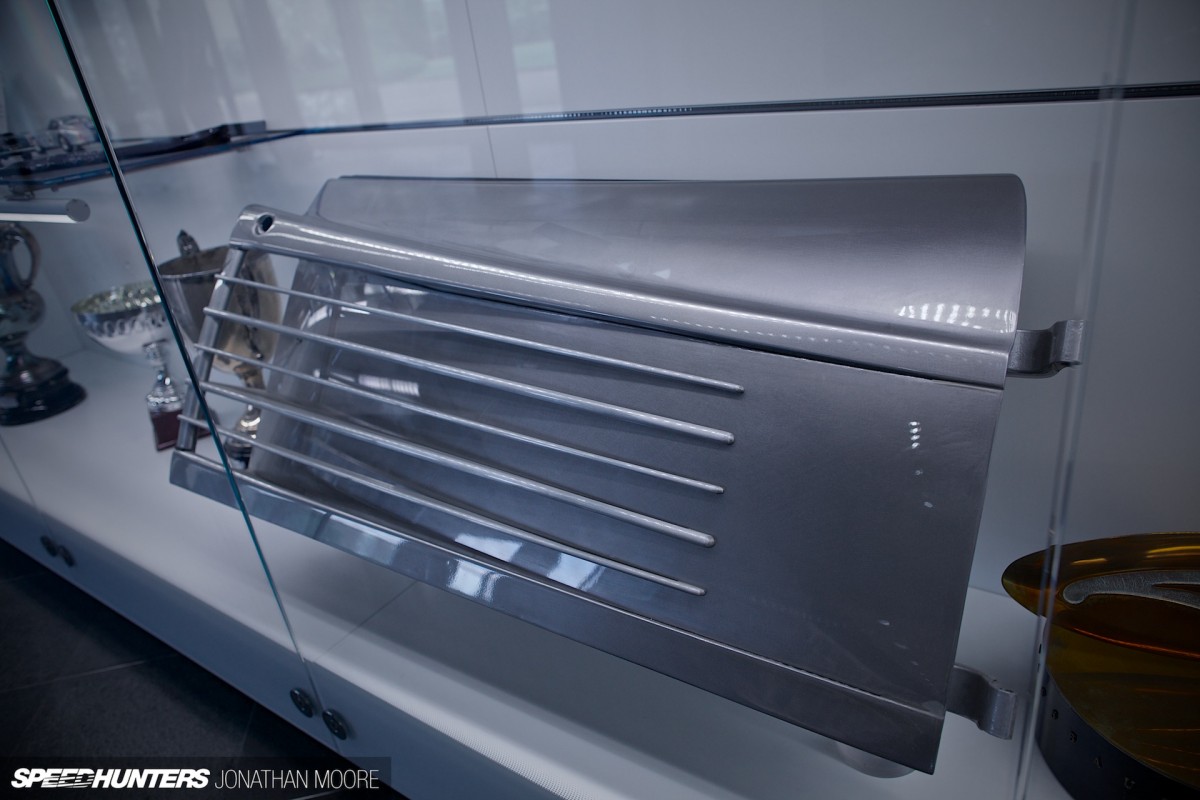 An example of their previous work was this Testarossa door kept in a showcase. The complex shaping was cutting edge for the time, pushing manufacturing processes to the limit.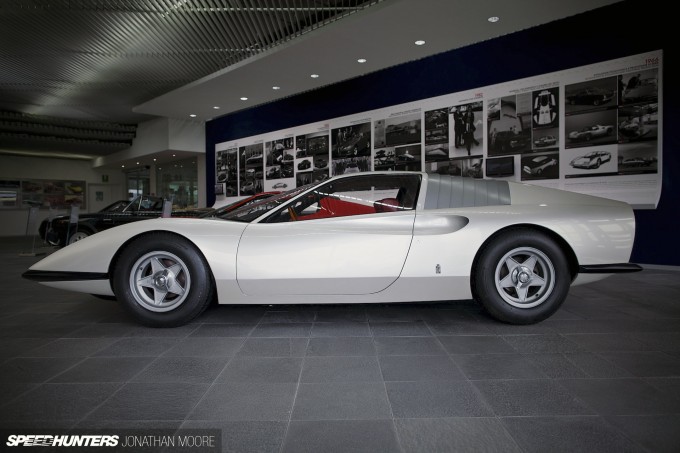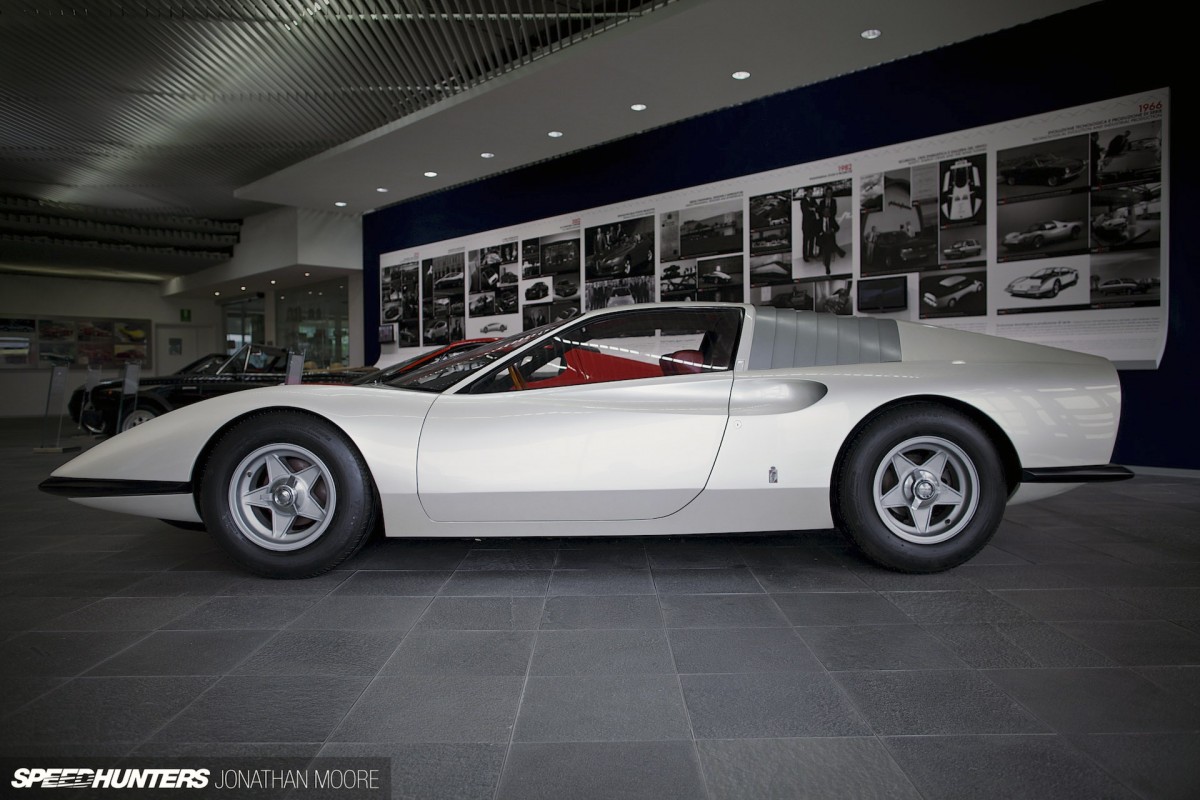 There were three Ferraris to take in – well, five, but I'll come to that. First of all I want to look at this, the utterly beautiful zero prototype for what would become the Berlinetta Boxer. The P6 Berlinetta Speciale was produced in 1968 – well in advance of the wedge craze that would swamp car design in the '70s. But being in advance of trends is typically Pininfarina.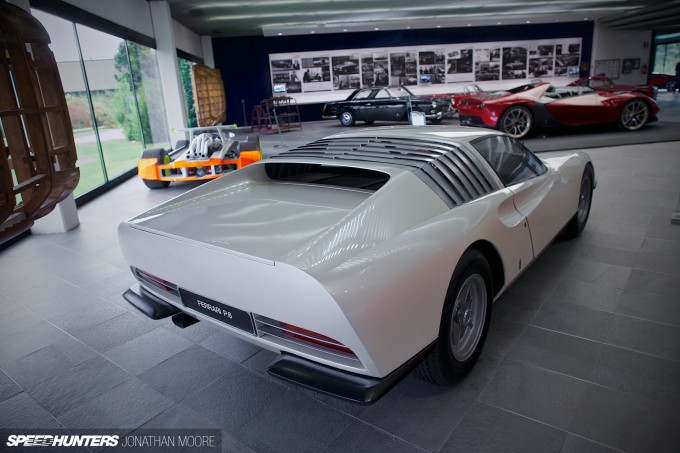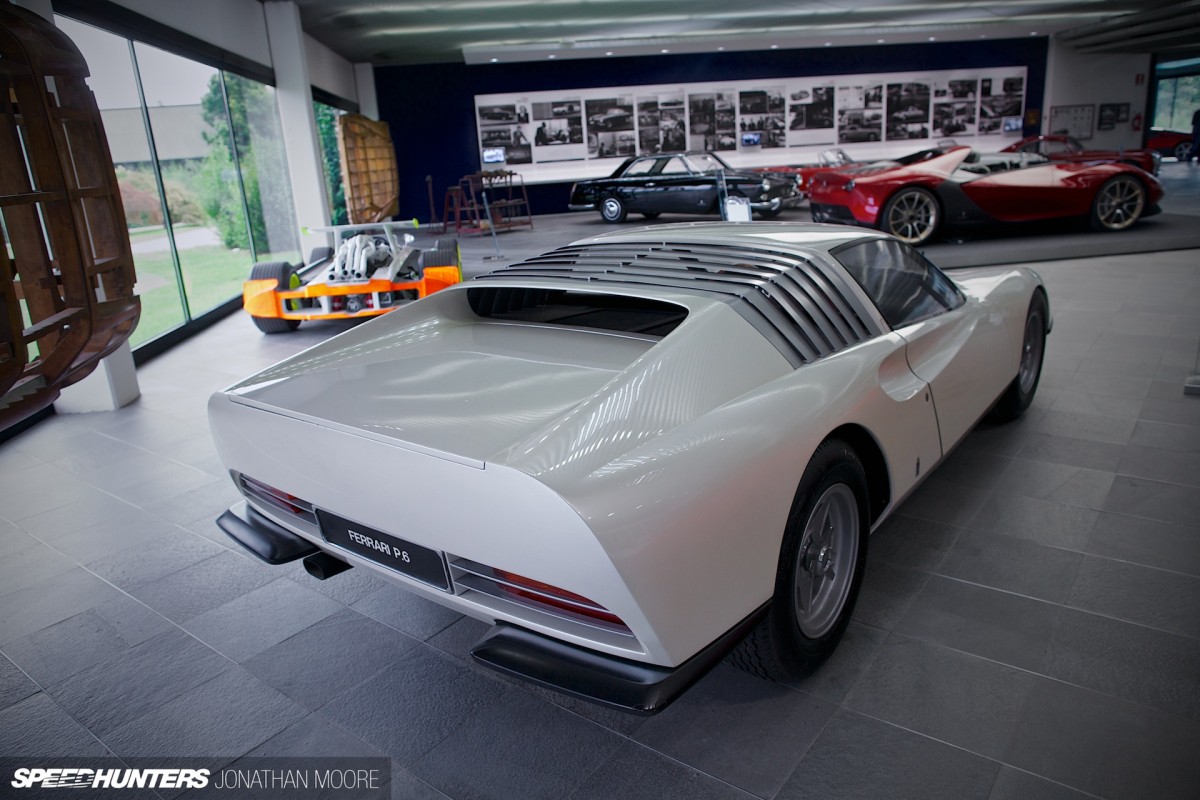 The chassis incorporated radical new thinking, with a central duct taking air straight from the radiator grill to the engine. In profile you can clearly see the lines that the production car would follow, but it's at the front and particularly the rear where things are dramatically different. The high rear and kamm-style slashed tail contained a three-litre V12 – this was a 400hp monster of a car – and the slatted mid-section again predicted designs that would dominate the next decade.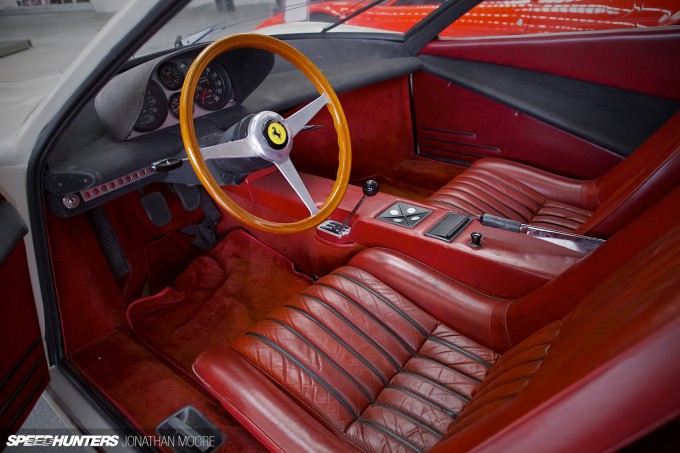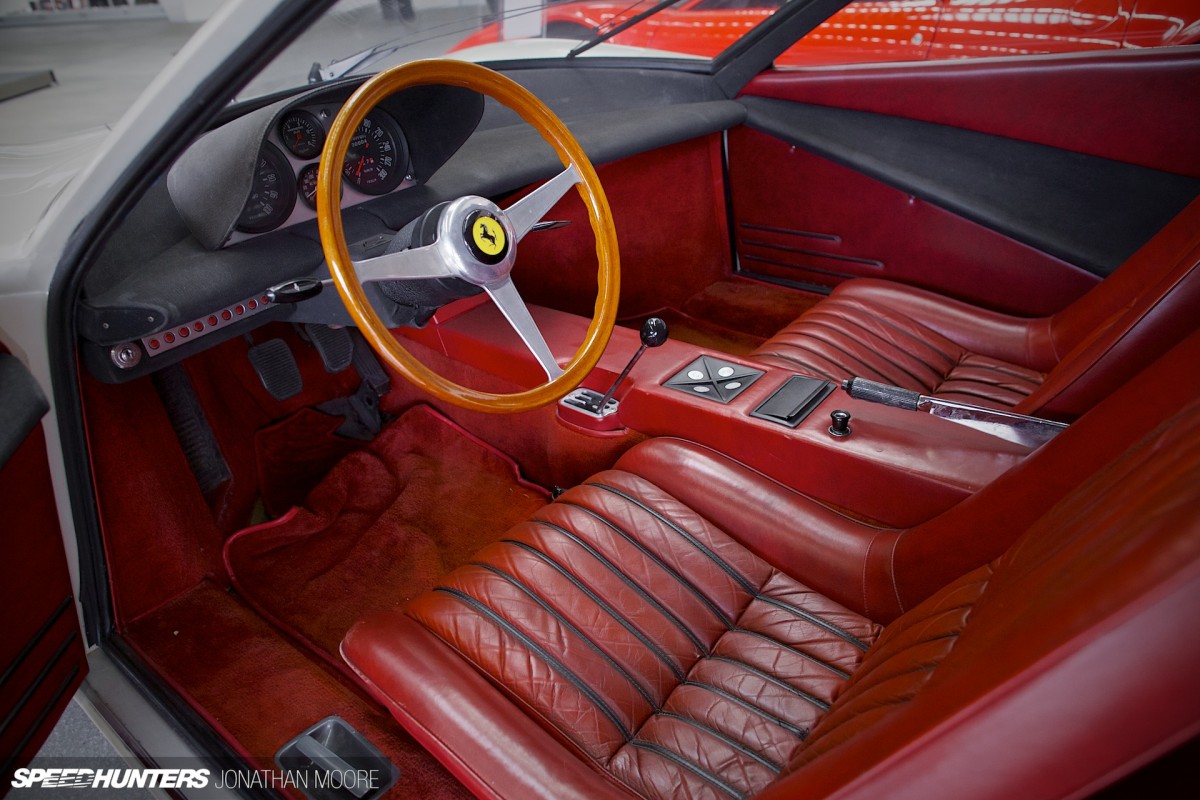 The pearlescent white paint is just a bonus… At the front, large slanted lights were used in an effort to avoid drag-inducing pop-ups; for production, technological restrictions meant that smaller, secondary pop-up headlights were added above the faired-in units. Inside, open the door and breath in the '60s. The P6 oozed that evocative combination of oil and leather: old and reassuring – and real.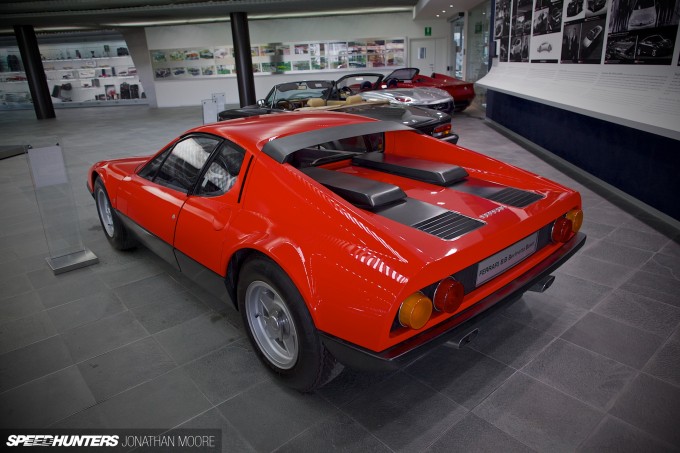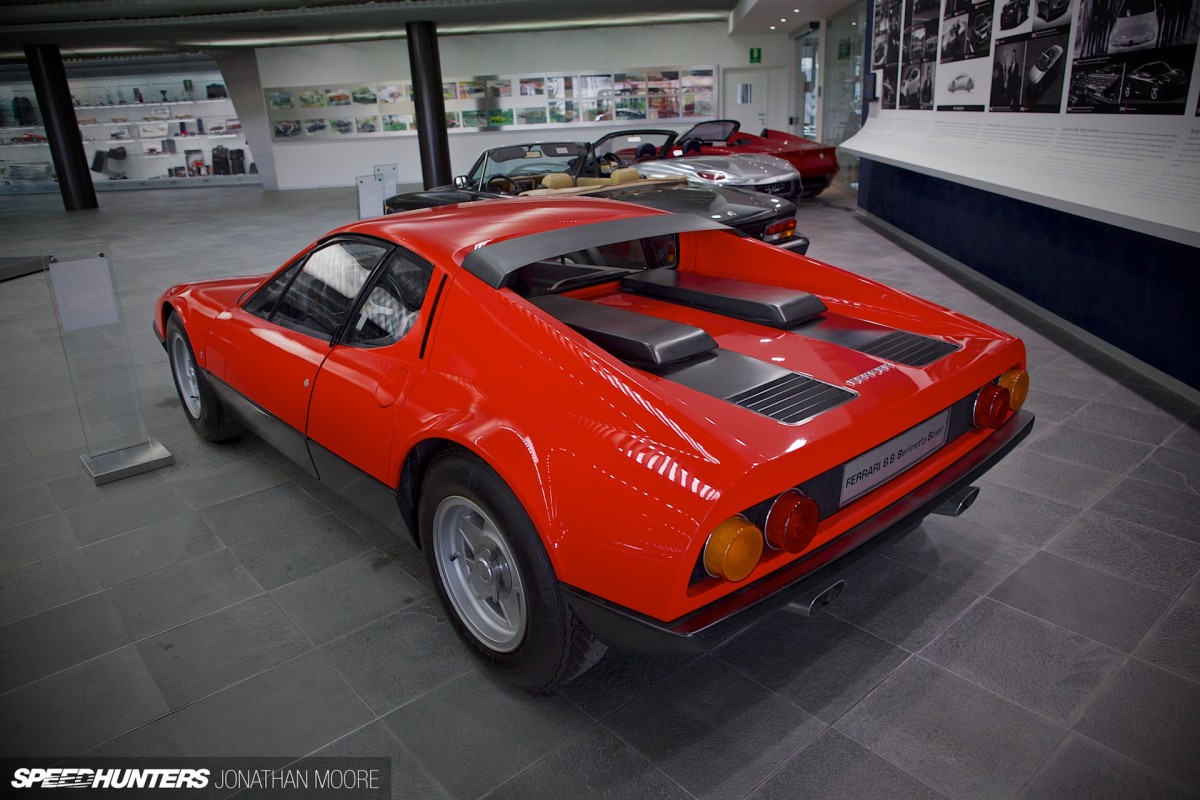 Next to it was the final pre-production Berlinetta Boxer model from 1971, again lacking mirrors, but much closer to what would roll off the product line. So much more muscular than previous Ferraris, yet still full of grace. Pininfarina pushed Enzo into the mid-engined revolution with the BB, with its epic 4,390cc V12.The two distinct parts of the body, divided by the waistline, was a defining style of the BB, and a design trick that is still used today; Pininfarina went on to create a relatively large production run of 929 BBs.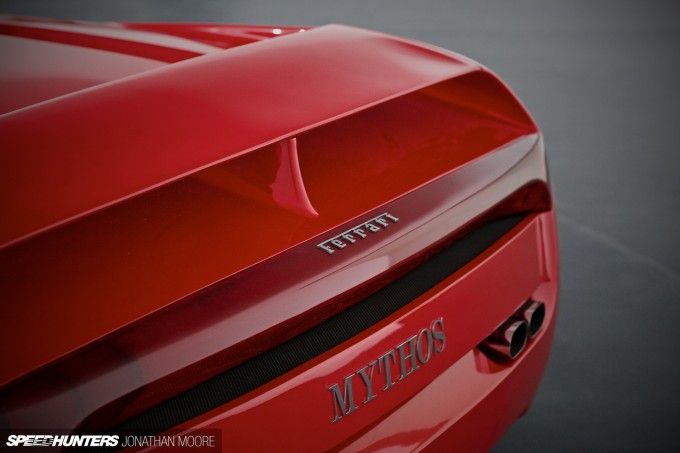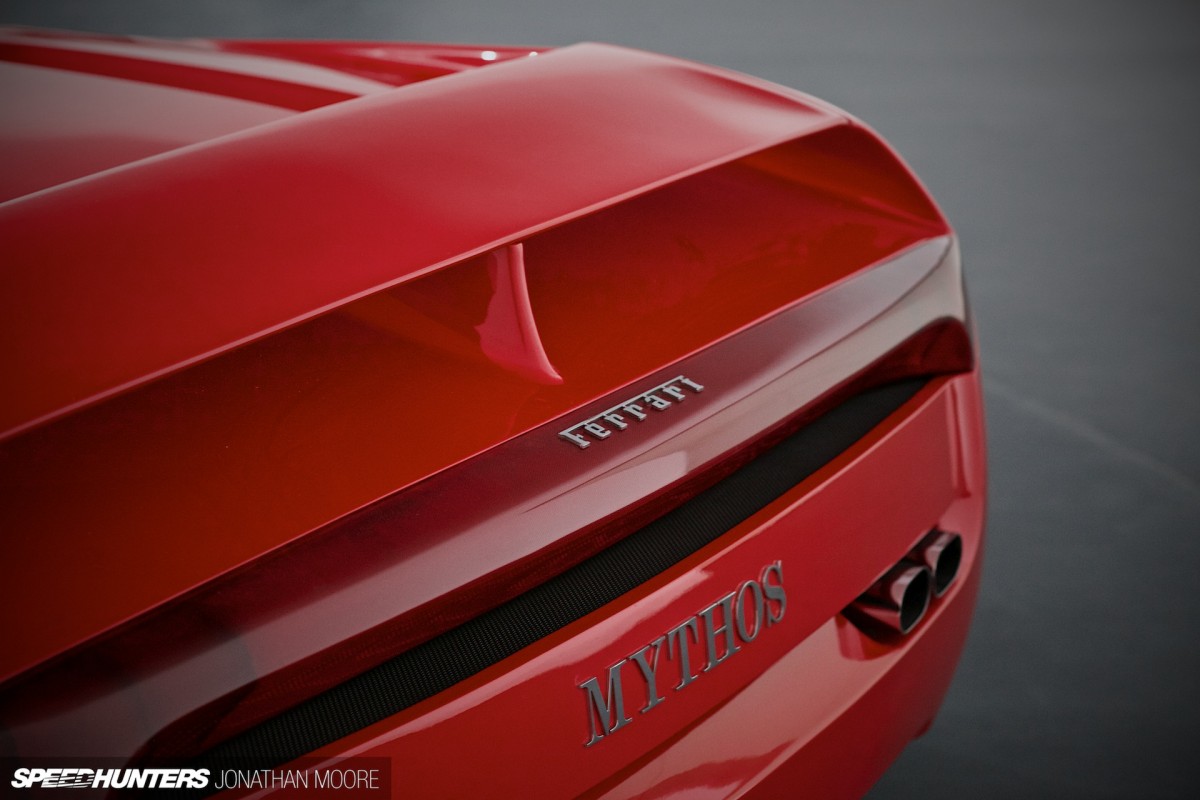 Pininfarina must also be the only company who are allowed to put Ferrari badges on their concepts and bespoke road cars. Their most recent creation, the Sergio, is just the latest chapter: Luca has talked us through the design process for that car in a separate story. This is the Ferrari Mythos from 1989.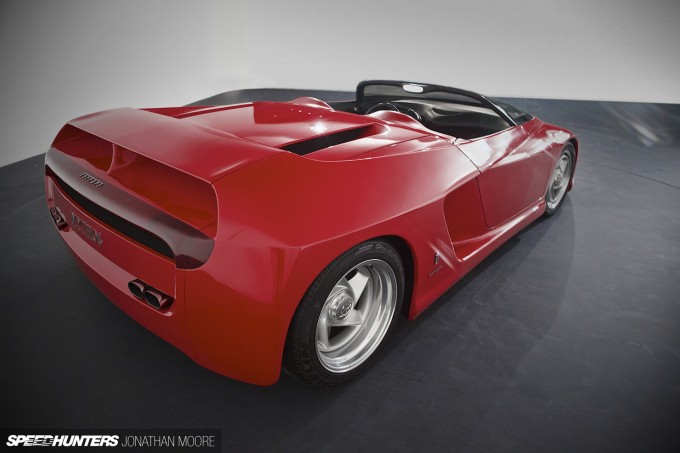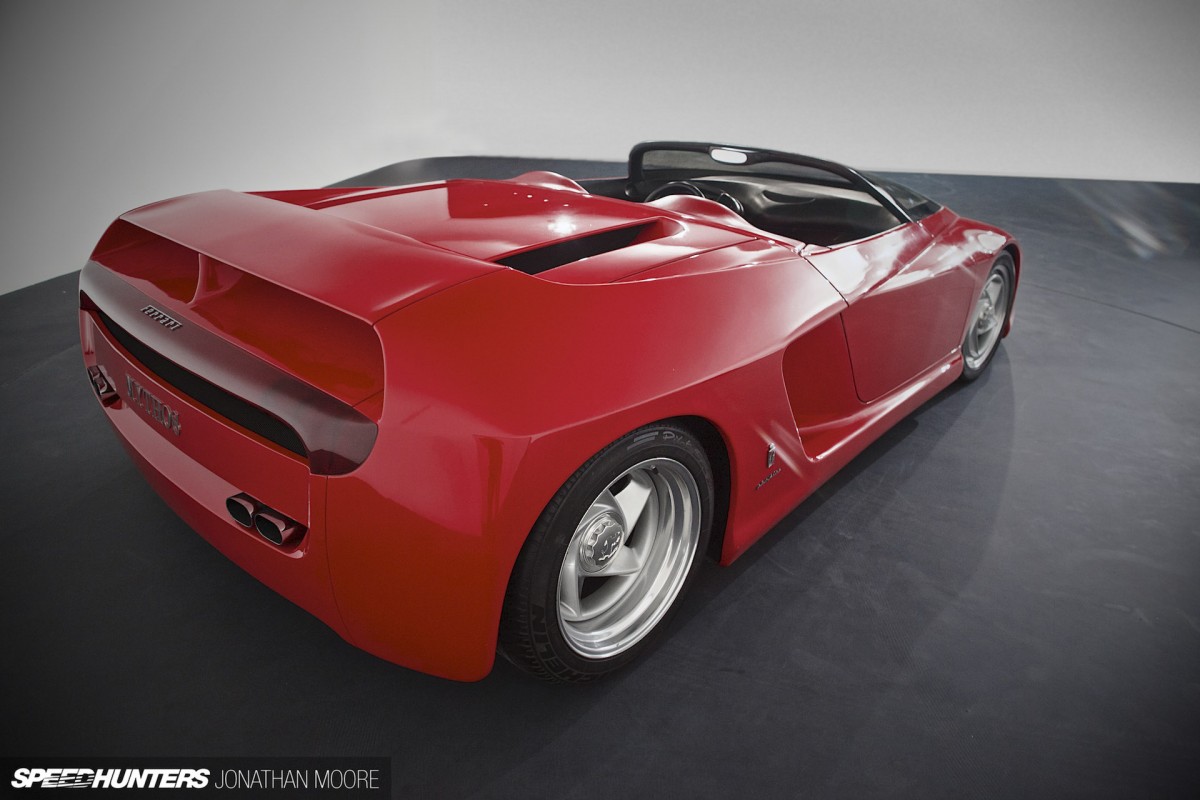 Based on Testa Rossa running gear, the Mythos is like the missing link between that model and the next generation supercars that would merge. The bodywork was all composite and removable in sections like a racing car; the huge rear track contained the big V12 and provided epic stability and traction; the rear wing would dynamically elevate at speed to reduce drag. Early DRS and moveable aero? You got it.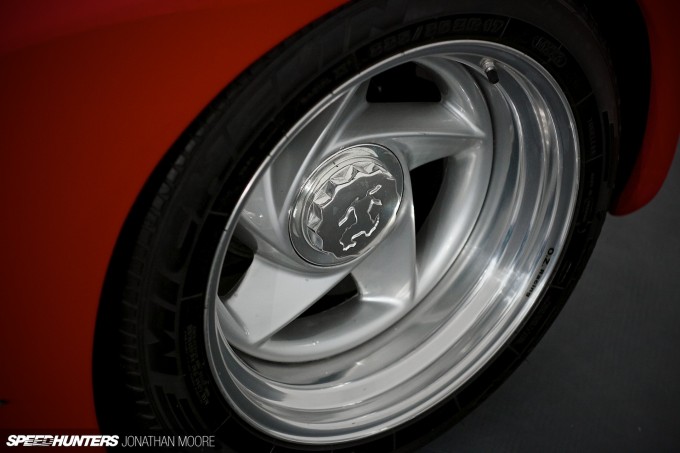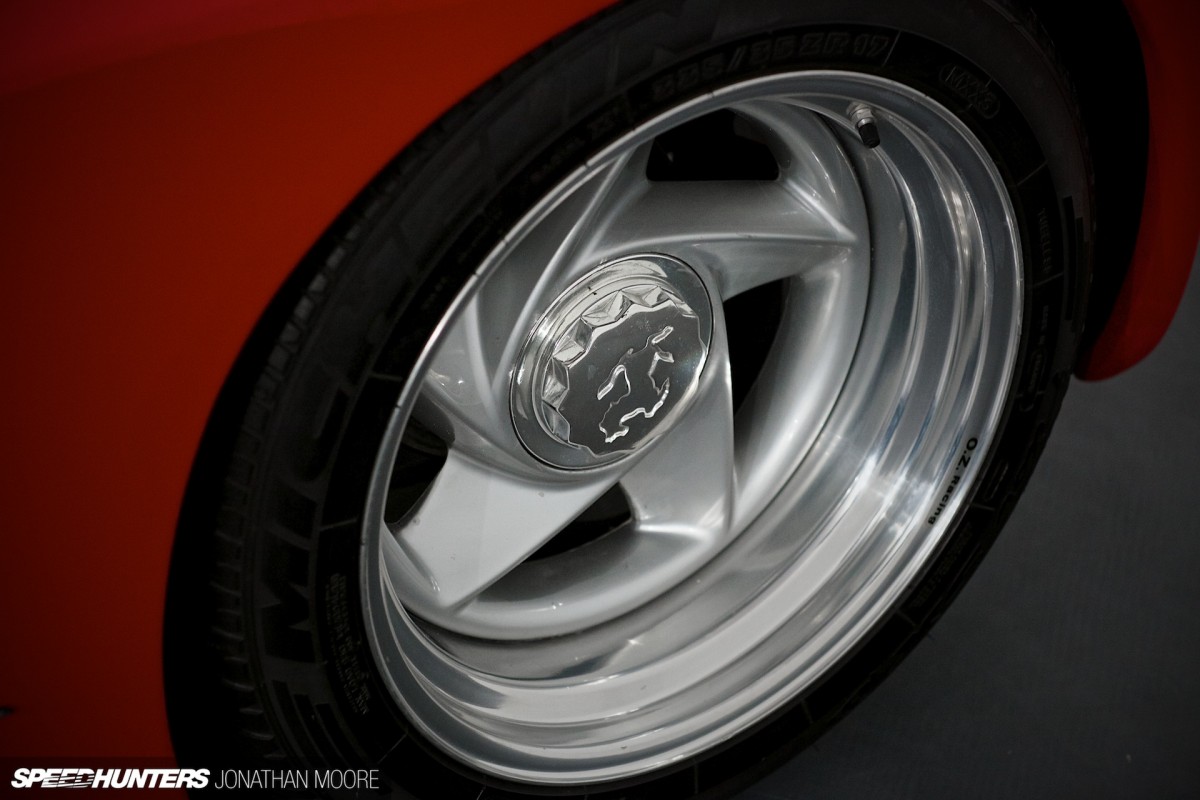 The thing to remember about Pininfarina is that they rarely make cars for show. To demonstrate their skill or to make examples of new technological strides, yes, but always with the aim of producing real live cars with beating hearts that would be driven on roads.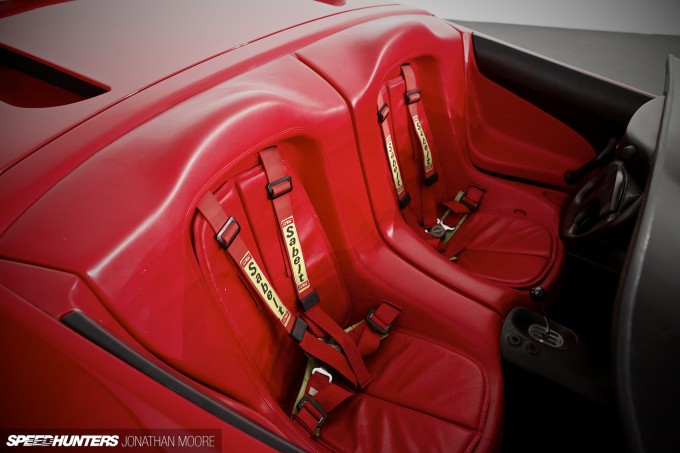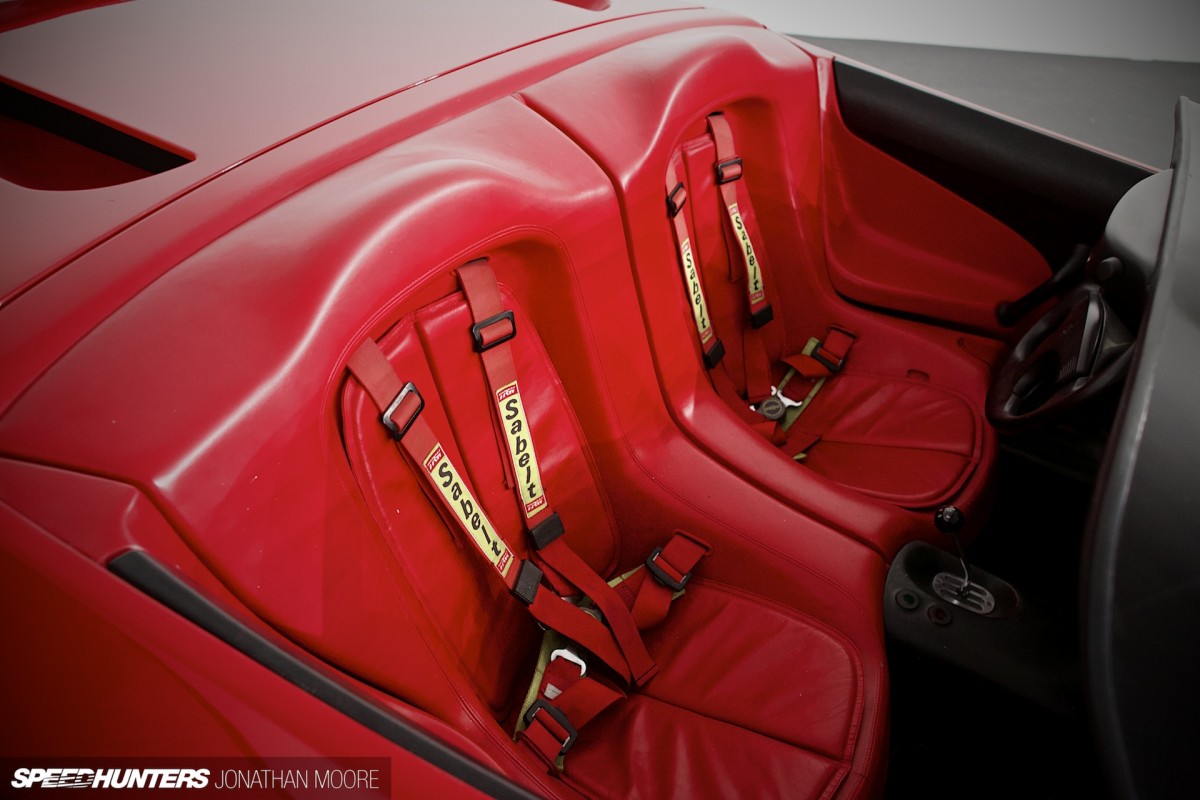 As with the Sergio, which has now entered a limited production run, a small number of Mythos were crafted, with two thought to be owned by the Sultan of Brunei. More Pininfarina myths and legends…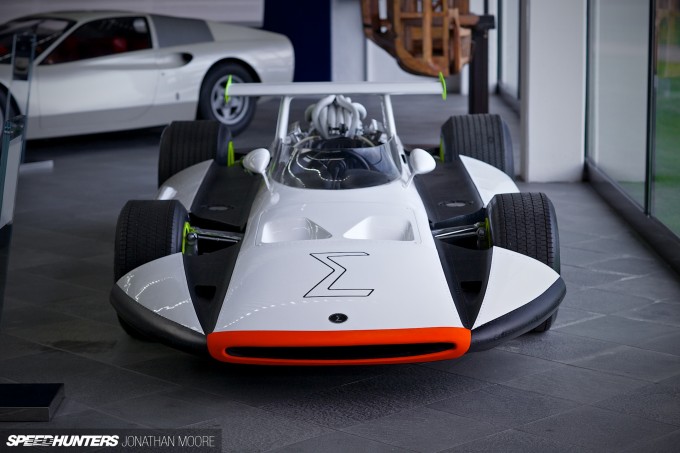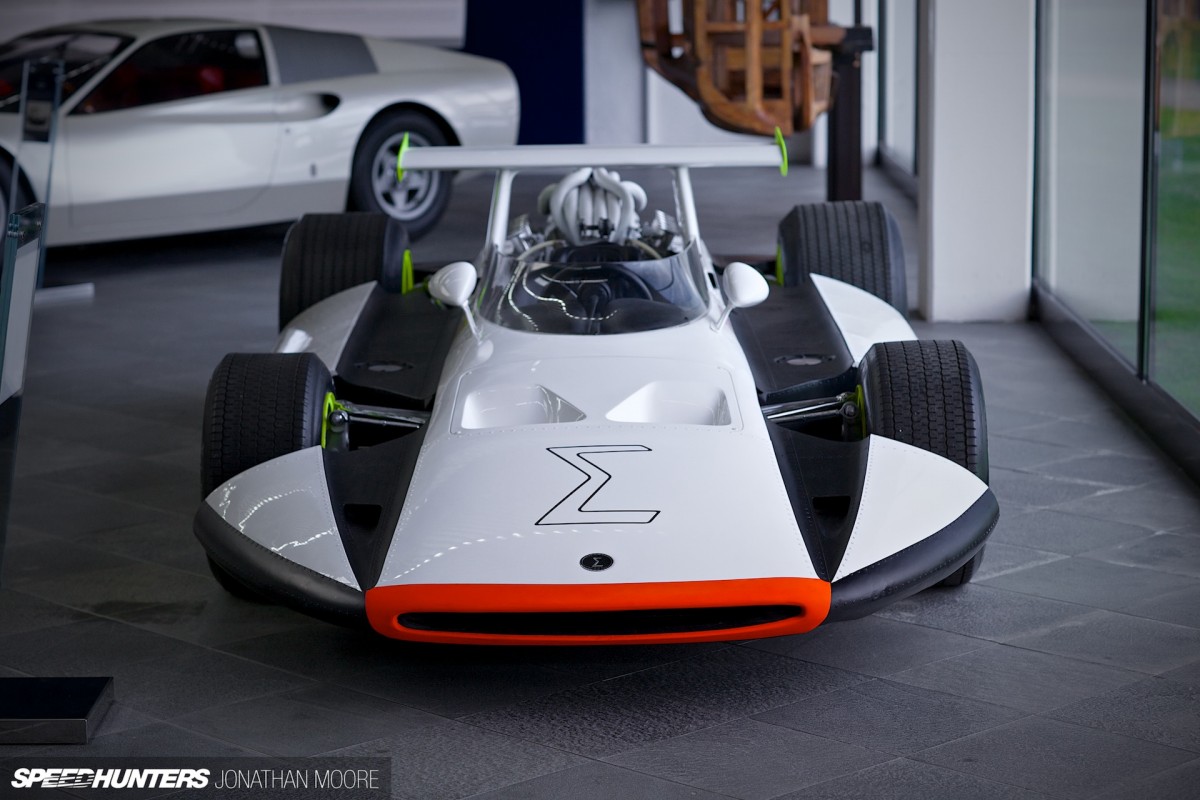 So to the fifth Ferrari at Pininfarina, and a particularly unexpected one. Perhaps calling it a full-blooded Ferrari is pushing it, but this Formula 1 concept was powered by a Ferrari V12. A design study for what F1 could become, the shocking thing about the Sigma is that it was created in 1969, when the core of an F1 car was typically a half monocoque with exposed engine and fragile outboard wings. This was science fiction in comparison.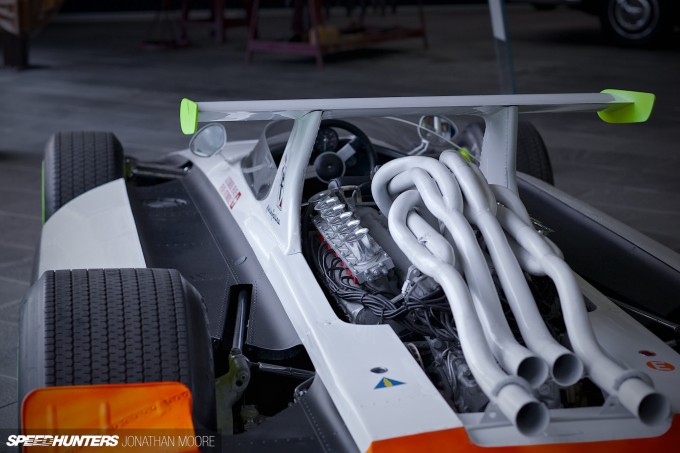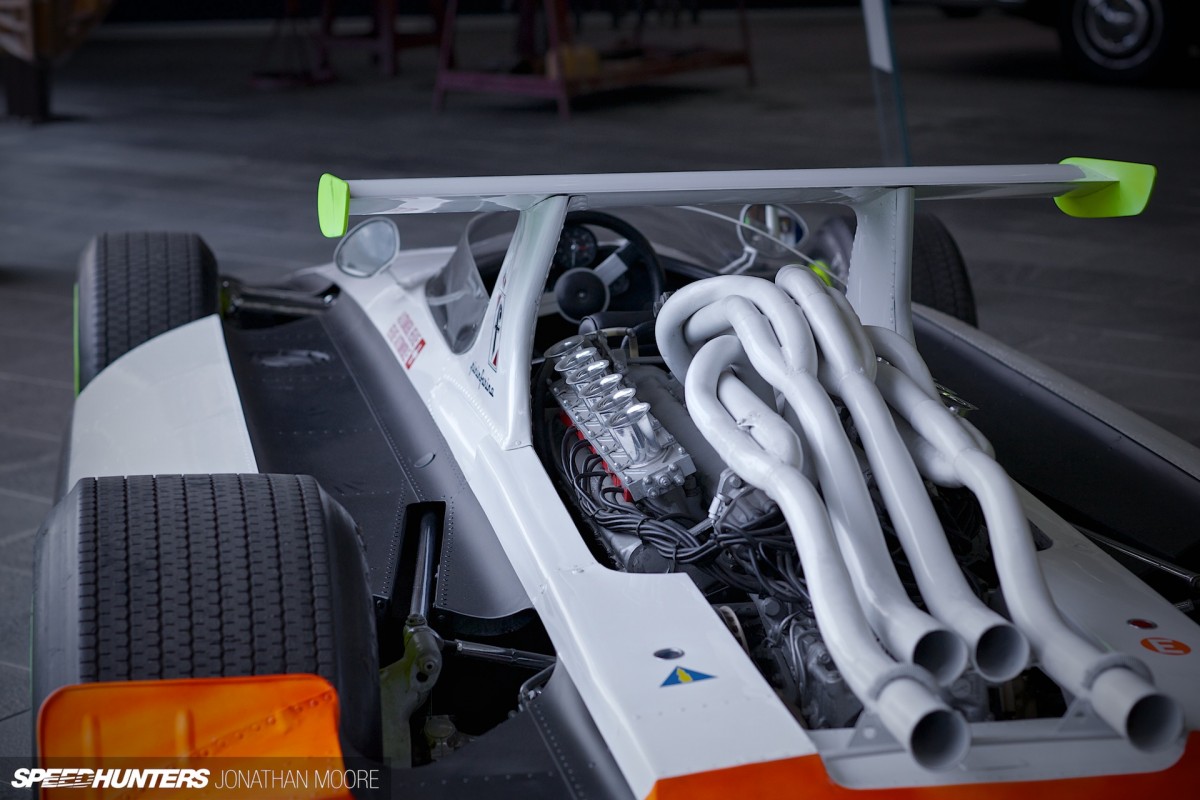 It was mid-engined, had alterable aero and was geared around driver safety, with a fire suppression system and seven-point harness for the driver. Even the colours of the body were specifically chosen to help improve visibility in bad conditions. There are concepts which are now on modern Indycars, like the protective bumpers and outboard side pods – just 50 years early. Still, whatever you think of it, just look at the art sculpture of the exhausts…
Always At The Cutting Edge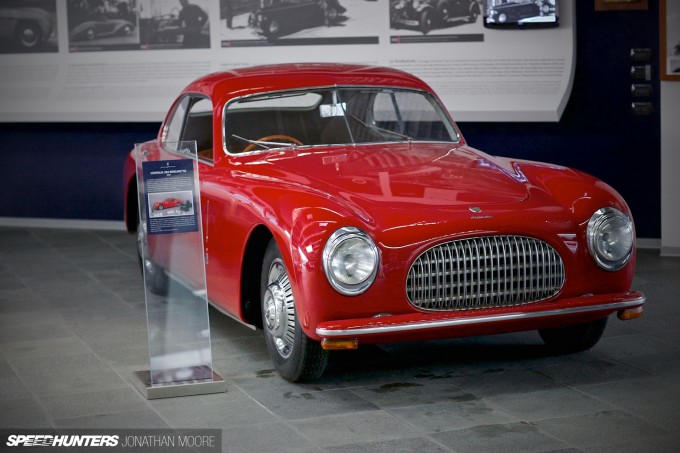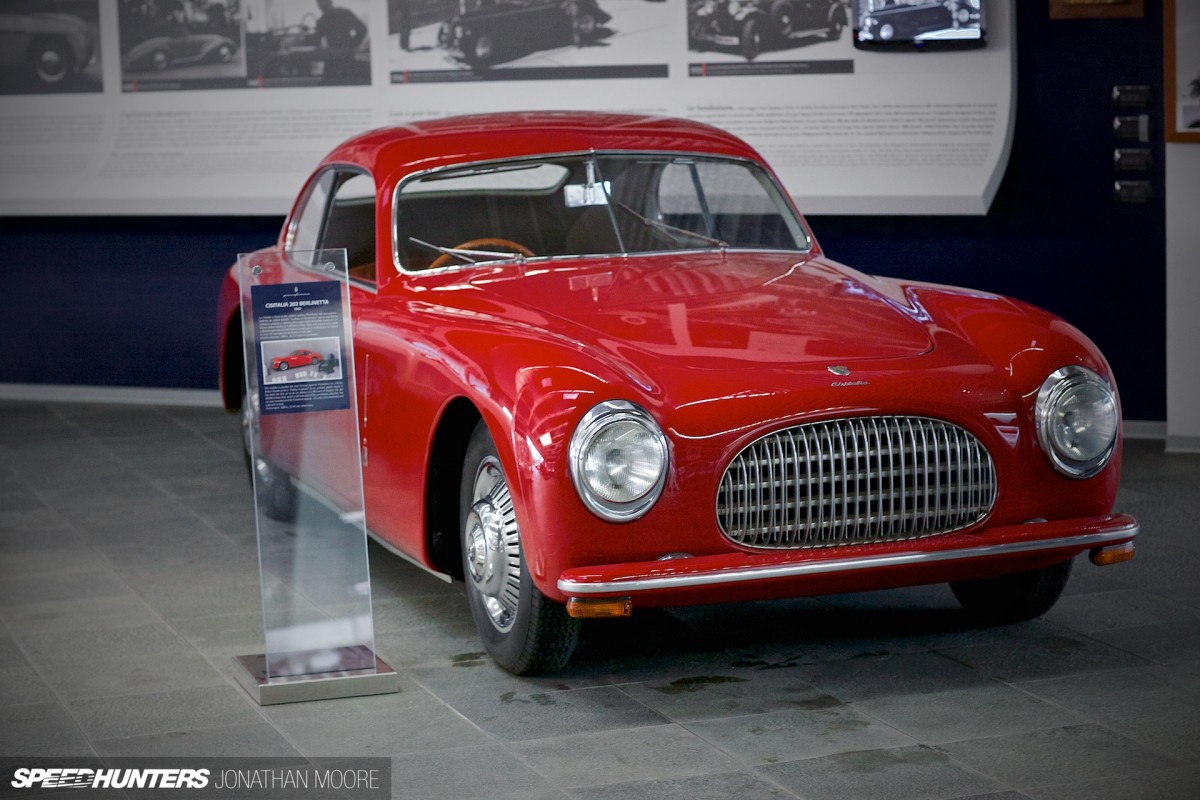 Context is always an important thing in design. Trends change and fashion shifts, and even concepts from a decade ago can look dated. So as with the Sigma F1, this car has to be understood in relation to when it was designed and what was the norm.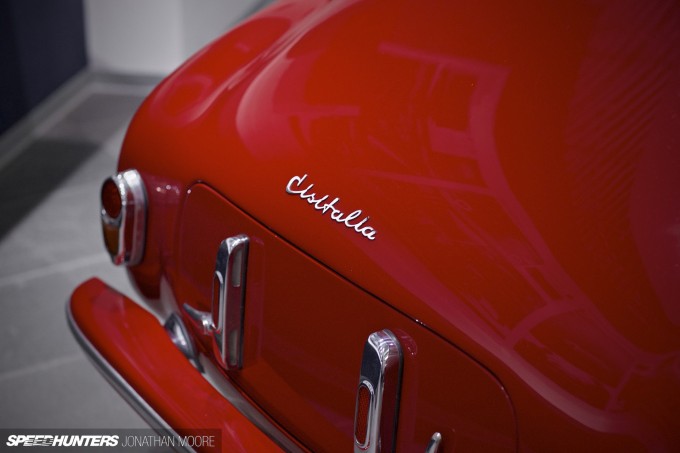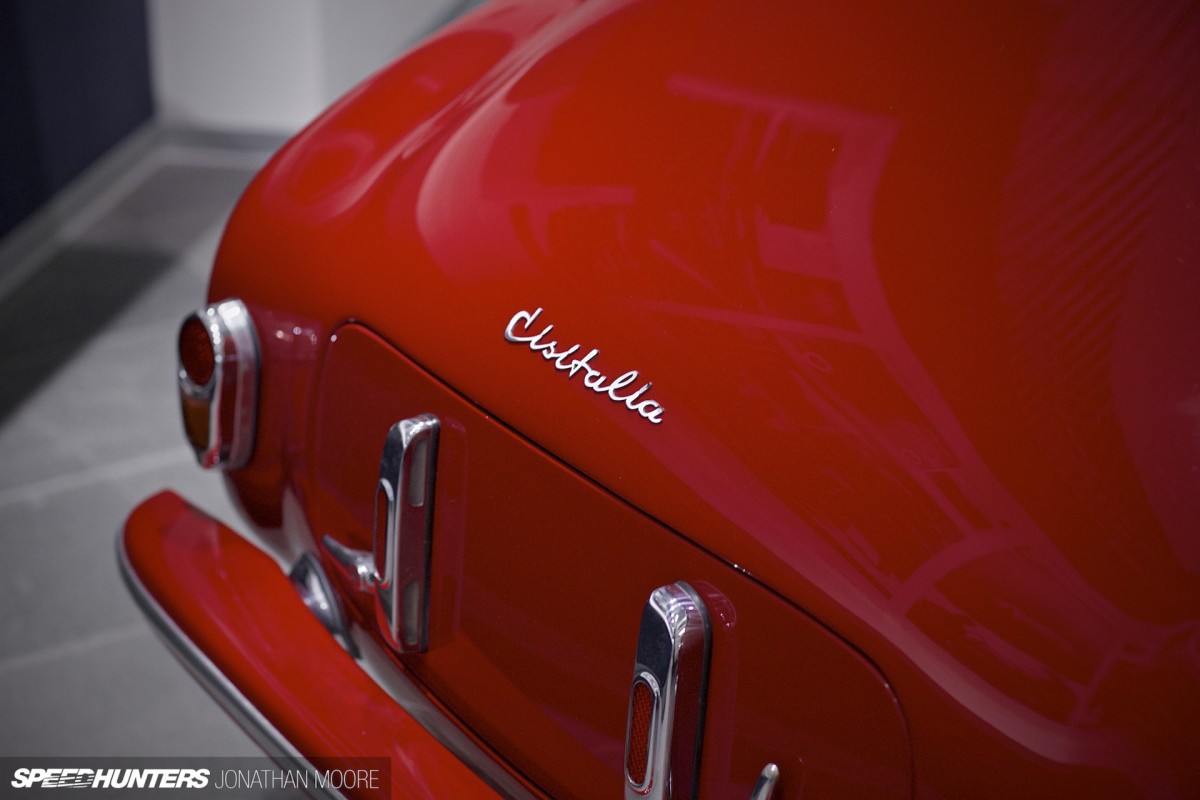 Cisitalia is a name you'd be forgiven for not being familiar with, but it's seen as one of Pininfarina's most important post-war cars – for good reason. What do you think of when you consider a car from 1945? Certainly not this, I'd guess. Designed as the Second World War was coming to a close, the stunning Cisitalia 202 Berlinetta went into production in 1947.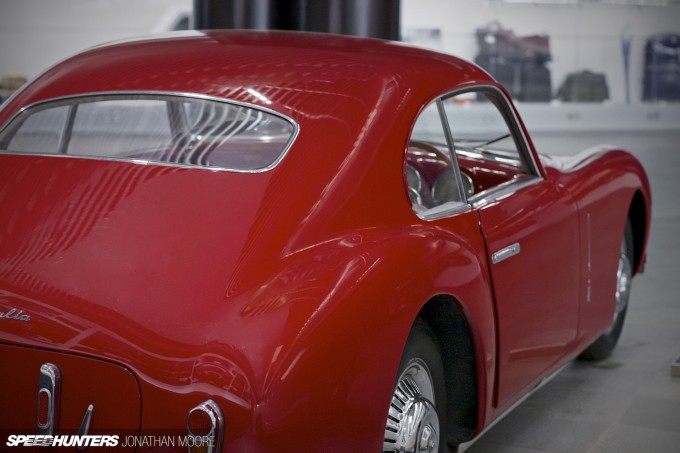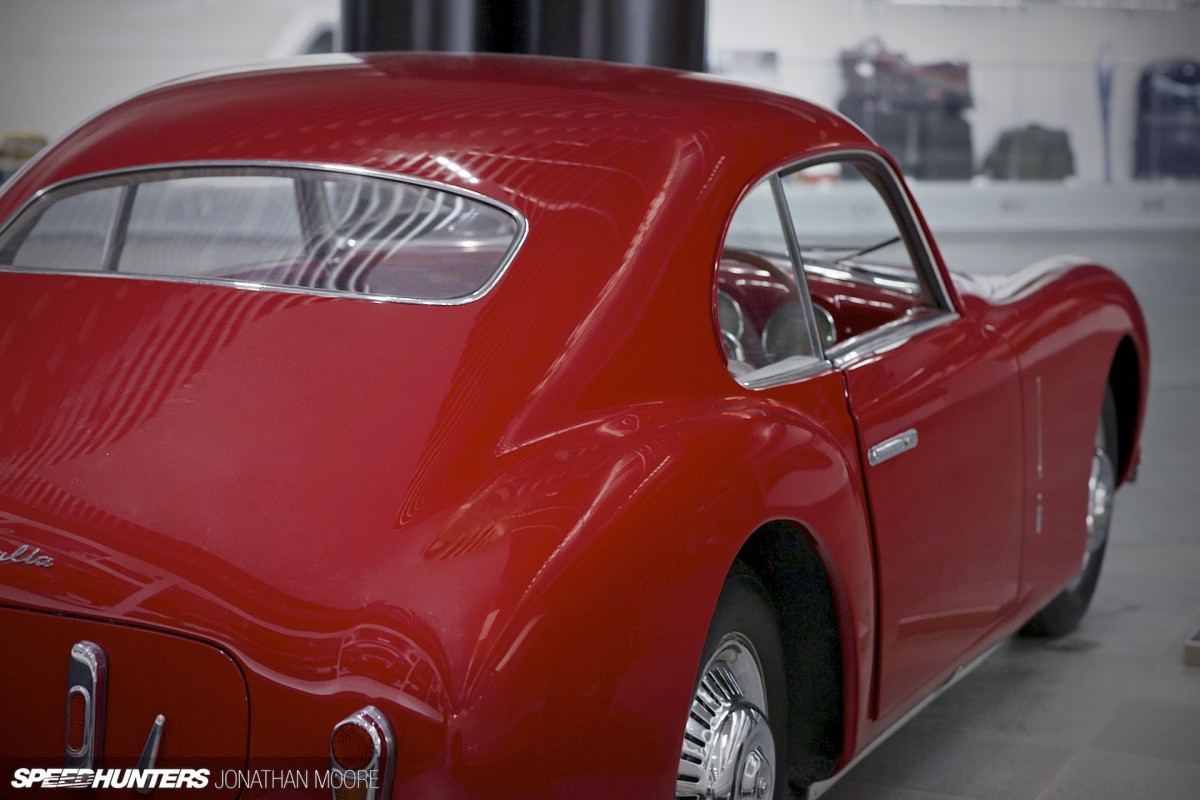 The low-line body is unreal. With its super clean lines, flush handles and organic radiuses, it set the tone for a type of sports coupé that basically wouldn't see production for another decade or more. Just 170 Berlinetta and Cabriolet versions of this one-litre bombshell were built, and as befits a bespoke creation, no two are the same. Each was tailored to its owner, the detailing altered as was seen fit, and that gorgeous body created from several panels joined together and sanded back to this seamless finish.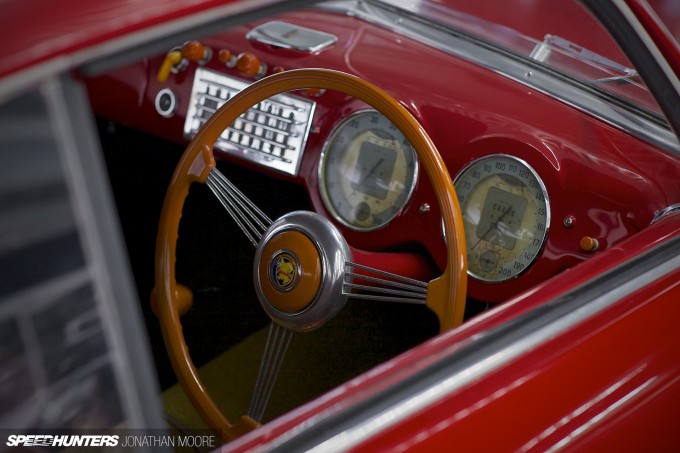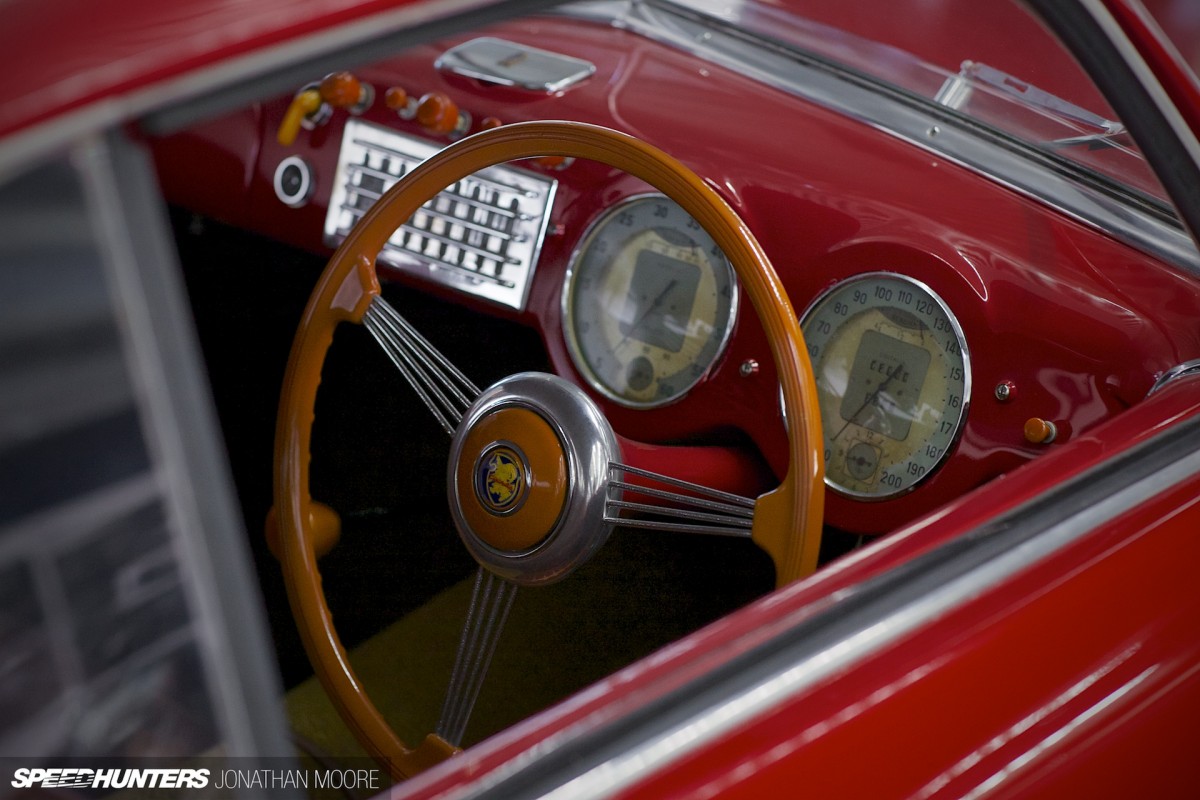 The 202 was the first car to be displayed in New York's Museum Of Modern Art and is still part of MoMA's permanent collection. In period it was called a 'rolling sculpture', and you can see why – it's a masterpiece. This 202 is unexpectedly right-hand drive, but I was told that a lot of drivers just liked that configuration in period as it was easier to see the side of the road!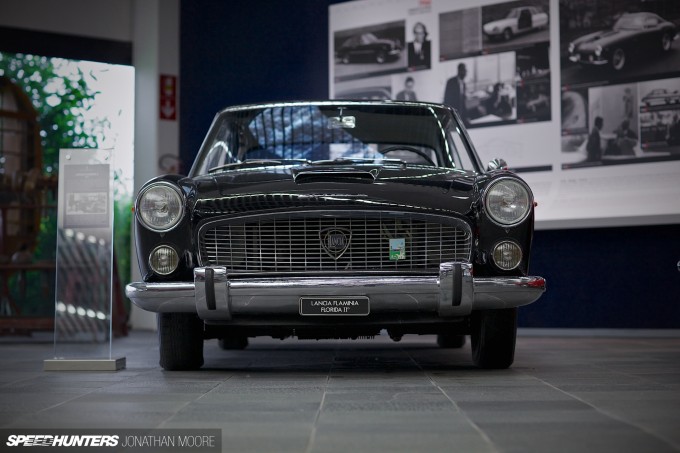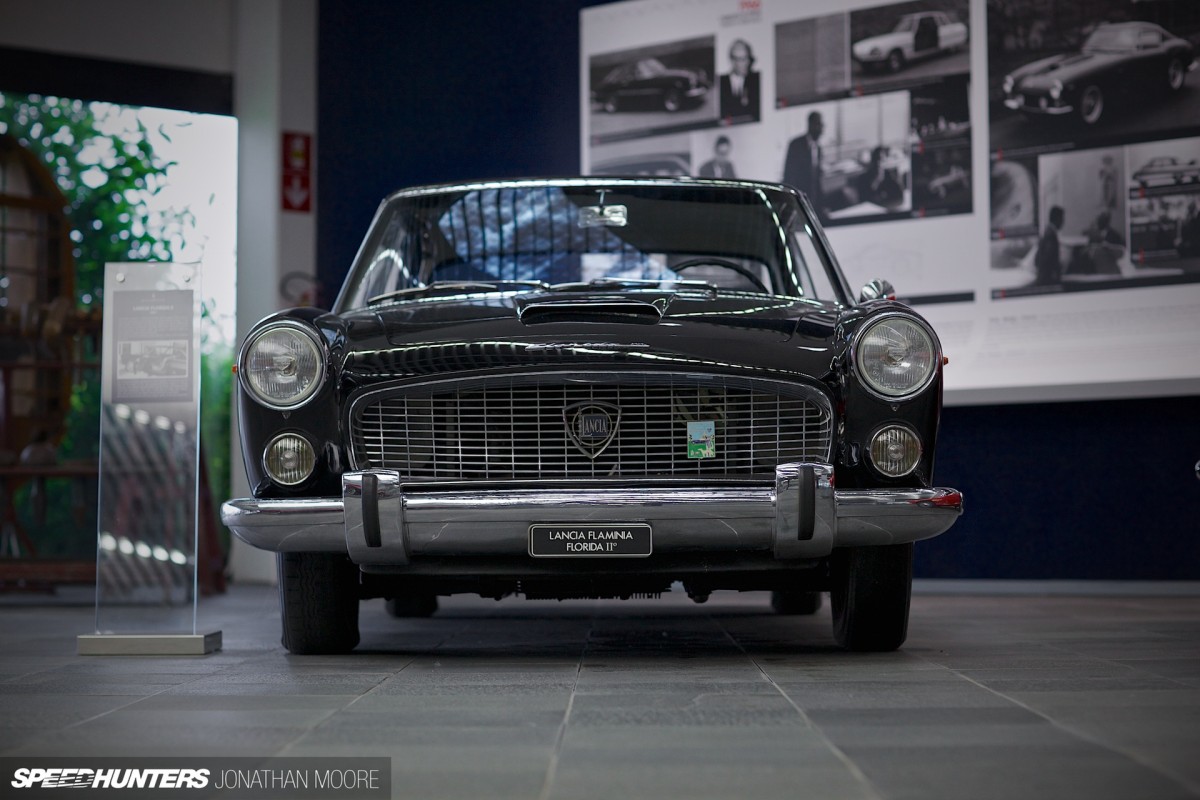 It's stupid to say that any Pininfarina cars lack emotional connection, but this model has a particularly important place in the heart of the company. This Florida II Prototipe from 1957 was the personal car of Battista Pininfarina himself.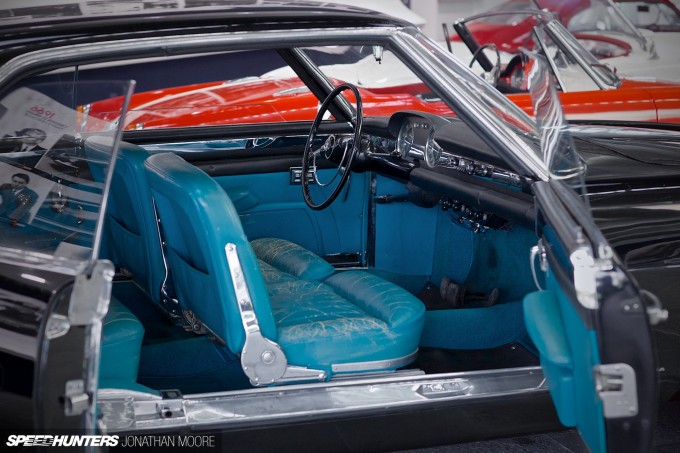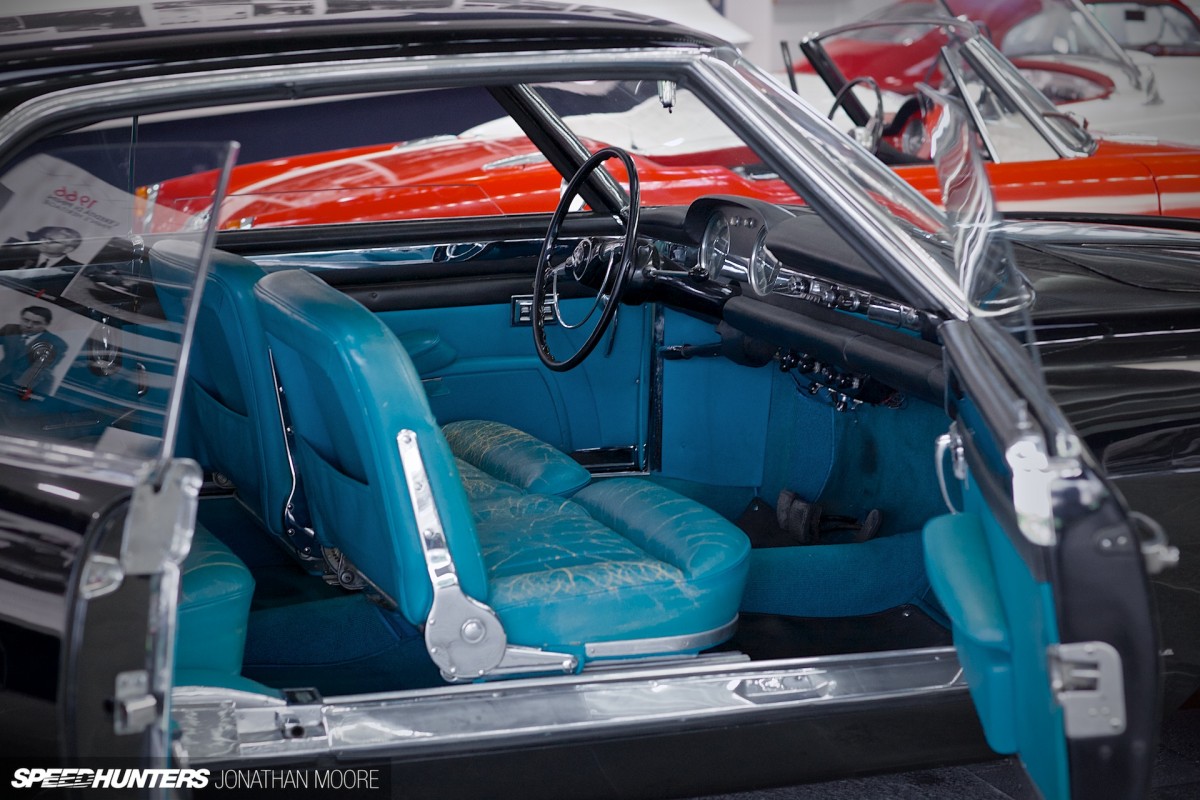 By his own admission, he used to virtually live in this car; it was a one-off, a proof of concept for the idea of a big sedan coupé, used literally as his daily driver. It's not a bad place to commute in, is it? The flush handles gave the impression of a two-door, but in fact it was a spacious four-door, complete with suicide-door rears. The worn interior, unrestored, shows it served long and hard.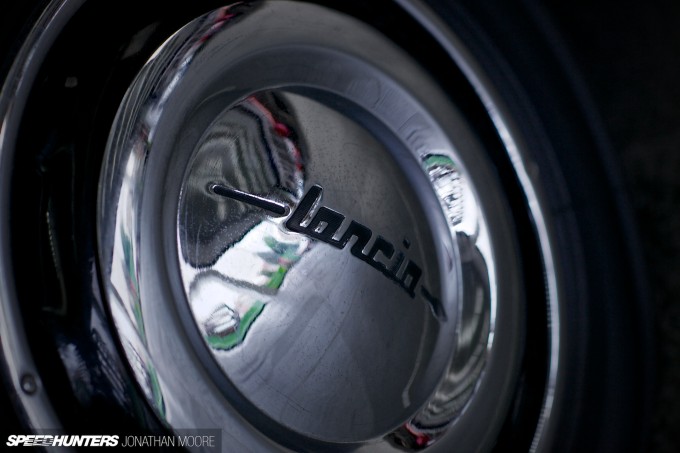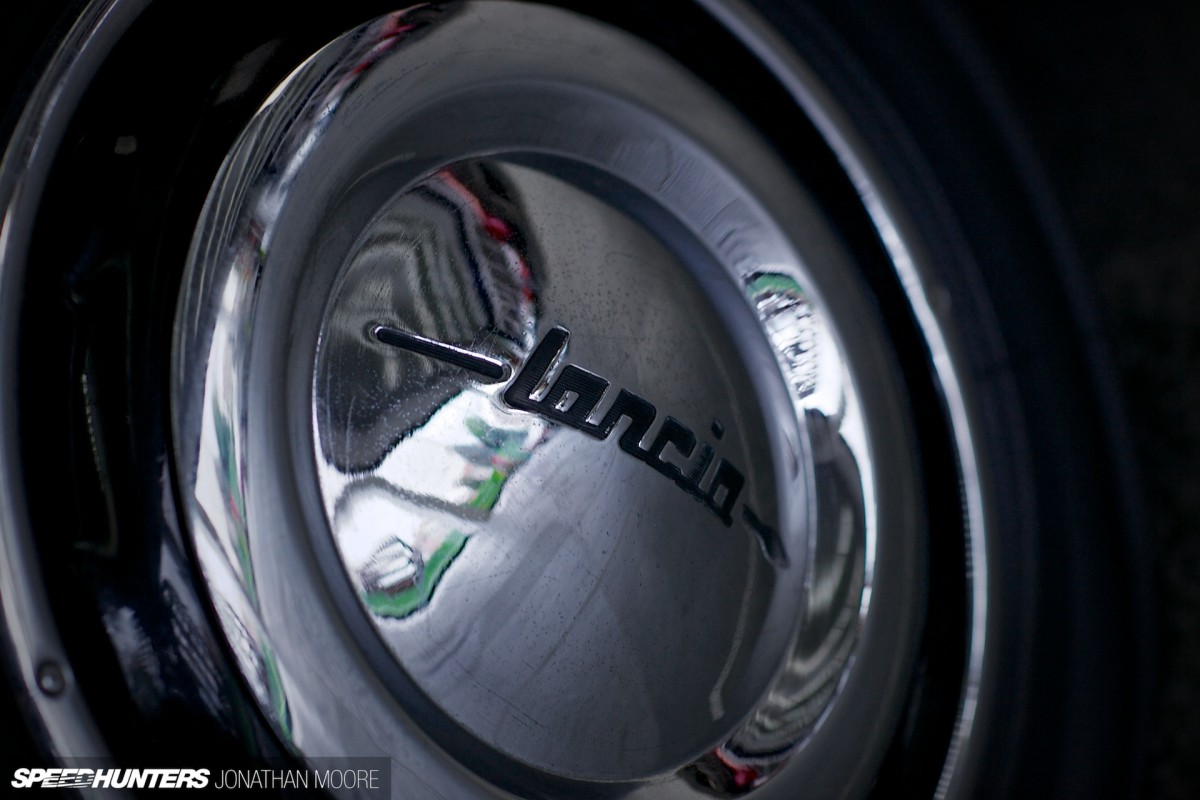 The Florida showcased a lot of new concepts as well, like rear wipers on the inside and outside, and the design would morph in Lancia's Flaminia coupé for mass production.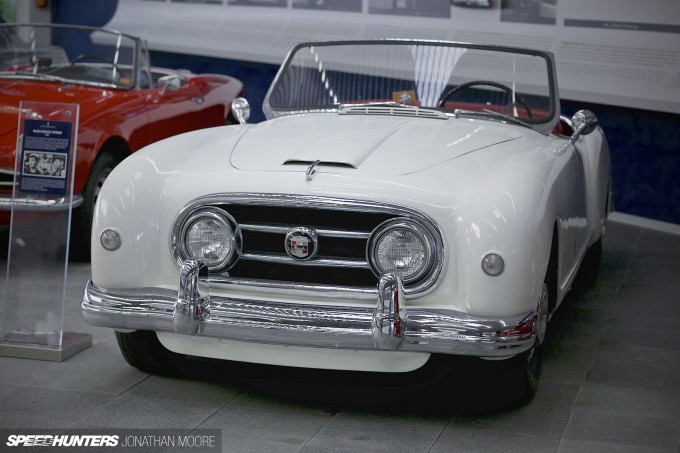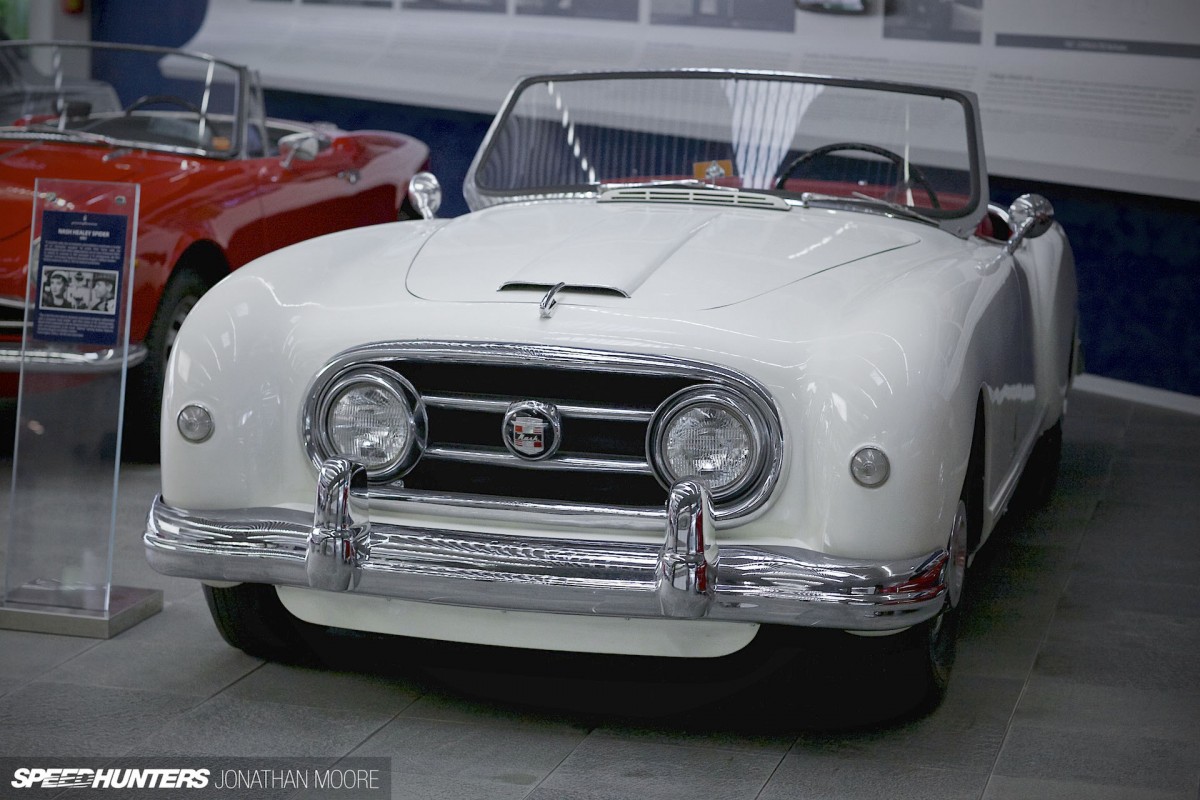 Pinin had a great love for the USA, and almost took a job in the huge American automotive industry before deciding to continue his passion on home soil. But there were a number of transatlantic collaborations, like this Nash Healey Spider from 1951.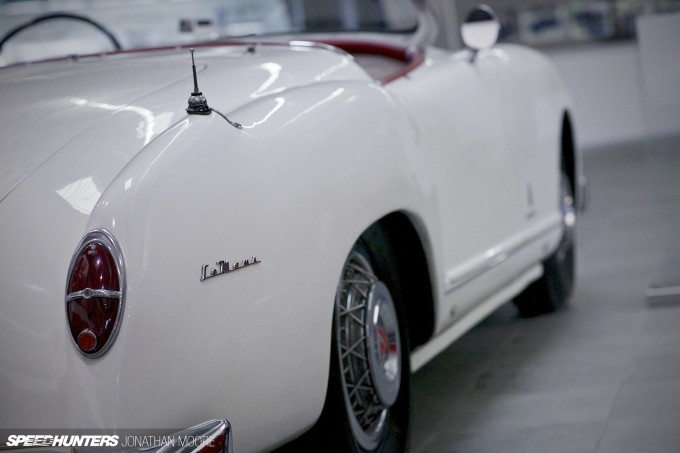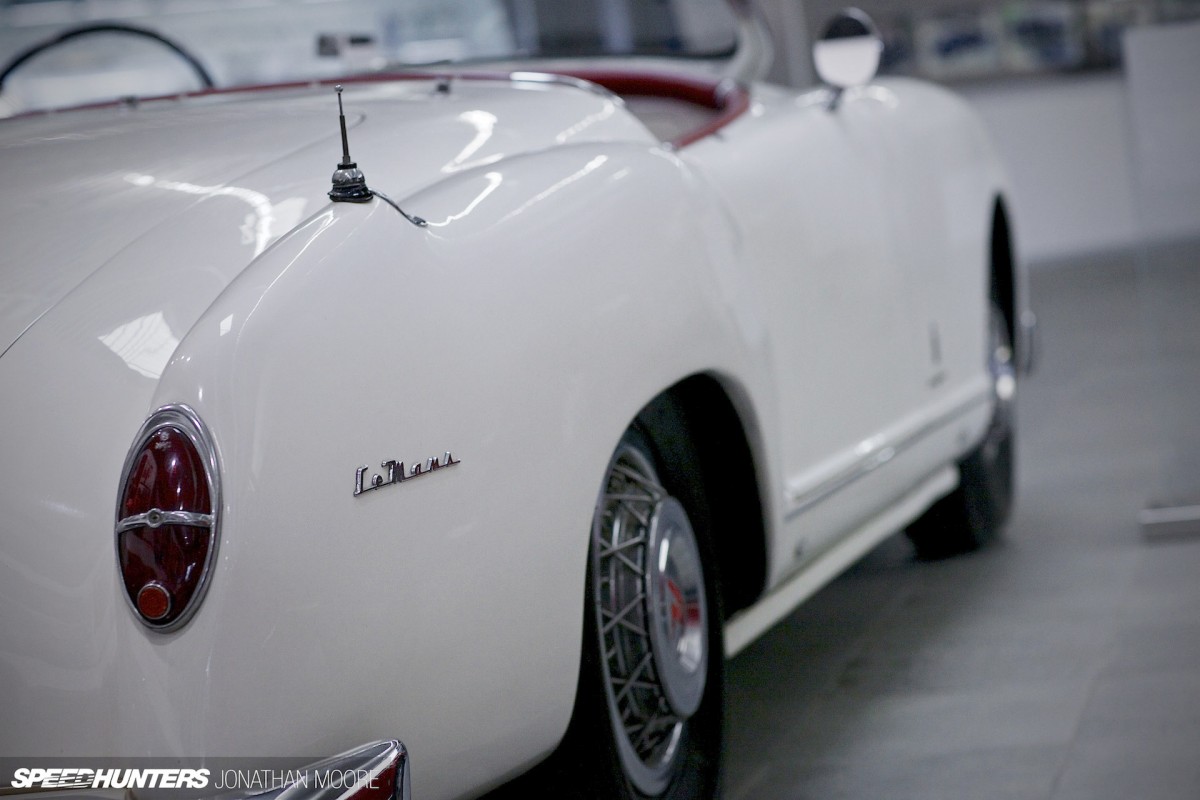 A meeting of worlds, it's thought to be the first time a US automotive manufacturer had teamed up with a European coach builder. In fact, it's a tripartite car, with Pininfarina restyling a car which had been engineered by Healey in the UK using Nash running gear. It had a four-litre straight six, so was pretty punchy for the time, and this car celebrated a Nash Healey finishing third overall and first in class in the 1952 Le Mans 24 Hours.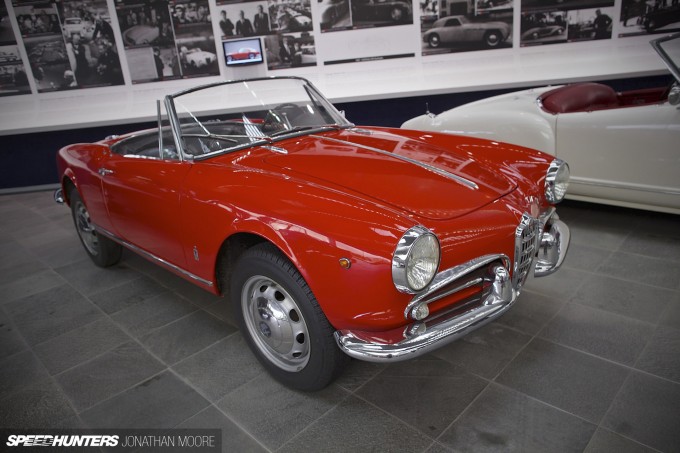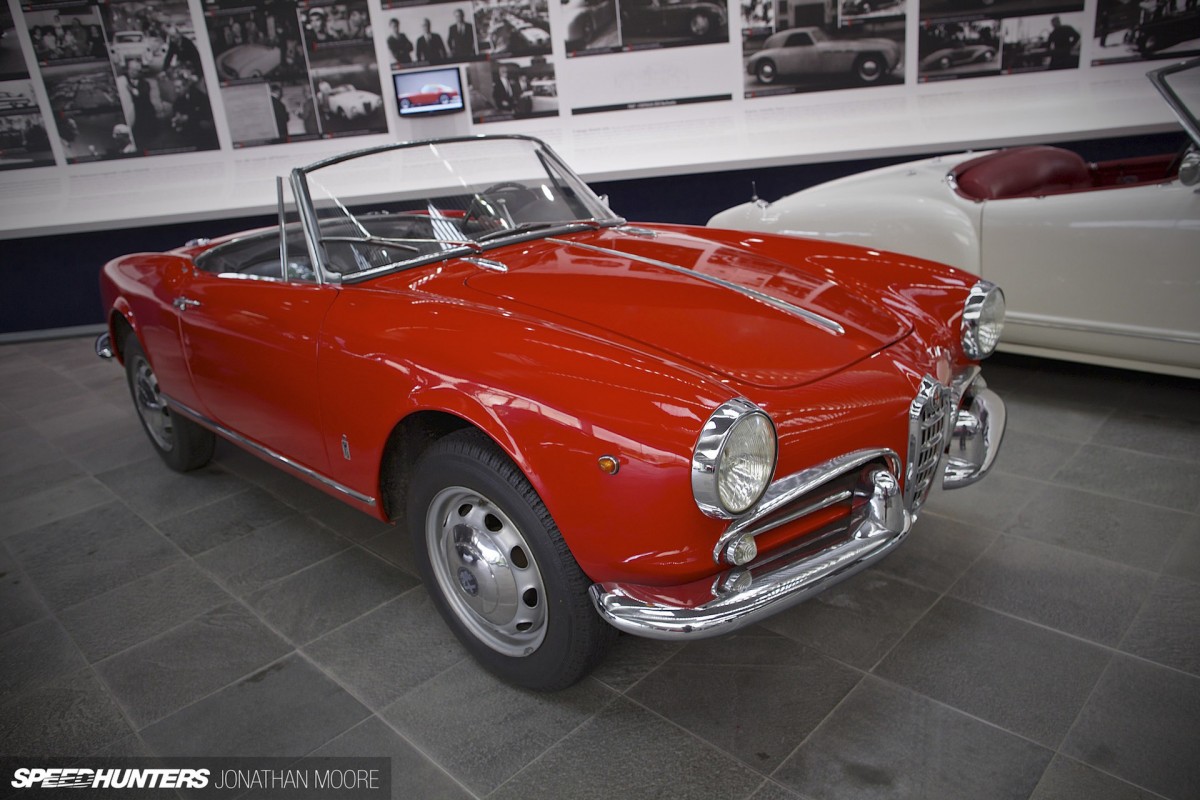 By number of designs, Pininfarina's long relationship with Alfa Romeo is second only to that of Ferrari, though it stretches right back to the foundations of the company. That they designed one of Alfa's most loved cars is therefore likely not a surprise; this is the Alfa Giulietta Spider from 1955, nicknamed 'Italy's girlfriend'. The Giulietta marked one of the occasional phases when Pininfarina ramped up from its typically artisanal approach to a more industrial level of output. In total, 27,000 Spiders were build at the Carozzeria, with the target originally the USA, but Europe wouldn't resist her charms either…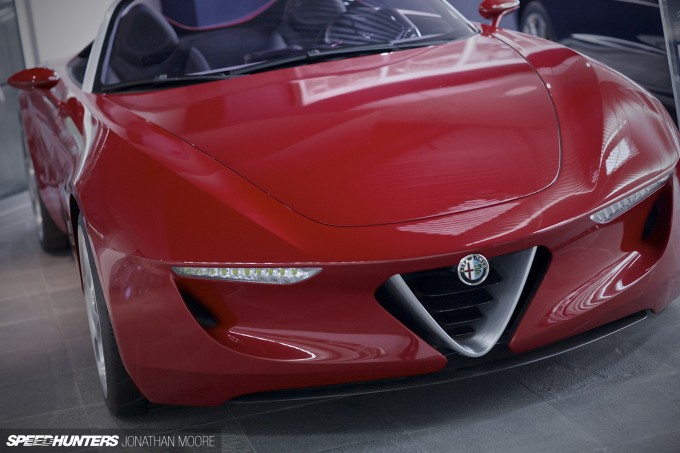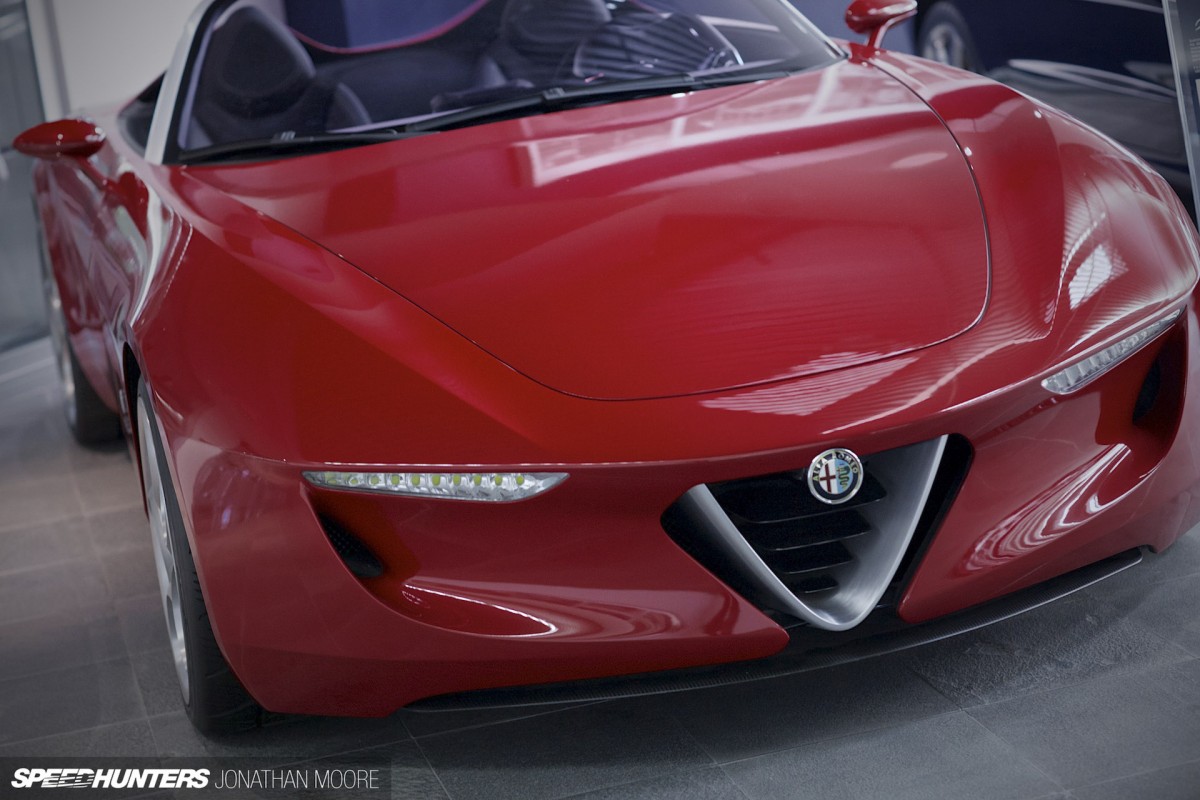 Fast forward to 2010, and 55 years later Pininfarina are still penning beautiful Alfas; this was the 2uettotanta concept, which was made to celebrate Alfa's centenary year and 80 years of Pininfarina. Another classic Spider, the 2uettotanta presented what Pininfarina felt a modern Alfa should look like.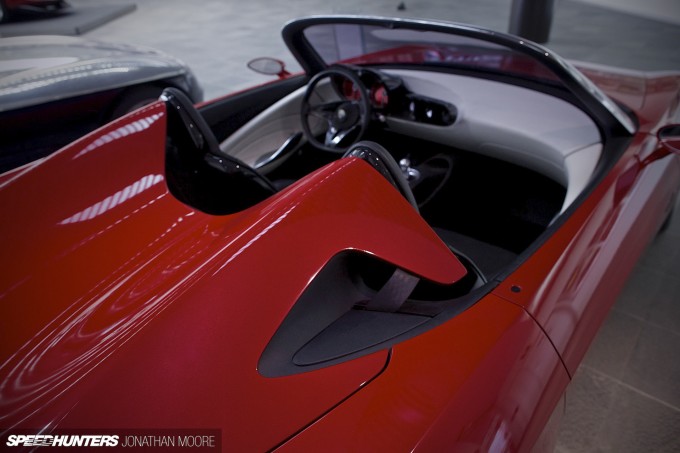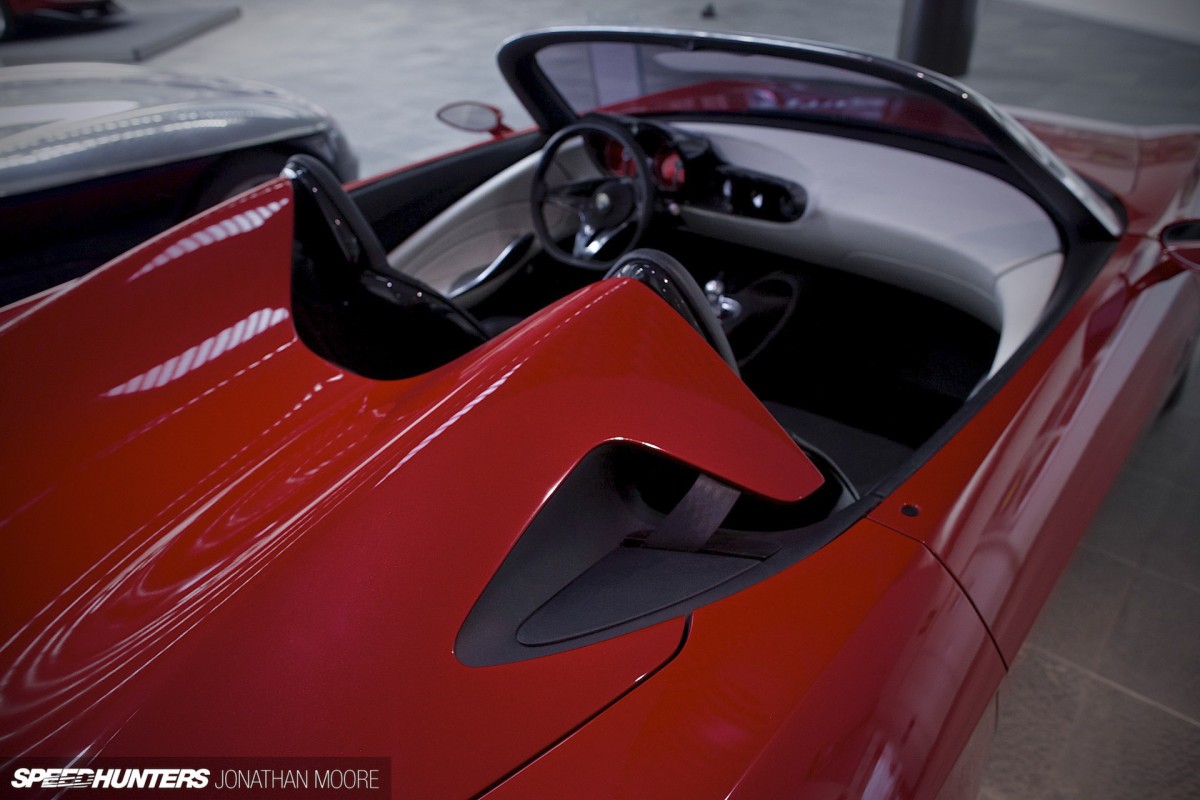 Pininfarina often take elements that they know work and carry them across to other designs – like the Audi Quartz front having lineage to the '90s GTV – and so with this Alfa you can perhaps see the seeds of the 'floating' headrest that made it onto the Sergio. The shame is that with Alfa in a kind of stasis, this and several other glorious Alfa-badged concepts wouldn't make it into production.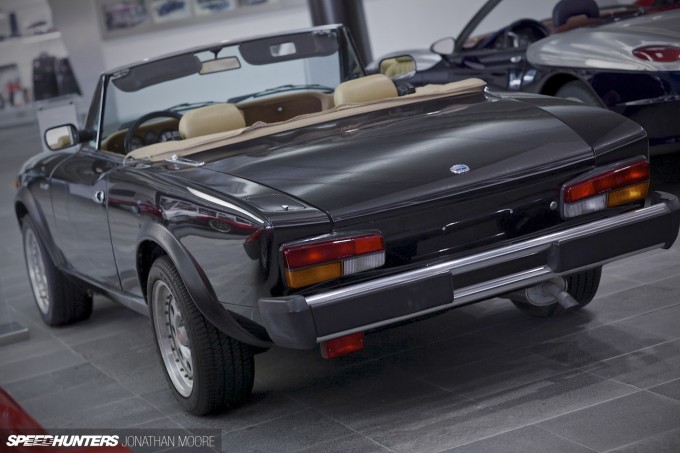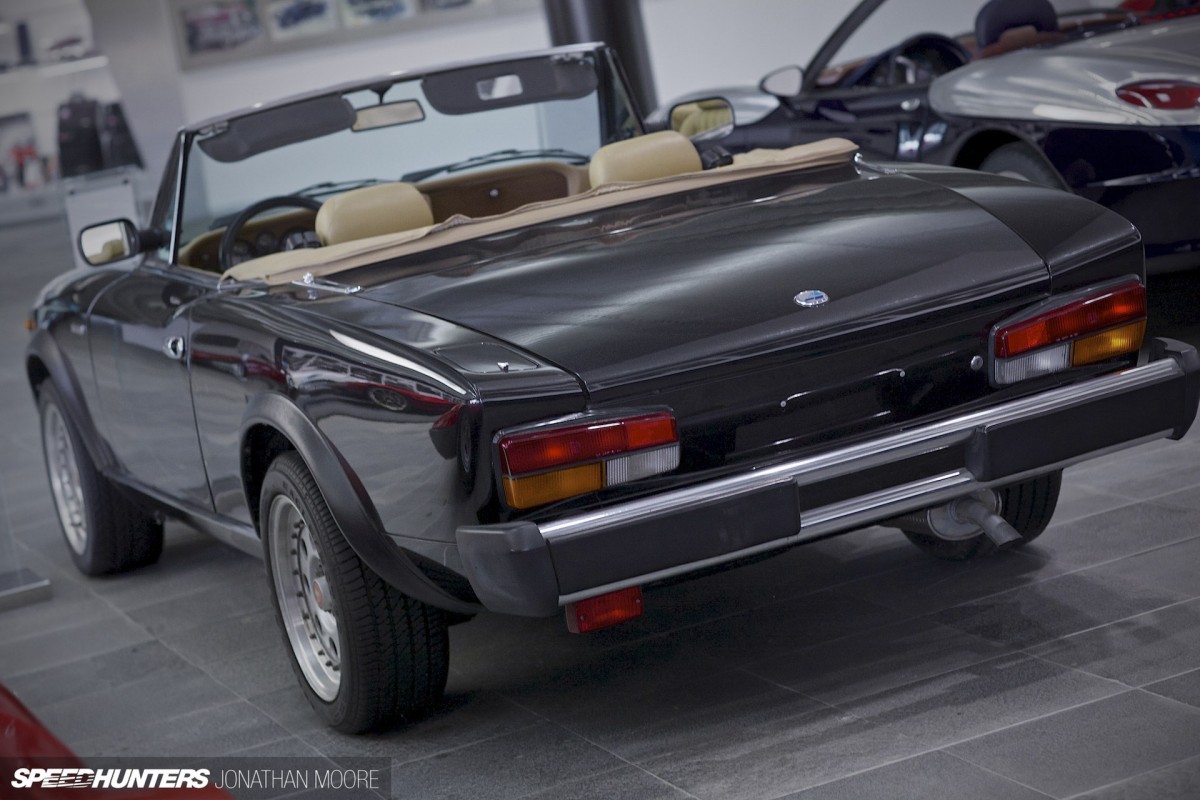 Pininfarina might be known for their bespoke projects, but they have also truly believed in creating cars for the people. As with the Giulietta Spider, the Fiat Spyder Europa 'Volumex' was a smash hit. Pininfarina designed the 124 Spyder right back in 1966, and the car was in constant production for 18 years.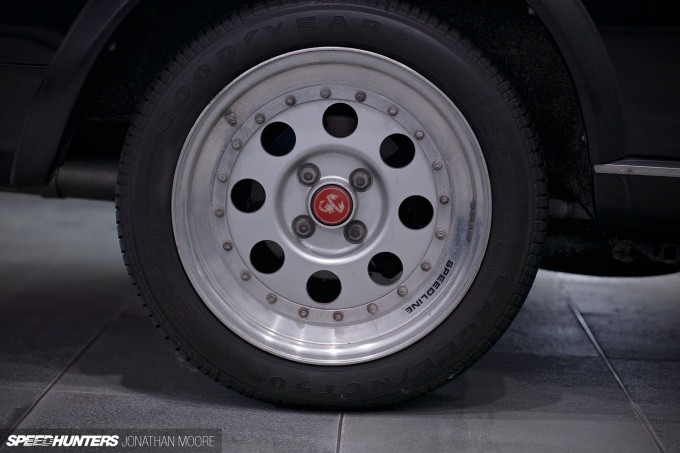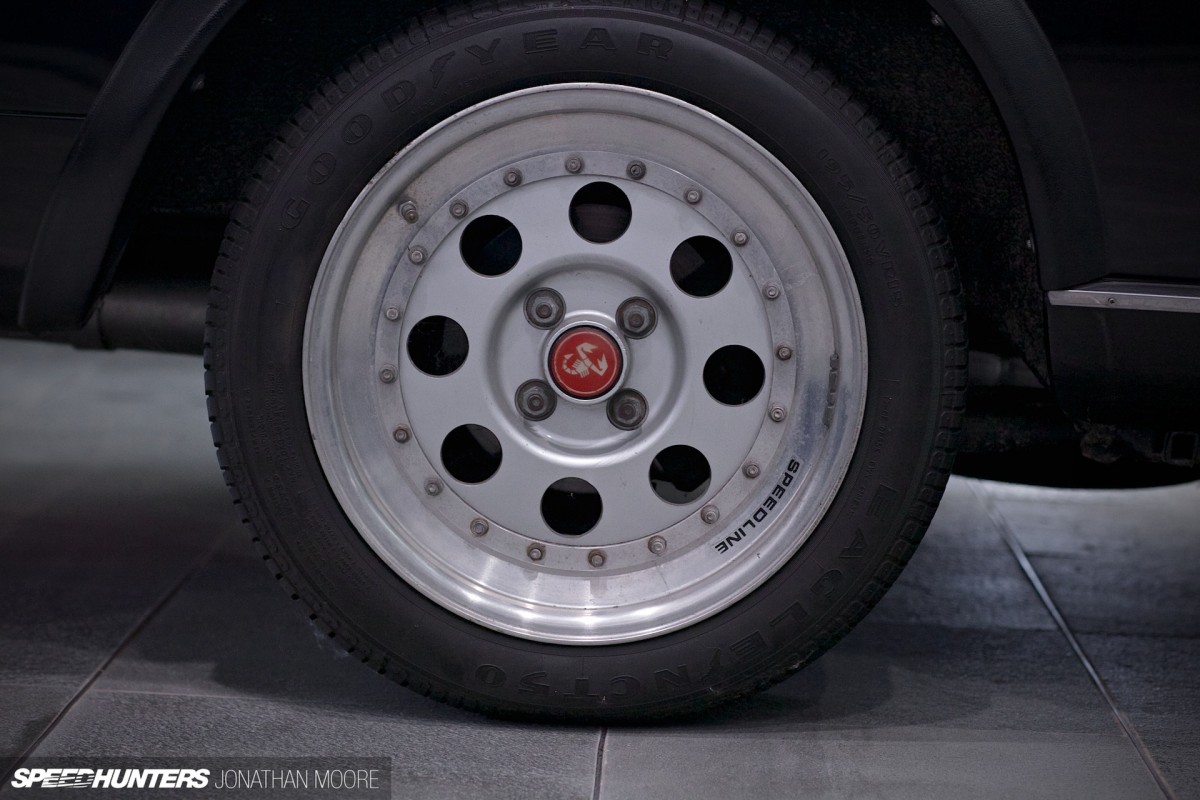 This is a 1983 model, a classic two-litre drop-top. It's just another example that you don't have to live at penthouse level to appreciate Pininfarina's design influence. Other projects with Fiat included the luscious Dino Coupé, off-roaders for the Italian army and the interiors of the Fiat Coupé in the '90s.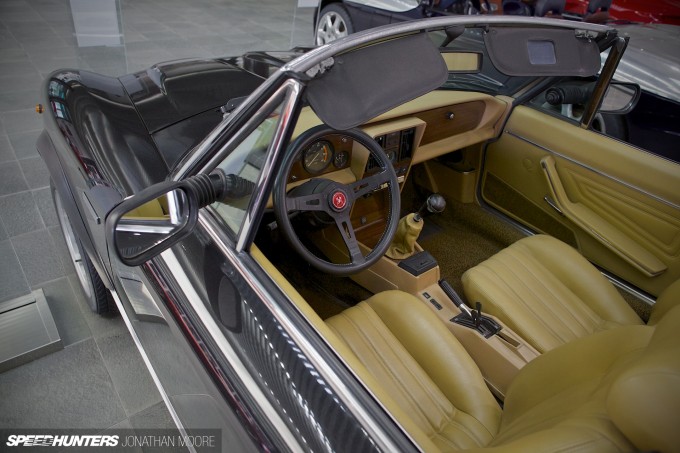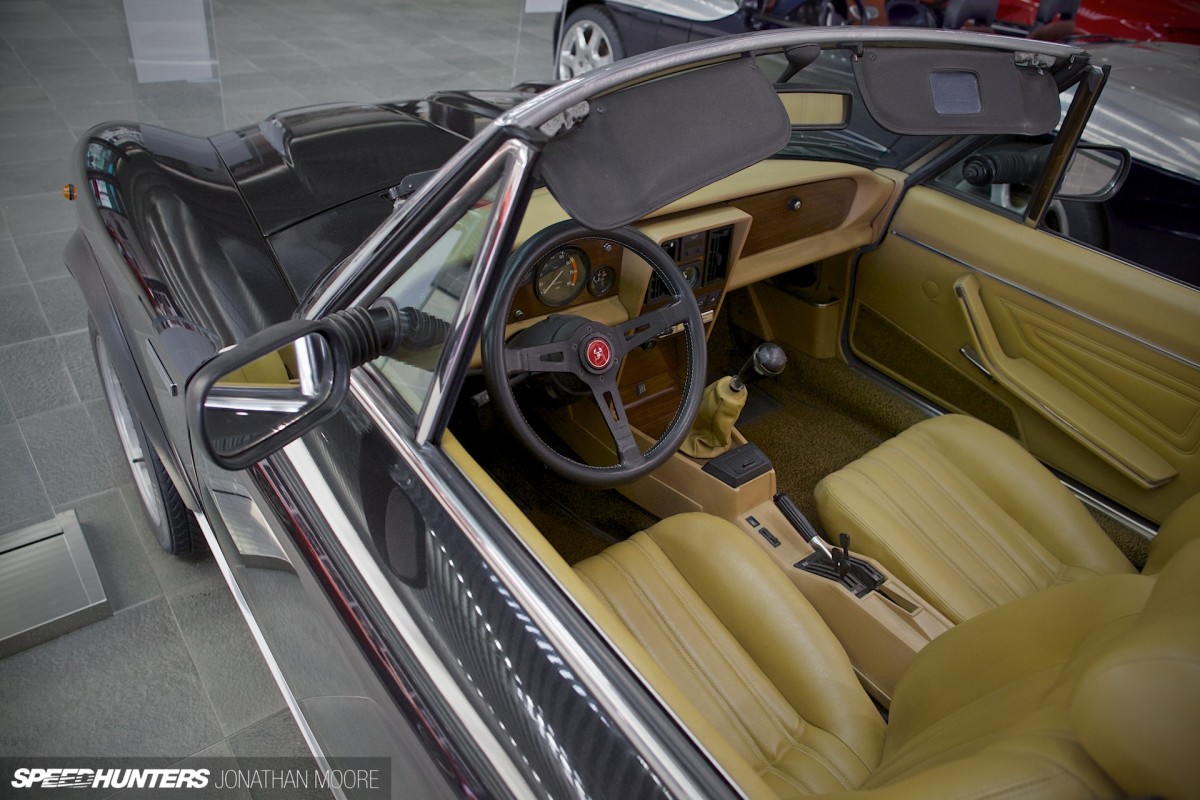 The Spider really was Pininfarina's big seller, with 200,000 units made. Unusually, it was marketed under the Pininfarina brand name between '83 band '85, the final iterations of the 124 to be made, with cars also constructed by them during that period.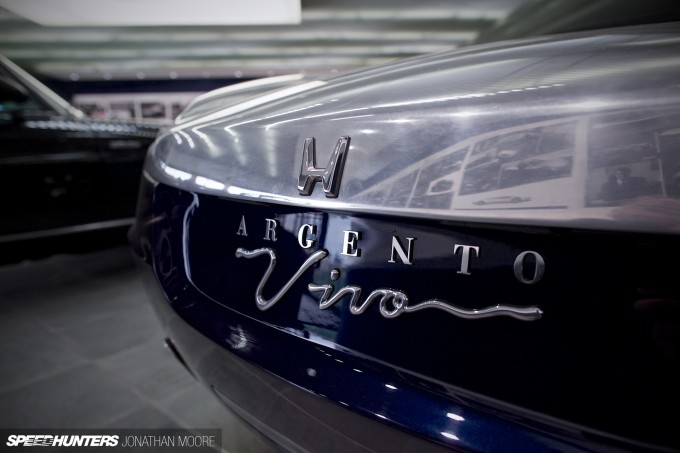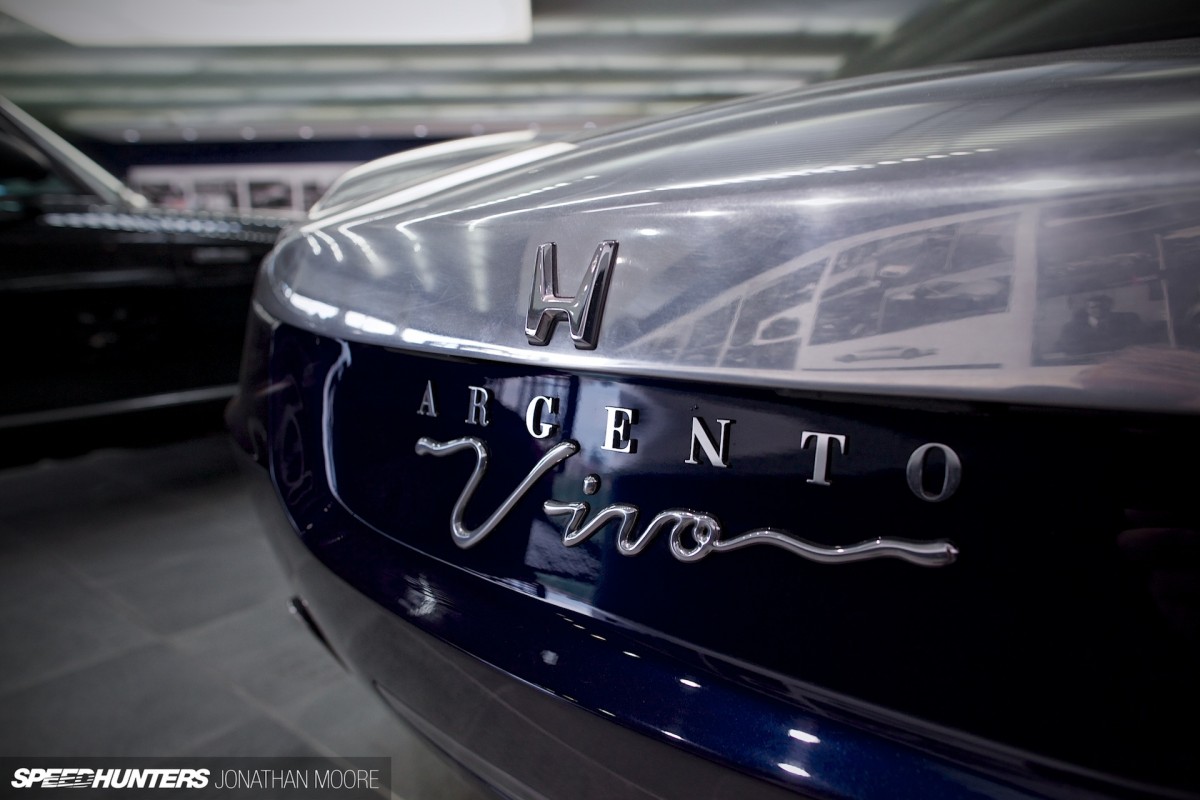 Pininfarina's intrinsically Italian DNA hasn't made it exclusively a Latin client; amongst many 'foreign' projects was this shiny concept produced for Honda in 1995, the Argento Vivo.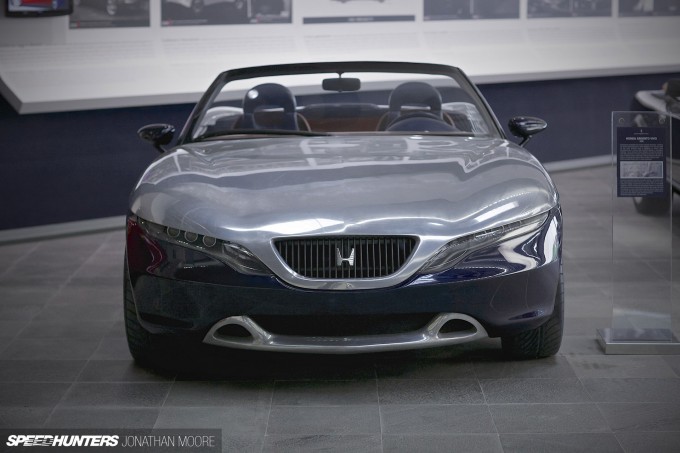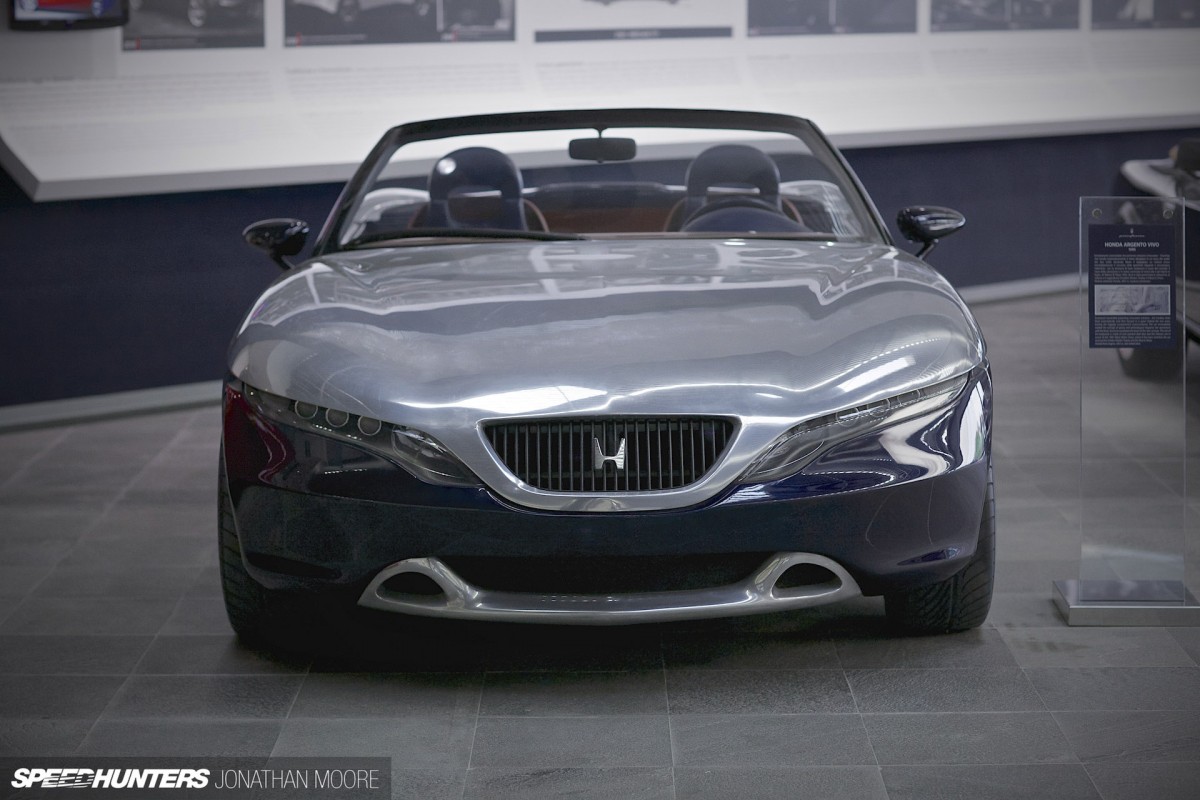 Three very distinct materials were used in its construction, each a counterpoint to the other. The hard, reflective upper surfaces were made from hand-beaten aluminium, to create the maximum area to reflect the sky. Lower bodywork was resin-based, painted a dark blue, making the upper metalwork appear to be floating.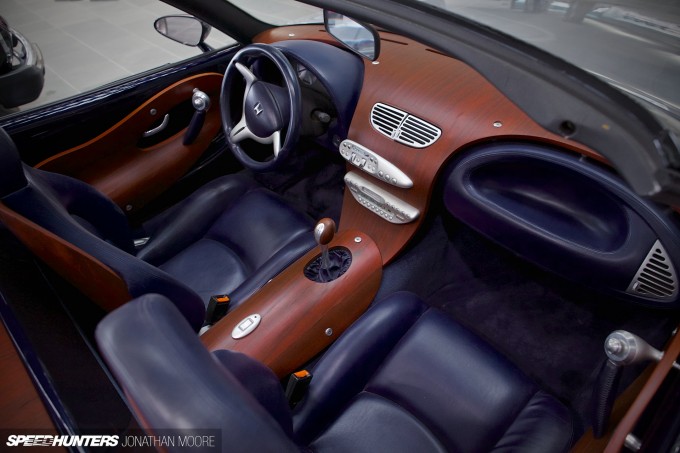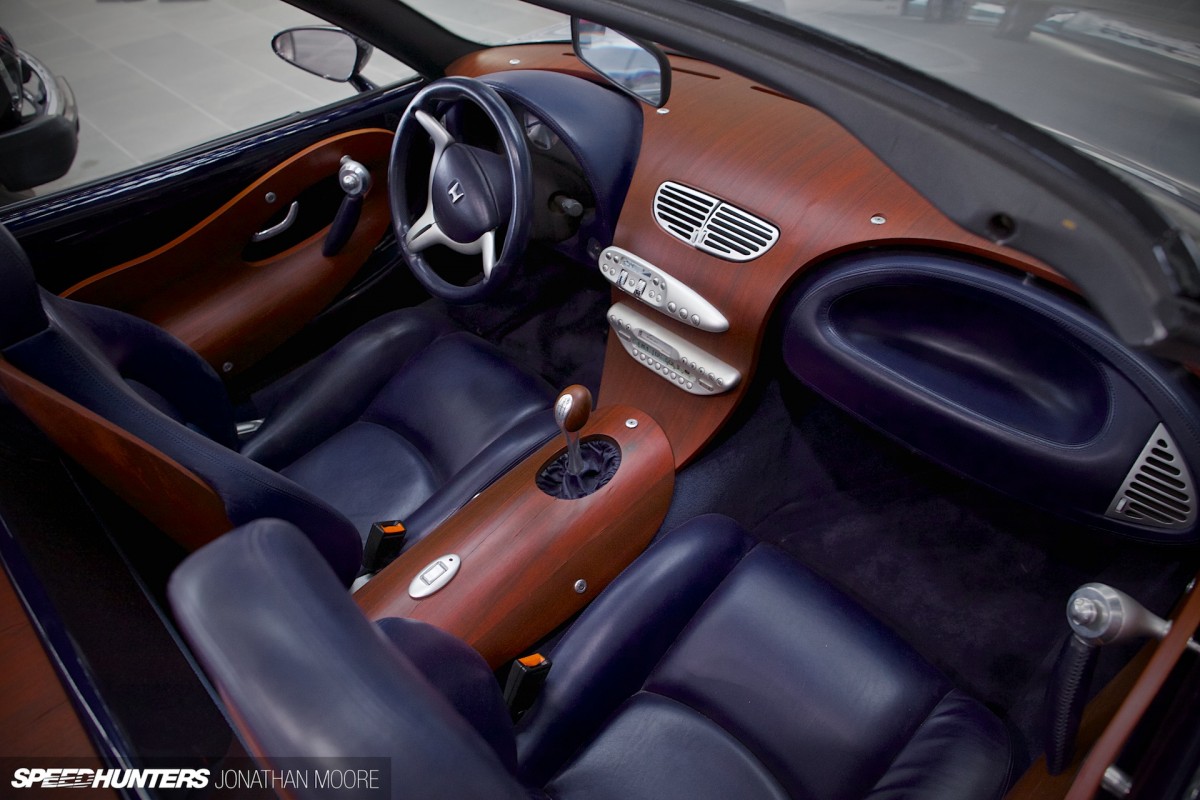 Inside, a flowing river of wood. The Argento Vivo's hardtop was created to retract back and neatly collapse into a recess ahead of the trunk, without affecting luggage space. This is just one of a number of projects with Honda: they also worked on the HP-X concept, which led to the NSX.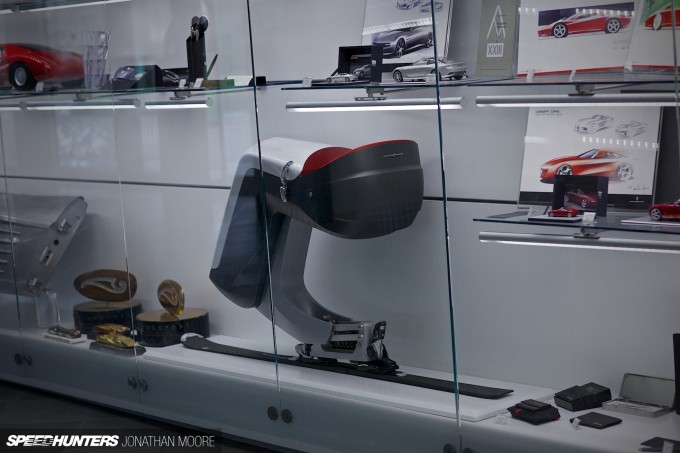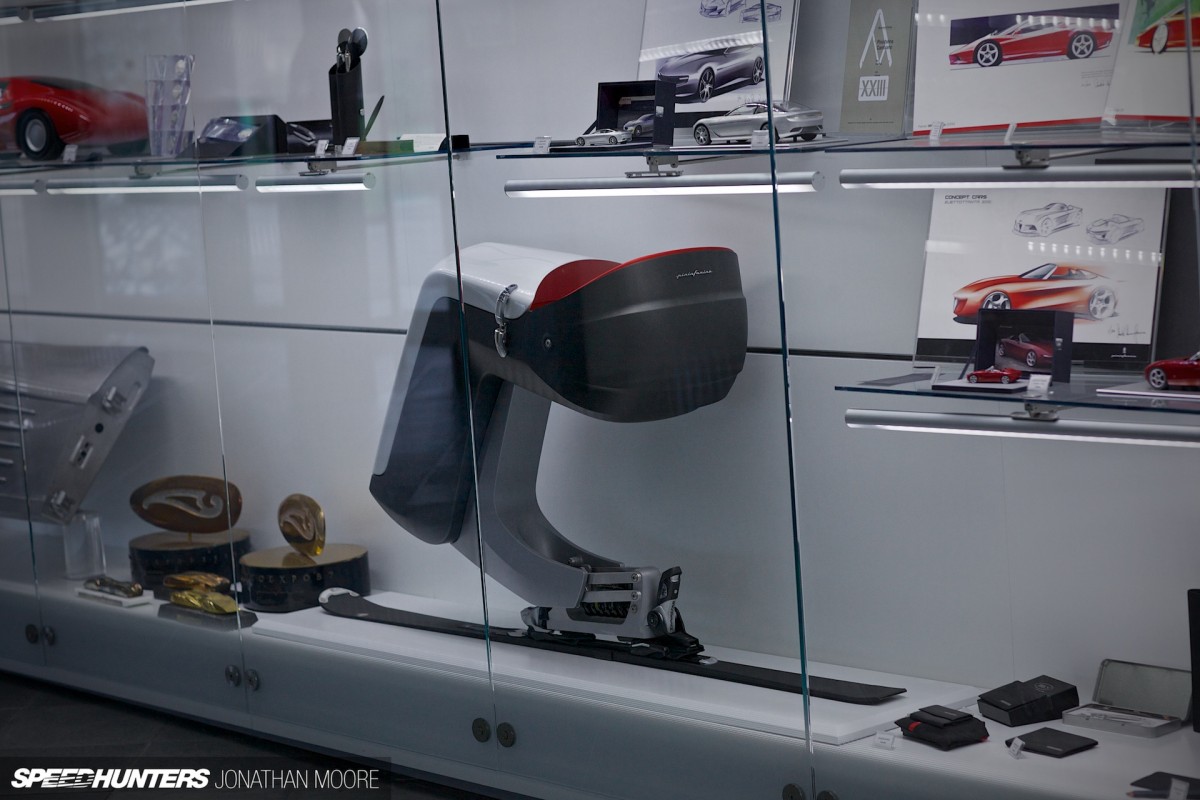 The last couple of years have seen Pininfarina return to their core values of automotive design and development rather than mass manufacturer. But you get the feeling that they were never necessarily comfortable with the realities of ramping up to industrial levels, and far happier quietly working on bespoke creations and designing the future. That said, Pininfarina have also branched out into general product design, coming up with everything from coffee machines and Olympic torches, to futuristic mono-skis designed for disabled skiers. They also have an architecture practice and designed the new Juventus football stadium.
So you can say that Pininfarina's influence is now stronger than ever, and even more all-pervasive. I can think of few things better than living in a world designed by Pininfarina.
Jonathan Moore
Instagram: speedhunters_jonathan
jonathan@speedhunters.com