The Question At Hand
What is a performance car? It's a tough question to ask, as it will always yield different answers from different people. You might be of the opinion that supercars or hypercars are the end-all of motoring perfection, but let me tell you – with those sort of cars come compromises, be it space, comfort, visibility or fuel consumption. I'm sure you understand what I'm getting at… For me at least, the definition of a true sportscar has always been one that has a few tricks up its sleeve: the ability to carry more than one passenger, room for luggage, or simply being easy and painless to use on a daily basis – those sorts of things.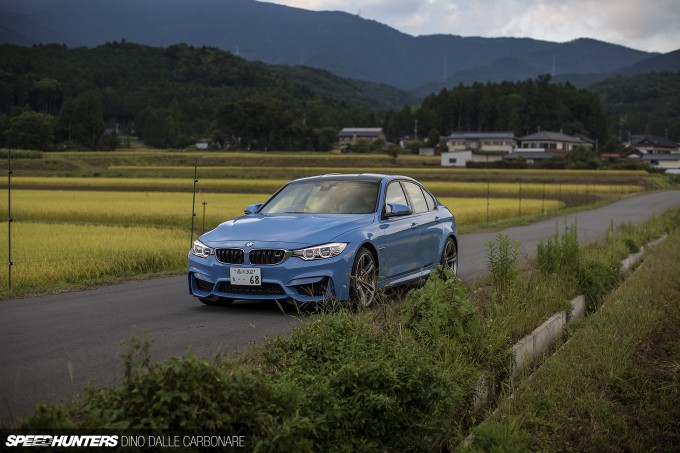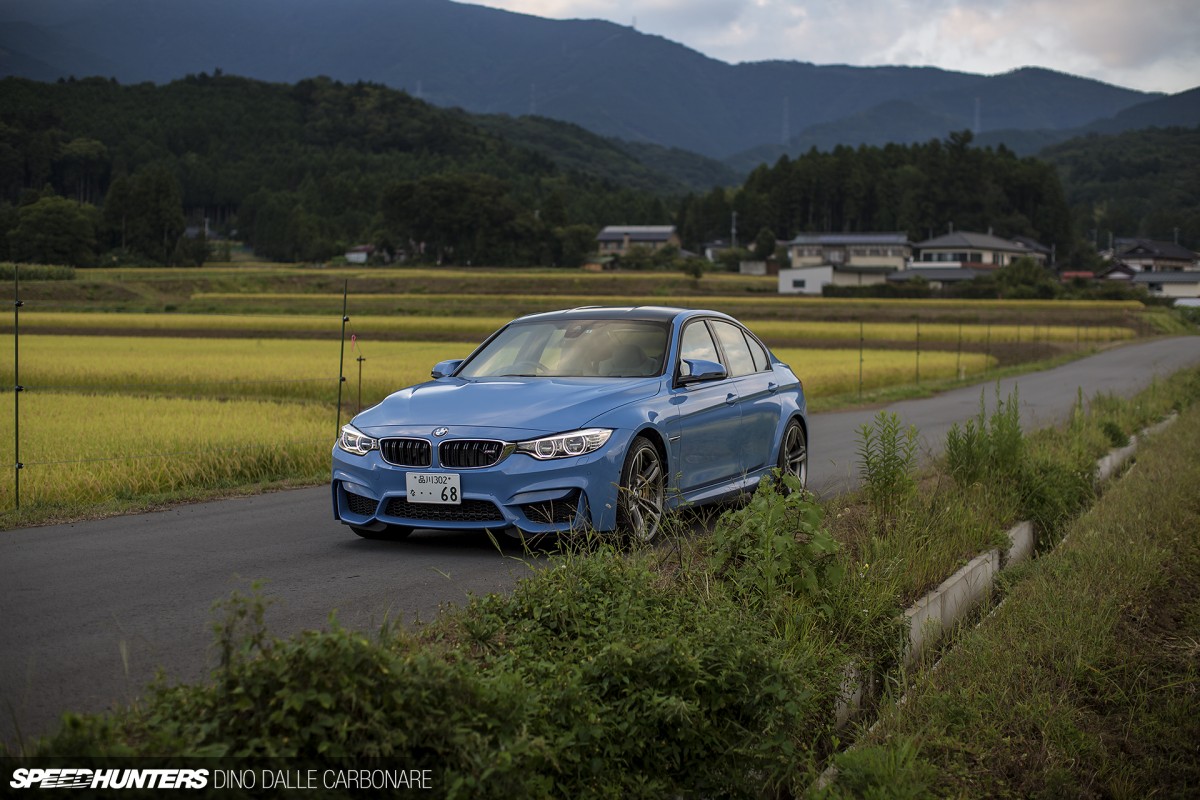 So a car that does many things well with the fewest compromises takes the win, surely? Not convinced? Fine, but do read on, because what I have to tell you about the all-new F80 BMW M3 might change your mind…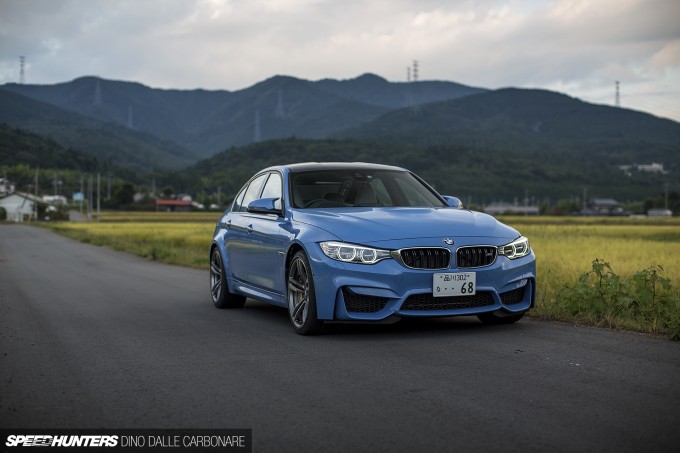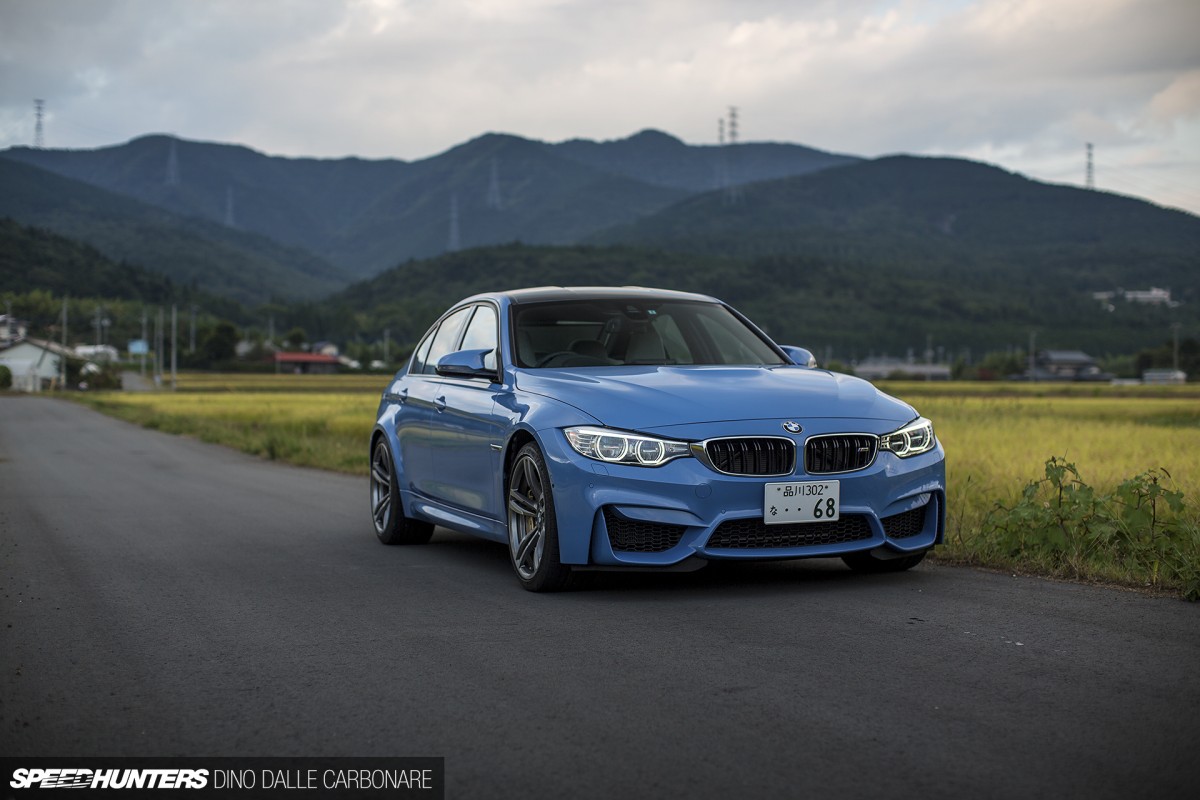 It's probably to do with what the M3 moniker brings with it, but when I jumped behind the wheel of this new generation M-Car I had a lot of expectations. I knew that it had to bring to the table all of the qualities that have made the M3 the driver's car benchmark, but also something extra. Since I had the option, I chose the M3 and not the M4. I felt the saloon was the more fitting of the pair for my purpose – its four doors and massive trunk already winning points on practicality.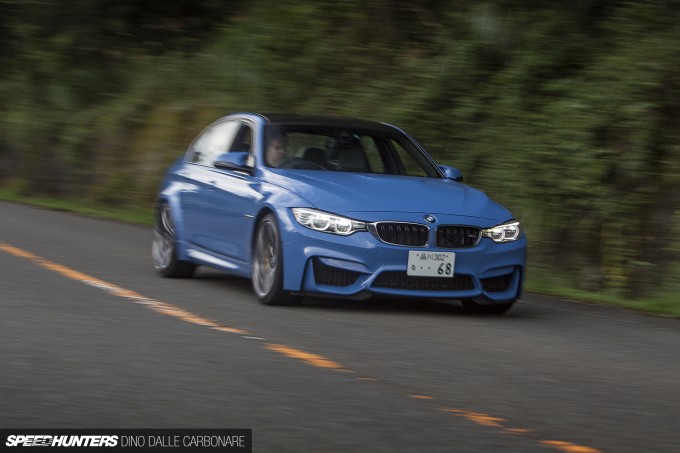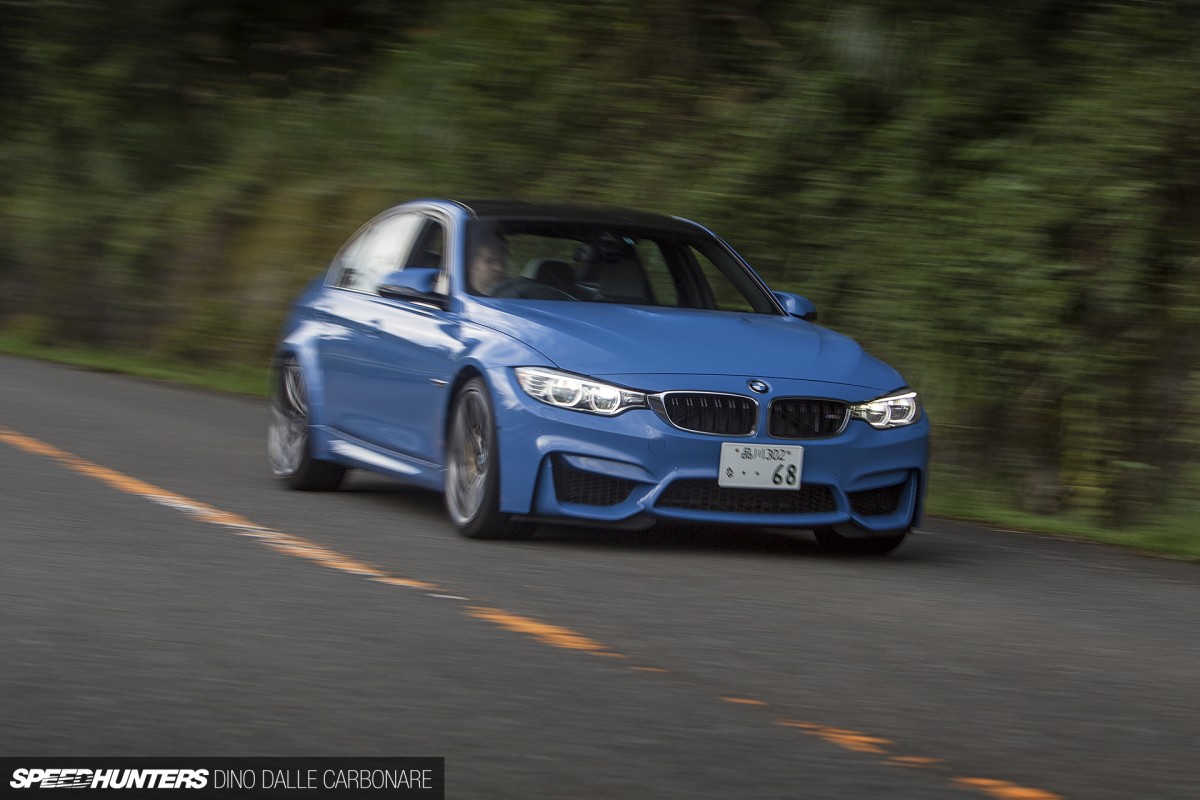 After spending a few hours behind the wheel on some decent roads, I quickly figured out that what BMW has done with this car has taken everything that the M3 stood for and enhanced it for the modern era. This statement is primarily in reference to the engine and its vast bag of tricks it hides under that unsuspecting plastic cover.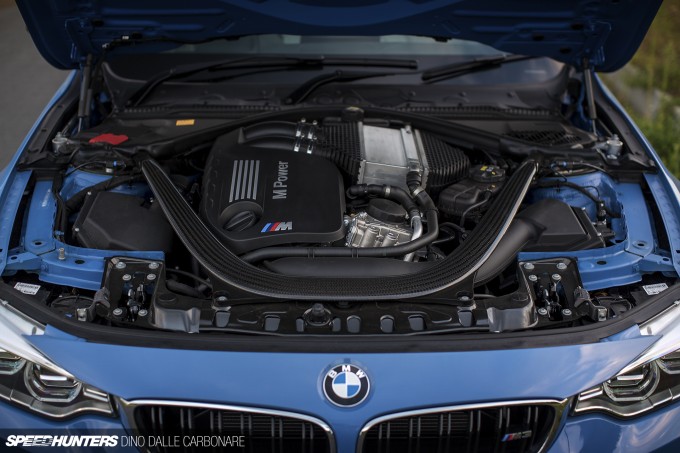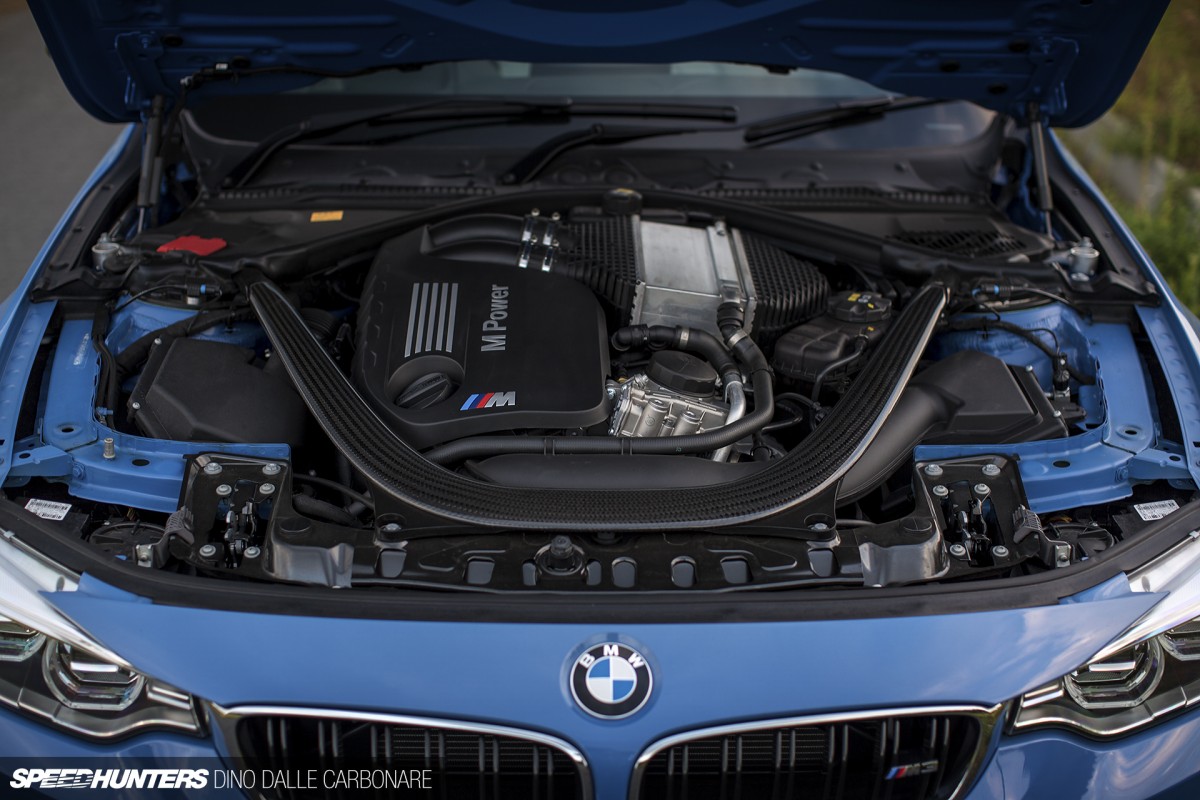 I'll join all of you E90/92 M3 fans and cry a little now that the naturally aspirated S65 4.0L V8 has gone, because it was a sublime unit that made all the right noises. But we have to move on. It's 2014 and the world is changing. At least BMW have put a huge amount of effort in making the move to a turbocharged inline six as painless as possible for potential buyers. What makes this motor special is that it feels like an NA half of the time, and the other half it feels force induced. It's very linear in its delivery, but has the sort of midrange punch that can only be possible thanks to that wonderful thing we call boost. The V8 was great, but this is better. Torque can be thanked for that and here there's 150Nm extra to play with – for 550Nm in total – and it's available between 1,850rpm and 5,500rpm. That pretty much means that 90 per cent of the time you get on the throttle you have the maximum amount of twist to propel you out of a corner on a track, or overtake a car on the motorway. In the real world, this makes a huge difference to the way the car performs compared to its predecessor.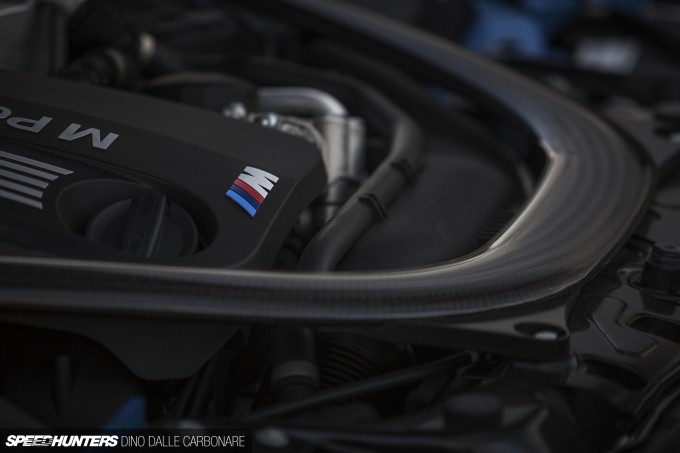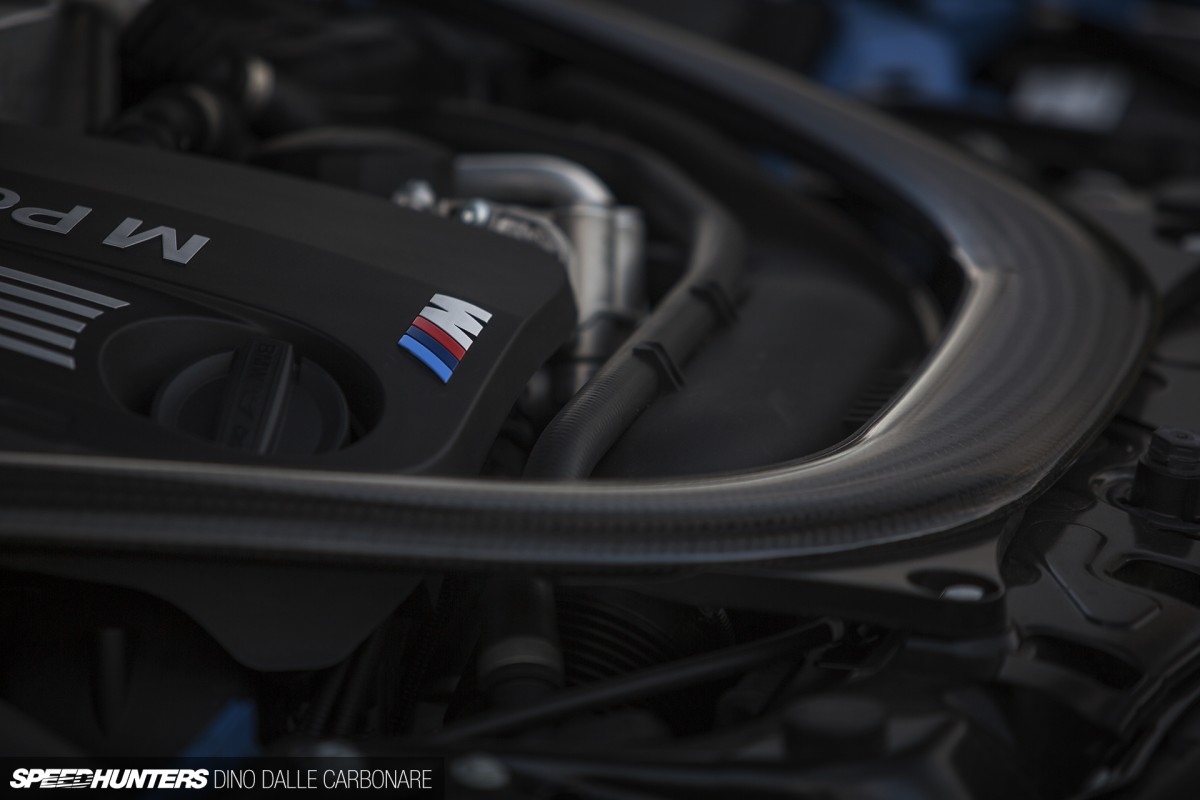 Does it sound as good as the V8 or the NA straight six that came before that? No, it does not. But it does make all sorts of cool noises, and on the overrun the exhaust crackles and pops more than an antilag-equipped WRC car. Should you care that some of those sounds are coming out of the speakers, like they do in the M5? Well, probably because it's not really 'right', but it's so well integrated you forget about this little cheat pretty quickly and just get on with driving and enjoying the car.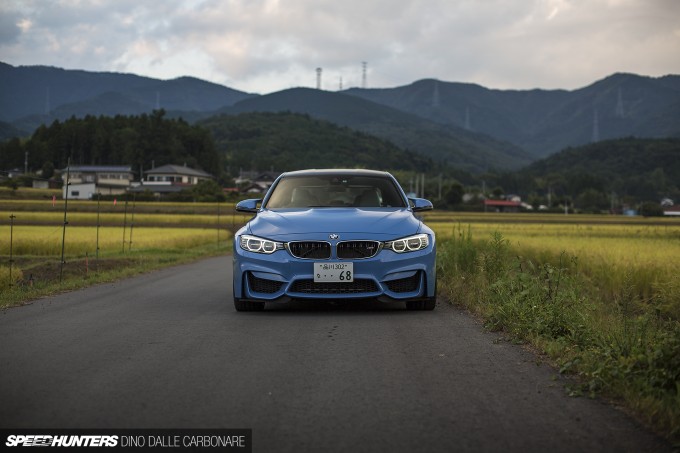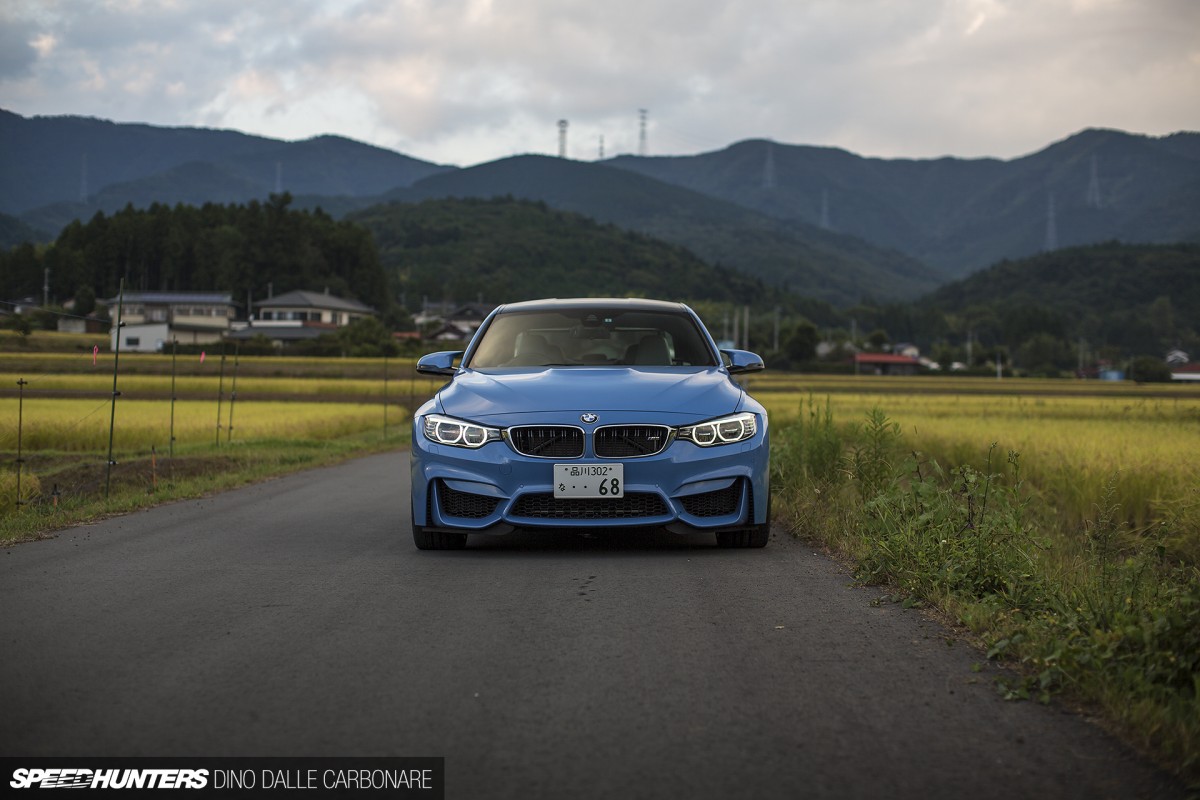 And there is a lot to enjoy. This for me this car is the highlight of 2014 – the M3 does so much and does it so well. Which brings me to the way it looks. This is something that I usually wouldn't dwell on too much as we all have different tastes, but I think BMW has done a great job of taking its new 3 Series saloon design and making it look extra special.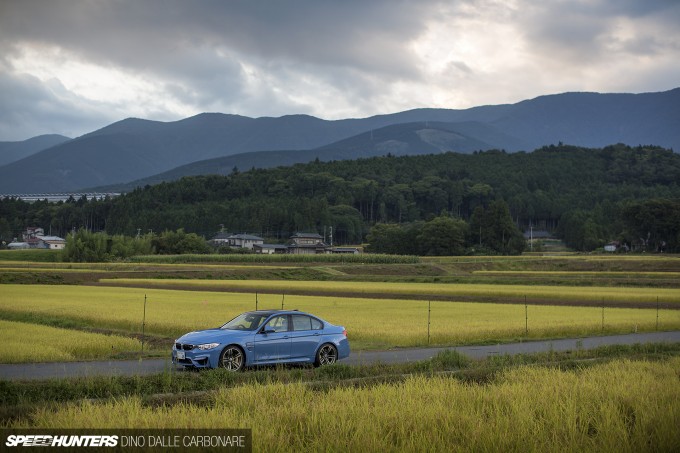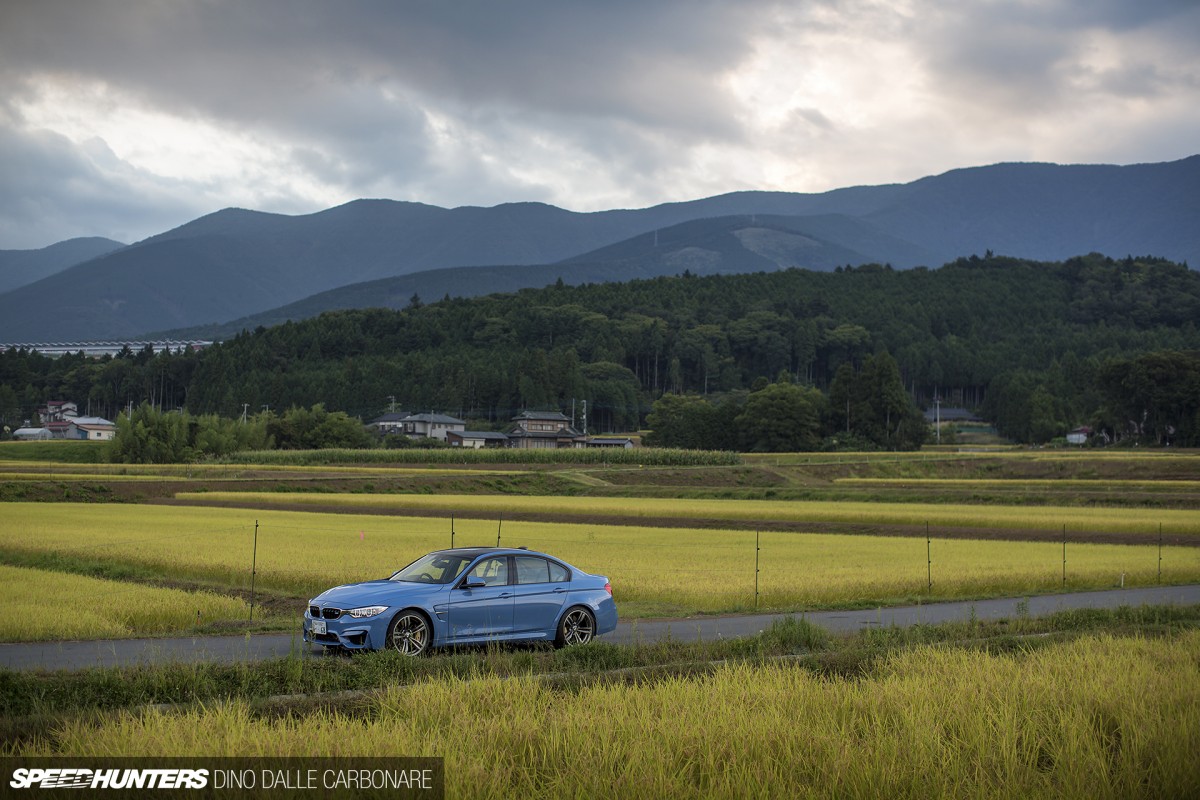 To the untrained eye it almost looks inconspicuous, and if you spec the car out with a subtle exterior paint colour it'll blend in with other cars on the road even easier.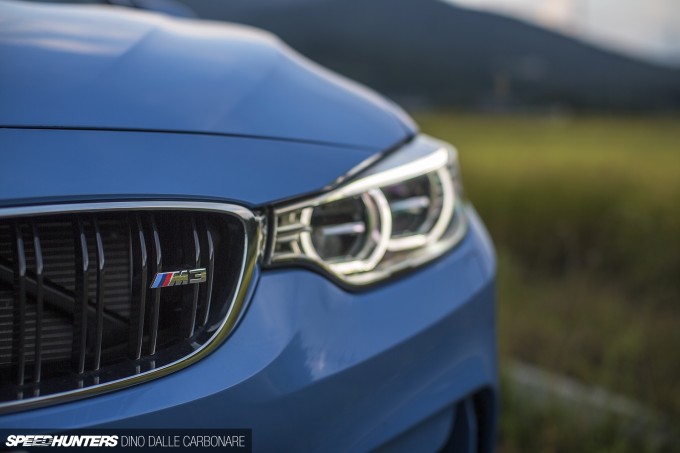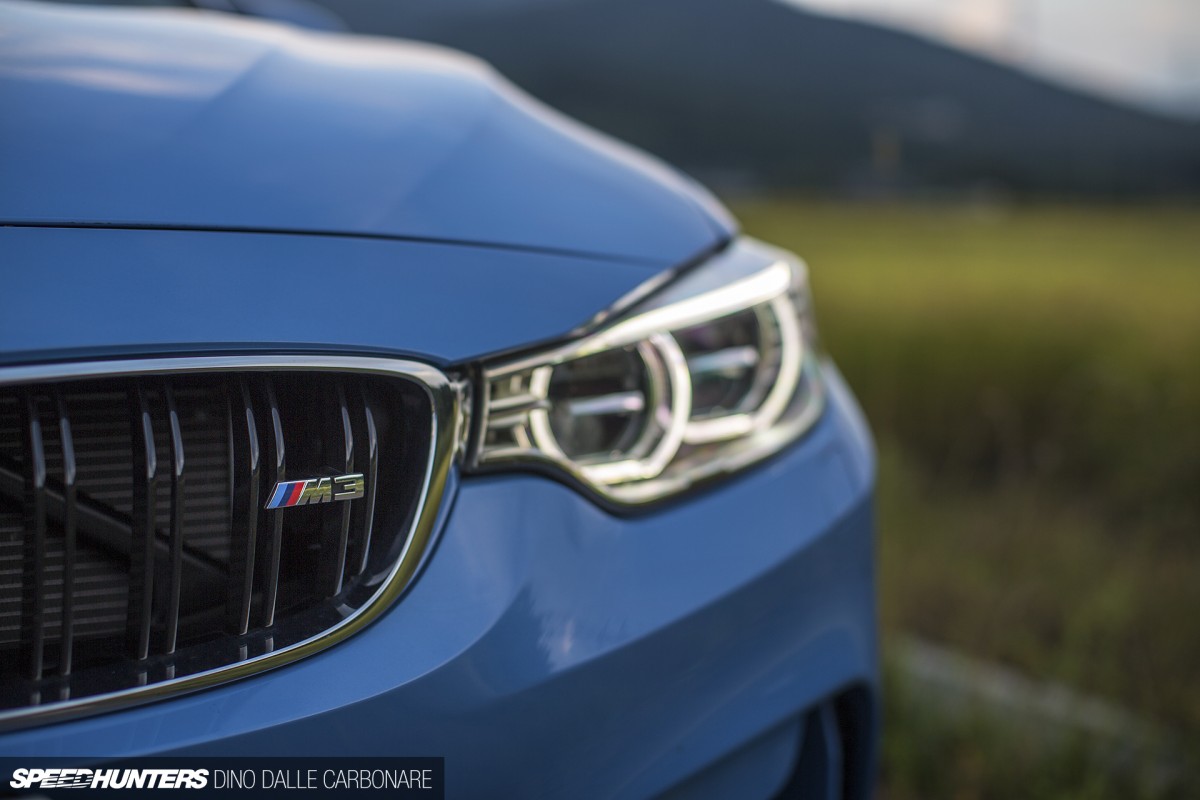 But those in the know will always appreciate the little details, like the dark fins on the signature front grille. If it was up to me I'd even opt to have every M3 badge removed from the car – just to be a little more stealthy.
OEM Sleeper?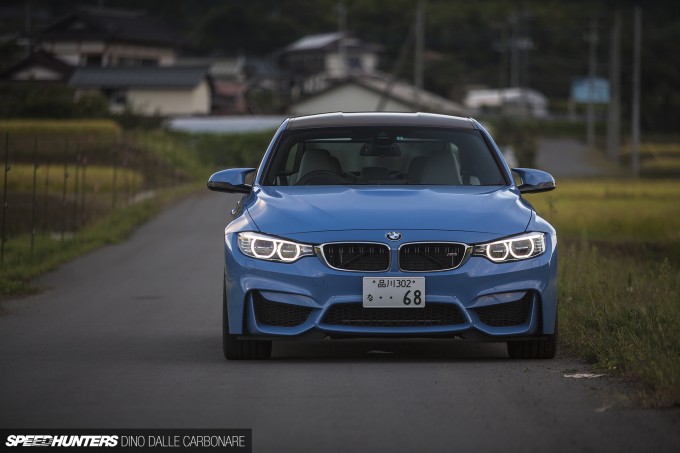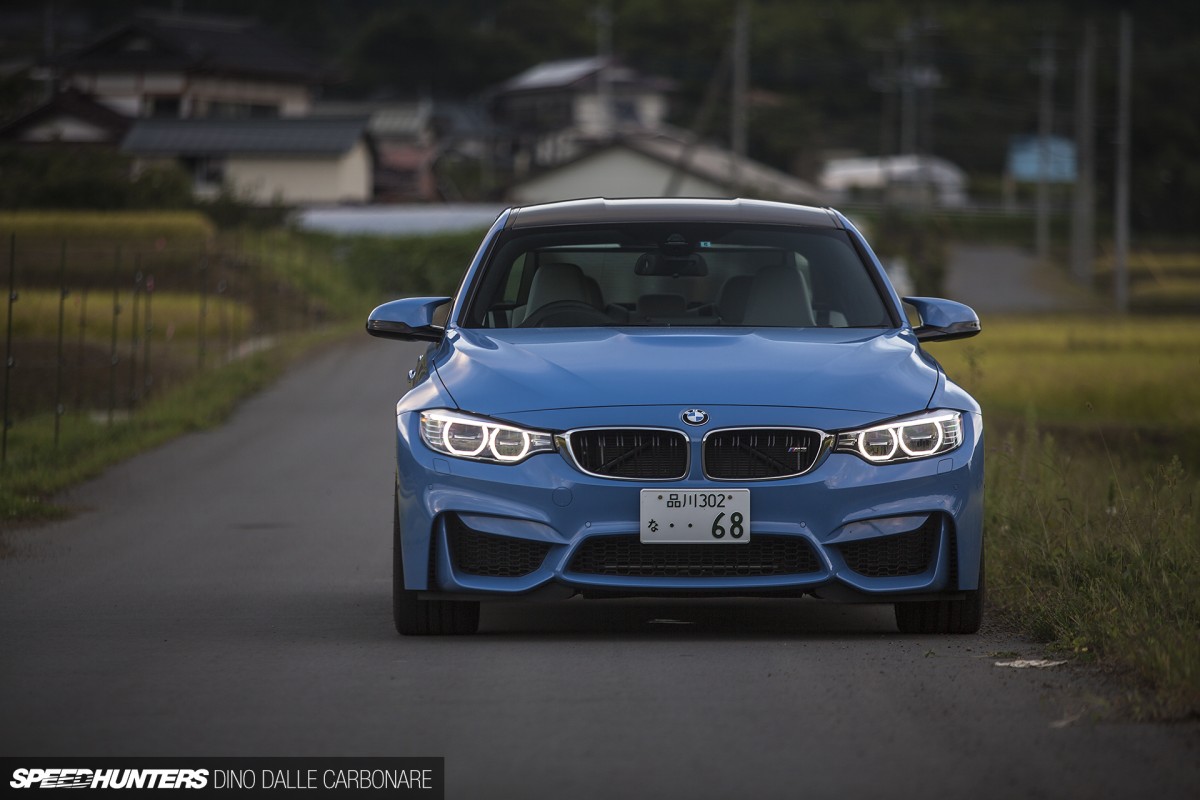 Then there's the front bumper design. It's what gives the M3 its biggest visual impact and follows similar design language to the optional M Sport bumper offered for the F30 saloon. Only it's much cooler.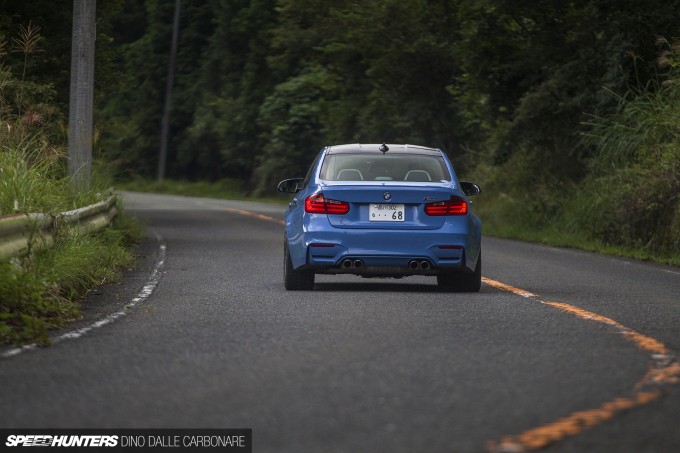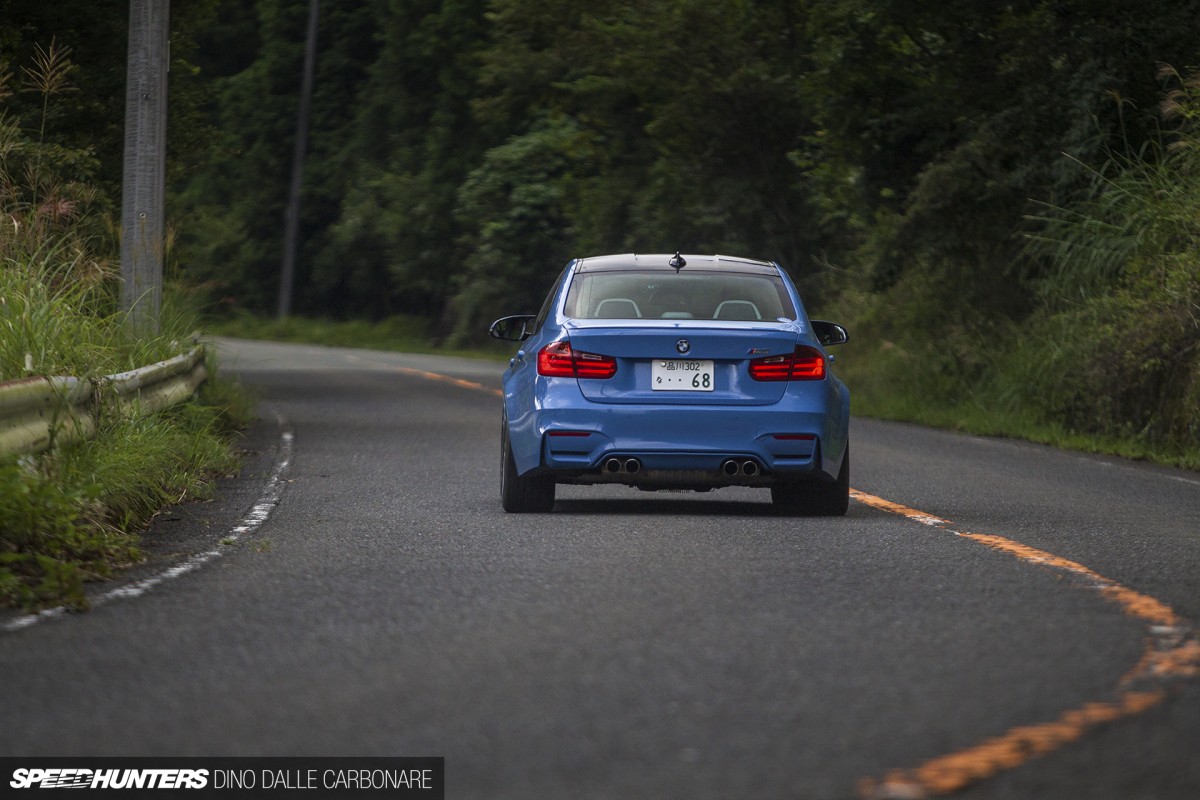 The same goes for the rear. Like the last few generations of M3s, the exhausts pop out from a more central position – an unusual solution for a saloon as it calls for a horizontally-mounted silencer. But knowing what an aftermarket free-flowing system can do for a turbocharged engine, I'm sure this is going to be a popular area for M3/M4 owners to perform a performance upgrade.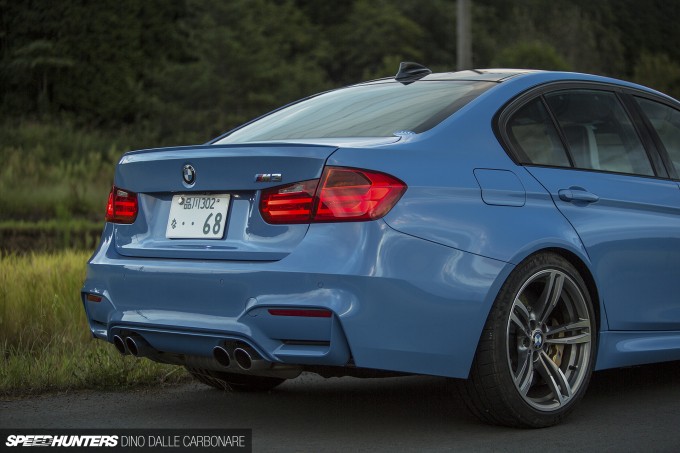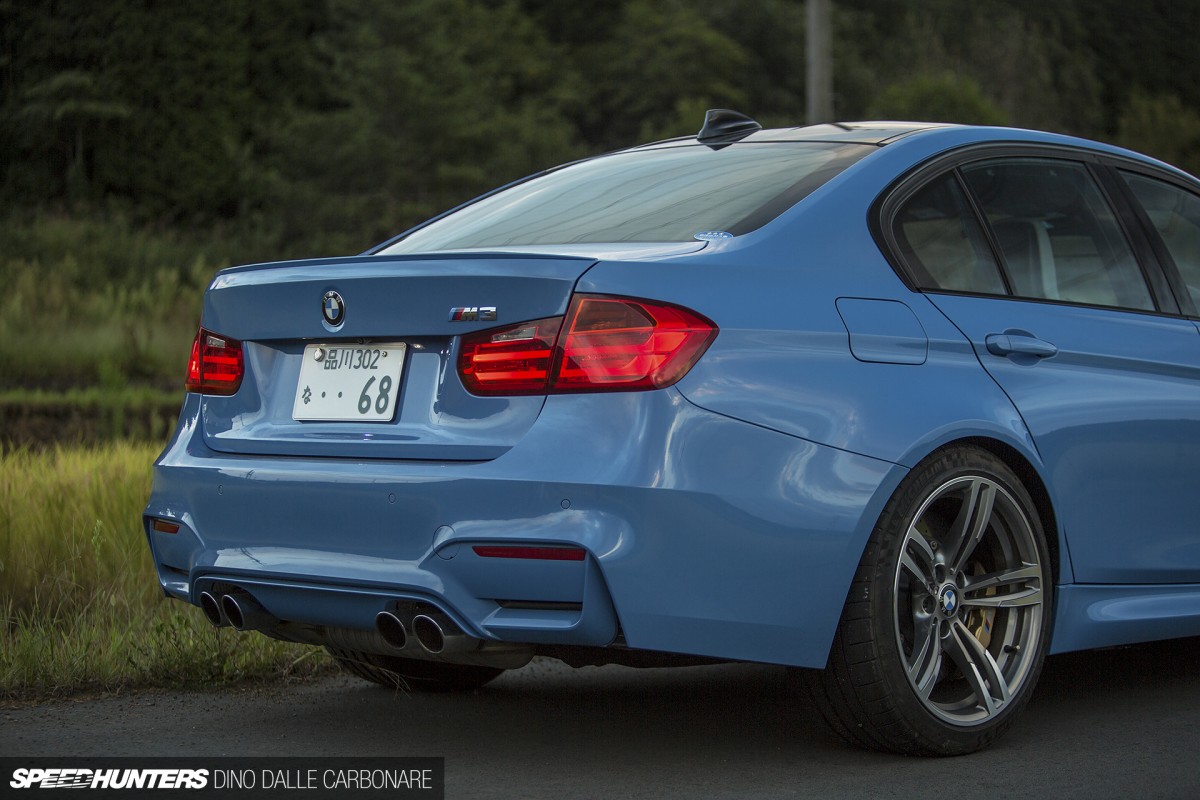 The same sort of creasing we saw up front is carried over to the corners of the rear bumper, and the treatment is completed with a little lip spoiler on the trunk. This is visually the only disappointing detail I found on the car, and my mind BMW should have moulded on a CSL-type trunk lip extension. Nothing too exaggerated, but something subtle to give true completion to the rear. Again, this is something I'm sure we'll see popping up in aftermarket circles.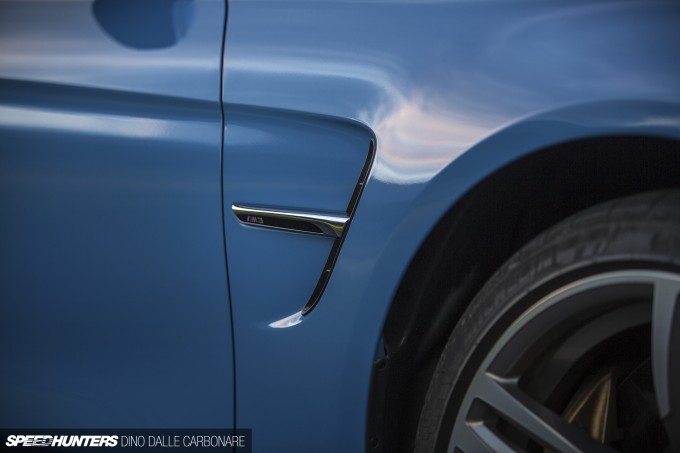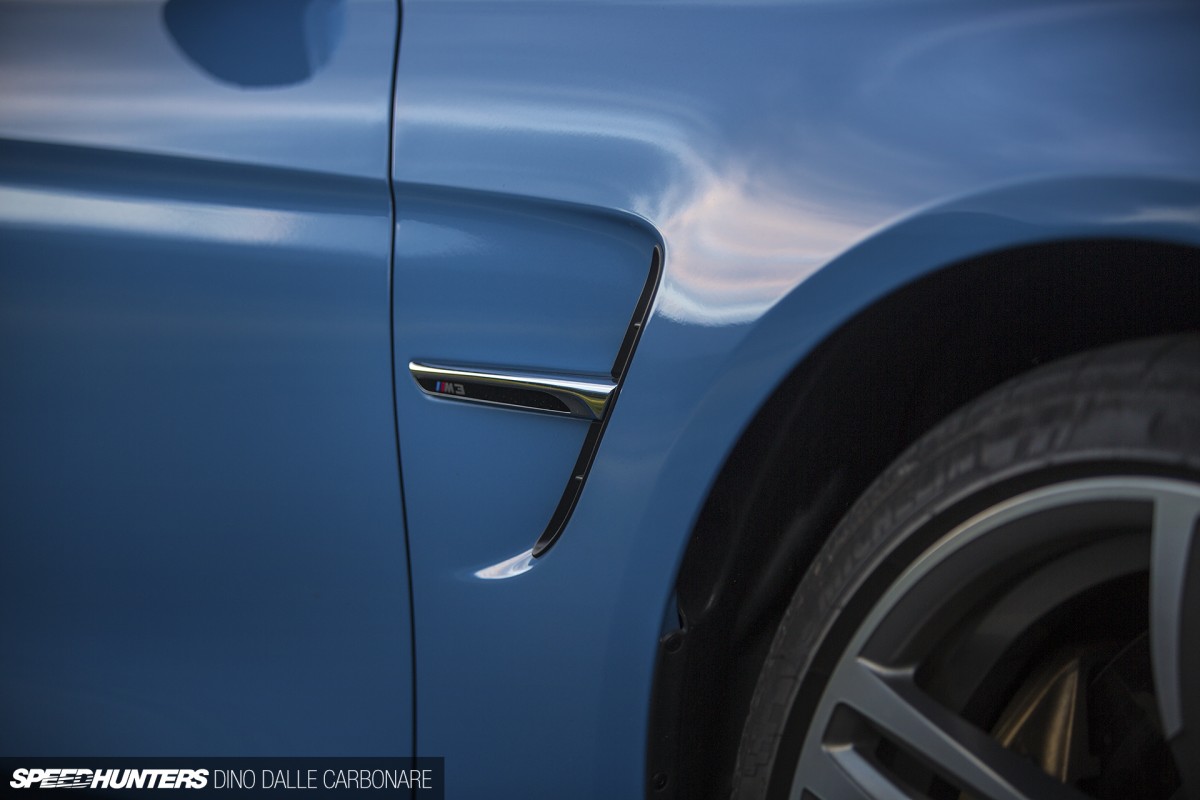 BMW used this front fender vent on the new-gen X5 and 4 Series, and now the F80 gets it too. It's debatable whether there's much function in it or not, but I like it. The detail is another little touch to separate the car from the F30, and it nicely integrates into the wide fender design and swage line.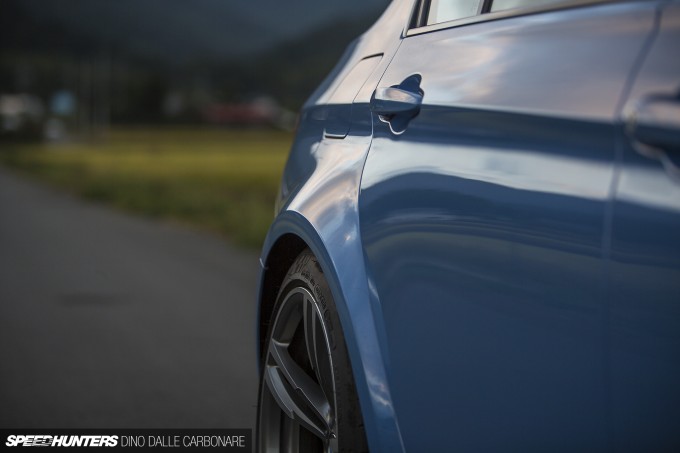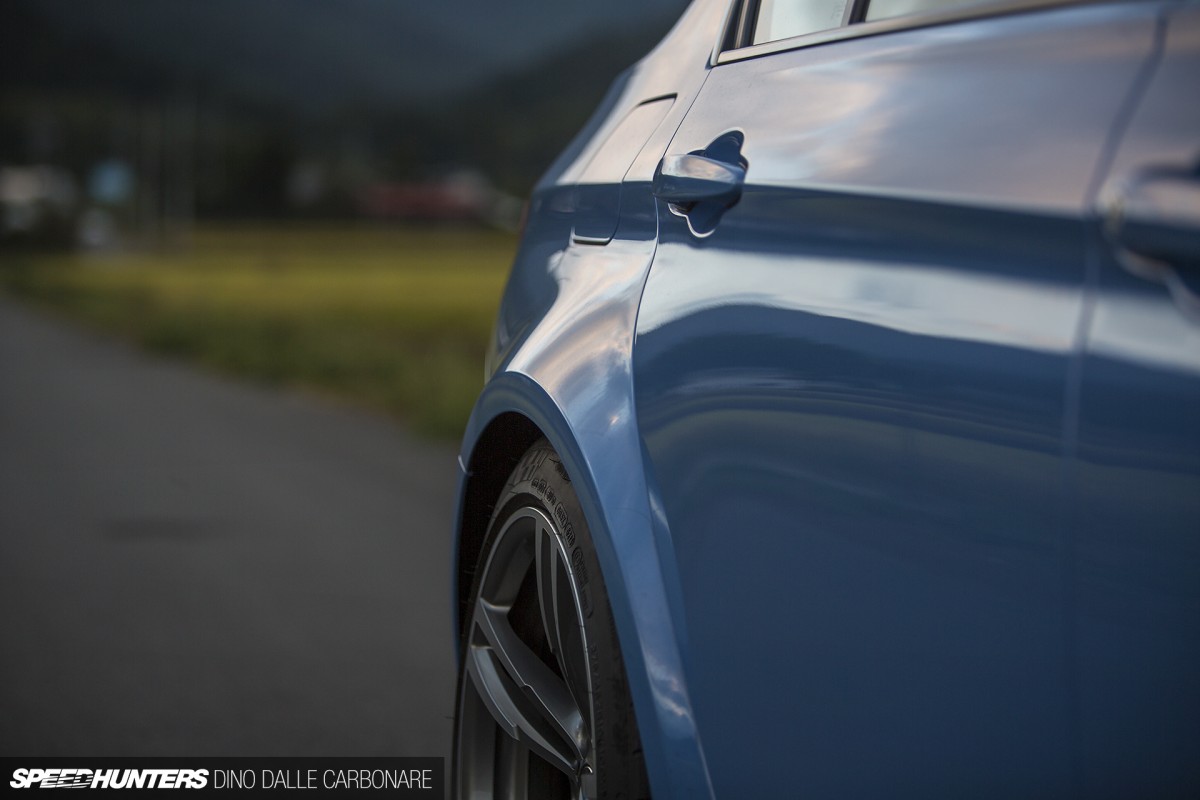 It's ultimately the pumped fenders that truly make an M3 an M3, and as usual it's subtly integrated here. The car was sitting on optional 19-inch M Sport wheels with a split 5-spoke design, and measured 9 inches across the front and a wider 10.5 inches at the rear.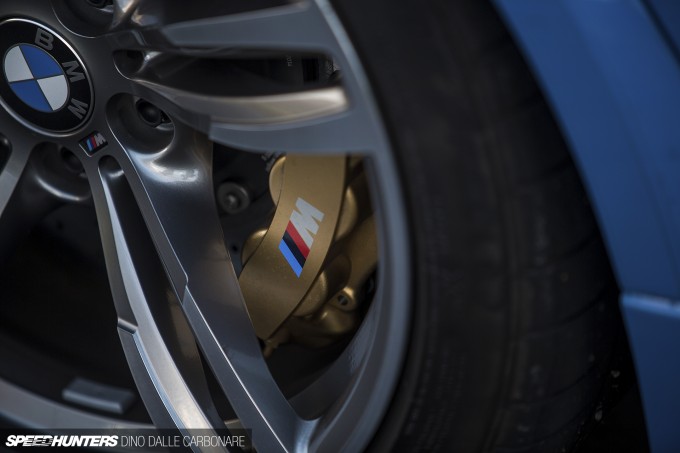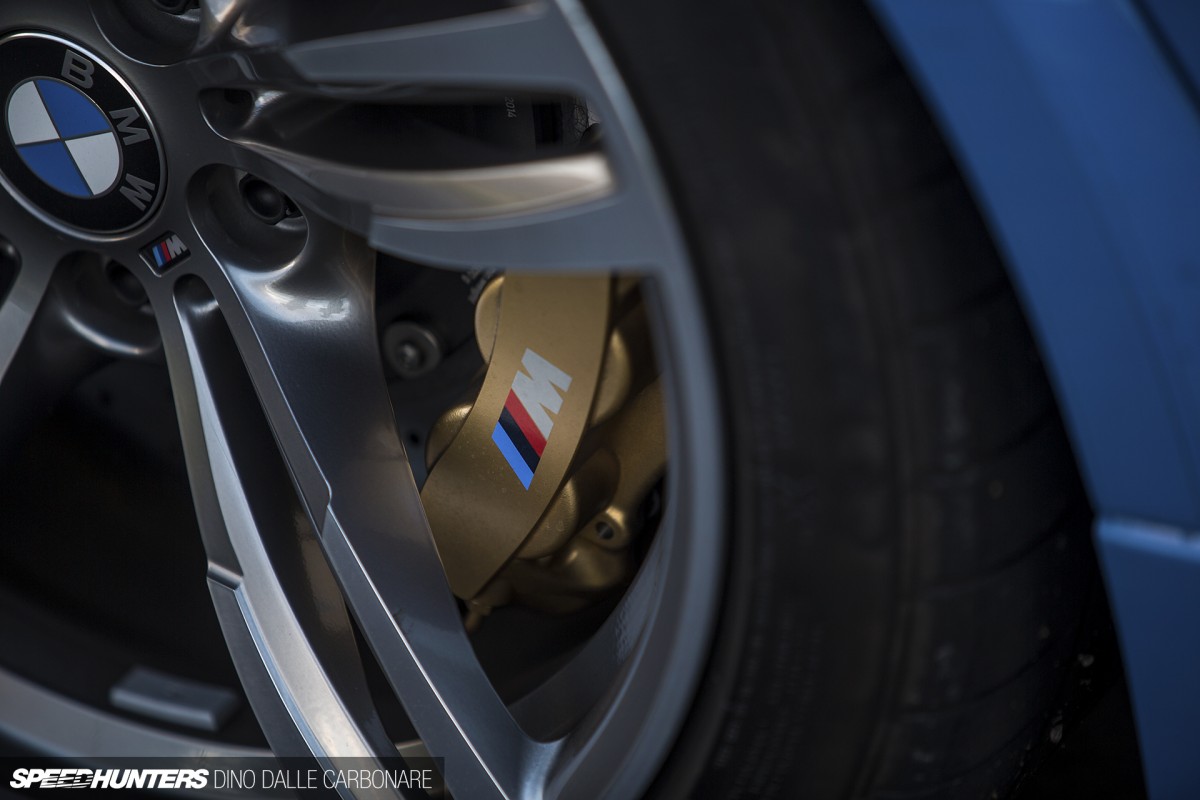 While the 'base' M3 comes with pretty puny-looking, blue M-labeled calipers, the press car I played around with for a week was fitted with the must-have carbon ceramic upgrade. The package includes much bigger rotors with serious looking 6-pot front calipers and 4 pots for the rear. With the way this car is able to pile on speed you wouldn't want anything less to give you a sense of security through the middle pedal, which by the way has the usual perfect modulation and feedback that BMW performance cars are known for.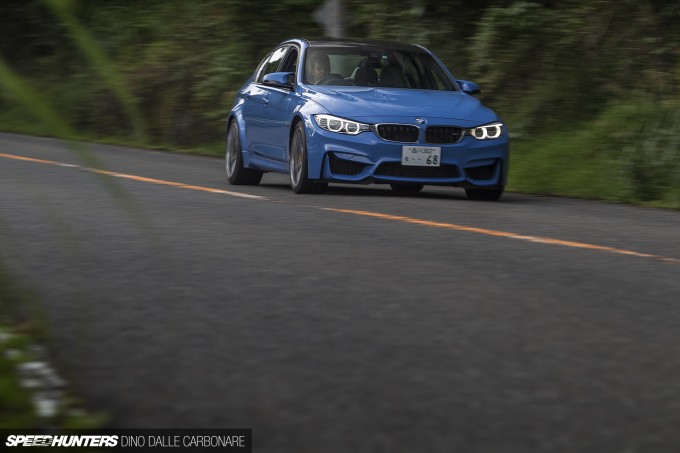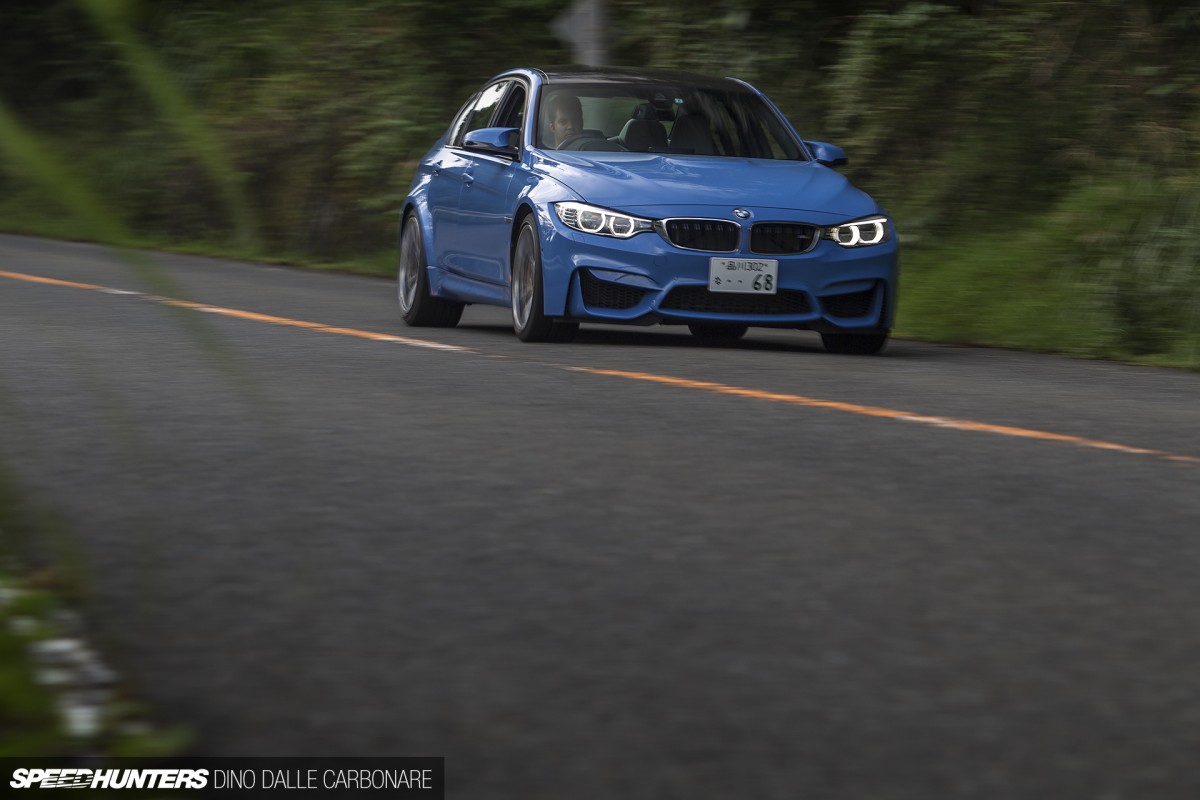 But let's talk more about the driving experience. With the car set into its 'Sport Plus' mode the M3 transforms in your hands. The suspension and steering tightens up, the throttle becomes more responsive and the engine sound intensifies. By combining sequential mono-scroll turbochargers with BMW's Vanos and Valvetronic technology – not to mention direct injection – this straight-six seems to do the impossible. I've already mentioned the torque and the way it's delivered, but as impressive as numbers are, in practice this translates to tyre-shredding acceleration. This car will pulverise the 275-section Michelin Pilot Super Sport rubber on the rear end in first gear and light them up in second too. And if the road is damp you better hang on to the steering wheel in third gear as well, as it will throw the tail end of the car to one side as you unleash all its fury. Of course, you can always leave all traction and stability controls 'on' and watch the pretty blinking yellow lights! One of the most notable things, however, has to be that the engine cools its intake charge via a large charge-cooler mounted on top of the engine. Unlike an intercooler, there is no need for it to be in a position with high airflow, as it's liquid cooled. That means that piping can be kept extremely short too. All told, throttle response is instantaneous and there is almost no turbo lag to speak of. All of this gets further highlighted by the machine gun like action of the 7-speed twin-clutch transmission, but since BMW actually has the option I think I'd rather take this car with a traditional 6-speed manual! Too bad it's only available on the M4 in Japan though…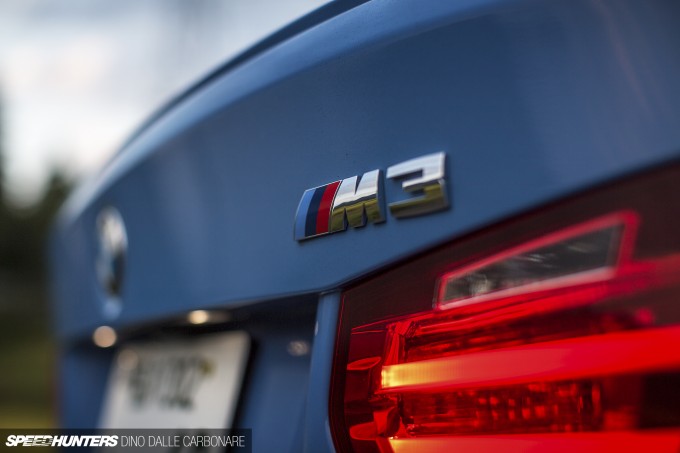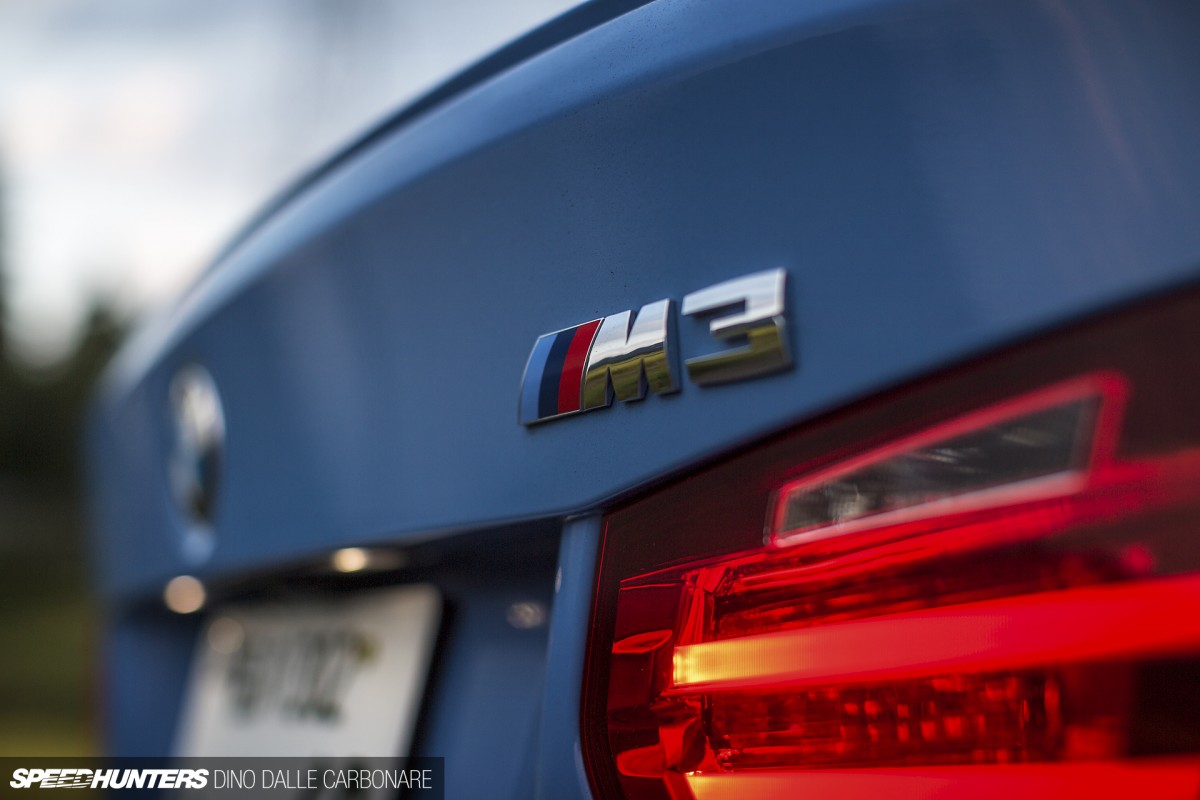 So in short, this car is fun, fast and scary at the same time, and to me that almost makes it the perfect performance car. With the stability controls turned on you can push the car to its limit without fear of overcooking it, but like I said – turn the electronic aids off and you better be proficient in the art of oversteer because this is a fully-fledged drift saloon! Stick everything back in 'Comfort' mode again and you have yourself the easy-to-live-with-every-day daddy mobile. I fitted the baby seat in the back and my young son enjoyed being sung to sleep by the exhaust's deep growl, and the massive trunk had no problem swallowing up all miscellaneous baby paraphernalia. Once he was safely at home however, one click of that pre-programmed M1 button on the steering wheel and the car was back into its Mr. Hyde mode ready to tackle the C1 for a little fun. I've got a video coming up soon on this by the way, so don't miss it!
A True Jack Of All Trades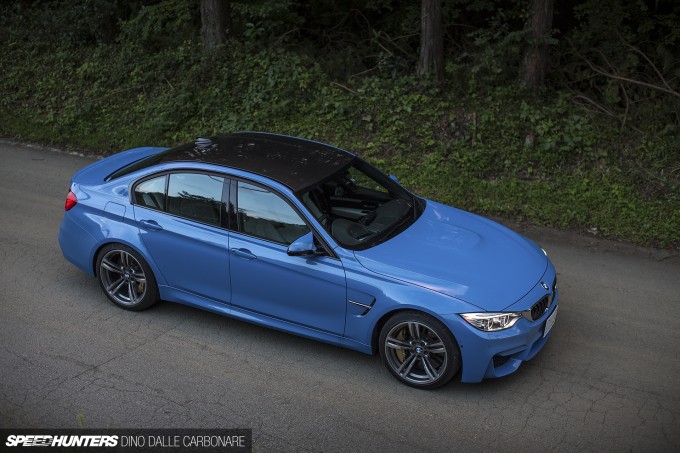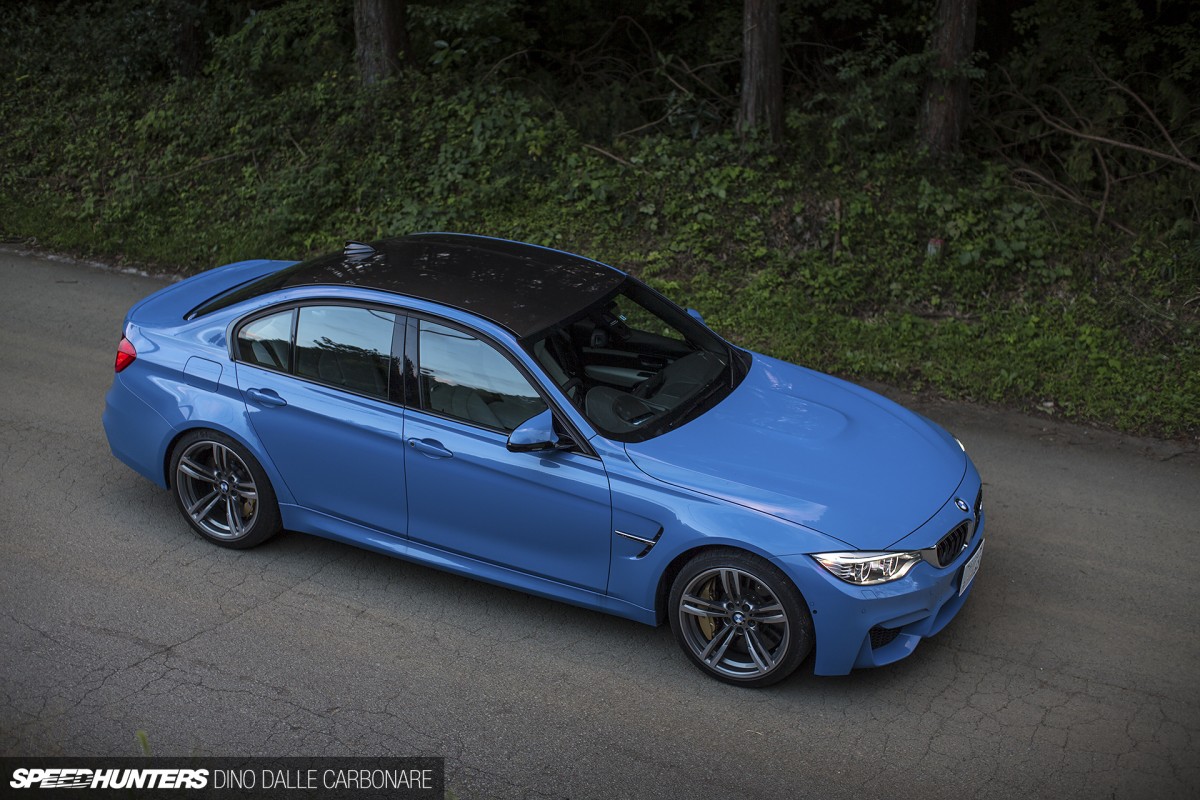 Aside from very minor things – like interior trim options and actual equipment design and use – I really can't think of anything to fault on this car.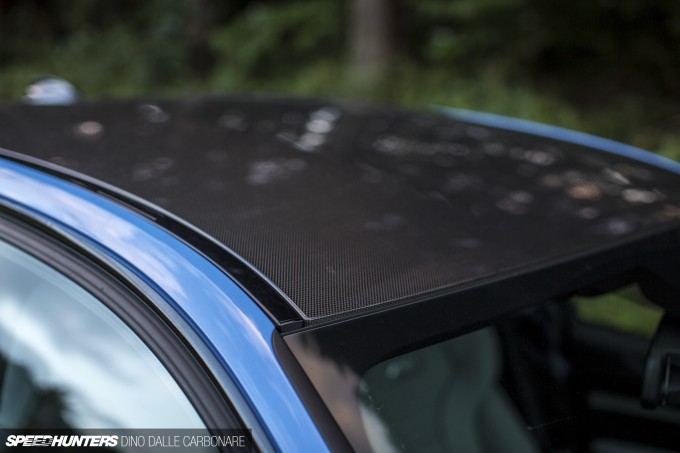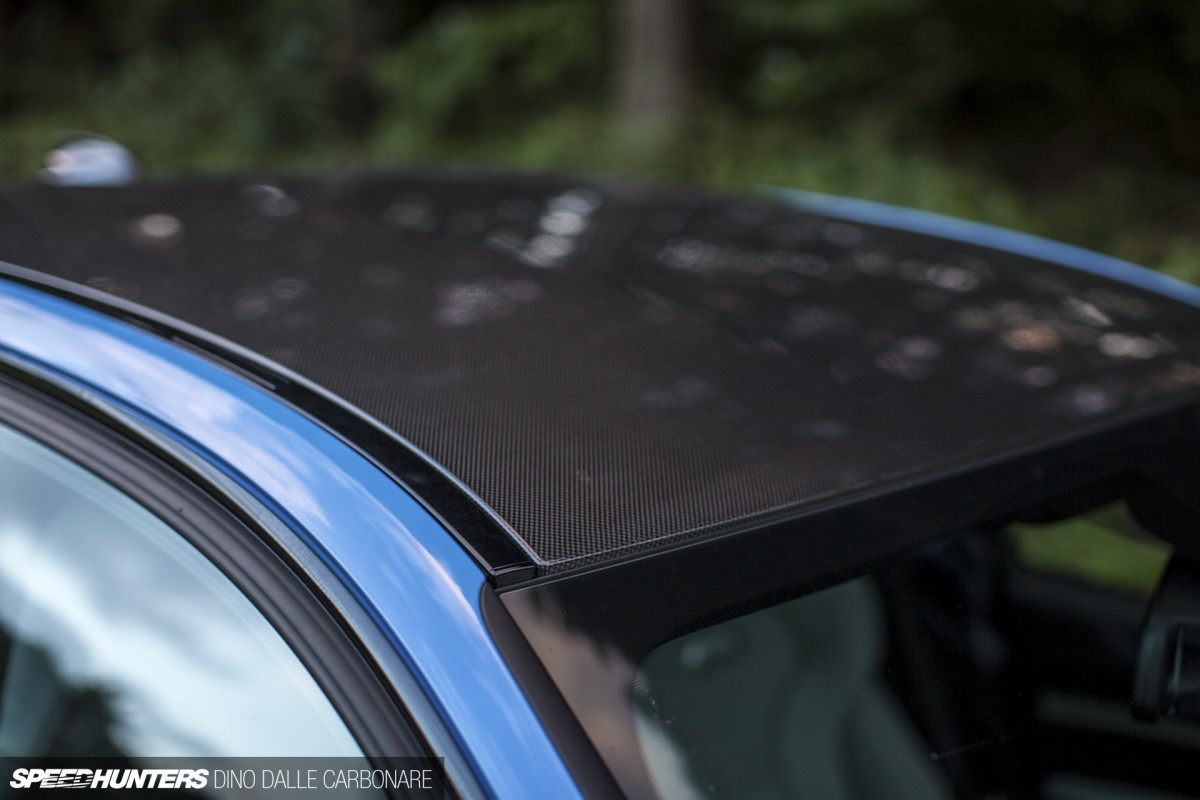 Like all M-Cars of late, it also comes with a carbon fiber roof to help shave weight where it needs it. Anything to improve performance!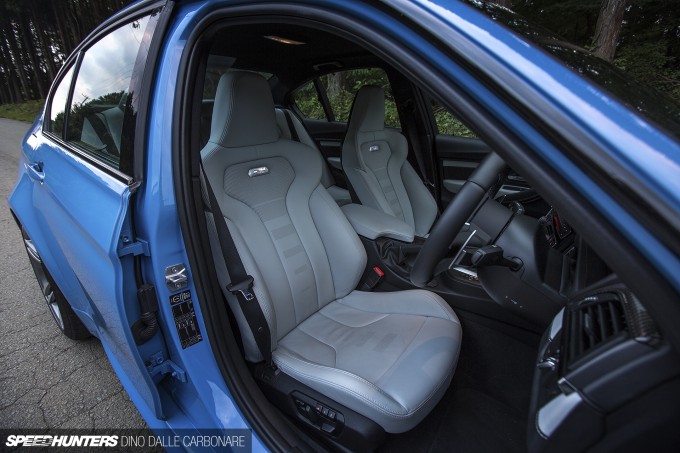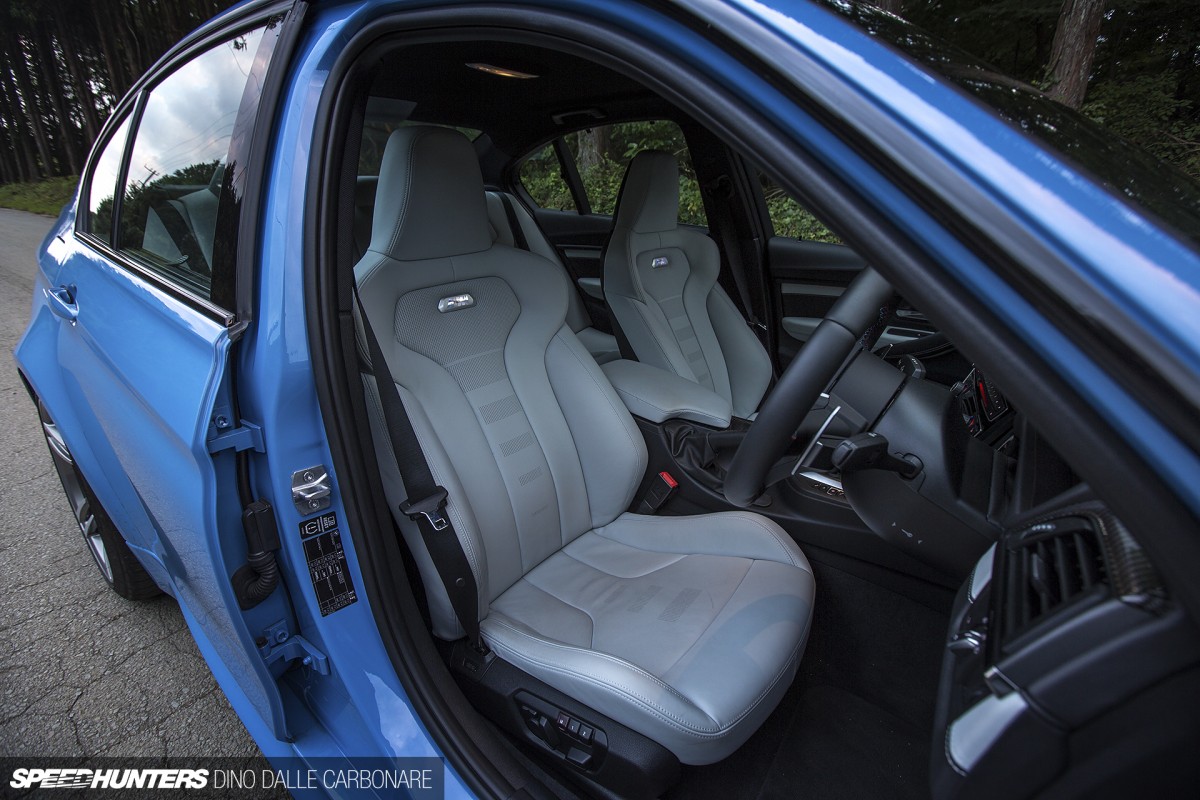 The M3 gets extra special seats – leather-clad of course – which are decently supporting, but most of all comfortable and sporting all the adjustment you would ever need.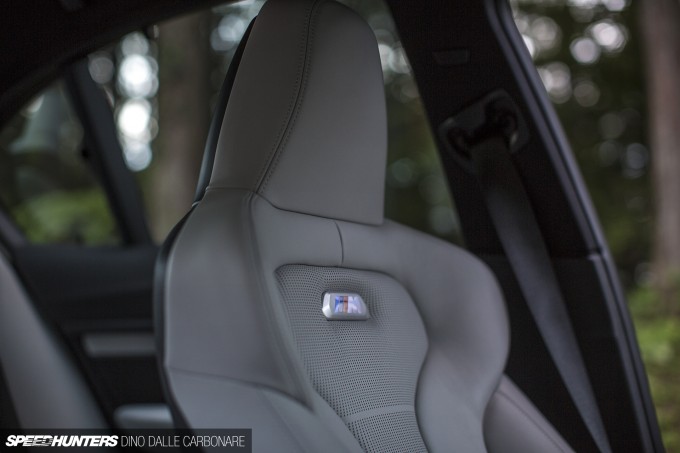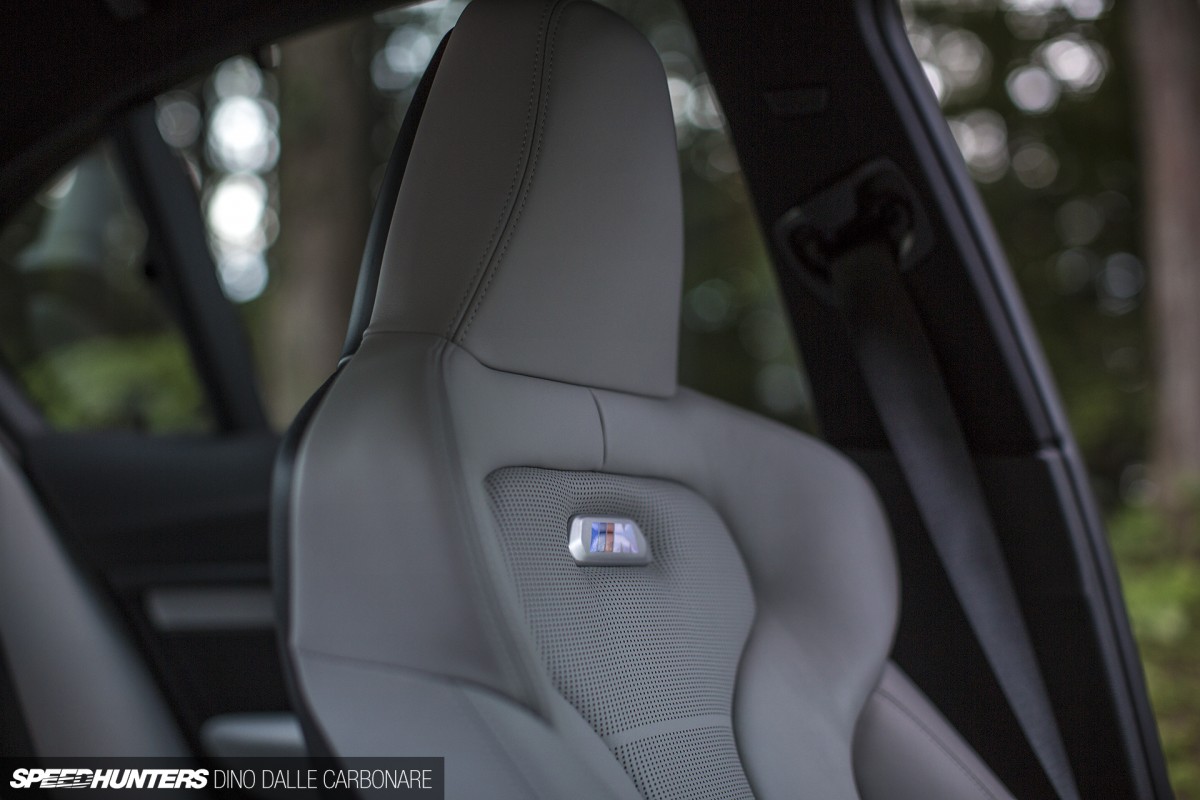 Oh yeah, and the M badge is illuminated. It's perhaps a little overkill for my liking, but I guess it does help set the mood and make the owner feel a little more special about having forked out a lot more money over an F30 335i.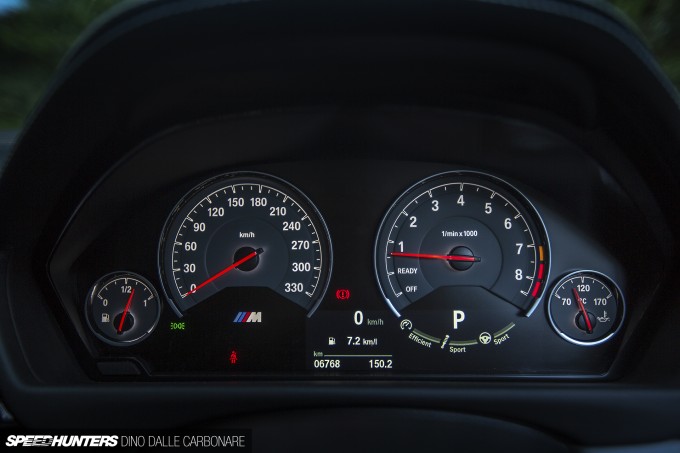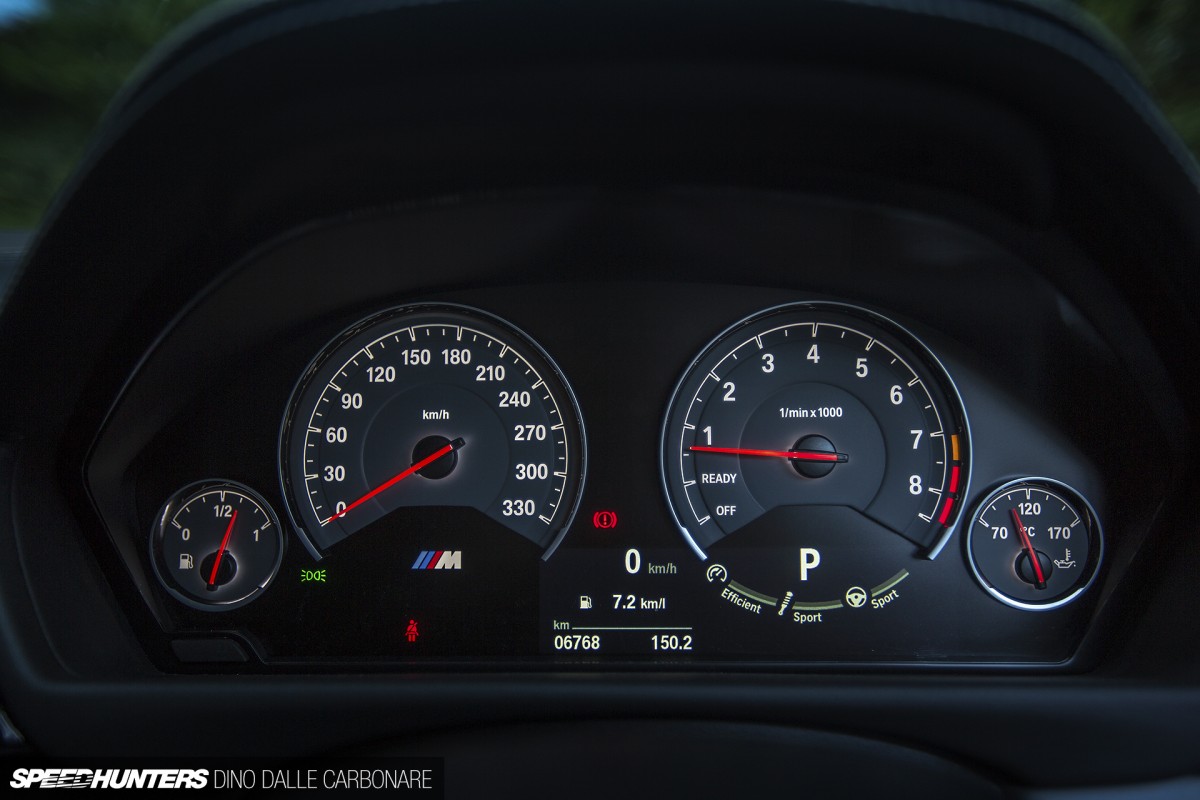 And therein lies my greatest and probably only complaint. BMW should have done a little more to make owners feel special. What impressed me the least was the instrument binnacle, which featured the usual simplistic, no-frills layout we are used to seeing most BMWs. But I can't help but feel that M3 owners should be treated to a better interface. Perhaps a larger LCD section that expands all the way into the lower left side of the cluster like it does in the M5 for example. Or maybe just some more exciting graphical touches…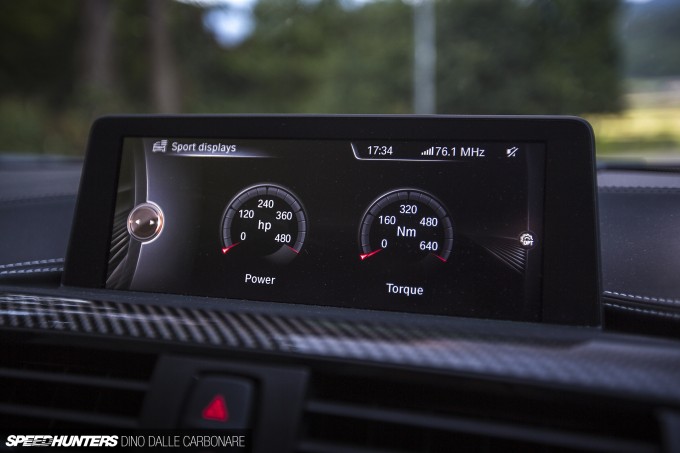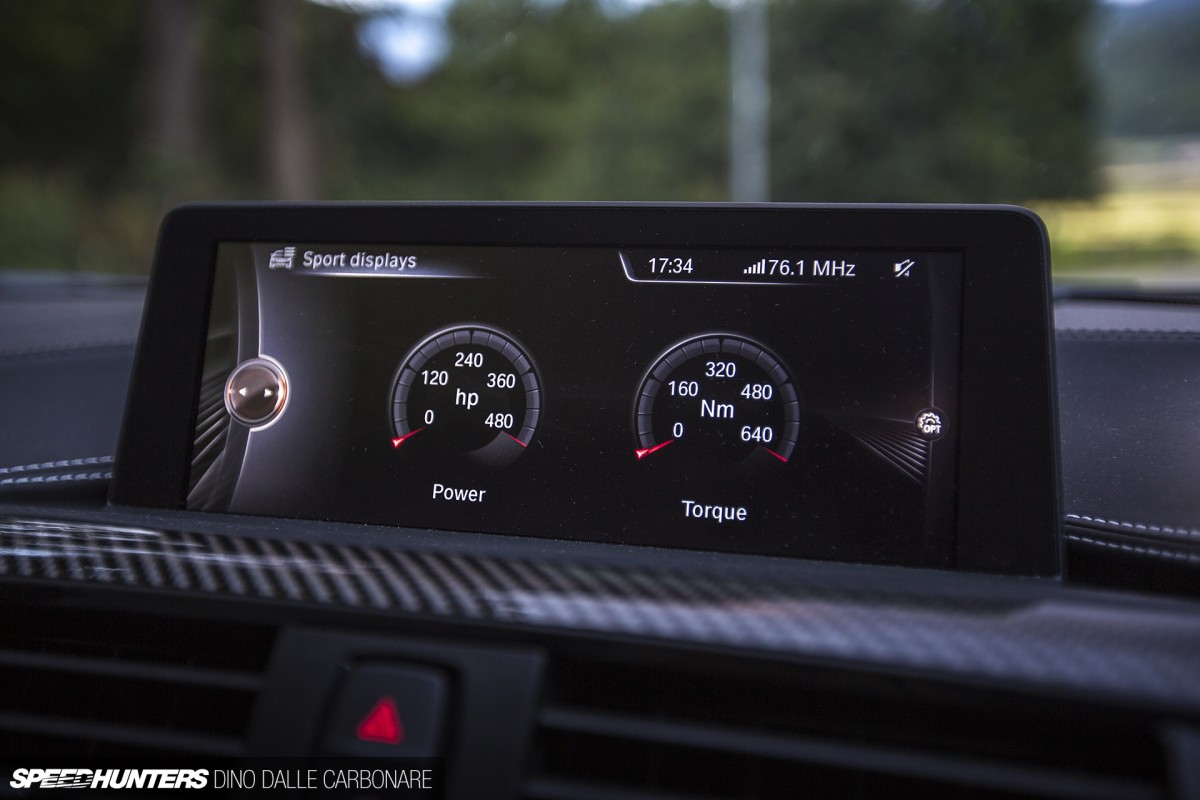 There is a 'Sport Display' which shows horsepower and torque levels in real time (notice the power reads to 480hp, BMW giving extra buffer for tuners here, maybe?), but it's just not enough, and it takes time to navigate your way through the i-Drive interface. I'd love to see an R34/R35 GT-R type readout for us nerds. Am I wrong here? Surely BMW can come up with something a bit cooler?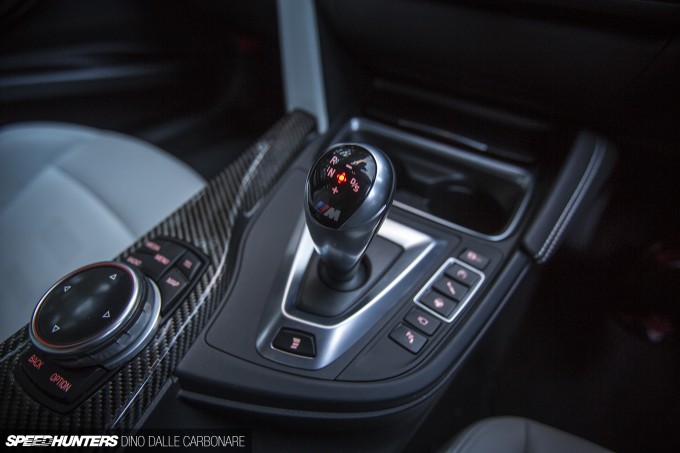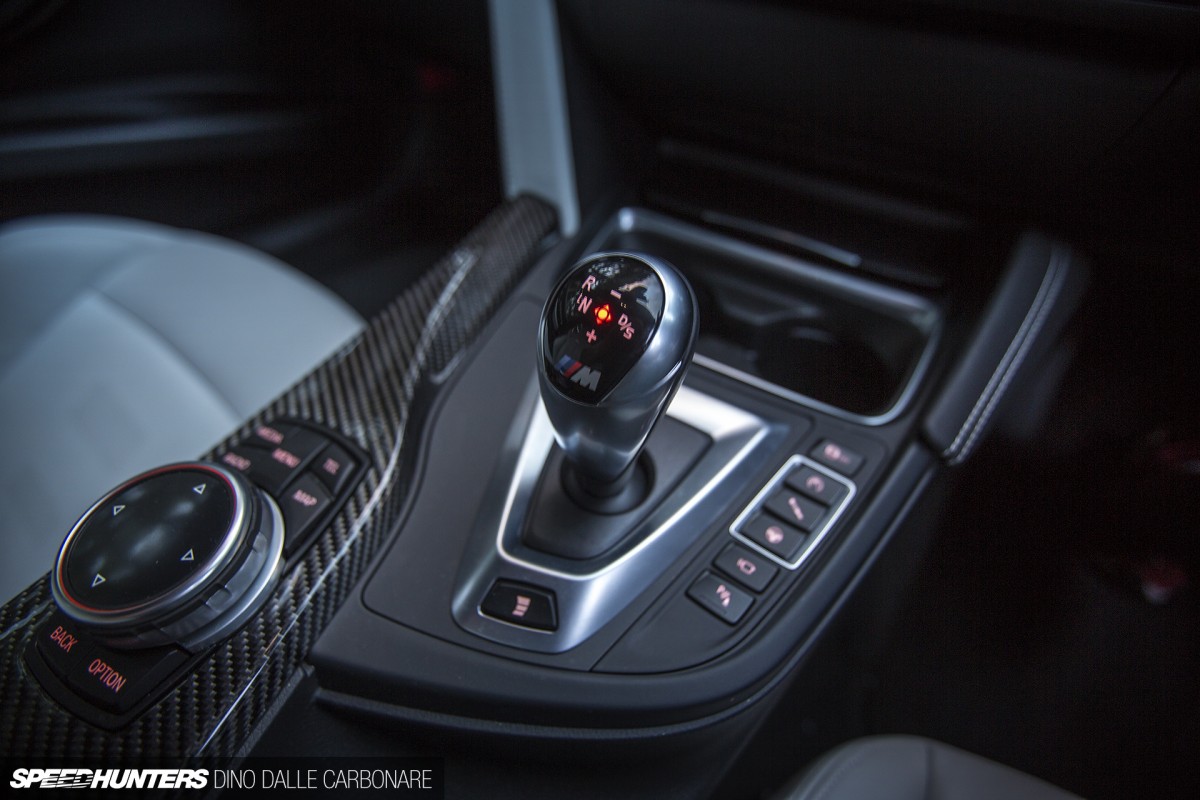 The optional carbon fiber pack was a great thing to see and a nice touch against the leather clad dashboard. But come on BMW, surely you can extend that carbon on the area surrounding the aluminium shifter bezel? That flat and featureless plastic is horrible to look at and touch, and it drags down the quality feel of an otherwise well-appointed cabin.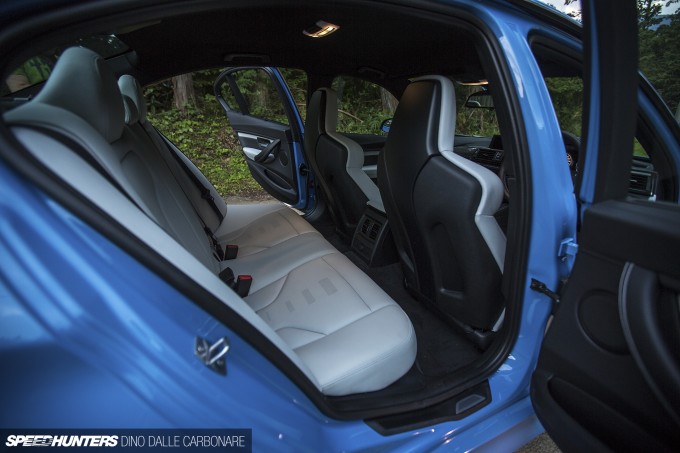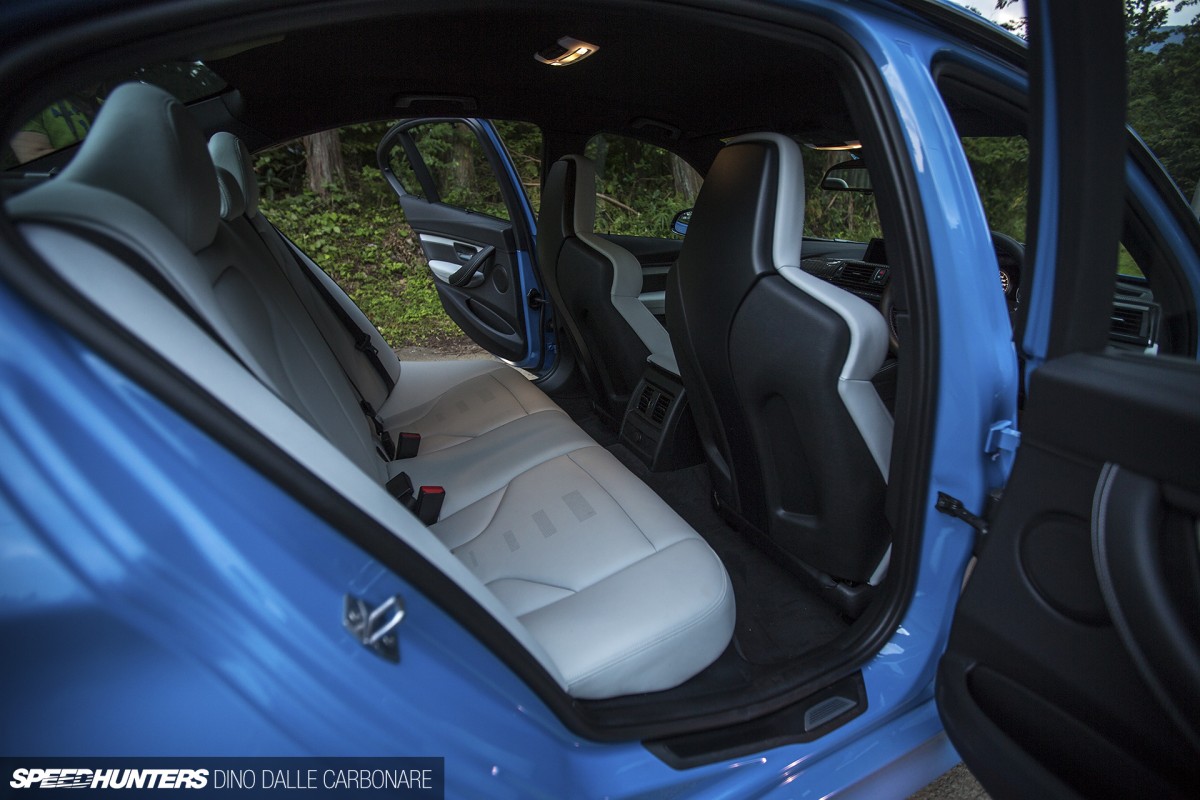 Here's the M3's not-so-secret weapon though: decently sized rear seats. It means you can carry an extra three people with you for a comfortable drive, or scare the hell out of them through some twisty roads!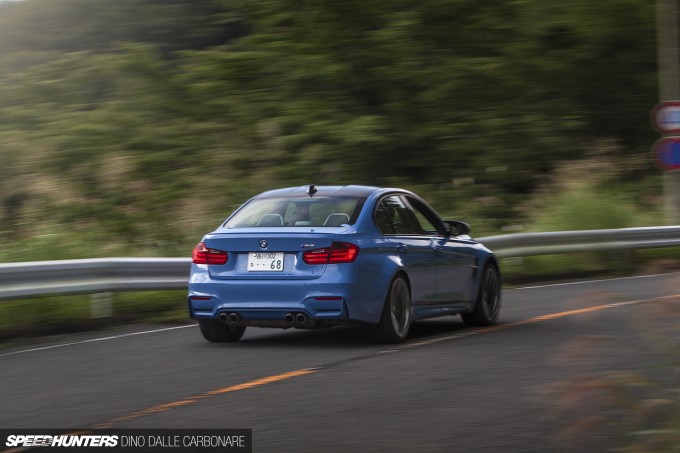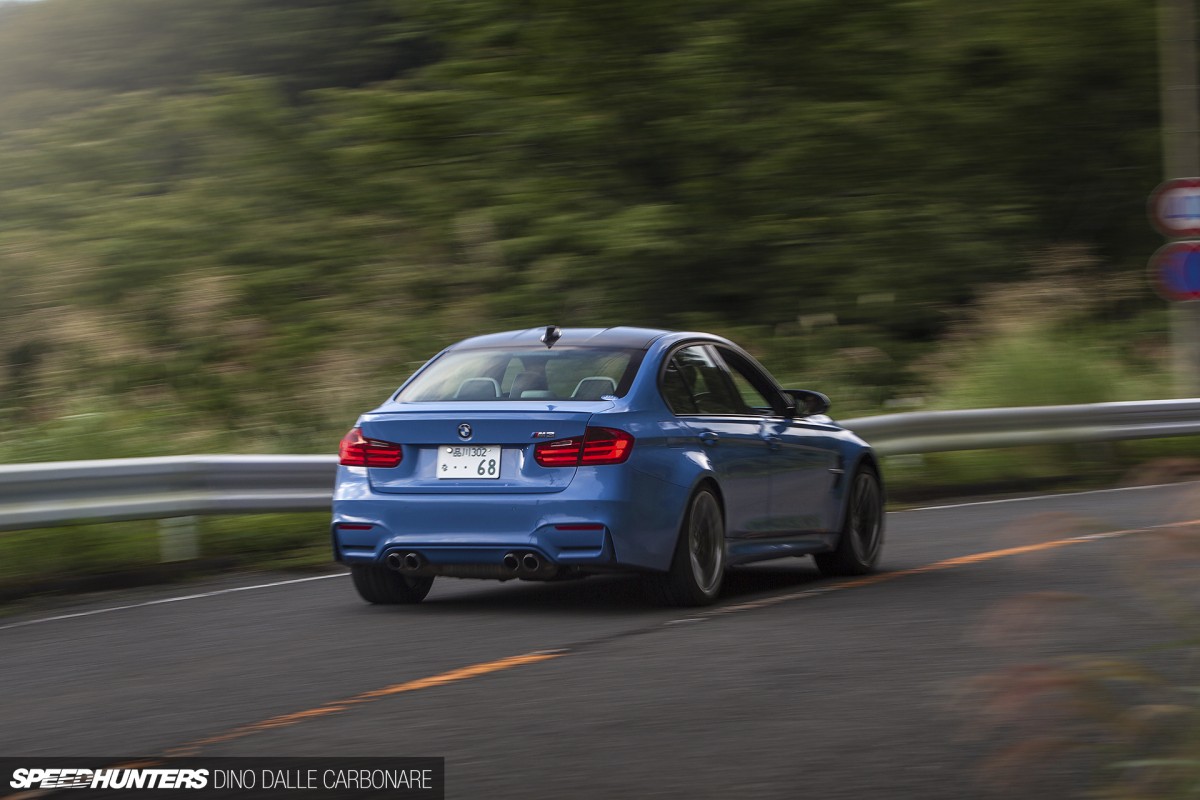 To me, the new M3 is the answer to the question I opened this post with. It's the perfect performance car – one that's able to offer so much in such an easy-to-live-with package. Thanks to its new turbocharged engine, the M3 is now more tuneable than ever too, which has got to be a good thing. And having that extra potential there, well, that just makes it even more special than it already is.
Dino Dalle Carbonare
Instagram: speedhunters_dino
dino@speedhunters.com