The Place To Meet
I often get asked by people how you're supposed to find out about specific car meets in the Tokyo area. These days most gatherings are either organized and promoted on social media, or, if smaller, perhaps in a more private manner. But there are other meets that just, well, happen…
Take Daikoku PA – the gathering place for car guys in the Tokyo and Yokohama area, and somewhere you're always guaranteed to find interesting machines. While nights are the busiest time, a Sunday morning with no rain in sight always brings people out.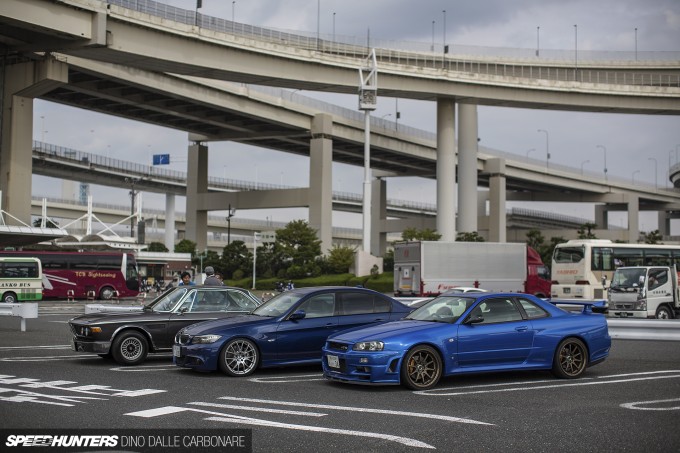 That's pretty much why I decided to check out the PA after last Sunday's Maserati-themed Cars & Coffee meet in Daikanyama. By the time I arrived at Daikoku there was already an array of sportscars parked up. But I hadn't even managed to get my camera out of the GT-R's trunk when something really special drove in.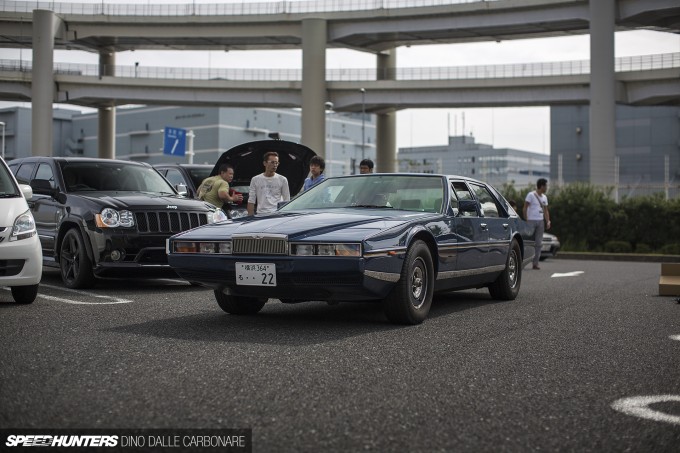 The Aston Martin Lagonda is a 'World's Ugliest Cars' list regular, but I really don't care what other people think. This is a car with a ton of presence, and it attracts a lot of attention.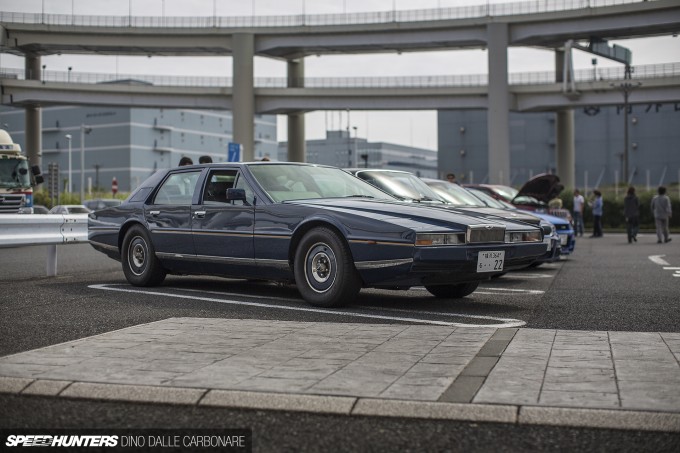 It's also quirky and unique which automatically makes it appealing to those that find beauty in the unusual. I was just glad I finally had an opportunity to look one over in detail!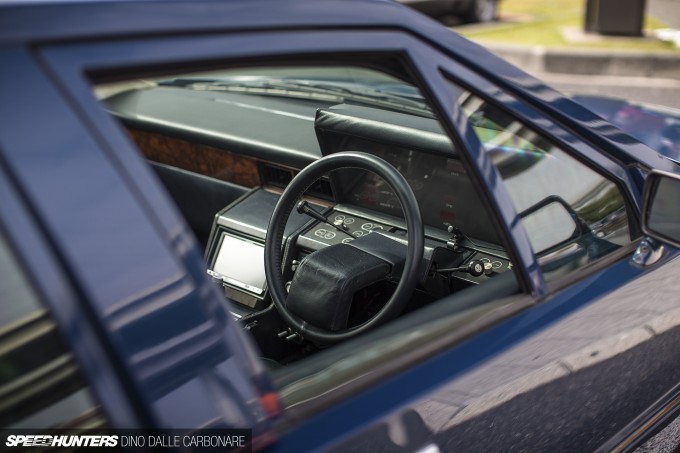 This thing is like a gentleman's club on wheels – four supple leather chairs sat in solid chassis with overly soft suspension. The Lagonda's designers truly went to town on the electronics – the digital dash and all the switchgear looking like they were borrowed from a top-of-the-line kitchen appliance. I'm not too sure about the single-spoke steering wheel, though it brought back memories of the Citröen AX that I used to drive in my university days.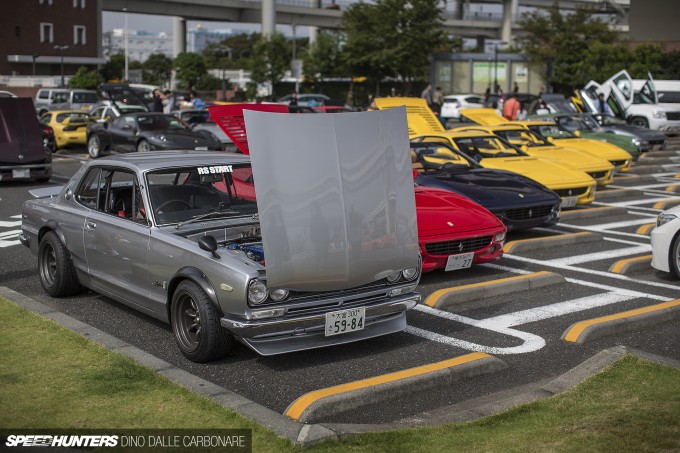 Once I had managed to pull myself away from the Aston there was much to see scattered around the rest of the parking area. Check out this long line of Ferrari F355s topped off with an L-series powered Hakosuka GT-R replica.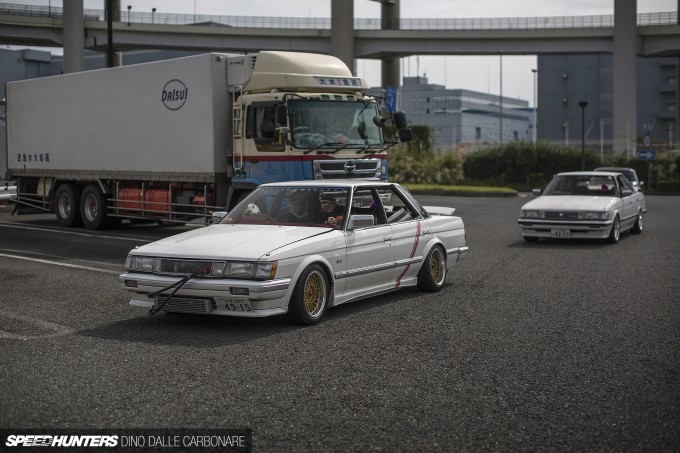 No Japanese meeting is ever complete without a few old school kaido racer inspired cars, and I just managed to catch this little group before they took off for a cruise on the Wangan.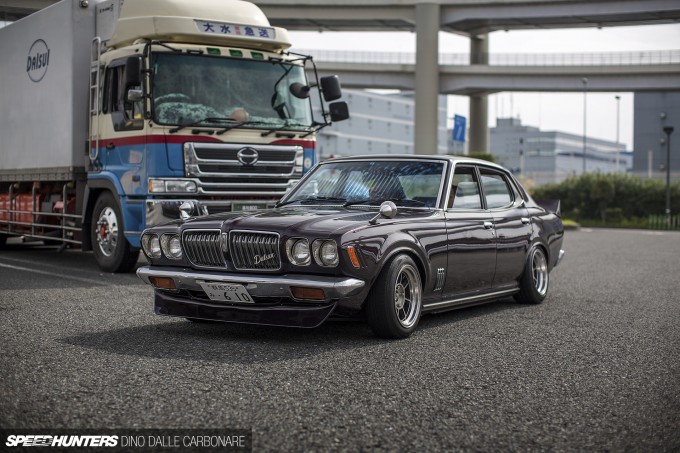 The pick of the bunch was this Datsun 610 Bluebird. Not only was it sitting nice and low on a set of Hayashi wheels, but it was sporting the two key parts you only really need to convert this '70s sedan into a kyusha with presence: a rear duck tail and a front bucktooth spoiler.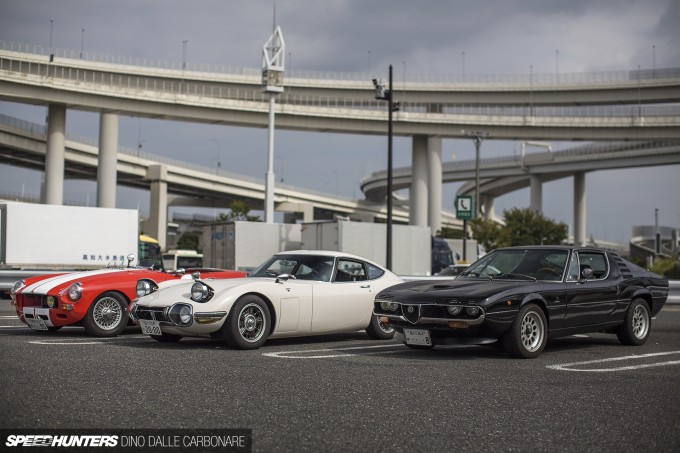 Since we are on the subject of older rides, take a look at this trio. We've come across each of these cars at Daikoku PA before, but seeing an MG racer parked up next to a Toyota 2000GT and an Alfa Montreal to finish it all off, well, it makes for quite the sight doesn't it?!
Never Forget Your Tools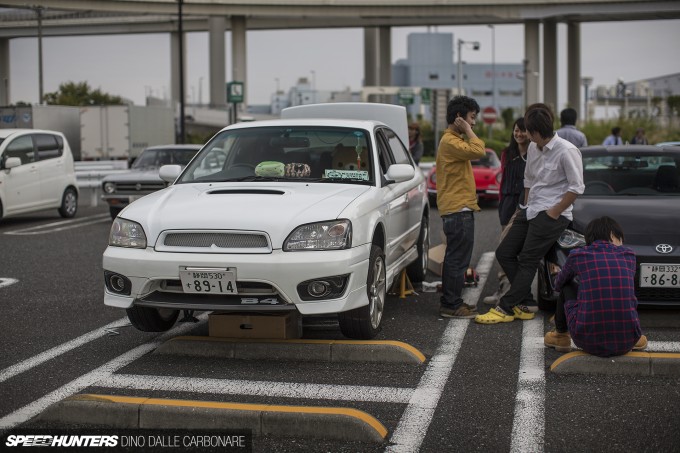 This is a scene that plays out often at parking areas in Japan – a bunch of friends gathered to help one of their buddies fit a new part to their car. The reason you see a lot of this in Japan is that many people simply don't have the space to work on their cars at home. Allocated parking spots are often on grass or gravel, and sometimes they're quite far away the car owner's apartment.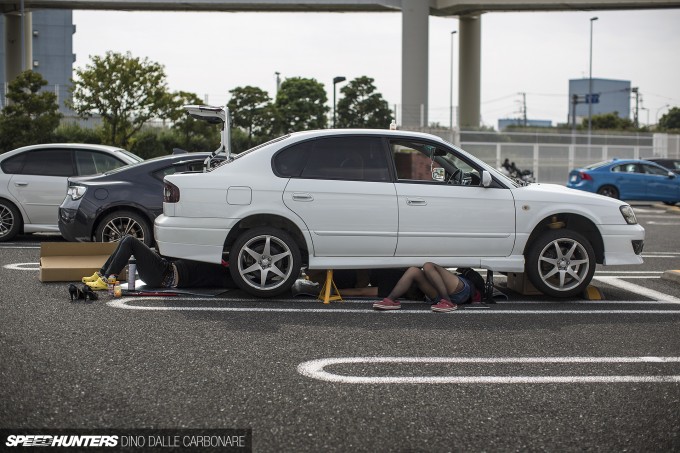 So it makes sense to work on your car at a place like Daikoku PA where there's a flat, sealed surface and plenty of space. In this case it was a Subaru Legacy B4 sedan on the receiving end of an aftermarket exhaust system. It looked like the owner's girlfriend was lending a helping hand too.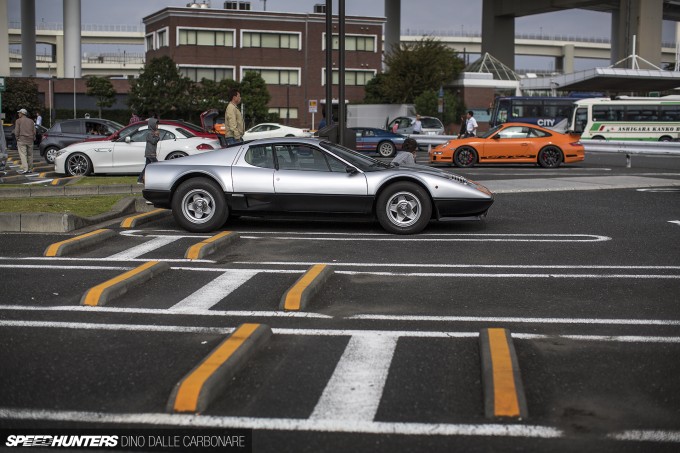 Here's that same 512BB I saw at Daikanyama an hour before! With the recent Ferrari Racing Days and various other random meets, I've been seeing quite a few of these cars lately. So many in fact that I almost forgot just how rare they actually are – and even more so in silver!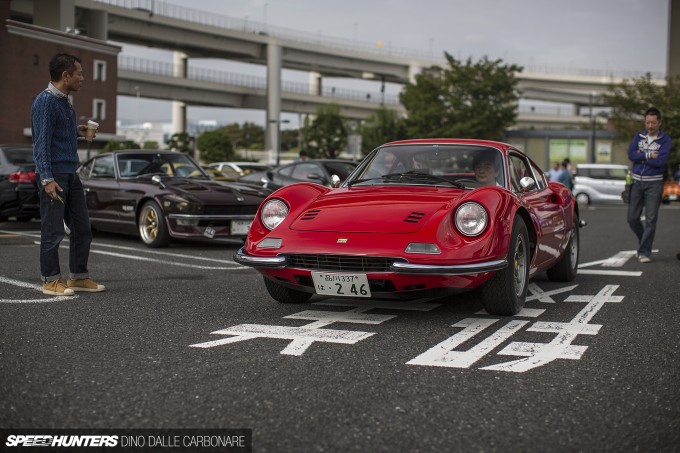 The 512BB was quickly joined by another vintage Ferrari – this time a Dino. Normally you'd see a few examples at a weekend morning meet like this, but strangely enough this was the only Dino present at Daikoku last Sunday.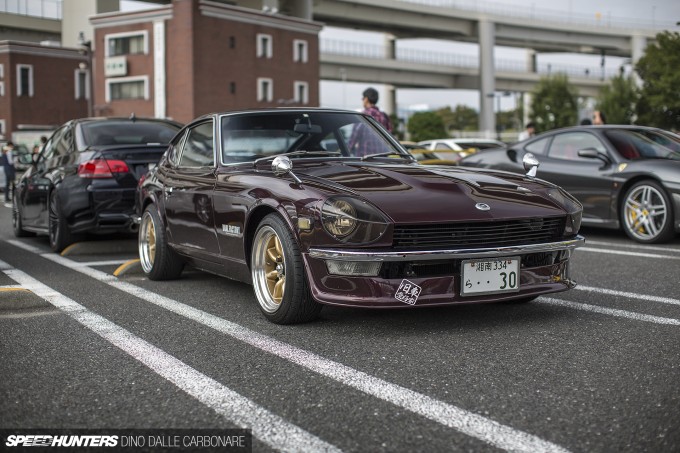 While I didn't think twice about seeing a well-tuned and nicely presented S30 sitting among all the other cars, my eyes couldn't quite believe what they saw next…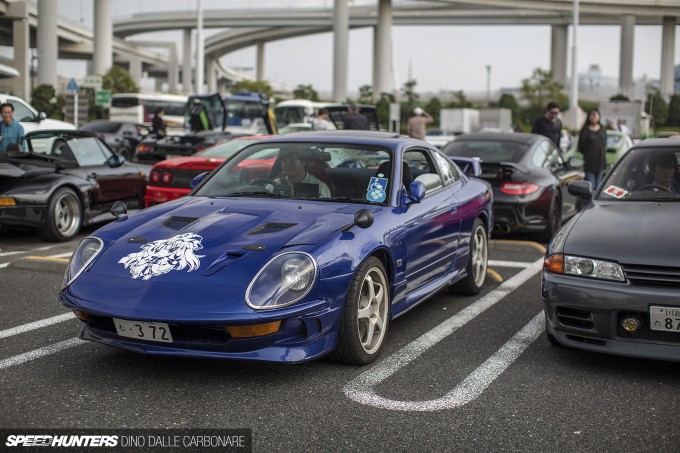 I didn't actually notice the car until it was about to drive away, but I just managed to get one snap off. Yes, that is indeed a Nissan S15 with a Datsun S30 front end conversion… Why, I hear you ask? Well who knows – maybe after a front shunt the owner decided to give it a unique look. In that case, goal achieved for sure!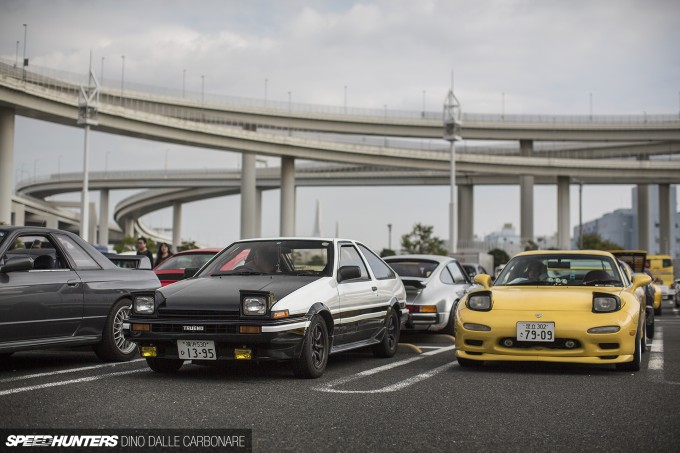 Is it me, or does this image remind you of a certain car-related manga?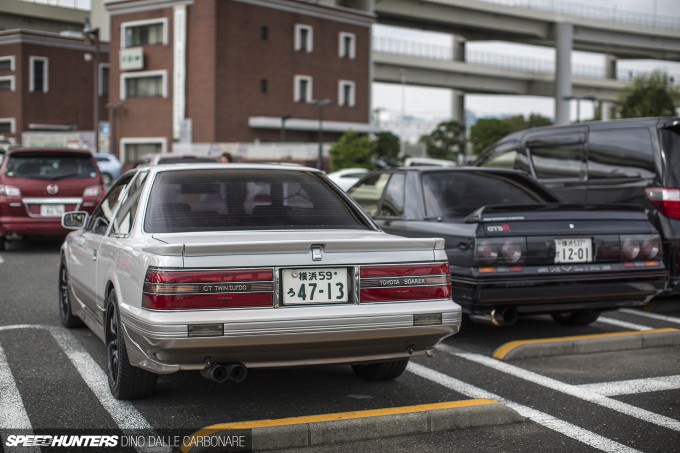 Not too far away from the AE86 and FD3S I came across this pair from the '80s looking more pristine than the day they left their respective factories. Cars like this Soarer and Skyline GTS-R are quickly becoming the Japanese classics of the future.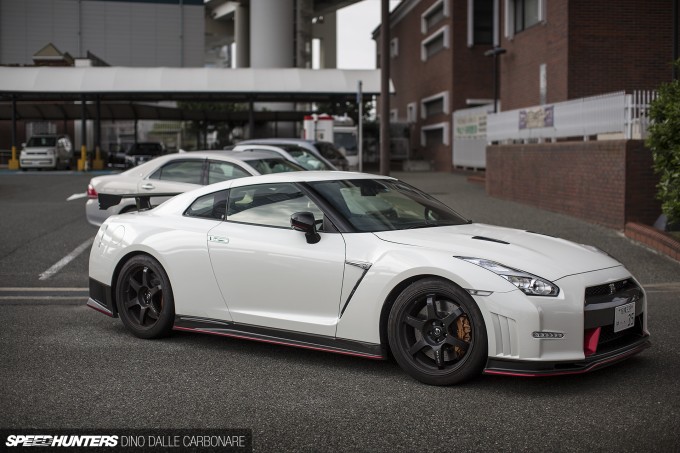 I'm not sure how well Nismo are doing with sales of their special GT-R. It's a great car that's sure to become a true collectible, but I think the price tag might be putting lots of people off purchasing. I've only seen three or four examples on the streets, but there's no denying they're a mean looking machine.
Exotics Unite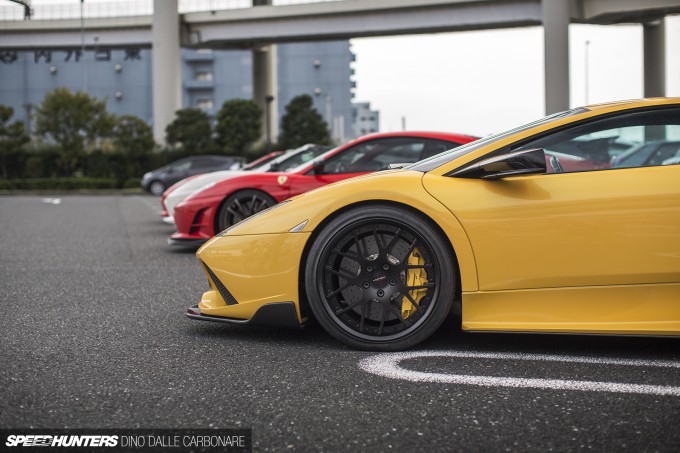 Japanese owners of Italian exotics don't really care about noise pollution, so it's not uncommon to find Ferraris and Lamborghinis fitted with crazy exhaust systems that don't do much in the way of muffling. I heard a lot of commotion while I was grabbing a drink from a vending machine, and when I returned to see what had showed up I was quite impressed.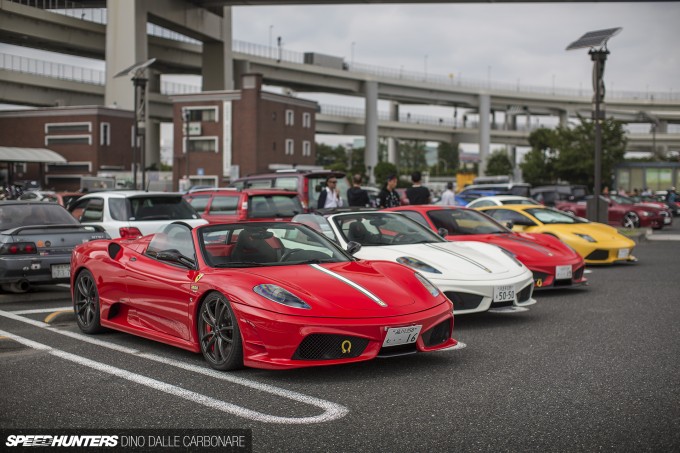 Alongside the lonely Murciélago were three 430 Scuderias – two of them limited edition 16M open top versions.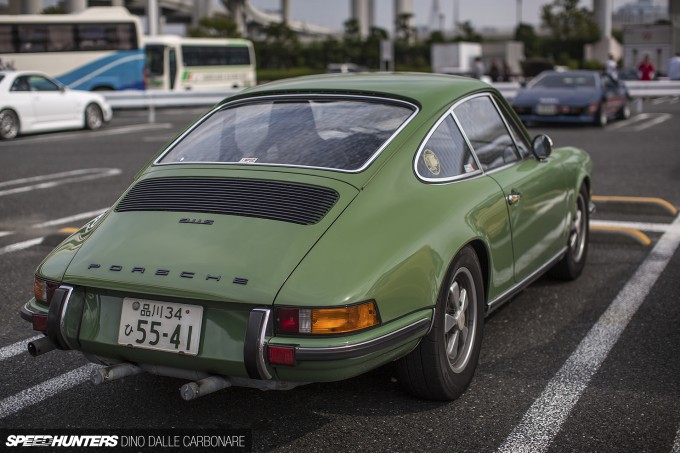 For those more into German metal, there were a couple of early Porsches that stood out – this 911S included. Check out the race exhaust with closed-off centres. Manual valves perhaps?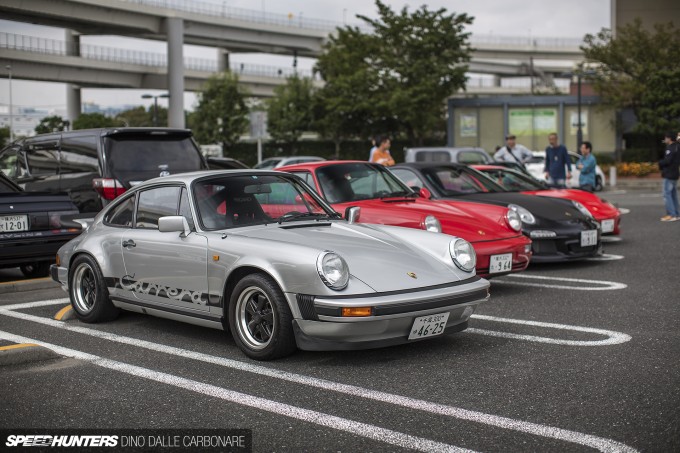 The Turbo look is hard to dislike, but this particular car was sporting US-spec bumpers with those horrible compression sections that were required back in the day.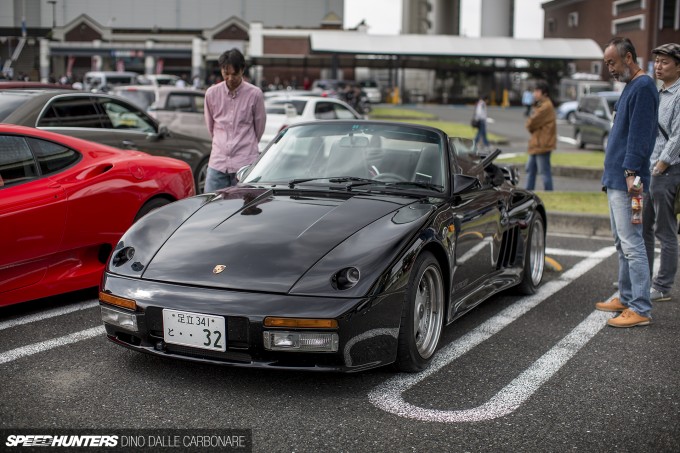 A few cars down I noticed a little crowd was swarming around a glossy black drop-top 911. It wasn't your regular Carrera, but a Strosek complete car sporting tiny front headlights and louvered side intakes.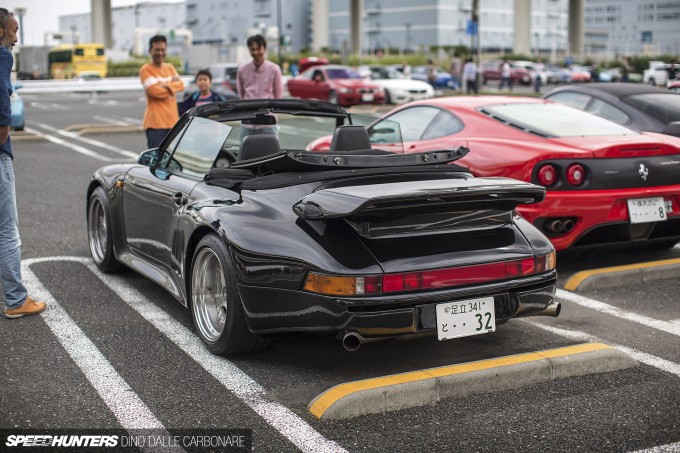 Anything to be different as they say!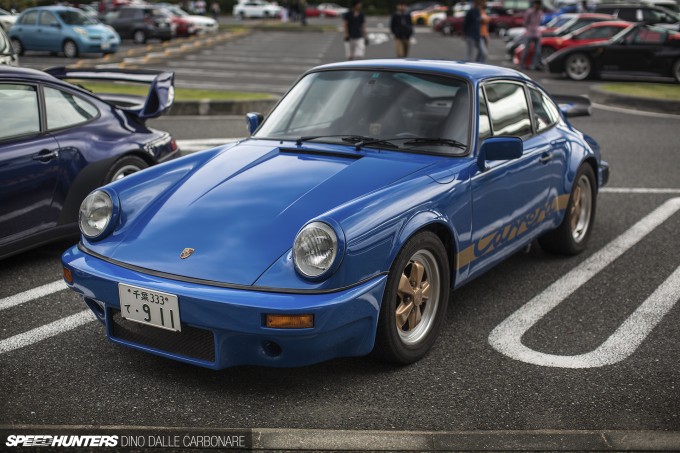 The simple approach is always my preferred route, and this RS-look 911 was the pick of the bunch.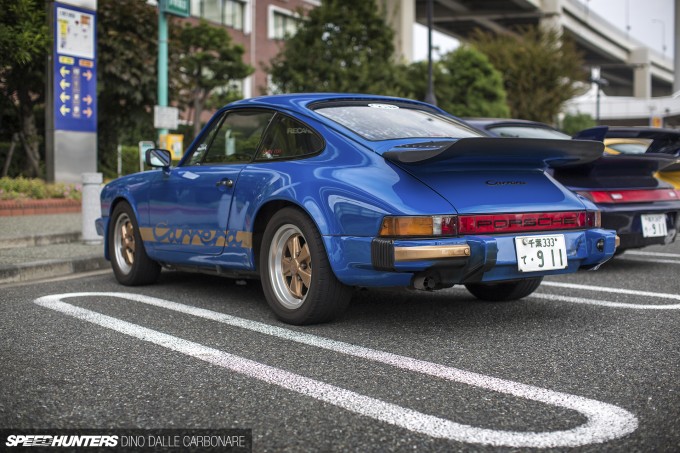 Even if a tad showy, the blue on gold theme was a good match for the vintage style of the car, all topped off with that massive rear spoiler.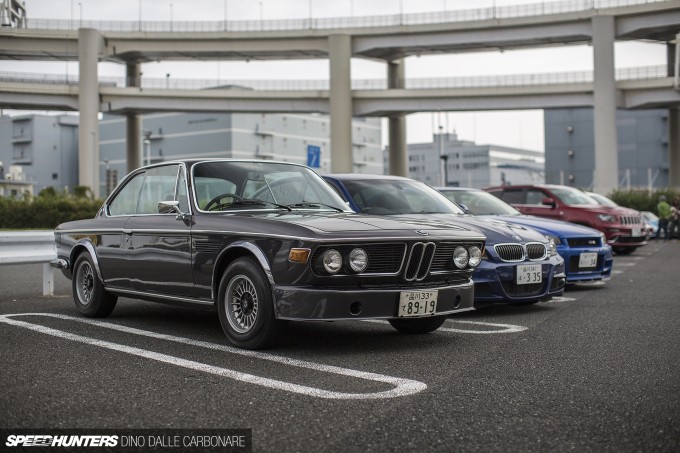 Satisfied with what I had seen on Sunday morning, I decided to call it a day. Once again, Daikoku PA showed me just how much automotive culture and history Tokyo has to offer. It's definitely a unique place, that's for sure!
Dino Dalle Carbonare
Instagram: speedhunters_dino
dino@speedhunters.com