I've Got An Idea
Start with a space-framed NASCAR-inspired racecar. Add a clean, street and drift-ready AE86. Throw in an full-race LSx motor. Then fabricate the crap out them until they morph into one.
What do you get? Driftworks' newest assault weapon – an earsplitting drift machine built on the legendary looks of a Hachiroku!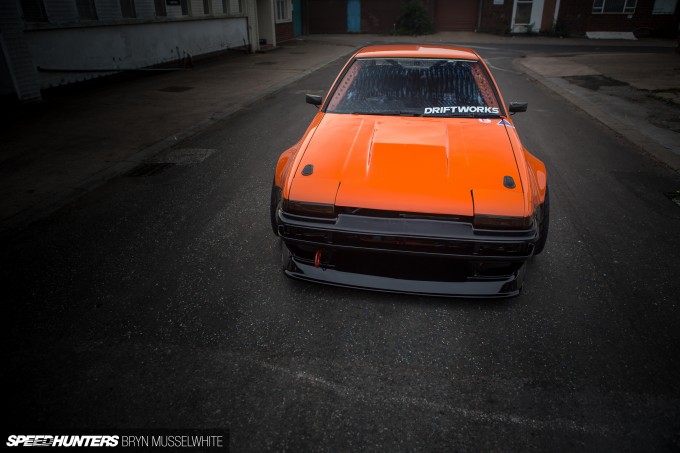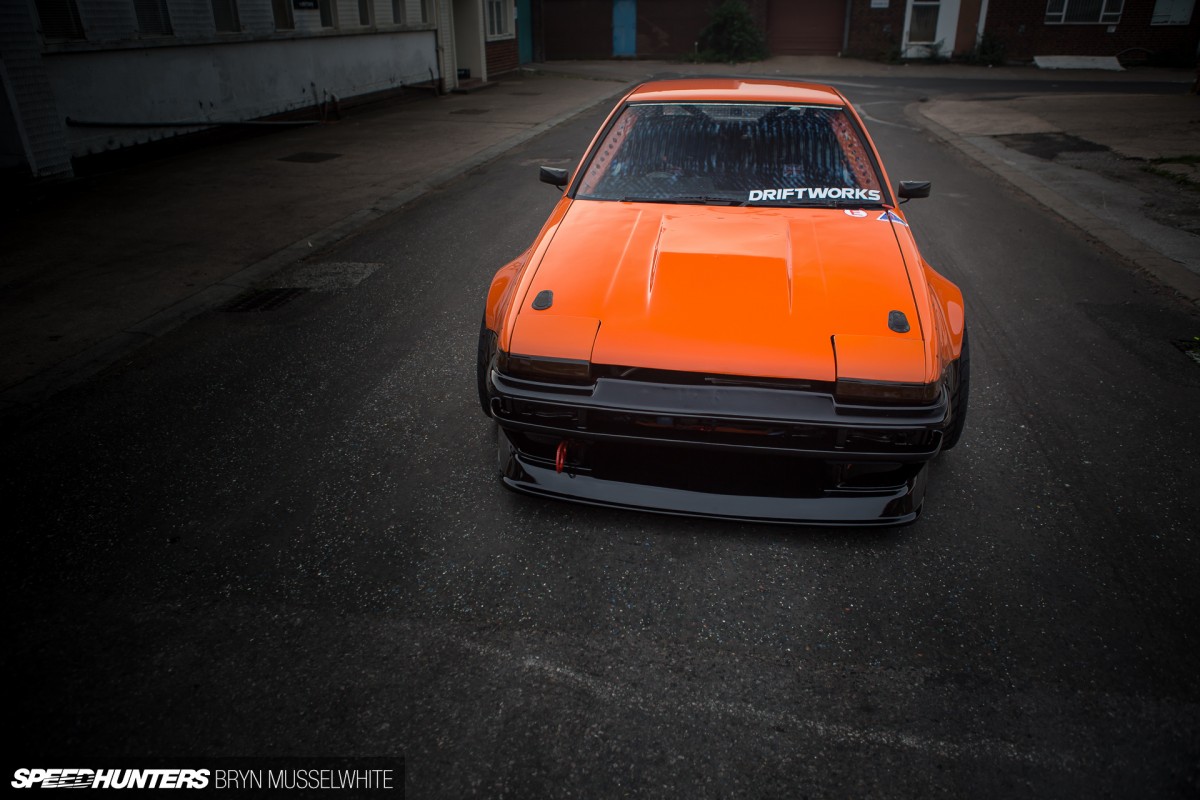 Almost… Because it's a lot more complicated than that. But don't stress, for now let your mind wander and you'll be amazed where it can take you. If you're a purist you might not like this pick'n'mix approach to car building, but if you've got a heartbeat I defy you to not crack a grin when you hear a race-tuned V8 bouncing off the limiter whilst tyre smoke spews from sacrificial rubber.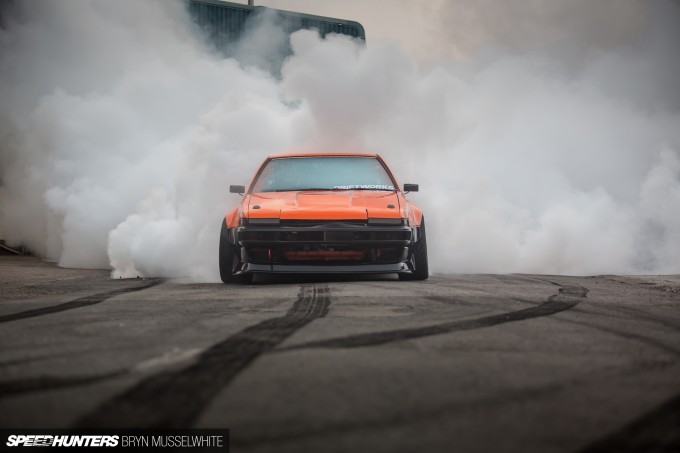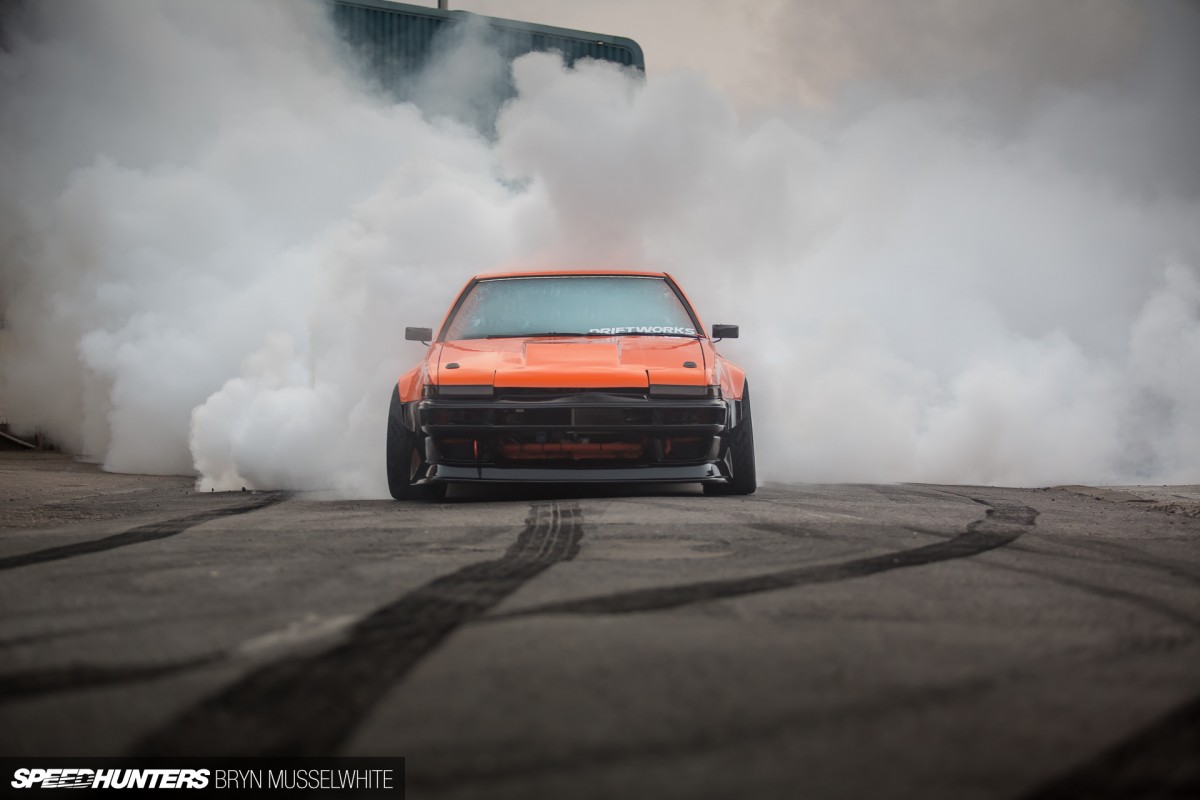 You don't just stumble upon a build like this, so let me tell you how I came to be lying on ground taking pictures like this one. Oh, and there is a video later you'll definitely want to see…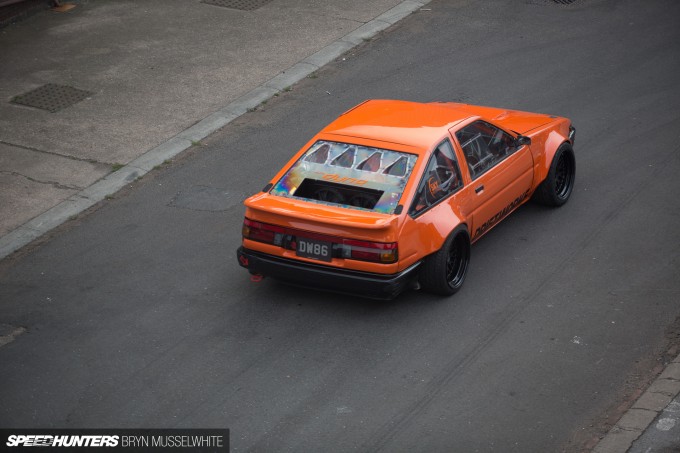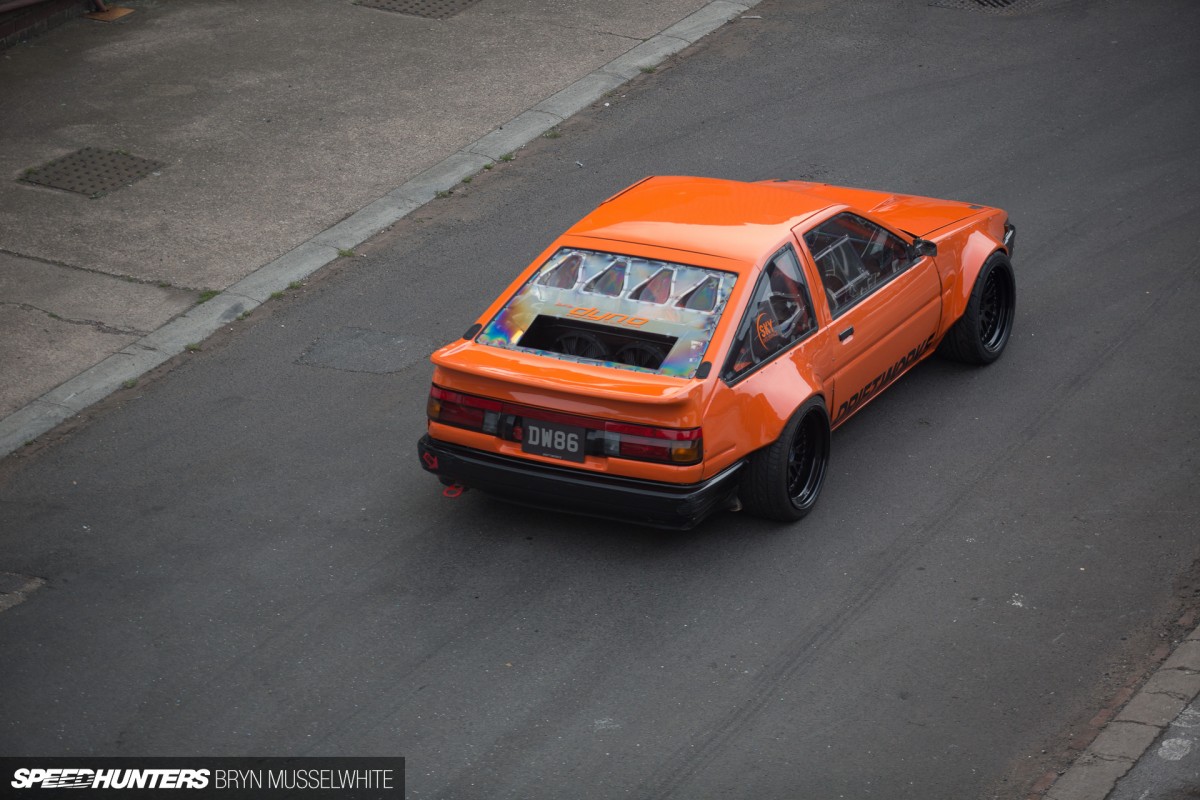 Driftworks is a name that should be familiar to many Speedhunters. The UK-based business – born from a back bedroom idea – is fuelled by the drive and determination of its founding partners Phil Morrision and James Robinson.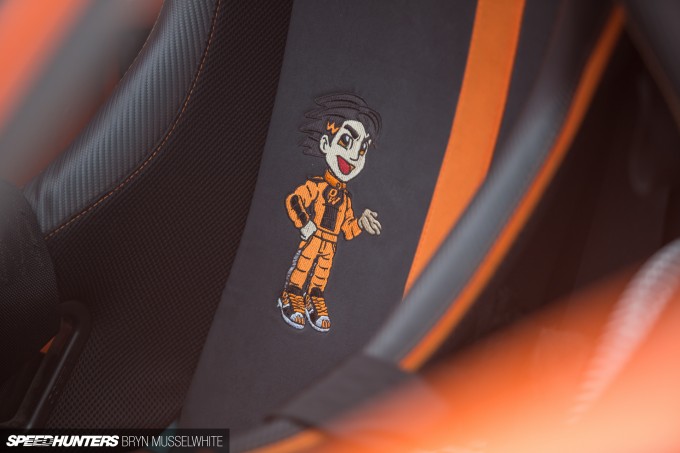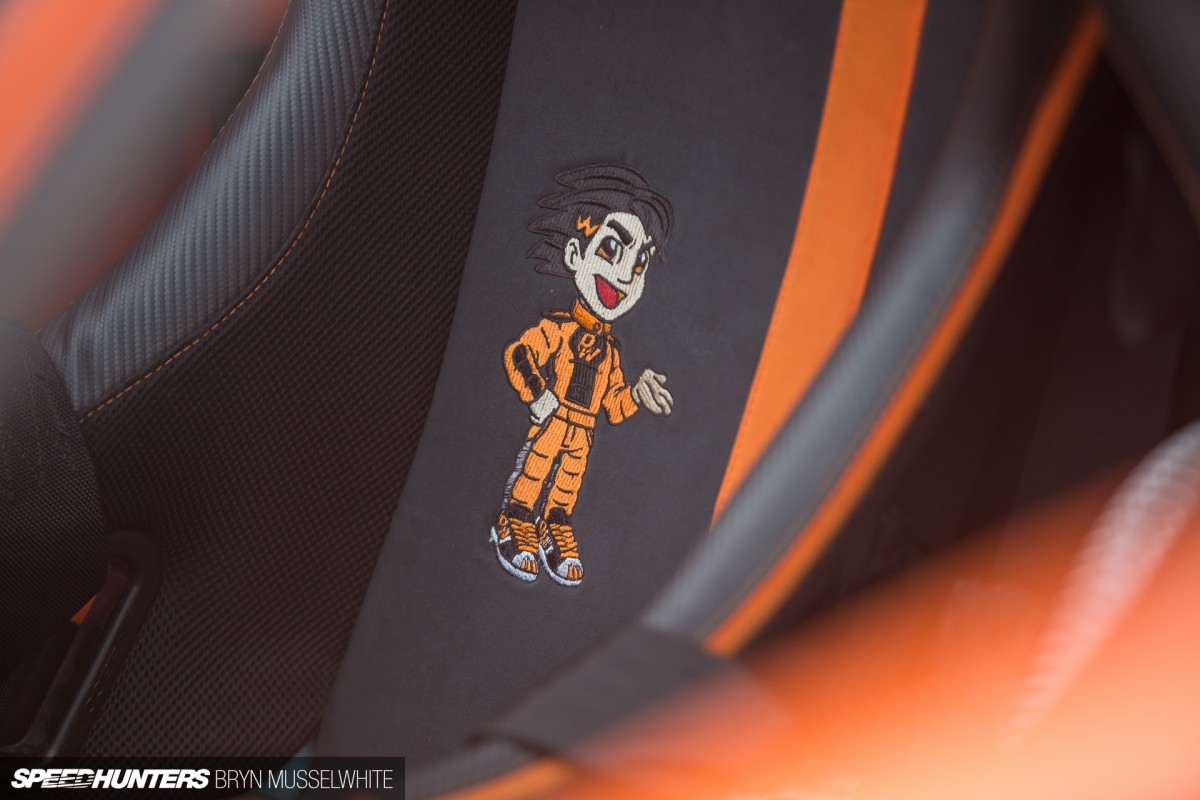 That business has seen exponential growth in the decade since its founding and is now internationally recognized. Throughout it all, the guys have stayed true to the mantra of having fun and not getting too hung up on what others are doing. That's not to say they ignore what's going on around the world: they watch with keen interest – and then do what they want, with an occasional dose of hooligan thrown in.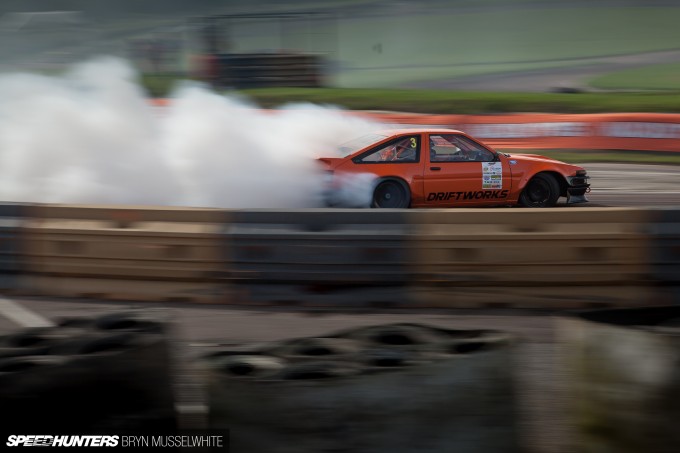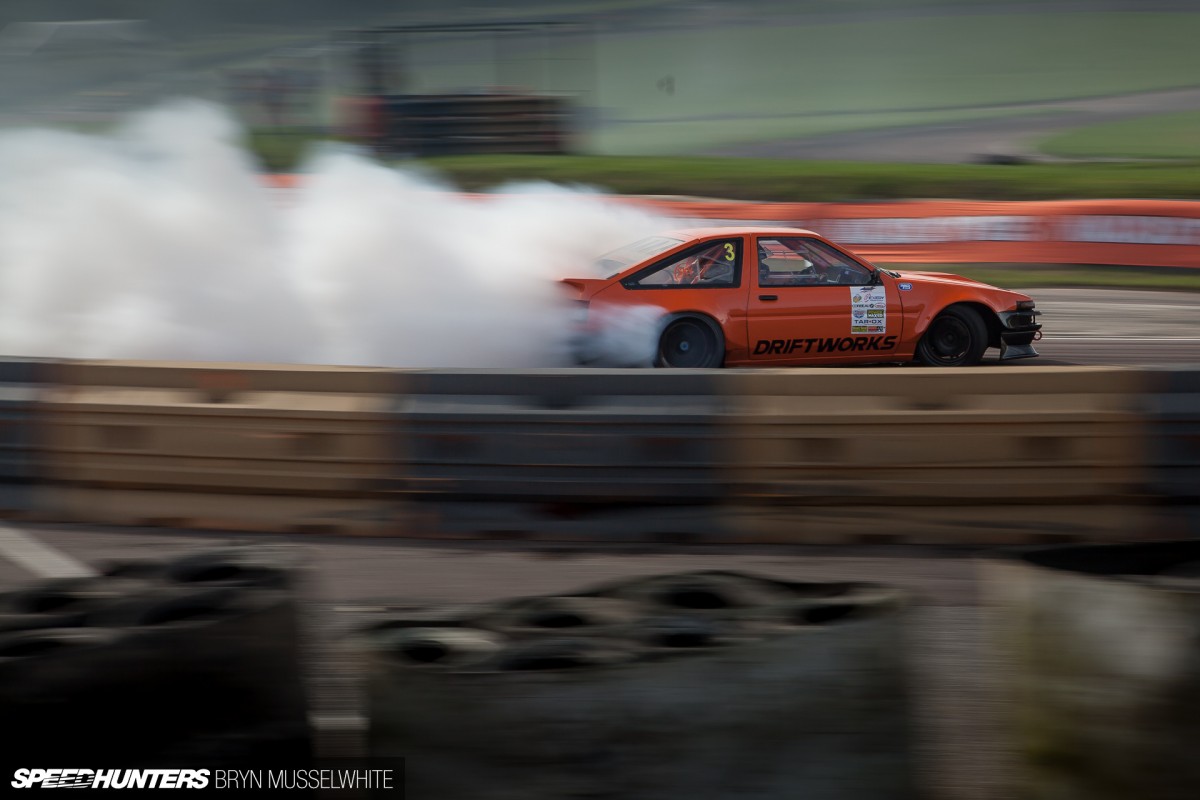 So it's this innate ability to understand the rules of drifting and all its associated legend, folklore, myth and technique that allows them to put something like the 'DW86′ together.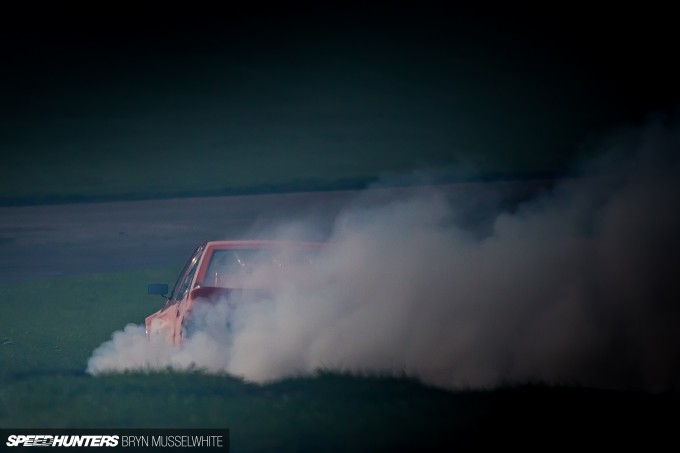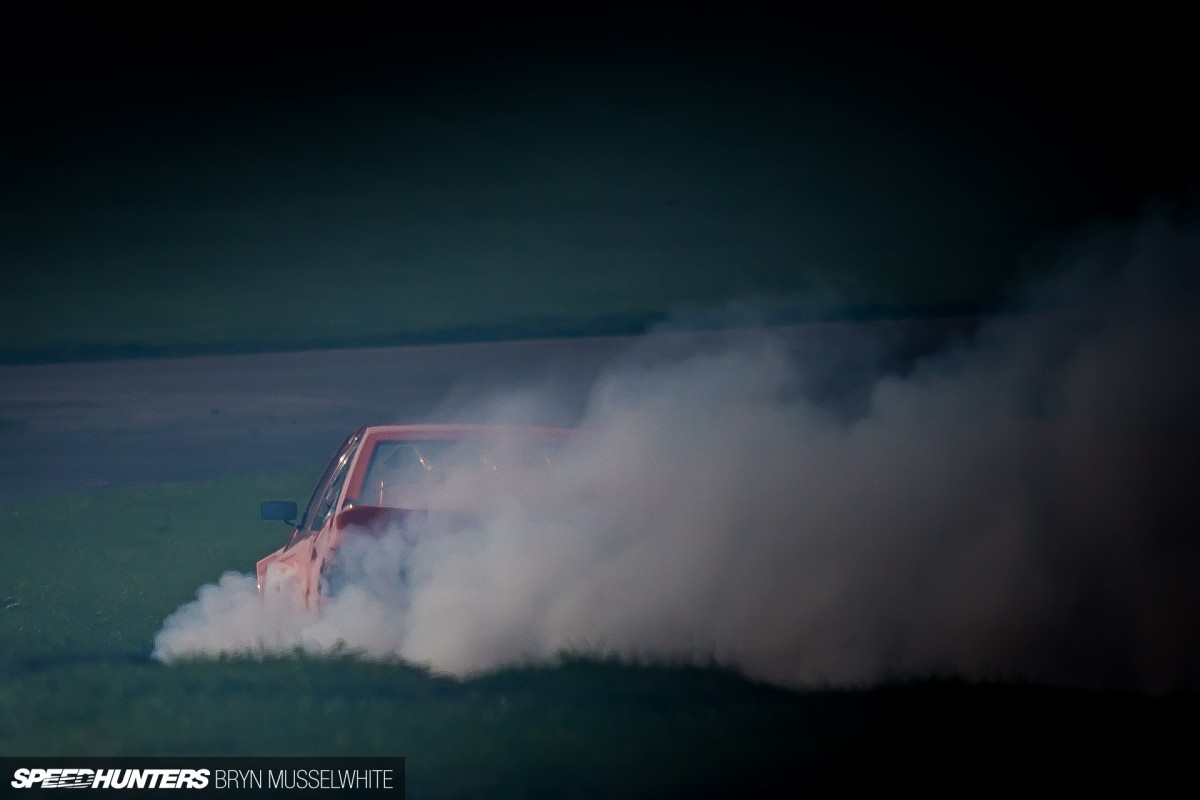 The guys have learned and respect the history of the sport. They've also built enough competition cars to know that in present-day drifting you need power – and lots of it.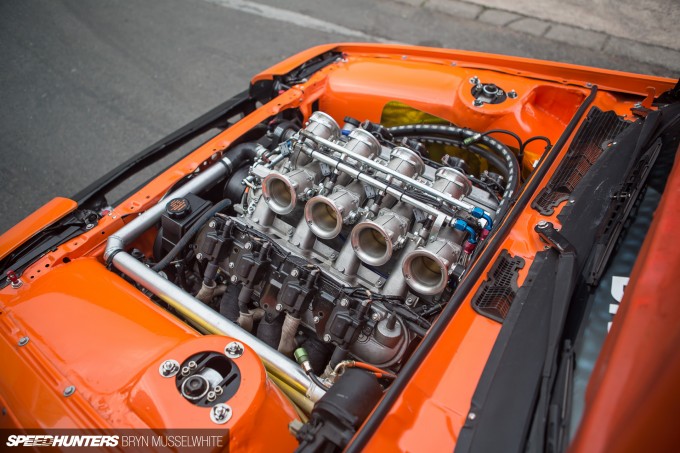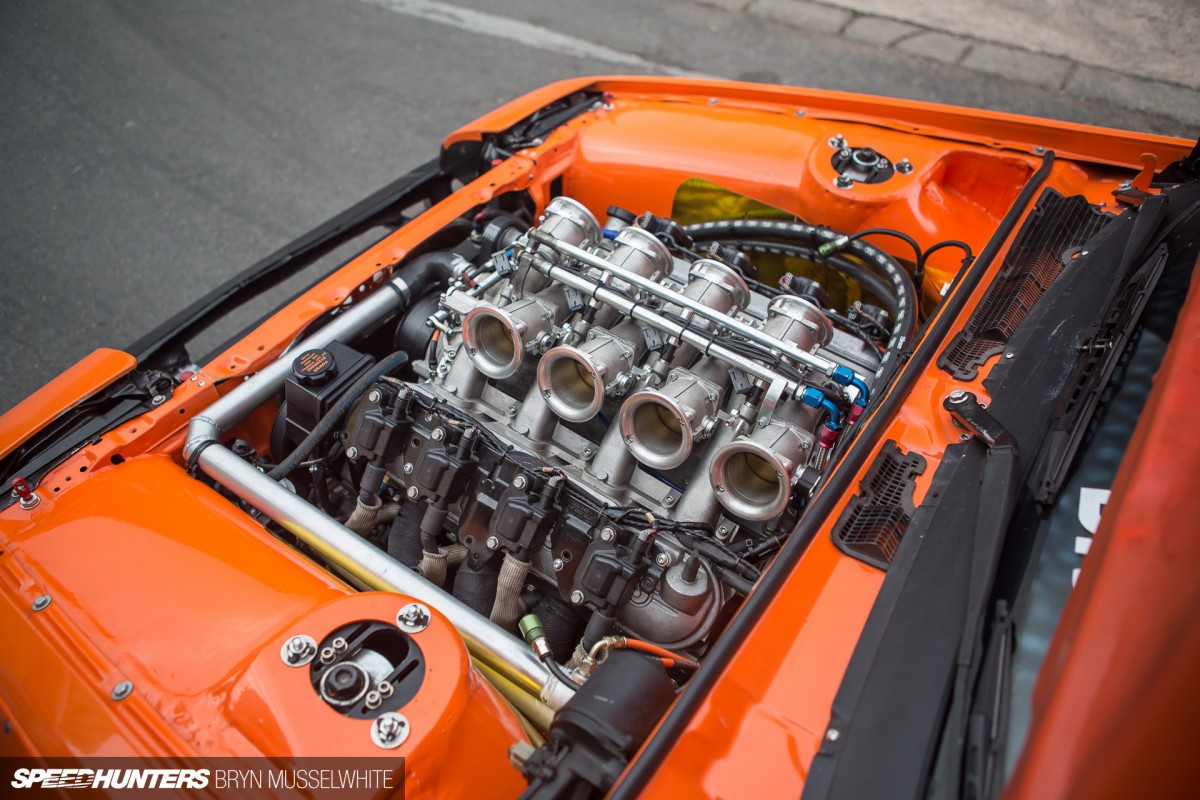 The early days were filled with S-chassis shells and SR motors, but when the S15 that they debuted in 2008 was sold, it marked a turning point – taking a huge step forwards while revisiting their roots at the same time. After all, you don't just wake up one morning and build the worlds most badass AE86!
Let's Buy A Racecar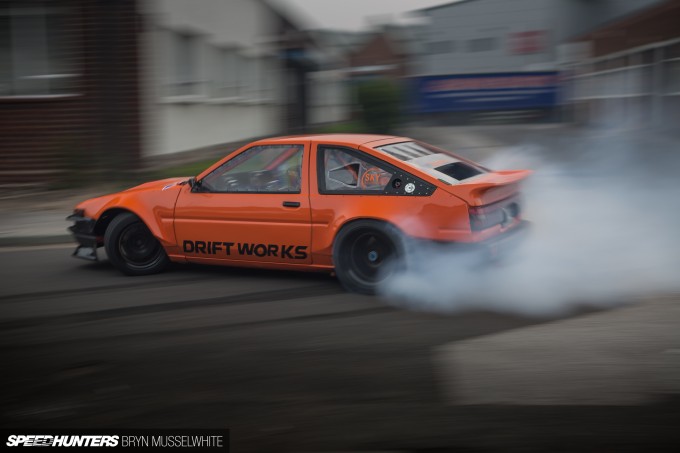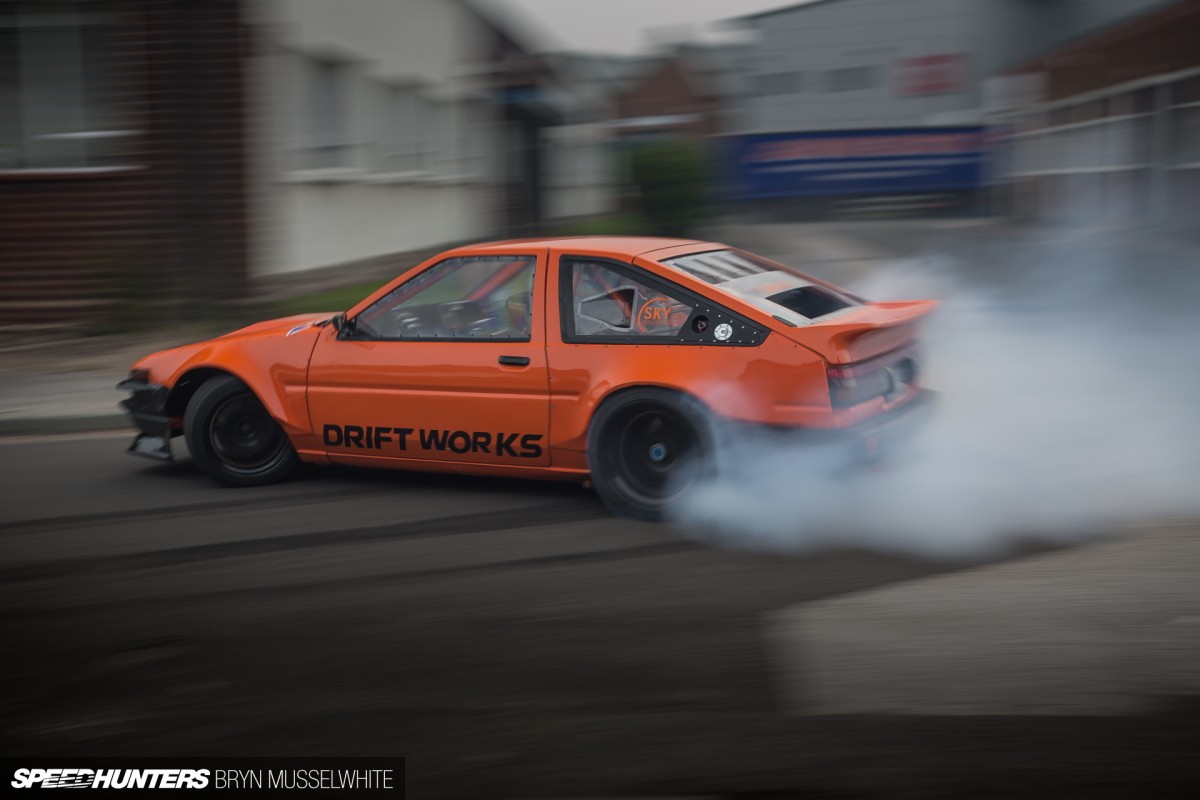 With business success came the ability to build amazing dream cars.  So when Phil spotted a running ASCAR for sale in the UK at a very cheap price, he jumped at the opportunity. The ASCAR series was an attempt at NASCAR-style racing in Europe, and like all series that fizzle out, the competition cars it left behind have filtered through the secondhand market looking for a home. Take a look at this short video to see the car that kicked it all off – what would be the first thing you'd do in a V8 RWD racecar you just bought?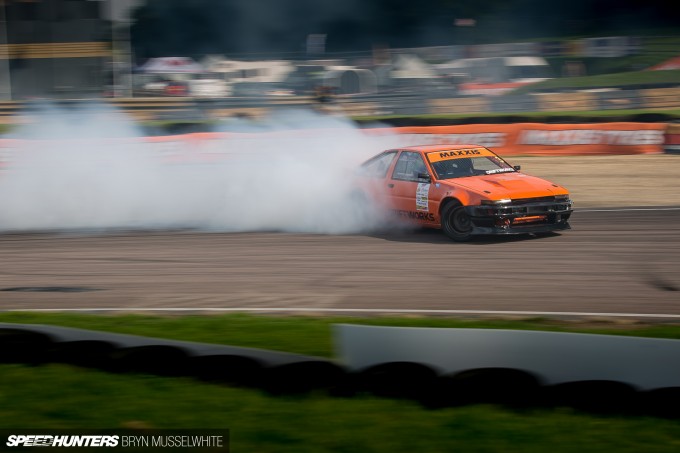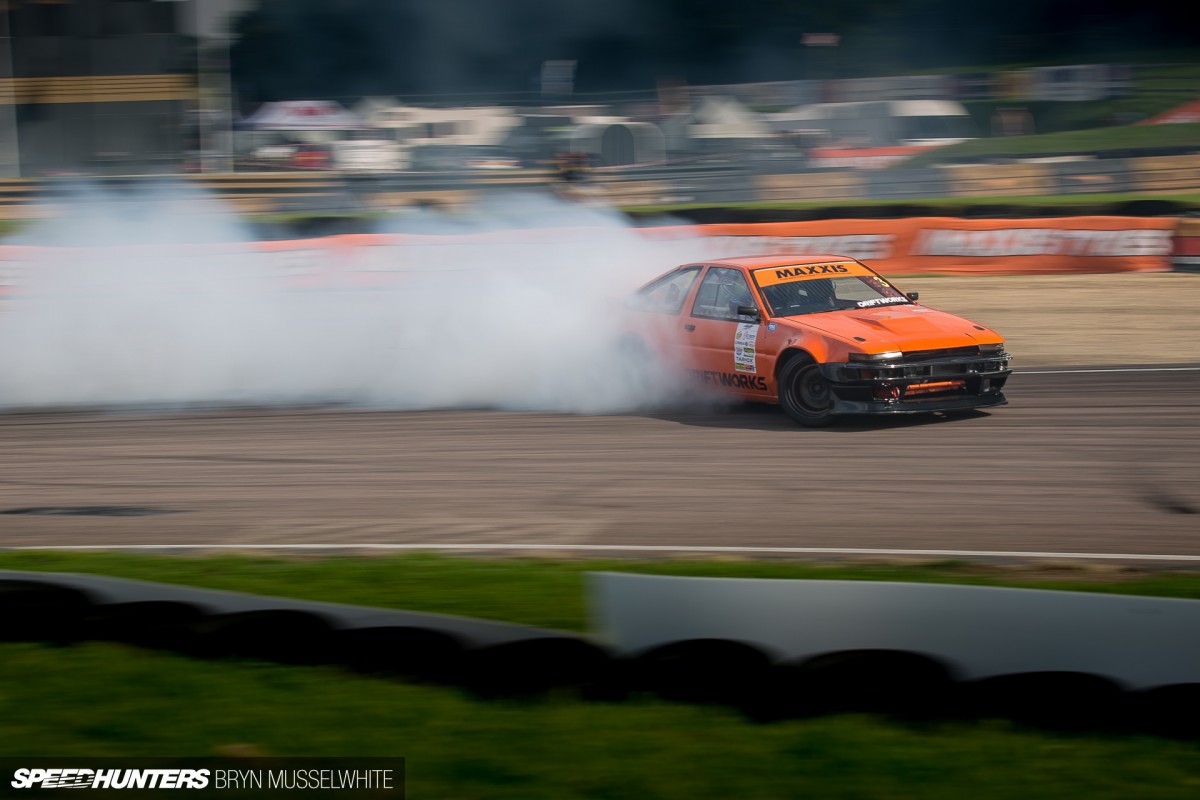 As much fun as a roundy-round racecar might be, it was never going to pass tech inspection for a series like the British Drift Championship, which is where Phil spends most of his competitive seat time. As I witnessed firsthand at the BDC's early-August Lydden Hill round in south east England, the variety of weapons people bring to the track is incredible. But one simple rule amongst a few others keeps it attainable – no bulkhead modifications.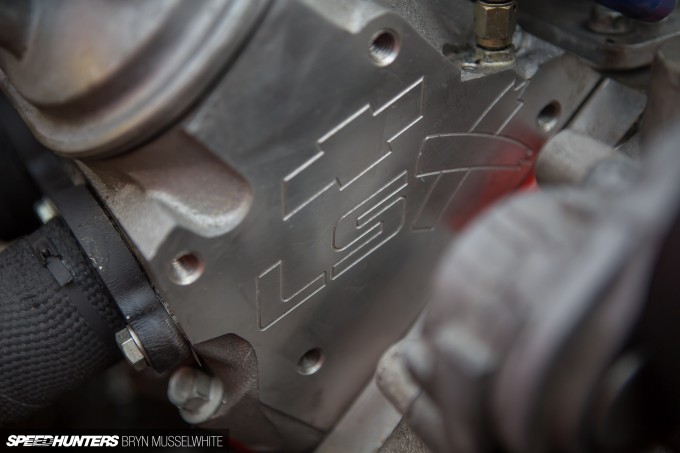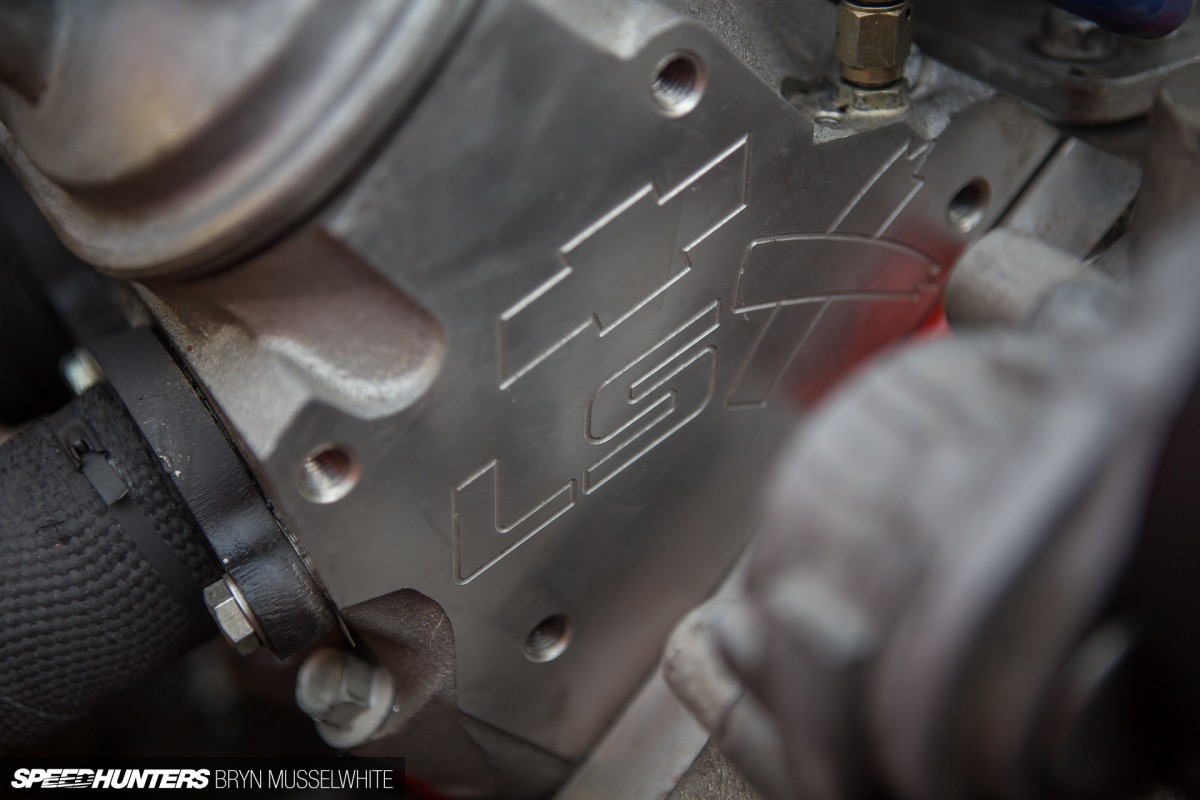 So with a race-bred V8 and a whole bunch of rear-wheel drive hardware to house, what to use as a donor? Oh it wasn't this race-bred V8 though, that would be way too simple….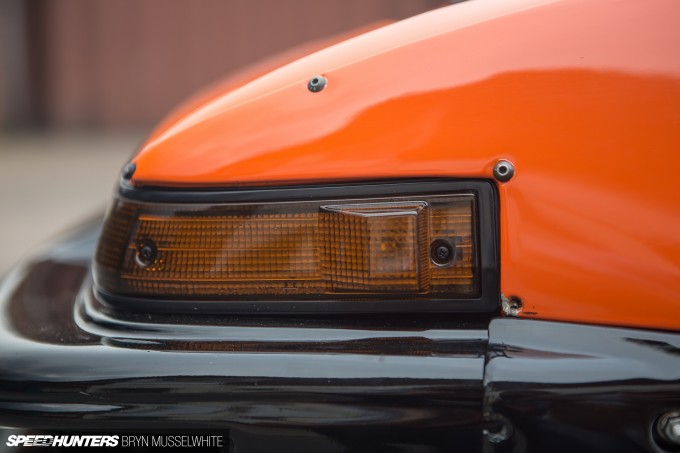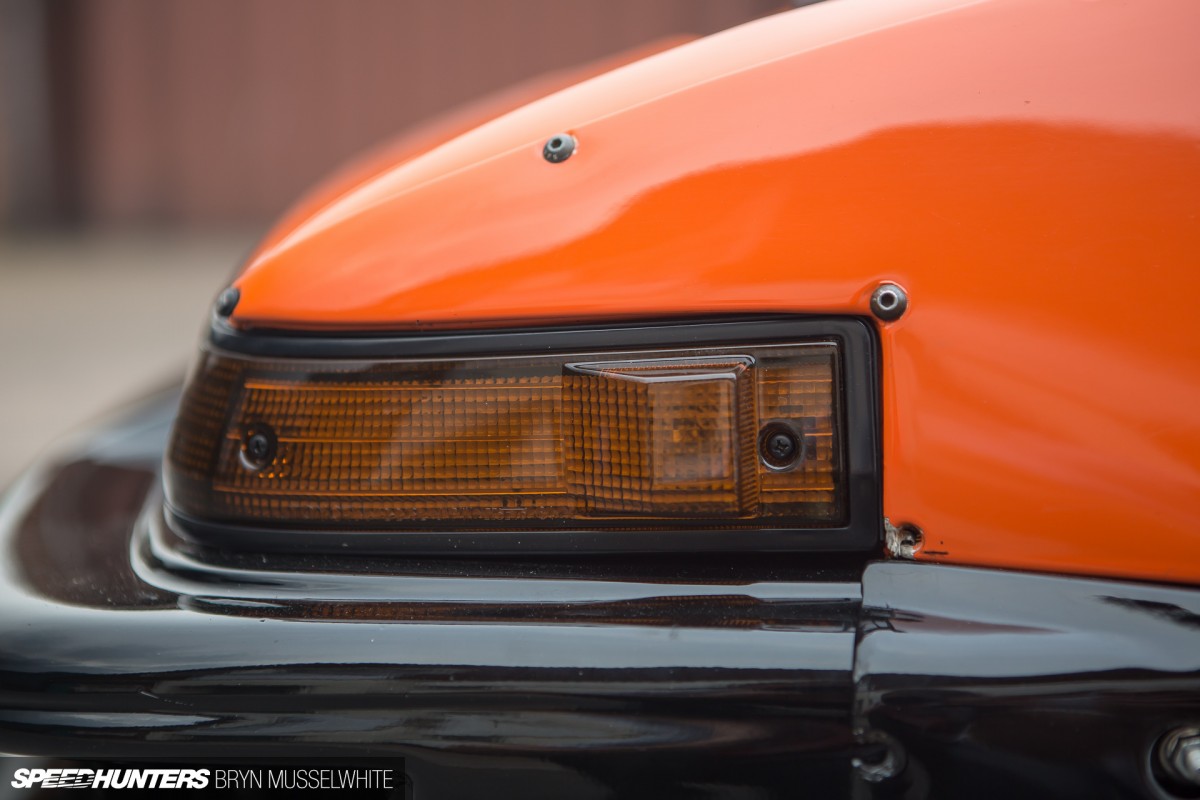 This is where history comes in to play, because Phil and a lot of the guys associated with the early days of drifting in the UK (like the rest of the world) took their inspiration from Initial D and the iconic AE86 Trueno. At the same time the ASCAR showed up, a clean but non-original Trueno sat in the corner of the Driftworks workshop. So it was really only a matter of time before somebody said 'what if?'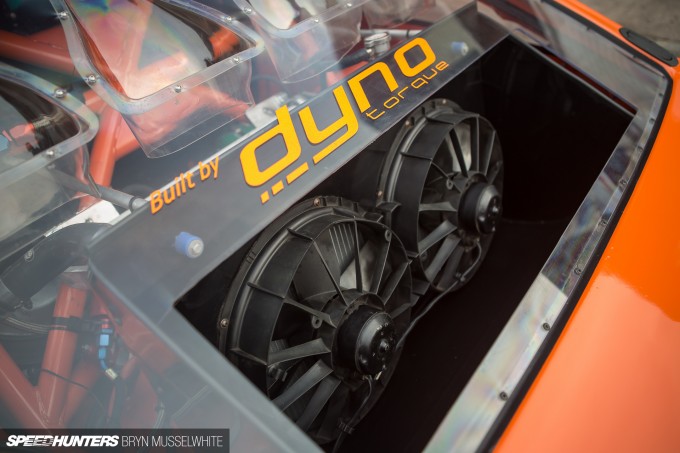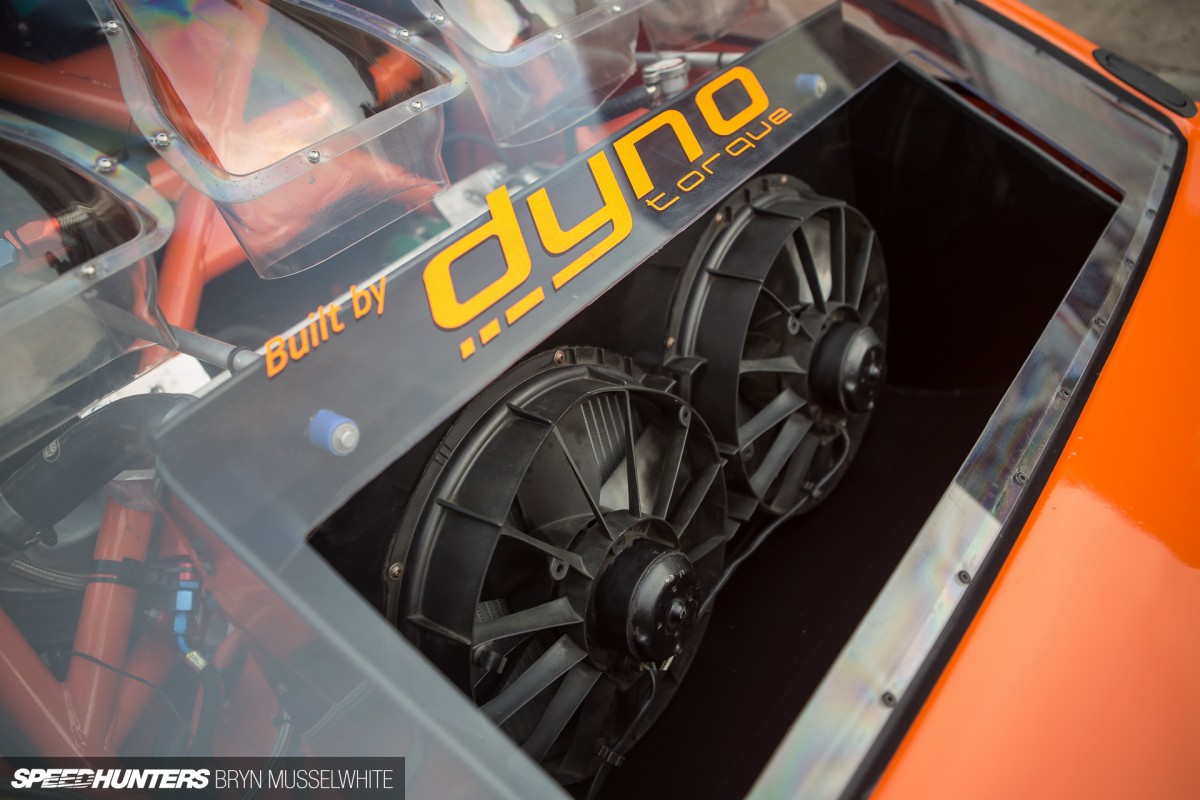 On that notion, Phil went straight next door to see Craig Taylor and his band of talented fabricators and mechanics. Dyno Torque is responsible for a large percentage of the LS V8 swapped cars in the UK and around Europe, and if you watched that clip I pointed you towards a moment ago you would have seen Craig's own 1000hp-plus twin turbo RX-7 wrecking tyres too.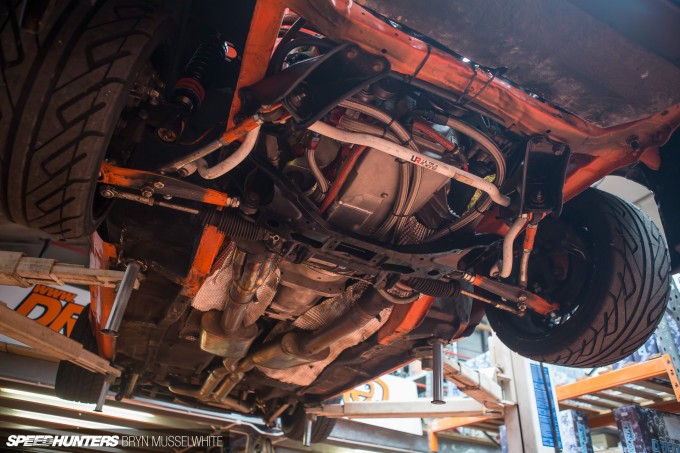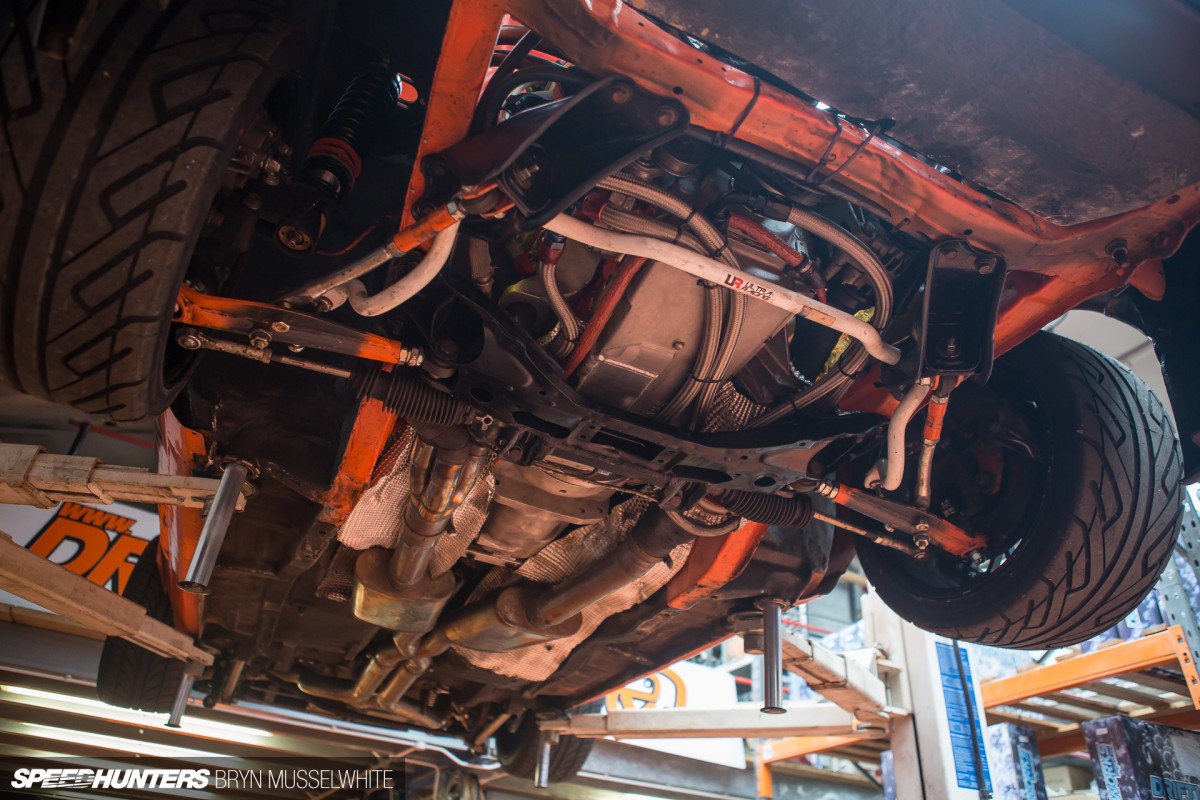 It does make me wonder – if Phil didn't have somebody like Craig next door, would his ideas get as far as they do? Nothing presents too much of a challenge to Dyno Torque, and the answer is always 'yes'. So with a warehouse full of parts and a couple of donor cars, work began on prepping the shell.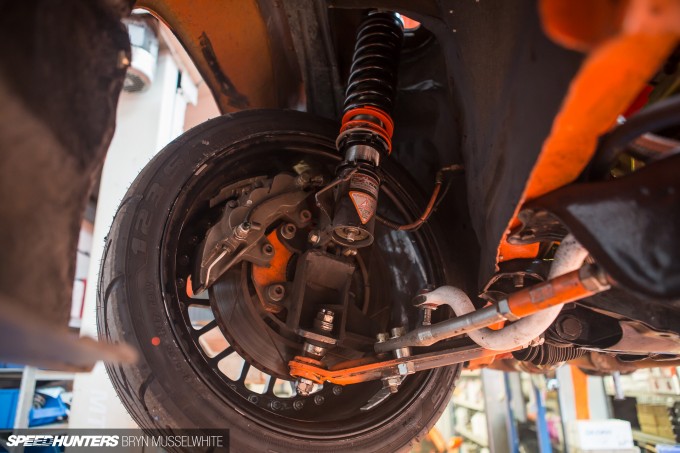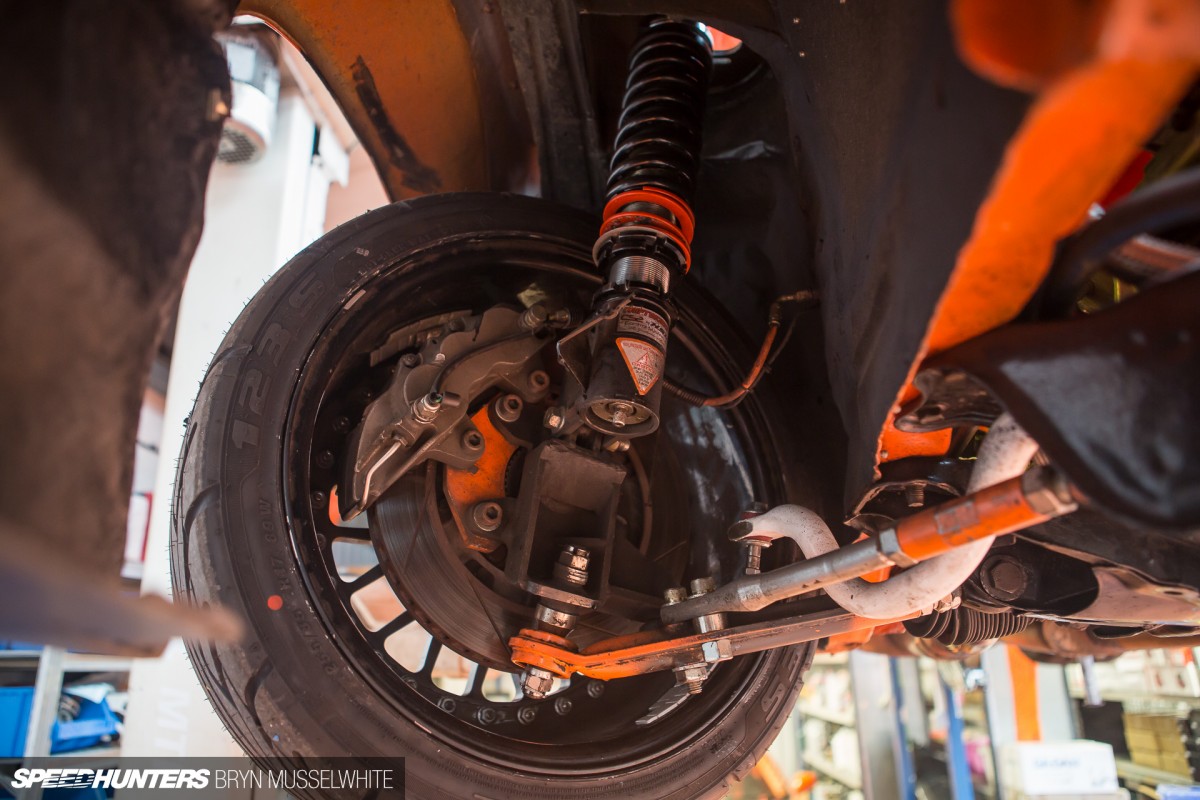 Given the Driftworks product range and experience with S-chassis, the front end was configured from a hybrid pile of S14 and AE86 specific parts. Some of it has been modified to get it to work, but the inner wings and chassis rails are still mid-'80s Toyota fare.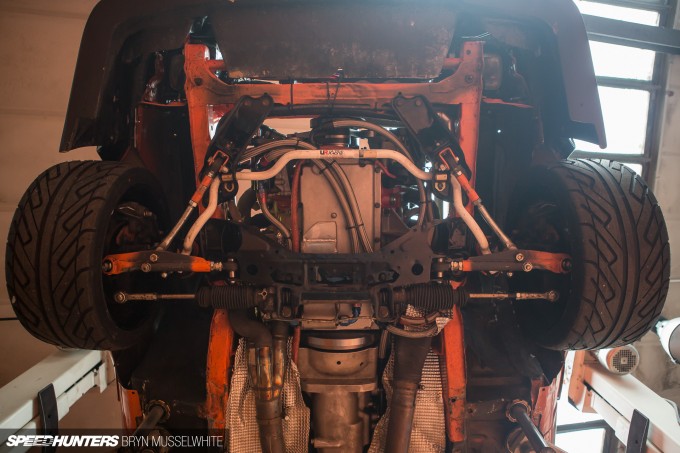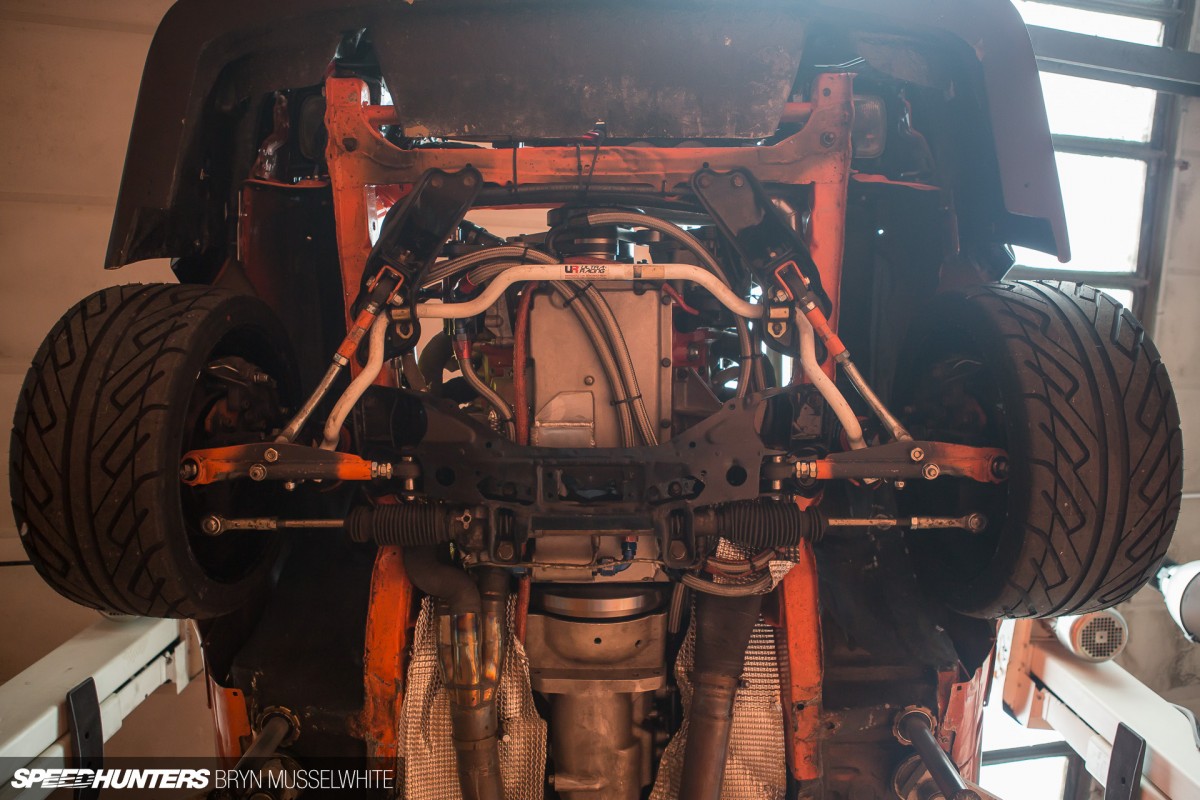 Instantly, the difference in width can be seen. Sure, the car is wearing 17×9-inch CCW wheels up front, but just check out how far the lower arms reach towards the original bodyline. Take a look at this video of the naked prepped shell being driven for the first time.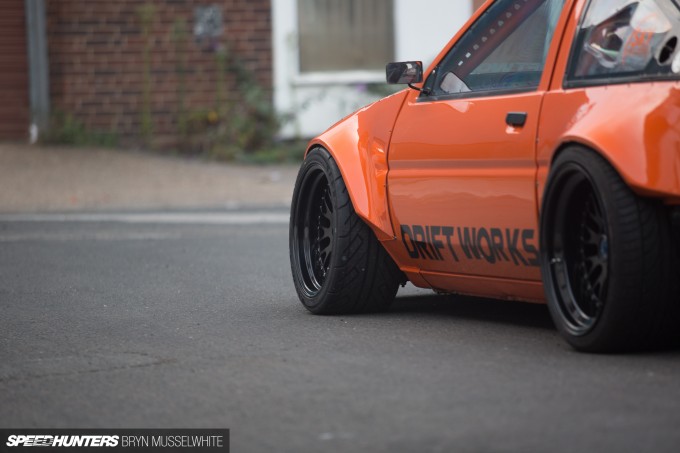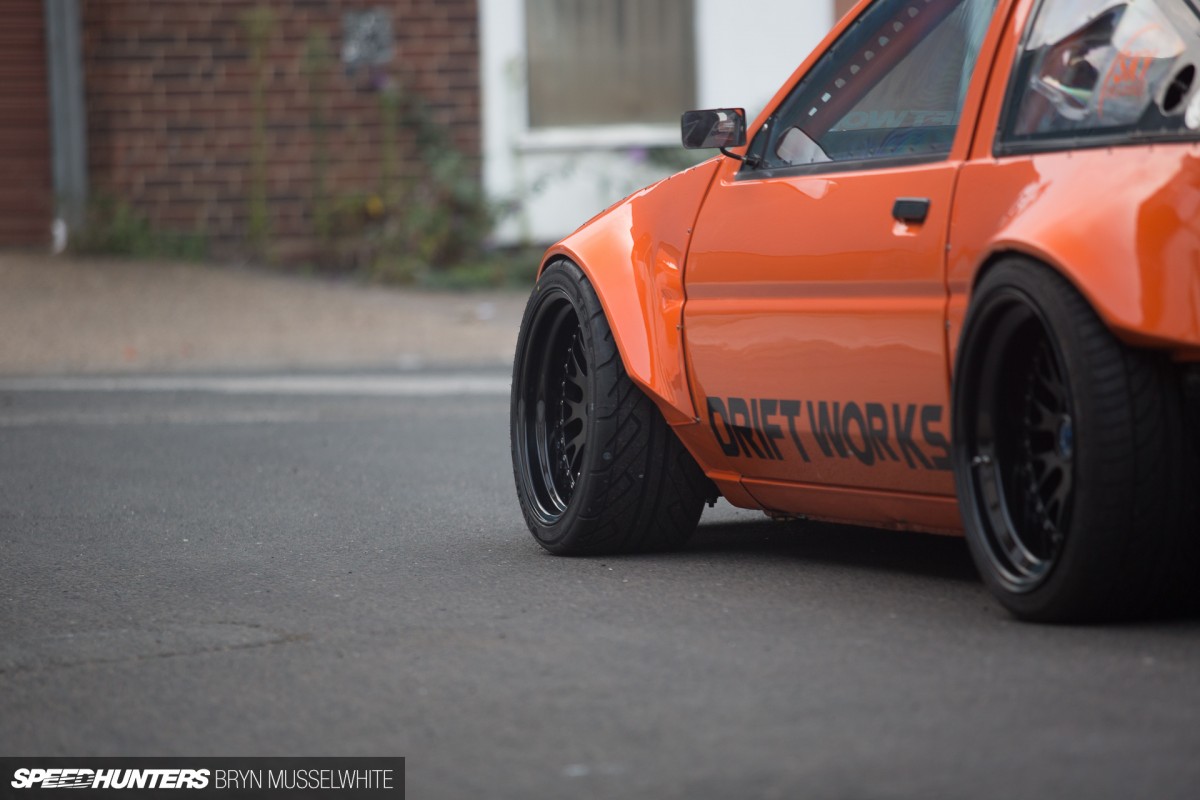 Custom Kevlar overfenders were fabricated by Magic Aero to perfectly house the gorgeous split rims. I wonder if Driftworks will end up selling these – it's a good look that I wouldn't mind seeing more of.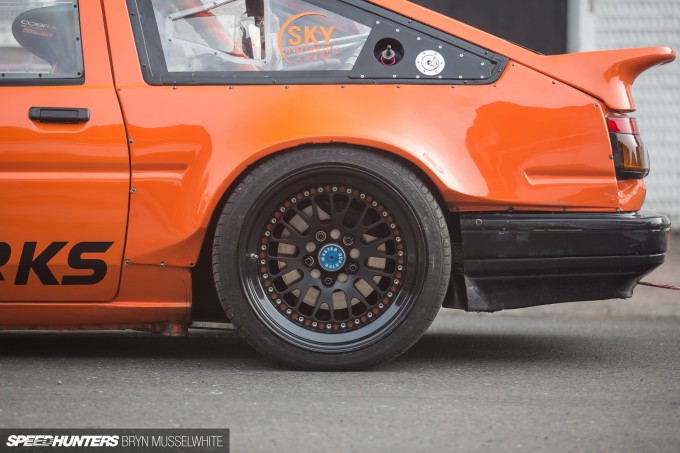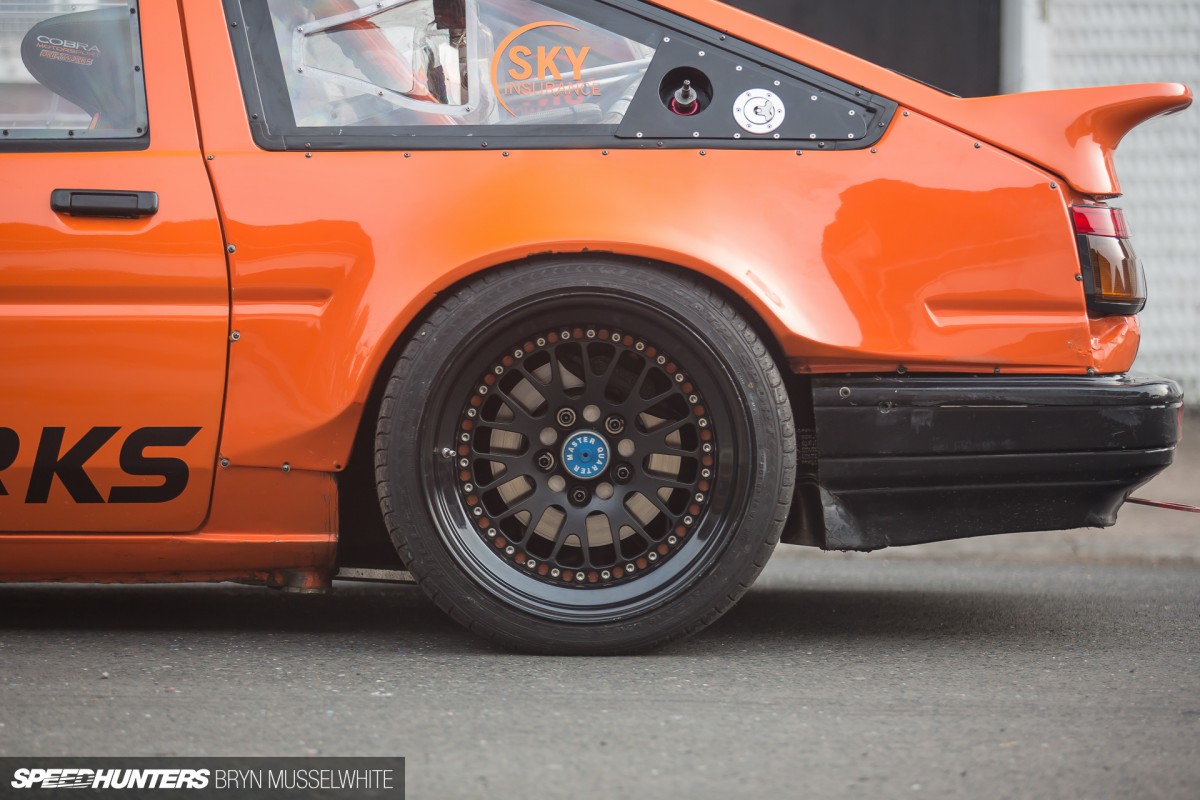 Looking at the Trueno from a straight-on side profile, the spirit of the original car is still very much evident. Being a fan of the original car it's something Phil was keen to keep, and why the AE86 wears a TRD N2-type boot spoiler – albeit integrated into the FRP hatch. And did you notice that it's running 18-inch tall (and 10.5-inch wide) wheels at the back? The subtle staggered wheel and tyre size being very hard to spot at first.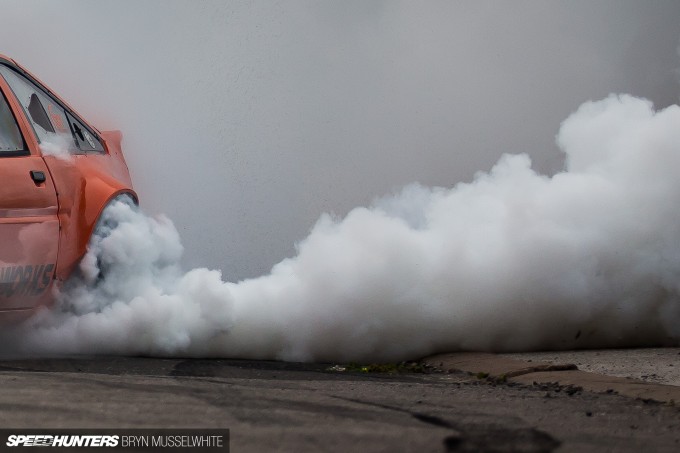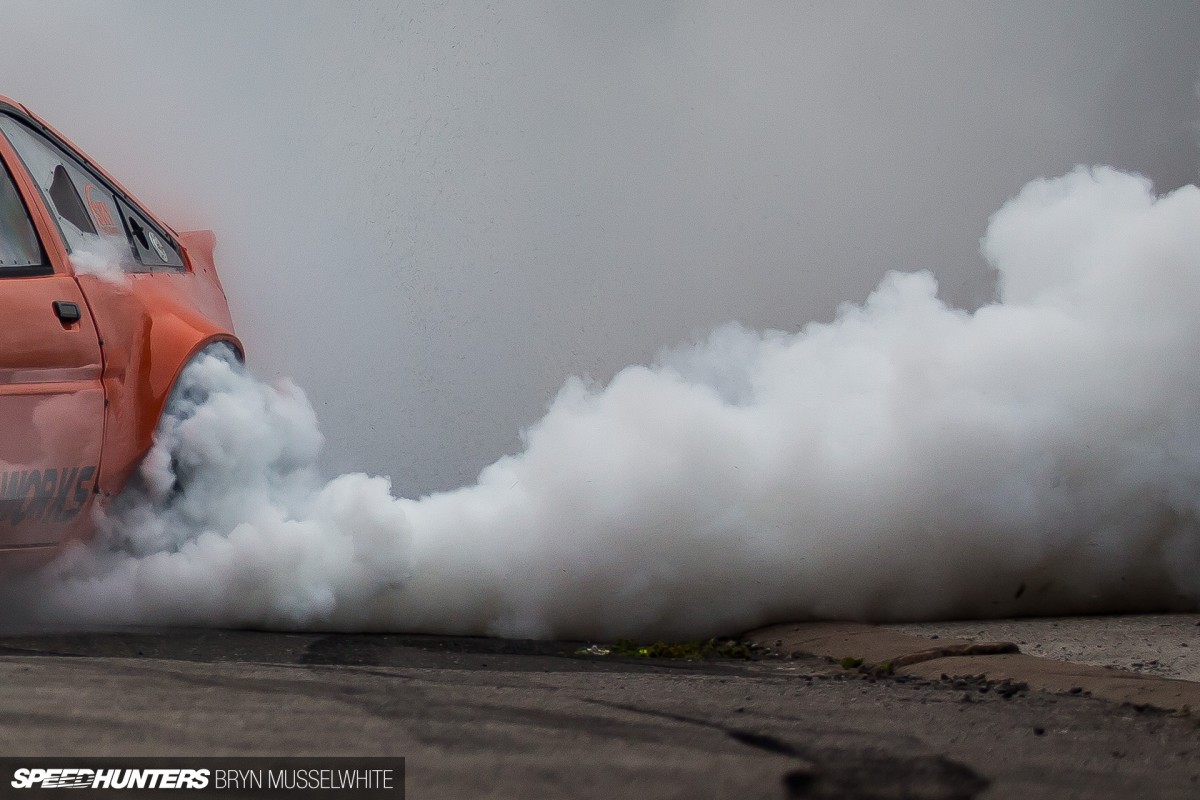 Being able to making clouds isn't easy though, and there was plenty more work to do before the glory… And when I say glory I mean kickass videos! And clouds!
LS Sex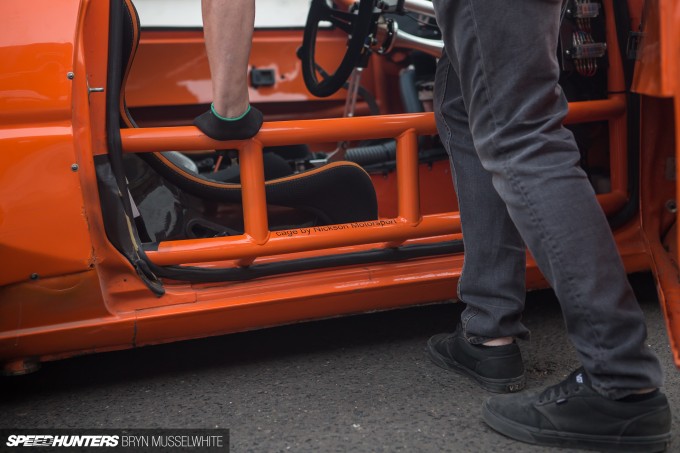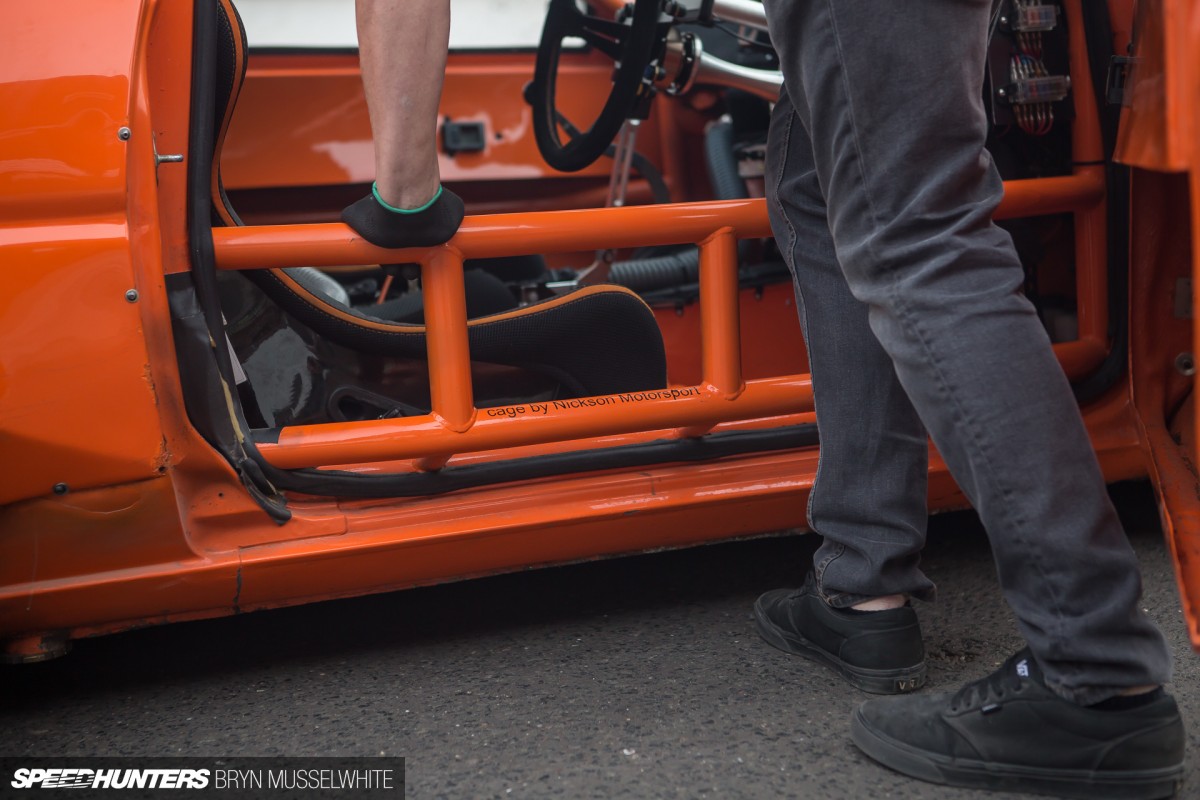 With insane 100mph-plus entry speeds and the potential for four figure horsepower, the 30-year-old shell needed some serious reinforcing. Prepared by Dyno Torque and Nickson Motorsport, Phil went for some extra space and side impact protection. The fact that we refer to this style of cage in the UK as being 'NASCAR' is quite apt!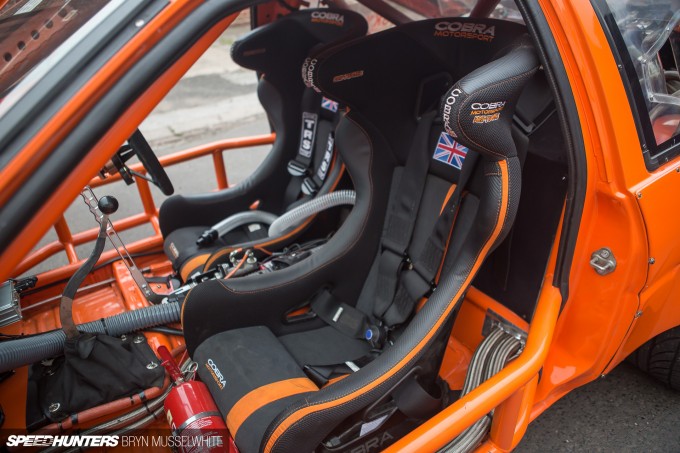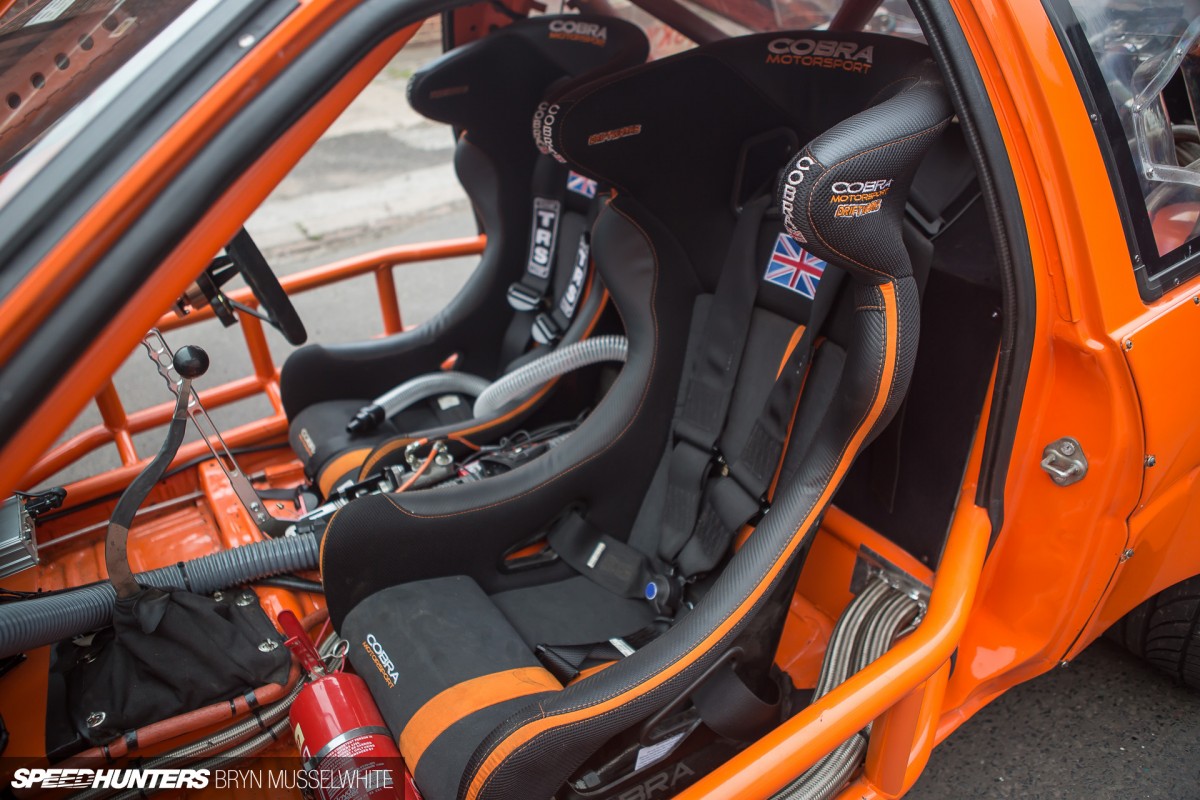 On the inside it's all business – because this thing has been built to win. Cobra Seats added some of their custom embroidery and colour in the signature Driftworks orange hue.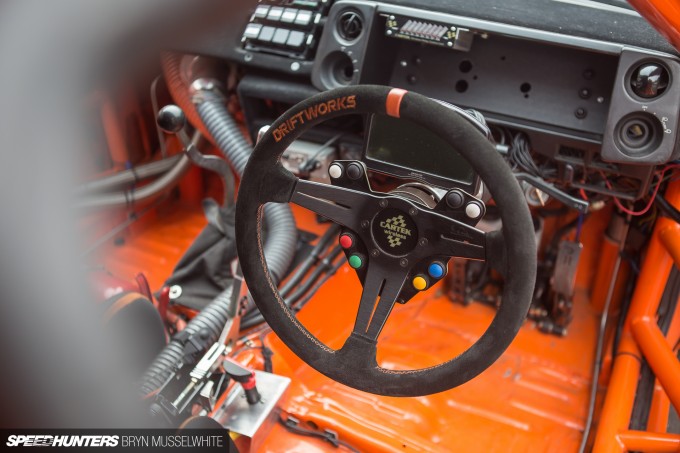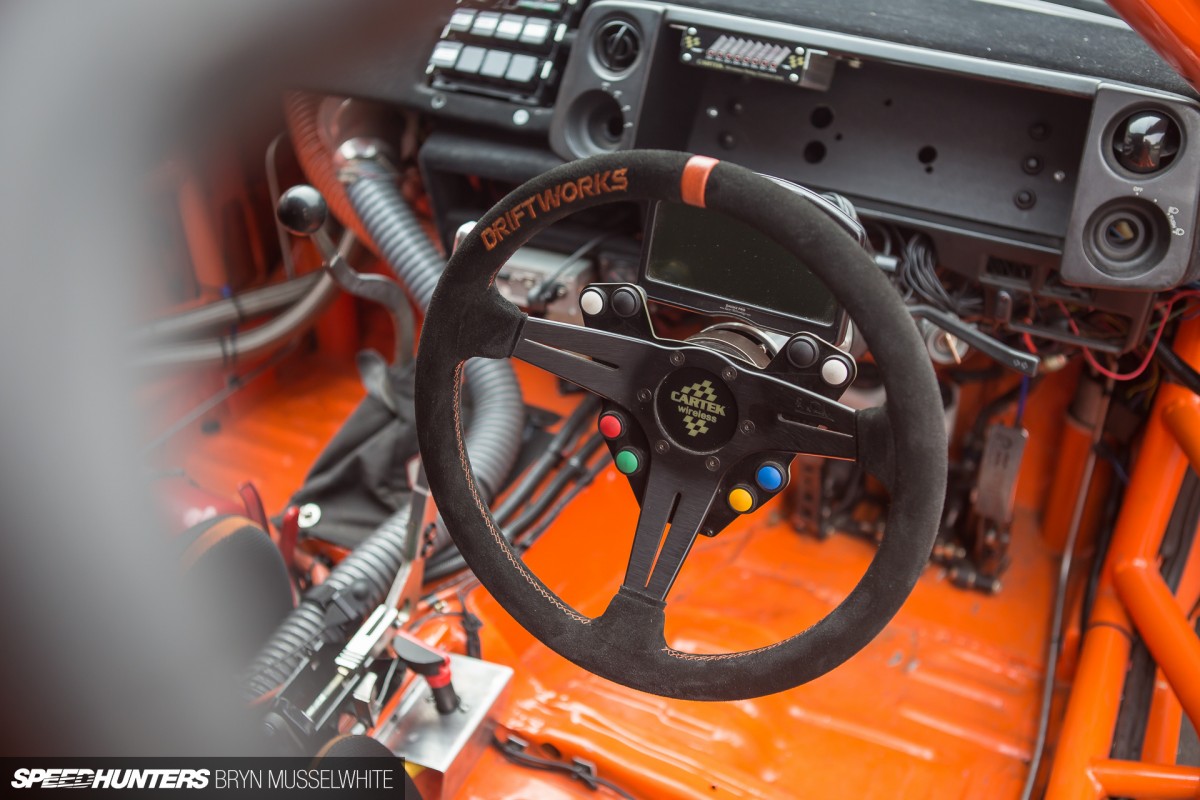 Another scan of the shelves delivered a Driftworks Nardi wheel to Dyno Torque, but with very trick Cartek wireless push-button controls for when Phil engages battle mode. The large-bore hose you can see in this picture and the one before allows filtered fresh air to feed straight to his helmet.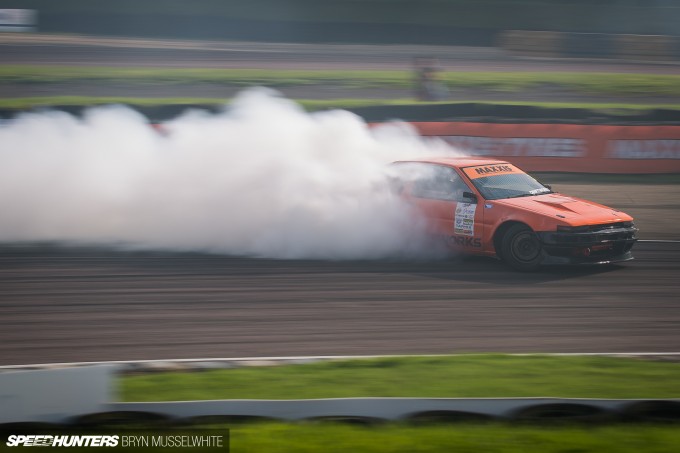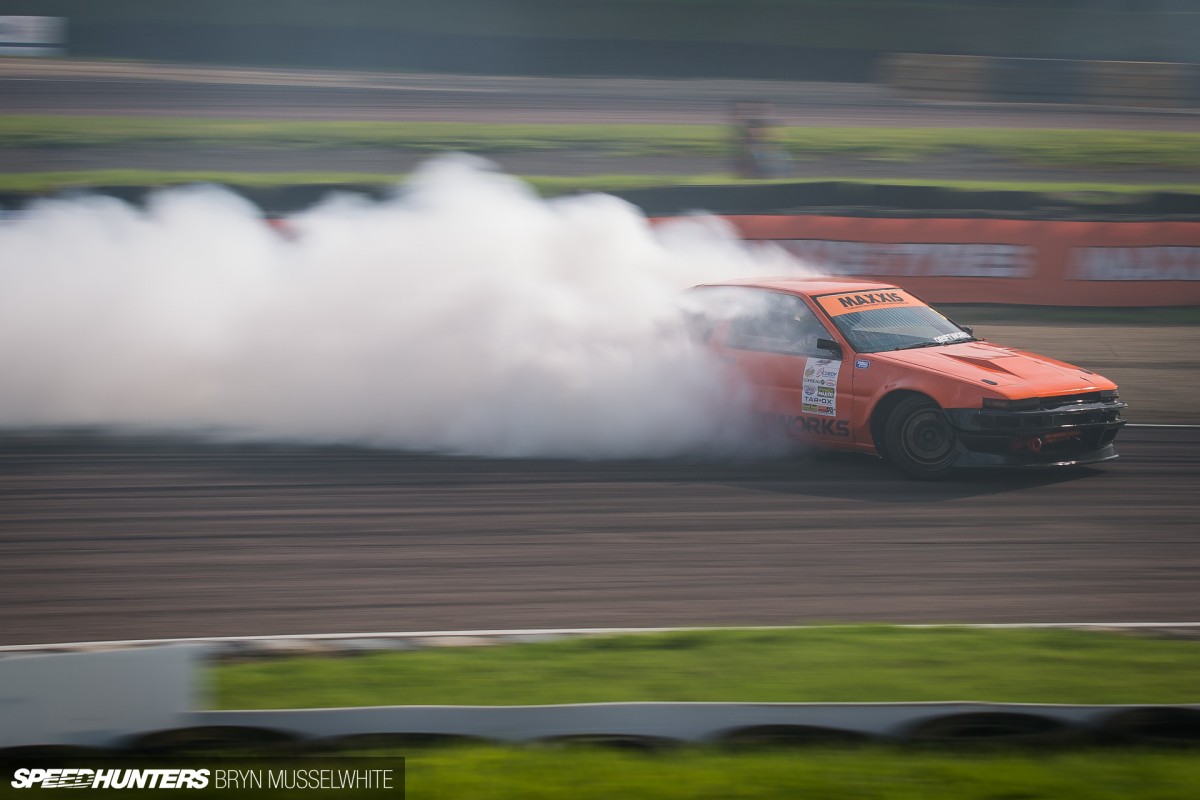 It's perfect for those chase moments when the smoke takes over.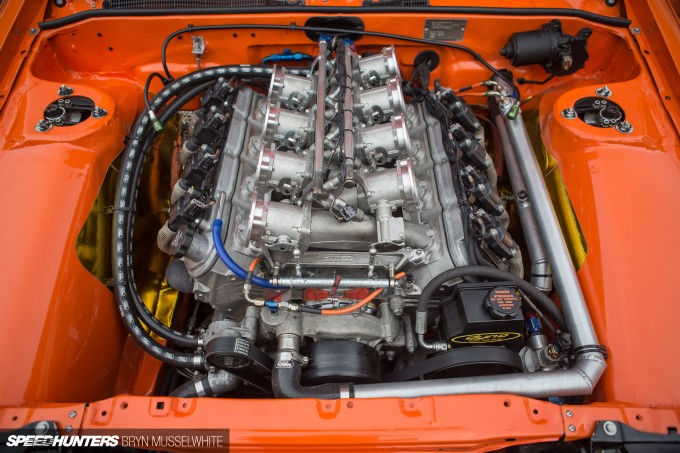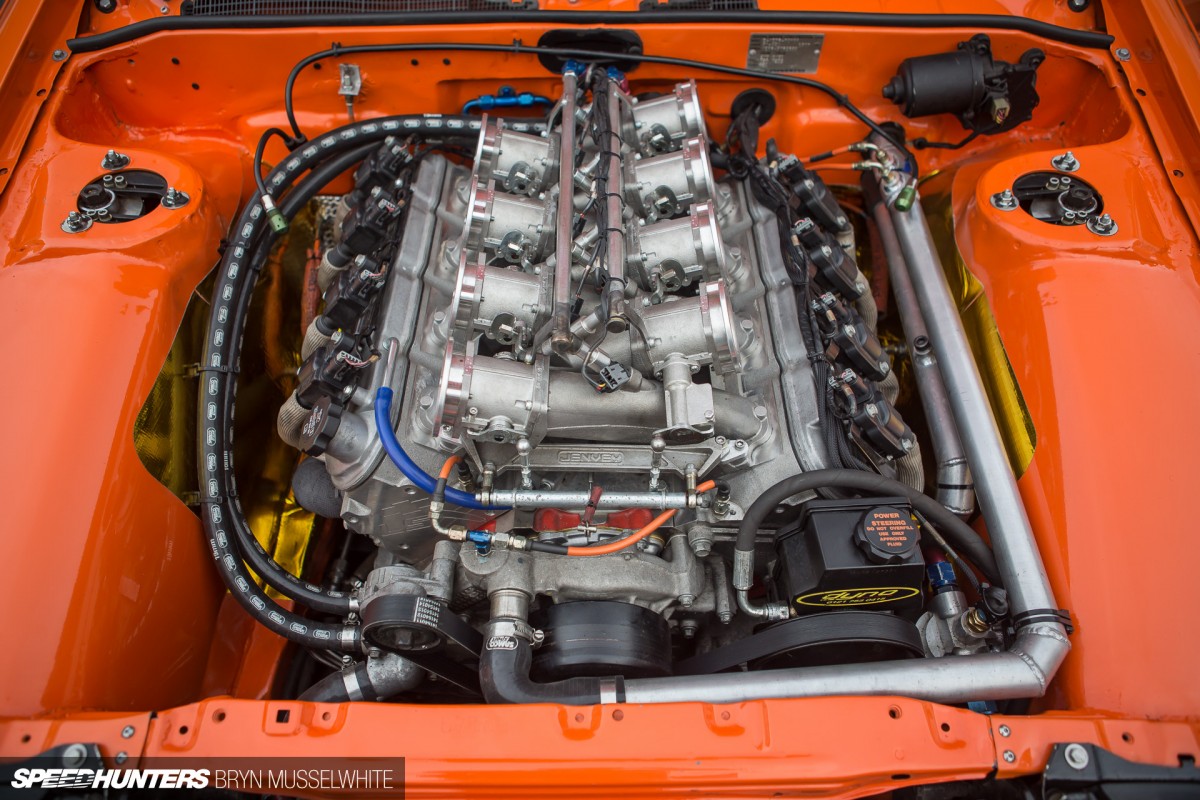 For all the smoke, thunder and lightning, it's the V8 party up front that most people have been talking about since the Toyota made its debut earlier in the year. The original motor from the ASCAR is long gone though, now replaced by this specially-built and freshly-imported 454ci LSx. For those that don't know, it's basically an off-the-shelf race motor sourced direct from General Motors' GM Performance division.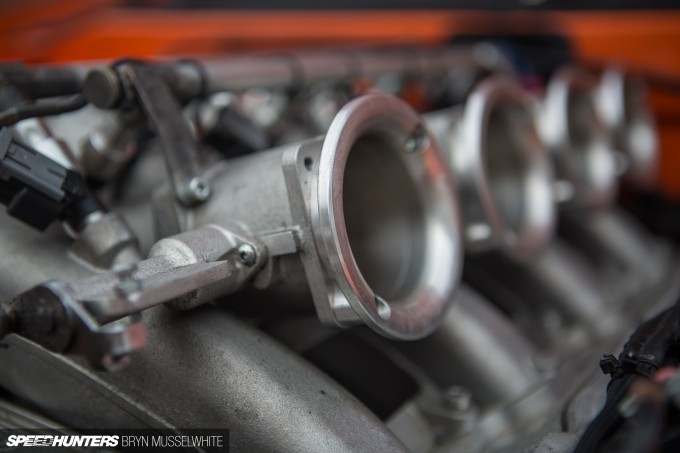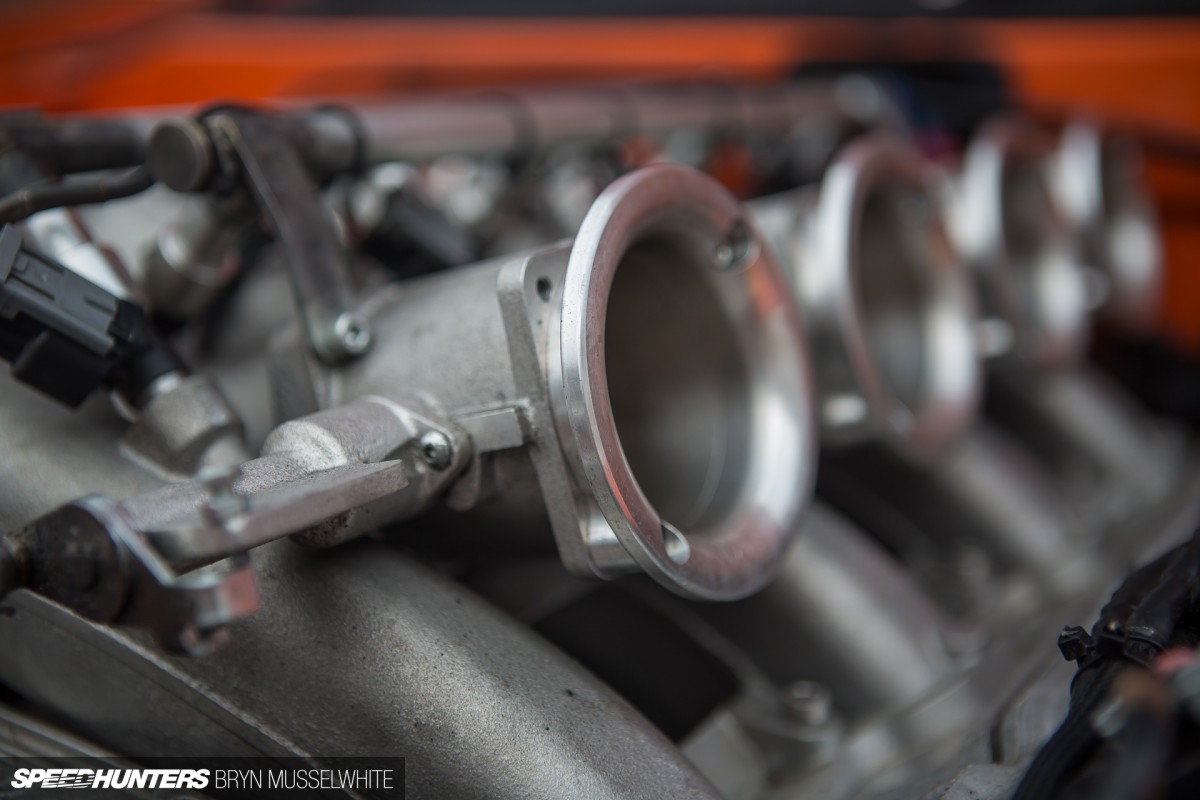 With two banks of Jenvey throttle bodies bolted on top, it not only looks achingly cool, it also kicks out 646hp at the rear wheels. Torque peaks at 640lbs/ft – more than enough to rip the world another trench with only 1243kg to propel. That's wet weight too!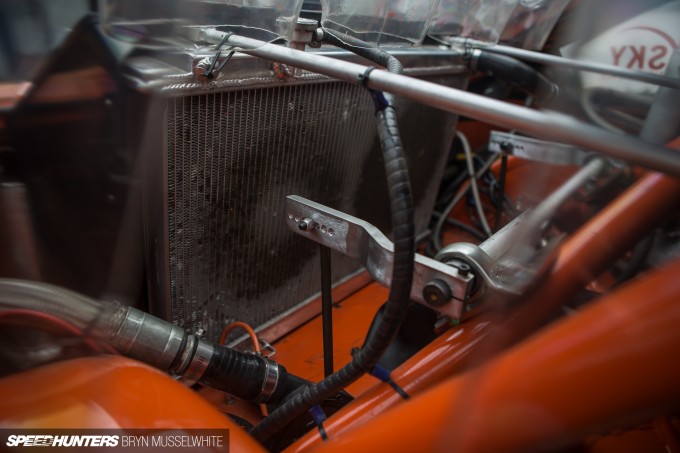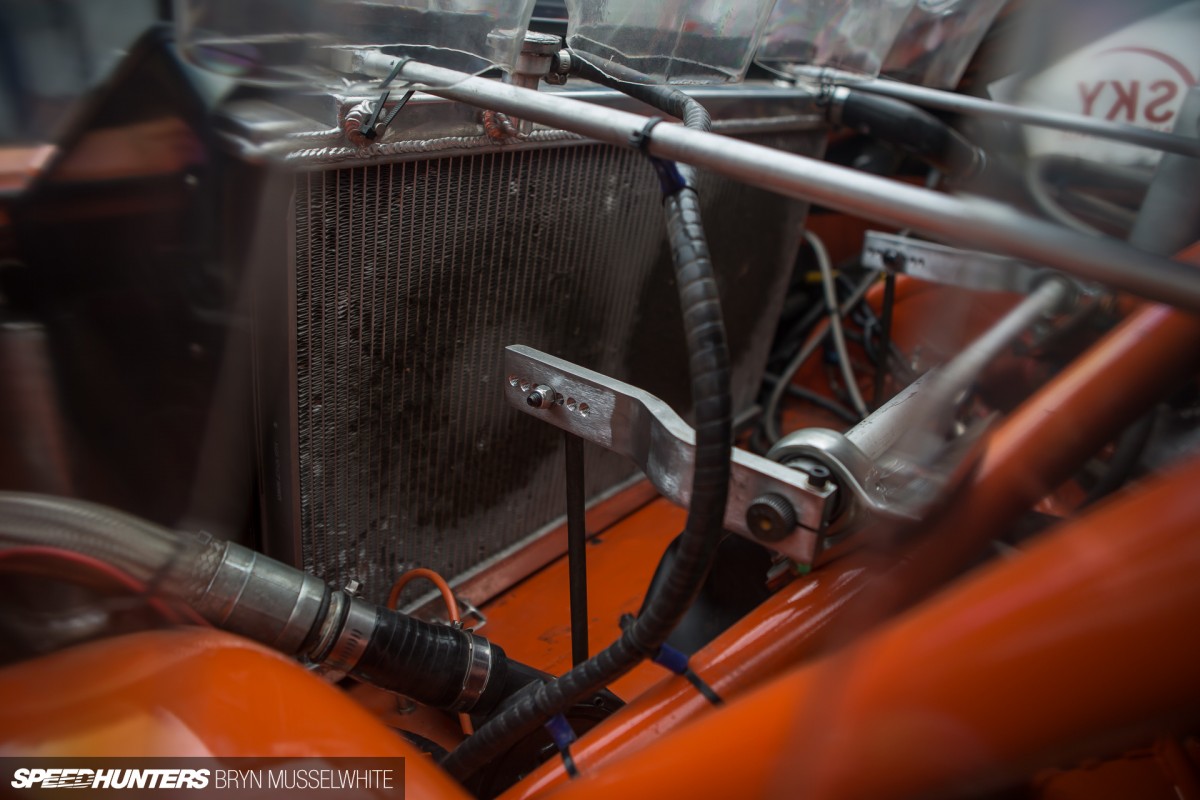 That weight includes 28kg for the 28 litres of Evans waterless coolant that the DW86 uses – the rear-mounted radiator shown here from the drivers side rear window vent. Those black circles are where the fans have sucked dirt against the core, and yes – at some stage the guys will probably clean it off.
But they're usually too busy doing stuff like this… You know how you guys always ask for video? Well, I'm glad to say Phil wasn't shy at showing us what the car is capable of. This is what we love.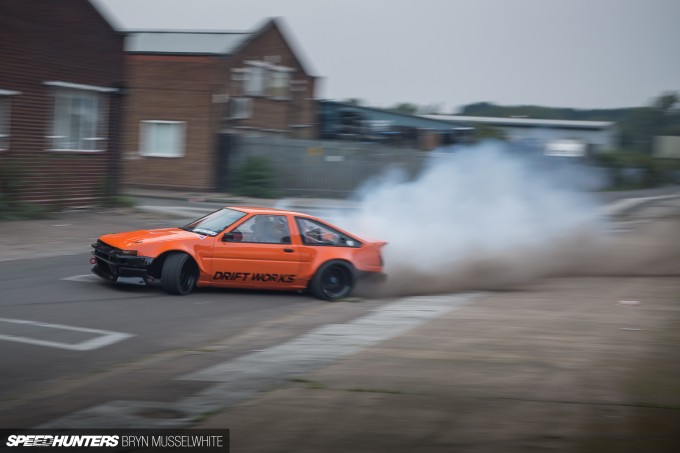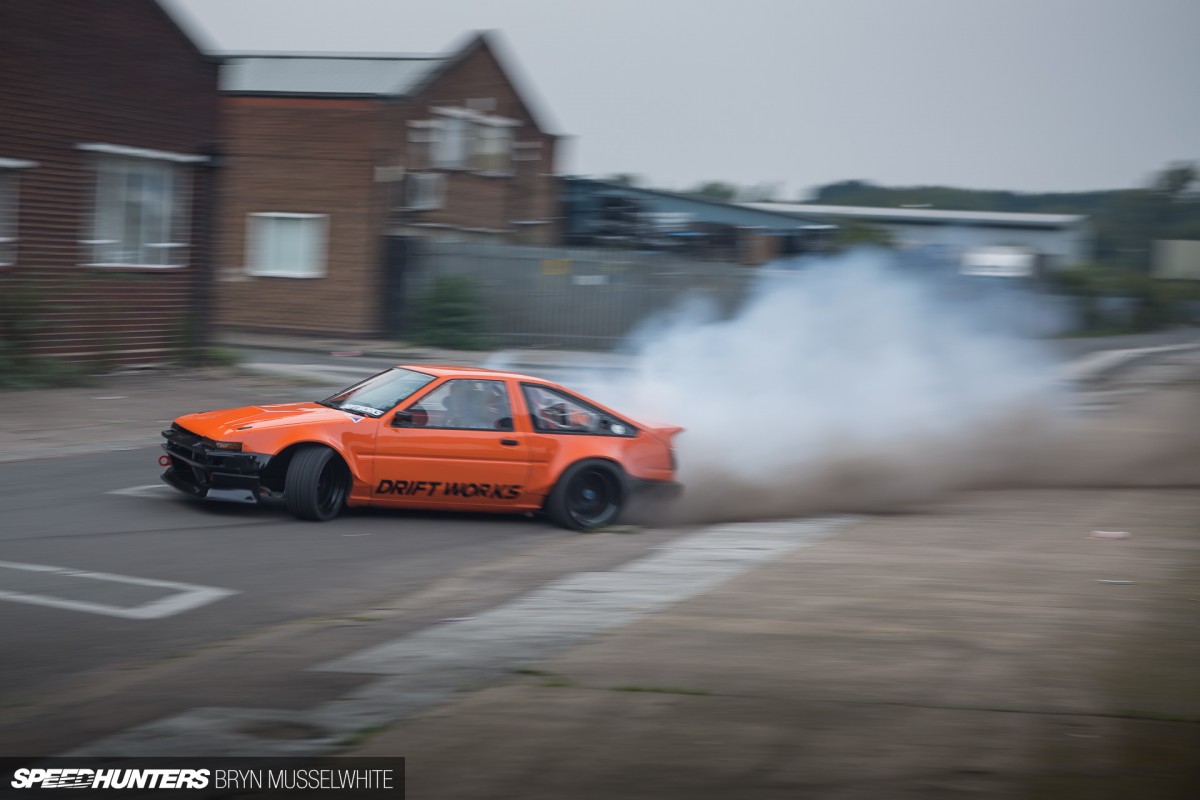 The industrial estate that Driftworks call home is fairly quiet by the end of the day, and it also happens to be a private road. So Phil, being the consummate hooligan, had to give us a show – and there was no way in hell I was going to stop him.
Did somebody say burnout? This is how you get an opening shot like the one at the start. This is where clouds come from, kids…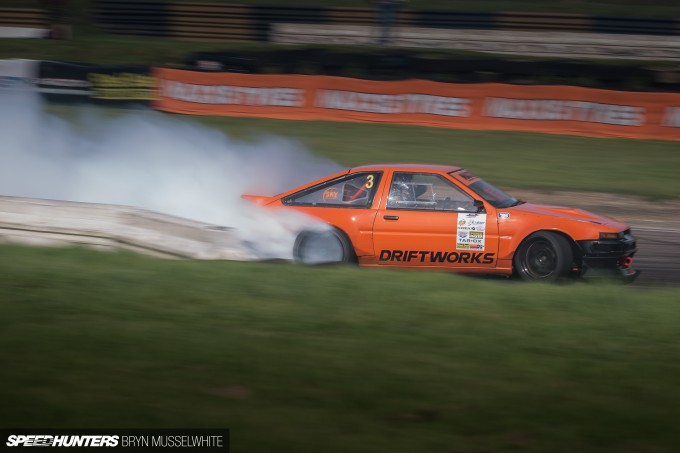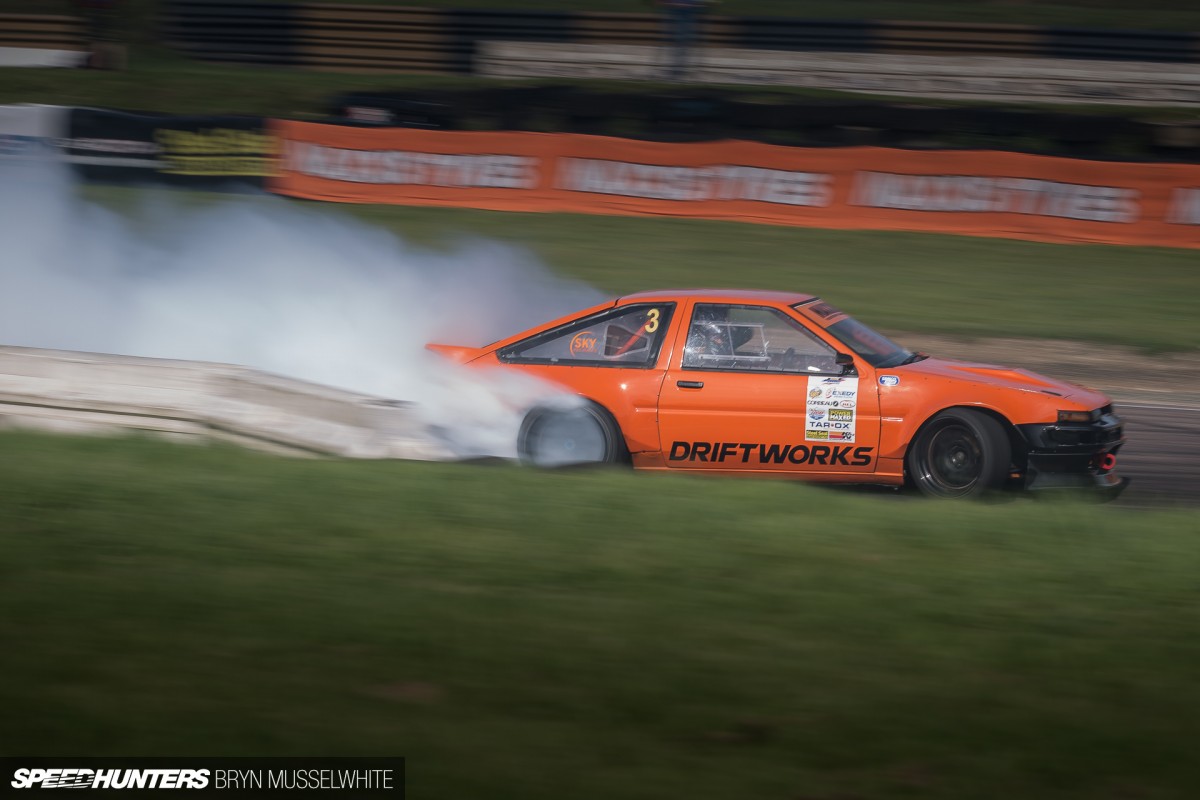 So as much as the DW86 is about competition and showing off the products of Driftworks, it's also about remembering why we get up in the morning: to put smiles on our faces and get a kick out of what we do.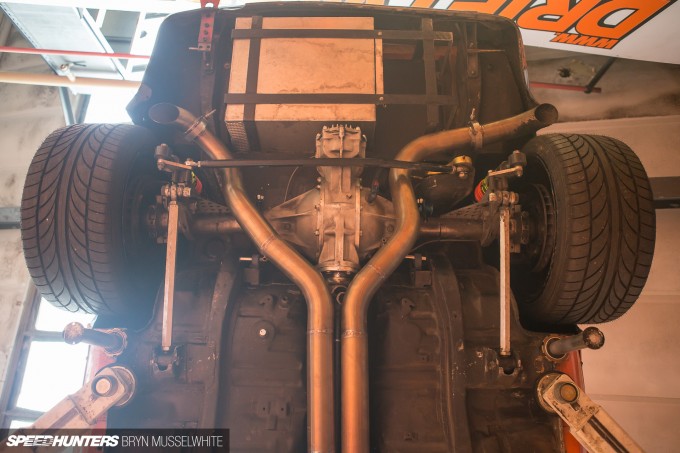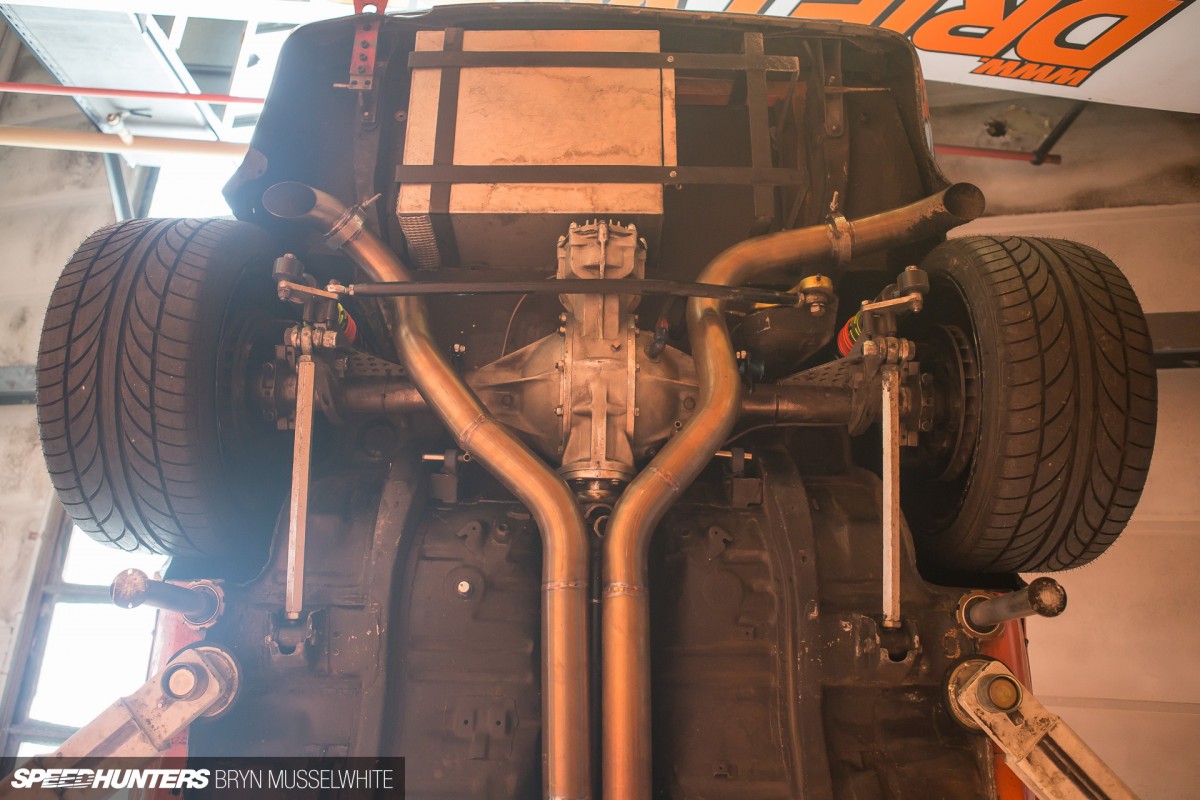 The twin exhausts line up perfectly to kick up the tyre smoke. Why? Because it looks good! And if you disagree, you probably need to listen to your inner child some more…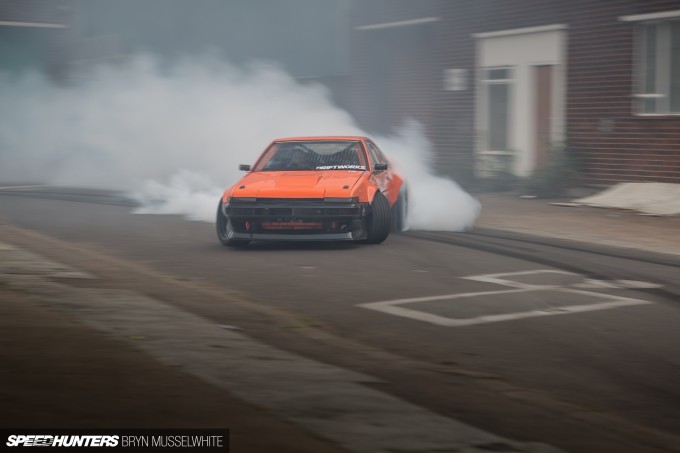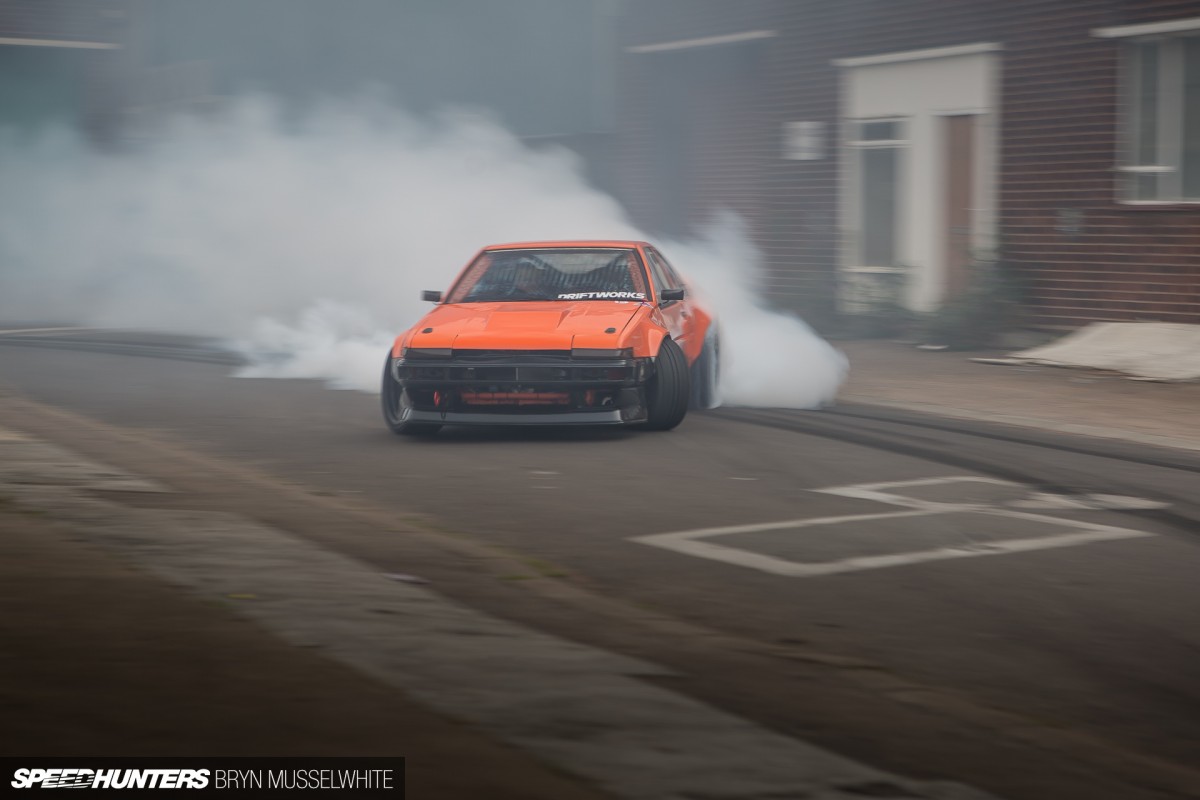 If you don't you'll risk forgetting how to ask the question 'What if?'… And if we all did that it would be a great shame, because then we'd never get to say WTF?!
Bryn Musselwhite
bryn@speedhunters.com
Instagram: Speedhunterbryn
Cutting Room Floor
Here's a bumper crop for you, so take a look at some of the detailed work! From air jacks to digital displays…