Wonders Of The Japanese Inaka
It's always fun to see the lighthearted side of global car culture. And when, at the same time, you can also show what can be achieved at the extreme end of the customising spectrum, well, that leads to one of the most unique feature car – uh, truck – subjects of this year. And it's hot pink!
Cast your minds back to April this year when I headed out into the Japanese countryside – or inaka – to hunt down a stunning example of a shakotan S30 Fairlady Z owned by Oda-san. As exciting as the hunt for the S30 was, an equally compelling reason to be there was to investigate some rather colourful kei trucks I had seen a few months prior at the Tokyo Auto Salon. If you know the more curious side of Japan's custom car scene, 'Hello Special' might ring a bell. If it doesn't, then what I'm about to show you will give you a pretty good insight into the extreme work of this custom kei builder.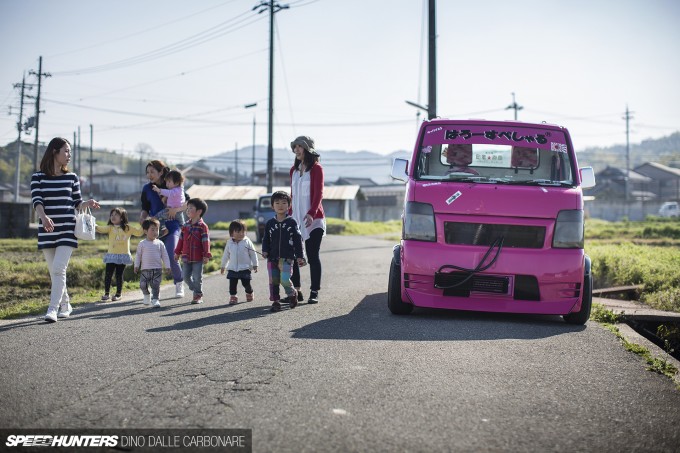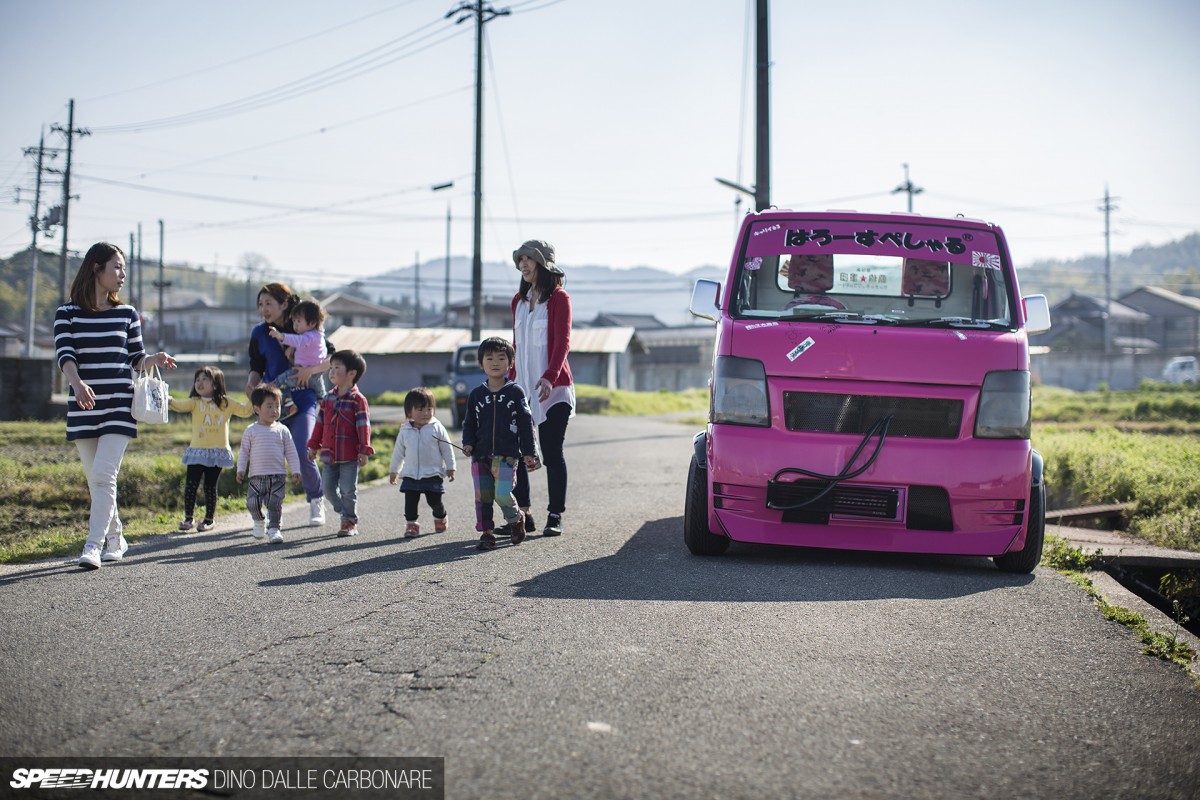 If you follow my posts from Japan, you know just how diverse car culture is here. If there's a type of car, there will be a scene for it, and if there isn't, someone sooner or later will make one. I guess that's how Hello Special came to be.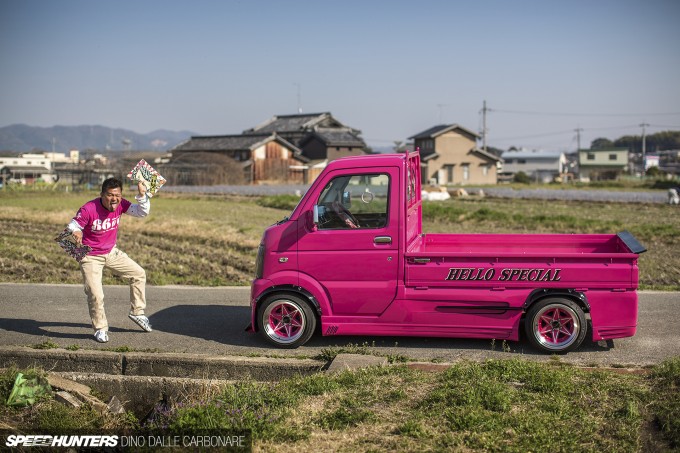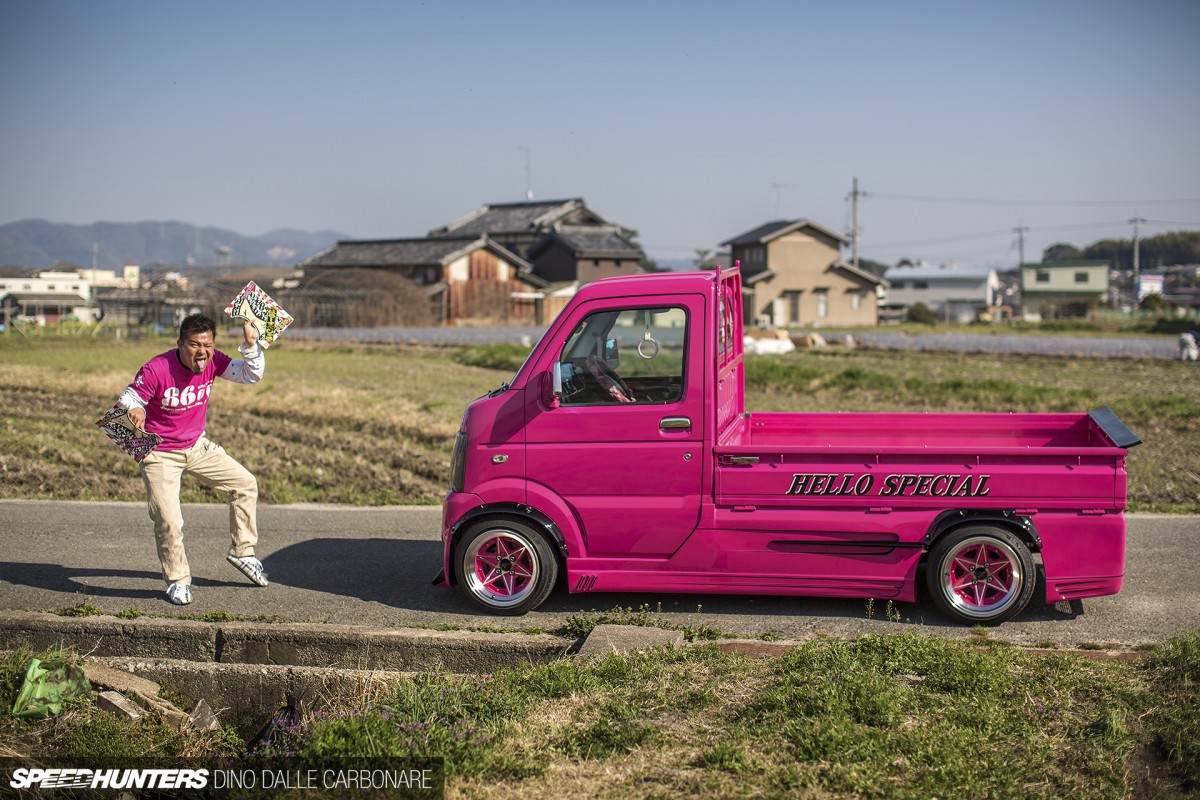 Oda-san saw the opportunity, and took it. And by this I mean he went full-out and set up a tuning outfit that deals exclusively in kei trucks.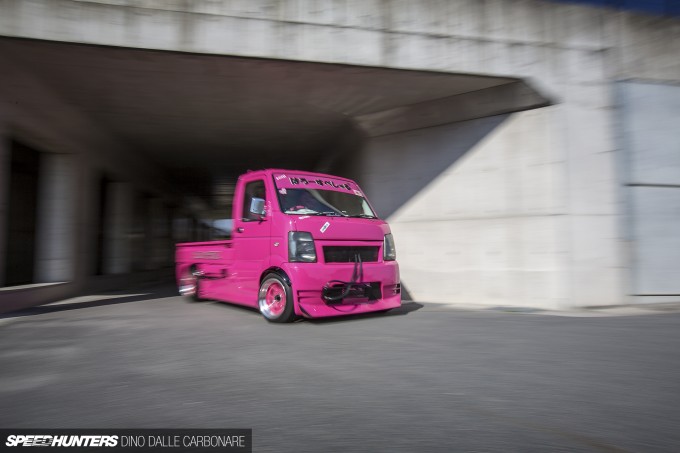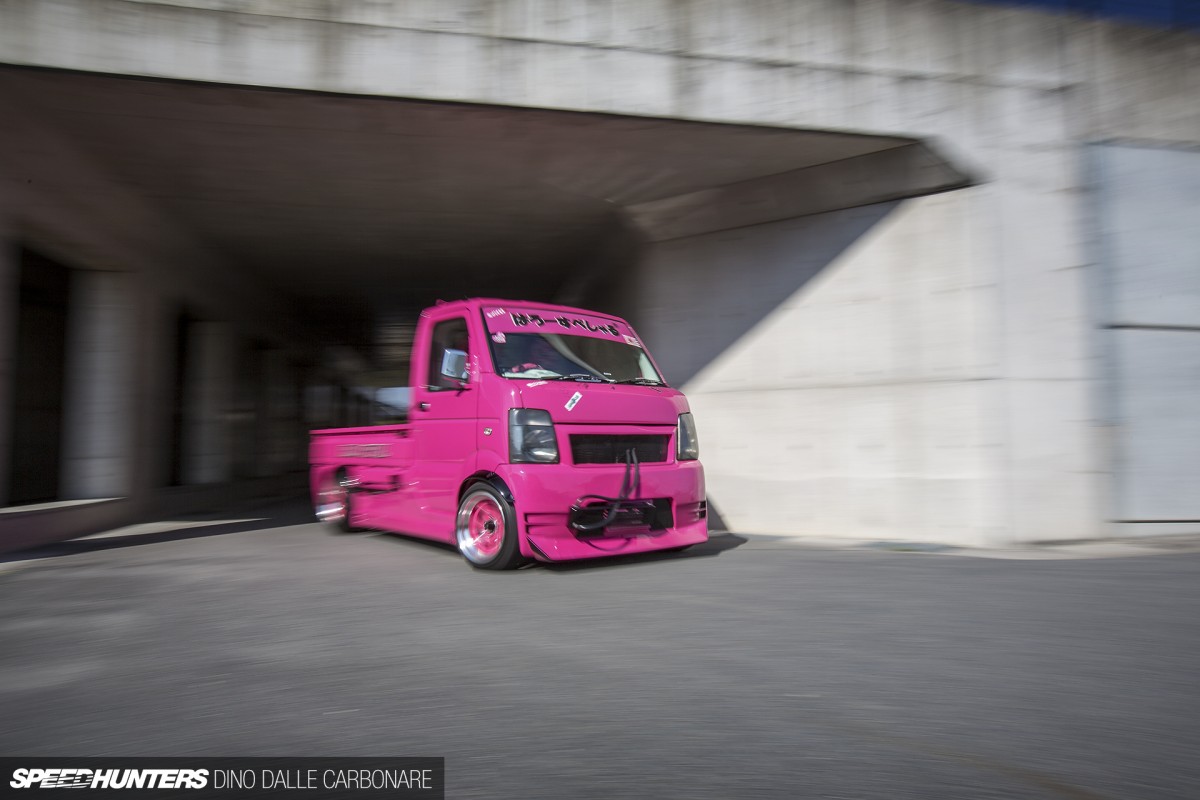 Kei cars and kei vans (kei referring a light class of vehicles limited in physical size with a maximum engine of 660cc) are very popular as they are cheap to run and don't require parking permits to show that you have space to keep a car outside, or close to your house. Kei trucks on the other hand have forever been the choice of Japanese farmers – their small footprints making them particularly well suited to be driven down narrow access roads around rice paddies or similar fields  And like anything with four wheels in Japan, they fall into the tuning trap! And that's when Hello Special comes in.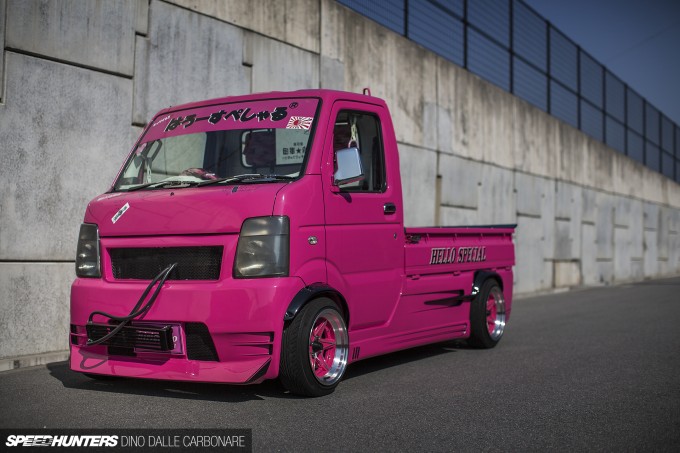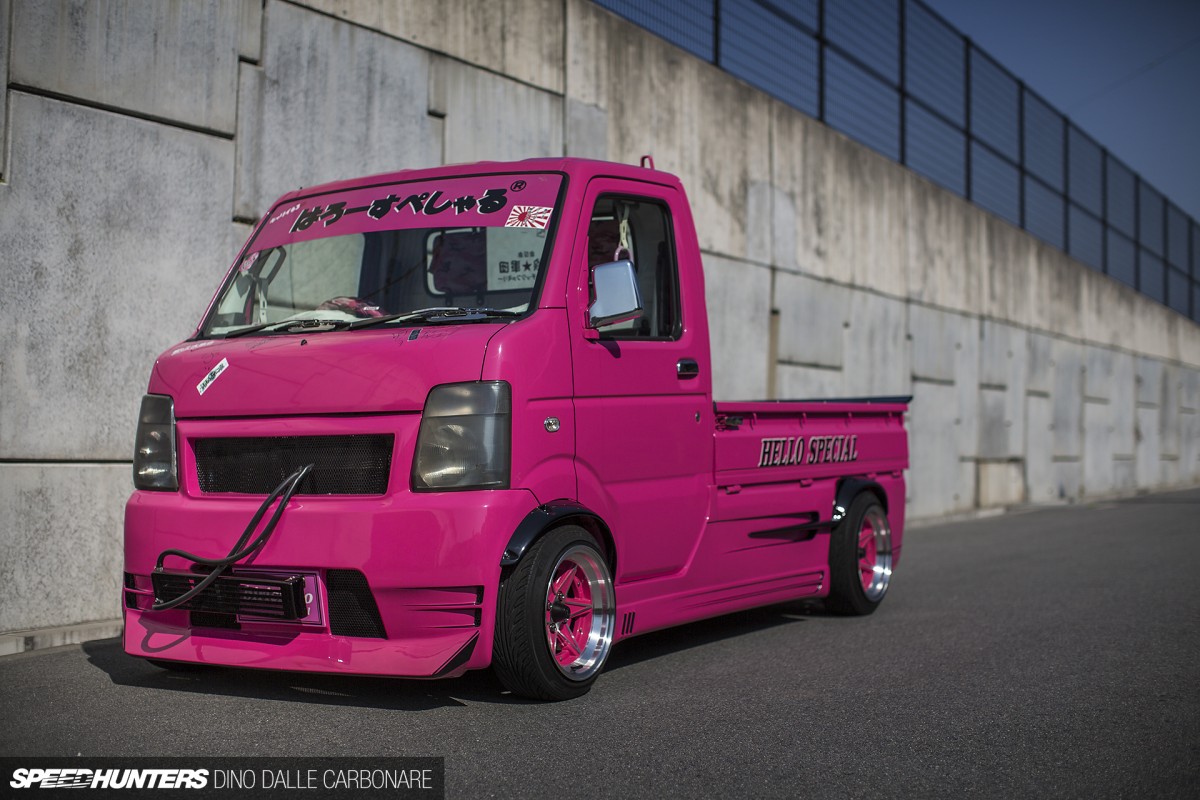 With this wild Kei, Oda-san set out to show what can be achieved at the extreme end of the customising spectrum, and in the process have some fun – recognizing that most kei truck owner may only want to add a few dress-up goodies to personalise their pocket-sized pick up. To do so he contacted a long-time friend whose shop is a 30-minute drive back towards the center of Kyoto.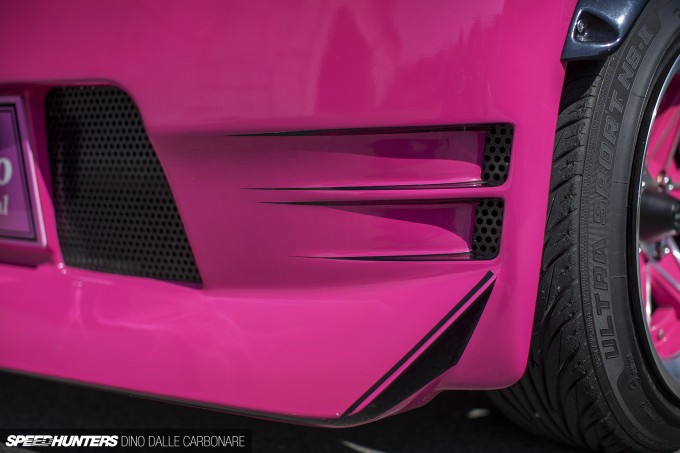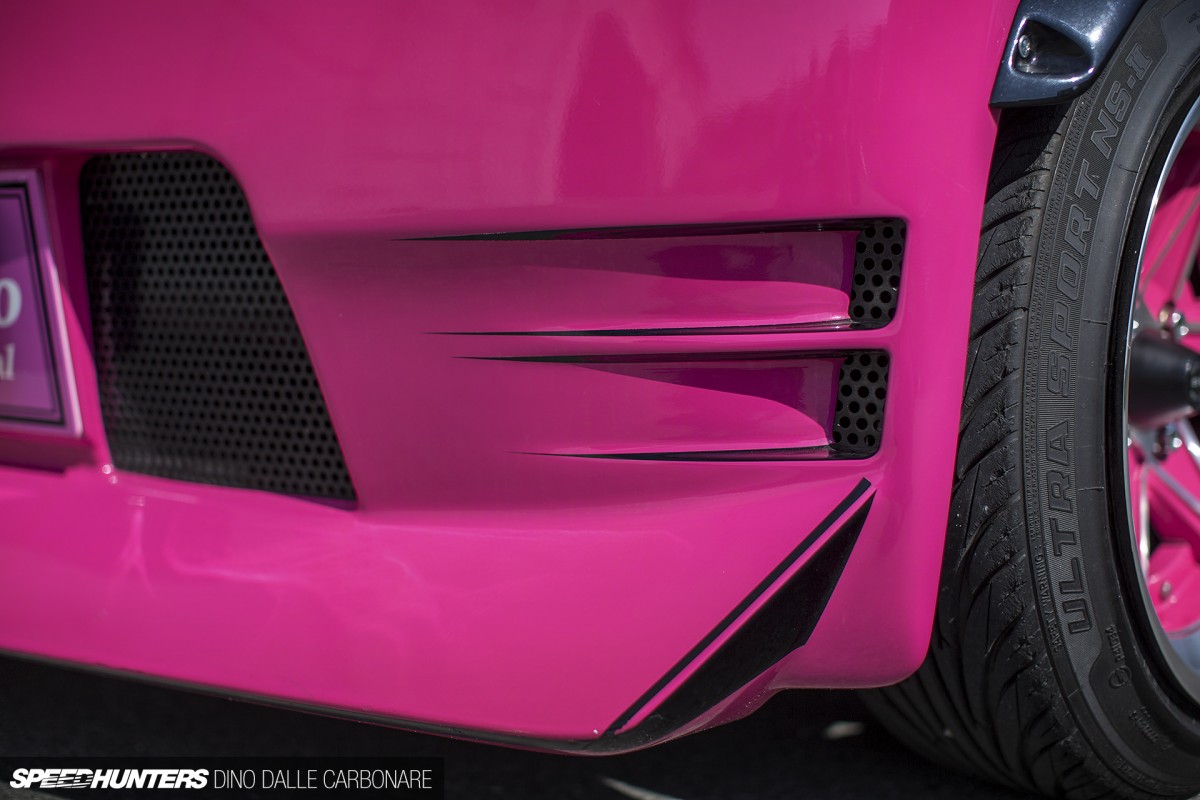 It seems like we might be mentioning Miura-san a lot lately, but truth of the matter is, Rocket Bunny has been at the core of the JDM aero world for quite some time. The way he works has cut design and production times to a fraction of what they once used to be, which in turn has made it more economically viable for small shops – like Hello Special – to produce their own lines of original aero, which is exactly what you see here. Oda-san calls this one the Birichino kit.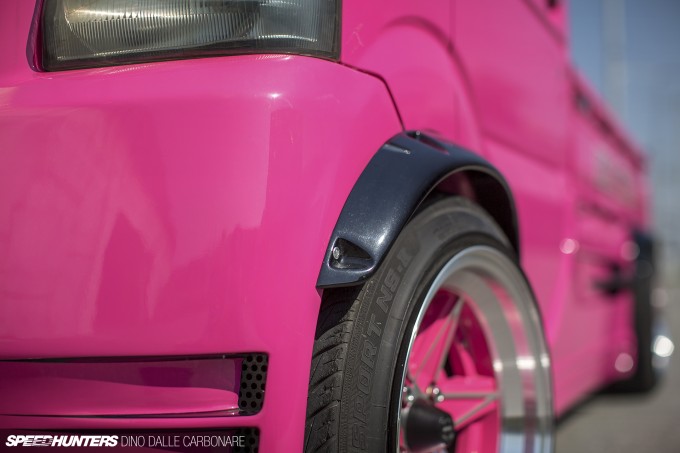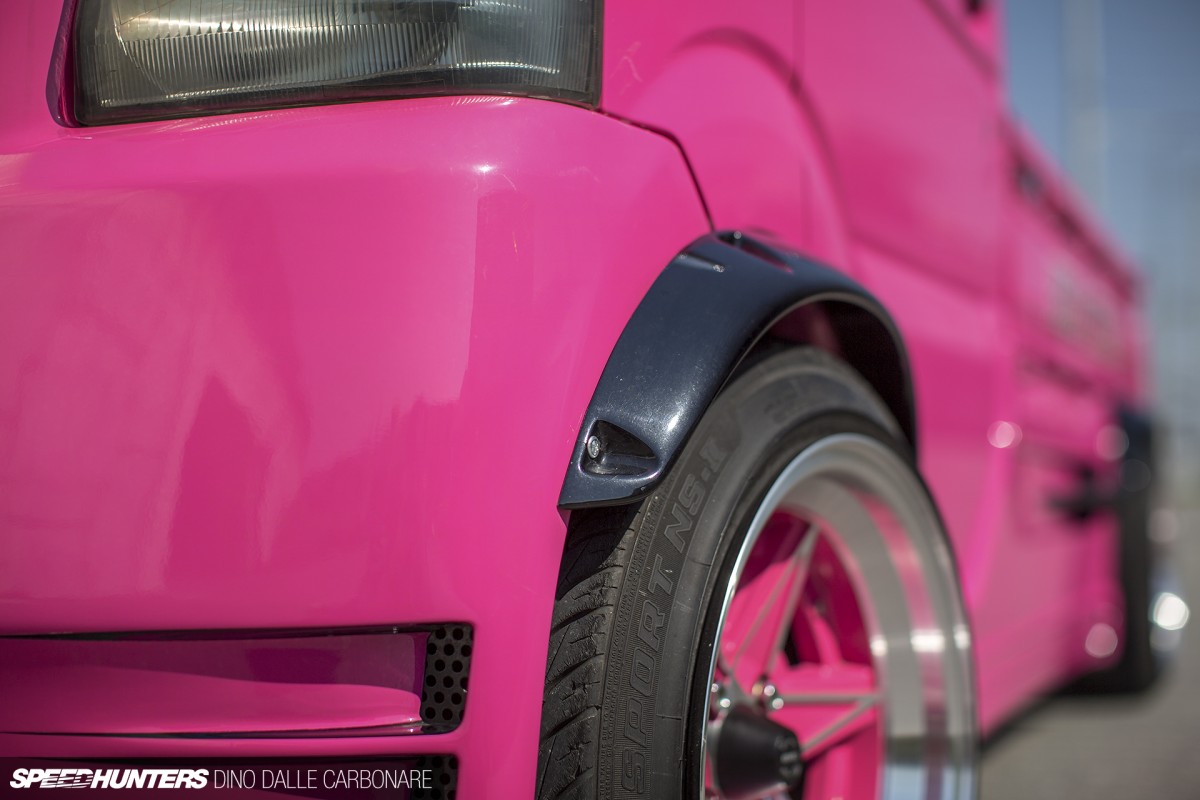 Along with the one-piece front bumper which sports a series of integrated side vents and a bucktooth lower lip, Miura's touch for the little Suzuki pick up included a set of Works-inspired fender flares. This was one thing Oda-san really wanted to go for as it would allow for a far more aggressive fitment when it came to the wheels.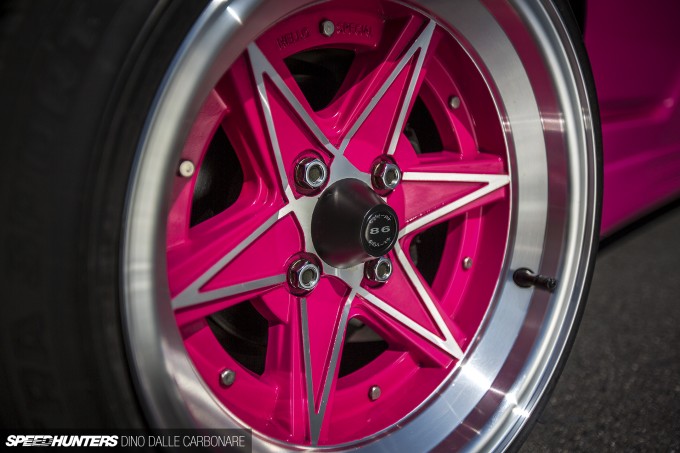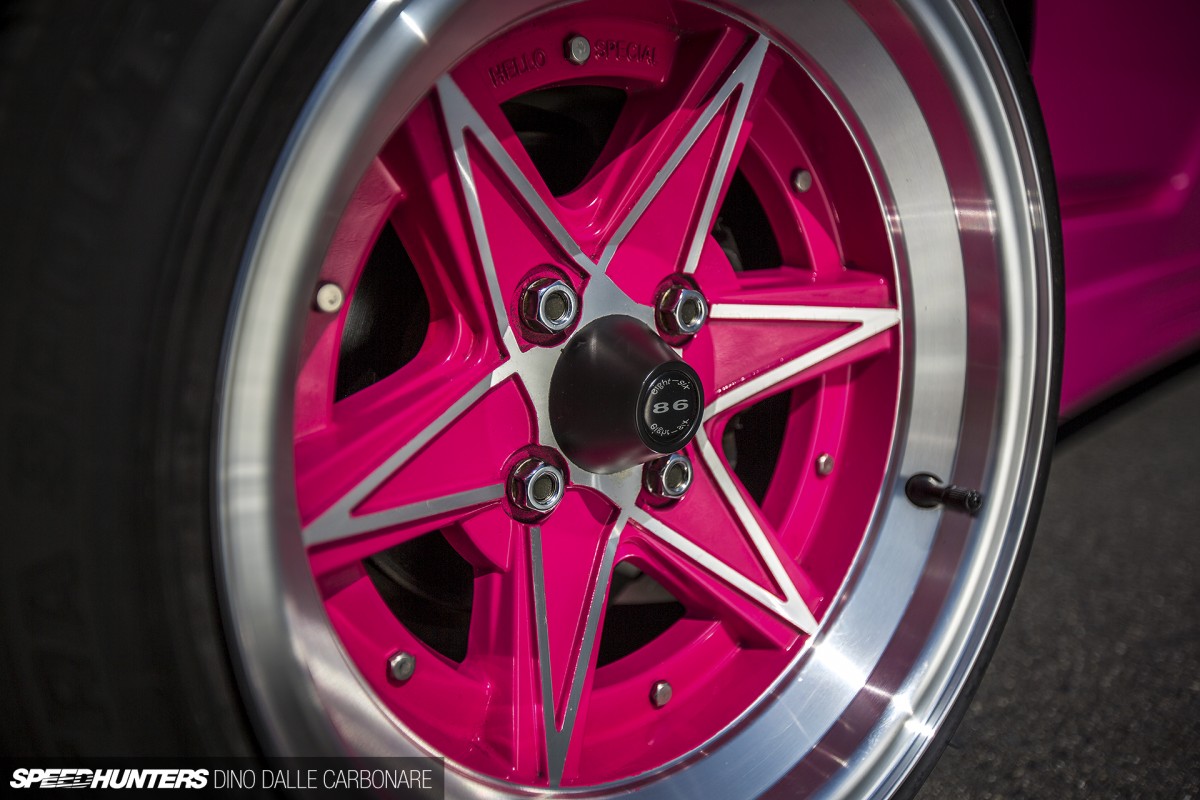 To achieve the look he was shooting for Oda-san fitted Hello Special's very own '86′original wheels – a modern rim styled to mimic popular designs from the late '70s and early '80s. The 14×7-inch wheels have been color-matched to the rest of that retina-piercing pink of the exterior and had skinny 155/55R14 Nankang Sport NS-II tyres stretched over them.
Kei Miura's Touch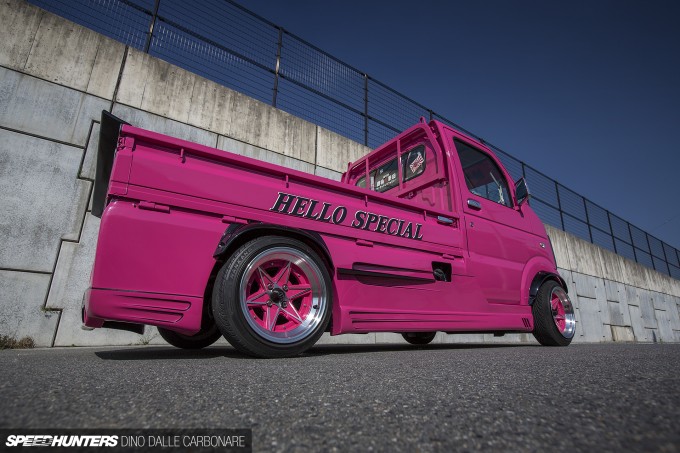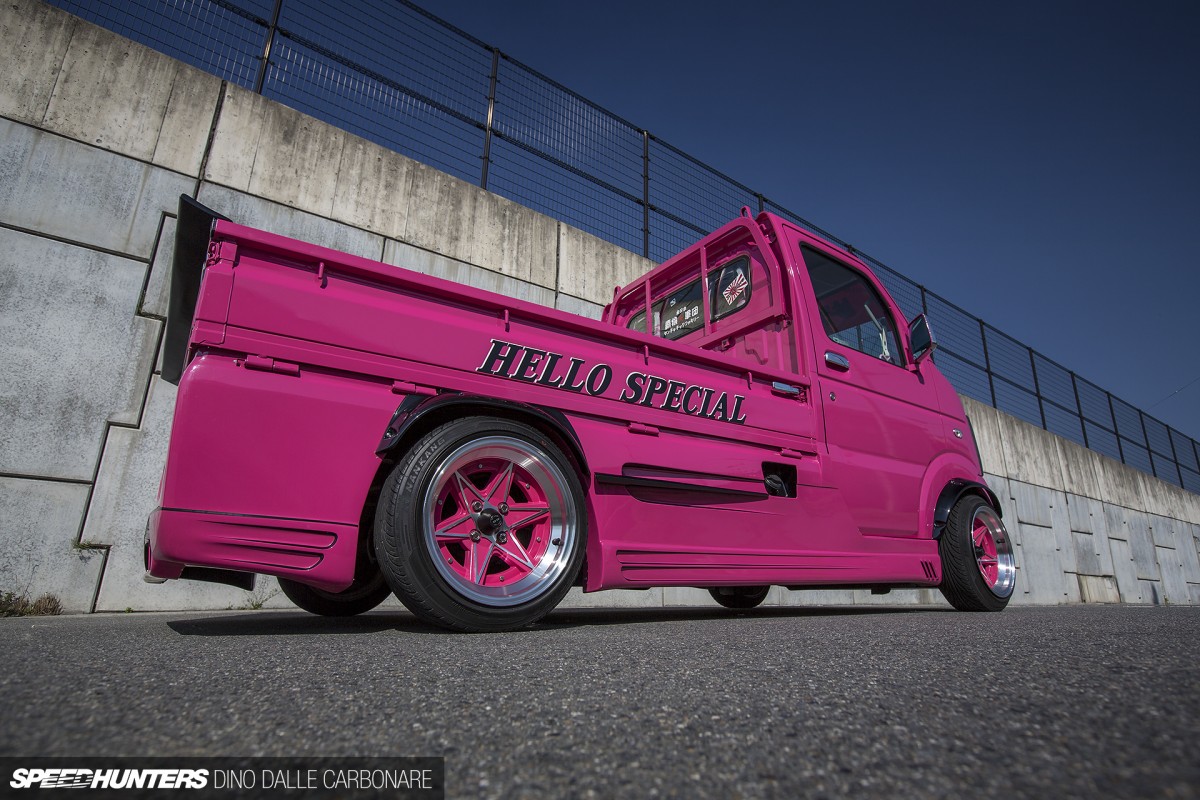 The Miura-designed aero has a deliberate continuity along the side of the truck; side skirts setting the tone with outlined air intakes mimicking the other vents throughout the kit.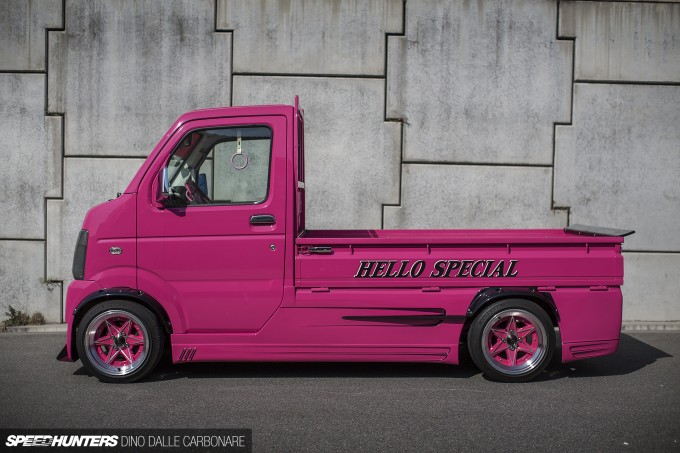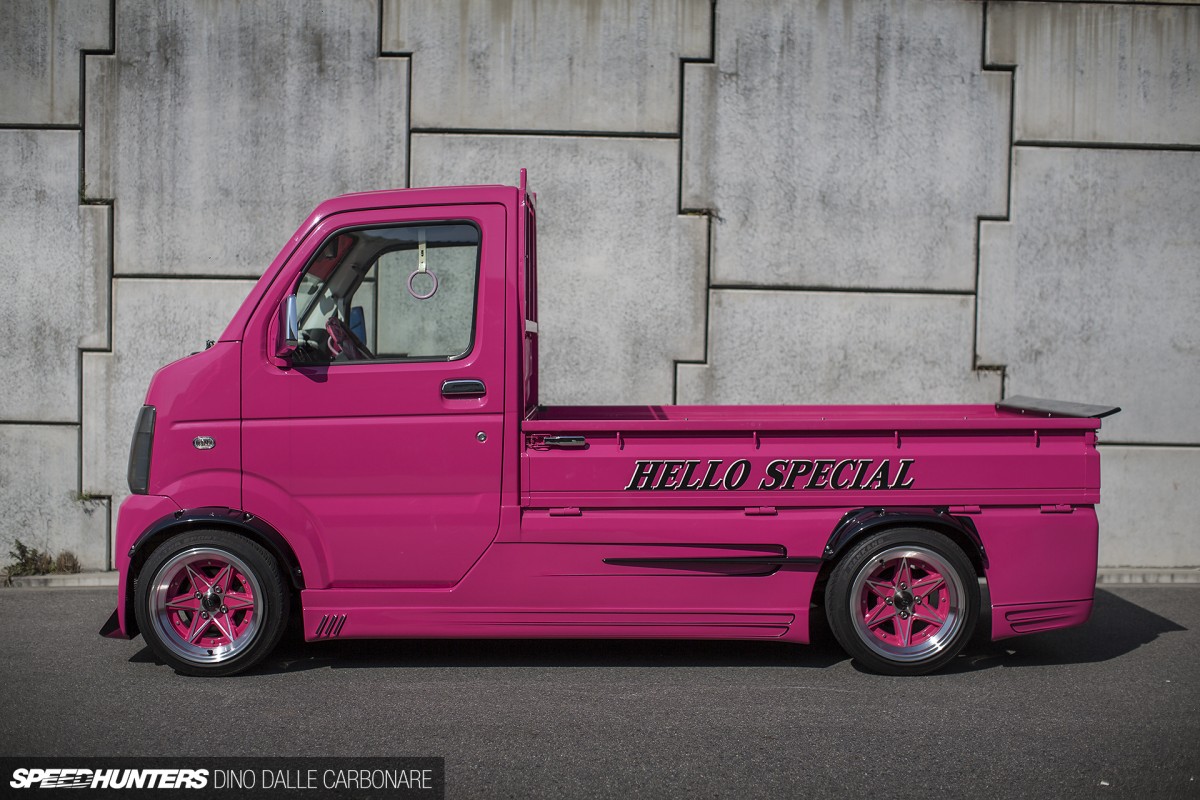 You just have to love the side intakes – very Ferrari Testarossa-like!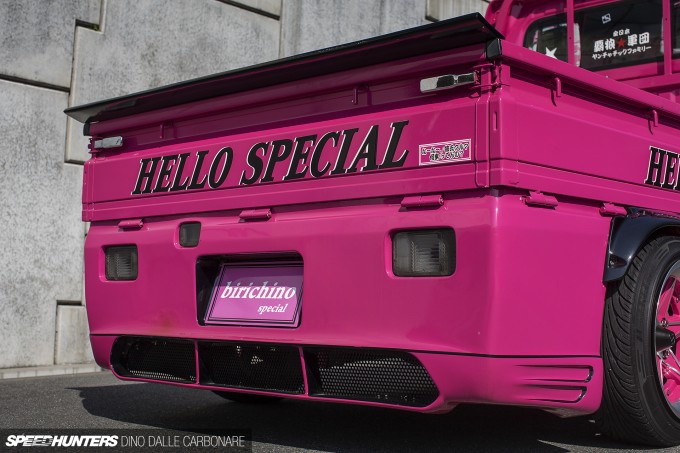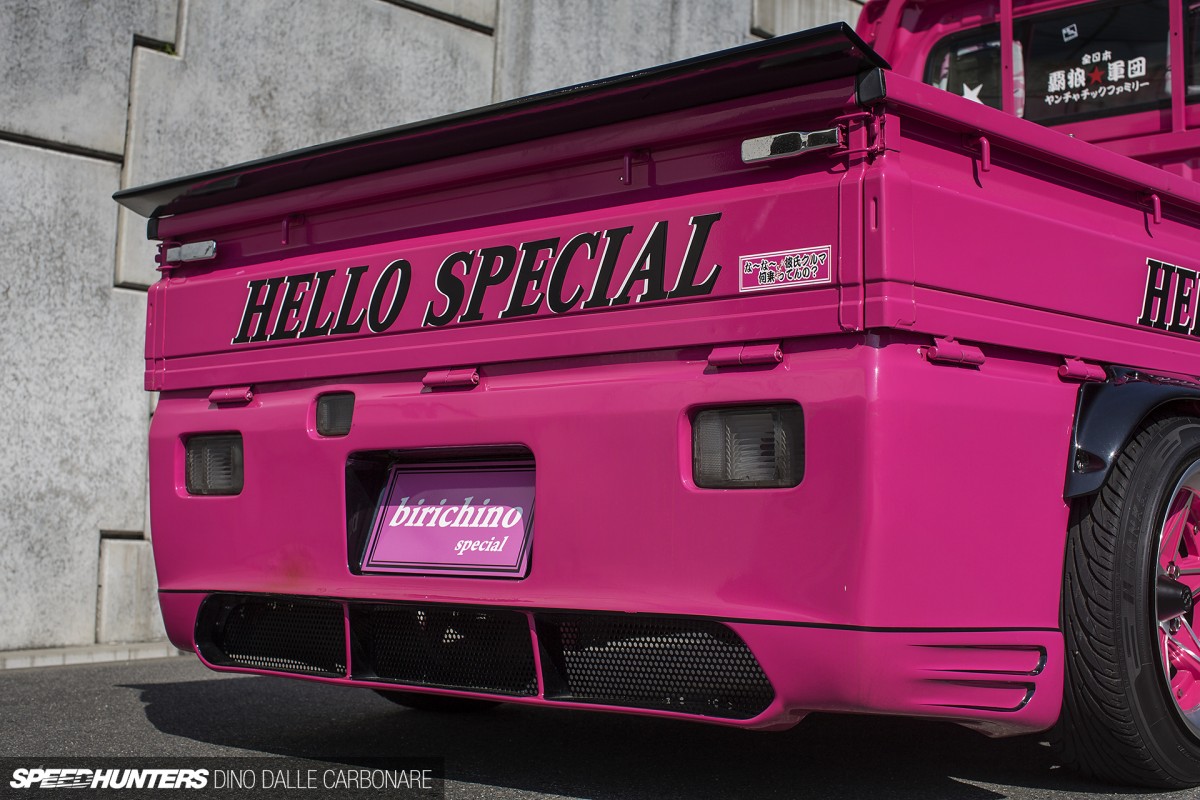 A tall rear bumper section gives the Carry a rear end you have never seen on the back of a kei truck — all integrated with a diffuser-like grilled outlet at the very bottom.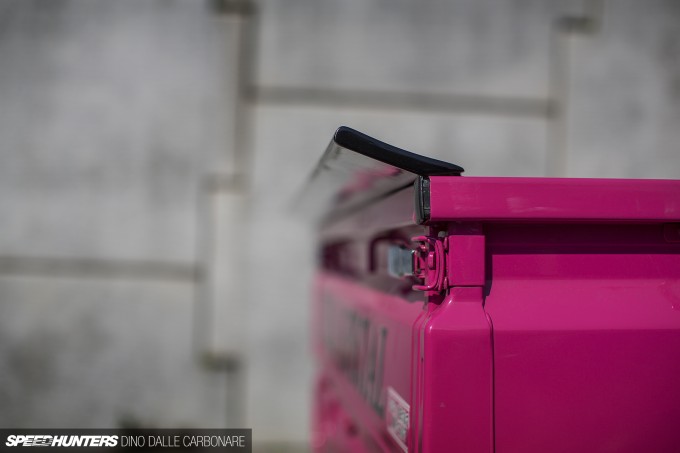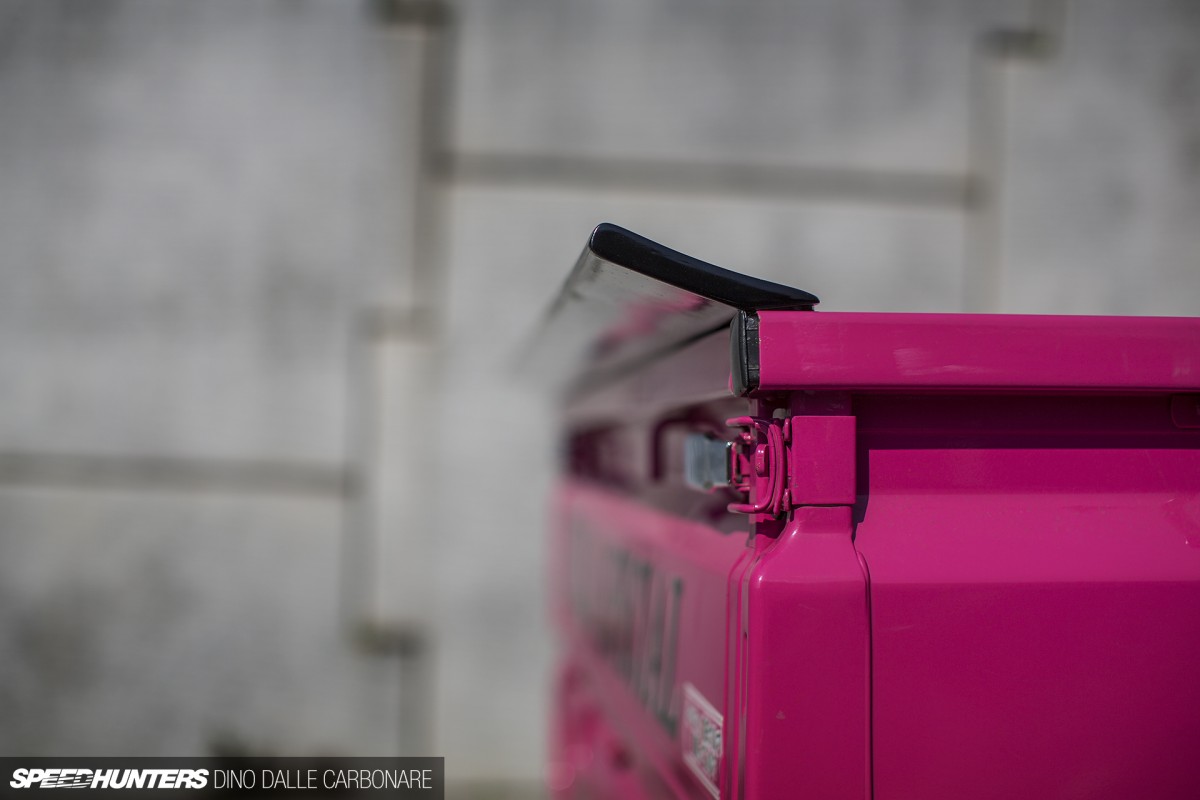 Ever seen a kei truck with a bed spoiler? Well, now you have!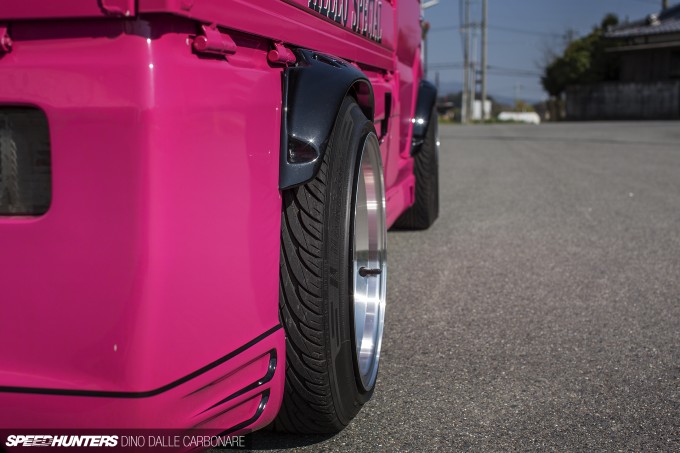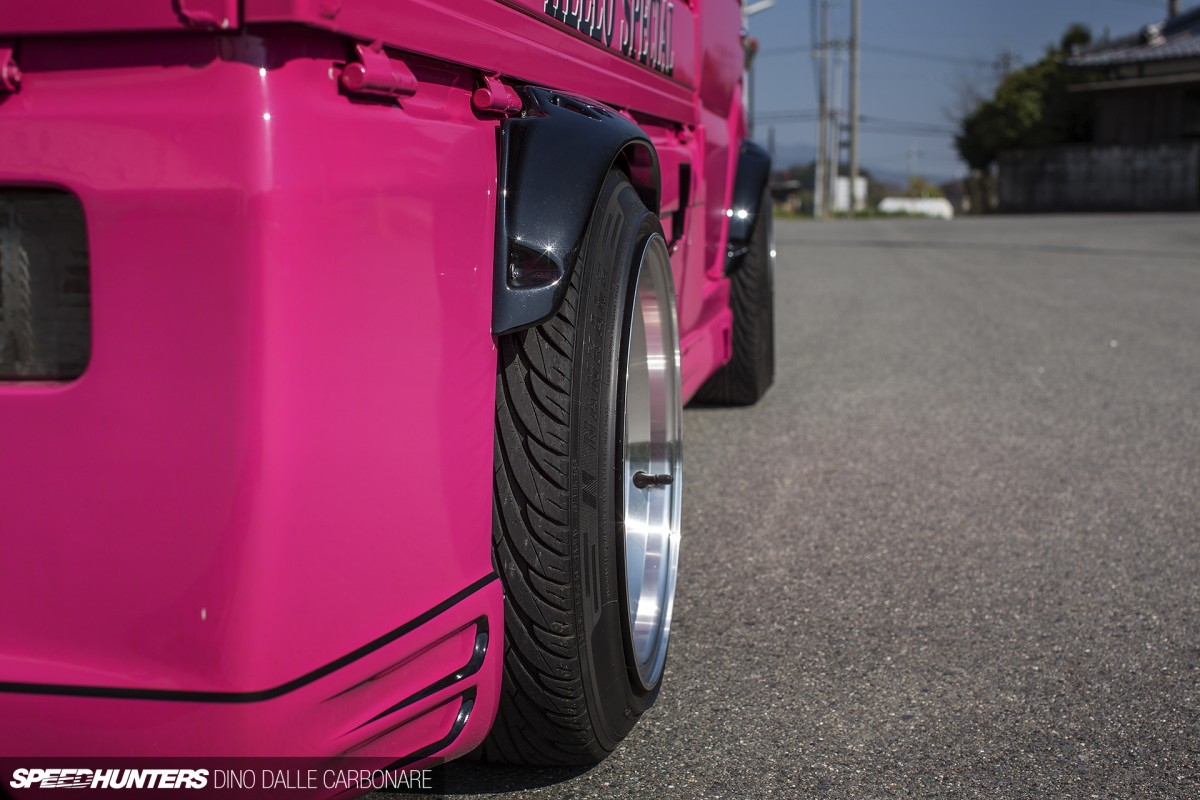 Oda-san has kept things functional so there's no crazy amount of negative camber to be seen. The rear end runs a solid rear axle of course, which is why the wheels sit nice and square – albeit sporting just the right amount of poke.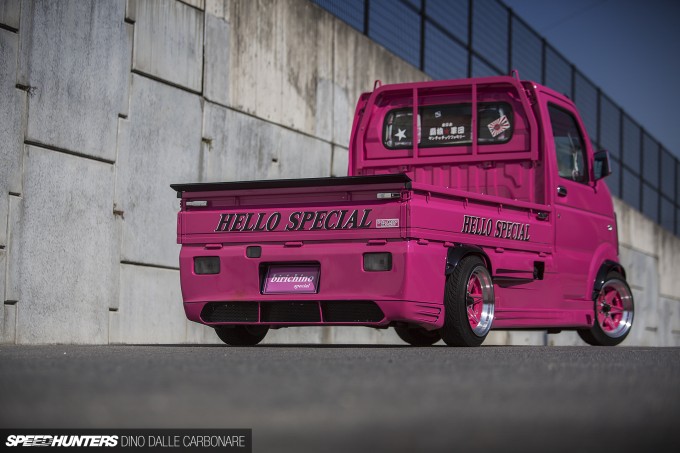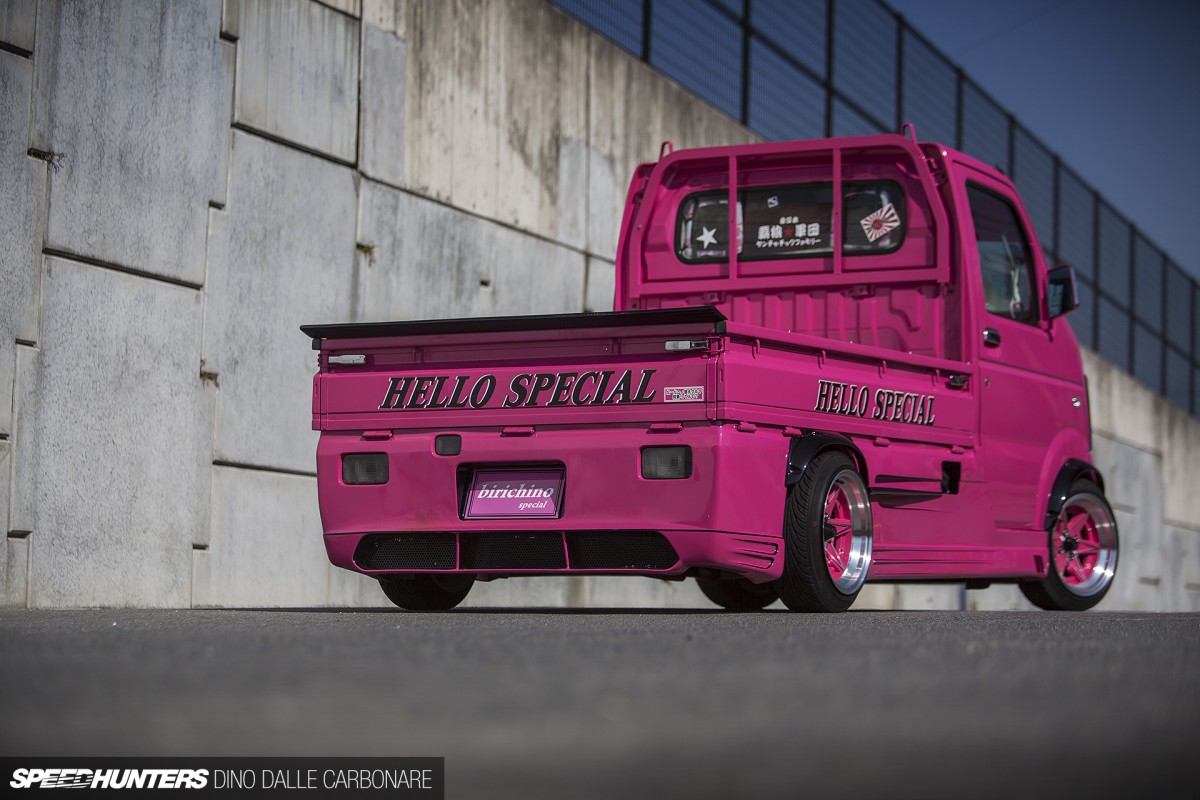 Aside from a Hello Special exhaust tip, which honestly doesn't really count, the engine remains stock standard. The only real mechanical upgrade is the welded diff, which was made to transform the little farmer's workhorse into a fully-fledged drift truck! Okay, so 'fully-fledged' might be a bit misleading, but when the on-track opportunity allows, drifting is precisely what Oda-san uses his pink pick up for. With literally no weight over the rear axle, narrow tyres and an aggressive enough clutch kick, the Suzuki Carry has no problem getting all crossed up. And with careful use of the throttle (read: pinning it to the floor), it can actually be kept there!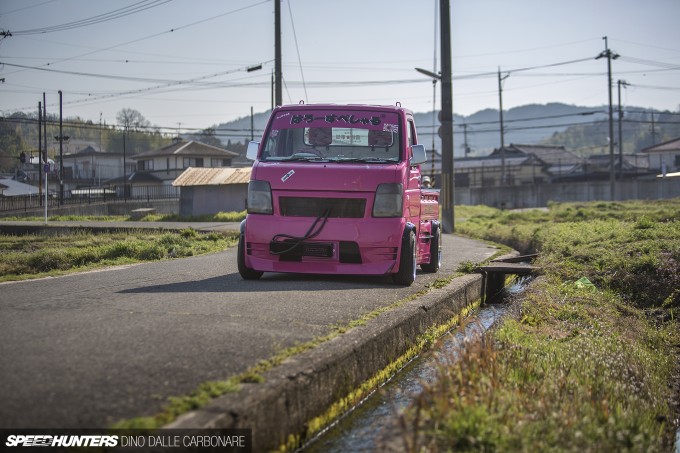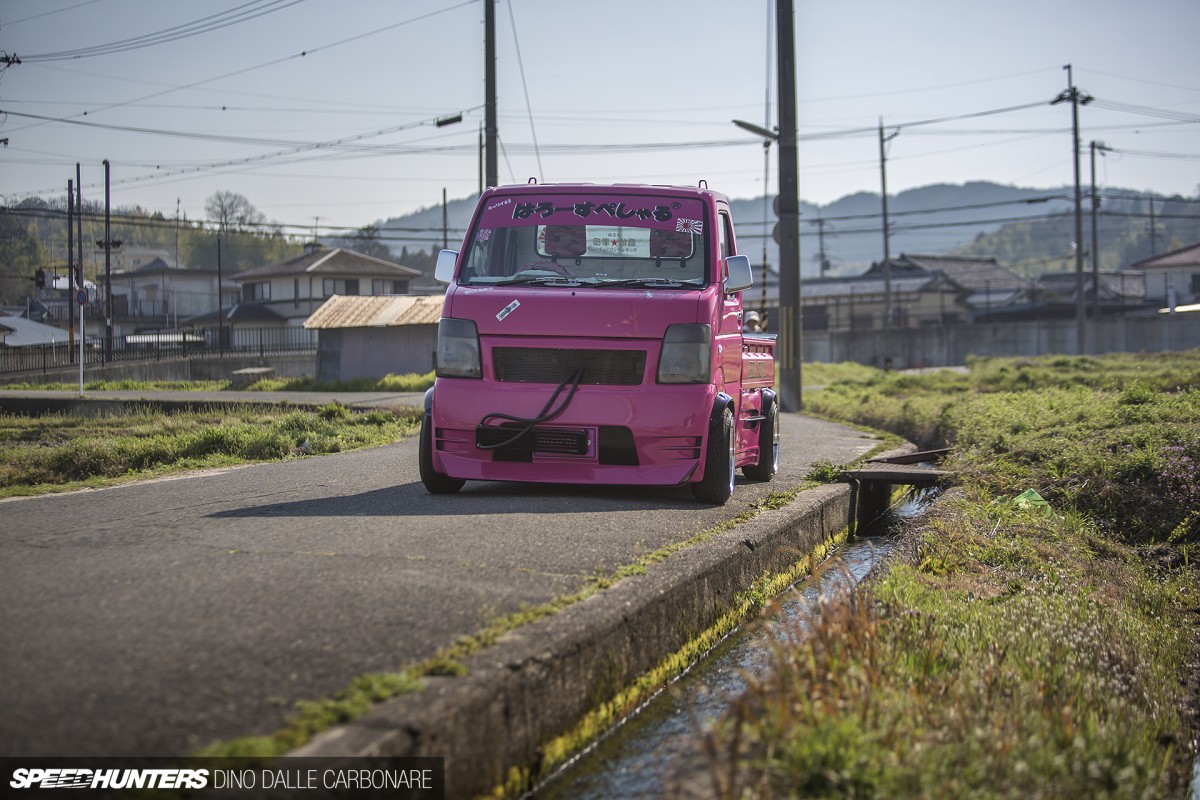 The coolest touch of all has to be the bumper-mounted external oil cooler. How Hakosuka-like of the little Carry!
In Pink We Trust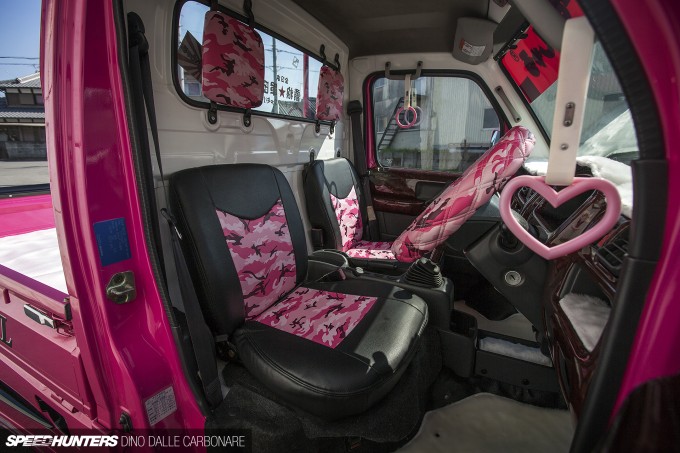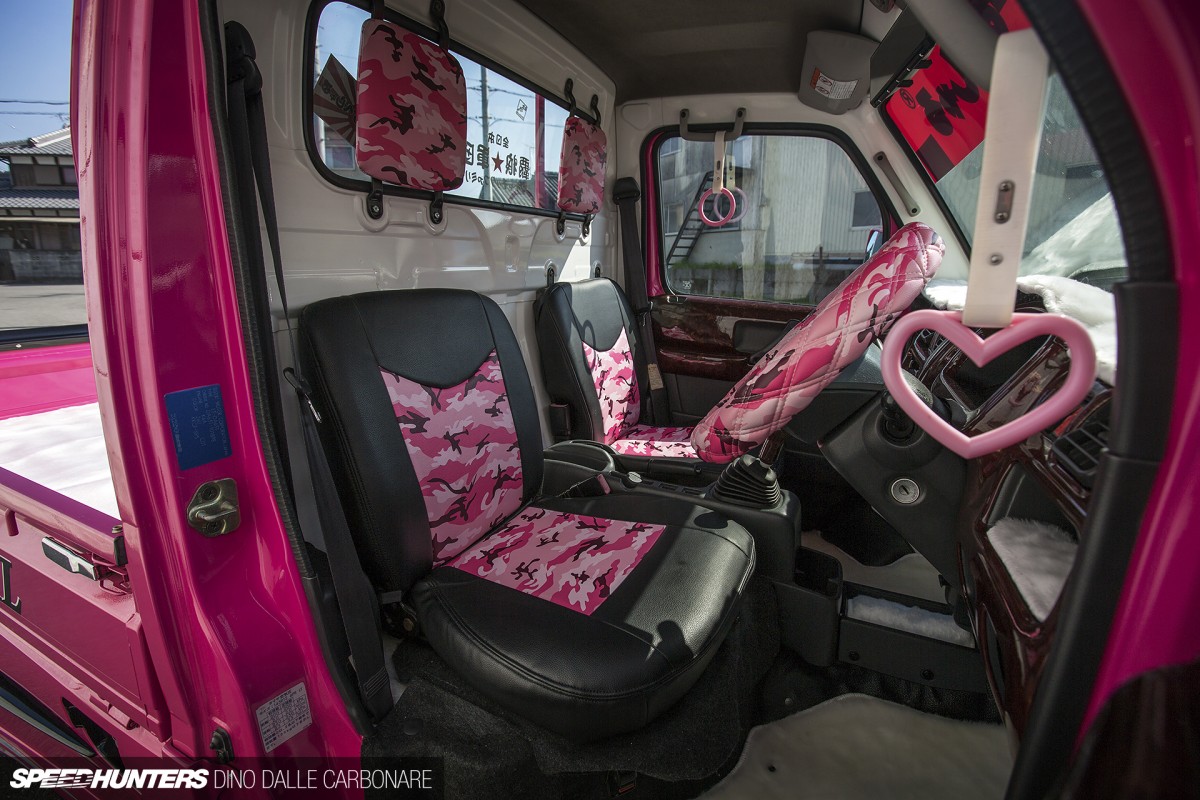 If you thought Oda-san might have stopped at the exterior with the modifications, you are very wrong. In fact, the most popular parts that Hello Special sells are interior accessories, and literally everything inside the cabin of these little trucks can be swapped out and upgraded. For his drift truck he settled on a few select details.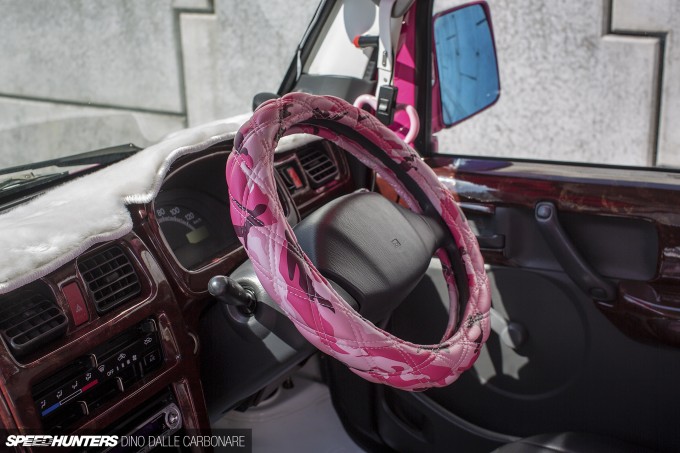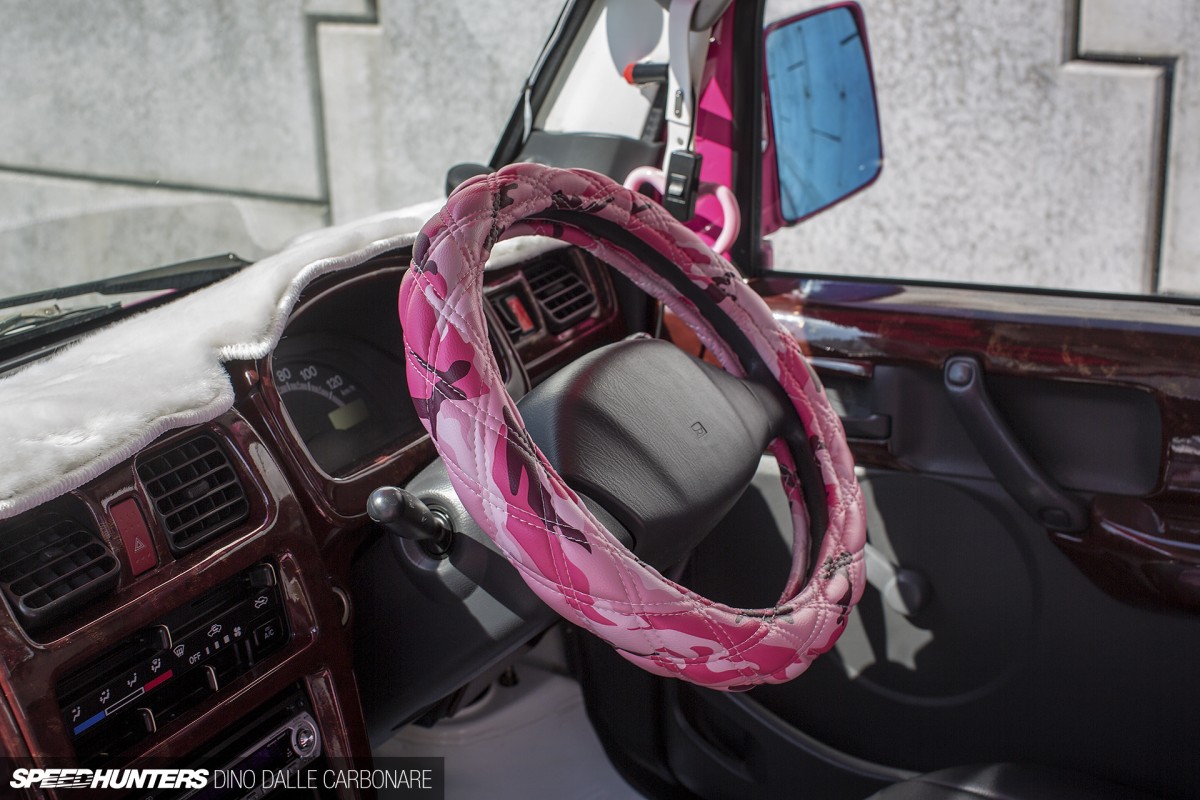 That includes the soft, quilted pink-camosteering wheel cover, and a silky-smooth carpet panel on the dashboard. What made it interesting to me is how some, if not all of these details, are things you would normally see in the dekotora scene – another Japanese custom automotive sub-genre that Mike briefly investigated last year.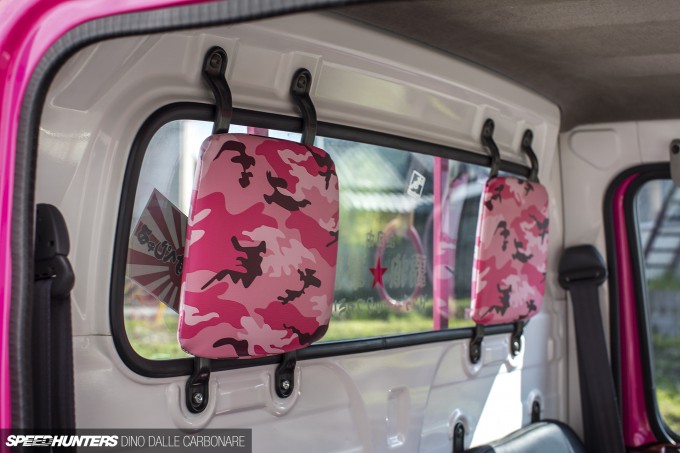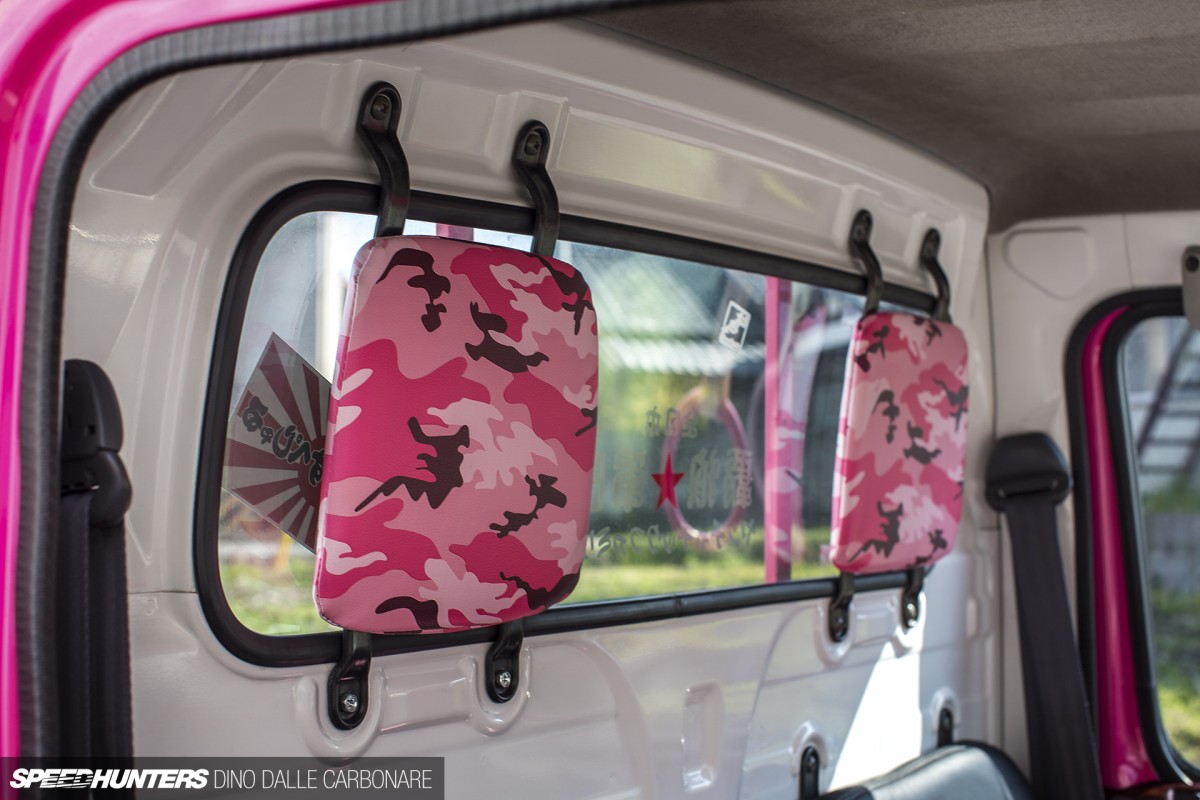 Like the seats below them, the headrests too got the pink camo treatment.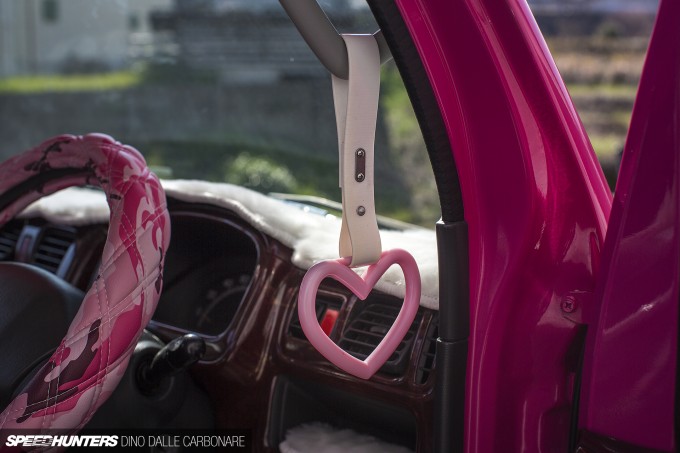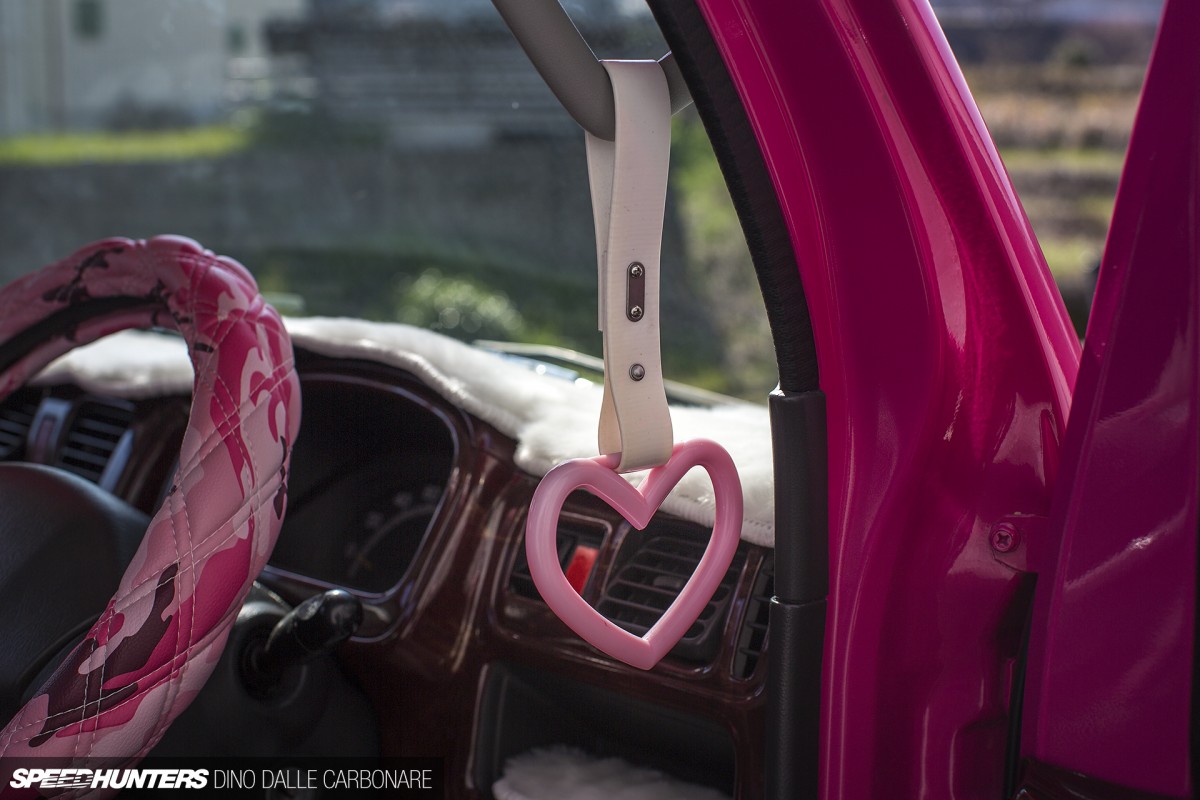 You are looking at one of the most popular Hello Special items available: a heart-shaped tsurikawa train handle strap – something we always see on kaido racers.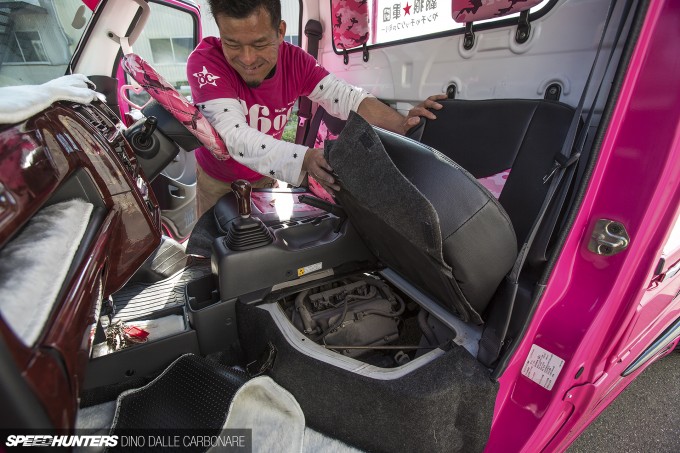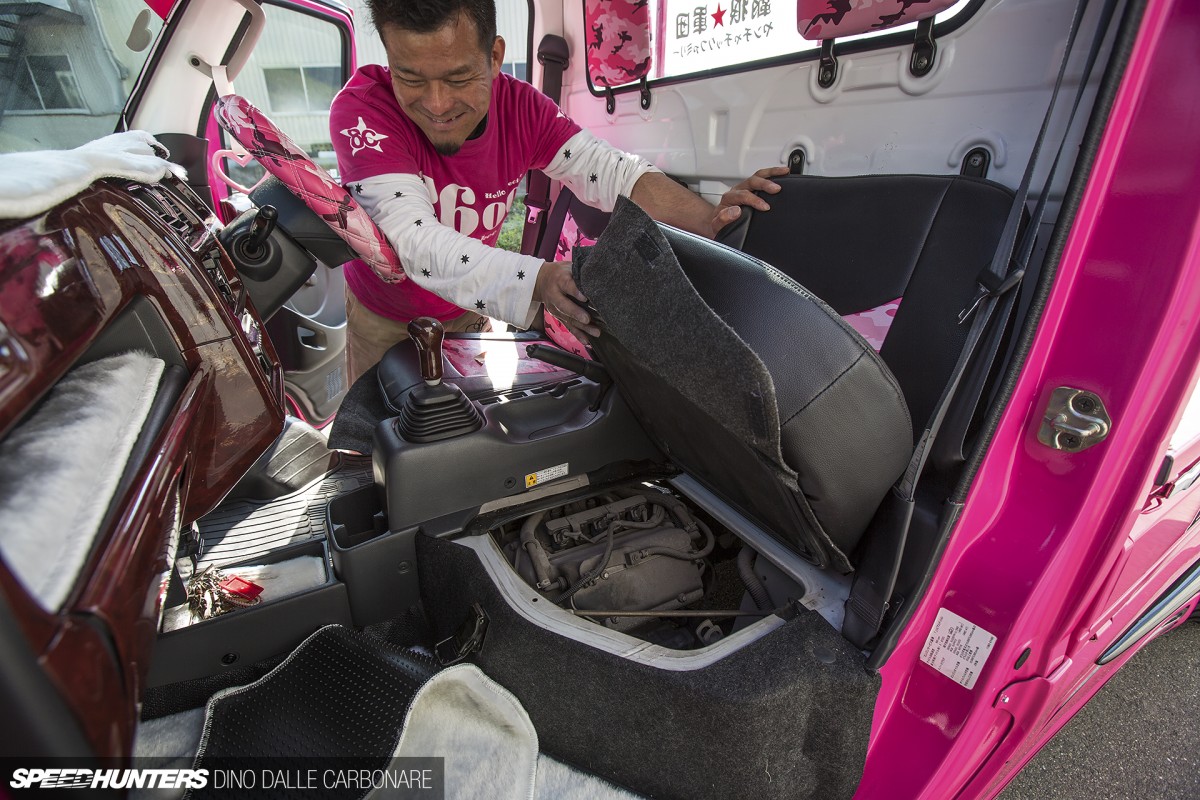 Here Oda-san lifts up the passenger seat to reveal the little three-cylinder 660cc KA6 engine that supplies the 50 or so horsepower to the Carry's rear wheels. Despite what the truck's exterior dimensions may suggest, the engine's position actually makes it quite a nice-handling and neutral-steering little machine.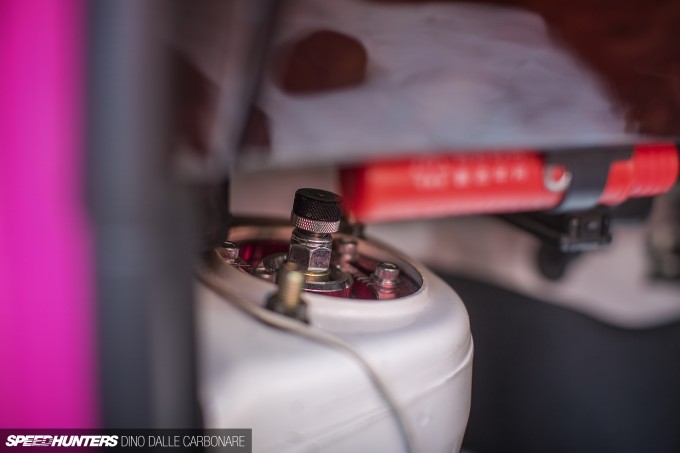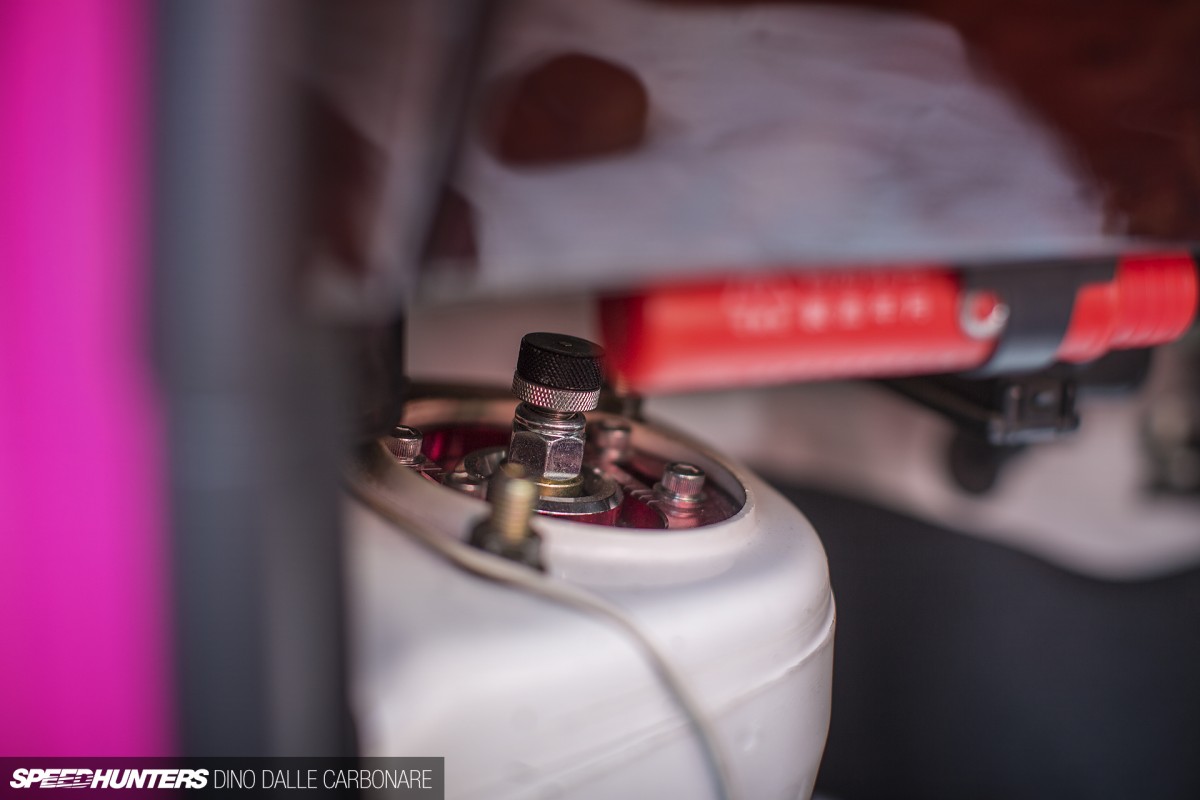 With the cab literally over the front wheels the front suspension turrets are actually in the footwells. That makes it very easy to quickly adjust the settings on the Hello Special adjustable coilovers!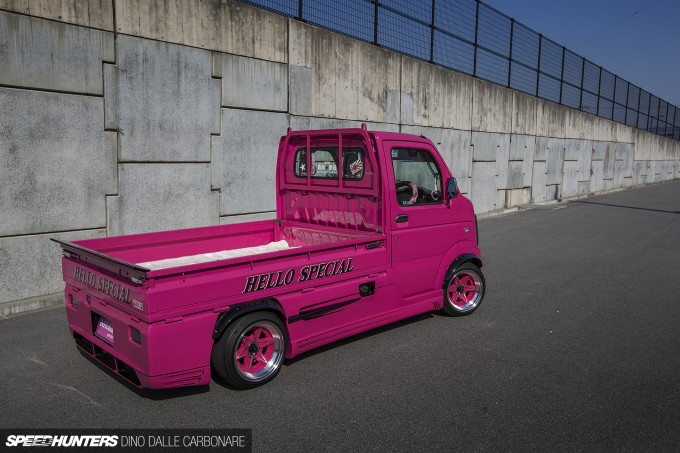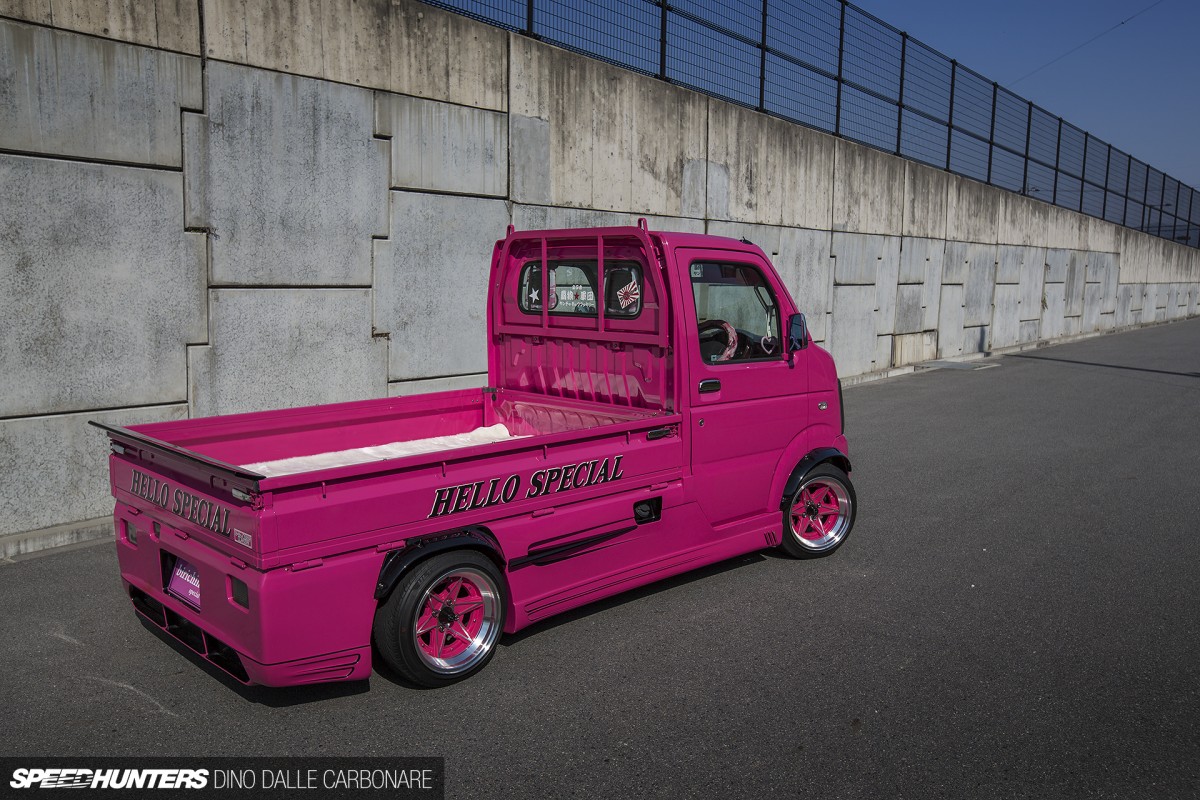 Judging by the condition of those rear Nankangs it's sure looked like Oda-san had been enjoying the odd skid – but I was reassured that sort of stuff is always done within the safety of a track.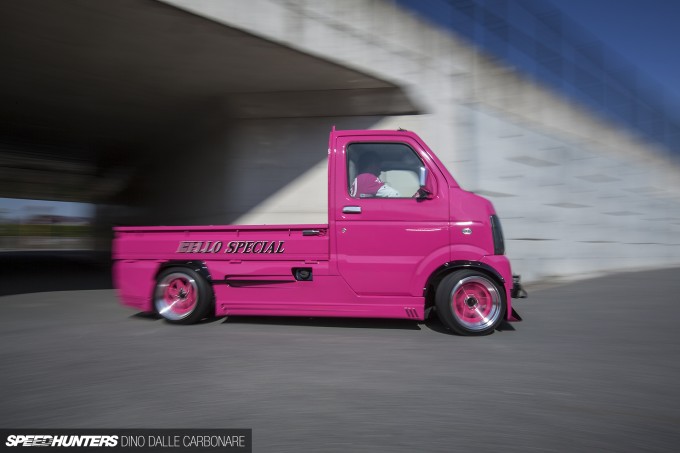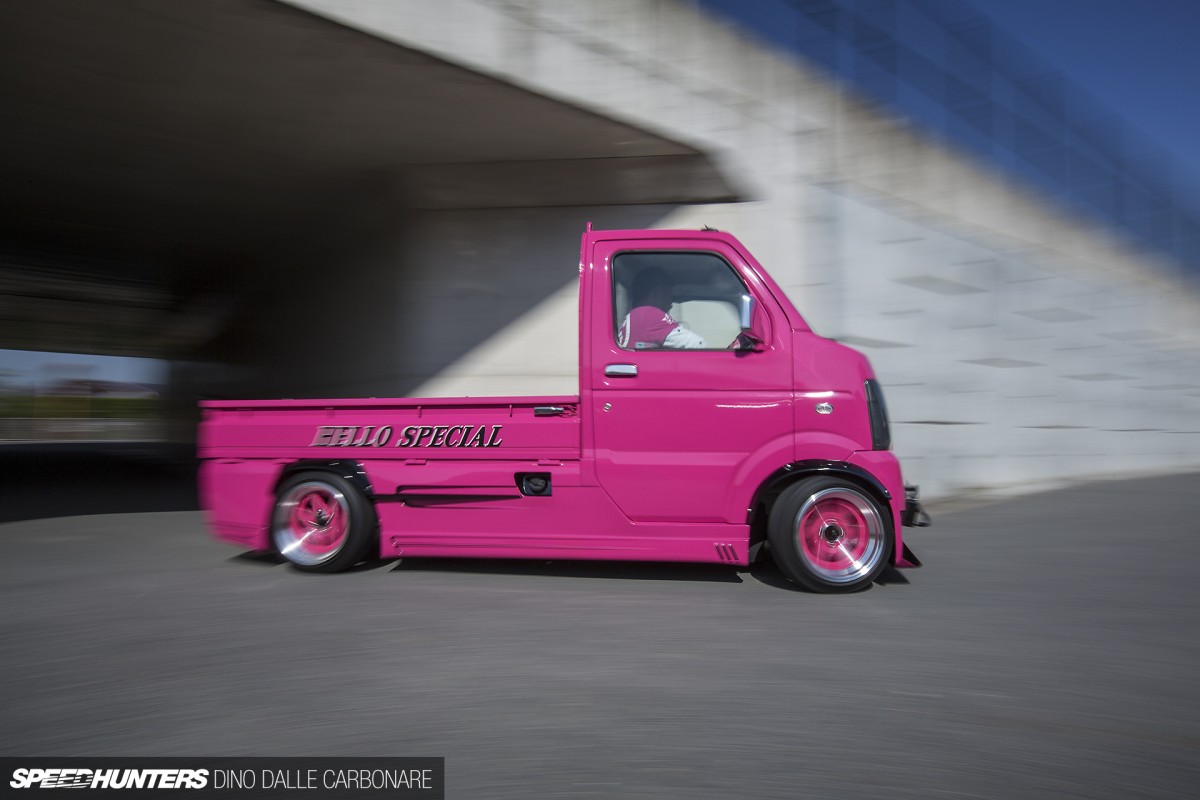 I begged Oda-san to give me a little drifting demonstration, but there was no way he was going to interrupt the tranquility of the Japanese inaka by throwing his truck sideways and bouncing the engine off the limiter. His neighbours would be far from impressed!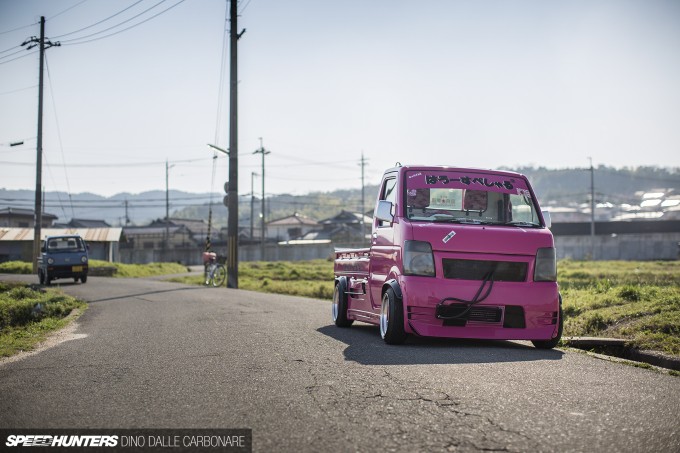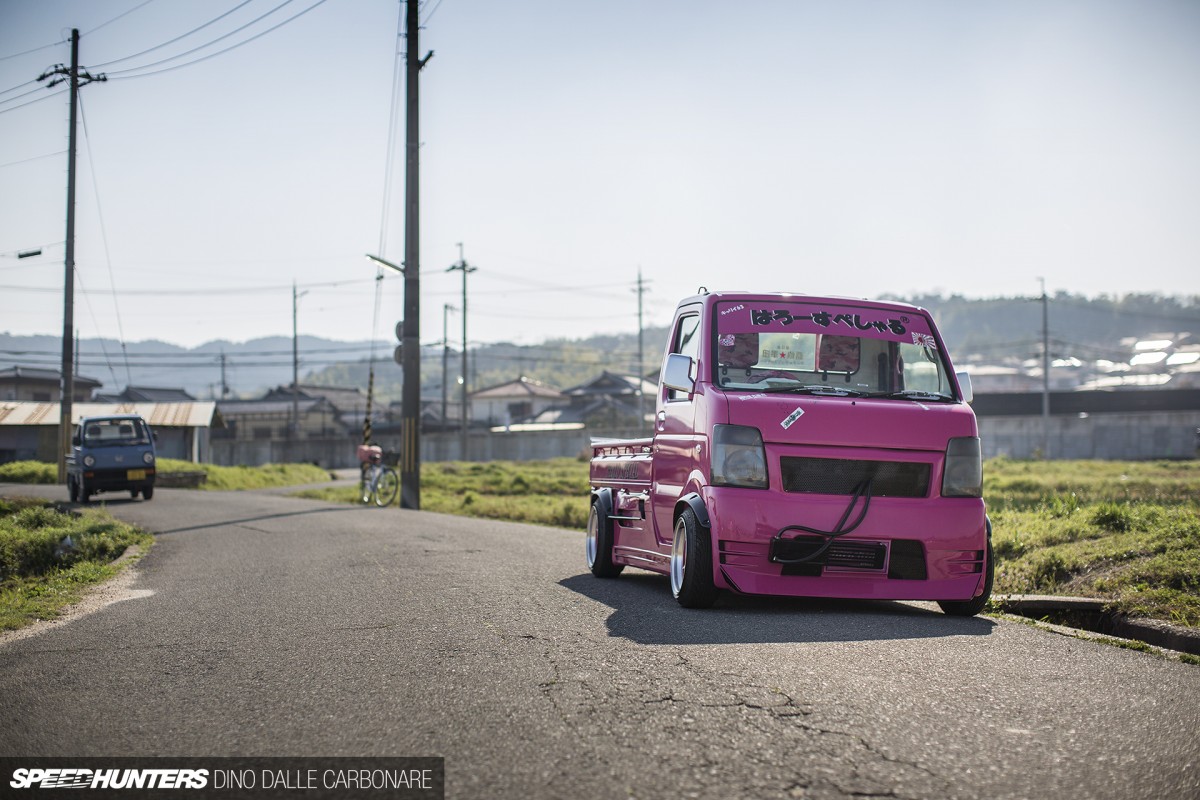 And so my time with one of the most unique feature cars of 2014 came to an end in the middle of the Kyoto countryside – the little Carry's natural habitat. I left happy to have met one guy that has turned a fun idea into a proper business, catering and building cars that make people happy.
Dino Dalle Carbonare
Instagram: speedhunters_dino
dino@speedhunters.com