Unconformity Rules
Style is nothing but a dare – a dare to be different. There are only two outcomes: you either fail and get forgotten quickly, or you create something others want to emulate. Imamura-san at Bee Dragon doesn't know the meaning of conformity  – he just does what comes up in his mind, and in the process has really made his mark on the VIP world.
We've been documenting Imamura's creations ever since his wilder creations started making it on the scene a few years ago – cars that stood out for pushing the boundaries of an custom automotive sub-genre that has followed a strict style regime for a long time.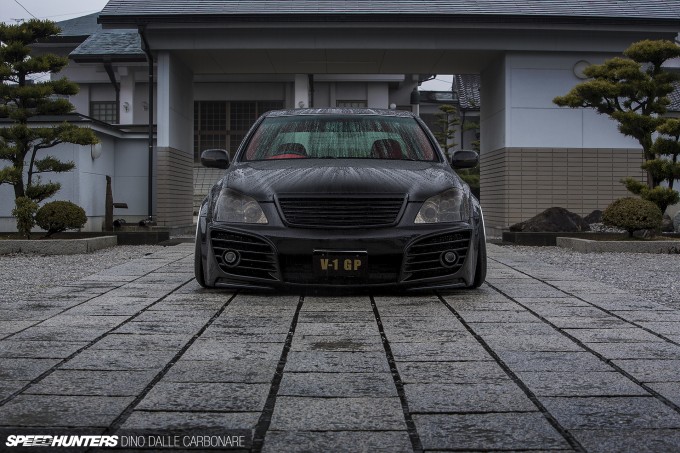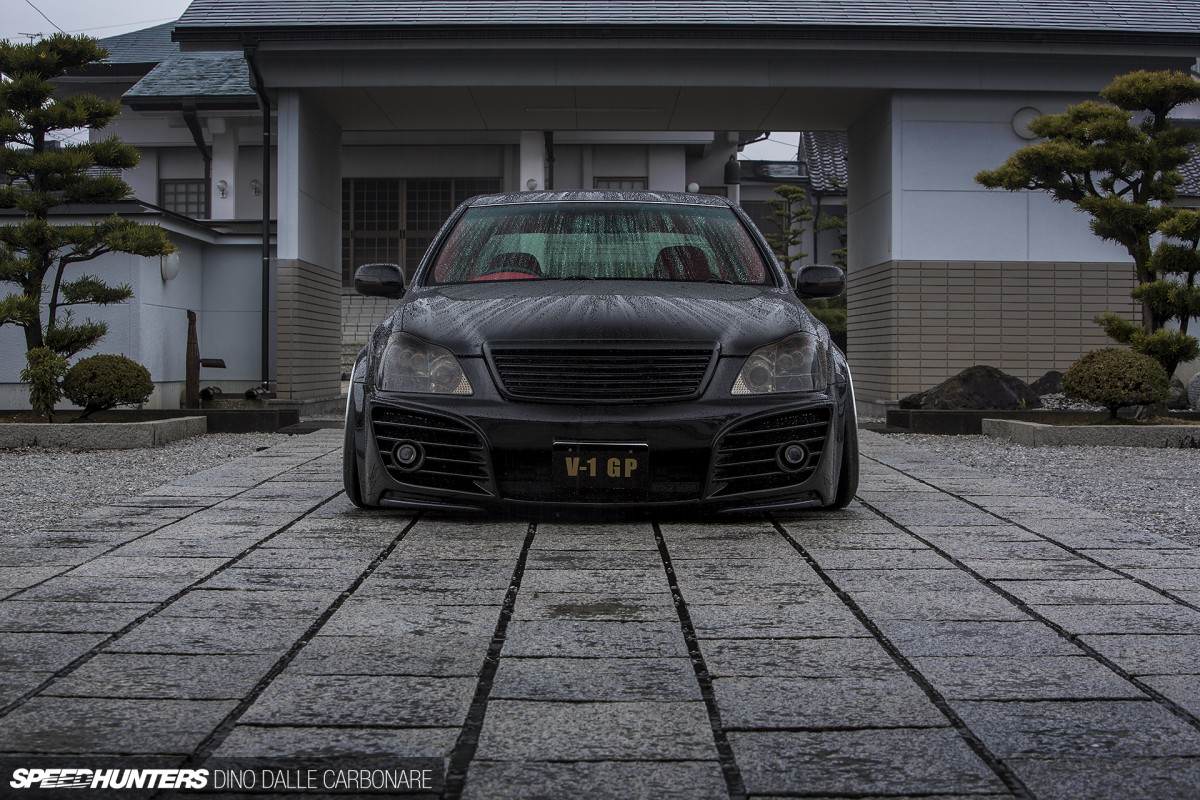 But like most things, stuff changes. People get bored. They get exposed to new ideas and sooner or later can't help but experiment. It's this that allows styles to stay fresh and current. We all know what VIP is about and what it's always stood for, but in recent times – thanks in part to individuals like Imamura – it's taken on a mind of its own.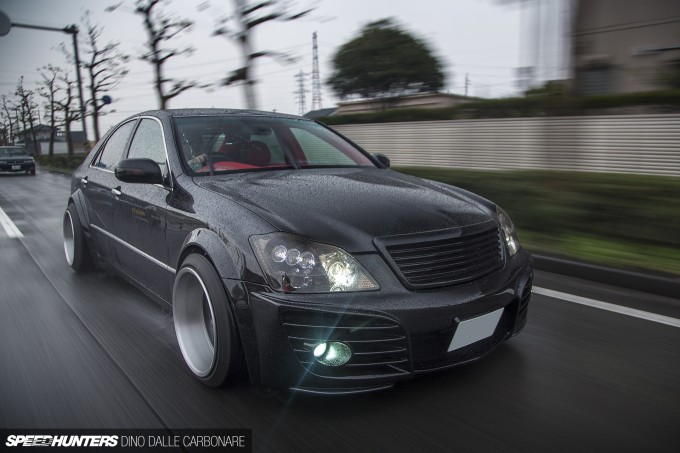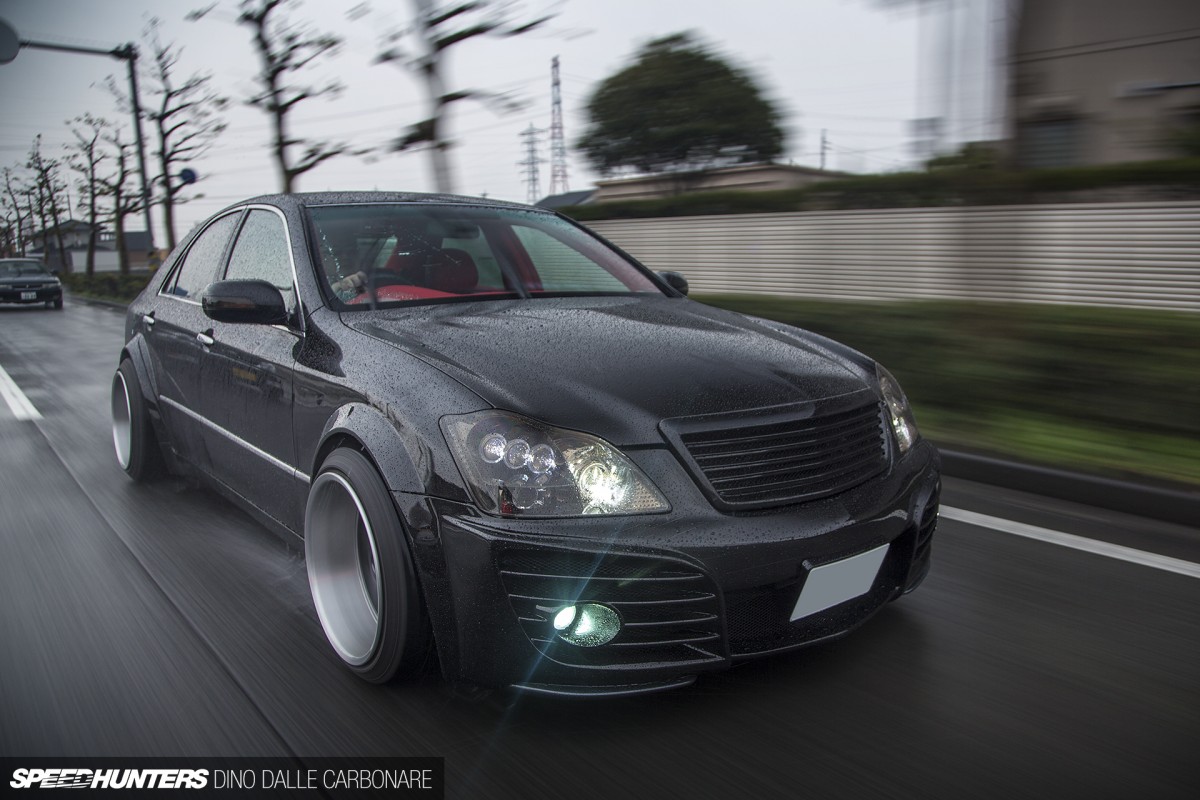 Take air suspension for example. During my first visit to Bee Dragon about three years ago, Imamura told me that he'd never even considered using air suspension in his own cars. If a customer was to walk in and request it, however, he would have no problem in catering to their needs.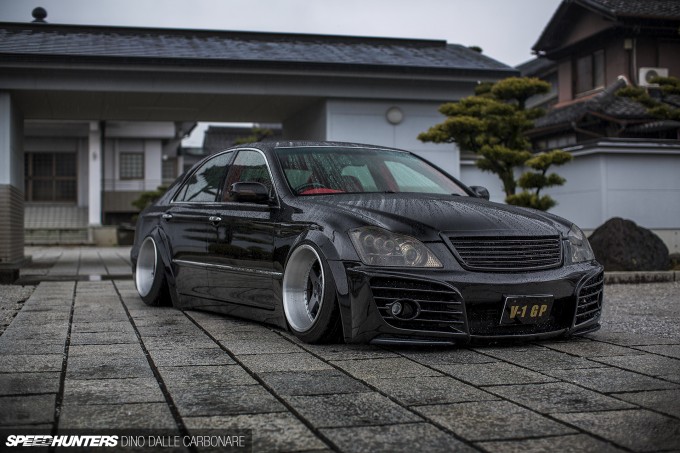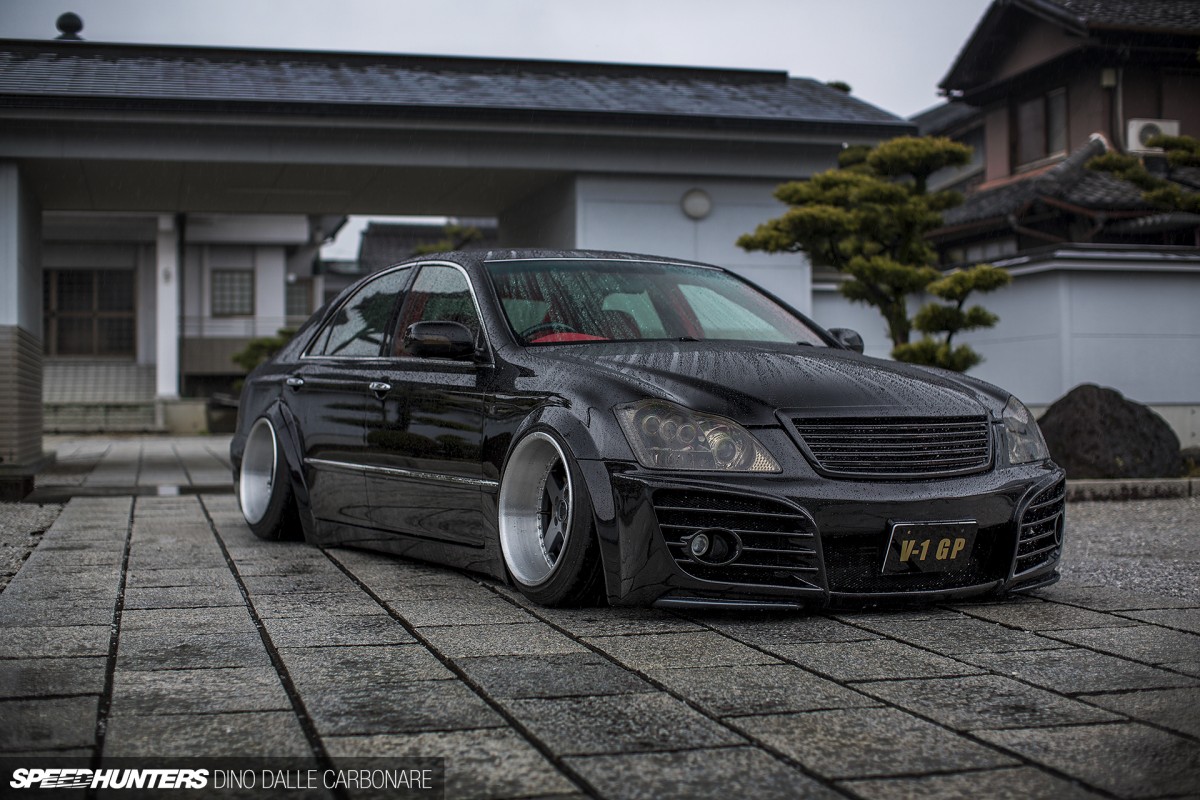 As he put it, driving an extreme VIP car like the ones that Bee Dragon build is something that takes a lot of dedication. You have to put up with a ride which lacks any sort of compliance over even the smallest of road imperfections, and at the same time you have to try and not get noticed by the police. Kudos to those that stay true to VIP's roots with a static drop, but what if you want to drive your bippu more often, or take it for outings with the family? That's when air suspension comes in.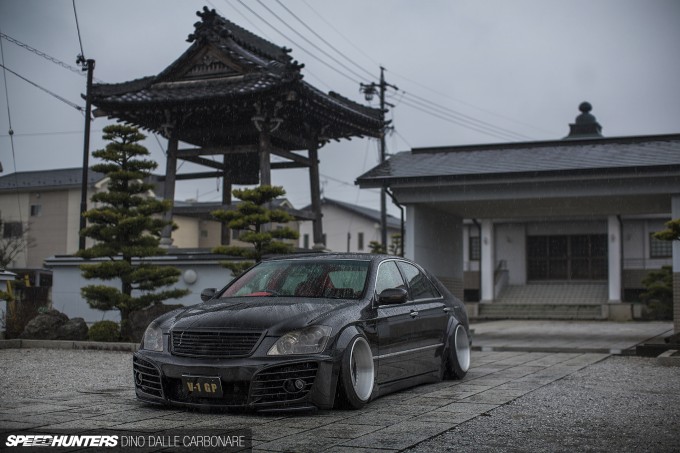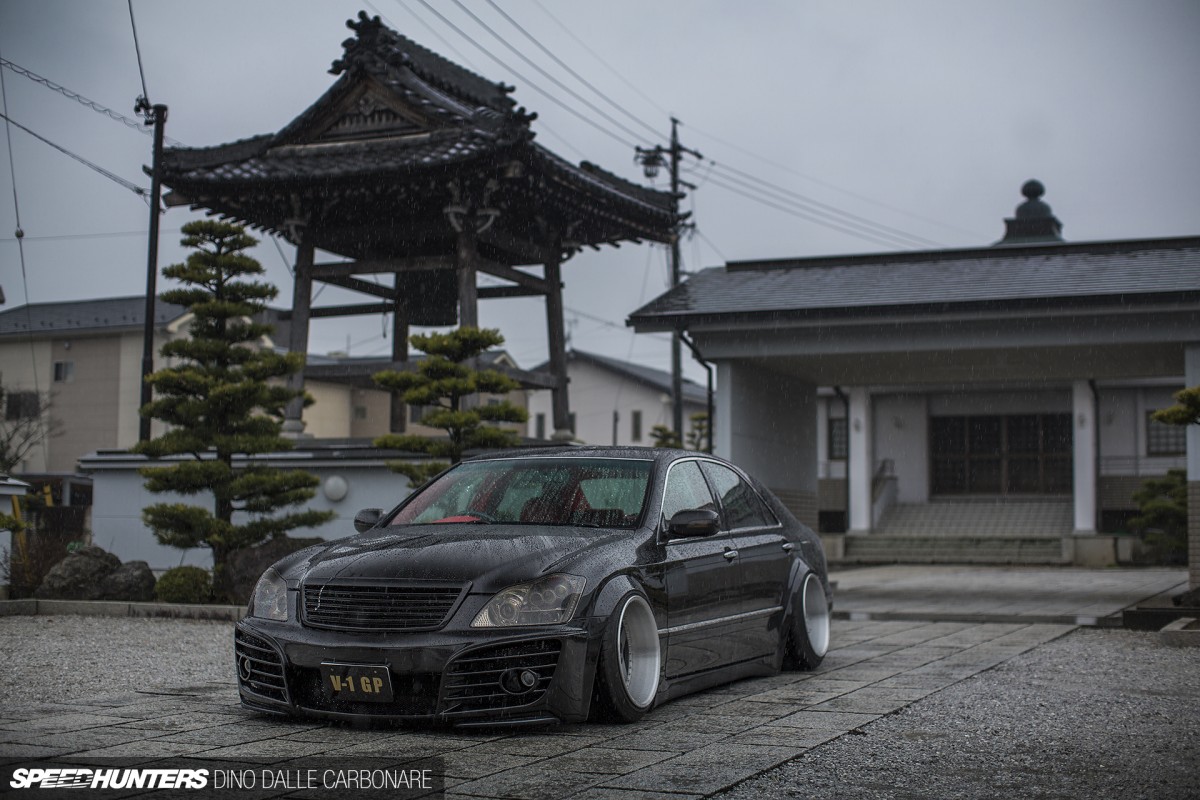 And air ride is what this JZS181 Toyota Crown Athlete – one of Bee Dragon's biggest challenges since Imamura began building VIP cars – is designed around.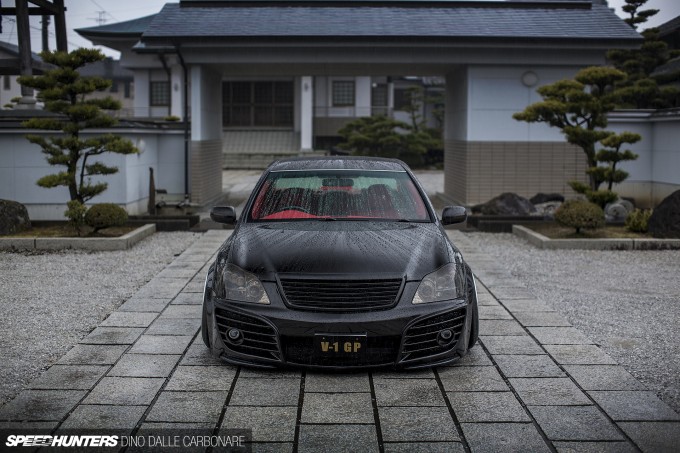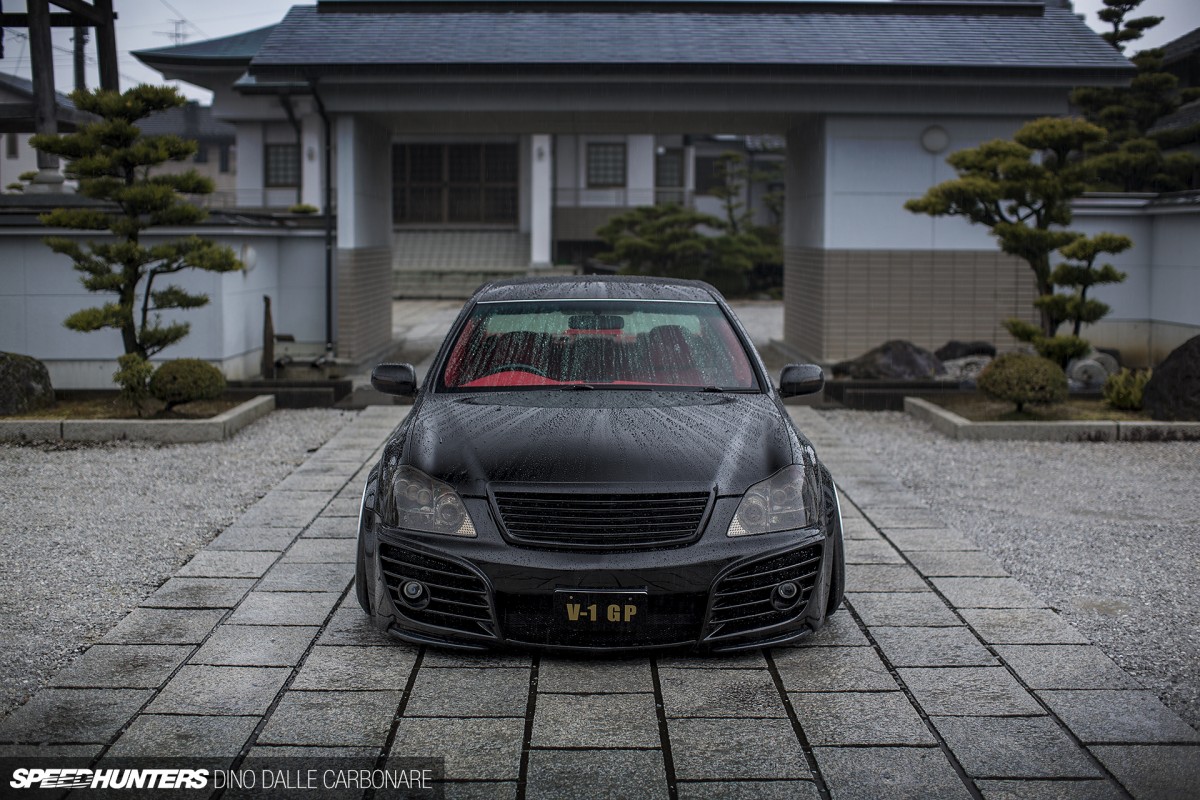 After much discussions with the Crown's owner and founder of the 'V-1 GP' VIP club, Imamura and his crew got to work sculpting all the custom parts that would turn this Athlete into a bespoke work of art.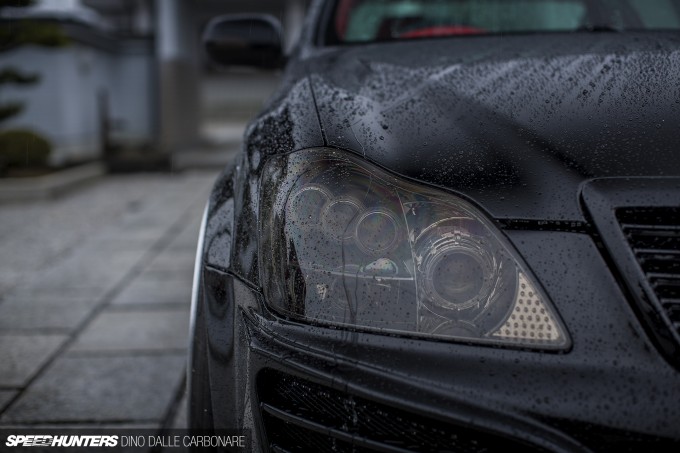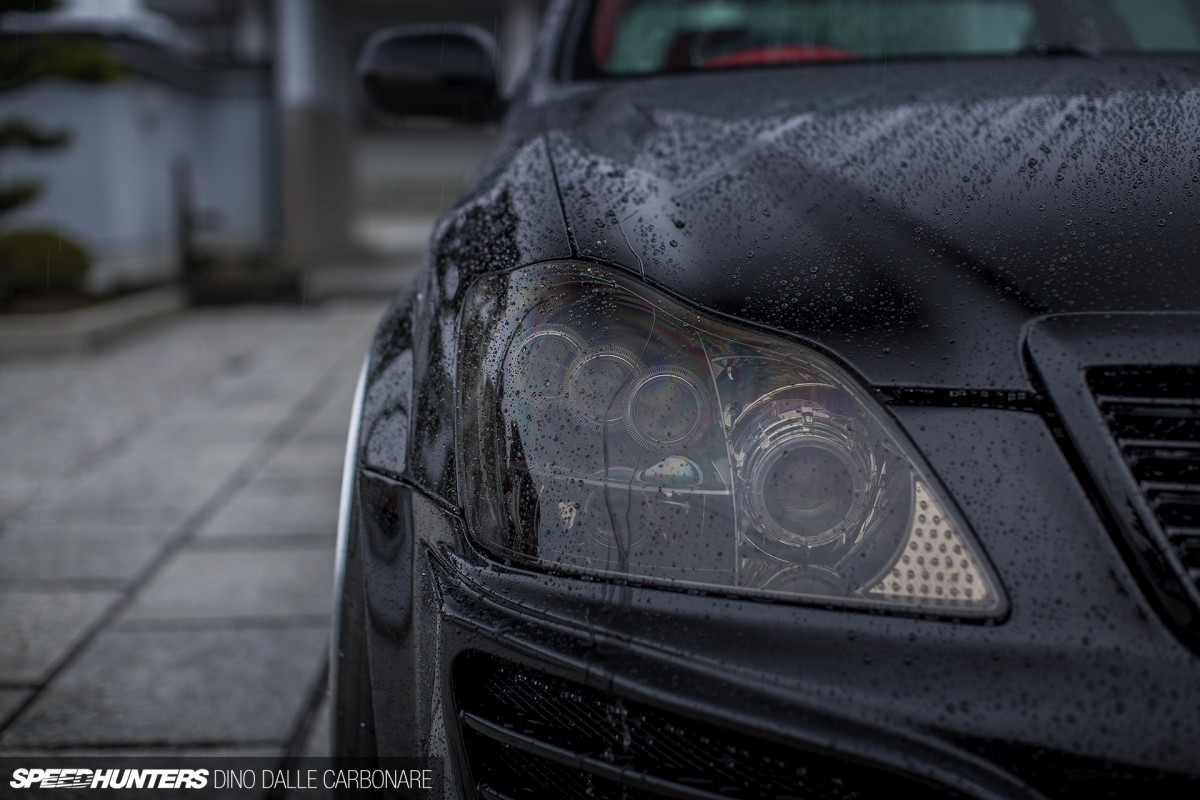 Detail-rich is a good way to describe this build, and reflected in things like taking apart the stock headlight enclosures and arranging a custom assortment of projectors and LEDs. It's origins might be in Japanese vanning, but this type of modification has become popular in the bippu scene. Just like we see here, the results give a modern, almost futuristic, touch to the car's appearance.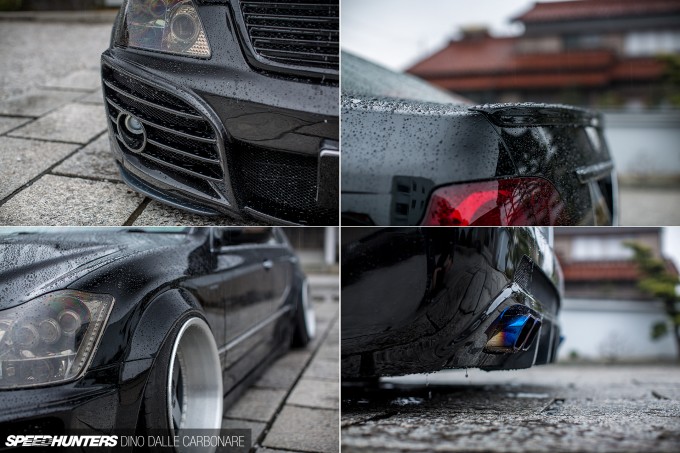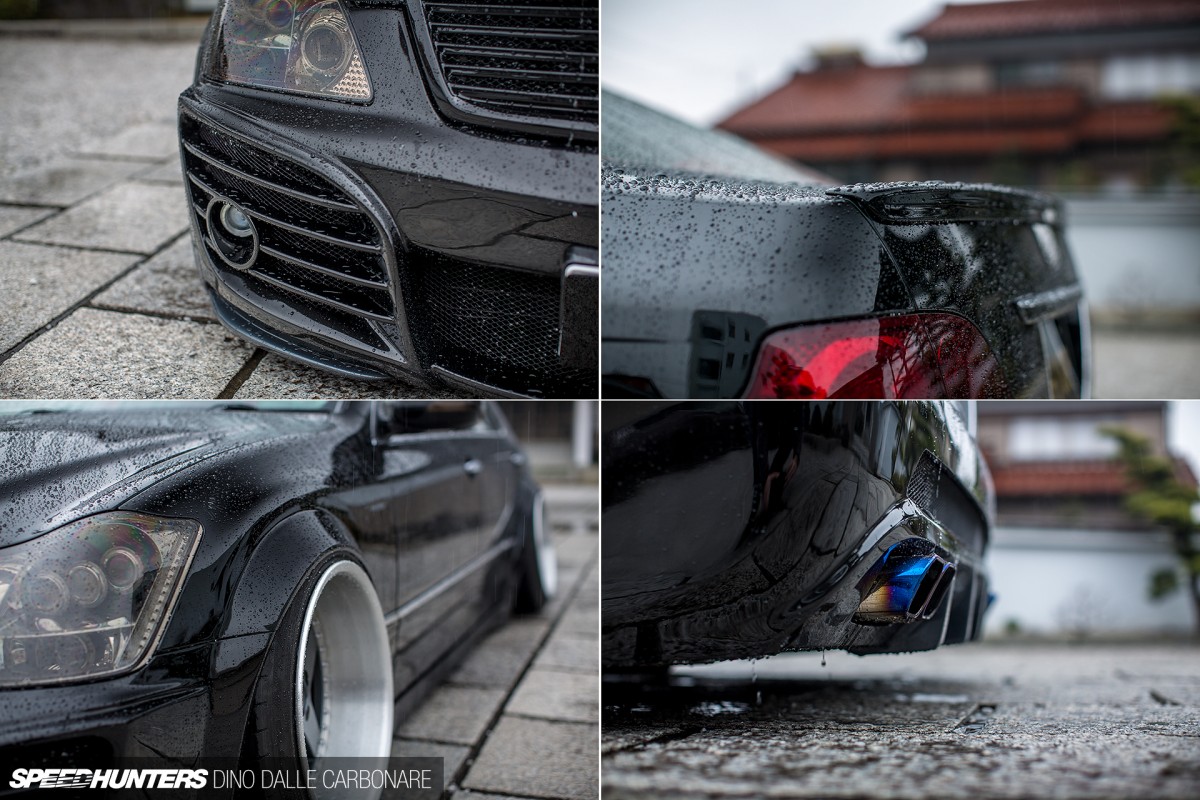 The front bumper was hand-sculpted to incorporate the big louvered side intakes, while the rear received an integrated diffuser section from which the angular quad titanium-look tail pipes peek out from.
Air Over Static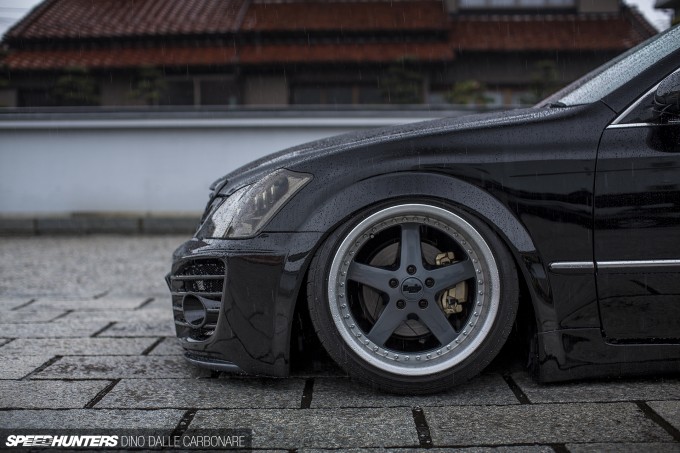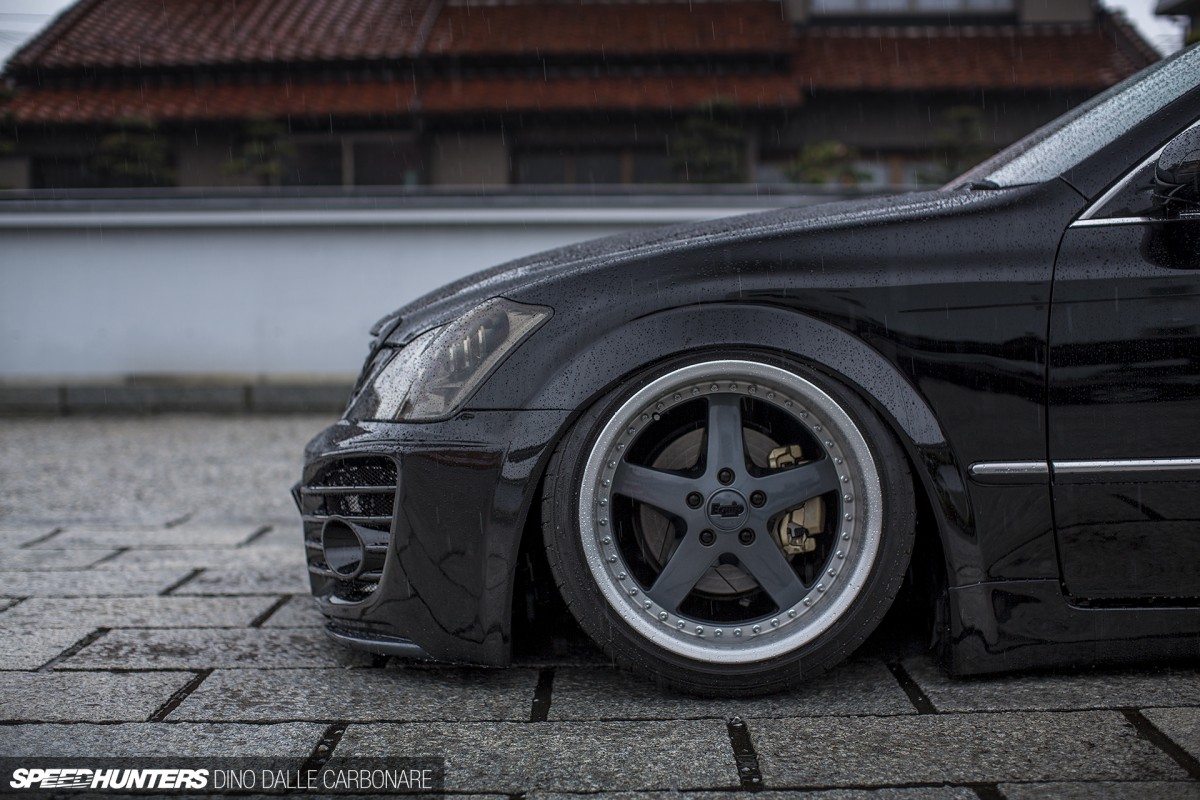 As with every car that's been given the Bee Dragon touch, it's the fender work that really sets it apart. As the owner wanted to still retain a traditional VIP feel to his car the flaring in the front and rear isn't as extreme as we have seen on cars like Imamura's own Infiniti Q45, but the fenders still pack some serious girth!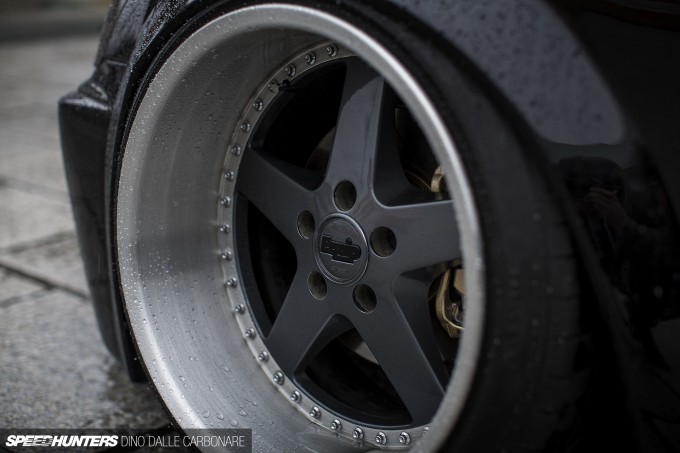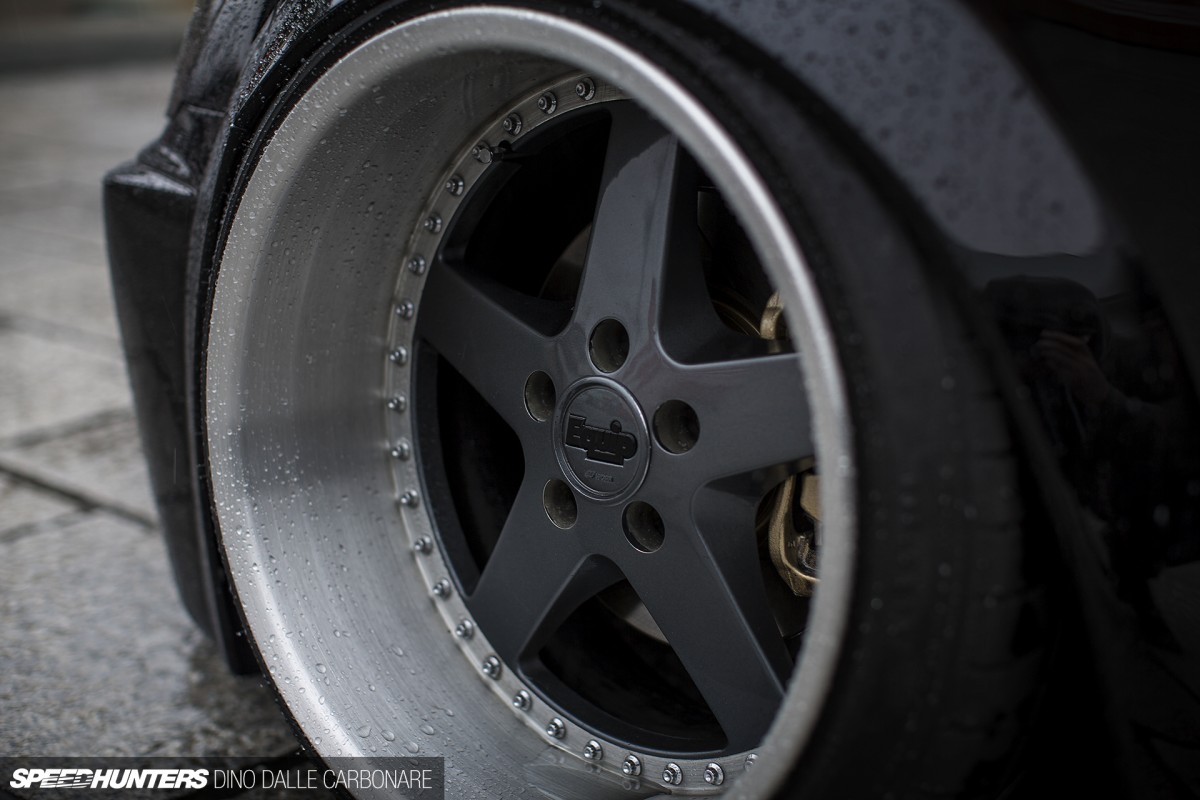 And they really have to, because they were shaped around the fitment of these old school Work Equips with measurements reading 18×11-inch for the front and 18×12-inch at the rear. This is dish!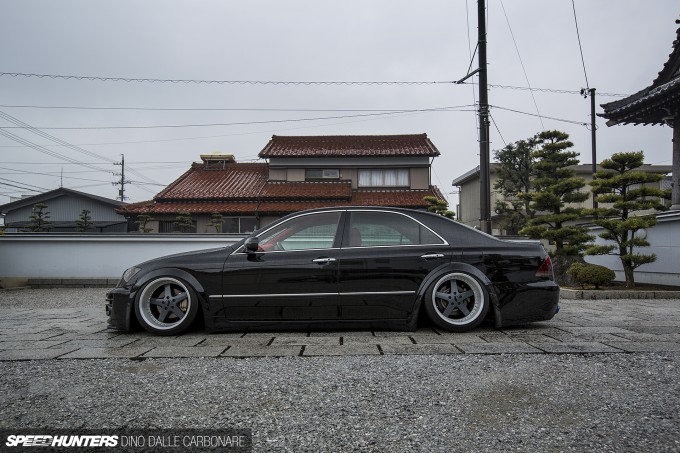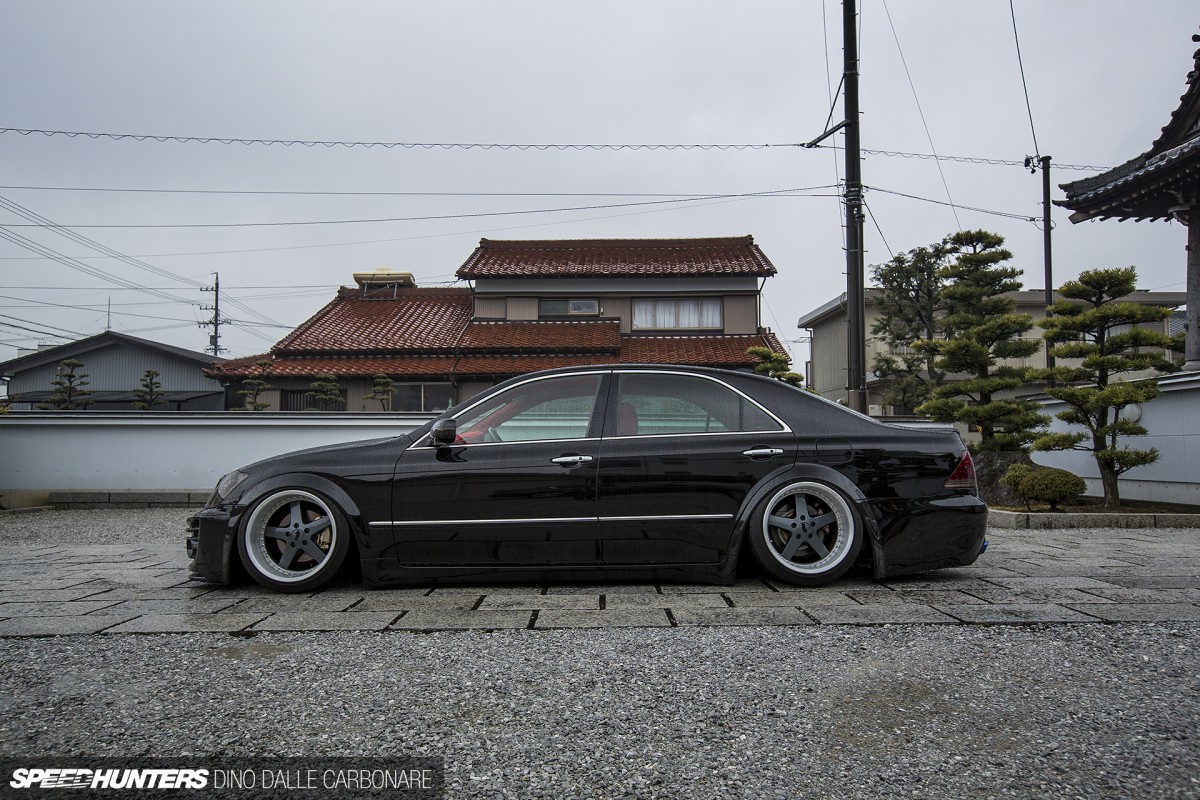 Imamura explained that the custom air suspension setup was made up of a variety of sourced components, and required a lot of fine tuning to make sure that the car looked the best it could wherever it was set. That is, slammed to the ground as we see here, for slow cruising, and at normal driving height – which, of course, isn't very 'normal' at all.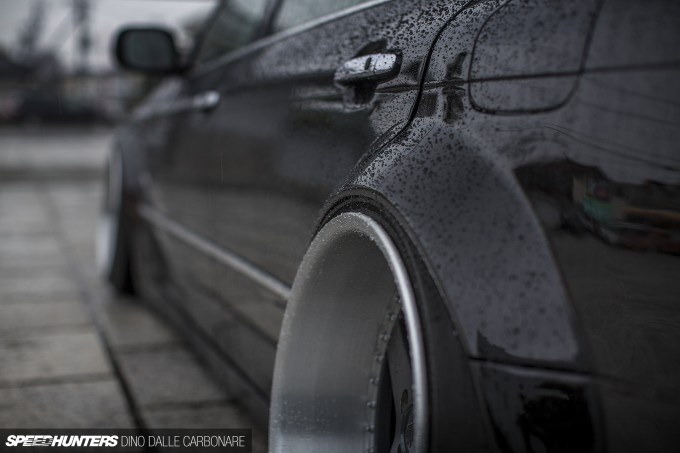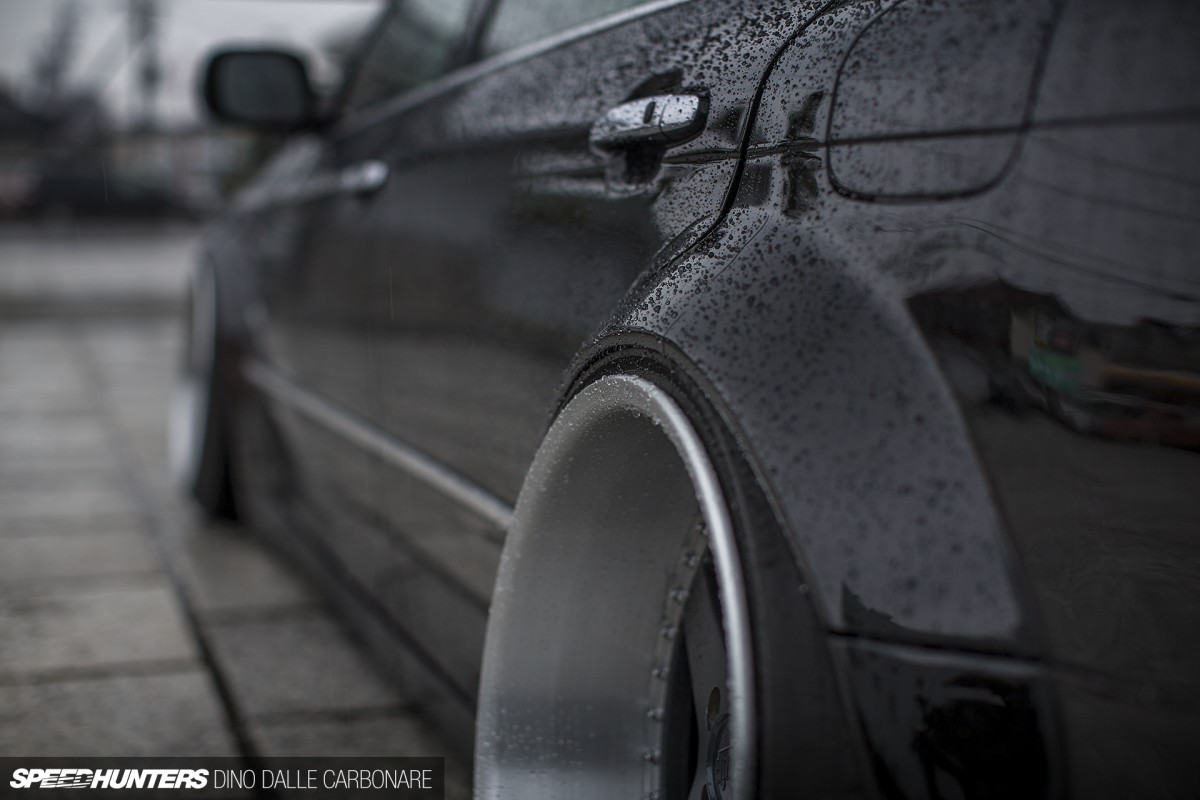 This meant that camber had to be carefully set through adjustable arms, making first sure that the tayazuri-style fitment was achieved. Mission accomplished I would say!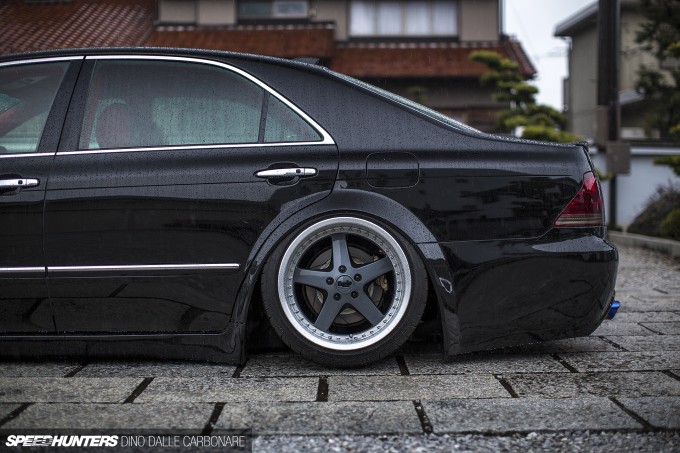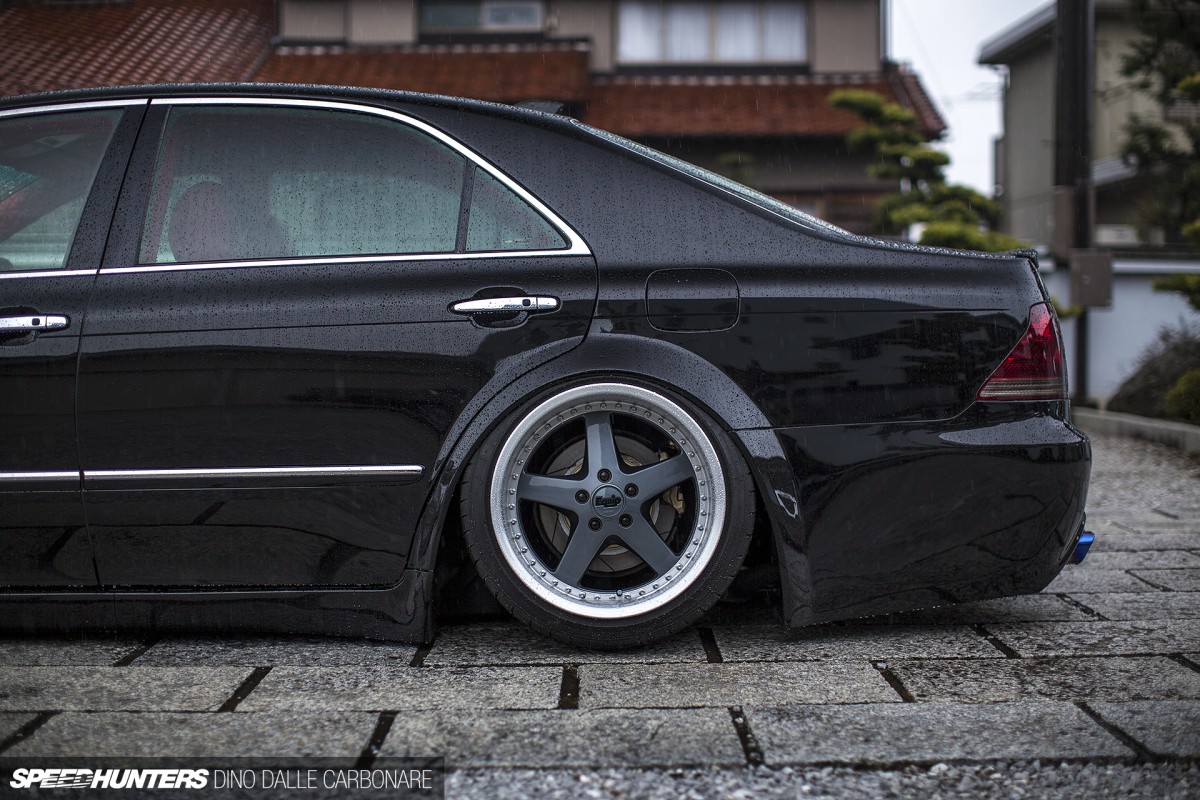 Bee Dragon truly are masters of getting those fenders to look almost like they came out of the factory. Notice how the flaring blends from the rear bumper's lower section around onto the doors and then down to the side skirts? The widening is achieved by welding on hand-cut and shaped steel extensions, and then adding more welds before grinding away the excess. Fibreglass and putty is used for the plastic pieces, before everything gets smoothed out and painted.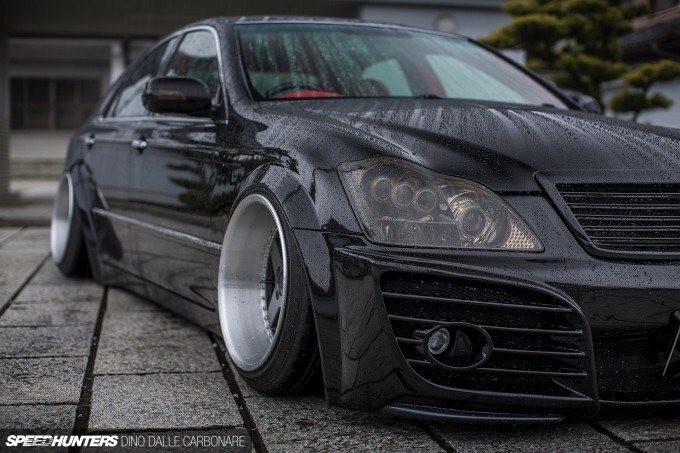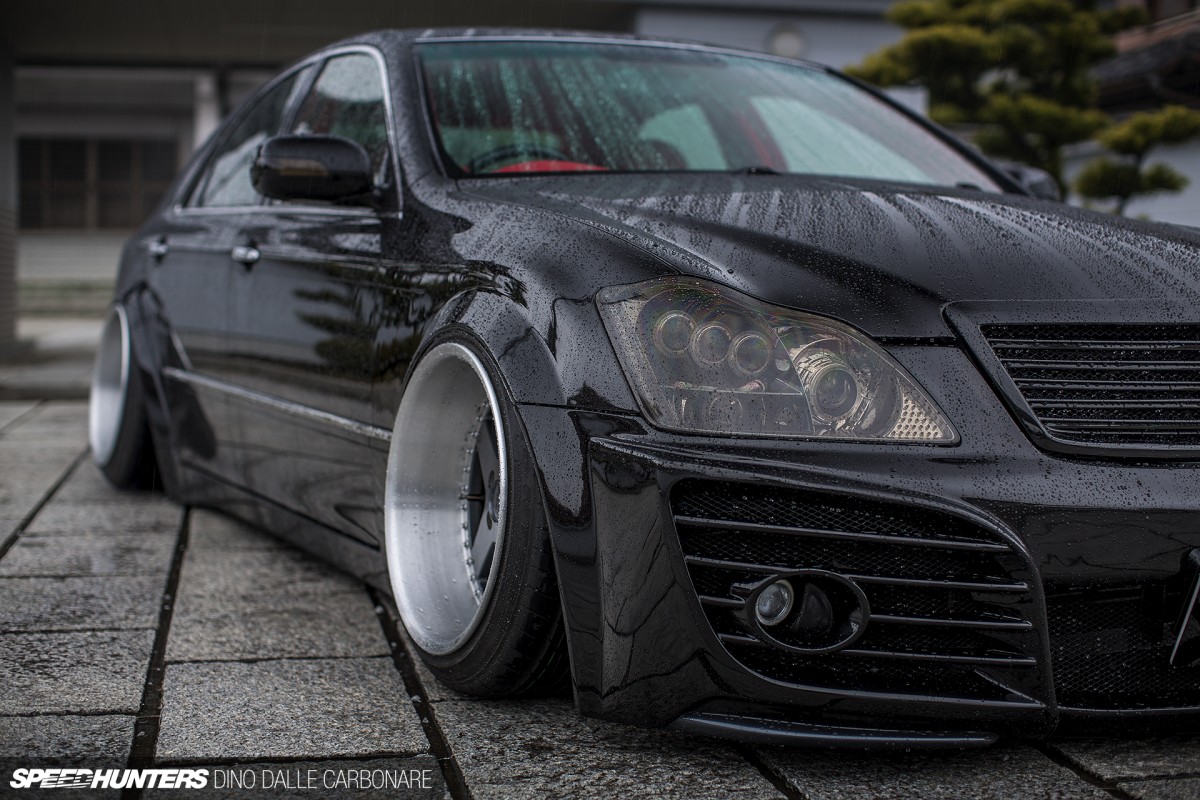 If aggression is what you're after with your four-door sedan, it's really hard to beat this sort of look. In fact, I'm not sure if there's any way it could be made to look meaner!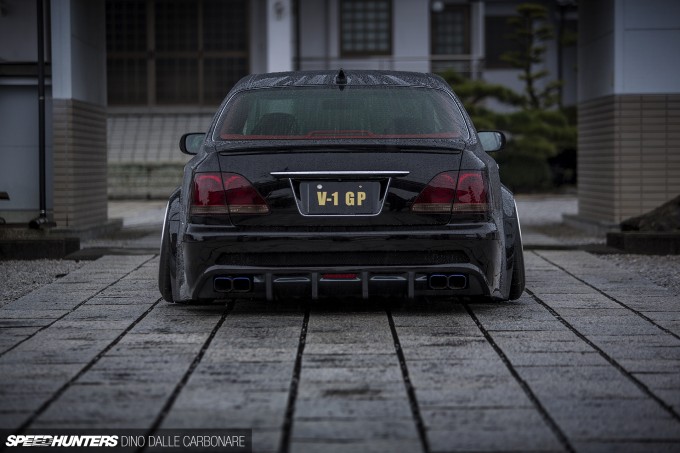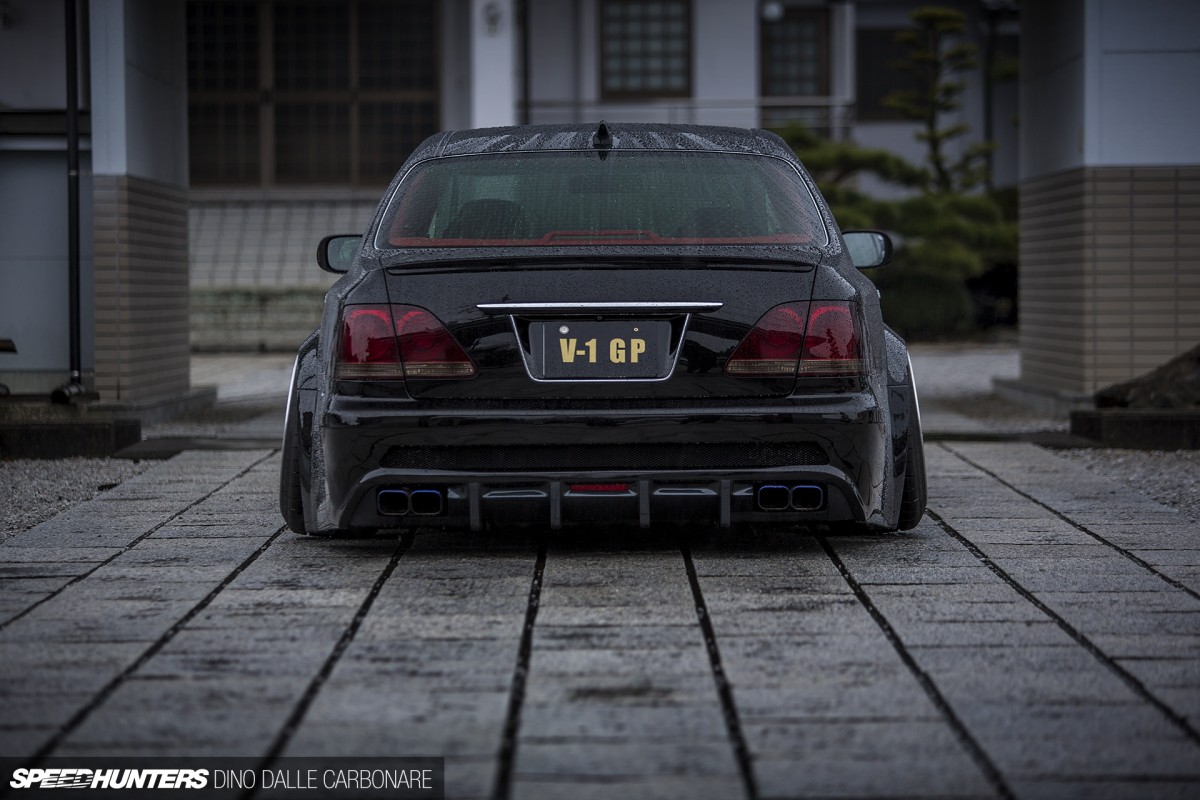 While true VIP cars must come with an attention-grabbing exhaust note, many in the scene are opting for more muted tones. Deep, of course, but not loud to the point where it becomes annoying. It's a sign of the times, or perhaps just another way that bippu has adapted to become less anti-social than it once was.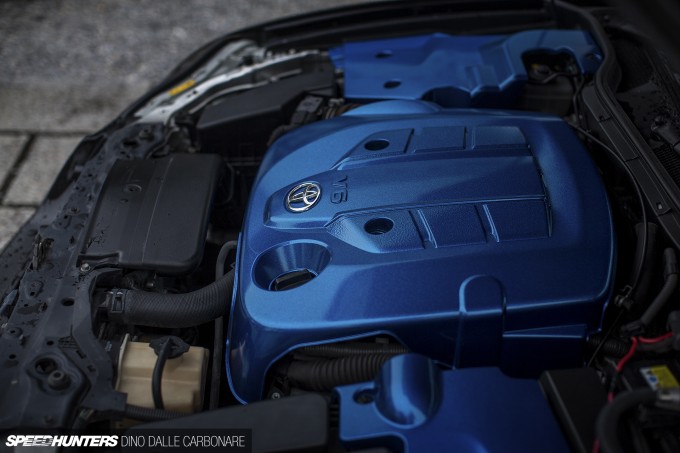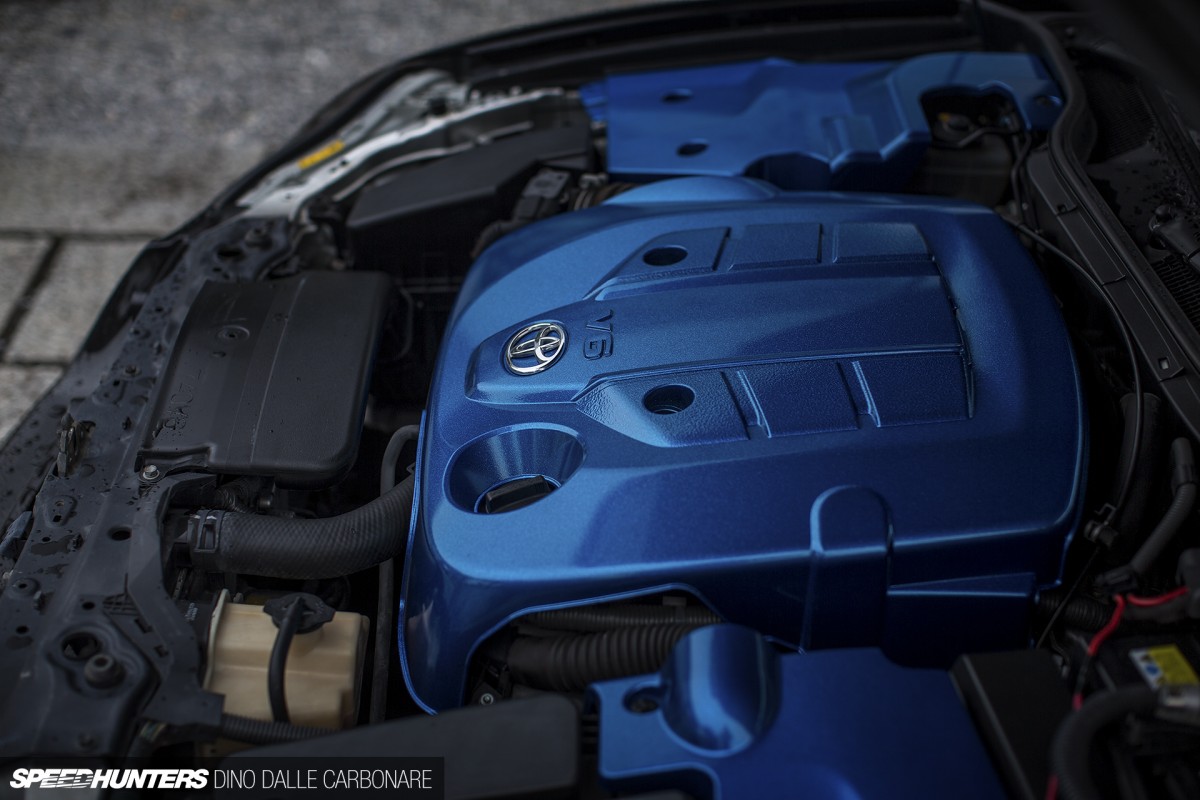 Under the bonnet the Crown's 2GR 3.5L V6 motor has been left in its silky-smooth stock state. VIP has never been about performance, of course, but it's nice to see touches of color being added to make the oily bits a little more presentable.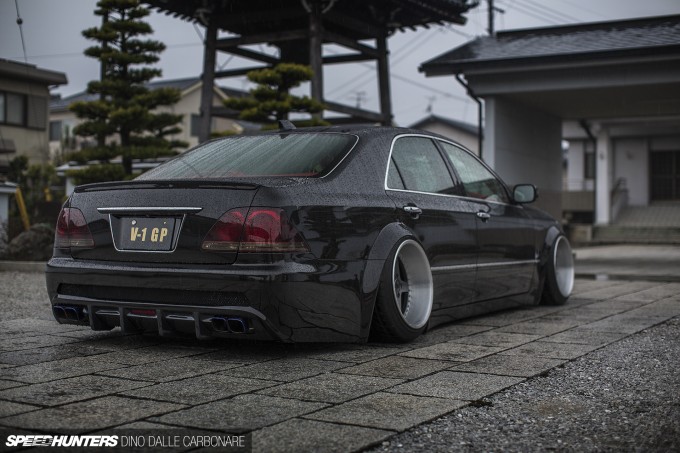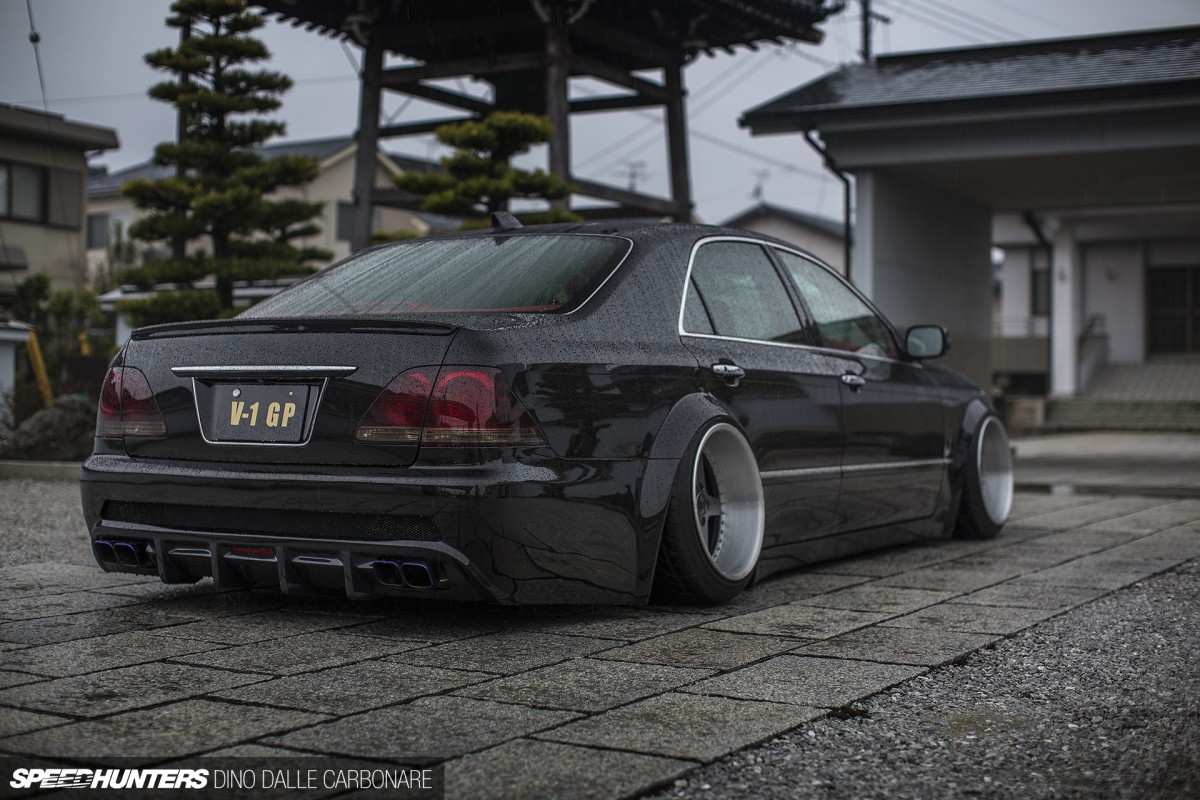 Completing the Bee Dragon touch is a subtle trunk lip spoiler, a Lexus fin-type roof antenna, and bronze tinting for both the taillights and headlights.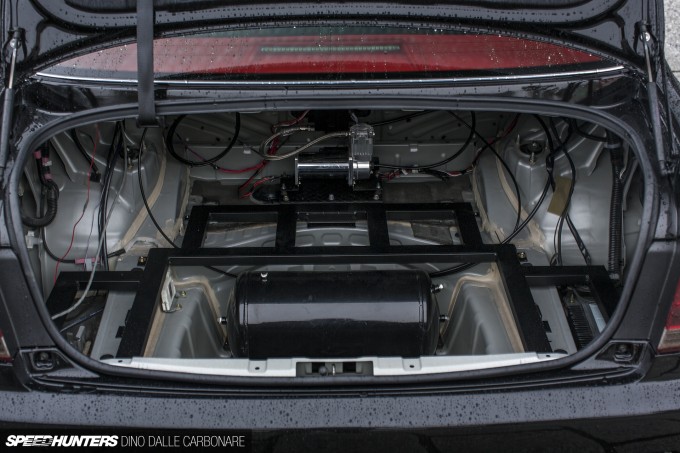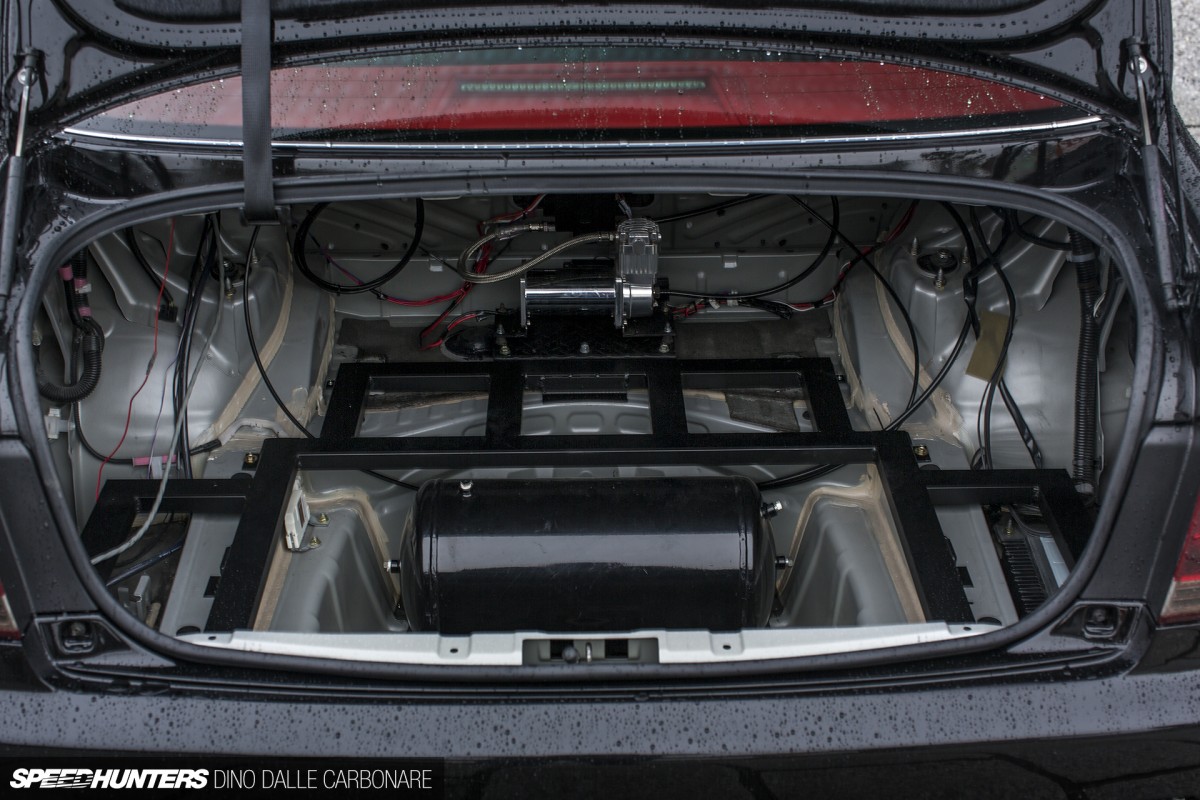 At the time of my shoot the only area that had yet to be completed was in the rear. As you can see, a steel frame has been laid out for a custom speaker and amplifier enclosure to be bolted down to. Once that's completed the compressor and tank for the air suspension will be completely hidden, making everything beautifully presentable.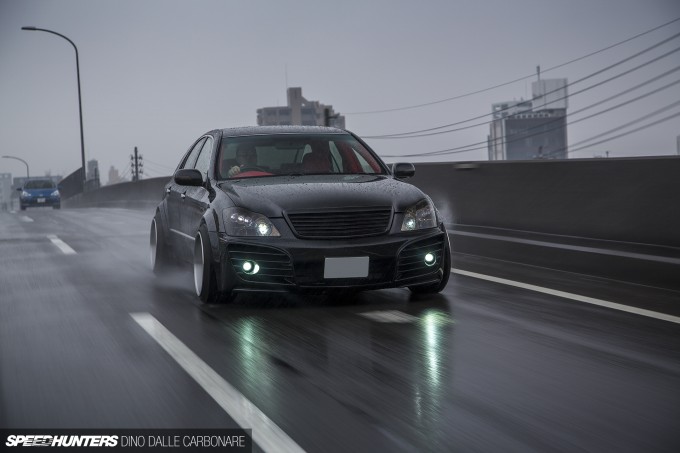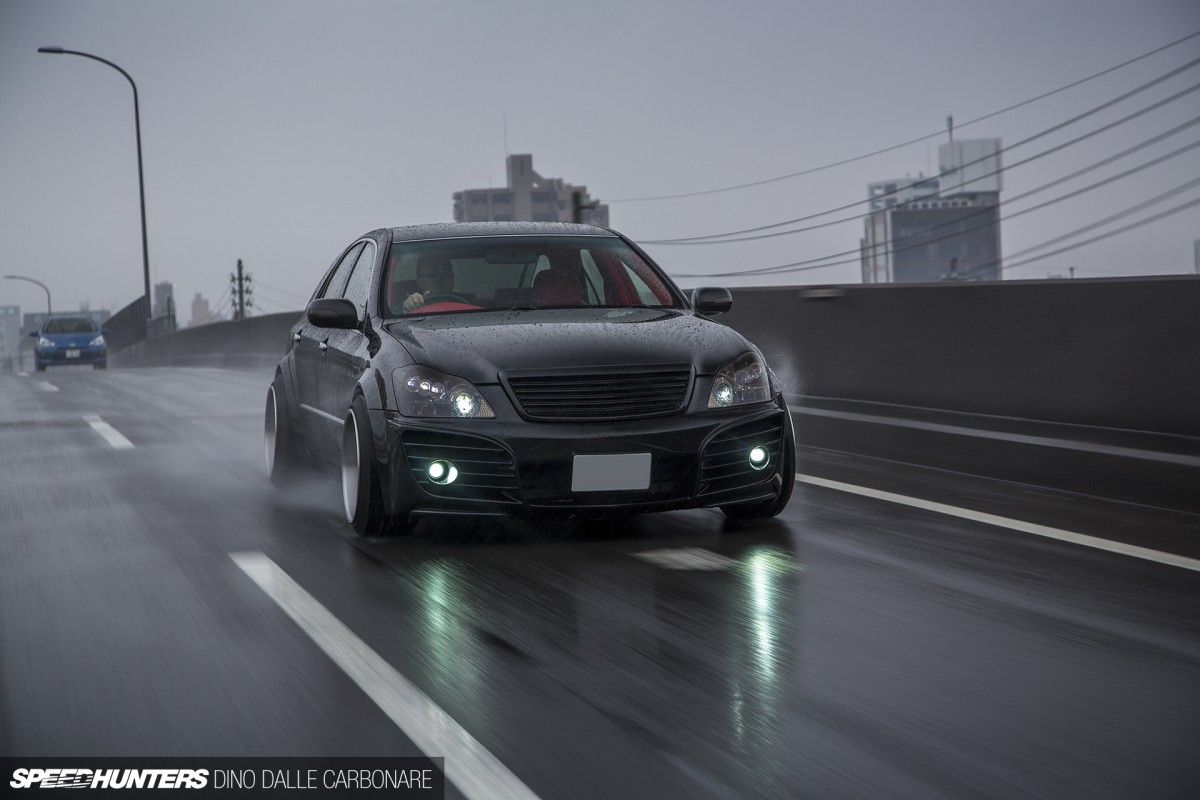 With so much invested into all the custom bodywork, the owner doesn't take any chances while driving the car at normal road speed and lifts it right up to its highest setting. Considering the weather we had for the shoot and all the standing water on the road, it was probably a good idea!
A Contrasting Shade Of Red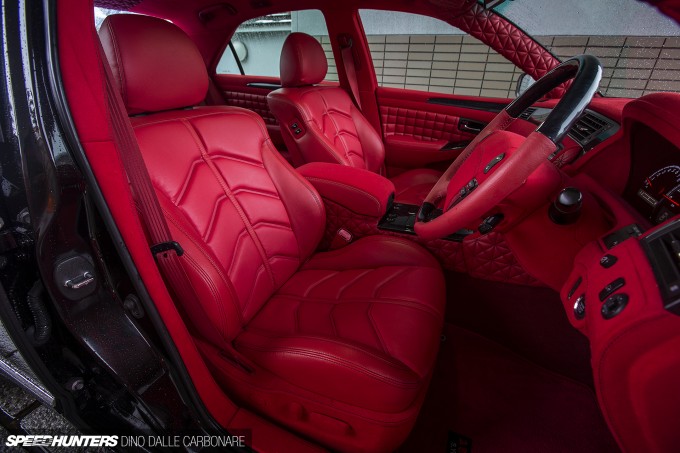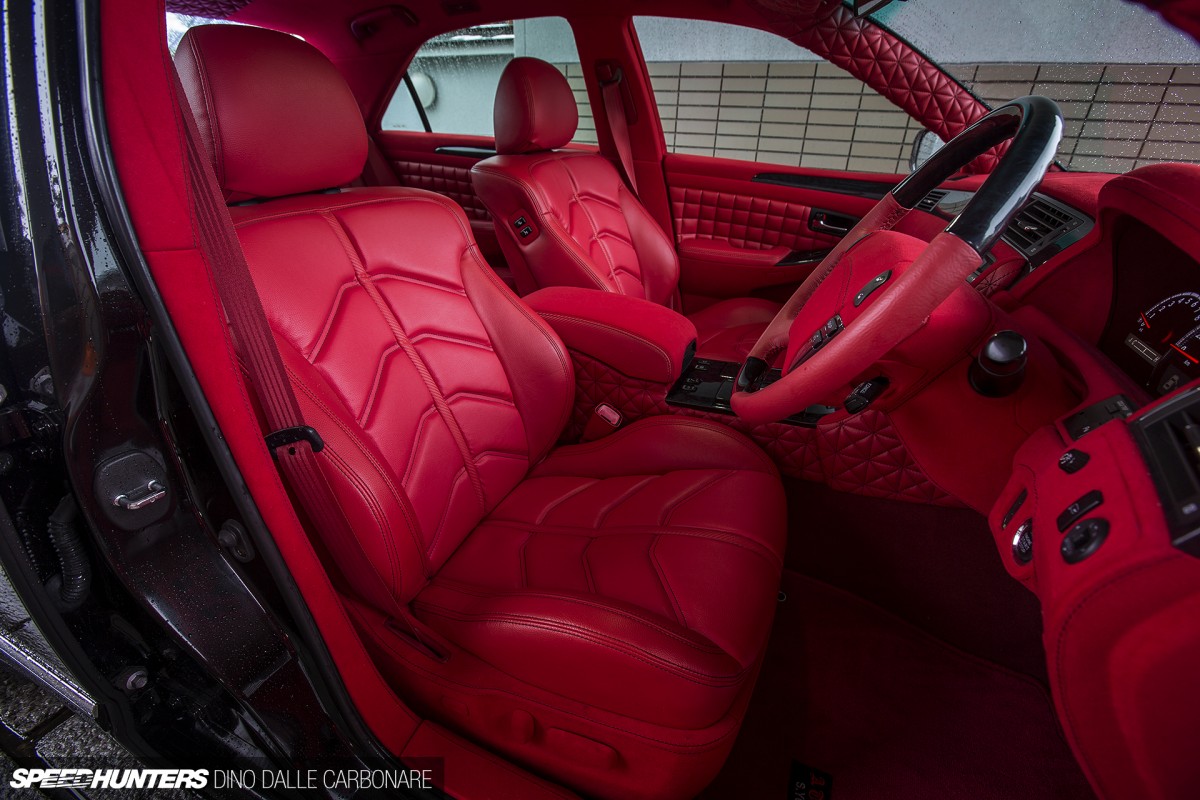 Did you think we were actually done? Of course not, there's still the interior to go – and what a sight it is! Swing open any of the Crown's four doors and you might be reminded of a bloody scene from a mafia movie! The owner obviously likes the color red as he has had a professional upholsterer deal to pretty much every single surface with it.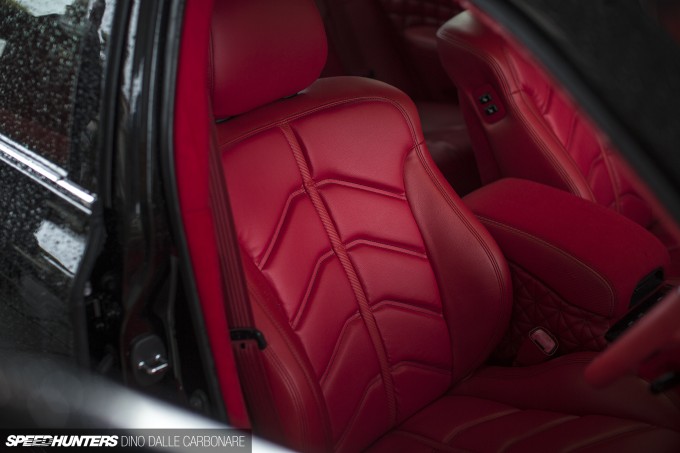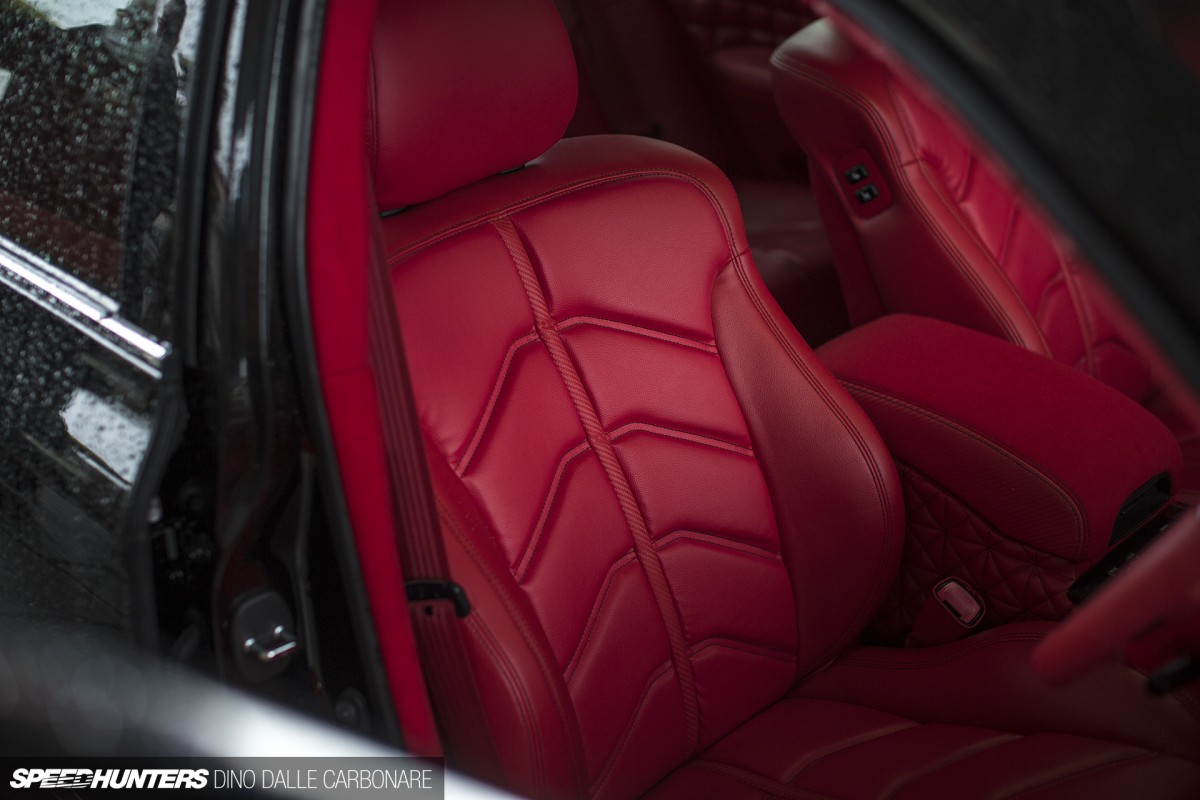 The custom leather work on the seats is probably some of the best I've come across in Japan. It wasn't just a question of laying soft hide down over the stock chairs, but rather modifying the foam beneath so that some supercar-inspired ribbing and stitchwork could be added.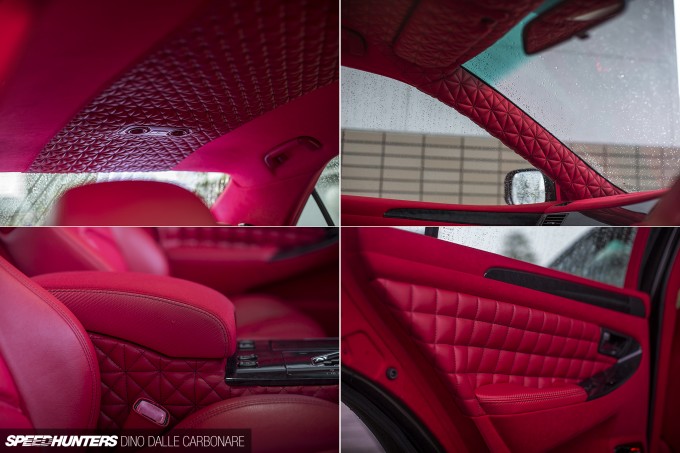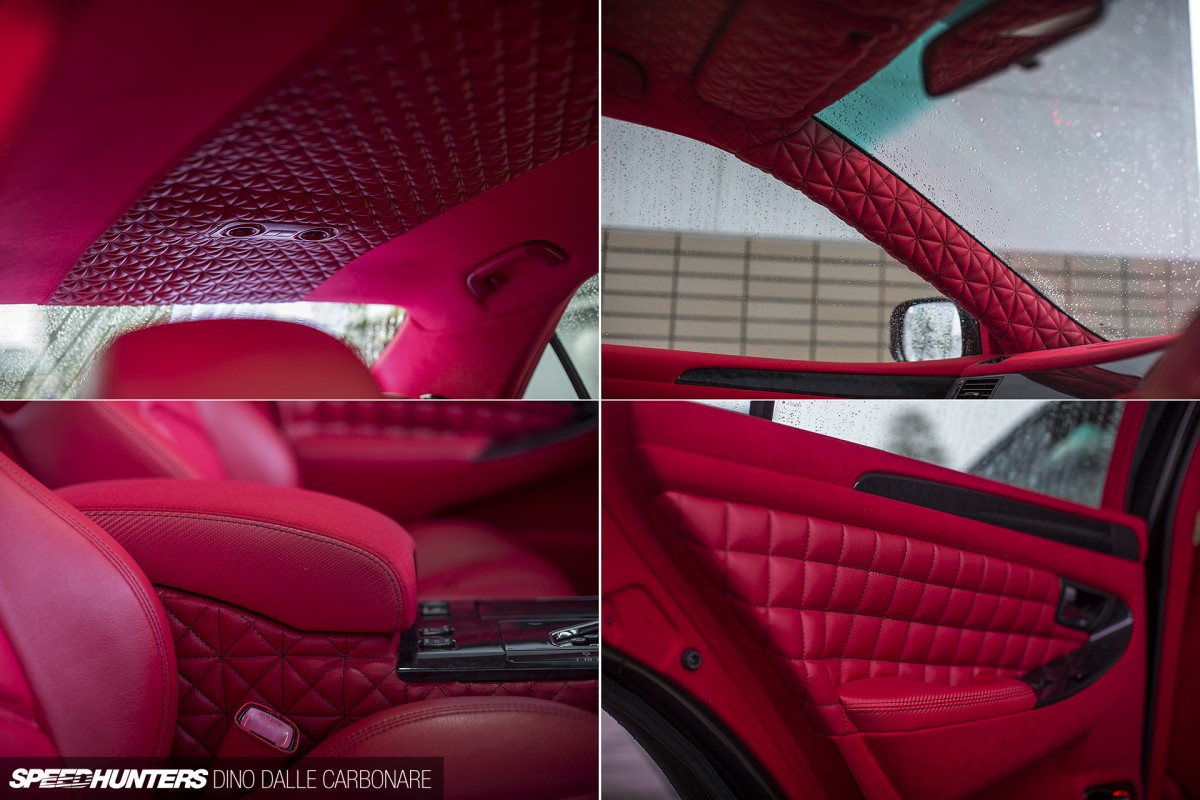 Everything from the transmission tunnel, door cards and pillars was quilted in two distinct patterns, while the rest was covered in soft Alcantara, or in the case of the actual plastics, either dyed or flocked.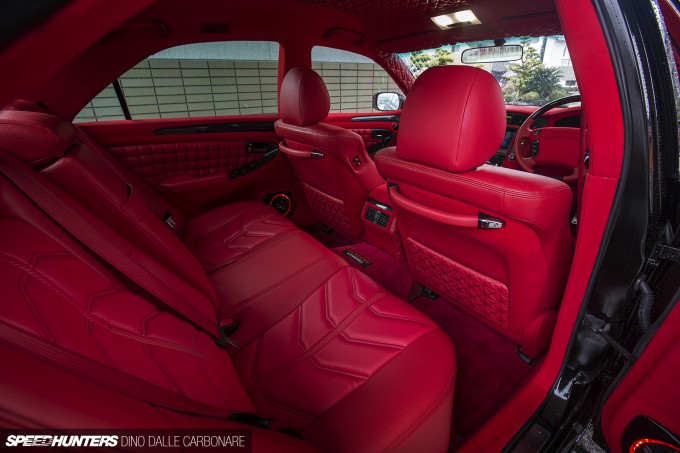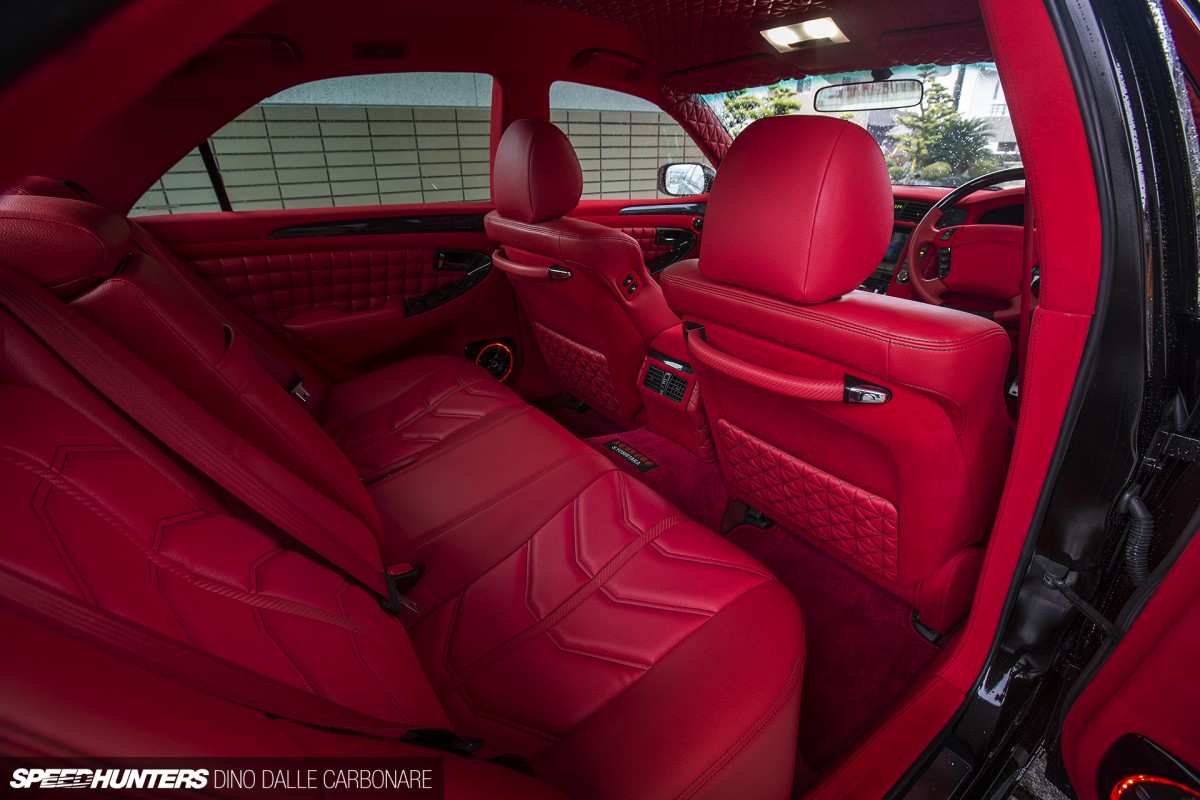 Rear seat passengers are treated to a first class experience too. The entire space is completed with a set of deep-pile custom carpets, a powerful stereo system and LED lighting throughout.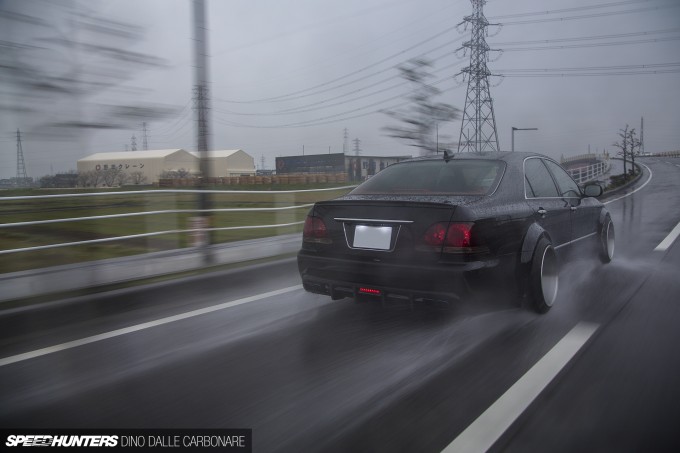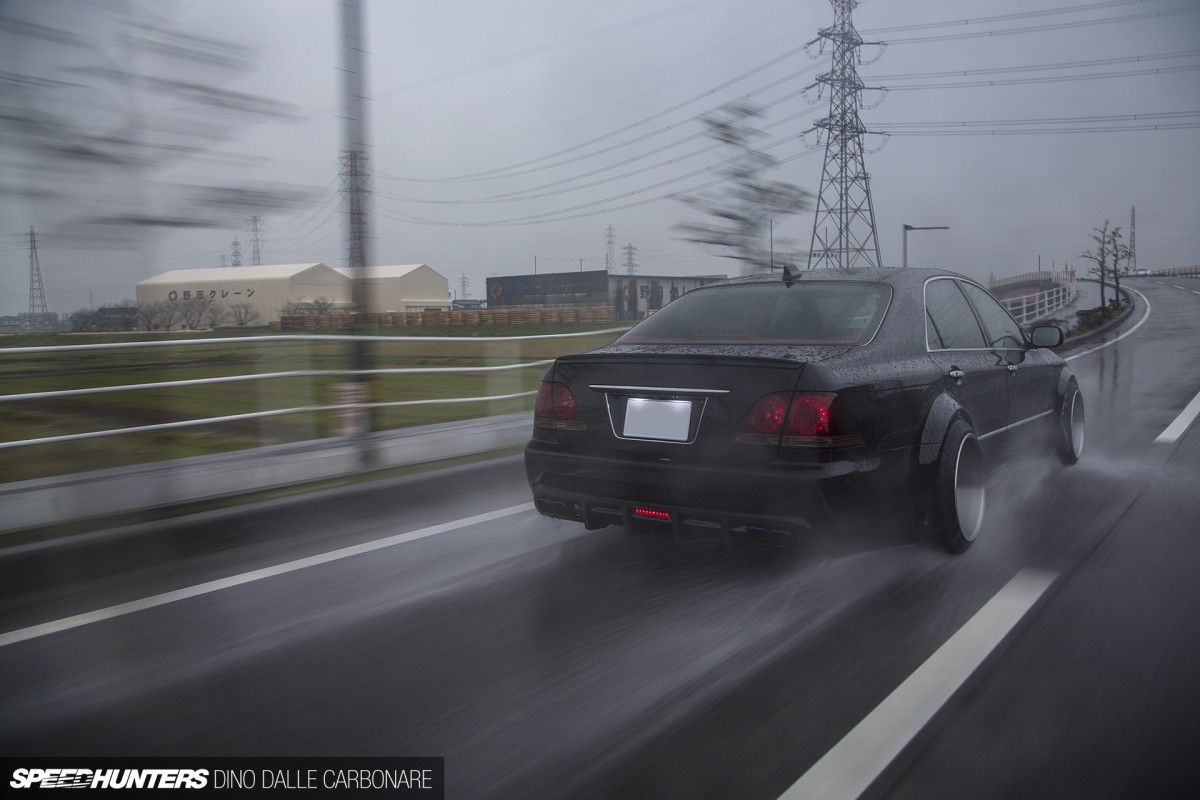 It's a good thing that Imamura took on this project and stepped out of his comfort zone; accepting the challenge to further evolve his style and embrace new technology in the process. With a result like this, I'd say he's going to be receiving a lot more requests for air suspension setups in the future.  We look forward to featuring more of his wild creations.
Dino Dalle Carbonare
Instagram: speedhunters_dino
dino@speedhunters.com