What's That You're Hiding There?
Bolting dubs on a vintage Corvette isn't something I would normally condone. But when you see a car absolutely killing it on track you just have to stop and wonder what makes it work so well.
This is especially true when it's something like the '64 'Vette you see here, which shouldn't be that competitive right out of the box. Not by just bolting on some rims…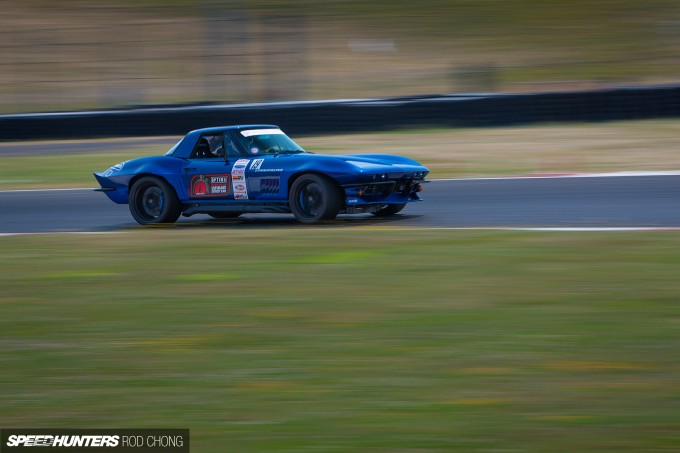 So you know we had to take a closer look when we witnessed Dan Livezey's Corvette at the recent Optima Ultimate Street Car event. This isn't a ride out of Hotlanta. No, it's actually quite an exquisite piece of engineering, and homebuilt to boot. And totally unlike the Big Red Corvette we featured a few weeks back.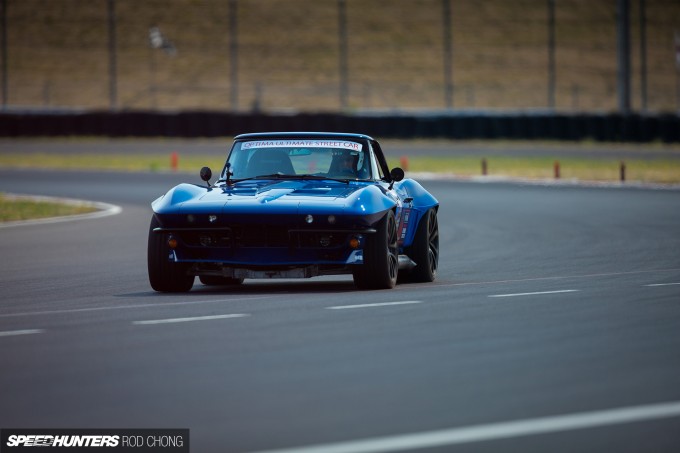 I'll just cut to the chase and tell you Dan's little secret. It's something to the effect of enough parts to build your own C6, sprinkled with some ZR1 for good measure – but we'll get into that later.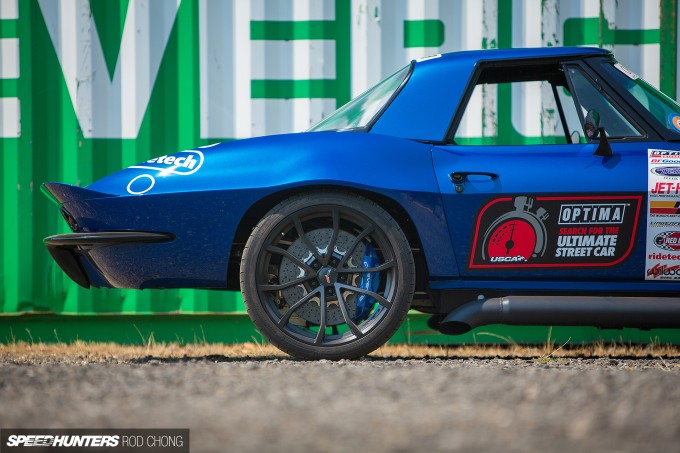 Dan has been racing since the early '80s and won his first Pro Solo championship in 1985. After a nice winning streak in 1989-90 he got away from racing for a while, just entering in the occasional track day for fun.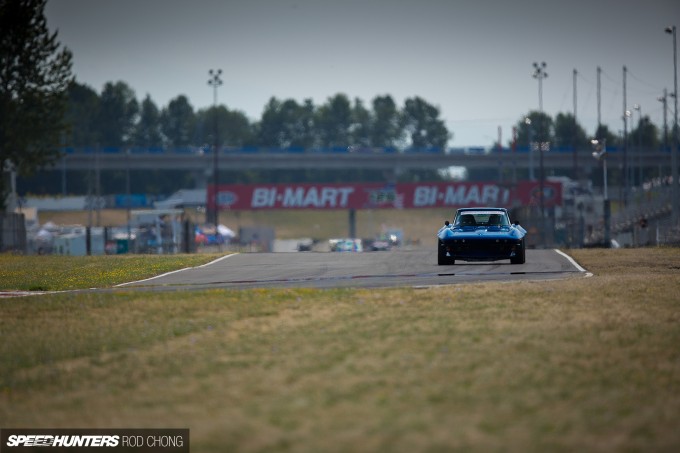 He started building the C2 you see here for the Optima Ultimate Street Car Invitational some time ago, but when it wasn't ready in time he decided to give it a try in his old 1969 Corvette. It didn't go so well. In fact, he describes that outing as 'bringing a knife to a gunfight.'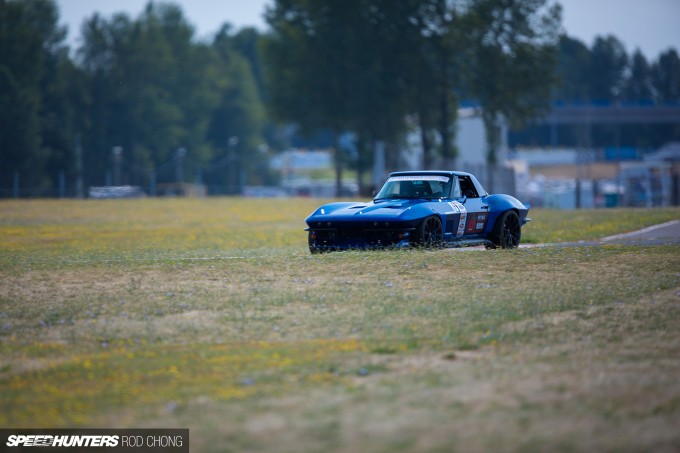 So he got drastic. He sold the '69, pulled the '64 out of a shop that was 'working on it', and took matters into his own hands. This was around the time he hatched a plan to use the underpinnings from a 2010 C6 Corvette in the rebuild, figuring that would make the '64 plenty competitive.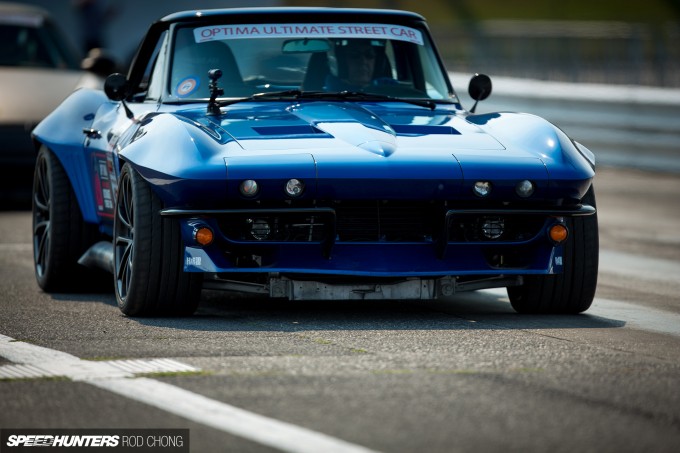 Obviously his plan panned out, since you can see the 'Vette's skeleton peeking out from under the old C2 shell. It wasn't as easy as bolting some stuff up though. It was a series of learning experiences, sometimes devastating, and often testing the Dan's will to finish the car.
A Not So Simple Swap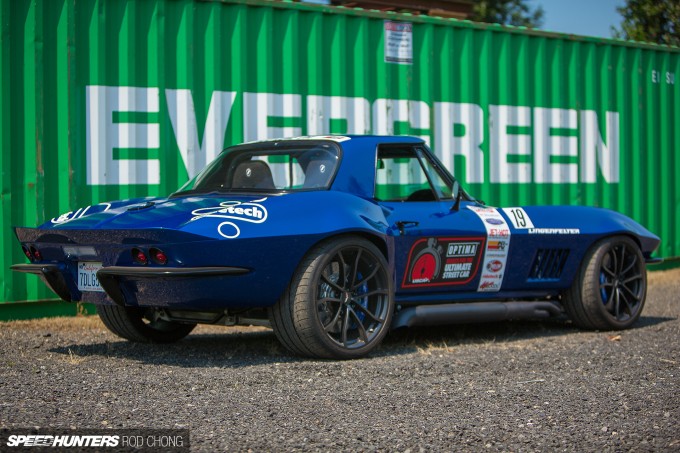 It's a shame we can't lift the body off like this is an R/C car, because then it would be much easier to appreciate what Dan was up against in making his idea come to life.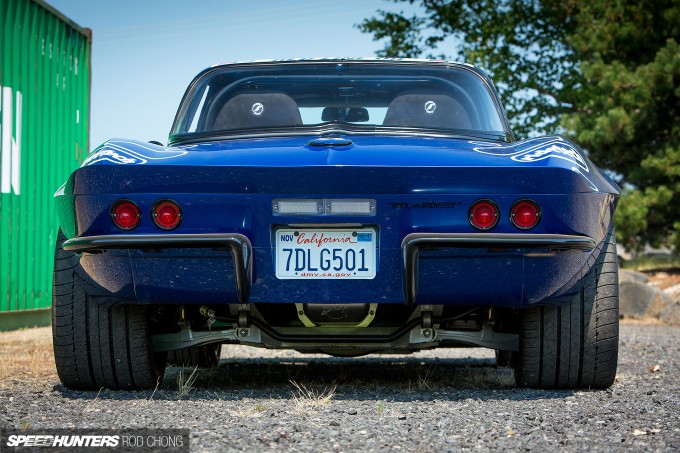 The devil is in the details, so I'll attempt to explain the extensive fabrication required to make this work. That's a complete aluminum rear suspension cradle from a C6, and the chassis was modified at a shop called Full Street so it would accept the parts. Right in the middle is a Dana 44HD center section sourced from a Dodge Viper.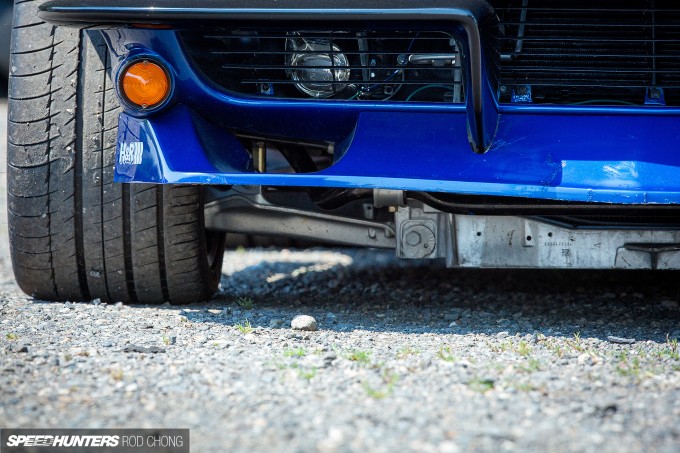 Once the late model suspension cradles were installed factory control arms and spindles could be bolted in, just like a new 'Vette. Here's the front suspension, this time in magnesium from a 2010 model. Dan used a beefier Z06 swaybar and had a custom set of Strange four-way adjustable shocks built, then dropped the H&R coils as low as they would go.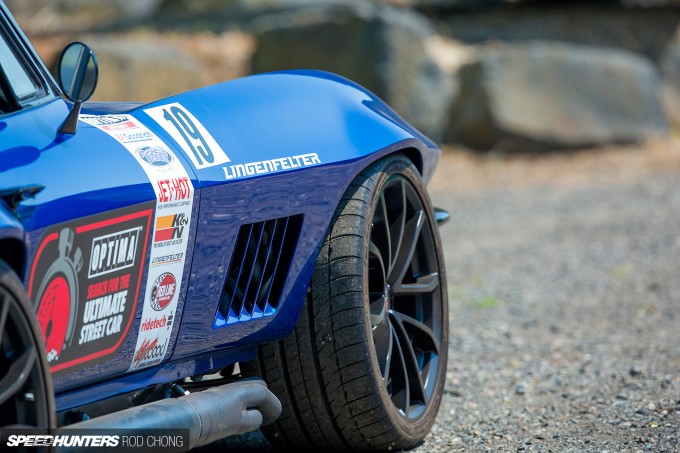 Using the stock GM alignment cams, he's running 2.3 degrees of camber in the front to help it stick.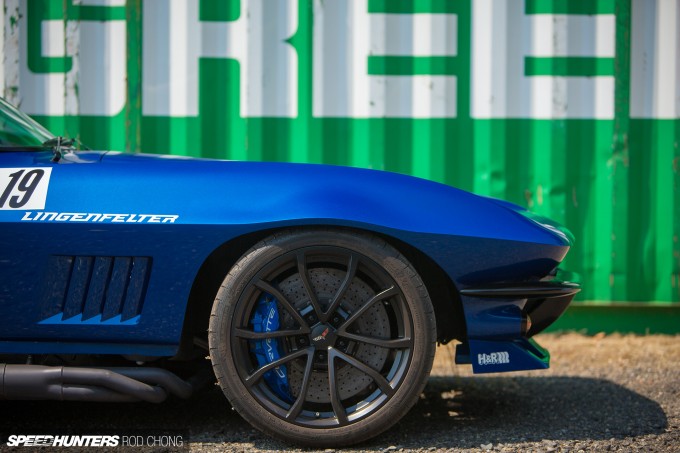 Besides the obvious advantages of modern suspension geometry and a plethora of aftermarket items, the swap also enabled him to run giant carbon ZR1 brakes. Supercar stuff – on a Corvette from the '60s!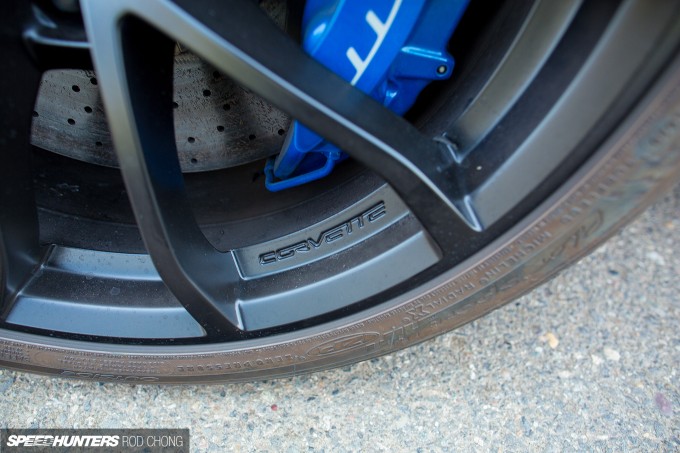 Back to those dubs, and why I feel they're perfectly acceptable on this '64 Corvette. The sixth gen models came with wheels this big from the factory, measuring 19×10-inch in front and 20×12-inch in the rear. With the new suspension these steamrollers were a bolt-up, and very fitting with the factory General Motors theme Dan had going.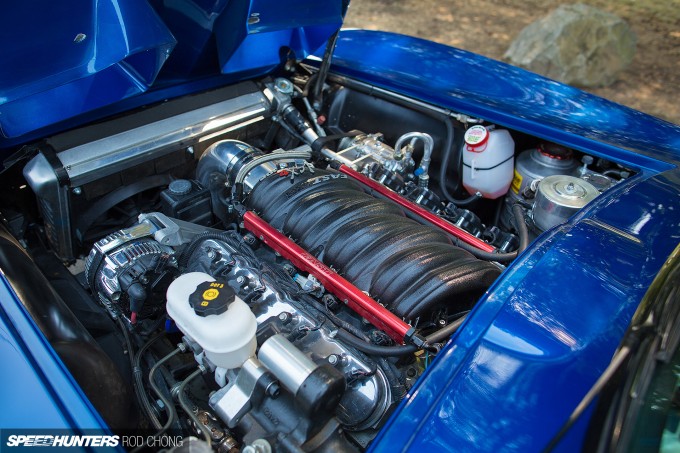 With all this C6 talk, you must have known an LS swap was coming, right? This one is stuffed with a combination of the best Chevy parts available, plus Comp and Lingenfelter parts to make 685 horsepower and 680 pound feet of torque.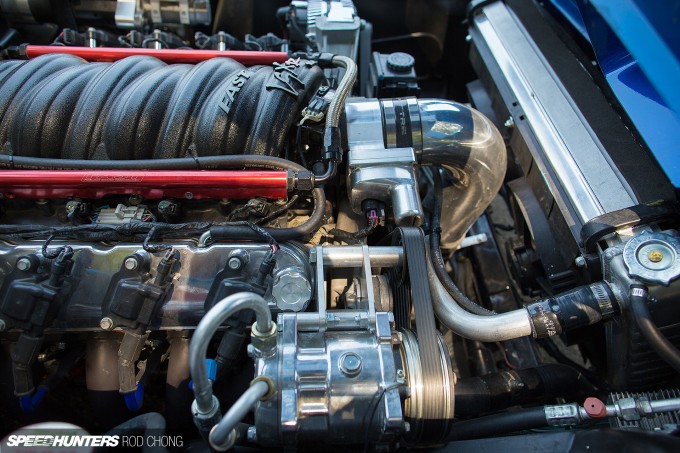 The 427ci LS7 was pulled from, you guessed it – a 2010 Z06 Corvette. At this point I had to ask Dan if he just got a good deal on a wrecked 2010. He said that would have been the smart way to build the car, but he had in fact sourced each part separately on eBay and Corvette forums.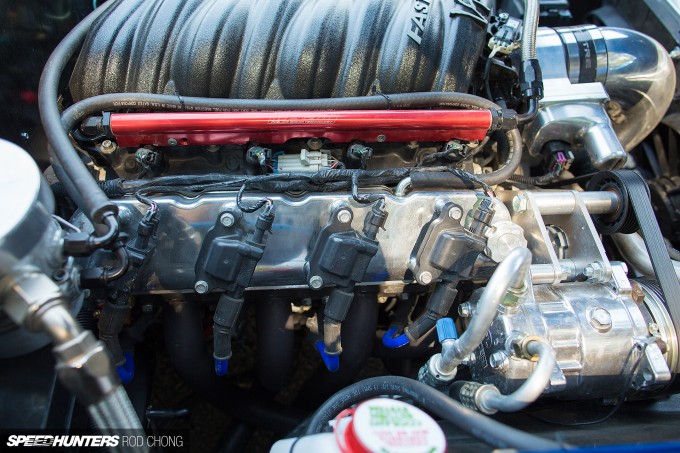 It turns out 2010 was just 'the good year' as they say, with upgrades like better bearings and a new oil cooler.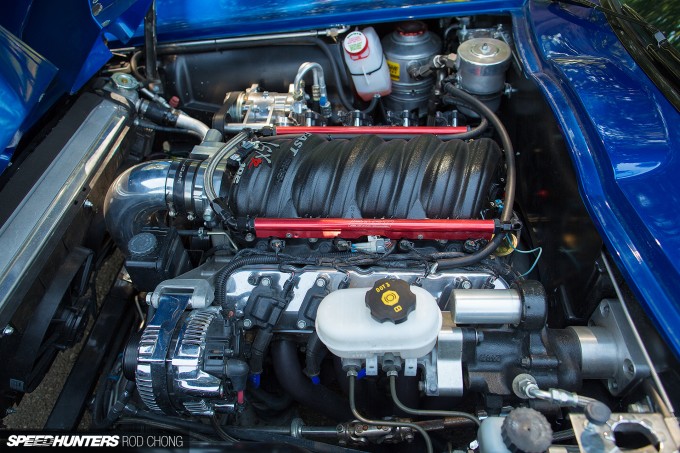 2010 also had the correct electronics to integrate ABS, something Dan did using parts from a BMW. The BMW ABS system uses the same wheel sensors as the C6 and can be reprogrammed to suit the dynamics of the car.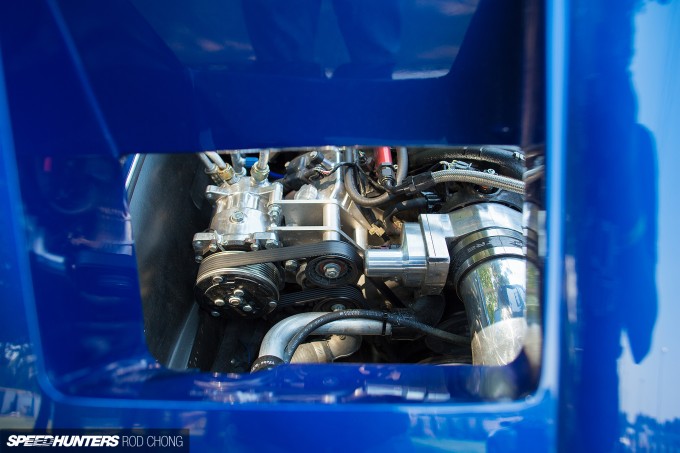 Air conditioning? Why not? It is called the Optima Street Car Invitational, and Dan wanted his car to be as comfortable to drive on the street as possible. He even installed power windows, door locks and a factory delay wiper system.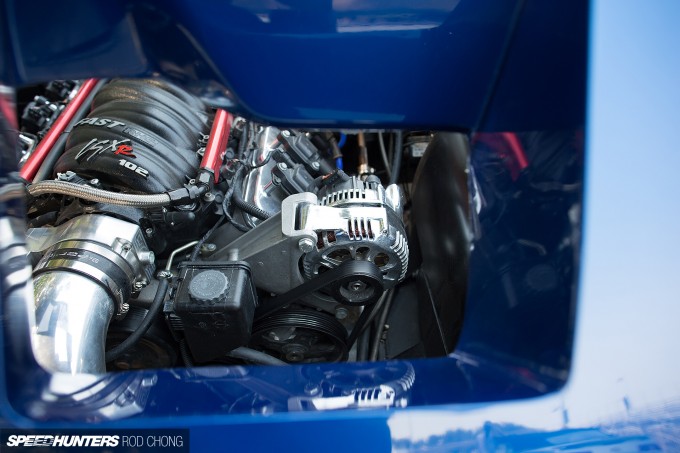 None of this was easy – not by any stretch of the word. Dan started down the path of using a 2010 chassis harness but couldn't get it to work. He eventually wound up on the phone with a General Motors engineer who informed him that he would need every last module from a donor car to make it run. He didn't want the added weight and complexity of a bunch of unused electronics, so he pulled everything out and literally lost one full year of work.
Wider Is Better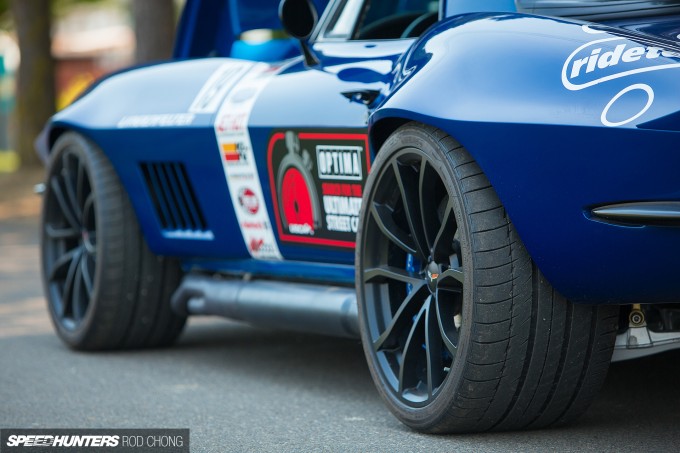 It may have occurred to you by now that a 2010 and 1964 Corvette probably don't share the same dimensions. Clearly Dan had to widen his car, but it was more than just rolling the fenders.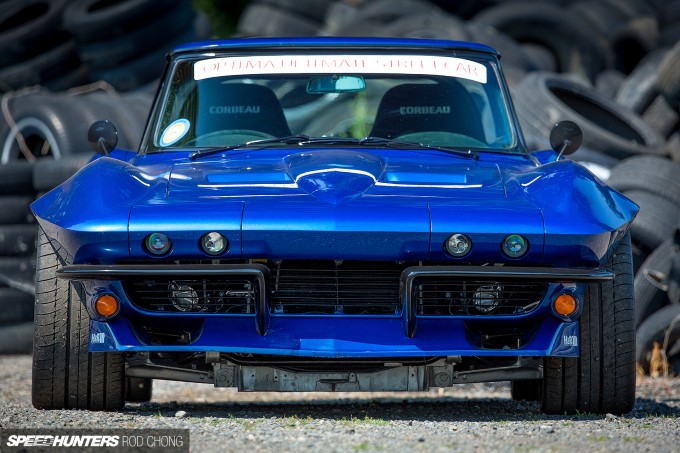 The C2 is now a full eight inches wider on each side. It's so well done that it doesn't seem nearly that drastic though.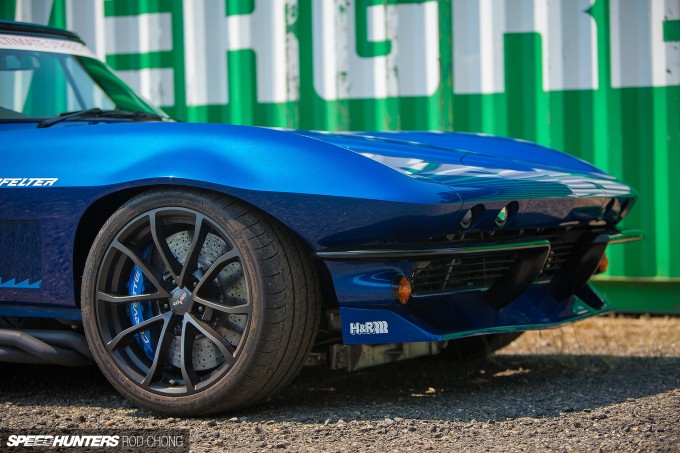 Dan went to great lengths to make sure the widening job didn't disrupt the factory lines of the car. That's quite a feat when you consider how heavily these fenders have been reworked, and especially knowing it was done at home in his garage.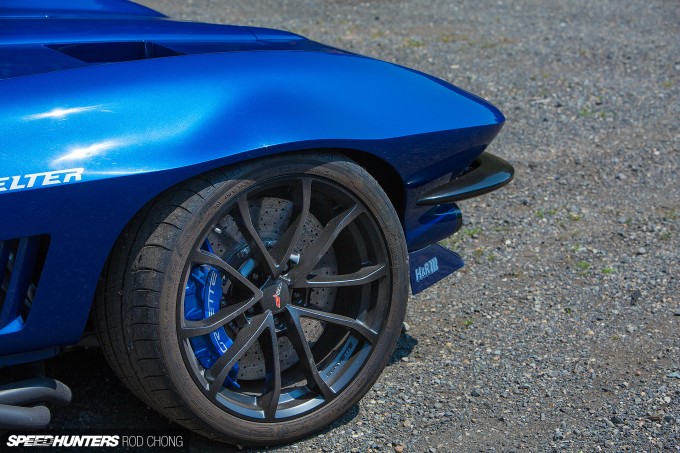 He managed to get the front split bumper to fit the new widened fenders quite nicely too.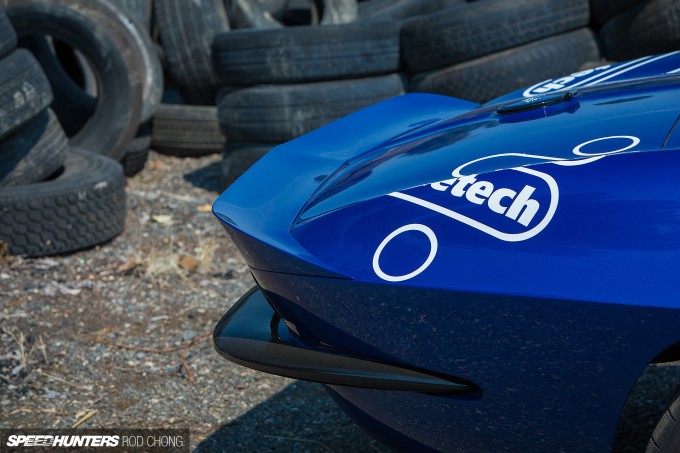 Things weren't flowing as well in the back though, so Dan decided to set the rear bumper into the rear quarter and make a custom spoiler.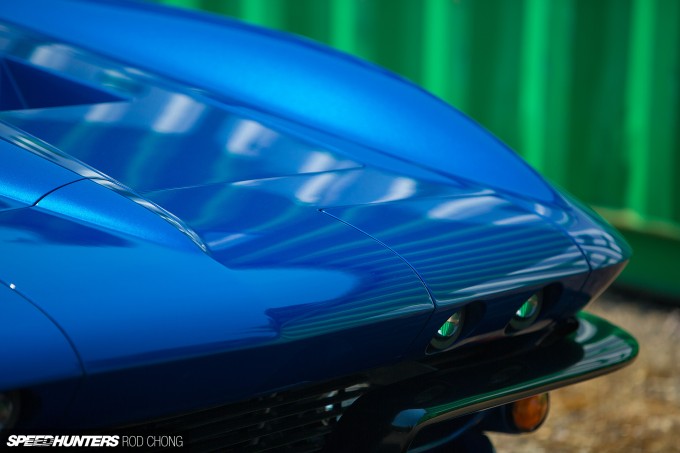 Vents were cut in the hood to let some heat out, and Buell headlights were frenched into the factory flip-up doors.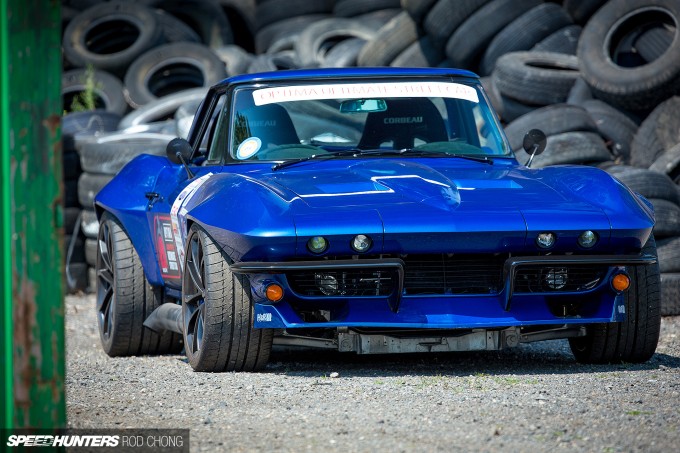 Taken together, the body mods give the car a cyborg kind of feel. Definitely unlike any other C2 you're likely to come across.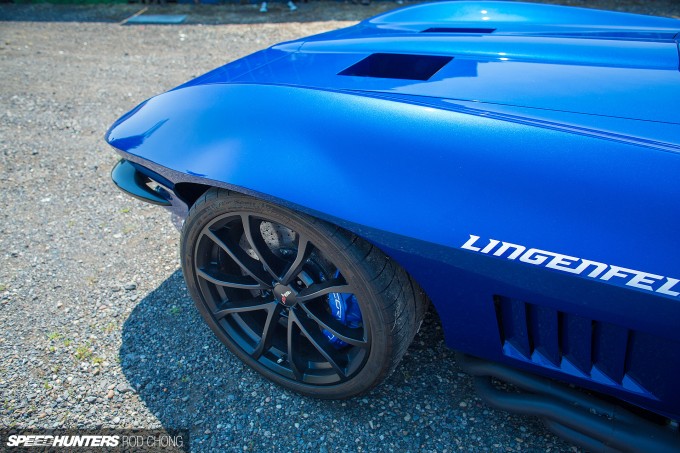 With all the body work complete, Dan took the car to Mike Greenwood at Frank's Auto Body in Huntington Beach for a coat of Corvette Electron Blue paint.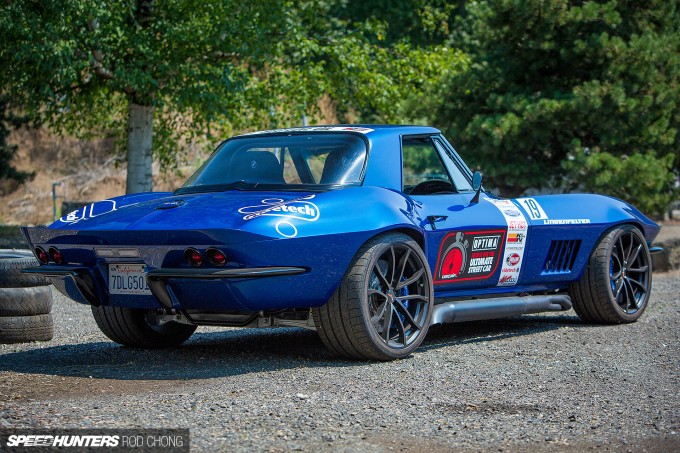 Once the paint fumes cleared, the only stock body panels left were the deck lid and the hardtop.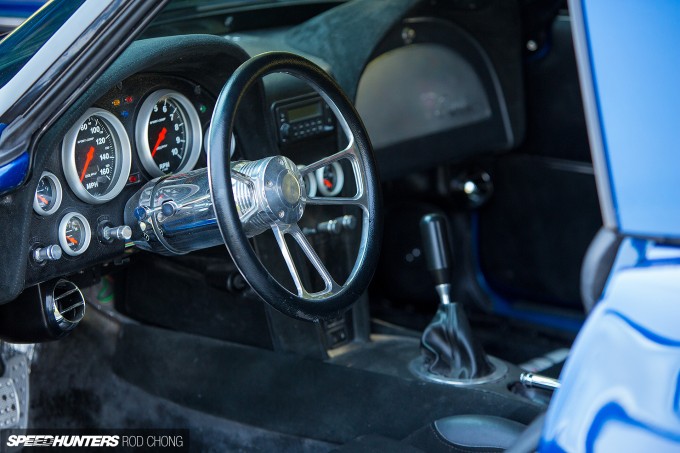 The interior is a functional space, outfitted with a full set of Auto Meter gauges, AC vents, power window switches and a simple steering wheel.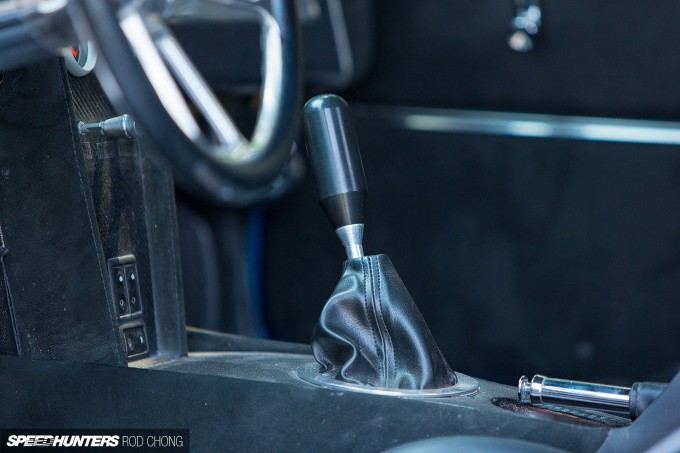 Dan's friend Gary is a machinist, so he made a custom shift knob for fun.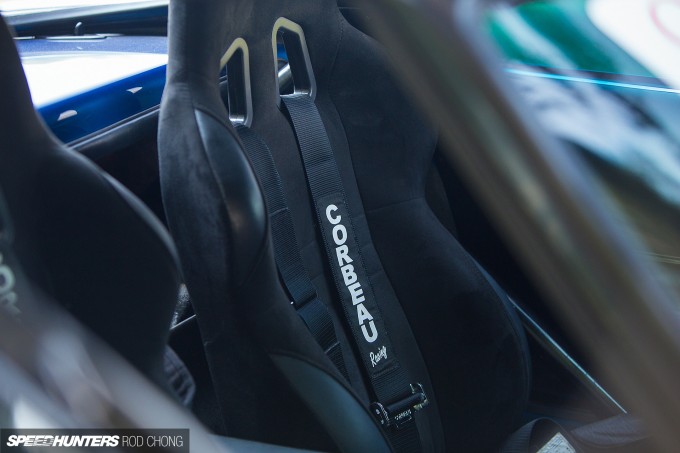 Corbeau seats and harnesses keep the driver and passenger in place.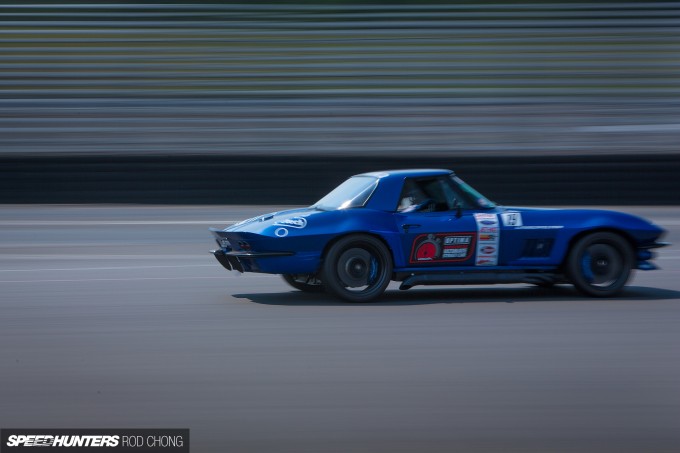 So is this a 2010 or a 1964 Corvette? Either way, it's certainly an interesting way to build a pro-touring style car that's competitive on track. Despite the huge amount of aftermarket parts available these days, there's something to be said about using factory parts to complete a custom build that's anything but.
Keith Charvonia
Instagram: SpeedhuntersKeith
keith@speedhunters.com
Photos by Rod Chong
Instagram: @speedhunters_rod
Produced by Elizabeth White
Instagram: @itswhitenoise
elizabeth@speedhunters.com
Cutting Room Floor