The Feisty Fiesta
It's been a long while since I've had the chance to do any Speedhunting. In fact, it seems like the whole summer has pretty much past me by whilst I've been sat in front of my laptop in various different locations. The last time I hung out with Larry, Rod and Mike was way back in April – almost six months ago. Just after the first round of Formula D, Ole Orange Bang got a little shake down over Angeles Crest just outside LA, and I was lucky to tag along for the drive with Magnus and the Speedhunters crew.
This time, it's another story about an LA-based car, albeit one of a very different kind…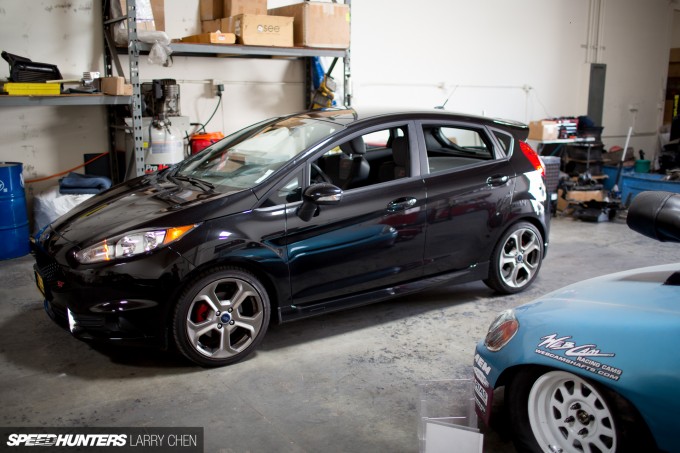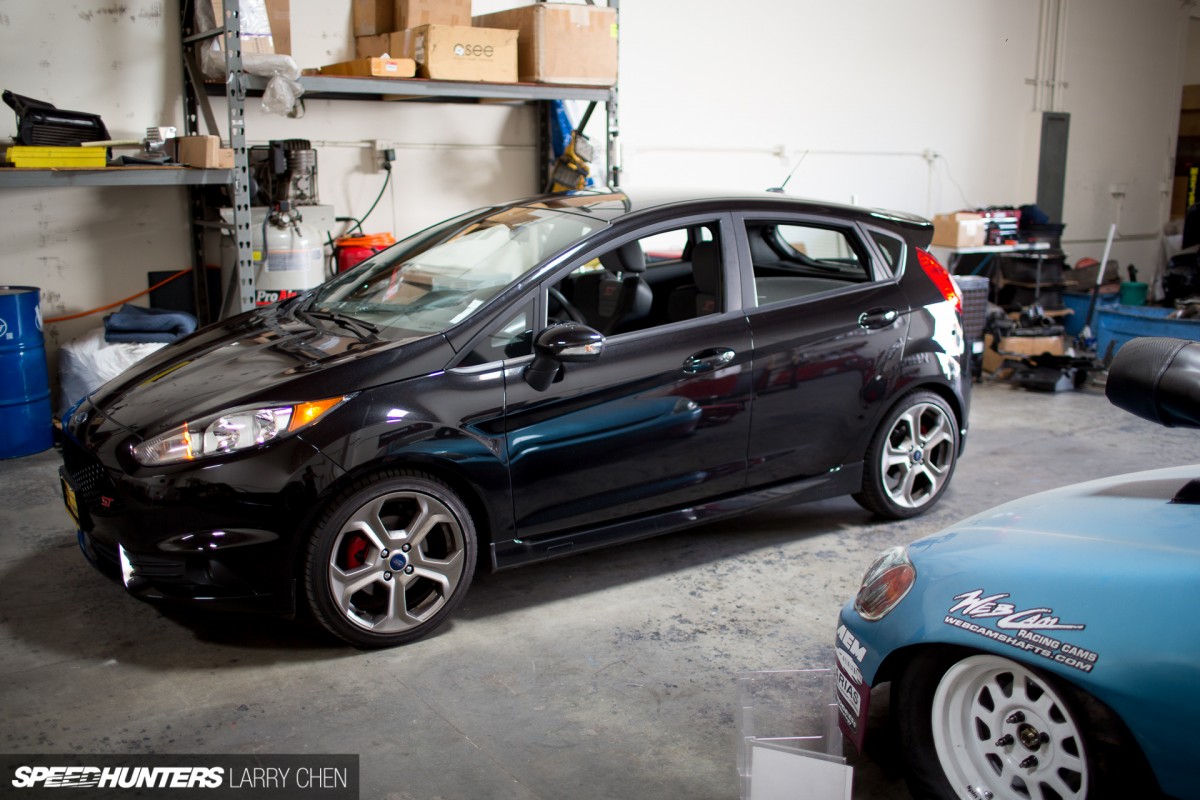 This is the latest project car ST suspensions is putting together with the help of Matt and Brad at Fifteen52. Here in the UK we get the three-door Fiesta ST, but Stateside it's a five-door only affair, however the fun factor remains the same.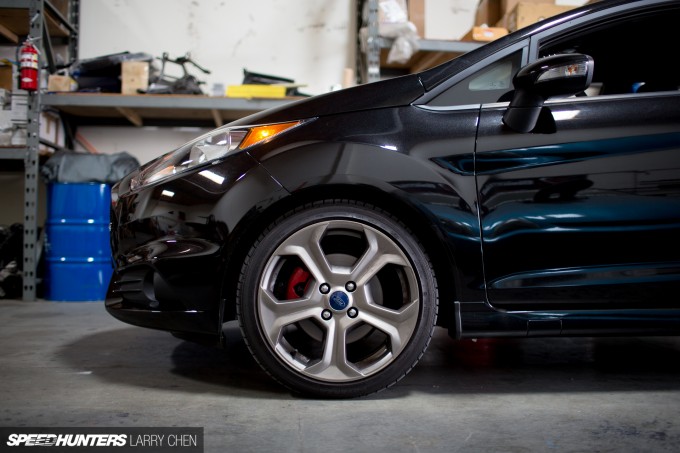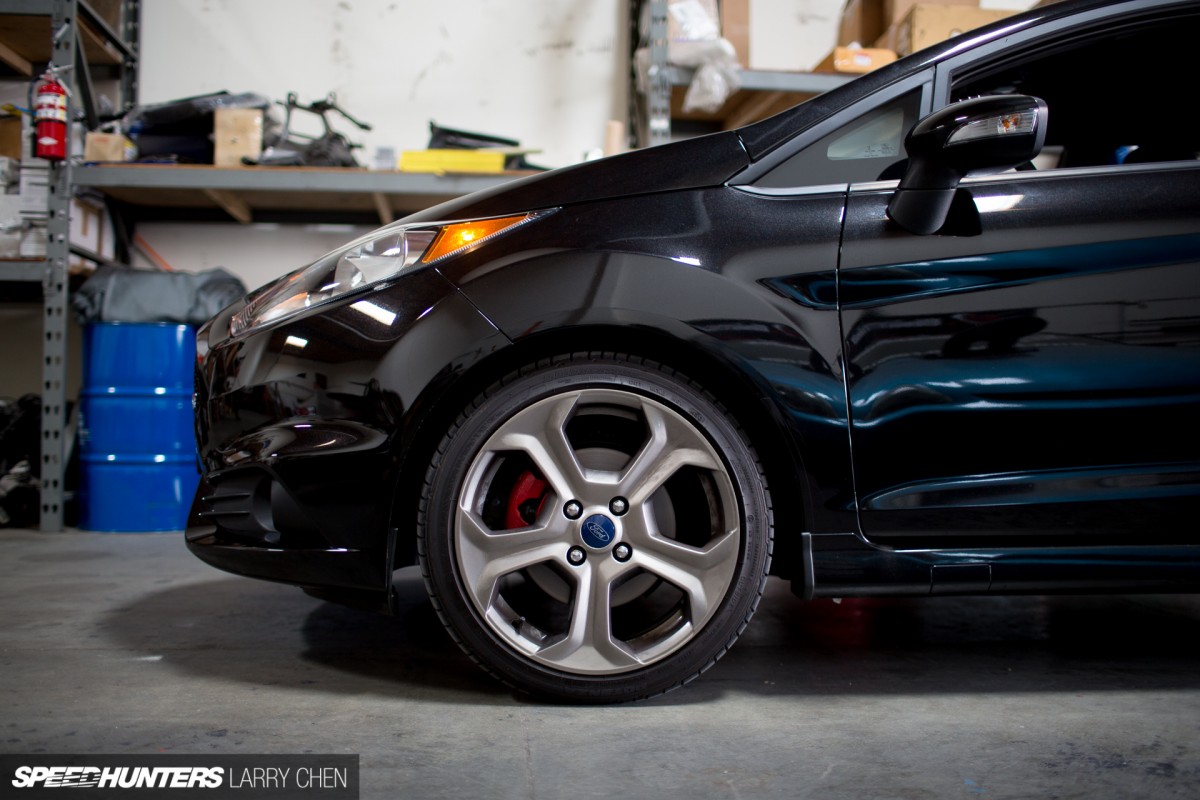 The factory-spec Fiesta ST is one of the most entertaining cars I've driven in quite some time. On a twisty road it has a great balance of power and handling that allows you to drive it flat out almost all of the time. It's small and agile making even the standard car an absolute peach to drive. But with some considered tuning, the latest hot Fiesta becomes an absolute riot.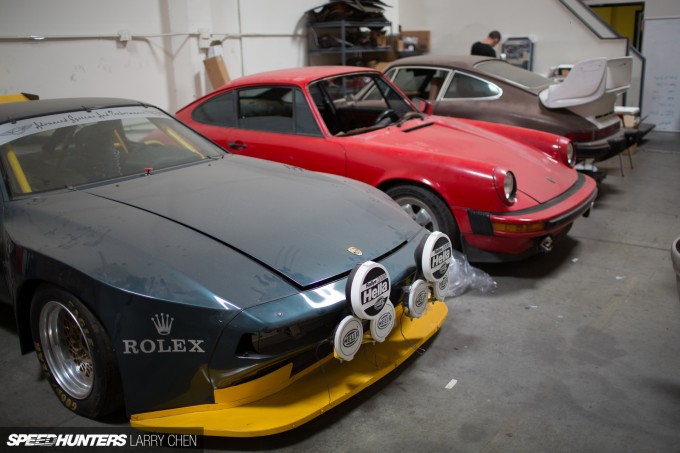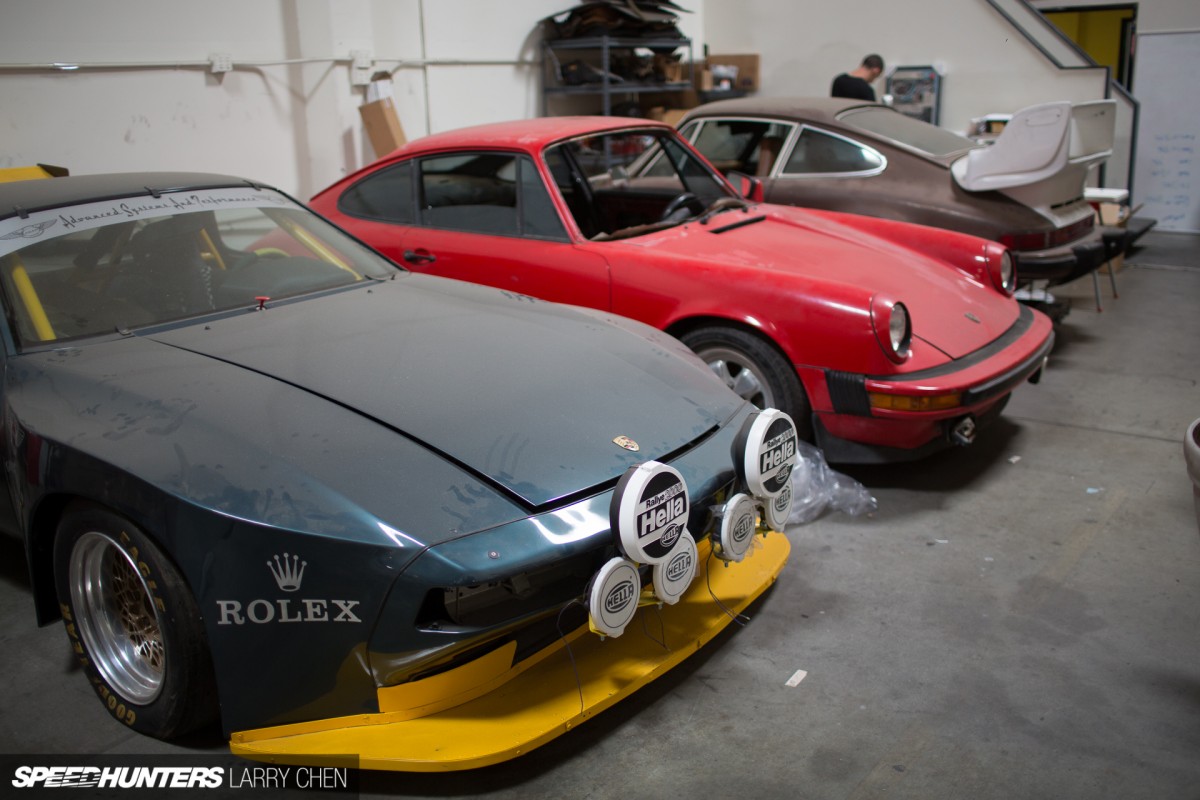 If you frequent the site often, then you've no doubt either had your fair share of project cars, are currently working on one, or enjoying the fruits of your labour and driving your dream right now. Whether you're into a full-on project, or a relatively simple build with just bolt-on parts to improve performance, it's always very rewarding to make a car your own. Bisimoto is no stranger to a project car or three, so when the guys at Fifteen52 wanted to get the ball rolling with the ST suspensions Fiesta, they headed to Bisi's shop for the first stage of build: suspension.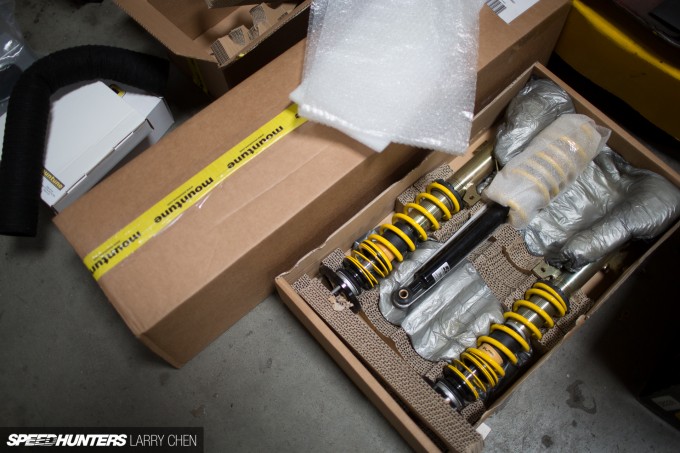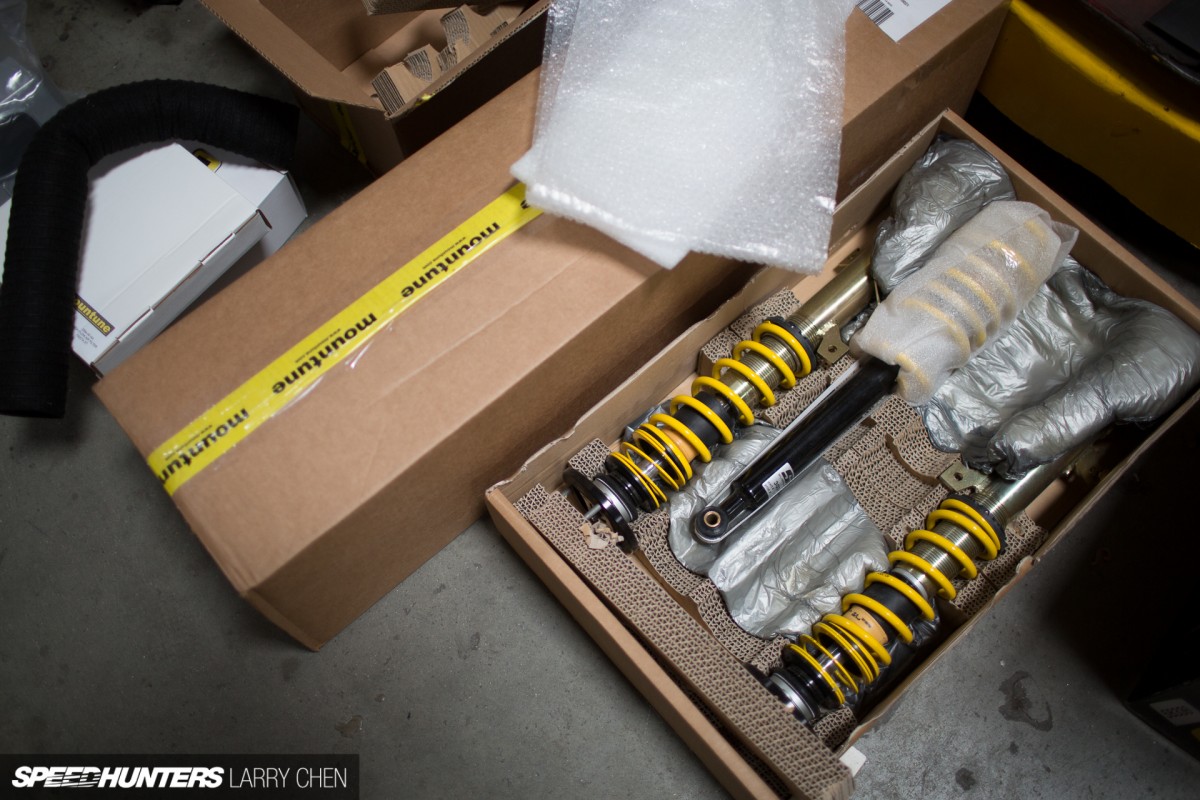 I feel like one of those nerds that's about to get all excited and do an unboxing video on YouTube, but fear not, this isn't about to get weird. As you can see by the Mountune branding on the box to left of the ST suspensions package, the tuning isn't going to be limited to the chassis with this car. The Fiesta project is at the beginning of its journey and Fifteen52 have got some extra medium sized plans for this vehicle.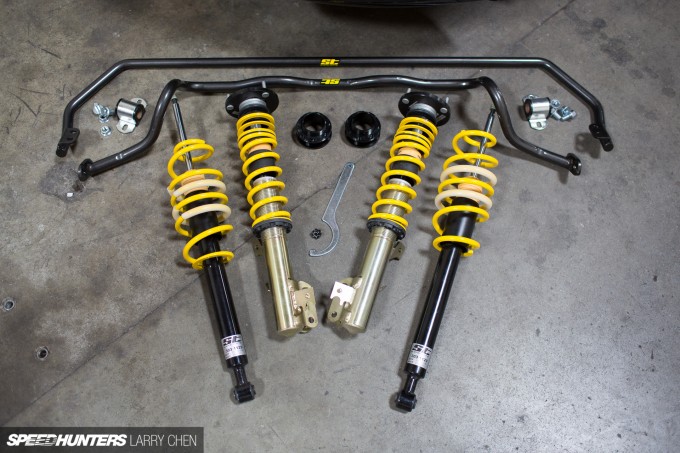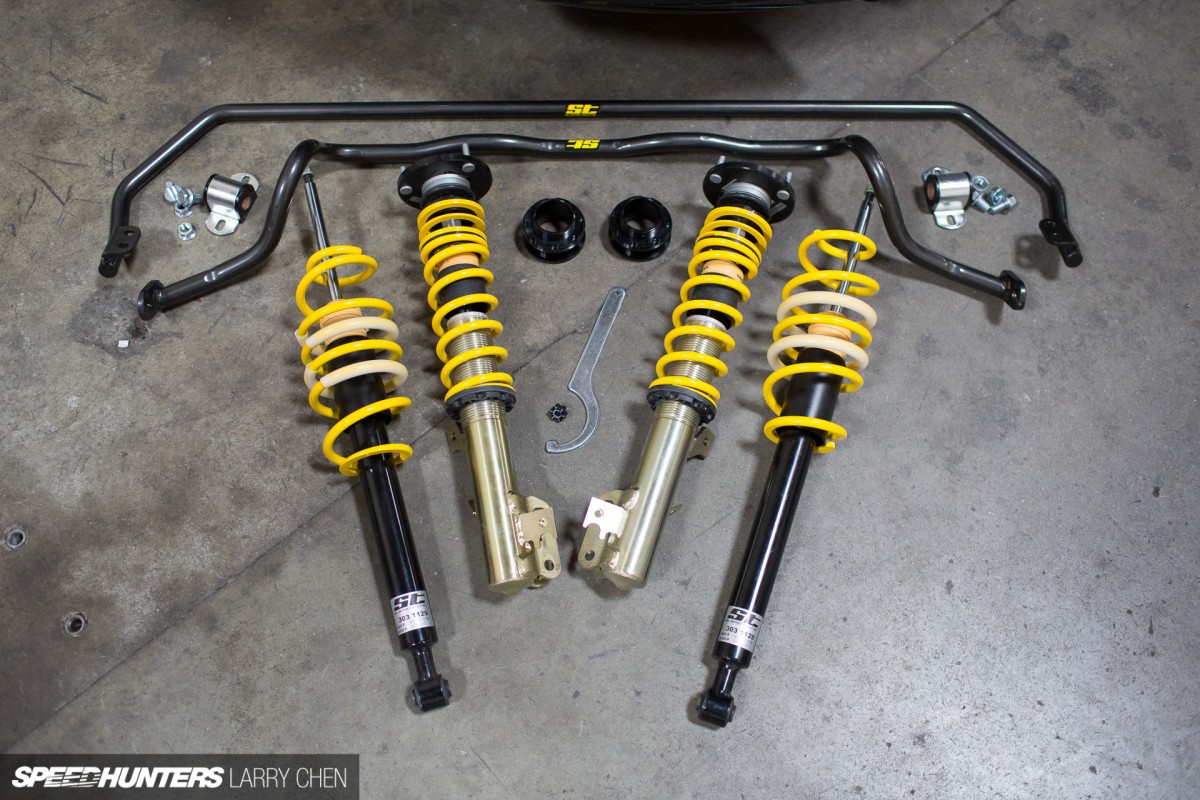 What you see above is the latest ST XTA coilover system. All ST coilover kits are 'wet build'. This means that each kit is assembled by hand in Germany, and, much like the KW coilover systems, the ST kits do not use cartridges in the strut housing. The XTA is ST's top of the line coilover system featuring adjustable damping, upper pillow-ball mounts and adjustable camber plates. The top mounts borrow technology from KW's Clubsport coilovers and bring extra geometry adjustability to the Fiesta party. Ultimately, the ST product line is manufactured by KW Automotive to cater for owners of street cars who are looking for maximum handling on a smaller budget.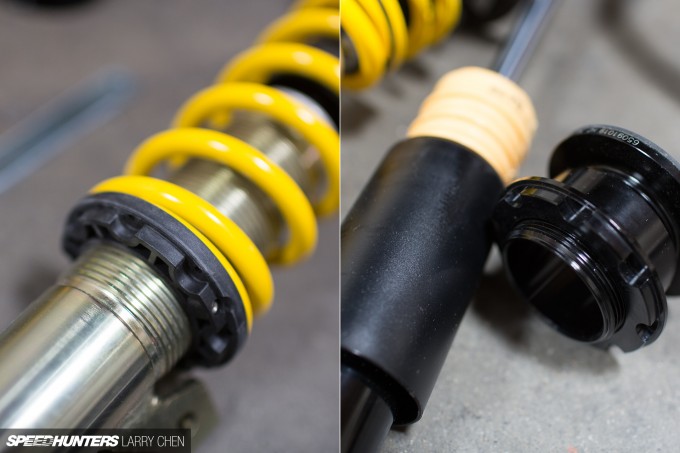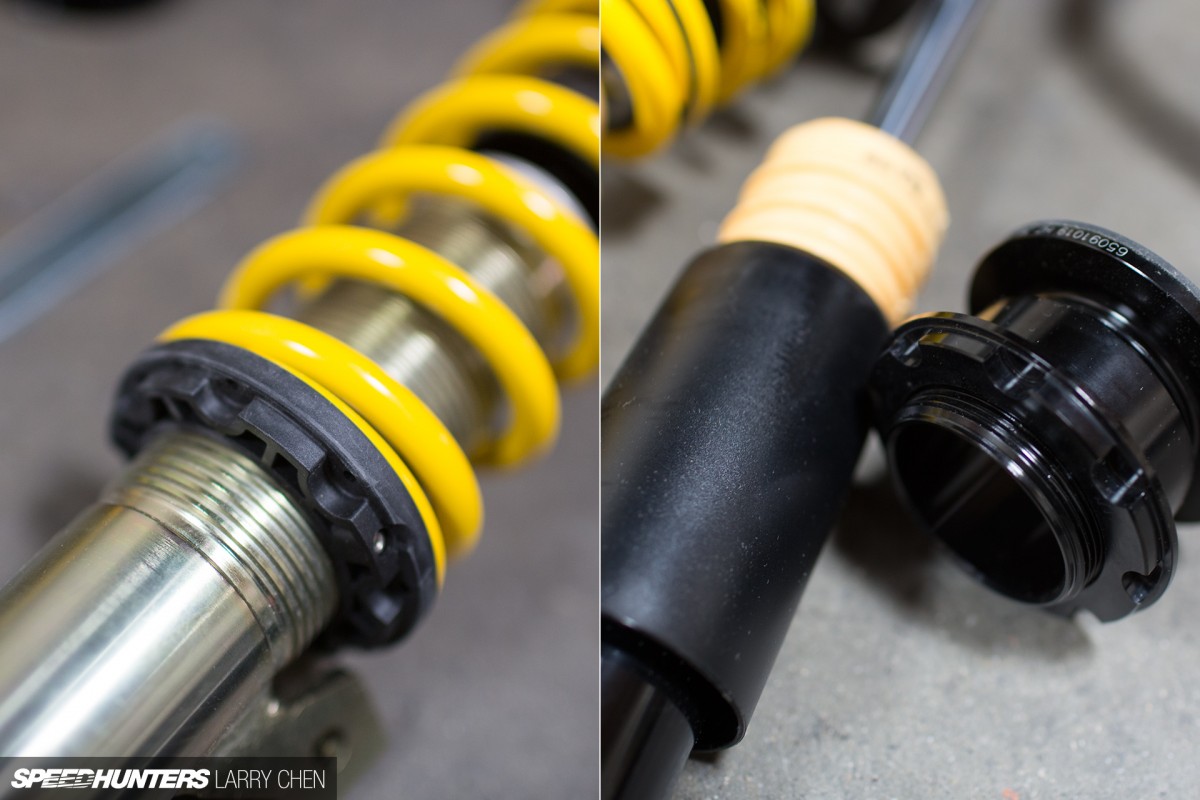 ST suspensions' product line employs a lot of the intelligent engineering that KW uses in their coilover systems. The polyamide adjuster is just one of those touches that helps reduce the chances of corrosion that you can get with conventional alloy rings.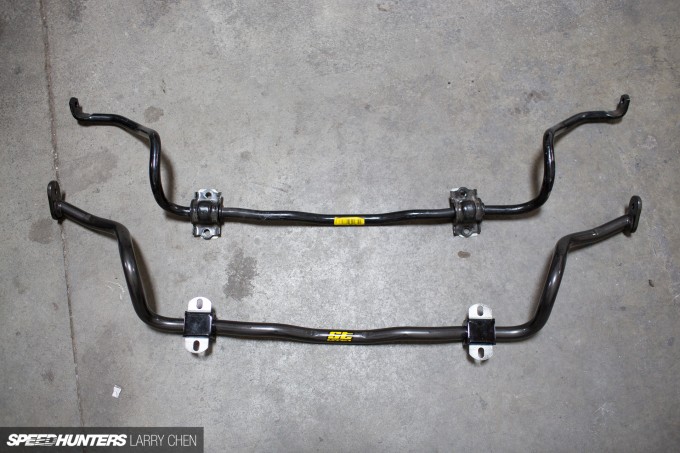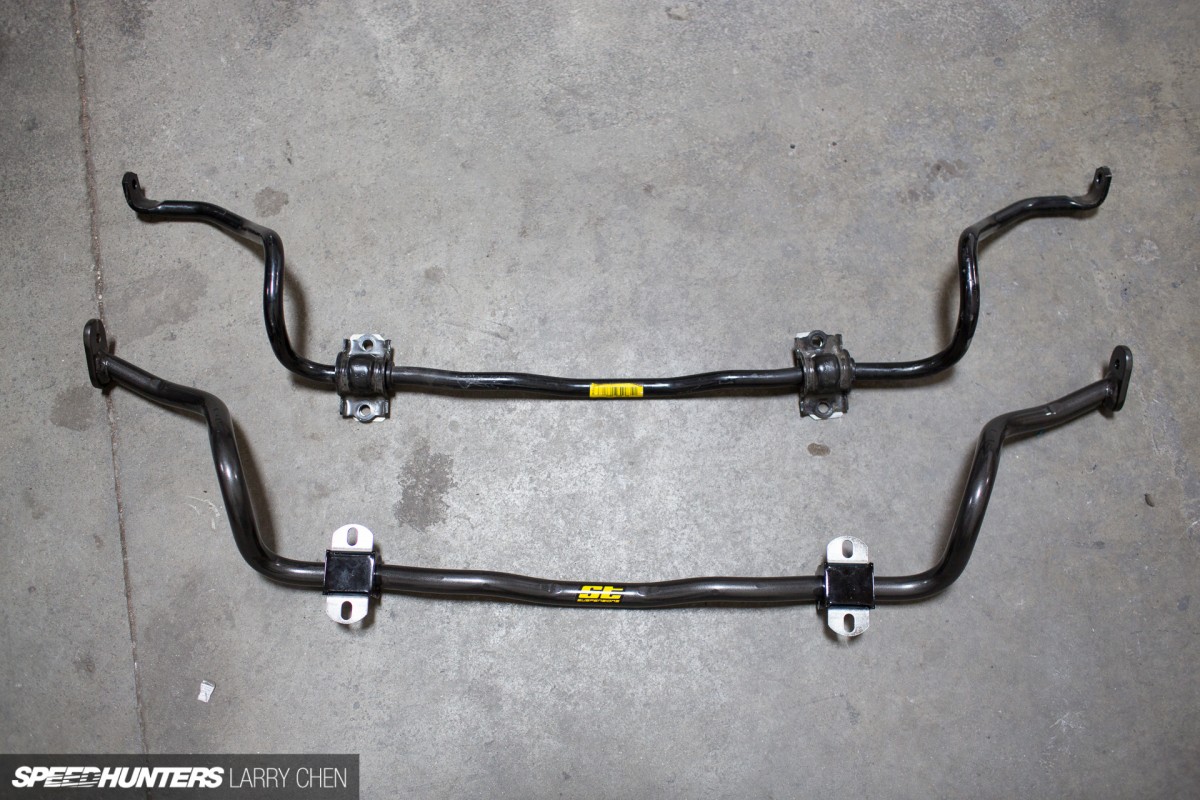 Handling and driving dynamics are naturally important for this street car, so 22mm front and 24mm rear anti-roll bars are going to be added. Joining them at a later stage, will of course be some very special three-piece Fifteen52 wheels.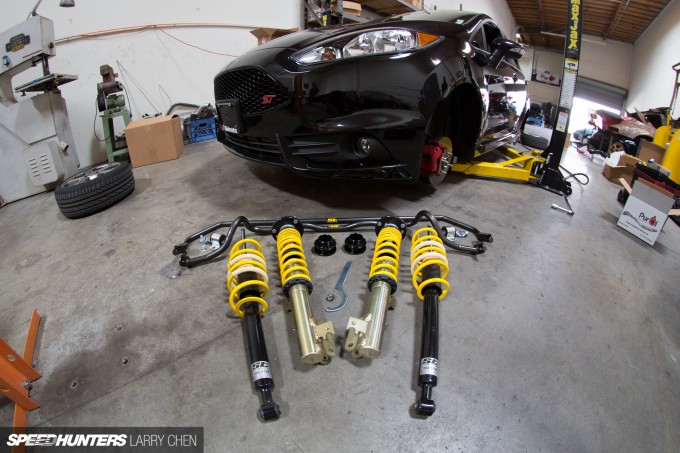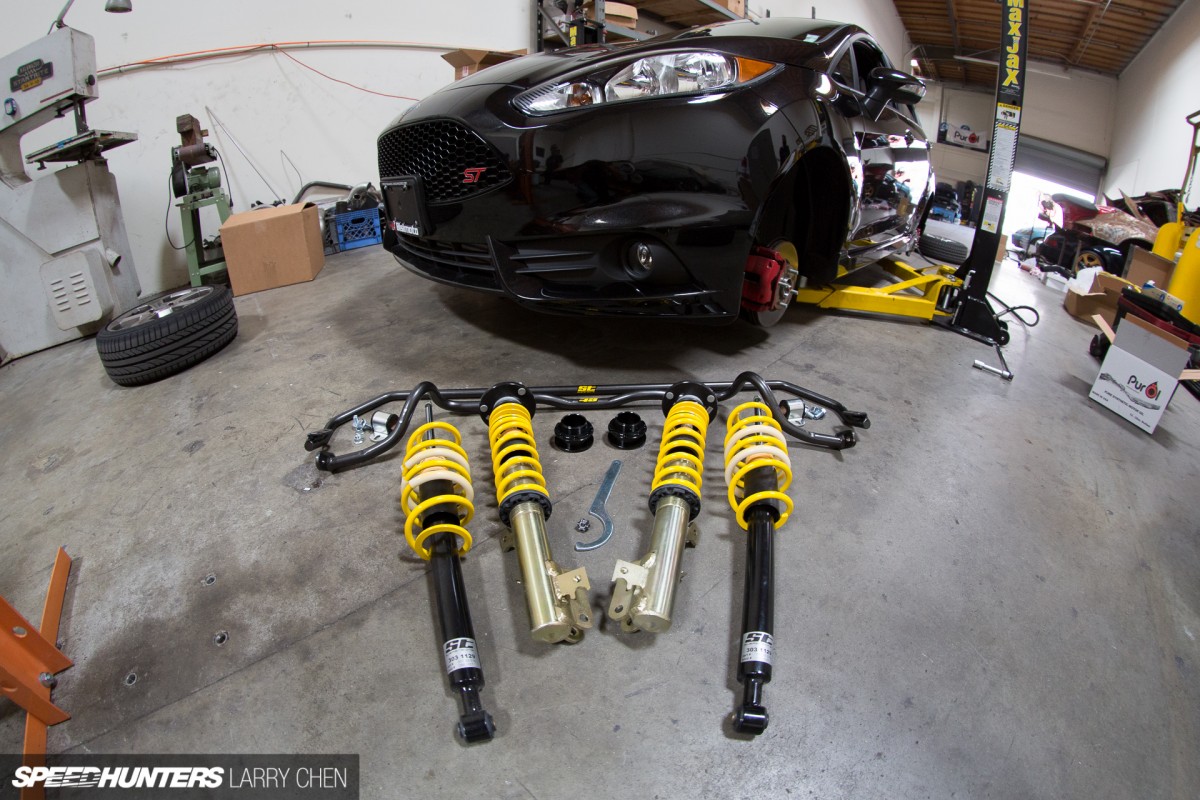 The best thing about working on new cars is the fact that they come apart real easy. Also, when it comes to upgrading the chassis, the factory bushes are usually nice and tight. On a track car, you would be very wise to swap these out for performance items. I know Michael Grassl would agree with me here! But anyway, this build is for having fun on the street and not for racing, so Fifteen52 have opted to keep things simple but effective.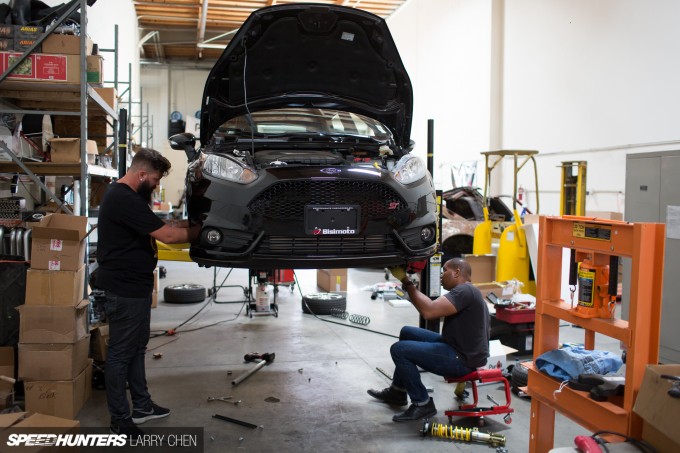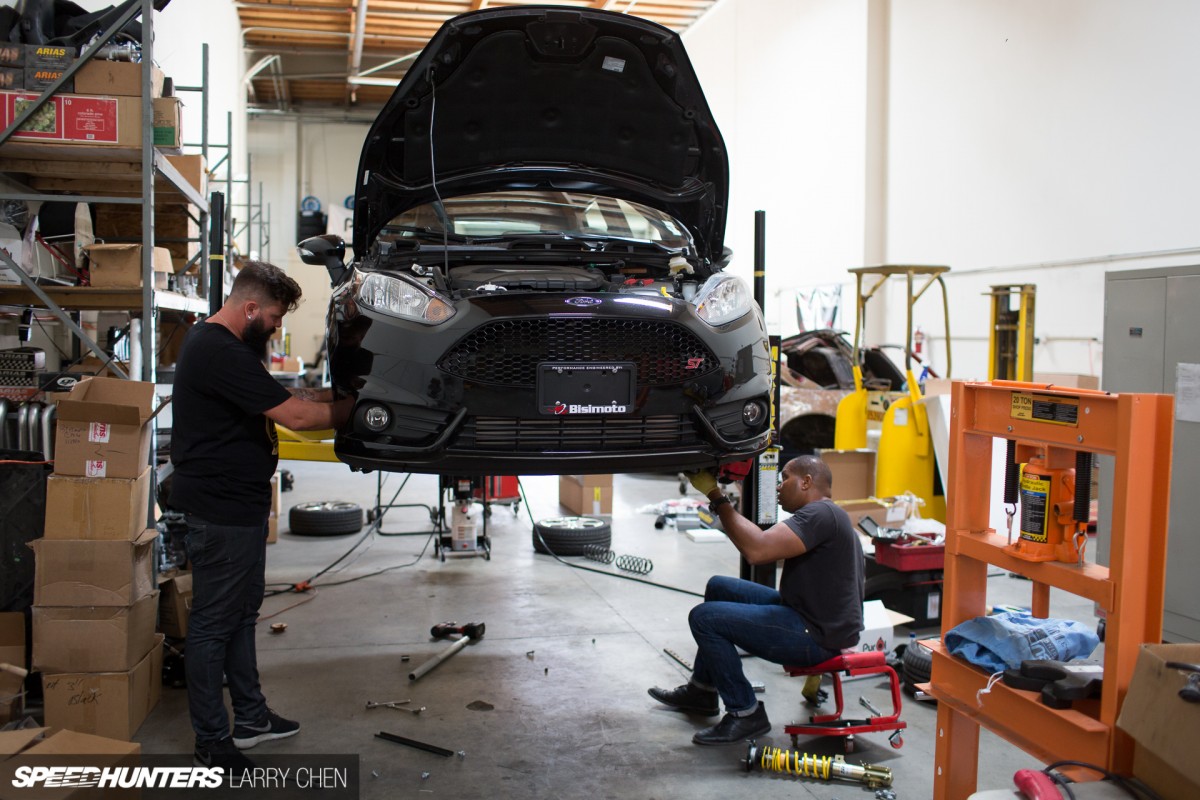 With all that said about new vehicles coming apart easily, I have a few friends who seem to positively enjoy the pain and suffering that comes with the challenge of working on old vehicles.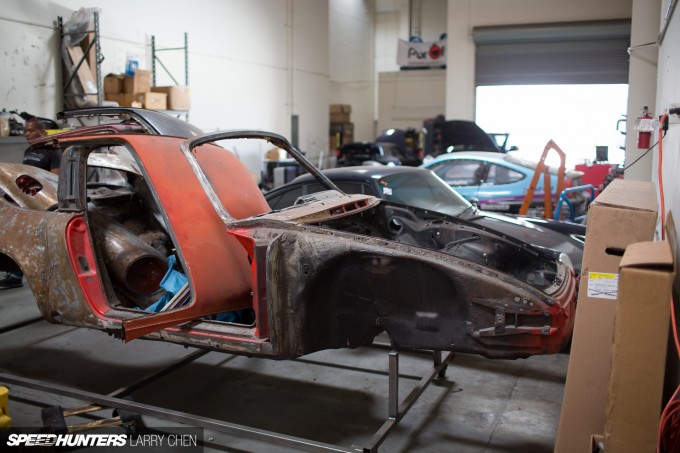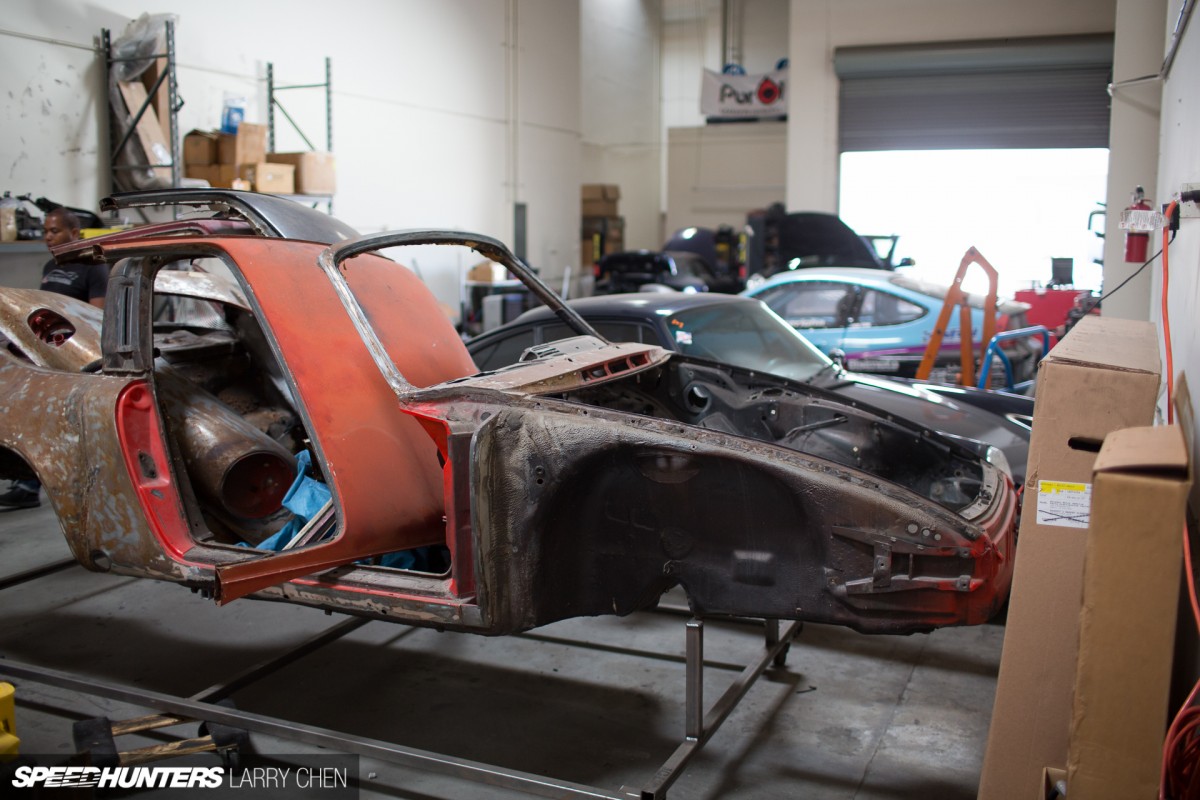 I think we can safely say which category Bisi falls into!
Cost Effective Quality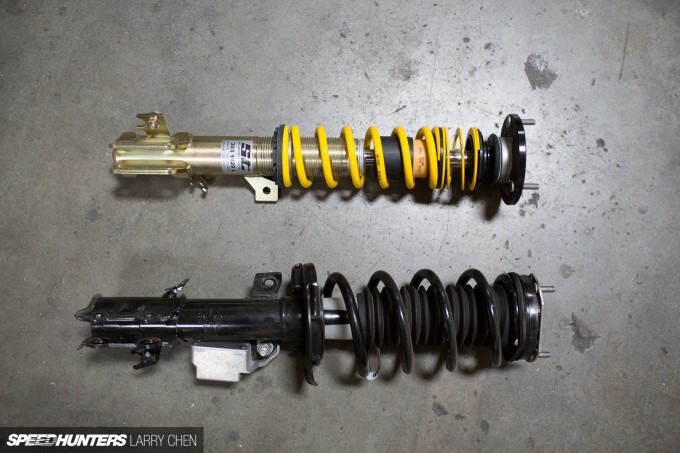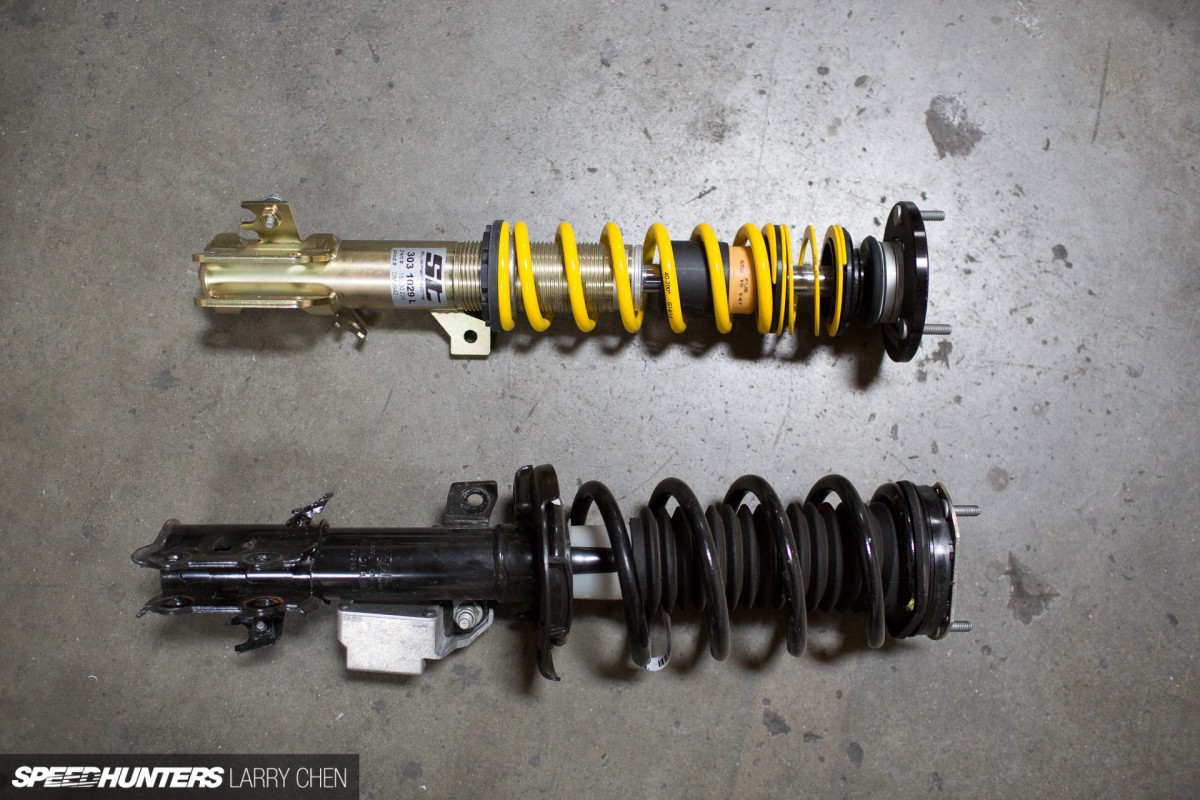 With the OEM suspension off the car, it's interesting to compare the front setup side-by-side. The shortened damper body is clearly noticeable whilst the performance improvements and adjustability this system offers over the stock significant.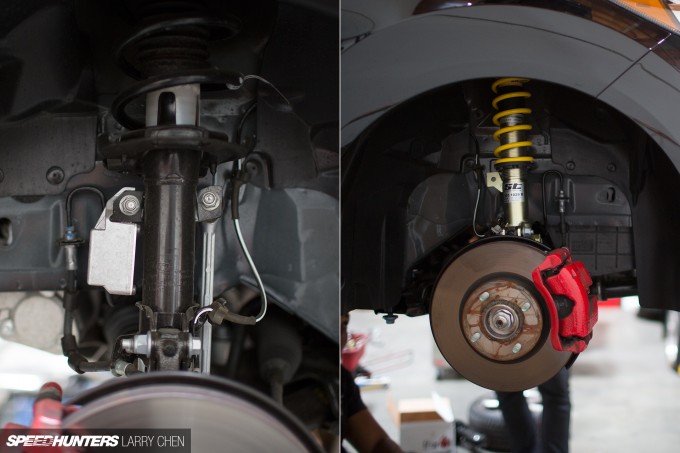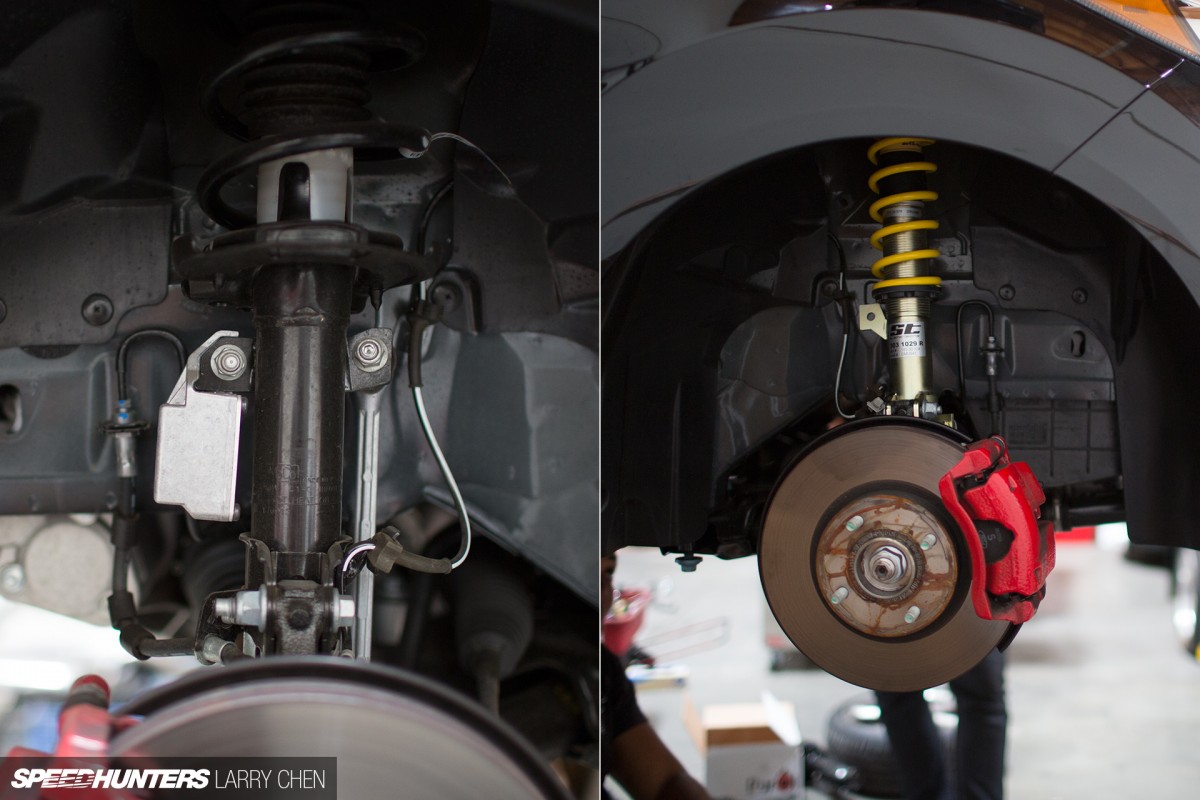 Most importantly, the ride quality is still very good. Yes, the ST suspensions ST XTA system delivers a more sporty ride, but having driven KW's UK demo car with this exact coilover system on the twisty welsh B roads near my hometown, I can say for sure that this kit is very easy to live with. I guess that's the benefit you get by choosing a suspension system that's been developed by German engineers who test their product extensively on all road types.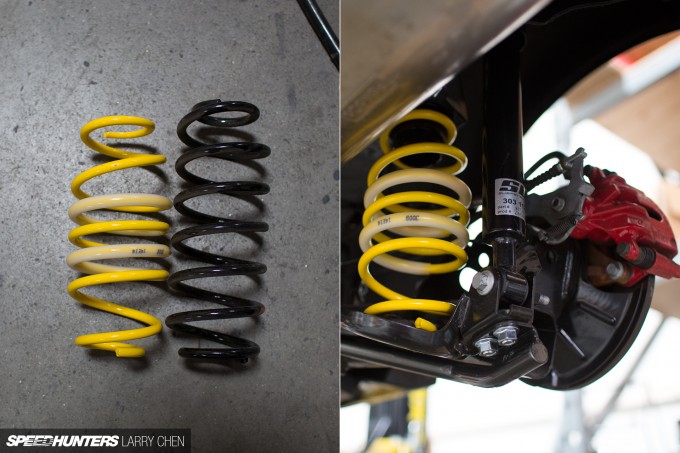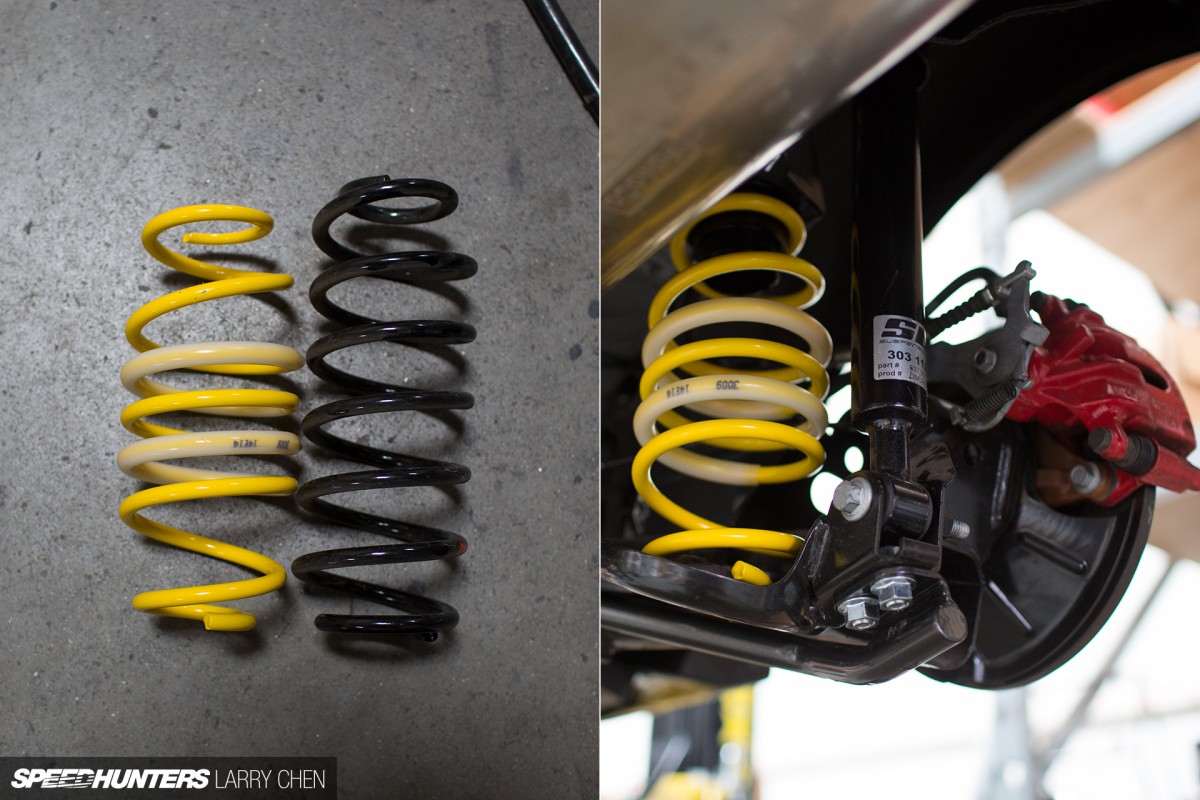 At the rear the shortened springs and dampers are installed with adjustable spring platforms to give ride height adjustment. The quality of the product is very good and installation is simple. Since ST suspensions is KW's little brother, the ST product line can draw on KW's wealth of experience when it comes to spring rate. This further helps with ride quality. If any of you have ever driven a car on a 'performance' coilover kit with the incorrect spring rate at the rear, you'll know how much of a negative effect this can have on the driving dynamics. There's no nasty bounce on the freeway with the ST suspensions kit!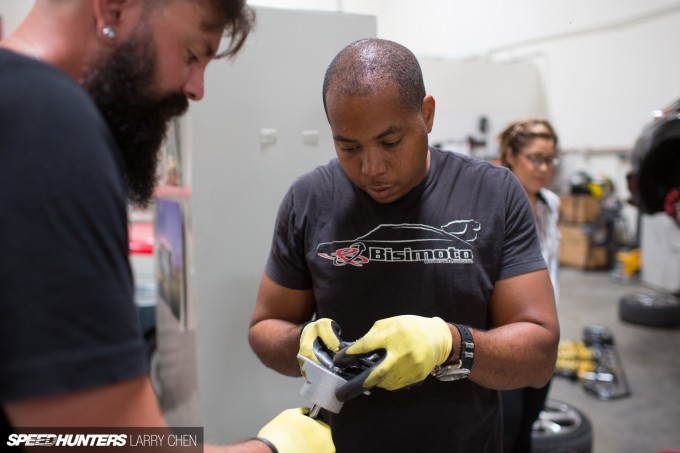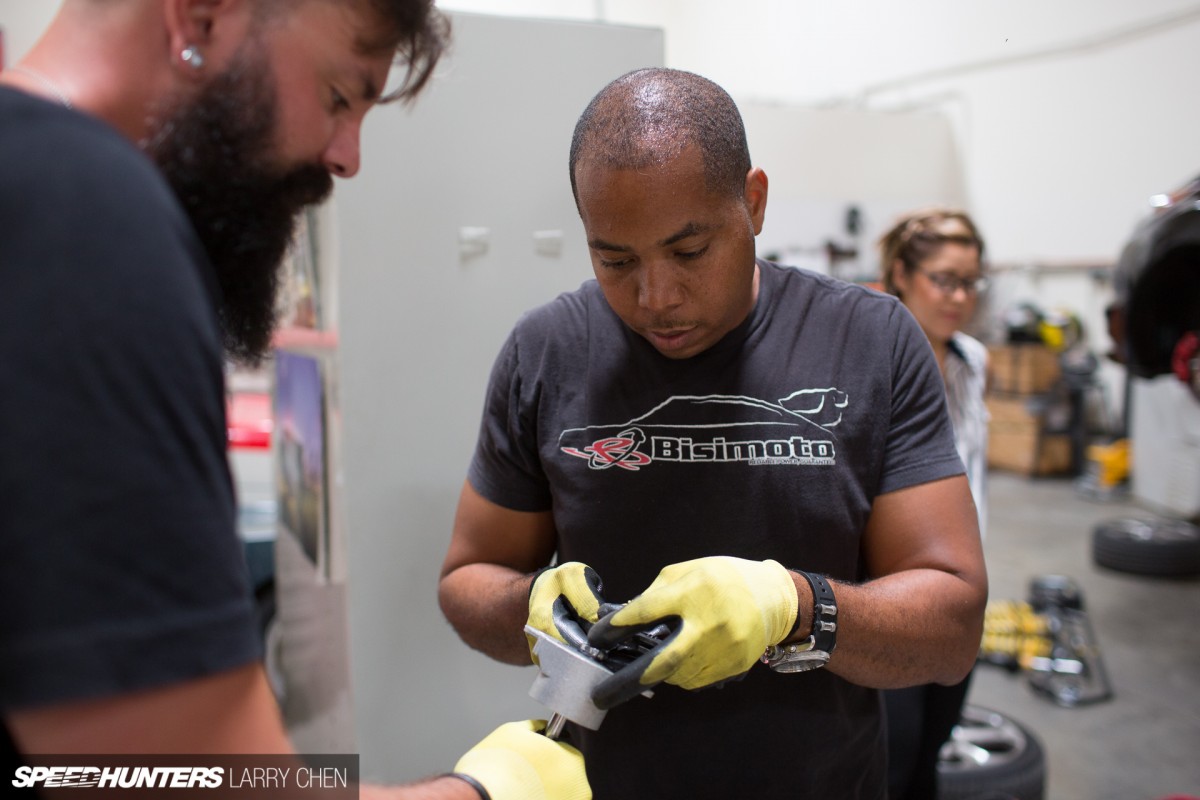 When Bisi and Matt Crooke were taking care of the install, they had one simple question which is a pretty common one: 'What is the difference between ST suspensions and KW, particularly the coilovers?' So I figured it made sense to ask the boss of KW, Klaus Wohlfarth. Here's what he said… "Although the appearance is similar, the ST and KW product lines are very different. The most obvious to see is the material that is used for the strut housings. KW is made ​​entirely of stainless steel or aluminum, whereas ST uses galvanized steel for the coilover housings which is gold in colour."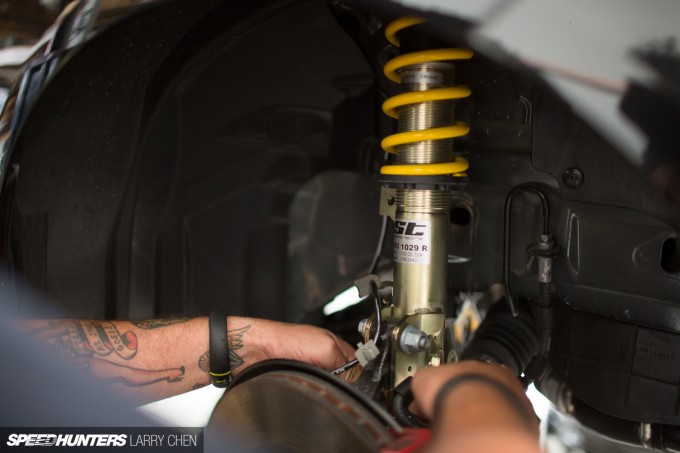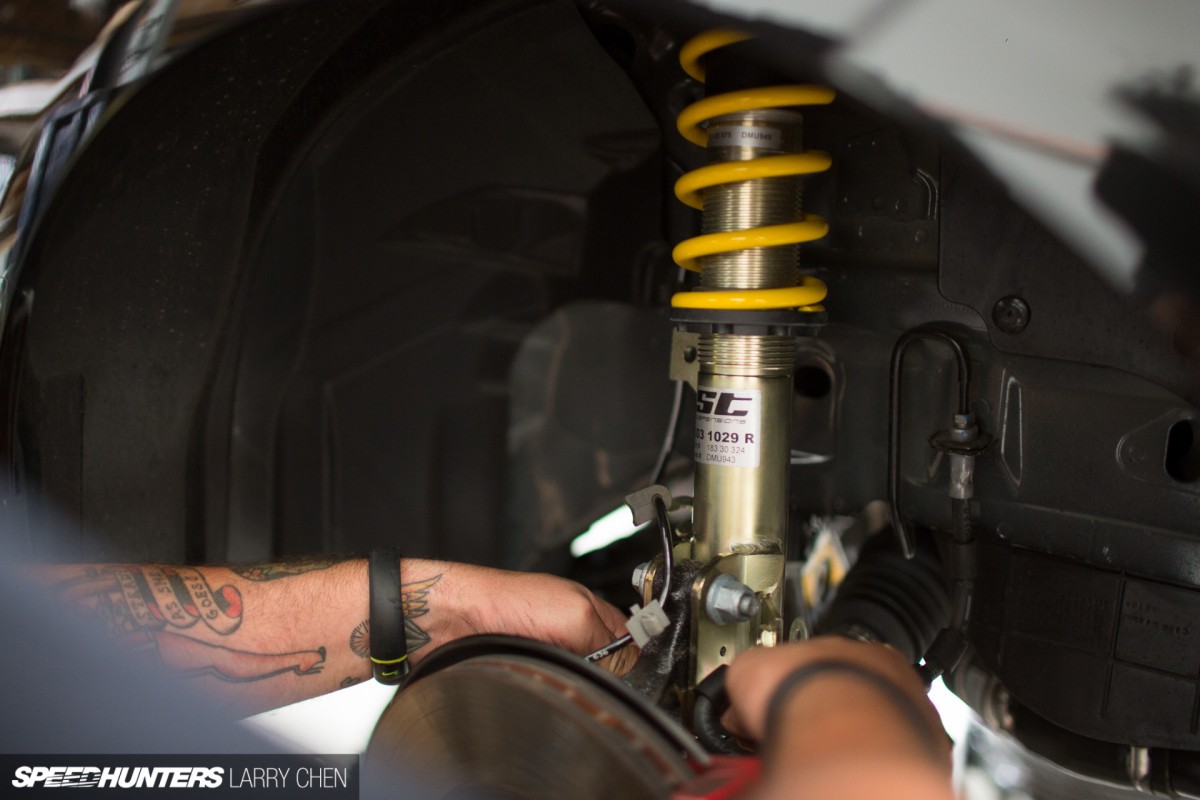 "ST coilovers come either with fixed damping or rebound adjustment. KW has a full range of adjustment options which can be tailored to the customer. KW offer a coilover for every purpose. KW dampers are able to be adjusted separately in rebound and compression damping, or even electronically adjustable coilovers with adaptive dampers which can be adjusted via smartphone! KW's Street Comfort coilover kit cater for customers that regard their standard suspension as too uncomfortable and wish to improve the ride. Alongside these road applications, KW offer a variety of Clubsport coilovers with motor sport components specifically for track days as well as the famous KW Competition motor sport suspension systems."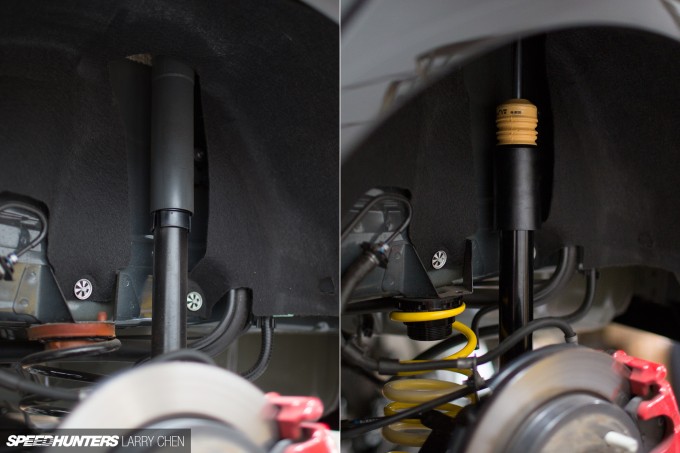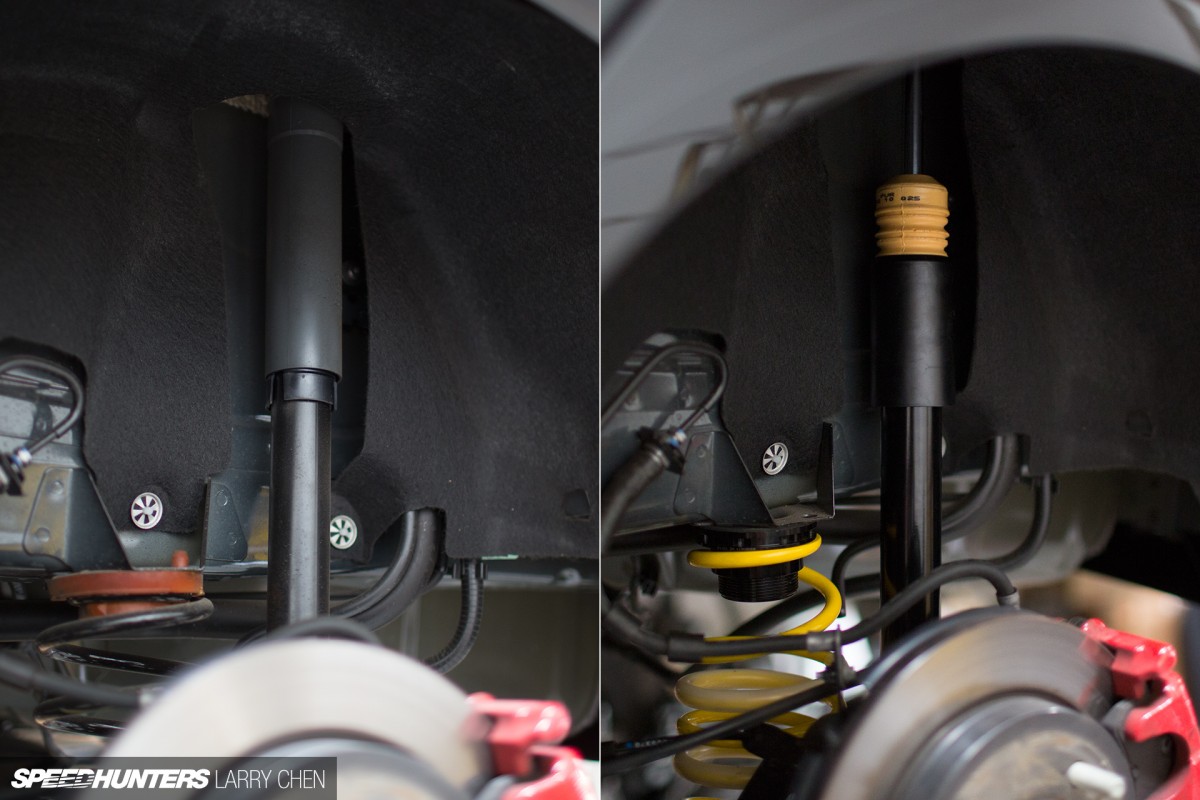 "ST offer three coilover suspension variants. We make it simple to choose the right system, even if you have never had coilovers before. ST coilovers are unique in their price bracket and the top of the range ST XTA coilovers allow for rebound adjustment and camber adjustment with aluminium unibal top mounts."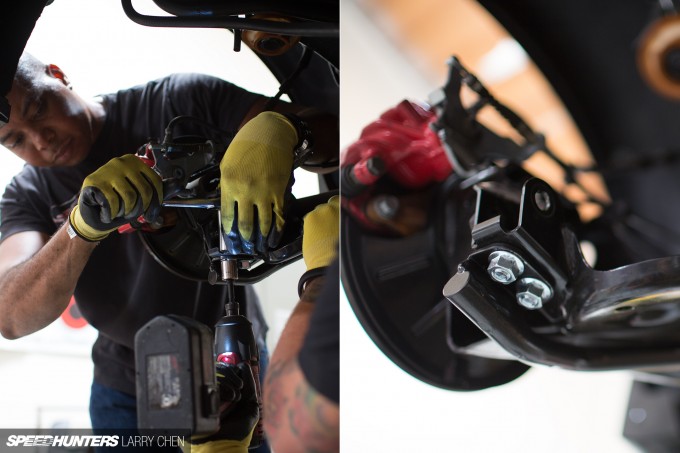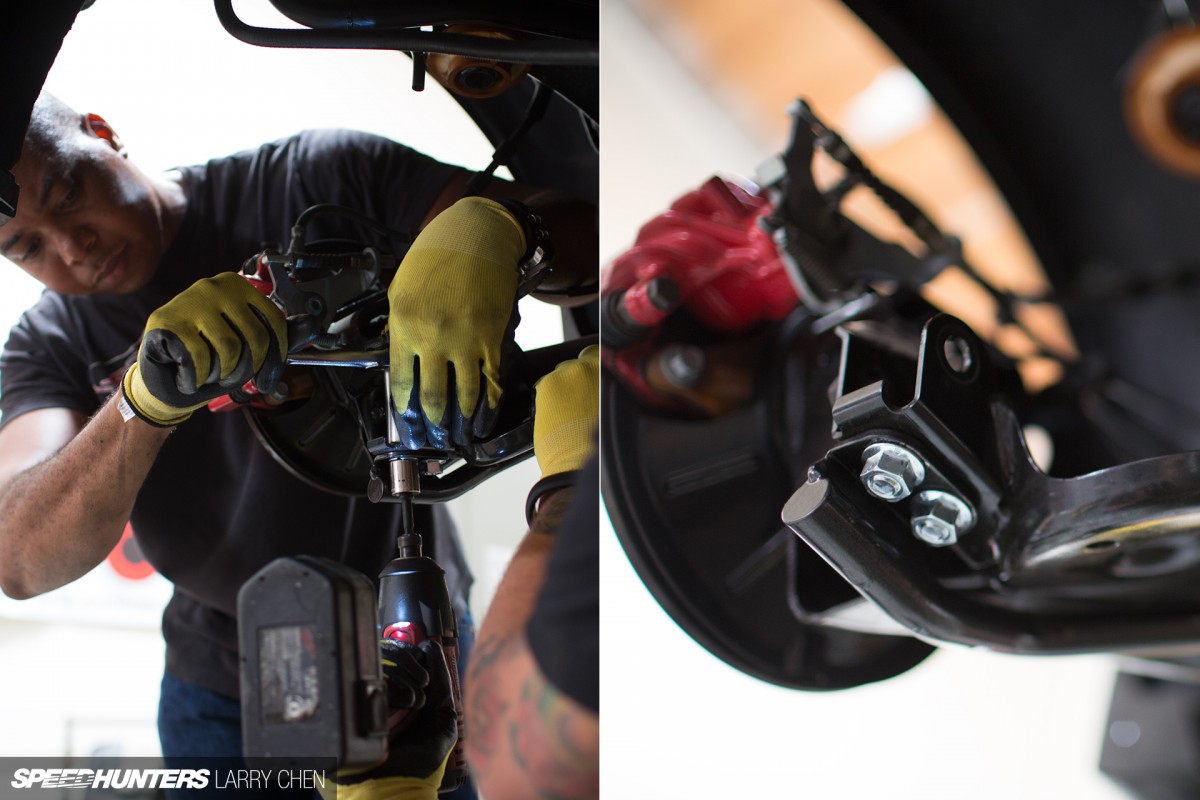 So there you have the ethos behind the ST product line straight from the horse's mouth. I think the most important thing I get from Klaus when he talks about the ST suspensions brand is that it's been born with fun in mind.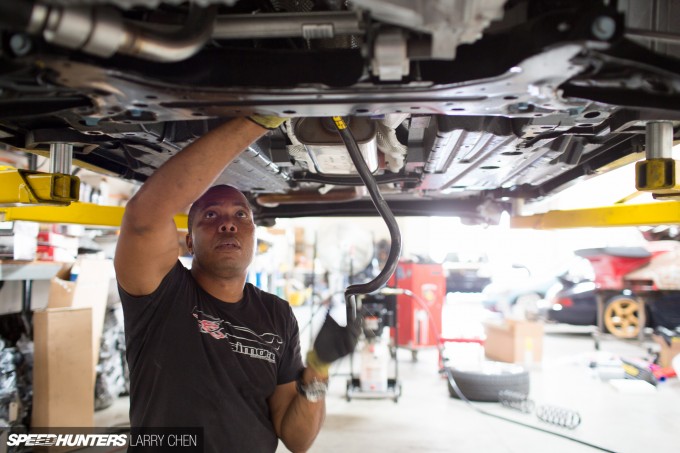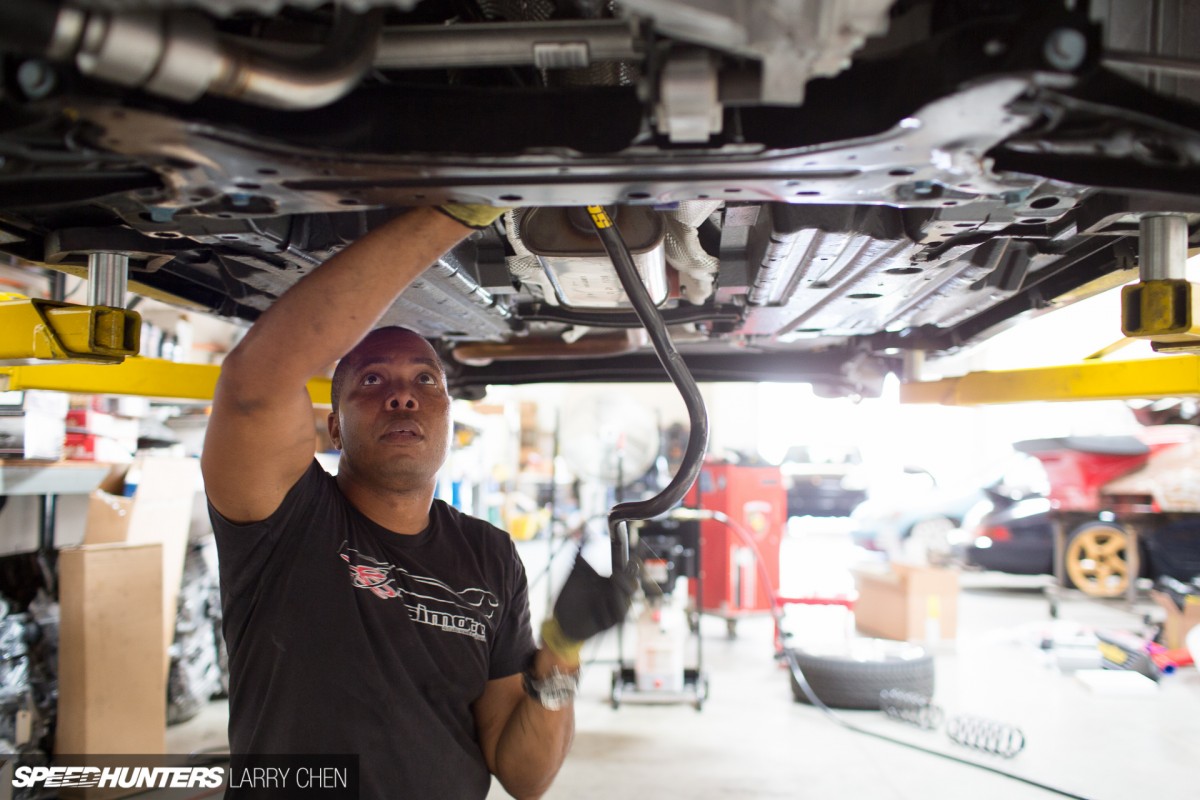 It didn't take long for Matt and Bisi to finish up the install. The ST sway bars improve the composure of the chassis further reducing body roll.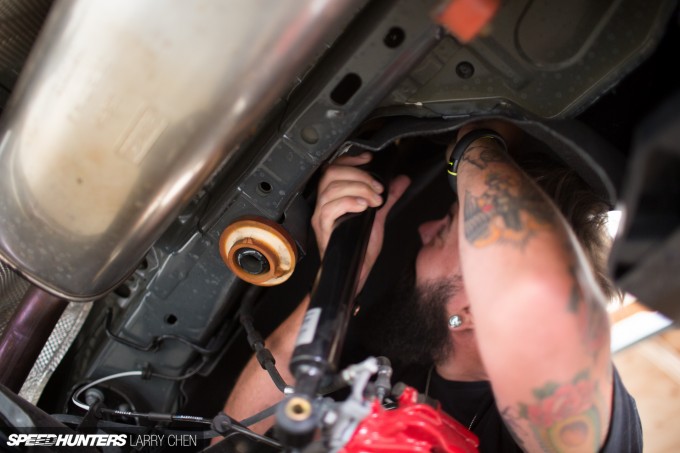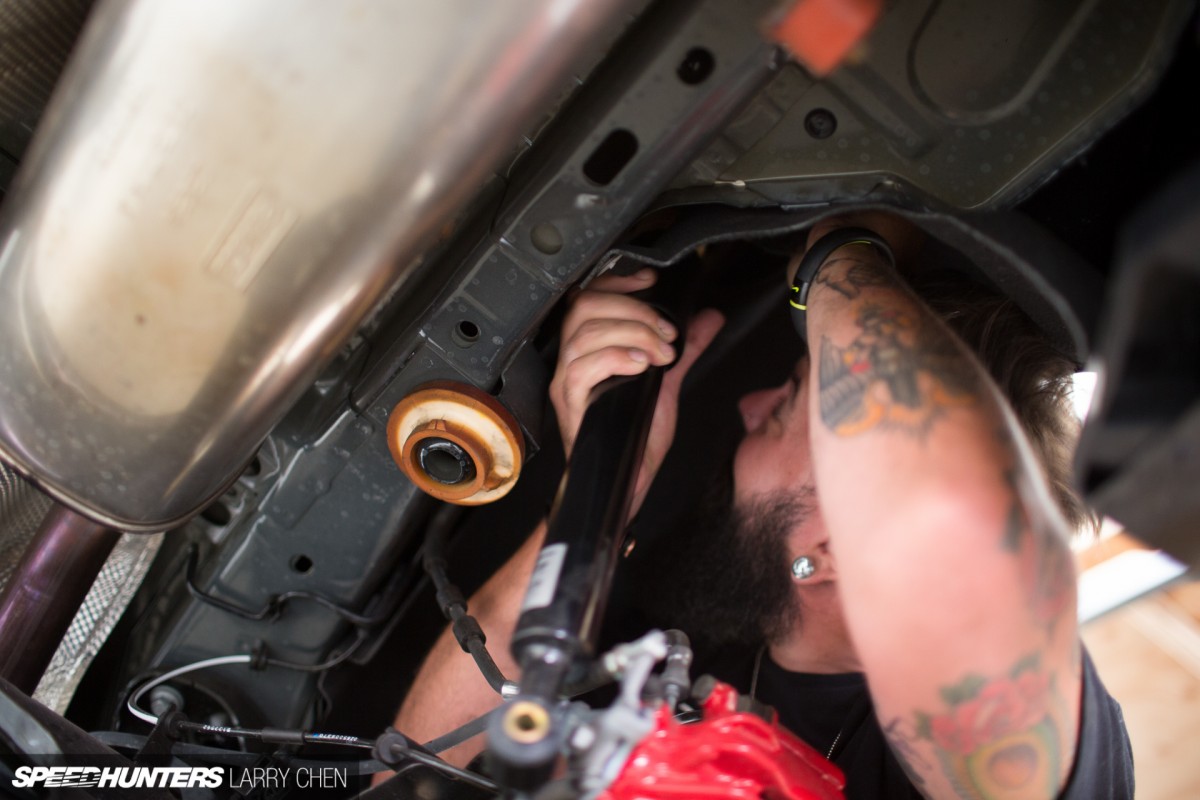 With the final parts installed, the Fiesta just needed aligning before it could be rolled out.
Sitting Pretty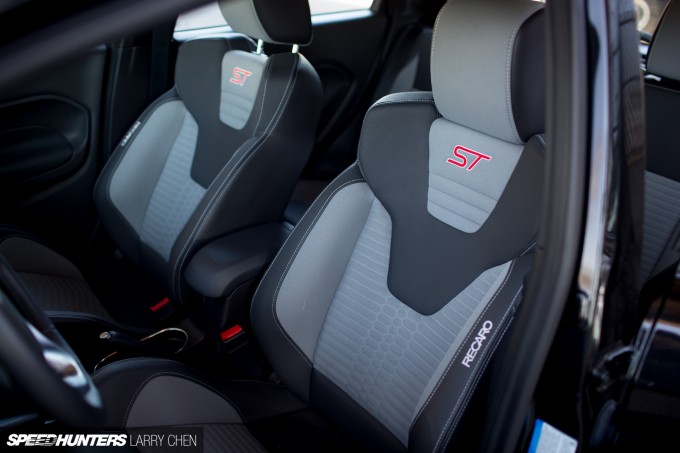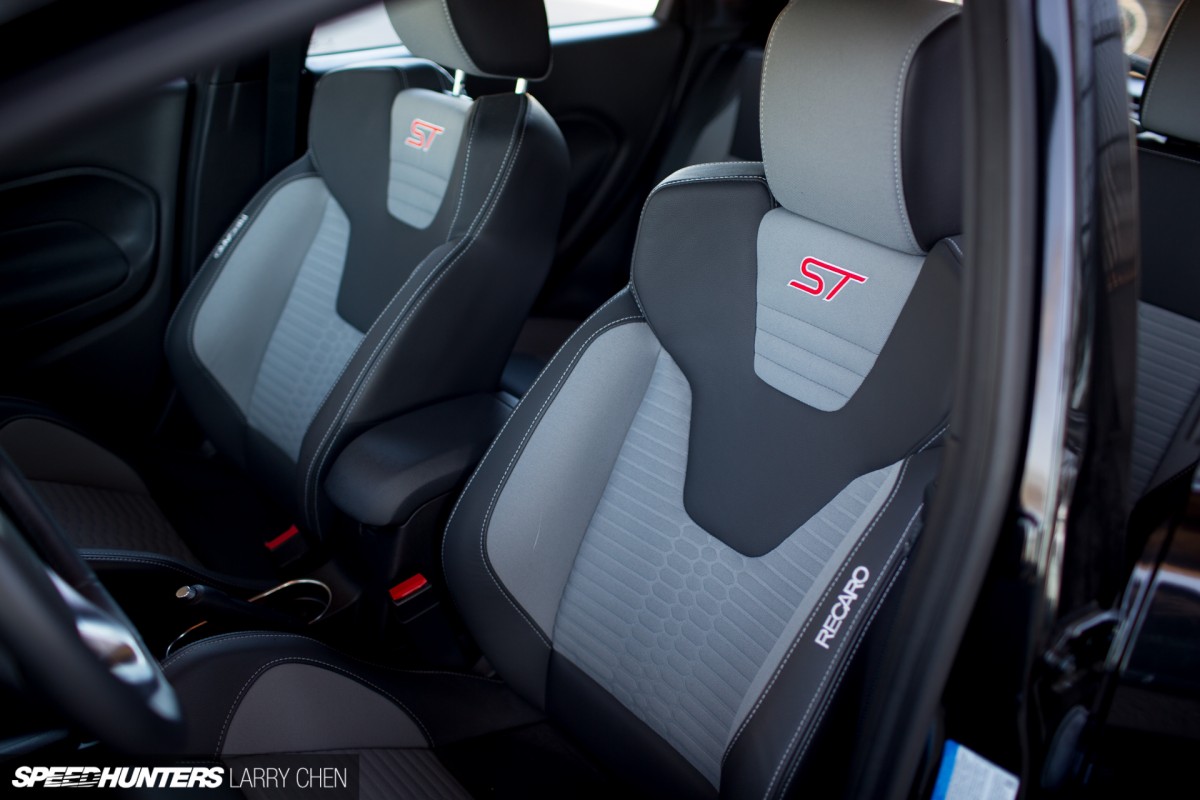 One of the most important parts of the suspension install is the set-up. Taking your time to measure ride height front and rear and get the car sitting correctly requires nothing more than a little patience. The thing I really like about KW Automotive as a company is the level of support on offer when it comes to setting up your car. With an ST XTA coilover kit, like we've discussed already, you gain a lot more adjustability.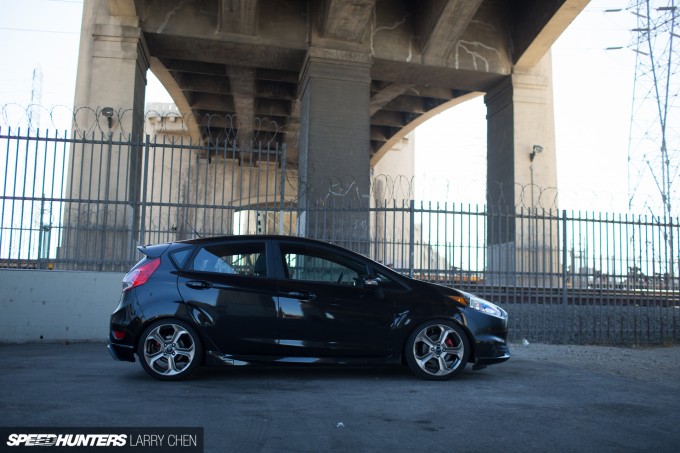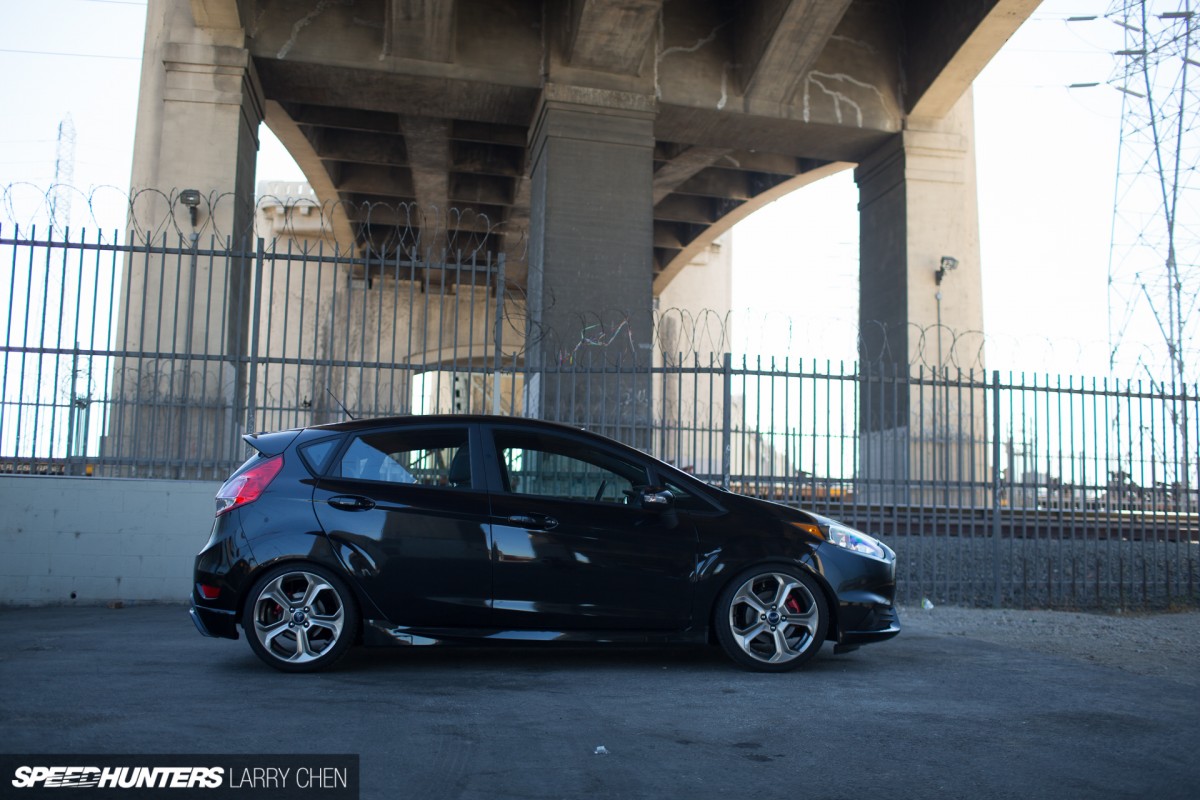 So this allows you to step outside the factory geometry settings and play with the set-up. Your ST dealer will be able to give you advice on geometry settings. Or even better, you may be able to get some info from forums as to how to set your car up for maximum apex enjoyment.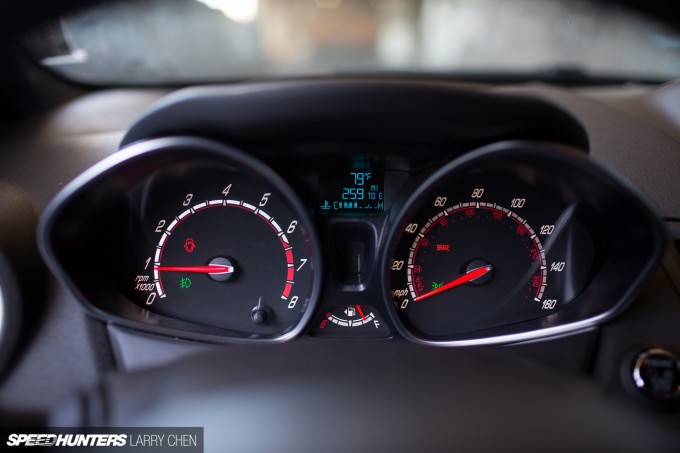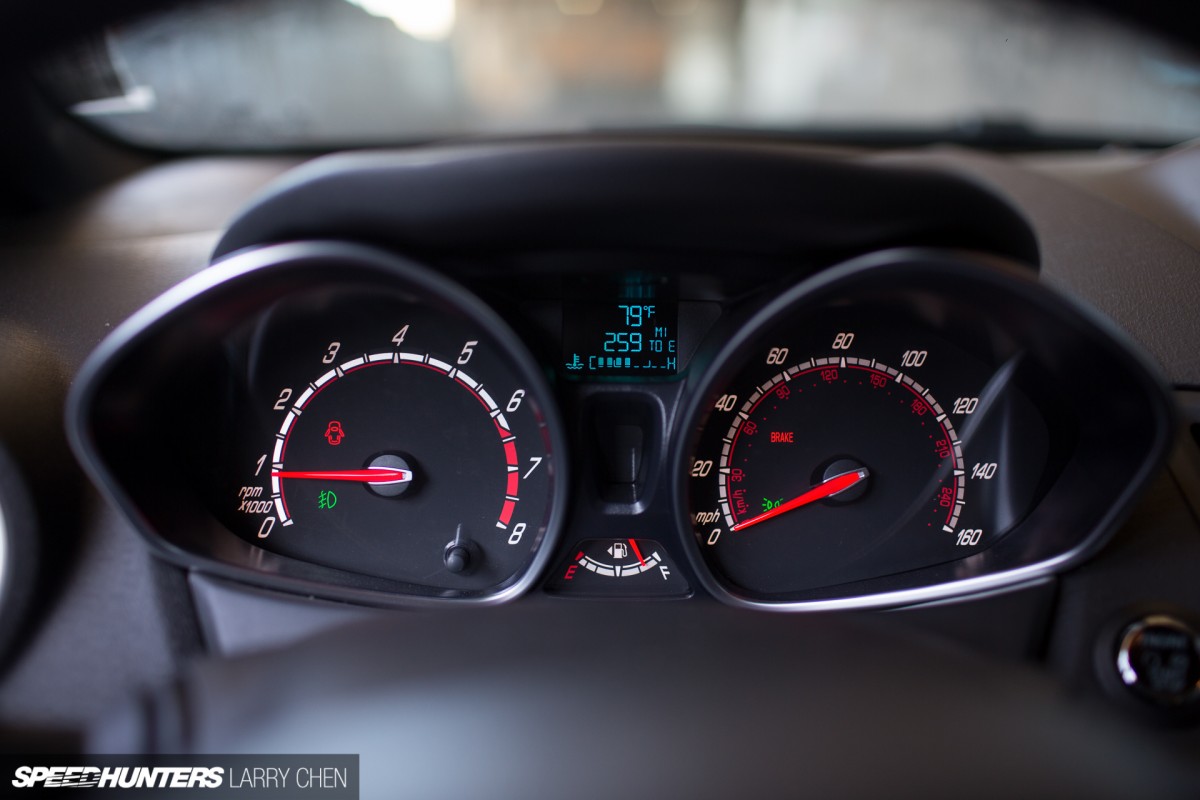 I am sure all of you will agree that good geometry massively increases not only the accuracy of the steering and feedback delivered via the wheel, the overall safety of a car and most importantly the fun factor.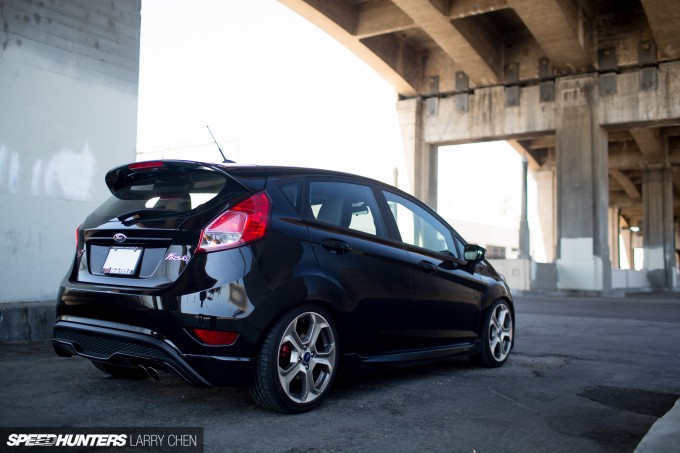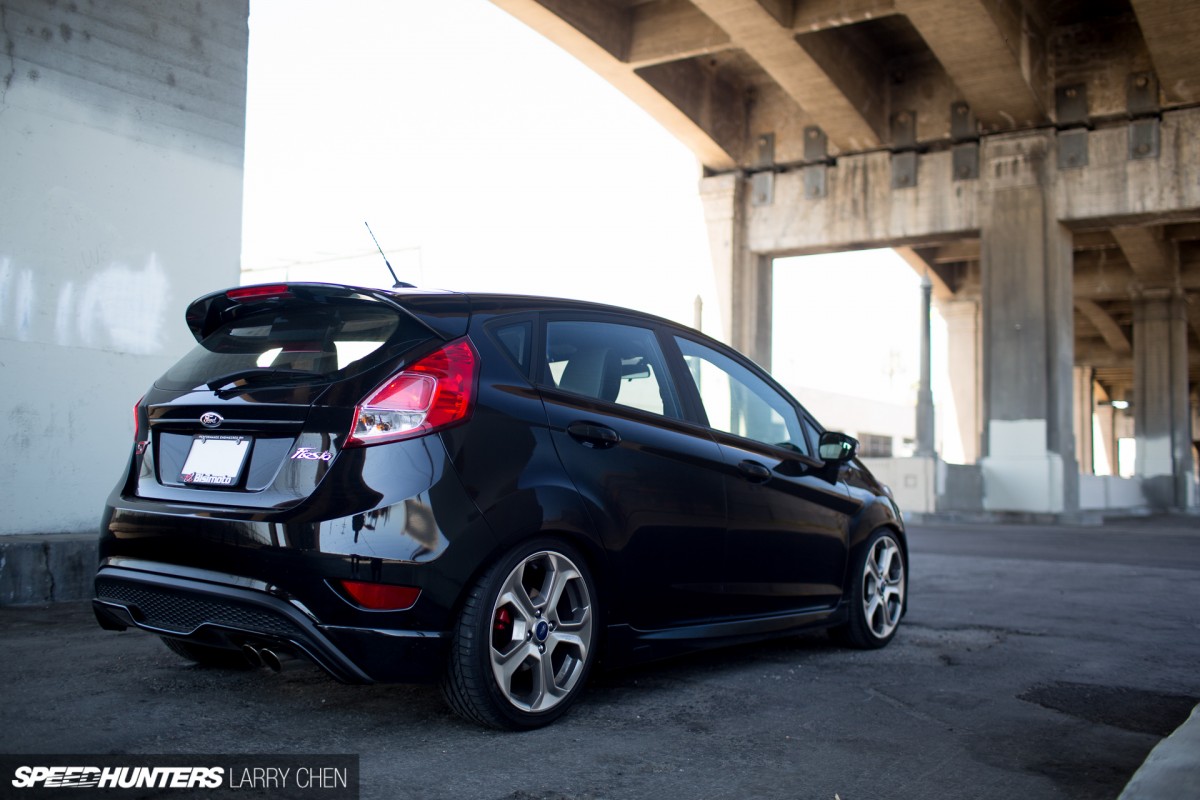 And here's the thing about projects: even the most easy-to-install bolt on parts can make a car your own. Special geometry settings can help your vehicle turn in more precisely, corner faster and be more enjoyable. Even the smallest of things can make a difference. Of all the shows and events I've been to this year, nothing has been more enjoyable than the actual journey to place we were heading.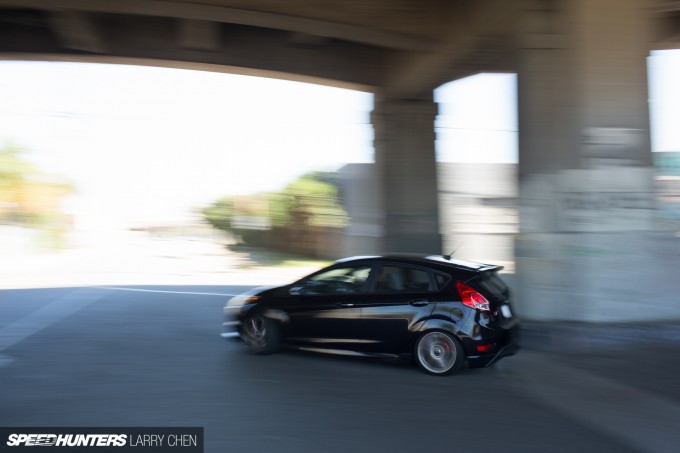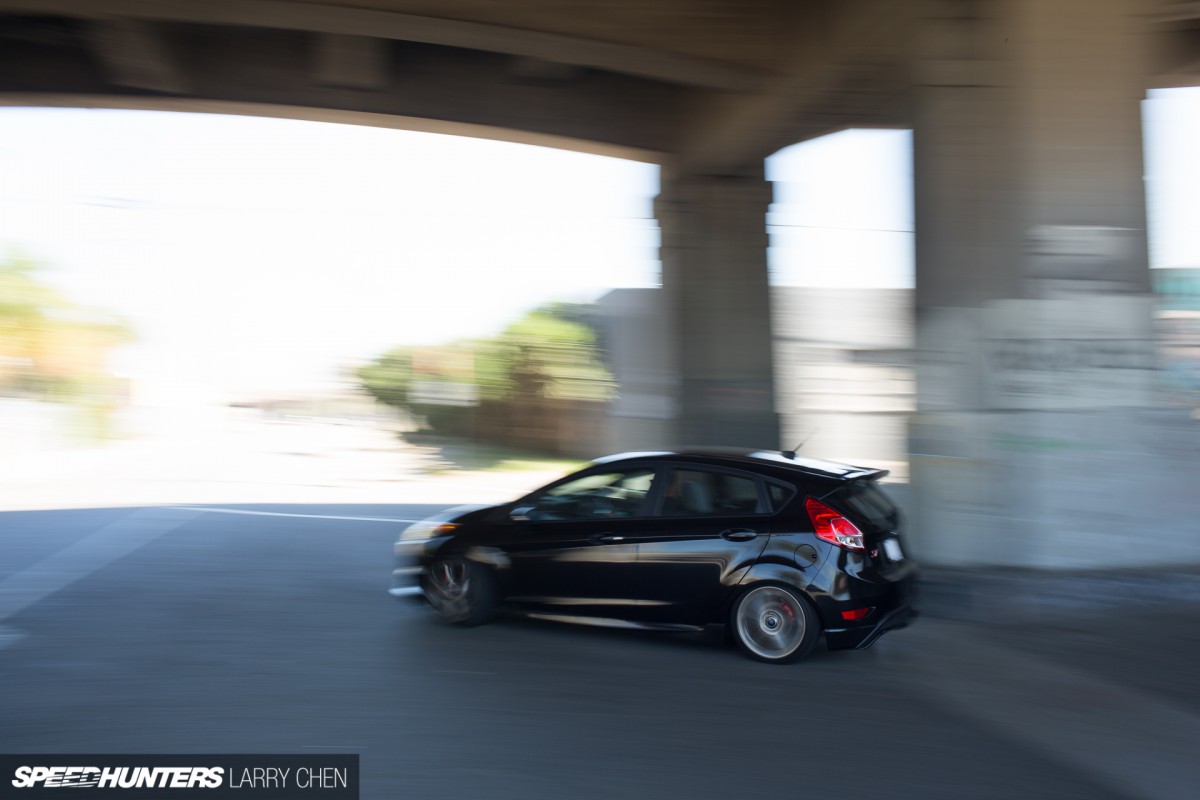 It's a shared love of driving brings us together. And sometimes it's easy to take it all too seriously and forget the real reason we're all here. Klaus and his team massively celebrate the art of driving and it's cool that their passion for creating an affordable product for street tuning is so strong.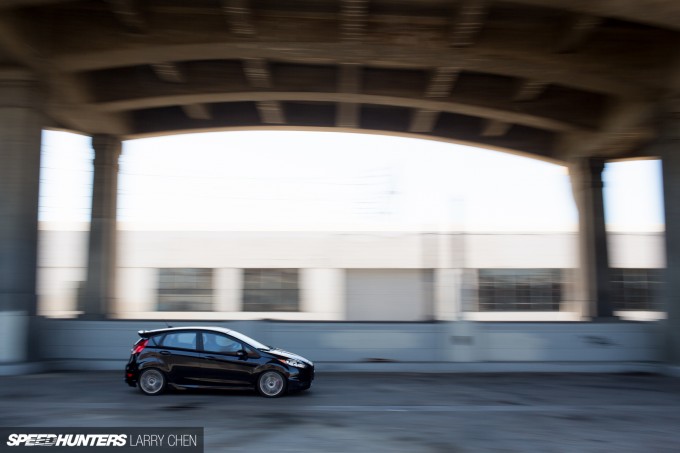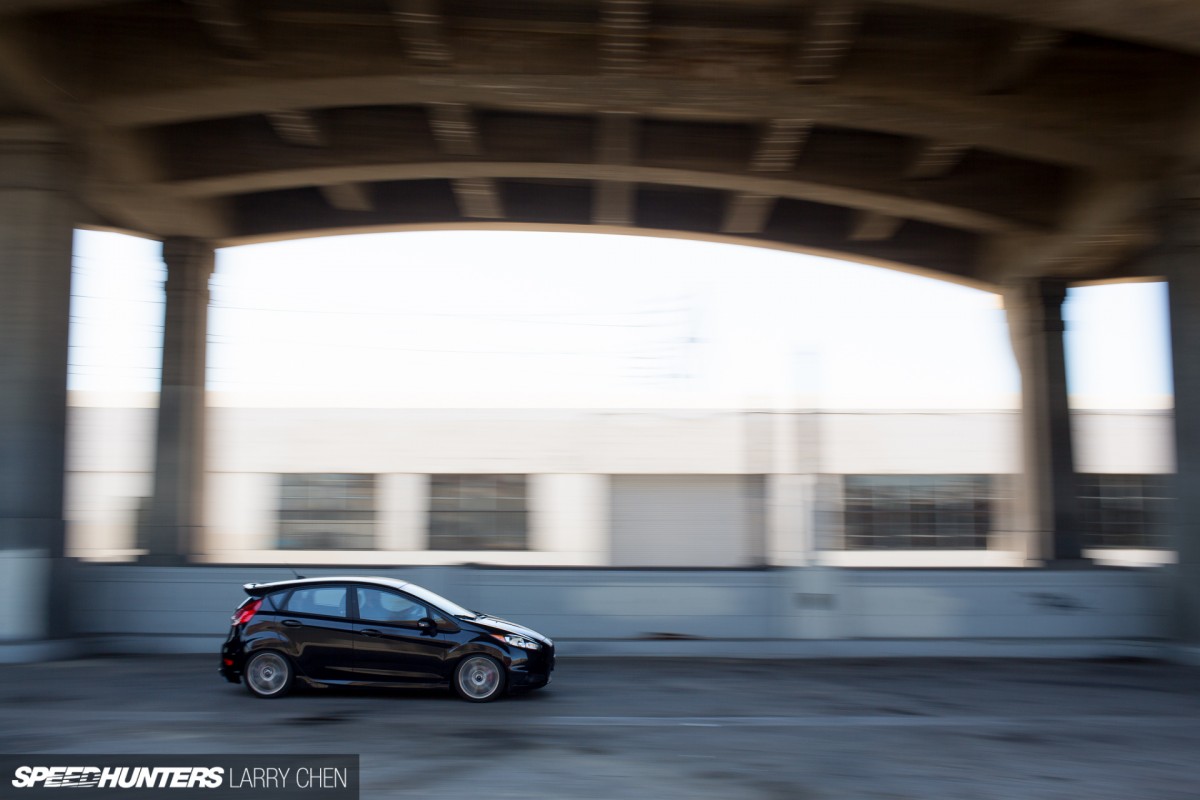 Over the next few months the ST suspensions Fiesta project is going to be developed by Fifteen52 and we'll be checking in on the project when it's complete. We've seen some renders of the wide body kit and, of course, with the Mountune goodies under the bonnet it will pack more power. Maybe when it's complete it will be time for another shakedown over Angeles Crest highway…
Ben Chandler
Photos by Larry Chen
Instagram: larry_chen_foto
larry@speedhunters.com