The Future Has Arrived
It is always fascinating to look back in history and see how designers imagined the car of the future. The stylistic exercises of the '50s and '60s spawned some pretty quirky concepts more inspired by sci-fi films than by function. But if we ask ourselves the same question today, it would be just as hard to form an accurate view of the automobile 30 or 40 years from now. While style and form are ever-evolving and difficult to predict, one thing is pretty much a given – the future of the automobile almost certainly electric.
Let's face it, the days of the pure internal combustion engine are numbered. While this will obviously have effects on car nuts like you and I, there's also the positive in all of this – electric doesn't necessarily mean boring.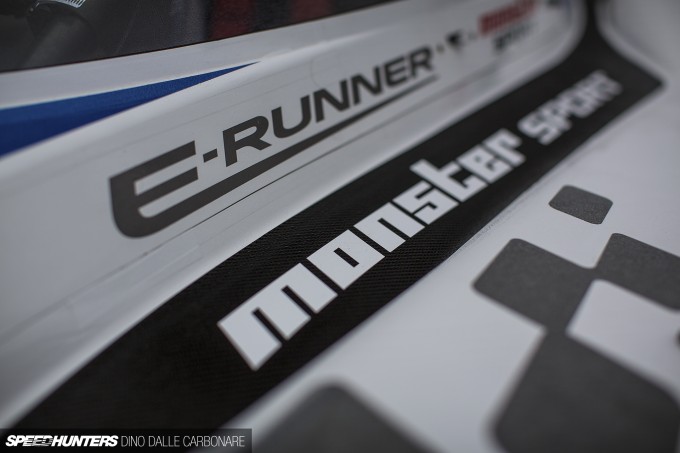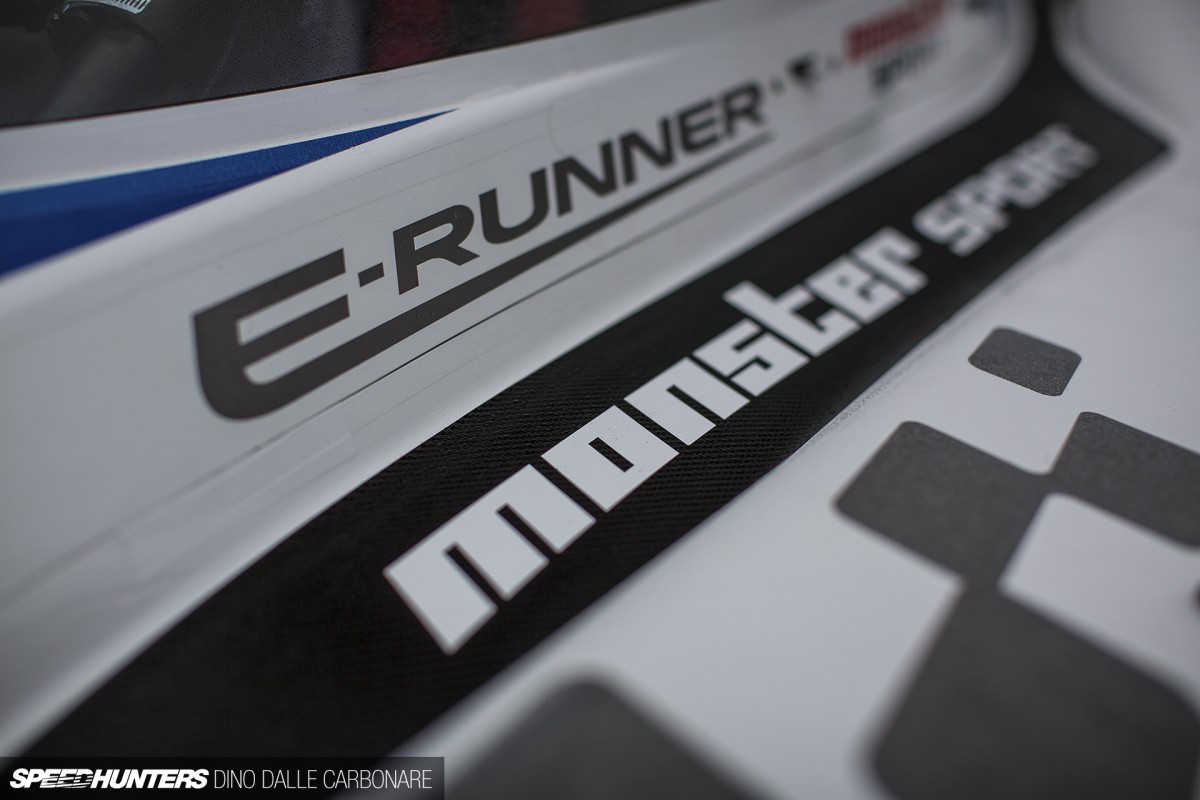 Don't get me wrong, I'm in no way making an argument for EVs, but I've had the chance to test drive a few and the instant torque and acceleration is something that impressed straight away. And these were city cars – not real sportscars – so imagine what can be achieved at the limits of the technology…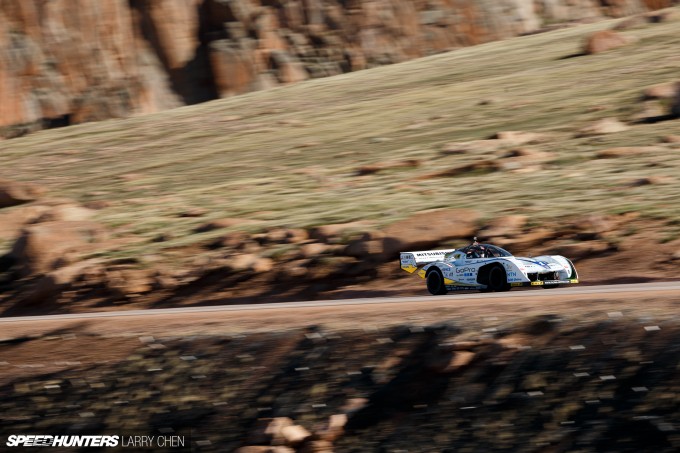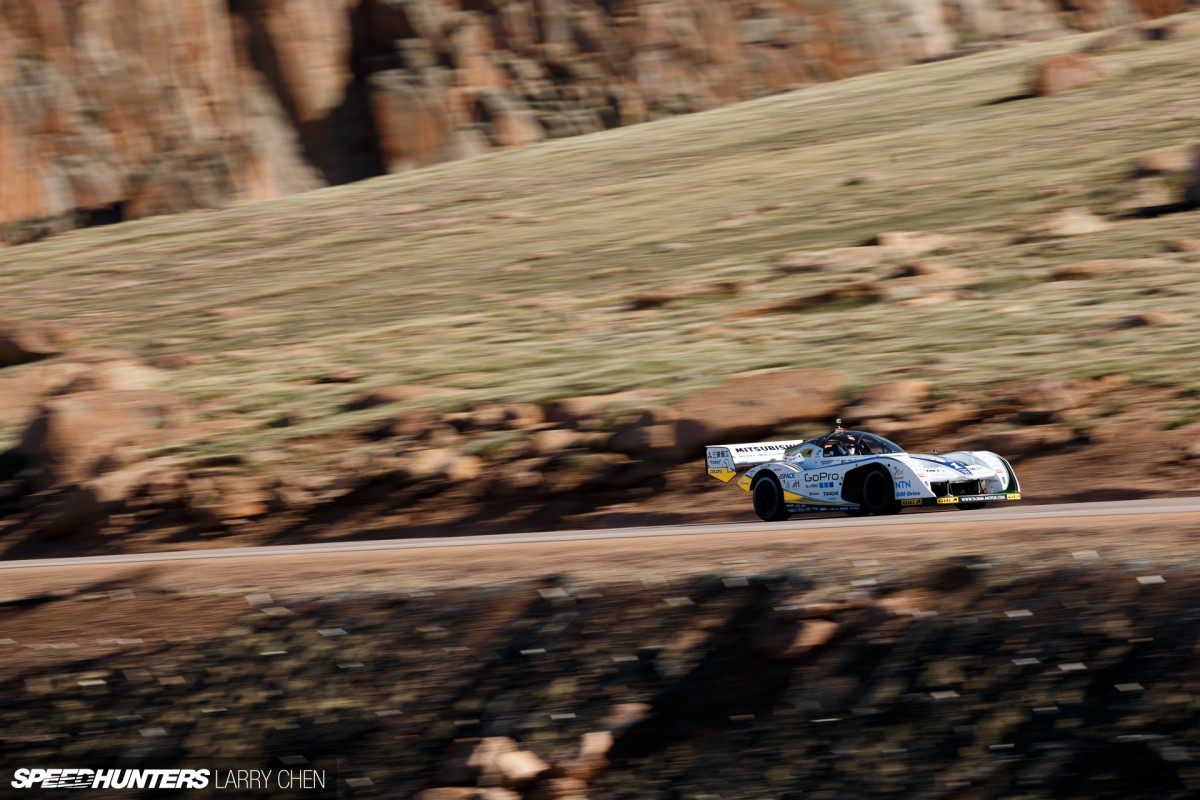 Nobuhiro 'Monster' Tajima is a man on a mission to find out. If you follow the Pikes Peak International Hill Climb, you'll probably already know that in 2013 he set the record time for an electric car: a 9:46.53 climb in the Monster Sport e-Runner.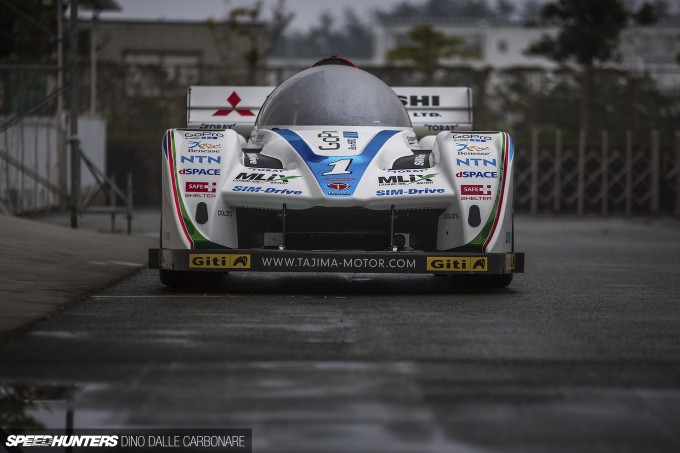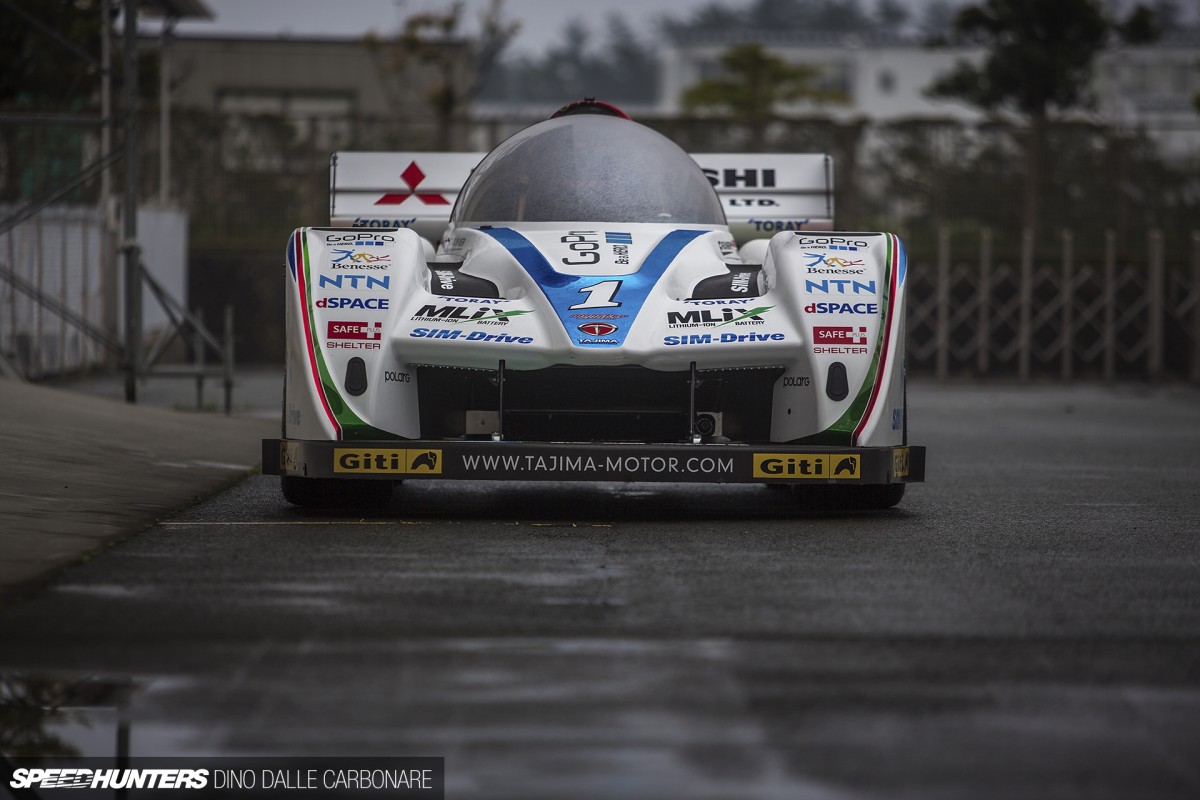 We are no strangers toTajima-san's past creations, nor the capabilities of his Monster Sport company. So it's no surprise that with sheer determination and years of racecar building experience, he's been able to put together this impressive machine. We were lucky enough to take a closer look at the e-Runner in its latest guise – just before it was shipped off to the US for June's 2014 PPIHC.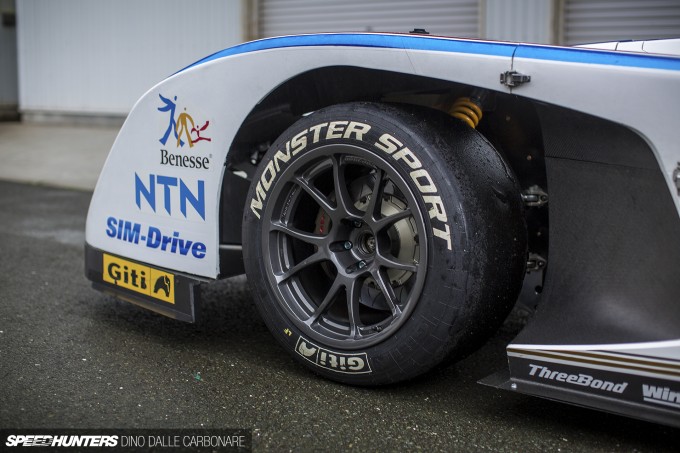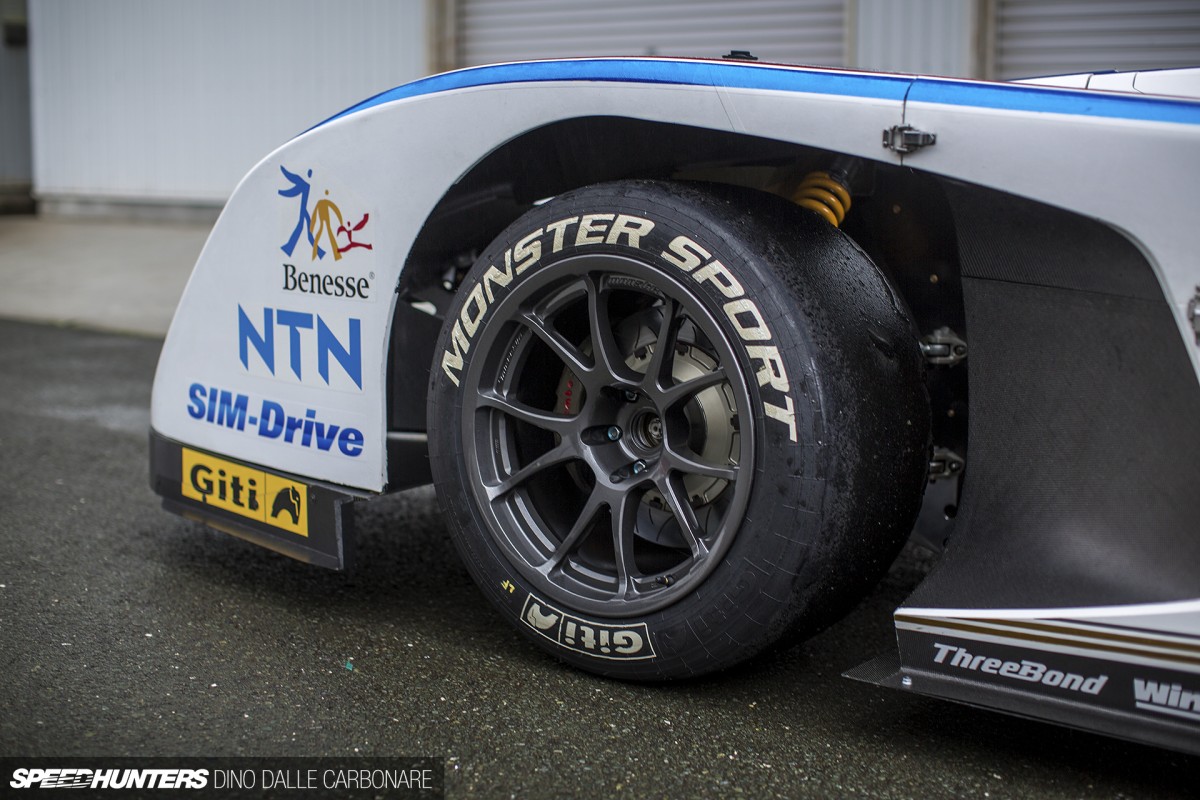 I didn't even know where to start! I usually dive straight into the engine bay when I shoot feature cars, but its two motors sit deeply at the center of the front and rear tracks for optimal weight distribution, there's not a lot to see with the e-Runner. So, lets start with things that we can see – like the 18×13-inch lightweight magnesium alloy wheels that Tajima-san had custom made at TWS in Osaka. Everything on the e-Runner is focused around efficiency, and while I'm not allowed to say how much the wheels weigh, believe me when I say they're very light. And they have to be, because the car runs massive Giti slicks at each corner to maximise grip and put all that instant torque down onto paved road that leads to the top of Pikes Peak.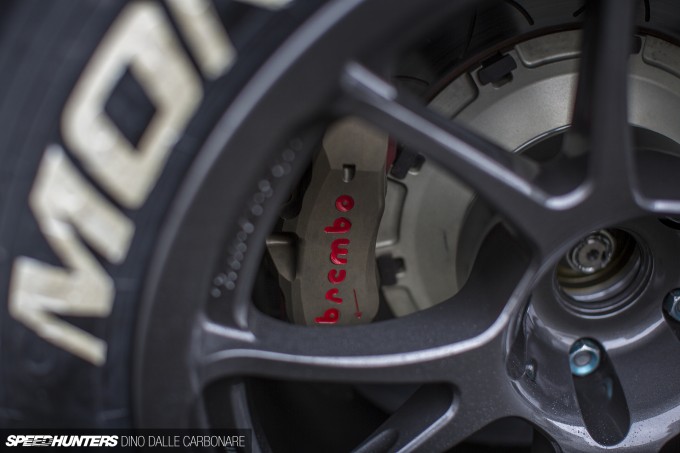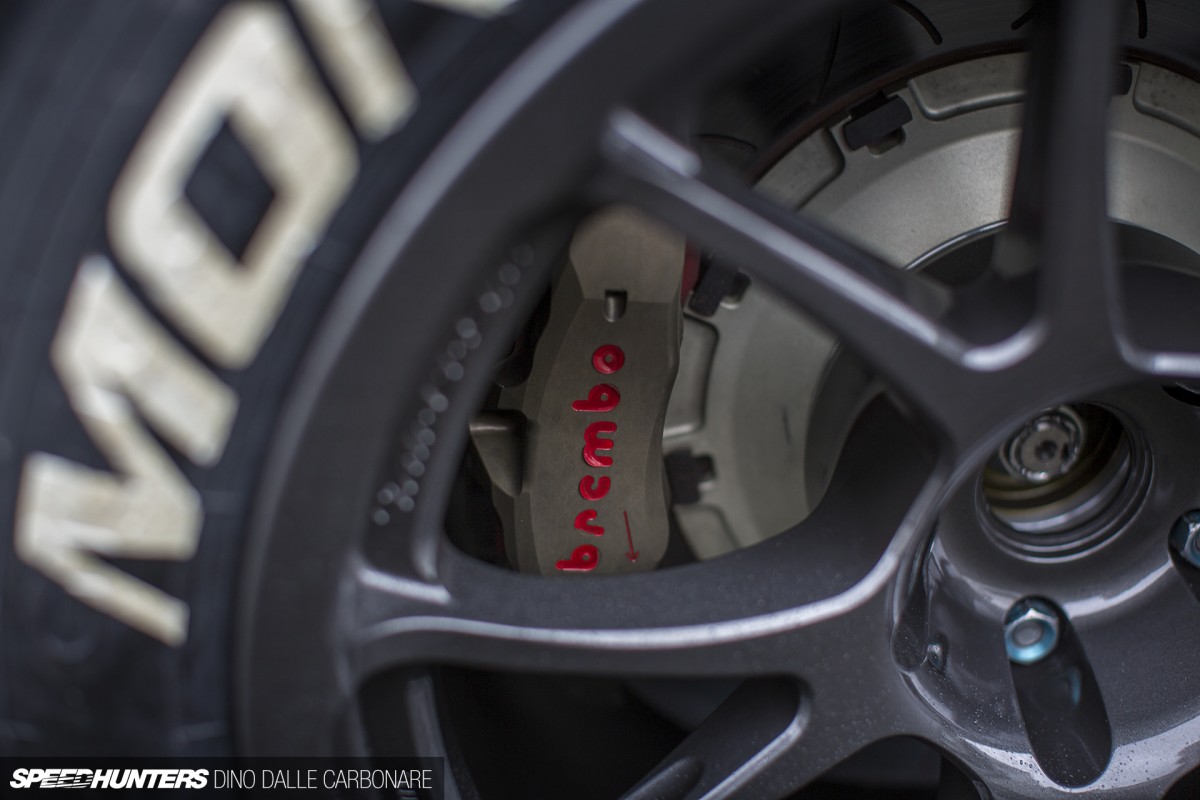 Race-spec Brembo four-pot calipers are used at both ends of the e-Runner and bite down on two-piece floating rotors measuring 355mm and 300mm front and rear respectively.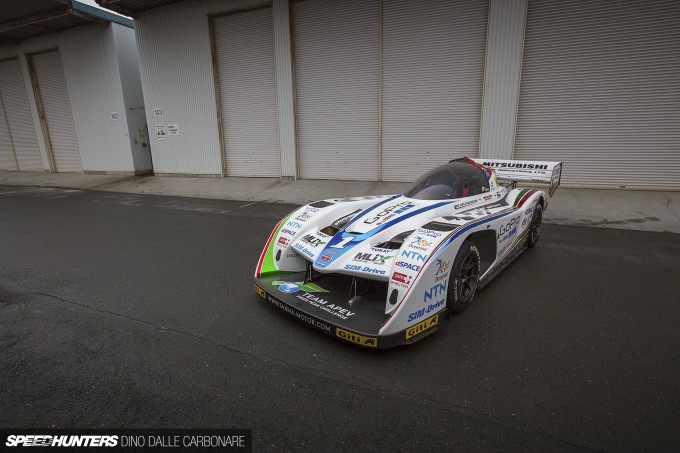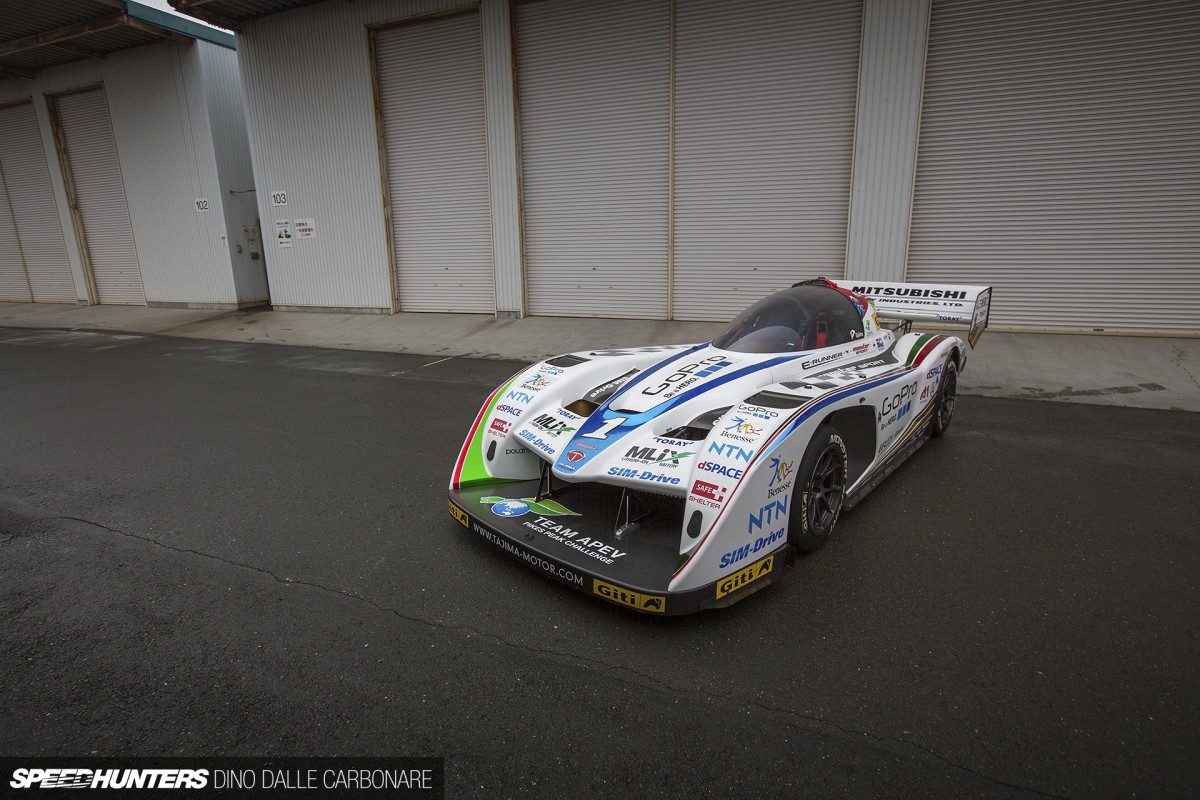 The body itself was designed and fine-tuned over many hours in the Monster Sport wind tunnel, where the main aim was to create a slippery enough shape that would generate the required downforce to keep it stuck to the road.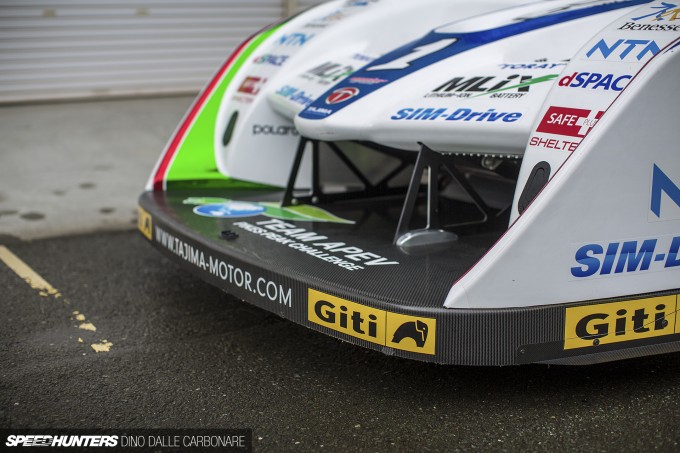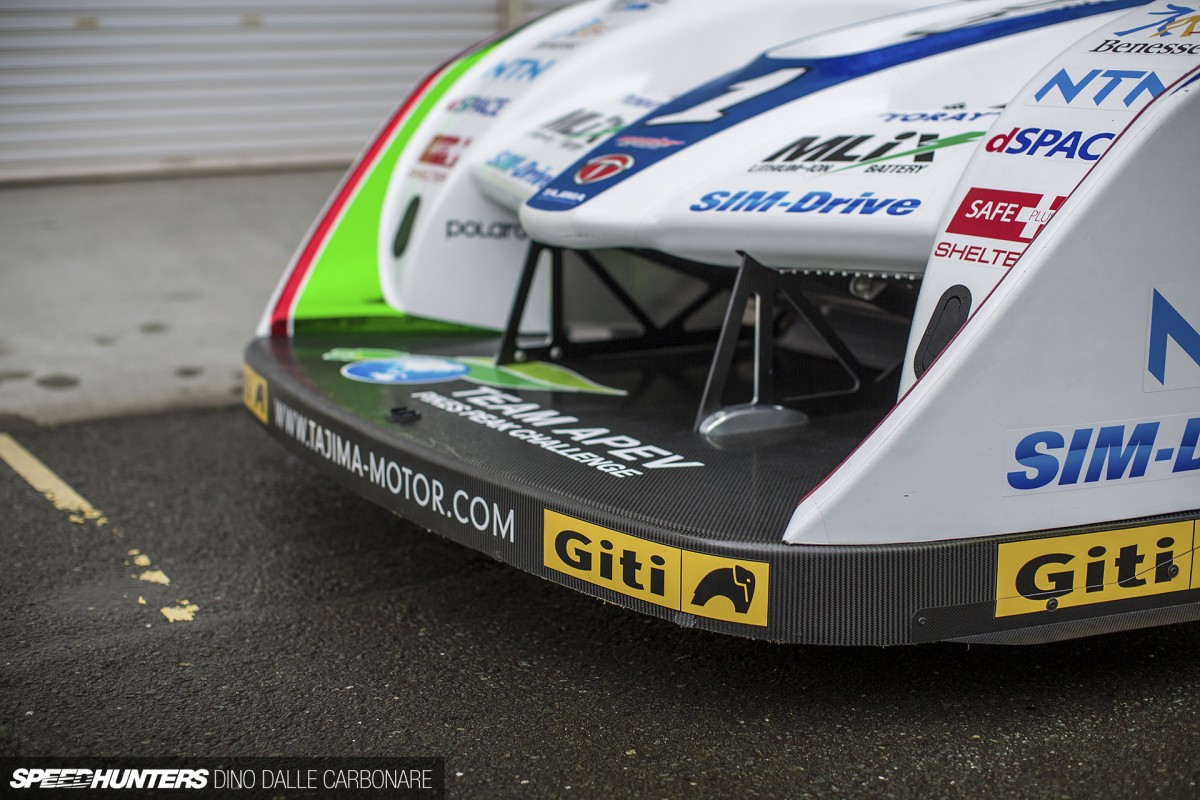 That, of course, is something Tajima-san and his skilled staff of engineers have become very good at, with over 26 years of experience in tackling the legendary climb.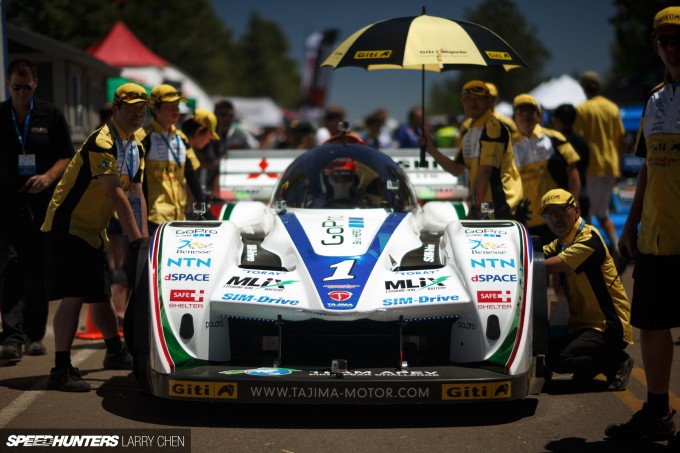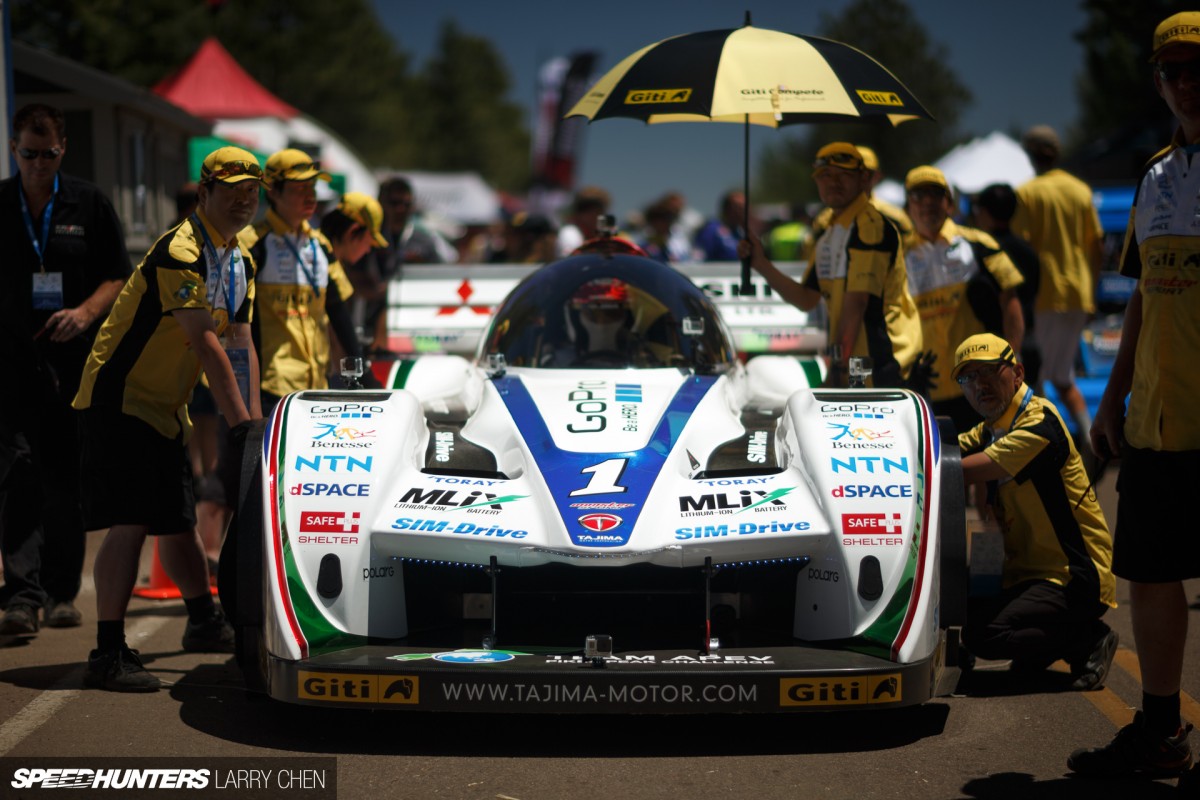 You might have noticed that the e-Runner sports a pretty generous ride height, and that is because Tajima likes to hug as many apexes as it's safe to do. On Pikes Peak Highway, that required dropping off the paved section onto the dirt, hence the extra clearance to limit the chance of damage from rocks and other obstacles.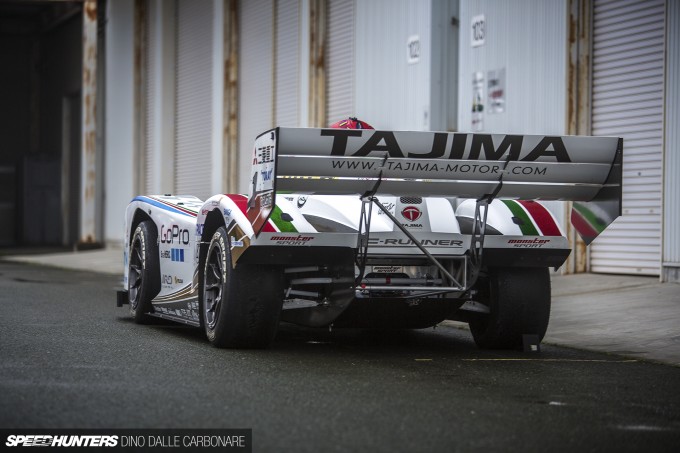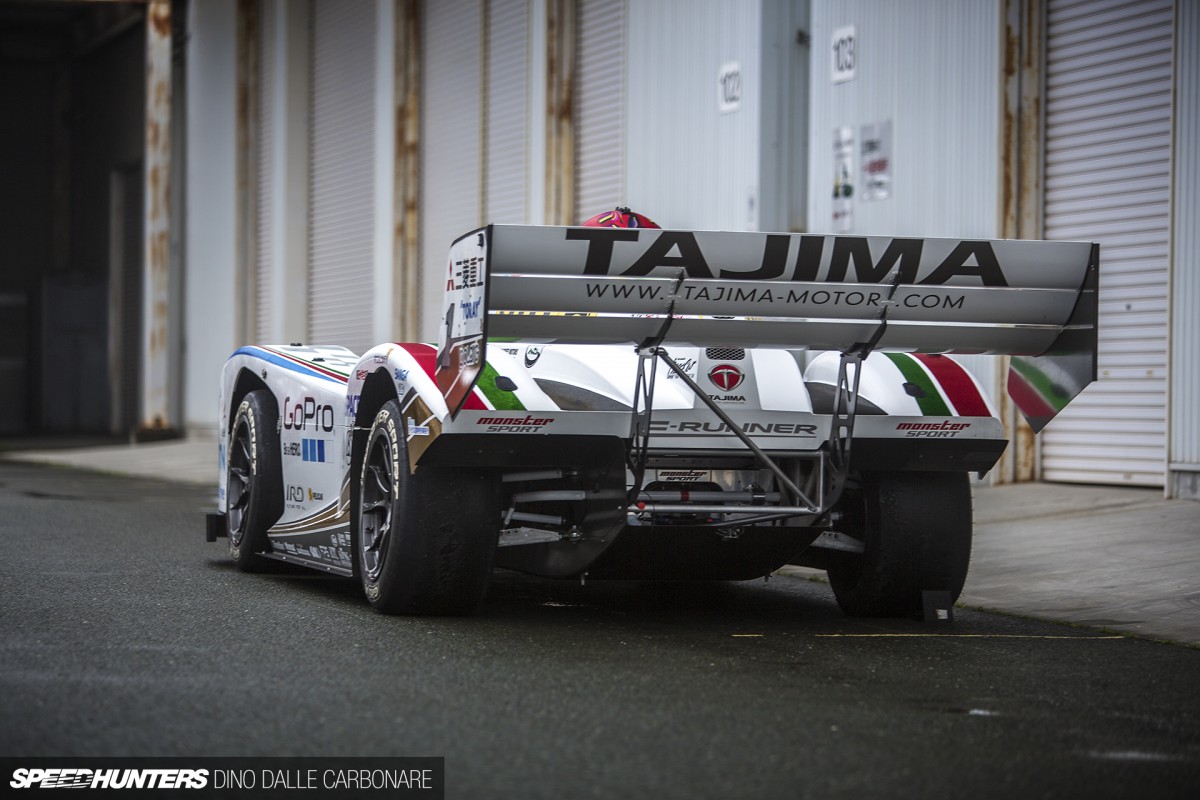 With a central, single driving position, the design allows the flow of air to be kept pretty clean over the entirety of the body. Look at it as a jet fighter without wings and you start to get the idea.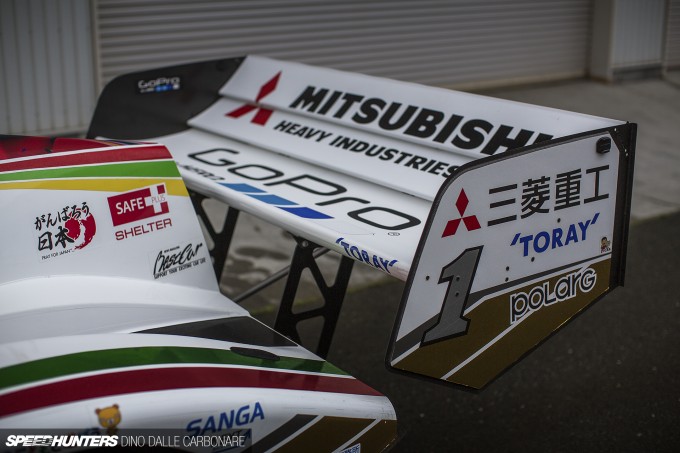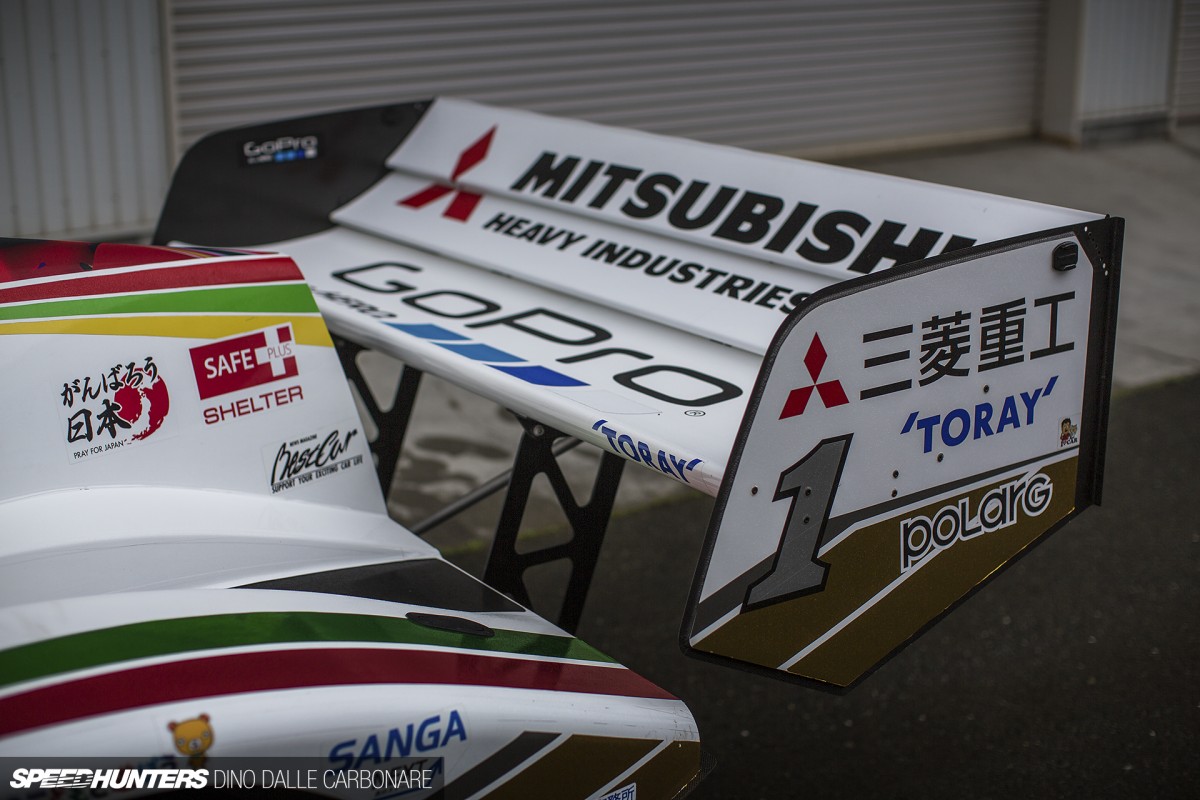 It all then culminates at the rear where the air meets a large, multi-plane adjustable wing. As you might imagine, a spoiler of this size and with this much flow directed towards it can generate some pretty amazing levels of downforce. That it does, but only enough to counterbalance what the front section and the underfloor are able to do.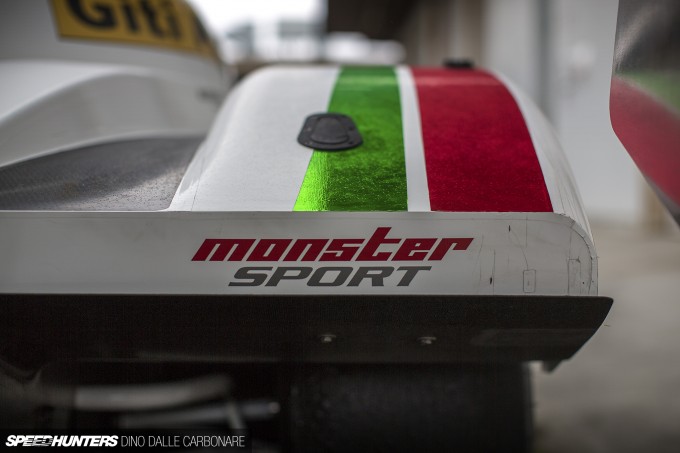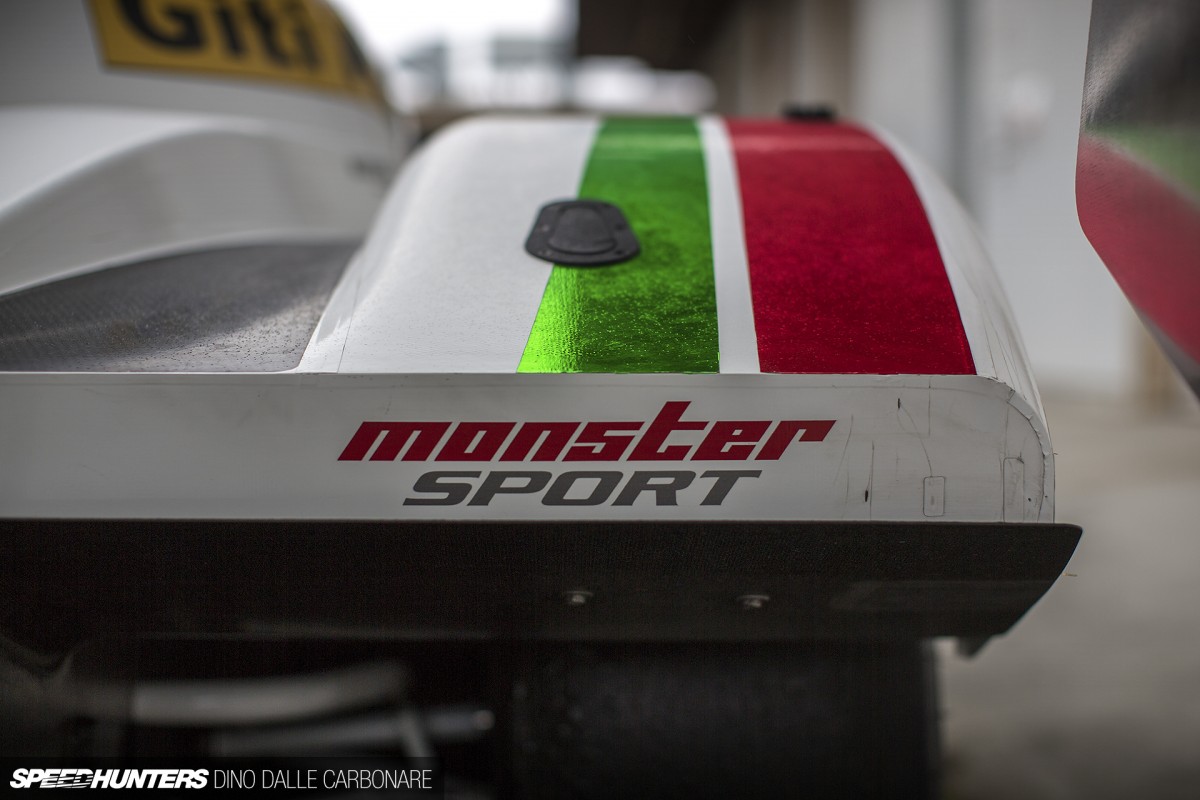 Much like in any other area of this car, it's all about balance.
Pikes Peak 2014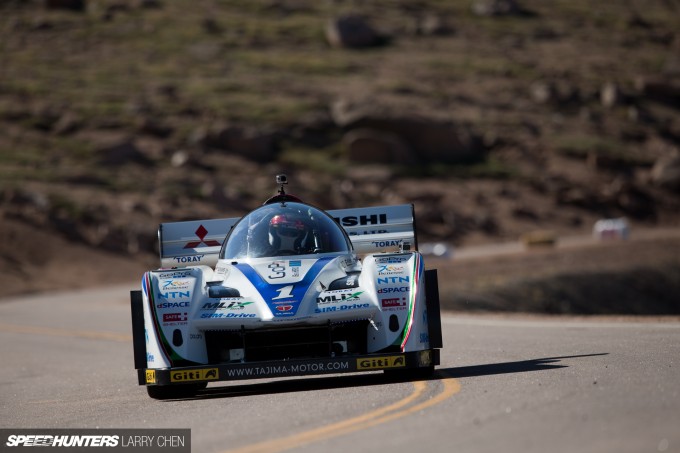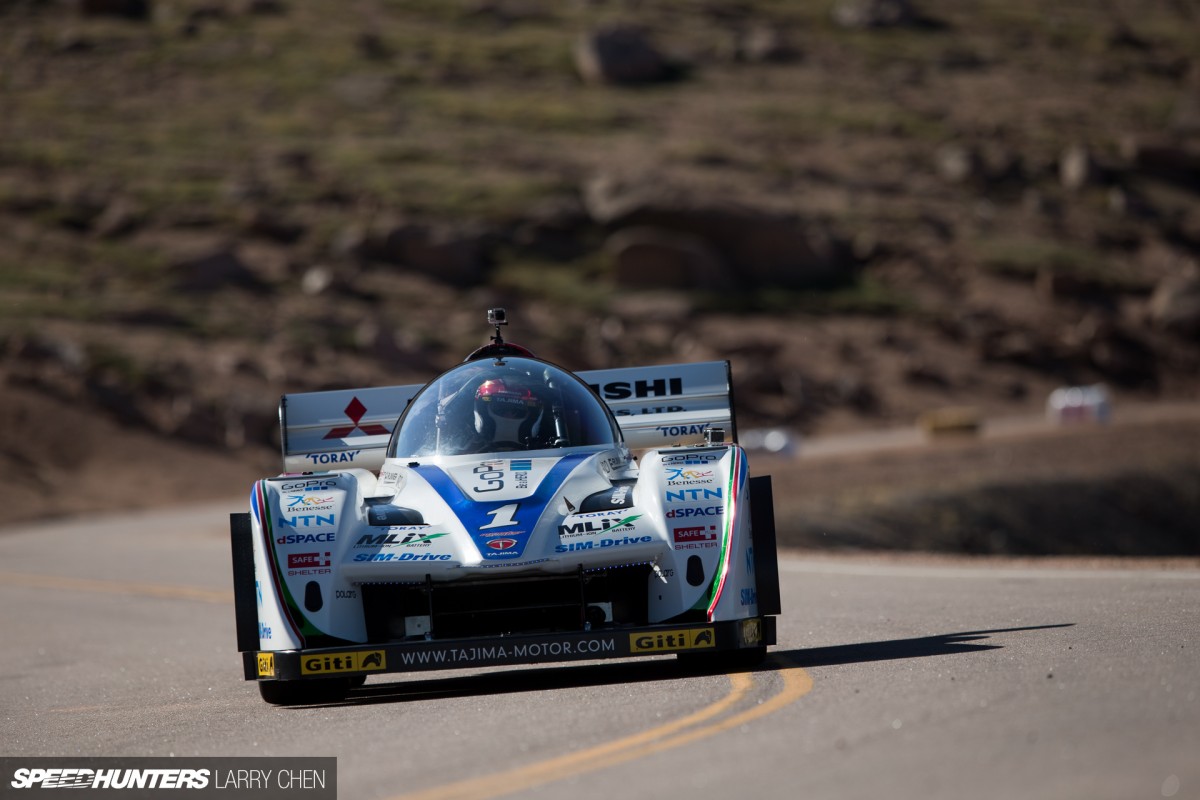 Aerodynamically speaking, the car didn't change much between the 2013 and 2014 PPIHC events – just a few tweaks and adjustments made to test out some new ideas the Monster Sport team came up with. With a ton of downforce, extremely high levels of mechanical grip through the wide slick tyres and the bespoke suspension layout, Tajima-san had everything he needed to try and shave precious seconds off last year's record.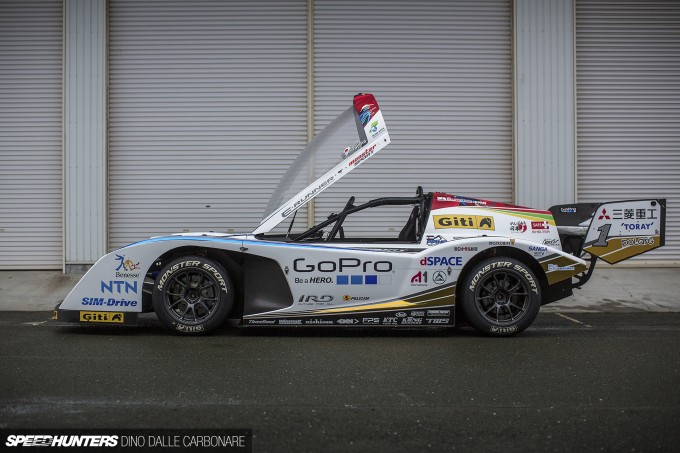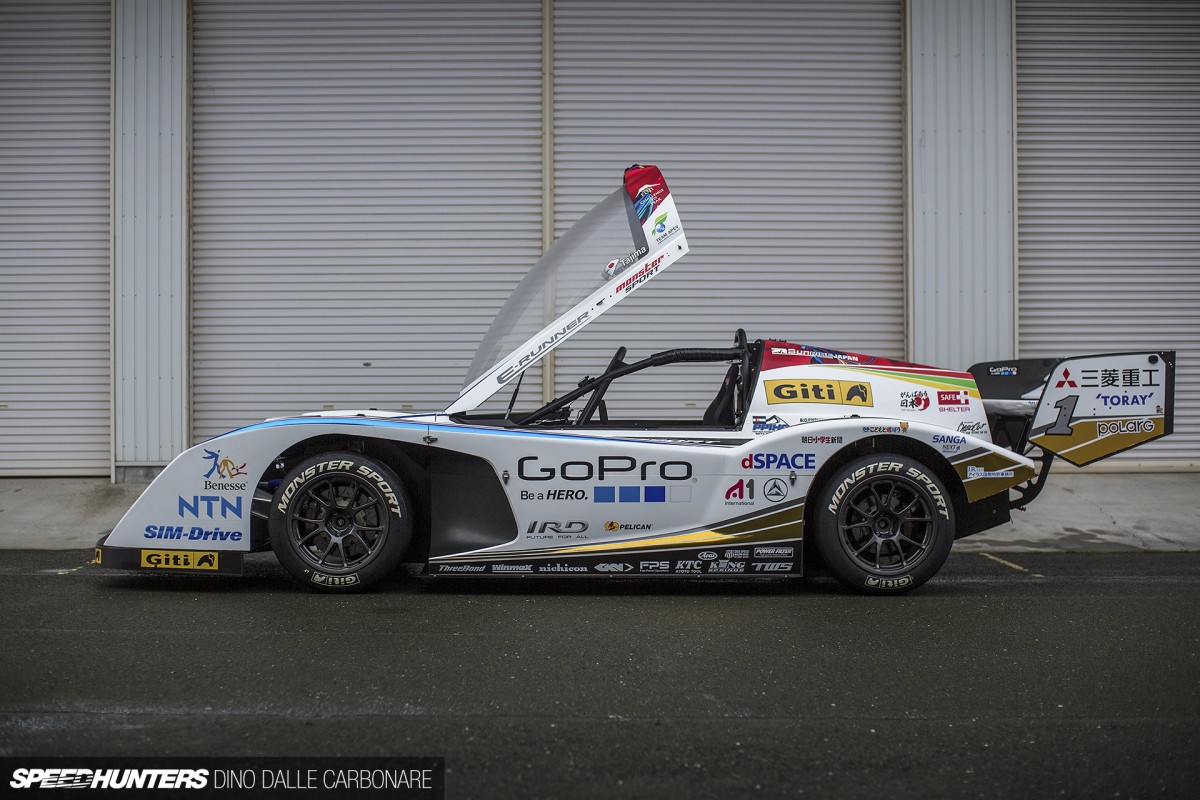 But before we get to more details of his 2014 run, let's take a closer look at what is the car's most unique trait – the driving position. Just like in Tajima's Super 86, this car was designed and built around space for one occupant in a central position. When you're building a one-off car from the ground up you make absolutely no compromises, and there is no arguing that having the driver sit in the middle of the vehicle is the best for both symmetry, packaging, weight distribution.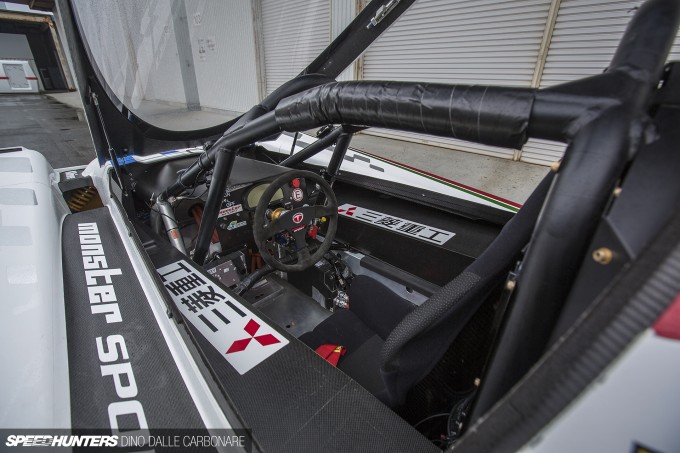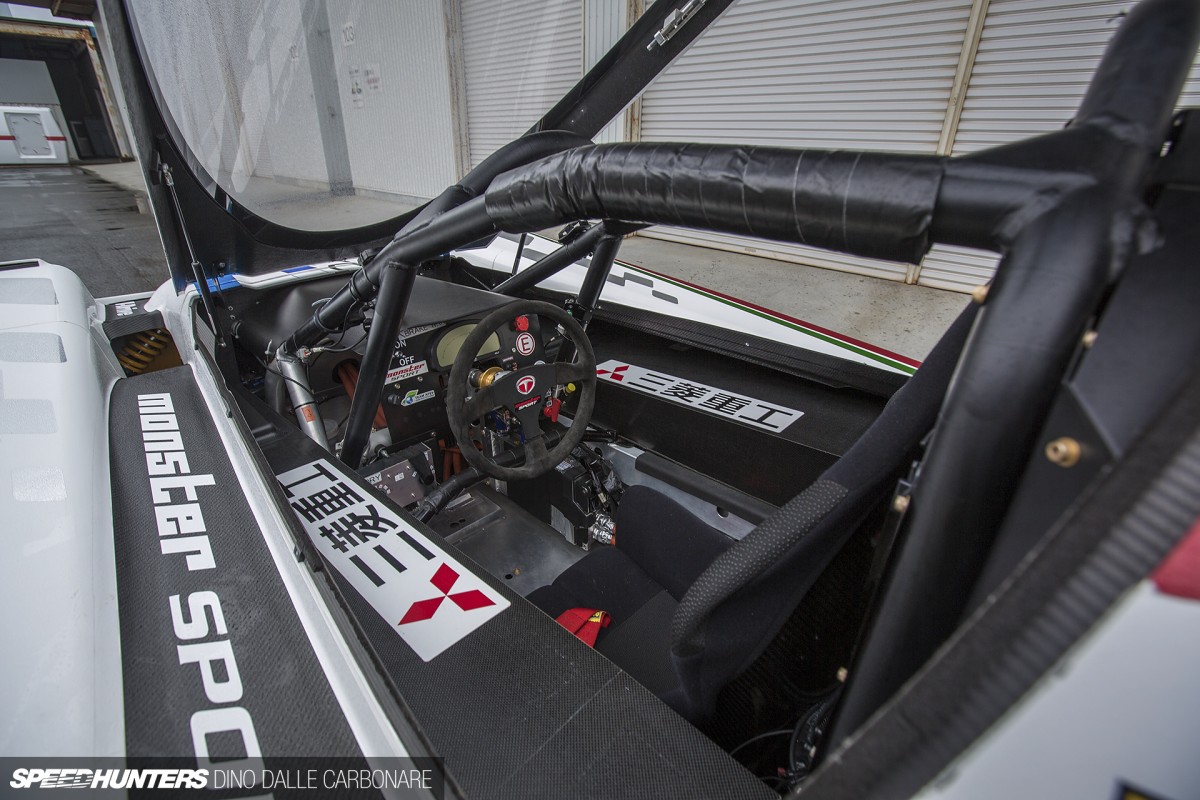 So that's where Tajima sits: under the jet fighter like canopy, tucked snuggly within the rollcage structure. It's not the easiest of places to get in and out of, but there isn't anything too fragile on each side so it's just a question of sitting on the sills, swinging around and dropping your body in.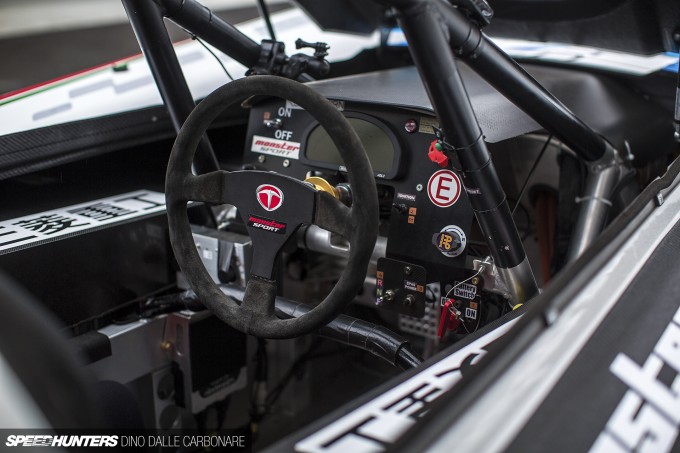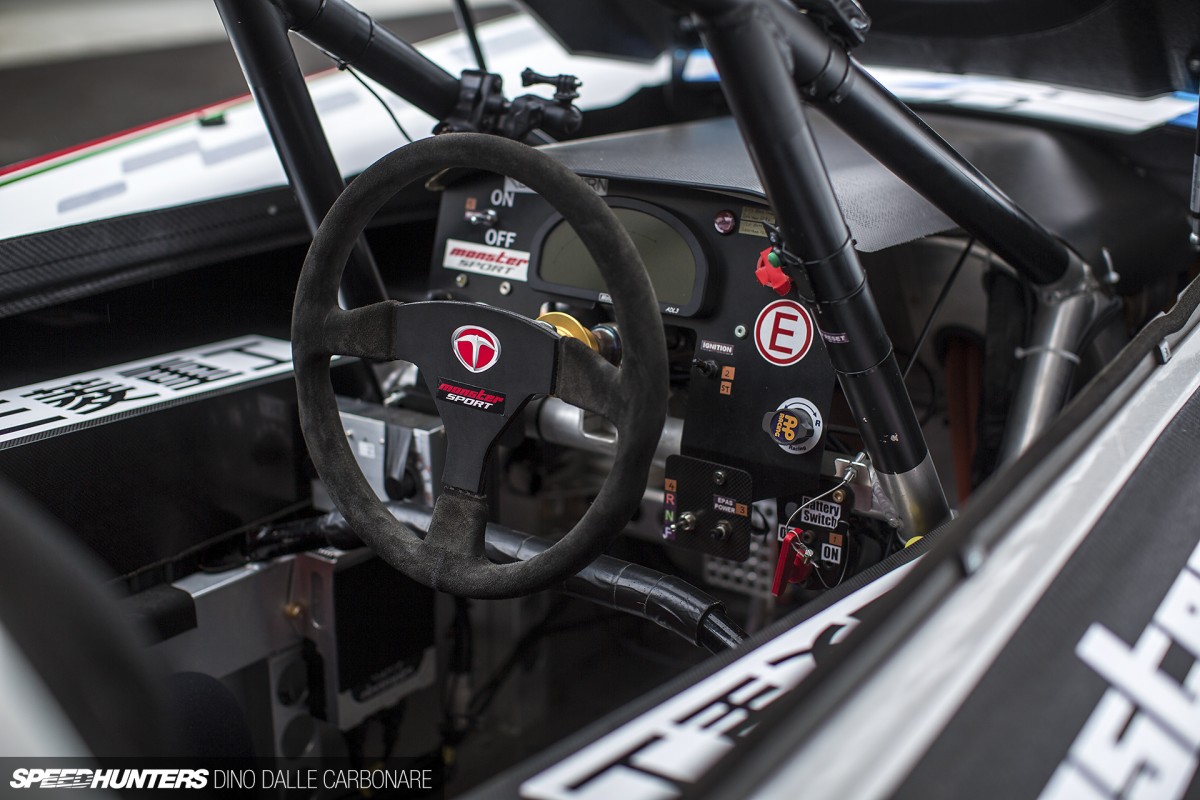 Once in position you have everything you need right at your disposal – all neatly laid out around the steering wheel. Seeing this is an electric car there isn't a lot to worry about – just an adjustable pedal box, the brake bias knob, forward-neutral-reverse toggle switch and the cut-off for the batteries.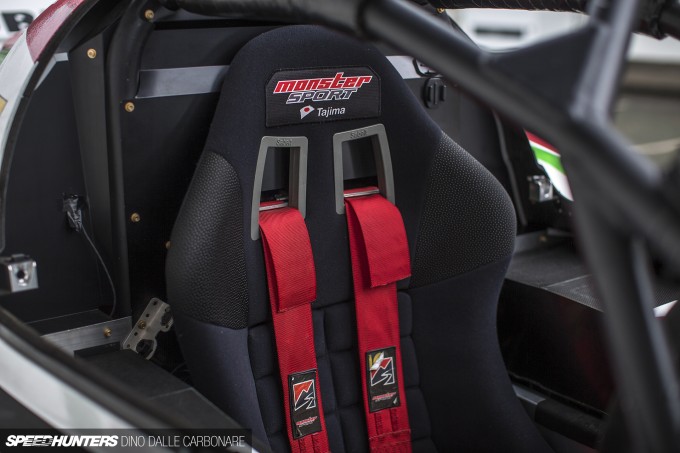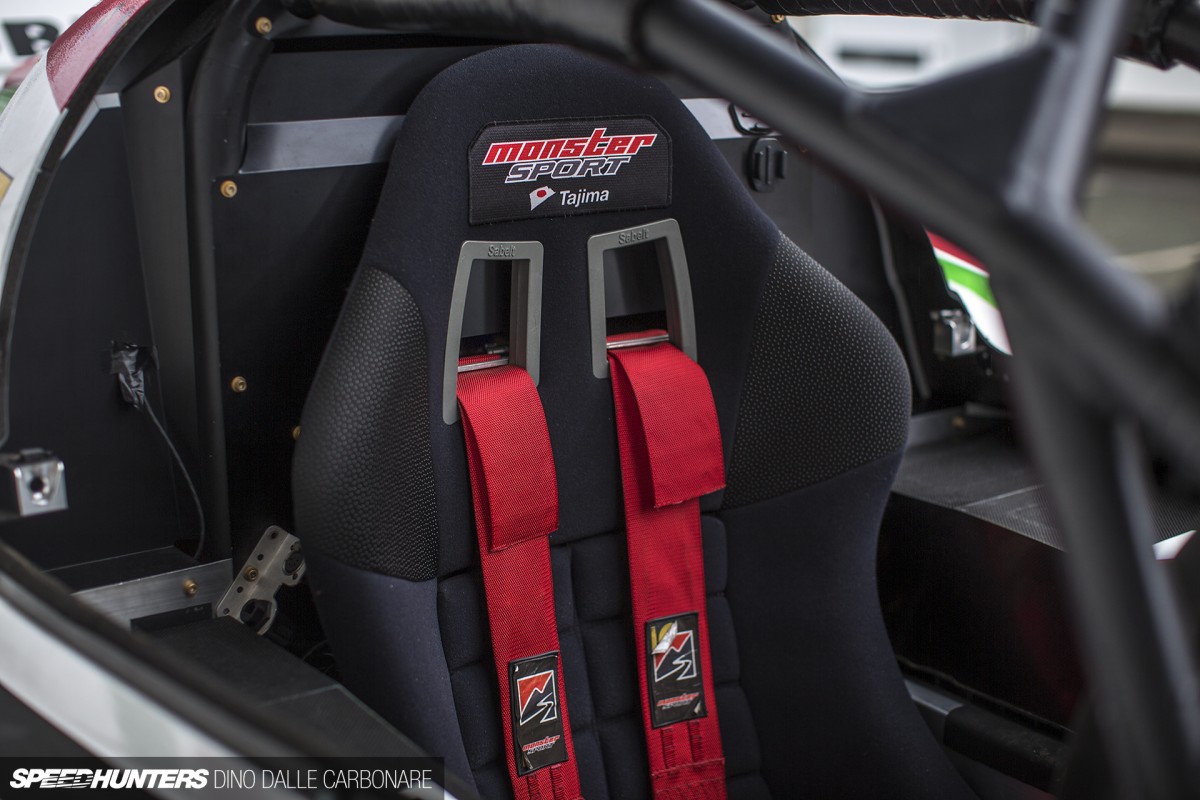 Tajima-san runs one of his very own Sabelt-based Monster Sport bucket seats and racing harnesses.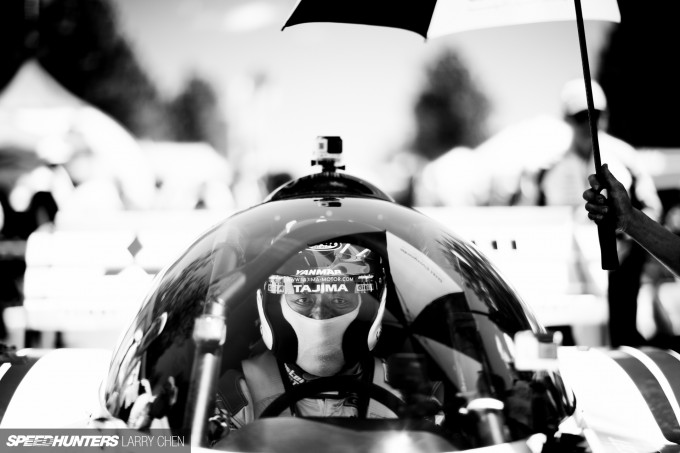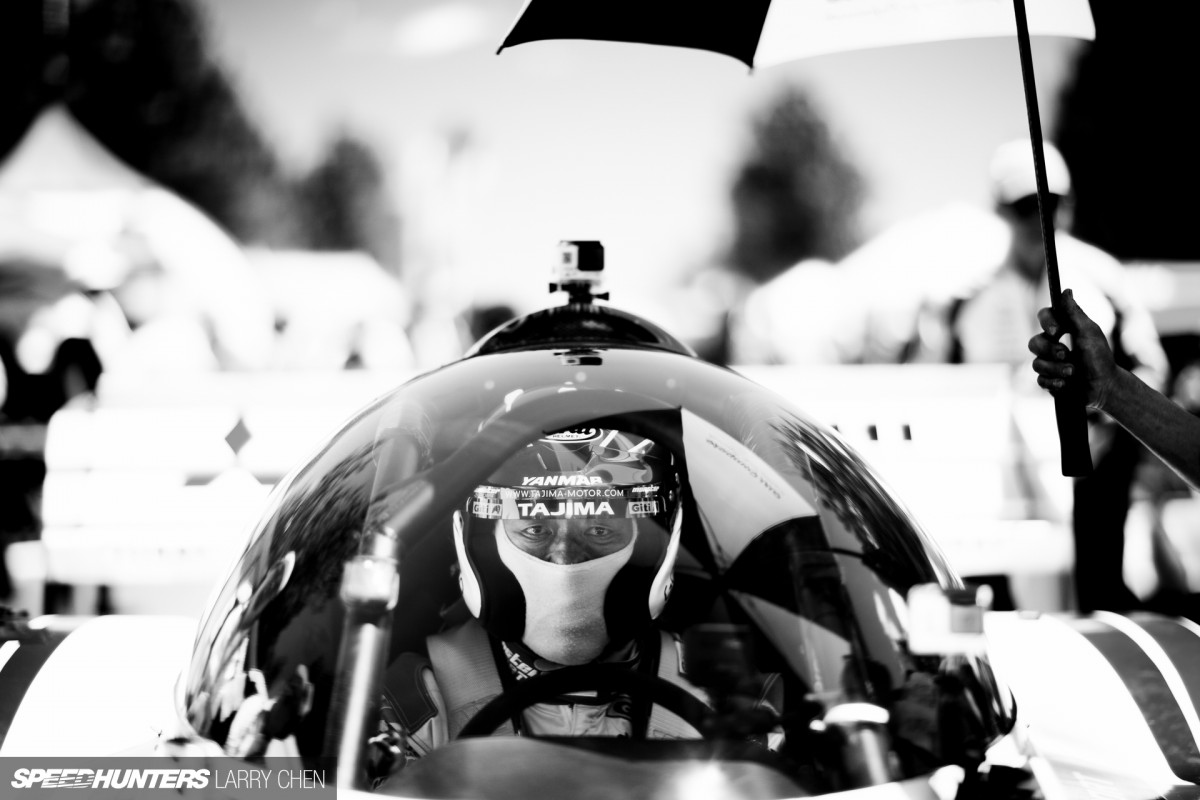 Check out this image of Tajima that Larry captured before his run earlier this summer. If that isn't determination piercing through his stare, I don't know what is!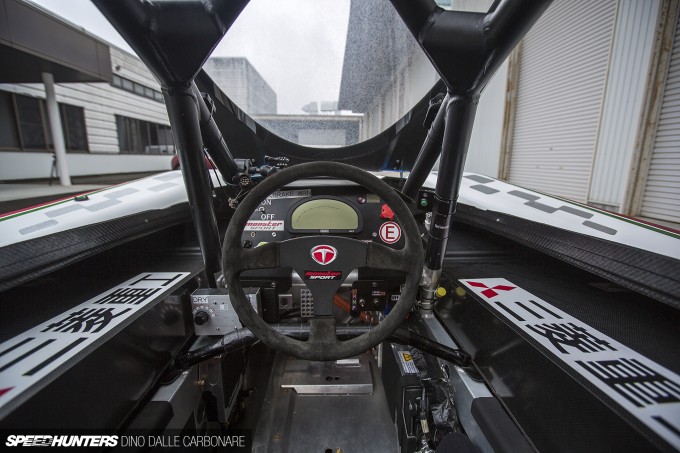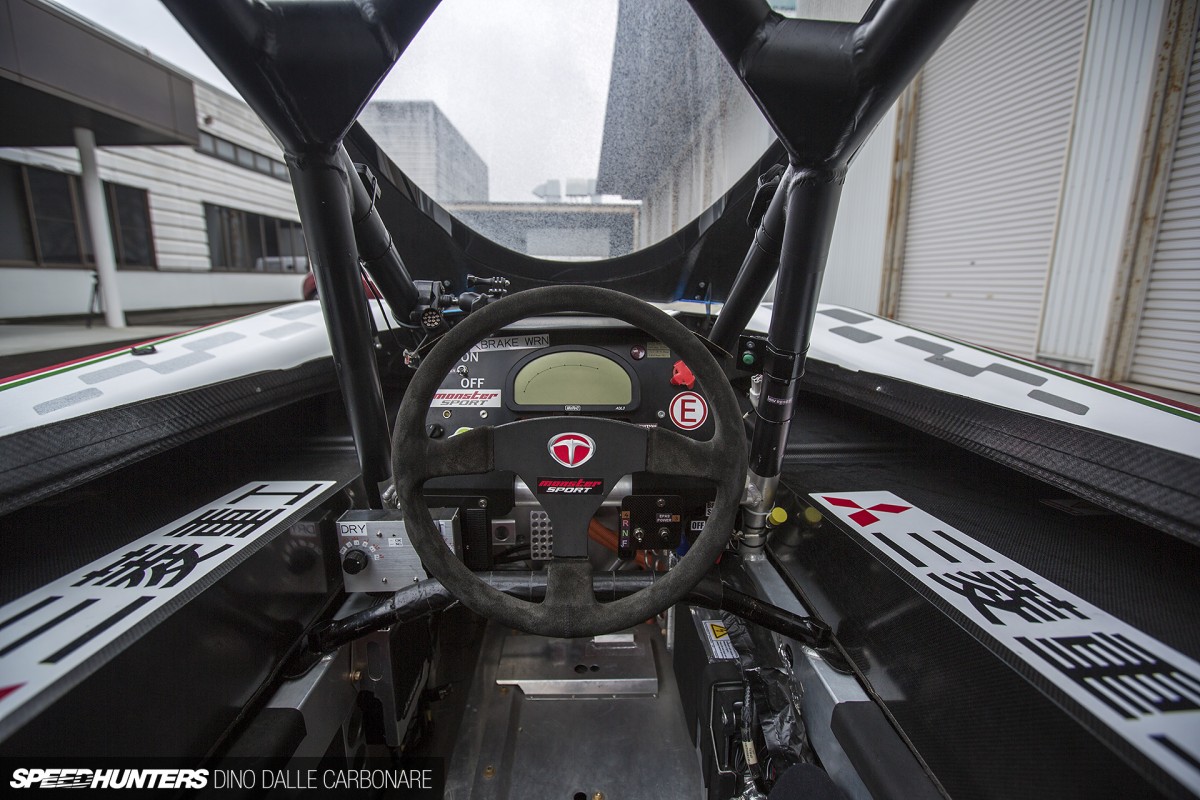 And this is the view you get from the inside looking out. The carbon sections on each side labeled Mitsubishi Heavy Industries are where the batteries are positioned.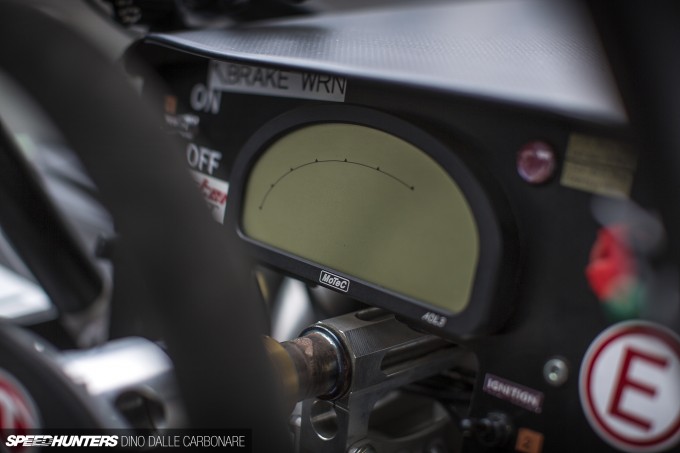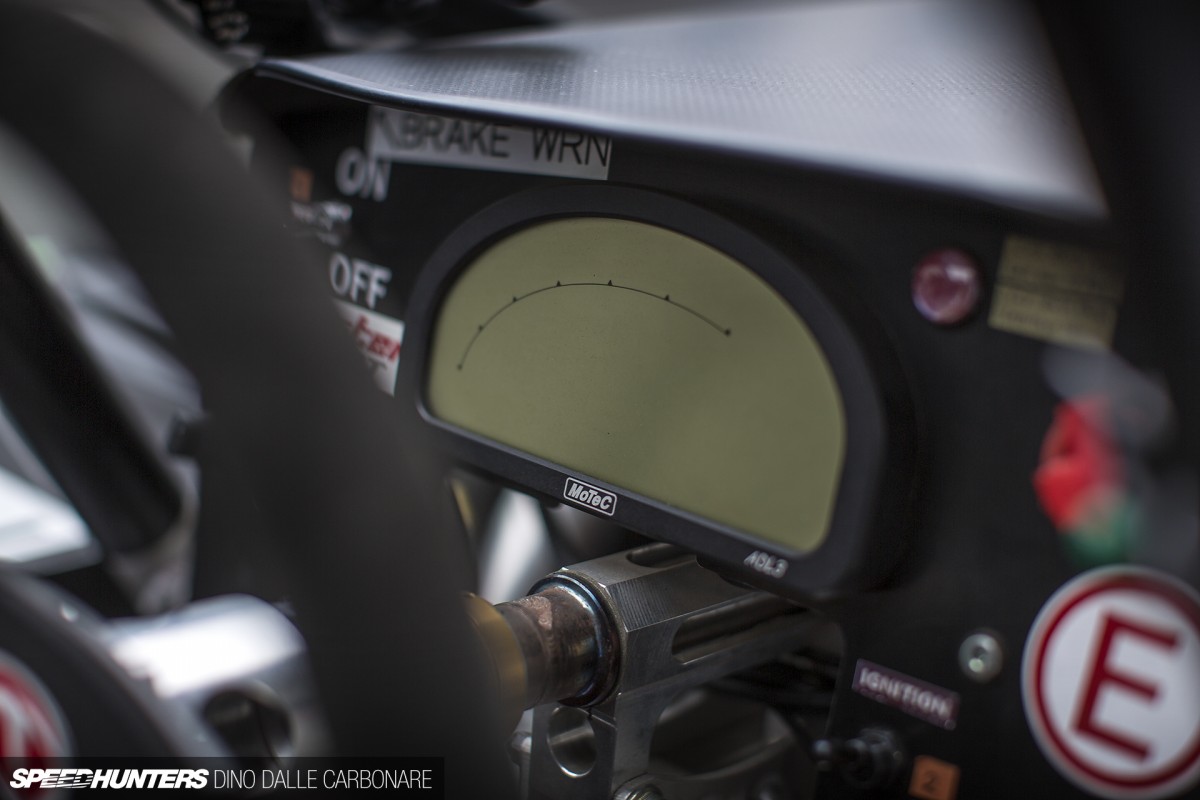 All the vital signs are displayed on a MoTeC ACL3 LCD data logger/dash unit which allows Tajima to quickly flick through various data, including temperatures from the battery packs, gearbox speed and amperage.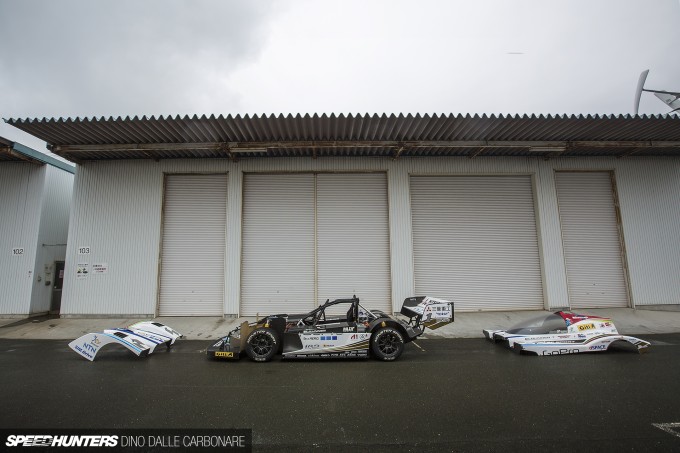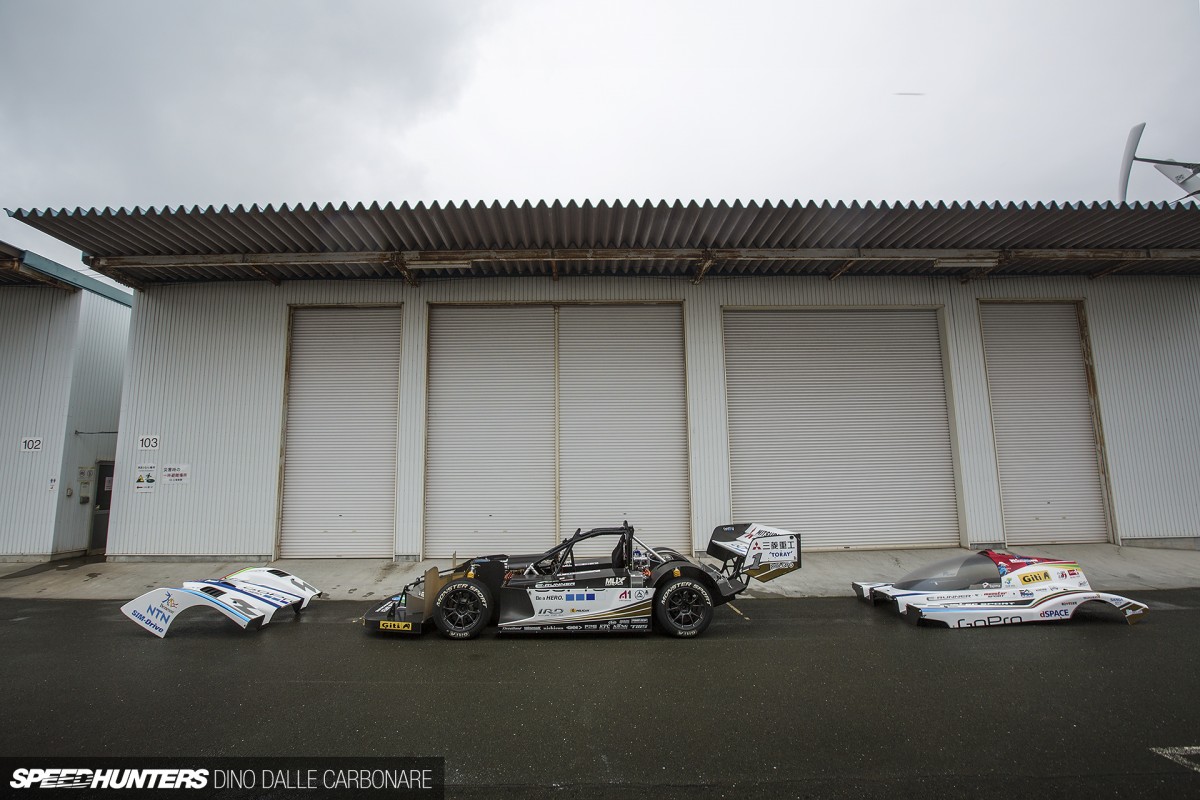 Twist a few quick-release clips and in a couple of minutes the car's two main carbon fiber cowls can be removed, exposing what is actually a pretty simple layout.
Simple, Yet Effective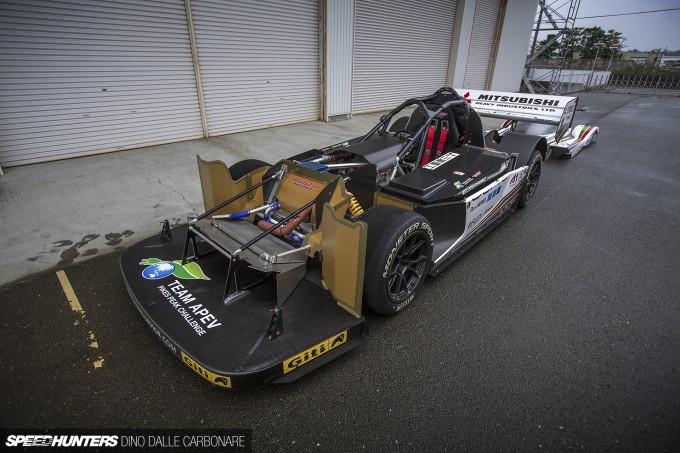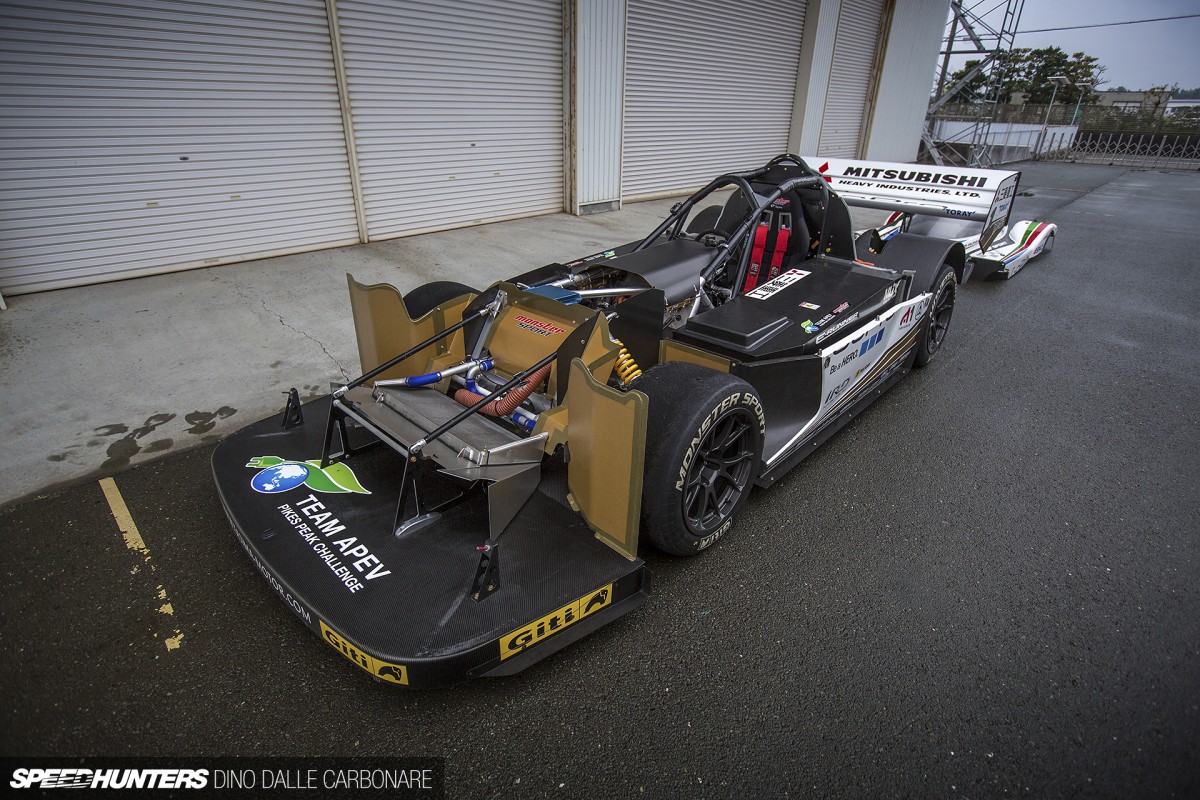 Beneath the front section, set down on the actual diffuser itself, is the main radiator through which coolant is circulated to help keep the front and rear motors within operating temperature. Think of the car as a modern interpretation of those crazy and wild twin-engined machines that made Tajima and Monster Sport famous in the first place.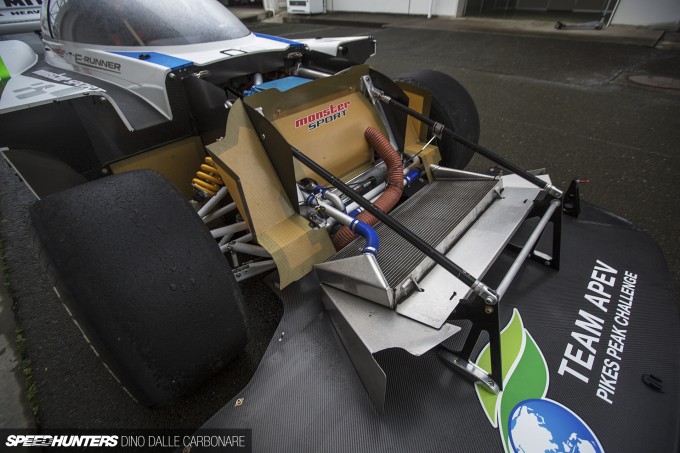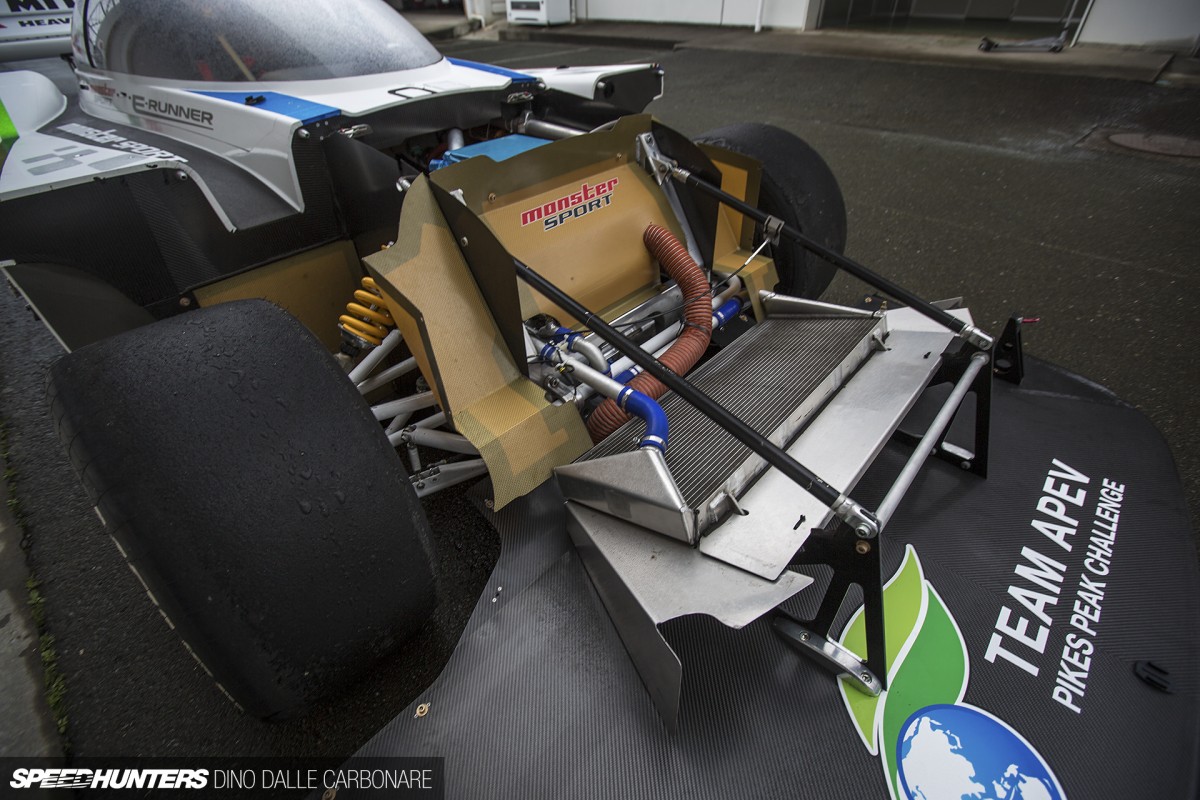 Hiding behind the Kevlar protection and air guides are the brains for the front hydraulically-controlled differential, which in principle doesn't work too differently from torque vectoring systems used in modern 4WD cars. You can also get a glimpse of the double wishbone suspension and Öhlins dampers that feature at each corner.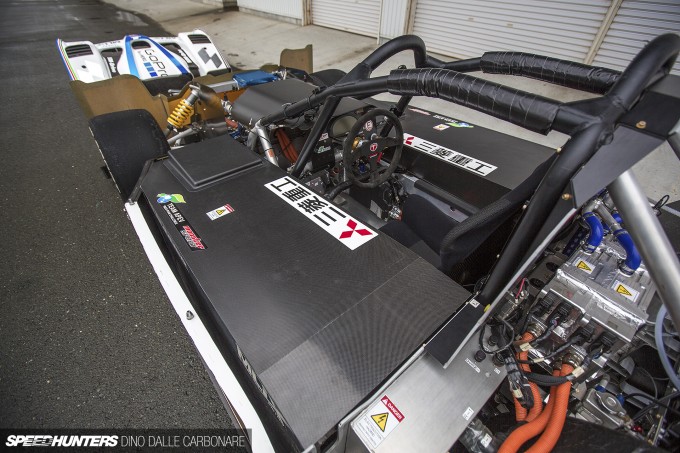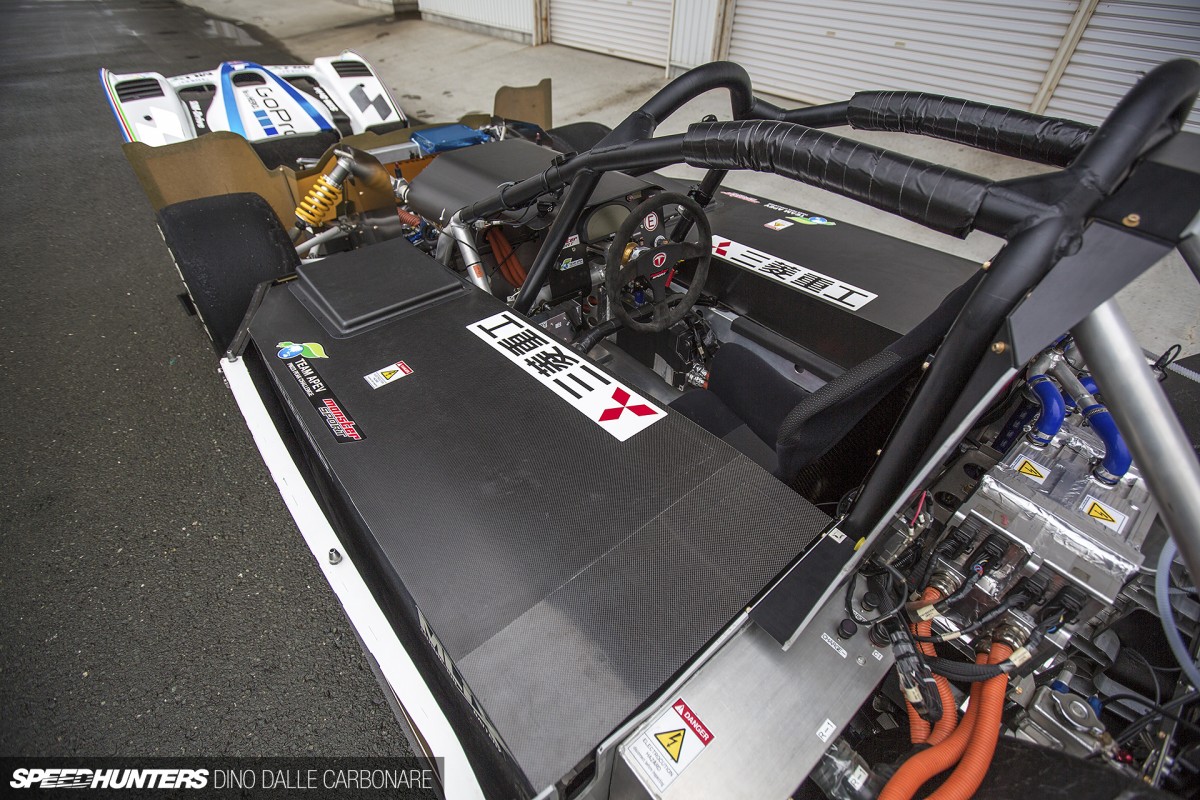 Due to some secrecy on how it all works, we are unable to show you much more detail on the actual control units – not that there was much to see anyway. Unlike a regular car everything is extremely compact and usually housed in billet crank cases with cooling liquid circulating within – it's crazy stuff. Above is another view of the Mitsubishi battery packs, which should give you a better idea of physically how big they are.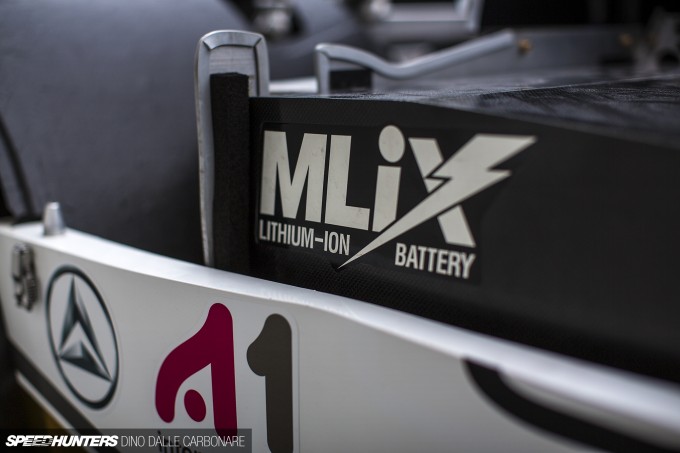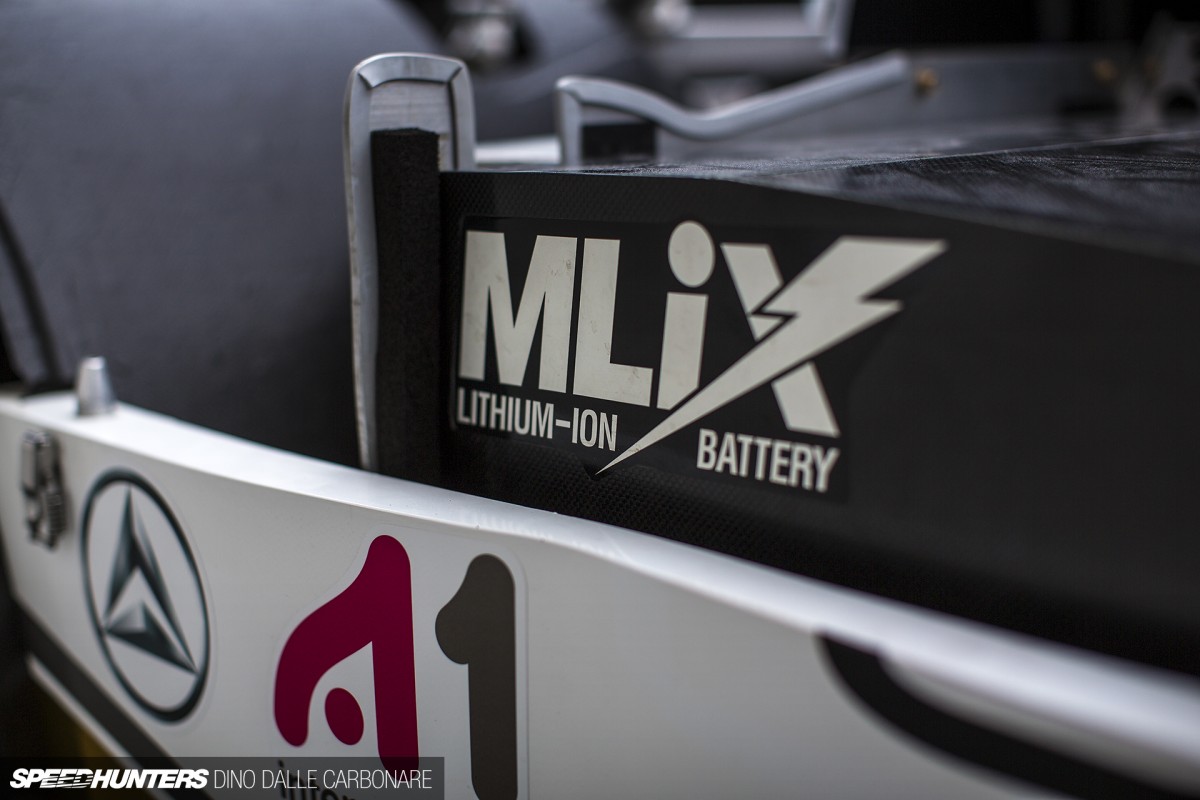 These MLiX lithium-ion units have been engineered to perform at their maximum for the entire run up Pikes Peak, but with battery technology where it today, the output does start to waver towards the top. Fully juiced up, however, the batteries – via a custom inverter and SIM control unit – allow the motors to collectively develop just under 700hp.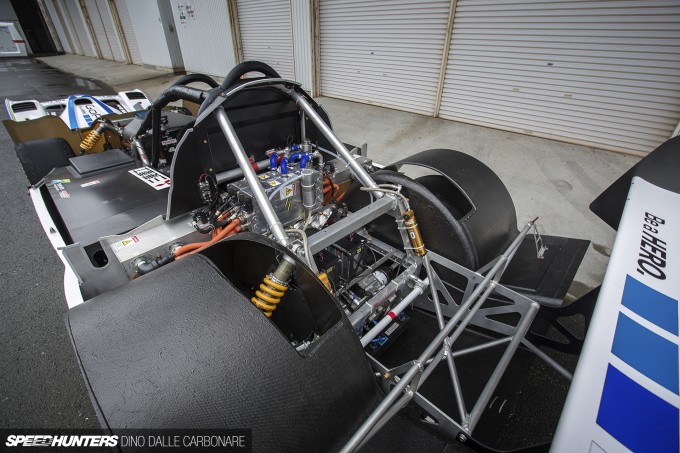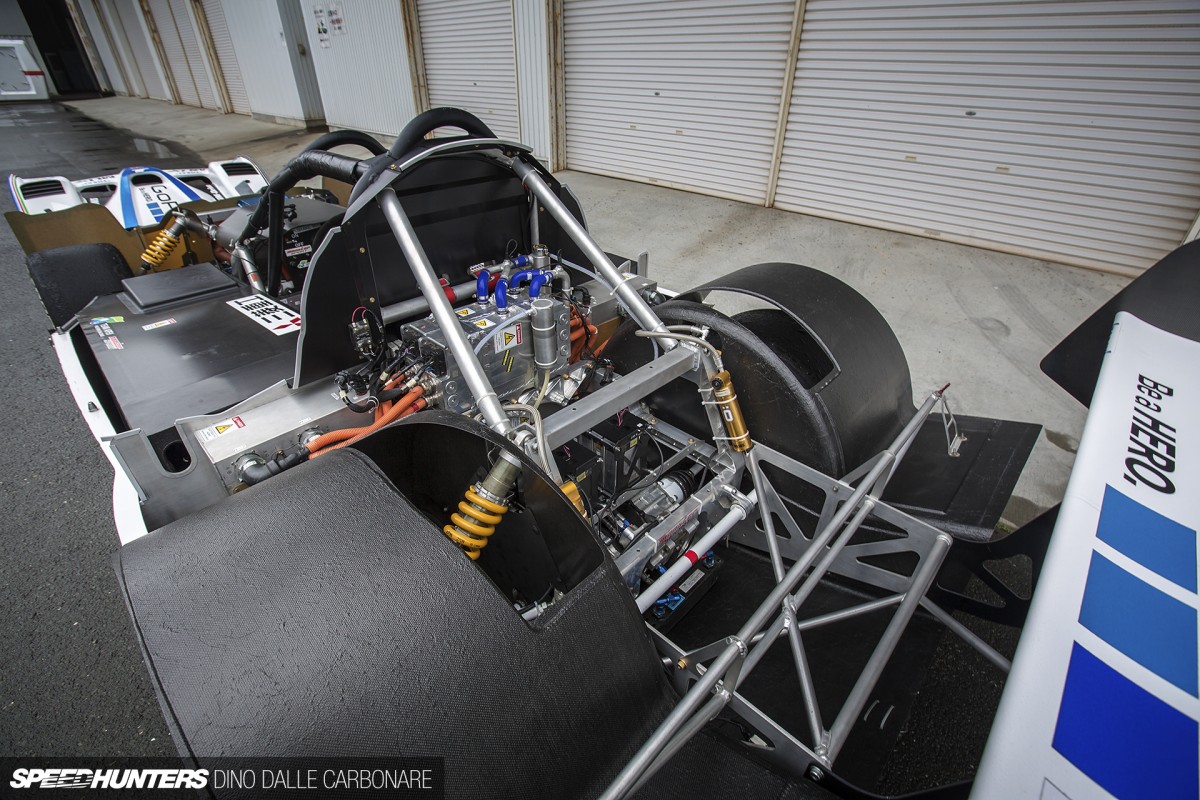 You can see the beautiful and clean layout at the rear with everything contained within the aluminium space frame. Again, it's hard not to draw comparisons with Tajima's Monster Sport Escudo, and admire the progress the company has made over the years.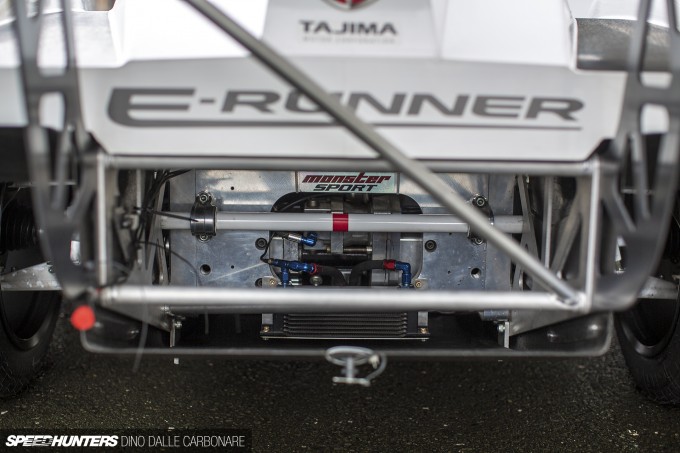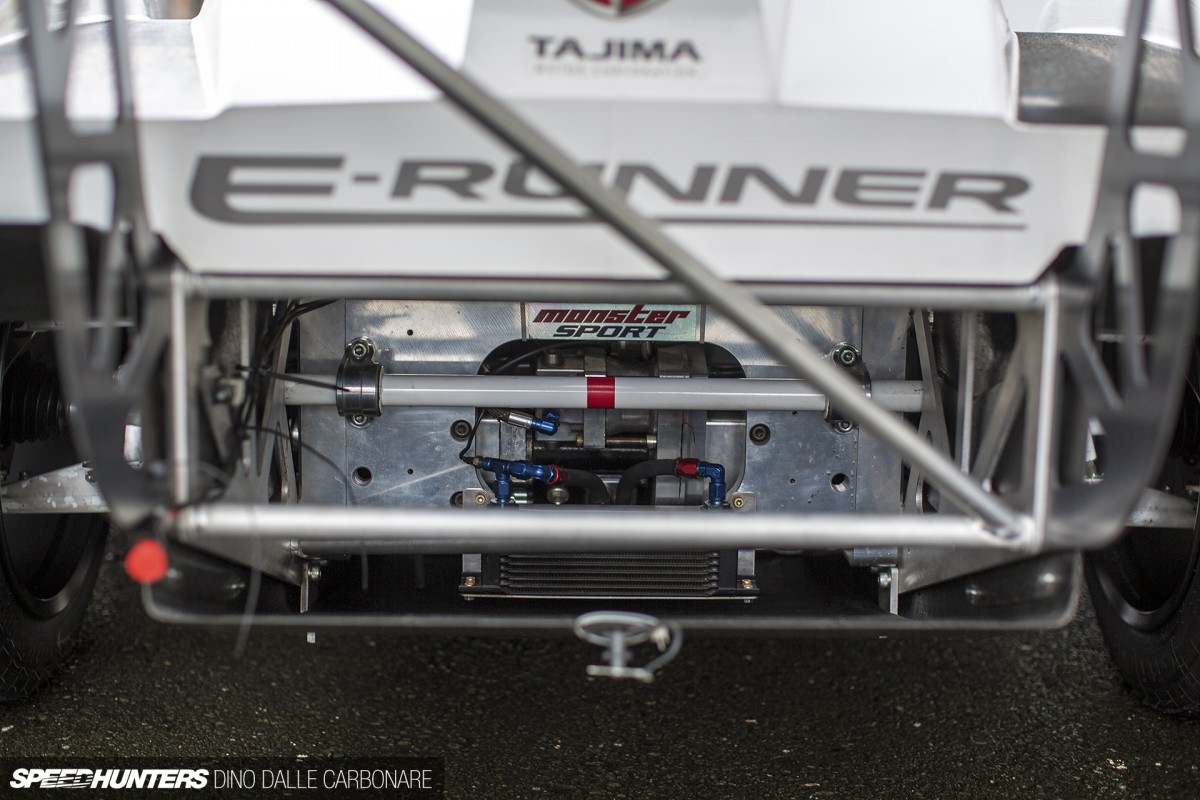 This is probably the only decent angle of one of the motors and differential units, again with more cooling to keep temperatures in check.
Hit play and you can enjoy Tajima's full 2014 run up Pikes Peak, where despite mechanical (or should I say electrical) issues where his motors lost power four separate times – he still managed to shave off 2.63 sec from his 2013 time, stopping the clock at 9:43.90.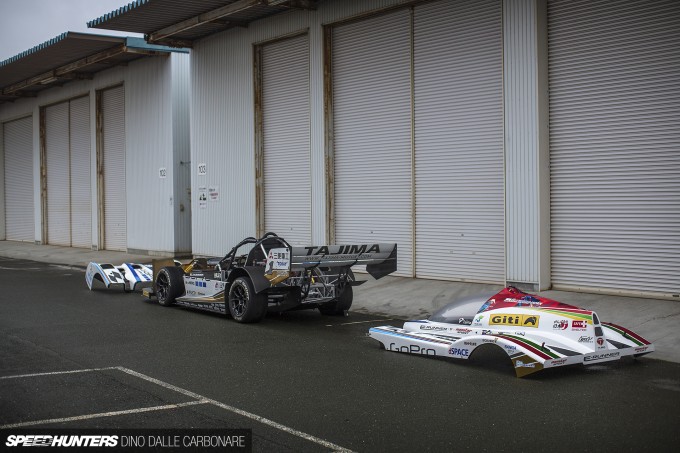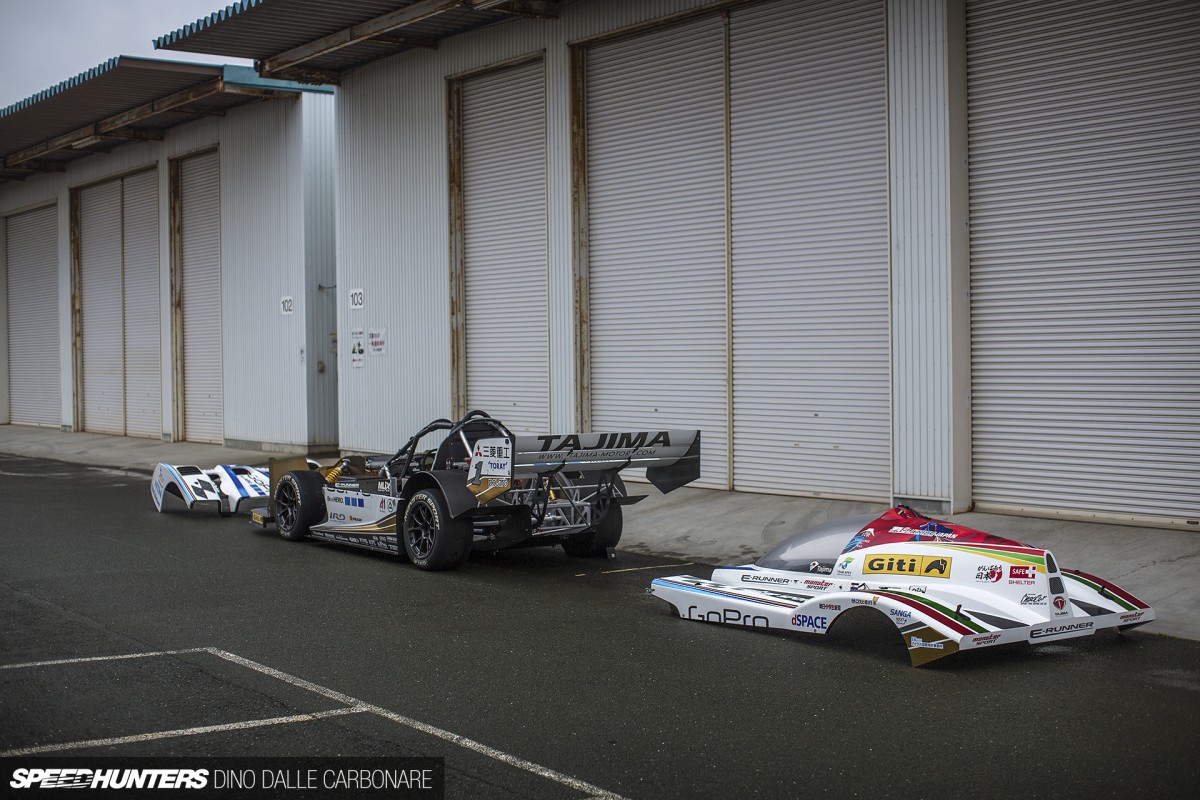 Impressive to say the least, but as you can see at the end of the video, the man has no intention of leaving things there!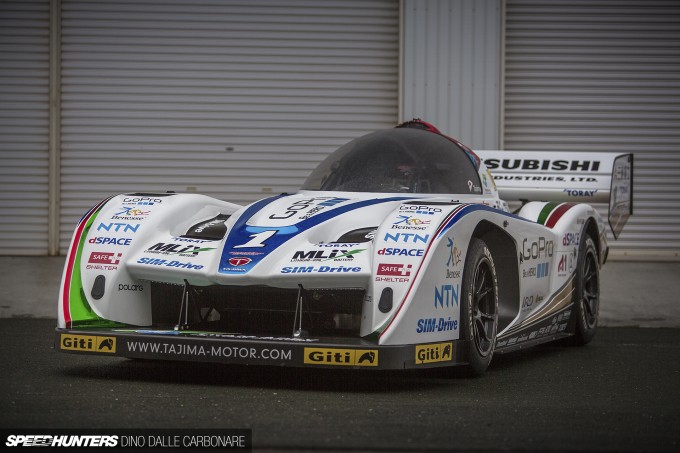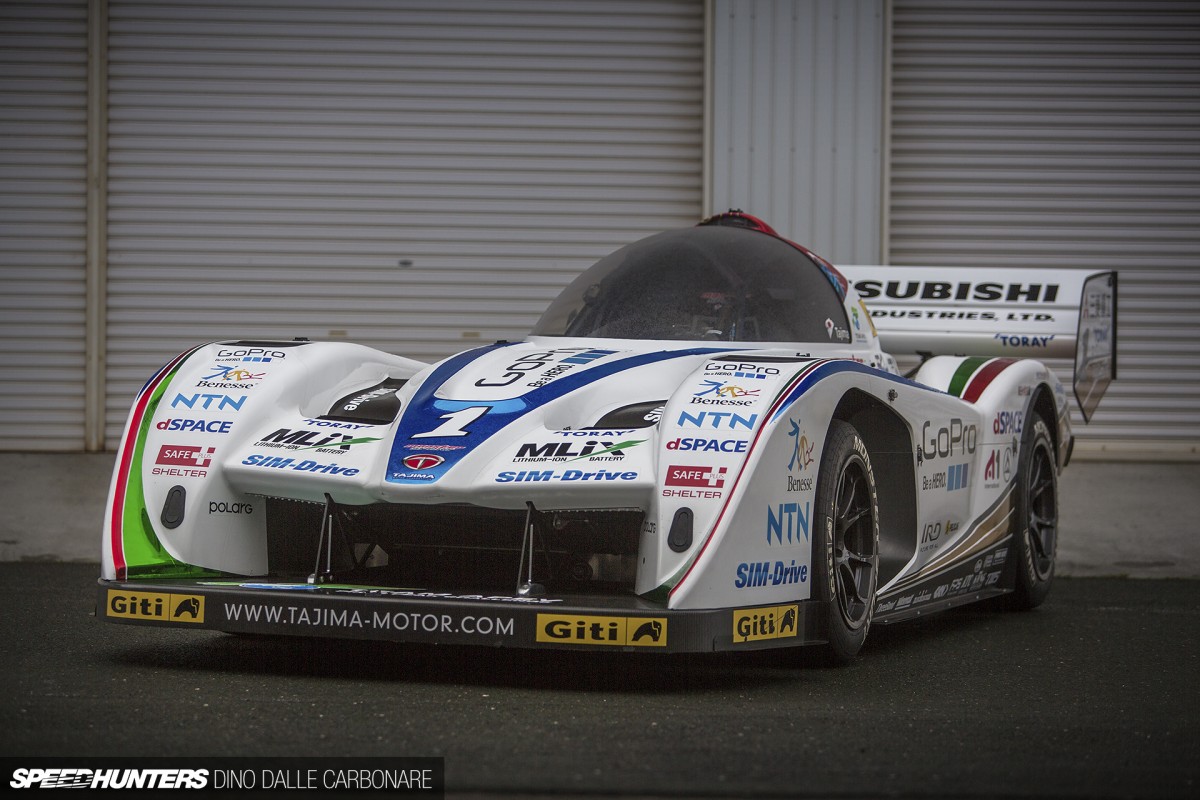 They may not come with spine-tingling straight six, V8, V10 or V12 soundtracks, but electric cars are very slowly becoming part of our future. It's exciting and sad at the same time, but who are we to stand in the way? With people like Monster Tajima working hard on the performance side of it, we won't be missing out on outright speed or fun – and that's a good thing.
Dino Dalle Carbonare
Instagram: speedhunters_dino
dino@speedhunters.com
Additional Photos by Larry Chen
Instagram: larry_chen_photo
larry@speedhunters.com