Meet Uncle Bernie
Vaughn Gittin Jr. is one of the hardest working drivers in the motorsport world. It's no secret that Speedhunters likes to collect these tireless hoonigans. Just look at Mad Mike Whiddett, Charles Ng and Fredric Aasbø – they are either building some crazy new internet-shattering project, jetting off to another international destination to teach Mercedes-AMG owners how to thrash their cars within an inch of their lives, or working countless hours on set shooting a movie.
So, what do these rulers of the drifter world do to relax? Well, in the case of the Monster drifter, aka Uncle Bernie, the burnout king – he plays dirty!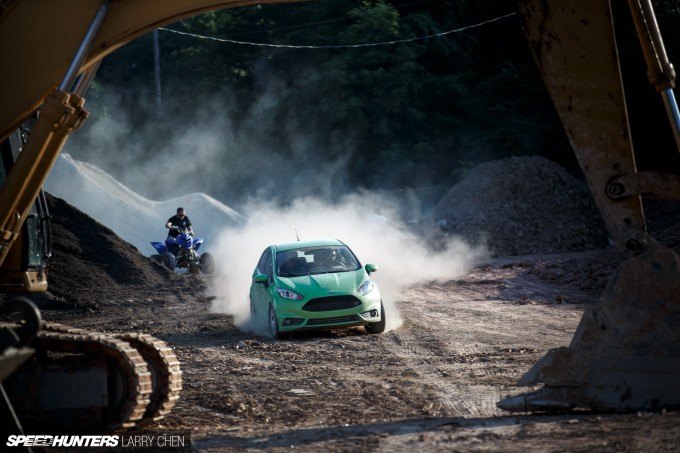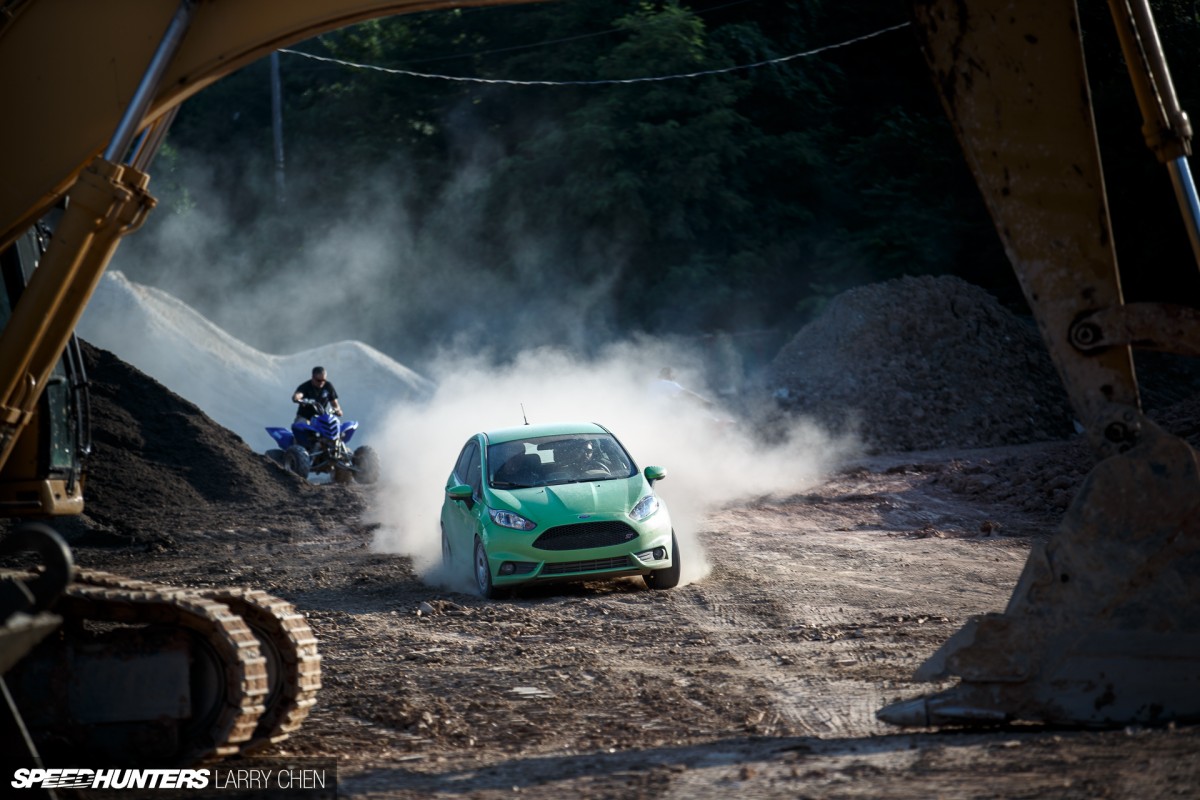 Vaughn's massive work schedule has him traveling nonstop, so when he gets a break he really appreciates being home. A big part of why he loves it so much is his amazing backyard, which I touched on in my previous post. But the Vaughn family compound is no place to put your feet up and listen to the birds chirping – not a chance! Home is the scene for some seriously insane antics with Vaughn ripping around, causing mayhem and blowing stuff up!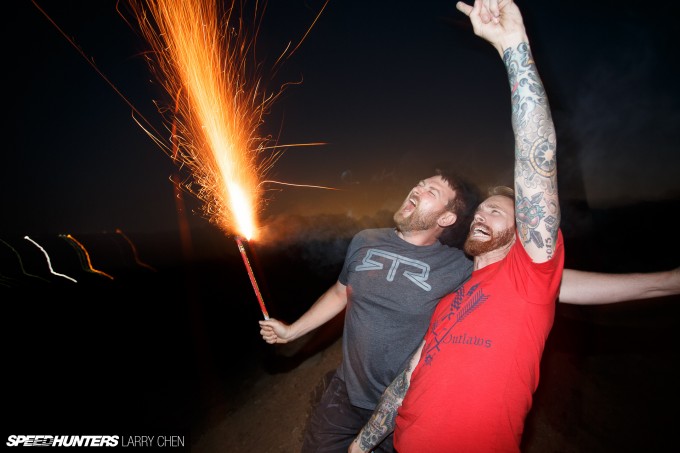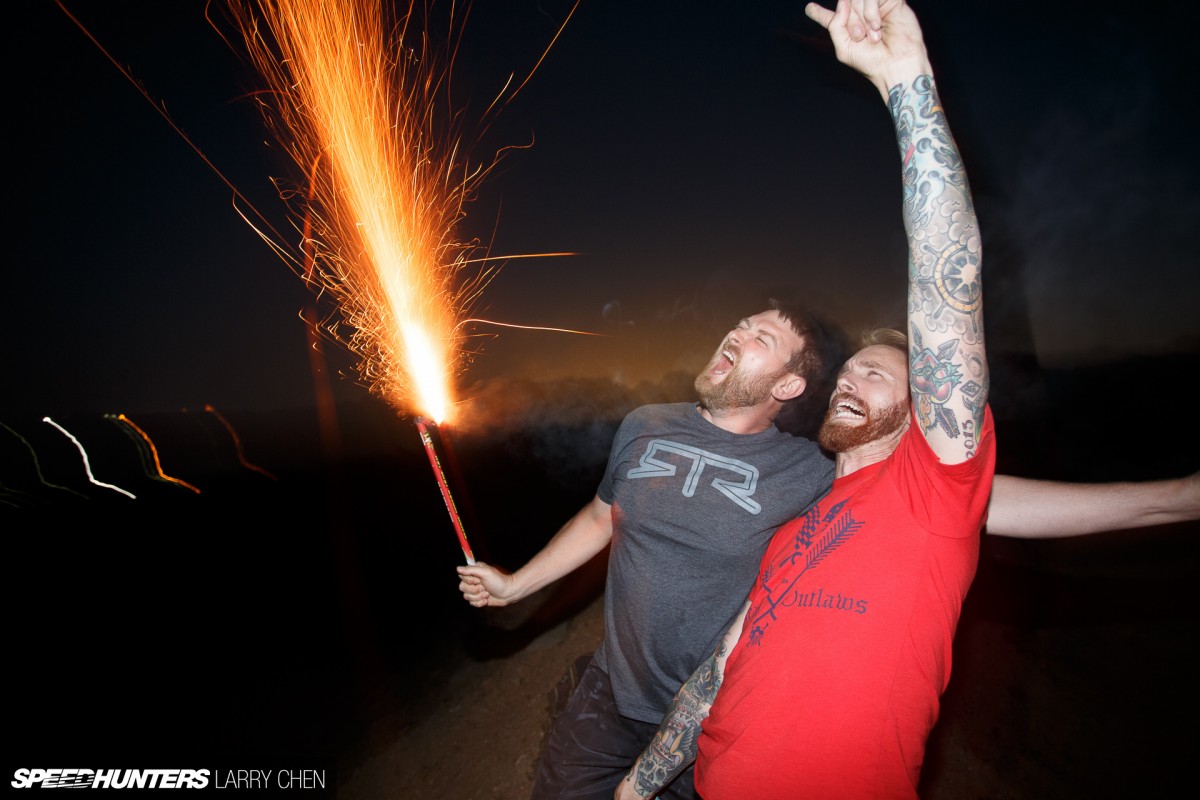 Formula Drift New Jersey is one of very few events that happen near Vaughn's home in Maryland. So, after a long couple of days covering the event for Speedhunters, I was stoked when Vaughn invited me and a few other close friends over to hang out. Since I had not been to his place in years, I figured it would be a great time to see what the fuss was all about.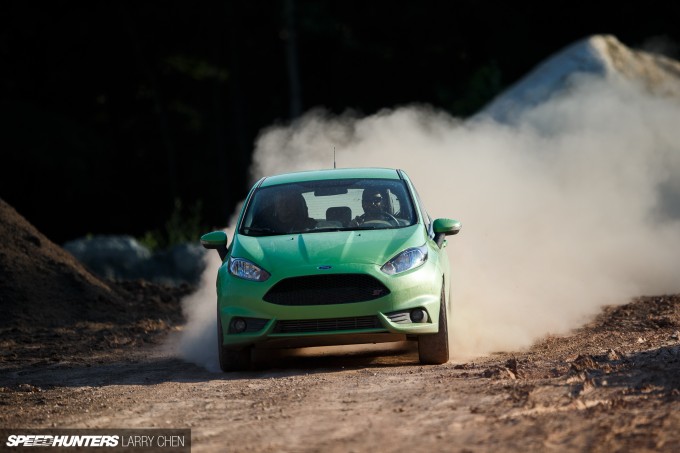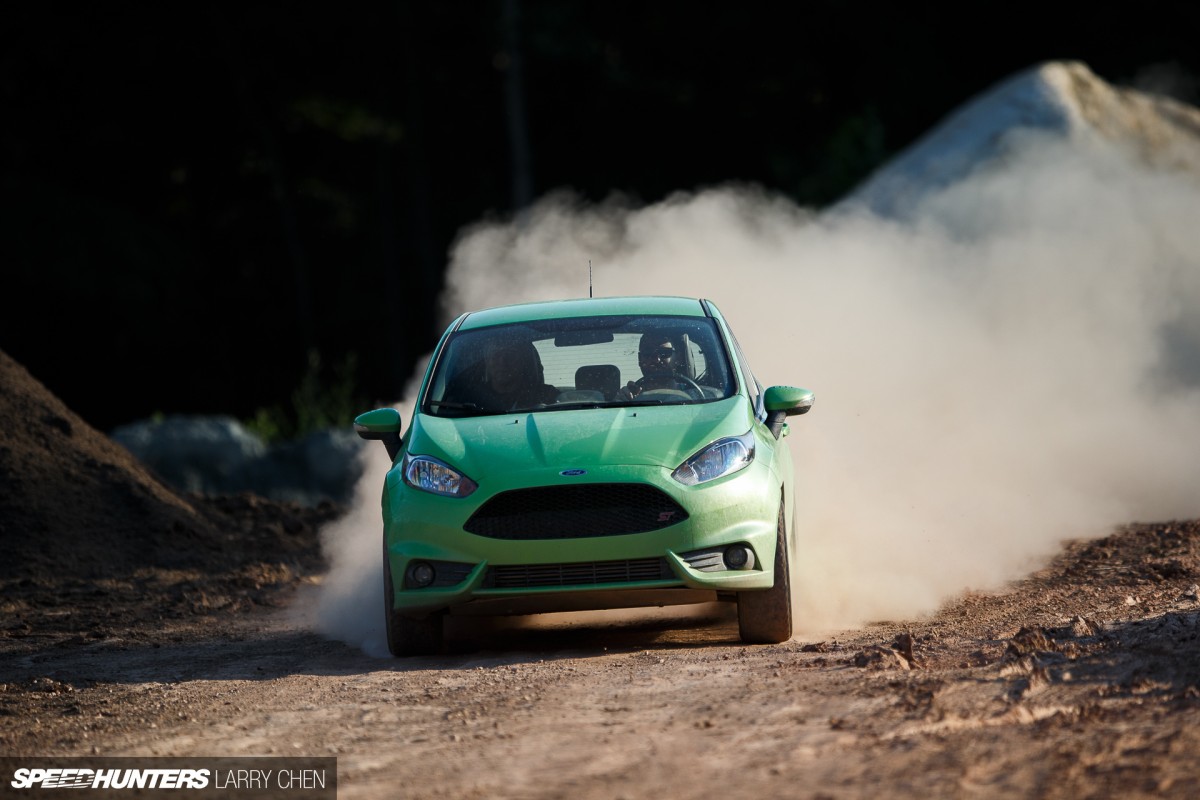 The stress Vaughn endures during a weekend of competition is almost too much to handle, so he definitely lets loose when he has a chance. Now, this is a guy that has a Subaru WRX and an AE86 rally car at his disposal, so his choice of home ride did surprise me: a little Ford Fiesta ST.  But don't be fooled – those rides don't compare to this little green monster.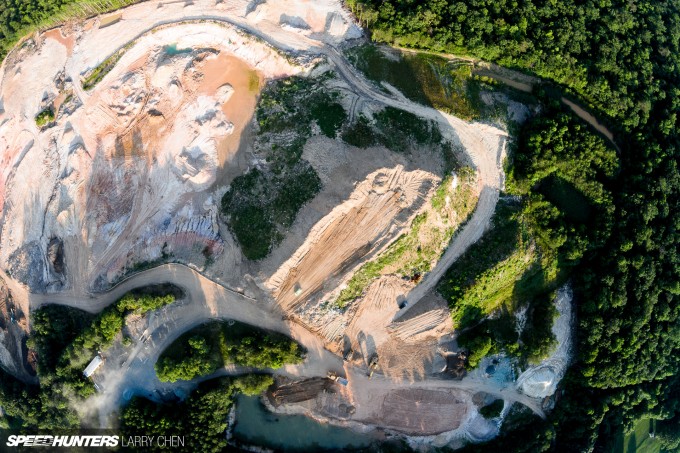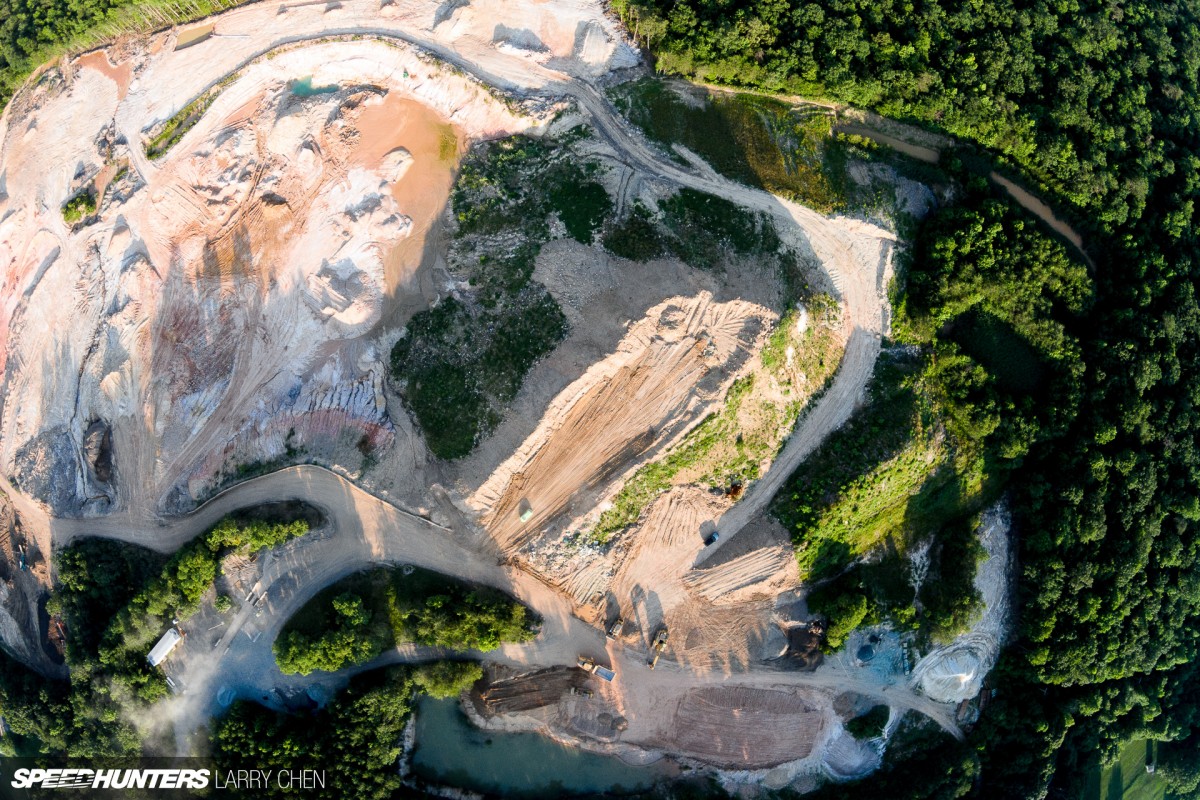 Vaughn couldn't wait to take me out back in the little hatchback that could. After all, if you had a rally course in your backyard, you would want to spend as much time at home as you could, right?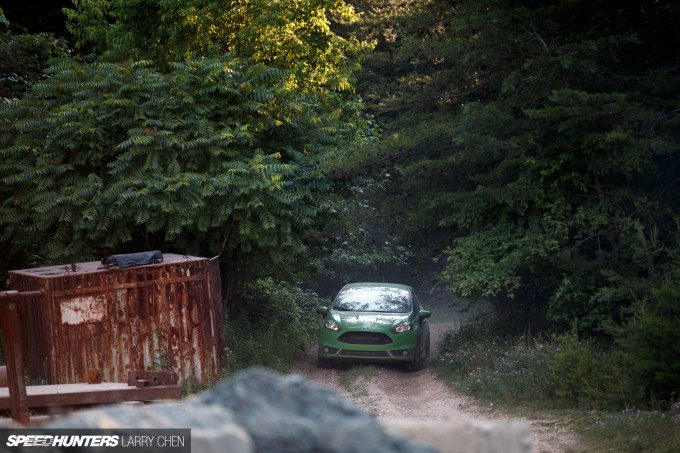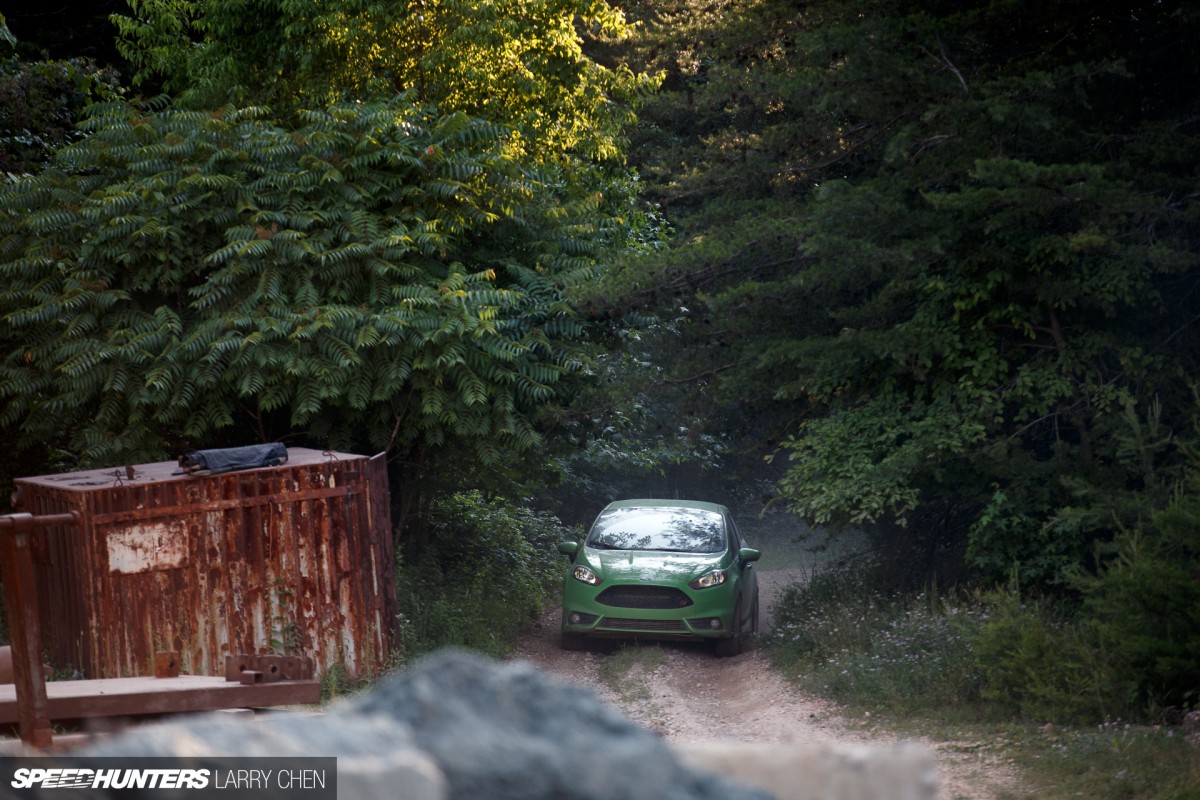 There are endless configurations to the Vaughn Family Rally Course, but he likes to start out in the woods and shoot into the quarry, with more than just a little speed piled on.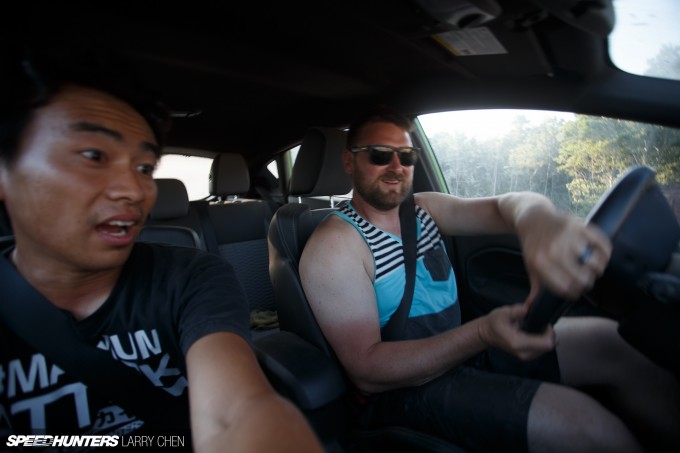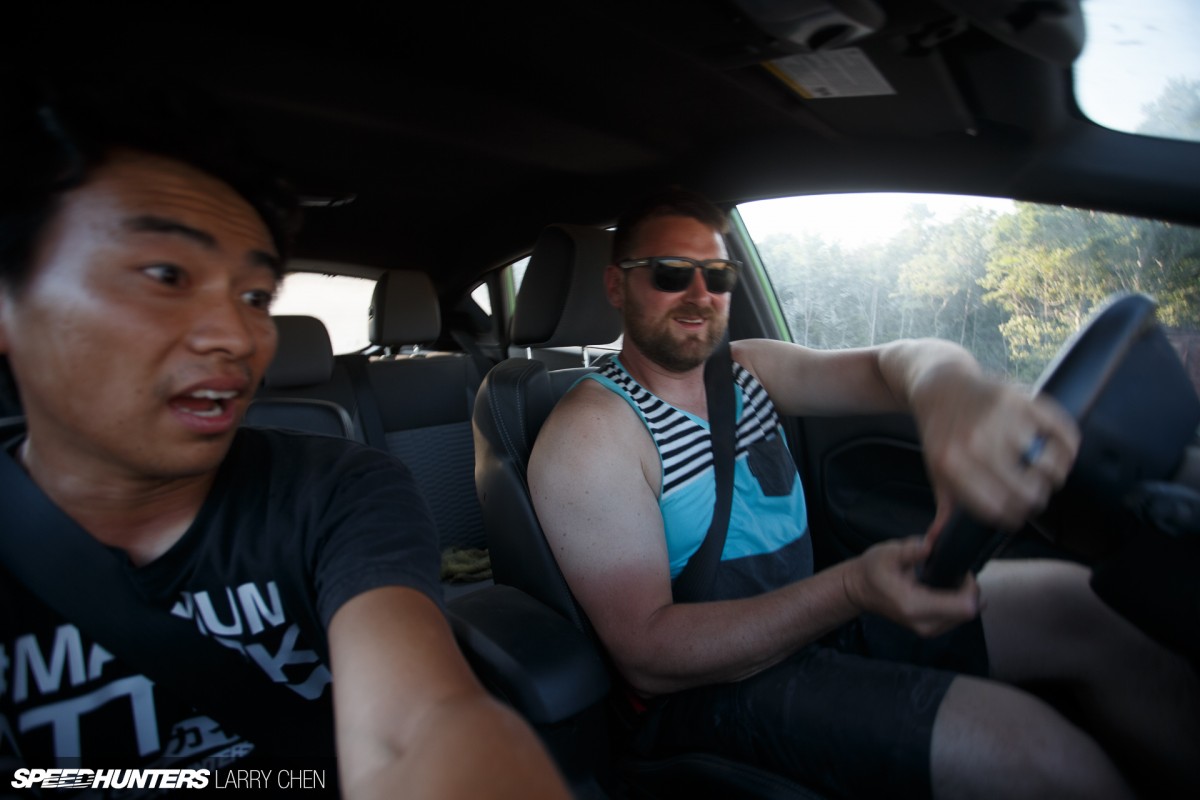 I held on for dear life as he went #MaximumAttack around a blind corner. His farmer's tan may not be as impressive as Fredric's, but this country boy from Maryland is more at home on the farm than on the beach in Hawaii.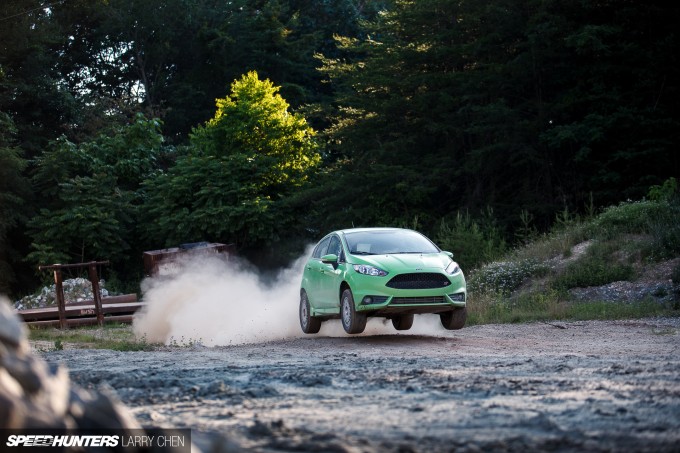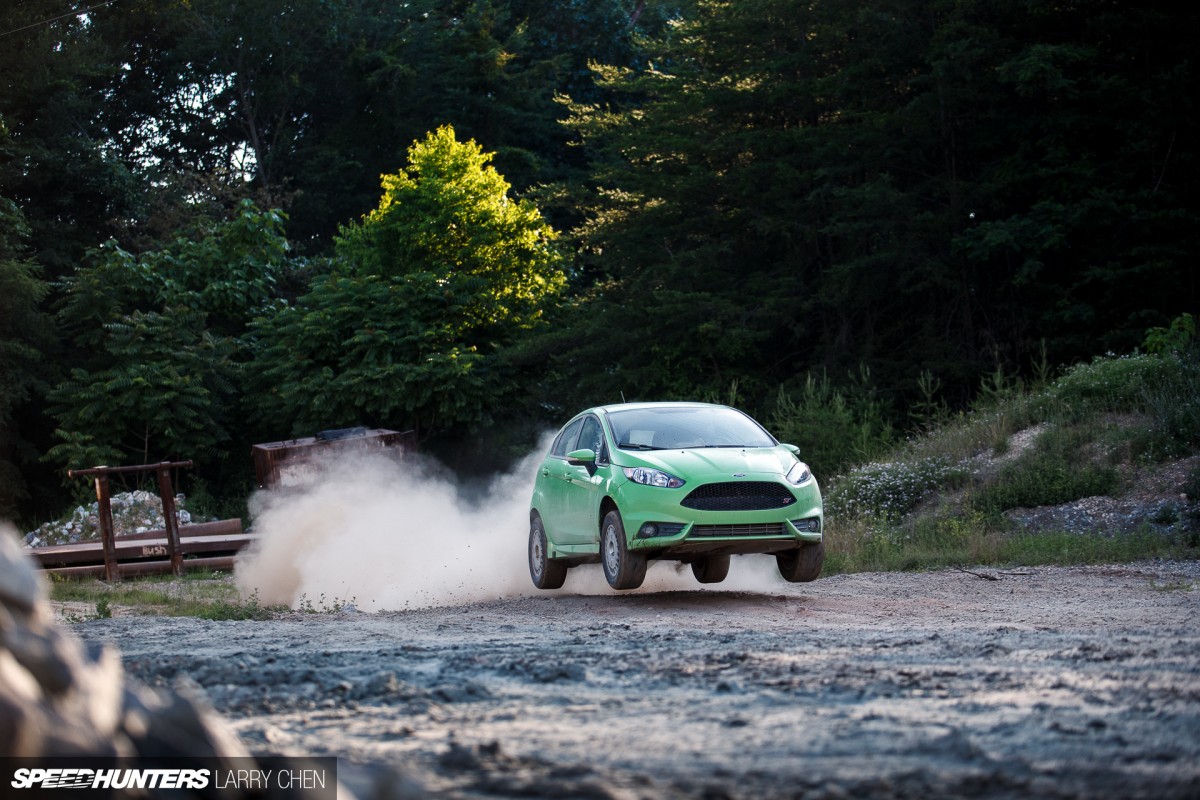 We hit a tiny jump, and it felt like we grabbed so much air. But in reality we were only a couple inches off the ground.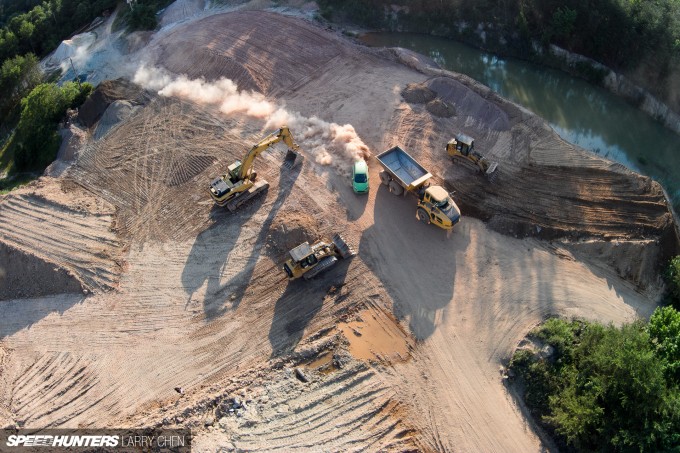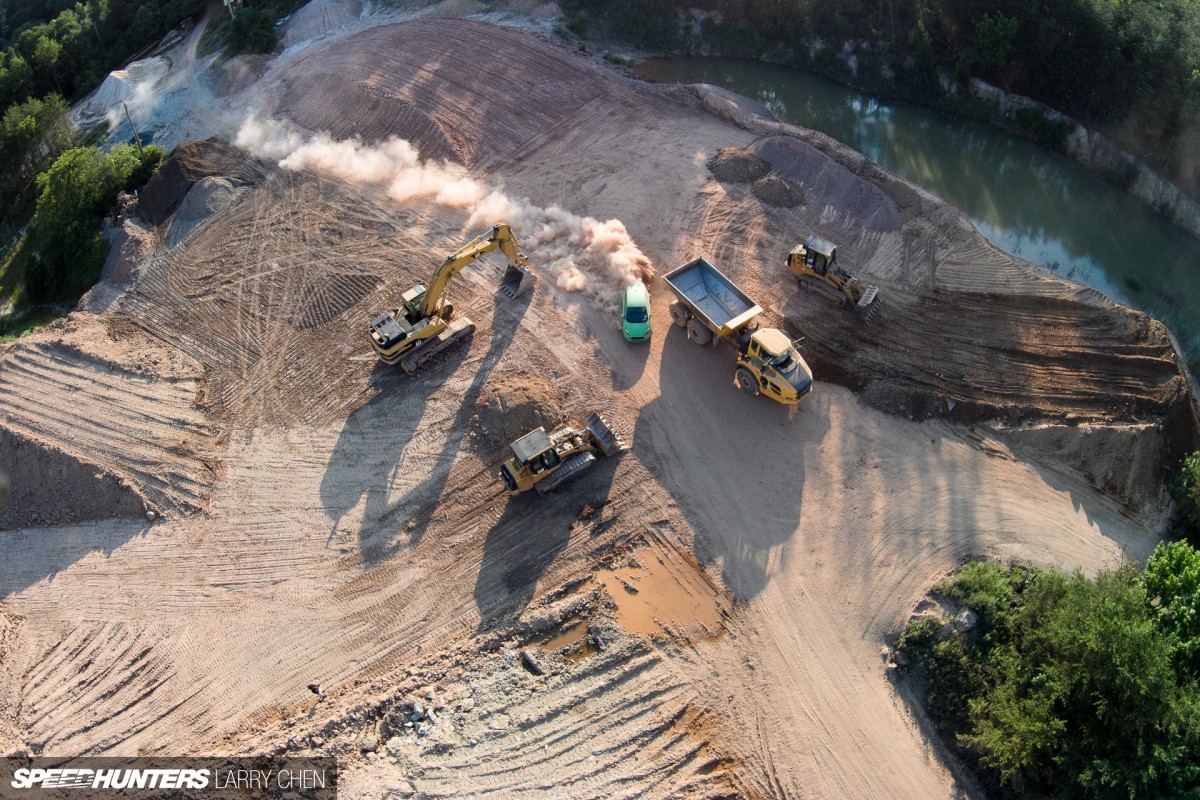 The randomly parked excavating machines acted as obstacles as Vaughn pitched it into a full-on slide between them.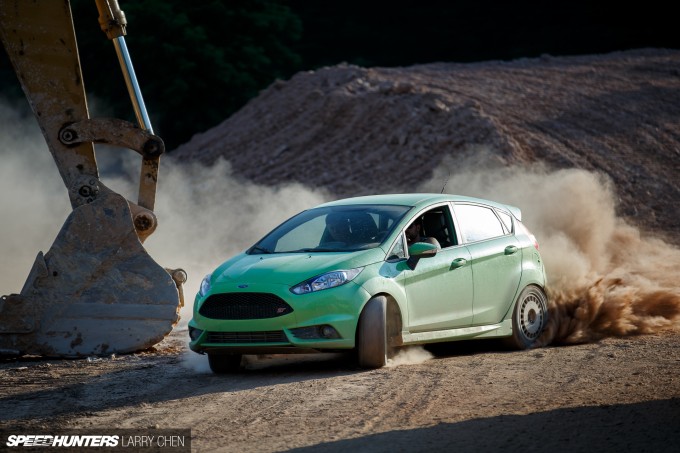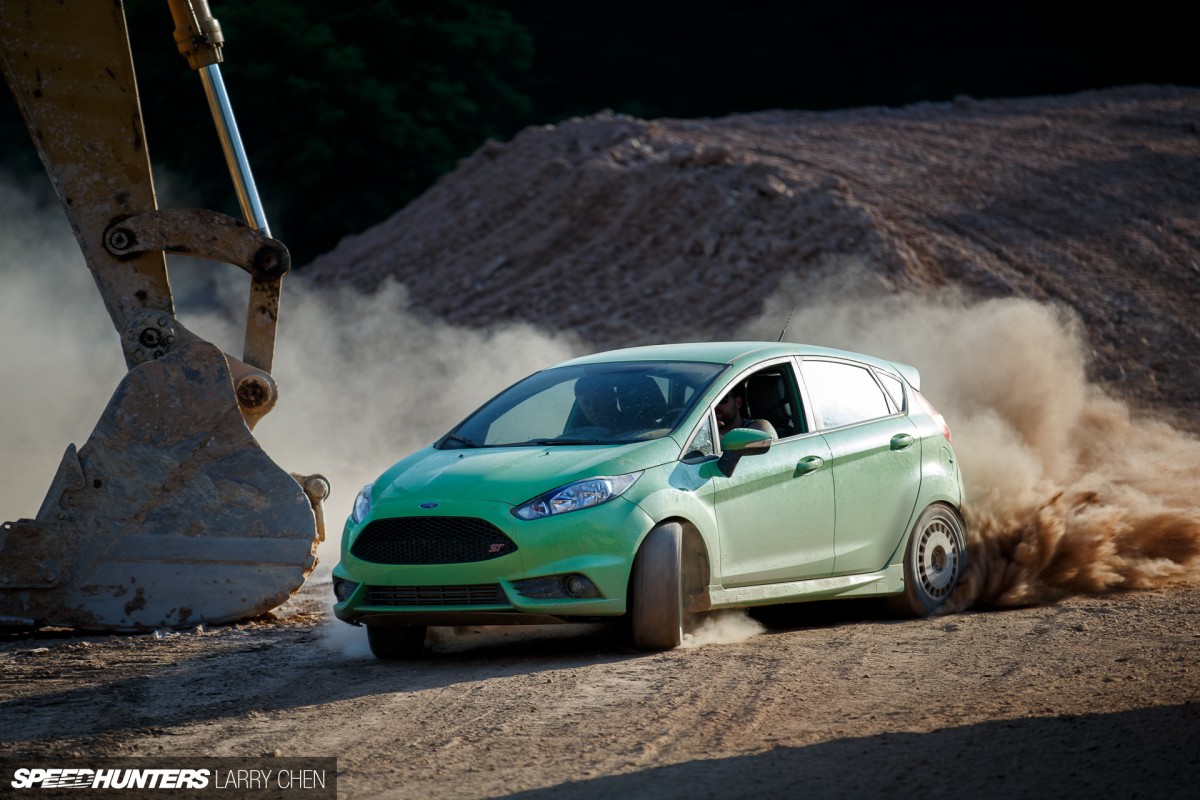 For a front-wheel drive hatchback, it felt very comfortable going sideways.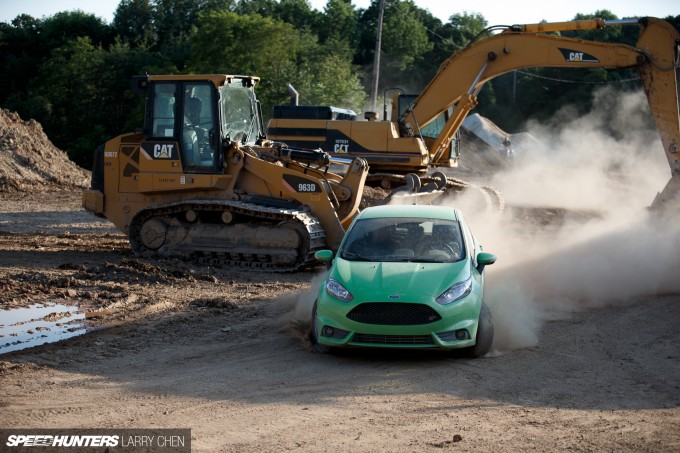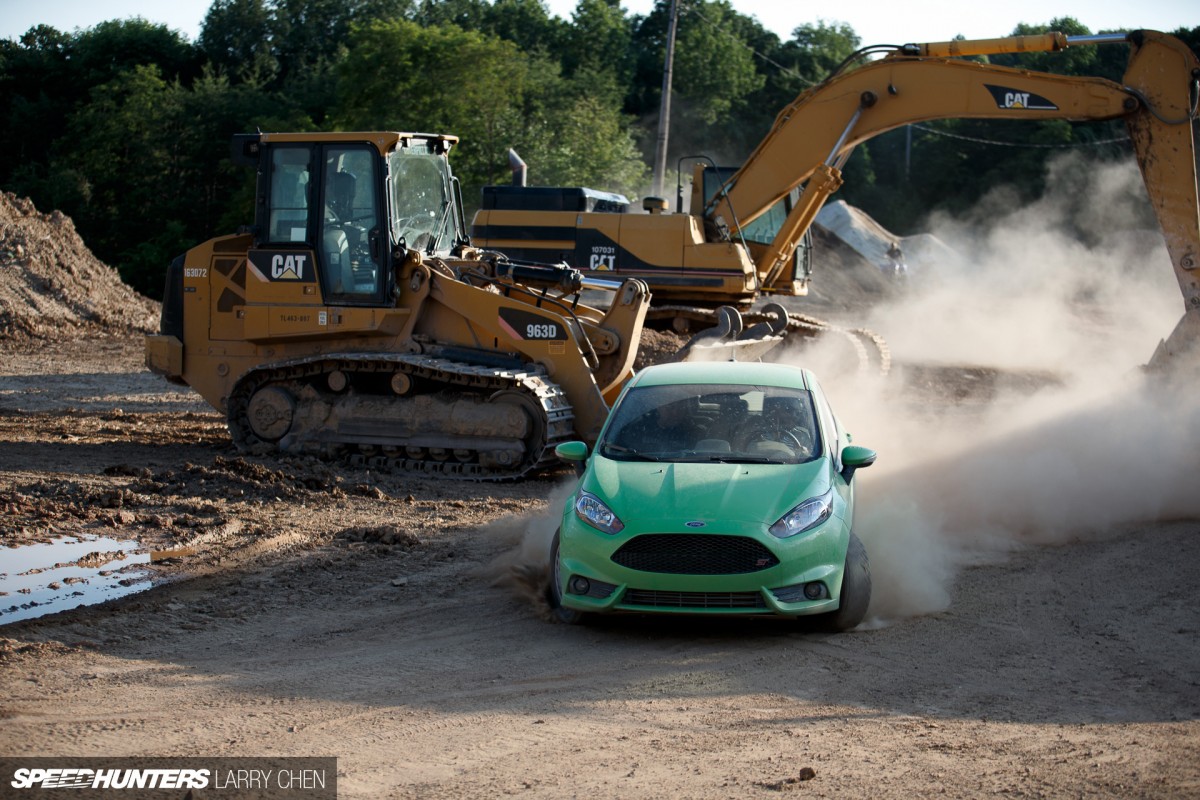 I just could not believe how well it handled. The best part? Aside from rally wheels and tires, the little green car is 100 per cent bone stock.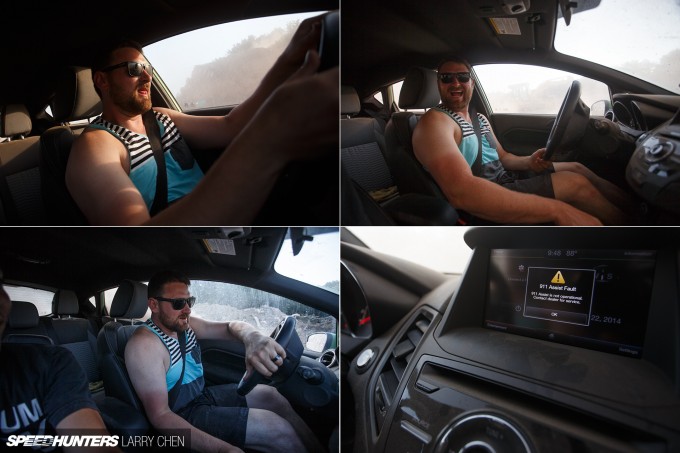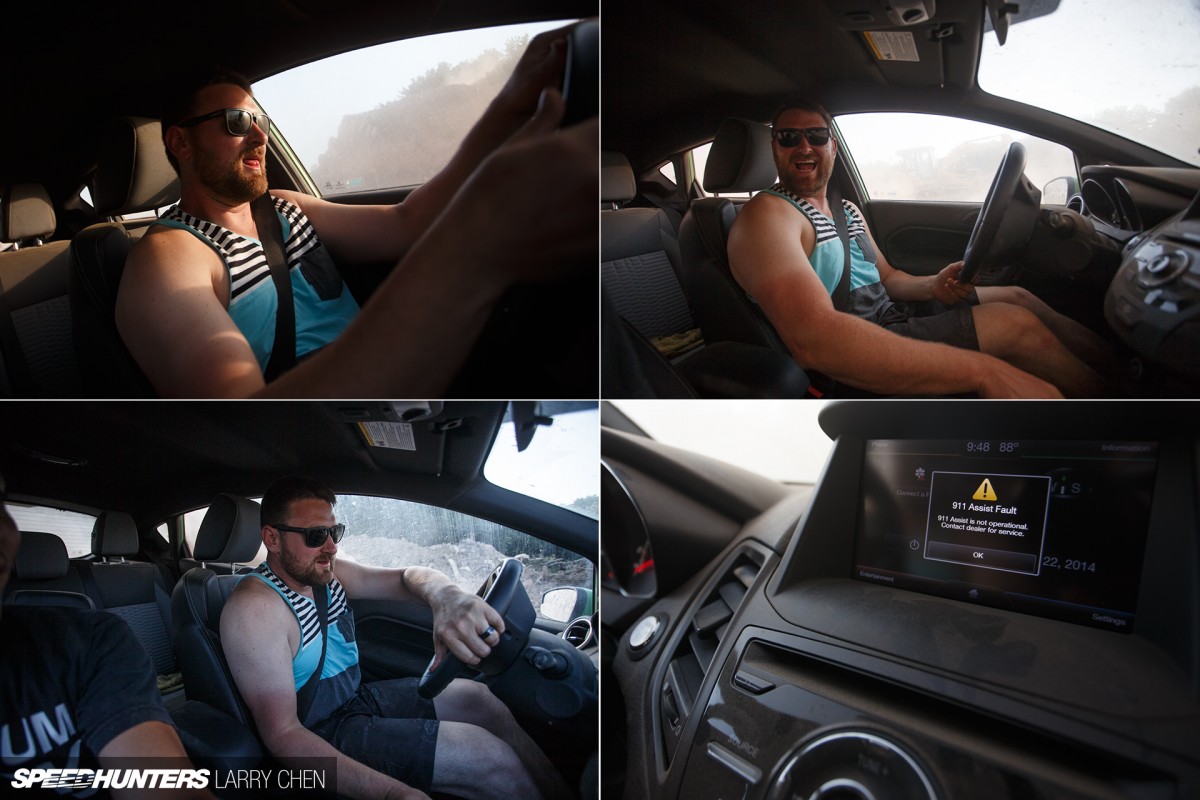 Of course, traction control was disabled as well as the airbags – we didn't want any drama while we were jumping!
Ford Fiesta ST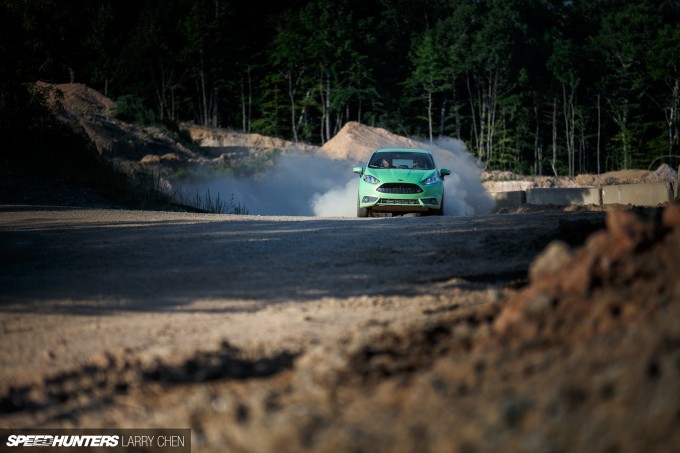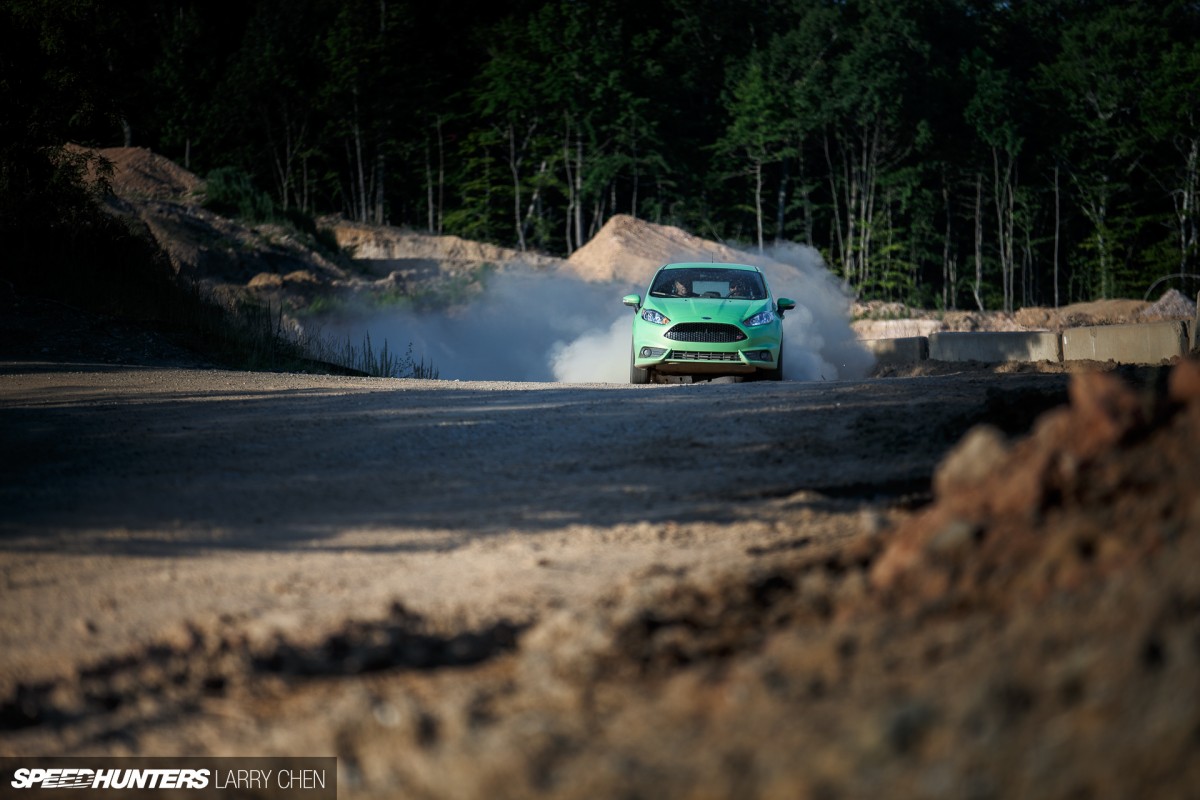 I was also amazed at how much power this thing had. It may have been all that bouncing around and the minimal amount of grip, but I was genuinely scared at times. I wasn't sure if there was enough room to stop when we were headed into a corner, or toward a solid object.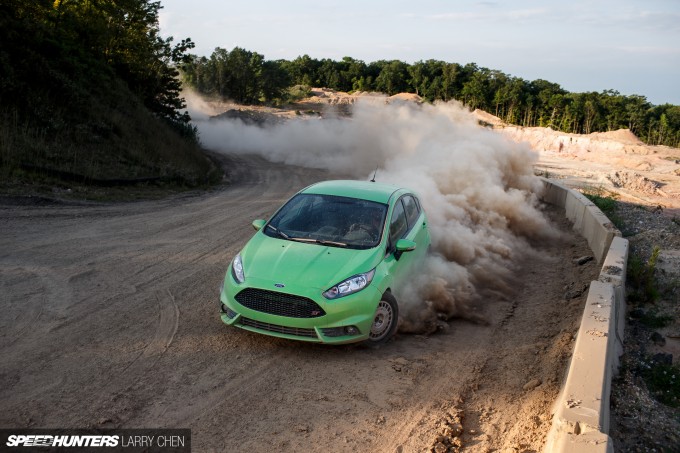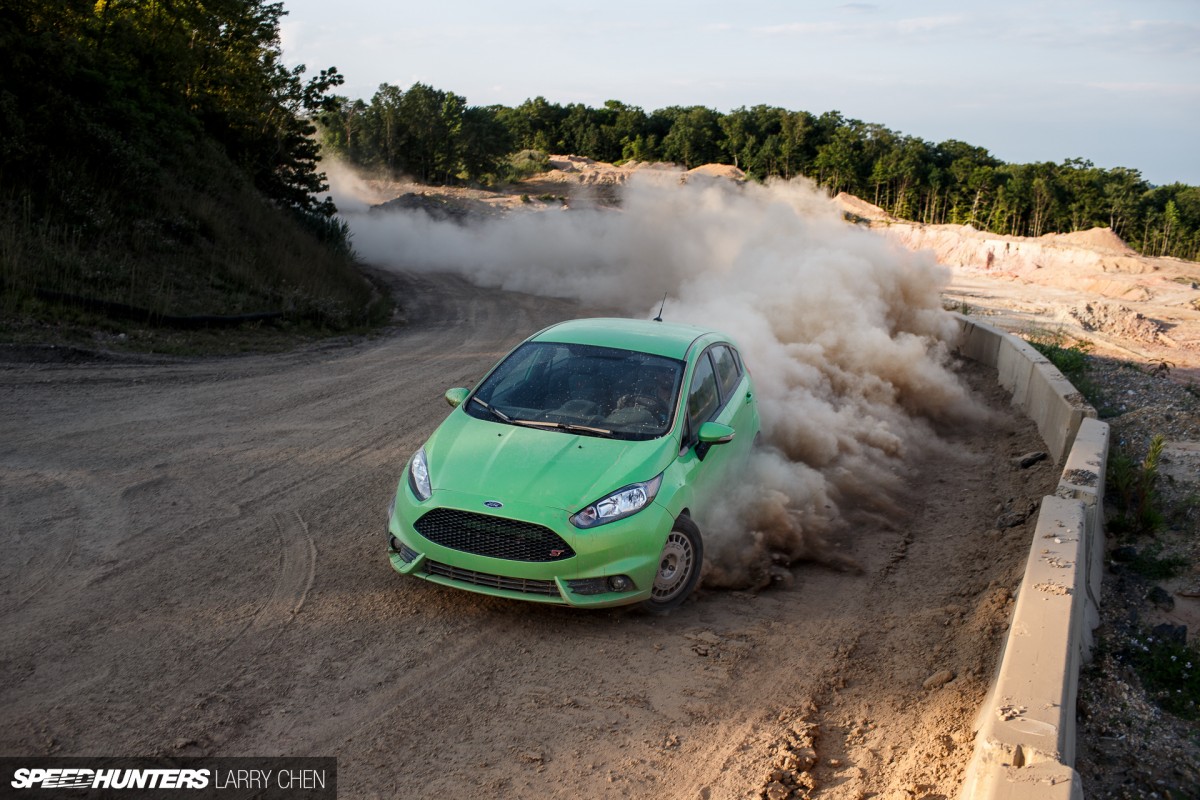 It turned on a dime though – the rally tires helping that cause immensely. The stock suspension was absolutely amazing, and the ride was fairly gentle considering what we were putting the car through.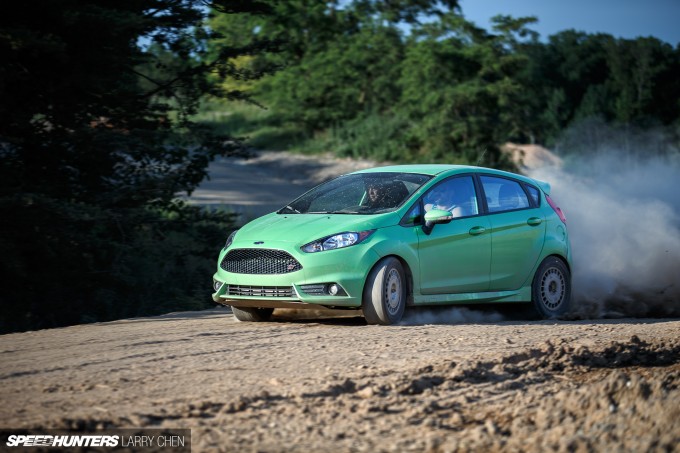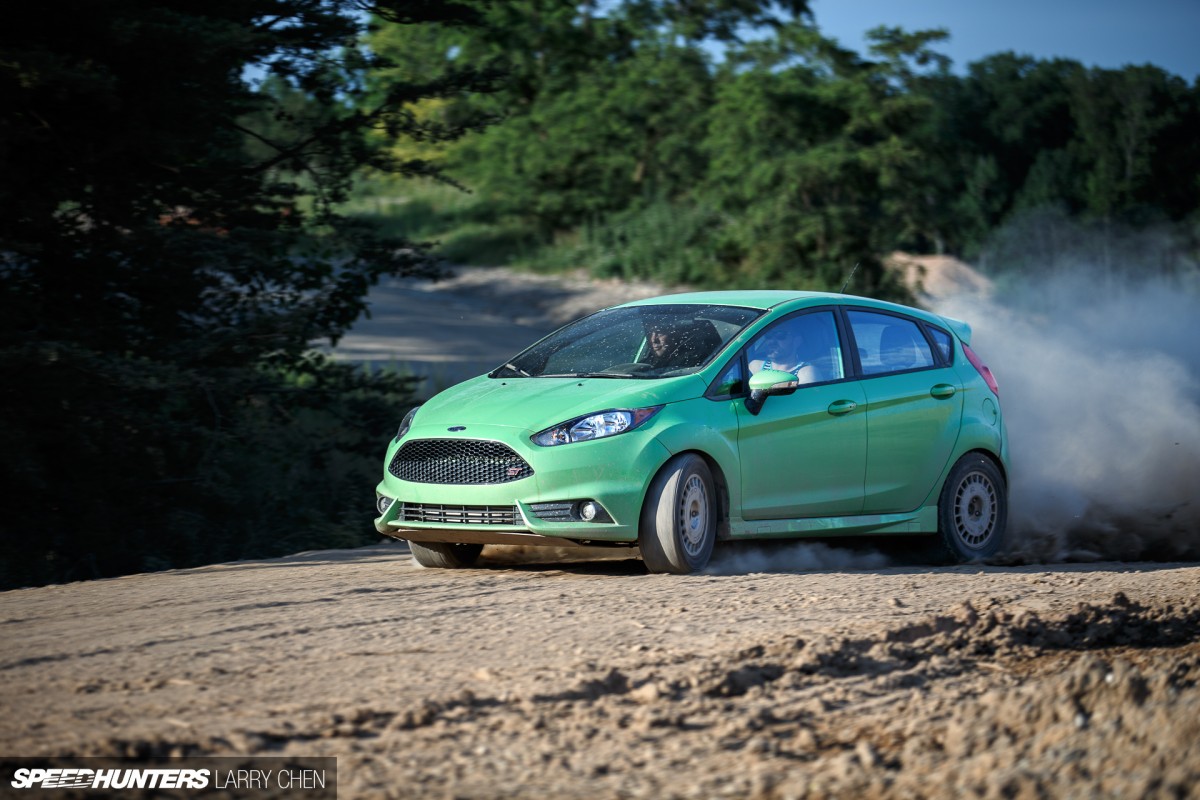 What a way to break a sport compact in! This sucker only had 200 miles on the odometer when I showed up, but I can guarantee you that they were all hard driven.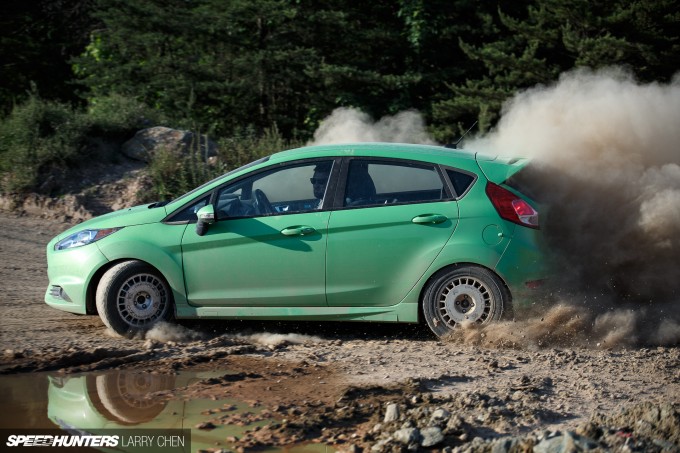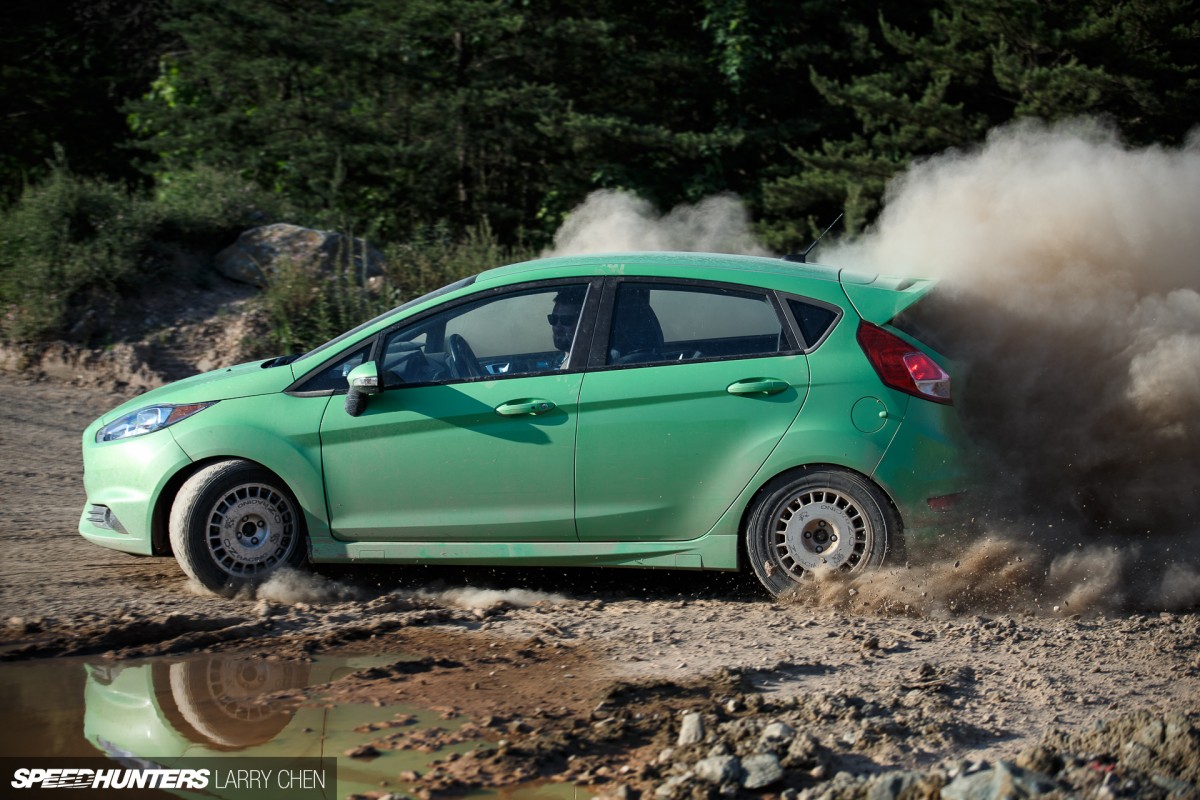 Vaughn recently shot a fun video with this little Ford that involved taking his dog along for a crazy ride.
I can tell you that the car smelled terrible after that video shoot, because the milk actually got all over the place. It was totally worth breathing out of my mouth though.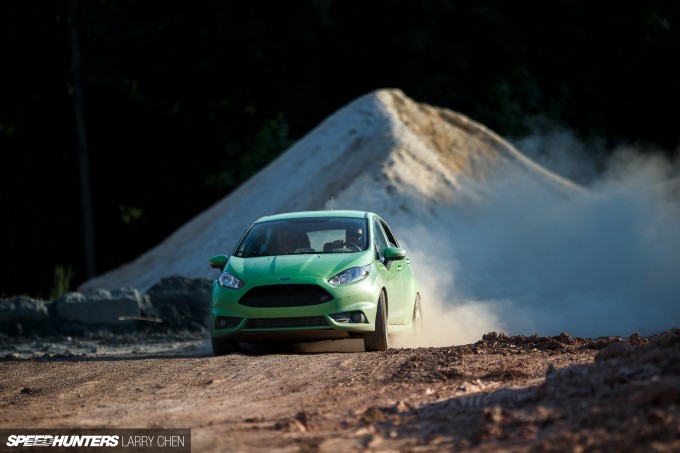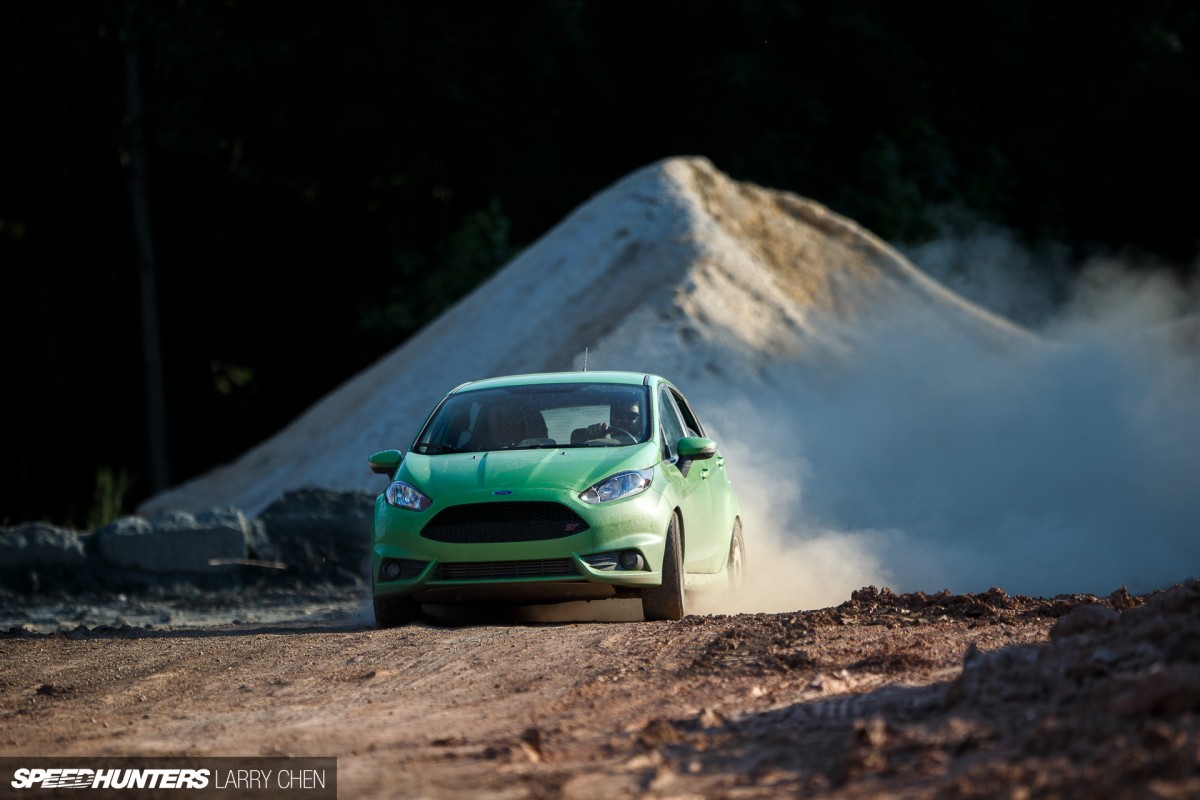 After a good thrashing session Vaughn handed the keys over to me. While I've never driven in the dirt at speed before it felt so natural.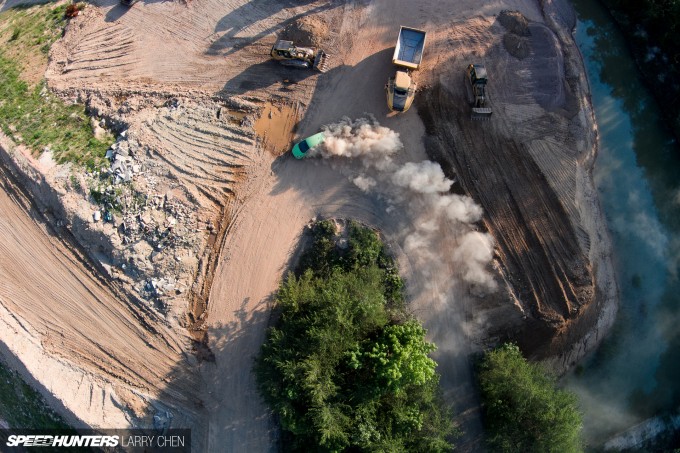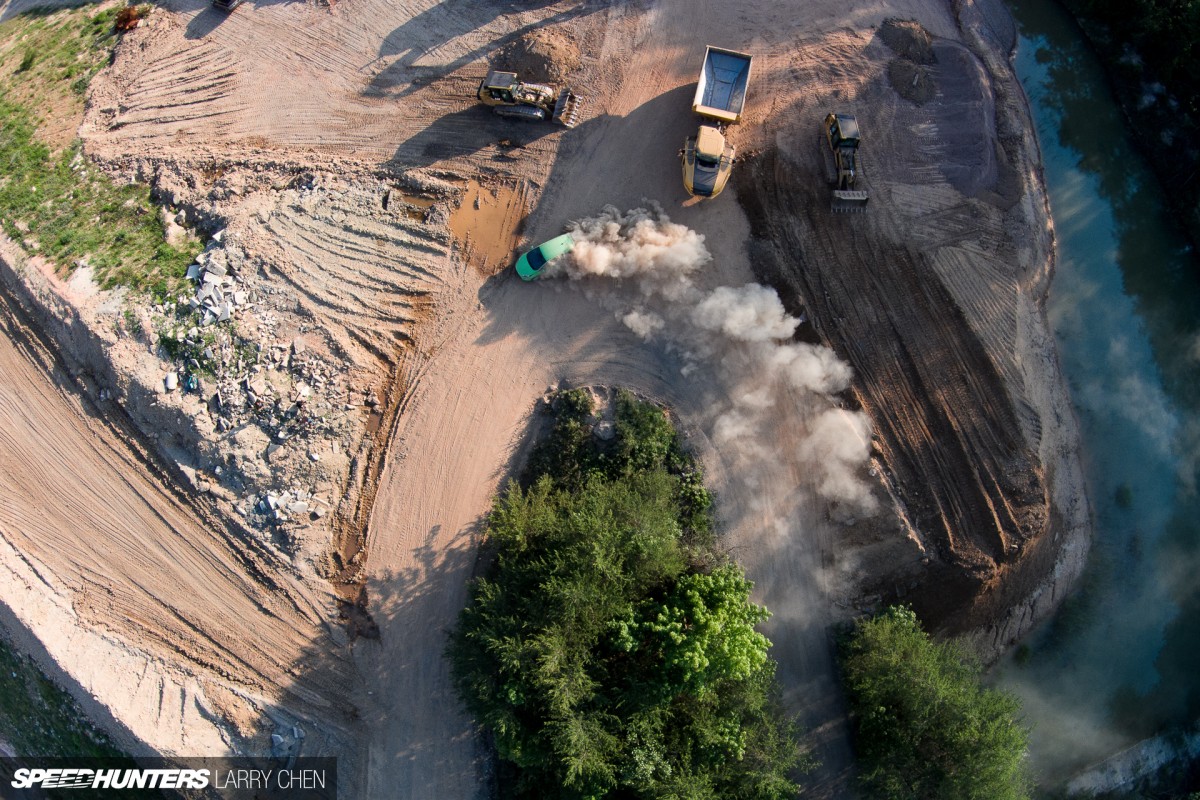 With a quick tug of the e-brake or a nice feint entry we drove this hairpin over and over.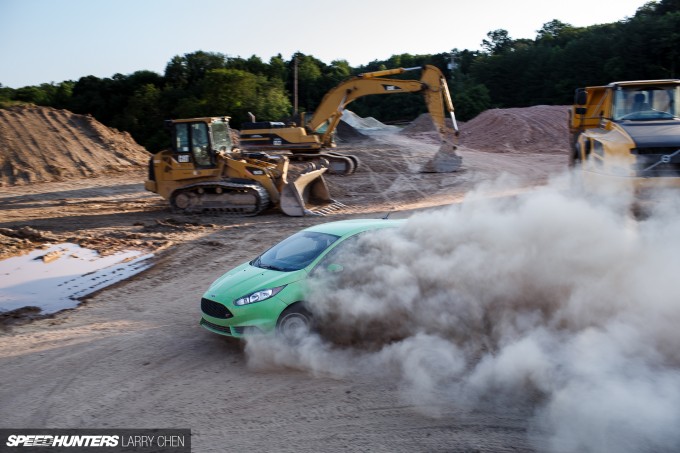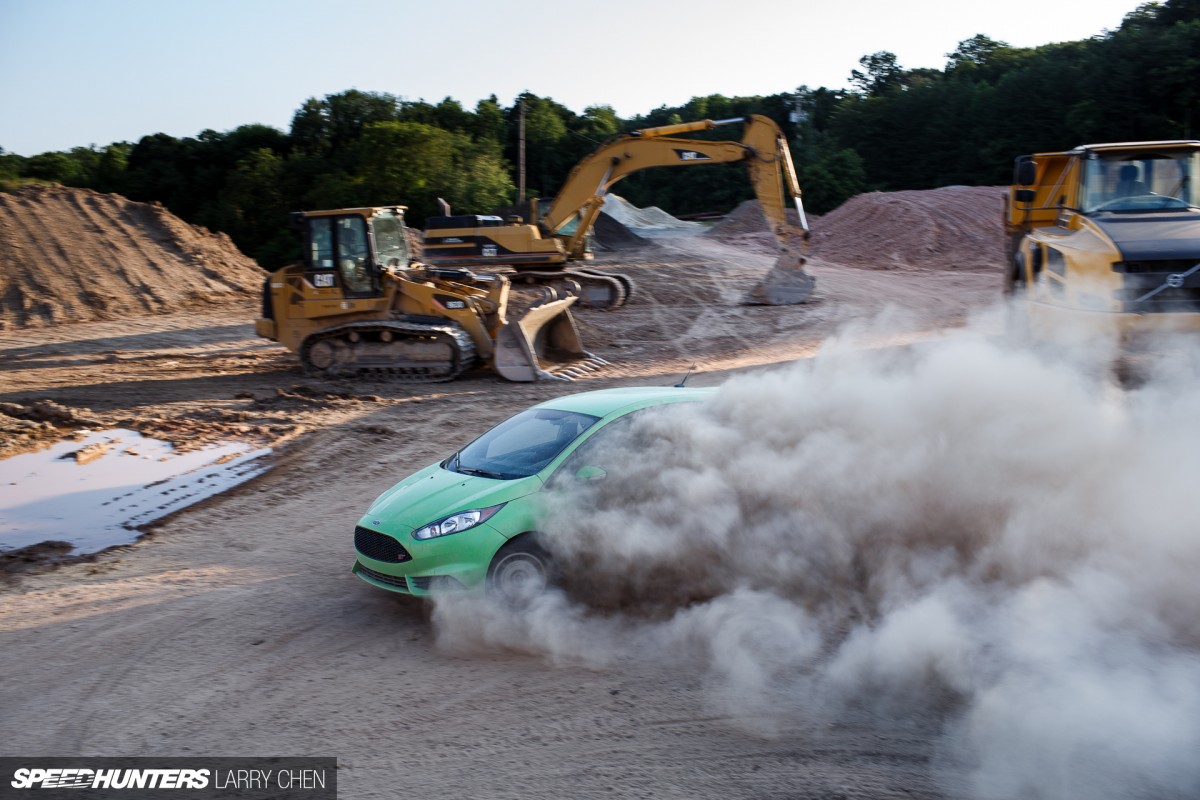 I quickly found a fun course that I liked and kept at it till my passengers got sick. This is what this car was built for.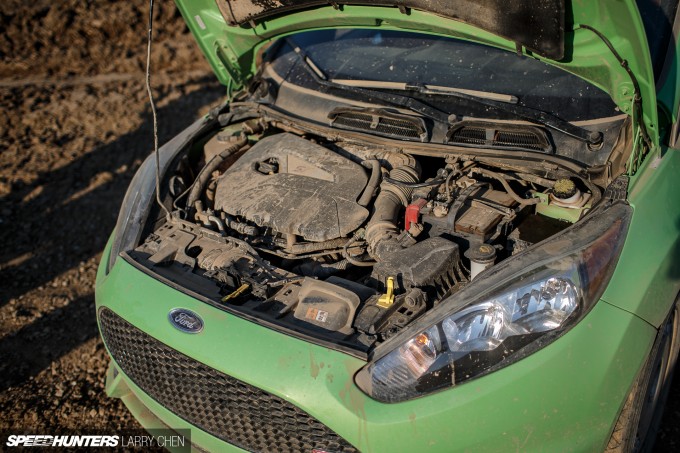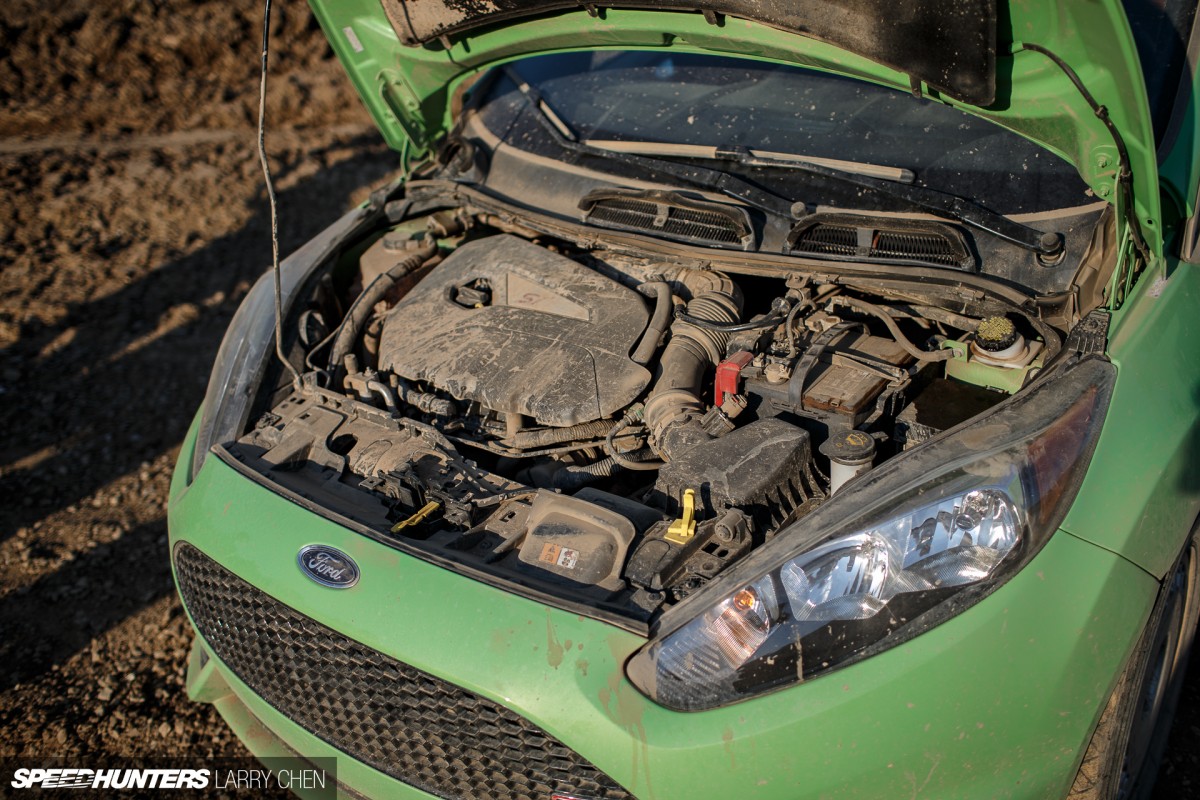 I could not believe this Ford Fiesta ST was stock, so Vaughn showed me under the hood. I can only imagine how caked-up the air filter would be!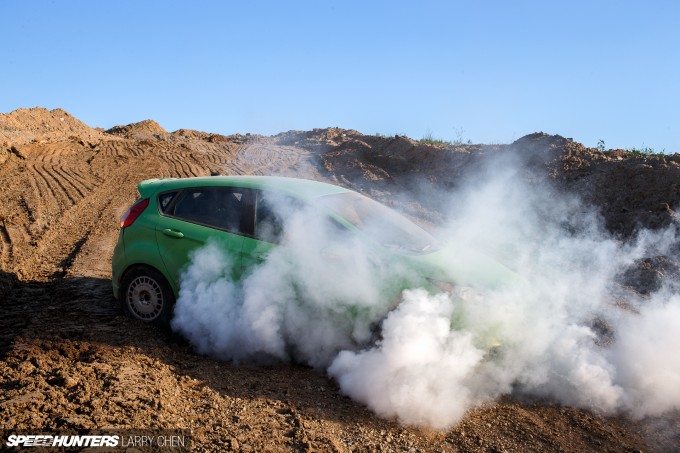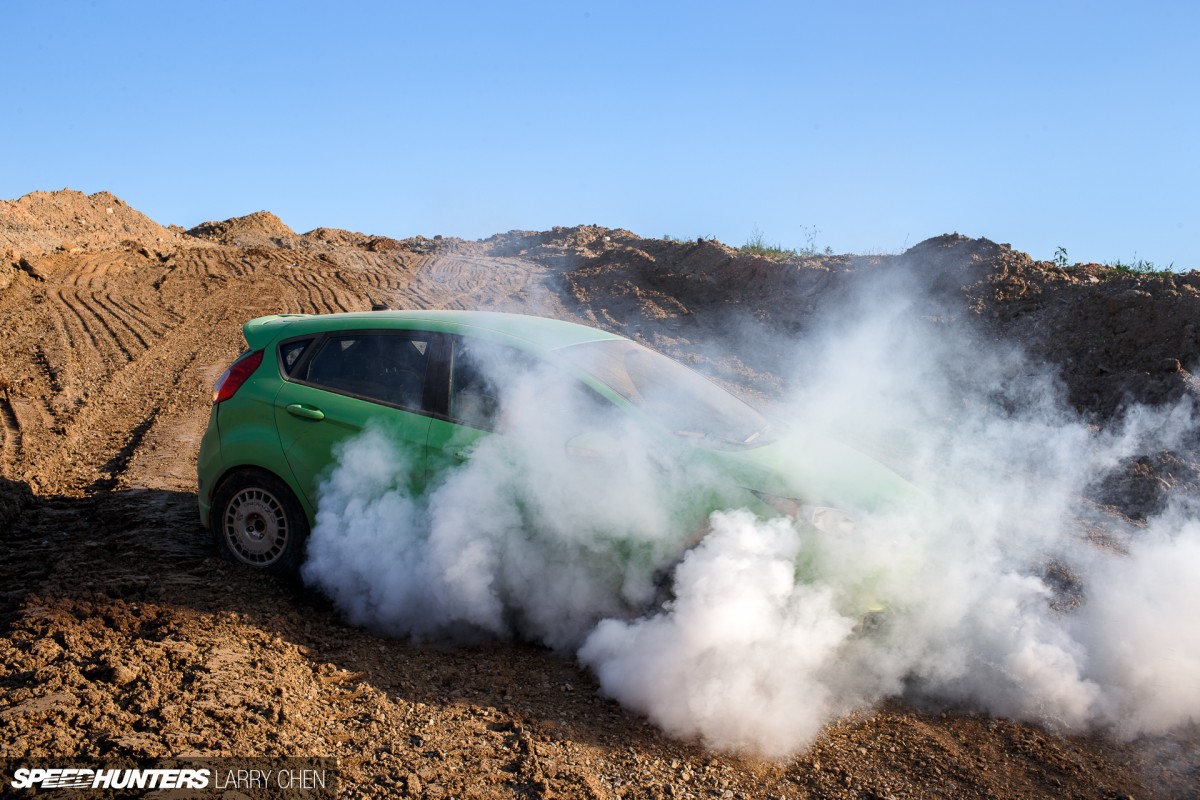 Vaughn gave a whole new meaning to 'wrong-wheel drive'. The question of the day was, 'Who says you can't have fun in a front-wheel drive?'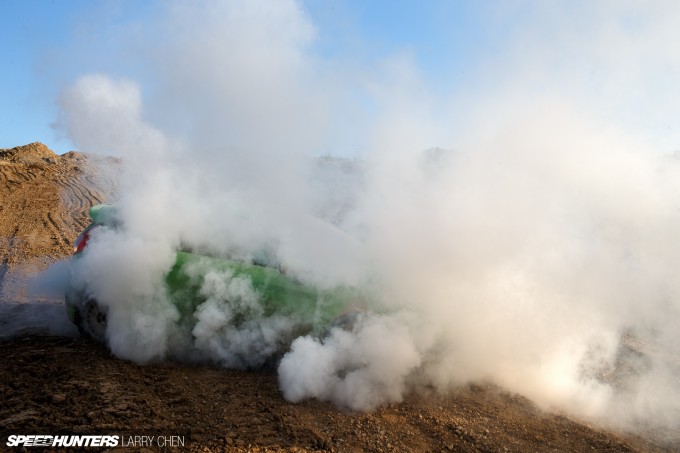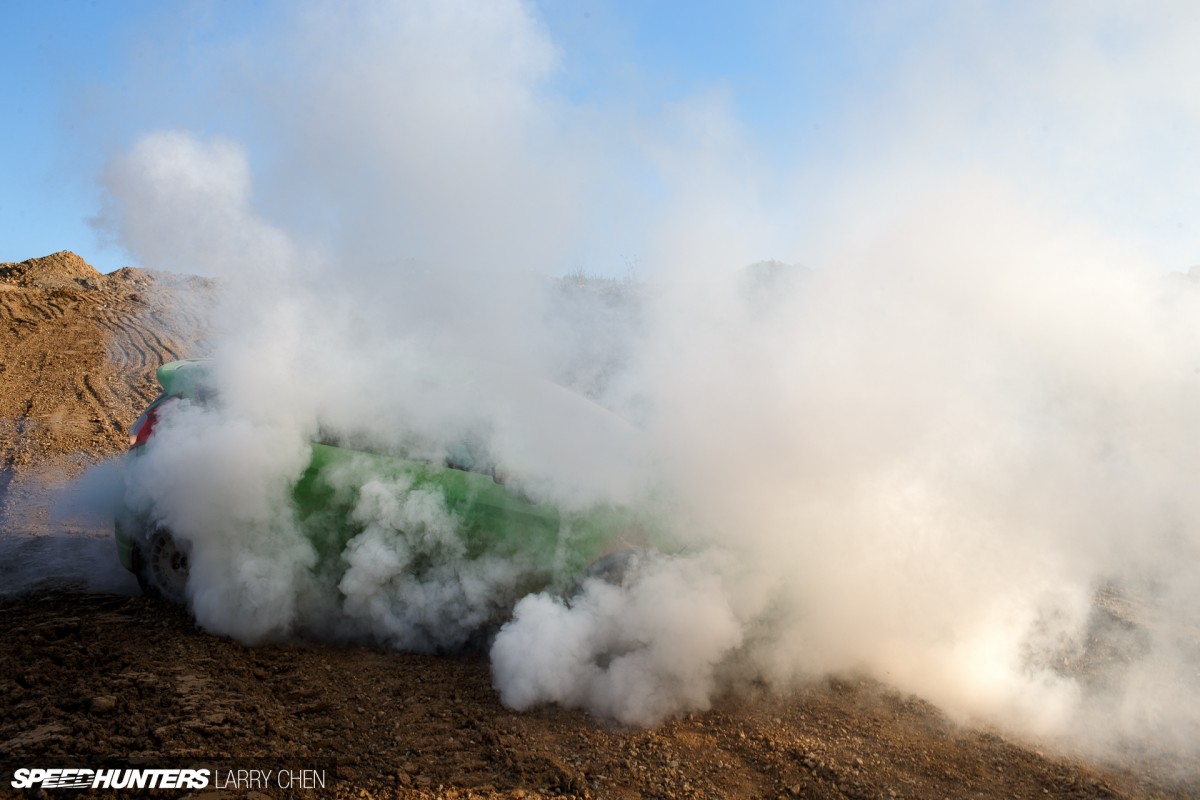 Uncle Bernie pretty much shredded the tires at this point, but it was all in good fun.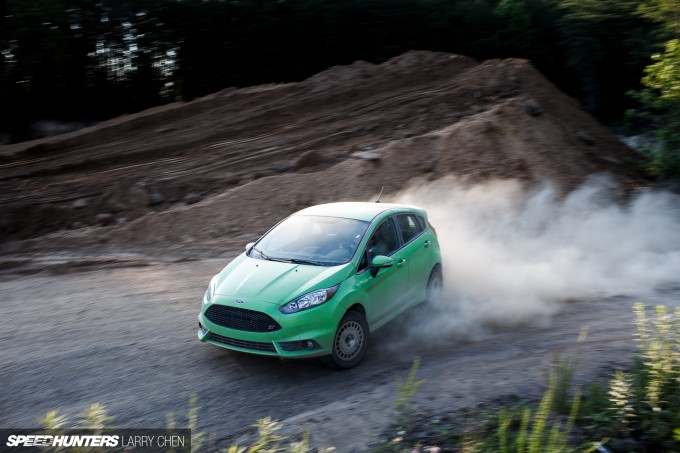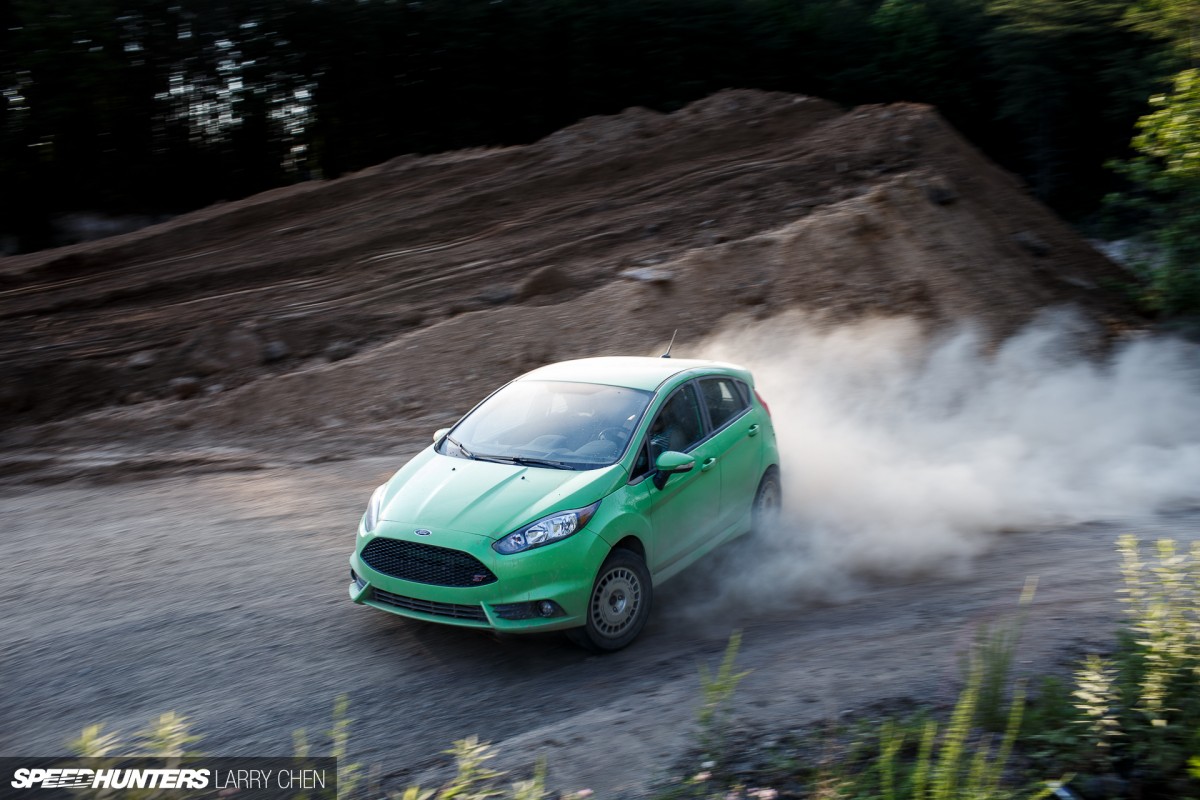 Something occurred to me in between tire destroying sessions. Besides the obvious jealousy factor, I realized that instead of using a driving simulator game like I do to drive some rally, Vaughn and his friends can just go out back when he wants to practice dirt driving. Granted he does not get to spend much time at home, but I know for a fact that he makes the most out of it when he is.
Fire In The Hole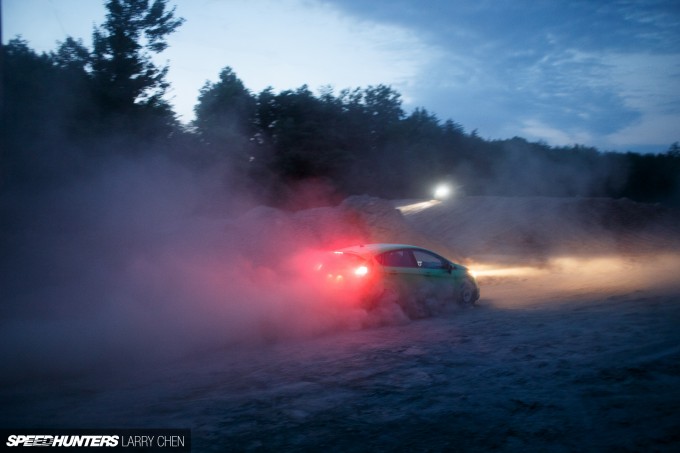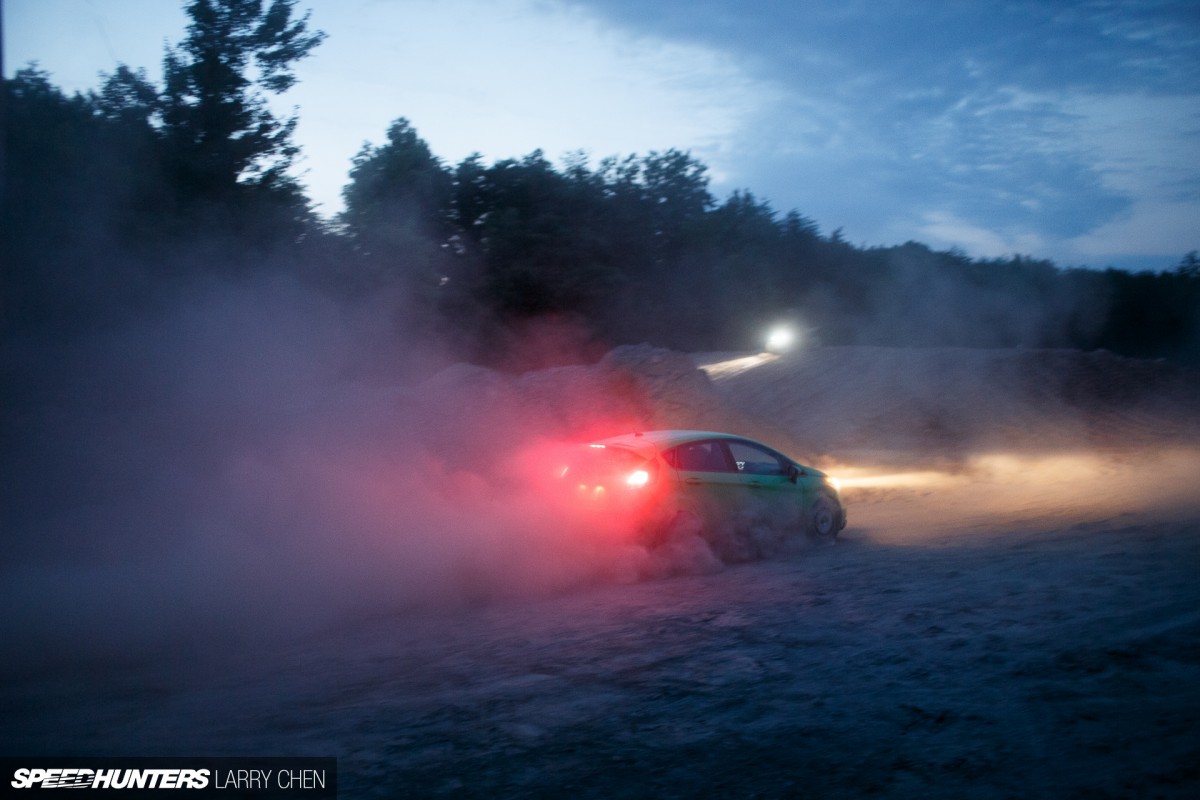 It was such a casual thing, we ate dinner and played stump, but at any given moment if we felt like going rallying we would pick from an assortment of dirt-worthy vehicles. I even drove a Range Rover press car out there.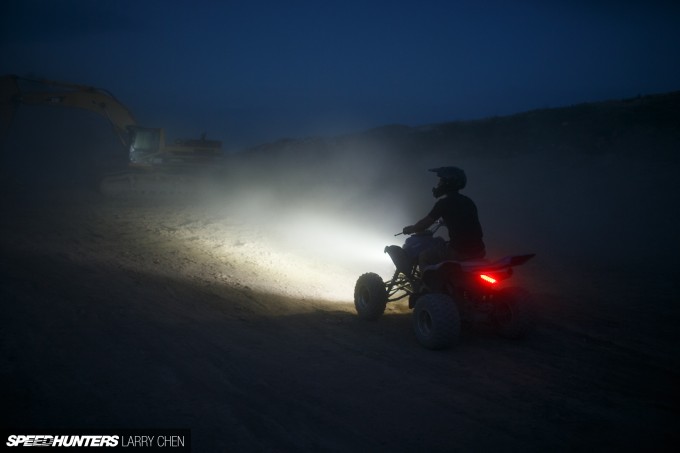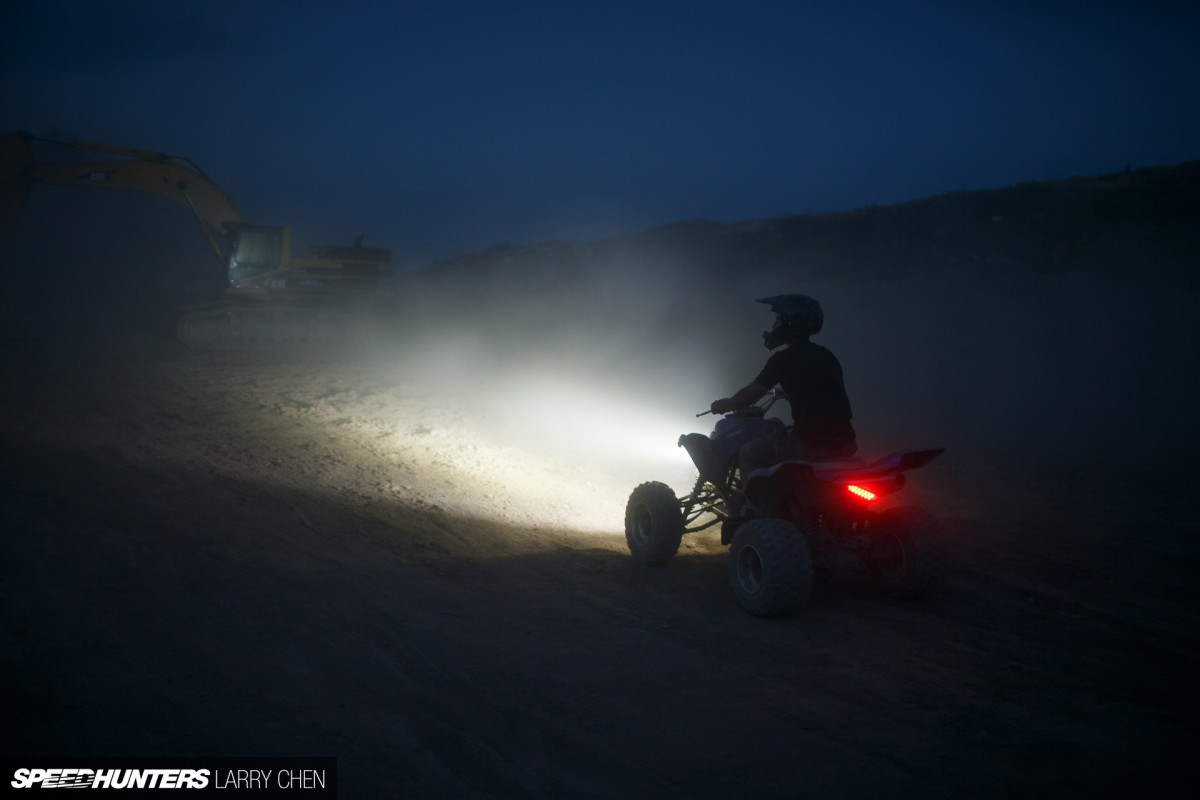 Those of us who were still brave enough to drive and ride around in the pitch dark kept at it – and we did not stop till 3:00am.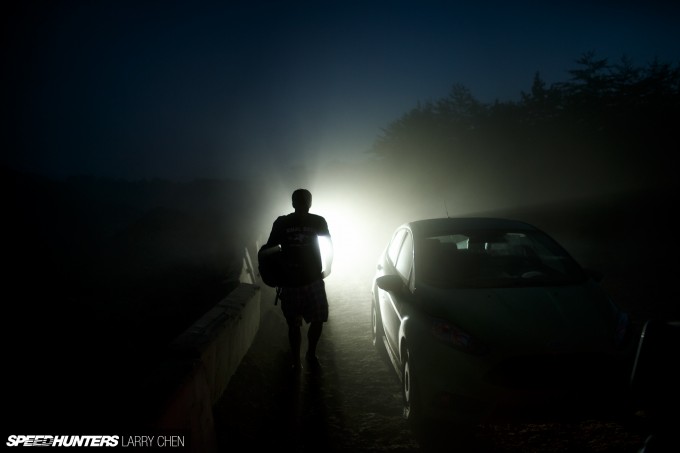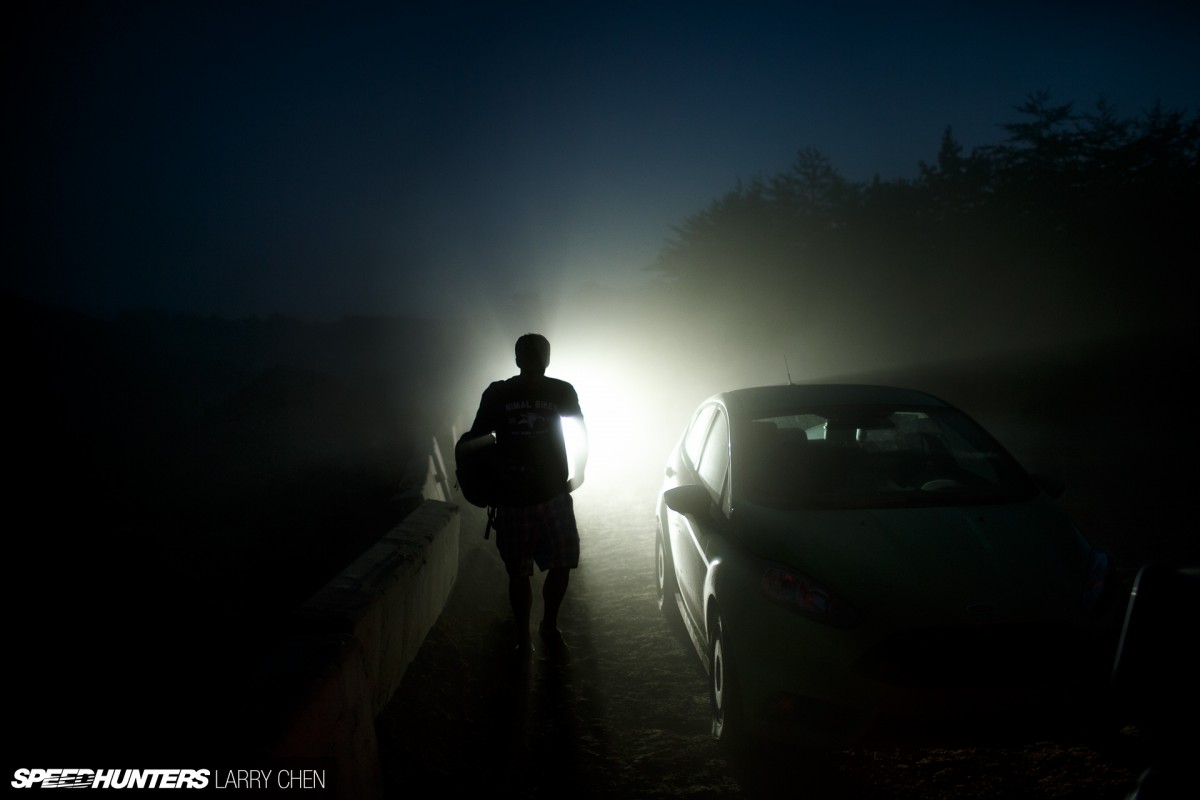 Eventually it was time to take a break, but not any kind of break – a fireworks break.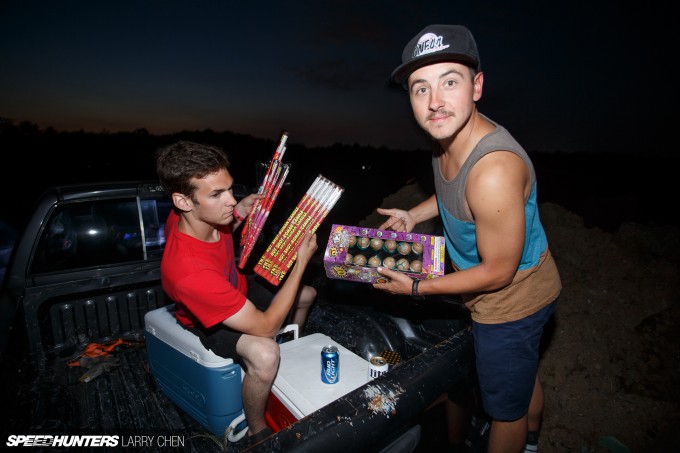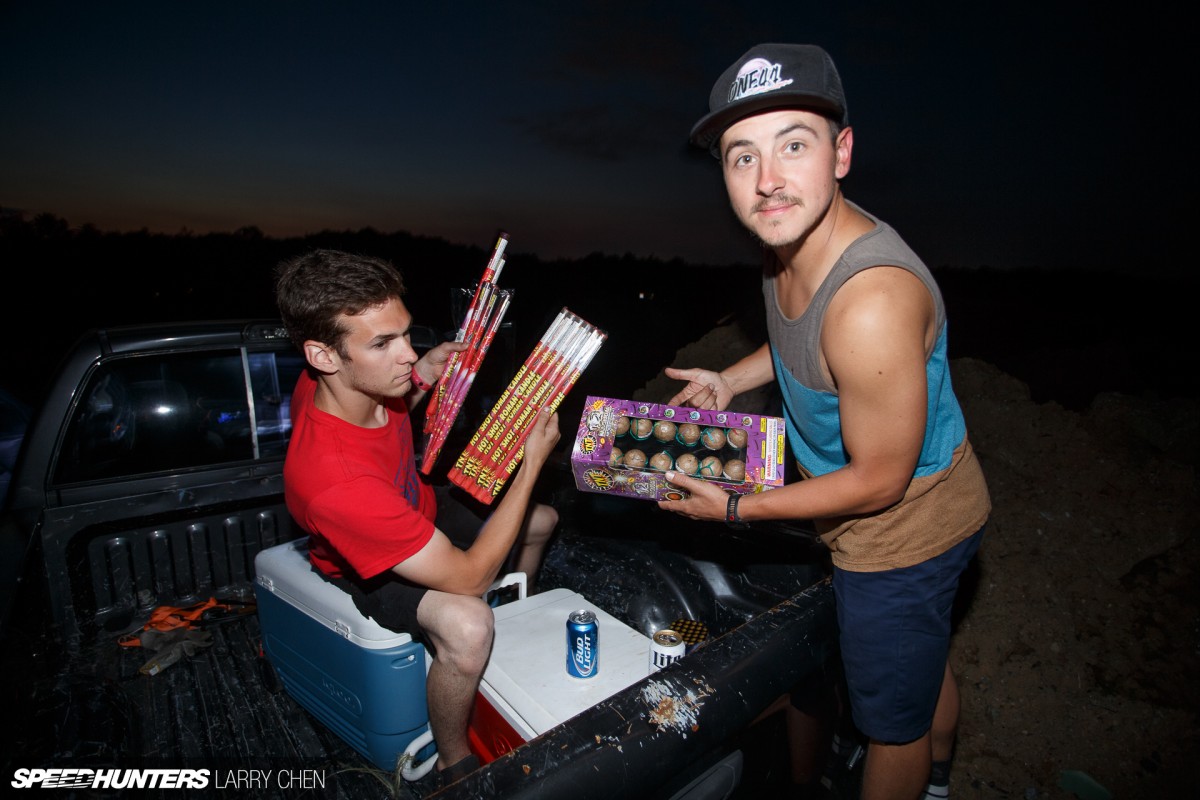 Mr. ONE44, Nate Hamilton, also came to join in on the fun, and he brought some explosives with him.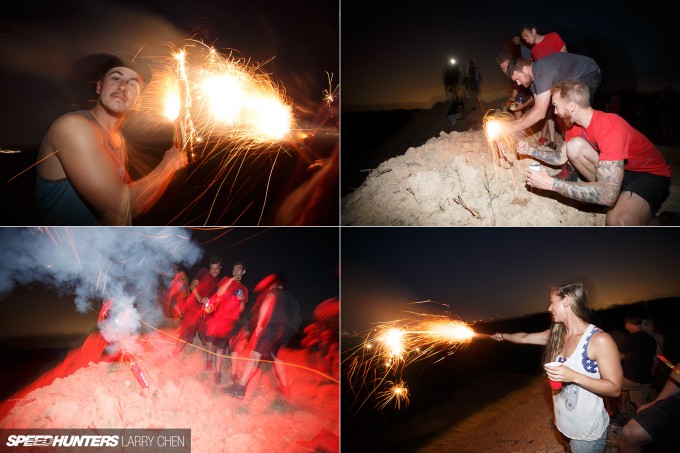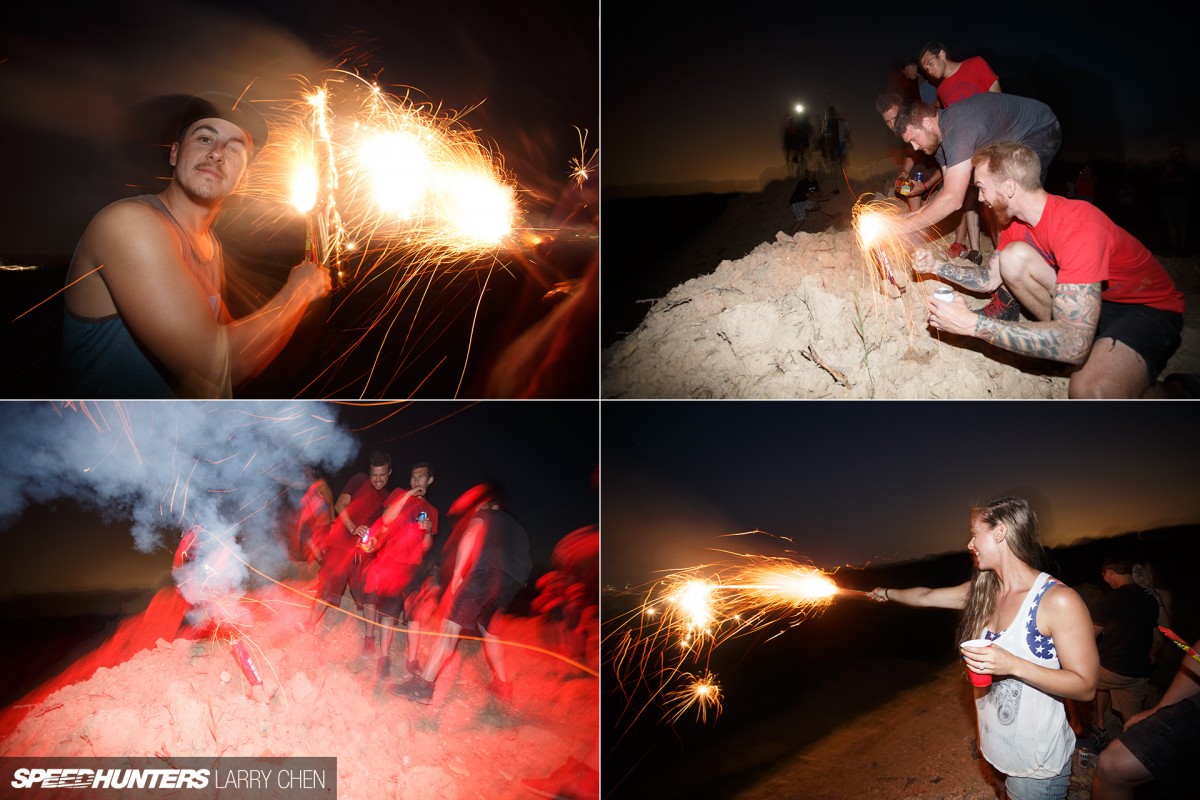 After a tough weekend at Formula Drift there's nothing like hanging out with friends and blowing stuff up.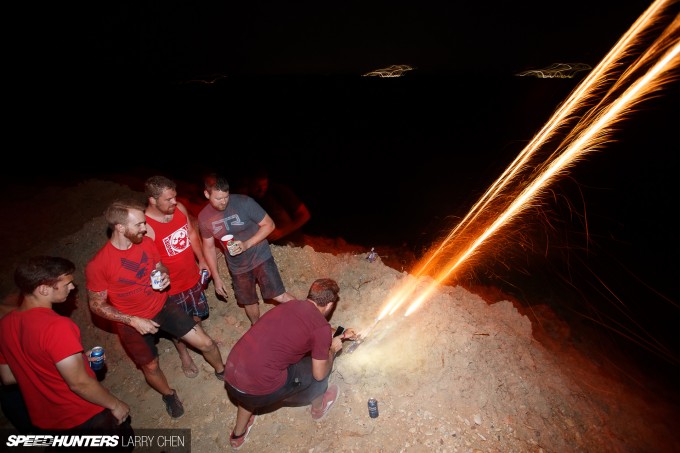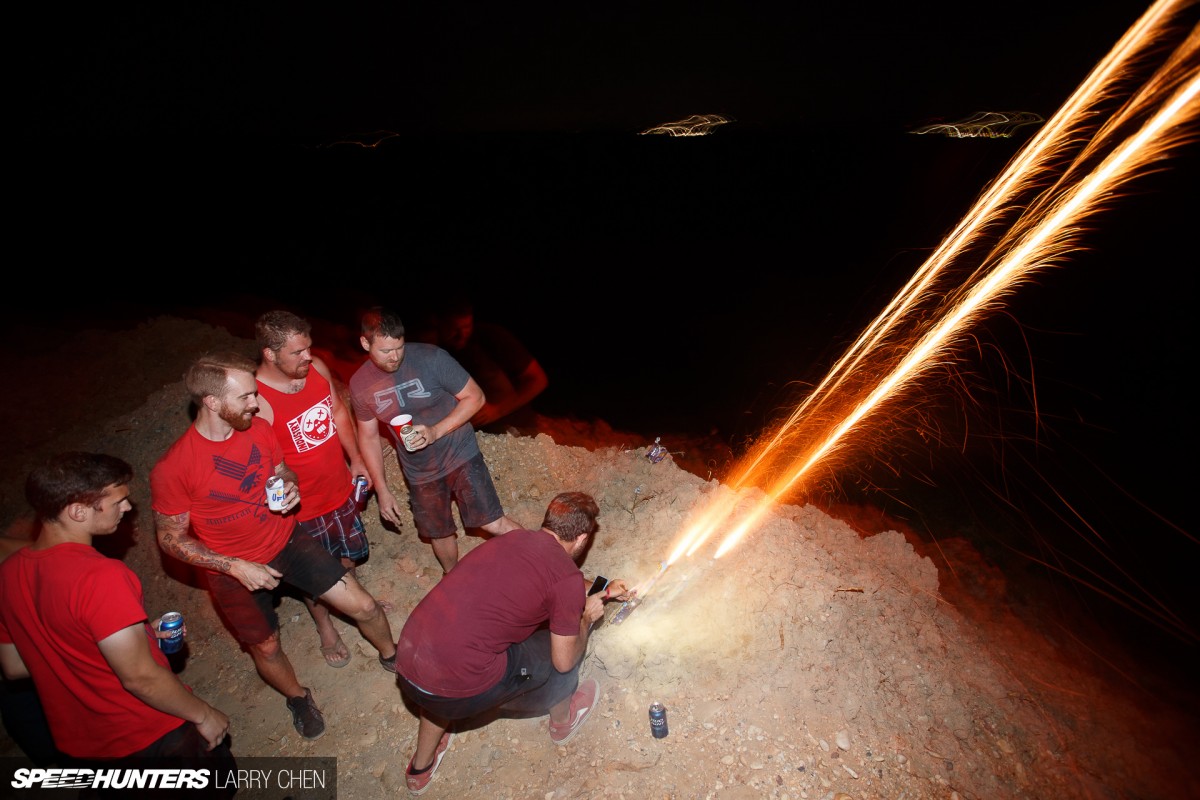 Shooting fire into the air was fun, but all I could think about was taking that Fiesta back out for some more nighttime rally driving.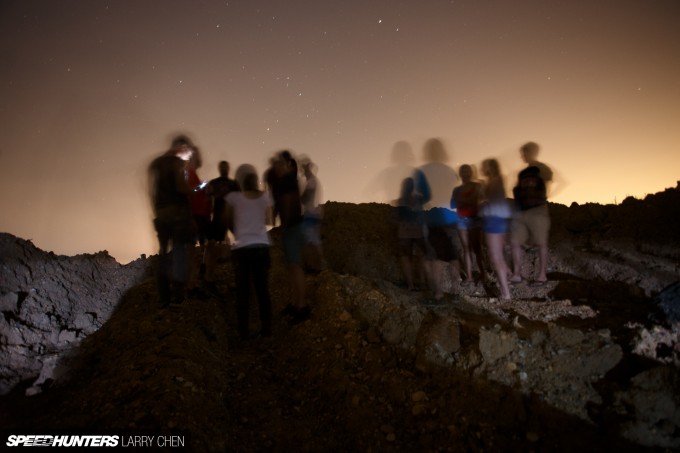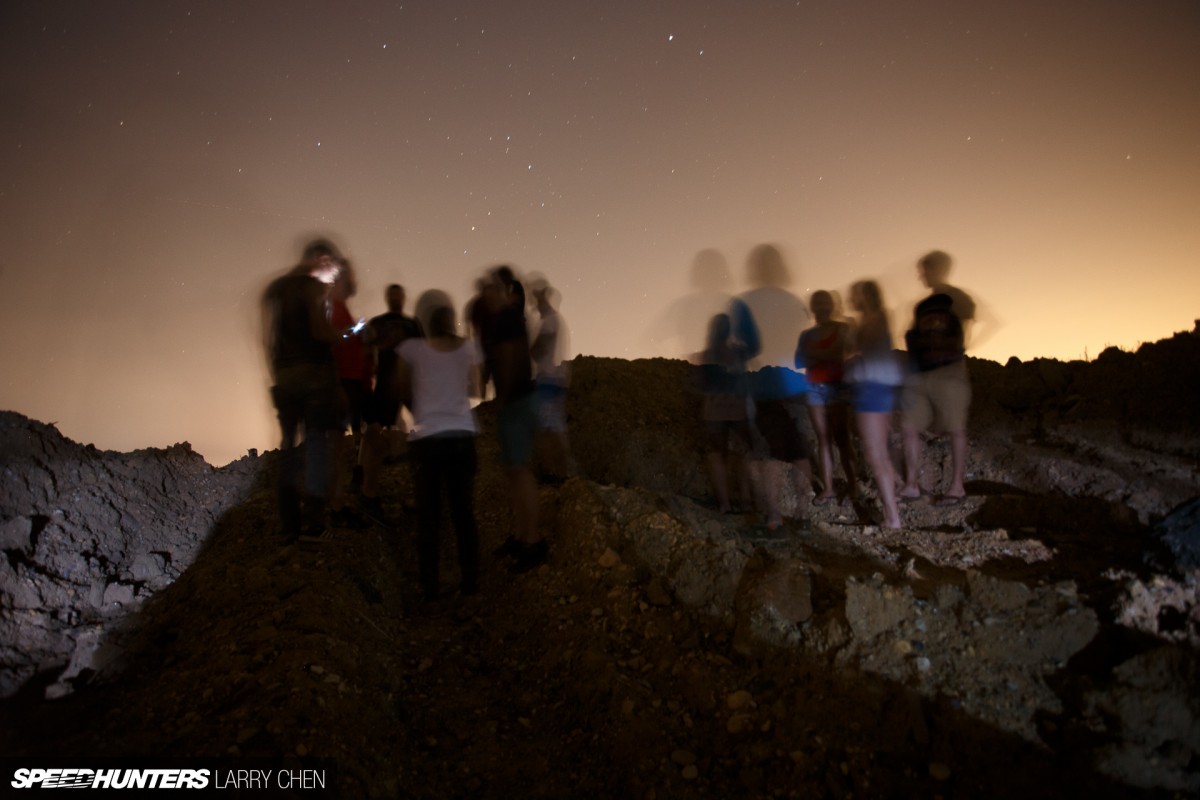 Thanks Vaughn and his family for having me over. It was a blast, literally, and I can't wait to do it again.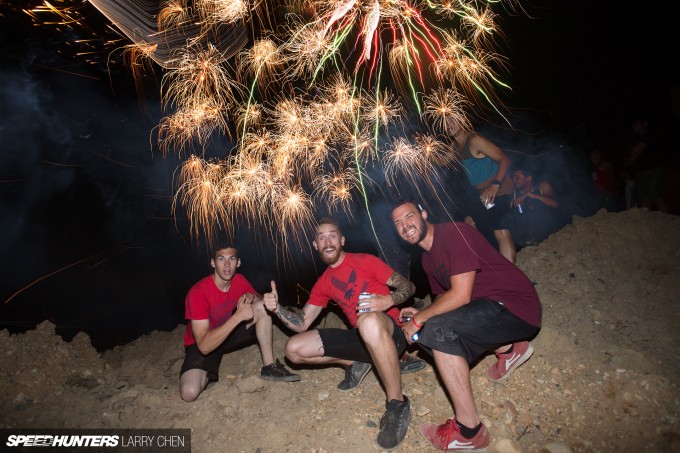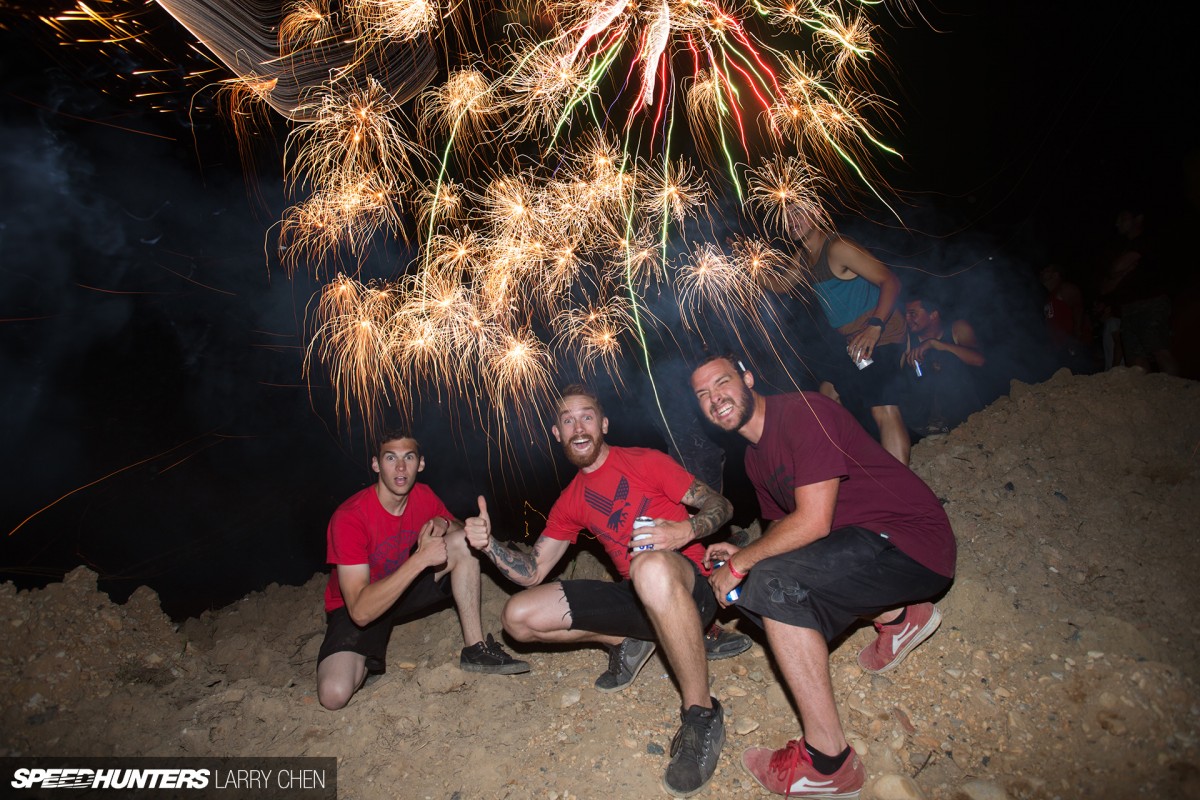 The business of being a professional driver – while undeniably fun – can be a bit overwhelming at times. In Vaughn's case, he unwinds by using his off-time to do what he truly loves – getting behind the wheel.  That made me wonder, what do other race drivers do when they need to unwind? Maybe Speedhunters will show us. I can't wait to find out!
Larry Chen
Instagram: larry_chen_foto
larry@speedhunters.com