Getting The Look Right
Okay, so you own a Japanese car and you have spiced it up with a few Japan-sourced dress-up parts – maybe a set of wheels, some engine upgrades and that beginner-driver shoshinsha mark to tie it all in together. Congratulations, you are now rocking JDM Level 1 Pro Master Advance, and you are the talk of the town enjoying kudos from your peers at every car meet.
I respect when people tune their cars by staying true to a recognised and respected style – even more so when it involves hard to source parts. So the JDM look outside of Japan, or the current USDM fashion in Japan, are all approaches that I don't mind. I get it – you have to have what's tough to get your hands on. But like with anything, some people are more dedicated to the cause than others…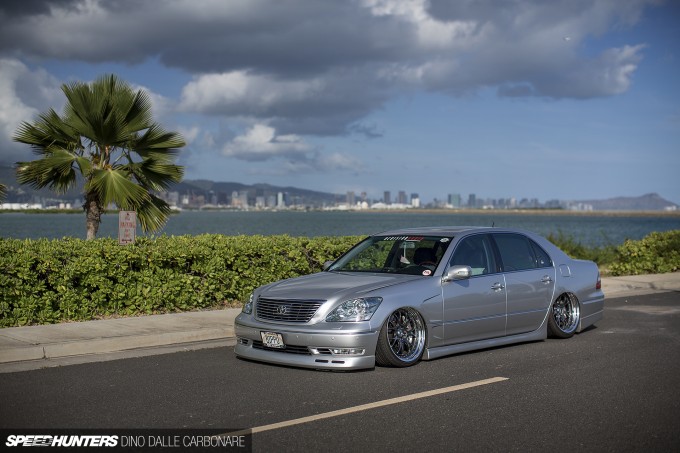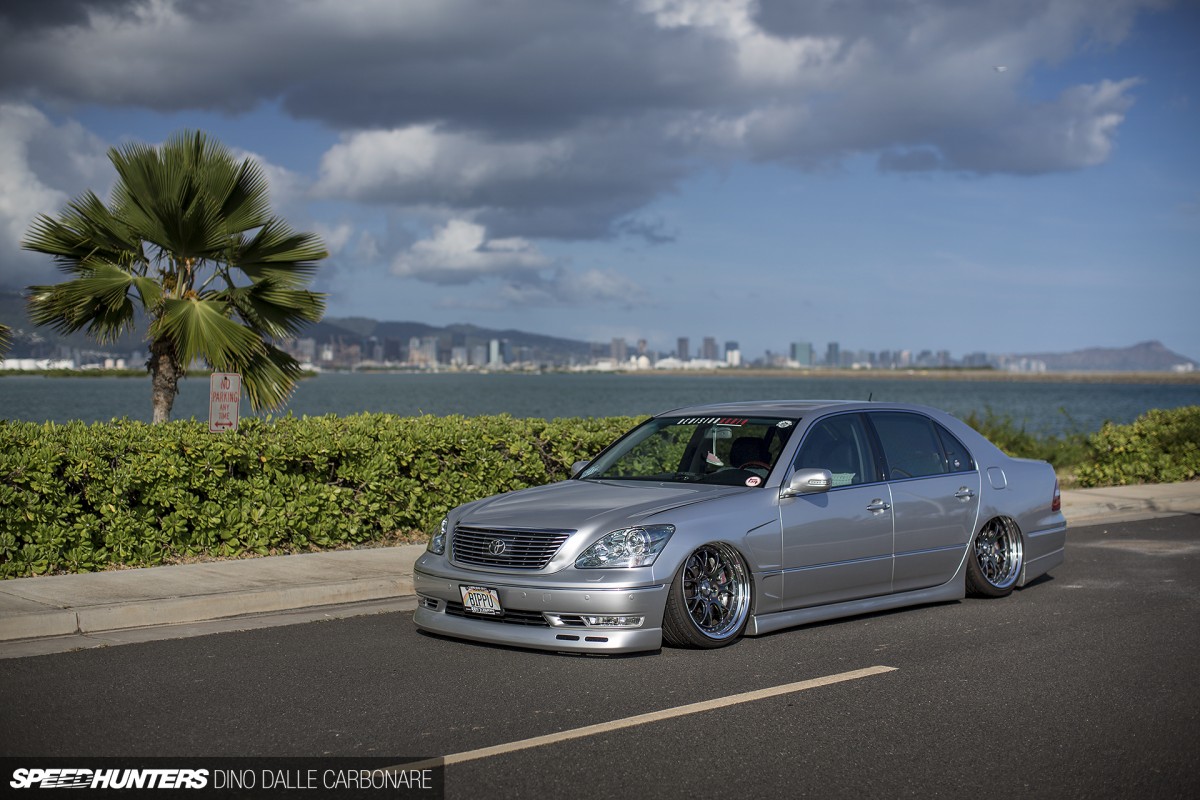 I just had no idea how dedicated one could get until I met Samson Mak at Wekfest Japan earlier this year. Samson came over to Japan from his hometown of Honolulu to check out the show with his friends at Lexon, and that's where we got to talking. "If you ever come to Hawaii, you have to come by my shop and check out my Lexus LS." Well, it just so happened that a week after that chat I was flying to Honolulu for Offset Kings…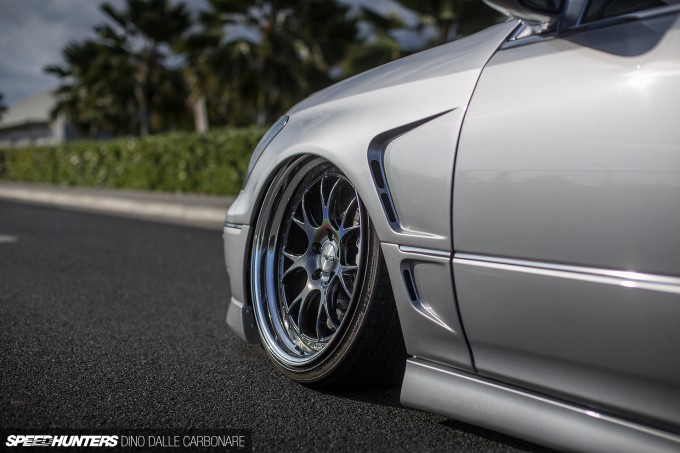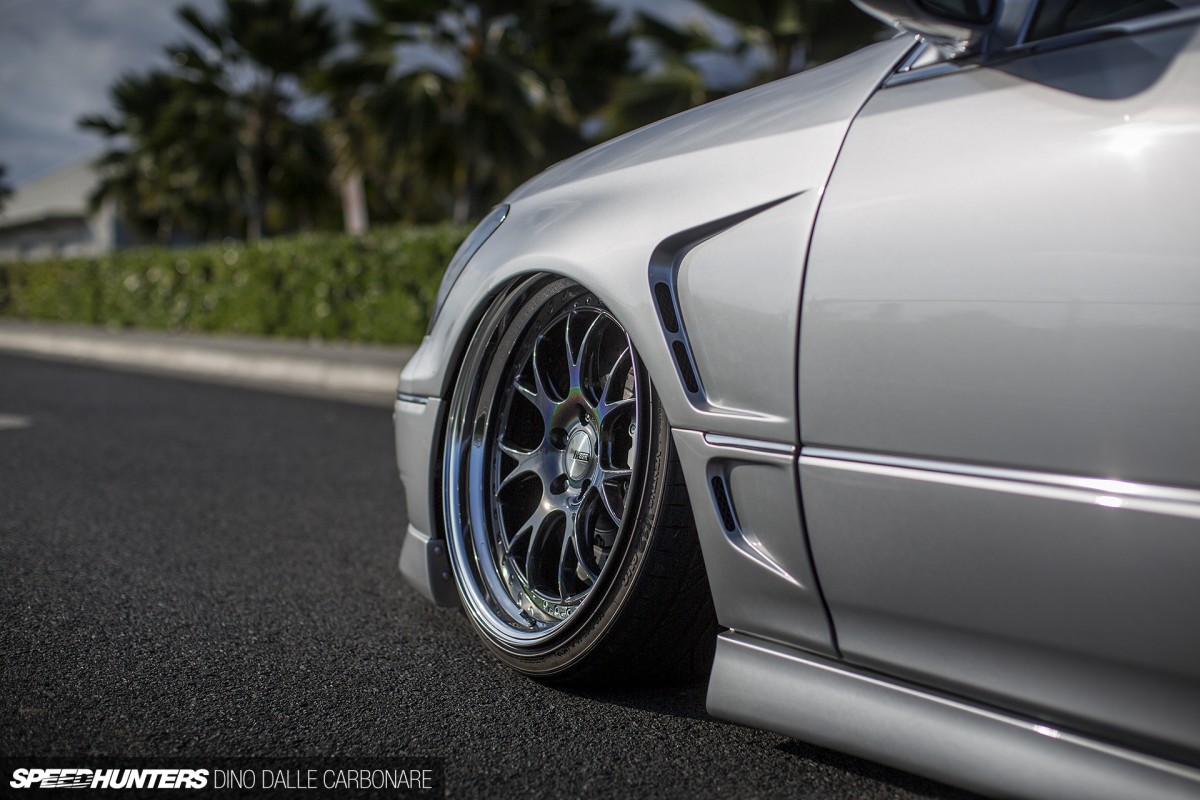 Authenticity is a key to perfection, or at least that's how I've come to understand Samson's approach to this demo machine for his company, Revision Audio. He may have started out installing in-car entertainment and security gear, but now his shop does anything and everything from dumping cars to the ground on air suspension to advising customers on the right sorts of aero and wheels to order from Japan. Samson likes to keep up with the newest and latest trends in the JDM VIP world, so it's not a surprise he knew exactly how to tackle his Lexus – once he finally got it. Wanting a car with low mileage, with the right options and one that had been well taken care of took a lot of time and effort. The hard work and patience paid off when he found what he was looking for in California and had the LS430 shipped over to the tropical shores of Oahu.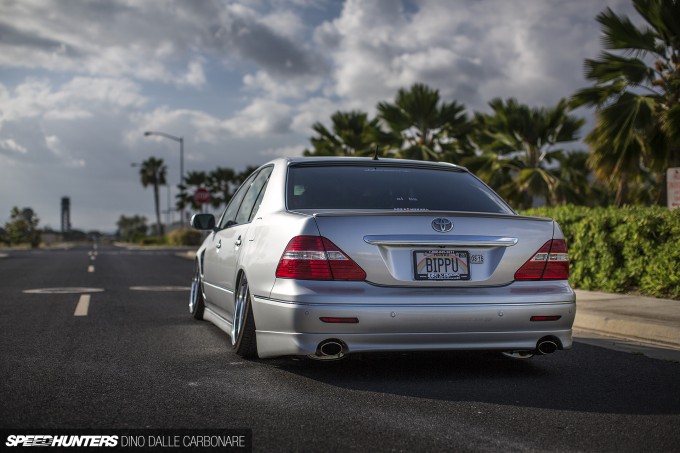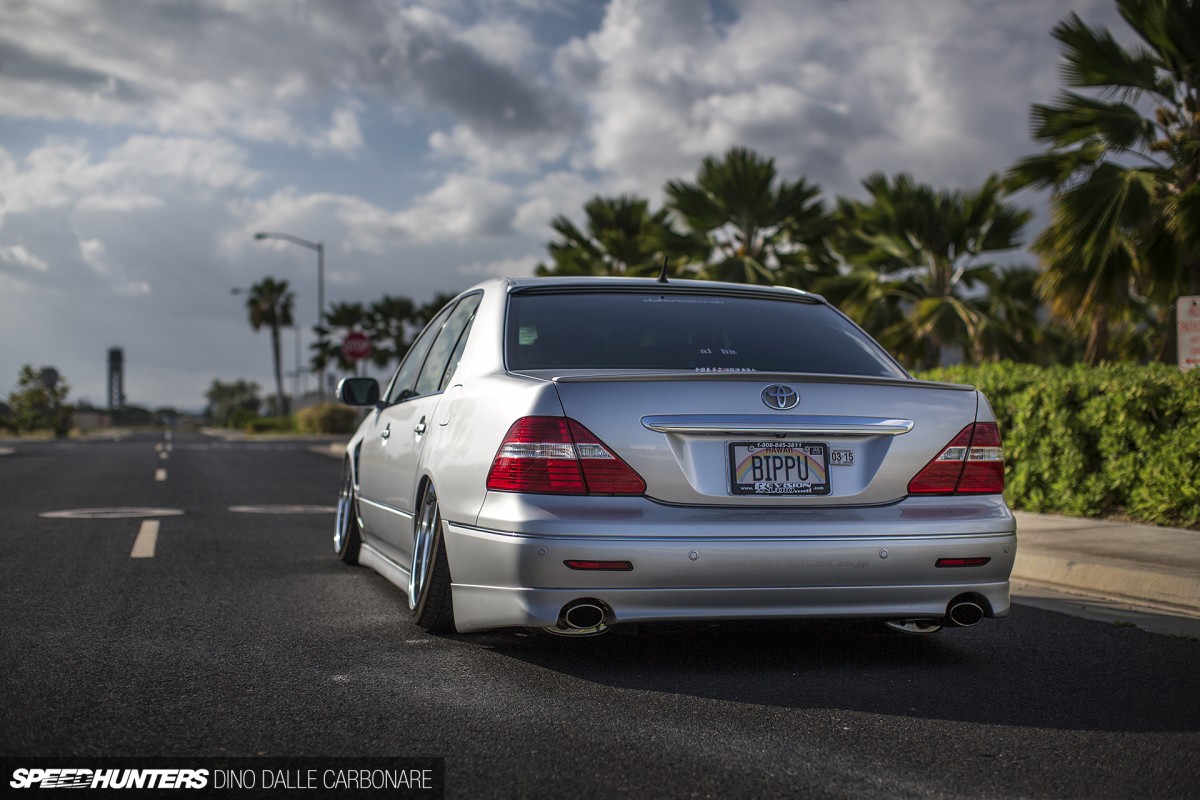 The best way I can describe his Lexus is 'VIP done right'. It does everything so well and is a true modern day interpretation of what a proper JDM bippu ride should be – a car that Taketomi-san at Junction Produce has even given his nod of approval to. That's kudos right there!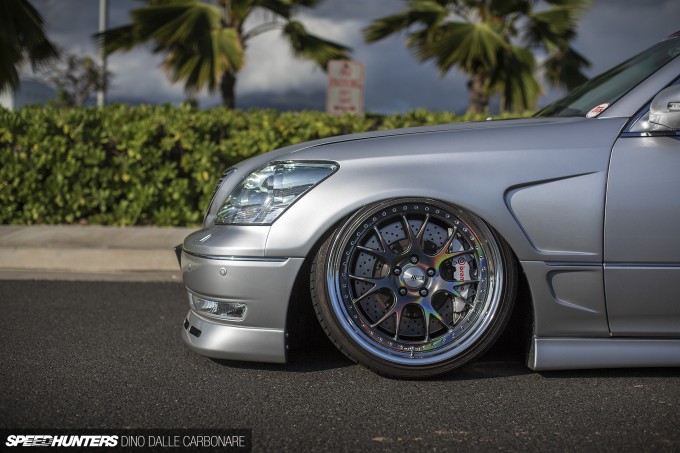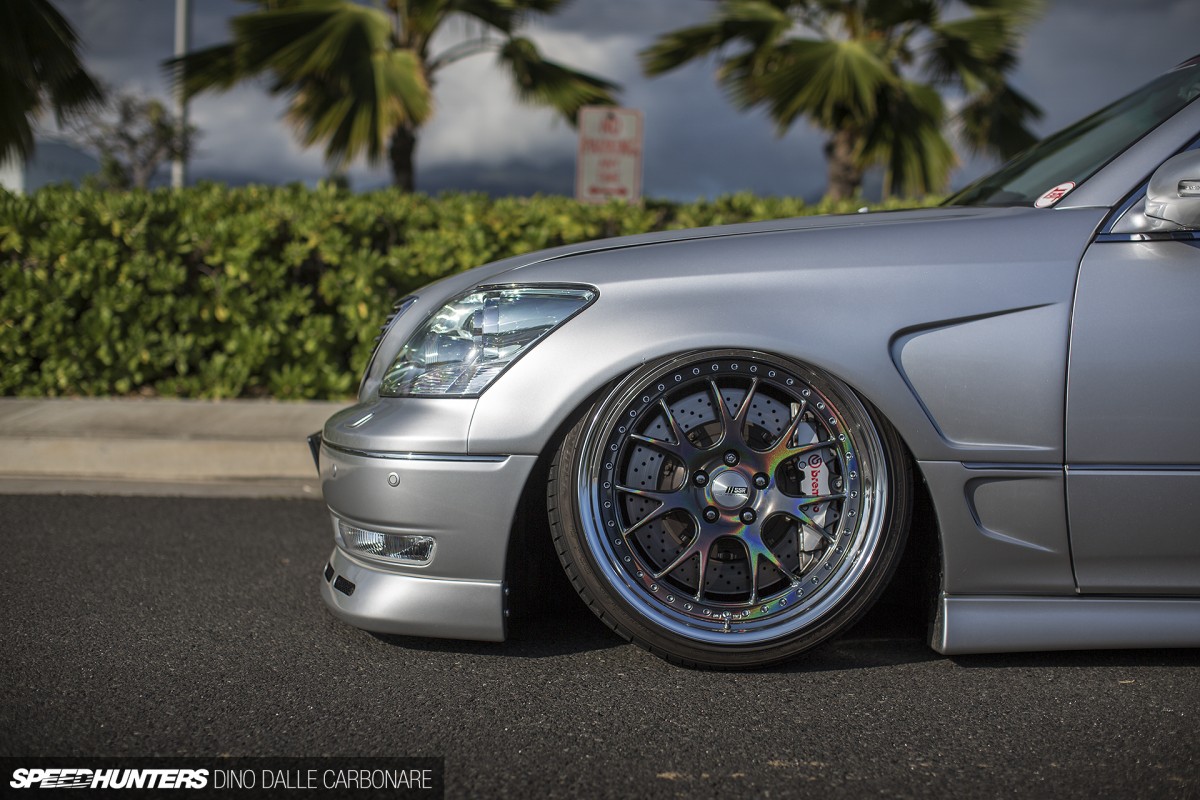 Samson almost didn't want to let me shoot his pride and joy as there was a small dent on the metalwork right next to the grille that need fixing. But after much convincing he succumbed to my pressure and we took the car for a drive around the city and out towards the airport so that we could get a nice view of Waikiki. It's here that for the first time I saw the car dropped all the way to the ground. It might be VIP themed, but that hasn't stopped Samson taking the more performance oriented route with aero fenders from Artisan Spirits and SSR MS3s in a catchy shade of Spectrum Silver.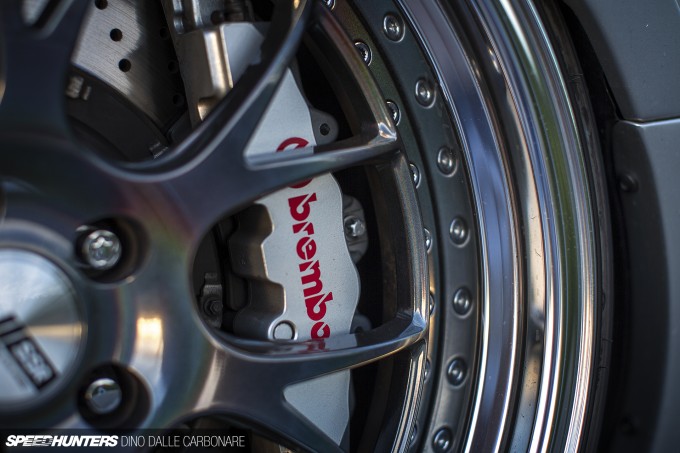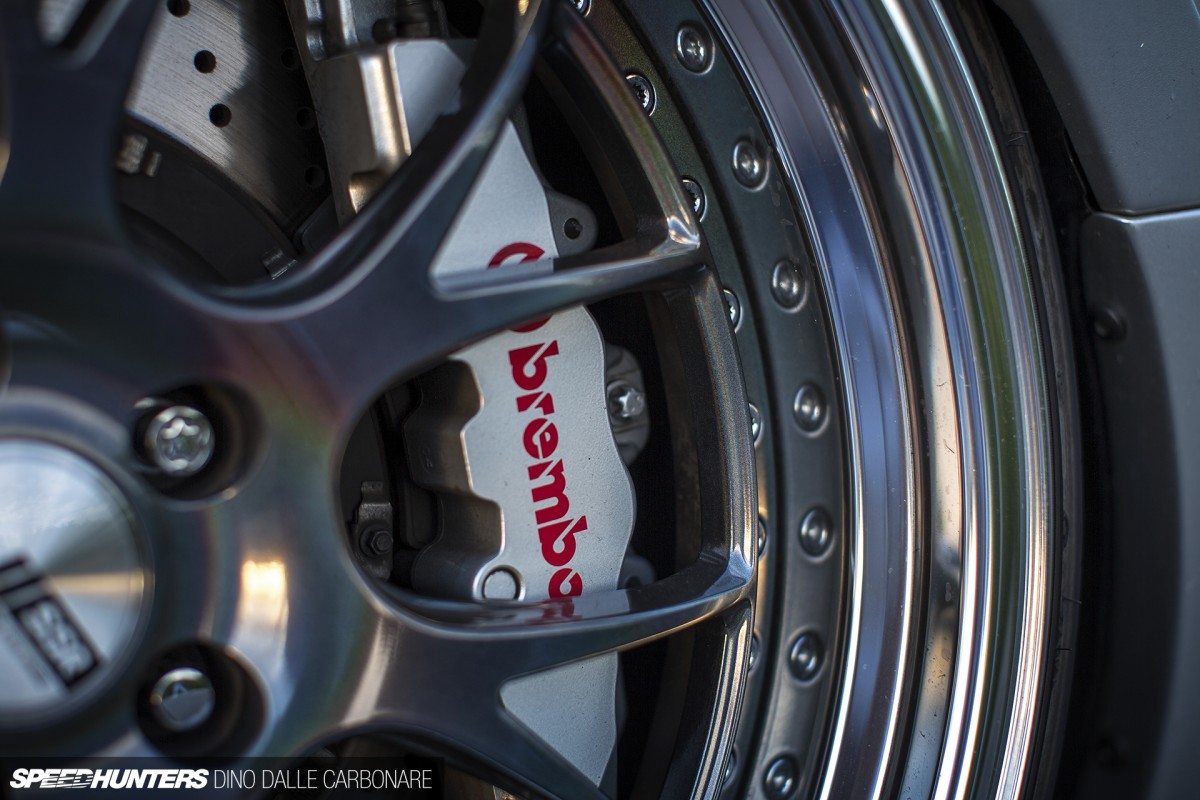 The 20-inch wheels open up a lot of space for a brake upgrade and here Samson took full advantage by fitting 8-pot Brembo calipers and two-piece drilled 380mm rotors in the front.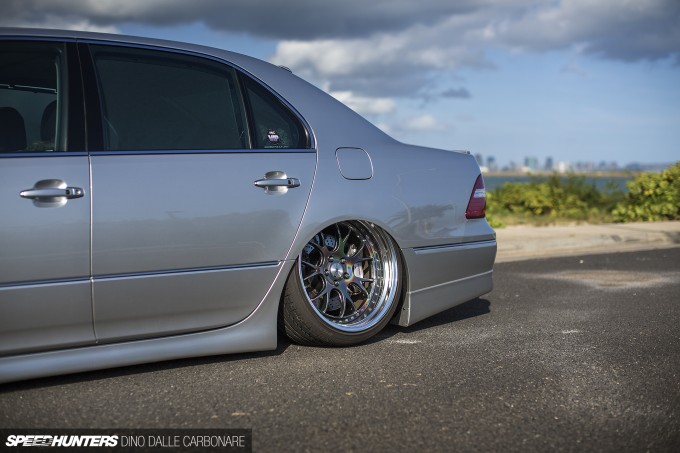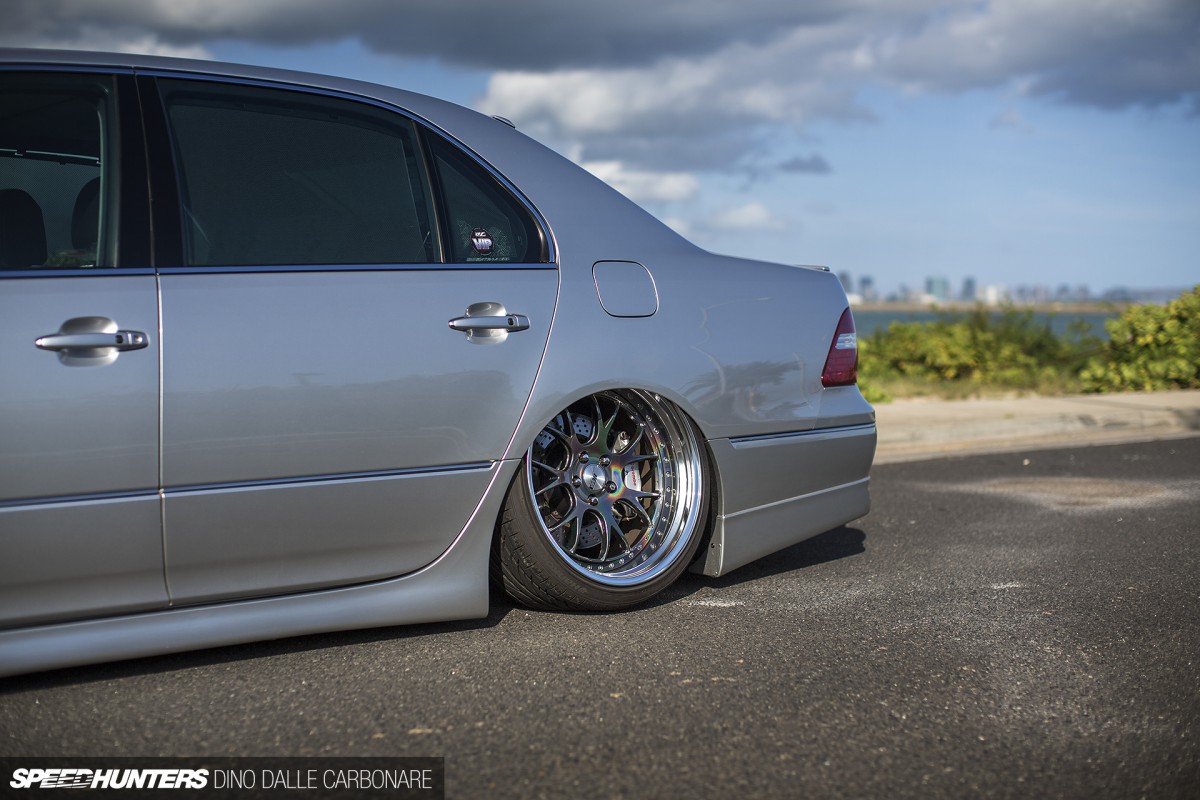 The rears get an upgrade too, albeit with a smaller Brembo 4-pot package.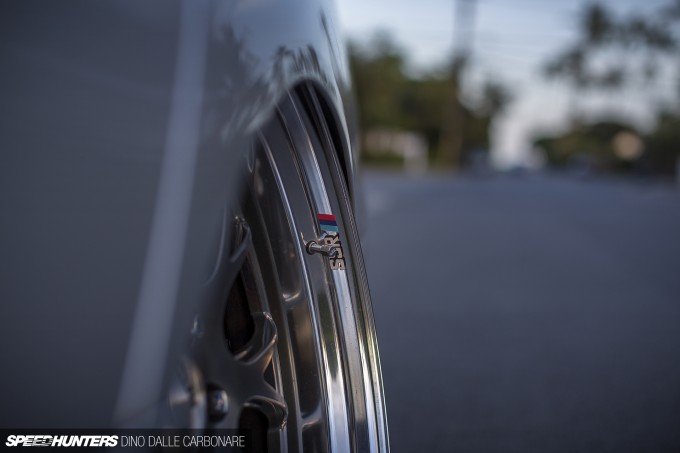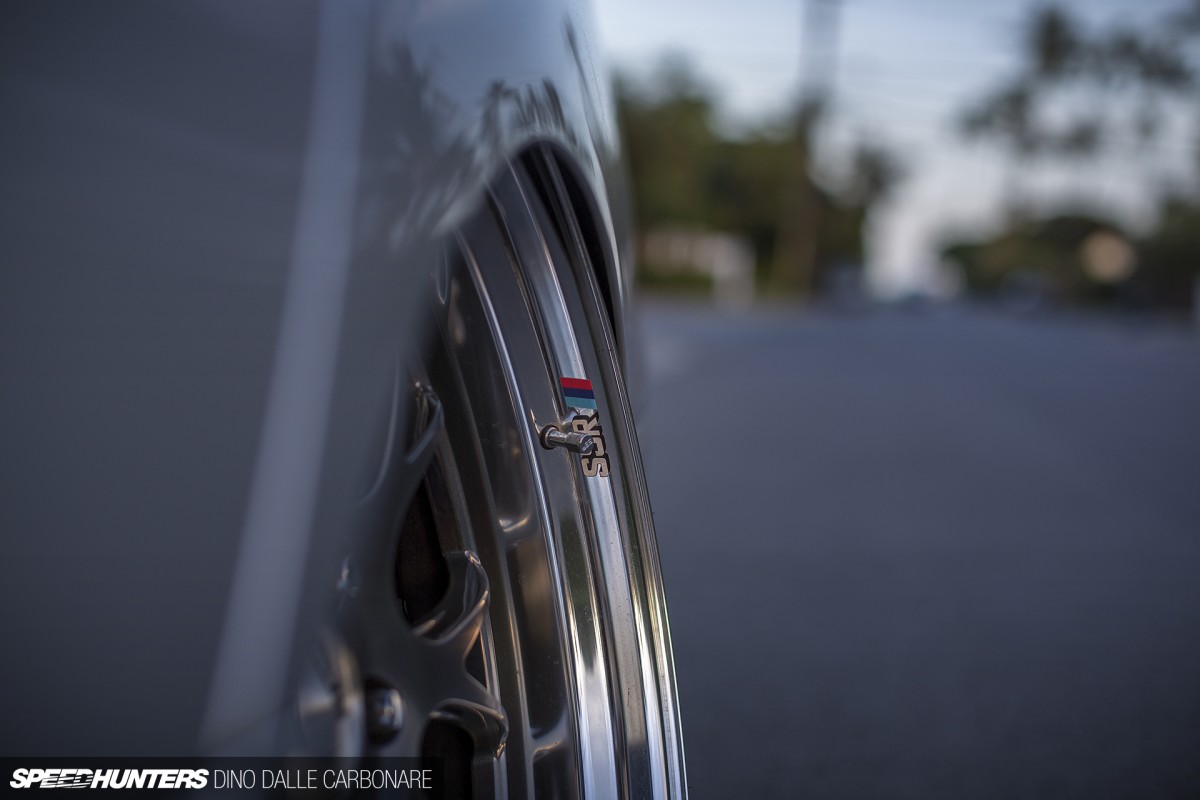 As for the fitment, the millimetre-perfect tuck both front and rear is achieved through carefully selected Air Runner air suspension components that lifts and drops the LS at a flick of a switch.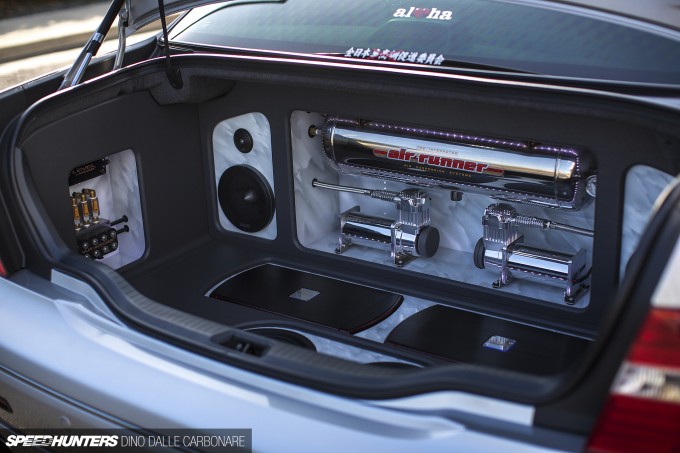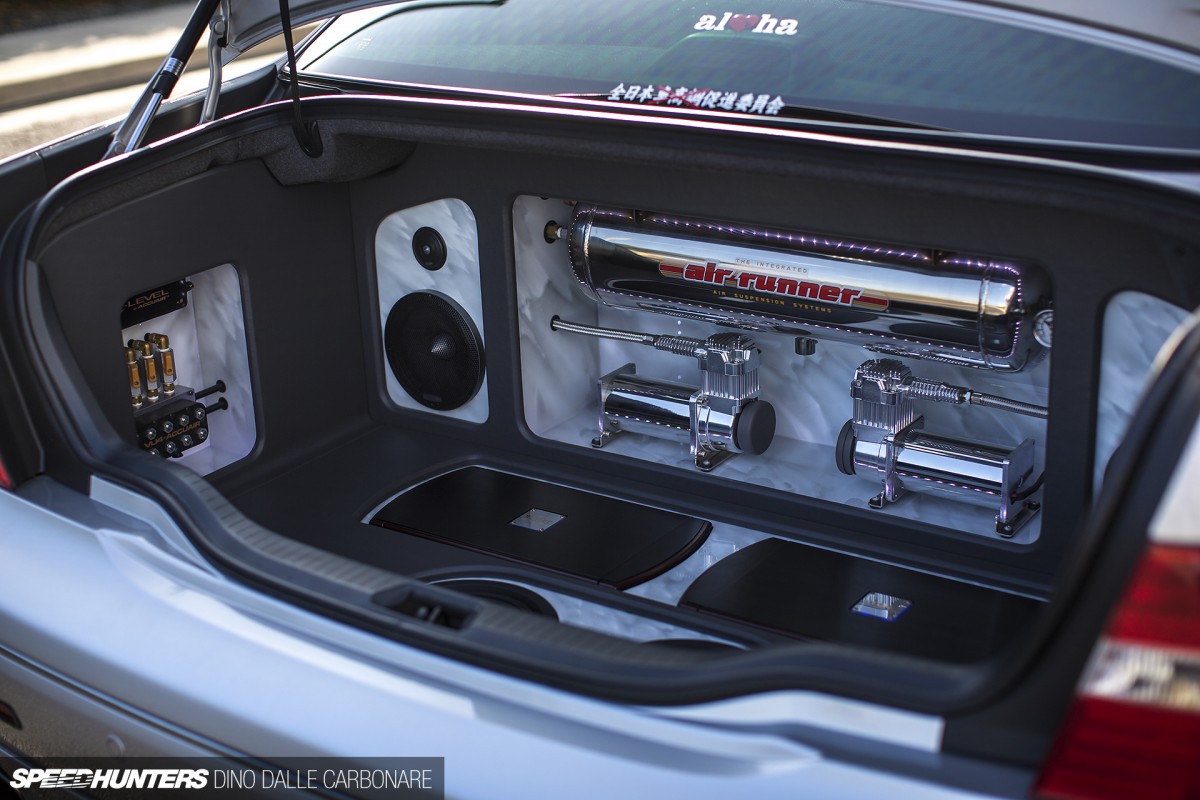 Control is via an AccuAir e-Level management system with the tank and compressors taking center stage in the trunk flanked by subwoofers and amps.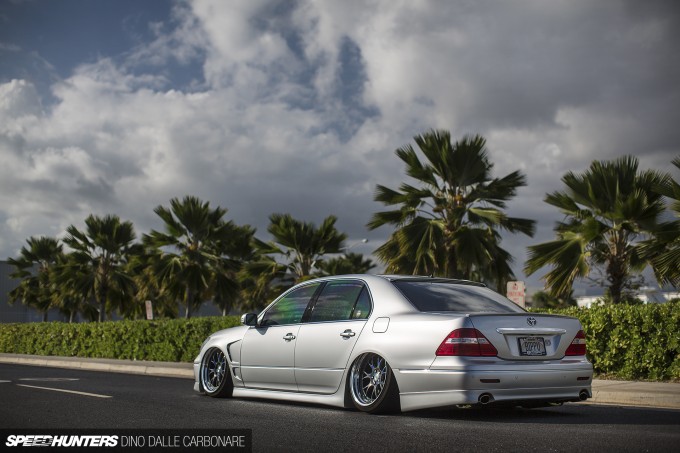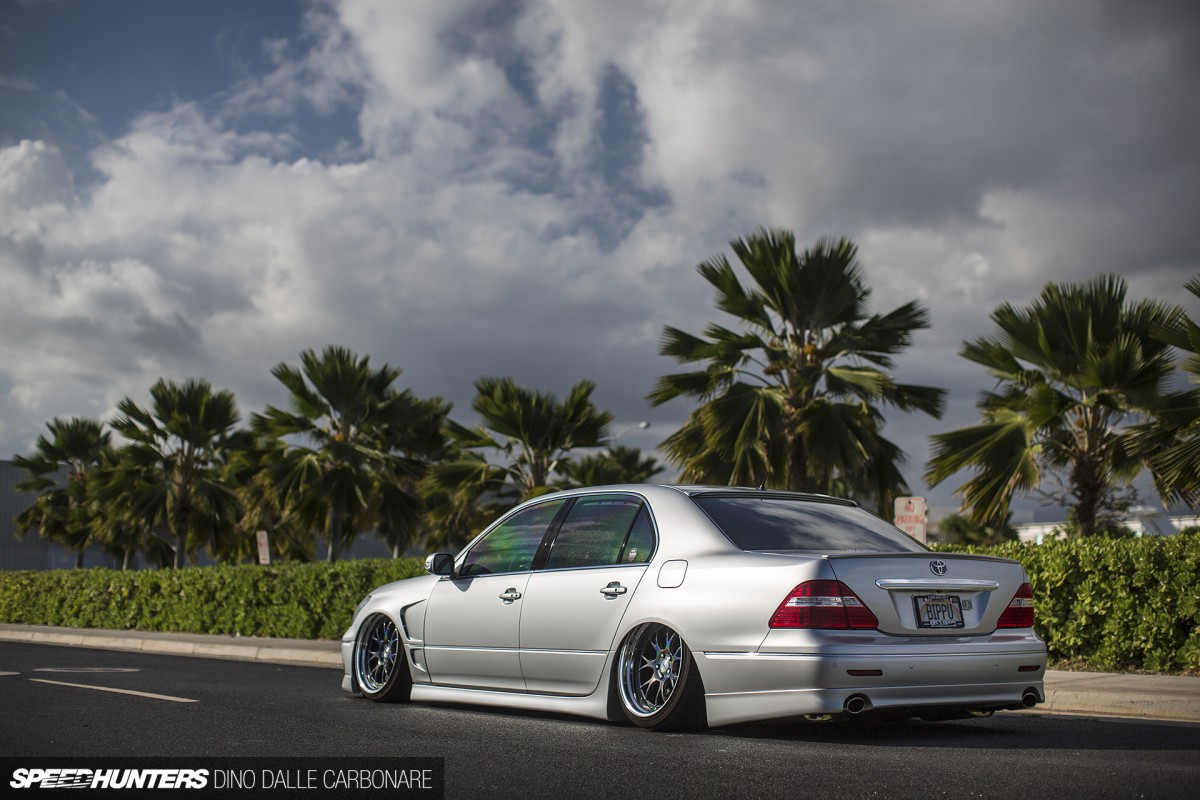 To achieve the 'right' amount negative camber at car's lowest setting Samson made a call to his friends at Nagisa Auto in Osaka and ordered front and rear upper control arms along with toe and traction rods. Some of links had to be modified to get more negative camber and all were painted in Honda Imola Orange before begin fitted underneath the car. Good luck seeing them when the LS is sitting like this though!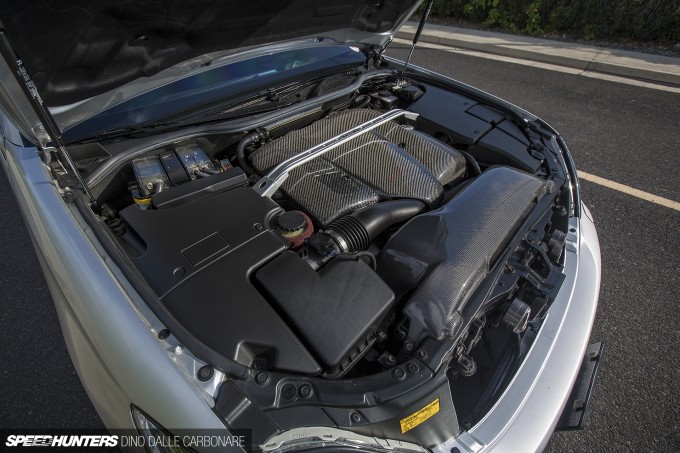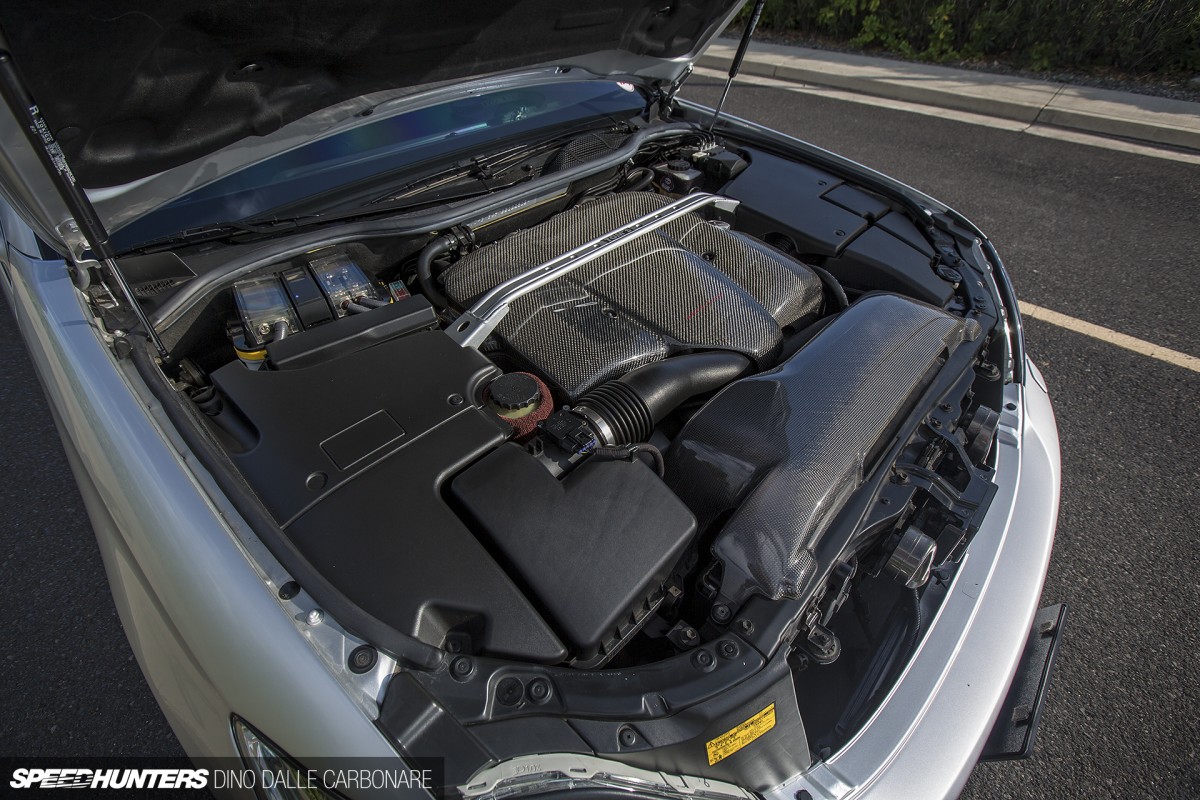 Engine bays are an area that are overlooked in Japanese VIP cars, although that seems to be changing of late. The 4.3L V8 in Samson's LS has had a mild tune courtesy of a TOM'S carbon intake duct and upgraded filter, as well as Tanabe Medallion eR Tune dual exhaust system. There's also a nice Anceltion carbon engine cover to further emphasise the exterior's mild sporty theme.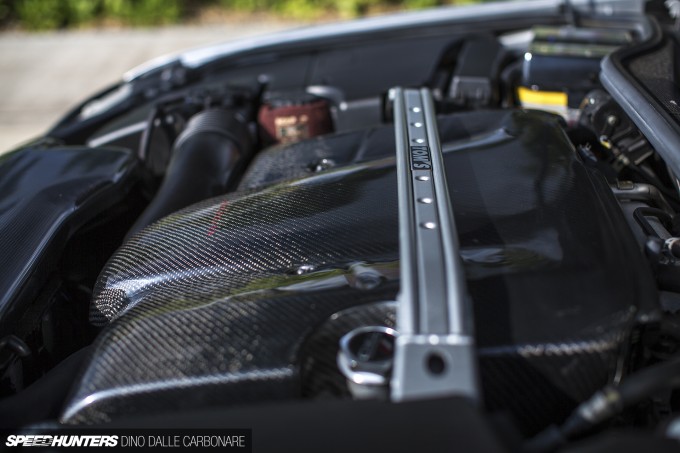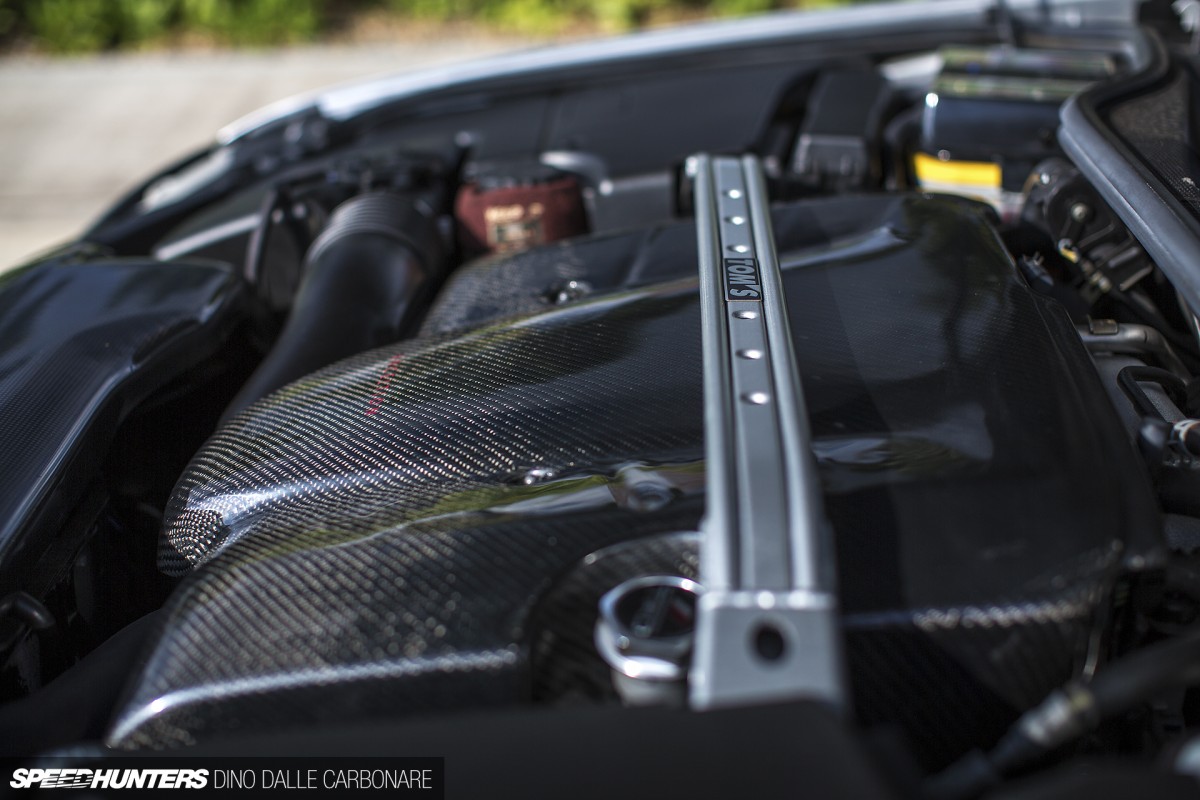 A TOM'S strut tower bar is a nice final addition to the engine bay, and one that reminds us that almost everything we've seen fitted to the car so far has come via Japan. But it doesn't end there…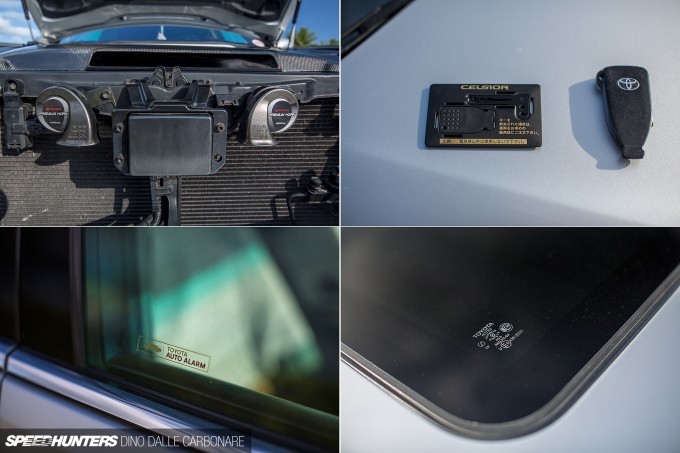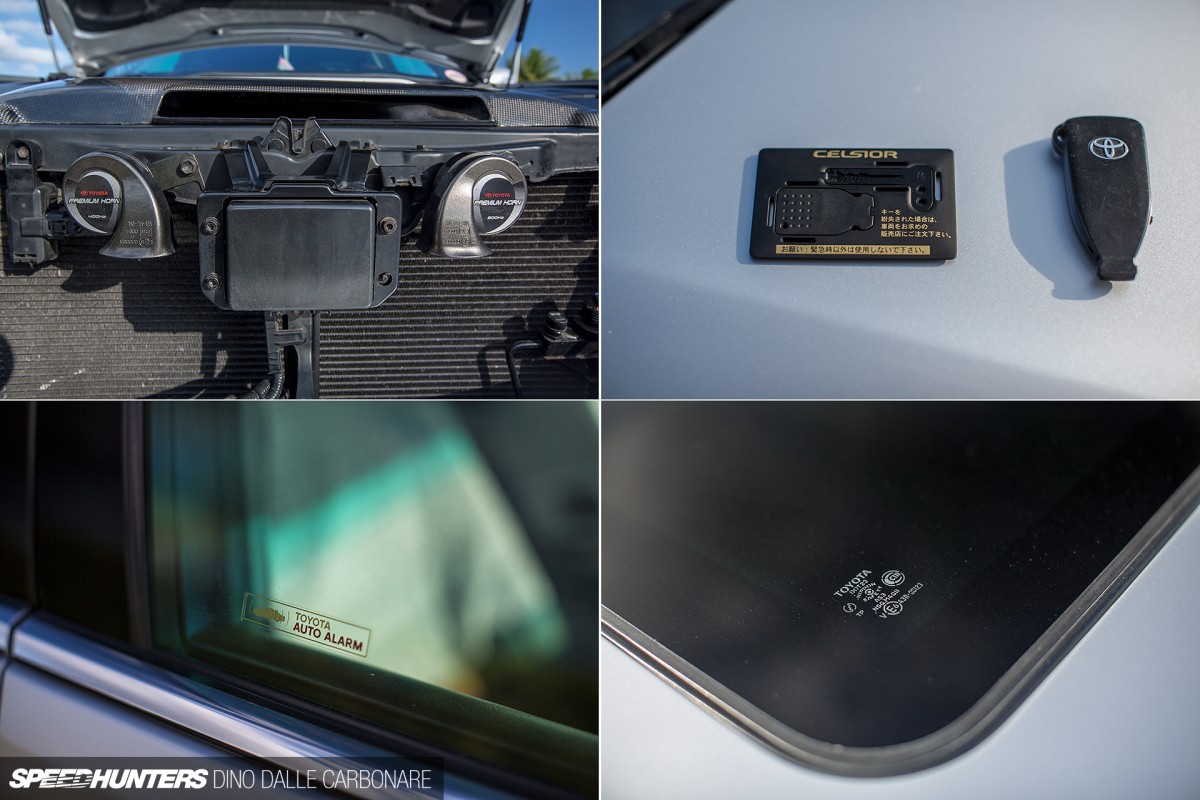 Samson didn't just slap on a few Toyota badges and call his car a JDM-themed VIP ride, oh no. Since the Lexus LS was sold on the Japanese Domestic Market as the Toyota Celsior, he began hunting out and importing all sort of OEM parts from Japan. And as you might be able to tell from the dealer option horn upgrade, the master and emergency keys and even the Toyota-marked Celsior glass (that's the side windows, rear screen and sunroof) – it quickly turned into an obsession.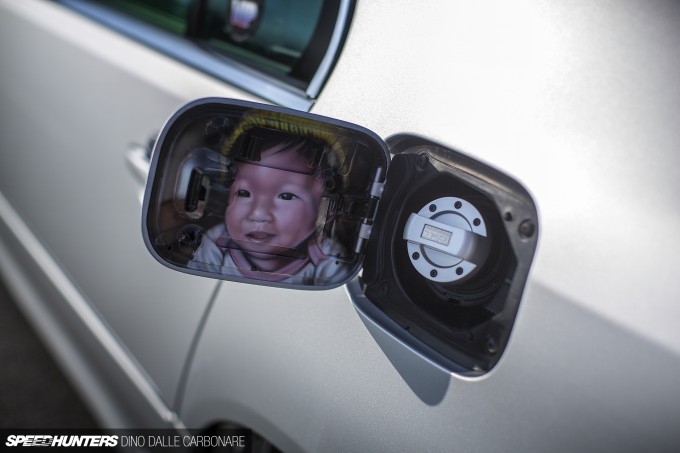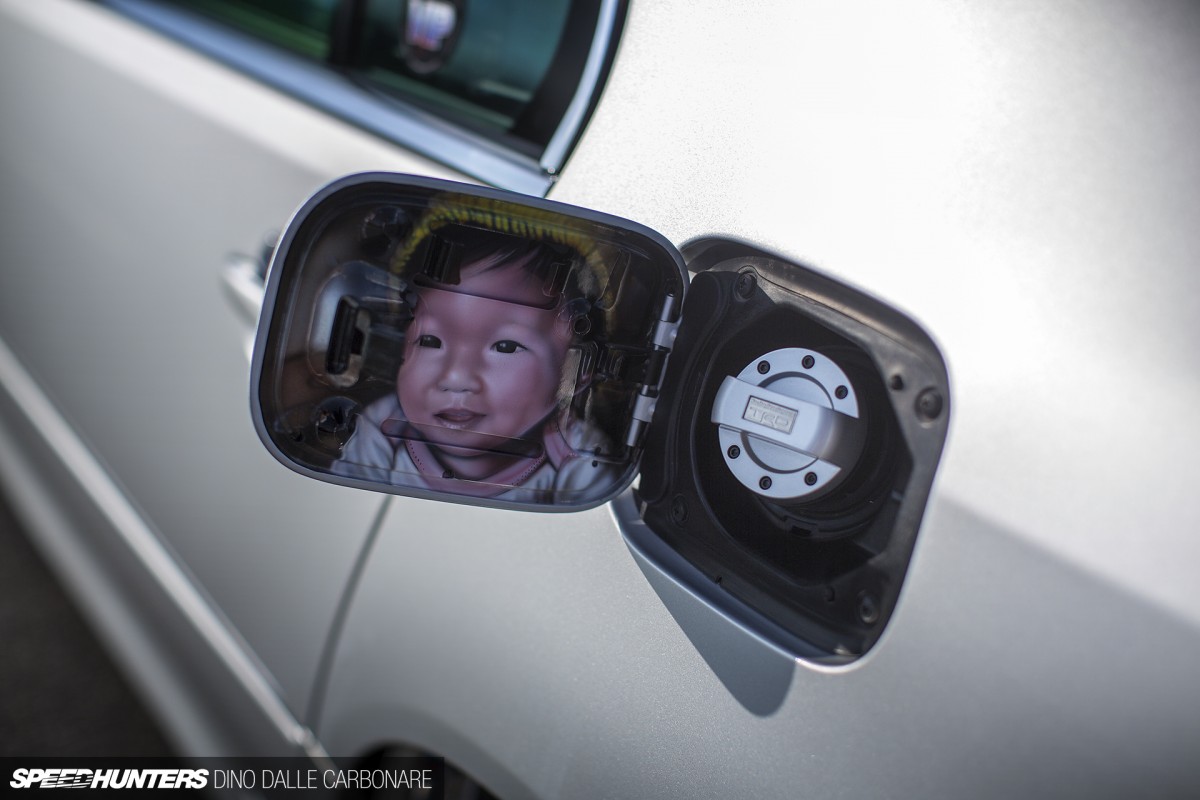 VIP guys in Japan may usually have the face of their favorite enka or pop singer airbrushed onto the back of the tank filler lid, but Samson preferred to have the face of his baby daughter put in there. It's here we find yet another JDM touch in the way of the TRD fuel cap.
Through The Streets Of Honolulu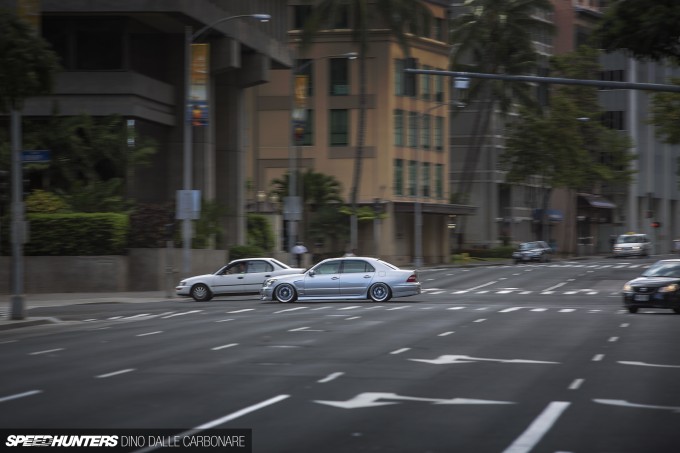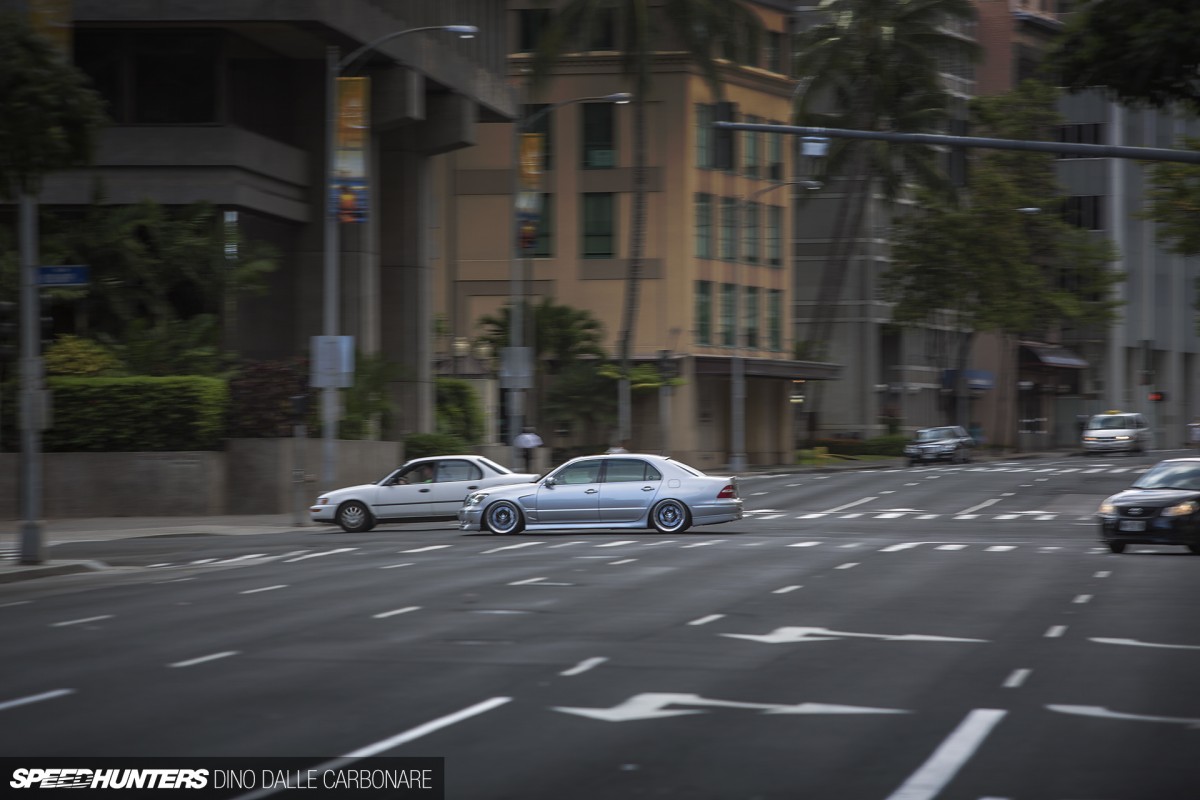 Our drive back into Honolulu's center allowed me to view the car in a different environment. While it may look its best sitting on its chassis, to see it slightly lifted up with all the usability that a luxury car like the LS has makes it all the more special. It's also easy to understand why diehard supporters of static VIP setups in Japanese are now moving to air suspension.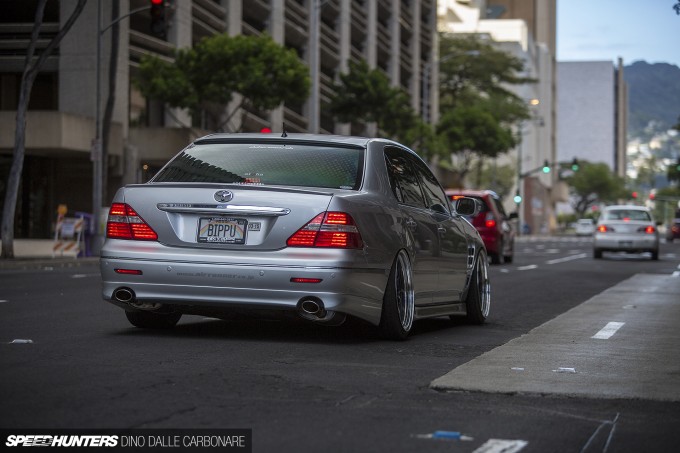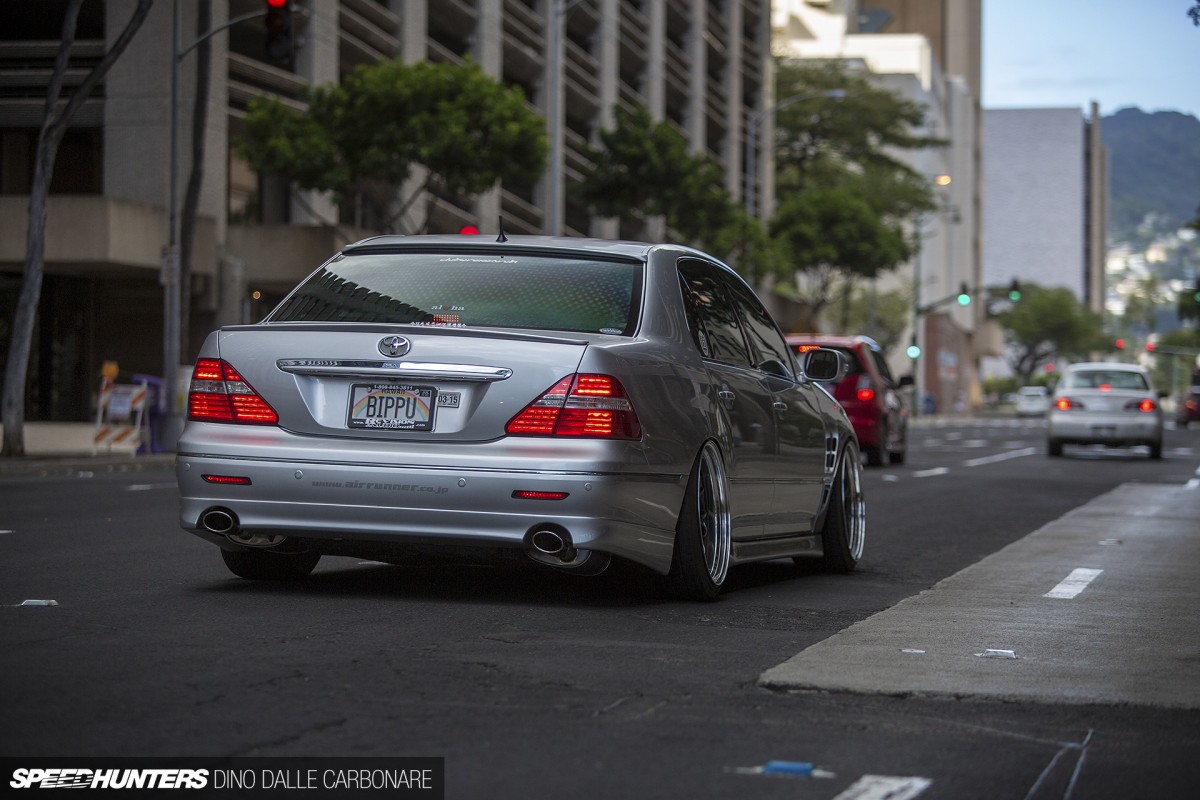 For geometry and looks, Samson and his crew spent 100 hours getting each of the three pre-programmed height settings just right. Job done I'd say, and to top it all off I was impressed at the smooth ride the car offers – especially when there's a leather-clad lounge to enjoy it from.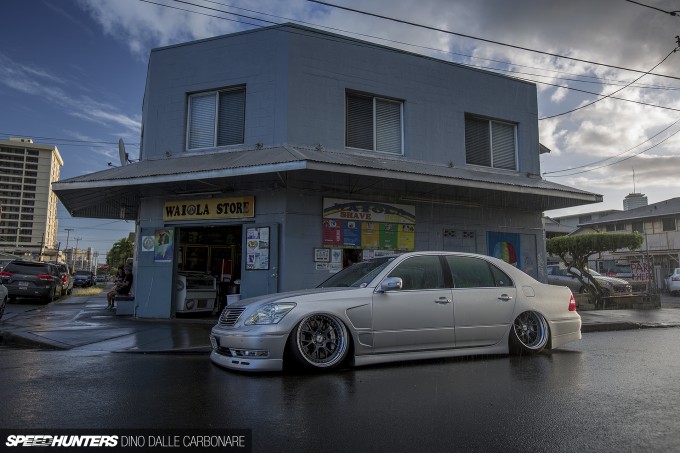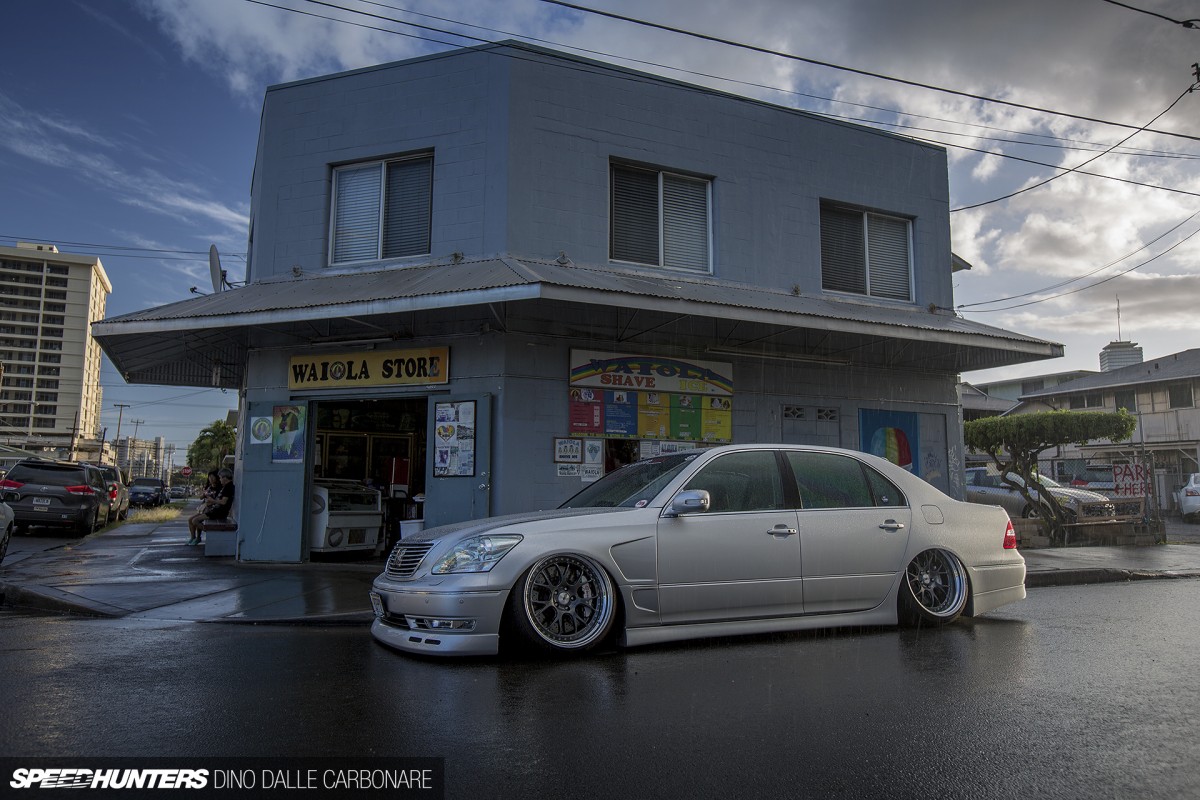 When it rains, it really rains in Hawaii, and half way through our shoot a heavy downpour forced me to put the camera away for a while. That's when we took the opportunity to stop by Waiola Store – one of Honolulu's favorite shaved ice shops – and cool off until the rain cleared. If you visit the Island, you should definitely stop by this place!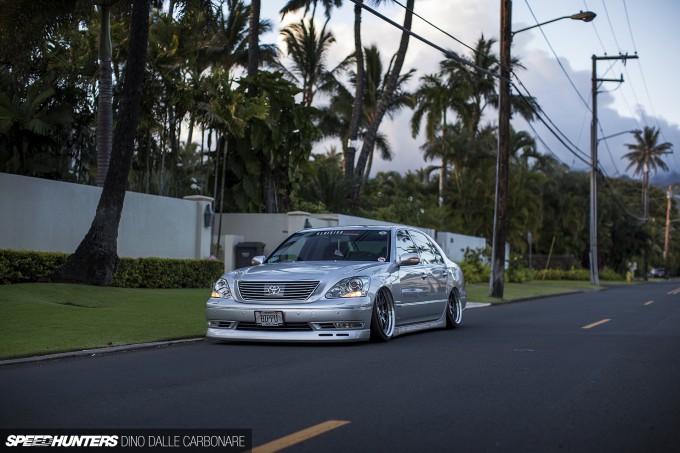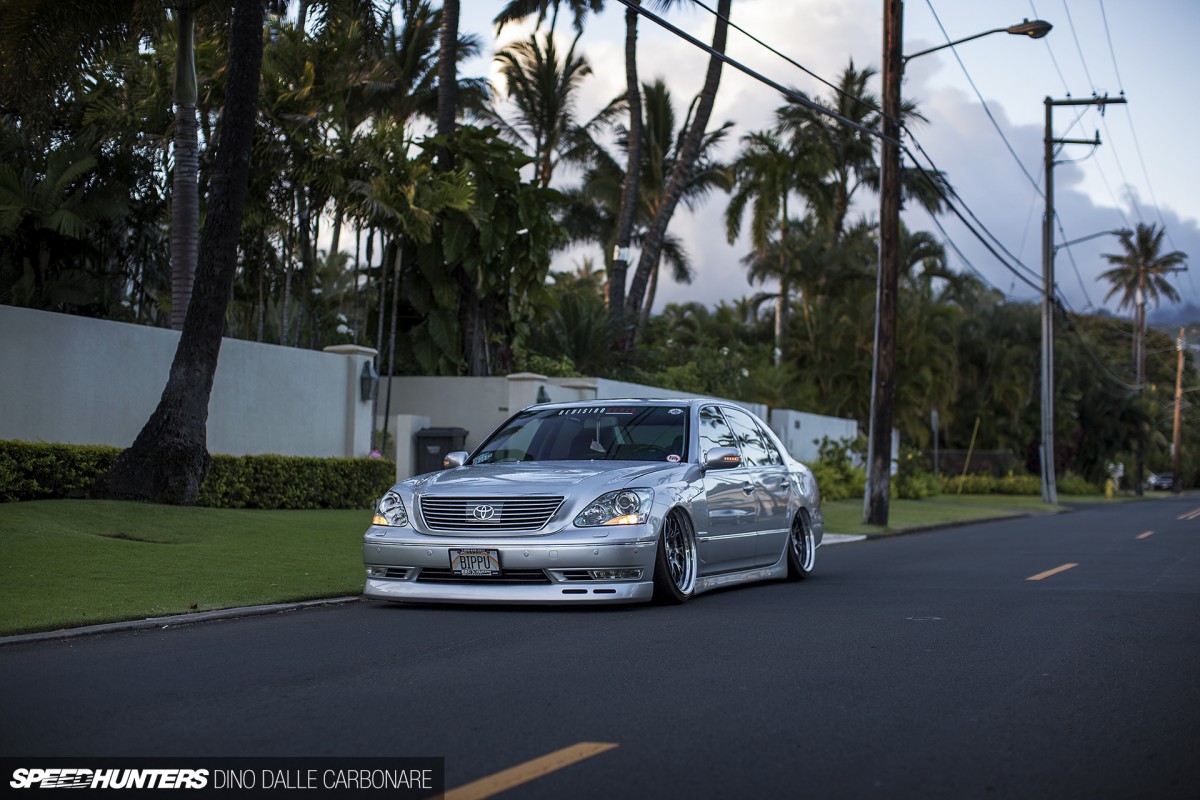 The JDM conversion has gone hand-in-hand with the long list of exterior parts that Samson selected for the build, including a Silk Blaze front lip which matches in nicely with OEM Celsior option side skirts. JDM-spec HID headlight were also added and fitted out with 6000K Philips HID bulbs to match the colour temperature of those in the fog lights.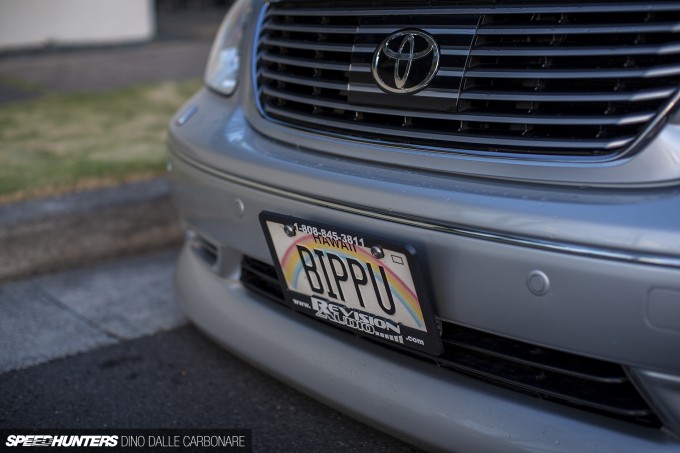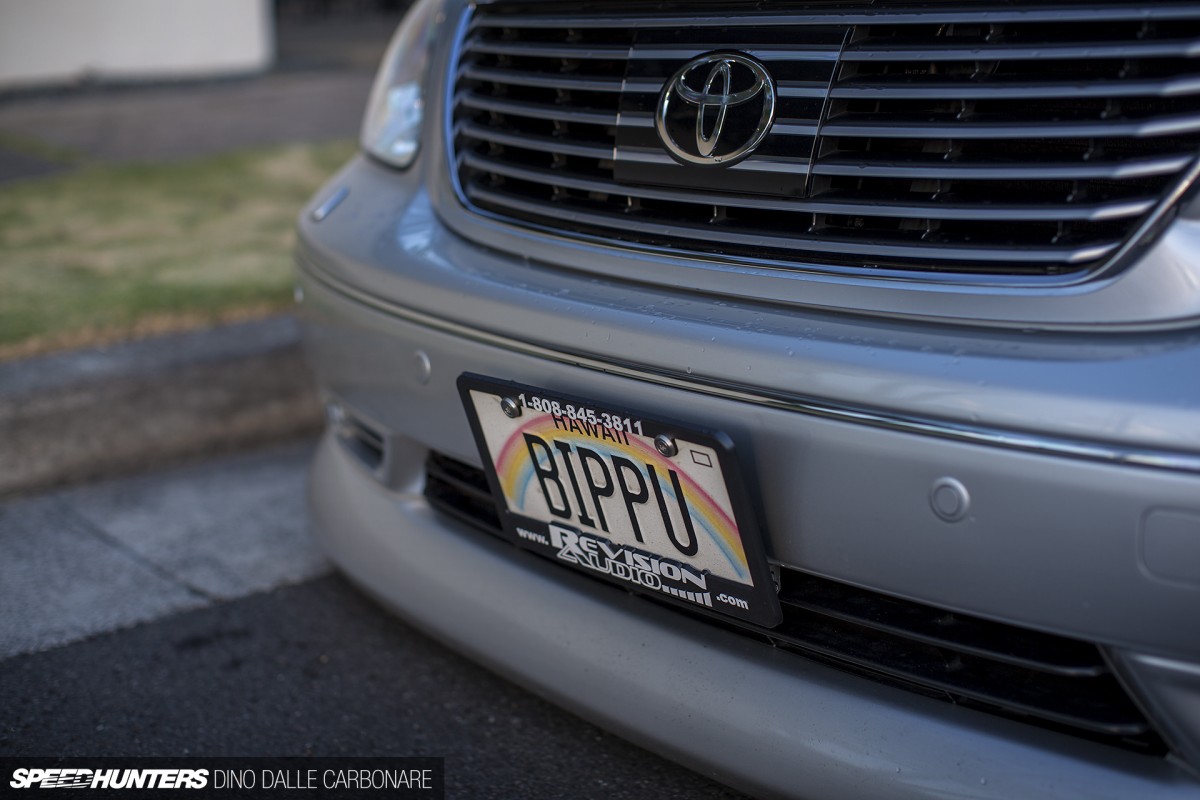 There's also a special JDM Celsior grille that hides the cruise control radar device beneath it. As for the plate, the car's BIPPU moniker is more than deserved!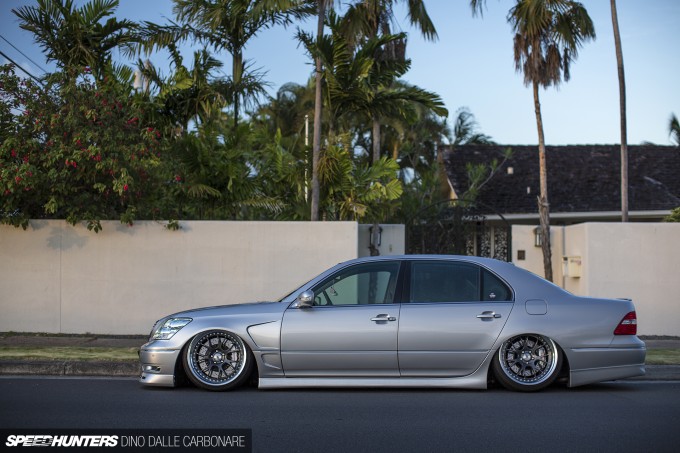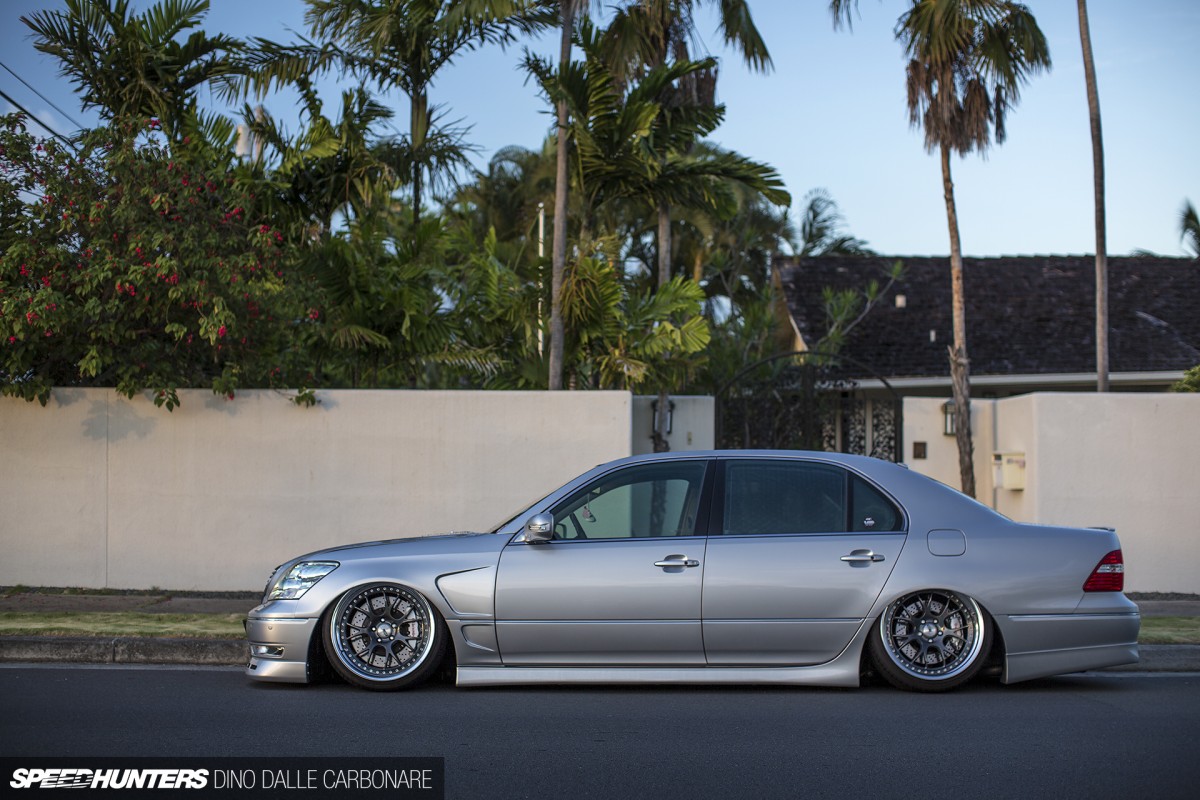 It doesn't matter what style we are taking about, but when it comes to creating the ultimate car you always need to shoot for a certain balance. Smooth throughout and finished off with an Admiration roof spoiler and OEM Celsior optional trunk lip, it's something the Revision Audio LS does rather well.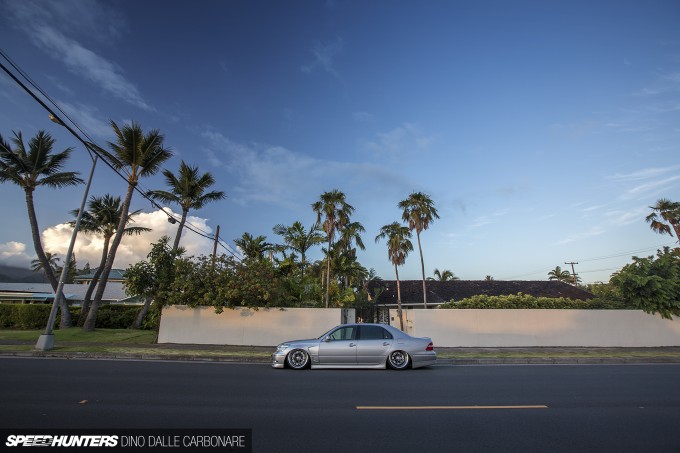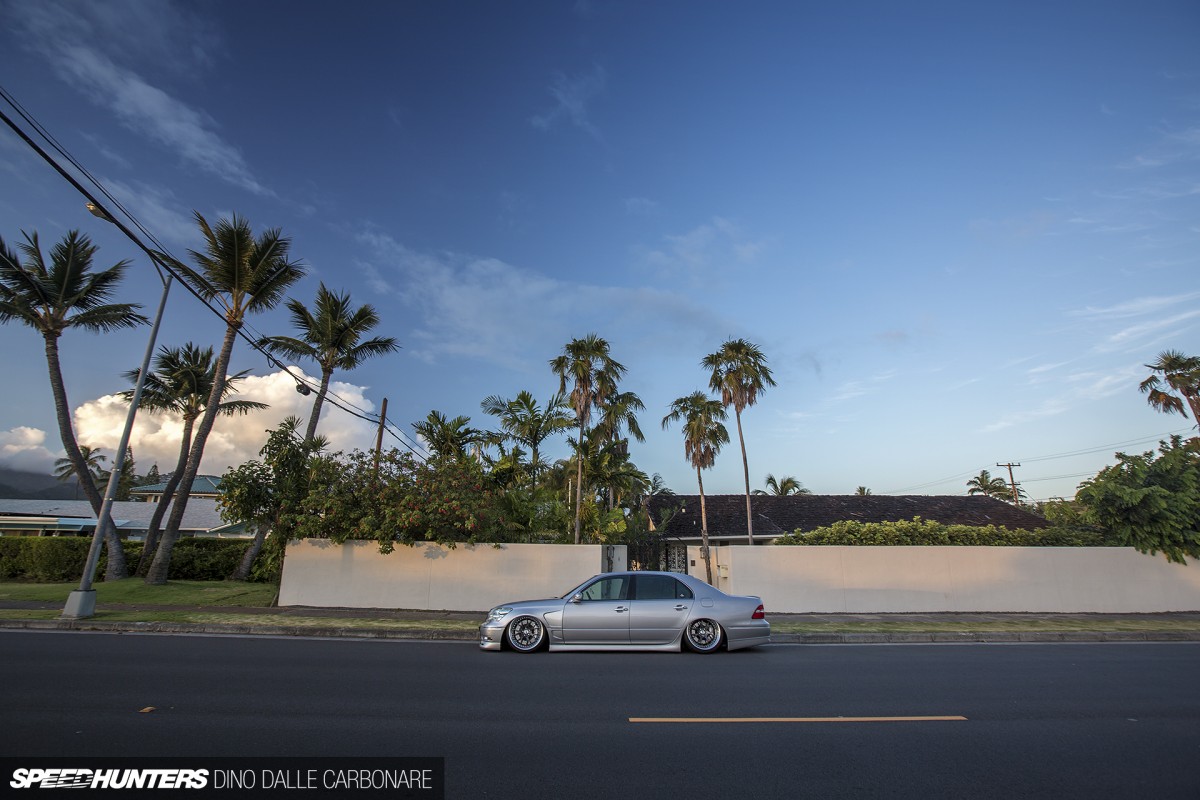 If it wasn't for this trip to Hawaii I would have never understood how deep the whole VIP and stance scene runs in Hawaii, nor how clued up or driven the Island's enthusiasts are.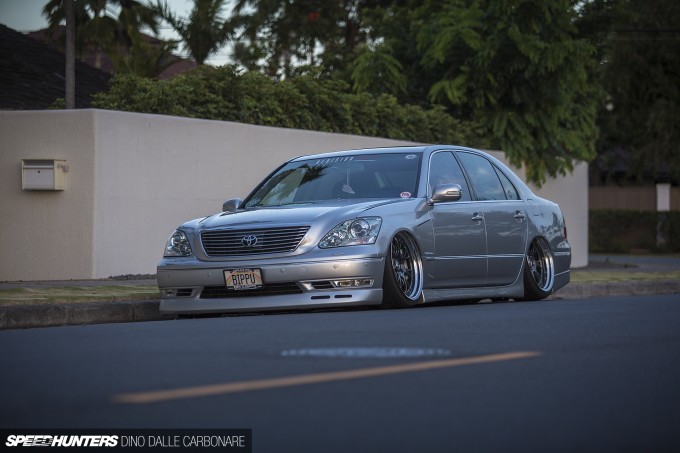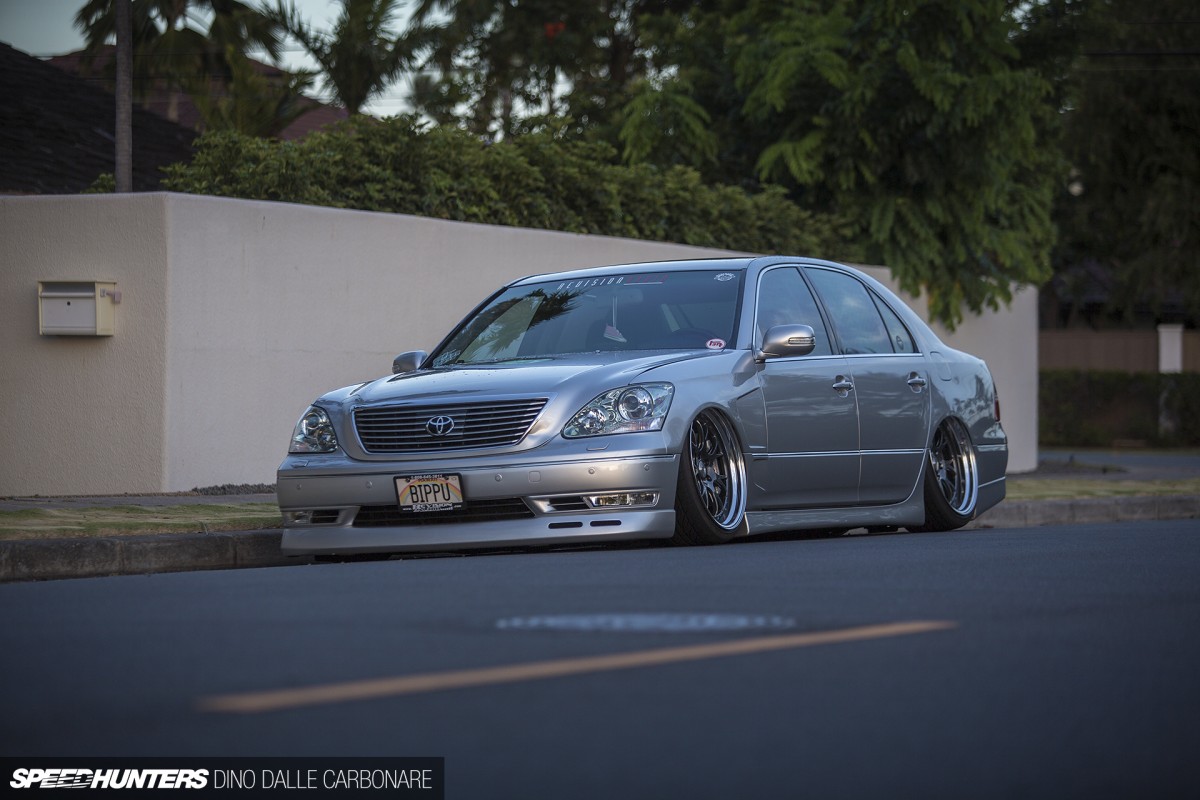 In the high-end area of town, the LS – parked up and dropped all the way down – looked right at home.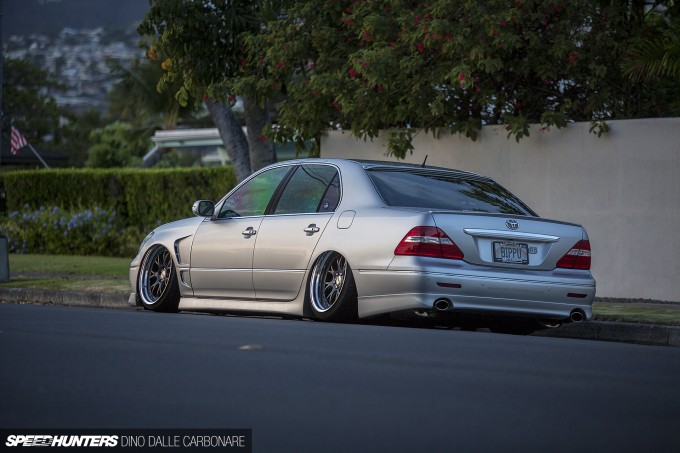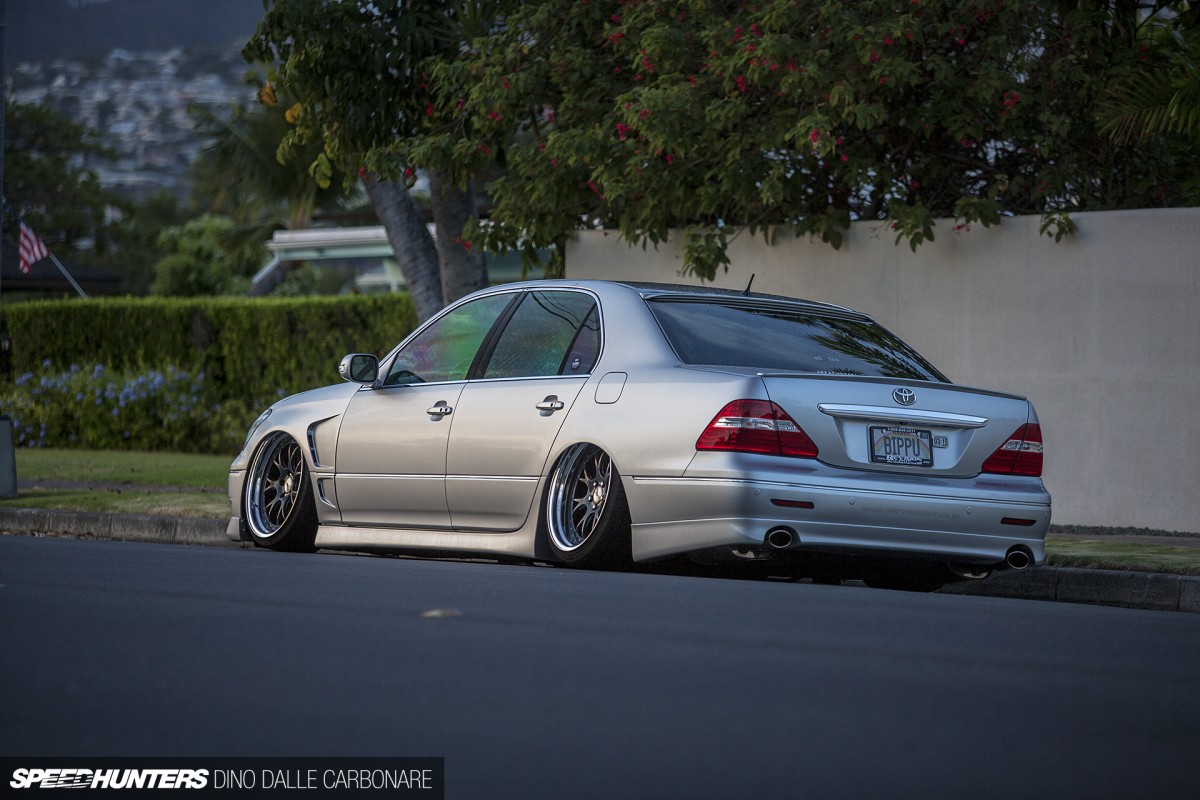 Having been impressed on the execution – not to mention the dedication and accuracy to represent the style so well – there was still the interior to look at.
The Interior To Match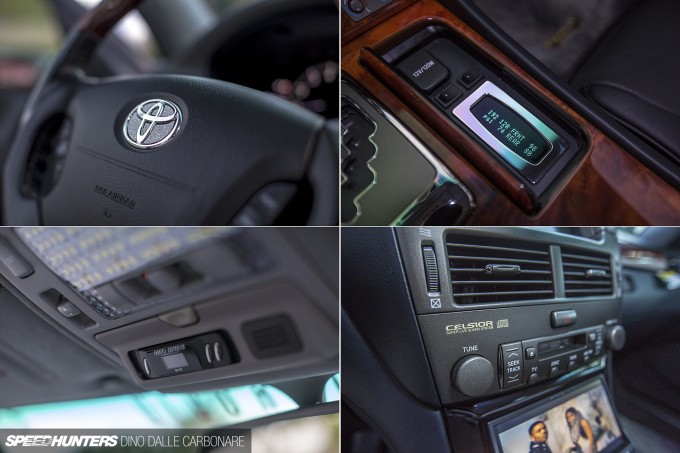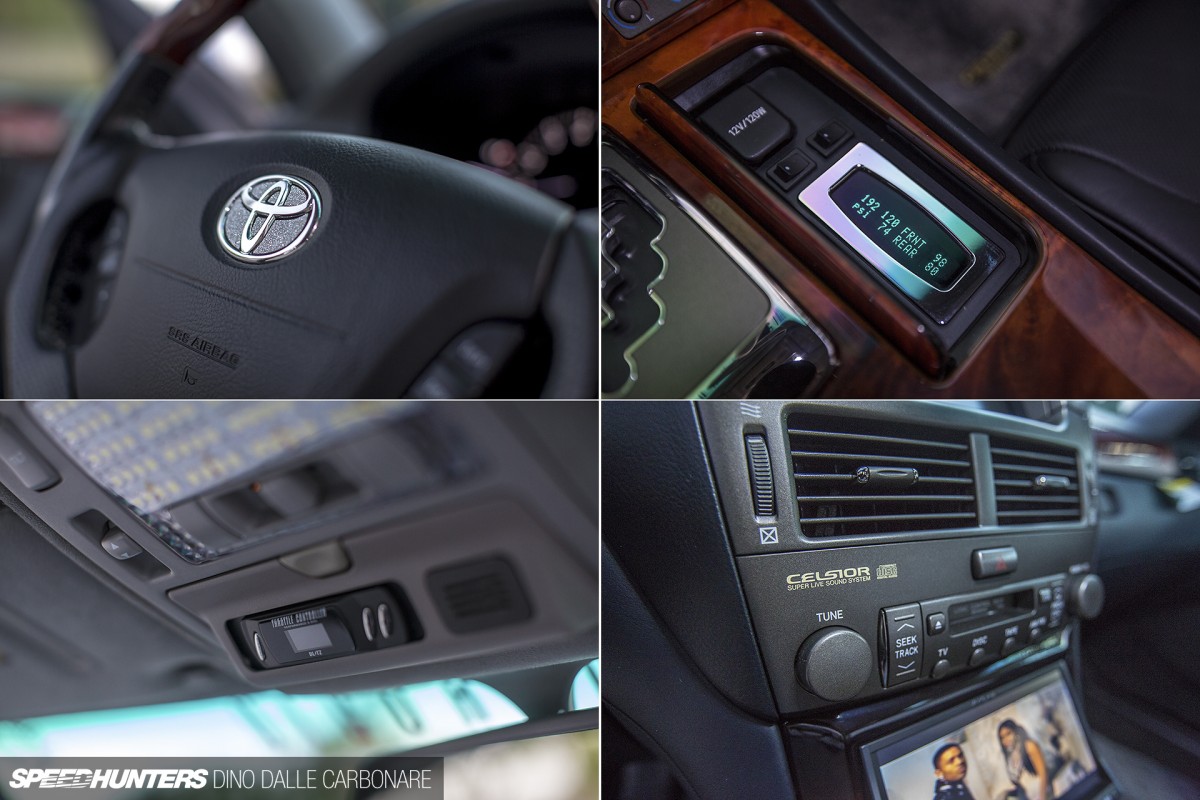 Was I disappointed? Far from it. Surprised and awestruck would be two better words to use here, because Samson has gone as far as to fit the OEM Celsior tape deck based A/V controls before integrating a secondary screen to run the powerful audio and visual system. He even airbrushed the custom console that surrounds the added screen and to match the stock wood trim.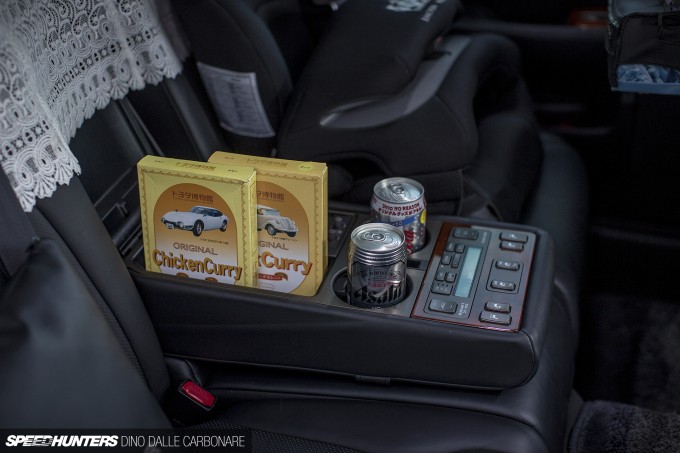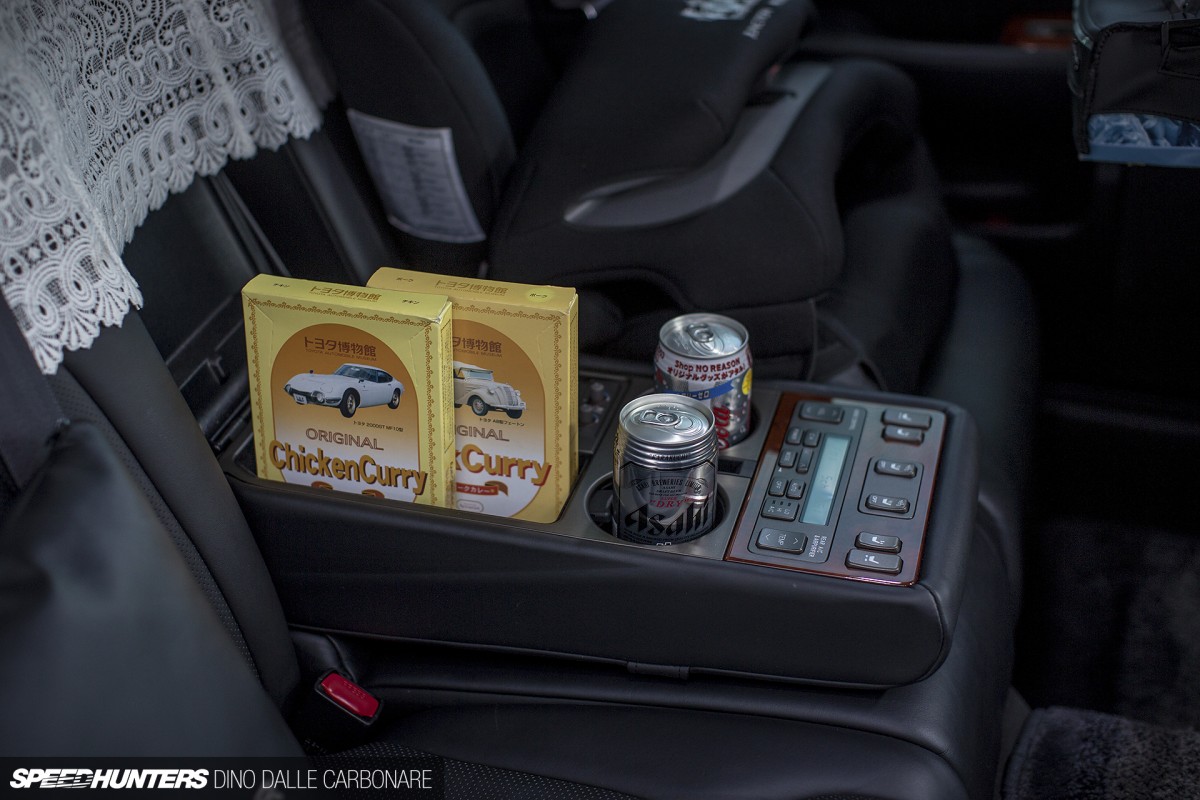 Japanese beer and cola? Toyota-branded chicken curry packs? Yes, Samson's obsession with staying faithful to Japanese authenticity is next level!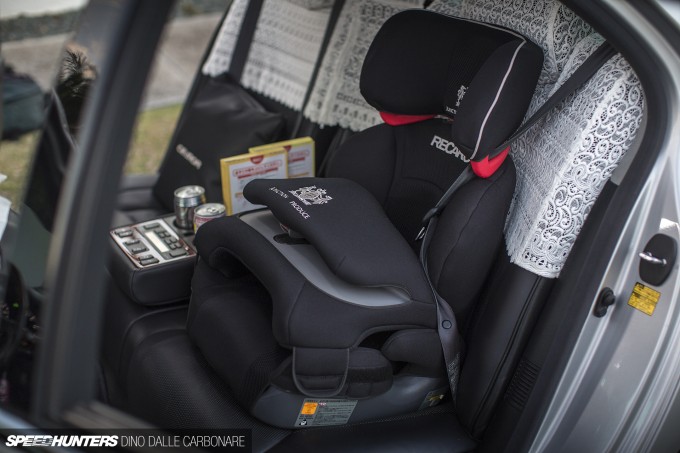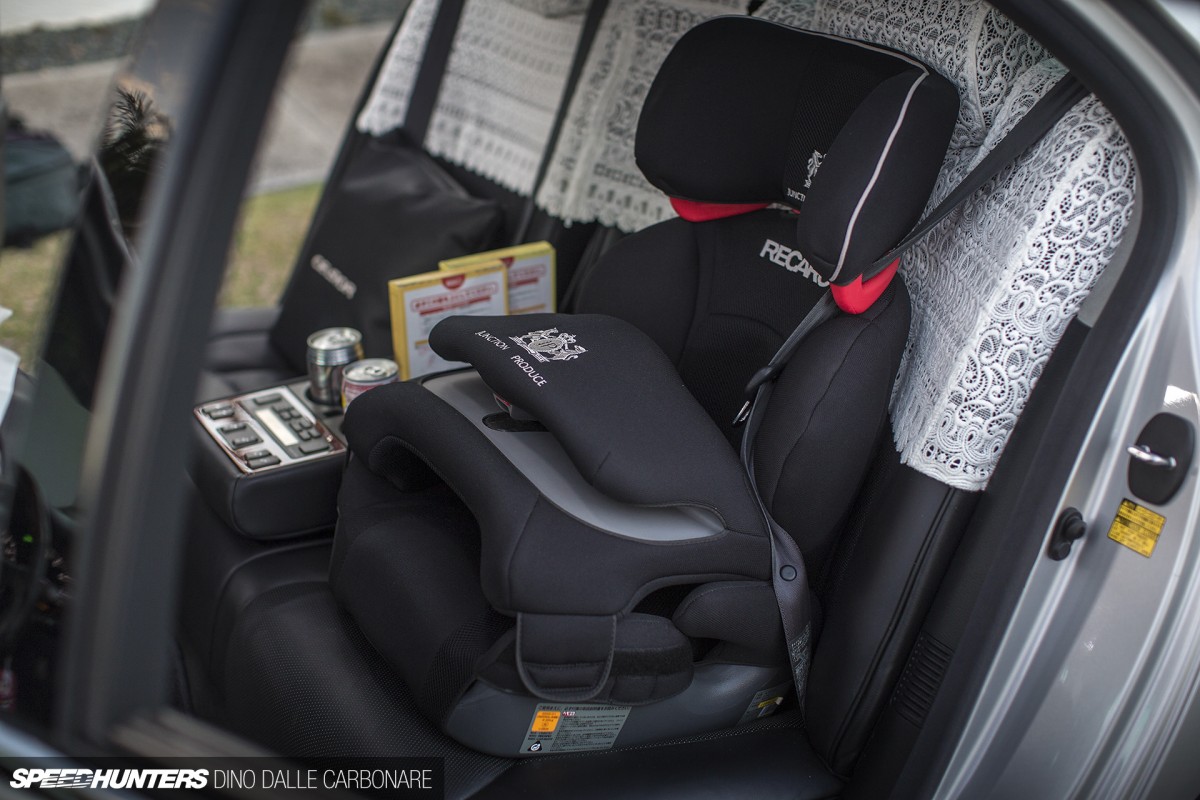 Next to the well-stocked arm rest is his daughter's Recaro child seat – a special Junction Produce item.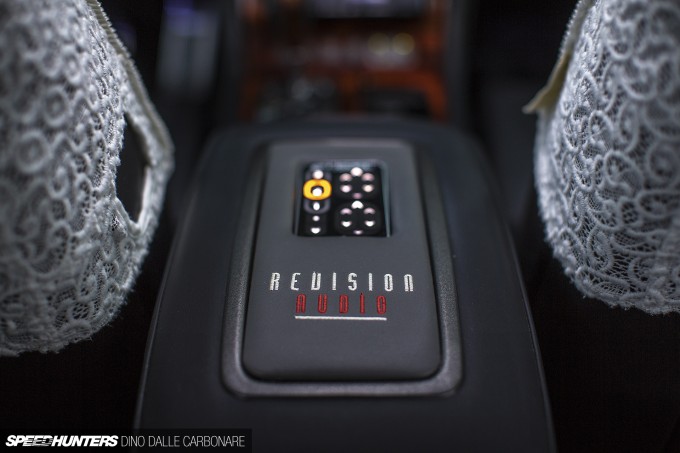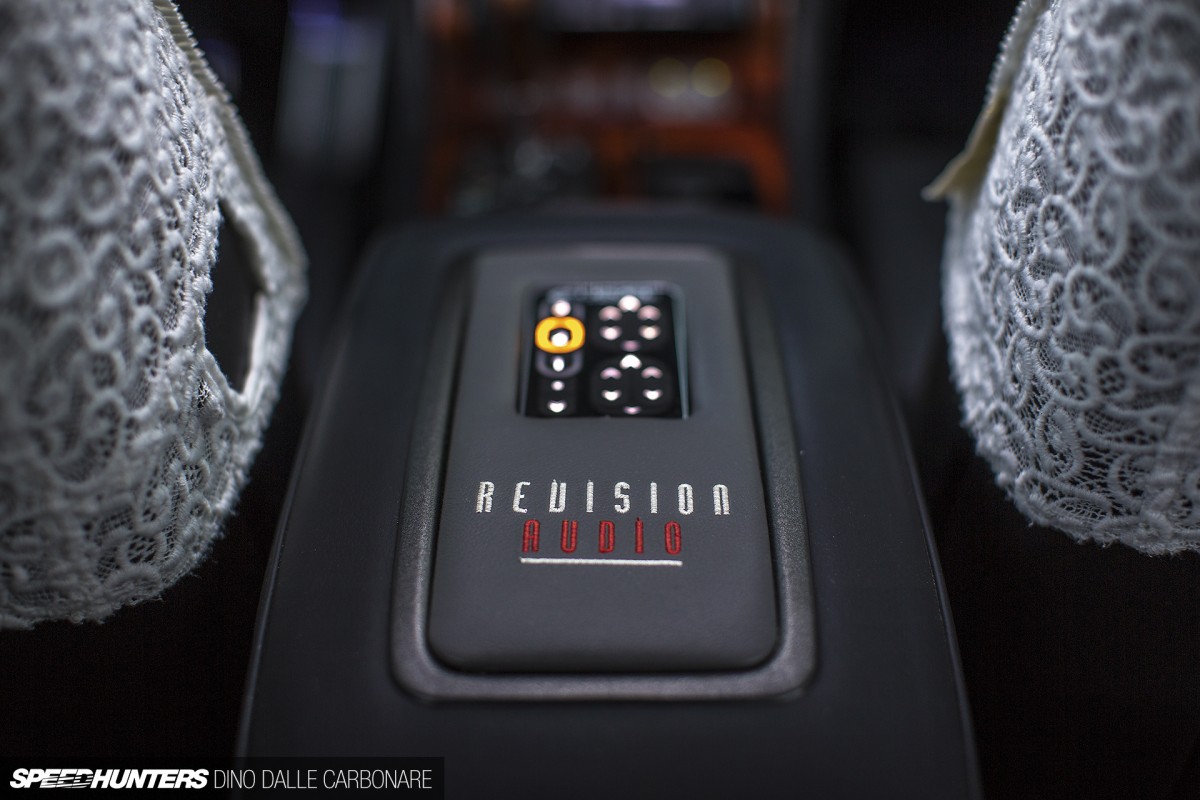 Even the front OEM optional armrest with a mobile phone holder beneath it is a find from Japan. As you can see, Samson has modified it with the Revision Audio logo and a recess to hold the AccuAir e-Level controller.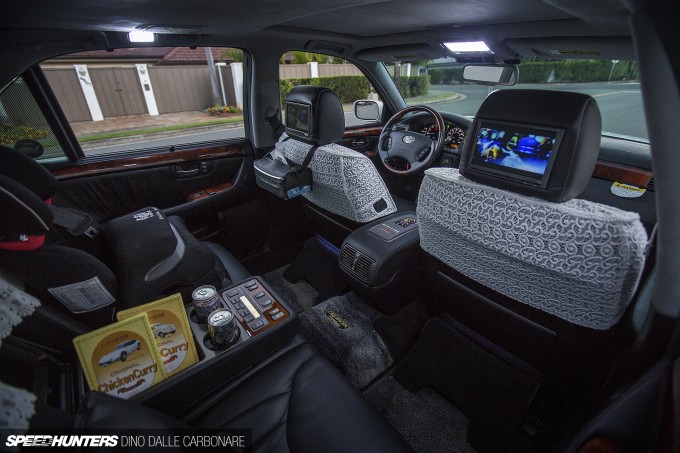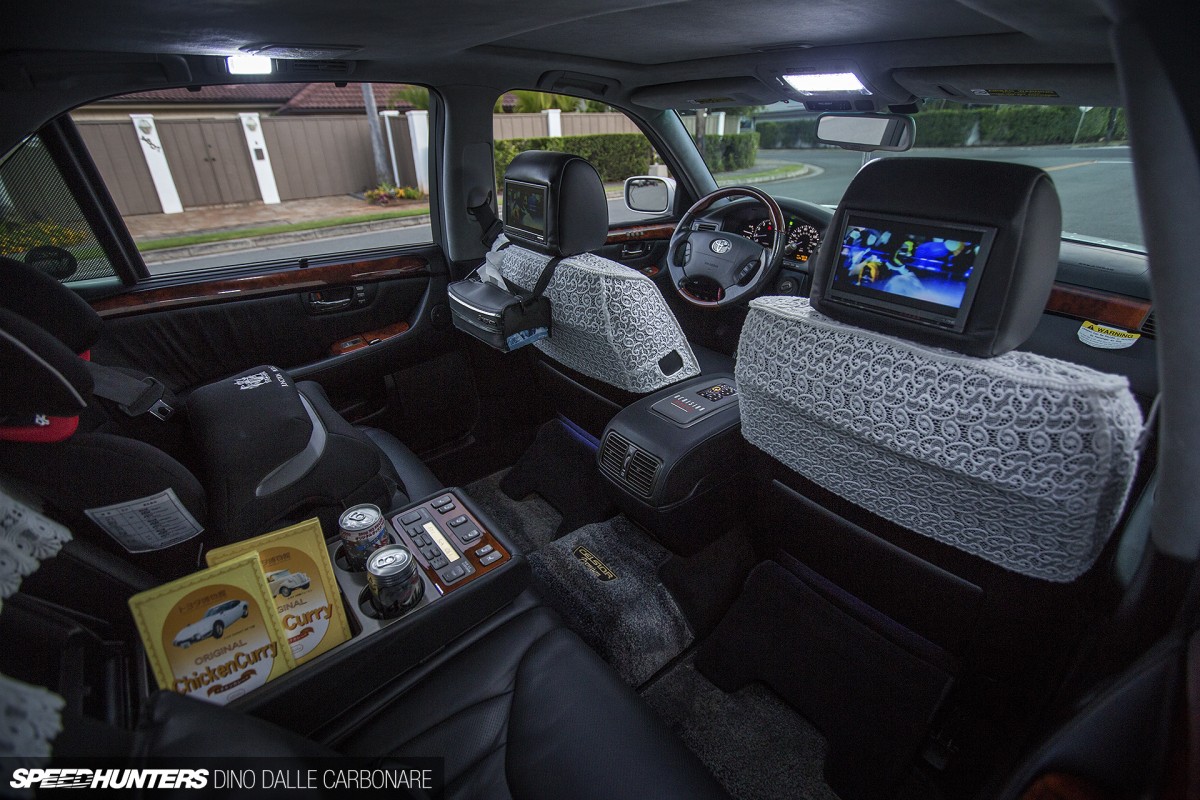 The best addition has to be the lace seat covers though. These are about as 'Japanese dealer option catalogue' as you can possibly get!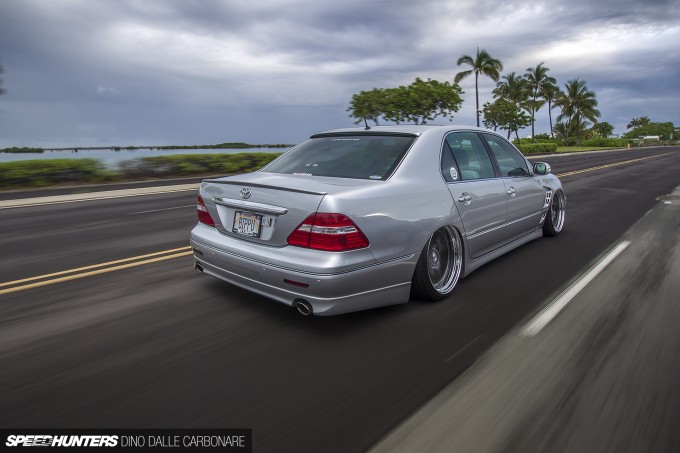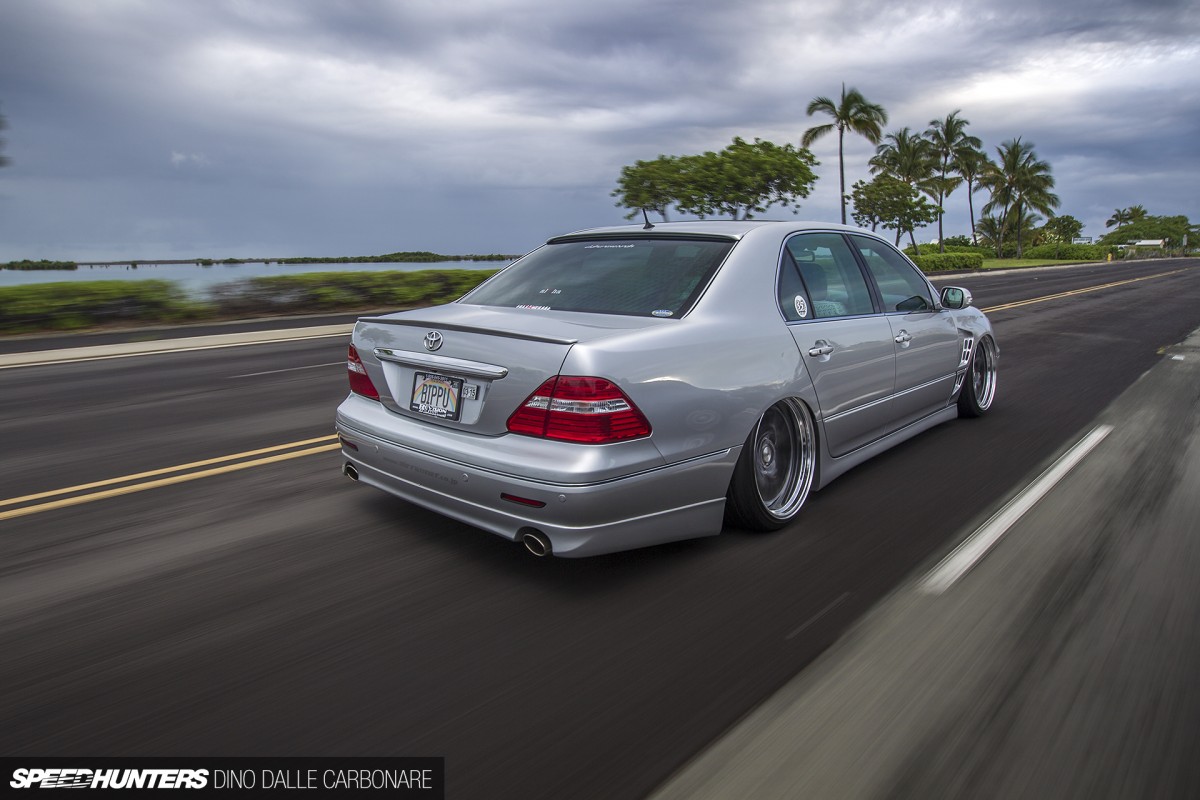 From now on I think I will have to refer to Samson as the JDM boss – he truly deserves that title given the lengths he has gone to here. In the process, however, he has managed to create a car that helps show all that is cool about the VIP movement and the direction its going. Hawaii truly was full of surprising finds.
Dino Dalle Carbonare
Instagram: speedhunters_dino
dino@speedhunters.com