The Lure Of The Prancing Horse
The lure, the presence and that feeling of unattainability – few brands are as powerful as Ferrari. Born out of a pure need to race, the prancing horse has always evoked incredible passion from anyone with a remote interest in cars – race car drivers dream of racing a Ferrari; regular people dreaming of having one in their garage.
Held once a year, Ferrari Racing Days Japan gives fans an opportunity to get up close with the most desirable Ferraris – new and old. It's a spectacle I never miss.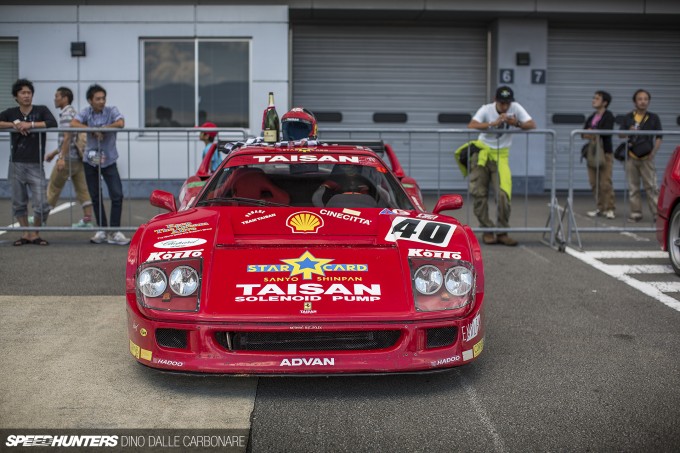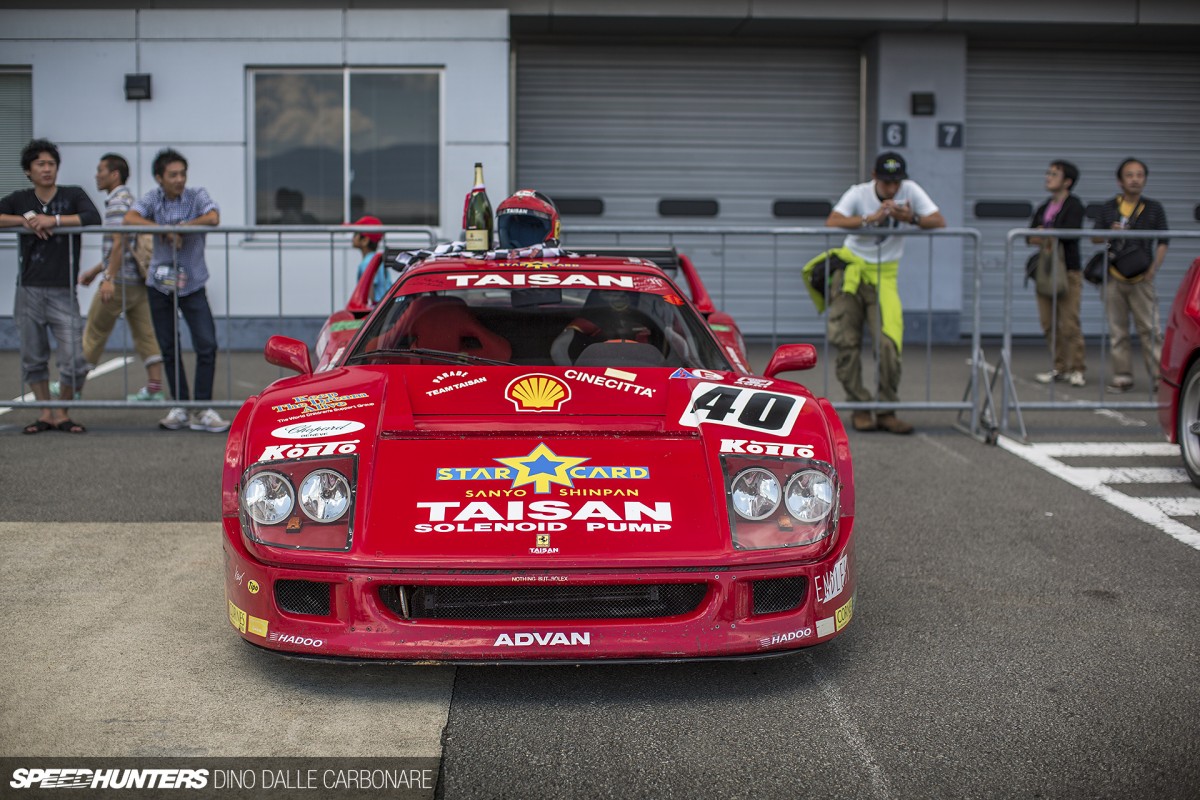 This year Ferrari Racing Days was held at Fuji Speedway – a circuit that I've visited countless times on Speedhunters assignments. Ferrari Japan took over the track for a whole weekend, bringing together aficionados of 'Il Cavallino' from all corners of the country.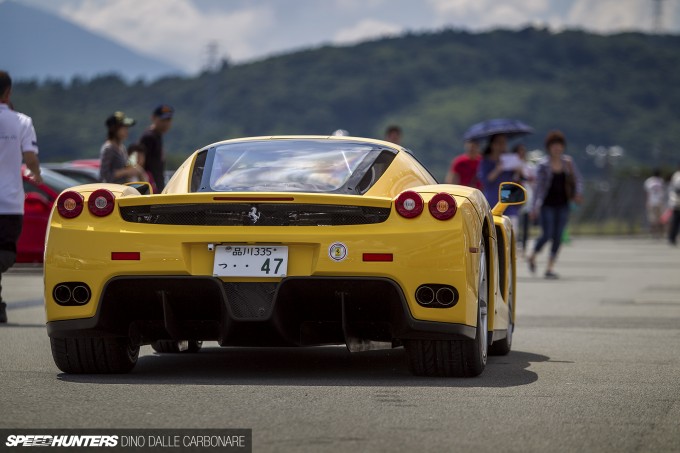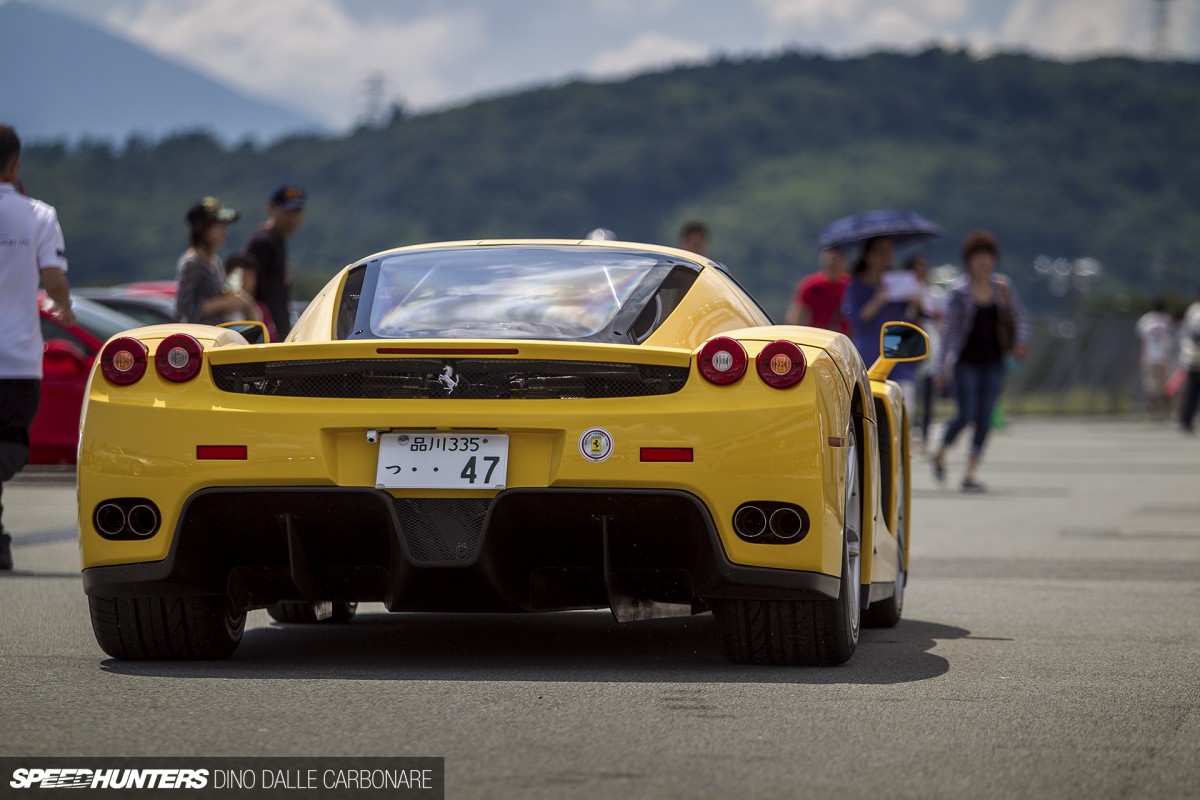 The paddock, which was filled with spectator cars, was worthy of its own separate post, and that's precisely what you can expect on the second part of the coverage. For this part, I'm going to take a look at everything else the event had to offer – which was a lot.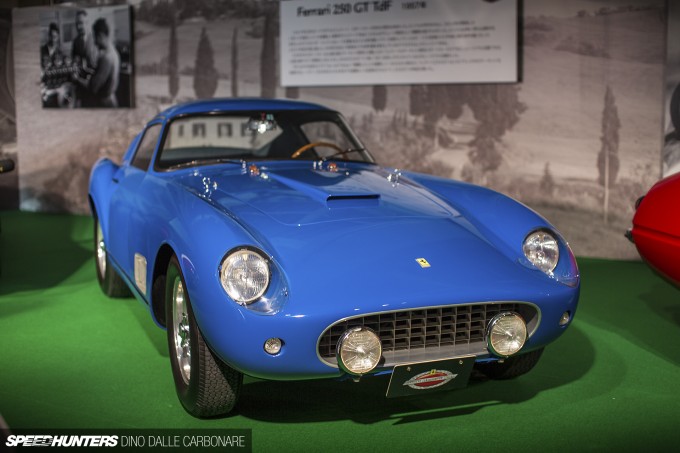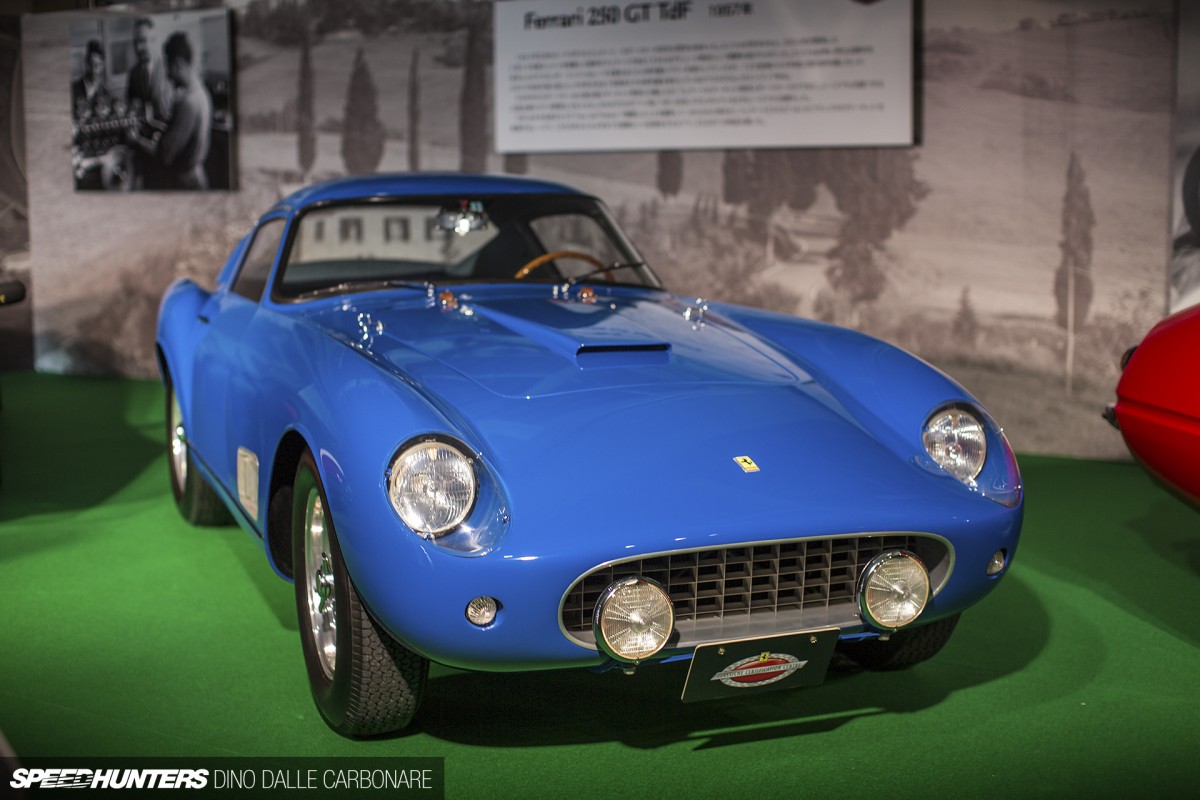 As it has at past events, Ferrari Japan set aside a few pit garages to show off some of the most special Ferraris in Japan. And again, this 250 GT Tour De France absolutely stole the historic part of the display. The long bonnet and simple two-seater GT lines are still what make these iconic V12 Ferraris so highly regarded today. Every time I see this car I try to imagine what it must have been like to own and drive a machine of this caliber back in the '50s.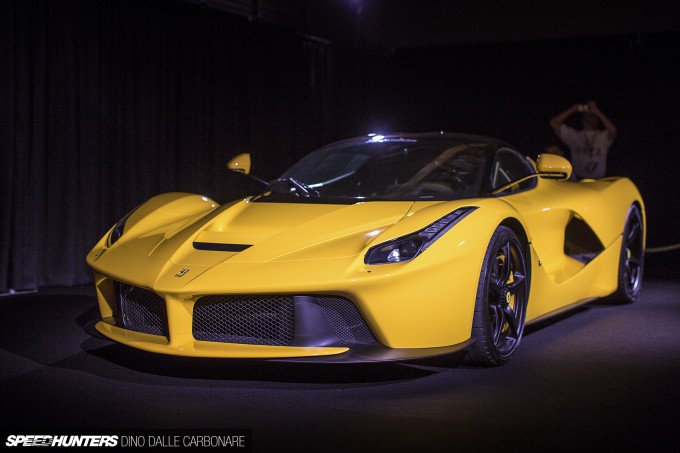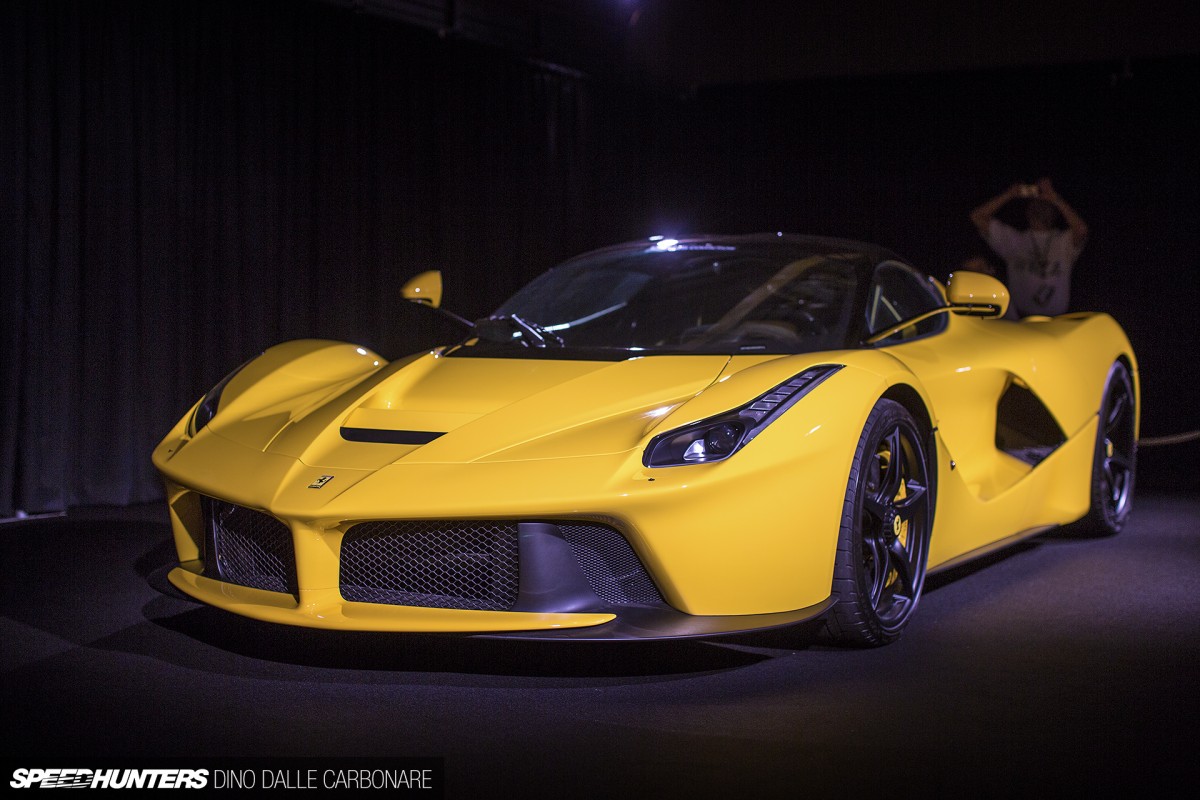 While the classic cars always attract a lot of attention it was the moody, dark and dramatic display in the pit next door that had a steady stream of people going into it throughout the day. Yes, finally Japan has had a glimpse of the hottest and most innovative car to come out of Maranello since the company was founded back in 1947.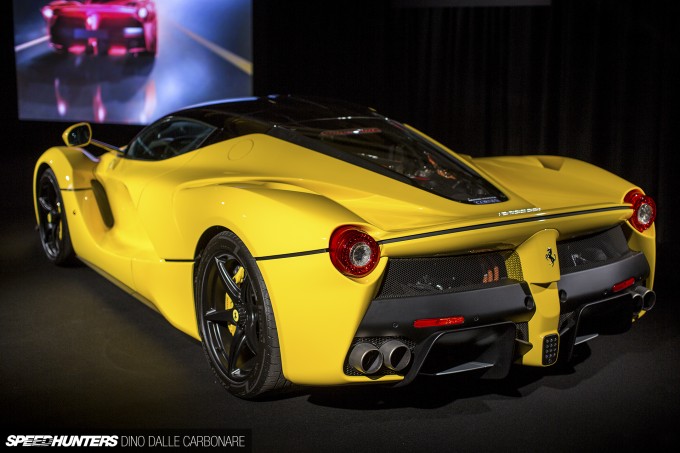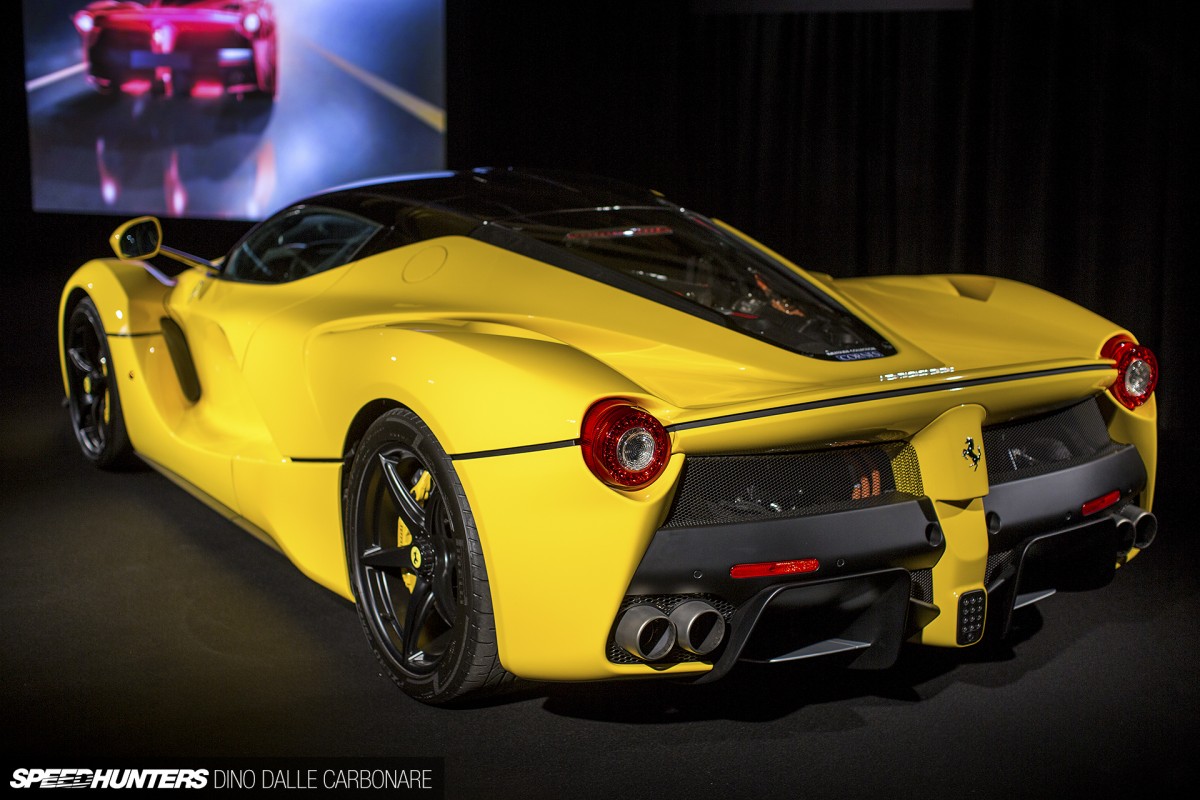 What can be said about this futuristic looking hybrid supercar? It's simply awe-inspiring in person. It also seems to be a spot-on progression from the mighty Enzo and just the sort of car that Ferrari had to build to answer McLaren with its P1 and Porsche with its 918.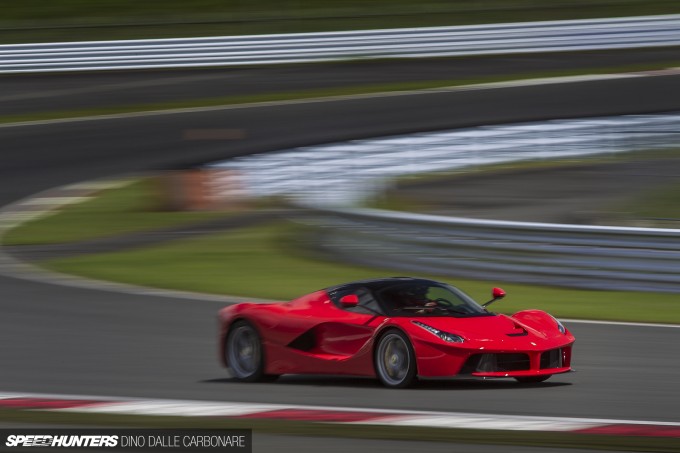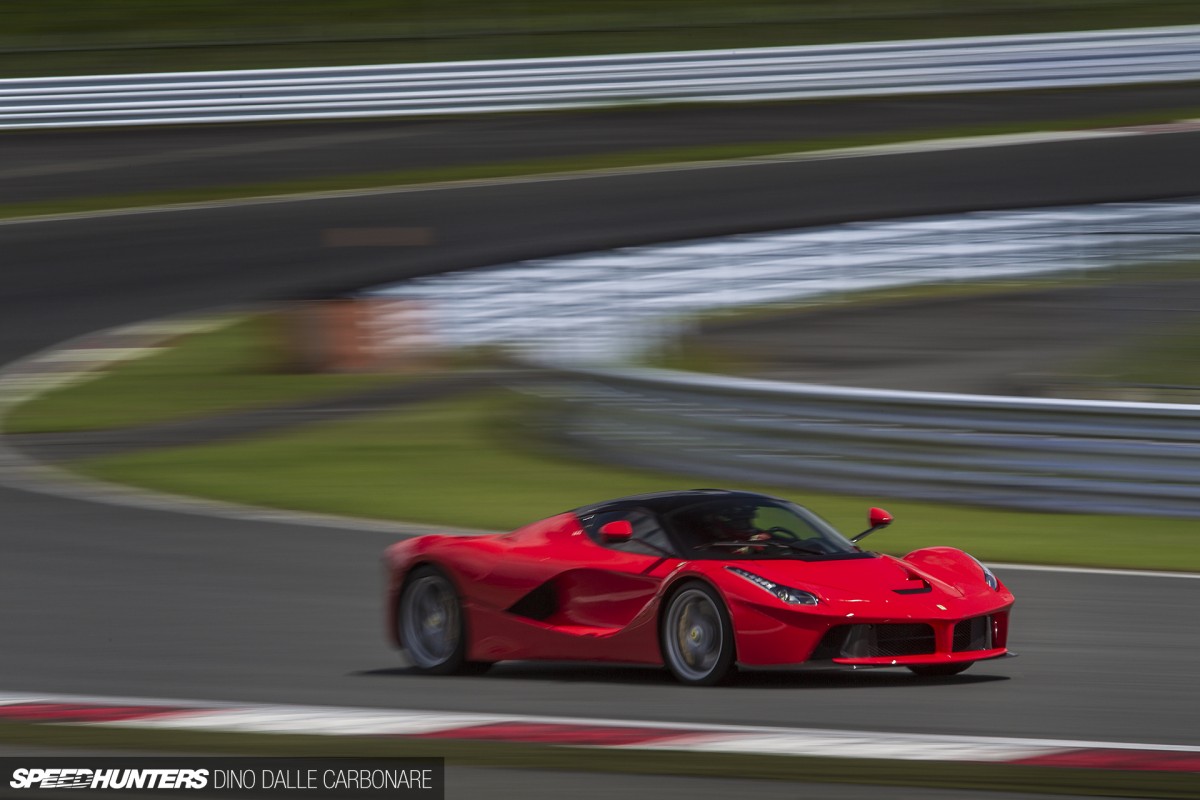 However, the real impact wasn't really that dimly lit display, but seeing the LaFerrari thrown about Fuji Speedway by Ferrari GT driver – and special guest at Ferrari Racing Days Japan – Giancarlo Fisichella.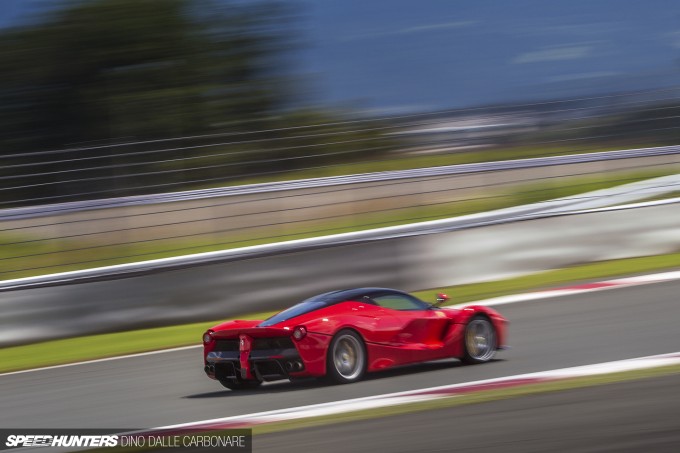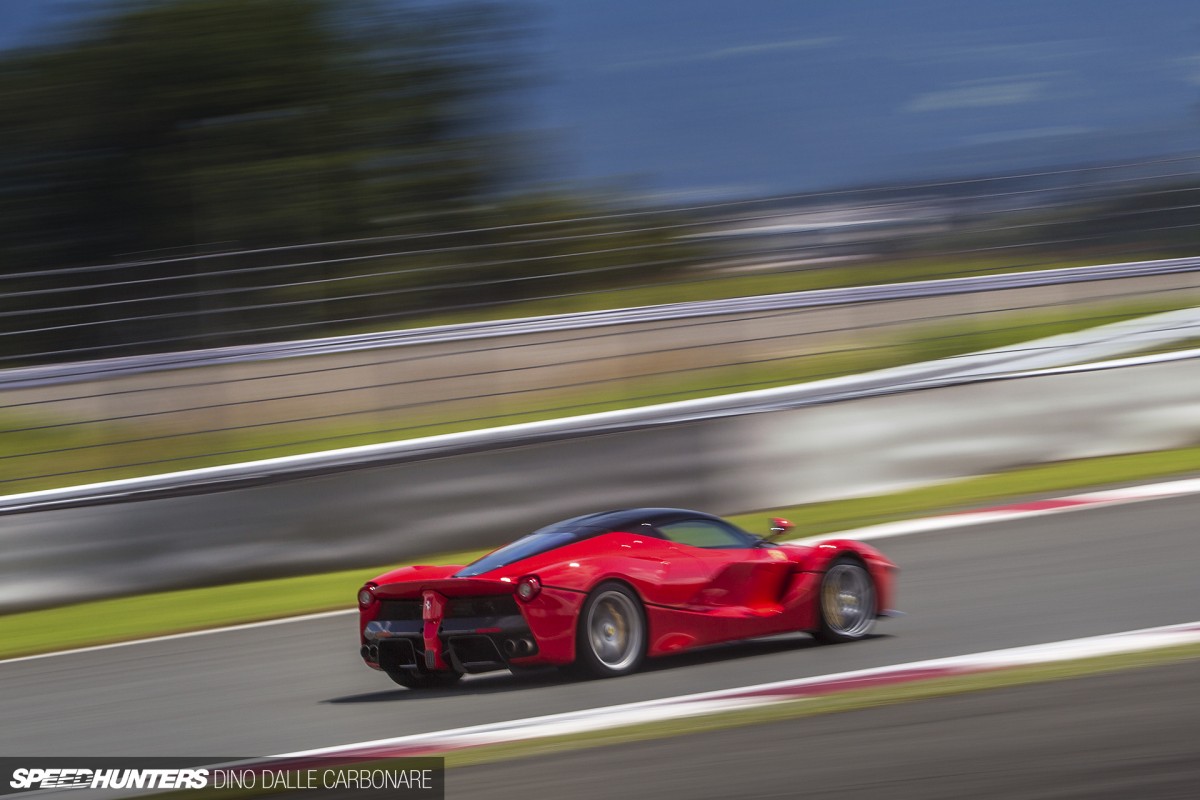 While it's usually hard to gauge how fast a car is actually going when it's being pushed around a big, wide track like Fuji, it was obvious the LaFerrari's almost 1000hp gives it race-car levels of acceleration. The accompanying sound from its electrically-boosted V12 engine nothing short of spine-tingling! It would be really cool if someone timed it and maybe brought it out to Tsukuba Circuit to see how it stacks up against Japan's fastest time attack machines.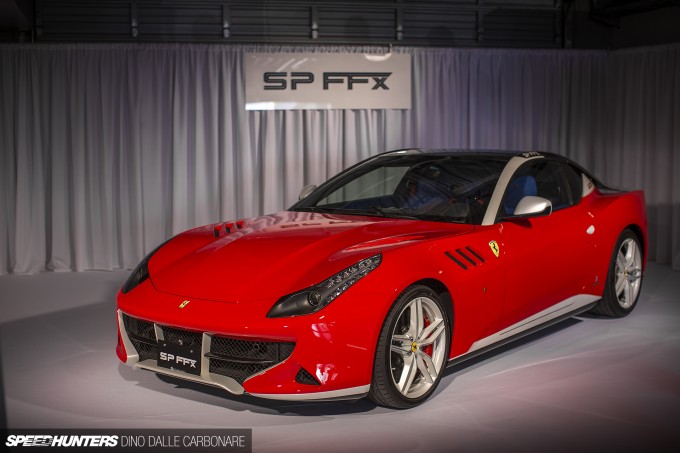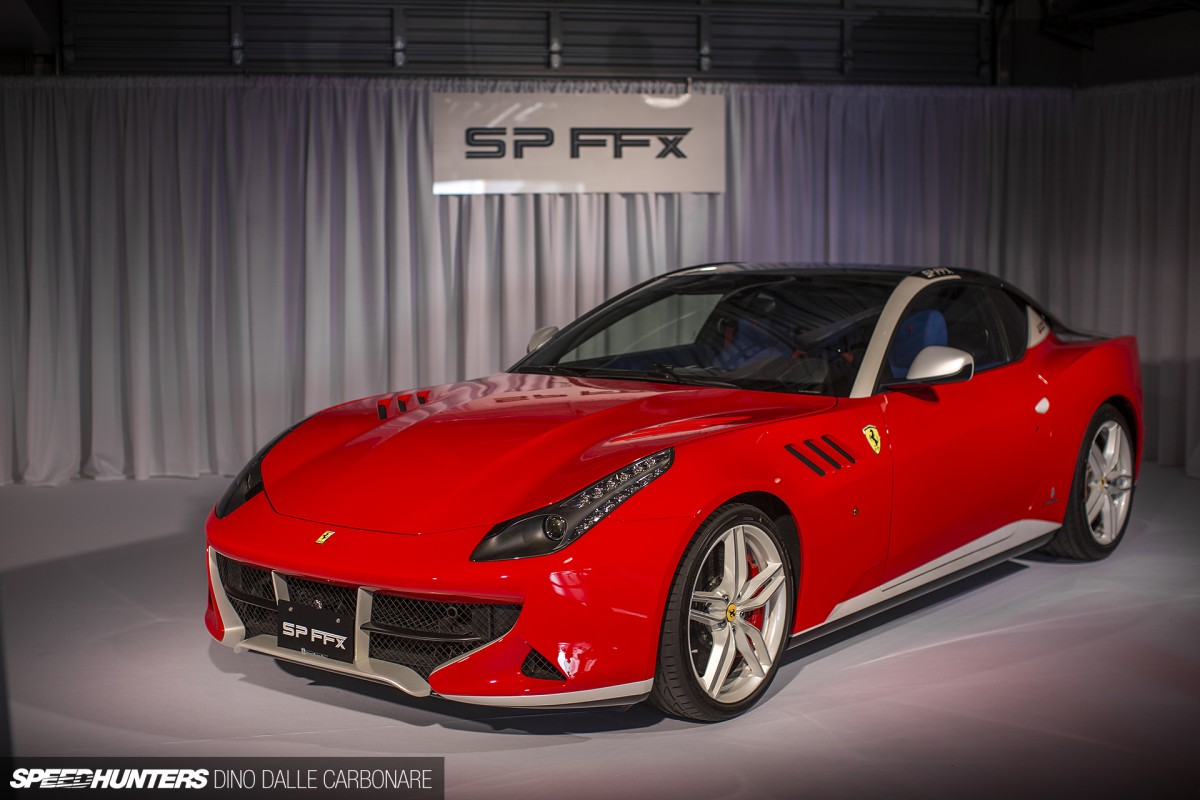 Ferrari also showed off one of their latest 'Special Projects' builds – the SP FFx, a curious, one-off coupe is based on the FF four-seater. It's great to see Ferrari keeping with their history and continuing to come up with bespoke versions of their production cars, just like they used to do back in the '50s and '60s.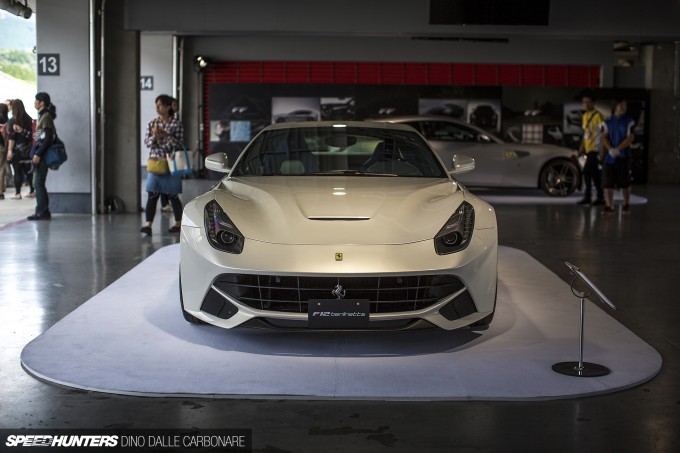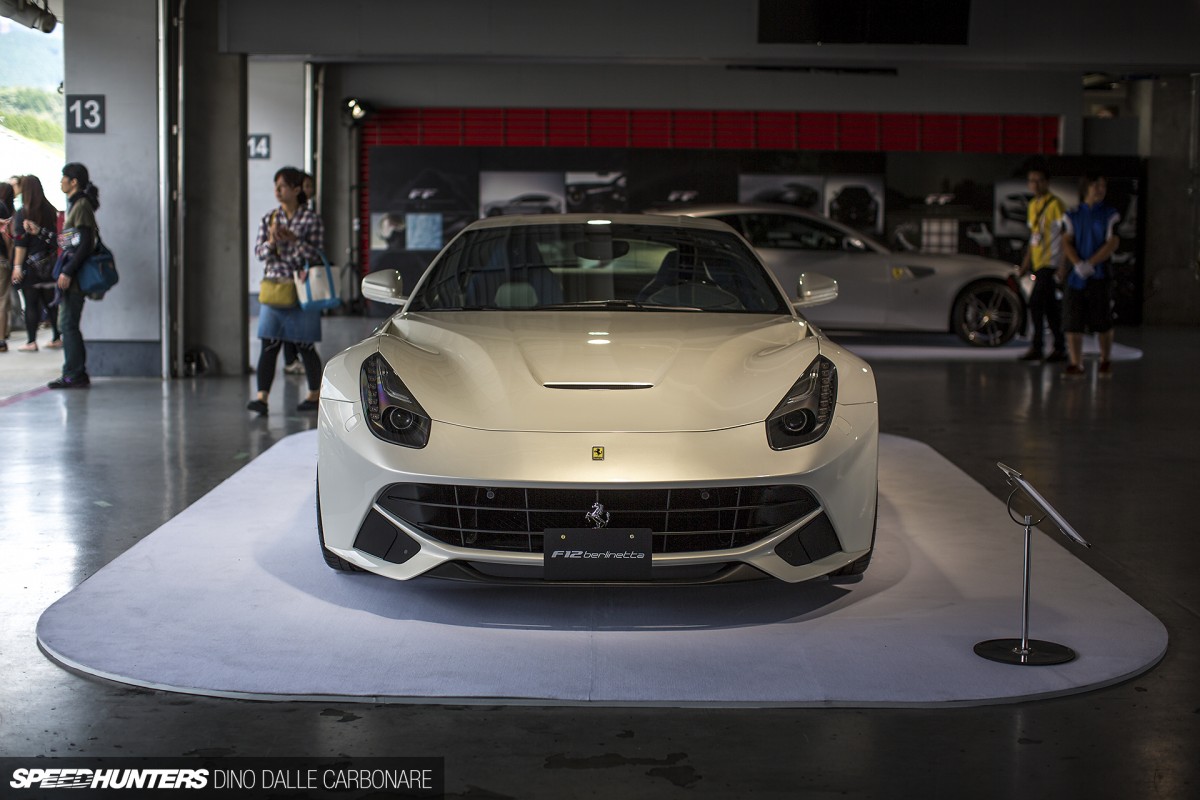 And speaking of production cars, the whole current line up was on display and topped off with the F12 Berlinetta. Developing 731hp, this is the most powerful production car that Ferrari offers right now. I'd love to take this thing out for a Speedhunters Dream Drive!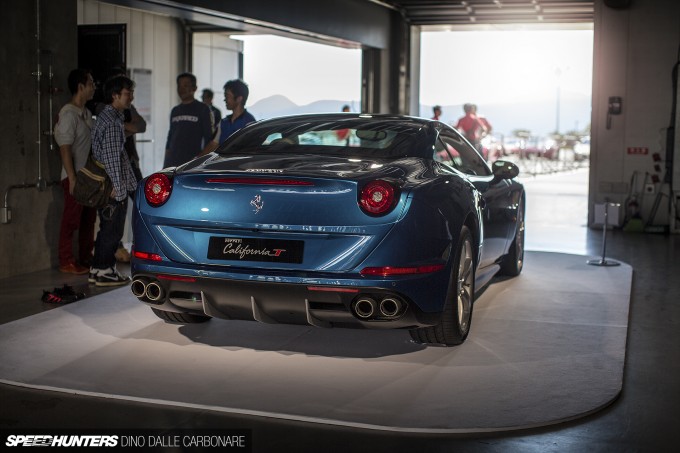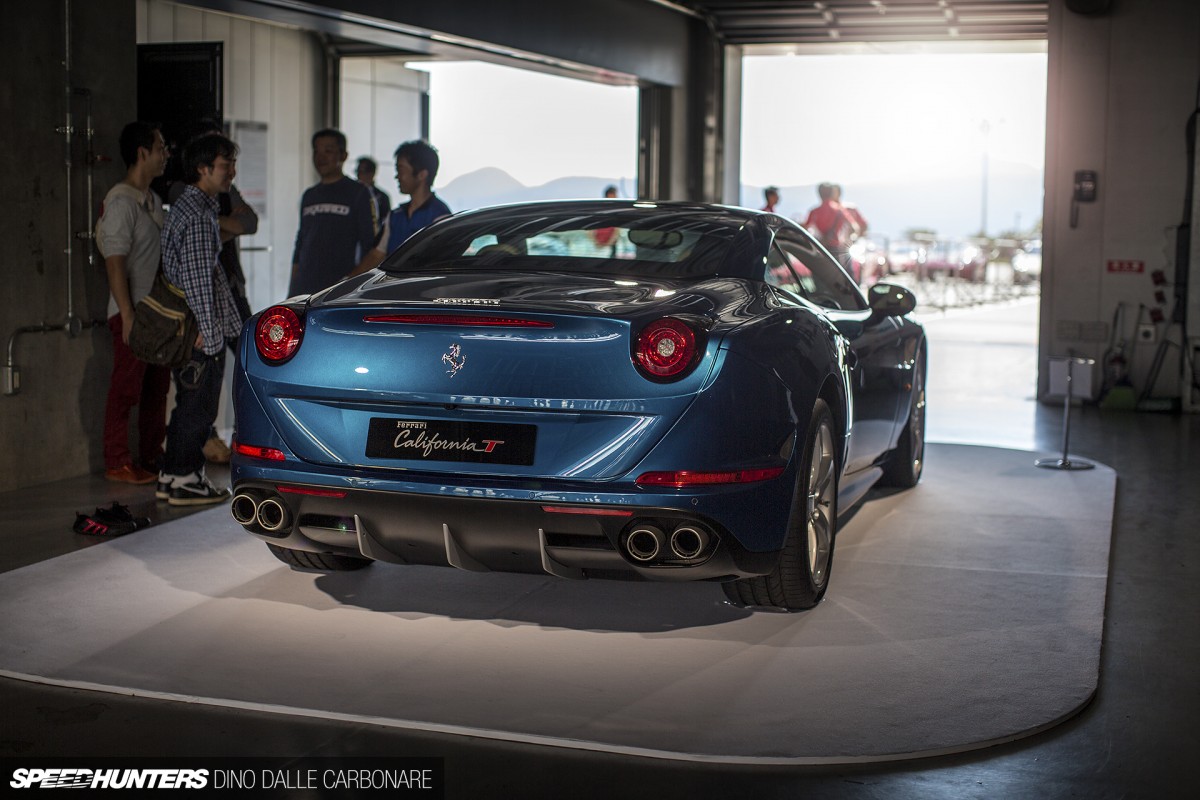 Making its first showing in Japan was the refreshed California – a slightly restyled version of the entry-level Ferrari. Aside from the revised lines which better reflect the brand's current design language, there's another important addition here. That 'T' next to its name points to its all-new twin turbocharged V8 engine.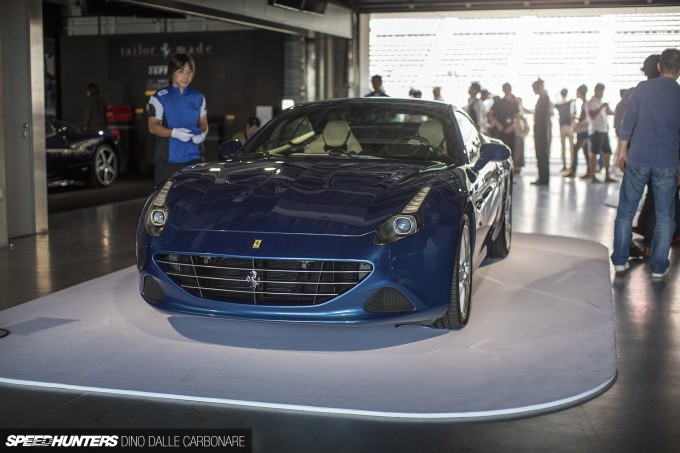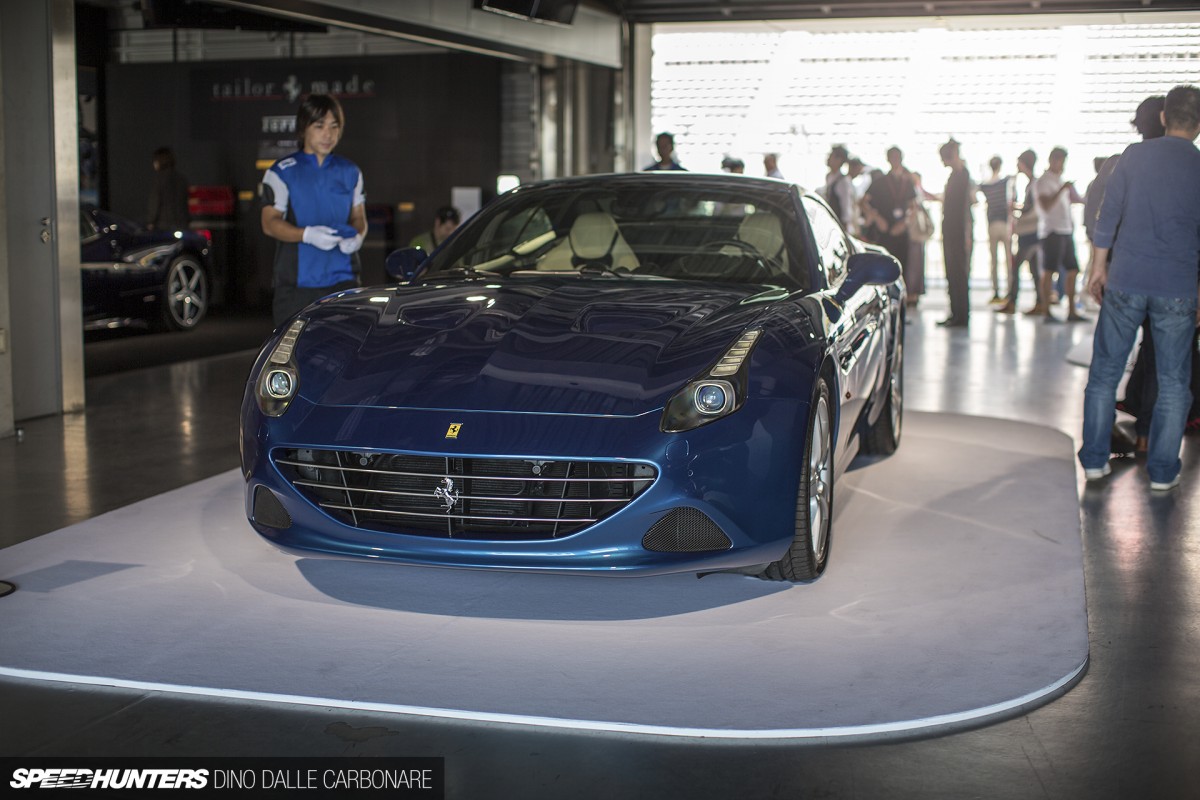 This is a very important car, marking Ferrari's return to forced induction – something last seen in the iconic F40. It's a sign of the times – manufacturers abandoning naturally aspirated engines in favour of more efficient smaller capacity turbocharged motors. The boosted 3,855cc V8 develops 552hp – a 70hp bump in power over the old turbo-less 4.3L unit. Apparently the engine's power and torque curves have been tuned to deliver an N/A feel to the delivery, which sounds very interesting.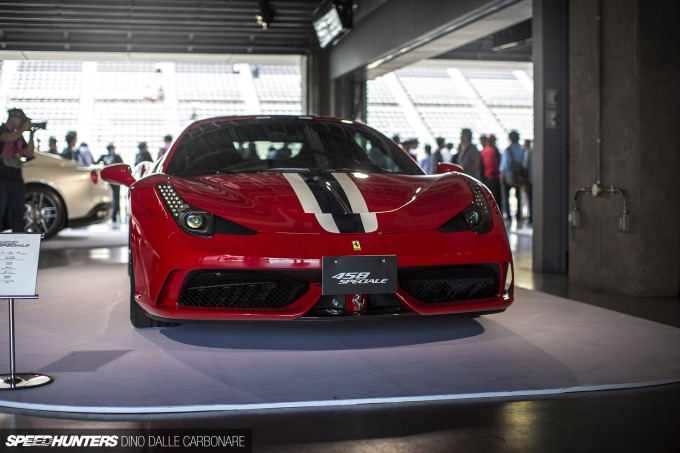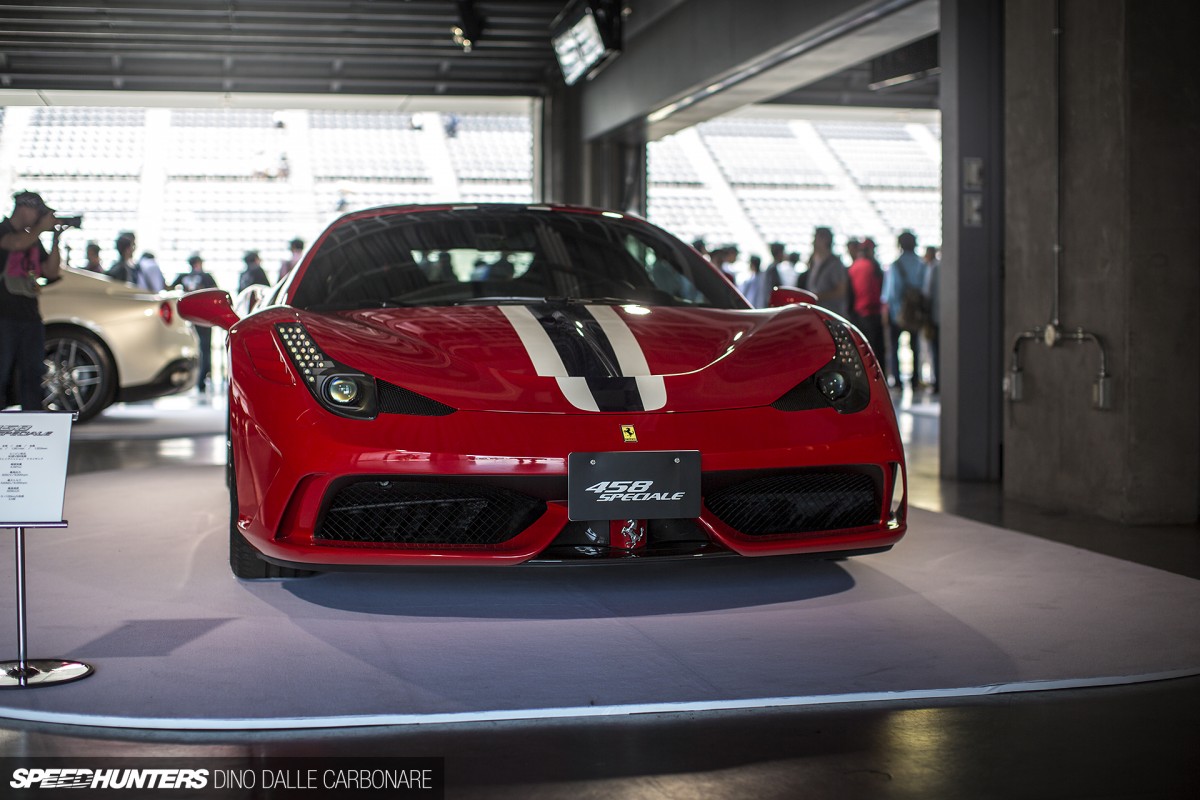 The 458 is the next in line for the turbo treatment, but for now all eyes are on the Speciale – a hot, track day oriented version with more power and more aggressive aero treatment. Deliveries have already started in Japan and there were quite a few of them parked up in the paddock.
The FXX & The F1 Cars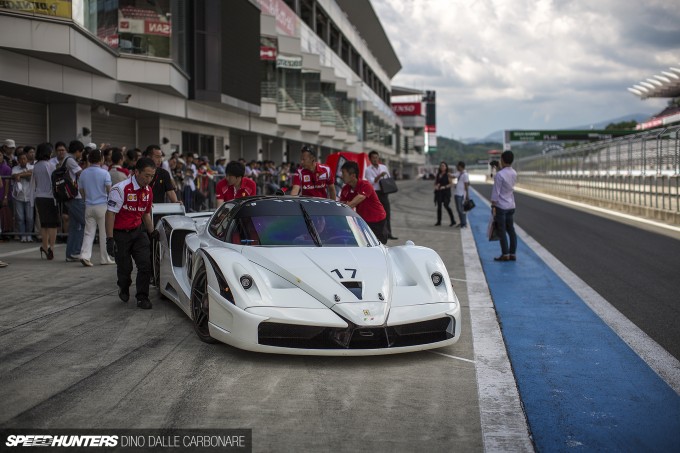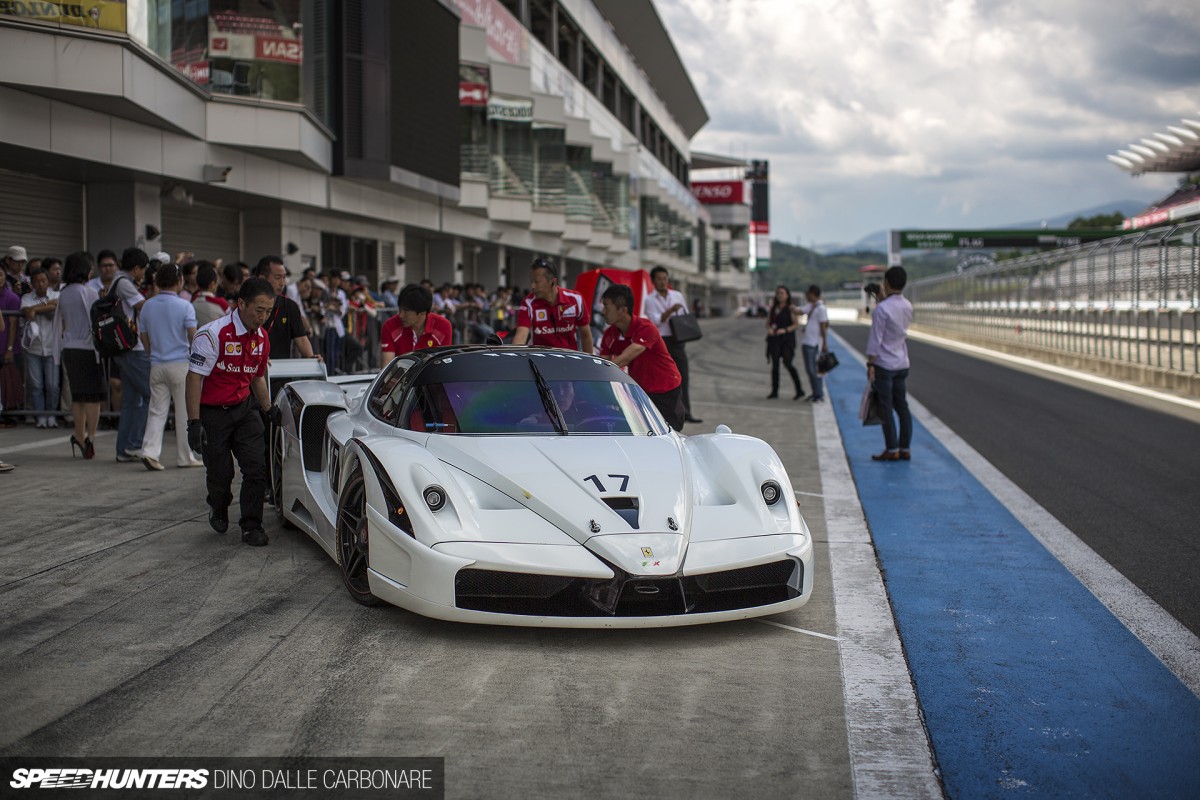 When you hear a pair of unsilenced V12 engines scream away down the pit lane you take notice. That's how I realised that the two FXXs in attendance were being prepped for a short outing.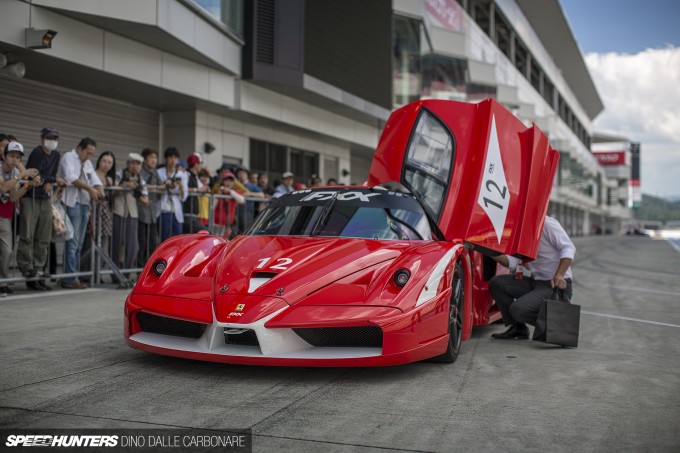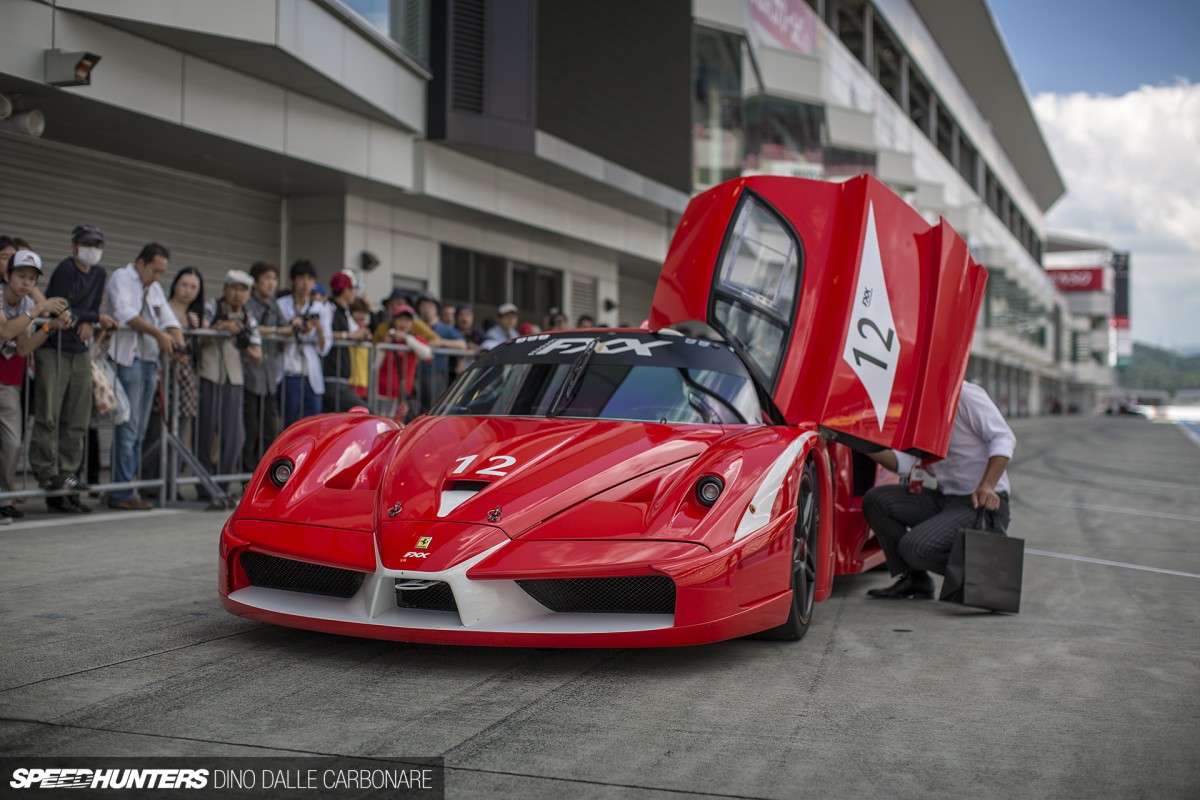 Based on the Enzo, these development prototypes are a way for wealthy customers to redefine on-track entertainment, and at the same time for Ferrari put new ideas into practice.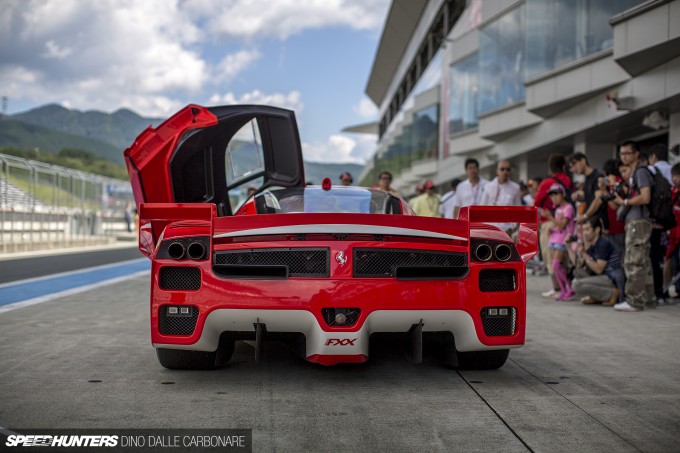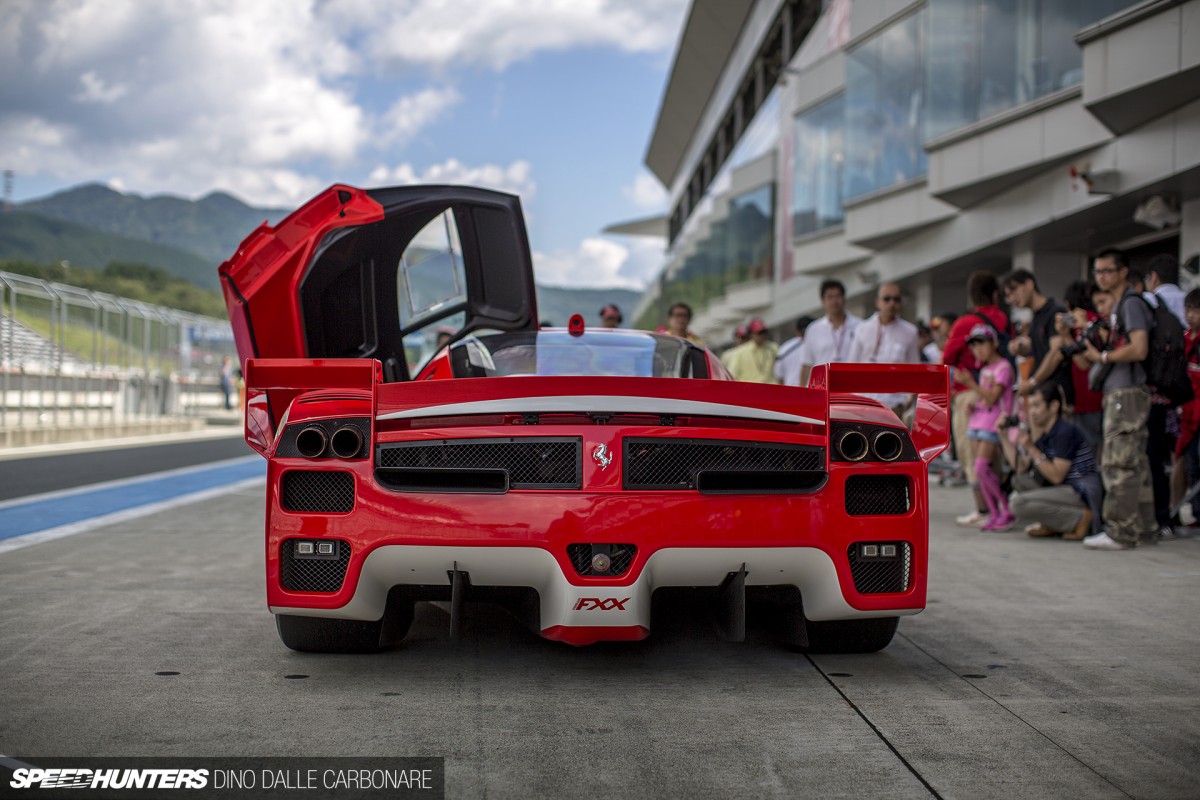 Powered by a 6.3L stroked version of the Enzo's V12, these beasts mate their 1,155kg curb weight to 820hp, so you can imagine the sheer pace they're able to hold out on track.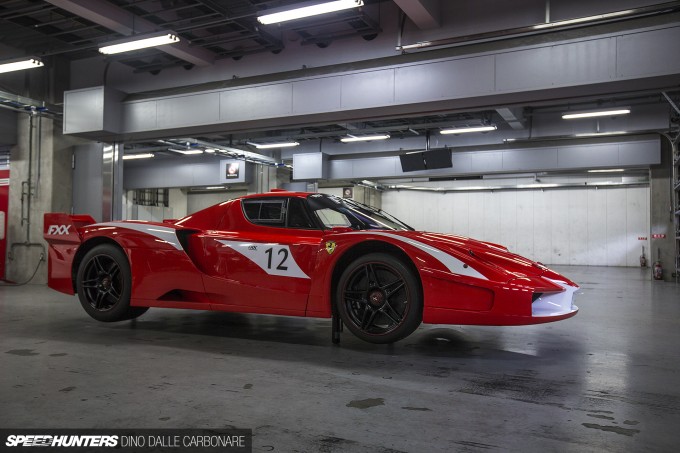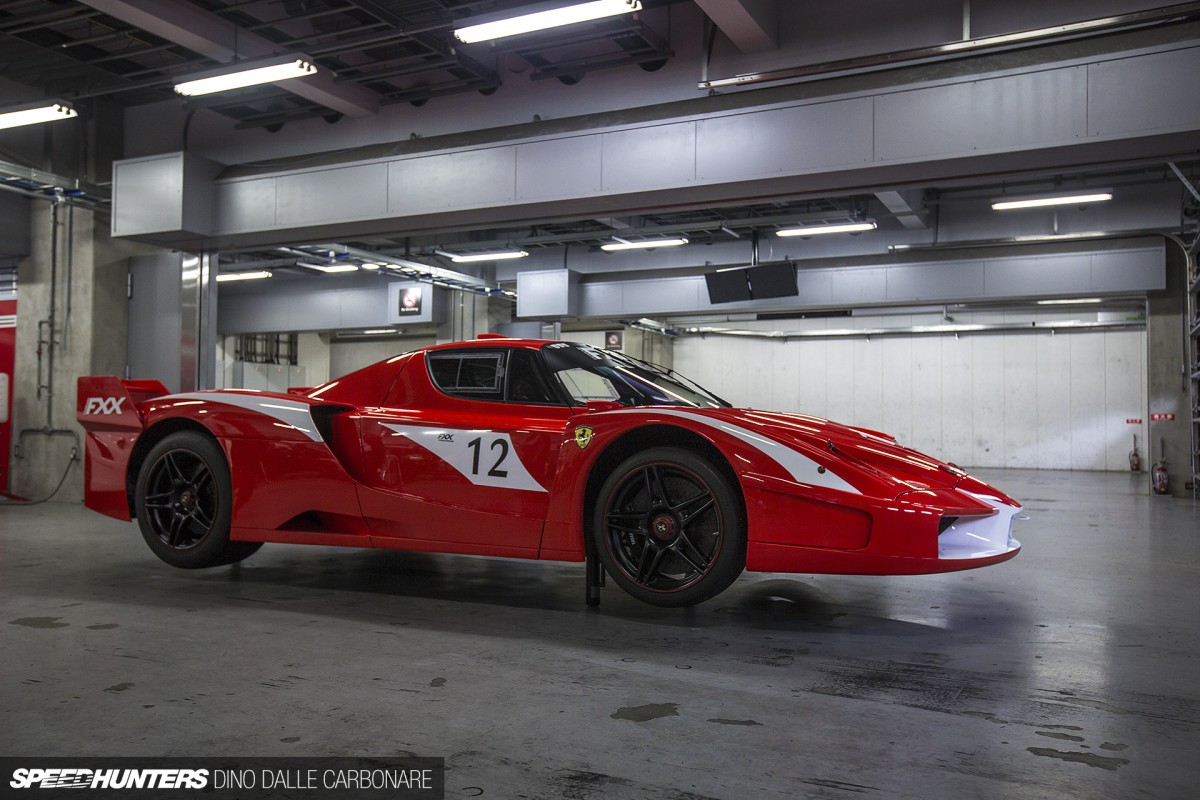 After their hot laps were over I just had to head into the pit garage and take in all the aero details and modifications that set this car apart from the road-going Enzo.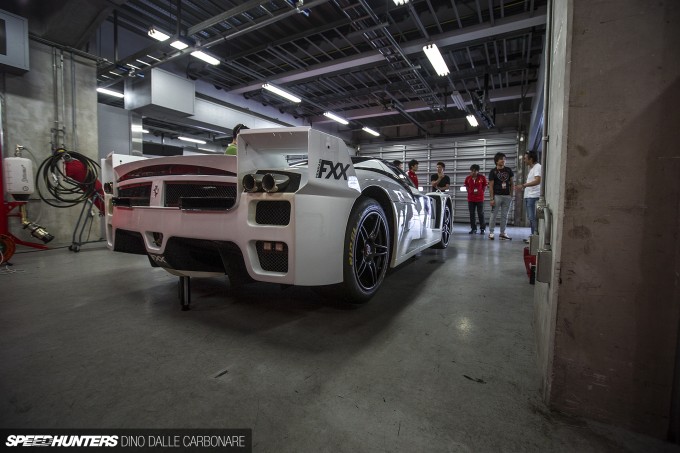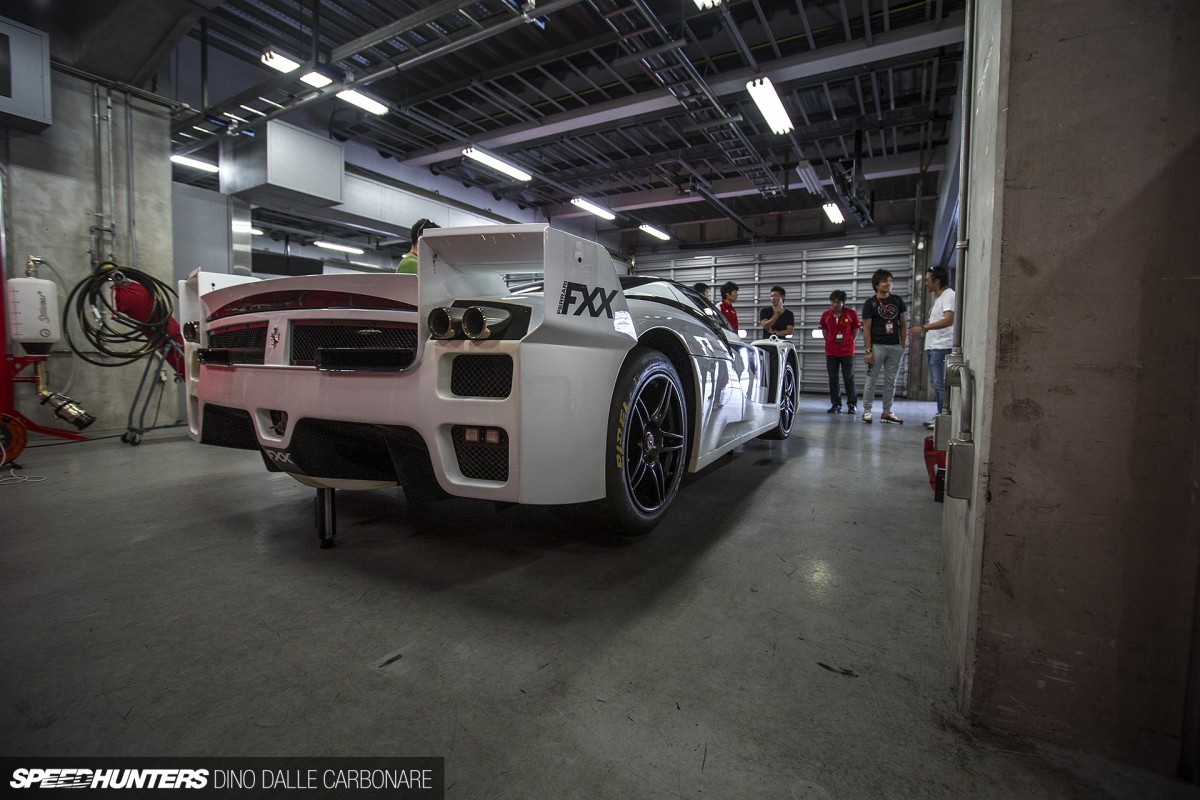 Check out where the exhausts stick out from! I'm not sure about you guys but I think the FXX looks nothing short of spectacular in white.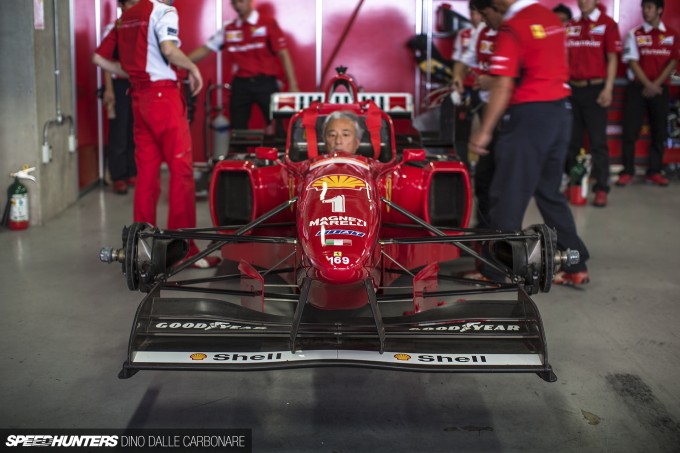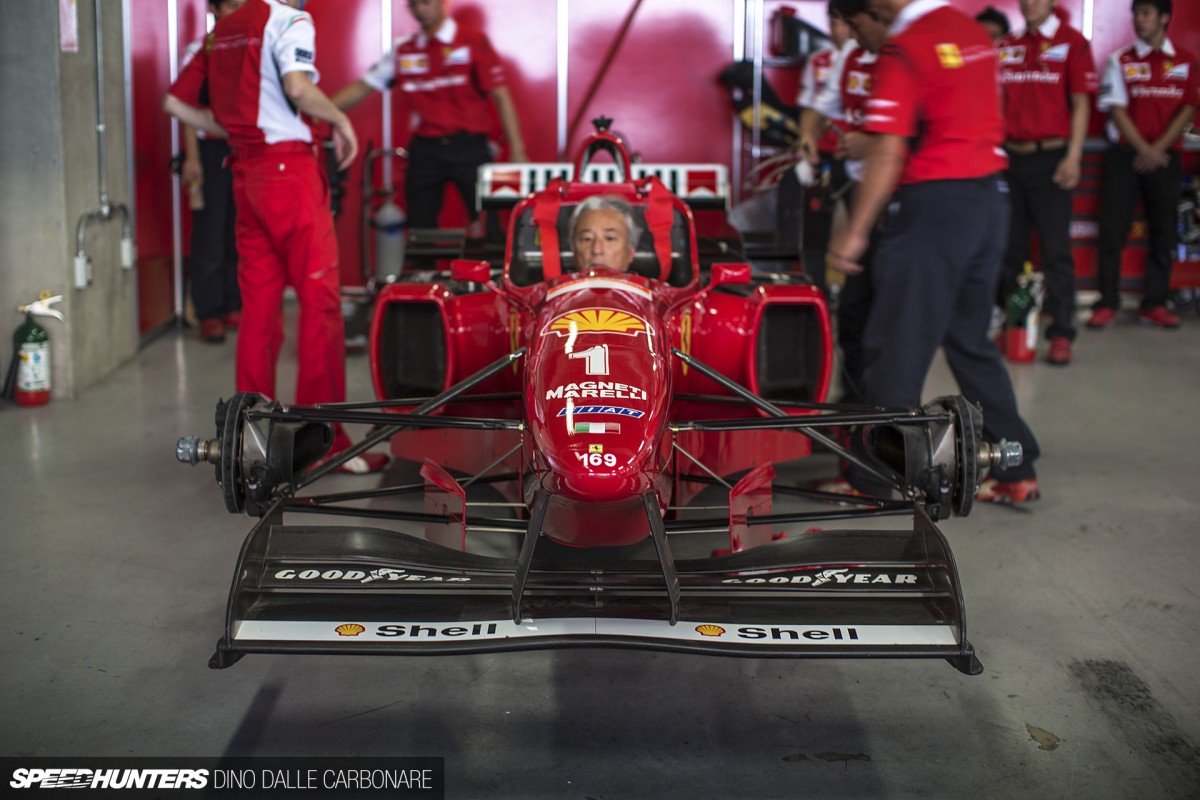 For the private owners of old F1 cars, Ferrari can look after their track outings by providing full race mechanic assistance to guarantee that the cars are prepared and maintained correctly. At a cost of course…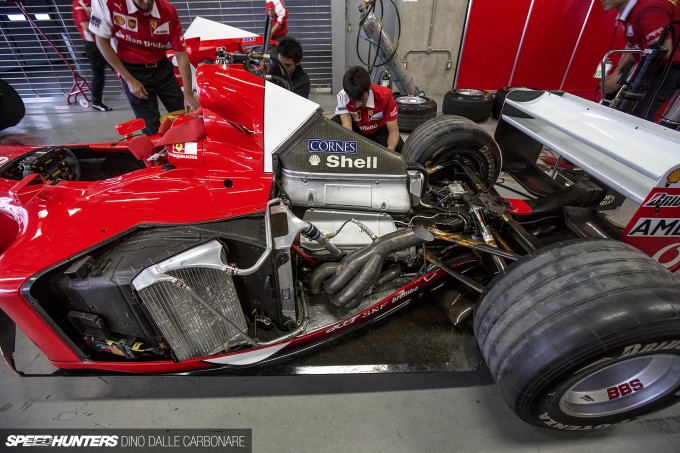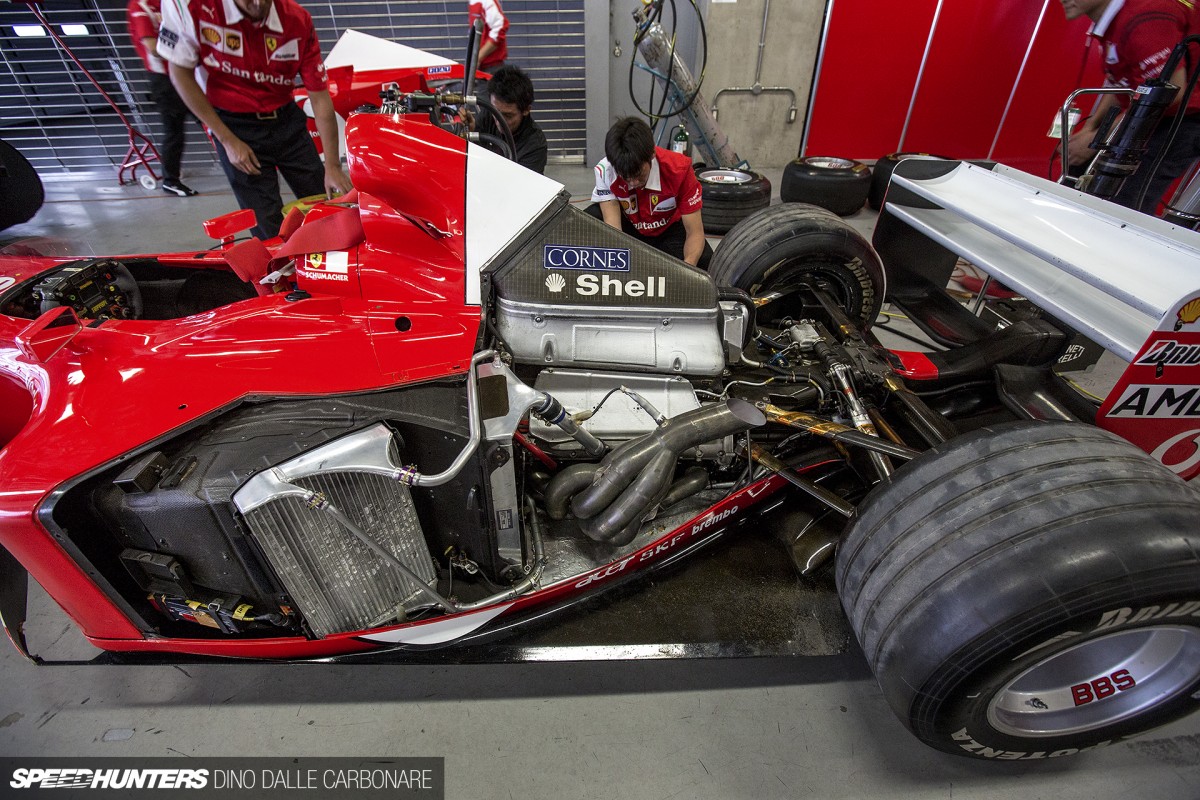 When they were warming up this ex-Schumacher car from 2000 I couldn't help just stand there in utter awe. Aside from the sound coming from the Inconel exhausts (well, headers really as there's no exhaust to speak of), the way the engine, transmission, suspension and all other ancillaries are packaged is truly beautiful to see. It almost looks simple, but imagine the amount of designing and fine tuning that it took to get all components to sit so functionally within the tiny chassis.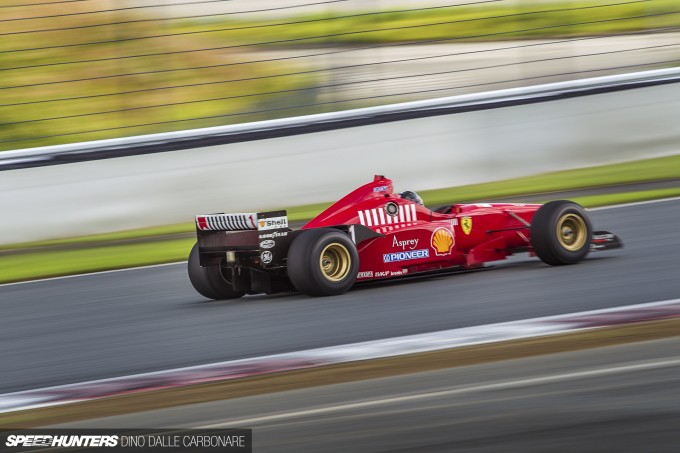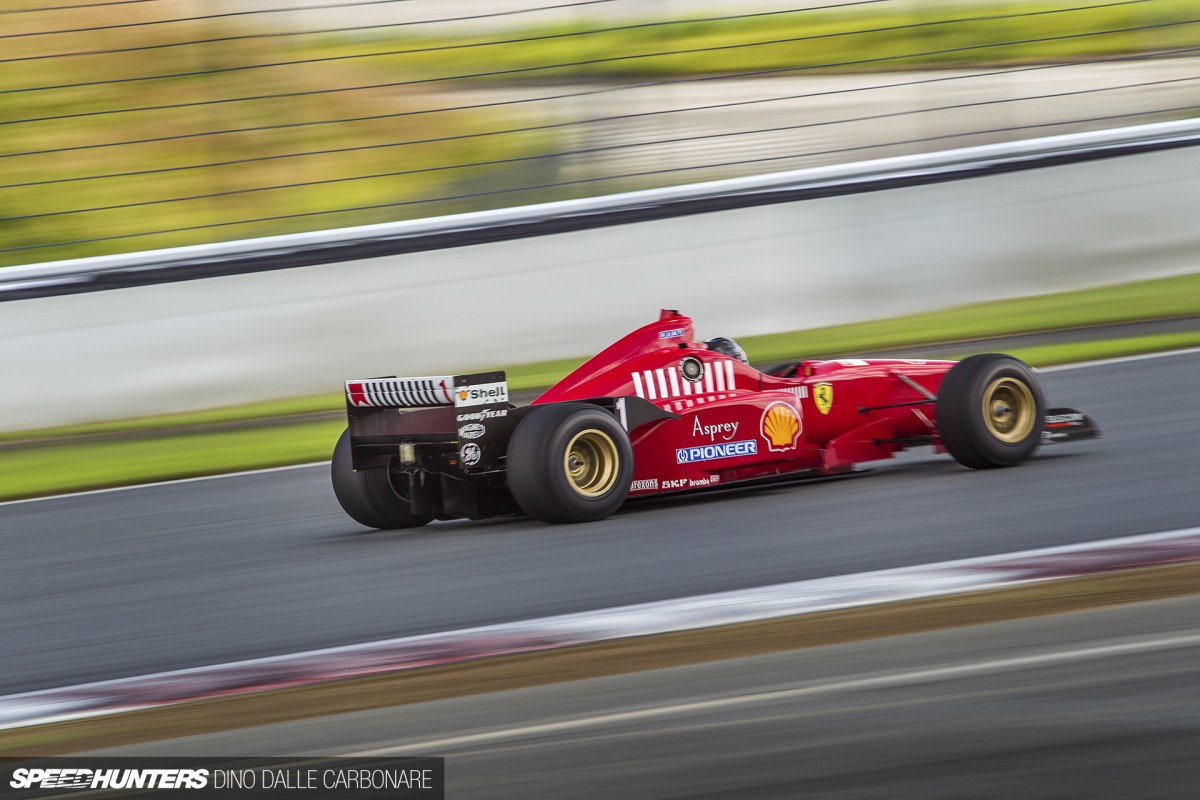 And here's Schumacher's 1999 car screaming away!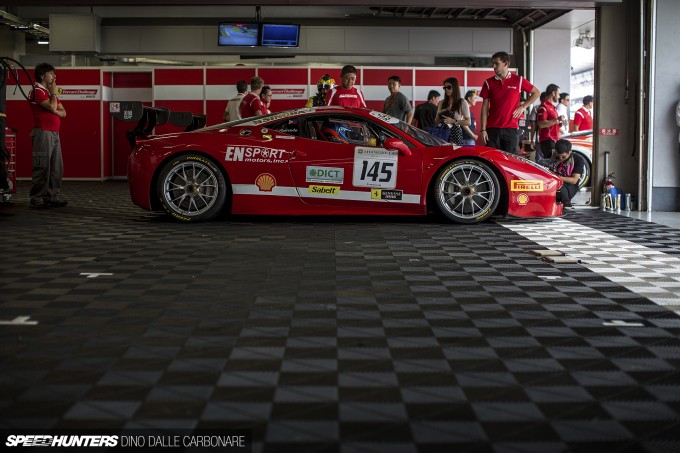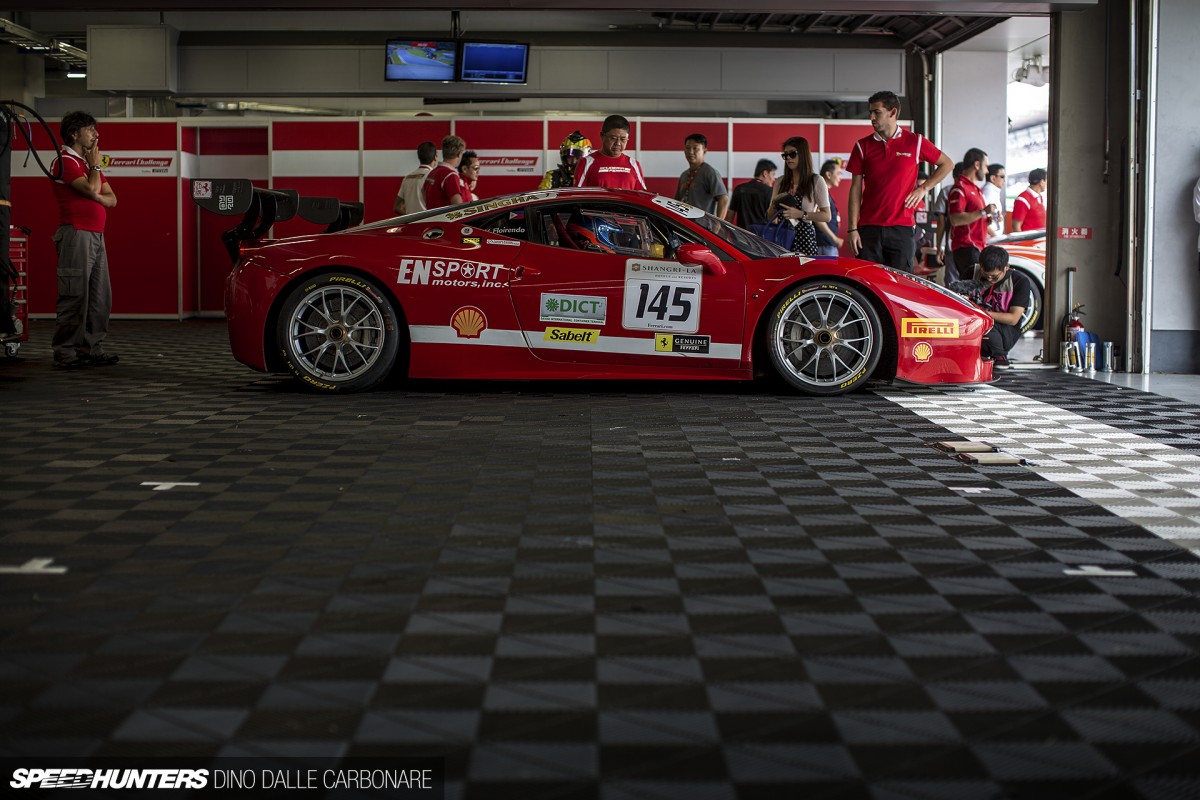 One of the biggest components of the Ferrari Racing Days is the Challenge Race where a grid-full of 458 Challenge Evoluziones are raced by privateers.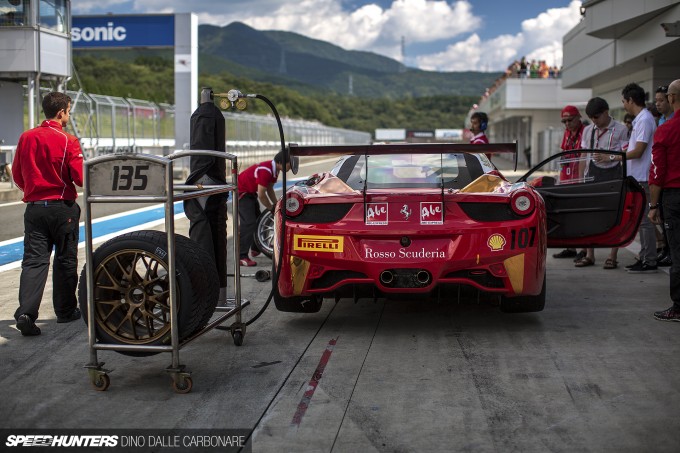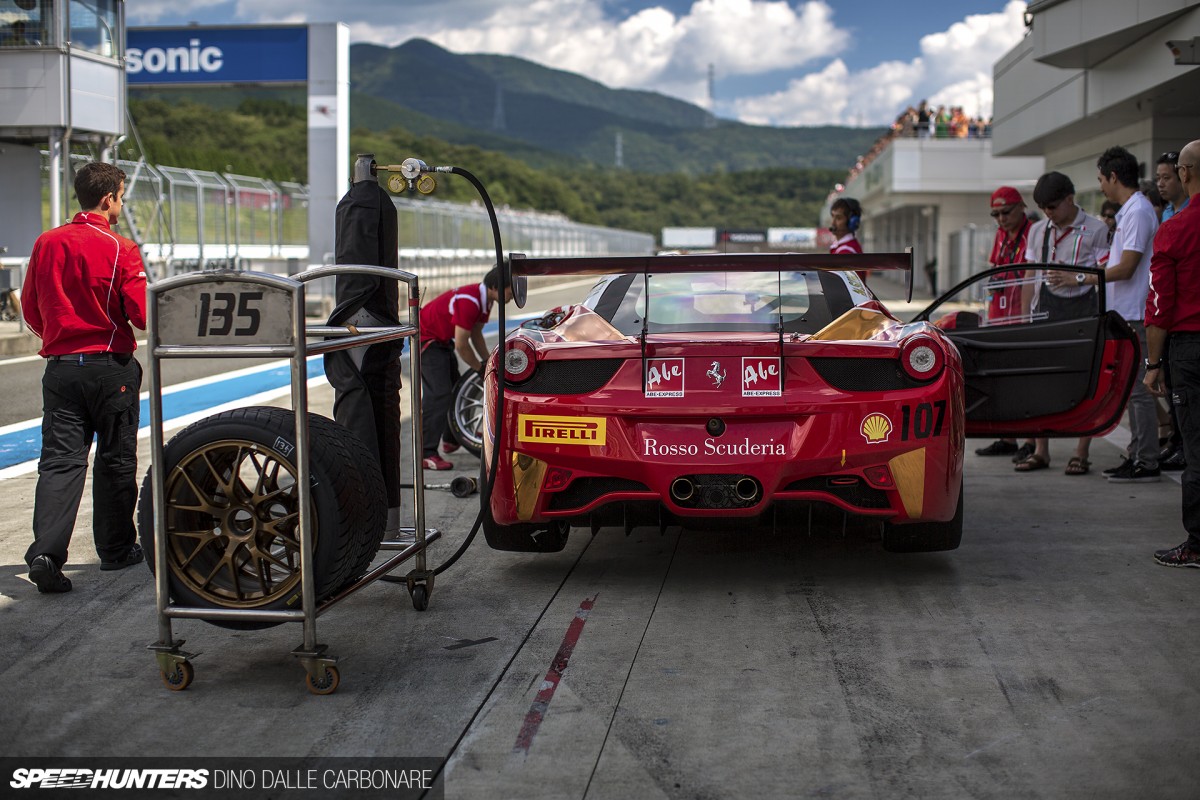 These guys spend the year travelling around Asia participating in seven races held on some of the most famous circuits in the region, including Sepang and Shanghai.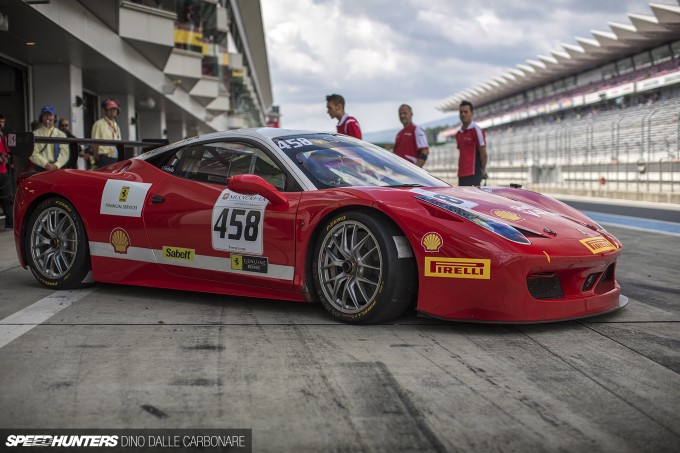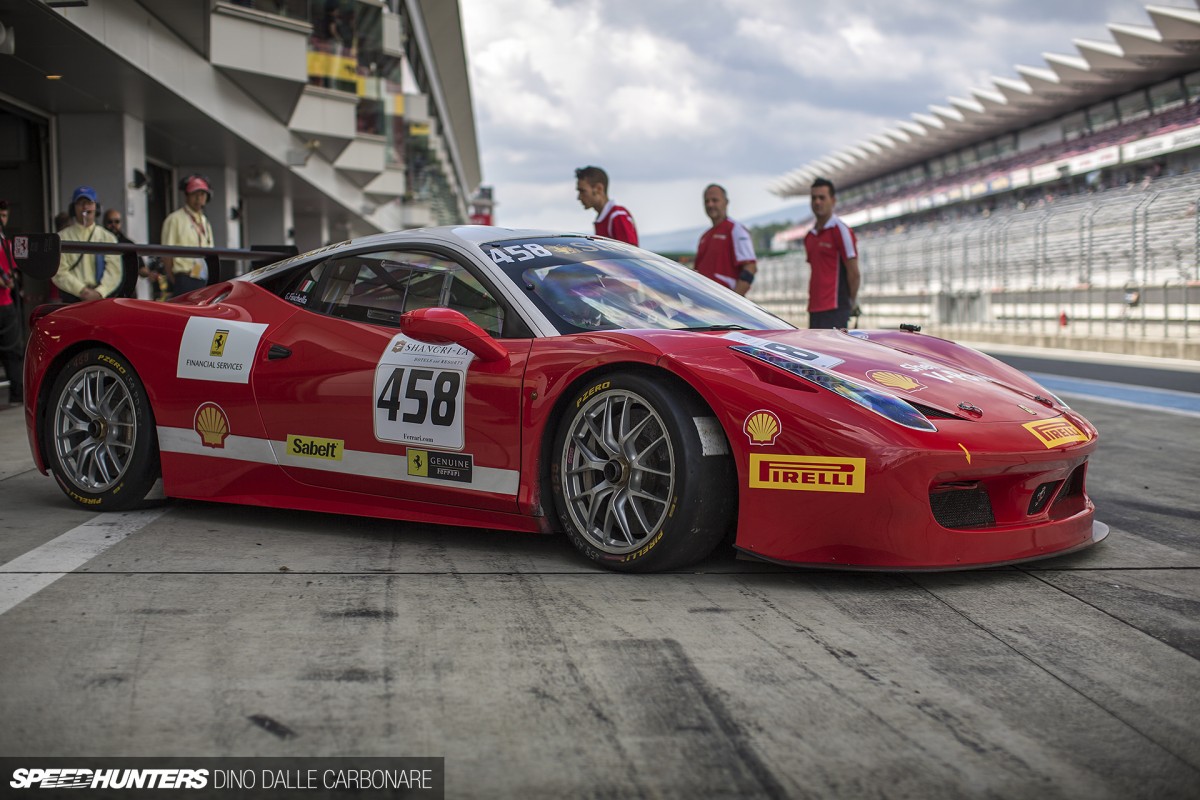 The 2014 series ends in December with the final round in Abu Dhabi.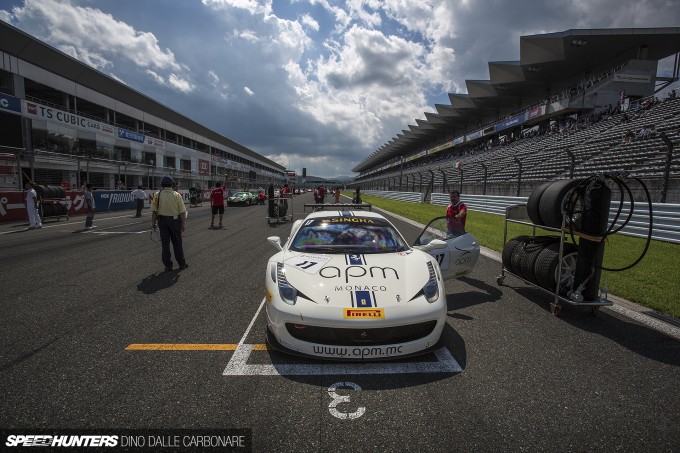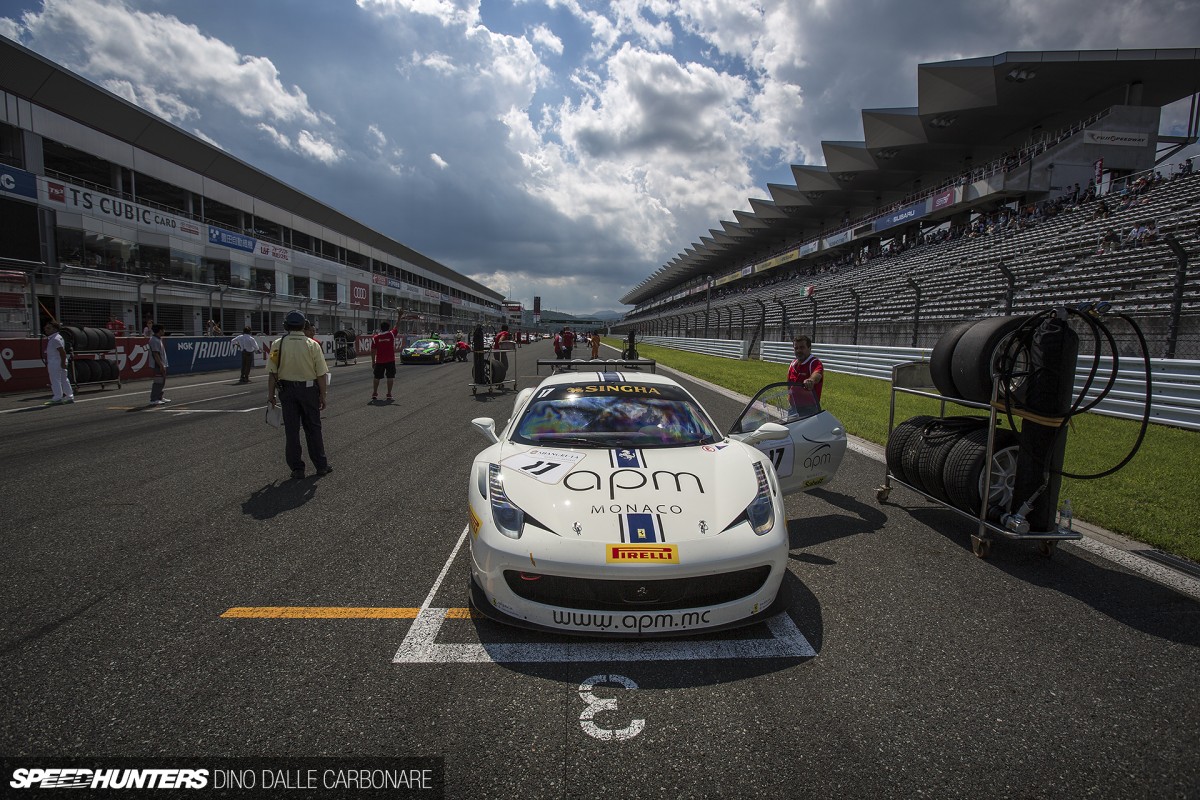 Giancarlo Fisichella participated in the two races as a guest, but given his fast pace was asked to start all the way at the back of the grid.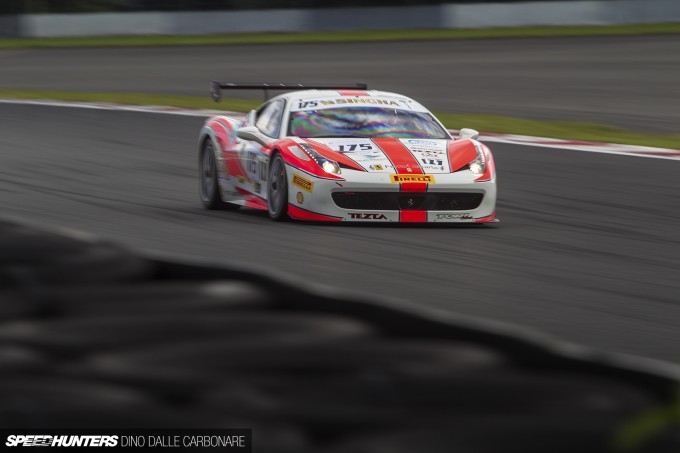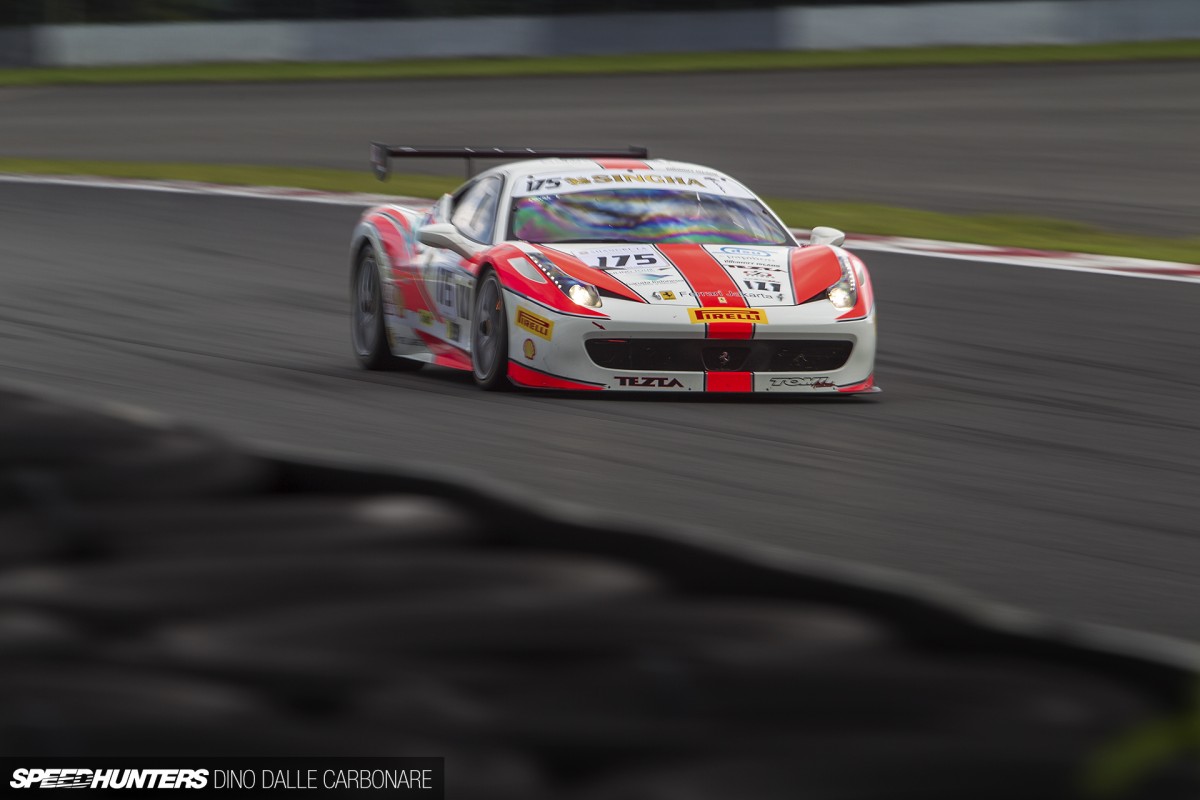 The 458 Challenge Evoluzione used in the races is a lighter version of the road going car that runs more functional aero additions like a front lip spoiler and rear wing. While the engine is pretty much stock, the car has a less restrictive exhaust, a retuned twin-clutch gearbox with special gears ratios that makes a ton of noise at each shift.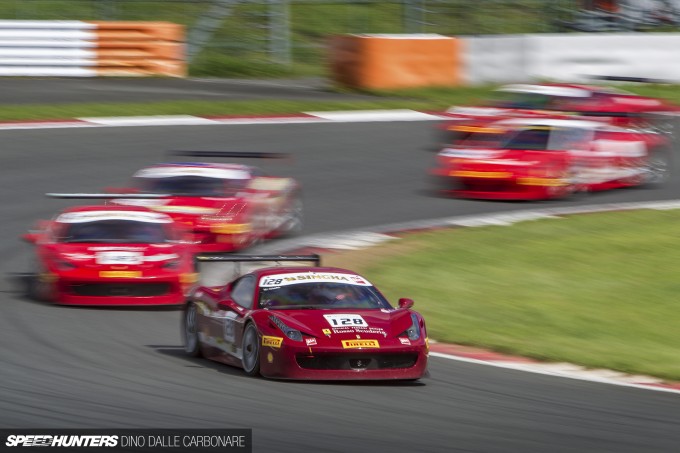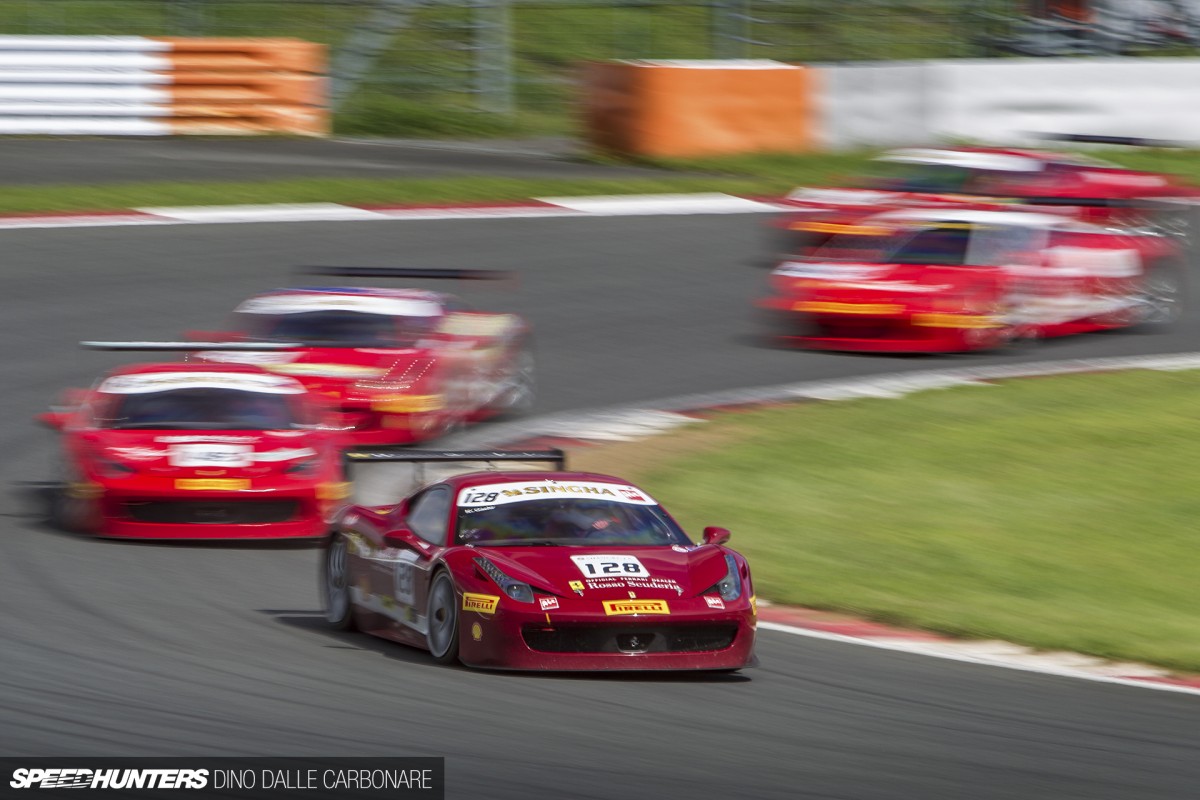 Suspension is adjustable as is the geometry, and the cars run slick tyres mounted on lightweight single-lug wheels.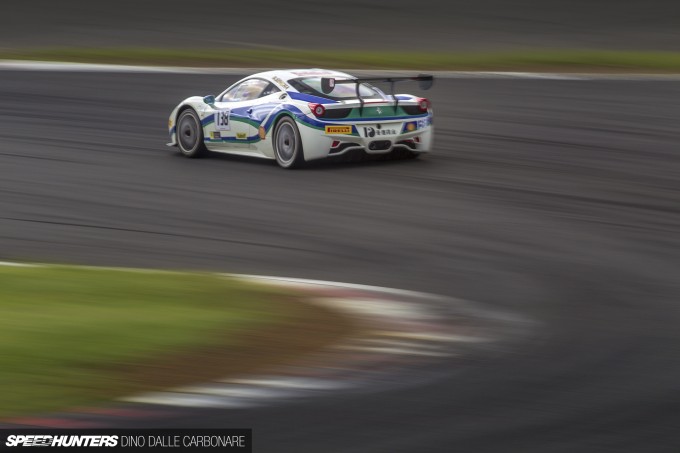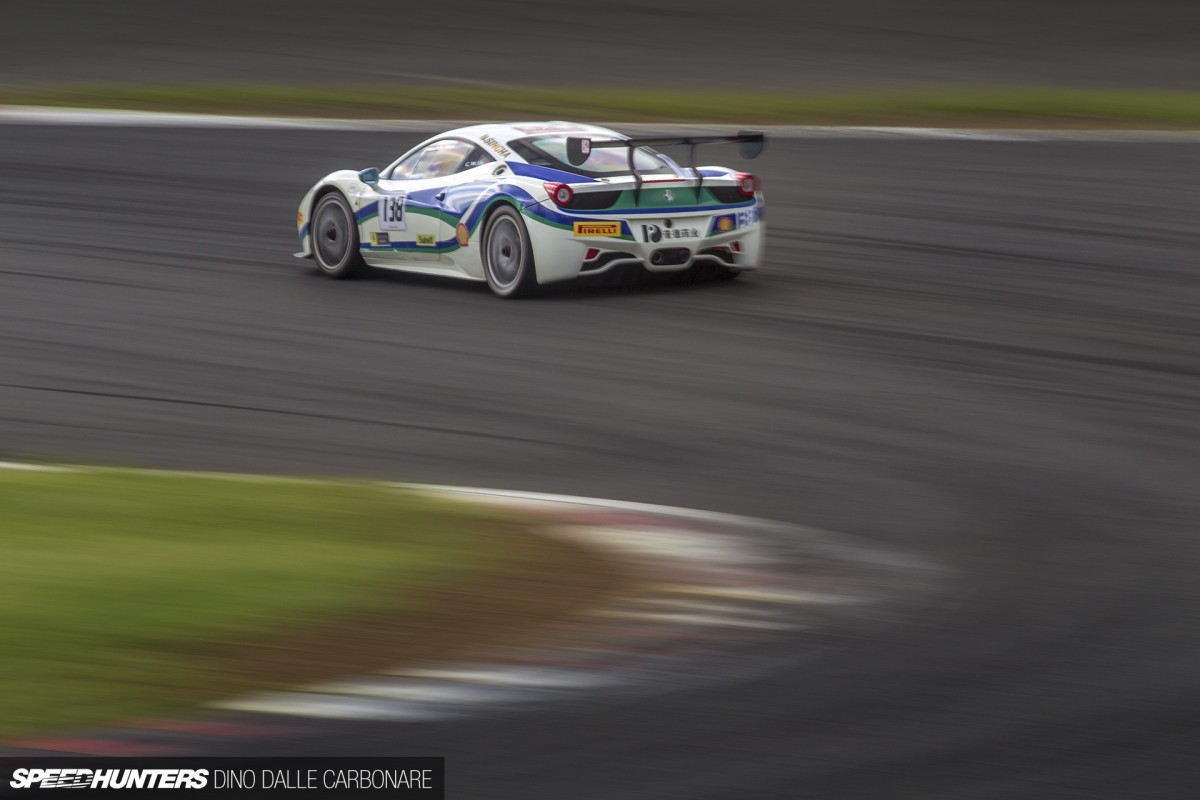 Despite their pure racing credentials, some people in Japan like to buy these race cars and get them registered for road use. One of those guys is our friend Kato-san at Liberty Walk who may well own the most unique Challenge on the planet!
Operative Words: Limited Edition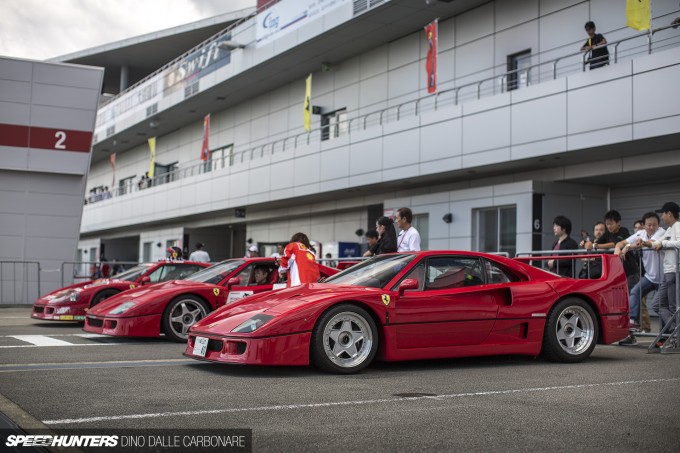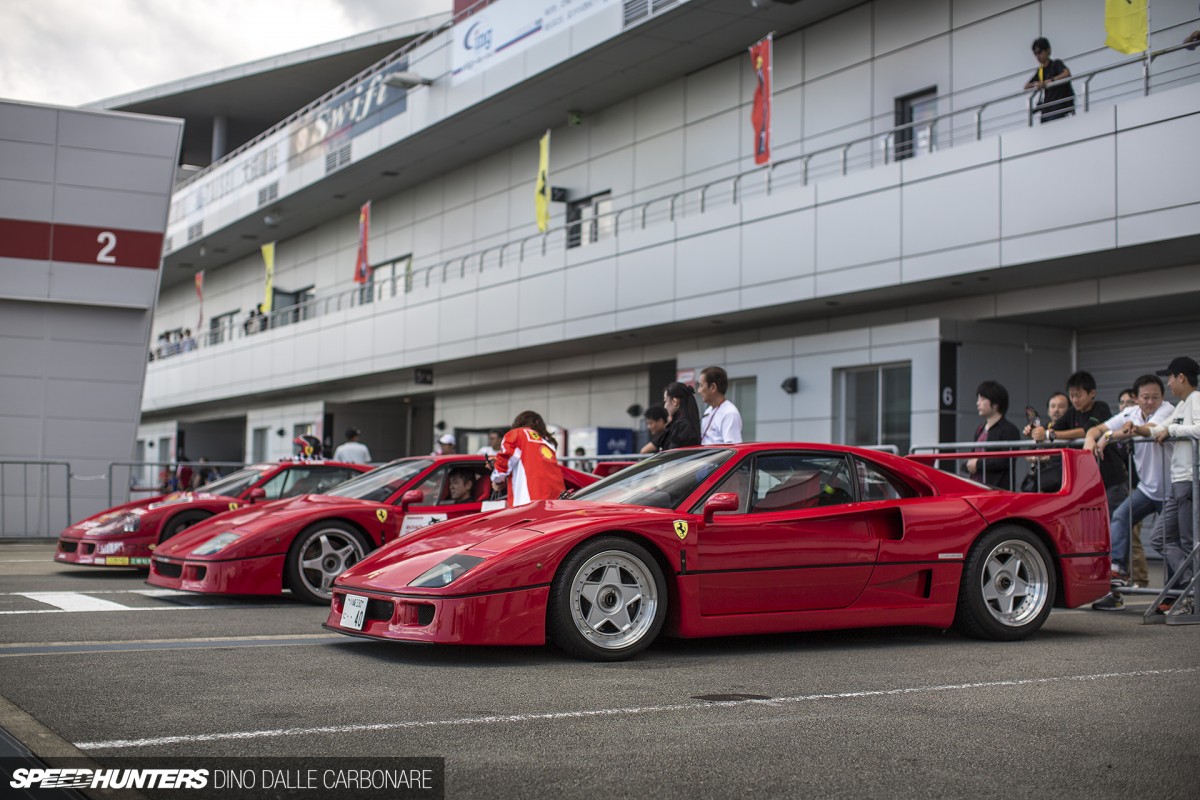 One of my favorite aspects of this event is the number of rarities that show up. Ferrari had a special cornered-off area set aside just for owners of the most iconic cars its ever produced. The F40 needs no introduction of course!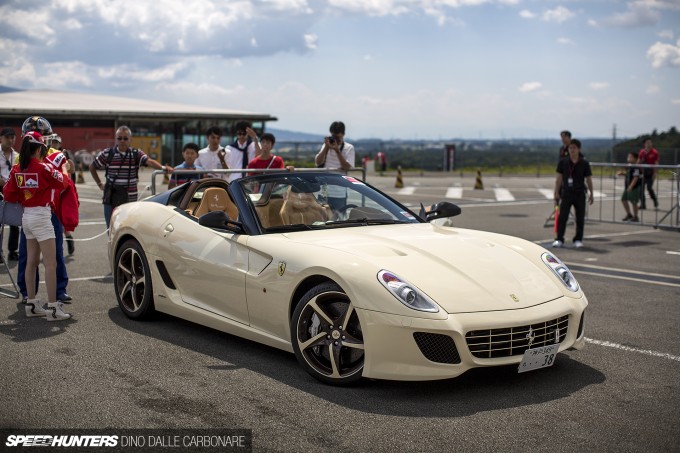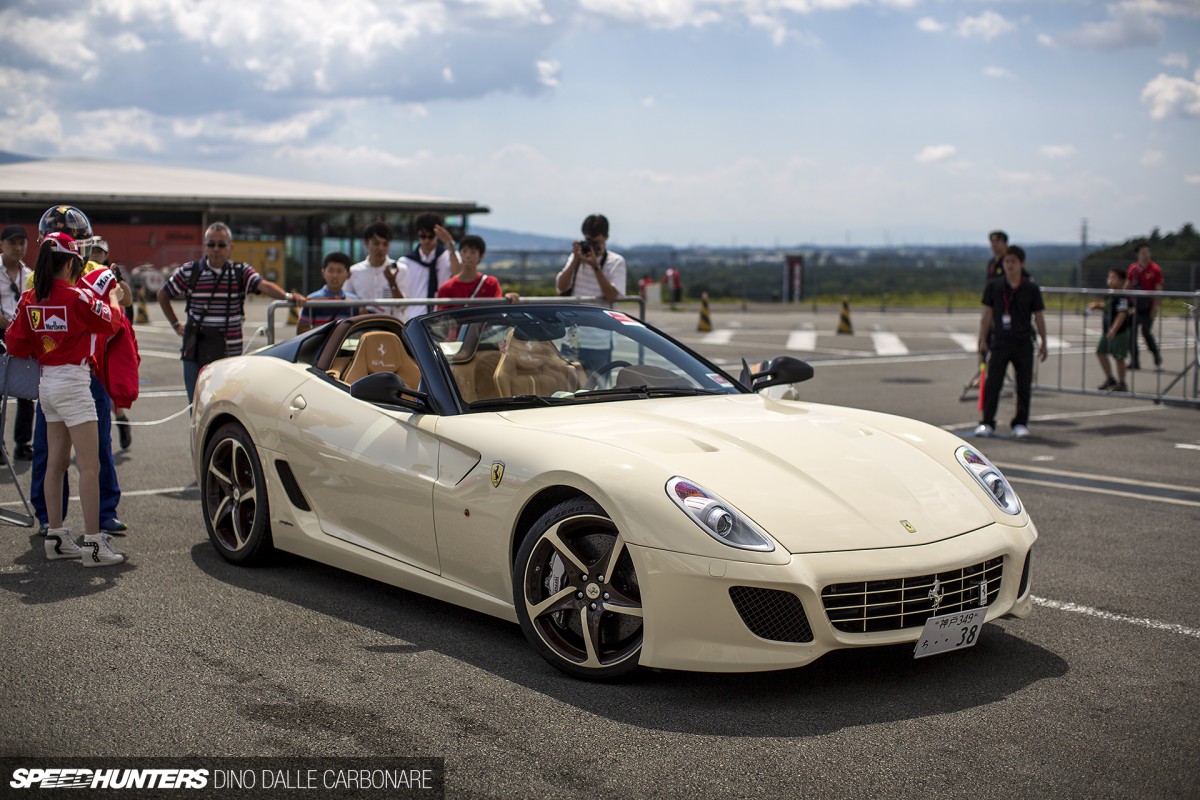 However, this limited edition version of the 599 probably does.This is the 599 SA Aperta – one of only 80 examples ever made back in 2011 to celebrate Pininfarina's 80th anniversary. The car features a removable roof and the GTO's more powerful engine.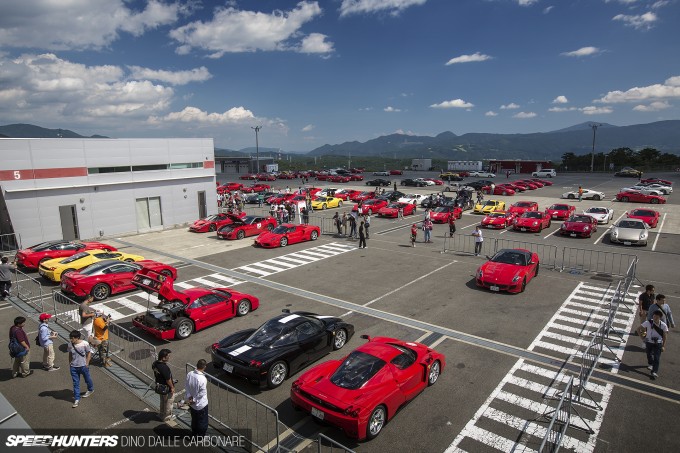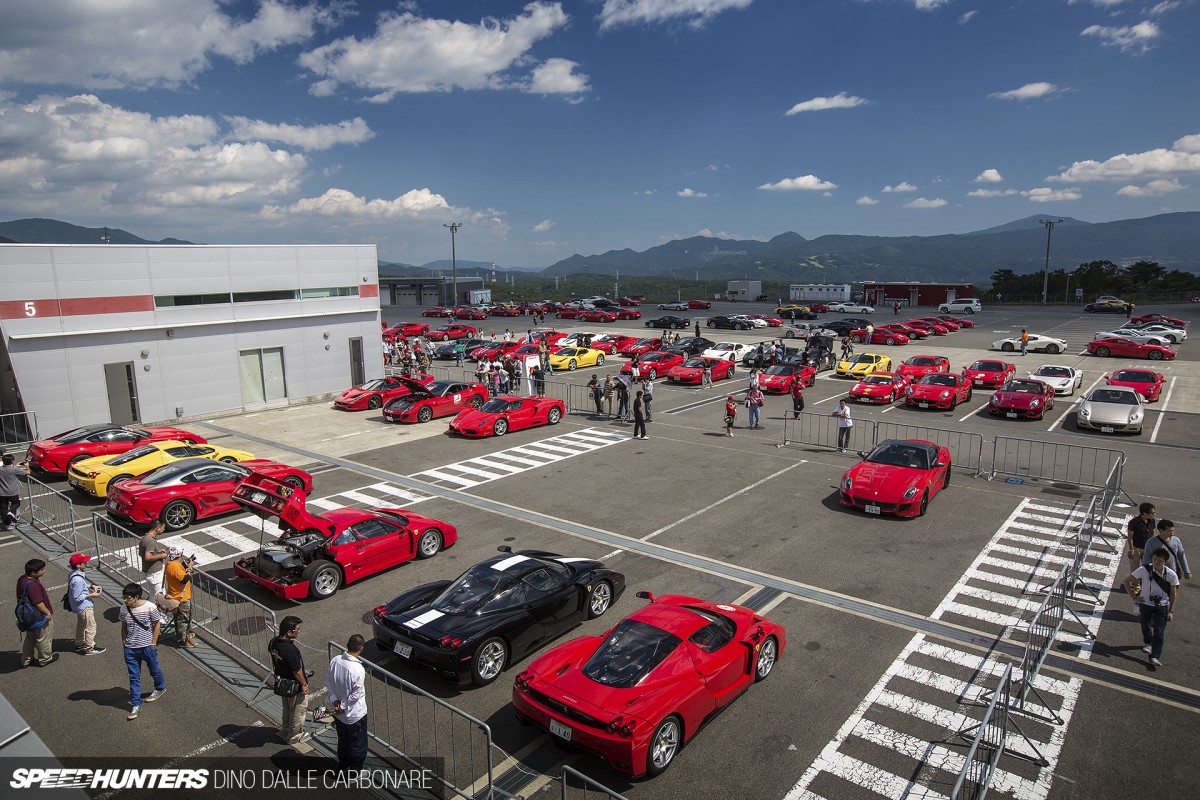 Next to the F40s were a bunch of other cars you may recognize.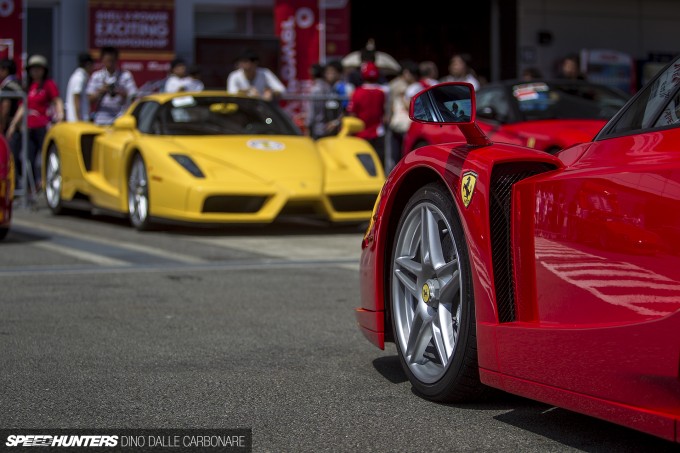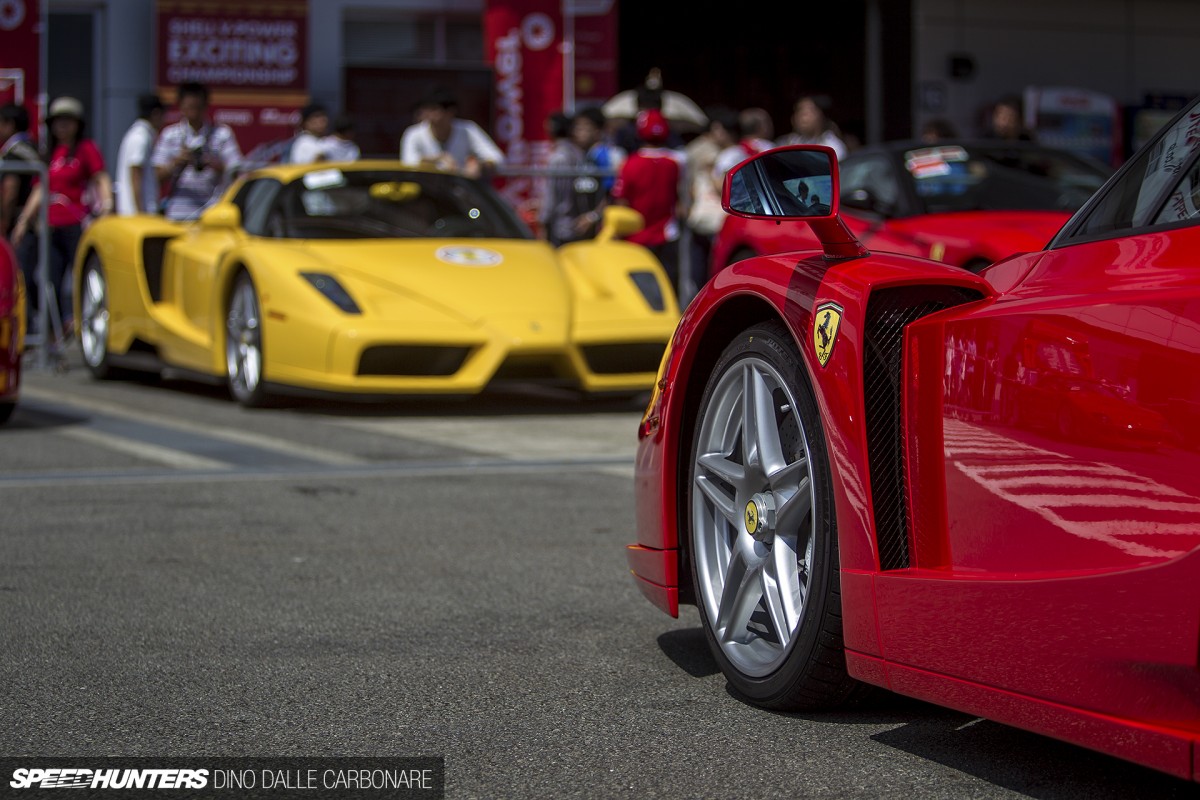 The Enzo was once described to me by MotorHead editor Takada-san as a 'more extreme, powerful and scary version of the Lotus Exige'. Ever since he mentioned those words I've always wanted to sample one for myself!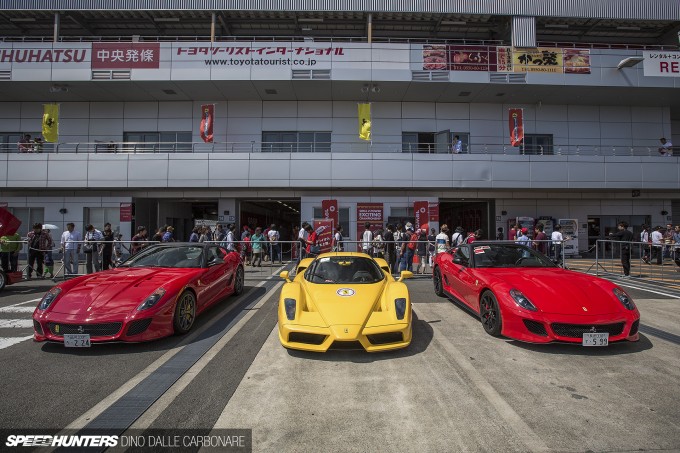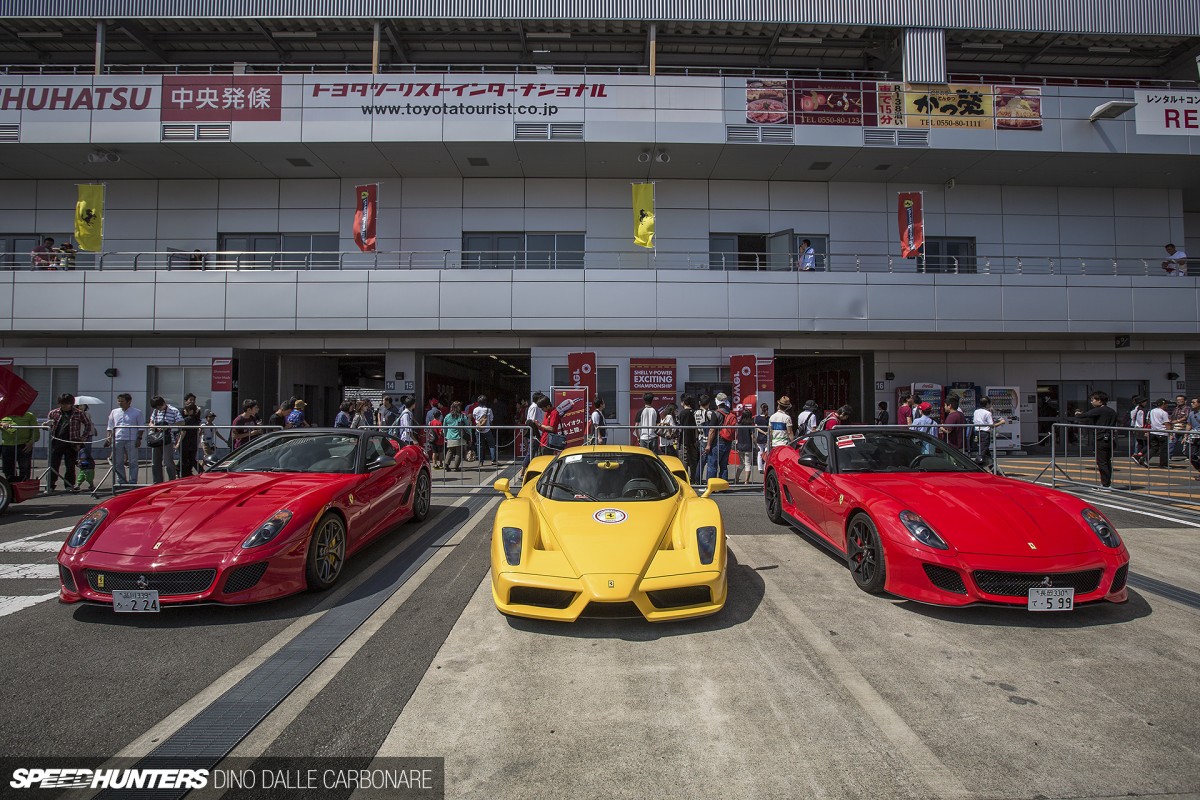 Production might have ended a decade ago, but the Enzo still has plenty of appeal. Look how tiny it looks sitting in between a 599 GTO sandwich!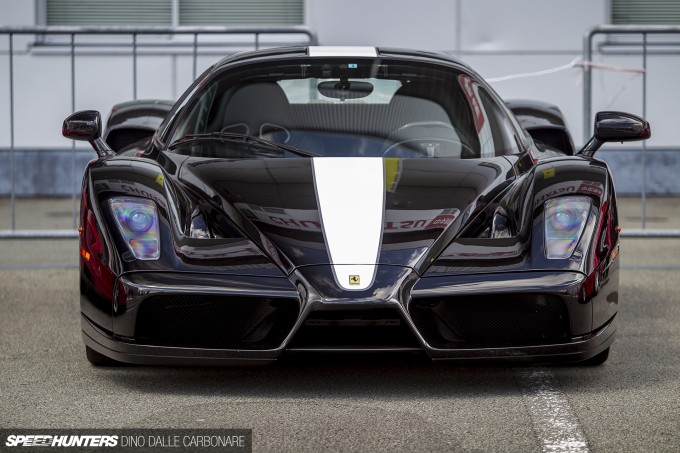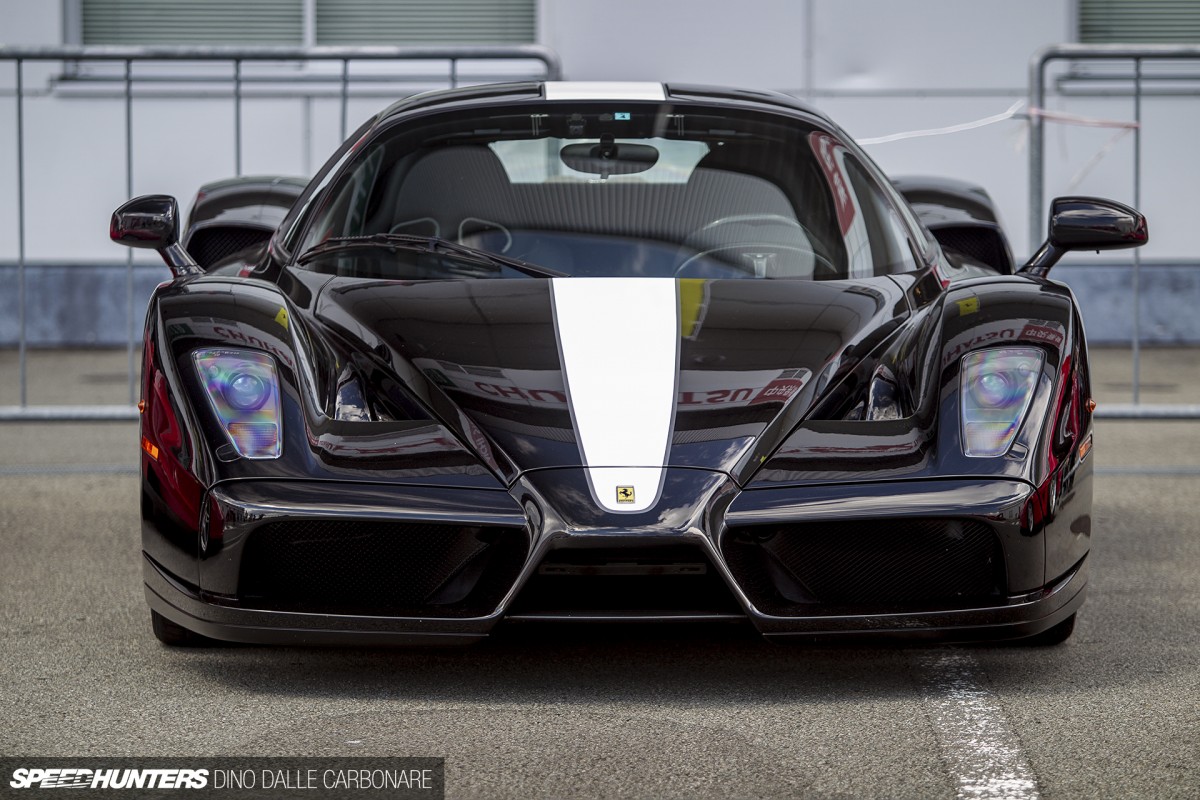 Black devil car indeed.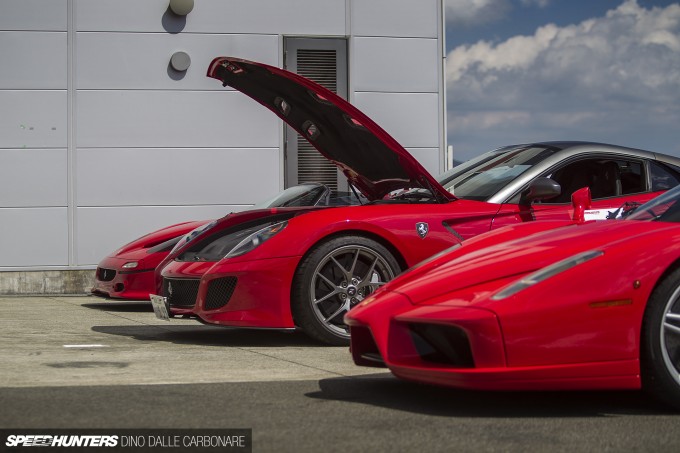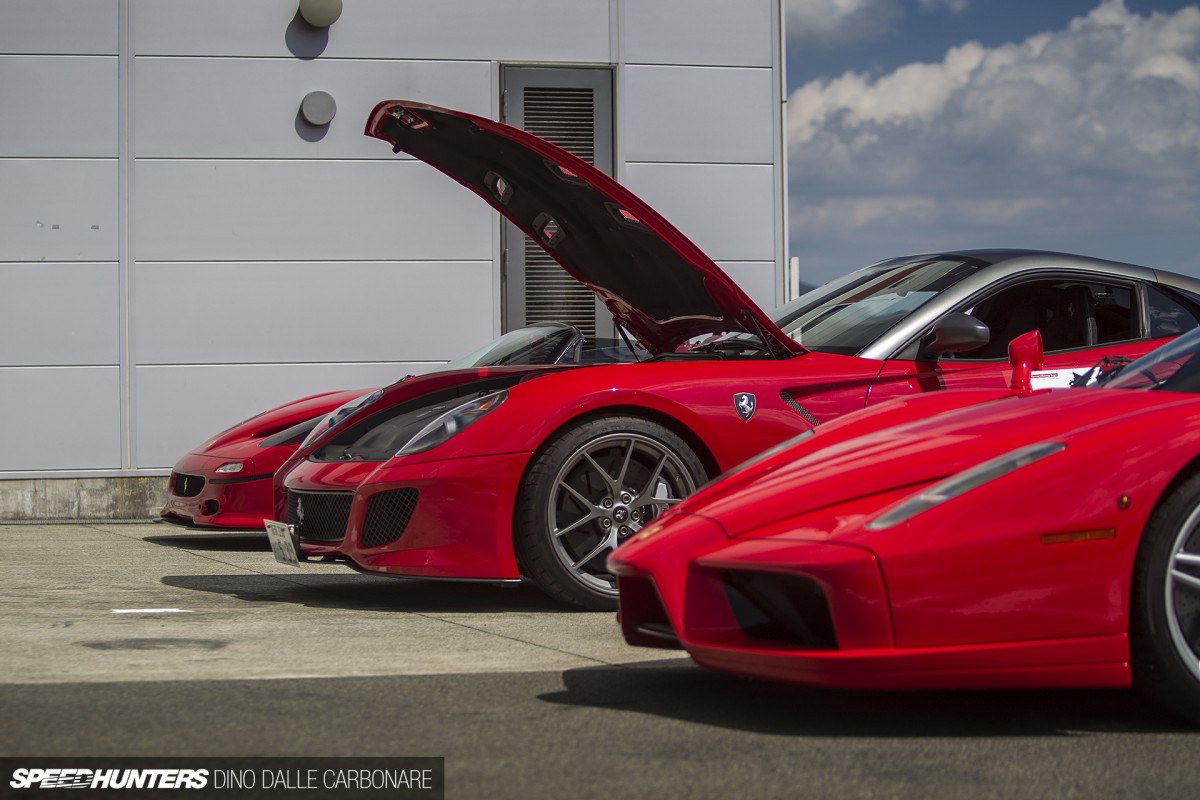 The 599 GTO was the road-going version of the 599XX, packing a 50hp bump in power over the regular car and a host of other handling and aero additions.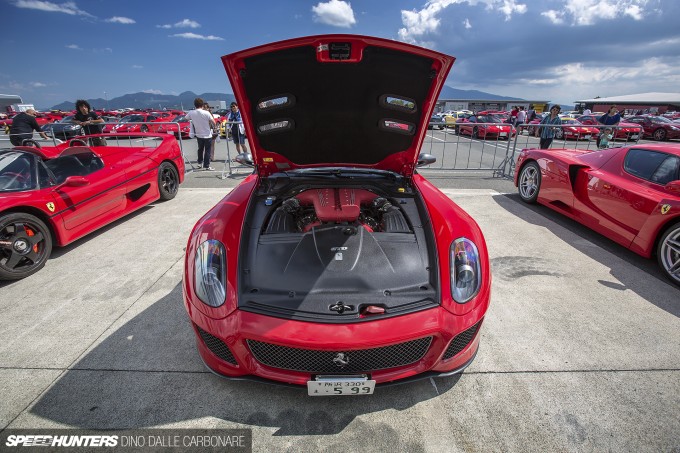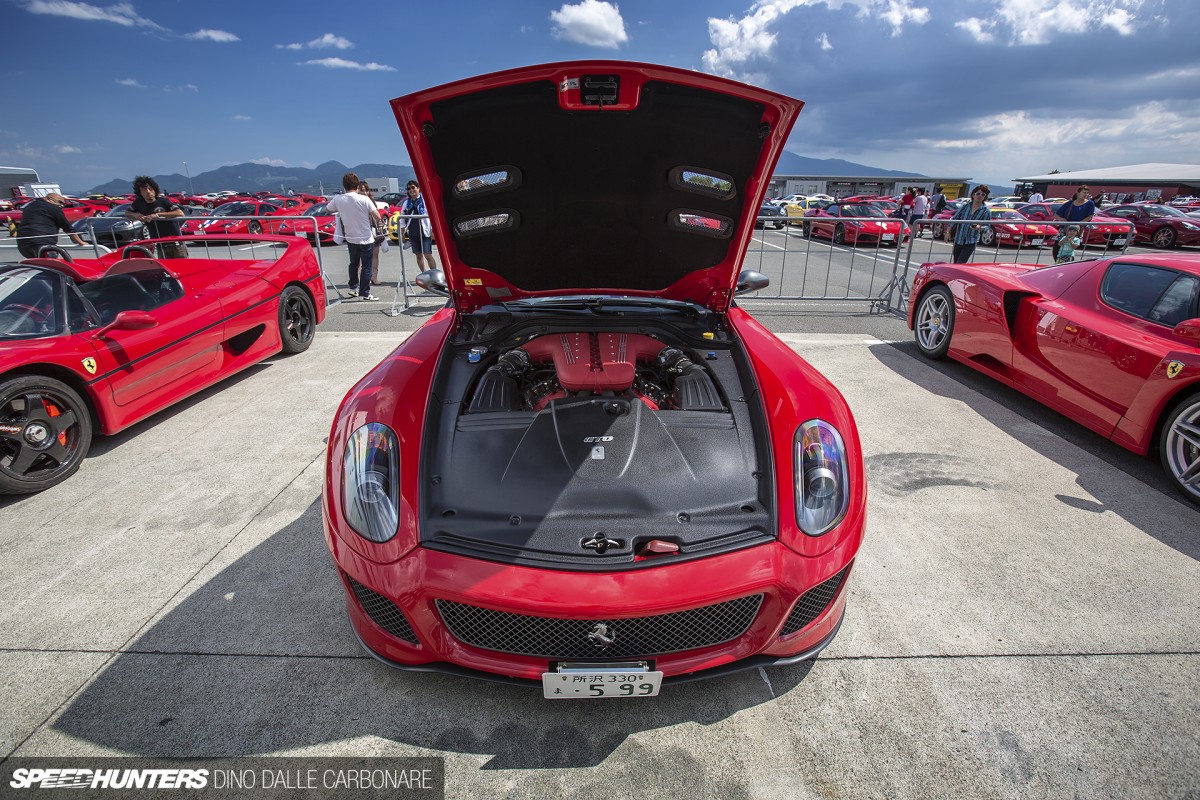 This car managed to lap Fiorano one whole second faster than the Enzo – a perfect example of progression. But get this, the LaFerrari does it four seconds faster still. Mind blown!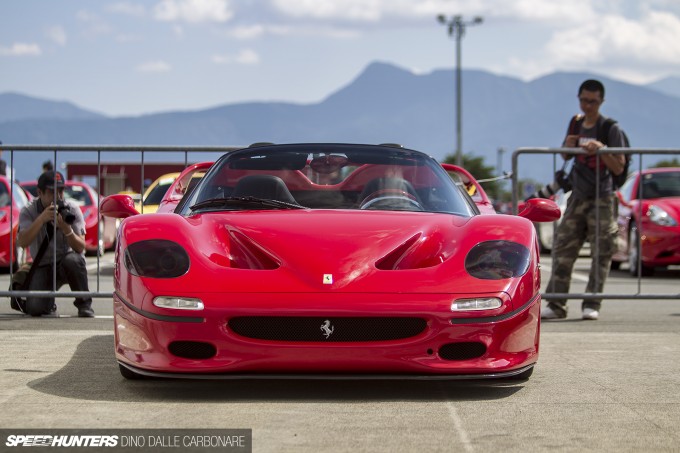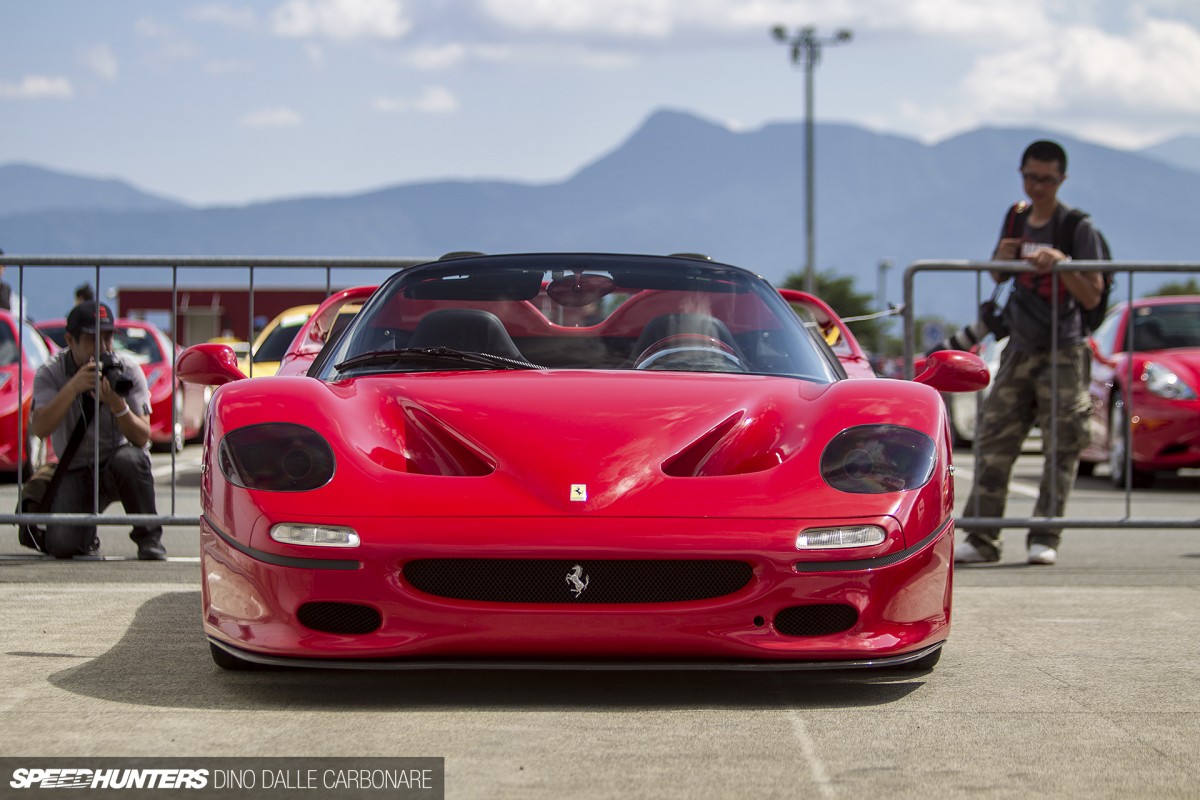 I only spotted two F50s at Fuji, but this model still has so much charm. I'd still take the older F40 though, as I'm sure most of you would too!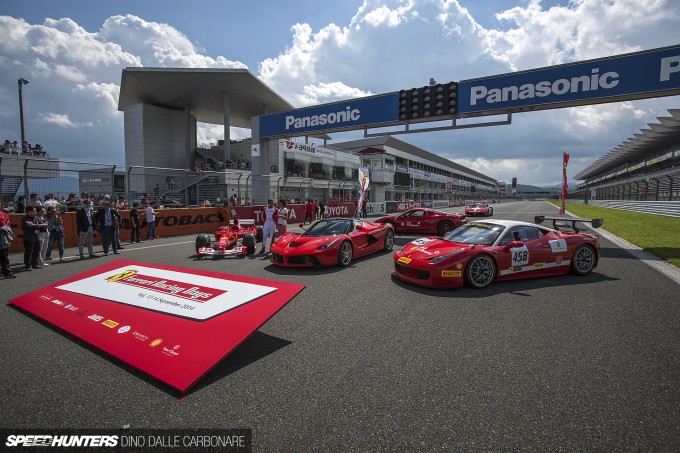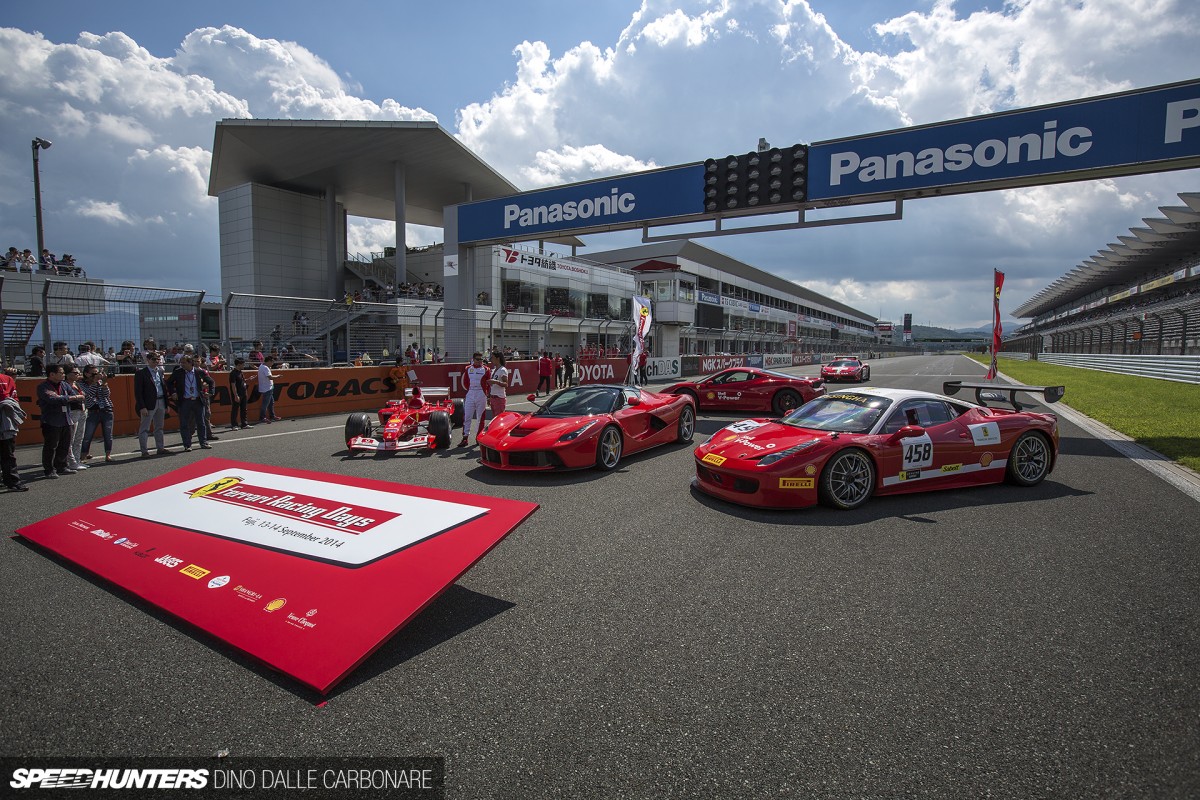 An event of this caliber always calls for a choreographed picture on the main straight, and while Ferrari's hired shooters were busy positioning the cars and staff into their frames, I quickly snuck in and grabbed a shot myself.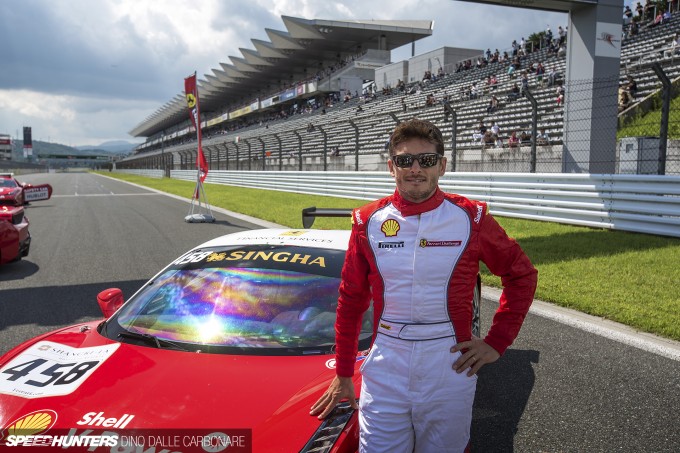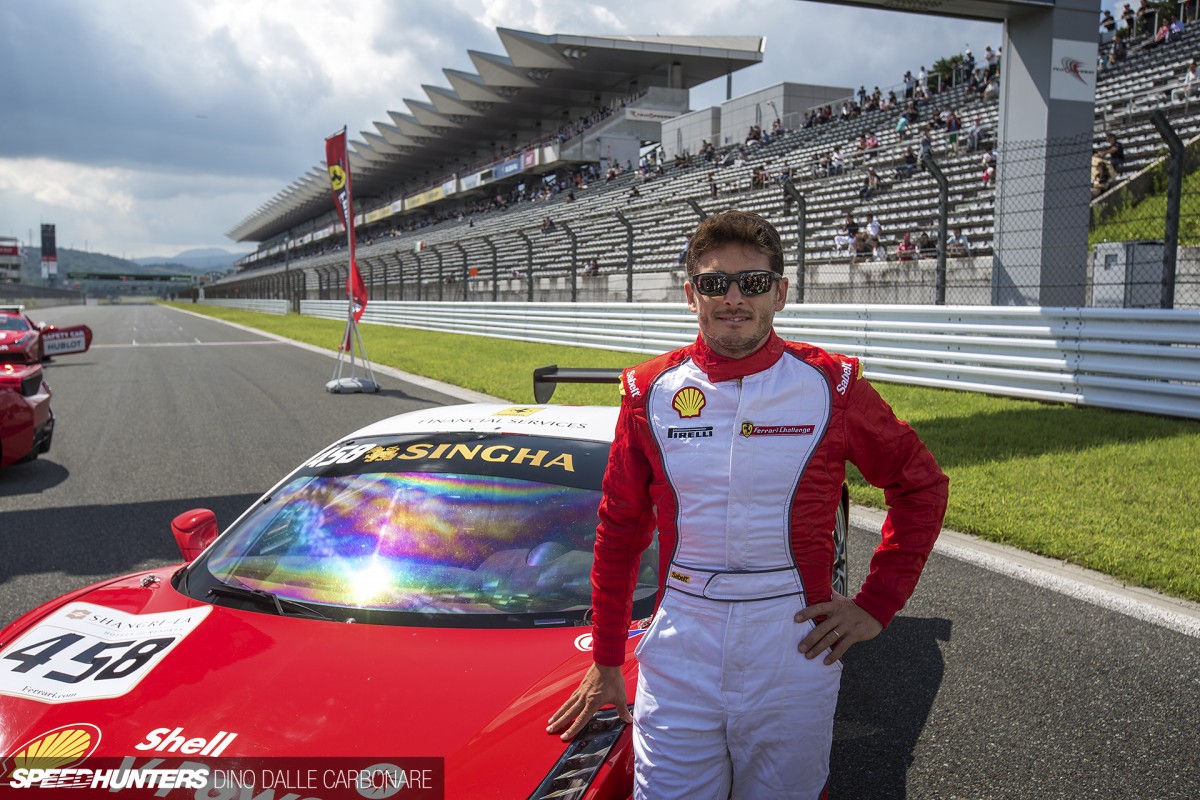 Here is Giancarlo Fisichella standing next to the number 458 car that he was driving during the weekend. But with the LaFerrari literally a few inches away from me, well, I just had to take my shot and reposition quickly.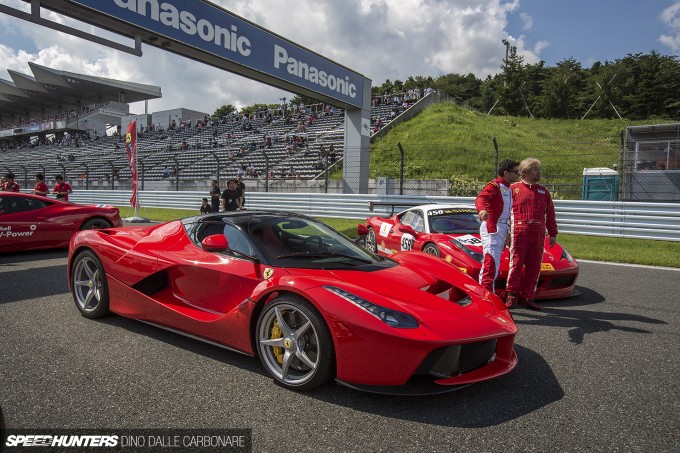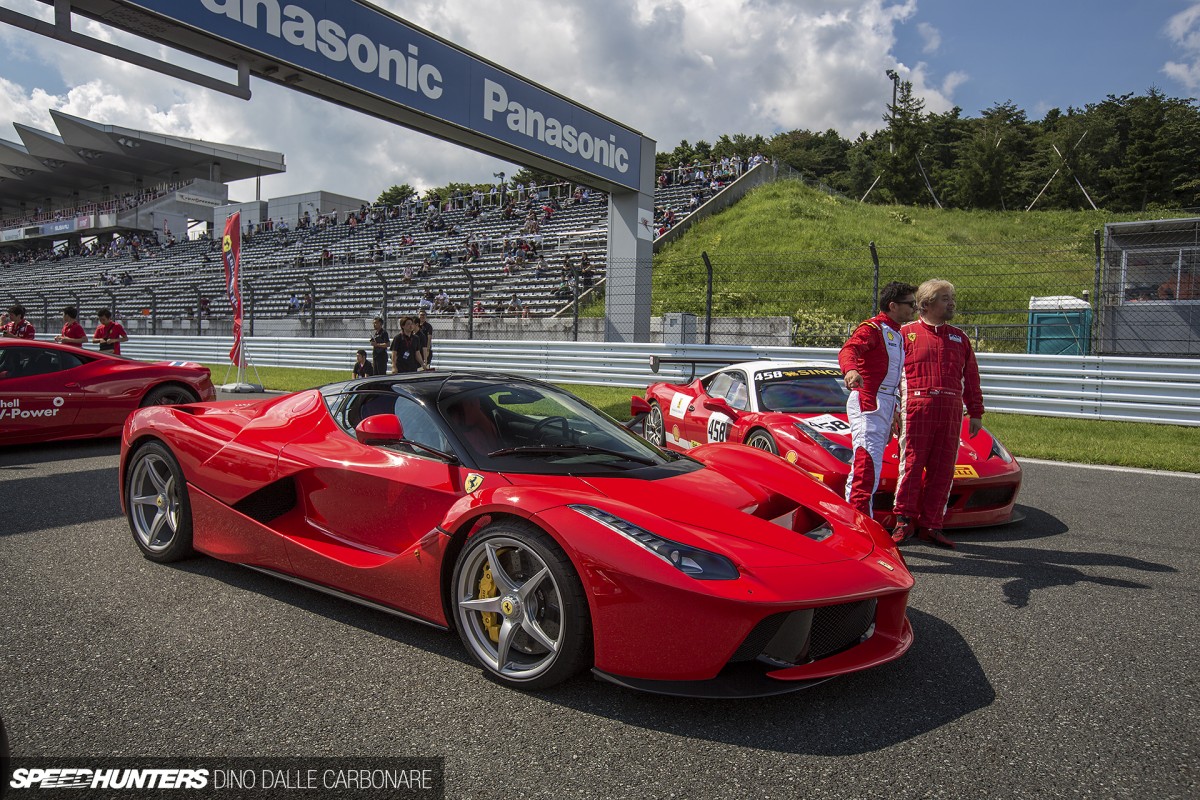 I can't stress how futuristic this car looks up close. I had my reservations having only seen images floating around the internet, but in person it's as unique as you can get. I'd take mine in Bayside Blue!
I'll end the event coverage here, but make sure you check out the second post that's coming soon. I'll be Speedhunting around the paddock and car parks that were reserved as 'Ferrari-only Parking.' I'm sure you'll like what I found lurking in there…
Dino Dalle Carbonare
Instagram: speedhunters_dino
dino@speedhunters.com