Cross Continental Drift
Outside of its motherland, drifting – as a legitimised motorsport – has come a long way in a relatively short space of time. It may only be a little over 10 years old in the USA, but at its upper echelon you'll find professional drivers and manufacturer-backed machines, just like in any other international racing series.
While this sentiment maybe true of the premier drifting series Stateside, growth in Europe hasn't been so meteoric. Sure, drifting has been here for a comparable amount of time and enjoys a sizeable following, but with multiple championships coming and going over the last decade, it's suffered at pro-level through a lack of direction. Or it did, anyway, because for the region's top drift talent, the last couple of seasons have arguably been the best yet.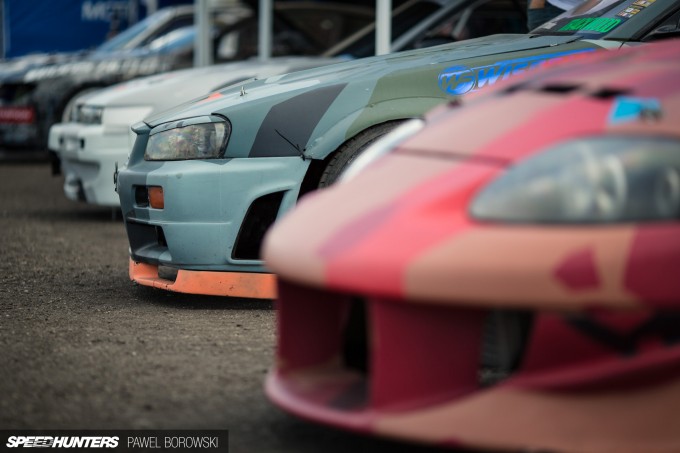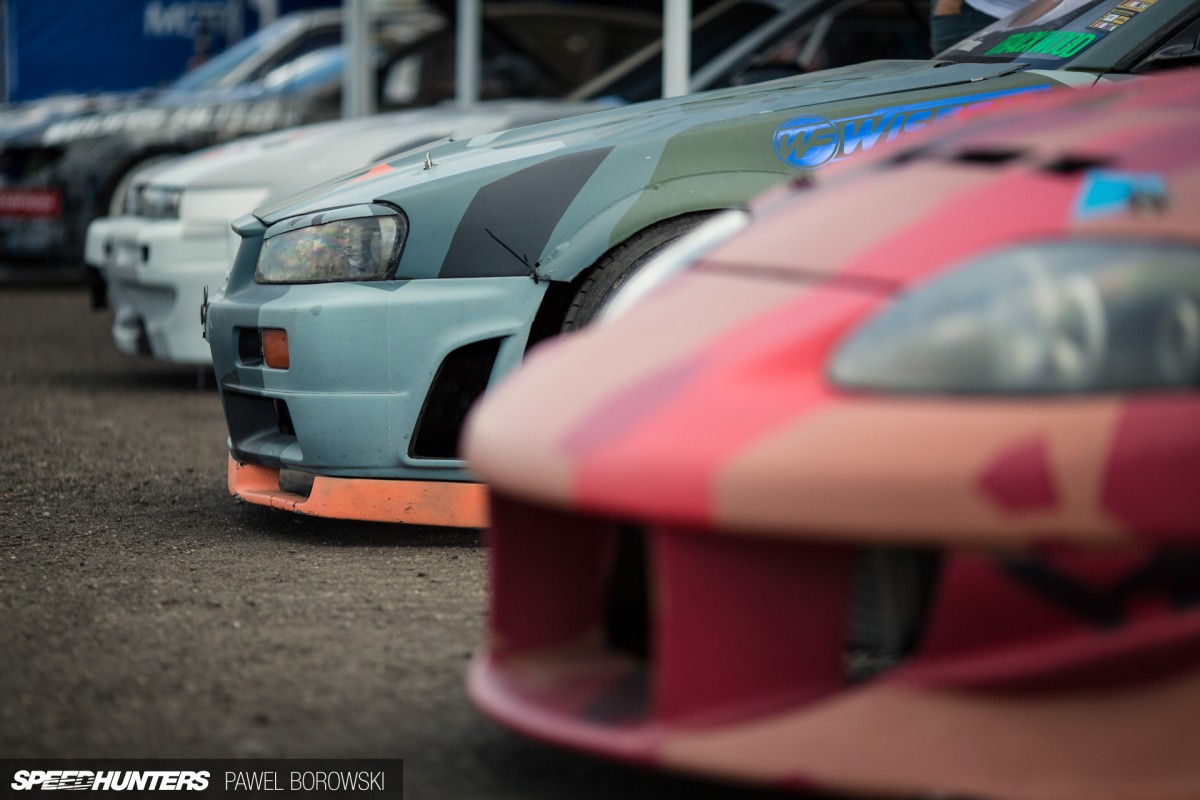 That's certainly true of the Extreme Sports Drift Allstars European series (formerly JDM Allstars) anyway. Widely recognised as Europe's leading professional drifting championship, Drift Allstars will be crowning a new champion this coming weekend at its sixth and final stop on the 2014 calendar, but before that happens we thought we'd take a look back at the fifth round with the help of series director, Niall Gunn, and official photographer Pawel Borowski.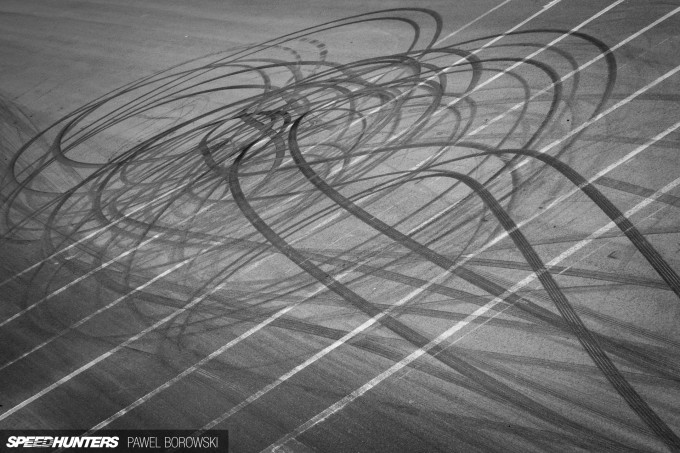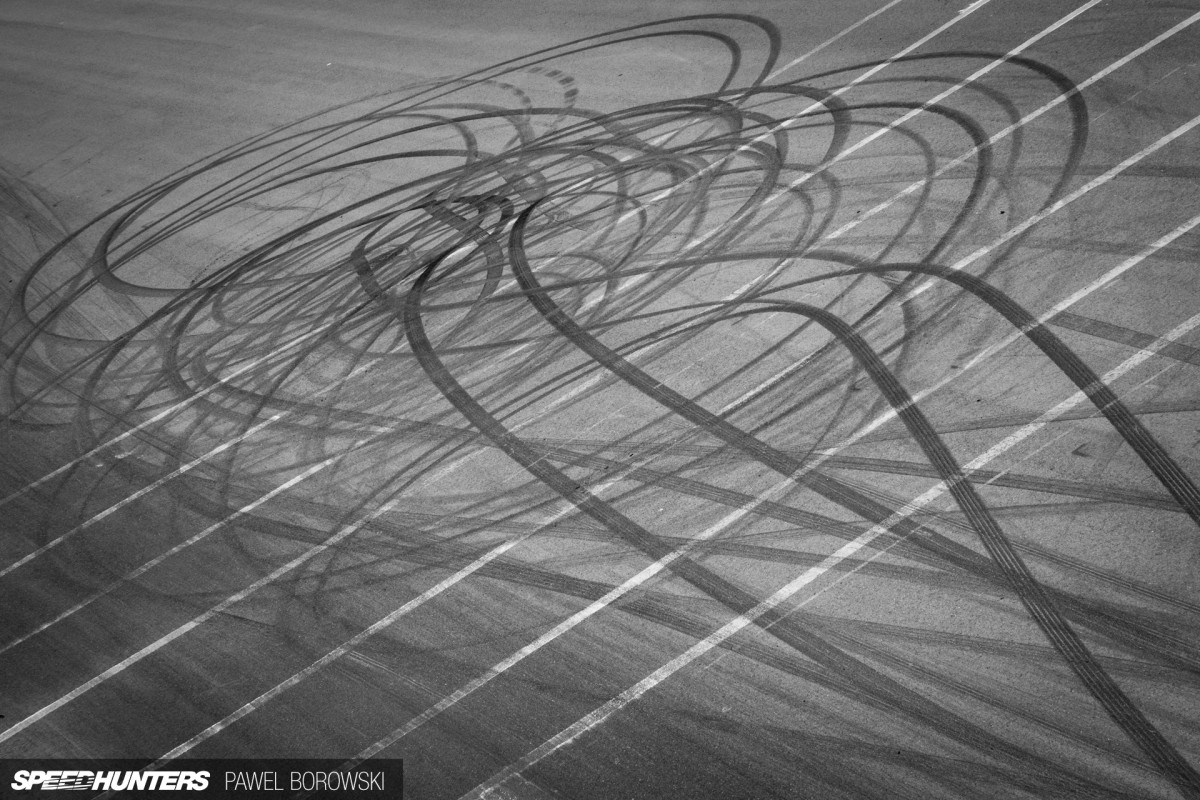 Over the course of the season, many tyres have met their demise in the race for the coveted Drift Allstars title – first in London with the British Drift GP in May, then in Sosnova for the Czech Drift GP in June, followed by the Scandinavian Drift GP in Sweden a week after Gatebil invaded Mantorp Park in July, and finally the Latvian Drift GP in Riga at the very beginning of last month.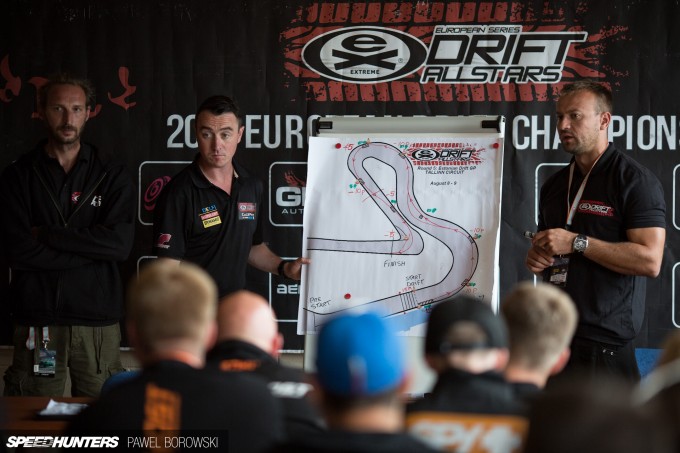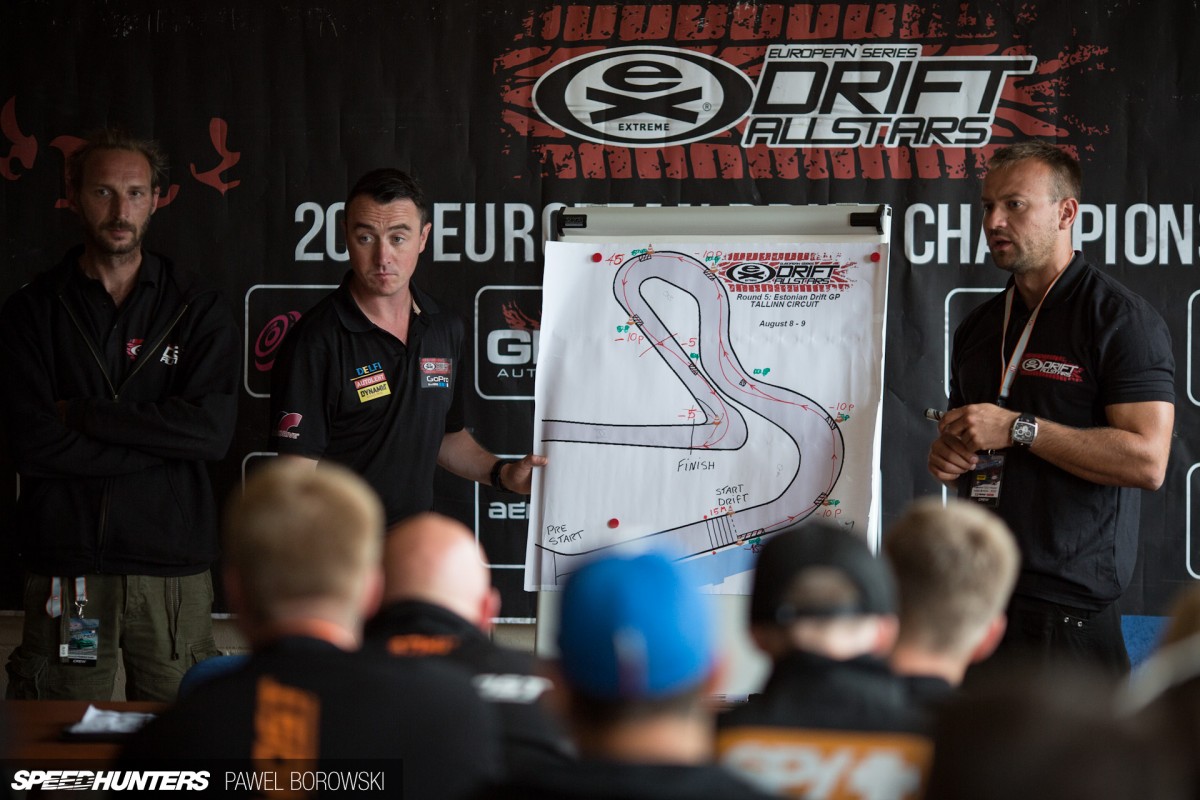 For Round 5, LaitseRallyPark in Estonia was the chosen destination – a two-year old facility that up until Drift Allstars' arrival was primarily used for rallycross and driver experiences. To bring the circuit up to drift spec, the event's organiser went as far as to lay down fresh asphalt to create a course extension ripe for hitting sideways at speed.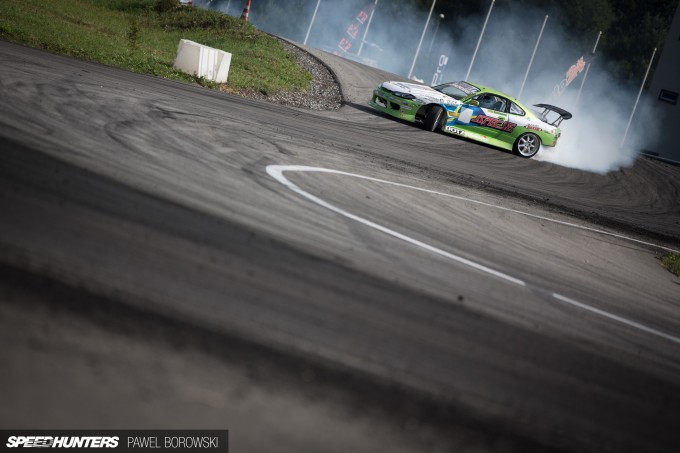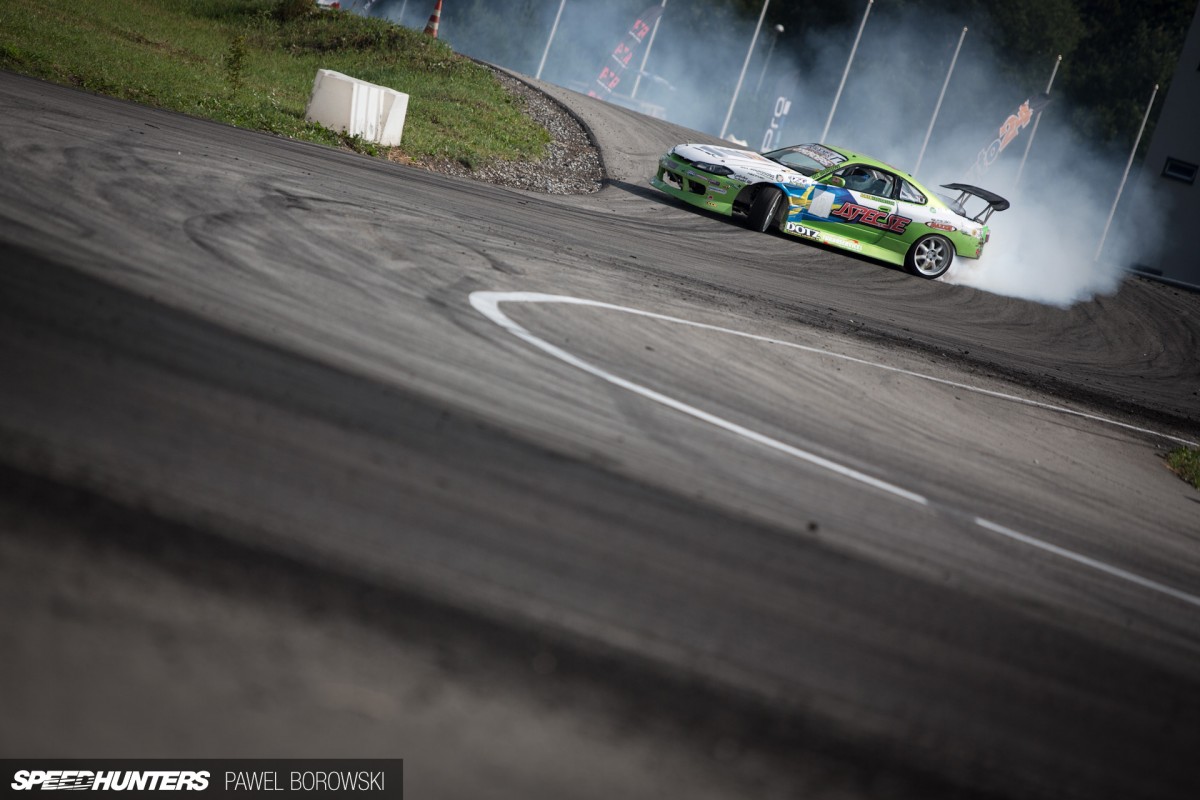 None of the drivers knew what to expect, but that didn't stop top Scandinavian driver Johan Halvarsson from coming out all guns blazing in his 2JZ-powered Nissan Silvia S15 and attacking the elevation changes with speed and super-deep angle.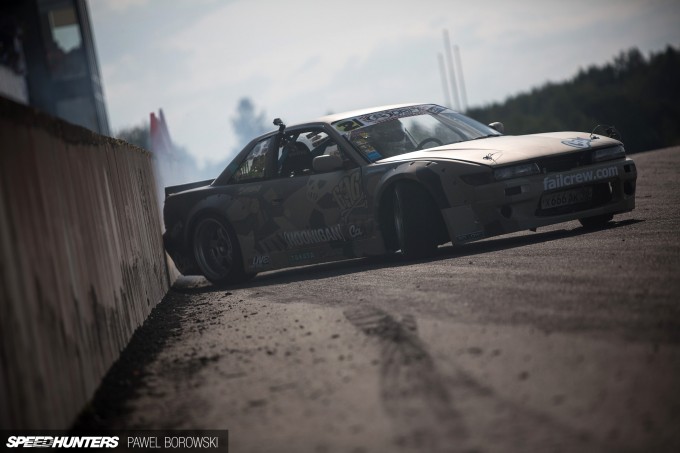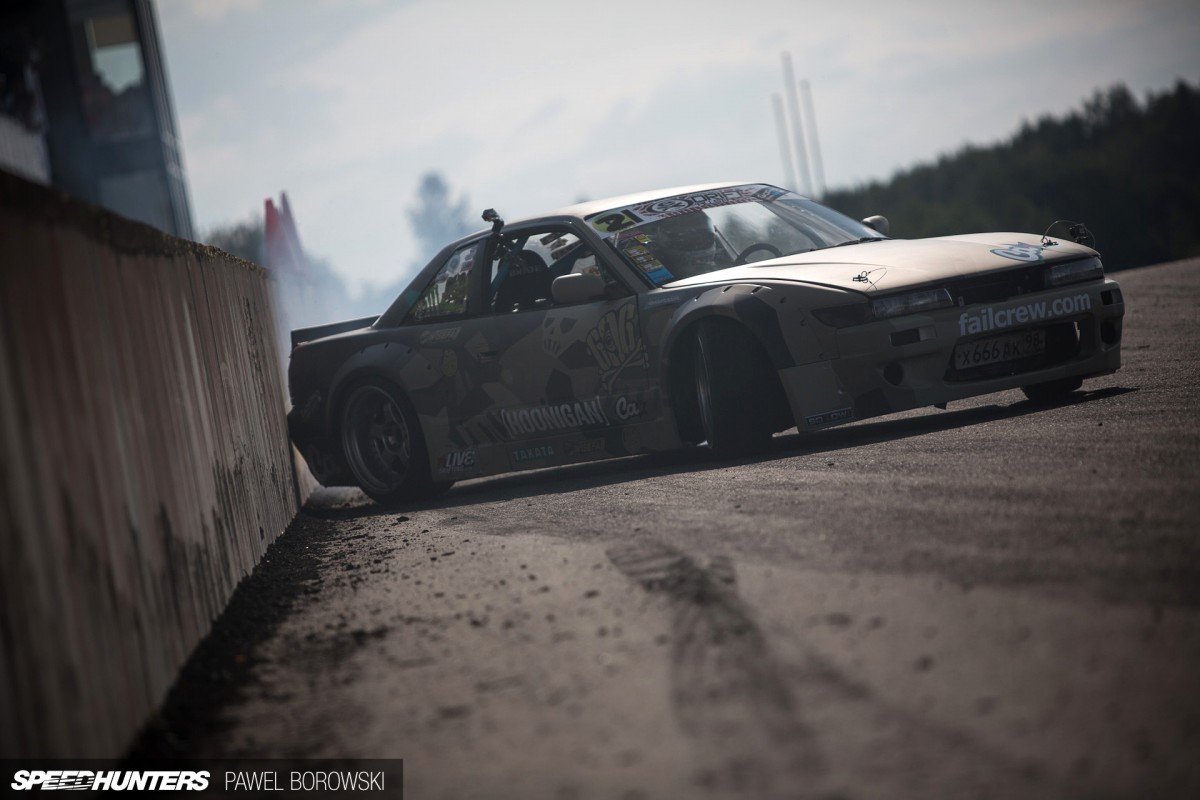 After a high-speed jump, the front straight wall provided an exciting spectacle too – especially so when an experienced driver was at the controls. In this case it was USA's Ryan Tuerck, who was in Estonia taking up a guest drive with Russia's famed Fail Crew in a certain Silvia S13 that Dino took a close look at back in July. Ryan was was relishing the opportunity to get back behind the wheel of a V8-powered Nissan S-chassis, and wasted little time finding his groove. Quite simply, the international wildcard was the man to beat…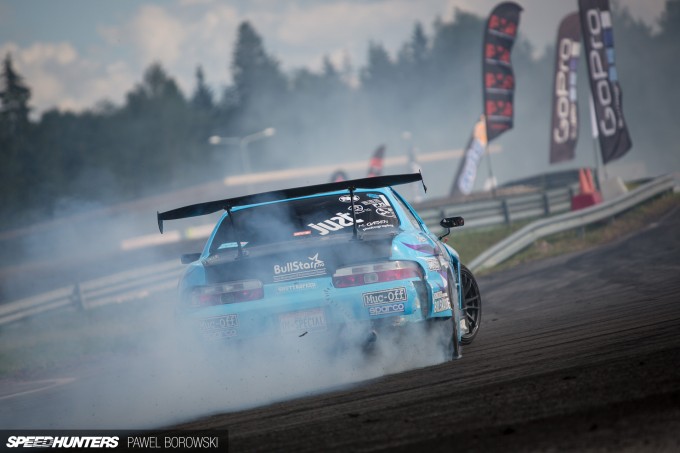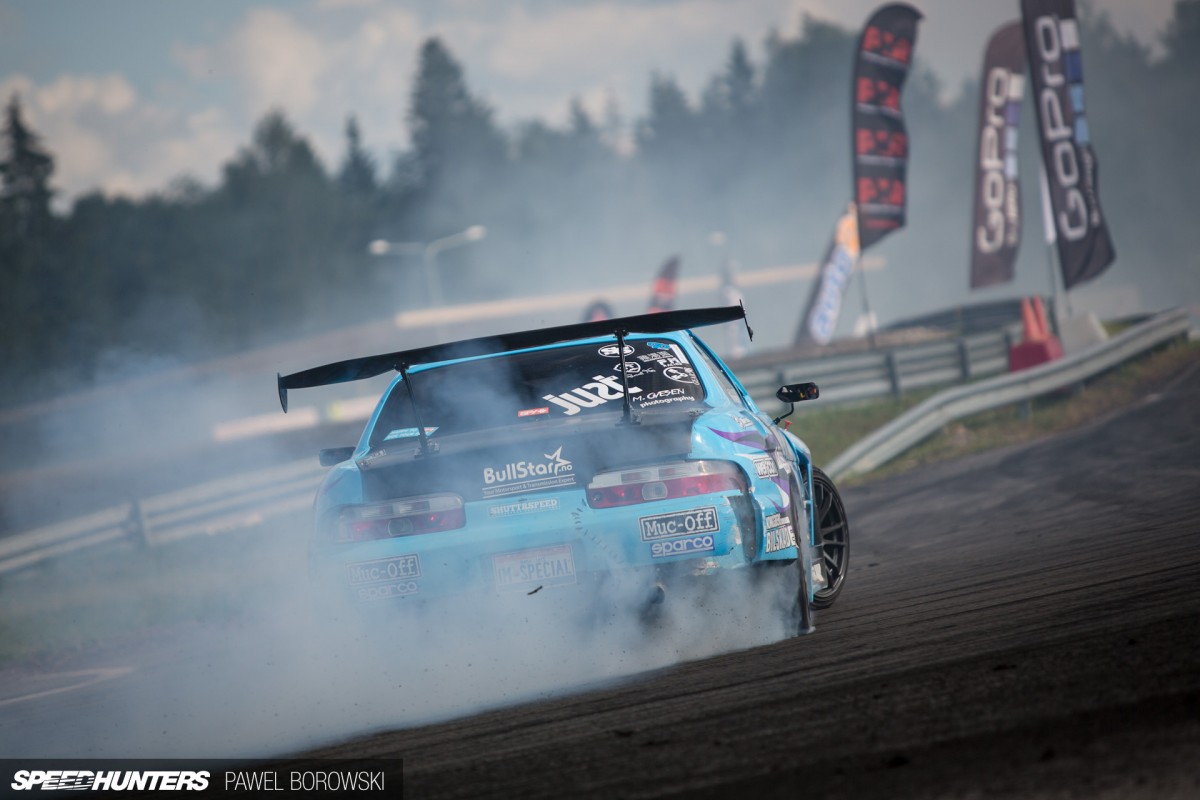 Running just five days after Riga, many of the teams from Western Europe and Scandinavia decided to remain in the general area between rounds, which ensured there was a solid line-up of drivers at the LaitseRallyPark event.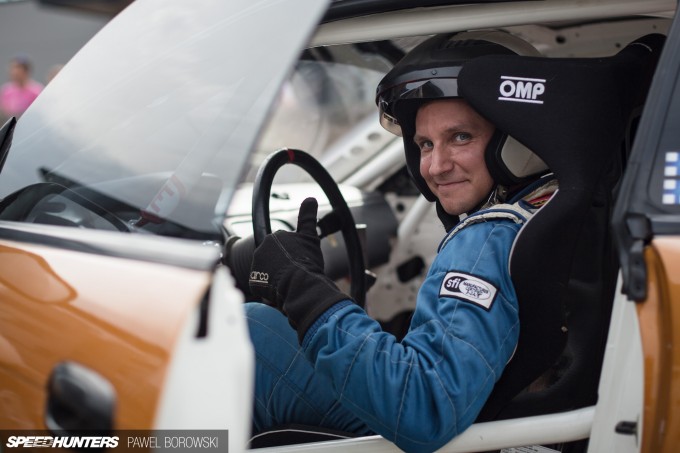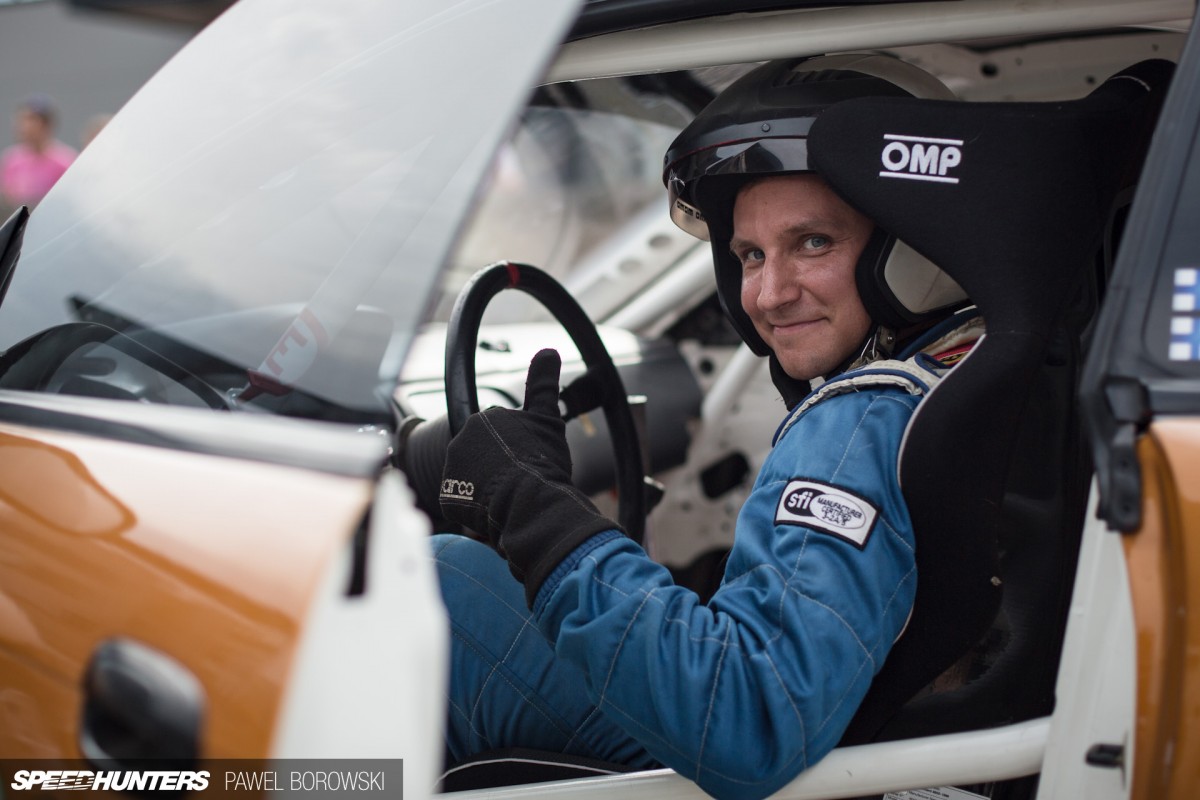 They included 2013 Drift Allstars European Champion Juha Rintanen, who's been a busy man of late competing in Formula Drift in the USA when he's not driving in the Continent.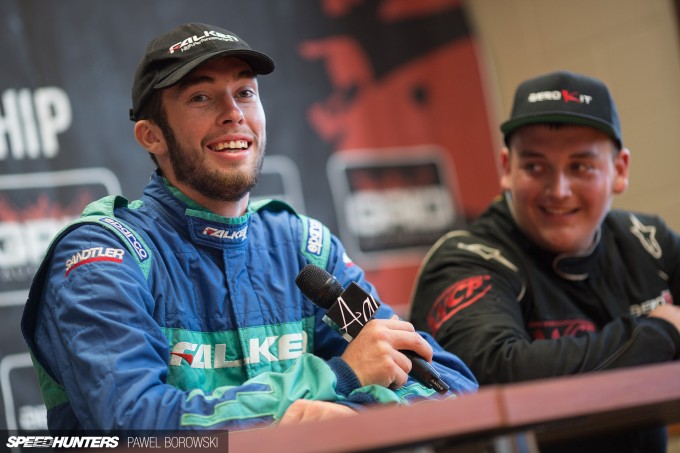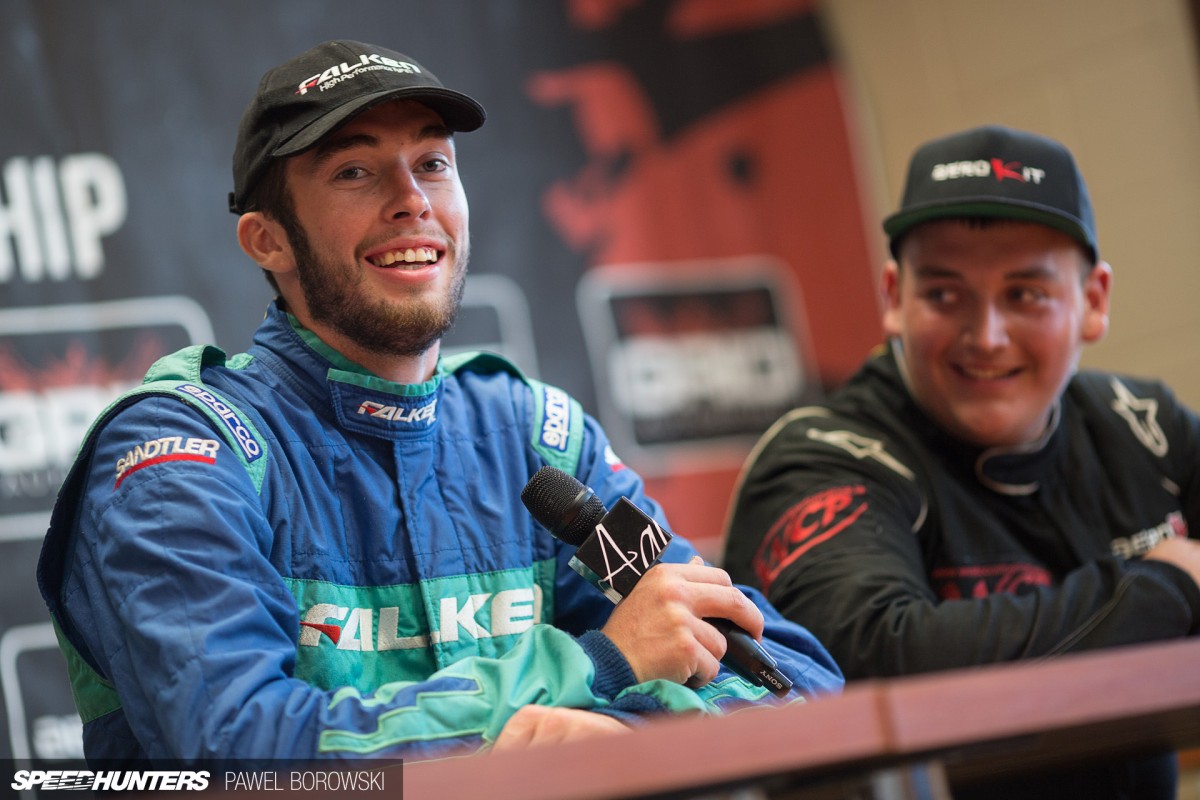 And Irish driver James Deane, who came into the Estonian Drift GP maintaining his lead of the Extreme Drift Allstars Europe series – something he's held since after an early season three-way battle with Polish drivers Piotr Wiecek and Dawid Karkosik.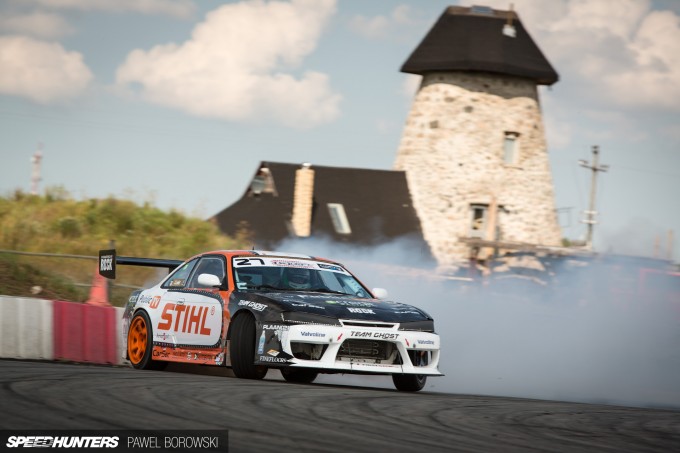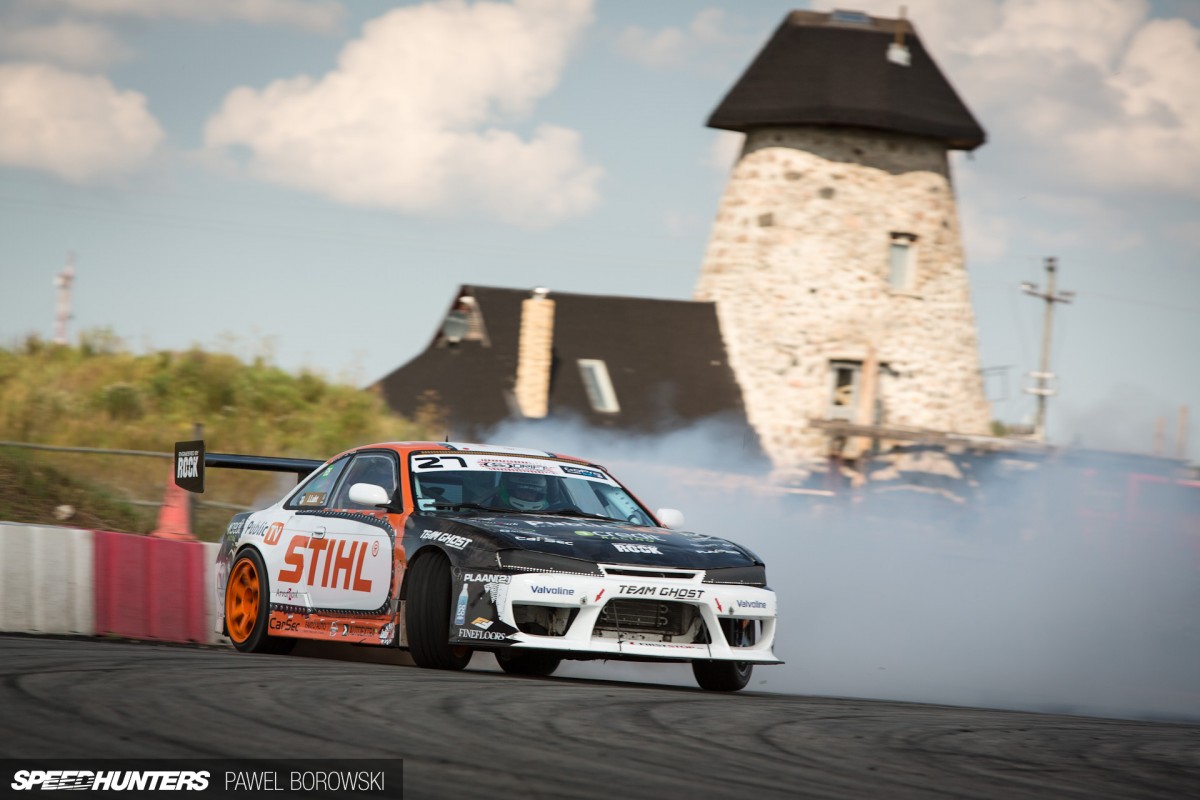 Factor in hometown heroes like Team Stihl who run a pair of V8-powered, S15-faced Nissan Silvia S14s and the event had all the makings of an epic first Drift Allstars showdown in Estonia.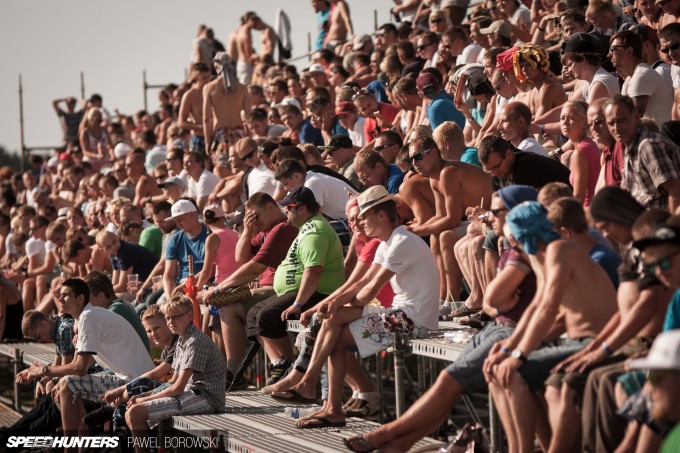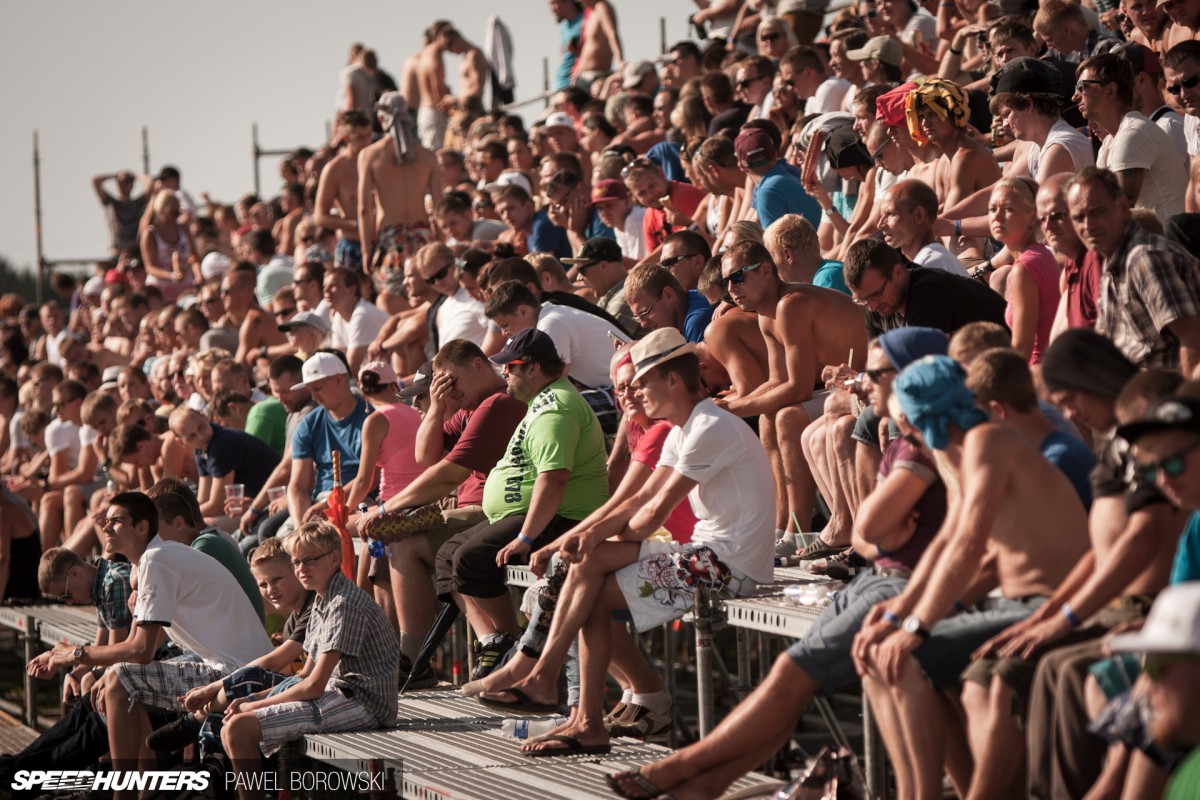 If the size of the crowd was anything to go by, the locals thought so too. The house was packed, with two additional grandstands on top of the large permanent fixture at LaitseRallyPark, both totally sold out. Estonian fans may not be the loudest, but they're hugely supportive of the sport of drifting.
Power, Talent, Action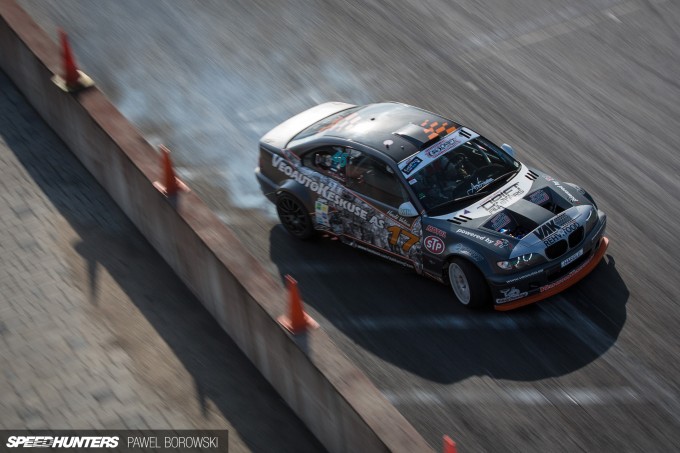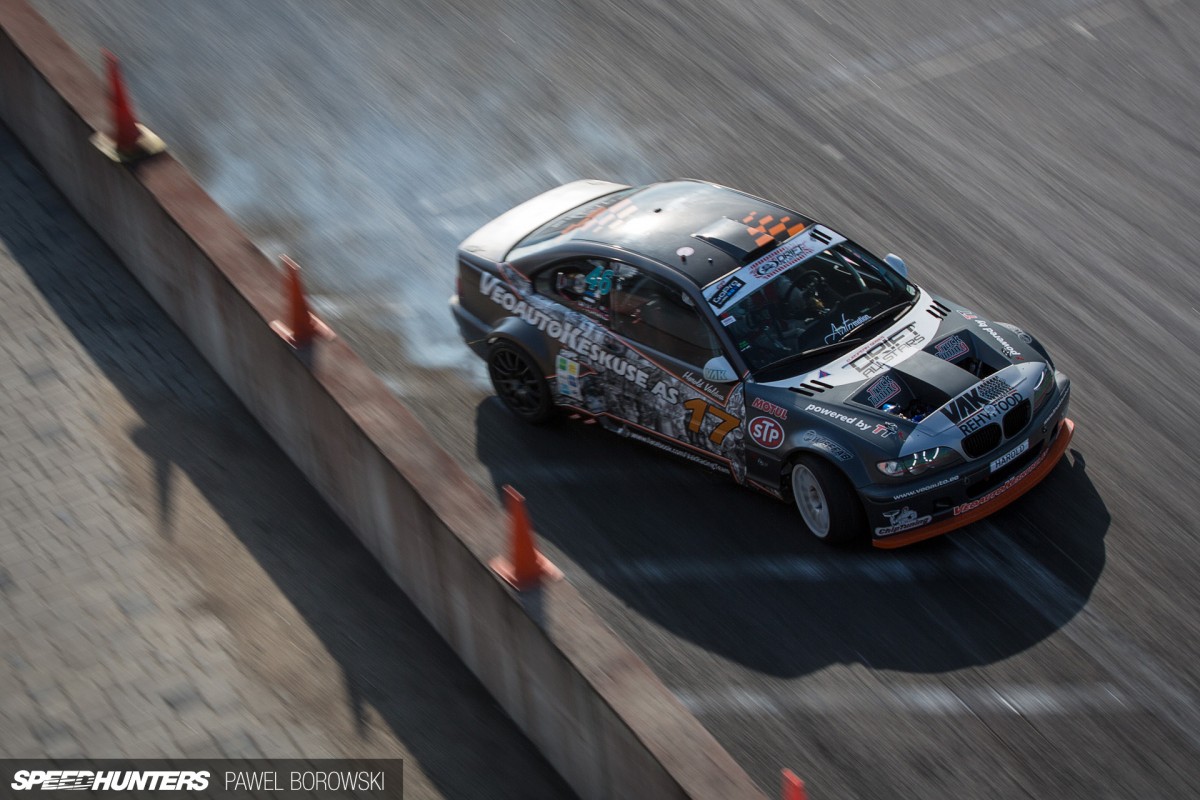 There are many reasons why European pro-level drifting is on the rise, and the young talent that's quickly coming through the ranks is certainly one. Take 18-year-old Harold Valdma, who just days ago picked up the 2014 Estonian Drift Championship Pro class title in his rookie season, for instance. He was carrying some great form coming into the Estonian Drift GP with two top four placings, and this being his home event, he definitely couldn't be discounted as contender for the top prize.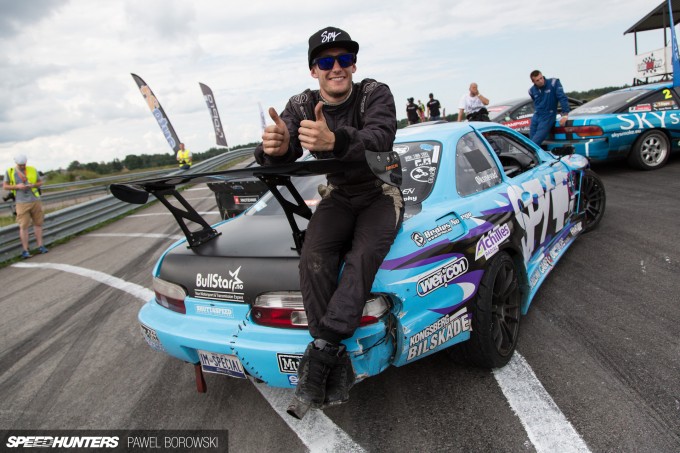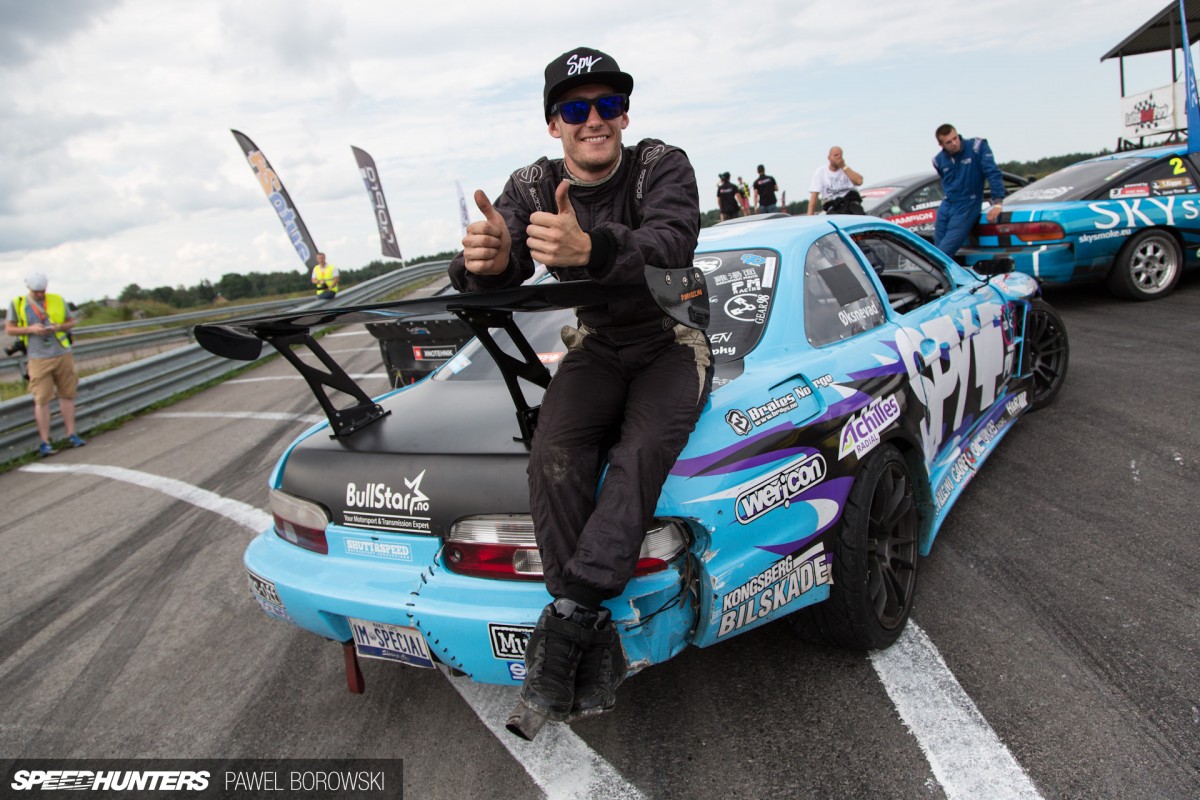 At just 23, Fredrik 'Fredoxx' Oksnevad is another rising star of European drift. Not only does the Norwegian have a good understanding of all aspects of the sport, he has a good competitive package in his blown Chevy LS3 powered Toyota Soarer, and most importantly the raw driving talent to back it up. Having placed second in Round 3 at Mantorp Park in Sweden, Fredrik was another one to watch.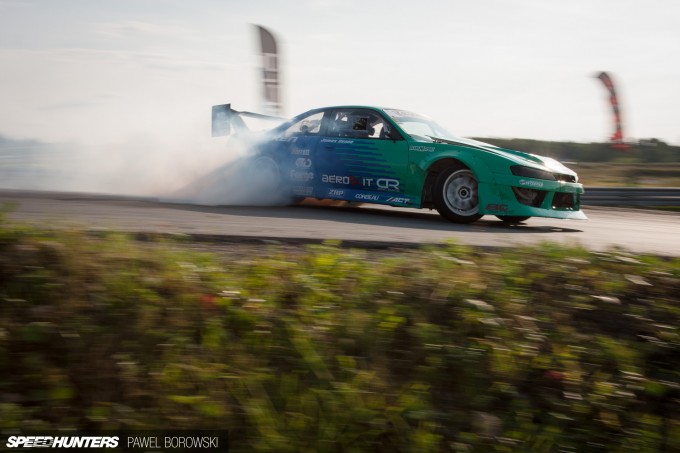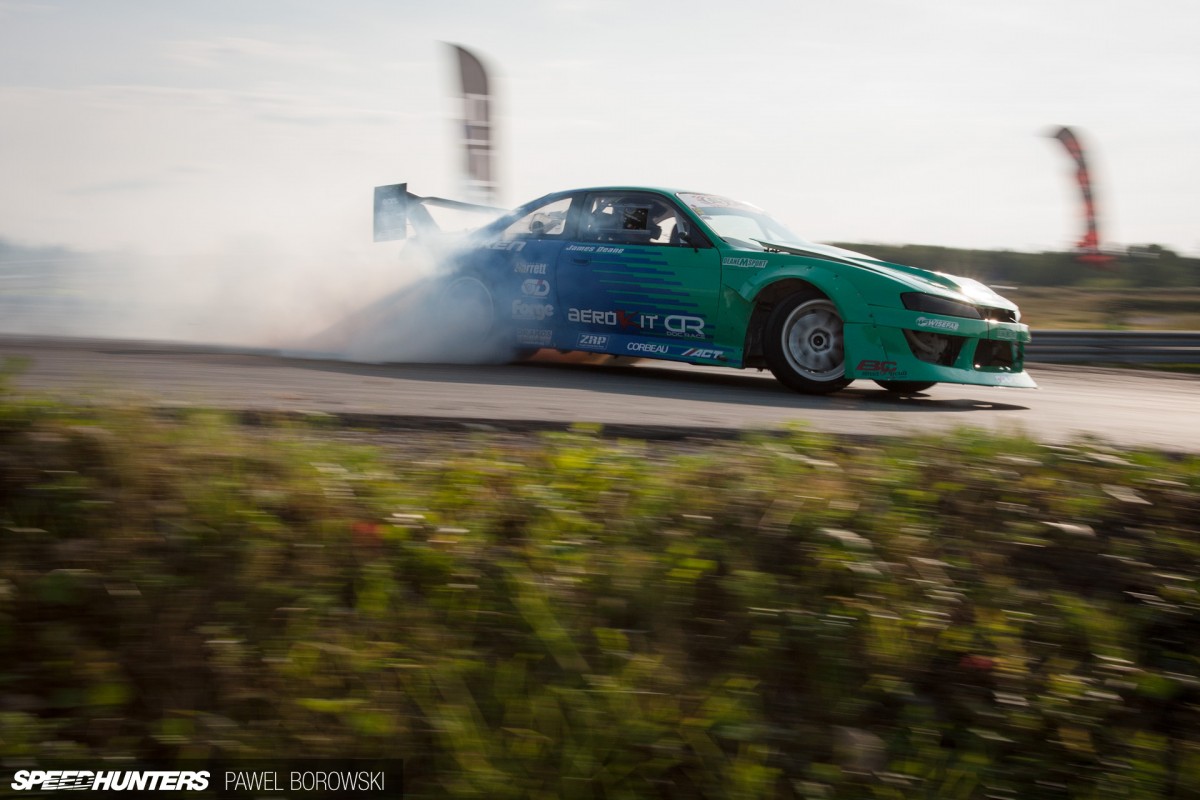 Young, but extremely experienced, it was James Deane who had everything to lose at LaitseRallyPark. Calm under pressure though, he put on a solid show in qualifying in his Falken Tires Nissan Silvia – not quite enough for the top spot, but the next best thing.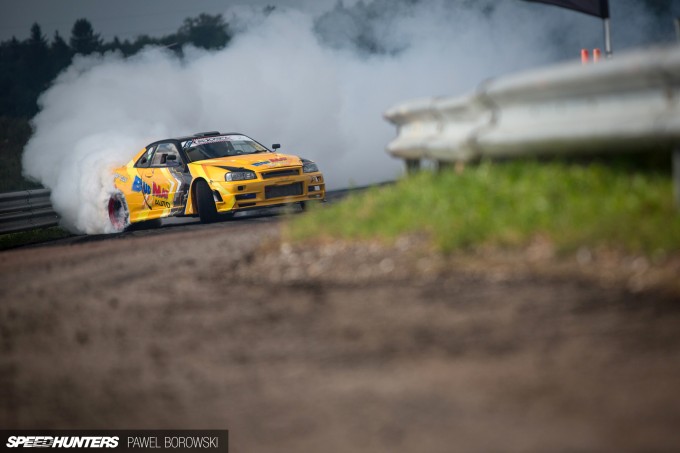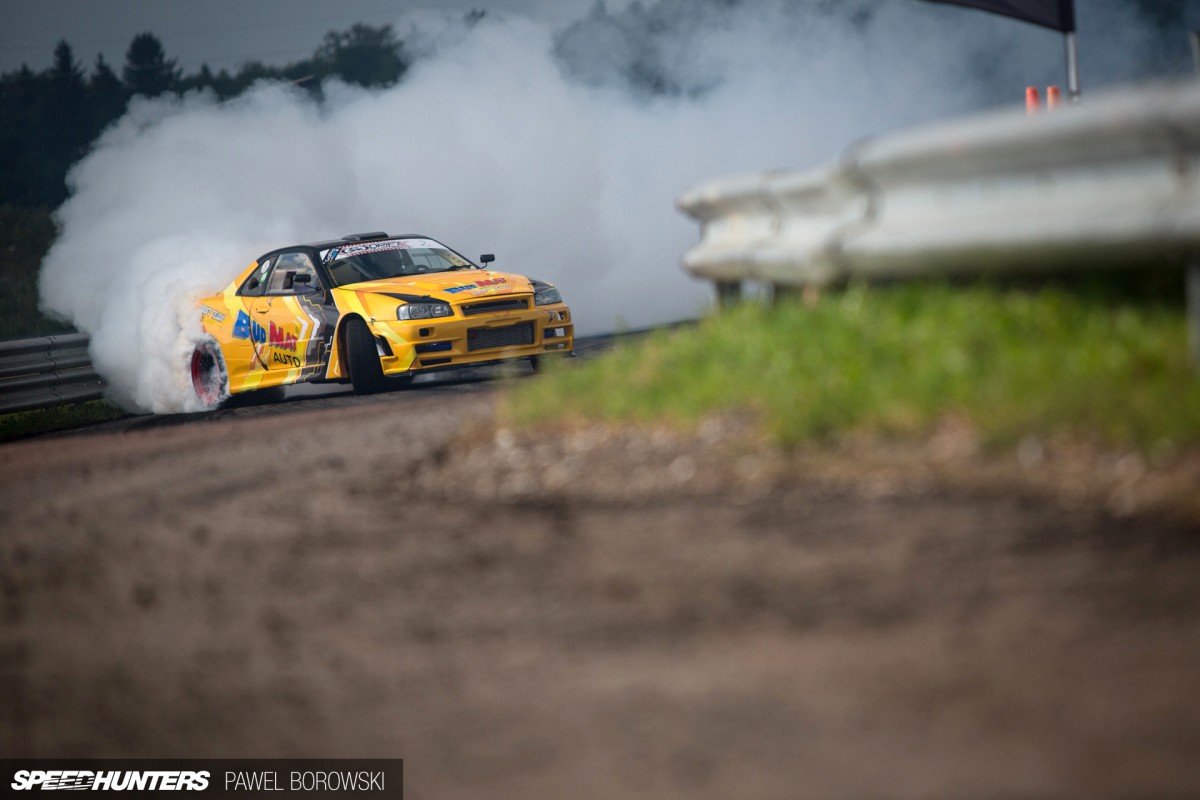 Piotr Wiecek was on fire though, and obviously hungry to peg back the deficit and overtake James in the championship standings. Qualifying his 750hp R34 Nissan Skyline in first was definitely a good place to start, but Piotr's luck ran out when he was knocked out of contention in the Top 16. Luckily for him, James suffered a similar fate in his Top 8 battle, so both drivers' season-winning hopes are very much still alive.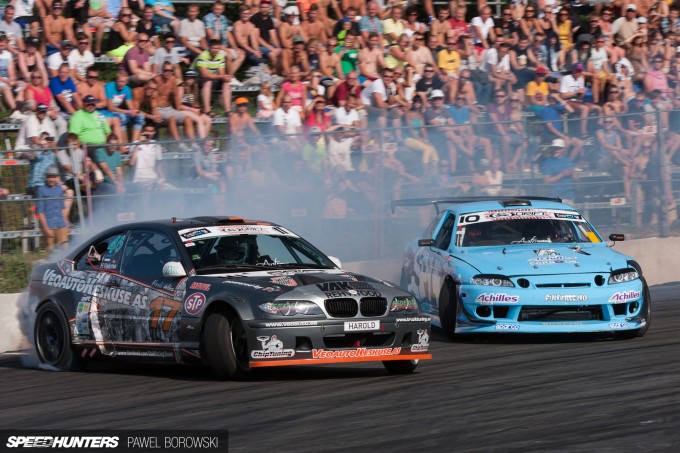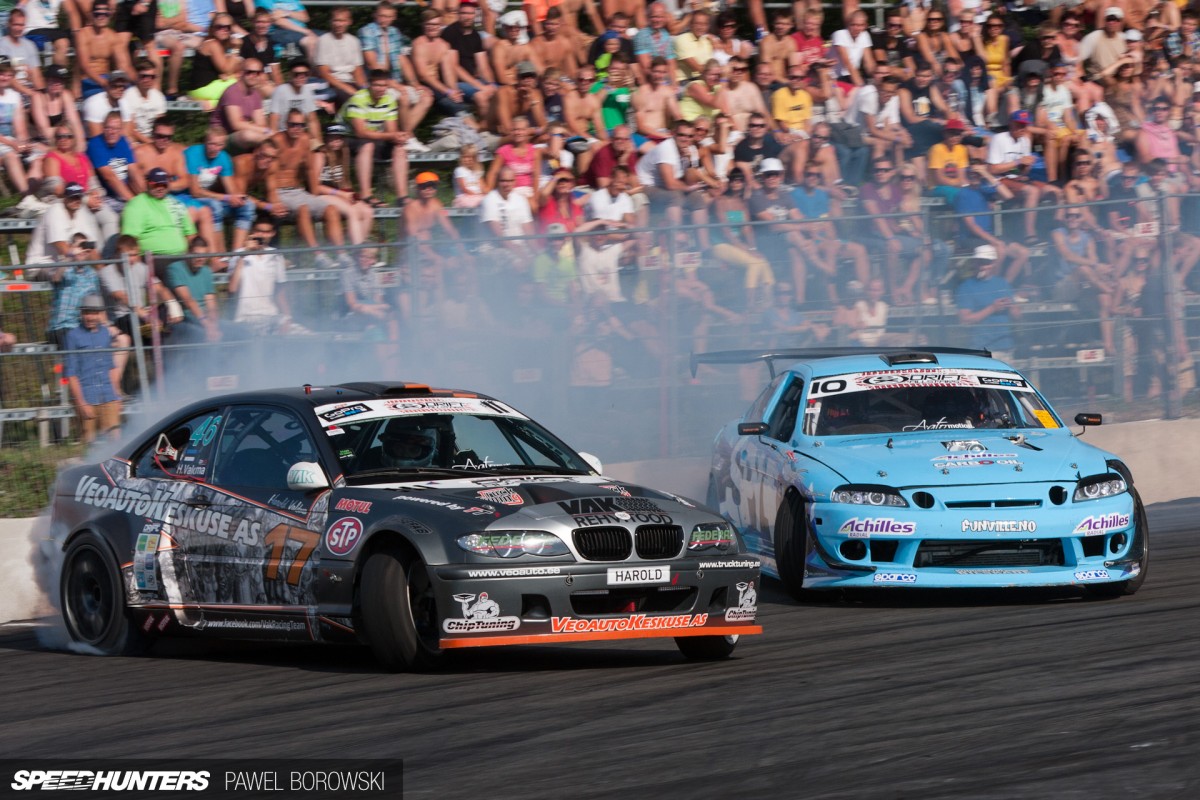 It was Harold Valma that sent James packing in the quarter finals, and he was a young man on a mission in his Chevy LSX V8 swapped BMW E46. The Estonian fans witnessed some amazing battles on this very technical track.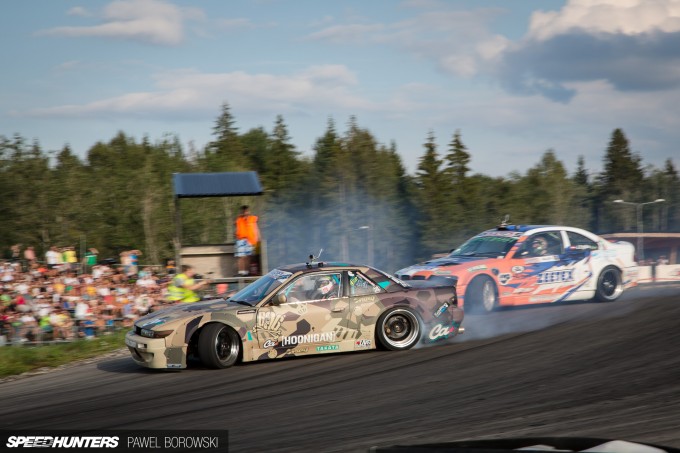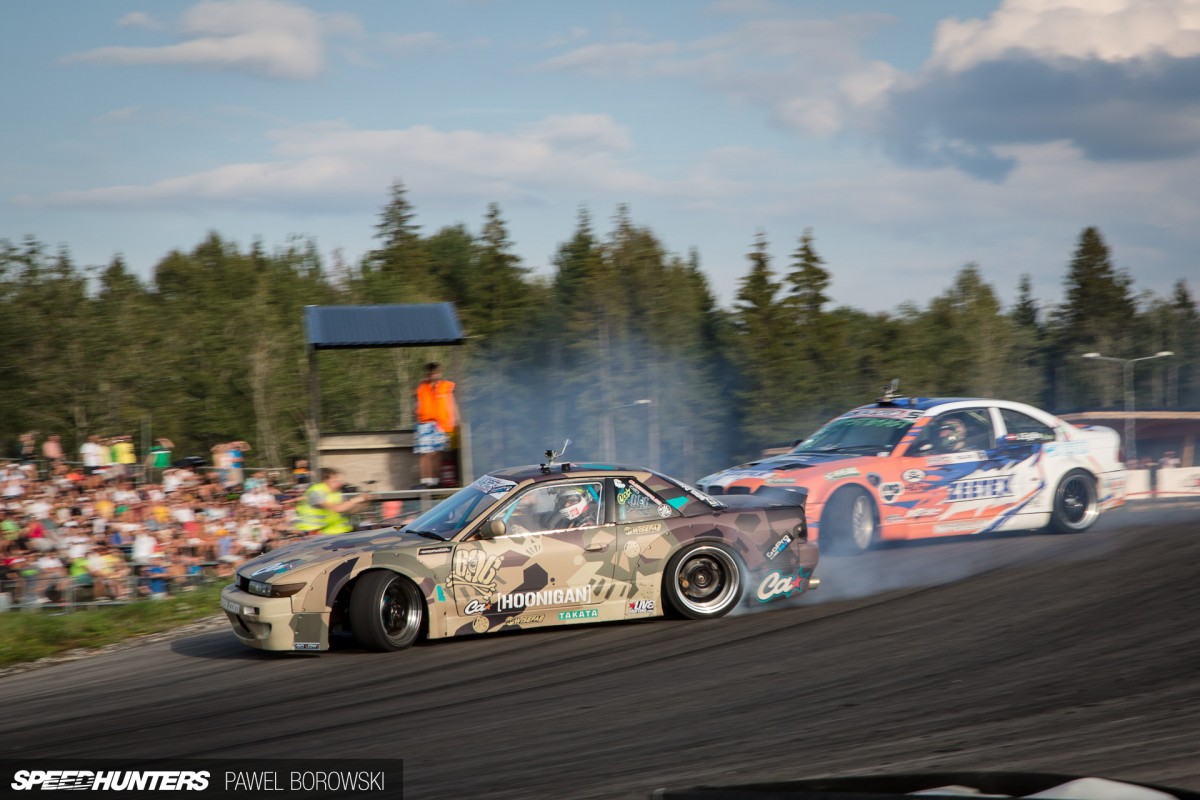 Meanwhile, the guest from USA was making quick work of the competition on the other side of the battle ladder after qualifying in fourth place.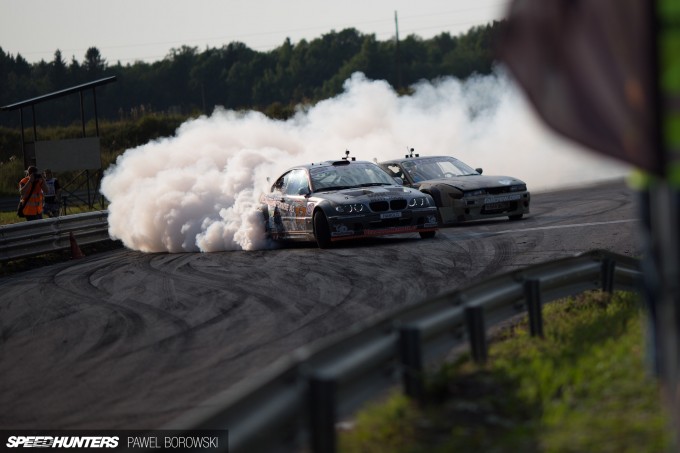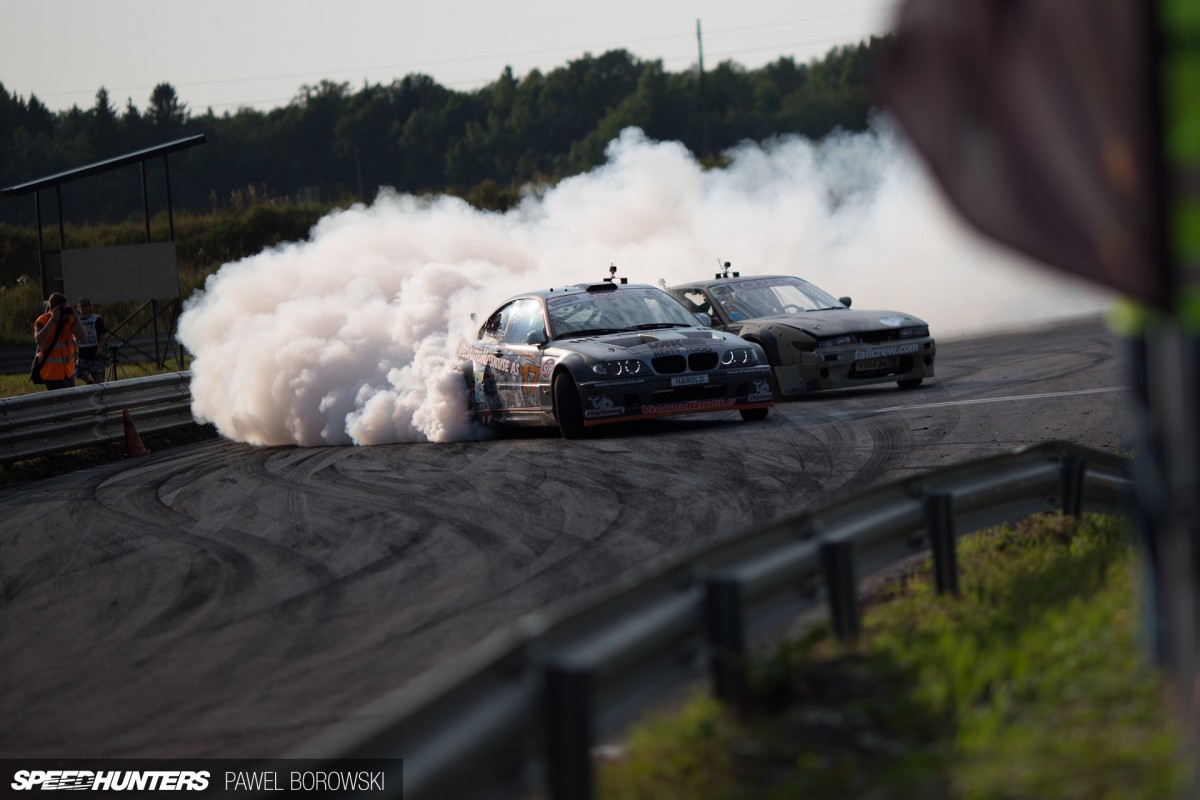 It all boiled down to a Tuerck versus Valdma final – two evenly matched Chevy V8 powered machines piloted by two highly skilled wheelmen. The wildcard against the local hero. But Ryan Tuerck was too good. He carried a lot of momentum on his lead run to pull a slight gap on Valdma, and then backed it up with an aggressive chase.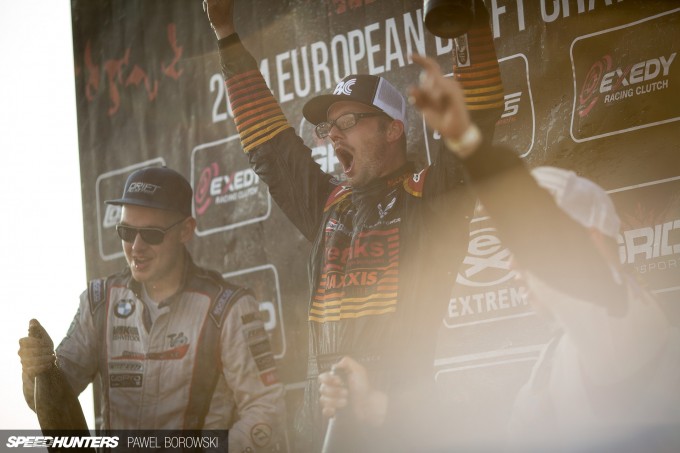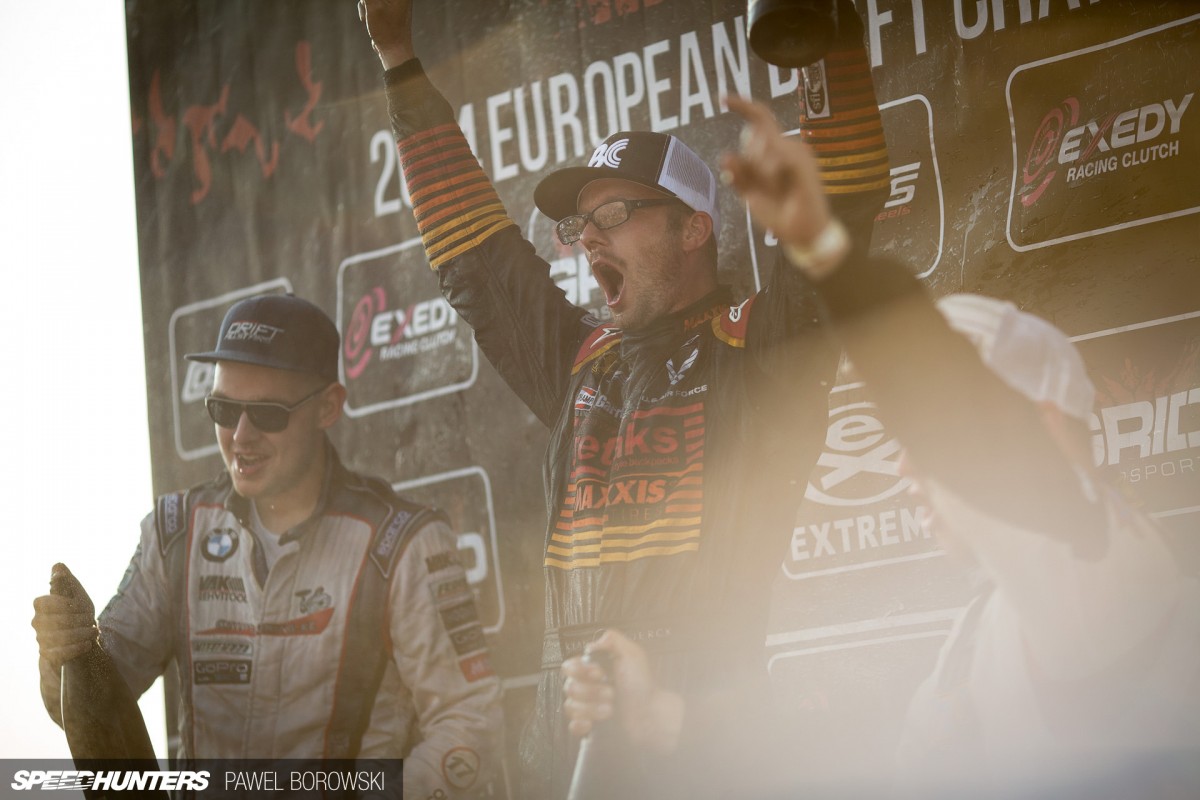 In winning the Estonian Drift GP Ryan became the first ever US driver to stand atop the podium in a professional European drift event, and the fifth different winner in the 2014 Extreme Sports Drift Allstars European Championship season thus far. Considering the reception he received at prize-giving, it was obvious the American won more than a few fans in the process too.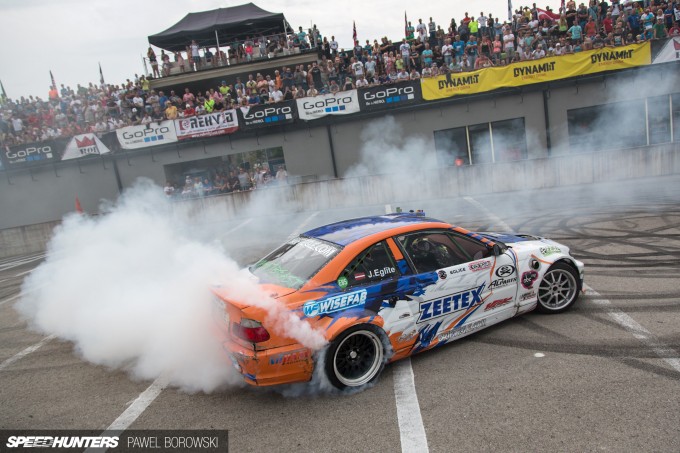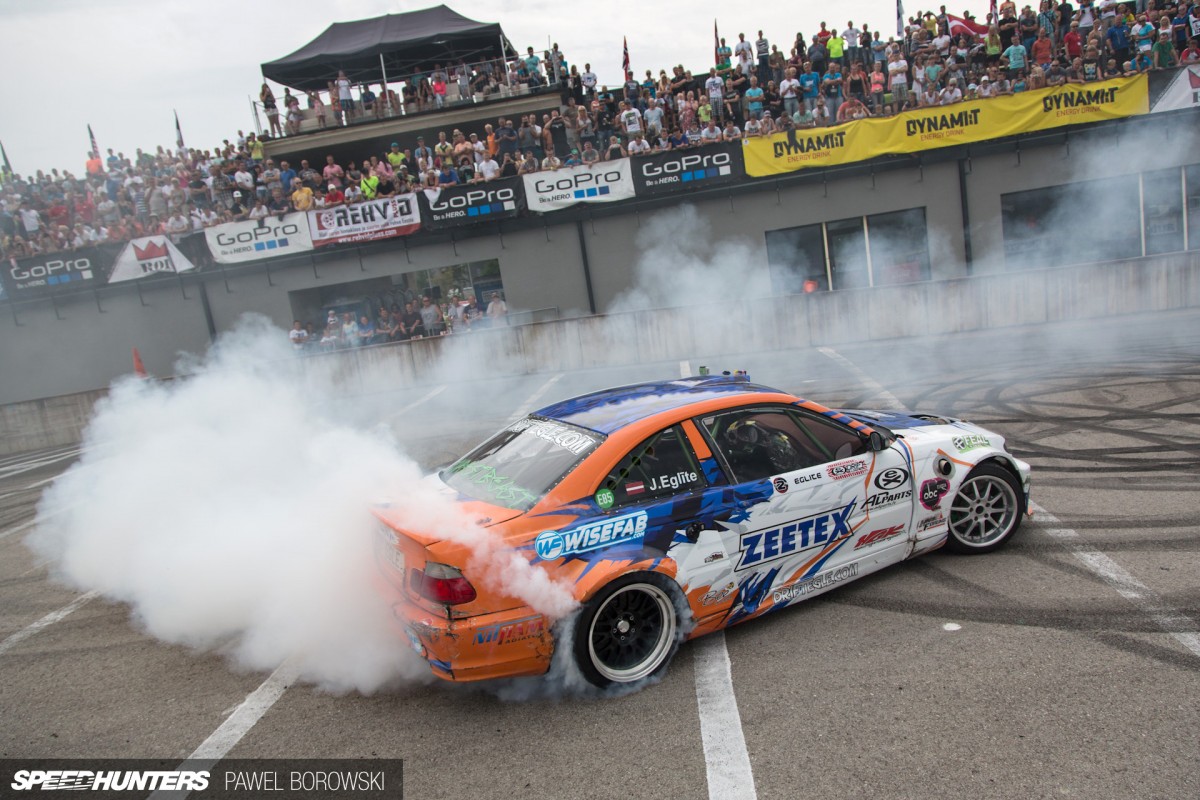 With just one round to play out it's going to be interesting to see how the points stack up at the end of the season. And with the Lithuanian Drift GP happening this coming weekend on the streets of downtown Kaunas, we won't have to wait very long to find out.
http://www.youtube.com/watch?v=QMAE-6-6e3o
Until then, we'll leave you with the clip above and some bonus images in the final chapter. You can also check out the official video highlights from Day 1 and Day 2. 
Words by Niall Gunn and Brad Lord
Photos by Pawel Borowski  
Cutting Room Floor