Green With Envy
I've watched the Mustang RTR evolve from being a concept car to something you can purchase in a dealership, and eventually to the Speedhunters interpretation of what a modern Mustang should look like. It's been a pretty wild ride, but up until now I've not had a chance to really spend a day with the Mustang RTR Double Down. That changed when Elizabeth suggested I take it out for a spin and see what sort of trouble I could get into. Of course, I took that as a challenge…
For me, the most fun part of Monterey Car Week is not Pebble Beach or the Monterey Historics at Laguna Seca – it's driving around town meeting with fellow car nerds. So what better car to do it in then, than our show-stopping 'Stang. It's very loud and you can lay frame – what more could you want in a cruiser?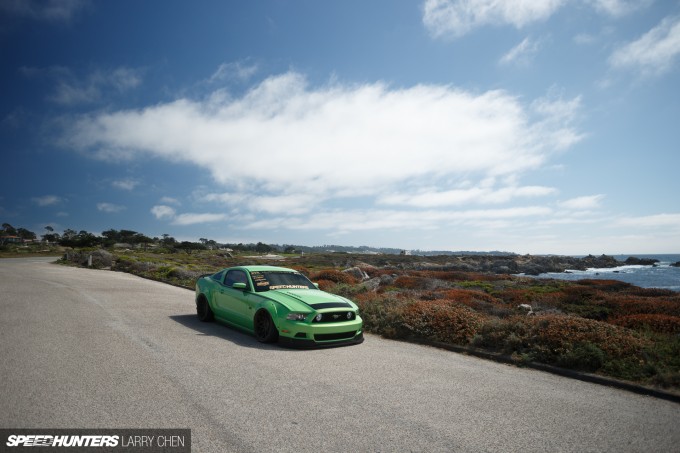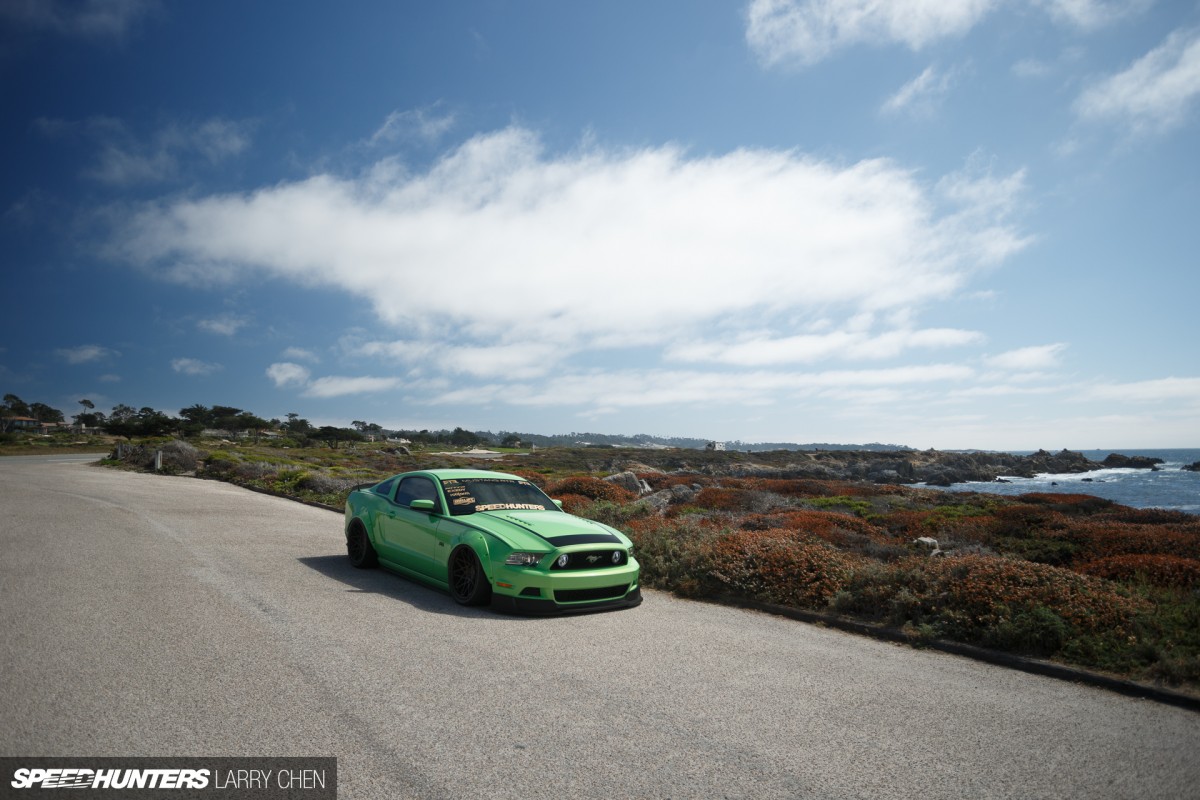 The Mustang is a far cry from the overabundance of Porsches, Ferraris and Lamborghinis that you see on every street in Monterey at this time of year. Which means that it's hard to turn heads in a regular old 458 or 911, but not so in this Mustang – it broke necks. Everywhere I went people asked how I could possibly drive a car that was so low.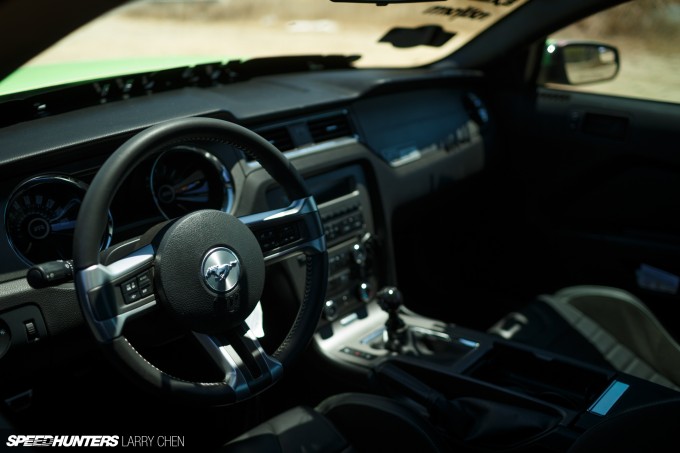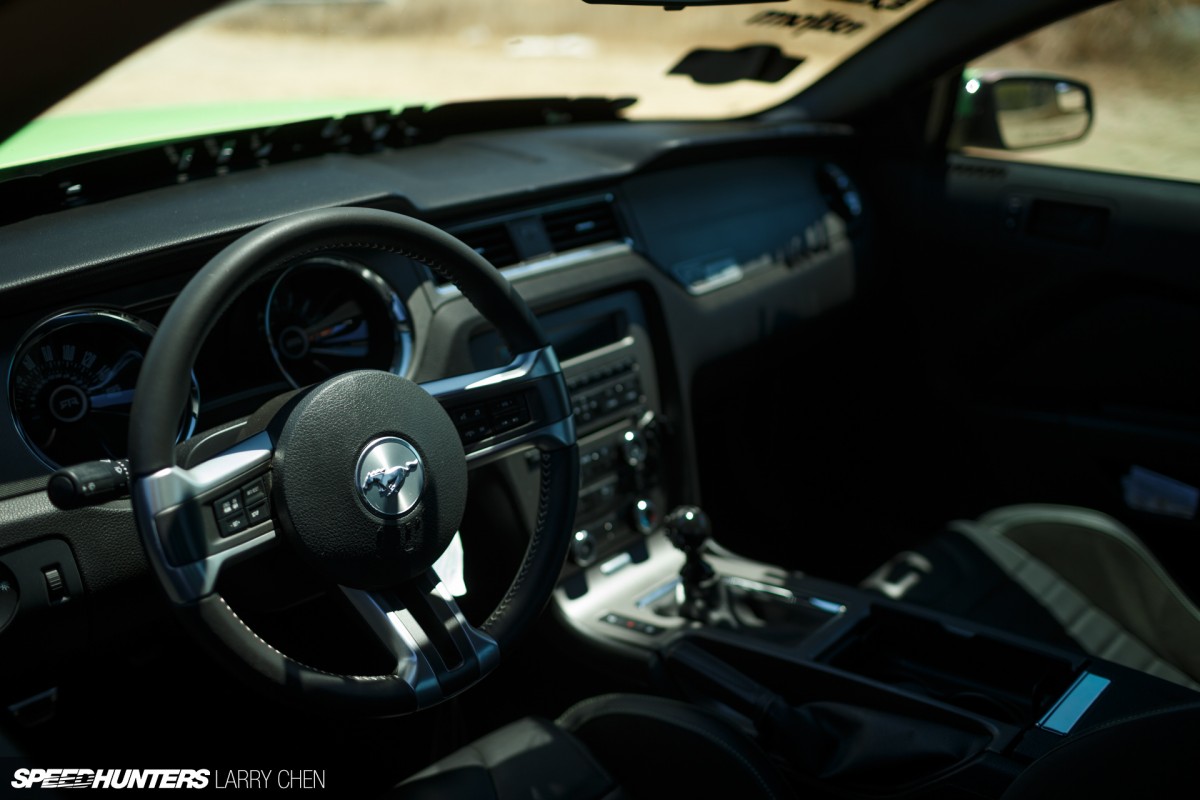 The best part? A six-speed manual gearbox with a very heavy clutch. Okay, so it sucked driving in traffic, but it was unbelievably easy to break those massive rear tires loose.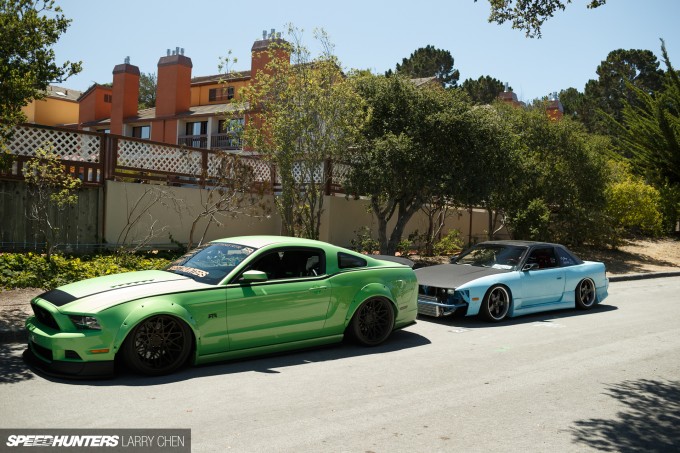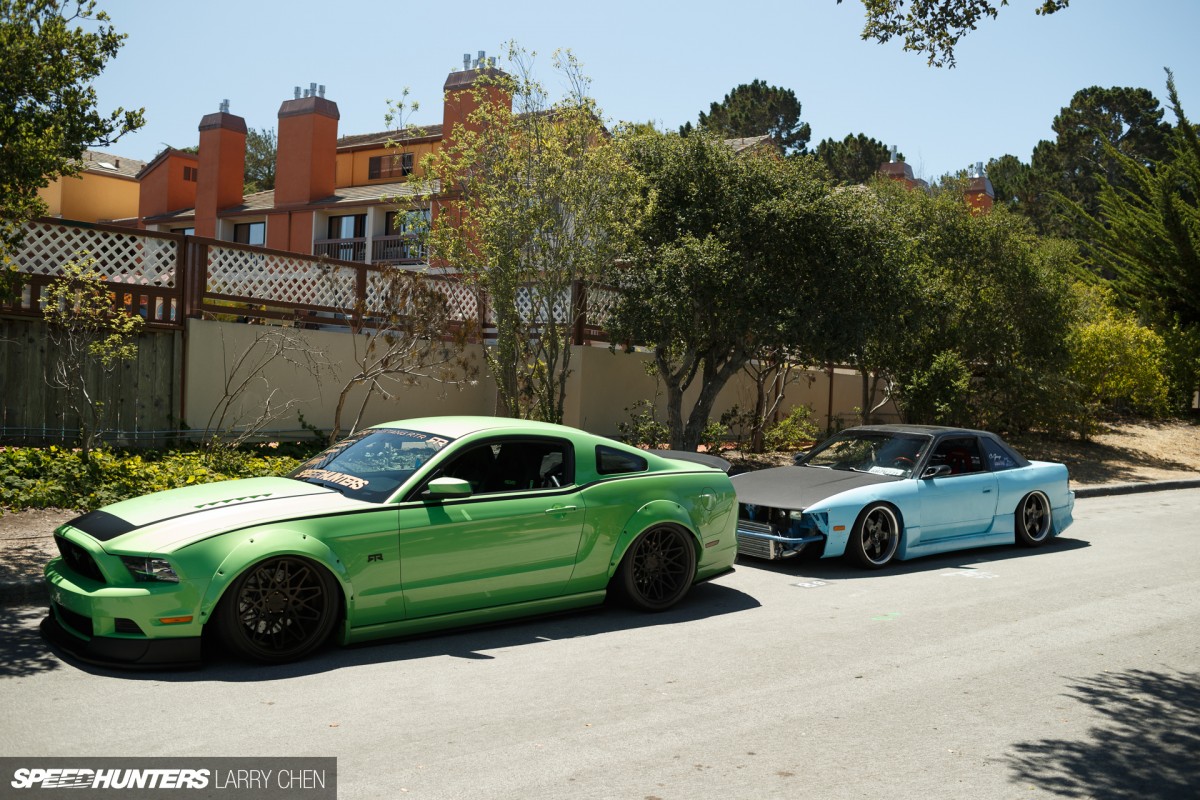 While my Porsche 991 press car was very subtle and blended in with the crowd, the Mustang was so loud that random fans followed me. This guy was brave enough to drive his SR20DET-powered S-chassis around, but as soon as he saw the RTR he pulled up beside and flagged me down.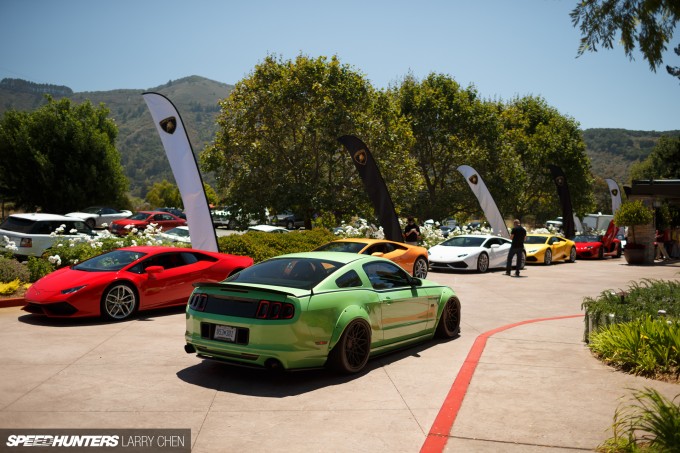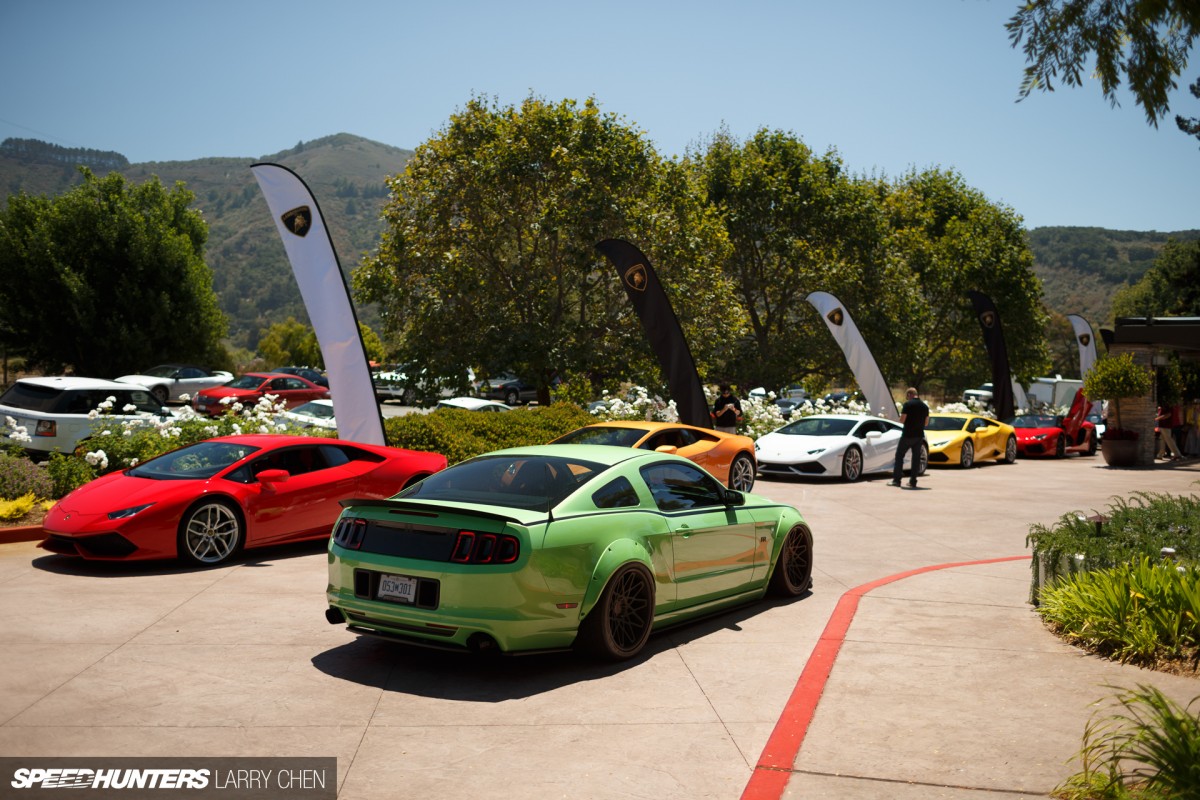 There were three spots I wanted to stop by to see what sort of cars I could find. First was the Quail Lodge. While those Italian bulls were nice looking, they had 4×4-like ride heights compared to the lime green machine.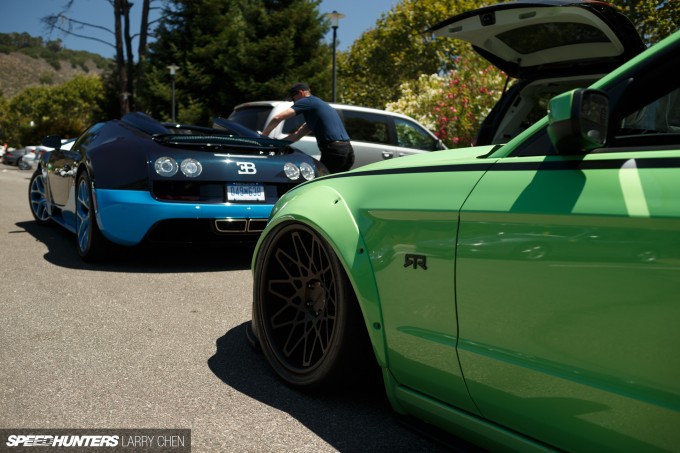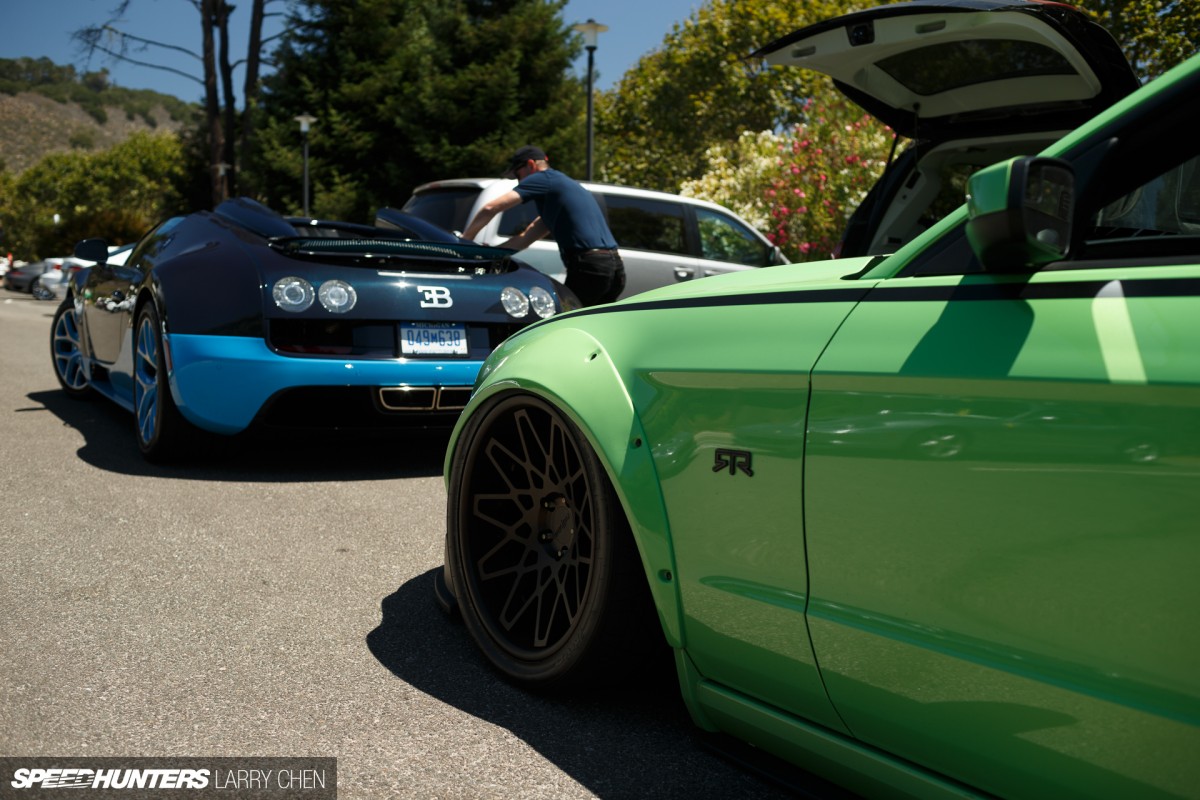 Apart from a bunch of million dollar cars sitting around there wasn't much going on, so it was time to take a drive into the canyons.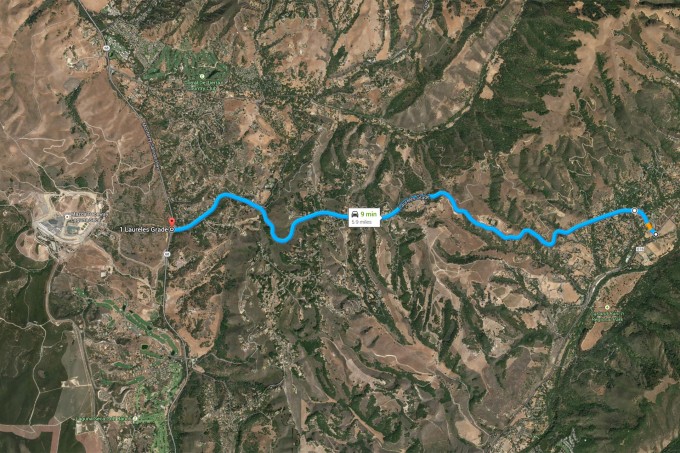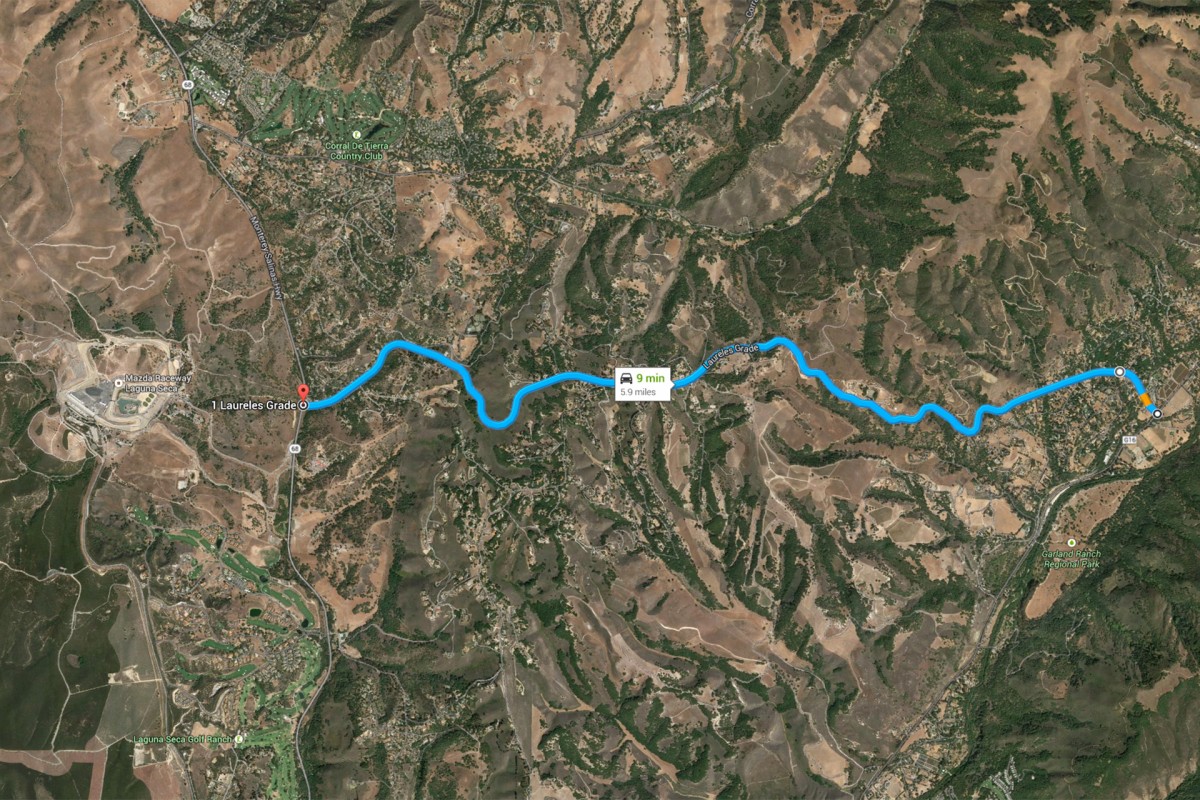 While there are many nice windy roads in and around Monterey, one in particular was extra busy with automotive eye candy driving back and forth.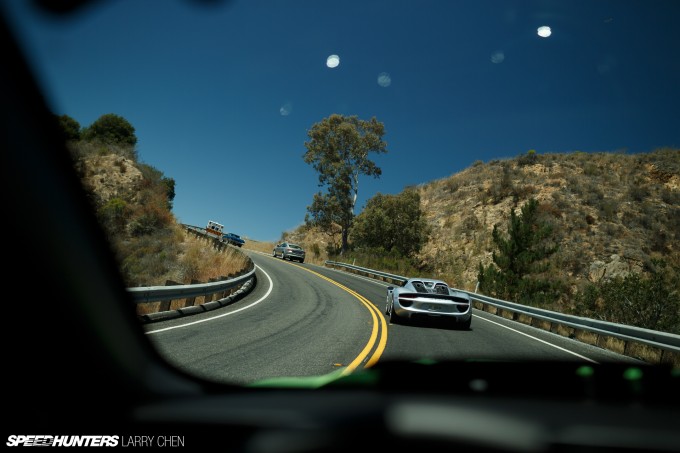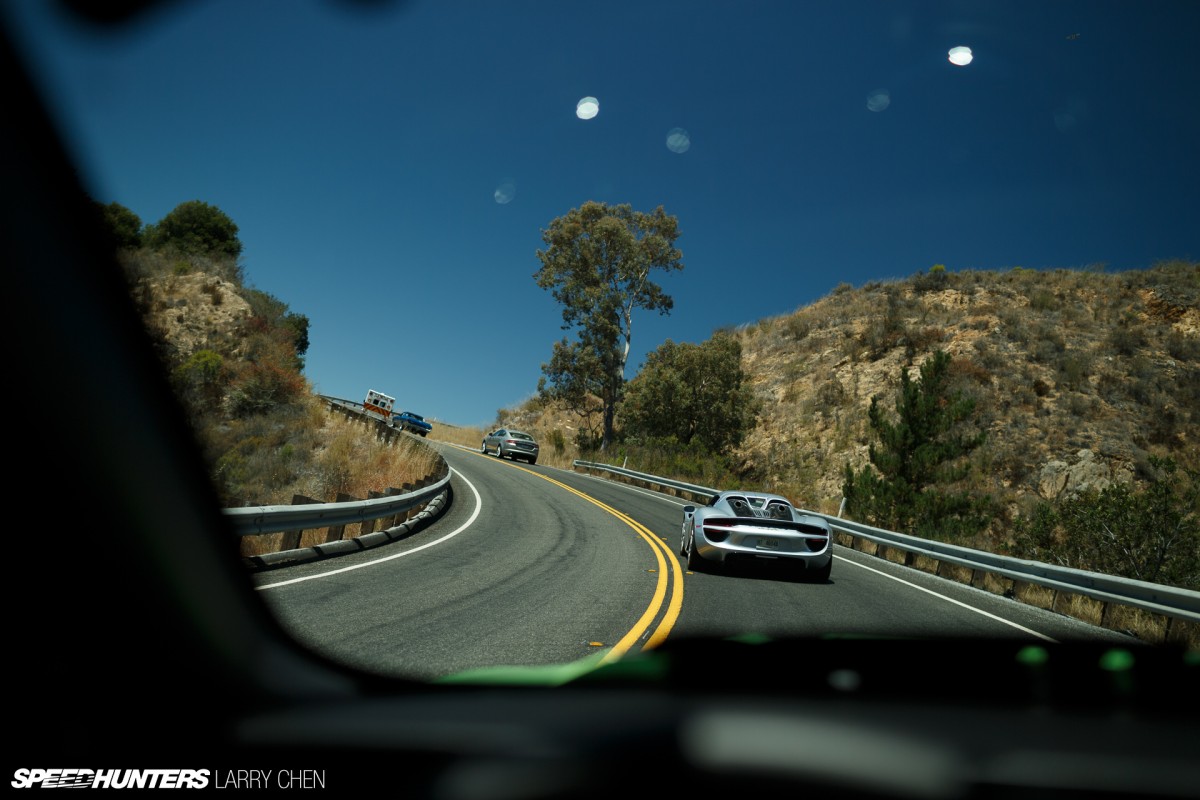 On this road, at any given moment you could be tailing a Porsche 918 or equivalent supercar.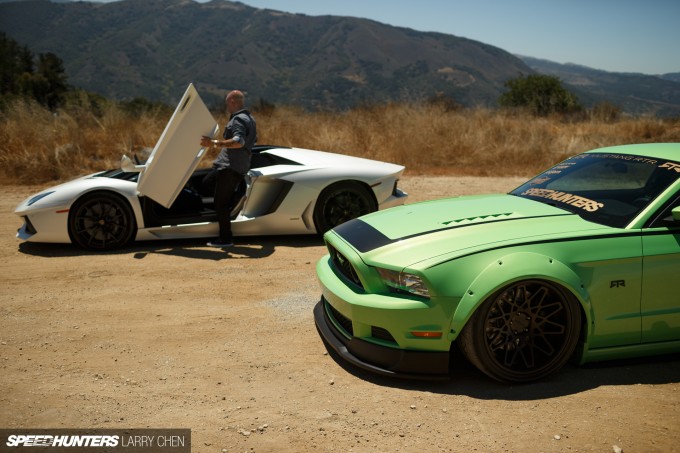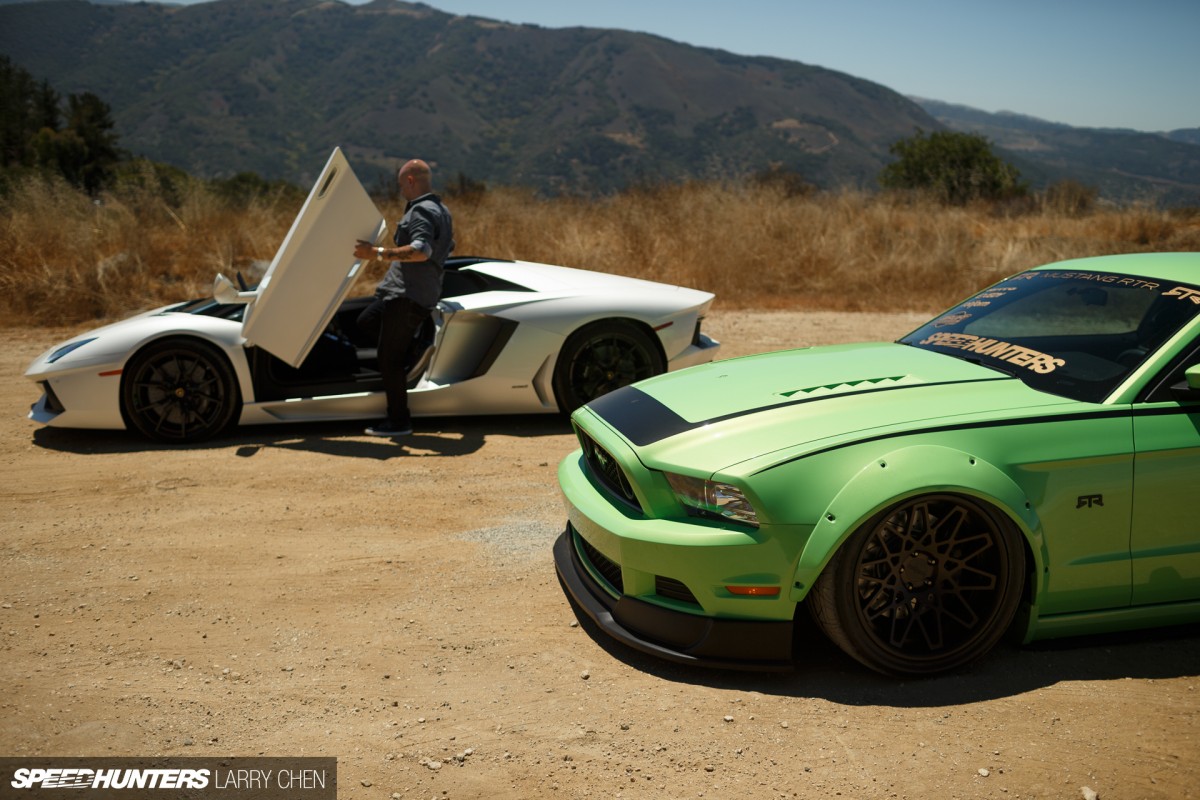 There were a constant stream of Lamborghinis on the road, with both journalists and potential customers taking them out for some spirited drives through the backroads of Monterey.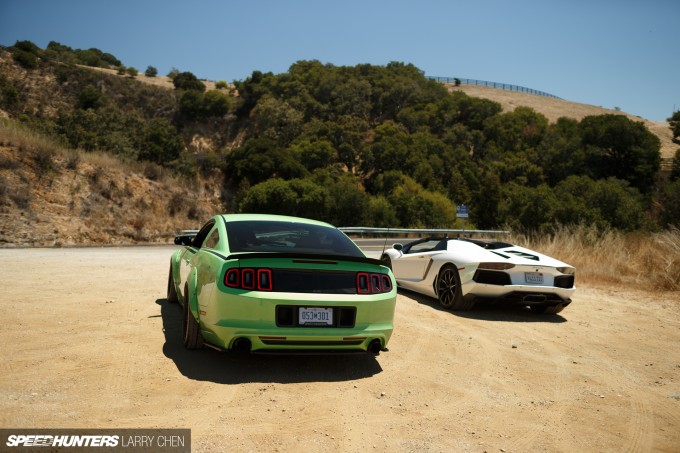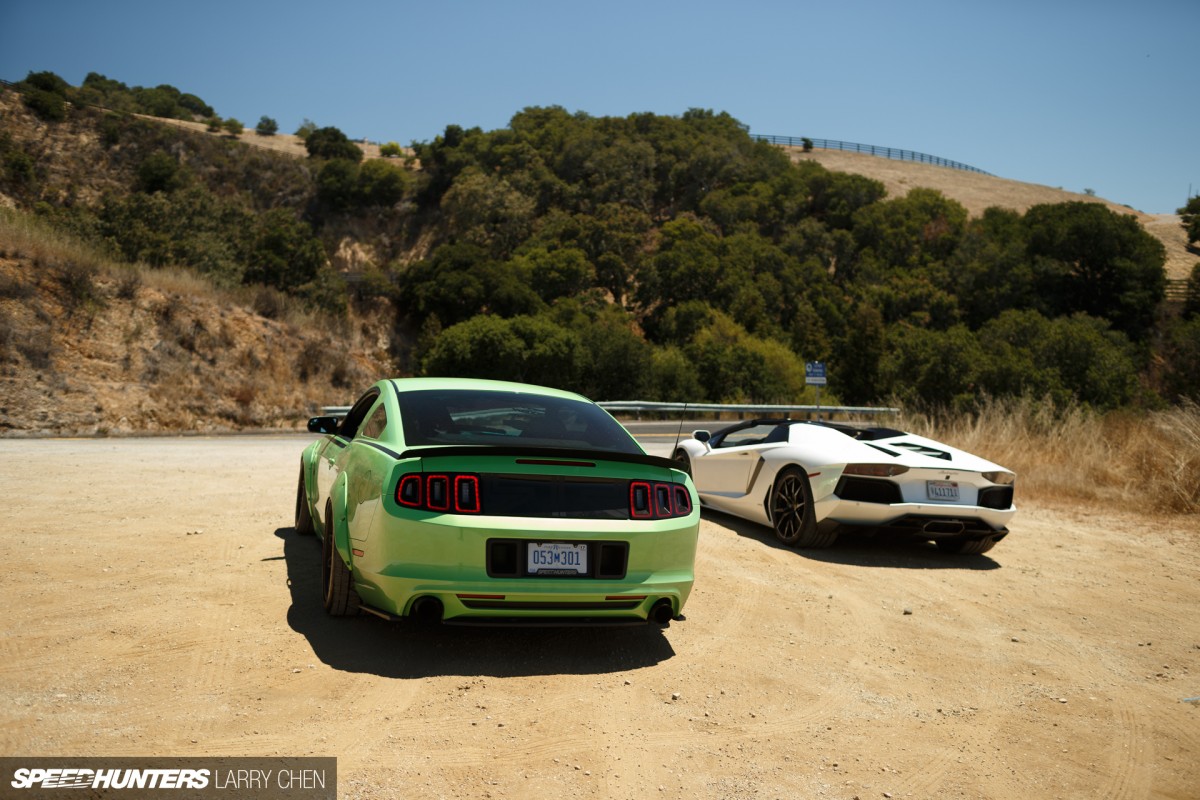 So what did I do? I tagged along, of course. Sometimes there would be six of them all driving in a single-file line… followed by a green Mustang.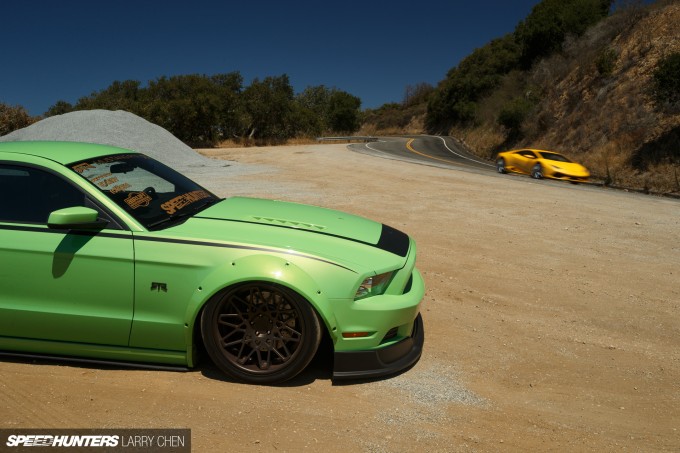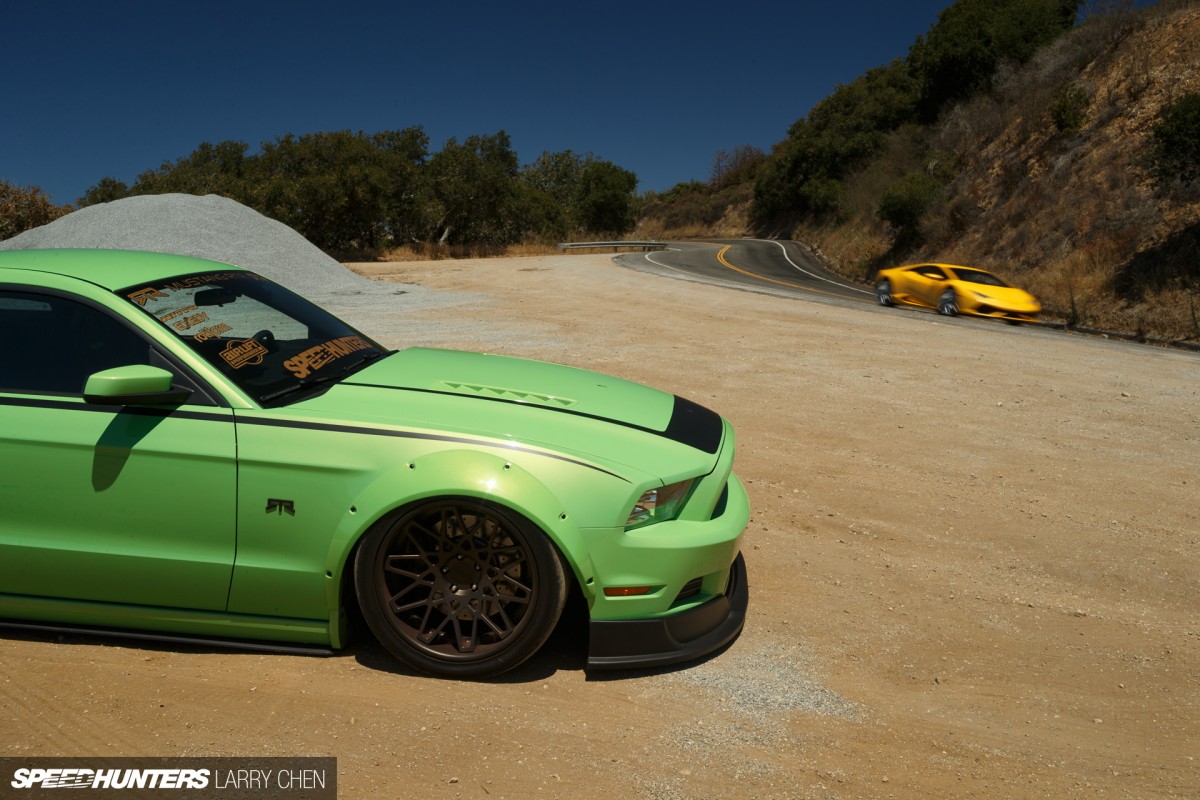 While the Aventador and Huracan were pretty loud, the exhaust note on the RTR really resonated through the hills.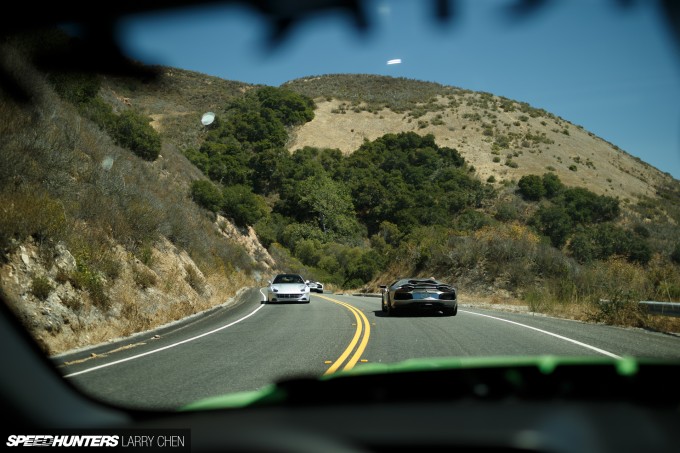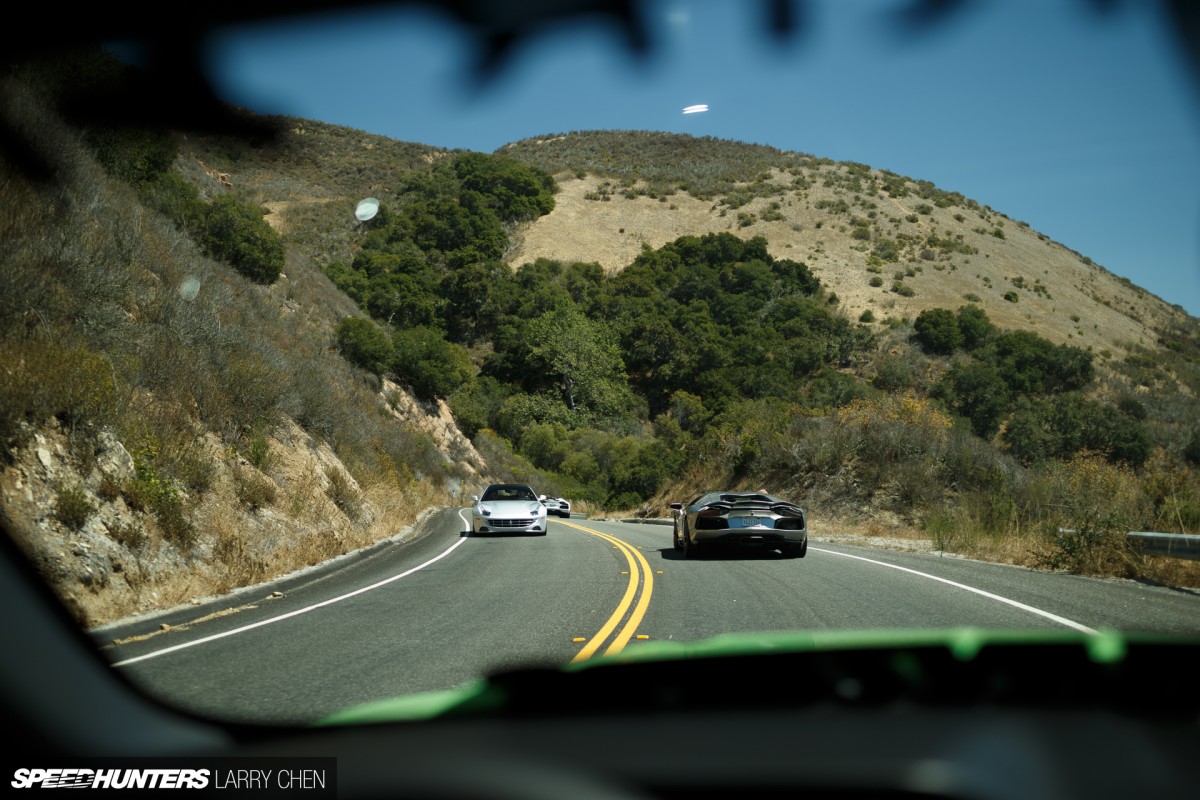 Sometimes we would all get bunched up at a stop light, and one by one each Lamborghini would wait for a gap and then punch it. I would follow suit. Fun times were definitely had by all. I had to laugh though, because as the Lambos passed by people on the street seemed to be oblivious to the fact, but as soon as they saw me in the RTR, they would point and sometimes give me a thumbs up.
So Thirsty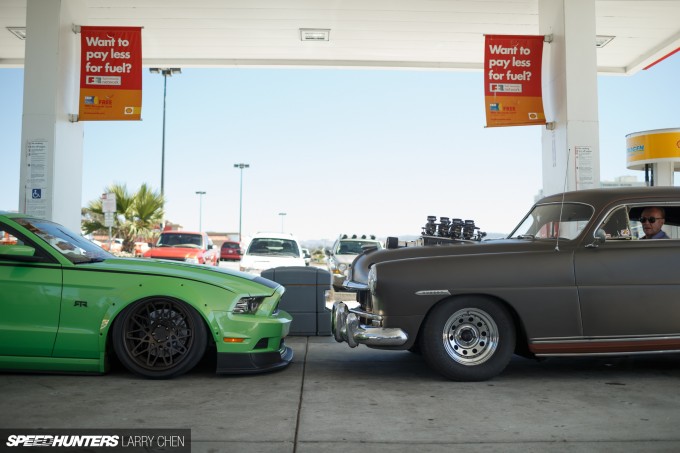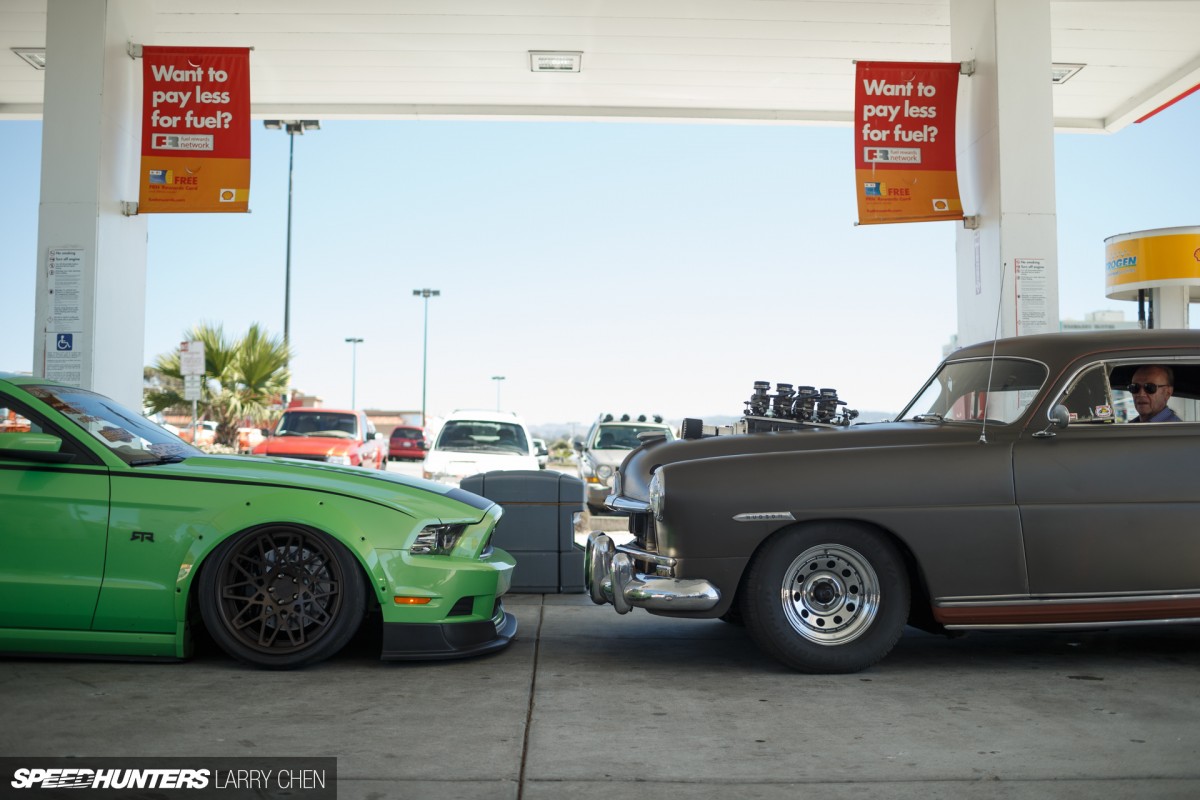 I managed to burn through a full tank of fuel pretty quickly while chasing the supercars around, so this Mustang is definitely thirsty. As always, it seems like no matter which service station you pull into during Monterey Car Week, there's always something cool to check out.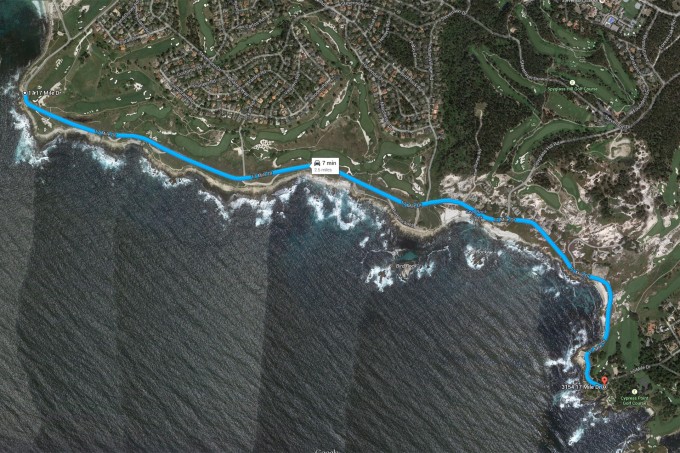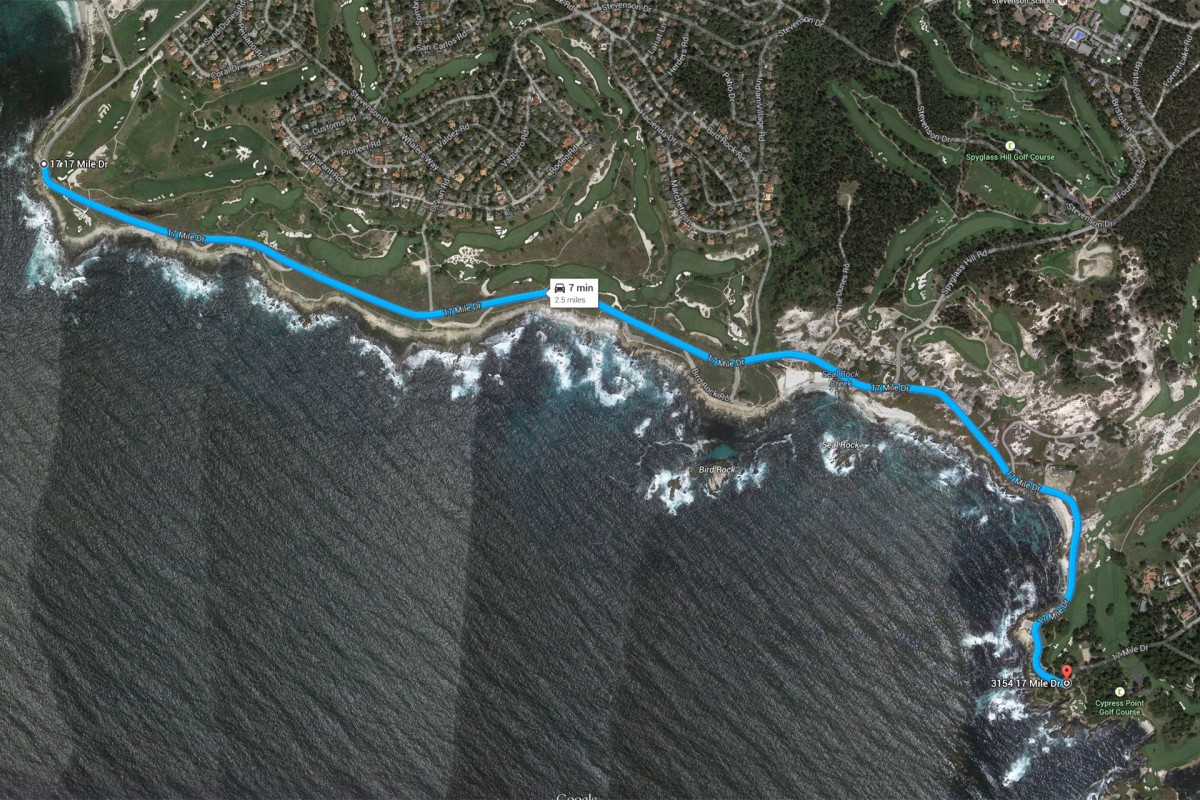 My next drive was a slow and low cruise along the coast on the famous 17-Mile Drive.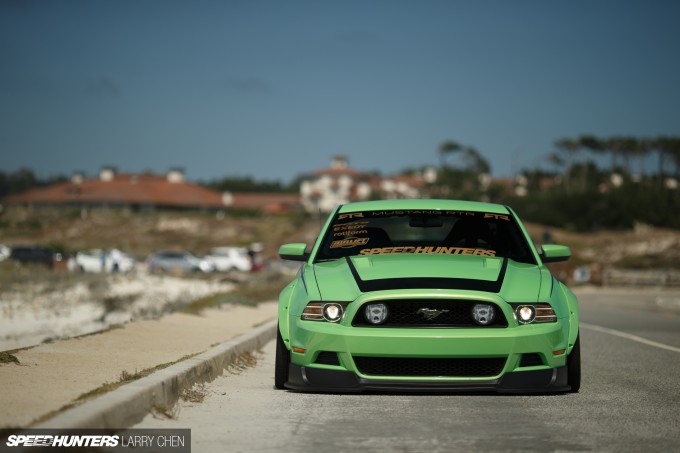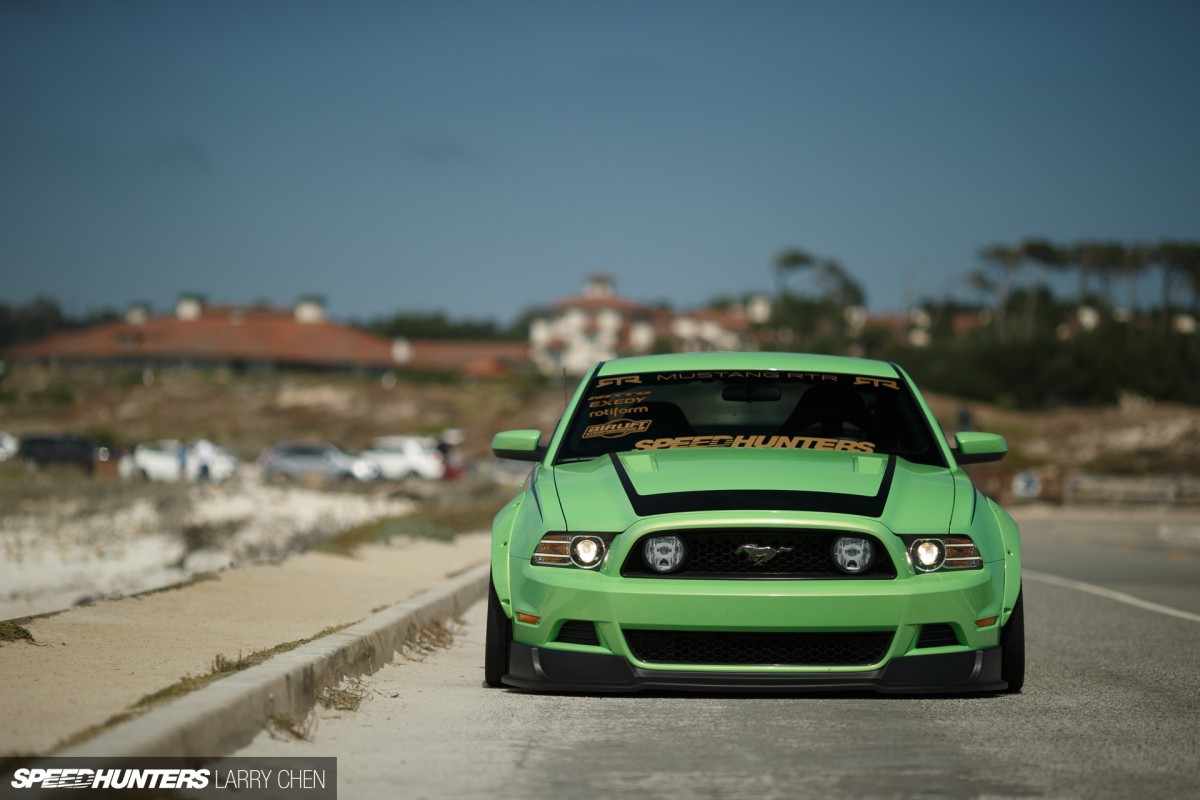 I found a nice spot to park along the beach and slammed the Ford to the ground. There's no better way to enjoy the ocean view.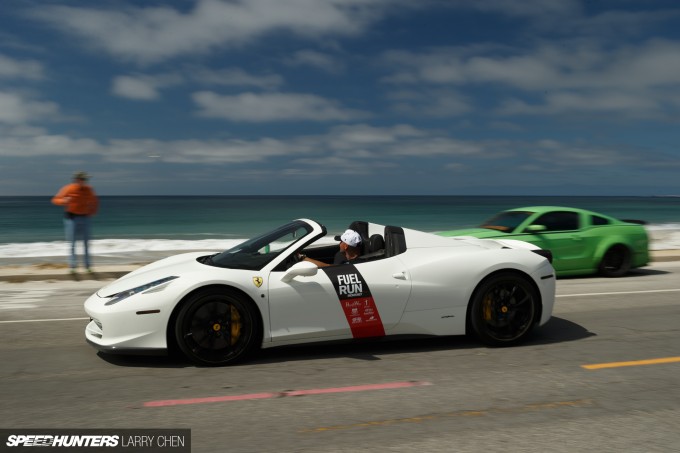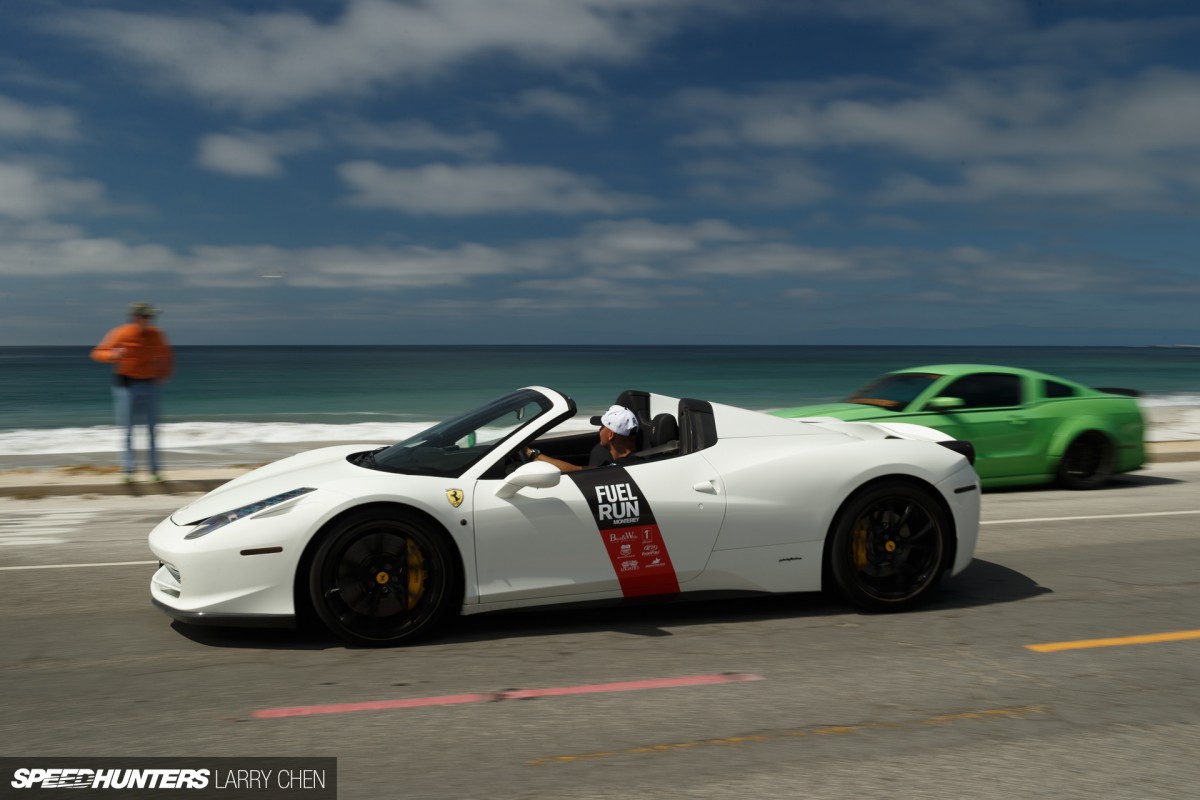 But it's tough to get a clean picture when supercars keep getting in the way of your shot.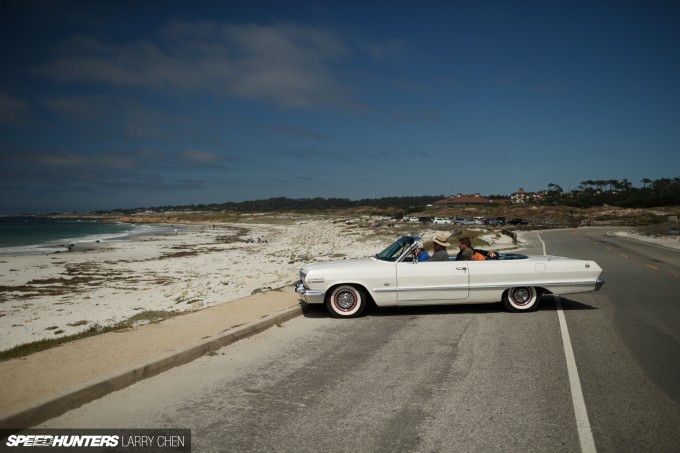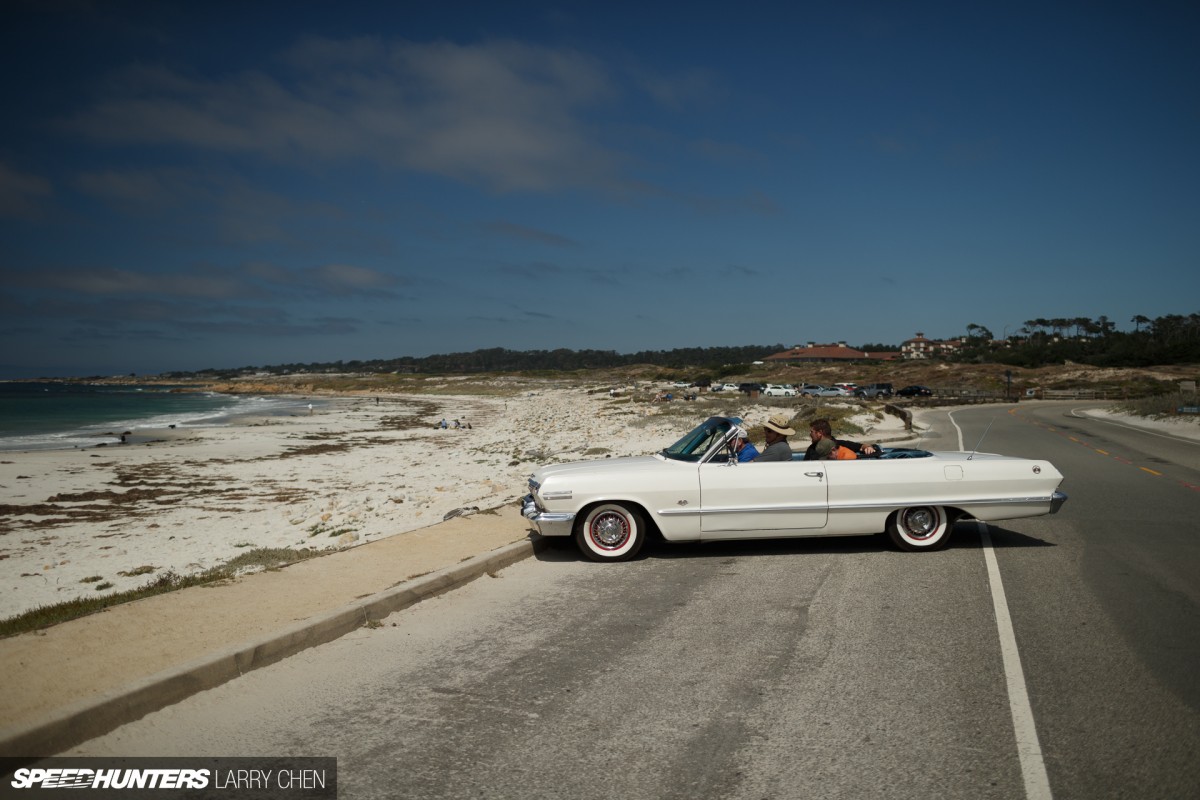 Not even one minute had passed when a Chevy Impala full of car dudes rolled by and then proceeded to make a u-turn.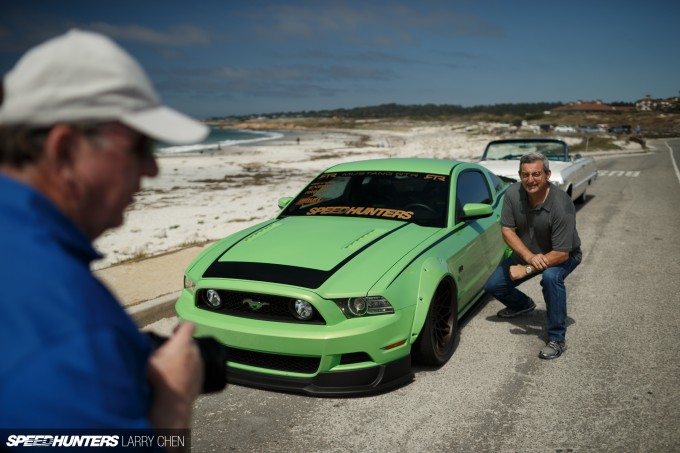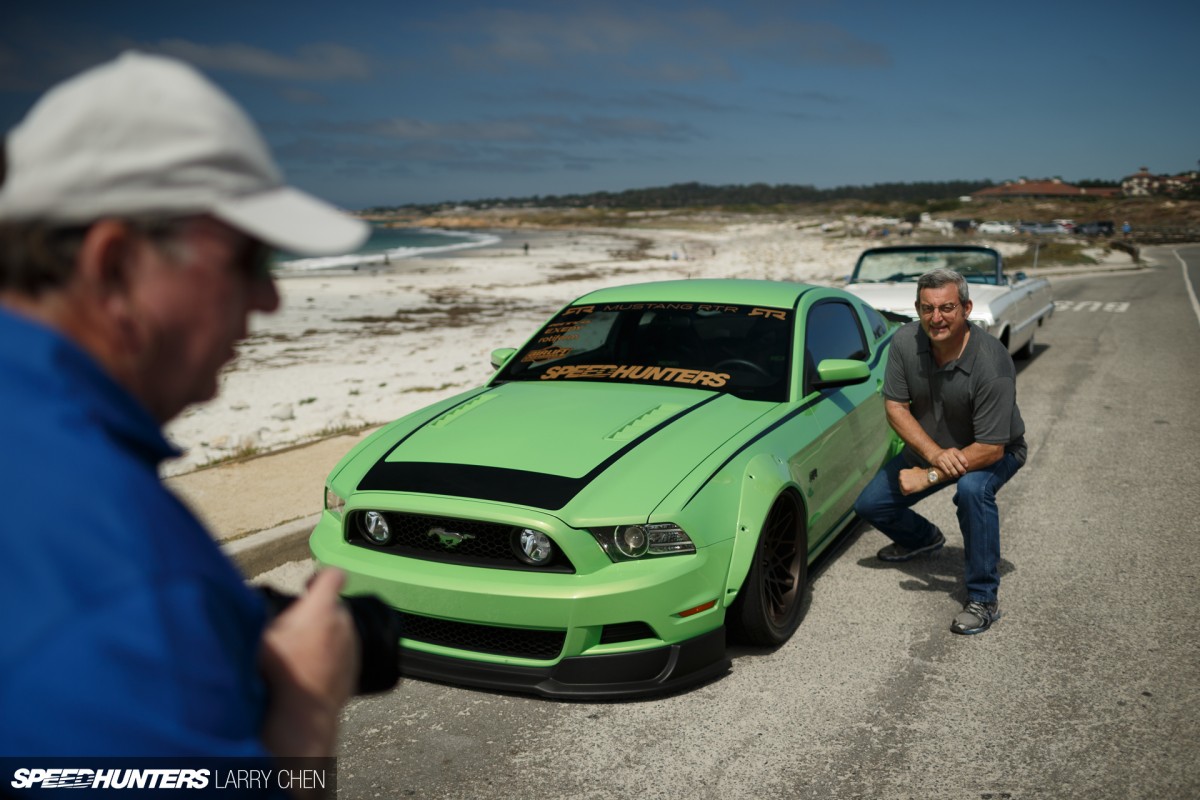 The guys said they had never seen a Mustang like the RTR Double Down before, and wanted to take a few pictures of it.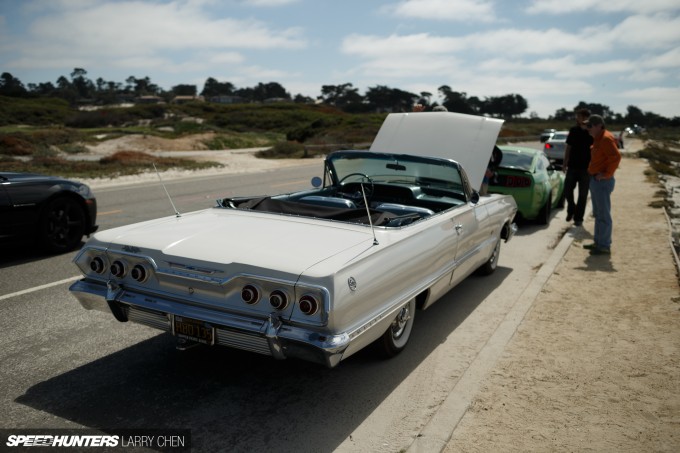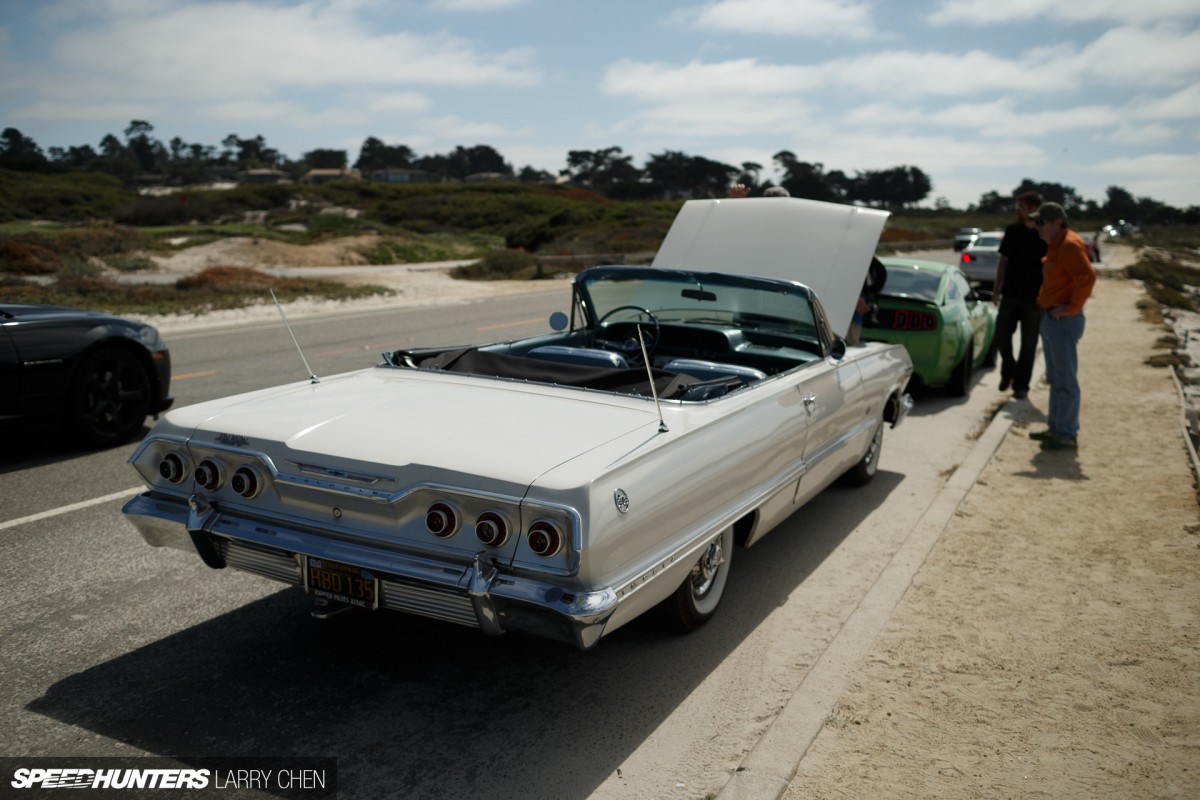 I just wanted to check out their land yacht. It was amazing how clean it was.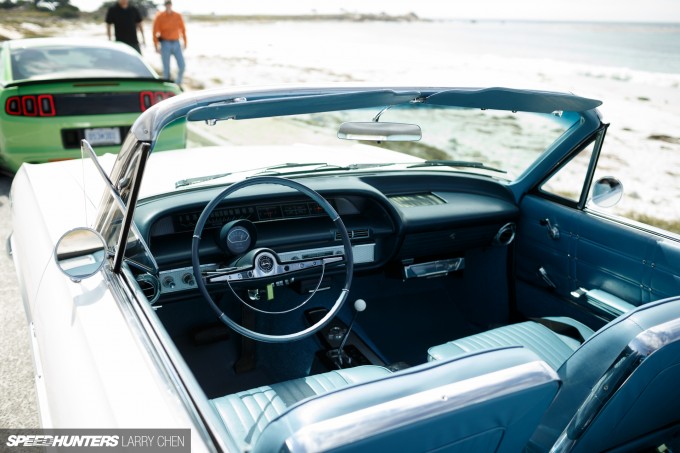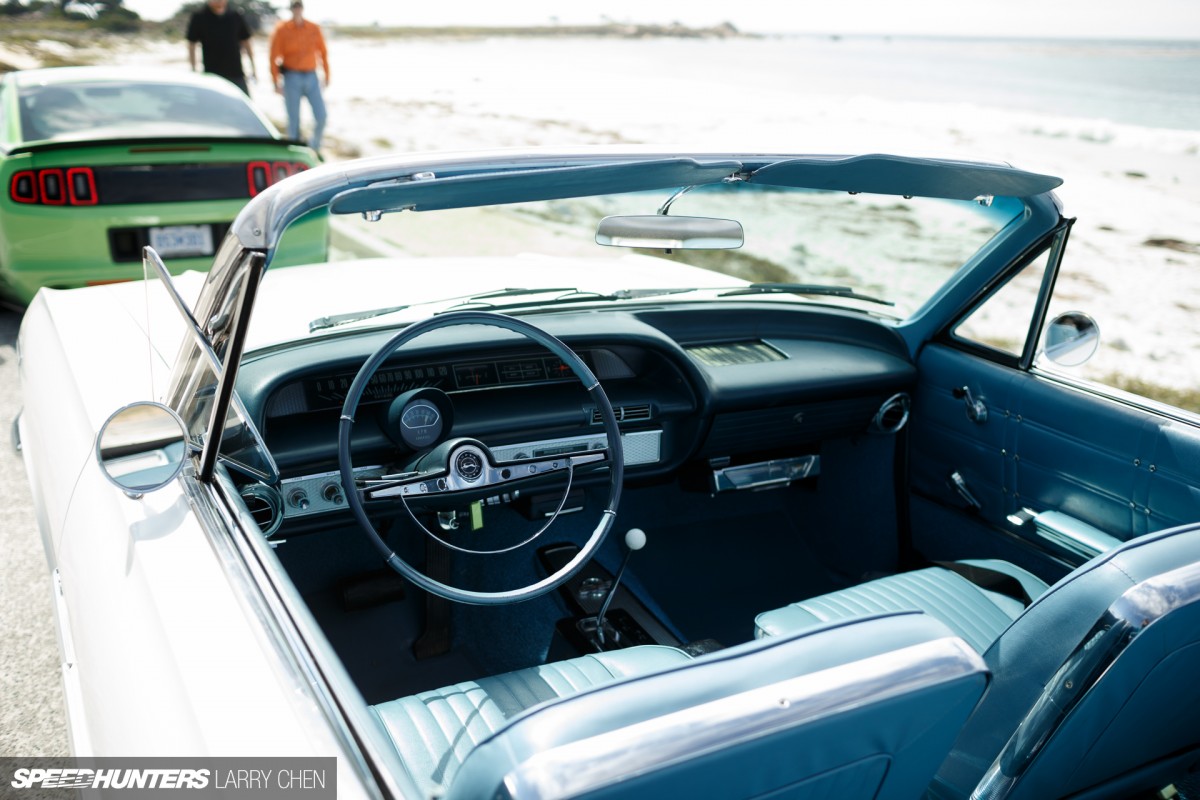 The interior was absolutely perfect. What a way to cruise around Pebble Beach!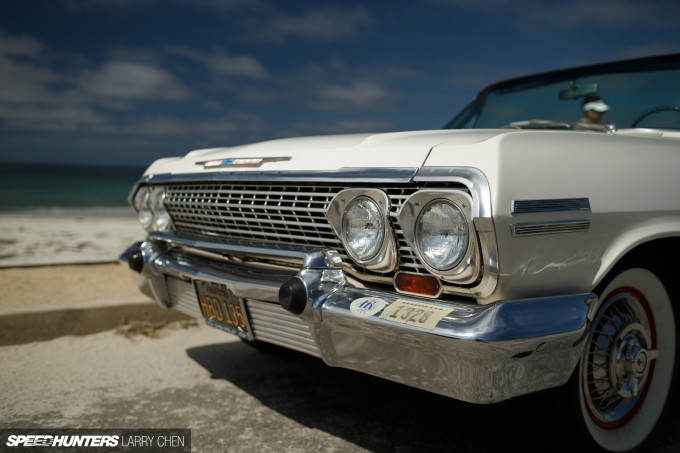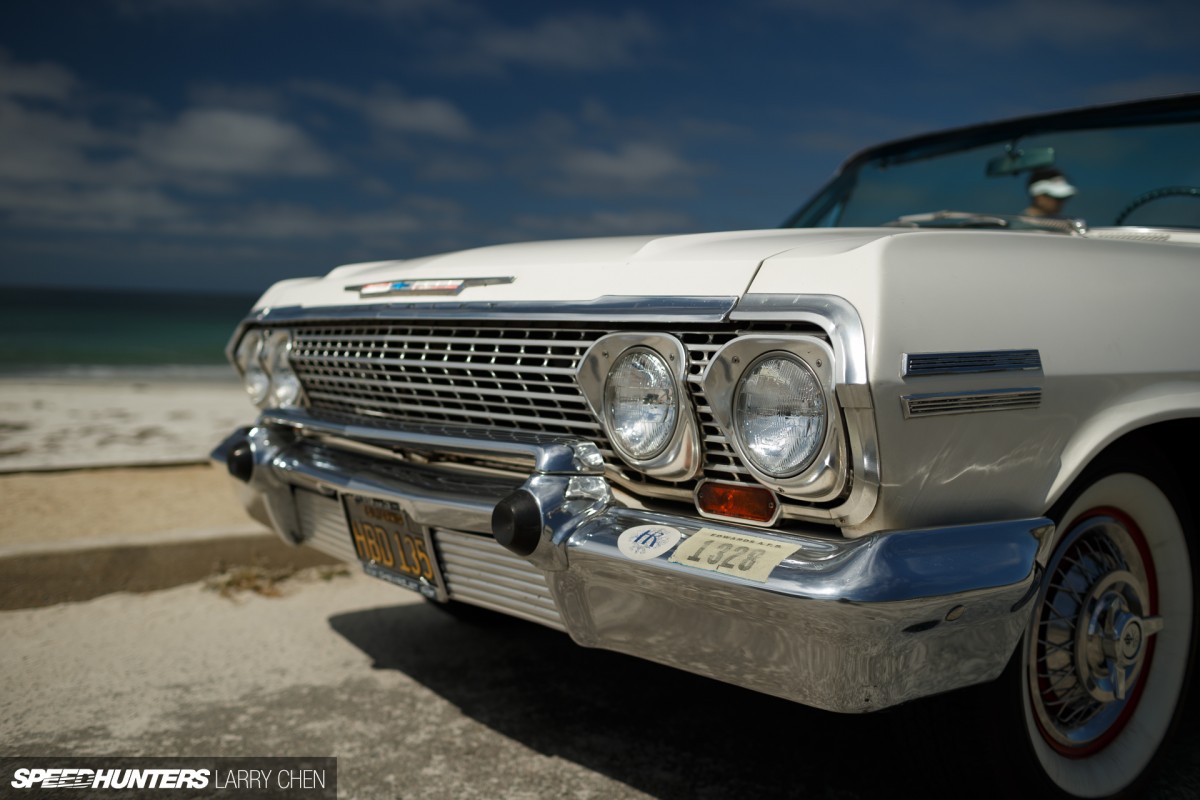 Apparently it was previously owned by a pilot working out of Edwards Air Force Base in Southern California. He certainly kept it in great shape.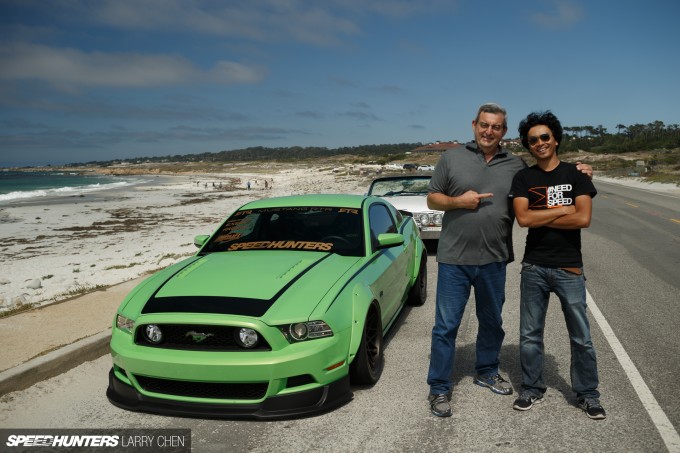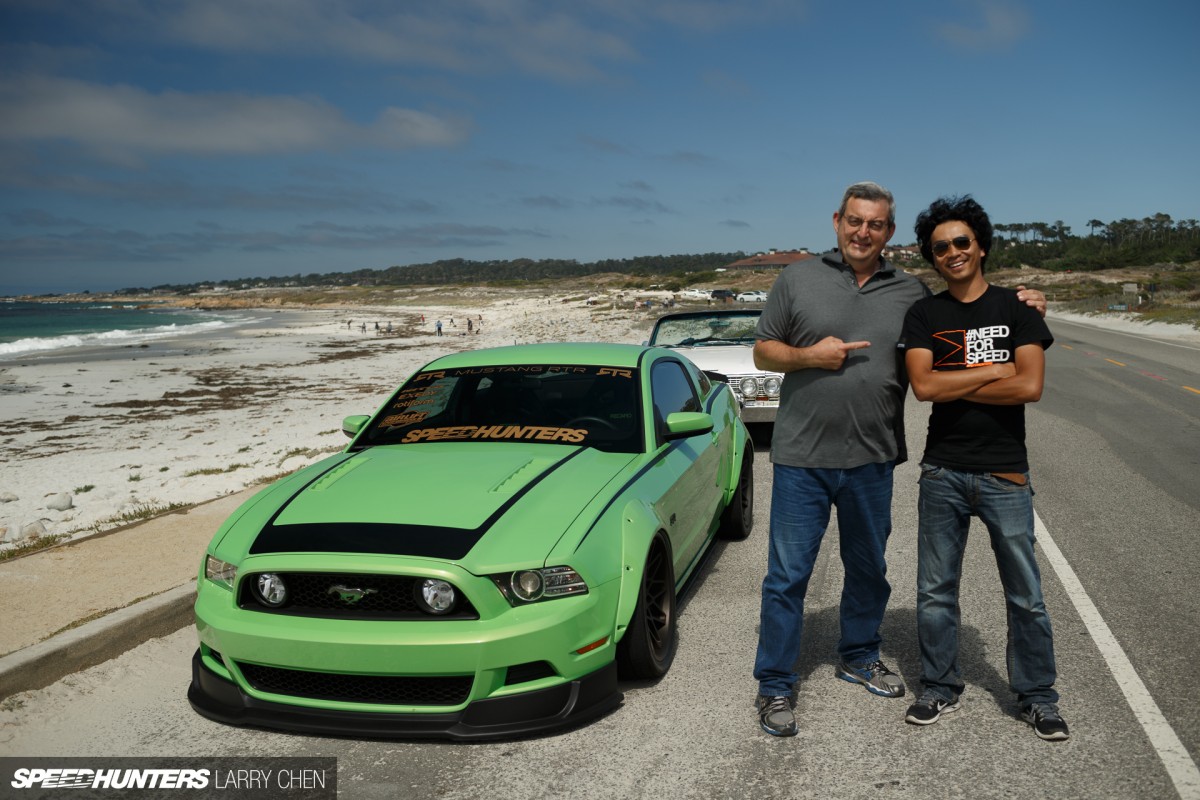 It also turns out that the guys were fans of Speedhunters. We took some photos and gave them some stickers. They drove up from Southern California just to hang out for the week.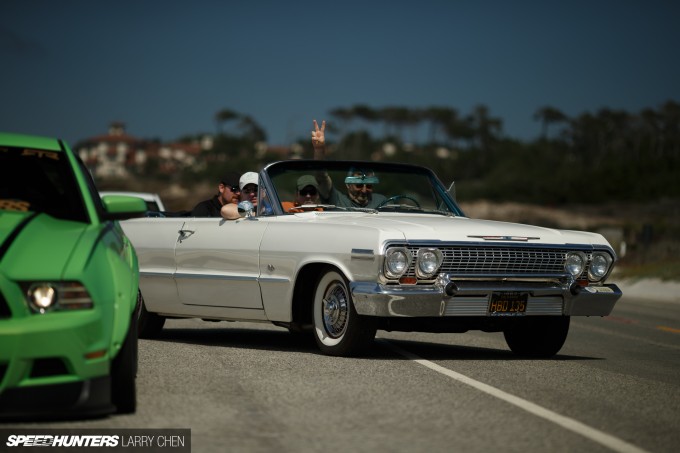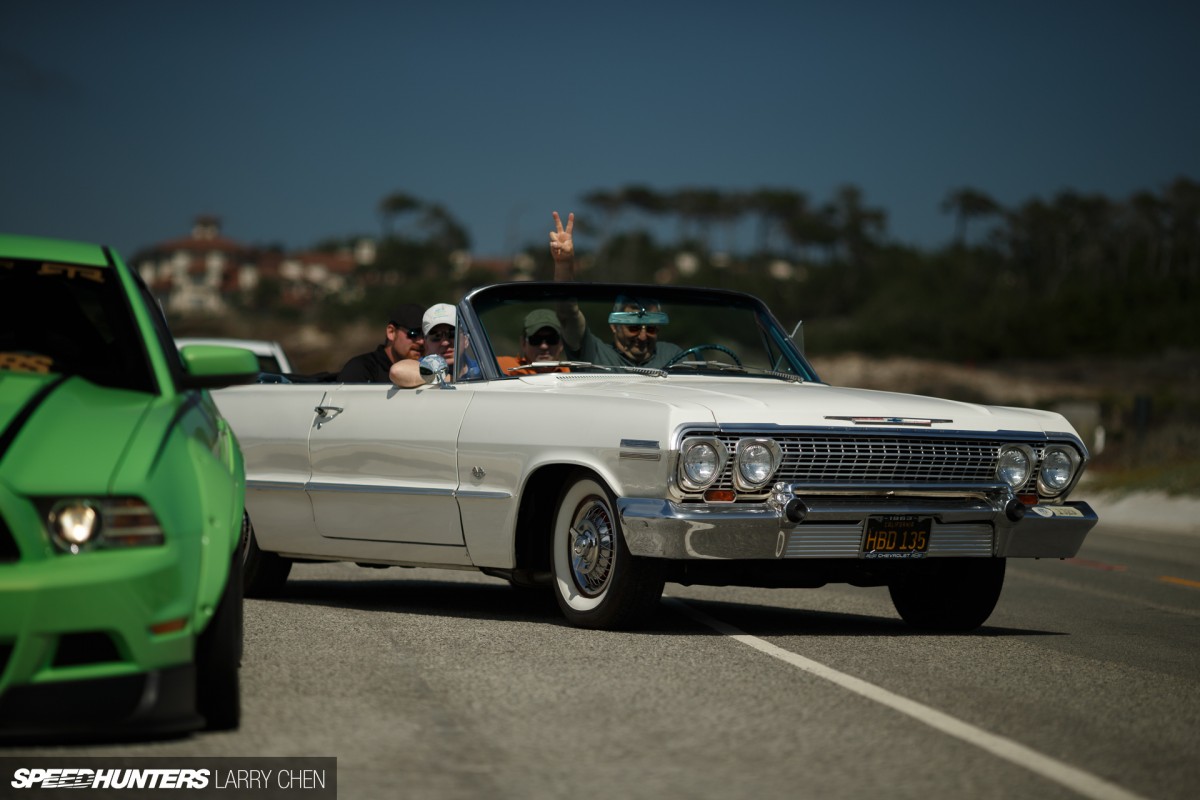 It's great to meet fans of all walks of life, because that tells me that our project is working. We are bringing car culture to the masses, no matter where you live in the world. On top of that it's all free. What more could you ask for?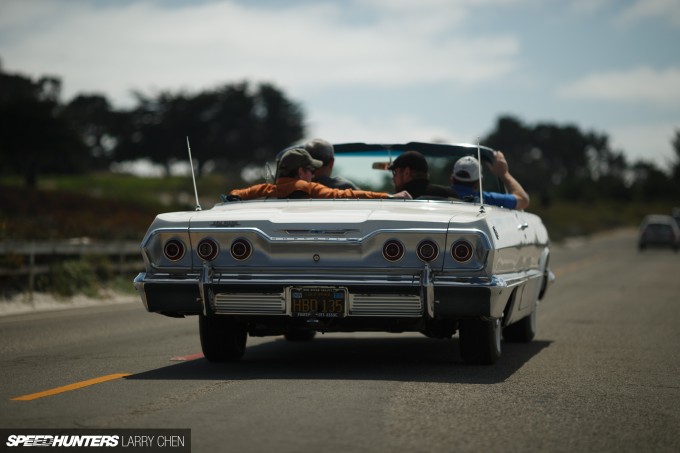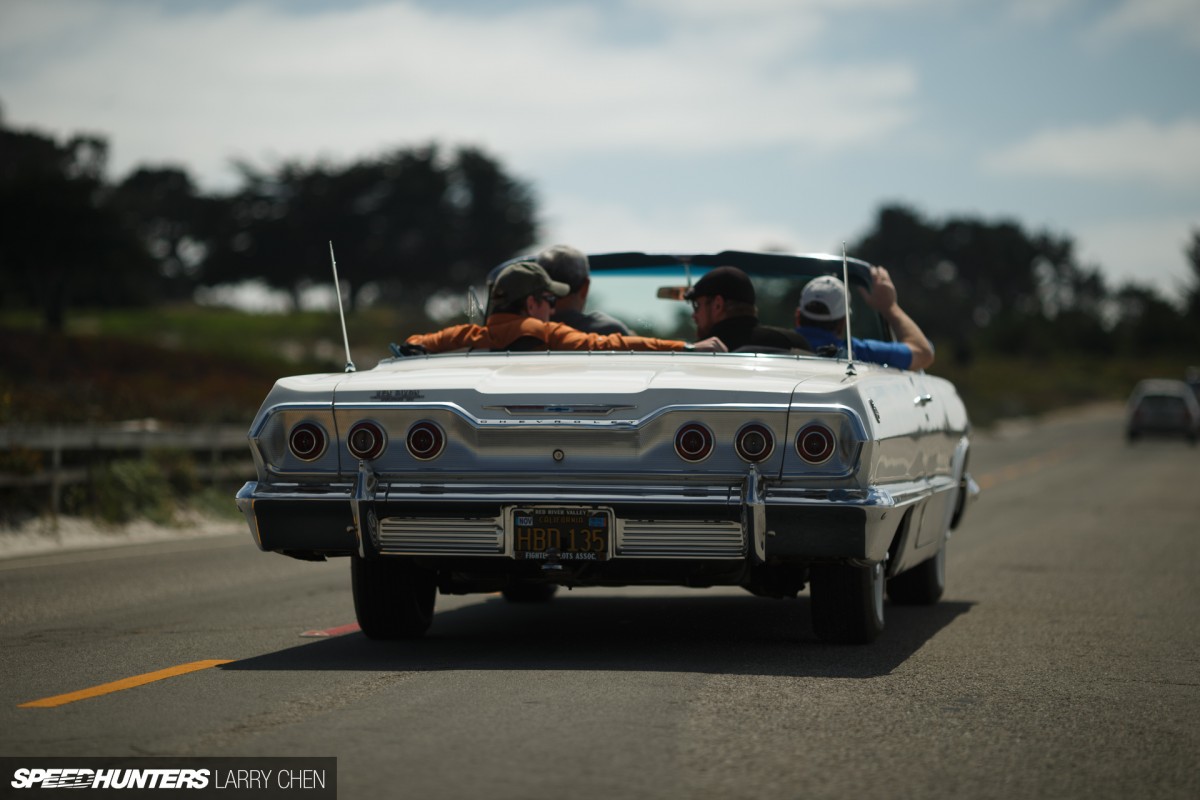 Just like the boys in the Impala, I hit the road again.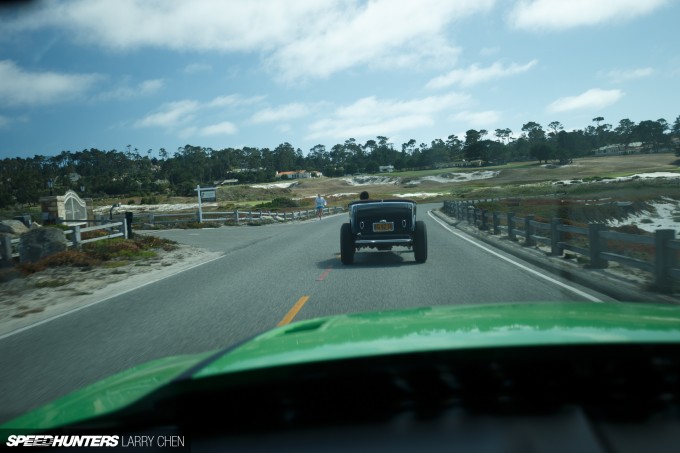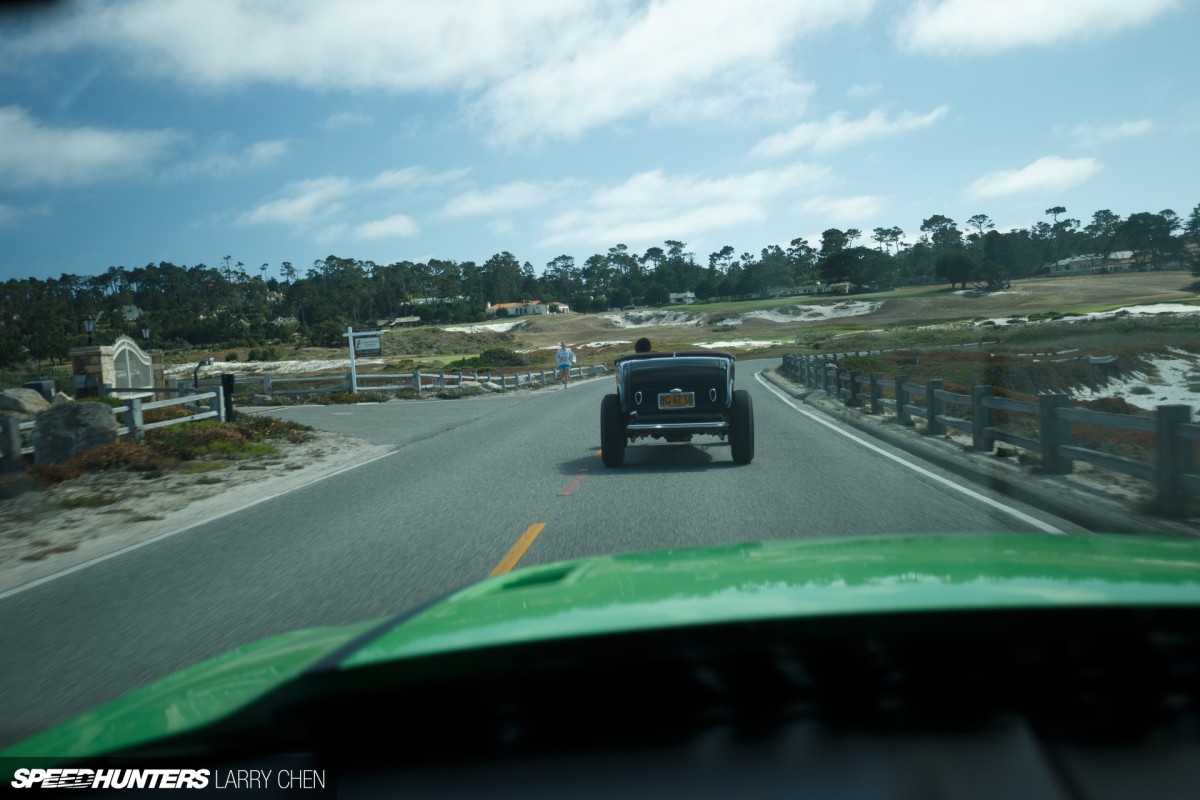 This time I came up behind a '32 Ford taking the scenic route. It must have been cruising along at 10mph.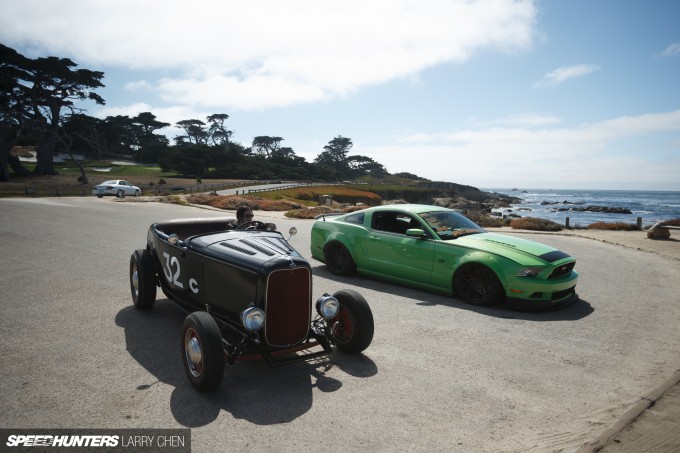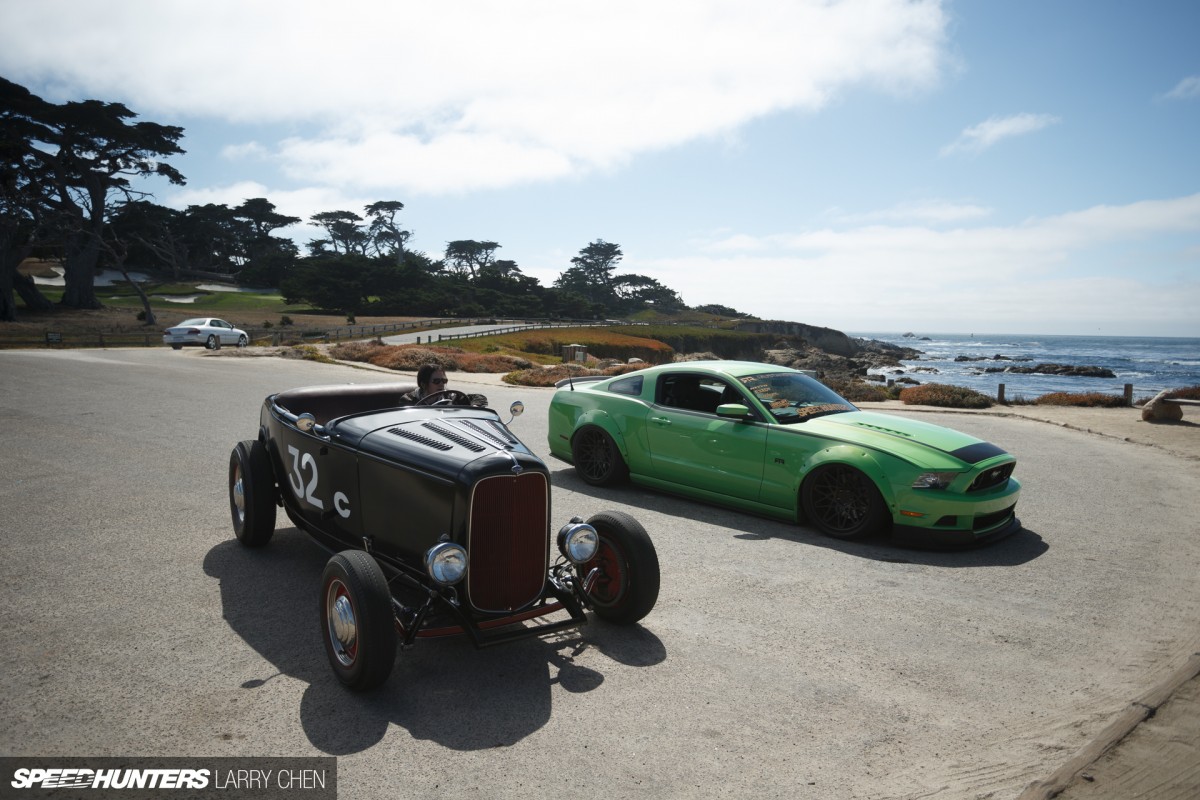 It turned out to be a movie car from the Indie film Deuce of Spades, and it was out at Pebble Beach for a special screening. Driving the '32 was the film's producer, Faith Granger.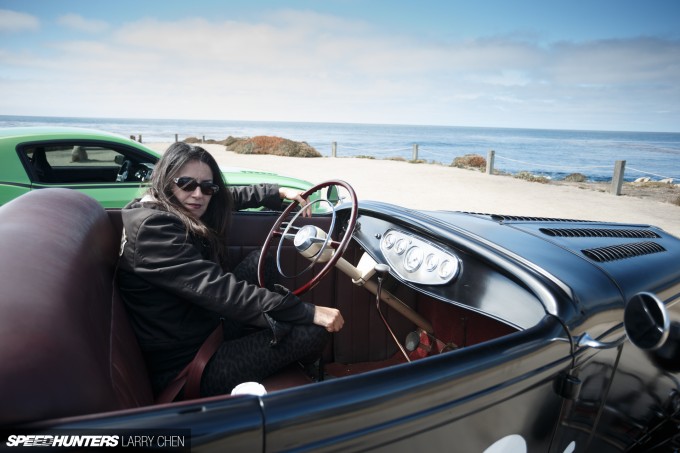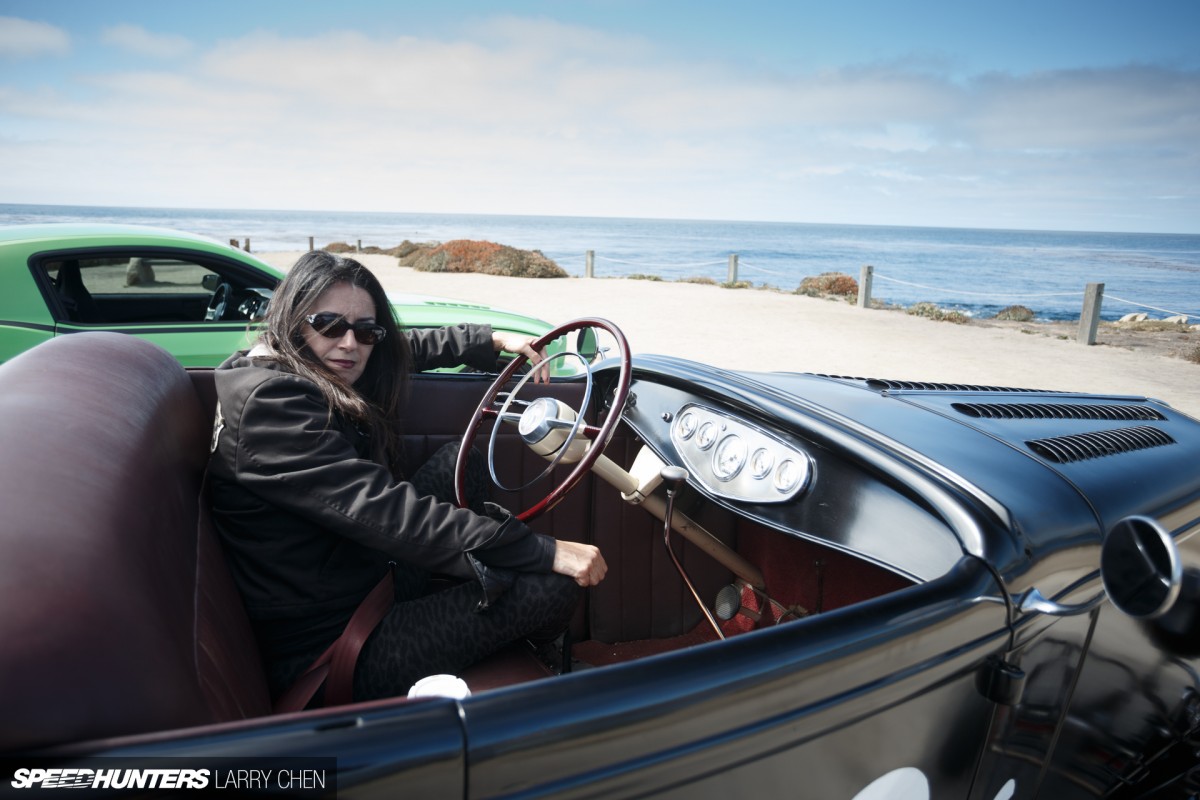 It's interesting that both cars are made by Ford around 80 years apart. We chatted for a little bit and I told her about Speedhunters and once again I was off on my own.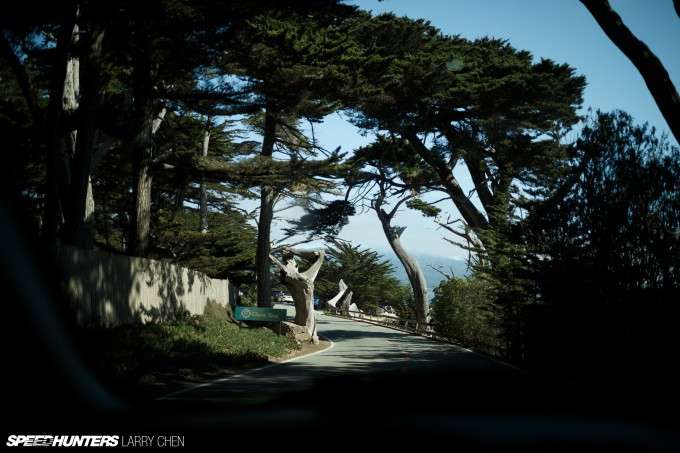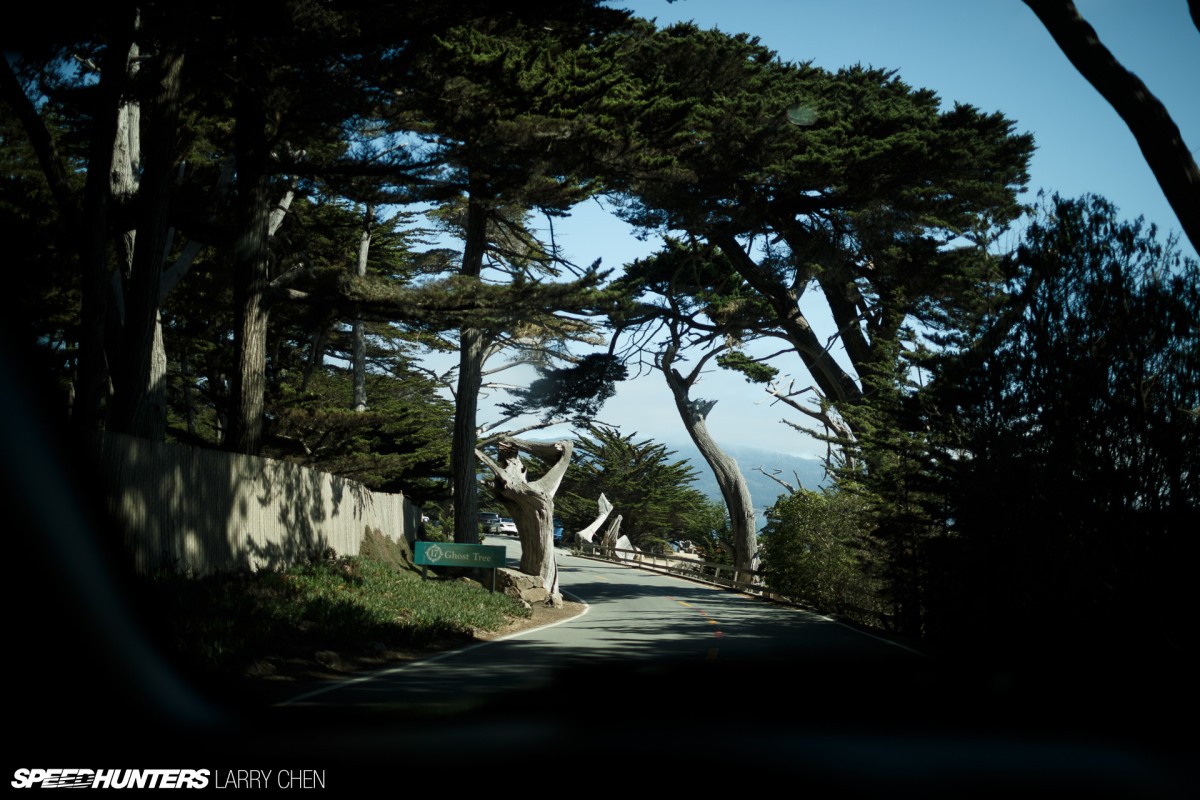 To get back to town you have to drive through a forest. While the roads were nice and twisty, you can't really go fast. The speed limit was very low and it was mostly a residential neighborhood.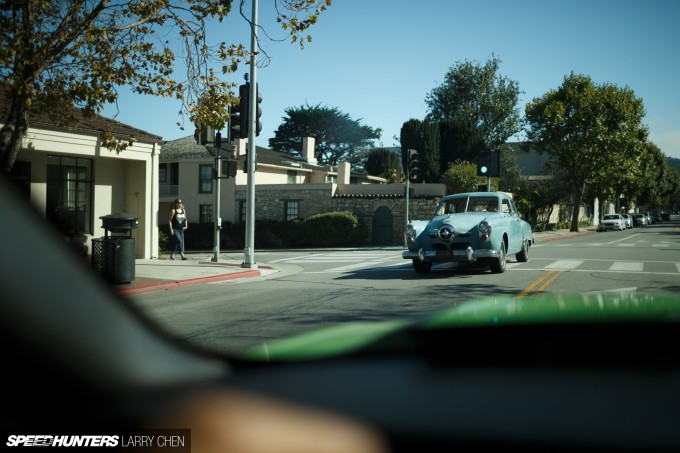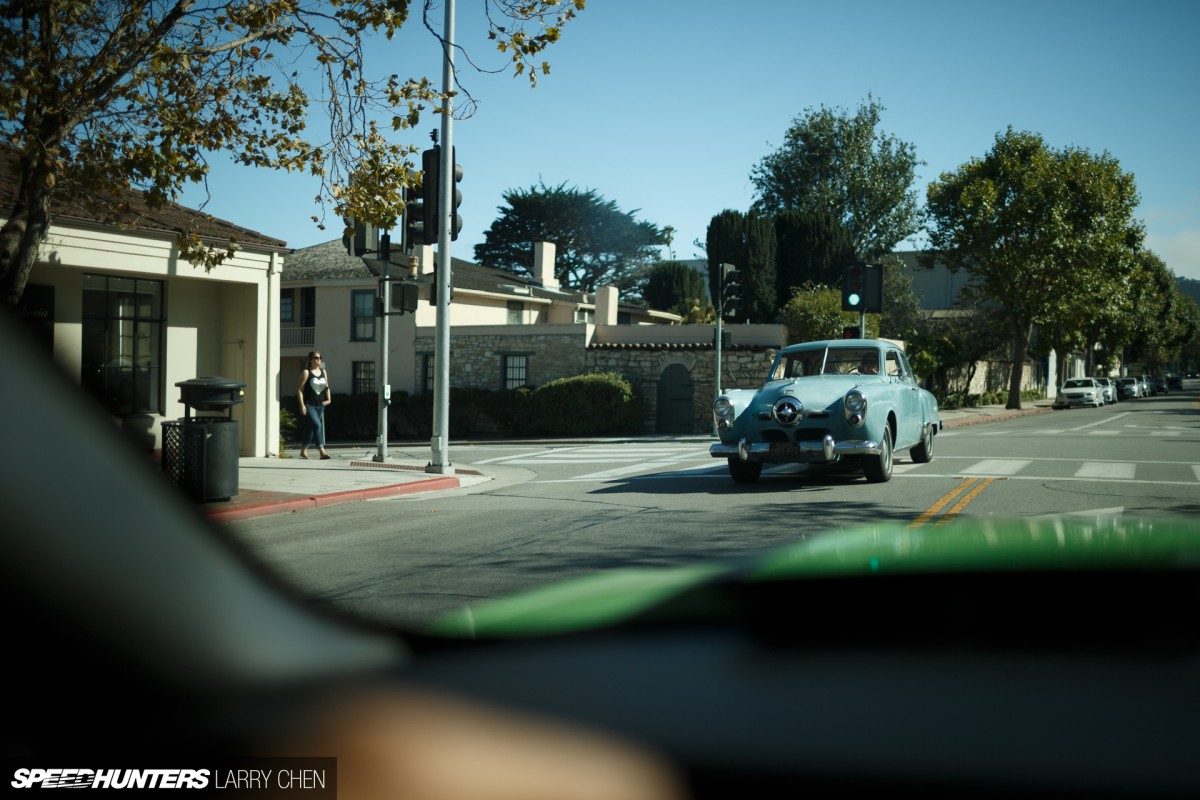 I drove through the city, but it was incredibly busy because auctions were taking place and there was nowhere to park. So I headed back out to the canyon road I was at earlier.
Canyon Carving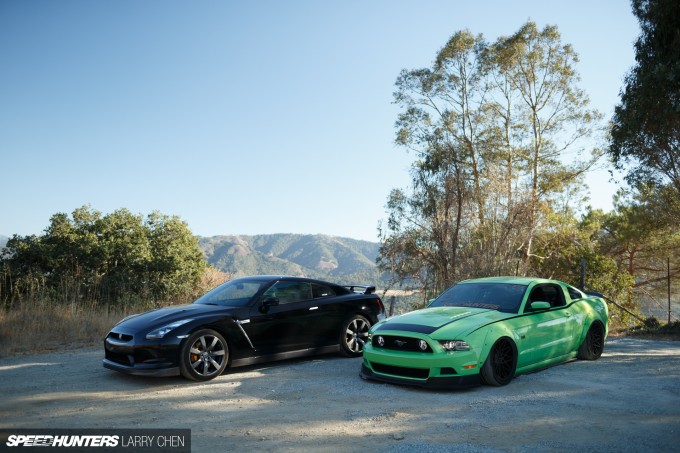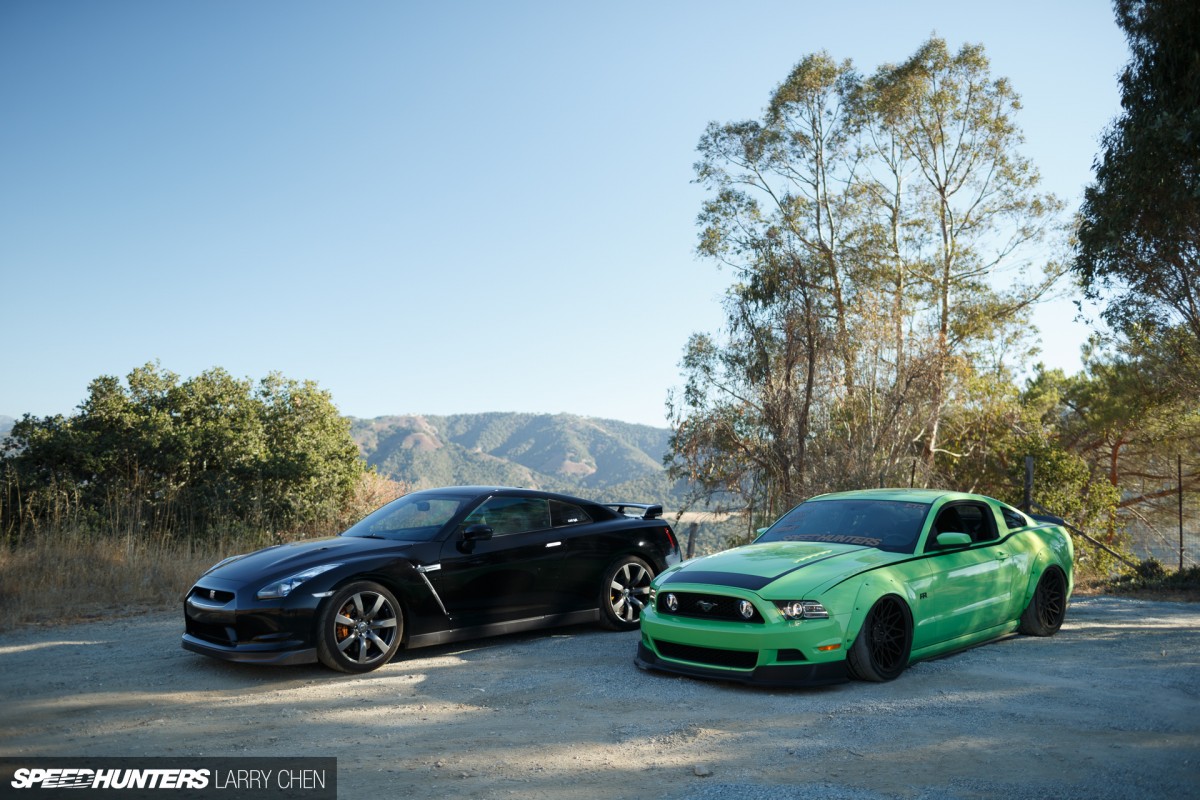 This time it seemed even busier. I met up with some guys who had the same idea – to sit on the side of the road and watch nice cars drive by.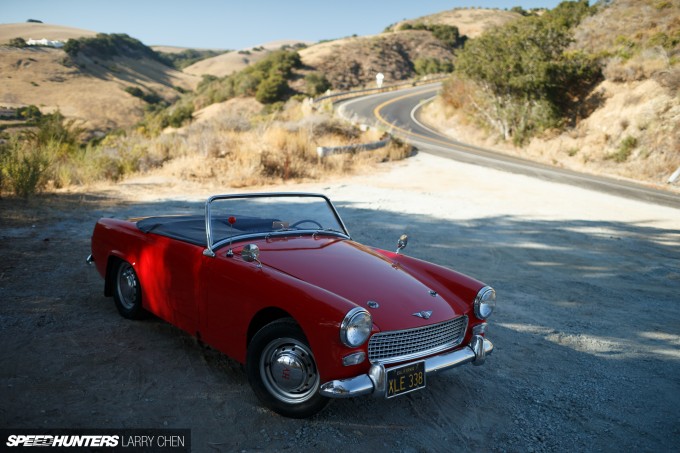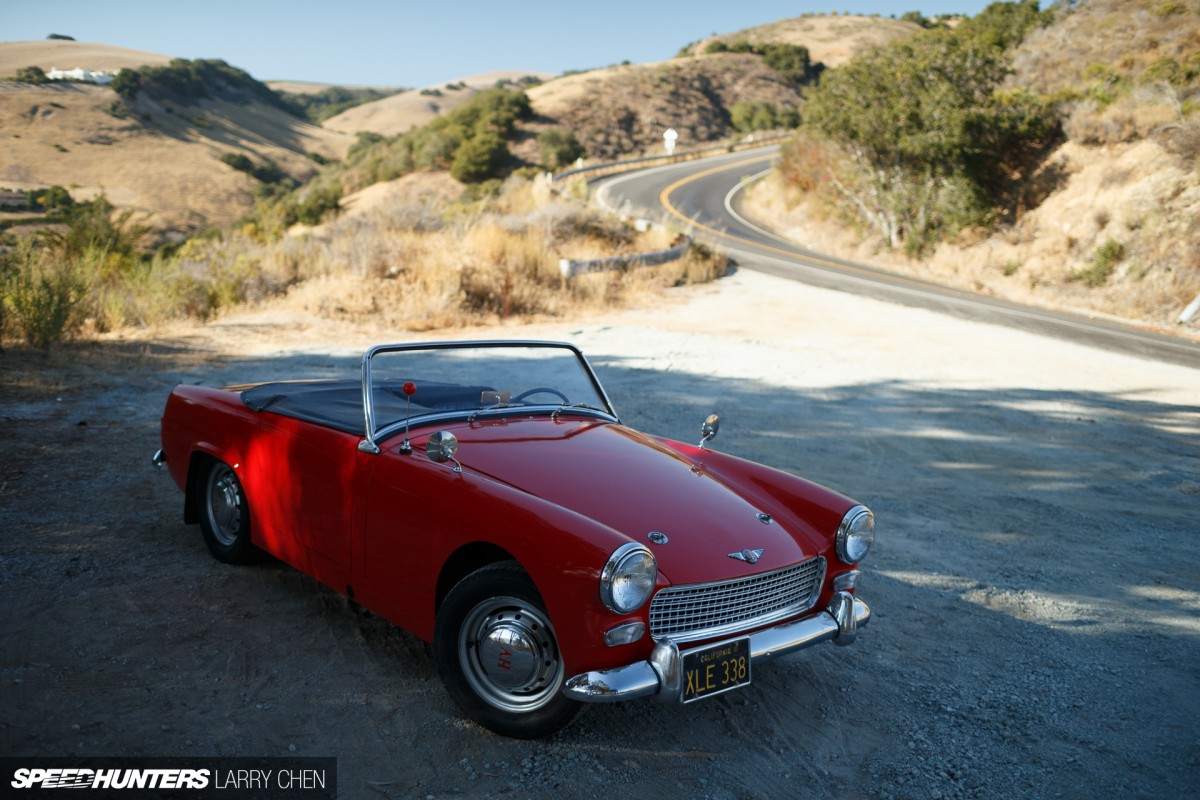 It became a sort of an improv car meet. All manner of cars began pulling over to check out what was going on.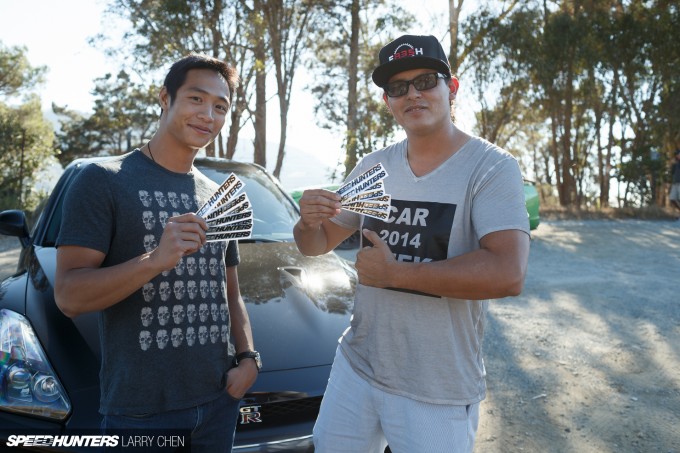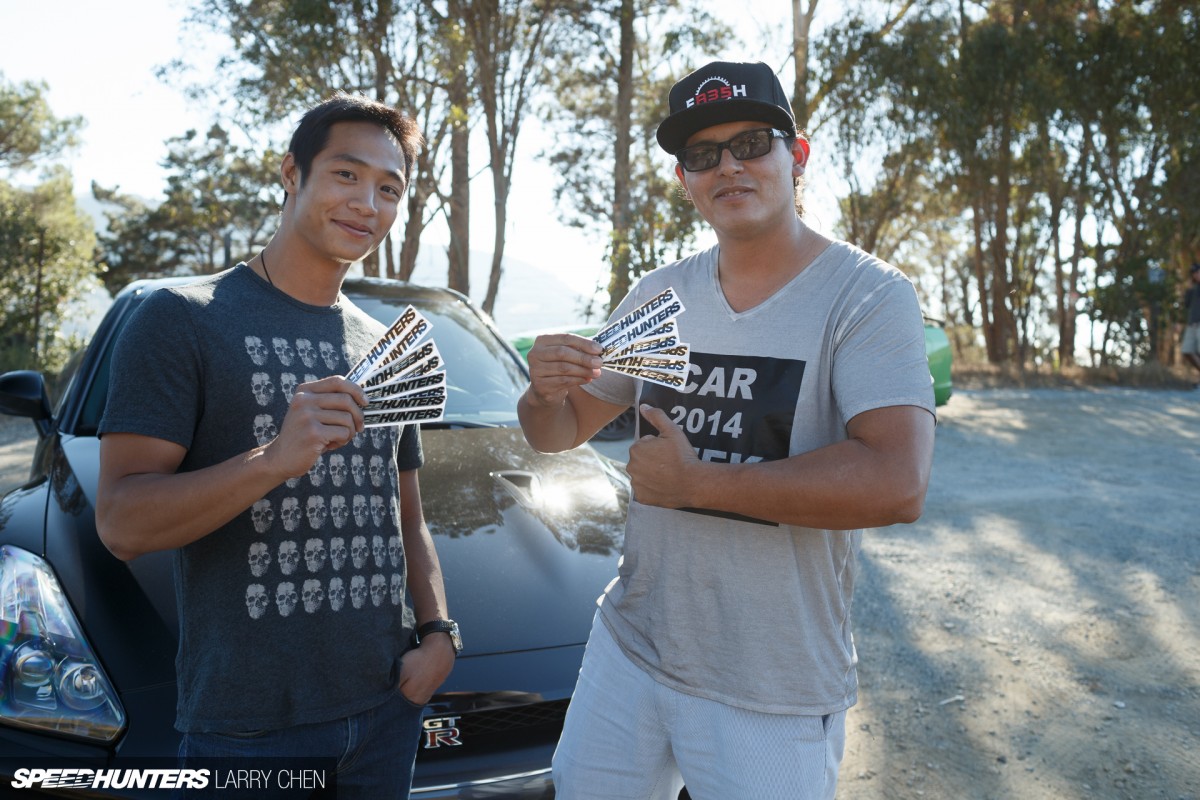 A few of the dudes were Speedhunters fans, and by this point I was running out of decals! It turns out they are friends with the owner of a certain Rocket Bunny GT-R that I recently photographed.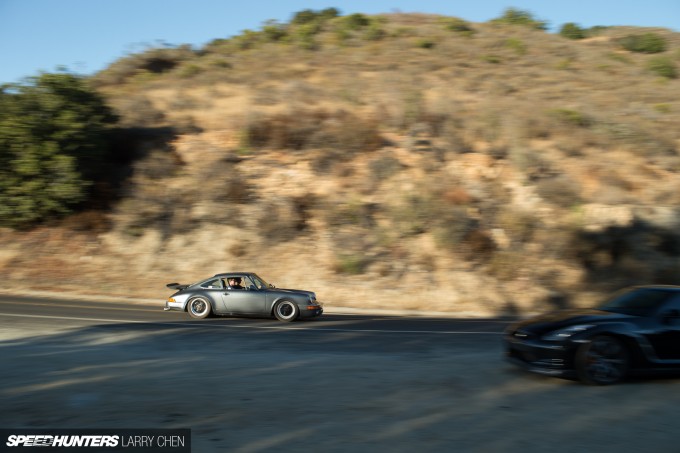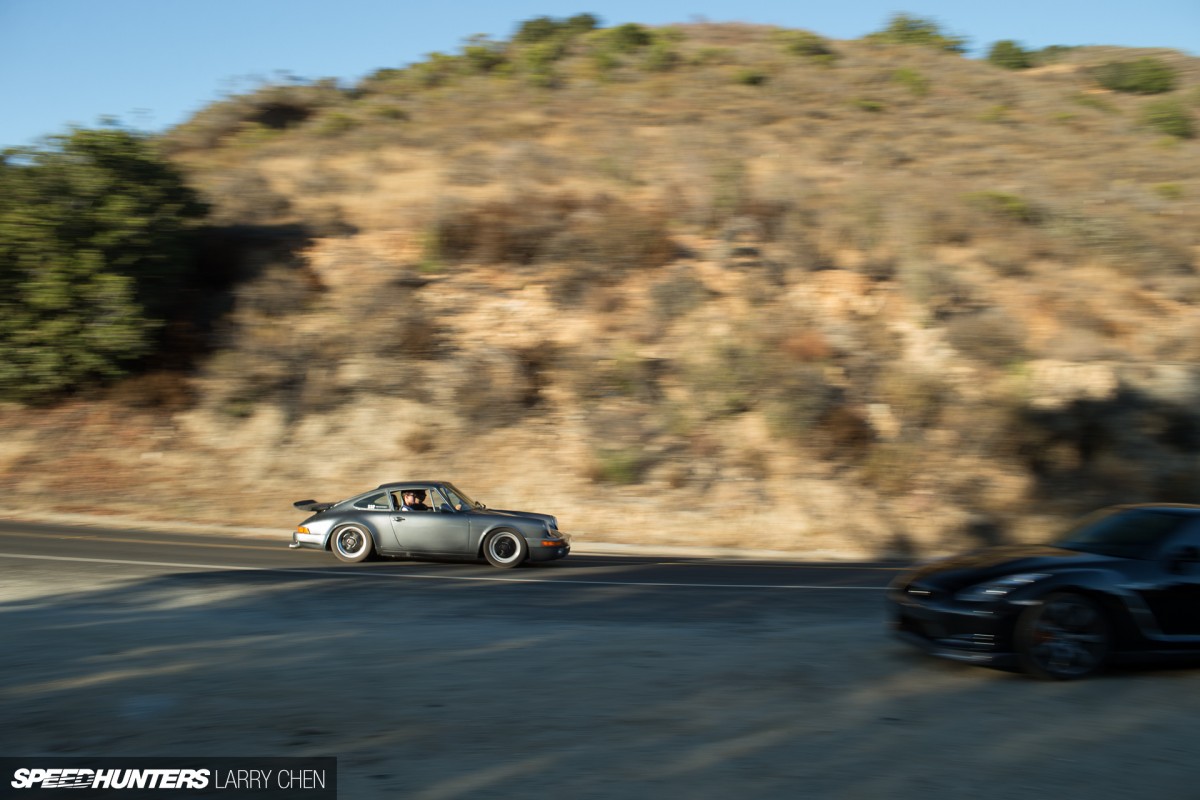 Every time anything remotely cool drove by we would either egg them on to go faster or motion them to pull over so we could hang out.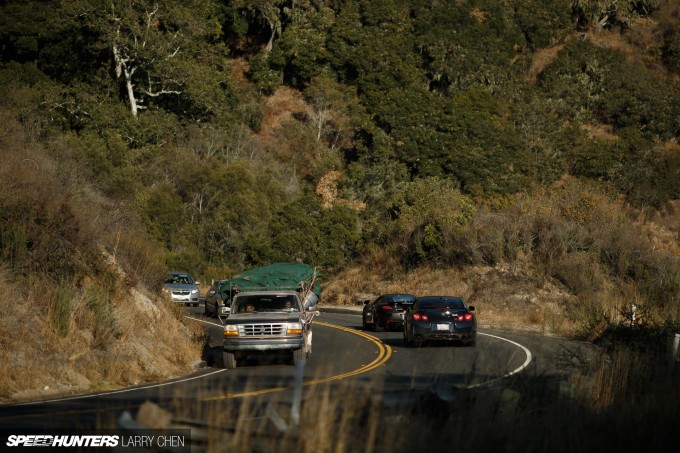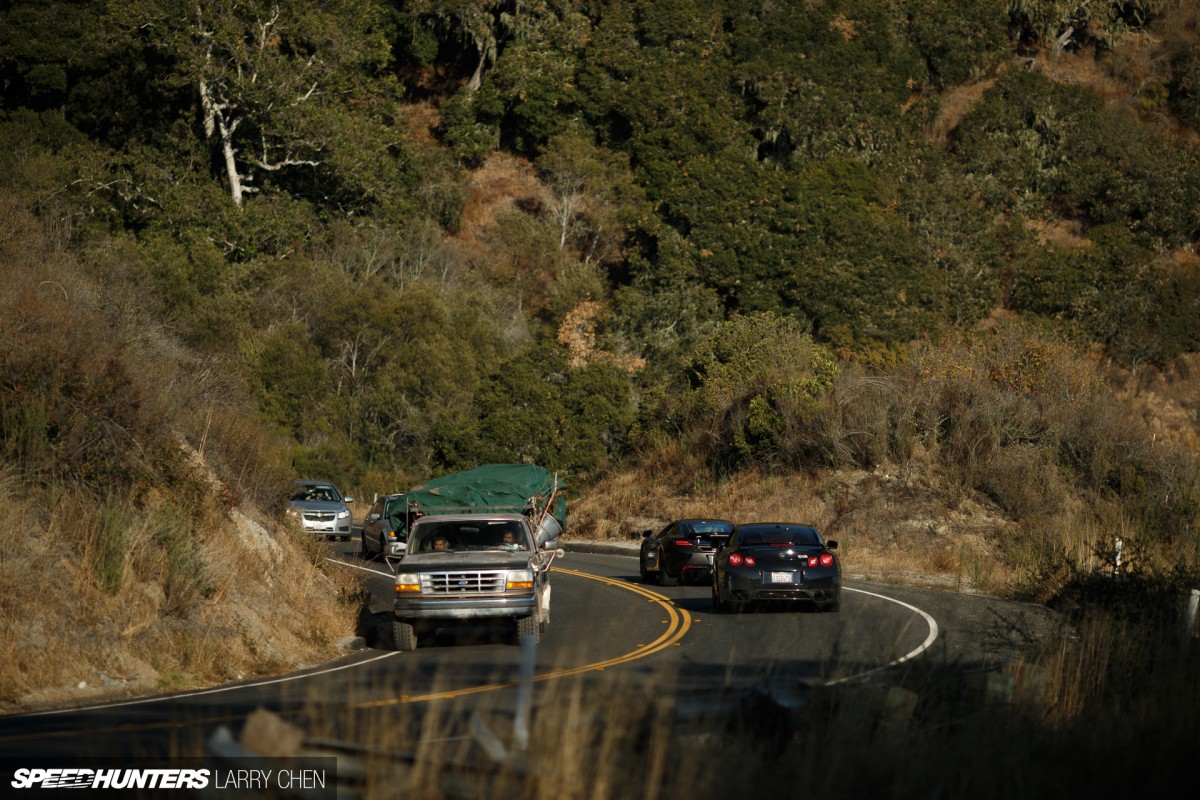 An all black, lightly-tuned McLaren MP4-12C drove by and the GT-R took chase. They went back and forth up and down the mountain a few times, chasing each other just one car length apart.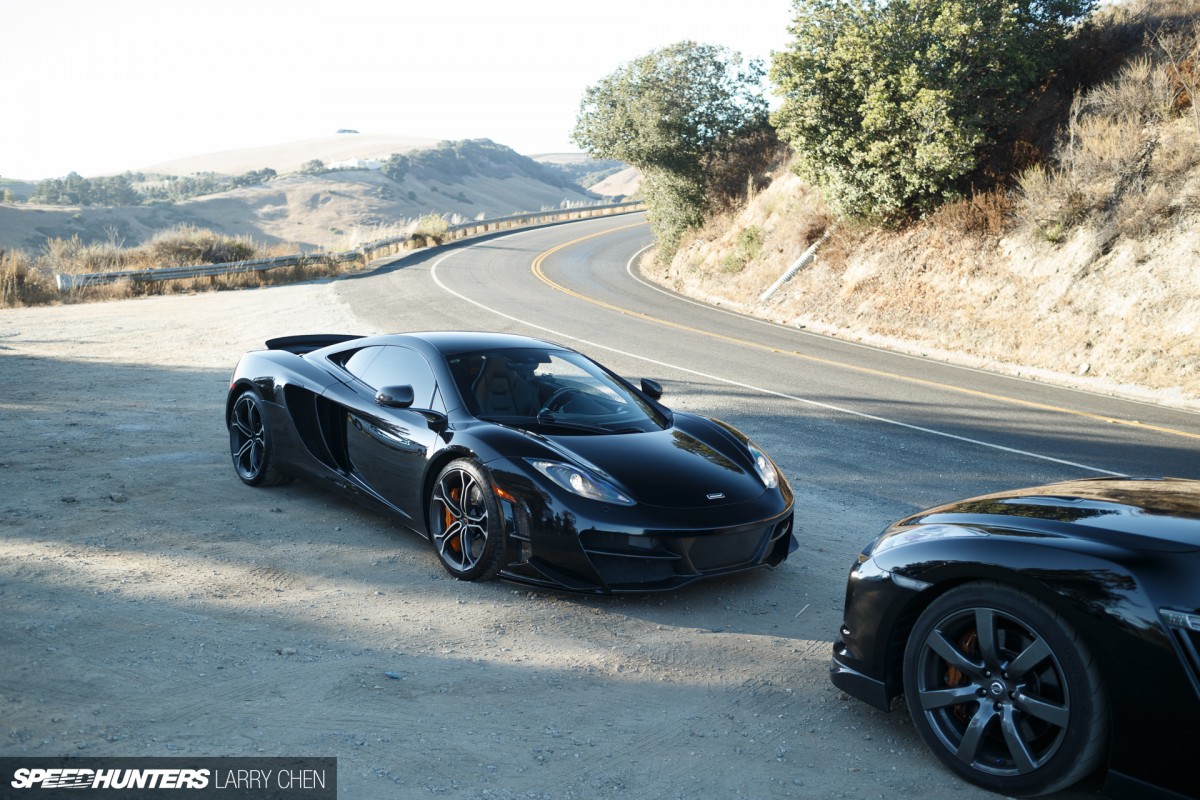 Eventually they decided to cool down and pull over for us to check out the car.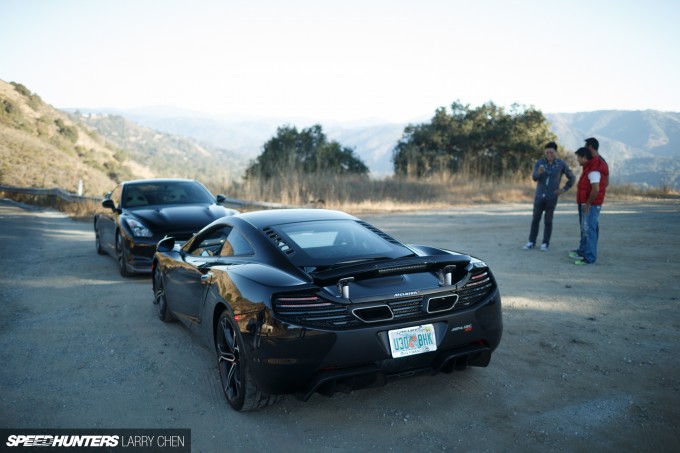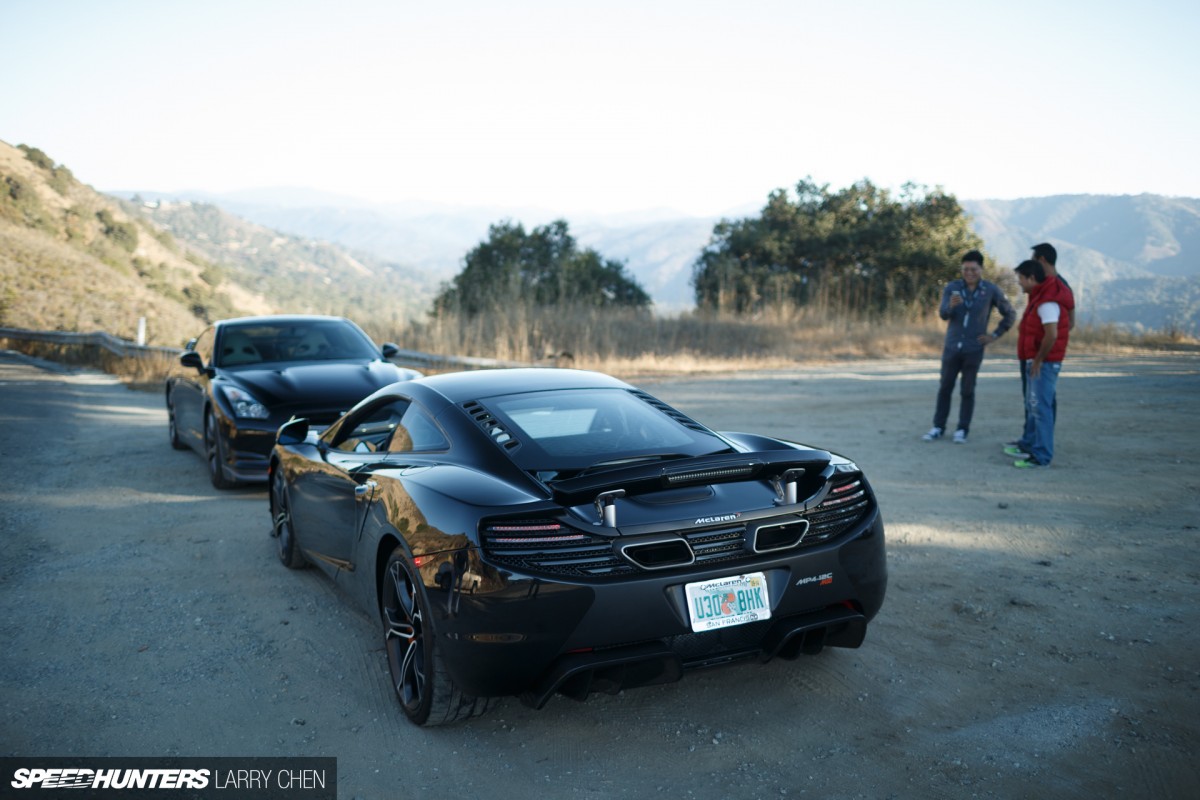 While the MP4 was fast it only had a few mods, versus the GT-R which had some heavy handling upgrades and some very sticky tires.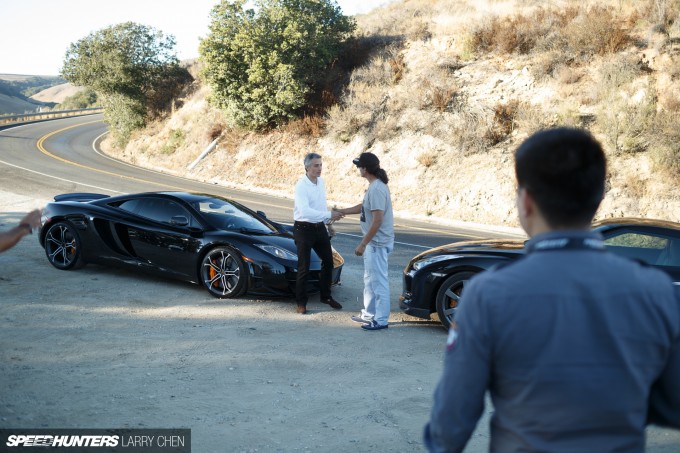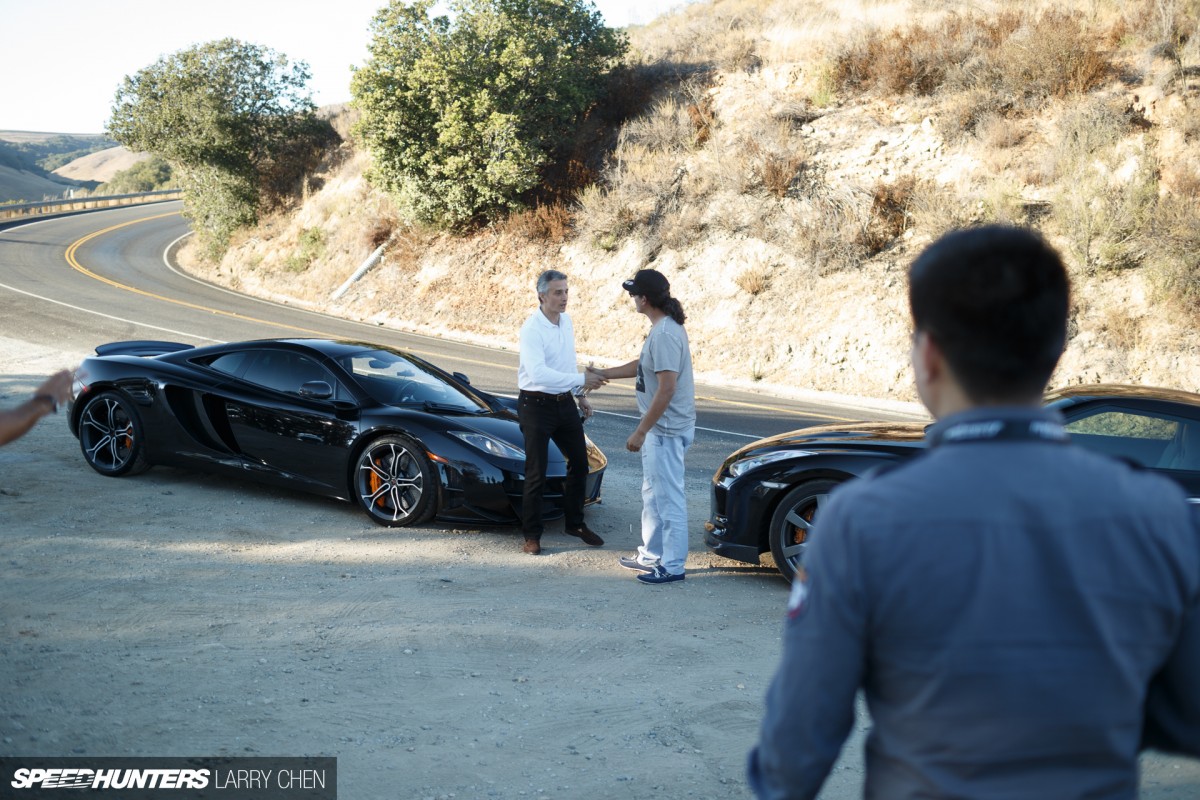 It's always refreshing to meet owners of supercars who actually drive them. This enthusiast lives in Florida and he shipped his car to the other side of the country just to drive it around on the streets of Monterey… and get into tussles with GT-Rs. Must be nice, eh?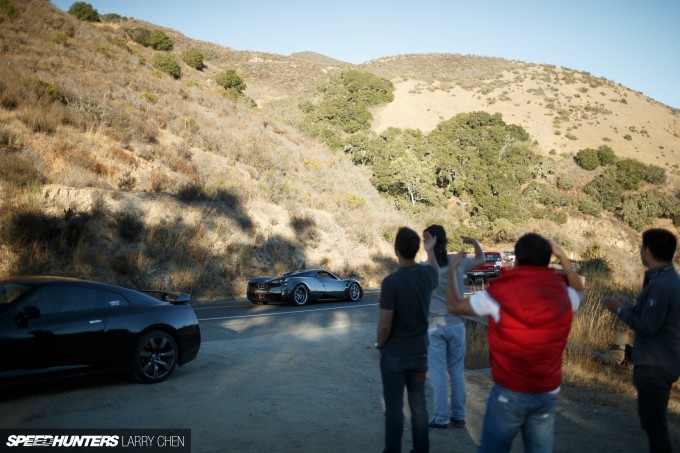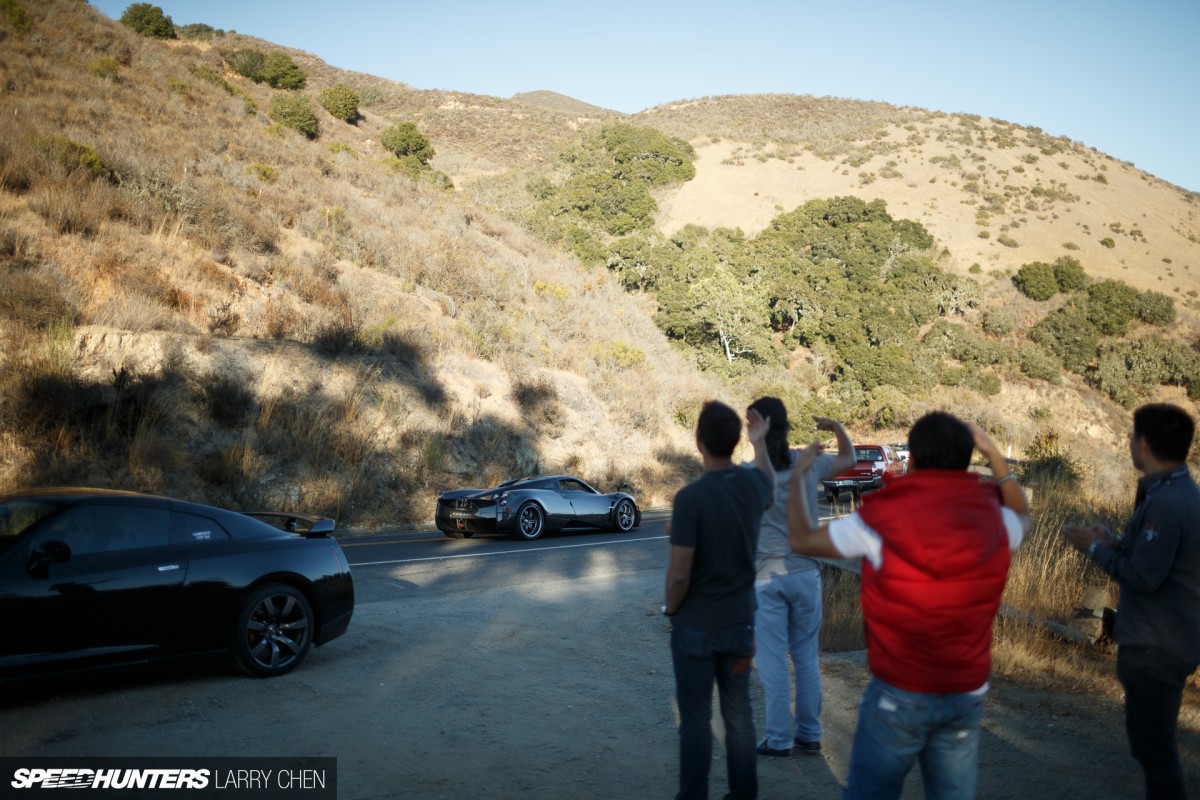 When a Pagani Huayra drove by everyone waved to get them to pull over. But due to the lack of ground clearance there was no way they were going to drive onto the dirt shoulder. So I took chase…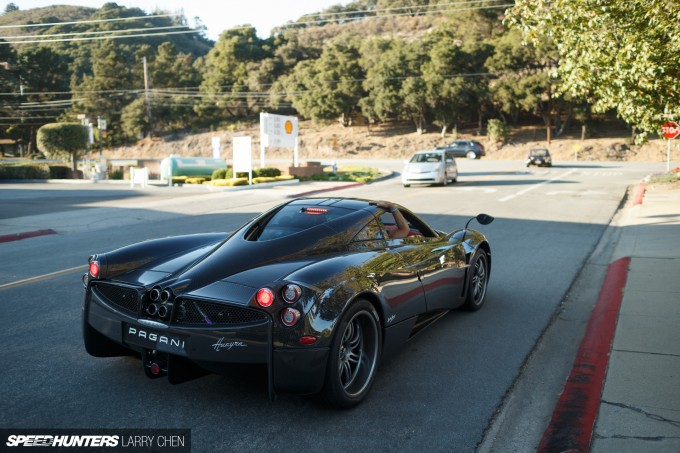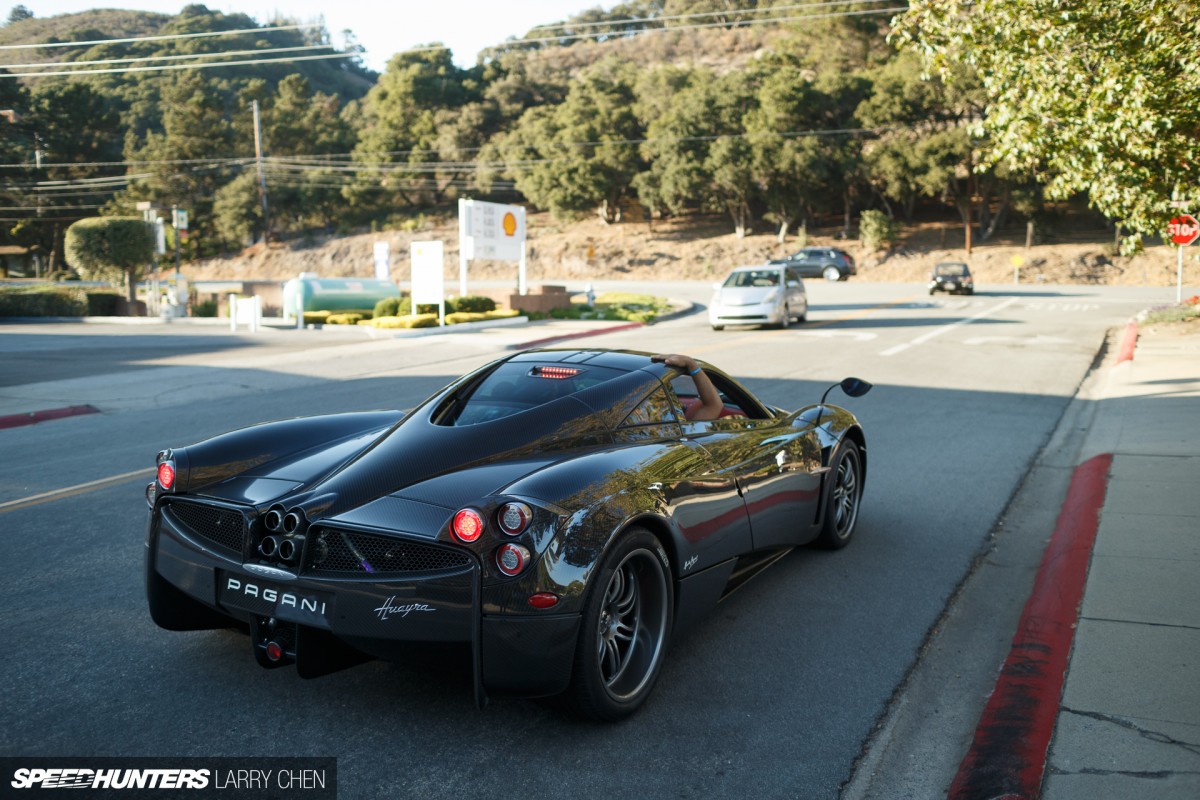 I followed them down the mountain and that is when they pulled into a service station. It provided a perfect opportunity for me to take a closer look.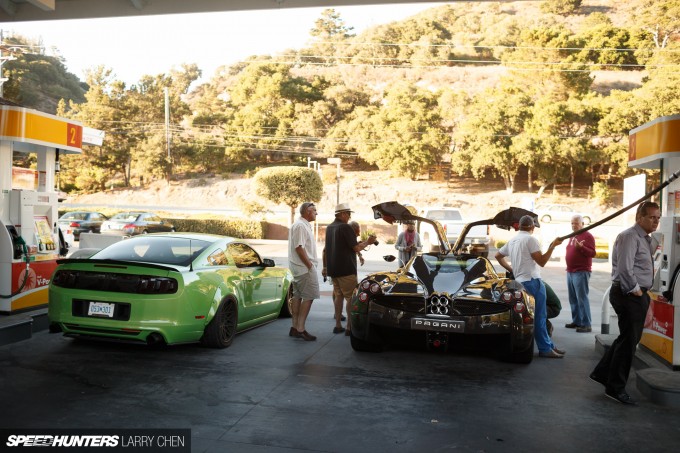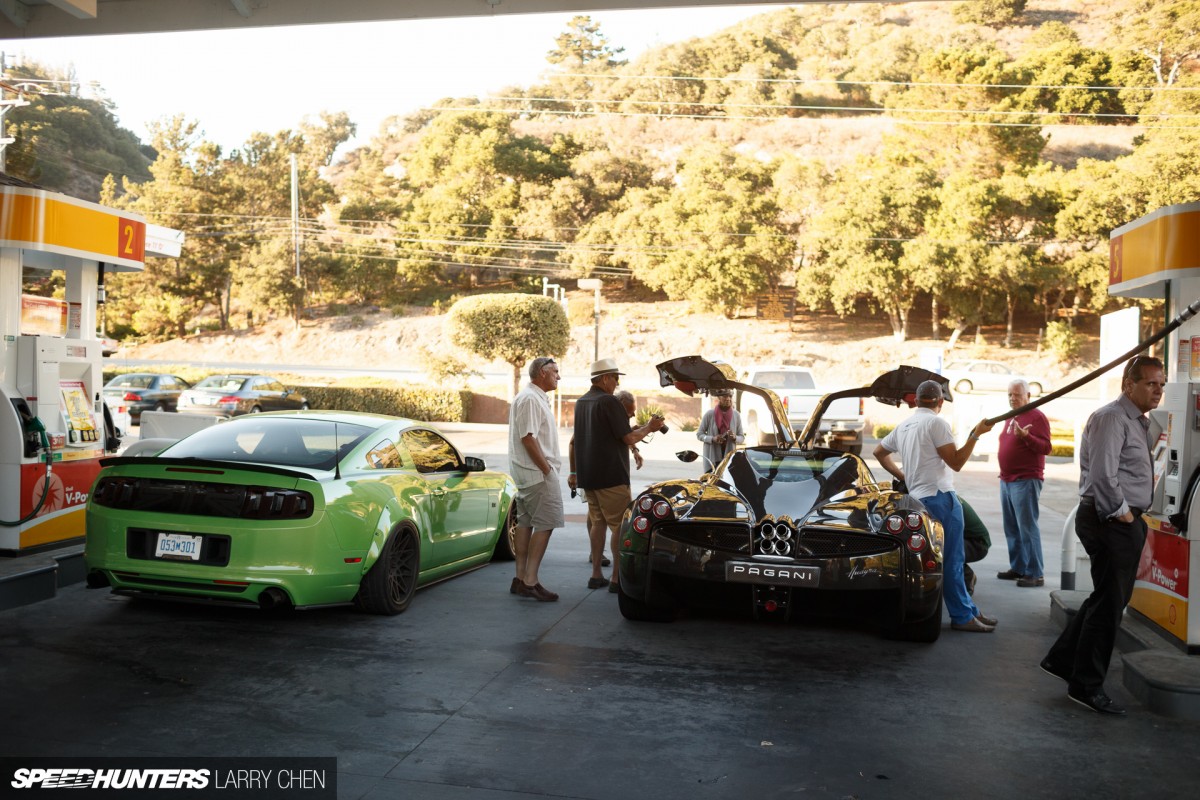 I've never seen a Huayra in the wild and neither had most of these people – so a crowd grew quickly.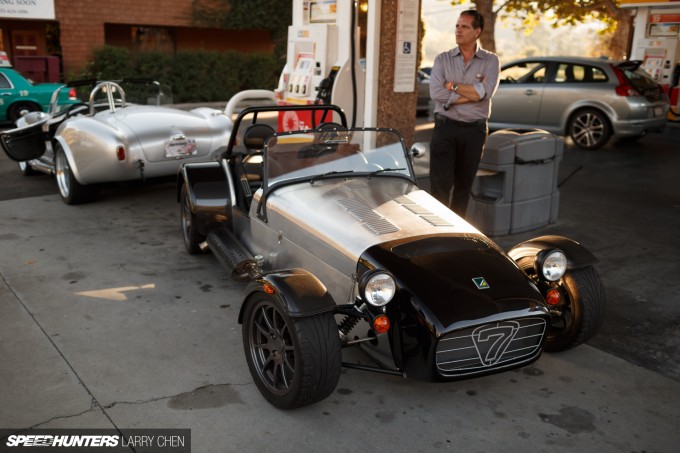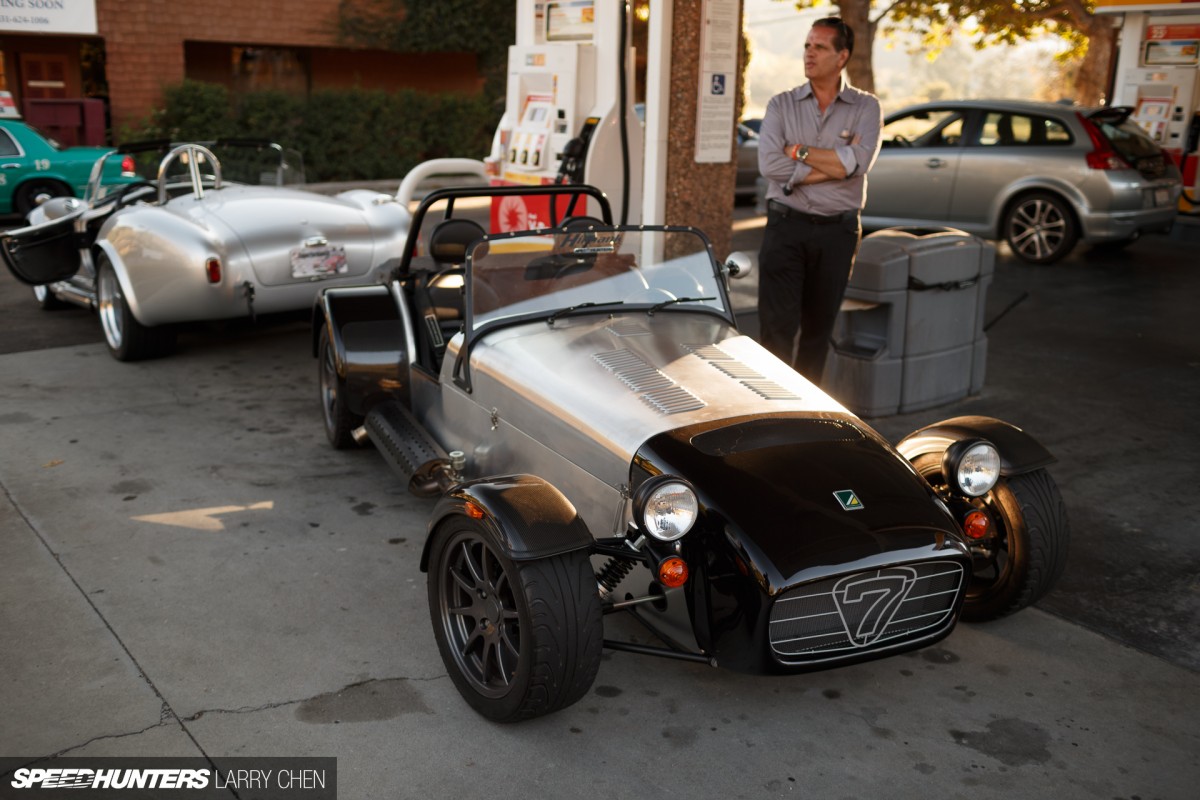 Parked in the next stall and also getting fuel were other some interesting cars, including this Caterham Seven.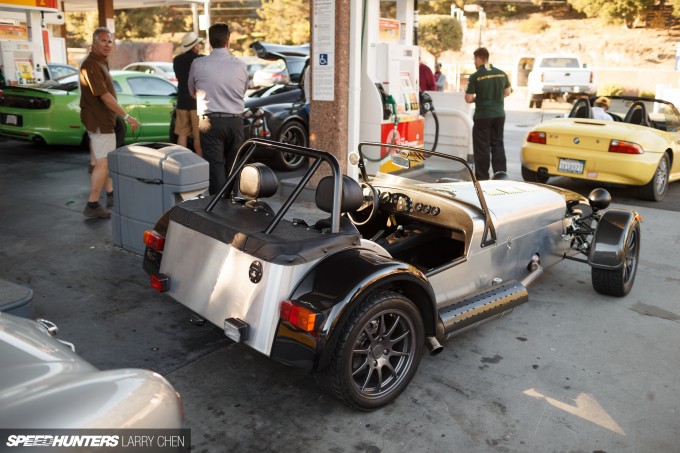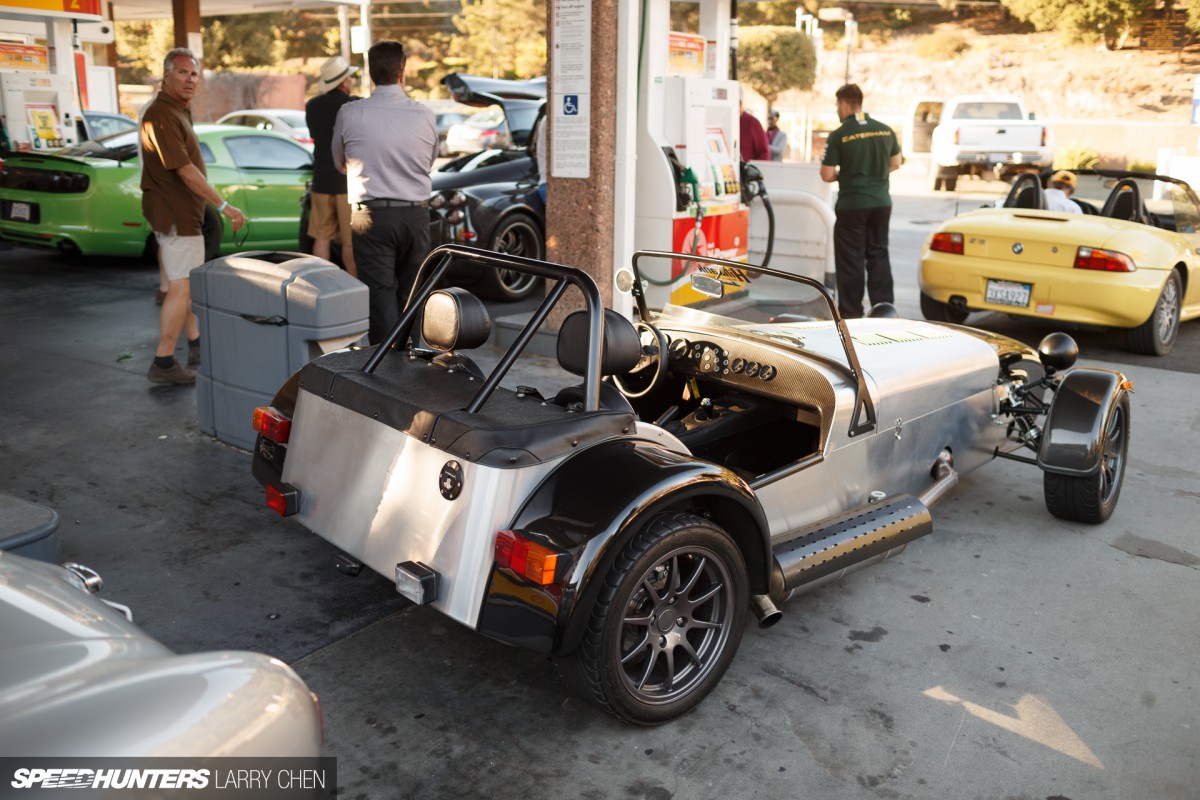 I was so jealous when Bryn told me he was doing an epic road trip with a 485S version.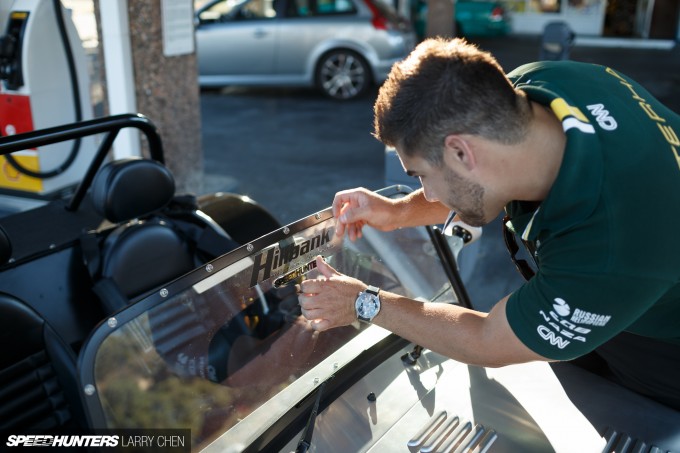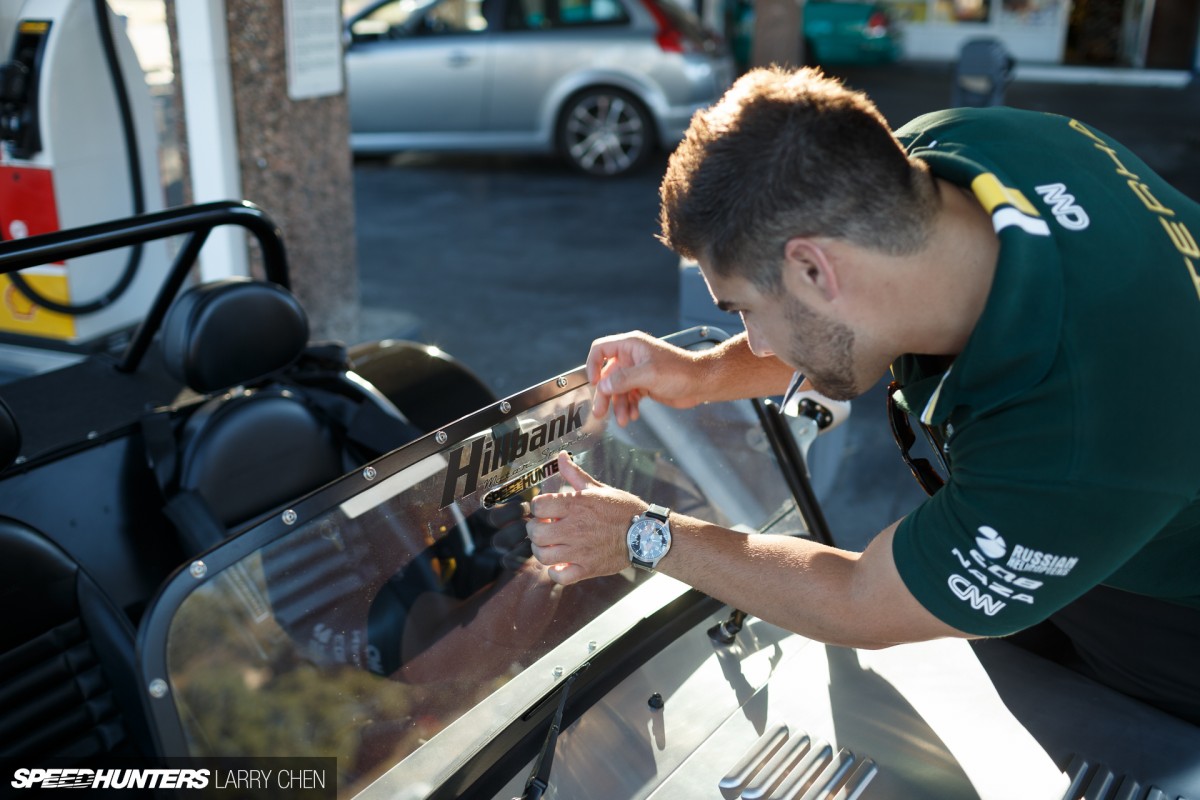 Well, interestingly enough the guys who are importing them into North America are fans of Speedhunters. I can see a Dream Drive of my own coming up soon…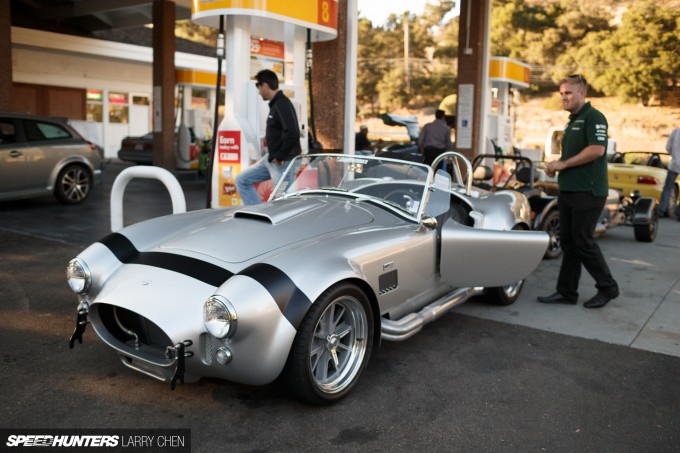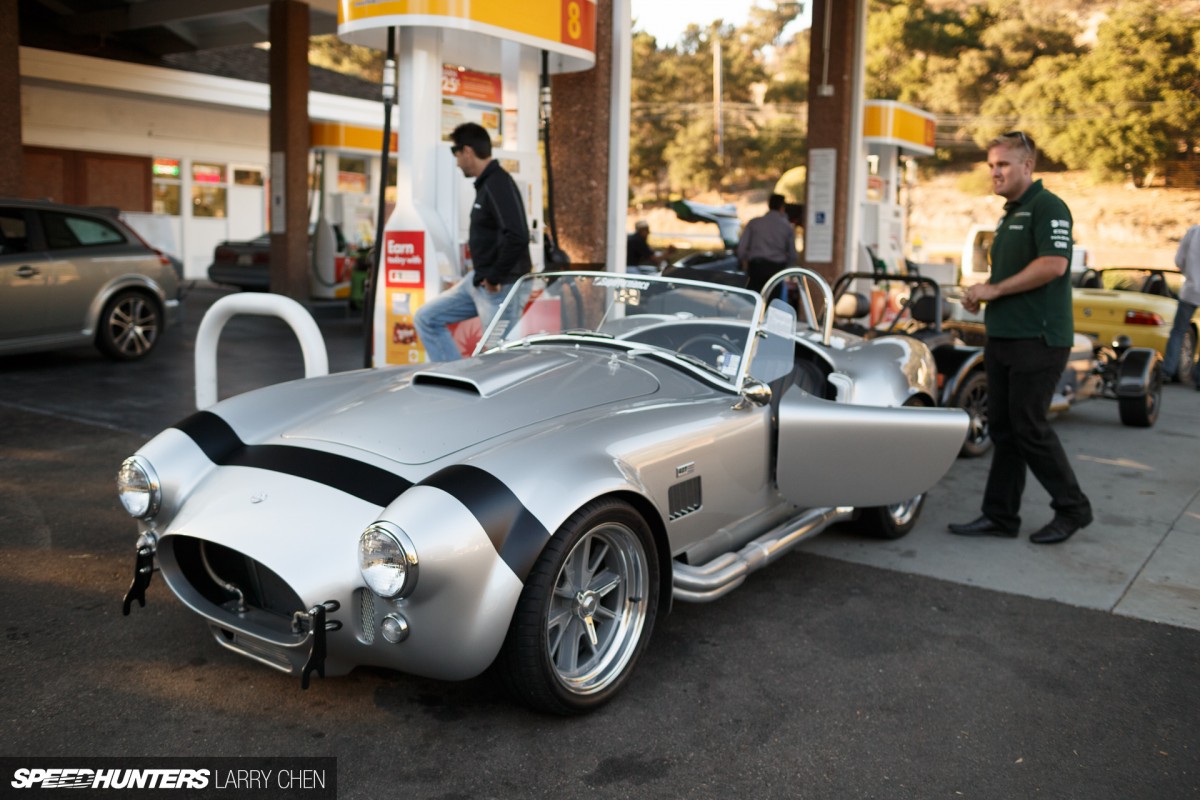 The company is actually Hillbank Motor Corporation, and they build cars like this Shelby Cobra replica. But right now they're doing a heavy push for Caterham in the States.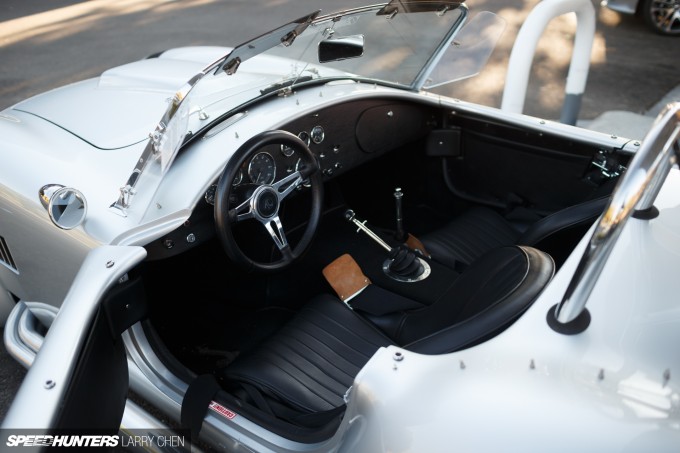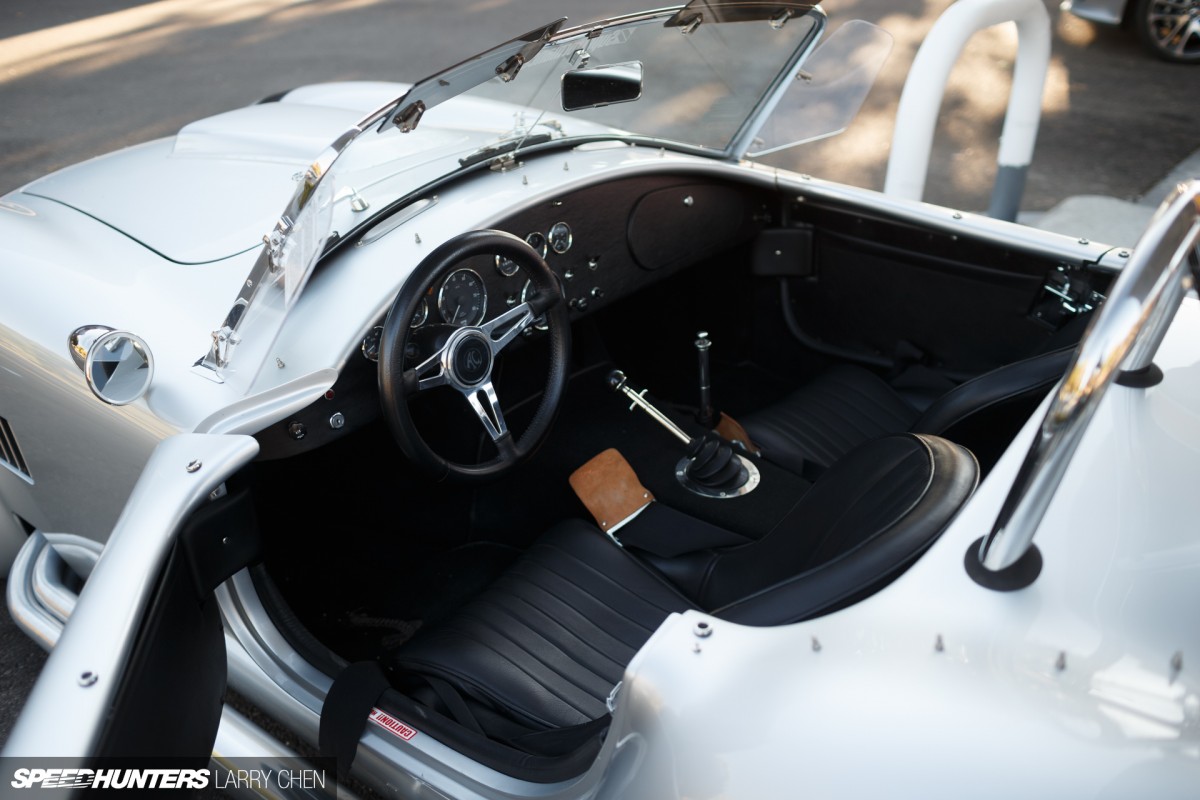 The Cobra was utterly clean, and on any other week I'm sure it would have been on the receiving end of all the attention. But the fact that it was parked next to a Caterham, and a Mustang and a Pagani… well, it became a little lost. That could only happen during Monterey Car Week I guess!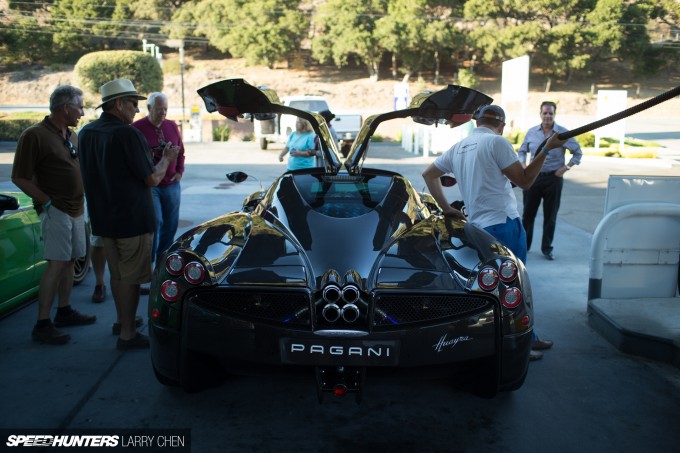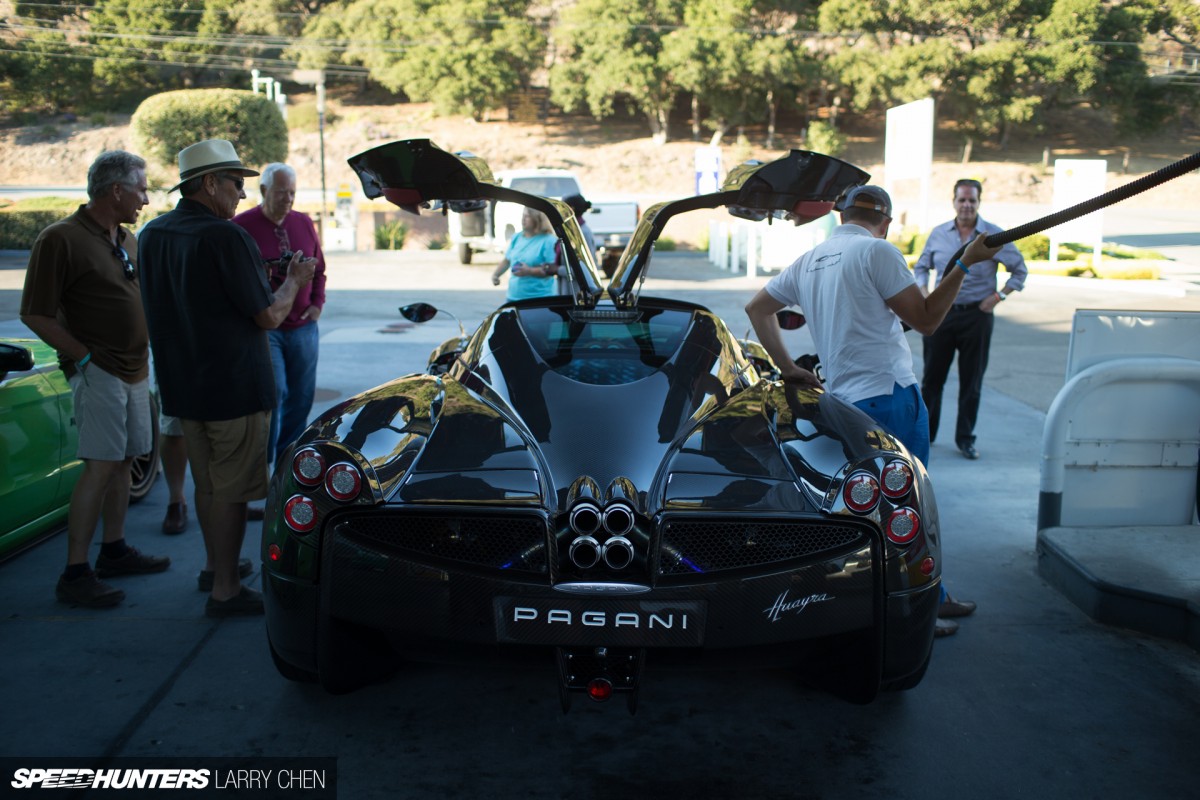 While I saw it last year at SEMA, it's so crazy to see the all-carbon Huayra version up close, let alone actually hear it. Just amazing! Although, I will be forever jealous that Dino had the chance to flog it on the Pagani test track.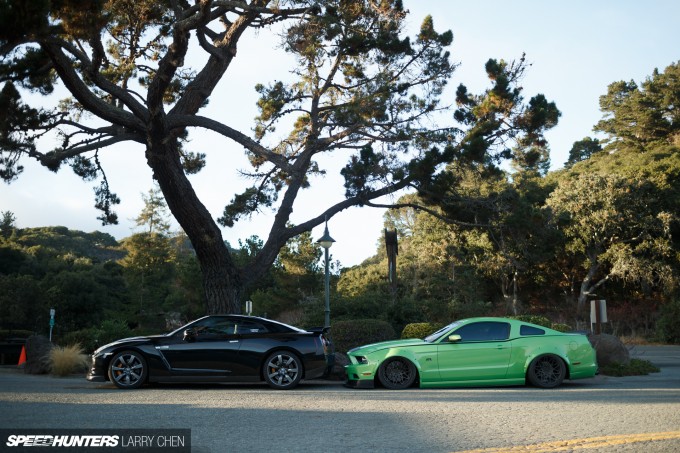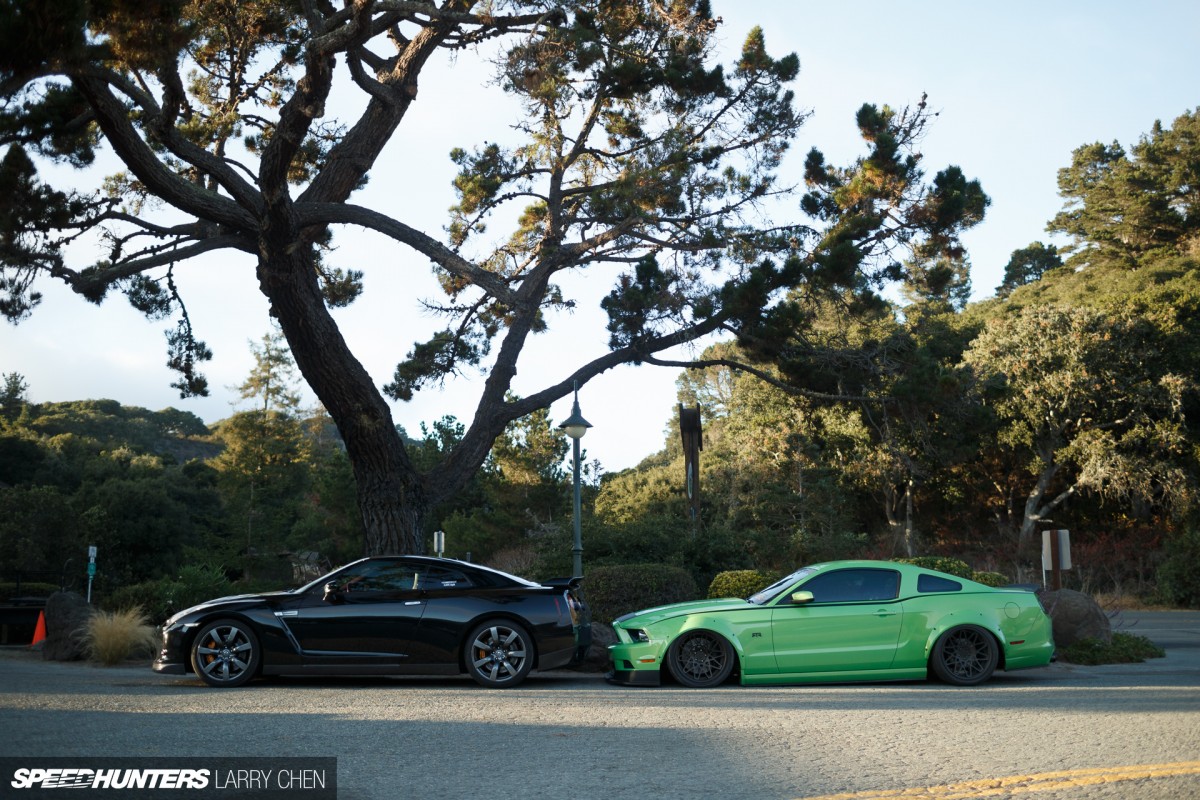 The sun was setting, but I still had one stop to make – the place that's always packed to the brim with cool cars every night of the week during Pebble Beach. I headed to Baja Cantina with my new friends to check out the scene.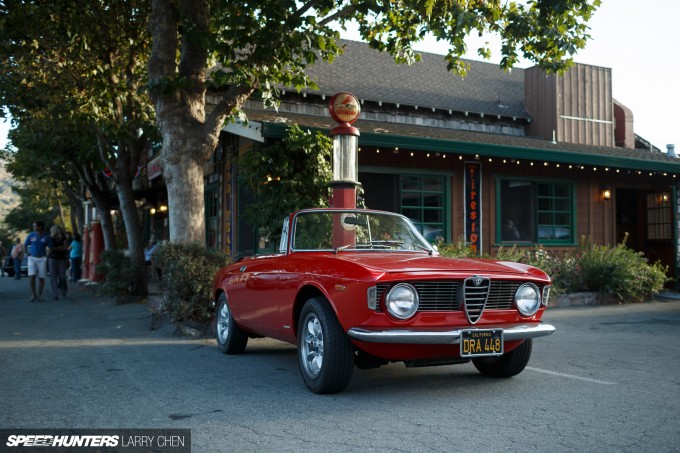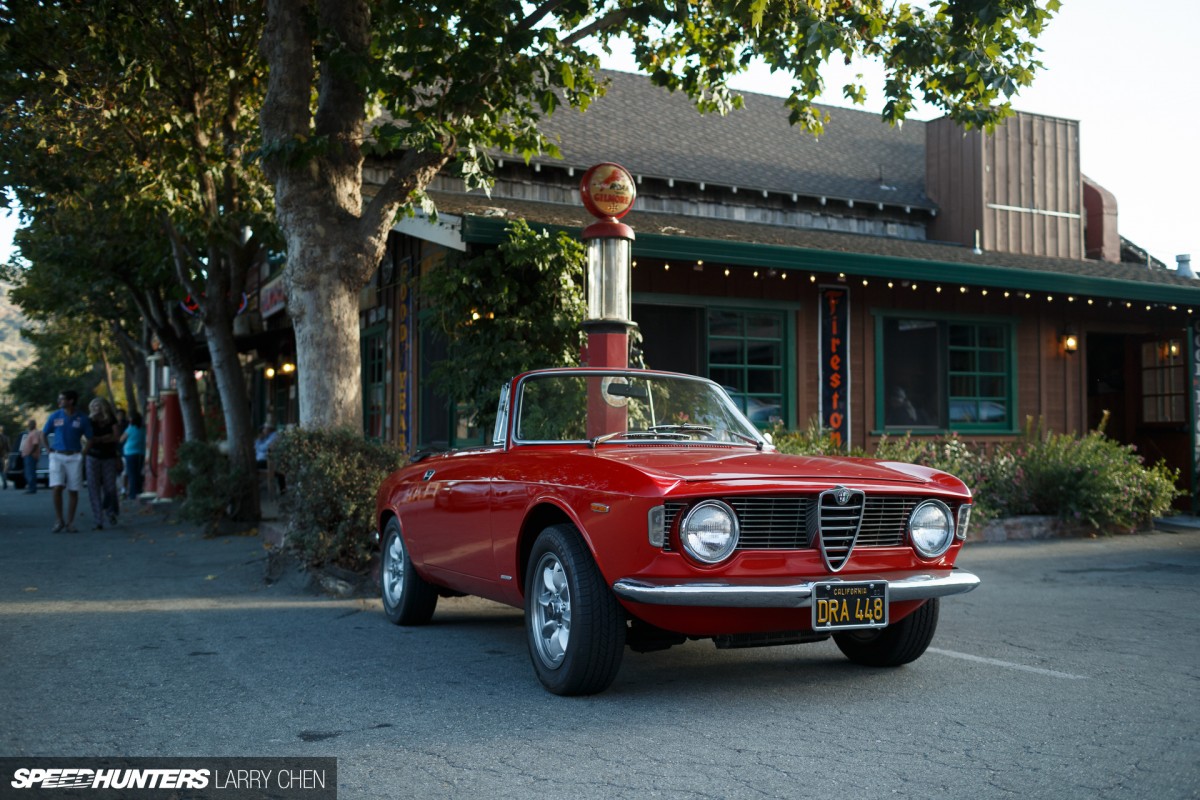 It's literally a first-come, first-served car show. As soon as a spot opens up it gets filled by another cool car.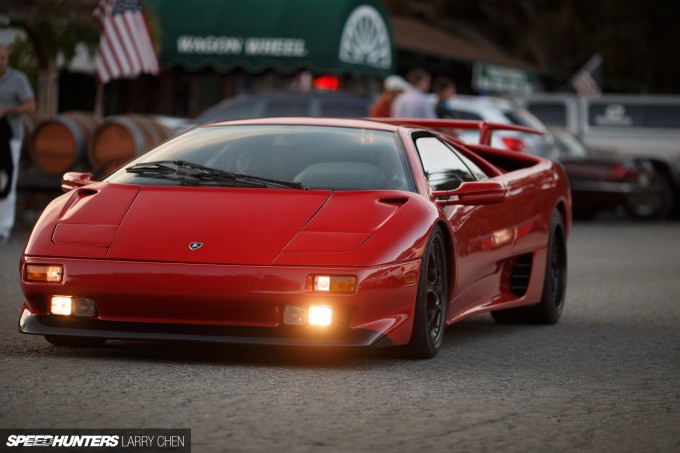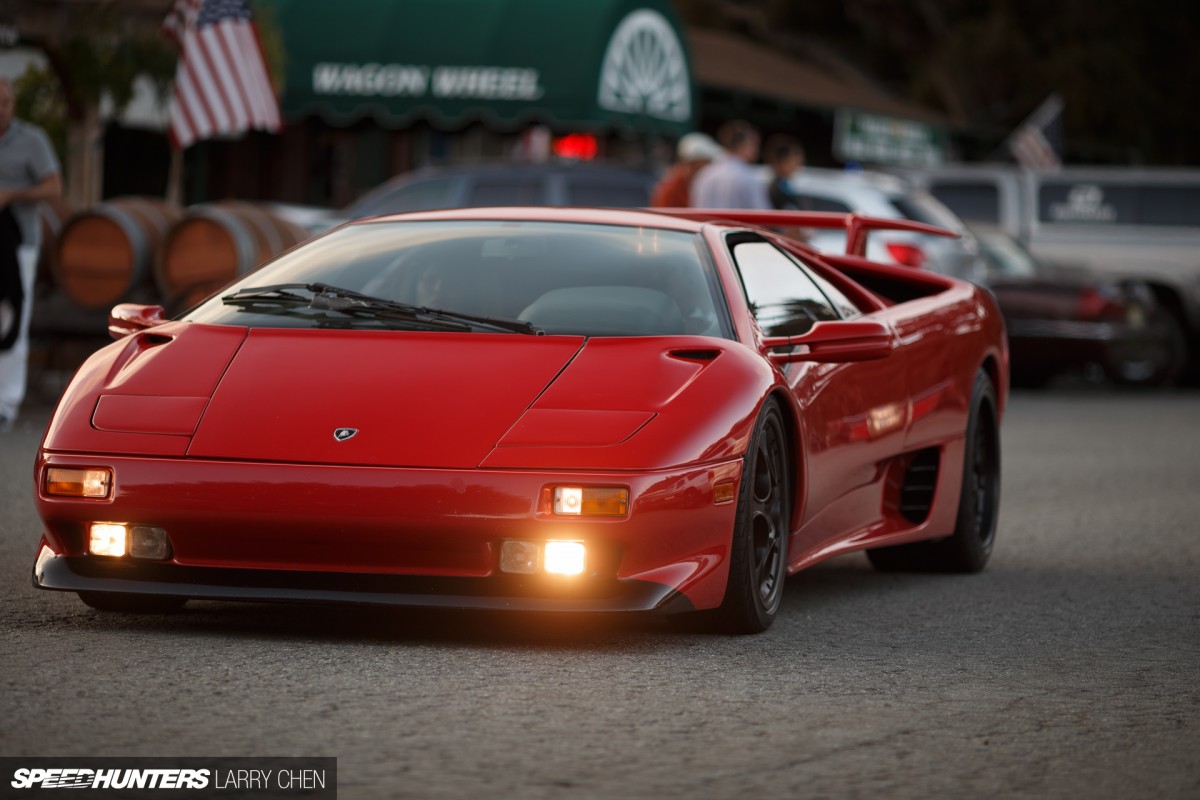 If you want to be seen then all you have to do is roll through the parking lot.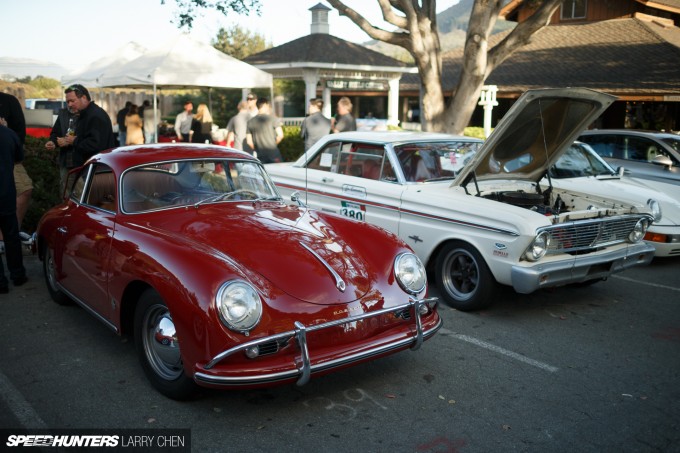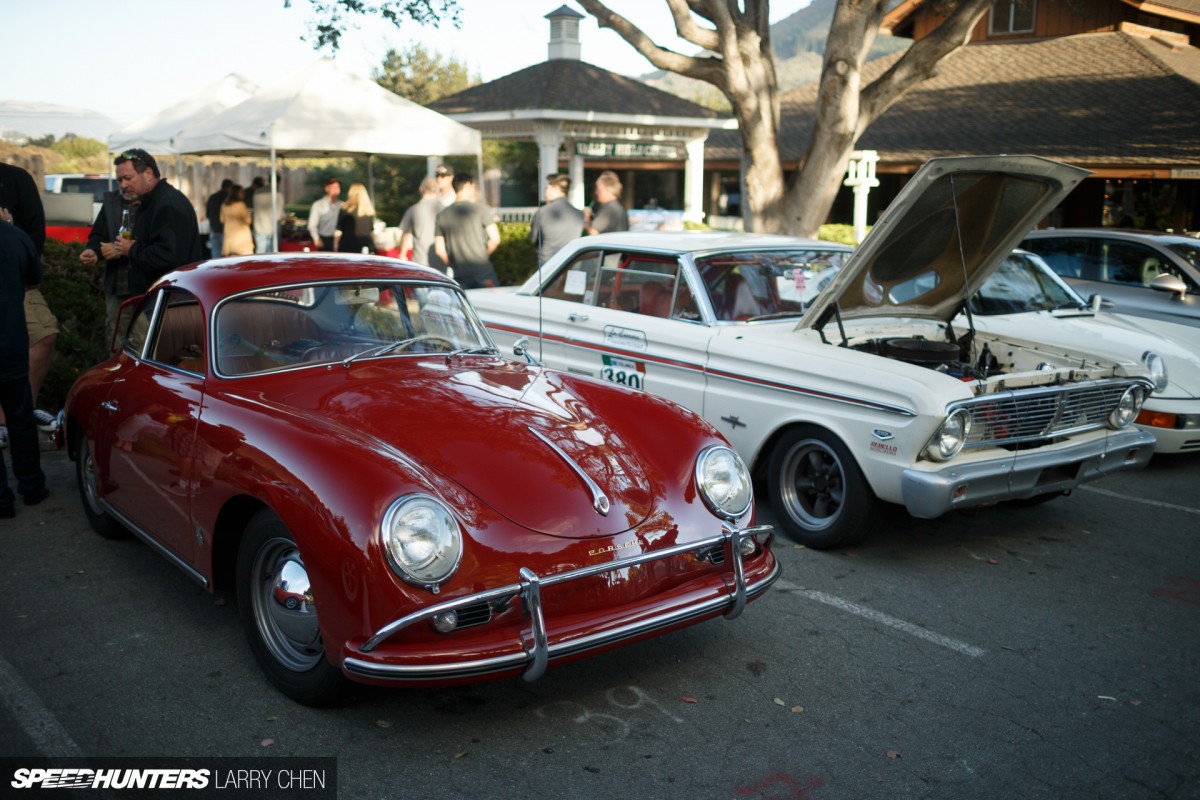 It's really hard to convey the excitement I had just being there. It was a symphony of a variety of cars hitting redline and shifting up a gear. You could just close your eyes and listen to all the miraculous machines far and wide.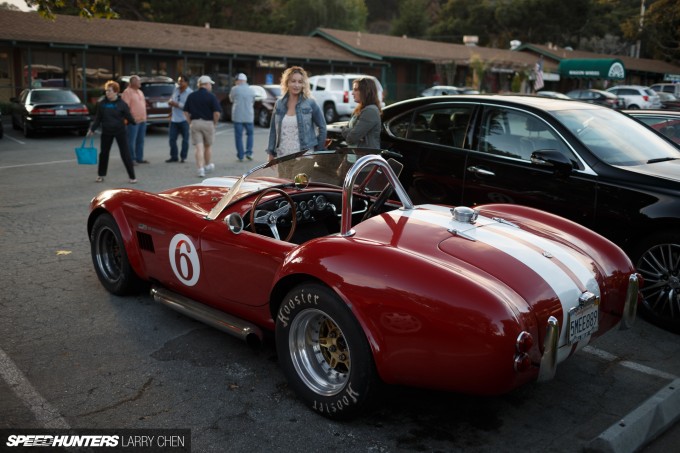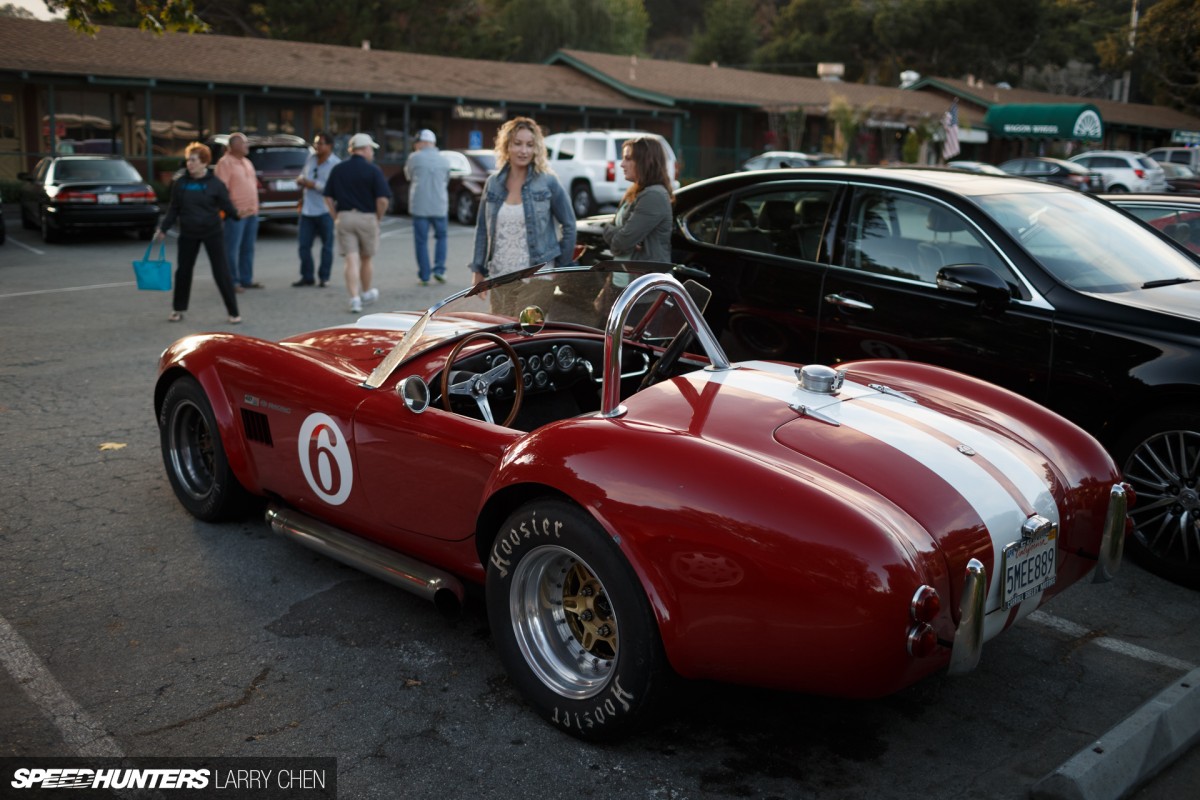 Although, I can imagine that it gets a bit annoying for locals who aren't really into car culture. But what did they expect? Laguna Seca is just a few minutes away. If one moves to a historically significant area for car culture, then you have to expect some craziness at least one week out of the year, right?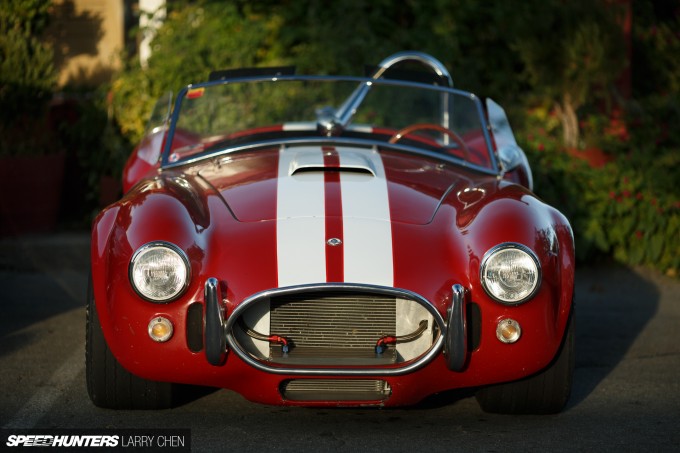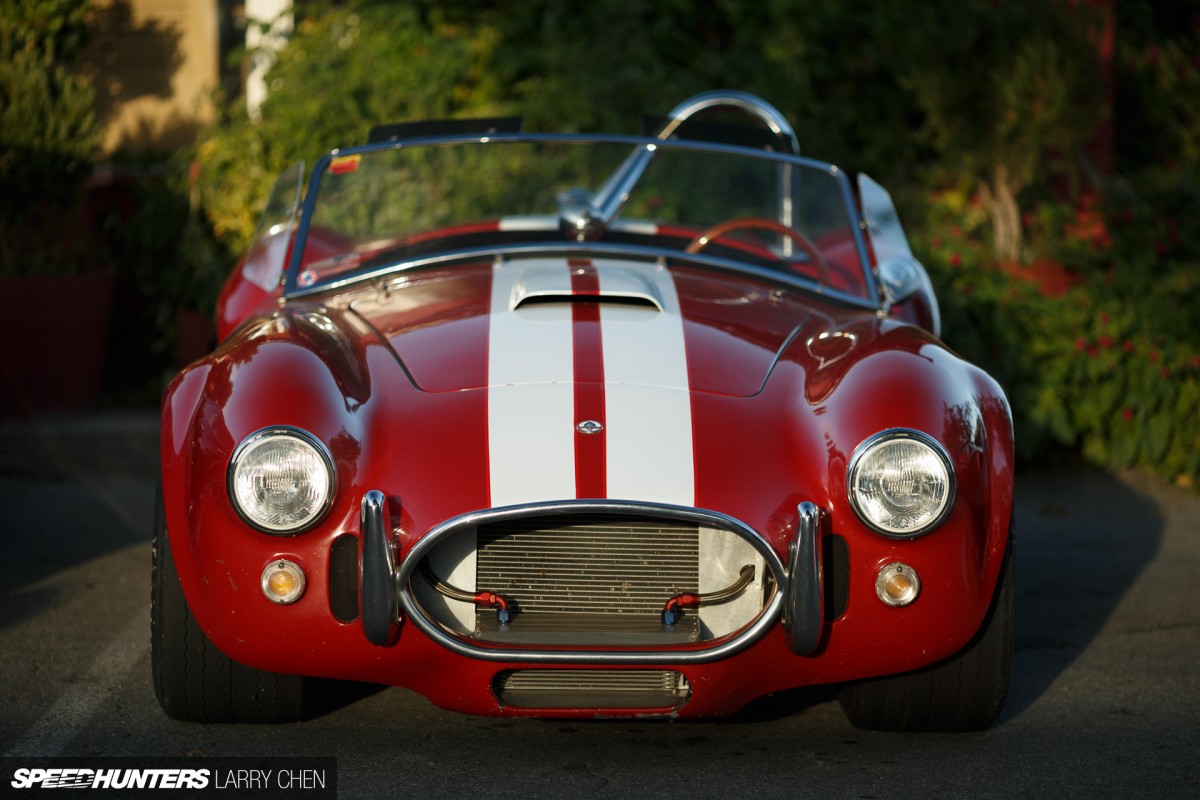 All I can say is that it's kind of like a car culture utopia. If you like rare automobiles, and you want to visit California, I'd say Monterey Car Week is probably your best bet. While there are many different events you can come and check out, just driving around town will probably be the most fun you'll have. After all, it's not always about the cars – the people behind them is what makes it all so enjoyable.
Larry Chen
Instagram: larry_chen_foto
larry@speedhunters.com