Front To Back
If you feel the urge to drift, you have many off the shelf options – but if you want to make a statement and go sideways in style, converting an iconic front-wheel drive hot hatch to RWD for drift duty is the only way to go.
But why go to all that trouble? Because you can of course…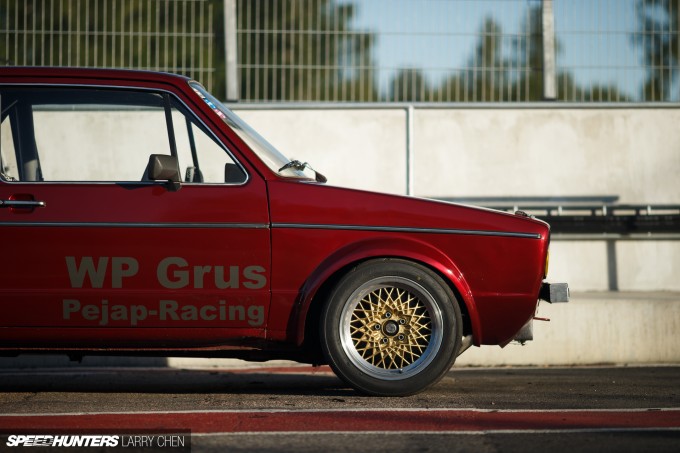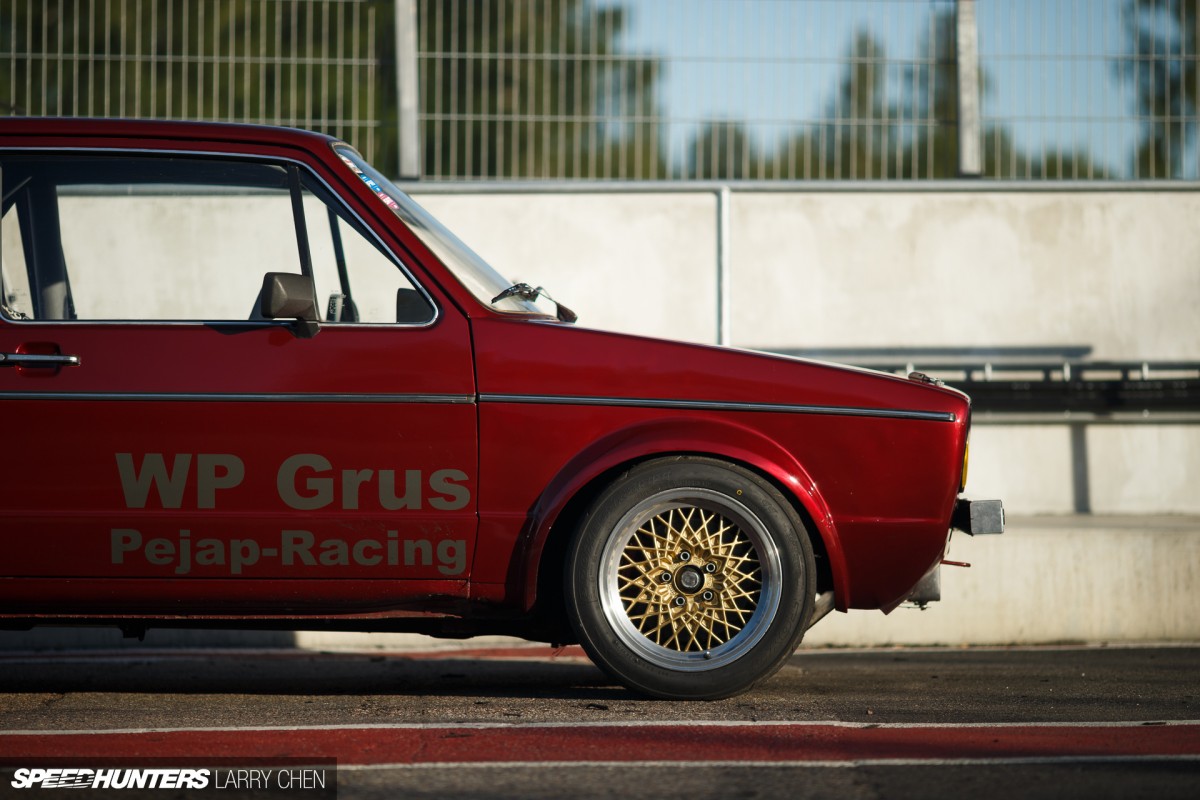 I know that sounds like a classic get out clause, just like when someone says, 'If you have to ask why, you'll never understand'. But you know what? They're cliches because they're true. Sometimes you're left with a spare engine and a drunken idea takes shape, or a friend lays down a challenge. Or maybe you just like the shape of a Mk1 Golf and the idea of re-powering one with a Volvo engine and drive being sent to the rear wheels.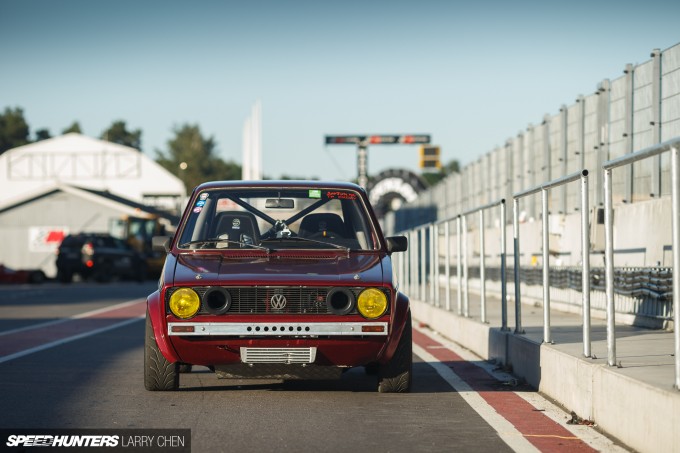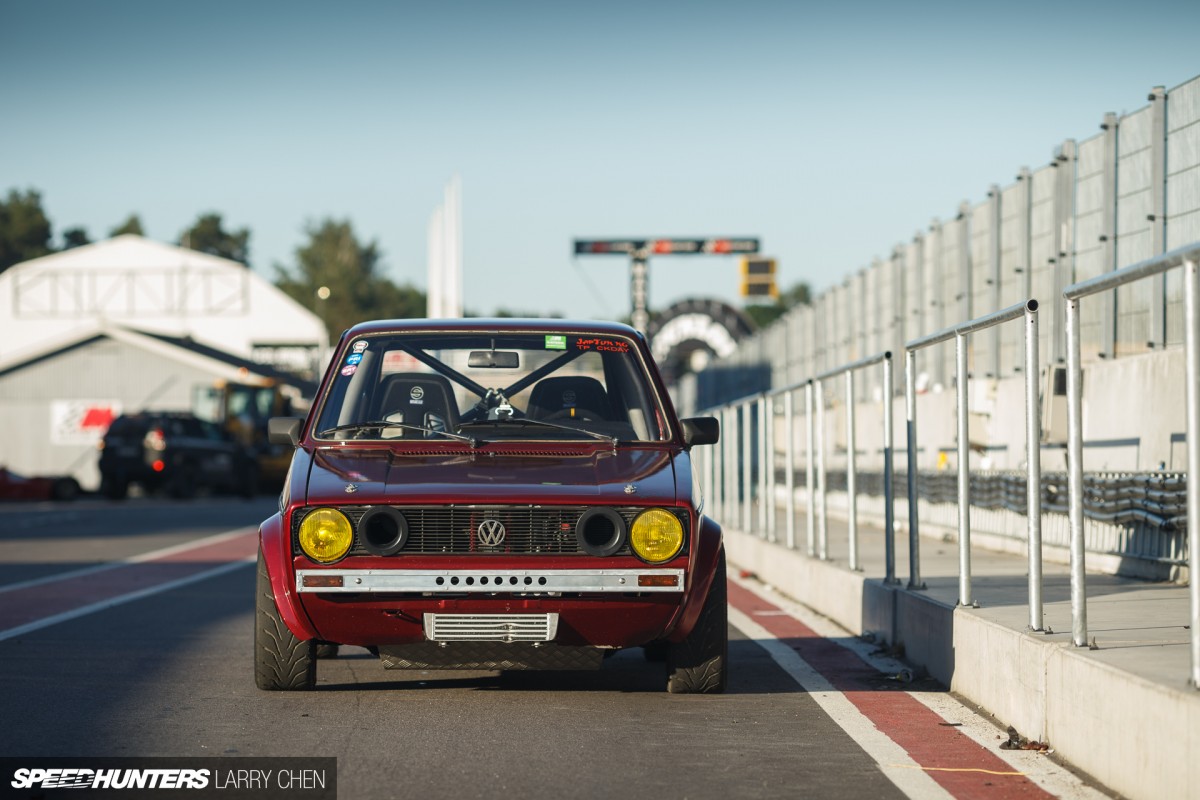 The other problem with asking those questions, is quite often the people who do the stuff you're questioning simply can't answer you. That's what the passion we have for automotive culture can do – it can take away your powers of logic and sensibility, leaving you with a heavy attitude of 'I can do that'. Which is how Simon Jonsson ended up with the creation I'm about to show you.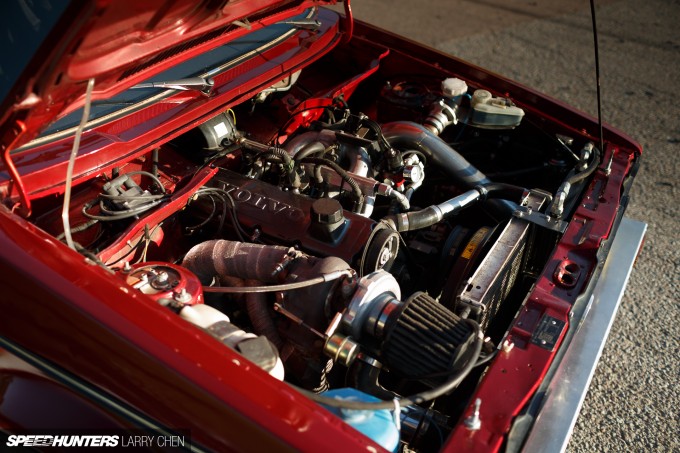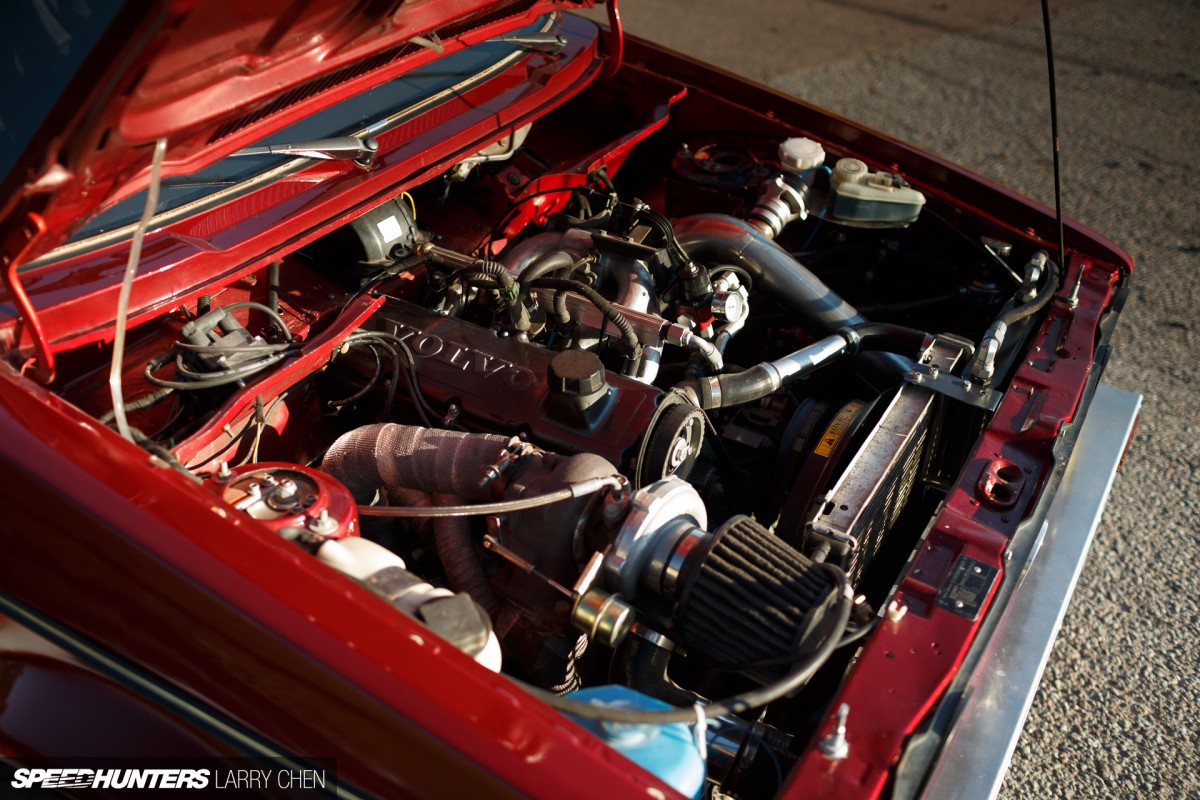 So rather than have him justify the 'why' when he told me he wanted to go drifting and he needed a RWD car for that, I just thought fair play – that'll do for me. Sometimes that's as good as a crazy set of circumstances that lead to a project ending up somewhere totally random. The view under the bonnet is what caught my eye first when I saw the Golf, because let's face it – there's not a lot that really stands out on the exterior.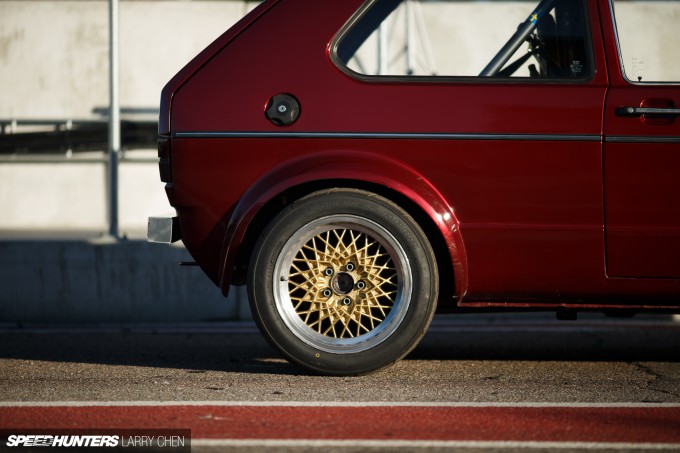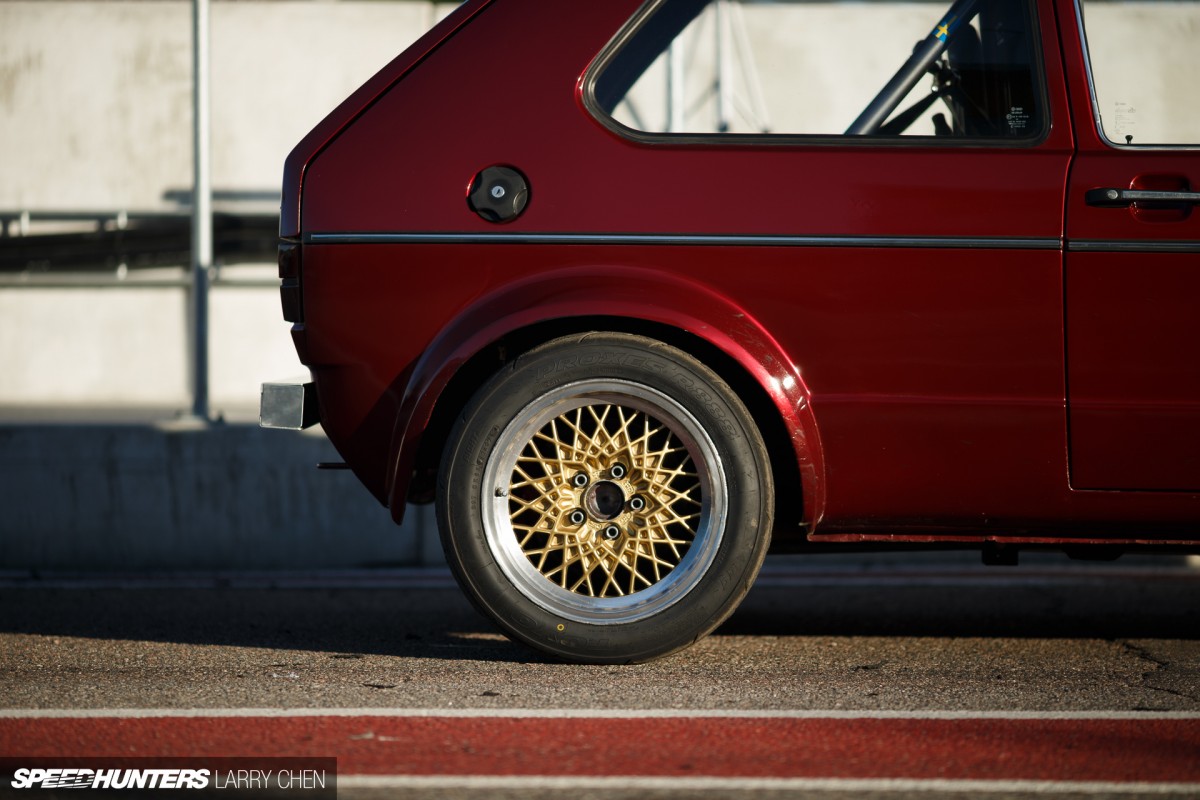 Or maybe there is? Those are five-stud wheels, huh? Because the Mk1 Golf is 4×100 of course… So to the trained eye, the clues are there if you look closely enough. Volvo front struts explain the first image in this chapter (you noticed it was five-stud then, right?), those 15×7-inch OZ Racing mesh wheels being a pretty perfect Volvo RWD offset of ET23.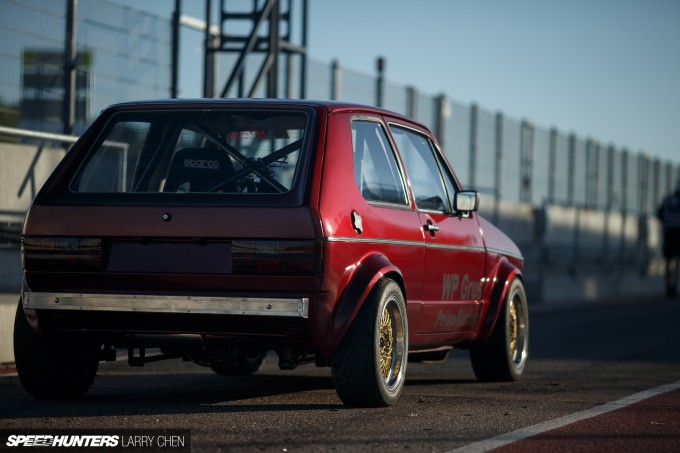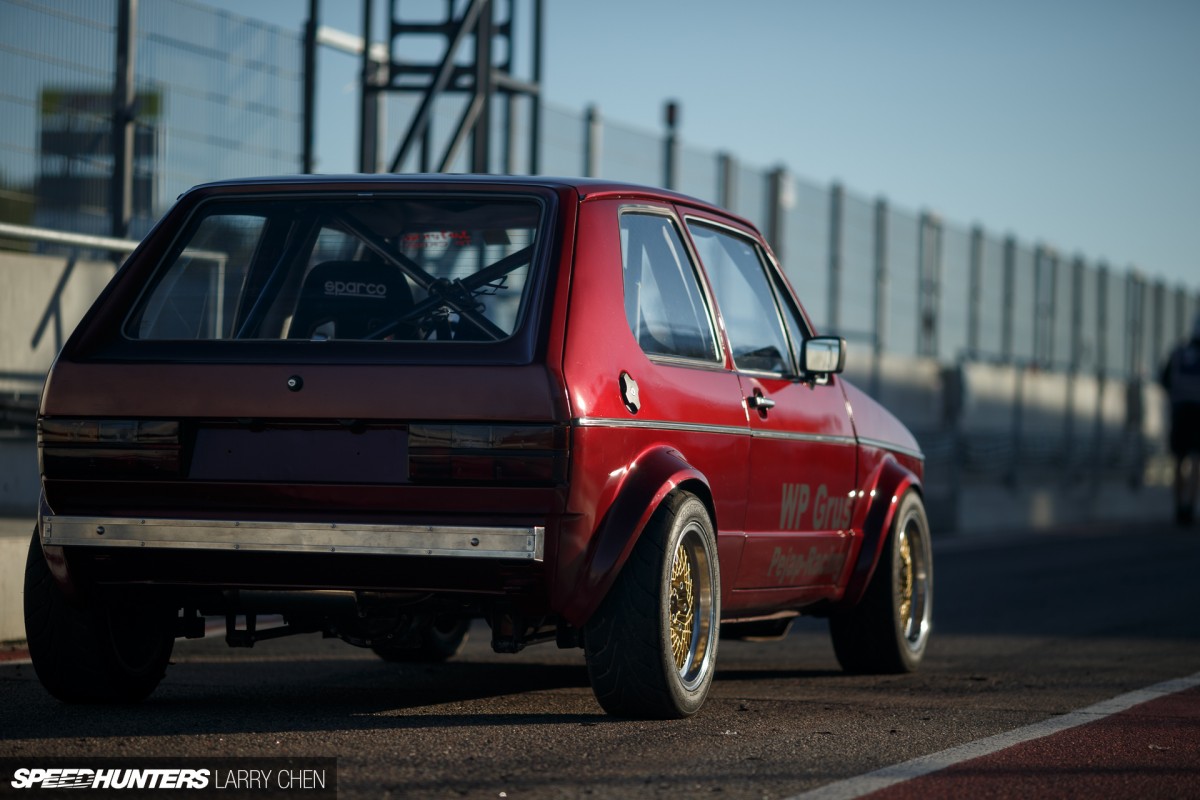 To compliment the front (and to keep donor cars to a minimum) at the back there's a Volvo 1030 solid axle, which started life under an early 240 model. Mounted in its new home on a custom four-link set-up, you can just see the lower bars of it here.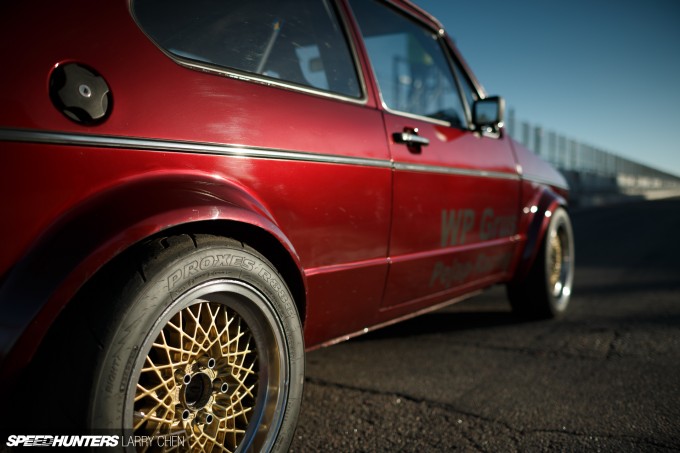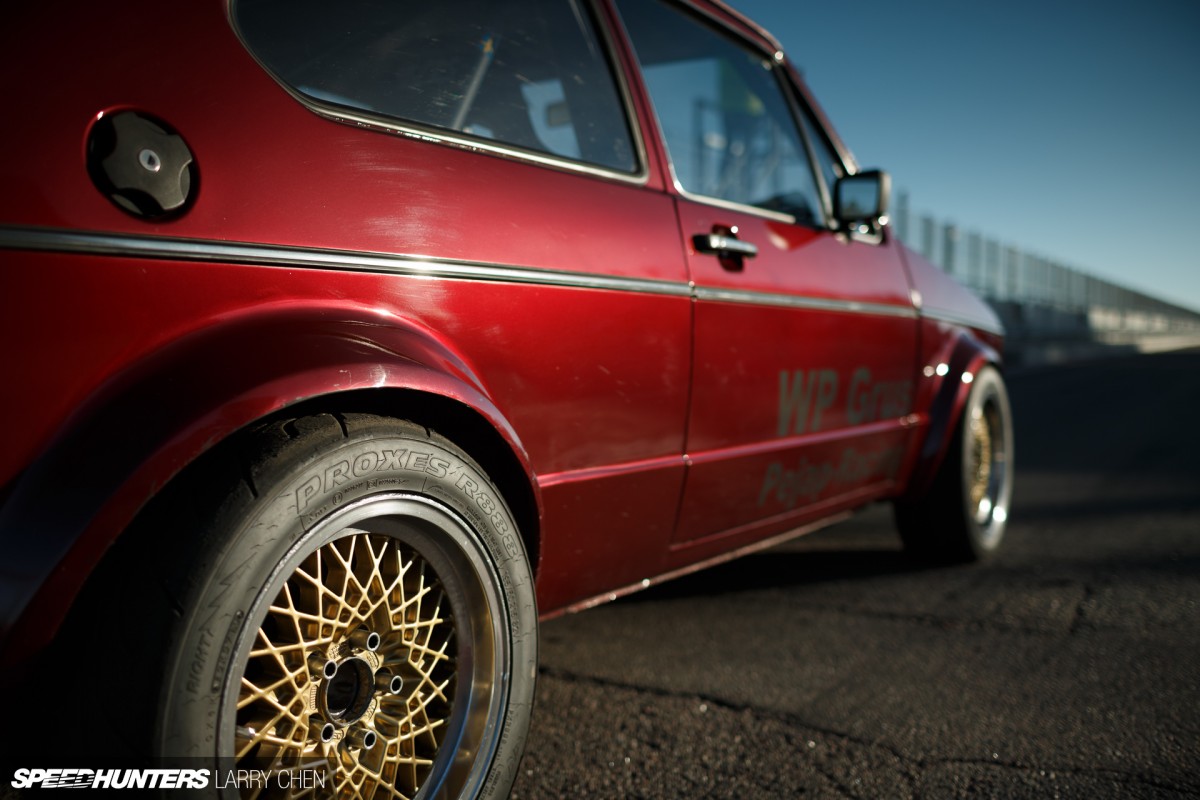 Which also explains the extra flare on the arches, as Simon had to add 30mm each side to cover the wheels. It was either that or having to narrow the axle, which would have been more costly, but perhaps only a little more difficult to achieve in the long run. The flares mimic the original Mk1 Golf black plastic trims pretty well.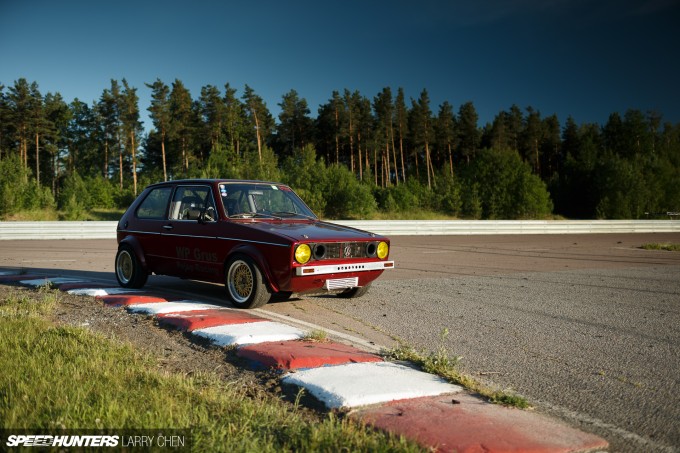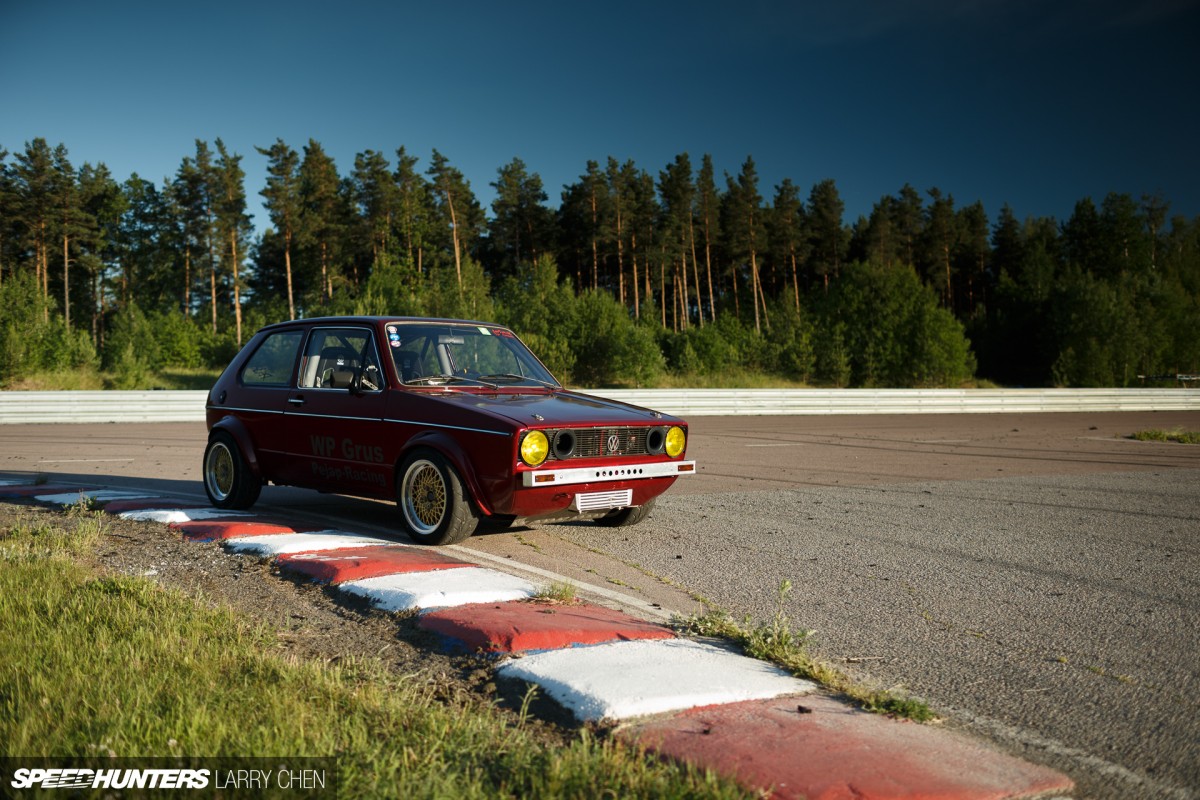 The only other external changes are the handmade alloy bumper bars, but even these are somewhat in keeping with how the originals would look though. Paint them black and a large percentage of people who saw them would probably be fooled.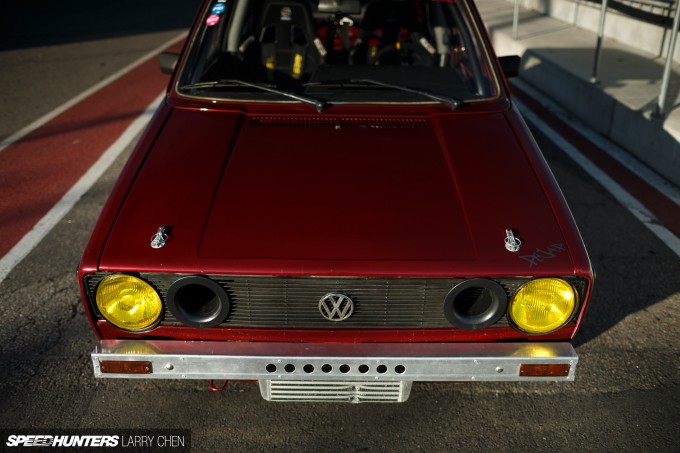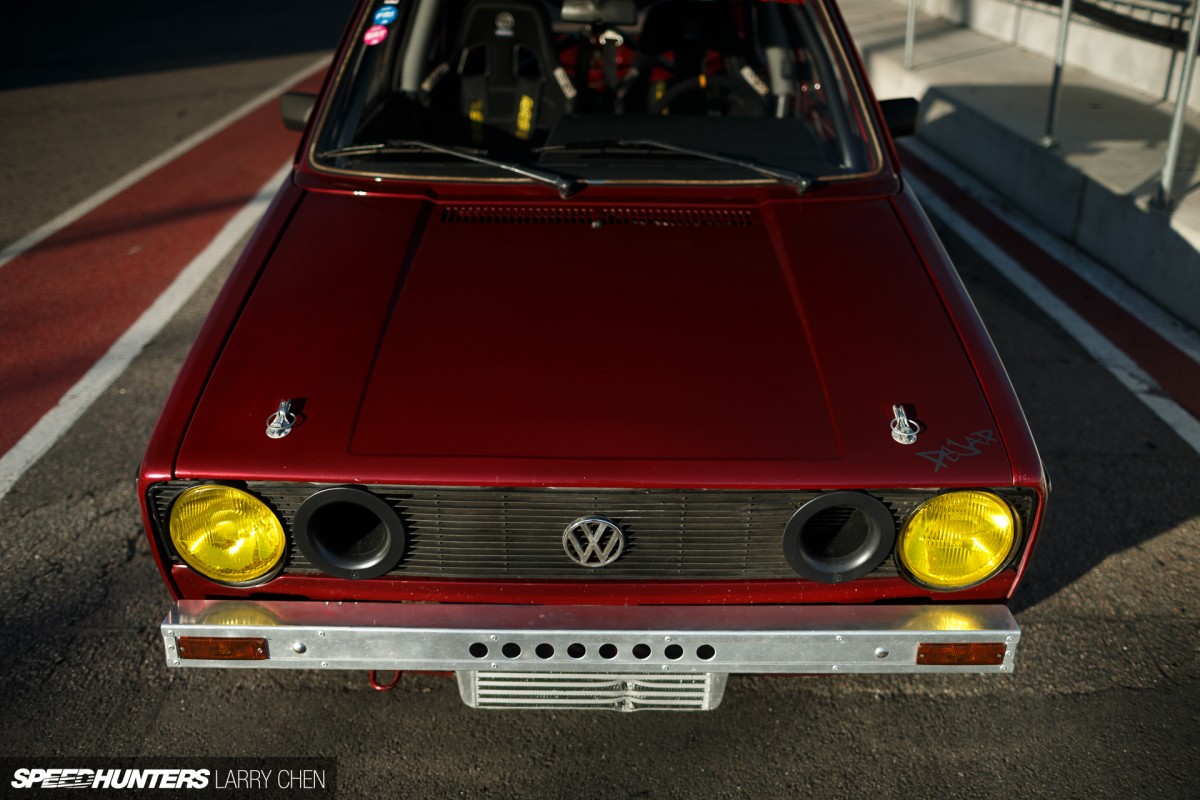 Get closer and it's harder to ignore the signs. Sure, at night the yellow headlamps might not be so great, but they are just plain cool and I've always been a fan purely for aesthetic reasons. The two air intakes are far more obvious at this distance, with the left-hand pipe feeding straight into the mouth of the turbo.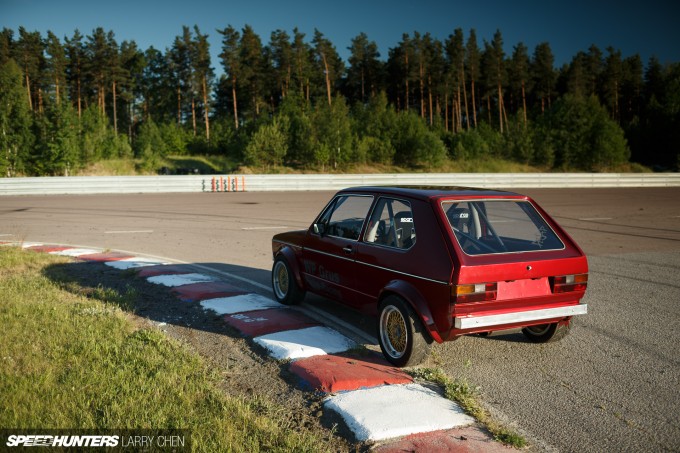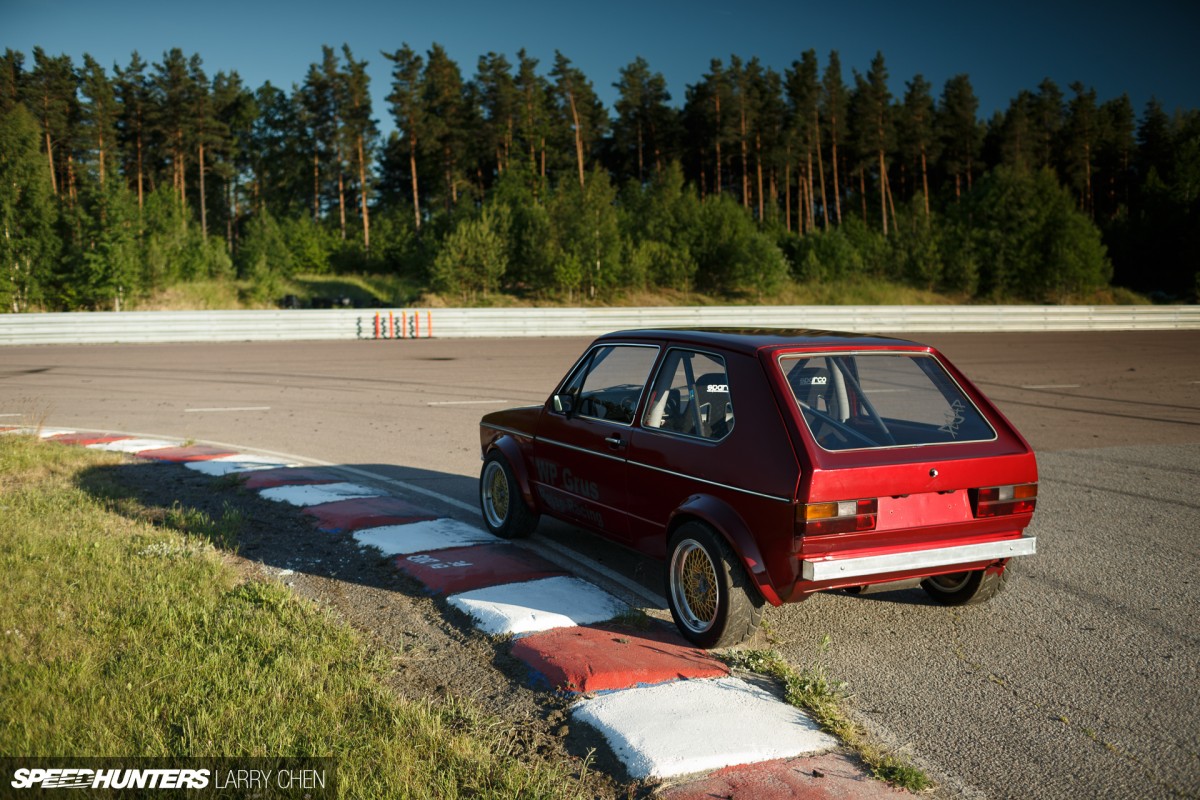 It must have been hard to resist making the Golf stand out more. There's no wild body kit or even polycarbonate windows screaming 'race car', just the body mods I've mentioned and some tinted rear lights. Oh, and the Volvo candy red paint job.
But as restrained as it is on the surface, it's like a lava flow of crazy underneath…
Volvo For Life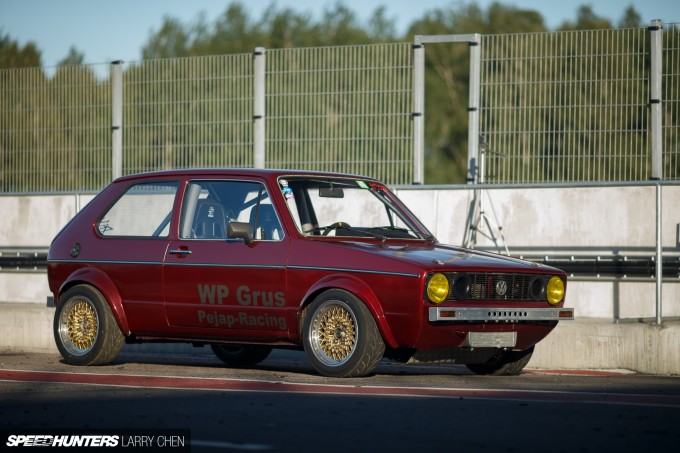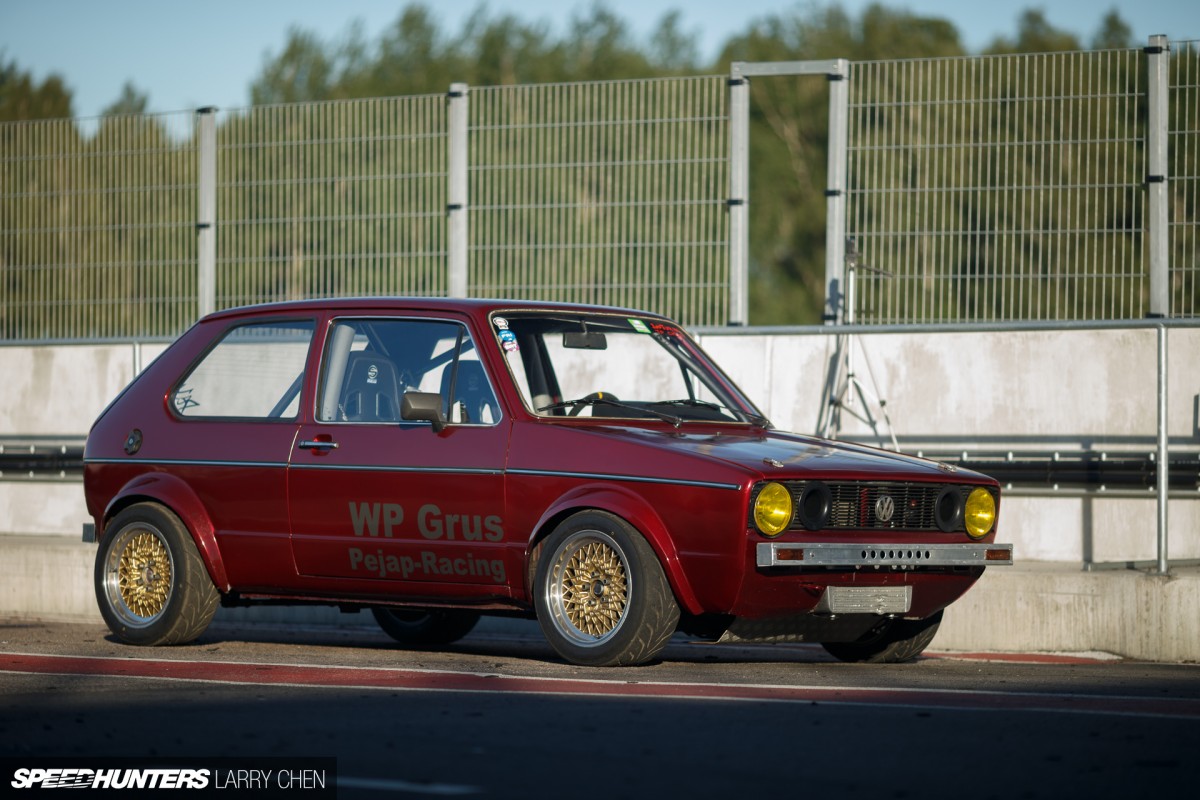 The Golf has got a relatively short wheelbase compared to the larger Volvo monocoque that the engine, gearbox and other driveline and suspension components would have called home originally. To be precise, the Golf is 2,400mm (94.5 inches) between wheel centres and the Volvo 240 is 2,649mm (104.3 inches), so that extra 26 and a bit centimetres means there is some clever chopping going on here.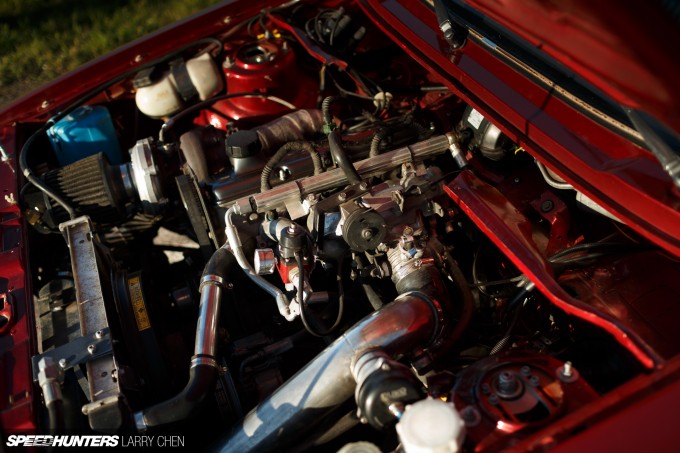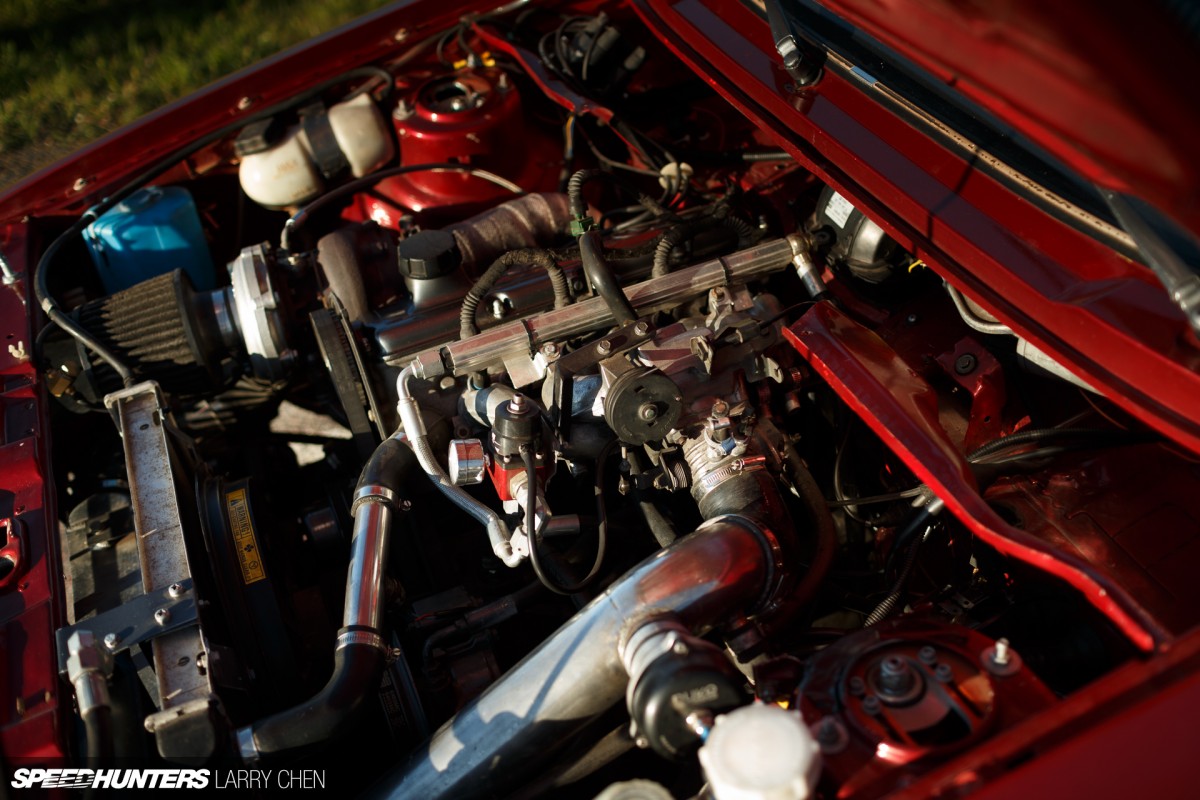 First up you've got to deal with the main obstacle of the Golf originally being FWD. After all, VW designed this space for the transverse-mount four cylinder engine to sit neatly across the front end.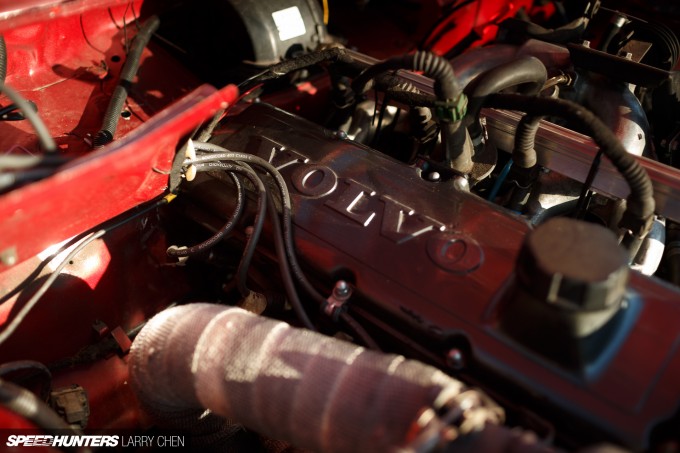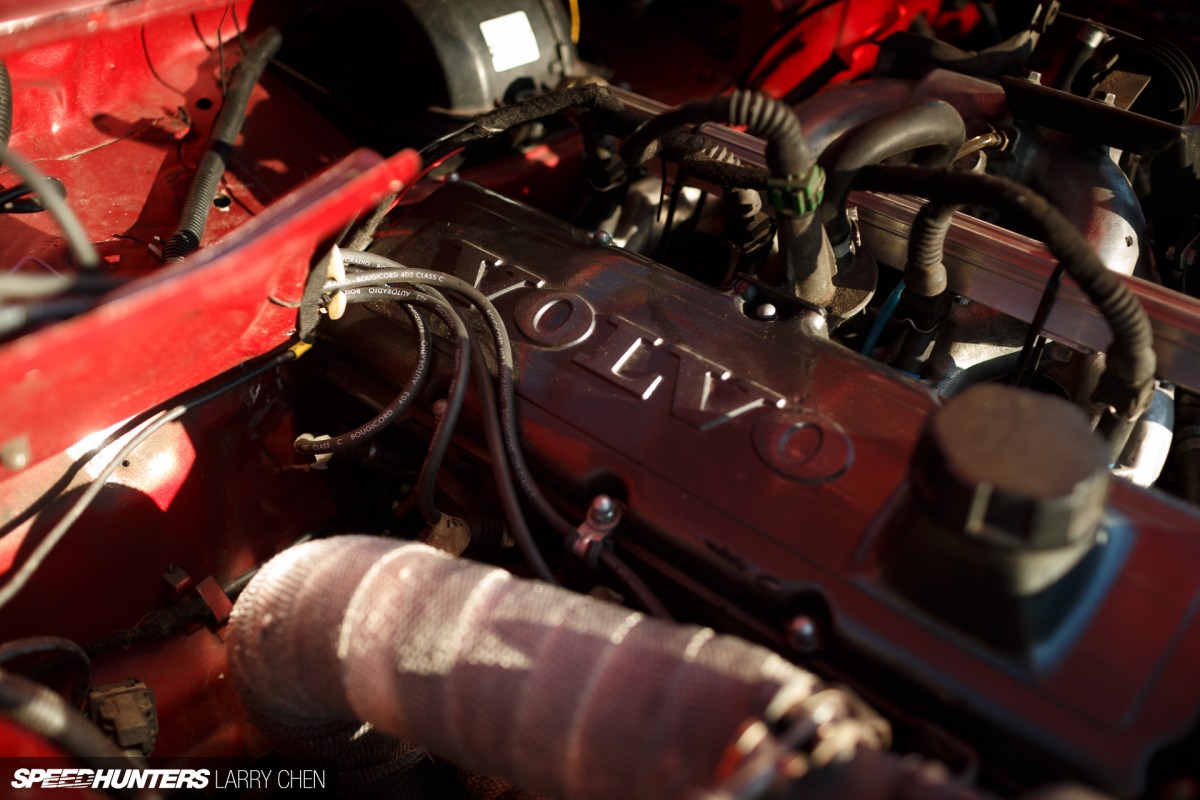 But if you want to turn the engine through 90 degrees and have it pointing the power to the back end, that bulkhead needs chopping out. But that's just the start, because when you cut a hole you're weakening the shell and that's not good.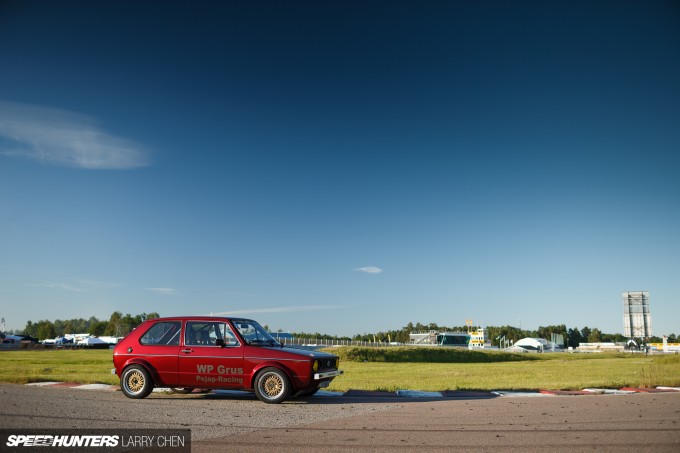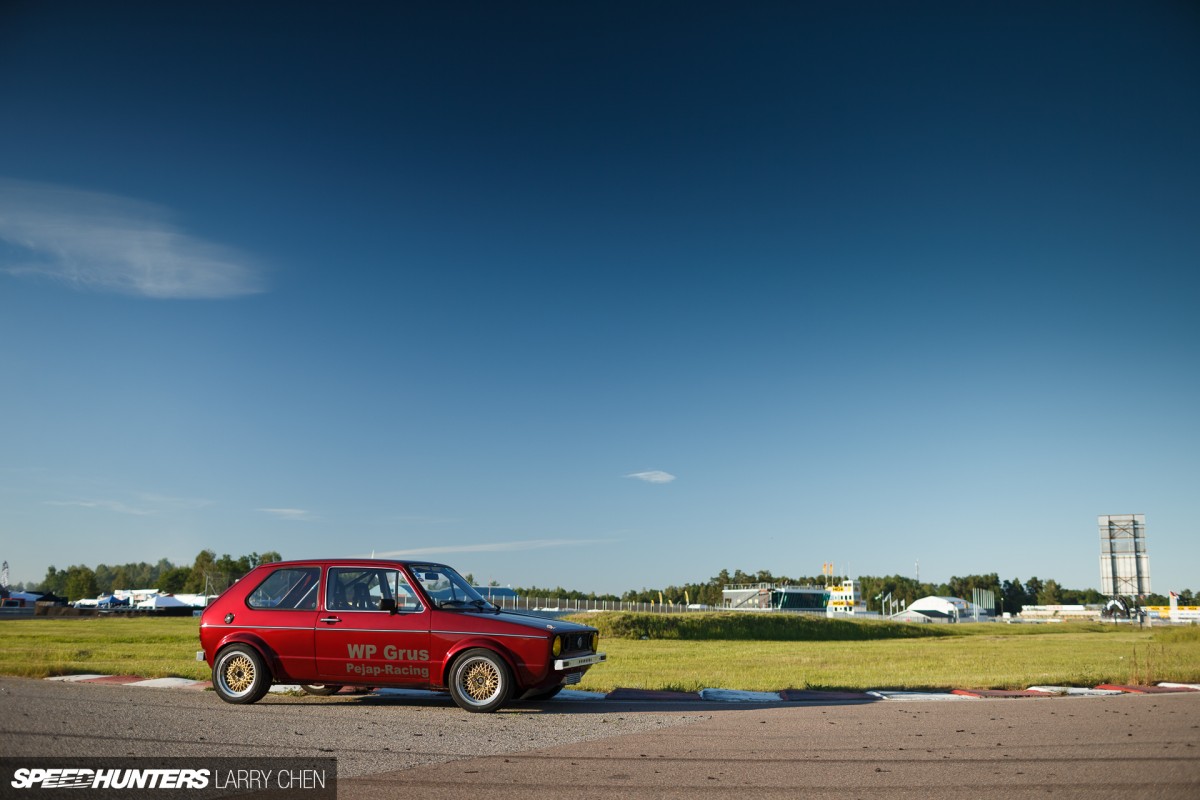 The engine hasn't been left standard either. I guess if you're going to the trouble of slotting in something random then strong H-beam rods with ARP bolts, a VX3 cam and some other neat upgrades are to be expected. Running on E85, this ups the standard B230 power figure from the 170hp-odd that it would have had originally, to circa 260hp at the Golf's rear wheels.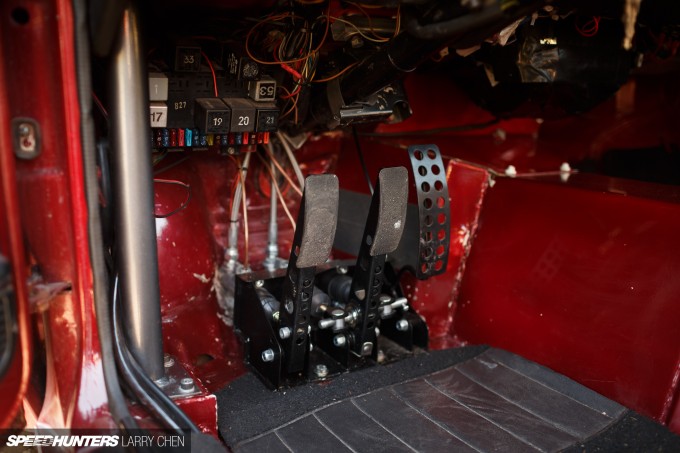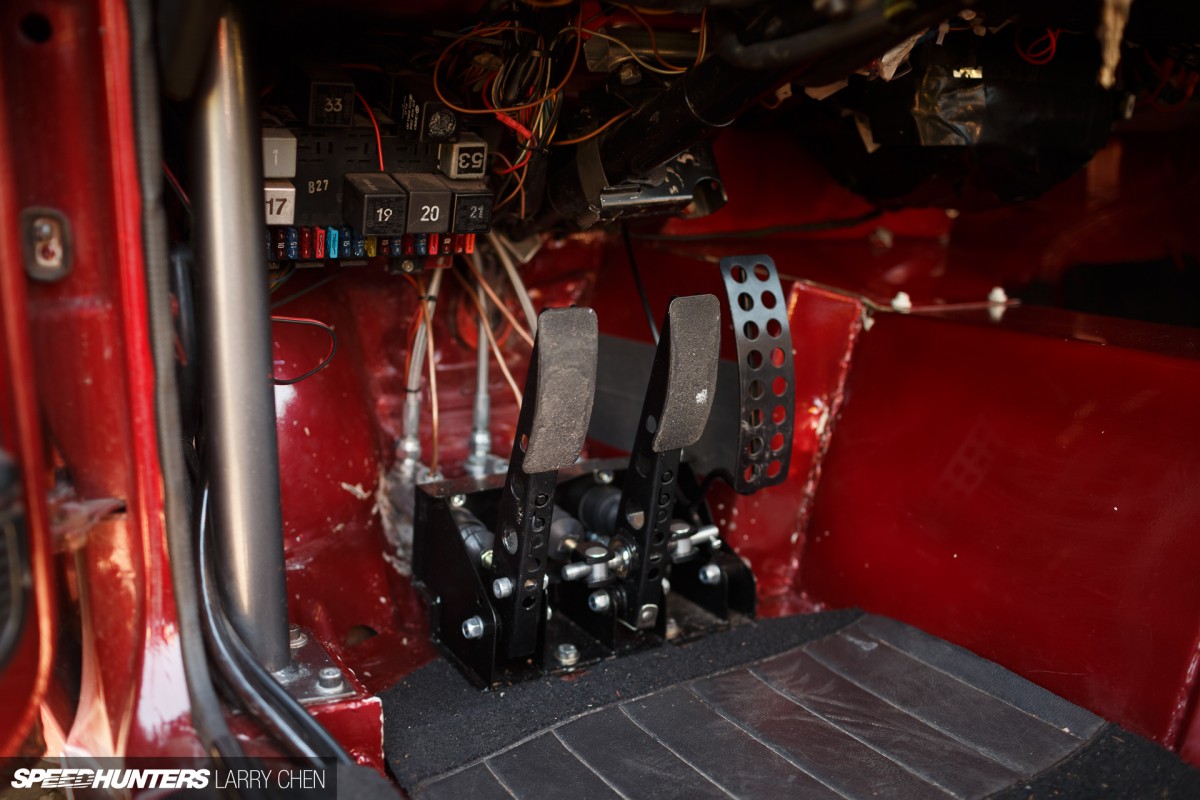 Take a look inside the driver's footwell and you can see the start of the custom-built transmission tunnel and the cage, which although is bolted in, is mounted on proper boxed feet.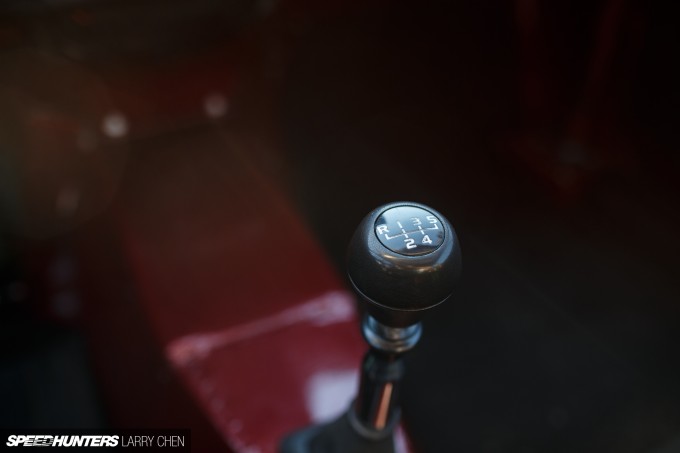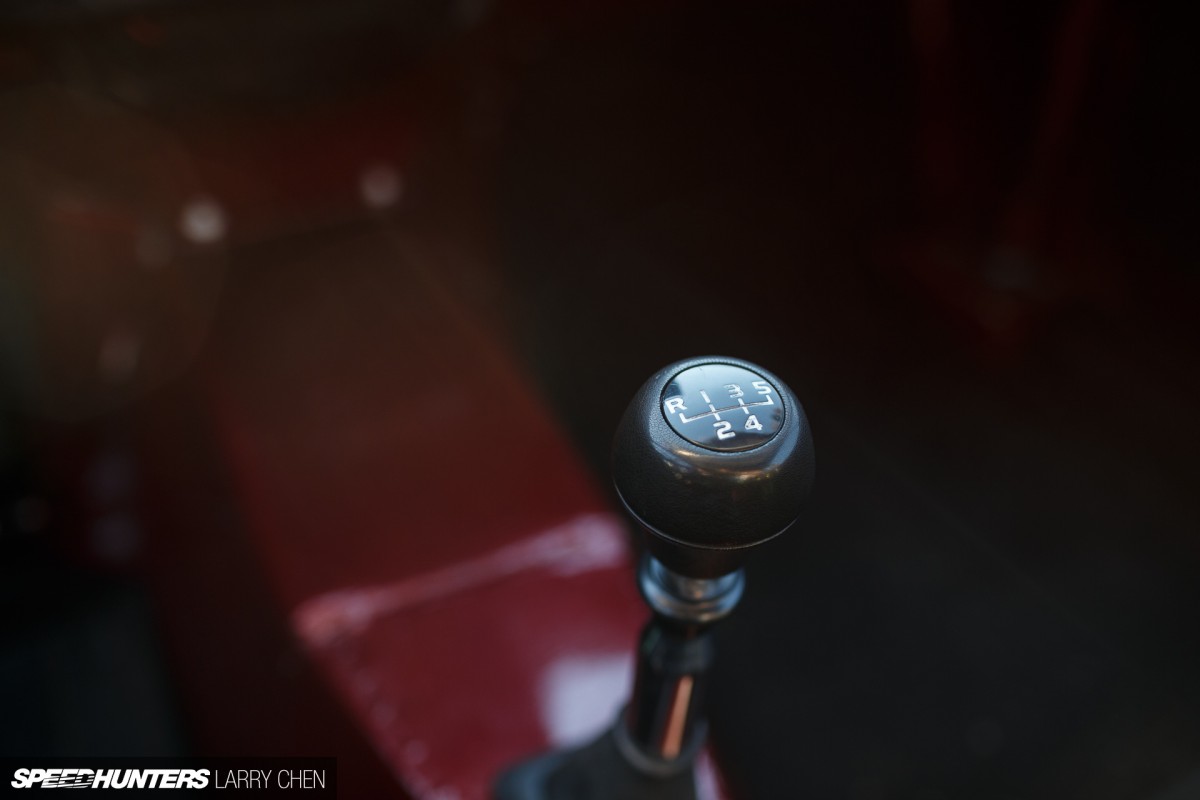 Whereas the gearbox would have originally sat in the engine bay on the end of the VW motor, now it's in between the driver and passenger seat. Again, instead of going for a motorsport-inspired shifter or even an aftermarket gear knob, Simon has used an original Volvo five-speed topper. But then when I asked what gearbox he's using, he tells me it's a BMW ZF five-speed! Which gives me another head scratching moment…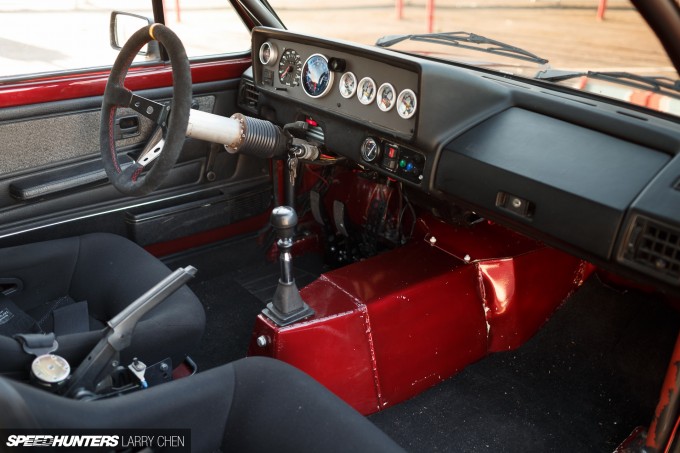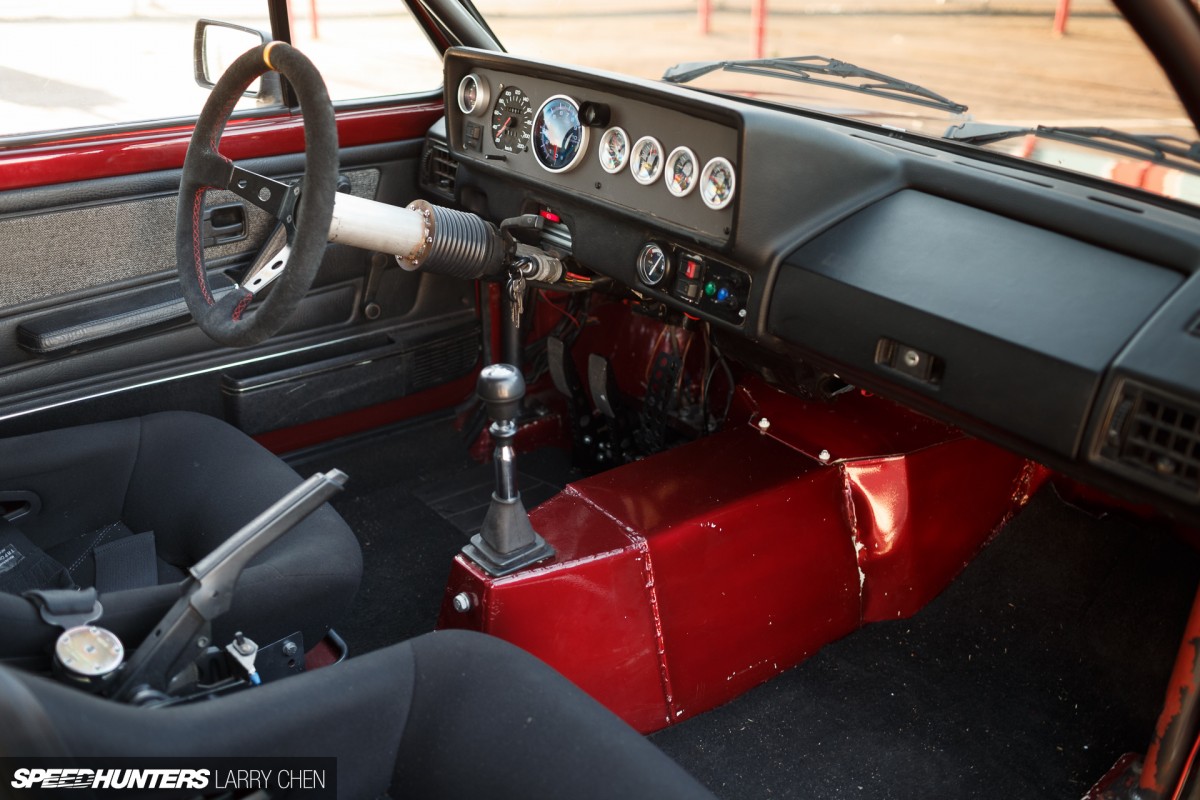 Here's a clearer view of the basic home brew tunnel. Simon is very modest about the build and when I first spoke to him he was quite surprised that I wanted to shoot a feature. But the fact this has all been built with basic tools at home and a MIG welder means it's more about inspiration than fabrication skills.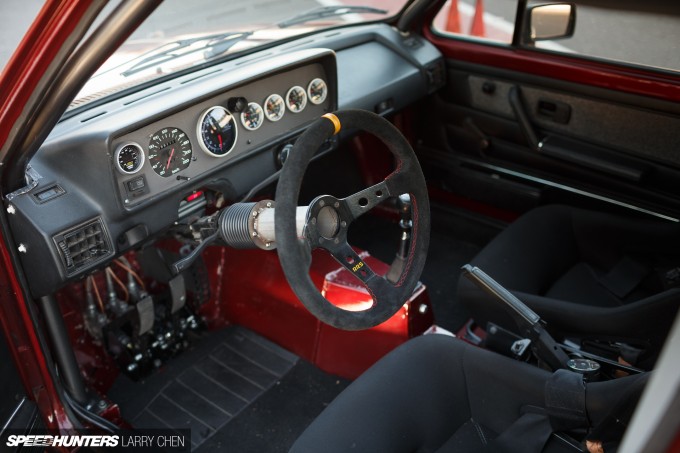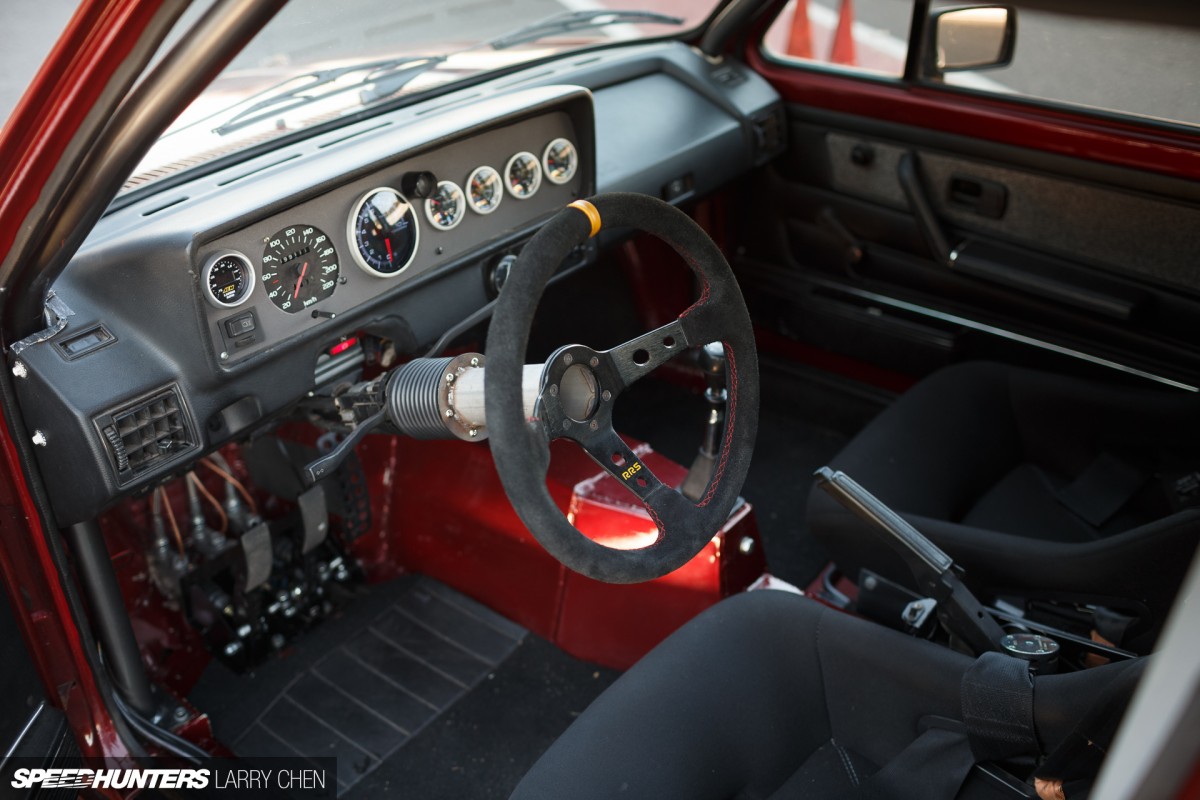 Because the engine and box protrude into the passenger area much more than the originals, the whole driving position has had to shift back to accommodate them. You've already seen the new pedal box, but furthermore, the steering wheel boss has been extended with the column being dropped a few inches to keep the angle good.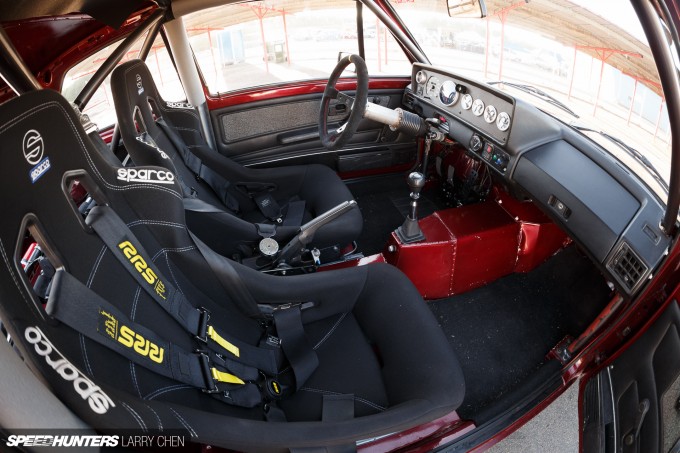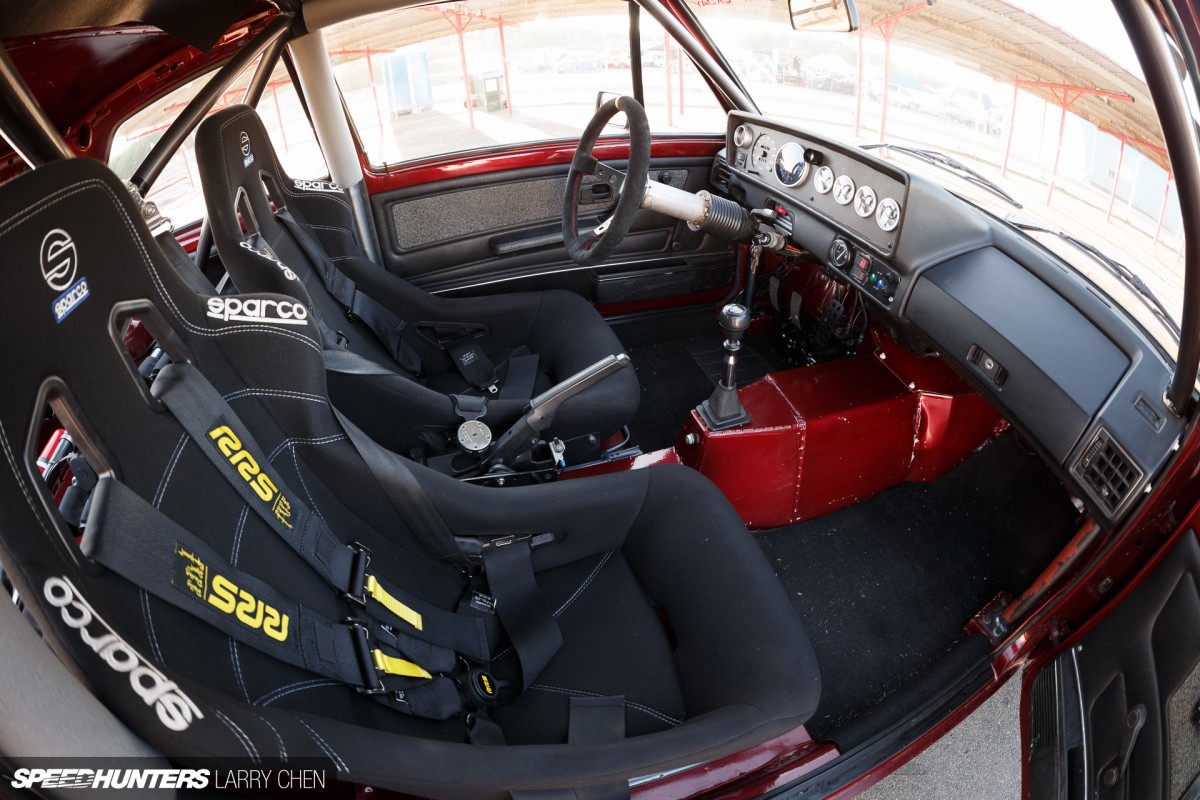 Now if you look again you can see the Sparco bucket seats are mounted quite a way back compared to where the standard seats would be. Although the benefits might be small, little things like this will always help with weight distribution in the search for that perfect 50/50 split.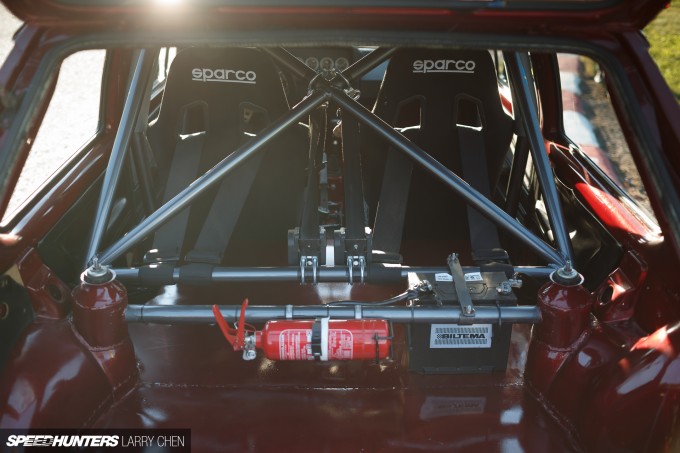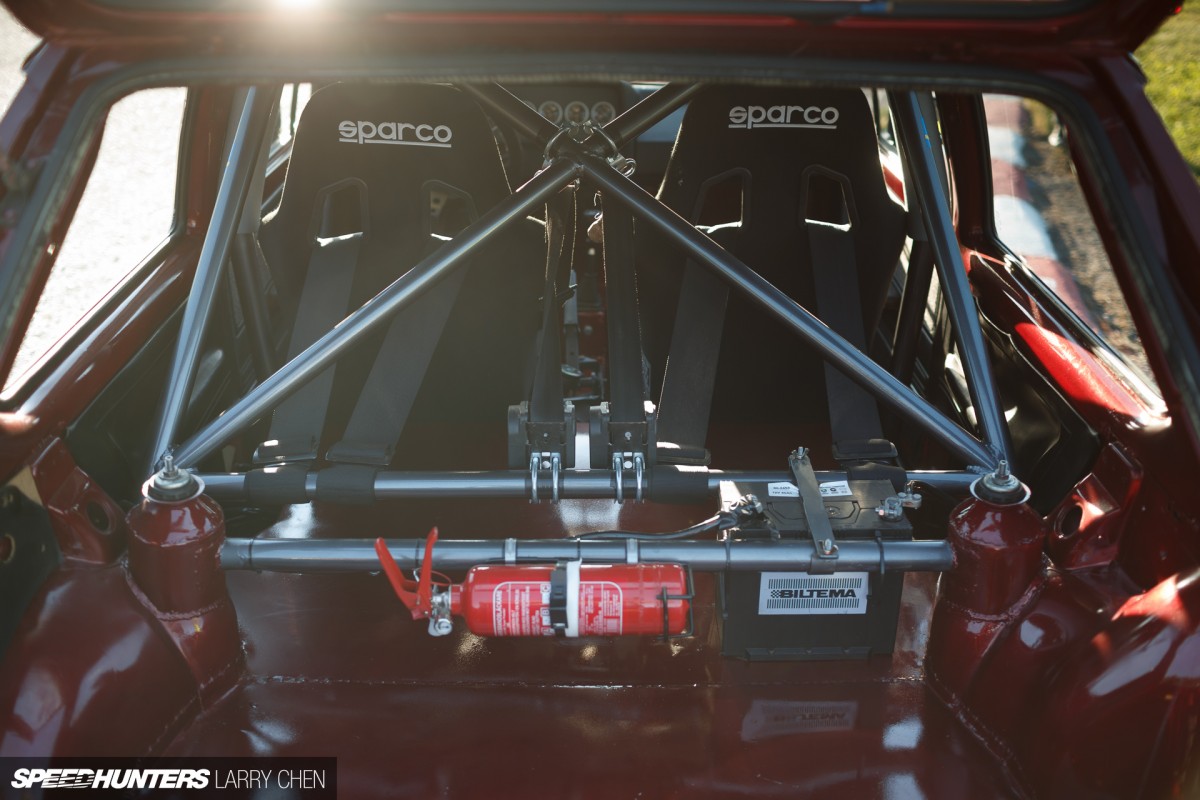 In the rear the standard floor was completely cut out and replaced with a flat panel. The battery has been offset (again for weight distribution when there's only a driver in place), and is now held in place between the rear strut brace and rollcage.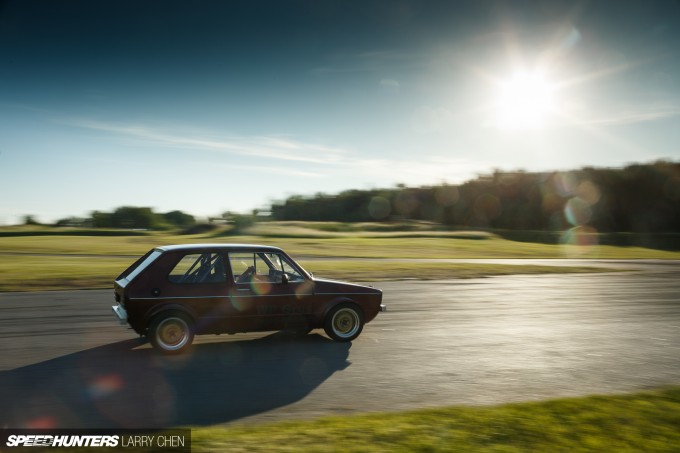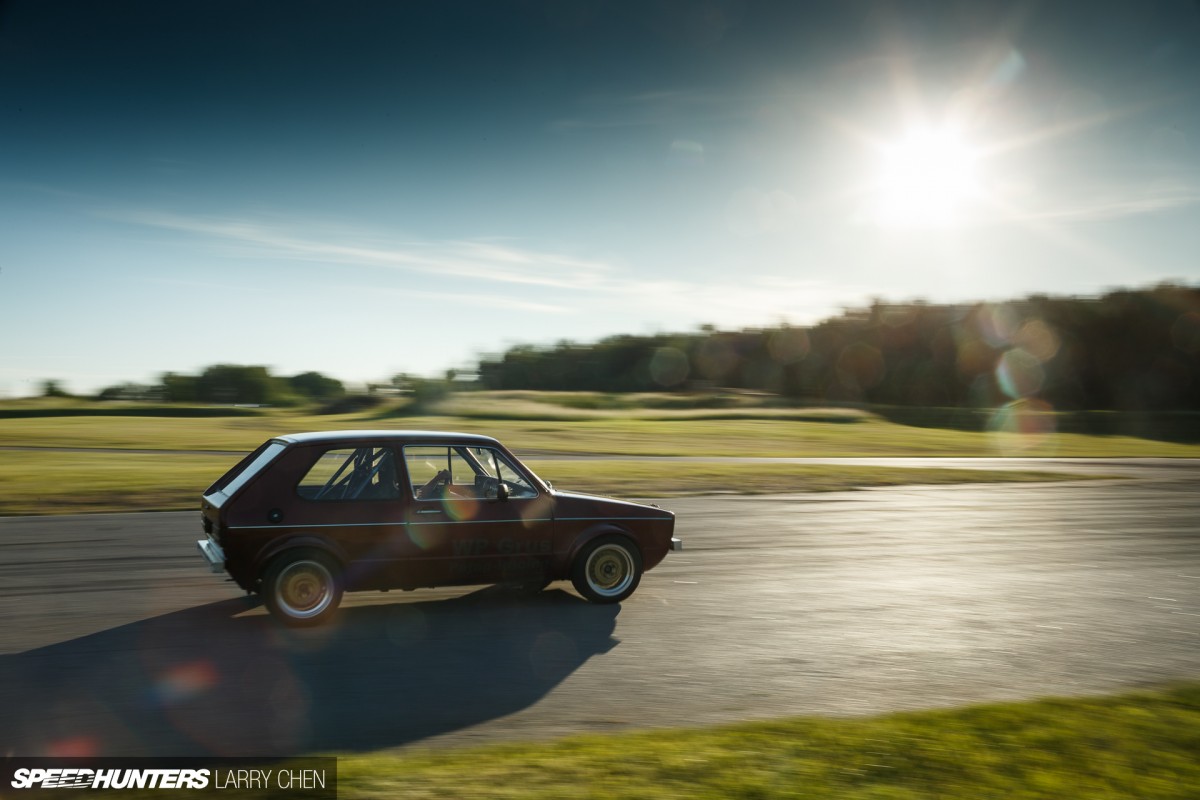 The Golf is still very much a fresh build and Simon hasn't really had much of a chance to get it properly sideways. But with a power figure of roughly 260hp at the wheels and an all-up weight of what – maybe 1000kg or less – it's like meeting your new best friend. You don't really know each other, but you know it's the start of something really special.
Bryn Musselwhite
bryn@speedhunters.com
Instagram: Speedhunterbryn
Cutting Room Floor