An Unusual Base
Yeah yeah, we've heard it all before. What's the big deal, right? A bunch of FRP bits bolted onto the body of a car and the internet melts.
But trust me, when you stand next to one of these creations, you begin to get it. You can see why they are both loved… and loathed at the same time.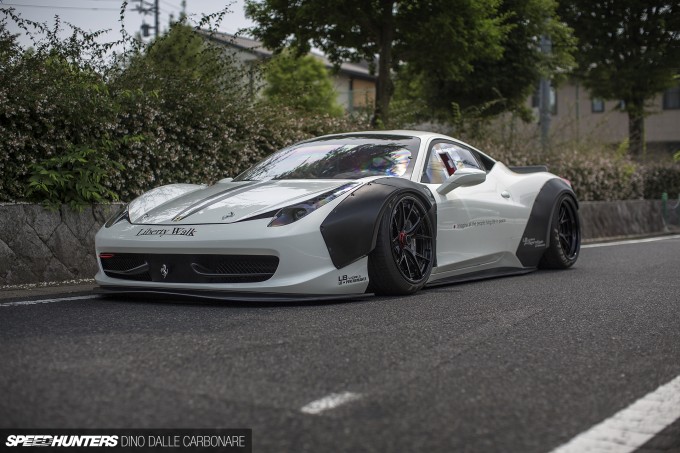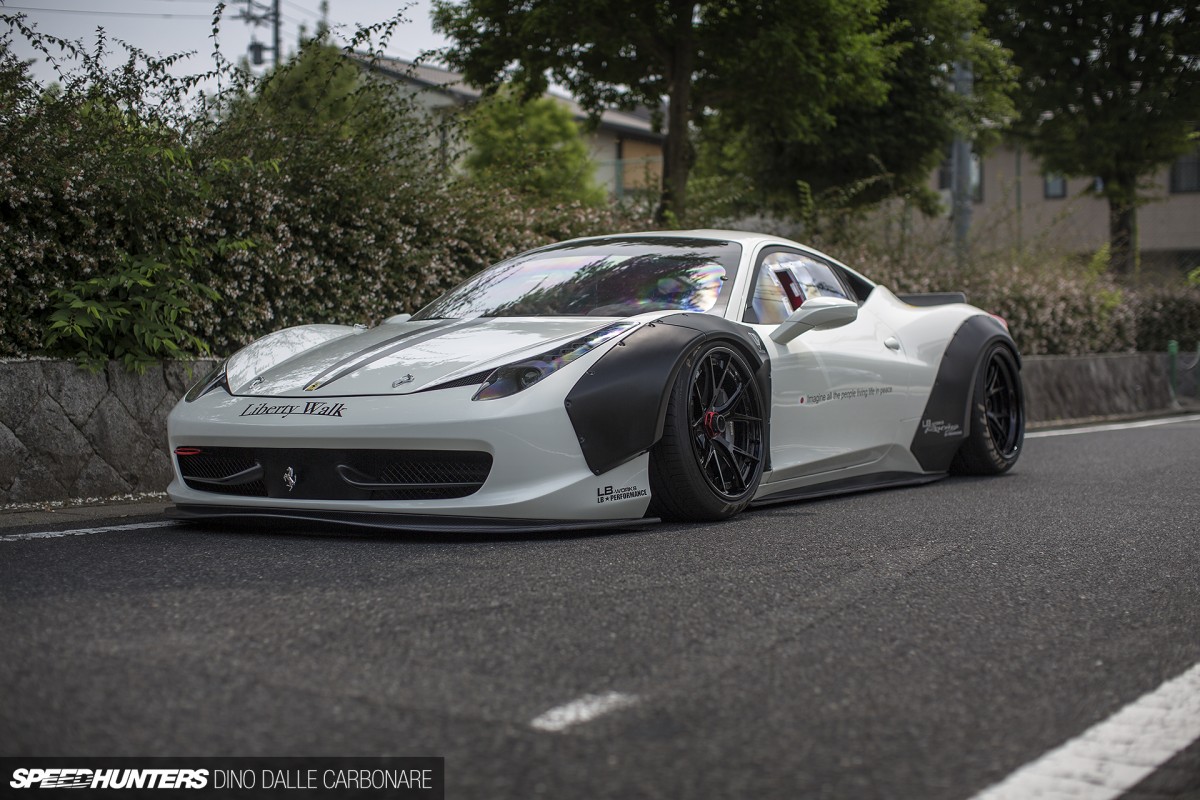 I've touched on the main reason why Kato-san at Liberty Walk builds these limited edition runs of 'Works' kits. It's all for fun – to get a kick out of it and generate a reaction from people, and not only those into cars but everyone that lays eyes on these wide-bodied supercars. Surely there is nothing wrong with that, right?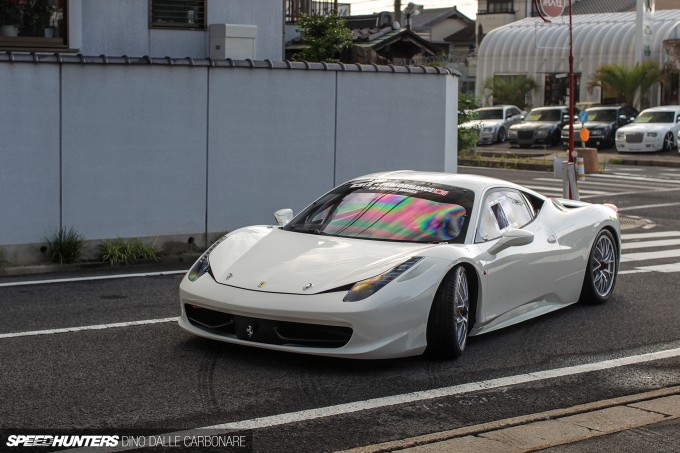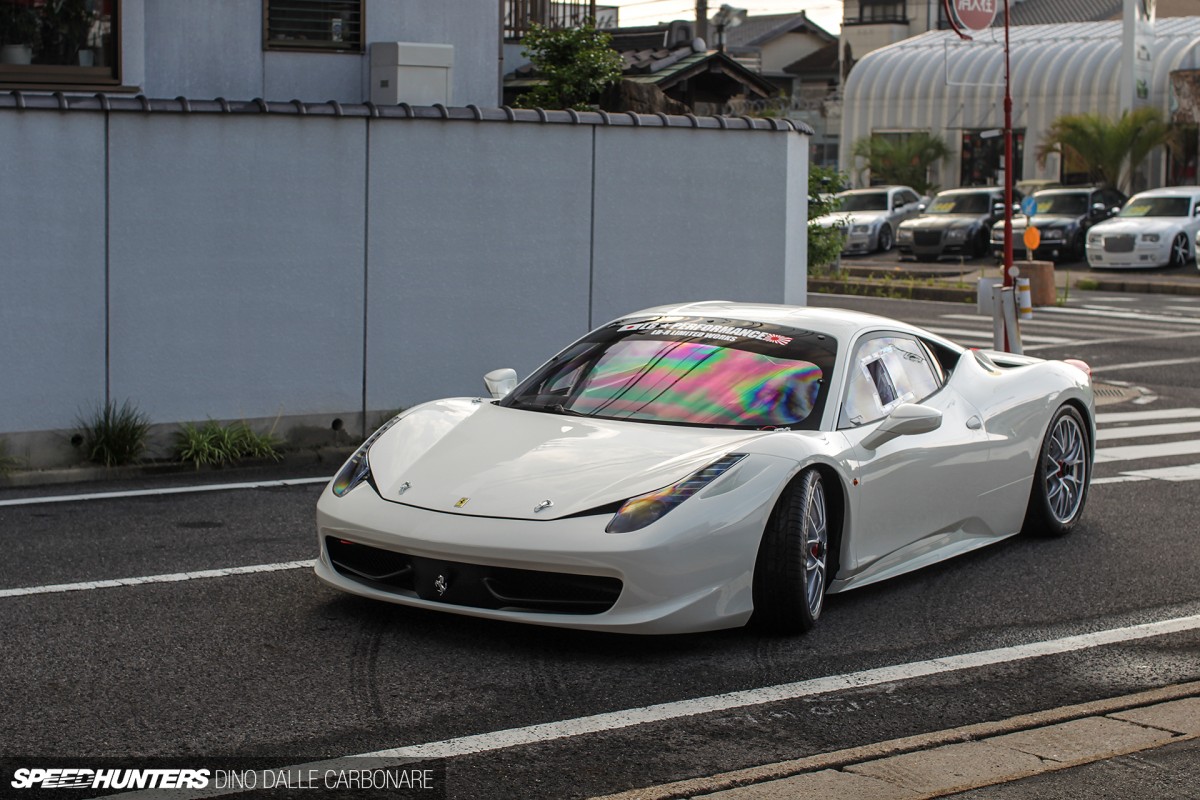 It was around a year ago, during one of my many visits to Liberty Walk, that I decided to take a few pictures of a Ferrari that Kato had stashed away in the back of one of his garages. This was months before SEMA 2013, so the world had still not seen the 458 that literally stole the show.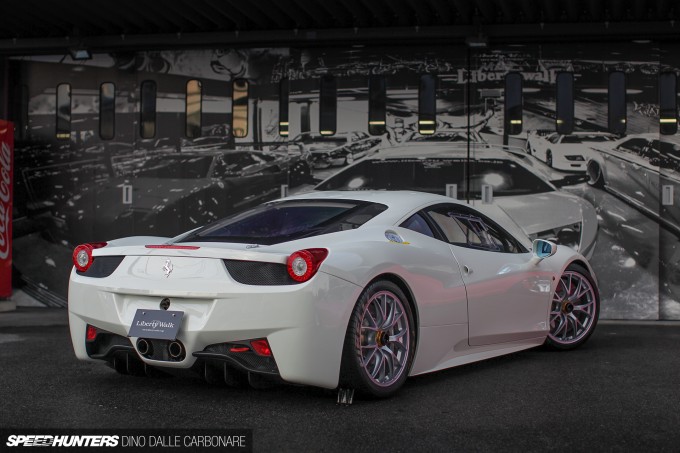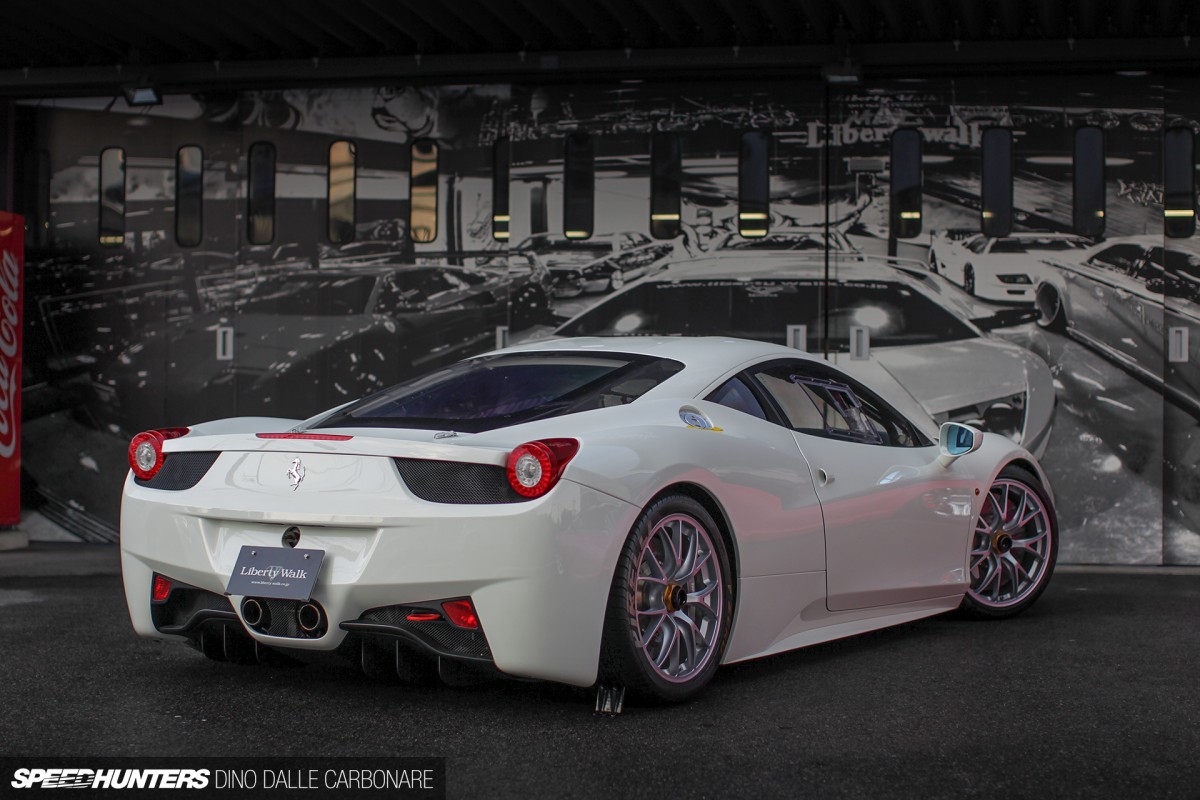 What got me all excited was the fact that this was no regular 458, but rather the race-ready Challenge version. This is the model that is sold to gentleman racers to participate in the Challenge Cup around the world, and it's the rawest interpretation of Ferrari's mid-engined beast.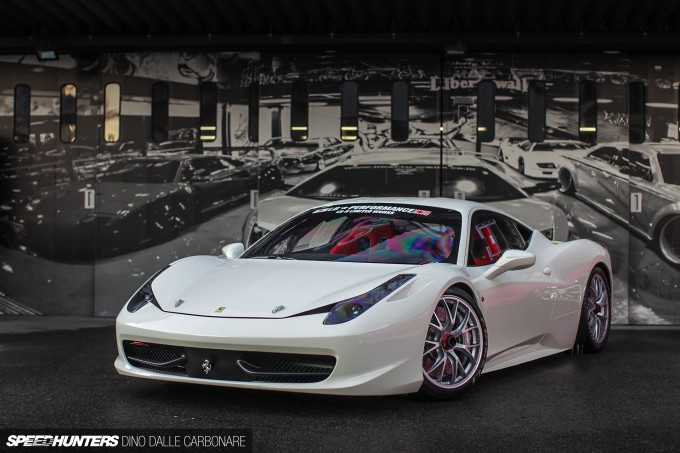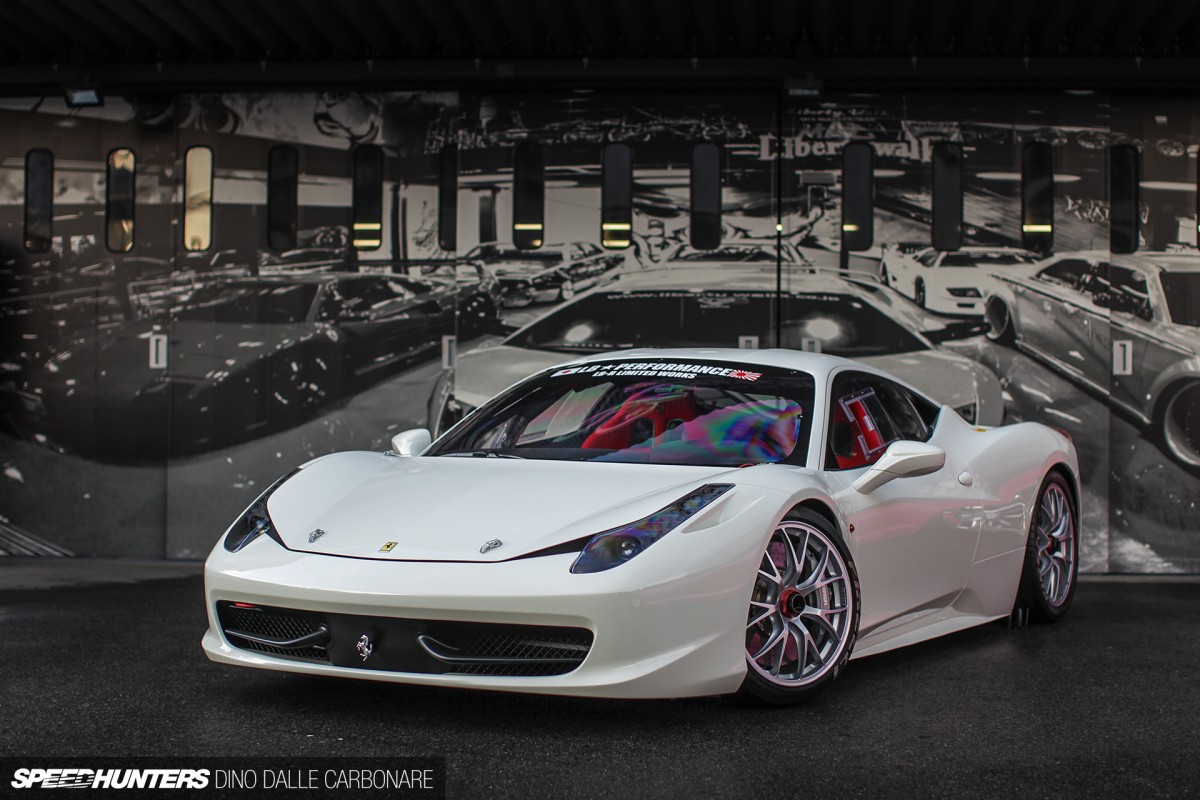 It rocks thinner aluminium body panels to shed weight, has polycarbonate windows and carbon doors, awesome looking center-lock wheels, a full roll cage and stripped out interior, a race version of the dual clutch transmission with shorter gearing, and non-servo assisted brakes.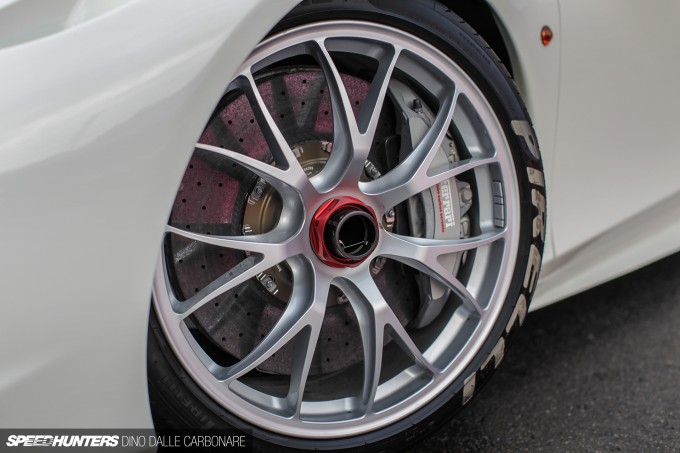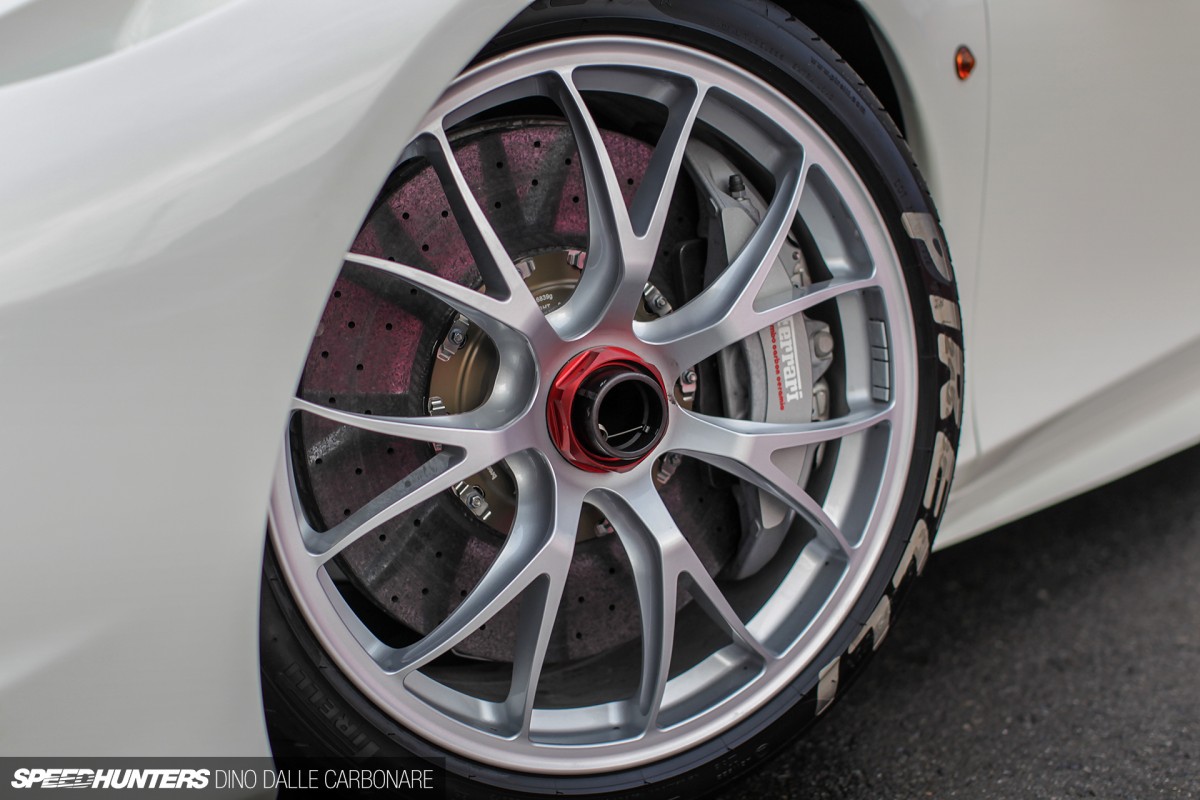 It's a long list that takes an already brilliant car and makes it cooler than it can possibly be. At the time, Kato told me that his plan was to get the Challenge road registered as he wanted to enjoy that race-car feel on the street. Of course, he planned to make a few modifications too…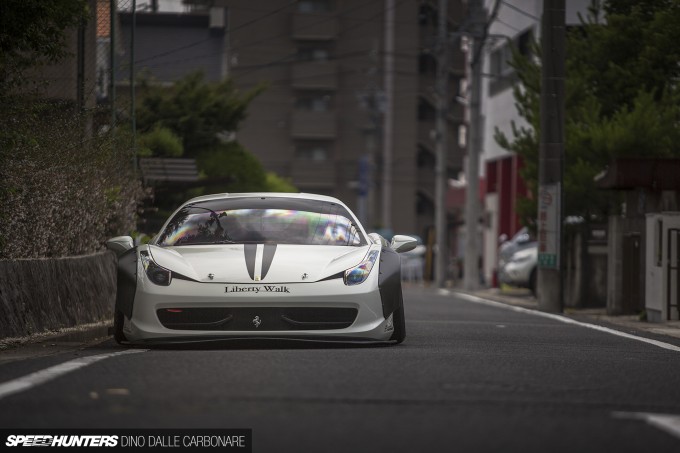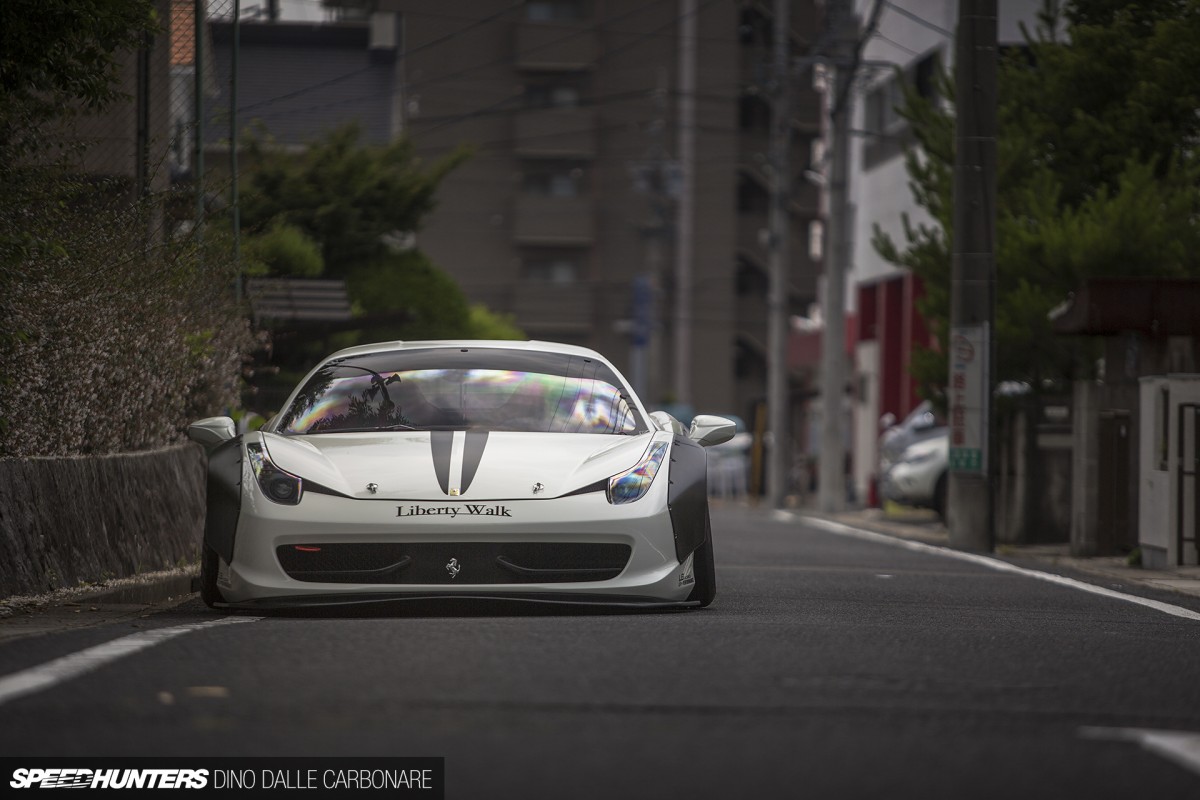 Well surprise, surprise! Those 'few mods' turned out to be a full LB☆WORKS kit. Kato is really pushing it now I thought. I mean, how could he even think about doing this to such a rare version of the 458?! Surely this is beyond sacrilegious? And then I saw it…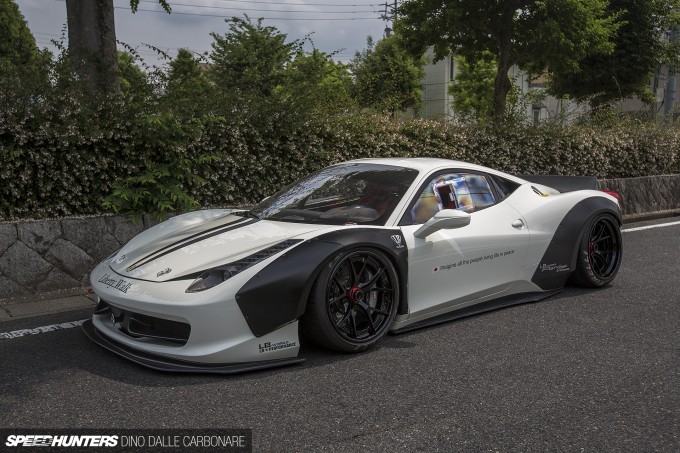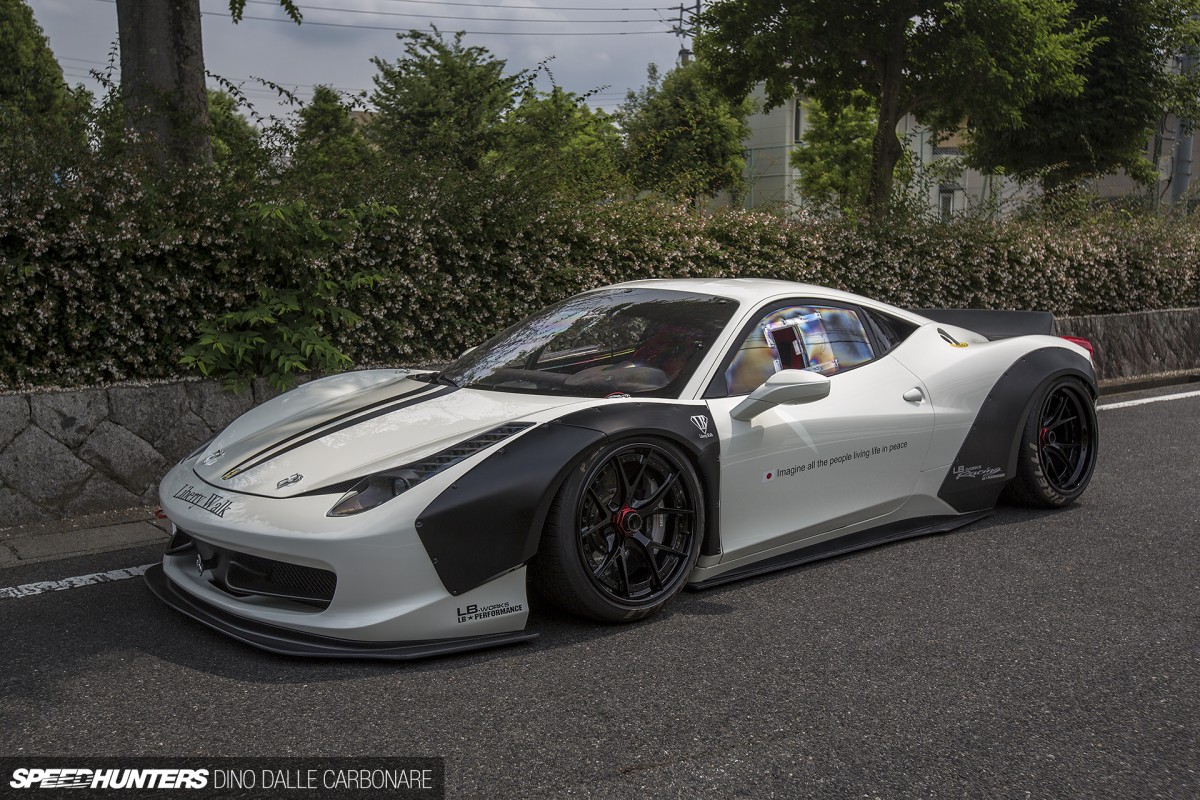 Much staring and confusion followed. I was looking at a car that I should be questioning – at least that's what my mind was telling me. But my heart fell for it in a big way. I knew I shouldn't have been feeling the way I did about something so functionally-built being turned into what is essentially a caricature of itself. But then I started to think about it all from another angle. He's gone so far as to register a race car on the street, so what's the problem with taking that extreme approach and making it even more special? Think about it. If you had the means, wouldn't you give the same concept thought?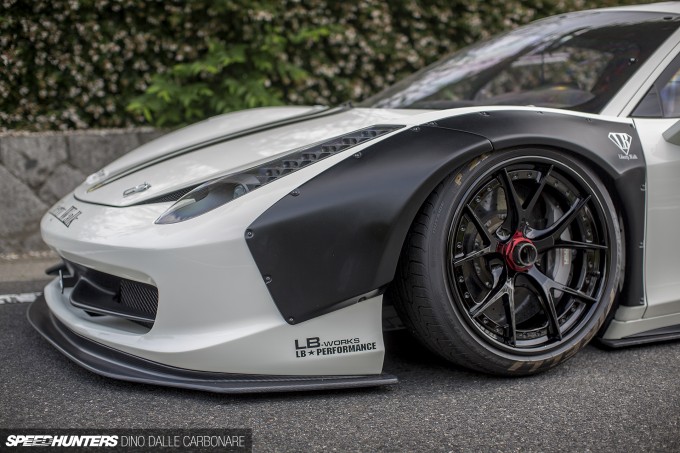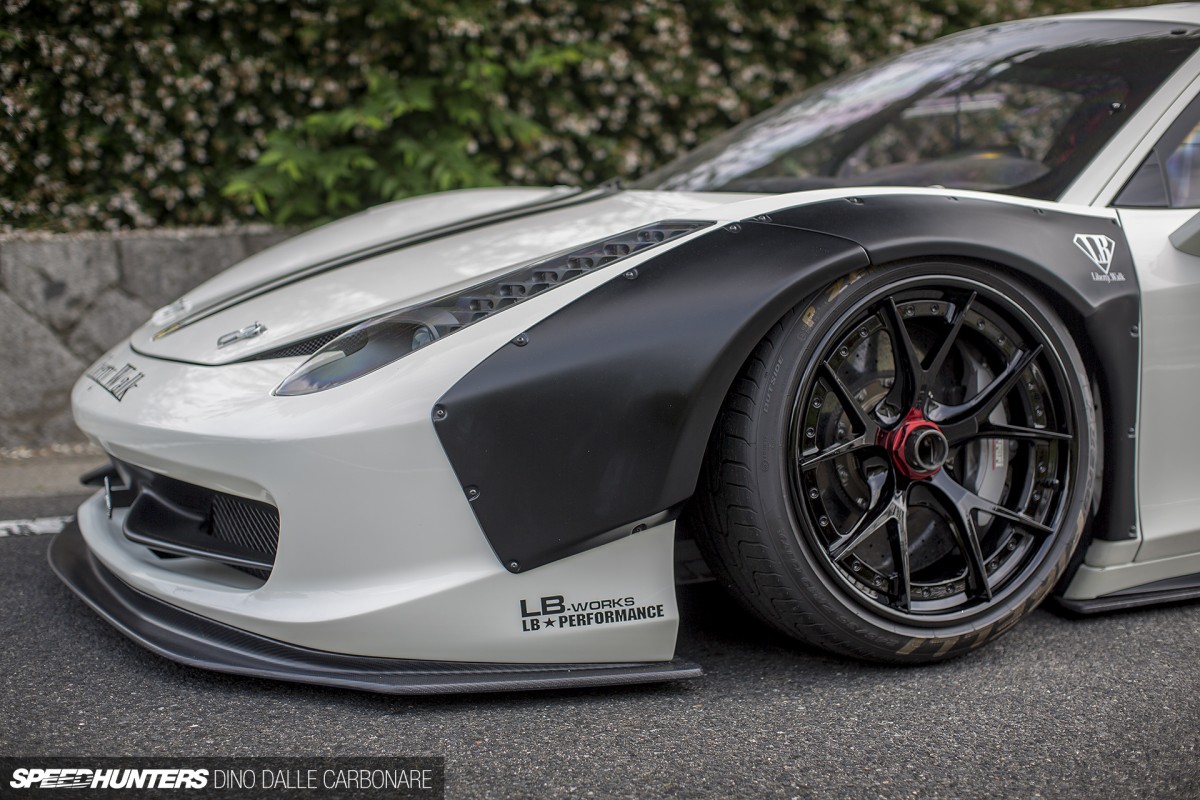 Unlike the US-built car we first featured last year, Kato's Challenge gets the new carbon fiber front splitter. This features that signature Miura lifted chin in its center section, but is a much stronger item that's able to take the abuse of sustained high speed. That'll be handy when Kato eventually takes this car to circuits like Suzuka.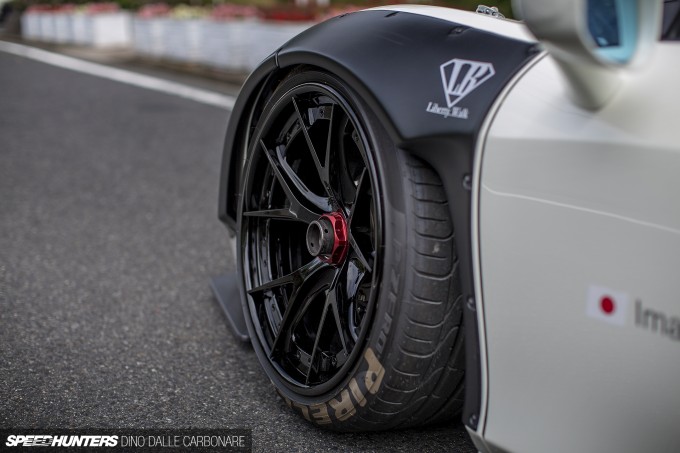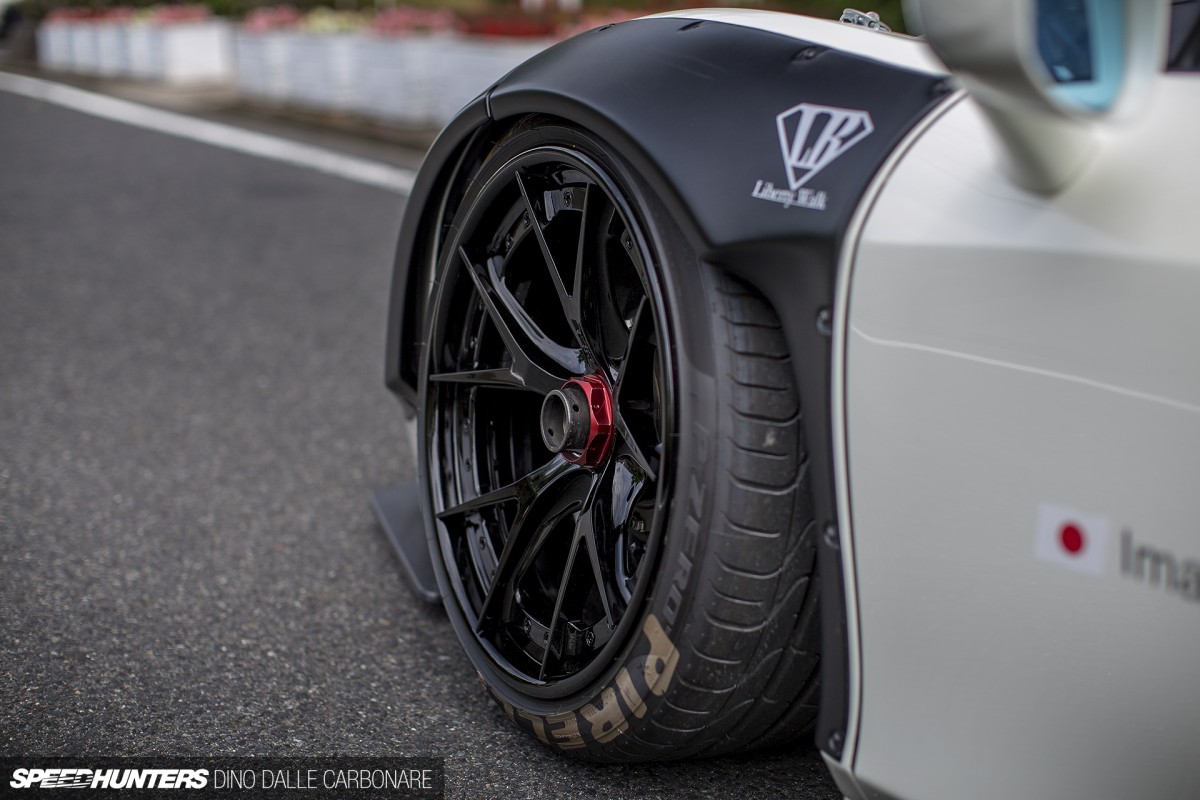 Then of course there's those two-piece front overfenders. Yes, cutting was needed, but it's okay – stay with me on this! The not-so-subtle refashioning was required to allow the wheels to drop nicely into the new dimensions of the fenders and give that slammed look common to all cars that come out of the Nagoya-based shop. Oh yeah, and Kato-san decided to keep the aero additions black. An extra statement? Possibly…
Stancing Out A Race Car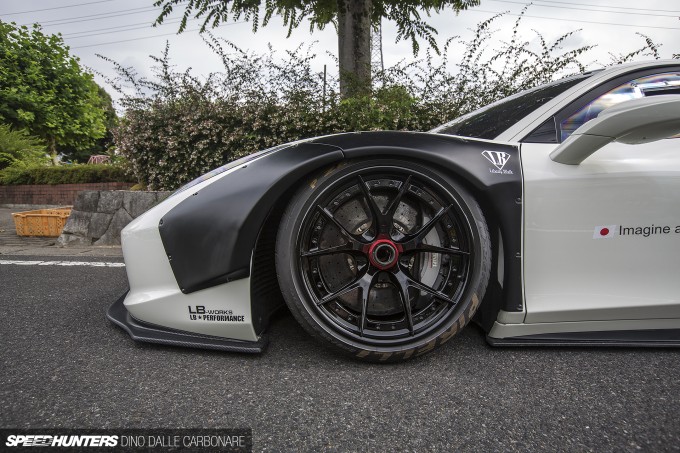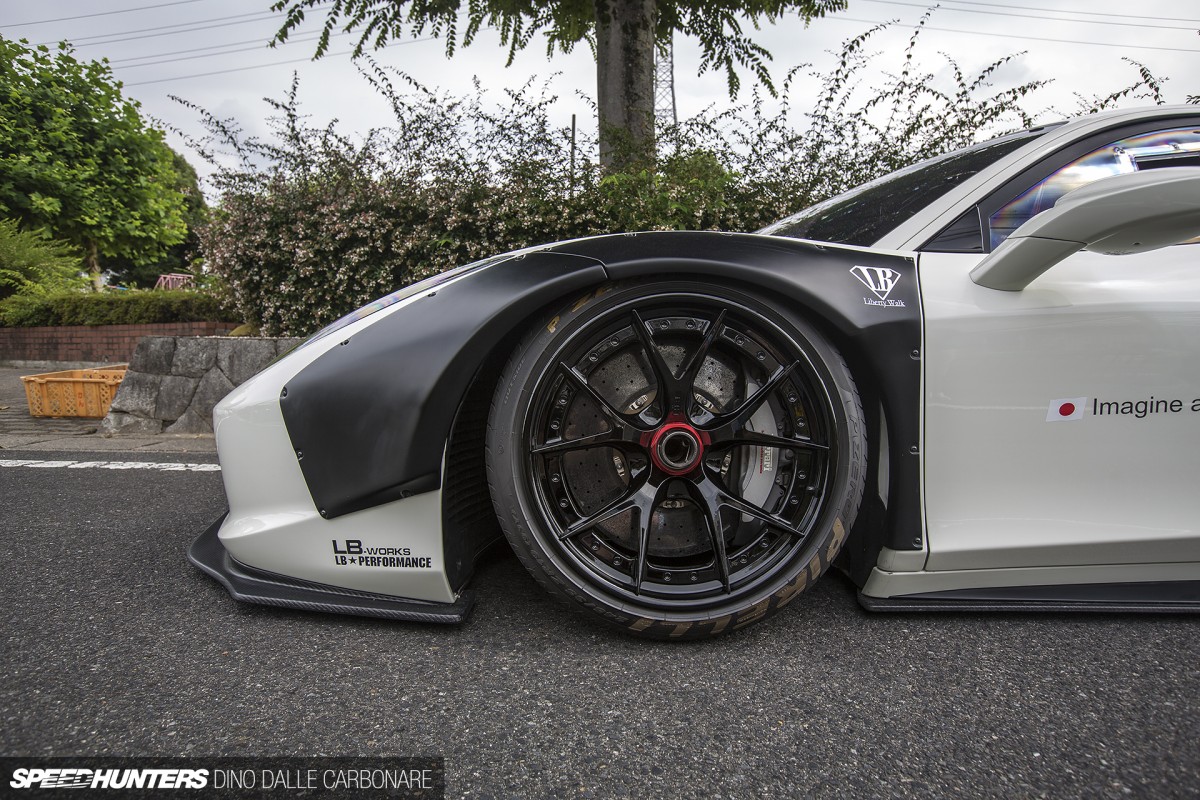 Replacing the original Challenge wheels are 19-inch HRE S103 three-piece rims – a special order to fit the single-lug hub. Suspension-wise the Challenge has been left with its stock adjustable coilovers which have been set to their lowest ride height, with Roberuta air cups to take care of the rest. The cups allow 5cm of lift when the car needs to be driven on the street or when more challenging inclines need to be tackled. This is one touch I really like as the car's handling hasn't been compromised. In fact, with the addition of regular 458 steering arms the Challenge now has the same steering capabilities as the road version, meaning it's easier to park, and handle around tight Japanese streets.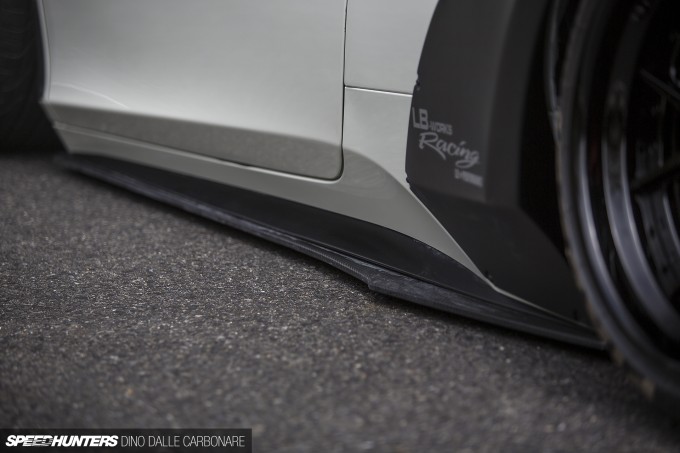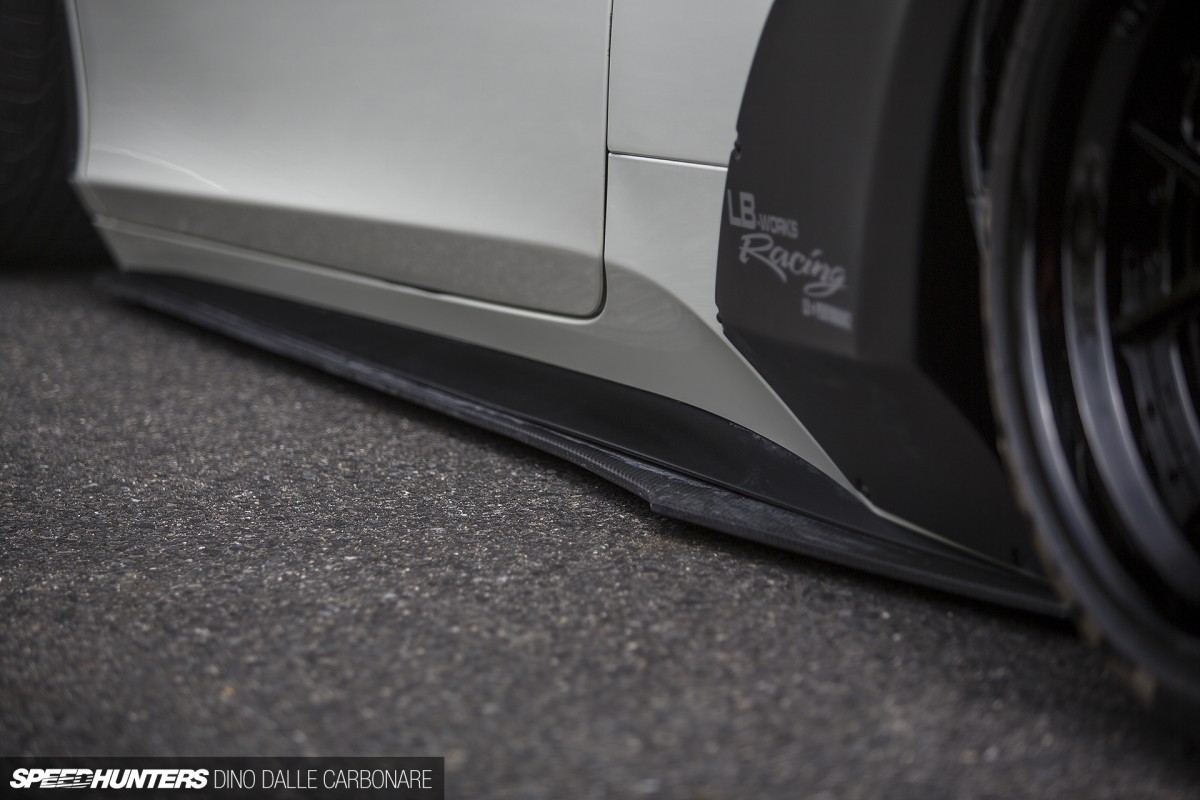 Continuing our closer look towards the back we see carbon fiber side skirts, which also add to the contrasting theme.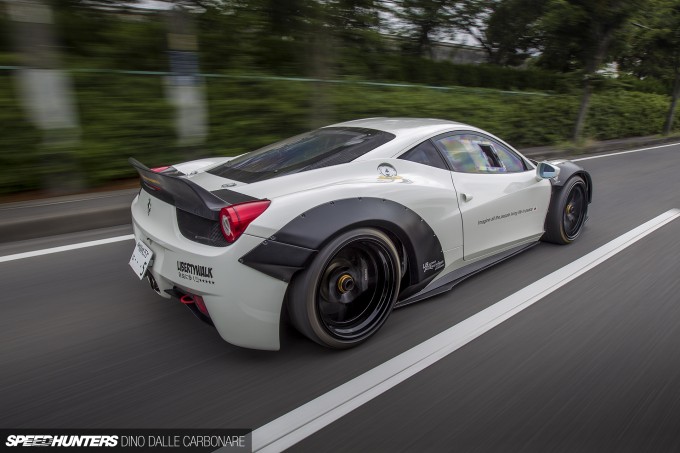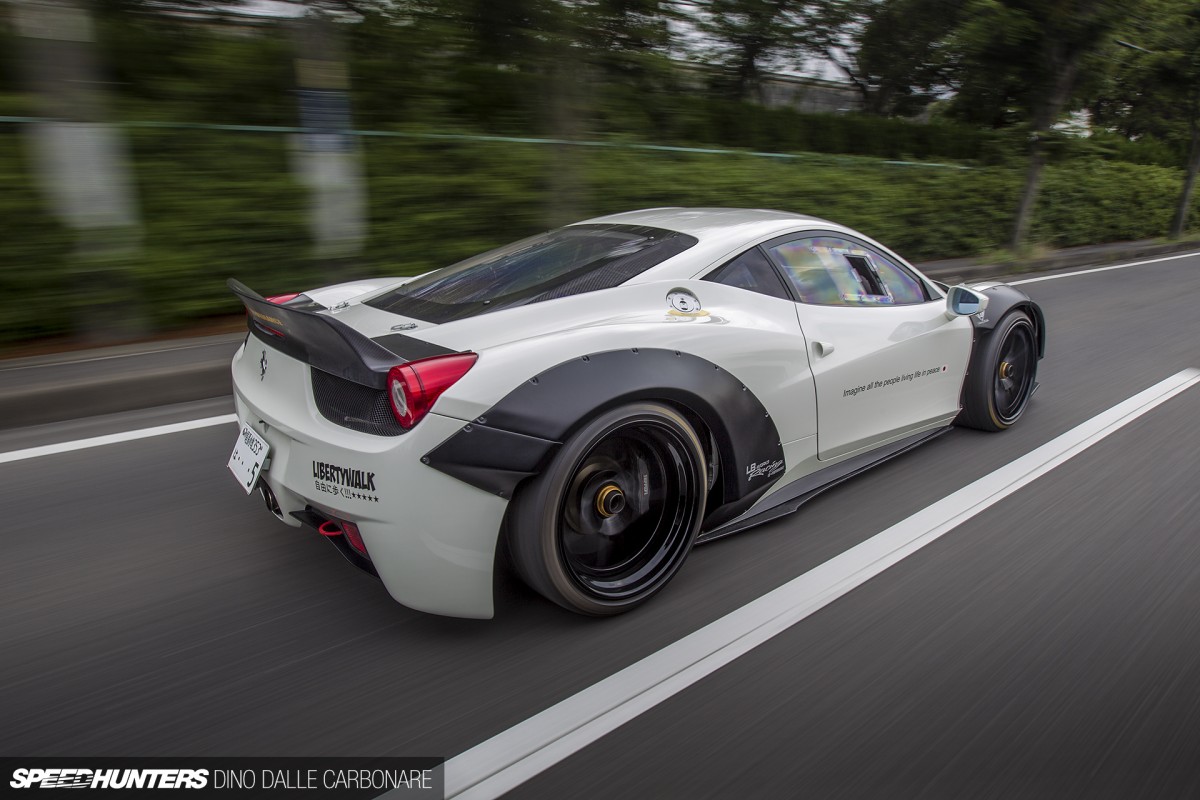 Then there's the rear end treatment: big overfenders that stretch rearwards all the way onto the bumper, introducing tangible girth to the 458's already not-so-narrow rump.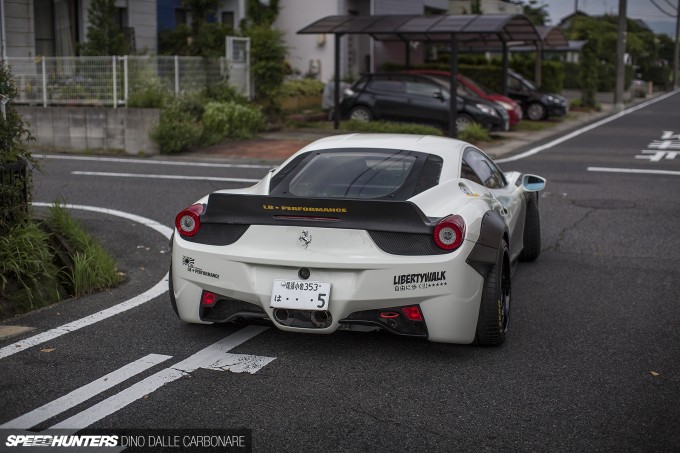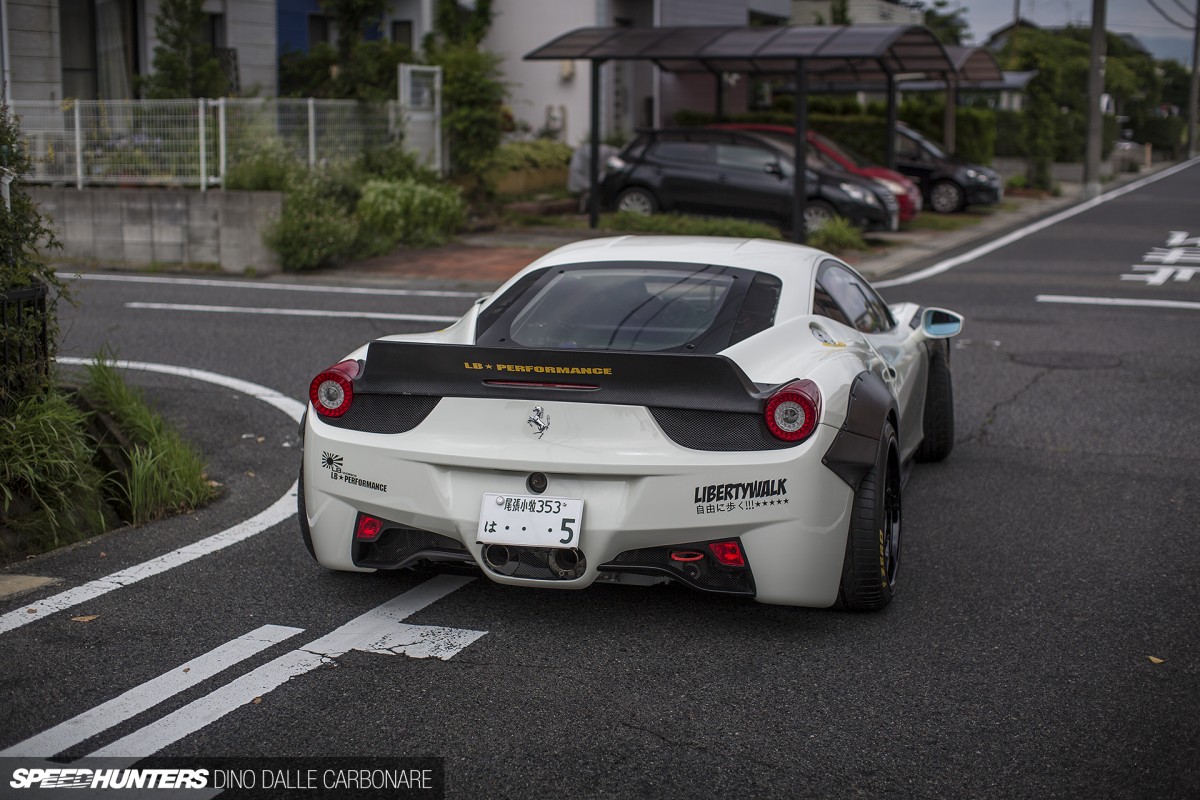 Unlike the 19×9-inch fronts, the HREs are fitted in a much wider 19×12-inch size with a rather aggressive -25 offset at the back. With the Roberuta cups lifting the body to 'normal' driving height, the wheels square-up with almost no noticeable negative camber, giving a flush fit with the fenders.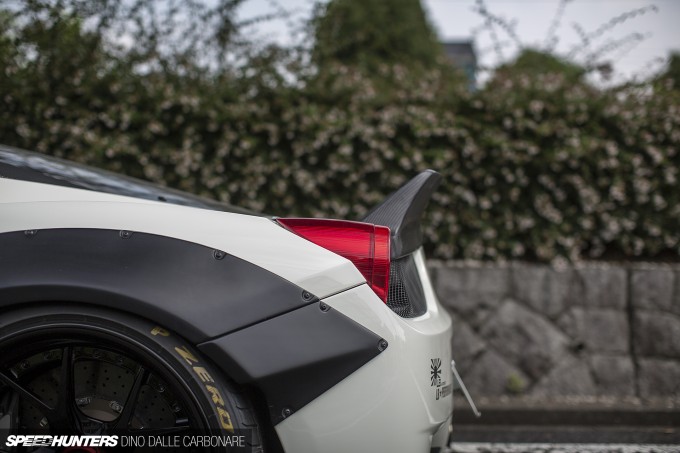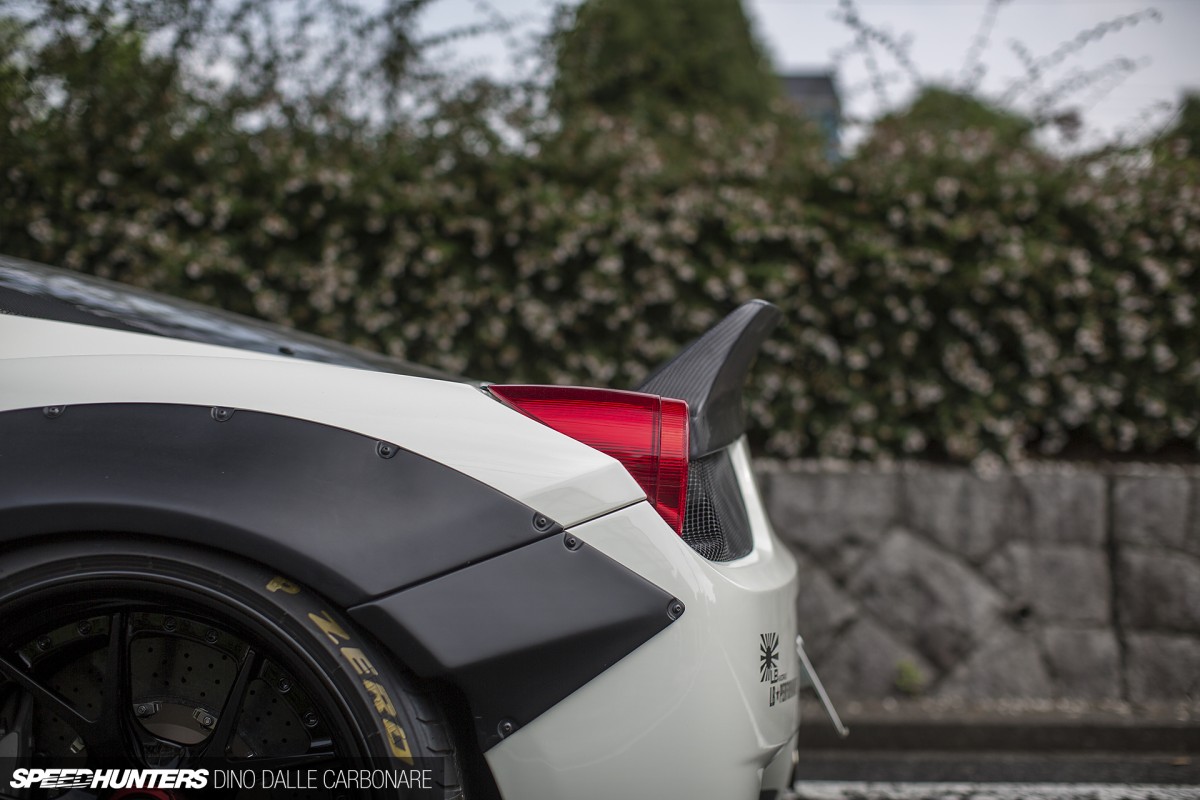 Then, when dropped back down, it all tucks in beautifully for that show-stopping approach to stance.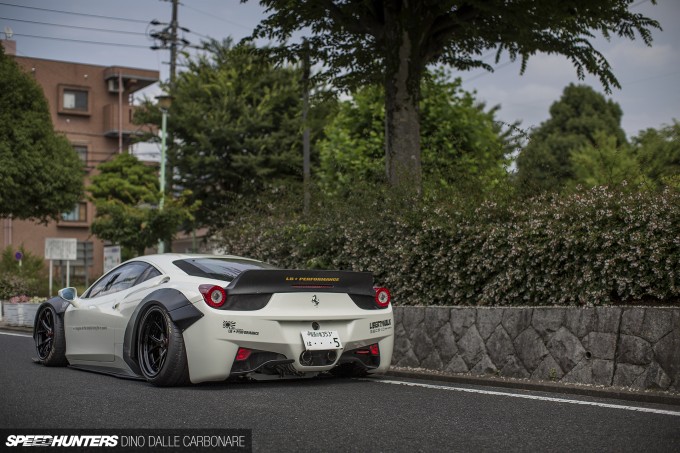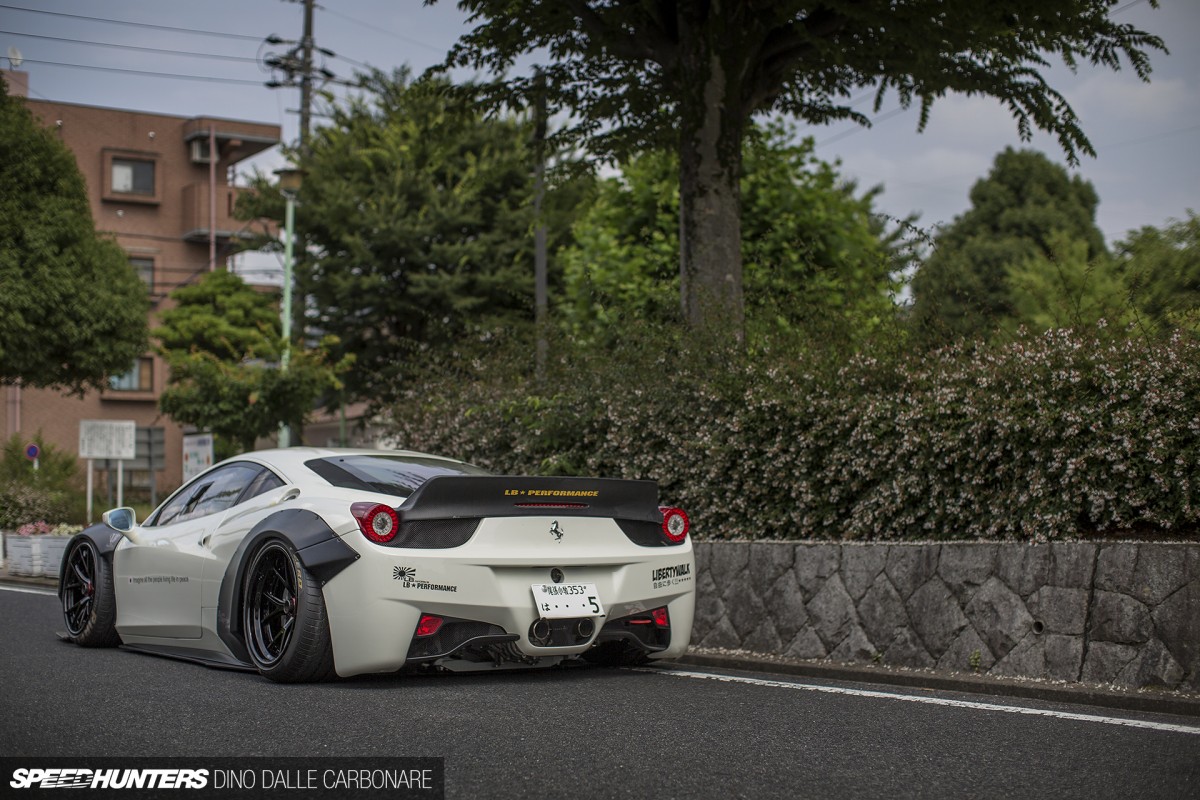 Let's take a step back and take it all in. The LB☆WORKS aero, like all of Miura's designs, does a good job of emphasizing features of a car's exterior. In my mind it works so well on the more functional-looking Challenge.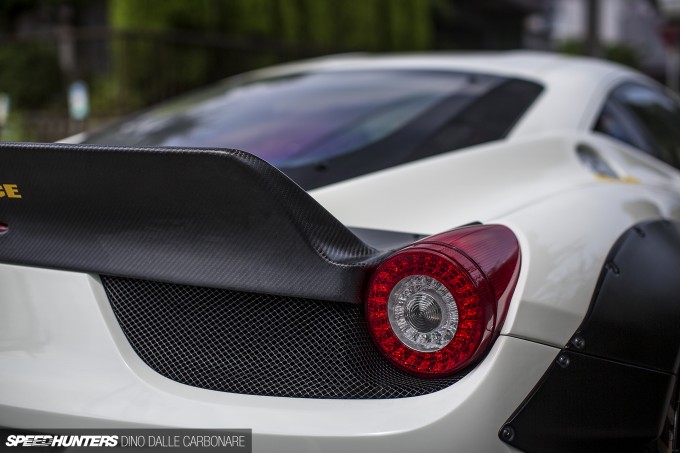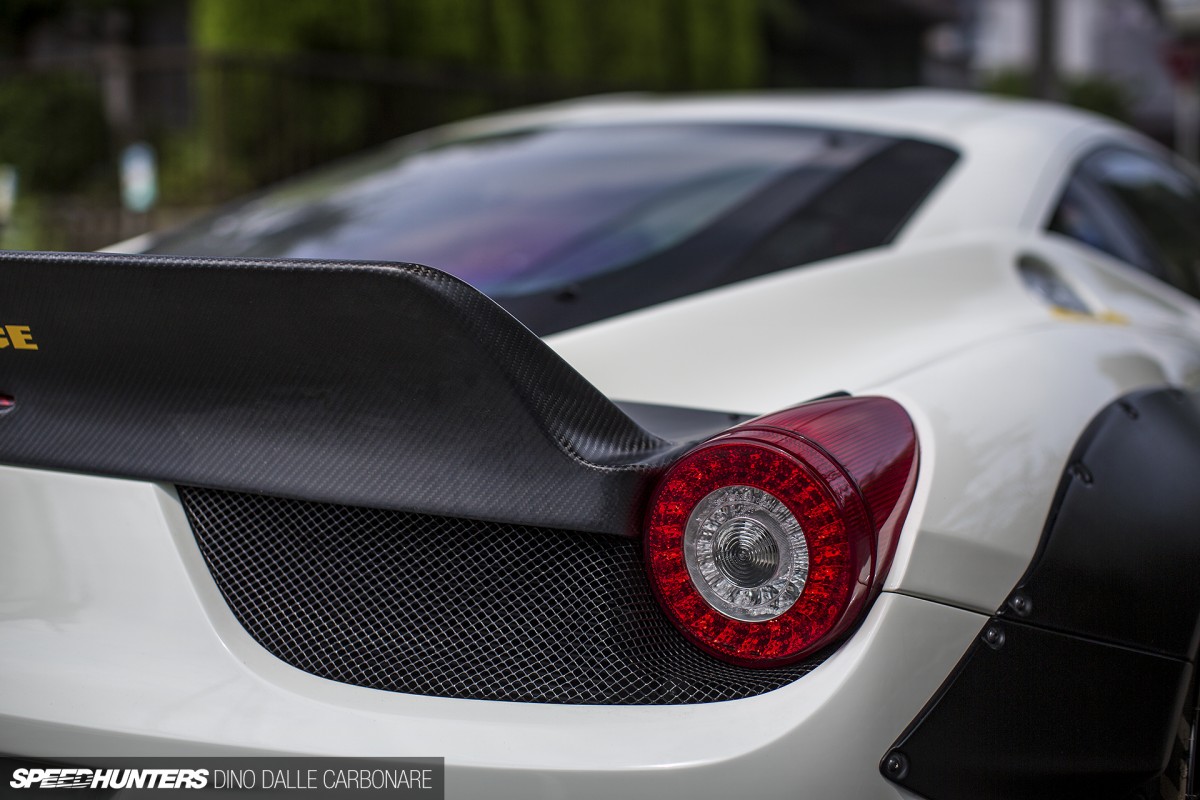 The carbon ducktail is the icing on the cake, Sure, it's probably the most blasphemous addition to the beautiful and organic-like flowing design of the 458, yet it's one that just boosts it so well. I can't believe I'm saying this, but I wouldn't change a thing.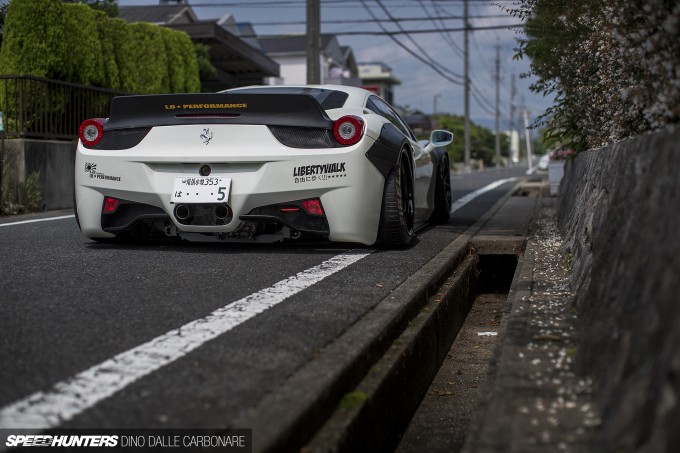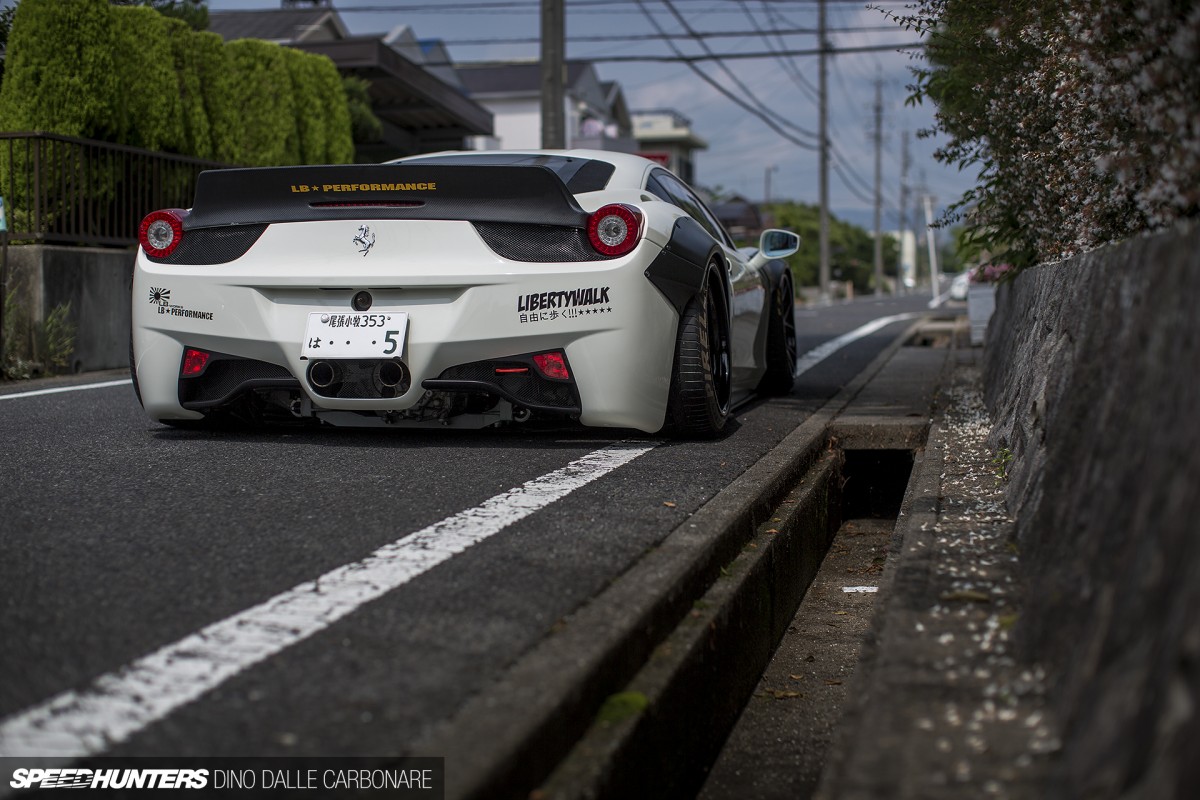 The lack of rear diffuser on the Challenge is a nice touch – it allows you to see all those oily bits that are usually hidden away, like the very end of the twin-clutch gearbox, the crossmember, and – if you get down on your knees – the suspension arms and exhausts.
The Kato Approach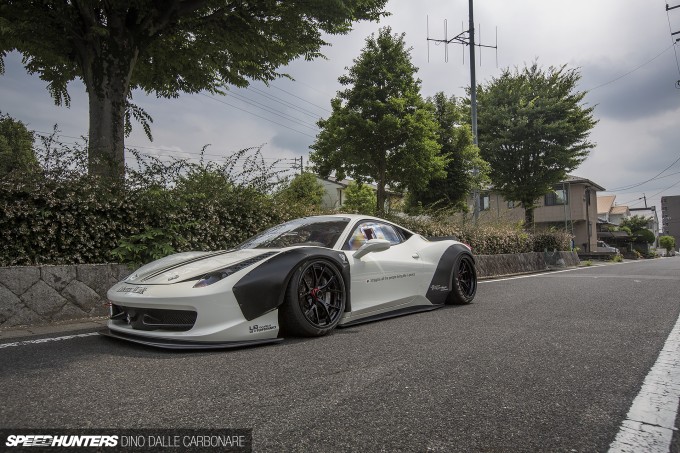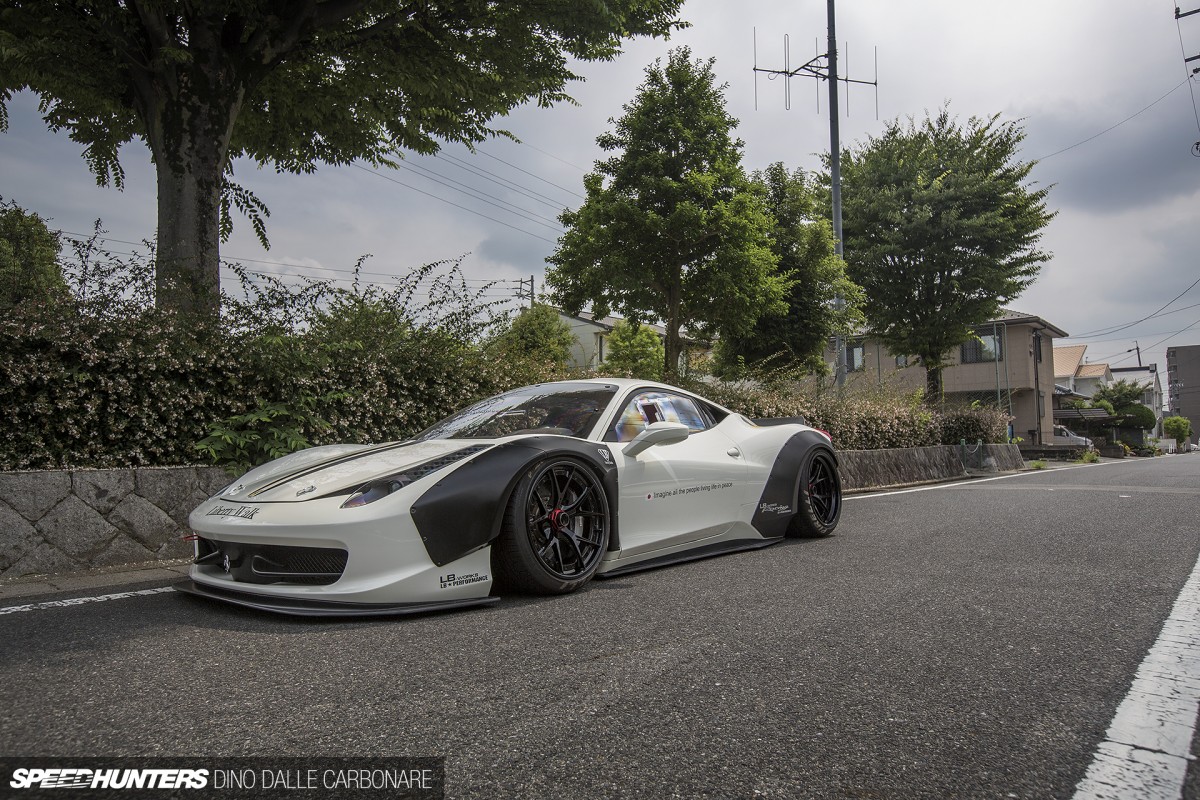 If you have ever met Kato-san, you will know that if he had to build a 458, nothing less than a road-legal Challenge would ever do. He takes everything to the max, cuts no corners, and really couldn't care less what the next guy thinks. On top of having a car that is as unique as they come, he gets to pilot a race car on the street and at the same time generate the sort of interest, publicity and exposure to his company that a traditional advertising campaign could never achieve.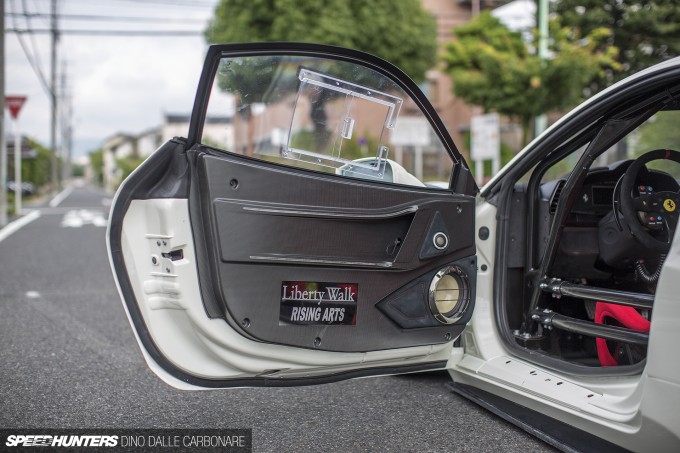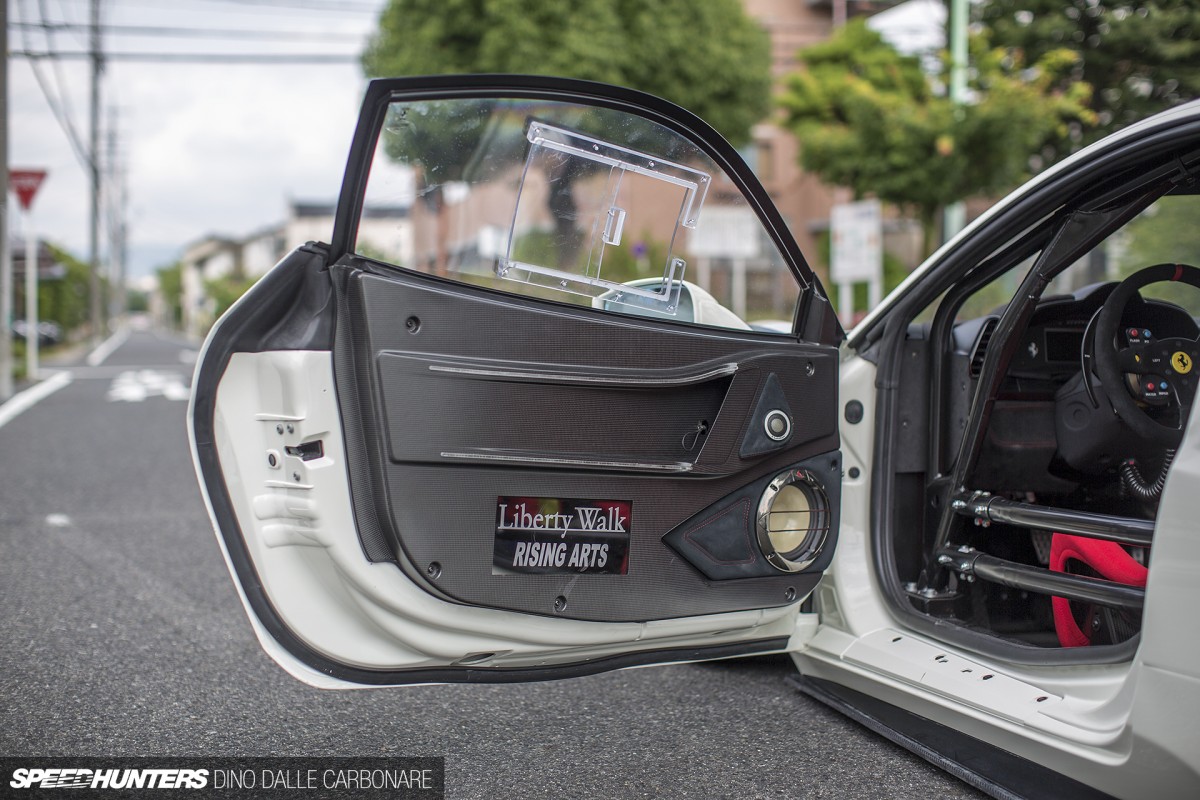 No matter what you look at on this 458, it just oozes perfection – something that extends to how the doors sound when you open and close them. To those that don't value these sort of things, the doors must feel flimsy and lacking quality. But that lovely empty sound when you shut them with a decisive thump so the latch catches properly, only emphasizes how everything with the Challenge was designed to save precious weight.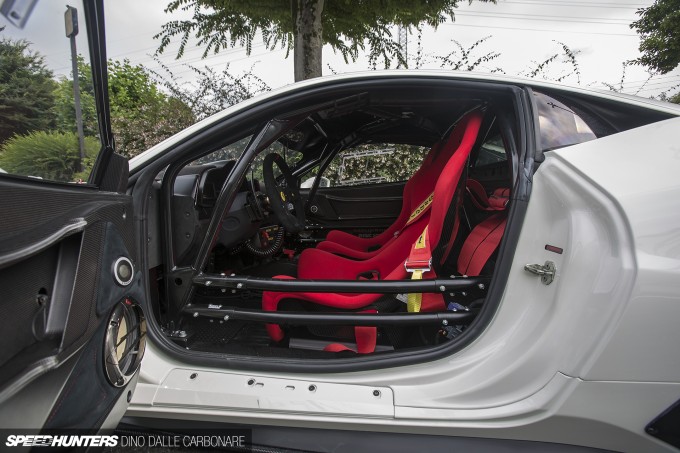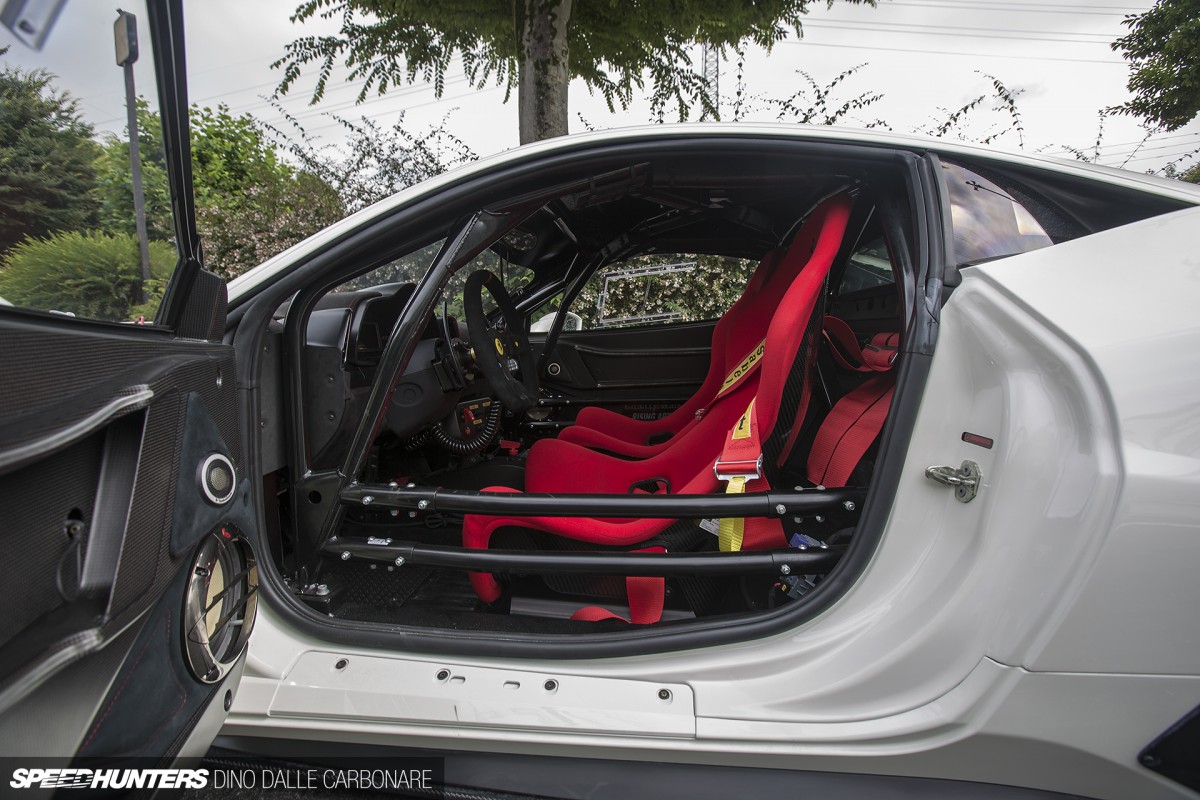 The interior, especially, is a no-frills environment. The underlying aluminium chassis is exposed due to lack of carpeting and sound deadening, and then of course there's the serious Challenge-spec rollcage that needs to be tackled before you can drop down into the highly-bolstered carbon bucket seat.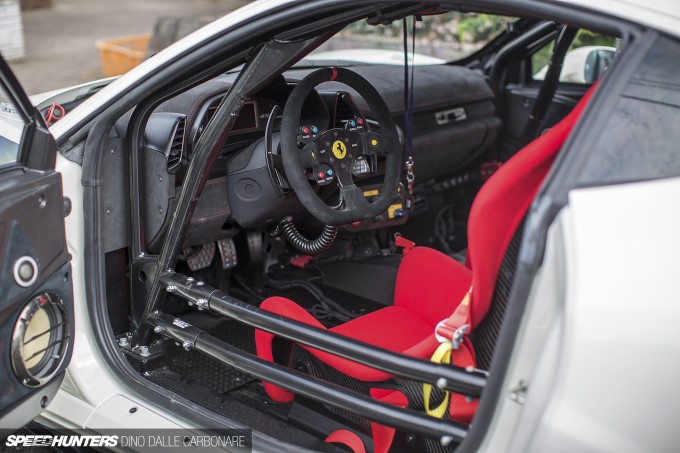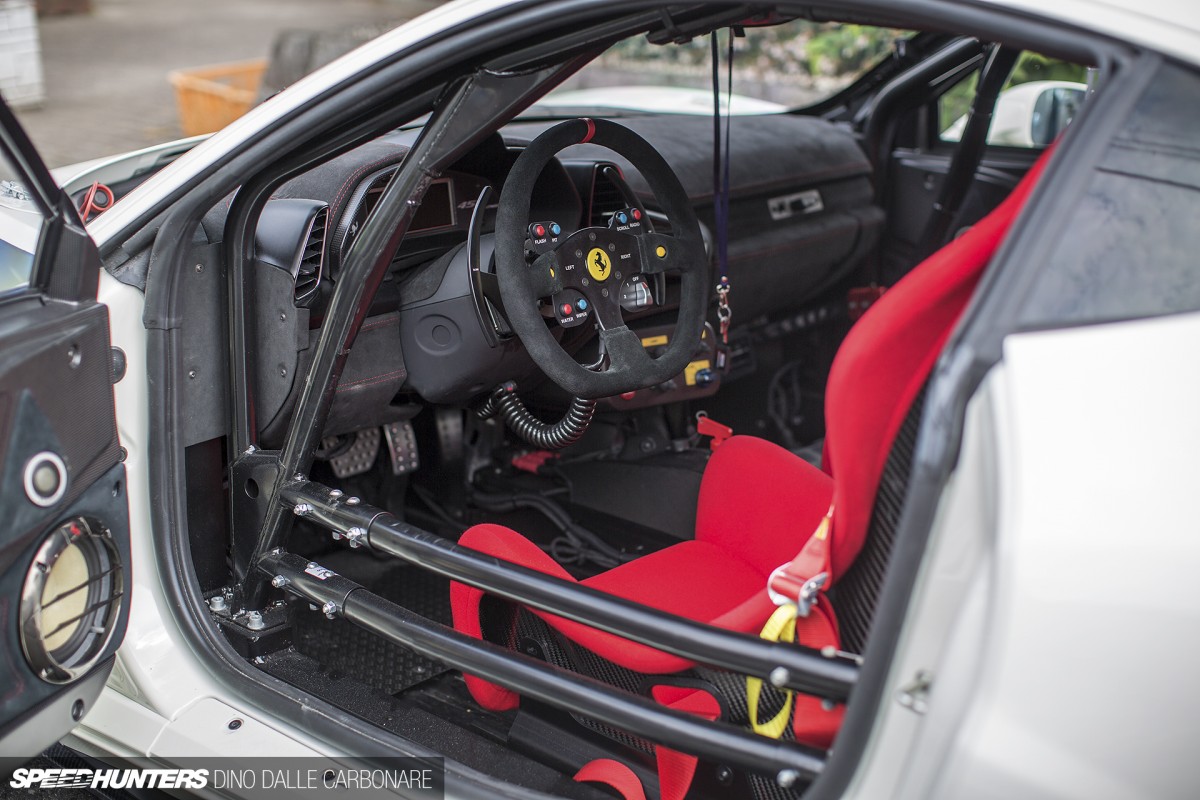 From there you have access to the suede-wrapped racing steering wheel – all the controls you need neatly arranged around the spokes on little switch panels.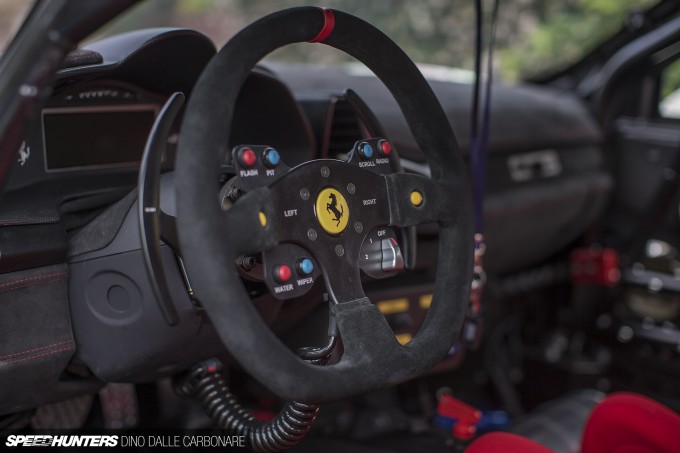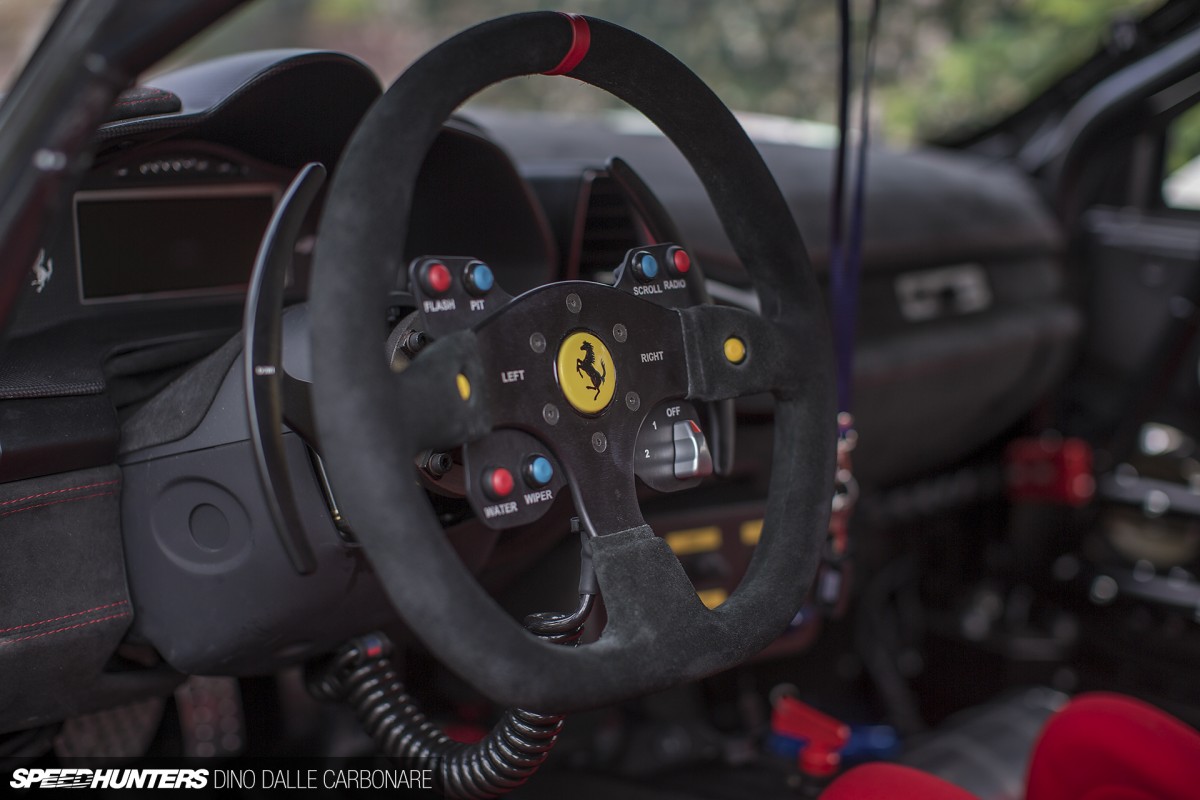 Like on the street car, you pull the right paddle to shift up a cog and the left to downshift. Except here, every actuation of the twin-clutch gearbox is made with little mechanical sympathy.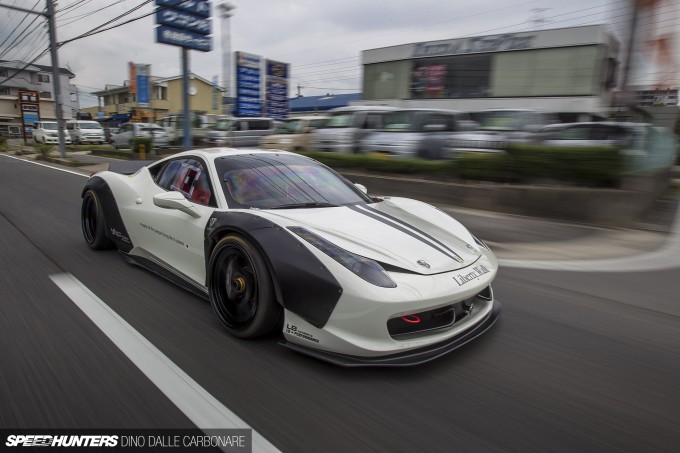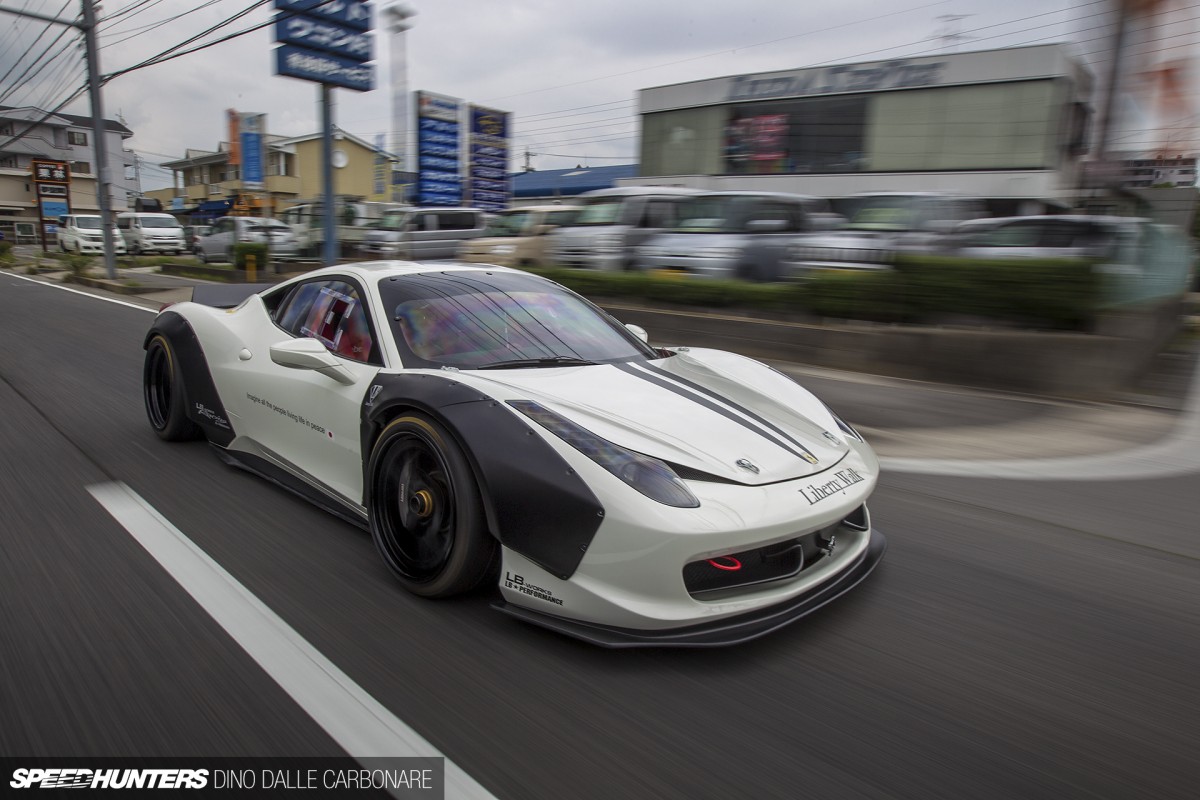 As I grabbed these driving shots I was literally grinning like an idiot; Ryo-san from Liberty Walk gunning through the gears as we tried to gather up speed. Downshifts are the best though and could be compared to a mix of thunder and explosions, and are usually followed by a series of pops and crackles from the exhaust. This is by far the most aggressive and in-your-face sounding machine I have ever shot car-to-car with!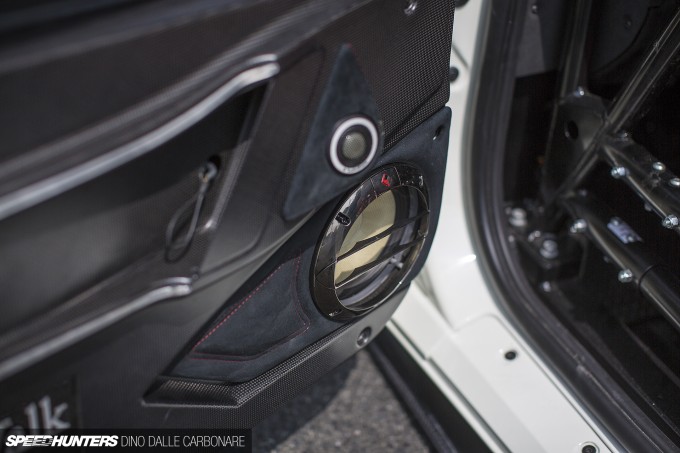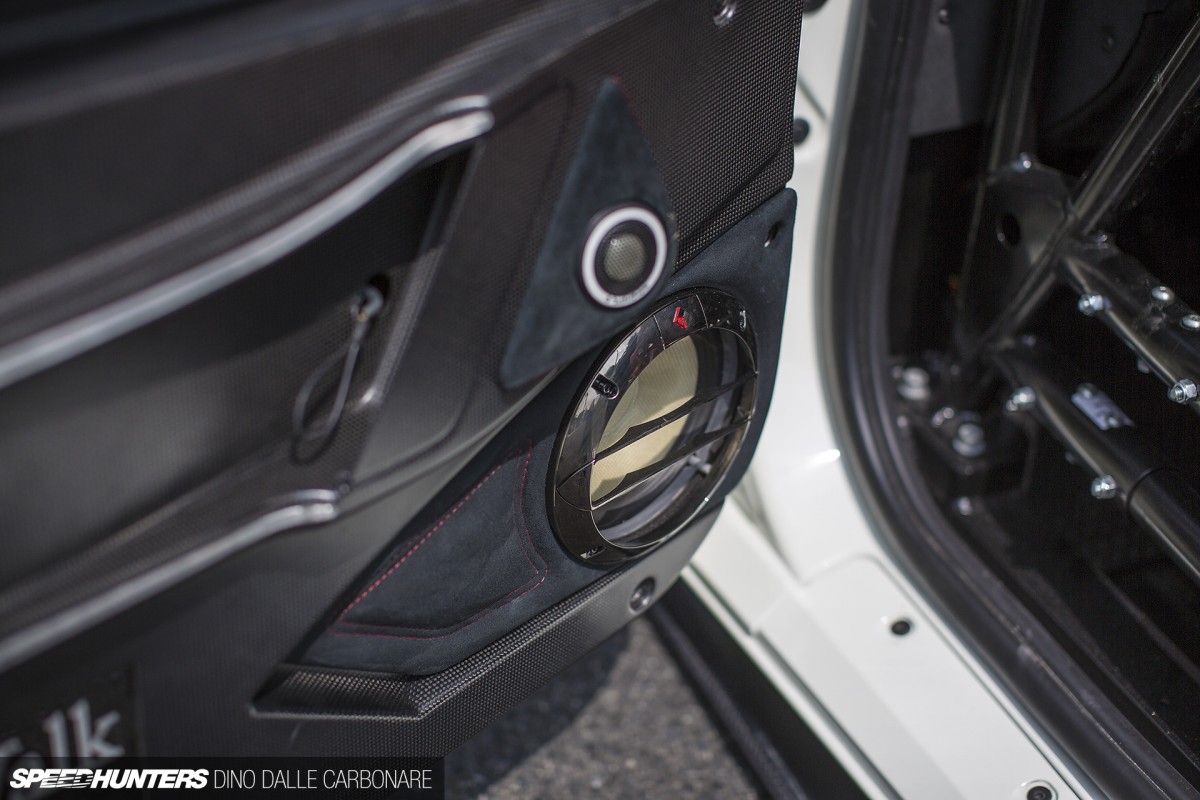 Which kind of begs the question, why did Kato fit a sound system and speakers? Because he can, that's why. And that's all you need to know!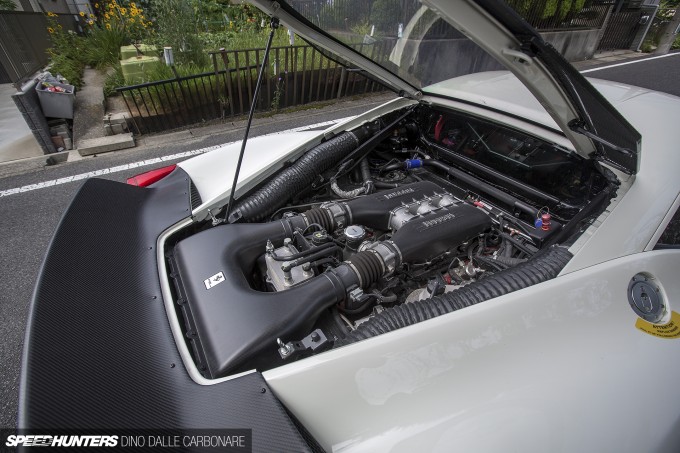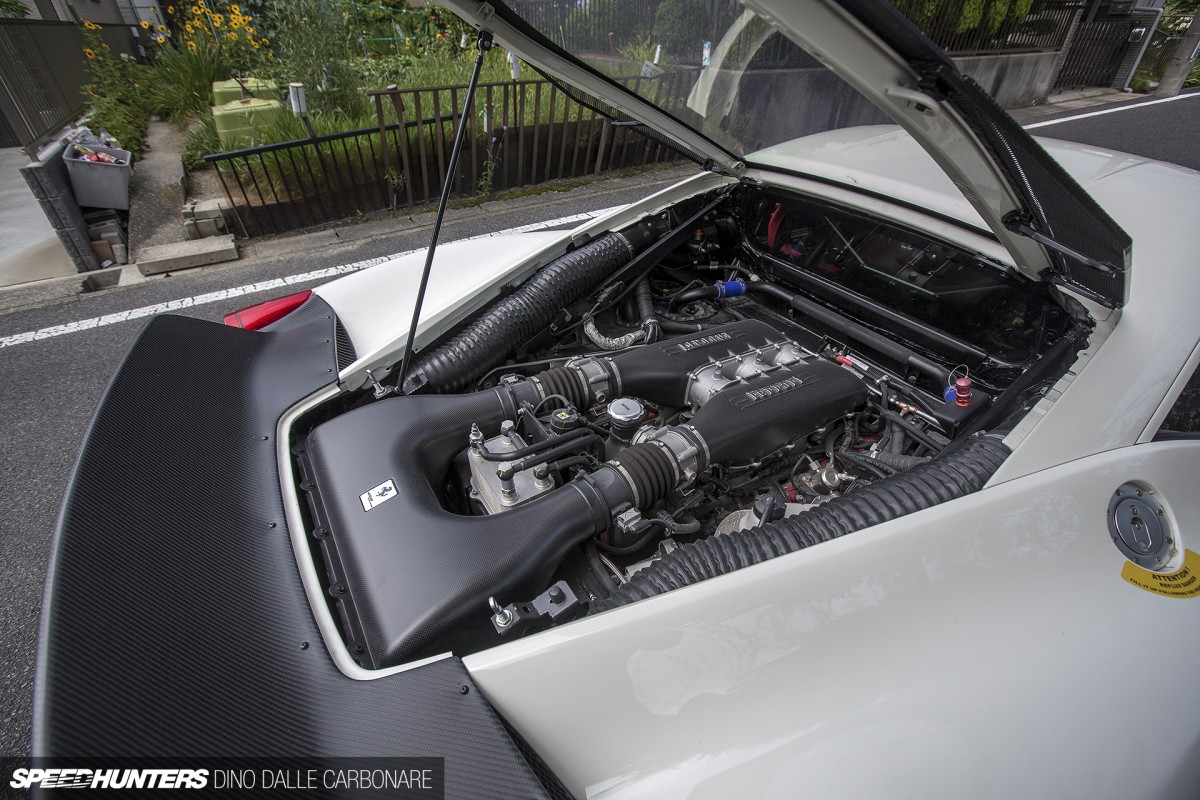 Getting back to the performance side of things, there isn't that much to say about the engine. It develops the same 570hp that the street car does and sounds absolutely glorious doing so.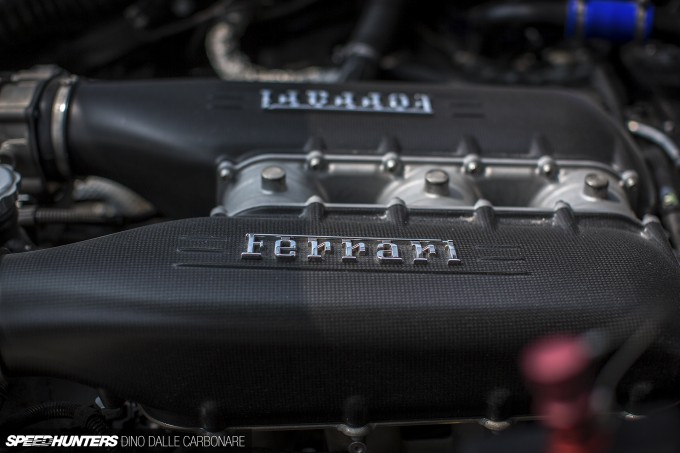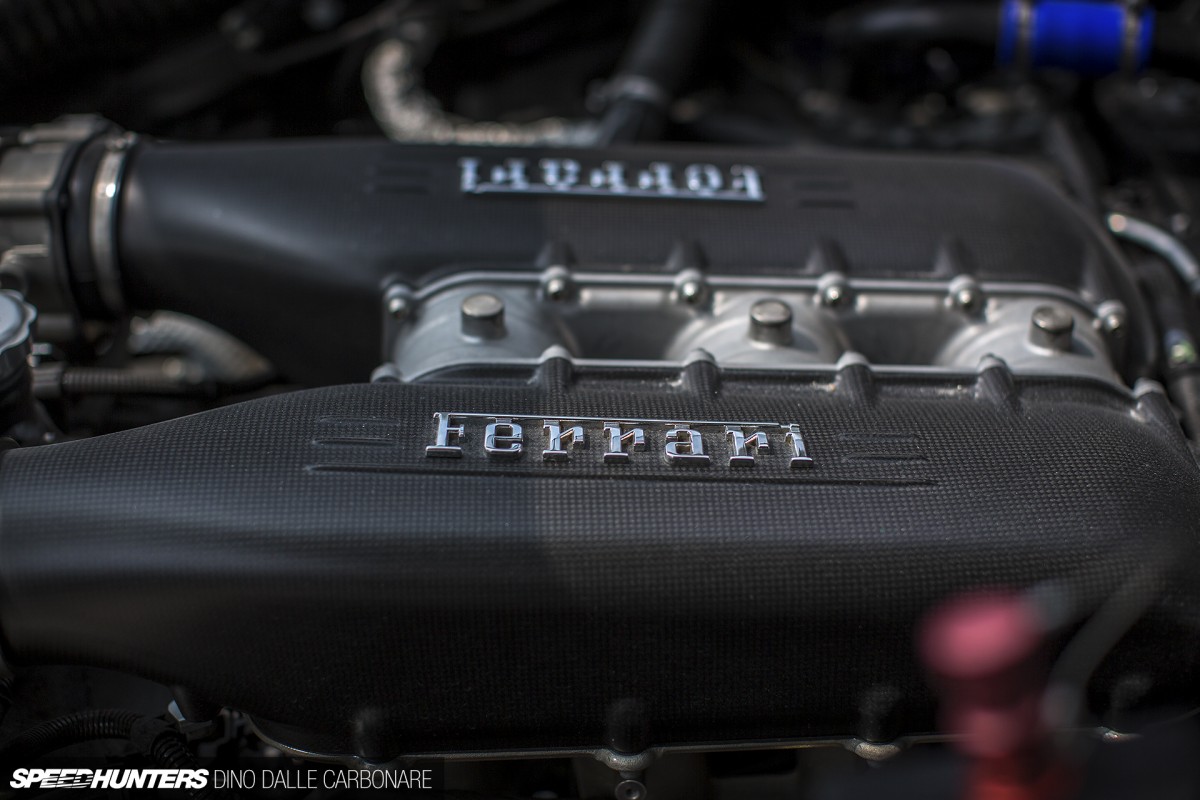 More weight saving measures stretch to the intake plenum, which is made from carbon fiber rather than cast aluminium to shave precious grams.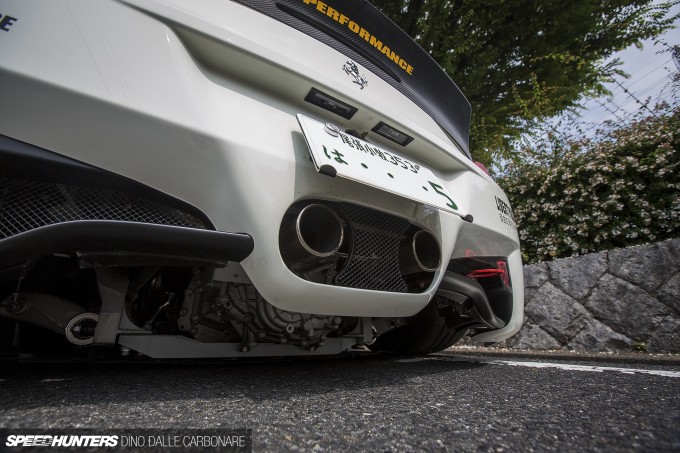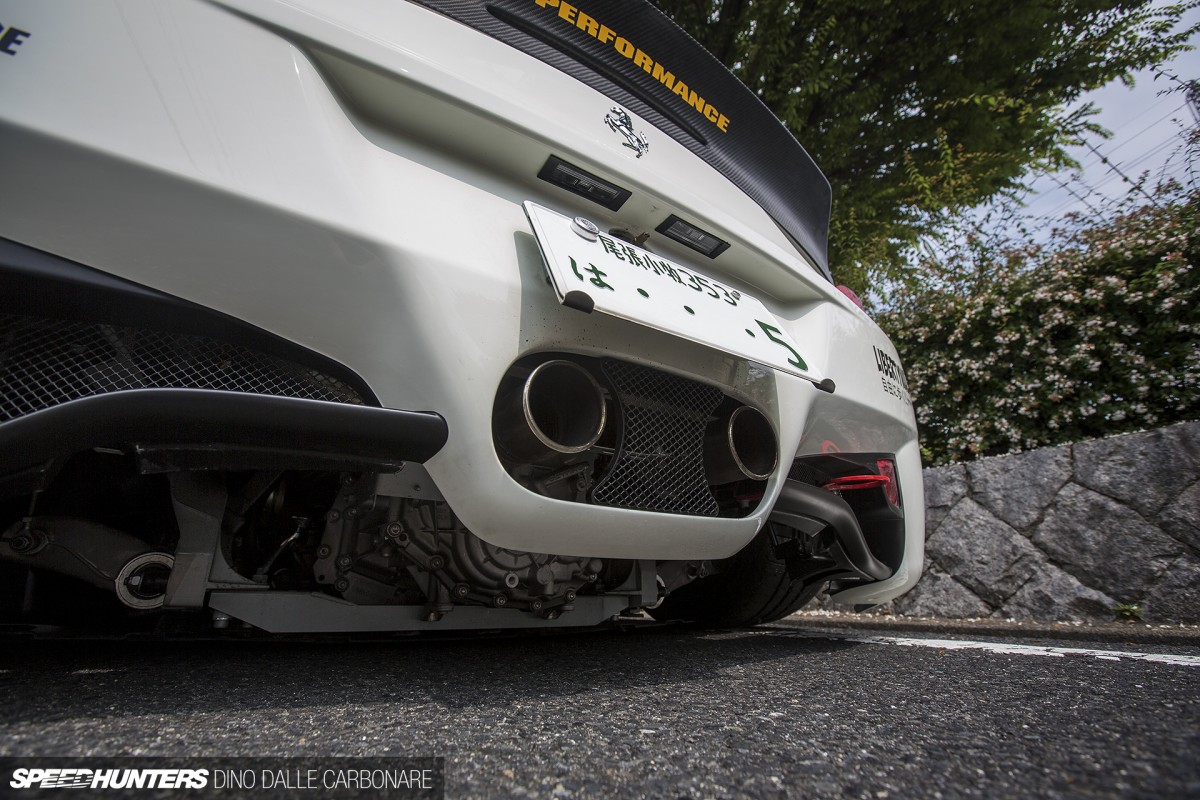 Upskirt shot? Of course – it's an awesome angle to check out what the lack of the rear diffuser allows you to see. What is different here is the exhaust – a two-pipe set up rather than the triple unit the street version uses, and lacking pretty much any sort of silencing – which is just how you would want it, right?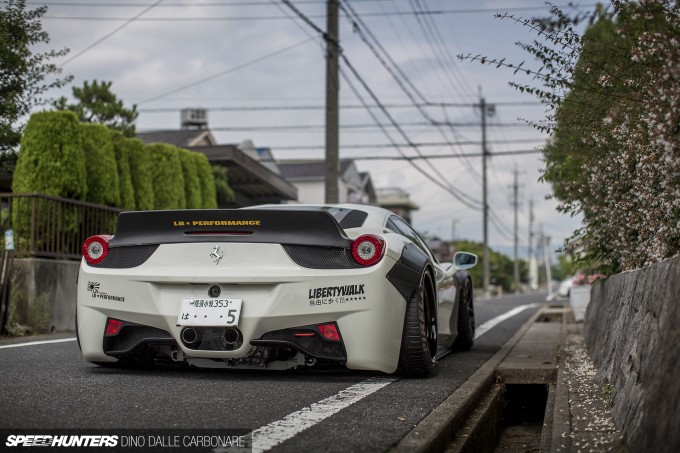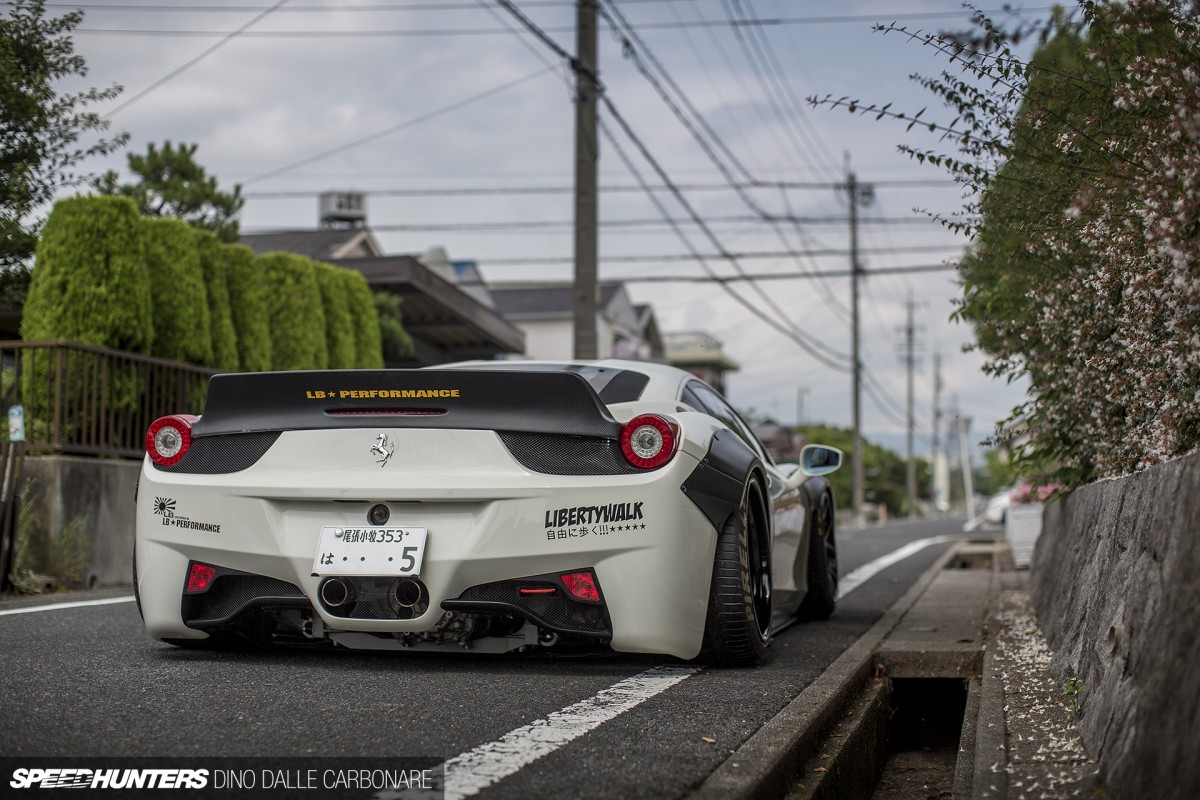 So, have I upset a lot of you by showing you this 458? Good – Kato-san must be happy because that's the whole point of cars like these. They exist to make a statement and give you something to talk about. After seeing the base car in its unspoiled, untouched glory last year, I admit I was initially shocked when I came face-to-face with the finished product. But how could I possibly not like it?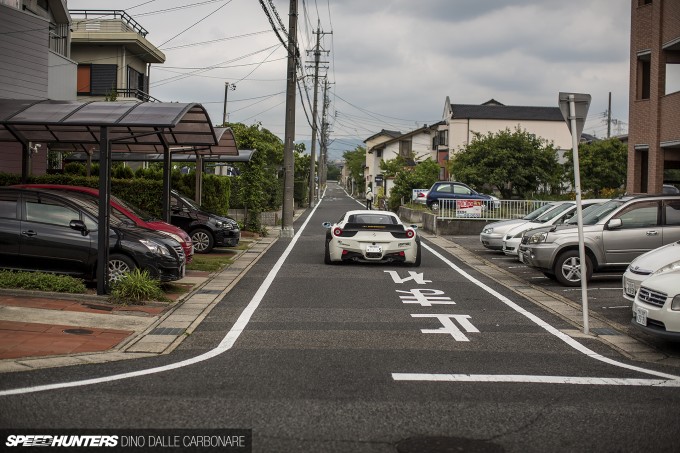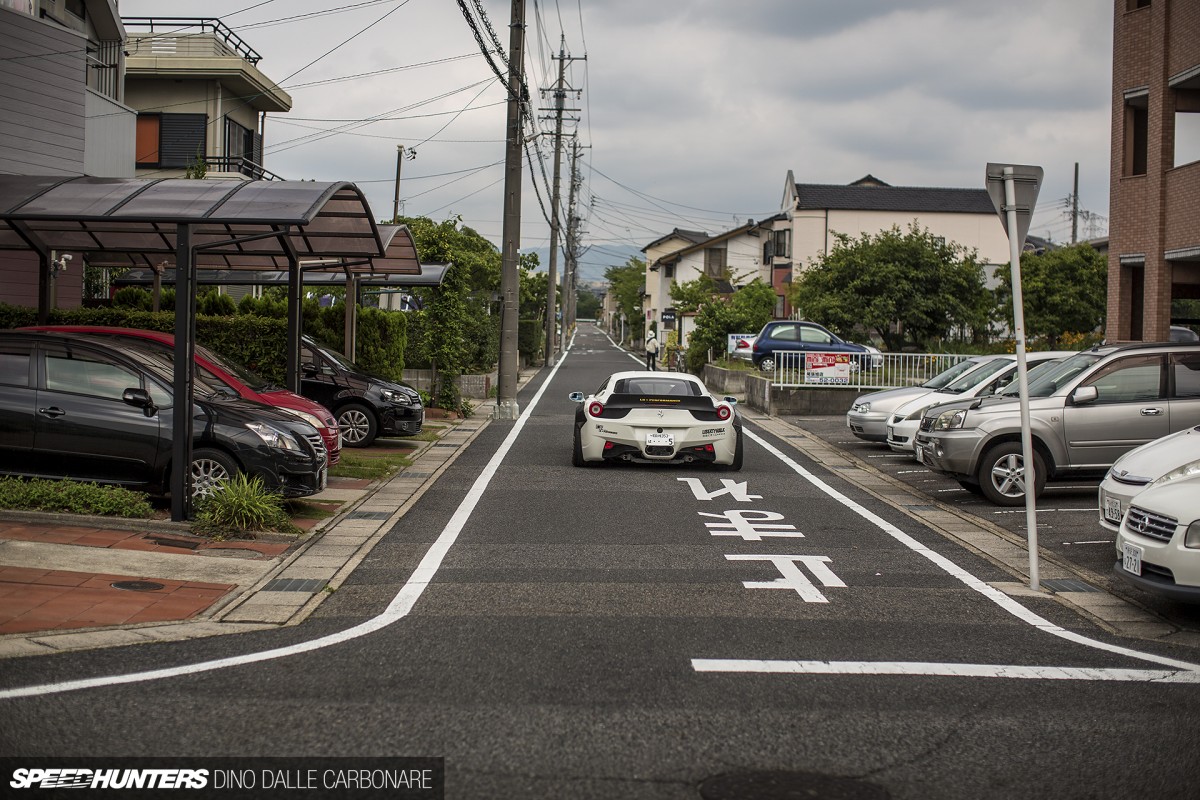 It's cars like these that push boundaries and move the tuning scene along. I mean, it's been almost a year since the 2013 SEMA Show and the LB☆WORKS 458 continues to captivate our minds. I just can't wait to see what Kato will have for us at SEMA this year!
Dino Dalle Carbonare
Instagram: speedhunters_dino
dino@speedhunters.com