Newer & Better
Elizabeth White: Surprising. That is the word that best describes my many experiences with the Lamborghini Huracán. I had my first look at the new Huracán at the Geneva International Auto Show at its debut under the bright lights amongst the masses. Actually, I was first shocked when my eyes laid upon the shield in Geneva. The golden bull was staring me down and all I could do was smile and show my respect. My second experience was at the Amelia Island Concours where I got more up close and personal with a small group. The third time was a charm when I found myself behind the wheel and drove 17-Mile Drive in Monterey – the bright white and shiny vehicle was nothing short of intriguing.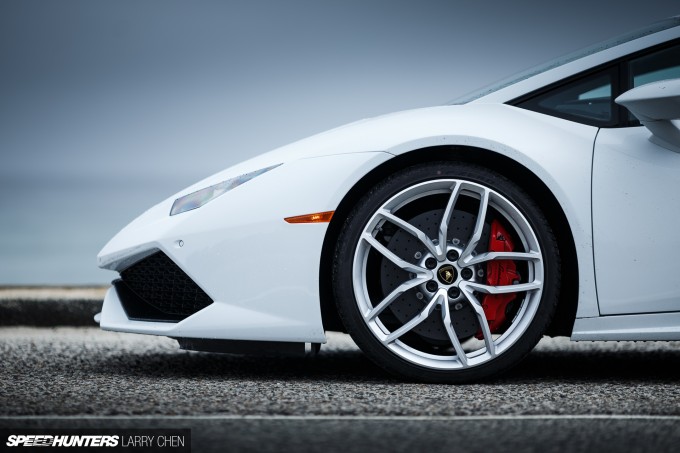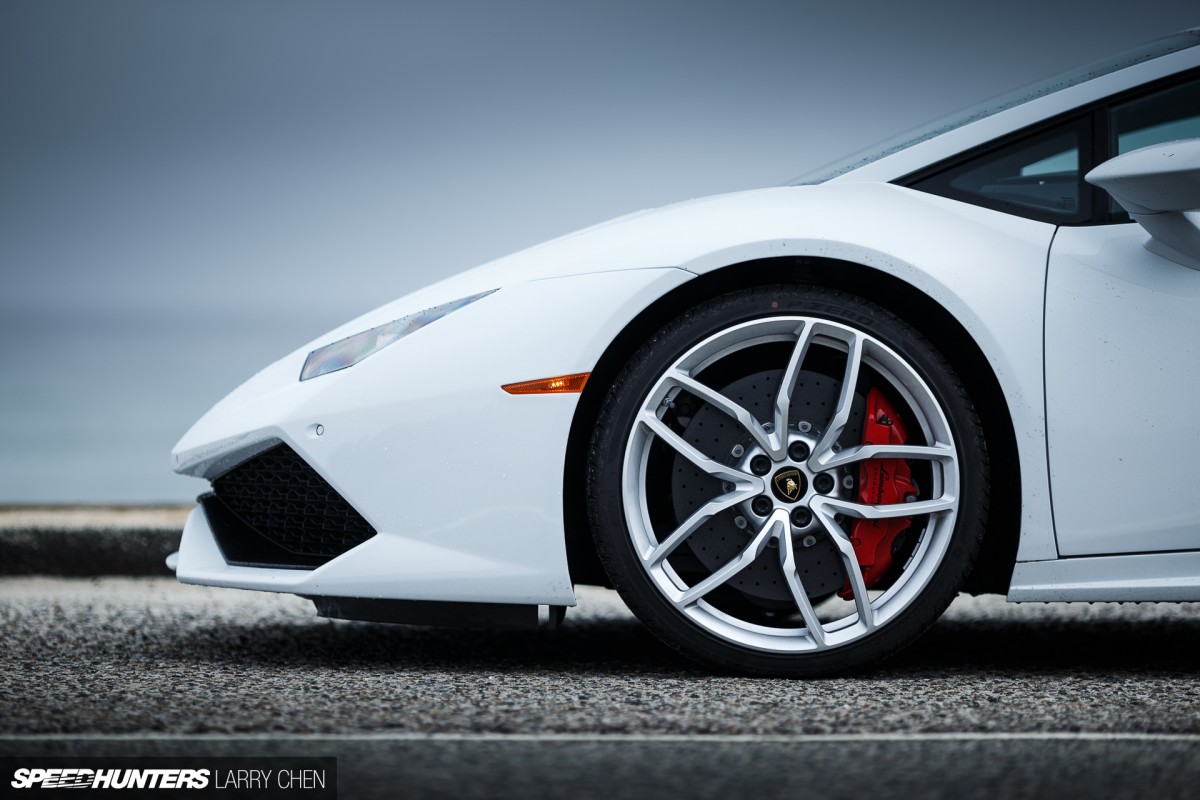 Rod Chong: So here we have a new kid on the block, the all-singing, all-dancing Lamborghini Huracán. This is the Ferrari 458 fighter, the opponent to the McLaren 650S. It's a machine which Lamborghini no doubt has high expectations of, given what a great seller the Gallardo's been.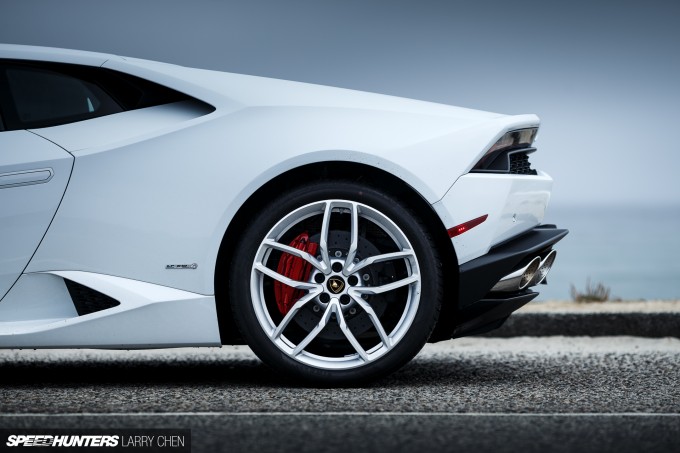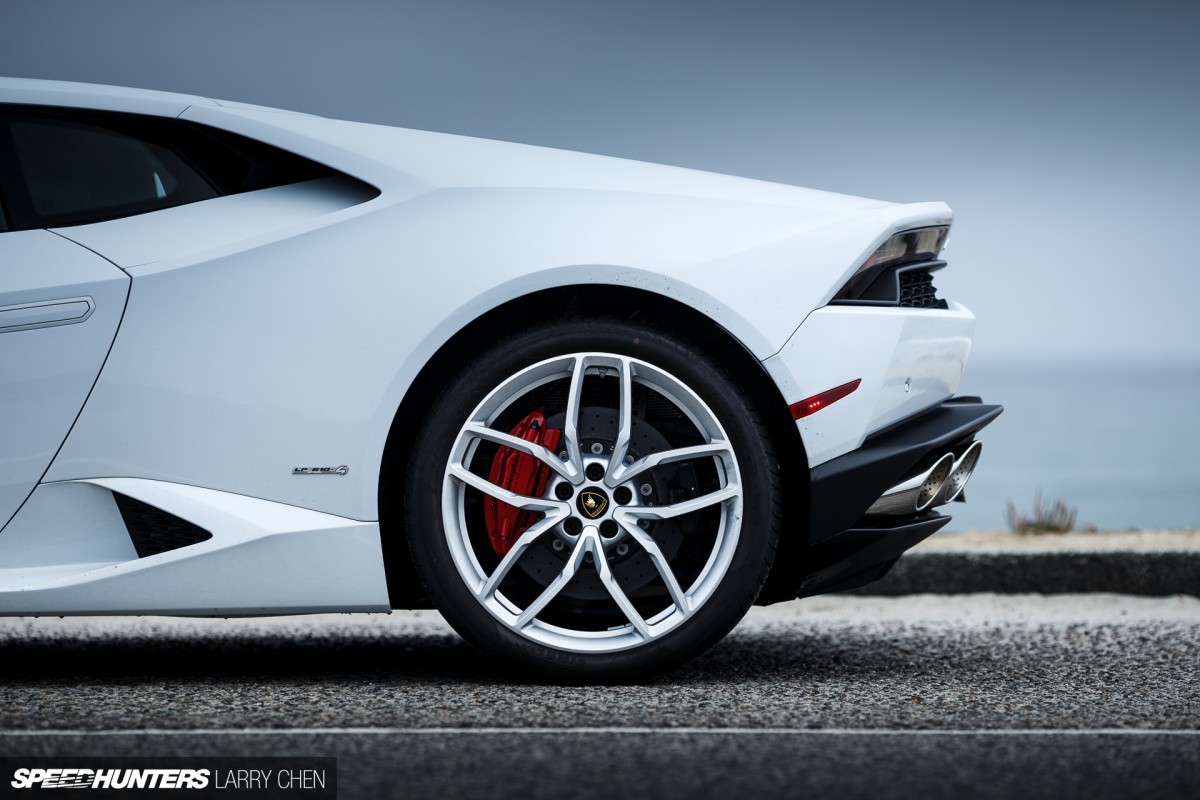 Elizabeth: The shape is lithe and sleek – more runway model than centerfold, quietly confident as opposed to the overly exuberant statement of past Lamborghini models. As Monterey approached, my anticipation grew as I knew that together with Rod I'd be taking it out for a test drive.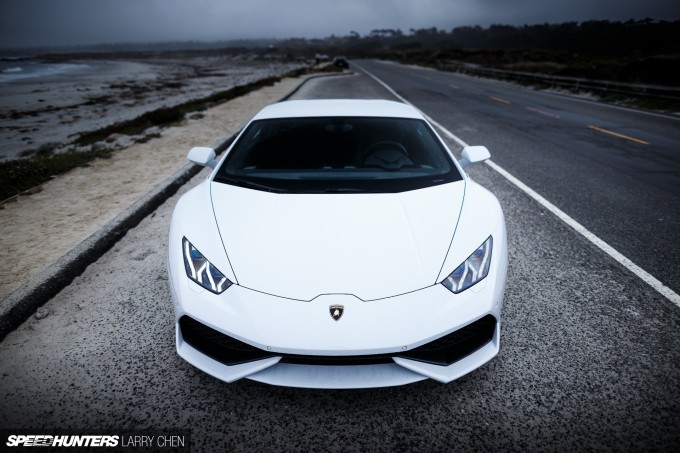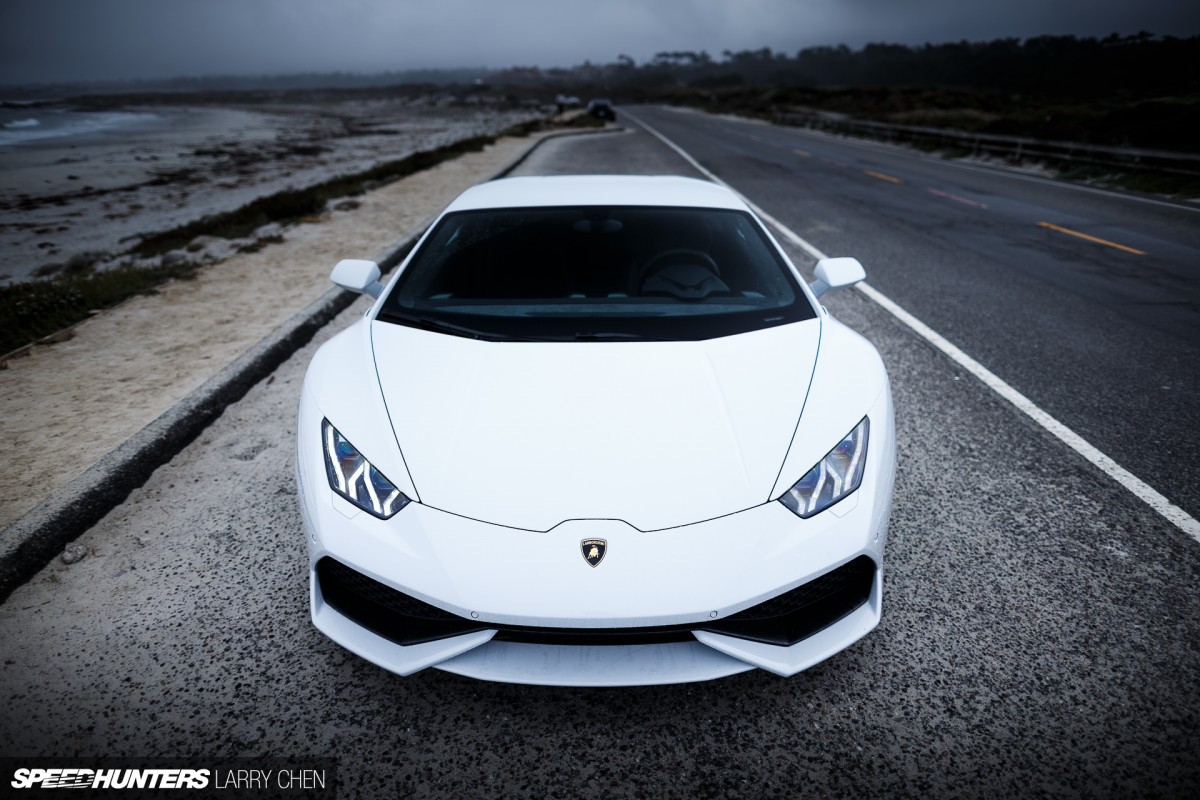 Rod: So Elizabeth and I have decided to collaborate on this article, sharing our impressions of a cool morning in Northern California spent with the new baby Lambo.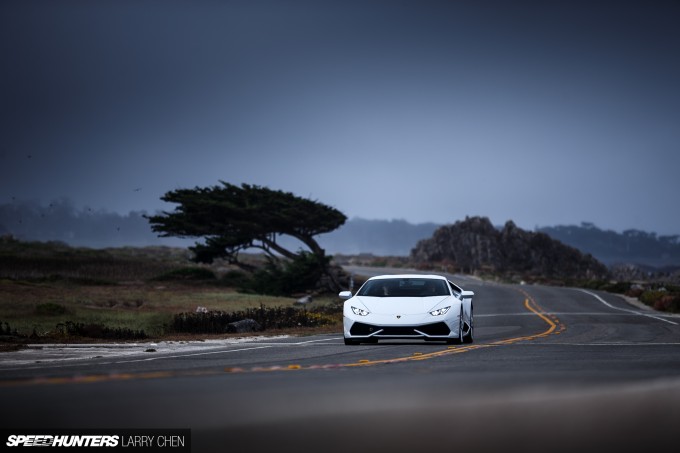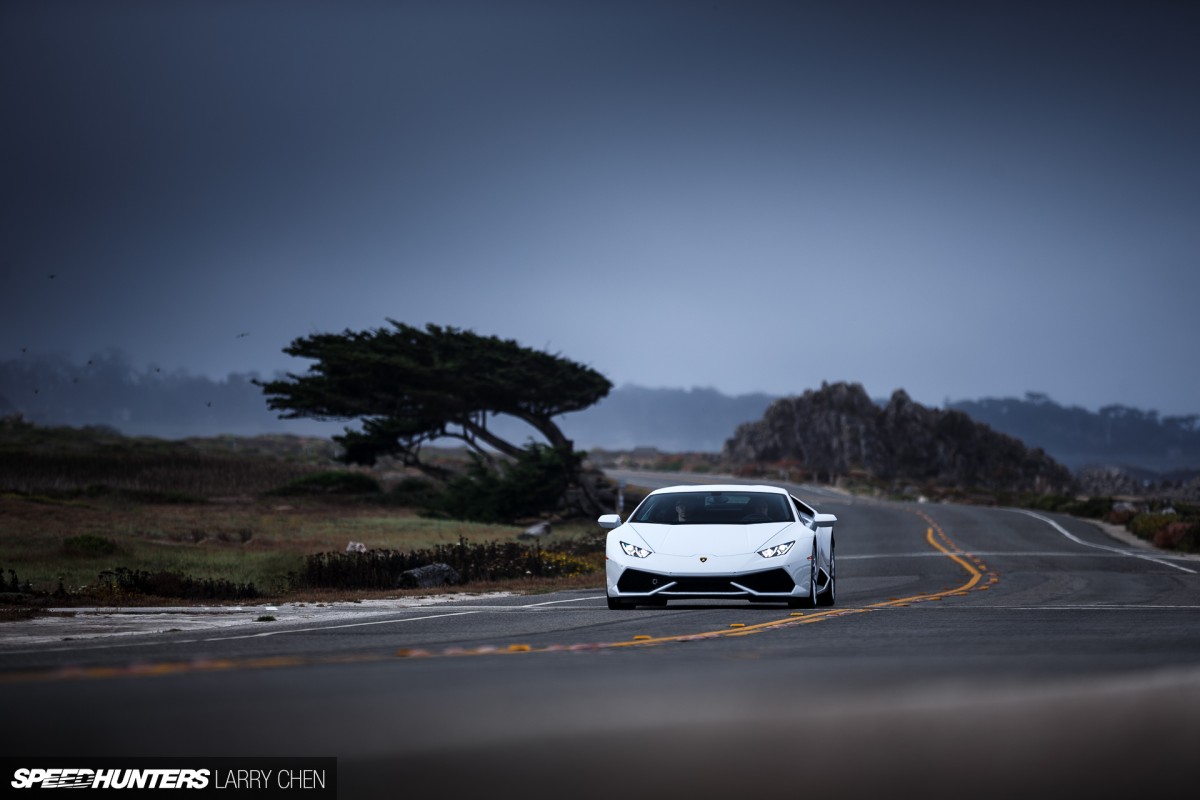 Rod: I'd driven both the Aventador and Gallardo previously and had differing critiques of both cars. The Aventador is a big imposing machine on the outside and the inside too. That is, it never lets you forget that you are but a guest inside of its large, expansive chassis. It's the type of car which looks amazing on the outside, but inside you have to be on high alert at all times.
And then there's the transmission. With a single-clutch, semi-automatic gearbox, the basic experience of an Aventador is pretty raw and rough. Long-term owners of these cars may have a differing opinion to me, but I never really enjoyed driving it. It was just too big and too rough an experience for me to ever feel one with the chassis and get that #JoyOfMachine feeling going.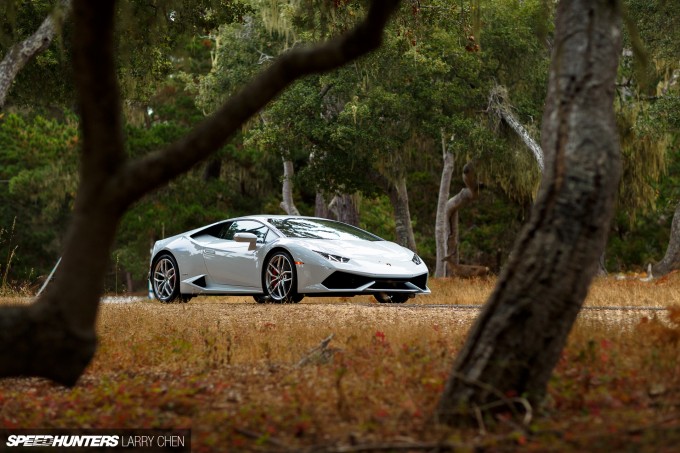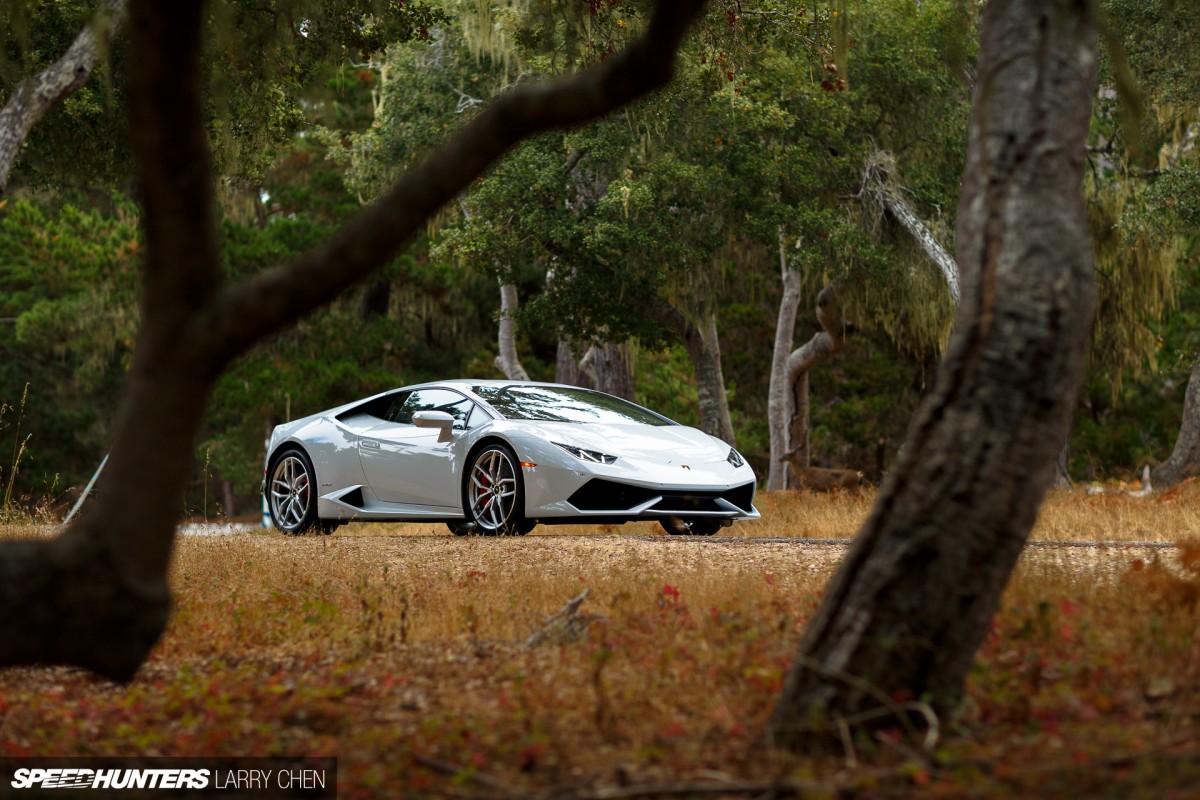 Rod: When I sampled the Gallardo a few years ago it was already a pretty old design. Sure, it still carried the design inspiration of the Lamborghini brand, but having been around since 2003 it had become outdated by this time.
So I headed into this drive hoping that I would be treated to a fresh new experience; a leap into the future for Lamborghini.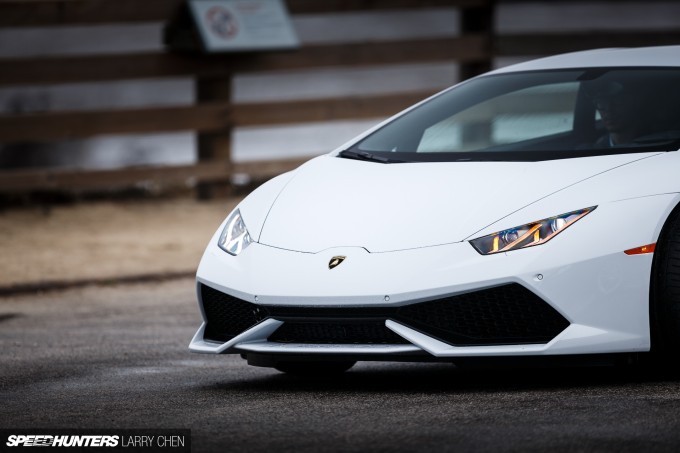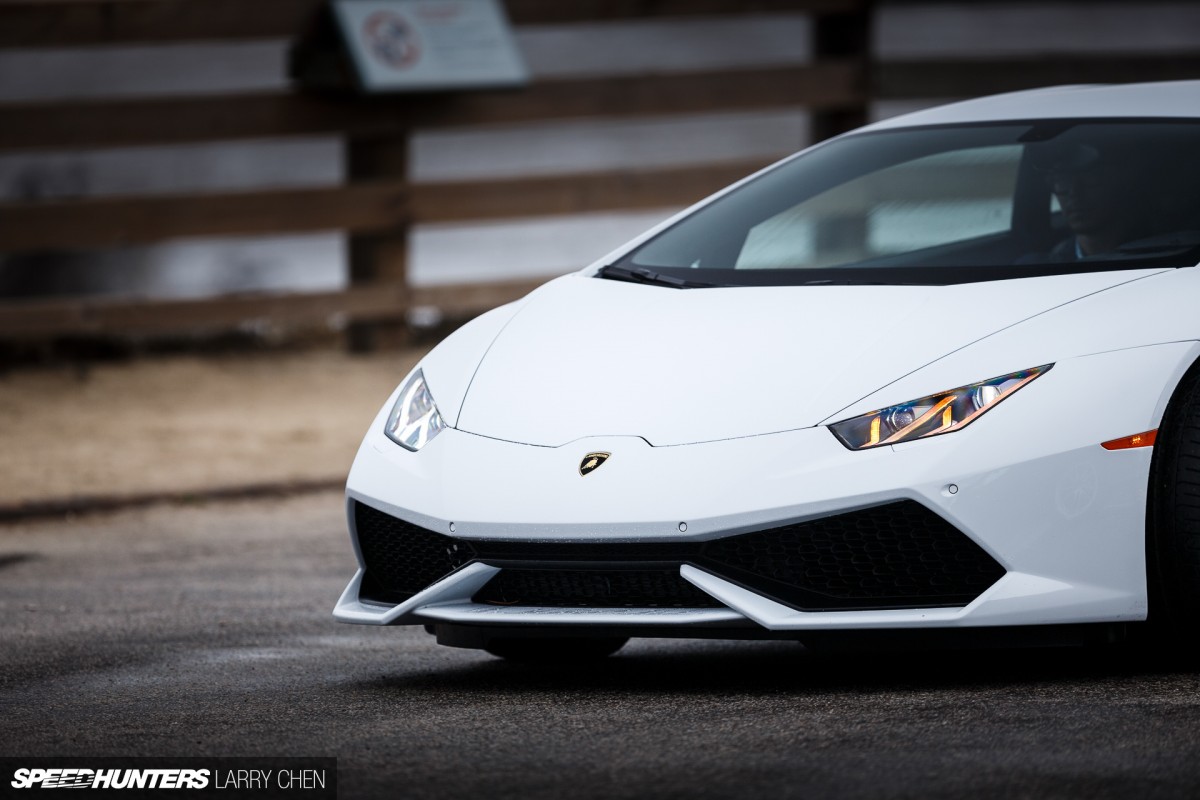 Elizabeth: I hate comparing cars because each has their own character, strengths and weaknesses. This is why there are so many makes and models – something for everyone. Italian, German, Swedish; eight cylinders, 10, 12, 16; naturally aspirated, forced induction, turbocharged; mid-engine, rear-engine, front-engine; all-wheel drive and two-wheel drive variants. Anything you want, you can have – at a price.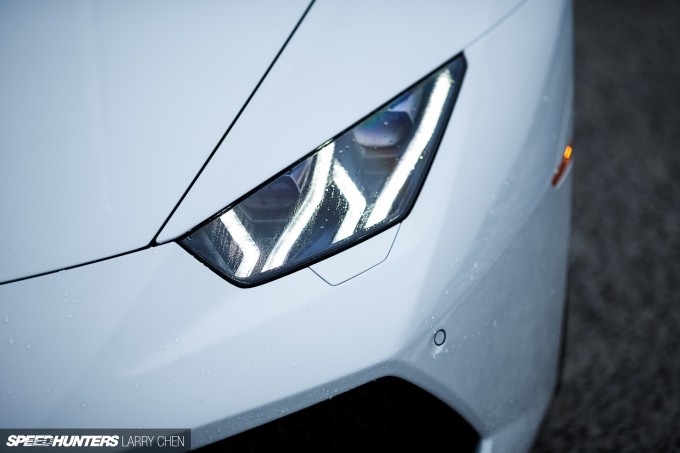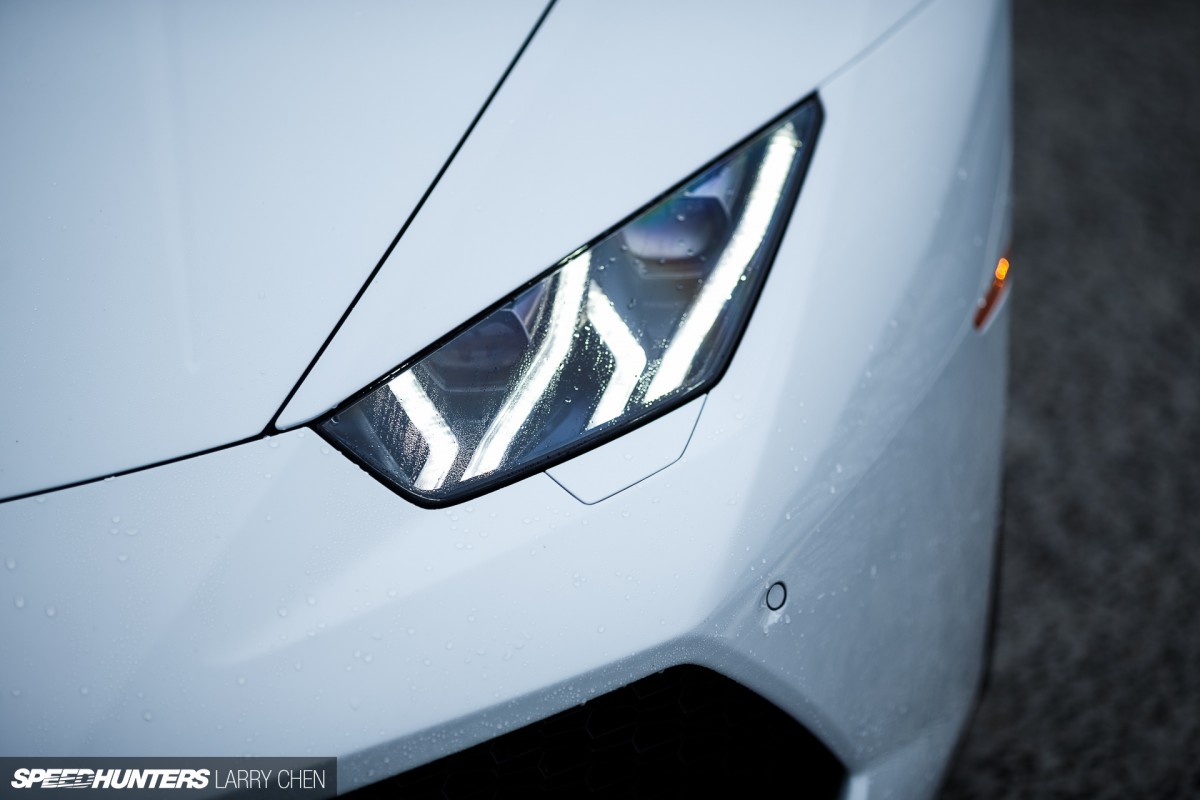 Elizabeth: Any day in any supercar is a great day. They can be compromising, uncomfortable and loud. But they are fast, provocative, and adrenaline infused. Each new model pushes the limits further – more top-end speed, instinctive technology, increased aero, higher horsepower, lighter weight, lower lap times, better handling and, yes – easier to live with. I love my job and to bring the audience new experiences in pure automotive enjoyment is what we strive for.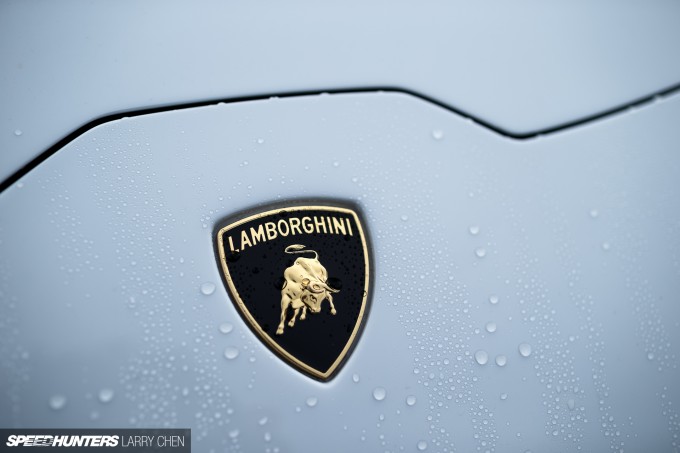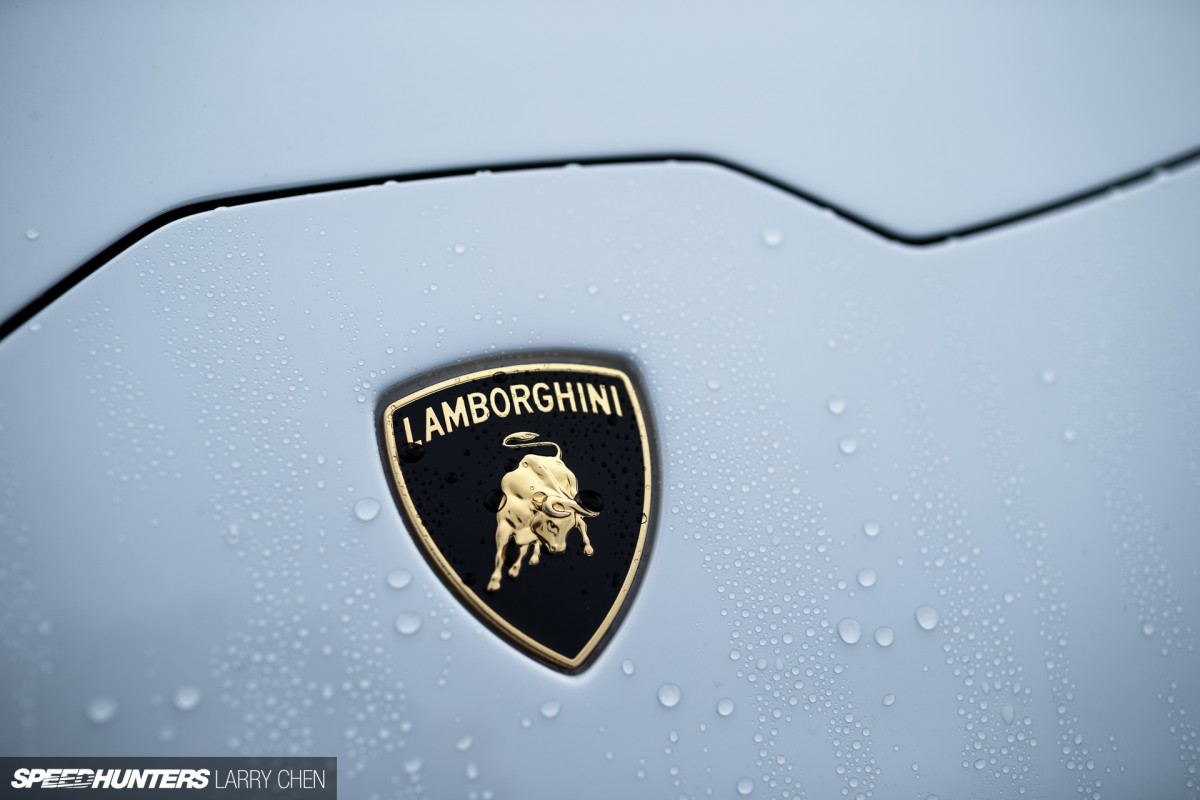 Rod: Upon first glance we can see the design language of the car draws some comparison with the Darth Vader styling of the Aventador and the Reventón before it.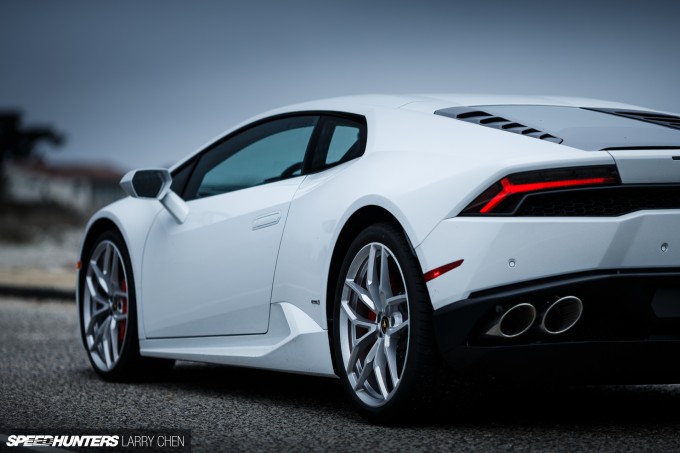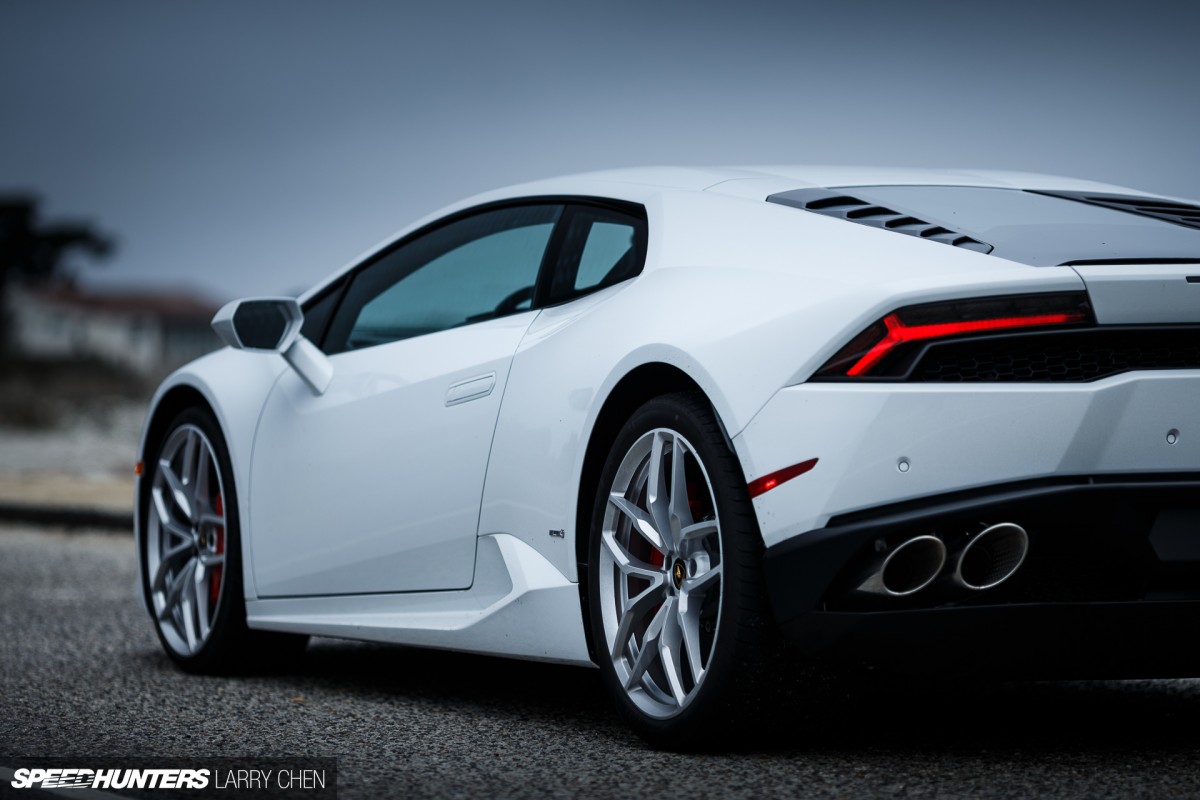 Rod: Mmmm… looks amazing. I'm glad to see that Lamborghini haven't gone completely overboard with the styling here. If you think about it, they could have gone all Veneno on us and made this look like a Japanese fighting robot – you know, the look of a supercar which has been designed by a 12-year-old boy. Not so here.
Elizabeth: The styling by Filippo Perini, Head of Design at Automobile Lamborghini SPA, could never be considered tame. Sure, he penned the Aventador, but this car has a totally different approach with family DNA. It expresses a familiar but new design elements – clean surfaces and precise lines.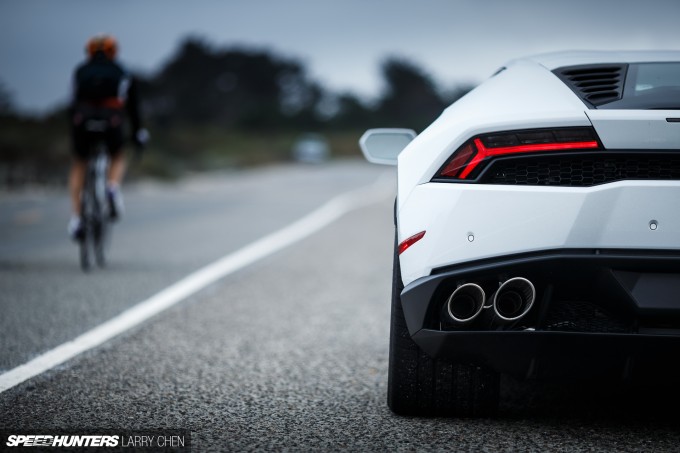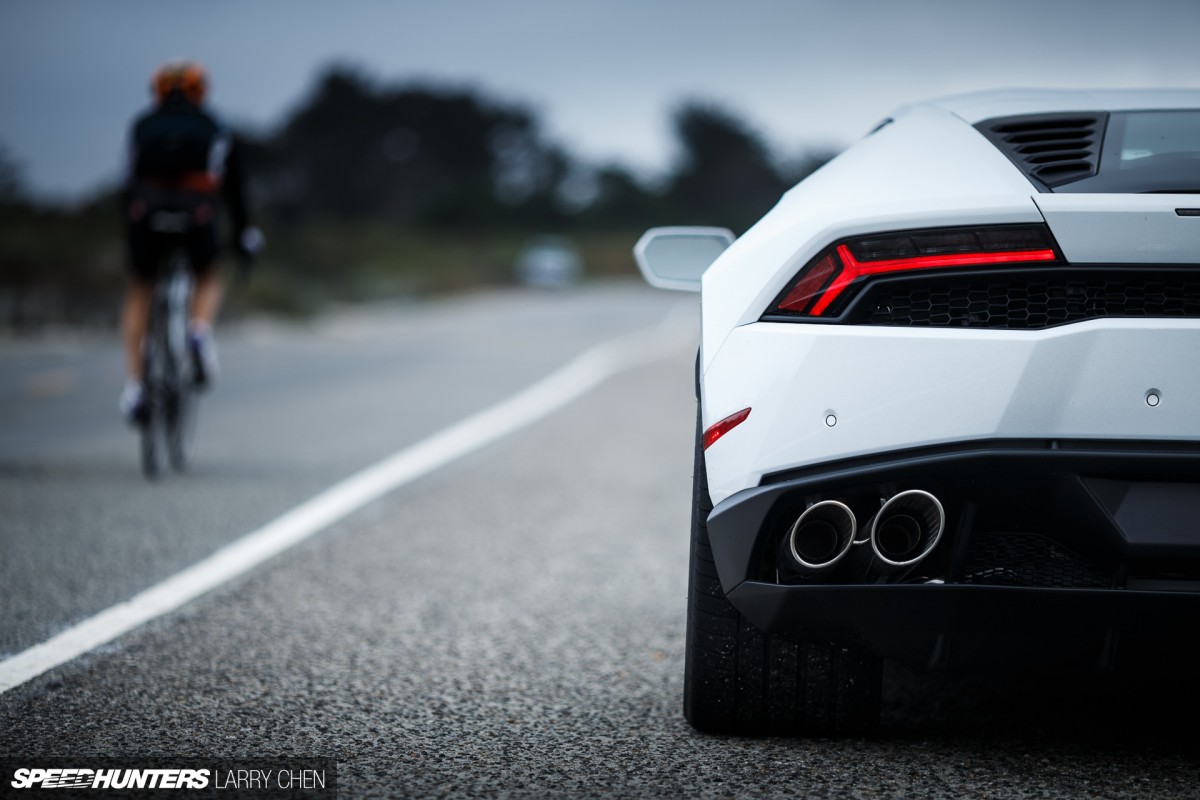 Rod: There is a subtlety to this design. I might even go as far to call it restrained. At least in Lamborghini terms…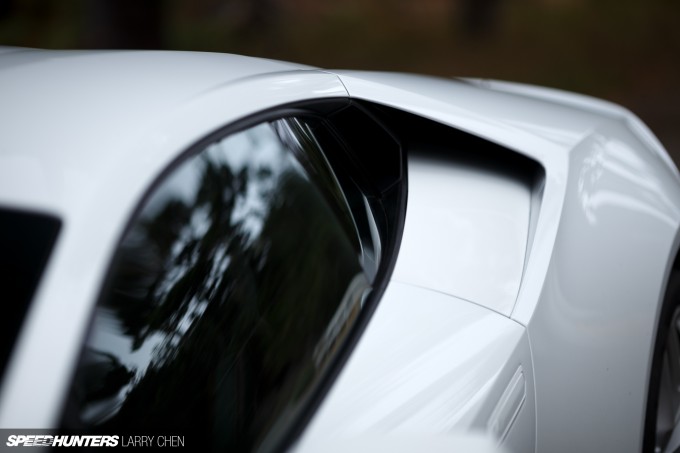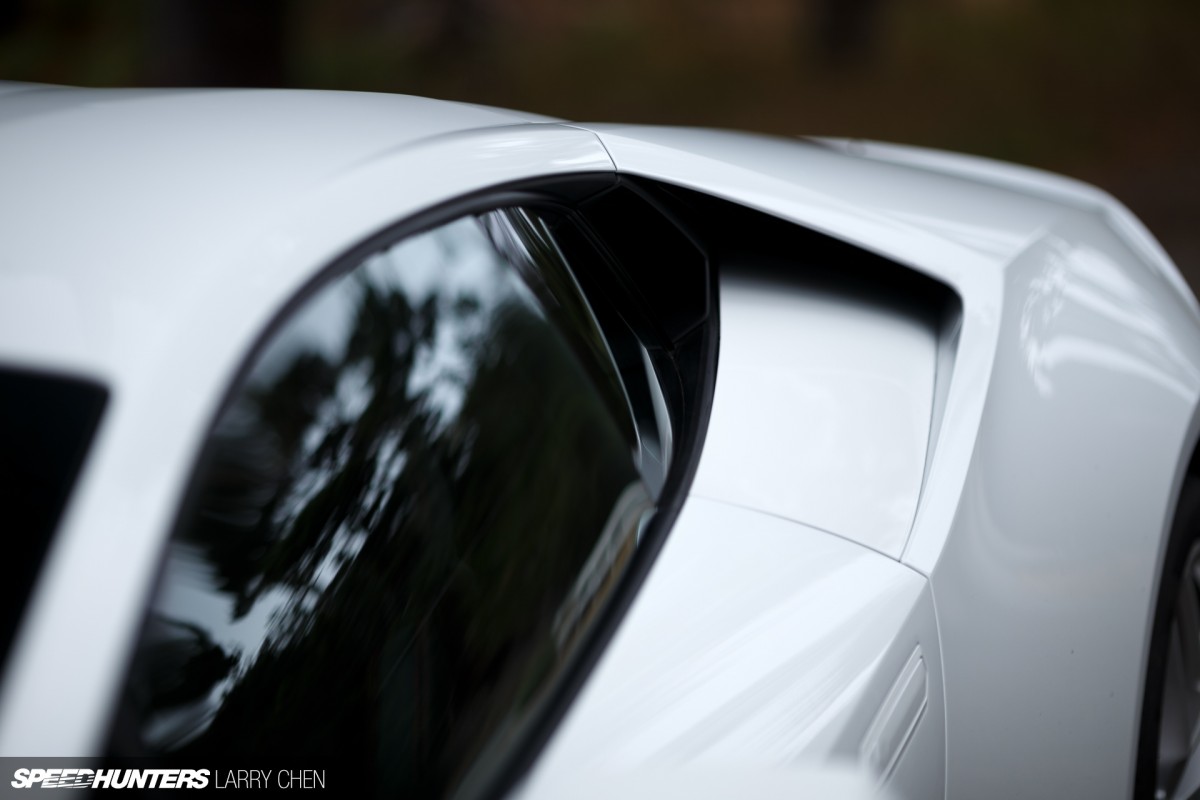 Rod: I find this interesting. Lamborghini for me has always been about being loud and louder. Owners of these cars want attention. They are perfectly happy to have a constant barrage of smartphone cameras pointing in their direction, and I'm sure that 90 per cent of Lambo owners have figured out some fantastic social media faces and must surely have more Instagram followers than all Ferrari, McLaren and Aston Martin owners combined! Anyway I digress…
Elizabeth: Maybe it's because it was not a wild green, yellow, orange, or wrapped in chrome – but it looked purposeful and not pretentious. A statement that did not scream. 'look at me', but rather, 'I have arrived.'
Rod: Well put.
Meet The Huracán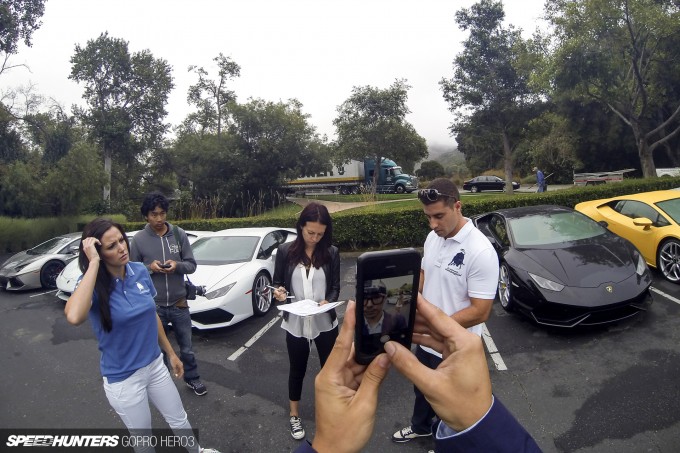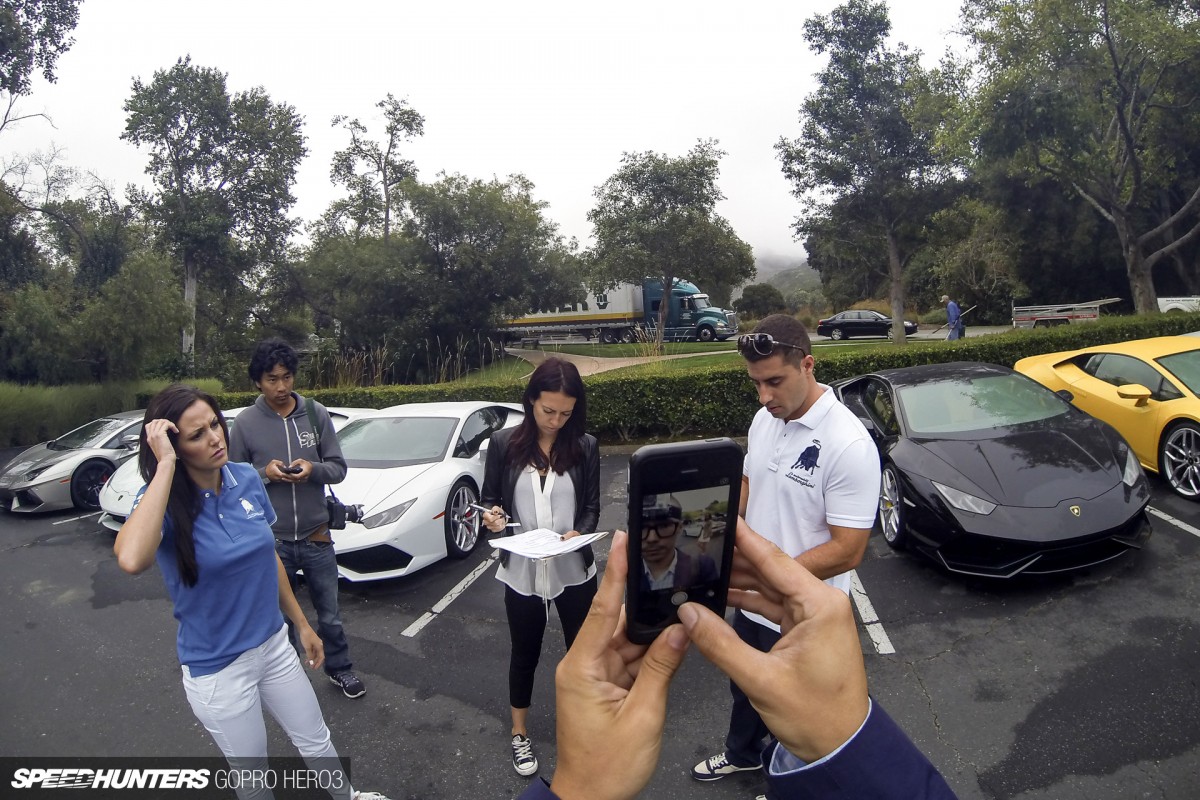 Elizabeth: Showing up at Lamborghini's home during Monterey Car Week at Quail Lodge at 7:00am and here it is! Clean and ready, despite Fazel Adabi from Lamborghini missing some beauty rest to make it happen. Rod was taking a selfie with the GoPro (no surprise) while I was happy to give my driver's license, review and sign the waiver and just get behind the wheel.
Rod: In the background you can see that Larry was looking a bit grumpy. Turns out he wanted to shoot the yellow car on the right, not the white one which Lamborghini had earmarked for us. Poor Larry…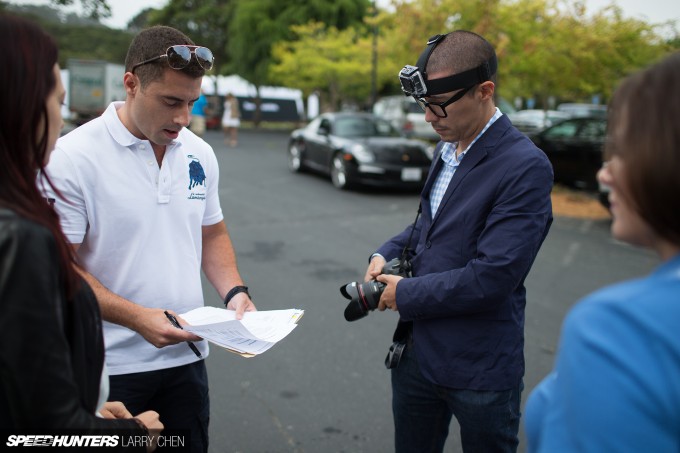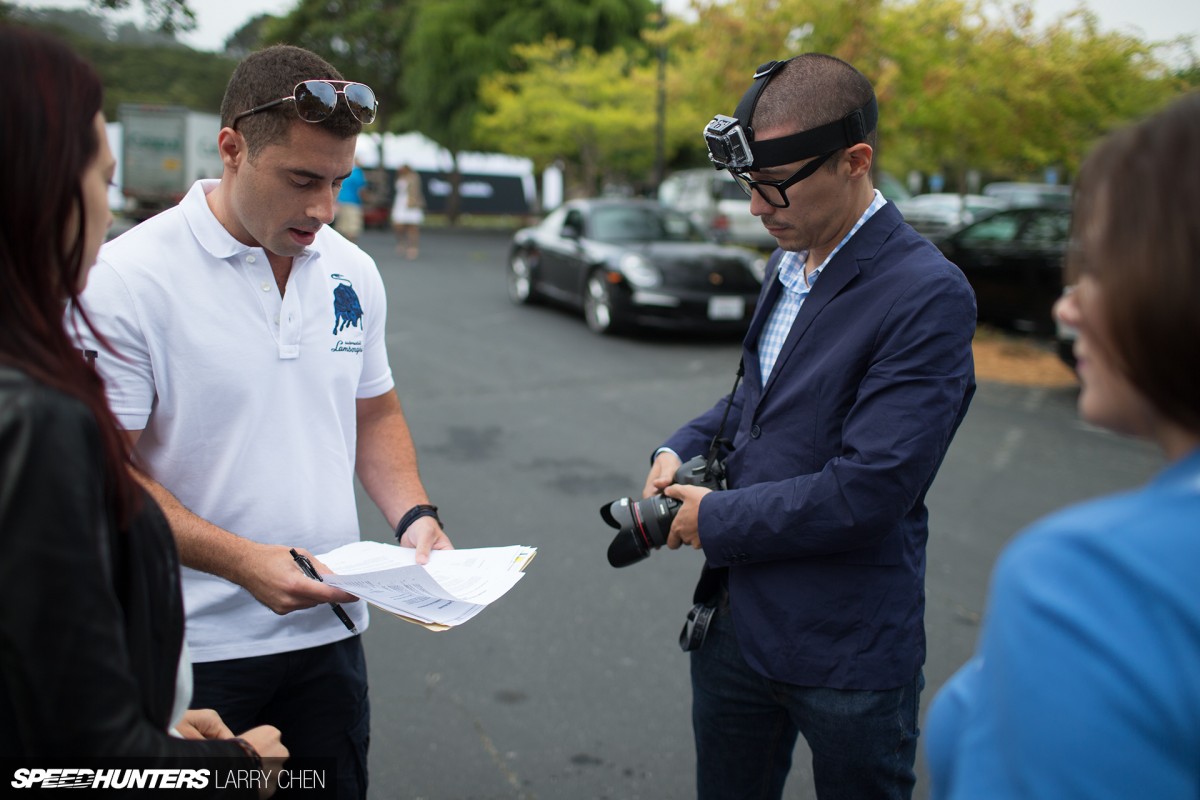 Rod: Yes, yes Fazel, no street racing we get it! And yes I look like an idiot.
Elizabeth: Yes Rod, you do look like an idiot! The readers spoke in our Italian Theme preview post.
Rod: Whatever it takes for the shot!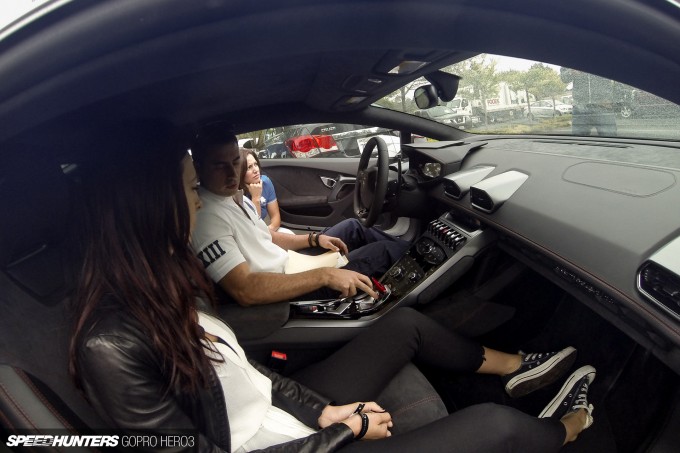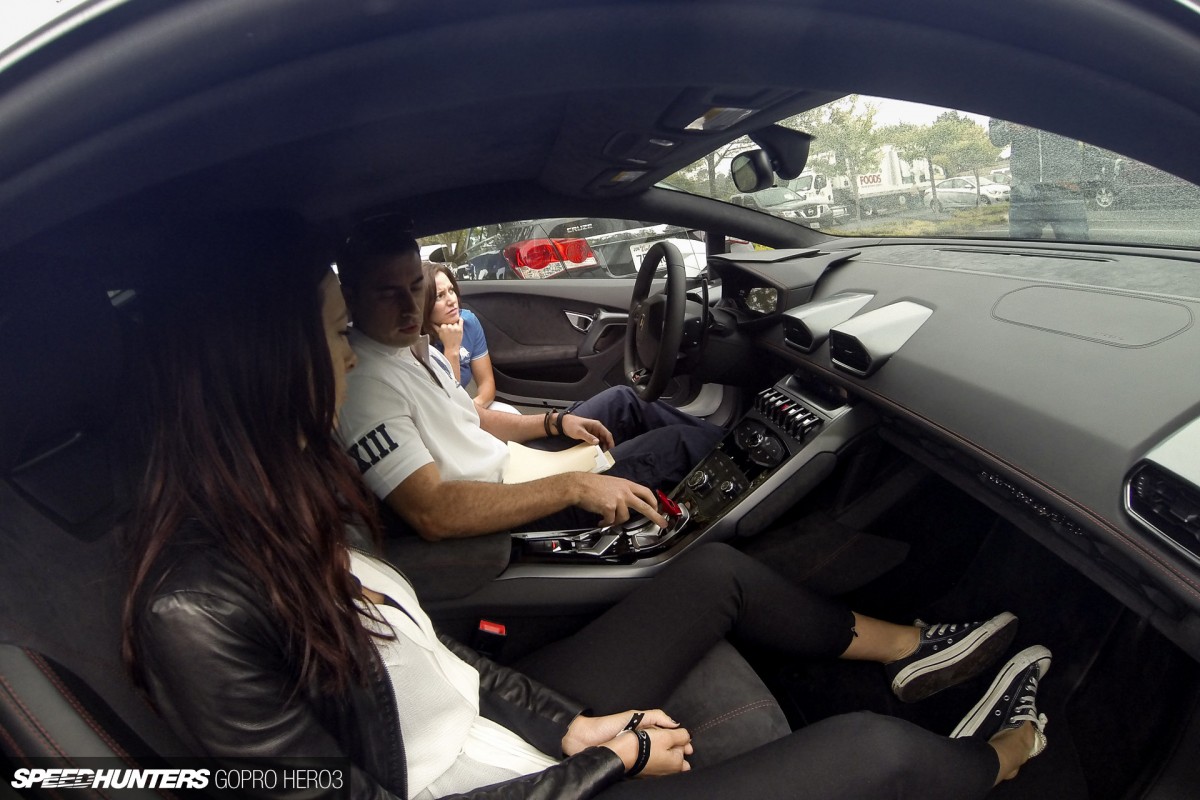 Elizabeth: It was suprisingly easily getting in and out of the Huracán while Fazel gave us the rundown on the vehicle, but Rod can review this with you.  It is serious business piloting a 610 horsepower supercar and Fazel had my full attention.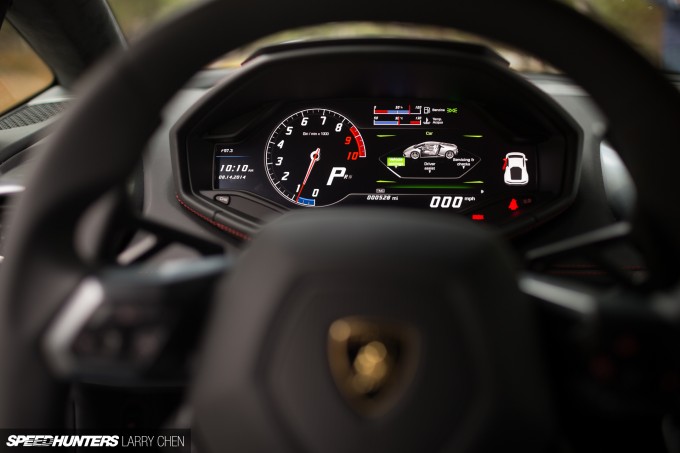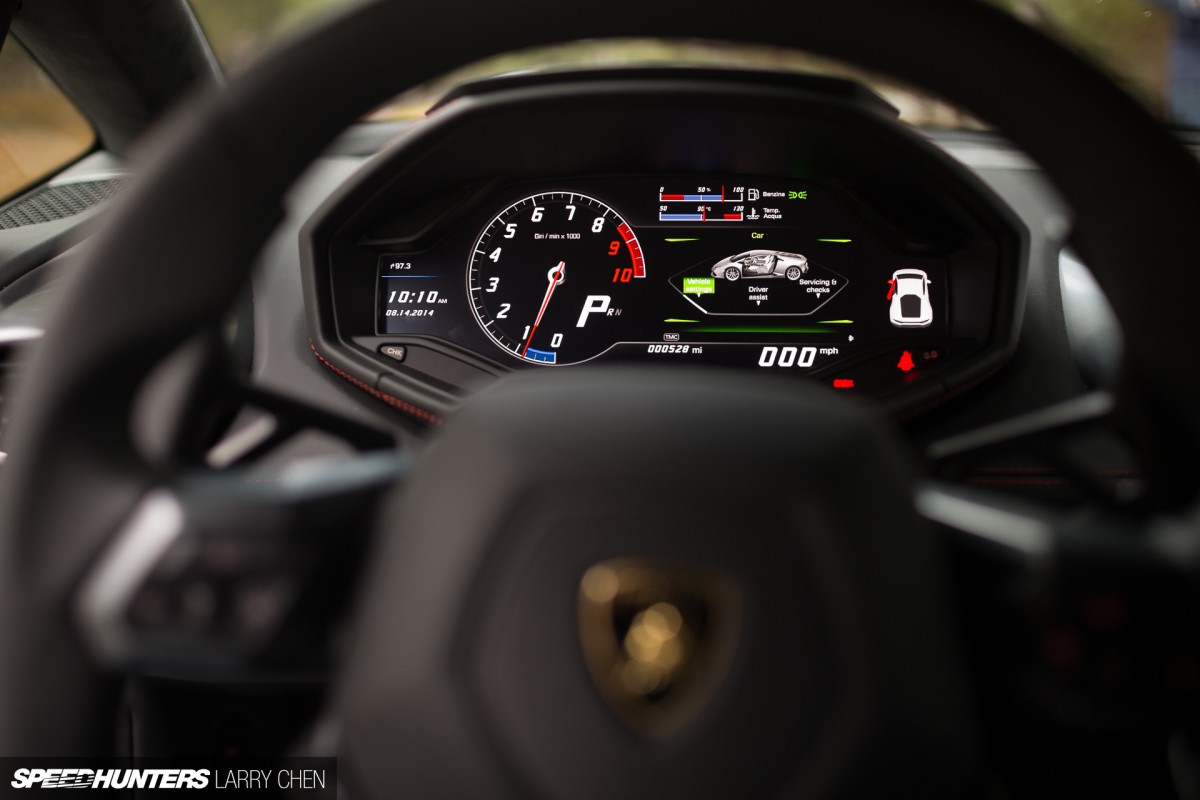 Rod: All supercar press drives always start out with a technical briefing. These cars simply do not operate like your typical Hertz rental, so you need to pay attention. Putting the car in reverse, finding the parking brake, turning the lights on – each of these operations is not necessarily going to be what you would think they are with regular 'civilian' cars.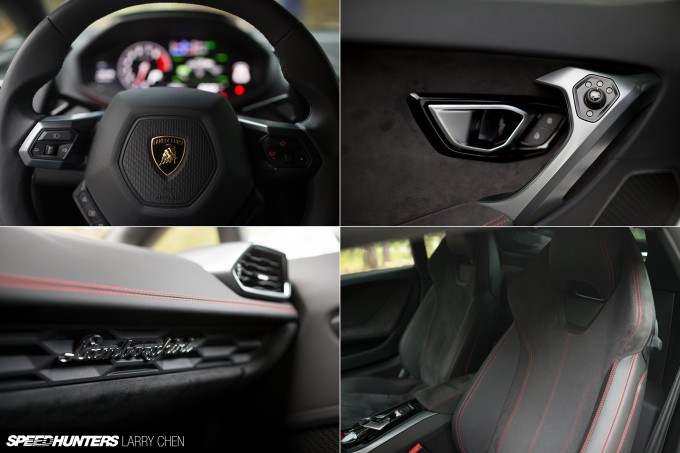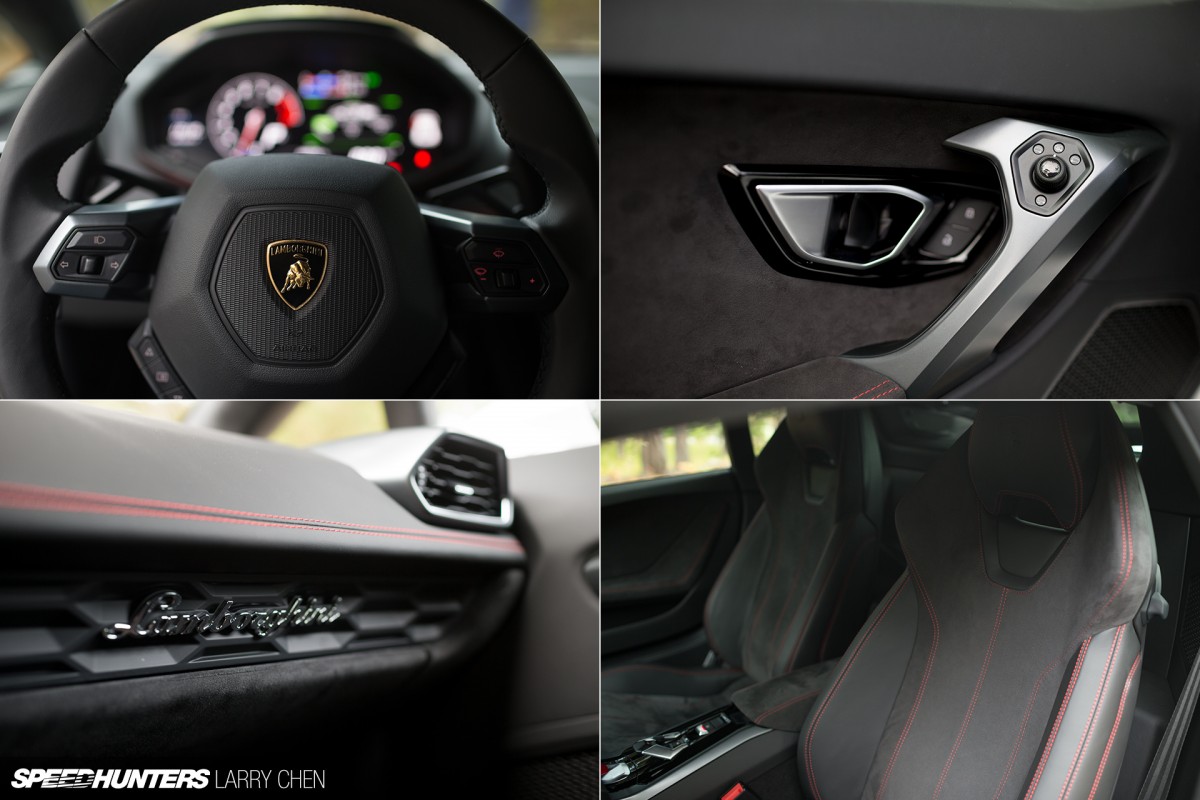 Elizabeth: I could appreciate the interior, which was more refined and welcoming than the previous cramped and spartan Lamborghini models. Everything was at my fingertips and my hands didn't have to leave the steering wheel. It took me a second to get used to the unusual placement of indicators and windshield wipers on the steering wheel, but the positioning of those makes perfect sense. While driving around after this test I noticed how many times I reached around the steering wheel to select placement of the levers on the column. A simple but great solution.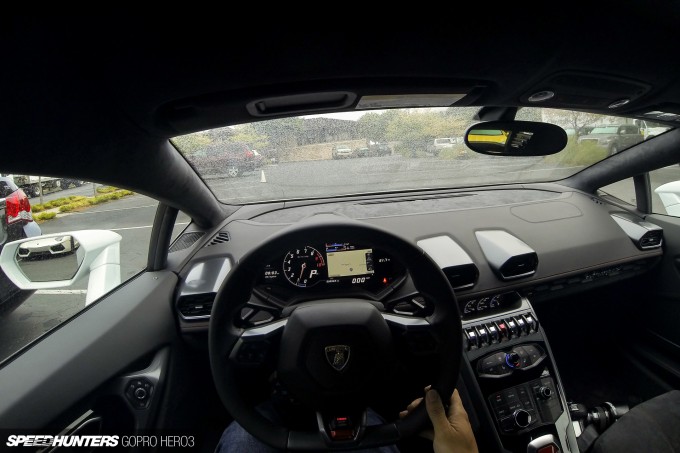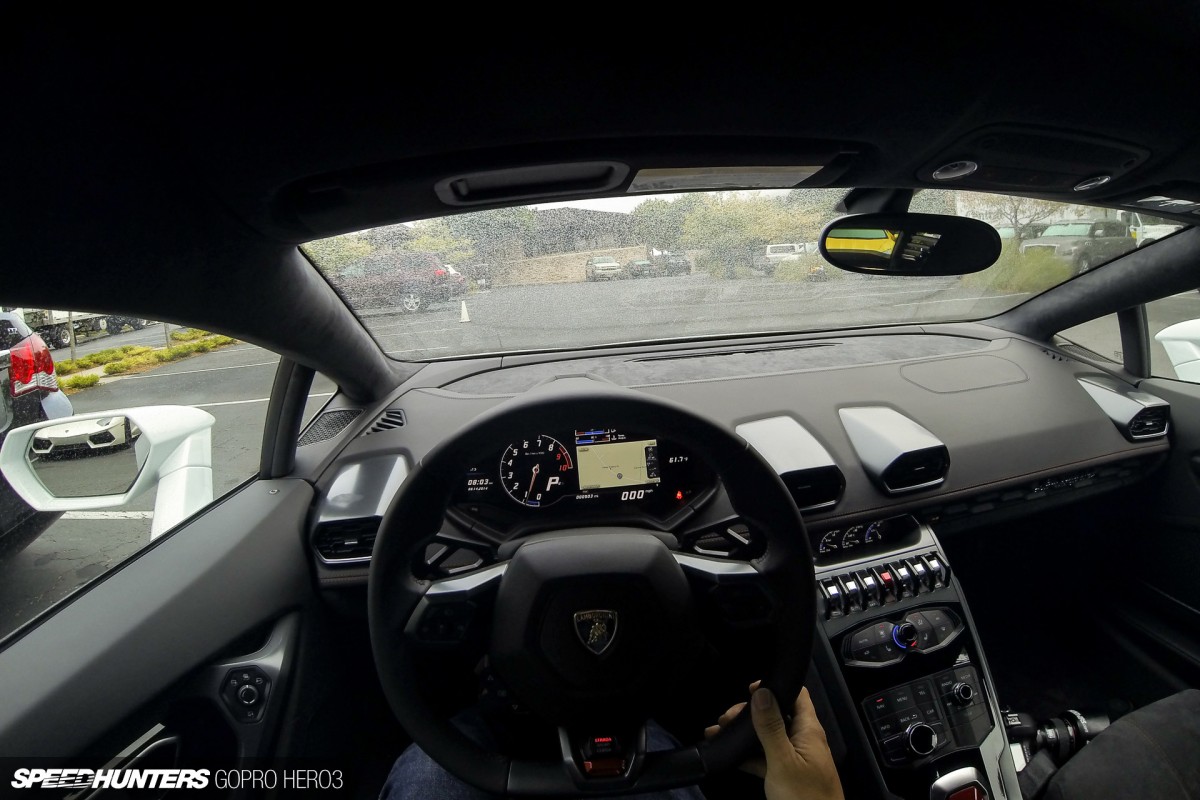 Rod: The interior itself is similar in feeling to the Aventador. It's full of switches and dials – each controlling a specific feature of the car. This is the opposite philosophy to many new cars, where touch screens and the like are quickly replacing good old-fashioned controls.
Not so here!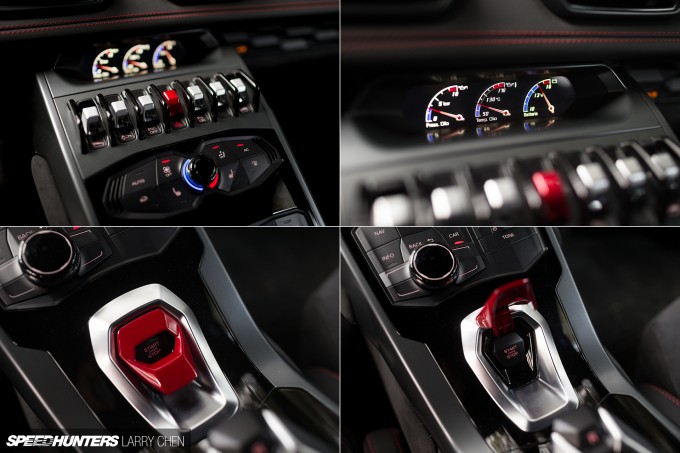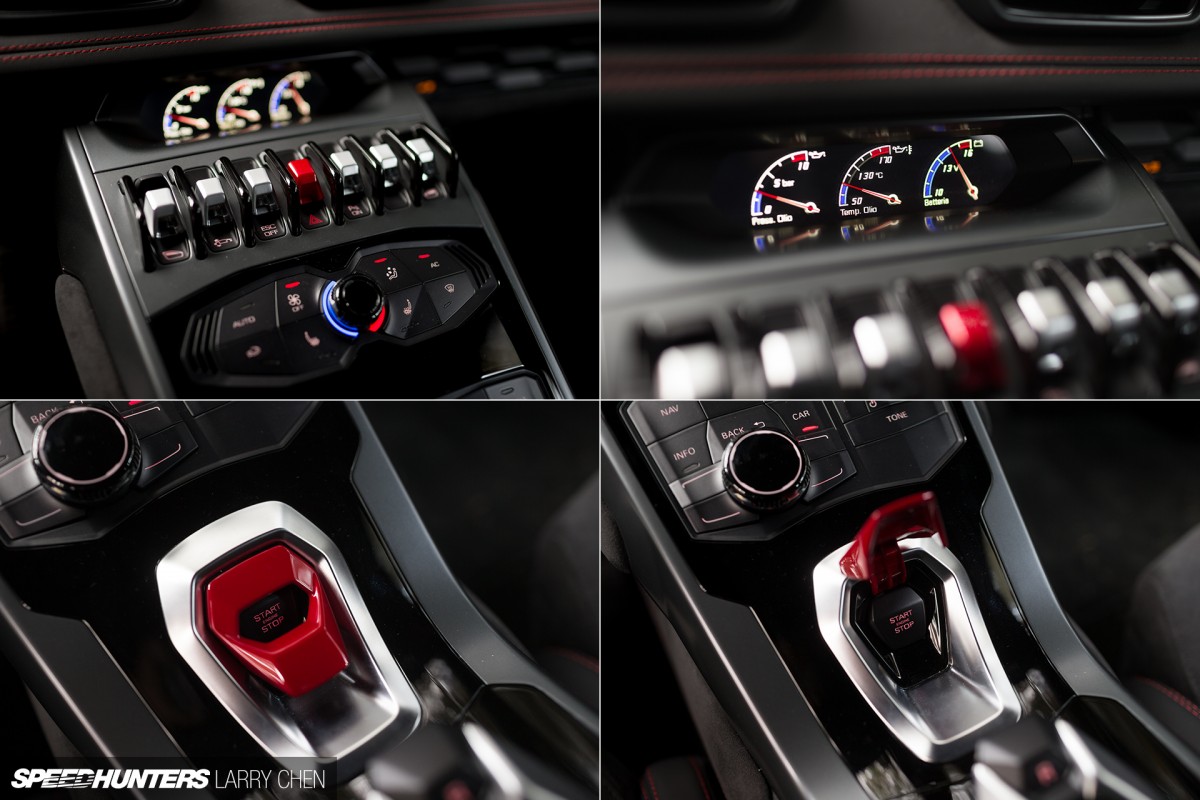 Rod: Case-in-point. This is not your mom's Camry – this is a mega-ultra-supercar… Woohoo!
Elizabeth: Flip the switch and off we go!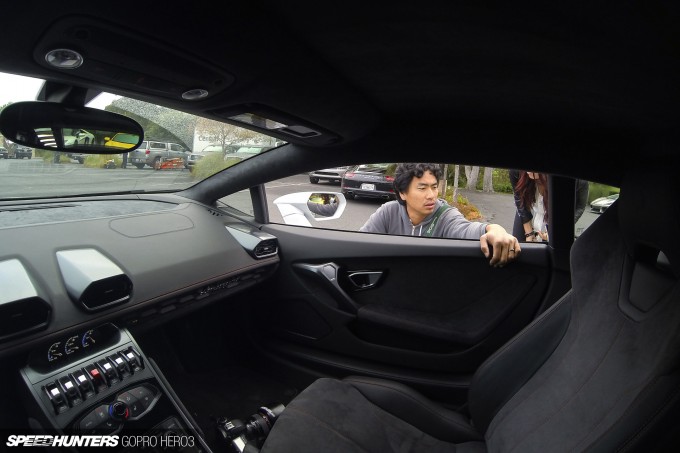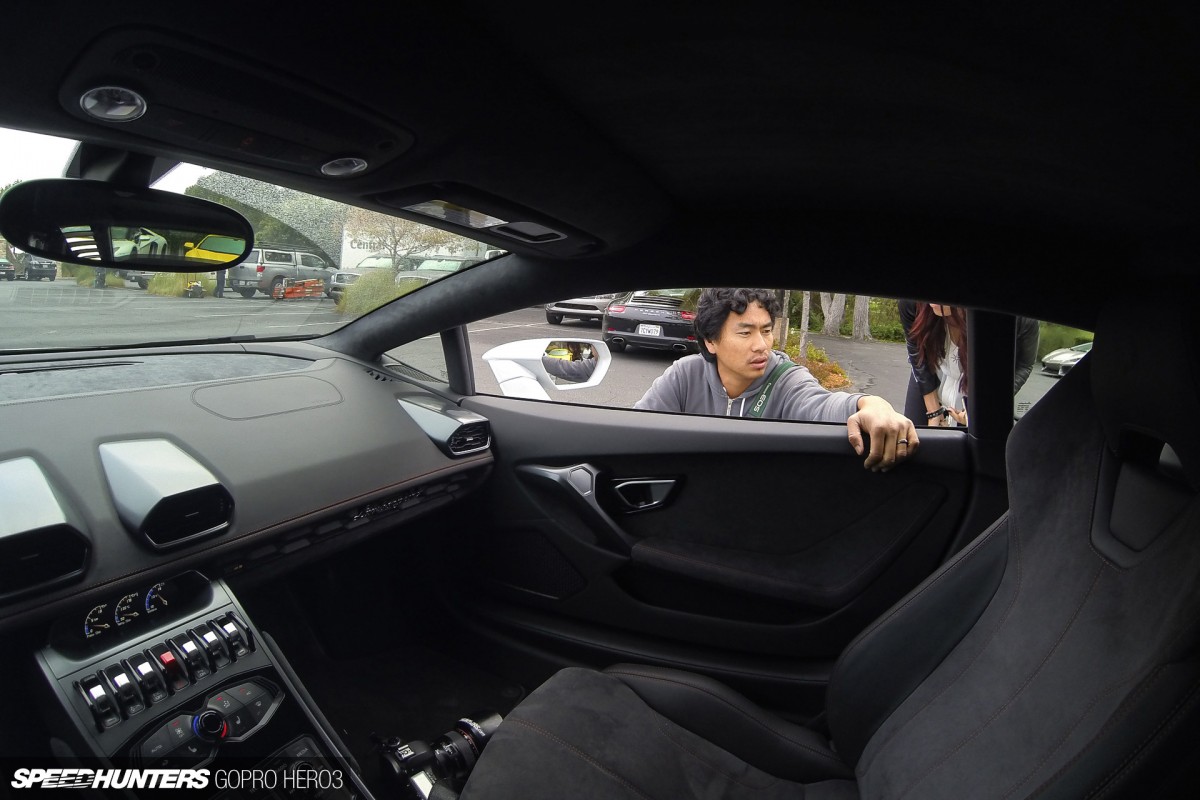 Rod: Right, so having reviewed the controls, it was time to get the shoot started. We had a quick production meeting, set a plan and got rolling.
Get Out & Drive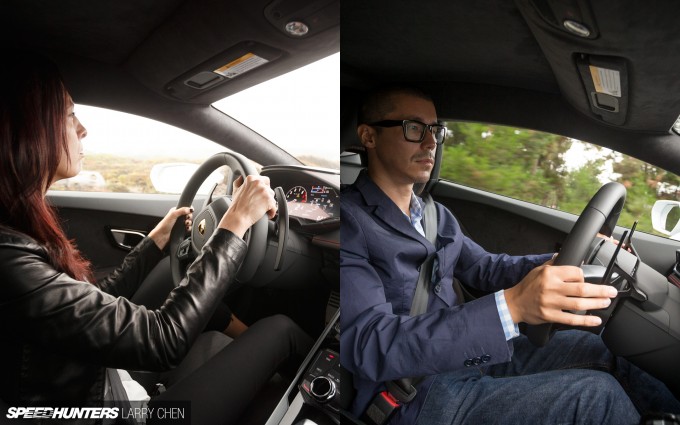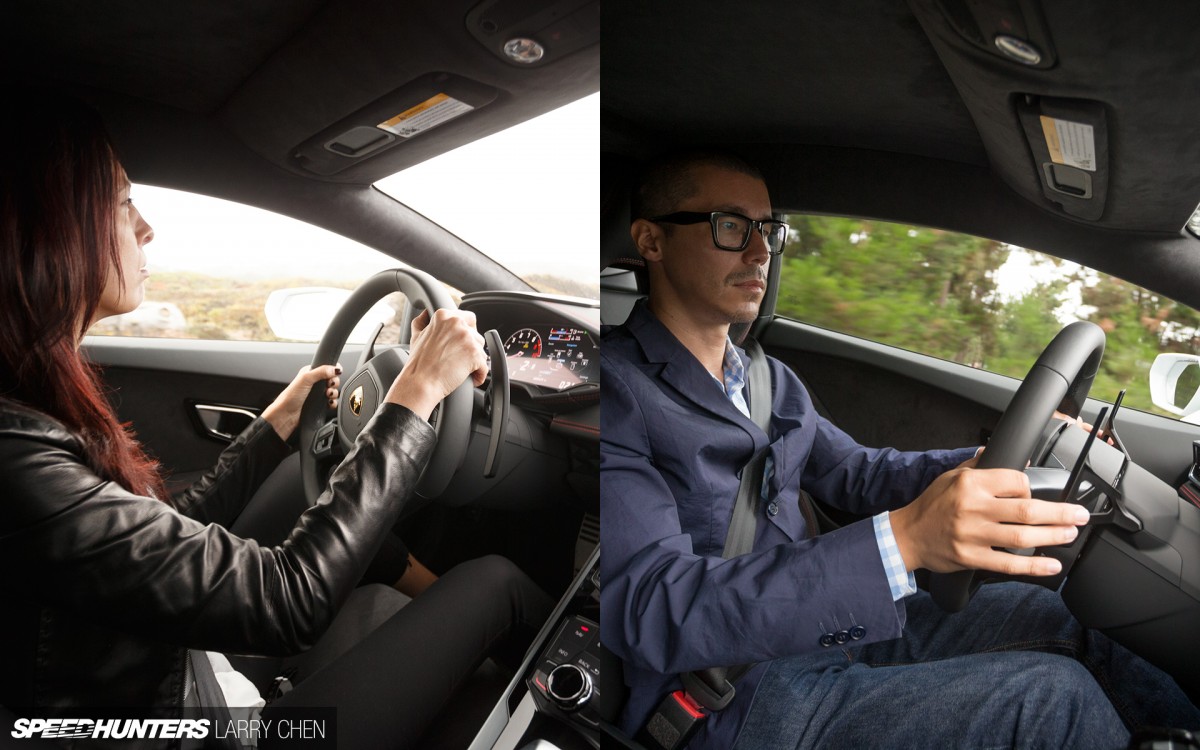 Elizabeth: I have driven many different supercars, including a few Lamborghinis, but they were all for short periods of times: around the block, during a rally, a lap around a track, a short test drive. But I had never had one for an extended period of time. Until now that is.
Rod: And what a drive it is. Although I look pretty tense in this photo, I was instantly comfortable in this lilthe supercar. It's the first Lamborghini I've driven where you stop noticing the car. You are simply a driver, hurtling along a road, with a wailing V10 propelling you to ever increasing velocities.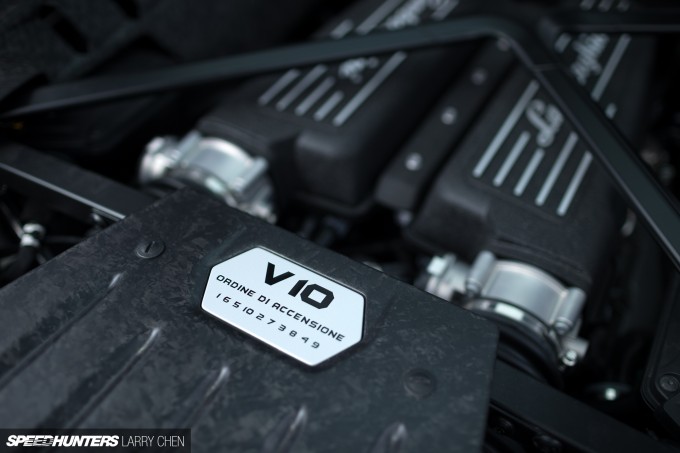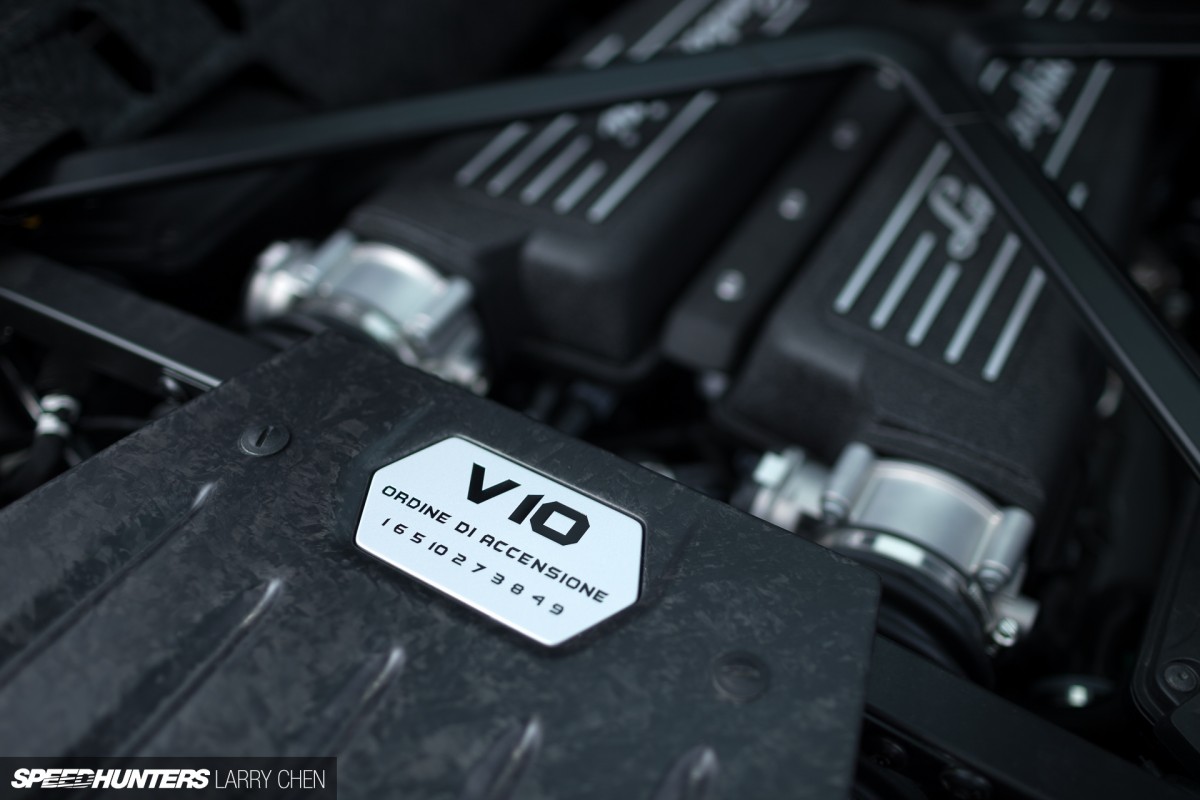 Elizabeth: The drive? Sublime. 610 horsepower behind my head from the V10 engine developed by Speedhunters' recent Ask The Expert subject, Wolfgang Hatz. I strapped in, flipped the mode to Corsa and hit the Start button. The thunderous wail of the V10 was summoned and the stage set. I clicked the paddle into first gear and hit it. I got a little loose – I'm not going to lie – but I was in control. Autonomous cars… can you tell they are not for me?!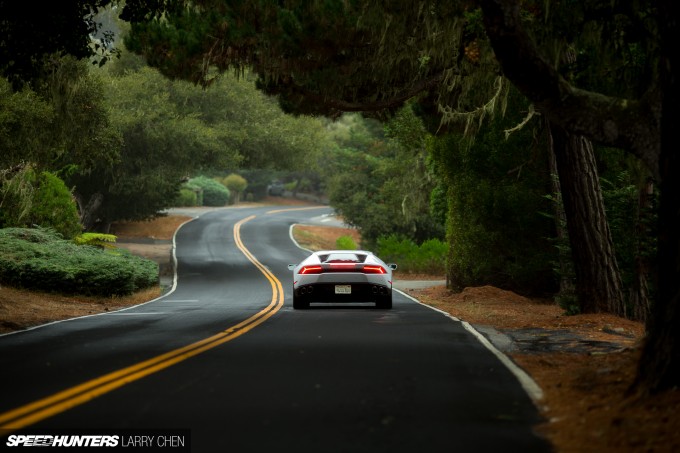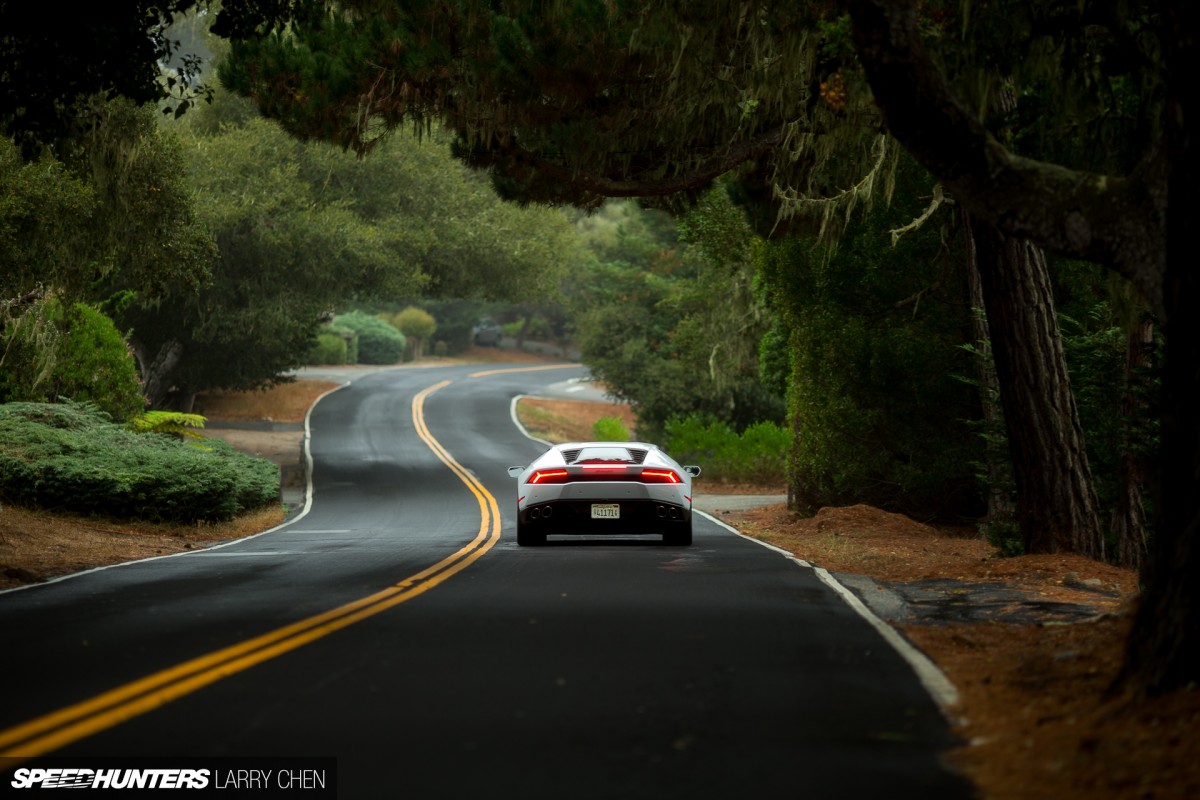 Elizabeth: As I drive through the hills I keep the revs up to hear the screaming Italian soundtrack reverberating off the canyon walls. Just amazing.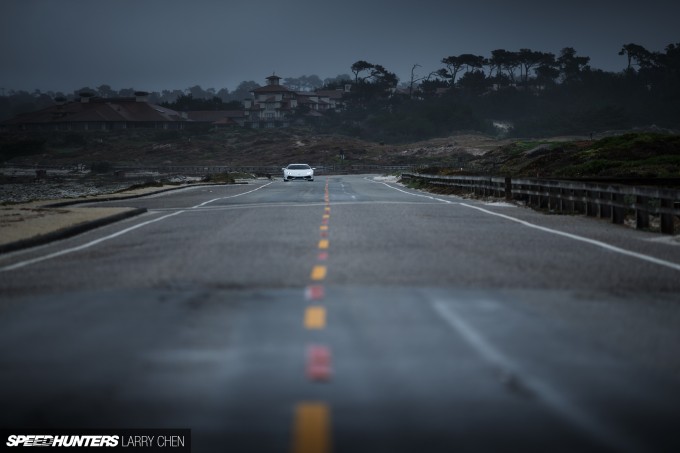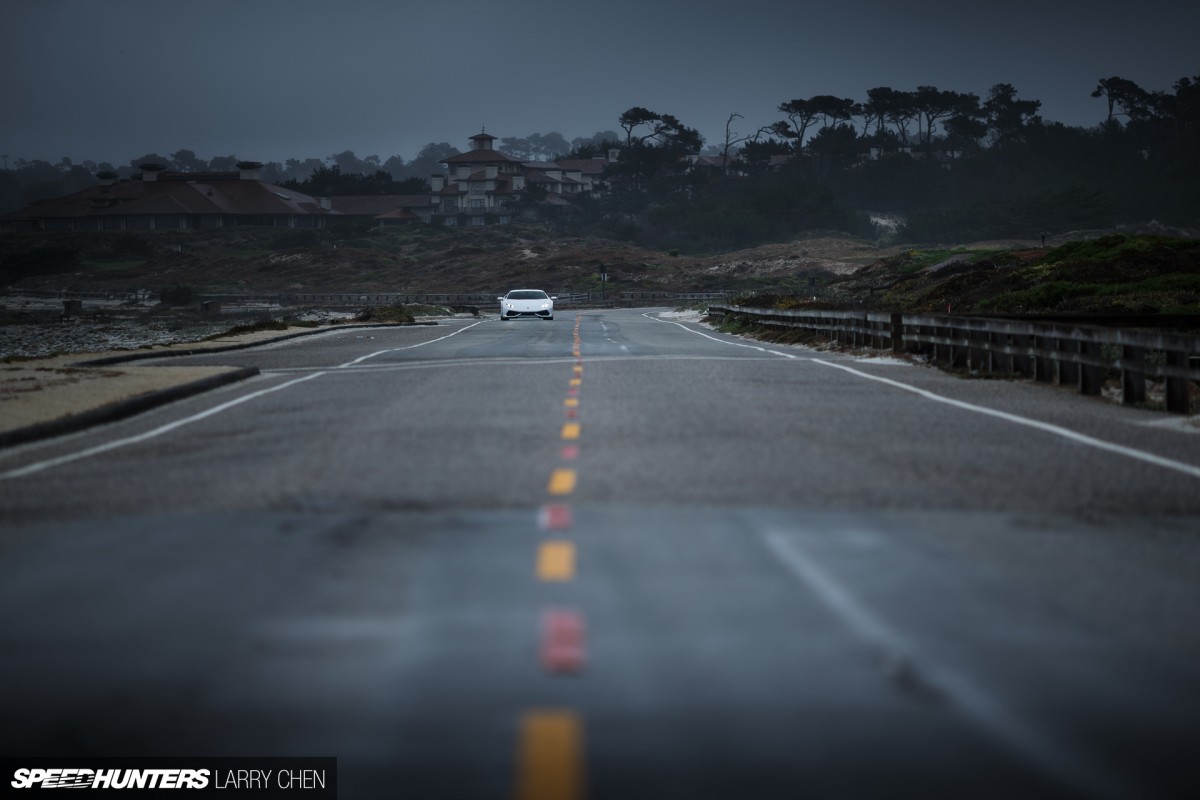 Rod: I'd agree with that. The V10 pulls hard and is the perfect mix of being both full of torque, but happy to rev. It gives the Huracán a completely unique character against its turbocharged competition. Natural aspiration FTW!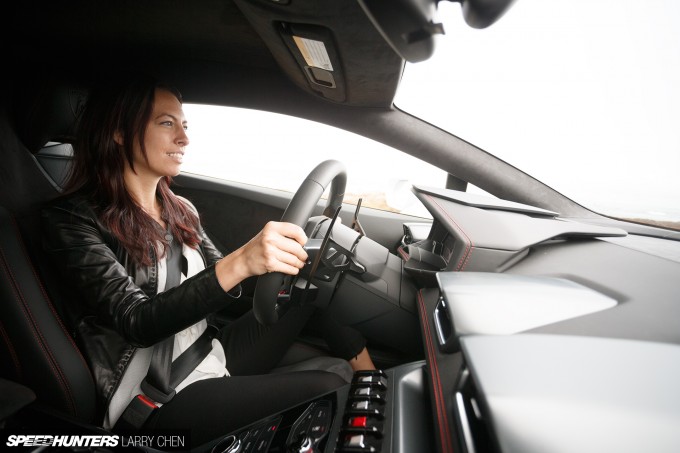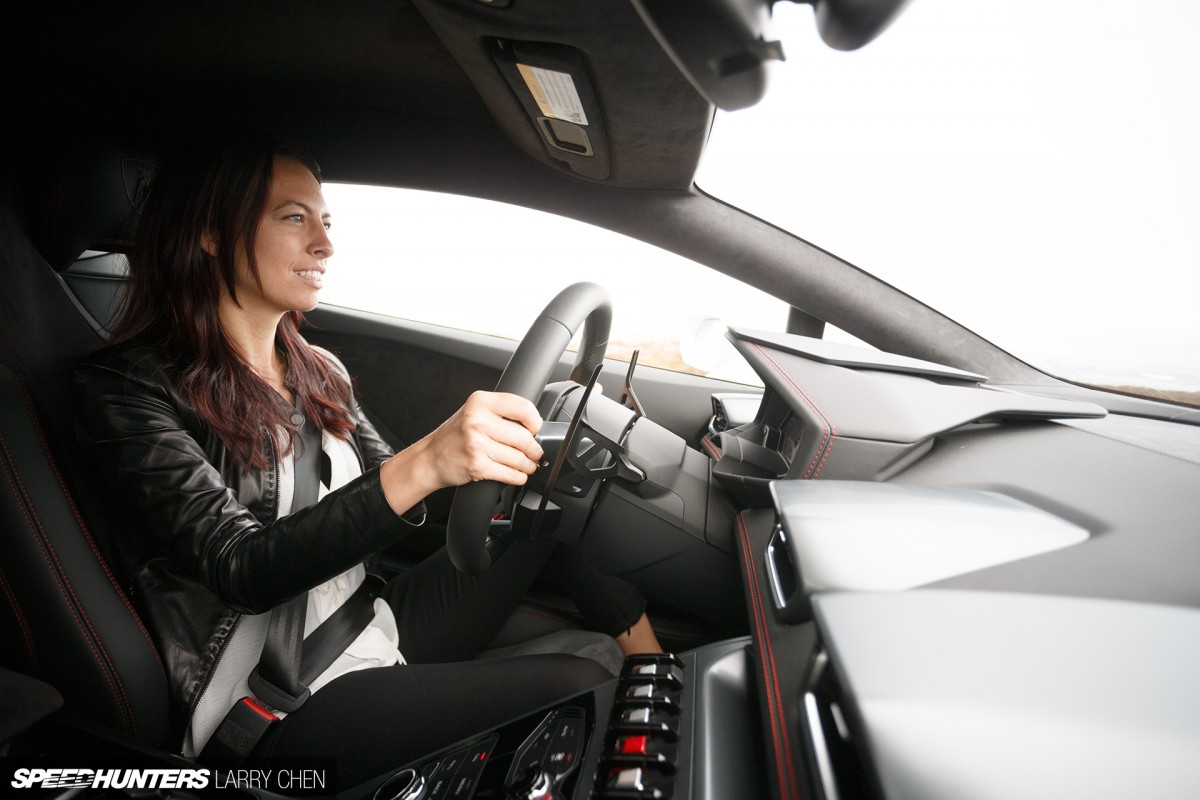 Elizabeth: #PureAutomotiveEnjoyment.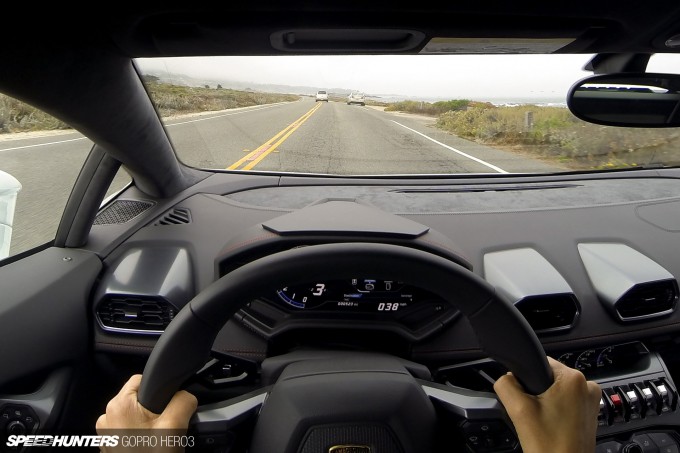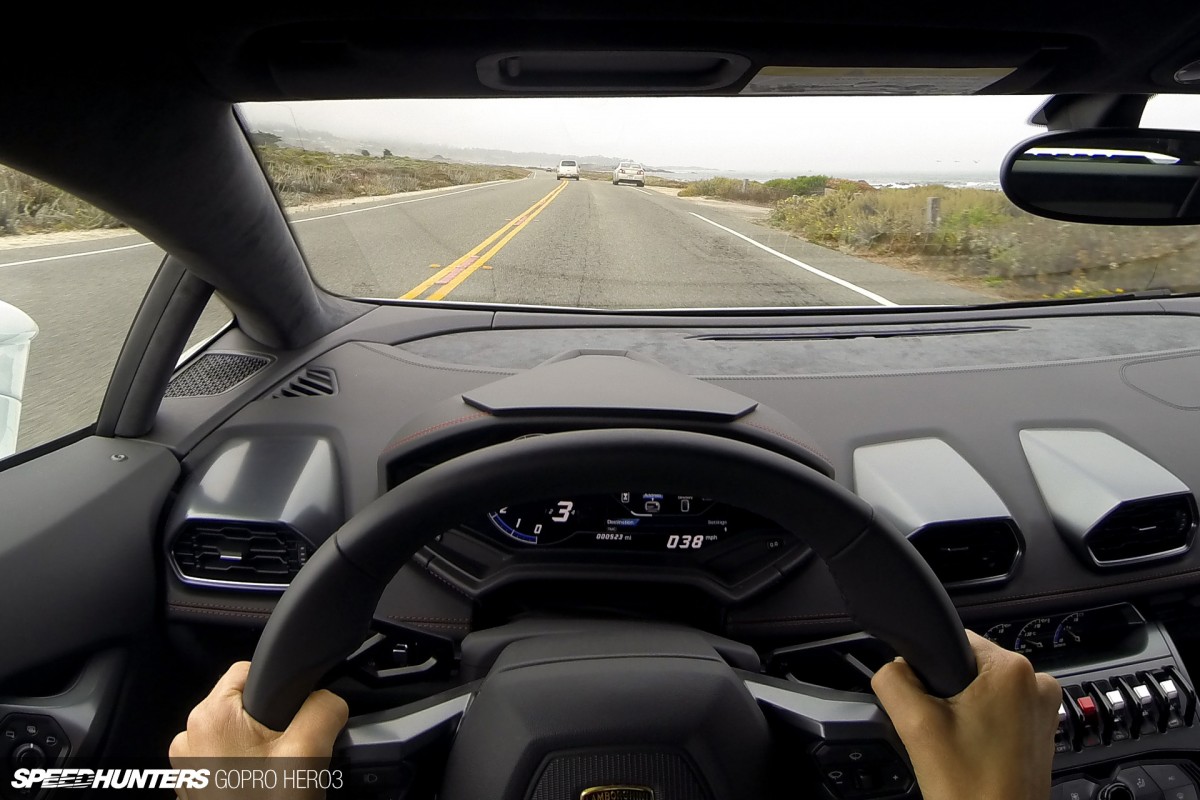 Elizabeth: Cruising around, I notice how different it is from the previous Gallardo. The controls are all on the steering wheel, so there's no hunting around required. The paddles are right there too, so no issue grabbing them regardless of the position. Shifts are seamless in regular mode, and crisp and precise in Corsa mode, with no jerkiness or hesitation. The ride is firm, but smooth. Almost too smooth and too refined, which is a good thing and a bad thing.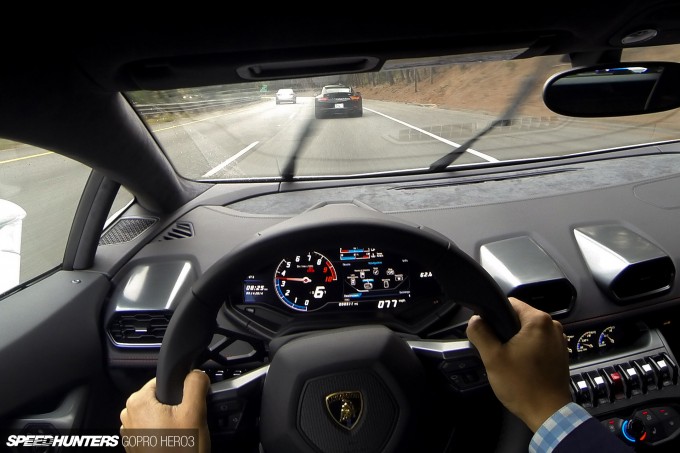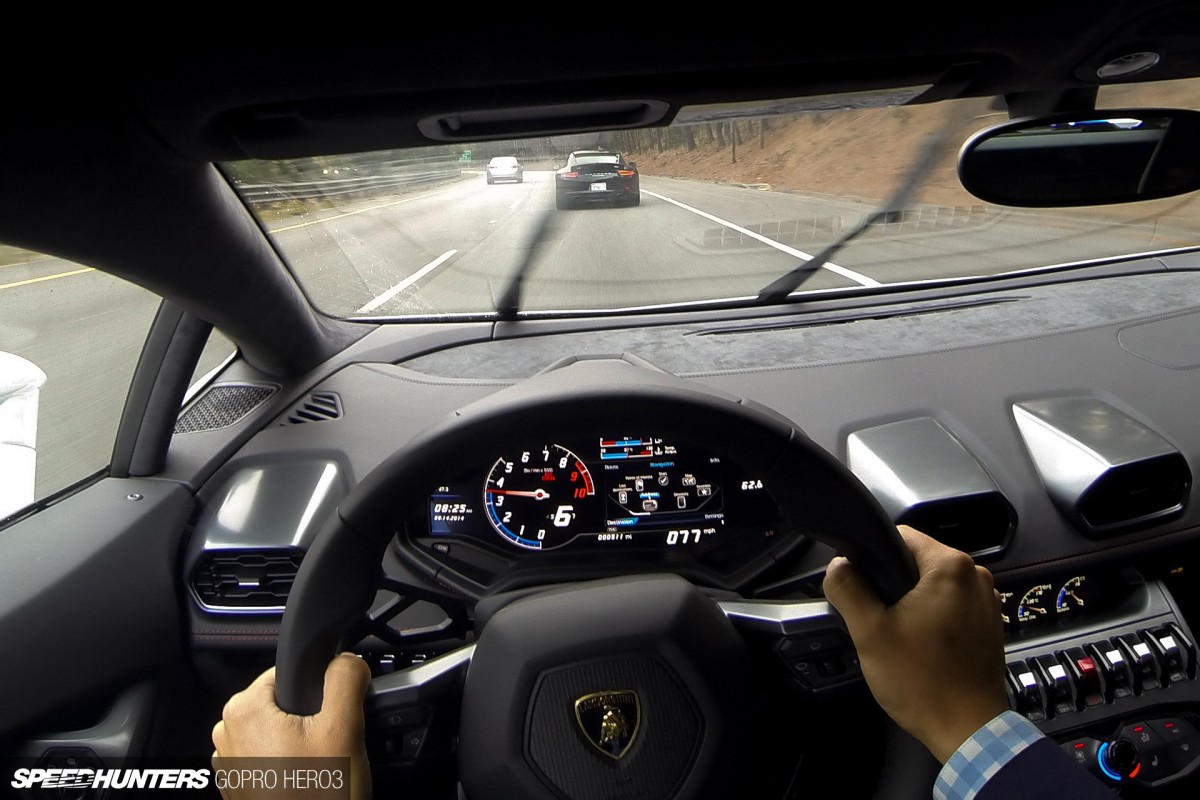 Rod: I have written in the past how I have never really enjoyed semi-automatic transmissions. I much prefer a clutch pedal. But this Huracán drive was the first time I actually really got into punching up through the gears with a paddle shifter. I play enough video games to have this instinct hard wired, but I have just never really enjoyed it. Until now that is.
Perhaps it was the rev and torque happy V10 behind my head, or perhaps it was the new dual clutch gearbox – but driving this machine, I found myself finally embracing progress as I bashed up and down the gears.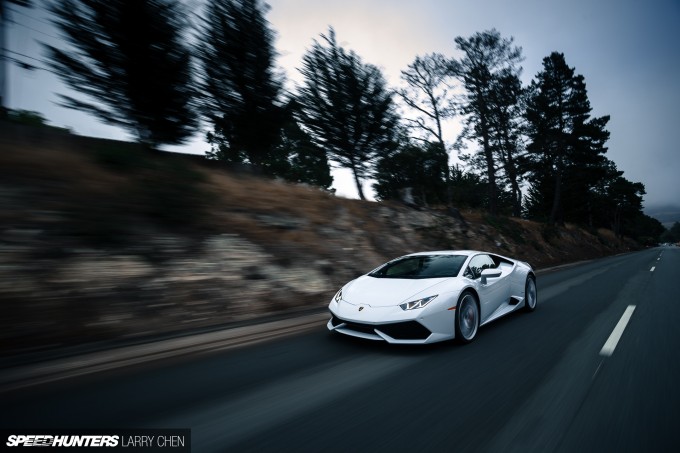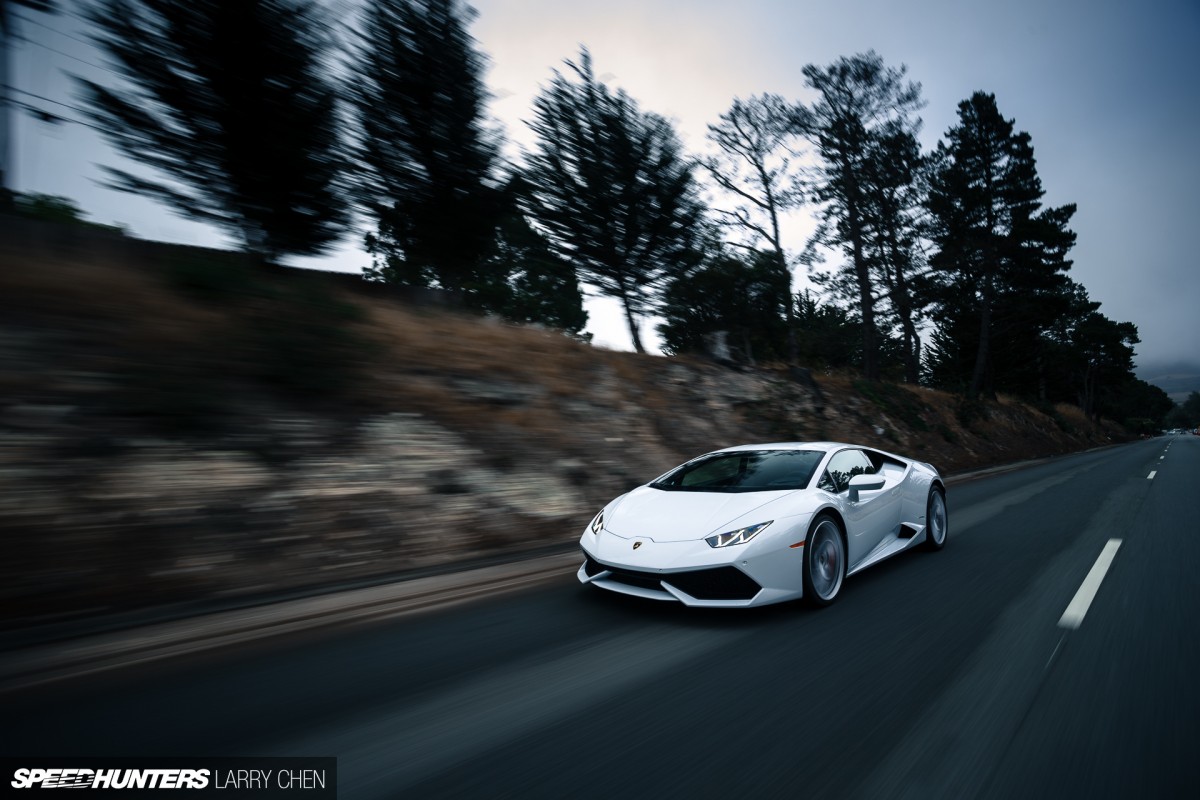 Rod: Okay, so I don't get the personal satisfaction of match-rev-downshifting any more, but the pomp and circumstance of 610 ponies at my disposal more than made of for this.
Clutch pedal? What's that?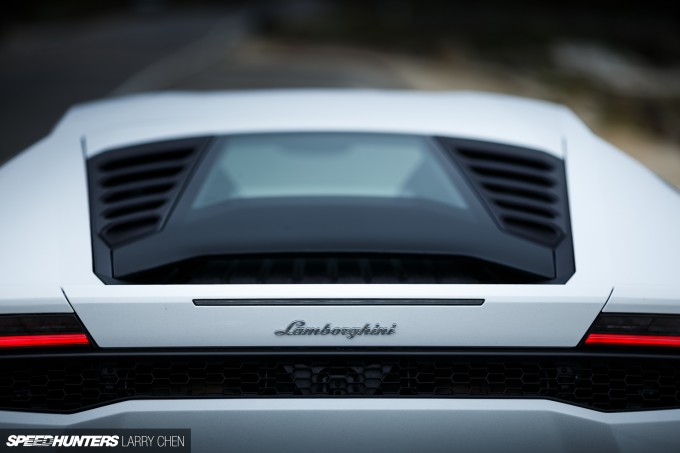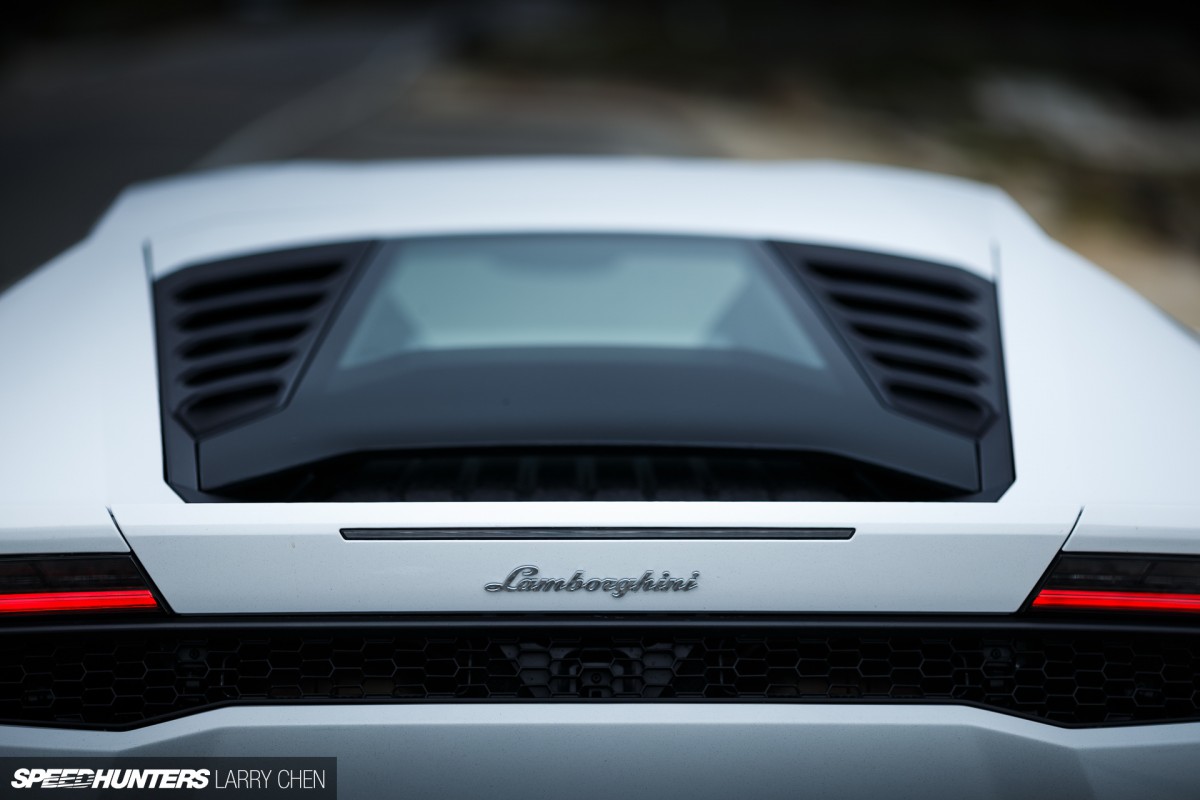 Elizabeth: Also, I'm happy that I use the side view mirrors as the rear mirror was virtually useless. But then again, as the first rule of Italian racing states – what's behind you doesn't matter. The road was open and we blasted forward.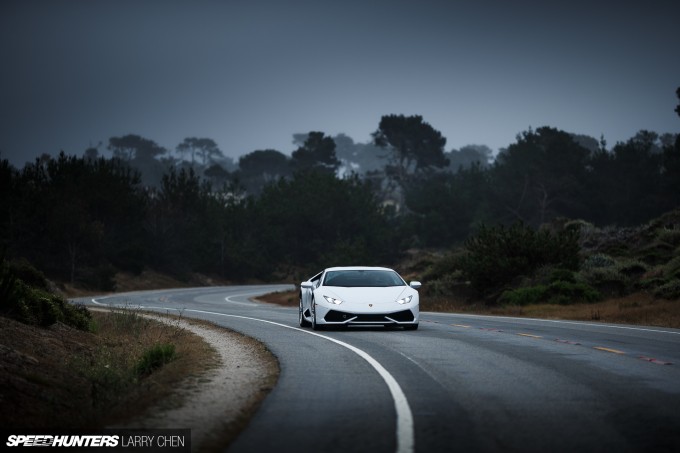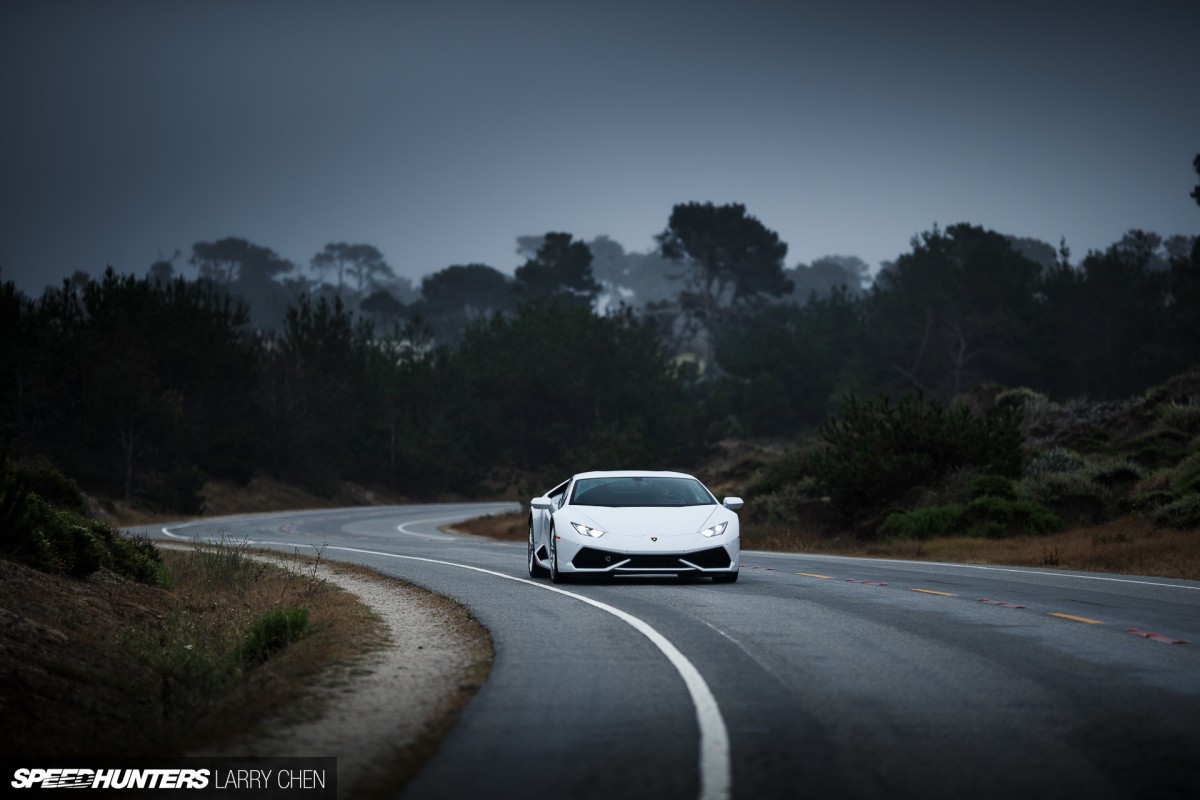 Elizabeth: There's the speed – it's just so fast. Before you even realise it 100mph-plus arrives. It's almost video game fast. Non-stop acceleration, it just keeps pulling and pulling…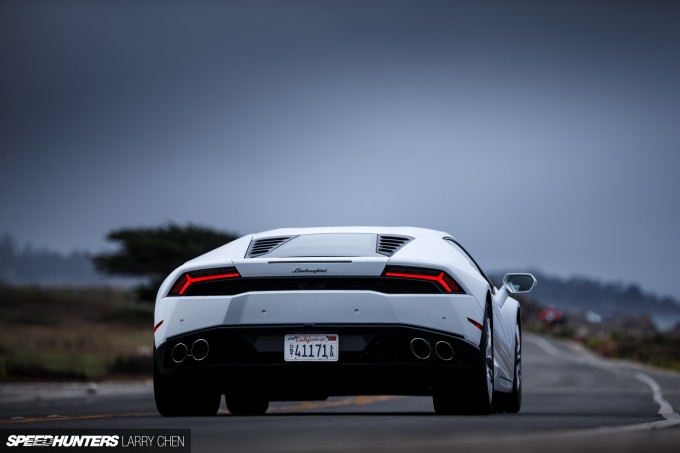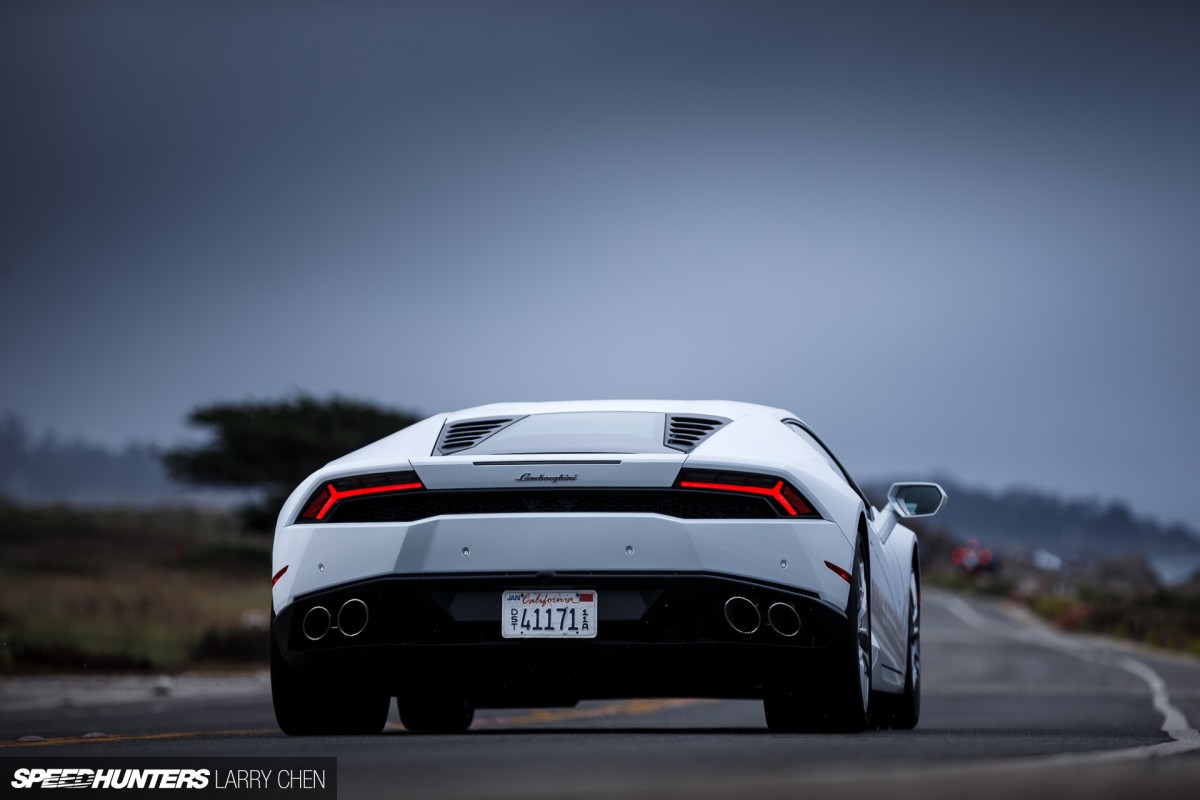 Rod: I suppose that's one of the challenges with having a car like this, you are doing triple the speed limit before you know it. But then again, you can immediately get back to the speed limit in a second or two as well. There's nothing stopping you from testing these limits, right?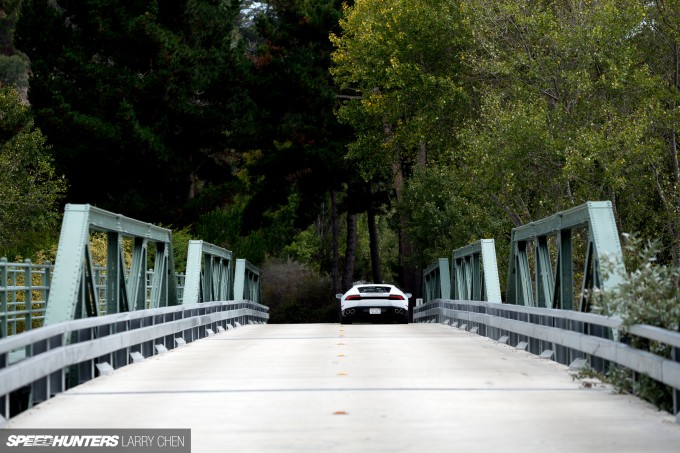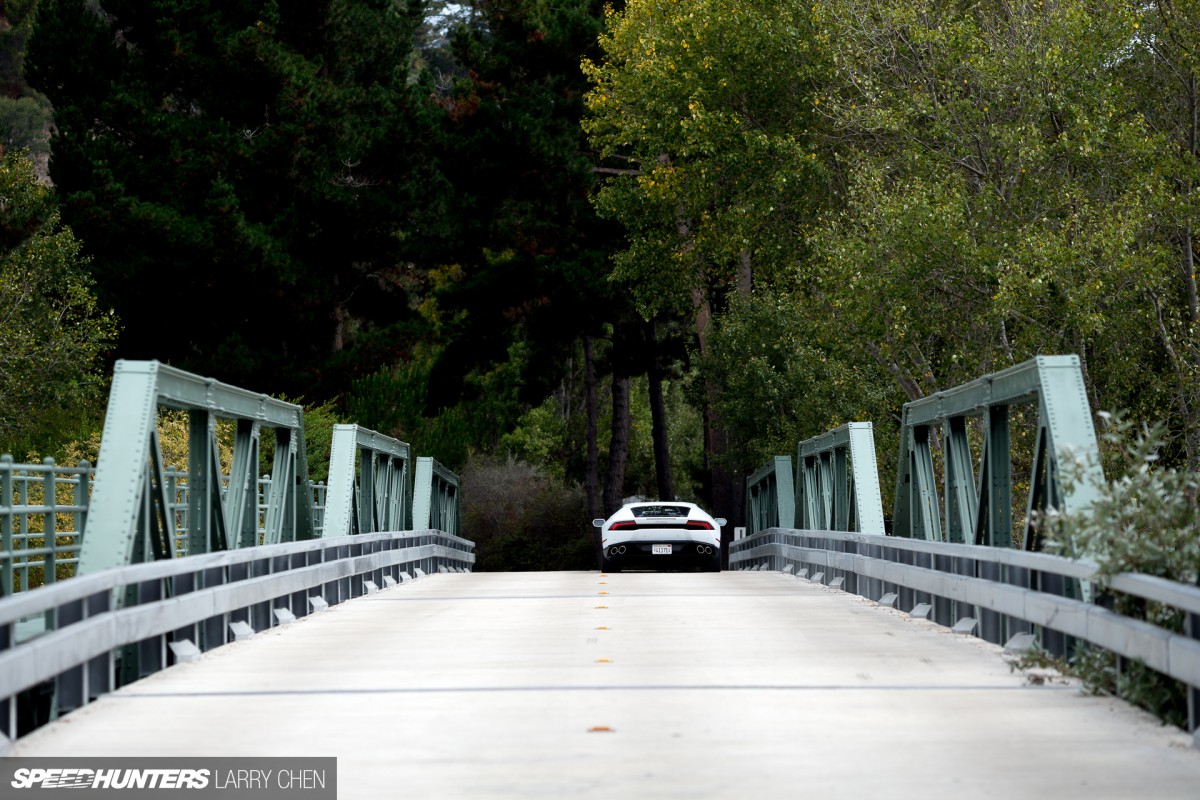 Elizabeth: And then I return, big smile on my face, thinking, 'no Lamborghini, you can't have the keys back!'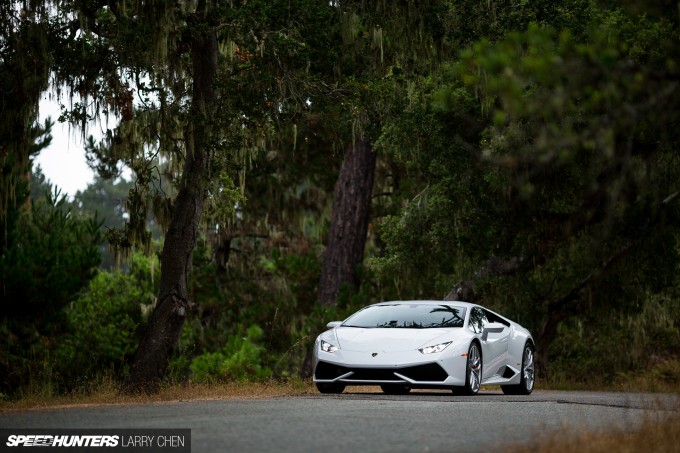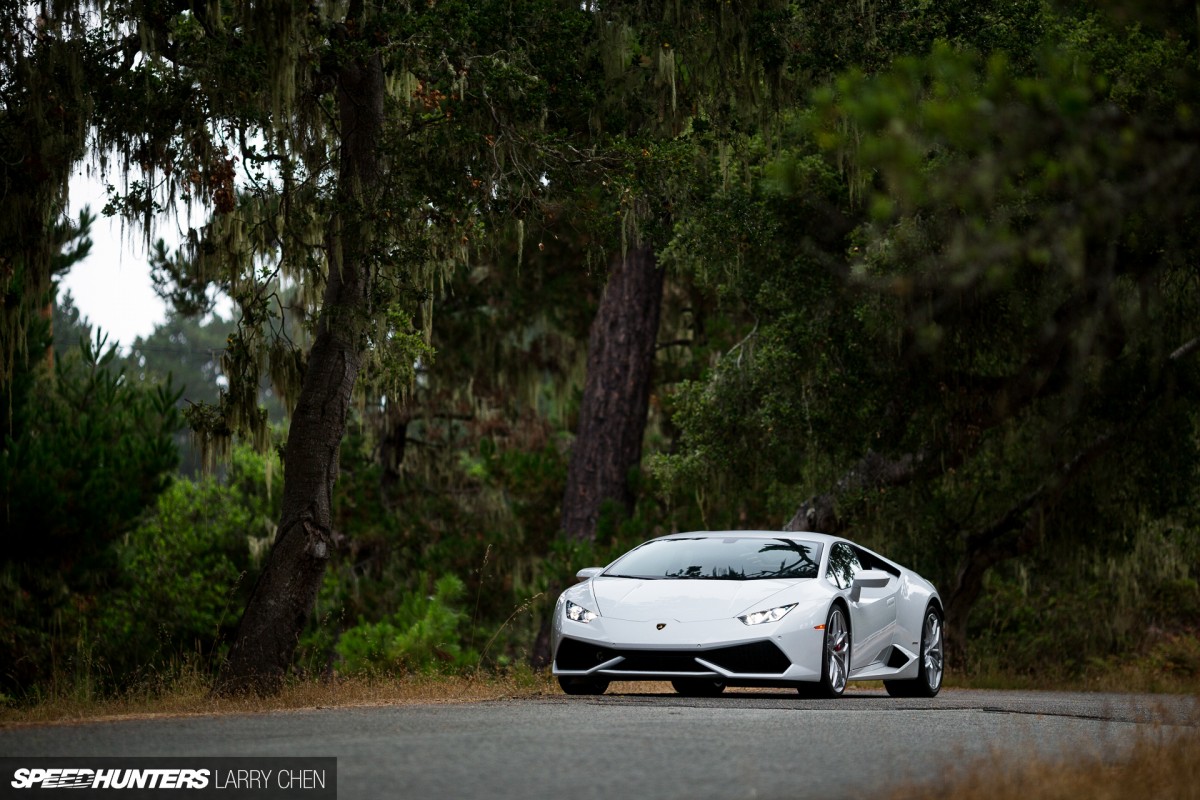 Rod: Sadly we did have to give the Huracán back to Lamborghini after a few hours – but not before getting a full impression of the car and an understanding of what a leap forward this is. The Huracán embraces the latest technical standards you'd expect of a car of this cost and performance. But at the same time, it still manages to feel like a living, breathing, mechanical animal.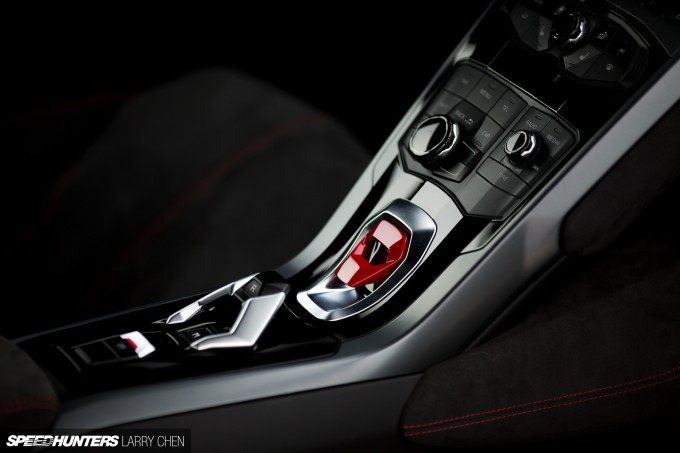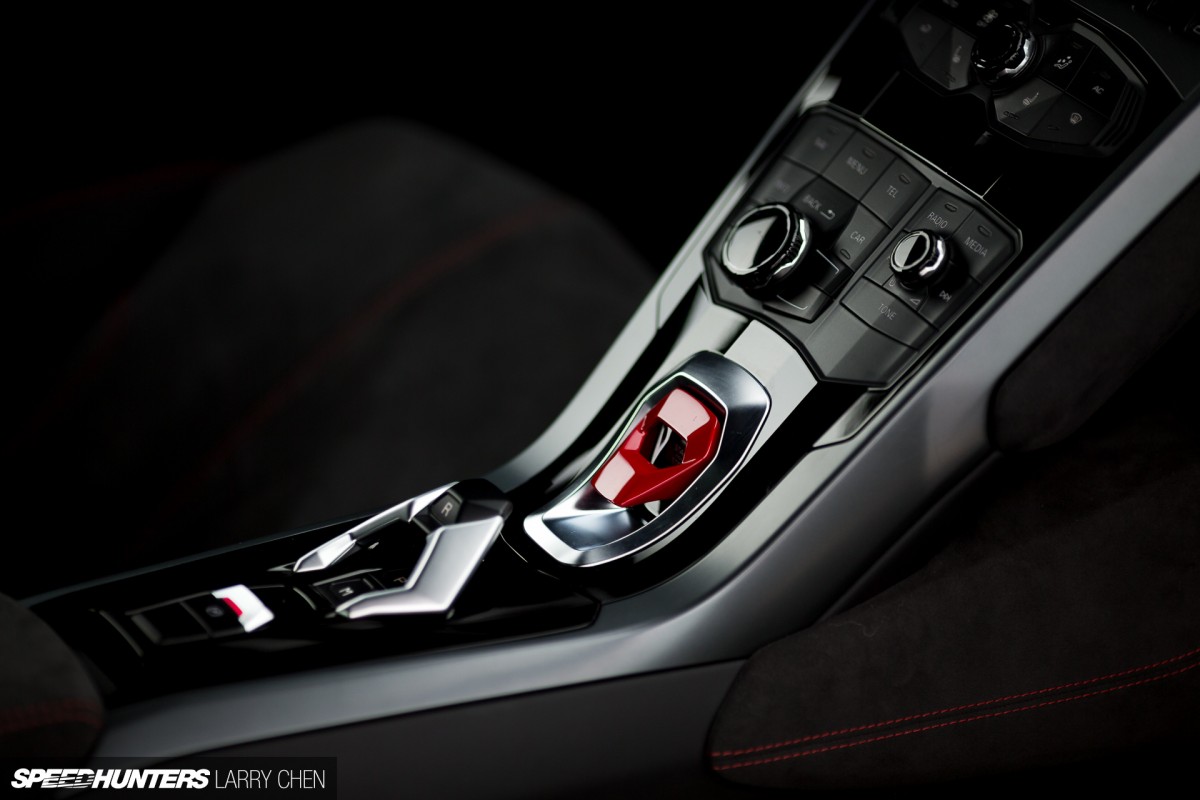 Rod: Yes, the technology probably makes this the most user-friendly Lamborghini ever. And while this makes the experience of the car accessible, I always felt like I could command the Huracán.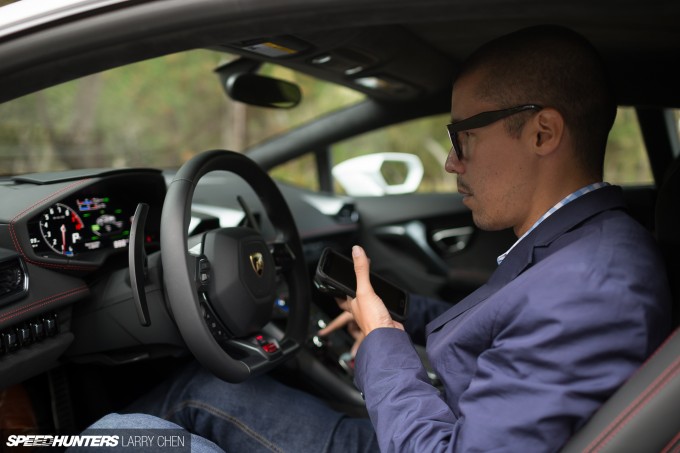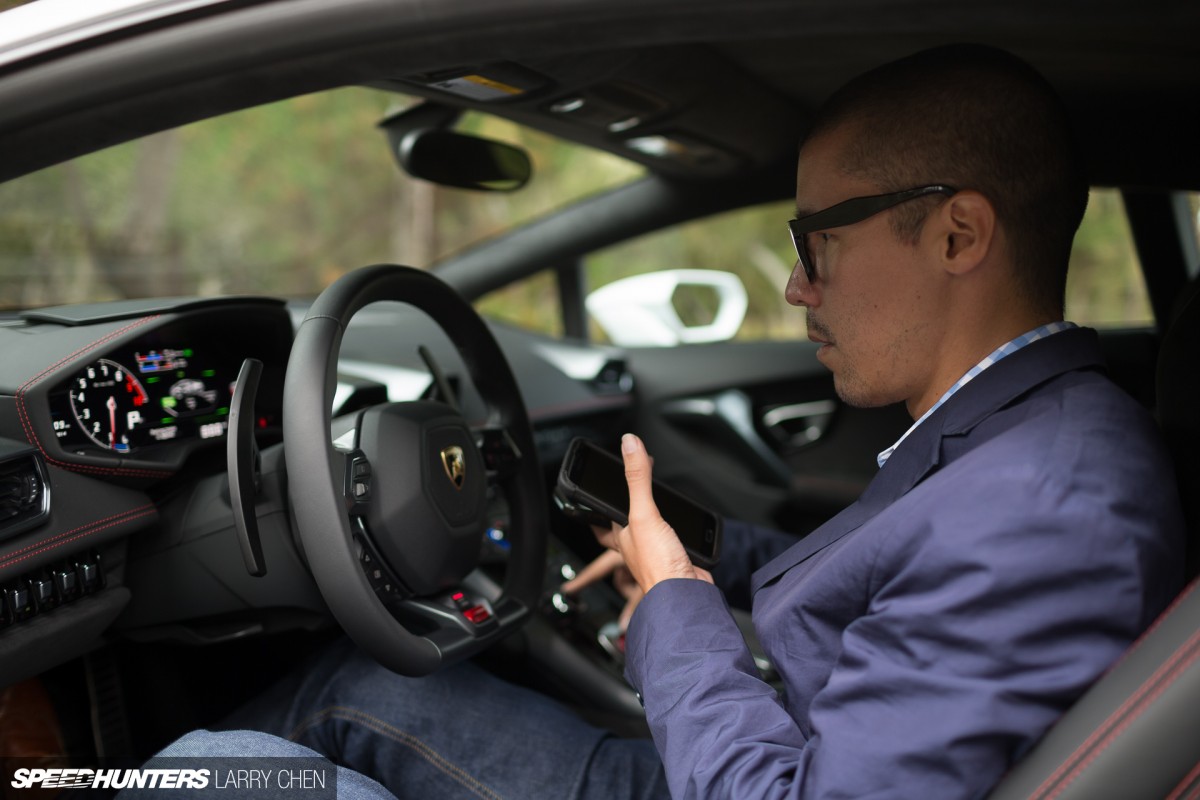 Rod: What's great about this car, is that the technology itself has not tempered the actual spirit of the machine. This does not feel like a moving computer, devoid of character and erased of soul.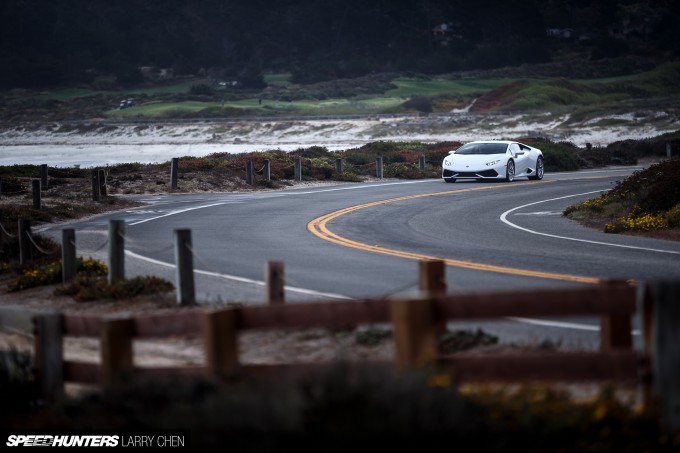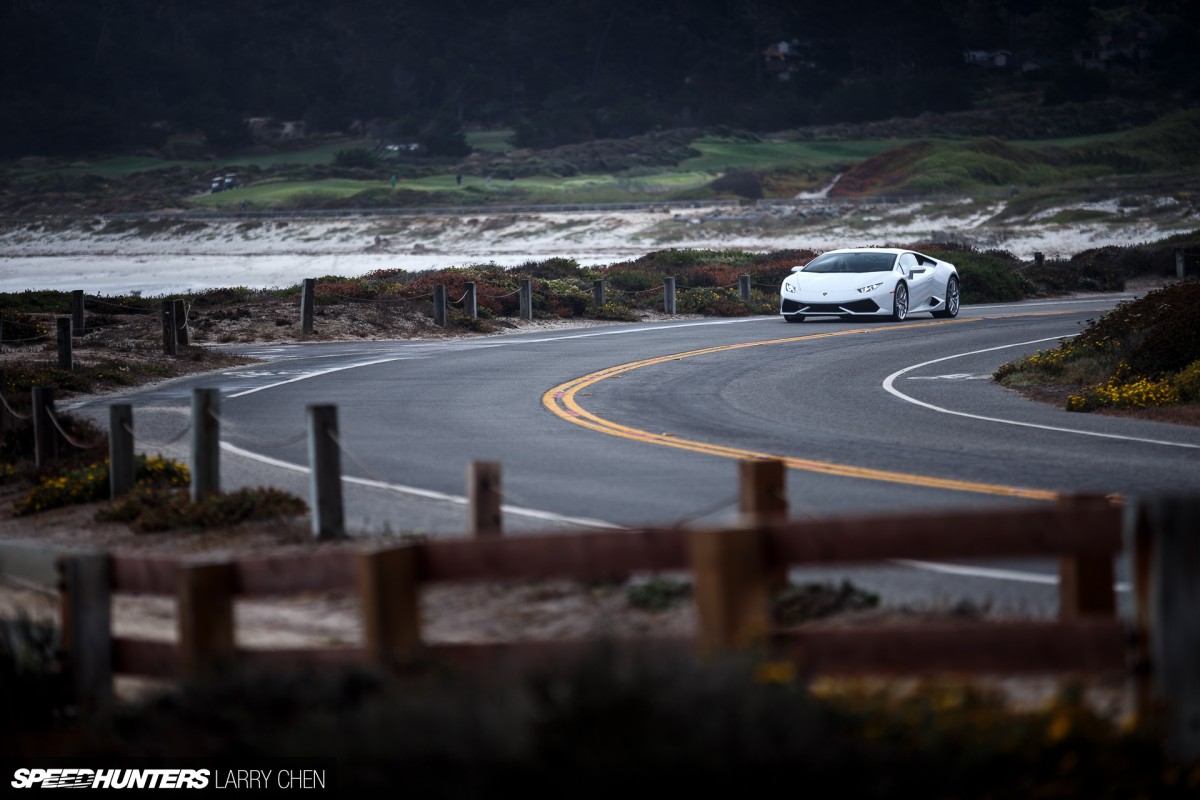 Rod: Here we have a new car, which achieves something which sadly is vanishing from our hyper-connected, technologically-driven world. This is a machine with heart – but not in the nostalgic sense. It's not trying to hark back to the feeling of yesterday. Not at all. The Lamboghini Huracán is a statement of pure design and modernity, but one which also embraces emotion and joy. It's aggressive, yet refined, futuristic, yet full of character.
Elizabeth: And this for me makes it one of the most perfect machines ever.
On that note we wrap up our Italian Theme. For a look back at all of the features over the past five days, click here.
Elizabeth White
Instagram: itswhitenoise
elizabeth@speedhunters.com
Rod Chong
Instagram: speedhunters_rod
Photos By Larry Chen
Instagram: larry_chen_photos
larry@speedhunters.com
Cutting Room Floor