That Brand New Car Smell
Have you ever seen a brand new car, whether it be those first official press shots to pop up online or the first time you actually saw one rolling down the road and said to yourself, 'Man, that would look so good X low, on X wheels', and then started compiling a list of what you would do to it in your head?
If you're any kind of real car person, this is probably how you spent much of your free time as a teenager.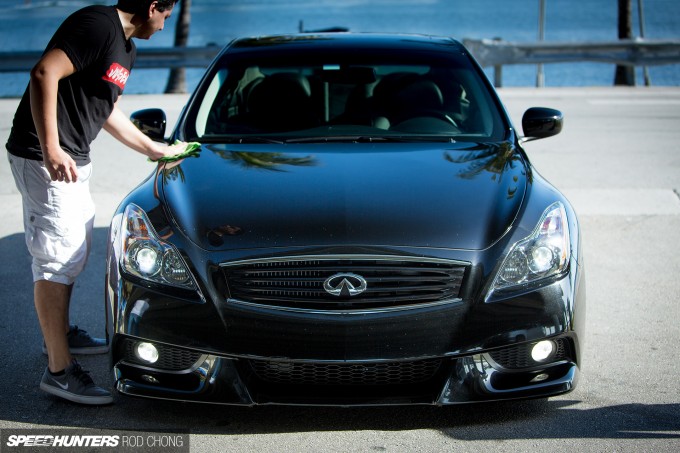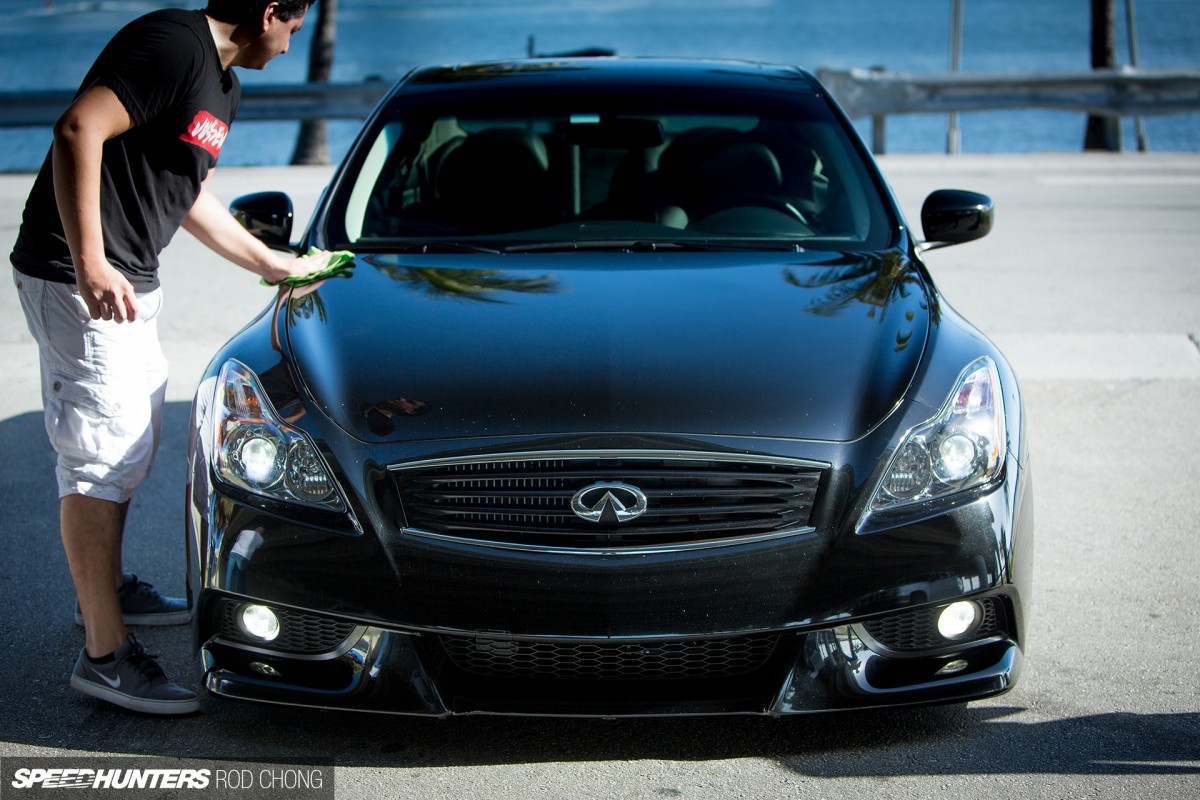 For all the dreams, big ideas and bad Photoshop attempts, modifying a brand new car is an extremely rare thing that is out of reach for most people. There's the obvious costs, the reluctance to mess with fresh metal, and of course the effect it might have on the warranty.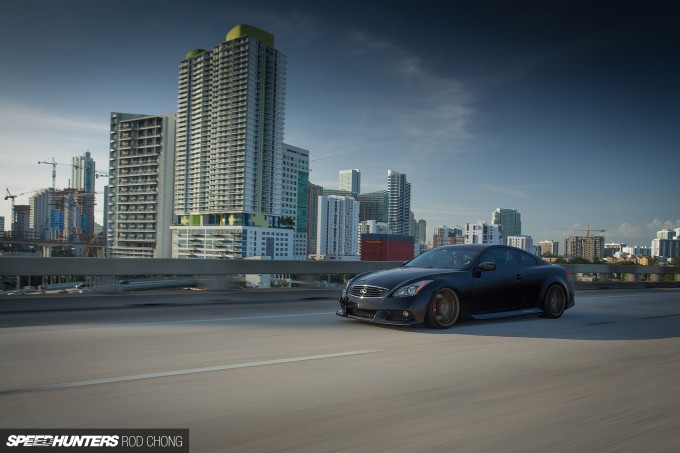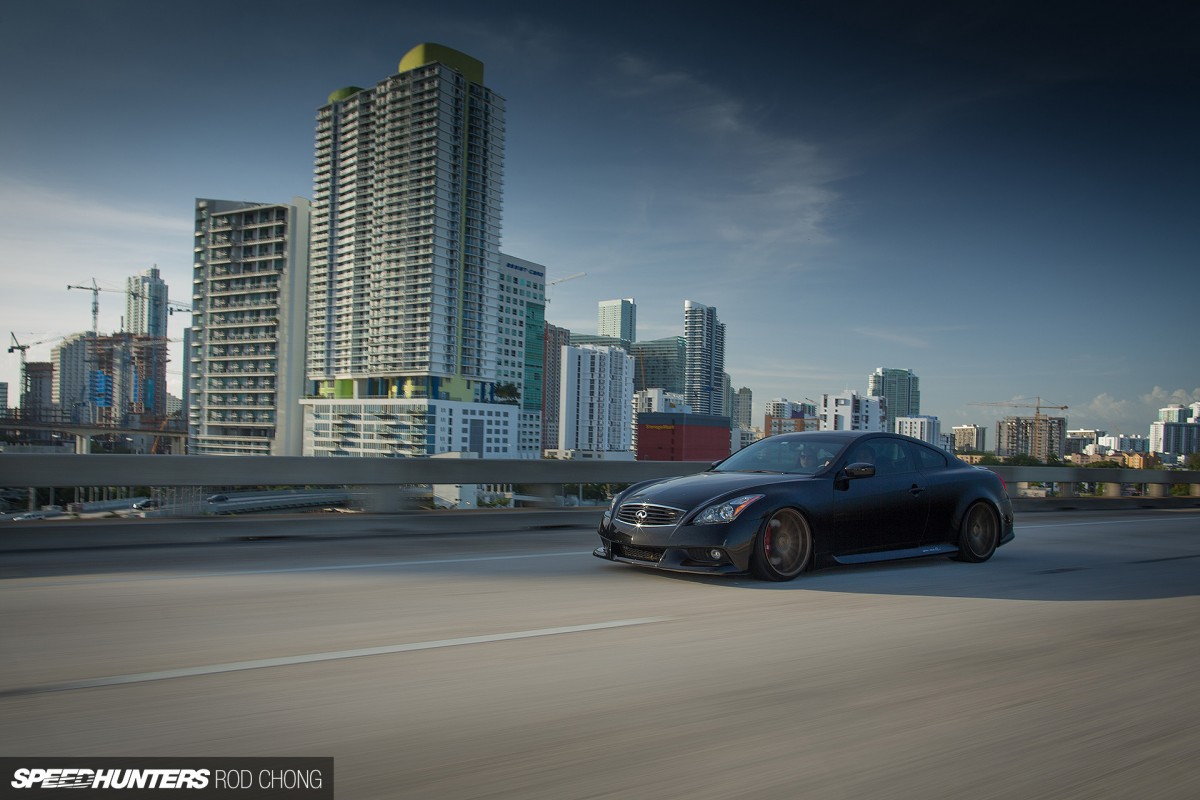 Not everyone is scared of such a commitment, though. Miami's Diego Alvarez has no problem messing with fresh metal, specifically of the Nissan variety. It all started back in his teenage years; the Z33 350Z had recently been released and Diego couldn't get enough, plastering his walls the Z posters and dreaming of the day that he could have his own. In 2007, he did just that, picking up a brand new base-model 350Z. The problem was, after a year of ownership, Diego regretted getting the base without any options, and yearned for more luxury – something he found when the next generation Z's sister car, the Infiniti G37, was released in 2009. The Z was quickly traded in for a brand new VQ37VHR-powered G37 in jet black.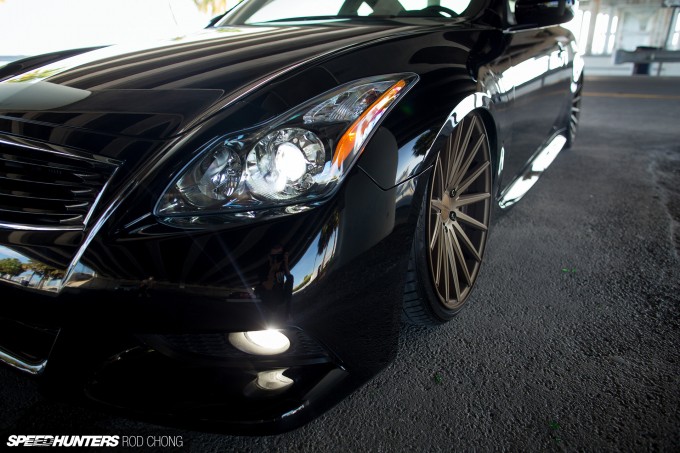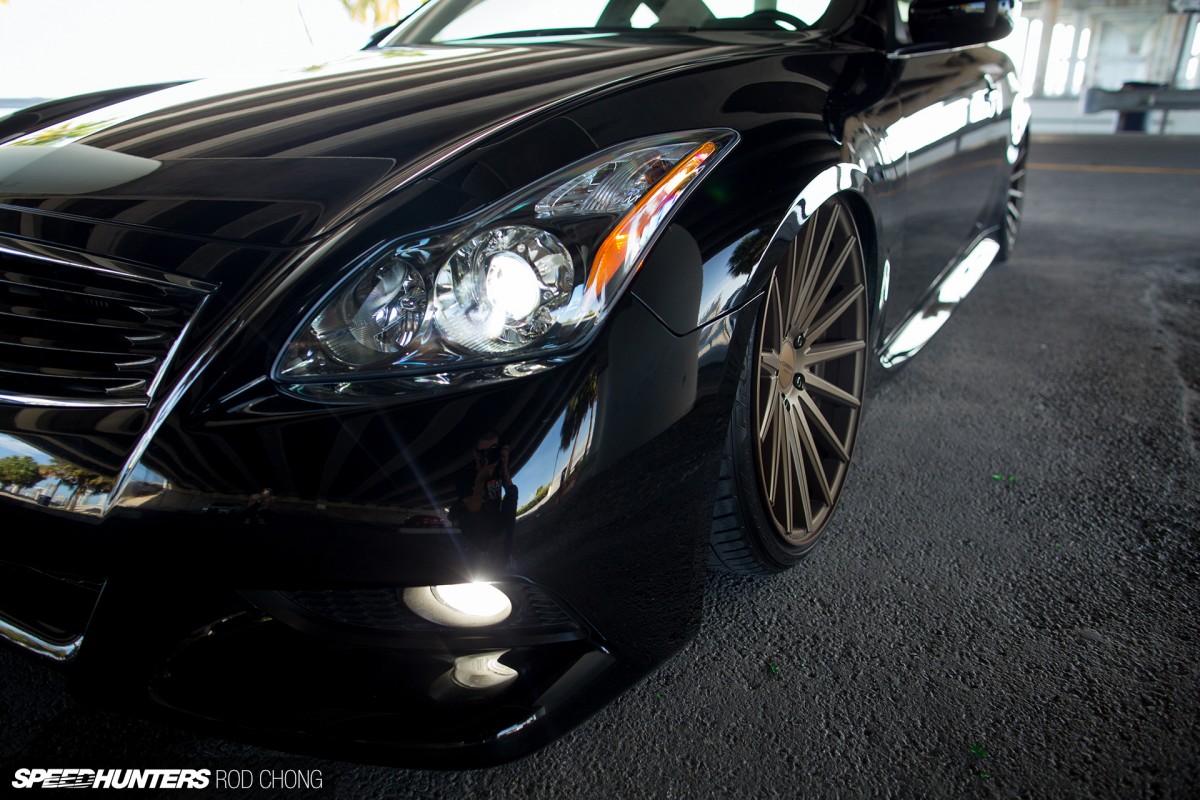 This G37 was on a lease, and Diego spent the next few years slowly modifying the automatic 3.7-litre V6-powered coupe, and in that same time both getting himself a job working for Vossen Wheels in Miami and becoming fairly well-known within in the G community. The problem was, eventually all leases must come to an end, and after many nights spent working on his car and many miles behind the wheel, Diego always knew he had to return the entire car to stock and give it back to the dealer at some point, meaning he could never take it to the level he wanted to. That return date came around late last year and it was a sad day. But at the same time, it opened up a world of possibilities as to what car he would choose to drive next.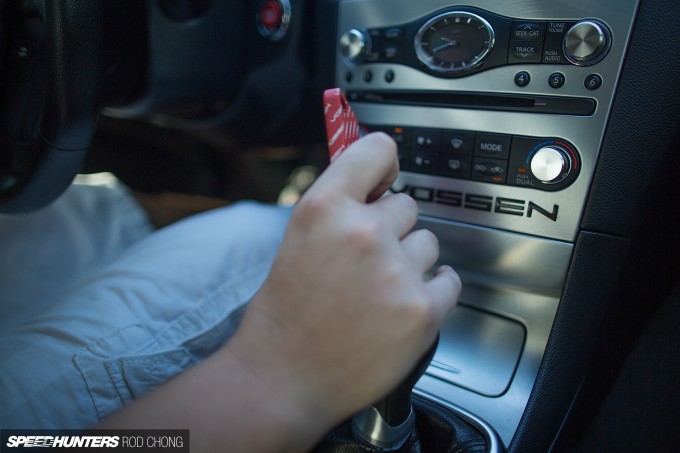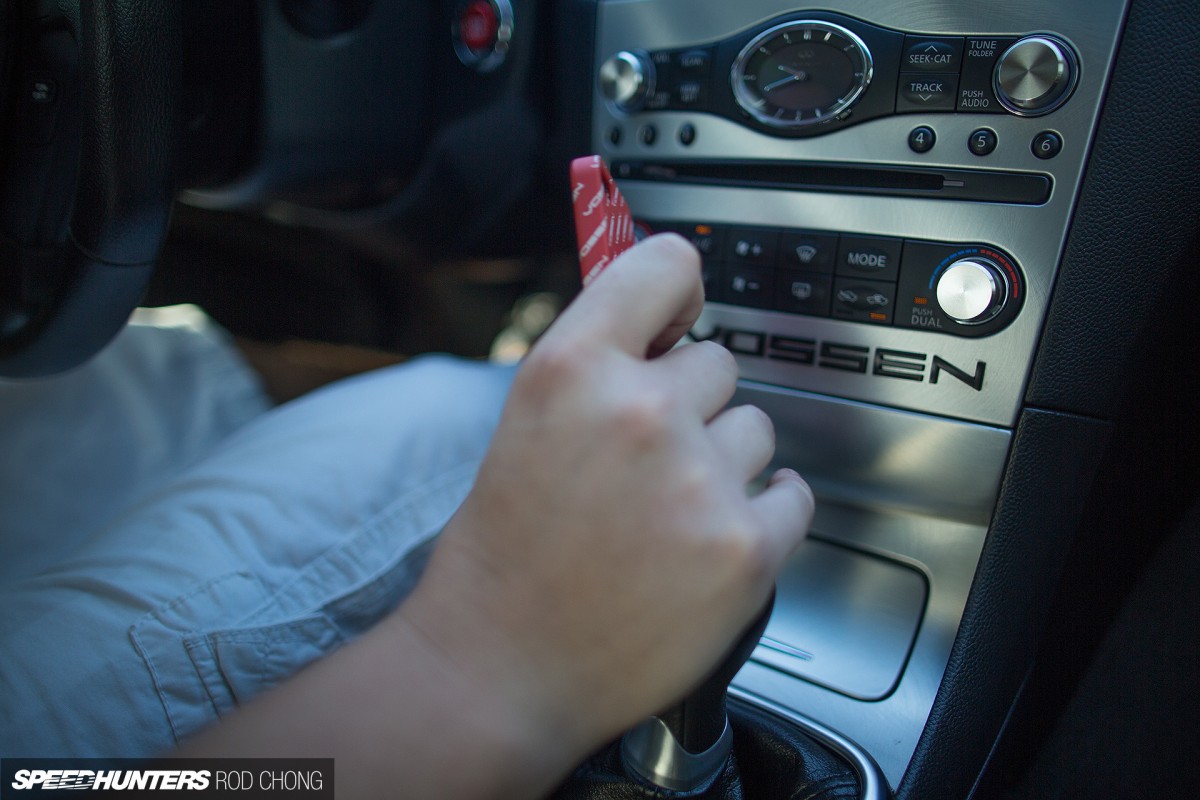 After some shopping around and plenty of soul searching, a decision was made. It was going to have to be a jet black Infiniti G37… Again. This time though, an updated 2013 model, running a six-speed manual instead of his previous car's slushbox auto.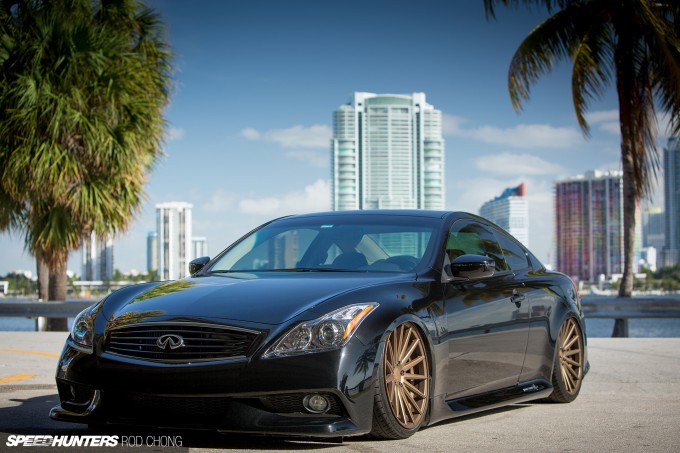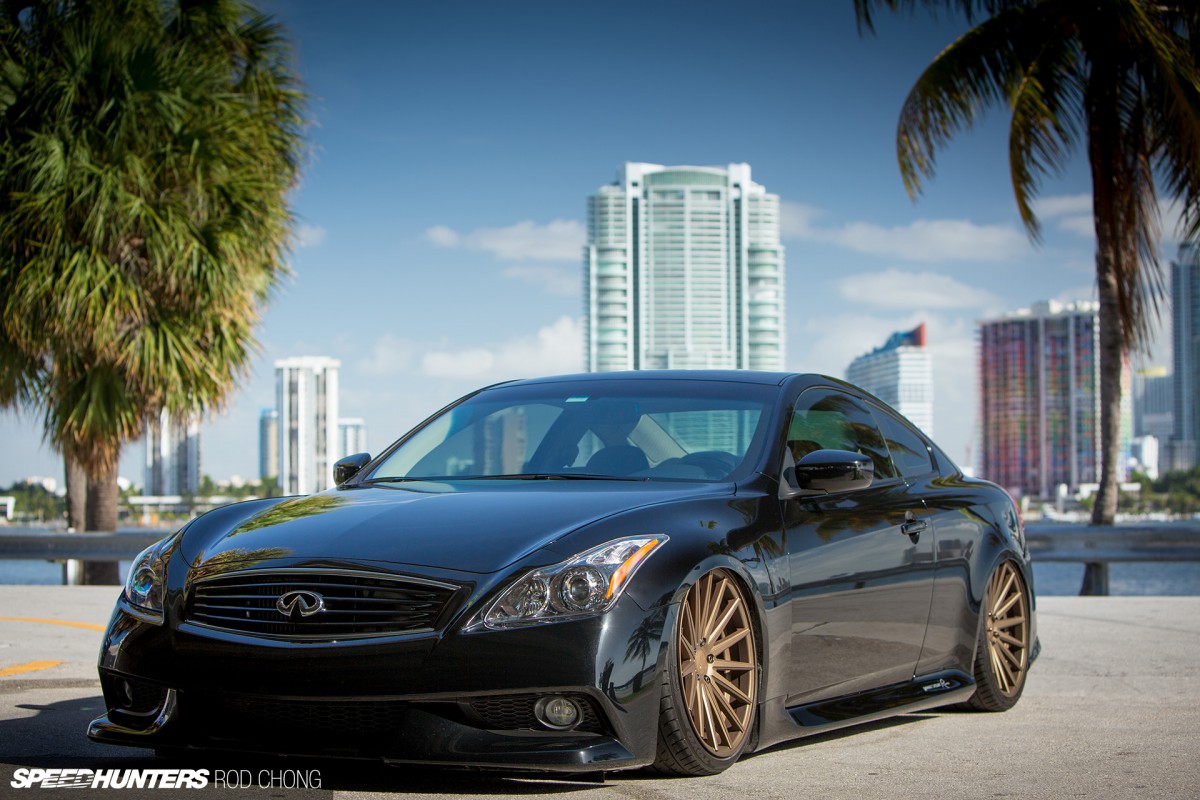 With the wealth of experience Diego already had with this platform – not to mention all the parts that were removed from the previous car – it seemed like a no-brainer. This time the Infiniti was purchased outright, which gave him the ability to take it to the level he had always wanted, but not been able to do with the last car. Within a week of picking the G37 up from the dealer, Diego already had the Infiniti sitting on coilovers and his first of what would be many sets of Vossen wheels.
Smooth & Stylish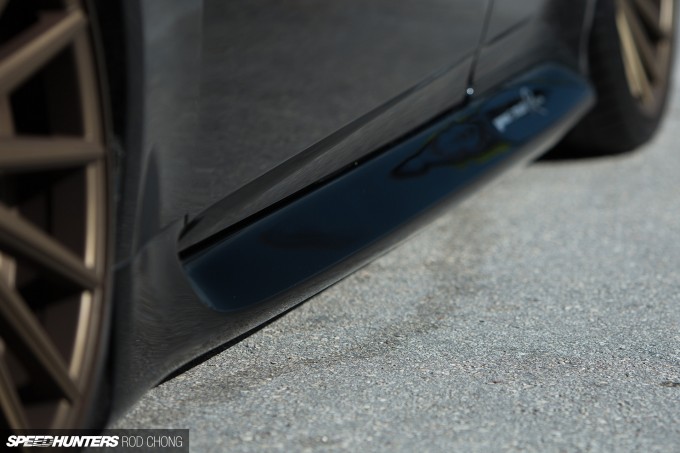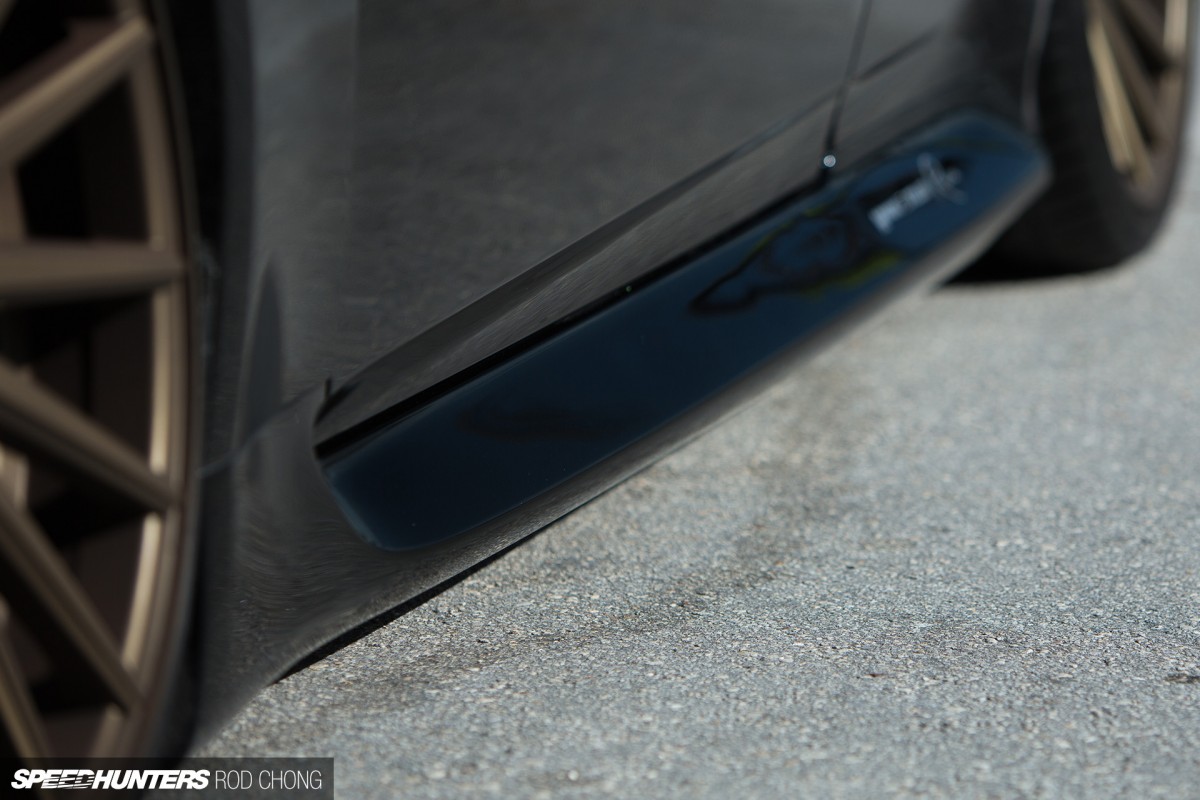 There's no denying that the G37 is an extremely good looking car. The sharp, aggressive lines flow perfectly from the angular headlights back towards the rear of the car – it's a true Japanese sports car for the more discerning gentleman (or gentlewoman). Though that's not to say it can't be improved upon. Diego has enhanced the menacing look using the factory option IPL (Infiniti Performance Line) aero kit, which uses deeper, more aggressive  bumpers and side skirts, now accompanied by a blacked-out Midnight front grill and Sport trunk spoiler.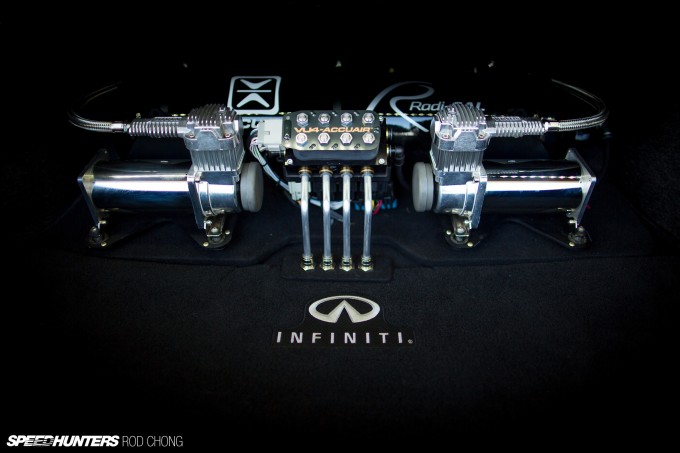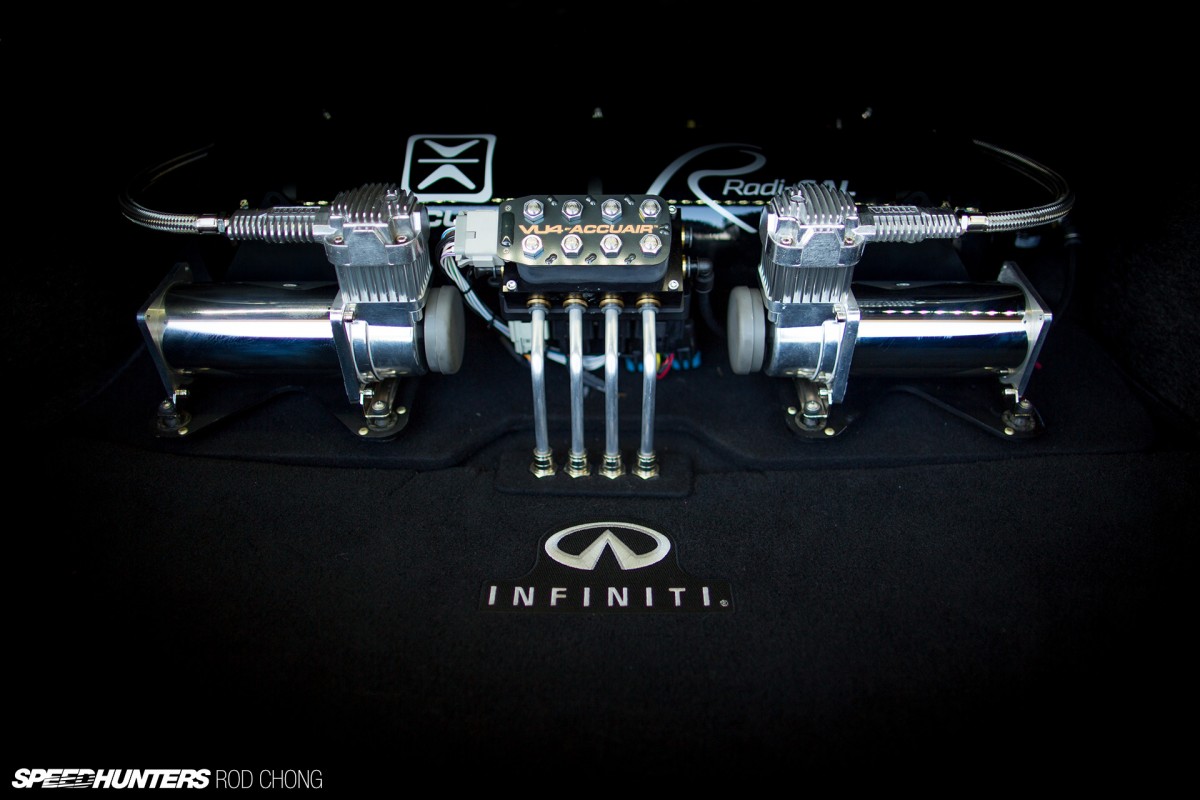 Though the Infiniti has run two sets of coilovers over the last year – firstly the Stance GRs from his original G37, and then a set of excellent KW V3s – the IPL bumpers and skirts now sit just above terra firma thanks to a full AccuAir air suspension set up, installed by Danny at Slammered-Inc. in Florida. Diego says the KW coilovers were amazing, but with the height at which he likes to drive his car, it was just becoming too impractical. Riding on air means he doesn't need to stress about speed bumps or driveways, and when set to driving height, Diego says the car handles almost as well as when it's on coils – especially with the addition of chunky adjustable sway bars from Stillen.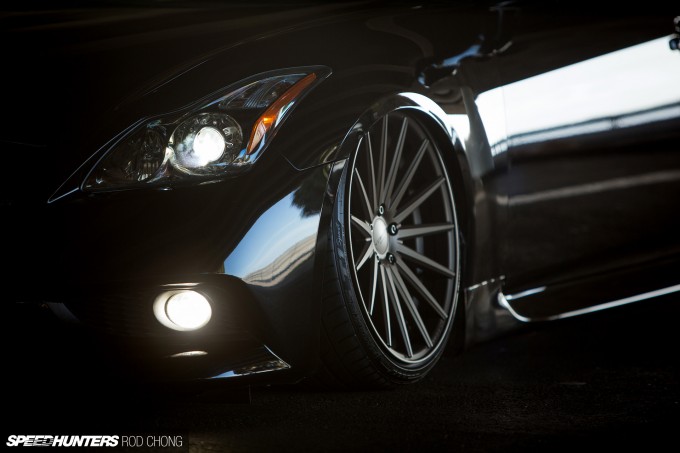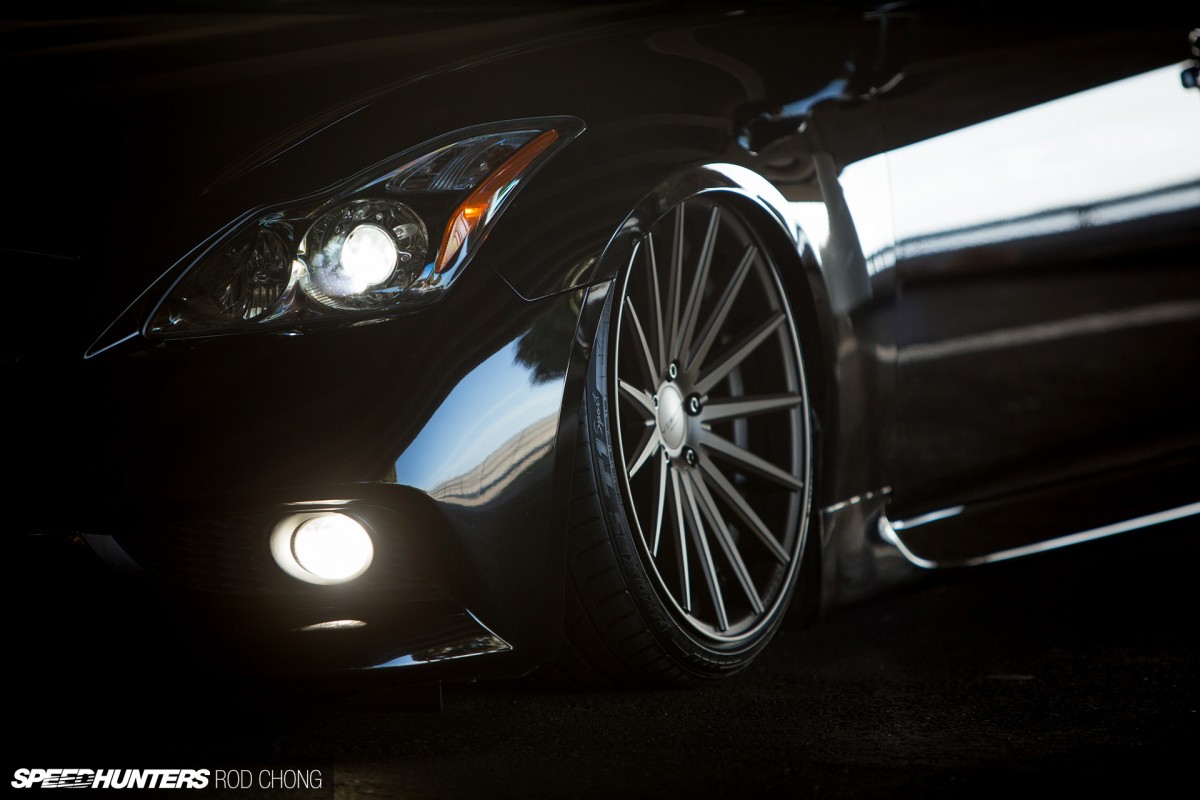 Currently, the Infiniti's (mostly) unmolested fenders tuck up a set of concave Vossen VFS-2s in satin bronze measuring 20×9.5-inch with a +25 offset up front.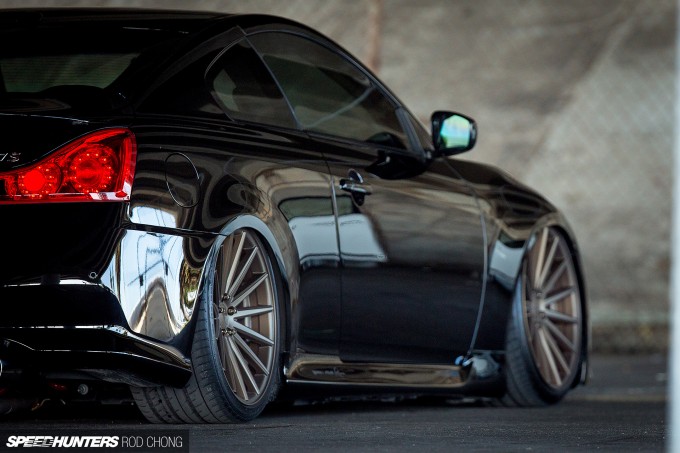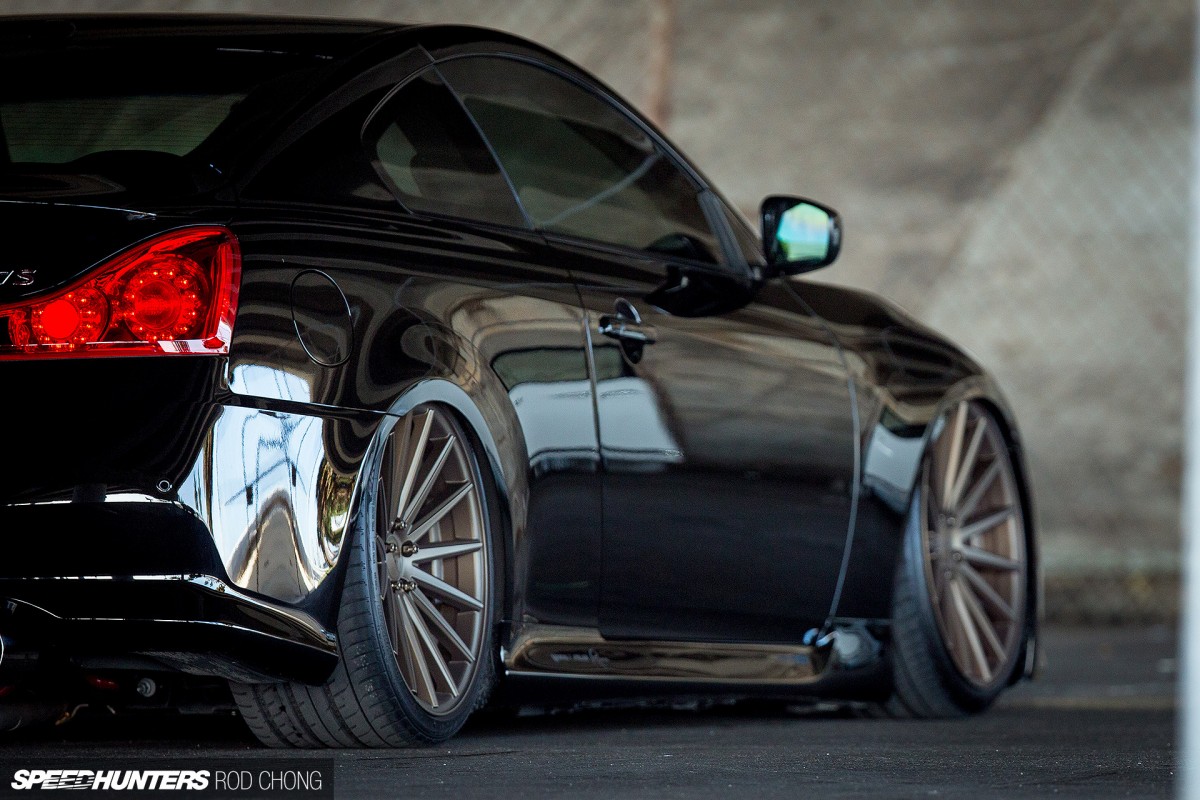 And 20×10.5-inches +45 in the rear. Though Diego has of course experimented with all kinds of widths, offsets and styles of Vossen wheels on his G37s – over 30 different sets between the two cars – at the moment he is feeling the higher offset look, which allows him to fit much wider Toyo T1 Sports under the fenders; 255/30R20 in front and 305/25R20 out back.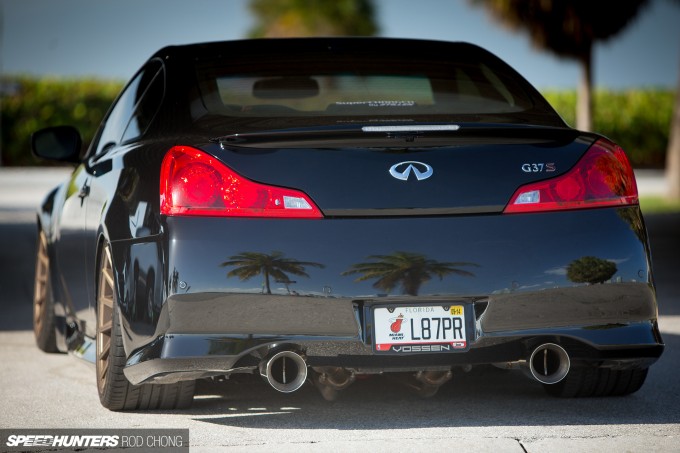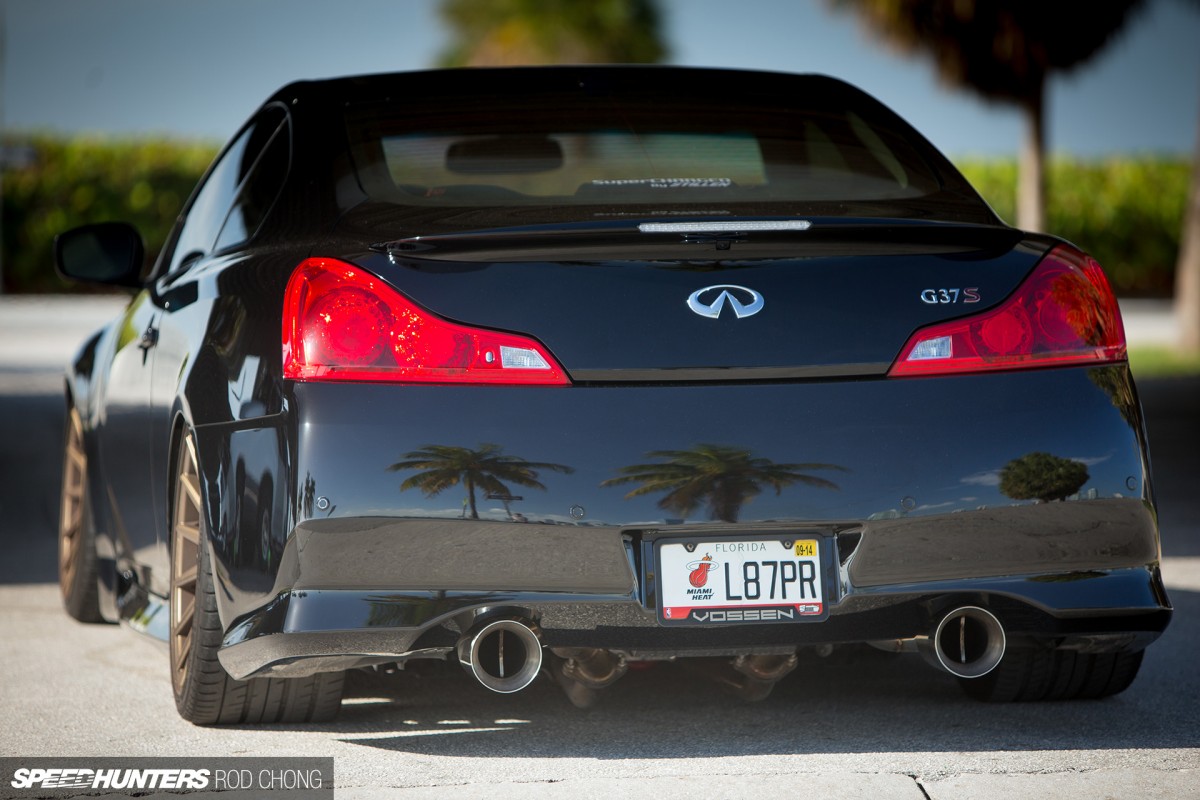 While yes, the VQ37 sitting between the front struts is a fantastic motor, throwing 305s on the back is a little optimistic, isn't it?
The Next Level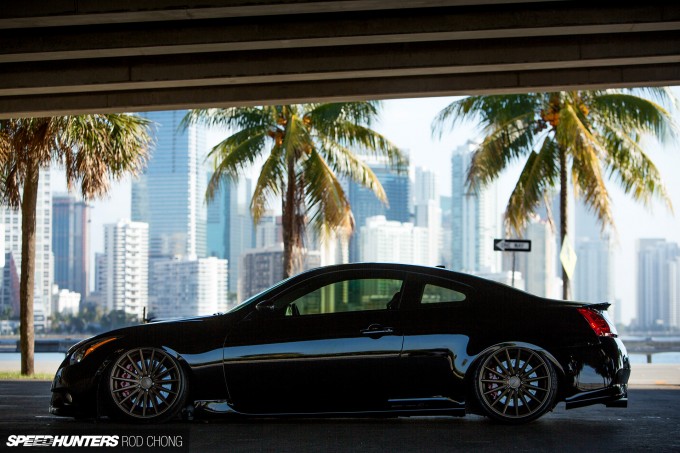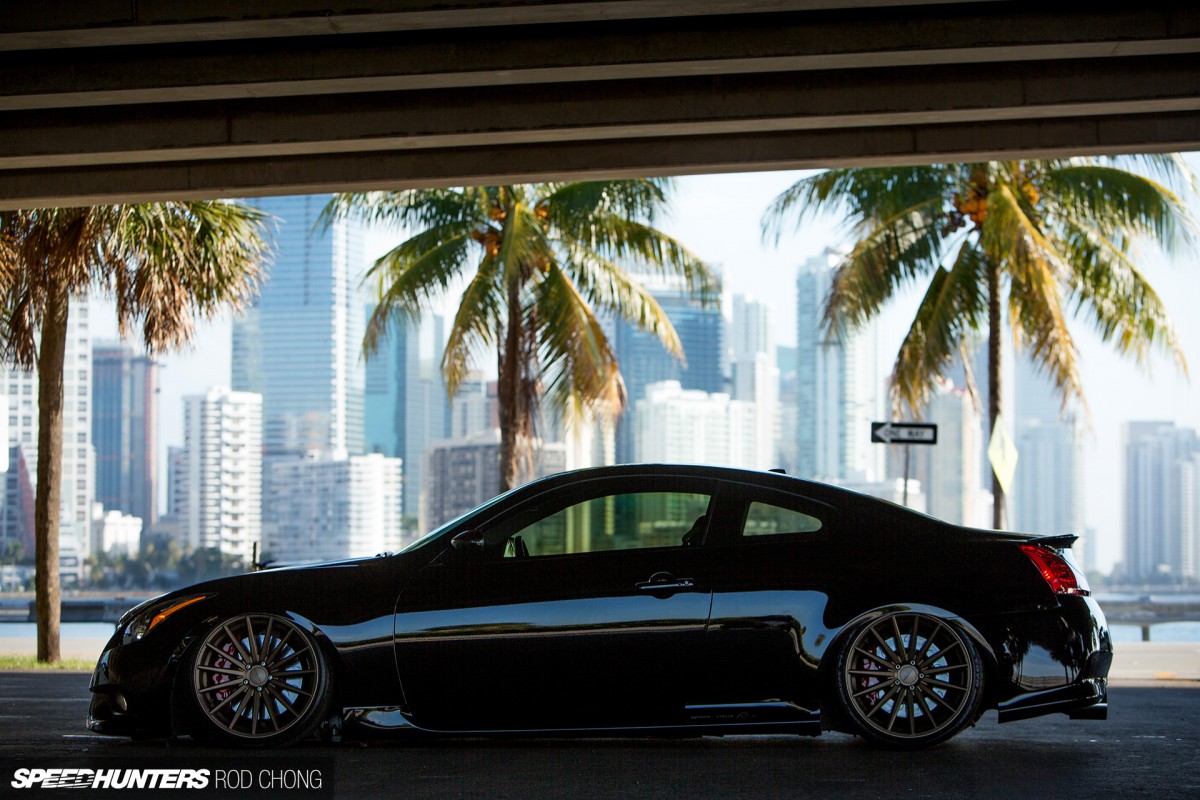 Thanks to Stillen, one of the leading aftermarket supporters of Nissan's venerable VQ motor, it's not optimistic in the least. To Diego, forced induction was the one big thing he had always wanted for his first Infiniti, but had never been able to do. This time around, he was finally given the green light to go wild and cram some boost through the 3700cc aluminium V6, which runs Nissan's VVEL (Variable Valve Event and Lift) system and a fairly high compression ratio of 11.0:1.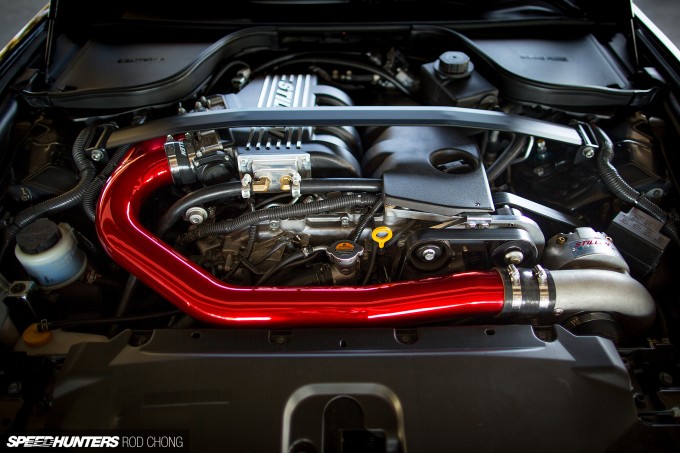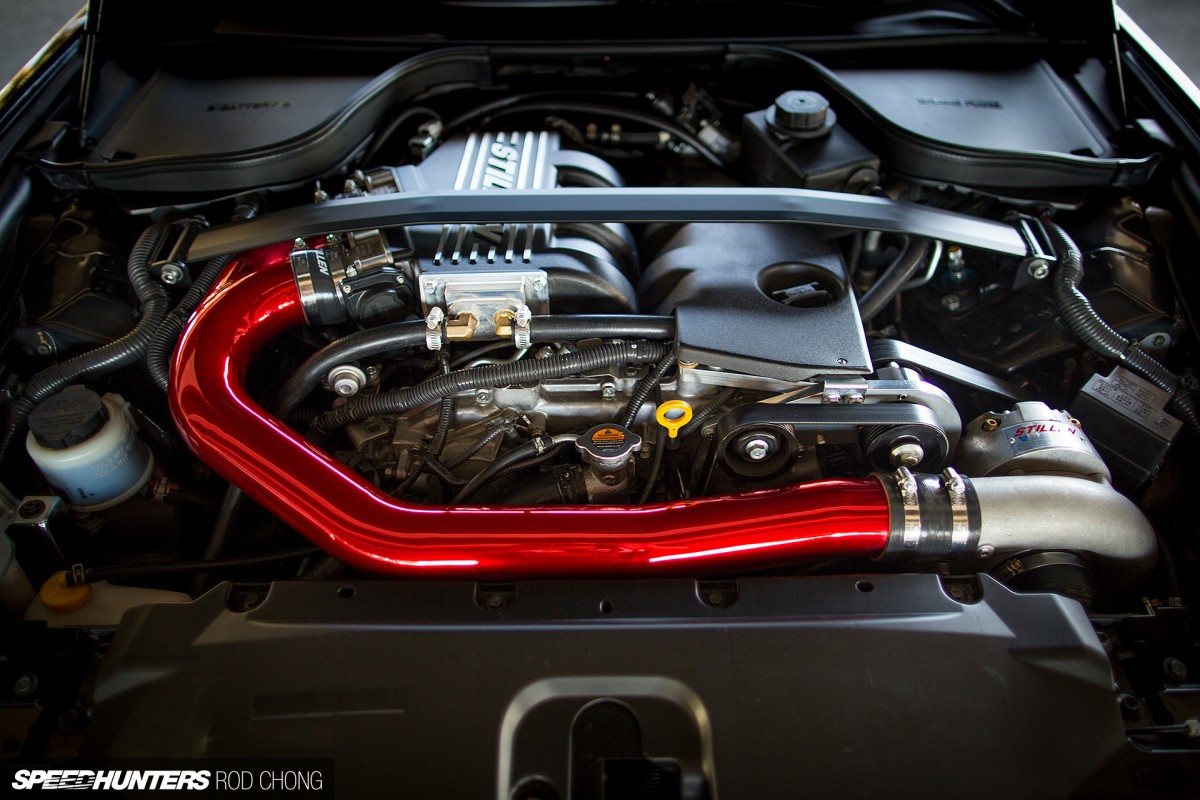 Stillen provided Diego with its excellent supercharger kit based around a Vortech V-3 centrifugal charger, which includes everything you need to smash out an easy 500hp at the flywheel, up from the factory-quoted figure of 328hp. The kit was further upgraded with a 9psi pulley and the ability to run a custom tune on the UpRev flashed factory ECU.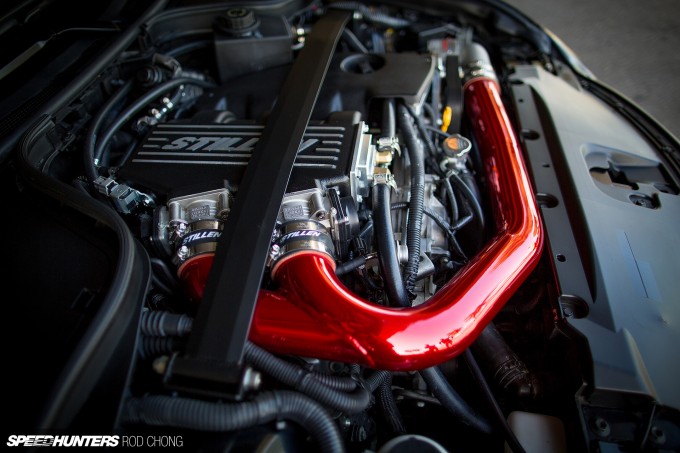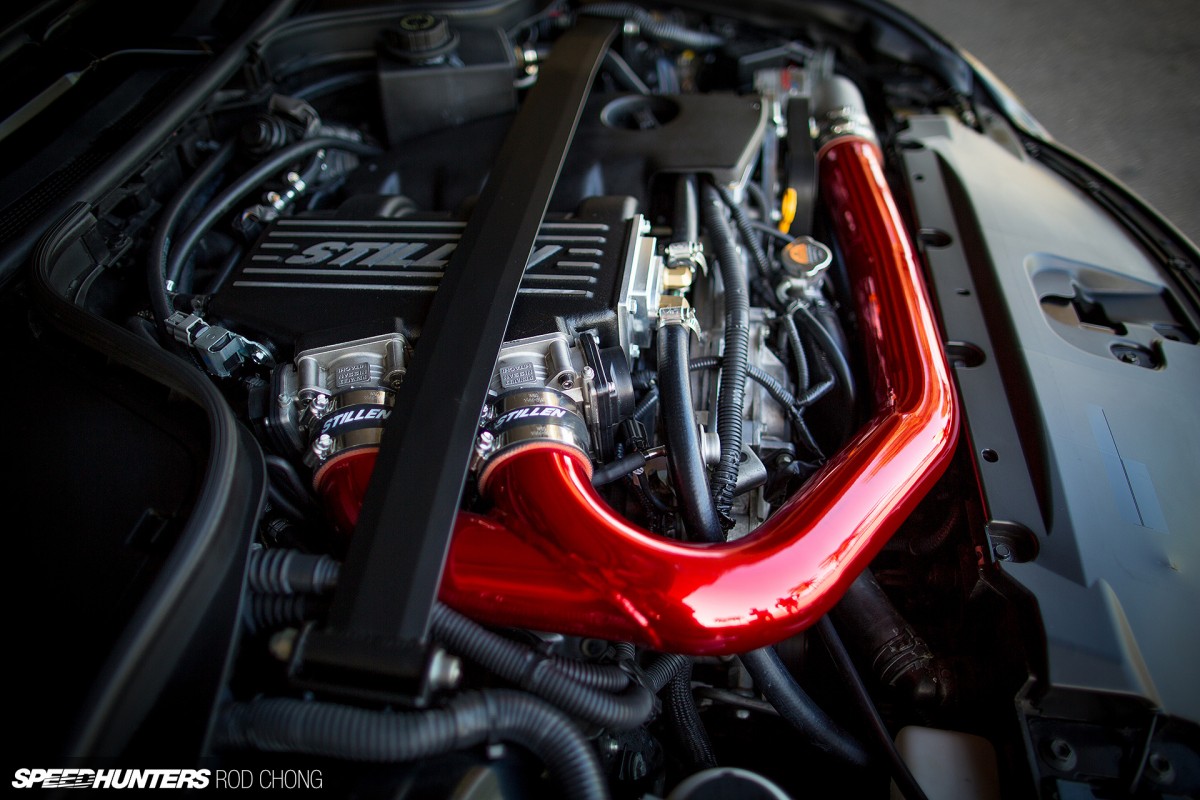 The Stillen product runs an interesting water-to-air intercooler setup, which has been integrated into the intake plenum itself. The factory Nissan setup runs a throttle body for each bank, in case you were wondering why there are two …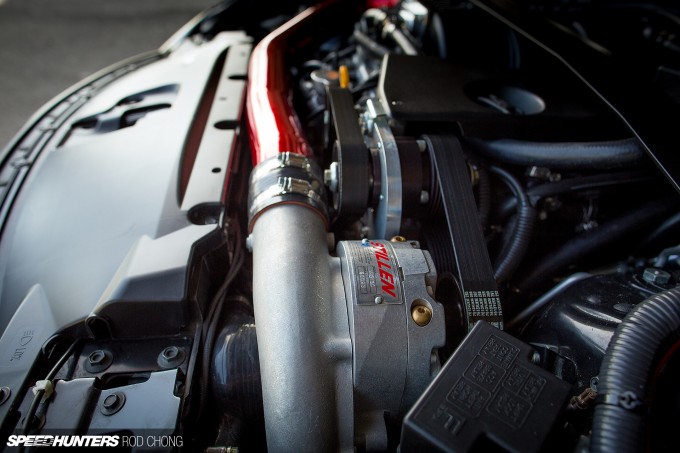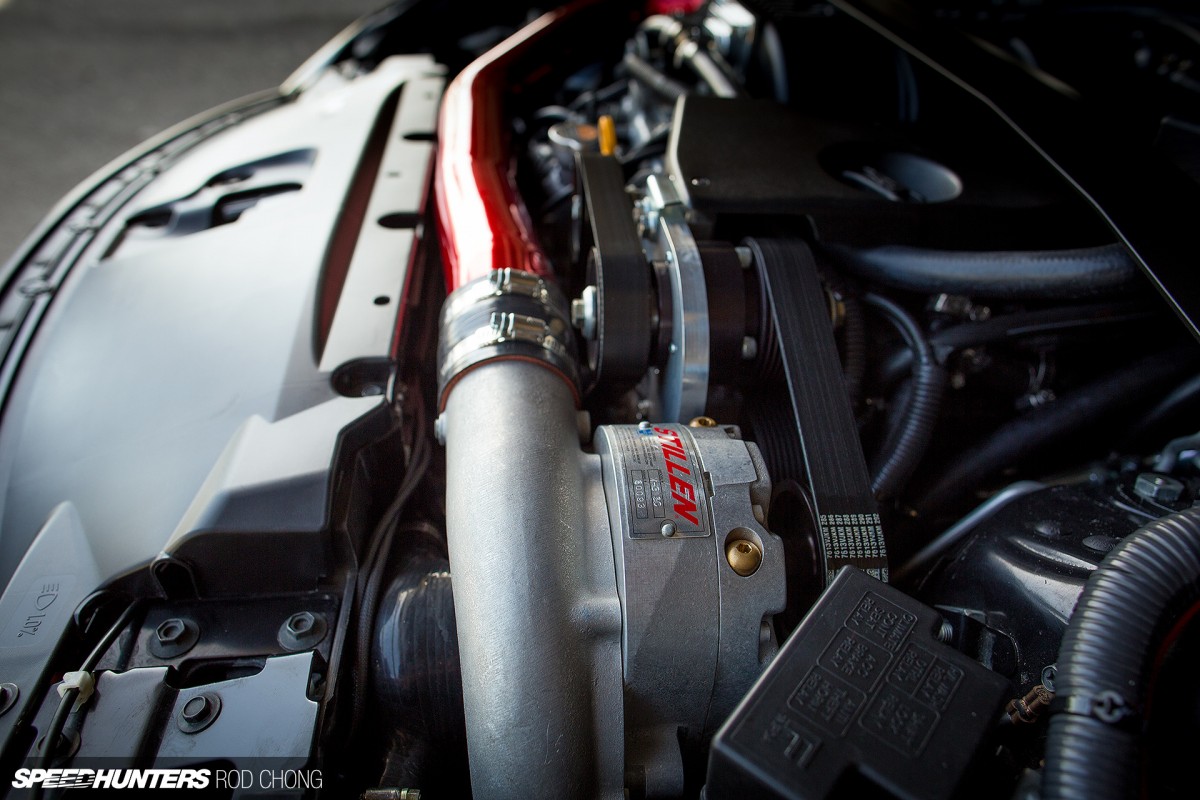 But this is where things turn a bit dark for Diego and his G37. Once the supercharger kit arrived, he took it, along with the car, down to a local tuning shop for installation and a custom tune on the dyno. The install took a week and it looked great, but upon driving the car home, Diego noticed that the car was blowing smoke. Calls were made and the tuner assured Diego it was fine – probably just burning off some coolant – and in all fairness the Stillen kit has been proven time and time again as perfectly safe on these motors. A few days later however, the engine wouldn't rev past 4,500rpm and started blowing a lot of white smoke – the worst was feared and soon after confirmed. To cut a long and incredibly painful story short, it would appear that the tune wasn't quite right and cylinder two leaned out, spelling the end for the nearly brand-new VQ37. Sadly, the shop wouldn't take responsibility, blaming it on Diego's driving, and the addition of a supercharger meant there was no factory warranty on the motor. Diego had two options: rebuild or replace. As far as rocks and hard places go, Diego was well and truly stuck between two big ones.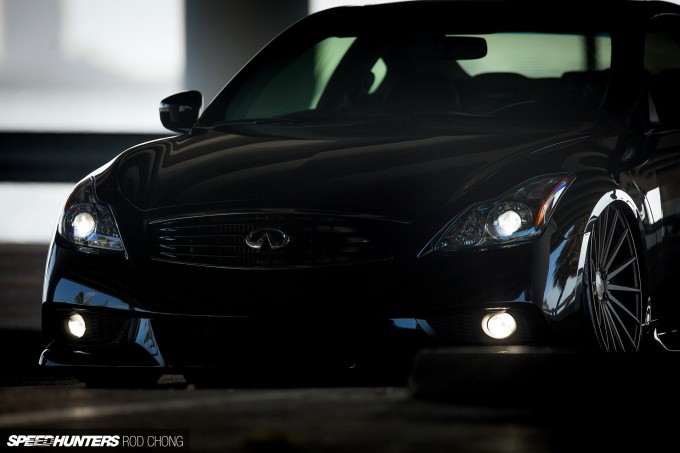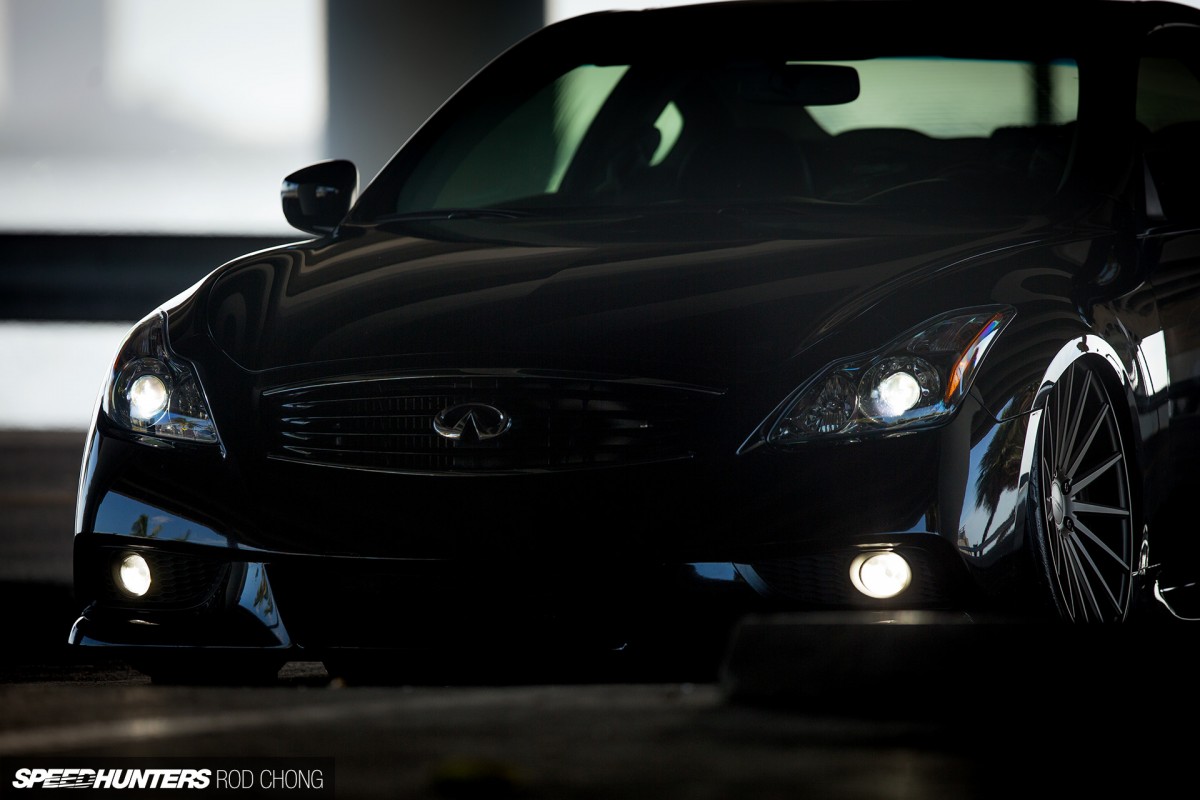 There was no cheap way out, so after much soul searching and a month or so spent breathing deeply, Diego asked the dealer to drop in a brand new engine. This time around however, he was going to install the supercharger kit himself with help from a few friends and then go direct to the source for his tuning. By connecting to the ECU remotely, the guys at Stillen tuned the car from the other side of the country, eeking out a very impressive 443 horsepower at the rear wheels on a Mustang rolling road dyno using 93 pump gas.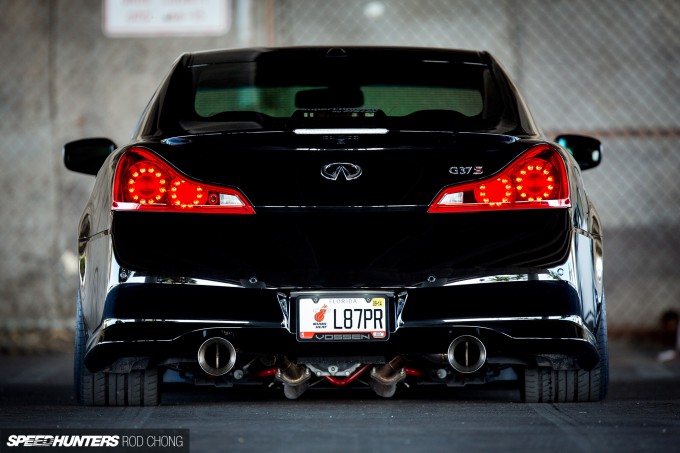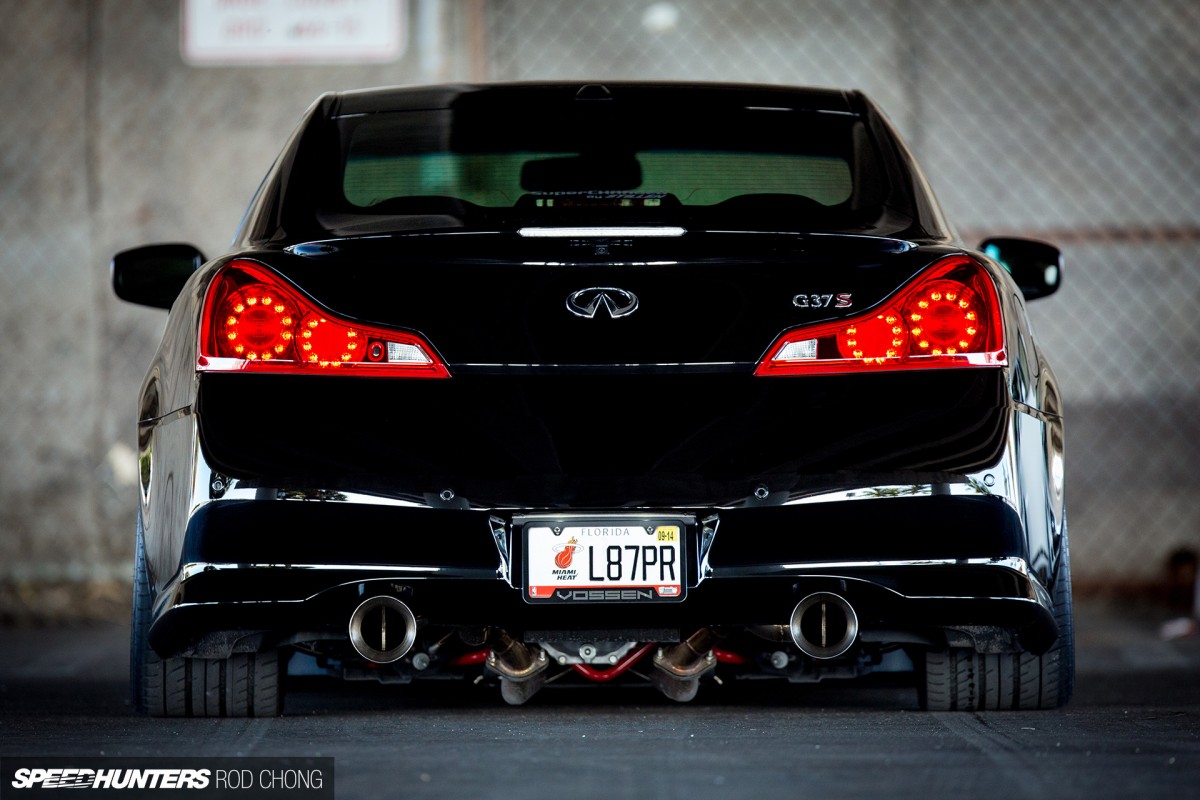 The resulting punch is impressive. The car launches from a standstill like a coiled spring, and pulls hard right from idle all the way to the increased redline of 7,900rpm. As for how it sounds, it can best be compared to the bark of an R35 GT-R, in part thanks to the very pretty GTHAUS Meisterschaft stainless exhaust system that runs from the stock cats back. Interestingly, Stillen recommended the factory catalytic converters over the high-flow items Diego had already installed, and sure enough, the car made more power that way.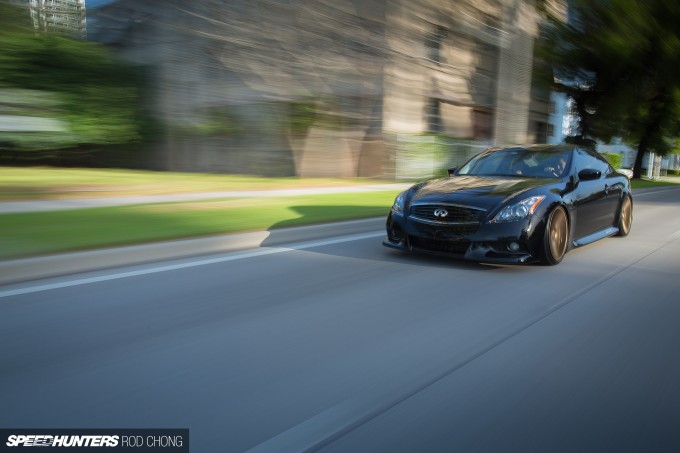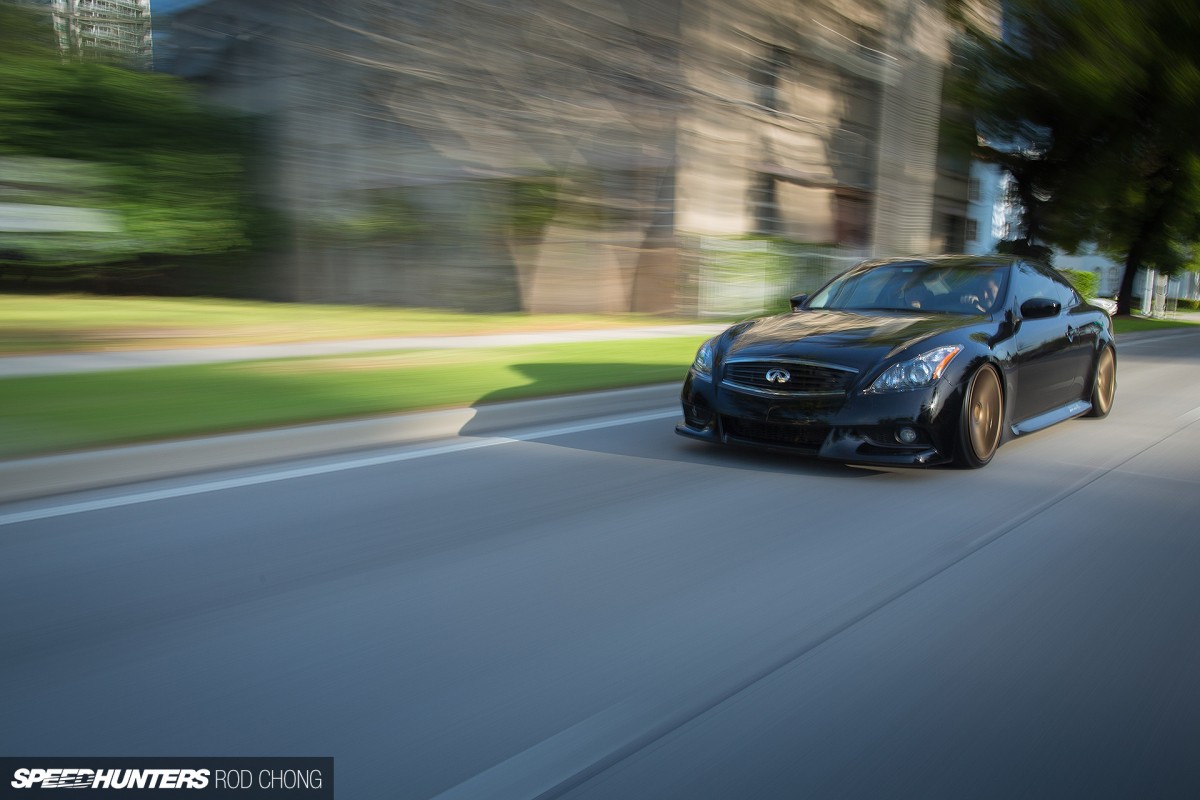 Diego says that although the stock engine is a great piece of equipment, the car is now an absolute blast and finally feels like it has the power to match the chassis, yet it still drives just as calmly as if it was factory standard. Considering this car does about 90 miles of driving every day, that's a big bonus.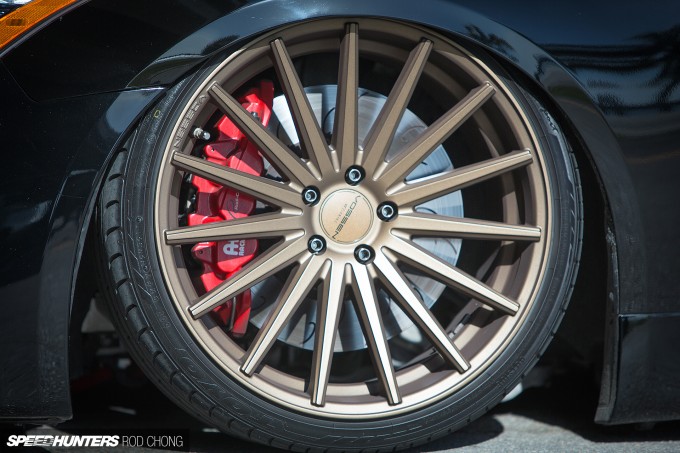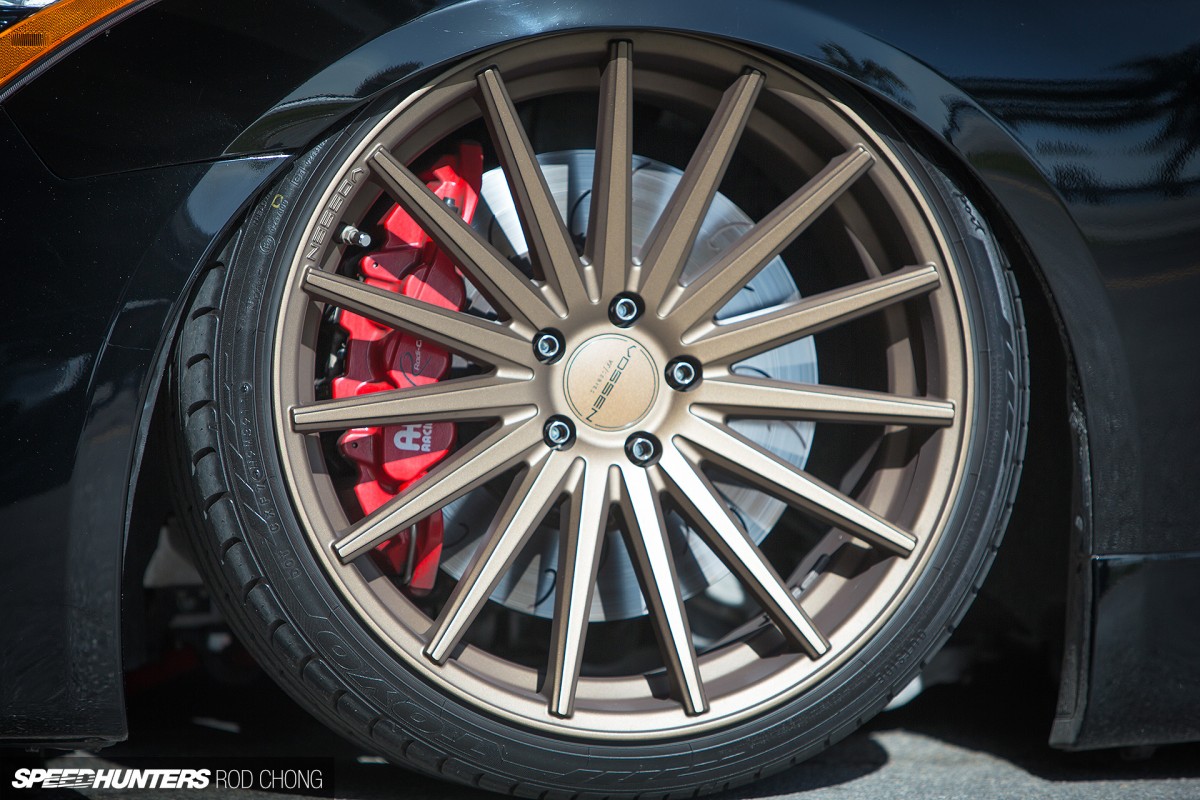 Now that the G37 had the go, there was only one more big item to cross off on Diego's dream G37 to-do list: huge stoppers. Though the factory brakes would probably still do a fine job of hauling the car up after a blast with all its new-found power, Stillen once again came to the party, providing its bolt-on Radi-CAL kit. The kit uses huge AP Racing six-piston forged calipers and 370mm two-piece rotors up front and four-piston 360mm two-piece rotors in the rear.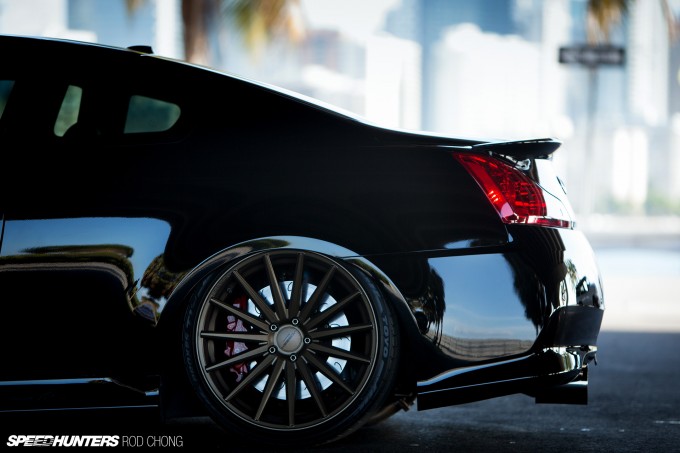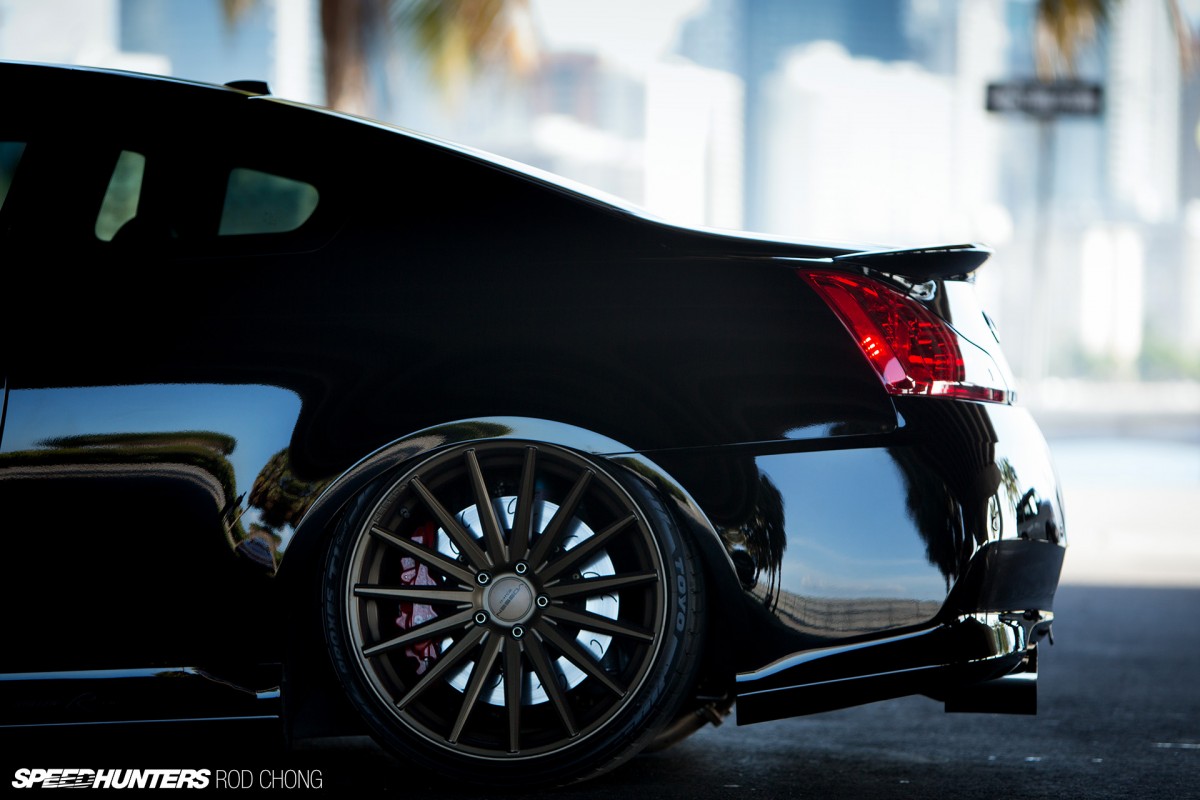 Although the supercharged mill is no doubt amazing, Diego admits the stoppers are his favourite part of the build – how they look, how they sound and how they try to yank your eyeballs from their sockets every time you stand on the middle pedal.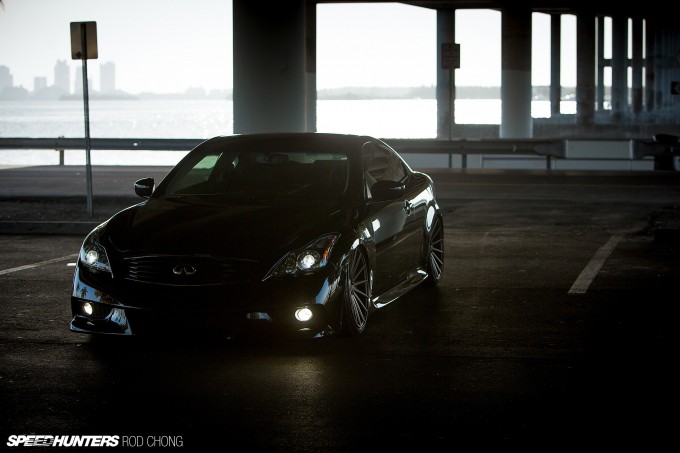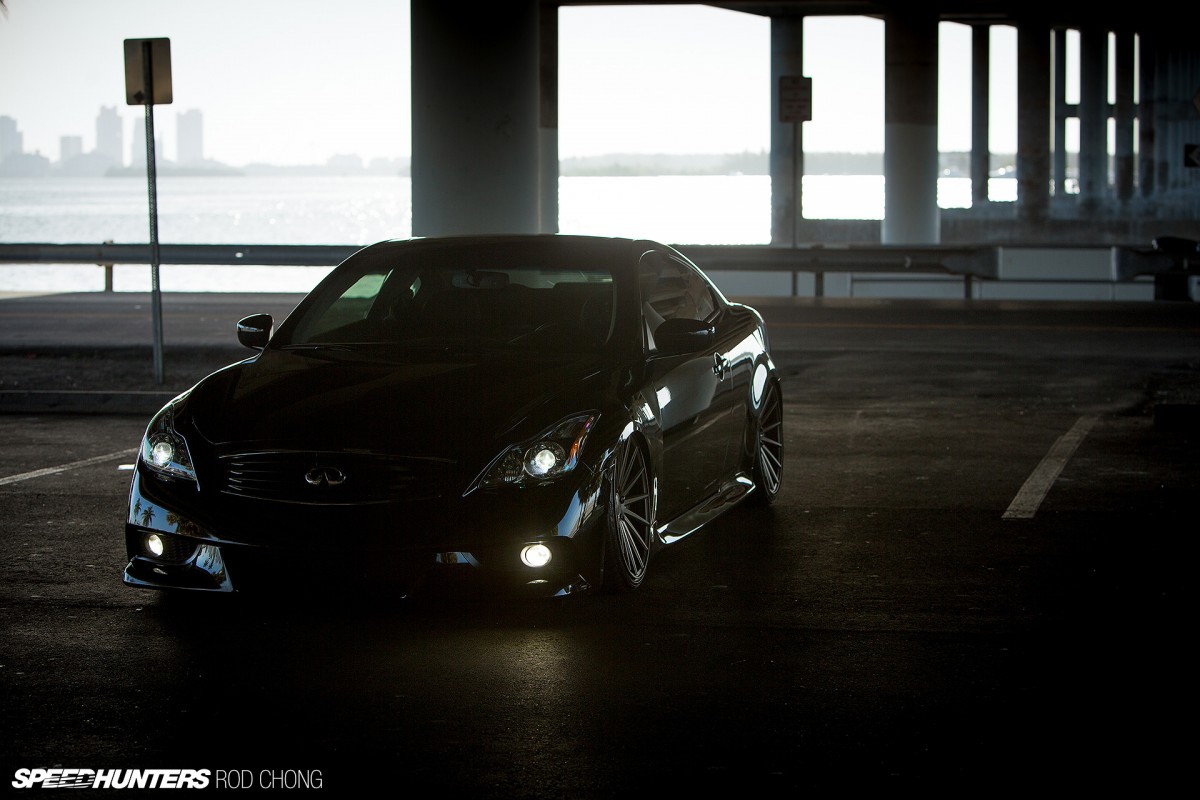 Despite all the ups and downs, Diego is now extremely happy with where the build currently sits. After being hamstrung by the lease agreement on his first G37, and then crushed by a melted piston, he has now finally got his new car to the level he always wanted. While the previous Infiniti simply looked good, this new G37 has the grunt, the stopping power and the handling to match – all whilst retaining that beautiful brand-new, leather-draped luxurious GT car feel. Could this the ultimate Japanese Luxury GT coupe?
Peter Kelly
Instagram: @pedey_kenmeri_creative
pedey@speedhunters.com
Photos by Rod Chong
Instagram: @speedhunters_rod
rod@speedhunters.com
Story Produced by Elizabeth White
Instagram: @itswhitenoise
elizabeth@speedhunters.com
Cutting Room Floor