A Movement Like No Other
I continue to be captivated by Japanese car culture. I've been covering the ever-changing scene professionally since the early 2000s, and have been immersed in it for over two decades now. In that time I have seen many styles come and go, so I'm always curious whether a new thing is just the latest fad or a real and sustainable movement.
I like to observe, or be in a position to do so – and that's what I do. I look at things, report them and present them to you without judgment. But I really don't know what to make of this whole stance movement…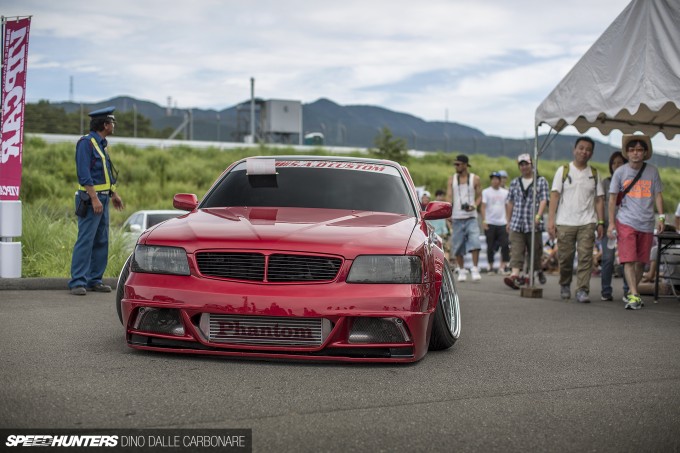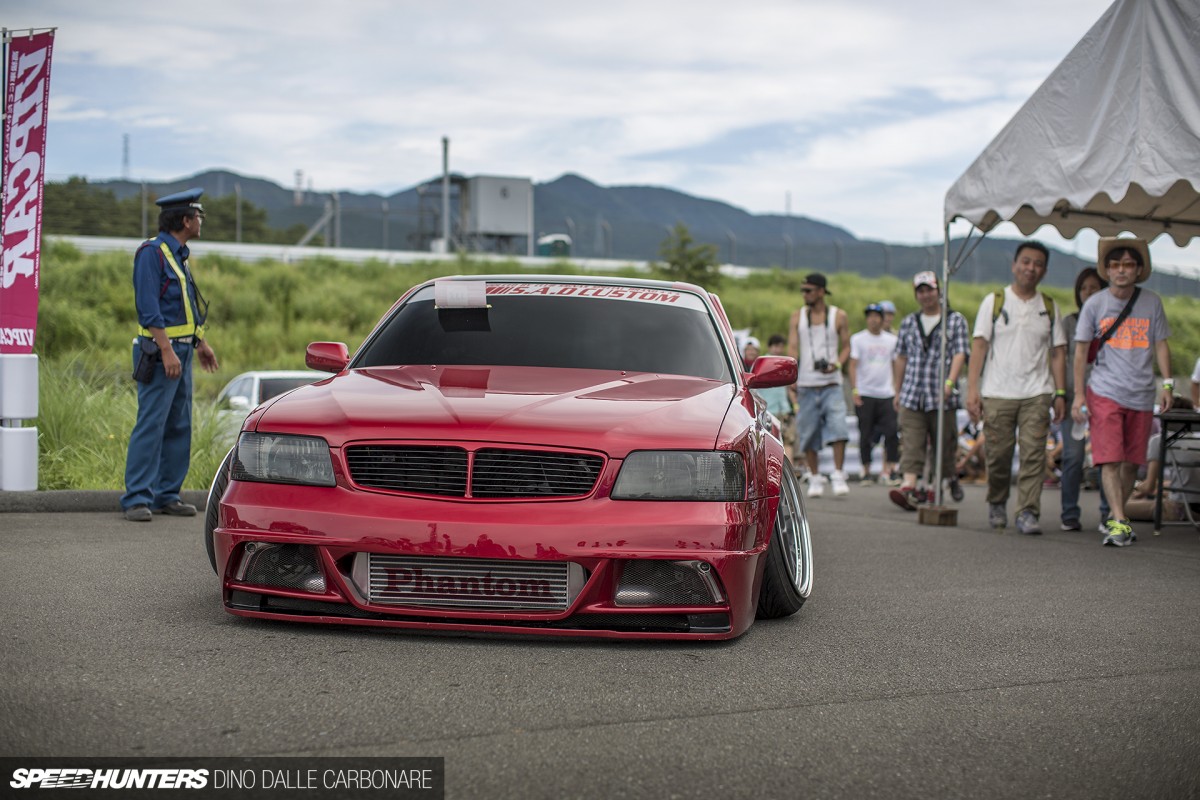 That's precisely what I was thinking on Sunday after my first quick walk around the 700 or so cars that showed up to the second StanceNation event ever held in Japan, at Fuji Speedway in the weekend. It's pretty evident that there has never been anything quite so broad as what is currently happening with this particular scene.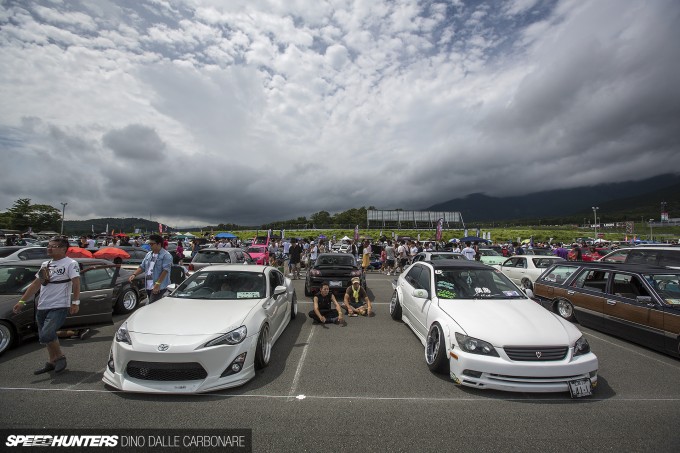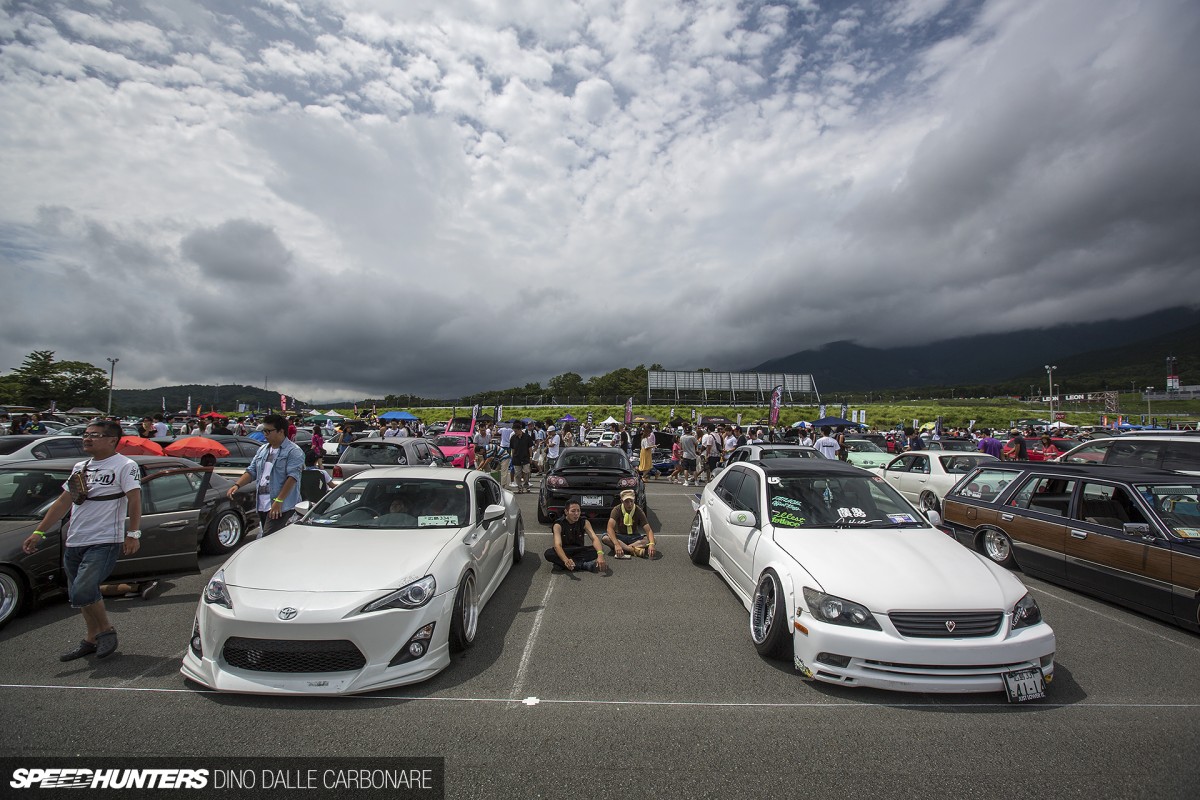 It not only manages to embrace a vast variety of cars, but the pace it continues to gain popularity – and at the same time evolve – has made it far from a fad.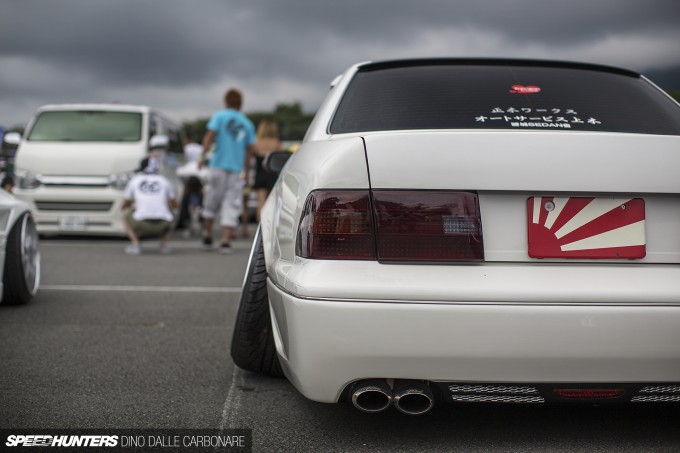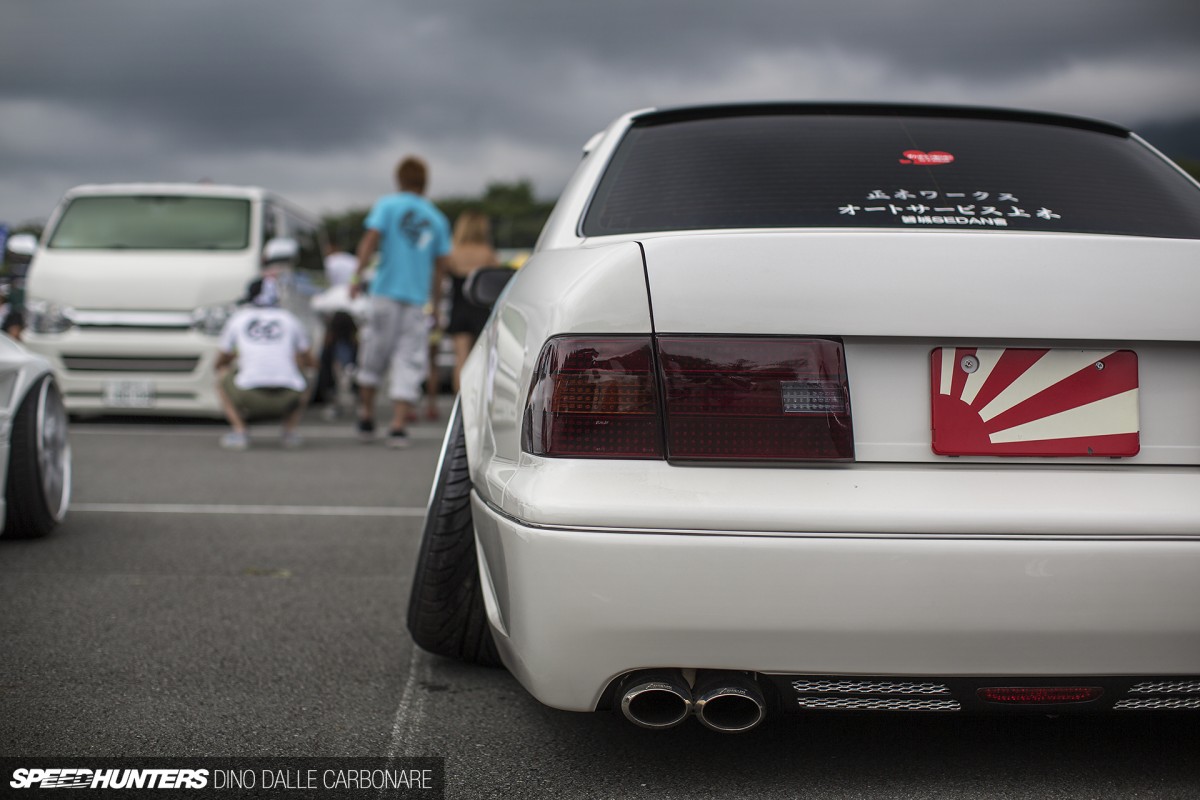 This is it right here. This is what a great deal of people want to do with their cars.
We've been seeing a very evident mainstream shift over to dress-up and style-oriented trends for a while now; performance taking a somewhat second seat in the greater scheme of things. And Japan continues to show us the way.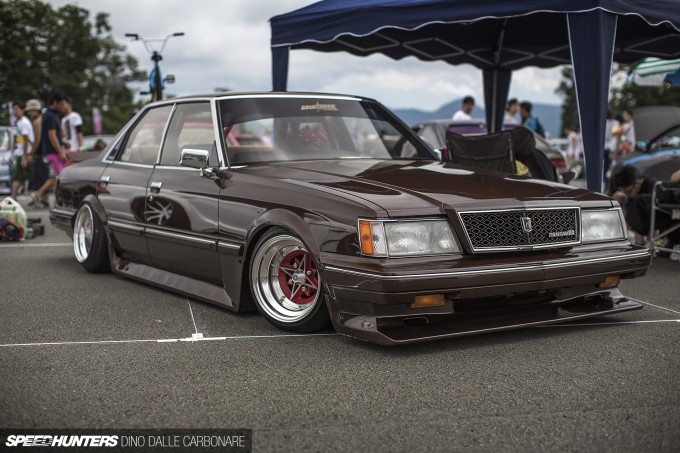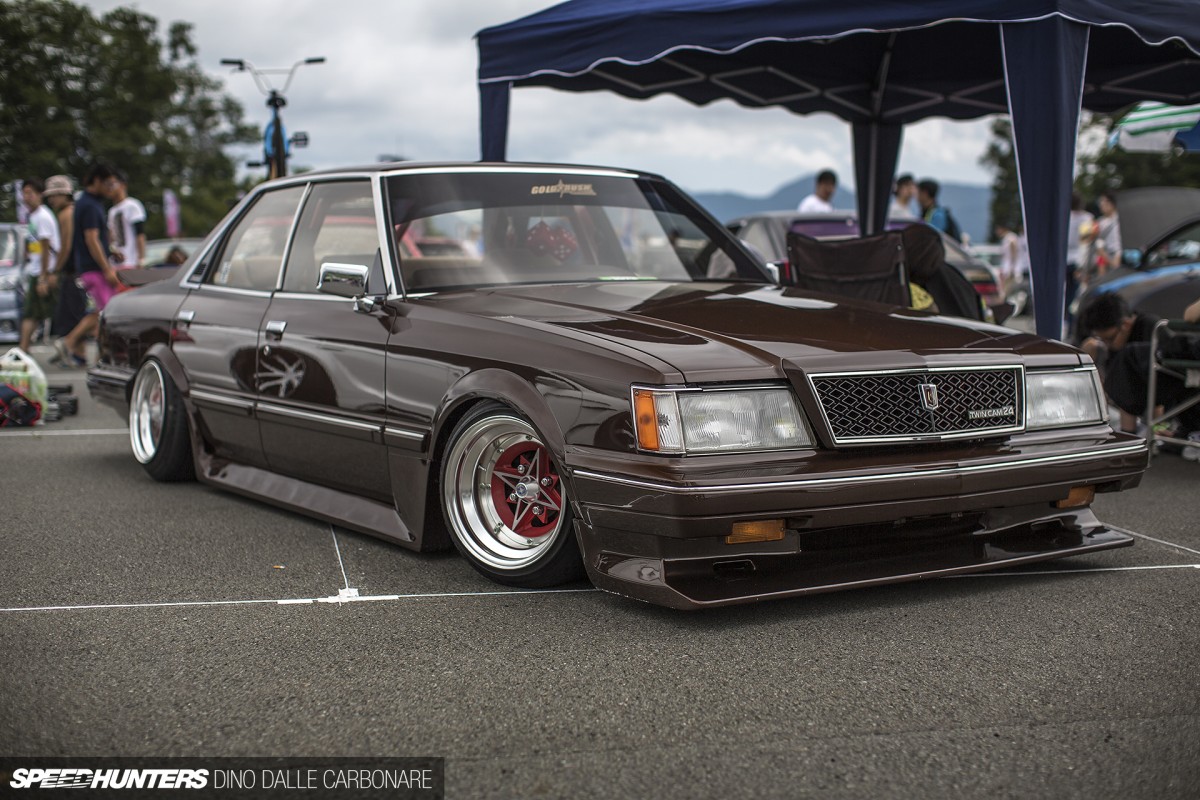 I love seeing the whole East meeting the West sentiment that goes on here – it's a true driving force behind the scene. People do all that is in their power to come up with fresh new touches to their cars, keeping them current with the aim of getting picked up by an international blog or website, or one of the many Japanese magazines that now cater to this area of car culture. If you consider just how long Japan has been doing the whole shakotan thing, it's the reason you get to see beauties like this Corona Mark II in the same space as very different sorts of cars.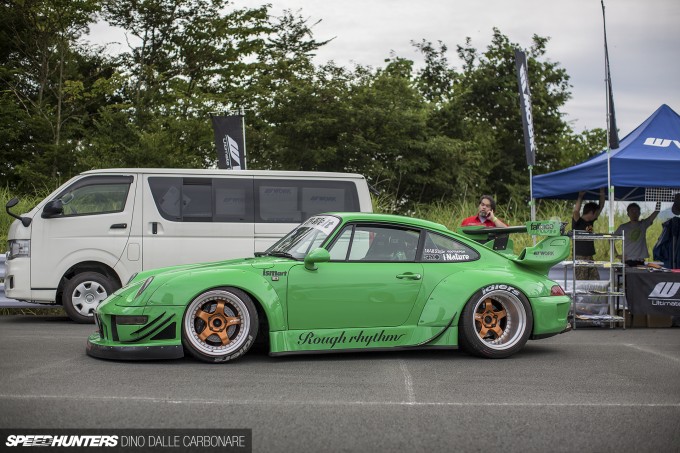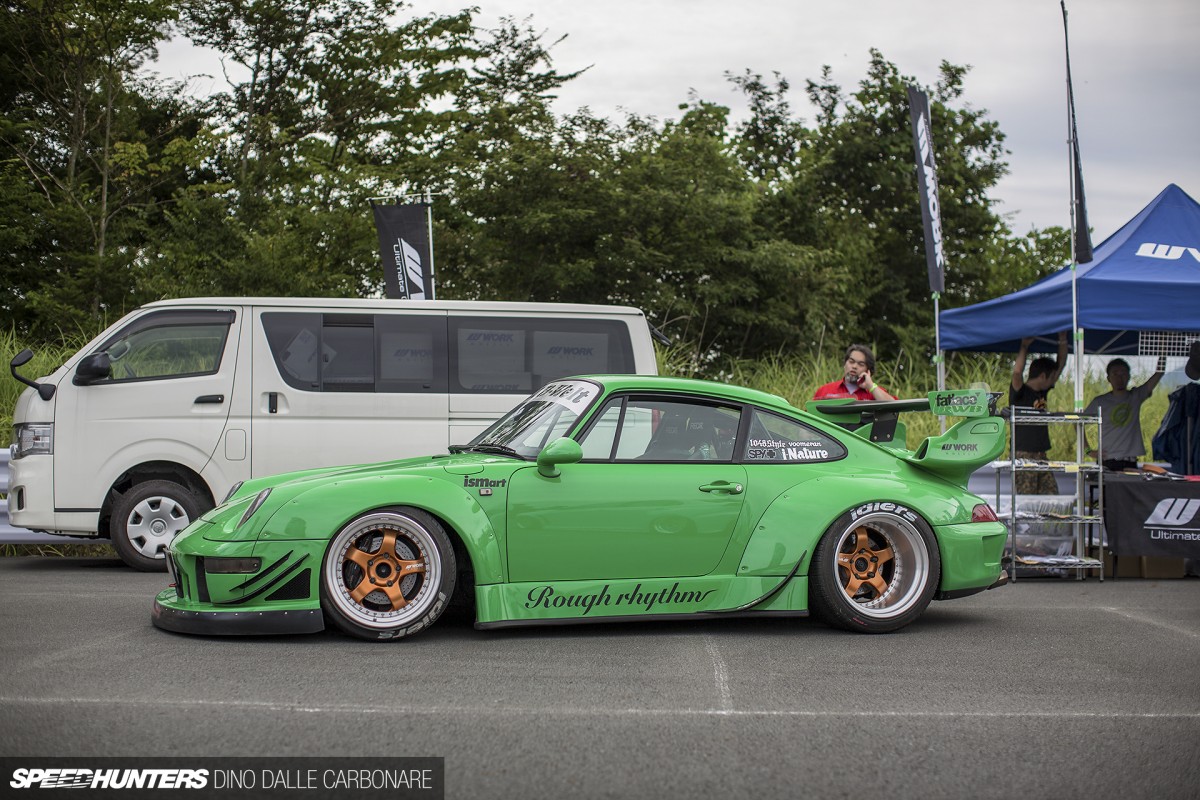 Like an RWB Porsche for example, or more specifically the famous Rough rhythm which this time round was sporting another new set of wheels.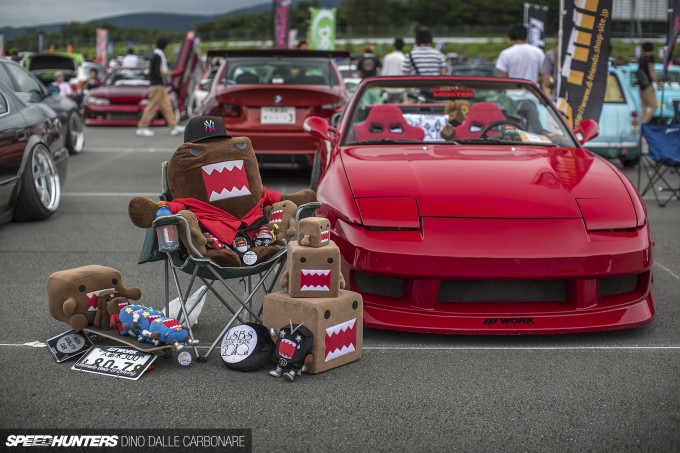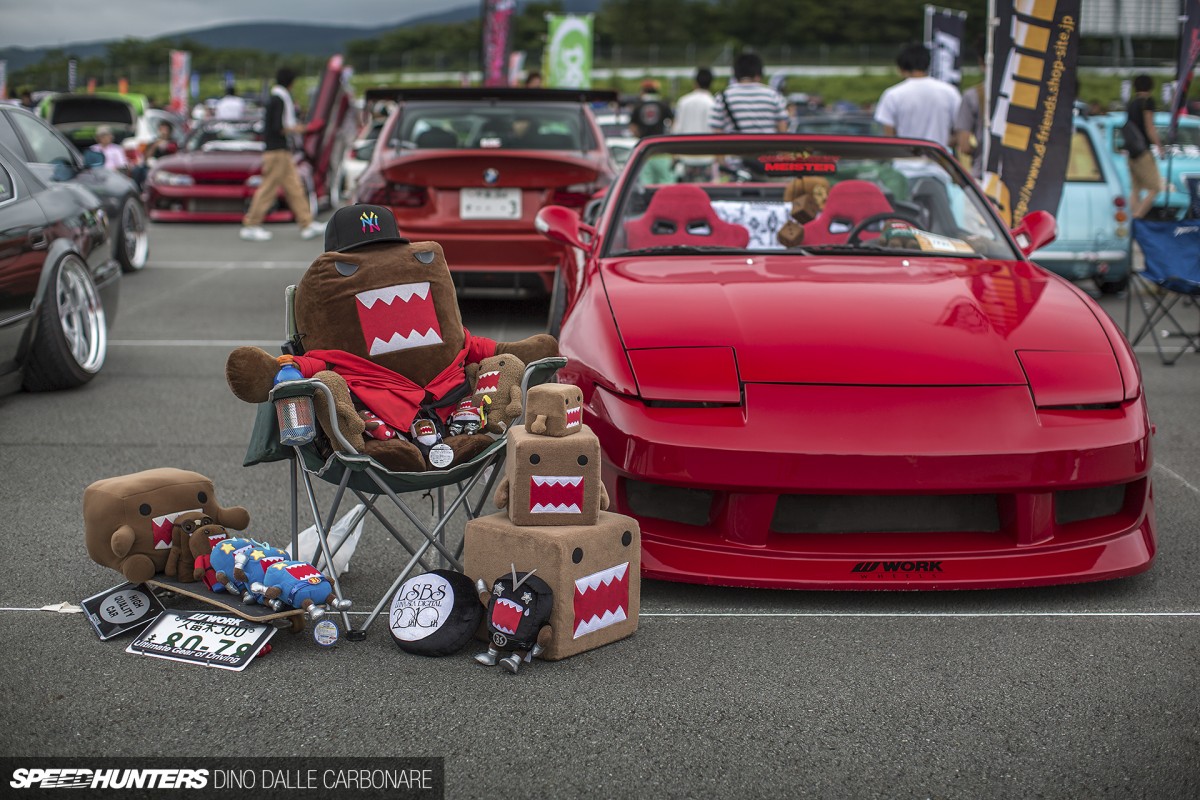 There's never a doubt that you are in Japan.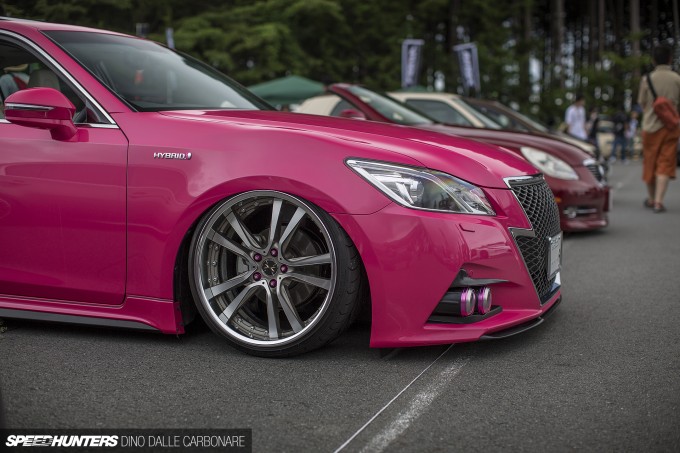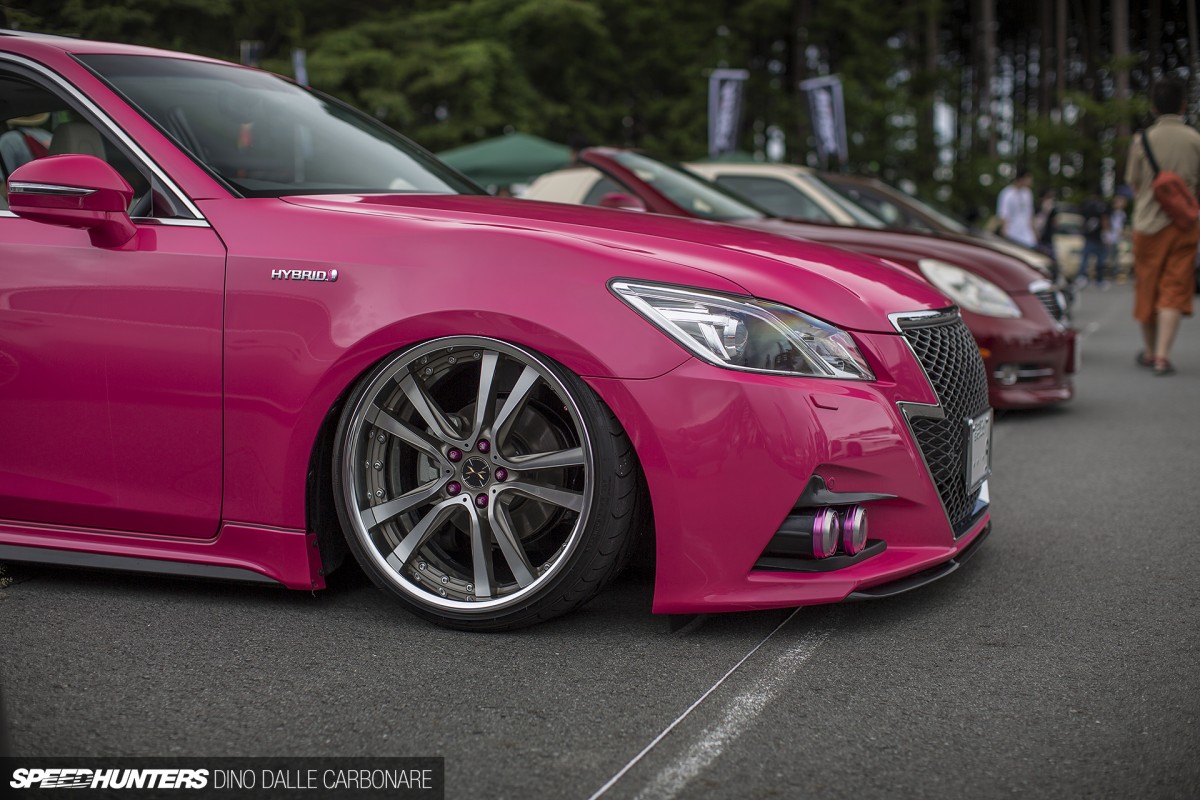 A few years back VIP guys wouldn't have considered bringing their cars to a non VIP-only oriented show. But now, along with the actual scene accepting more daring approaches, it seems that anything goes.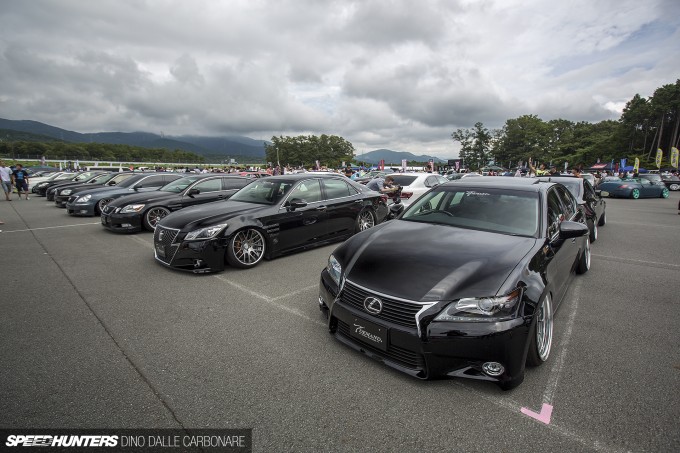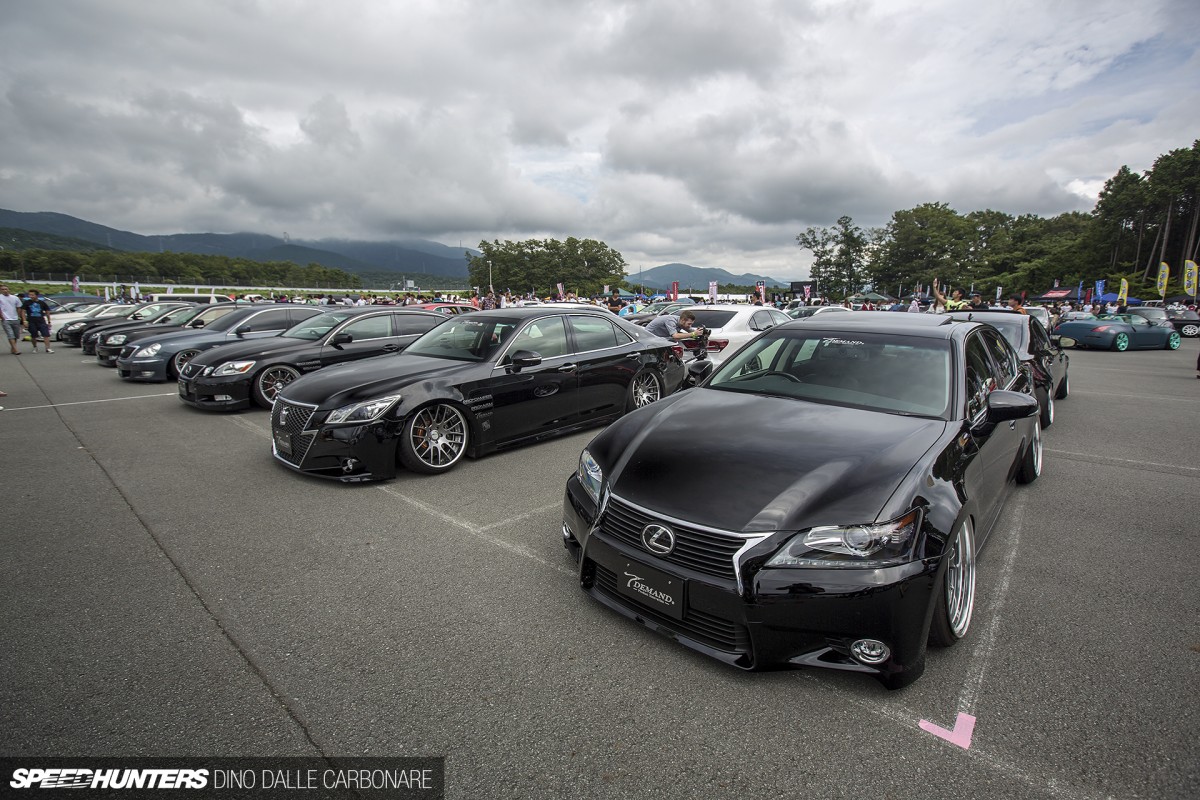 That's why there were rows upon rows of mean looking slammed sedans.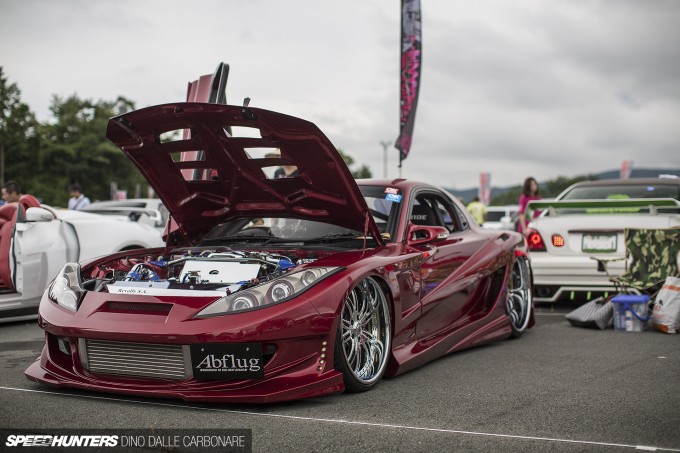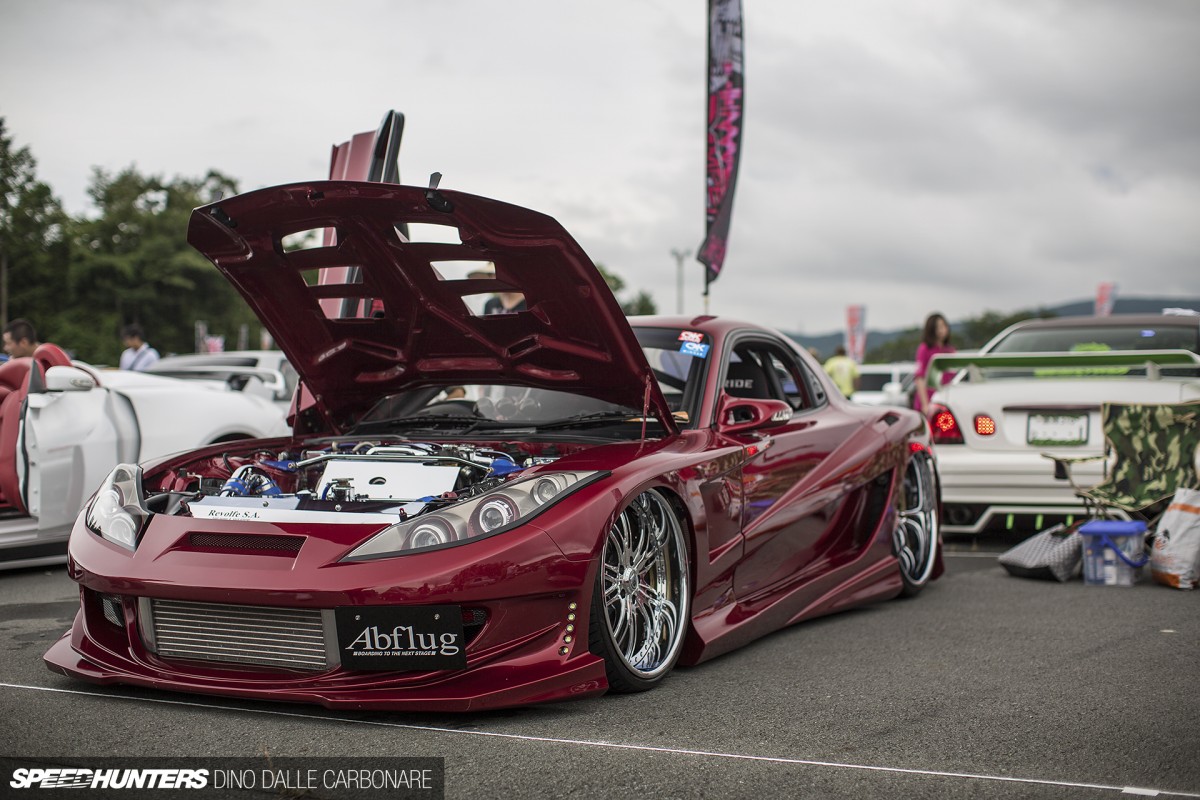 And not wanting to make it all feel repetitive – because after all, there are a great deal of cars that we've seen in the past – I tried to concentrate on things we haven't covered on Speedhunters. Or maybe cars that we've seen before that are now looking a little different – much like this Abflug-kitted FD3S RX-7.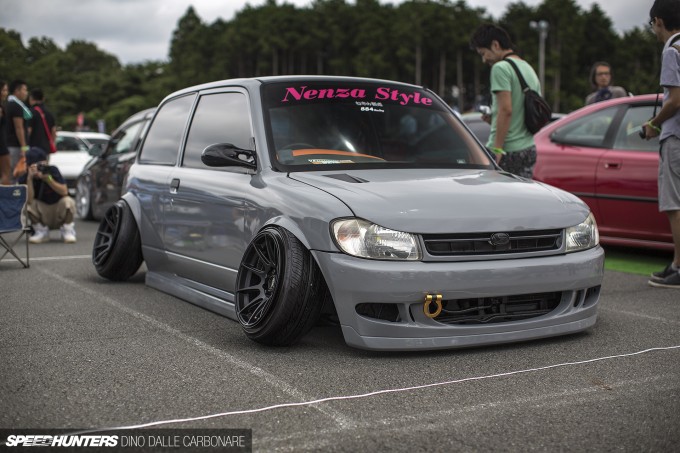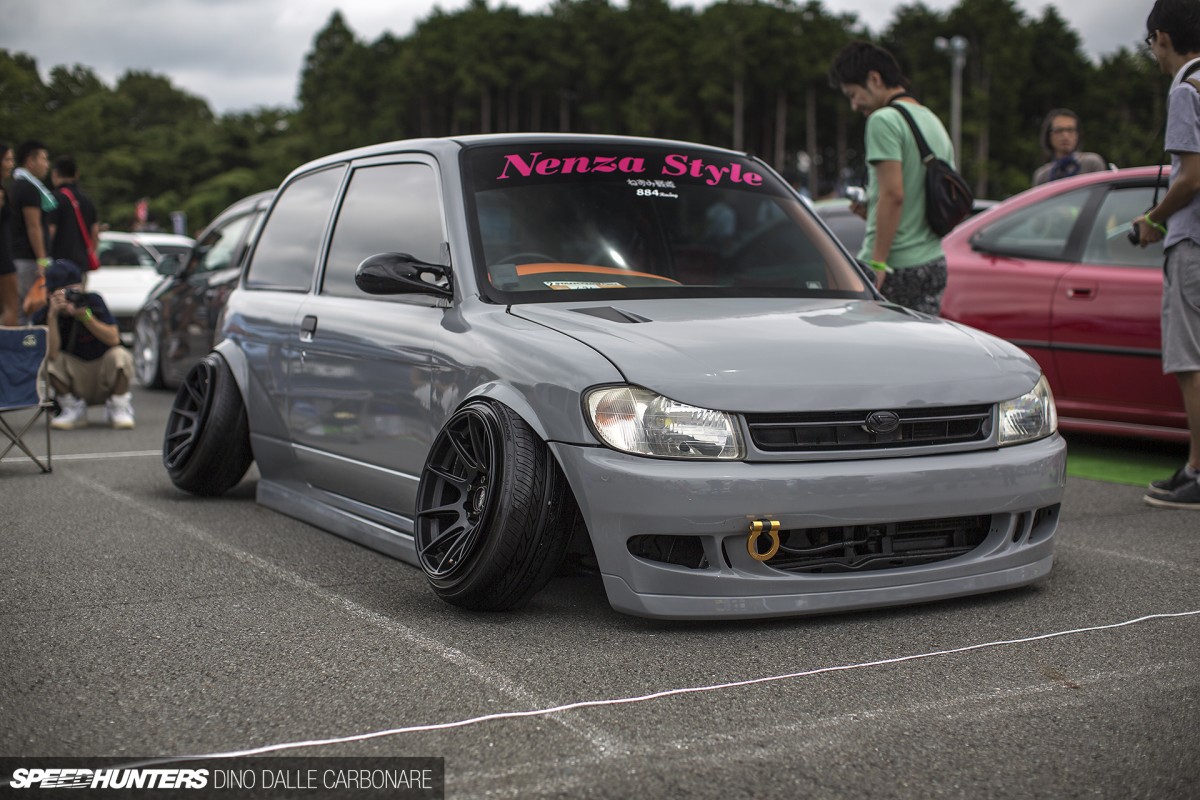 This turned out to be quite an easy exercise, because the Japanese put a lot of effort into trying to wow the crowds. This Nenza Style Daihatsu Mira had a constant crowd of people around it throughout the day, for obvious reasons.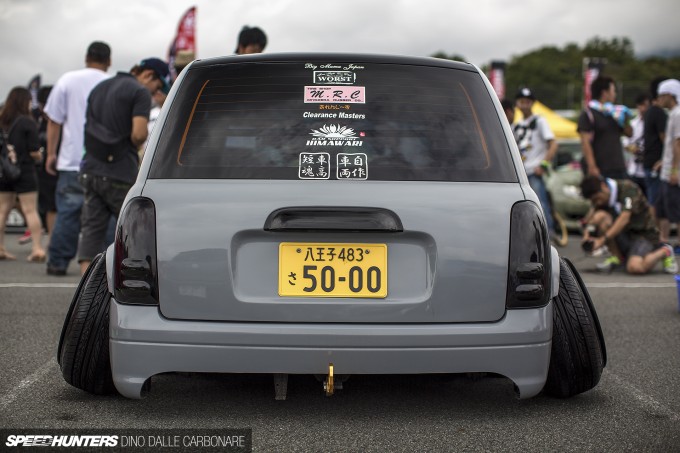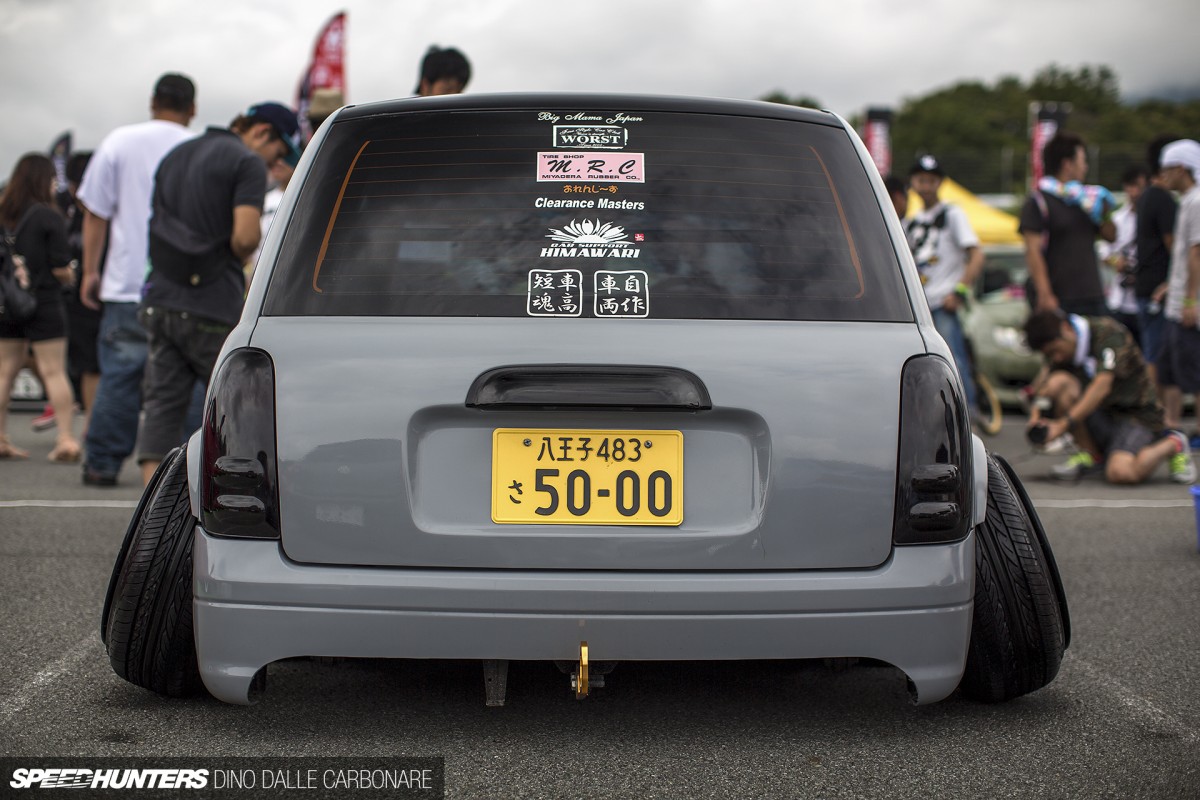 I'll show you a rear view so that you can gauge just how exaggerated the whole onykyan thing was here!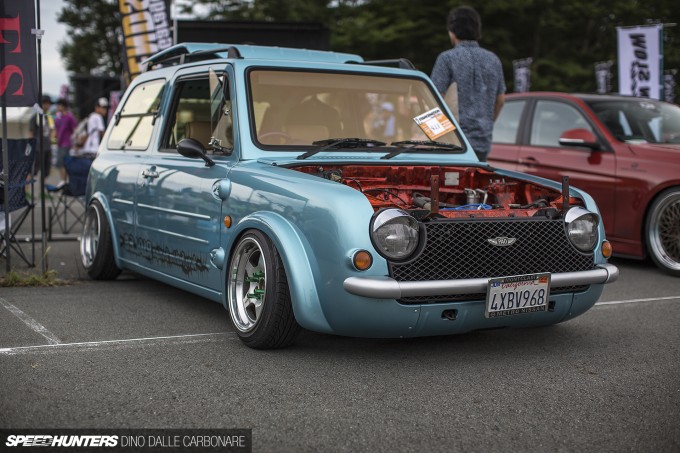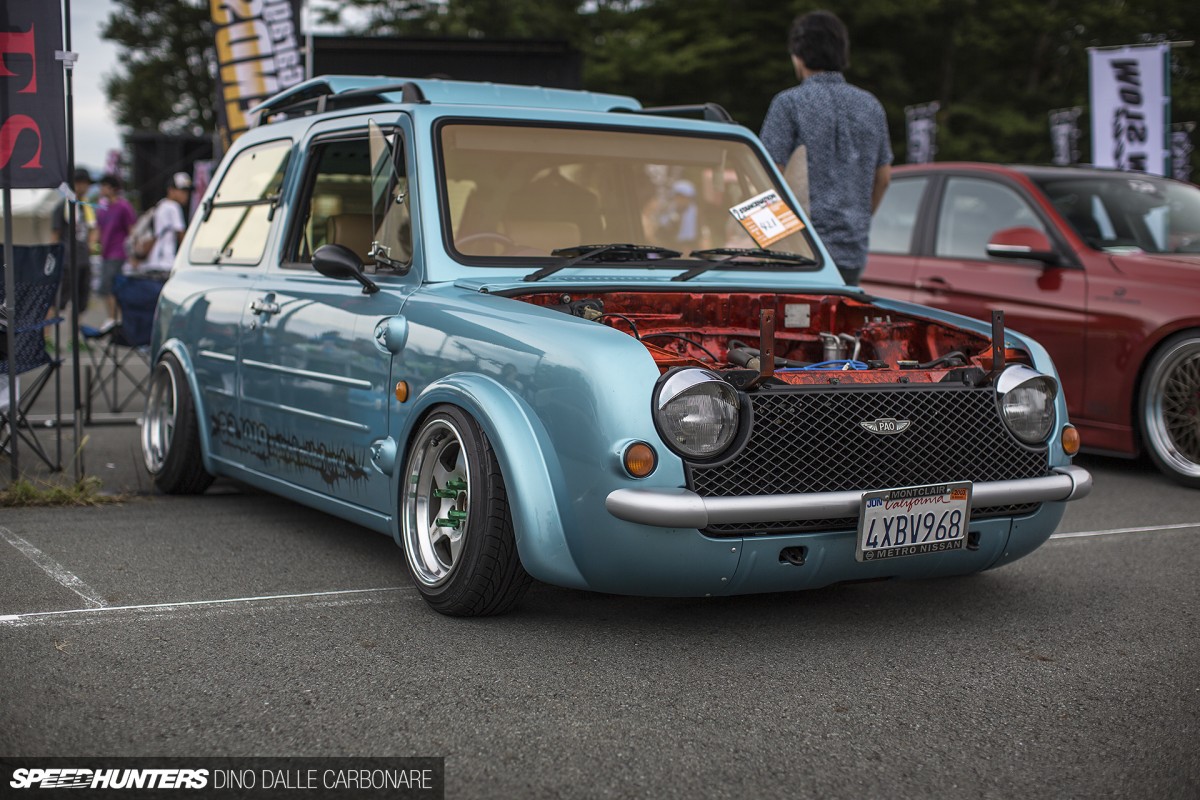 Then you come across other cars that might have more sedate touches, but the platform itself may be odd. This Nissan Pao was the perfect example – one of those wonderful curiosities from the early '90s when the JDM spawned countless quirky cars. Based on the K10 March, I'm guessing that the factory accentuated fenders – especially at the front – made this model an attractive proposition for its owner to modify.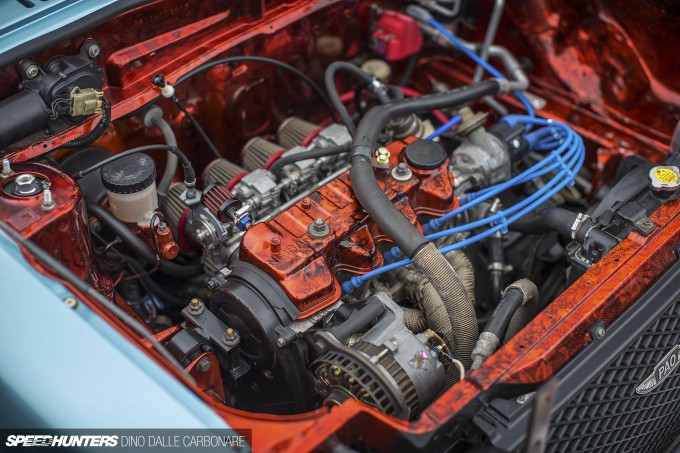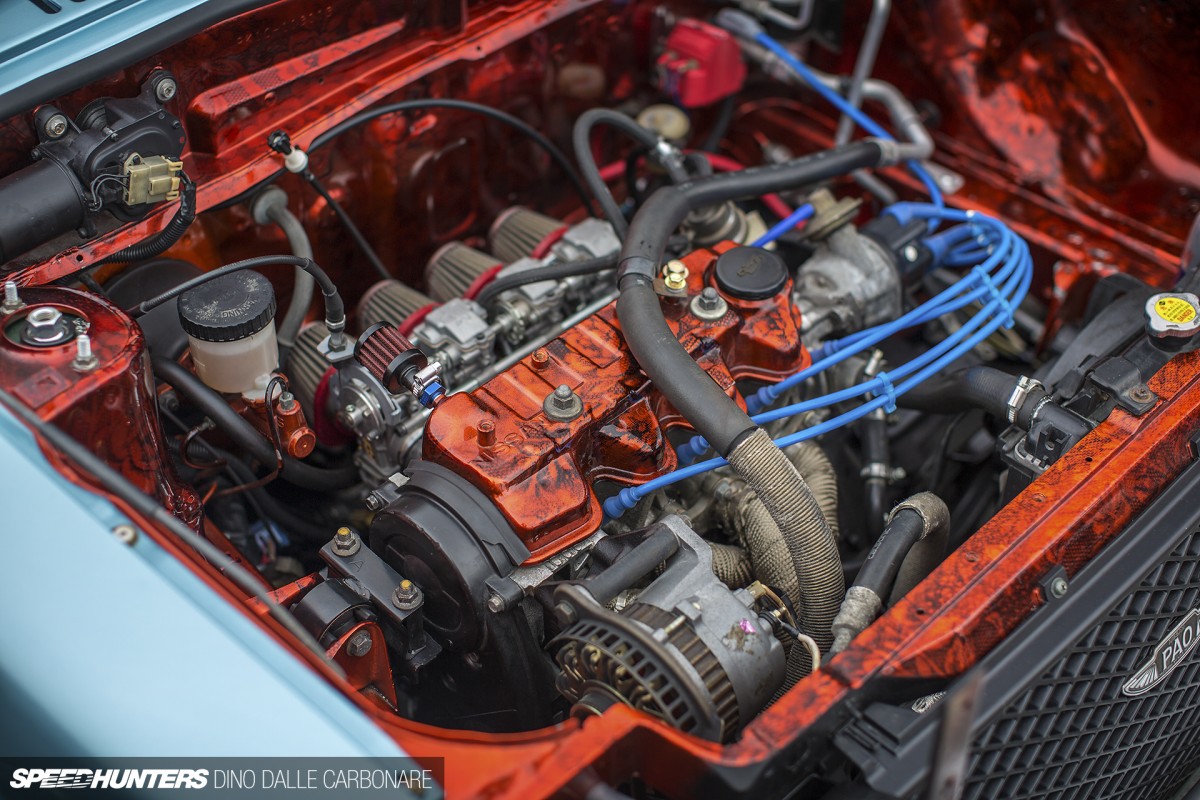 Add to that the impressive custom paint that the engine bay was treated to and it's easy to see why this little car stopped me in my tracks.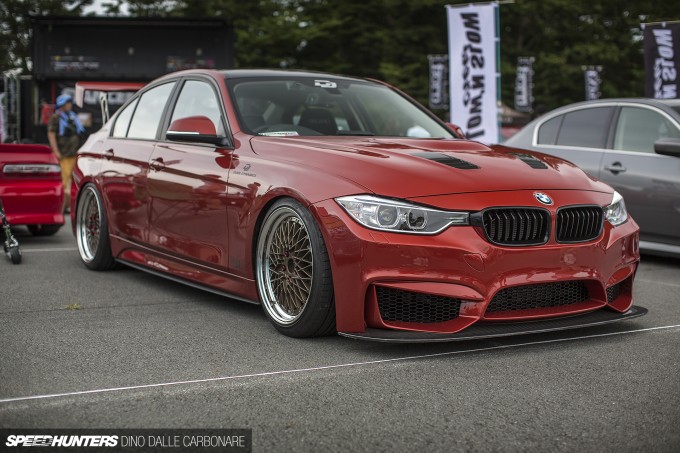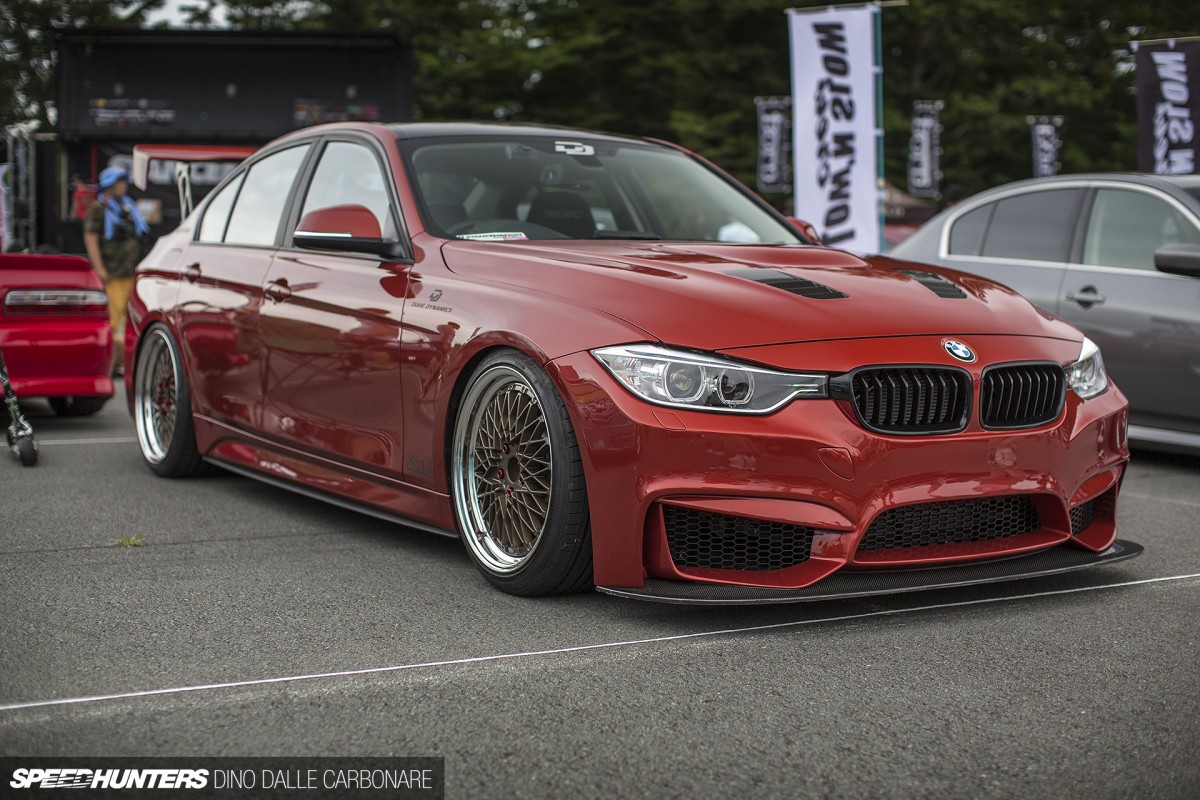 Now that the F30 BMW 3 Series has been out for a little while, tuned examples are beginning to show up everywhere. And that's a good thing because this particular model seems to lend itself to aftermarket upgrades well, as this sedan on SSR Formula Mesh shows us.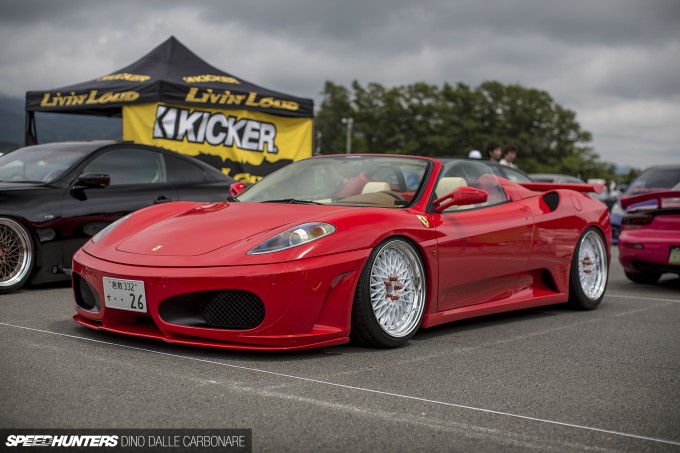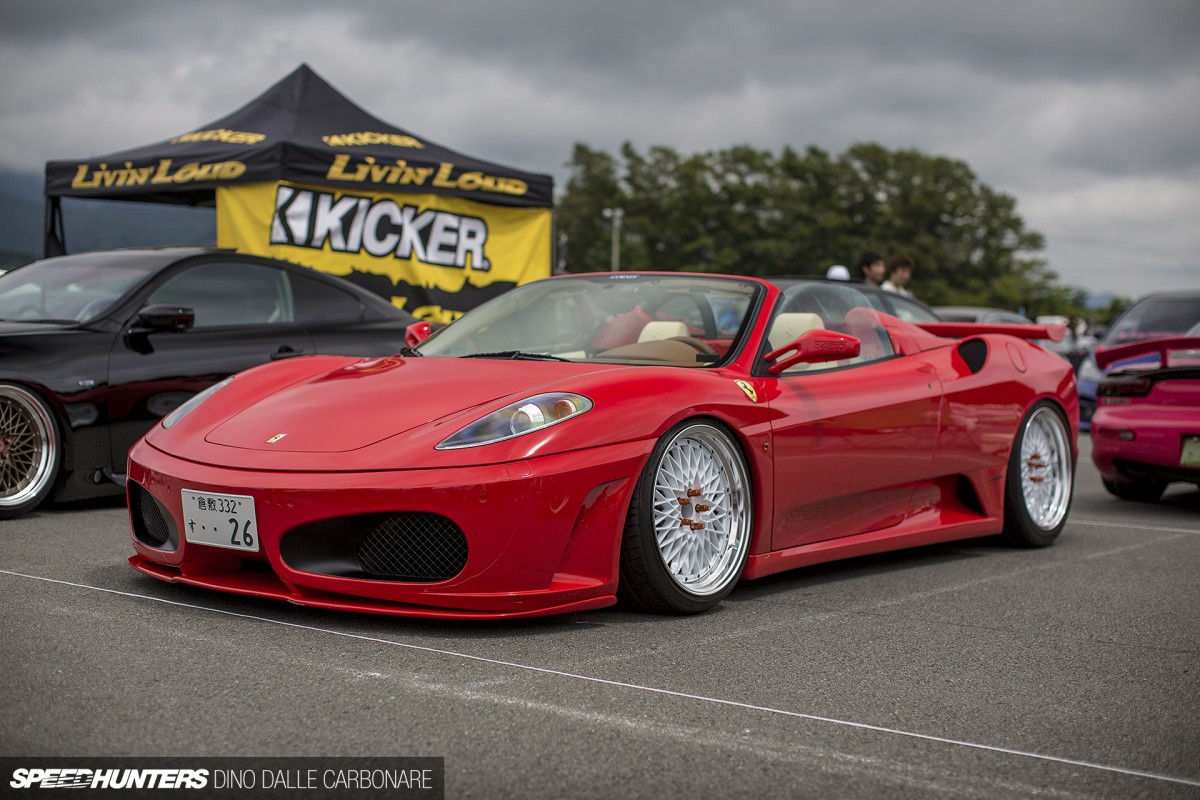 Here's a Ferrari F430 sitting on the same set of wheels. I love the look, and it's certainly an improvement on the questionable designs that Ferrari often comes up with for its wheels!
Flared Fenders: A Must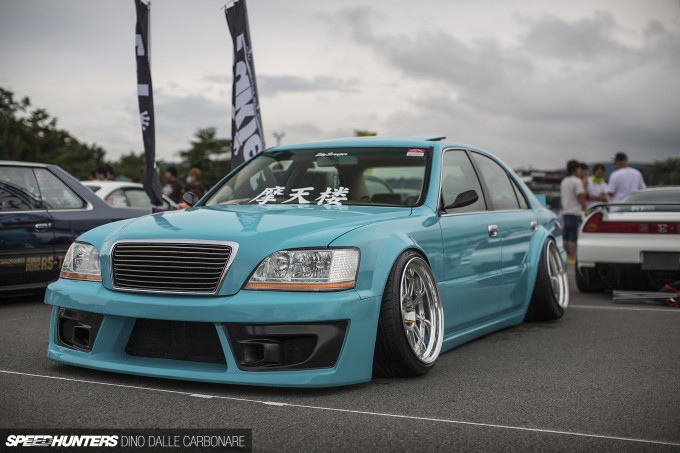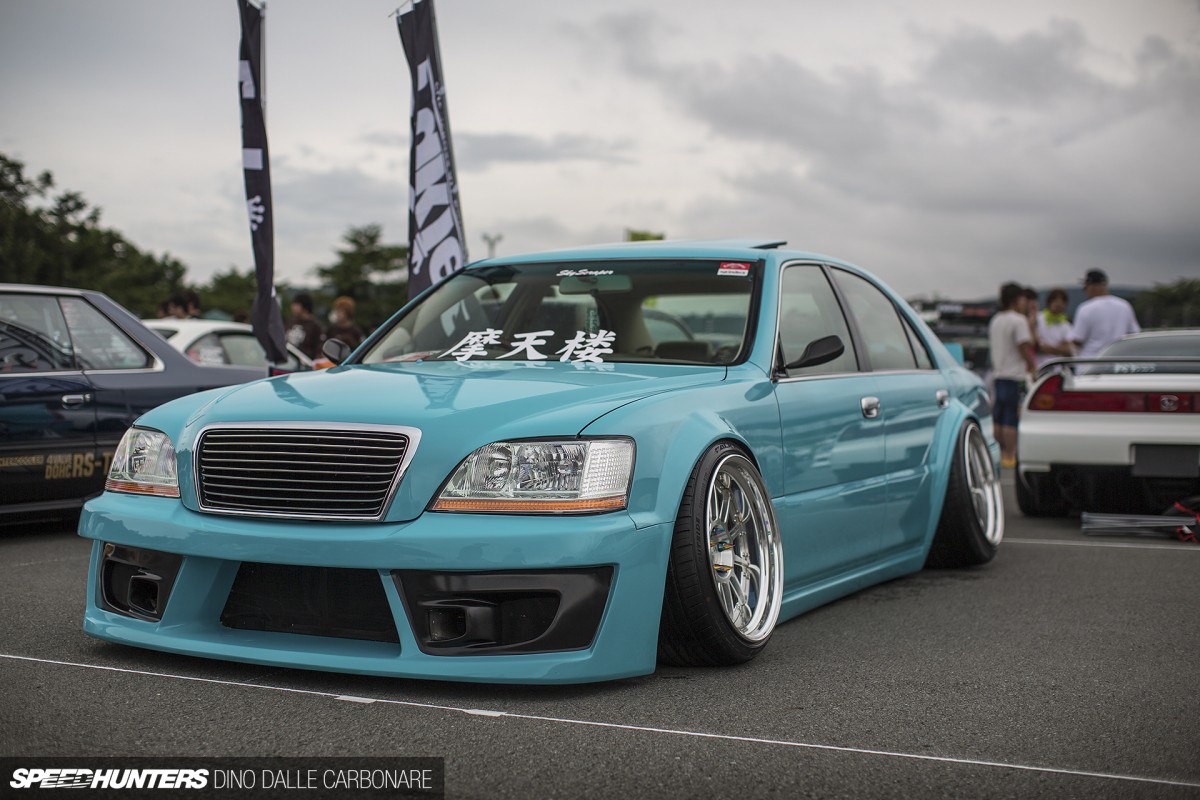 You can't help but notice, and respect, how much work is required to get some of these cars sitting the way that they do.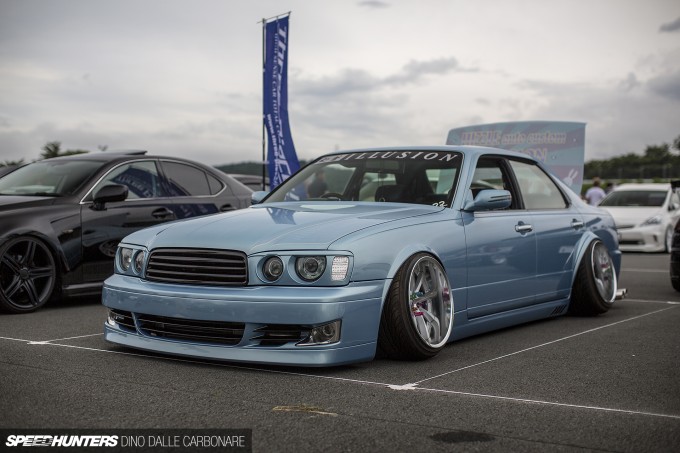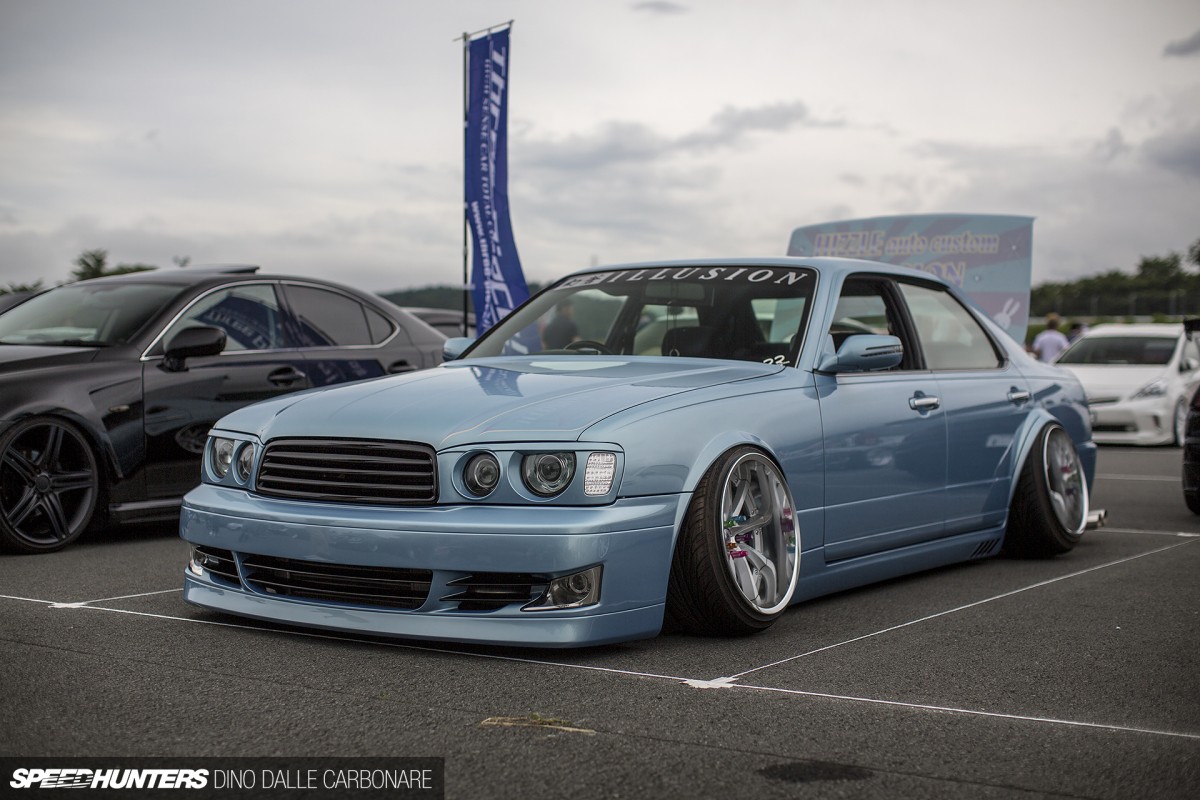 The Japanese are the masters of fender flaring and there's nothing anyone can say to change my opinion.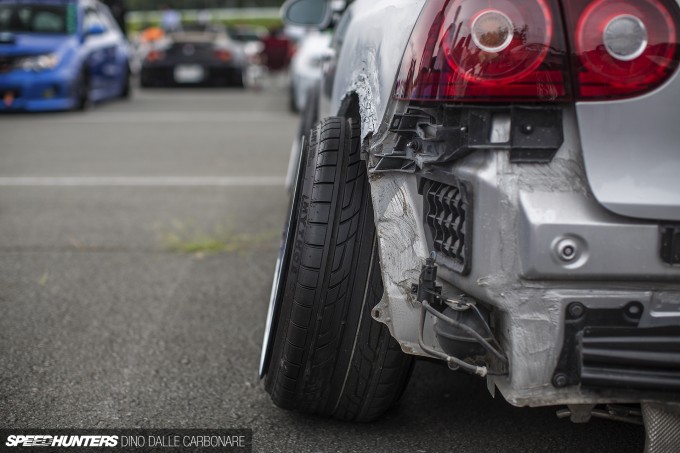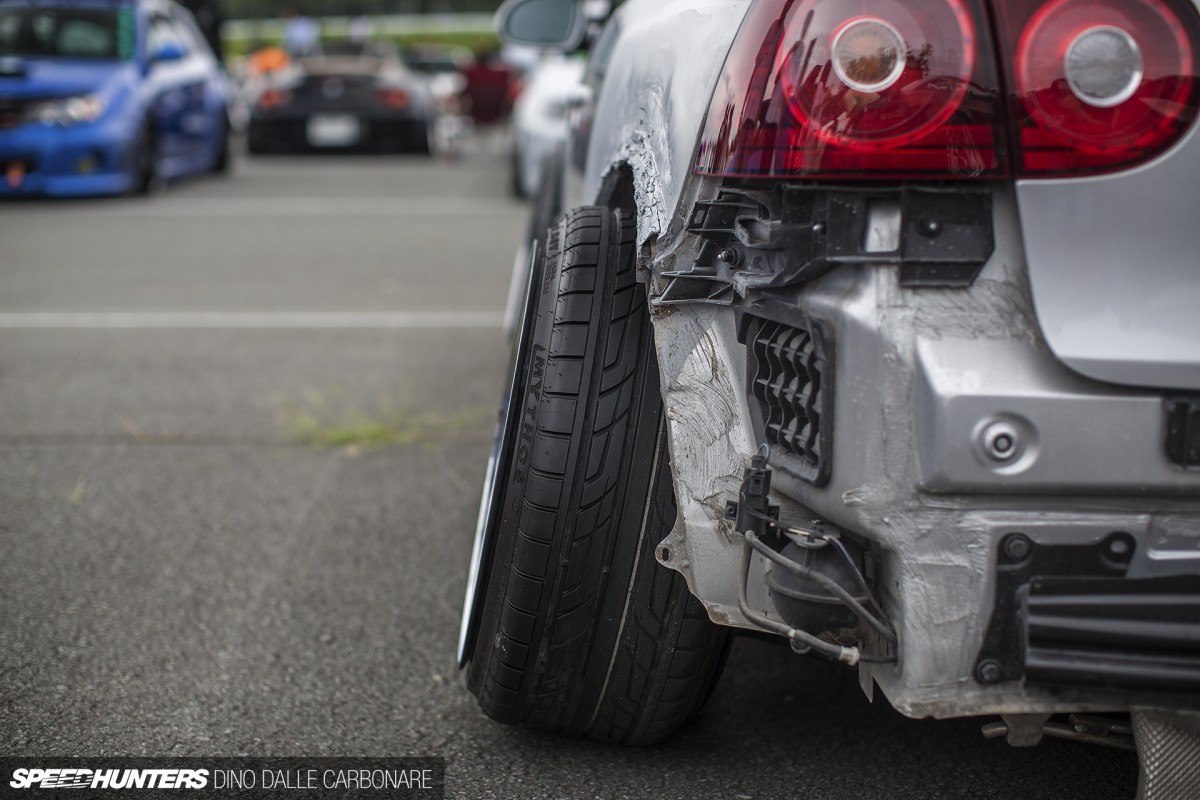 This work-in-progress Golf was a great reminder of the extents you have to go to pull off the wild cambered and slammed look.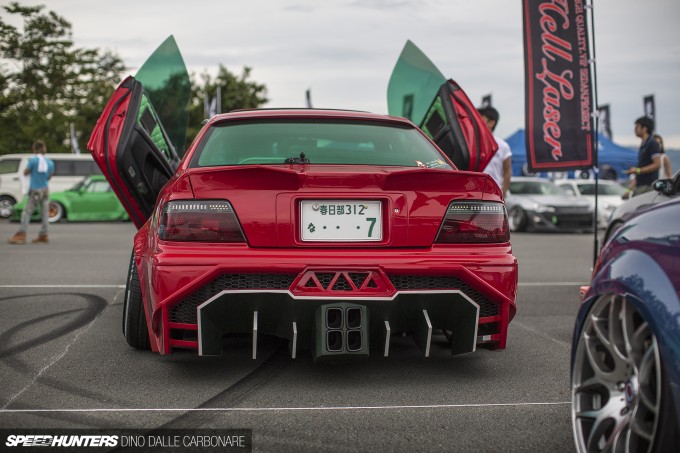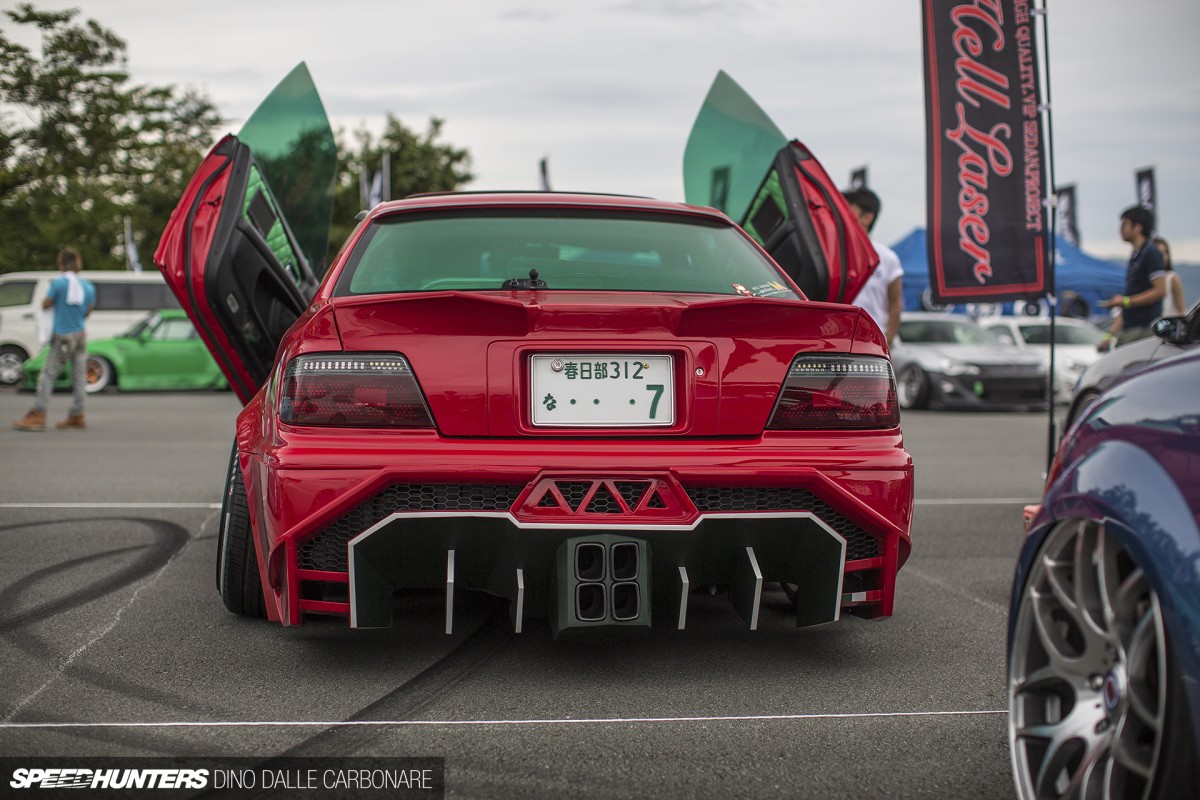 Then of course, there are the more complex aesthetic touches which some prefer to do.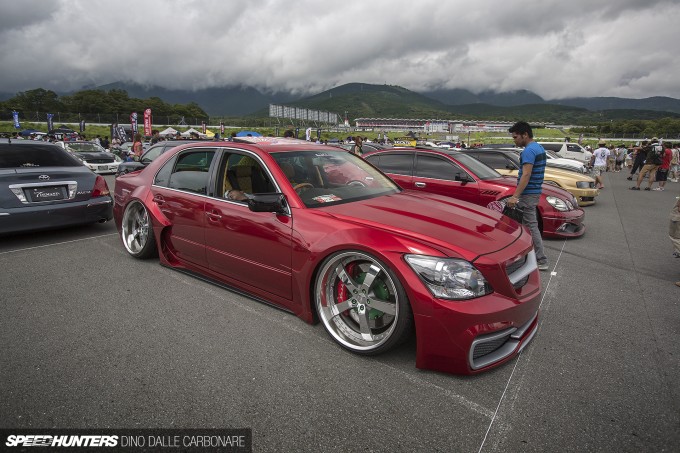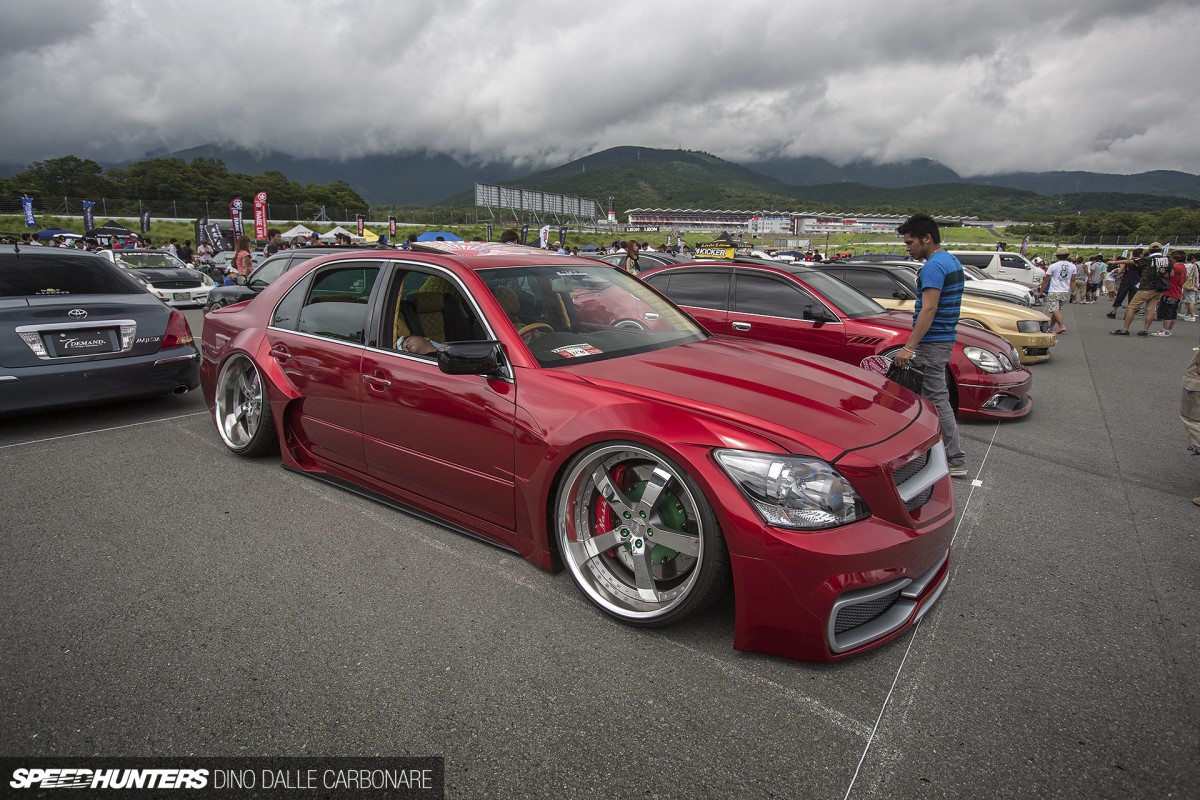 Sometimes the wilder the better!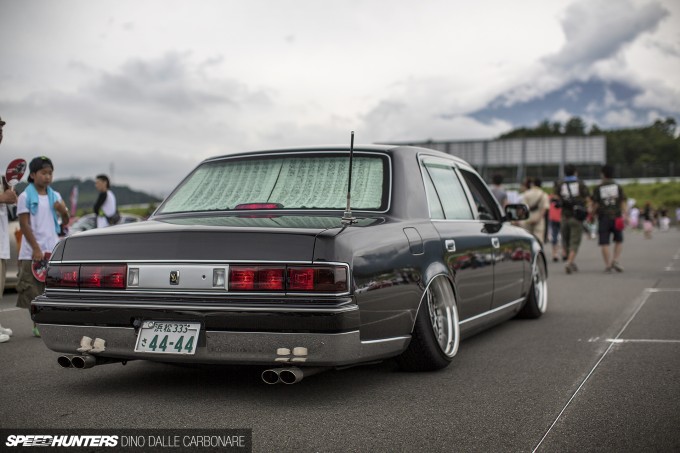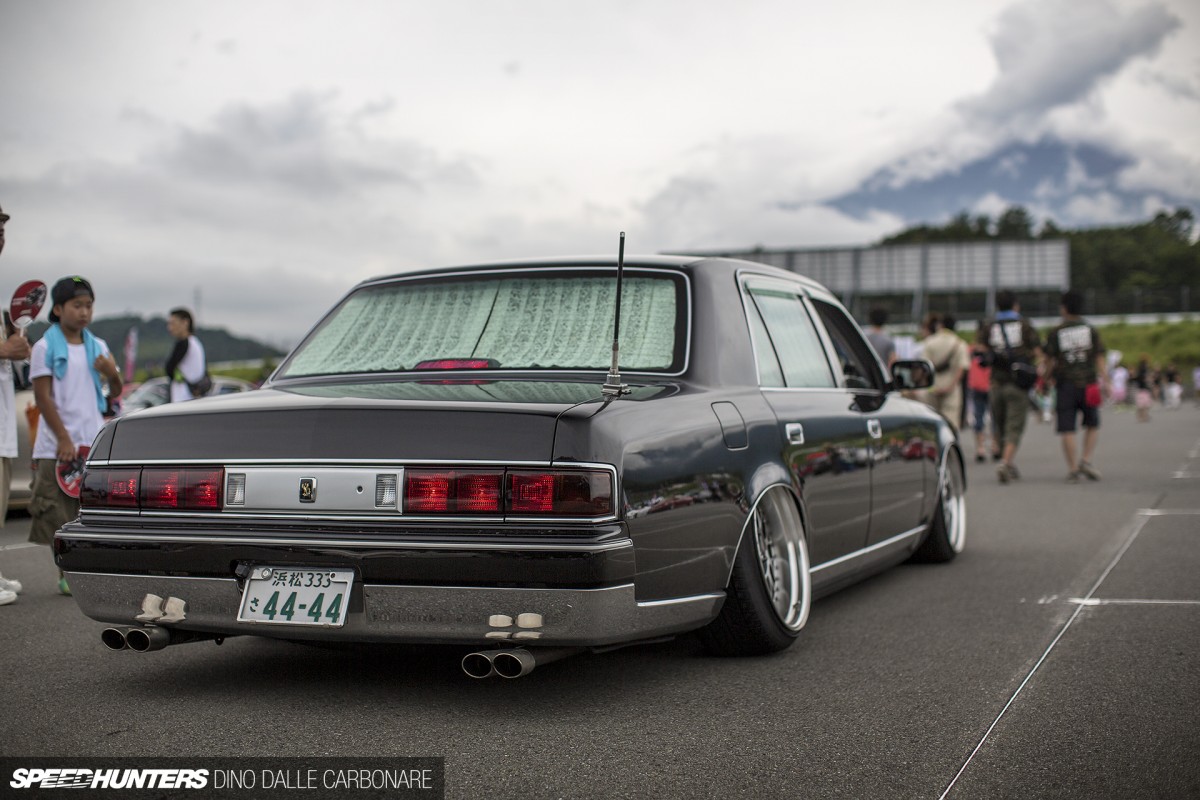 But I'm still of the opinion that the simpler approach will always yield the best result – just as long as you pick your base car well. If you go for a Toyota Century – the king of all JDM-only luxury sedans – then you're already half way there. Drop it on a set of appropriately-dished wheels and you instantly have the sort of look that just can't be emulated with any other car.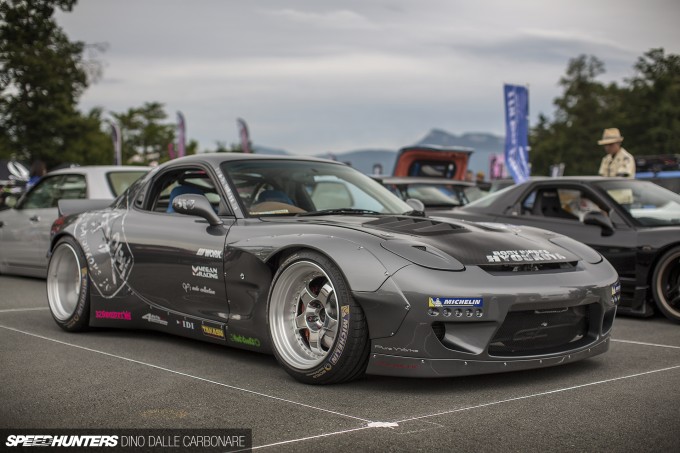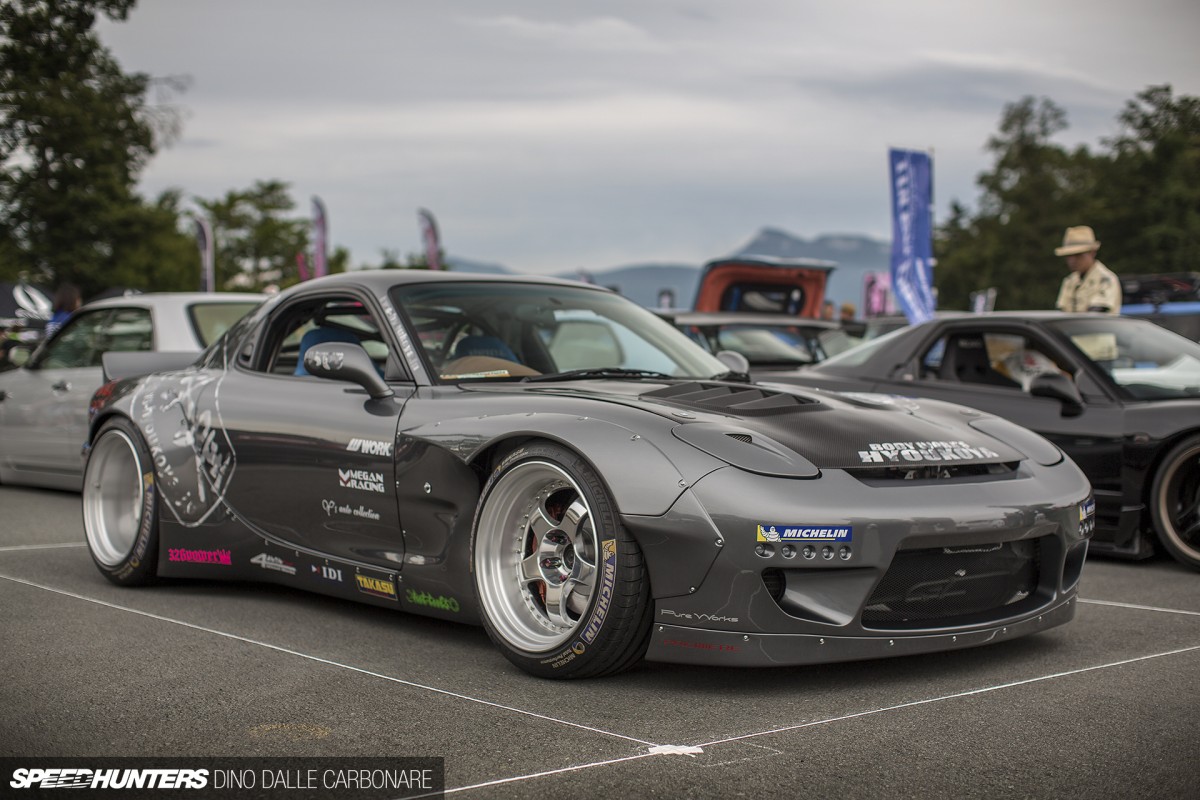 Rocket Bunny aero treatment for the FD3S continues to gain popularity now that deliveries are in full swing. Is there a better-looking kit for the series six onwards Mazda RX-7?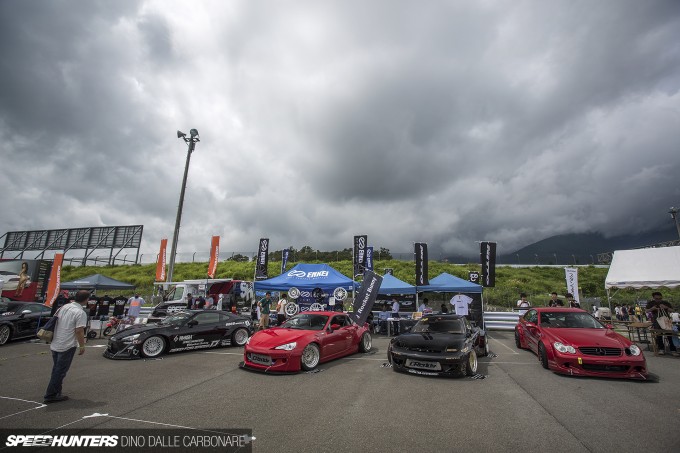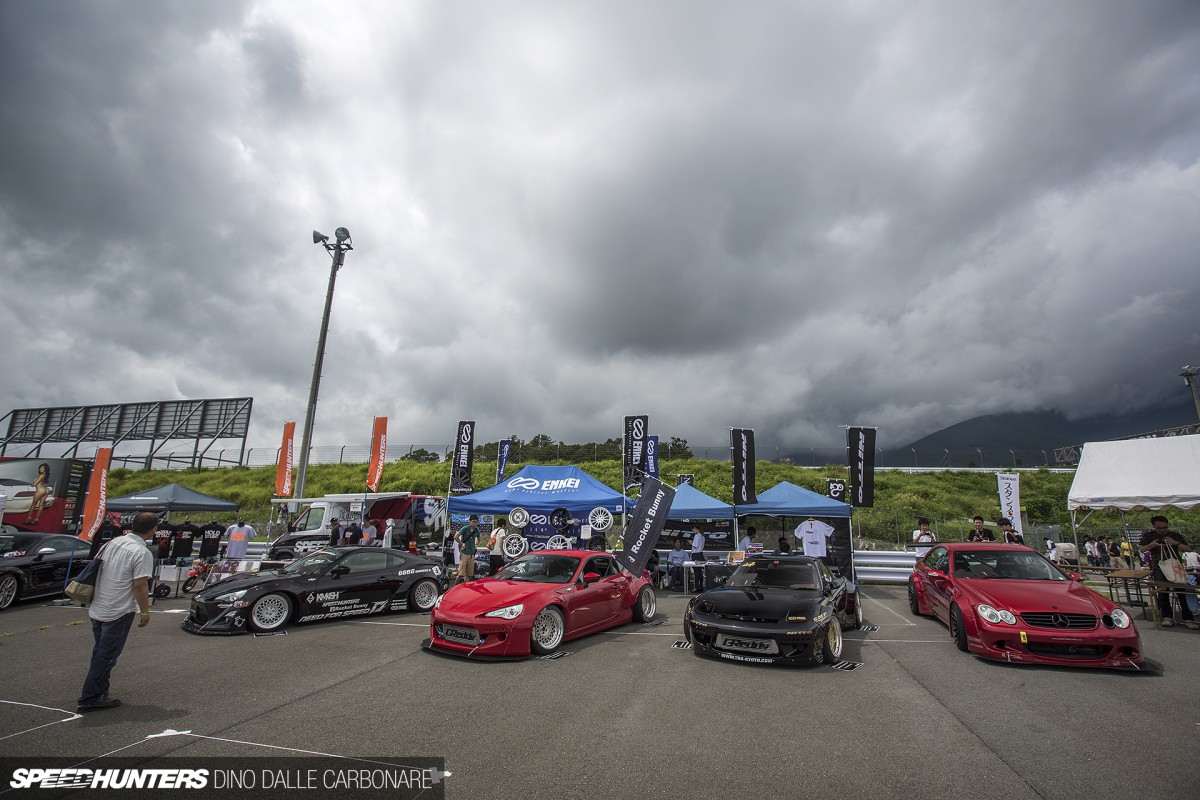 And if you wanted to see more works of art from TRA Kyoto then there was plenty to see at the very top end of the car park next to the entrance to the show. Along with the Sarto Racing Mercedes-Benz CLK, Enkei had gathered up Miura's own Scion FR-S and Mazda RX-7 to show off the new 6666 wheels they have released in collaboration with Rocket Bunny.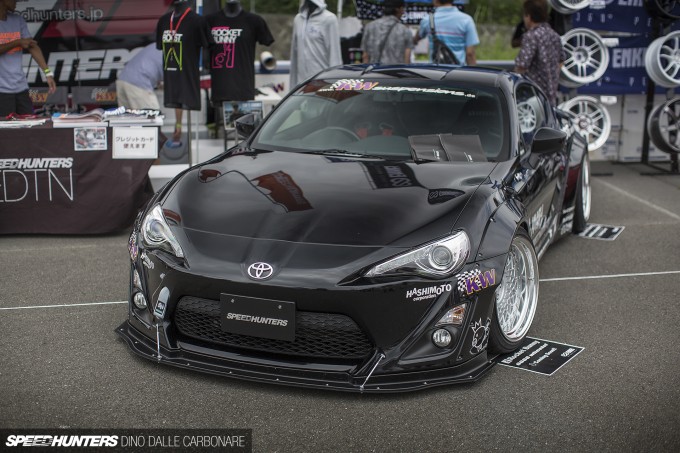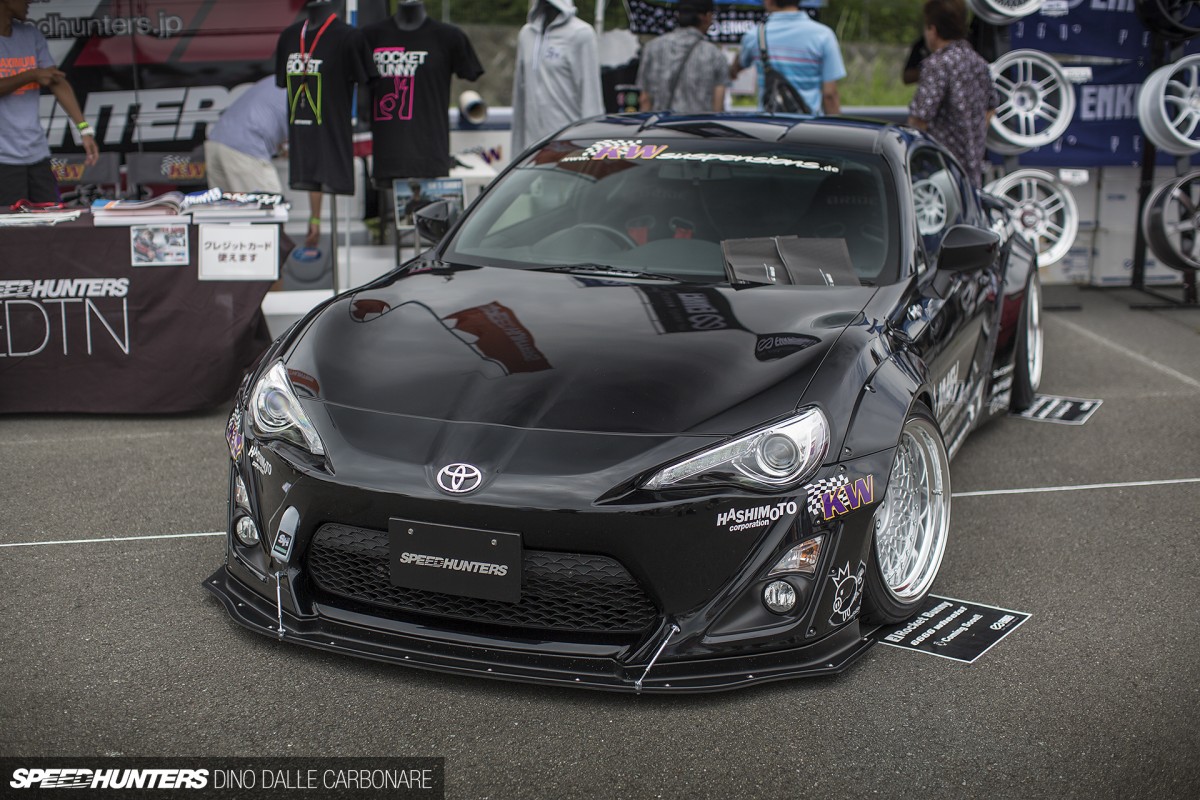 They're the same wheels that are run on the KM4SH 86, which was also at the event and showing off Speedhunters' soon-to-be-released collaborative aero kit for Toyota's popular platform.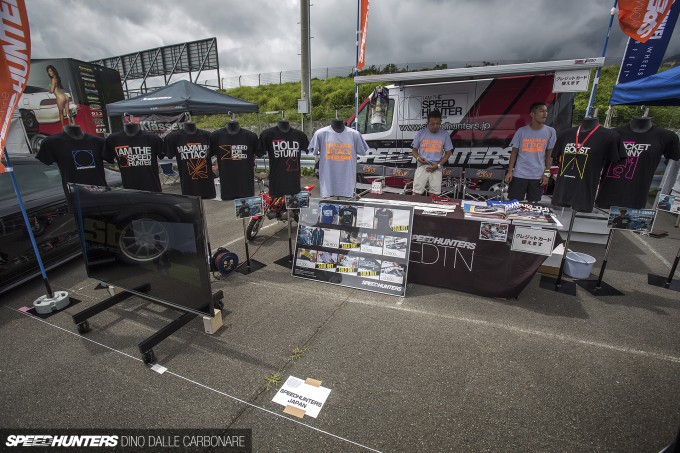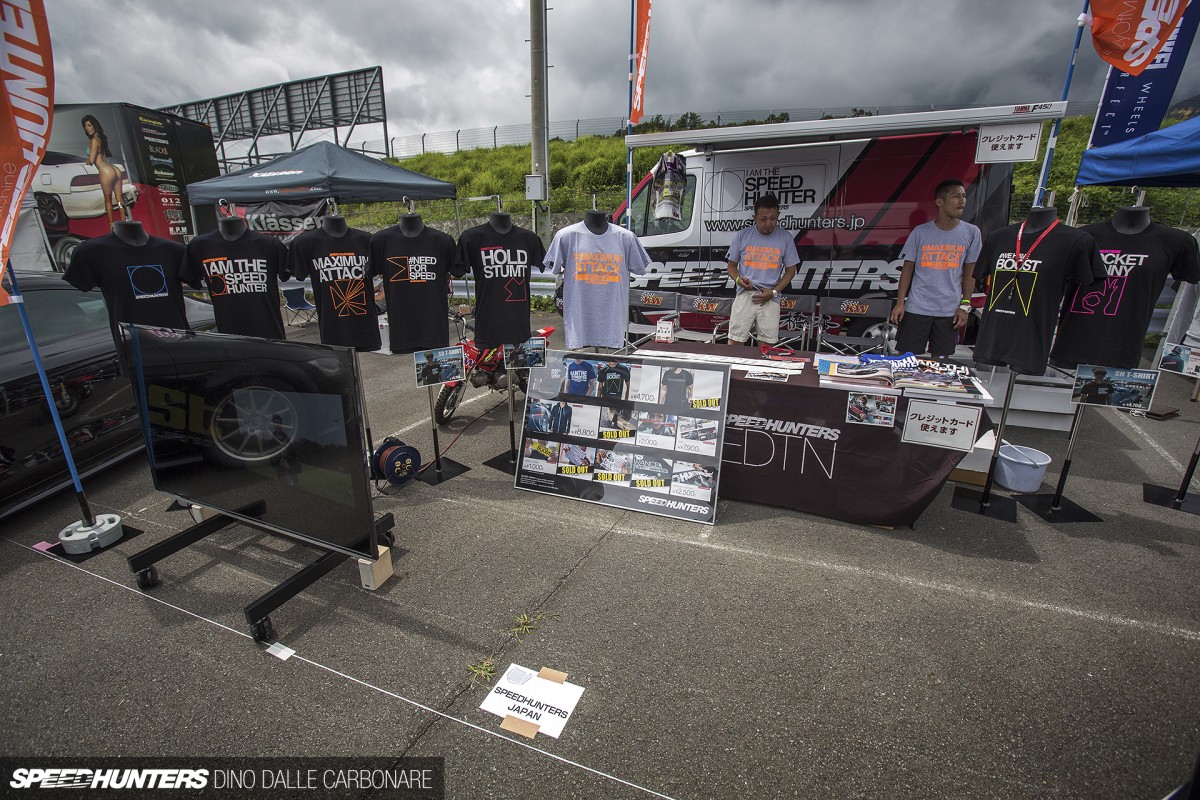 All of these cars were sitting right next to the Speedhunters booth, which was fully stocked up with our latest merchandise.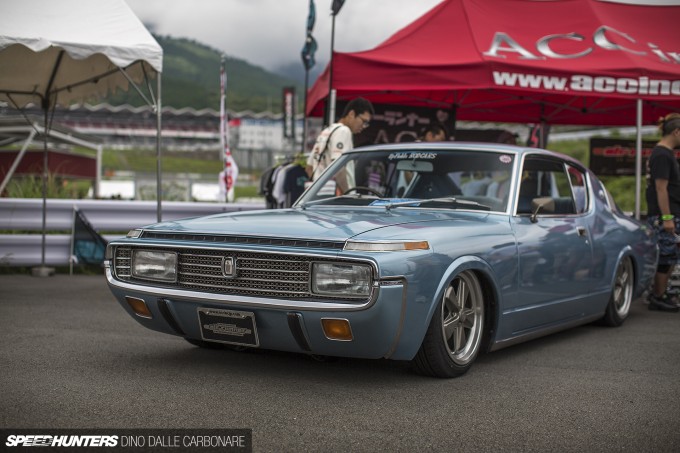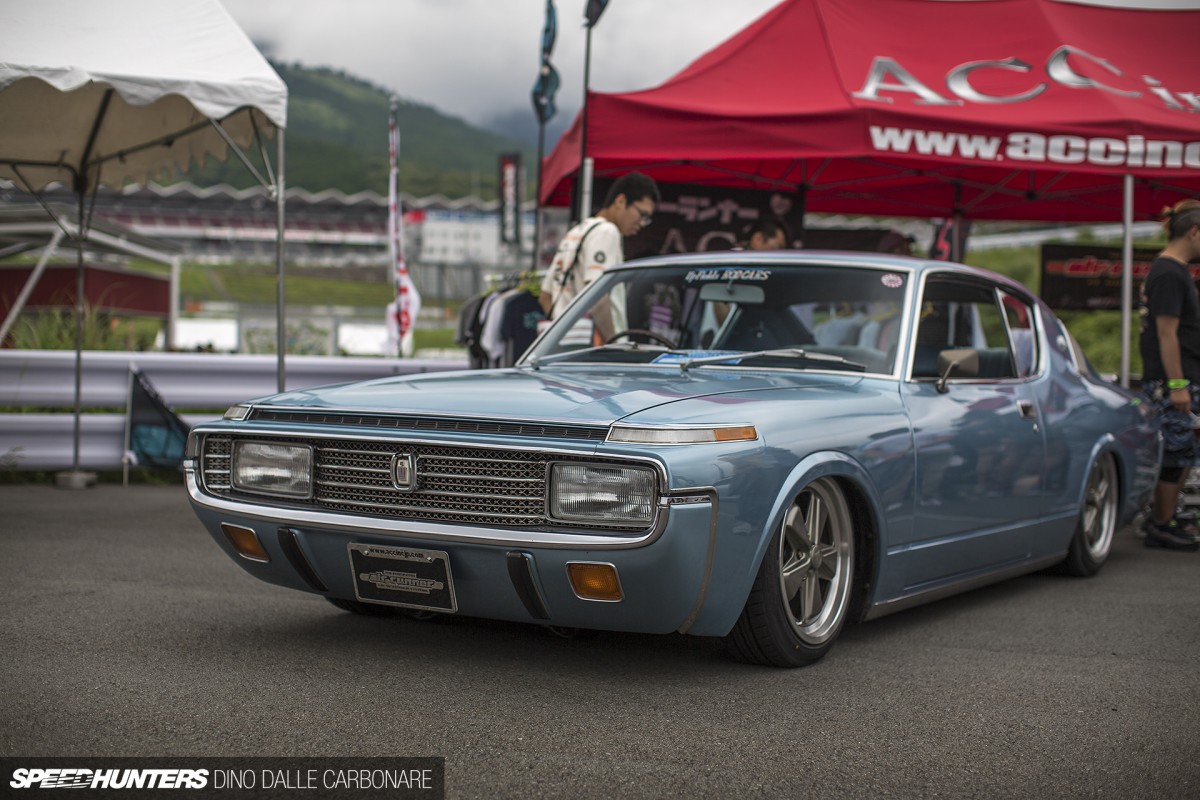 There was certainly no lack of kyusha to indulge in, but out of all the cars that I came across on the day it was this old school Crown coupe that I would have happily taken home with me. Aside from the fact that the two-door kujira or 'blue whale' generation of the Crown is quite rare, what really made it stand out was its wheels.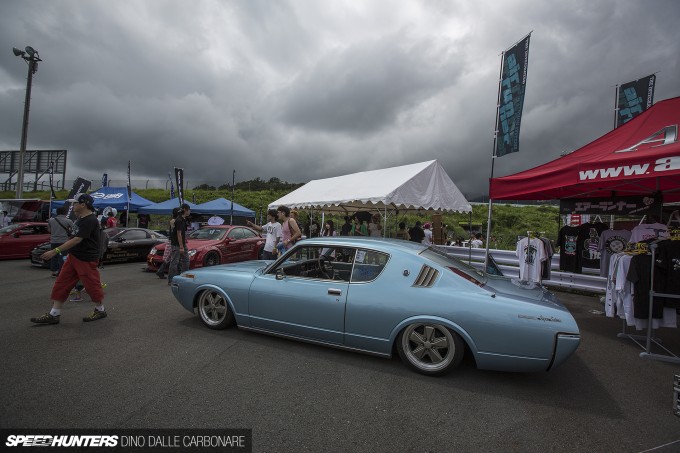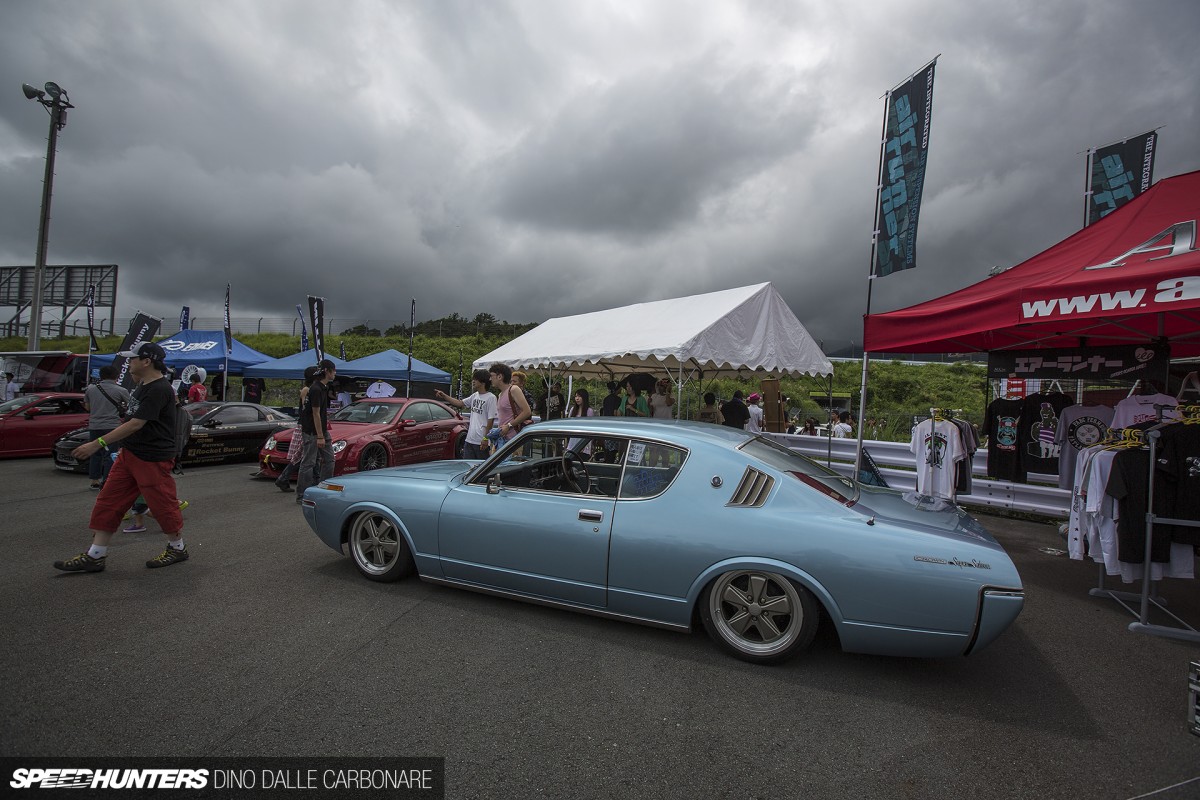 The old Porsche Fuchs that were tucked inside the Crown's expansive wheel arches added so much awesome to this car.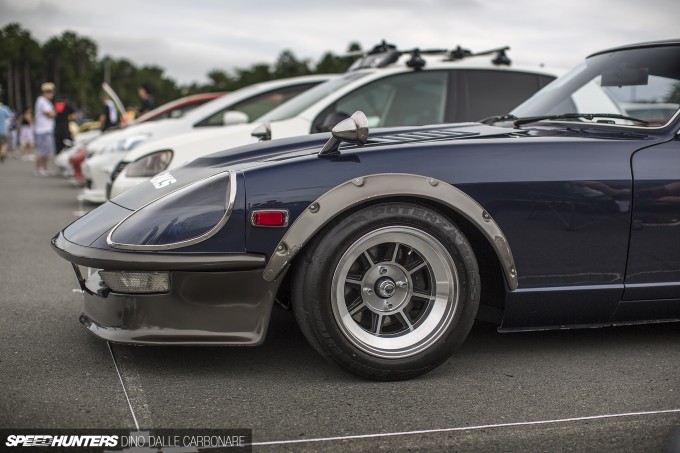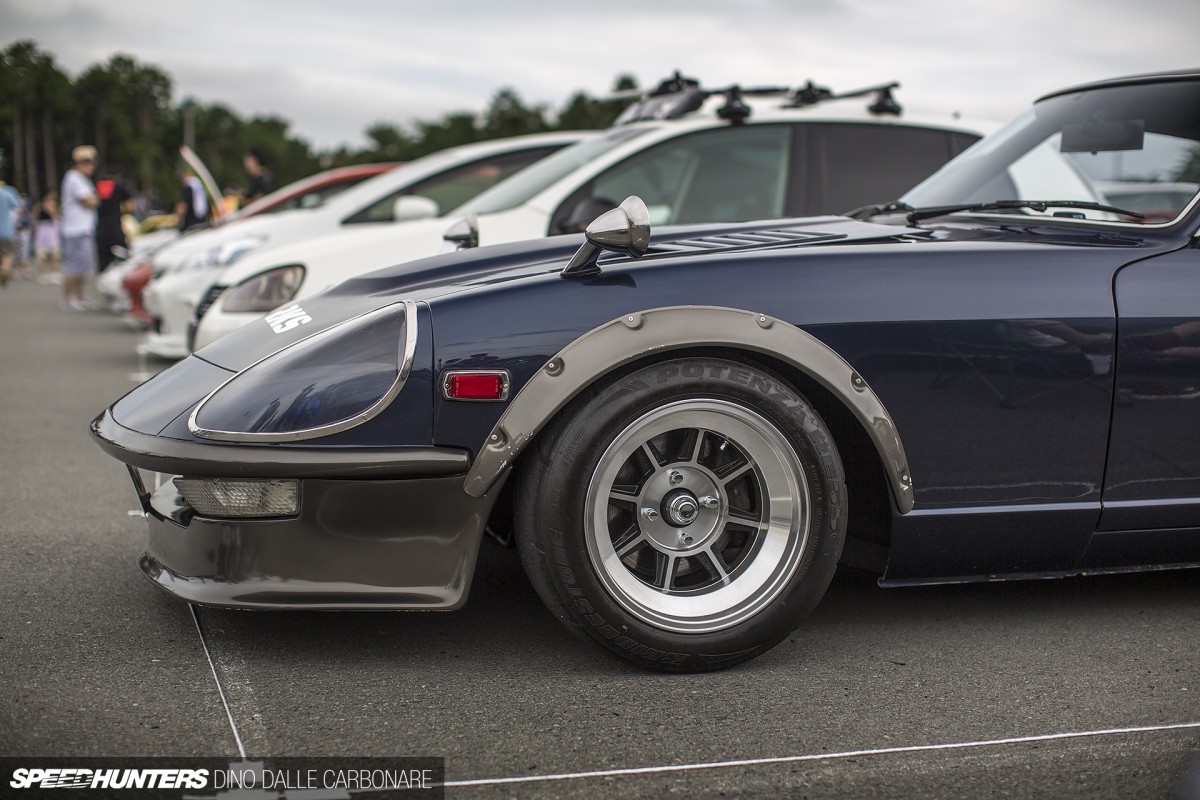 Here's one for all you S30 lovers out there – nice wheels, Works flares and a G-nose conversion for the ultimate Z-look.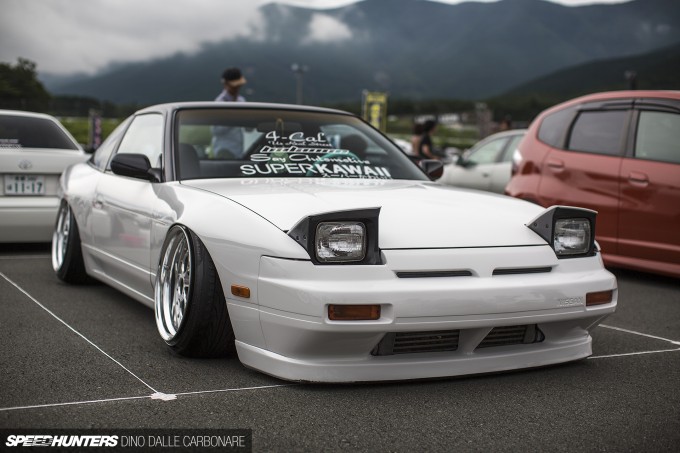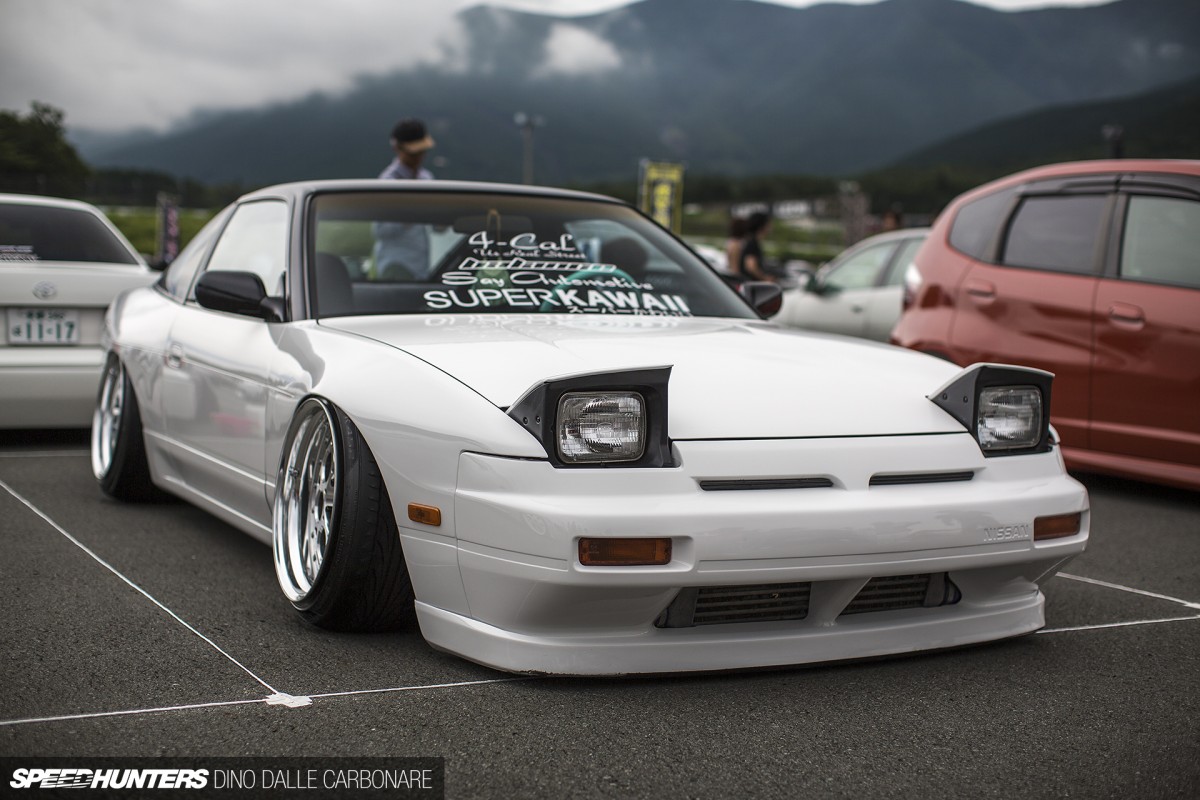 While it takes a lot of effort to execute a complex one-off conversion, it's probably twice as hard to obtain a certain 'look' with minimal intervention. Or at least making it look like it was minimal. In my book simplicity continues to rule high above anything else, and this USDM 240SX might as well be an ambassador for this school of thought, as it oozed presence by nailing those few details that make a car sit just right. By this I mean the flaring of the stock fenders, the suspension modifications and finally the wheel and tyre choice. Slammed perfection right here!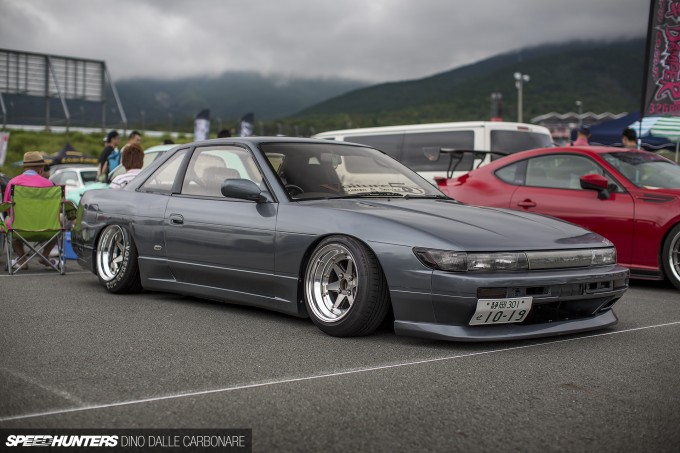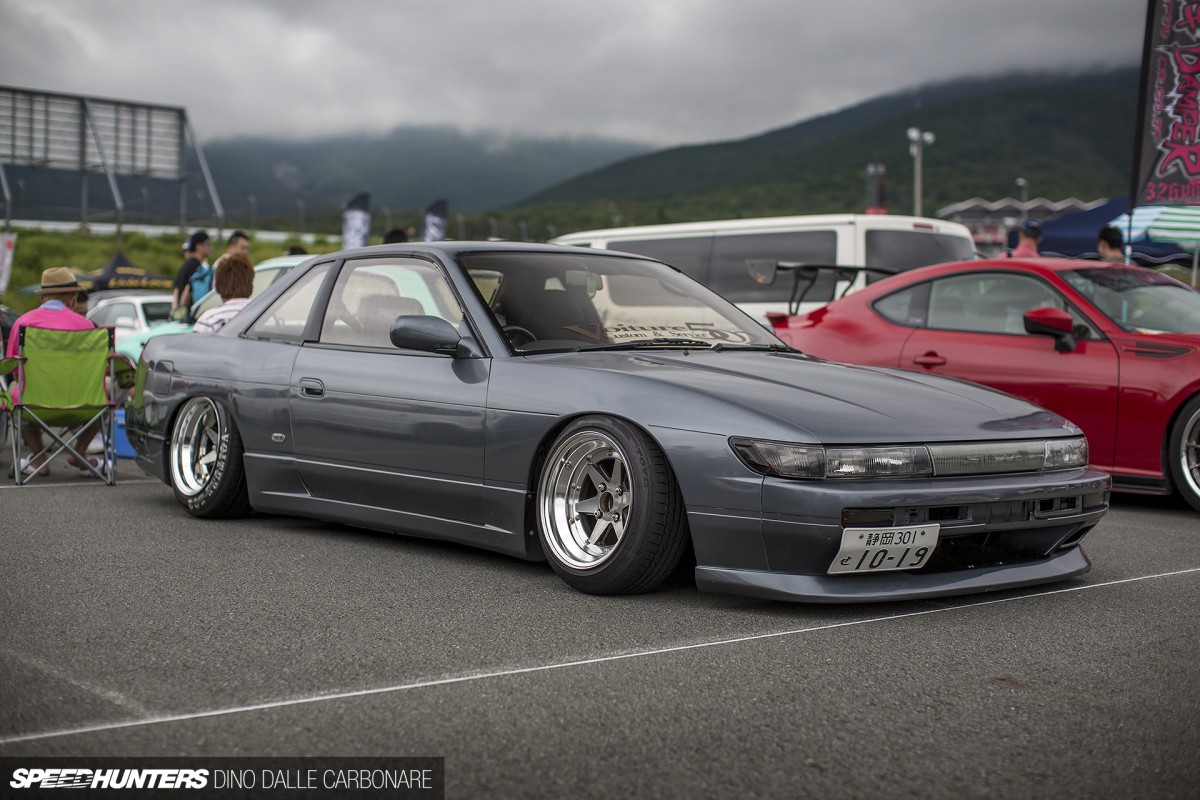 Here's the same approach, but with a JDM S13, making this pair two of the best S-chassis machines at the whole show.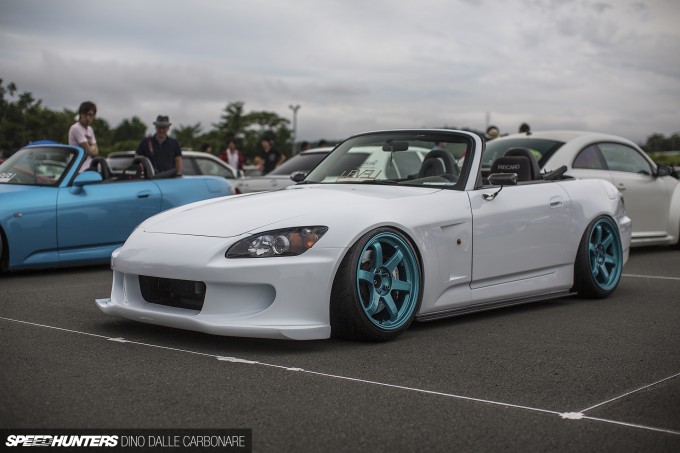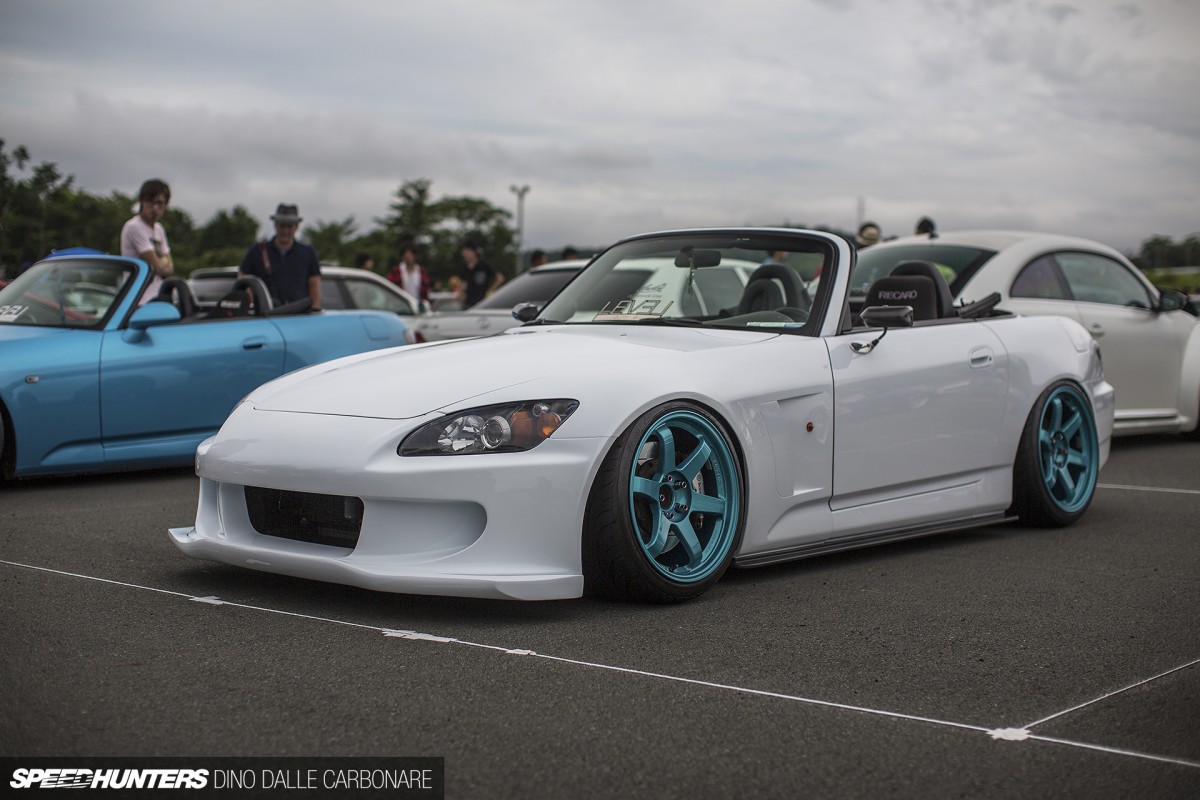 The RAYS Volk Racing TE37 will always be synonymous with performance, and that's a theme that seemed to be carried right the way through this AP1 Honda S2000.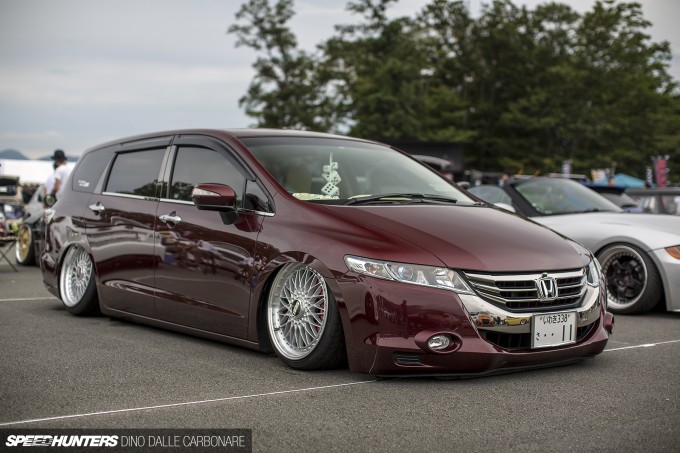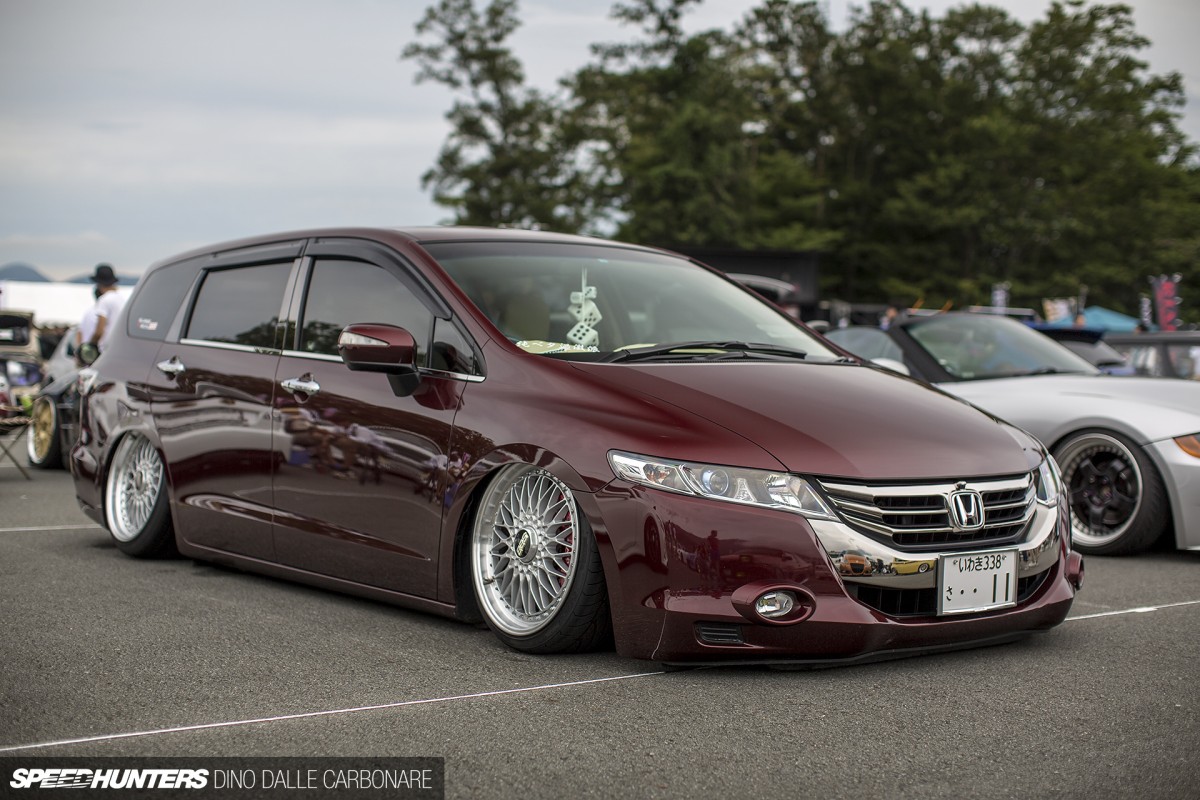 Minivans are by far the hottest selling type of cars in Japan, so they continue to be big contenders in this scene. And just like the first StanceNation Japan event in the fall of 2013, there were plenty to be seen at Fuji this time around too.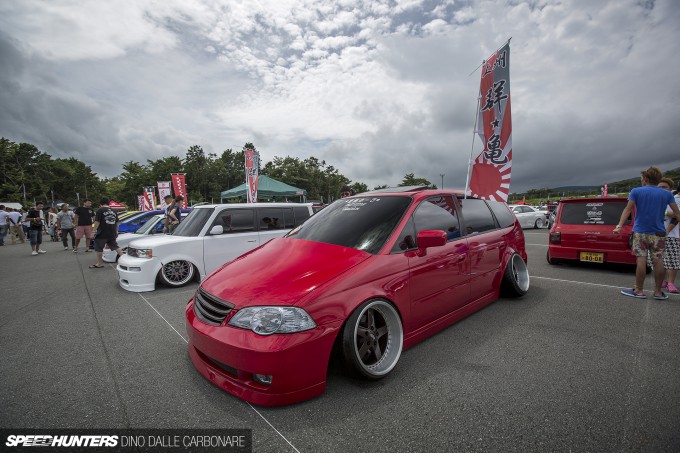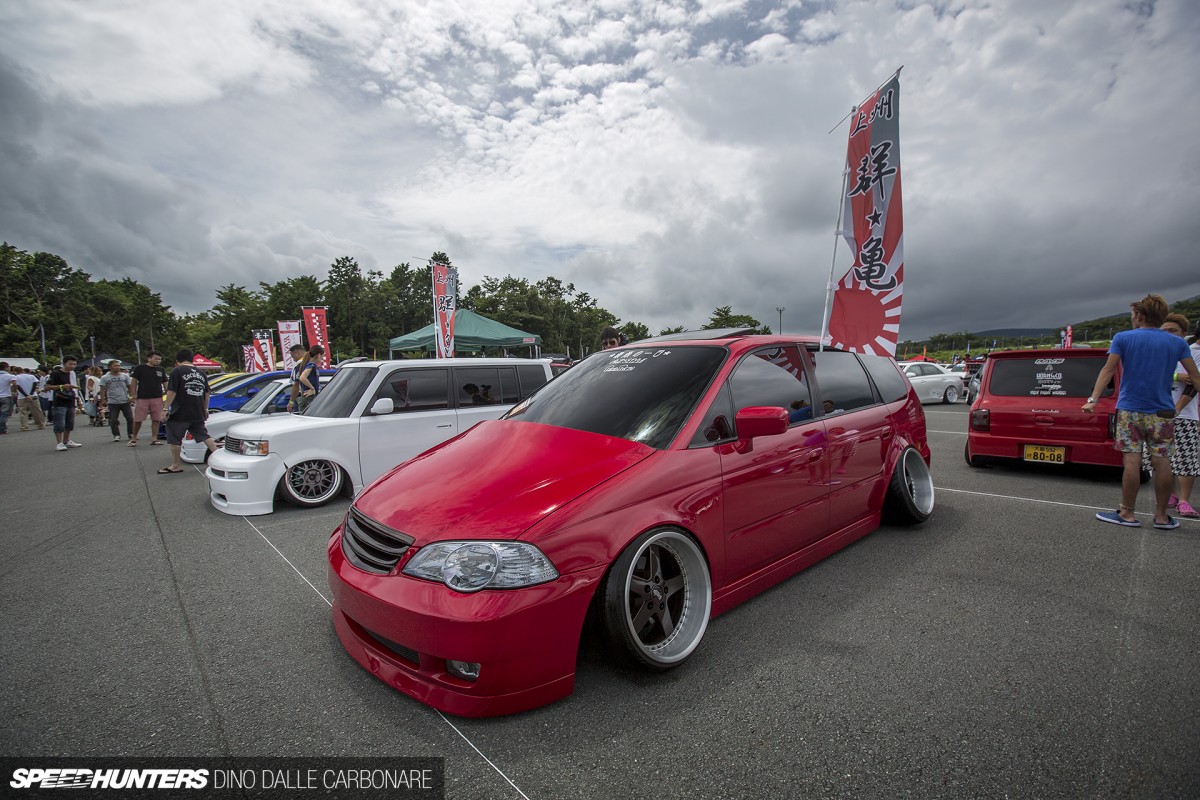 And some more extreme than others!
How To Stand Out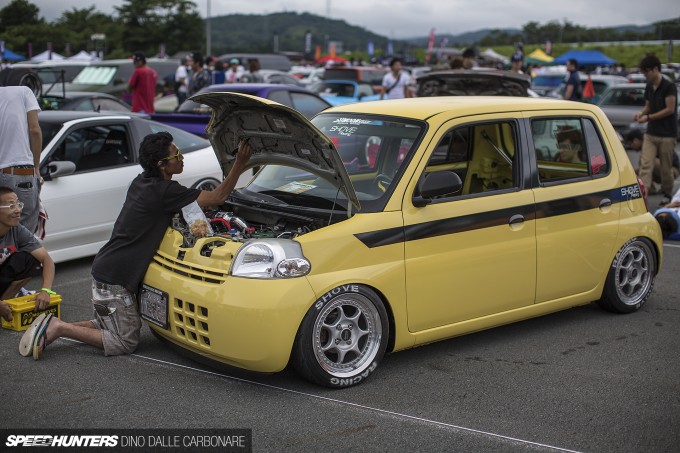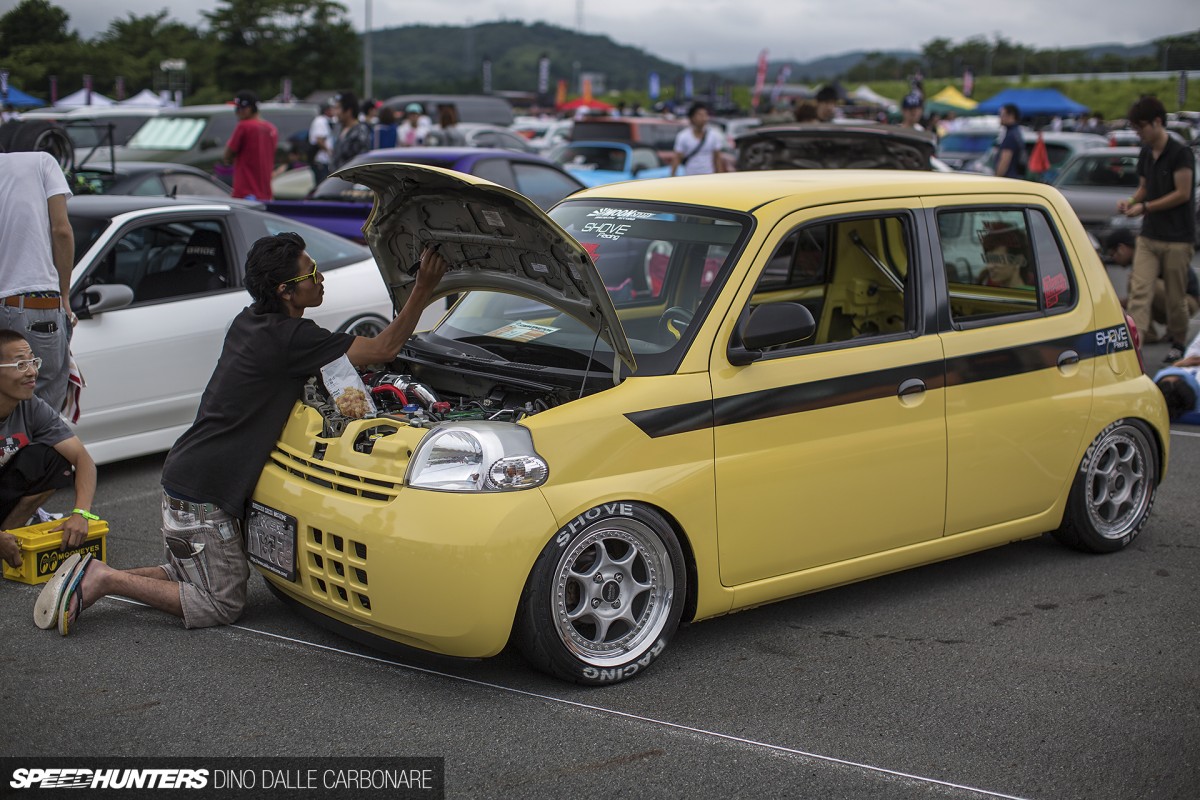 The fact is, it doesn't matter what sort of car you own – show the effort that you have put into it, and you will be respected just as much as the guy who has forked out his life savings to build up a high-end machine.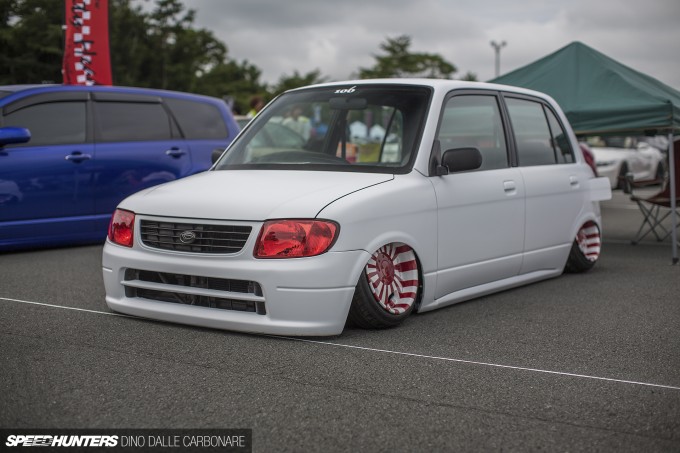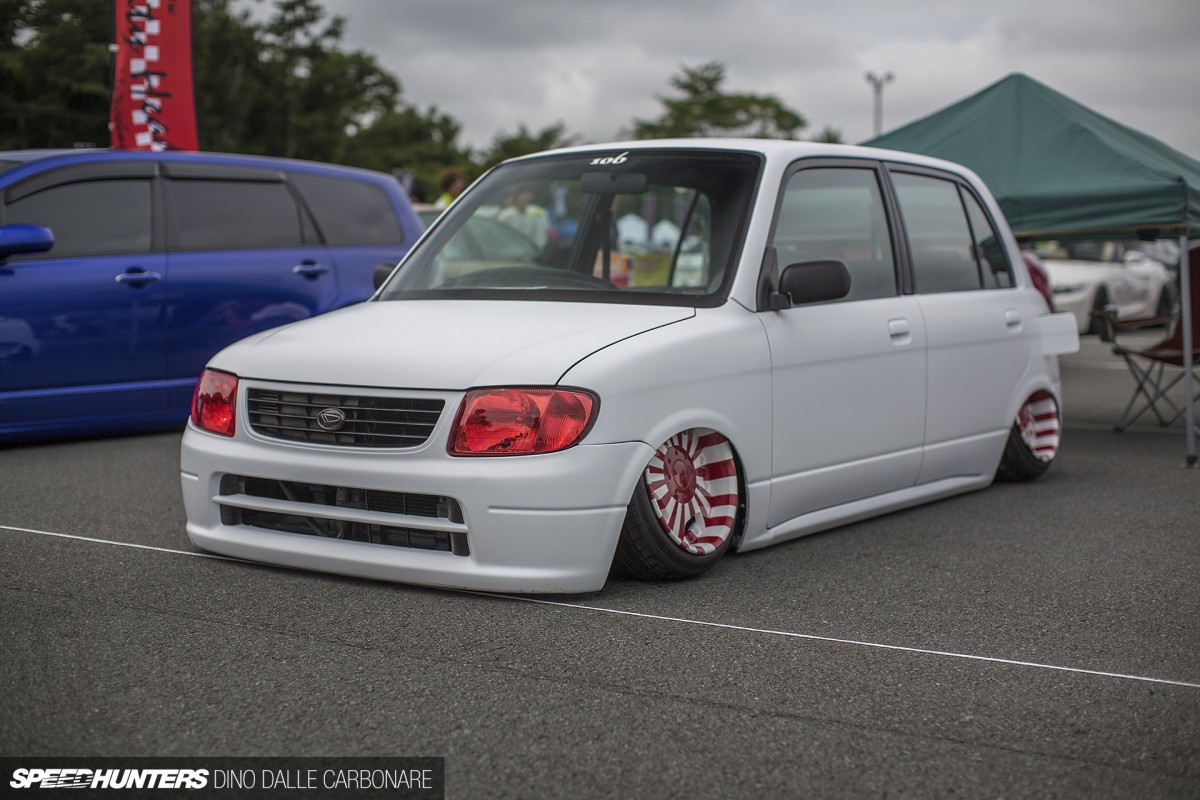 Add a touch of national pride, much like this Mira is doing, and you will earn even more points.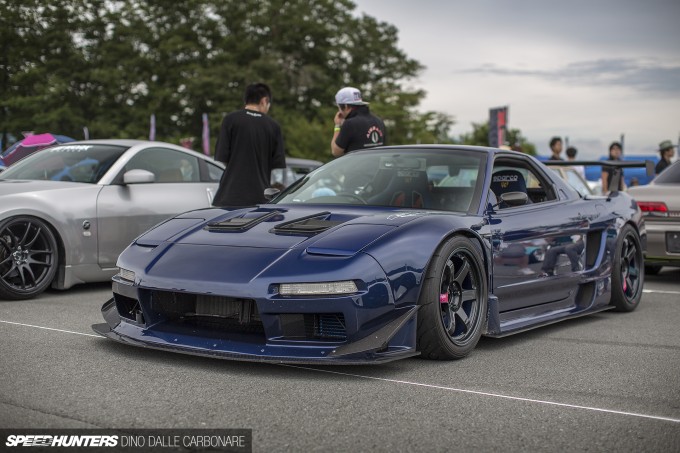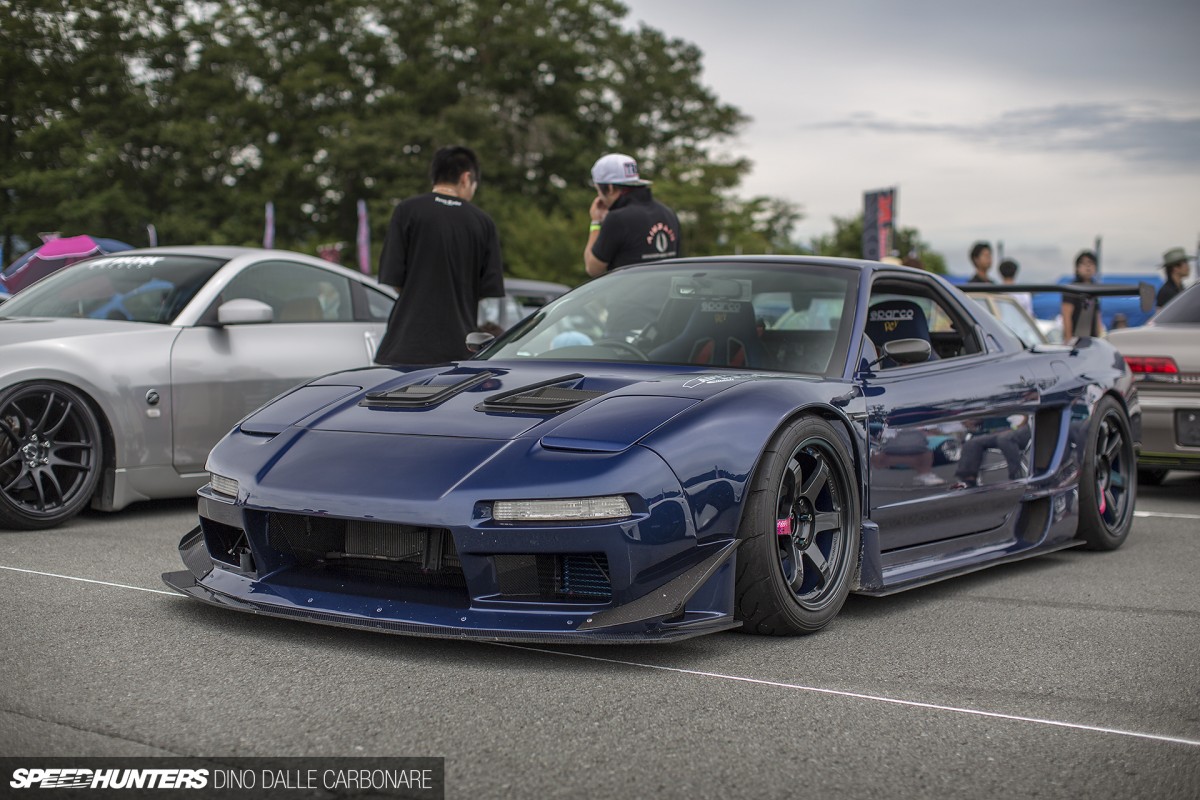 It might just look like a parking lot full of cars, but it actually took a long time to walk through the show – mostly because I was continuously being distracted by specific cars. The NSX always tends to do this to me. It's one of those ageless legends from the past that over 20 years on continues to exude presence – even more so when sporting some JGTC-inspired aero!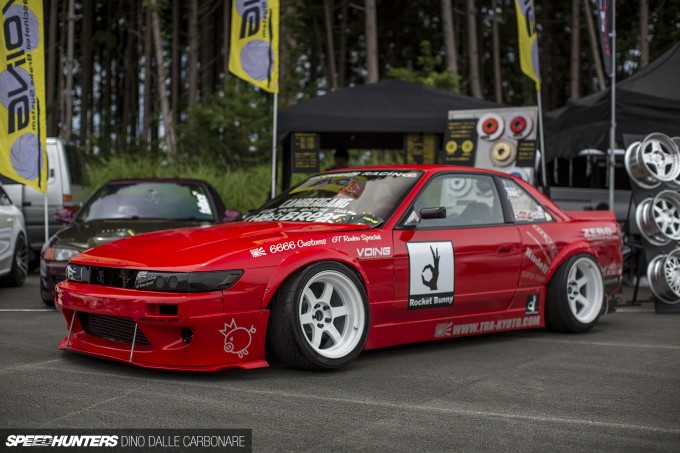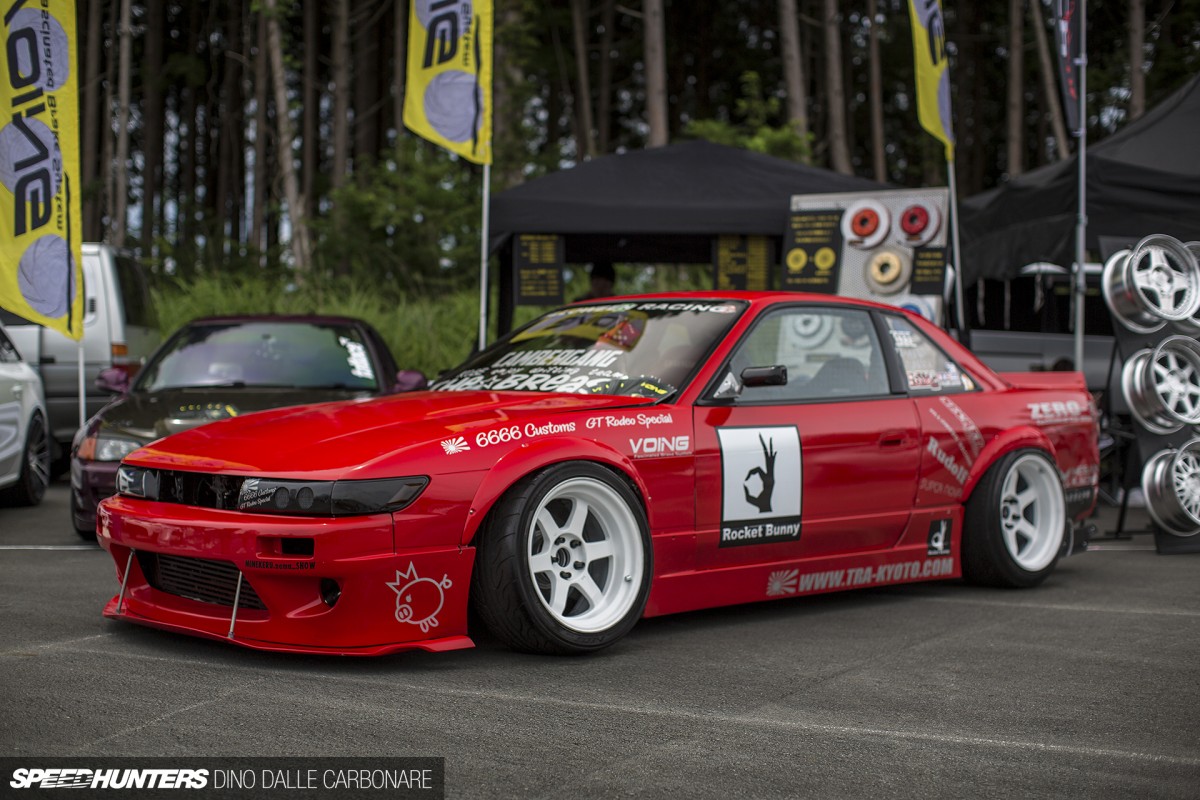 Remember my post on the true essence of drifting last month? Well, if you have sharp eyes you might recognise this Rocket Bunny kitted Halloween Racing S13 from that night up in the Kobe mountains. The car has since been treated to a nice clean up and a different set of wheels, and is looking better than ever.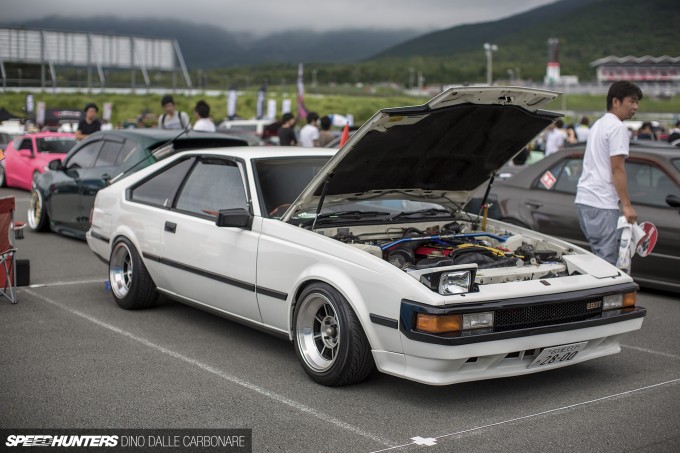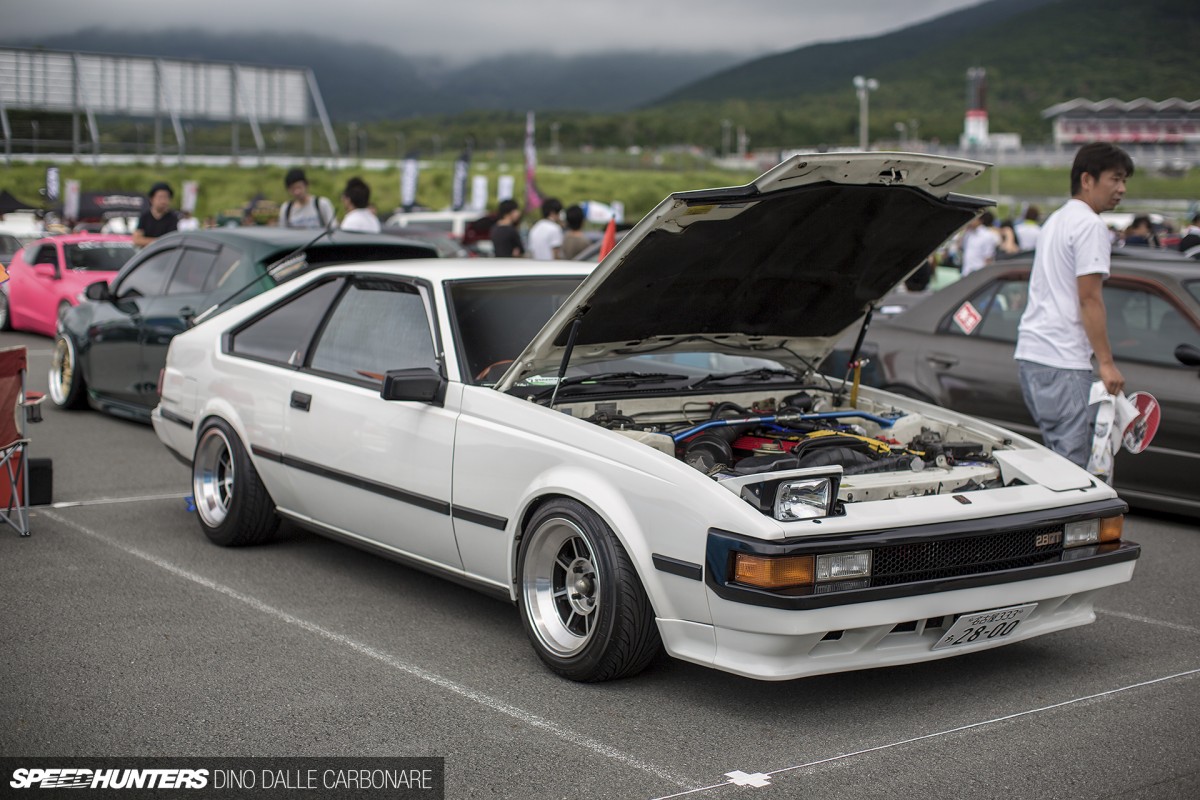 Representing the whole '80s movement beautifully was this Supra Celica on a set of Hayashi Street wheels – another example of how you don't really need much to get your car looking its best.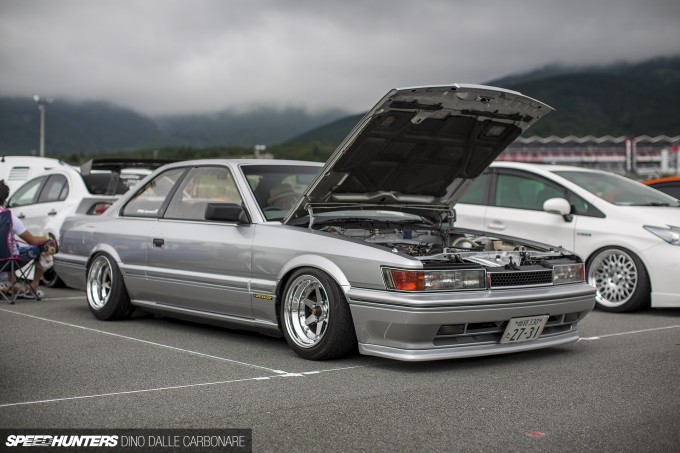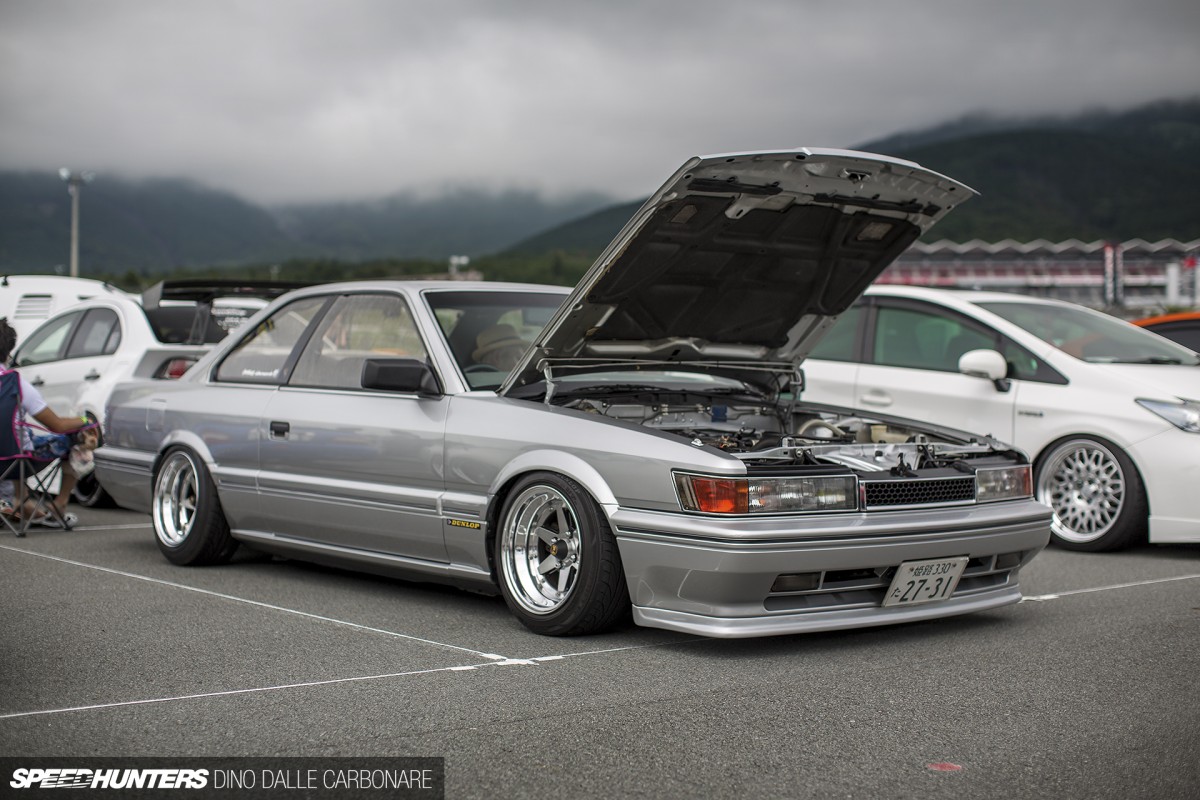 A few cars up the line was this F31 Nissan Leopard running RB-power and a highly polished set of SSR Longchamp XR-4 wheels. It's a car we've seen before at other events, but one I just had to share again.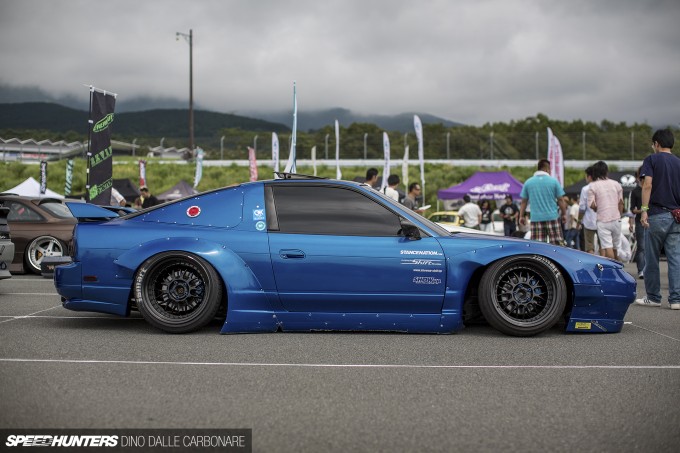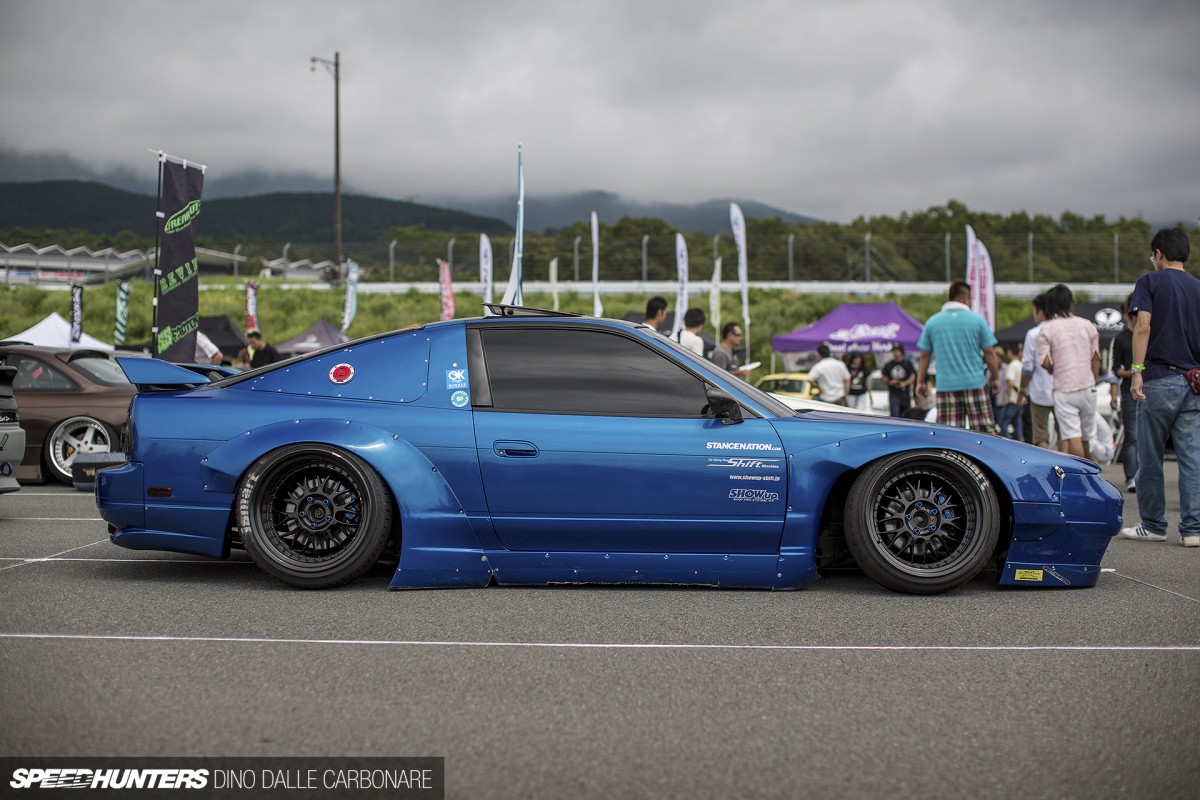 Just like the stance movement, Shuichi Nakagawa's Bad Quality 180SX  is always evolving. The Team Review car seemed to have been stripped of its front and rear diffusers, front canards and even the Rocket Bunny ducktail spoiler – a Nissan RPS13 item taking the latter's place. There was no contrasting fluro graphics either, maybe a hint that he's going to be coming up with yet another set of changes for the 2015 Tokyo Auto Salon? We'll have to wait and see…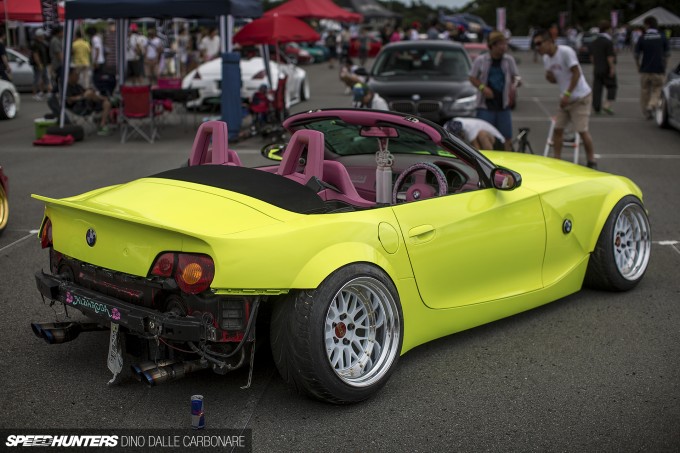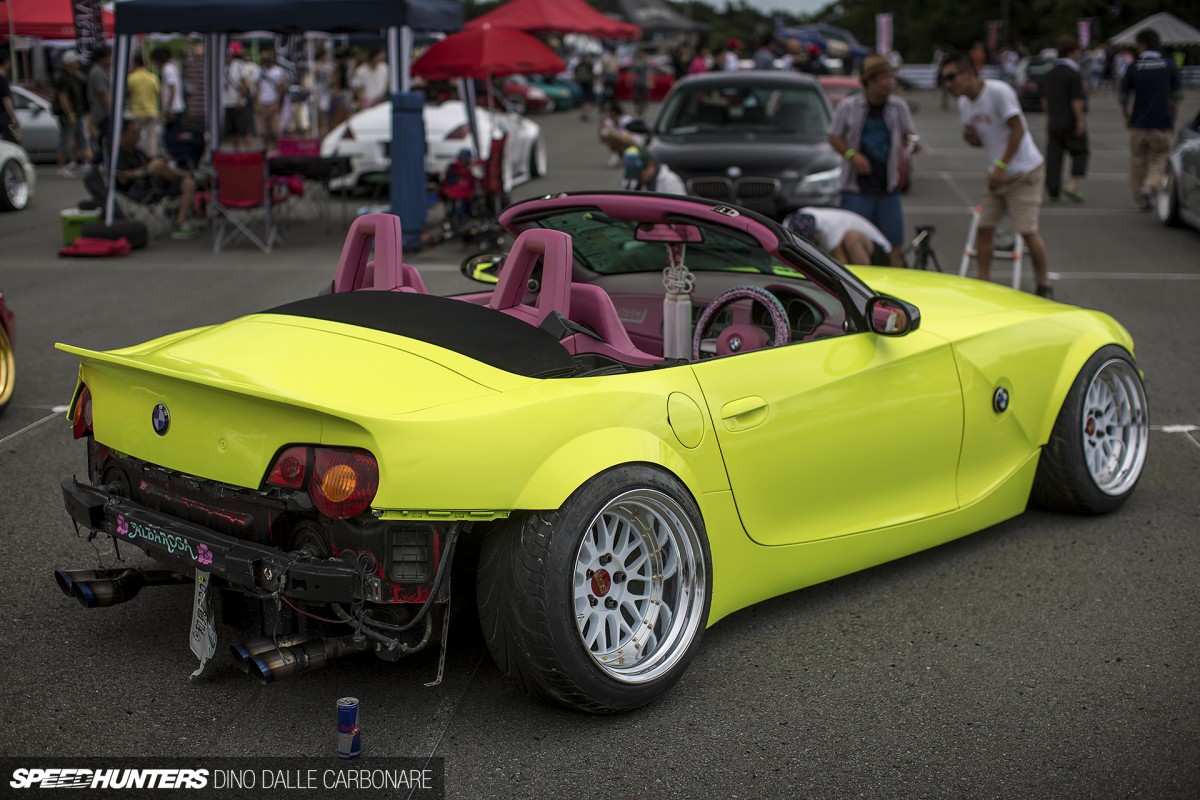 And speaking of changes, here's one car that seems to be painted a different color each time I see it. Call it a new-age-VIP-style-meets-JDM-Euro and you would be half way to coming up with a way to describe it!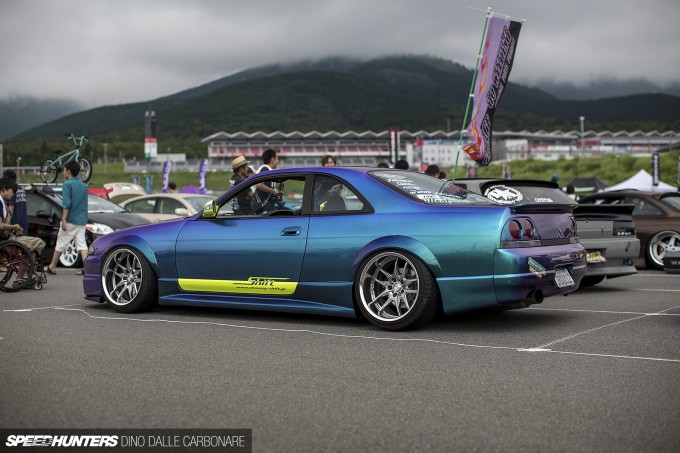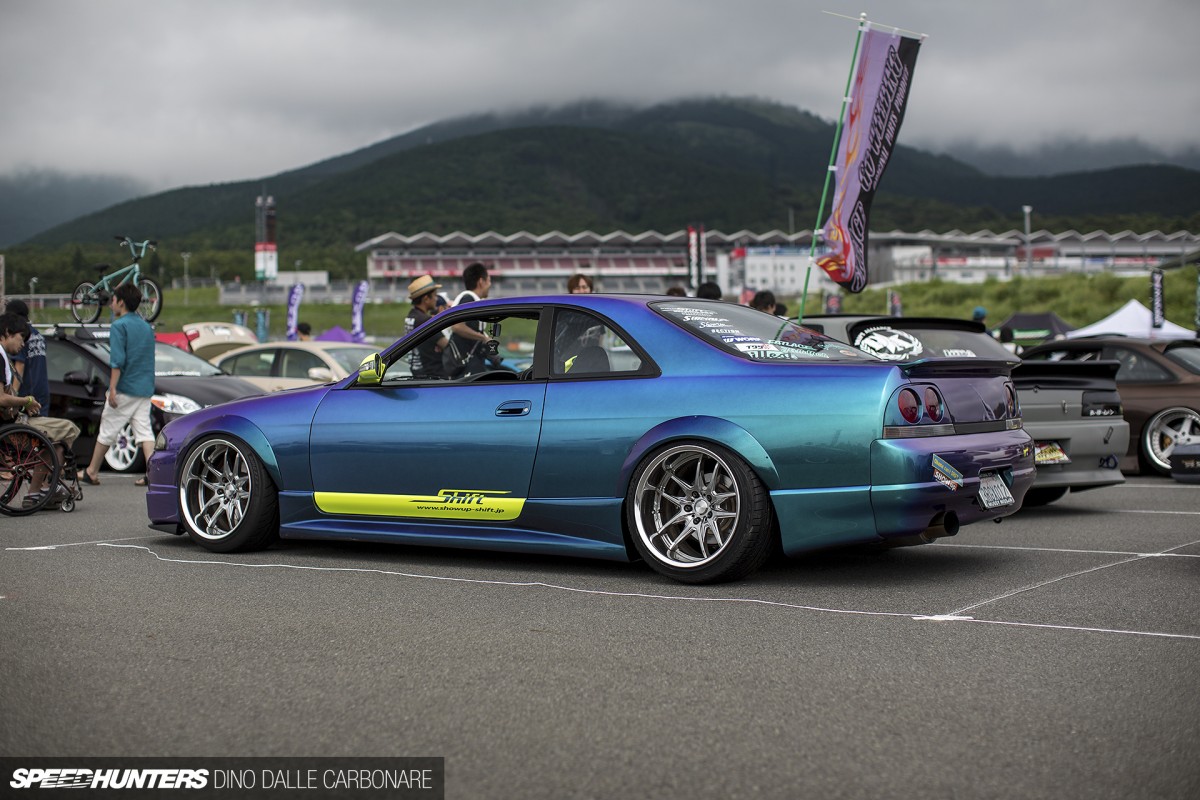 The top part of the parking lot where the show was being held was hiding some true jewels. They included this R33 Skyline from Show Up in Osaka, one of the most famous and respected paint shops in the whole of Japan.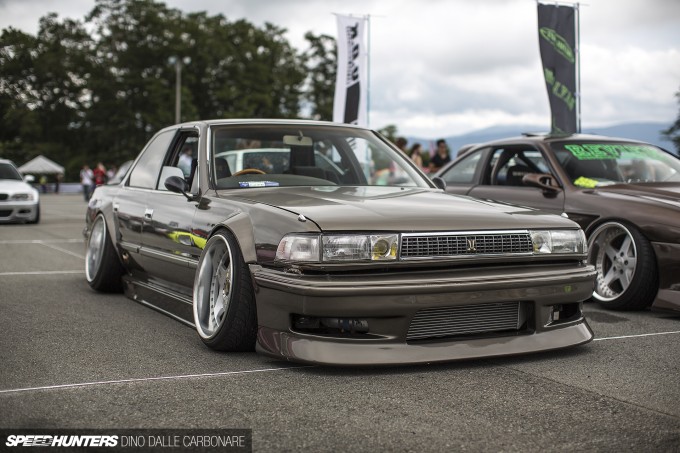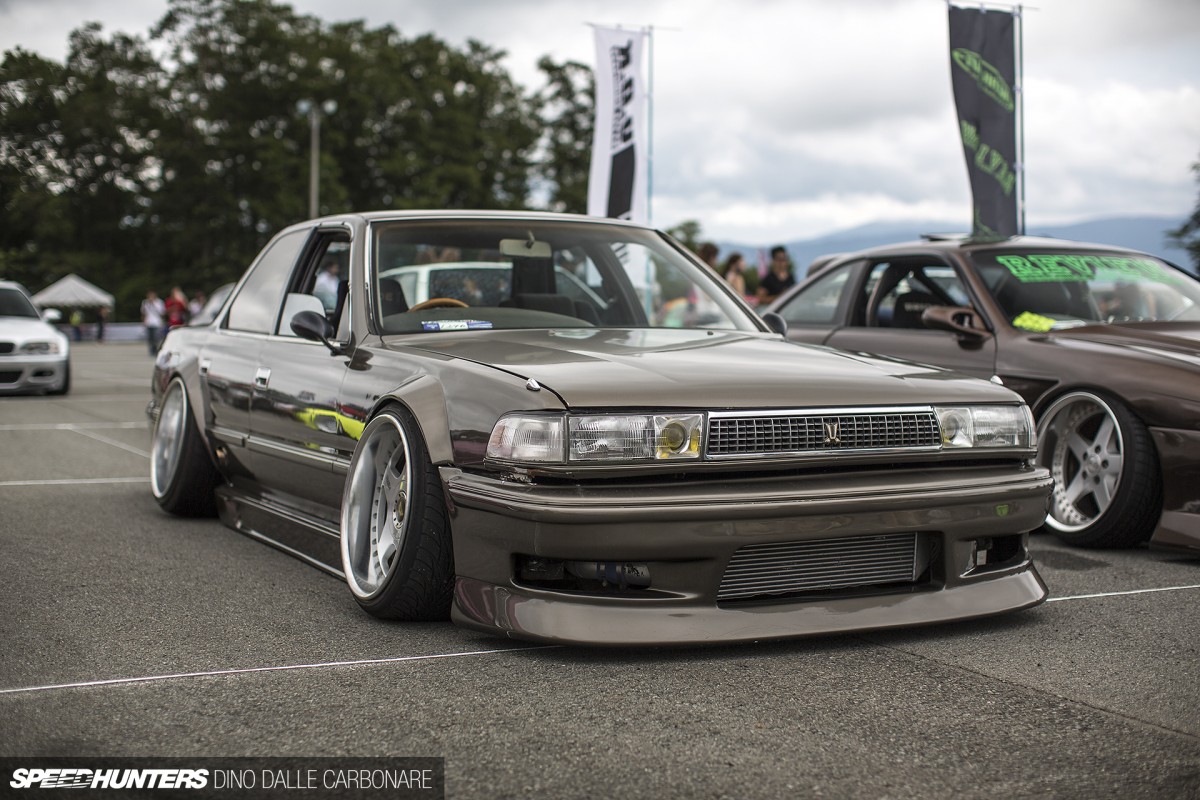 Drift-meets-VIP is probably the way I'd describe this old Cresta. The big front-mounted intercooler was a hint to more tail-kicking power under the bonnet, while the extended and blended fenders are a pure VIP-style touch.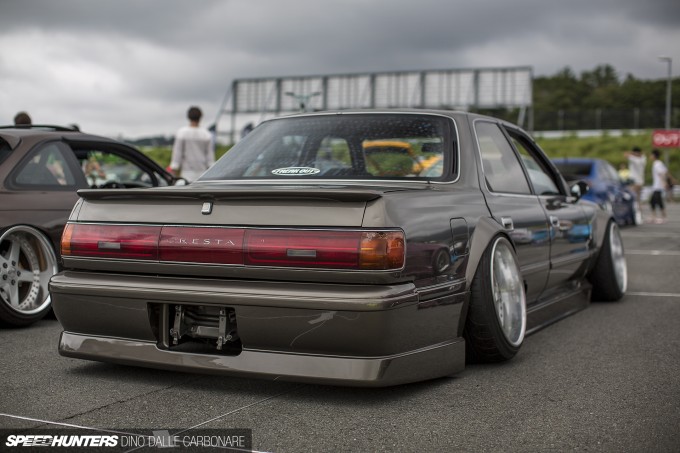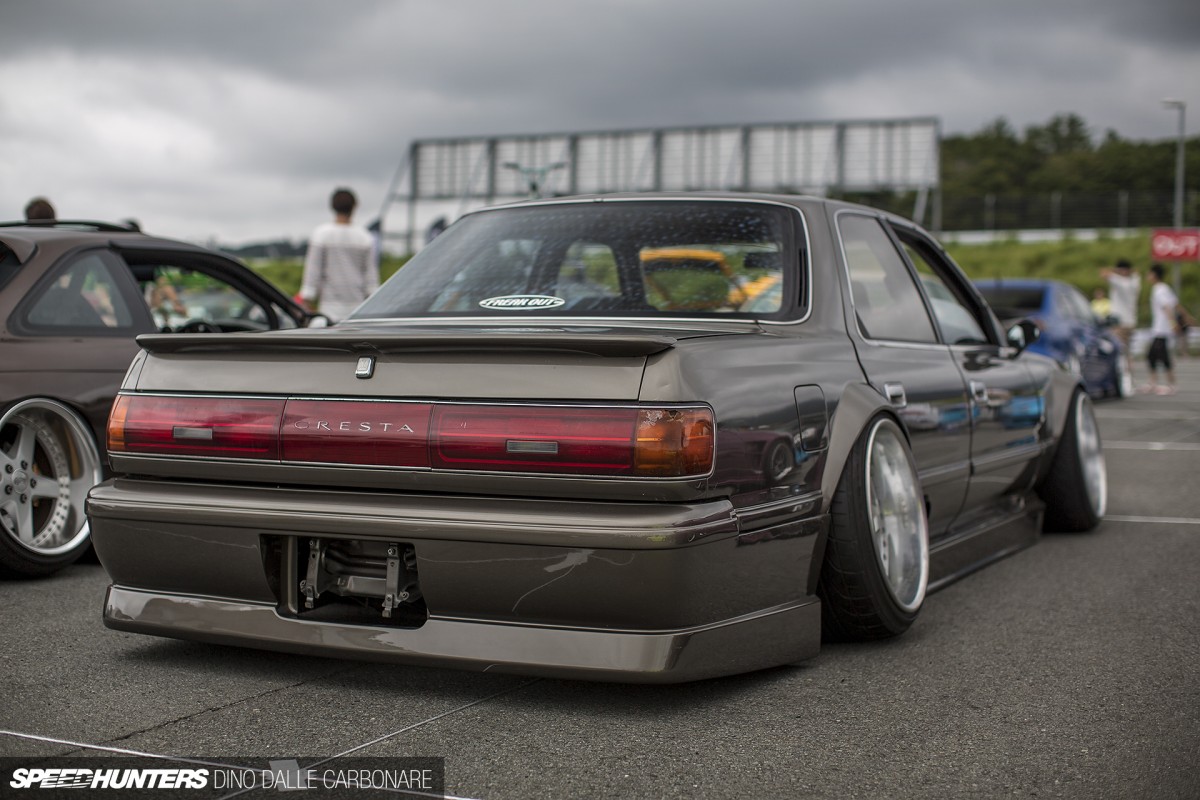 It sat very aggressively – no air bags to save the side skirts or bumpers over rough roads.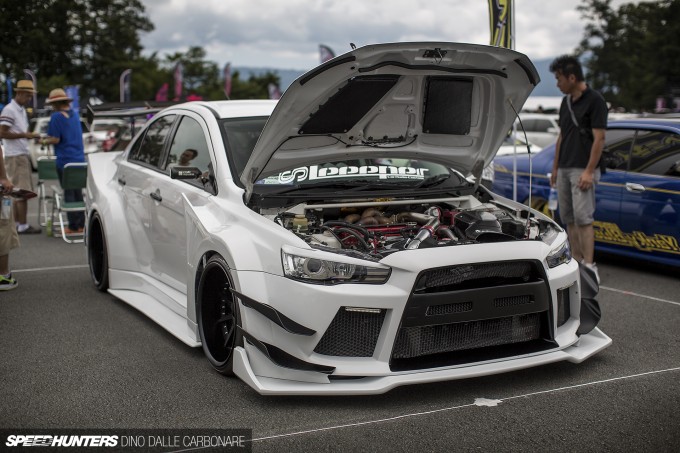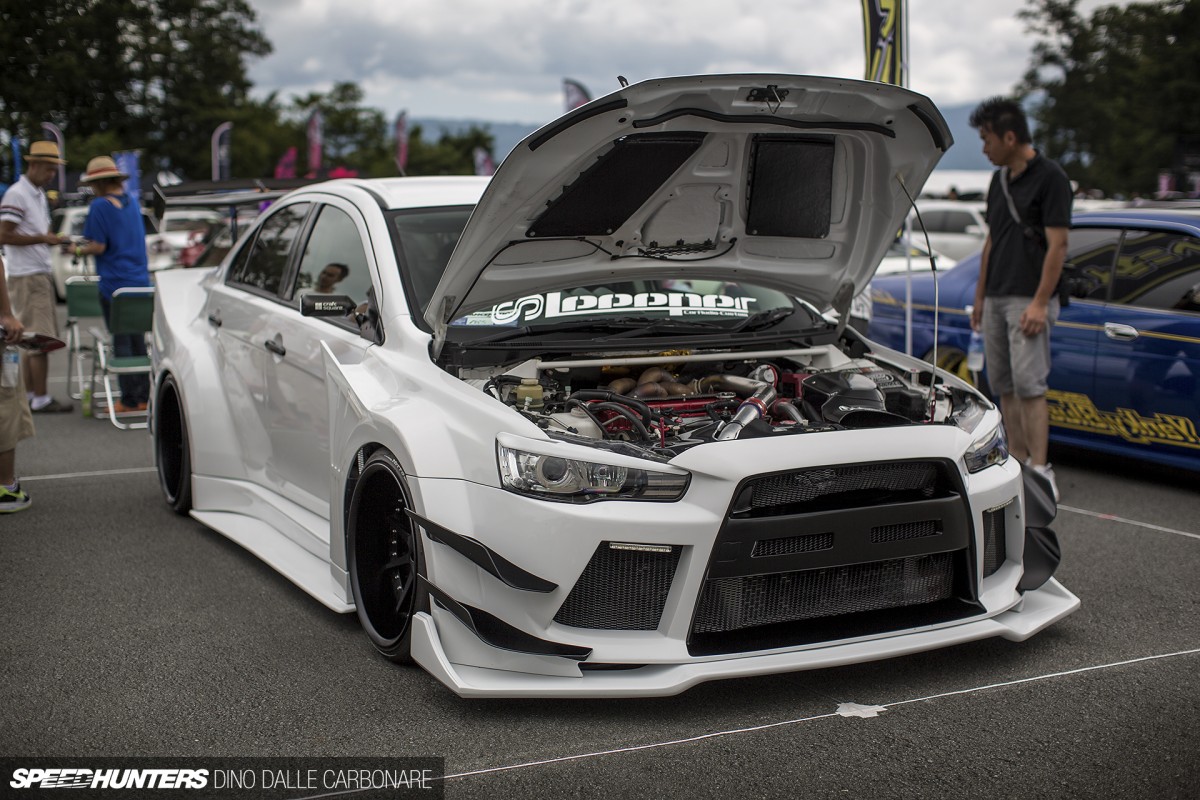 There were definitely some surprises at this year's StanceNation Japan show, and while I've kept a few of them for the Spotlight-O-Rama post I have coming, this Evo X was one I wanted to share right now. Aside from the extra power the tuned engine with its aftermarket turbo now provides, it was sporting a wild one-off wide body conversion.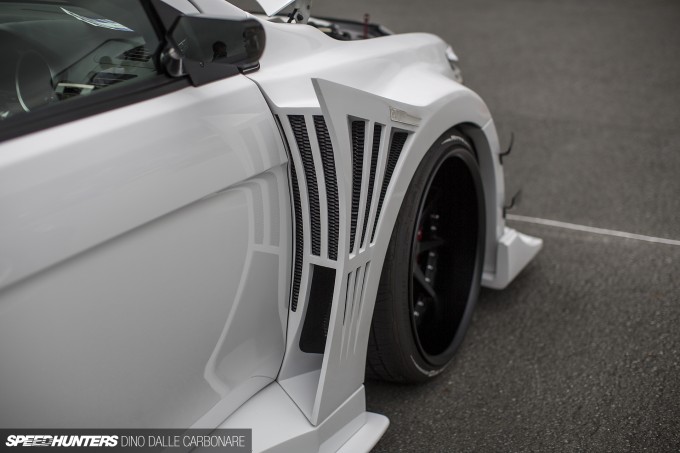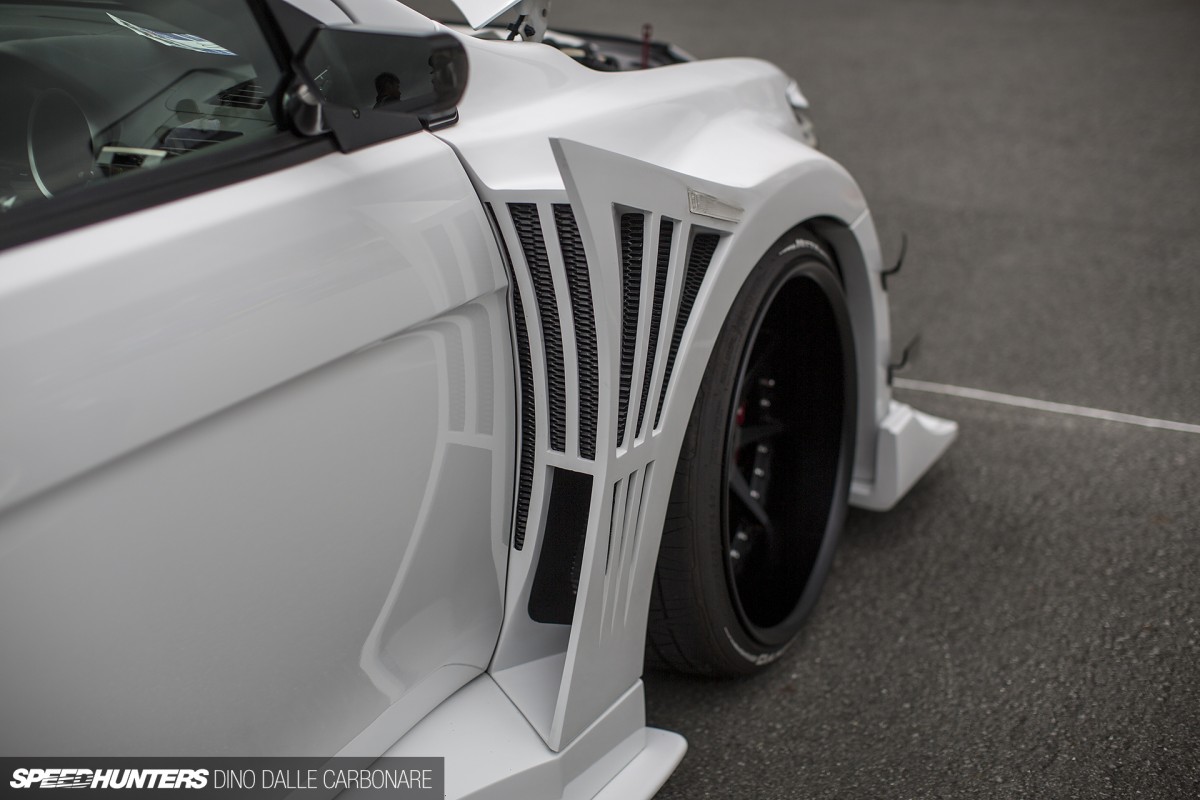 And when I say wild I mean wild. A good 15cm having been added on each side of the car and as much venting and aero work as any WTAC car would ever need.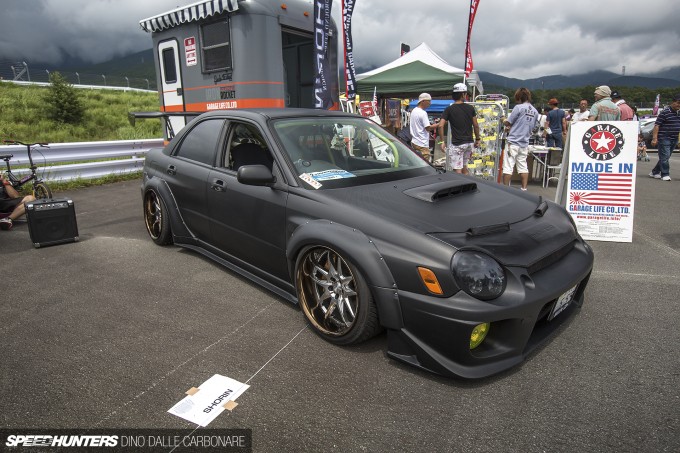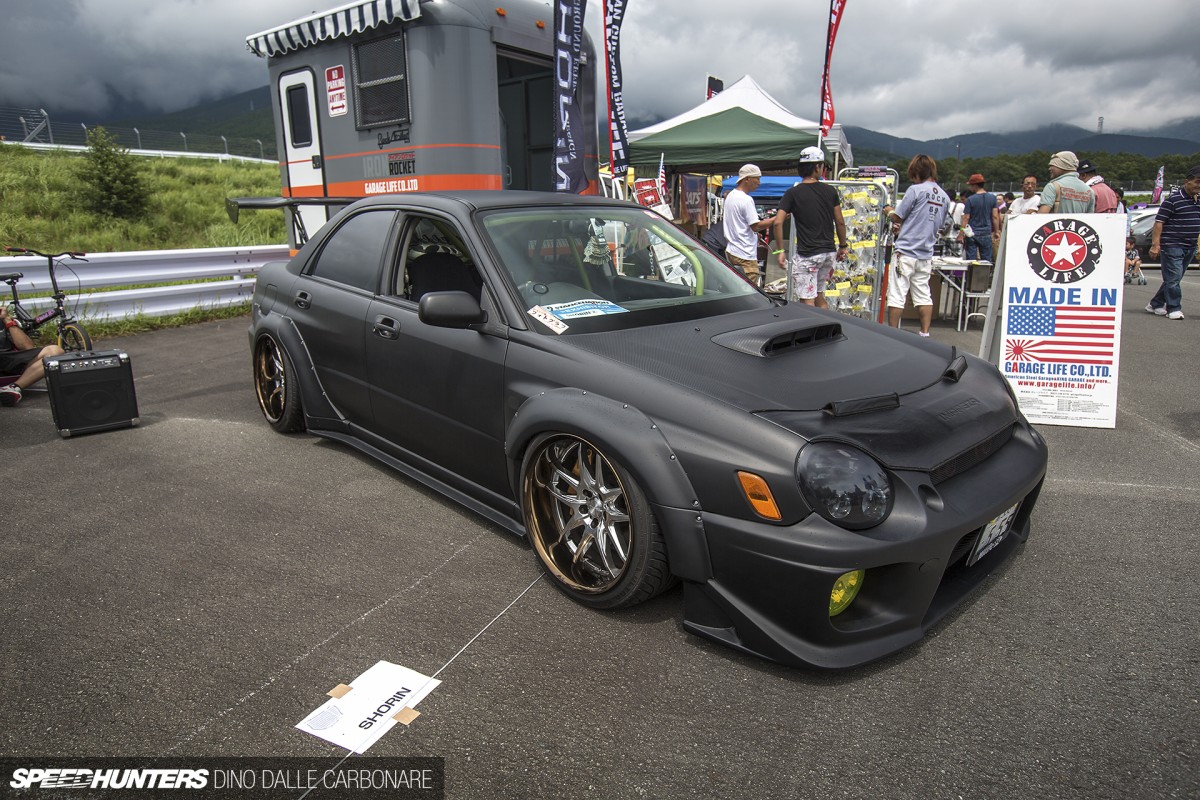 And where there's an Evo, an Impreza can never be too far away. Check out the Rocket Bunny-inspired flares that have made way for a custom set of Work XSA 04Cs on this Bug-Eye.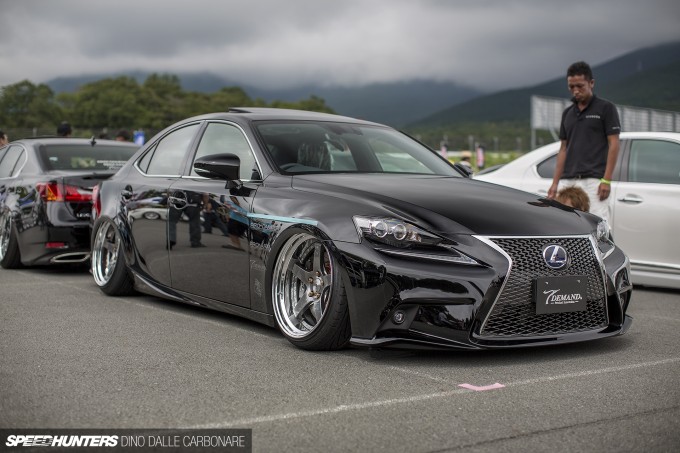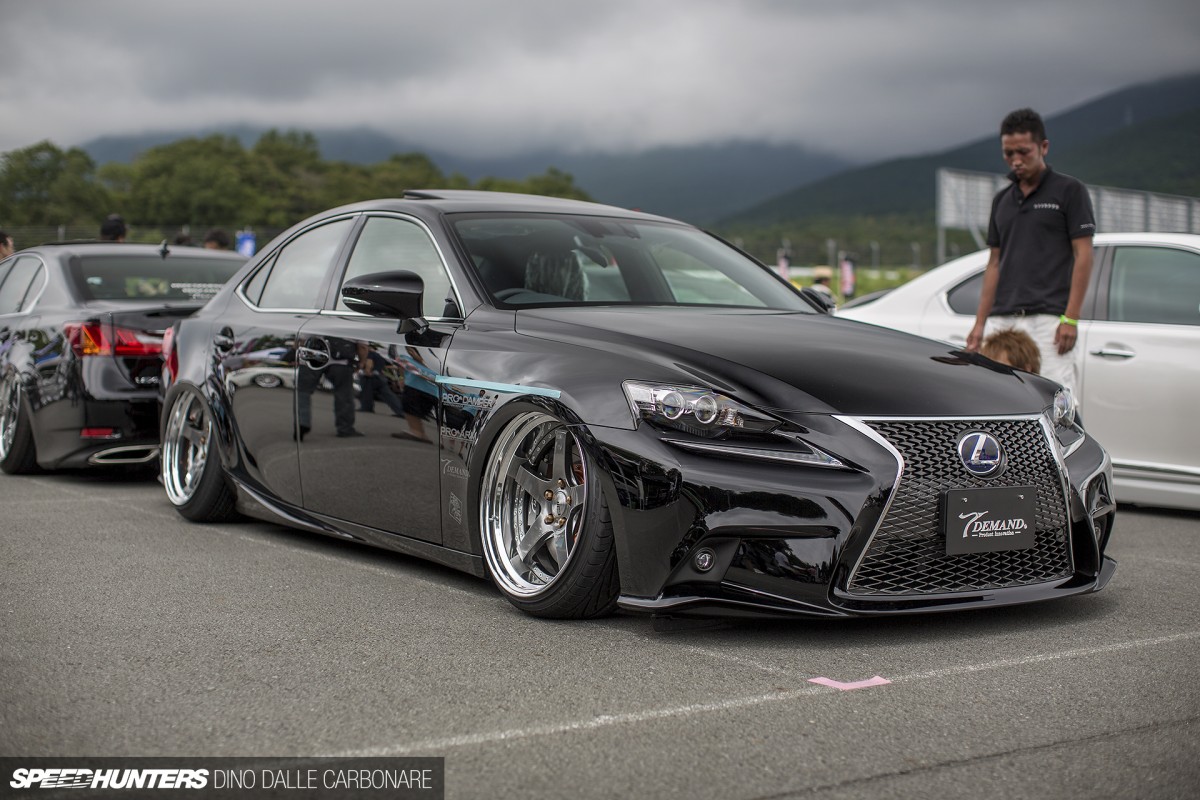 No matter how new or old the car may be, there's always a place for it in this ever-growing genre of global car culture.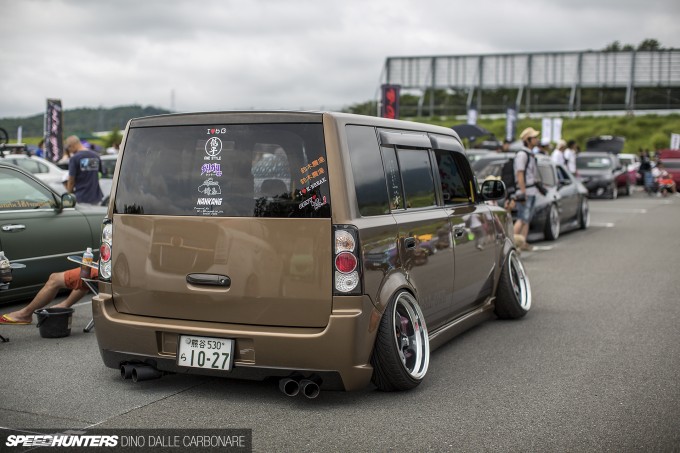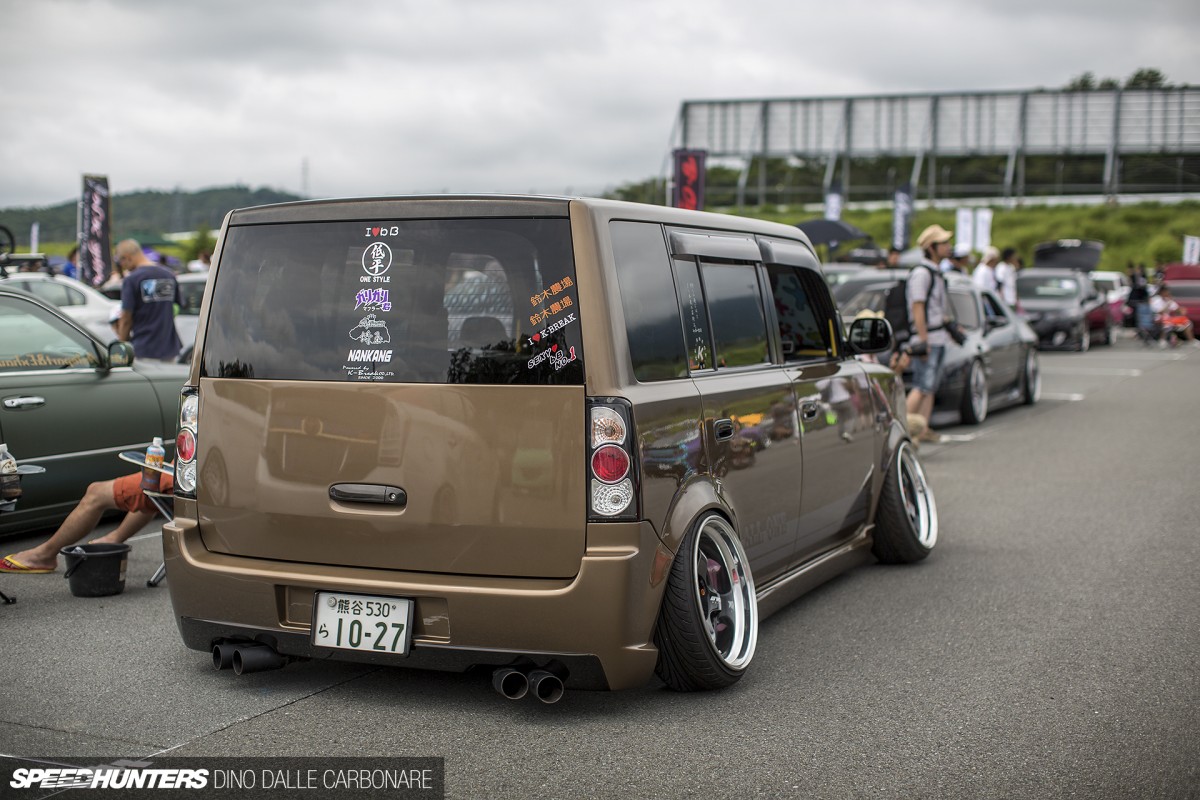 This is probably the single most impressive aspect of it all. Stance doesn't discriminate – it welcomes, and that's precisely why it has all become so big. It's hard to say where it will all go in the next years, but one thing is for certain – whether you like it or not, it's probably not going to stop growing and evolving. Make sure you stay tuned for the aforementioned Spotlight post, where I'll give you a few more good reason as to why the Japanese rule this scene!
Dino Dalle Carbonare
Instagram: speedhunters_dino
dino@speedhunters.com