The Time Machine
When I started to drive in the early '90s the roads were populated by boxy, early-'80s onwards family saloons. Many of them had their design origins in the '70s – wide expanses of glass still featured heavily as did skinny pillars, and at a guess I'd say that 15 per cent of the cars on the road actually dated back to that era or before. Then in 1991, the FD3S Mazda RX-7 arrived.
From its curves to its resolutely defiant rotary engine, it was like a futuristic spaceship. I can clearly remember seeing my first one on the cover of a magazine. But stood looking at the Valtonen Motorsport time attack FD just a few weeks ago, I felt like there had been an alien invasion and we were being attacked with something familiar, yet at the same time fierce. Like some sort of mutant that we think we recognise.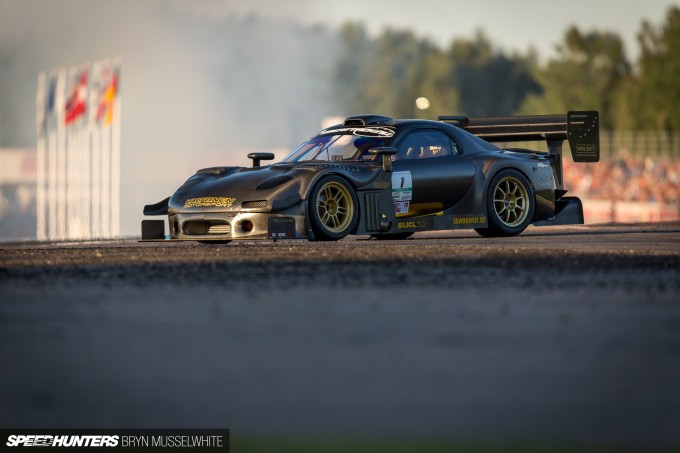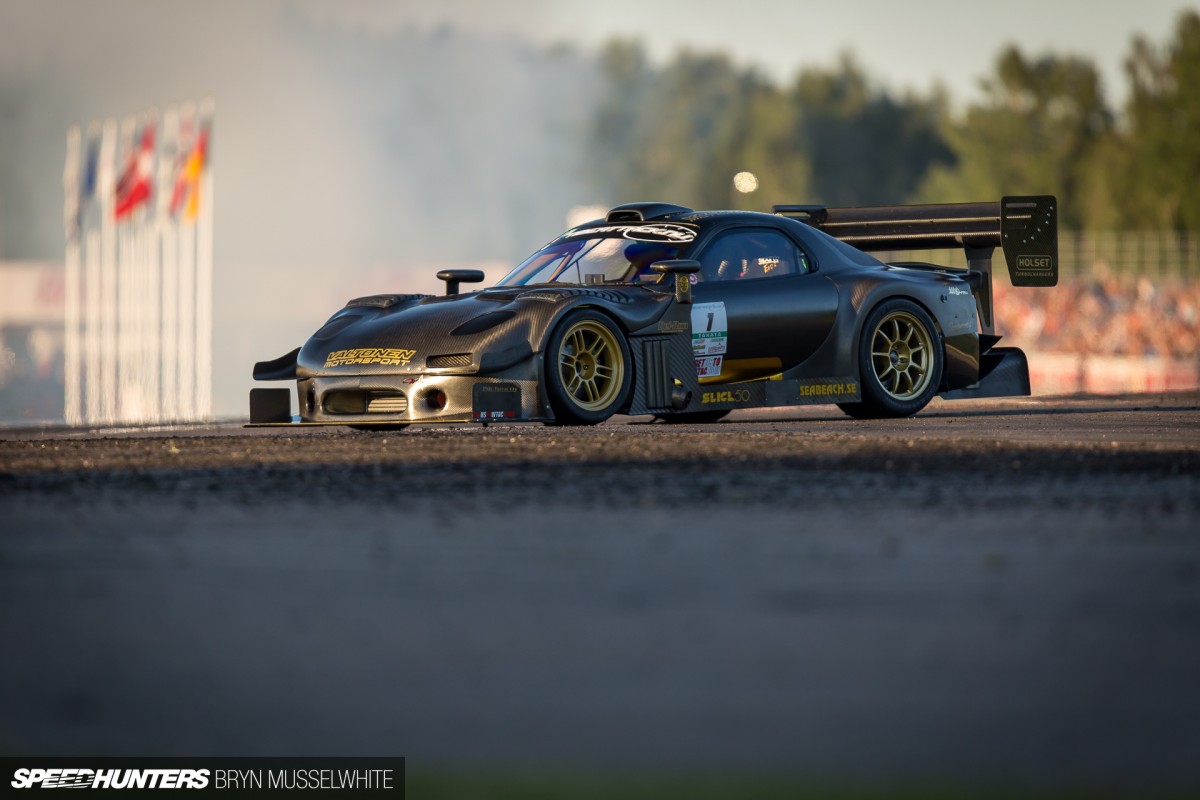 Because this Mazda is so far removed from that iconic model I first saw. With a Nissan heart and full composite bodywork, it's hard to know where I should start trying to communicate to you just how incredible it is. But that's exactly what this is my friends. When Rod and I first saw the RX-7 at the Bilsport Performance & Custom Motor Show at Elmia we both fell silent for a minute or more. It's what a great car should do – move you even when it's standing still.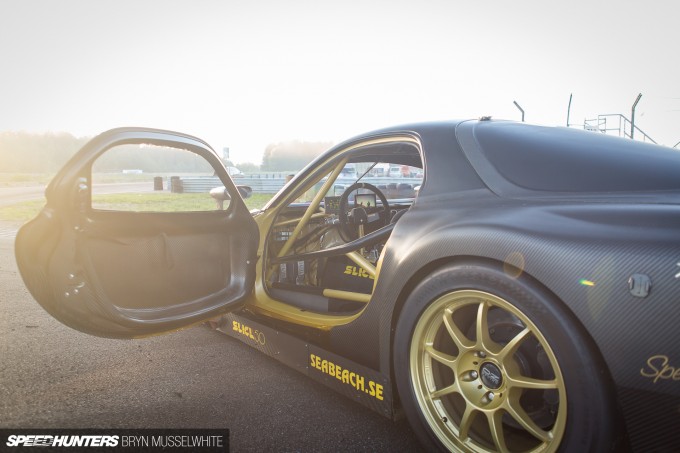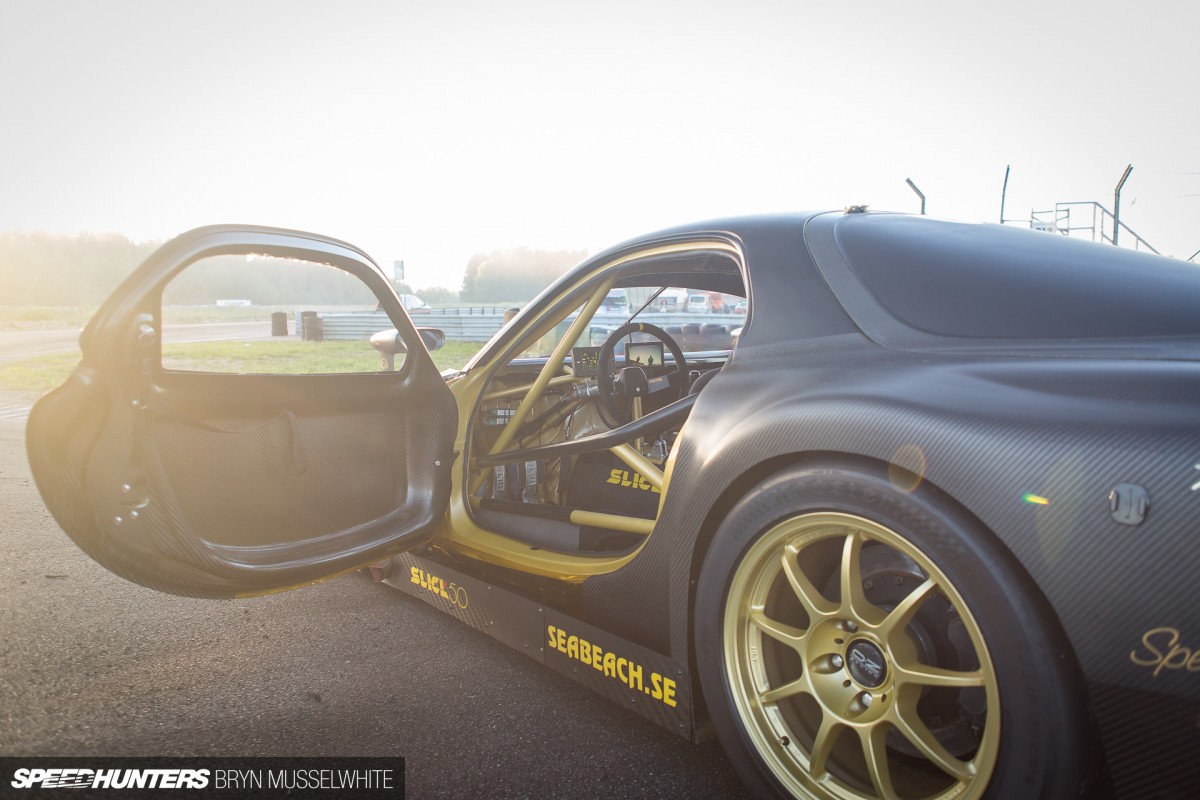 I'd like to shake the hand of Yoichi Sato, the gentlemen who is credited with designing the FD RX-7's original, swoopy curvaceous shape. It does feel a little like he put a previous generation FC RX-7 shell in the oven until it melted a bit, but then again I honestly think the shape is so much more than just a generational jump. It's like the future arrived and was put straight in to production. That almost elliptical door opening could be a space capsule!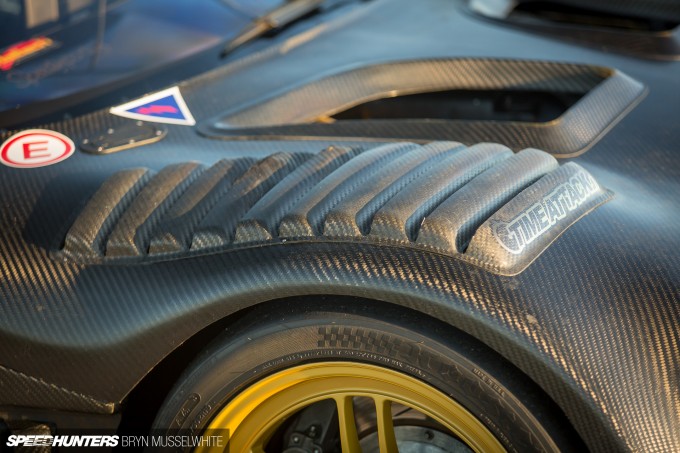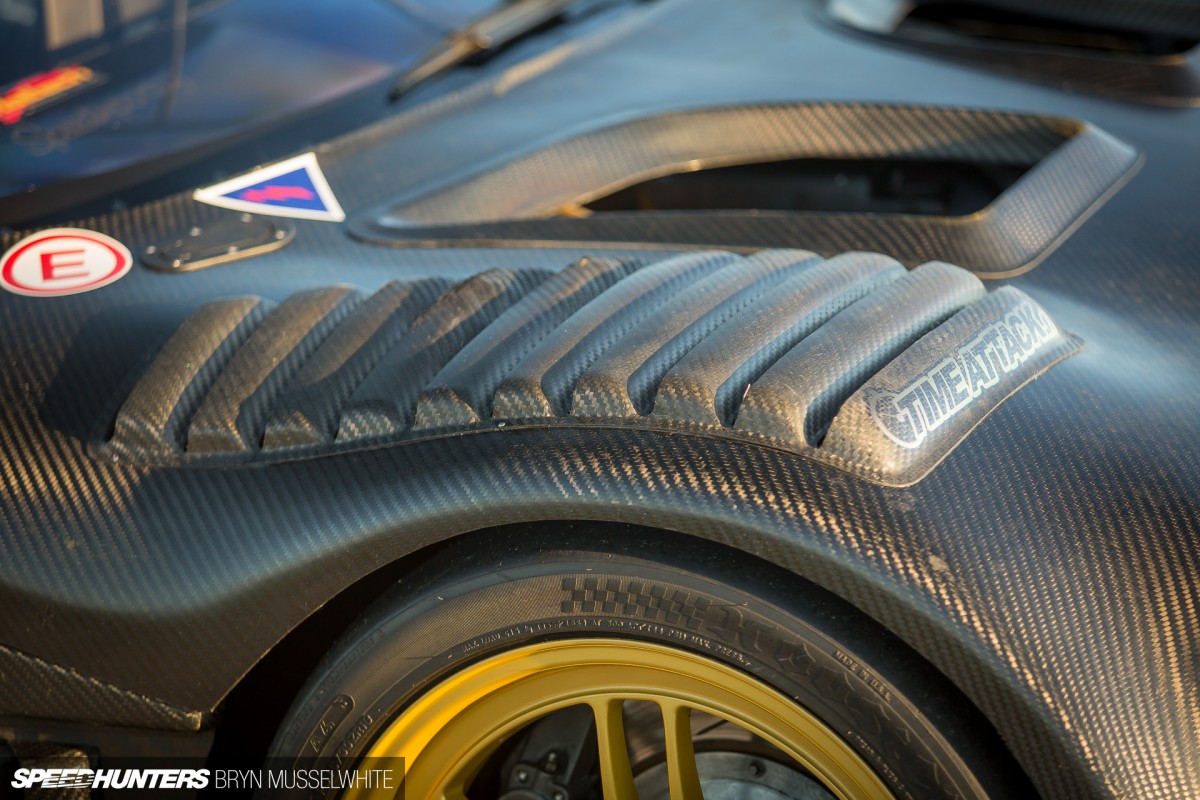 As much as I can revel in the glory of the original model all day, that's kind of immaterial here. Because what Christian Valtonen and his small team from Finland have achieved with their FD build is something on a completely different level to what Mazda unveiled nearly 25 years ago. Which makes me think – that's a pretty crazy figure in its own right. Because this FD feels completely modern, but does that also mean it's timeless?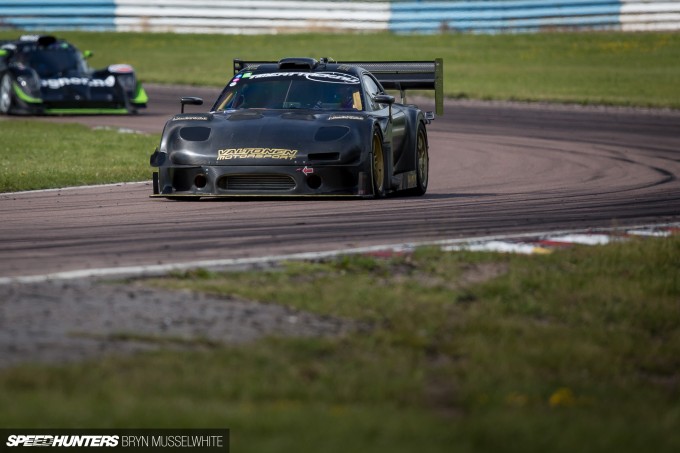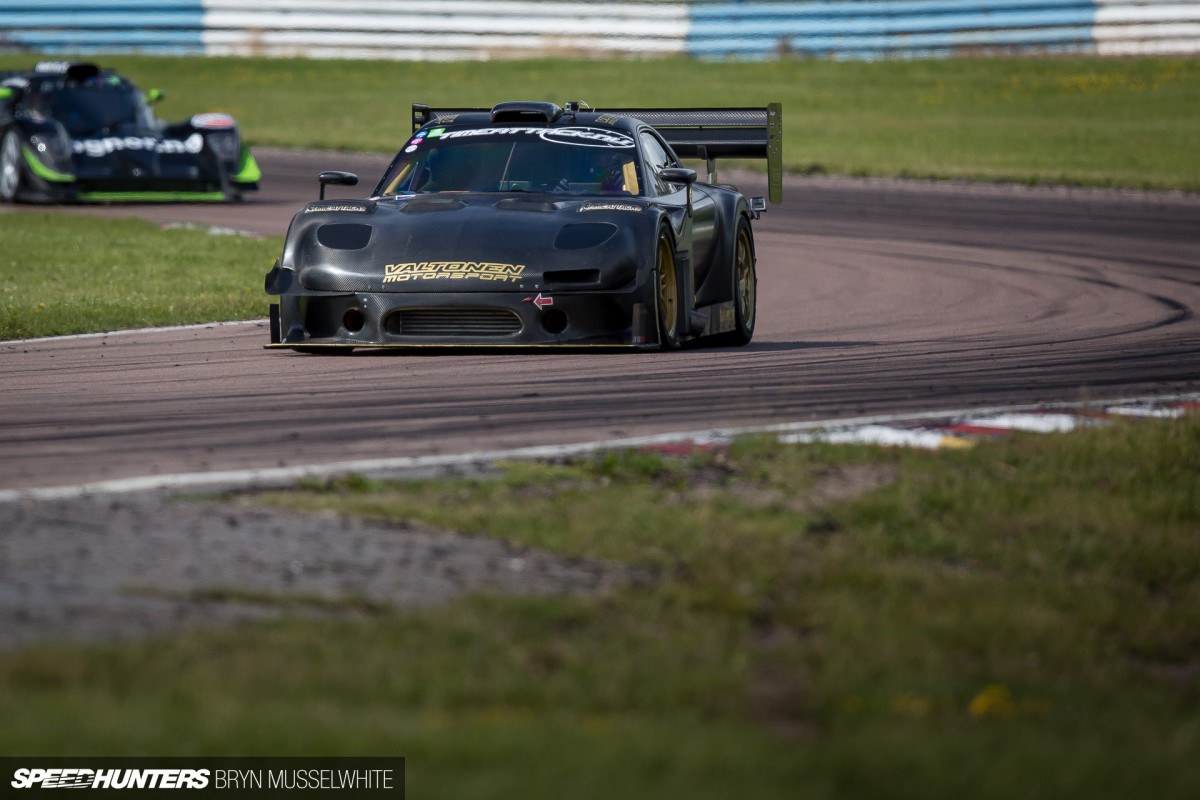 Either way, it always fascinates me as to how people decide on a project start point, so you might also be wondering what attracted Christian to the Mazda platform? Well funnily enough this time attack build started out in a very different discipline – it was originally built for drifting. Representing Falken in 2009 and then morphing in to a really good-looking gold coloured machine with some aero going on and the same wheels you see here. But when the change of discipline was decided on, things got very serious very fast.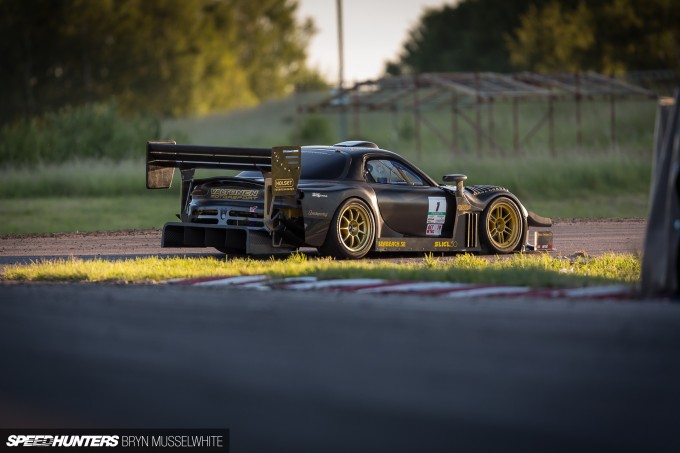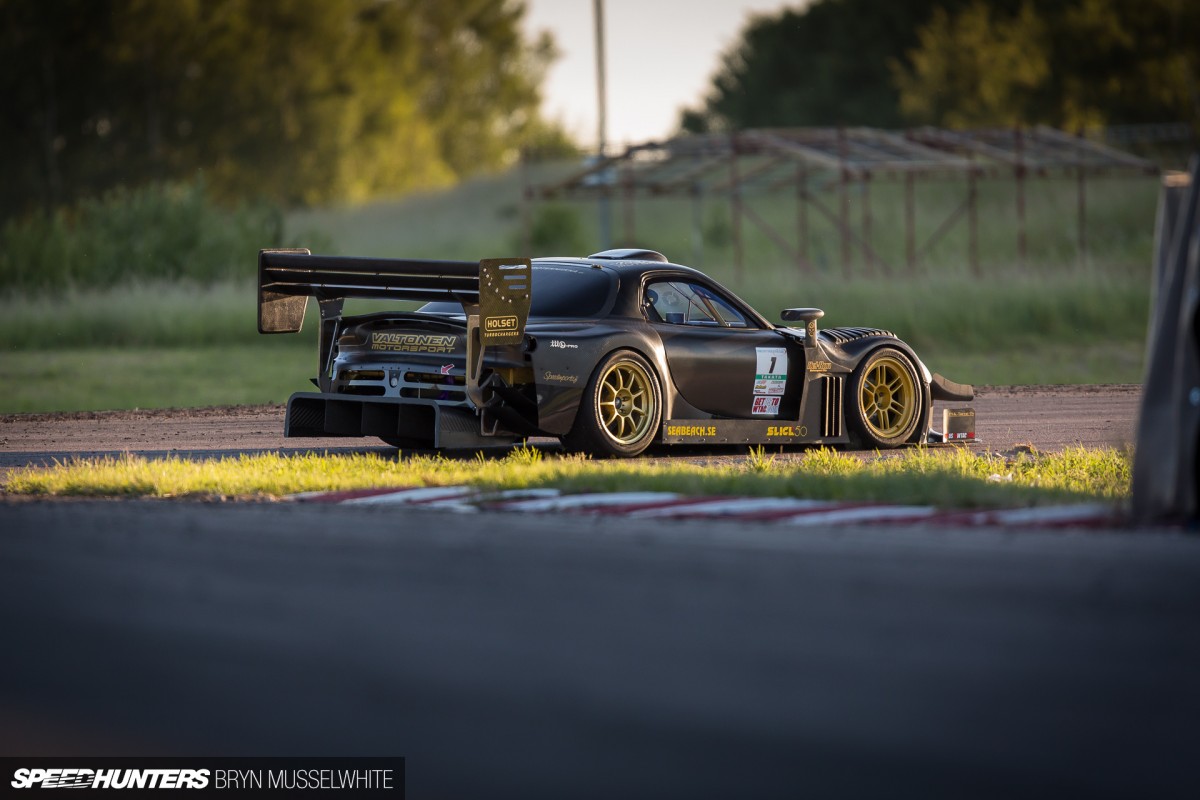 There's not a great deal of the original FD left now, although the spirit of the car remains instantly recognisable.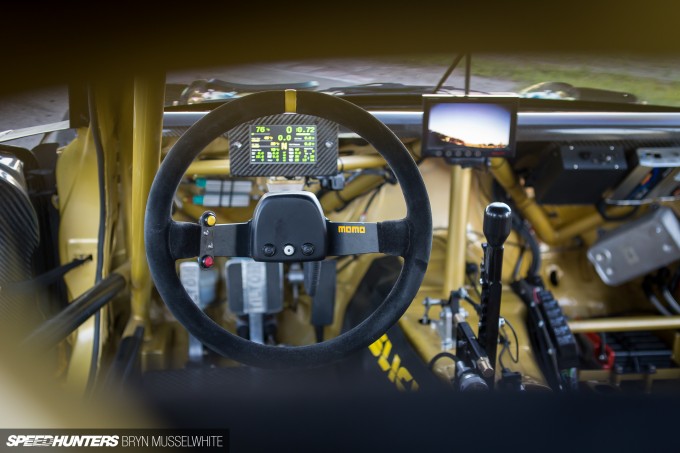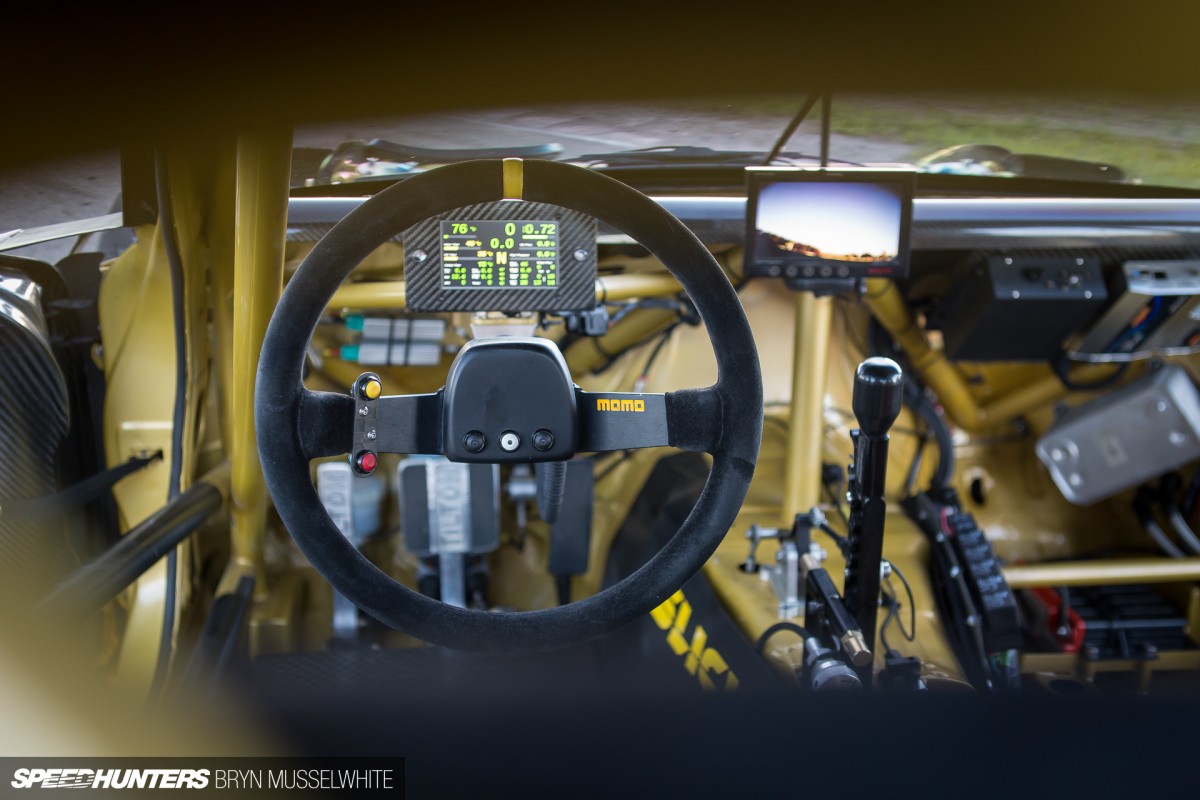 Christian tells me that in an ideal money-no-object world he would have started with something like a Porsche – something he considers to be a closer start point to the final destination of time attack dominance. In fact, he referenced that a couple of times during our conversations. I really think that yes – the result would have been amazing – but that would also be taking something away from this build, which would be a crime!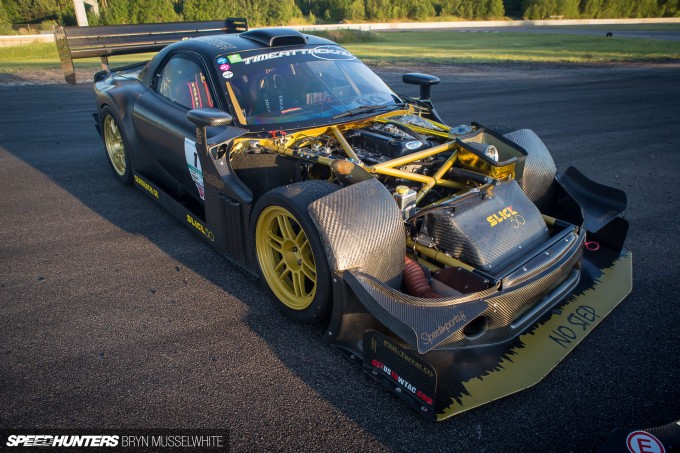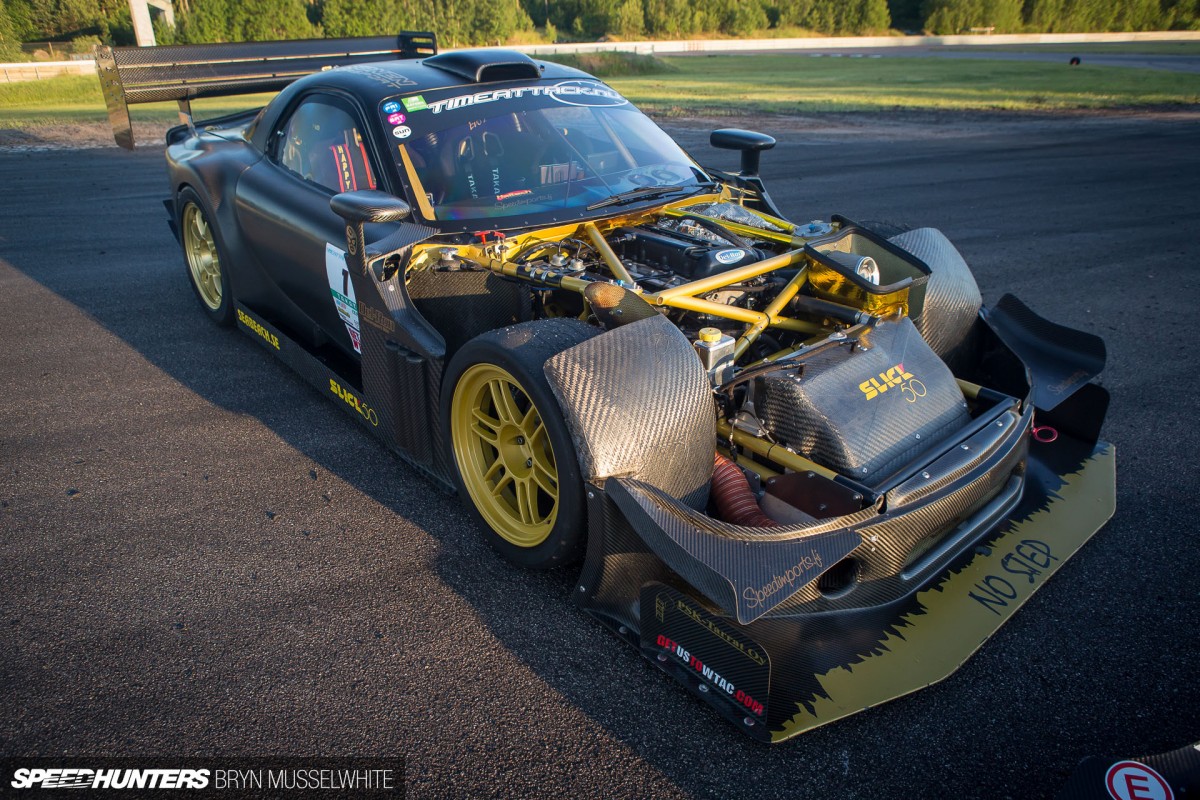 With the one-piece front top end assembly lifted off you start to get an idea of the project's scale – the only standard factory items forward of the bulkhead being the chassis legs. It's not a full tube chassis, where the original monocoque would have been completely thrown away and clad like an RC car, but it's certainly more than a roll cage.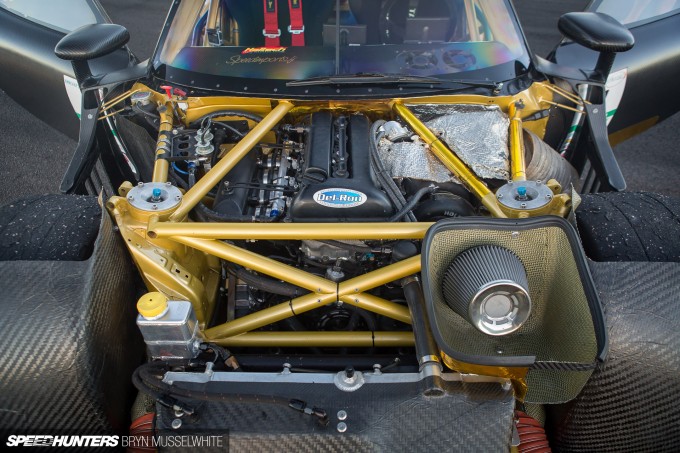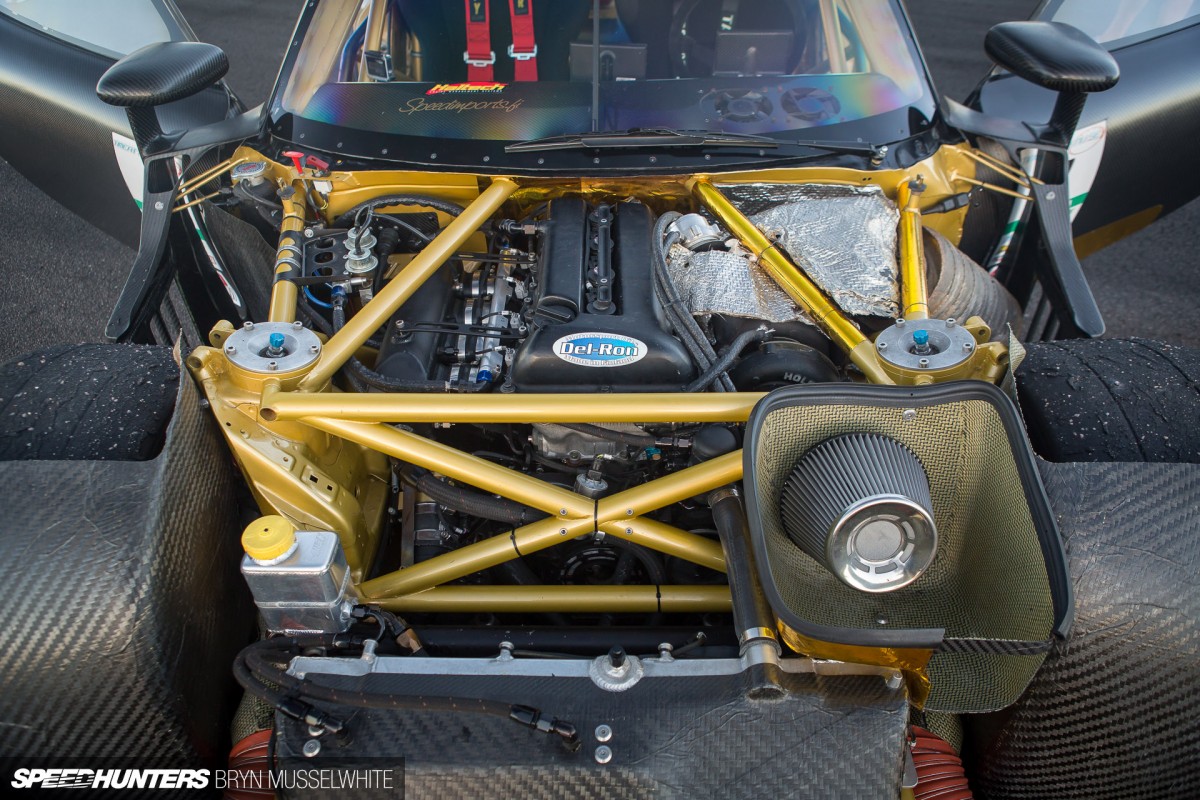 And that Nissan SR20? What about that then? Mazda fans might find it controversial, but given the level of originality we're looking at here, I think even the most die hard rotor-heads could see past the label.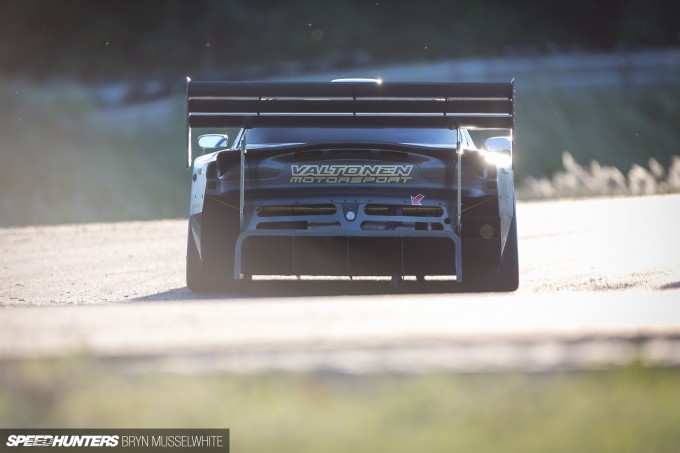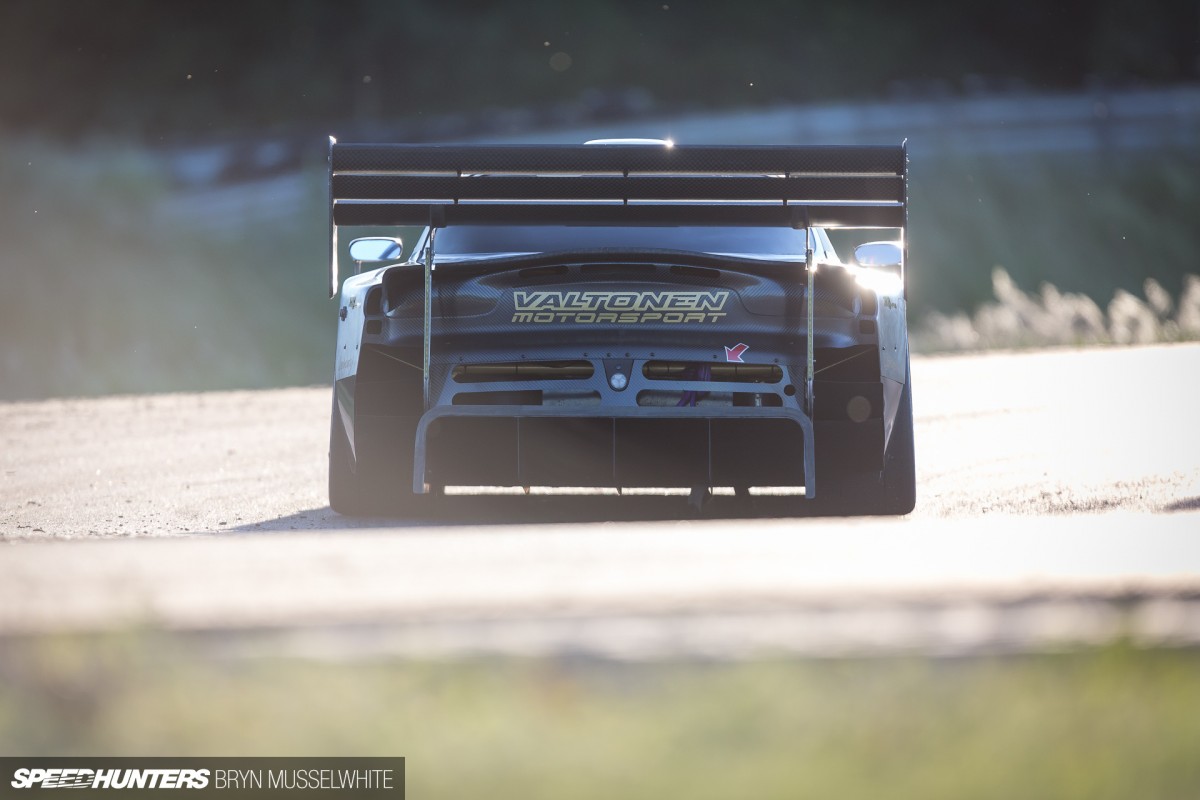 This is the view most of the competitors in time attack competitions will see, and it's probably the most un-FD3S-like view you can get of the Valtonen RX-7. So I find it apt as it says a lot about the personal input of this story, because the work that has gone in to this build required a small, but dedicated army.
Weaponised Technology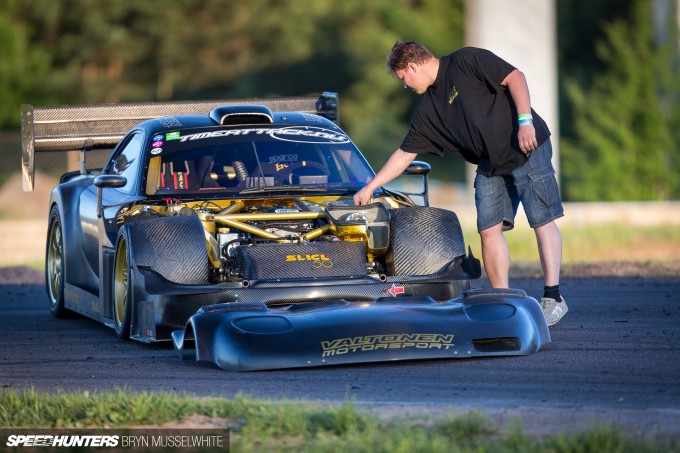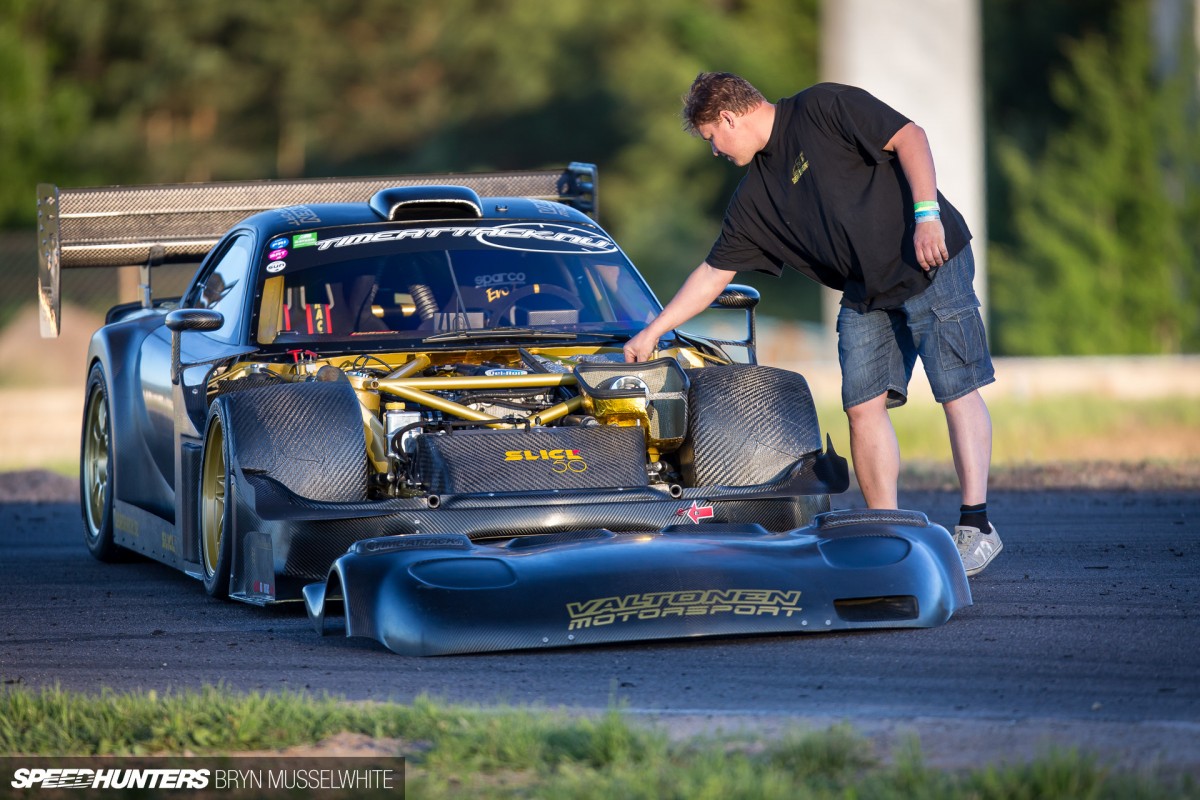 It's hard to know where to start with the story, because it's only just beginning really. The RX-7 debuted at Elmia where we saw it and since then has only attended a handful of events, where it has utterly dominated the proceedings. That must be a good feeling for Christian, who is the main driving force behind the build.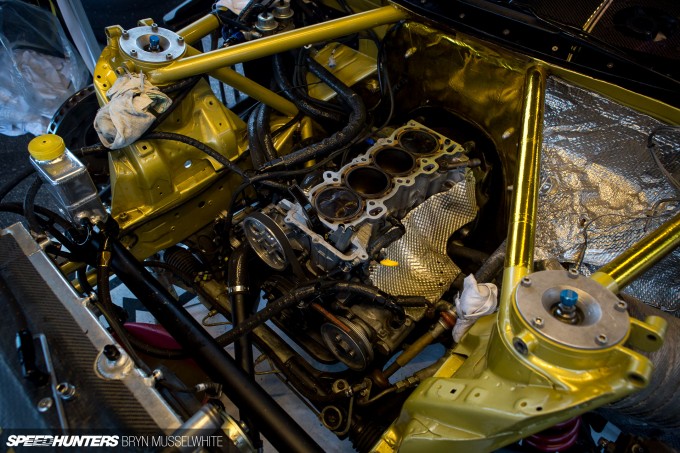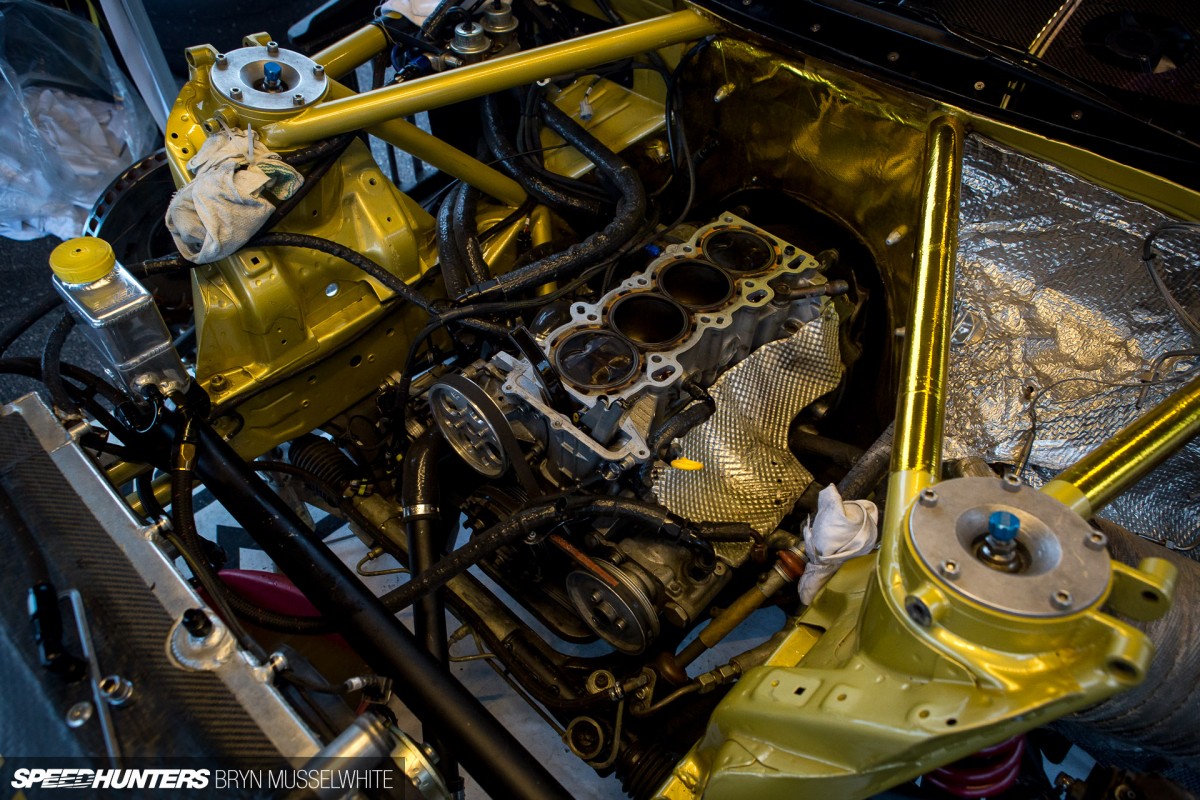 He's taken on the lion's share of the work, starting with the partially stripped and beaten-about '95 shell. The main reason for working with the SR motor is because Christian had no experience with rotary engines, but the Mazda appealed to him because of the fluid design lines, small cabin and parts availability. He also notes that no matter how much he loves what the Nissan four-cylinder motor can do, it doesn't beat the sound of a rotary. During the recent Gatebil Mantorp event where I shot these pictures, the team had to take the head off after experiencing compression issues. Disappointing, but nothing was going to stop them succeeding. Looking at the bay like this, it reminds me of actually how much room there is in an FD for other powerplants.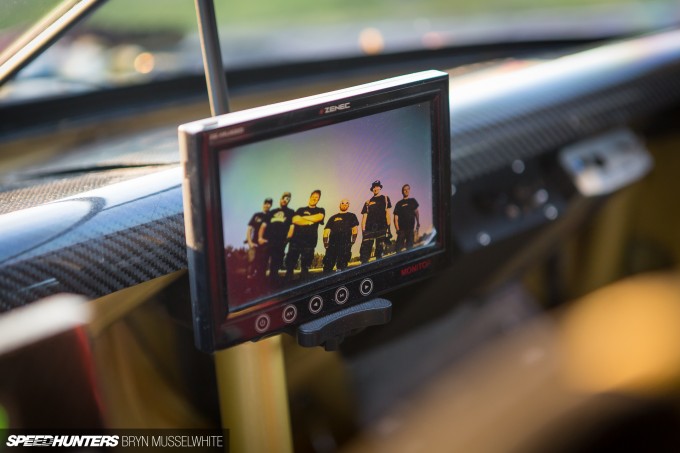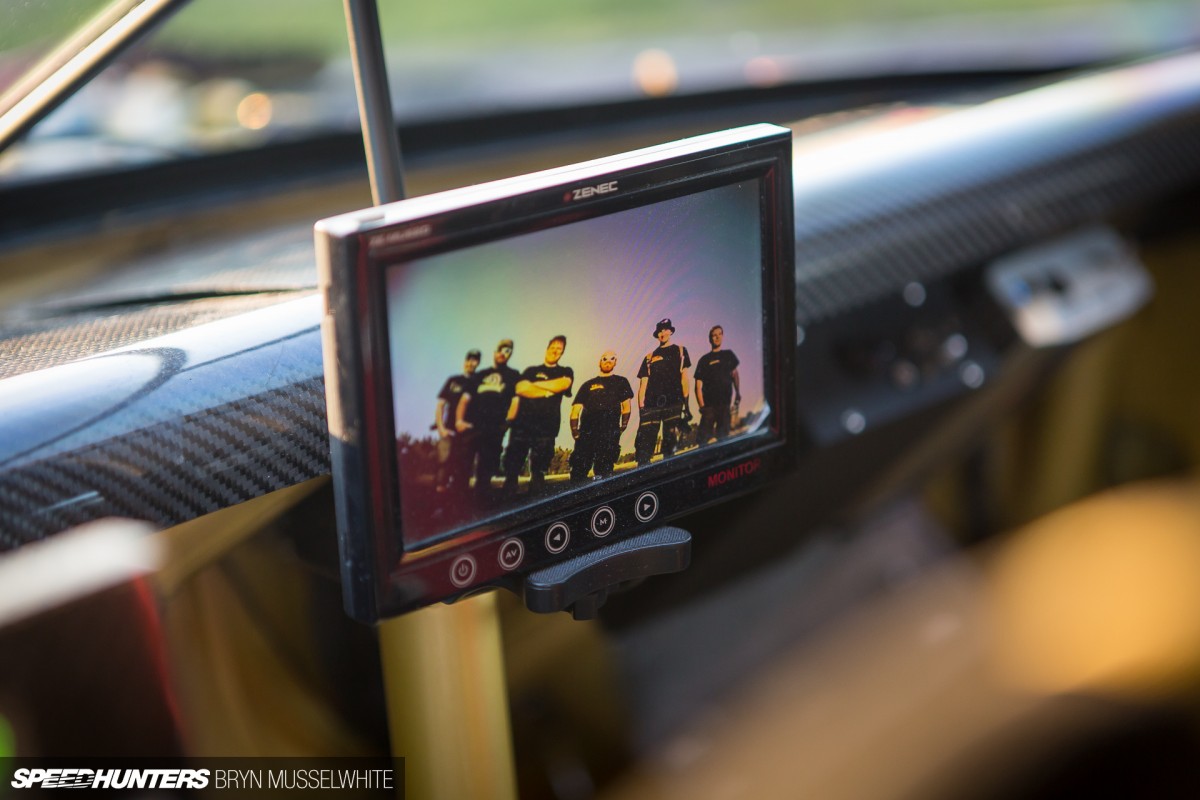 For the team it meant a long night of hard work getting the coupe back together for the following day. I knew I had to get them to line up for the rear-mounted camera as they're pretty shy, but I love the passion they all have for whatever role they play in the Mazda.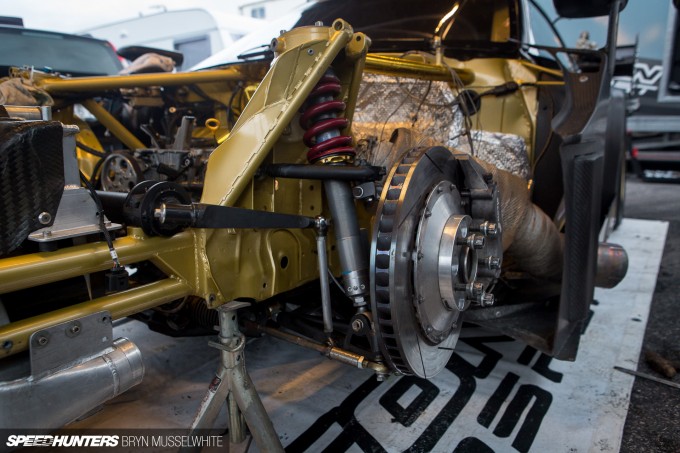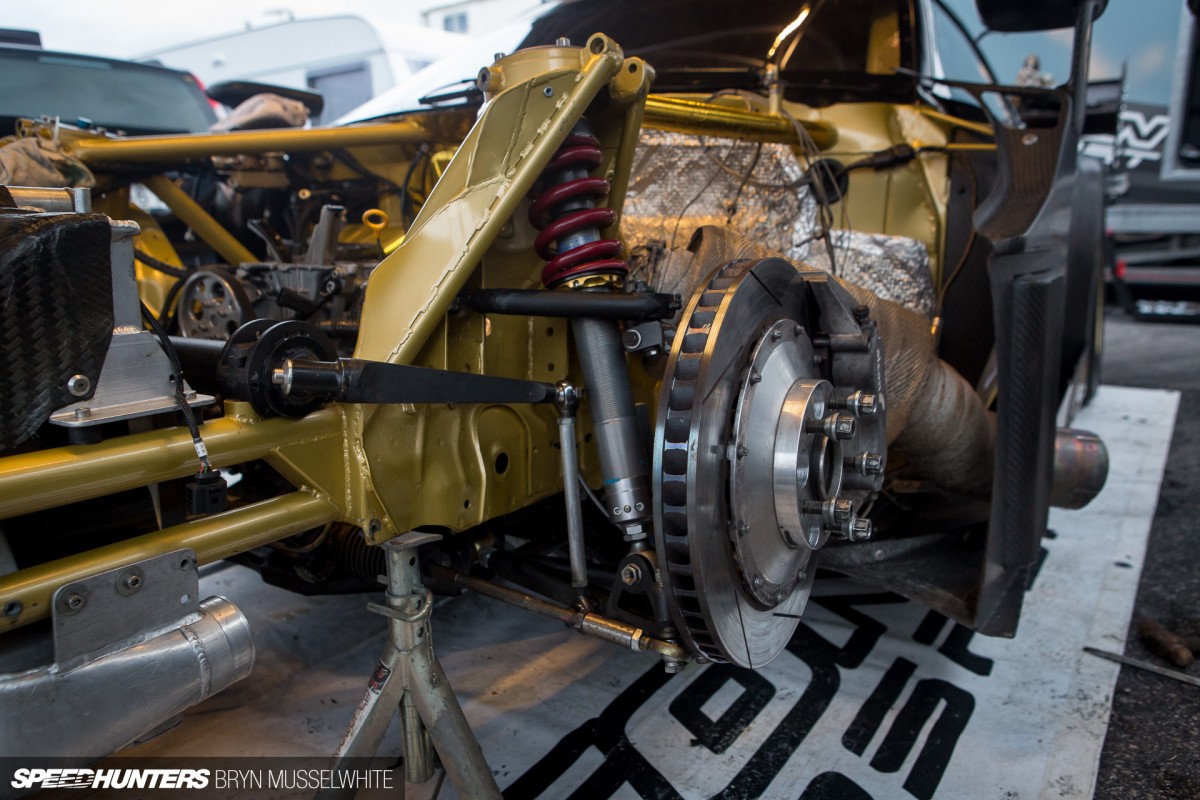 Just like a professional race team with massive budgets and endless facilities, the crew would tear into the RX after every outing, ensuring everything was up to spec when it came back in. Which also gave me the chance to check out the home-brewed front suspension set up and Alcon brakes. Here you can also see where the Mazda shell stops and the custom fabrication begins.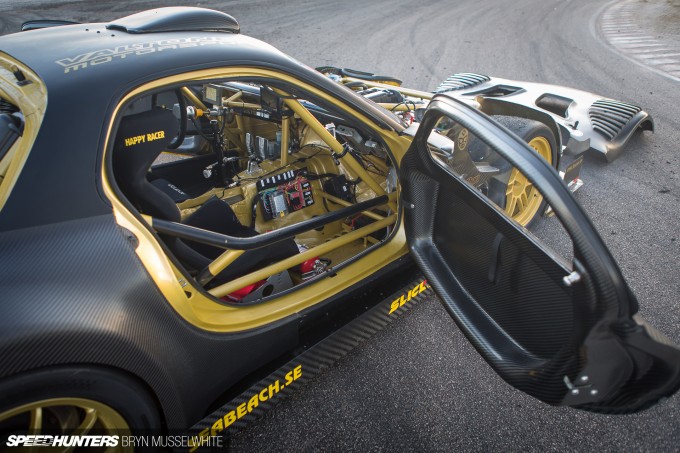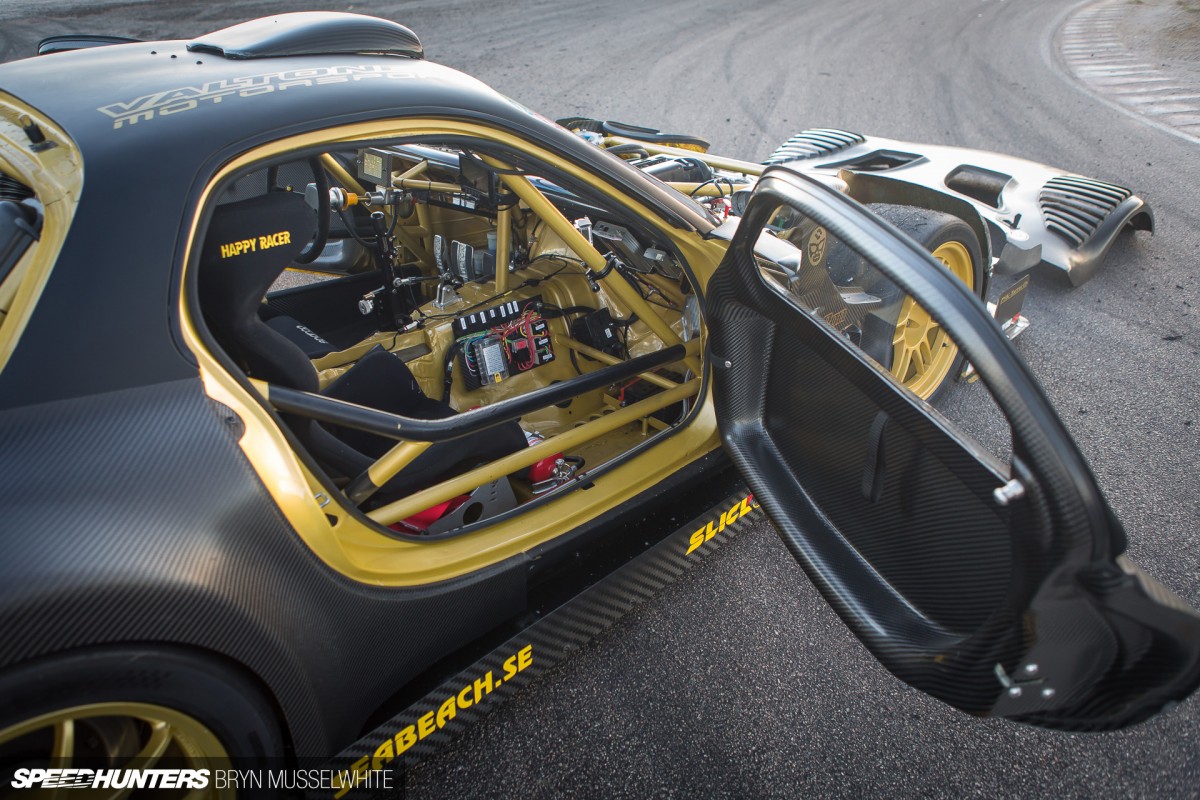 Custom fabrication that runs right the way through the racer. Sometimes when you take away fancy paint or finishes you can be disappointed by what's left. We've all done it right – check a build out at a car show or in the pits and imagine it naked? Well here it's a shame we can can't see everything laid bare because the quality is gorgeous and envy-inducing. Welding and metal-bending skills aside, starting to form a new door from carbon makes me nervous.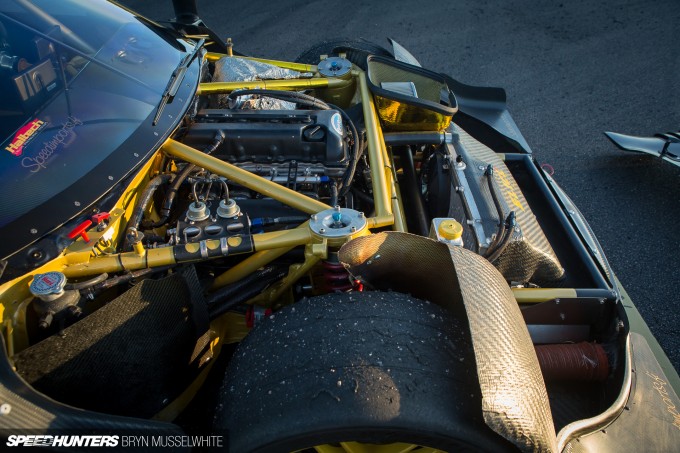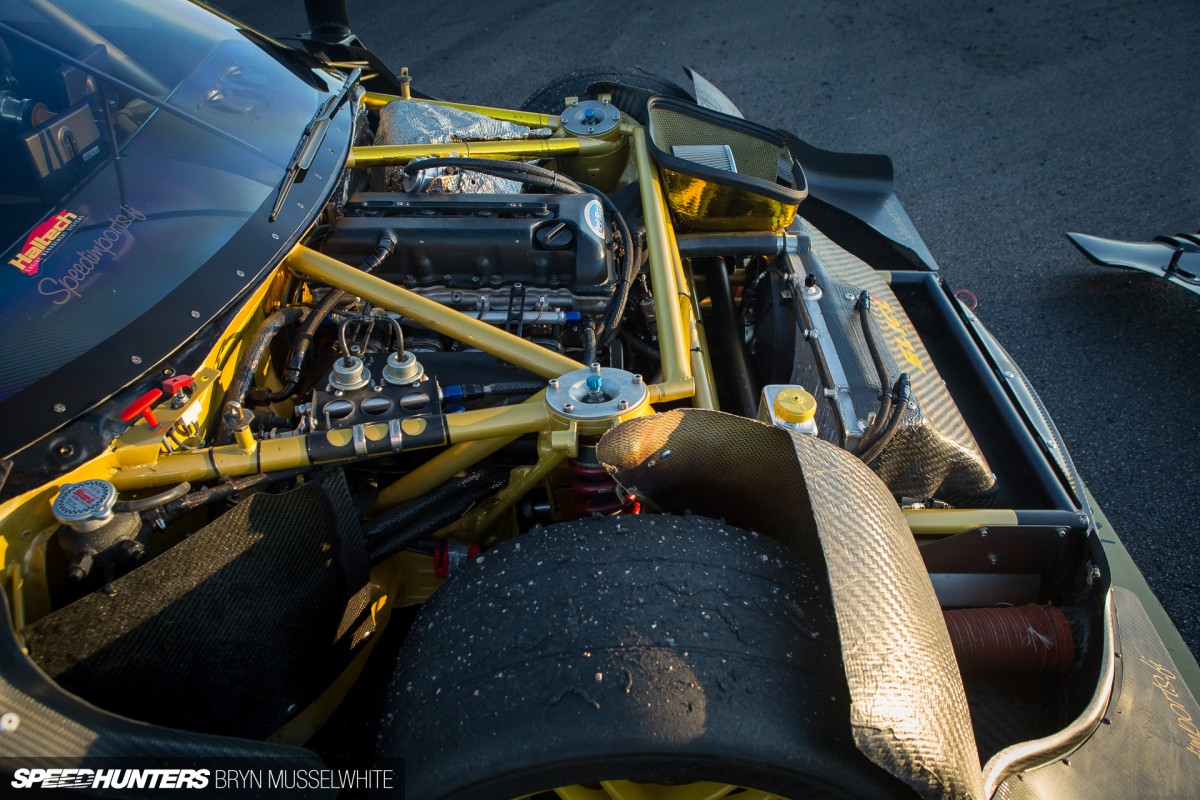 The realisation that there wasn't going to be much Mazda left came pretty early on by the looks of it, and the more I see of what's been put in its place, the more I realise what a great platform the FD is. Look at how far back the engine sits – its pulleys barely nosing past the centre line of the front wheels.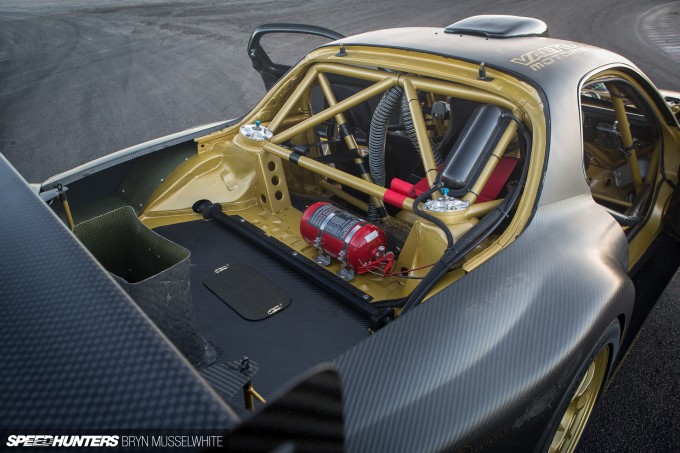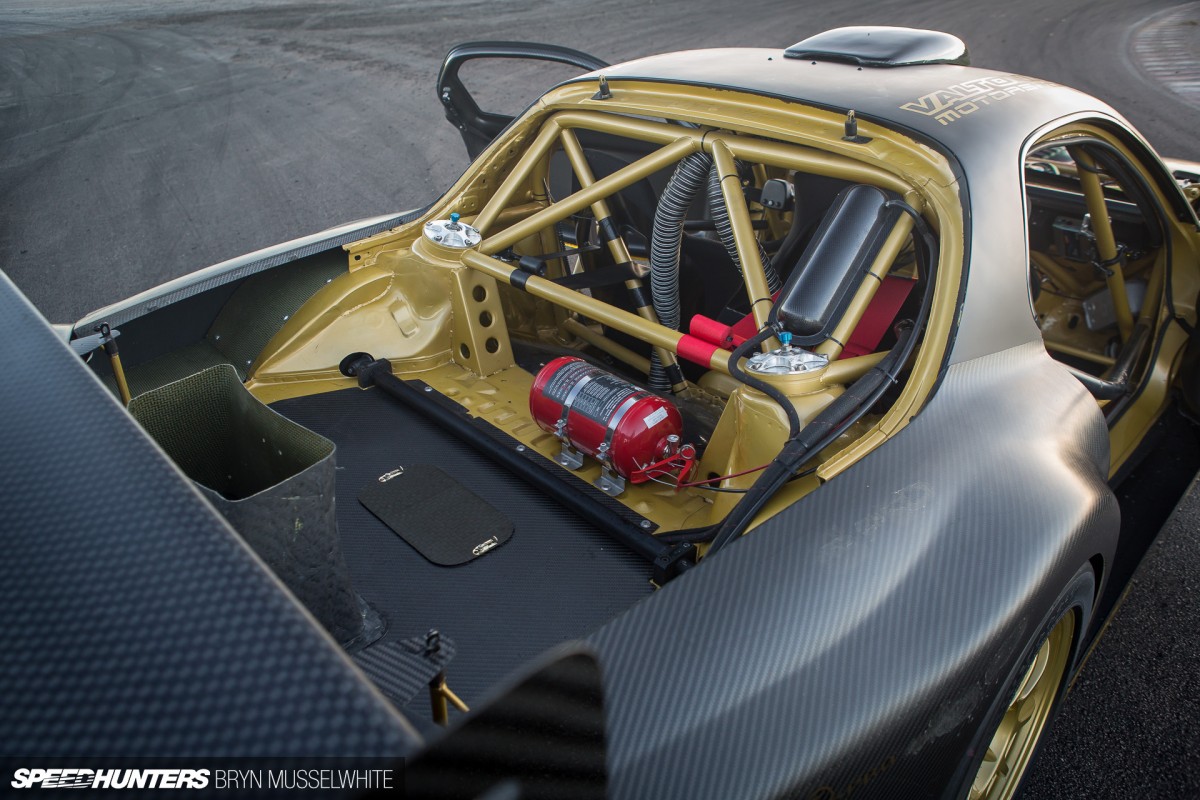 At the rear there's no heavy roll cage tubing extending beyond the top suspension pick up points, so all the weight is contained where you want it. The frame work extends rear of the turrets, but with that small cabin that Christian identified, you don't need to go any further.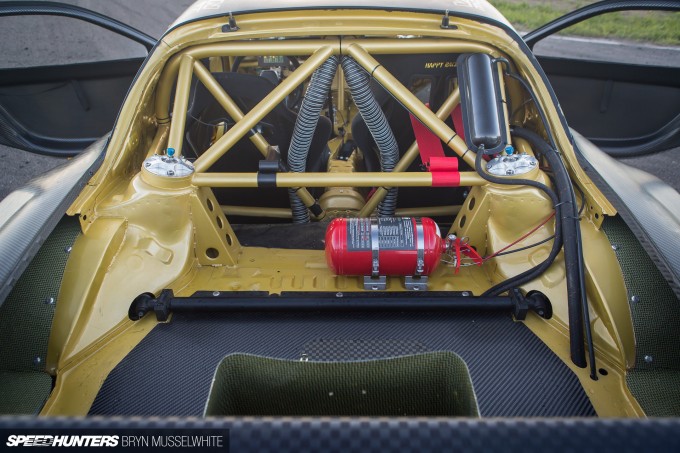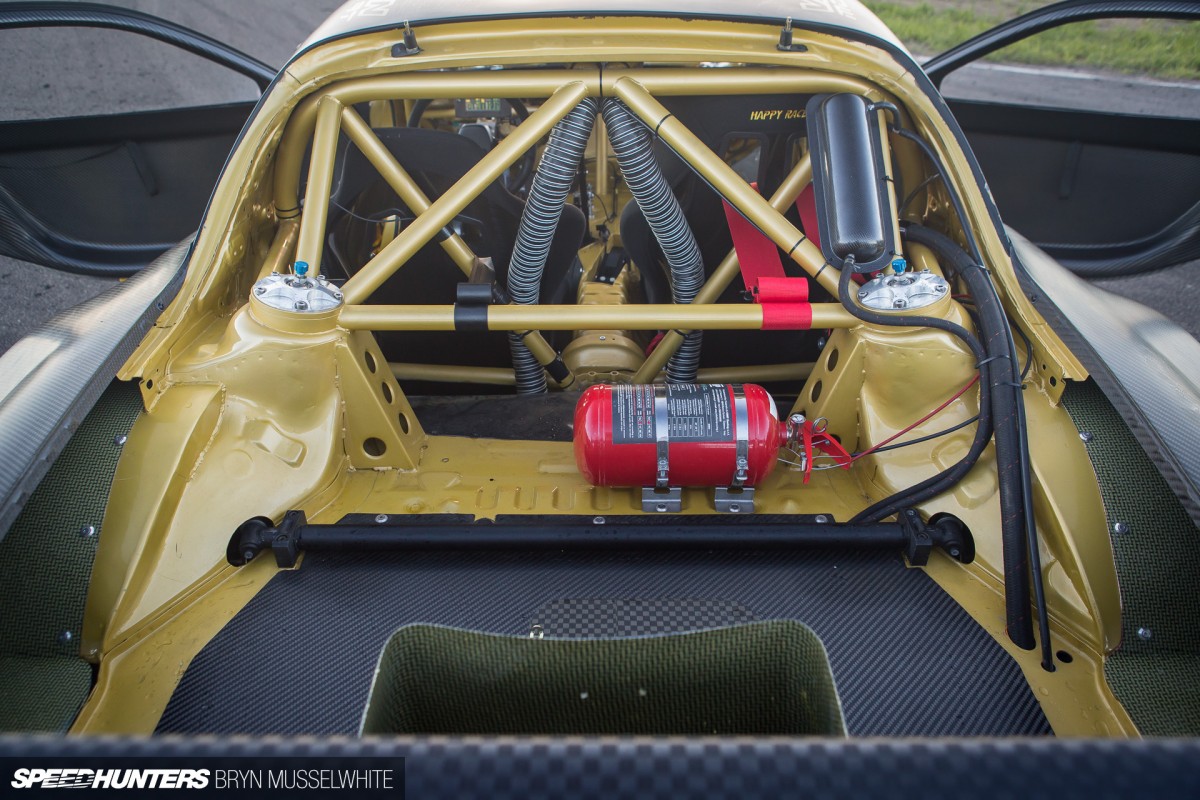 However, there's still a lot going on here with the rear-mounted cooling system sitting nice and low.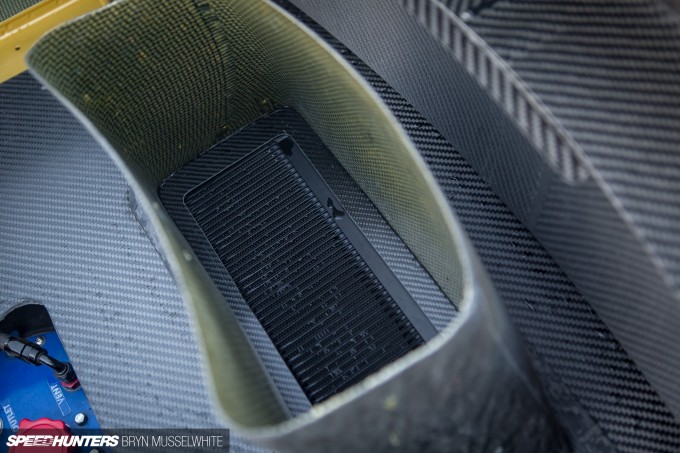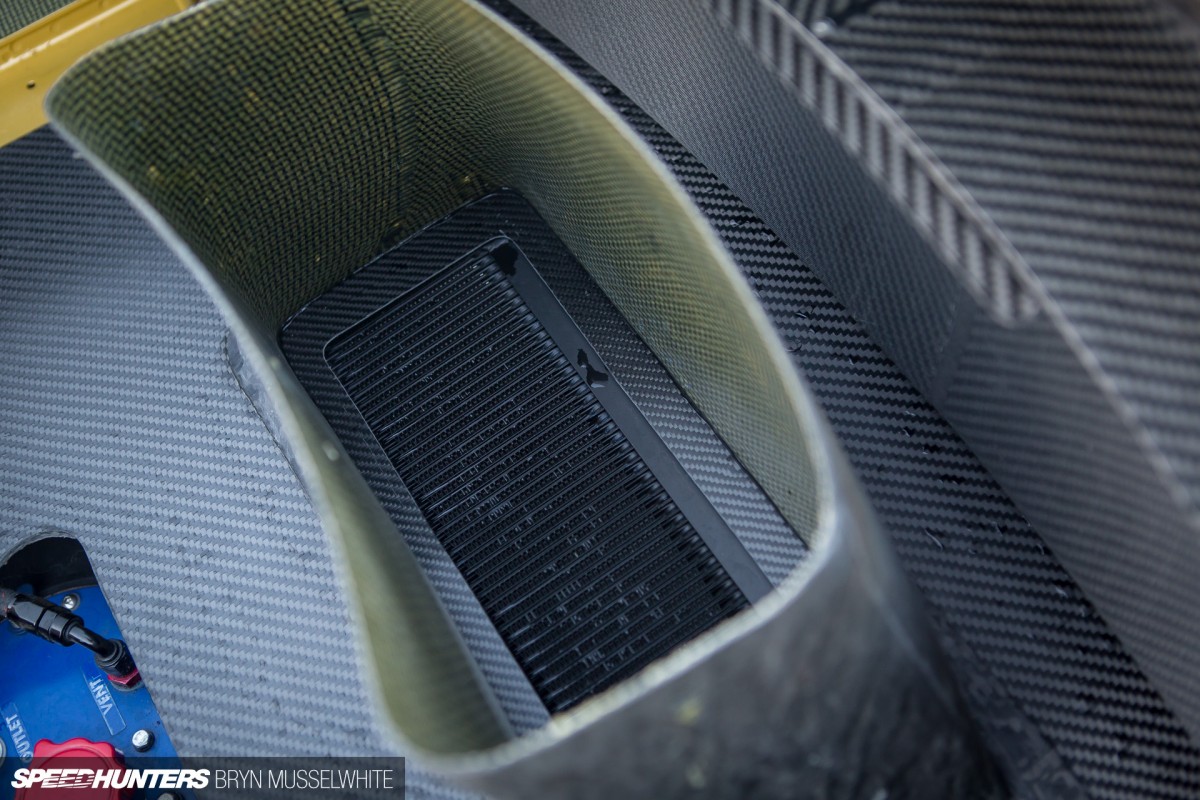 Airflow, of course, plays a massive part of the build – specifically what it does, where it goes and how it can make or break that vitally important lap time.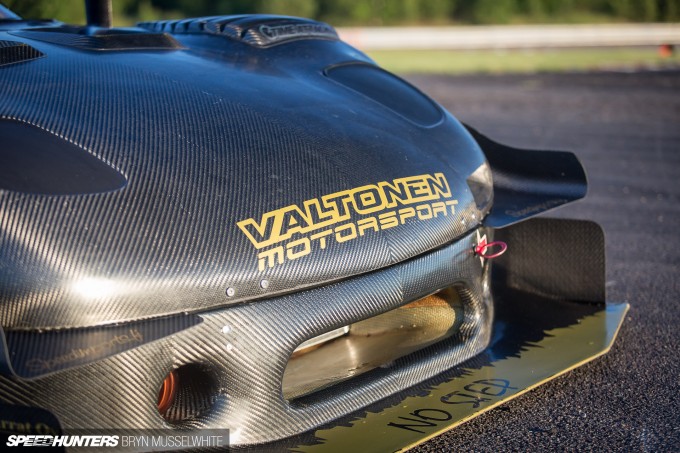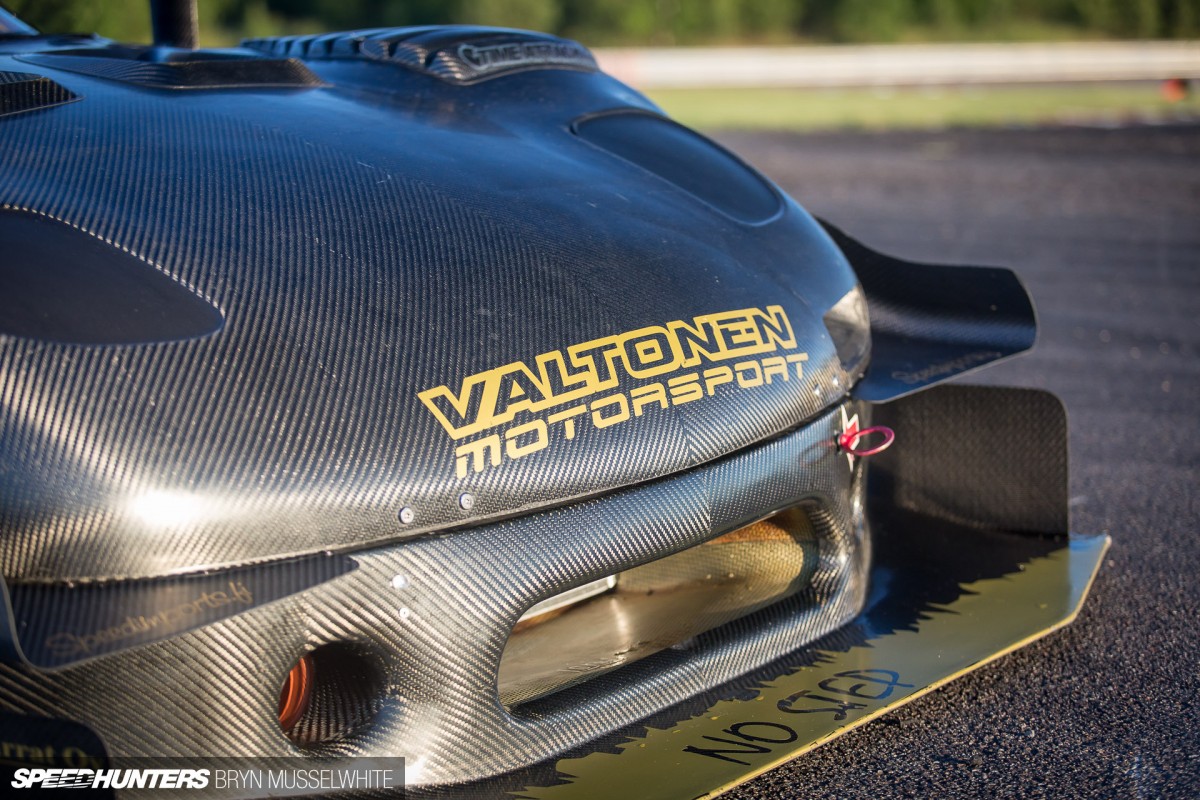 From front to back the whole body is made from carbon fibre, with numerous tried – and now being tested – aerodynamic modifications being built in. Mikko Tanskanen is the man responsible for this along with Christian, and all the panels have moulds that they can modify or create new panels from. Anyone fancy a full kit? I know I do…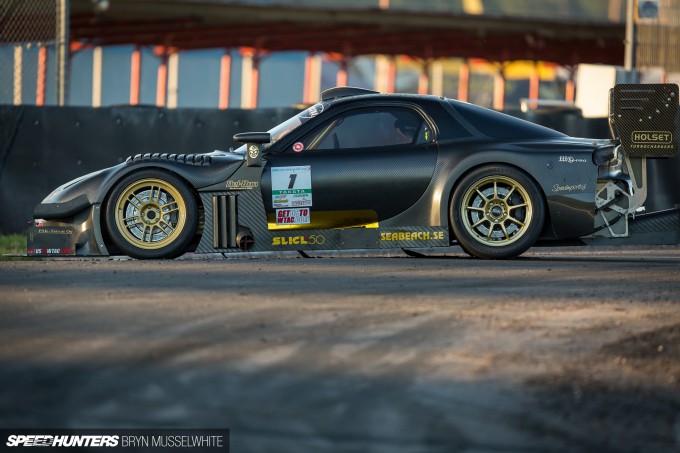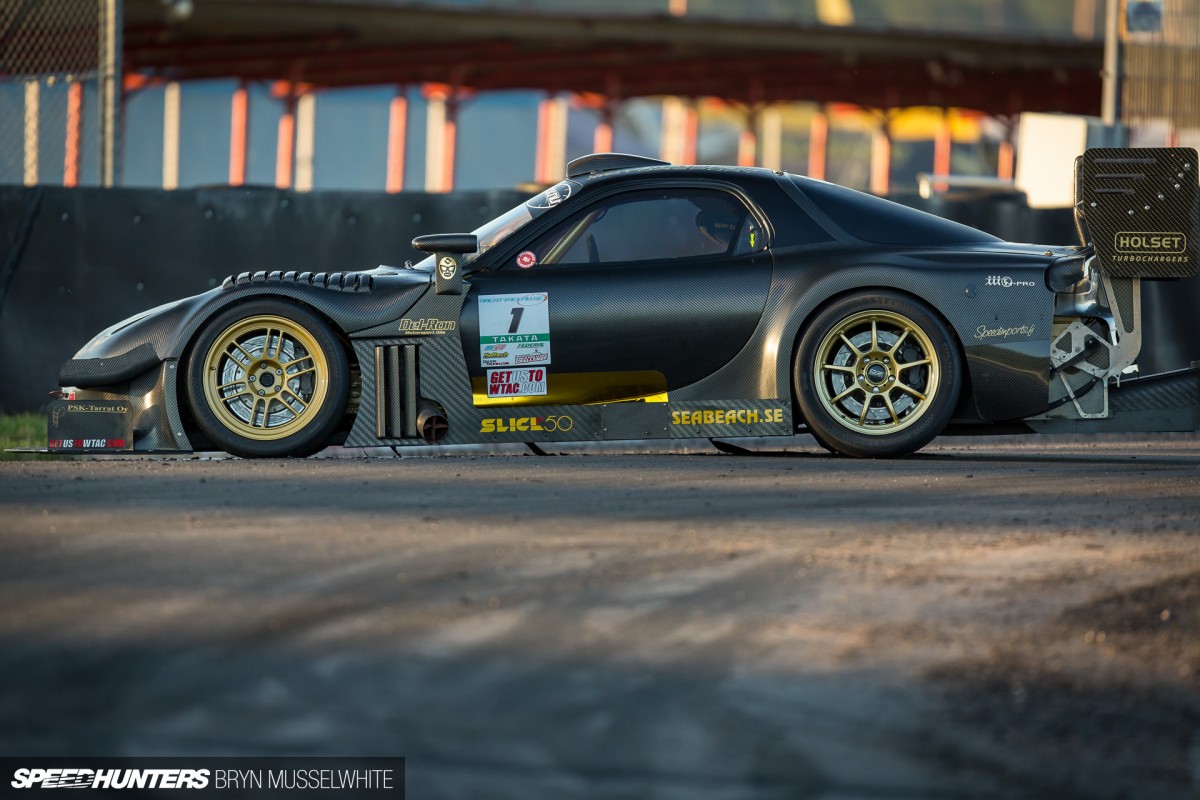 The profile is dominated by that huge adjustable rear wing, but you then notice how the arches have been cleanly radiused to hug the wheels. Even the roof scoop seems to flow effortlessly into the body rather than appearing like a bolt-on piece. I'm so glad that for now we get to see all that gorgeous carbon fibre too, the ADVAN wheels, simple graphics and inner metal all being finished in a similar gold shade.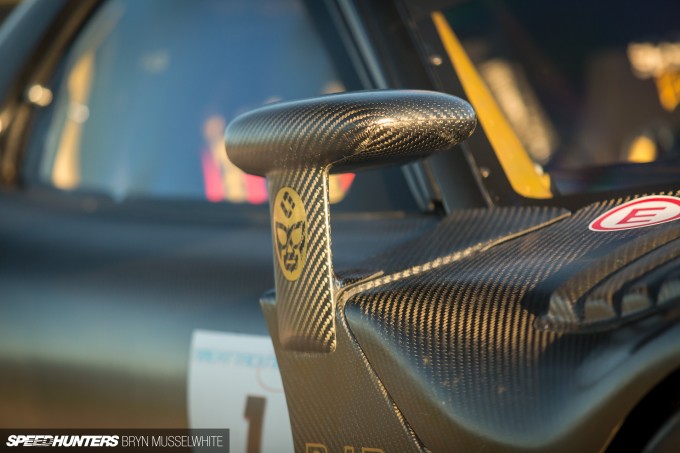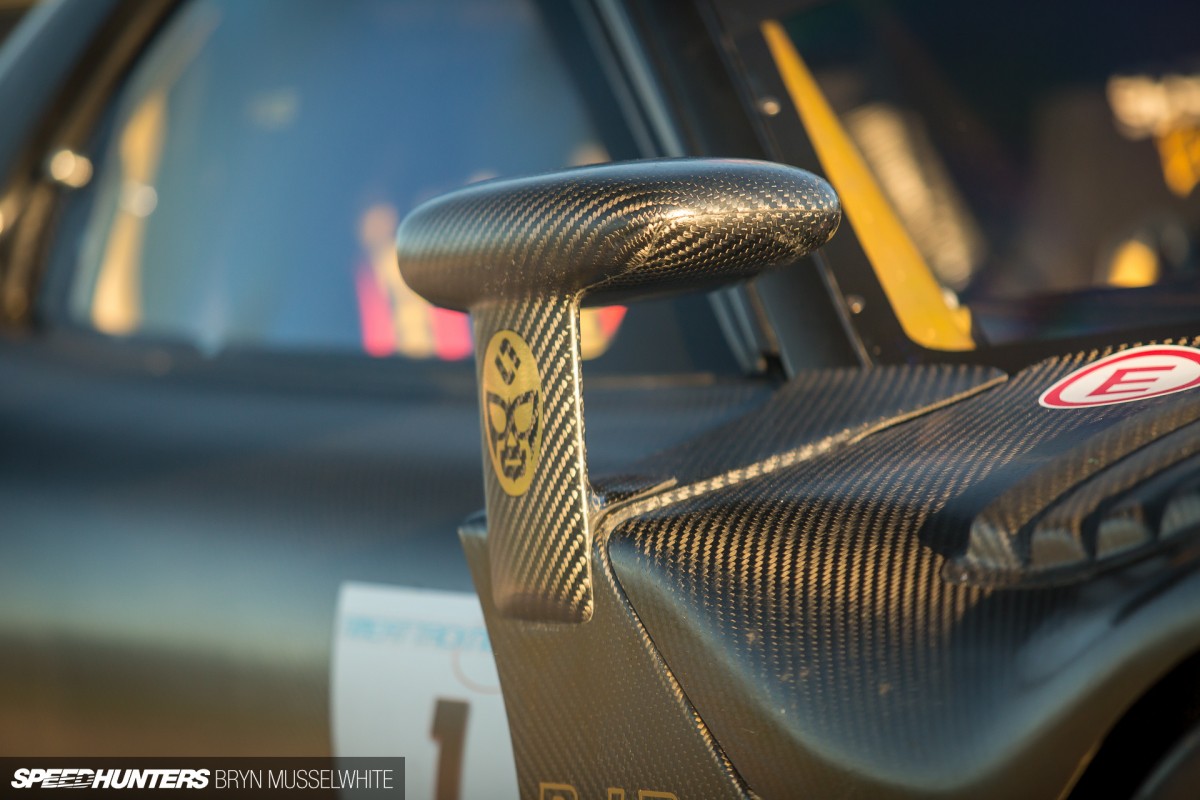 Circling the RX takes a long time as every step brings you to another beautiful detail. They're the kind you can enjoy guilt-free too, because they serve an actual purpose. Everything here has a reason for being. It's obviously been no simple build, but some of the details that have been incorporated have still managed to blow me away.
Total Control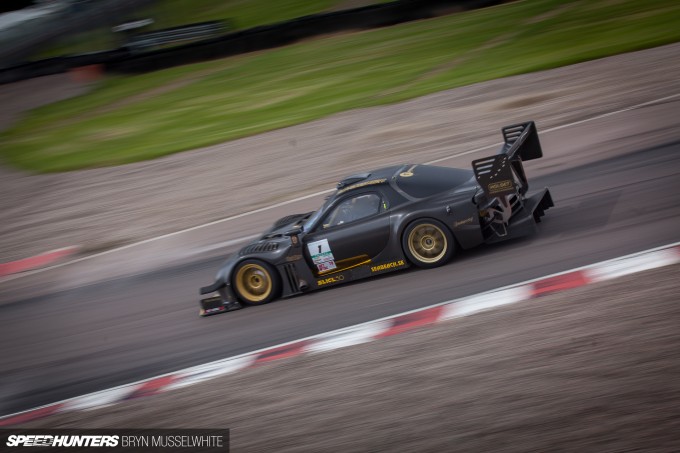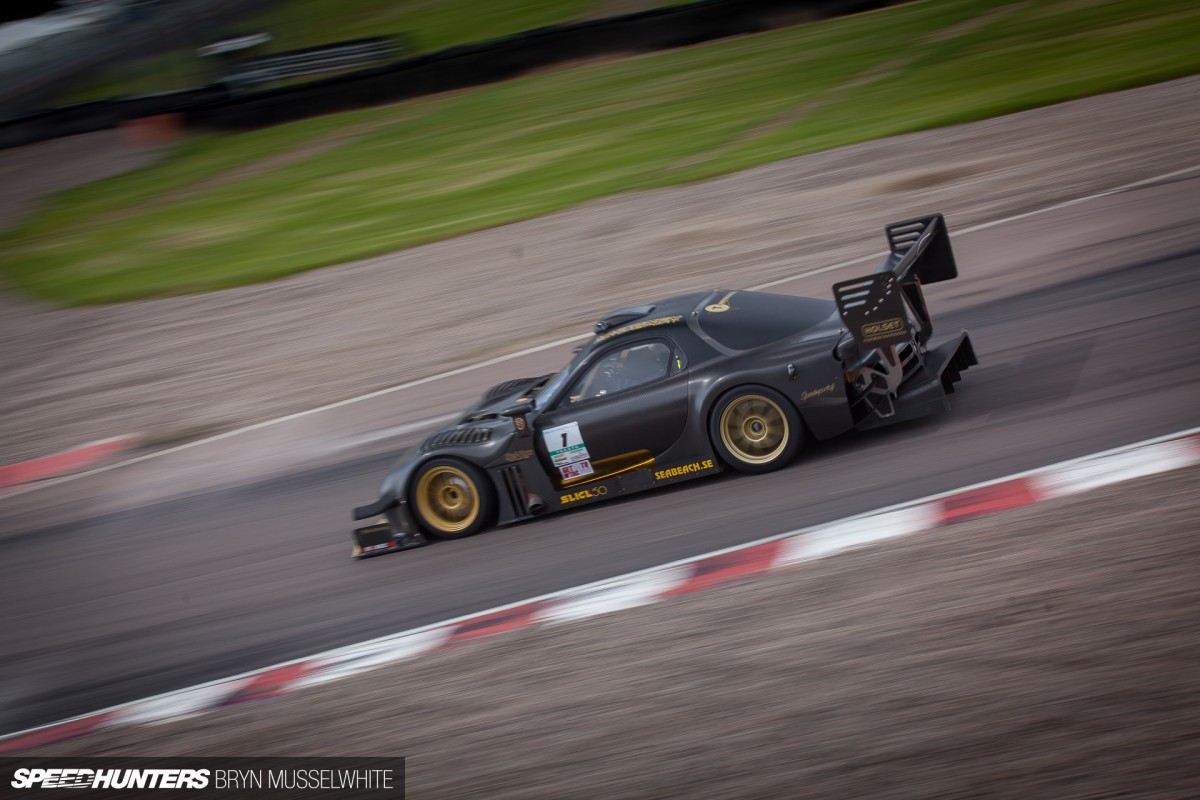 When you're investing so much of everything you have in a build, there has to be a reward – a pay off if you like. It's just good mental sense to make sure there is, or you'll quickly go insane. So to see Christian enjoying the car on the circuit is very cool. The Mazda looks amazing sucking down to the track and the grip levels on slicks is incredible. I know, because I was a passenger for a few quick laps.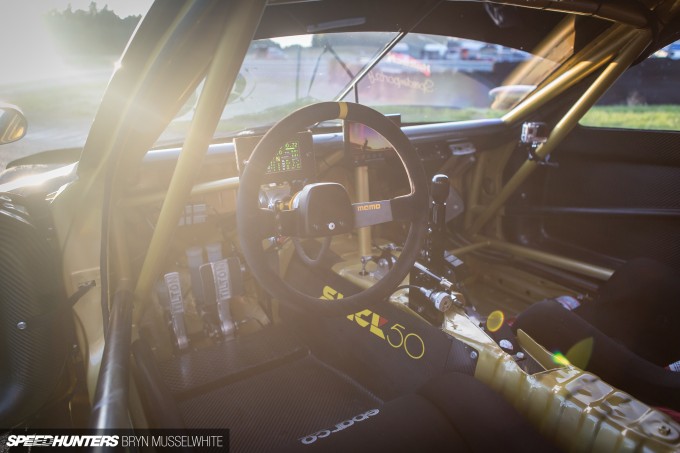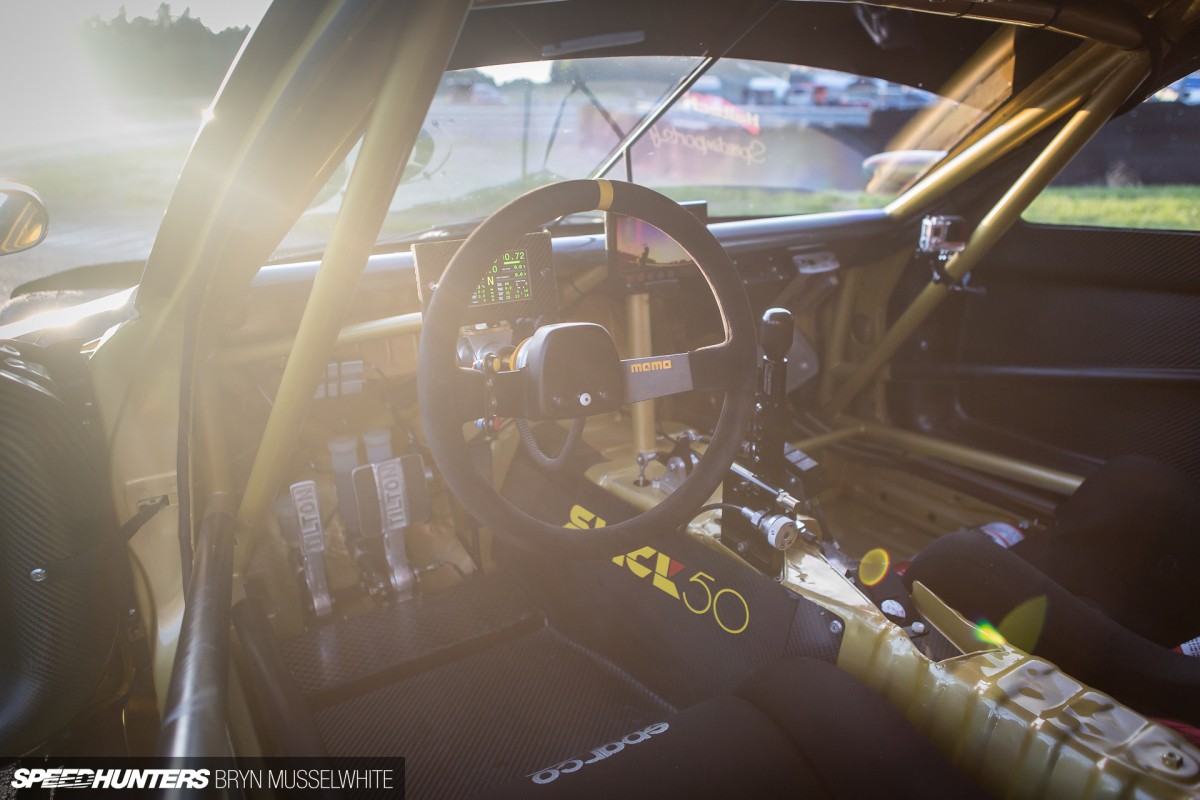 I love the inside of race cars for their purity and purpose – everything is on show and it sucks you in. Except in this case it was very much 'don't touch this or push that!'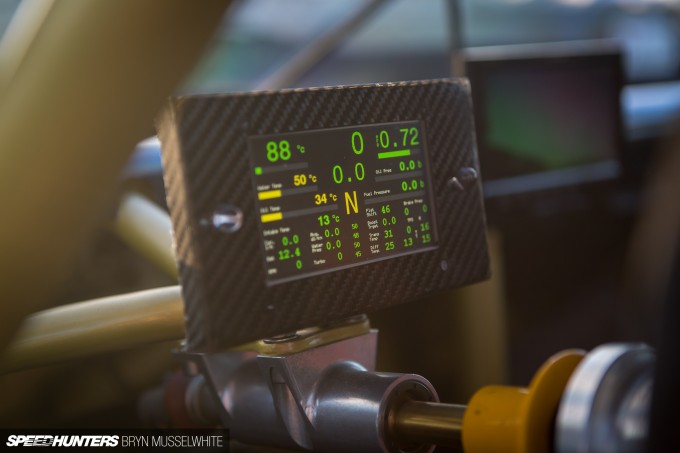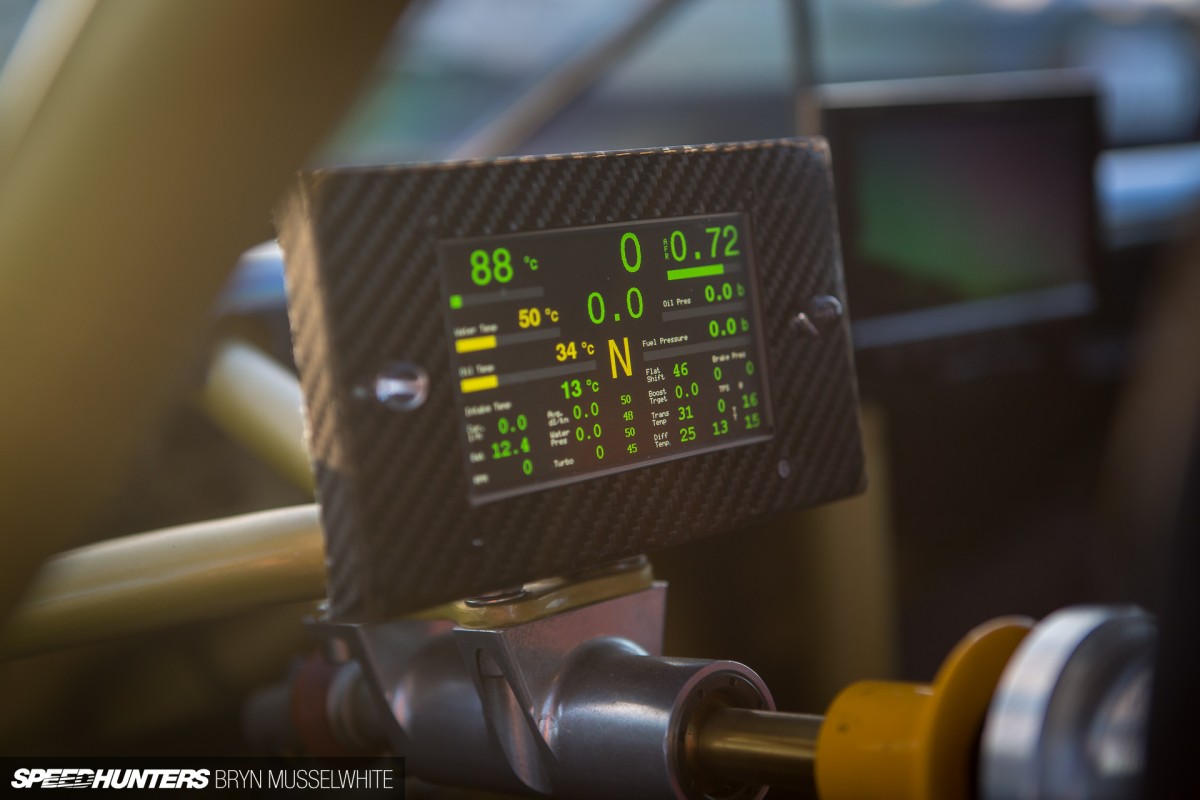 Not that I'd actually know where to start though. This display/data logger is a work of art and it was only afterwards that I found out just how much it can do. All four individual tyre temperatures can be monitored from here, along with all the expected fluid temps and pressures. Rear wheel and GPS speed can also be displayed, plus a whole load of figures vital to understanding where thousandths of a second can be made up. Read the spec at the end to be blown away by just how capable this self-built system really is.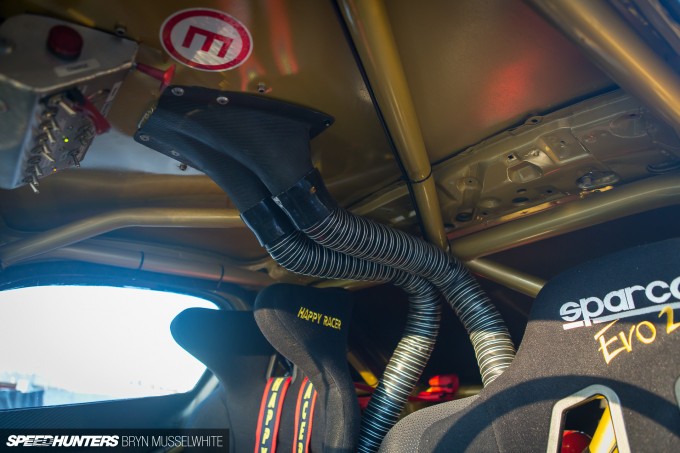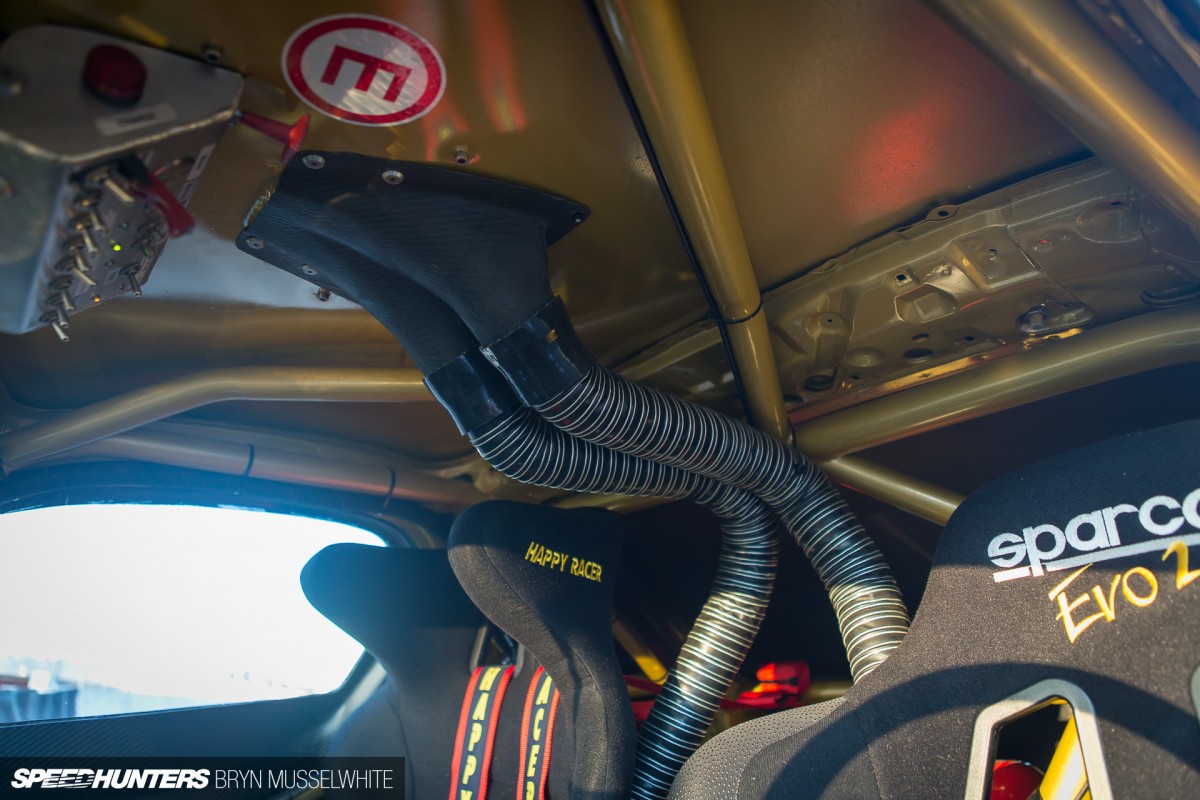 I was only slightly disappointed to find the roof-mounted air intake was used to cool something other than me, as it was a very hot afternoon. Wrapped up in a borrowed race suit, boots and helmet, the potential of what was about to occur felt very raw. After four days of being smacked around the head by car culture and my body blown by anti-lag and a relentless shooting schedule, my mouth was dry. I quickly regretted not grabbing that bottle of water I'd promised myself before riding shotgun.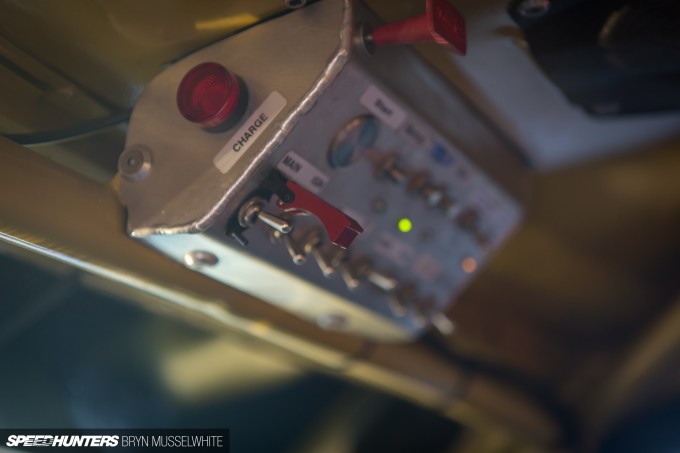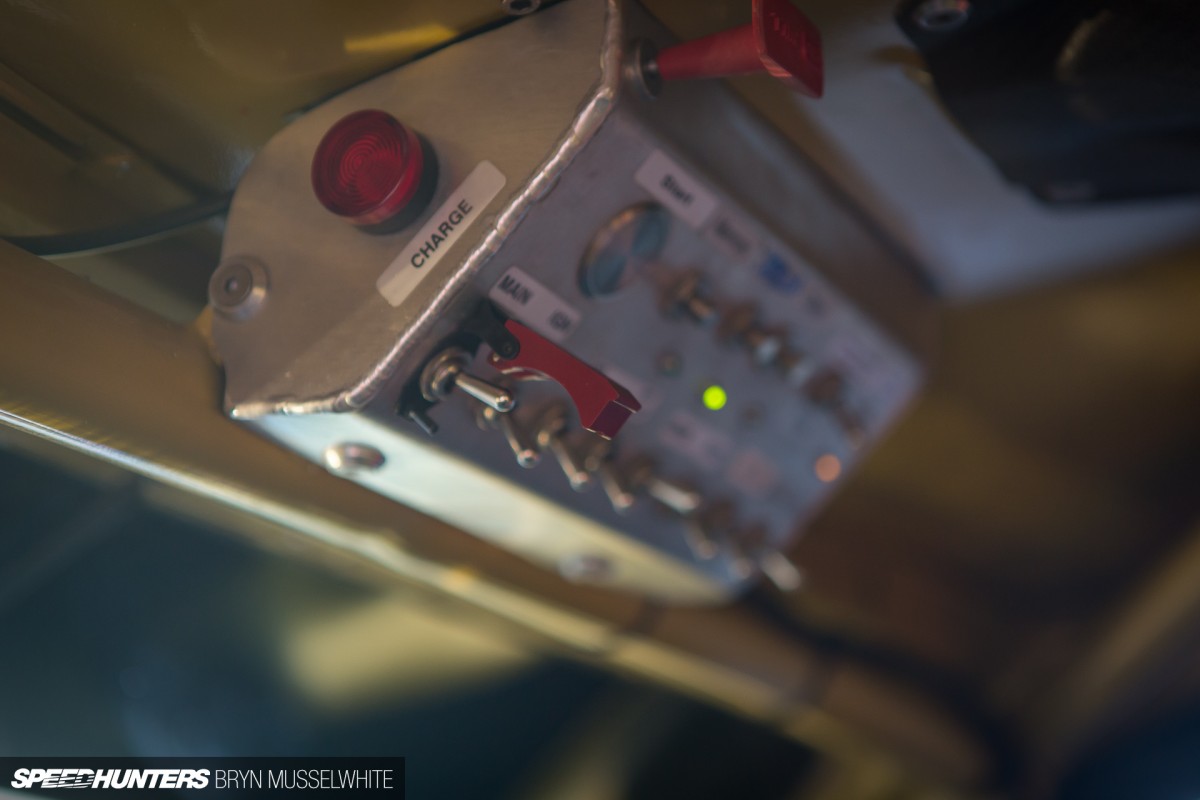 Christian flicked switches and the SR sounded surprisingly mild given its state of tune, but sharp though. I never did get exact power figures, or overall vehicle weight for that matter, as that could give the game away to any potential competitors.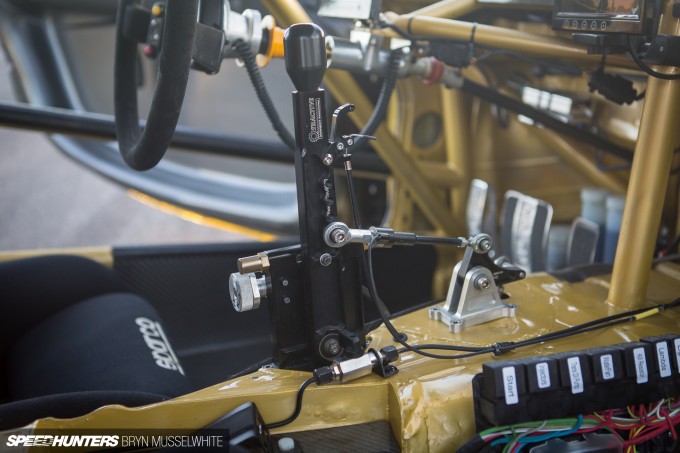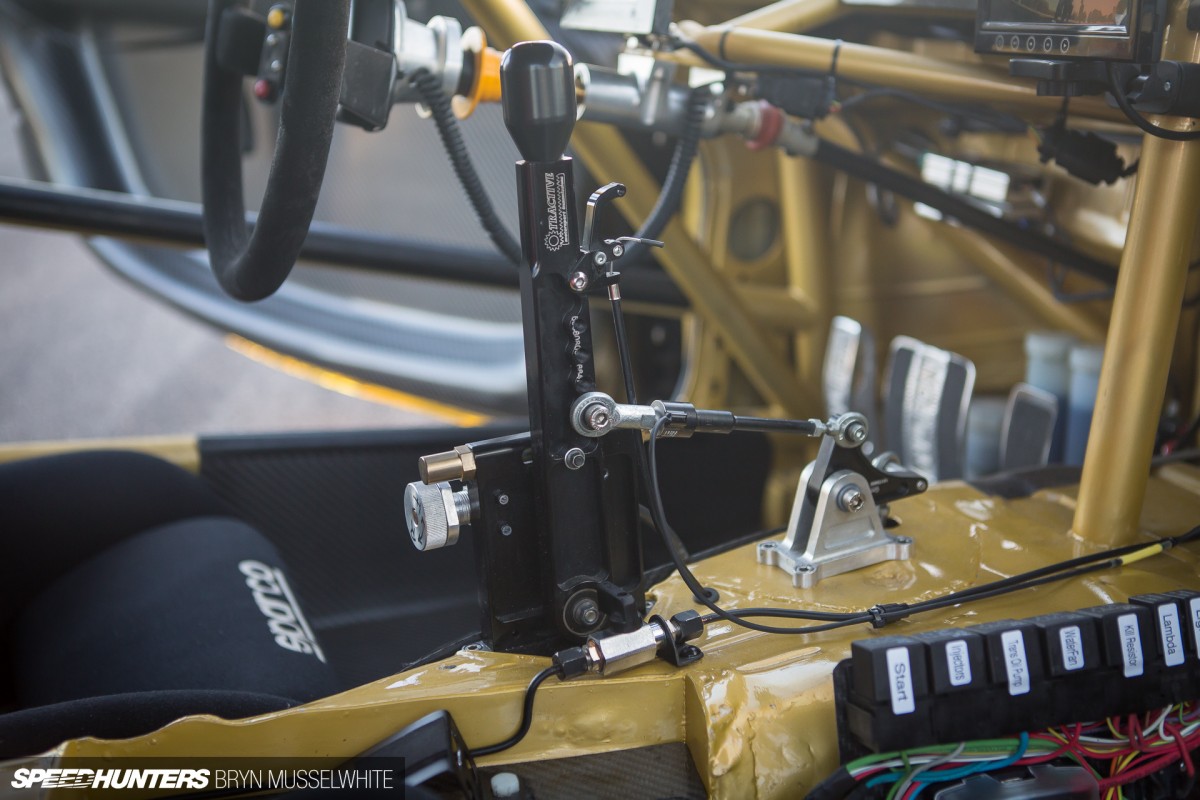 After what felt like a long time, he selected first gear in the Tractive RD90 five-speed sequential gearbox and we left the pit lane with my brain racing way faster than we were.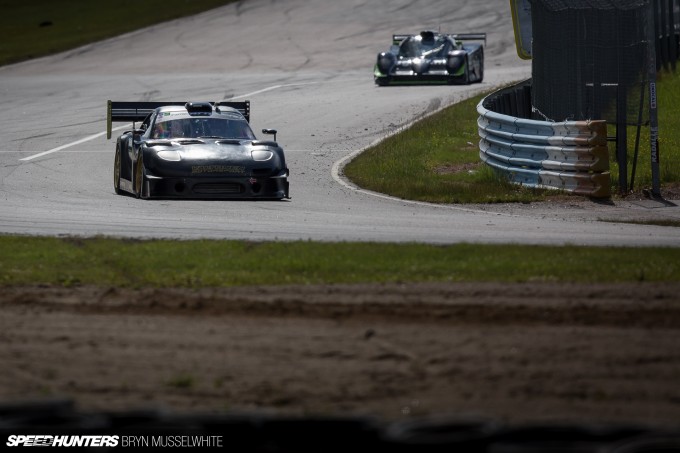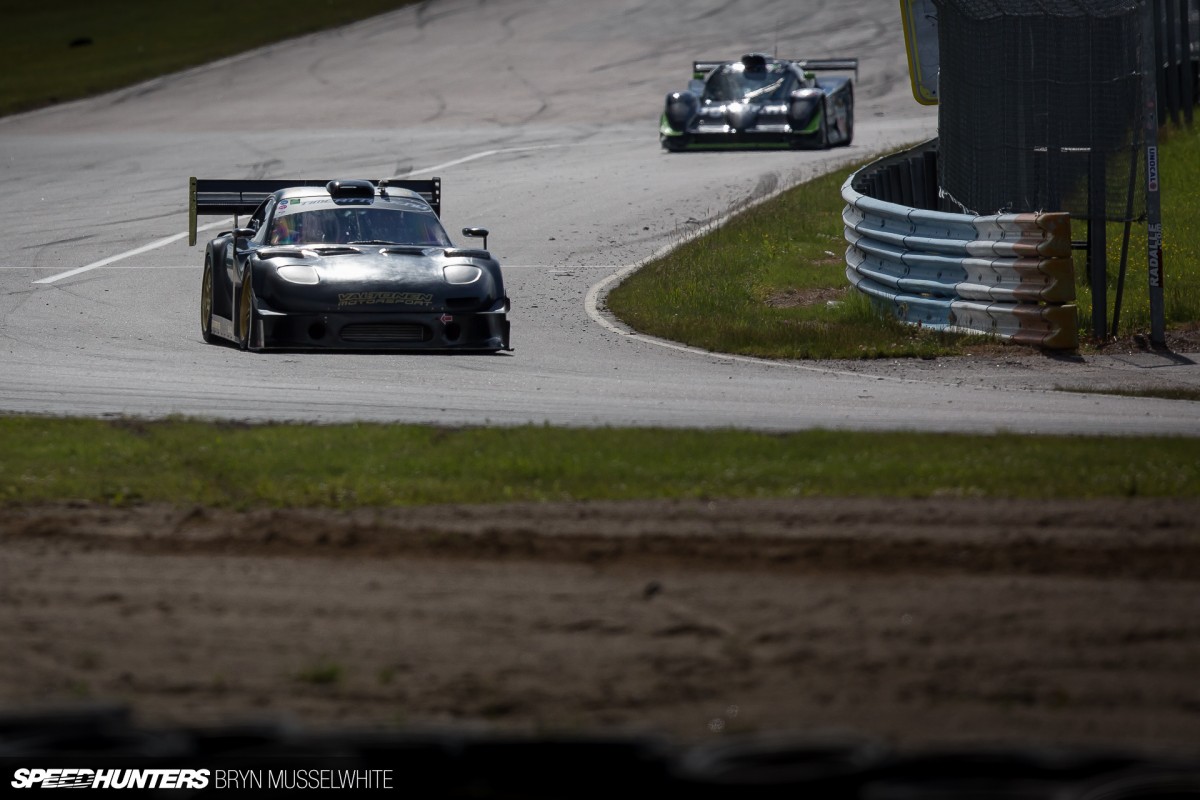 As many passenger rides or drives I've had in dedicated track-based machinery, it's never enough to make it feel normal or any less special. They're also far enough apart that the anticipation always gets to my nerves. After a warm up lap, Christian started to pile on the speed and this is where I started grinning like somebody was stood behind me pulling the skin tight across my cheeks.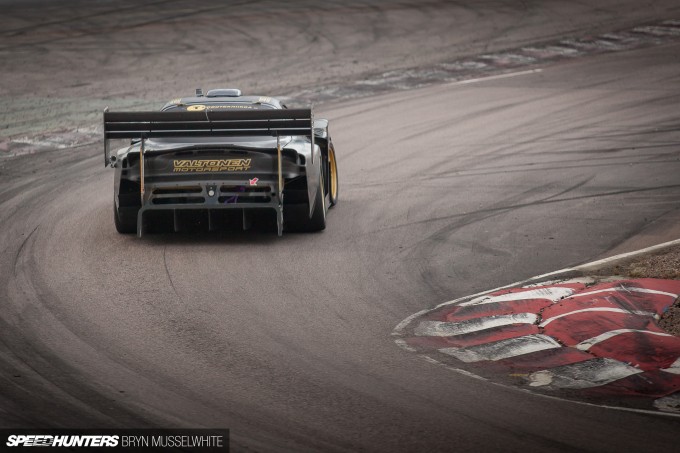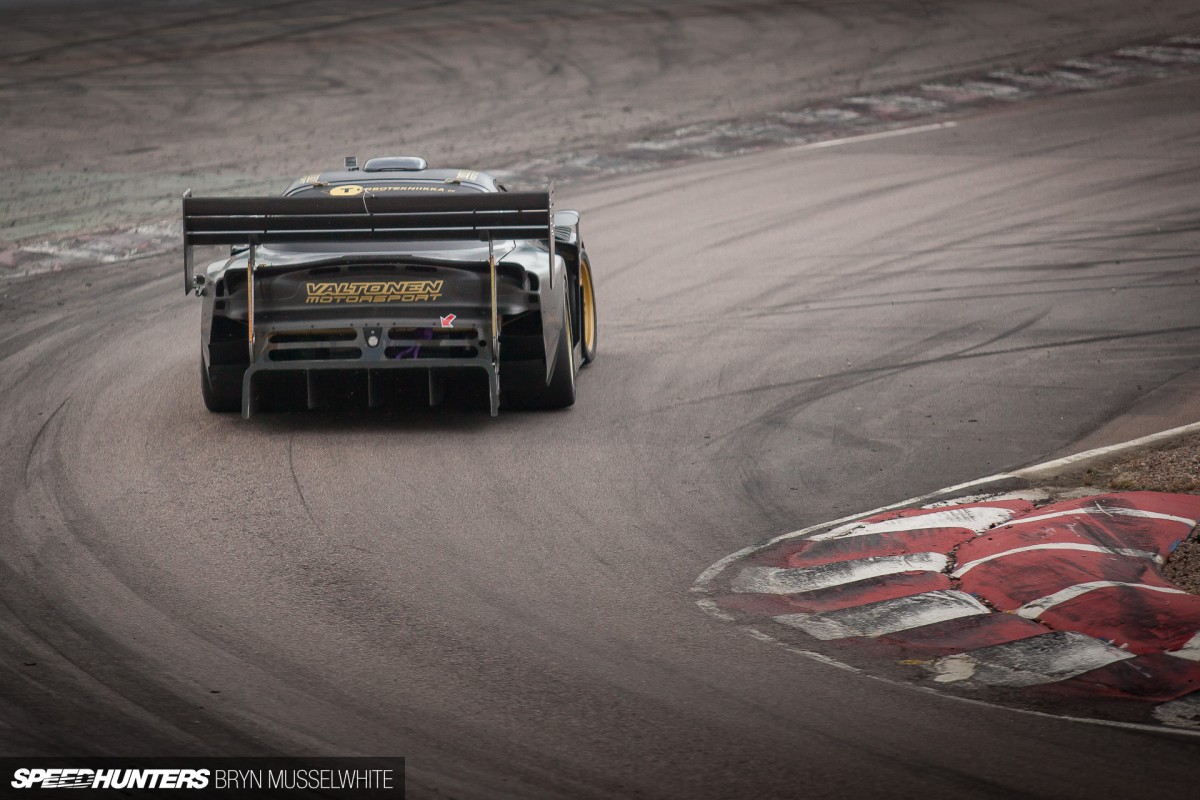 Along with a cup of tea on a cold winter's morning and the smell of fresh cut grass, mechanical grip is one of the best things in the world. In fact, it's probably better than those two put together, and you should know I really like tea. That sensation when you'd normally think you should be braking, but instead you're still accelerating and when a corner arrives your brain says, this can't be right – we're going too fast.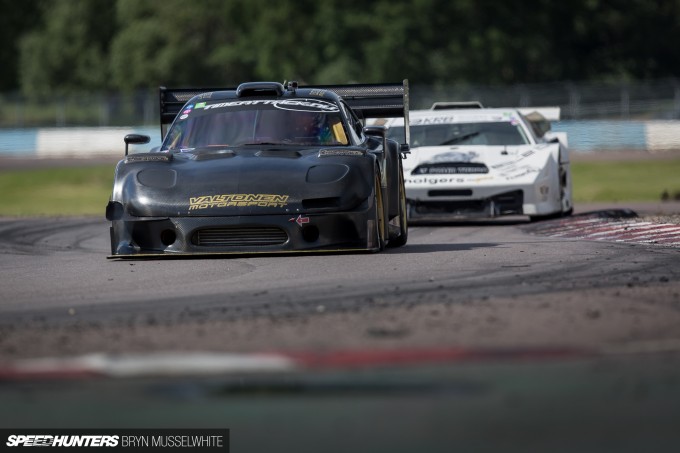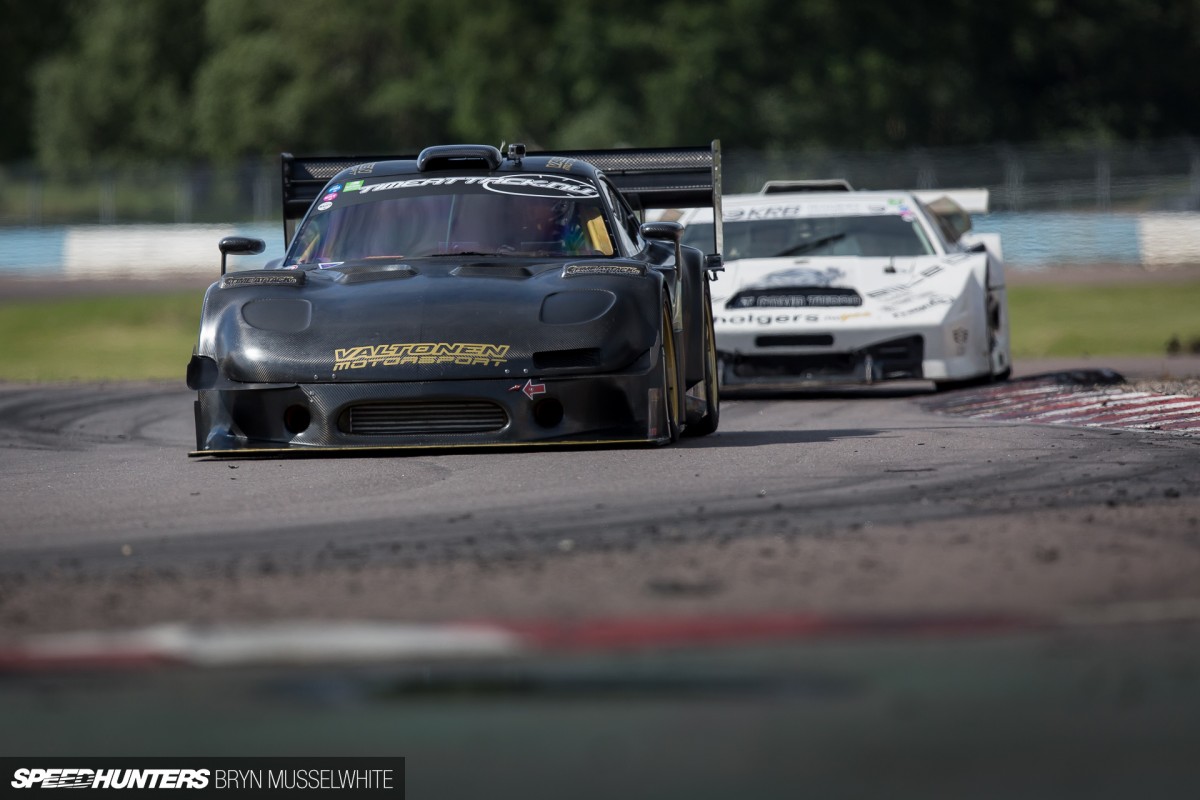 But of course, you're not. The 270 and 300 width slicks reach out to my internal organs and hold them as we go round at what feels like an incomprehensible speed. After a couple of corners the same thing always happens in these situations, I expel a small burp as the gas in my stomach is compressed and pressured up by my body stiffening and being pulled with dramatic changes in direction.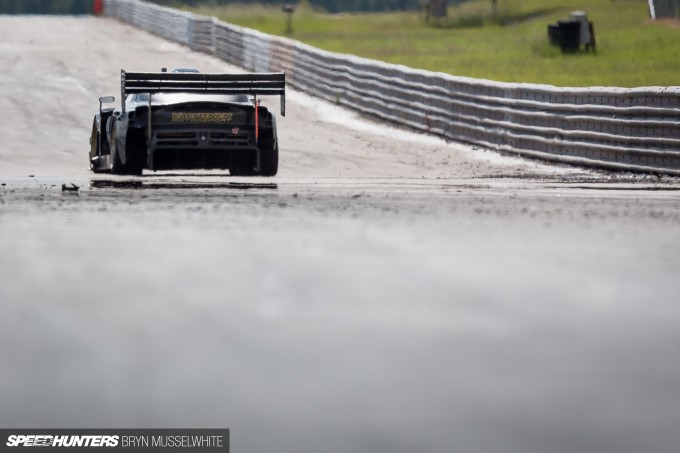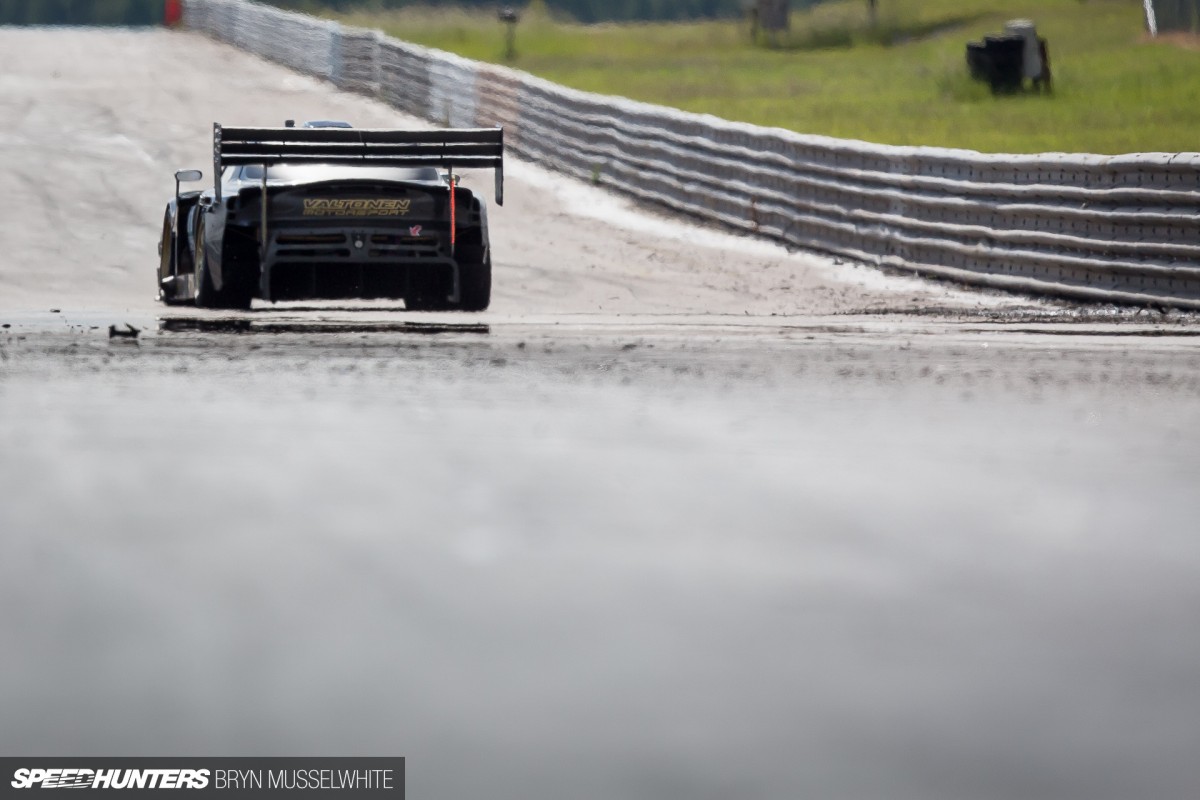 Instantly I become aware that the track is littered with debris from the weekend's destructive proceedings. Thousands of litres of fuel have been used here, tyres shredded and automotive carnage of the highest order enjoyed. But it leaves me thinking that there is so much more to come. Christian agrees with me afterwards saying that he looks forwards to a proper chance to compete.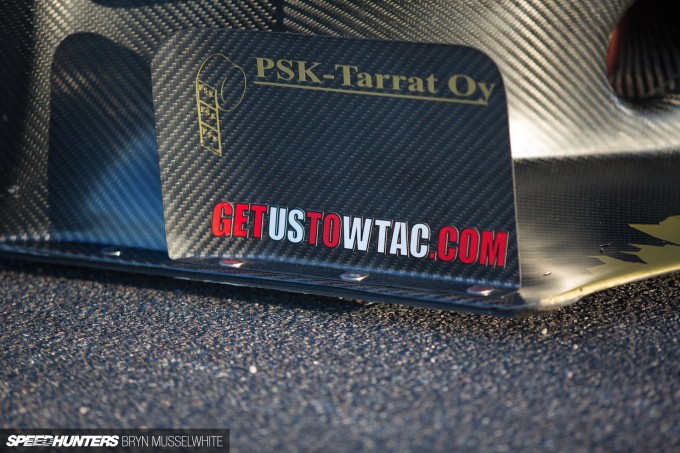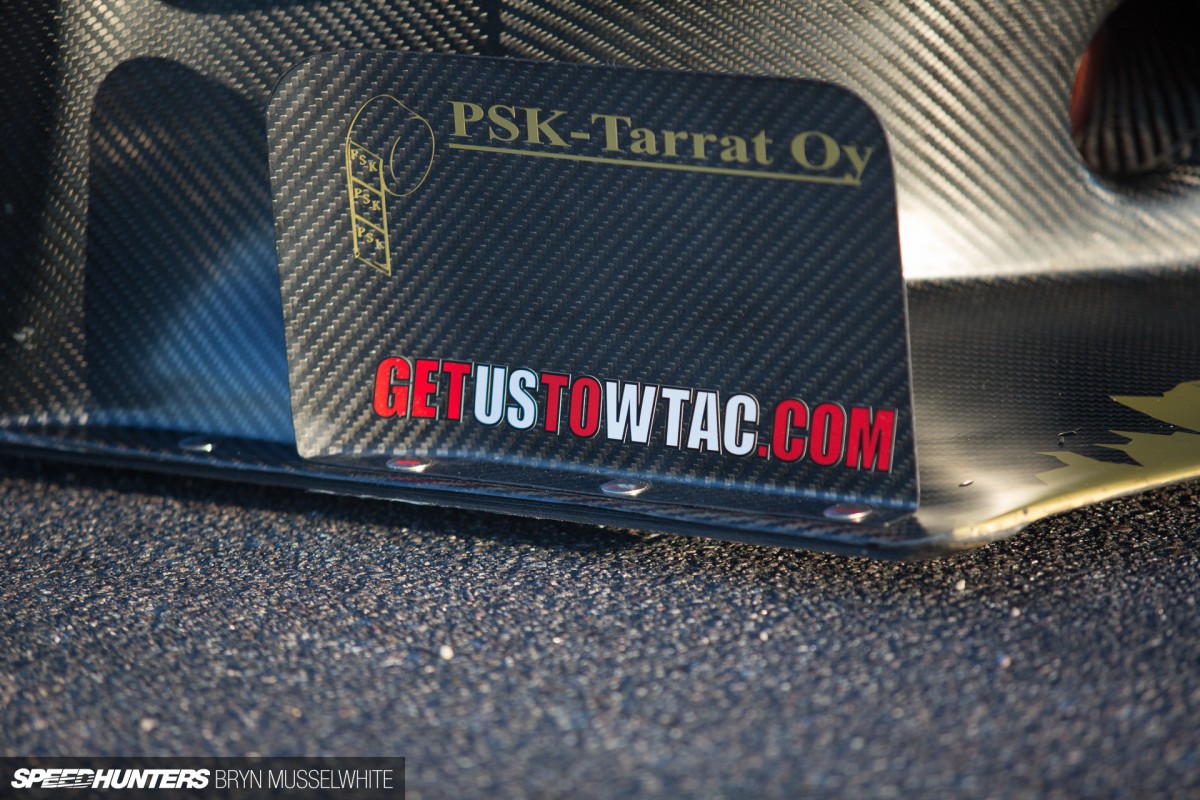 Which they will be doing this weekend this story goes live. So if you're reading it fresh, then you never know – records might be dropping in Sweden right now. But the team's aspirations go a lot further than Scandinavia though. In fact, they've started a campaign to get the Mazda down to Australia for this year's World Time Attack Challenge. You can sponsor the mission and have your name or logo on the project, just head to the website for more info on how to get involved.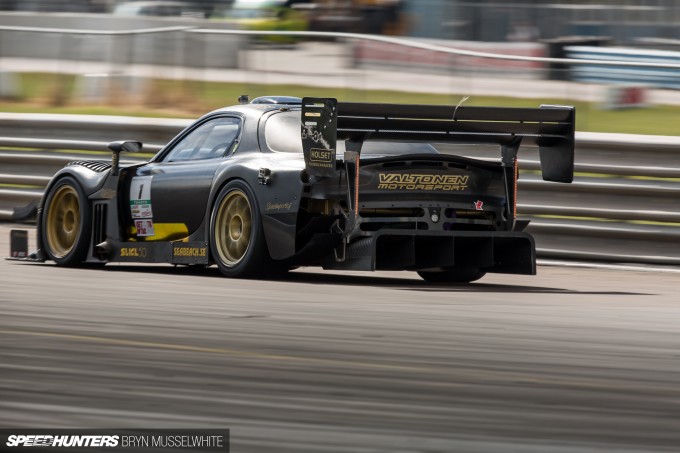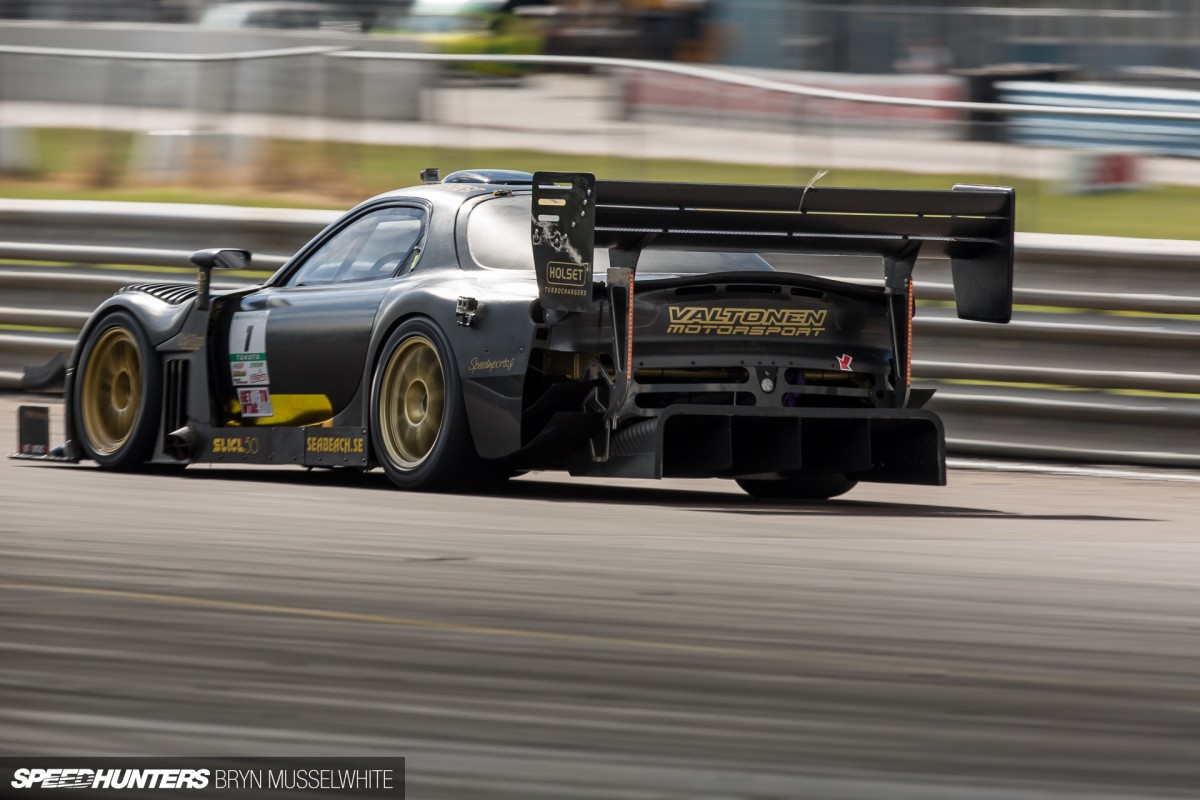 So this is very much just an instalment rather than the full story, because with each and every event the development continues. New aero plans, engine tuning and other changes will no doubt be made as Valtonen Motorsport spread their sights across race tracks near and far. If you want to get a taste of what it feels like in there, check out their YouTube channel.
Just like the FD3S appeared revolutionary to me all those years ago when I first saw it, this RX-7 did the same. I am so glad that given some time with it I was only impressed more and more by each and every facet of this build. It was an incredible time.
Bryn Musselwhite
Instagram: speedhunters_Bryn
bryn@speedhunters.com
Cutting Room Floor