Come On Goodwood, Make Some Noise!
Brap! Brap! Brap! Raaaaaaaaaaa! Raaaaaaaaaaa! Thrum… Pause. Thrum…Pause. Thrum… Pause. The Goodwood hills were alive with the sound of exploding air – the music of the Festival Of Speed, the beautiful, sweet sounds of rotaries, screaming Formula 1 V8s, deep Auto Union V16s and everything in between. Looking through pictures from this year's Festival (always somehow bigger, always somehow better year on year), each one triggers a different sound directly into my head and transports me back.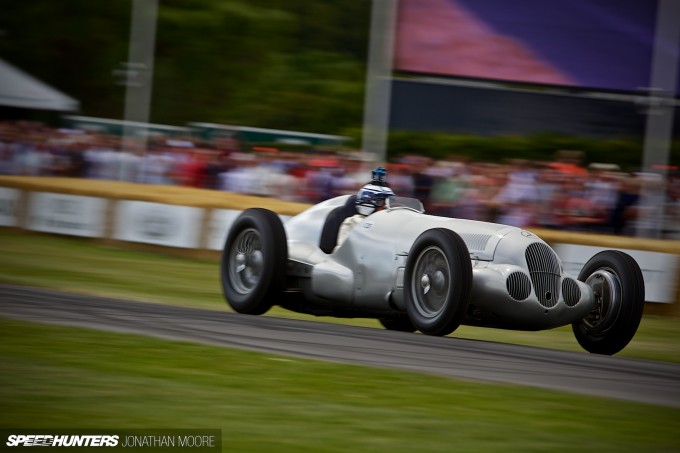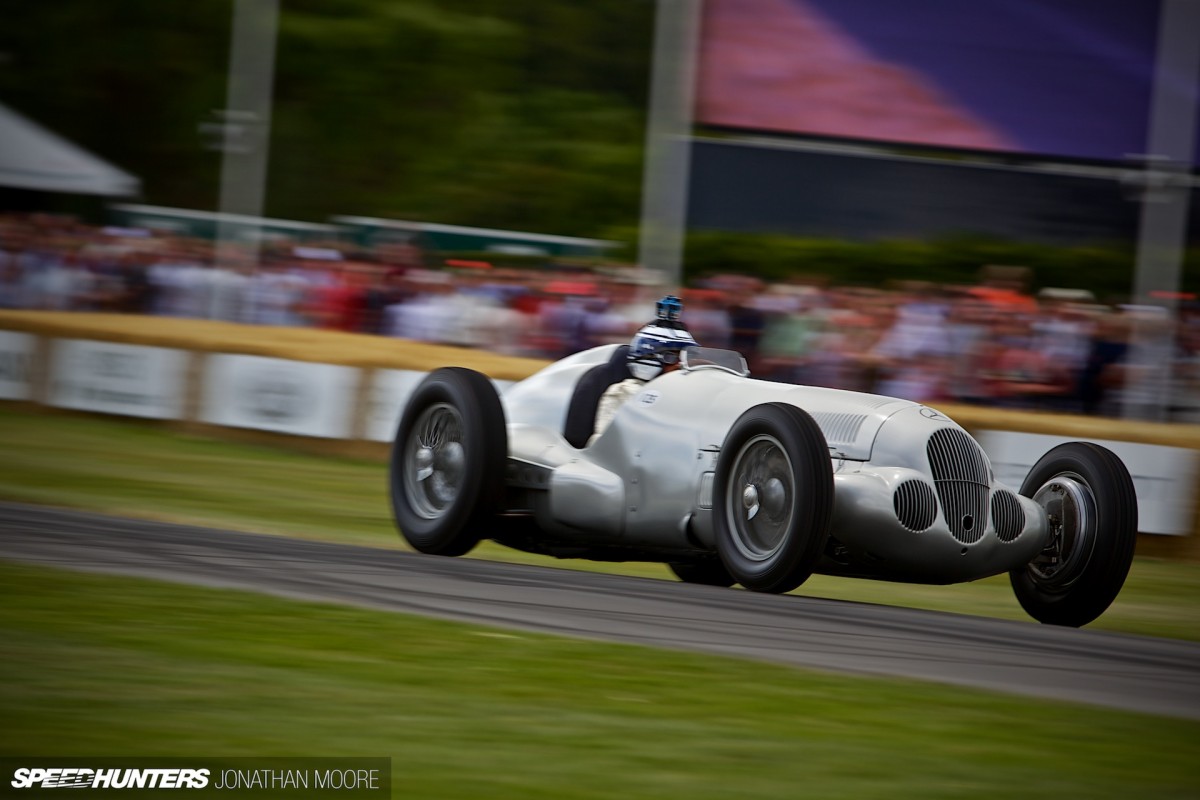 There are the smells as well. The Festival Of Speed & Smells? It's better than it sounds – I promise. There's the thick, rich tar of old racing oil, the throat-burning, heady acid-trip reach of Mercedes' pre-War Silver Arrows mix – heavy on the ethanol, hold the ice – and of course, what about that tortured rubber?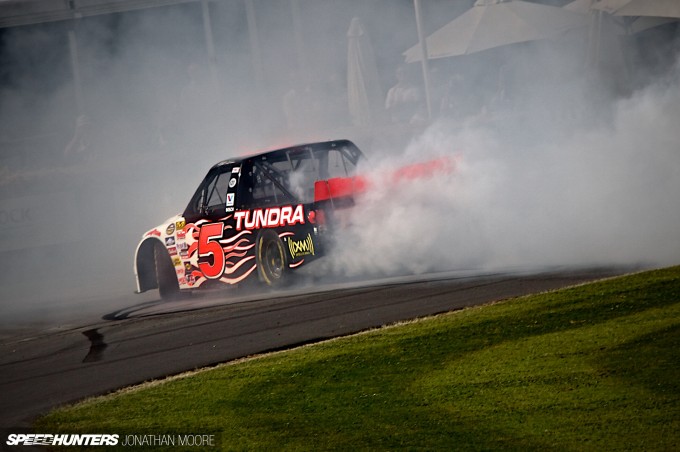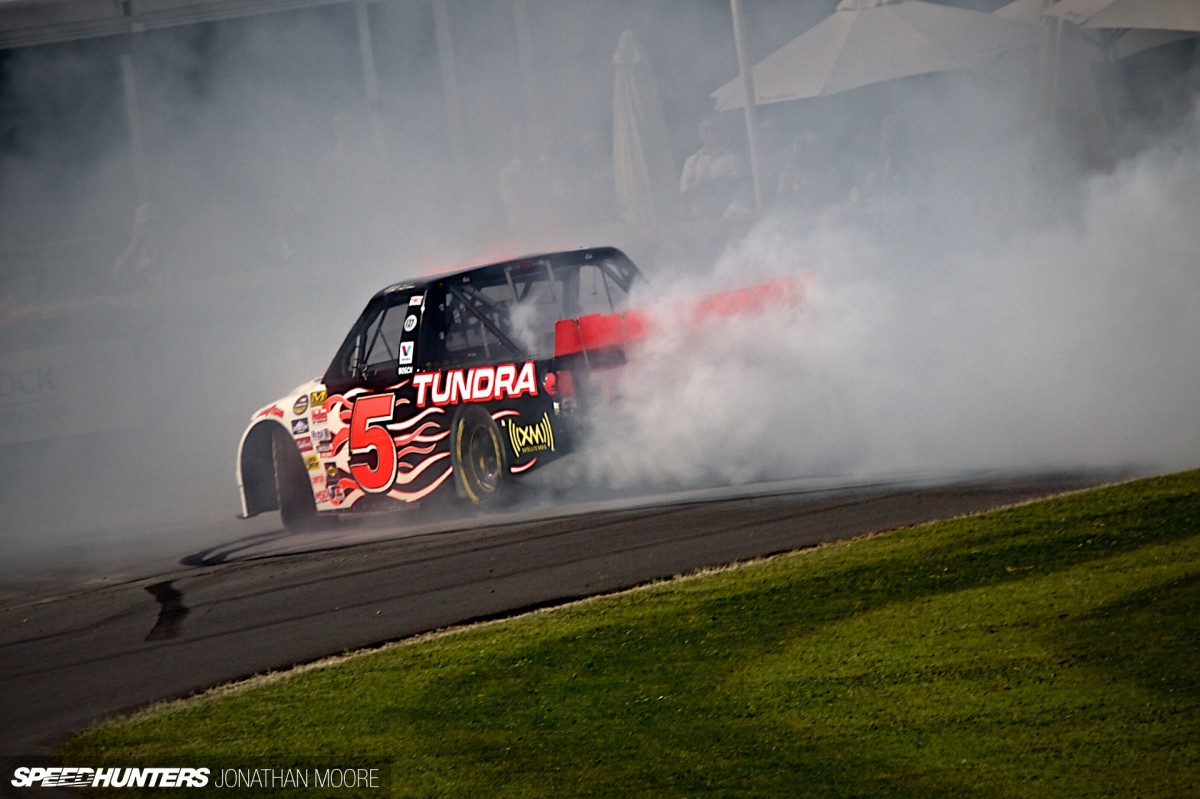 Pretty much everything gets thrown sideways – admittedly not always deliberately. Formula 1 cars turn donuts; World Rally Championship machinery churns up the previously pristine grass; NASCAR representatives prove that right-hand corners are an issue after all. There's a whole lot of burning rubber: at times enough to even give a Formula D event a run for its money.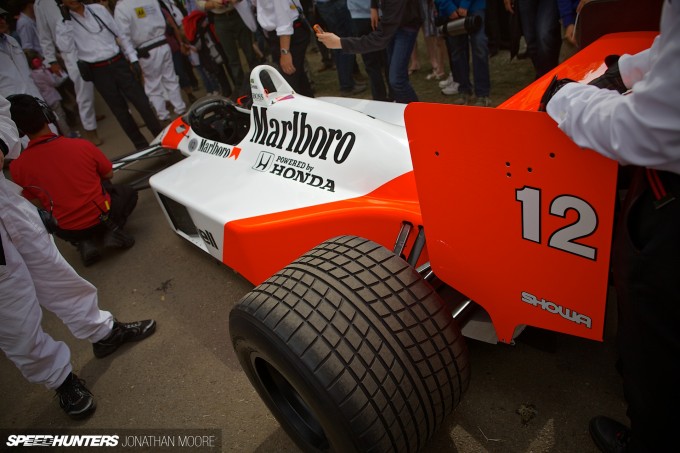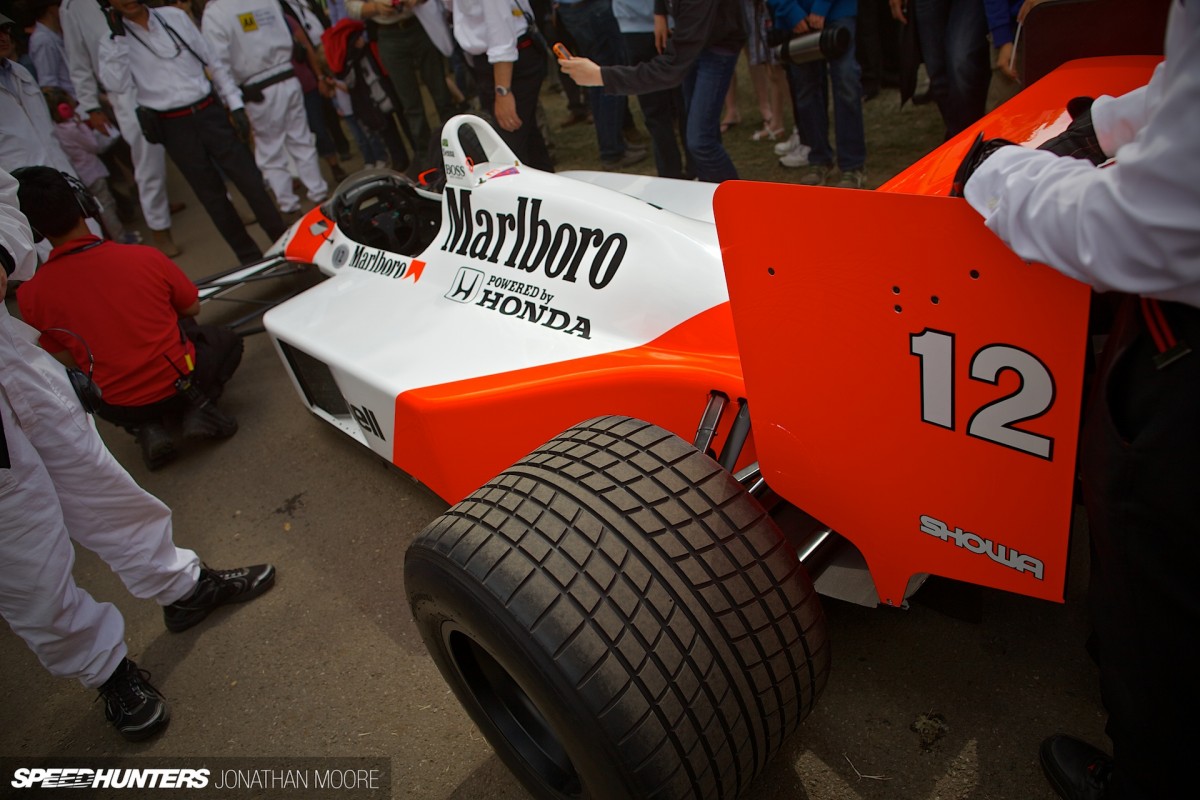 The proximity you get to the cars at Goodwood is what brings us all back year after year. It's the ultimate experience of the rarest, the fastest and the most beautiful cars on the planet.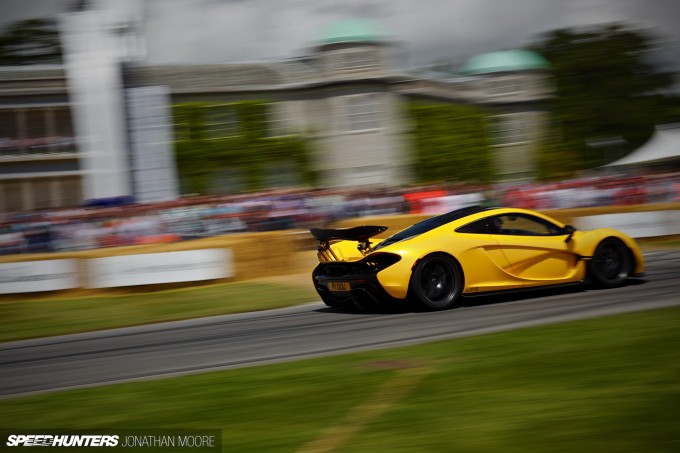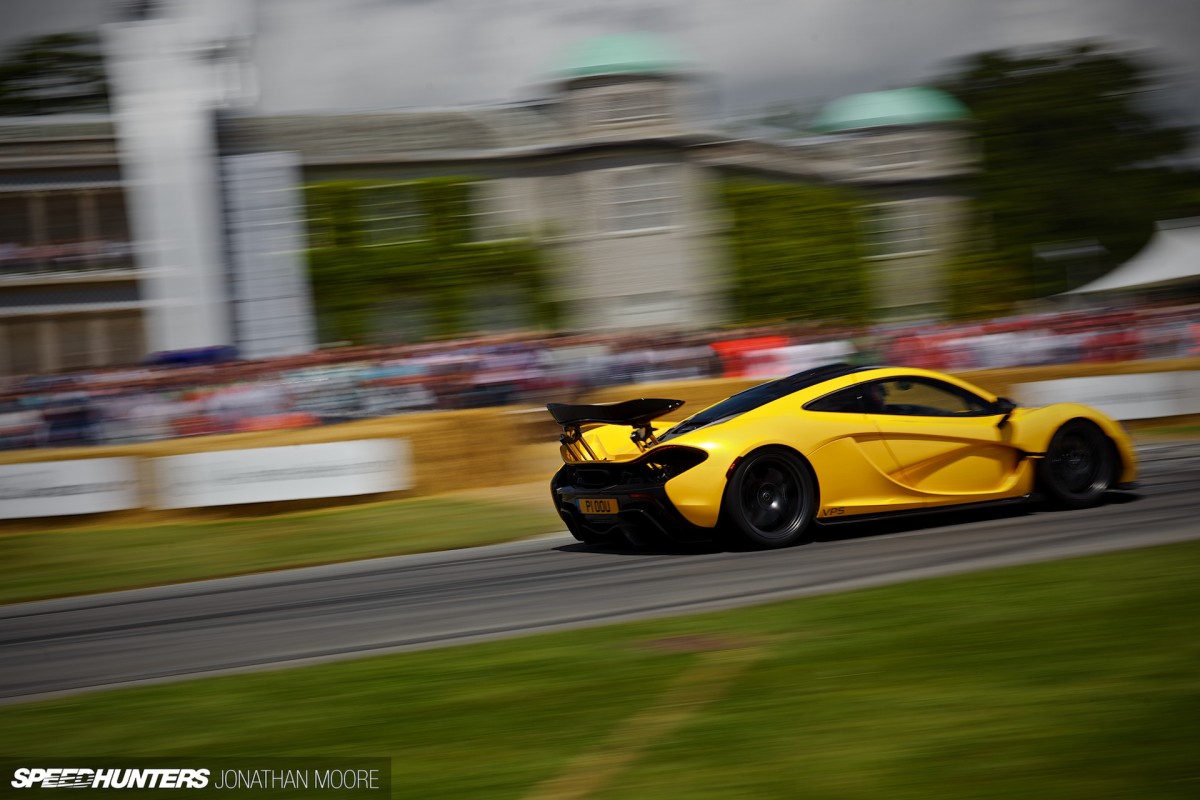 It comes back to those noise and smells. Unlike a car show or a museum, Goodwood is a direct celebration of what's going on under the bonnet, and the racing pulse we all get from being close to the action.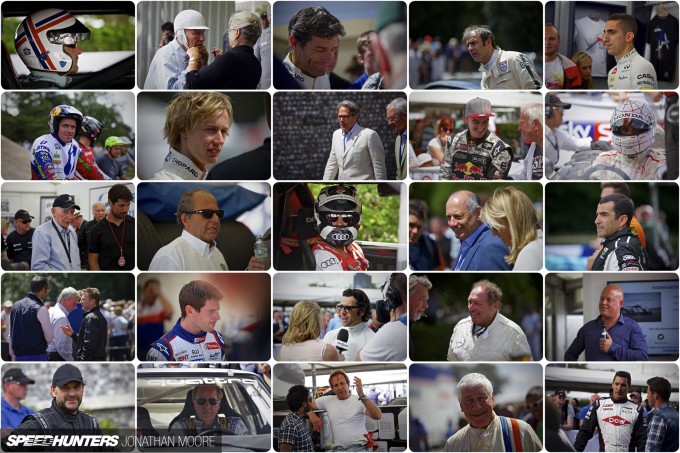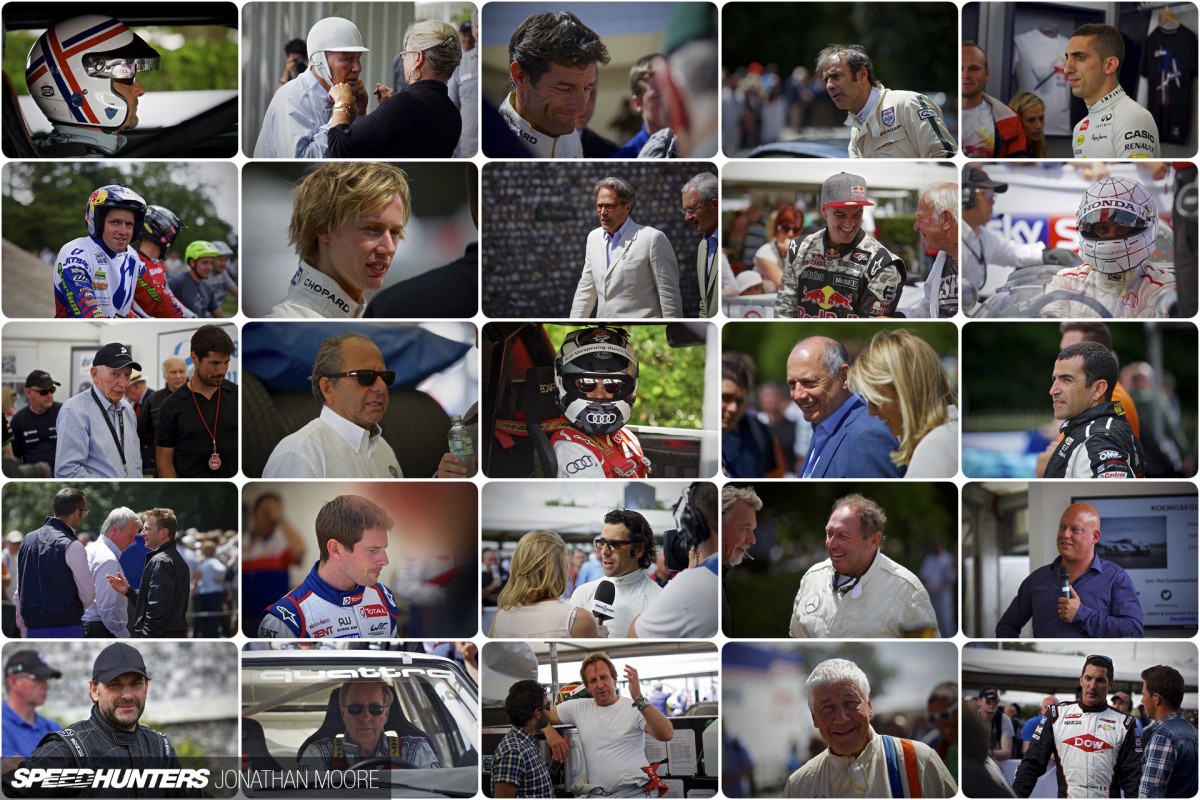 Surprisingly, this also seems to be what attracts the name drivers as well: stars from across the ages flock to the event. With the exclusivity of so many series nowadays, and how cosseted top drivers are in this PR-driven world, I often don't actually believe that a lot of drivers have a true passion for cars in general or the public that support them. Goodwood proves that to be quite untrue, I'm always pleased to find.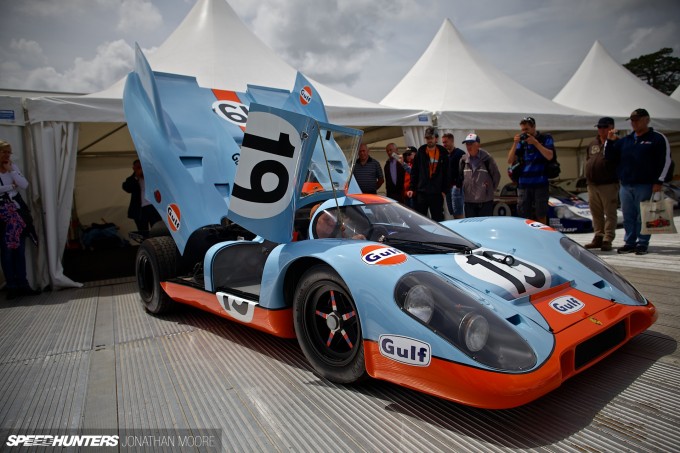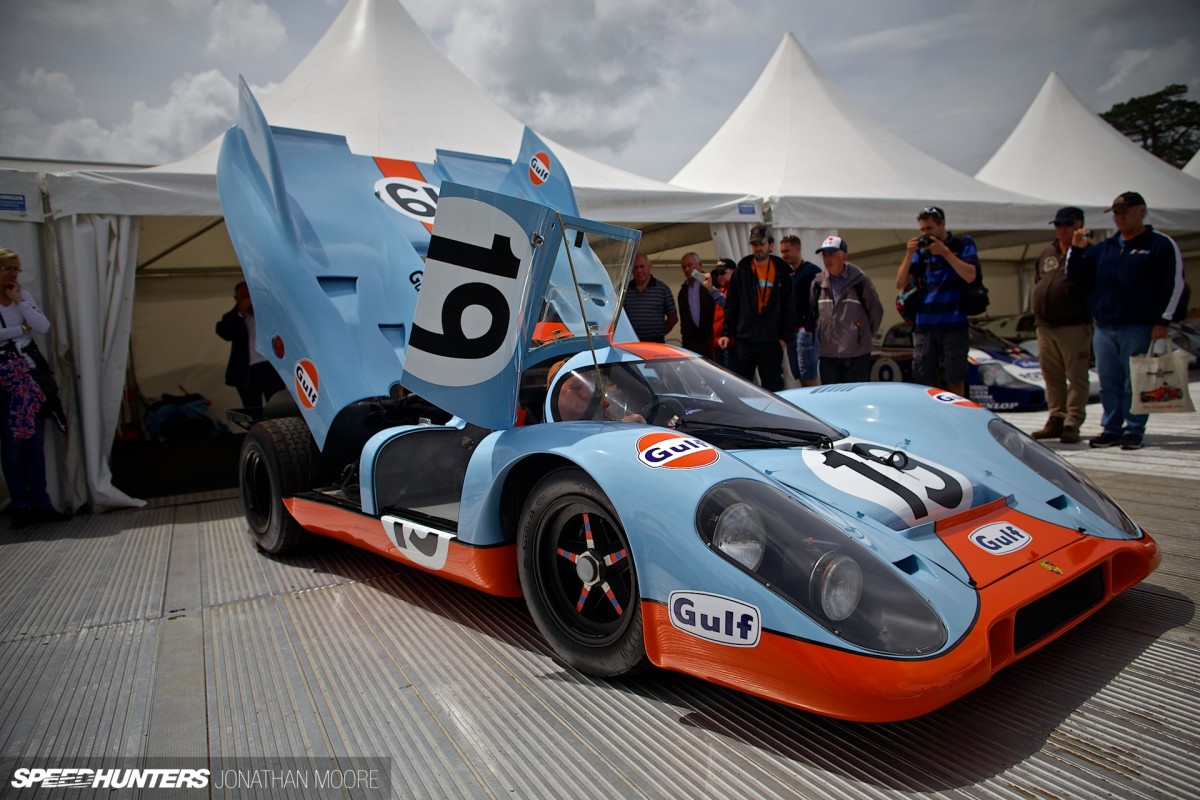 There's nowhere else I can think of where there's such a cross-section of people from different disciplines, meeting up with old friends and making new ones, pausing only to shield their ears from the sound of an engine being fired up or from the cacophony of the many air displays overhead.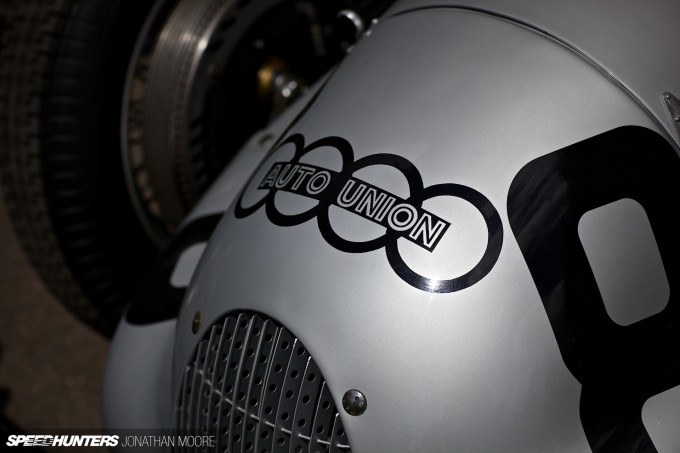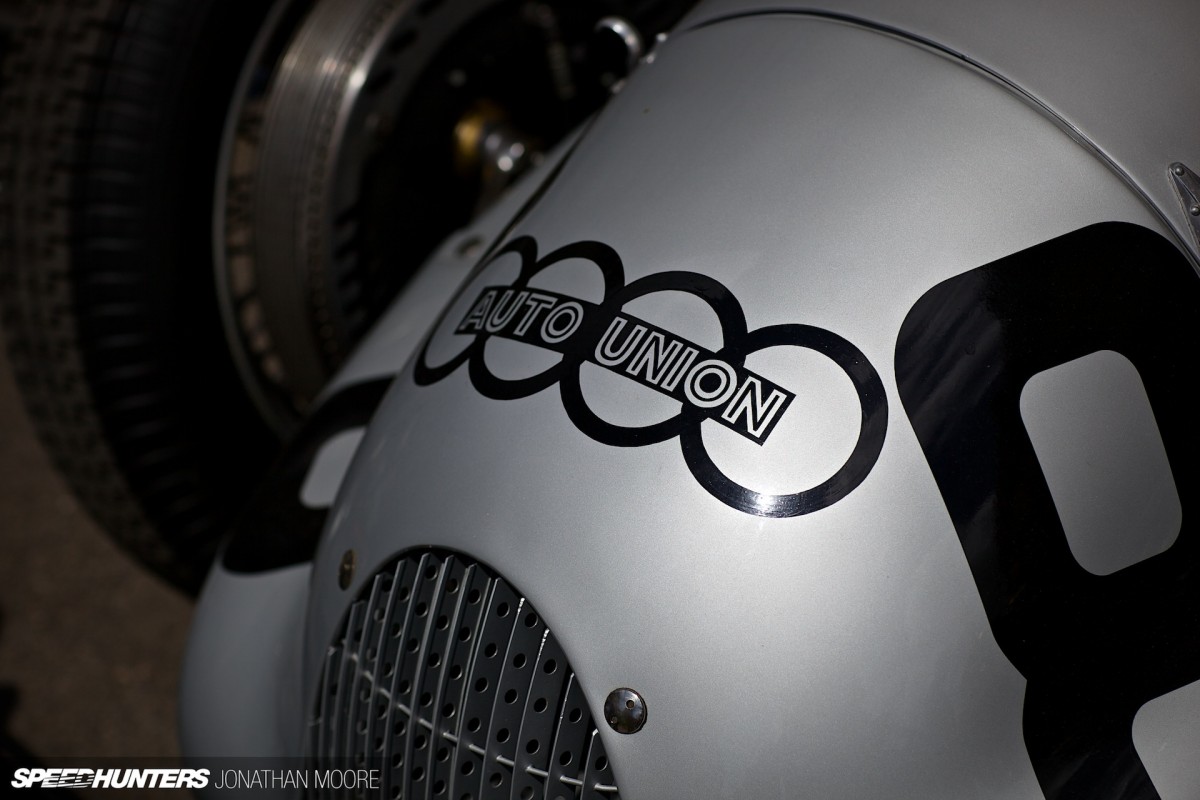 Where else could you find Mad Mike and MADBUL, parked up in front of an Auto Union, poking about the engine of a Renault from 1906 with NASCAR's Kerry Earnhardt, and then talking to five-time Le Mans winner Emanuele Pirro about drifting?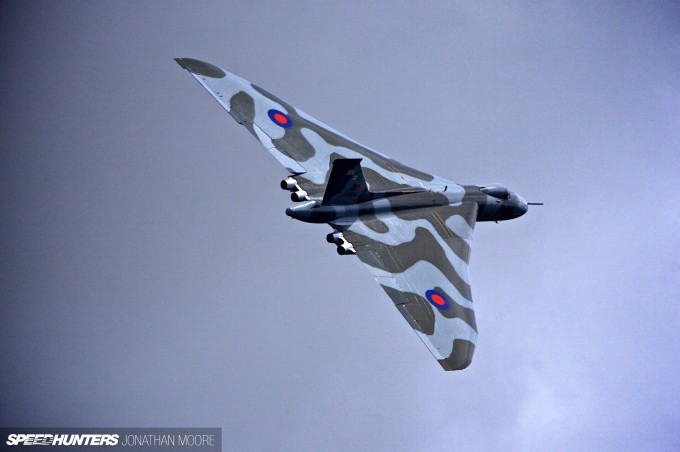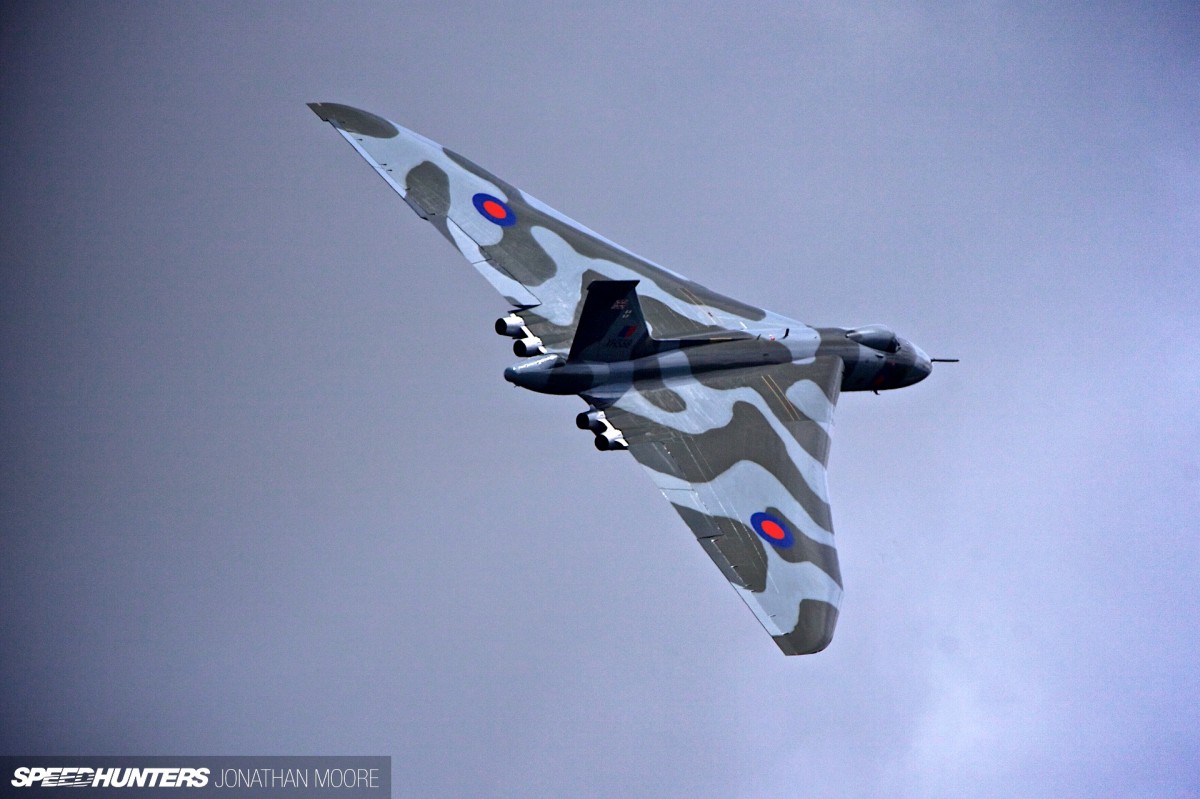 I'm looking forward to hearing about Mad Mike's experiences over the week – and I did find it ironic that as he put in his Saturday afternoon run the awesome sole-remaining air-worthy Vulcan bomber pounded the skies overhead. If the Vulcan ruled the sky, Mad Mike ruled the hill.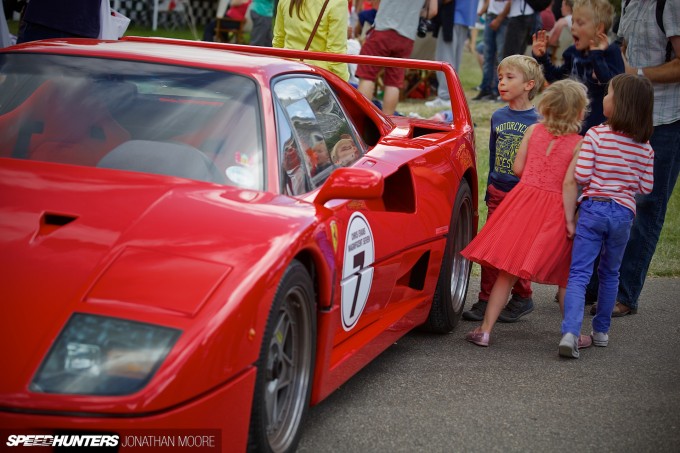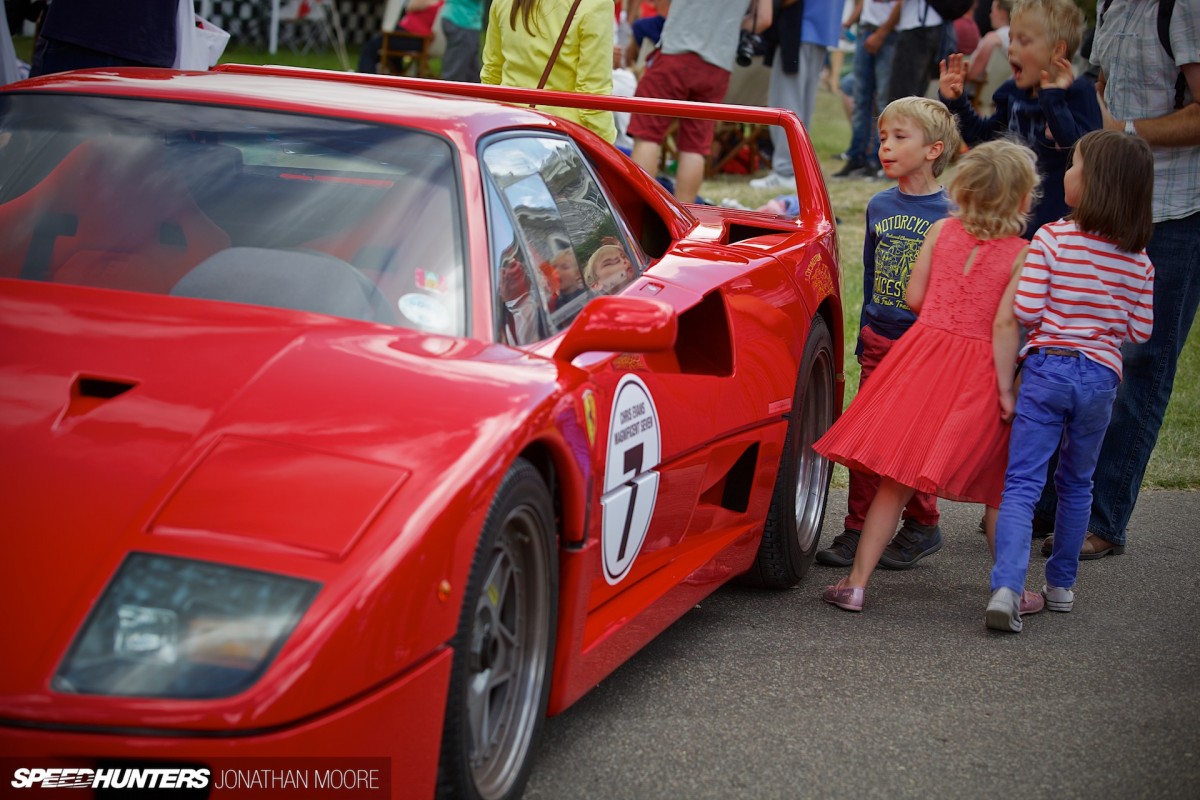 It's that closeness that everyone enjoys though. I must admit I'd be more reticent to leave my F40 parked out in the middle of crowd if I was lucky enough to own one…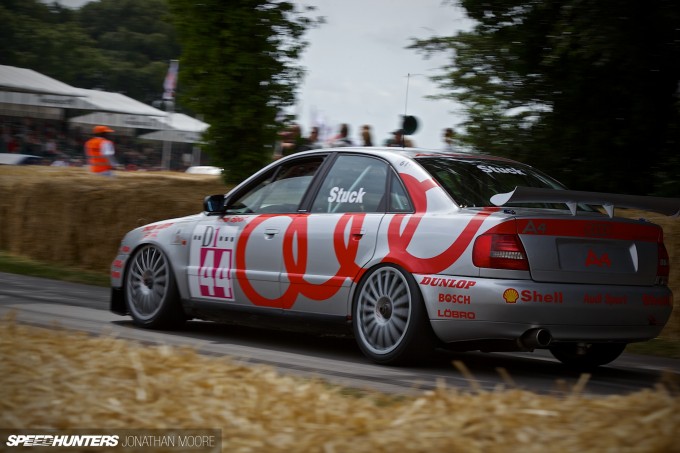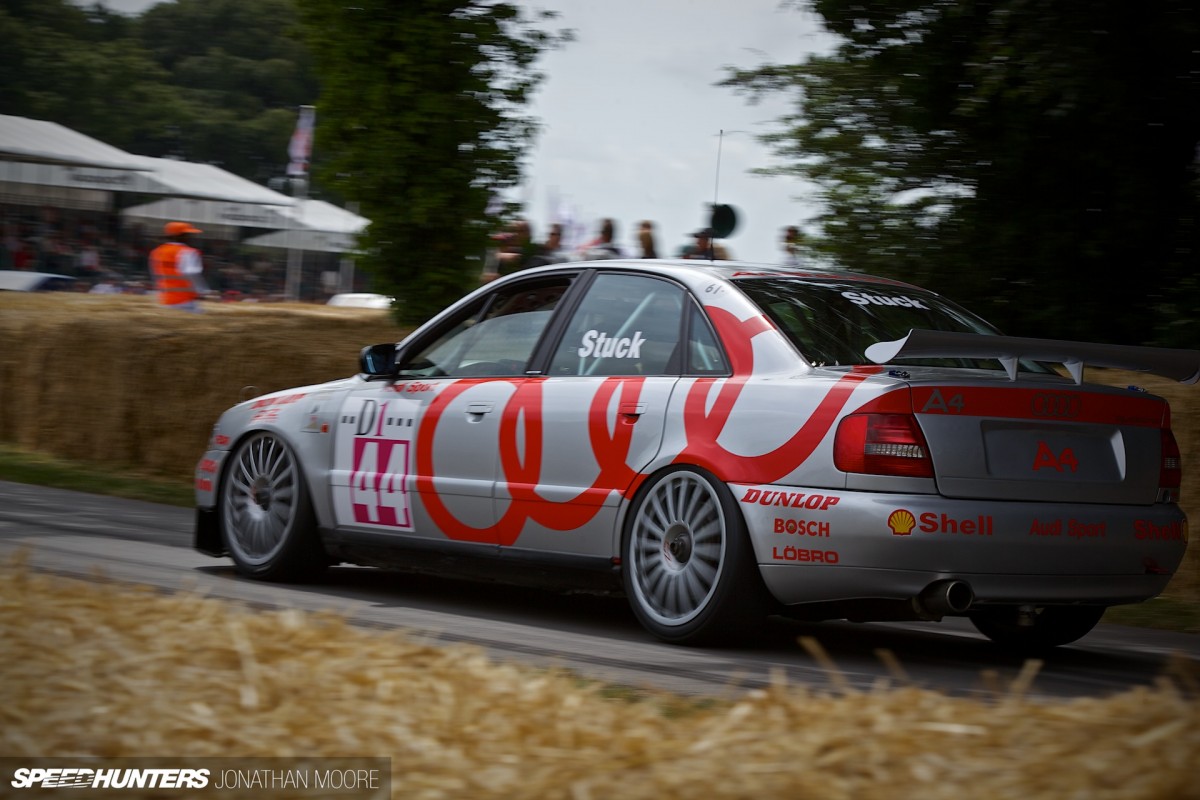 With limited time in the past I've tried to squeeze the Festival into a day, which is basically impossible. It's the equivalent of trying to visit the world in a month. With Mad Mike to keep an eye on in between, this year I drank in the event over its full three main days.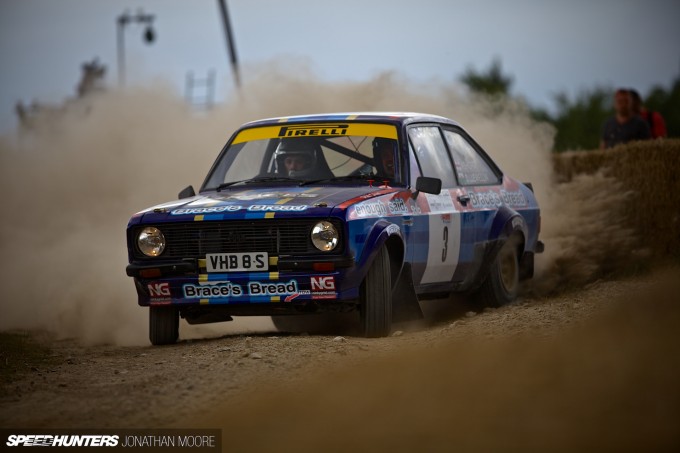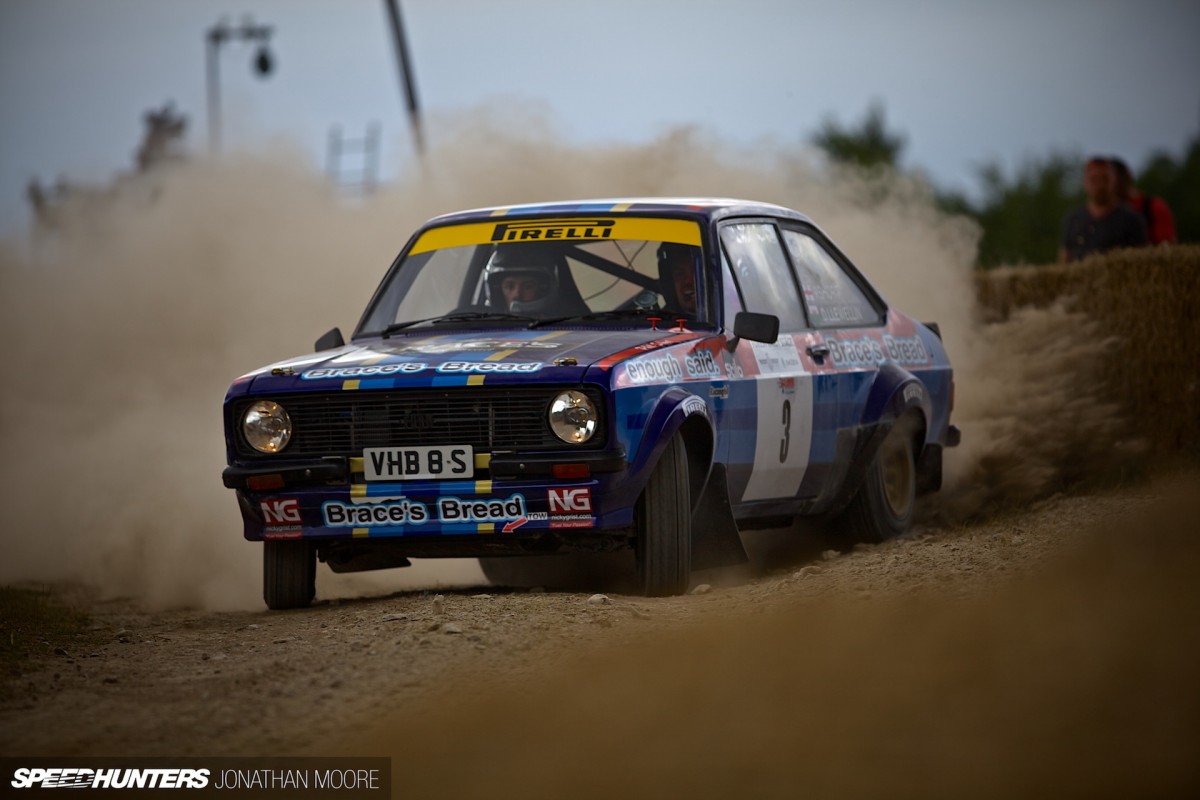 That meant being able to fully appreciate it all with a slightly less frantic approach. You can easily wear out a pair of boots, especially if you risk the temptations of all the merch stands, the enormous manufacturer displays, the extreme sports arena, flying club – and of course the long trek up to the purpose-built rally stage.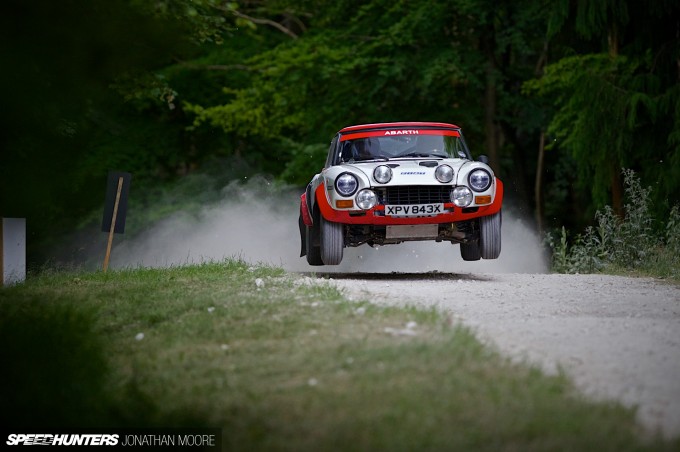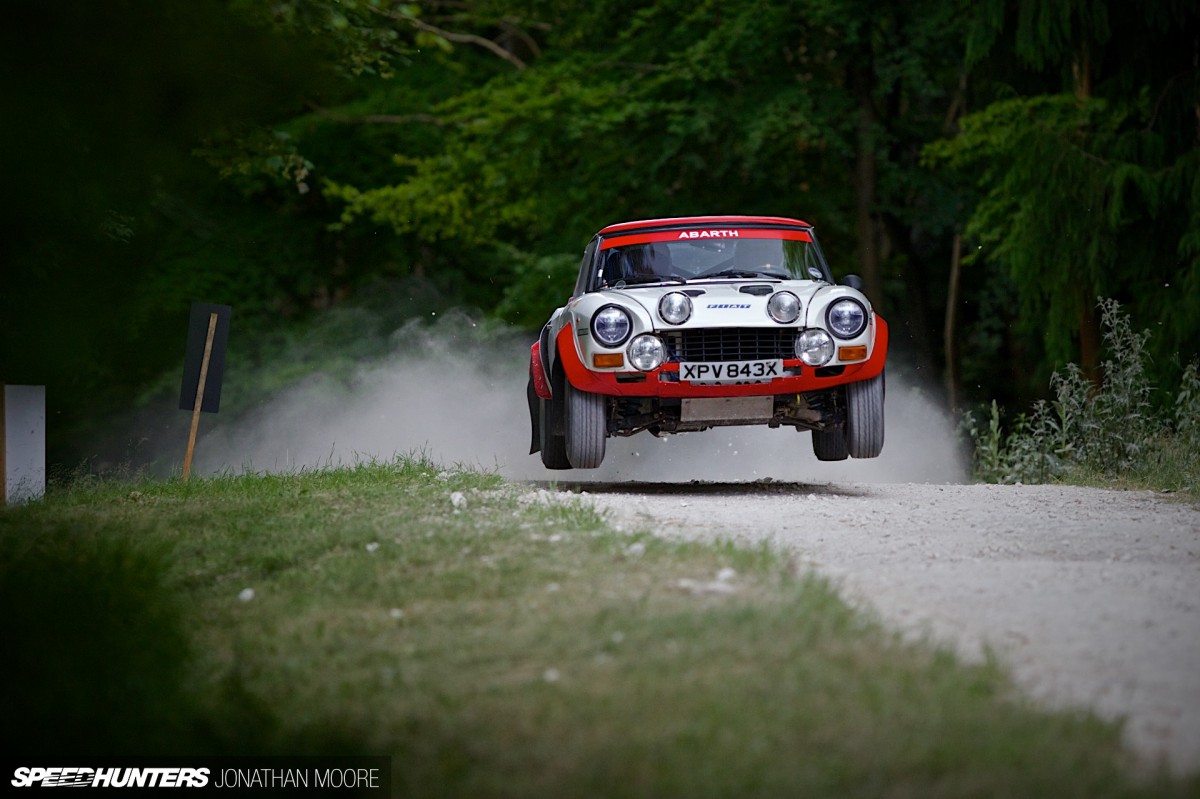 There I could get my gear filled up with its yearly dose of dust whilst enjoying the flying cars.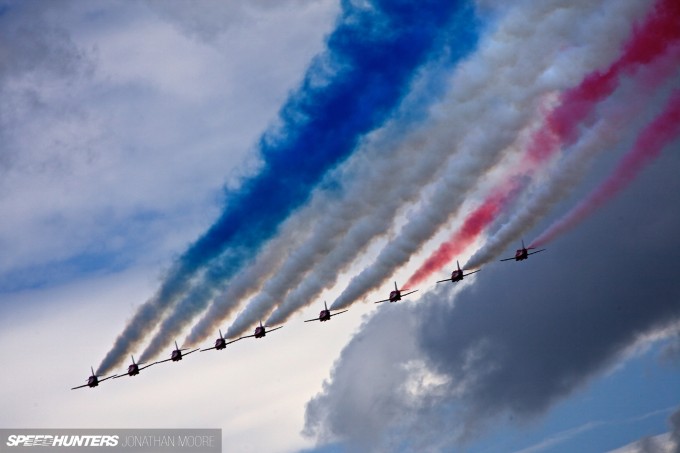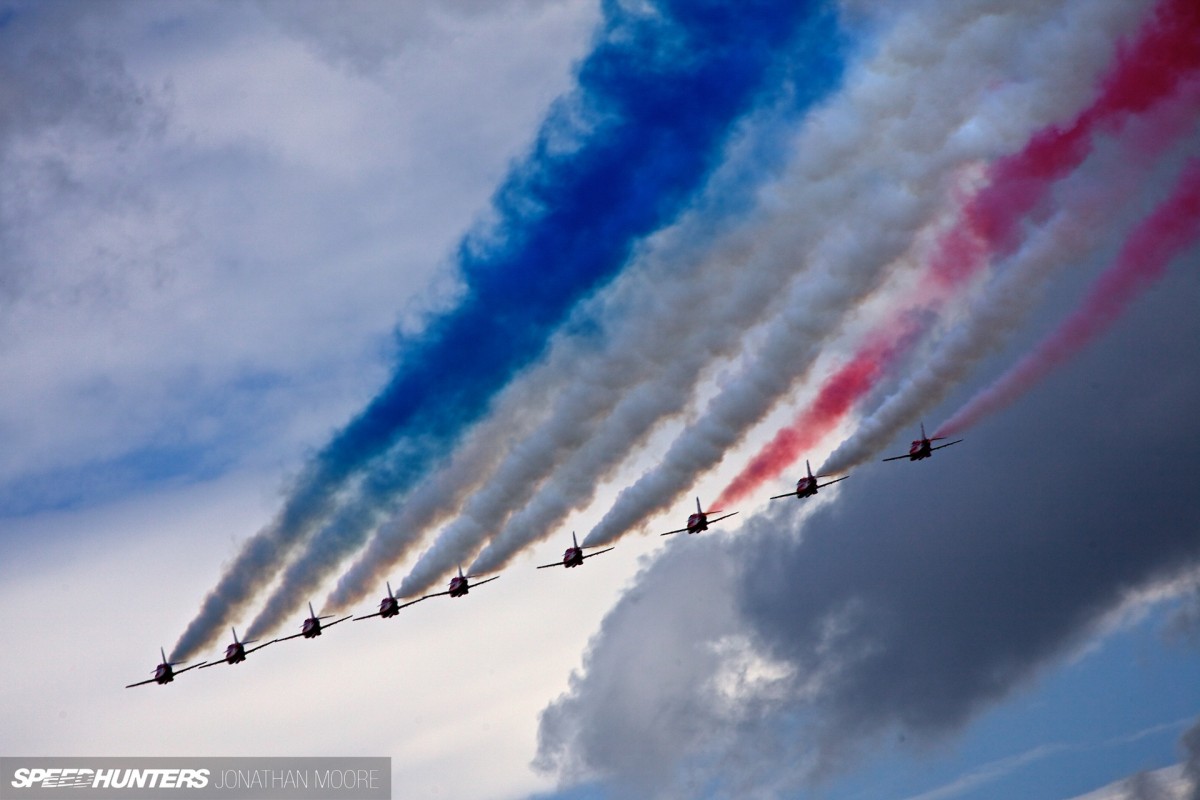 On the way down the hill, there was the flying display, with the red, white and blue of the Red Arrows flying wingtip to wingtip.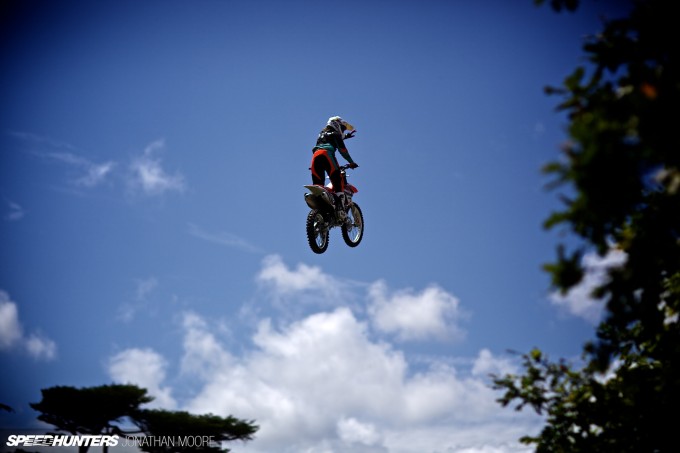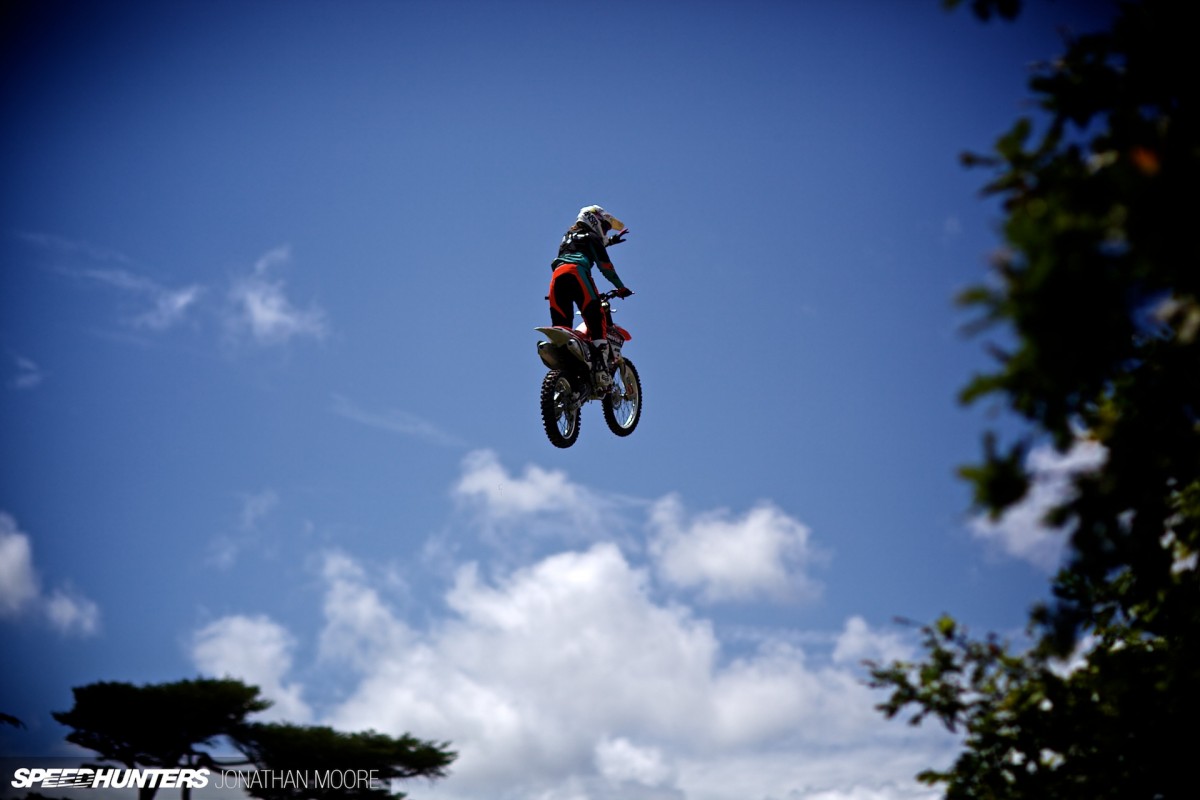 Flying bikes greeted us at the GAS arena – the Goodwood Action Sports location is proving a big hit, and as with Mad Mike's appearance making the whole thing even more diverse.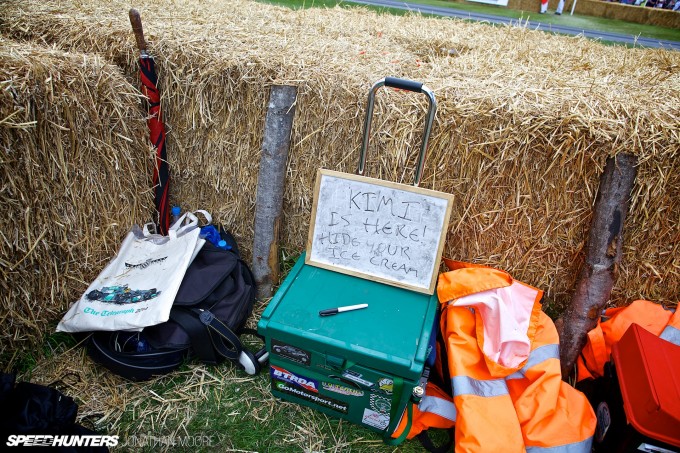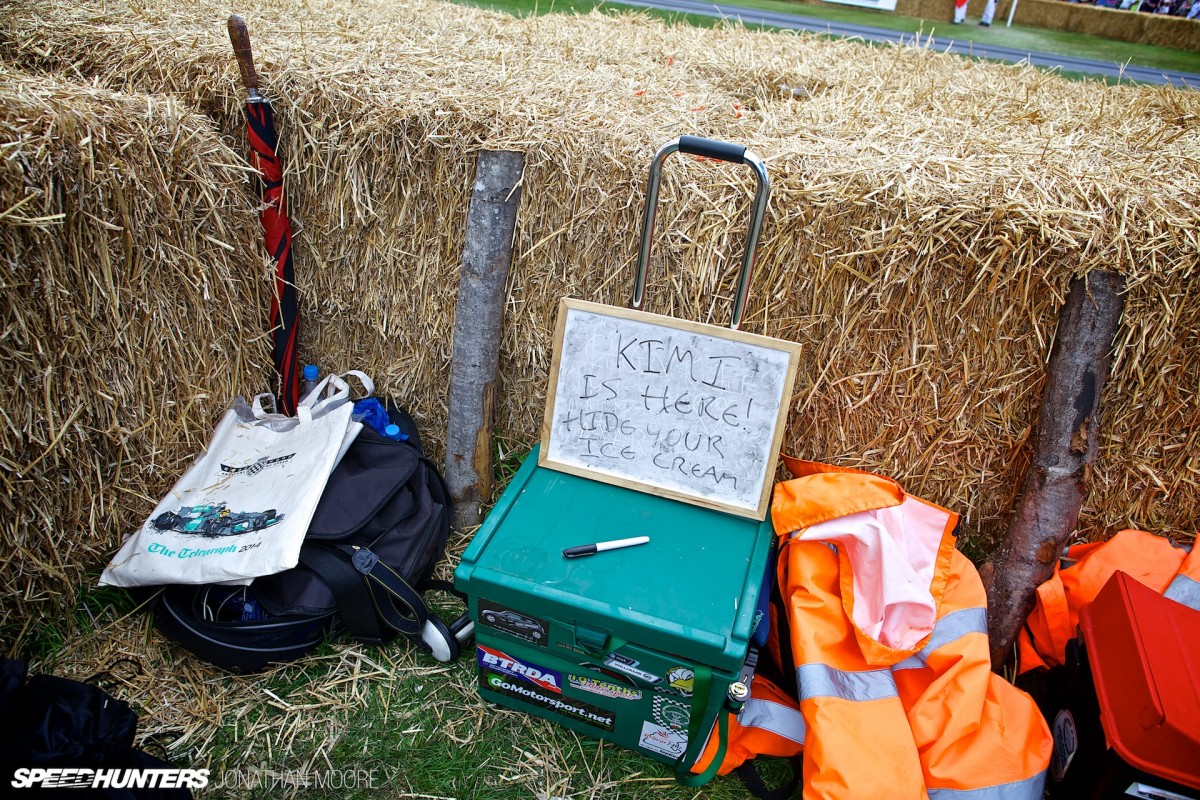 Oh, there was also a flying Finn, apparently… He knew what he was doing.
Three-Pointed Stars Of The Show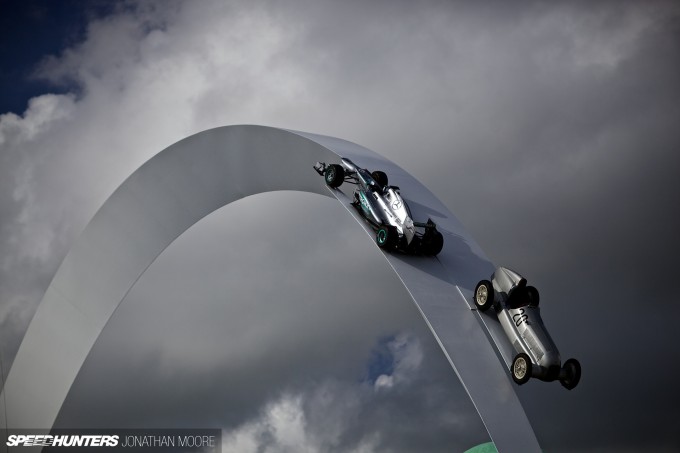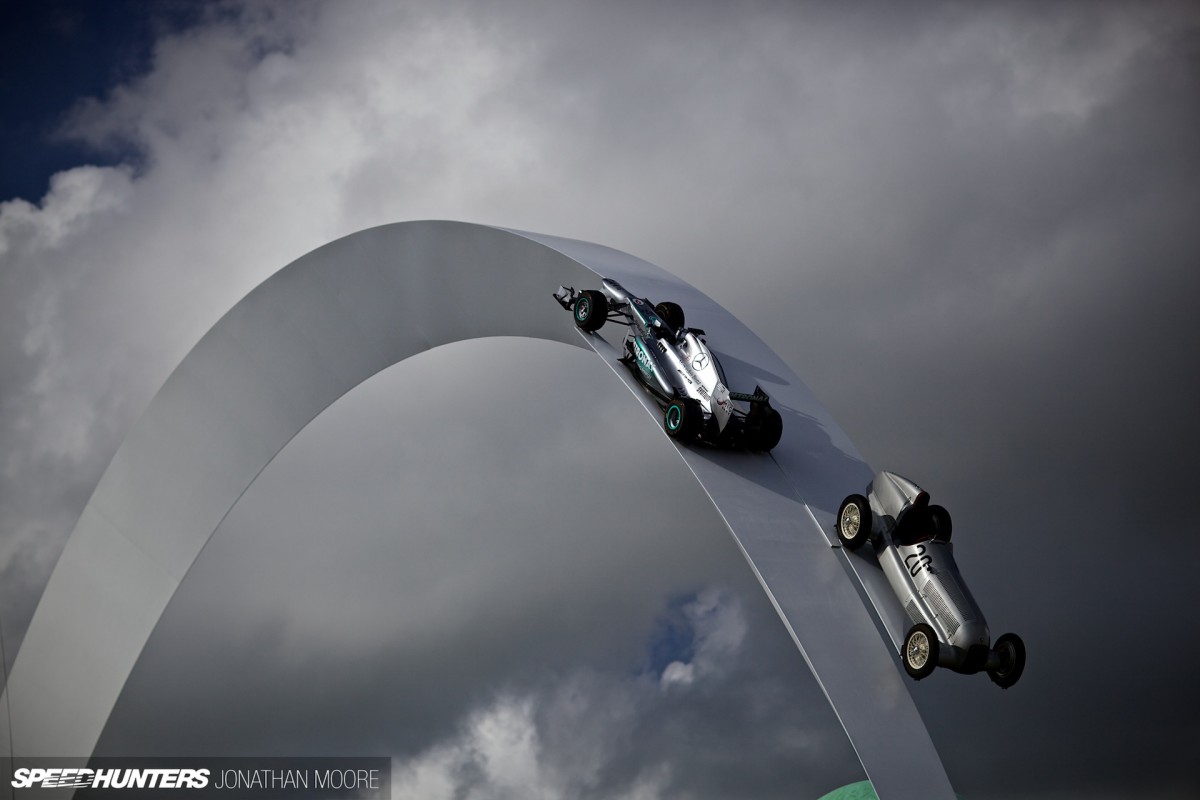 Mercedes-Benz took pride of place as the manufacture of choice for the ever-impressive sculpture that this year arced right over the Earl Of March's modest country pile, their F1 car definitely on the up.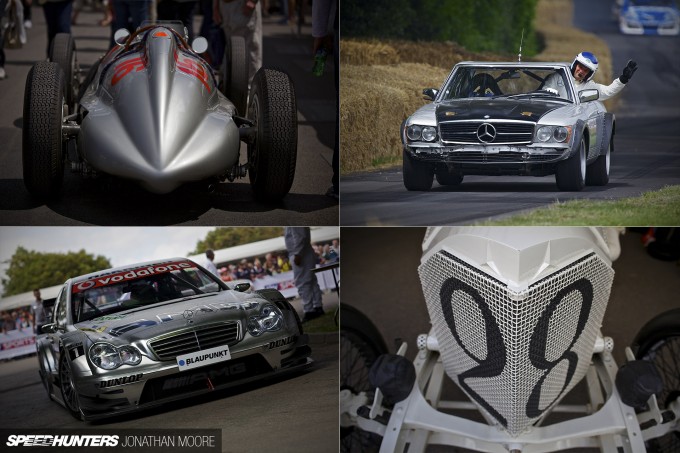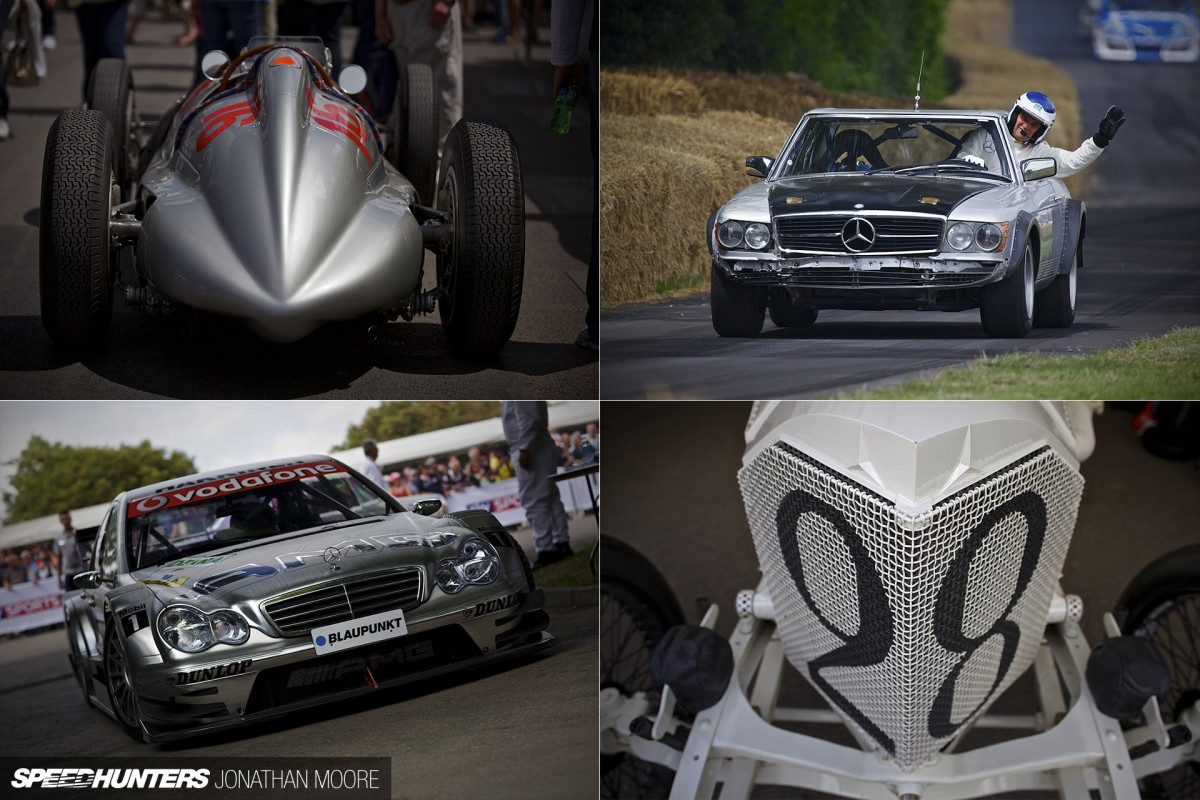 They were celebrating 120 years in motorsport, and had everything from single-seaters to GTs and prototypes. Included were several of their most early racers, when the cars were still white – then the national racing colour of Germany. As I'm sure you know, team manager Alfred Neubauer found his cars one kilo overweight for the 1934 Nürburgring race, and decided to strip the paint off in order to meet the target. The Silver Arrows were born.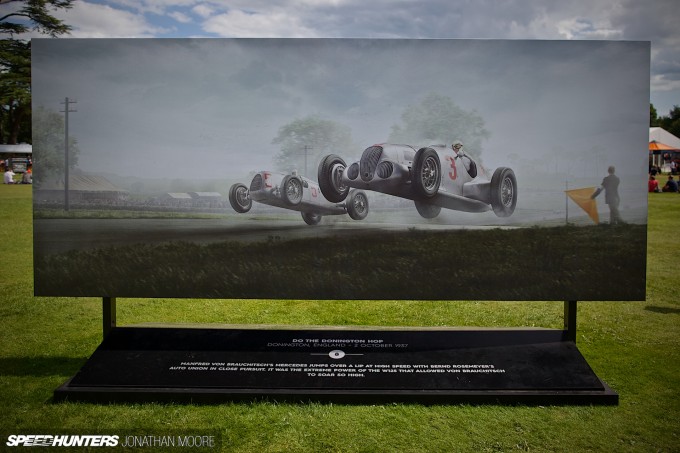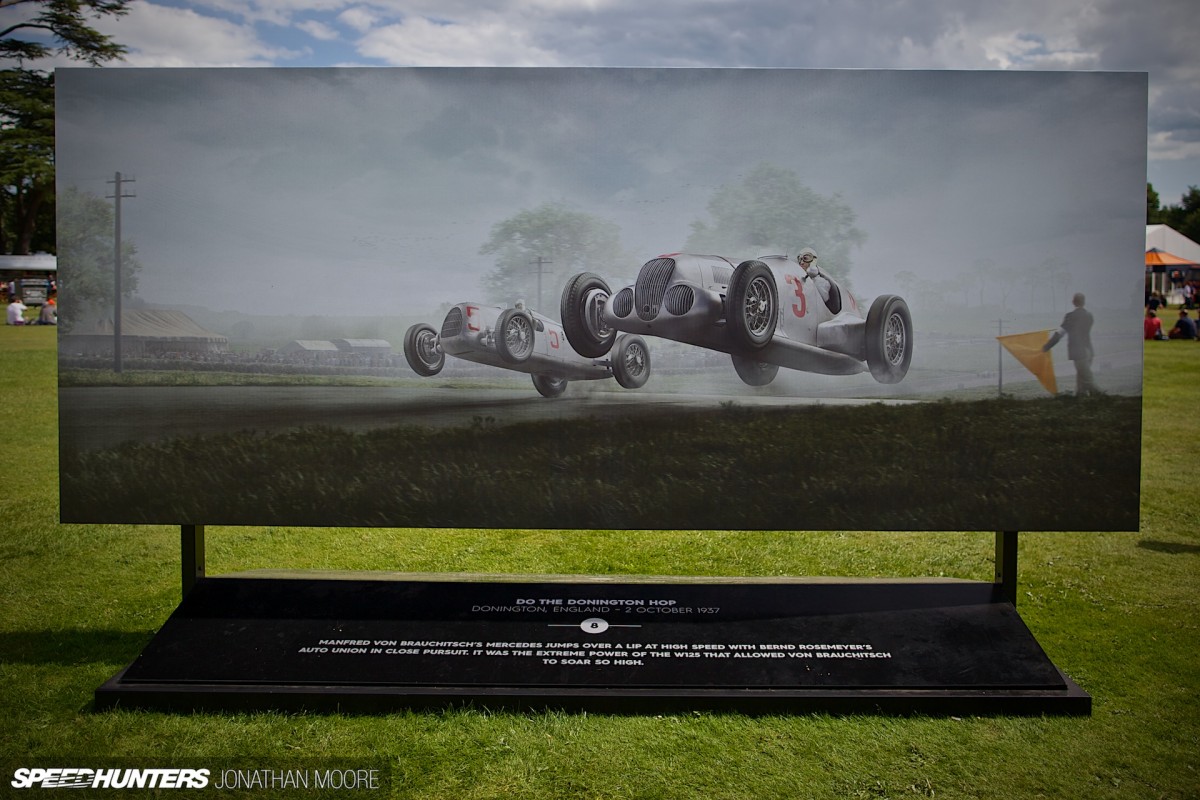 Mercedes also had a whole area set up to show off a series of digital art that had been specially commissioned, illustrating key moments of their early racing history. They had cars capable of almost 200mph by 1937, don't forget…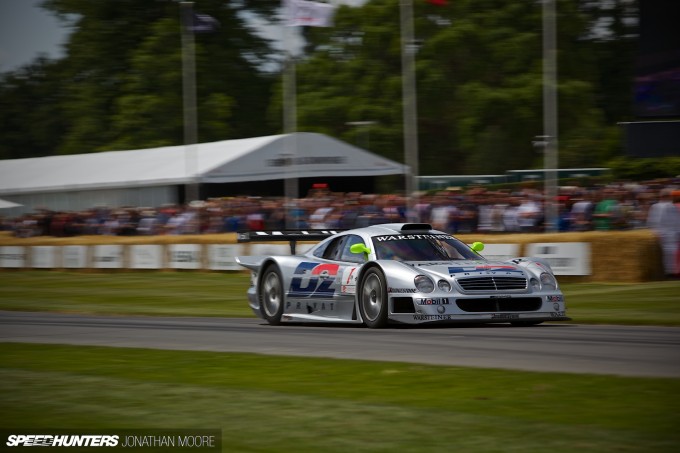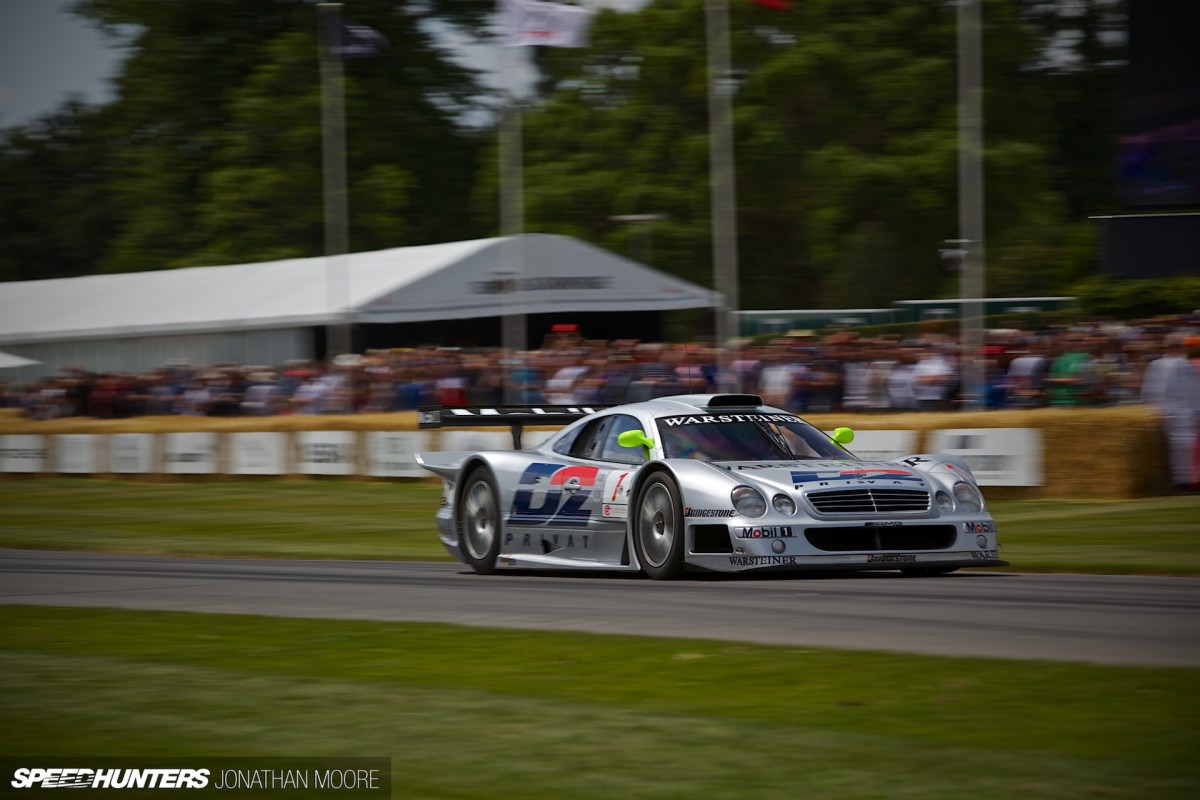 One of my favourites of the weekend was this CLK GTR AMG from 1998, along with the McLaren F1 – the car that made me fall for GT racing.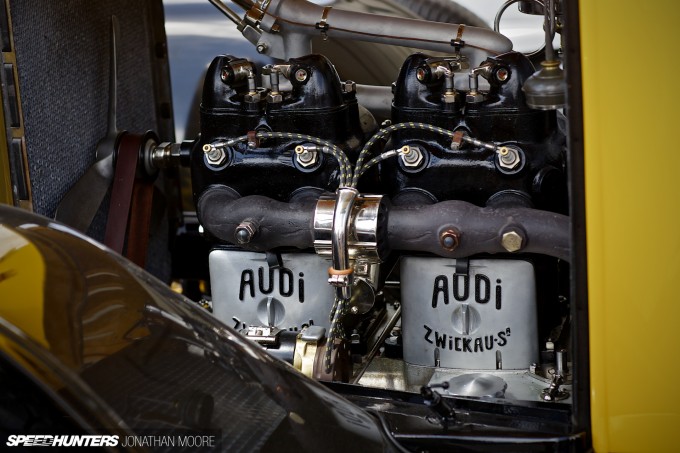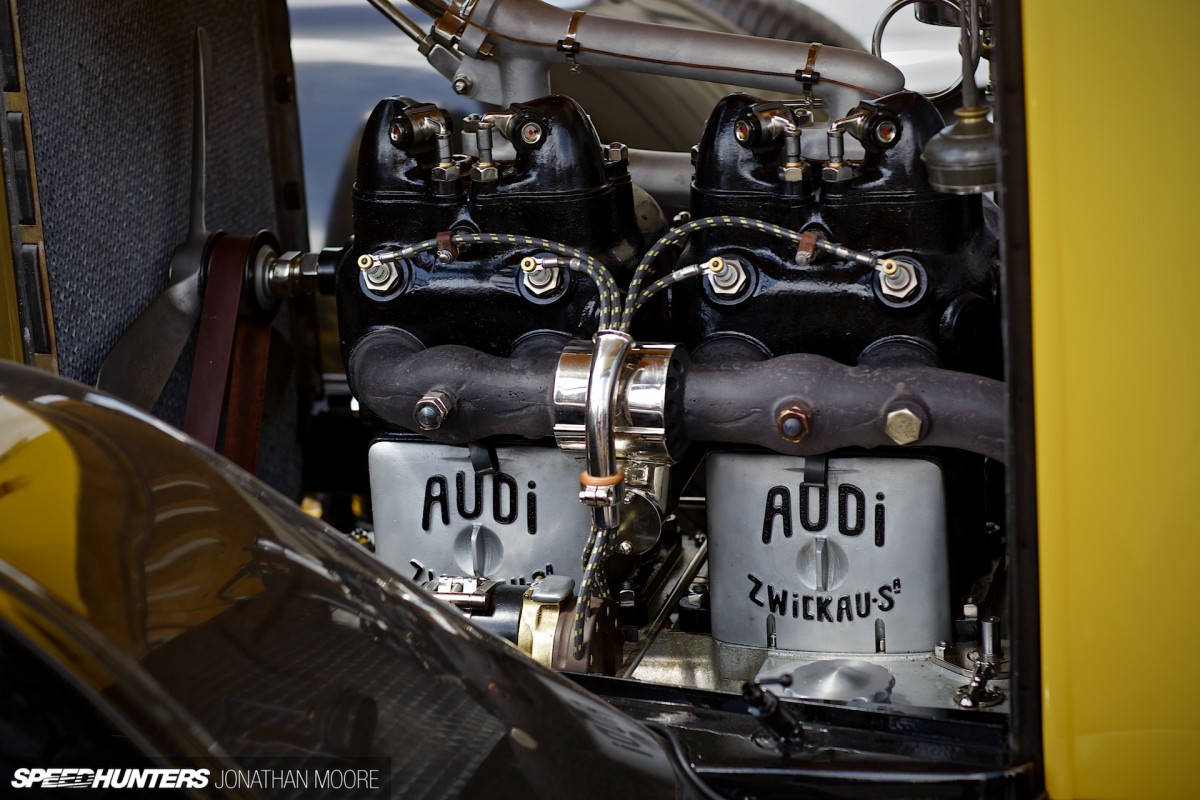 Audi have a far longer history than a lot of people might imagine, its roots stretching back to even before when it became synonymous with the Silver Arrows arch rivals, Auto Union. This diminutive engine was from a 1914 Type C Alpine, a rally winner in period.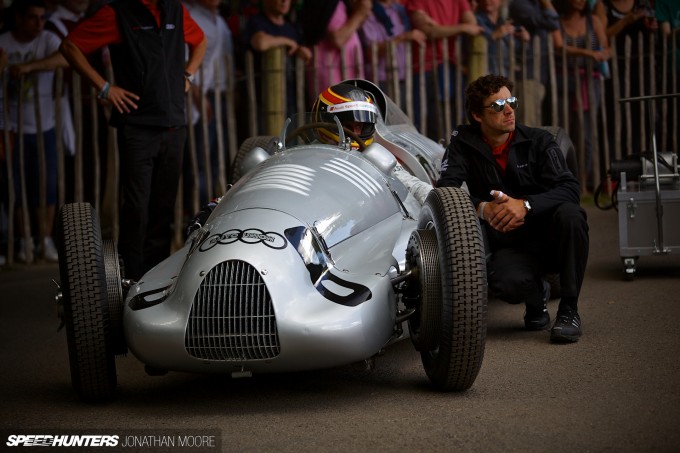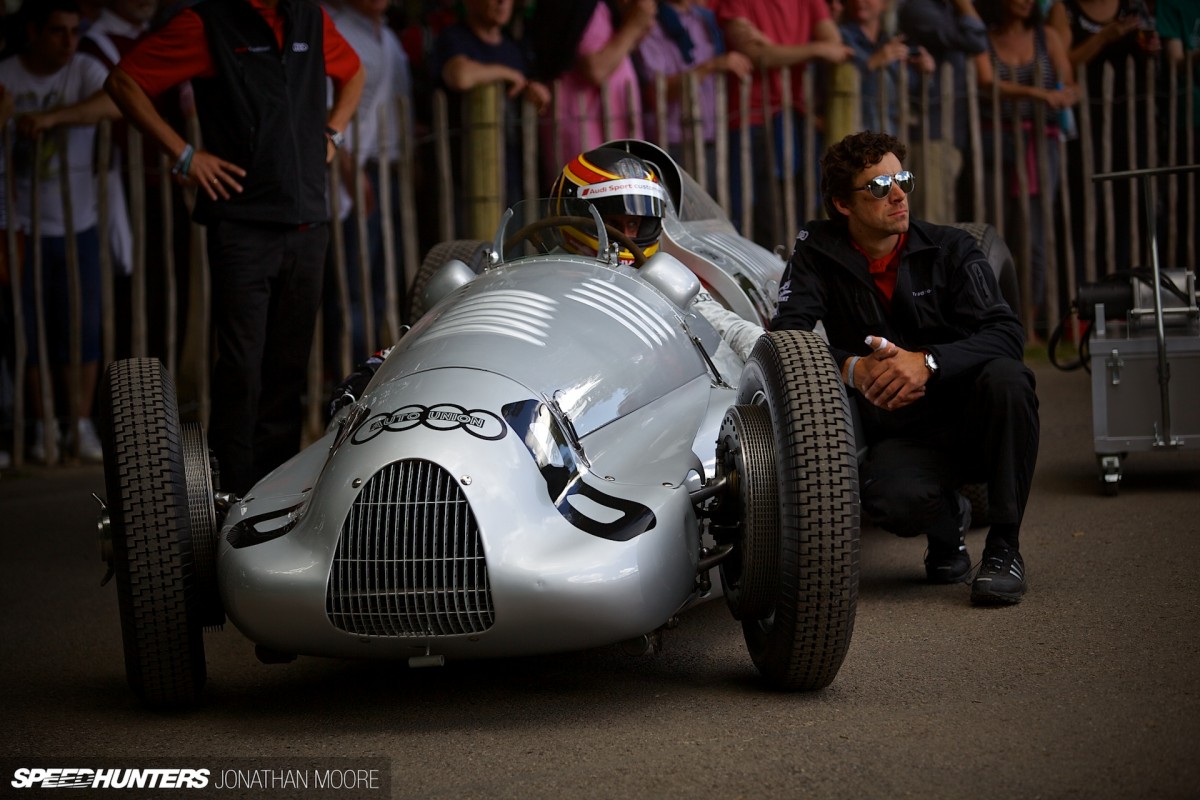 But it always comes back to the Auto Unions. Since the recent restorations and rebuilds of these iconic cars, Auto Unions and their Merc sisters are becoming frequent visitors to classic events. They have to be seen, heard and smelt to be believed. As I alluded to in the intro, they have a low, hypnotic sound, almost bestial, and the chemical cocktail of fuel in enough to make you pass out!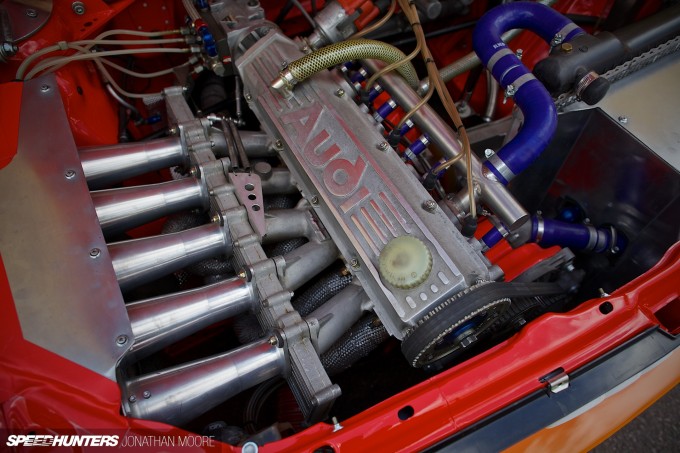 More representative of the straight fives that defined performance Audis into the '80s was this 2.0 Coupé from the European Touring Car Championship.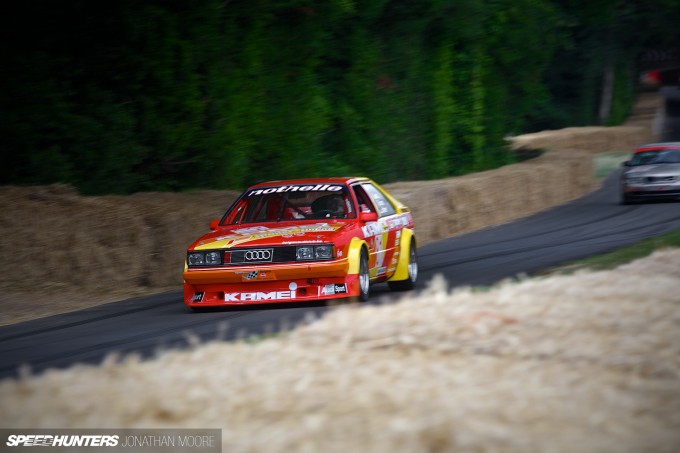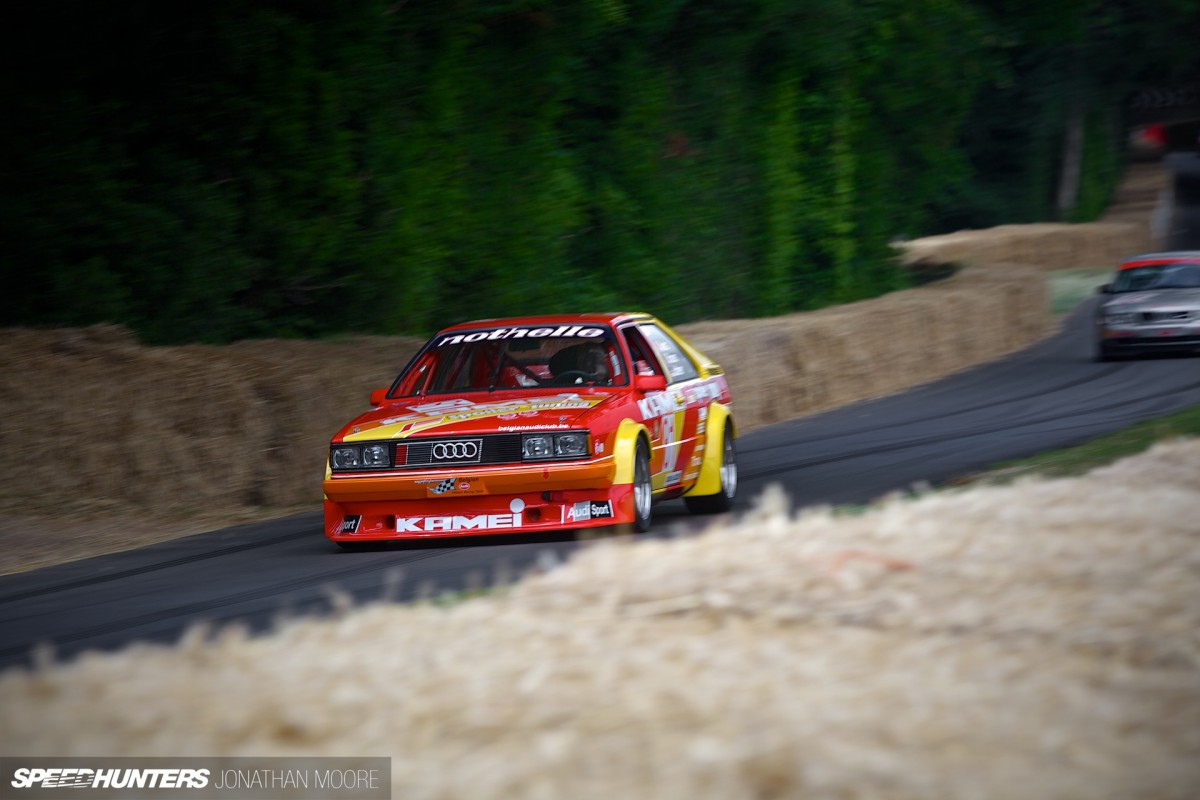 It was driven by Audi's triple Le Mans 24 Hours winning driver André Lotterer. His father built the car in period, which goes to explain why André is such a good pedaller…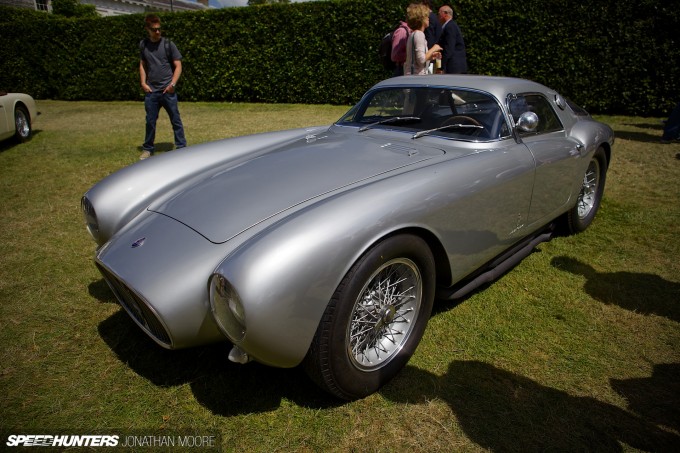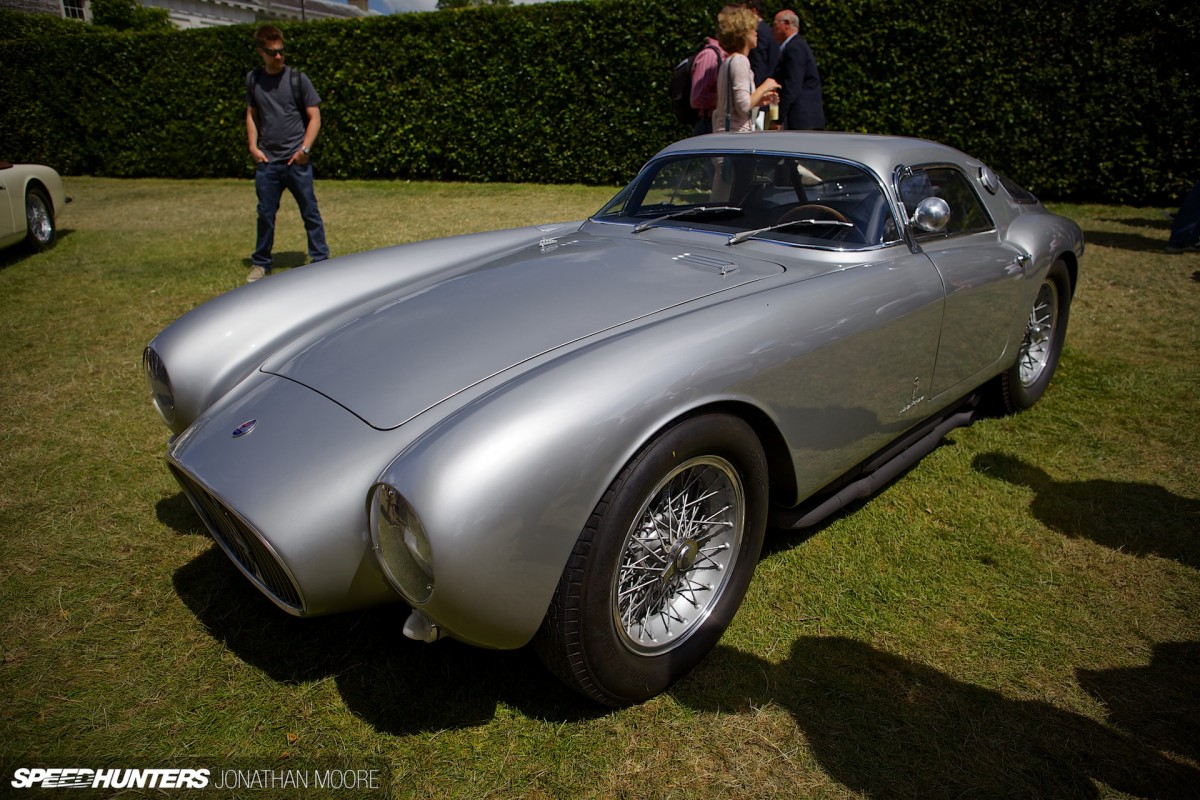 Another marque celebrating a signifiant anniversary is Maserati, who join the centenary club in 2014. They had a several lines of notable cars from across their long history in one of the Goodwood paddocks, plus other representatives around the site – like this stunning A6GTS from 1953. The lowline roof sits atop a body which has hints of Ferrari 250 and Cobra: it literally only came up to waist height when you were standing next to it.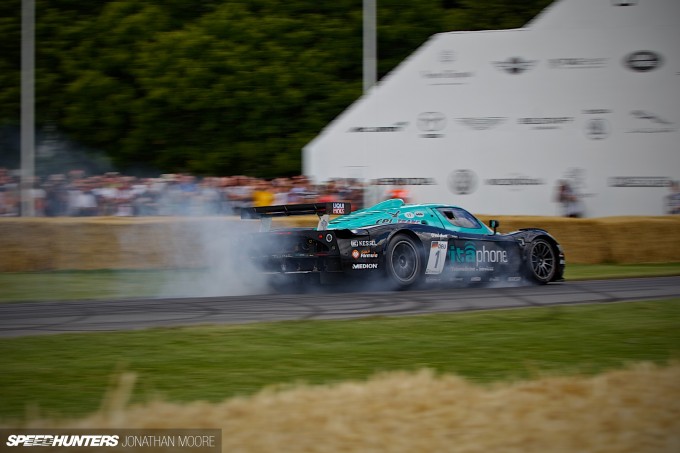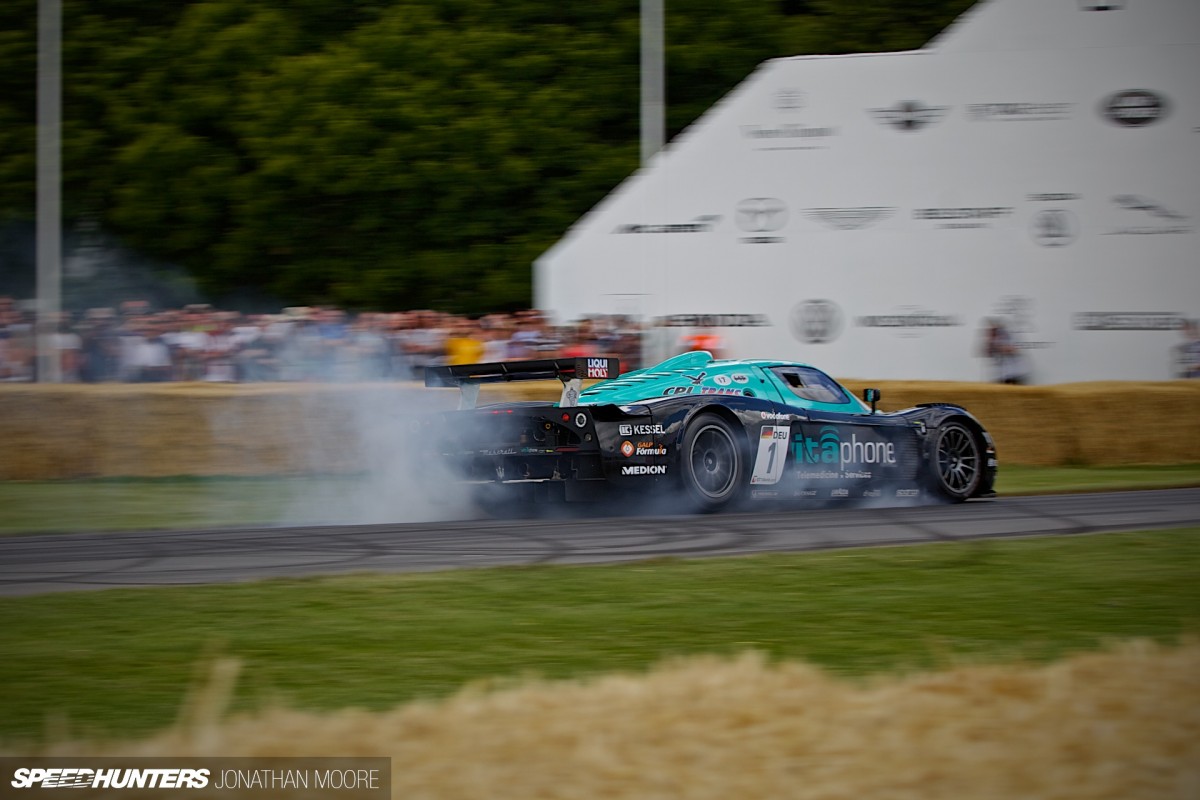 No less than three of Maserati's rules-stretching MC12 GT1 racers were run up the hill, including one of the FIA GT championship winning cars. Champion Michael Bartels was also running a 'road-going' (in the loosest sense) MC12 in a centenary livery against the clock, but seemed to be happy to throw the racer about on the narrow path. I wasn't sure whether to be delighted or terrified when he smashed on the brakes and locked the car up!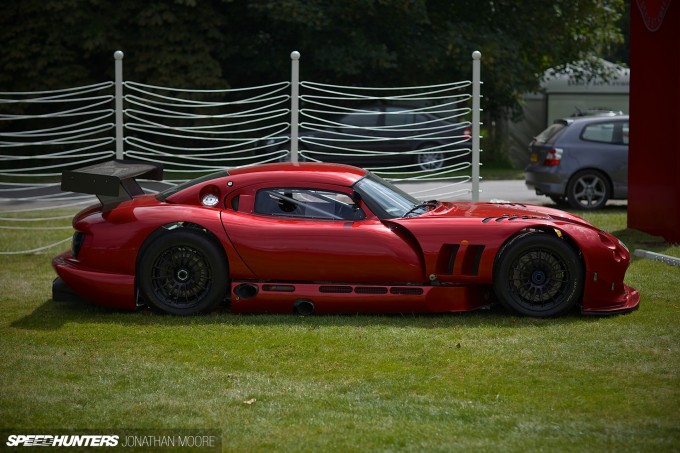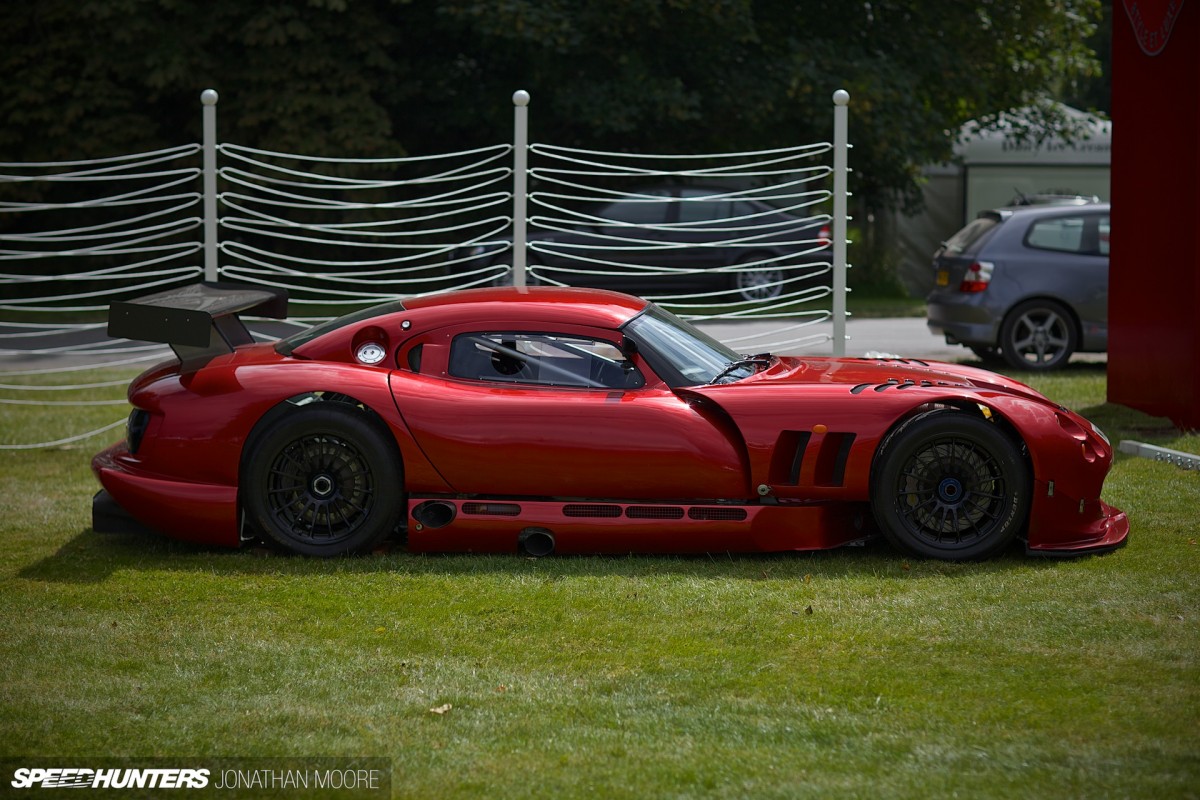 Cartier's Style Et Luxe corral always contains fabulous cars and is never the same two years running. This year had a fine array of British beef: the Lister Storm I showed off in the Spotlight, but also a Bristol Fighter, Marcos LM500 and this ultra-rare, 1,000hp TVR Cerbera Speed 12. A bit like the Lister, plans for a production run were optimistic and just this single car now exists.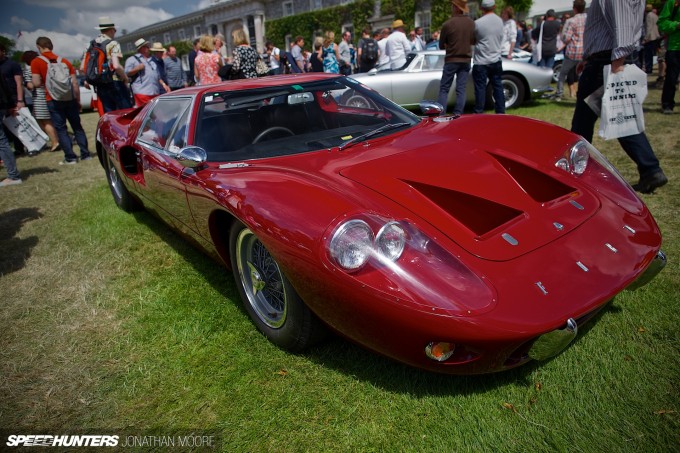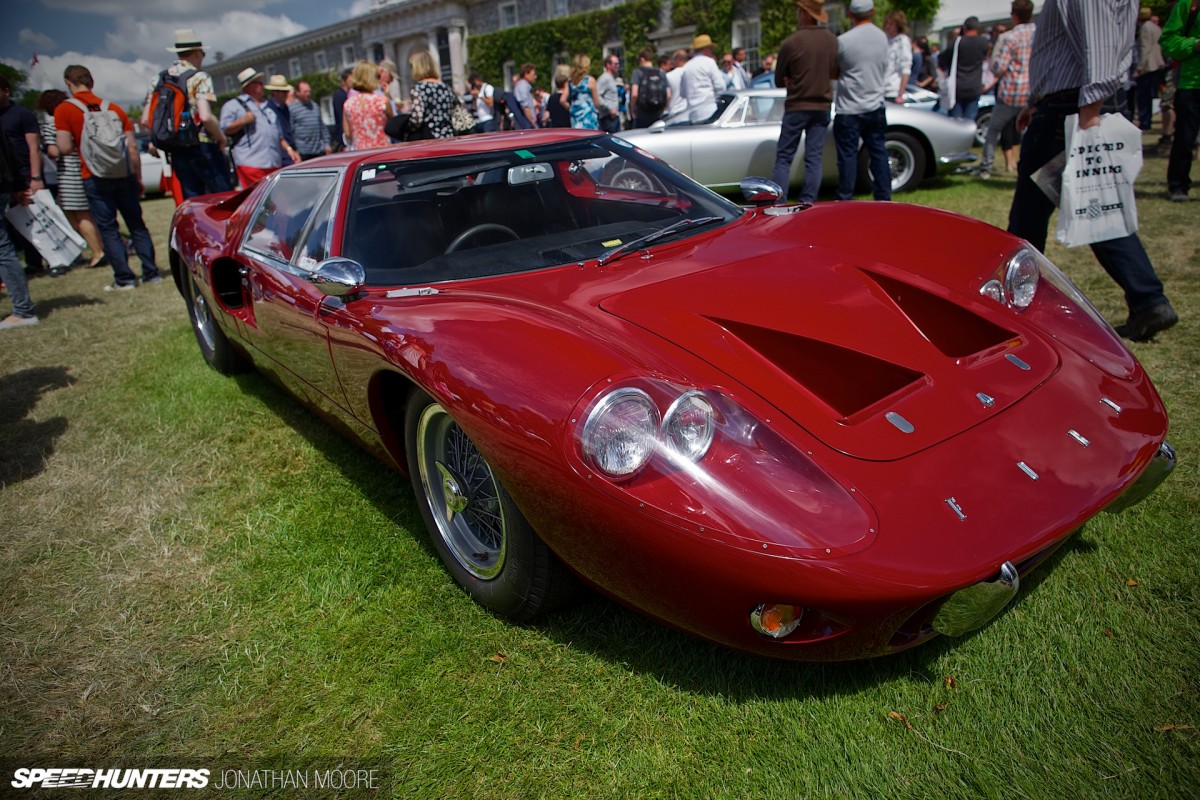 Ford's road-going version of the Le Mans winning GT40 was another rare beast: just seven of the MkIII were made. Yet again, Goodwood allowed me to tick a dream car off my must-see list…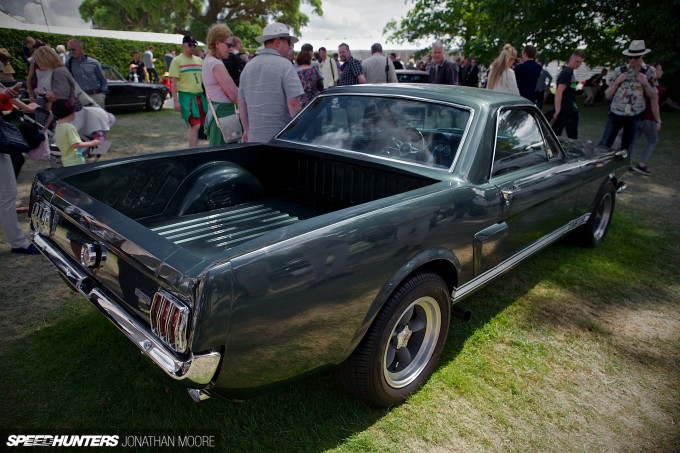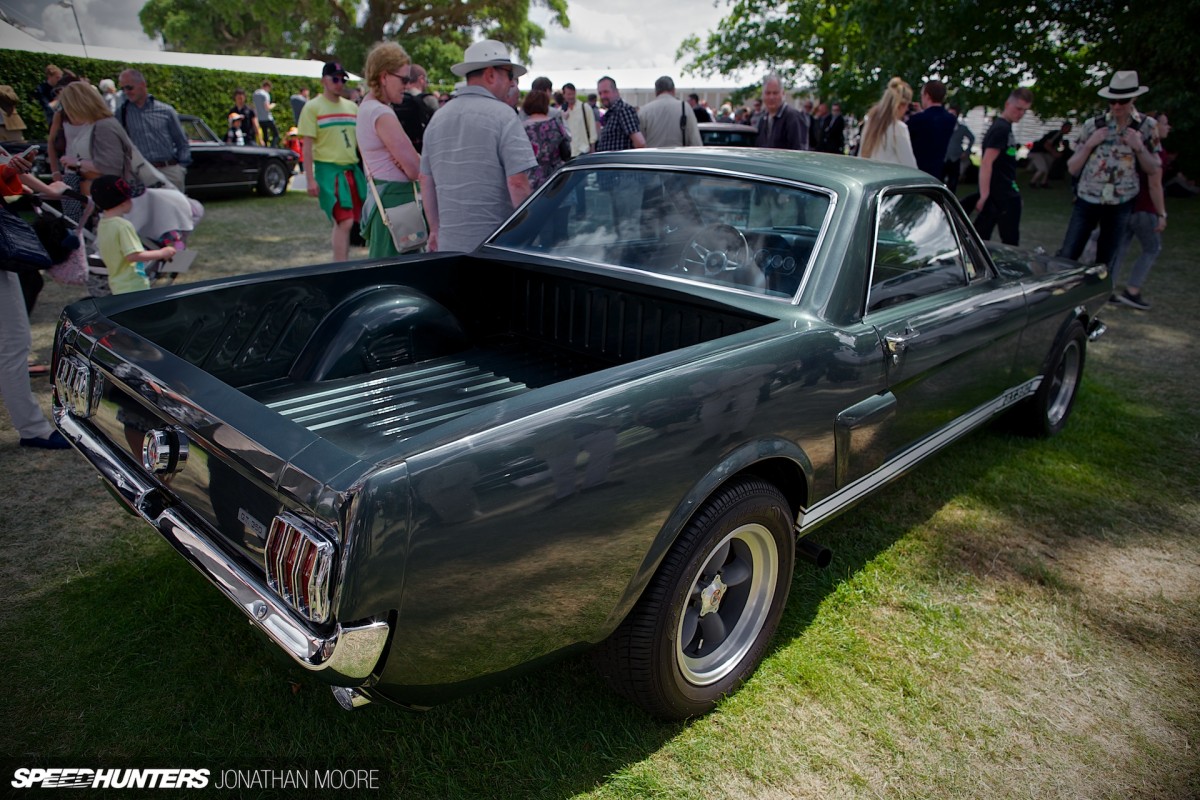 A Mustang… pickup? This was the Beverly Hills Mustang Mustero: a cross between the ultimate 1960s Pony Car and a Ranchero truck! Fifty were made, strangely with the blessing of Ford, and even more strangely 30 were exported to Europe. The conversion cost as much as a new Shelby Cobra, so you had to really like pickups…
Racers Versus The Hill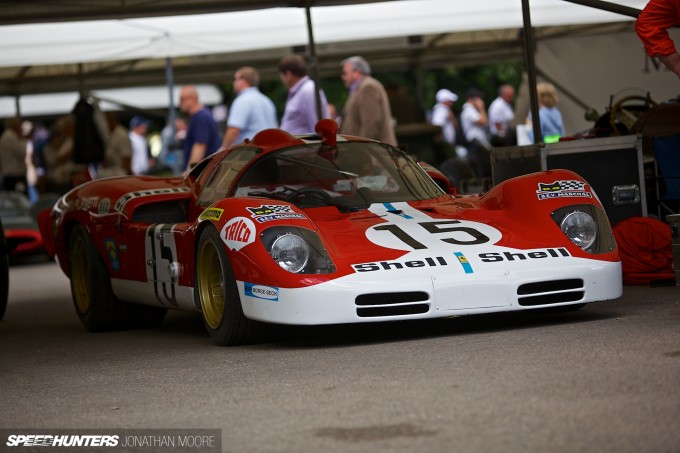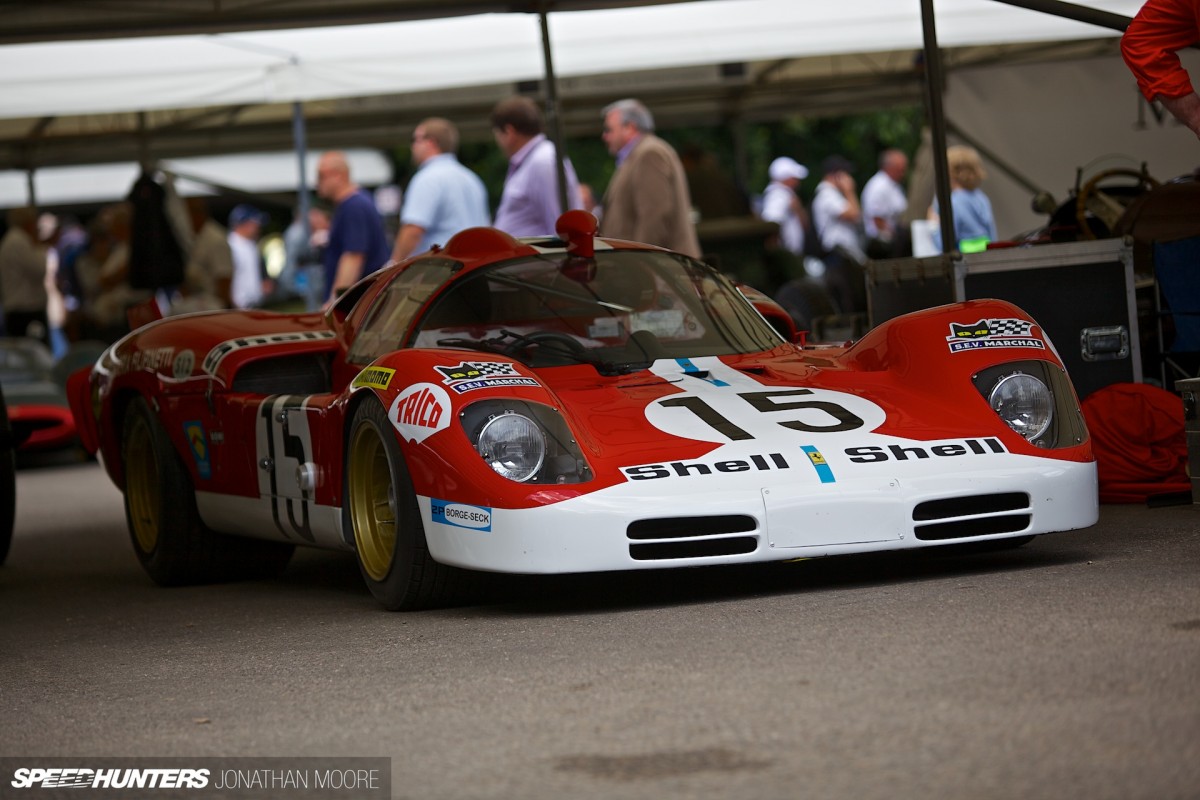 For people like me who go weak at the knees in the face of classic sportscars, then first aid was required in the Cathedral Paddock, were lurked some incredible machinery. The Porsche 917 is rightly regarded as an icon of the 1970s, but its arch nemesis the Ferrari 512 was arguably the prettier car. This is the Coda Lunga long-tail variant.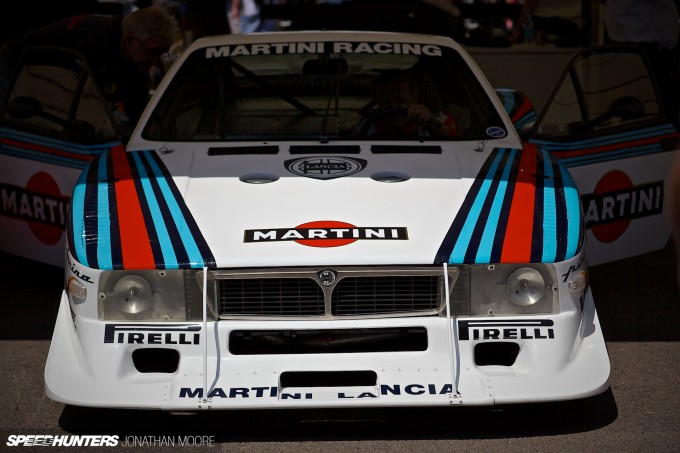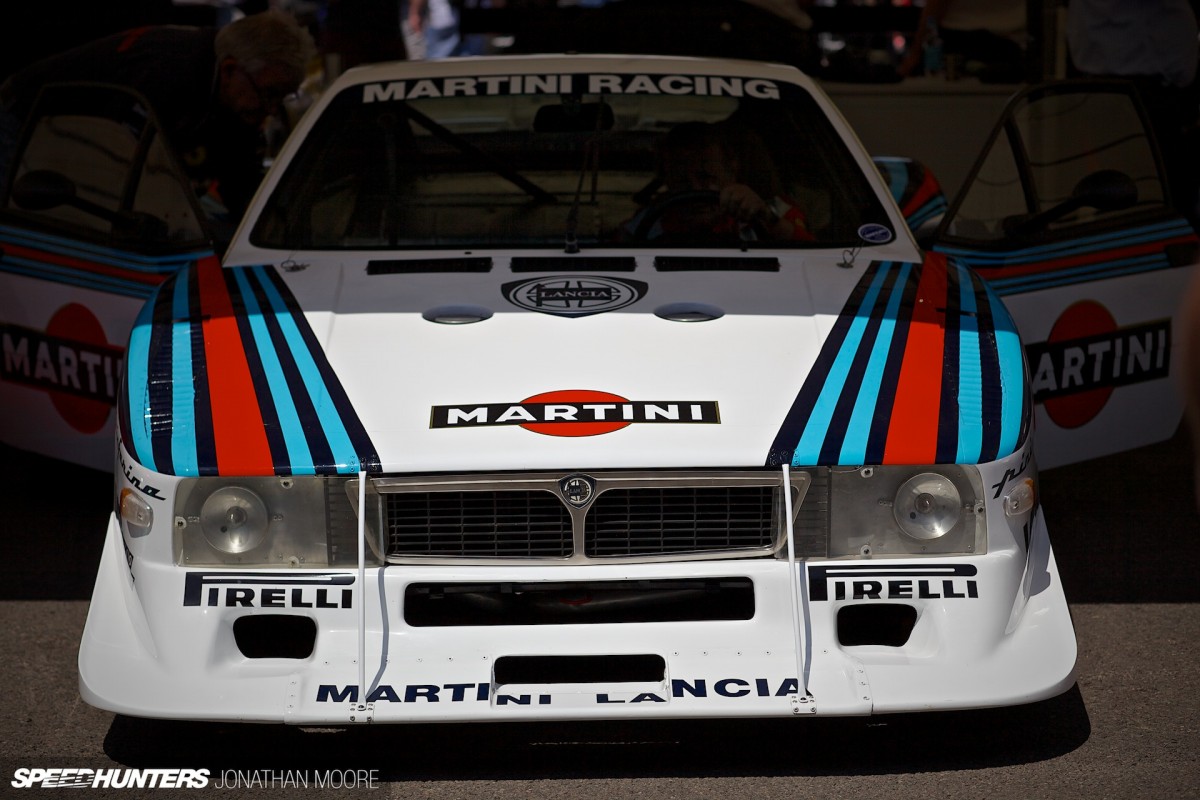 Martini stripes. Lancia badge. A tiny 1.4L turbo engine developing 500hp. The Beta Montecarlo Turbo: Group 5 heaven.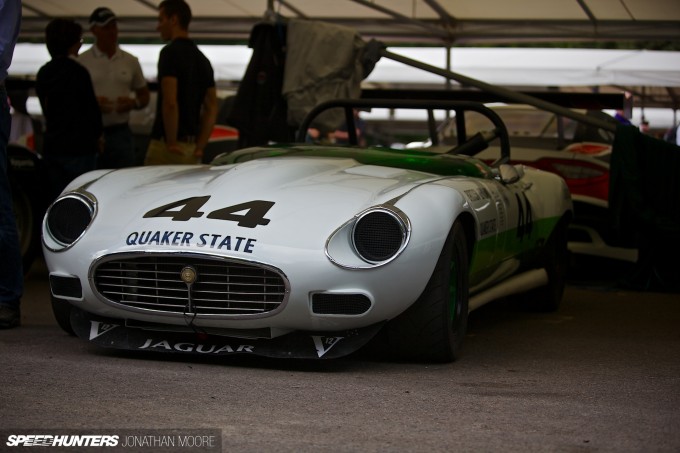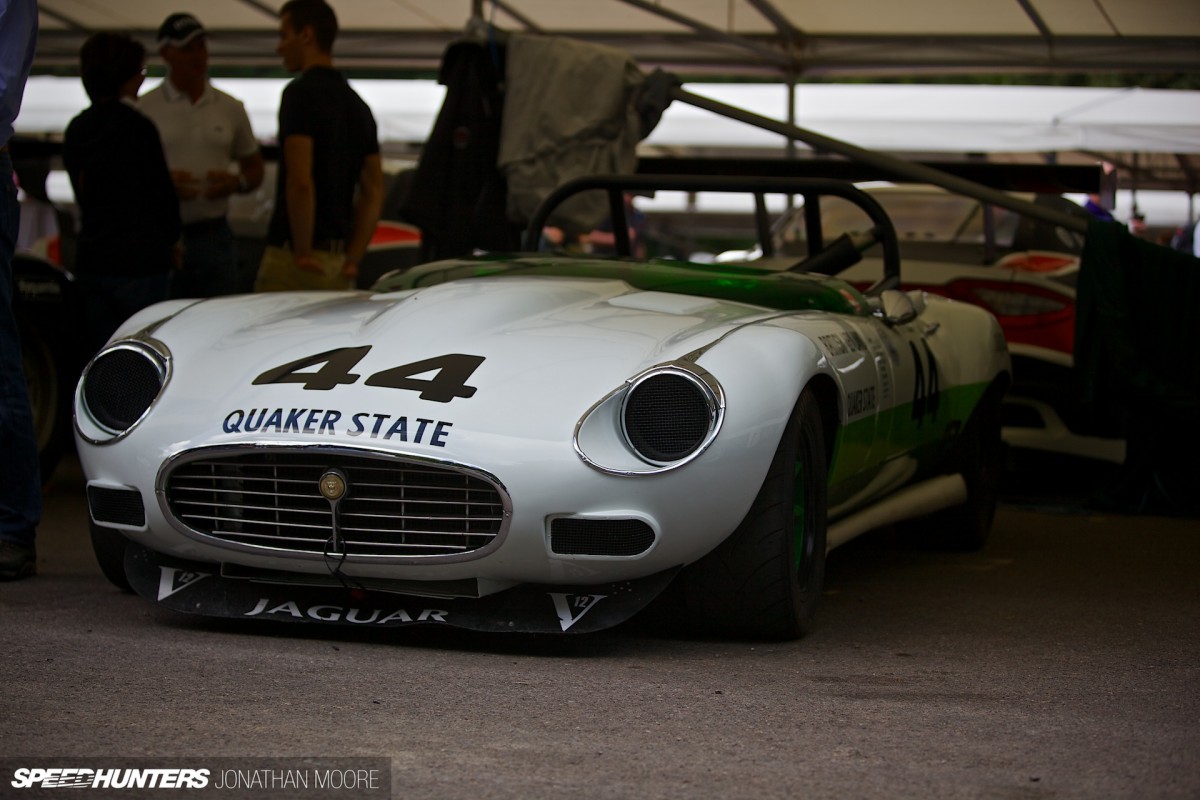 How about one of the most brutal takes on an E-Type there is, the V12 Group 44 Jag run in SCCA. This was created by Bob Tullius's squad, the same team who would create the sonorous XJS and kick-start Jaguar's return to Le Mans.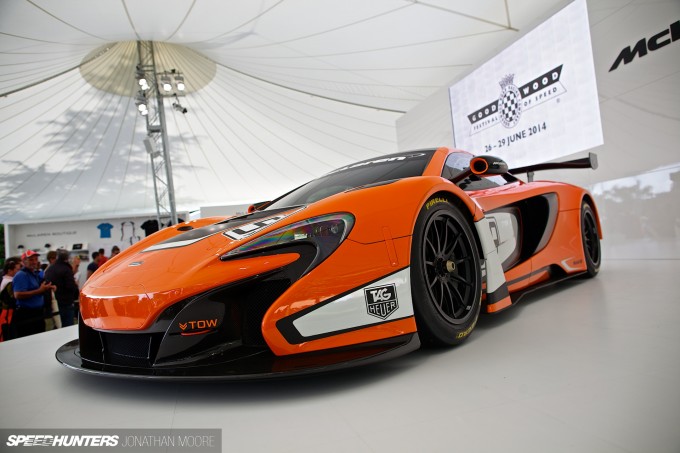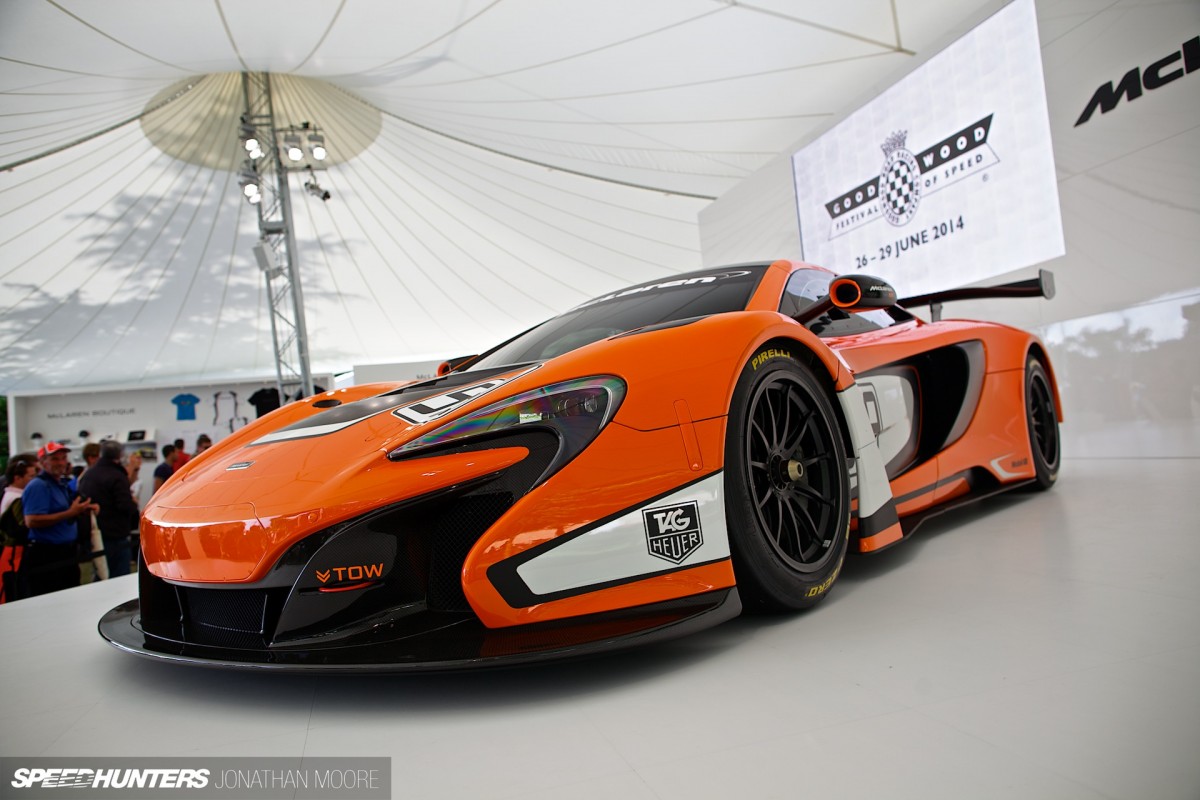 Goodwood is almost become the de facto British Motor Show, with many manufacturers now unveiling new road cars at the Festival. McLaren took things up a notch by unleashing the new 650S GT3, also available as an upgrade kit to poor 12C owners.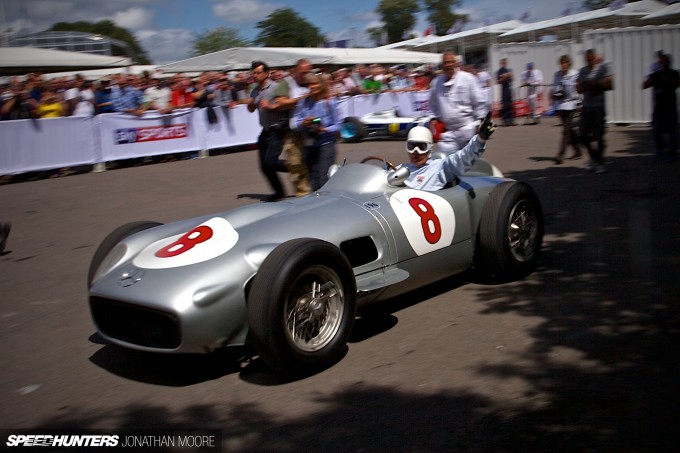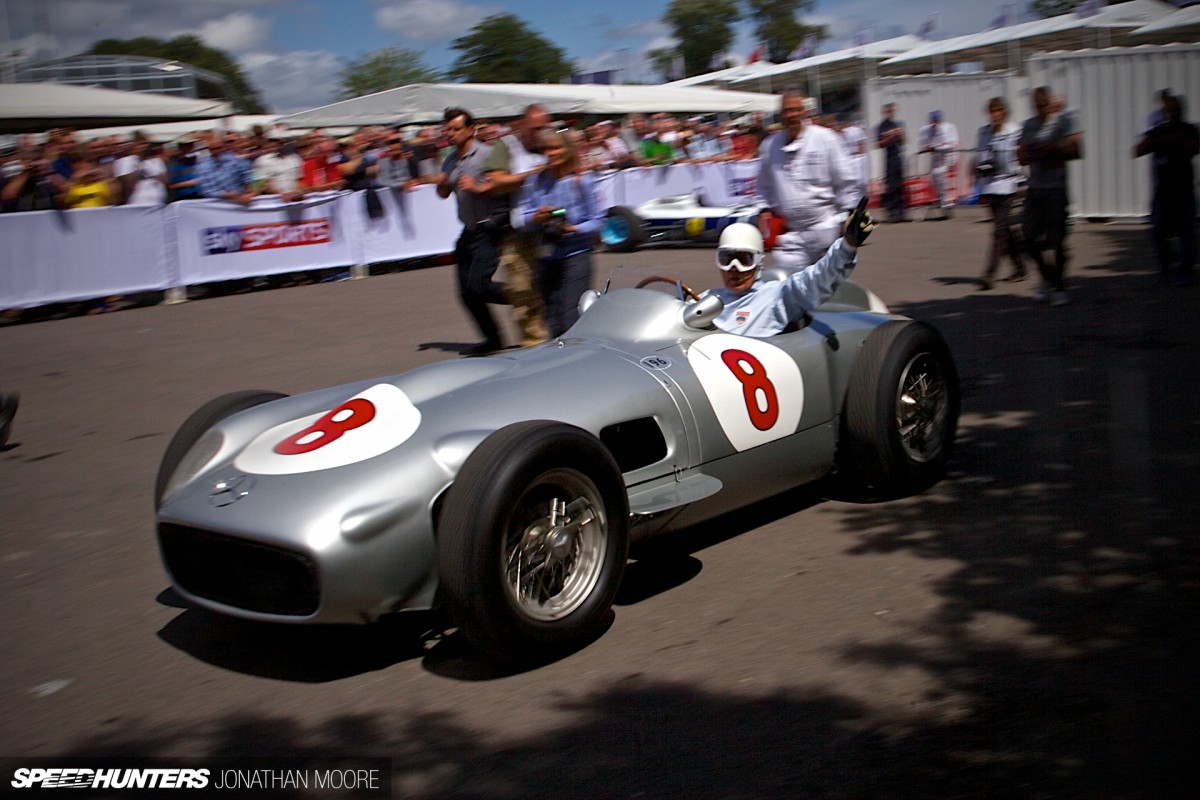 The rarefied environment of Formula 1 is turned on its head at Goodwood. Although press minders hustle the current drivers through the crowds with barely a pause (to give them their due, otherwise they'd never get to the cars they were down to drive…), legends come out to play in a much more relaxed manner. Stirling Moss is simply a hero: he's edging into senior territory, and I'm not sure how much longer he'll be able to maintain such a hectic schedule, but once in the car the years are peeled back. A true gentleman.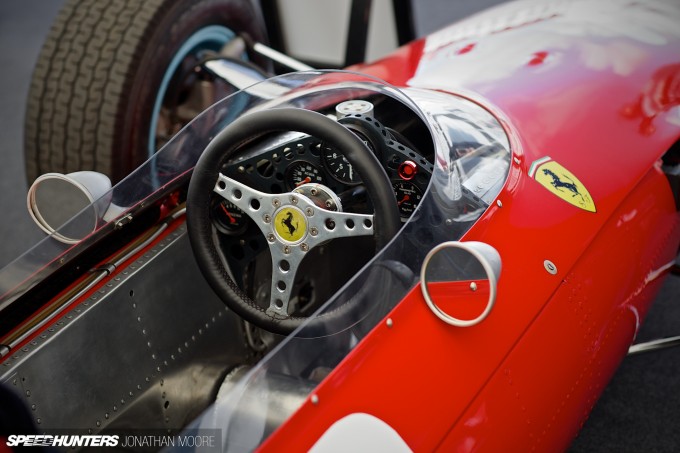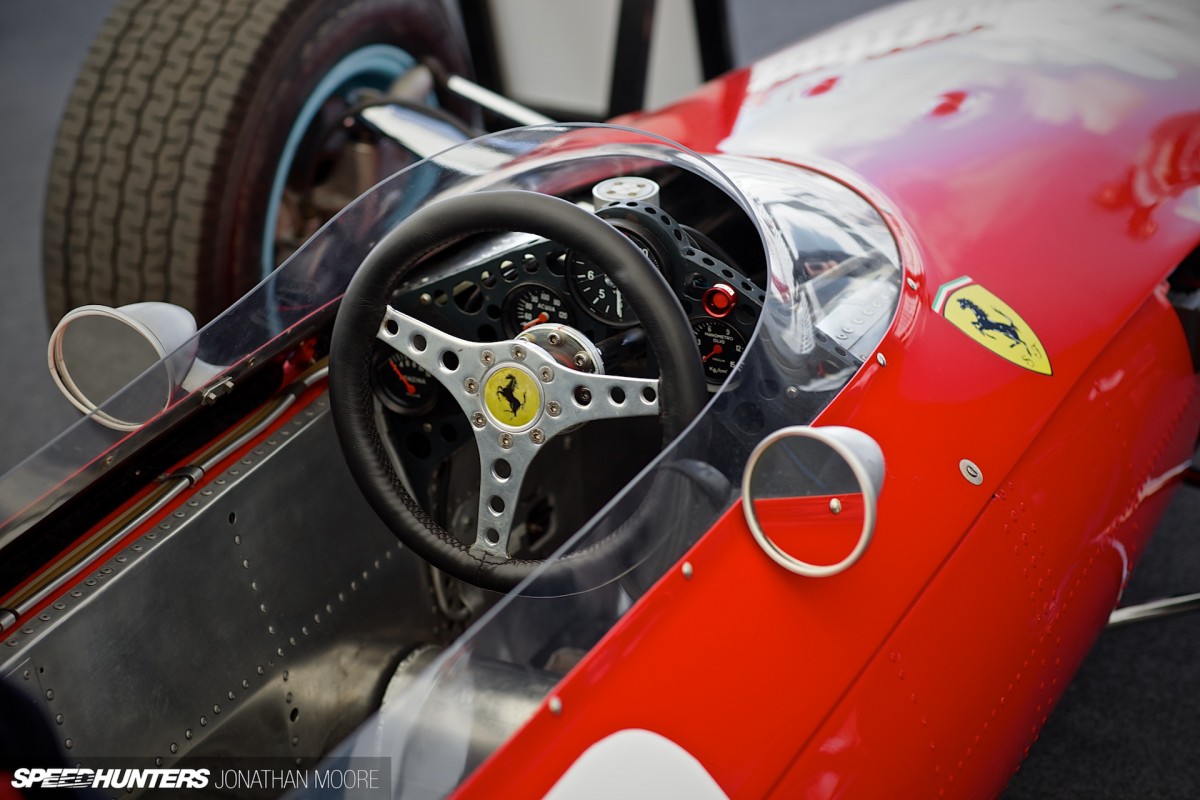 This is what I love about racing: it's the drivers as much as the cars they drove that are celebrated. John Surtees, the only man to win World Championships on both two and four wheels, was rightly given his own slot on the bill, driving his F1 Ferrari 158 from 1964 up the hill, accompanied by a range of his eponymous F1 and F5000 single-seaters from his period as an owner-constructor.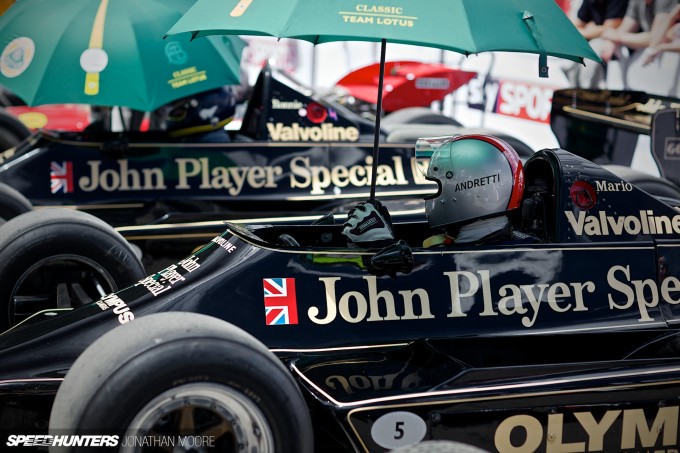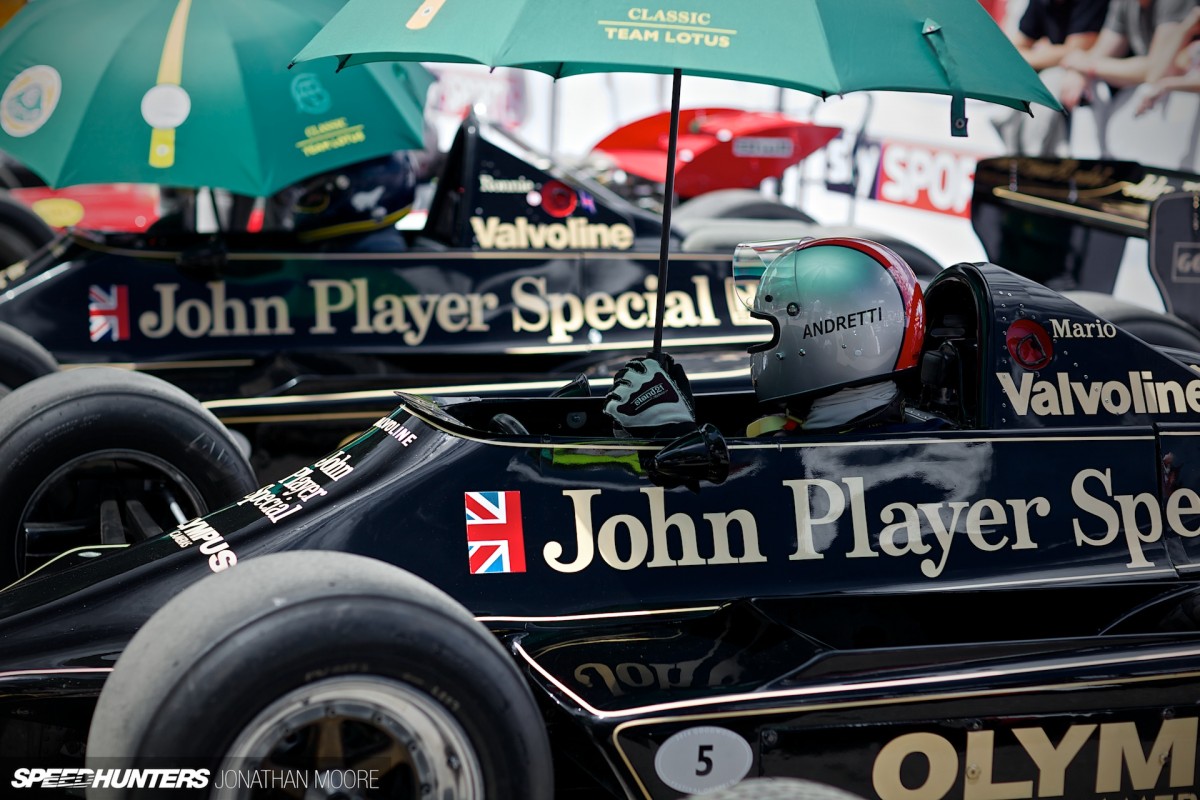 Squint a little, and this could have been Mario Andretti and Ronnie Peterson sitting in the sun awaiting their turn to be sent out on track…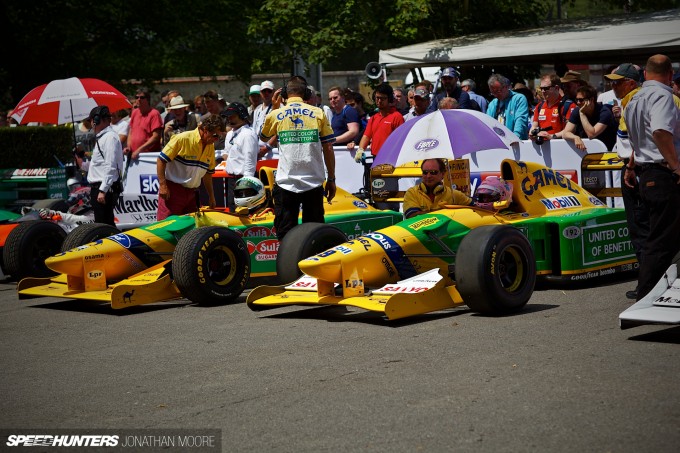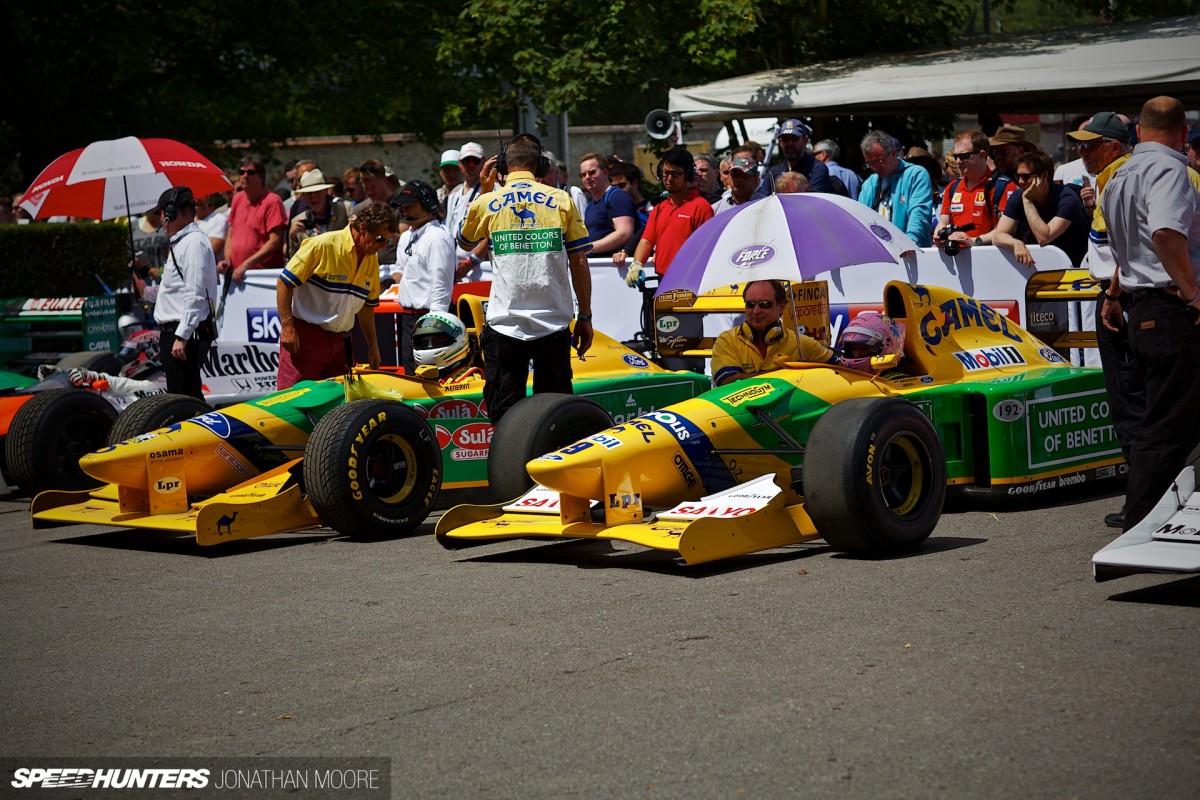 A quartet of consecutive Benettons built up to their championship-winning B194: here are the B192 and B193 that preceded it.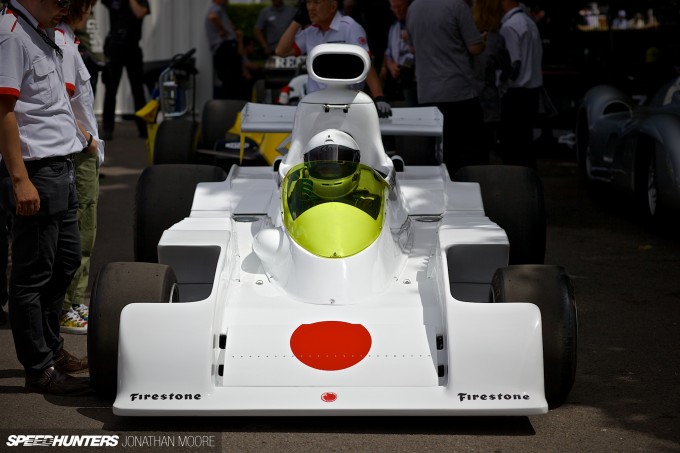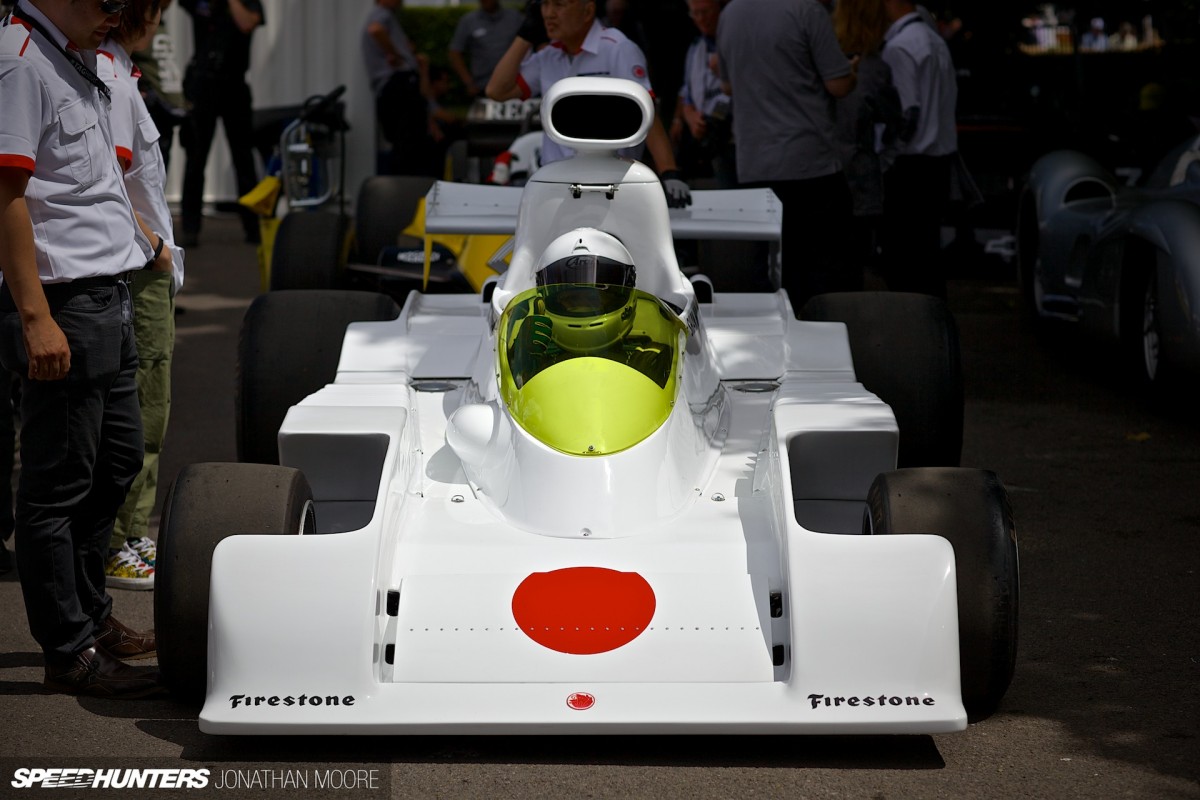 Cosworth engines made the F1 dream into a reality for a host of teams in the 1970s. One of the most unusual was this Maki, Japan's first F1 entrants since Honda the previous decade. Unfortunately, in 1974 it failed to qualify at every race it entered, turning the dream a little sour. However, period driver Howden Ganley obviously didn't hold a grudge, as he was driving it again at Goodwood!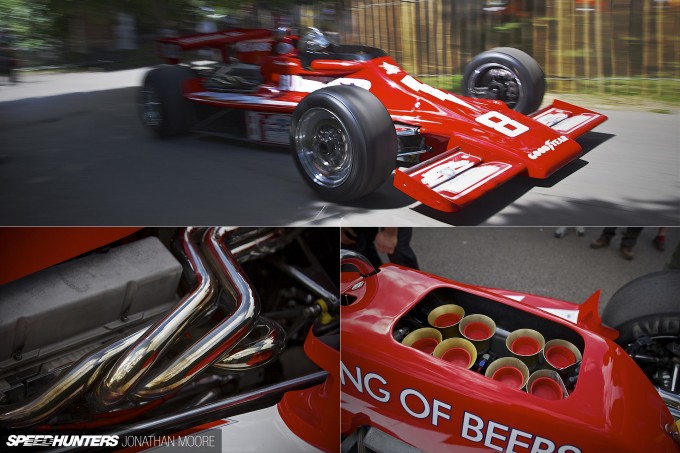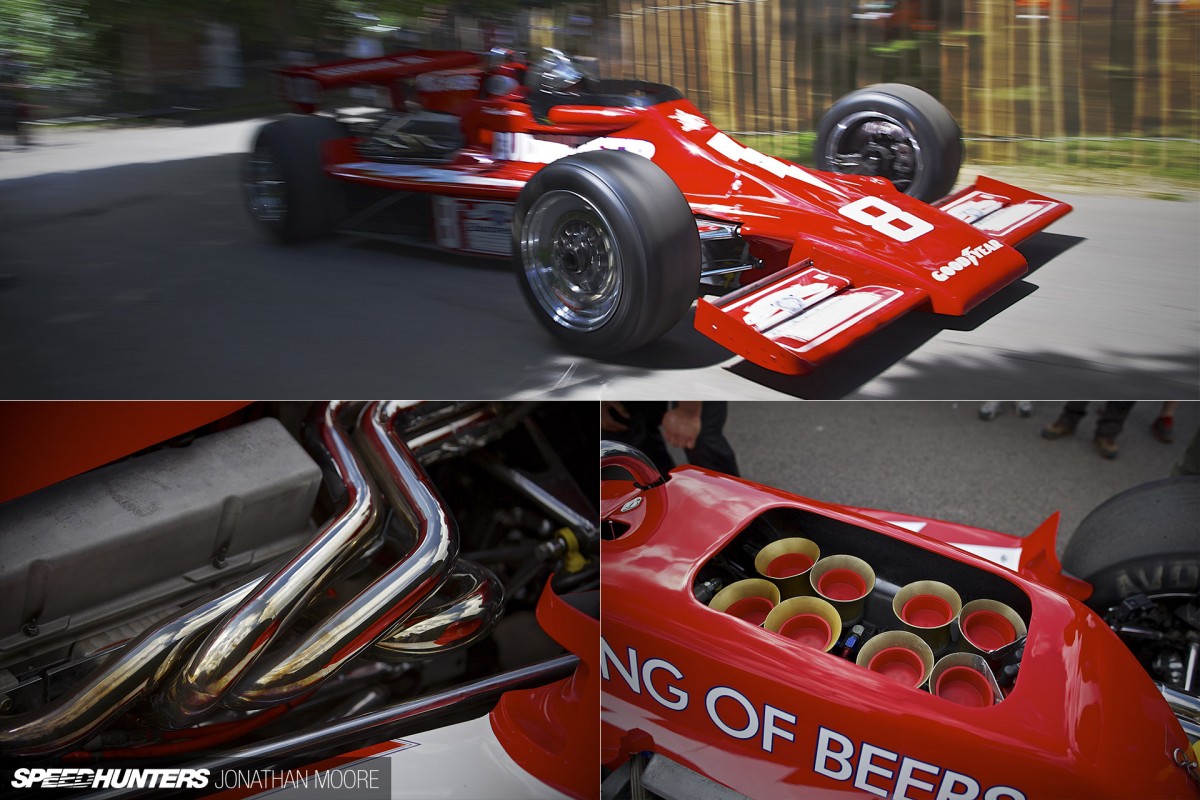 Cosworth engines powered racers on both sides of the Atlantic: this was the fantastically-named Lightning from 1978.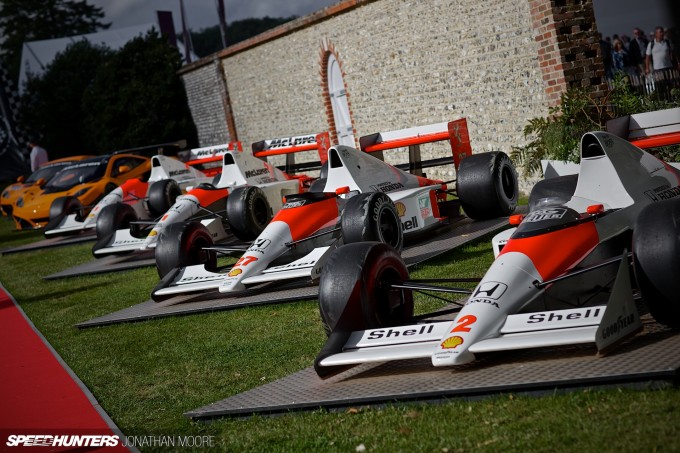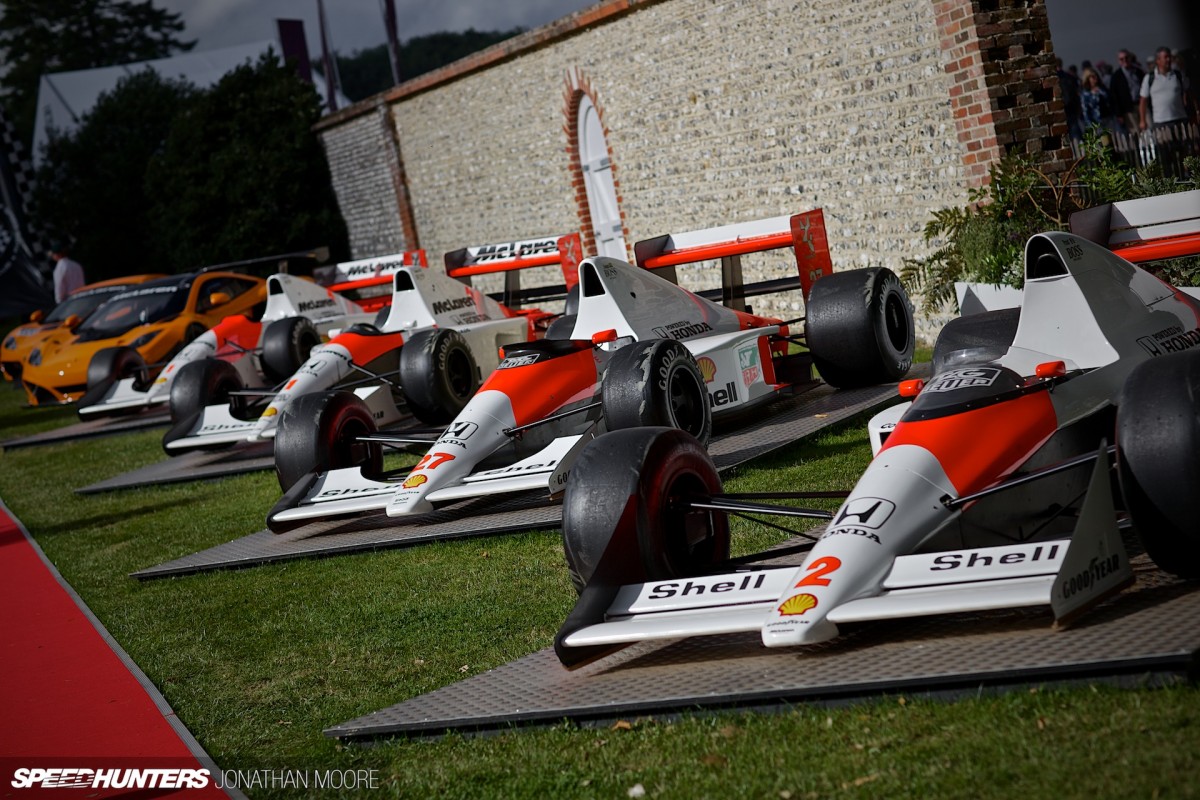 McLaren's domination of F1 in the '80s was shown off on the lawn approach to the Drivers' Club: there's such beauty in the simplicity of the designs of that era.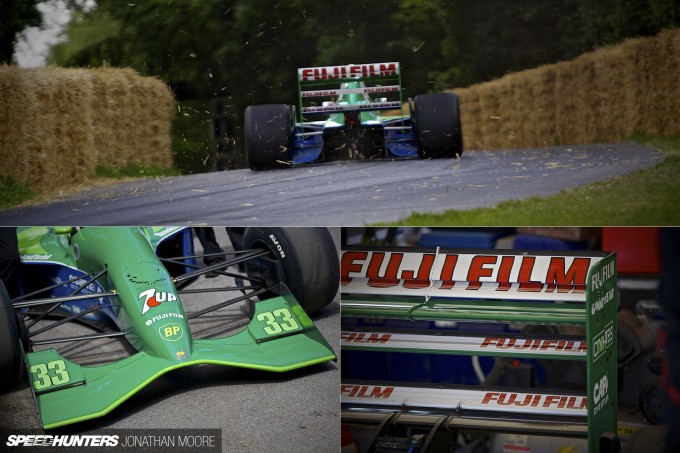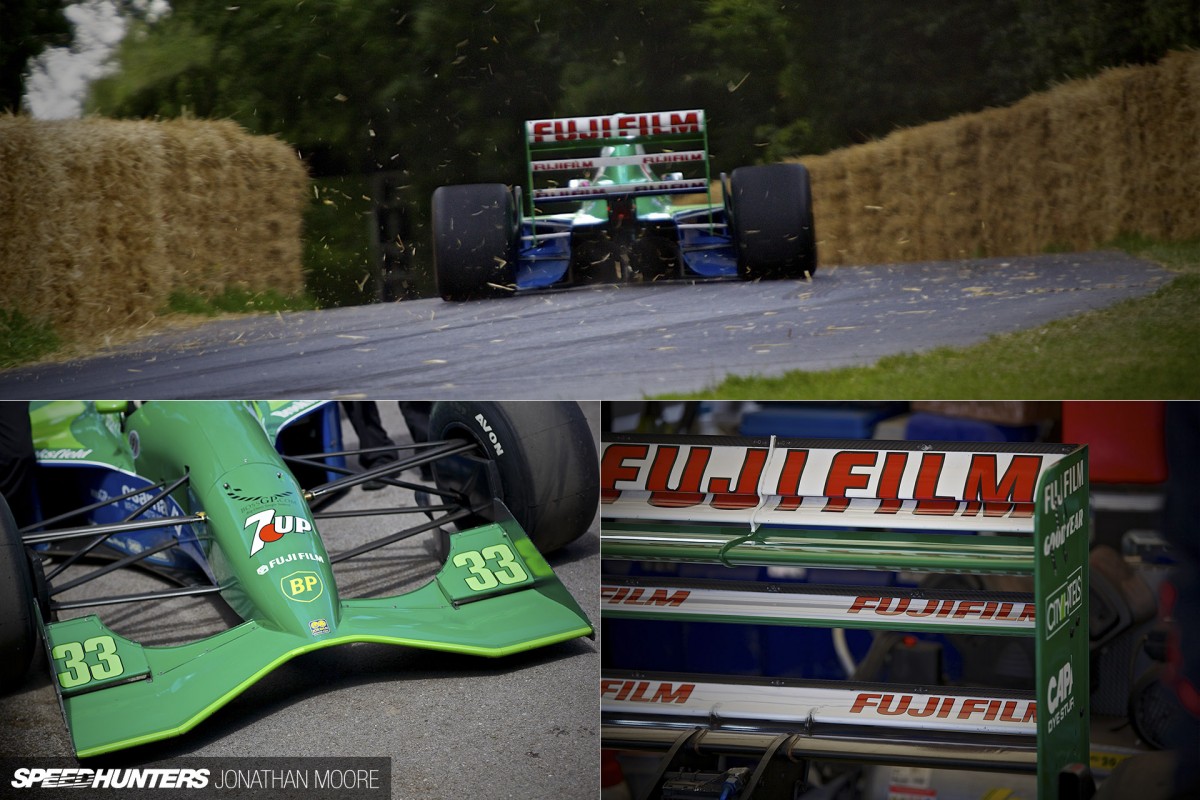 Top of the pile on many people's lists of prettiest car ever is the Jordan-Ford 191: rightly so. It's such a great looking car – and of course the one that introduced the world to one Michael Schumacher…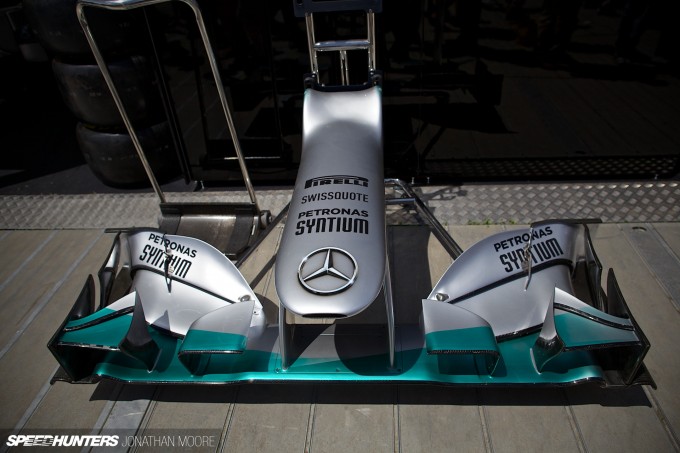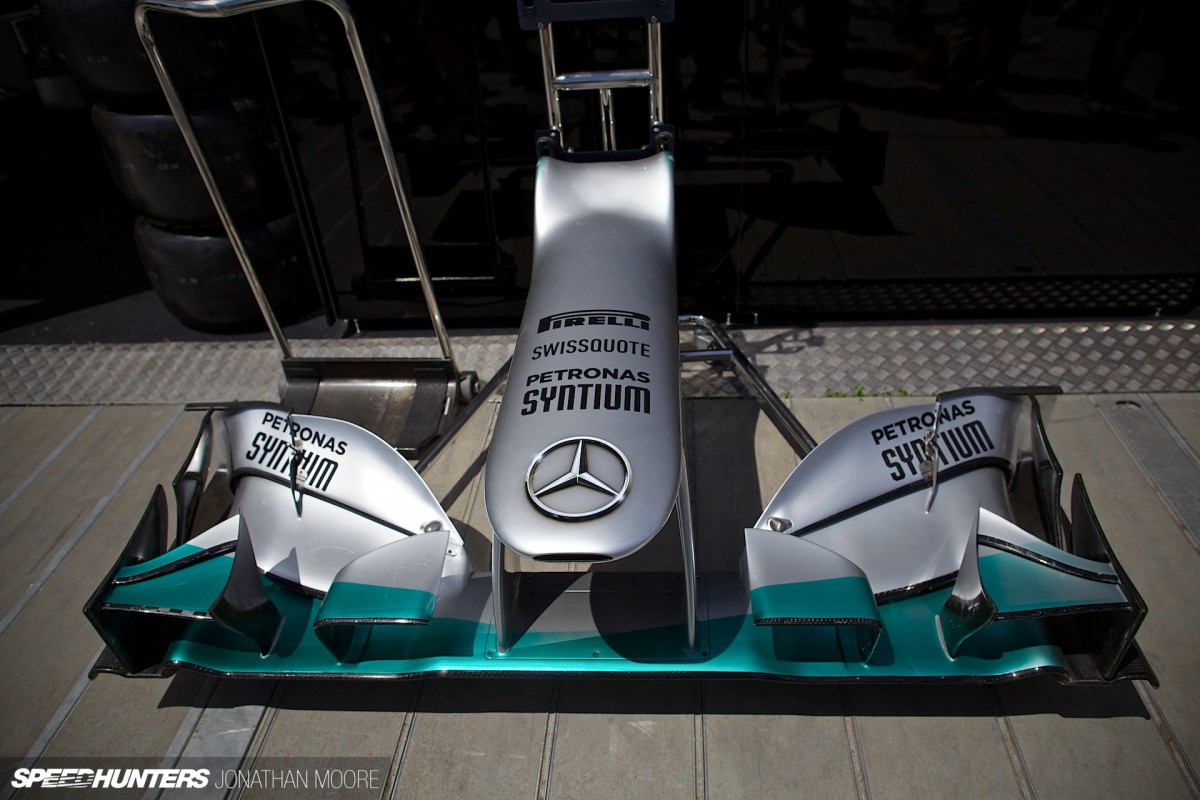 Compare that nose to a modern Mercedes, which looks like it's been in a fight with a wall. Of course, F1 regulations mean that we'll have to wait a year for the new generation turbos to be heard at Goodwood, so there was the usual mash-up of older cars.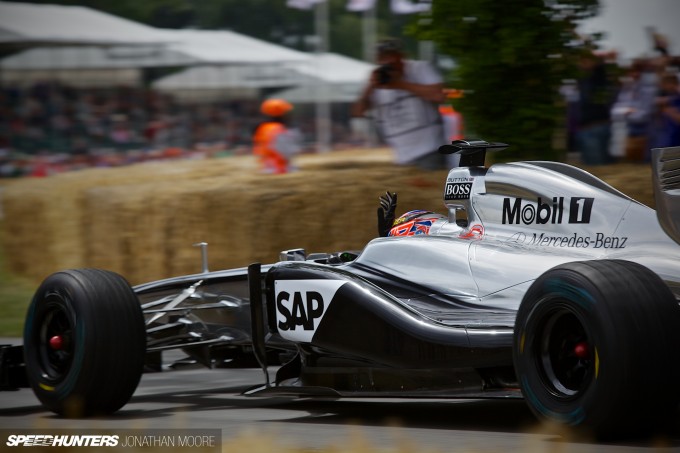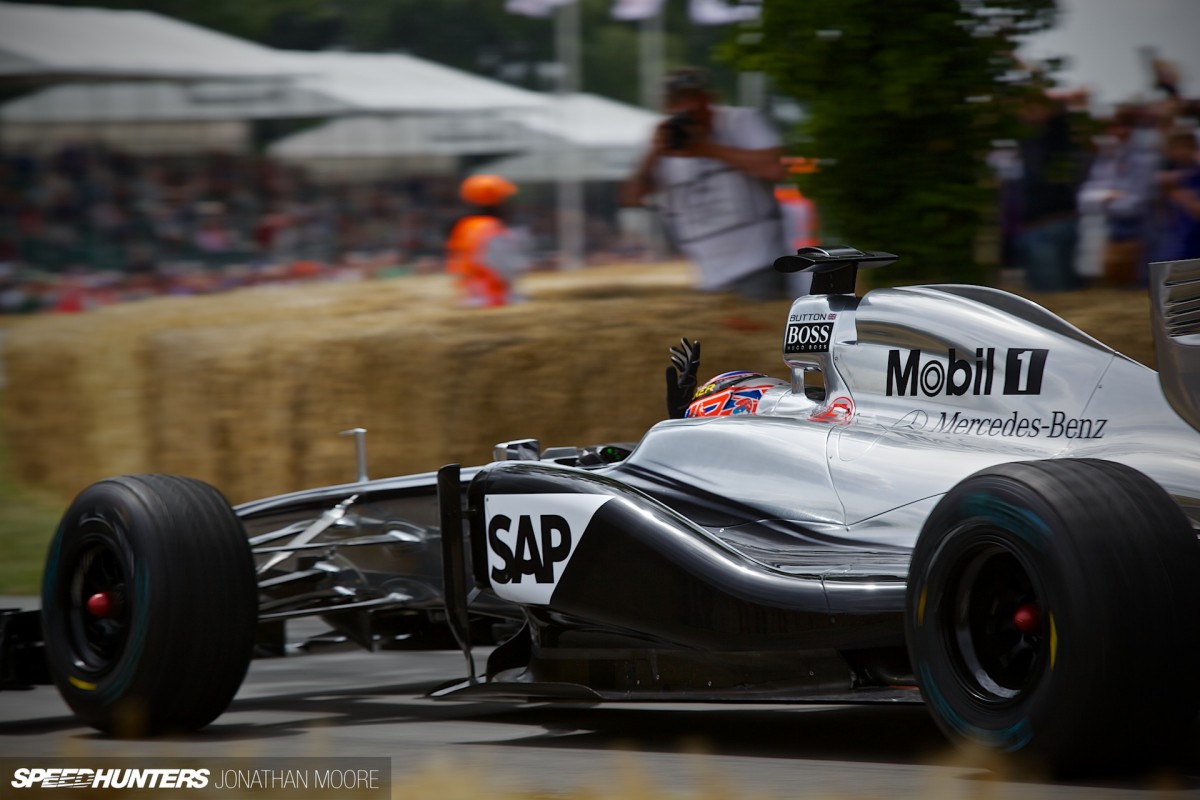 Still, was anyone going to complain about hearing those screaming V8s tearing the air out of the sky one last time?…
Up The Hill, Into The Woods And Far Away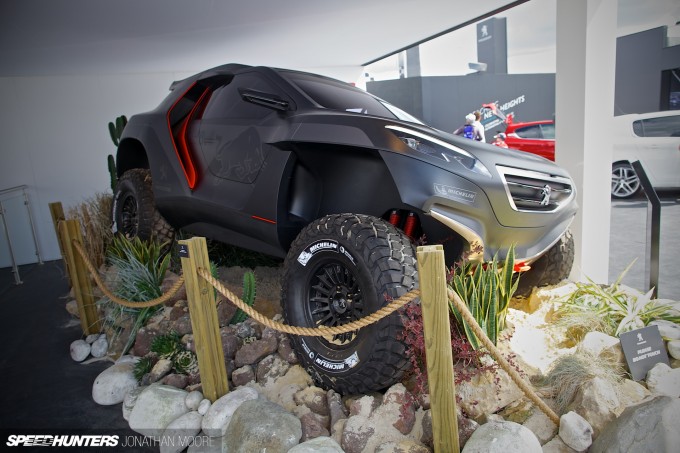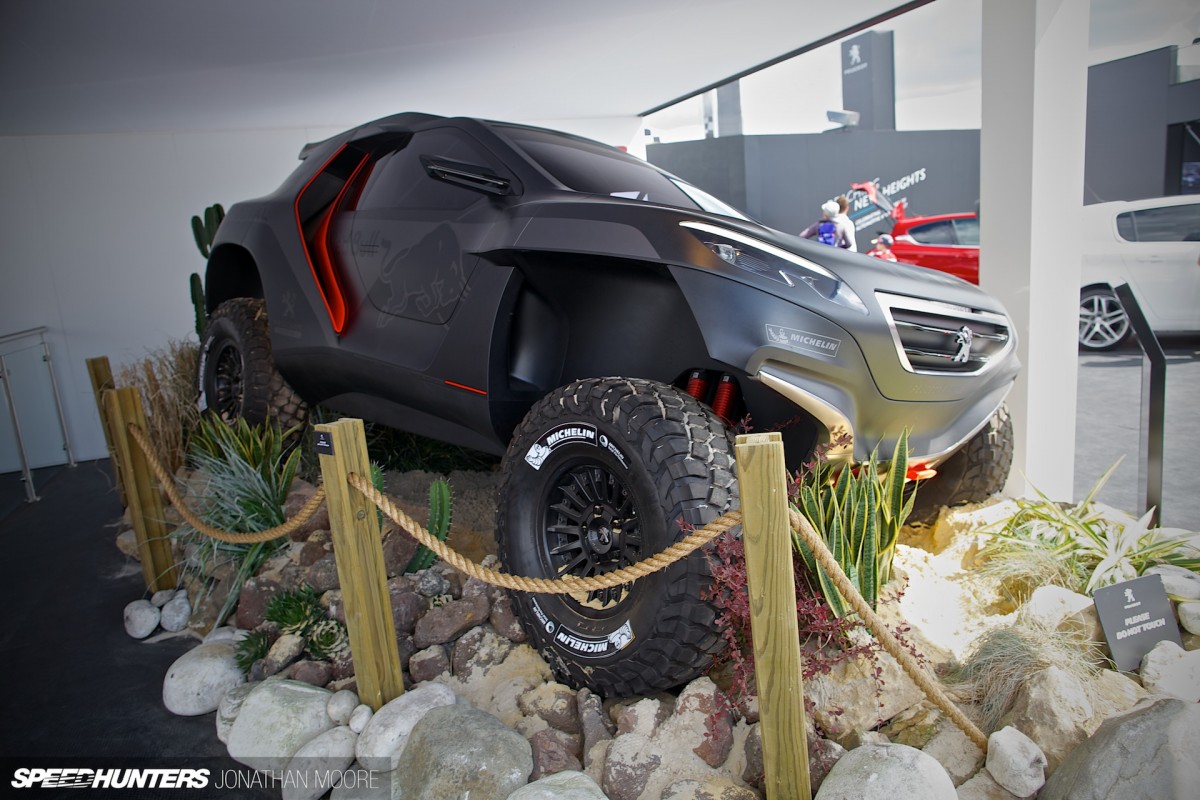 Although the manufacturer displays were impressive architecturally, there was simply too much else around to linger there to long. However, Peugeot's new Dakar contender caught my eye, with the 2008 DKR due to pick up the baton in 2015 to continue Peugeot's long involvement on the event. Stealthy…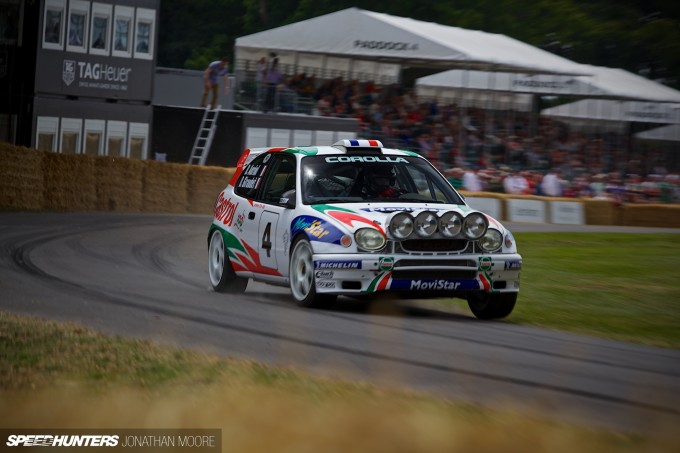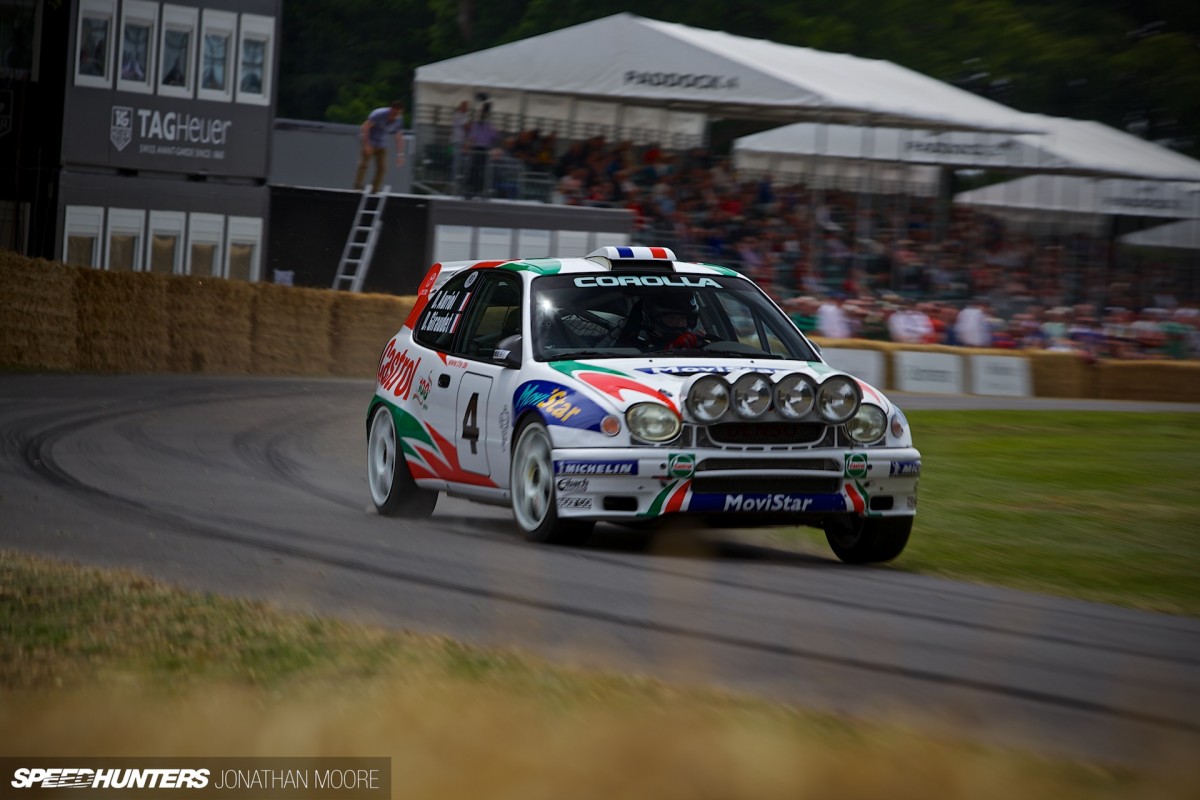 Rally cars hammered up the hill alongside all the other eclectic machinery, with some epic Group B, Group A and more modern WRC machines piloted by heroes old and new of the sport.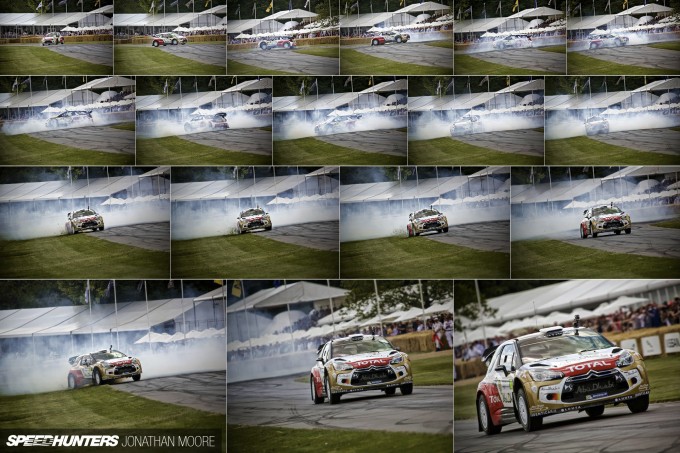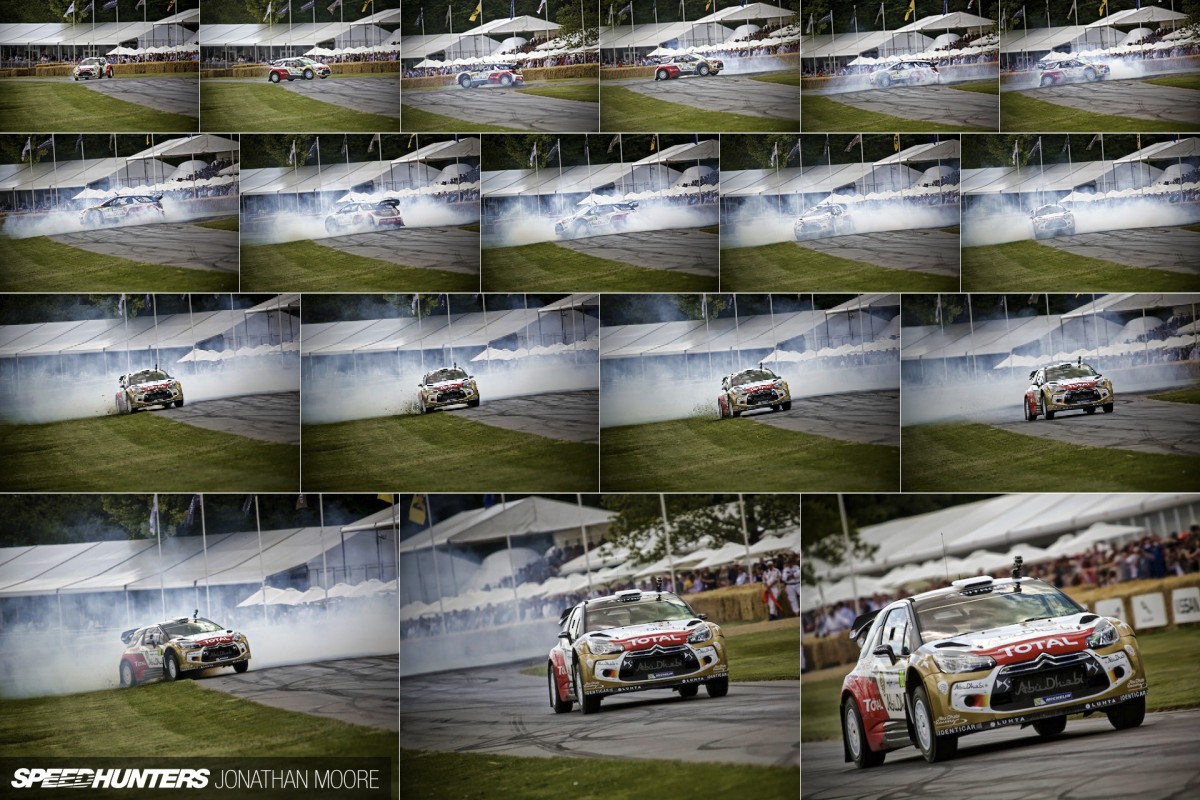 However, some of them couldn't stop at just tackling the hill. A certain Monsieur S. Loeb of France seemed unable to control his DS3, which even at the first corner spun several times. I don't think there was a trained navigator on board.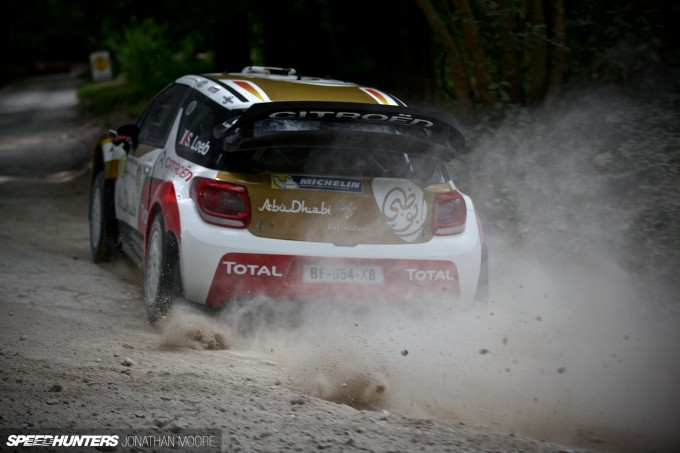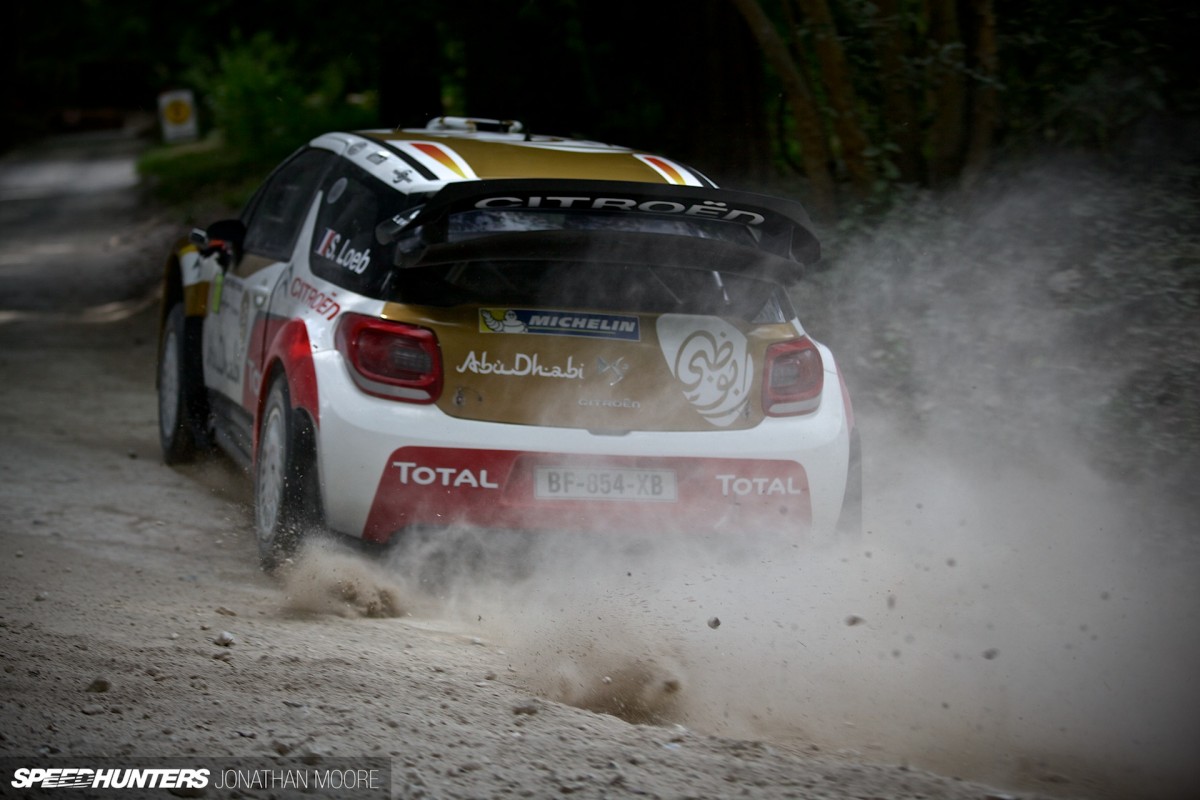 Somehow at the top of the hill he managed to immediately find his way onto the Forest Rally Stage and promptly set the fastest time. He's got potential, this one…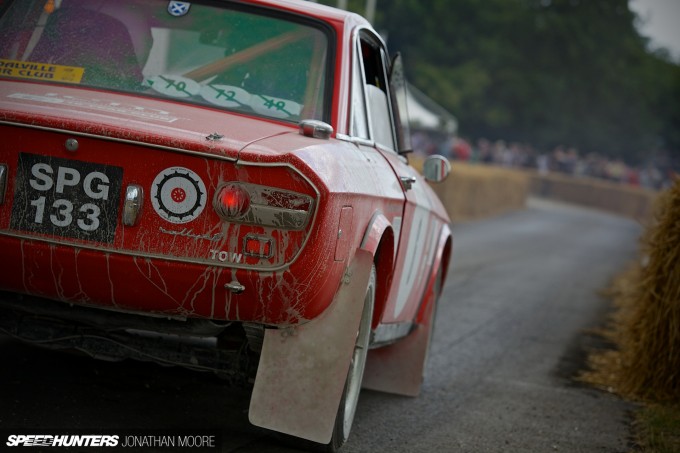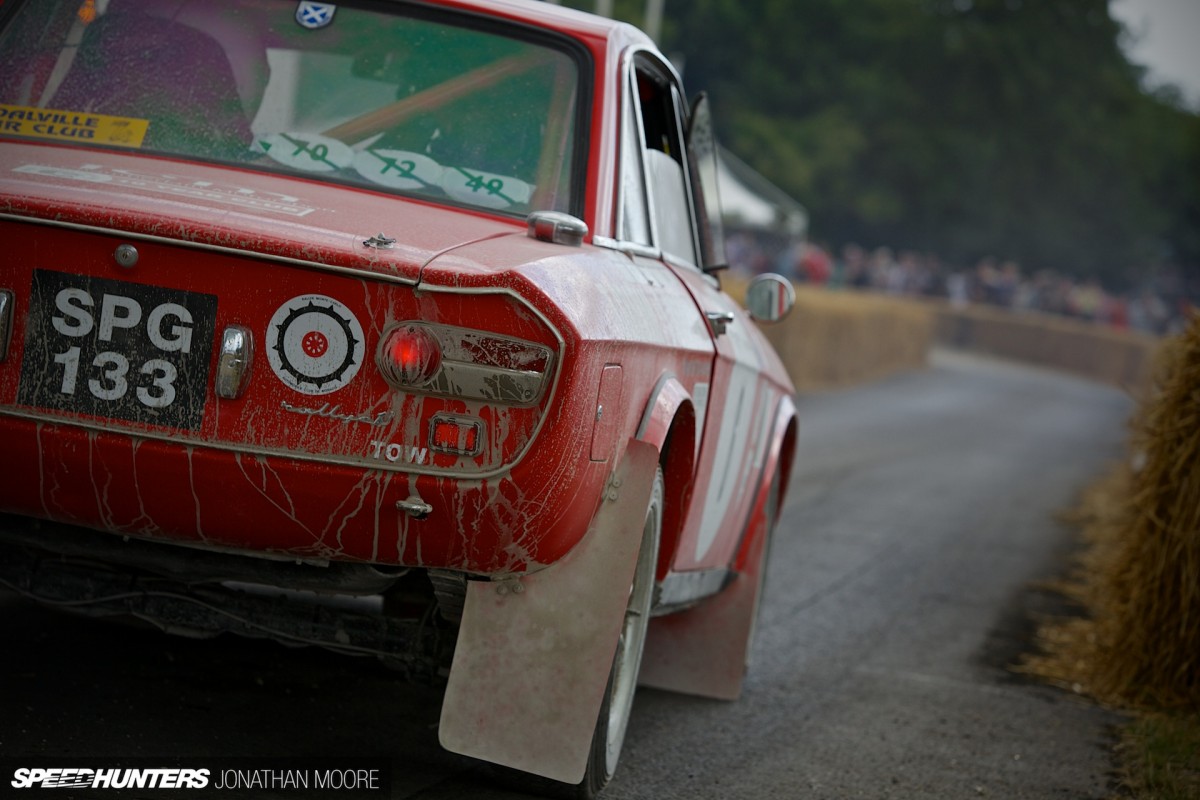 The Forest Rally Stage remains one of my favourite parts of the Festival Of Speed, as it's such a contrast to the scene down below in front of the great house.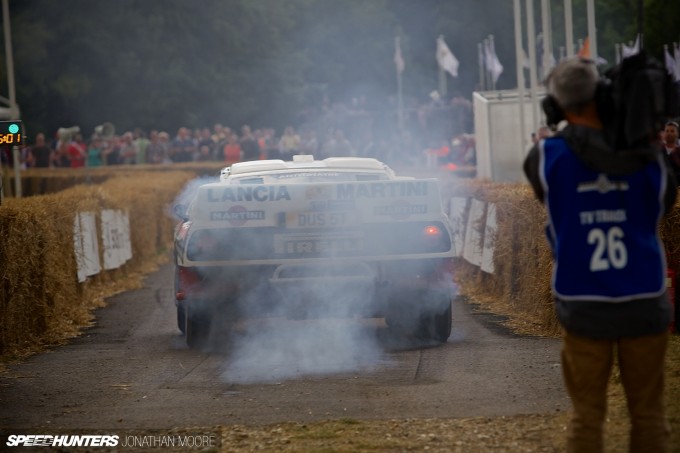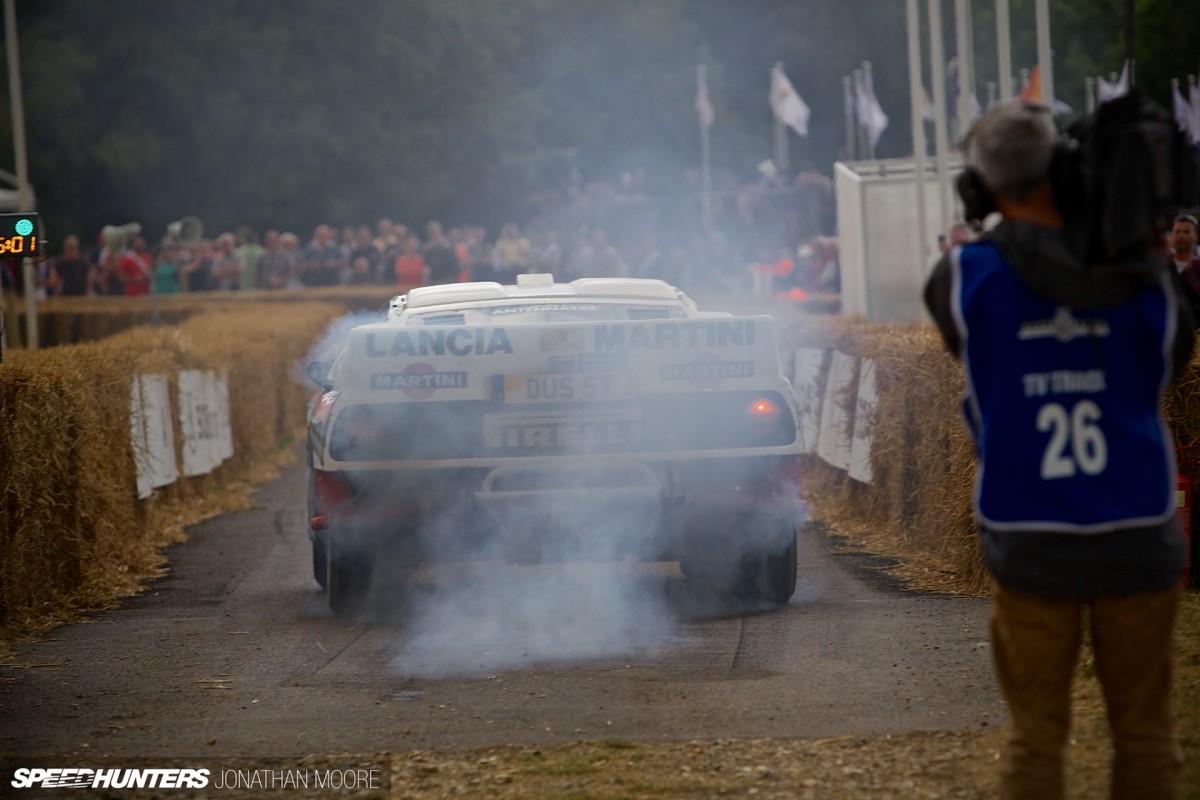 Even though I spend months shaking dust out of every pore of me, my cameras and my clothes, it's just a fantastic reminder of why rallying is so great. And how insane rally drivers are.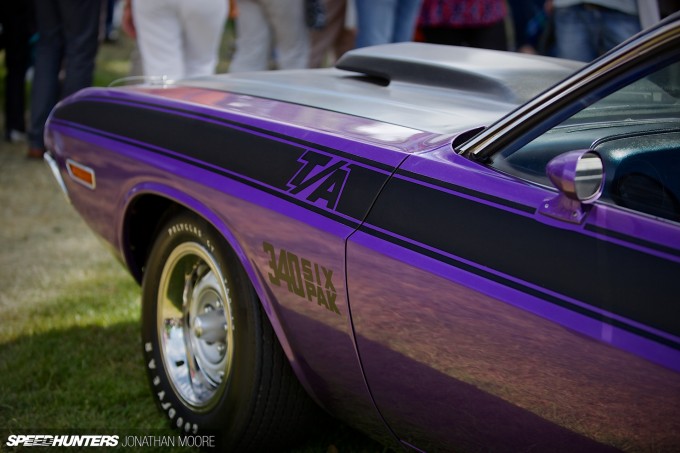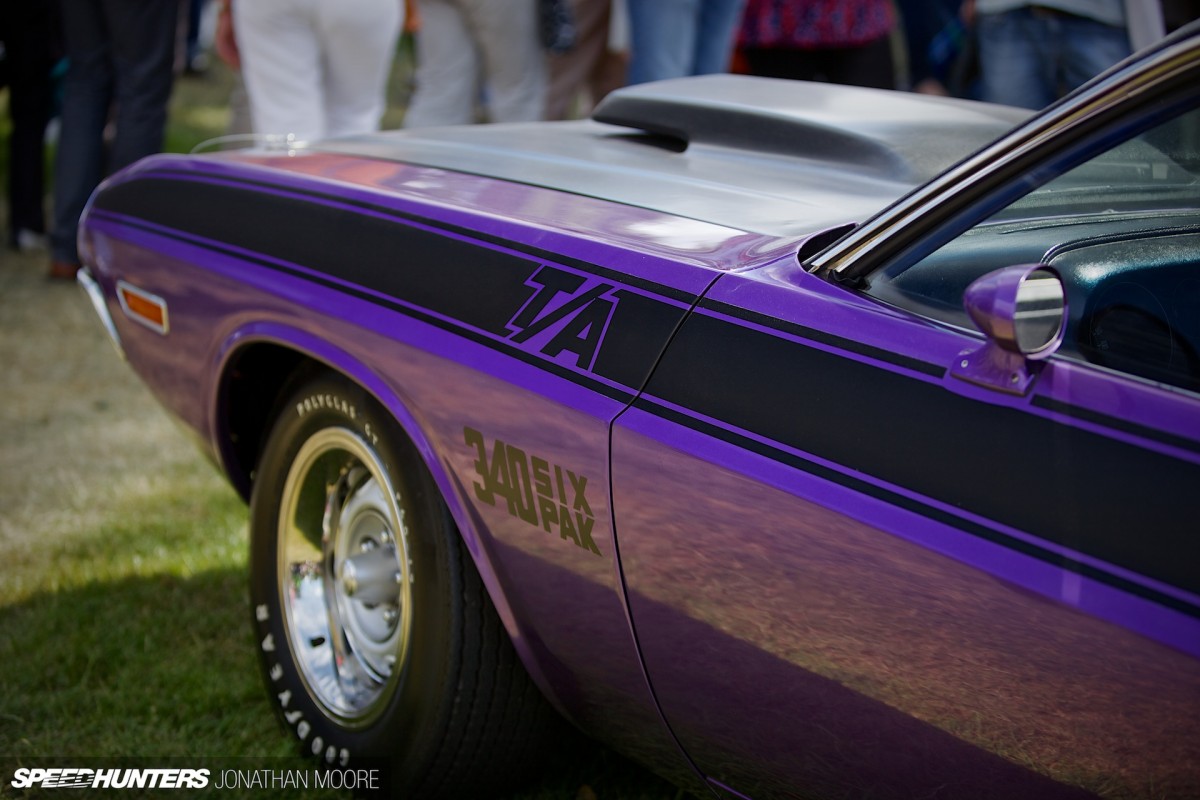 British to the core it might be in presentation, but in representation the Festival Of Speed is truly international.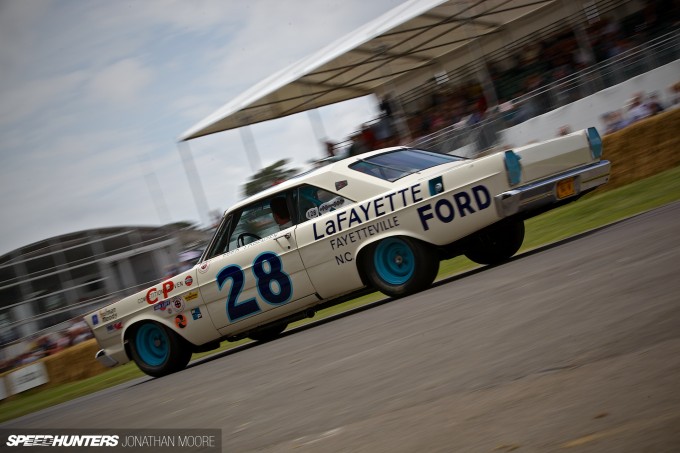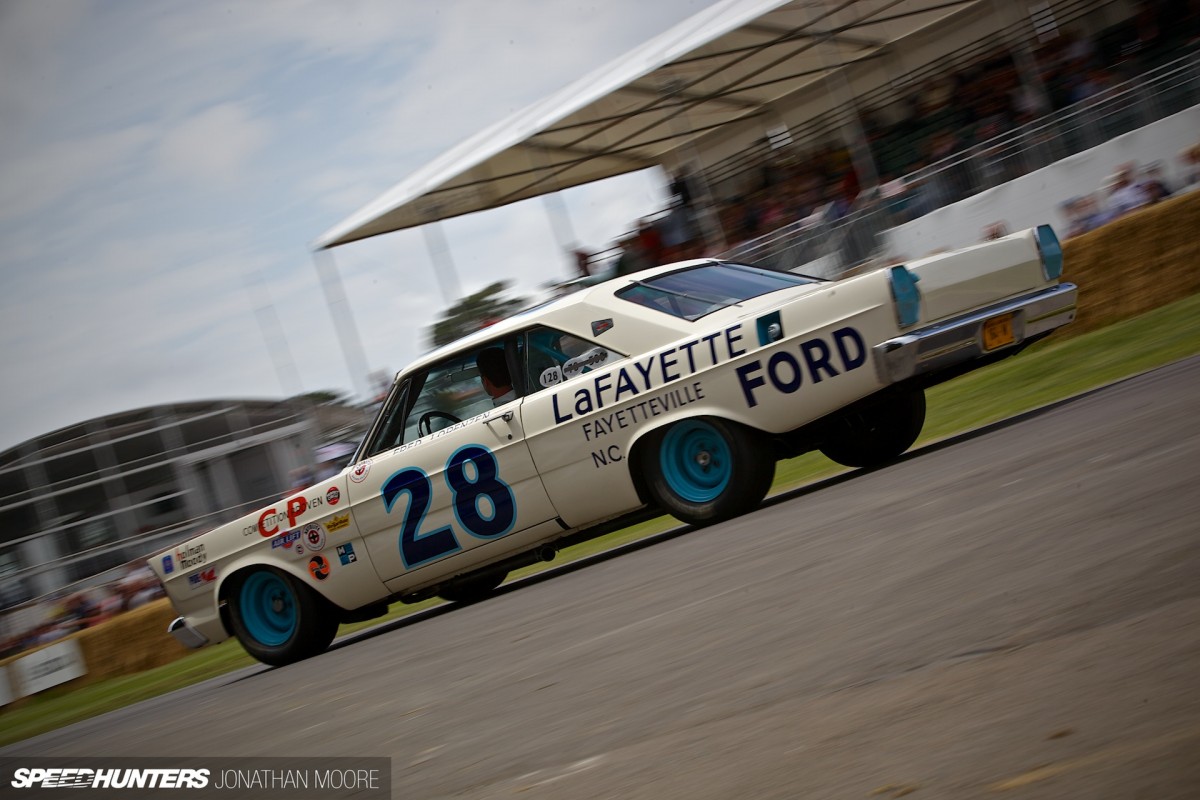 I've made the mistake of not catching the NASCAR machinery in previous years: I won't be doing that again after seeing them this year. Outwardly the size of supertankers and putting across the impression they're similar hard to manoeuvre, the classic Ford Galaxie 500 and its  rivals the Chevy Impala and Plymouth Belvedere looked awesome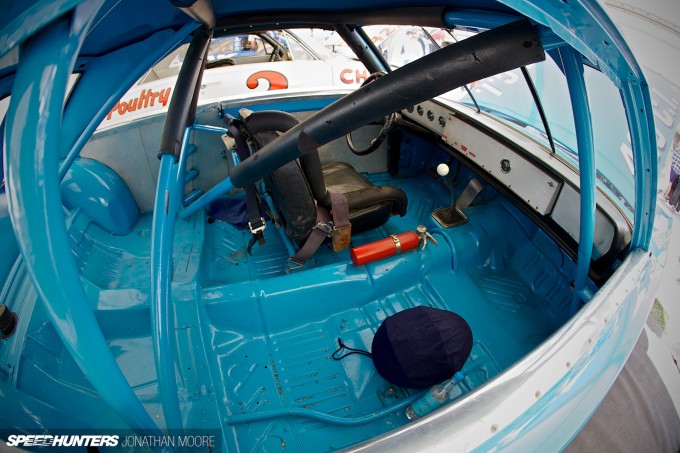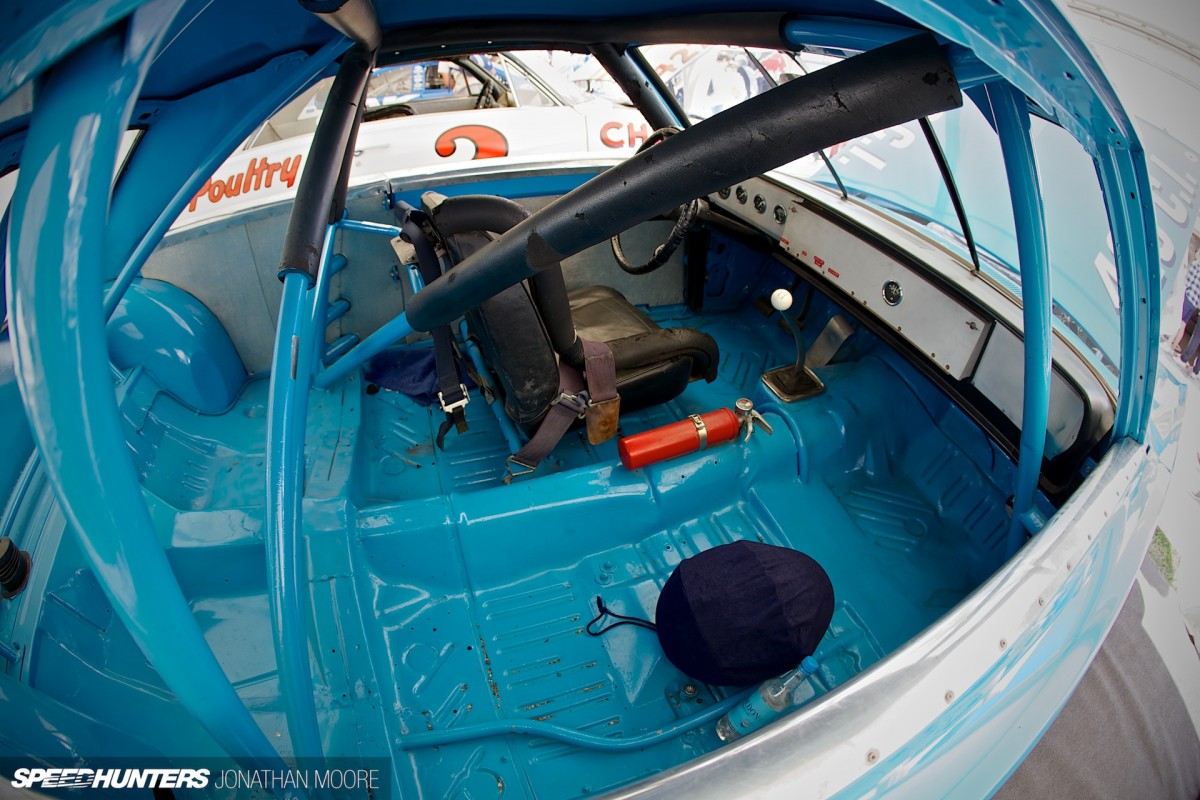 Inside those '60s cars was… basic. But what did you need in those days? You just needed a beer and a V8.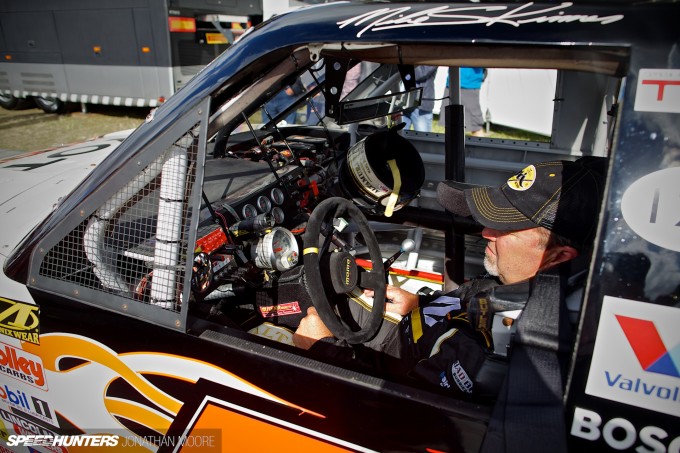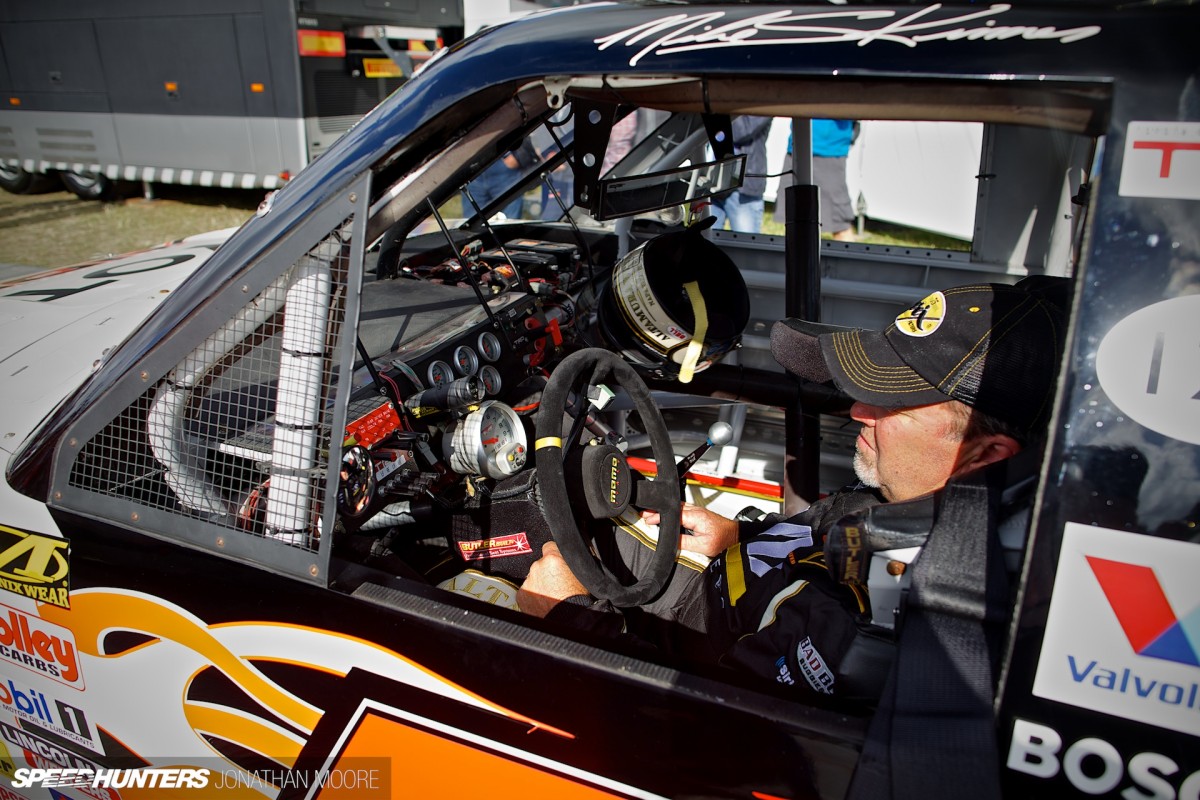 Modern NASCARs are a little more well-appointed, especially in the safety sense, which having seen a reasonable number of oval races is just as well.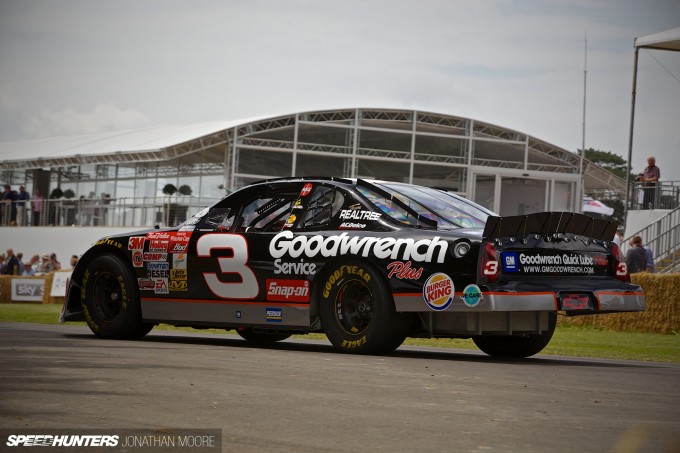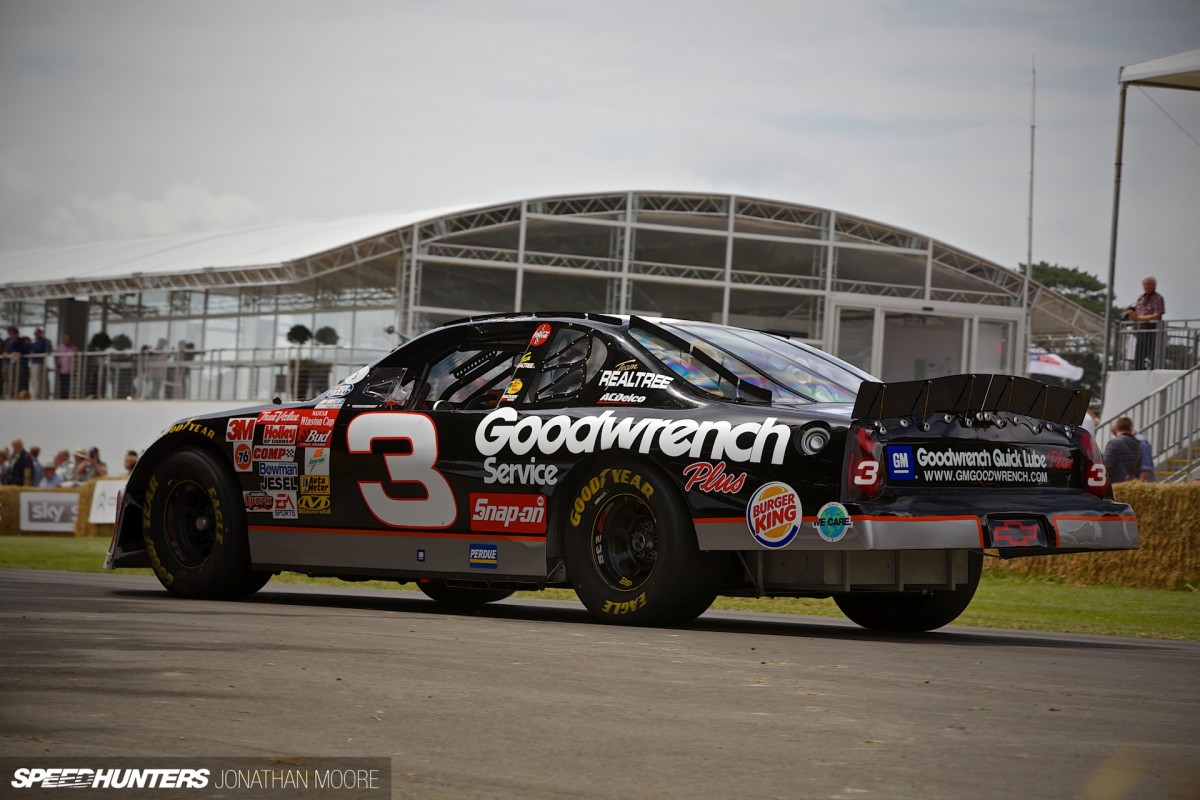 Carrying the #3 of the legendary Dale Earnhart, the incongruity of the Chevy Monte Carlo made it even more enjoyable to see ascend the hill in a pall of tyre smoke. It was only on the way back down that you could actually make the car out!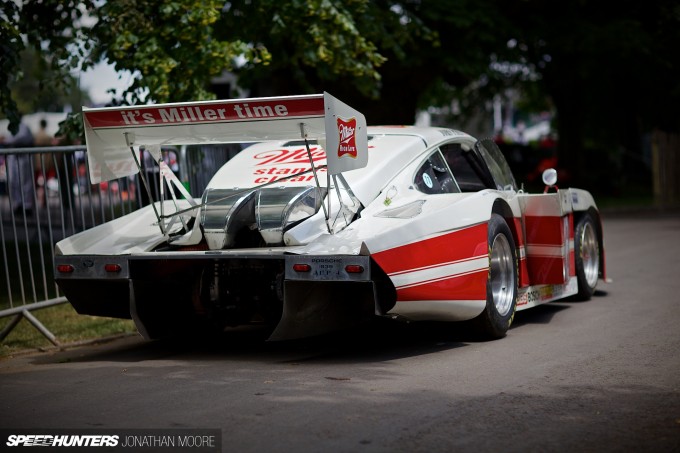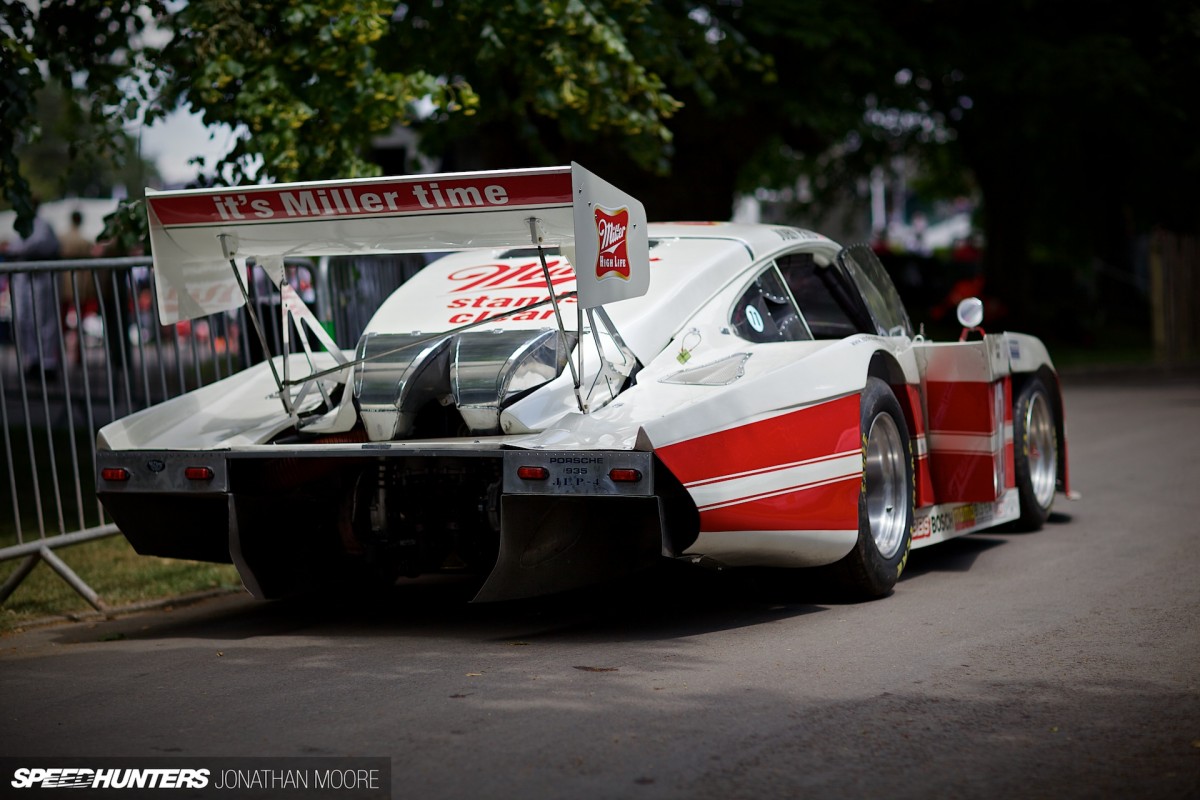 Not everything American at Goodwood was hauling a big V8. For instance, this was the American take on the iconic Porsche 935/78 Moby Dick: the JLP4 from 1982. Designed by famed engineer Lee Dykstra and built by FABCAR, this was the most radical of the 935 privateer developments. Tick off yet another car on my bucket list!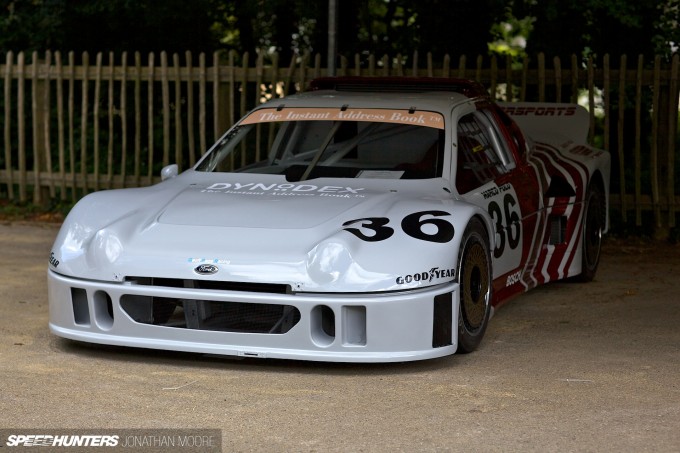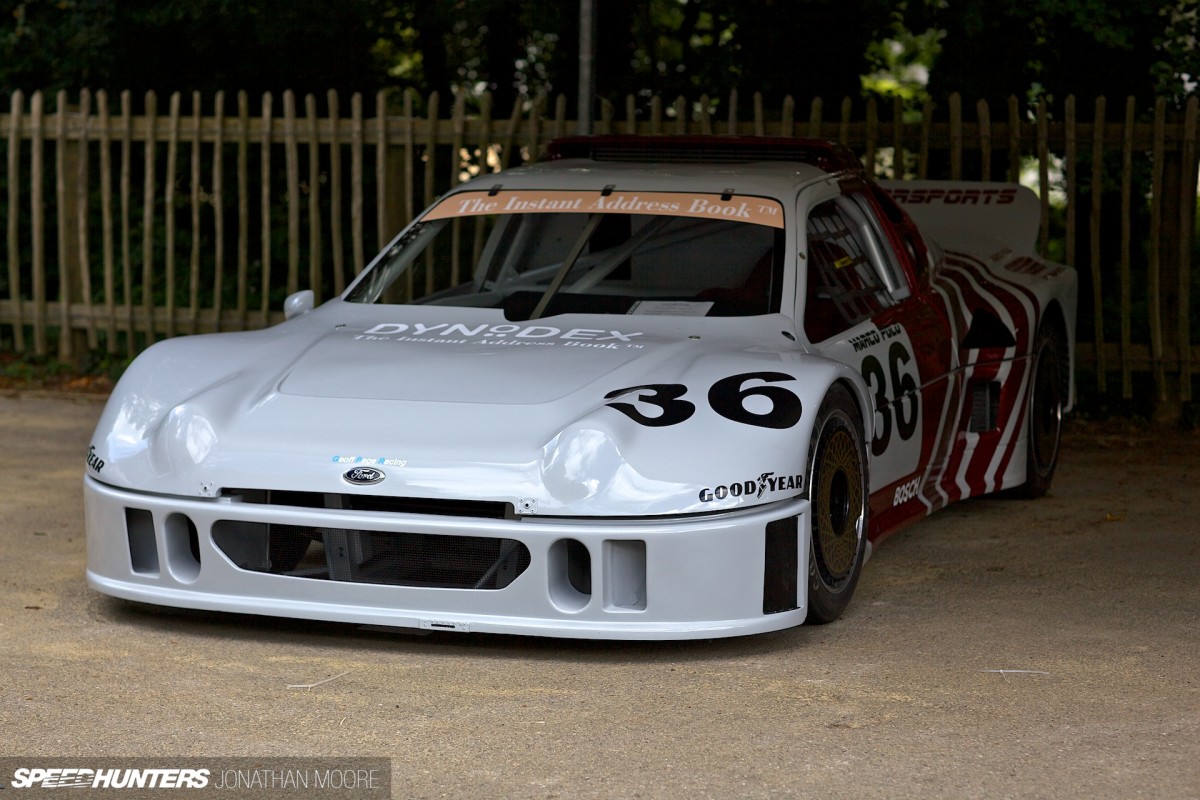 Hold on. What do you do about cars that you didn't even know about to put on your bucket list? I was admiring Pat Doran's Pikes Peak RS200 when I noticed this hiding under an awning. It was built in the UK to run in the IMSA GTO category, where it was up against the all-conquering Audis – and lost of course, but was still a fearsome machine, putting out 750hp. It's currently being rebuilt, and is due to run at next year's Festival. I can't wait!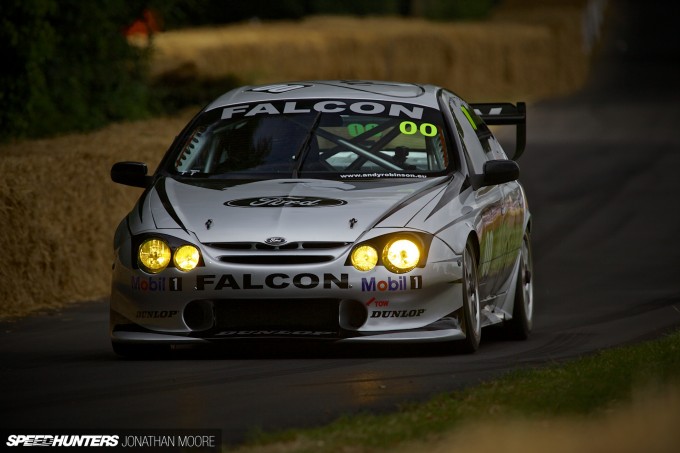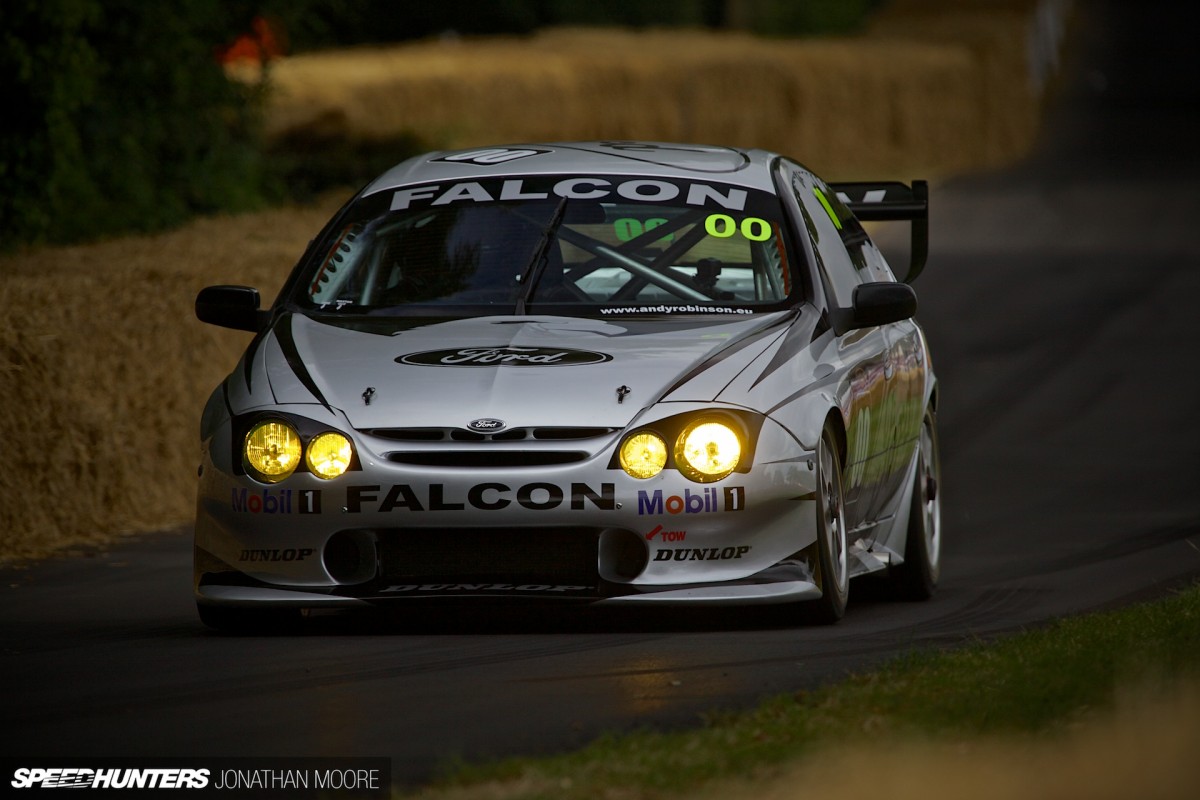 Down Under went up the hill as well, with a thunderous Aussie V8s Ford Falcon stalking up the hill. I haven't made it to Bathurst yet, but luckily a bit of Bathurst came to me.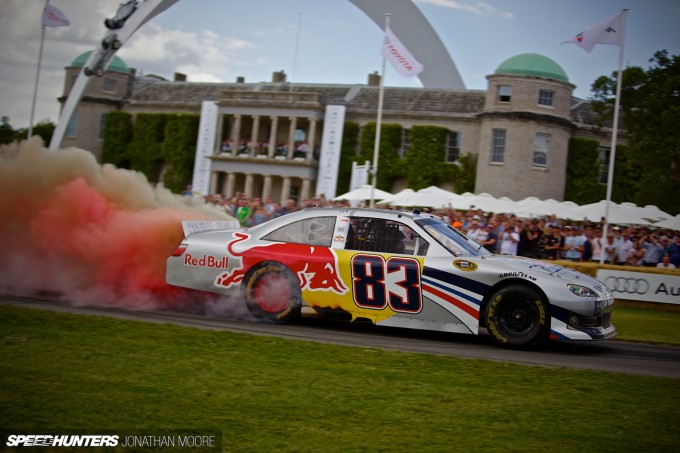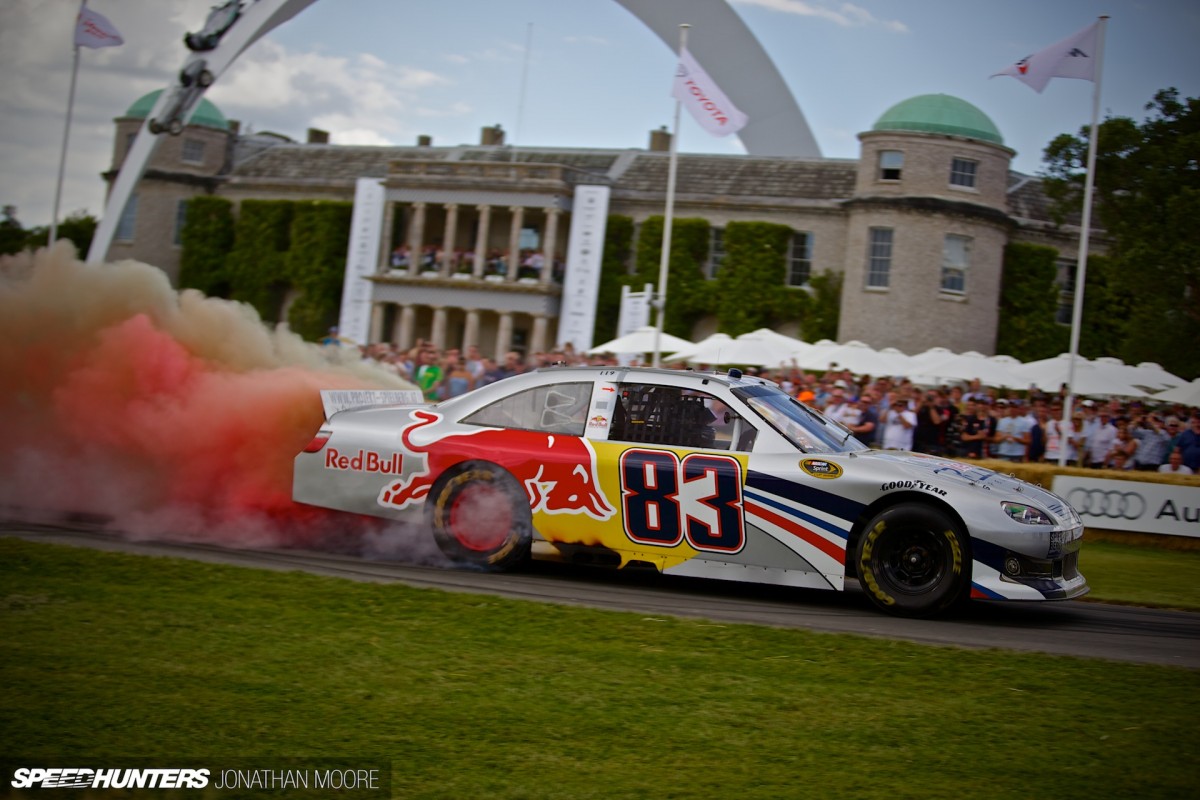 It was strange leaving the site on Sunday evening. The last car had made its way back down to the paddock, the sound of engines had died away, and there was the knowledge that within a couple of days they'd be more sheep and tractors than people and racecars. Is that a bad thing? It makes you savour this kind of event even more, that's for sure.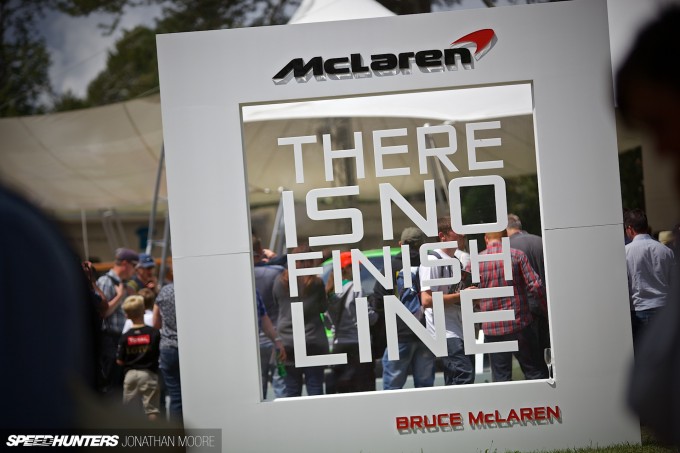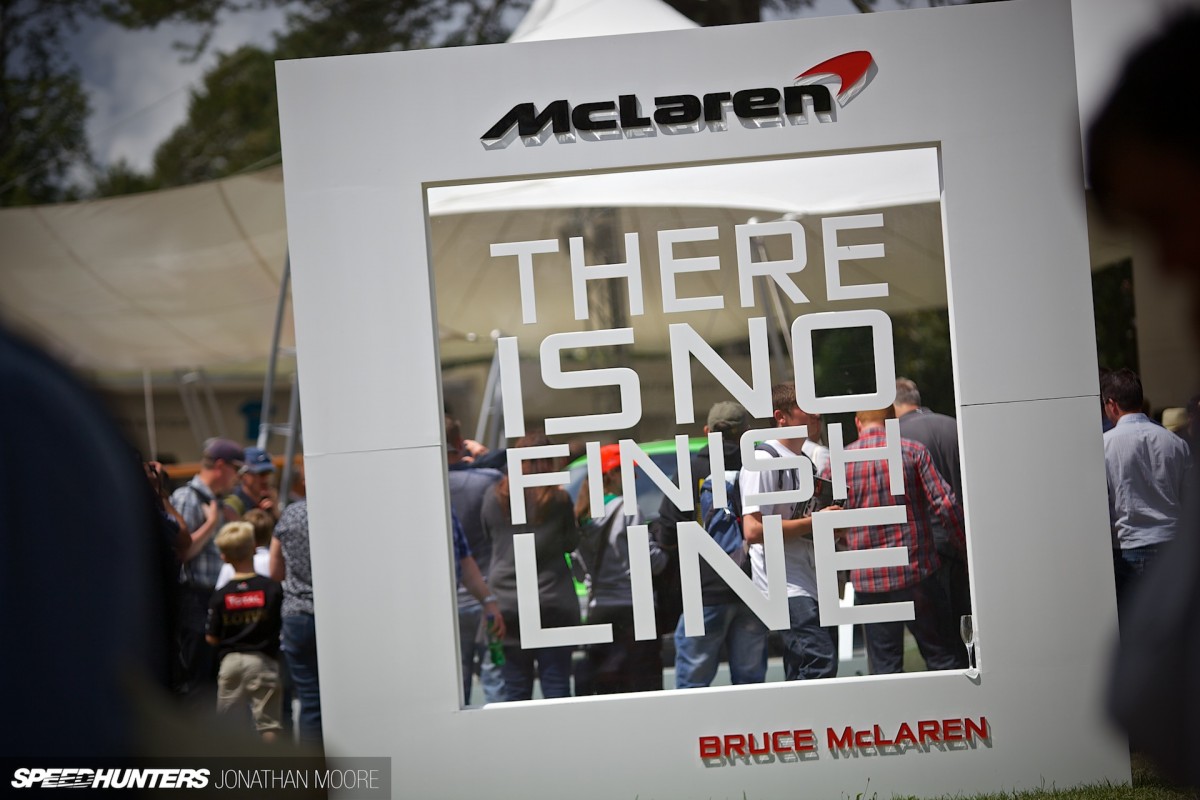 Fortunately, I think Festival organiser the Earl Of March has taken this quote to heart: I already can't wait to see what we're served up with in 2015.
Jonathan Moore
Instagram: speedhunters_jonathan
jonathan@speedhunters.com