Like Father Like Sons
How many of you owe your love of cars to your father? While there are many different ways we pick up our enthusiasm for automobiles, many people will cite influence from their dad as the primary reason for their obsession.
I can say with absolute certainty that I would not be where I am today without a heavy influence from my father. To know that, all it takes is a look at those photos of a toddler-aged Mike standing in front of hot rods at 1980s car shows.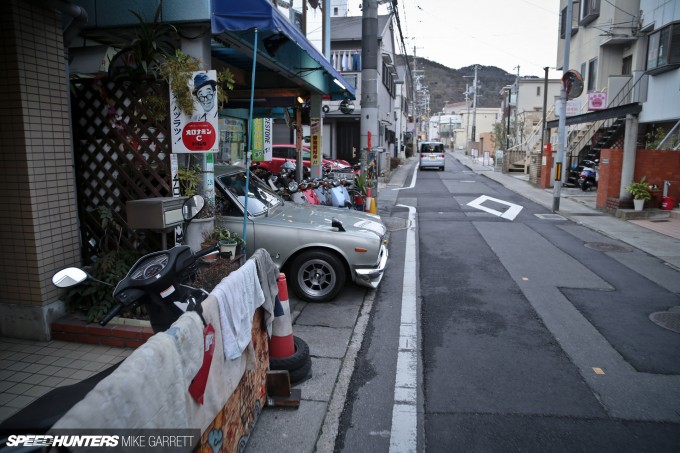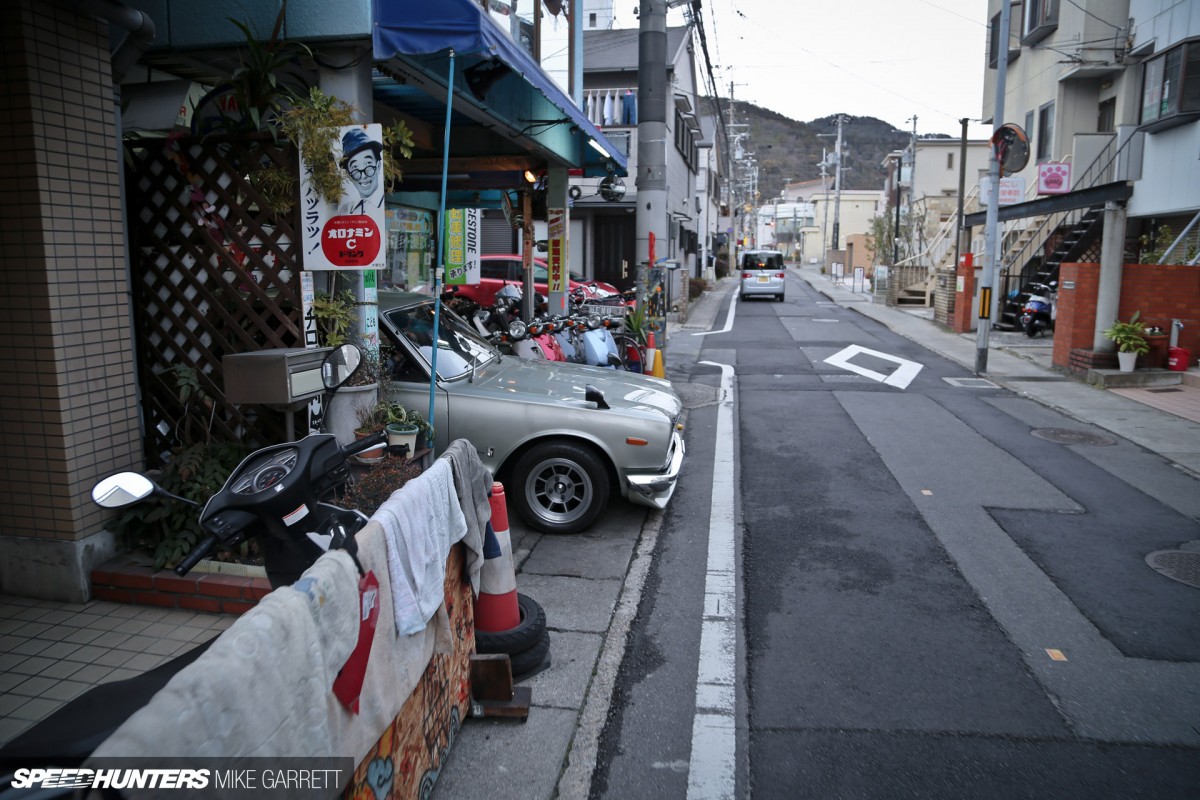 Of course, the automotive bond between father and son knows no international boundaries, and it's in Kyoto, Japan, where I've come to know one of the coolest families around. Meet the Ohgishis.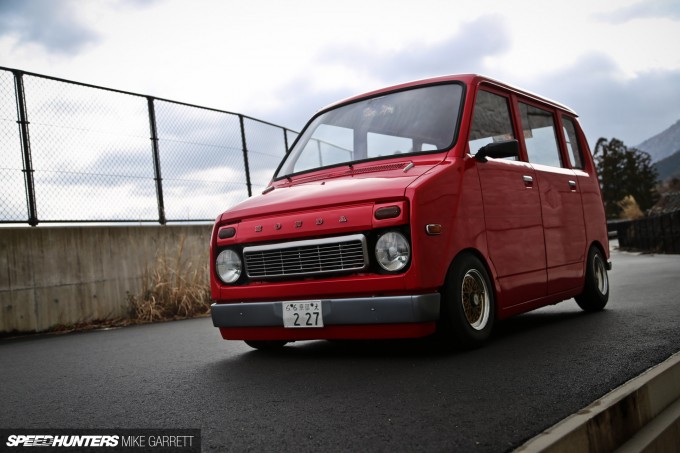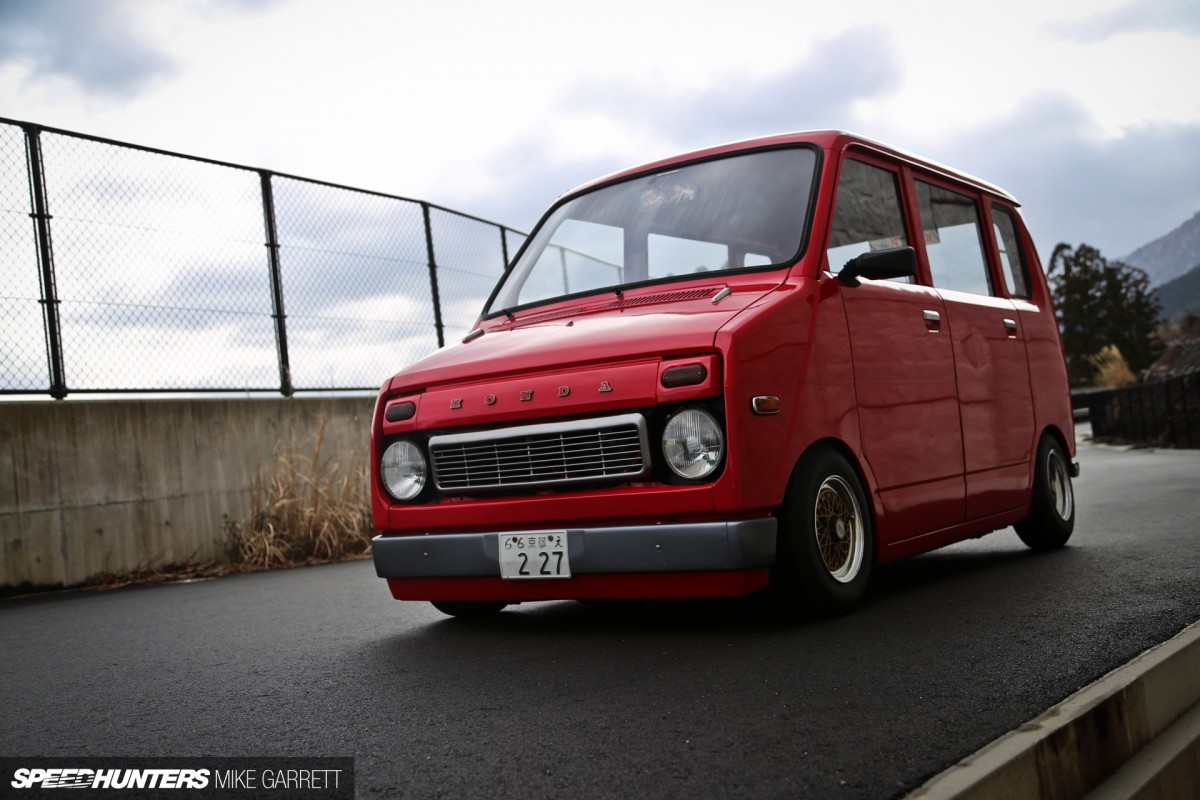 It all began when I met Shun Ohgishi, a young man who is the owner of a positively awesome Honda Life Step Van. After running into him at a few different events across Japan, he invited me to come to Kyoto and check out what he called a 'very special garage'. Shun actually has a cool workshop himself (which I'll share at a later time), but in this case he was talking about his father's garage.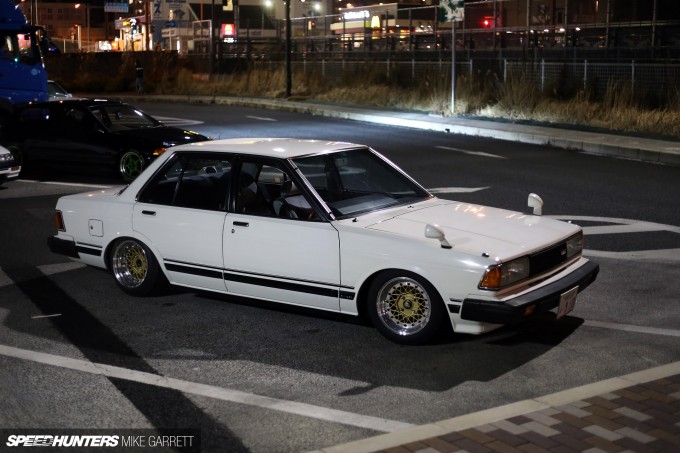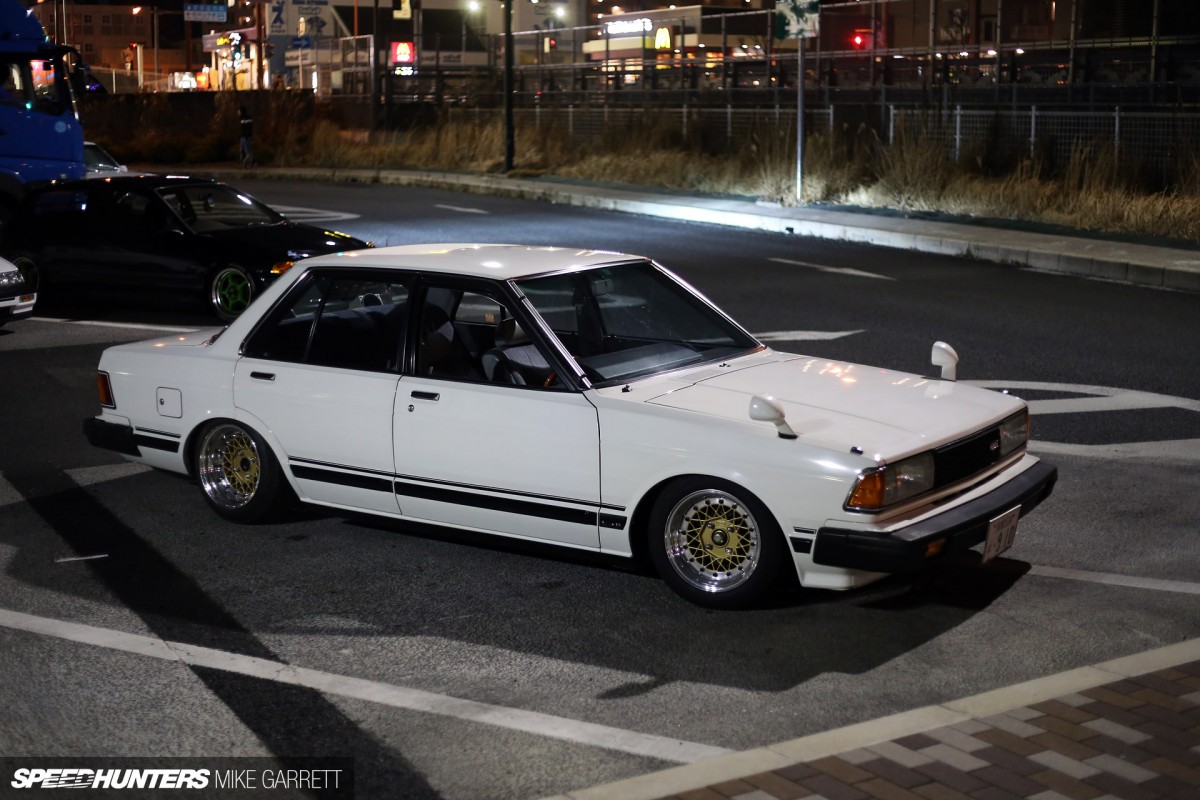 So during my last visit to Japan, I made plans to spend a couple days in Kyoto – one of which included a late-night kyusha meet organized by Shun and his buddies. Among the attendees was Shun's younger brother, Takuma, who drives a 910 Nissan Bluebird and also picked up his love of old cars from dad.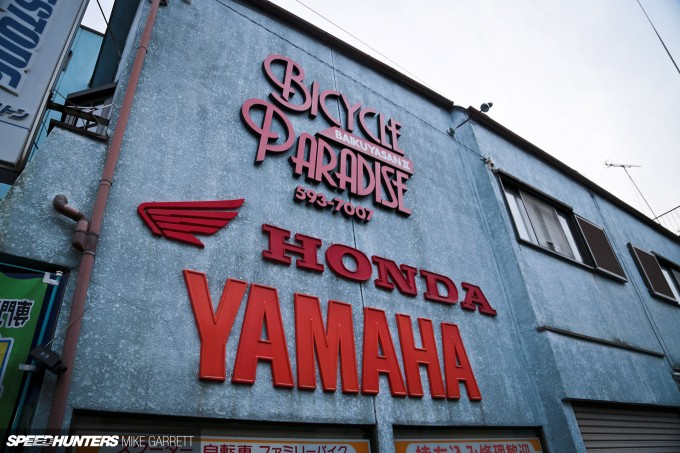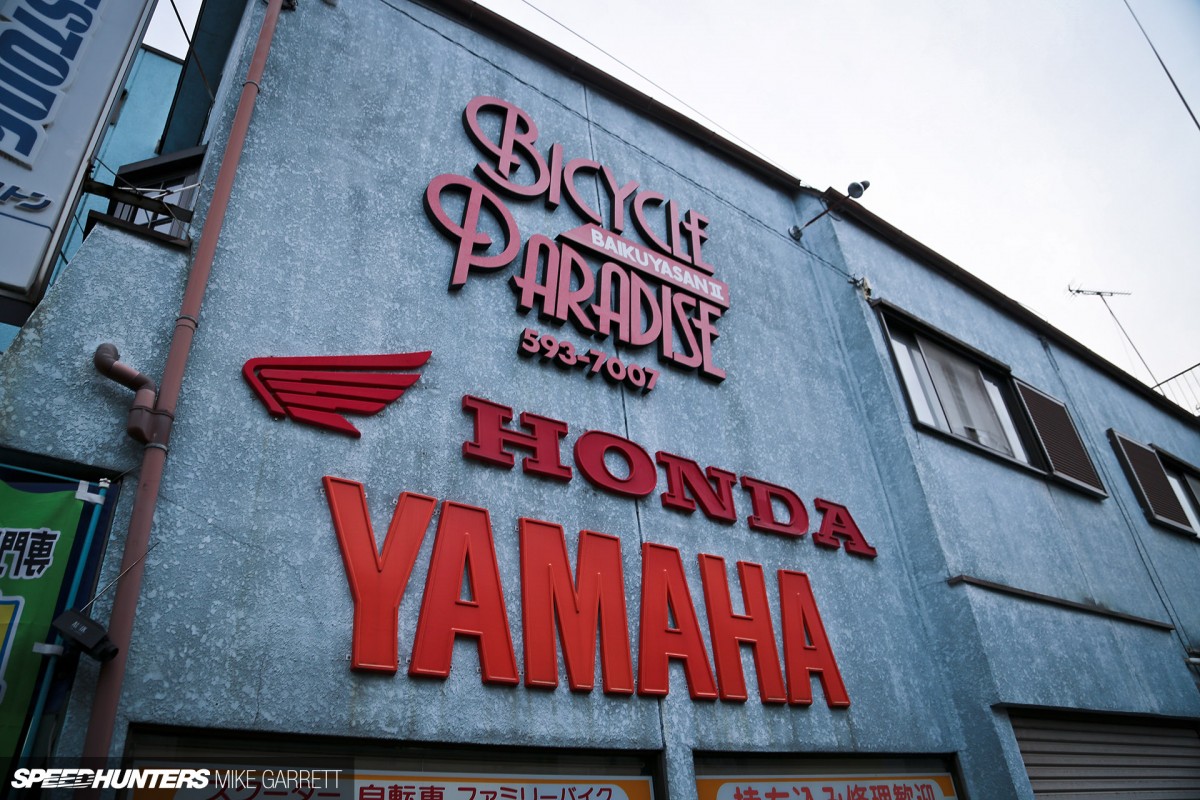 By this point I was getting quite excited to finally meet this guy and check out this famous collection. The following afternoon we met up with Shun and headed over to his parents' house, which is actually located above the bike and scooter shop that the family runs.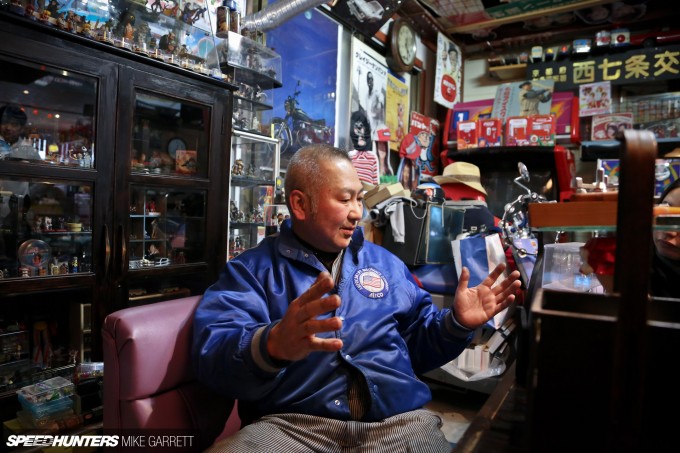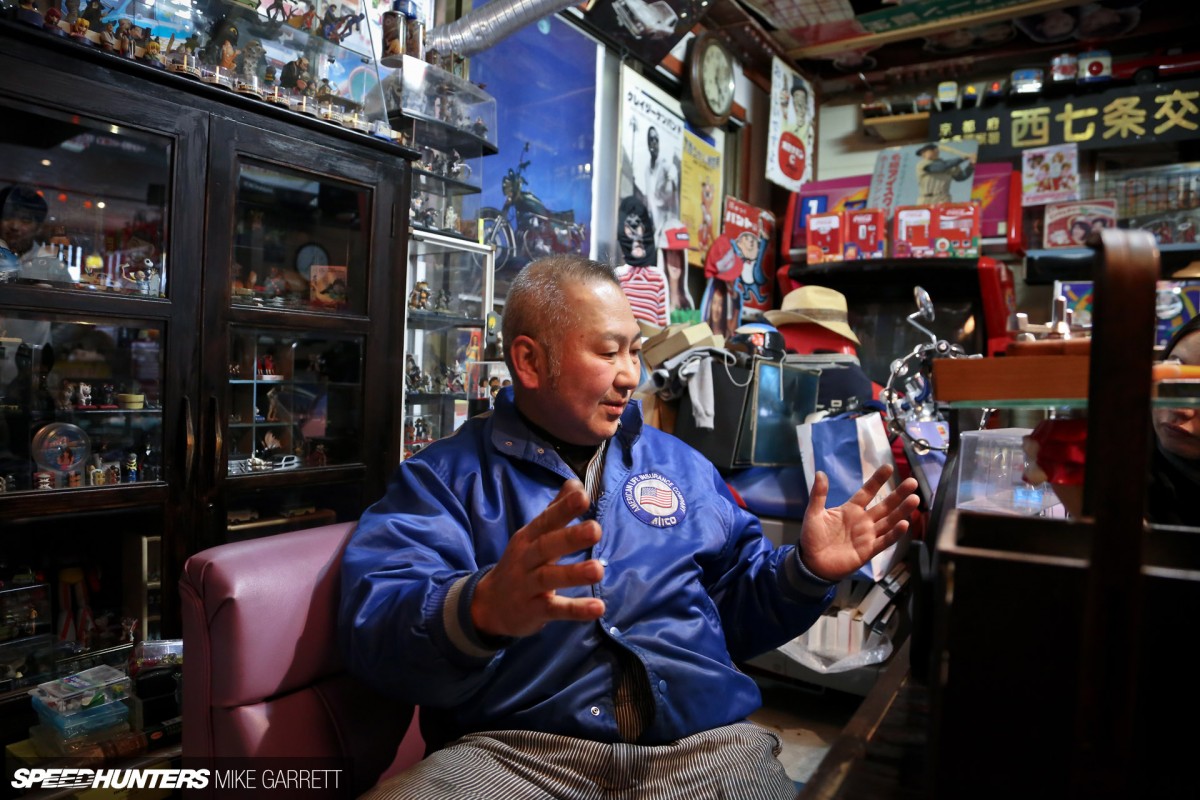 It was here that I met Mr. Yoichi Ohgishi – the owner of the shop and the reason why both of his sons are so interested in cars.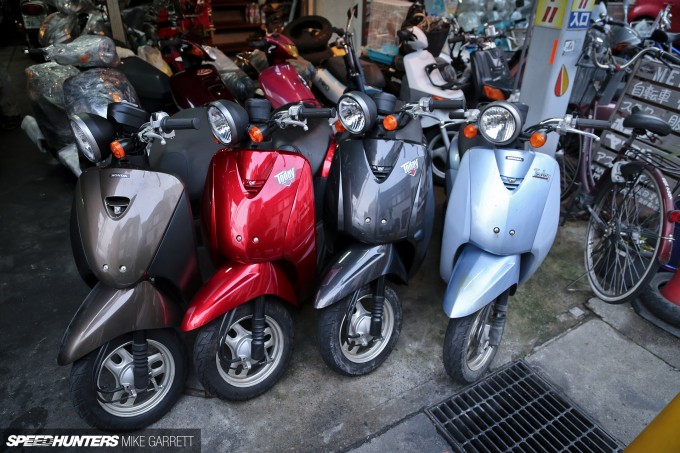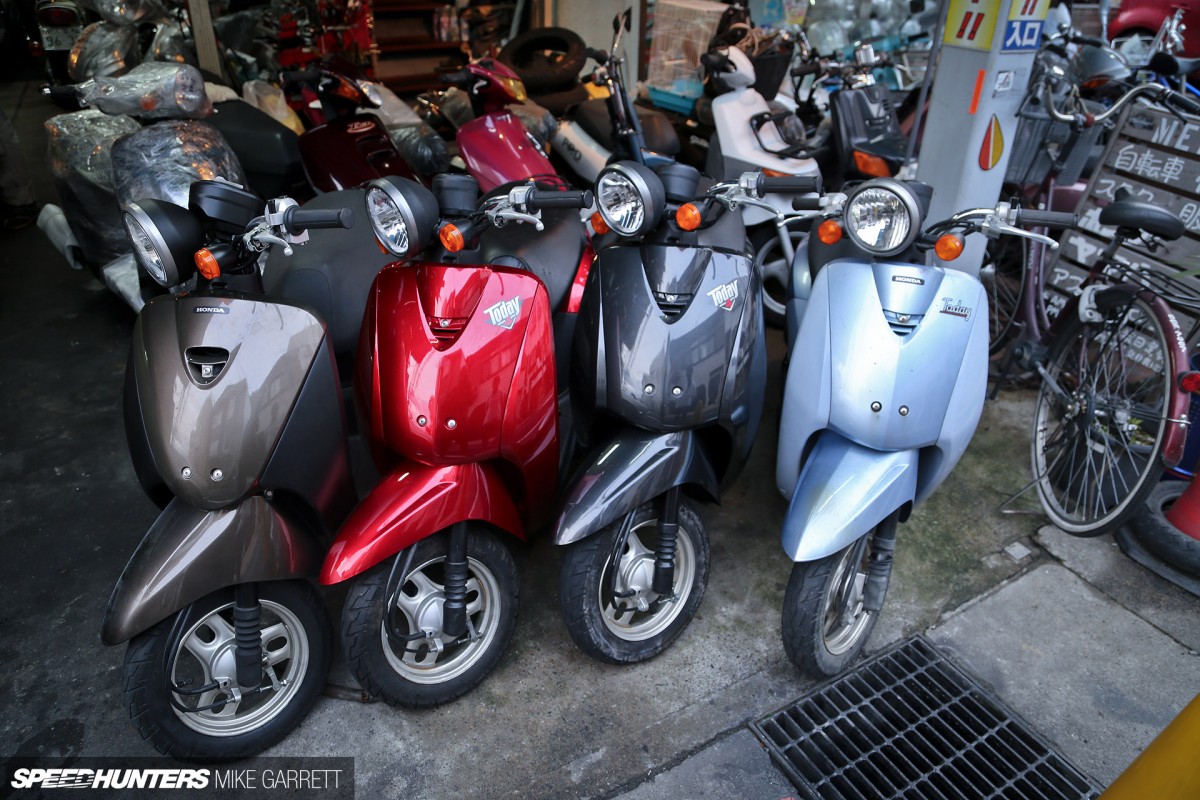 Given Ohgishi-san's career of selling and servicing various forms of two-wheeled vehicles for the people of Kyoto, it's not surprising that he would have some petrol running through his veins. However, to say that Mr. Ohgishi simply 'likes' cars and bikes would be a gigantic understatement.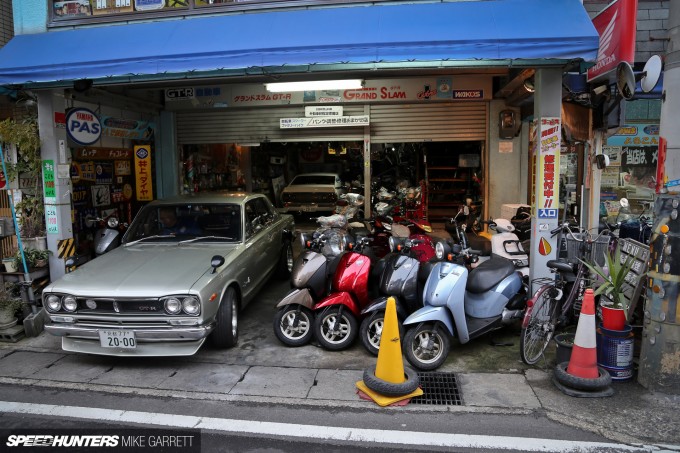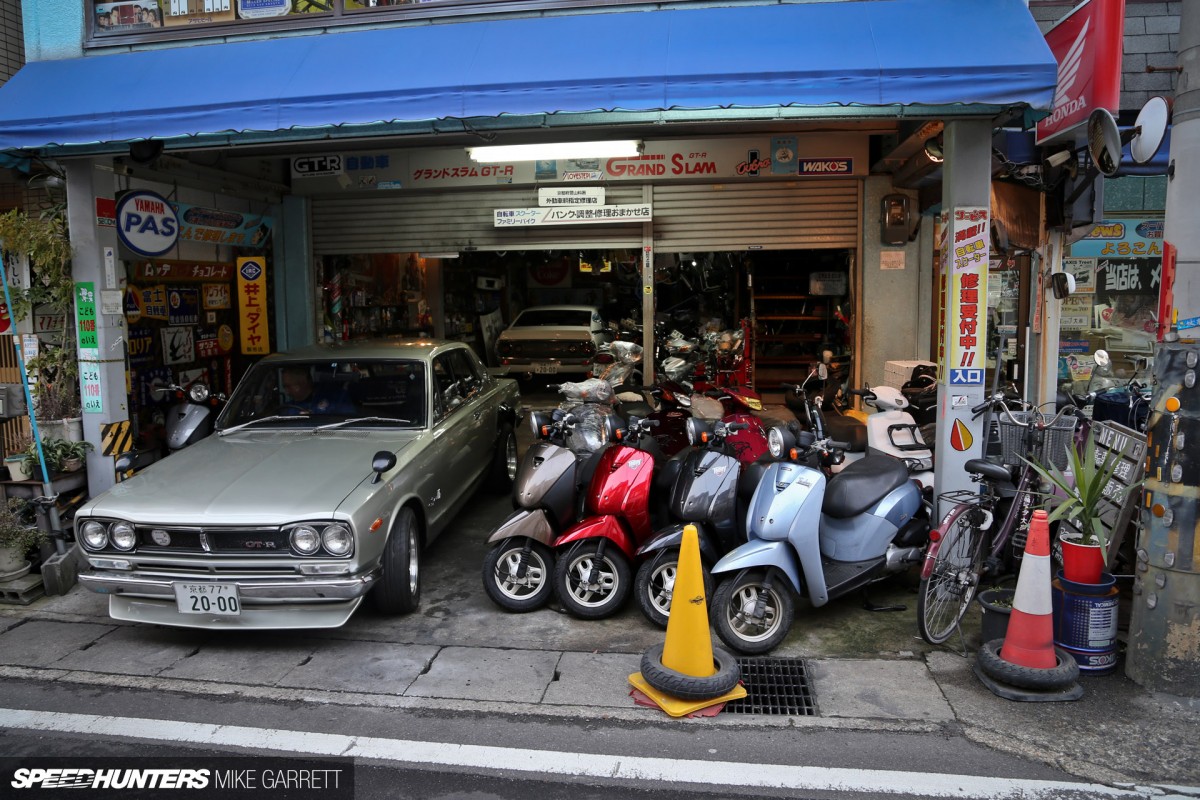 This is apparent from the moment you roll up to the shop and see the unmistakeable nose of a Hakosuka Skyline peeking out from the garage. This was going to be fun…
Skylines & More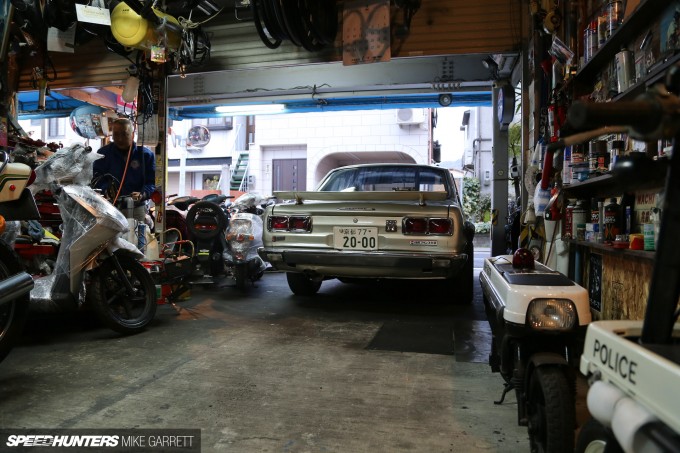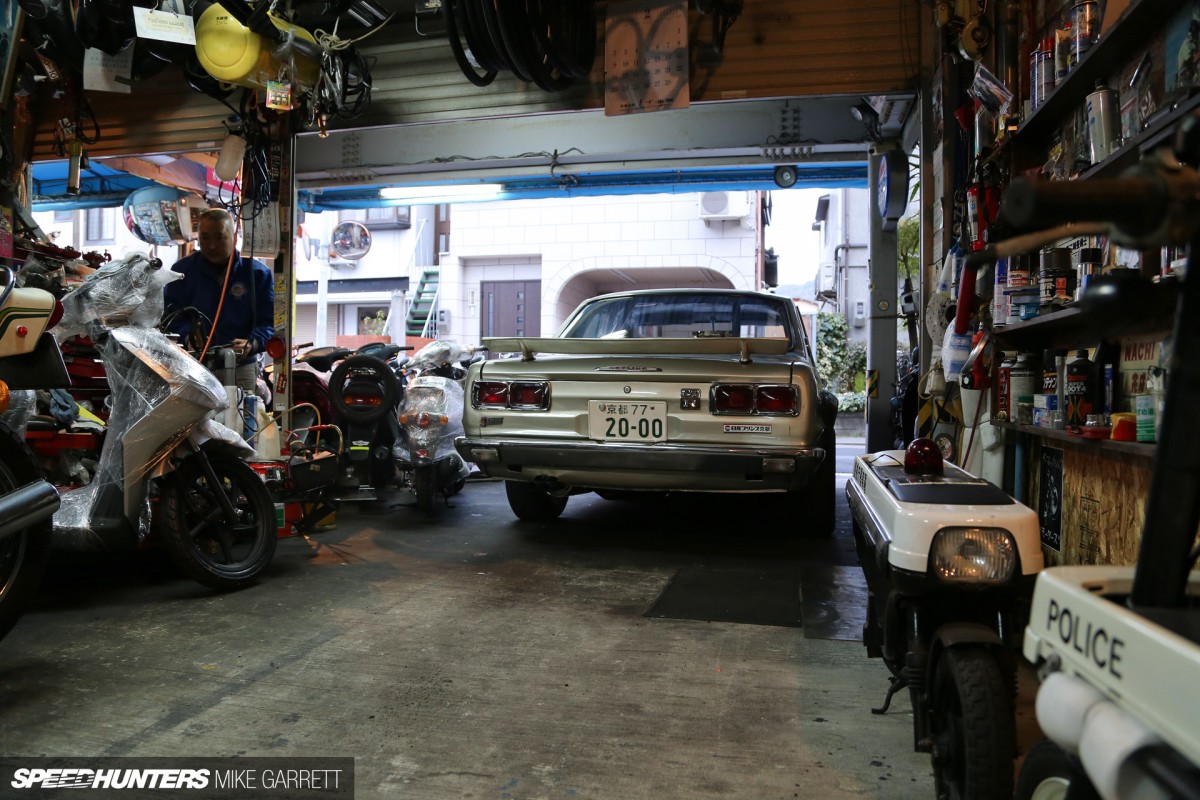 When it comes to four-wheeled vehicles, the classic Skyline is king for Mr. Ohgishi. He's owned this Hakosuka for decades and there's no doubt its presence in the family has helped transform his boys into life-long car lovers.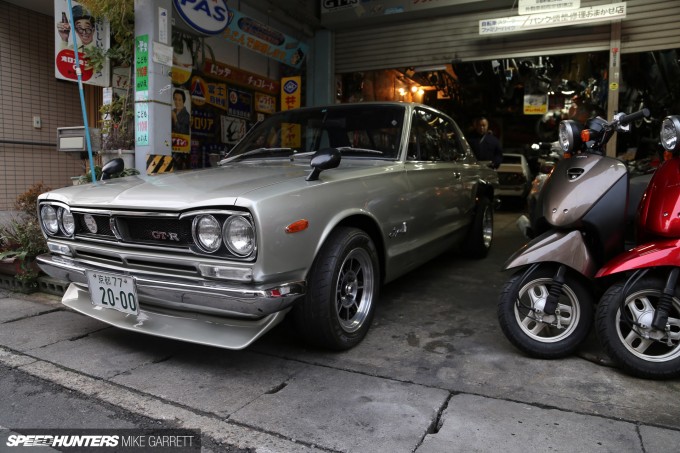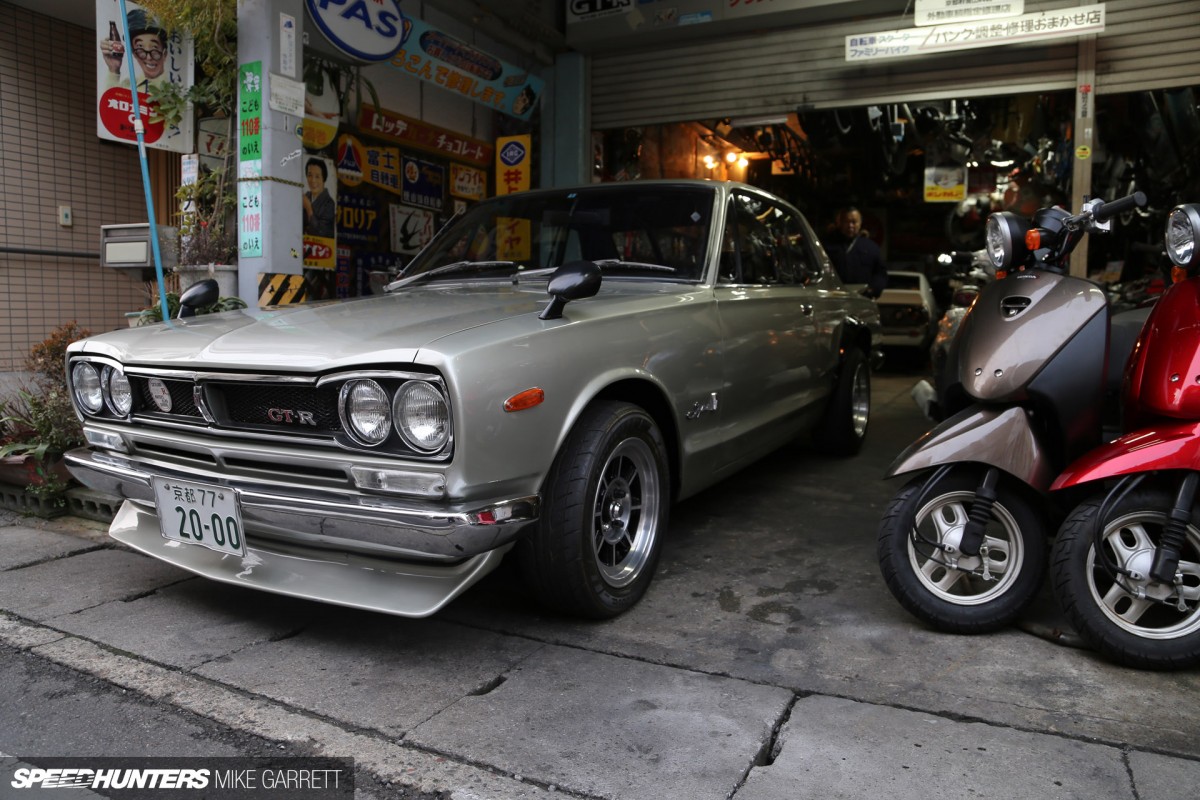 And who can blame them? If you grew up around a car like this, wouldn't you also be hooked for life?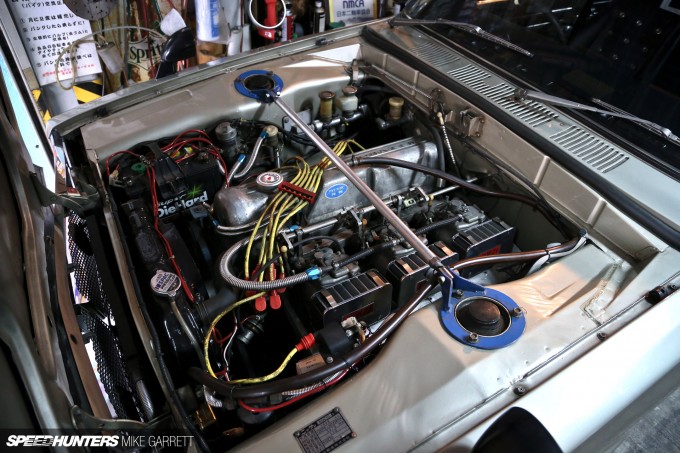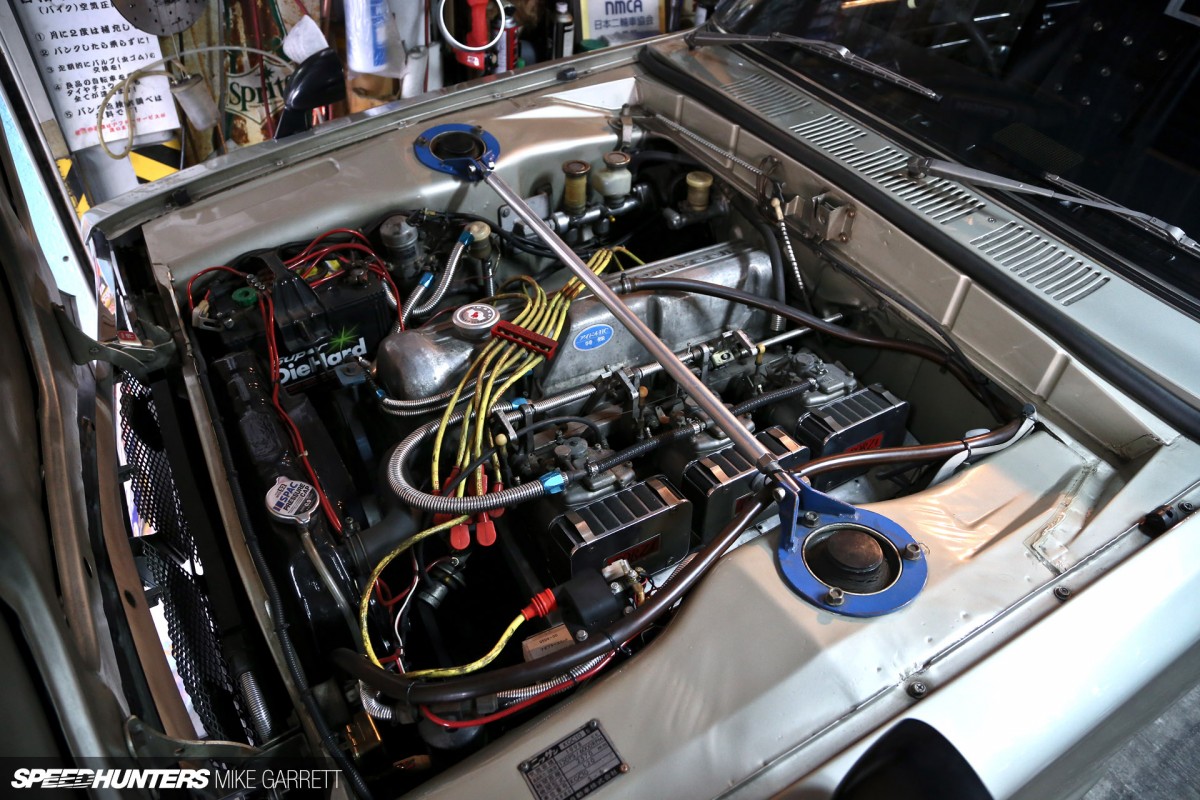 The Hakosuka is powered by a Mikuni-fed L28 and is ready to be fired up whenever Mr. Ohgishi wants a taste of Showa era motoring at its best.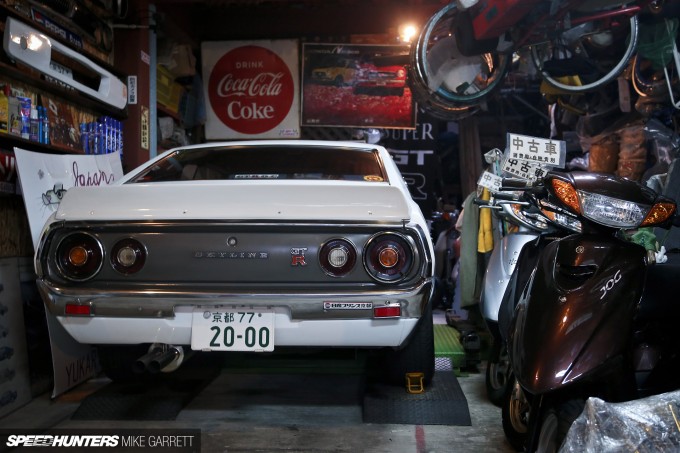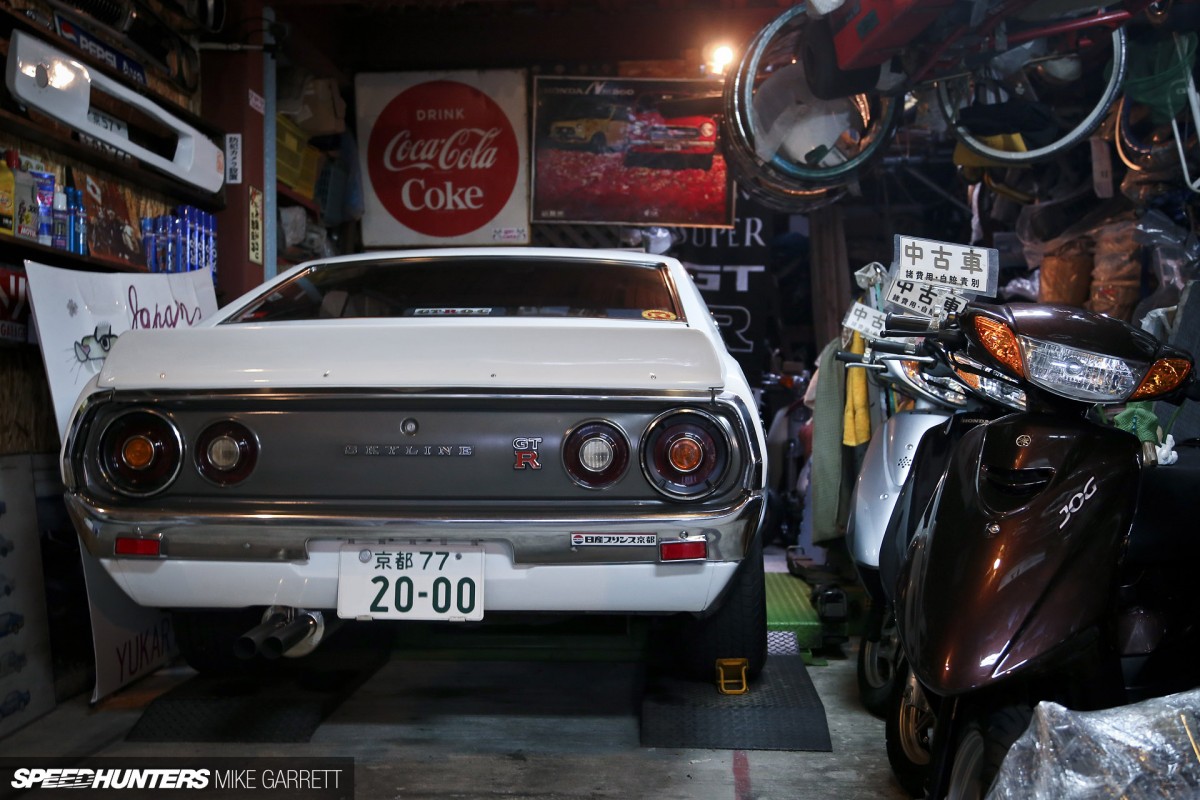 His enthusiasm for old Skylines is so great that one car can't satisfy it. The garage below the house is also home to a very nice Kenmeri, which like the Hakosuka has been built into a convincing GT-R replica.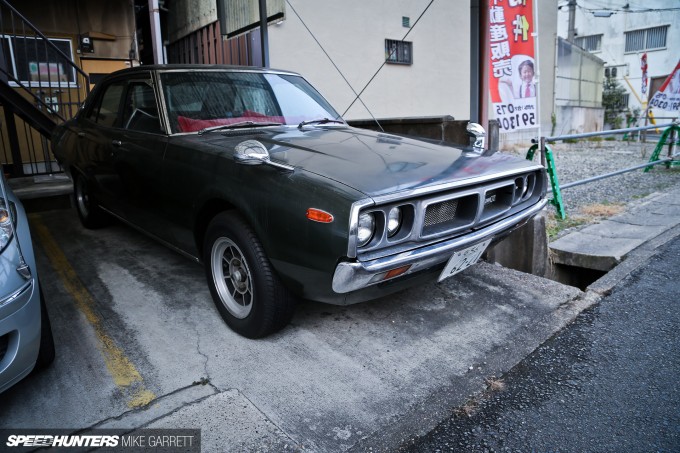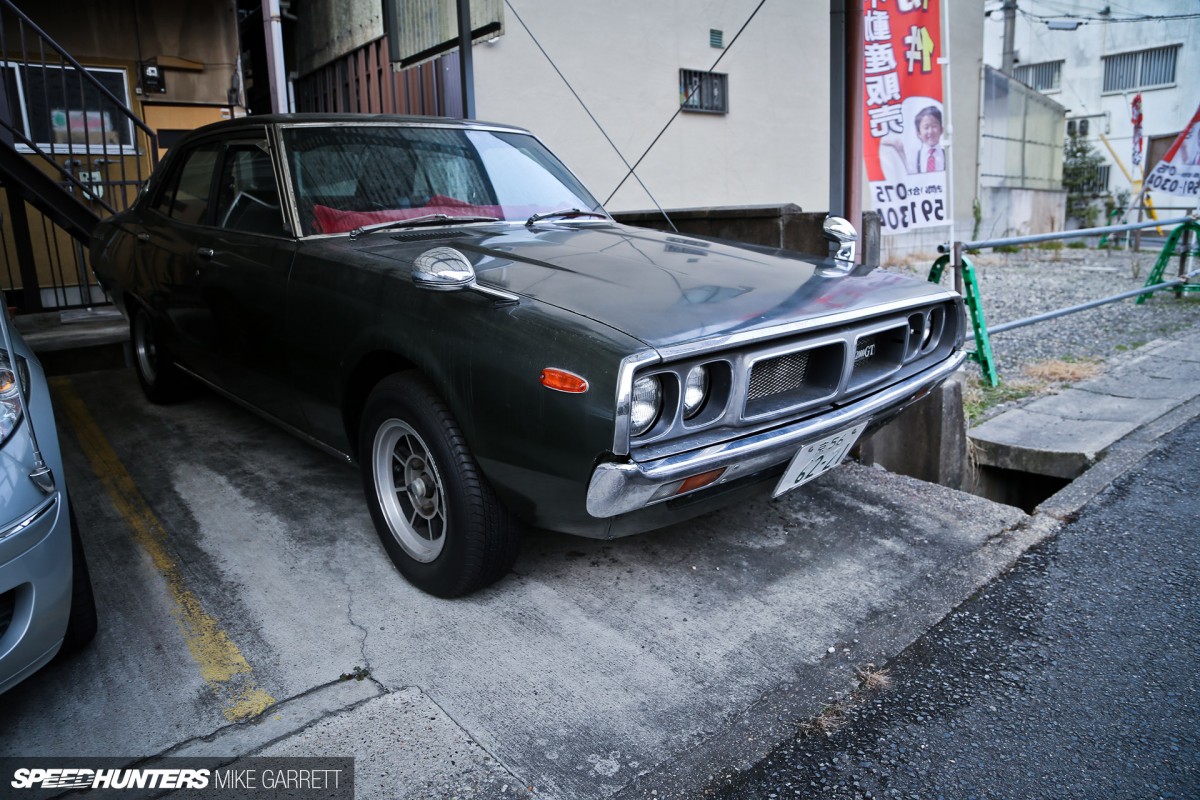 It doesn't end there. I was also led down the street where I was shown the third member of the Ohgishi Skyline fleet – an olive green C110 Yonmeri sedan.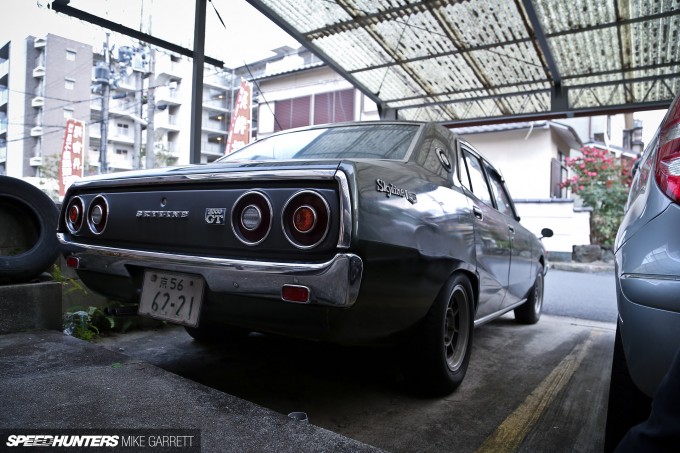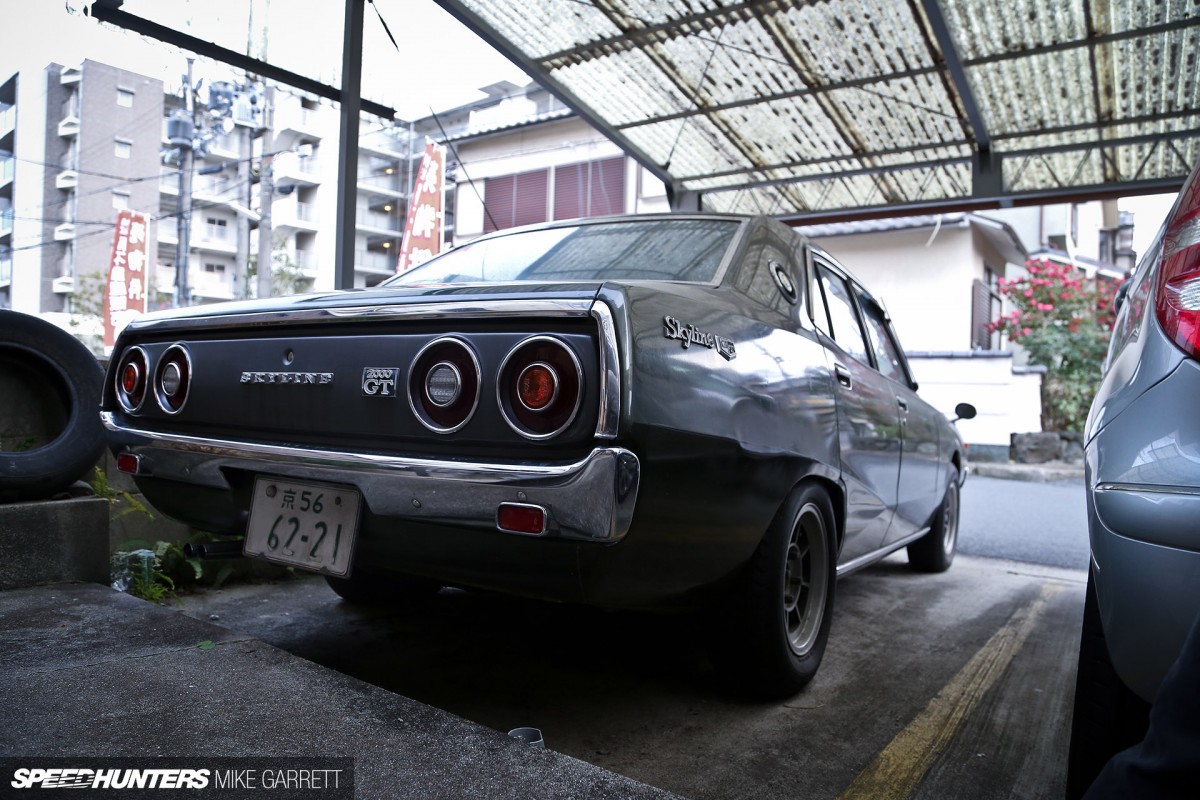 It's a factory 2000 GT model with an L20 engine and a five-speed gearbox – easily the most desirable of the four-door C110 Skylines.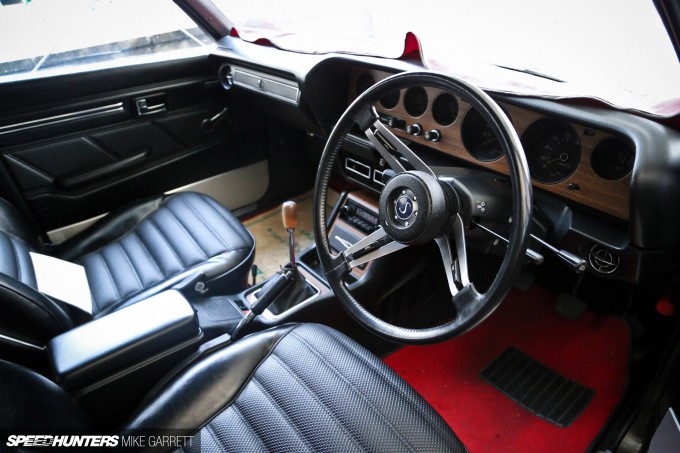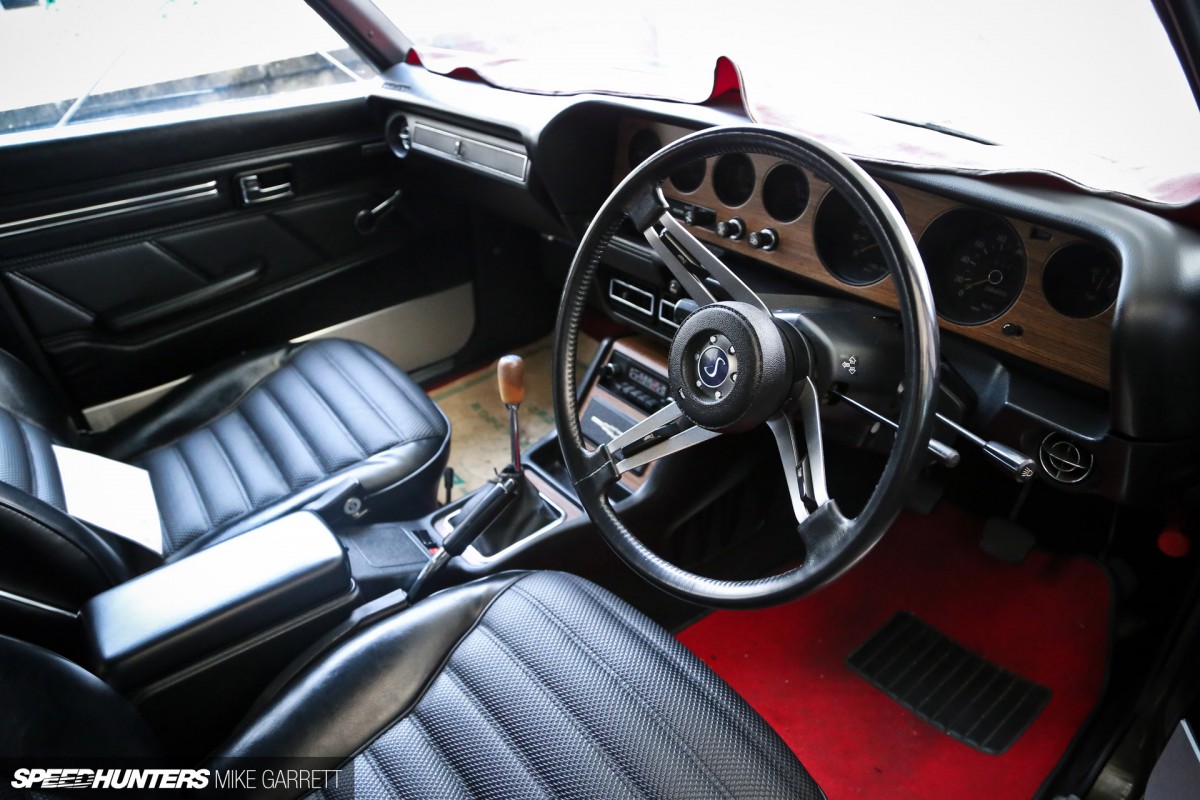 In collector car circles, this is what you would call a survivor. It's original right down to the factory paint and upholstery. A rare find by any standards.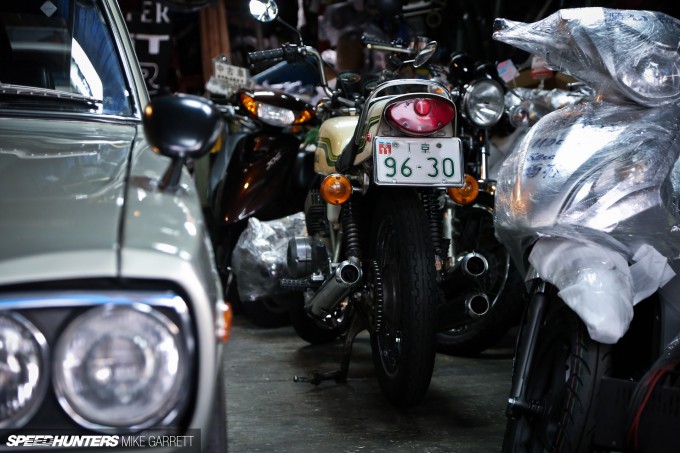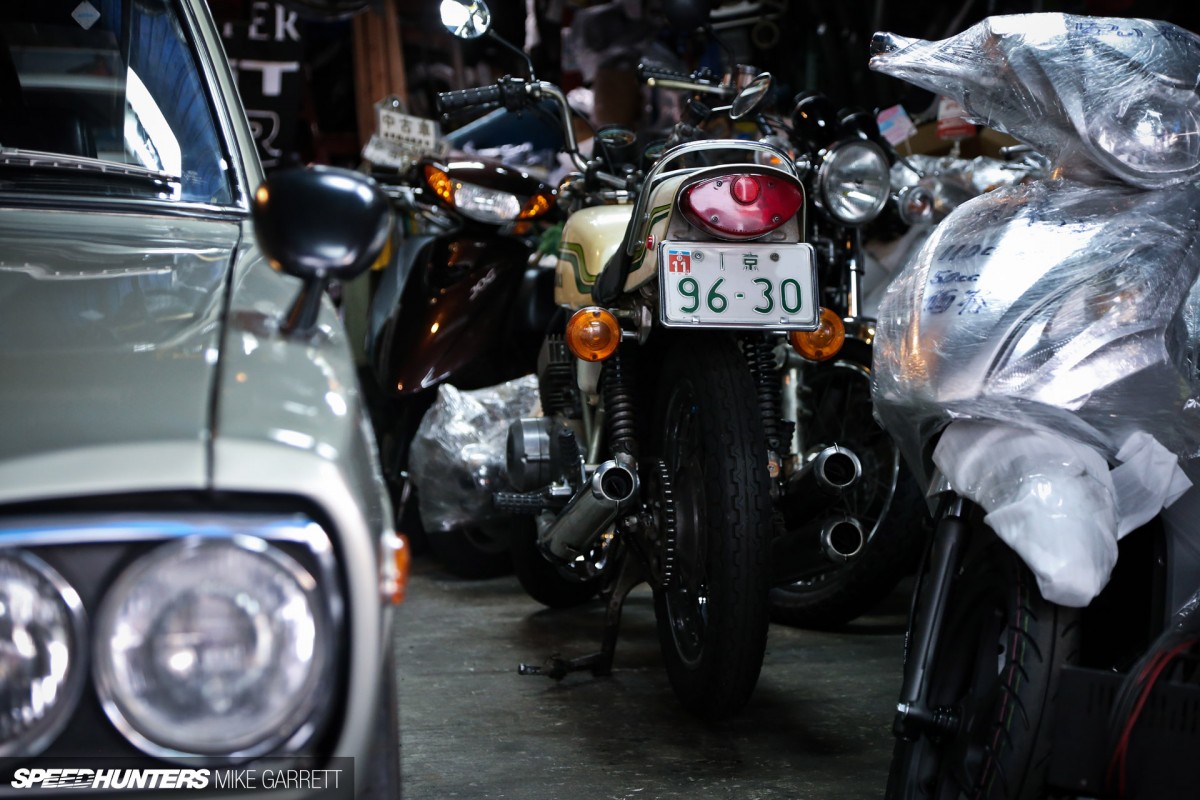 Given his career in selling and working on bicycles and scooters, it's not surprising that Mr. Ohgishi's collection would also include a number of vintage bikes.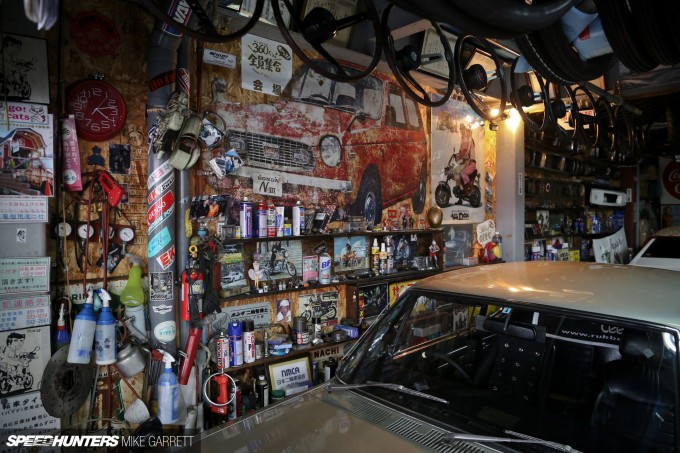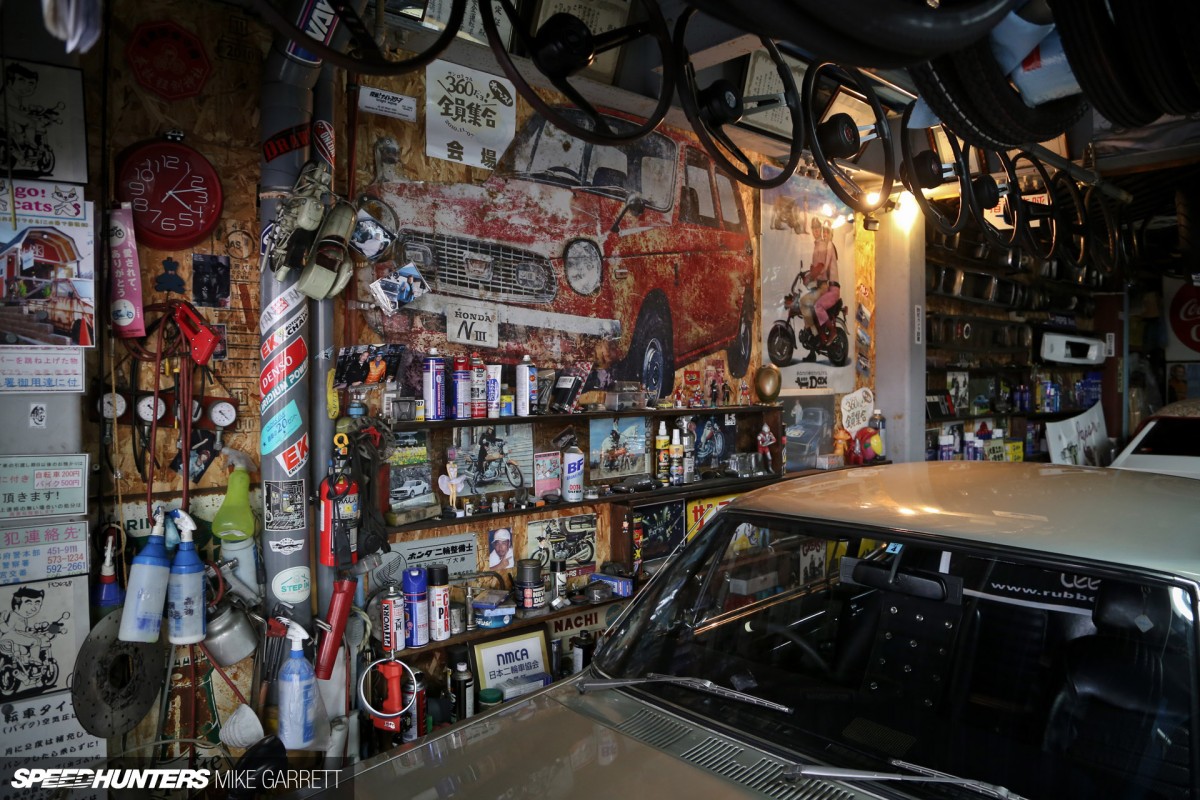 But while they are impressive, it's not just the vehicles that make the Ohgishi garage so special. It's all the other stuff.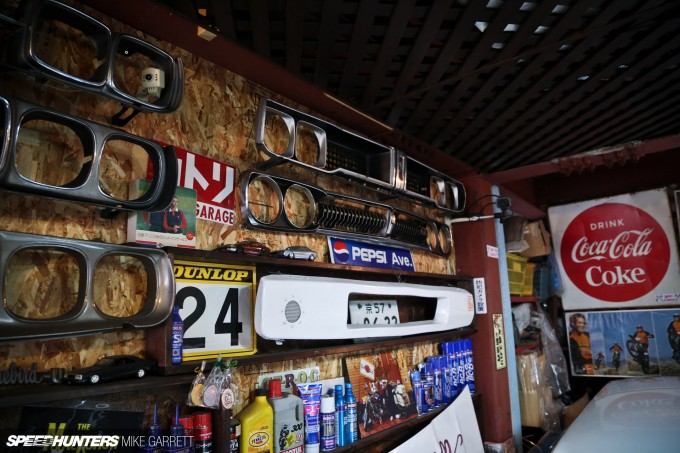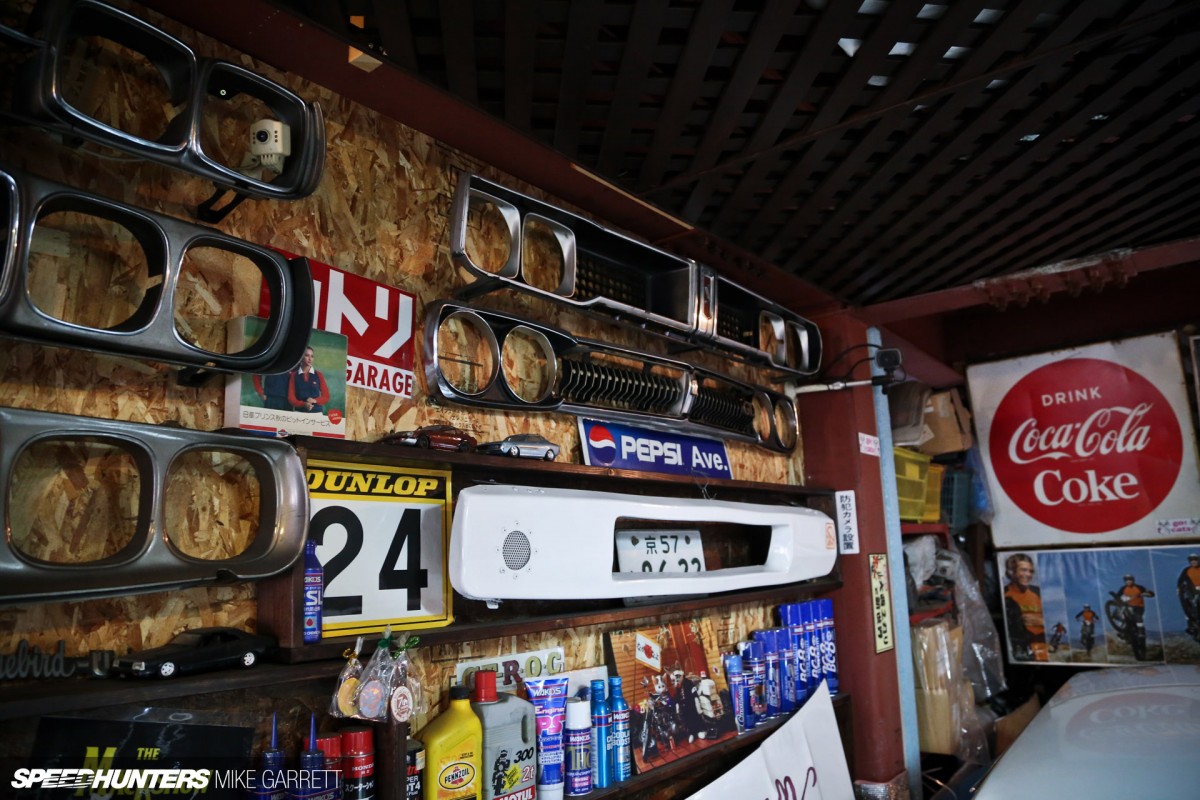 The walls of the first floor garage are covered with car parts – a collection which seemingly includes every grille ever fitted to a Hakosuka or Kenmeri Skyline.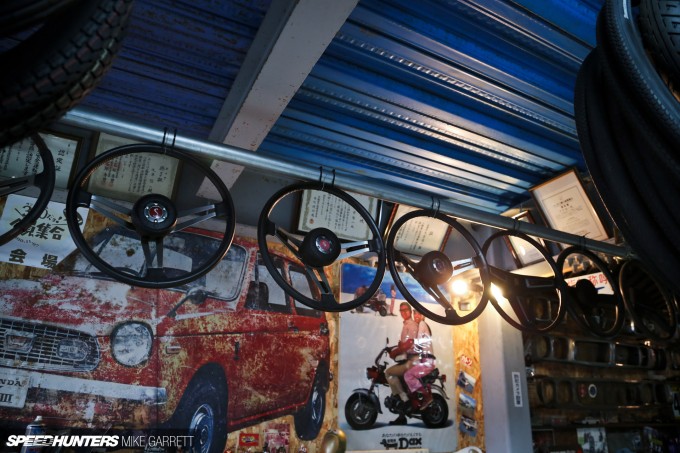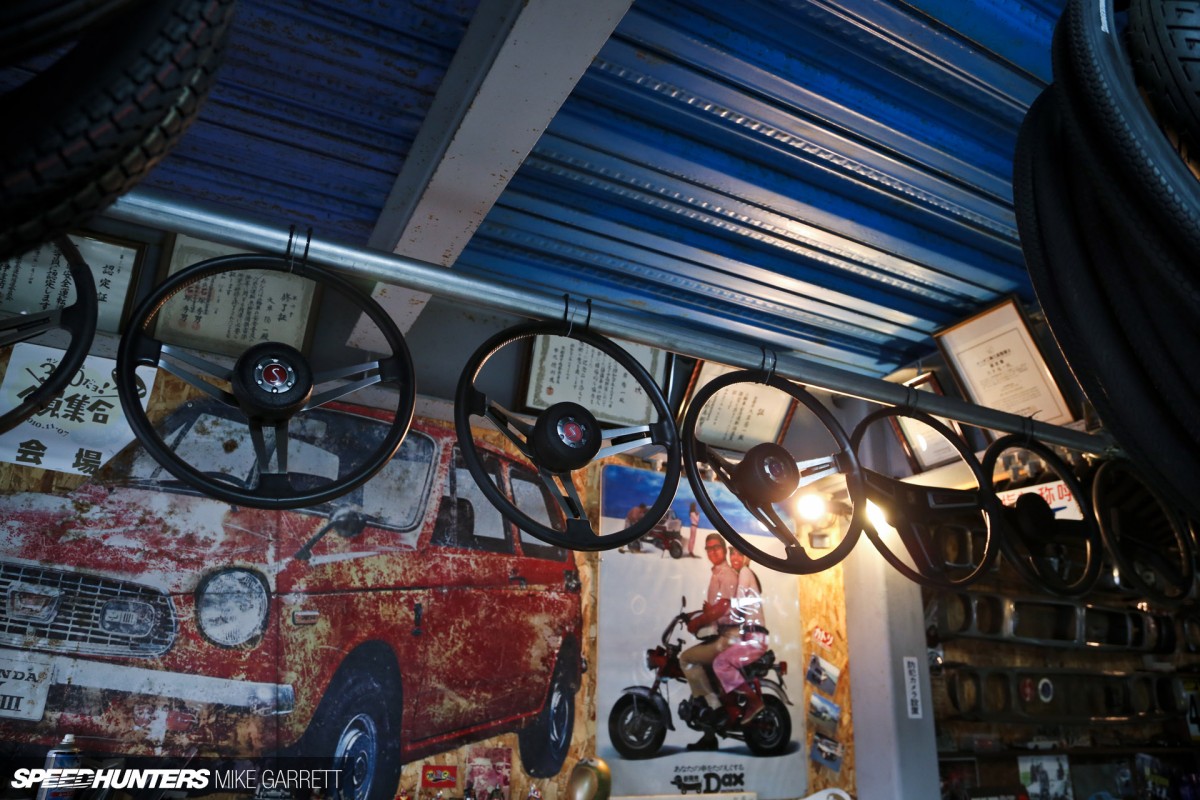 Vintage Skyline steering wheels are also presented with equal love.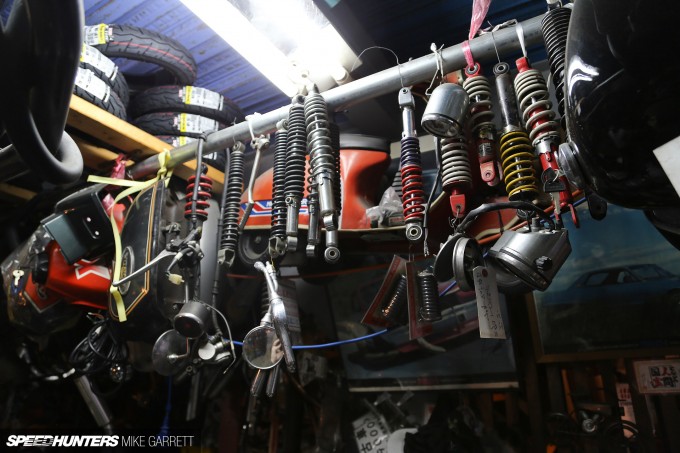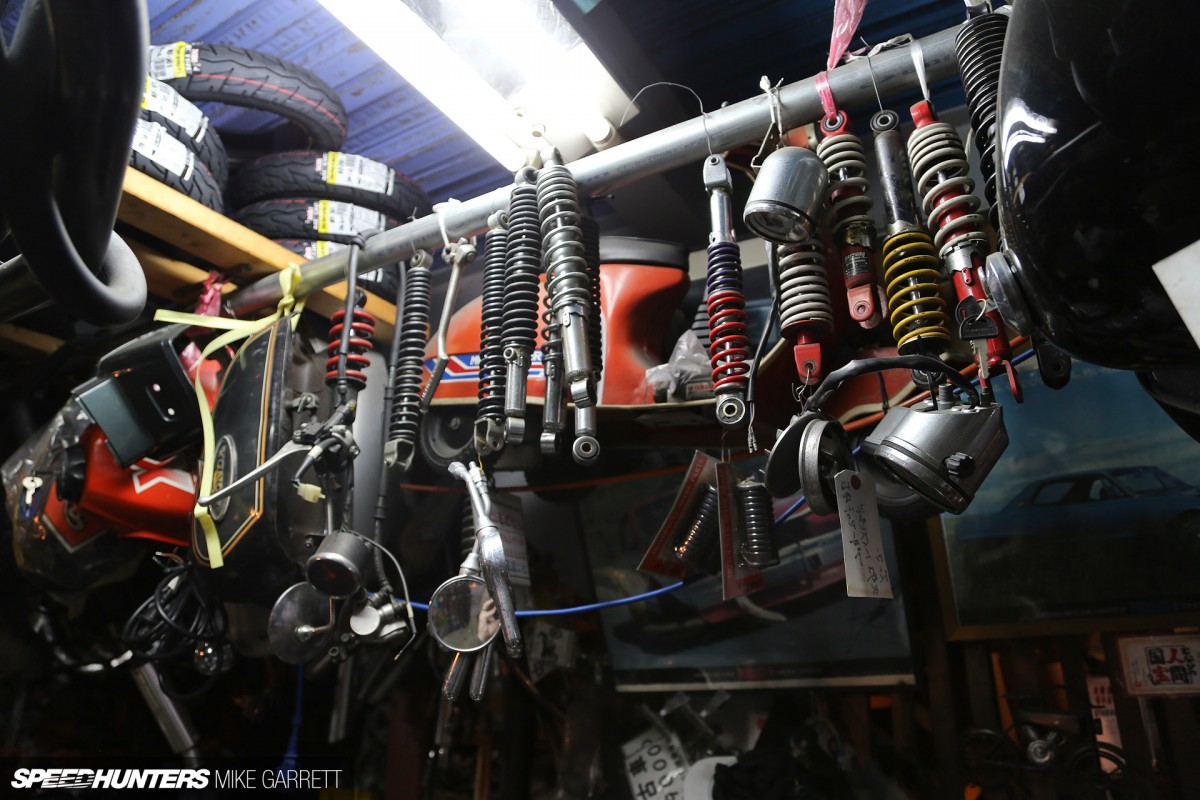 Other corners of the garage are quite literally stacked with parts for all manner of vintage motorcycles and scooters.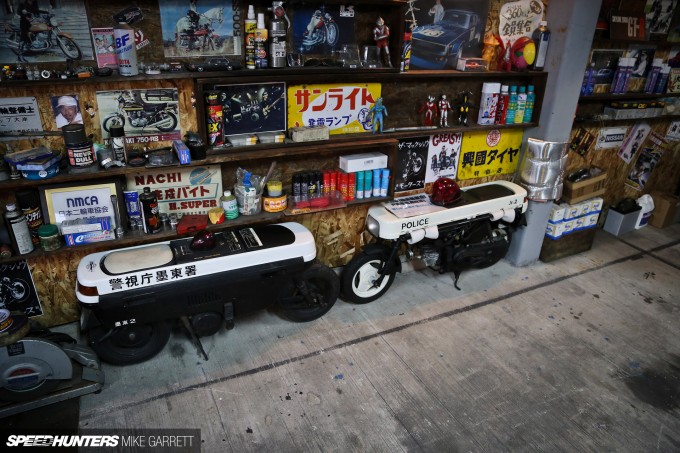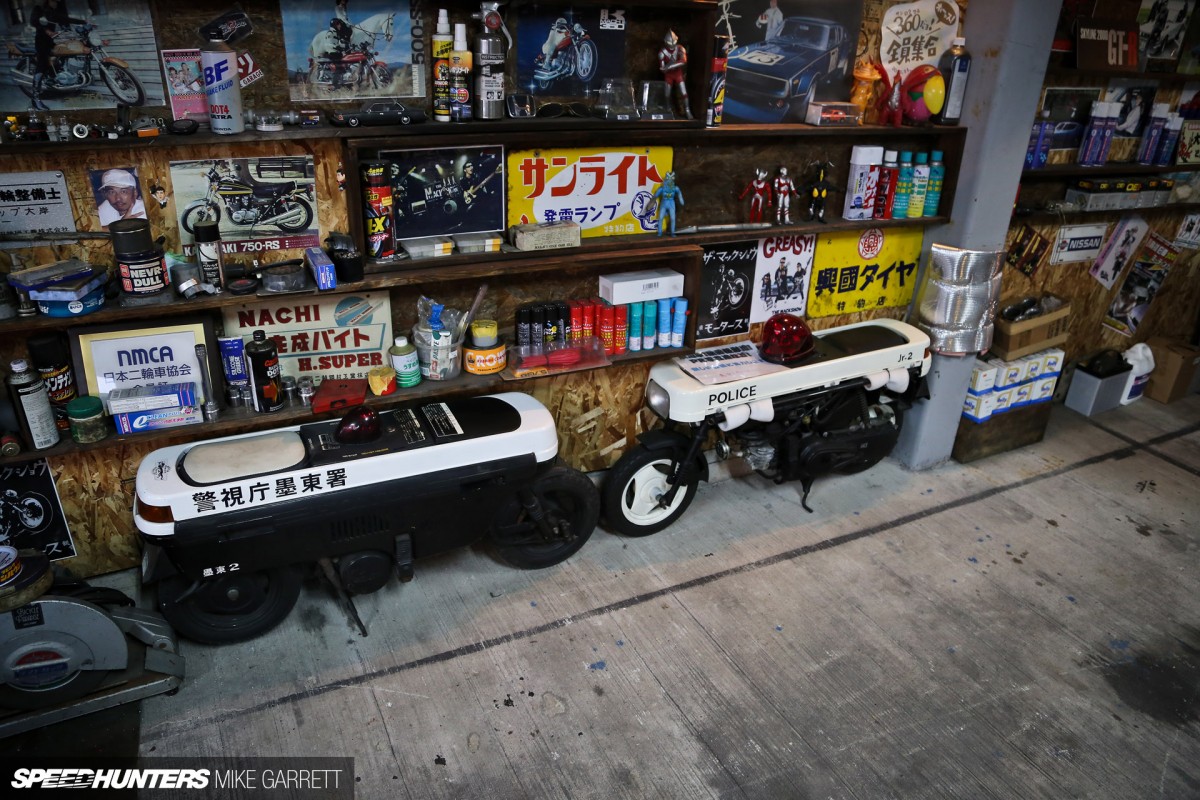 And when it comes to old school scooters, few are cooler than the early 1980s Honda Motocompo. Ohgishi-san has two of them, both finished with police paint jobs.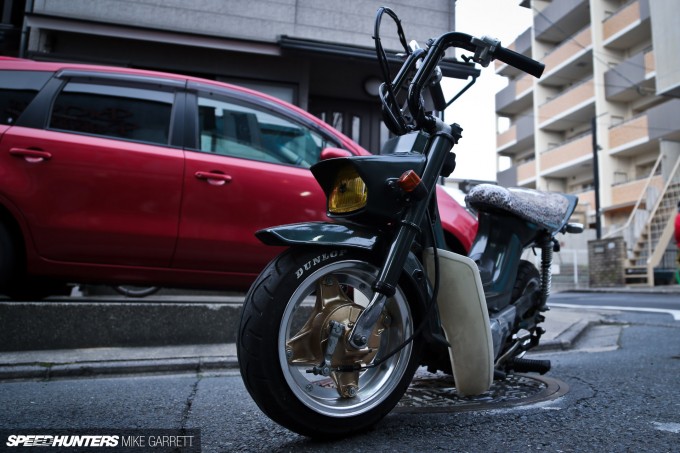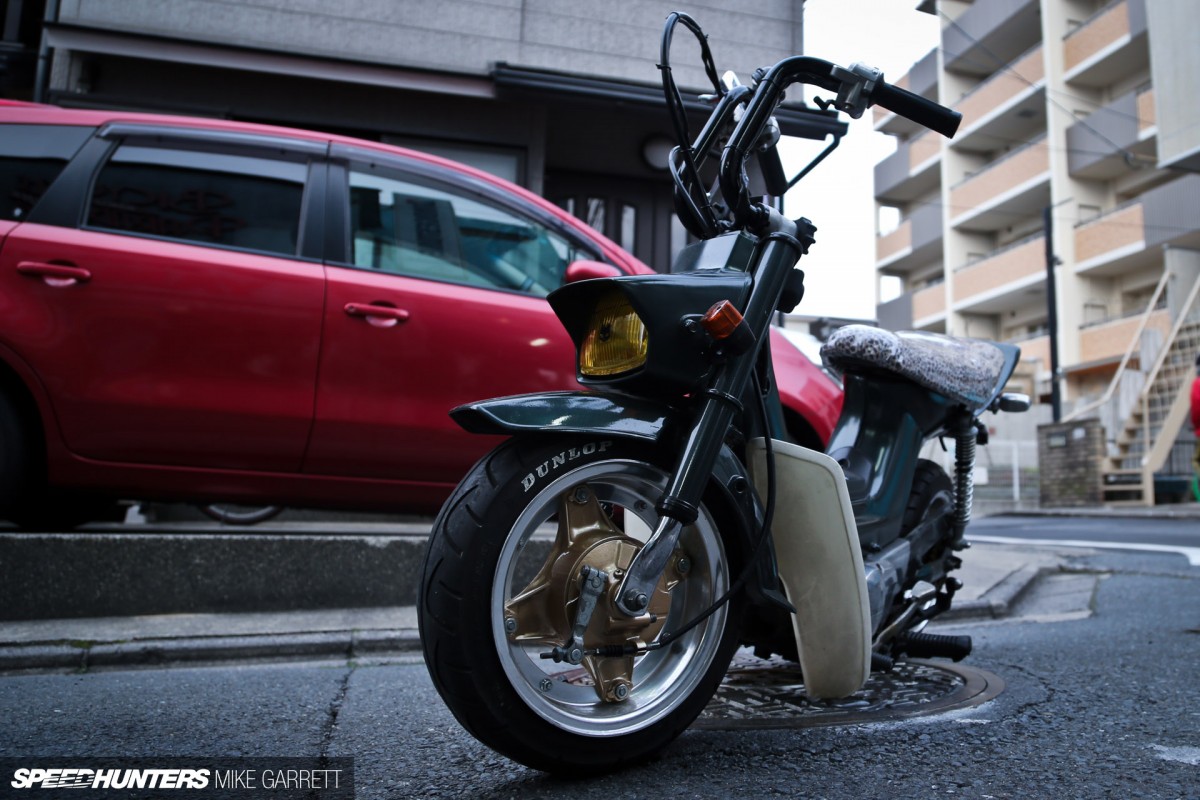 That love for scooters has also been passed down to the boys, and there were a couple of Takuma's customized machines hanging around the shop when I visited.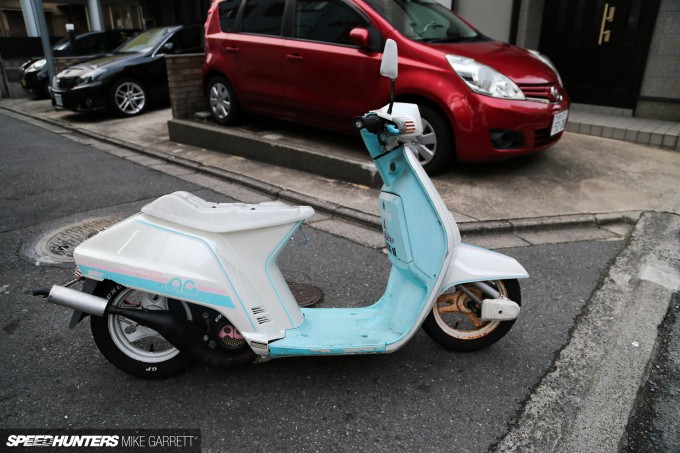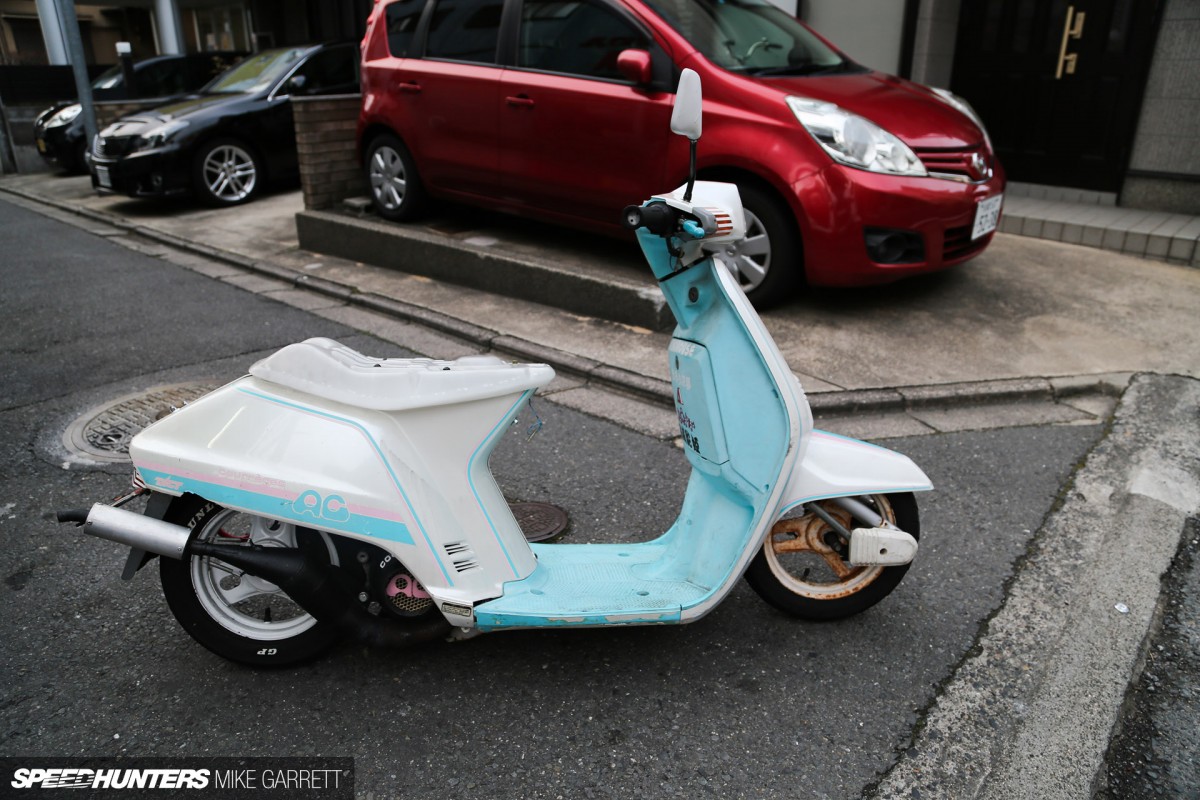 I think my favorite was his Honda Tact scooter – an icon of 1980s Japan.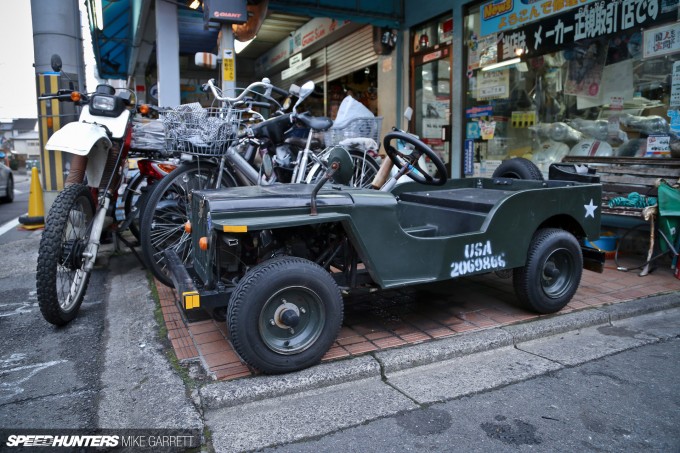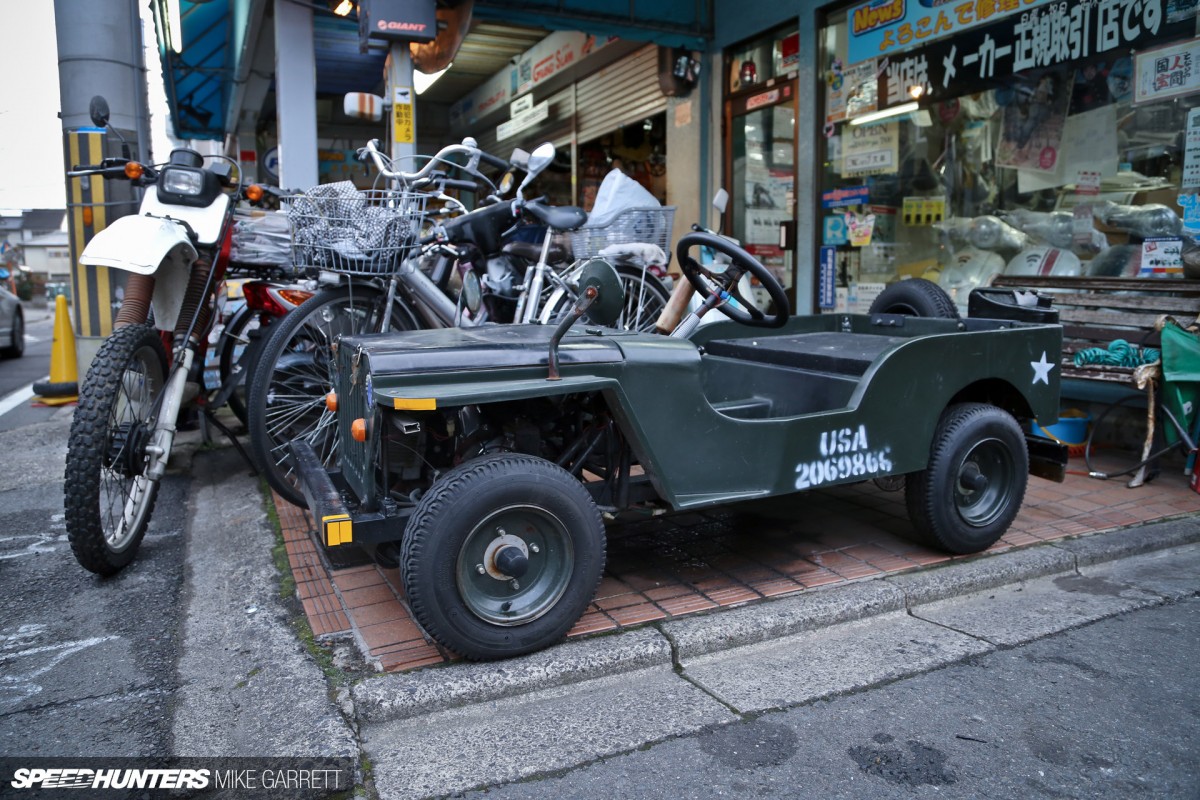 And for something a little different, how about this miniature US Army Jeep? The eight-year-old version of me loves this thing. Actually, the 29-year-old version of me also loves this thing…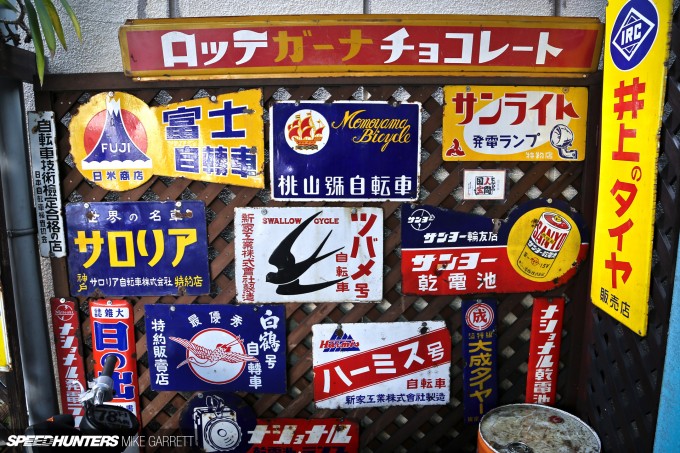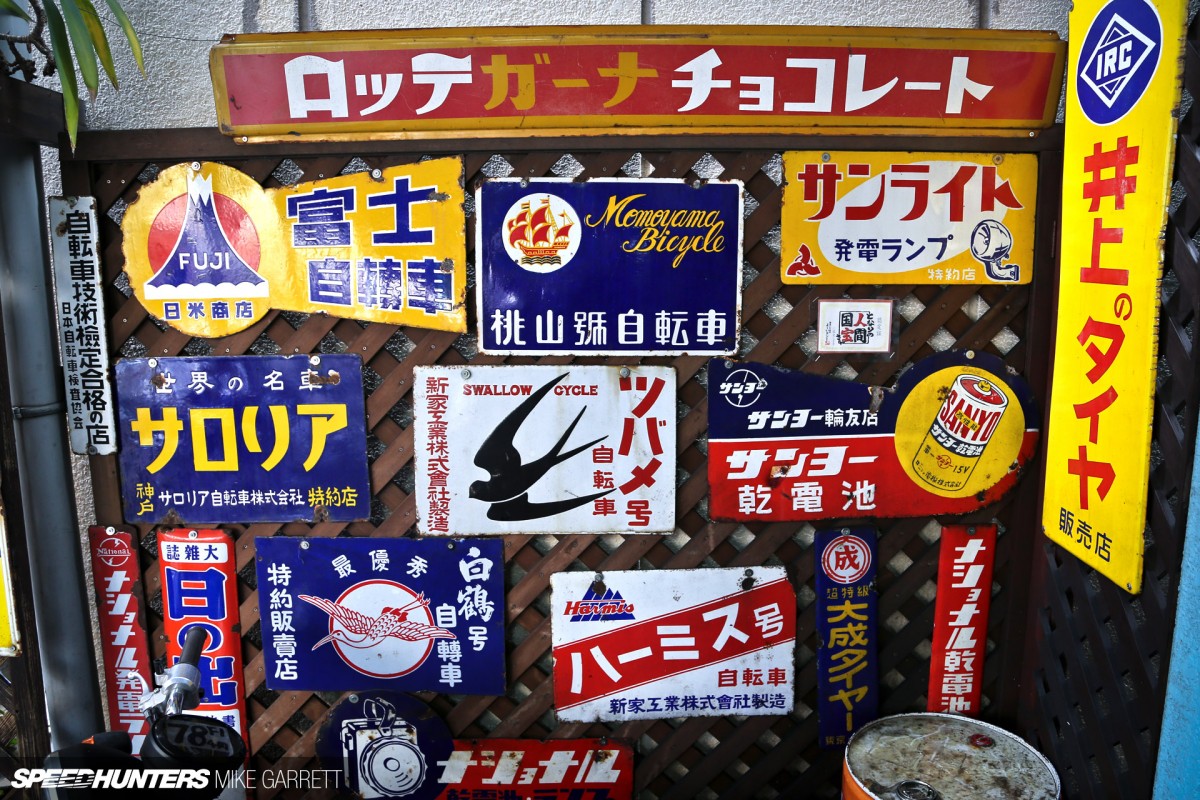 Aside from the cars, bikes and parts, the whole garage is littered with throwbacks to Japan's Showa era.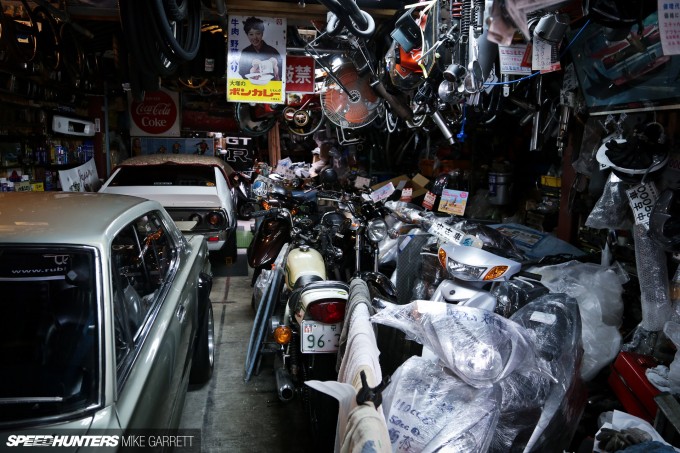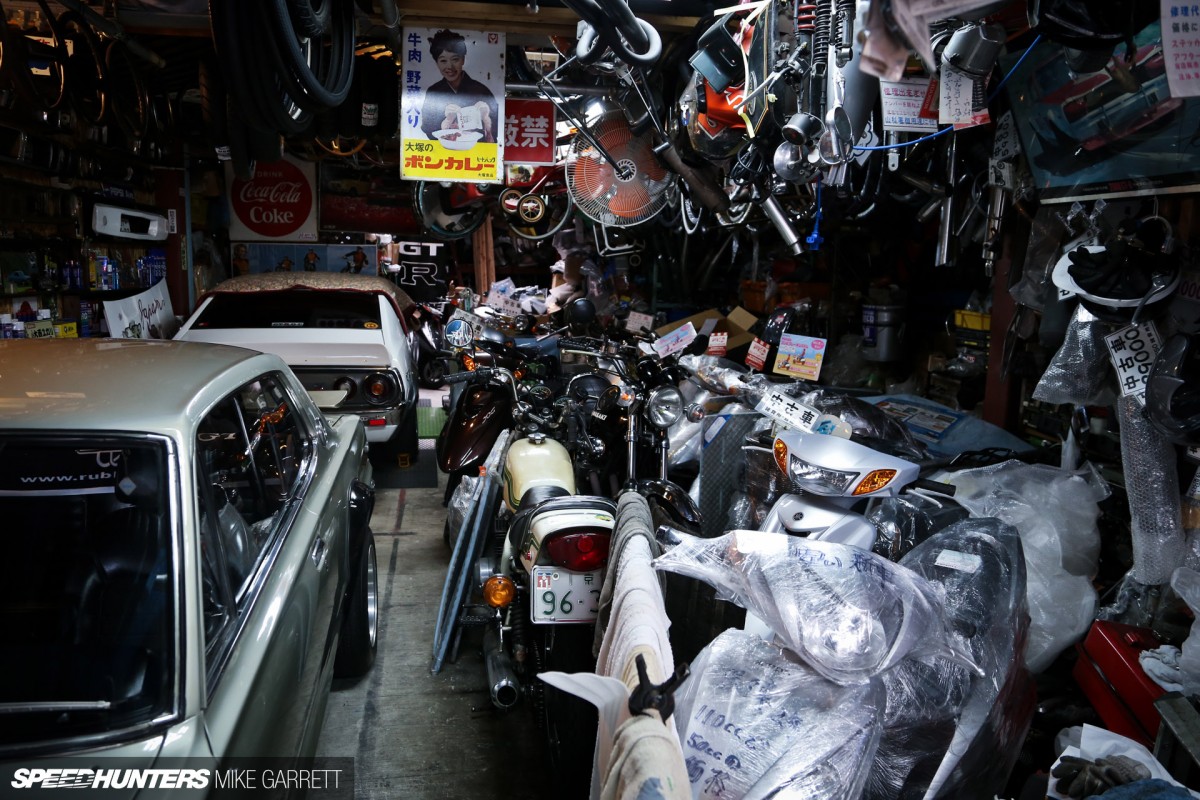 And for all the cool stuff there is in the garage, it's actually just the beginning of it.
Showa Man Cave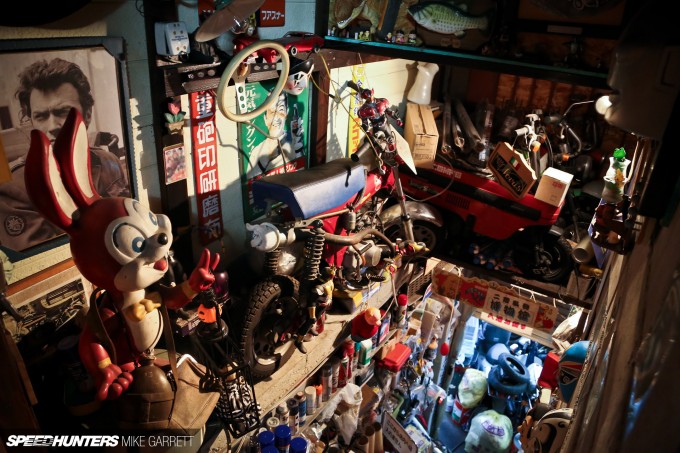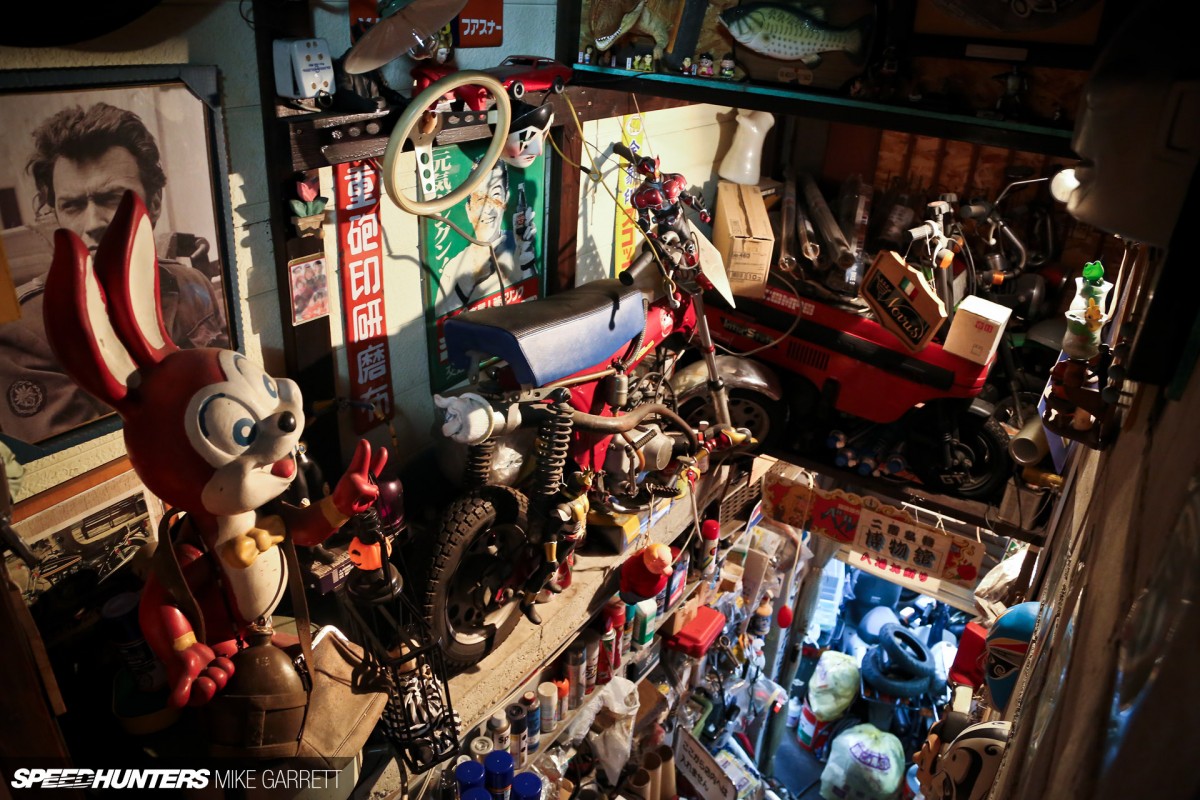 It's not until you climb the steep staircase up to the second floor that you get to the heart of Mr. Ohgishi's collection.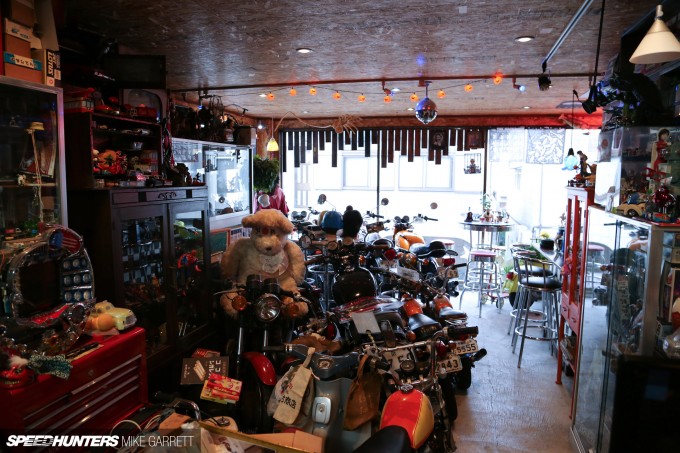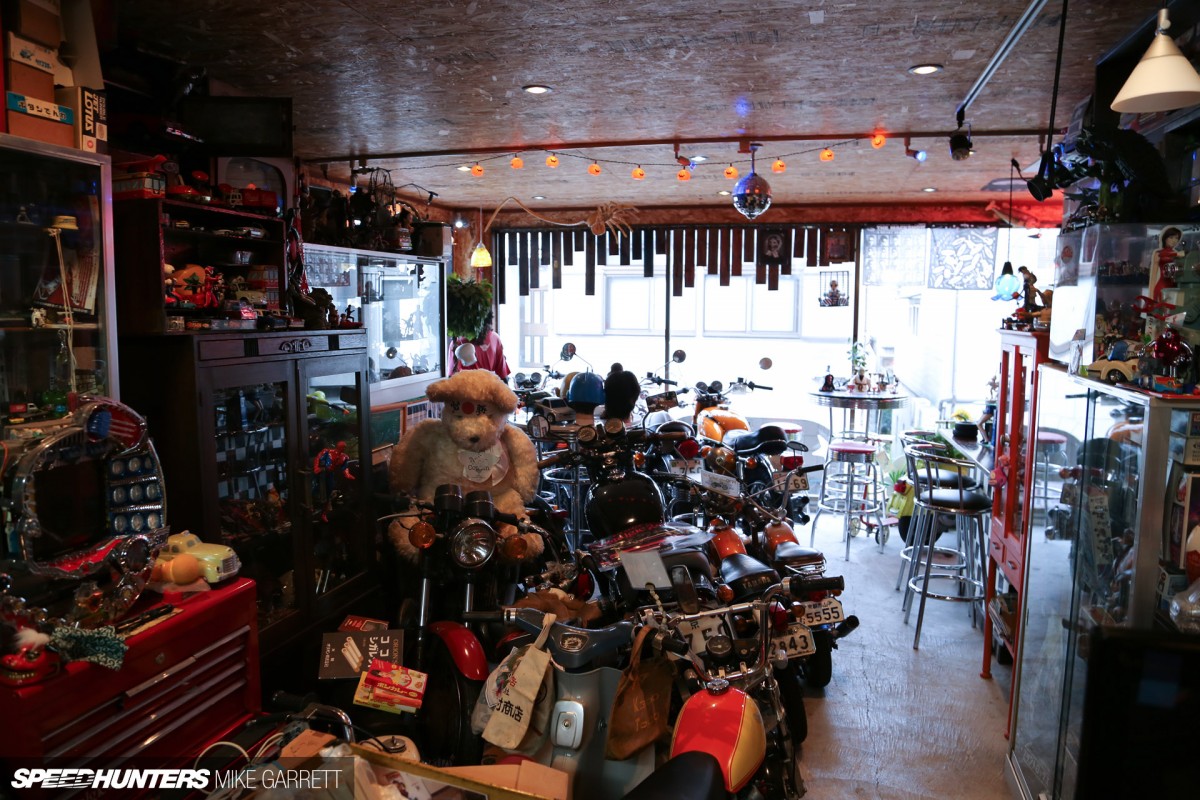 It's here that you'll find a place that many passers by have mistaken for a bar, night club and even a casino.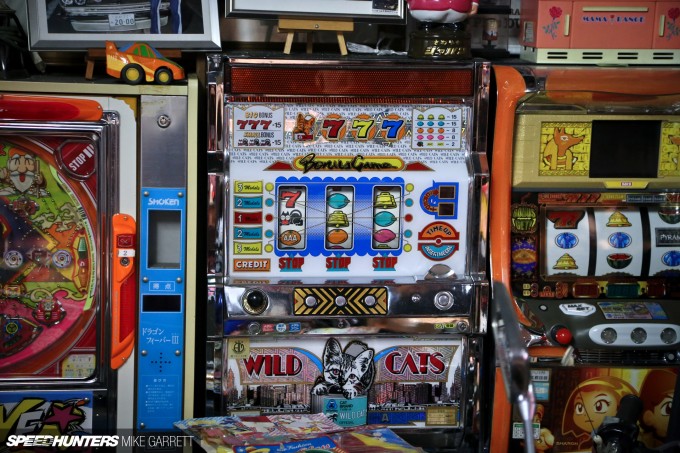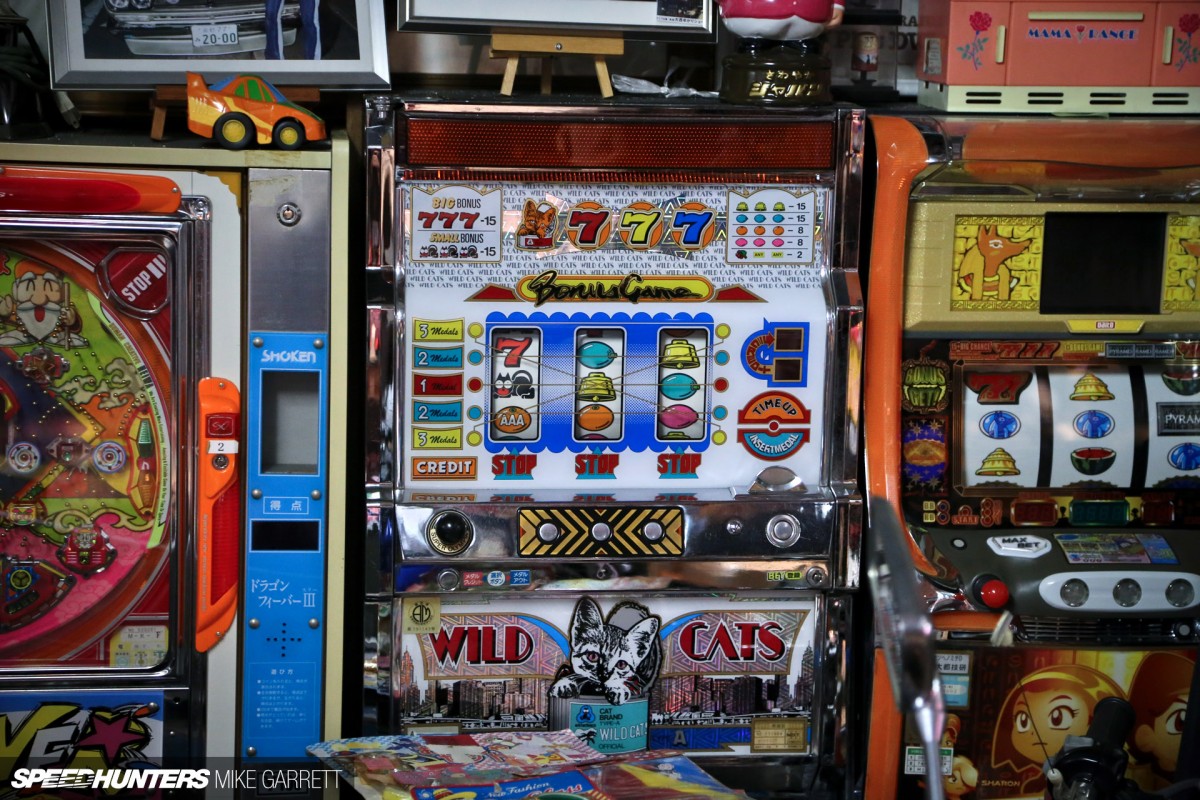 I mean, you can't really blame them. This room is full of everything from vintage pachinko and slot machines to arcade cabinets.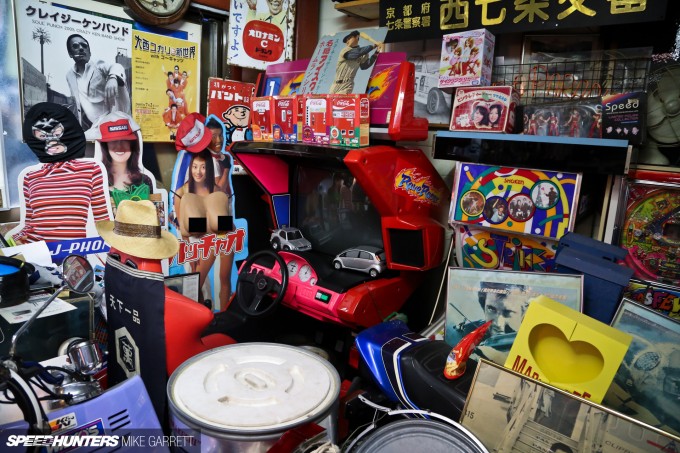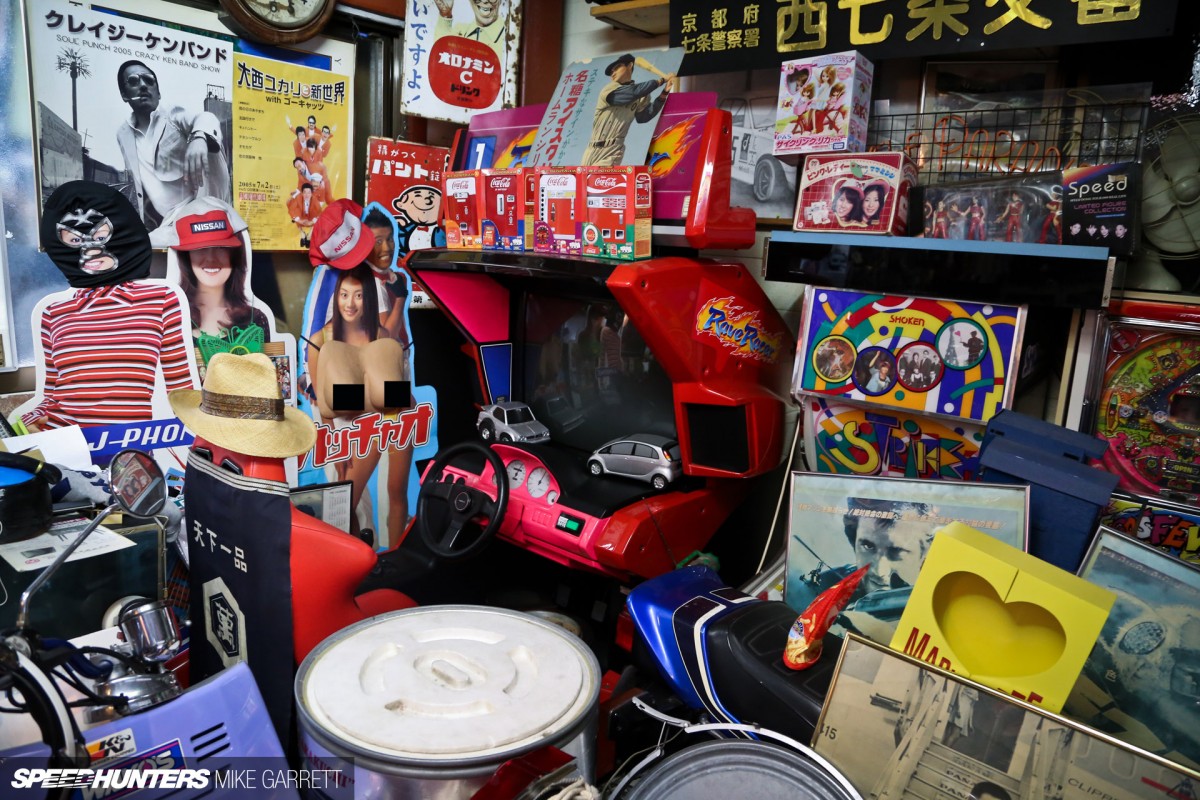 But this isn't a bar that Ohgishi-san runs after hours – it's simply a place for him and his friends to hang out in. It also happens to be filled with the biggest private collection of old Japanese toys, model kits and collectables I've ever seen.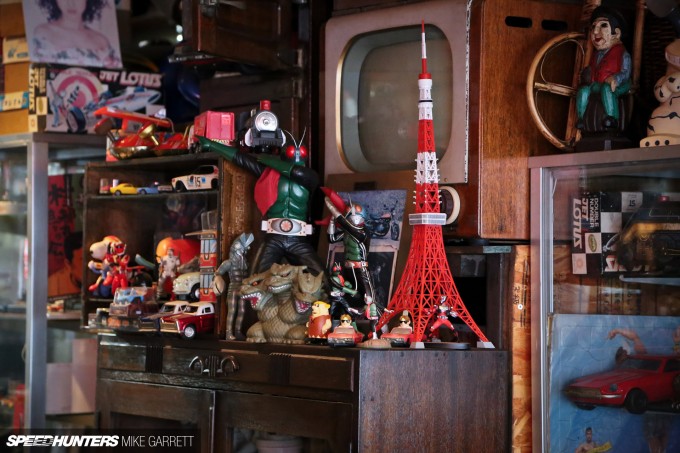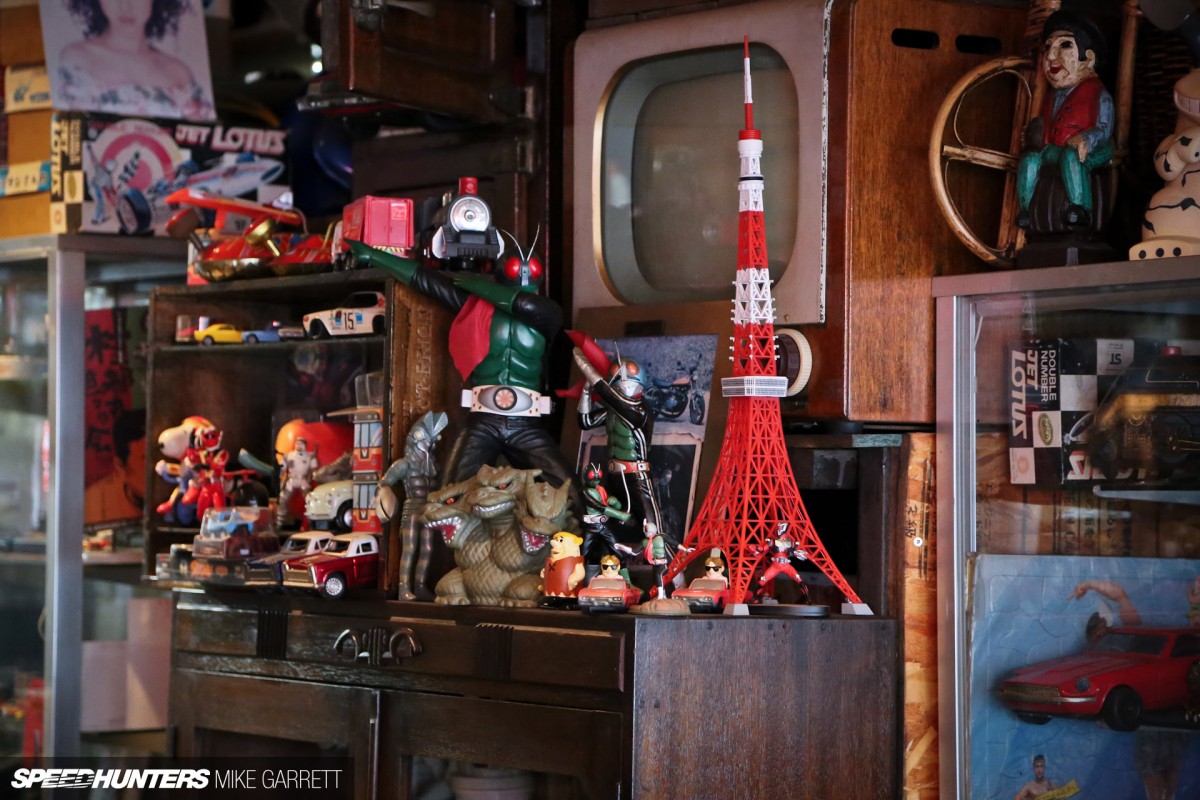 A lot of it was collected by Mr. Ohgishi himself, while other pieces have come to him through friends and customers. The room has essentially become a private museum of old Japanese pop culture.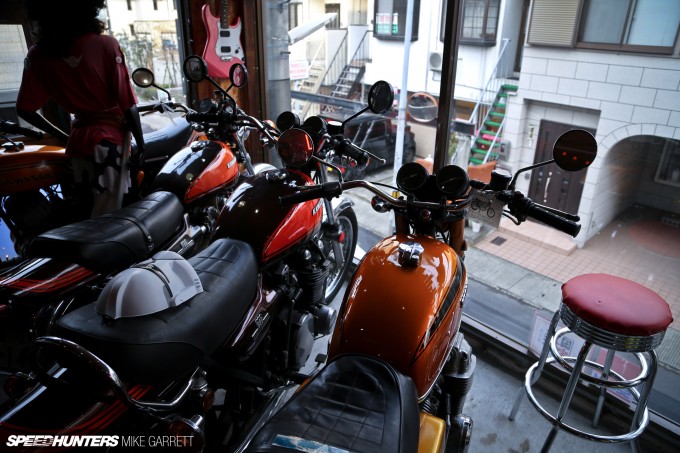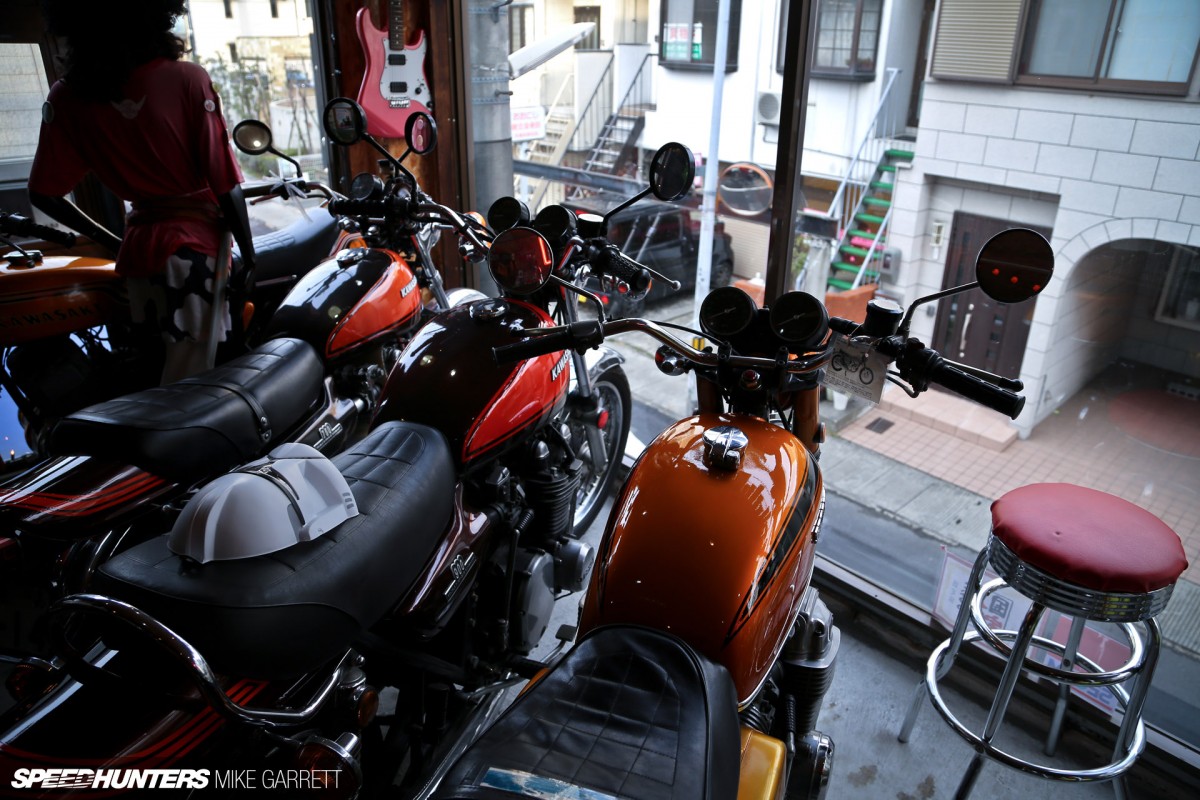 There are more bikes stored up here too – many of them proudly looking out over the street below.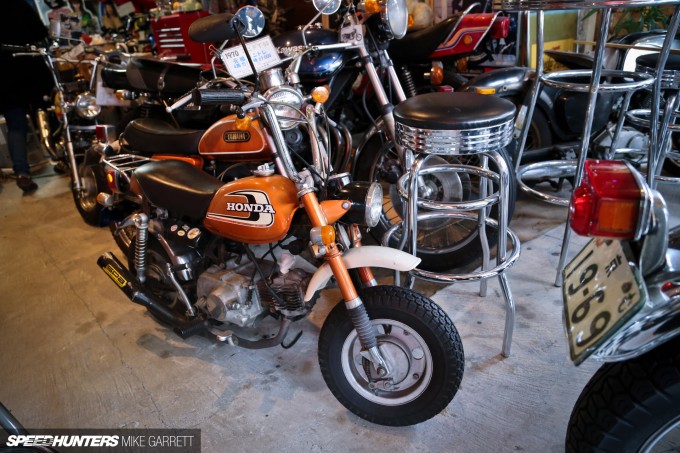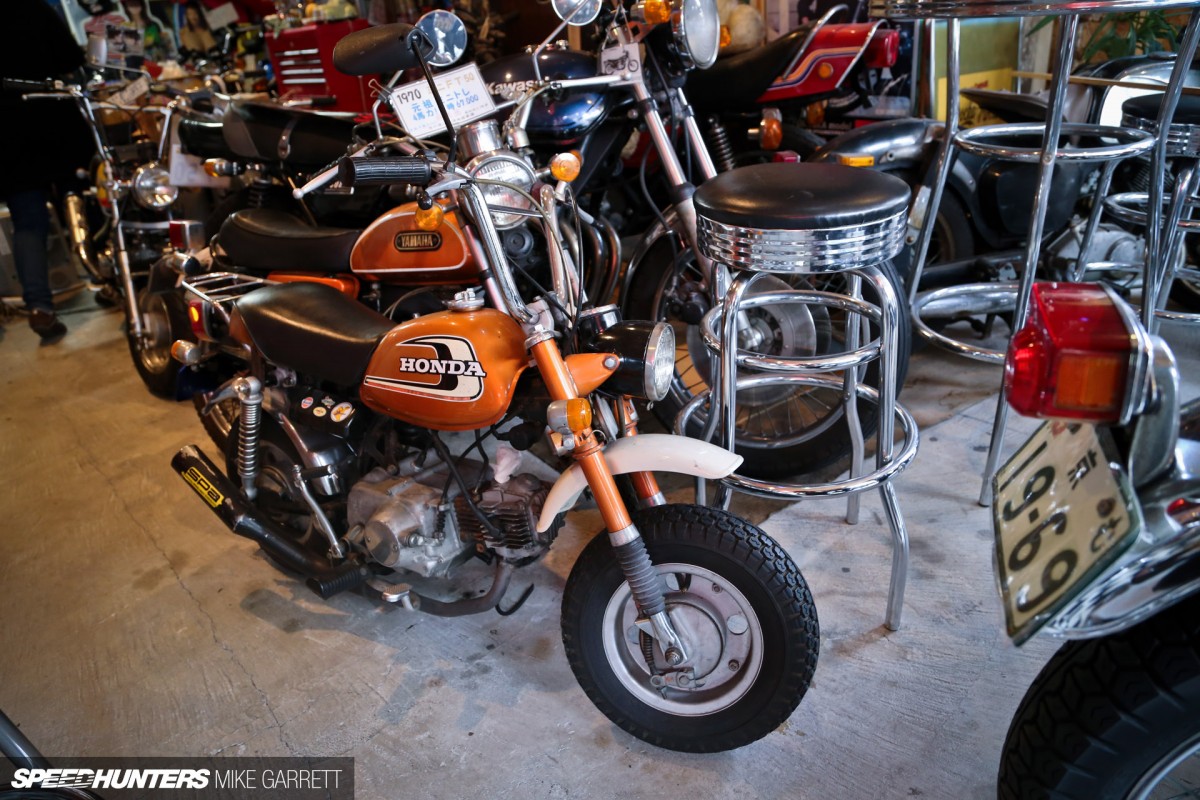 With so much stuff packed into one room – it was almost too much to take in.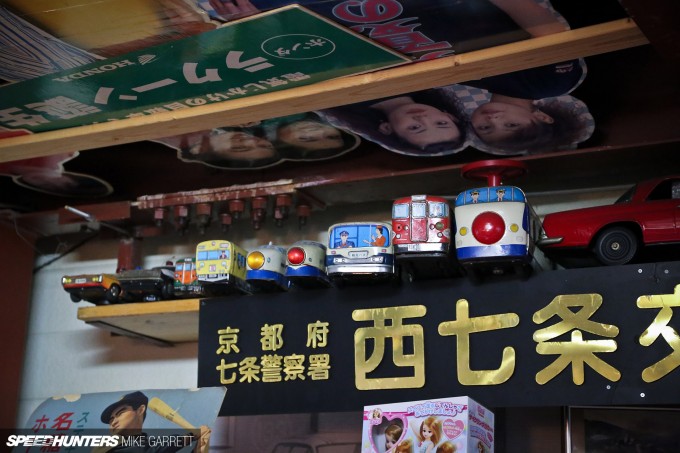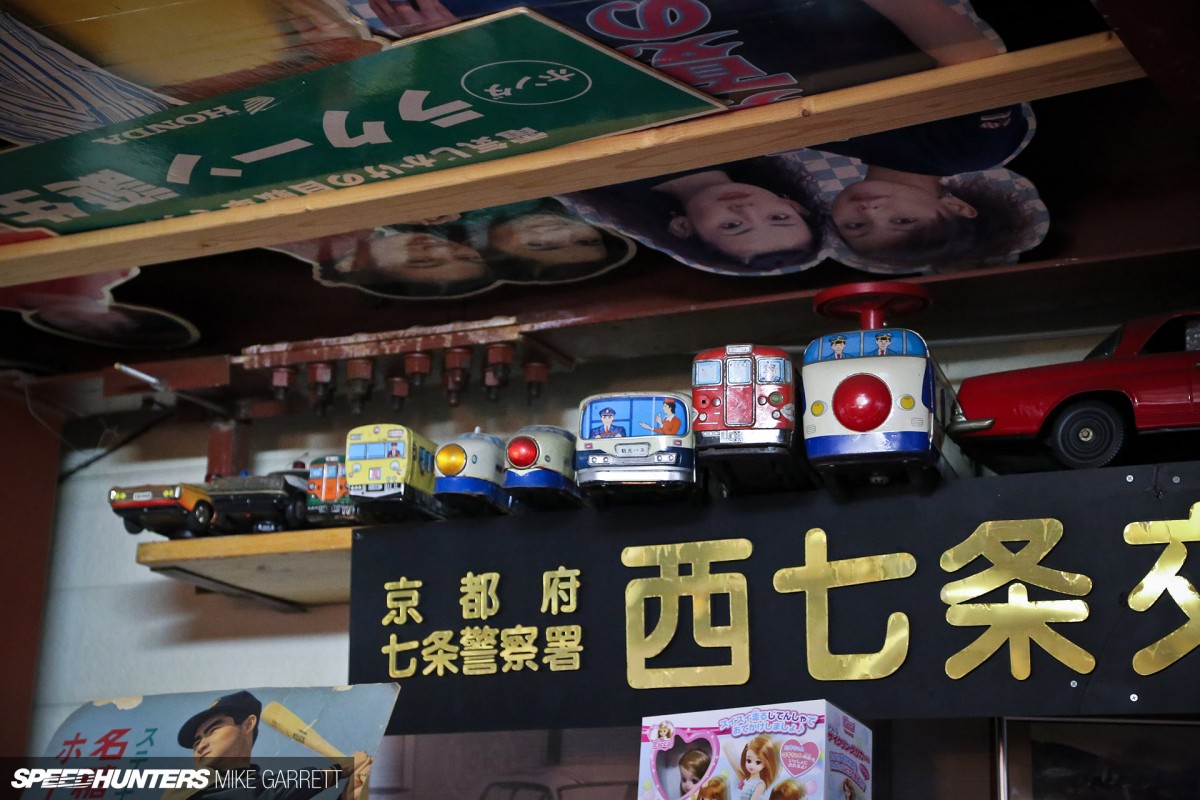 I'm not sure what exactly the Japanese version of 'Americana' is, but I felt like I was completely surrounded by it.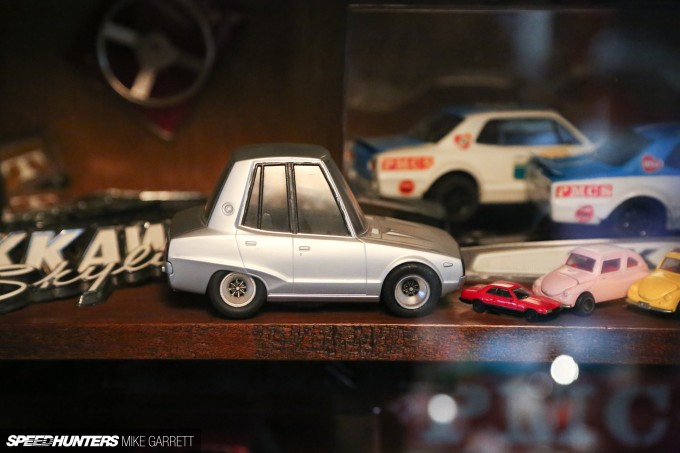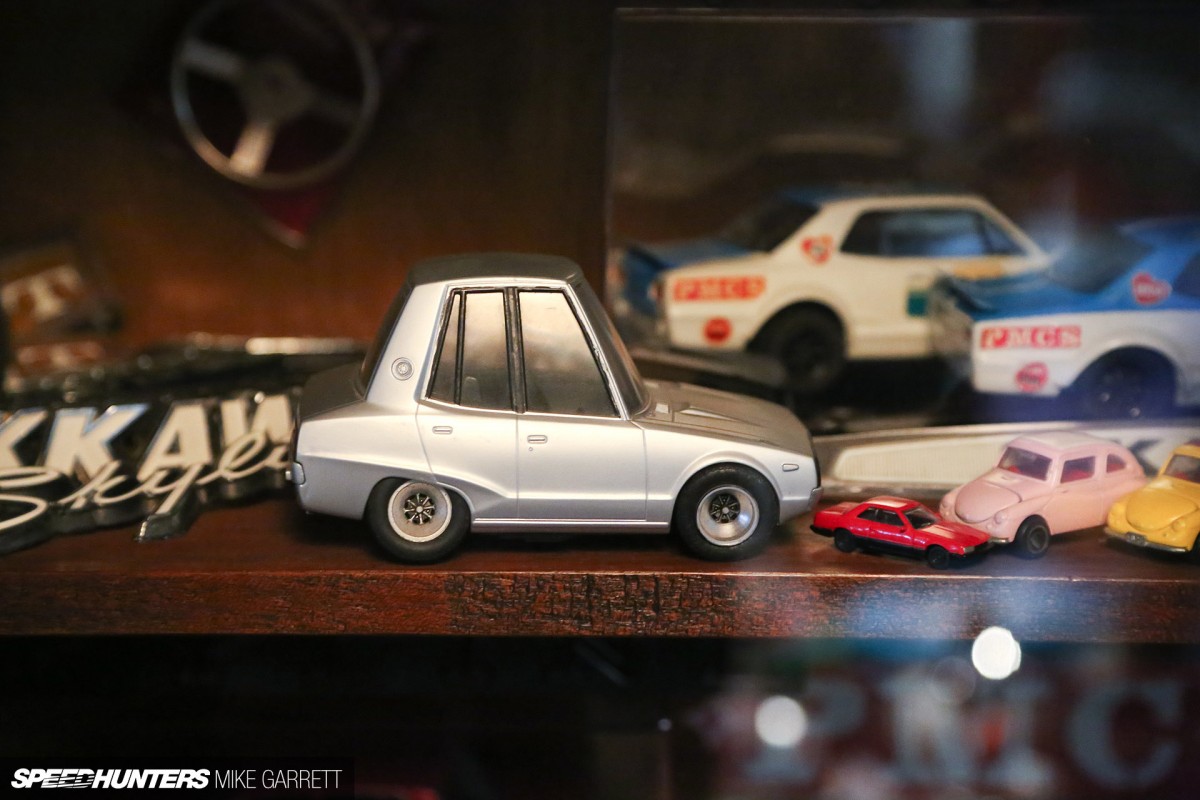 Given the family's love of cars, it's only natural that the collection would be filled with diecasts, model kits and other scale forms of the automobile.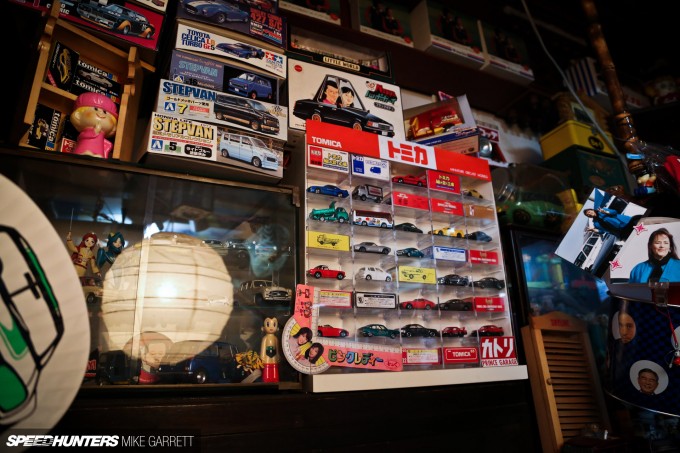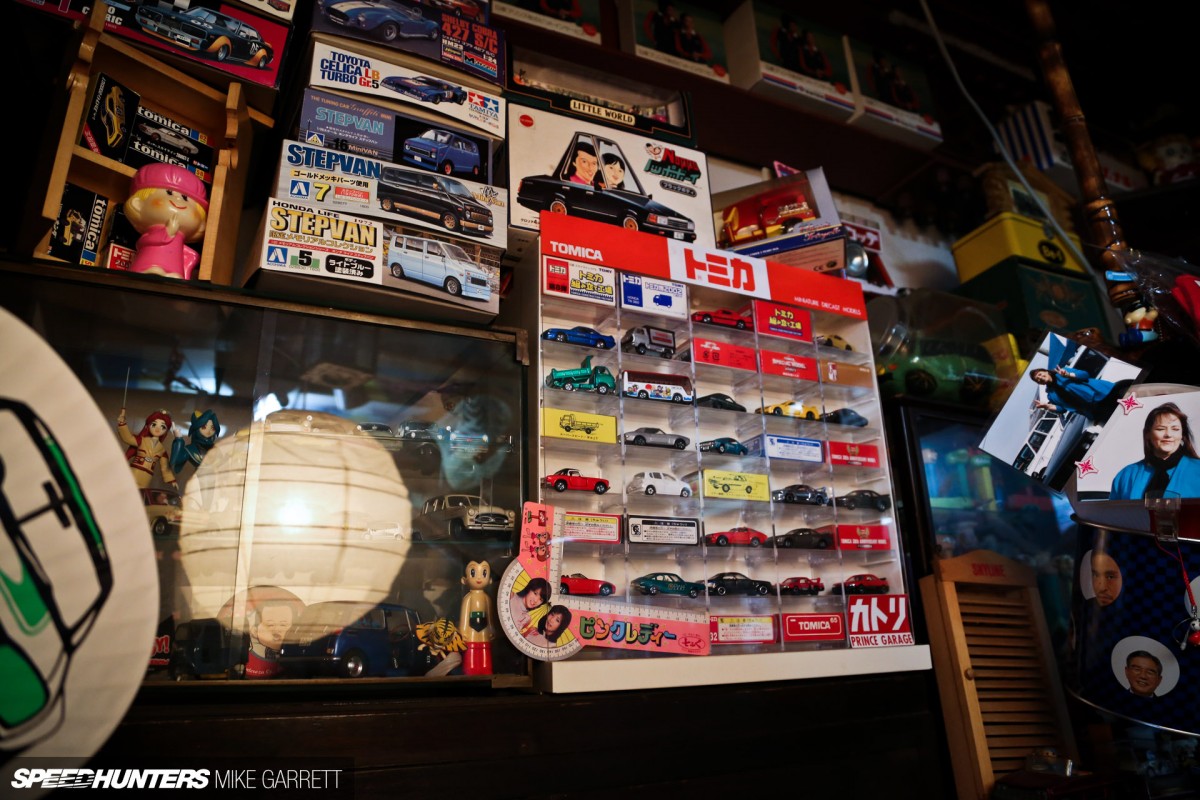 With of everything from Tomica diecasts to vintage metal vehicles, I quite literally felt like a kid in a toy store.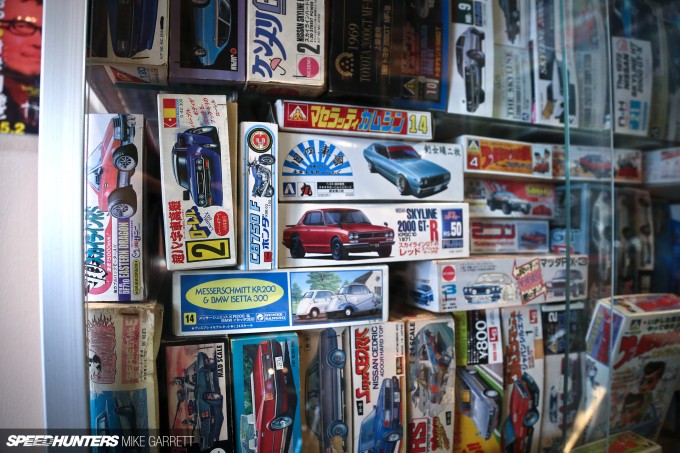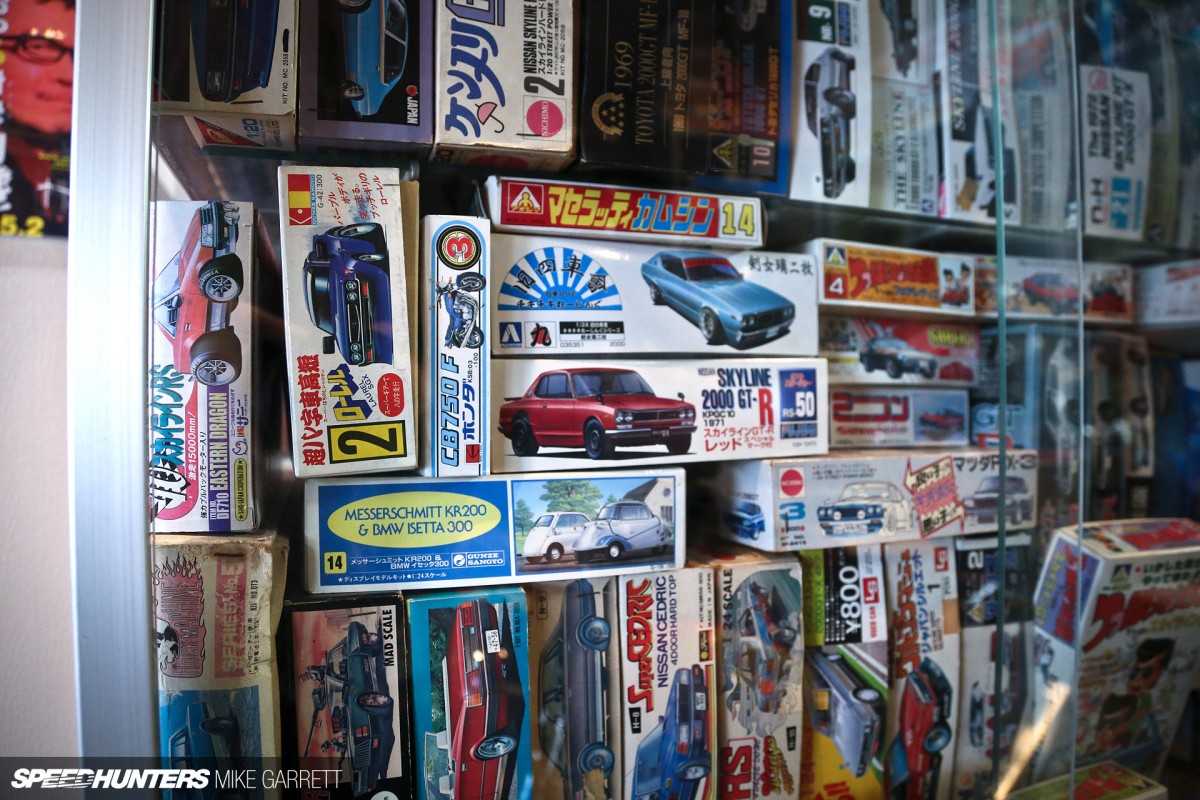 The most impressive thing had to be the collection of model kits from the '70s and '80s.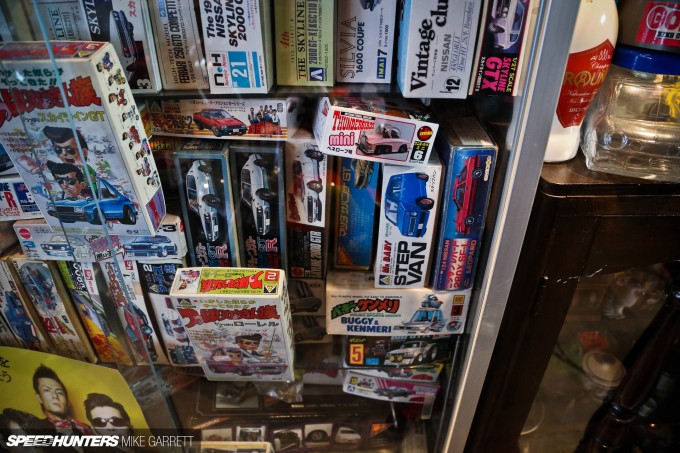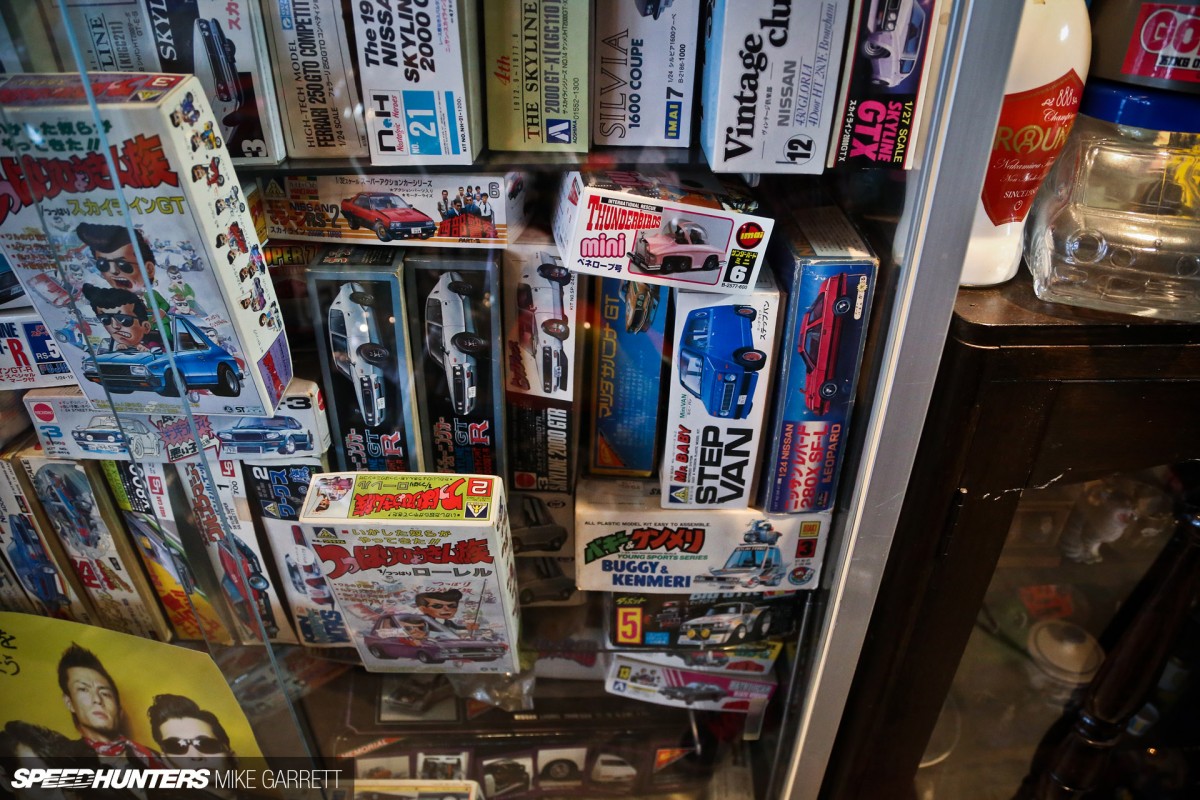 They were stacked as far as you could see, and there's no doubt I could have spent a couple of full days digging through everything in detail.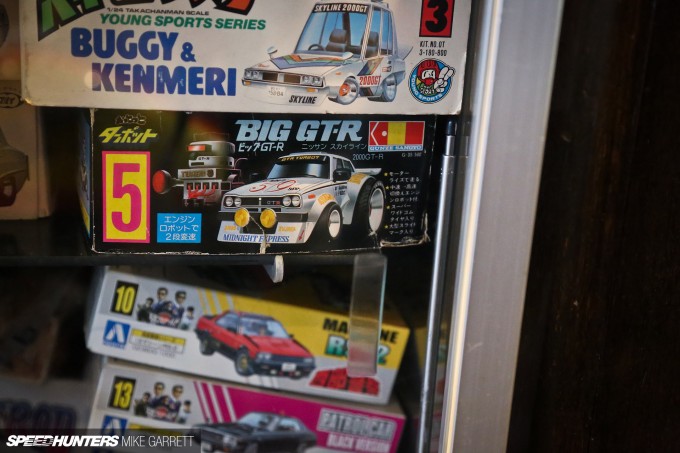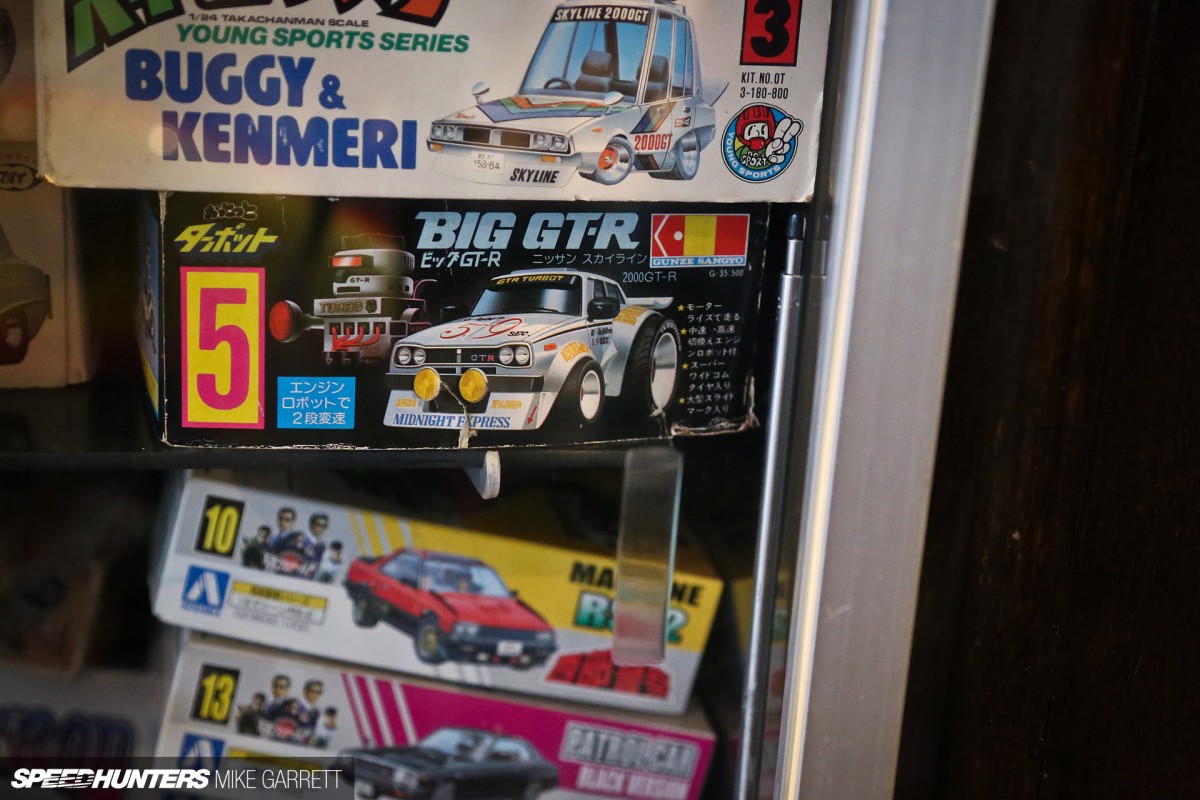 The box art on these things is downright amazing. A lot of these kits reminded me of the caricature-style 'Zingers' models that MPC produced in the '60s.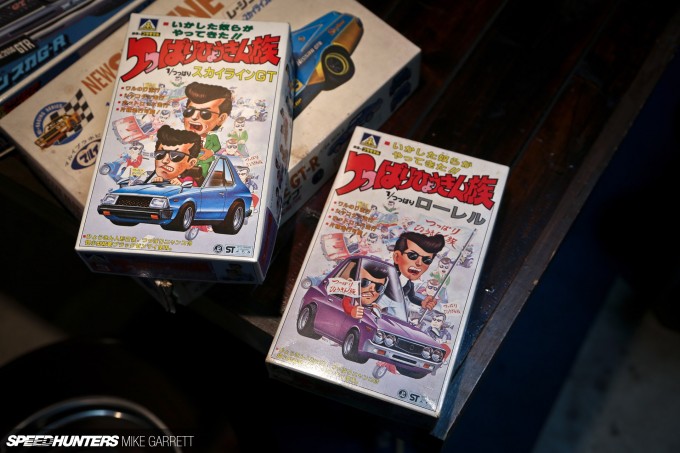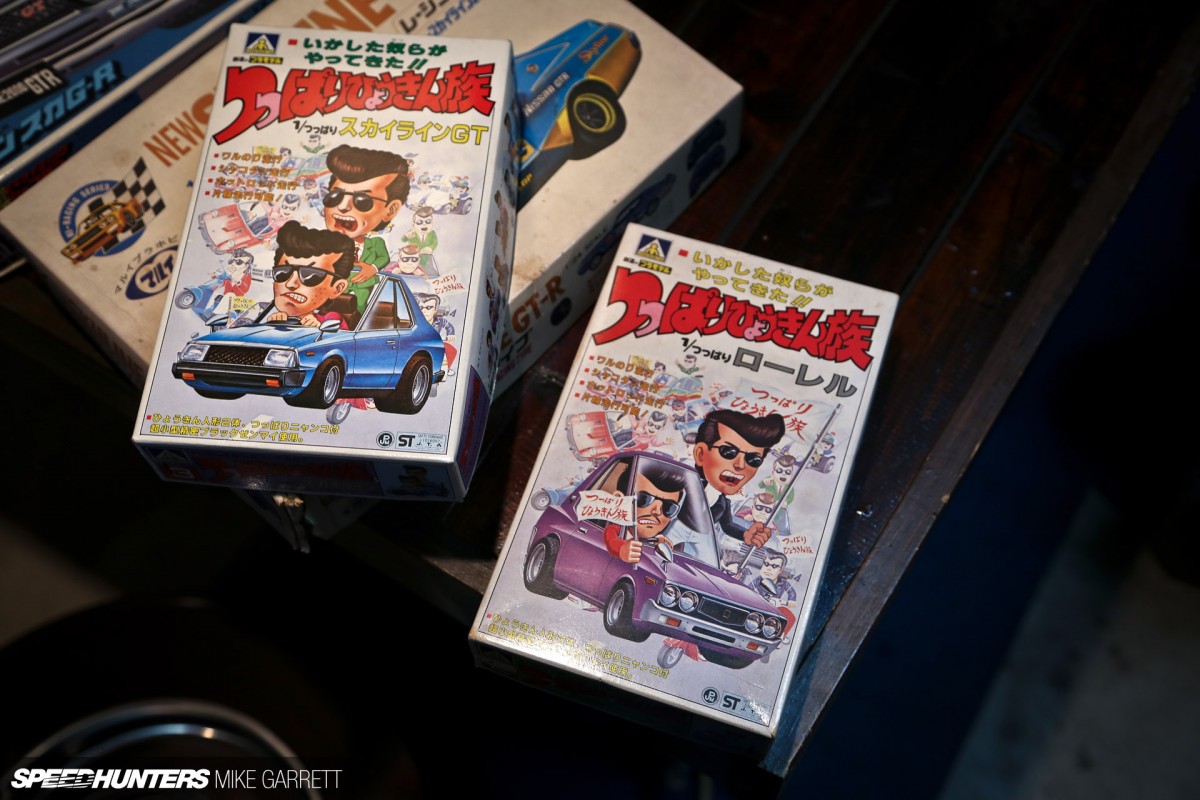 I especially like these Tsupparihyoukinzoku kits. Yankee mania at its best.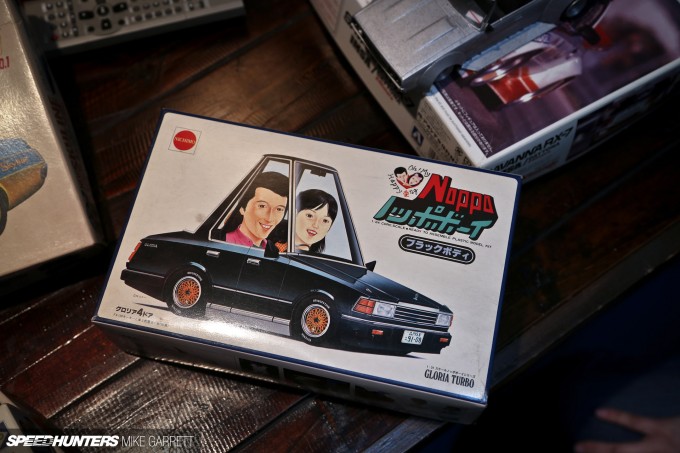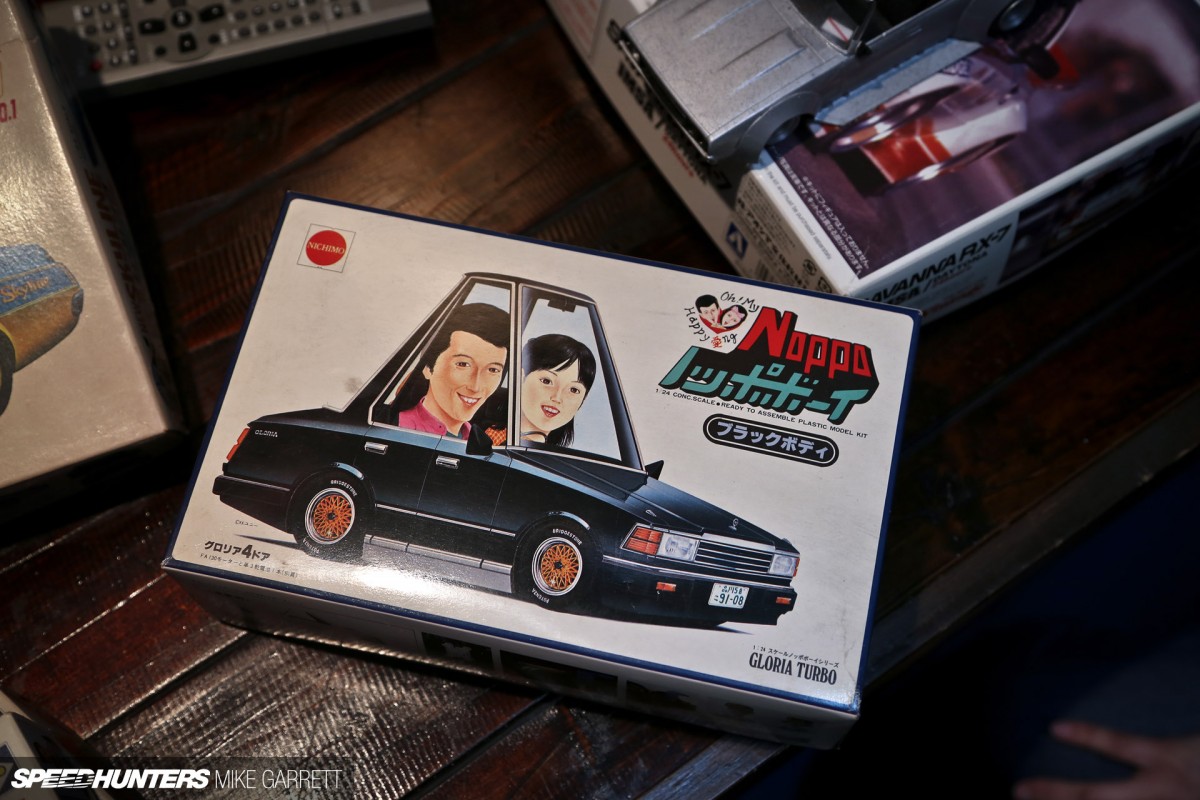 Noppo Boy! Yep, this is pretty much the Japanese version of the Rat Fink and Ed Roth mania that dominated America during the 1960s – only with Skylines, Glorias and Laurels.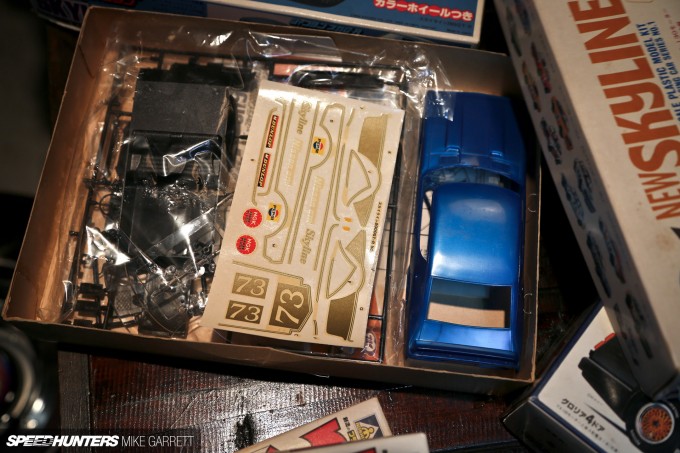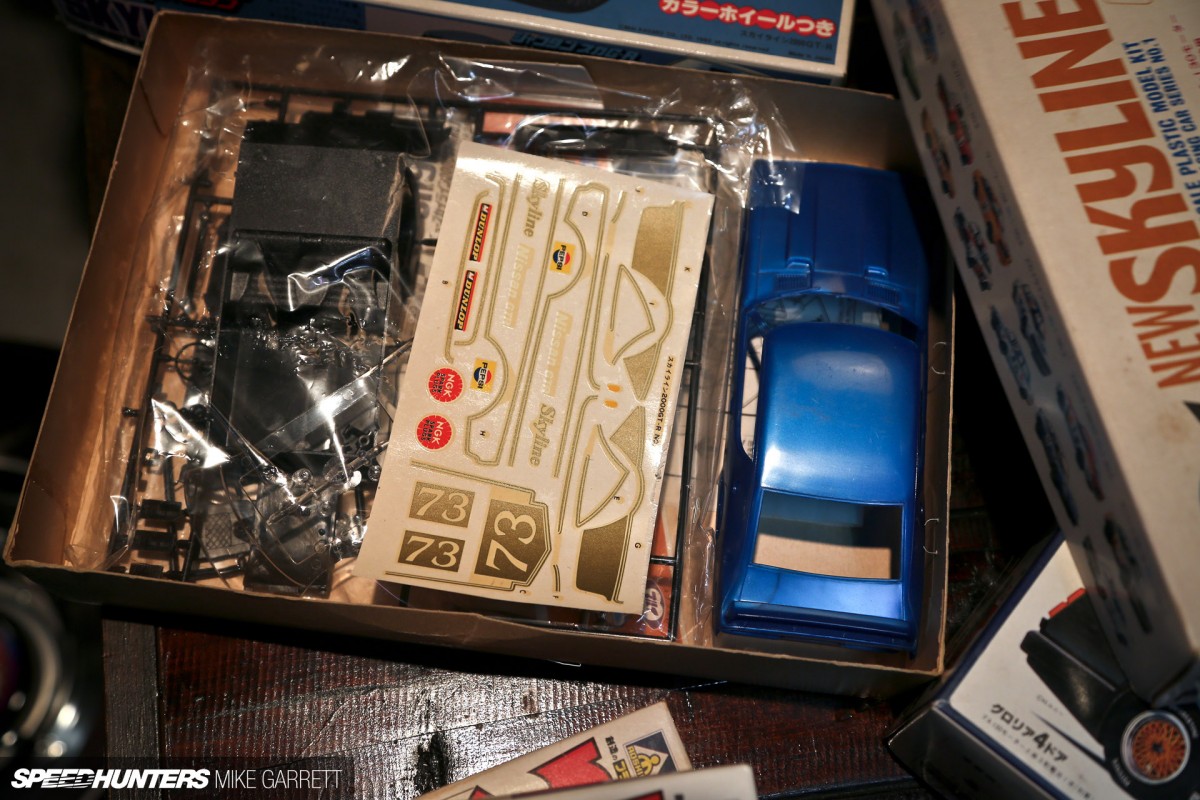 While there's no doubt that these kits would be bring lots of money on the collector market, most of them aren't in what you'd call mint condition.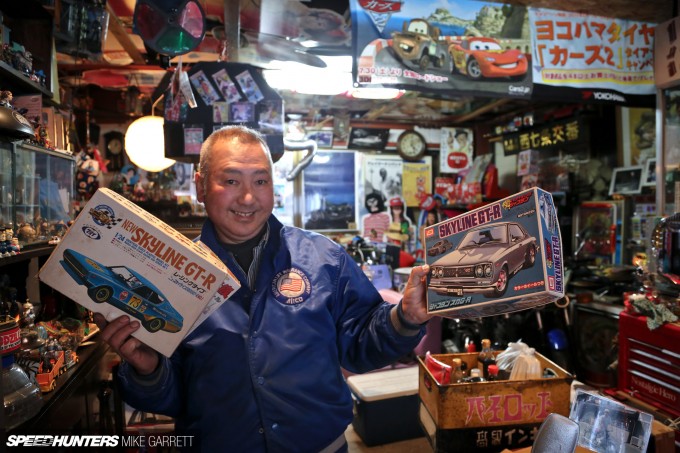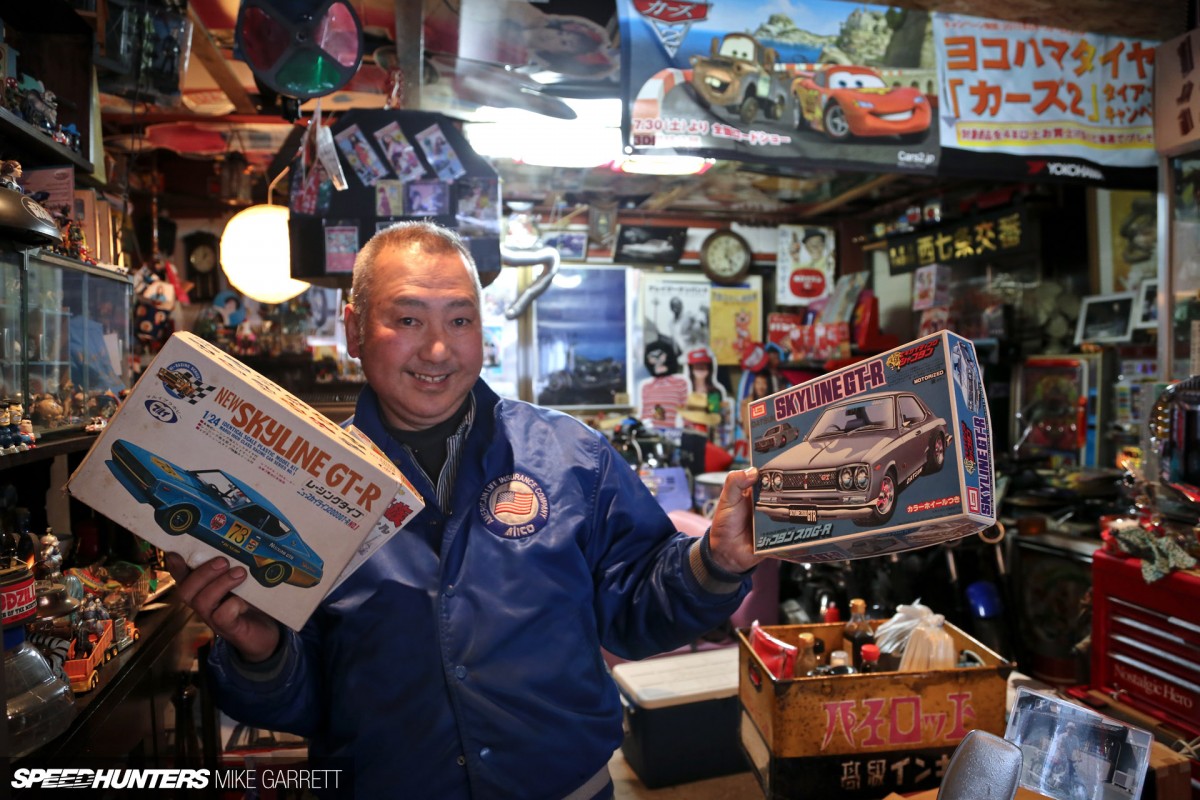 And Ohgishi-san really doesn't care. He's not collecting this stuff as an investment, he's doing it because he likes it.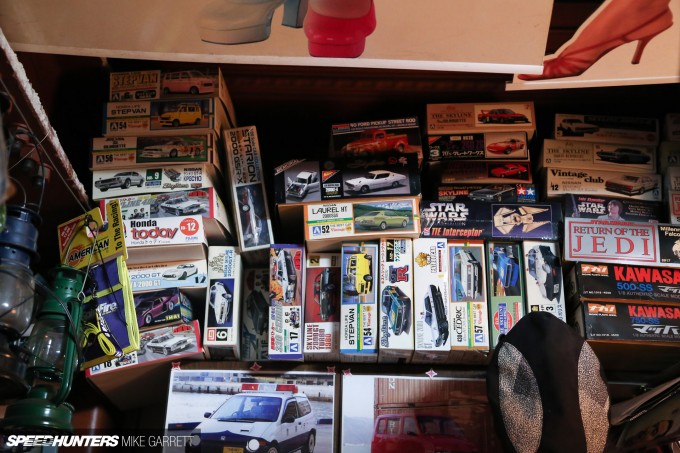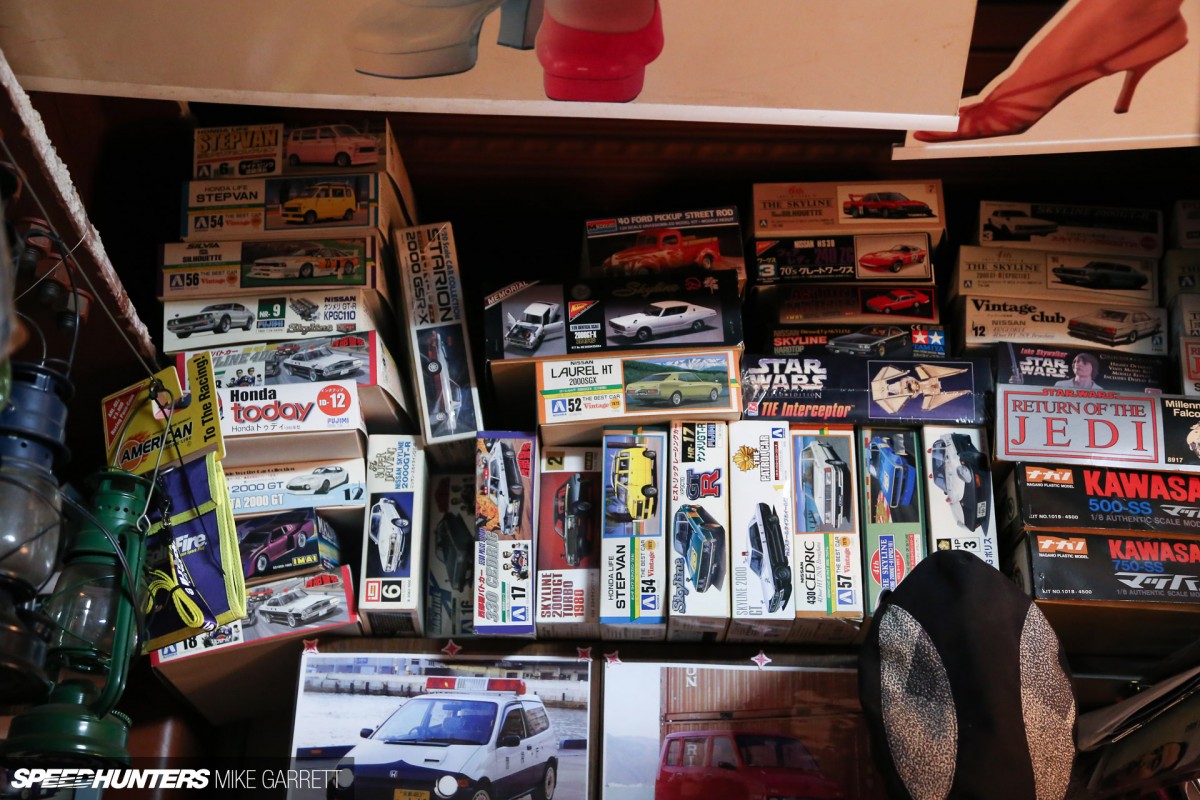 In fact, he has no idea exactly how many pieces are in the collection or how much everything is worth. That stuff is not important to him.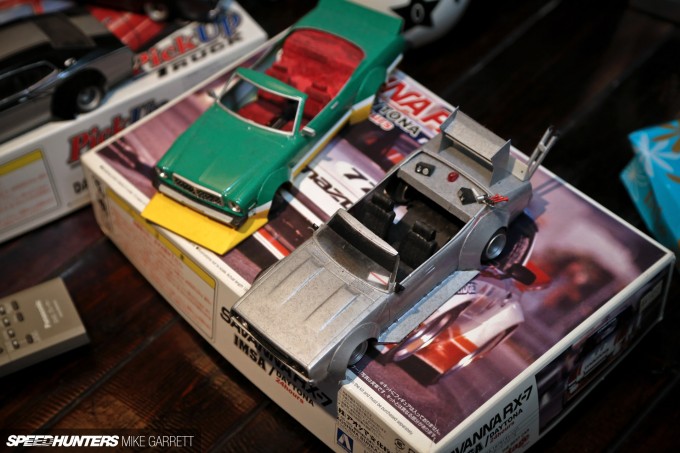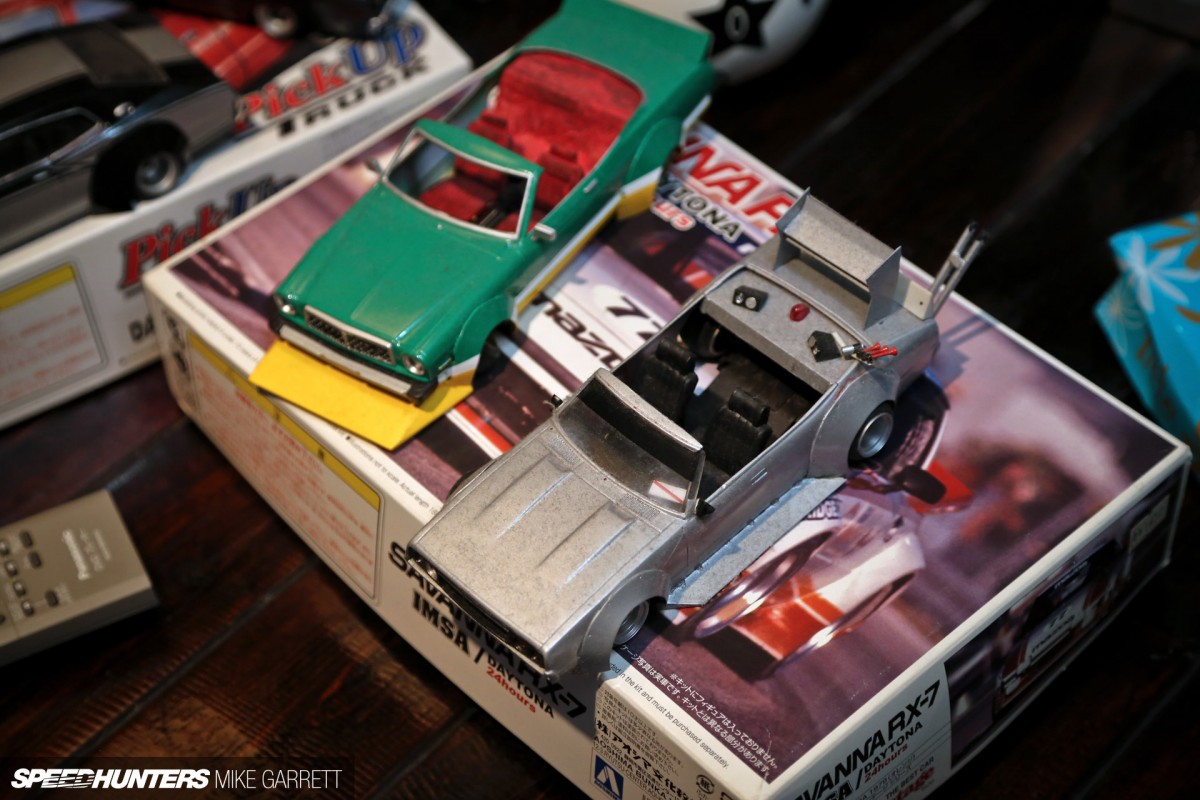 There's also a few kits that the boys put together, no doubt inspired by their father's own love of the hobby.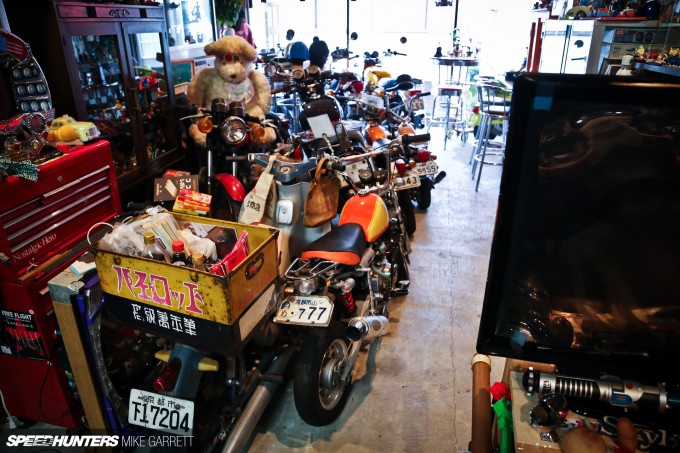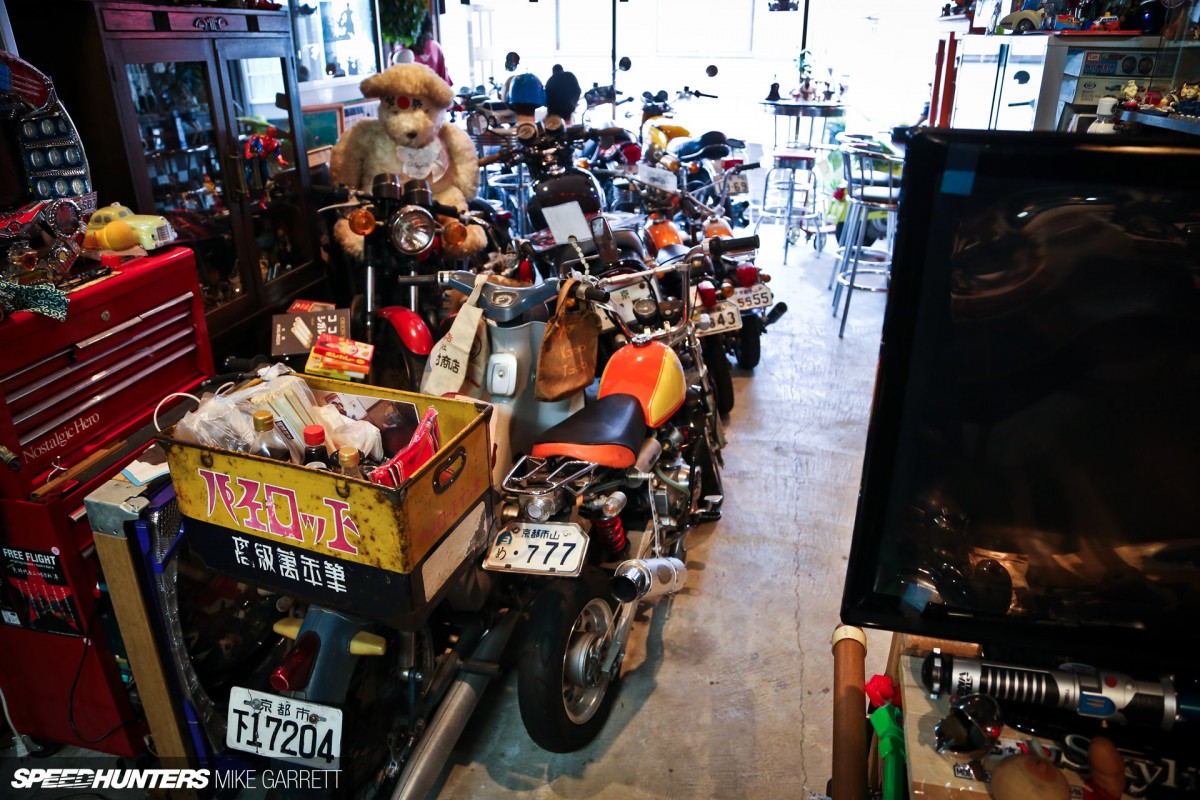 And sharing the love and nostalgia is really what Ohgishi-san's collection is all about. The garage gets many visitors, both locals and people from all over Japan. There have even been a few TV crews come through to see what all the excitement is about too.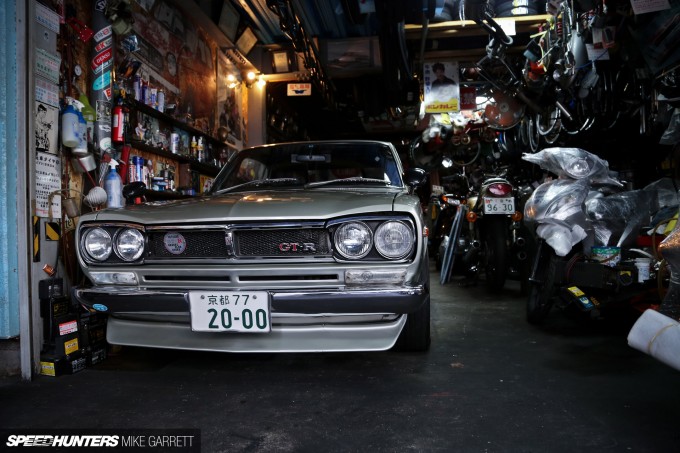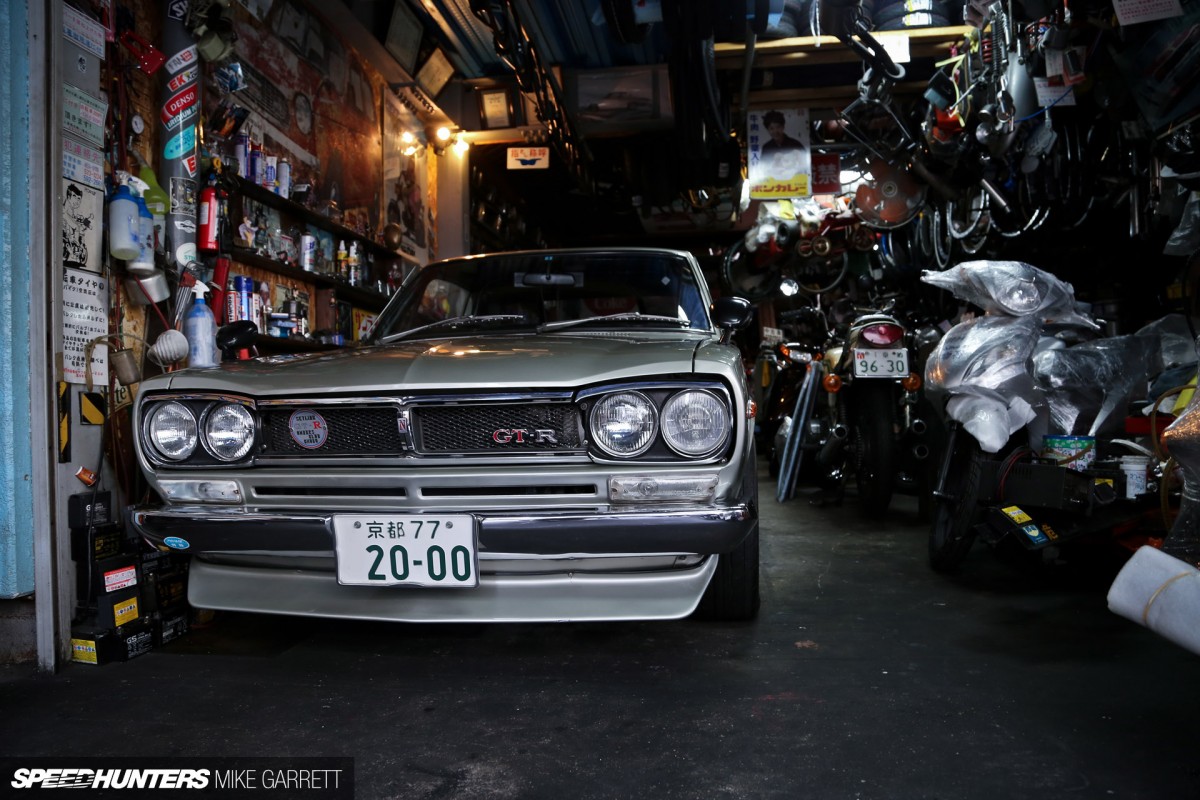 I may have been halfway across the world, but it was so easy for me to relate the Ohgishi family. My dad never had quite the collection that Mr. Ohgishi does, but like Shun and Takuma, my younger brother and I grew up surrounded by cool cars and sharing the hobby with our dad. It's something that will surely stick with us for life.
Mike Garrett
Instagram: speedhunters_mike
mike@speedhunters.com