Brute GTs & Future Shocks
Days slip by fast in the Speedhunting world: perfect storms of automotive nirvana, a passing blur as one car after another passes through our focal points. The drawback is that perhaps sometimes there's possibly too much of a good thing.
That's certainly the case now, as I sit here in the media centre at Le Mans and consider the last couple of weeks, every day filled with shoots, travelling or both across Europe. Hang on, Le Mans? What about the Goodwood Festival Of Speed? First things first. Rewind. The Festival is possibly the biggest sensory overload out there, so here's an introductory Spotlight from the sunny south of England.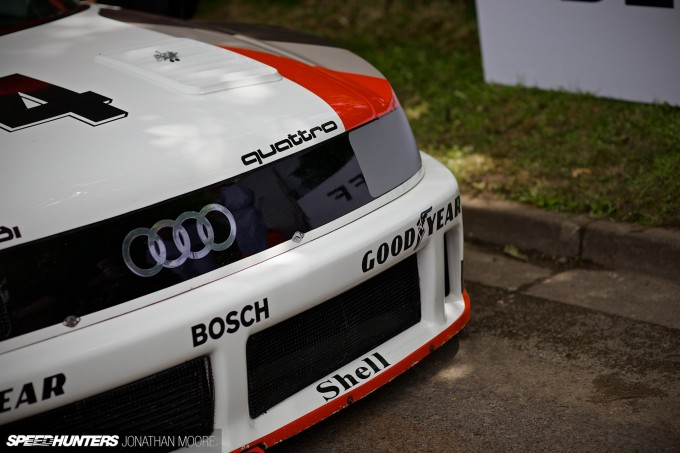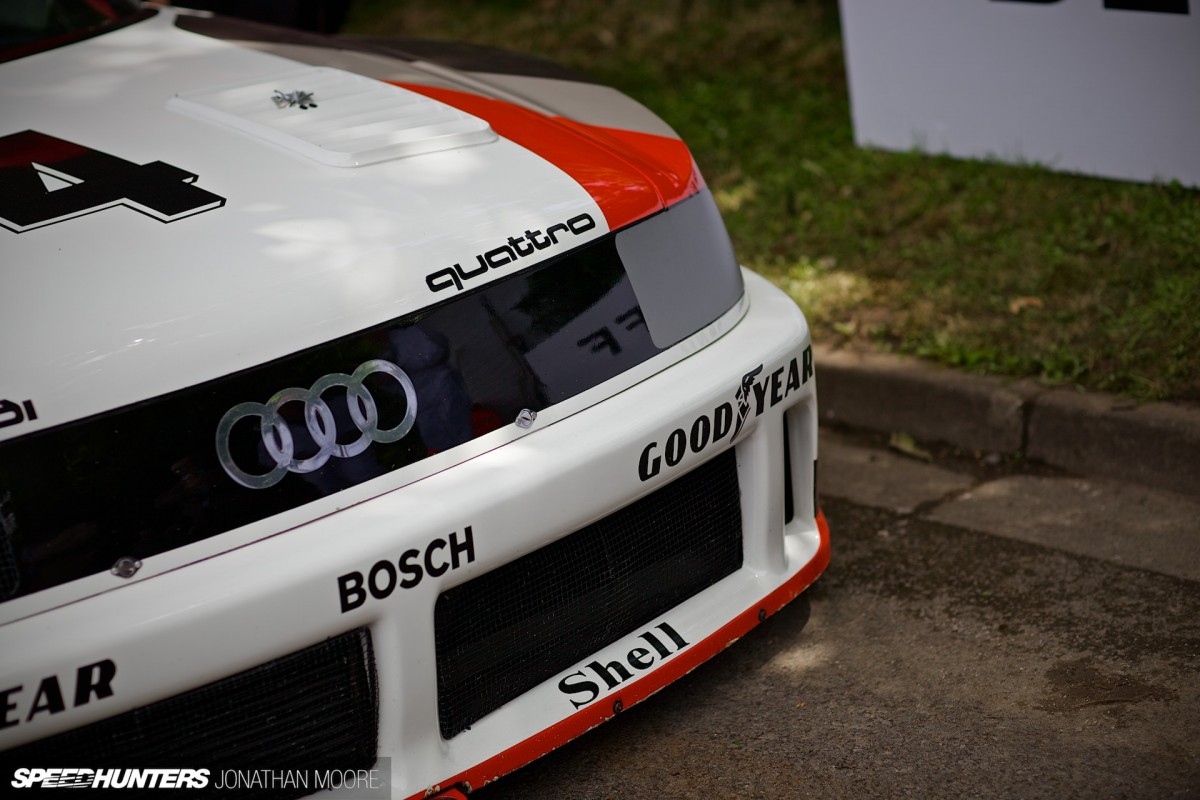 Where to start? The Festival Of Speed embraces every genre, series, discipline and style in a superlative-overloading manner. Whether it has two wheels, four or even six, wings to keep it on the ground or wings to make it supersonic in the air, you'll see it at Goodwood. So let's begin with a defining statement on four wheels good, four wheels driven better, Audi's Tyrannosaur take on the 90 from 1989.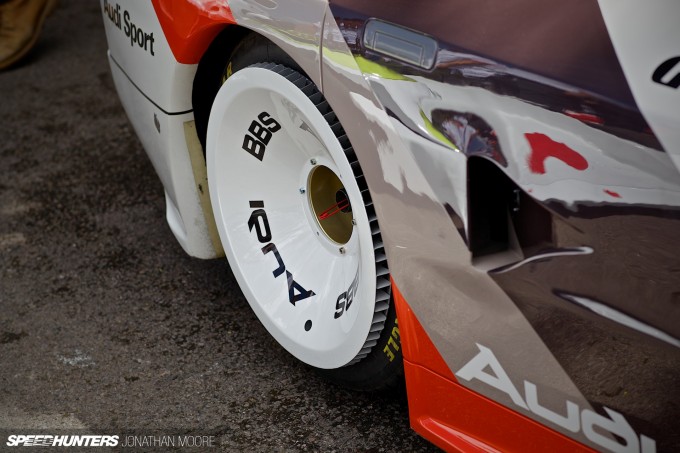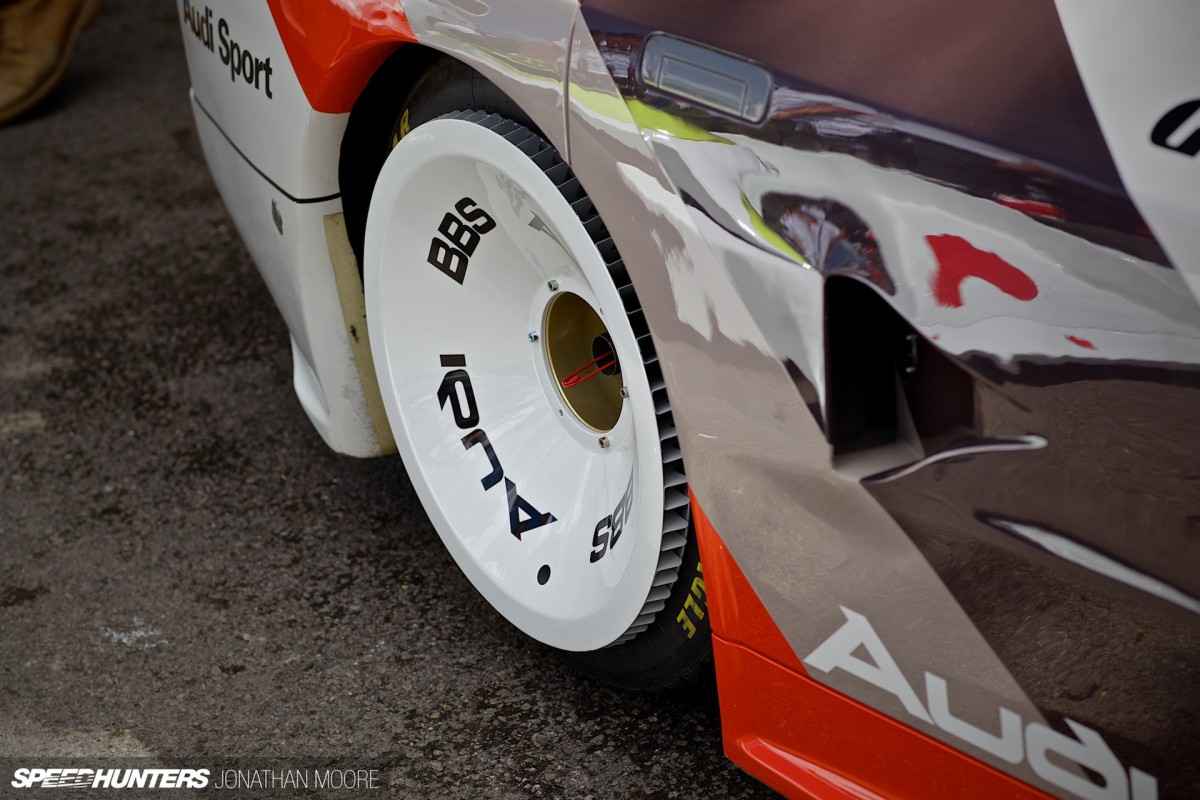 This is a car that includes so many good words it's probably illegal in some states. Audi. Quattro. BBS. IMSA. GTO. It's a pretty good combination. Those four beautiful BBS fans stood outboard from the original 90's tighter lines, enclosed in huge fenders. The car is such a riot of beautiful detail: the purity of those wheels and then the NACA ducts – and handles for the rear doors of this sensible, practical, four-door saloon.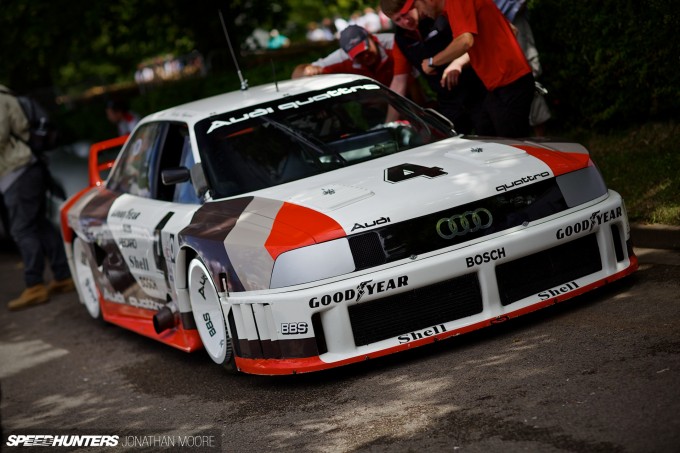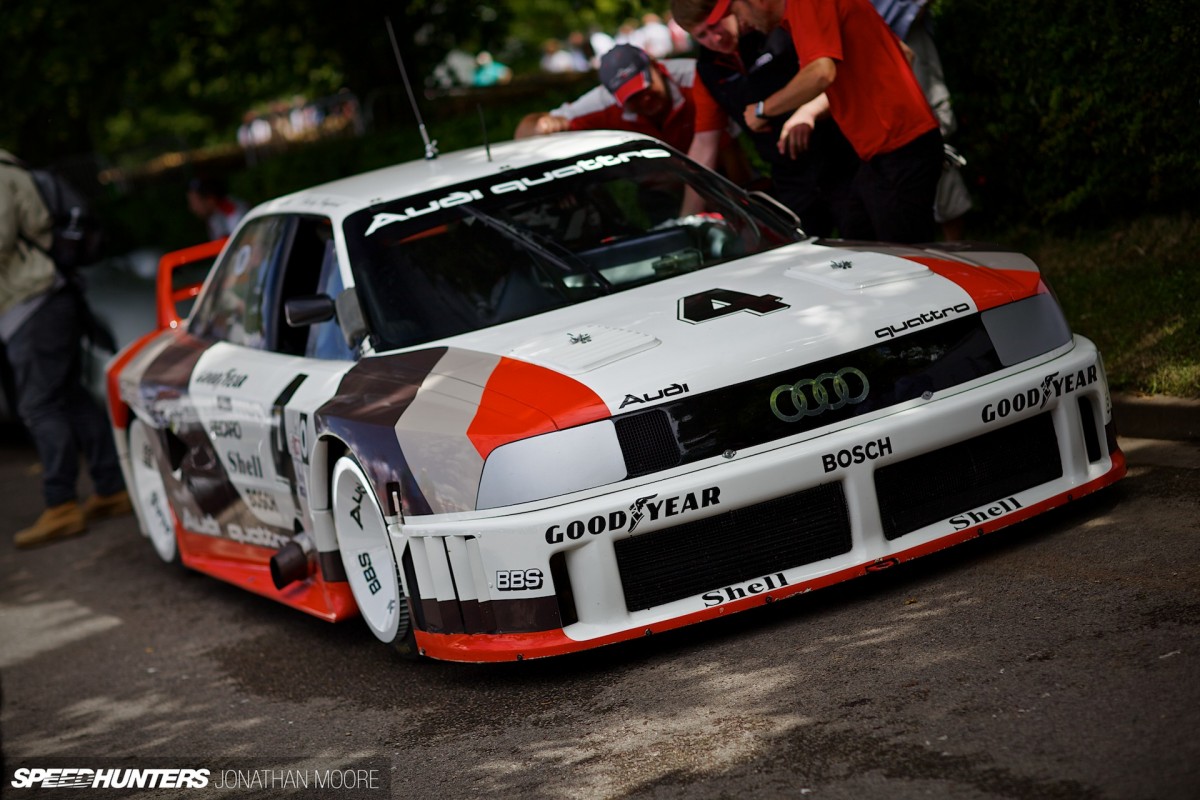 Did I say sensible and practical? This was from an era when the tubeframe IMSA GT cars looked like they'd had 100-ton weights dropped onto them, making them flat as pancakes as wide as tankers. Just the way we like it.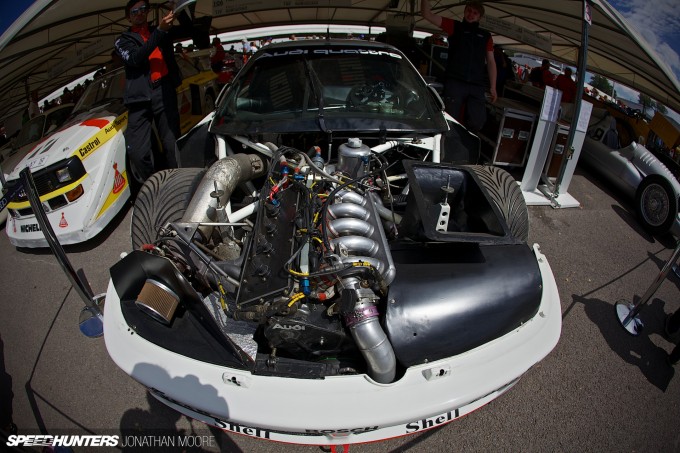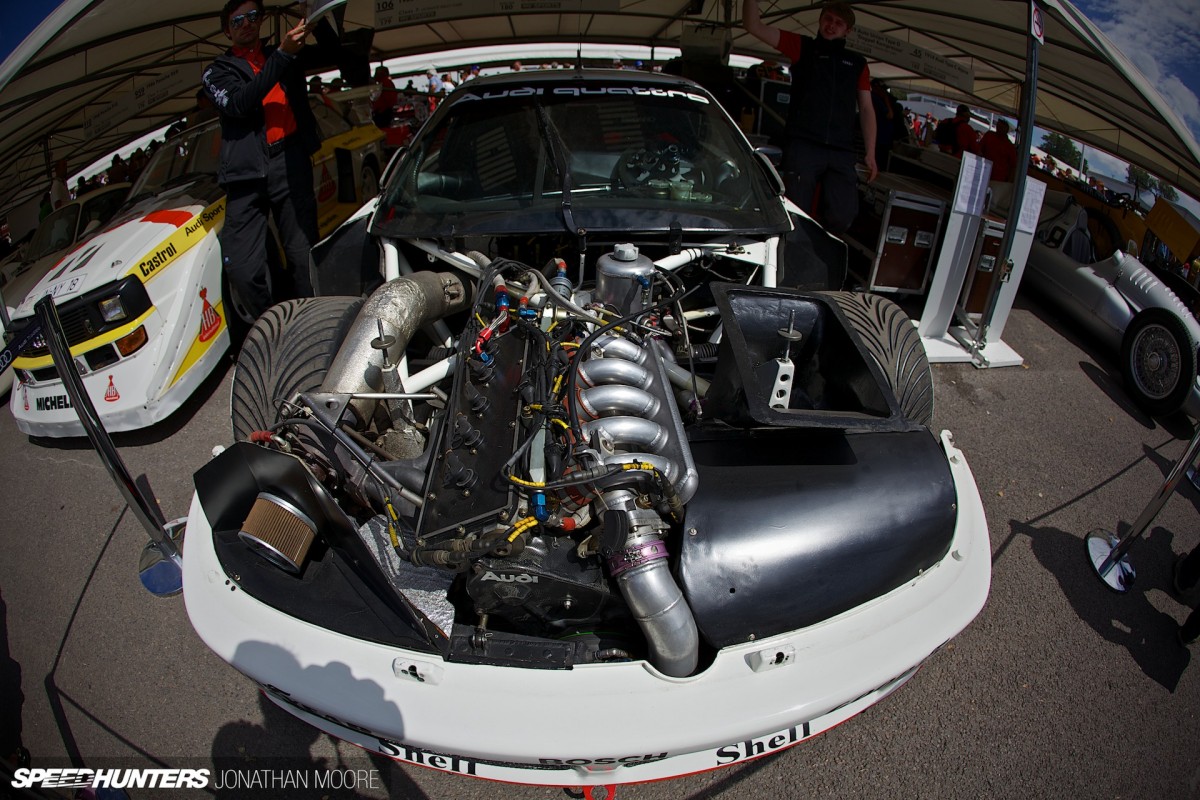 It sounded out of this world, courtesy of all this firepower under the bonnet: a straight-five weaponised with a KKK turbo situated surprisingly far up front, to make 710hp going to those four corners. Seeing this car in the flesh at Goodwood is simply a breathtaking experience.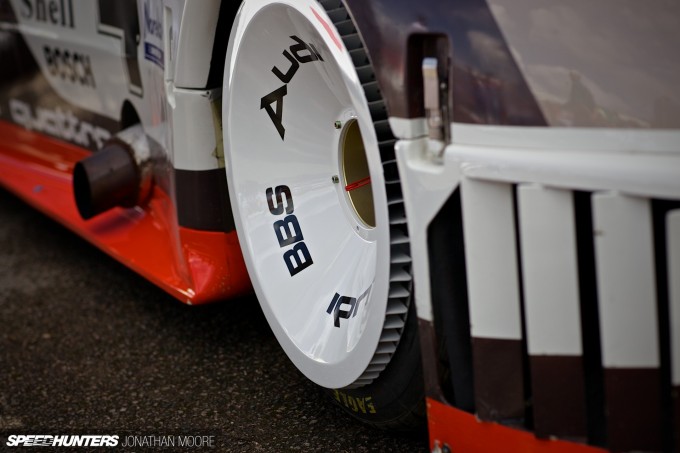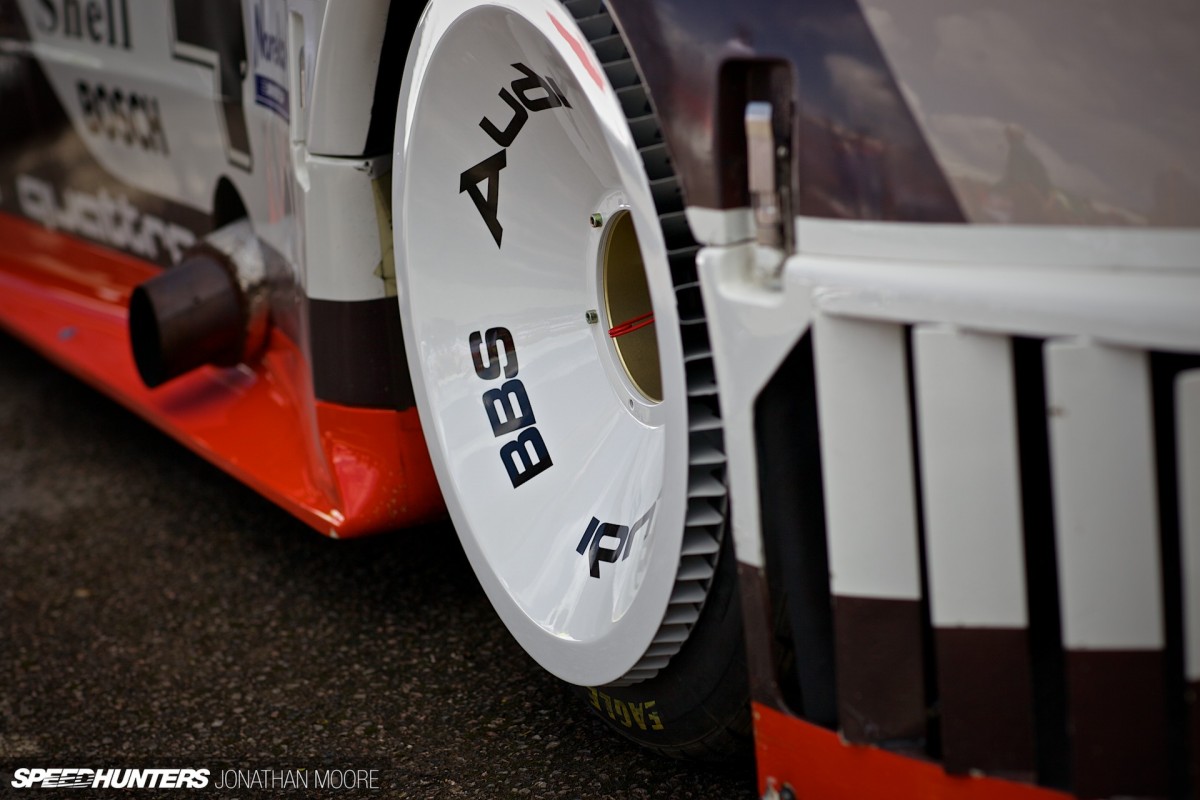 Rod took a look at the history of quattros a while back, which is well worth a read for background of just how this fearsome machine came about – and what happened after.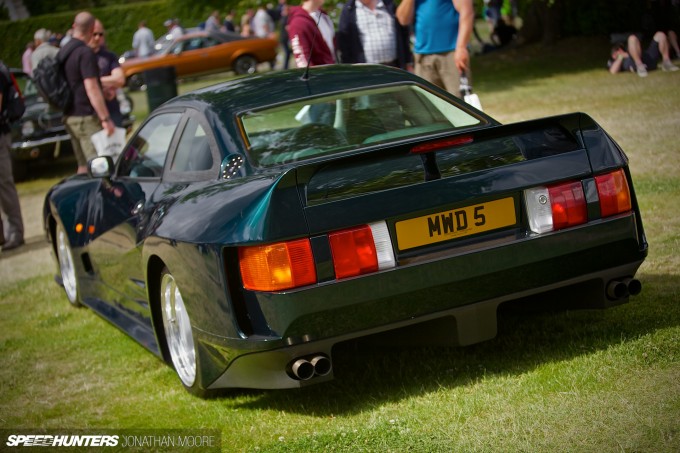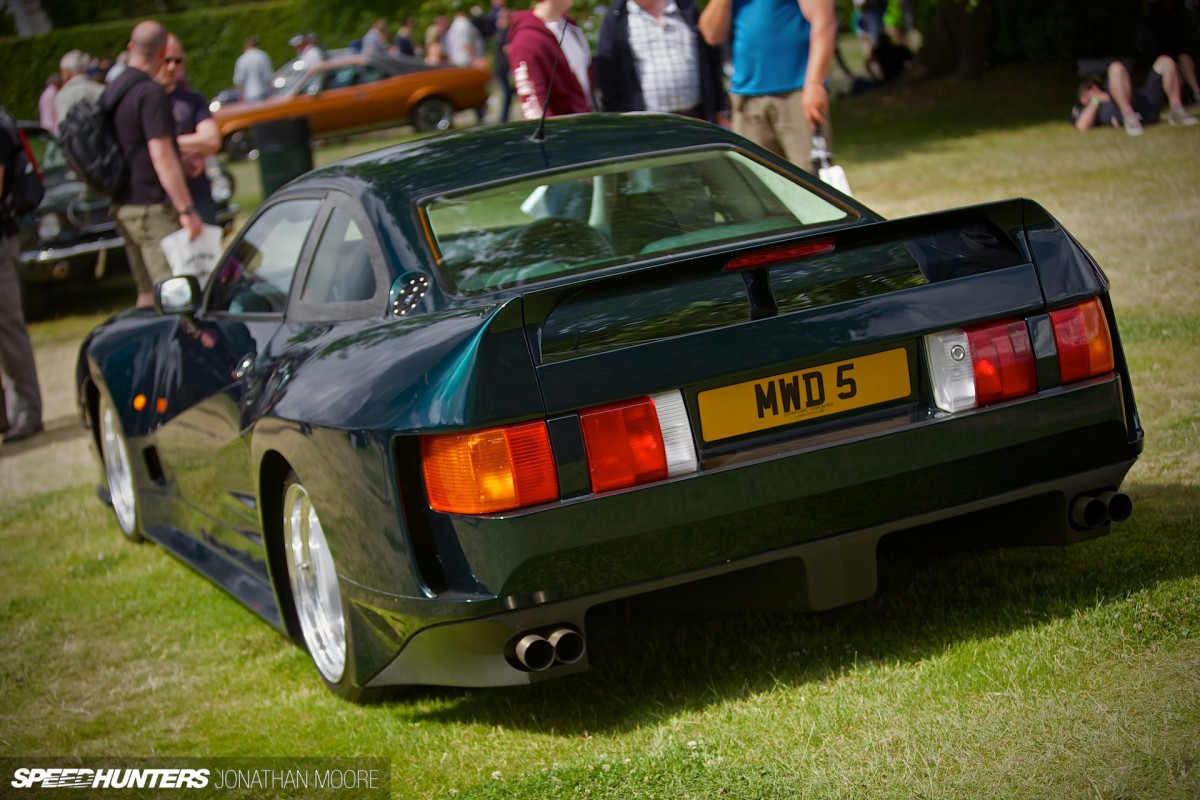 If there's one thing the Brits do well, it's to somehow get crazy yet impressive supercar projects off the ground. Few were as crazily impressive as the mid-'90s Lister Storm.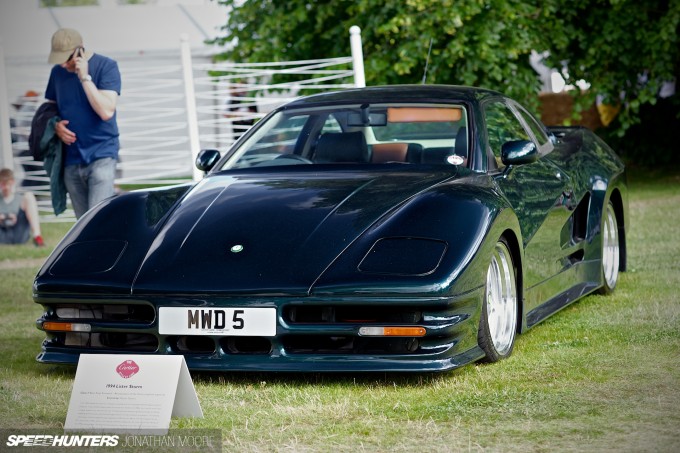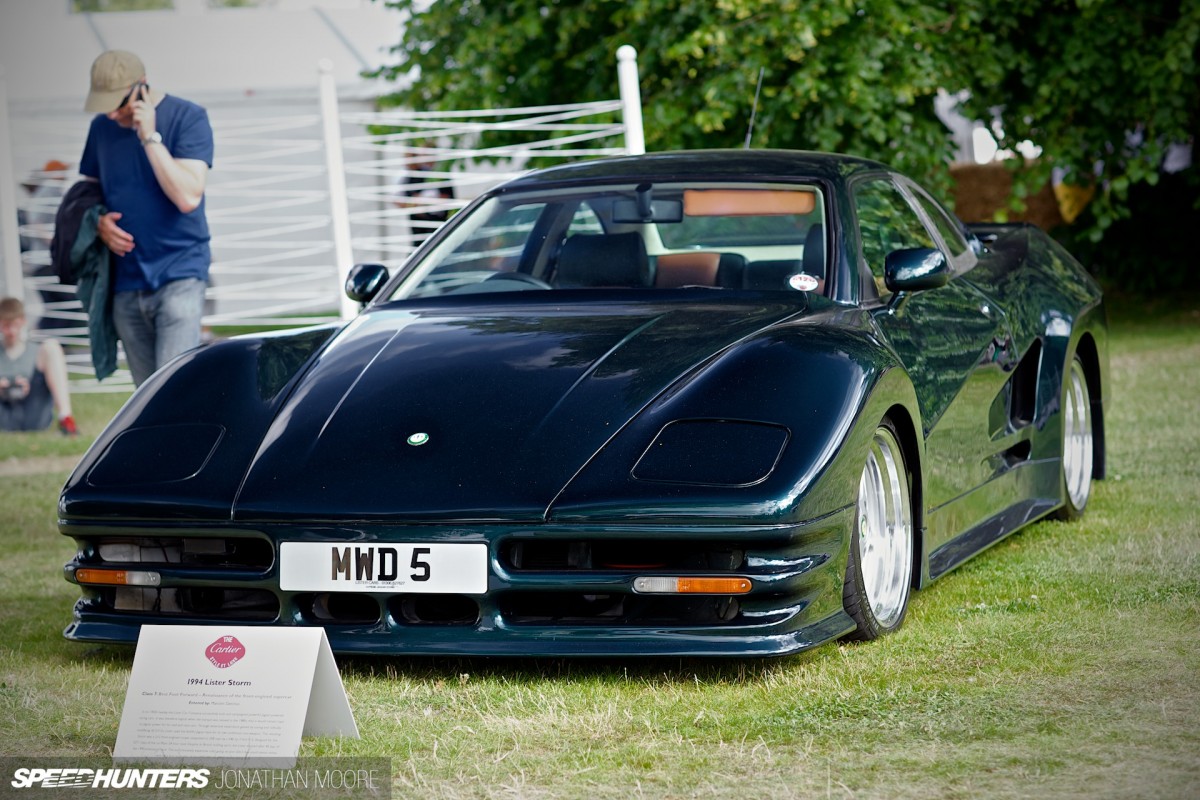 Nothing about it was sensible in the contemporary sense. The wedge-shape might have been still just about in, but the engine was up front – and it wasn't any ordinary unit, but the biggest V12 fitted to a road car since World War 2: a seven-litre Jaguar power plant taken from Jaguar's Le Mans 24 Hours sportscar programme.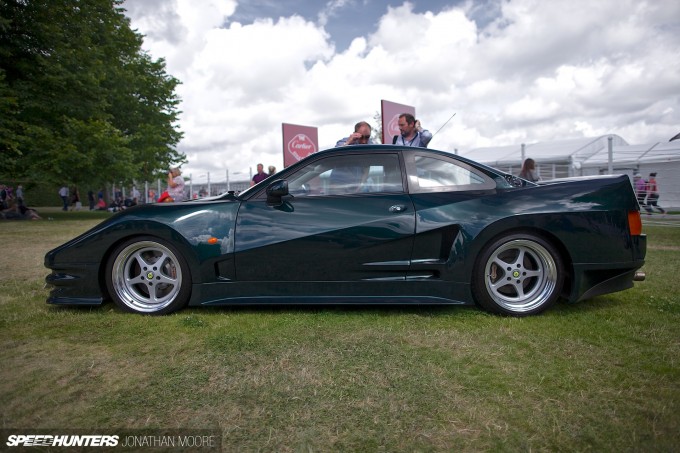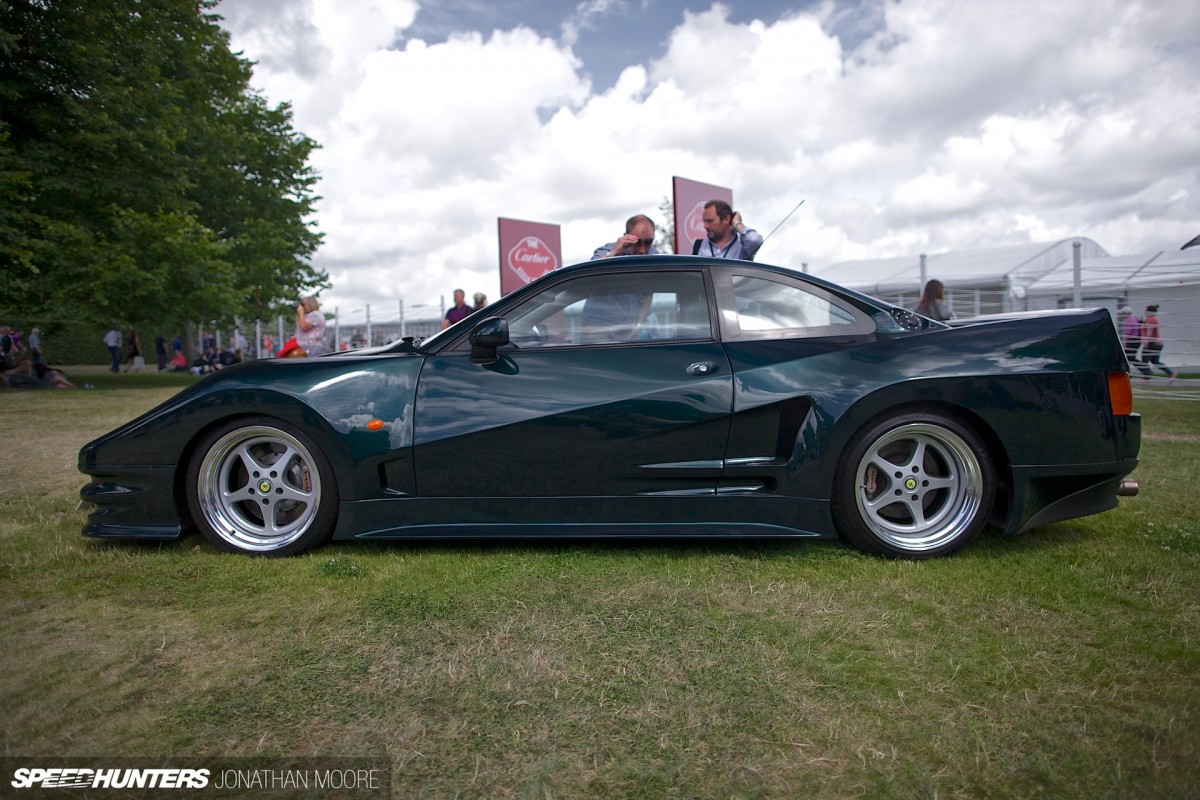 The Storm was the result of a revival of the Lister name in the late '80s; the marque had been renowned Jaguar tuners in the 1950s but folded as the '60s ebbed away. Starting off with hopping up Jag's XJS into 200mph supercars, the new incarnation of Lister decided to up their game and produce their own GT1 car aimed at the 1995 running of Le Mans.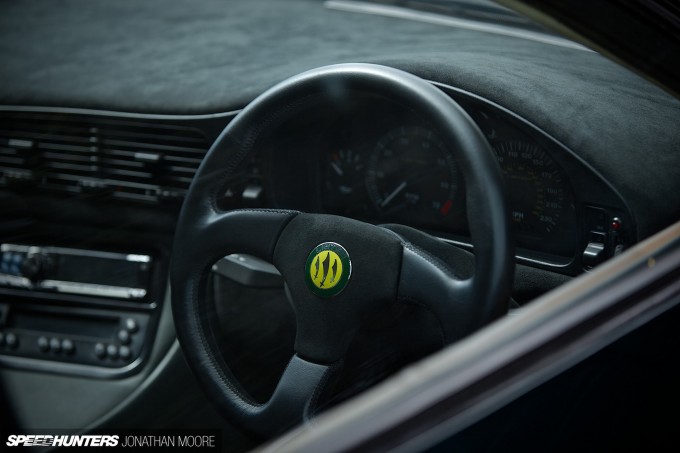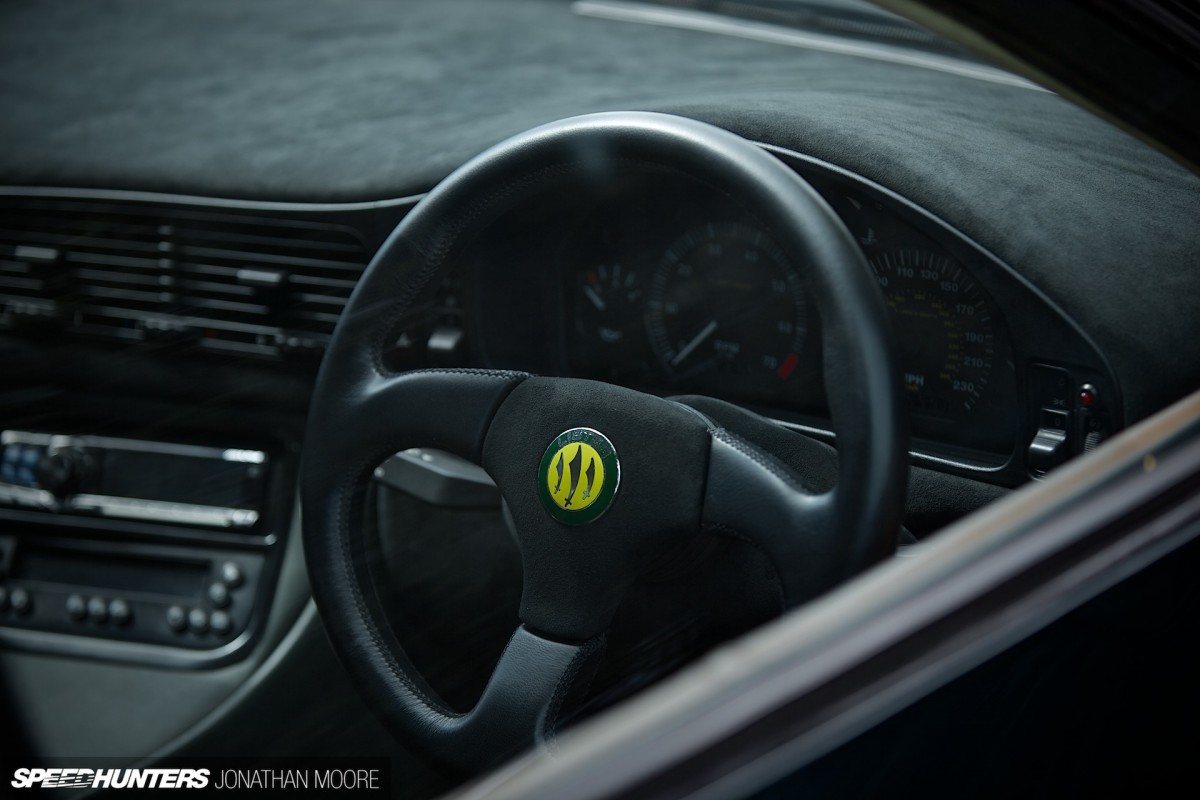 For this you had to pretend to the FIA that you were going to build a street-legal version (viz the Mercedes CLK, Porsche GT1, Toyota GT1 et al). A Storm was on the horizon.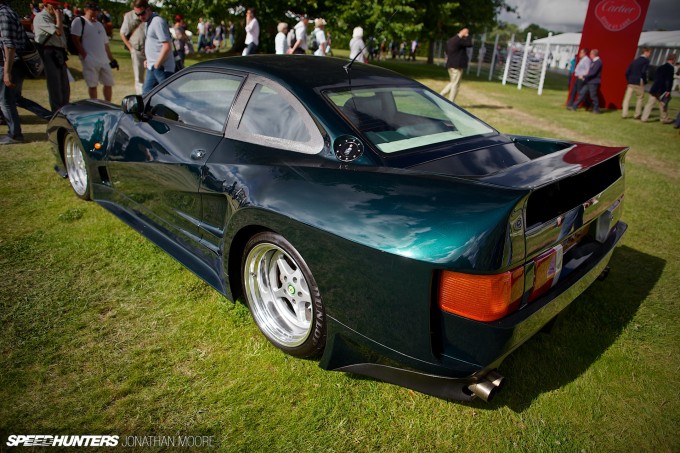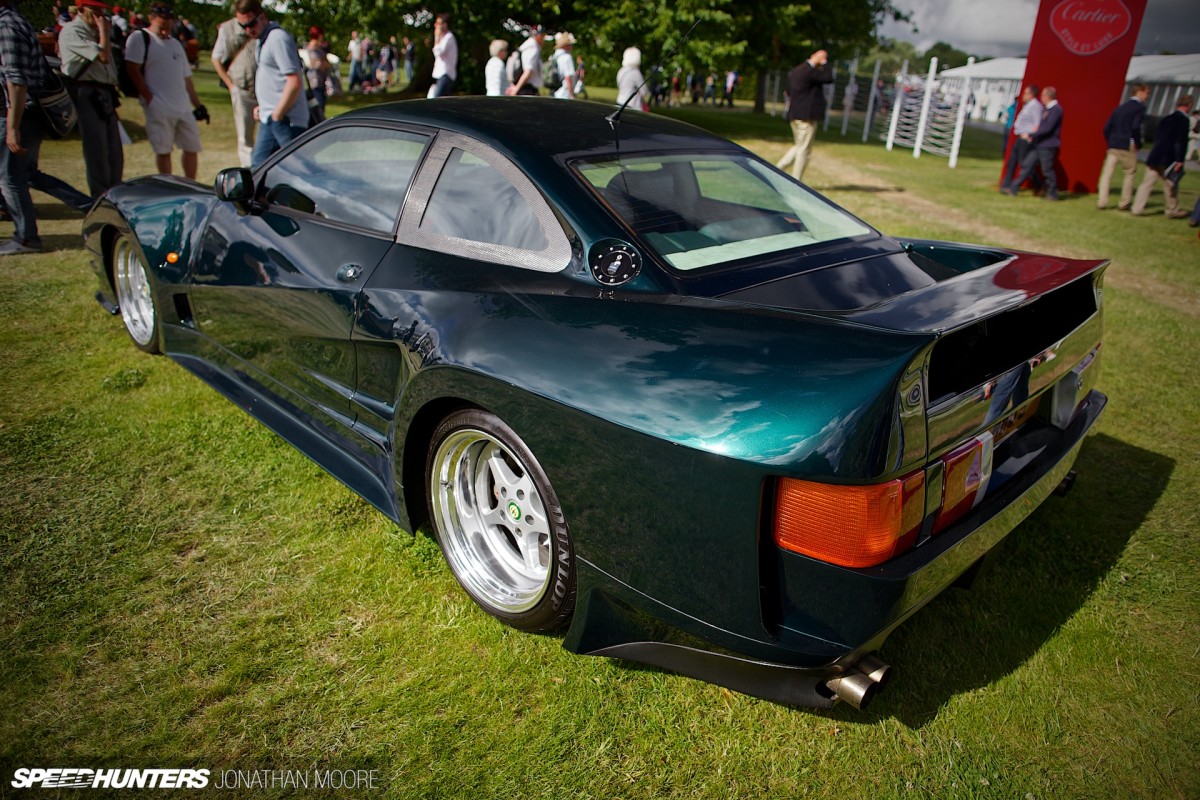 The numbers were ridiculous: a 210mph top speed but a £450,000 price tag. However, it was also a four seater, and for a decade the fastest four-seater in the world. Only the Brabus Rocket beat it, and that only in 2006, which gives you an idea of what kind of level the Storm was operating at.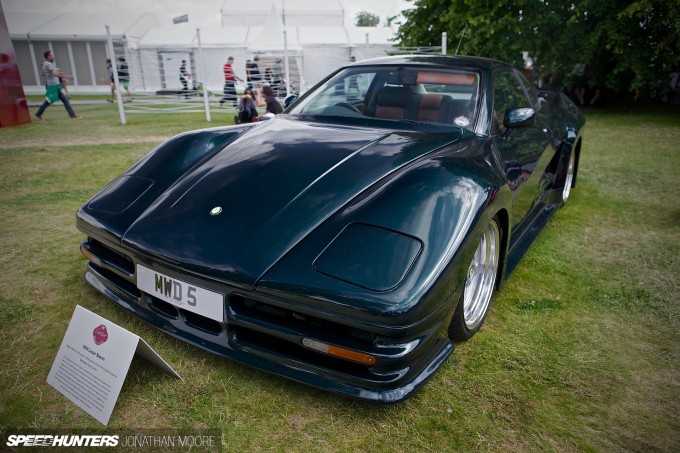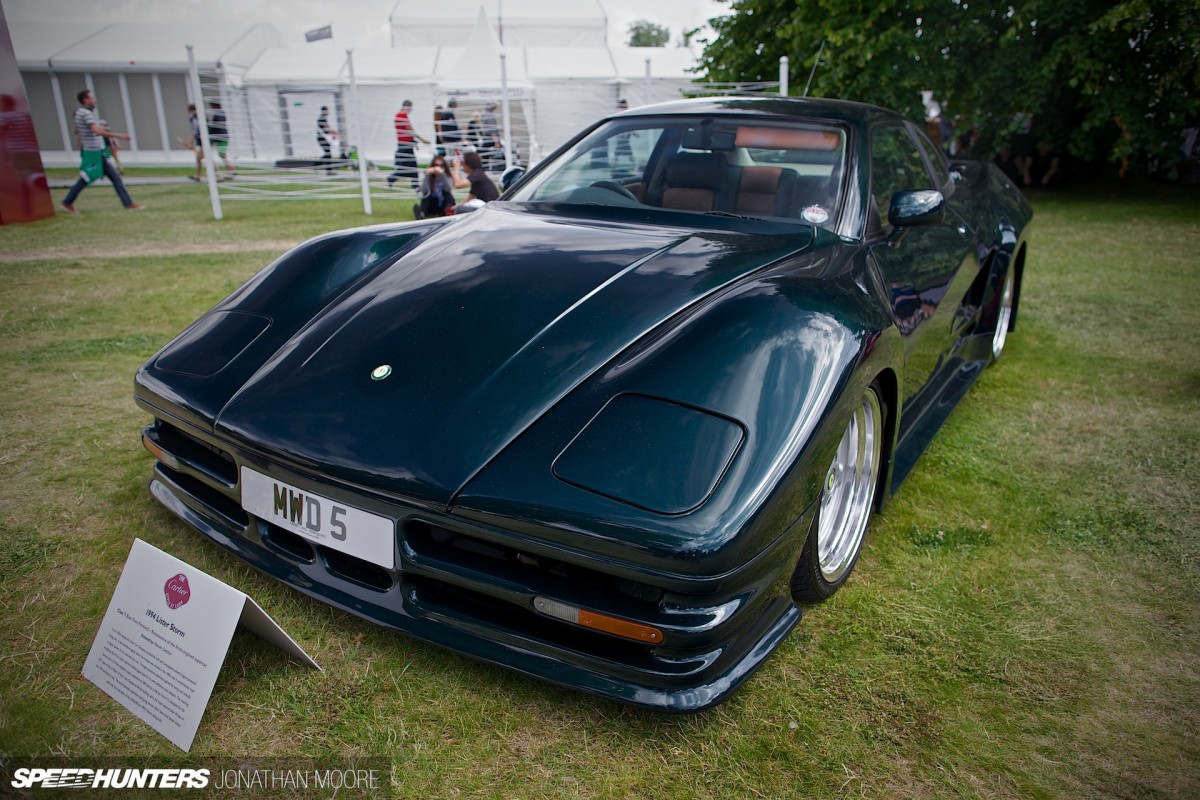 In road-going guise the Storm was extortionately expensive, and only four were built. Just three survive today, so much as I've been lucky enough to see the monstrous GT2 racer on track (which was much more successful than the rapidly obsolete GT1), I'd never seen a road car until now. #BecauseGoodwood?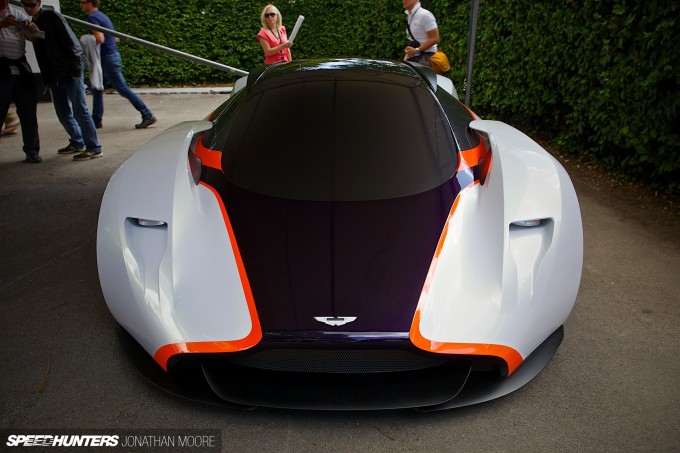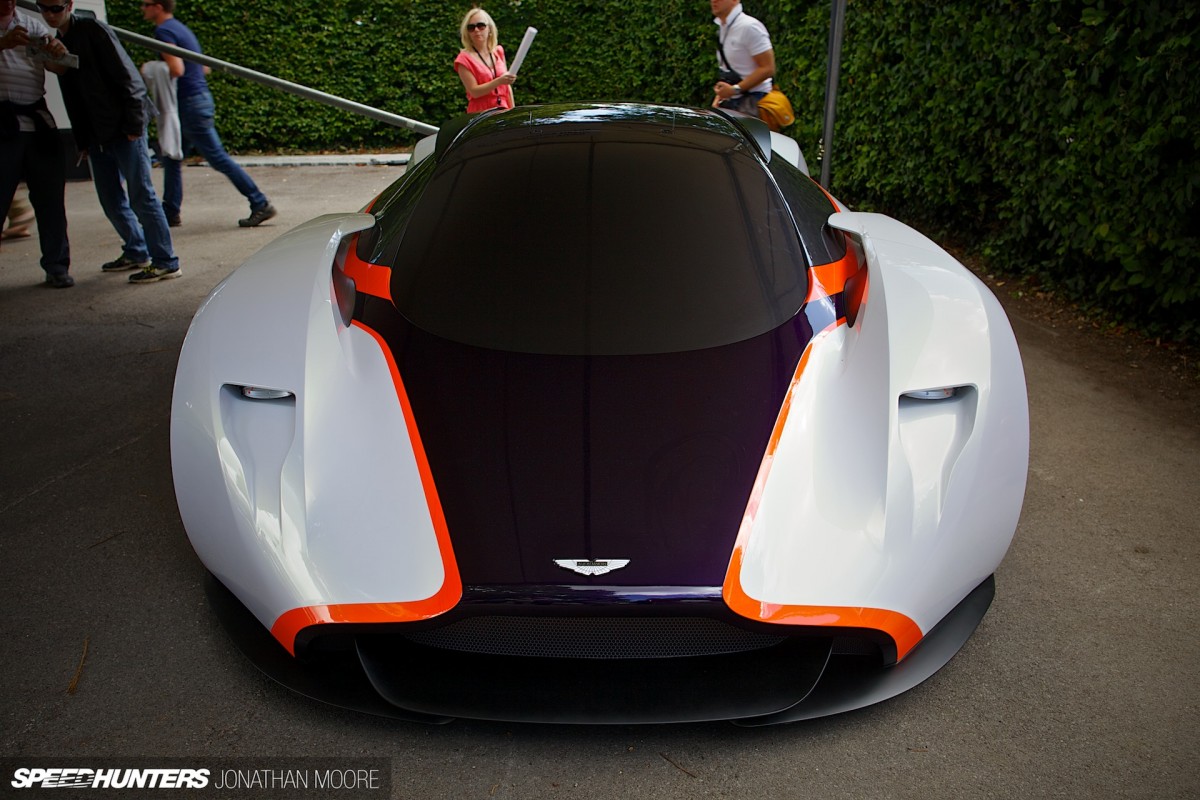 Aston Martin have been promising a bold new design direction, but I don't think we expected this…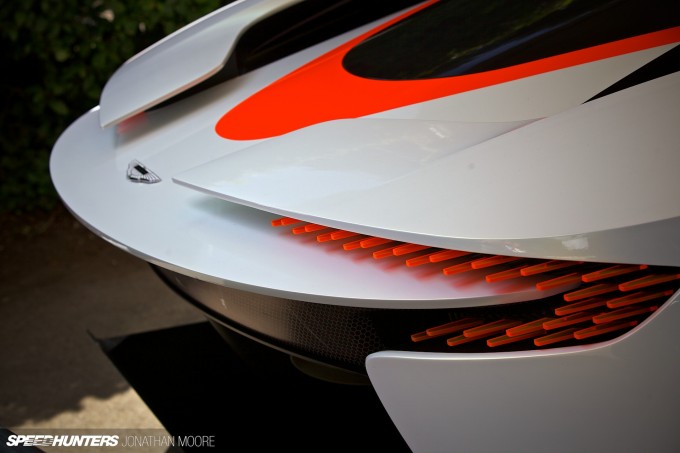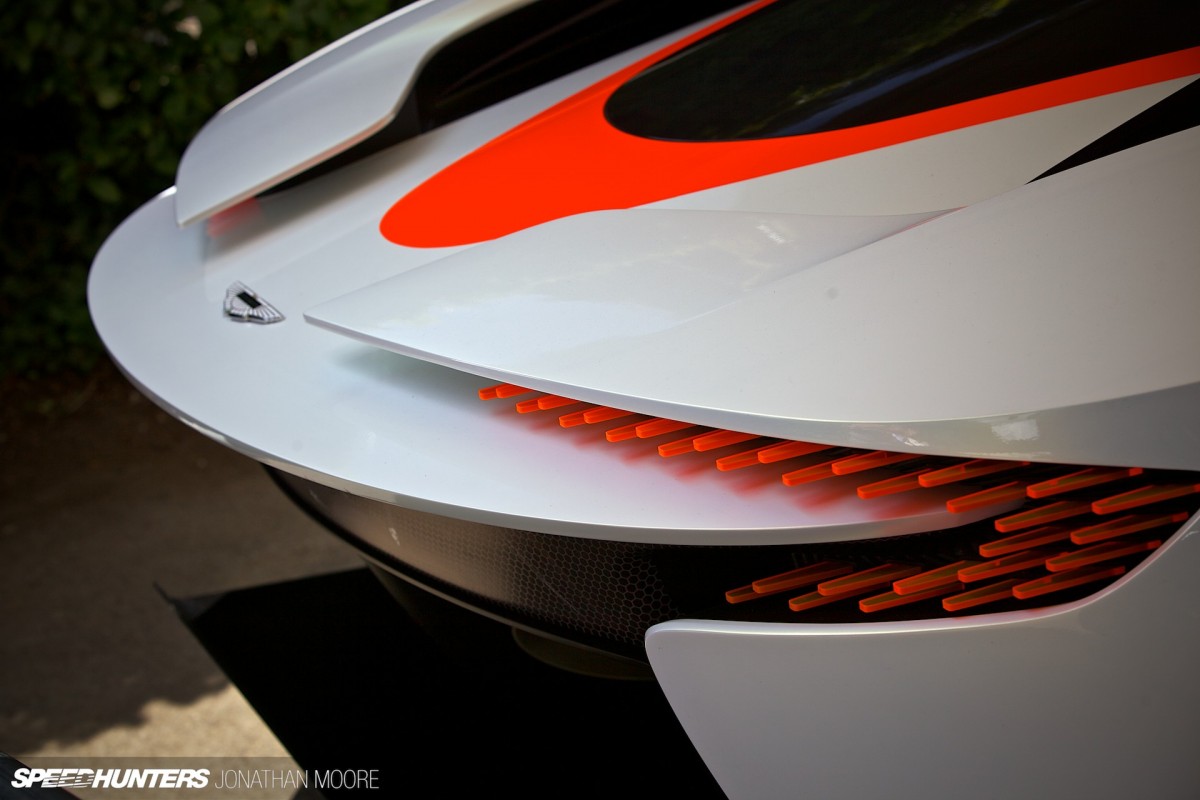 Unfortunately the DP100 can only be driven in the virtual world, but that's not to say that Aston Martin didn't put the effort into this real life representation.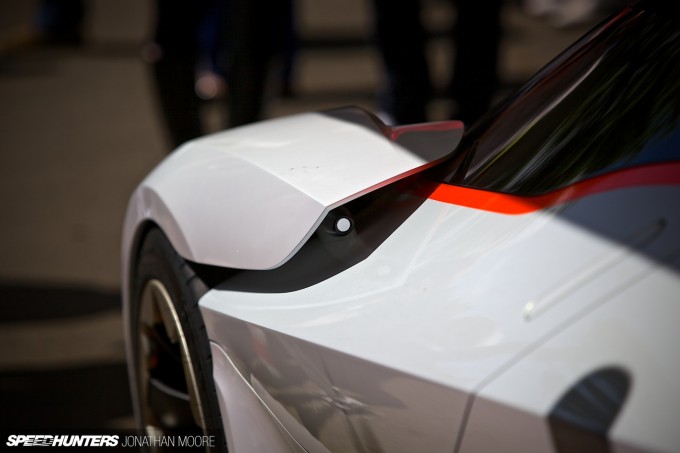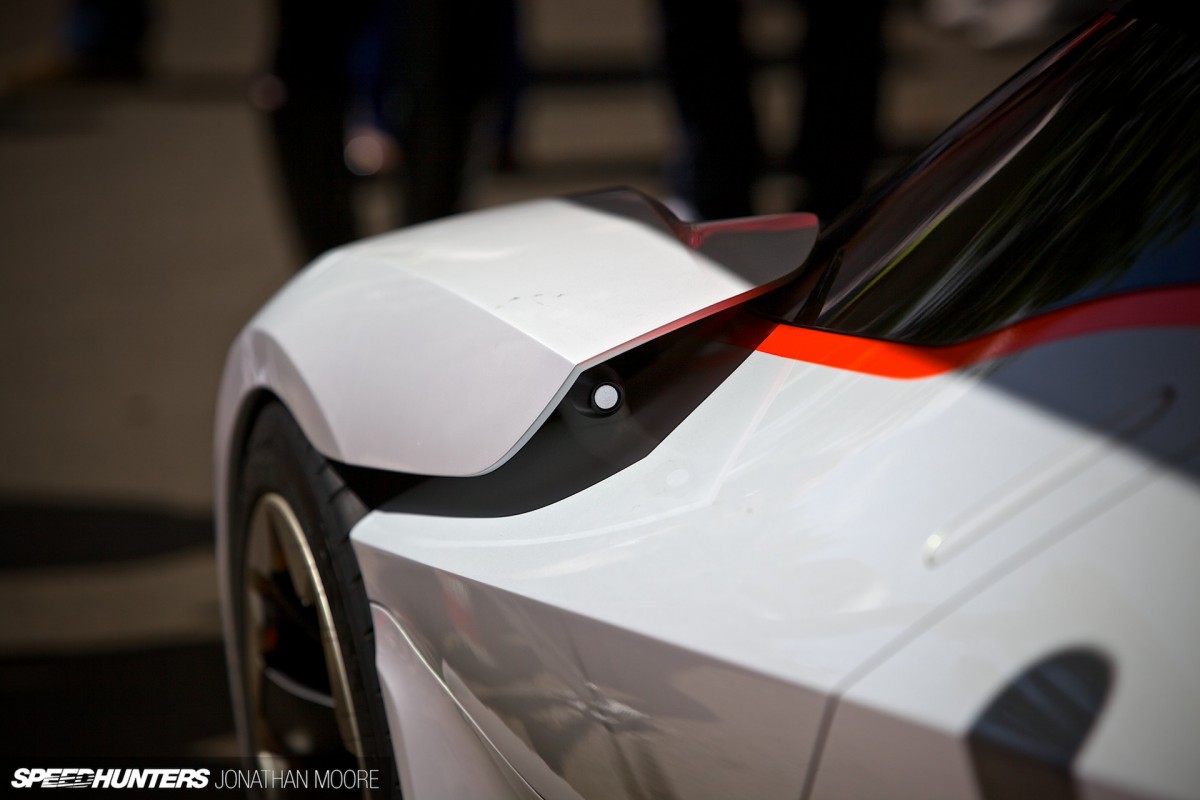 This full scale model was cheekily hanging out in the Supercar paddock, although it wouldn't be moving…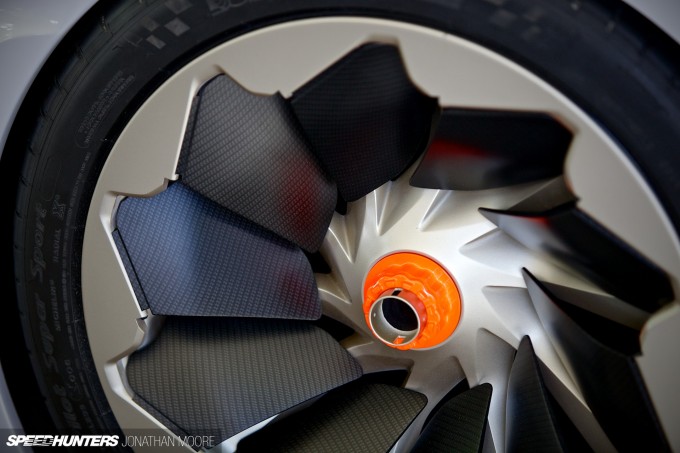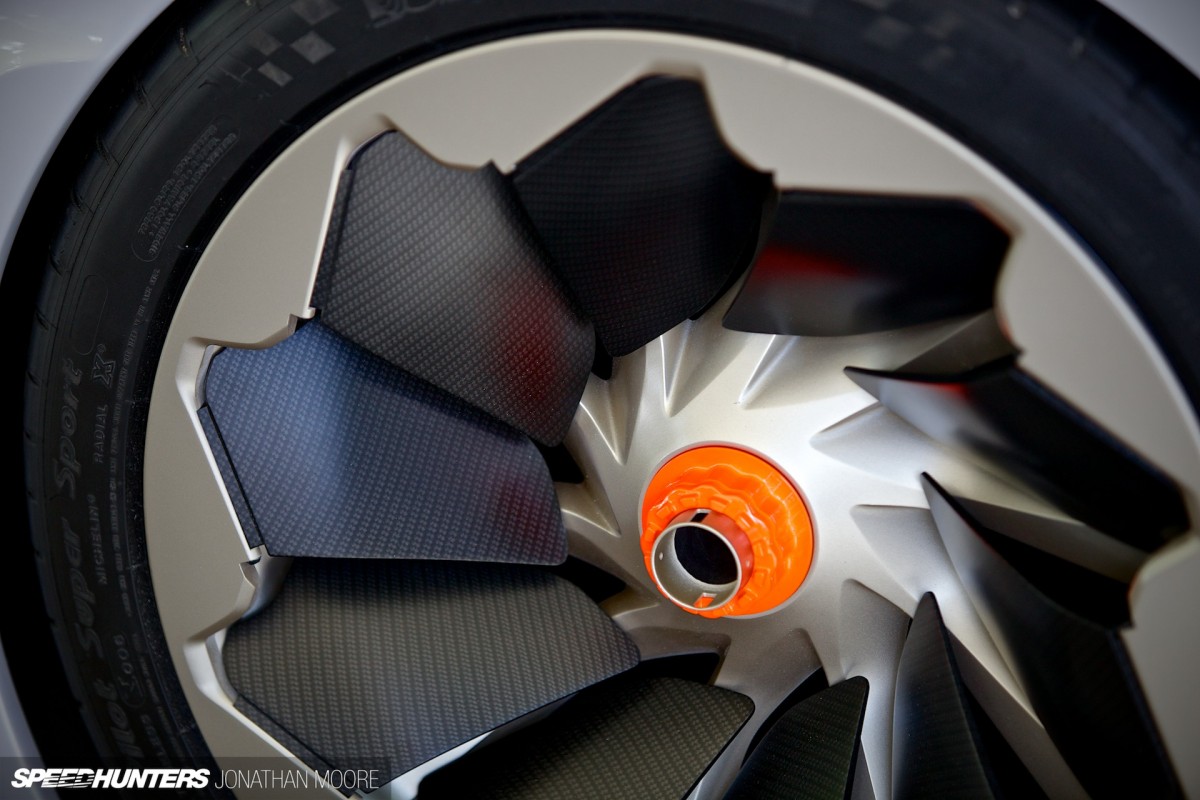 Which was a shame: I'm sure I wasn't the only one who would have liked to see these carbon-tipped blades cutting through the air…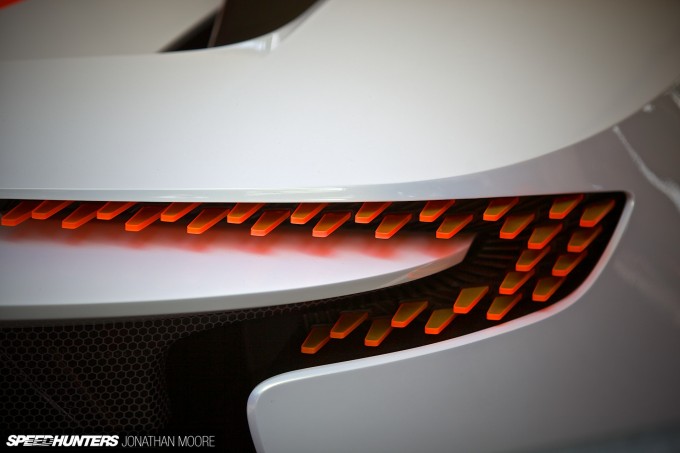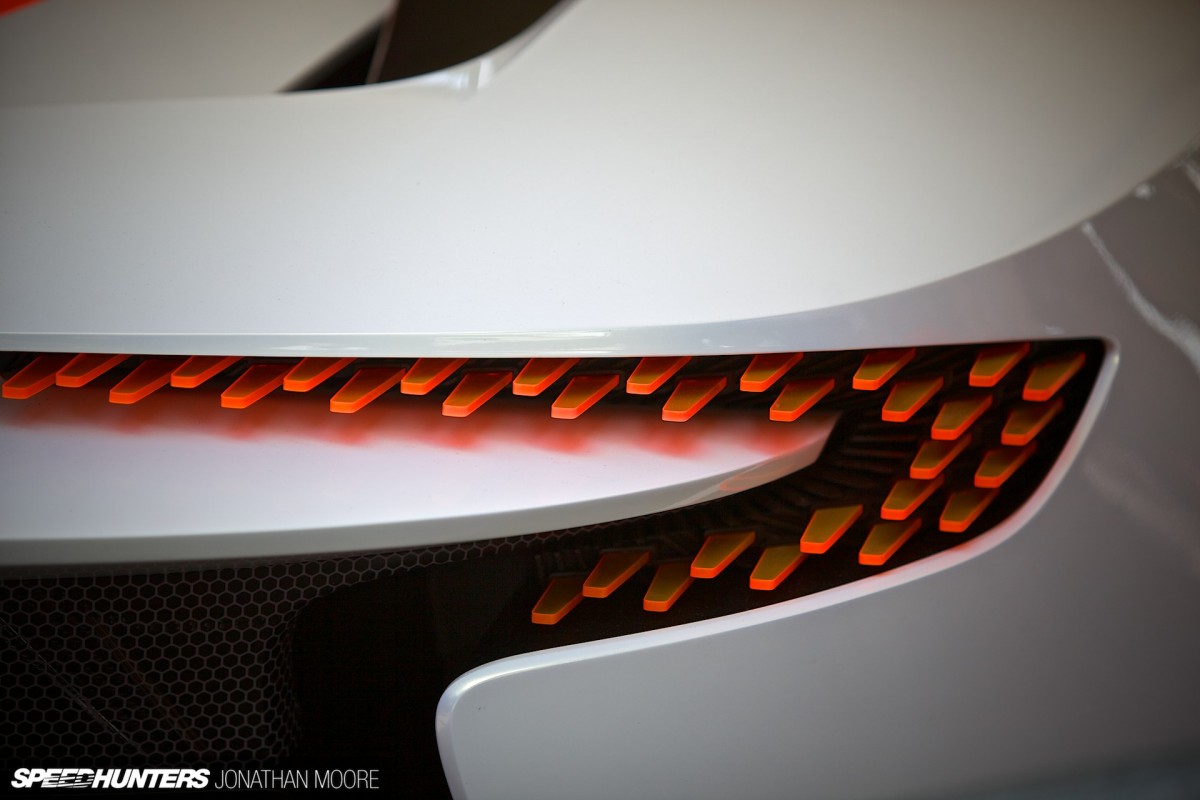 Aston's Design Director, Marek Reichman, went through the same design process from sketch to concept as they would for a real car, and it's possible that we might see some of these design cues turn up in future models.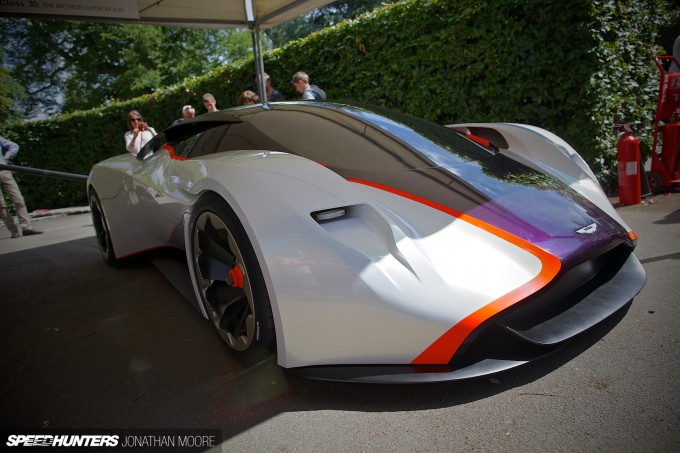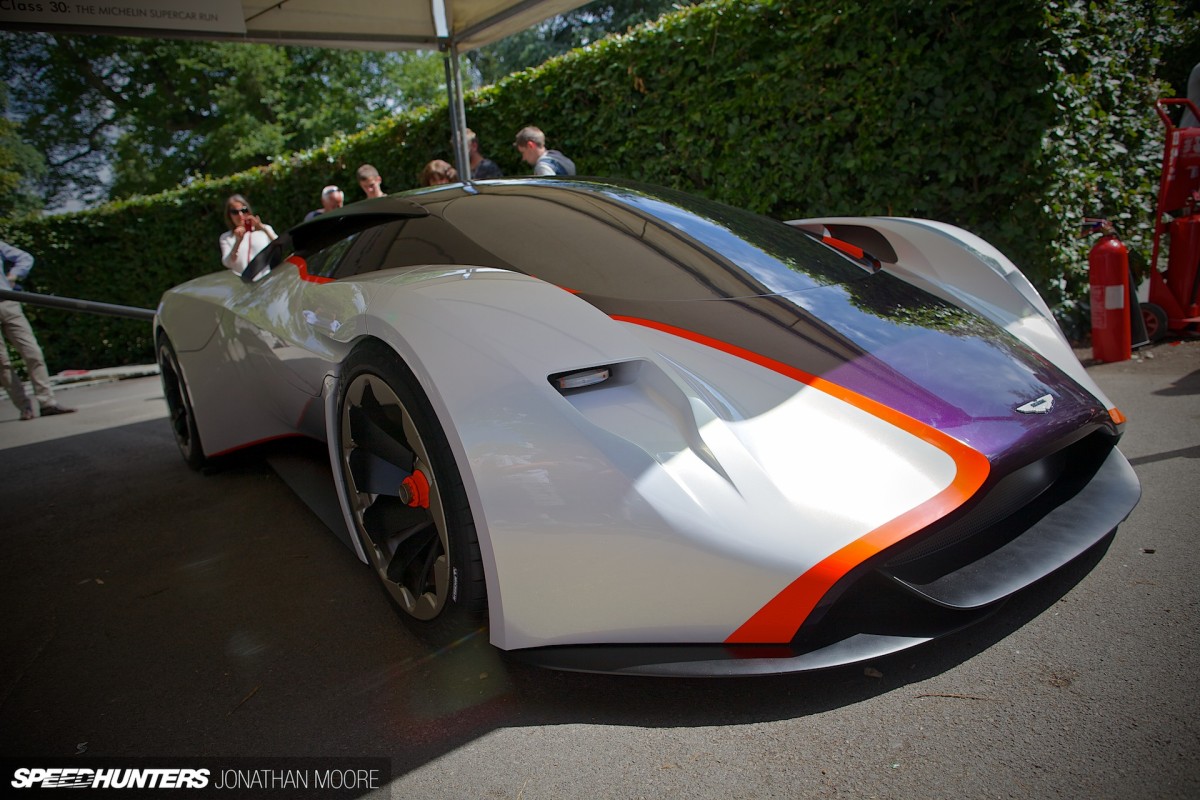 In the meantime, the sound of its virtual 800hp, twin-turbo cutting through the Goodwood air will just have to be imagined…
Rotary Saw, McLaren Heard, Merc Carried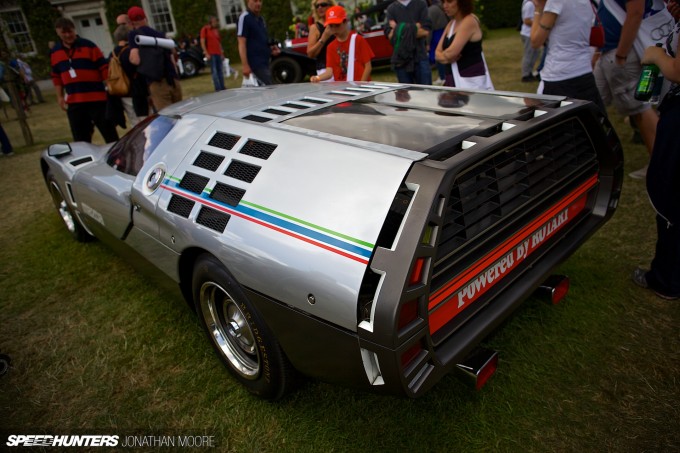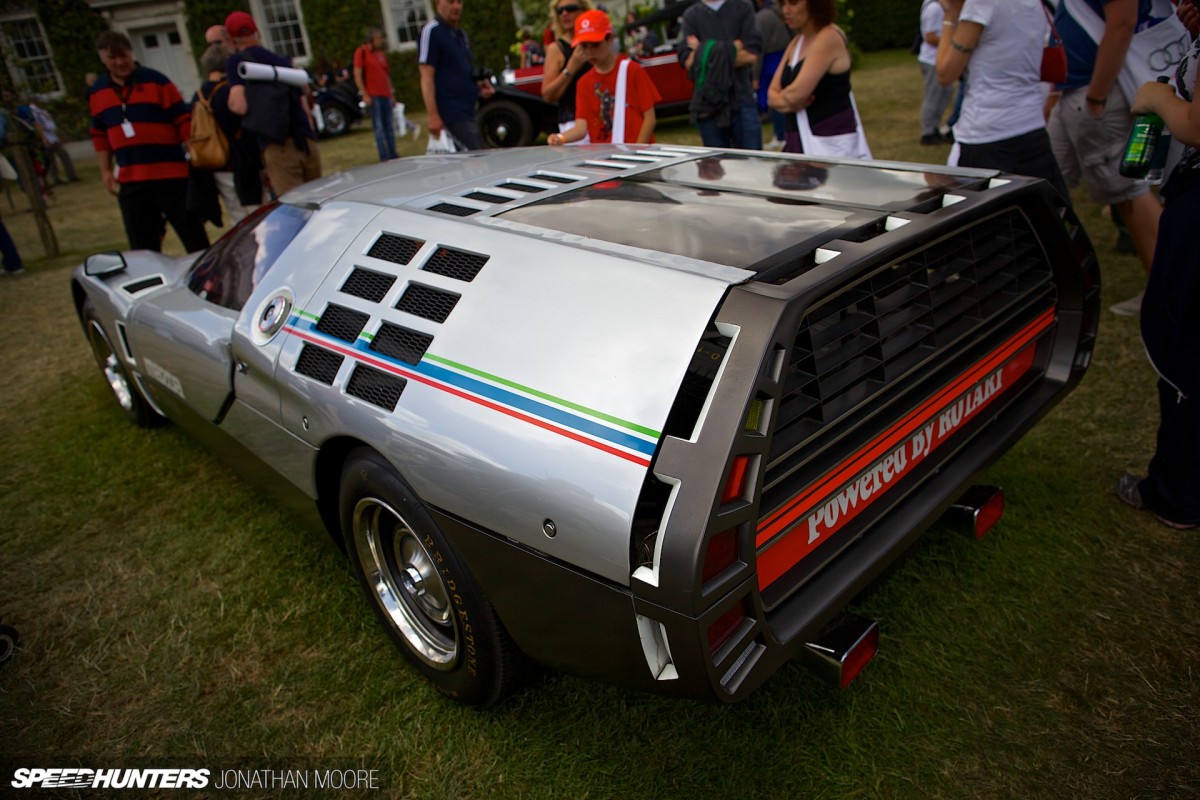 One thing that didn't need imagining was this equally futuristic Mazda prototype. Forty four years younger than the DP100, this was a case of back to the future.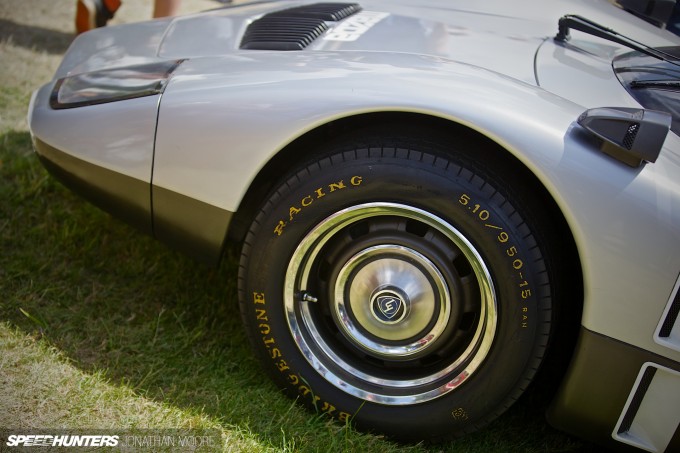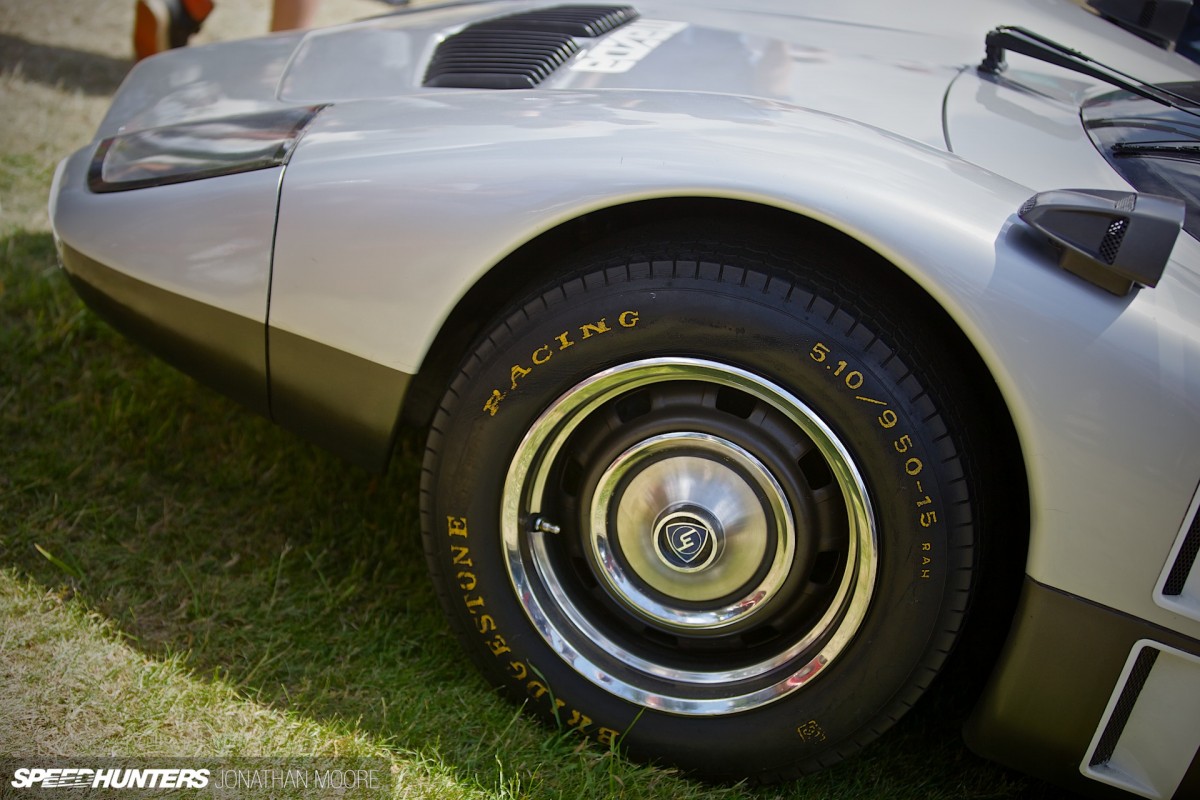 The styling of the RX500 is archetypally '70s: the angular nose; that high rear deck and Kamm tail; the geometric slots.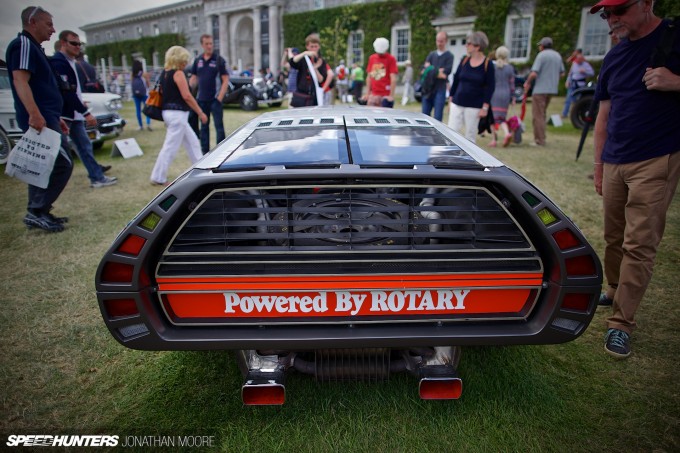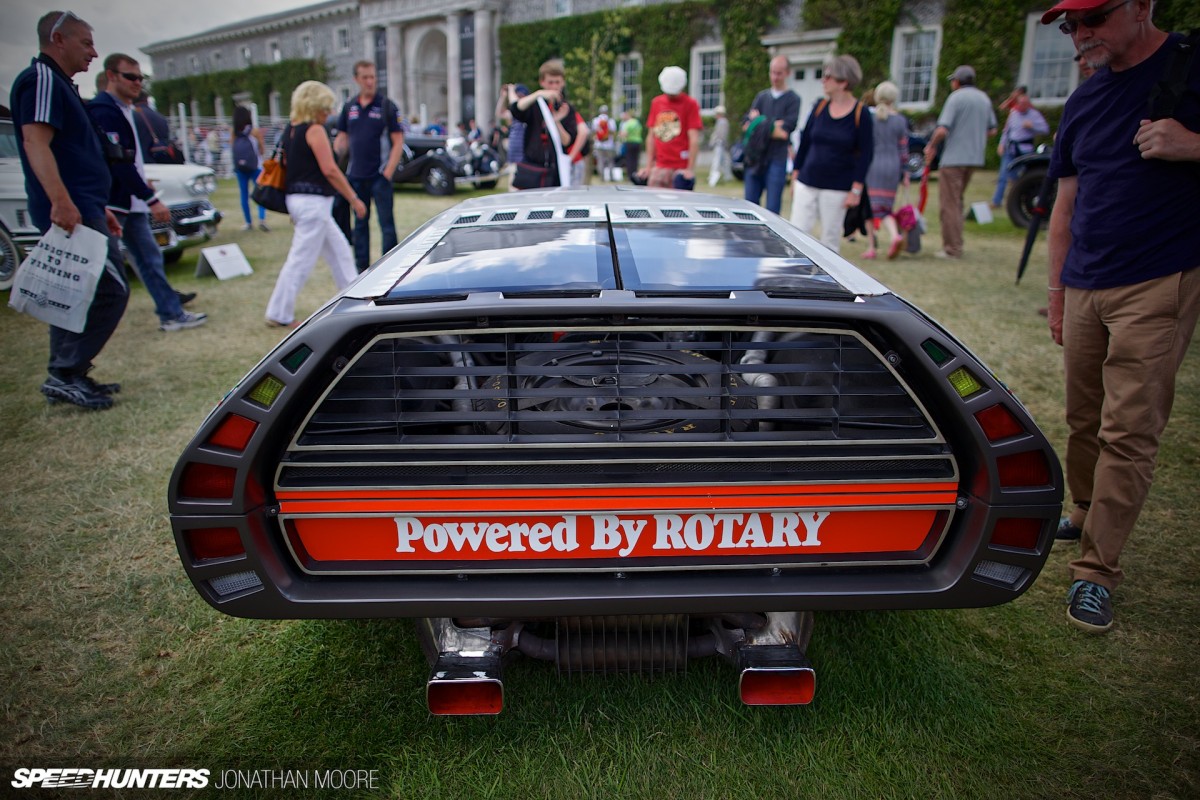 The engine is of course rotary, if you hadn't guessed… Interestingly, the multi-colour fan of lights changed colour depending on condition: green under acceleration, orange when at a constant speed and red when braking.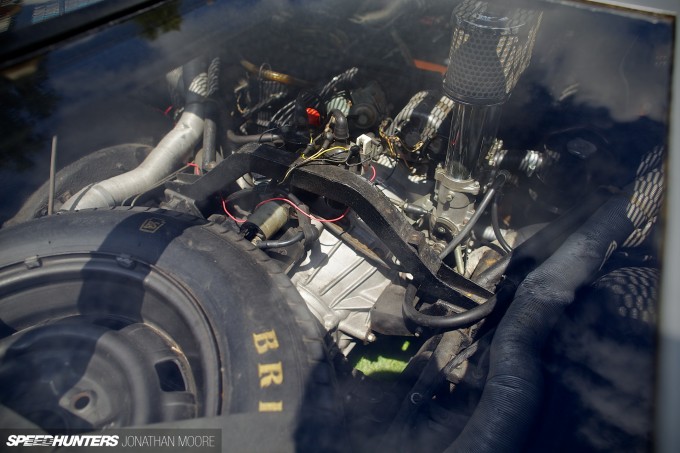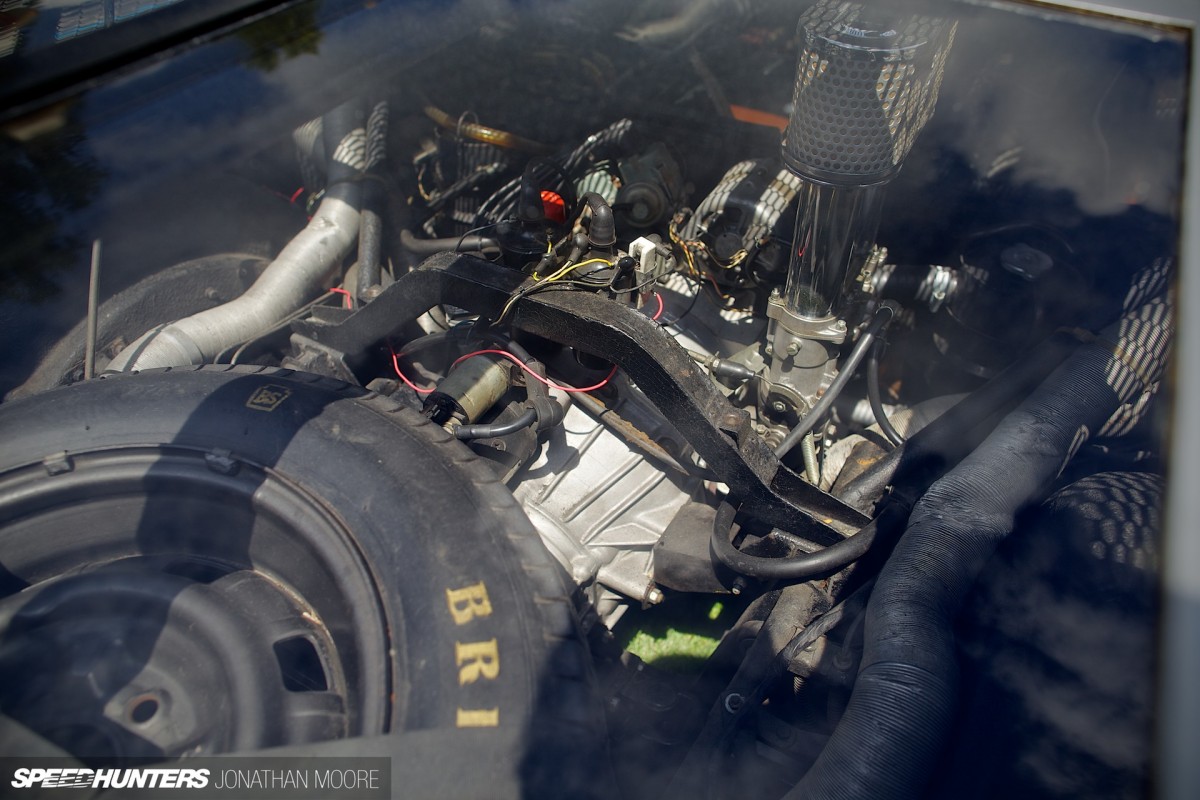 The 10A twin-rotor (2x 491cc) Wankel engine was tiny, but it somehow produced 247hp and propelled the RX500 to 125mph.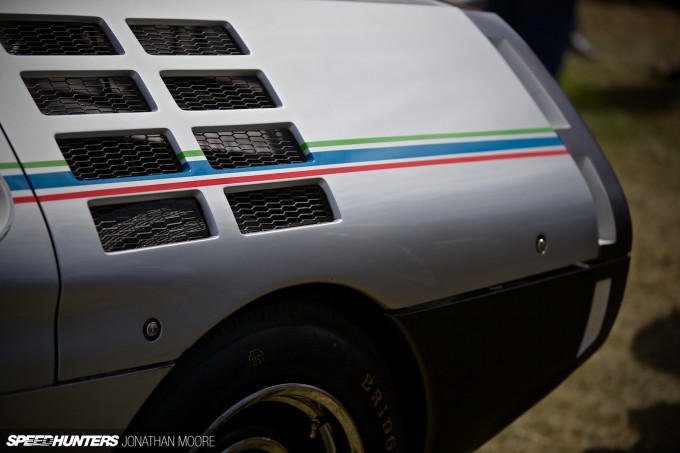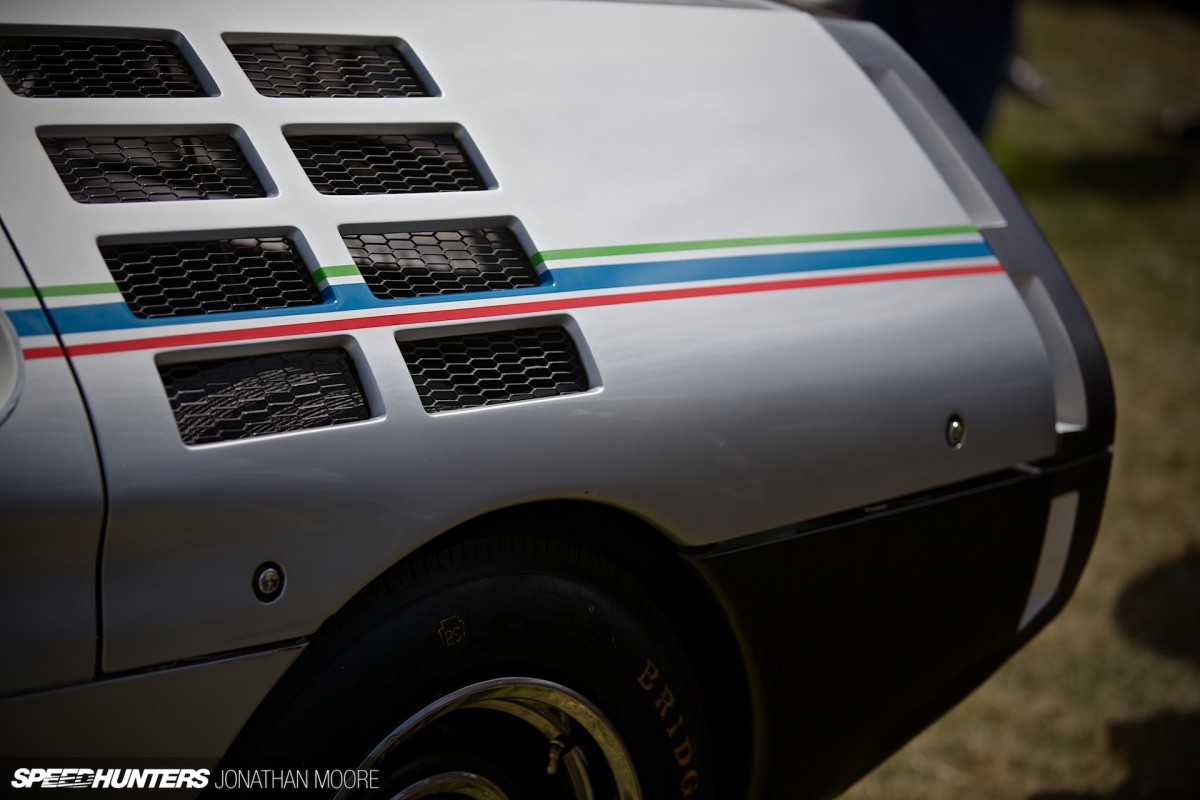 Lightweight panels kept the weight down to just 850kg. There's so much about this car which is ahead of its time.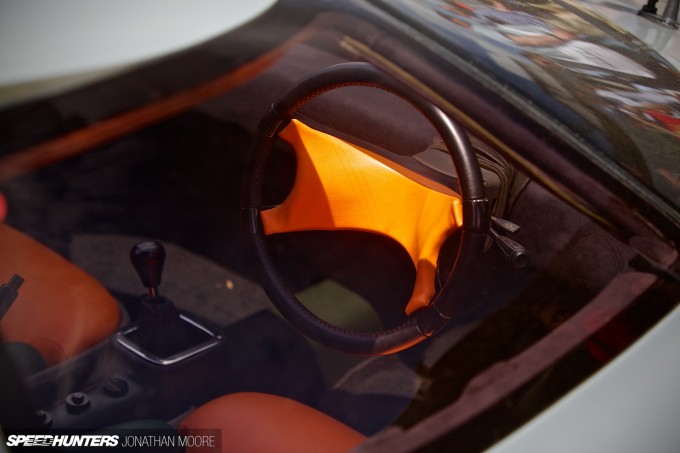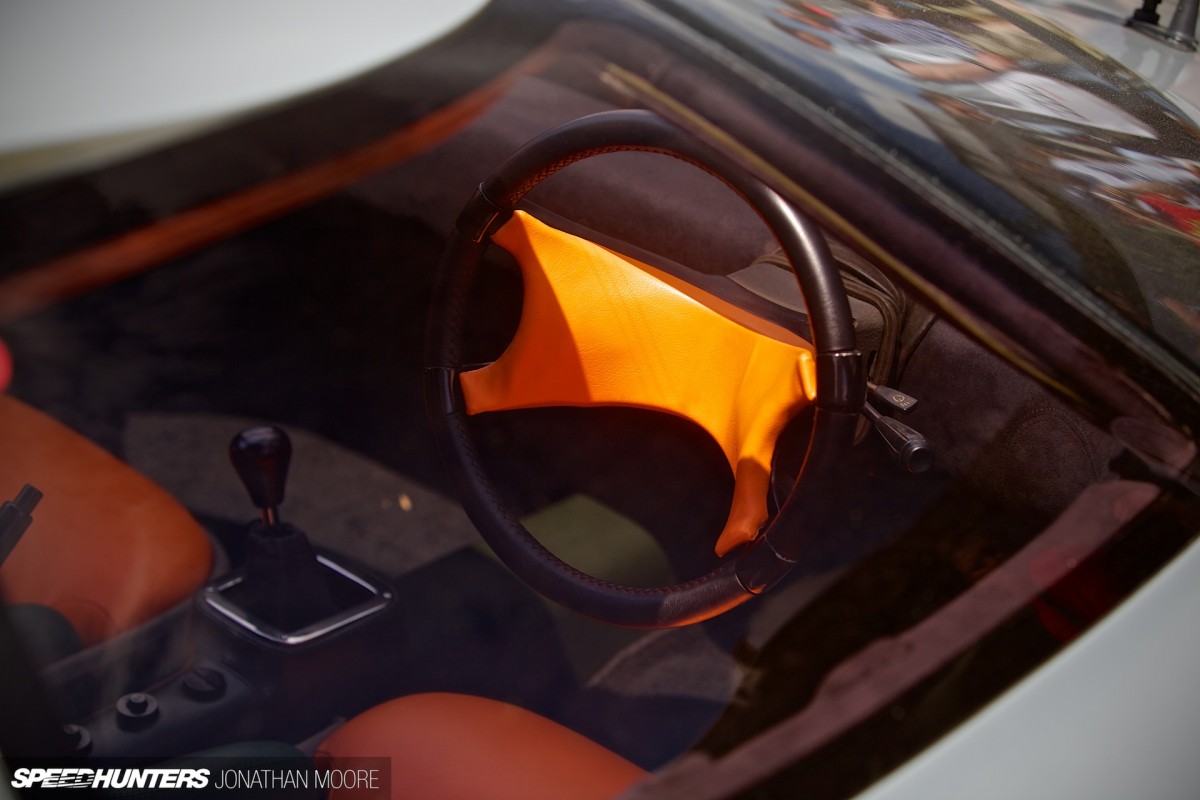 The space-age cockpit (check out that 2001-style orange) was accessed via front-hinging doors – beating the Countach by three years – and the engine bay at the rear by gullwing panels – predating the De Tomaso Mangusta.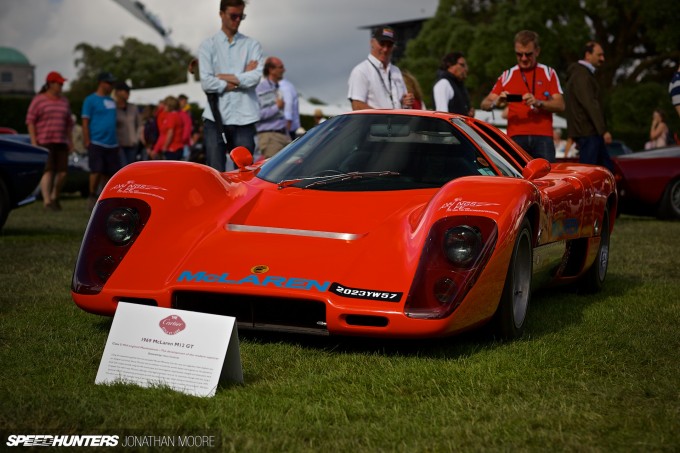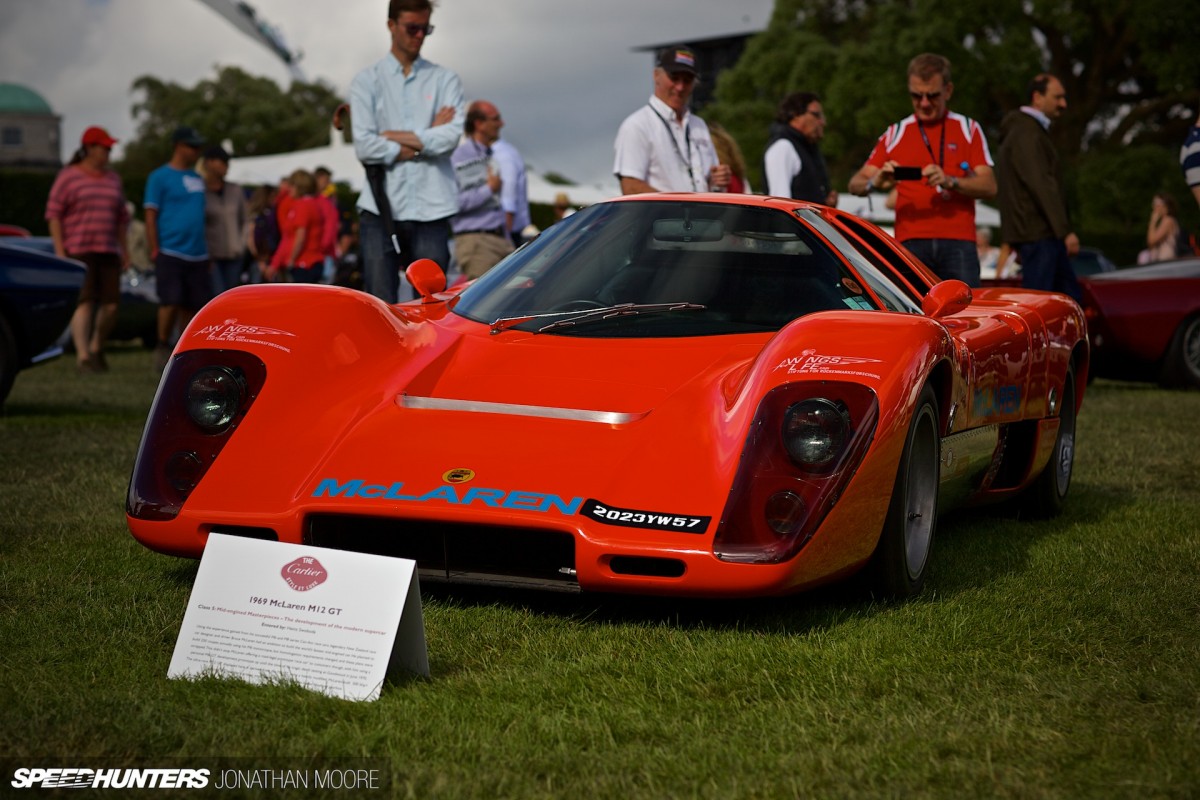 It's easy to think of the F1 as McLaren's first foray into road cars, but in fact it was under the original founder of the team, the great Bruce McLaren, that streets first trembled to their presence back in the late 1960s.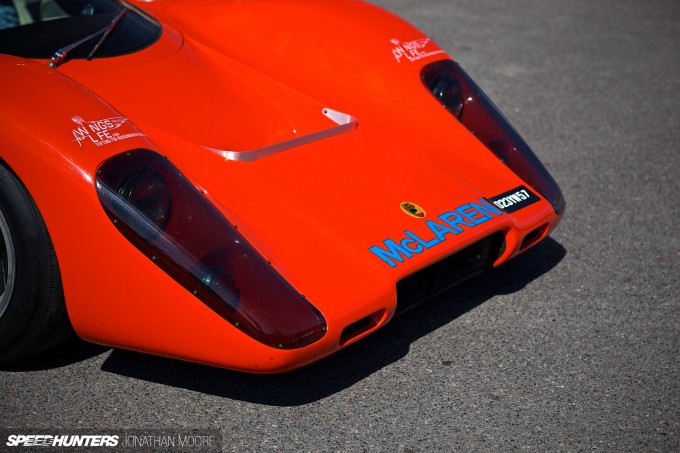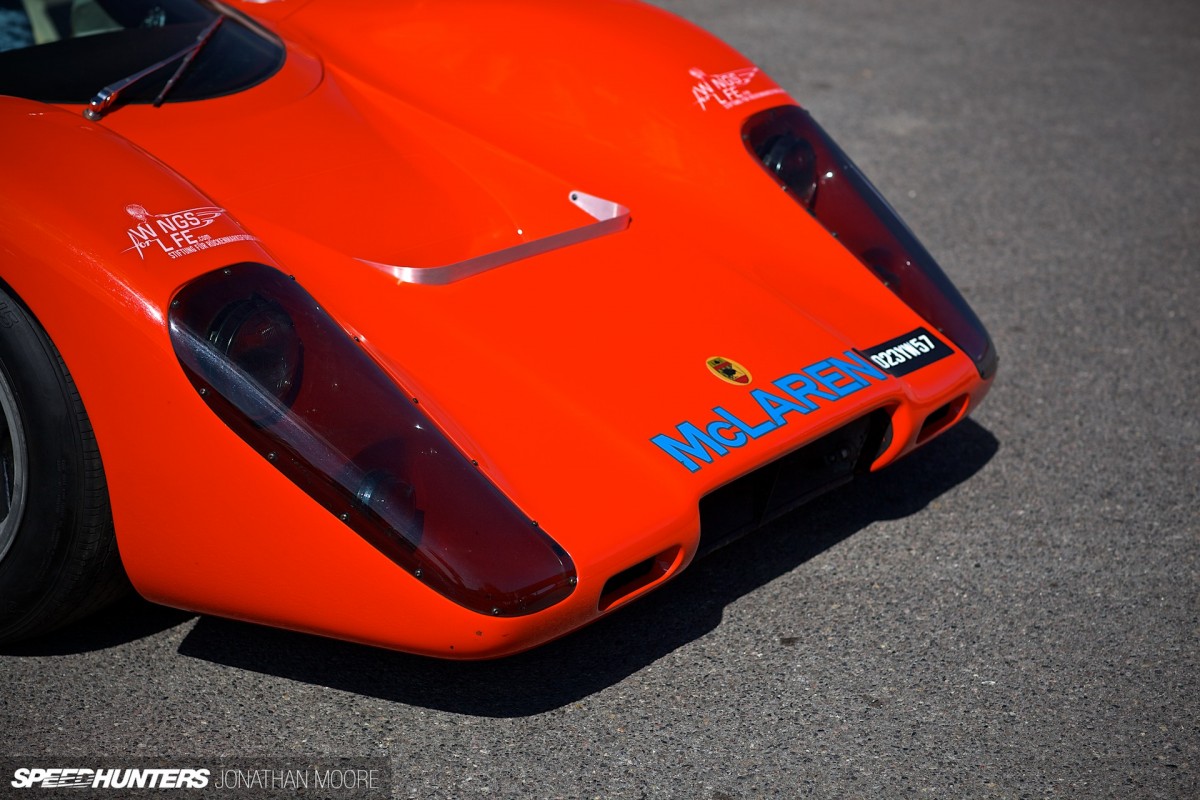 This was the M12 GTO, which was developed in 1969 by Bruce after he experienced driving the iconic GT40 coupé.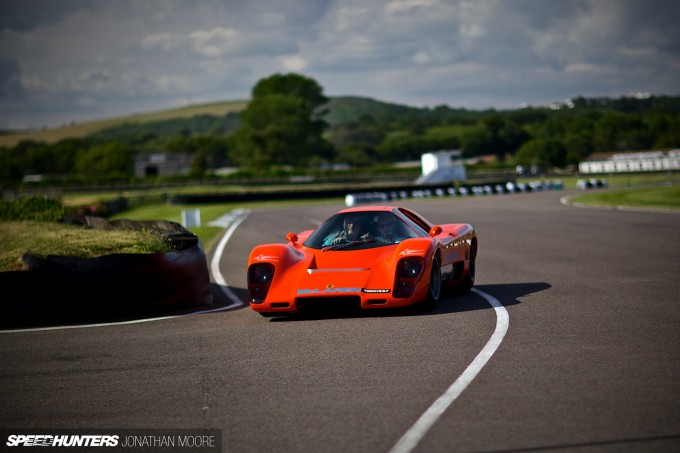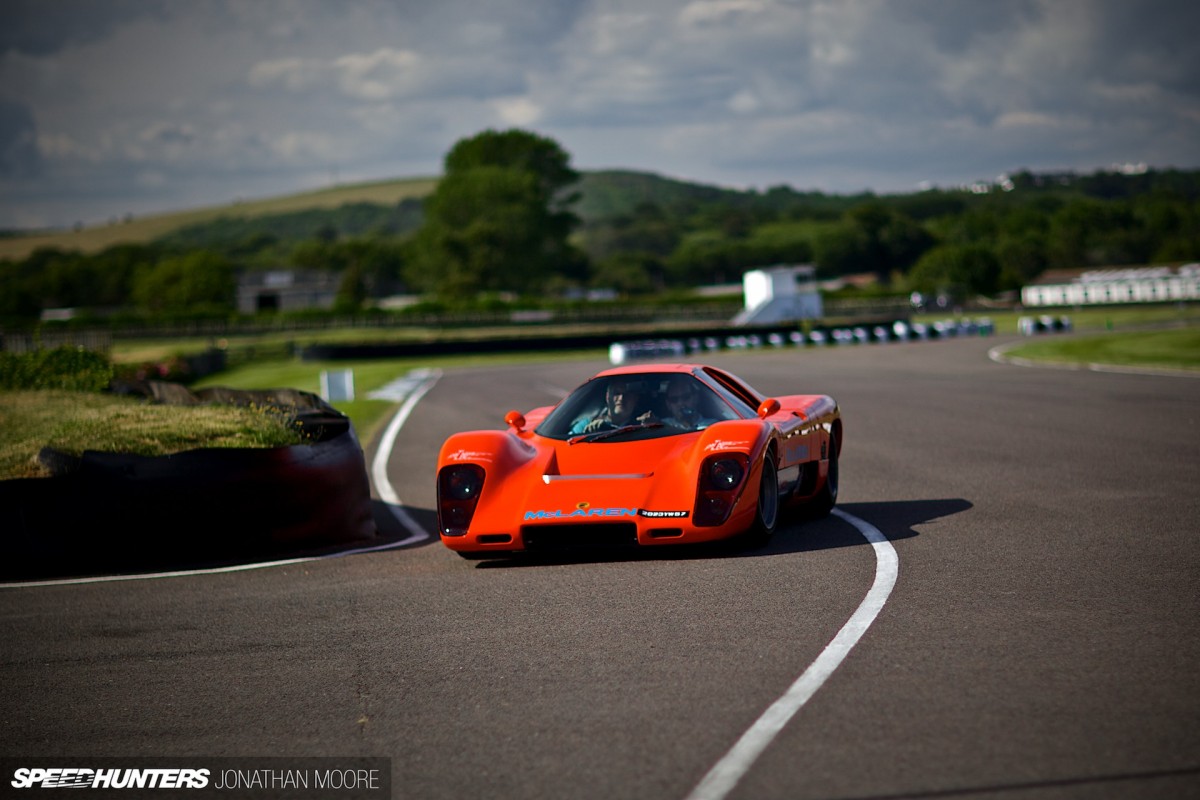 As a base, it was decided that they'd use their CanAm M6B GT monocoque. Oh, and its thunderous Chevy LT1 V8 engine. It almost makes the F1 look tame.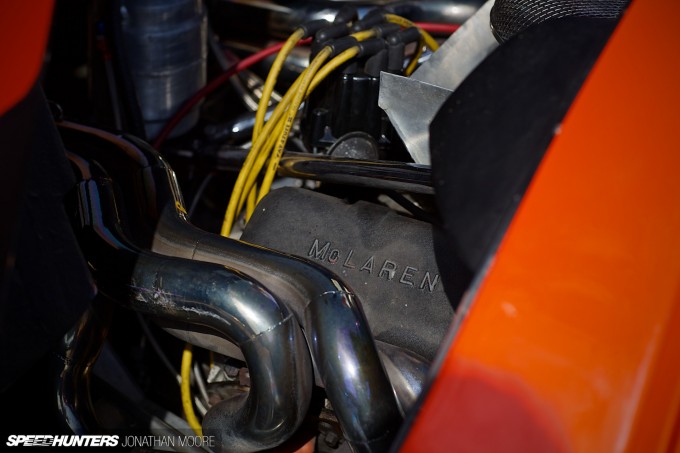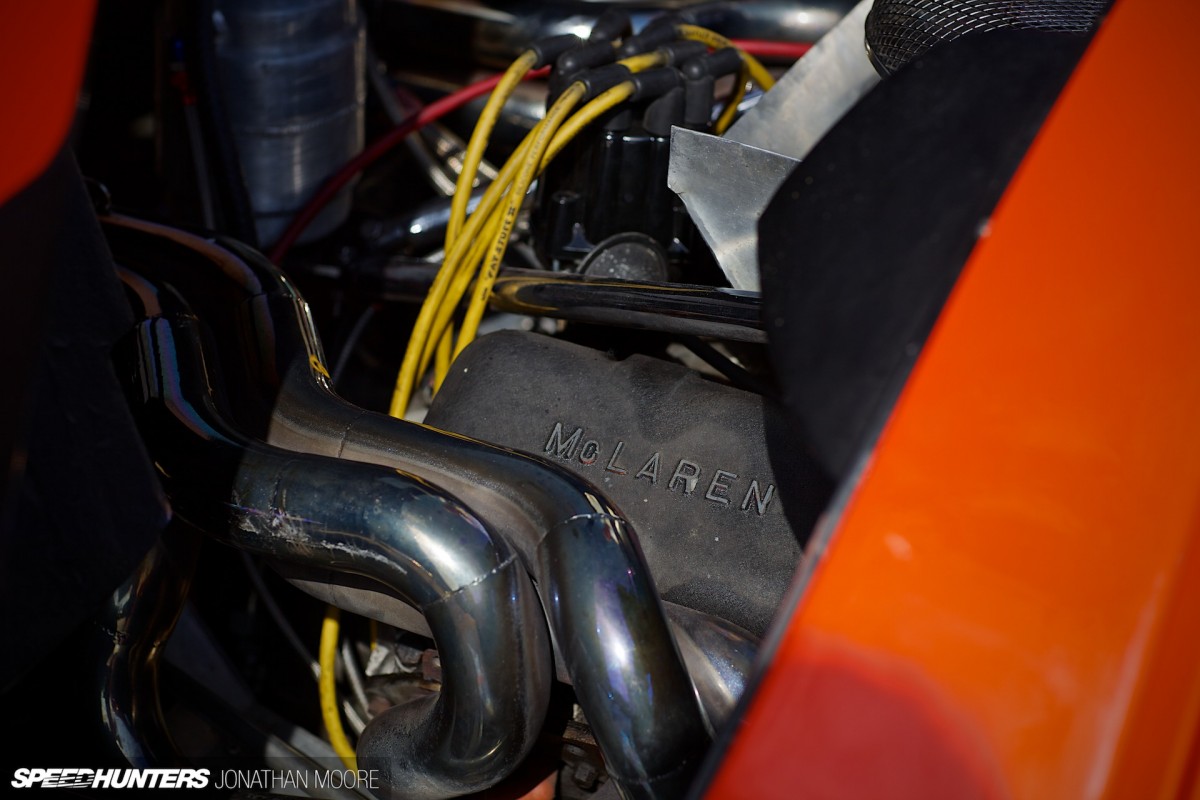 It certainly makes it sound tame… This ultra-rare M12 GTO was fired up at Goodwood's race track as a warm-up ahead of the weekend, where I was coincidentally looking at a pair of Koenigsegg One:1s. More on them in a later story. But when the McLaren's V8 was finally coaxed into life, the clouds metaphorically rolled in, darkness descended and Zeus did throw down thunder and lightning. I'm not sure I've heard a louder engine in my life. It was like being shelled by heavy artillery.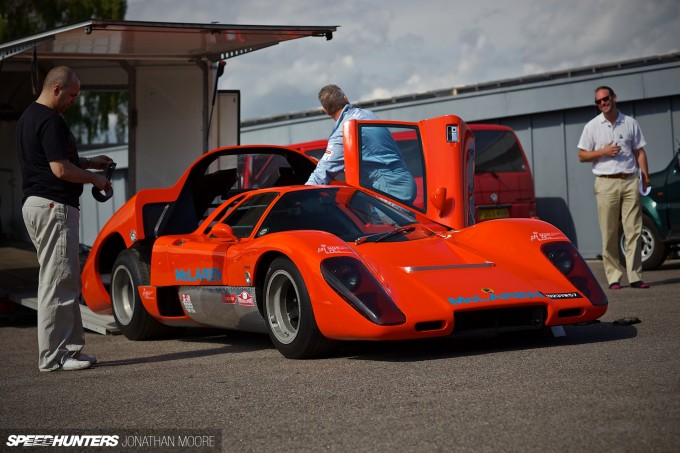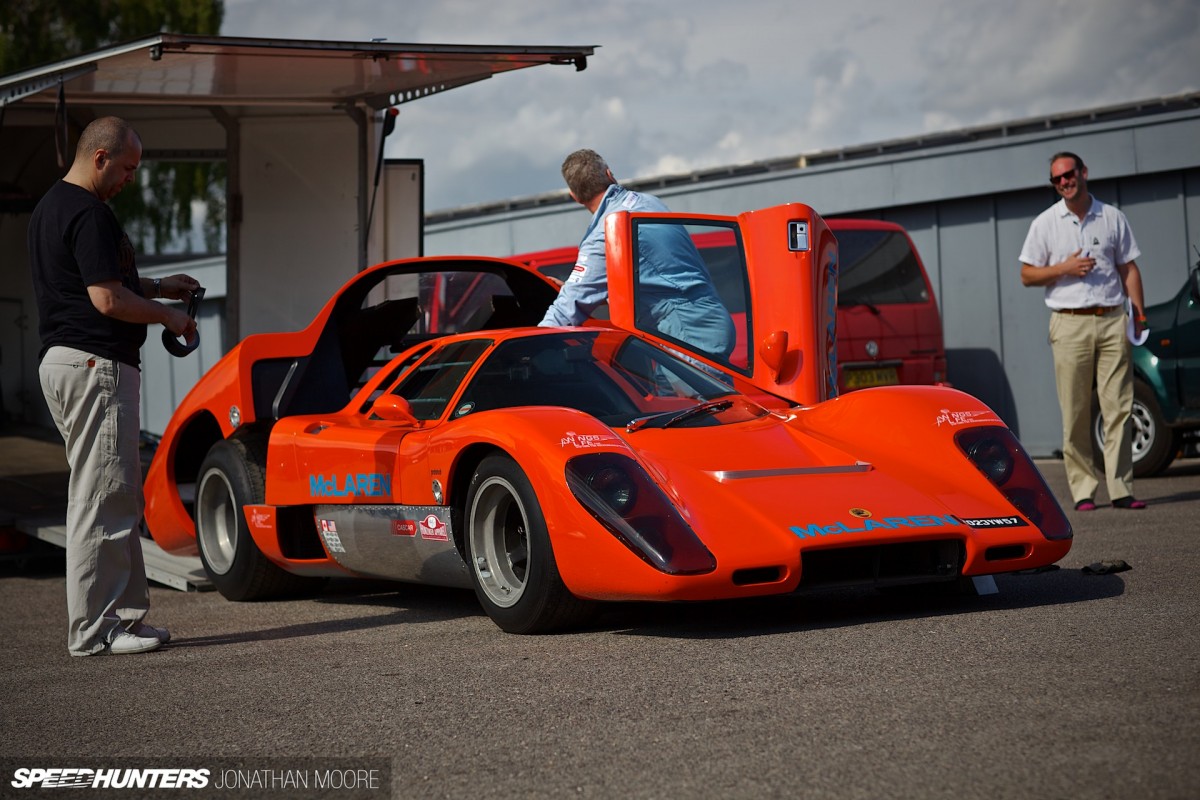 A run of 250 cars was planned, with Trojan Cars handling the road-going conversions of the race-bred M6B GTs.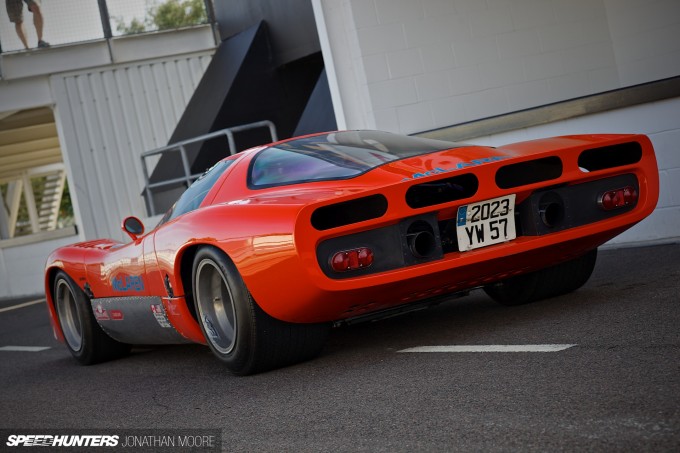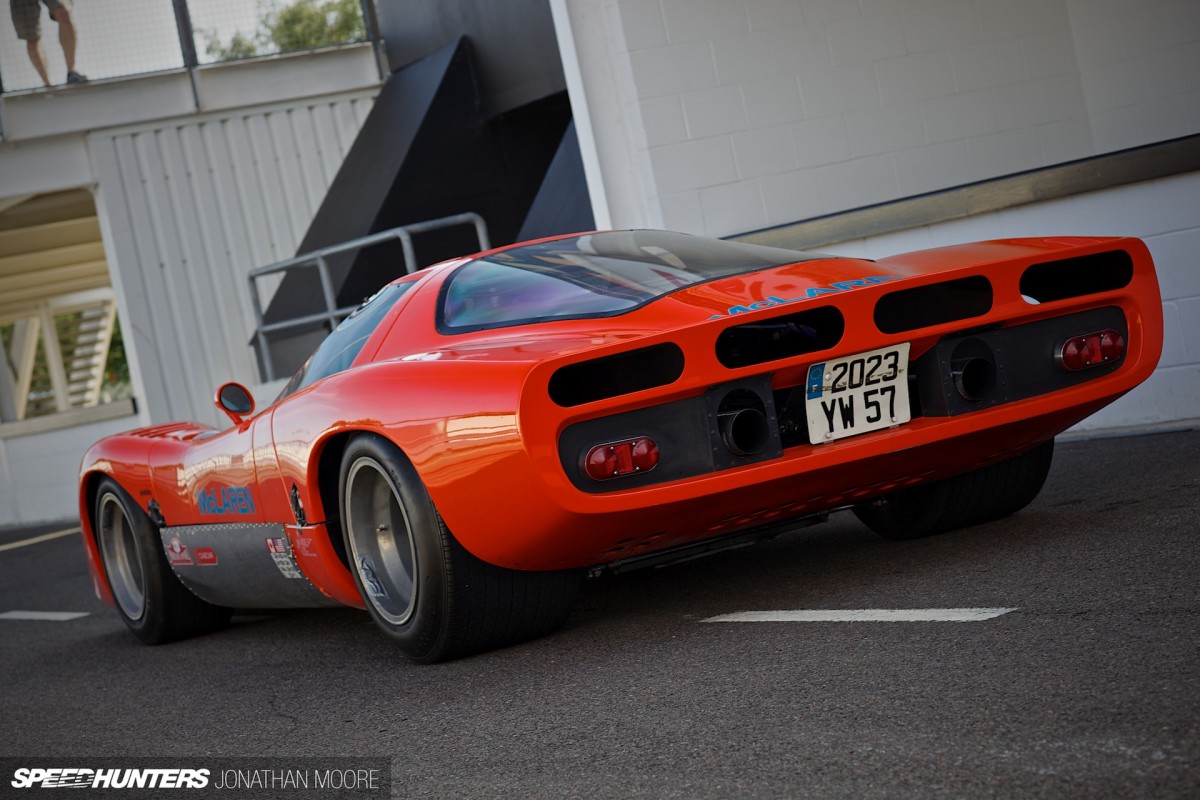 Changes in homologation rules and the tragic death of Bruce (at Goodwood of course…) scuppered the run, but a handful of cars were created – this being one of three Trojans, and another super rare sight in general, let alone in the UK. Notice this is running on French licence plates.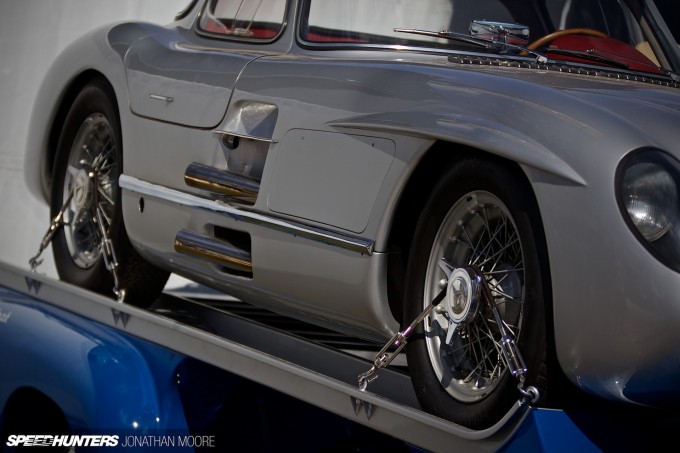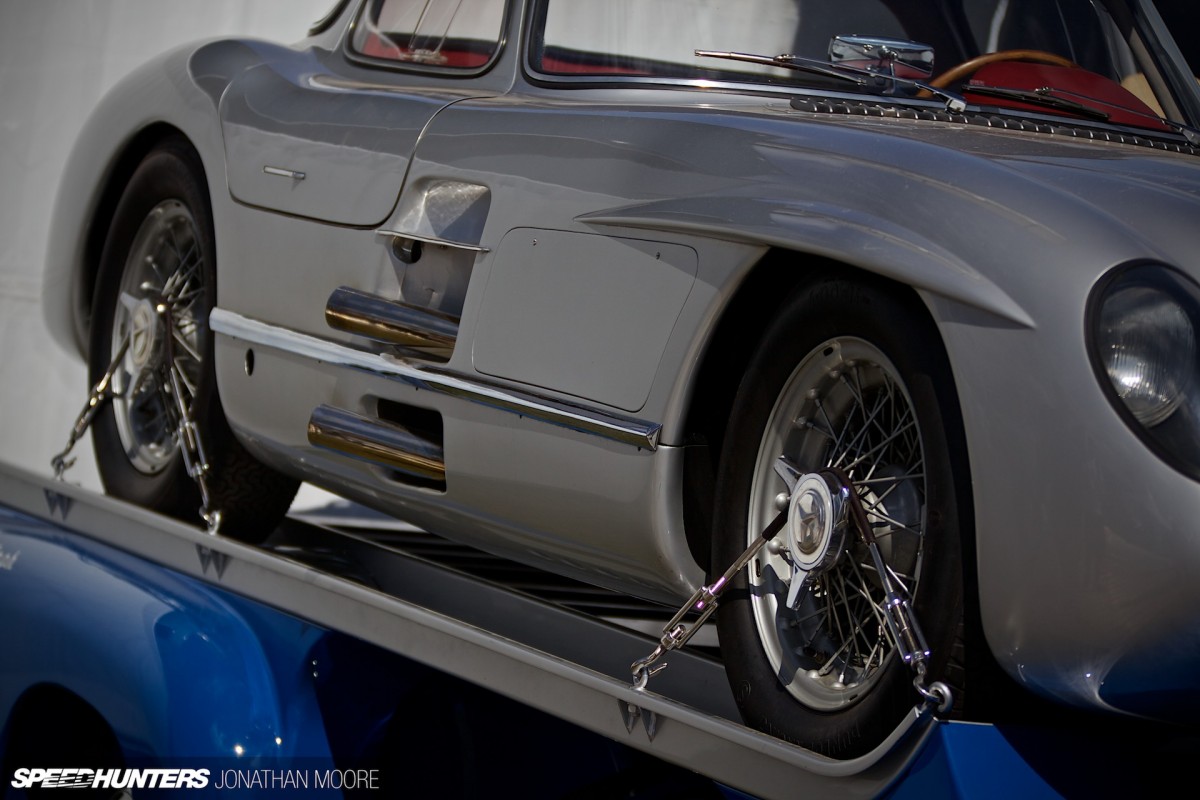 So, you've got a Mercedes-Benz 300SLR Gullwing. It's a pretty fast car. It's built to cruise at high speed, to win at high speed in fact. But you want to reduce wear and tear, especially if you're taking it to a race. What do you do?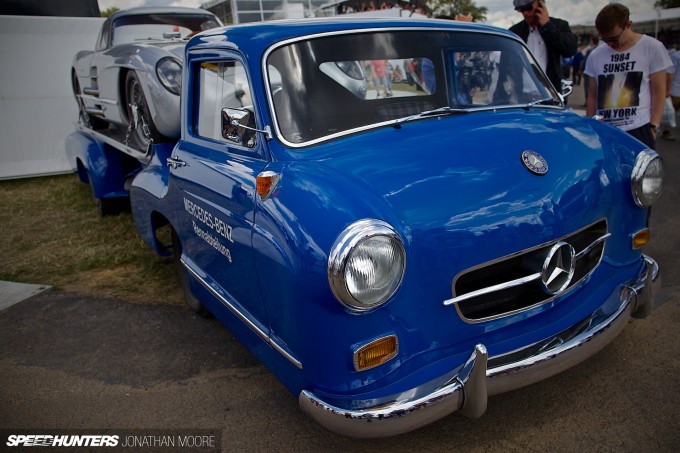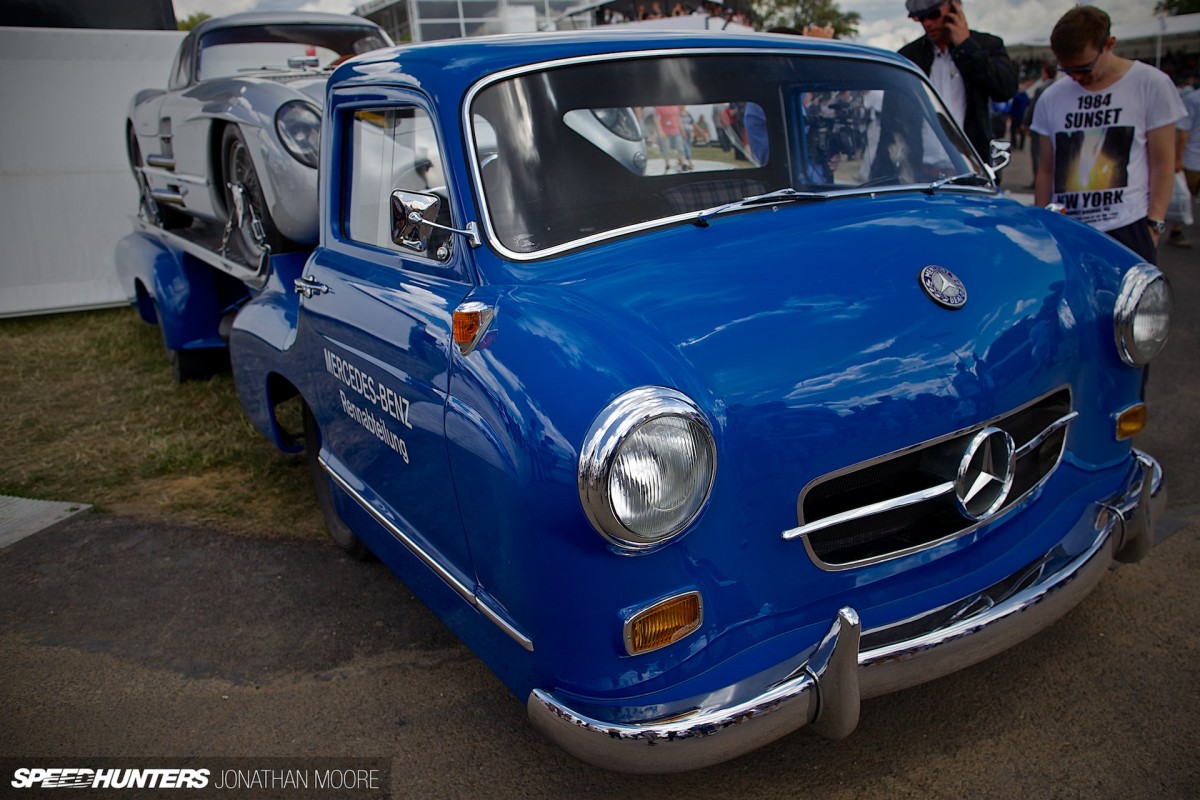 You build a transporter which goes faster than most other road cars of the time.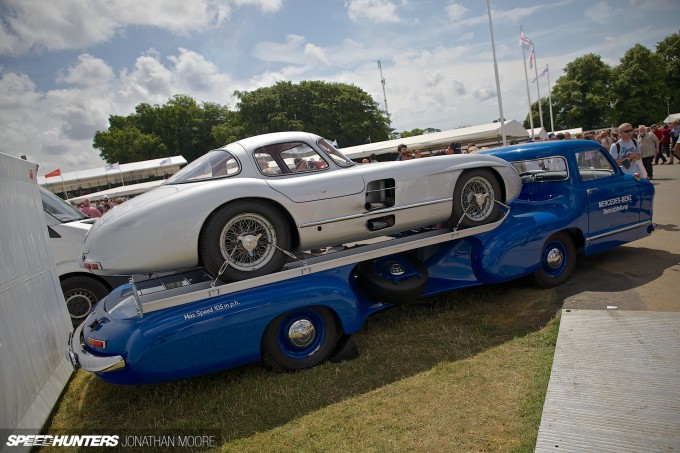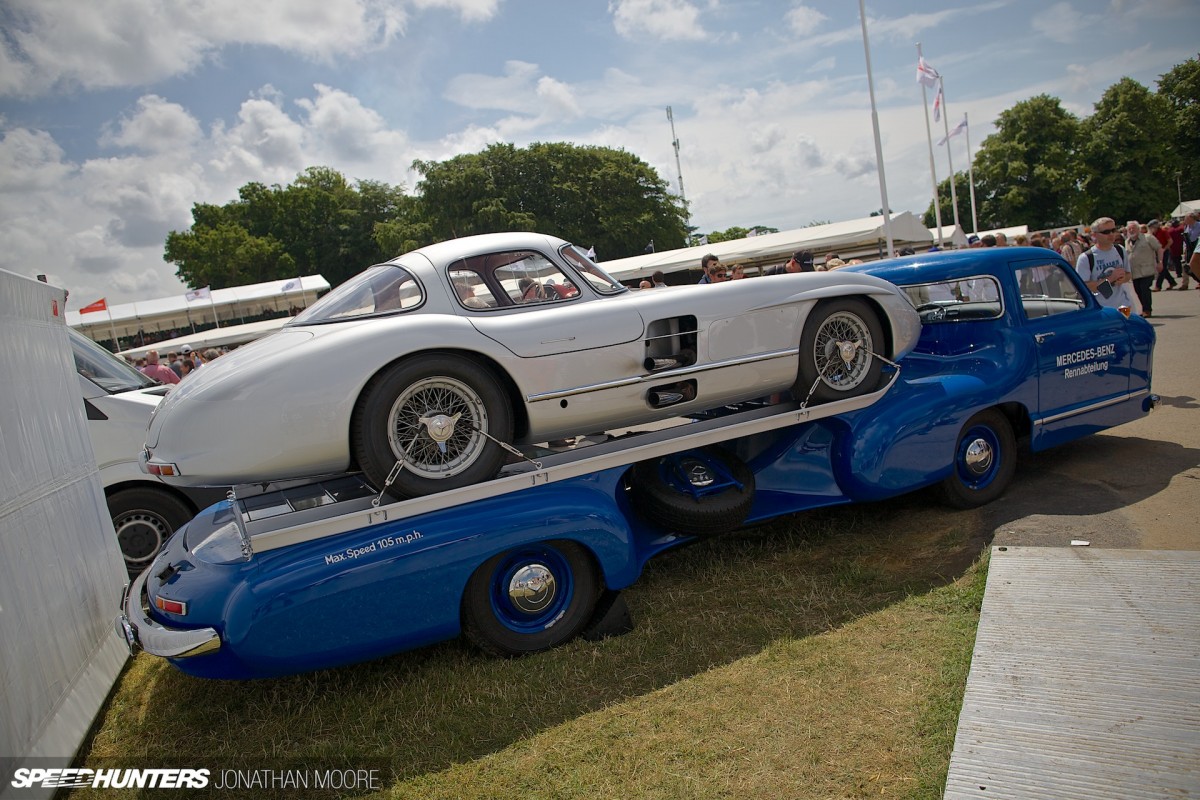 This amazing streamlined transporter was custom built by Mercedes in 1954 expressly to get their race cars to places when they were needed in a real hurry.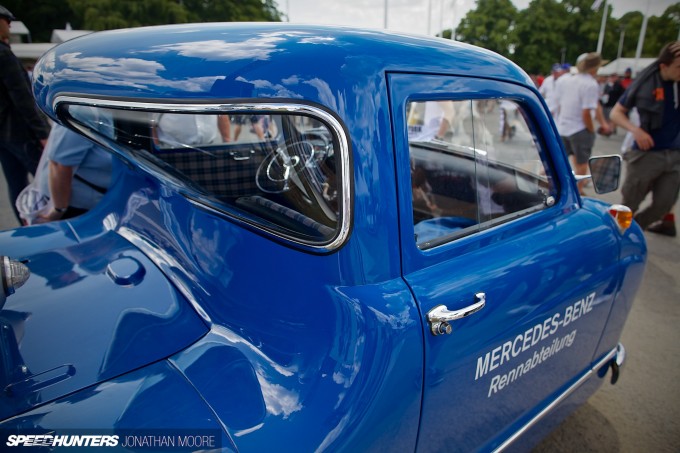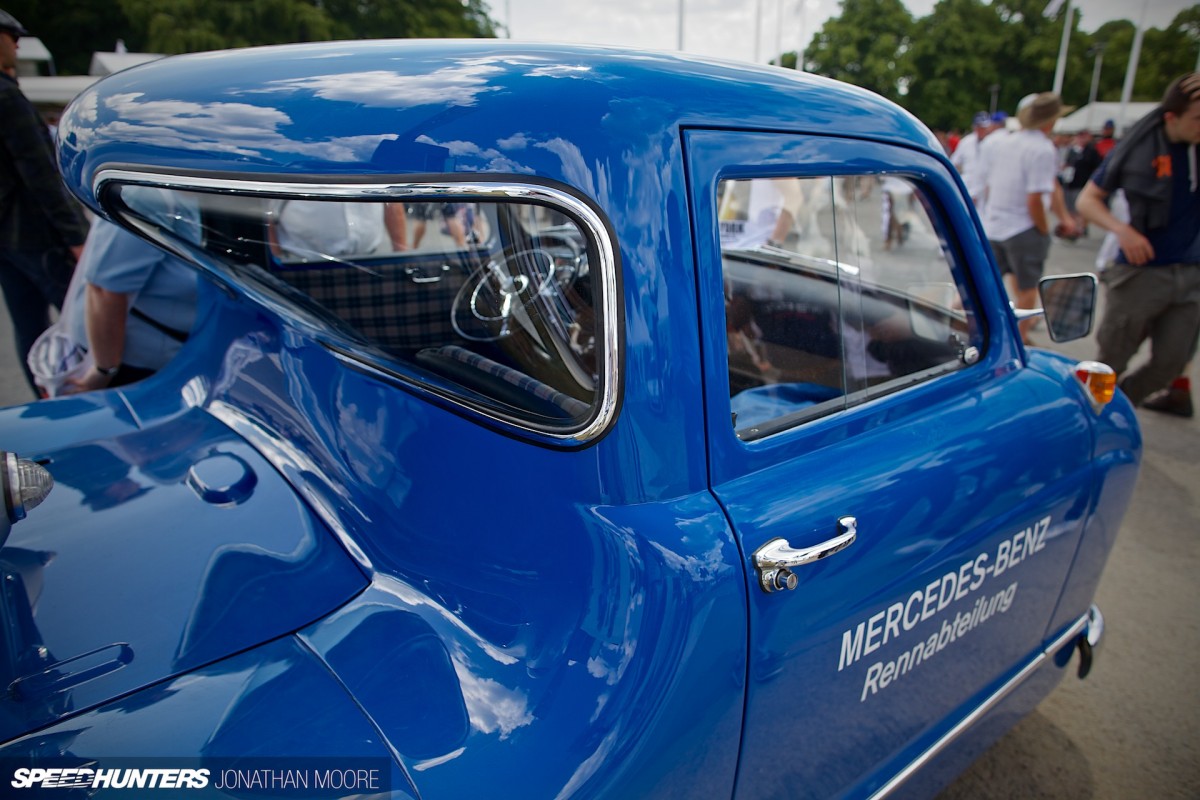 This was from a period where haulers weren't the homogenised machines they are today: all the big teams were building their own stunning creations.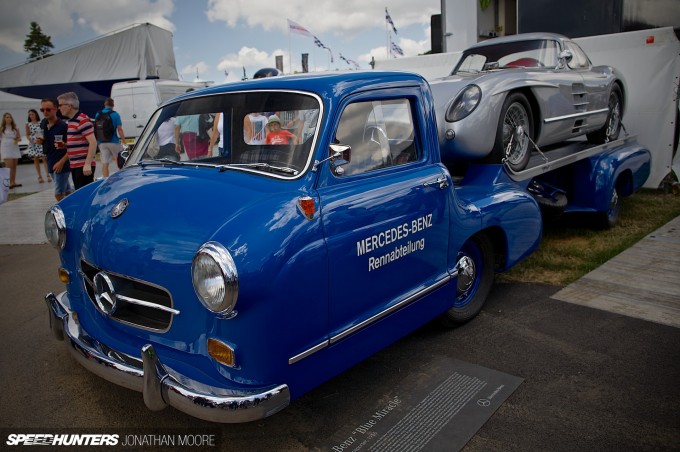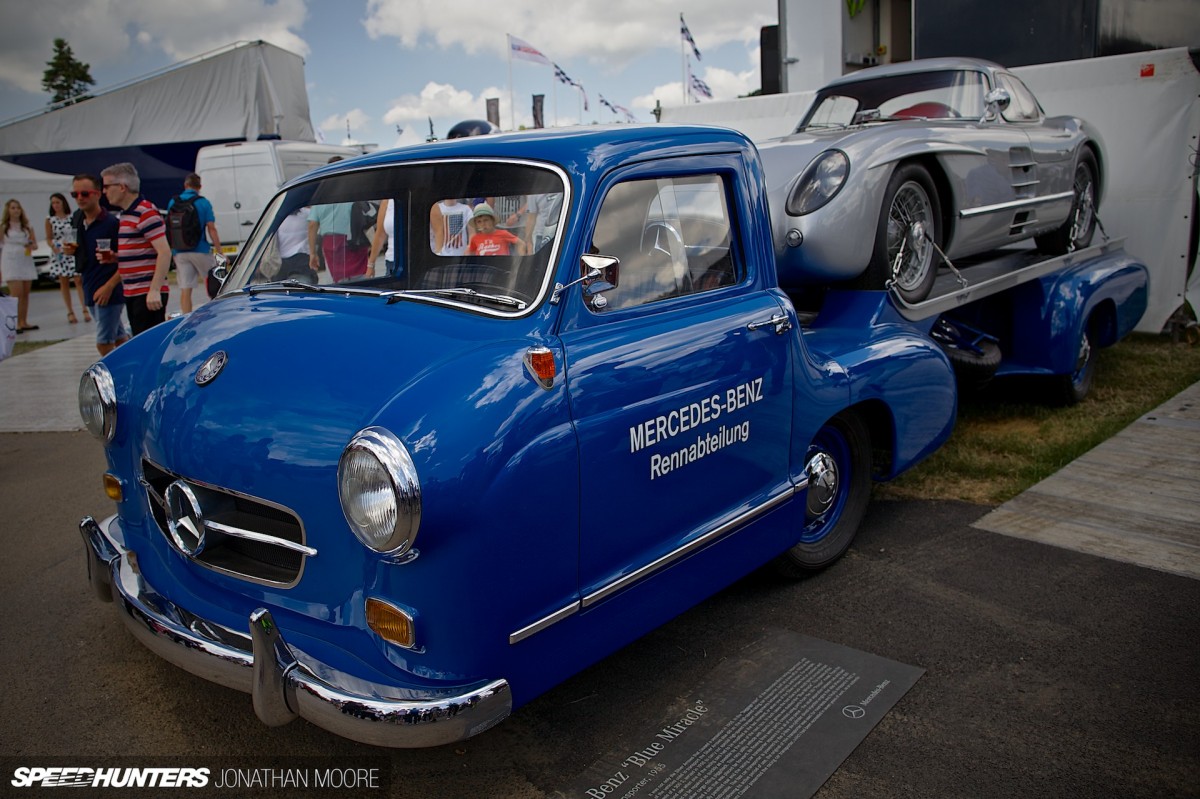 The tube-frame chassis was mated to the engine and running gear from a Gullwing – to prove a real link between carrier and carried – and Bosch hydraulic brakes made sure the three-ton beast could stop as well as it went.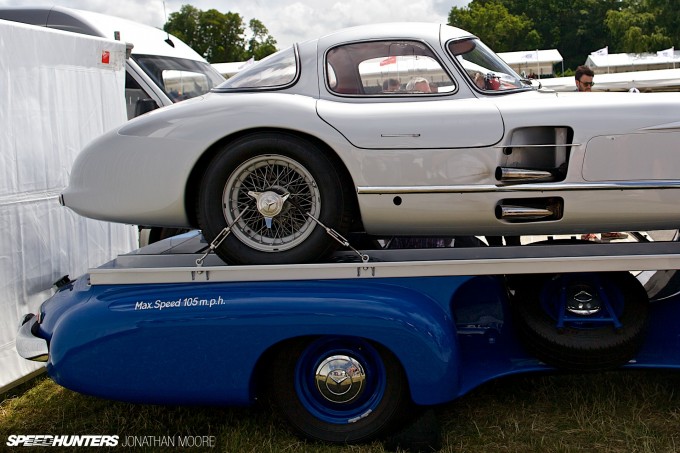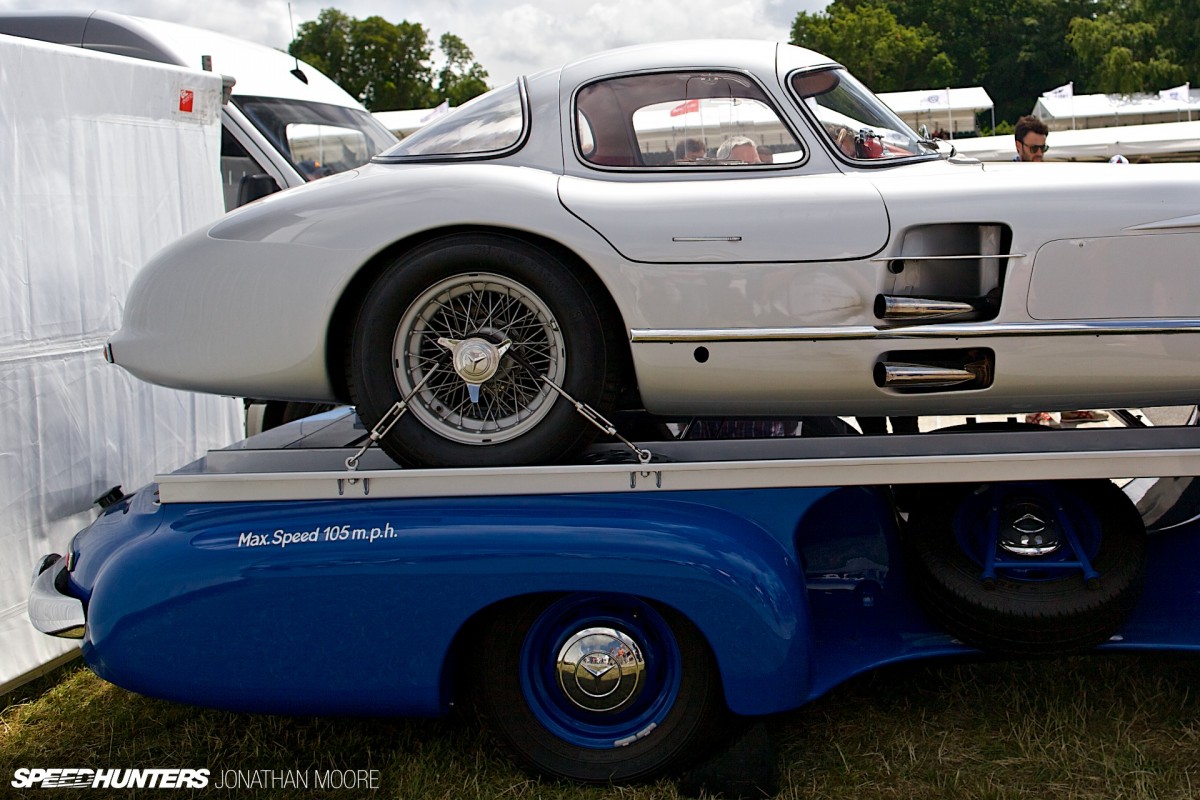 The original was sadly scrapped back in 1967 (why do companies do that?!), but was recently meticulously reconstructed from the original plans by Mercedes-Benz Classics. Six thousands hours of work, and once again they have the fastest racecar transporter in the world.
Jonathan Moore
Instagram: speedhunters_jonathan
jonathan@speedhunters.com