The Fail Crew Way
Nothing beats on a car more than drifting. I've come across so many drift cars over the years, and while never questioning their purpose in life (after all drifting is as entertaining as you can get), it always hurts me deep inside to see them driven to within an inch of their lives – and often over it. That's why a lot of guys in Japan don't sweat the smaller details, the fine touches if you will – the odd scratch, scrape or dent. Because that's what zipties are for, right?
As I scoured the line up of 'well used' cars in the Gatebil Rudskogen paddock, it's why one car from Russia stood out to me. I actually wanted to feature this S13 Silvia back in 2012 during my first time at the Norwegian event, but one thing led to another and I never managed to shoot it…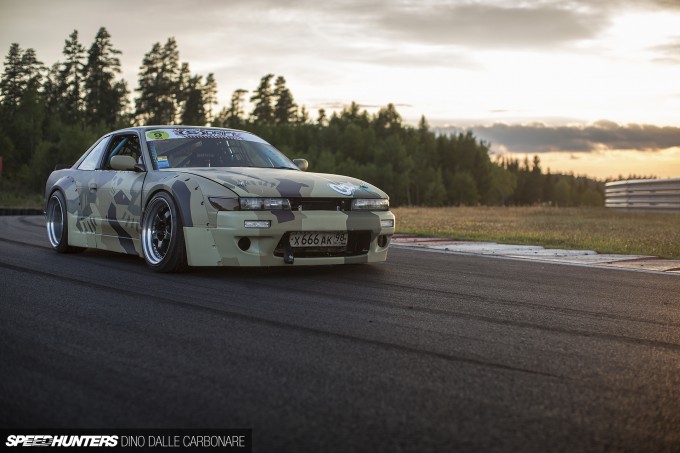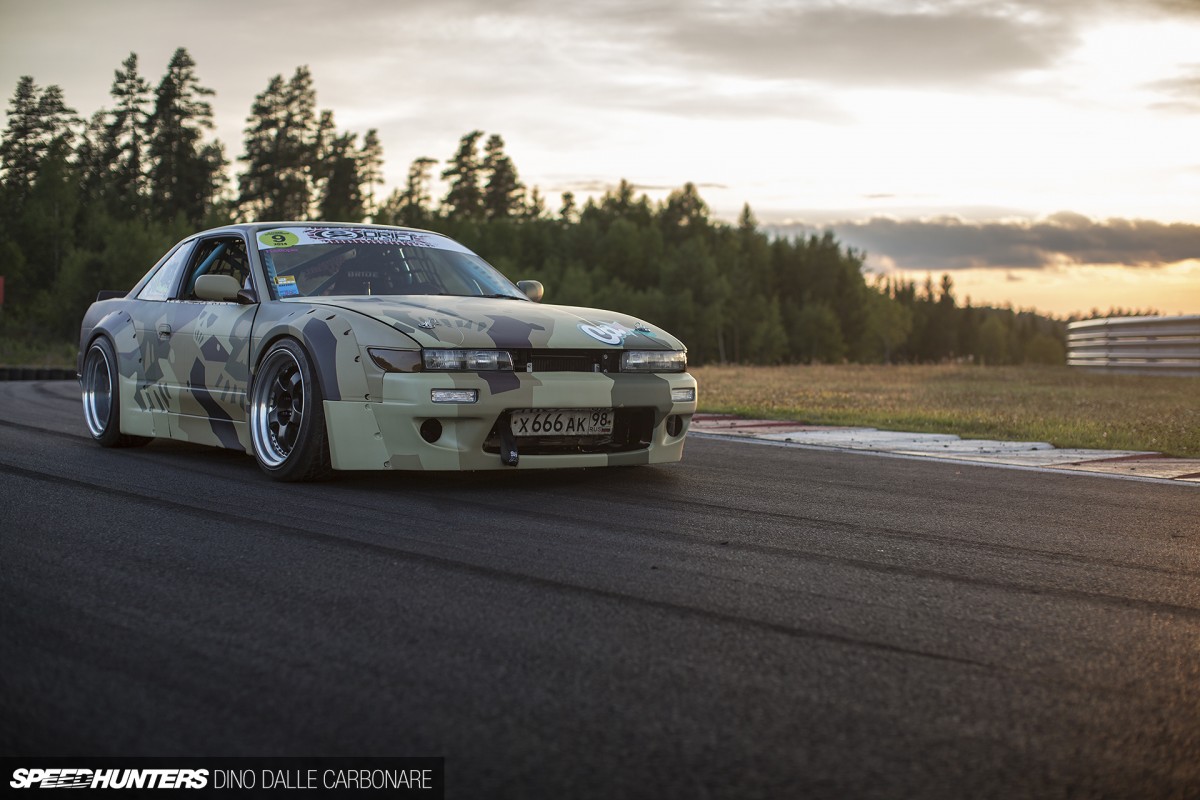 That's probably a good thing, as the car in question has since received a "little refresh" as its owner/driver, Slava Kalashnikov AKA El Kaka, put it. And even if he couldn't make it to the Gatebil event himself this year, he sent the car over with his friend Max Tvardovsky with strict instructions to drive the hell out of it, show it off and have some fun!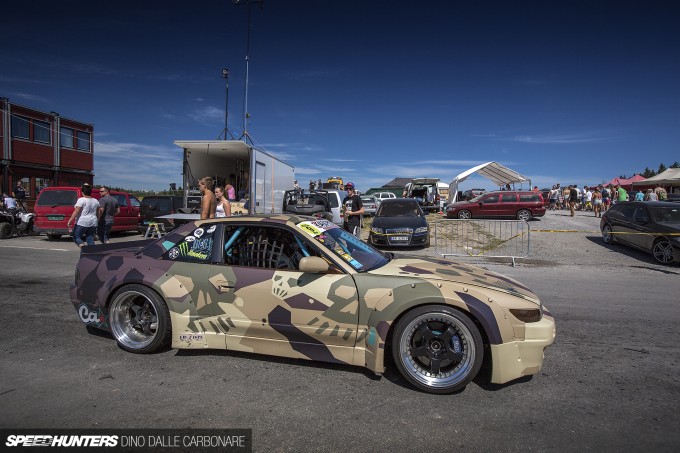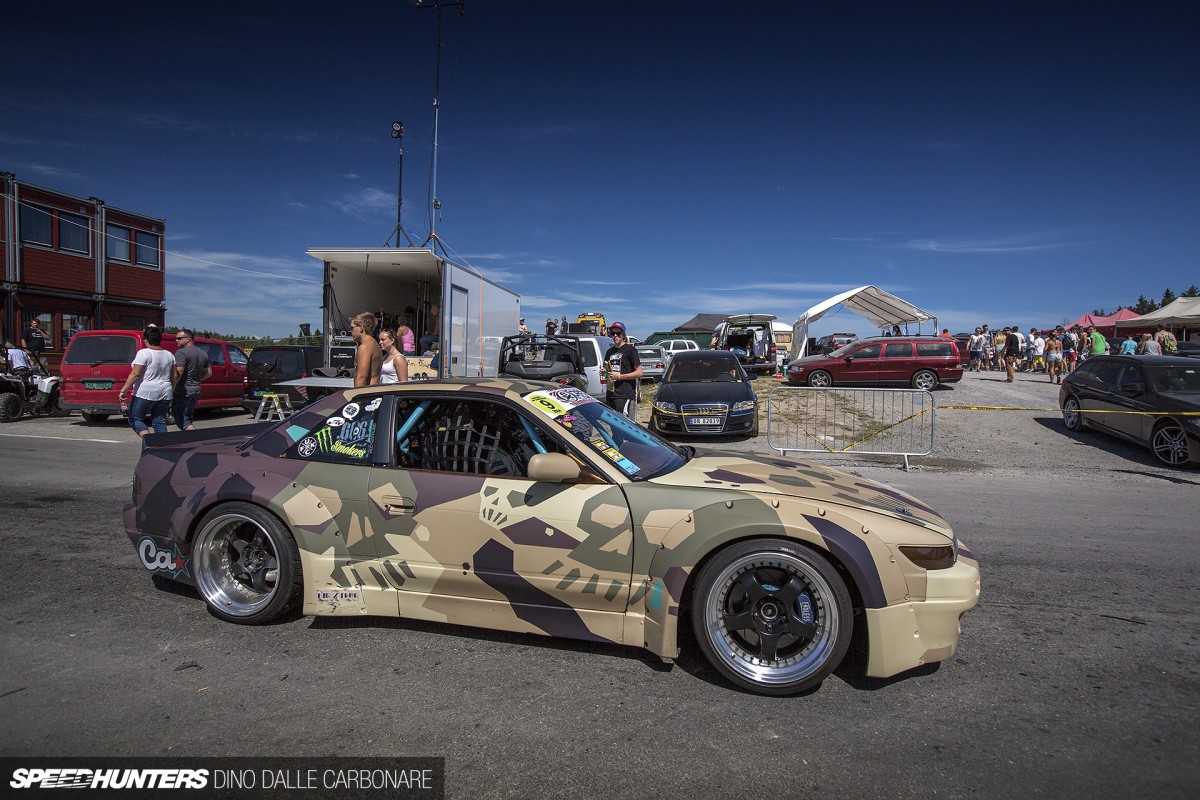 I guess that the Fail Crew must be very trusting of each other, or maybe it's just a good example of how drifting and the passion for the sport keeps the members of this St. Petersburg-based team tight.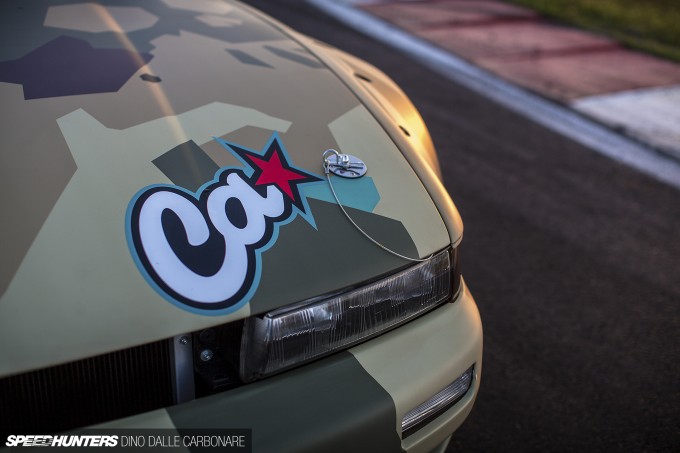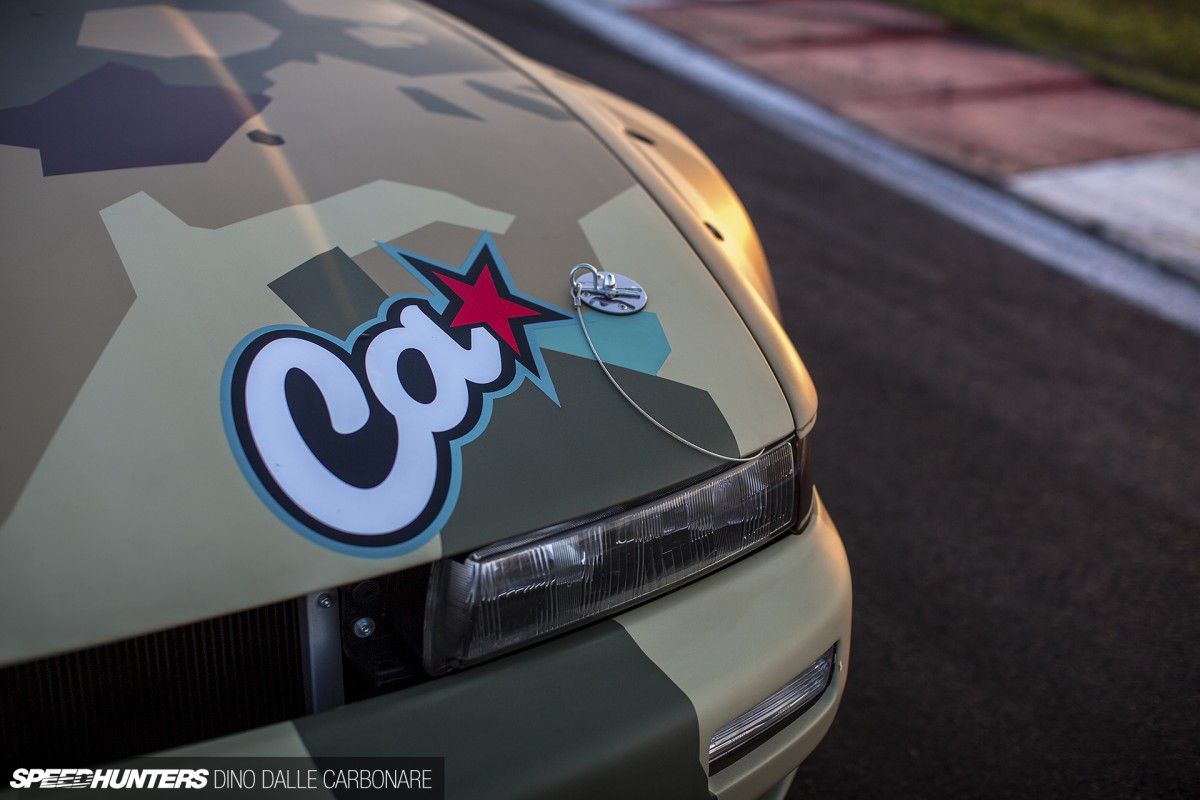 The refresh earlier in the year also included a skull-camo vinyl wrap, replacing the hand-sprayed regular camo finish that we first saw the car wearing two years back.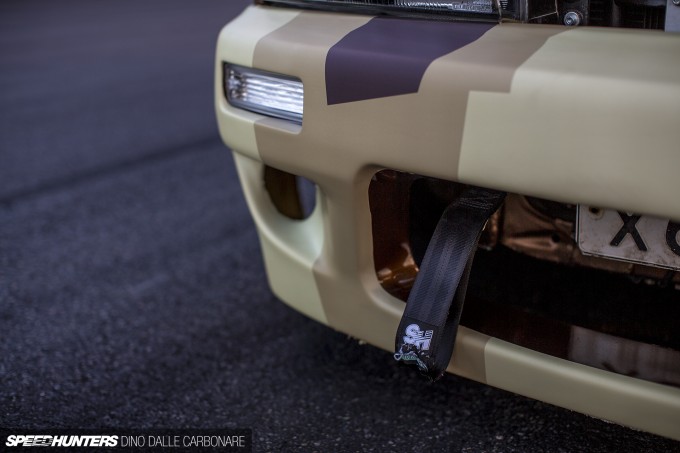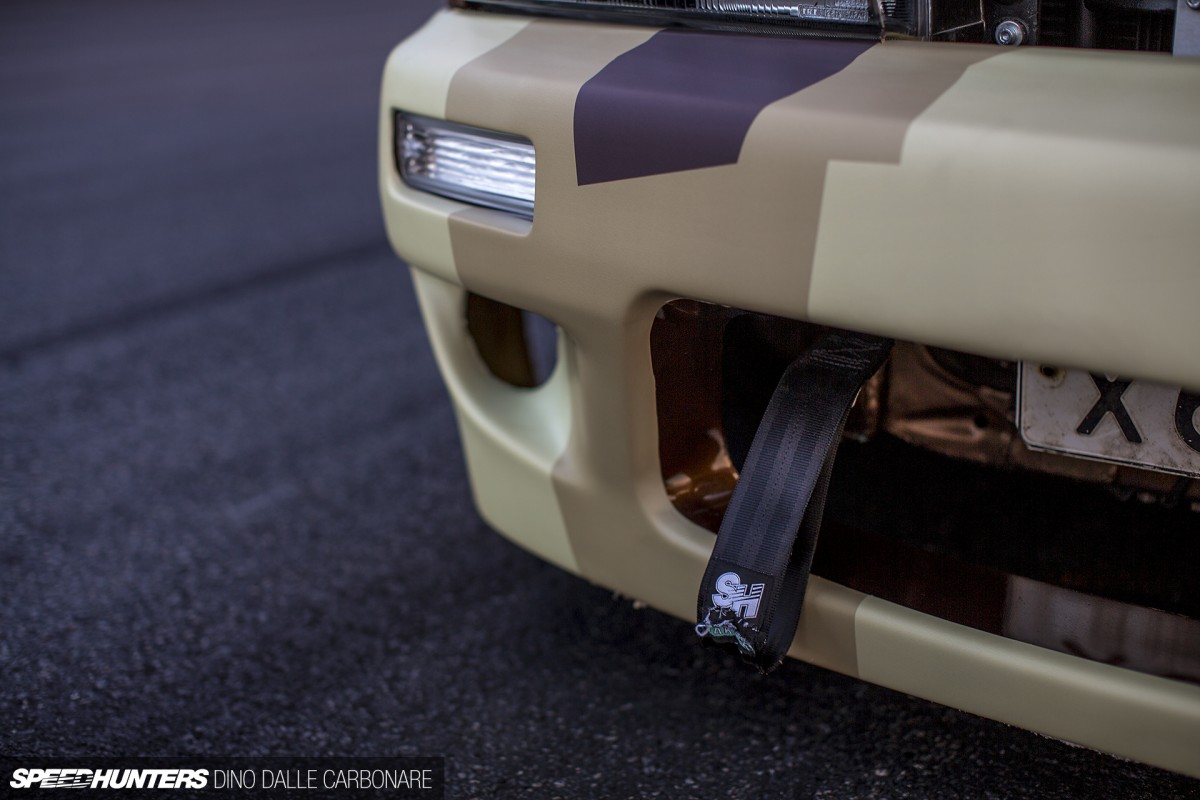 It's all pretty spotless – in fact, the most used item seemed to be the Speedhunters x Takata tow strap that's dangling out of the bumper's large central opening.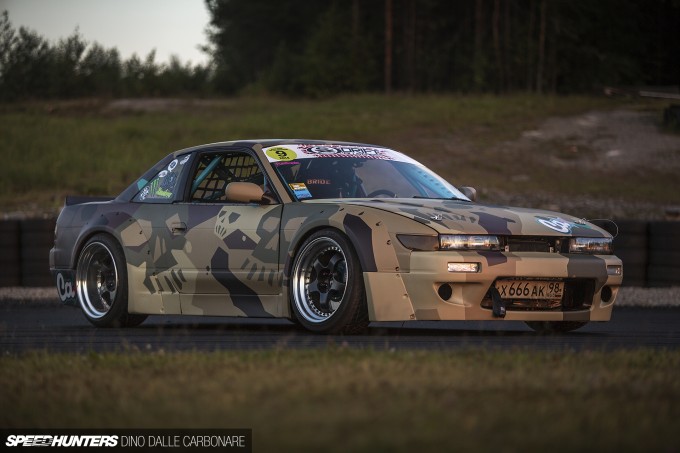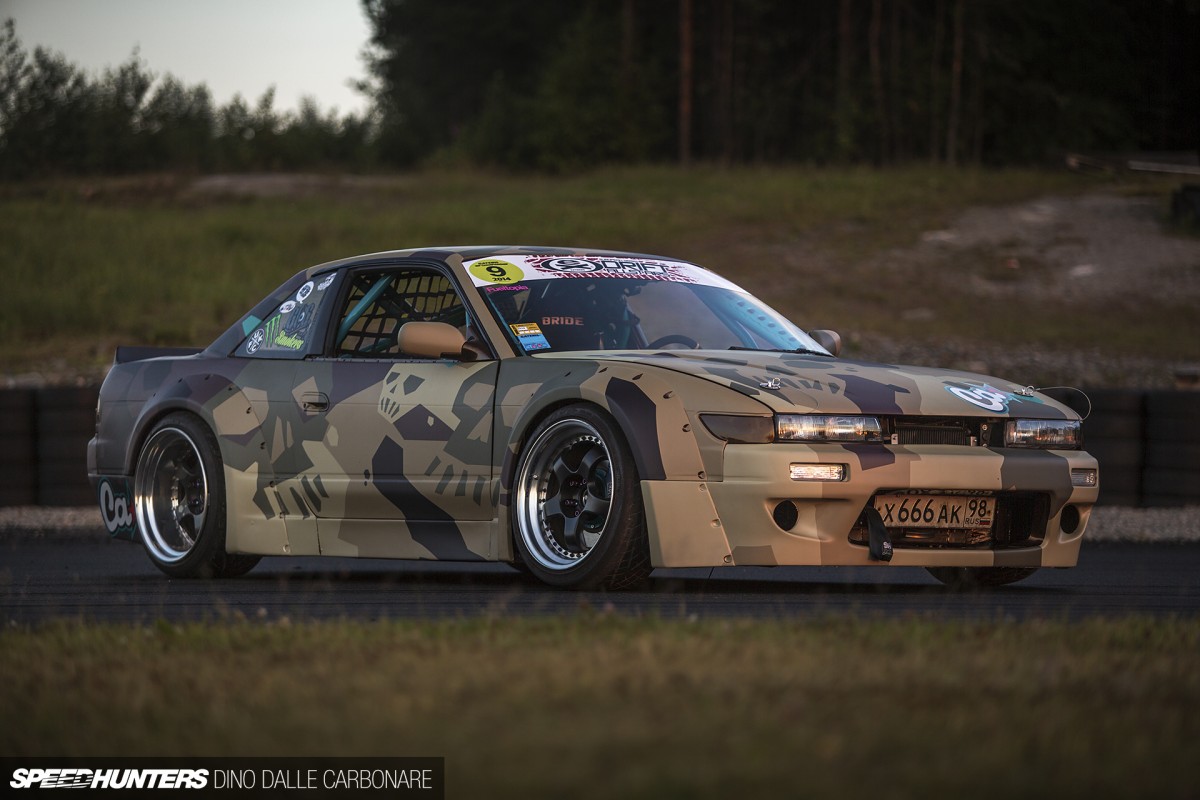 Looking at it now, it's hard to believe that when Slava sourced this S13 it was in pretty bad condition. It was also just what he was after, because as he wanted to go pretty deep with the modifications, finding an unmolested car wasn't really a high priority.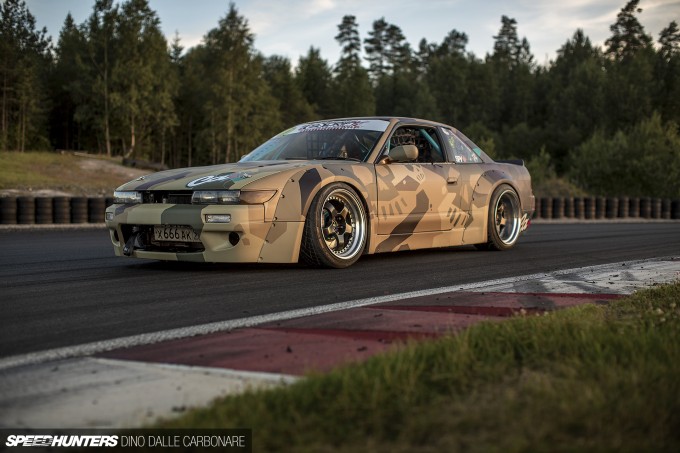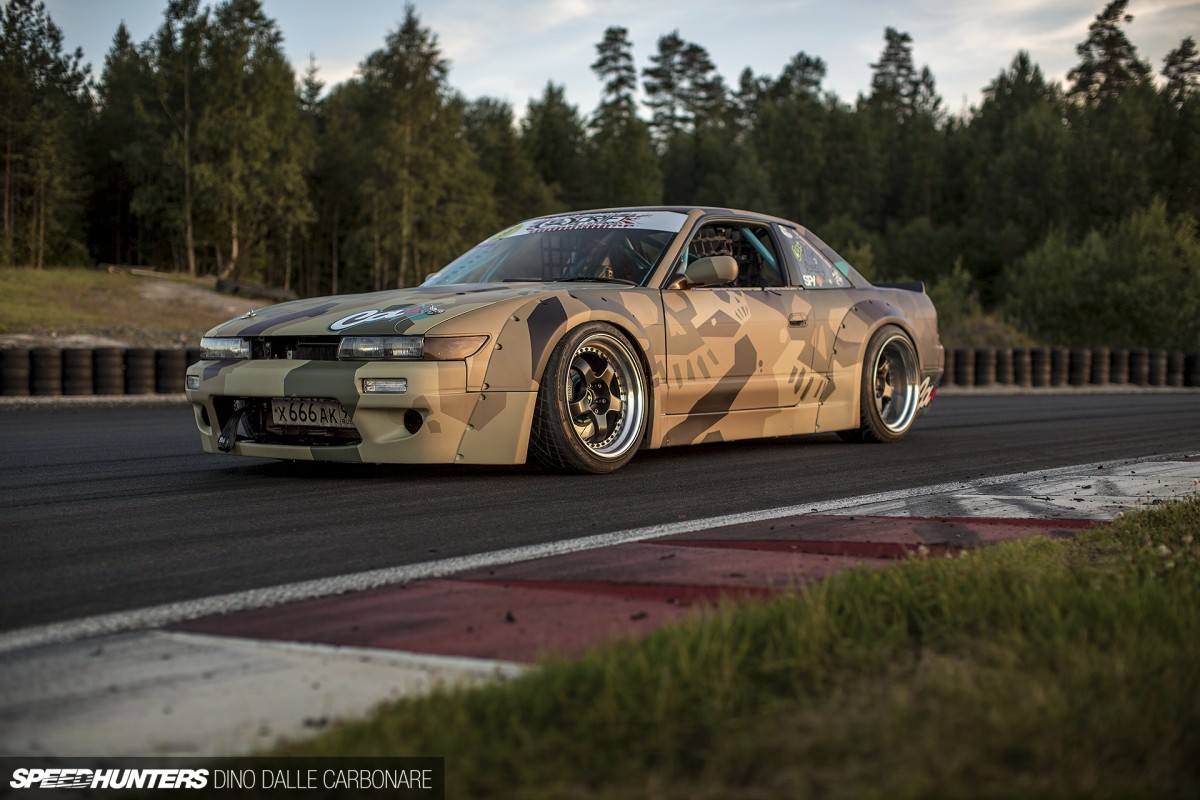 As you have probably figured out already, the car wears one of TRA Kyoto's Rocket Bunny aero kits, except that with Max's intended front-end suspension upgrades, Miura-san's overfenders were never going to be quite wide enough to contain the extended front track.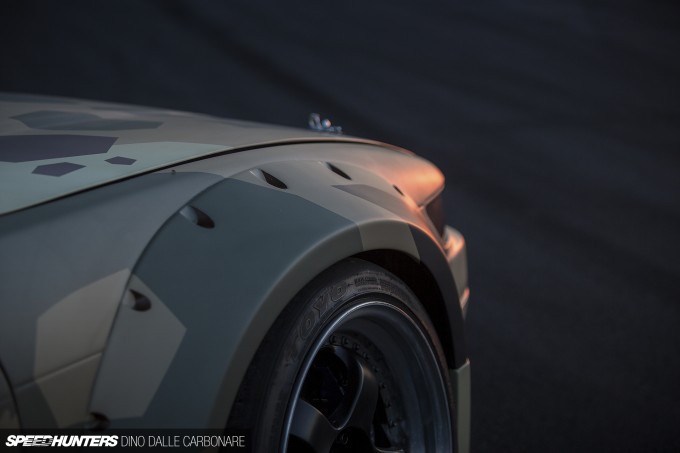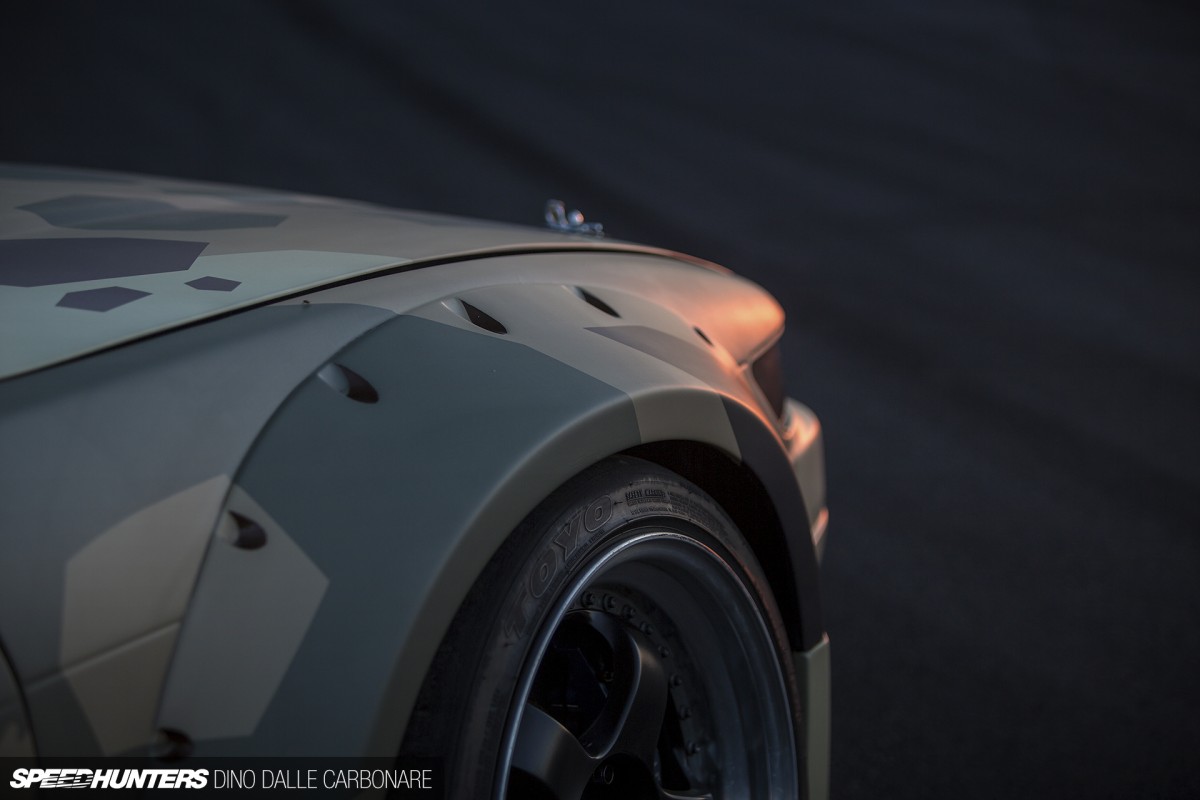 Not wanting to do a messy hack-job, Slava contacted HGK Racing in Latvia who extended the Rocket Bunny front overfenders by 6cm on each side and then proceeded to blend them in with the front fenders. The idea here was not to mess with Miura's design – just give the car a one-off touch so that it would be able to work both aesthetically and mechanically. Mission accomplished I'd say.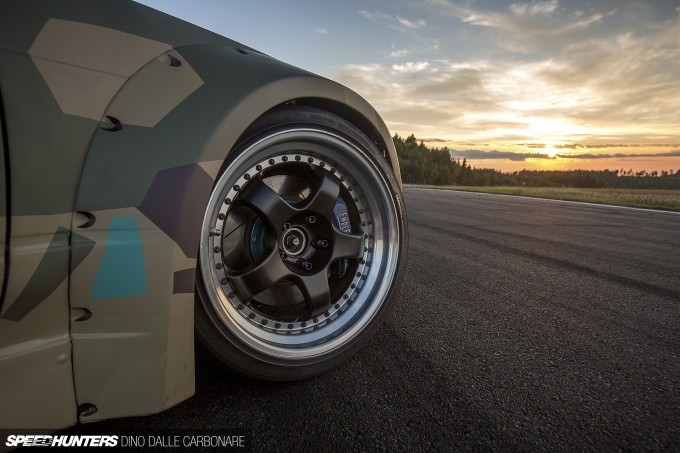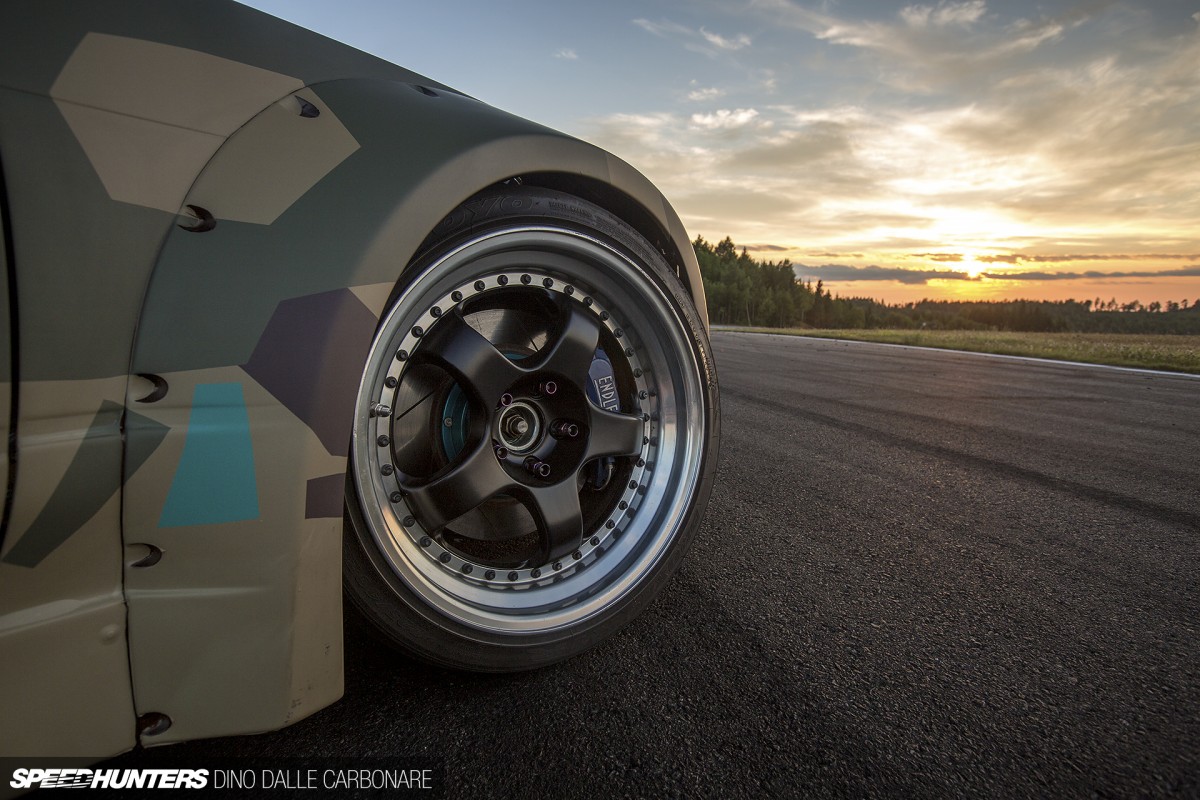 You can never really go wrong with a set of Work Meister S1s, and here the multi-piece wheel design looks like a spot on match to the bolted-on overfender look. The 18-inch rims, measure 9.5J up front and are shod with Toyo R1R rubber for excellent front-end bite, while the 11J rears are wrapped with Federal RSRs which are smoked away in not much more than a couple of laps at Rudskogen.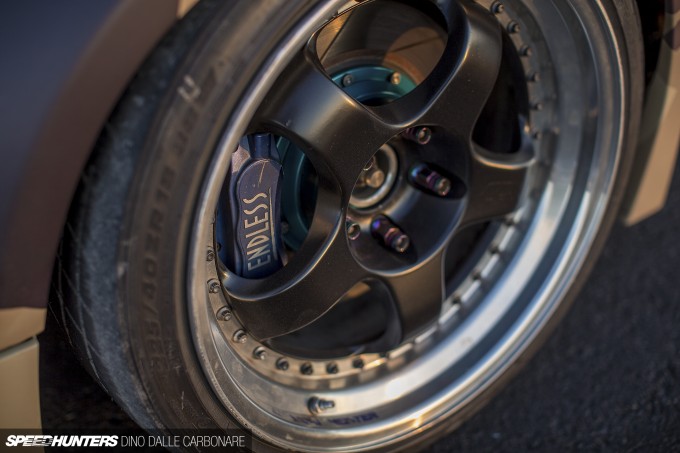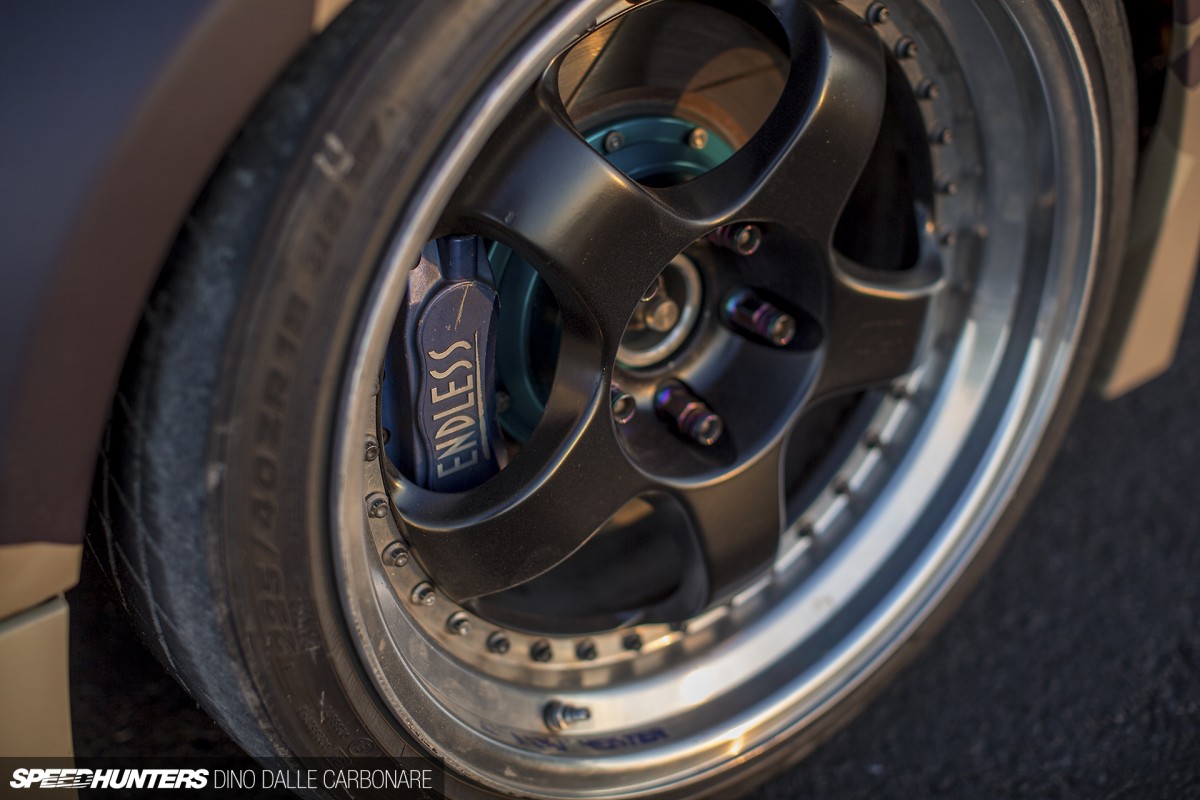 I really love the attention to detail and the way that some of the best parts on the market were chosen for this build – like Endless front calipers mated to grooved Project µ discs.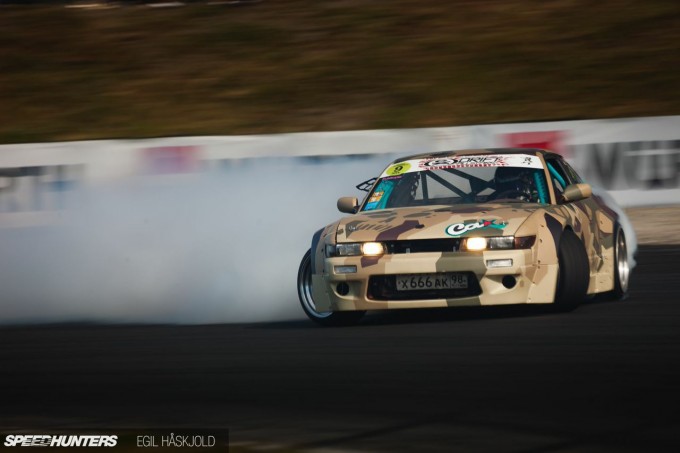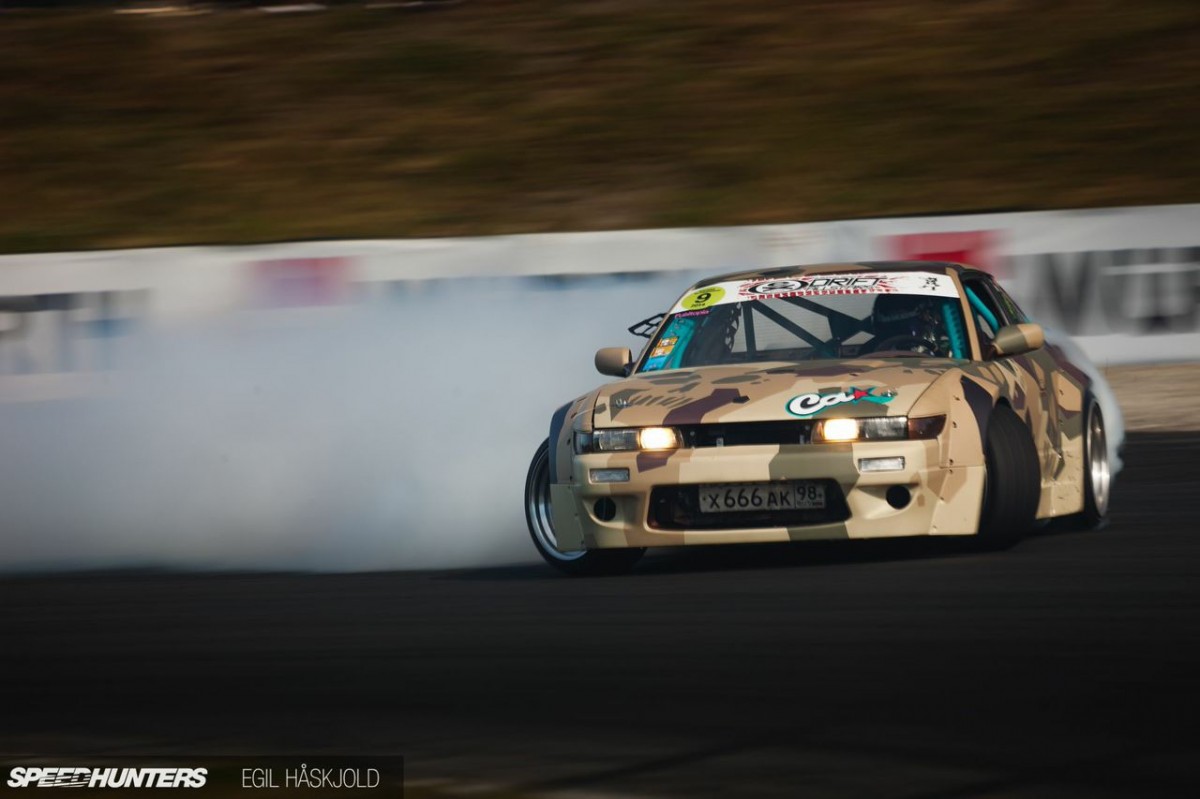 When you engineer a car from the ground-up for serious performance, trusted and proven parts always give peace of mind. In this case it's quality gear combined with the Fail Crew's love of Japan and inspiration from how Japanese shops and drifters build their machines.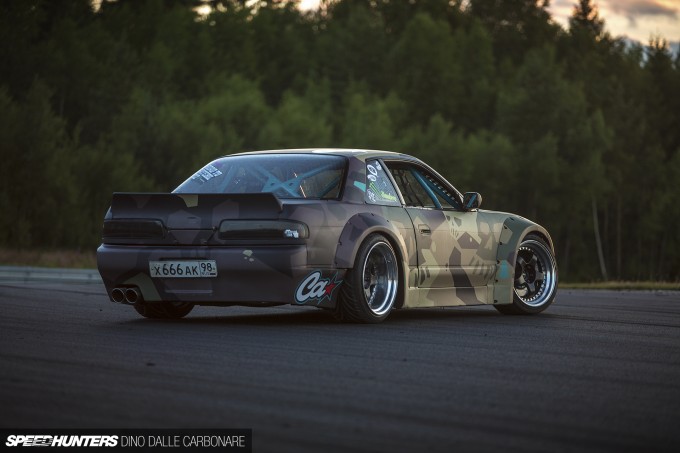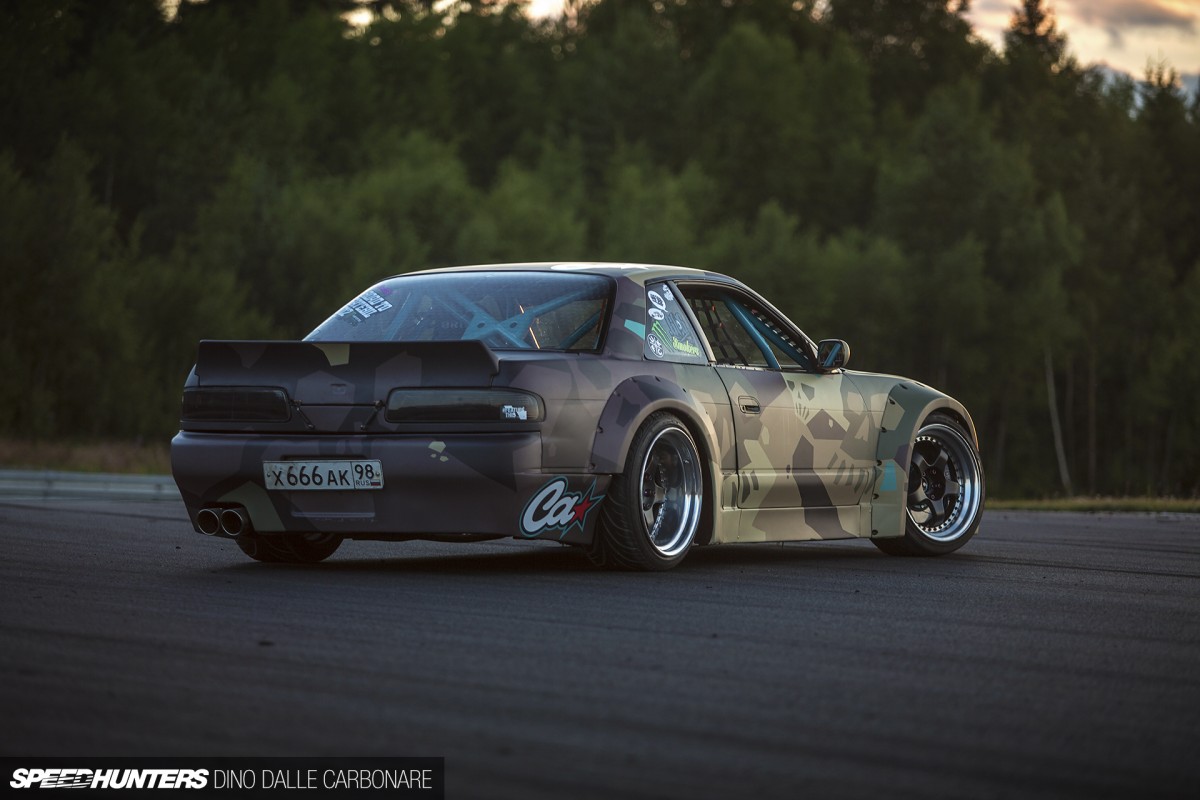 I'm a bit of a sucker for the S13, so this car really does no wrong in my eyes. I just love the now-classic lines of the Silvia matched to the bold style of the Rocket Bunny kit.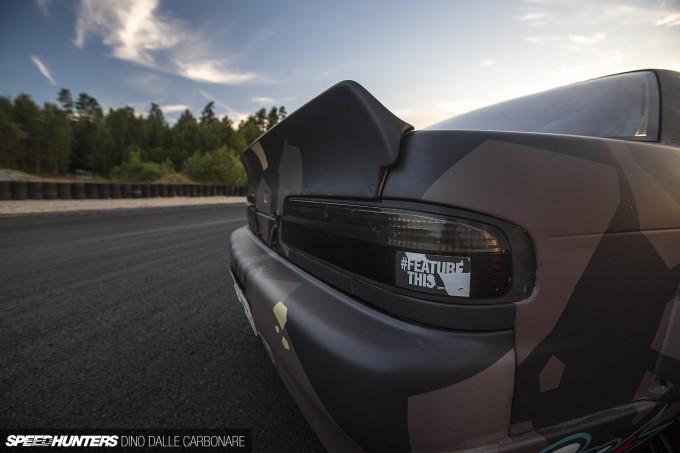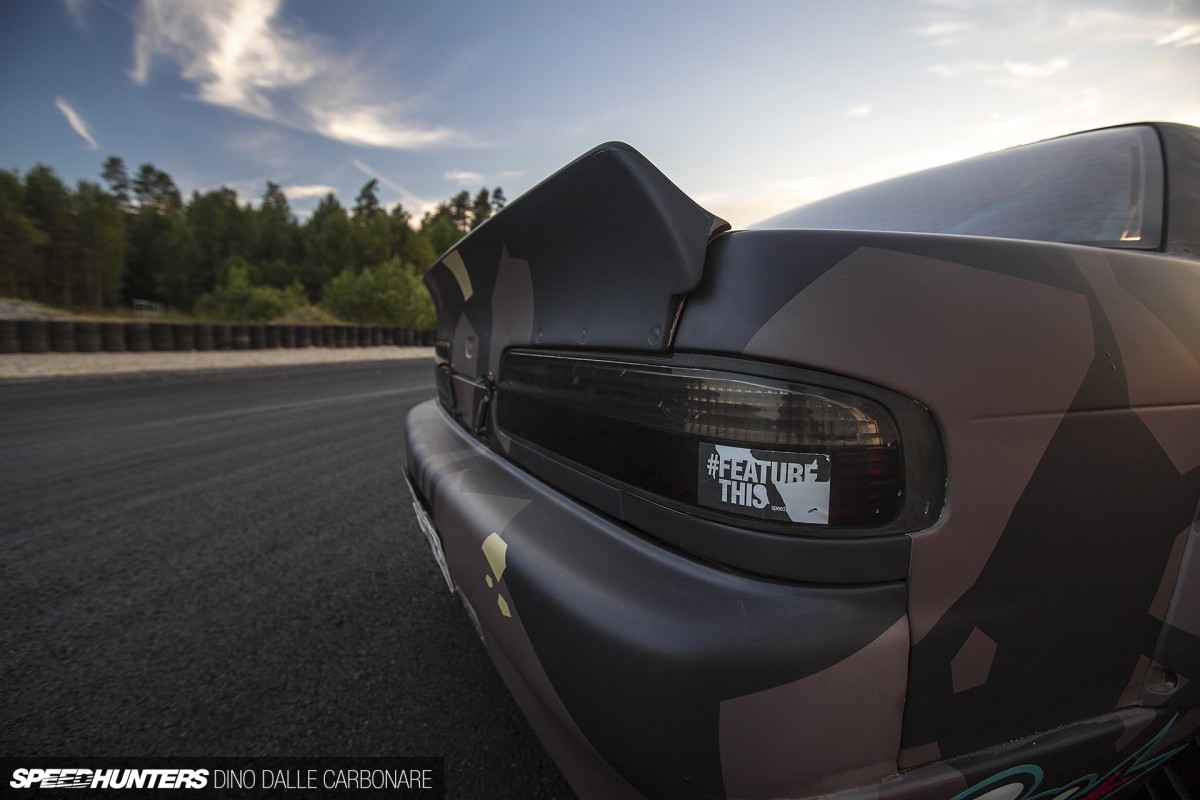 The ducktail spoiler adds just enough aggression to the rear, as do tinted taillights and a vintage Speedhunters #FEATURETHIS sticker!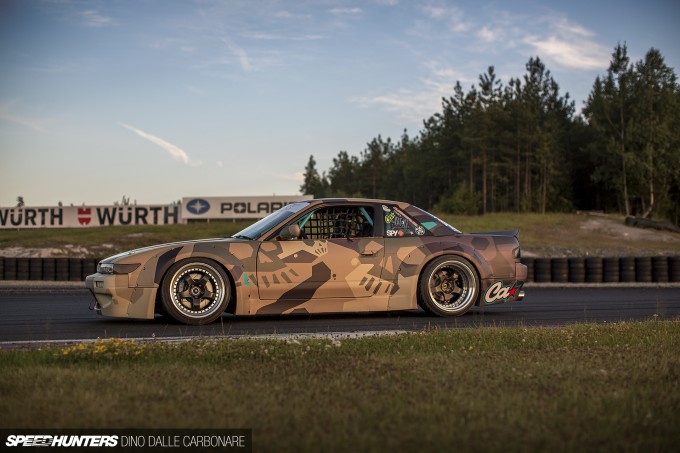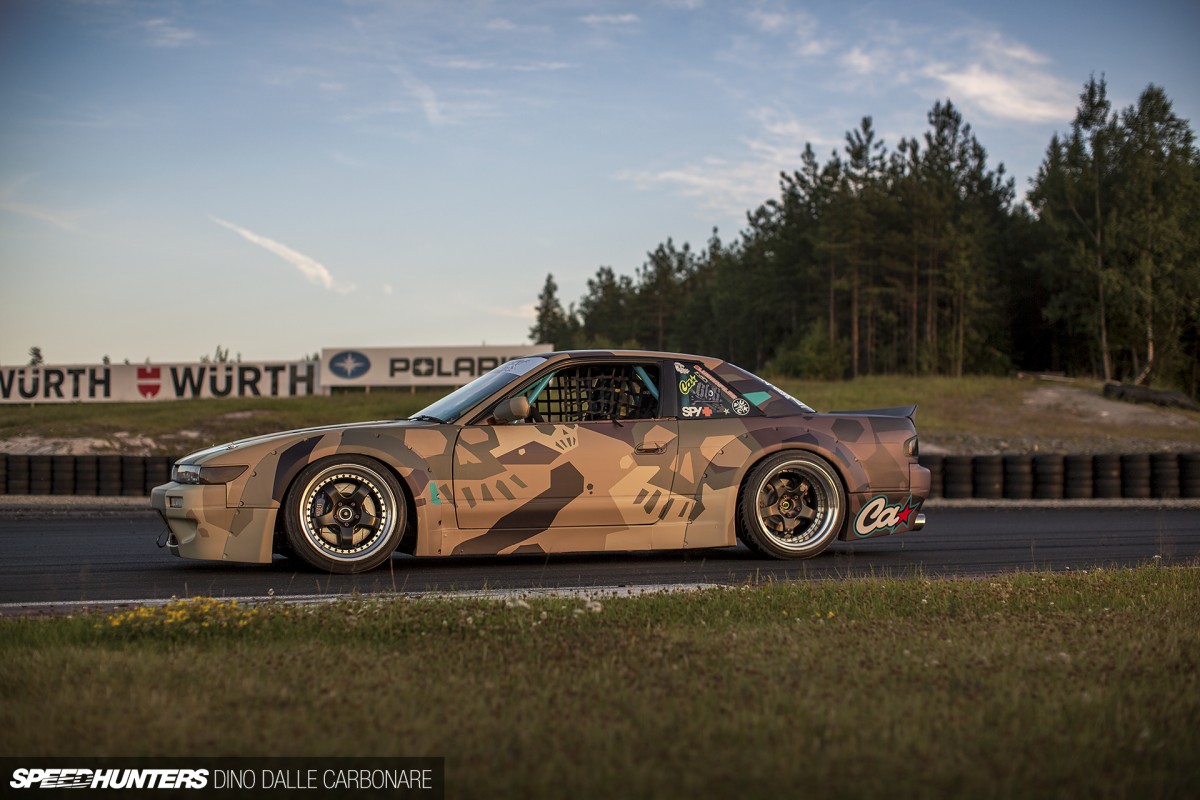 It all comes together to create a beautifully thought out project. But its true calling card is what pictures can't get across – the growl that resonates from a pair of big bore MagnaFlow pipes…
Bye Bye SR20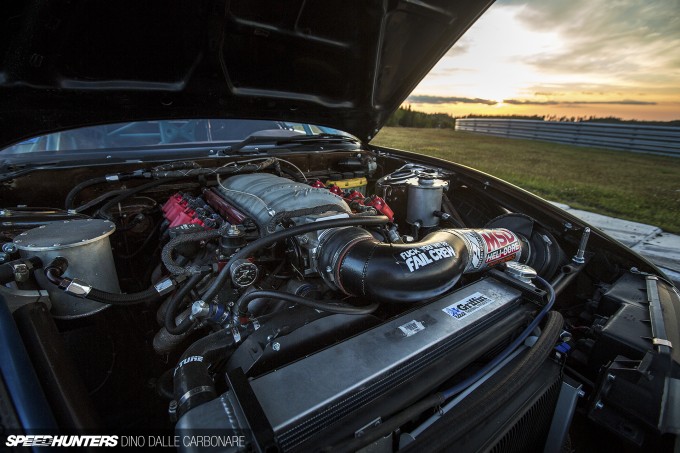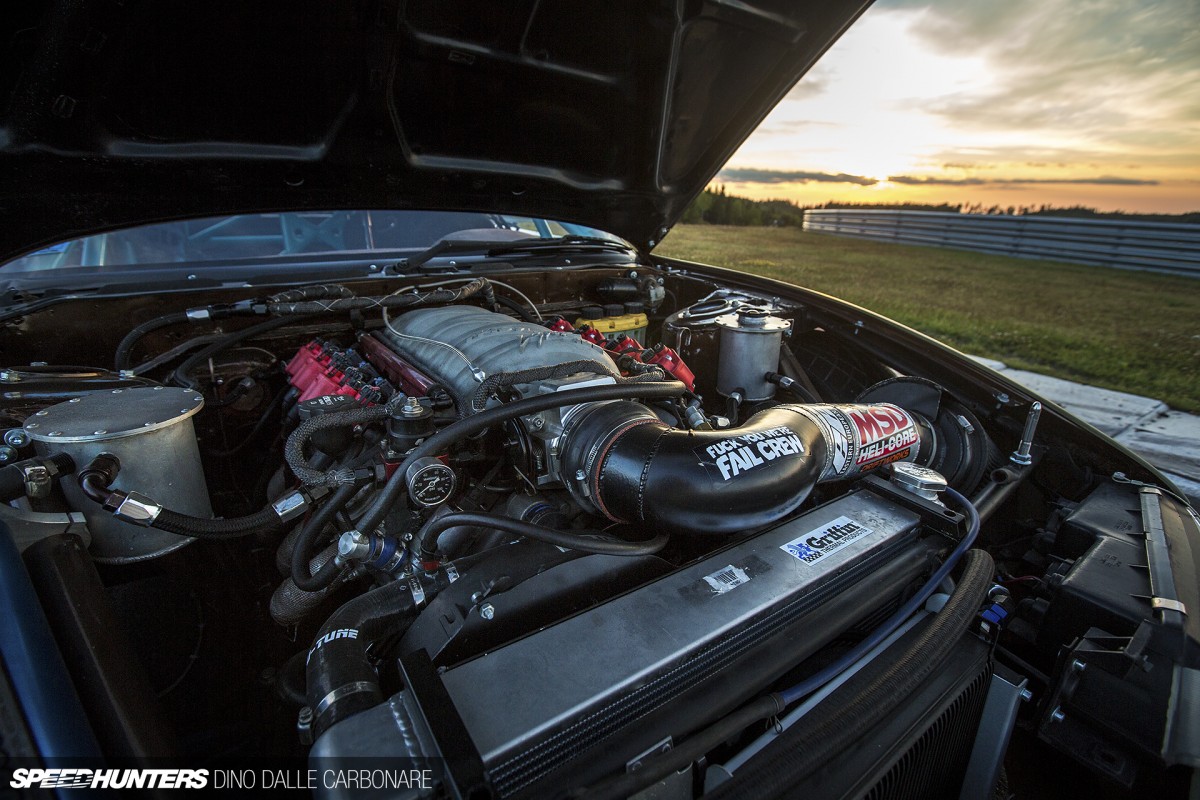 Slava has already owned a pretty powerful SR20-powered S13, but for this car he wanted to change things up a little. While the SR's power was more than enough, it was the unavoidable lag that comes with sticking a massive turbo on a relatively small motor that ultimately dictated the direction here. Big displacement seemed like a good idea and after a little research he decided to go with a Chevy LS3 and SIKKY swap parts to make it all function perfectly in the Silvia chassis.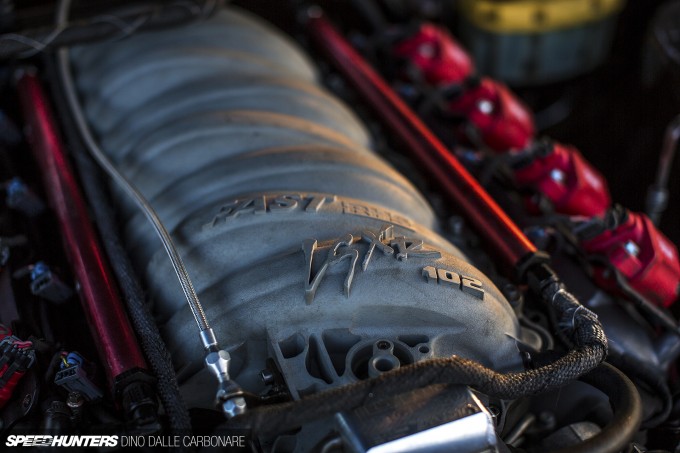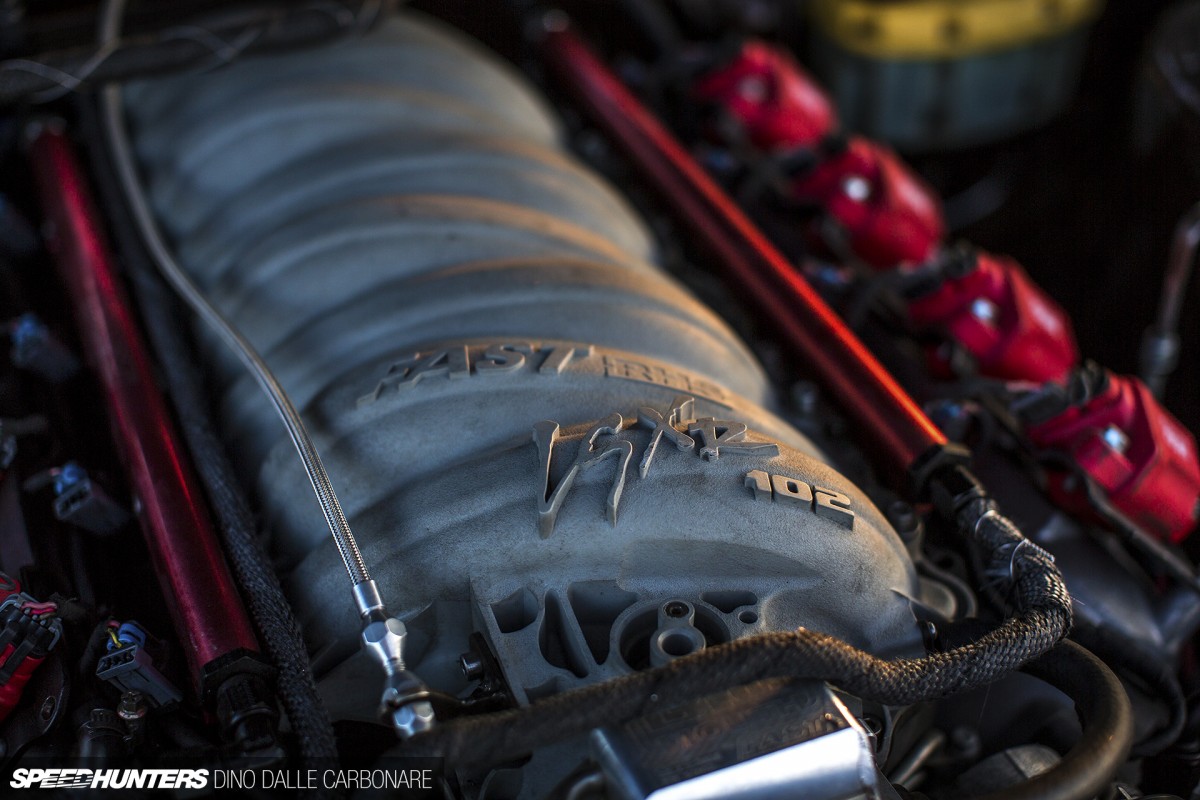 A few basic mods were thrown on top of it all, starting off with the 98mm FAST throttle body and intake manifold, an MSD ignition upgrade and a GM Performance cam. Making the most of the upgrades is a Haltech Platinum Series 2000 plug-and-play ECU which supports the Racepack LCD dash you'll see further down in the interior.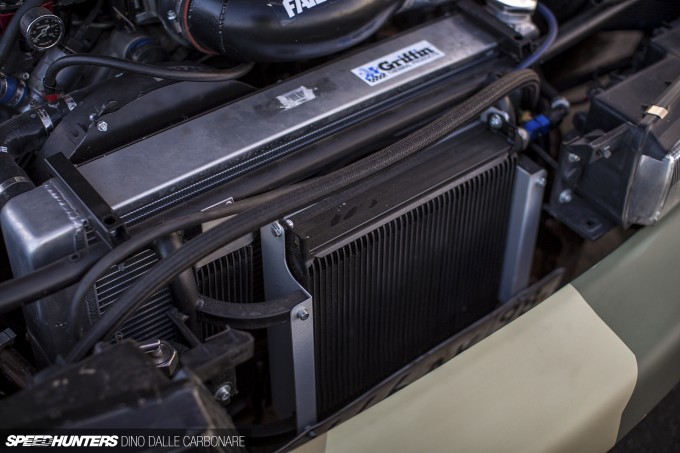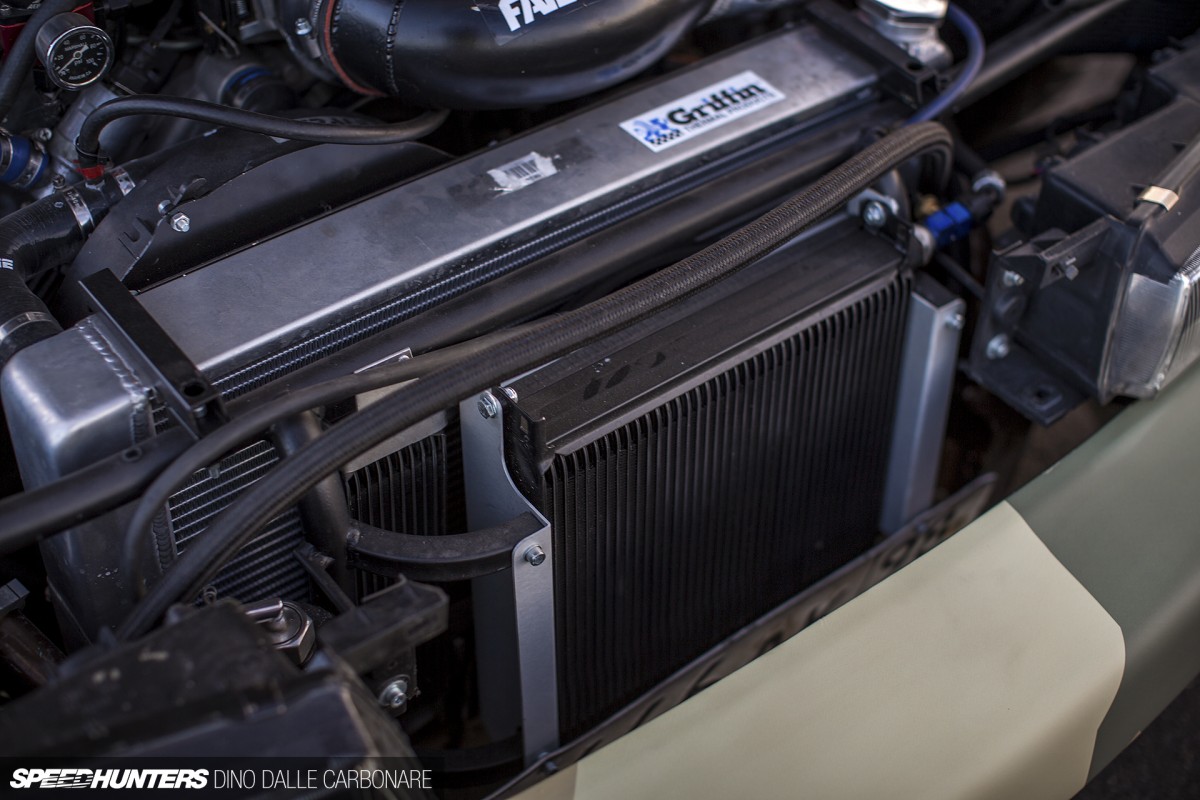 It's a pretty tight fit but it all works rather well. There's just enough space left over for the addition of a large Griffin aluminium racing radiator, and in front of that an engine oil cooler to help keep the unstressed V8 nice and cool.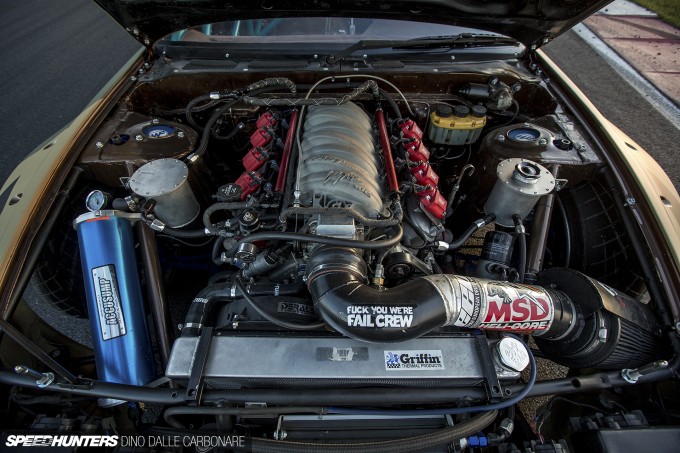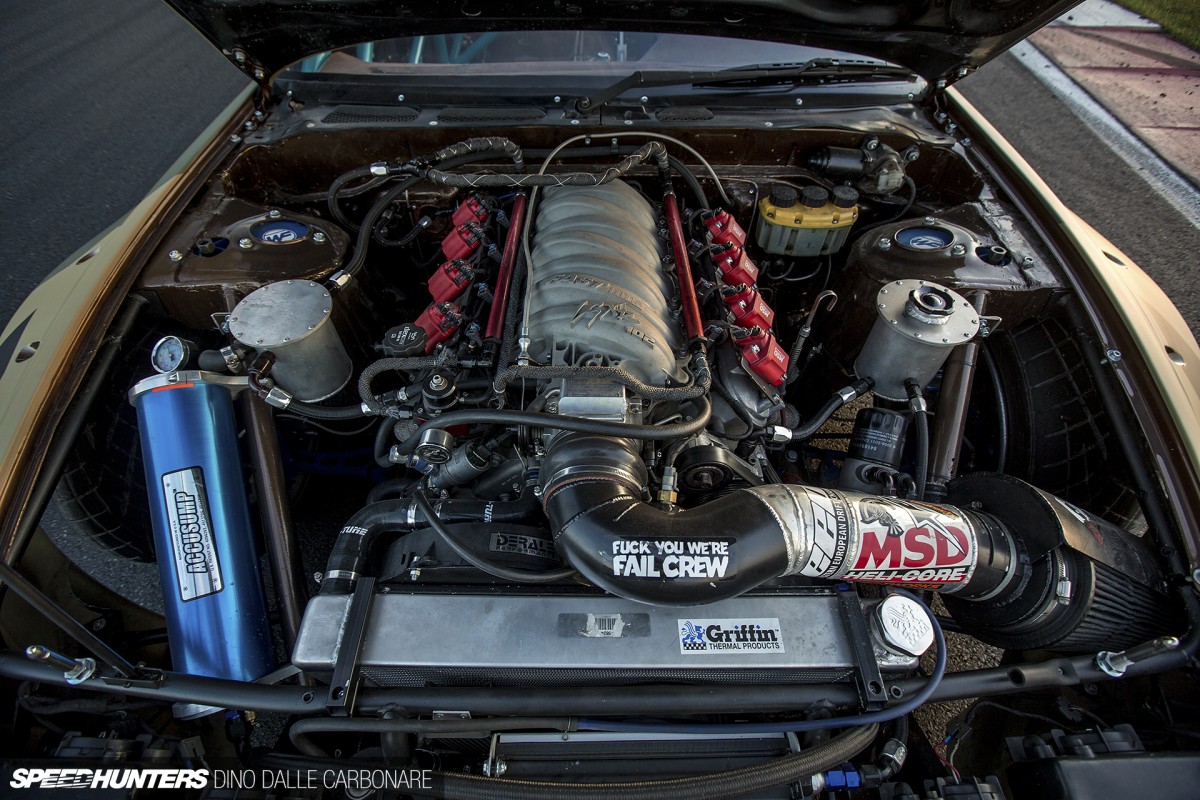 As you can see there was a lot of chassis preparation that was done before the small block was dropped inside, starting off with some spot welding and ending up with a cut-out front section. Support bars were fabricated and welded into place and are there to hold up the front subframe, onto which the radiator and entire front end of the car are mounted. It was all then painted in dark metallic brown to add a bit of contrast the vinyl-wrapped exterior.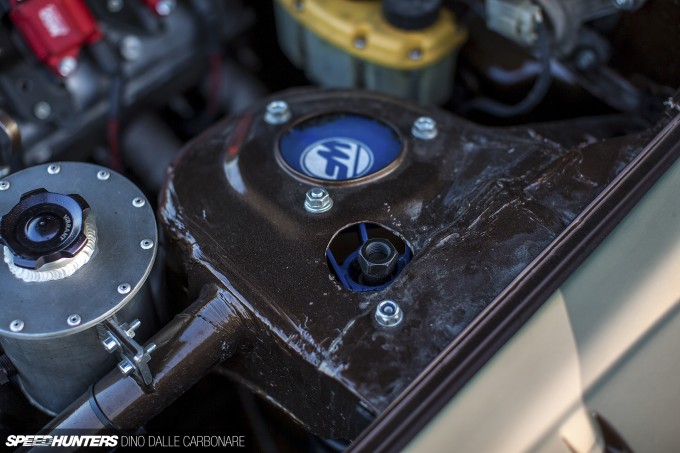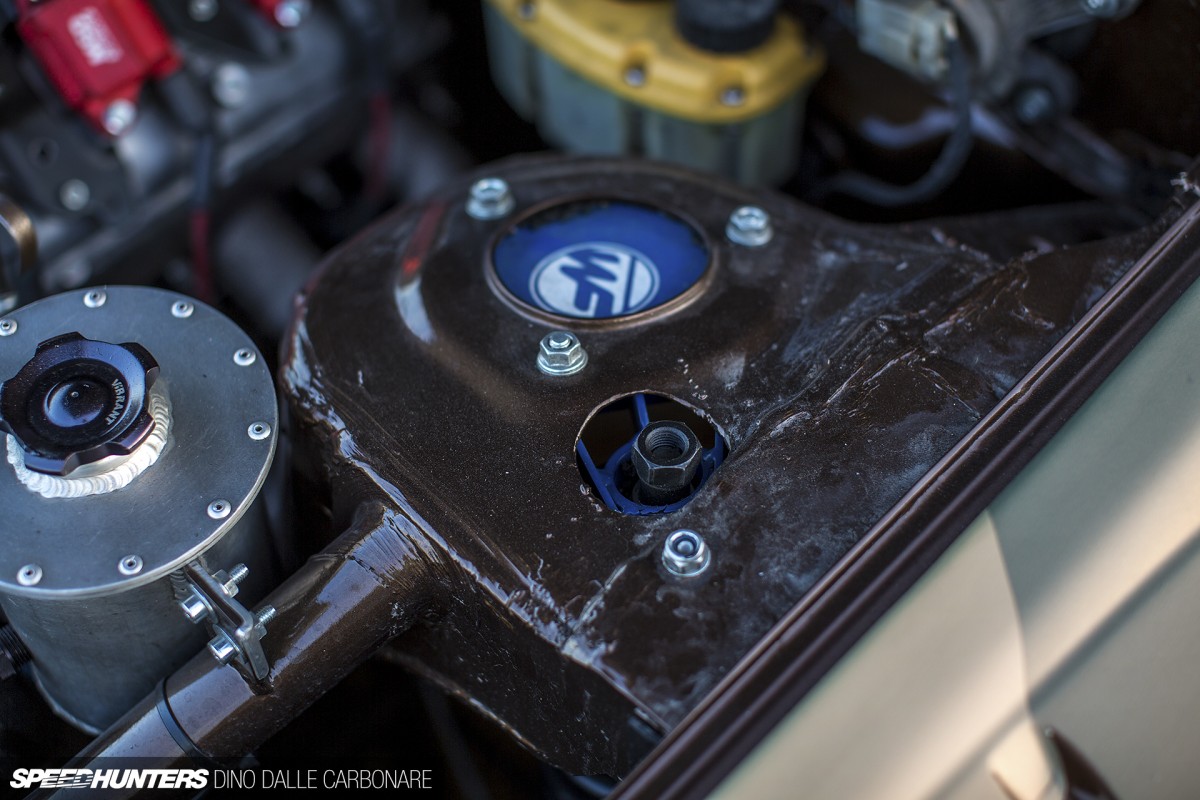 New top suspension pick-up points were also created, onto which Wisefab front linkages and KTS coilovers are fitted. This gives the S13 up to 65 degrees of steering lock, or what we might as well call parallel steering.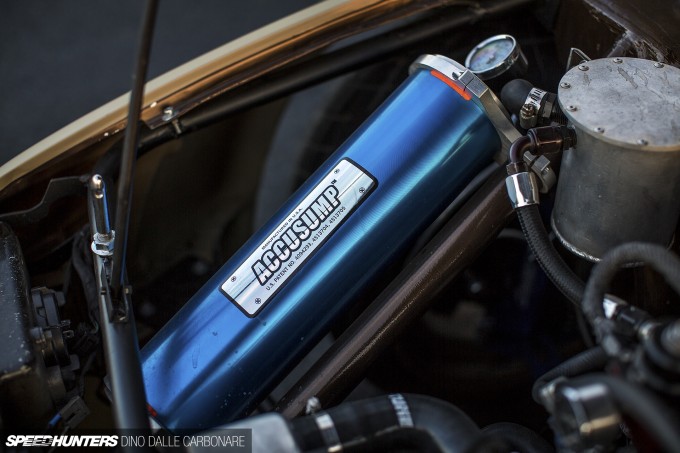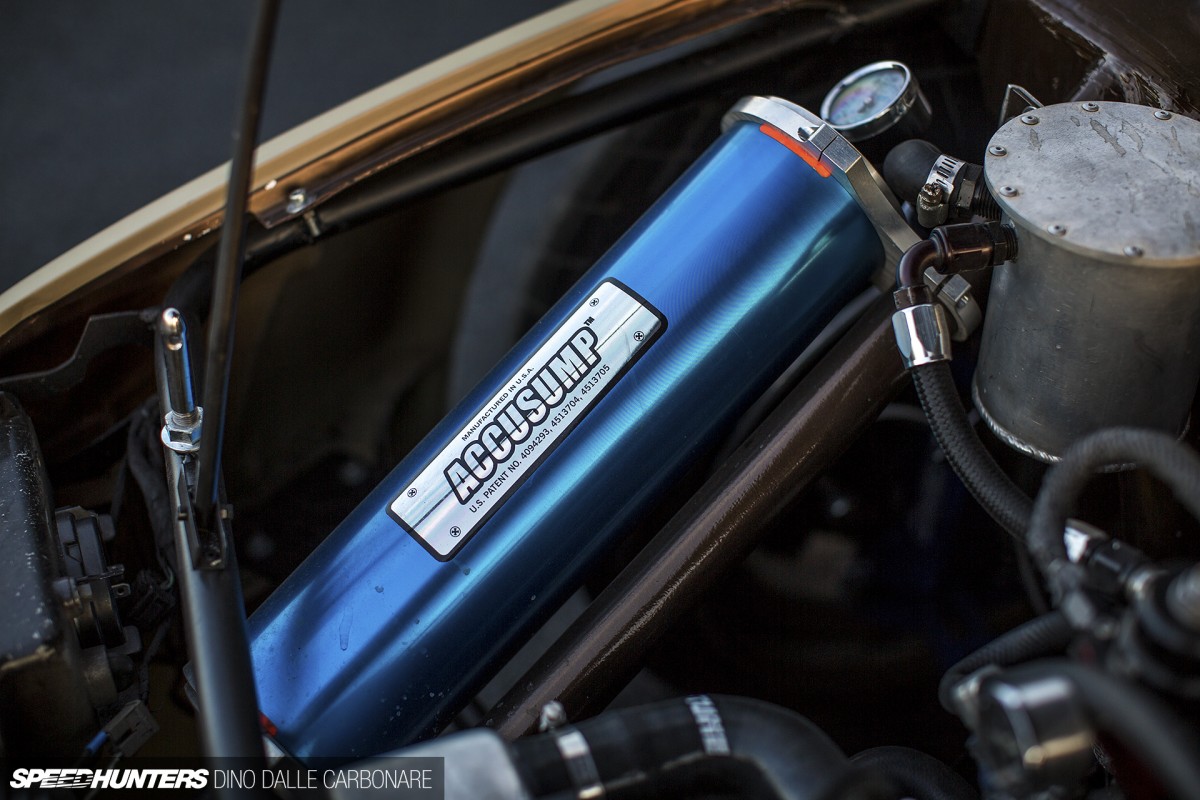 Like in most V8 swaps we have seen, the addition of an Accusump is a smart move and helps keep the lubrication flowing even through the highest-G drifts. The V8 motor sends drive through to a Tremec T56 TRANZILLA gearbox and then on to a Tomei LSD via a SIKKY aluminium prop shaft which was part of the swap package.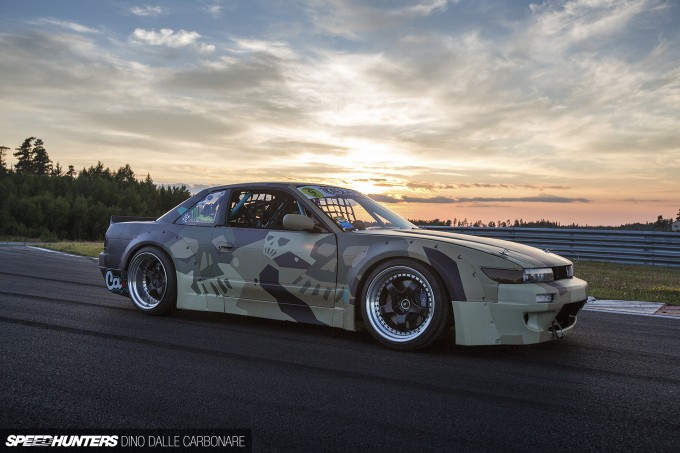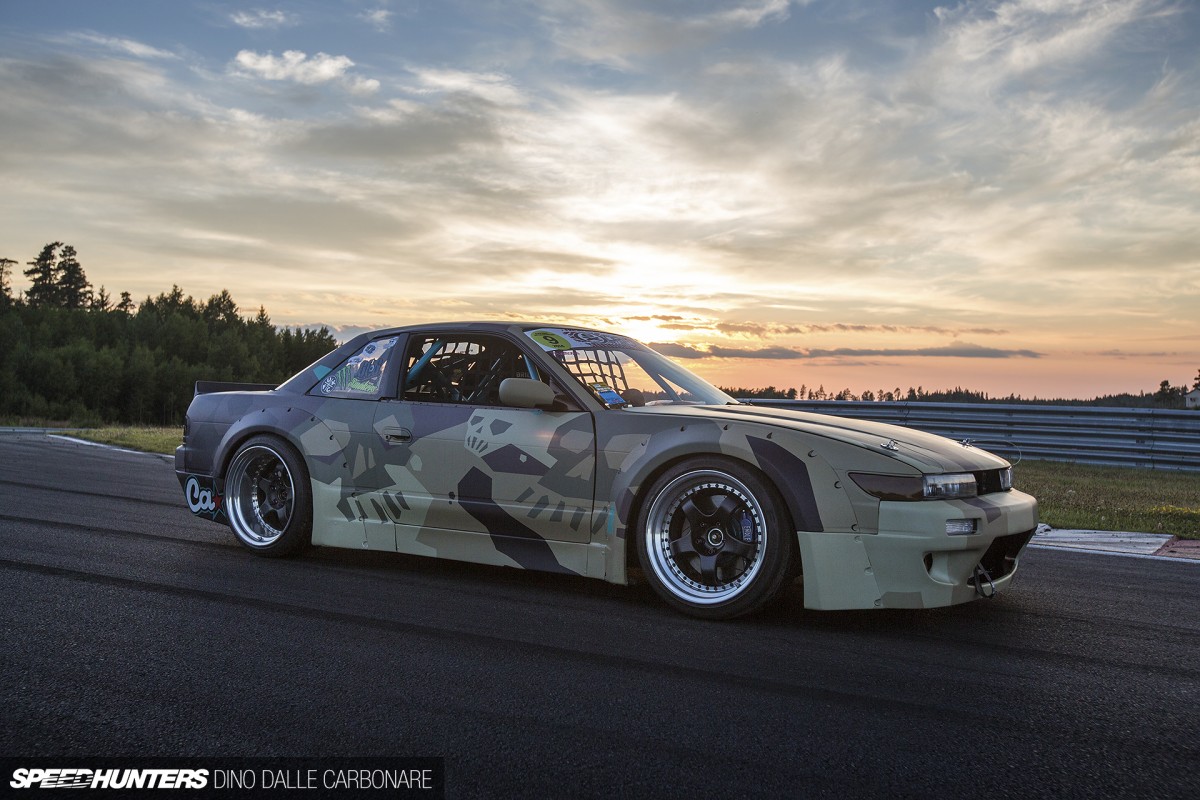 The best thing of all is that once the lightweight bonnet is shut you would never know that there's a roaring 506rwhp V8 sitting under there!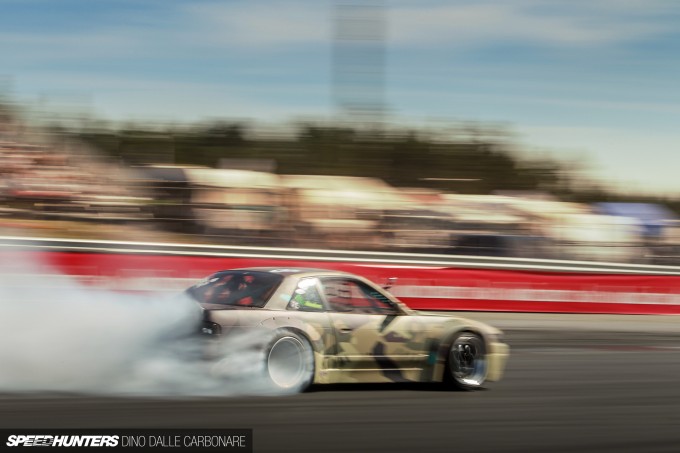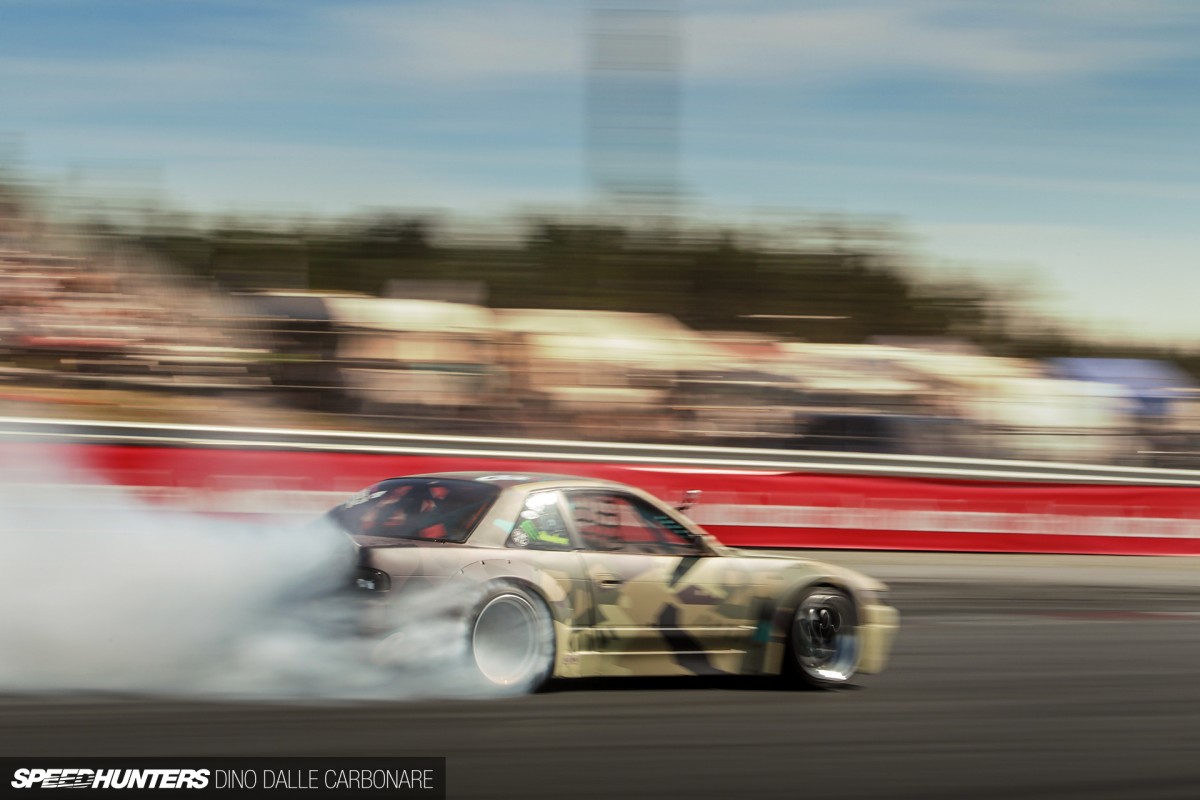 As Slava explained, it's not so much the power that stands out in this set up, but rather the instant response and the always-available torque which peaks out at 666Nm. It's as different as you can get compared to a tuned SR, and as you can see above it translates to all sorts of awesome smoke-filled drifting antics out on track.
Interior Perfection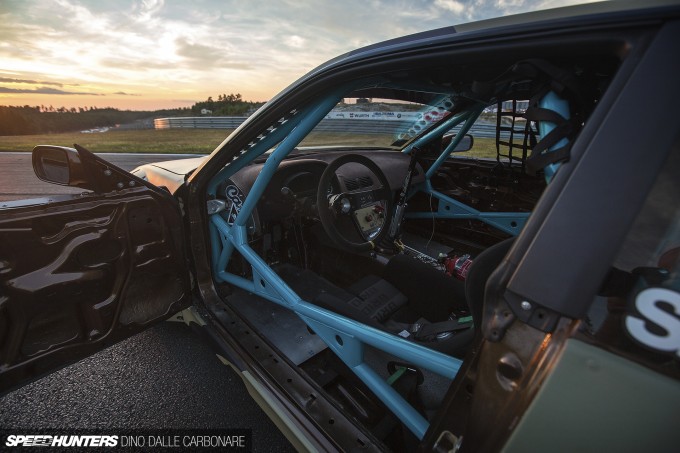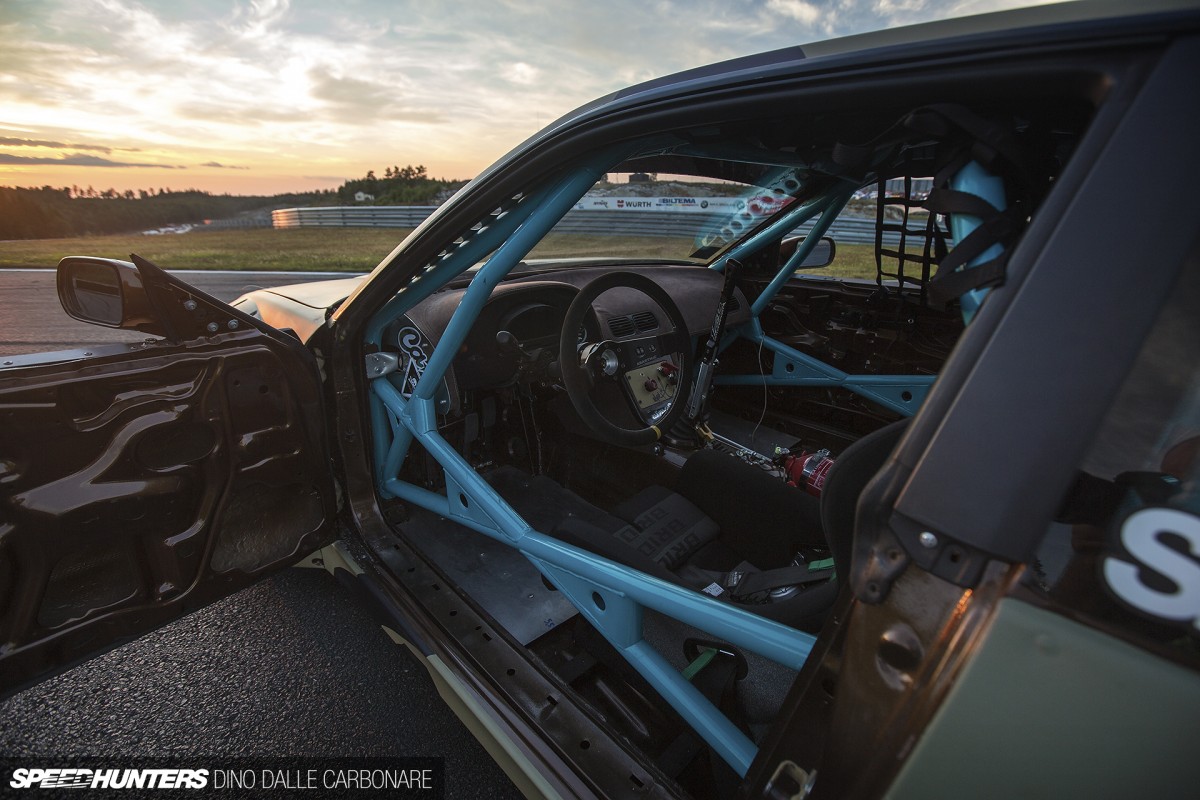 But you know what, it was the interior that impressed me the most. I don't know if it was the contrasting turquoise roll cage – a beefy and properly fabricated and gusseted one at that – or the way everything I looked at was almost too polished to be in a drift car.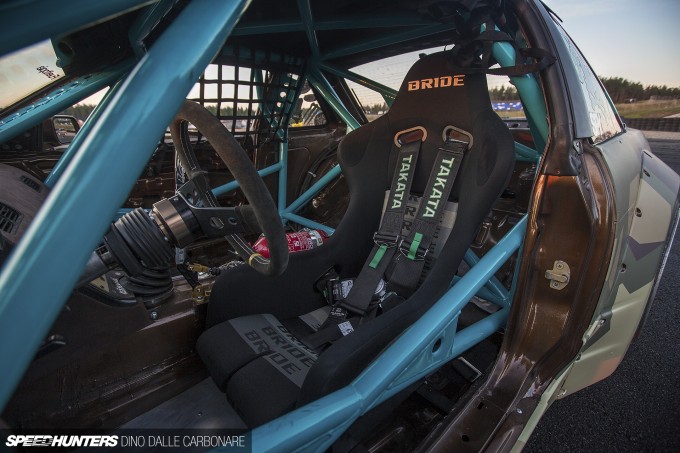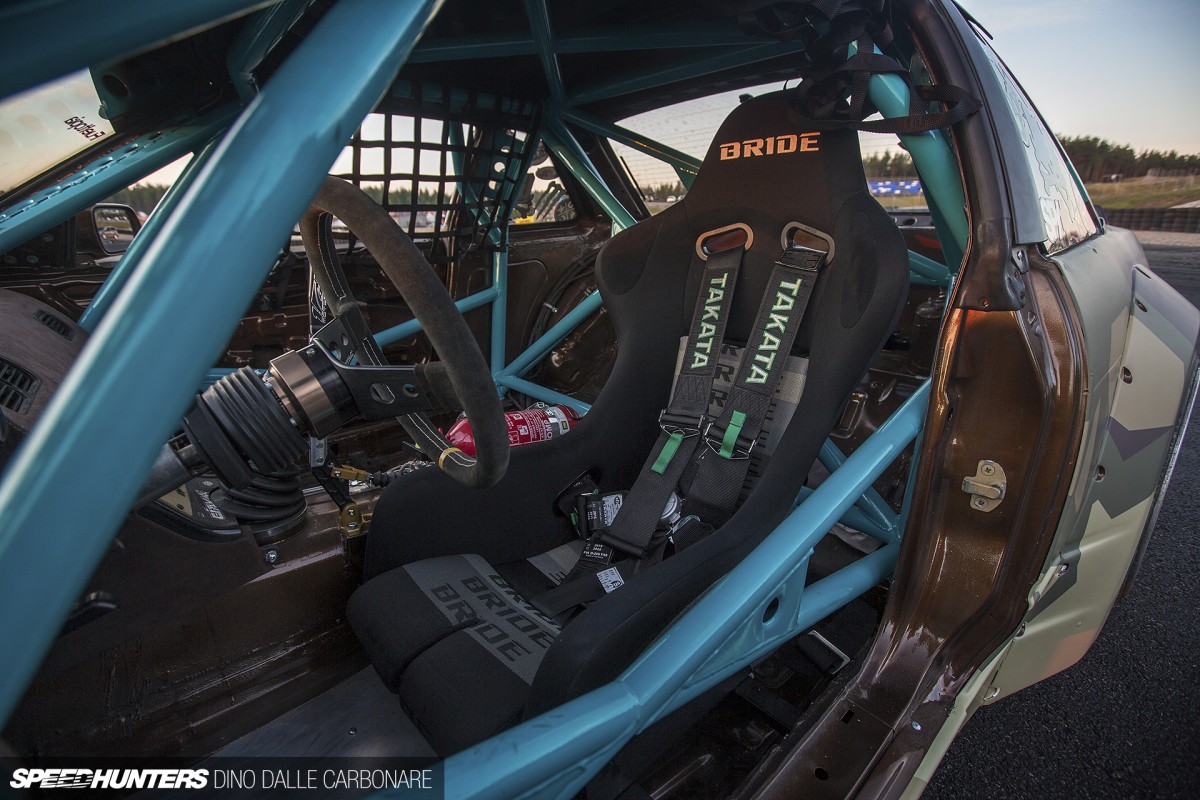 The top-of-the-line Bride bucket seat and new-gen black Takata harnesses were just the start – there was also the underlying spot-welded and stiffened chassis finished in the same metallic brown we observed in the engine room.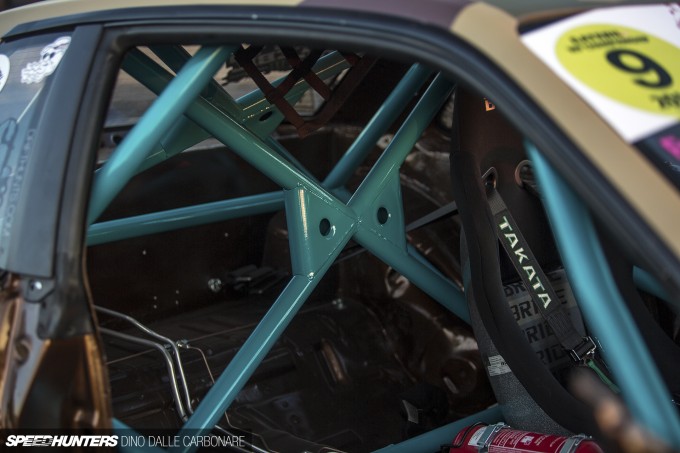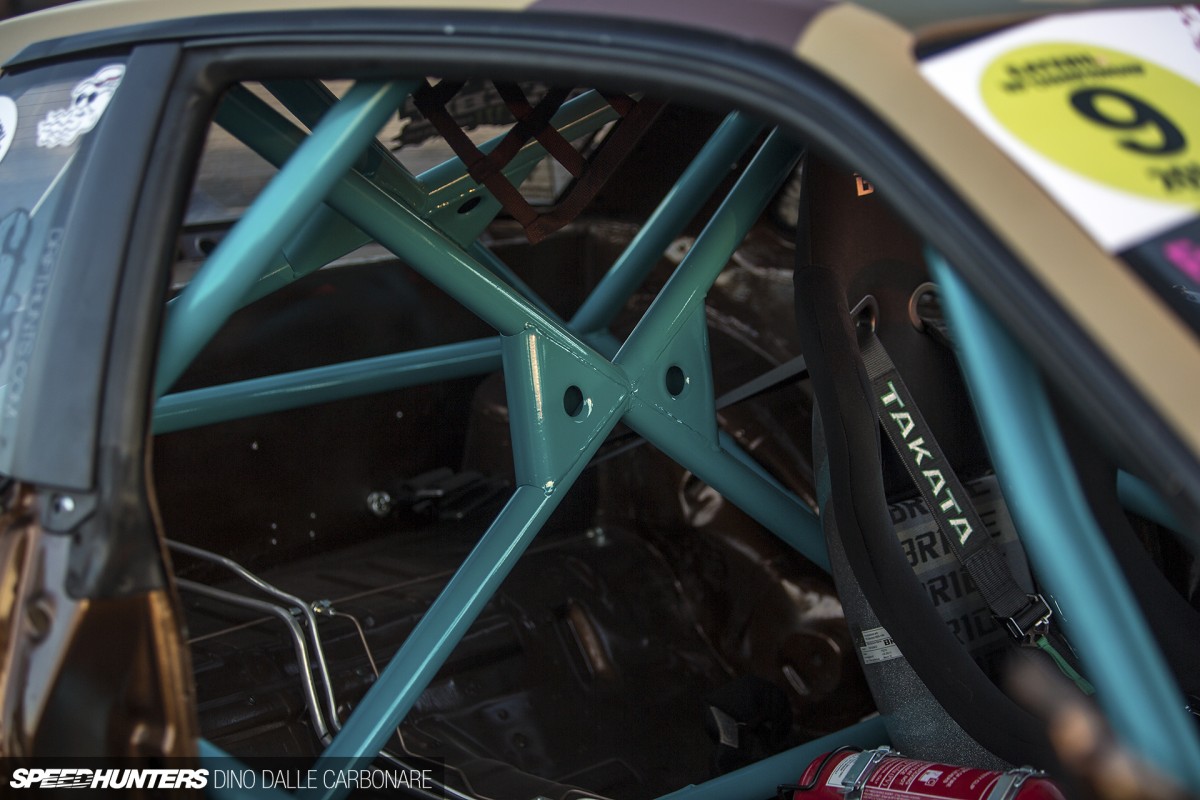 Everything in here is clean, considered, and beautifully laid out.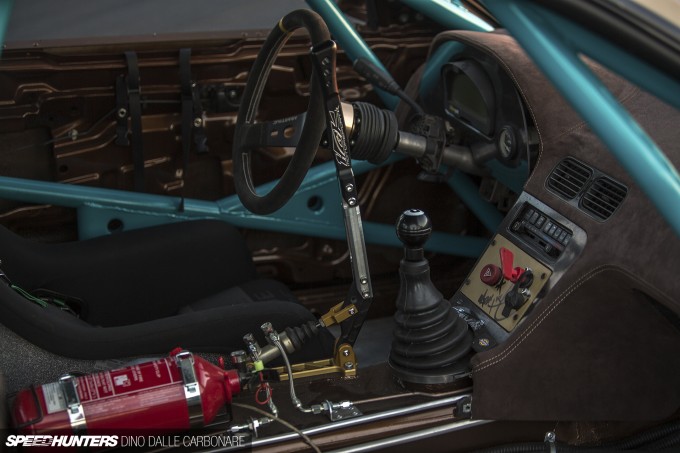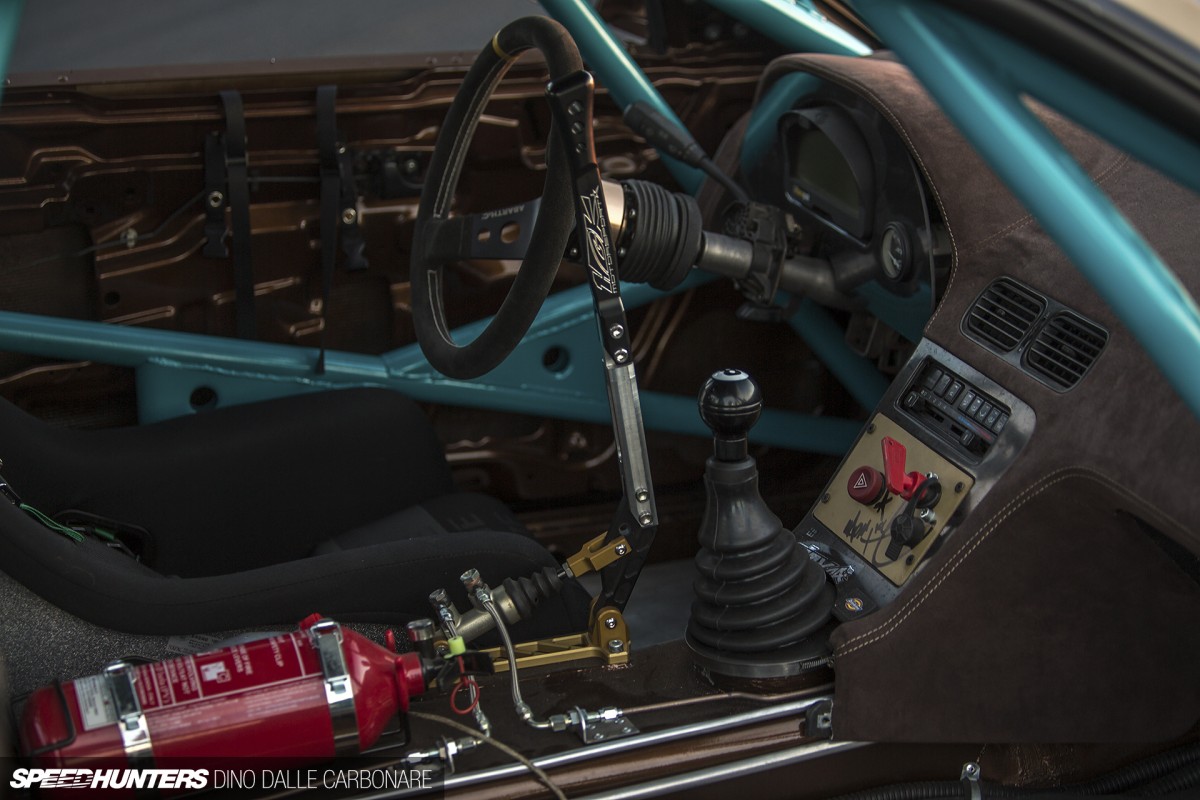 That goes for the driving position as well, with an extended steering column and HGK Racing hydraulic handbrake lever angled just as Slava wants it.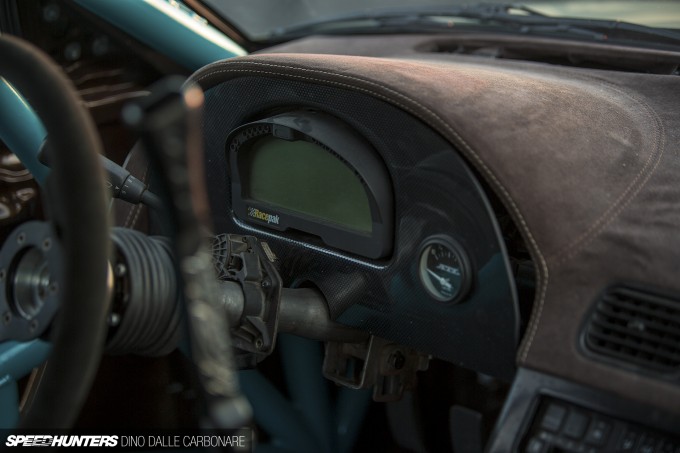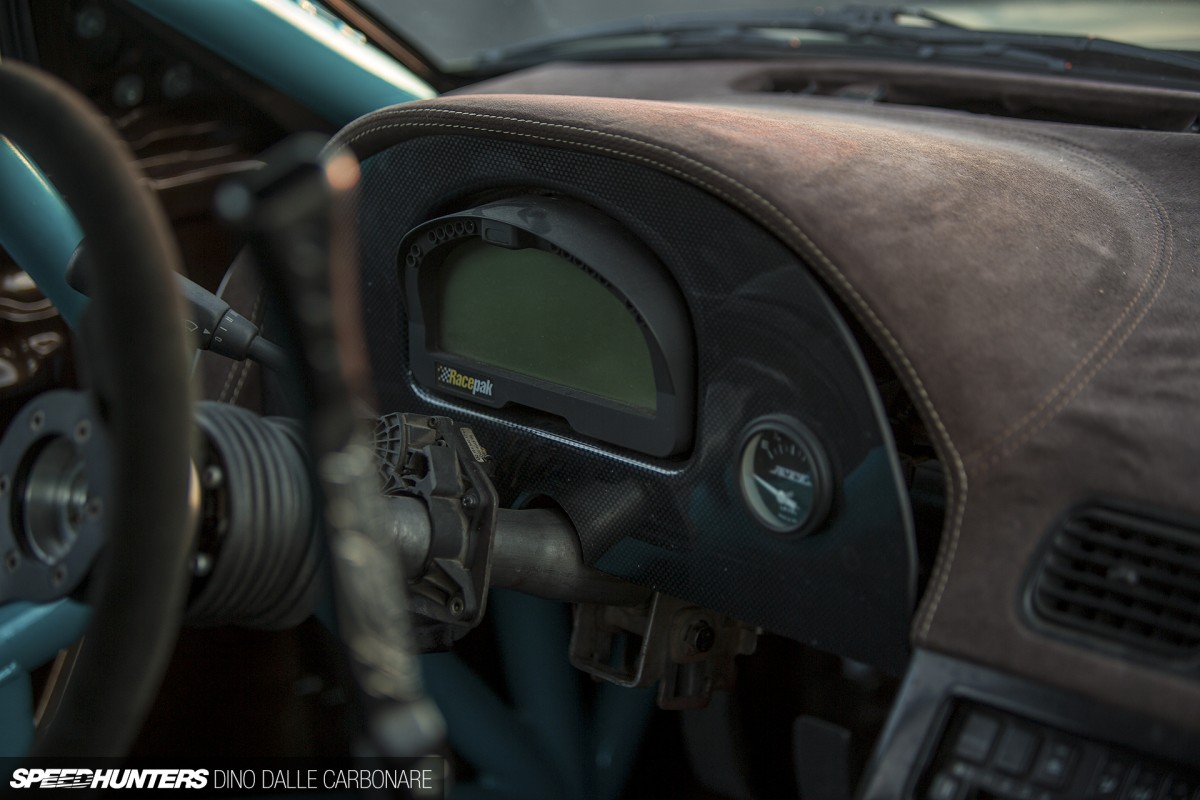 And when was the last time you saw a suede upholstered dashboard in a drift car? The way the Racepack digital display has been fitted into the carbon fiber insert is very nicely done too. It's obvious that Slava and the Fail Crew are suckers for details and doing things to very high standards.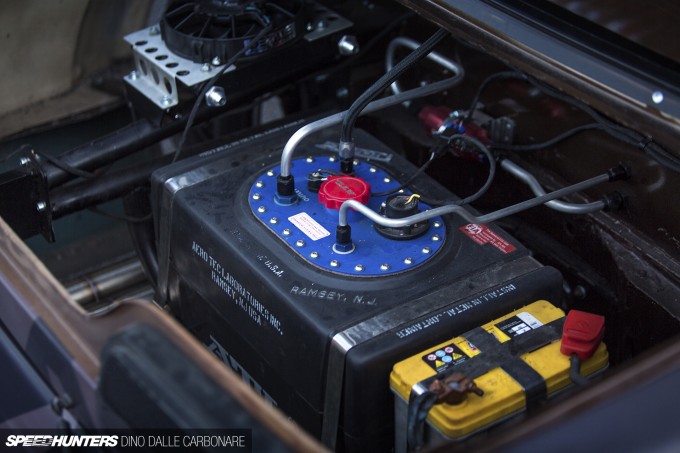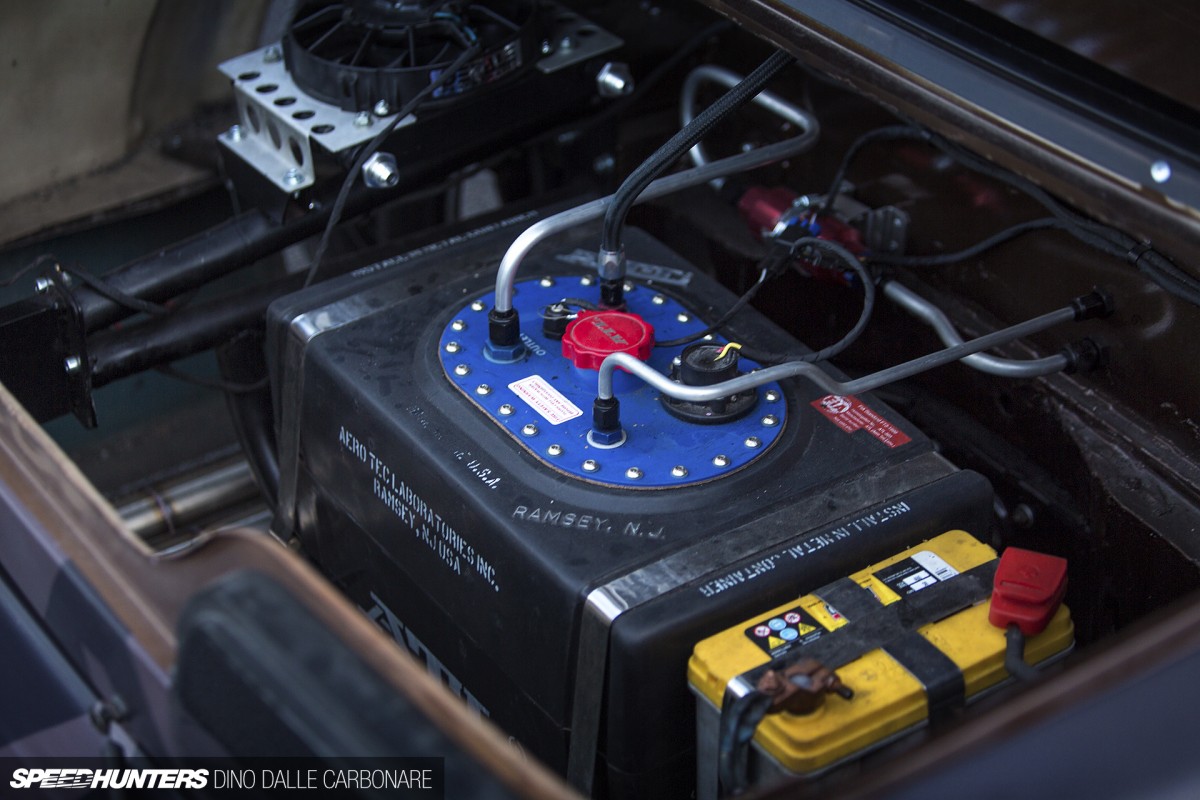 This is very much carried through into the trunk area, where the ATL fuel cell sits plumbed in place with carefully bent aluminium piping. And as you can see, the entire rear section has been cut out much like the front and replaced with a custom-fabricated tubular structure to hold everything in place.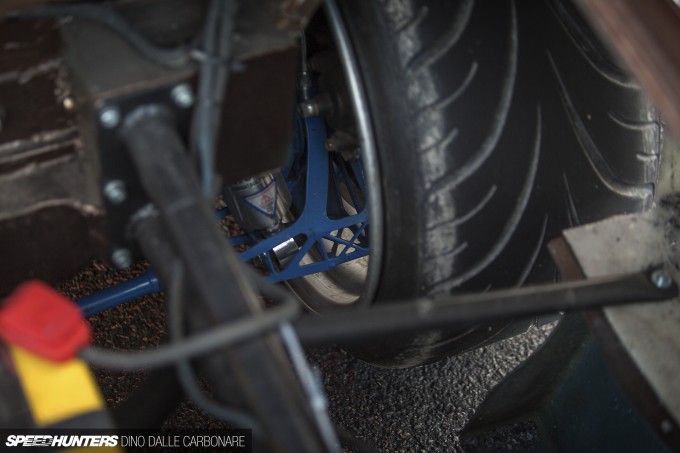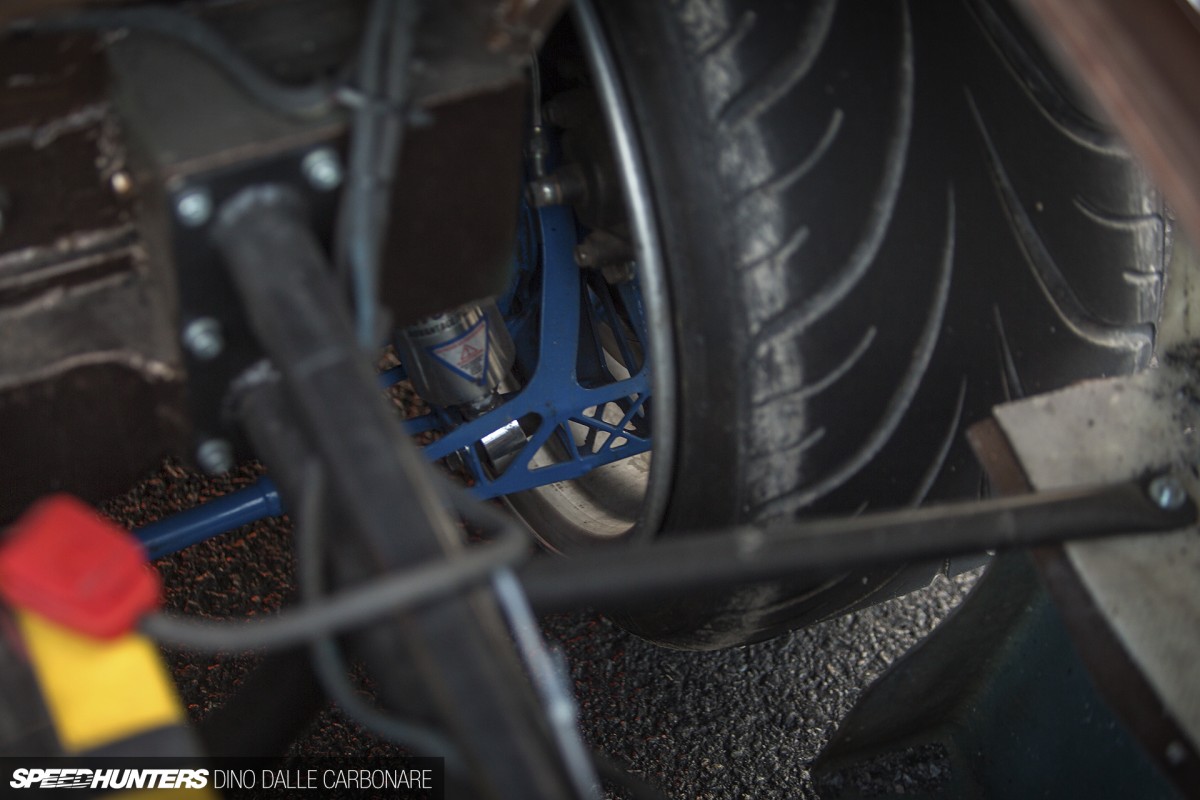 Here is a quick look through the cut out rear section at the blue rear Wisefab suspension goodies.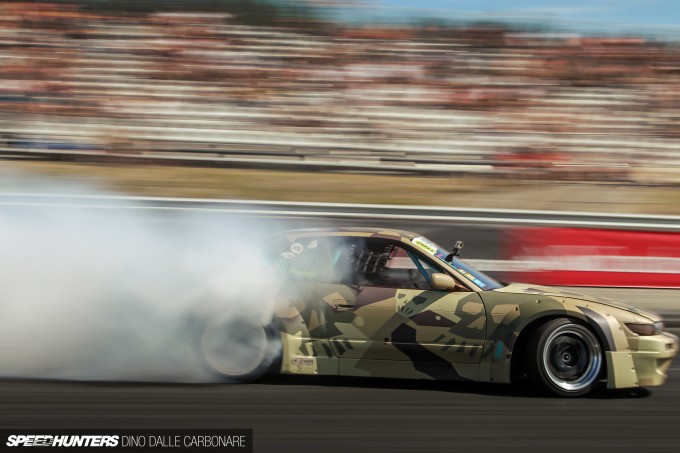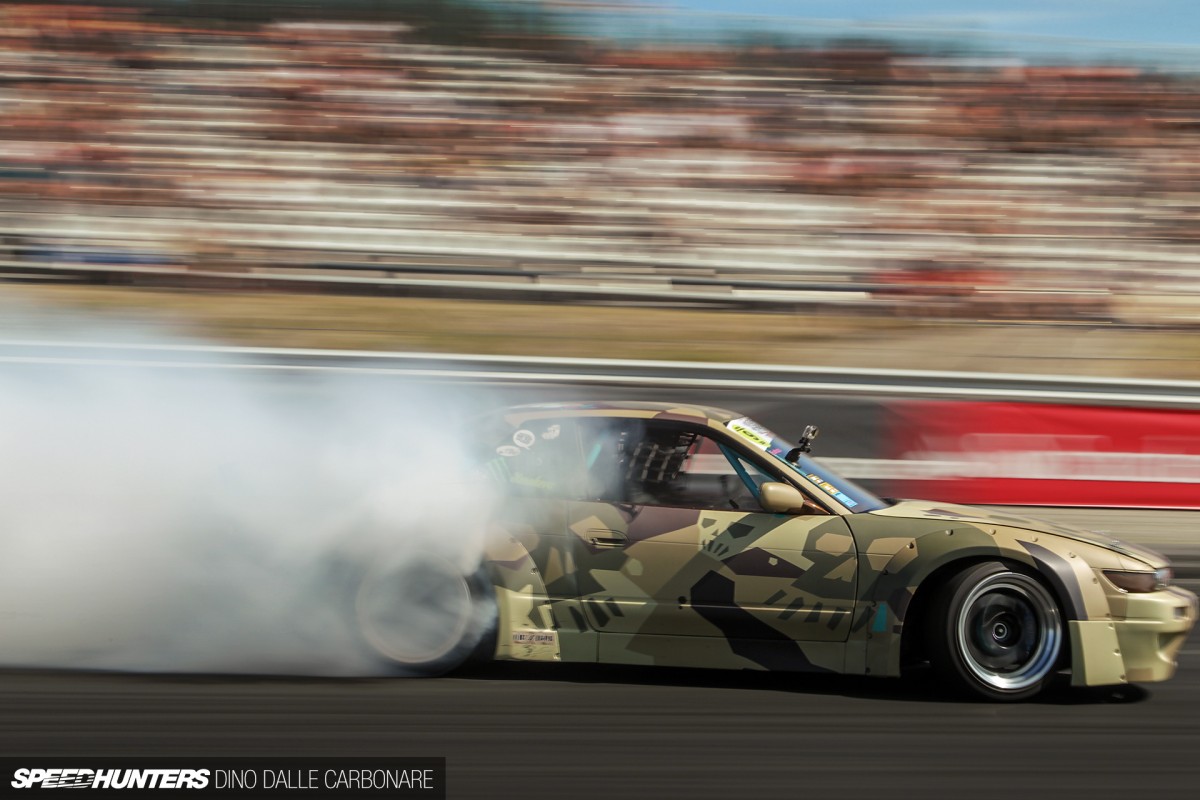 It may be built to high standards but as Max shows us here, the S13 is given no mercy when it's time to put on a show.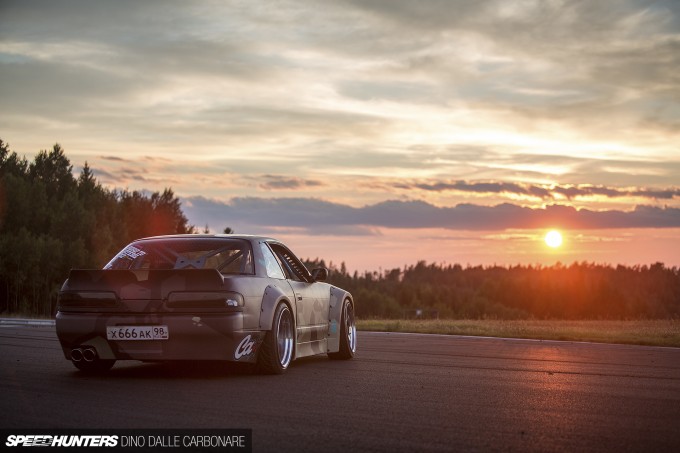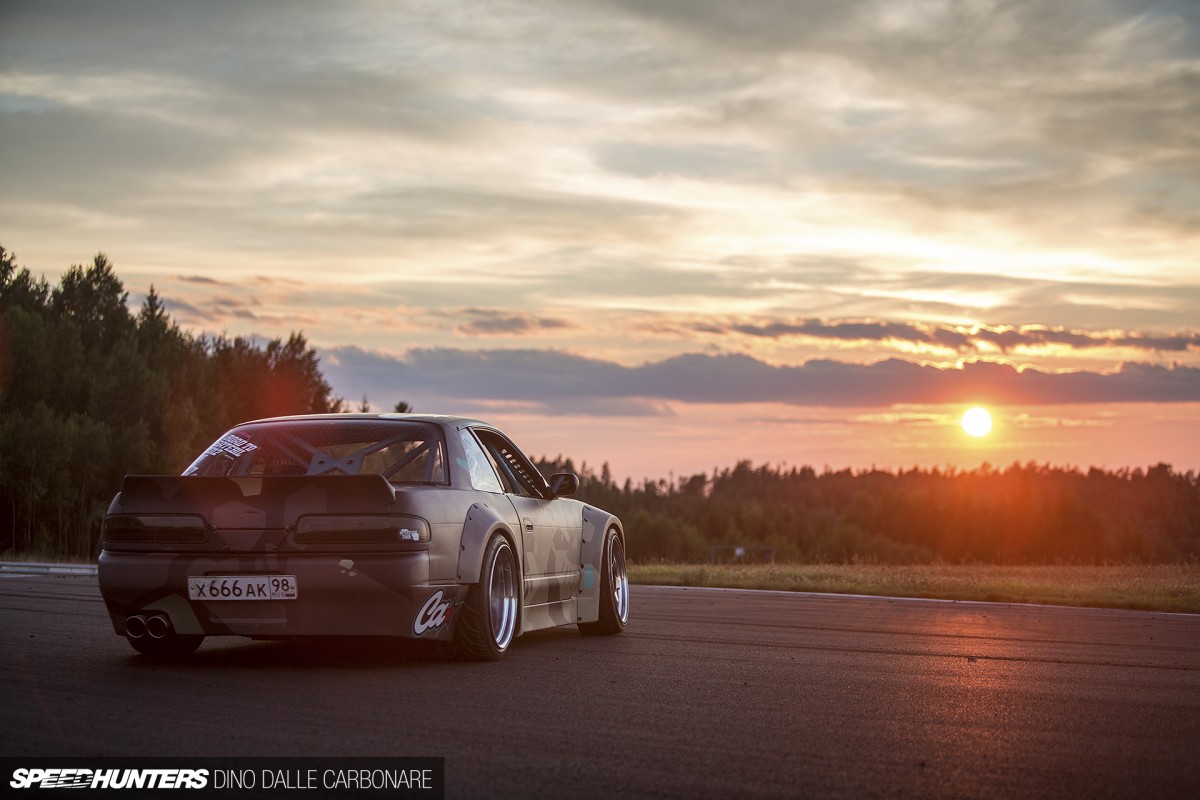 This car is a bit of a cocktail – the best from Japan mated to the best from the US and finished up with all the right sort of custom touches our Russian friends seem to love. Oh yeah, and that sound – the V8 roar at full RPM – it's really something to die for!
Dino Dalle Carbonare
Instagram: speedhunters_dino
dino@speedhunters.com
Additional Photo: Egil Håskjold
Instagram: egilhaaskjold