Behind The Scenes
The Petersen Auto Museum in Los Angeles has to be one of the world's best car museums. It's not dedicated to any one specific brand or era of car, but through its permanent and rotating exhibits tells a broad story of the automobile and its effect on people.
Browsing the Petersen's exhibits is a fine way to spend a day in LA, but there's more to the museum than just what you see with your normal admission ticket…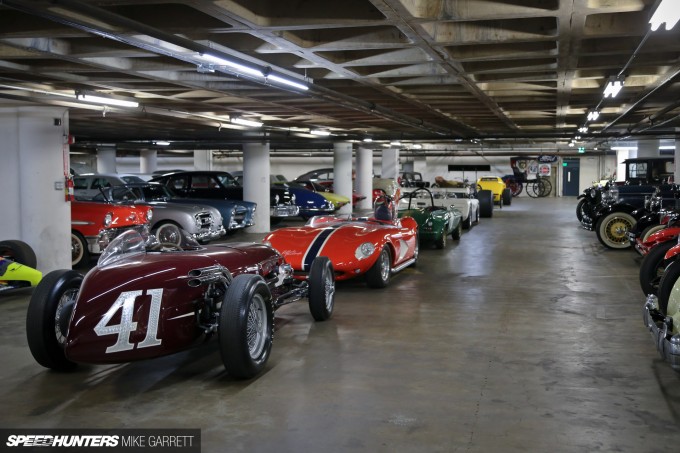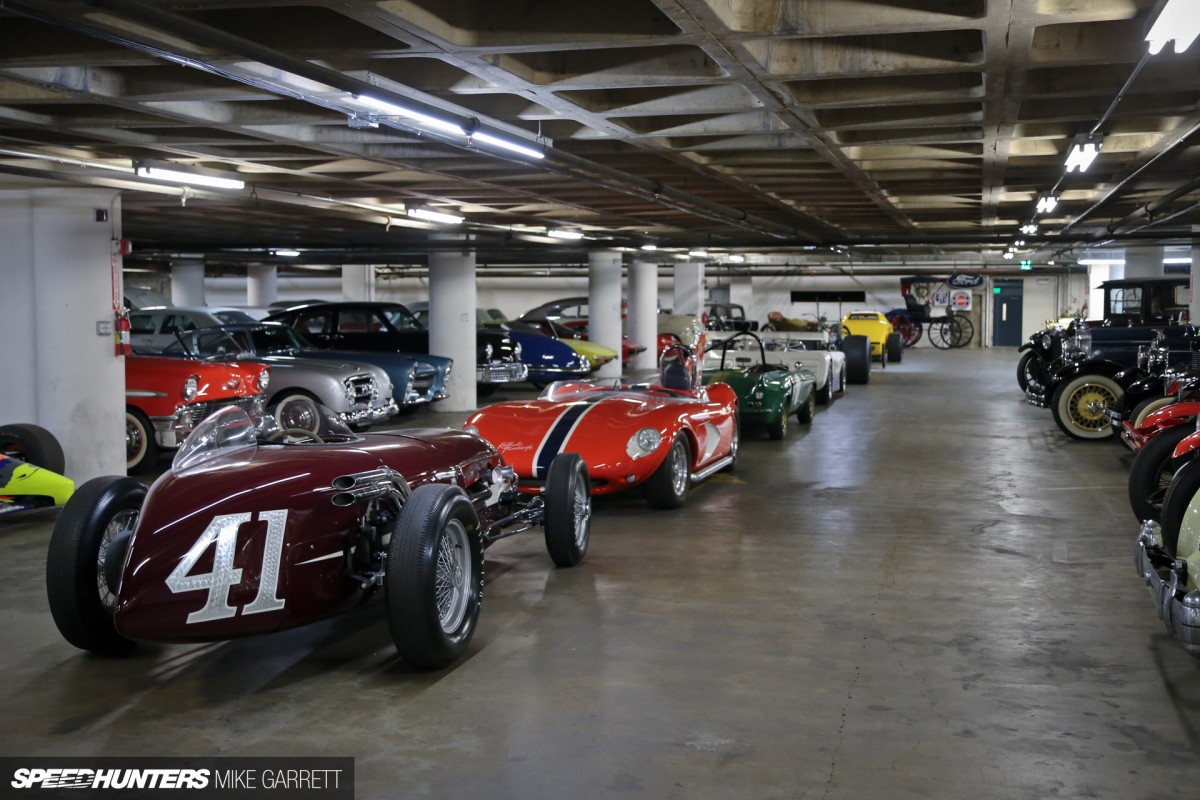 On the upper floor of the Petersen's massive parking garage, you'll find the museum 'vault' – a storage area for all of the stuff you don't see in the regular exhibits. For many years this part of the museum was off limits to the public, but a couple of years ago the decision was made to open up the vault for guided tours.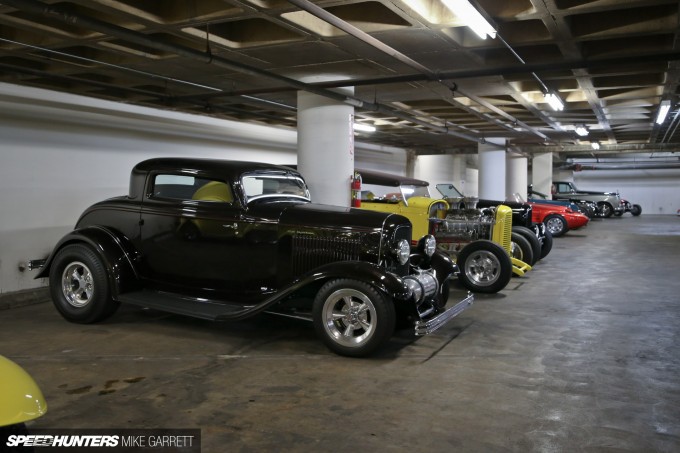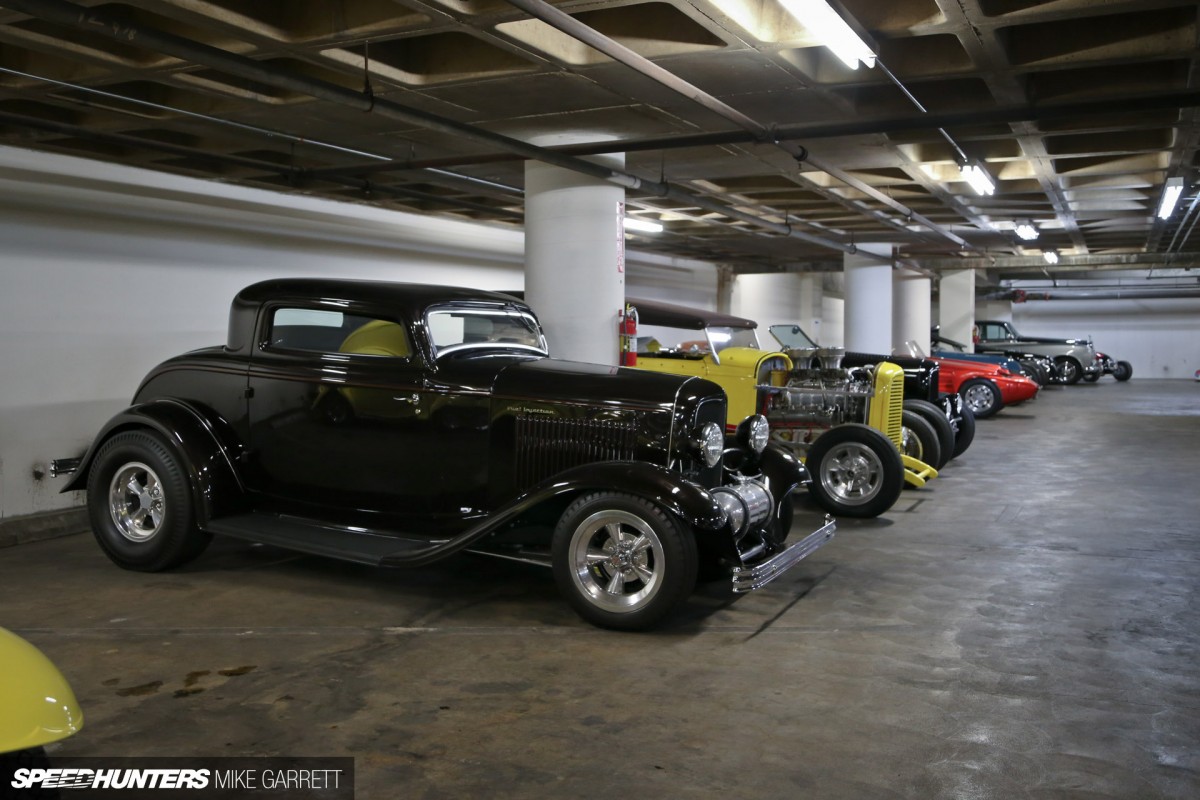 During my recent visit to the Petersen, I not only had a chance to check out special exhibits like the World's Greatest Sport Coupes, but I was also able to spend some time looking around the famed vault.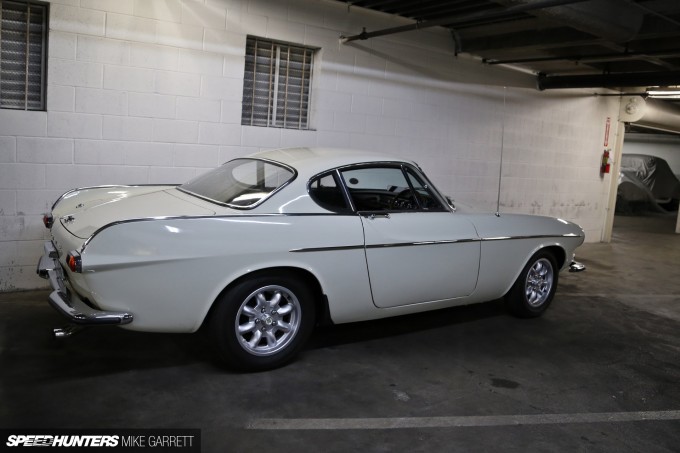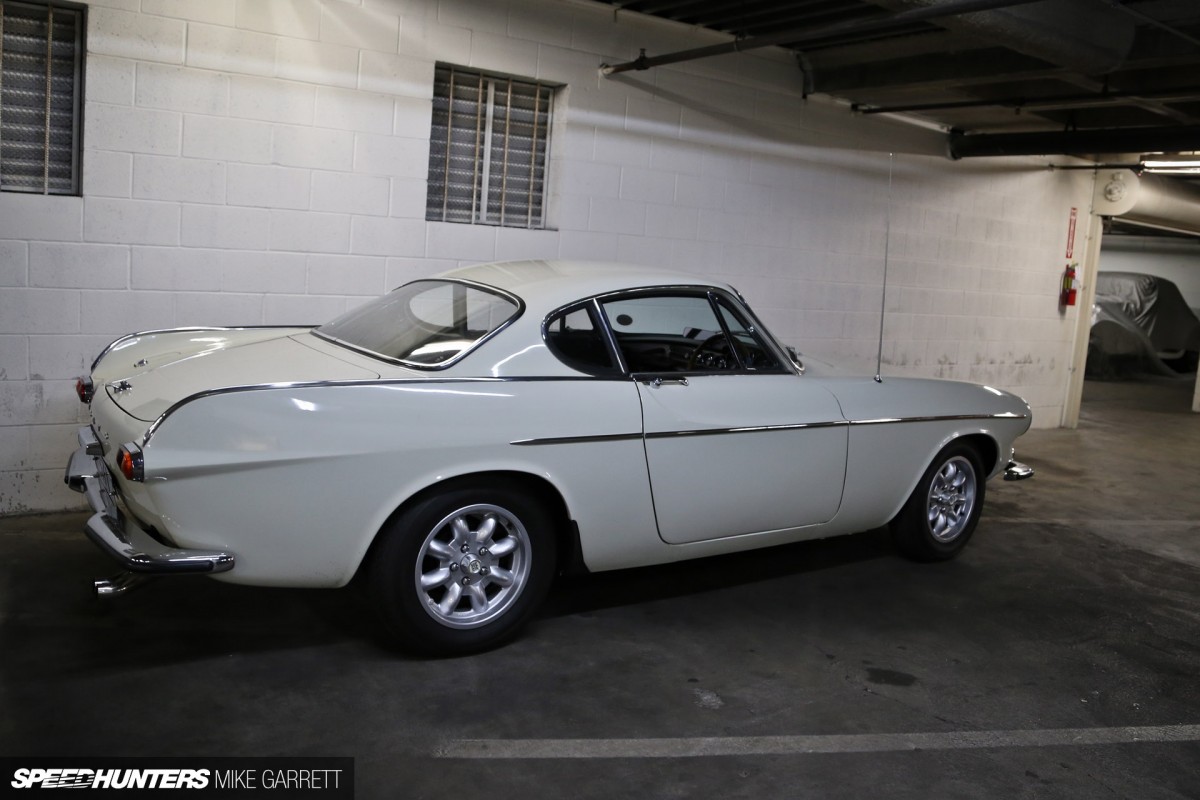 Typically, photography is not permitted during the vault tour, but fortunately the museum staff allowed me to bring some gear along so I could share some of the crazy stuff that's hidden away in there.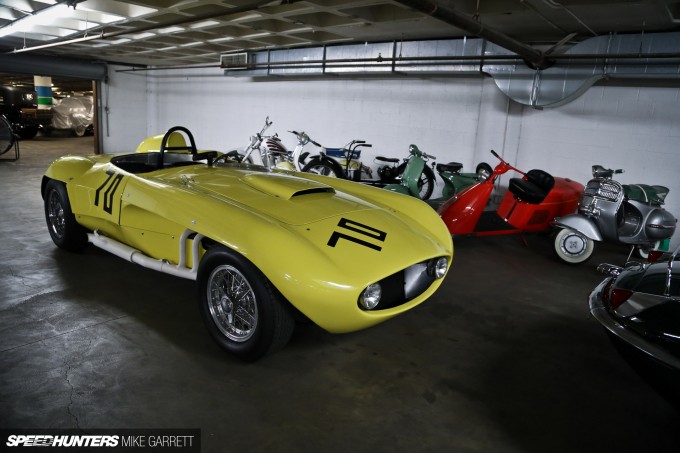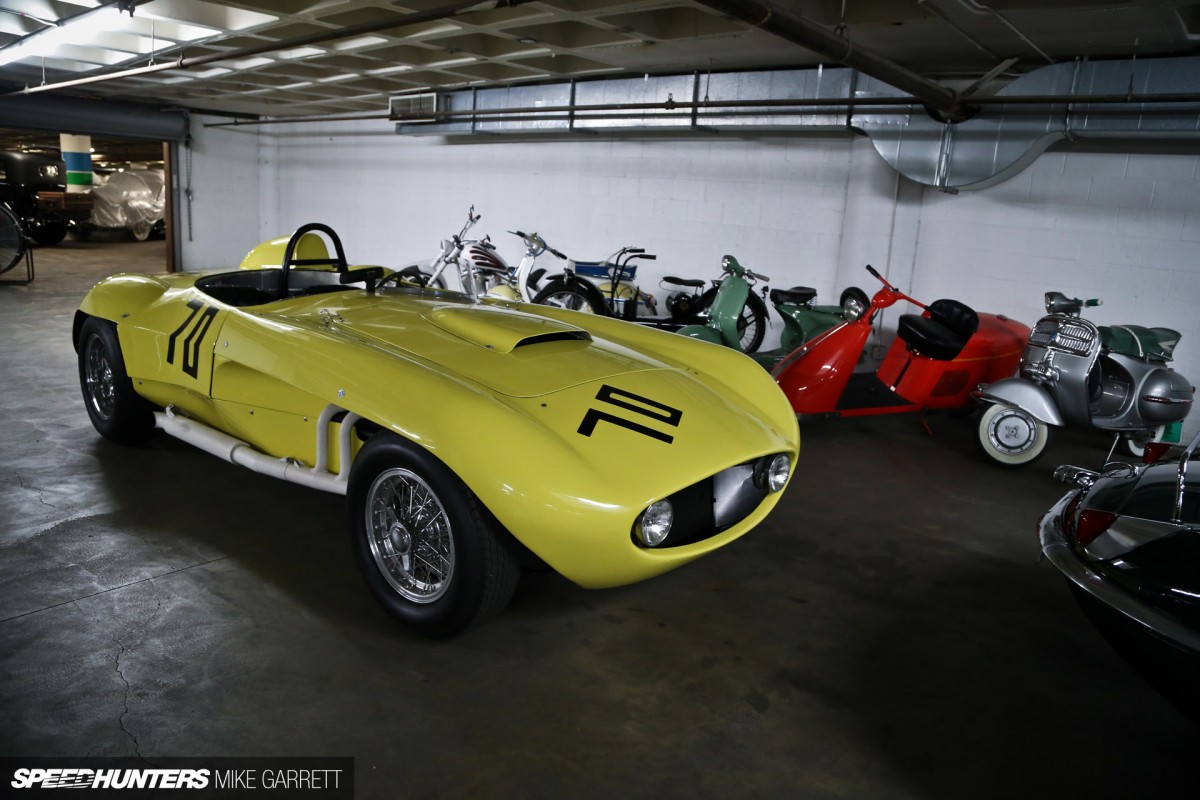 The revolving fleet of vehicles that are stored in the vault is eclectic. There are rare production cars, historic race machines, movie machines and many cars that were driven by both famous and infamous personalities.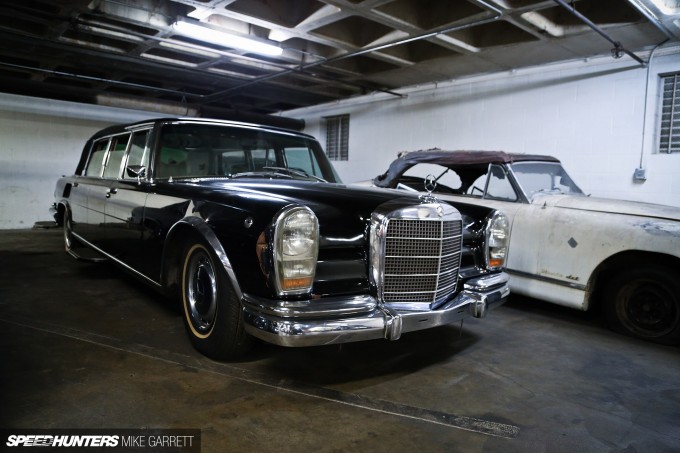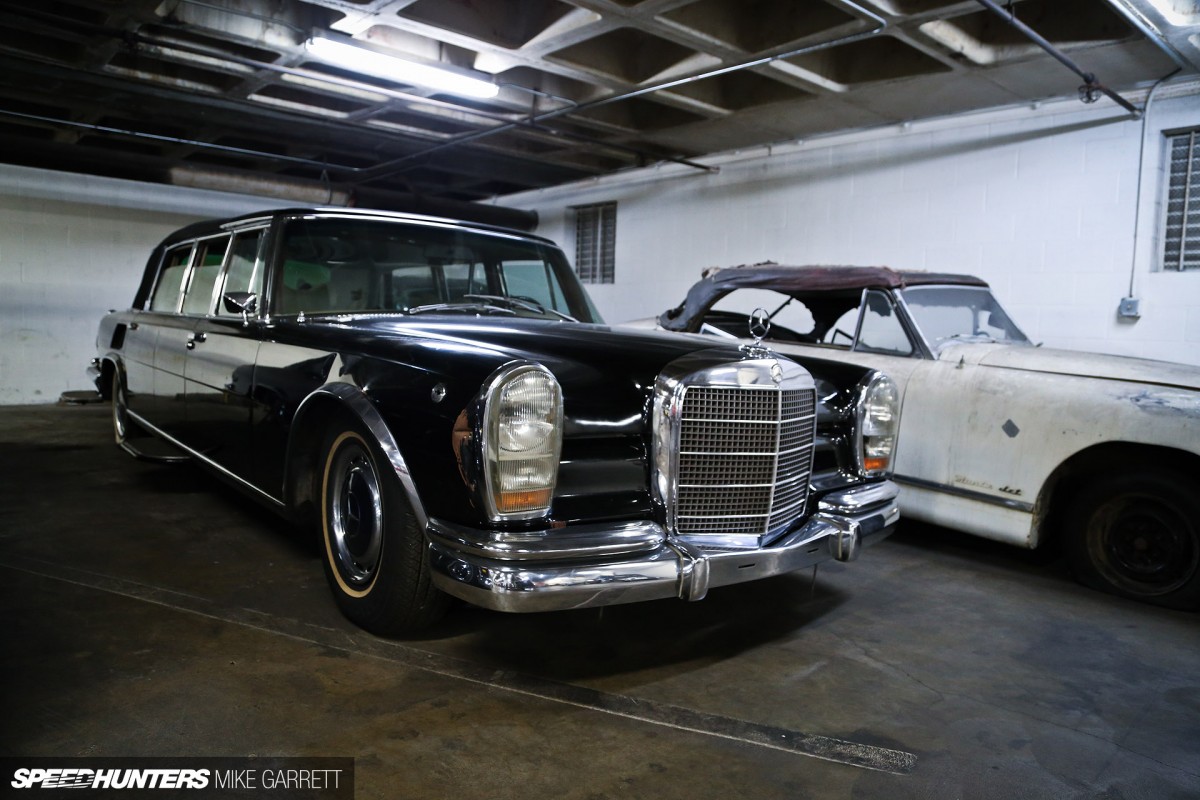 And people don't come more infamous than Saddam Hussein, who was once the owner of this 1978 Mercedes-Benz Limousine.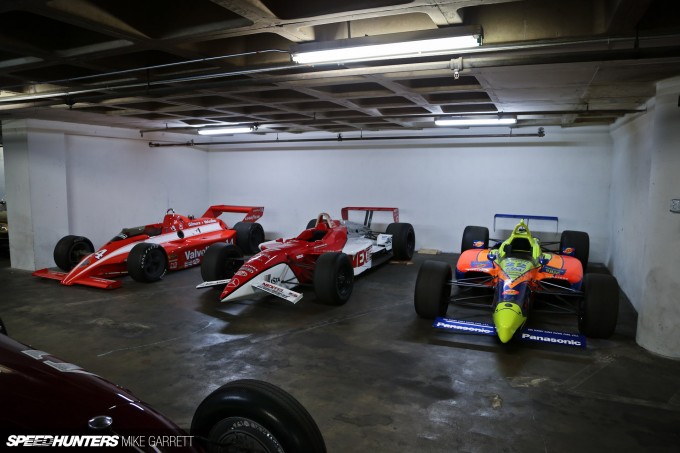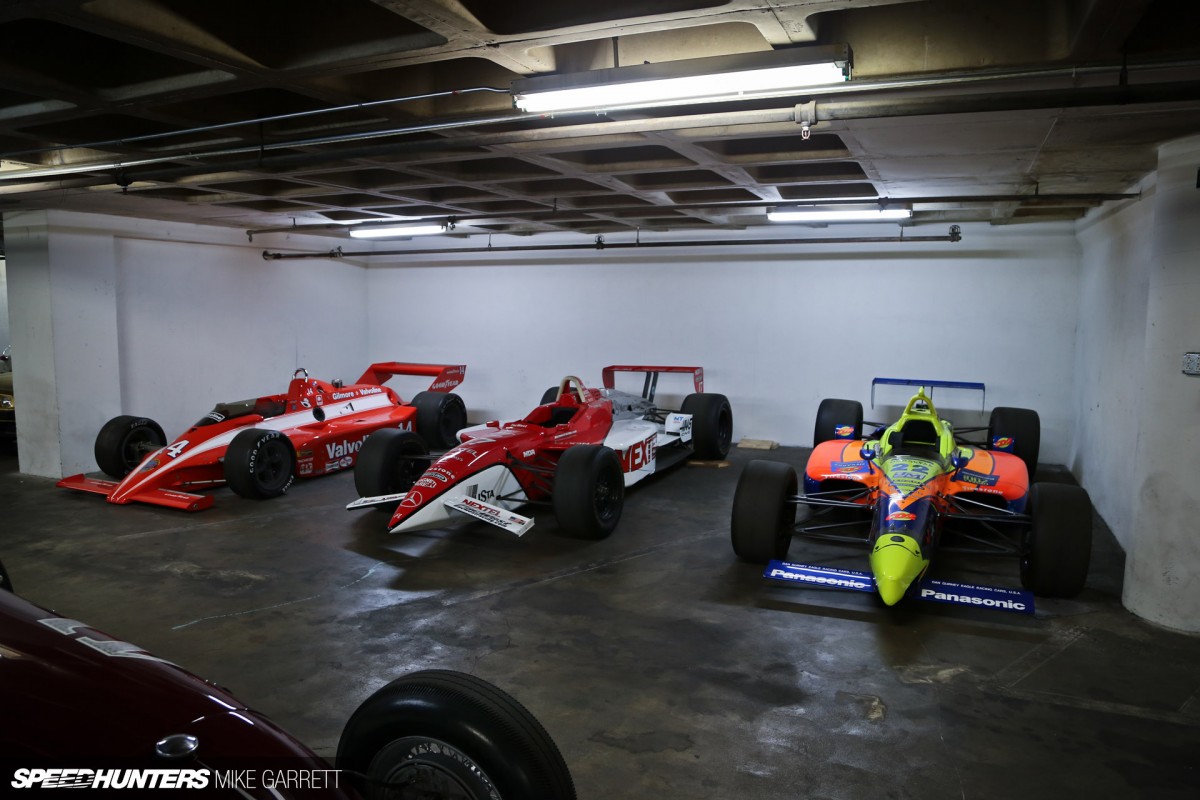 To sum up how diverse this collection is, right near Hussein's old Benz is a trio of open wheel race cars – including a movie prop from the Sylvester Stalone film, Driven. I had completely forgotten about that movie until I saw this thing.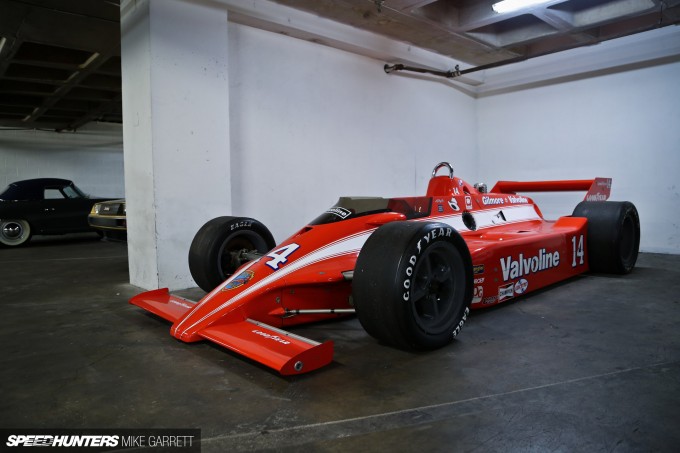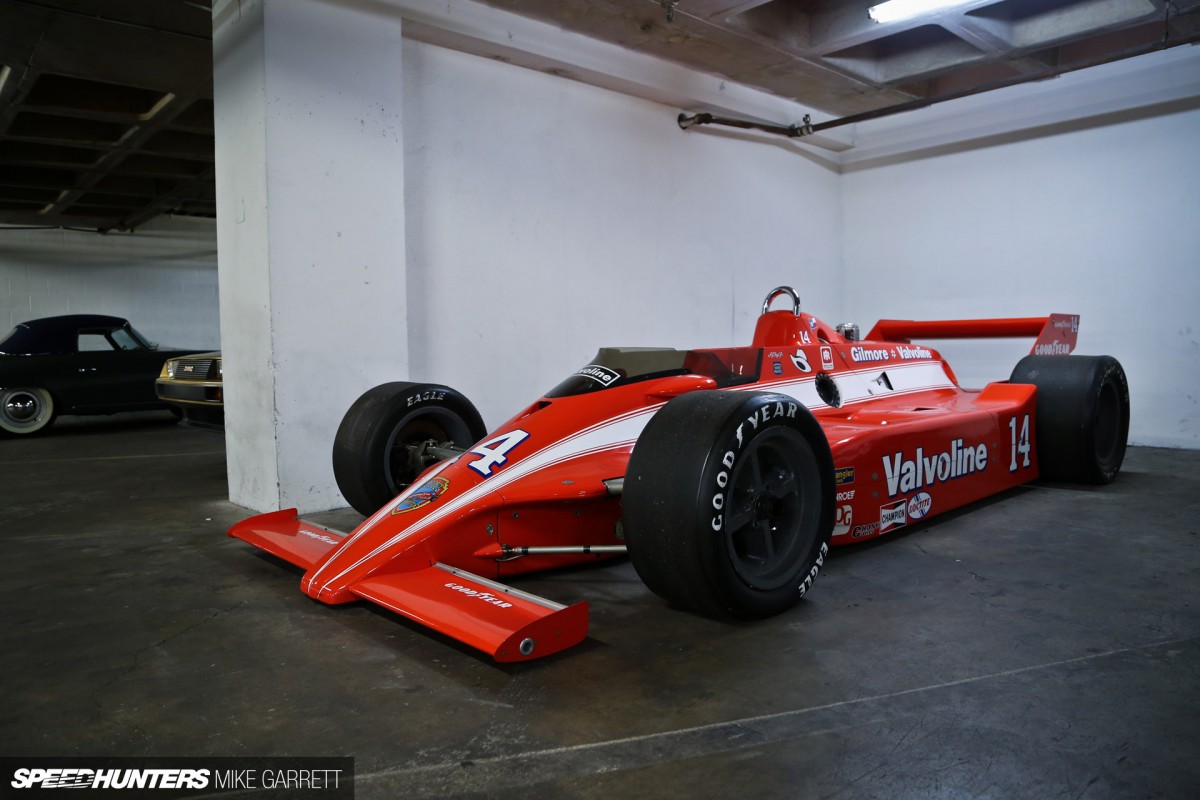 My favorite of the bunch was this Indy machine driven by AJ Foyt in the early 1980s – definitely one of the best eras for Indy car style.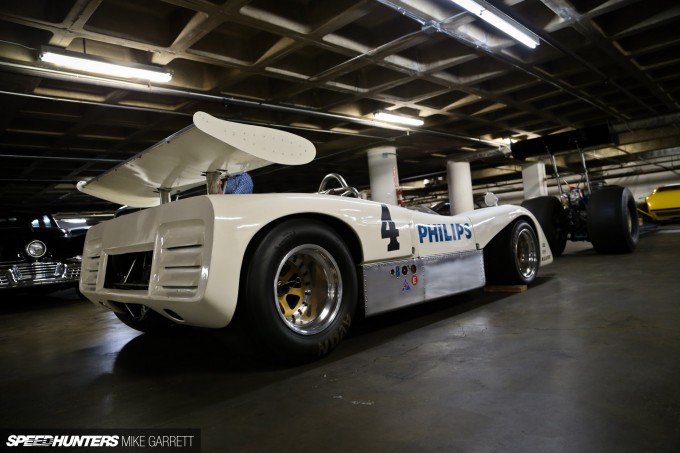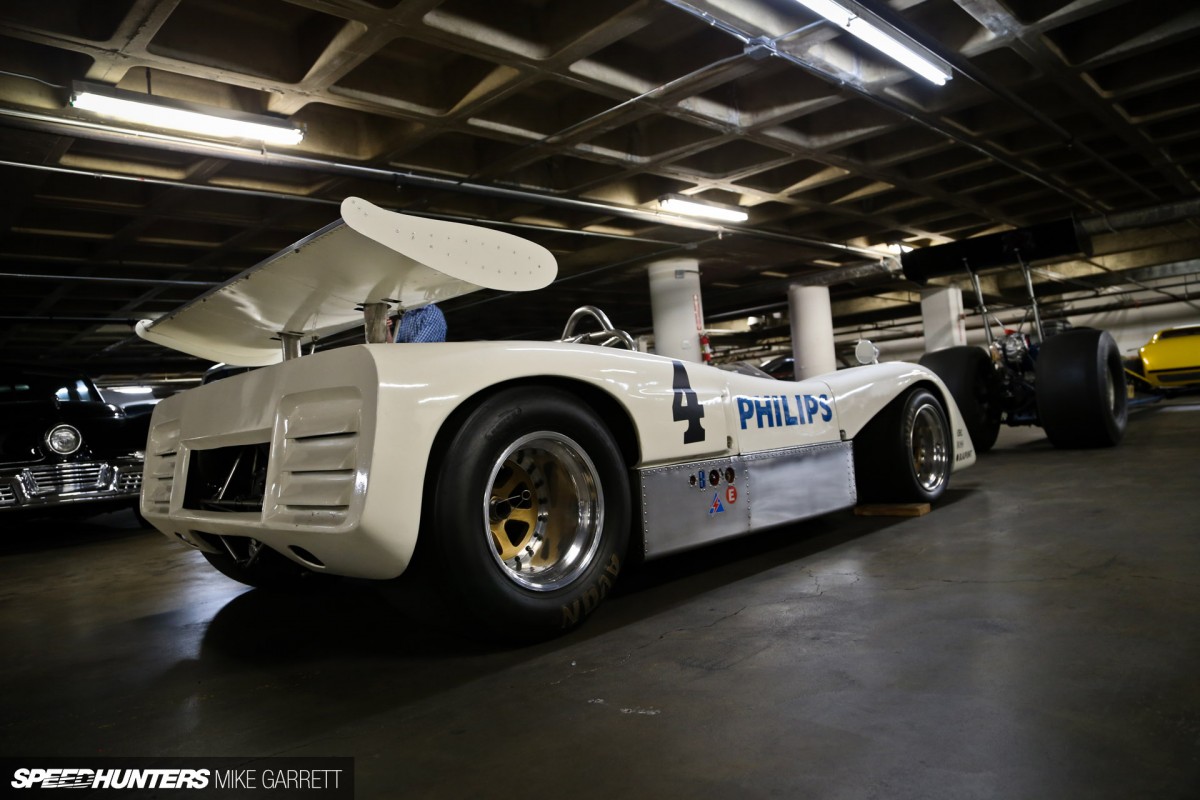 Other vintage race cars stored in the vault include a top fuel rail dragster and this 1971 Can-Am McLaren M8E.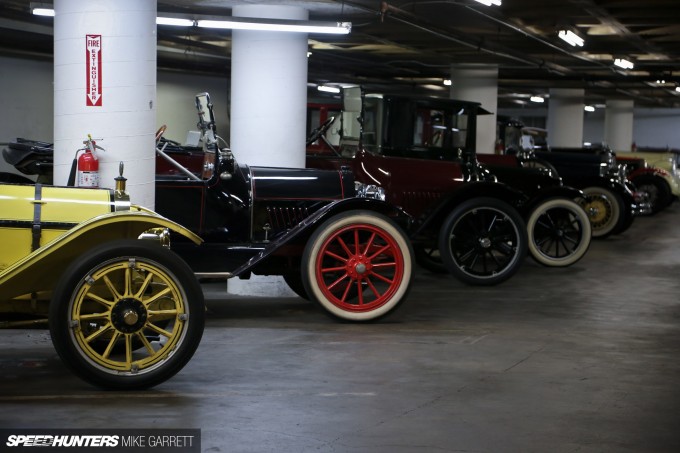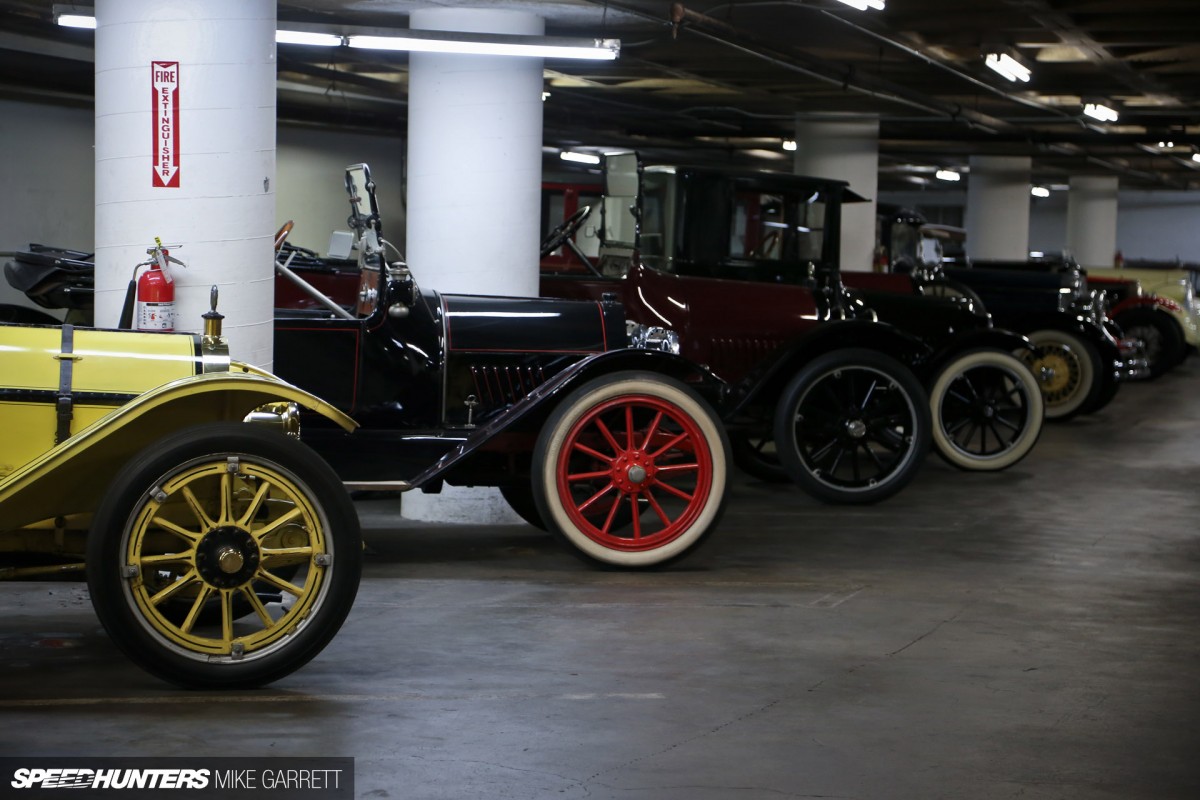 Just as in the main museum, all eras of automotive history are represented inside the vault, with both iconic and obscure models present.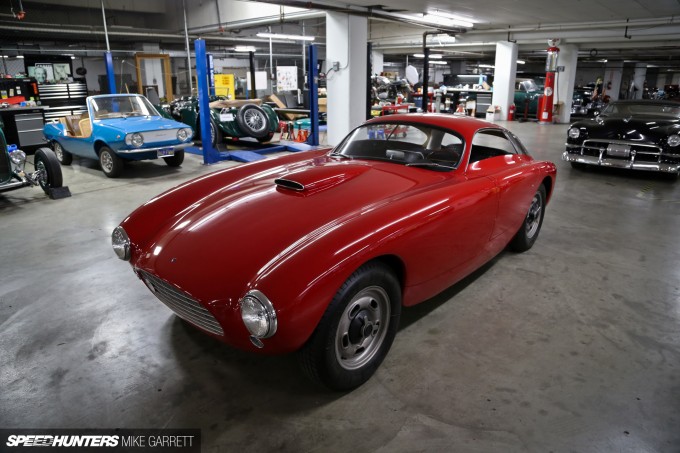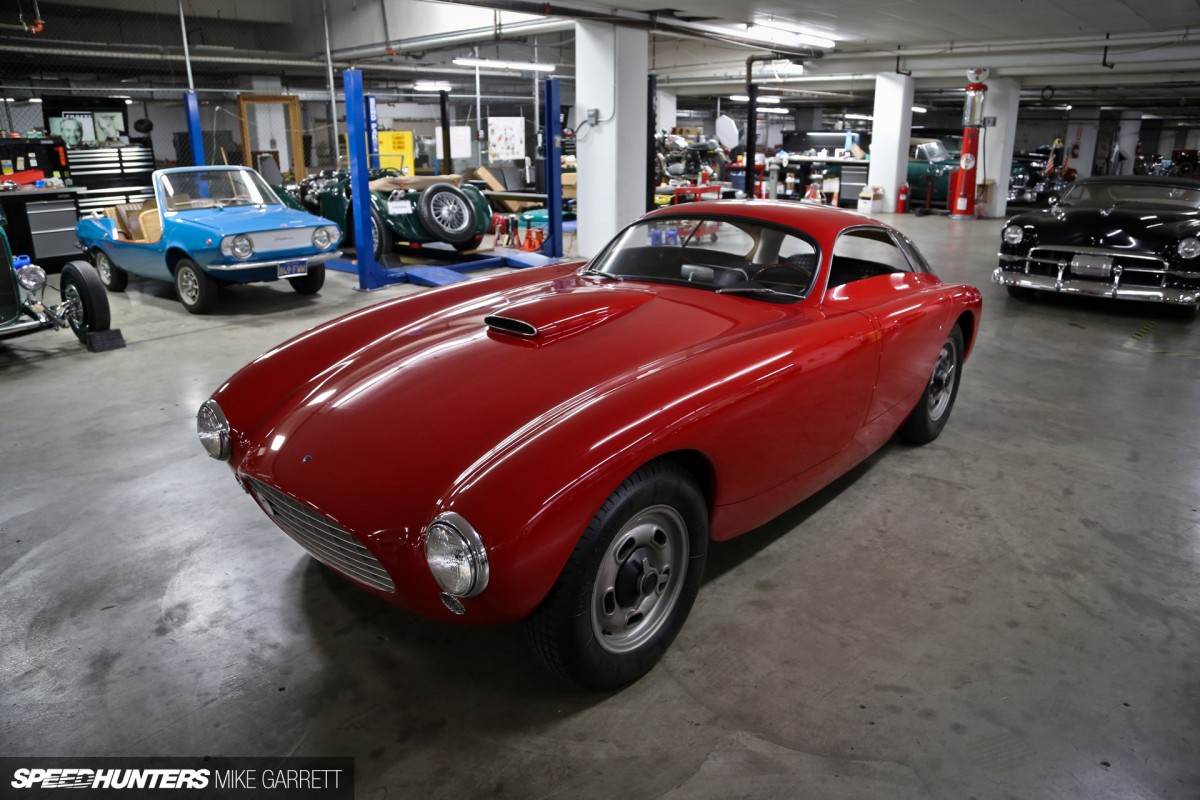 When it comes to rare cars, you aren't going to get much better than this. It's a 1953 Bosley GT – a one-off sports car built in Ohio with a custom fiberglass body and a 331 Chrysler HEMI fitted up front.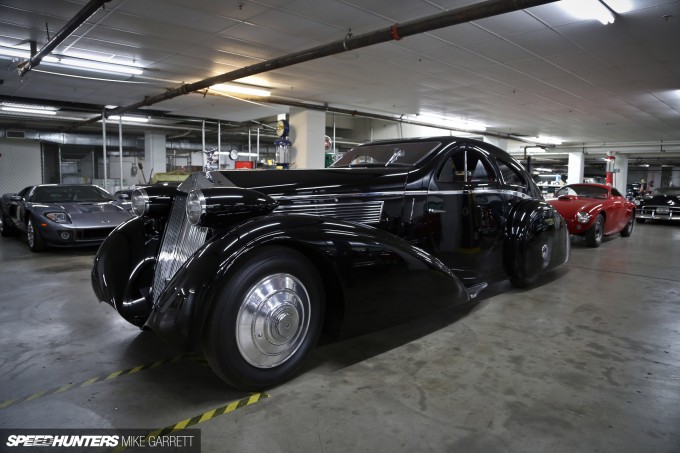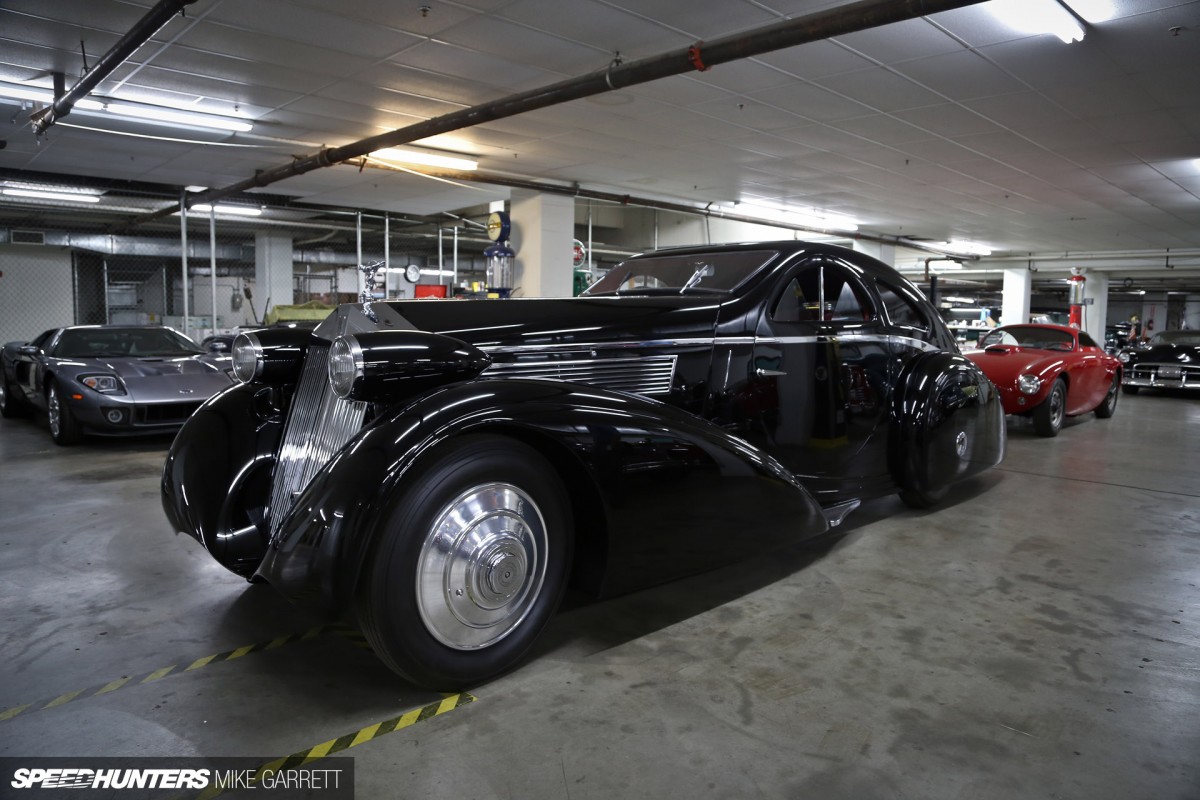 But when it comes to sheer presence, there's not a car in the building that can touch this 1925 Rolls-Royce Phantom – a gorgeous titan of an automobile that would dwarf any modern SUV.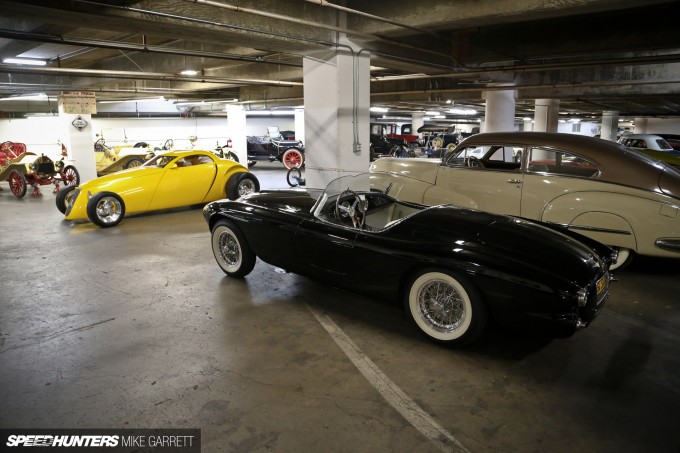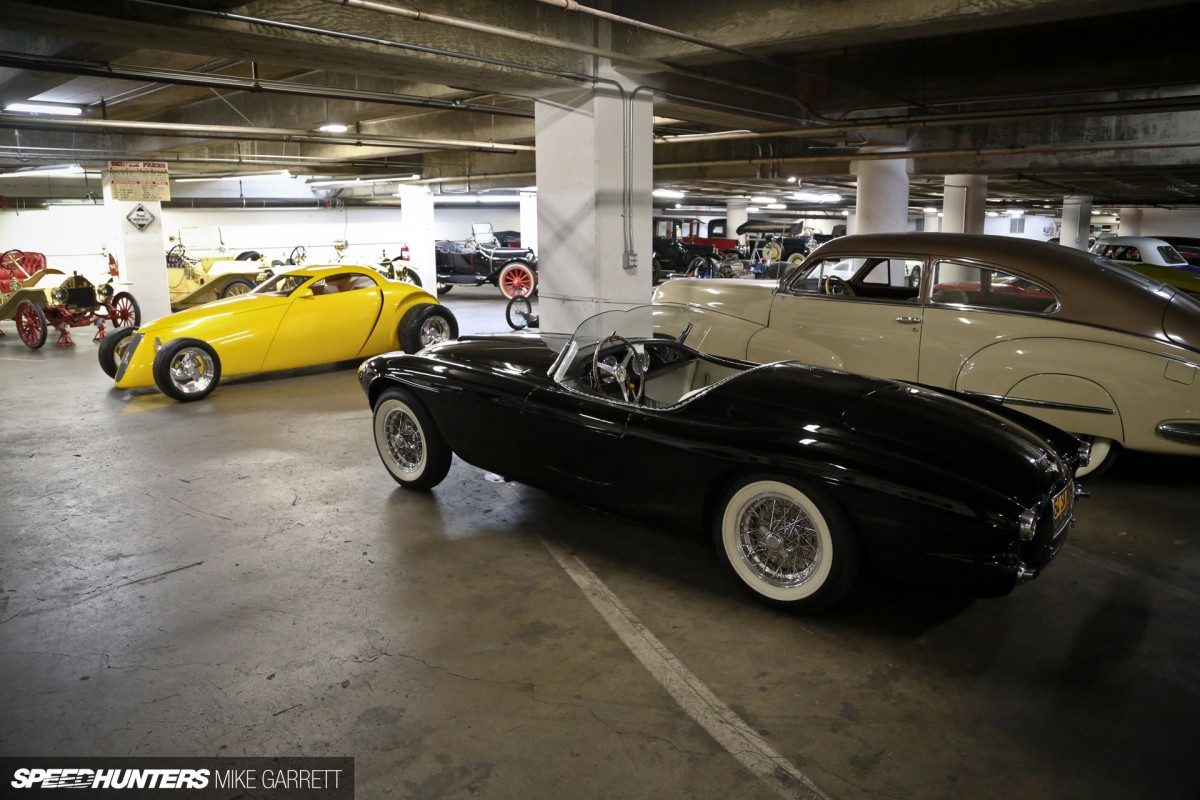 Not only is the vault full of rare and exotic machinery, but many of these cars have some very interesting stories behind them too. This 1952 Ferrari Barchetta was a gift from Enzo Ferrari to Henry Ford II at a time when the two men were on good terms.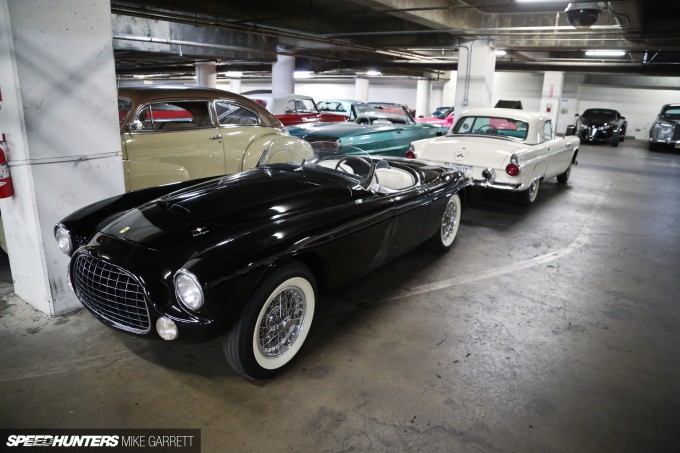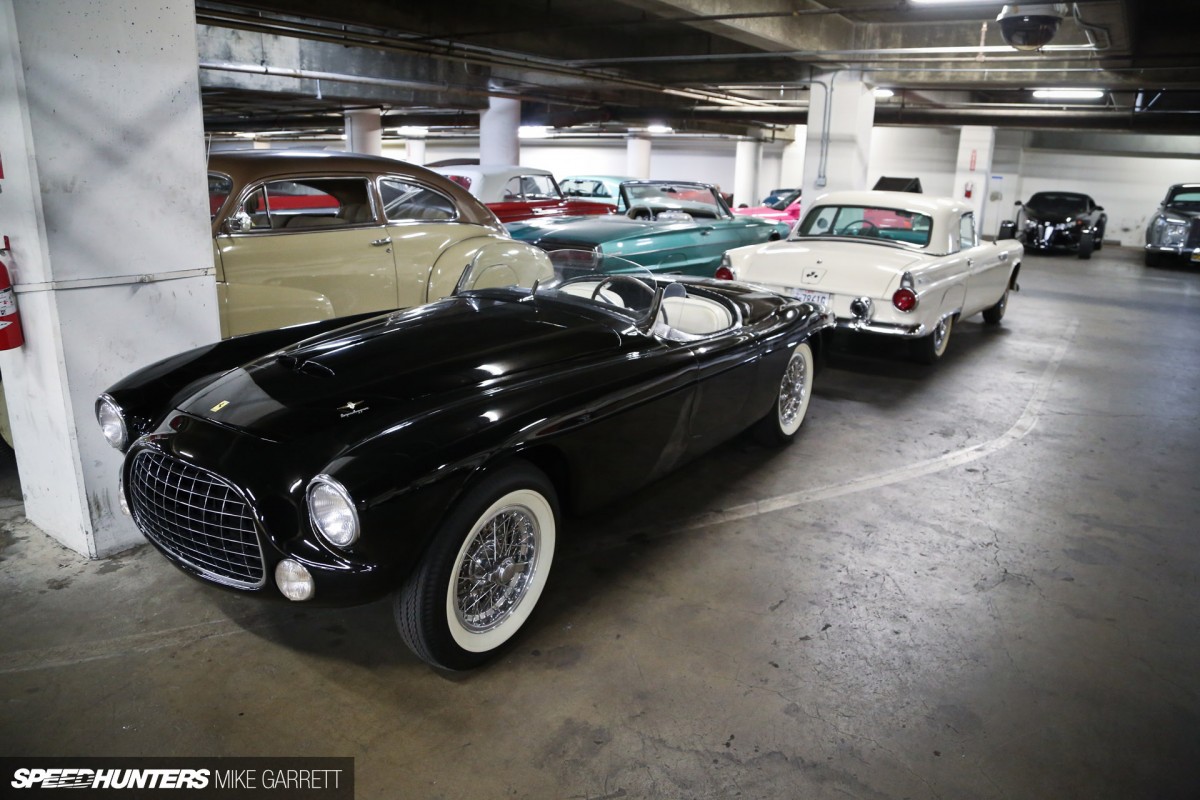 The gifted Ferrari is said to have heavily influenced the design of the 1955 Ford Thunderbird, and it remains in unrestored, original condition.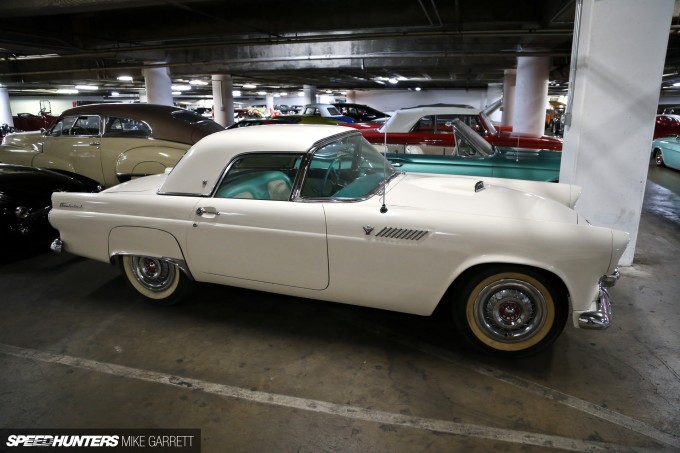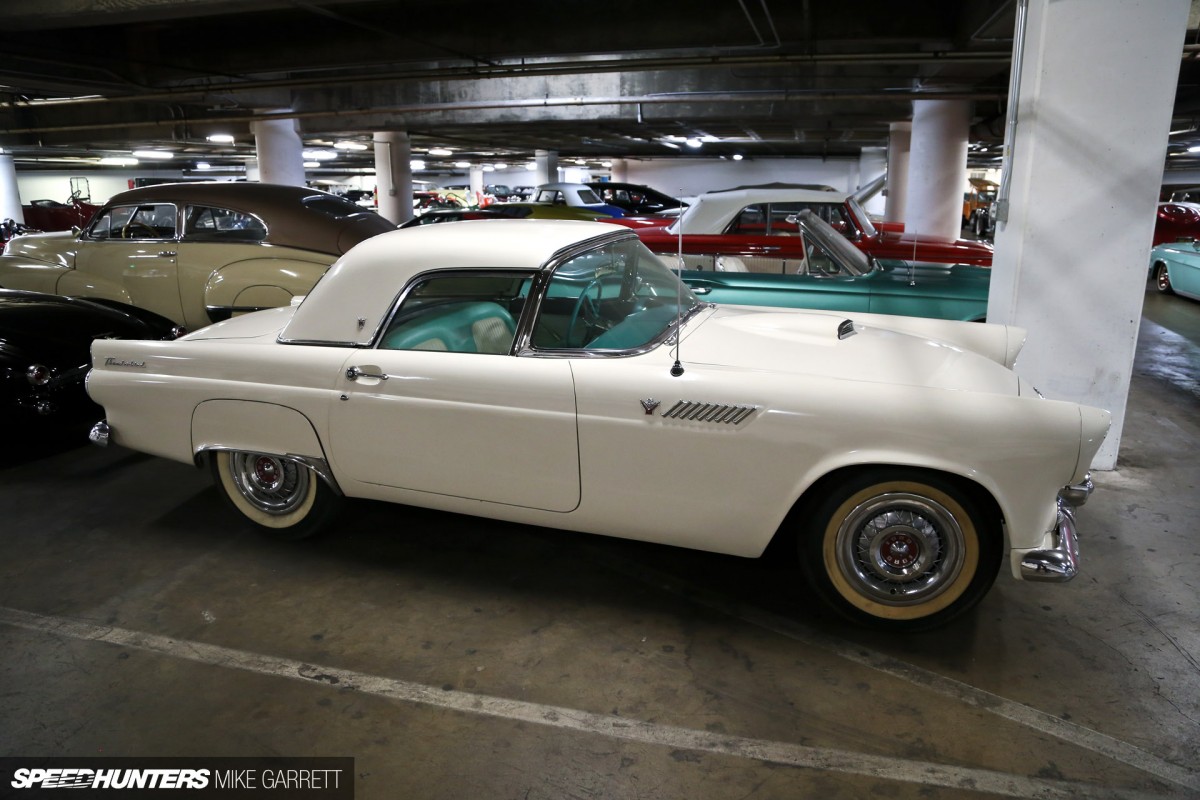 And of course, there's also a T-Bird on-hand for comparison's sake.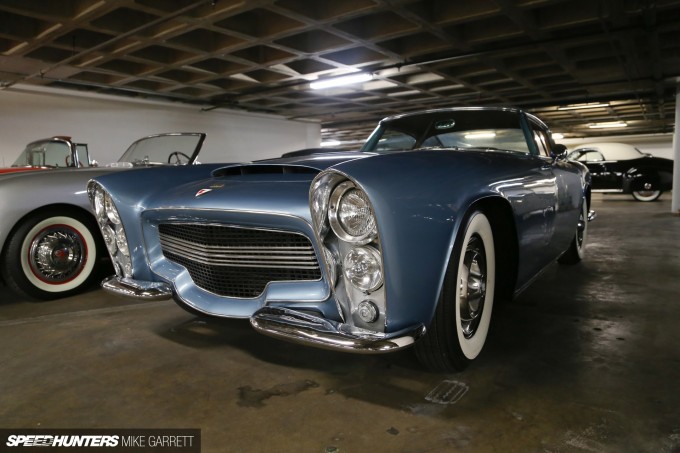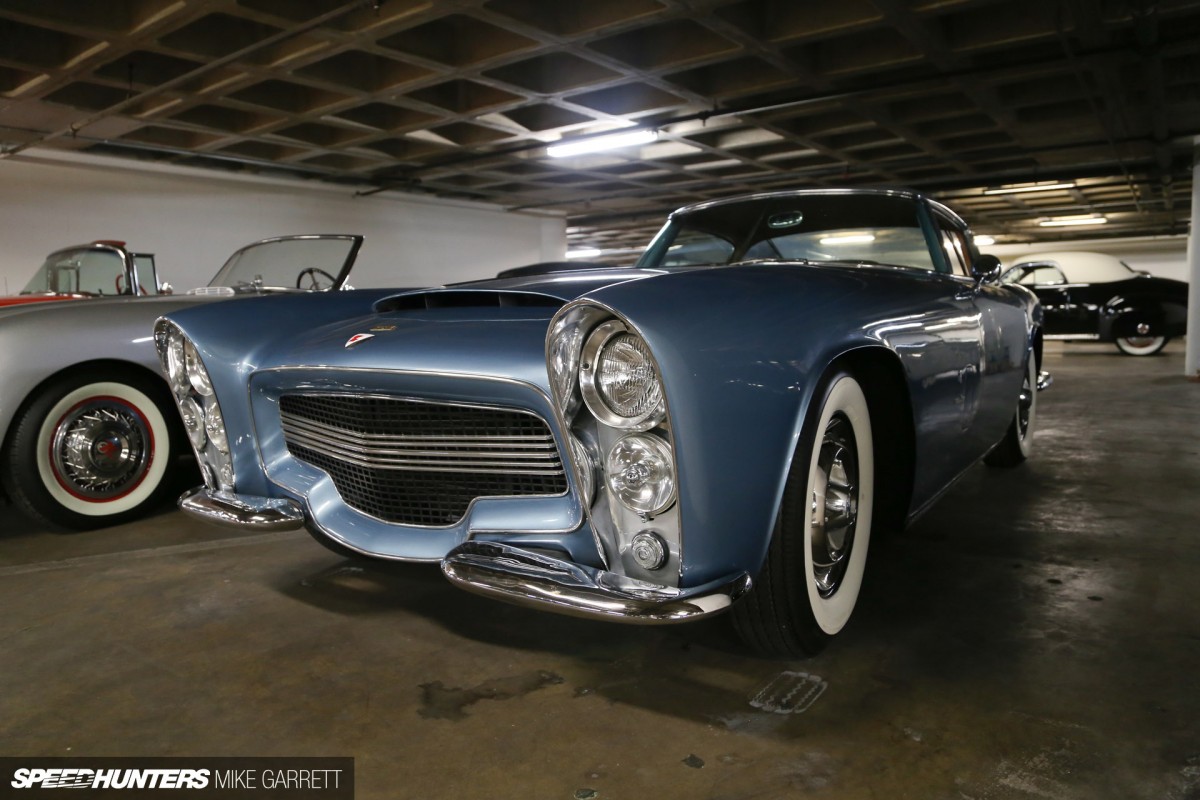 Another rare machine is this 1953 Dodge Storm Z-250. The idea behind this ambitious project was to create a dual-purpose car with swappable bodies that could be used on the street or for racing events.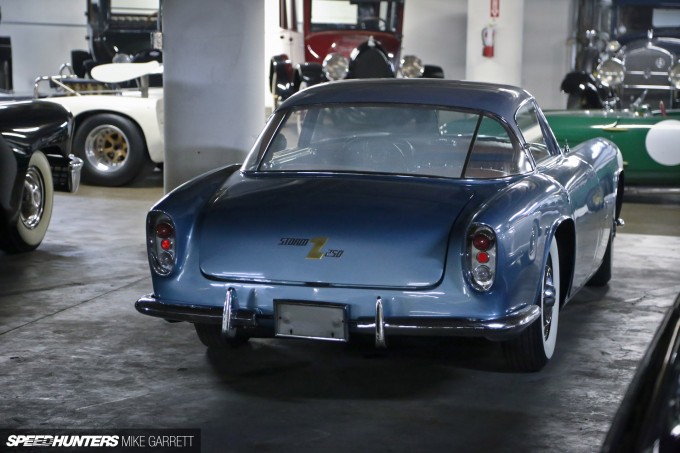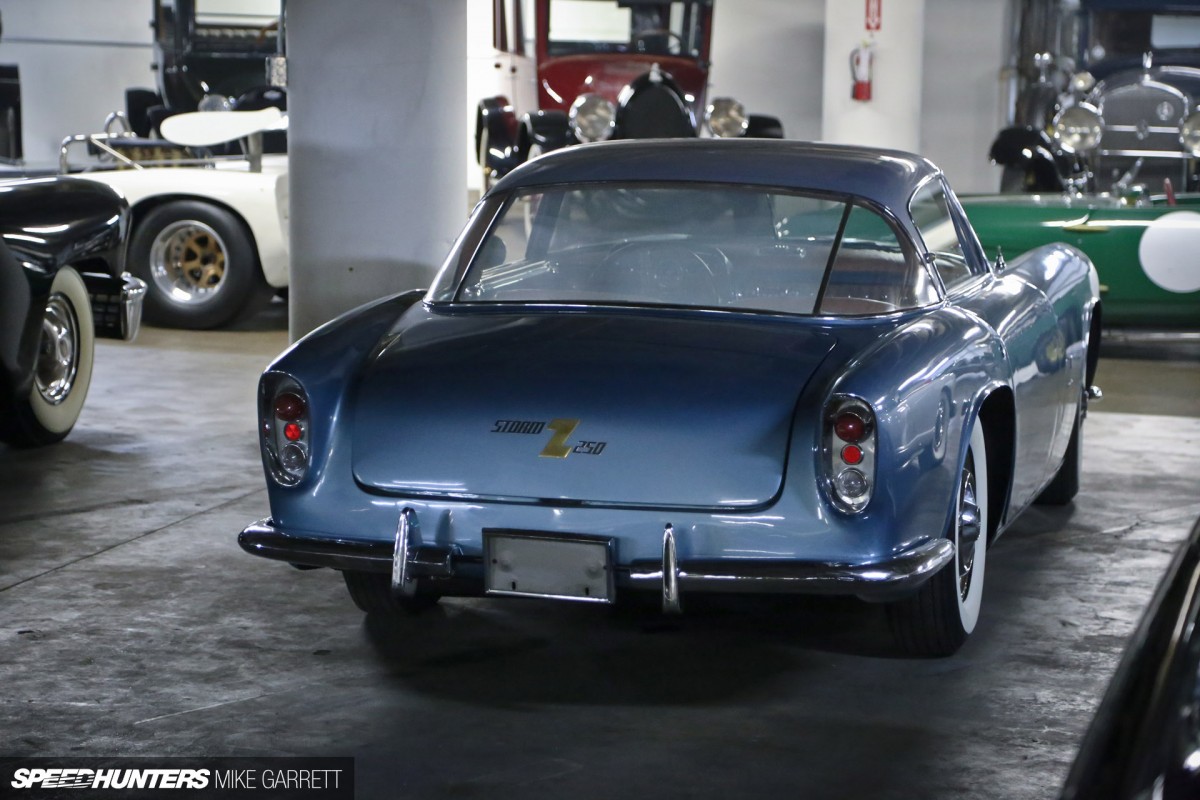 Unfortunately the car never saw production, but its creator, Fred Zeder Jr., actually drove it on the street for many years before it wound up in the Petersen collection.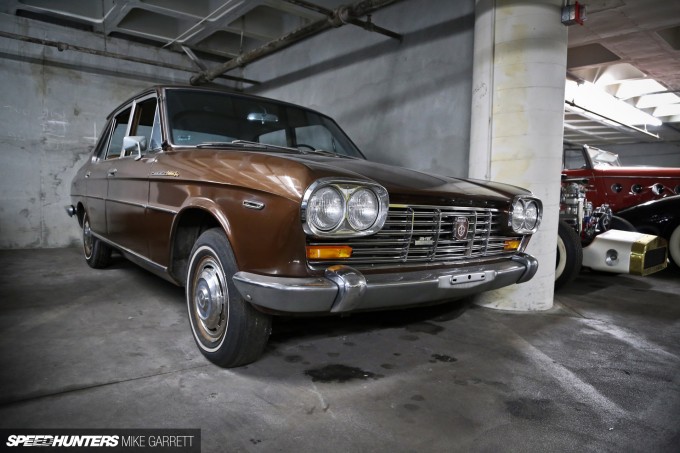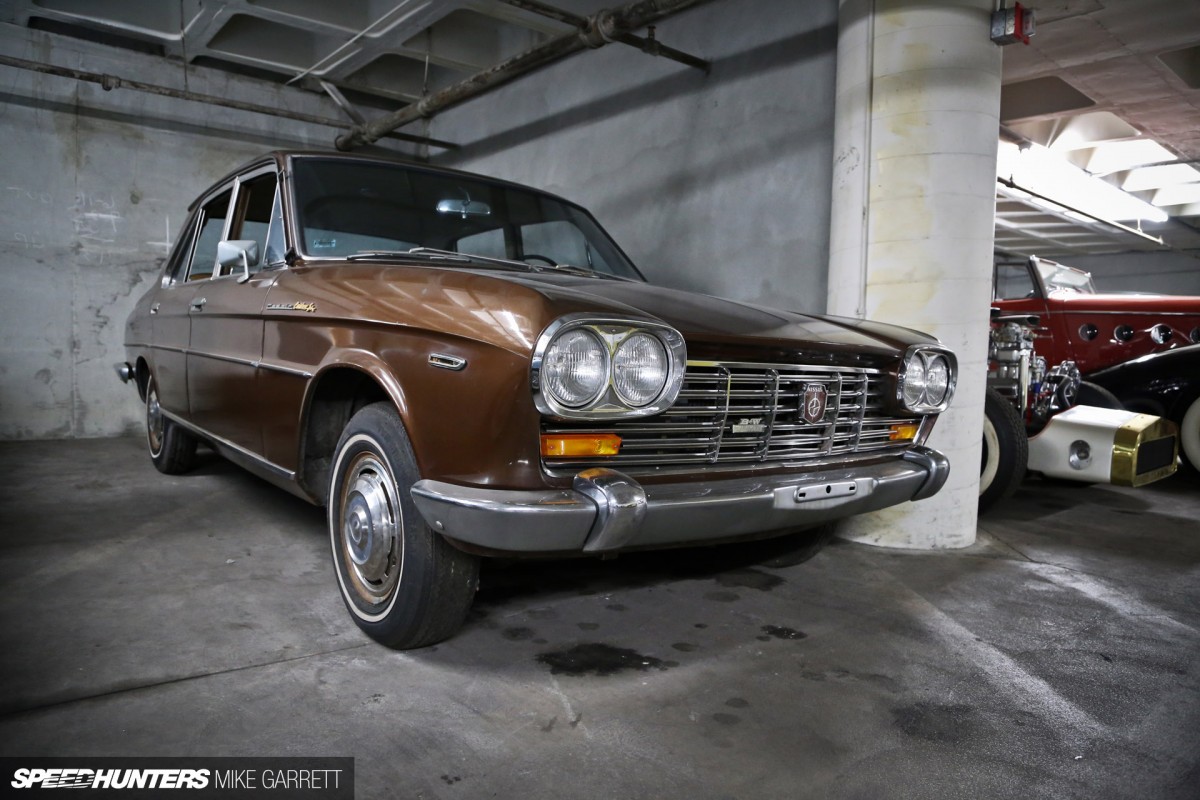 There are even a few Japanese rarities among the bunch, like this Nissan Cedric Special Six – the predecessor to the Nissan President.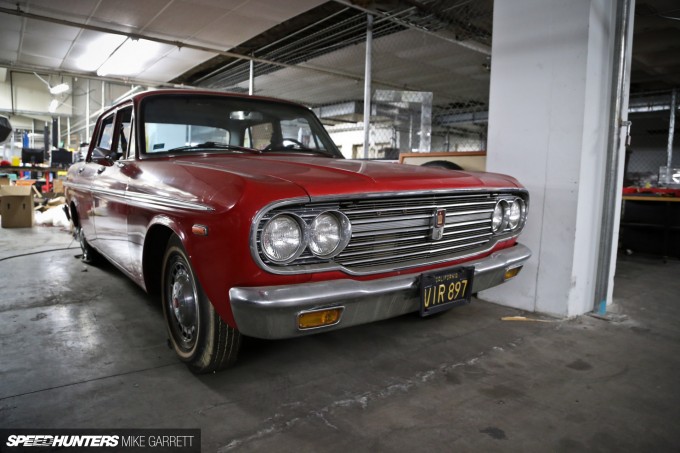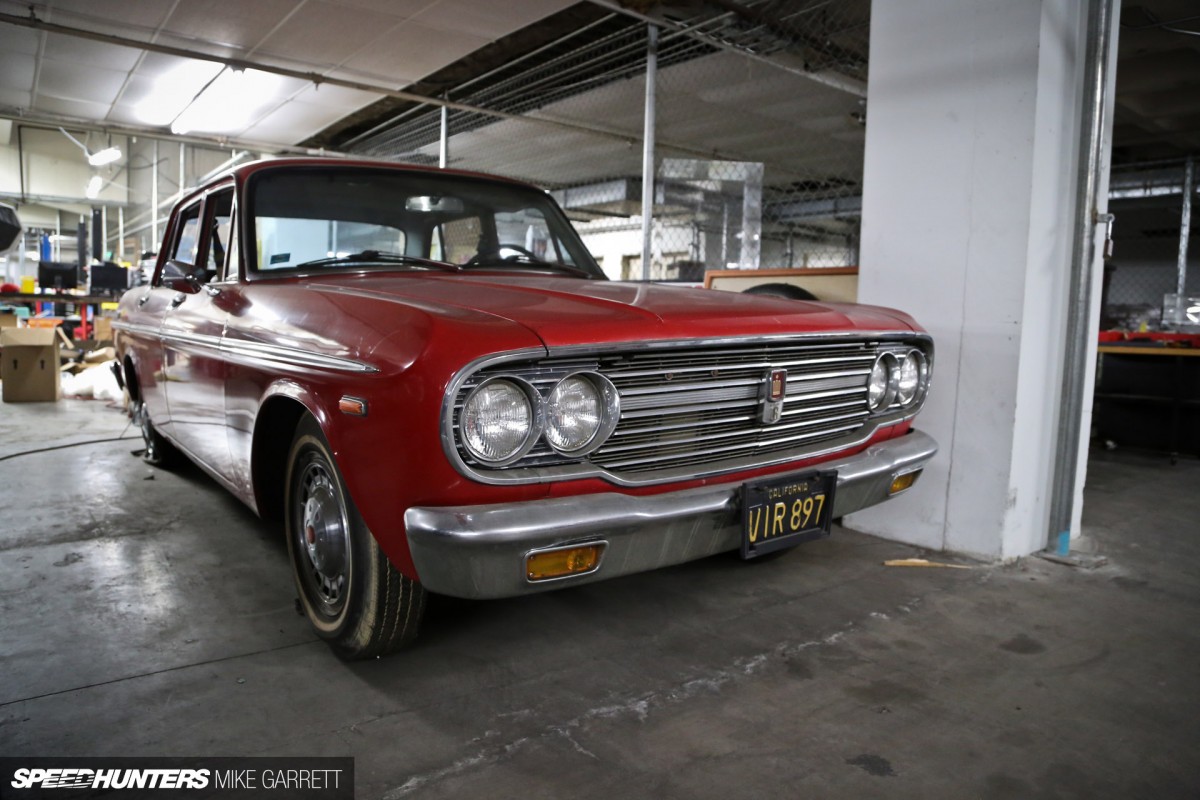 As an old Toyota Crown owner myself, I freaked out a bit when I saw this S40 Crown tucked away in one corner of the vault.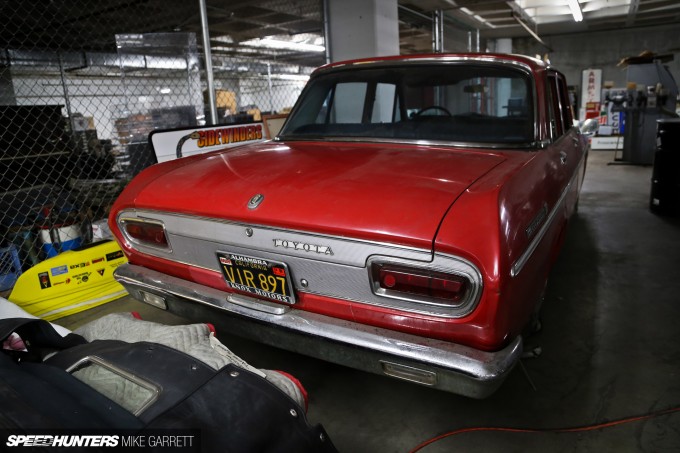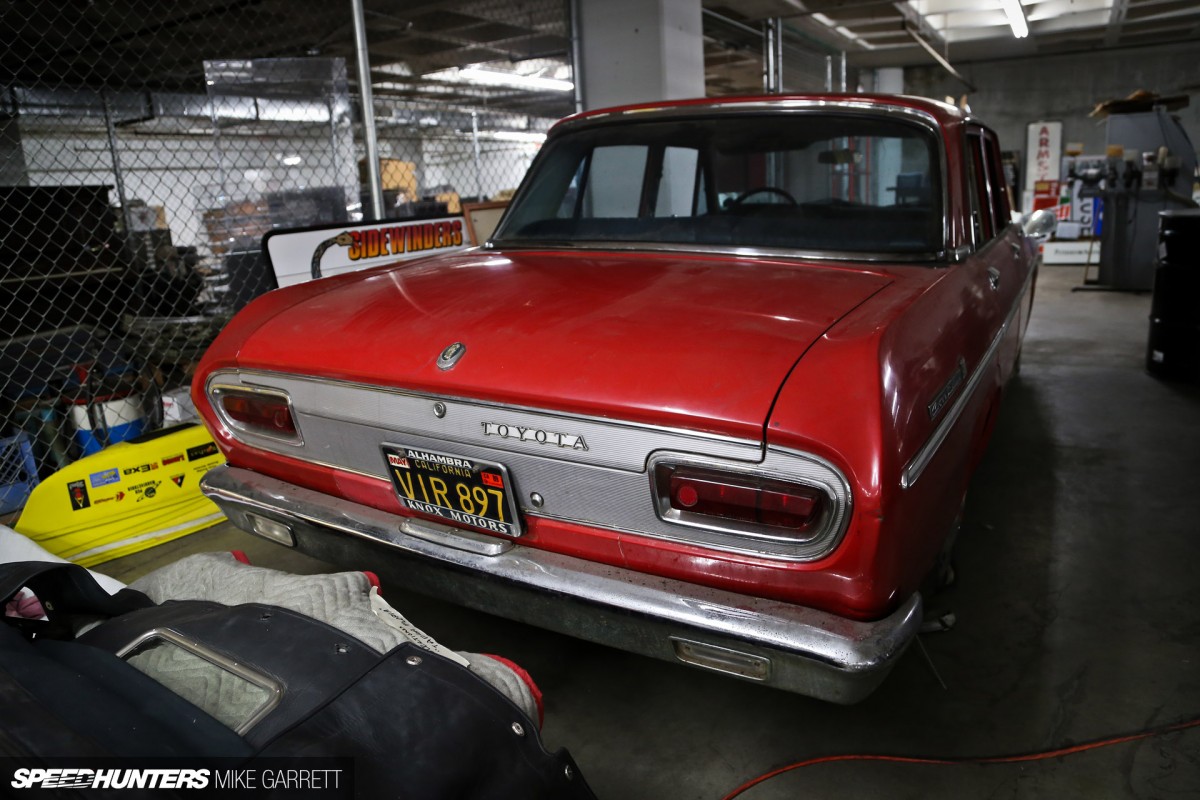 It was completely original down to its factory paint, white-wall tires and black California plates. A completely unexpected, but very welcome, find in a garage full priceless machinery.
Hot Rods & More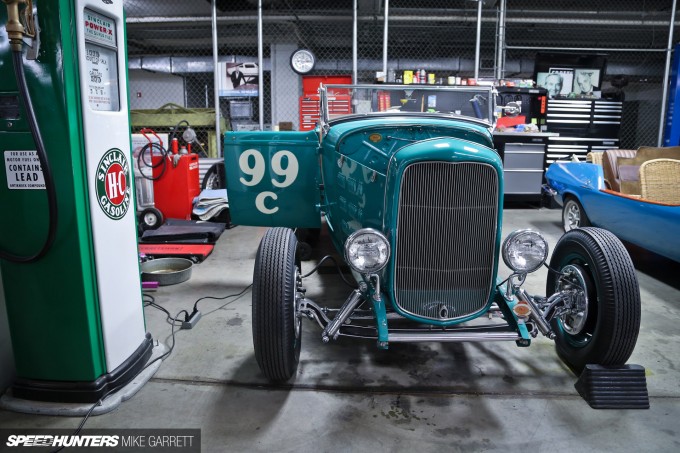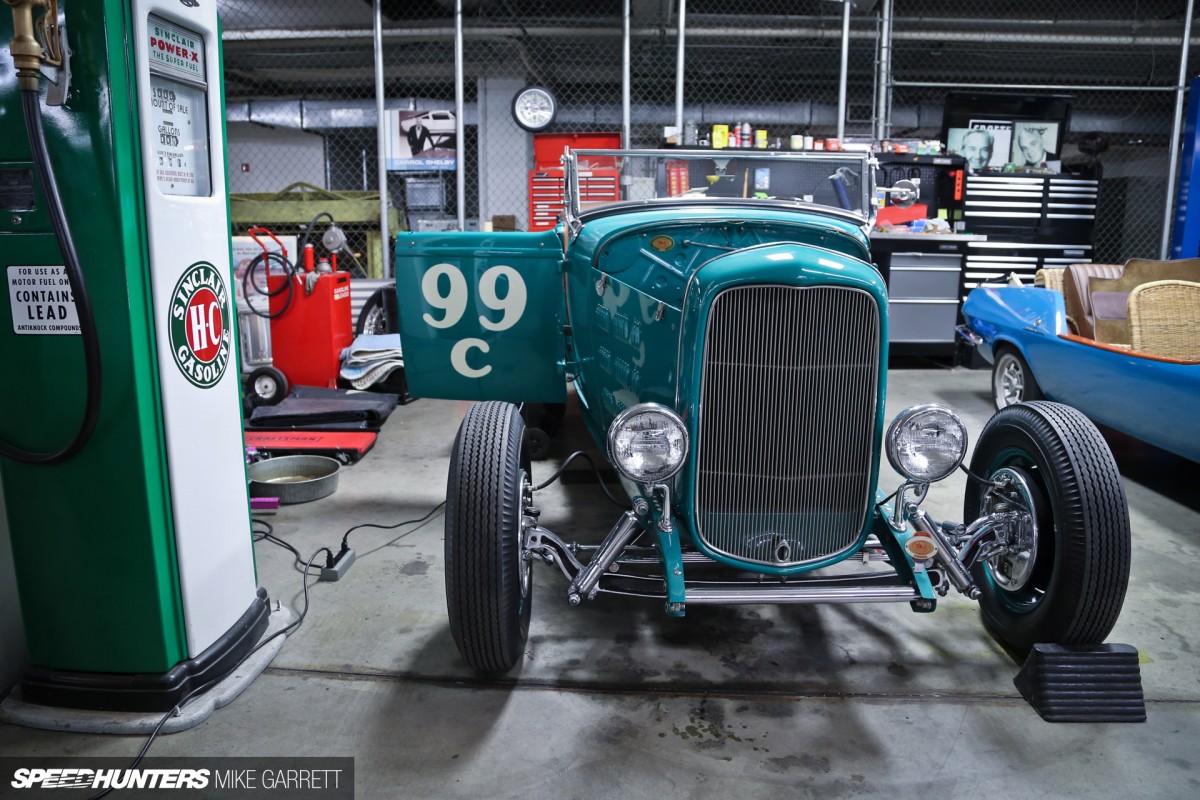 Given the importance of the hot rod to Southern California car culture, it's not surprising that the Petersen vault would be full of historic rods from many different eras.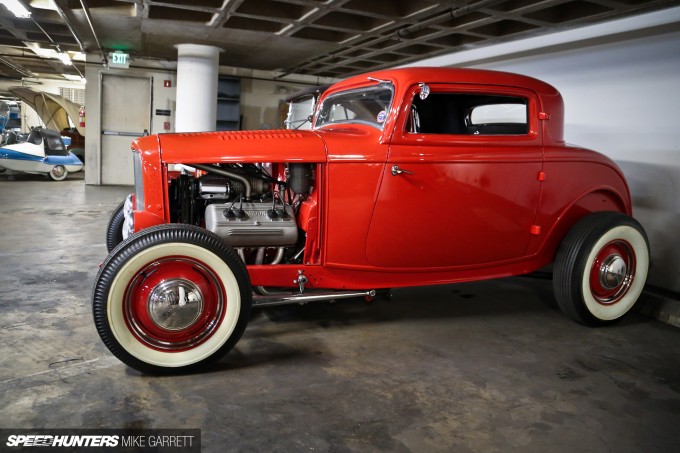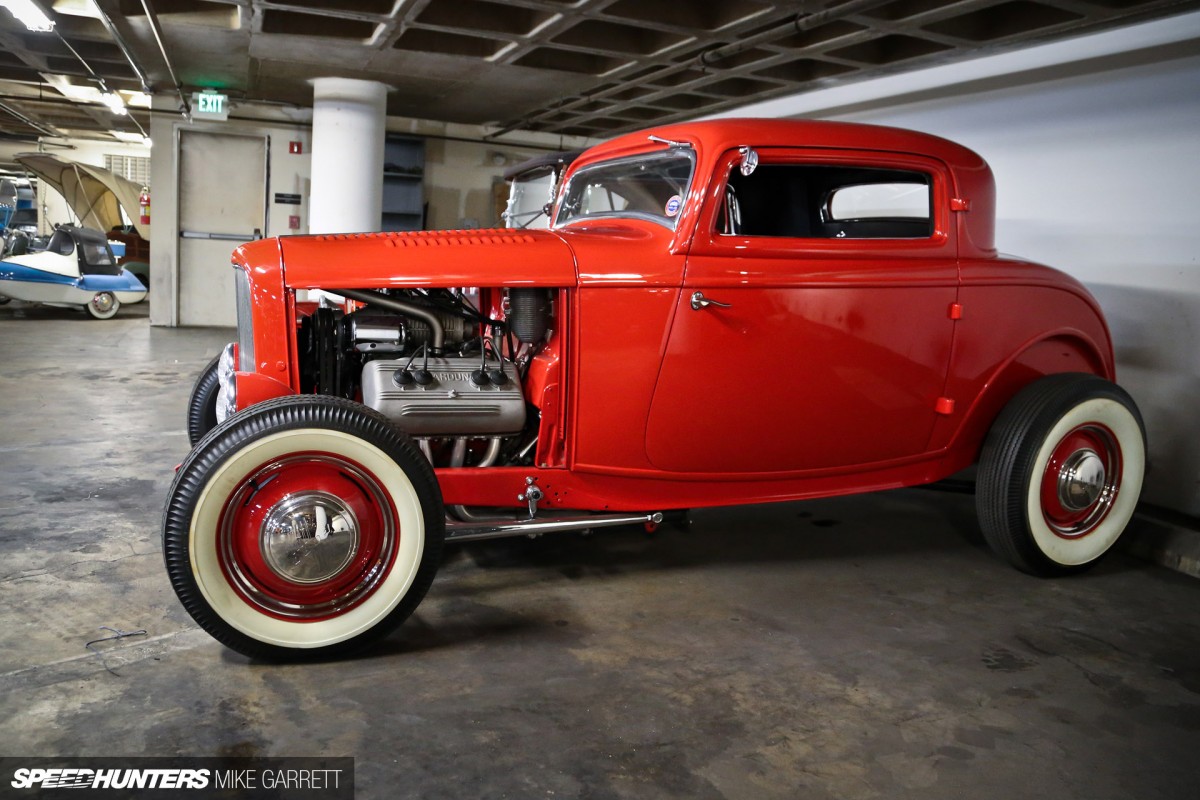 Some of the cars in the vault stay true to the origins of hot rodding, like Bruce Meyer's Ardun-equipped '32 Ford Coupe.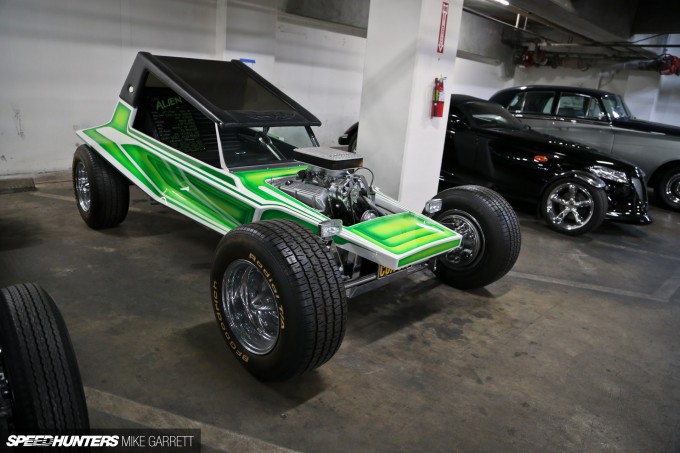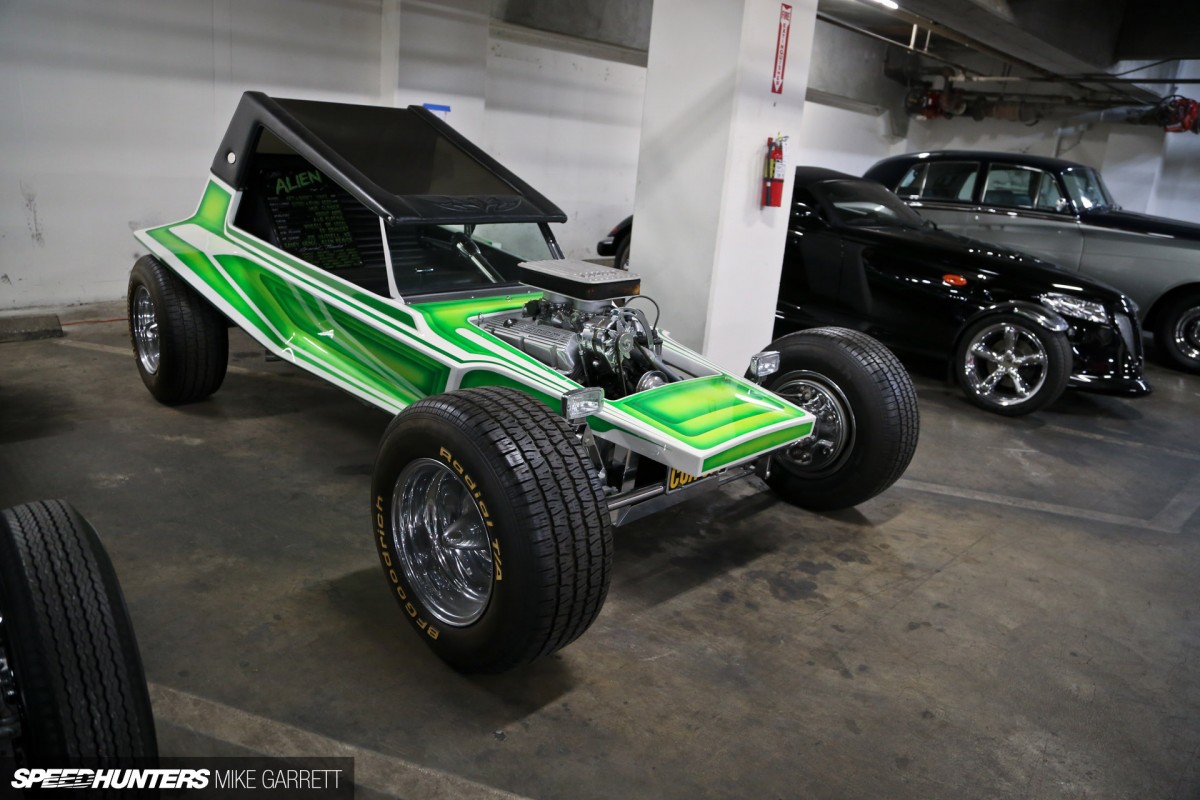 Others represent more experimental takes on hot rodding, like 'Alien' – the '37 Ford that won the America's Most Beautiful Roadster Award in 1969.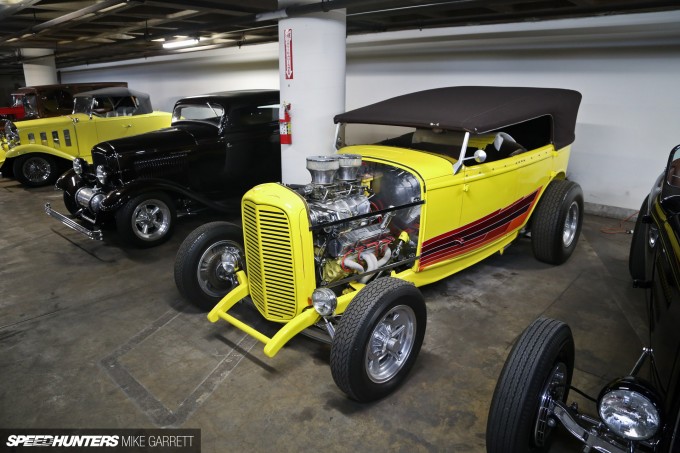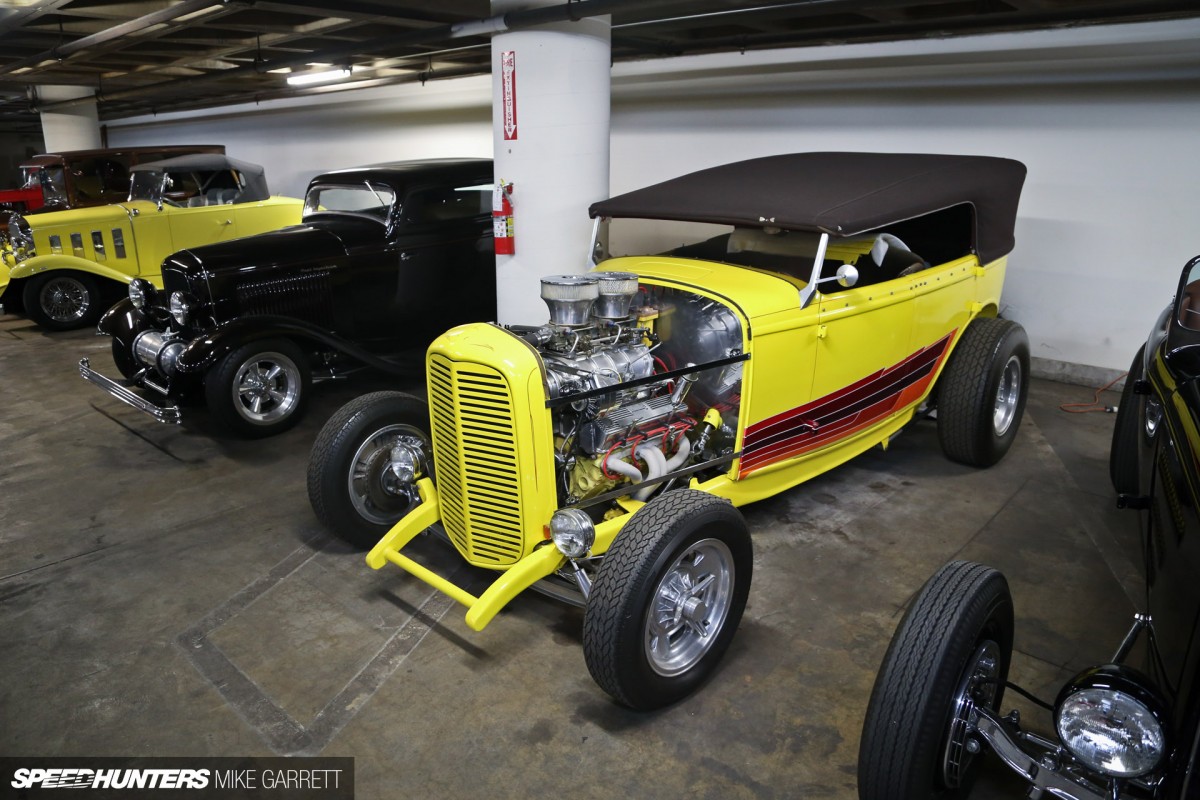 Moving right into the '80s now, we've got the '32 Ford that was featured in Van Halen's Hot For Teacher music video. I wonder if crazy graphics and color-matched trim will ever make a comeback?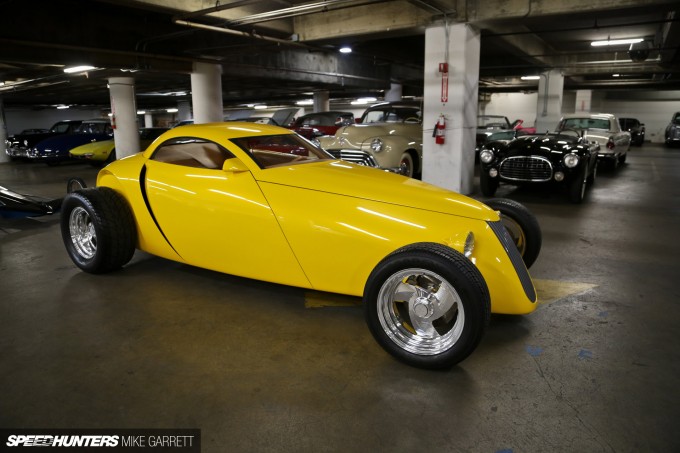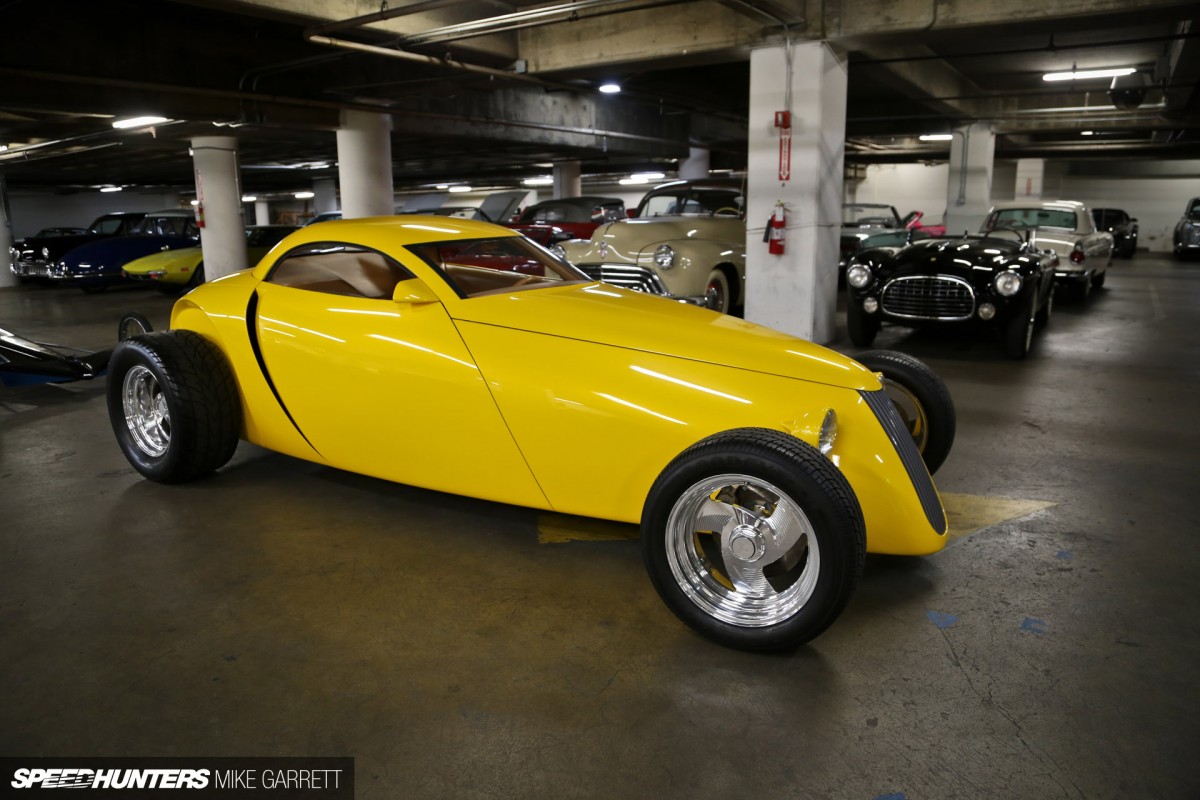 Also on hand is the Aluma Coupe – an ambitious hot rod project built by Boyd Coddington at the height of his popularity during the early 1990s.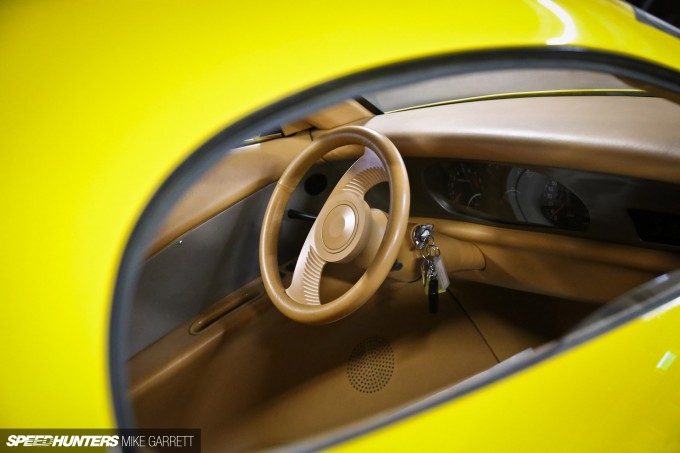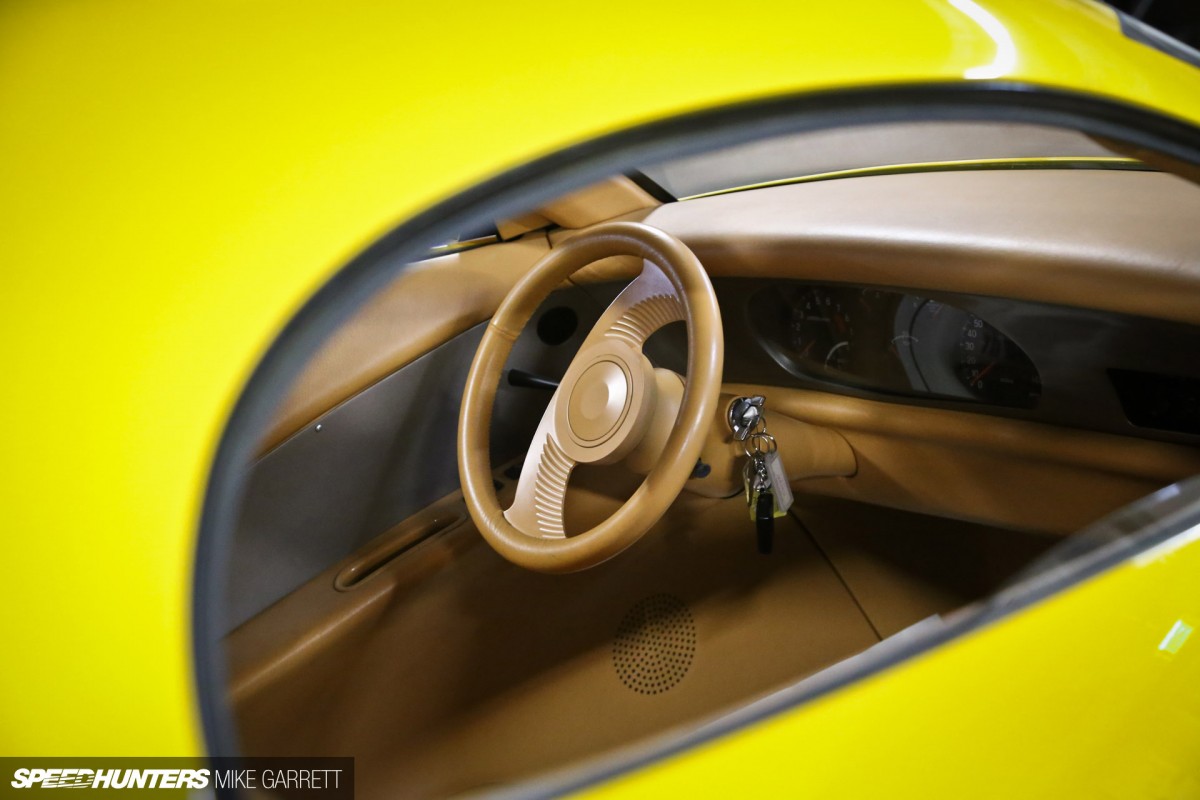 The futuristic-looking coupe is actually powered by a tuned Mitsubishi 4G63 engine and it appeared in Mitsubishi's booth at the 1992 New York Auto Show.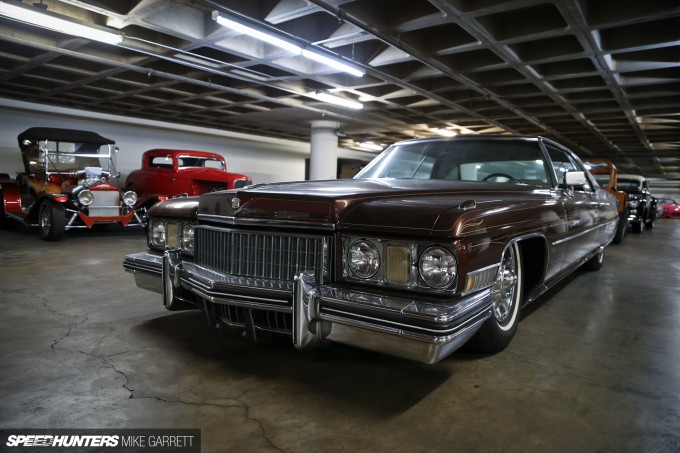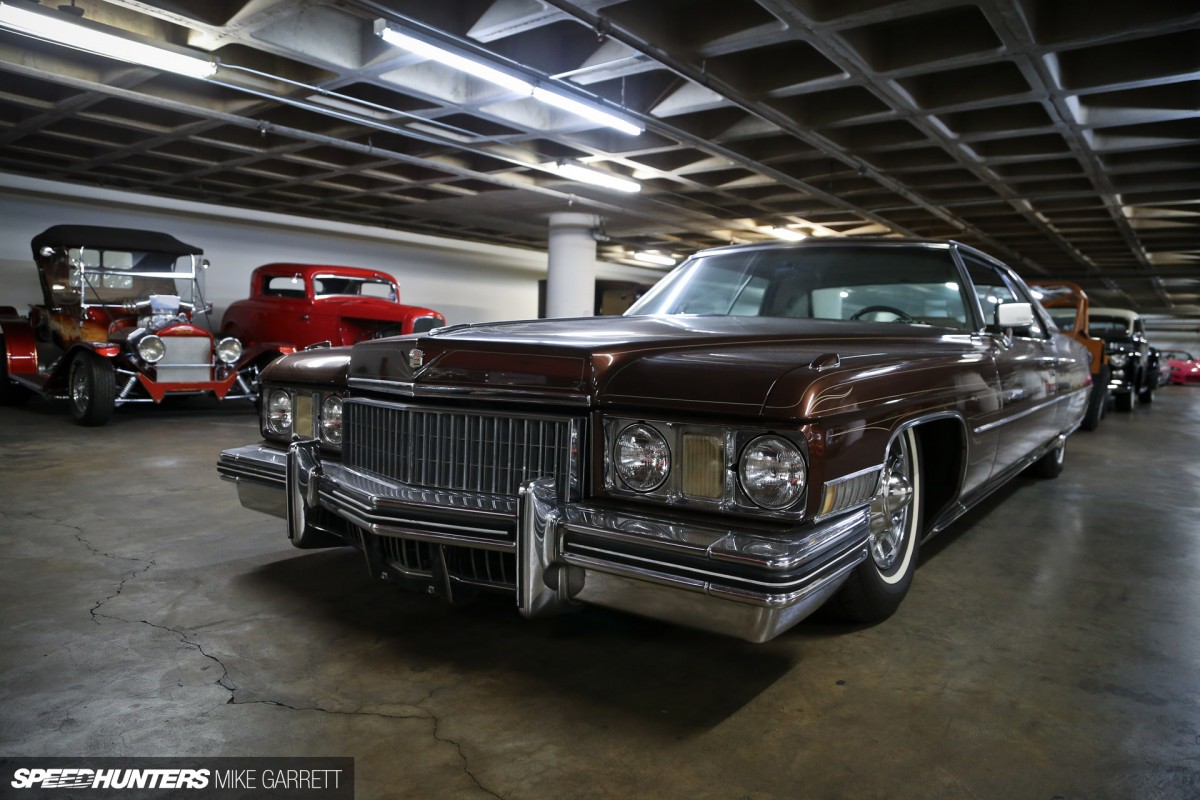 Along with the numerous hot rods that are stored there, the vault also includes several other examples of customized cars that have made their way into the Petersen collection. Among them is this cool Cadillac lowrider.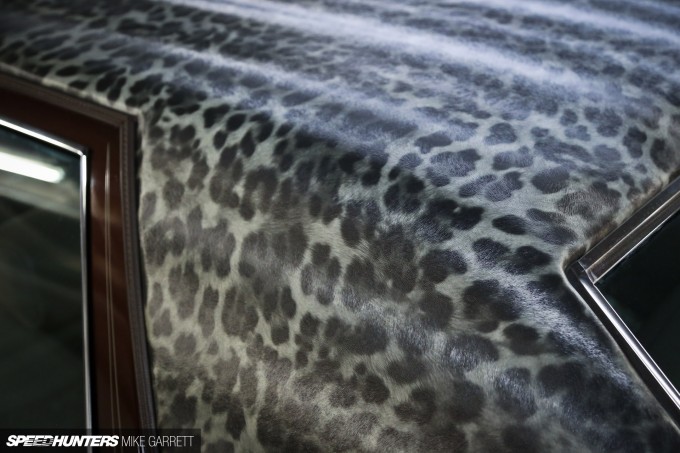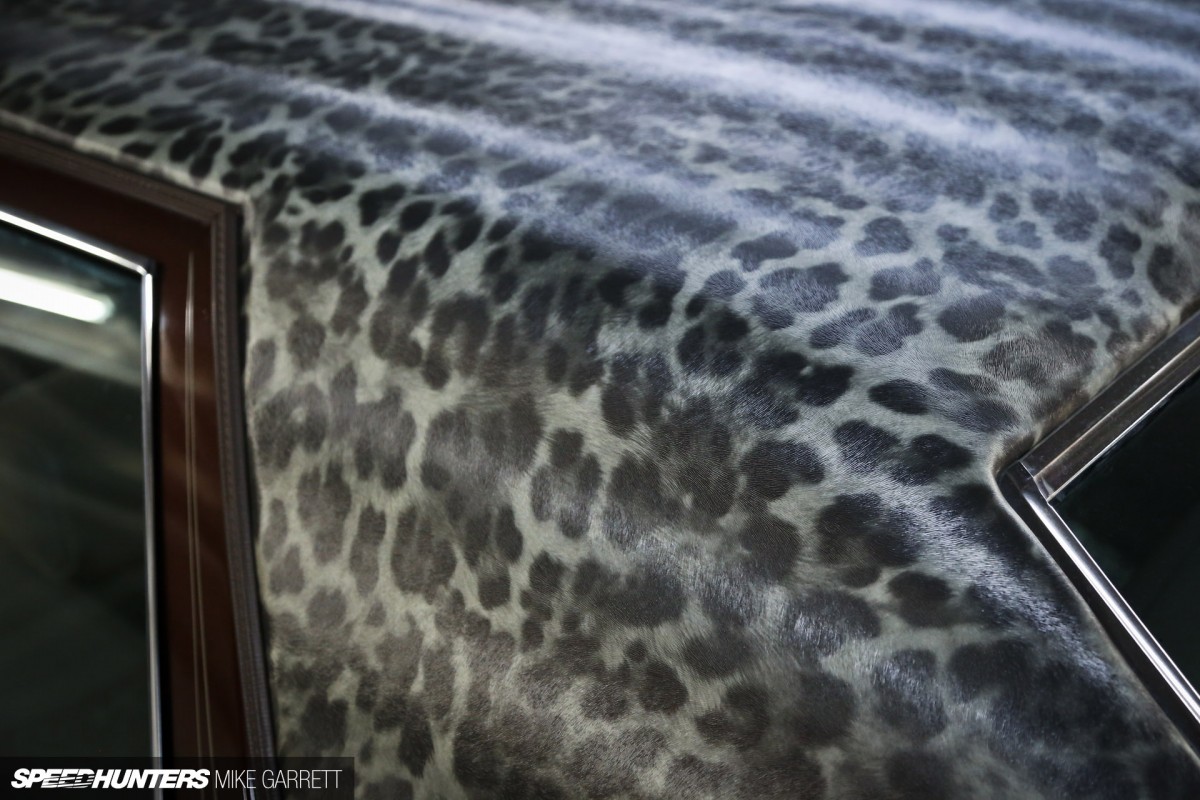 How about that amazing cheetah pattern roof upholstery?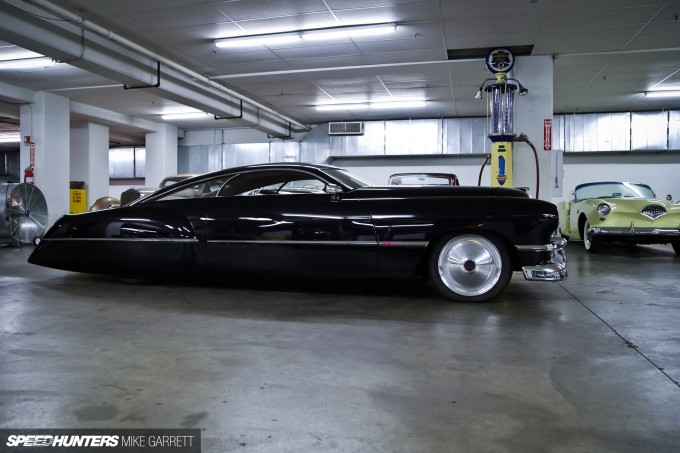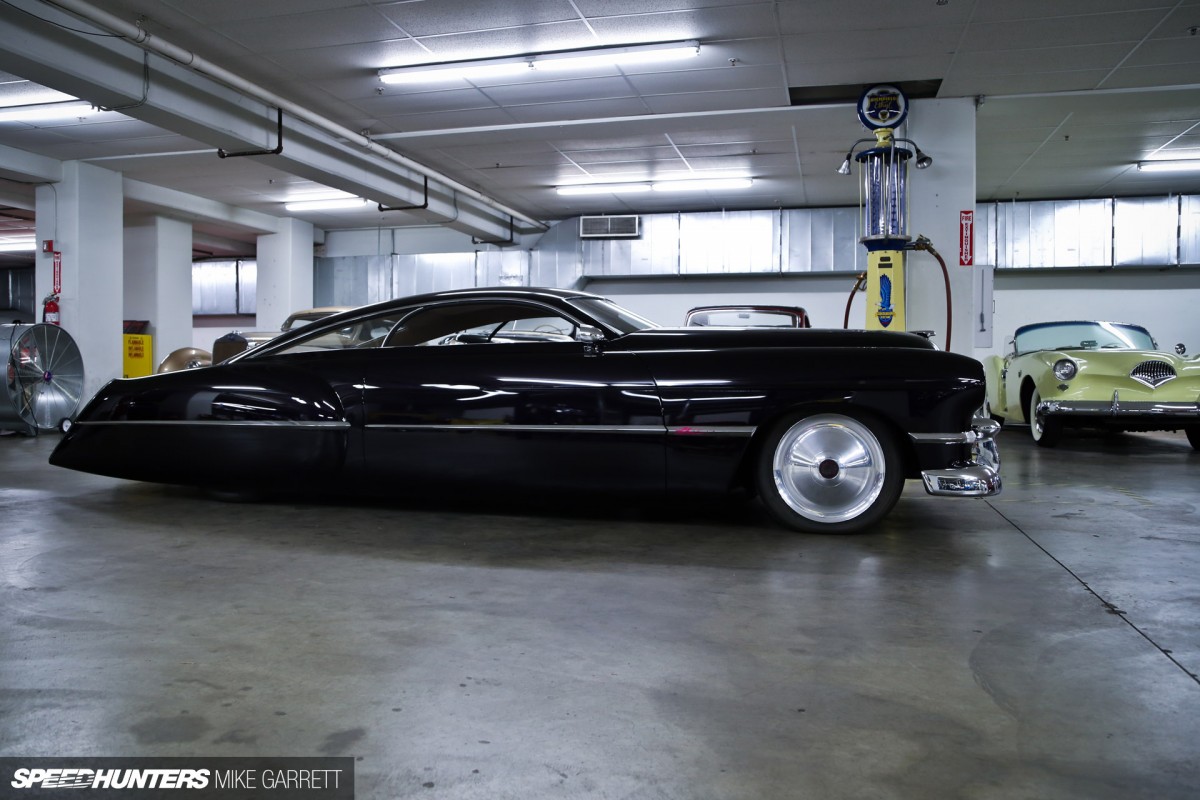 Perhaps the most famous custom car in the vault is CadZZilla – the 1948 Caddy designed by Larry Erickson and built at Boyd Coddington's shop for ZZ Top's Billy Gibbons.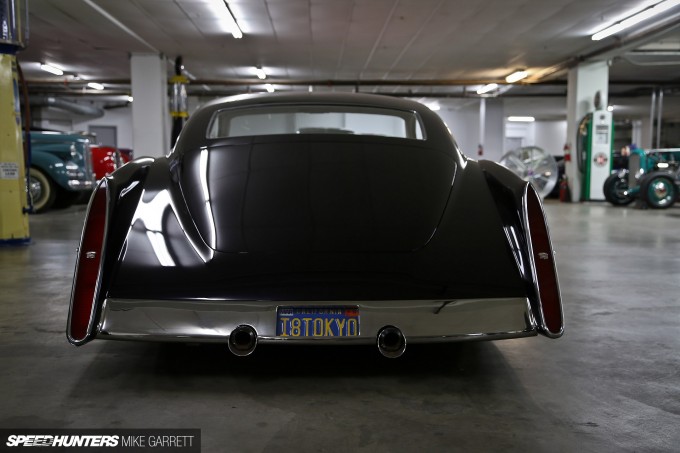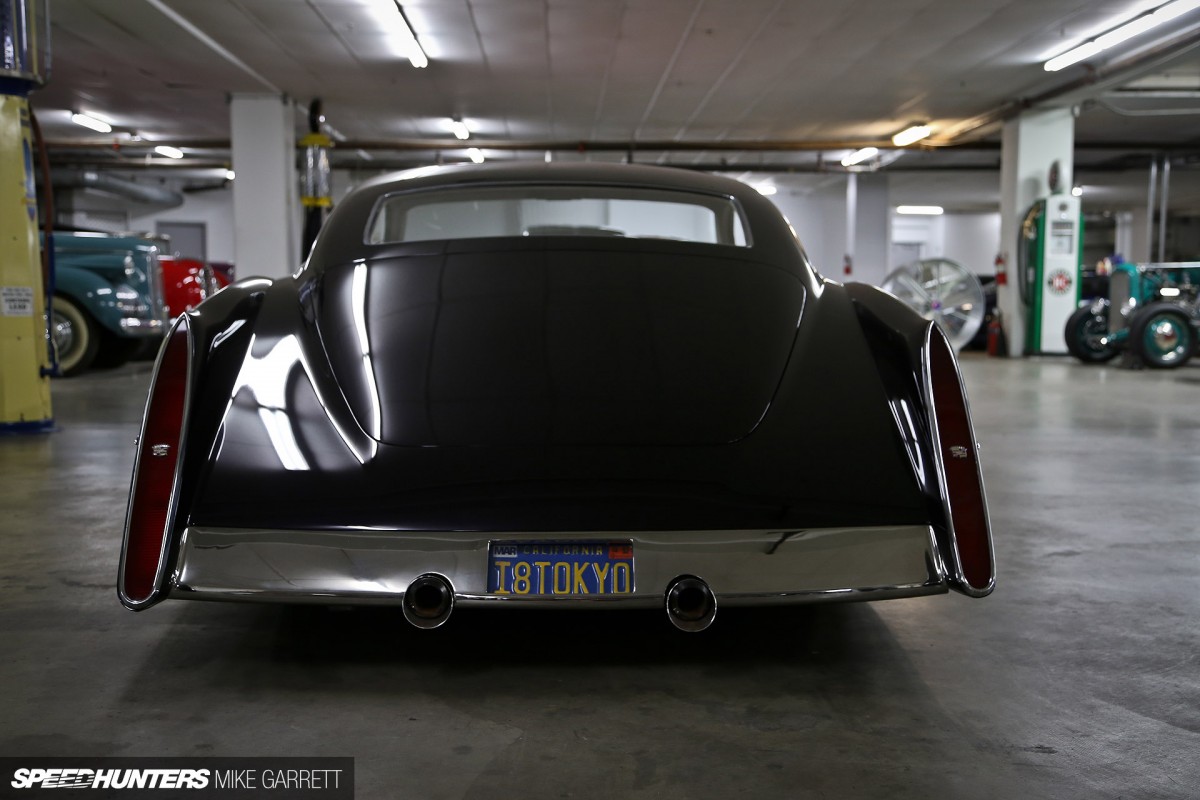 Unlike a lot of hot rods and customs from the '80s and '90s that haven't aged all that well, CadZZilla still looks incredible to this day. The chance to see it alone is worth taking the Petersen vault tour.
A Brush With Fame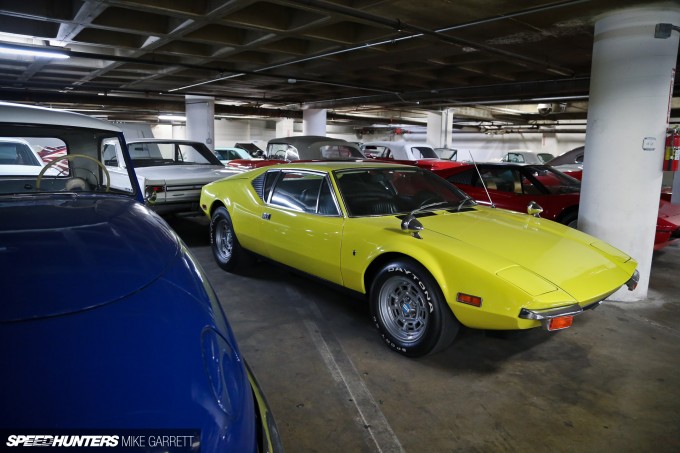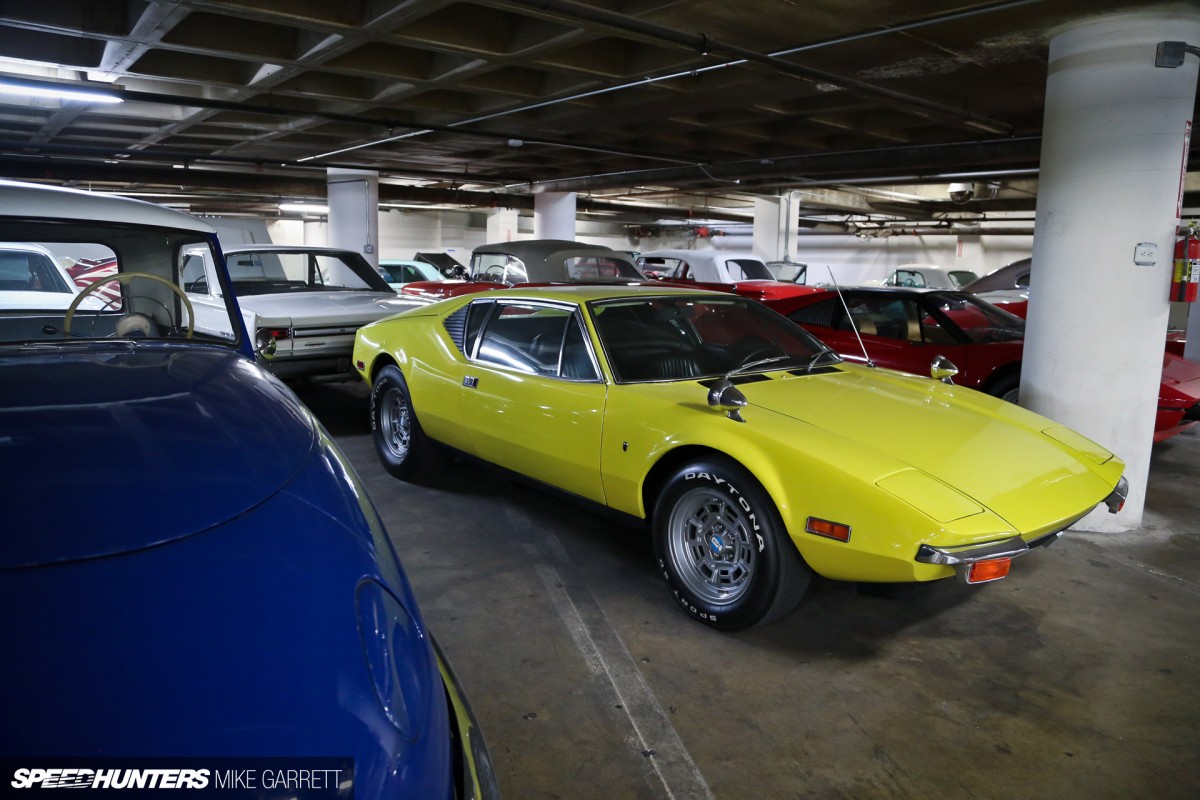 Of course, Mr. Gibbons' Caddy isn't the only car with a celebrity connection in the vault. Among the famous cars in the collection is this DeTomaso Pantera that Elvis Presley bought for his girlfriend, Linda Thompson. It still has the bullet hole in the steering wheel from the day when Elvis fired his handgun after frustration with the Pantera's temperamental engine.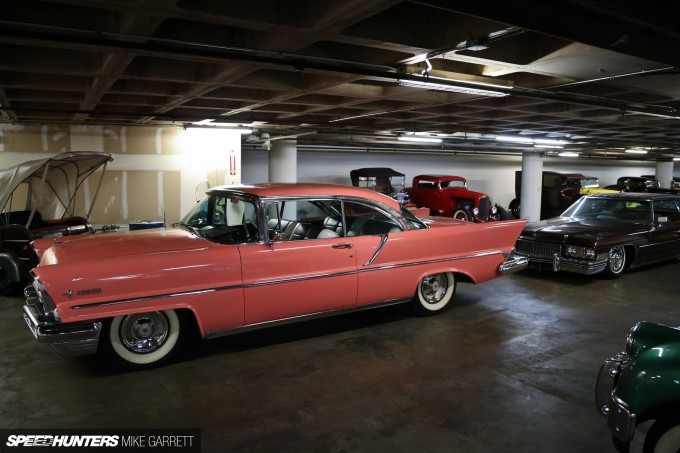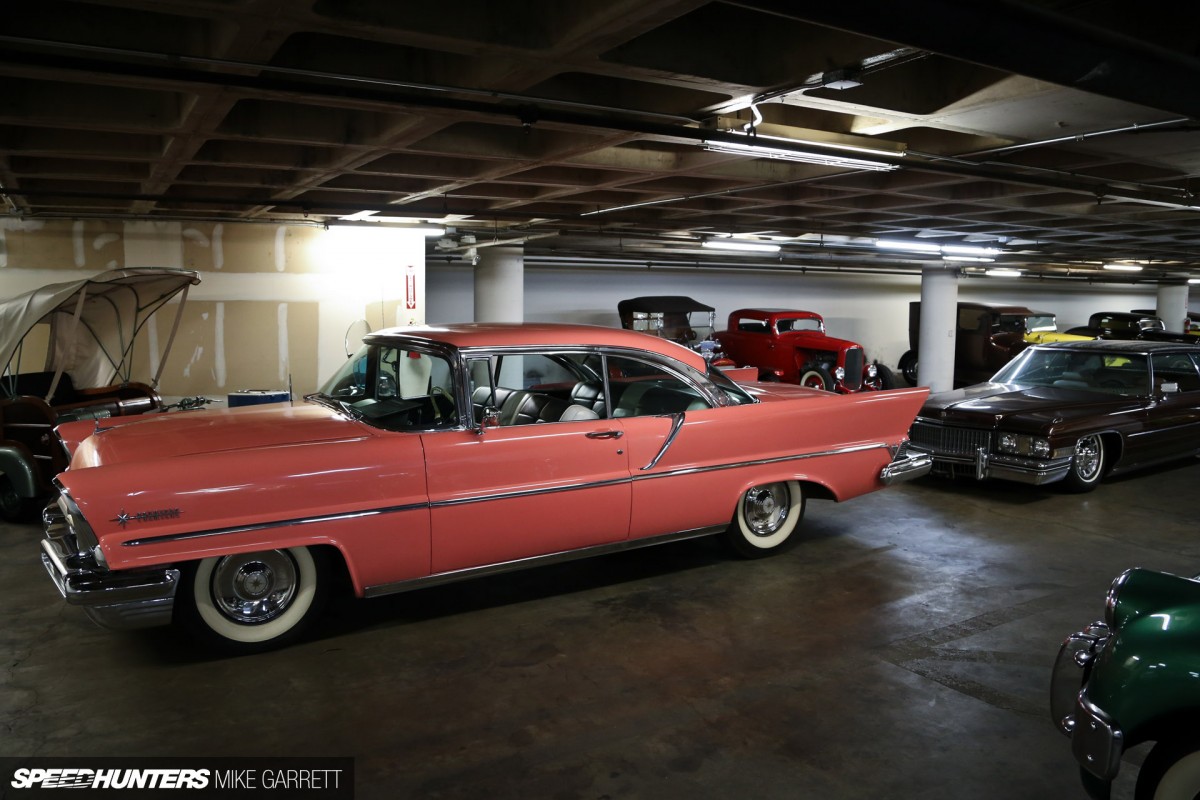 The vault also includes a Lincoln Premiere that was originally purchased by Jayne Mansfield in 1957 – in a fitting shade of pink of course.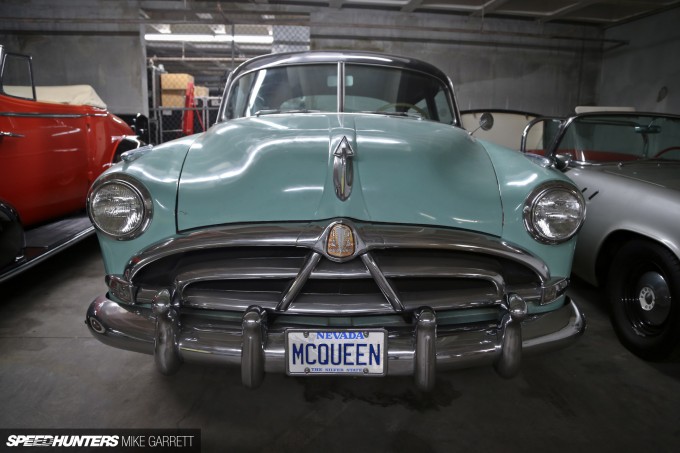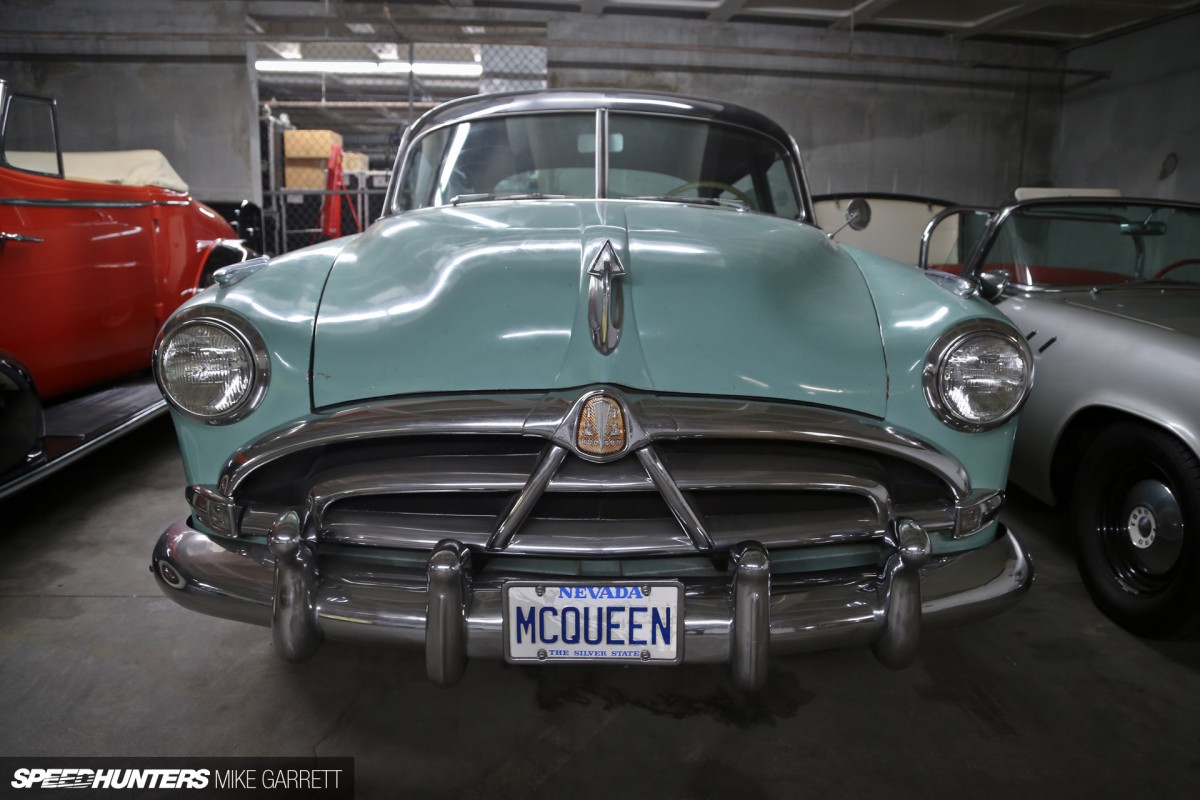 When it comes to car-loving celebrities there's no topping Steve McQueen though, and the vault is home to two vehicles once owned by the King of Cool. Here's his 1952 Hudson Wasp.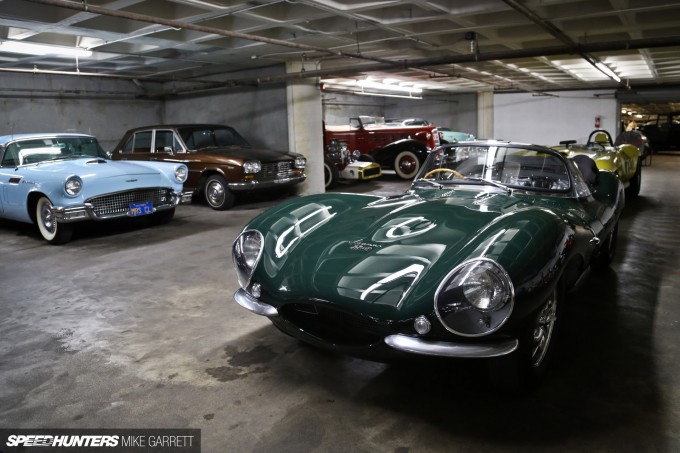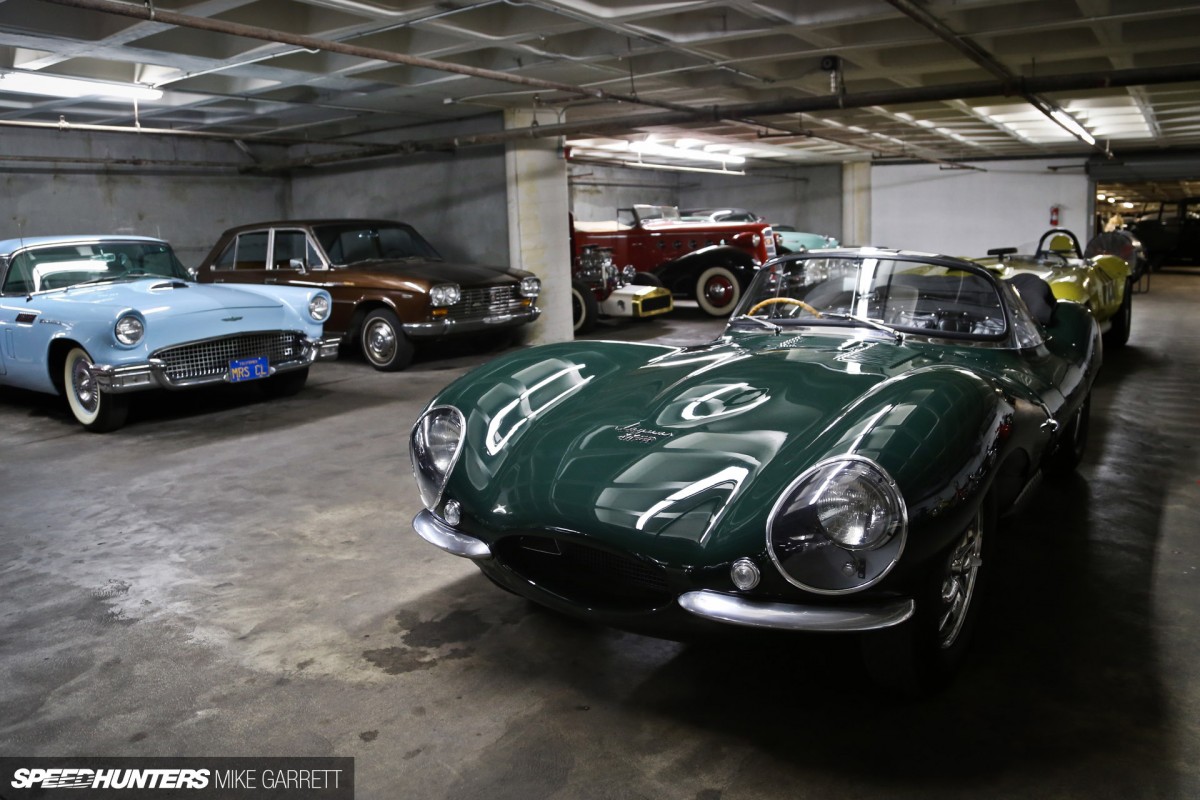 And a stone's throw from the Hudson sits one of the Petersen's most prized possessions – Steve McQueen's 1956 Jaguar XKSS.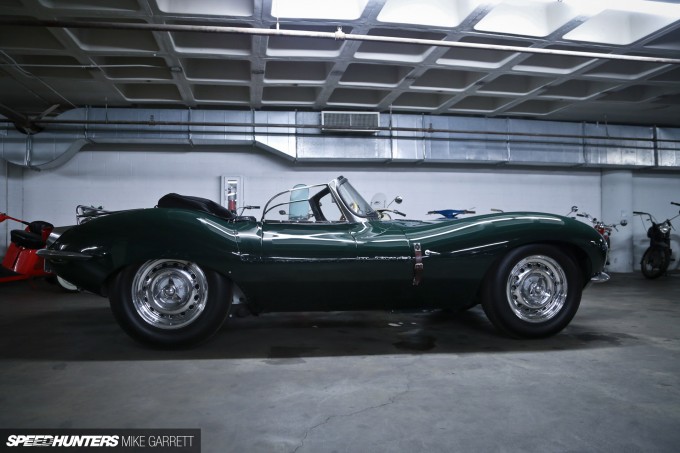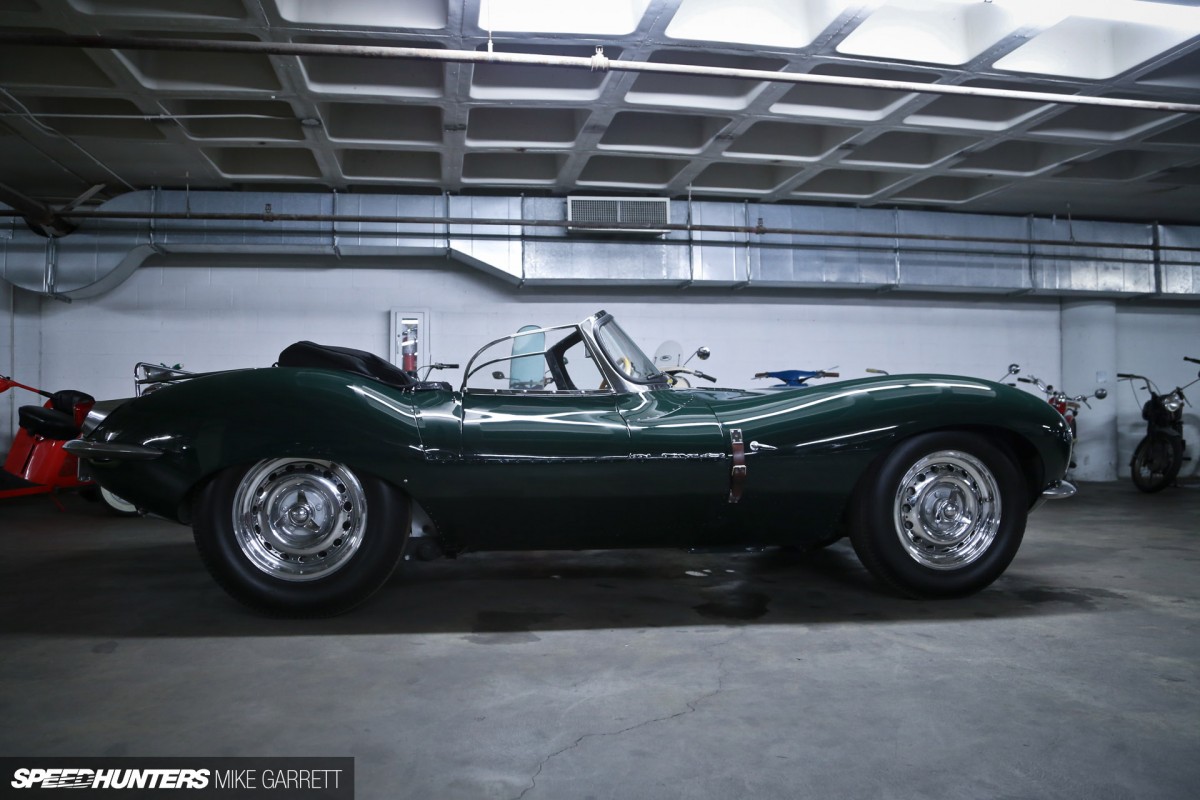 McQueen drove the race-prepped Jag all over LA during the early '60s, before selling it then buying it back in the late '70s and owning it until his death in 1980.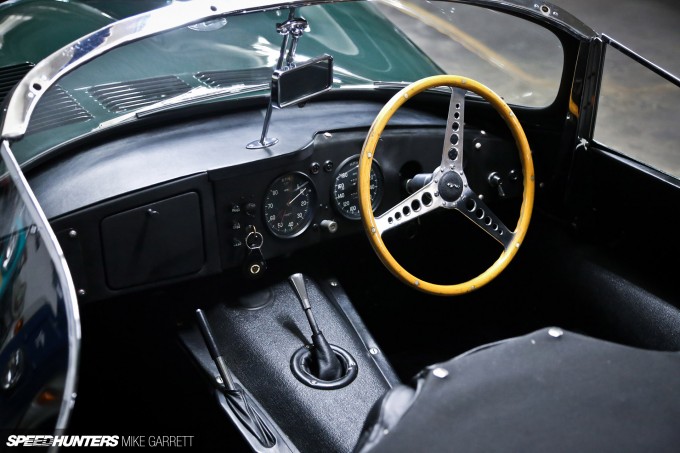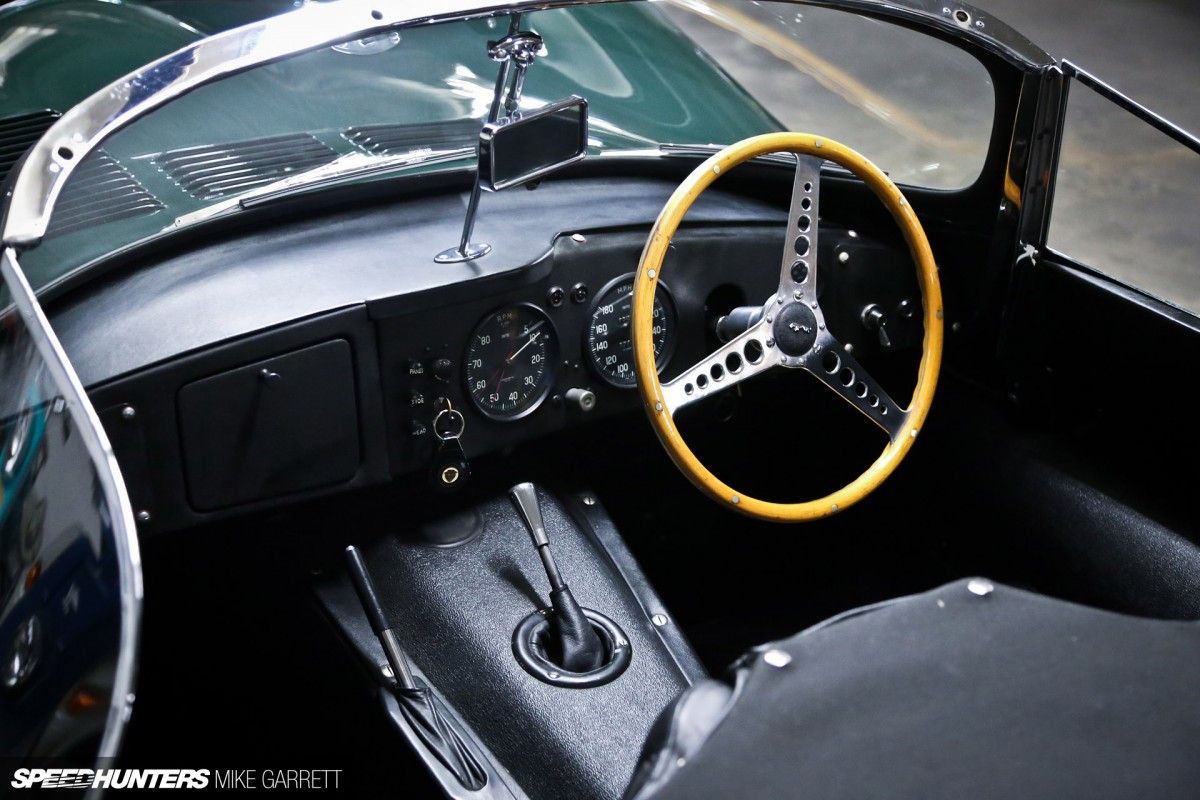 The XKSS still features a number of modifications that McQueen had made to the car when he owned it, including custom upholstery and a glove box installed by Von Dutch.
The vault is also home to several cars that were featured in movies and television shows, including the Magnum P.I. Ferrari 308 with a custom-mounted seat to fit Tom Selleck's tall frame.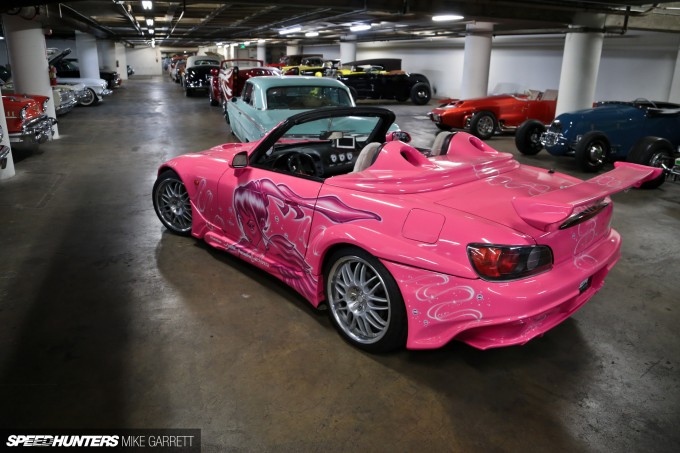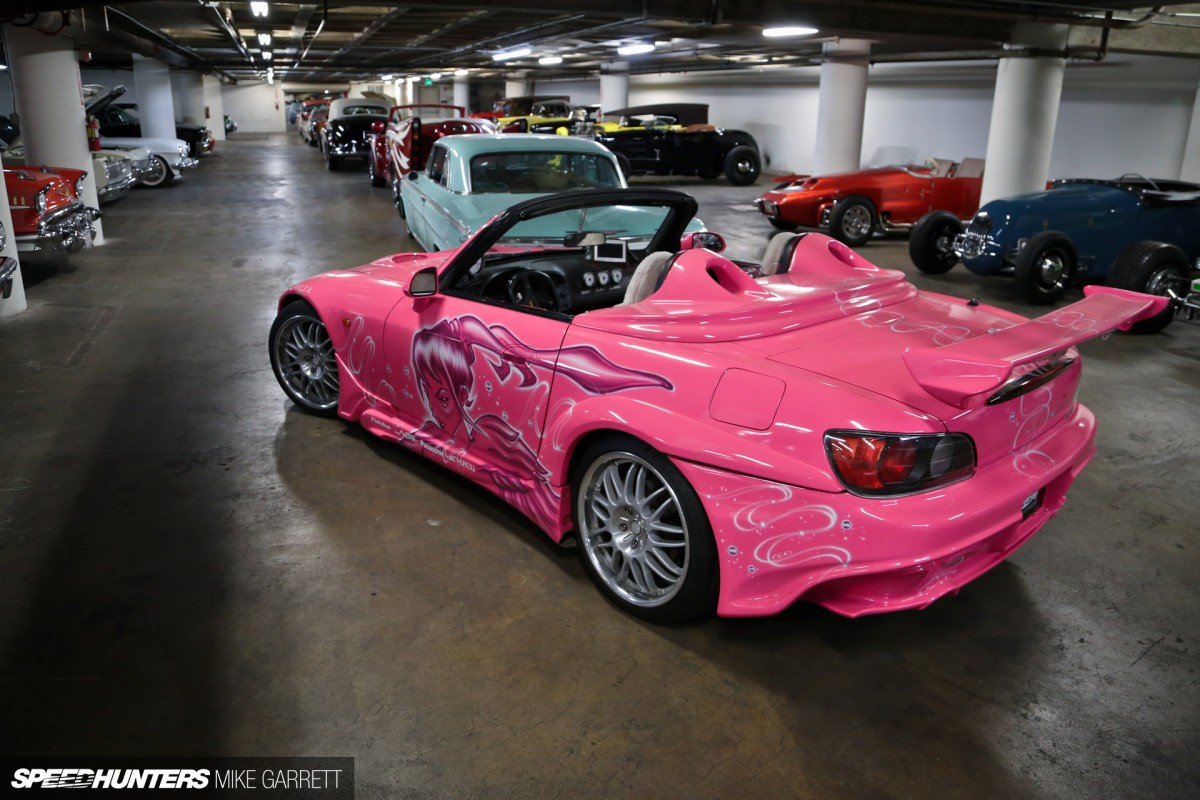 Younger readers will instantly recognize the pink Honda S2000 from 2 Fast 2 Furious. Subtle, isn't it?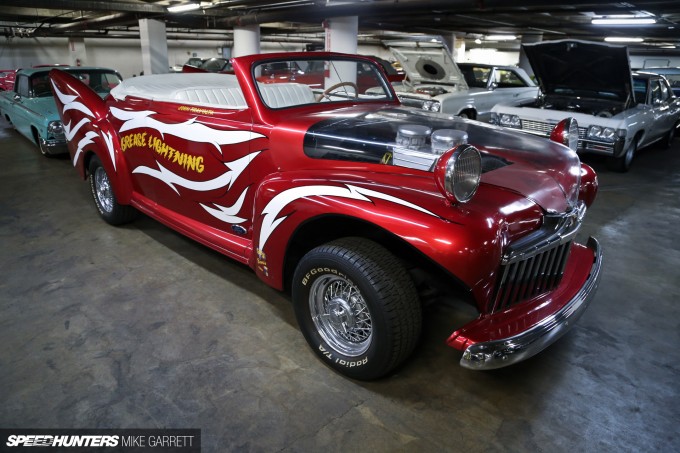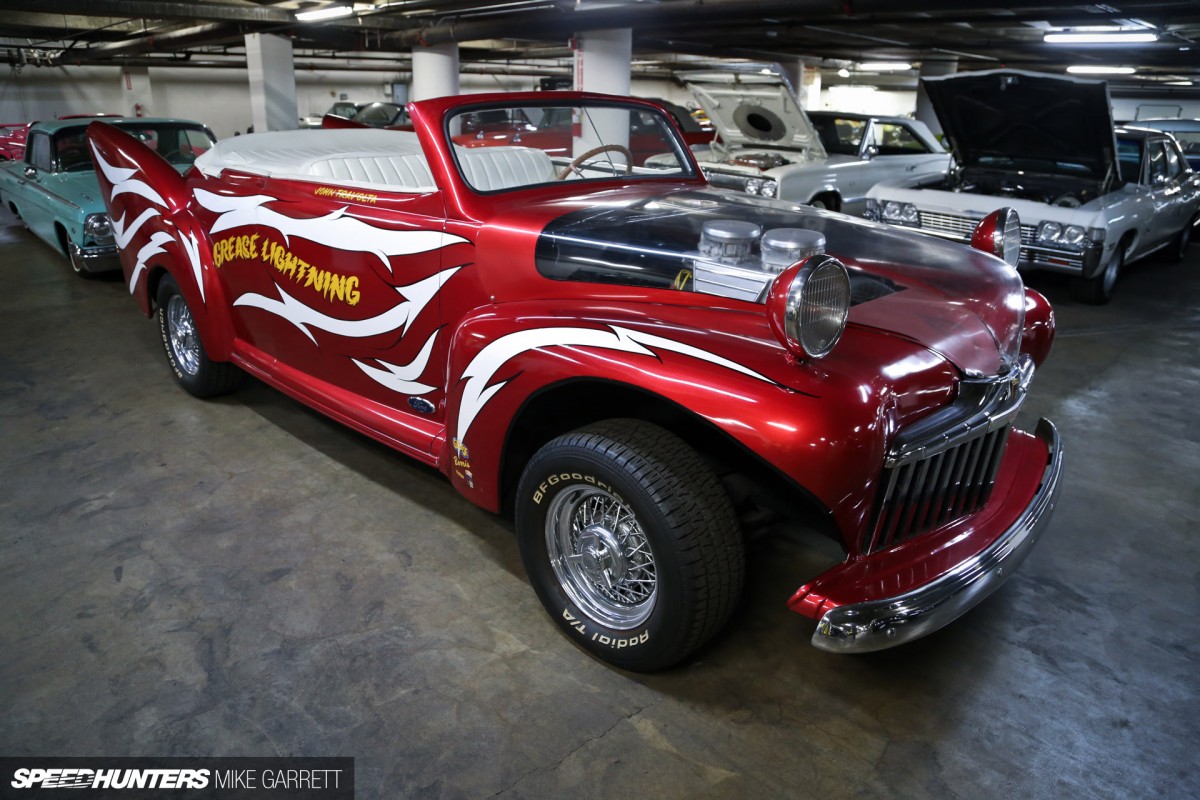 And you can't forget Greased Lightning. I want to break out in song and dance just thinking about it!
Along with customs, exotics, and movie cars, there are other unique vehicles in the vault like this FD3S RX-7 prototype from Mazda.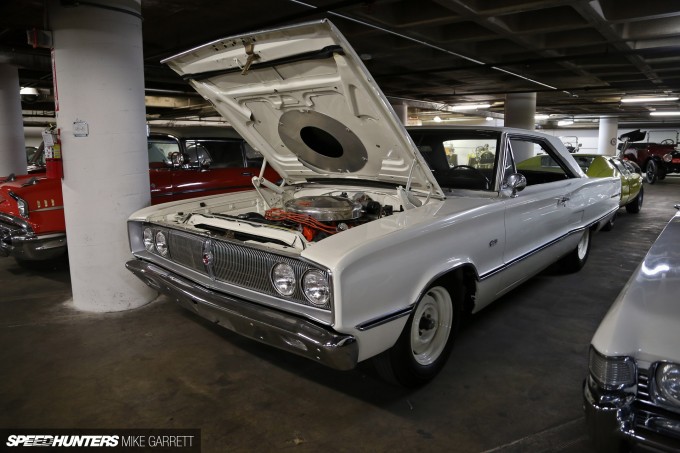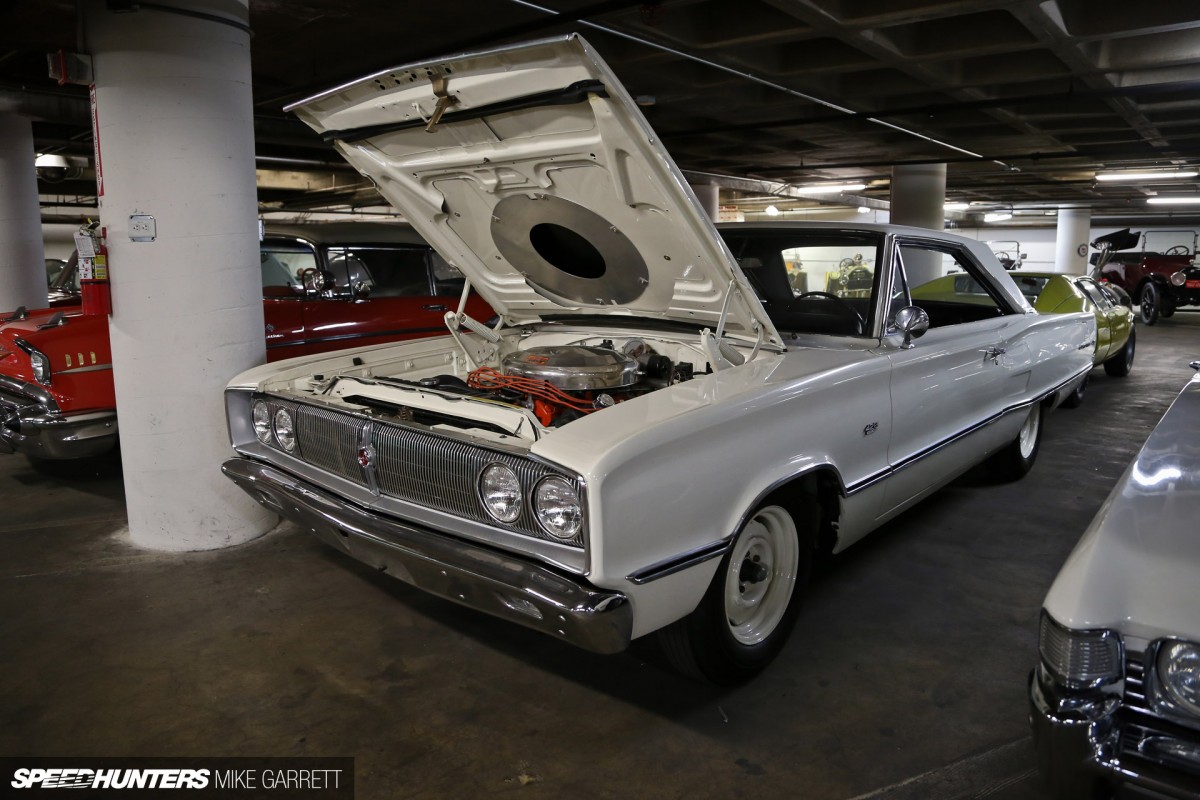 There are also some rare muscle cars, including a 426 HEMI-powered '67 Dodge Coronet W023 super stocker.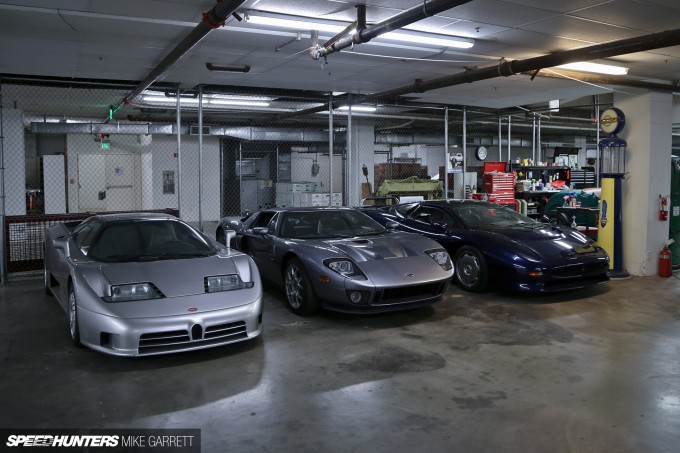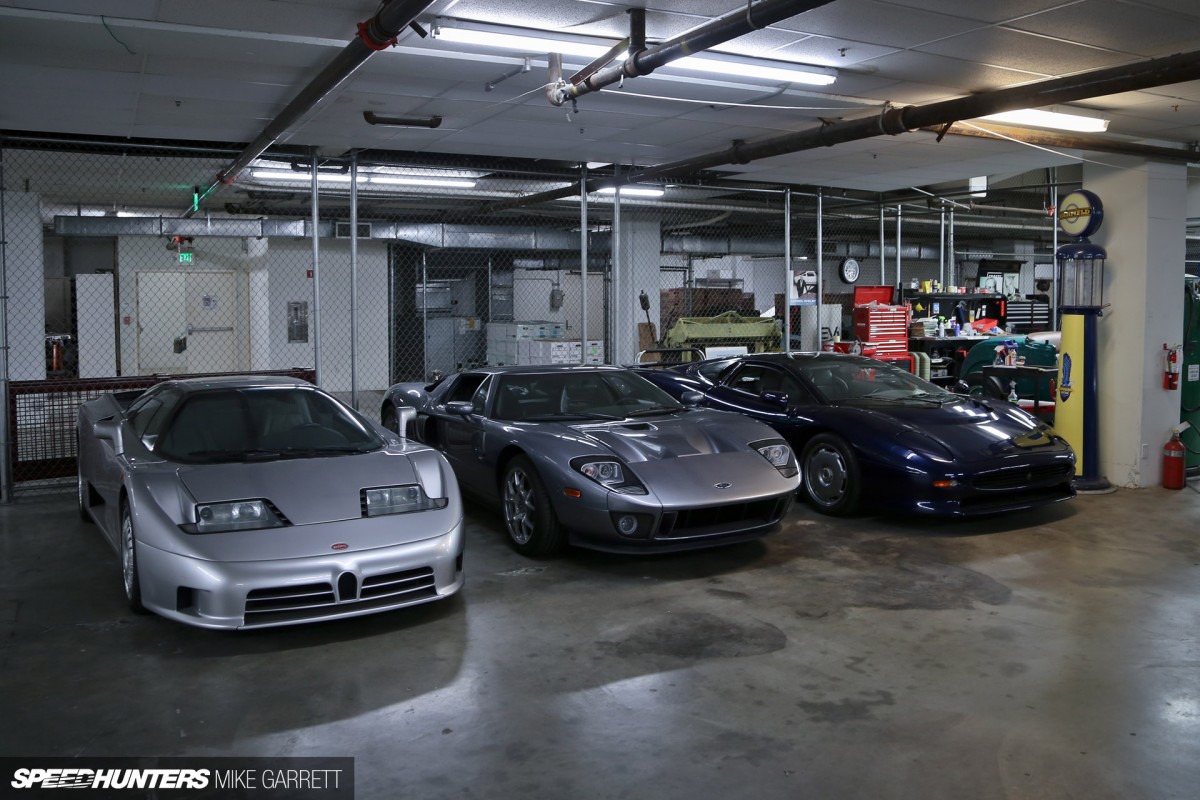 That really just scratches the surface of the treasures hidden in the vault at the Petersen Automotive Museum – everywhere you turn there's a car with a fascinating story behind it.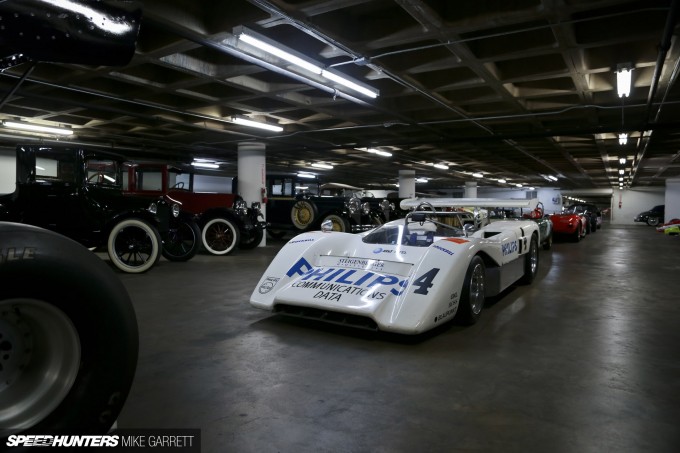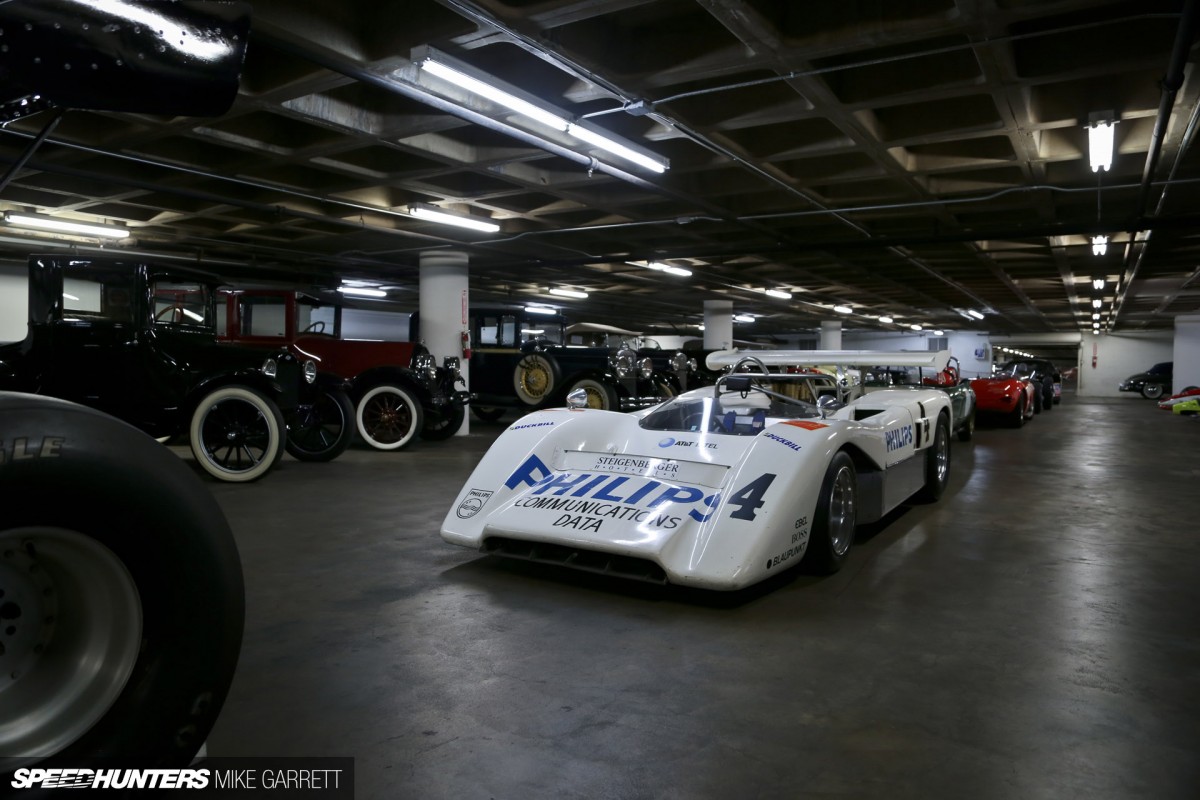 From hot rods and concept cars to the automobiles of Hollywood, the Petersen vault is truly fitting of a city that's one of the world capitals of car culture. I highly recommend stopping in for a peek the next time you're in LA.
Mike Garrett
Instagram: speedhunters_mike
mike@speedhunters.com