Back In The Day
While attending a new event – or any event for that matter – I usually tend to enter the venue with an open mind and open eyes; disregarding stereotypes and popularity while aimlessly waddling through the parking lot and patiently waiting to stumble across the chassis that will ignite the adrenaline factor from deep within my sole and smack an ear-to-ear smile on my face.
To cut to the chase, amidst the chaos of my recent visit to Atlanta Motor Speedway's weekly Friday Night Drags, I made a solid attempt to record these moments of discovery in effort to provide you readers with a special down South, homegrown Spotlight-O-Rama. So without further ado, here are a few of the builds from the evening that I just can't stop reminiscing about…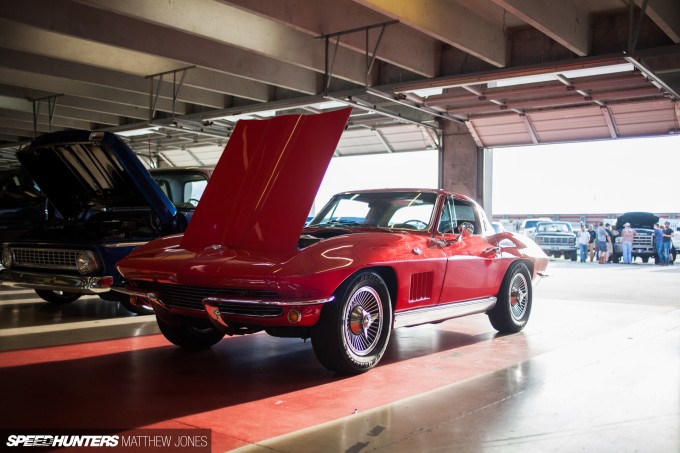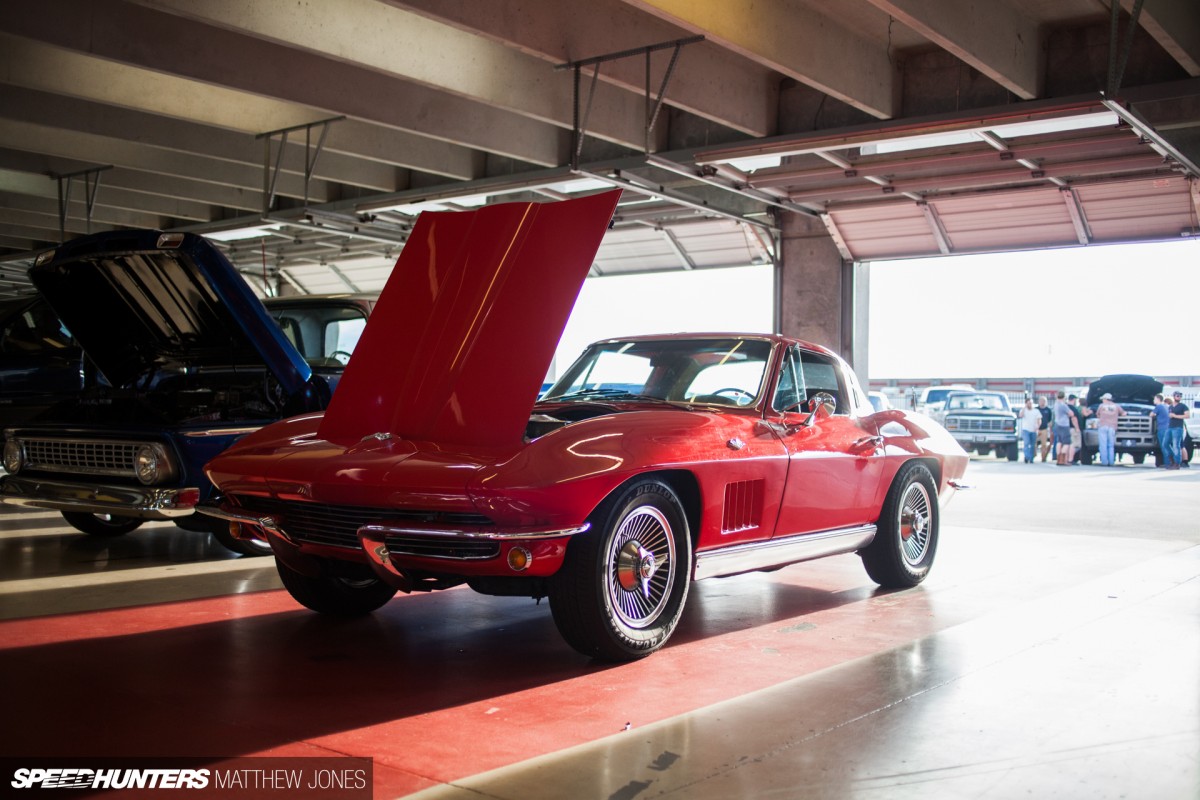 For starters, I'd like to quickly touch base on the showroom-clean 1964 Corvette I mentioned in my first post. And in all honesty, there really isn't much to say about it, aside from the fact of how absolutely flawless and somewhat out of place it was at this event.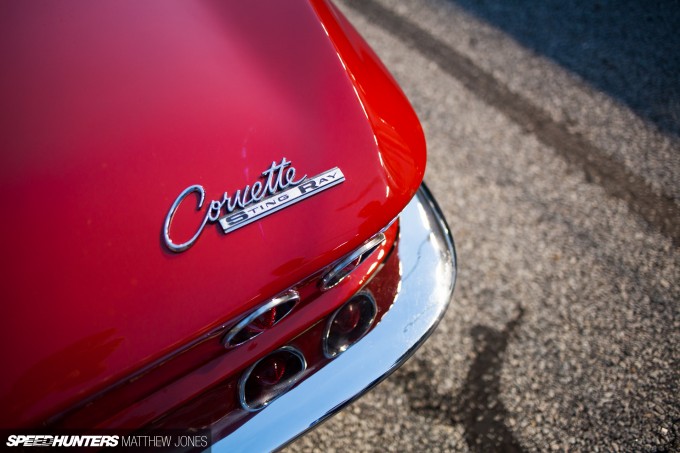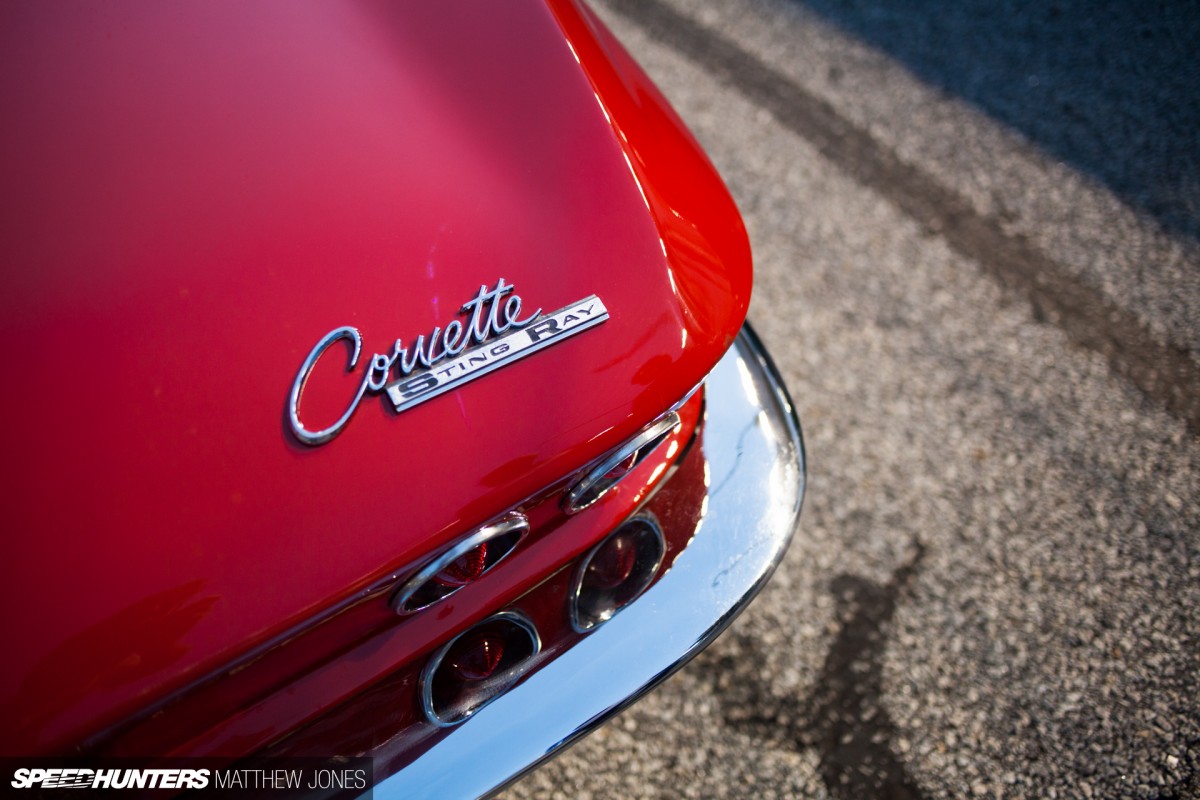 The car was originally purchased by a man in the Philippines who kept the car in his garage until his eldest son was old enough to drive. Yet, the day that came is the same day he found out that his son had no interest in driving a manual transmission…Umm, what?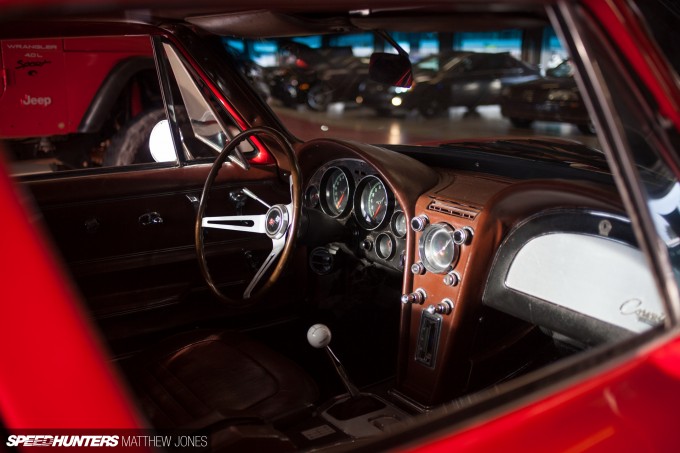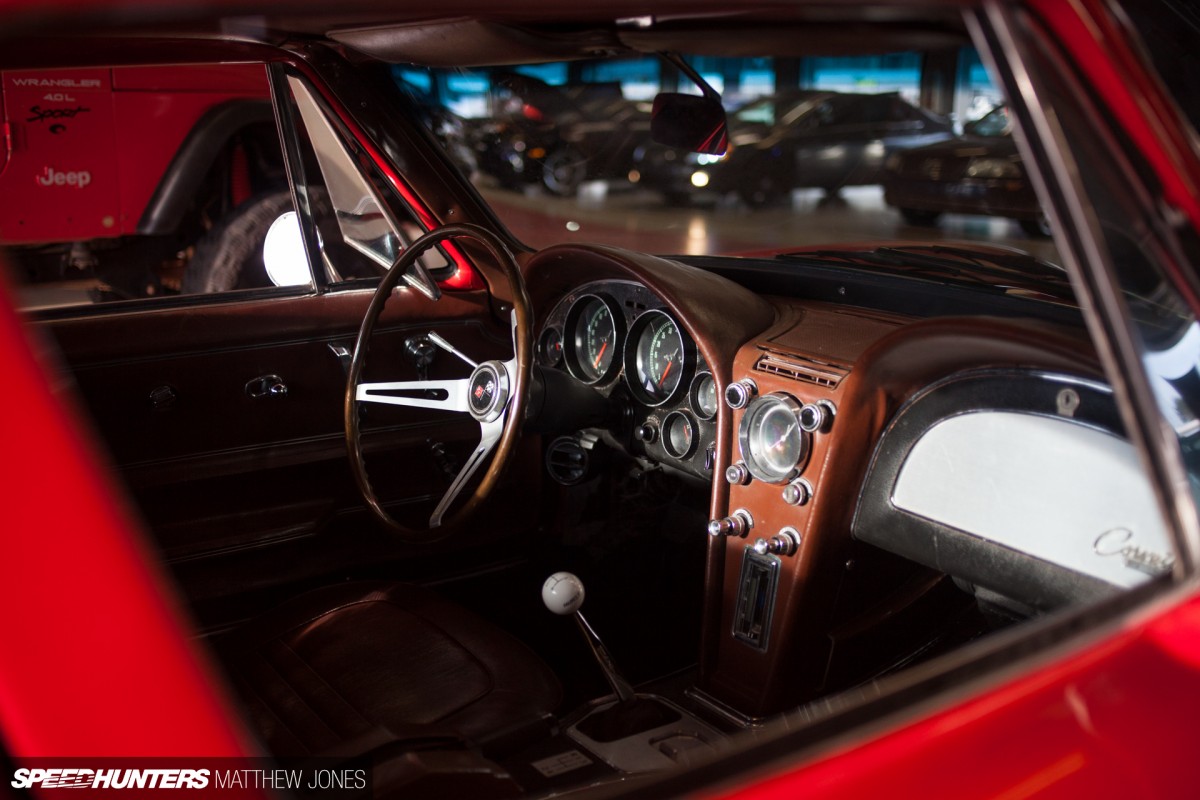 It was at this point that its current owner found and purchased it from a newspaper ad – then daily drove it while being stationed in the Philippines. Once his stay was complete, he sent it back to the States in a shipping container with all his other possessions.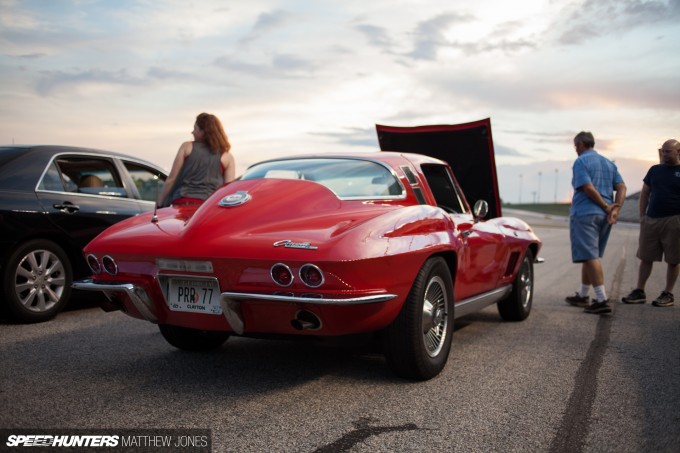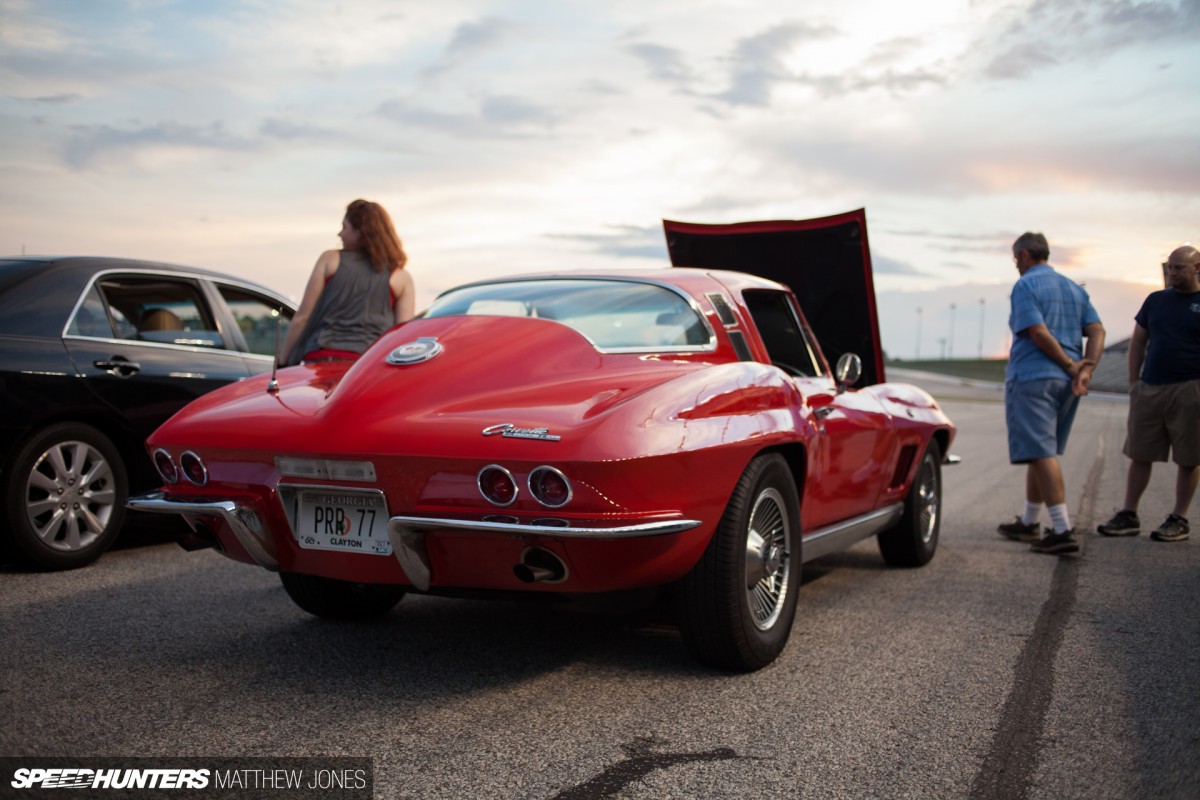 Sometimes the stories of how these historic cars are acquired never really cease to amaze me, and are often as interesting as the finds themselves.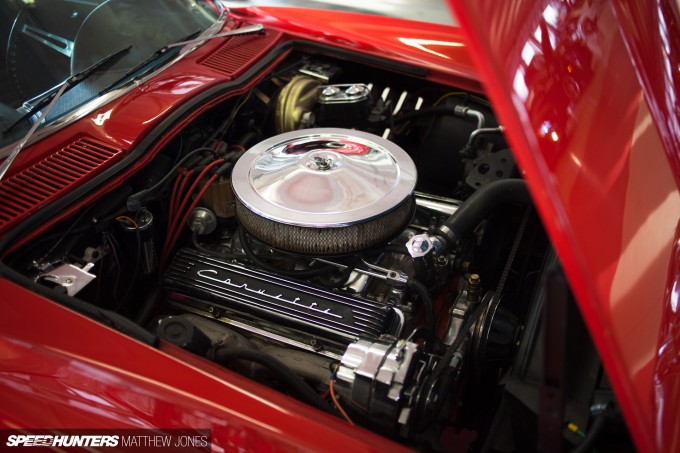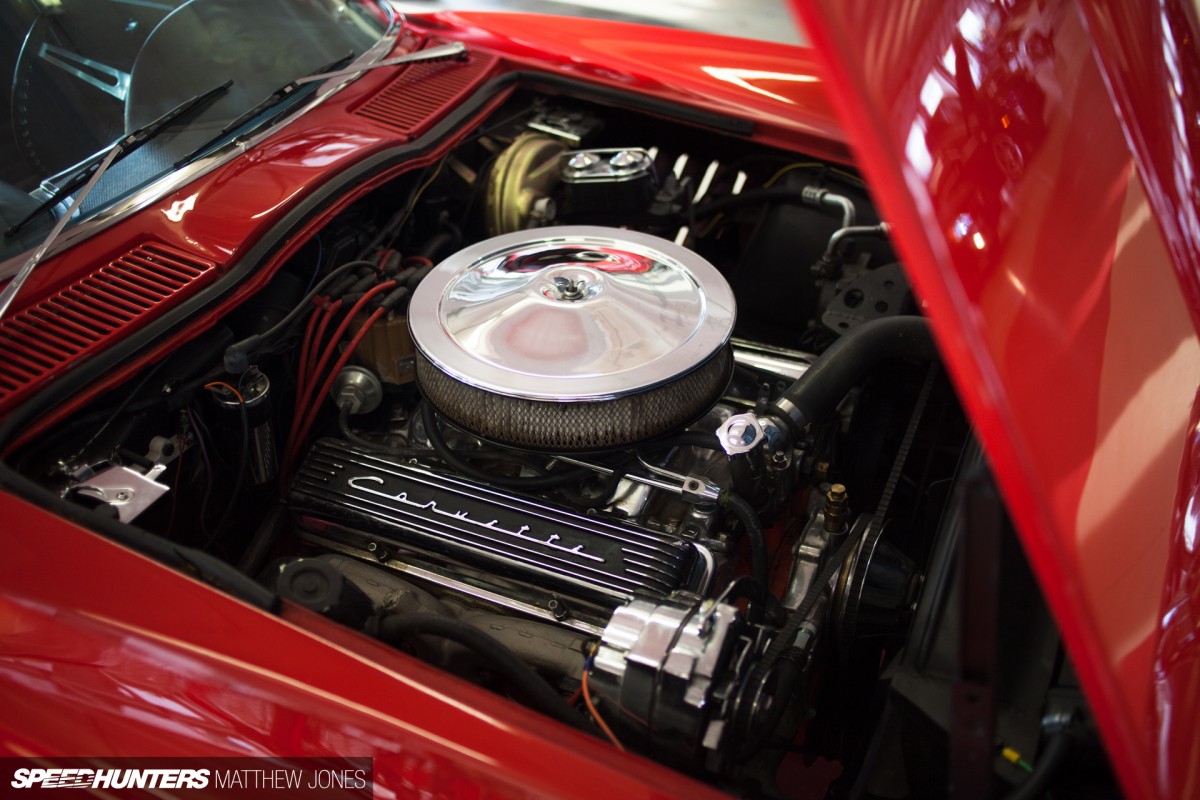 Along with the bodywork, which has obviously received some tender love and care to bring it back to that glorious production line spec, the engine has been given a thorough work over too. In the mix are upgraded lifters, pistons and cam – and even a special Philippino touch with an added A/C system out of a random Nissan. It gets hot down here in Georgia, so the latter is a welcome modification!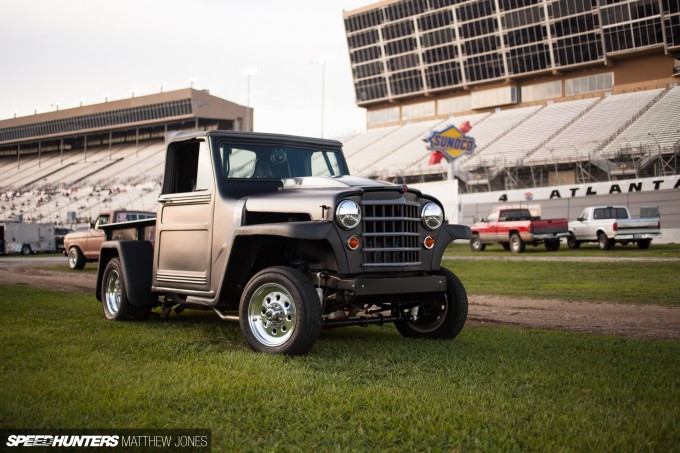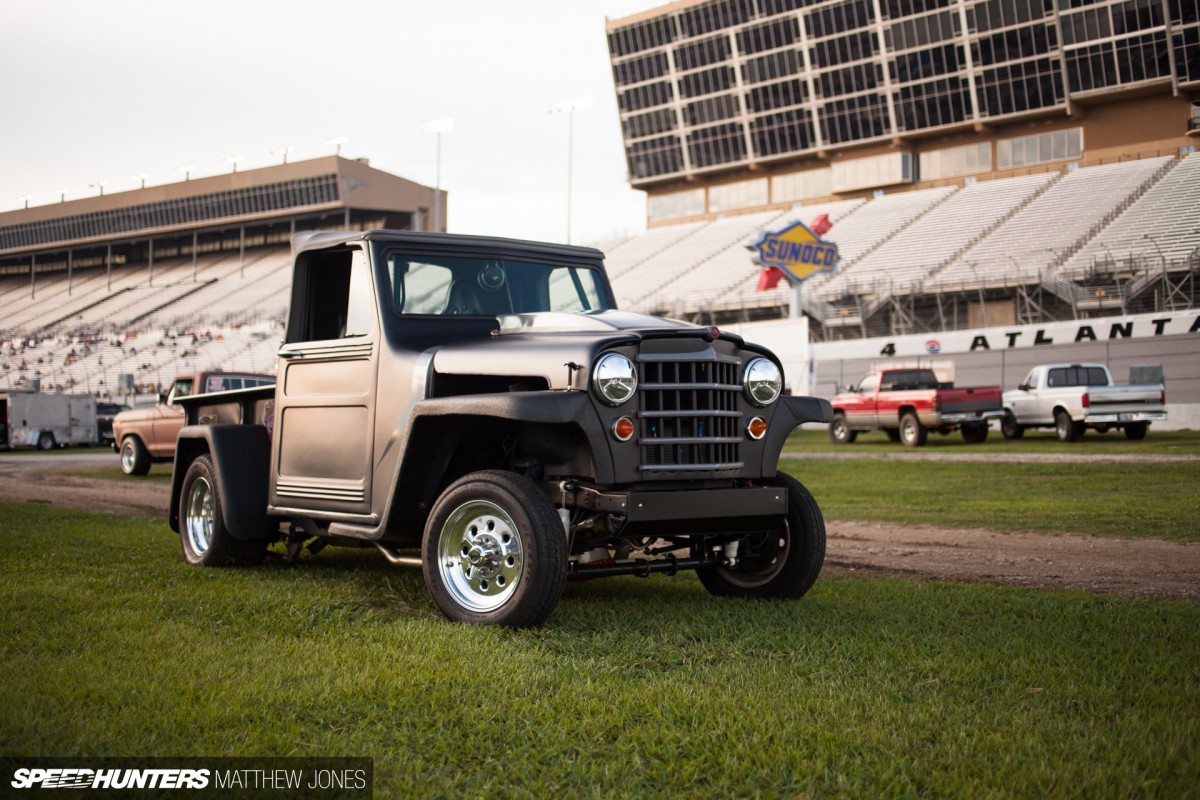 On the topic of aged vehicles, we're now going to jump back even further to the eldest attendee at the event – this all-wheel drive 1955 Willys Jeep Truck. Digging into the history for the unknowing, a Willys Truck is basically a second generation Jeep Wrangler, which was in production for 15 years from 1950.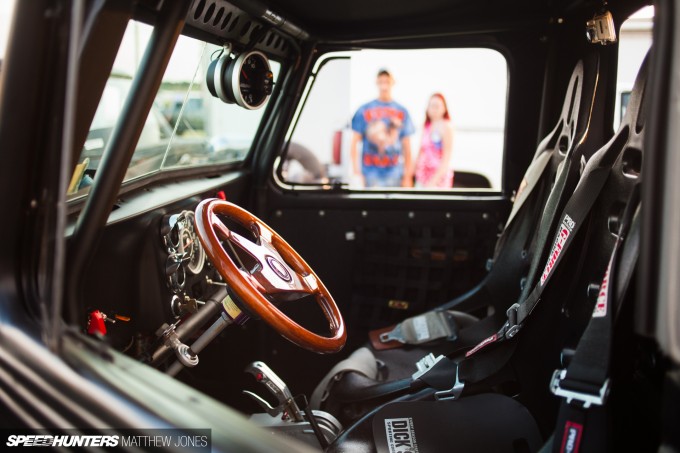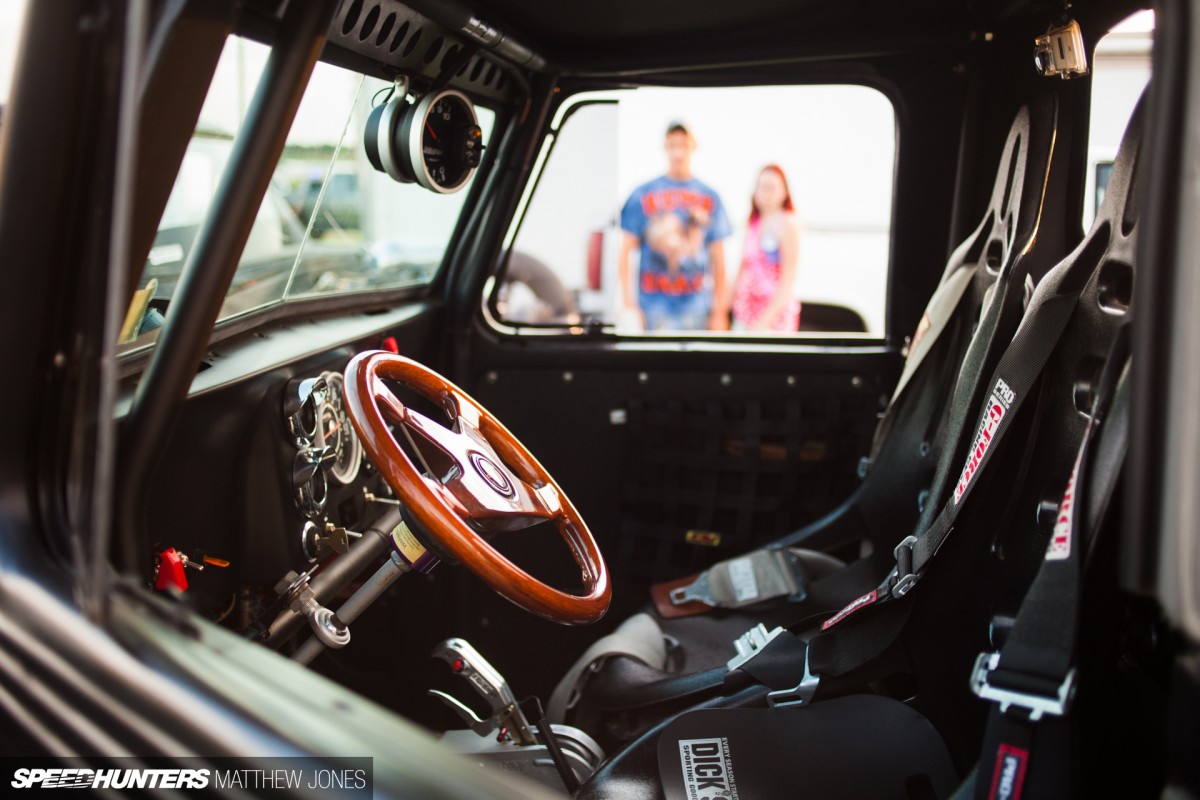 Though the original Willys certainly had unique and identifiable body styling, they obviously didn't come off the production line looking this gnarly. So after hoisting what was basically a complete rust bucket out of a junkyard, its driver Darren, along with his father and brother, went to town restoring the entire shell and preparing it for battle – both inside and out.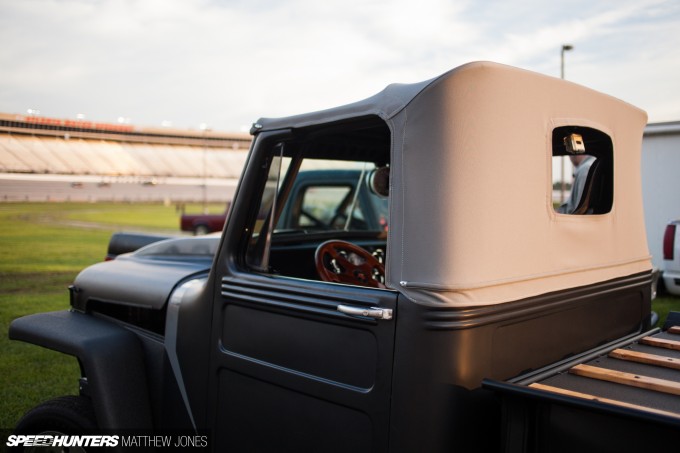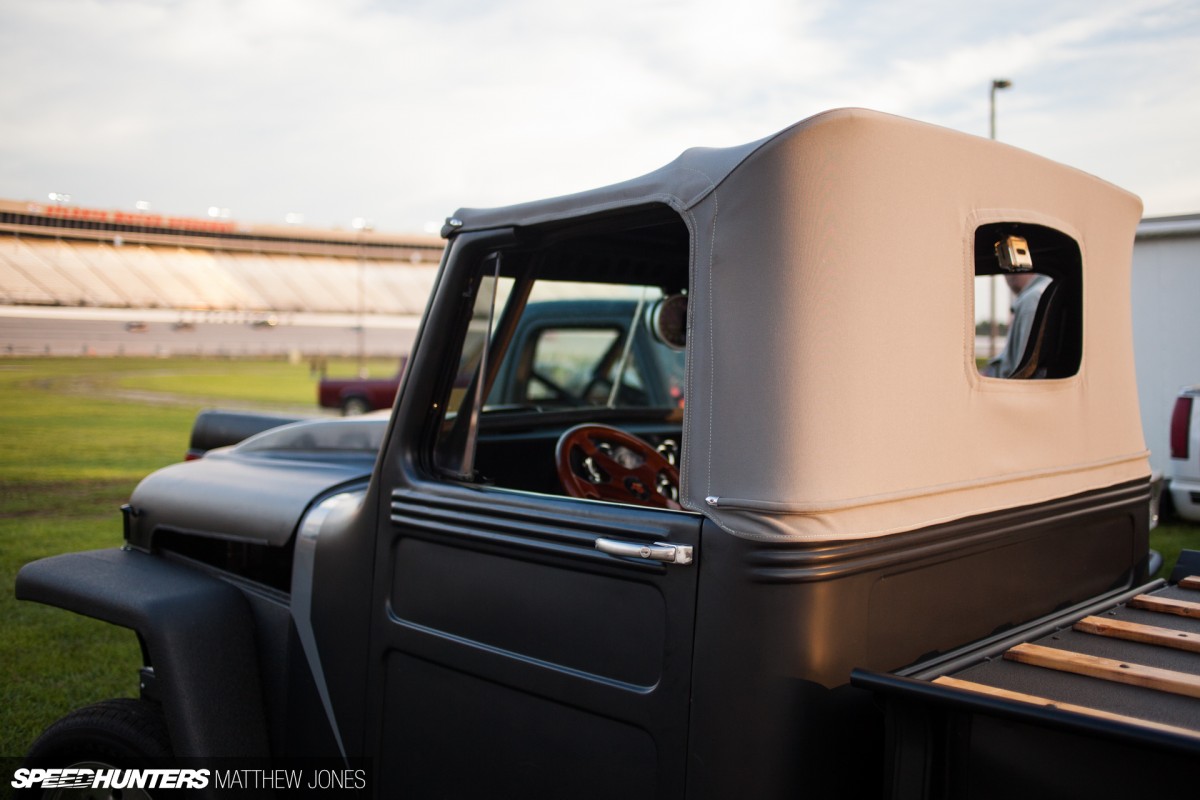 The decrepit top was chopped off, essentially transforming the Willys into a convertible, and the general entirety of the body was revitalised with new panels to remedy the fist-wide rust holes that age and the environment had produced.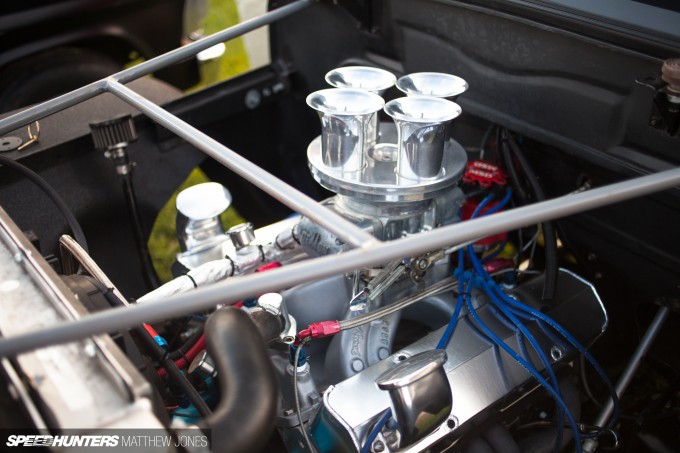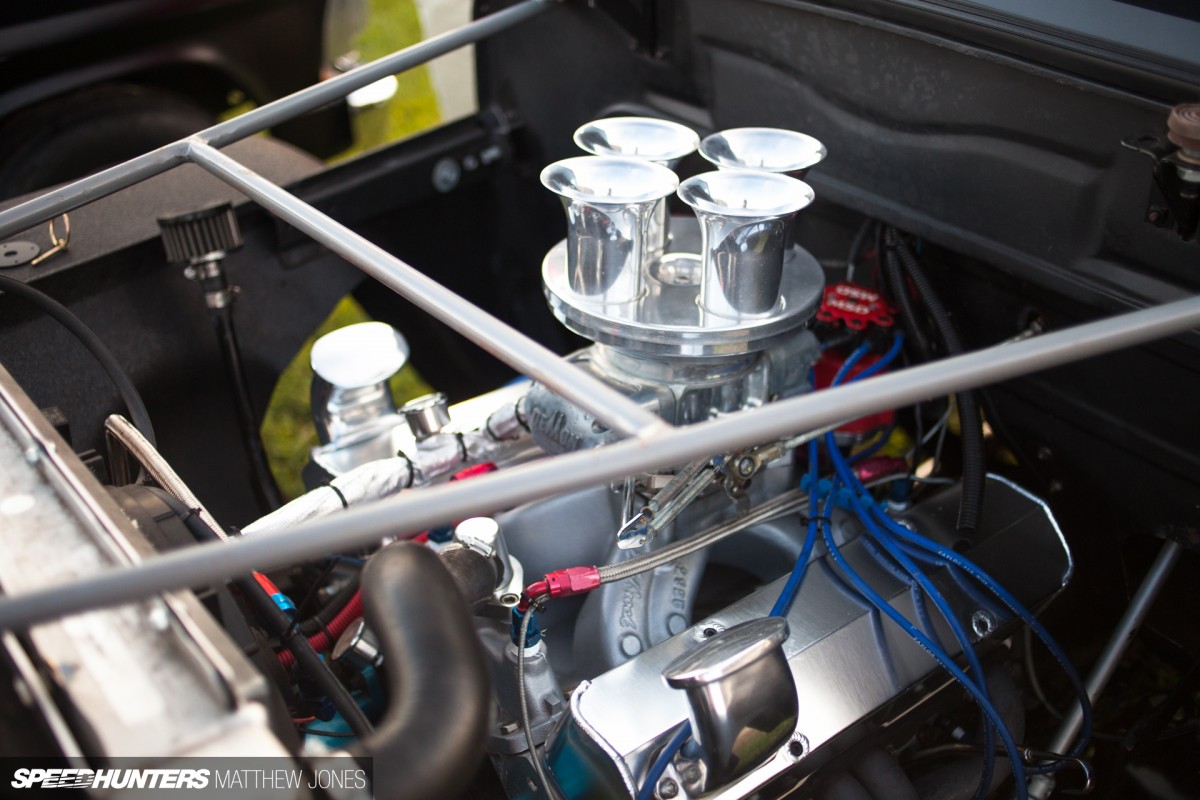 Popping the hood, the story is no different. The original Hurricane inline four was binned and replaced by a 350 Chevy small block bored out to 355, allowing this demon to put down upwards of 450hp.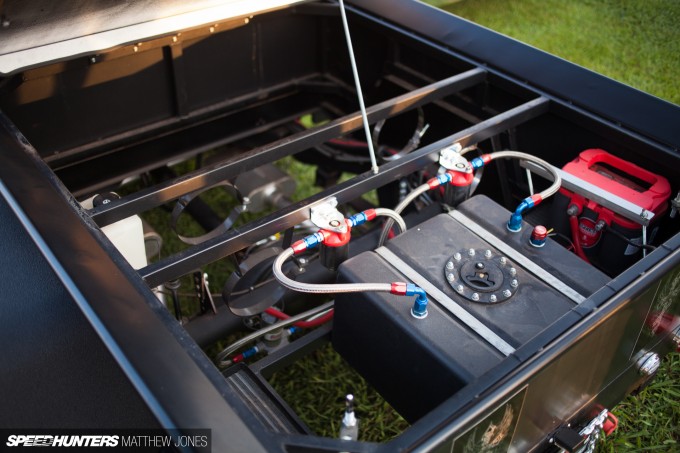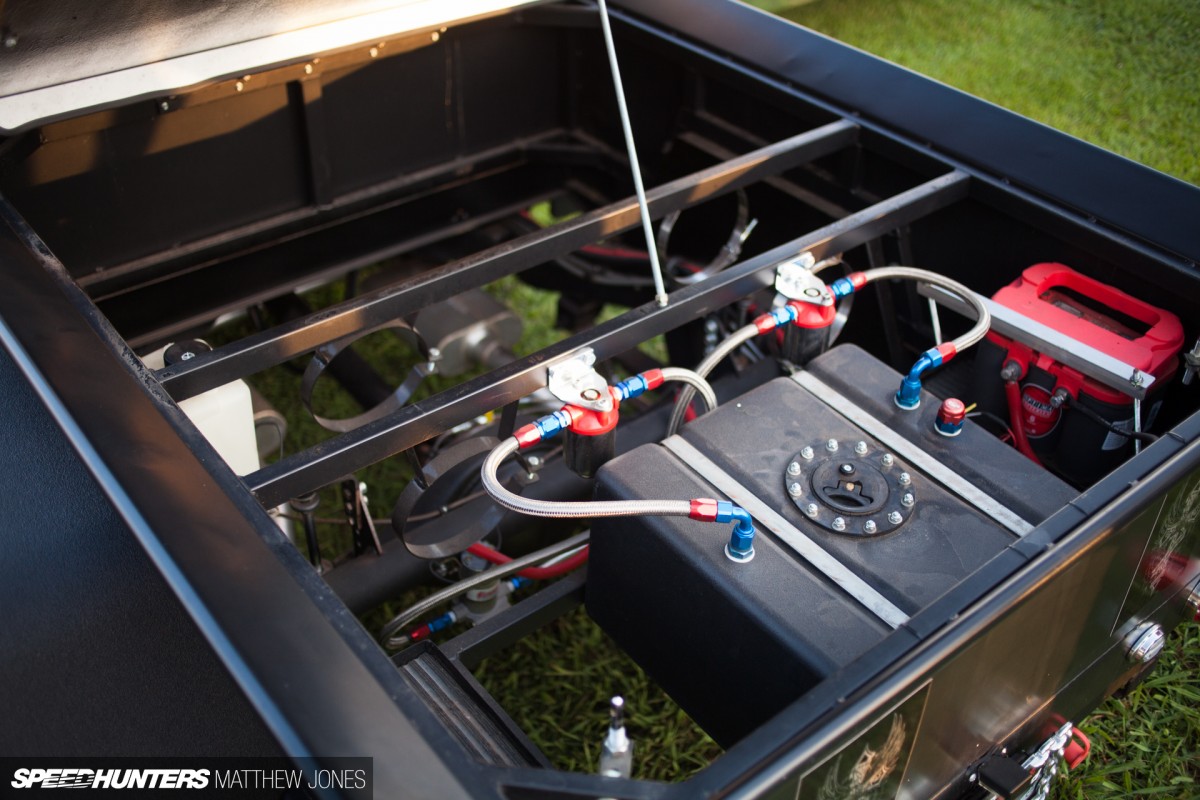 With all that said, you may think it's blasphemy that I'm Spotlighting an old Jeep dragster ran by a 16-year-old on Speedhunters, but in reality, I'd like to think that if the devil had a side interest in drag racing, this would be his chosen steed. That's a feeling I just can't deny sharing.
Big Boys & Family Toys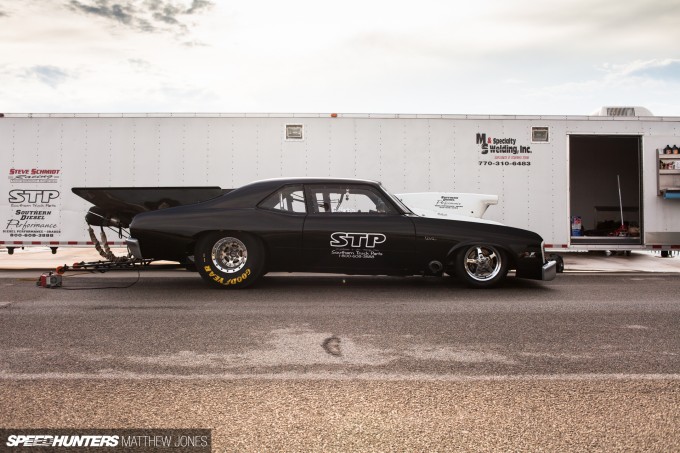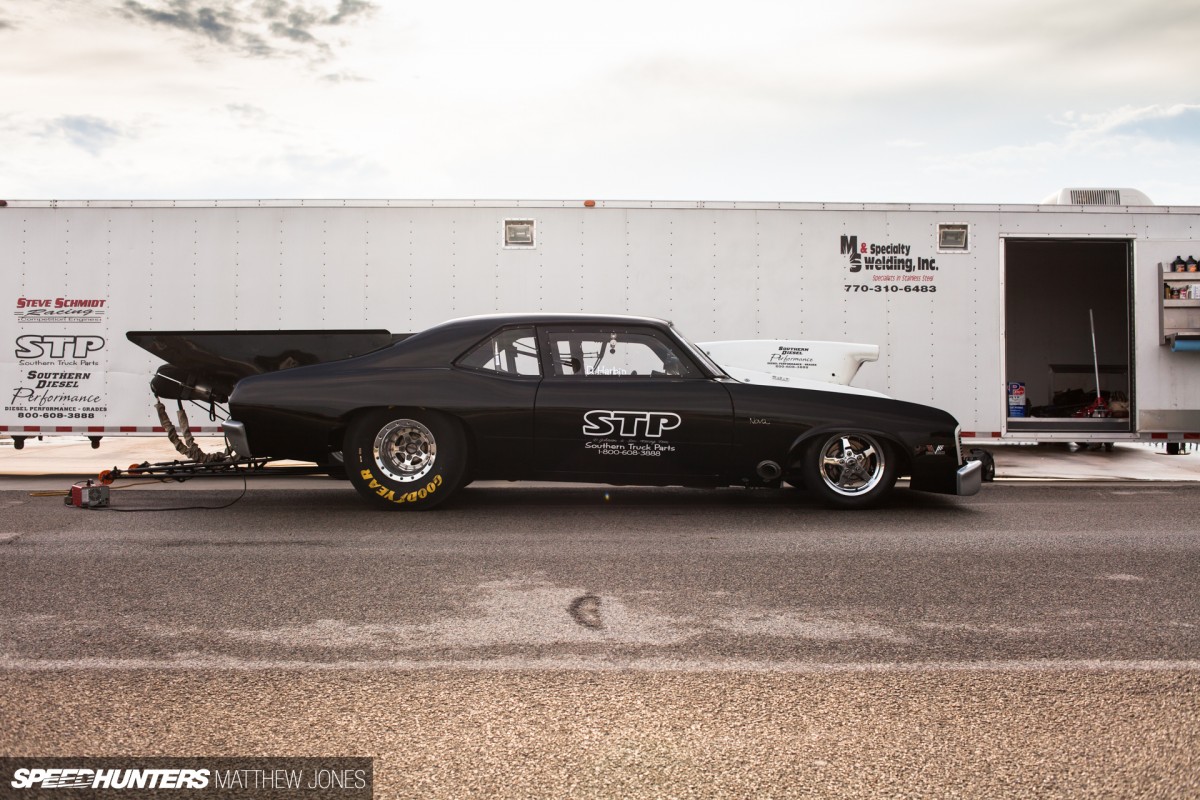 On the beefier side of things, we have this 1968 full-chassis, carbon-bodied Chevy Nova. When I first talked to the owners of this car on the night I was unable to extract an extensive amount of information on the build due to the natural secrecy of the event. But after a quick follow-up call in the days prior, the guys divulged just enough juicy details to justify this straight-liner.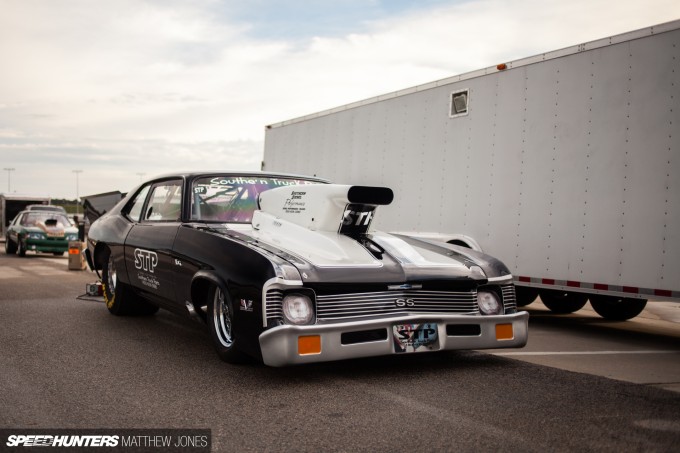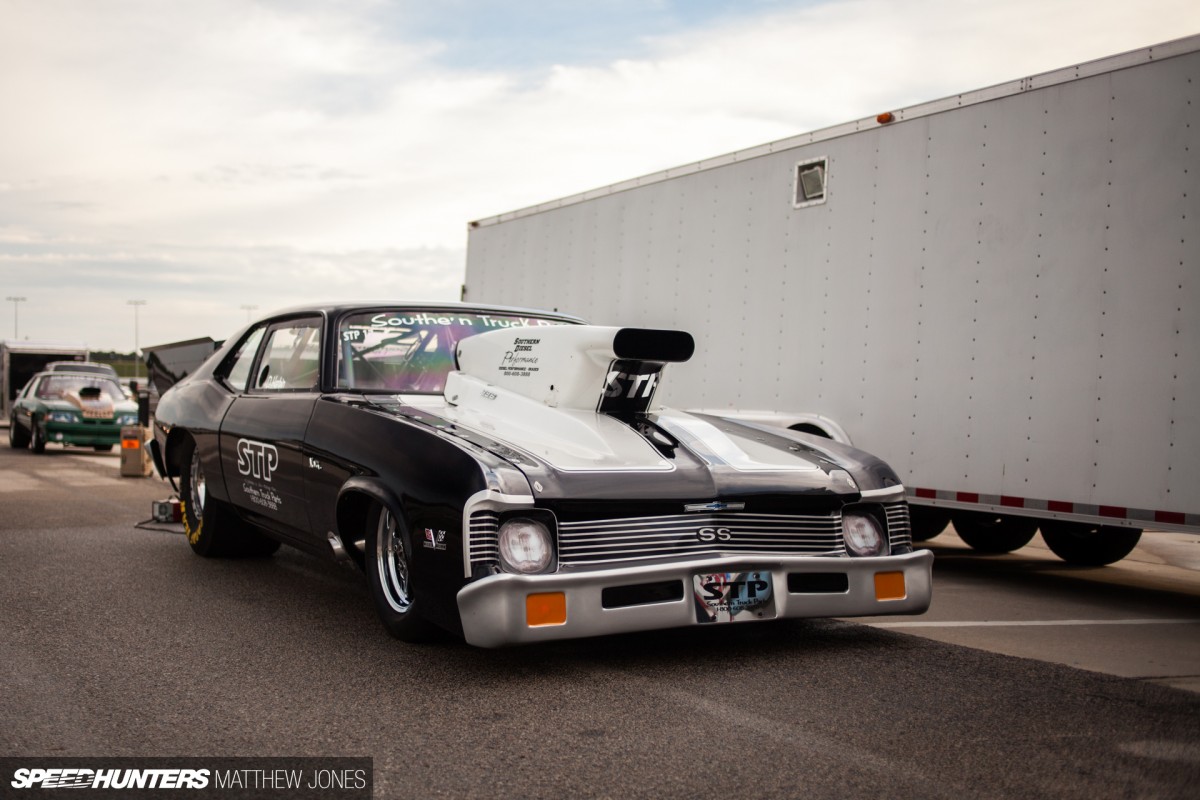 So what's under the hood? Well, I can't exactly tell you that – or even show you for that matter. But what I can tell you is that it's a big Chevy small block. How big? "Bigger than a big block". Go figure!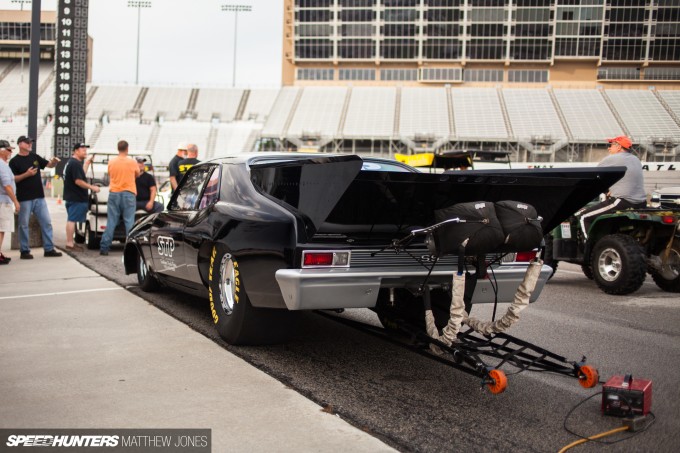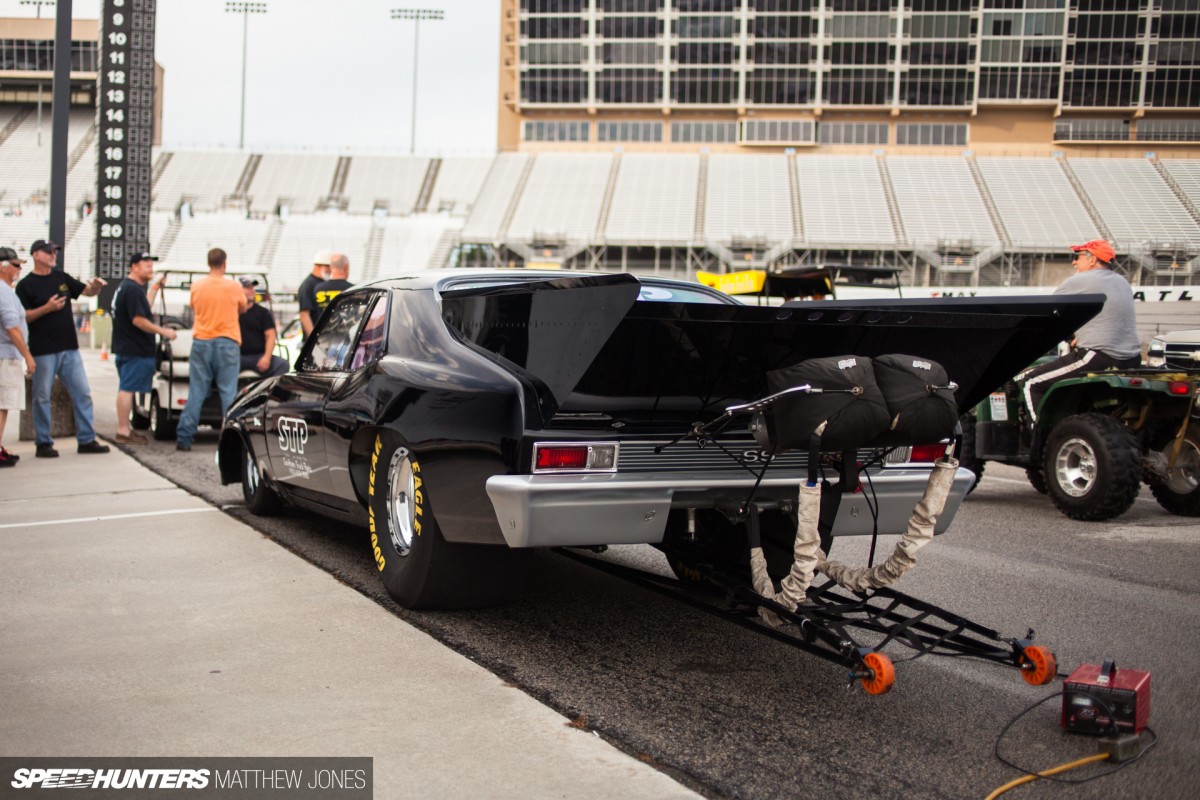 I was also informed that the powerplant is built around a special block, with every component aside from the crankshaft manufactured in aluminum. All in all, this machine has about 35 grand invested in the engine alone. So much for that backwoods angle, right?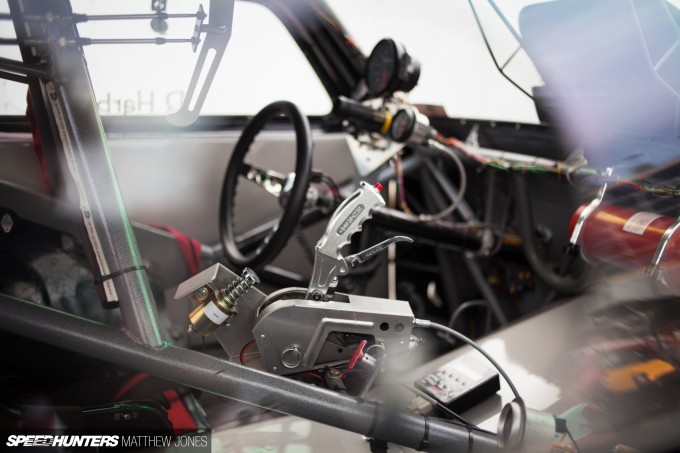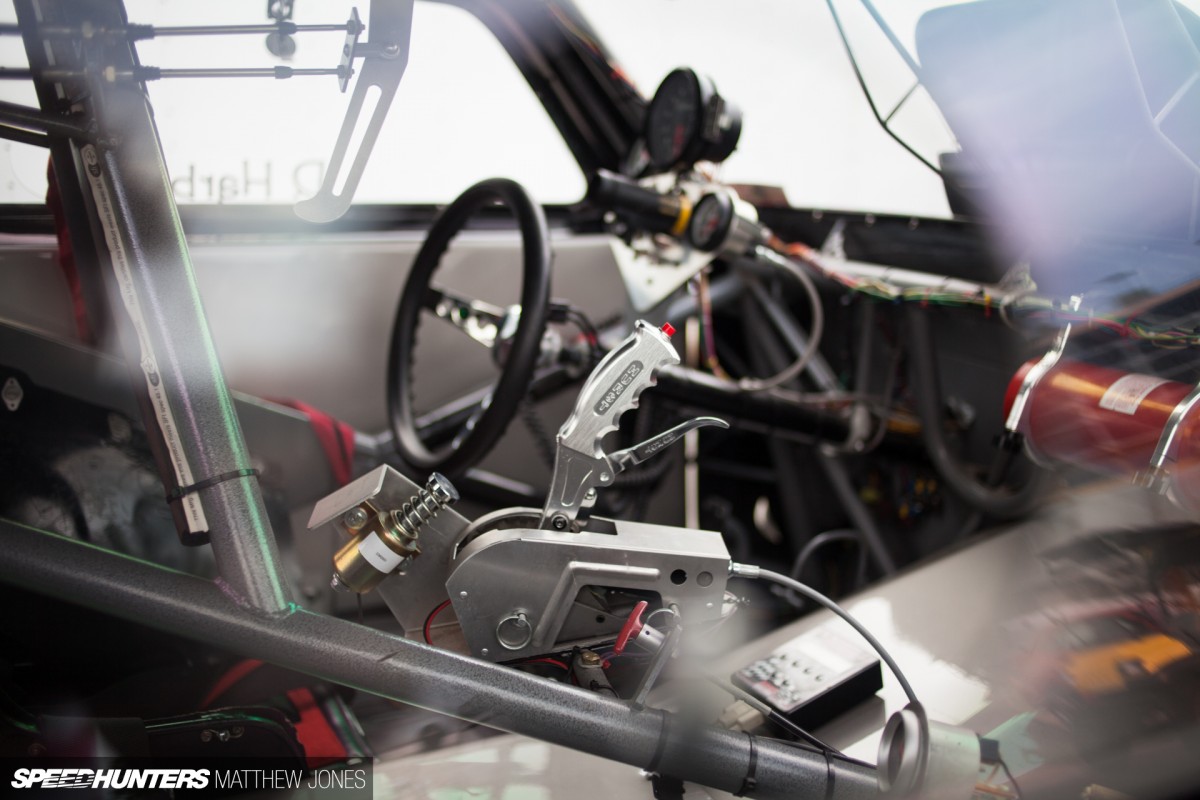 I was also even told that it'll run 5.15 seconds in the 1/8th mile, but rarely are they ever able to go full throttle without the rear end getting loose. All is well though, as these issues are easily addressed through the RPM puller within this fighter jet of a cockpit. I think I'd be lying if I didn't mention the grin it put on my face to be let in on the car's quietly protected numbers.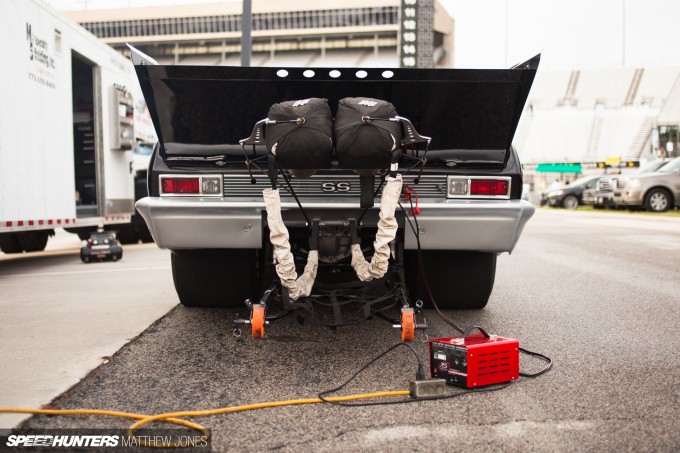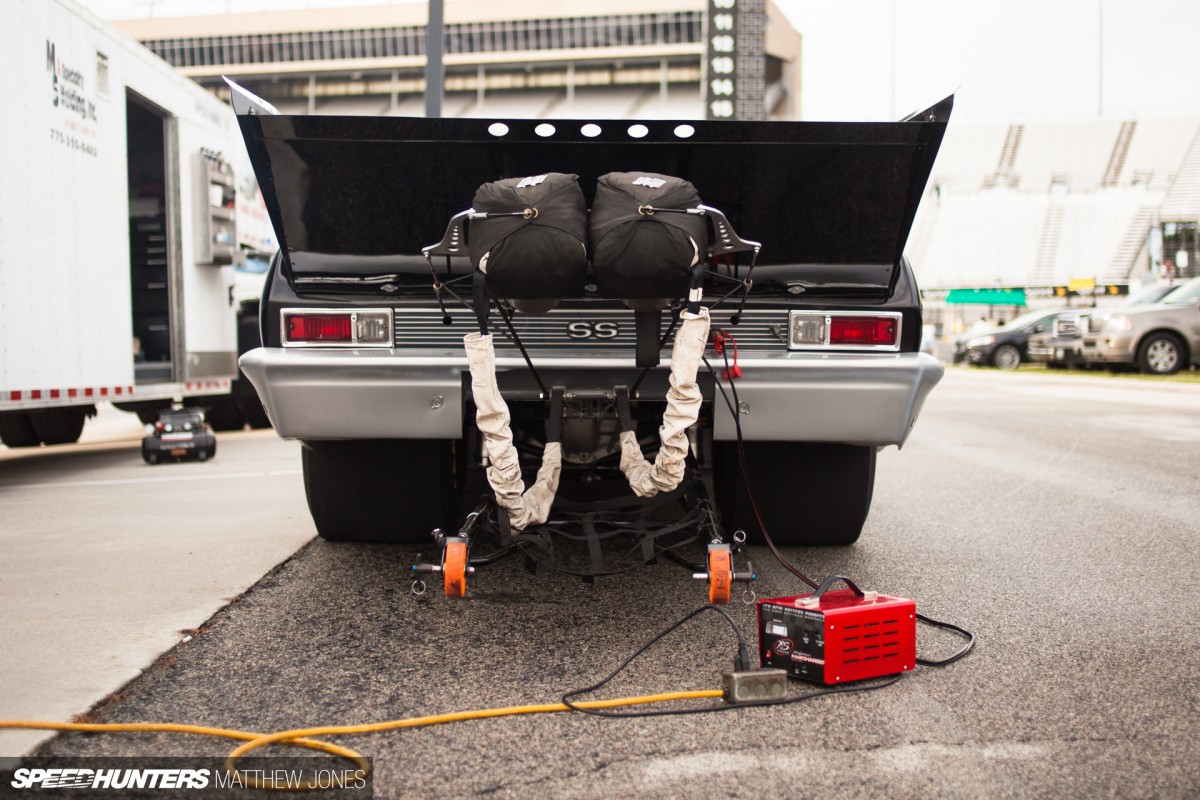 And if those details aren't enough to convince you of this monster's power, just take a look at the twin 'chute and wheelie bar setup. Those factor alone are enough to tell you that this Nova is built for business.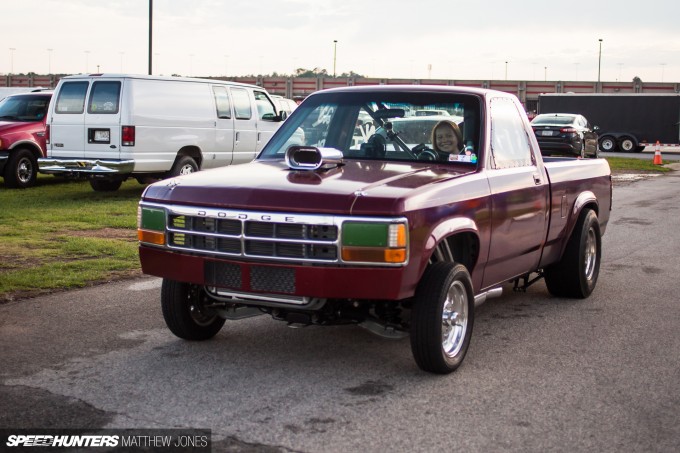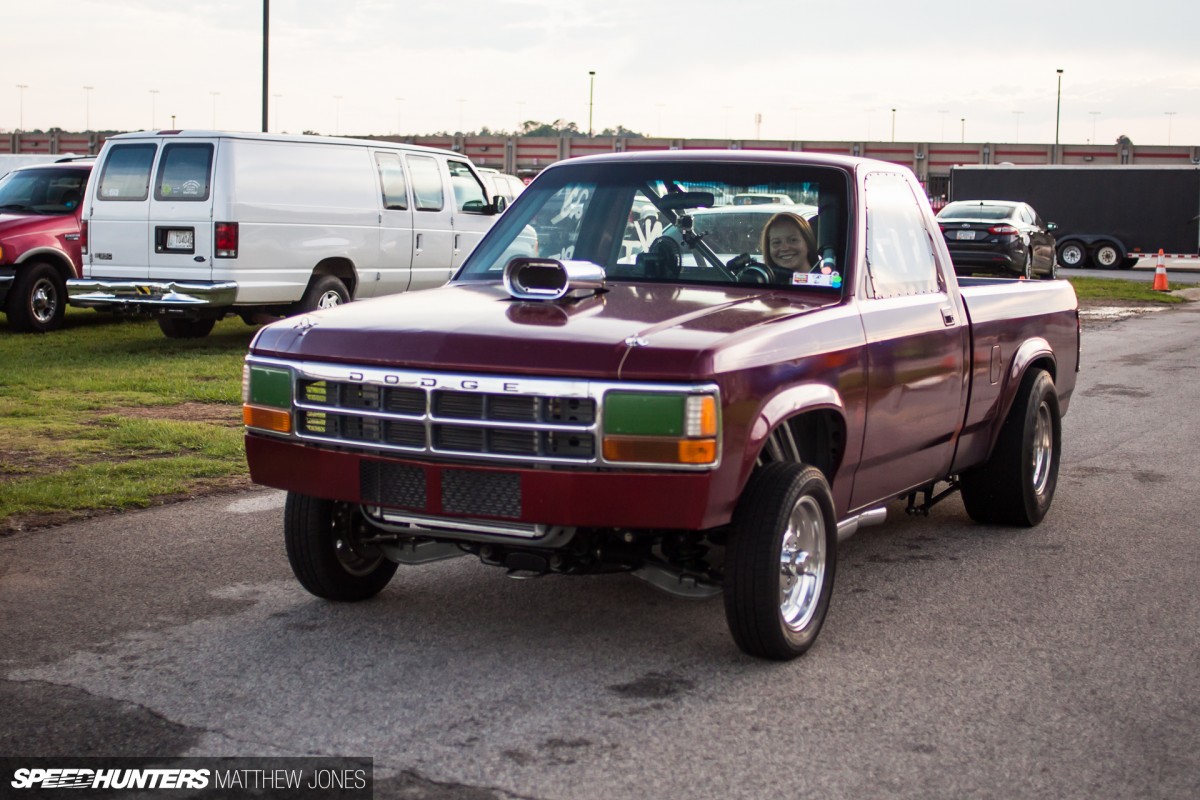 Next we come to the most sentimental, oddball of the entire event – a Dodge Dakota pick-up. In reality, if it weren't for me standing in the right place at the right time allowing me to catch the massive grin on this girl's face as she drove back into the pits, I don't think I would've ever even noticed it.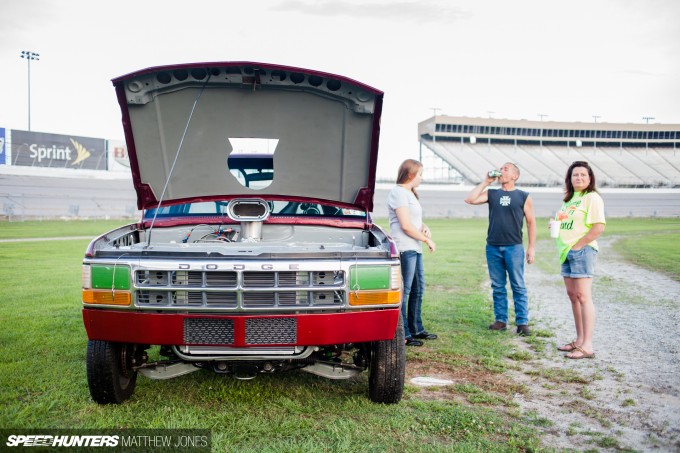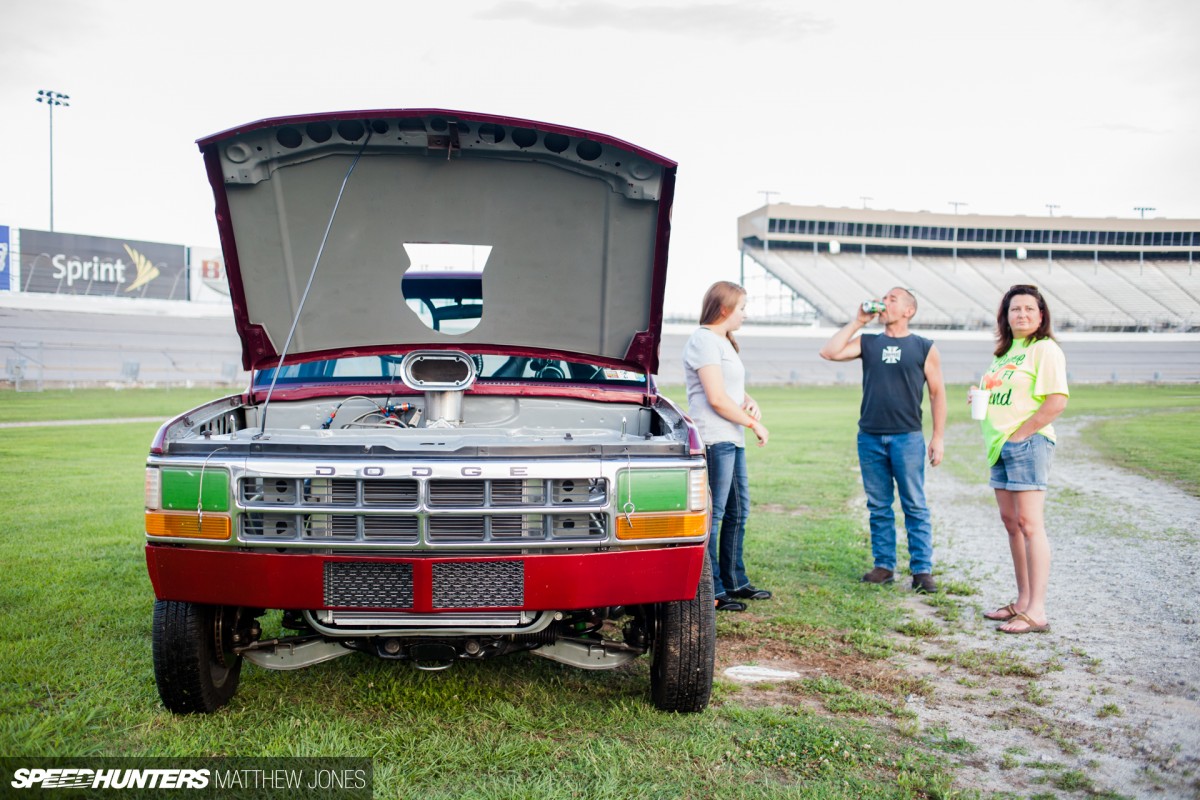 So after jogging over to its designated pit spot in the open infield, not only was I able to find out that the grinning pilot was actually a 21-year-old women, but that she's been driving this barbarian of a truck since she was just 15. The more time I spent around the family, the more I was able to feel the energy and labor of love that is this bucket of steel. Not to mention the obvious joy that these Friday nights bring to this family – it truly was a special presence to be in.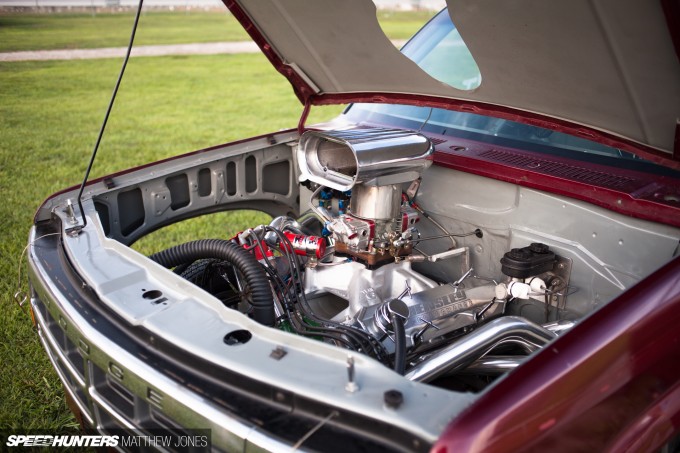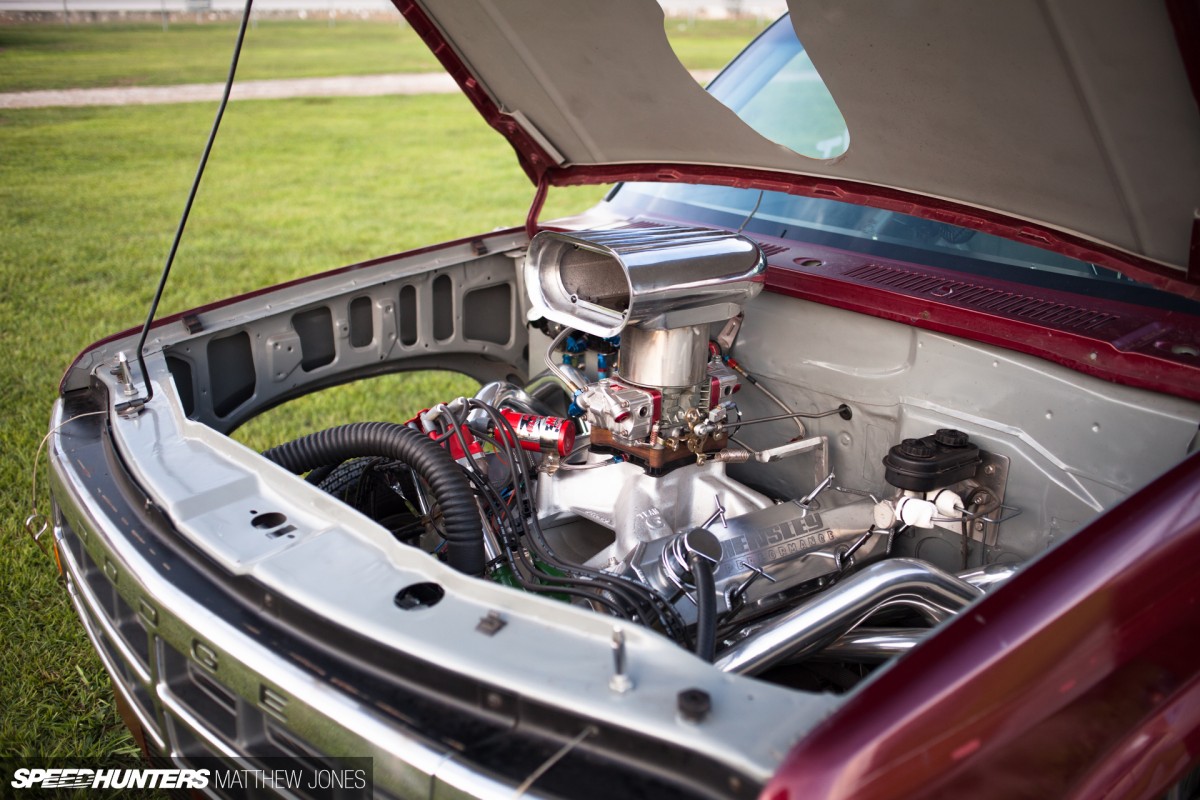 It wasn't until after the emotional family rundown that I think my eyes officially popped out of my skull while the hood was being opened for inspection. This, ladies and gentlemen, is a hand-built Chevy 500 big block. De-tuned for reliability's sake, I was told it's putting down around 675hp to the rear wheels.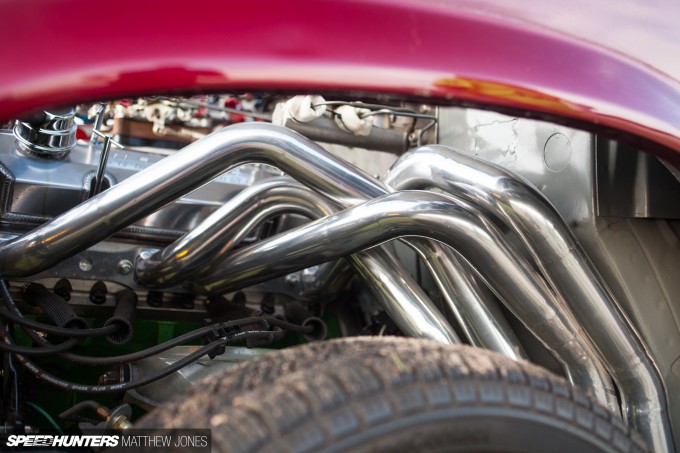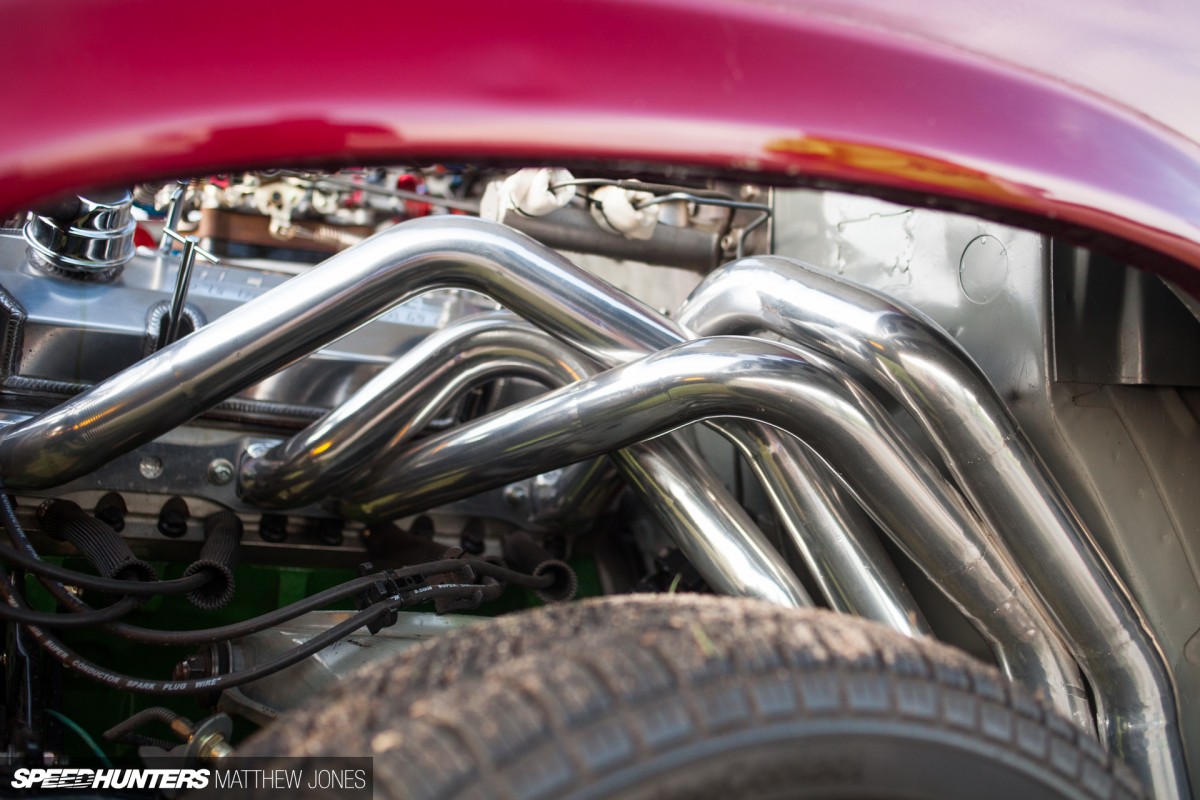 Forget about the size and make of the engine, what really surprised me was the quality of craftsmanship featured throughout this bay. It's something you'd never expect by the truck's exterior appearance.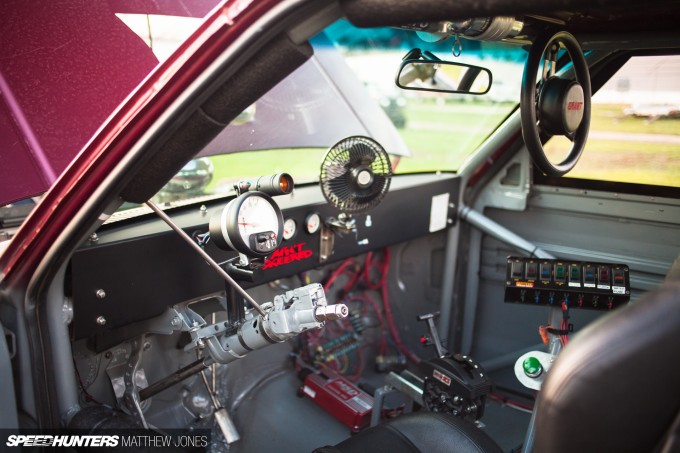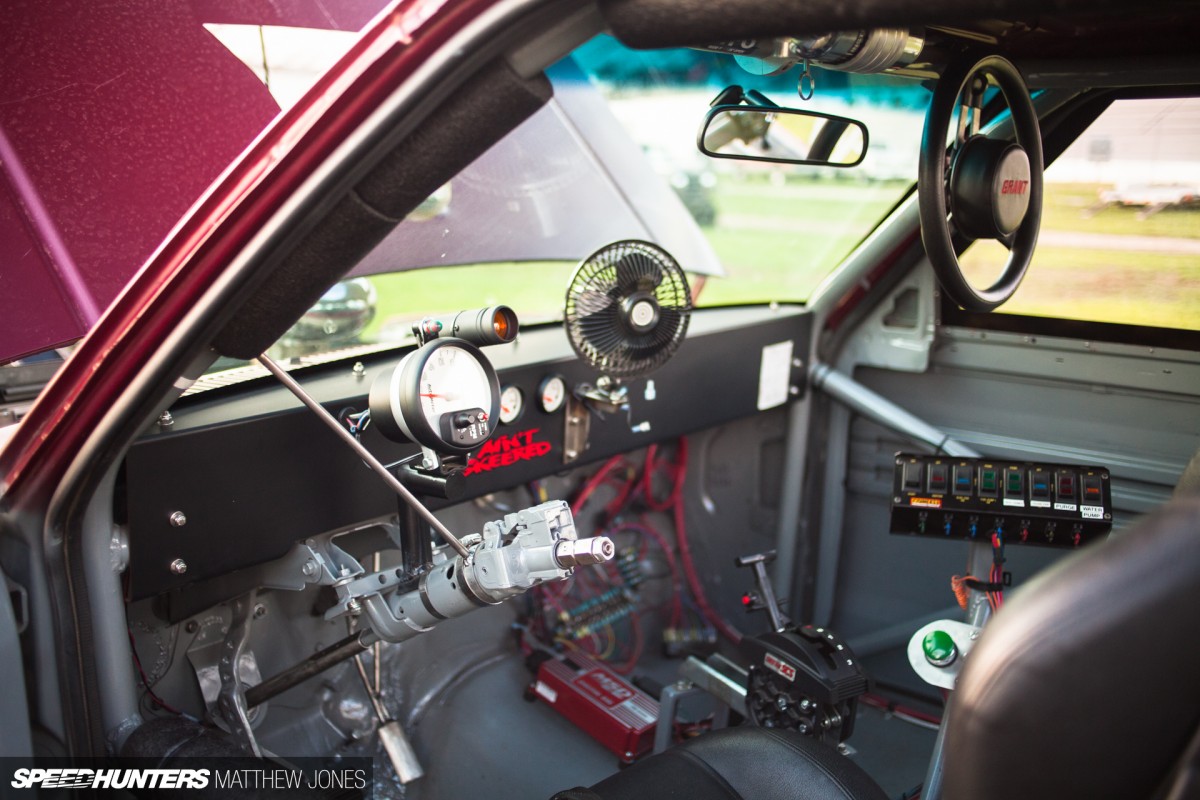 Stepping into the interior, you'll find the situation is all the same. This thing is covertly ready to battle, with enough controls to make any amateur's head spin.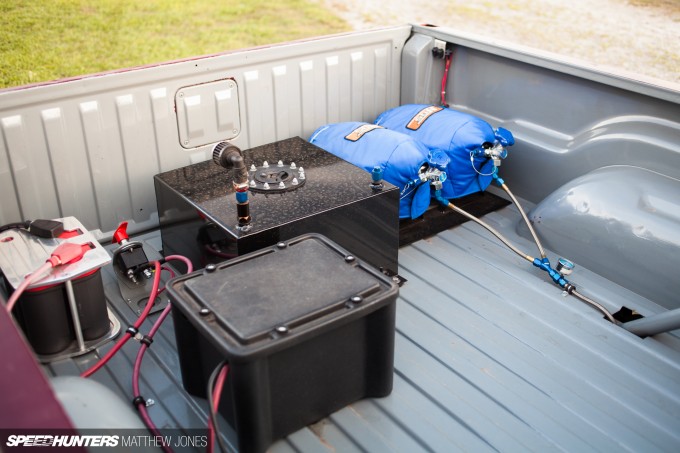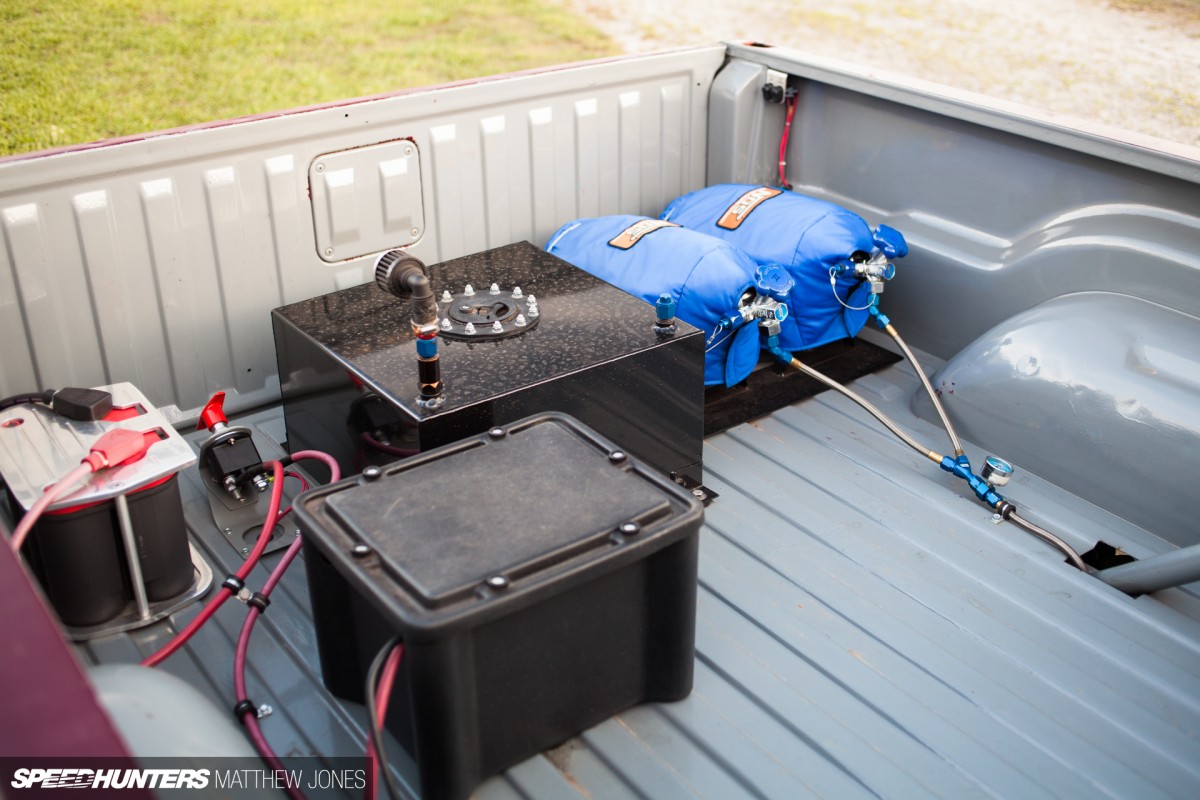 And the trunk? Aint nothin' like a lil' nitrous to get your blood flowing, right? One can only imagine the feeling this Dakota gives its captain as it slams their shoulders to the back of the seat upon take off.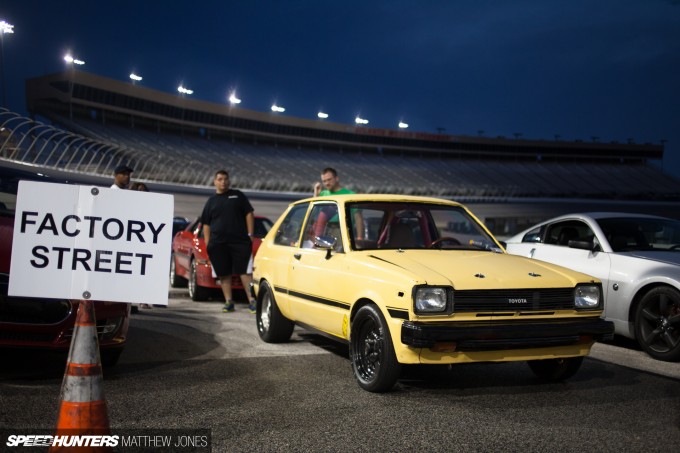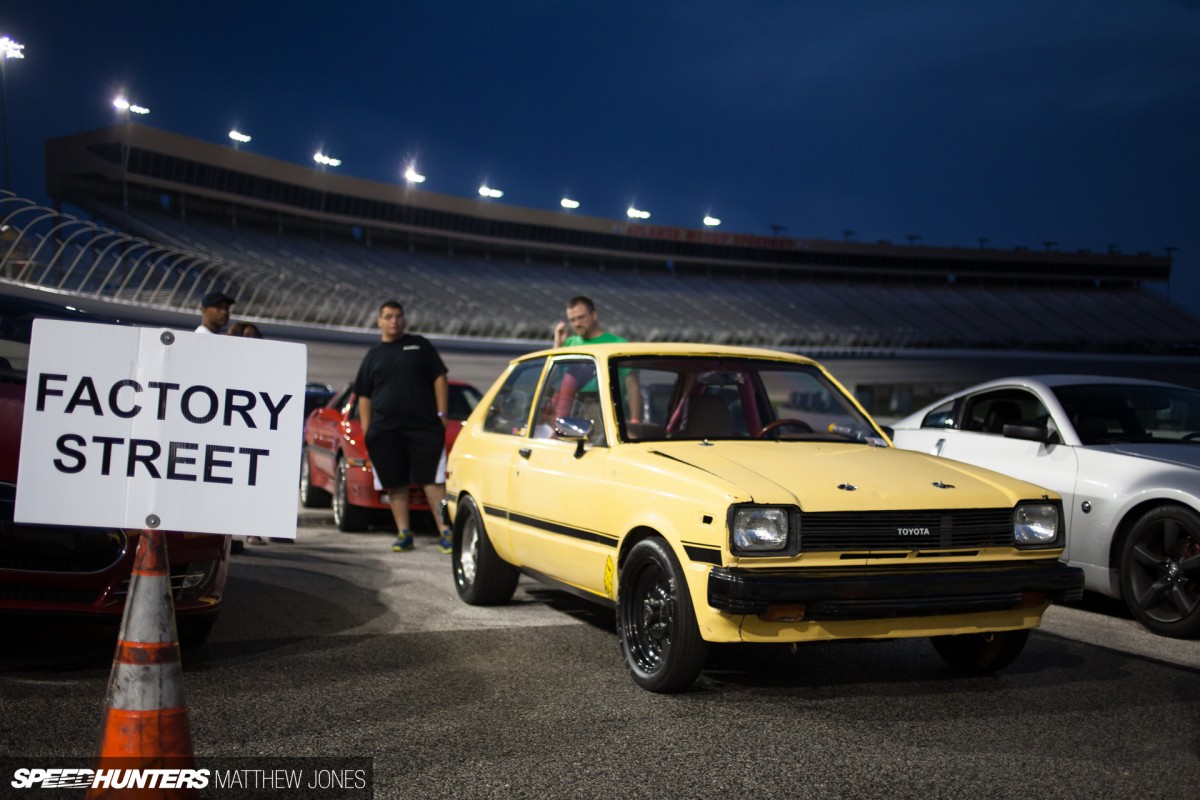 In a close, I've shown you two wild truck creations, an American classic, and a shop-built slinger. But where would the acclaimed diversity of this event be if I didn't include at least one of the many imports in attendance?!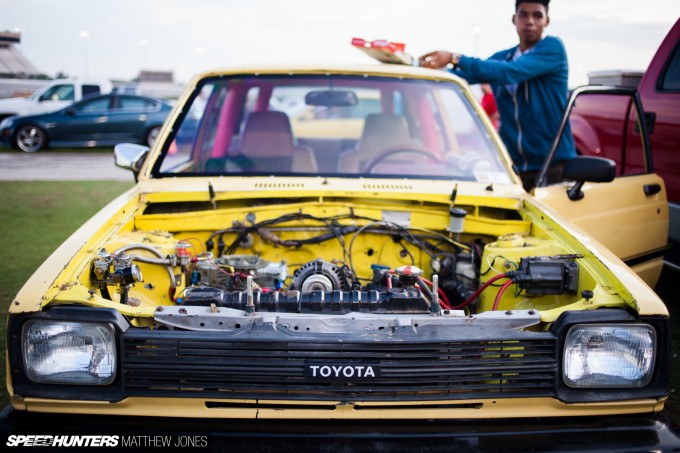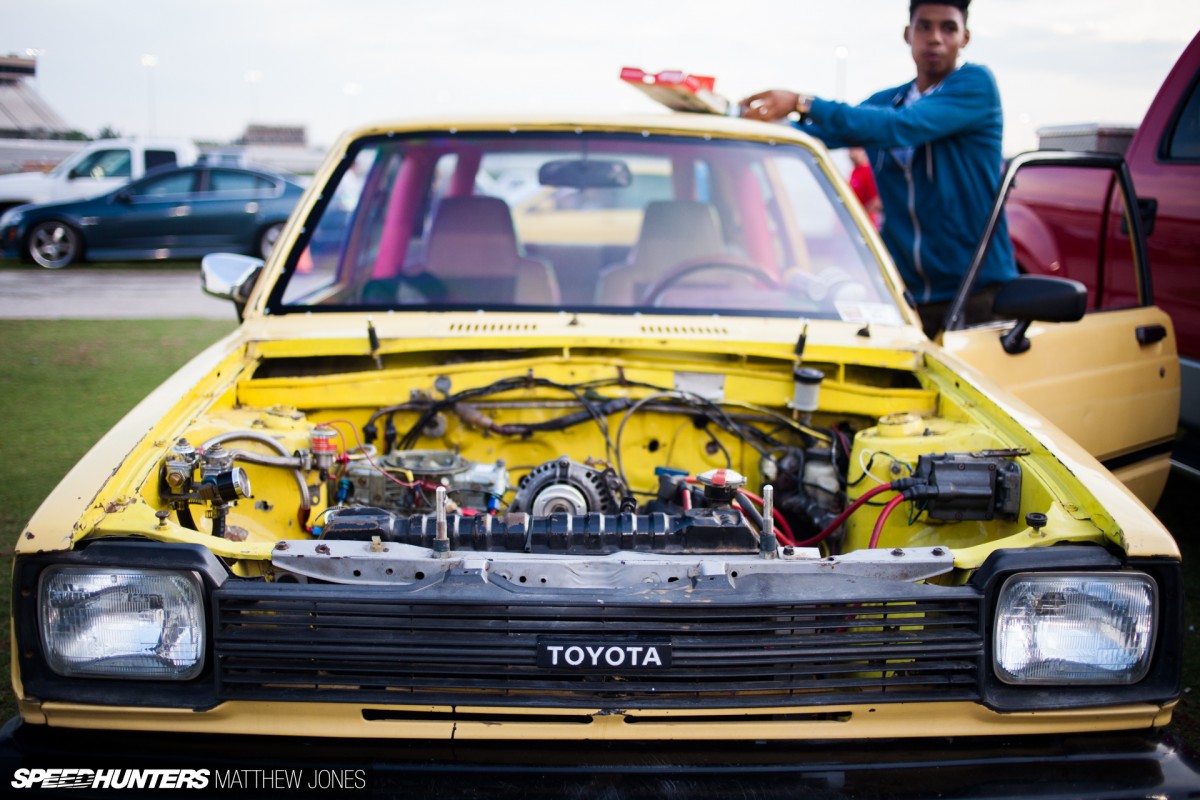 So here you have it: a Puerto Rican-built, 13B-swapped and N2O-assisted Toyota Starlet.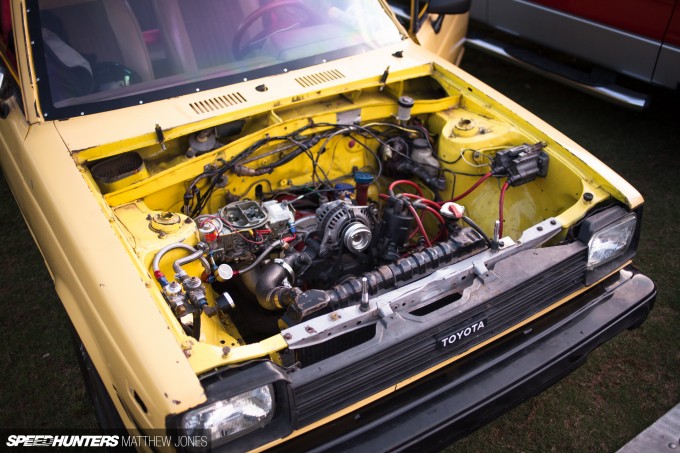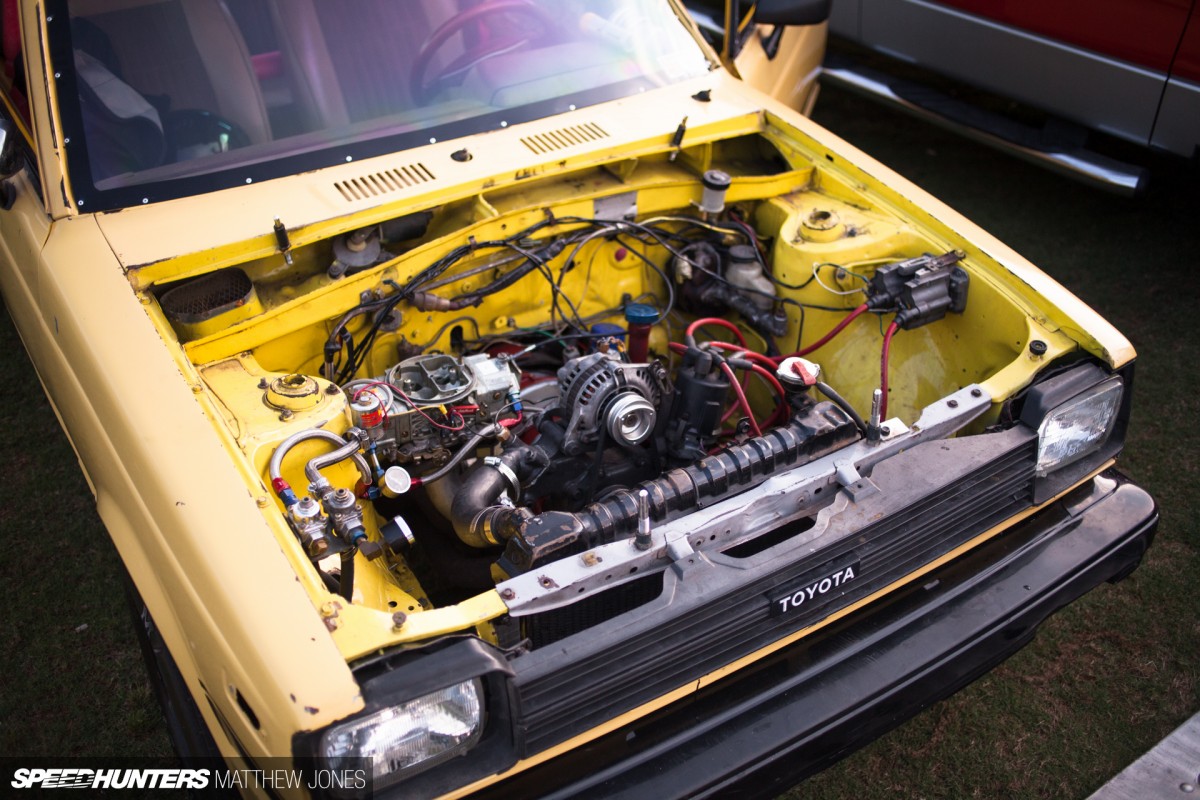 Seeing an old school Starlet's engine bay occupied by a Mazda rotary engine certainly isn't entirely out of the ordinary in the drag scene, but it just goes to show the variety of machinery that is brought out to these Friday night events.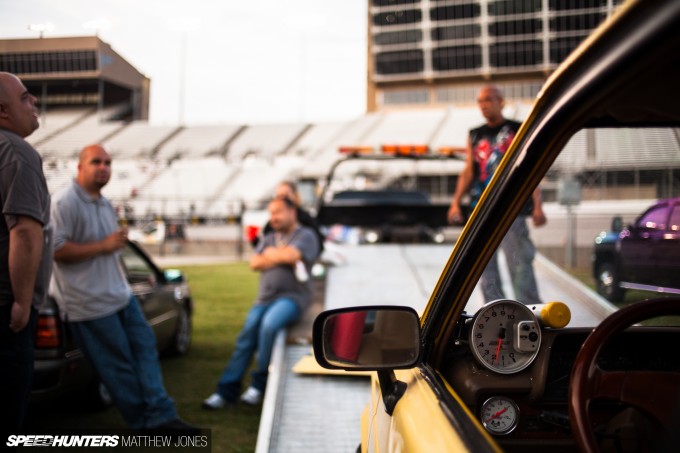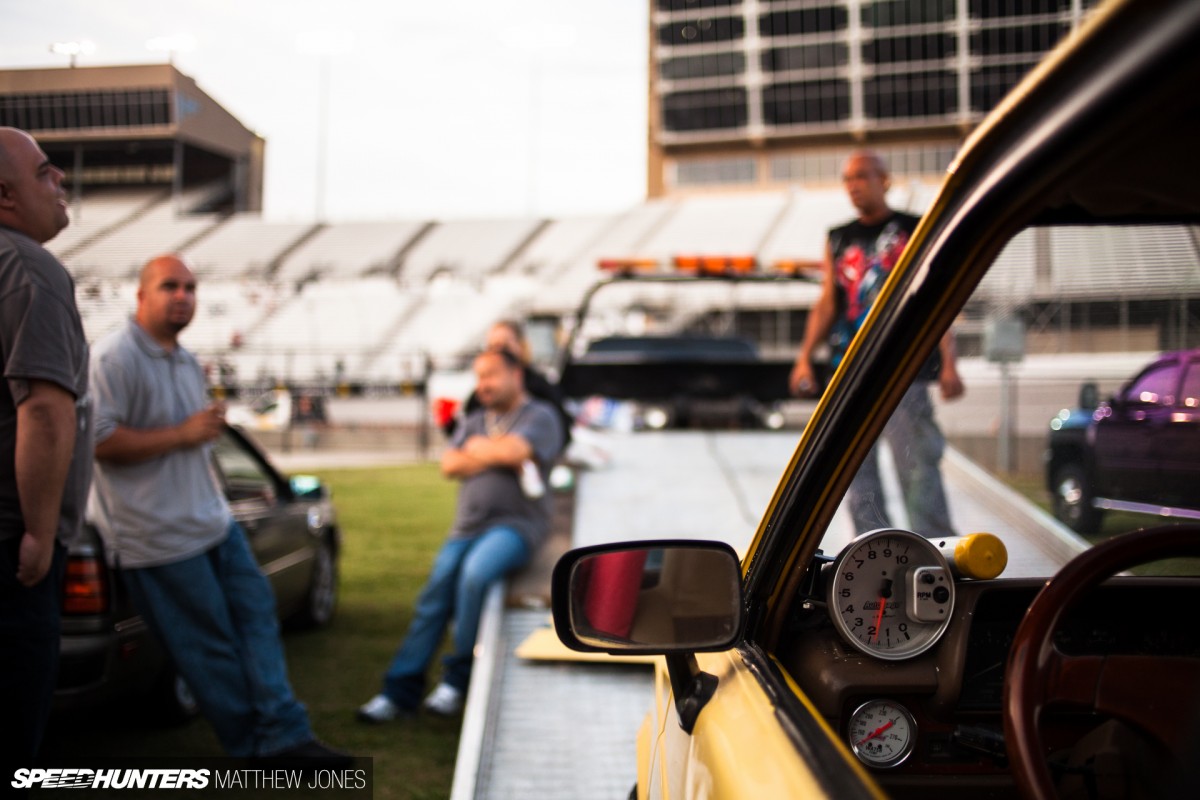 Not to mention, the various segments of homegrown culture that await you with each new step. Five-inch drag tachometer and shift light: check.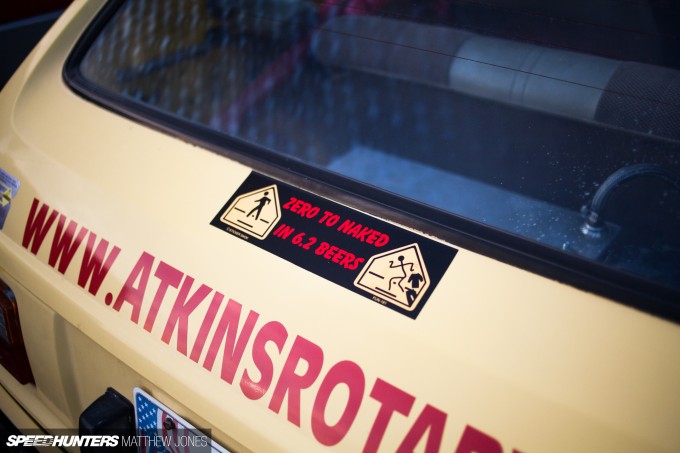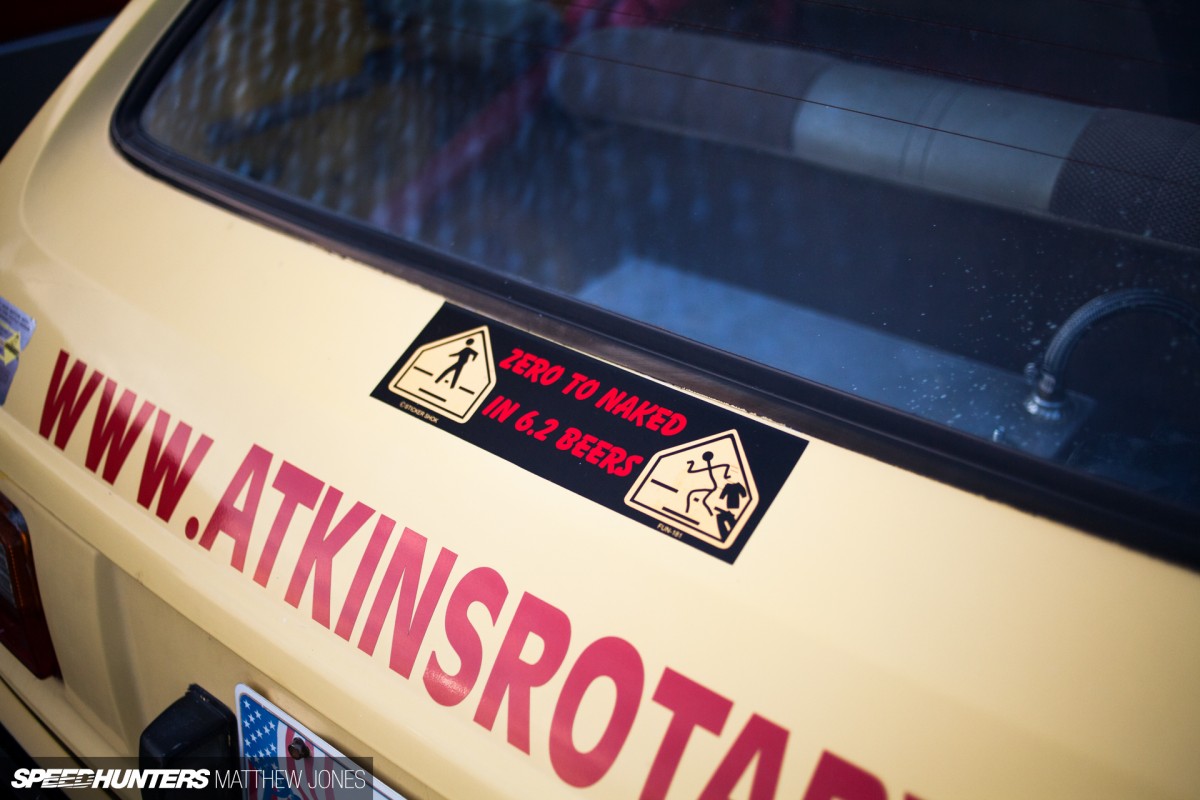 Again, I wasn't able to get the little car's exact numbers, but I think I have an idea. Until next time Friday Night Drags!
Matthew Jones
Instagram: matthewjonesphoto
matt@speedhunters.com