Dusting Off The Training Wheels
I'd like to take a trip down memory lane, to a time where you had your first automotive experience. For some, it may have been the first time they took a ride in their grandfather's hot rod and the feeling of what seemed to be a massive leather bench seat hugging their hips; the sound of the engine cranking and the excitement of the pilot responsibly hitting the gas pedal waiting for you to explode in a giggle-fit of joy. For others, it may be as simple as the first time their parents took them to a car show, where their eyes were exploding with every ounce of automotive culture that surrounded them; picking and choosing from their favorites of the show…
As in my case, it may have even started a bit late, like when I first got my license and simply fell head over heels with the freedom that accompanied four tires and a laminated picture ID.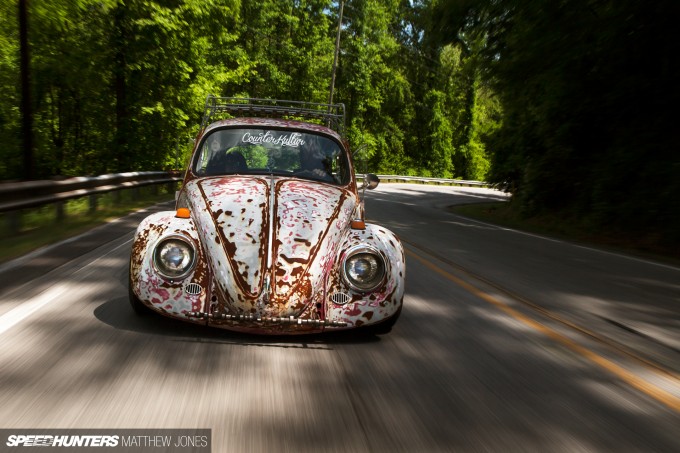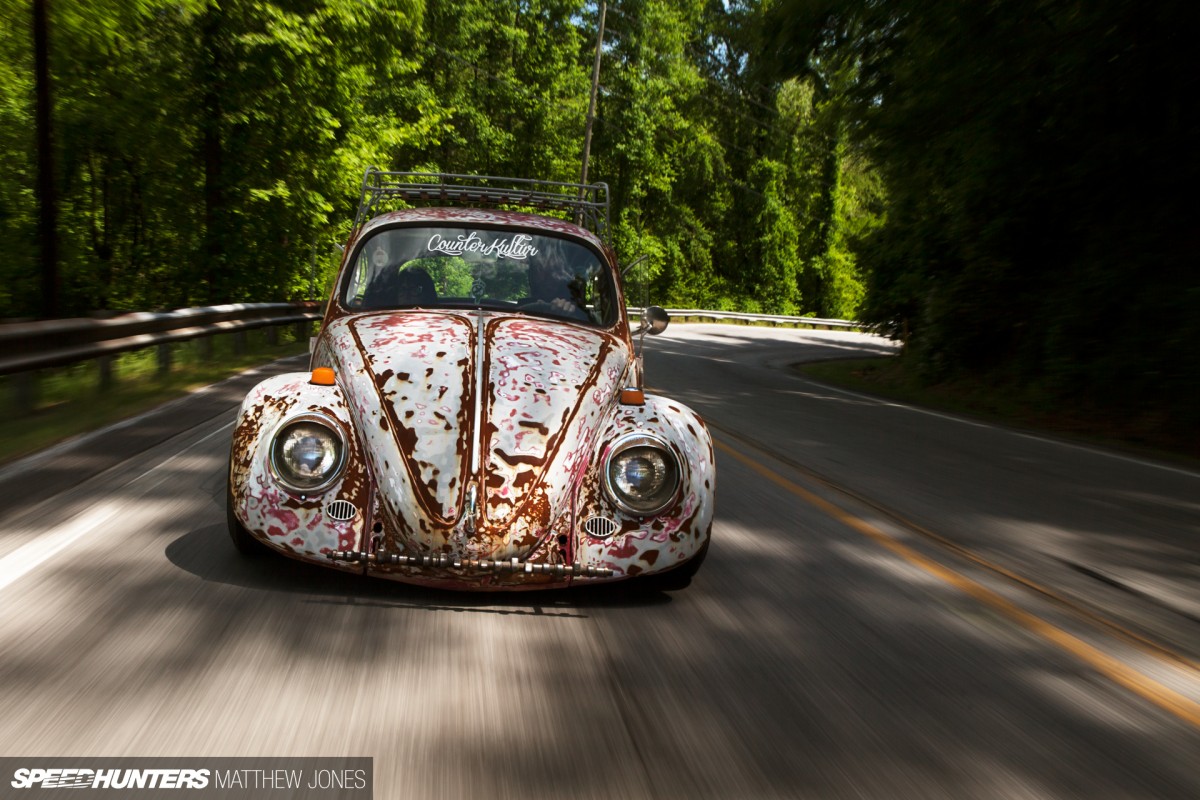 It didn't matter what was jolting your shoulders to the back of the seat on that first ride, and it didn't matter that your favorite car of the show was most likely not anywhere near tasteful – because we were innocent. We were children floating through the experiences with an open mind; following nothing but the feeling in our gut without the concern of being ridiculed for what was right or wrong.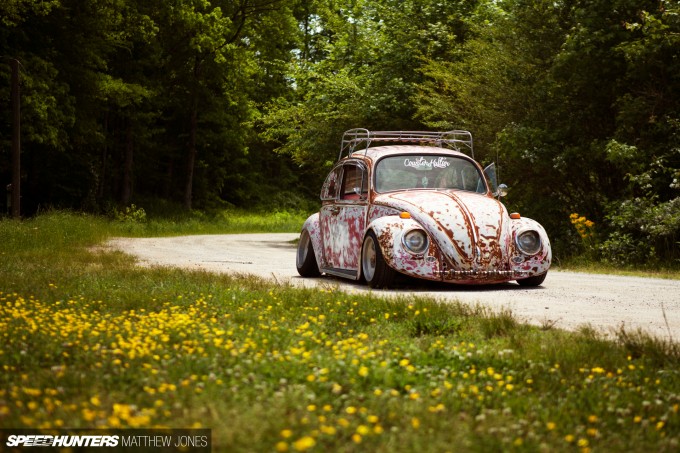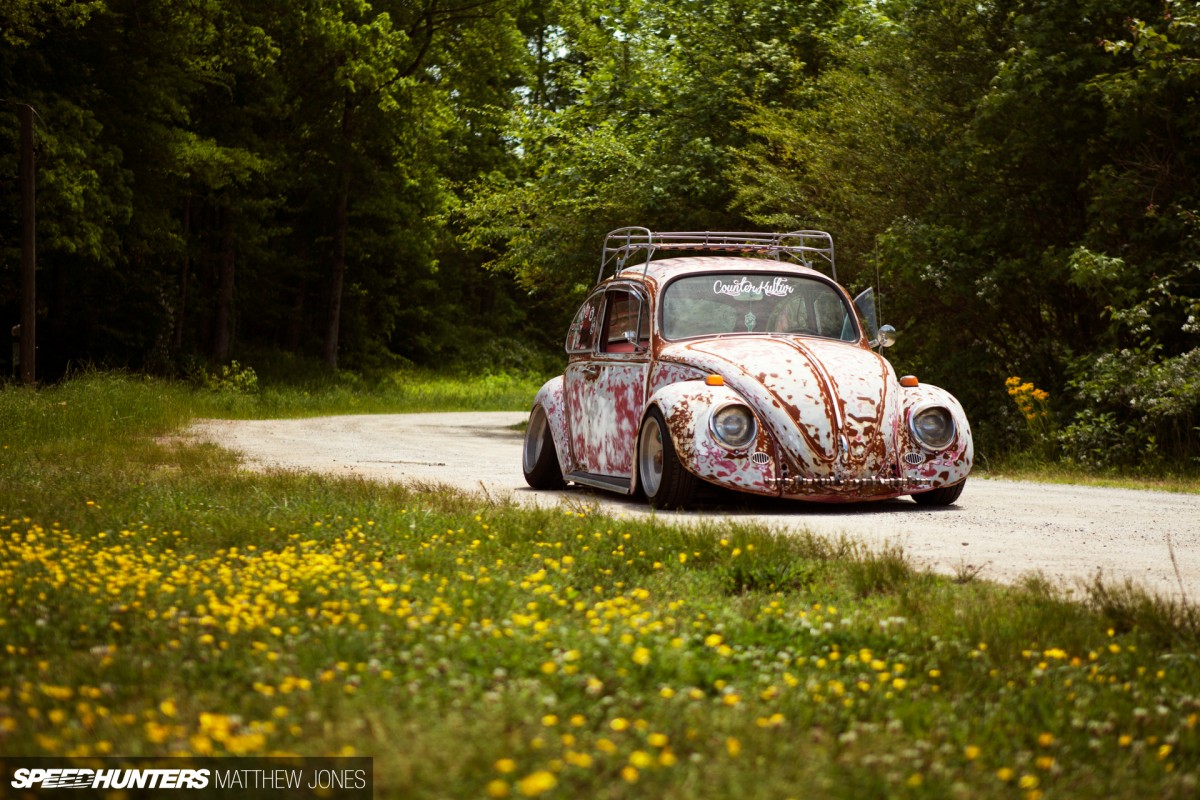 So let's go back to that innocence – just for these few moments, at the least. And in the case of this 1965 Beetle, let's forget the whole 'stance' thing ever happened. Let's also forget the function wars; the 'my car is better than yours because of its ride height' apparel; the plethora of blogs and shops solely dedicated to camber specifications and the general separation that is amongst our community due to this specific type of style.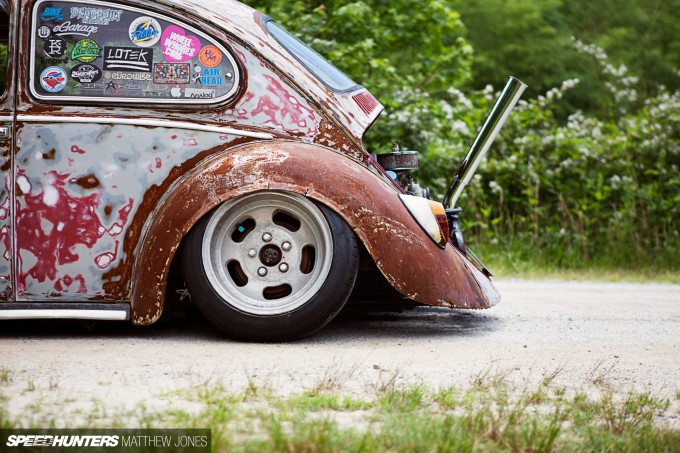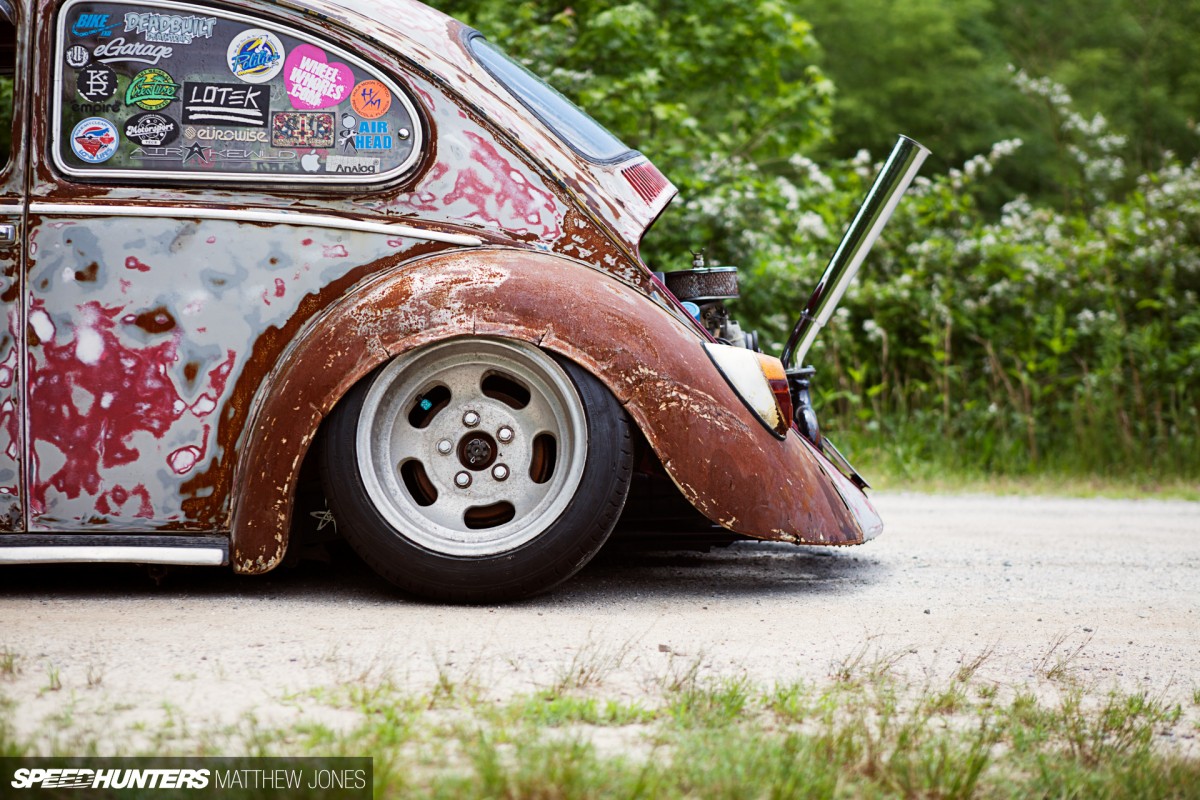 Forget all of it. Let's be kids again. Let's be genuine adults and enthusiasts rather than rampaging adolescents hiding behind the fortitude of our wireless internet providers. Even better, let's be artists. Because at the end of the day, that's exactly what we are.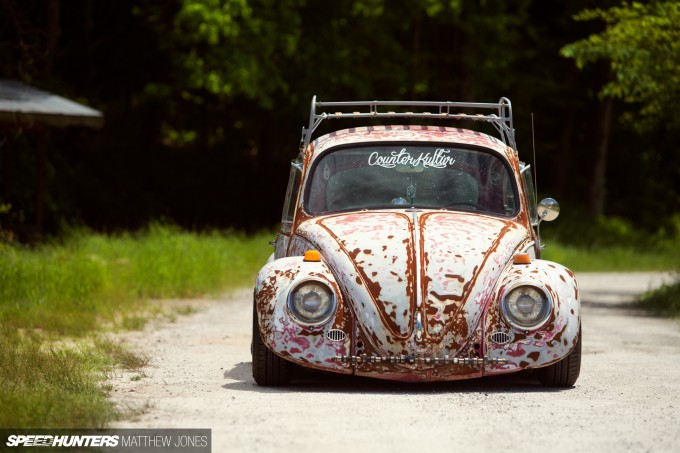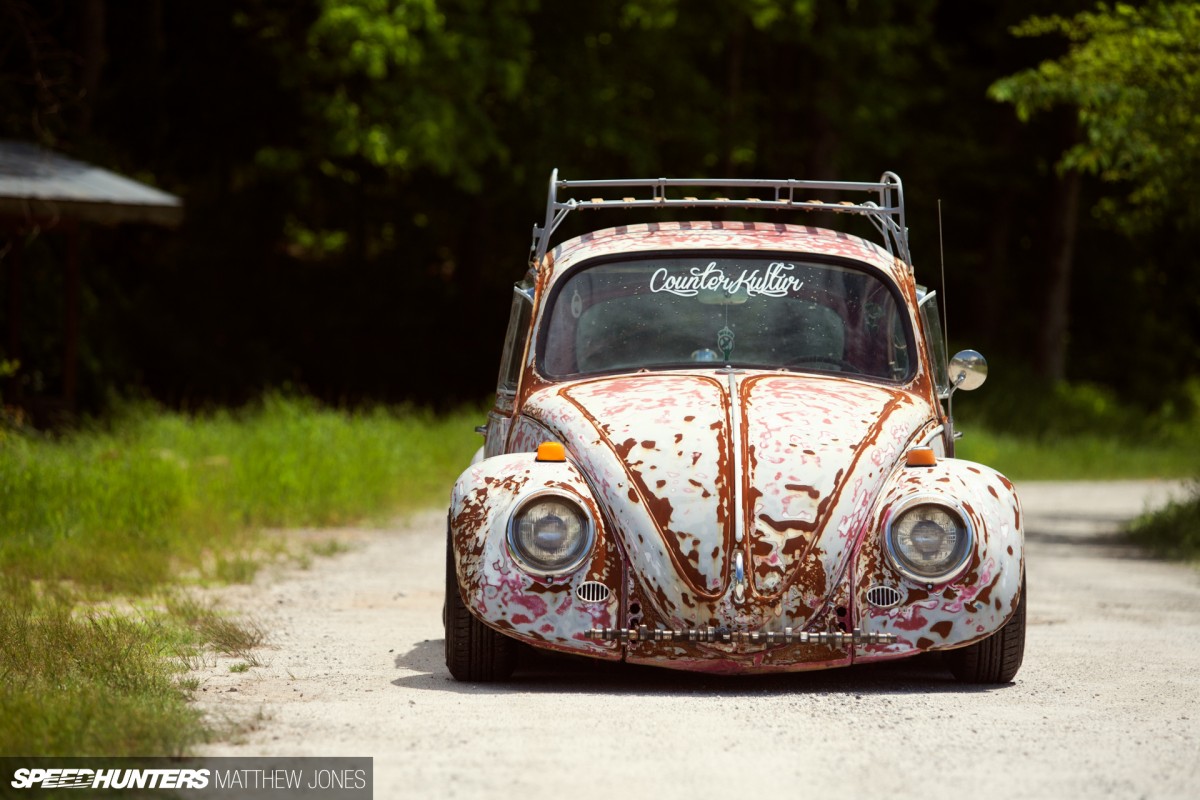 As hard as it is for the gearheads and fabricators to swallow, every piece you cut, weld, and mold is you being an artist in the purest form. Those of you who are more cultural observers and simply attend meets to check out the scene, you are curators waddling through a vast pond; picking and pointing out whatever sends an emotional shiver down your spine.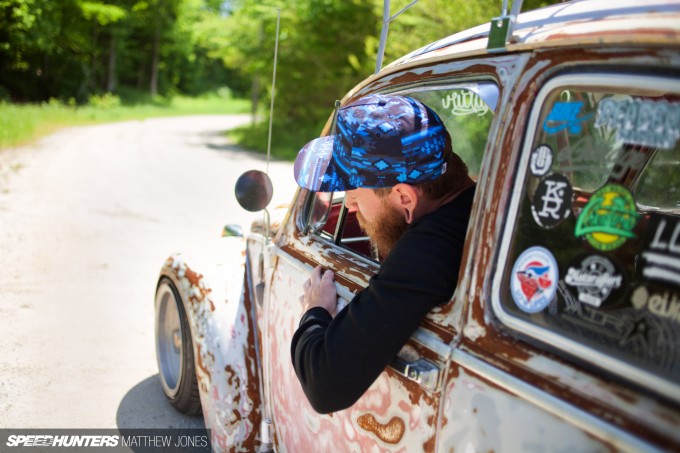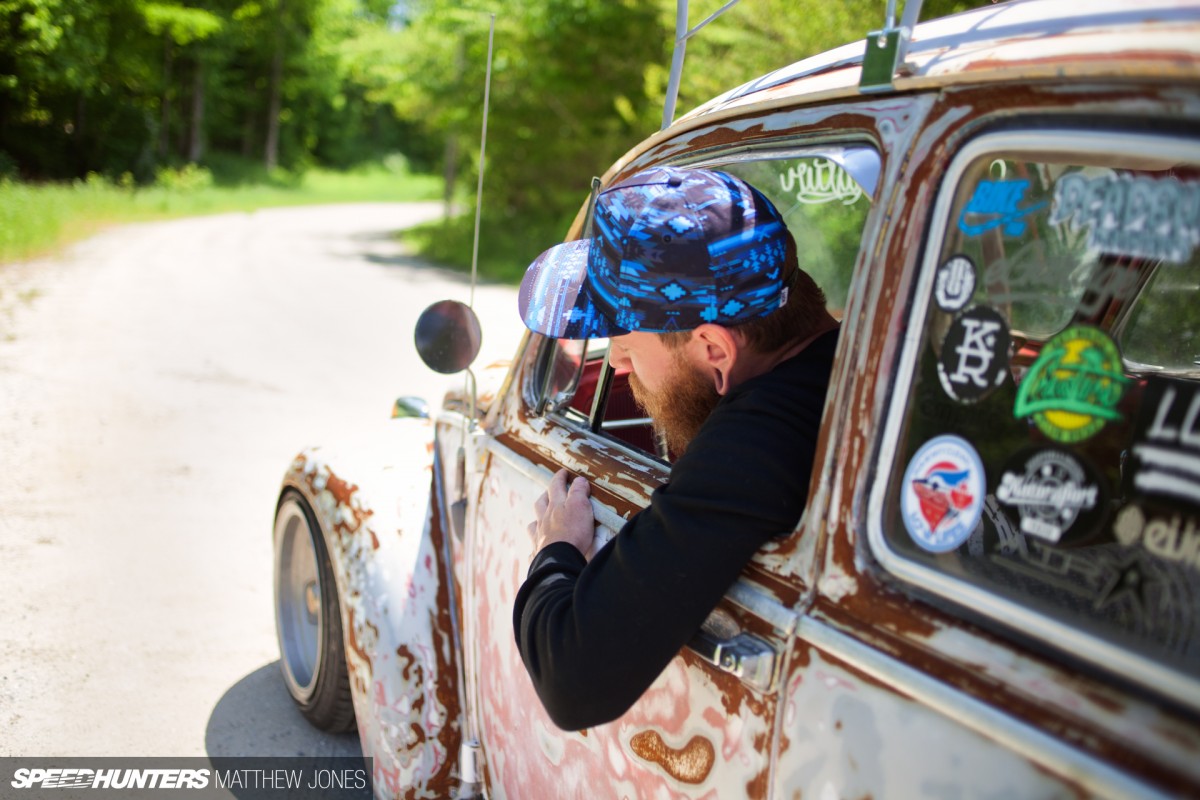 And for the ones like Erik Stevenson – the owner of this near-50-year-old ratty hunk of metal – you are creators; cautiously picking your pallet, modifying your details to the nth degree as you dig through junkyards in effort to recreate that initial feeling of innocence. That first automotive 'high' so to speak.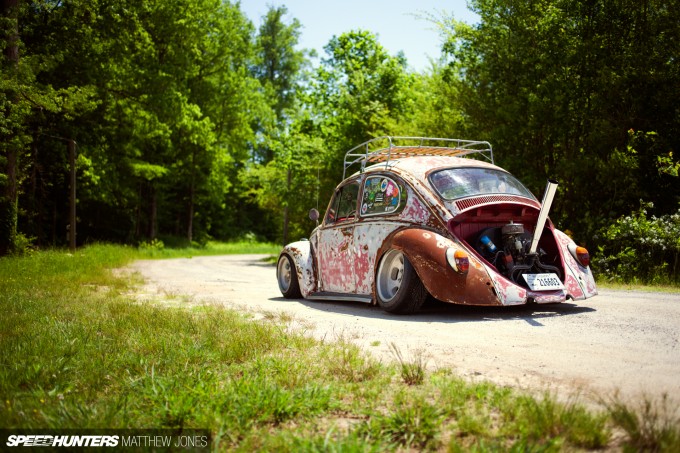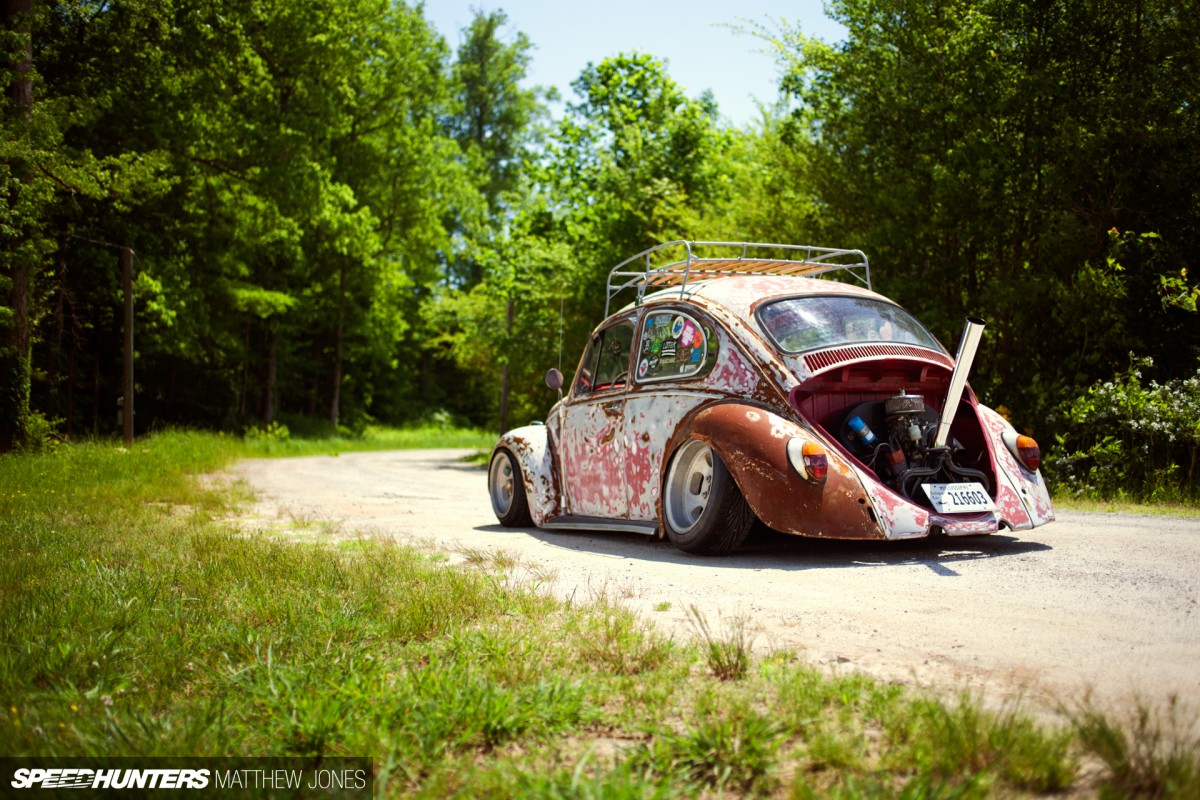 Fellow artists, that high is the reason this car is on Speedhunters. It may lose to a tricycle in a speed bump battle, and it may very well be hardly even drivable (though it is). But beneath that testerone, 9-5 caffeine-enraged shell of yours, you know there's the innocent child in you that can't deny how freaking cool this Bug looks. It's a rolling performance piece that some of us will absolutely adore, and others will regret they ever wasted their time stepping into the venue. So in the spirit of this fluffy chatter, let's continue to take a step back and view the artistic direction and decisions that our artist chose to make in creating this piece, rather than instantly writing it off without understanding.
The Process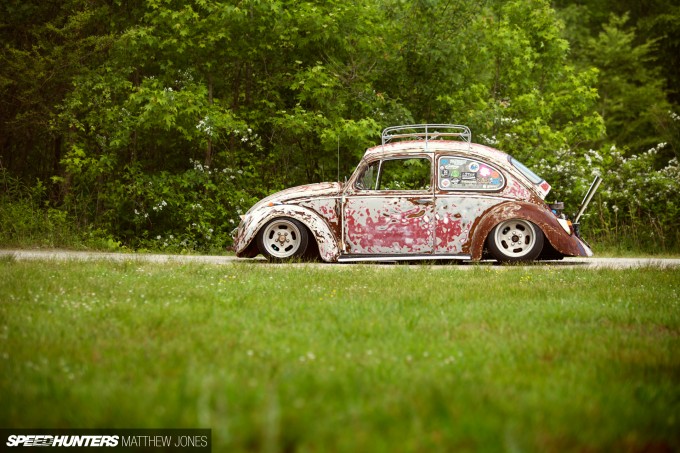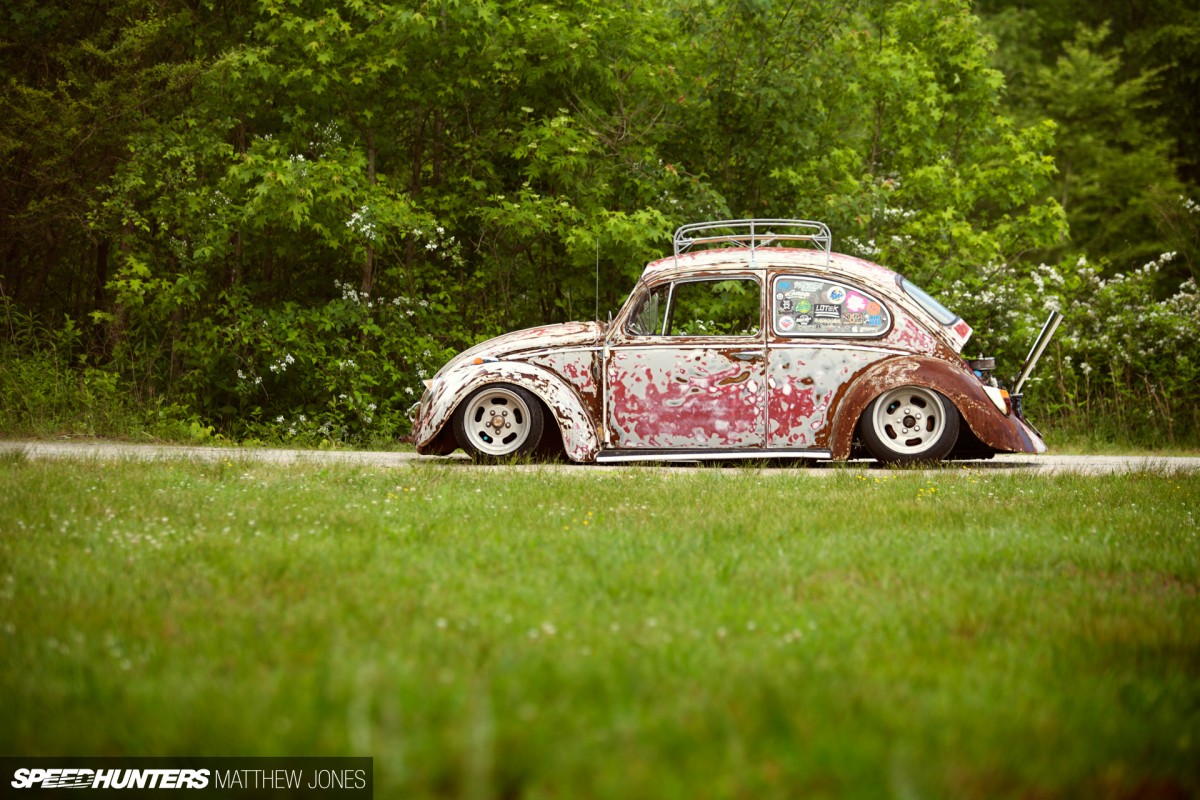 First off, for lack of better words, it's a rat rod. Isn't it? Some of the die-hard curators may not agree, but what really makes this anything but that? A true rat rod is supposed to be something that has been built on a budget using nothing but immediately available items to create a backyard piece of jubilance in absolute contrast to authentic hot rods builds. And though this may not completely pass the bar in the 'rat rod' realm, it's the exact process that was applied to this Beetle.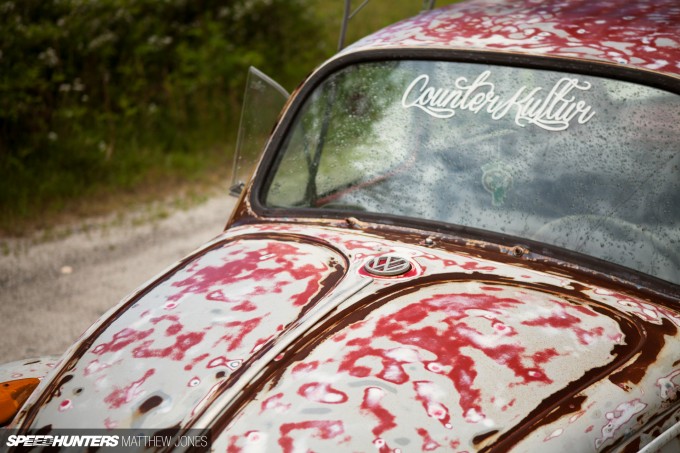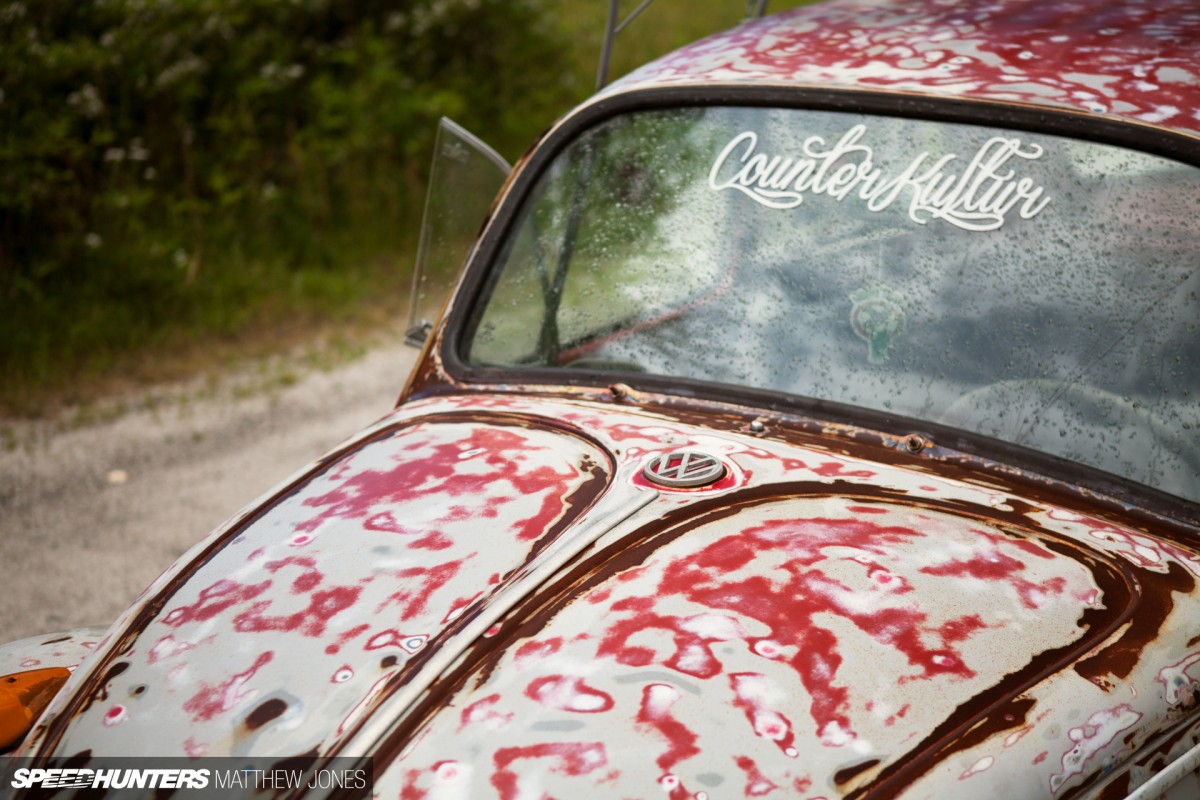 As Bryn mentioned in his introduction to June editorial, this car is rocking a faux patina scheme. But what makes it faux? Sure, it obviously didn't look this way when it was hoisted out of the junkyard, but in many way it's more natural than one would think.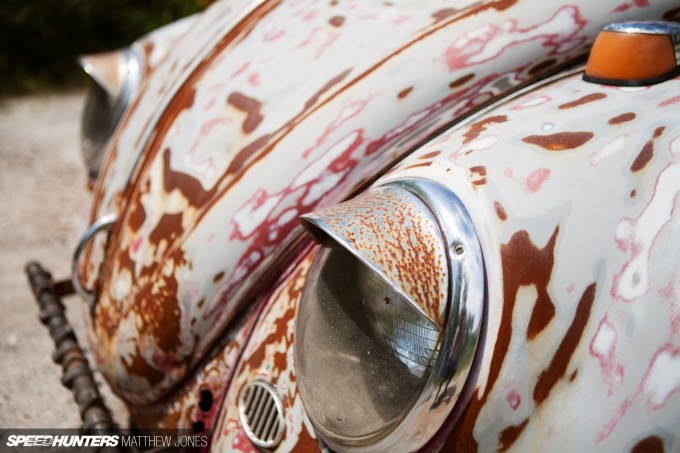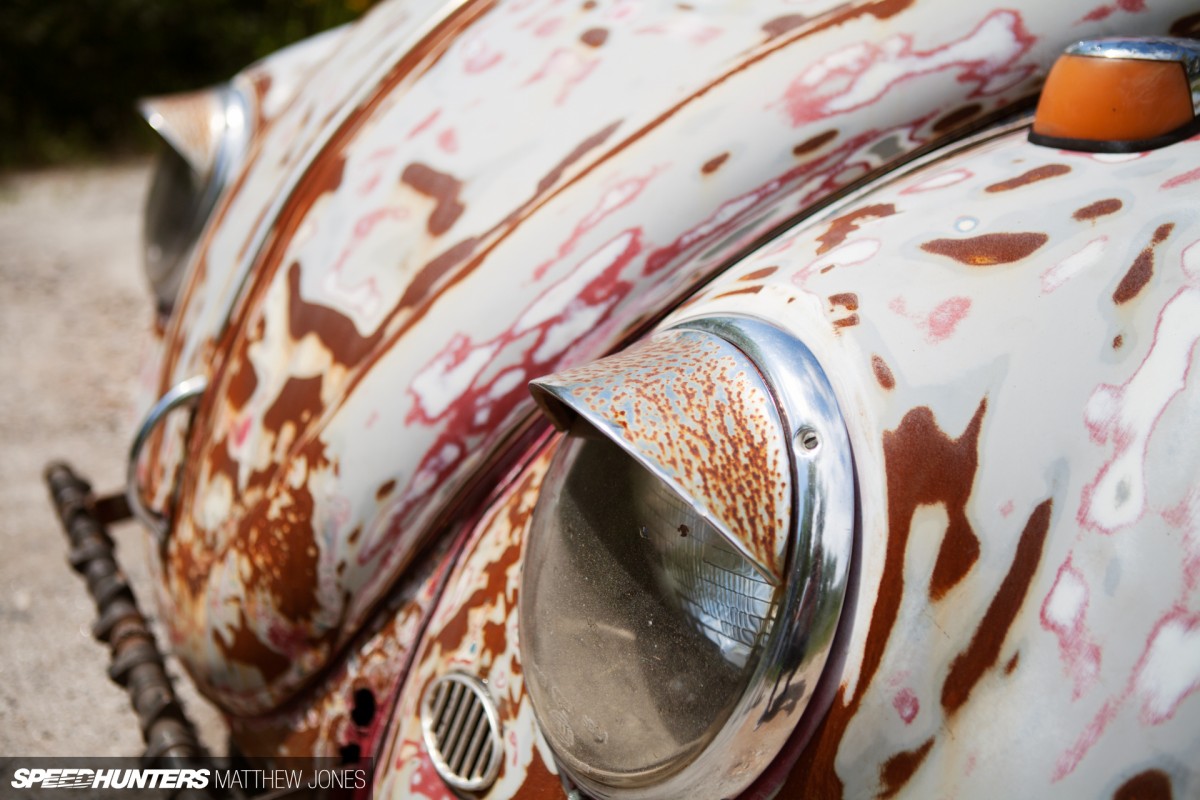 To further elaborate, this Bug was originally acquired in a bright shade of yellow, though looking deeper (into the interior guts) one could easily tell it was originally red. Or was it? After a few afternoons of wet sanding in the Mississippi heat, our owner eventually found that the '65 had changed outfits at least six times before his ownership, and after discovering every stage of its life, made the artistic decision to keep it as is. Make no mistake, this wasn't done for the sake of imitation. This is what the canvas revealed.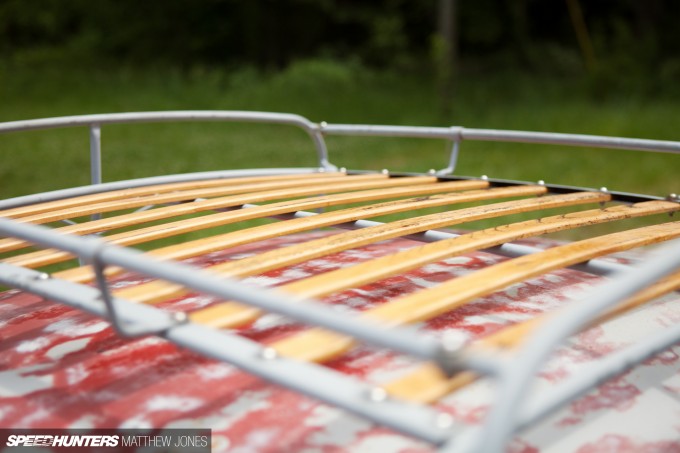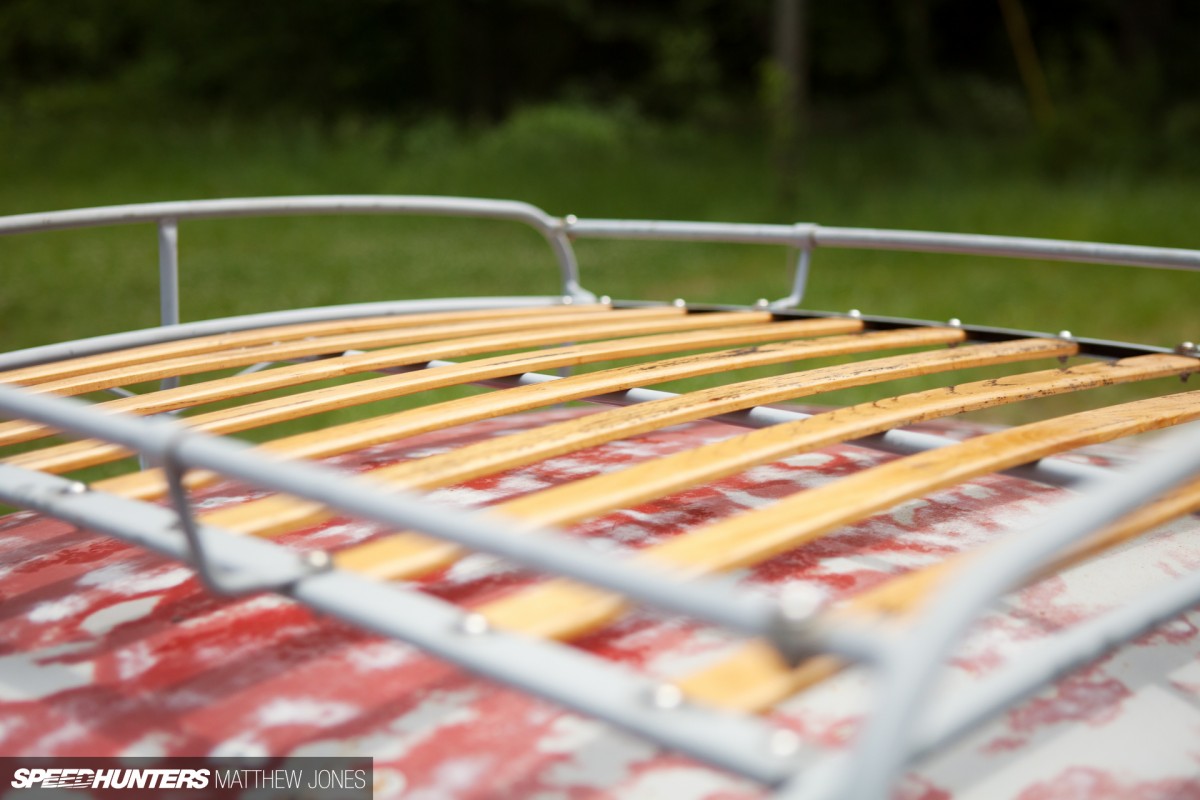 Along with the immediately noticeable paint scheme comes the other bits of artistic character subtly showcased throughout the exterior – like the roof rack. It may be as pointless as an irrelevant speck of detail that a painter would apply to a prestigious landscape – and we all may be thoroughly jaded on the style – but it completes the car. A final touch, you could say.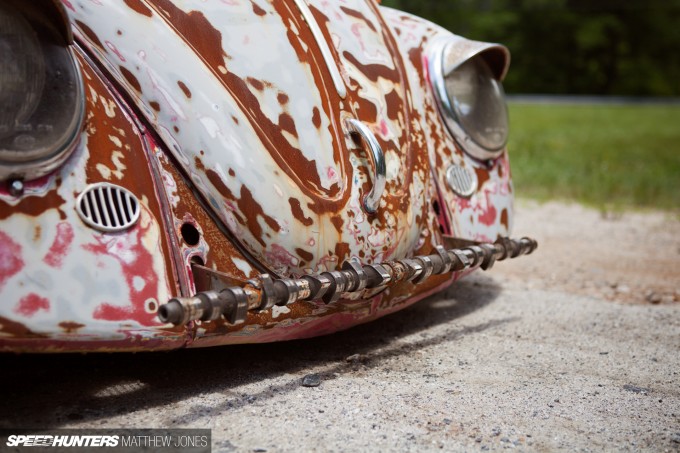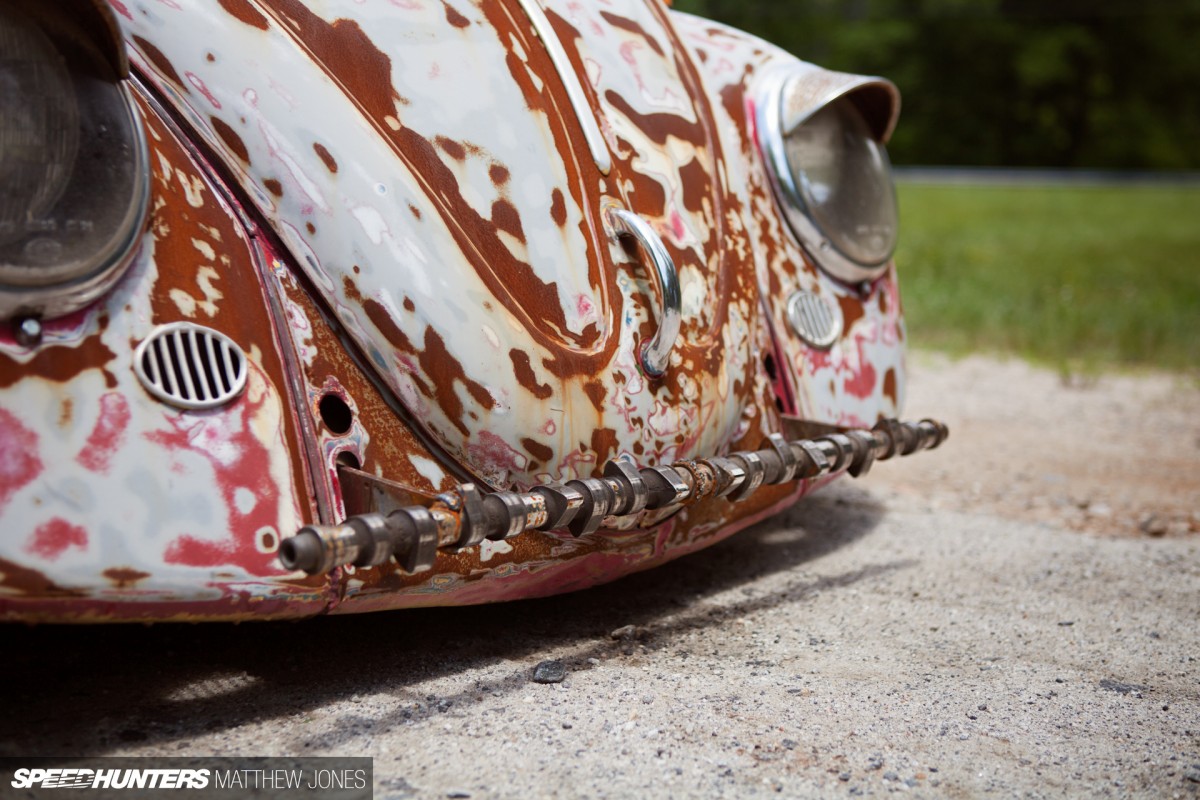 Then there are the two camshafts up front. Originally influenced from classic hot rod/Chevy builds, our artist wanted to transform this piece of character into something of his own, and after digging through his workshop came across a pair of VW ABA cams that would perfectly fit the bill. Many of you may despise this piece, but I guarantee it won't be long before we see more renditions of this influence.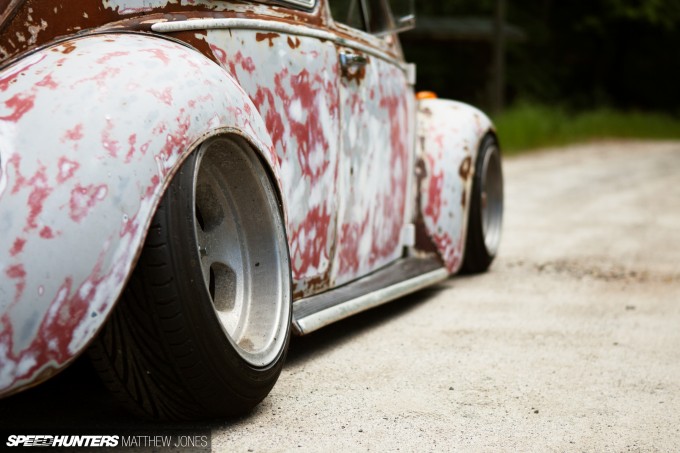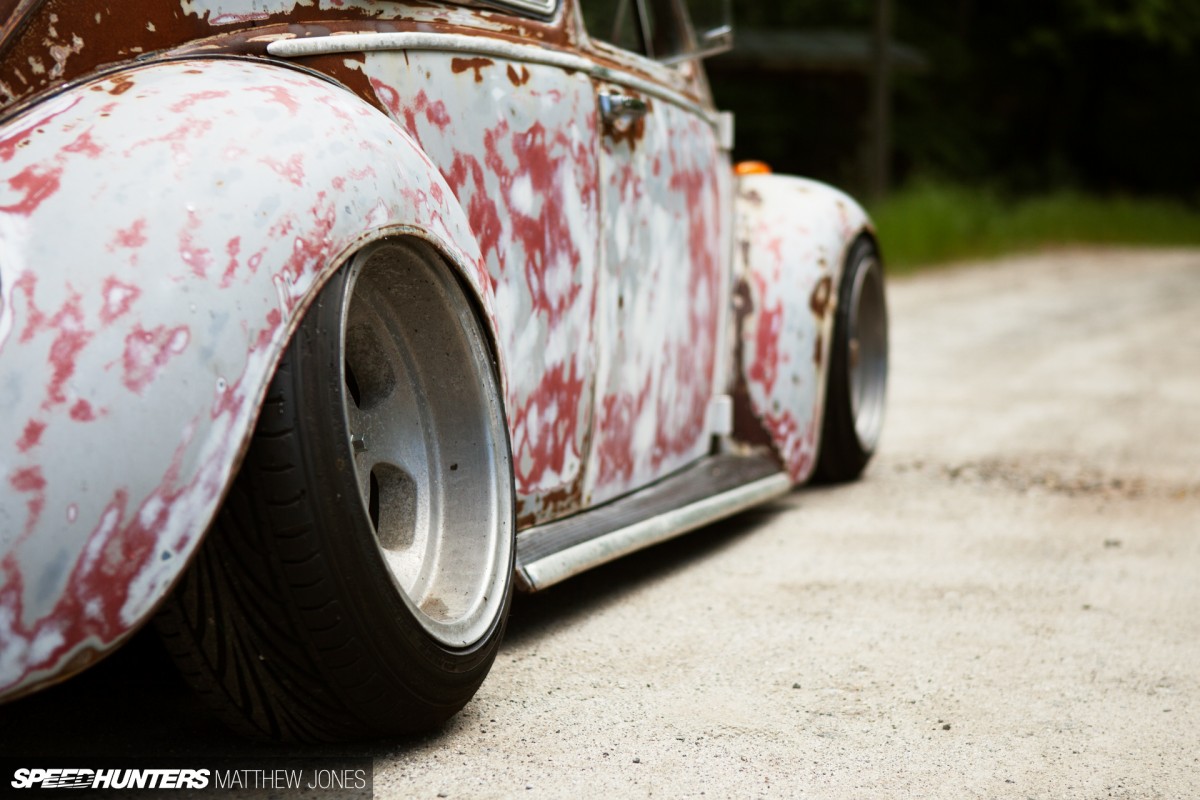 And the wheels? Lord knows this thing would look righteous on a set of fresh Rotiforms, but the authenticity of the piece was stuck to throughout the entirety of the process. These my friends are a set of Ansen Spirits acquired from a shop customer who was simply looking to get rid of a set of junk wheels he had laying around. And just like that, the originally steelies were replaced.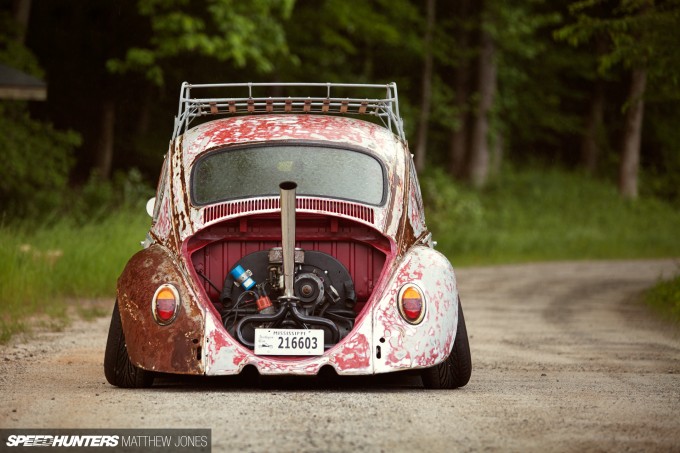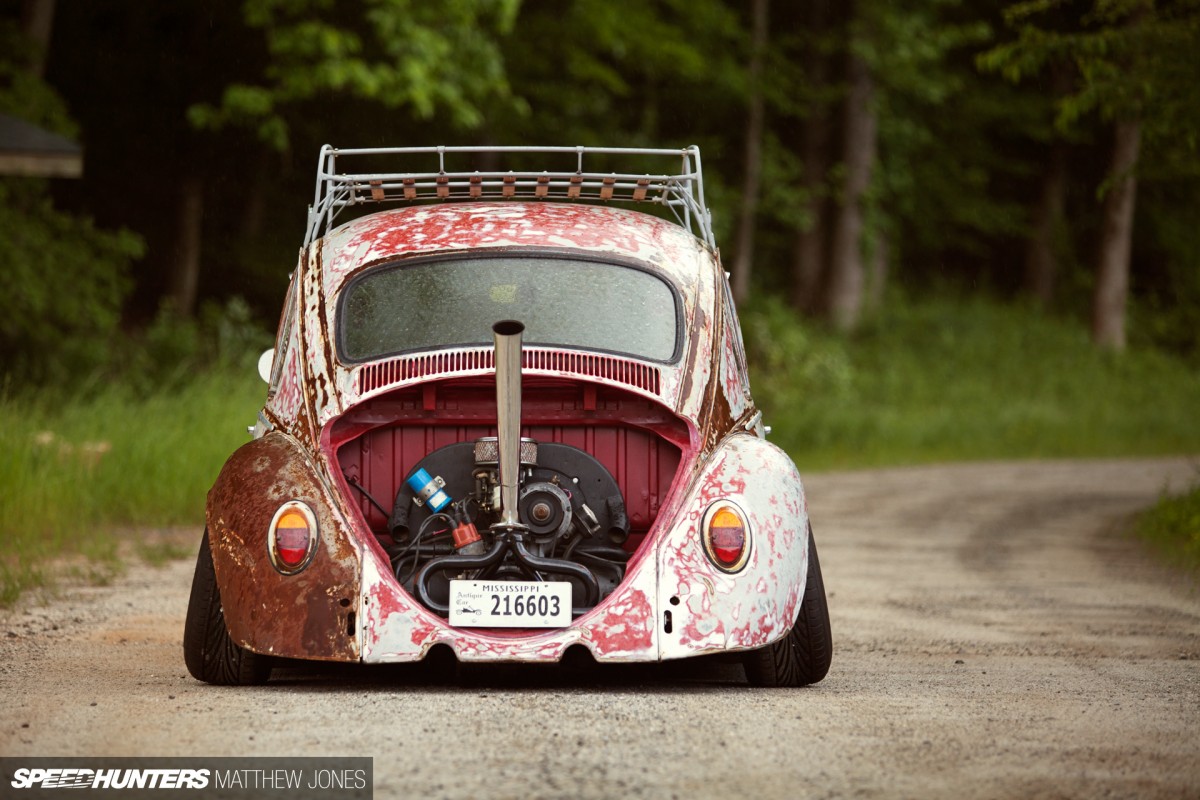 I'm sure the biggest factor that's boiling in a lot of blood streams right now is the owner's decision to set the frame on the ground. But we won't waste too much time explaining its suspension aside from the fact that there basically is no suspension. Shock towers? Who needs 'em!? It's pretty much all just tire pressure right there, guys. But that's okay. Think about how much more you'd hate this car if it had that godforsaken wheel gap!
Emotional Ties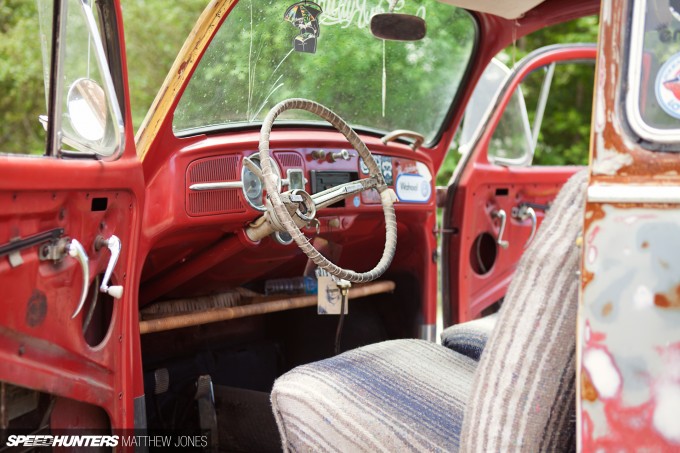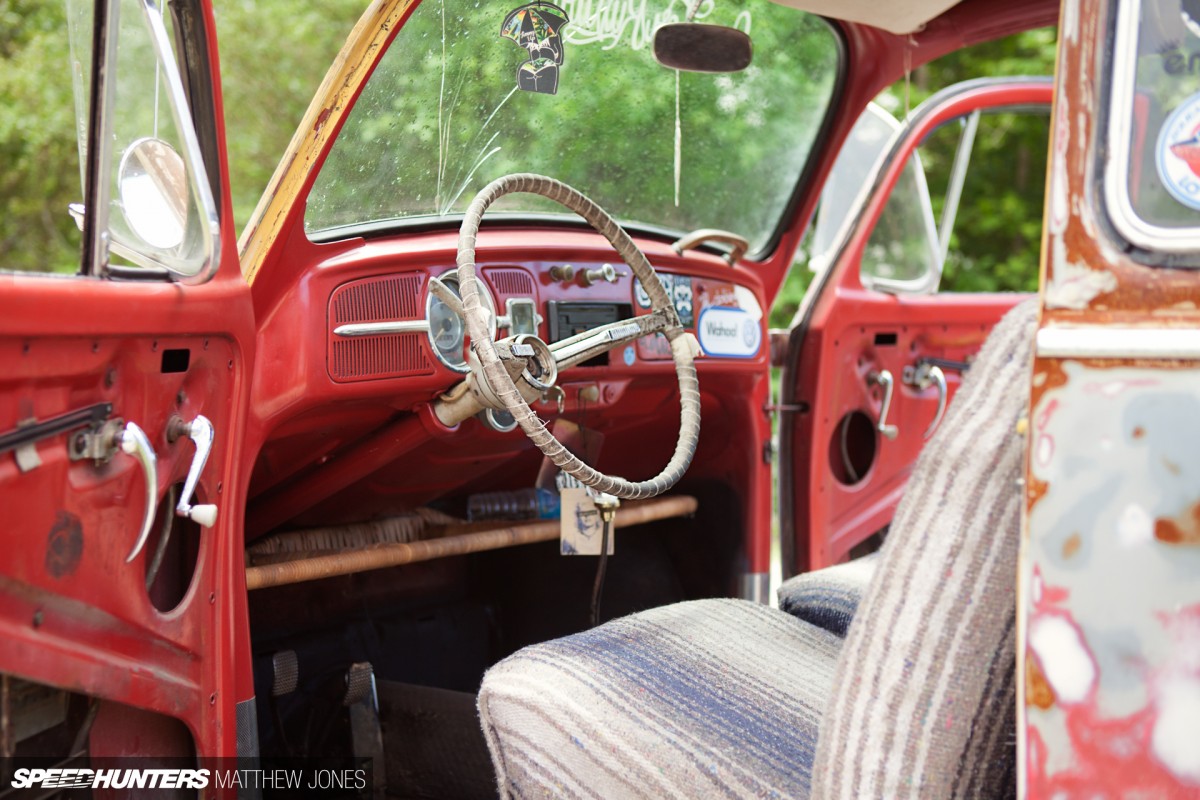 Just as with a blank canvas, our artist has meticulously plotted each and every brush stroke, and stepping into the interior you'll find the story is no different.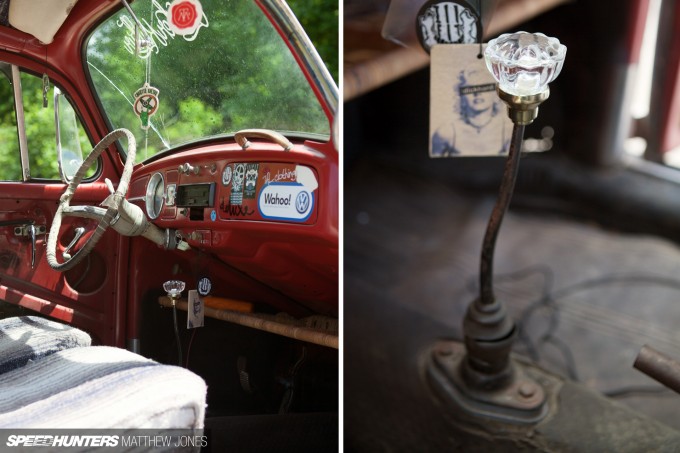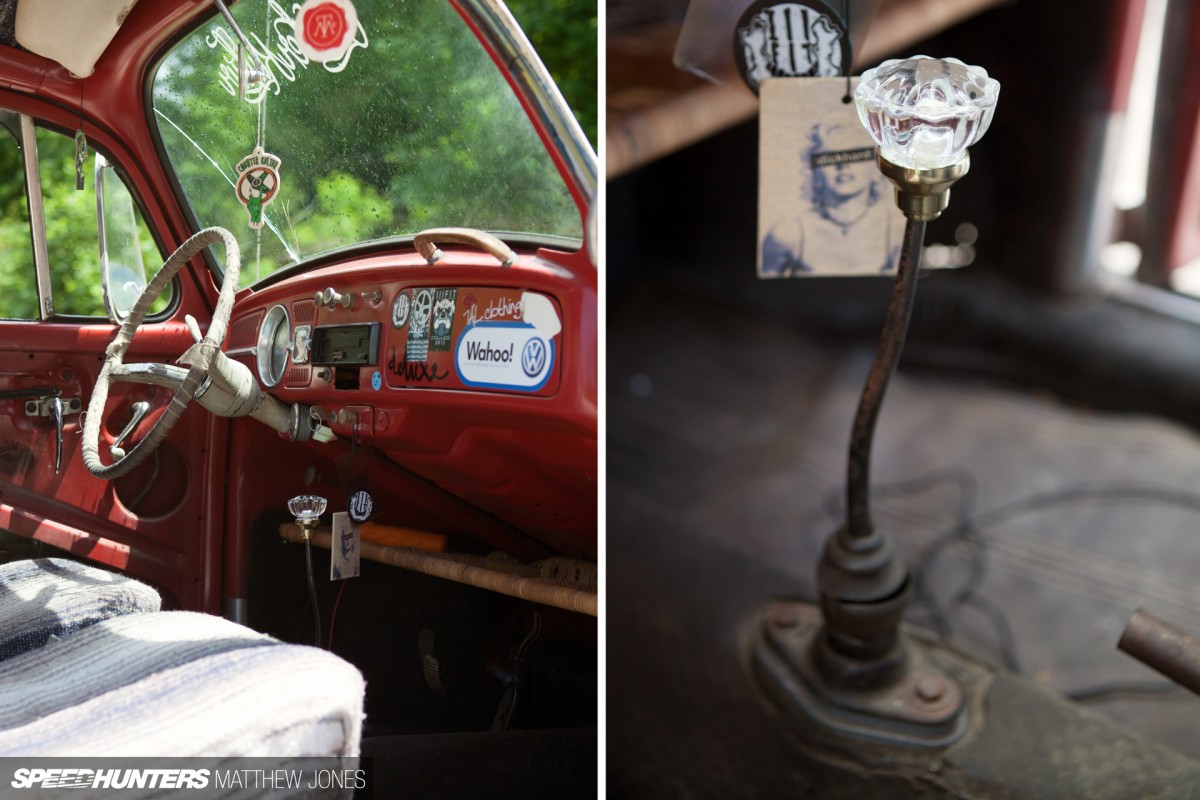 A personal favorite? The crystal ball shift knob. No, this wasn't bought from a random vendor at a Euro show attempting to monetize character, it was a gift – a gift acquired from an old antique shop owned by one of our own, an artist. An artist nostalgic of when he was a child ripping around in his backyard builds modifying his car with whatever he found laying around the house. And every time Erik clenches the little four-speed, he's reminded of this.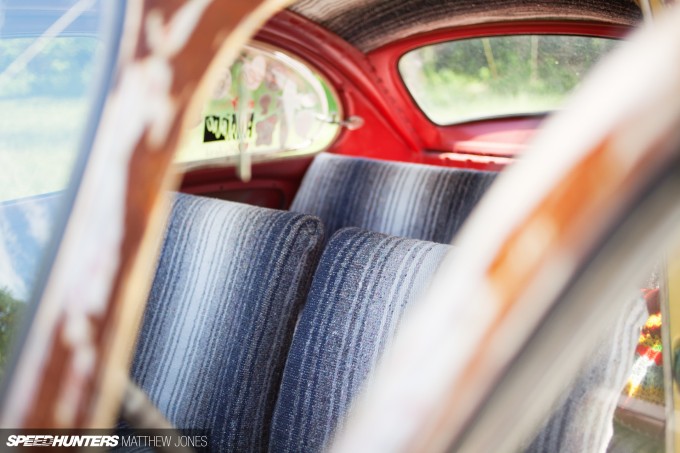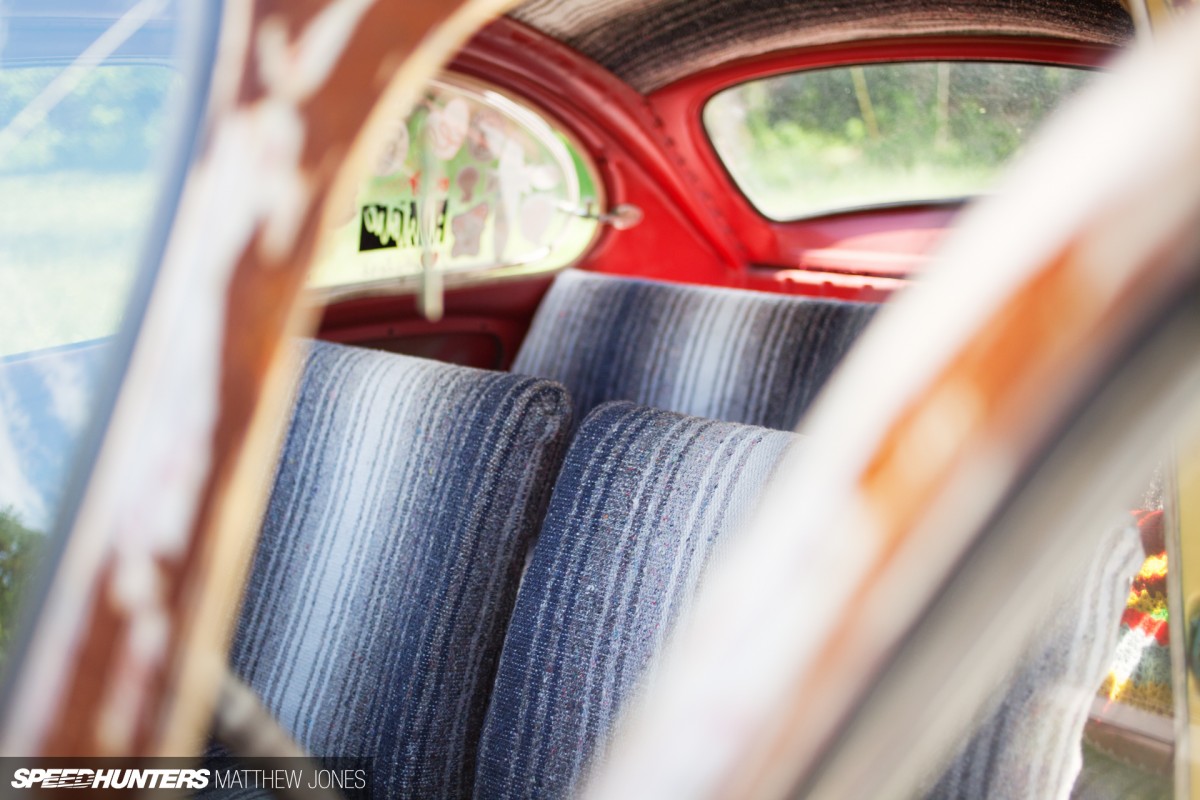 To tie the sentimental factor in even further, the upholstery also pays more homage to the artist's roots than what immediately meets the eye.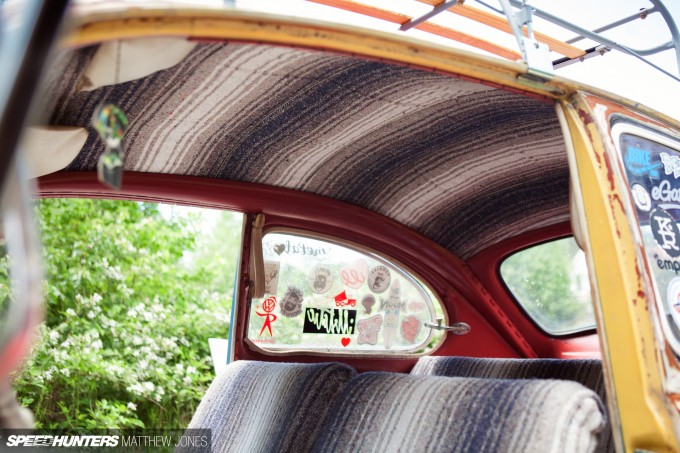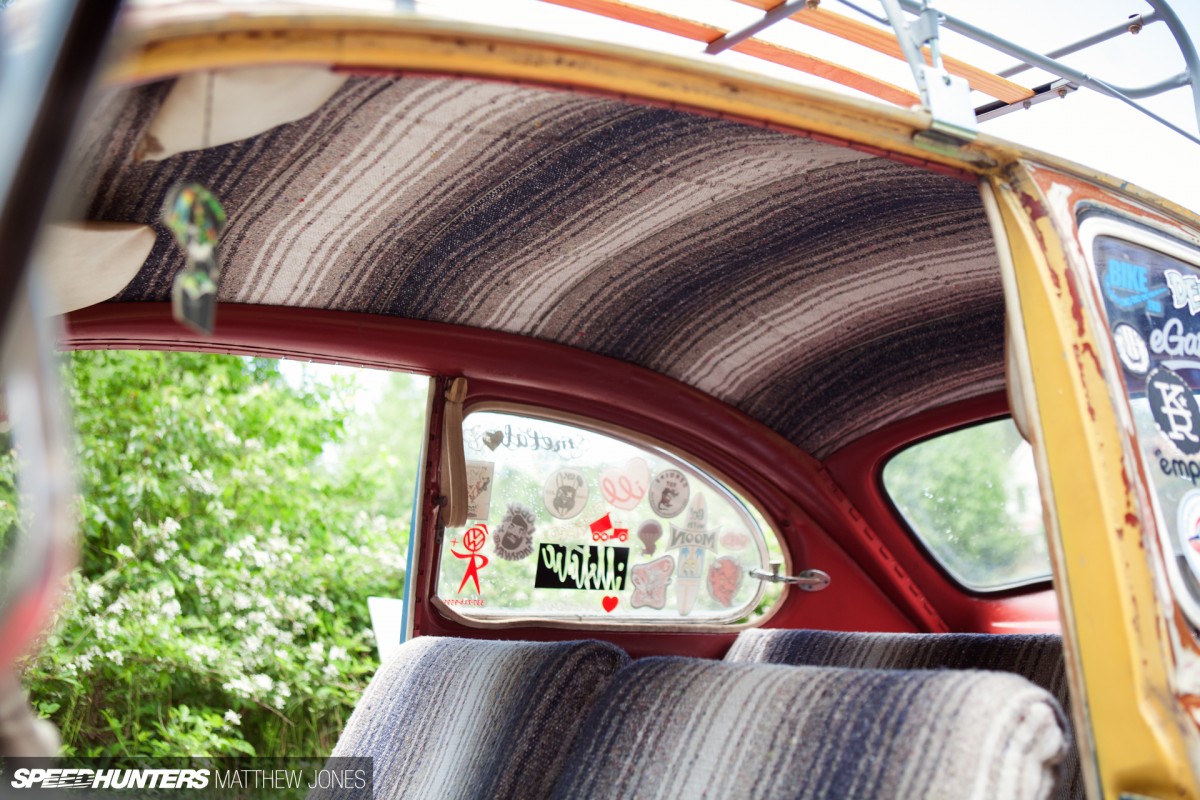 After cruising around for months with the idea of revamping the cockpit on a budget, it wasn't until Erik was driving with his mother that he stopped at a gas station and found a bundle of blankets that would later be cut, sewed and transformed into the emotional lounge you see today. Glorious, isn't it? These are the types of ties that will be brought to life every time the engine is fired up.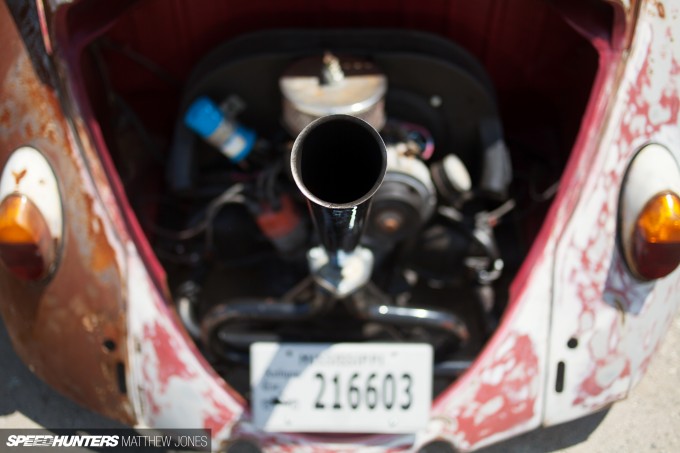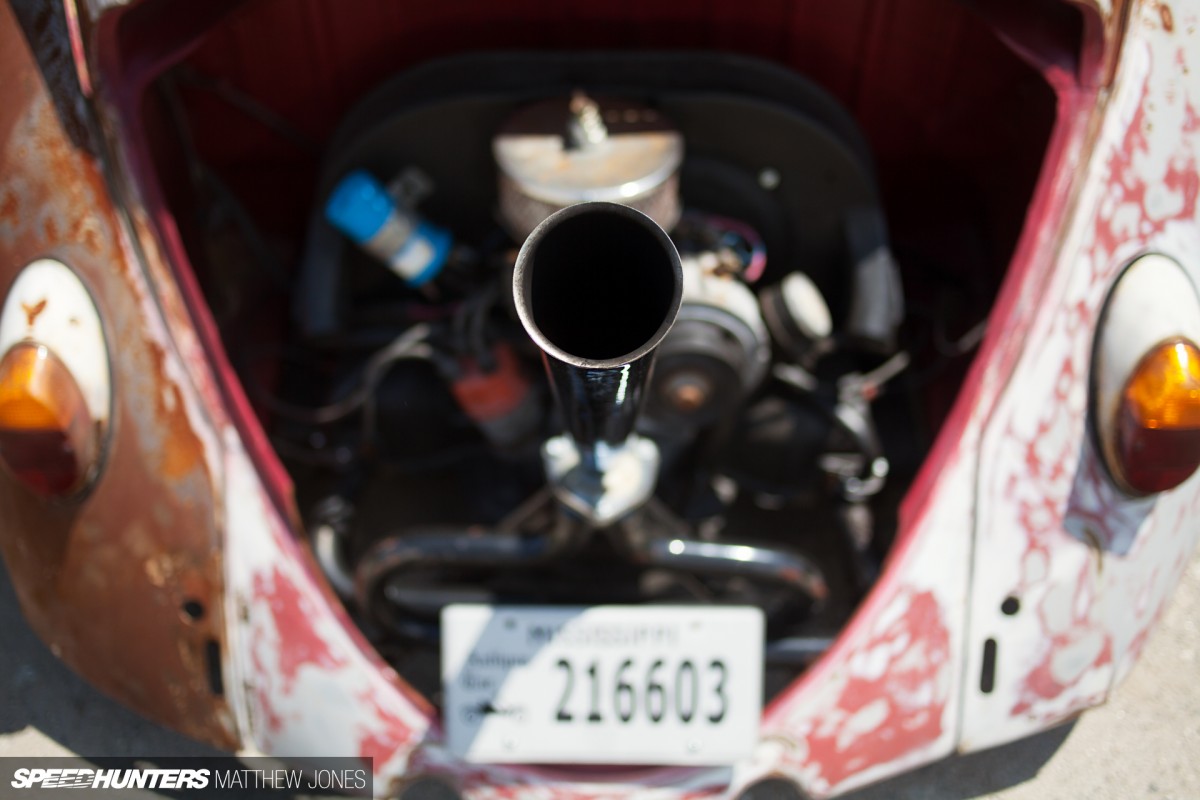 Speaking of which, if you're waiting to hear about this Beetle's impressive horsepower and torque numbers and hidden power plant, you can stop holding your breath. It's not coming.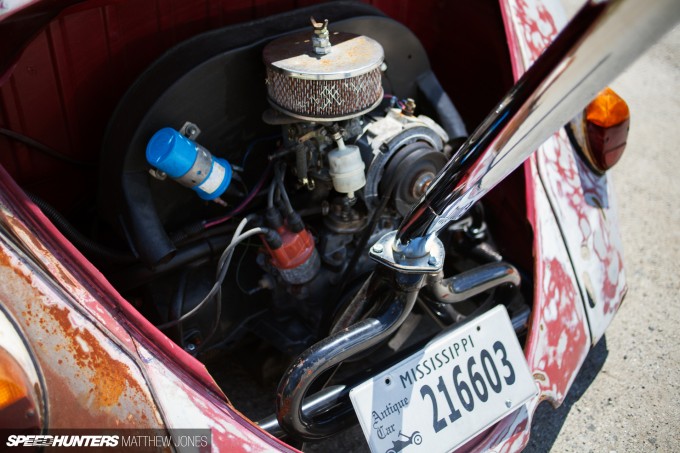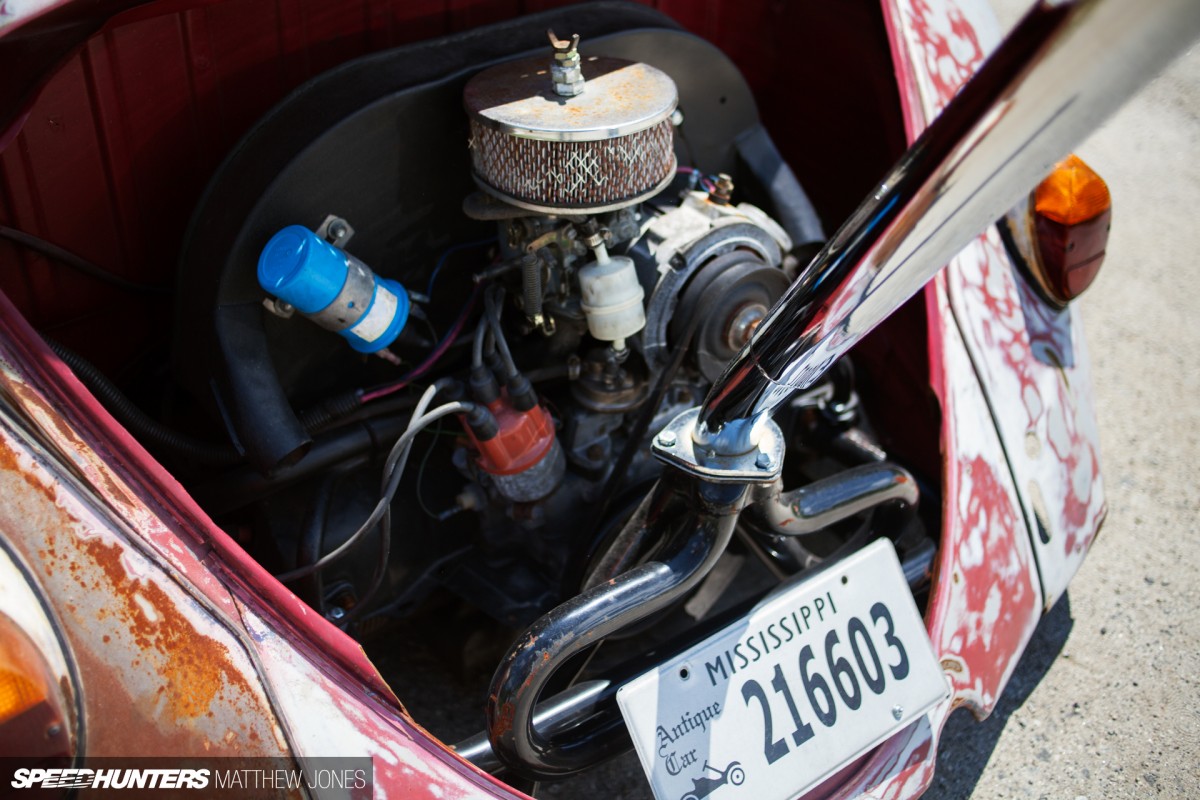 The 1.6-liter engine, though cleaned up, has not been modified aside from a simple heater box delete, a set of J-tubes and a cool old EMPI Baja pipe found laying around in effort to tie in a much-adored bosozoku factor.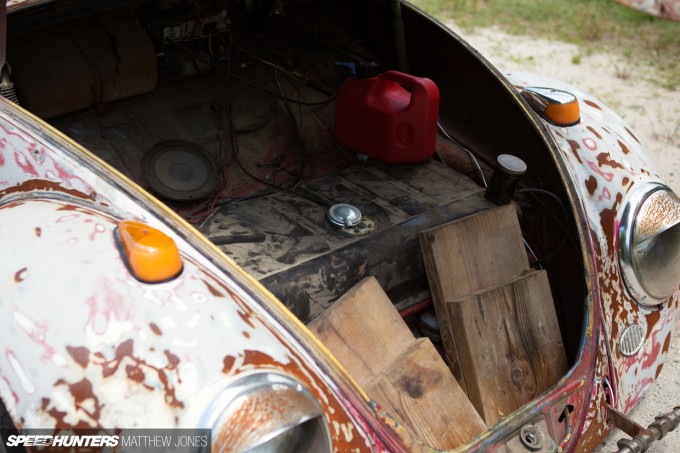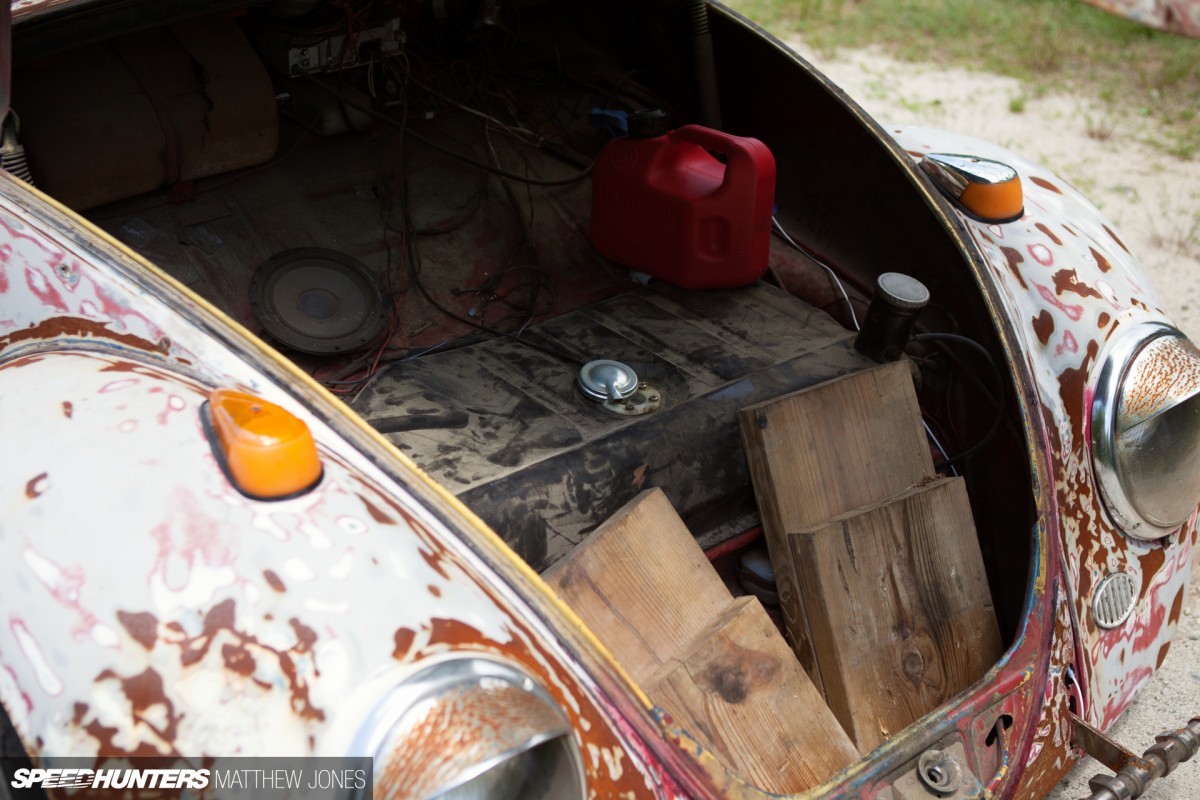 The front end though, is actually a different story. Argue functionality all you want, but there's definitely four planks stuffed in the trunk to accommodate those daunting driveways of day-to-day travel. Function issue: addressed.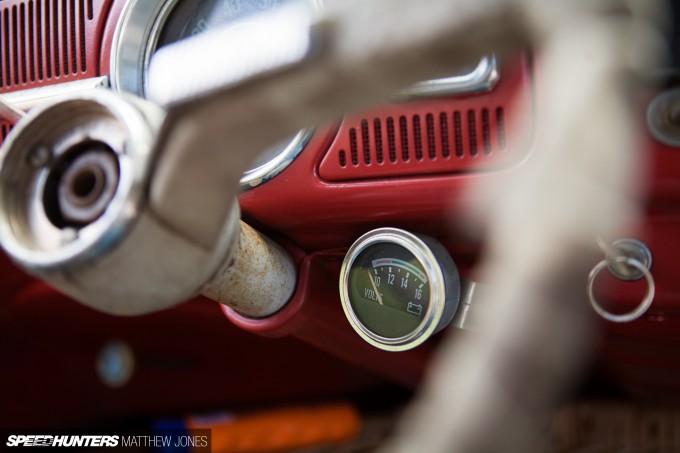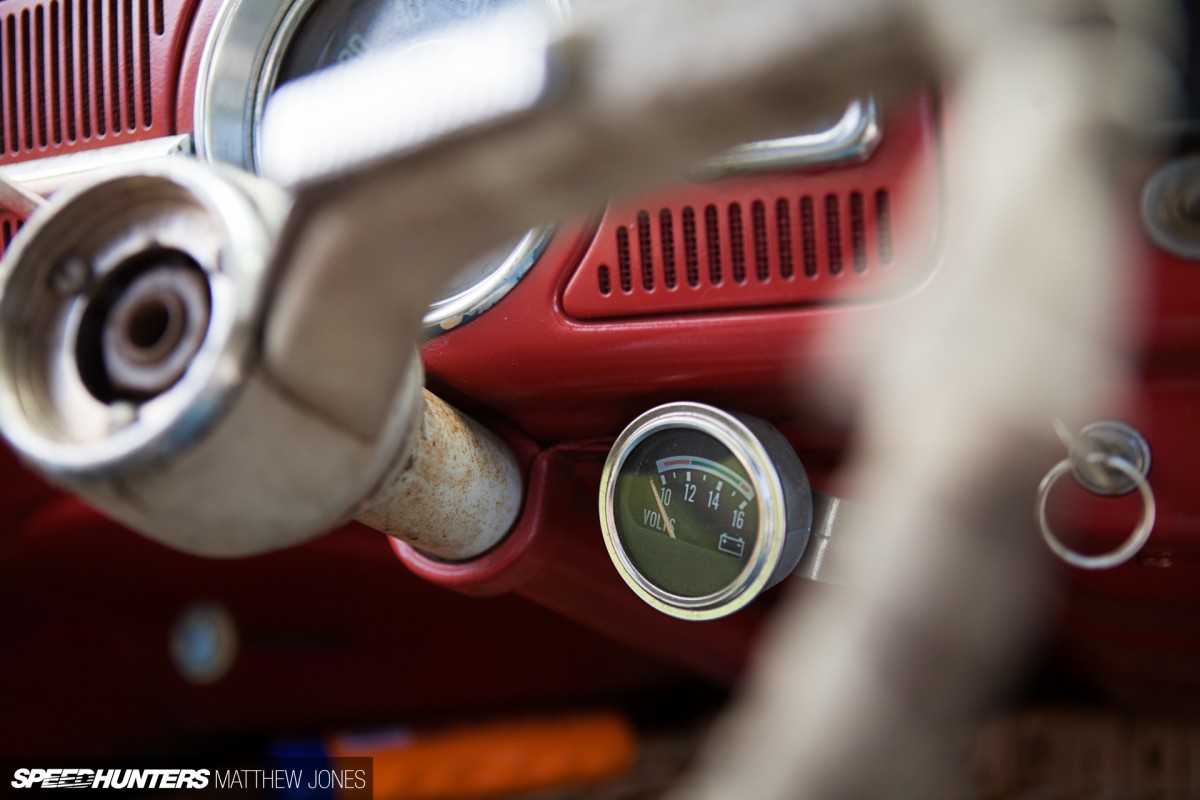 It seems the further I dive into my Speedhunters career the more apparent it's becoming how absolutely impossible it is to please the masses. Though realistically, how boring would the world be if we all had the exact same taste? How mundane would a 2000GT be if it was as common as a Civic? And how many Rembrandts would we have if every artist painted in the exact same fashion? You may think this car is a piece of junk; a waste of a post and an eye-sore to your news feed, but the truth of the matter is that no matter how skilled you are, you could never replicate it.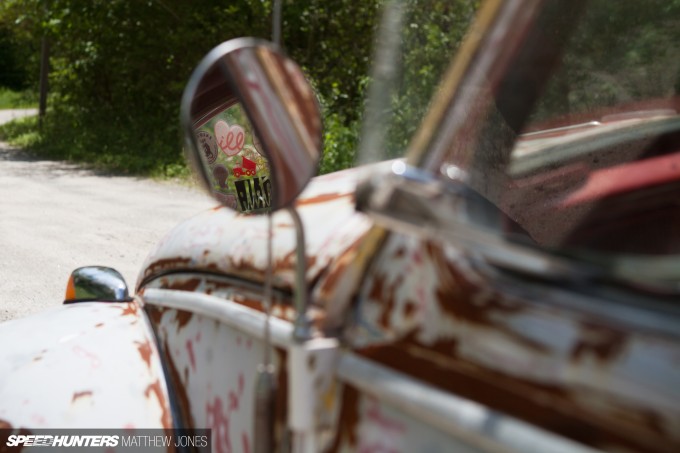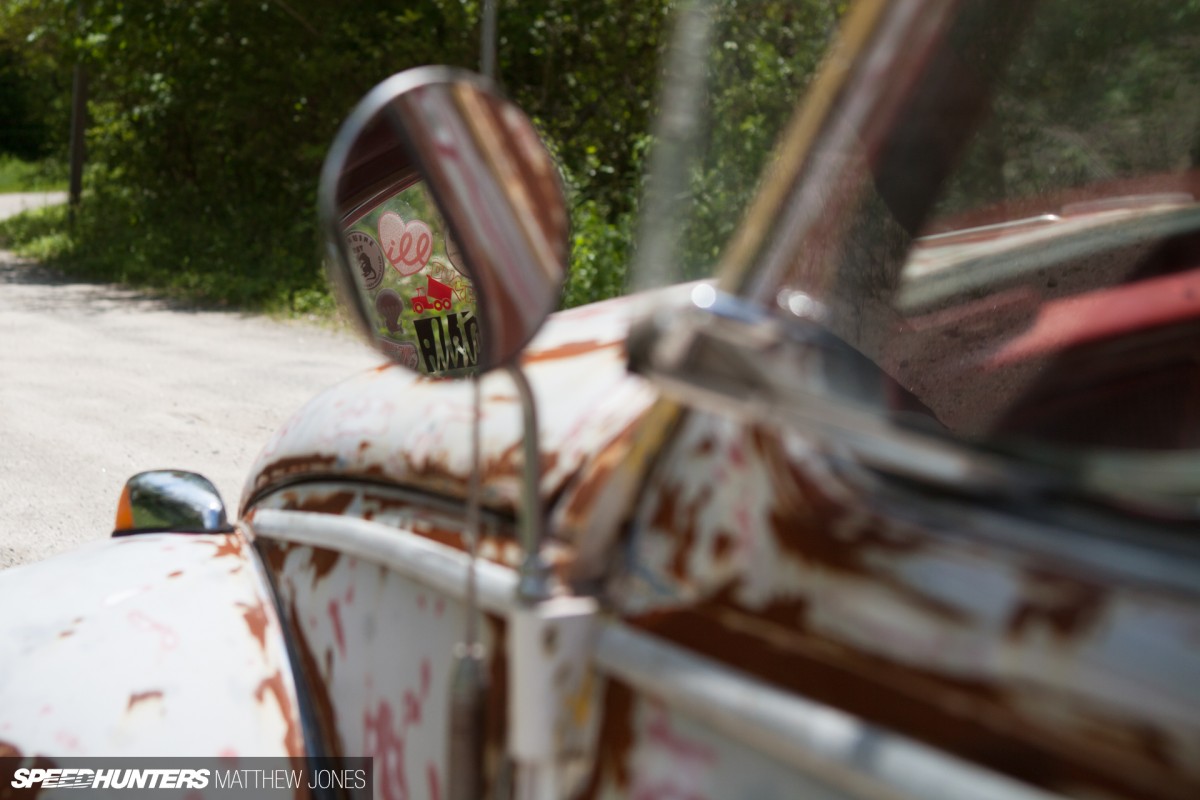 Sure, you can find a crystal knob anywhere, and I know of more ghetto bodegas selling cheap blankets than I can count. But just as with any piece of art, it's the emotional relevance that makes this build so significant. The feeling that's acquired while witnessing this rusted piece of history scraping down the road as it sends shivers down your spine with every clank of the chassis on the pavement. This is not a feature car, fellow Speedhunters, this is a performance piece. Whether you love it or hate it, I am certain it's made you feel something. It's evoked emotion, and at the end of the day, it's diverse presentations like these that make the our community worth living in.
Matthew Jones
Instagram: matthewjonesphoto
matt@speedhunters.com
Cutting Room Floor