Finding That Place
Like Ricky Bobby once said, "I sure can get used to this winning thing."
No matter what your motorsport poison of choice, winning is something that all drivers and teams dream of. We all work tirelessly as a team, and do everything we can to obtain what is seemingly the ultimate reward and symbol of victory on any given weekend.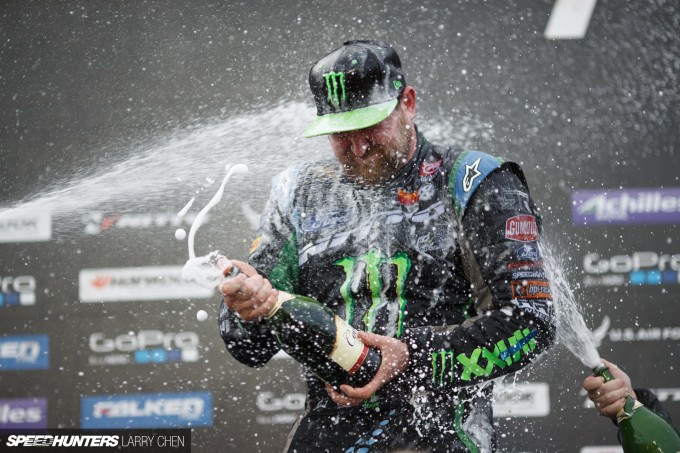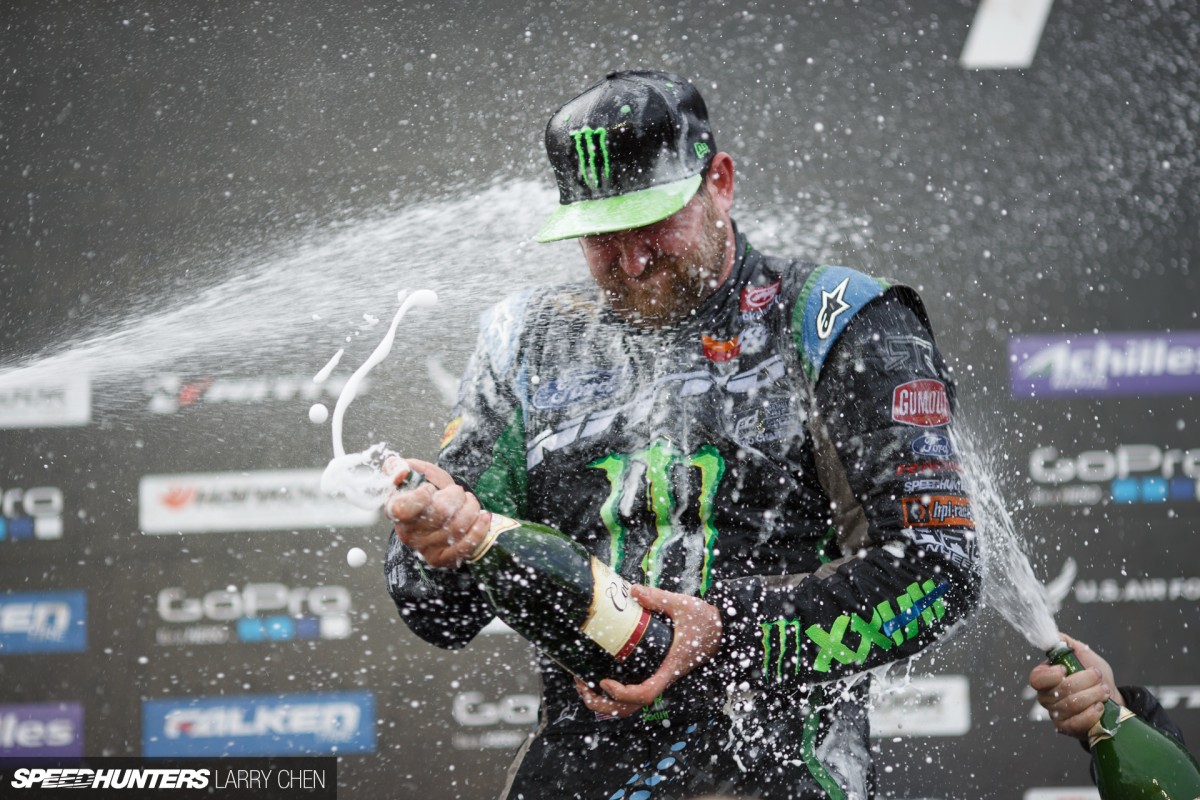 That is, a trophy with '1st Place' engraved on it and an eye-burning champagne shower at the top of the podium!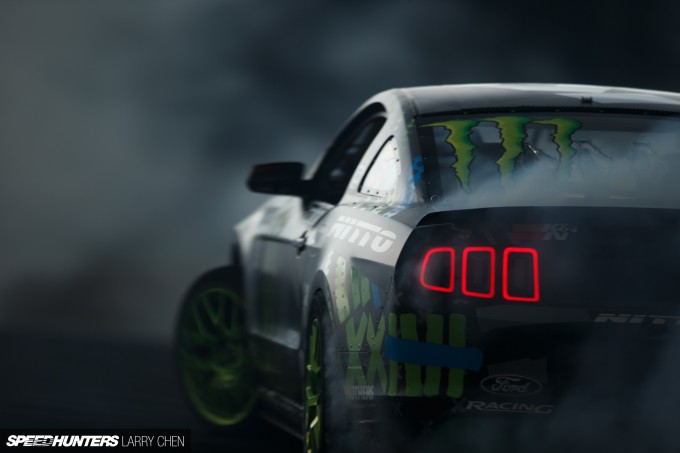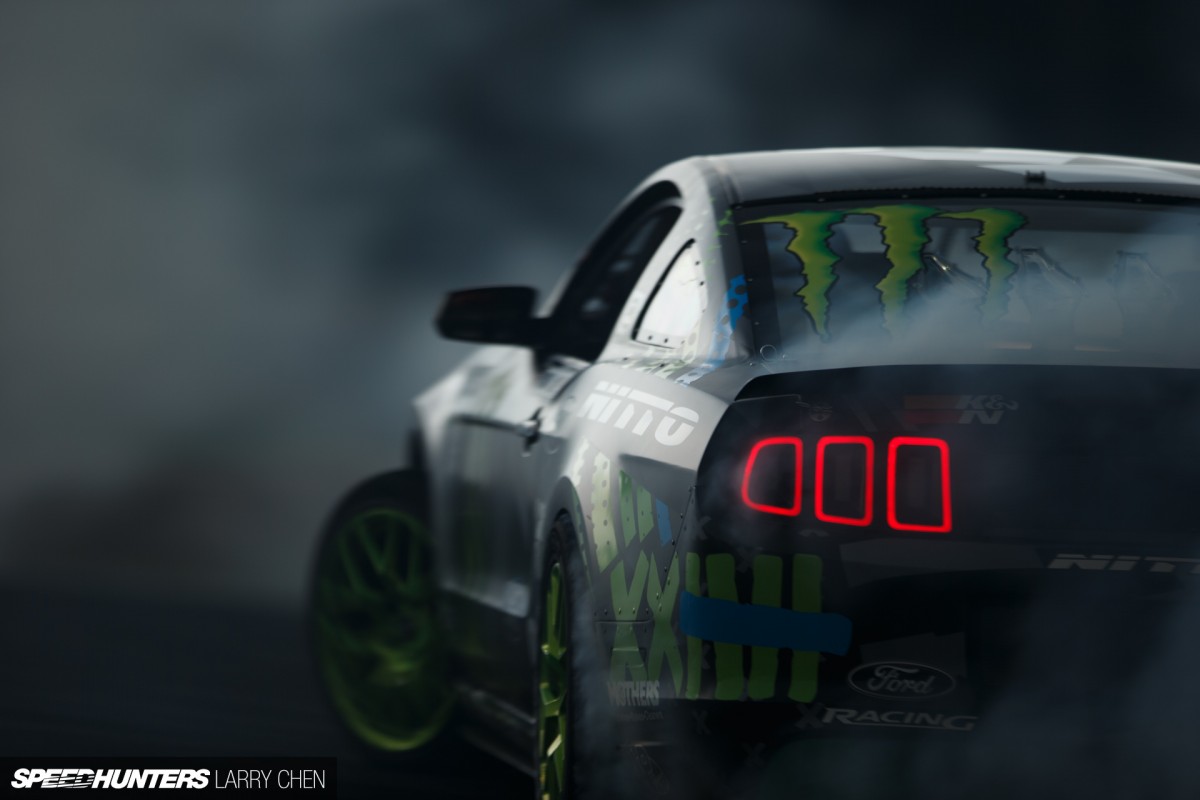 While the podium ceremony is nothing short of awesome; the true reflection of what was endured in order to earn that top spot on the podium is the most fulfilling for me personally.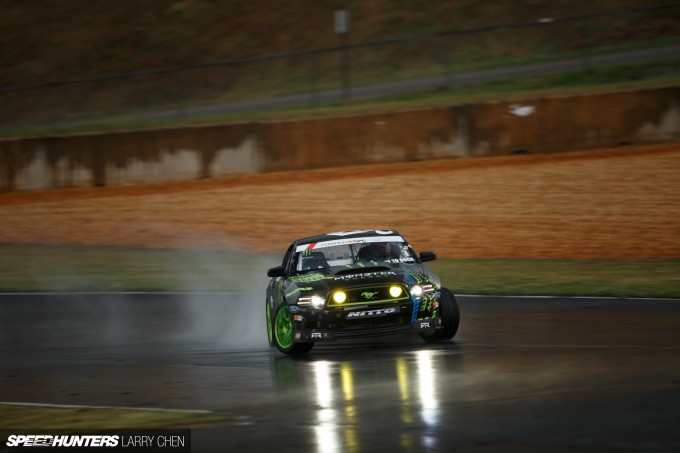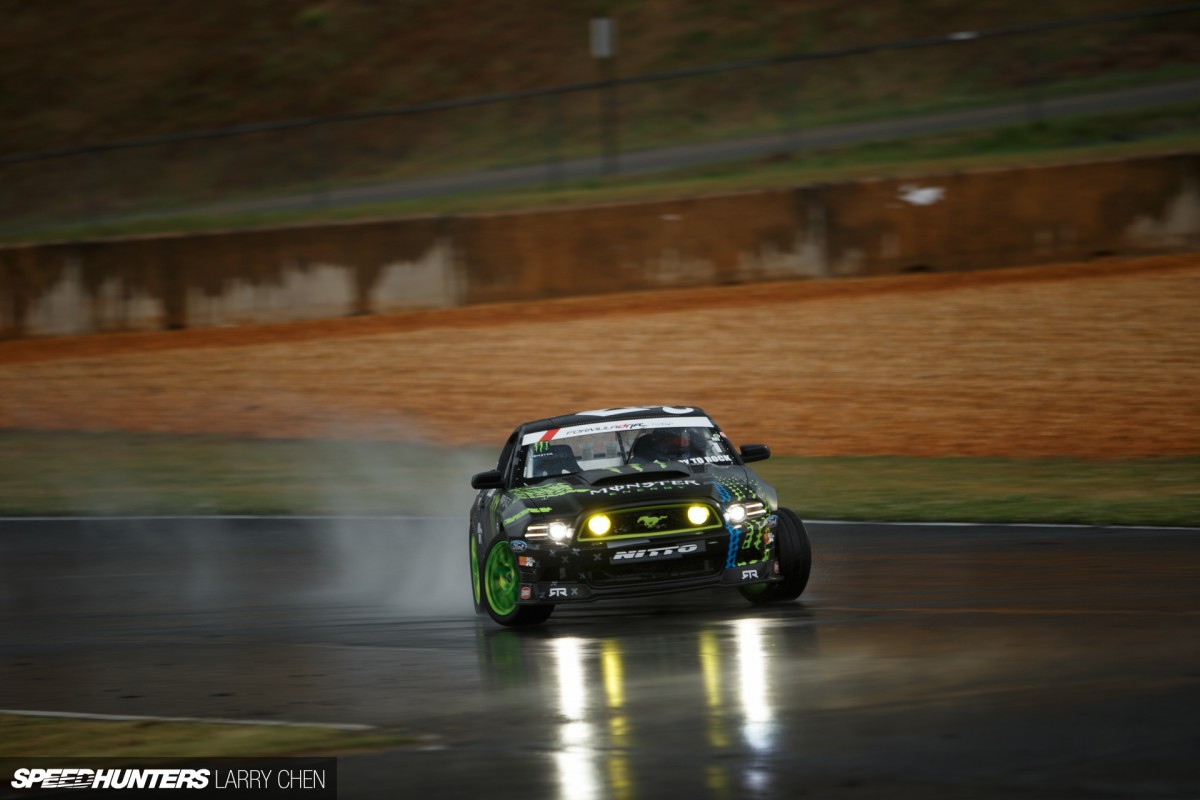 Successfully adjusting to any and all elements.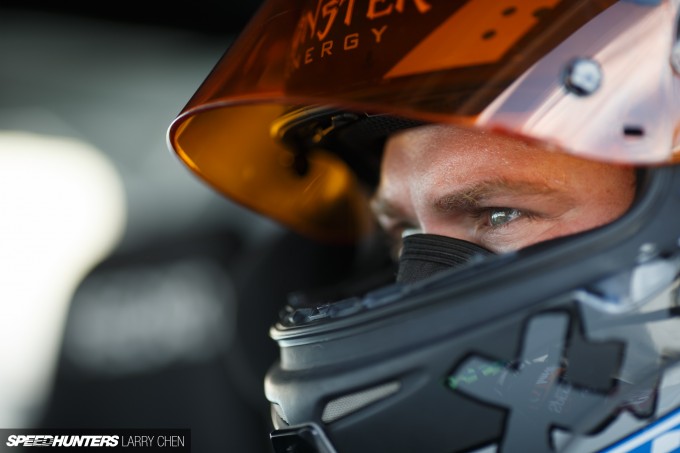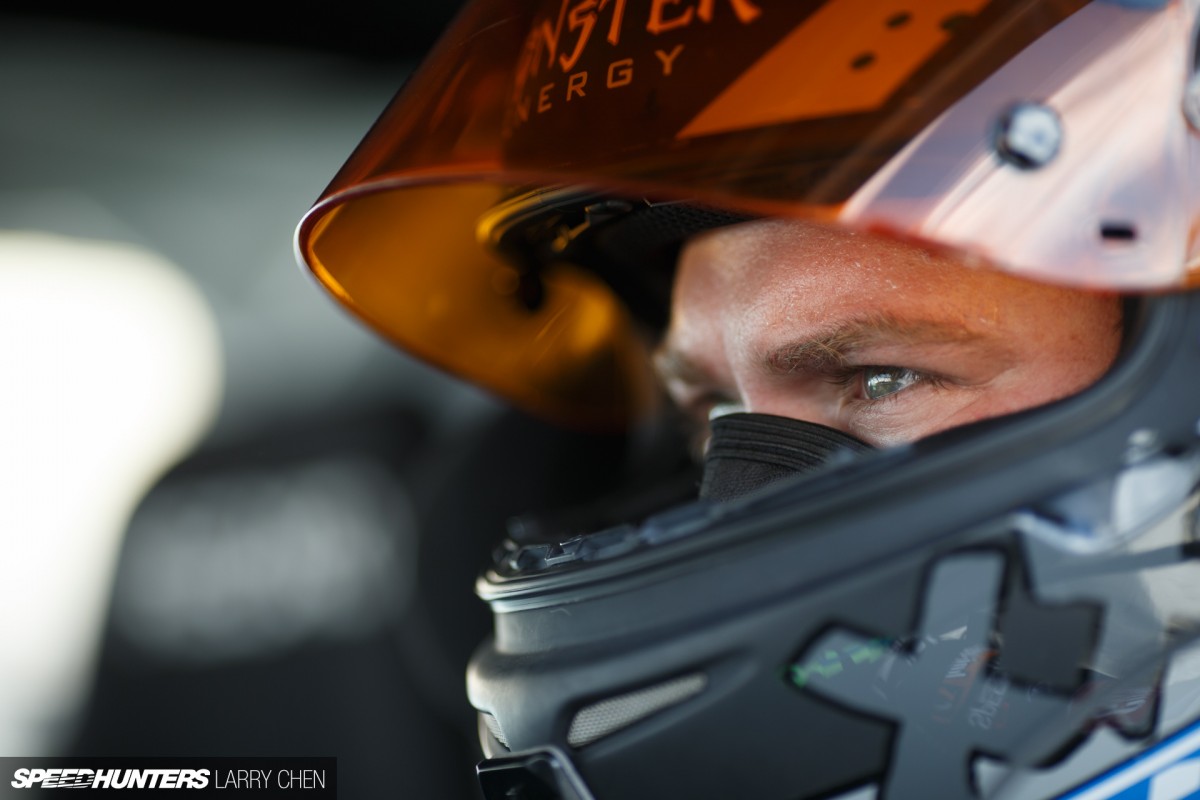 Staying focused and overcoming any distractions, including the voices in your head trying to make you become your own worst enemy.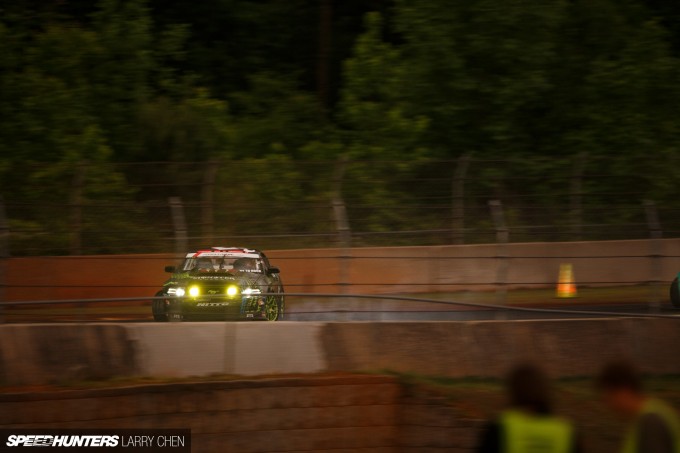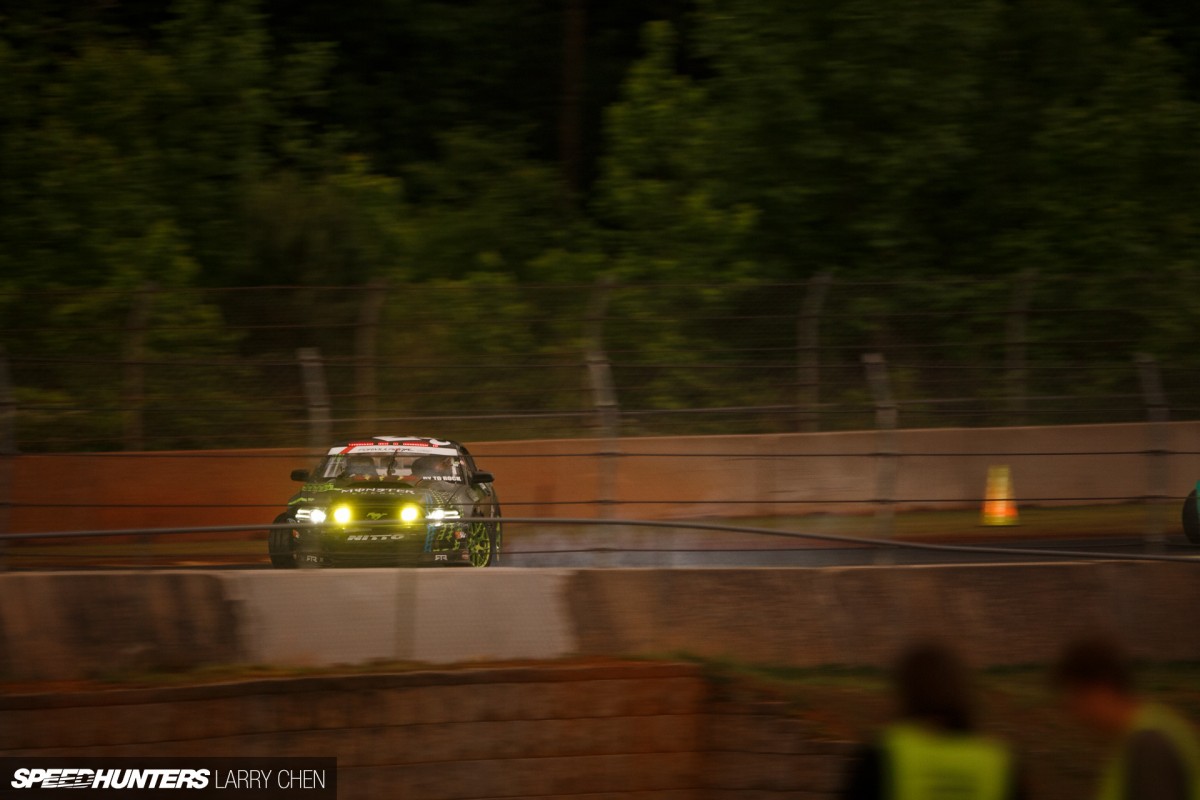 Consistently hitting your marks despite inconsistent conditions.
(Atlanta is the worst track when it gets even the smallest bit of rain and then stops. The entry becomes slick in certain spots and it is very hard to guess what speed to enter at. It truly becomes a 'crapshoot' under those conditions.)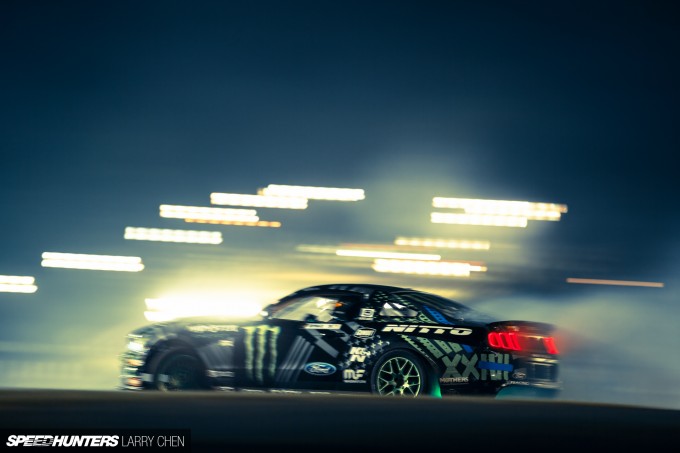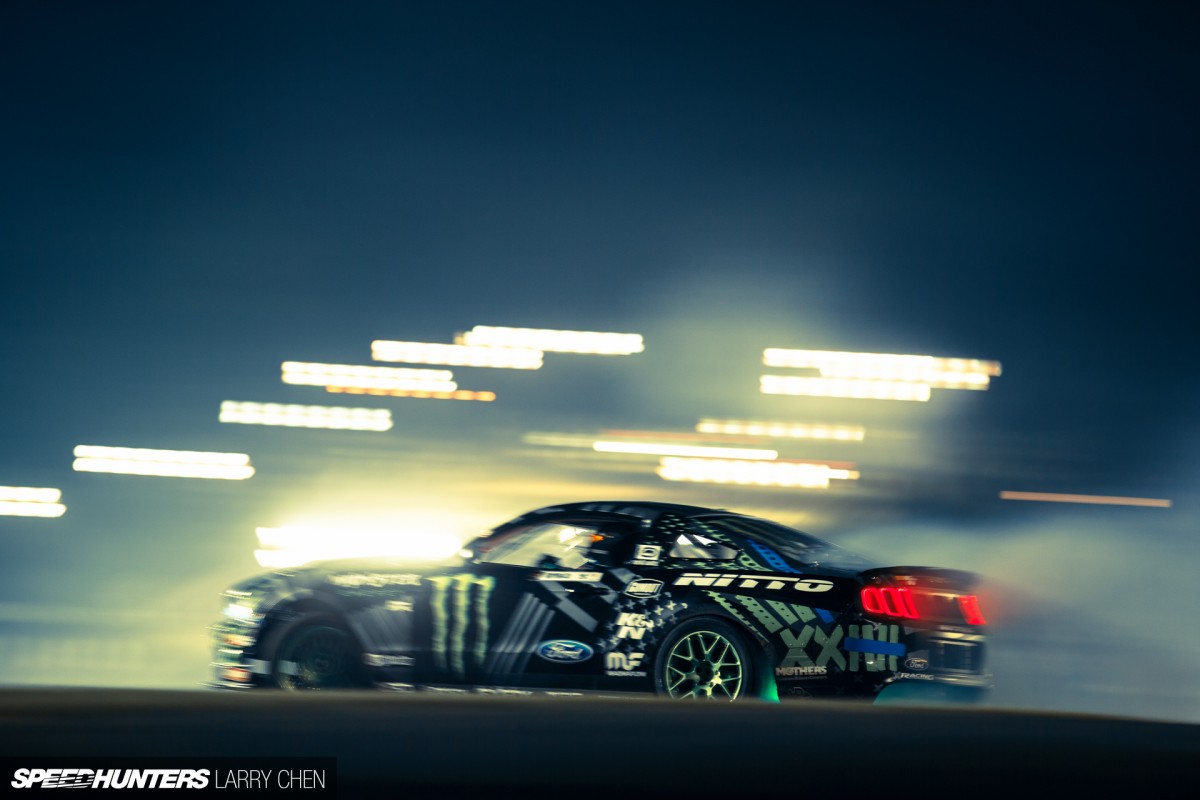 Adjusting to changing track conditions including temperature changes, from consistent sunlight to spotty artificial light.
(All of which have significant affects on critical internal timing.)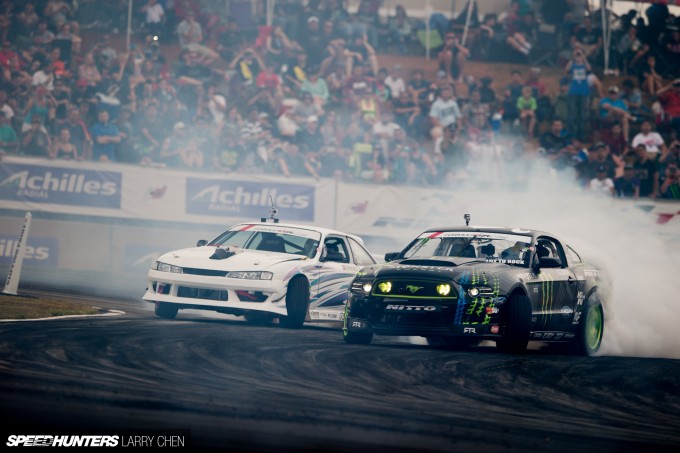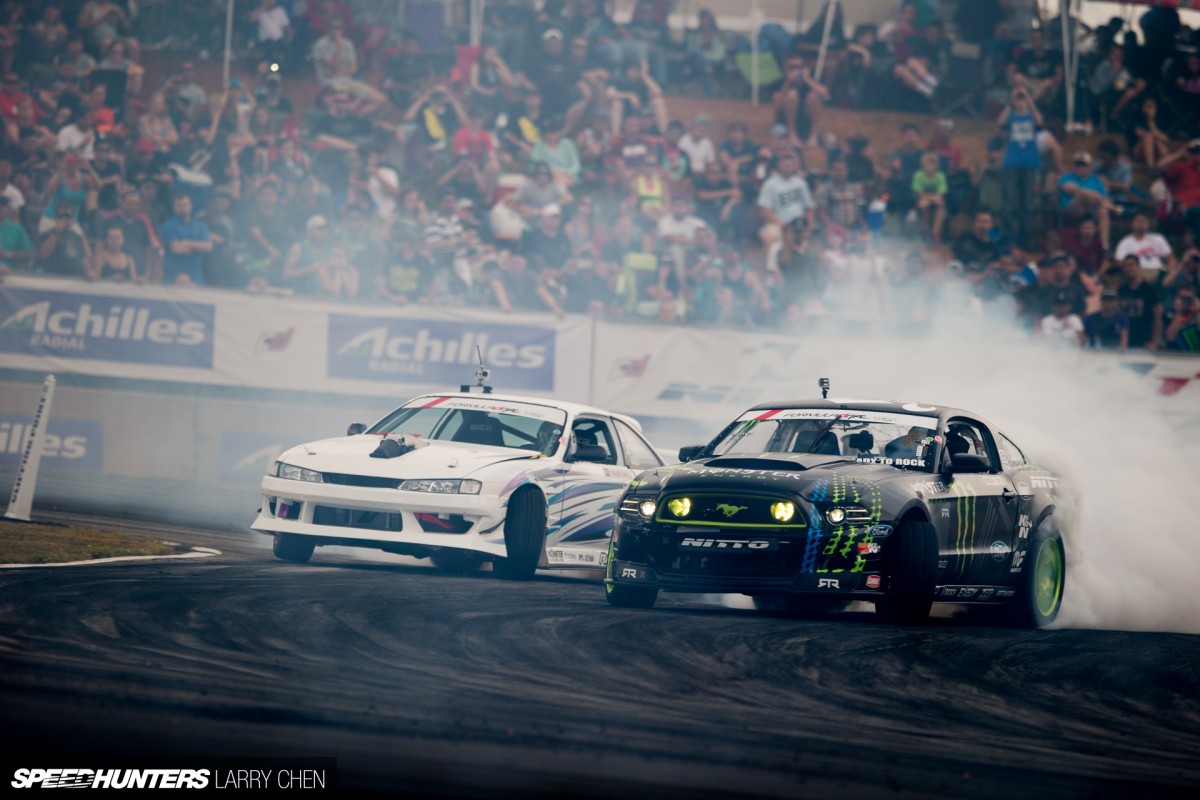 It's during this reflection that I try to get back to 'that place' I was during the event. That place where time slows down and full control of the mind, body, and machine are achieved. The place where even the hungriest, most intense competitors can't shake you.
(Geoff Stoneback is one hungry rookie. I have seen this guy come up through Club Loose events at Englishtown Raceway in New Jersey and there is no question he is a serious threat to everyone in the FD paddock as he continues to progress. I am really proud to see his progression and ultimate direction towards the top!)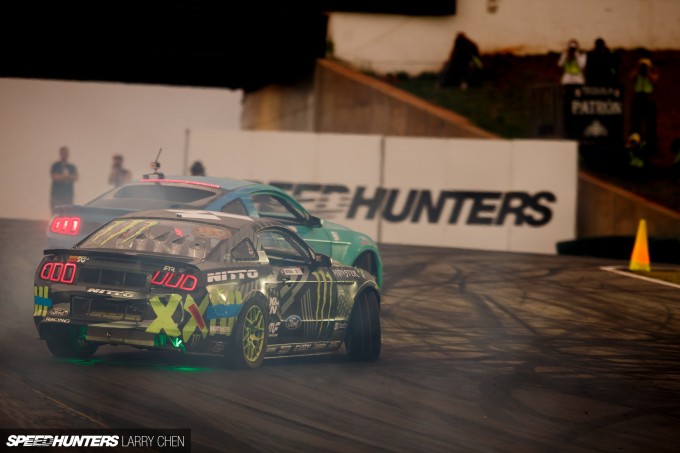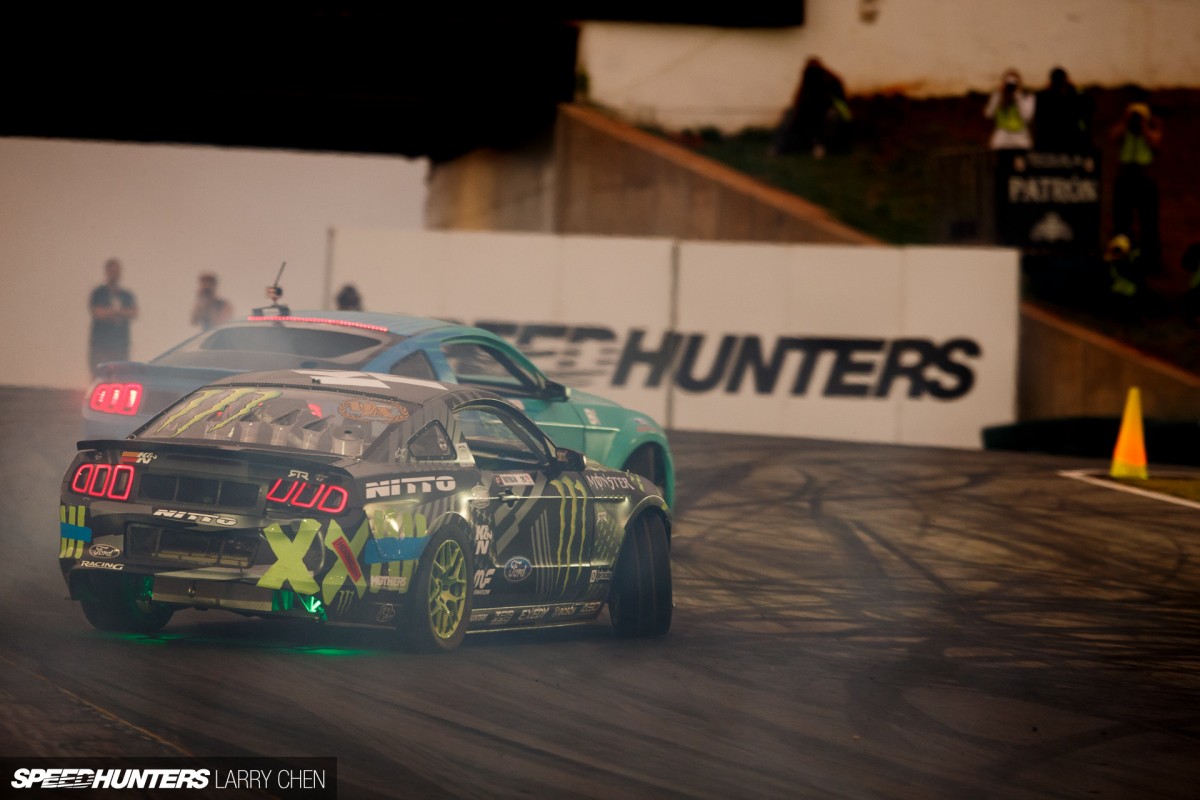 That place where you have the confidence to push the machine beyond its limits.
(My battle with JTP in Atlanta was full-on, no holds barred, pushing as hard as possible during all three of the battles we endured. This was possibly one of the best tandem battles of my career. Given the fact we have almost identical cars, this battle was team versus team, tire versus tire, and driver versus driver. No doubt a hard fought battle that felt great to win.)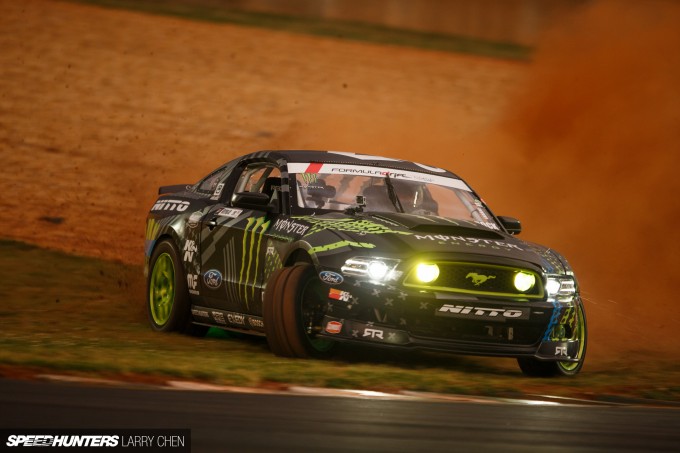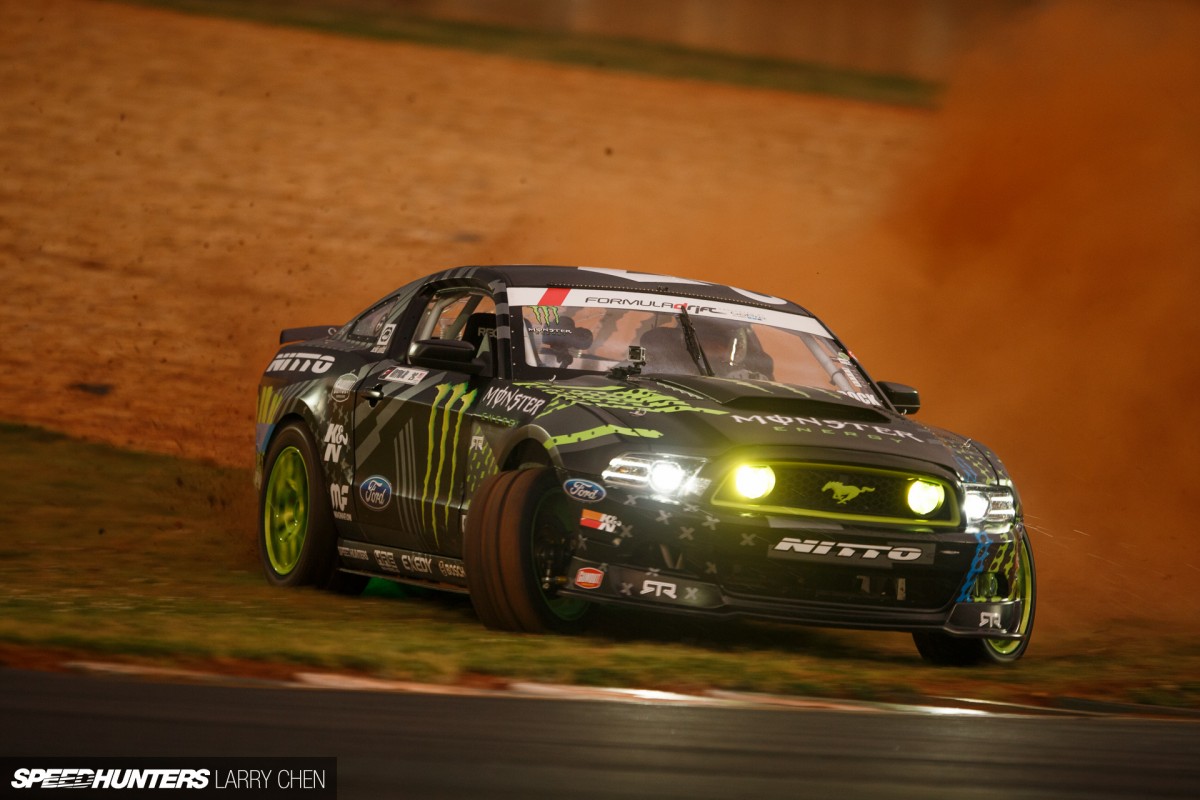 That place where you can stay in full control of your machine in places that most other times would not be possible.
(Just before Justin and I ran our first 'One More Time', it decided to rain for like 50 seconds – just enough to destroy the entry. The track looked dry to my team on the ground and the pair that was running in front of us was putting out plenty of smoke so we called for a dry track run. It became clear that was the wrong call as soon as I entered…)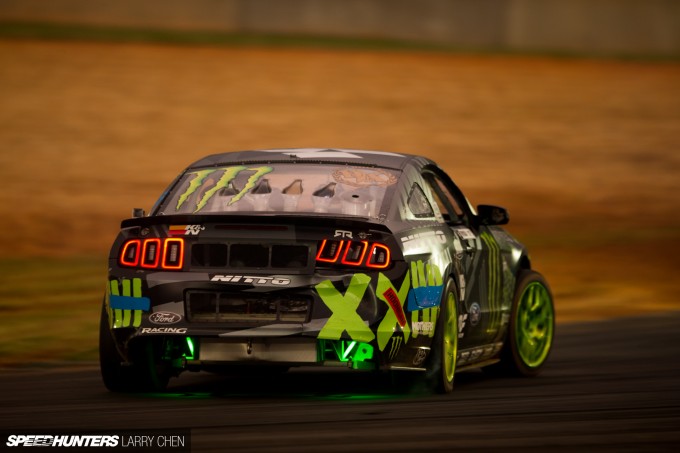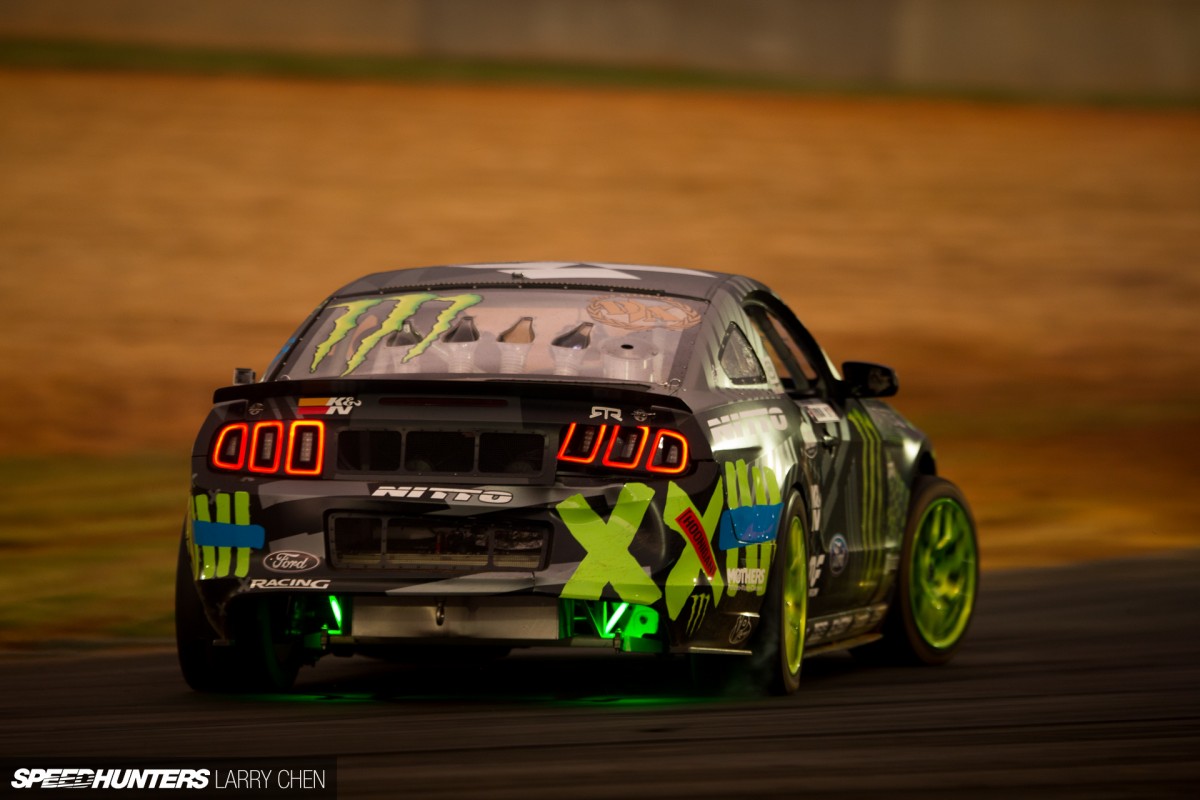 That place as many know it is called the 'zone'. The zone is not standard reality as we live it everyday. It is a place that everyone gets to at some point, but the majority don't acknowledge it and because of that, many never focus on getting back to it. It most definitely took me a while to acknowledge it. Since the day I did about six or seven years ago, I have studied hard and tried to replicate ways to get back to it on command. It is where I perform at my absolute best – it is a place where the most challenging things behind the wheel become simple.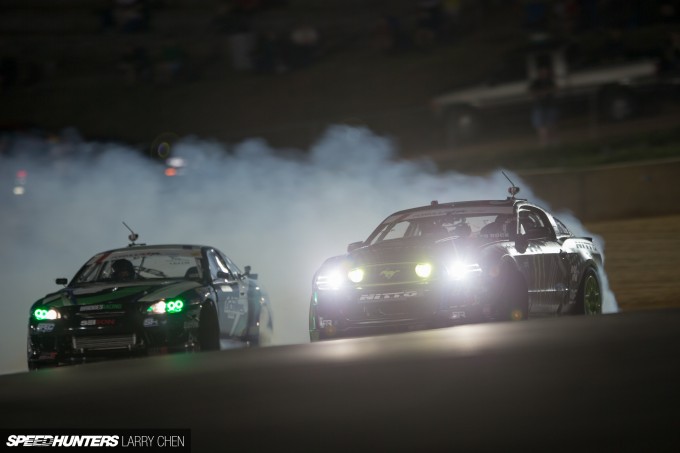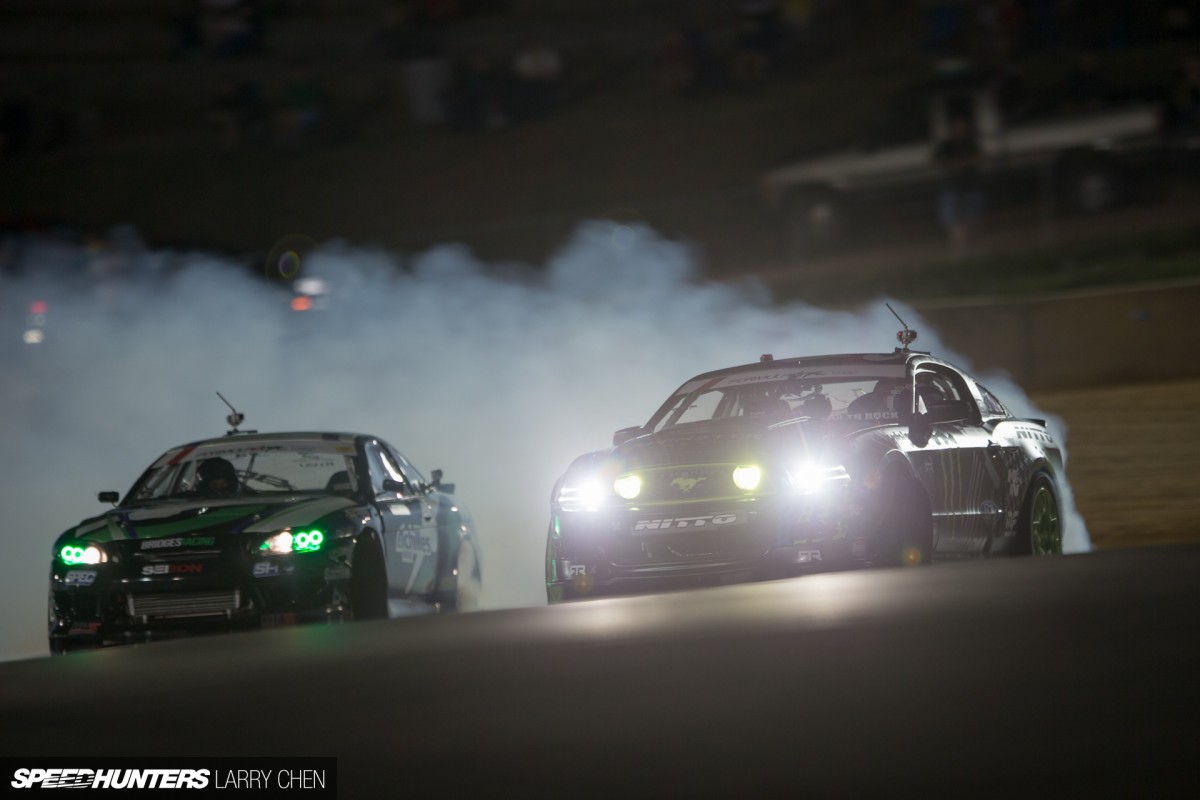 I use the word 'simple' loosely, because there is nothing simple about going head-to-head with some of the fastest cars in the world.
(Robbie Nishida was an absolute rocket ship in Atlanta; always someone I know will battle hard and someone that pushes you to be your best!)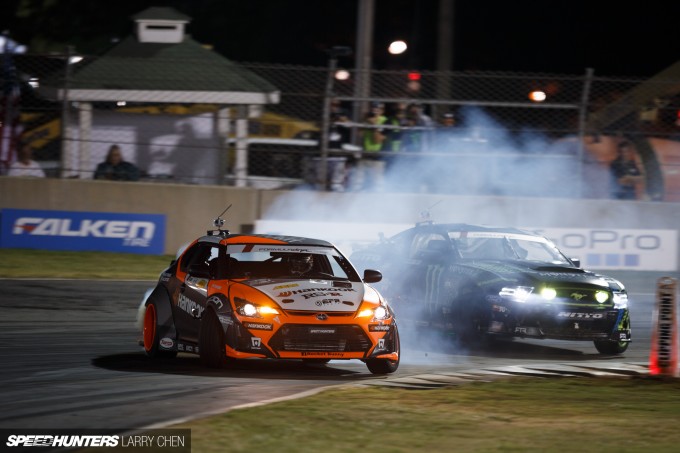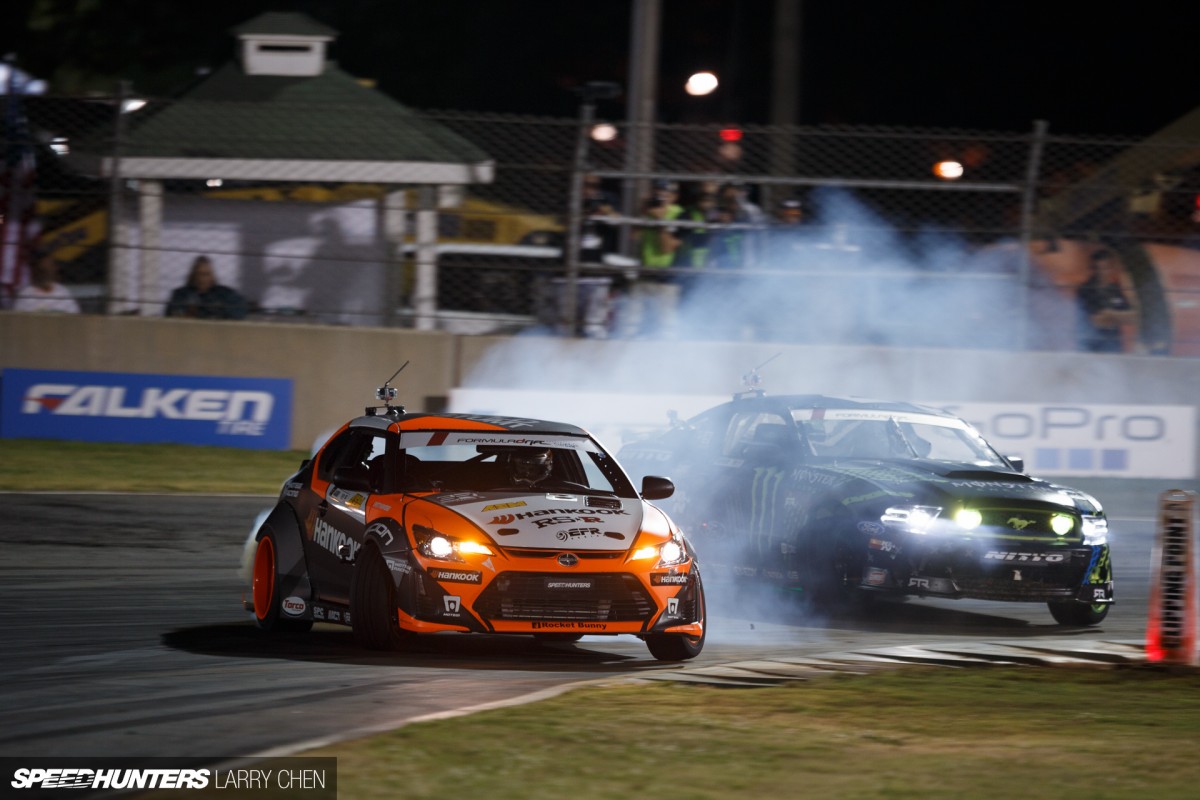 There is nothing 'simple' about battling the best drivers in the world either…
In The Zone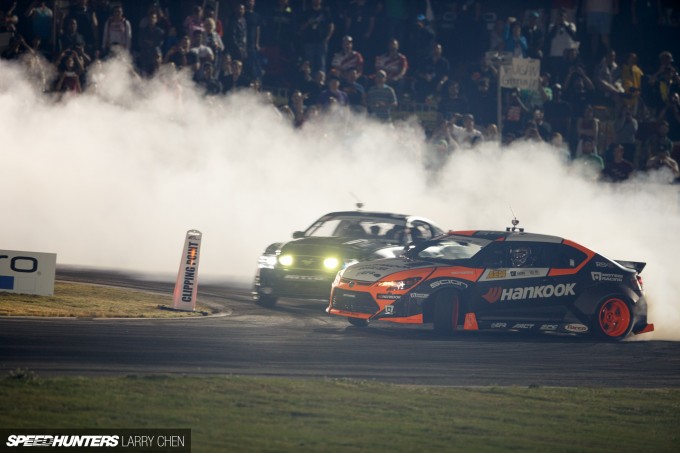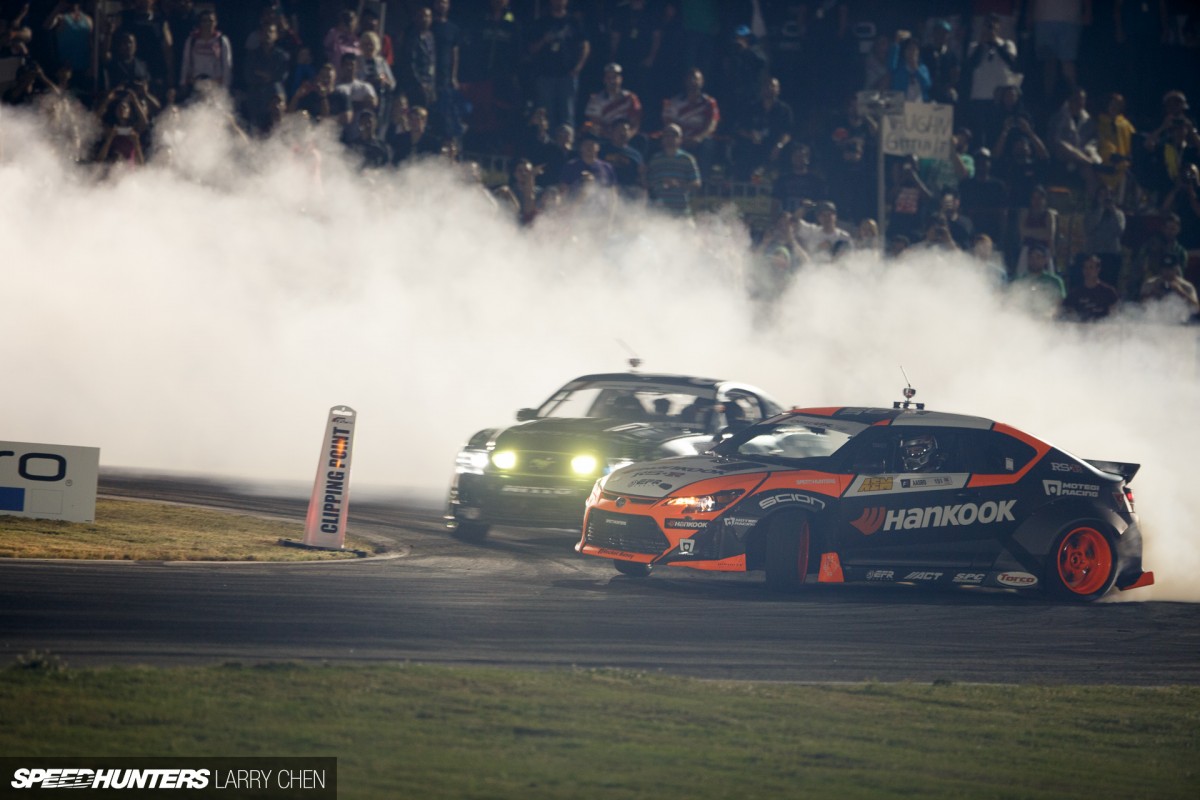 But getting into the zone, without question, makes the odds better to tackle these insane challenges we are tossing ourselves in the middle of these days. For me, this reflection and reliving the moments are crucial, as during the event everything goes by so fast. In fact, most recently in Atlanta and Miami, I had to ask who we battled because I was so deeply focused on what I was doing behind the wheel it just all blurred together. Reflecting on this not only allows me enjoy the moment again, but it allows me to pick it apart and understand what I can do better next time. I am a believer that no matter whether win or lose at anything in life, you can learn something from it. I believe this is the key to continued progression and staying passionately engaged. This is my personal approach at least!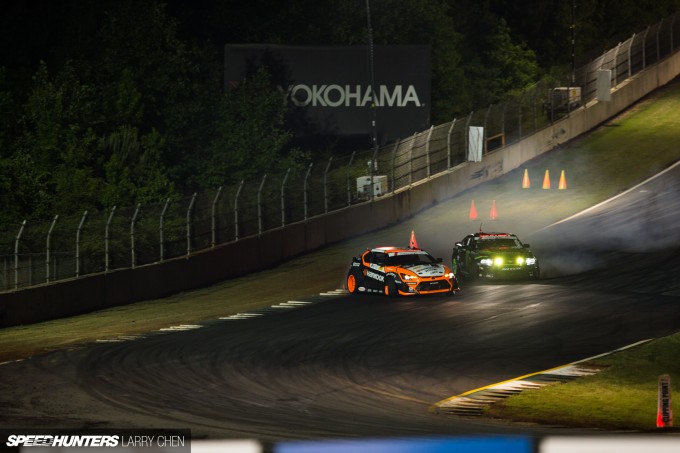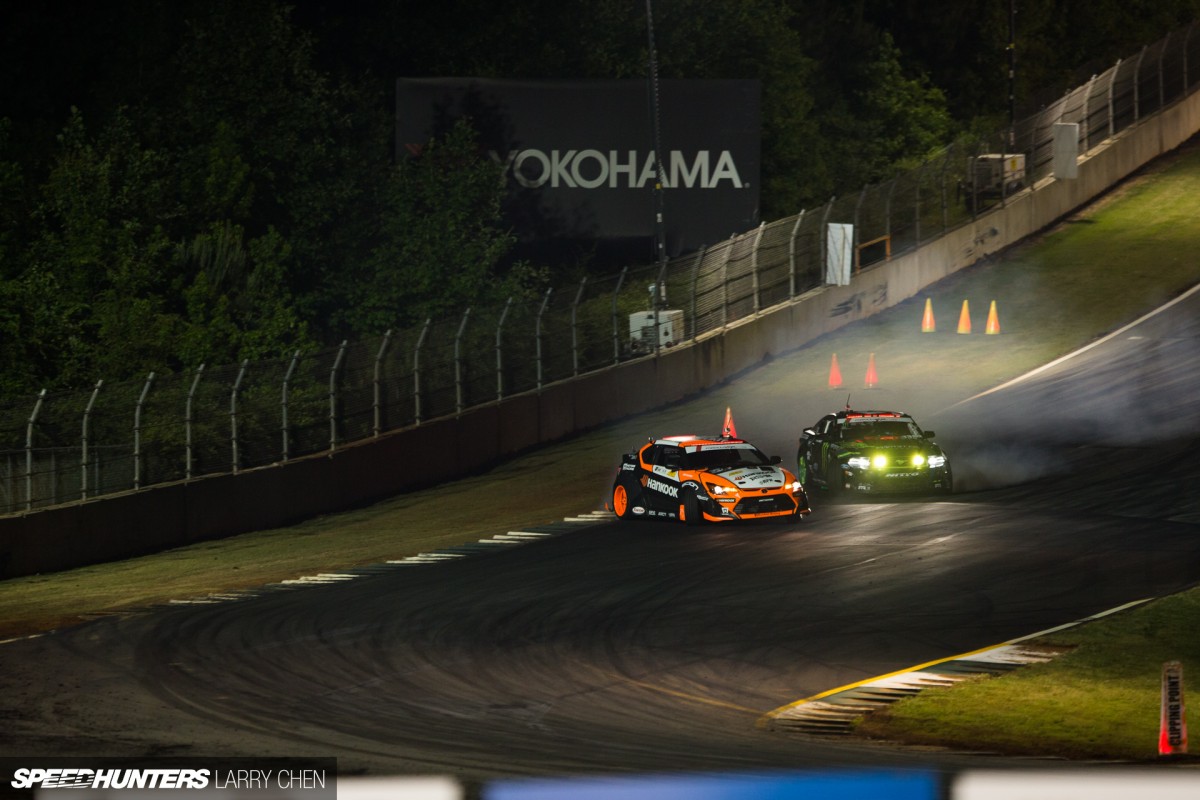 While the entire weekend in Atlanta was full of hard-fought battles, there is surely one battle I did not need to be reminded of. It was my battle with fellow Speedhunters driver Fredric Aasbø. During a battle in at Atlanta last year, in which both of us made a mistake on a patchy track and made contact, I ran over his car. The craziest part is that both of us were so focused on the battle that we did not miss a beat and kept going. Fredric damaged his transmission during his lead run of that battle (nothing to do with our contact) so was at a significant disadvantage during the One More Time battle we had, in which we came out the victor.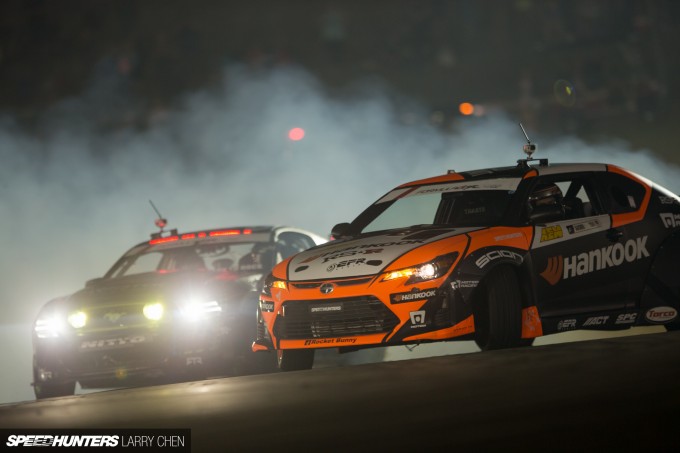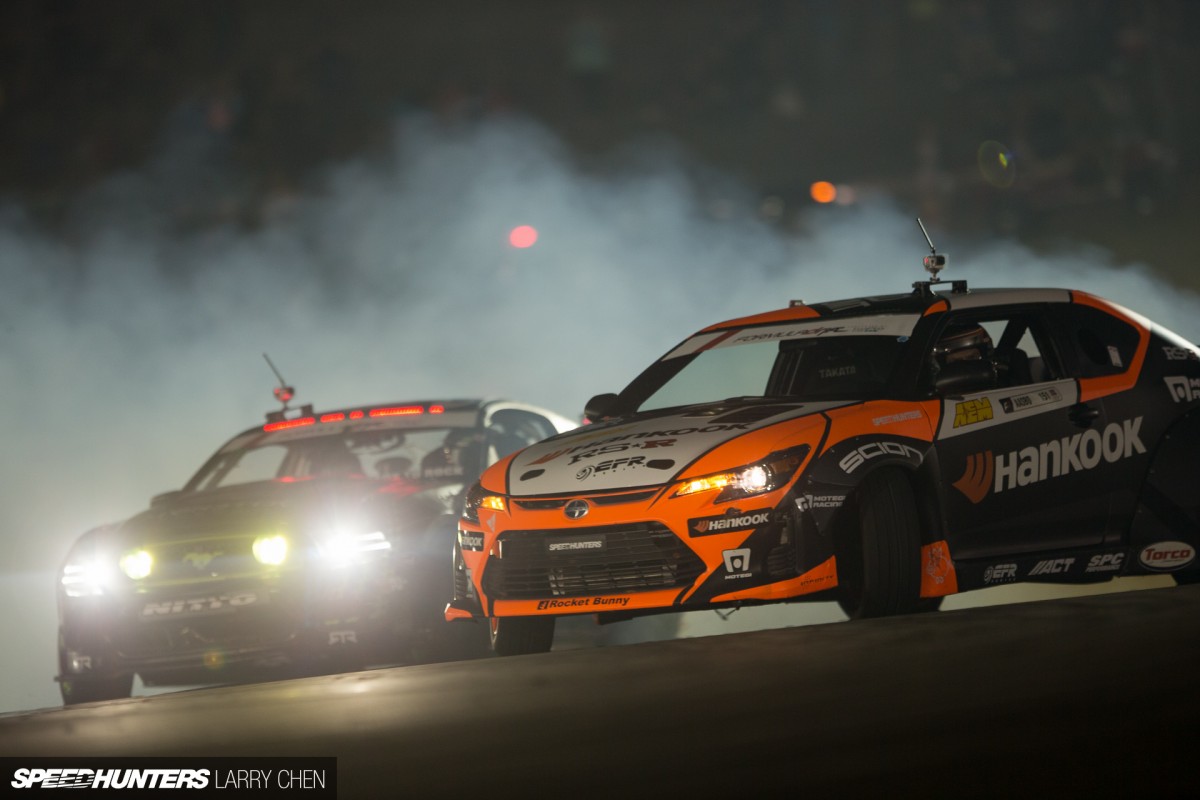 For us to have a rematch in Atlanta in the finals with a clean dry track was the absolute most epic scenario for the spectators, as well as Fredric and I. You couldn't have wrote a better script as far as I am concerned. We had a serious battle the went into a One More Time scenario.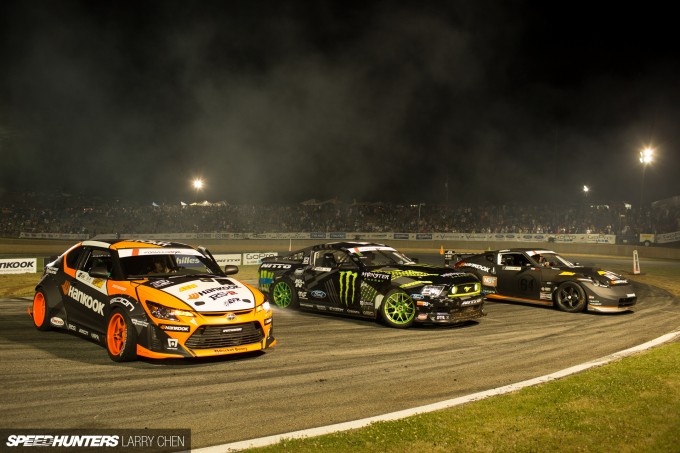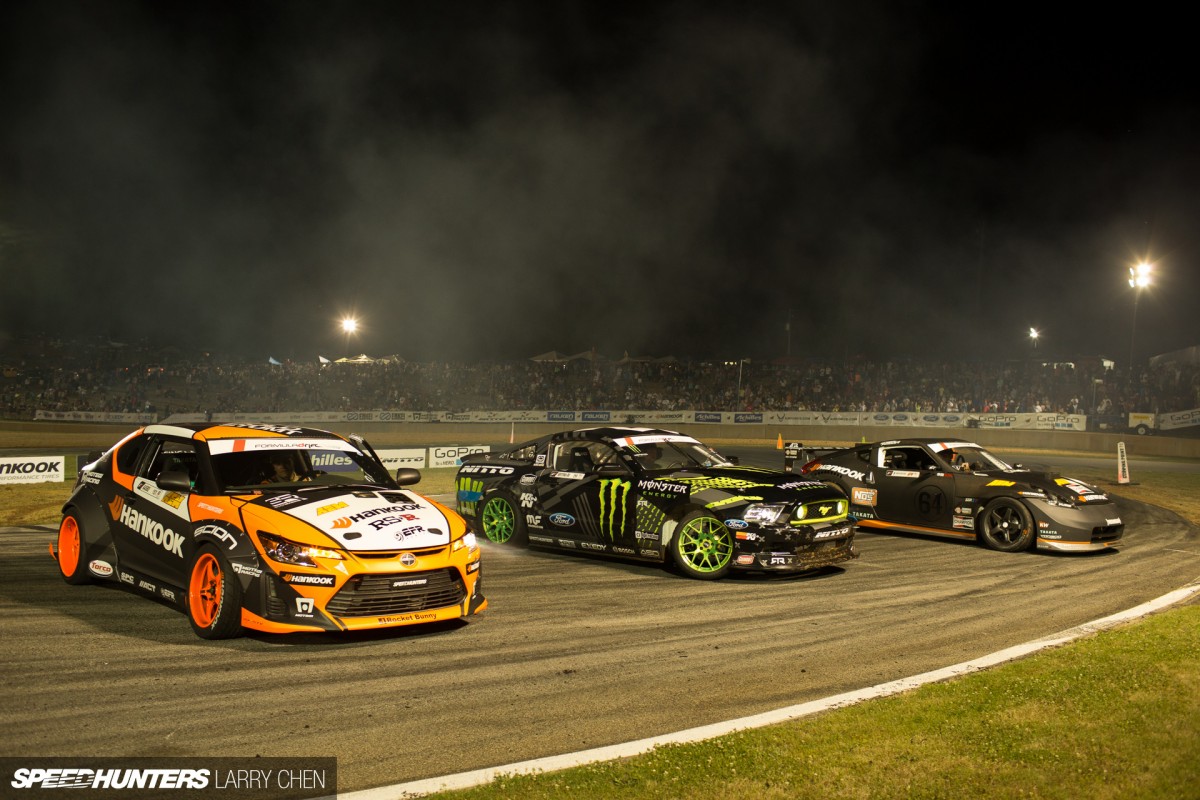 When they had us all head down to the judges stand to announce the winner and I was set in my mind for it to go either way. I had felt that as a team we had performed at our absolute best, and you cannot ask for anything more at the end of the day.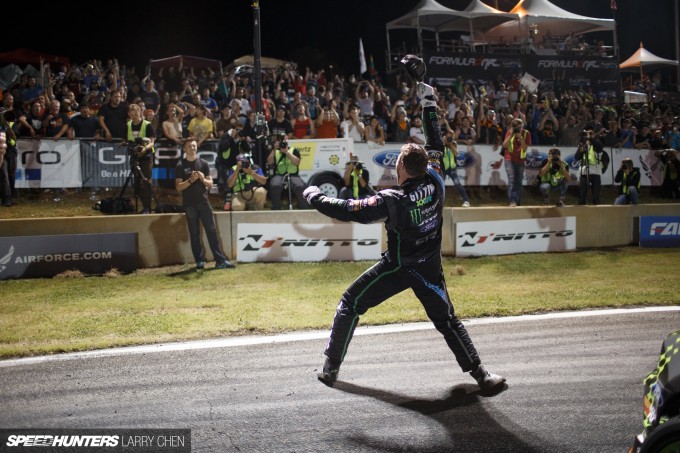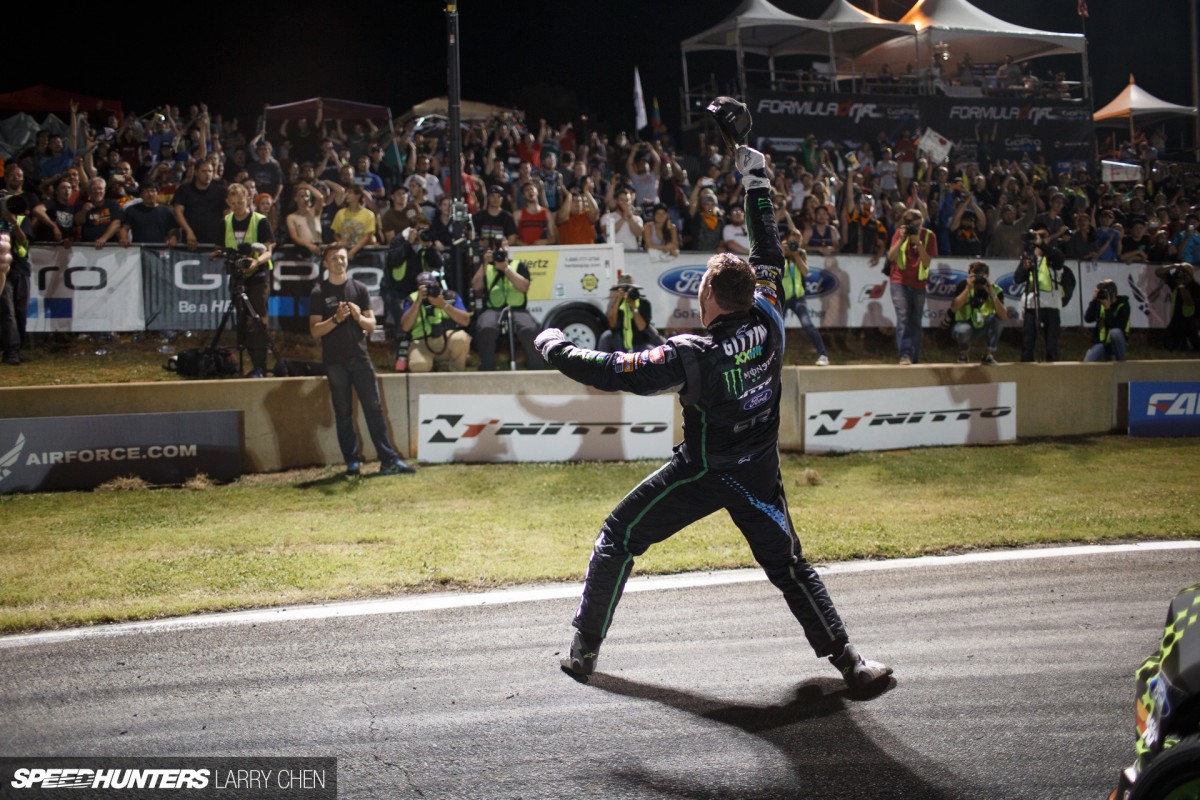 When they announced my name as the winner I  lost my sh*t! I was so pumped as I had not heard that since 2012.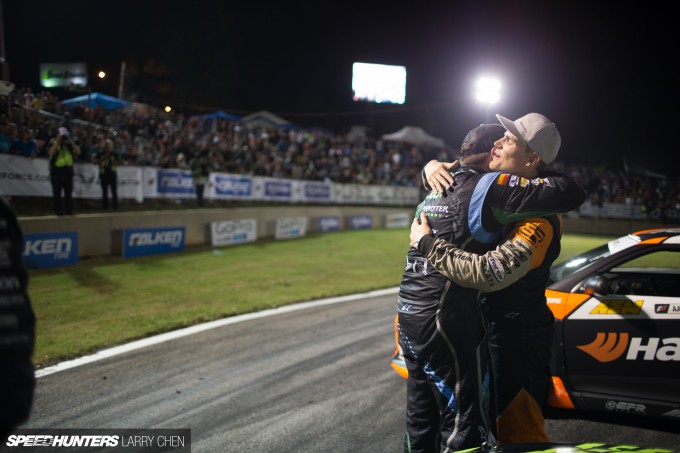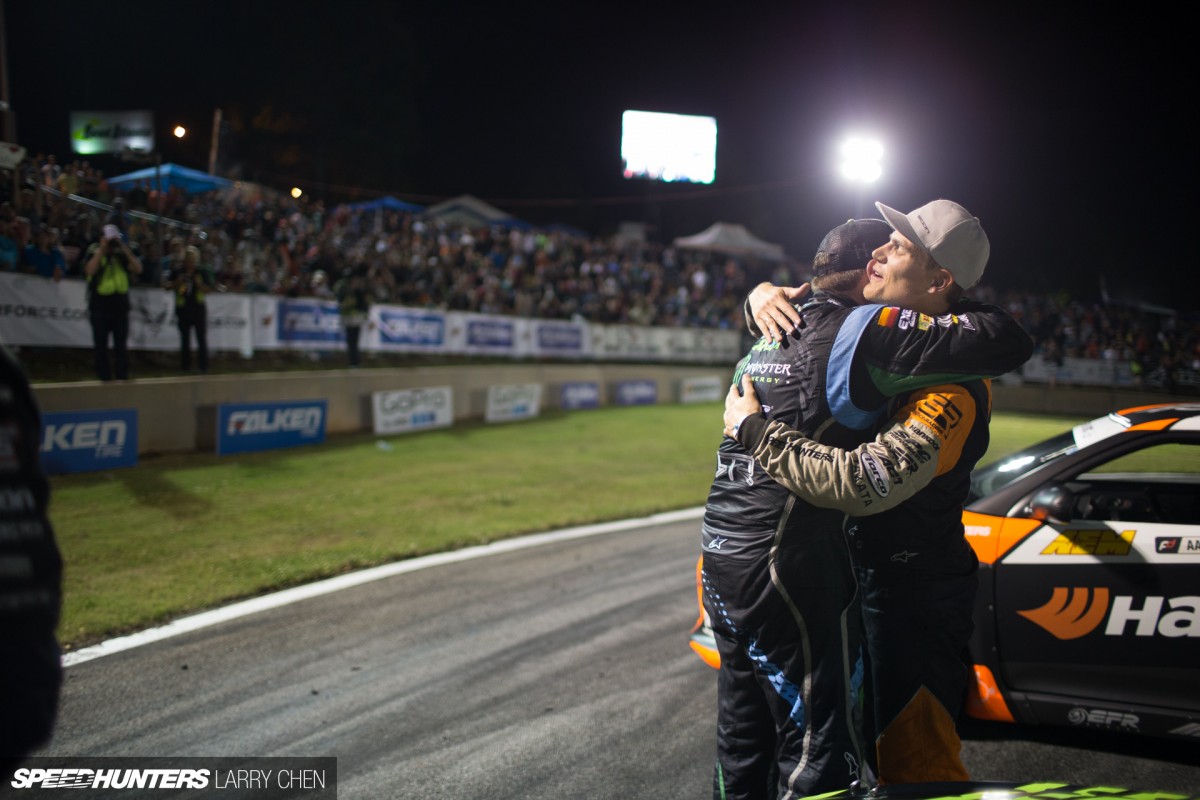 I congratulated and thanked Fredric on a very hard-fought battle; a battle that pushed me to my limits and made me work every second we were on that track. There's a pretty serious man-hug going on in this photo!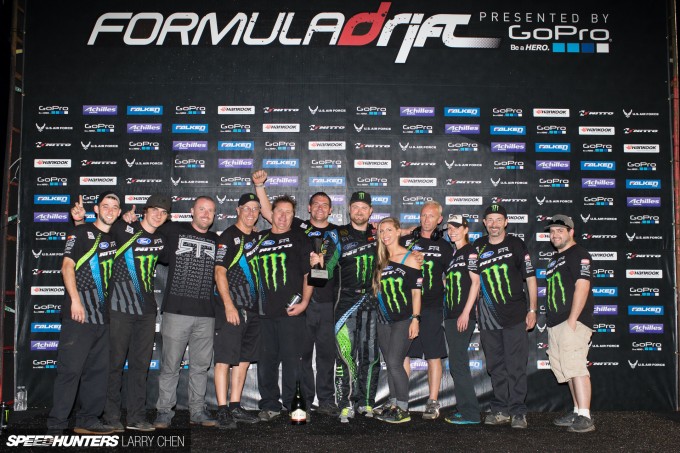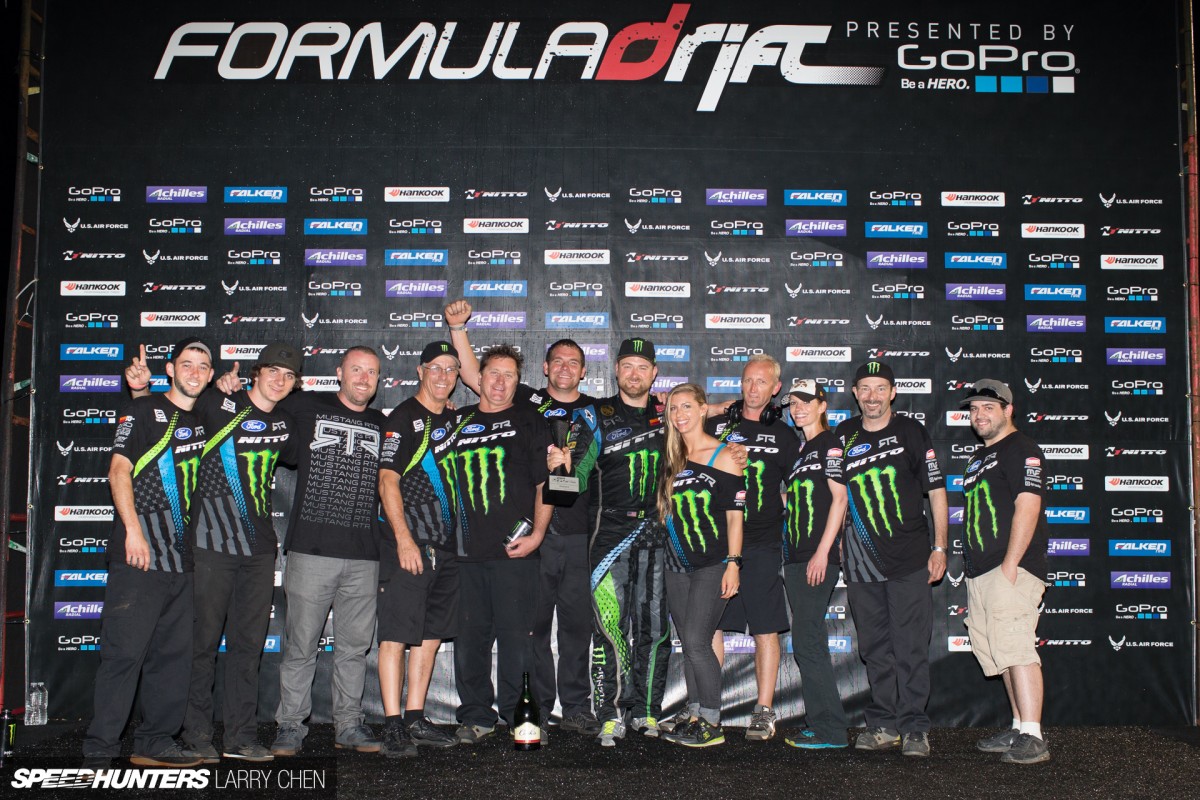 This is my team that makes it all possible – seriously one of the most amazing passionate talented groups of people I could ever imagine working with. I am truly humbled that they choose to spend their time to support me chasing my dreams. Nothing is more rewarding to me than seeing all their hard work paying off and making them proud.
Atlanta's win was one of the most meaningful of my career as it was full of some of the hardest fought battles I have ever endured. It was also my first win as a team owner. The way our team worked together was so electric and I believe it relit a fire under all of our asses. We showed up in Miami fully 'Ready to Rock' the challenges that this new course posed.
Welcome To Miami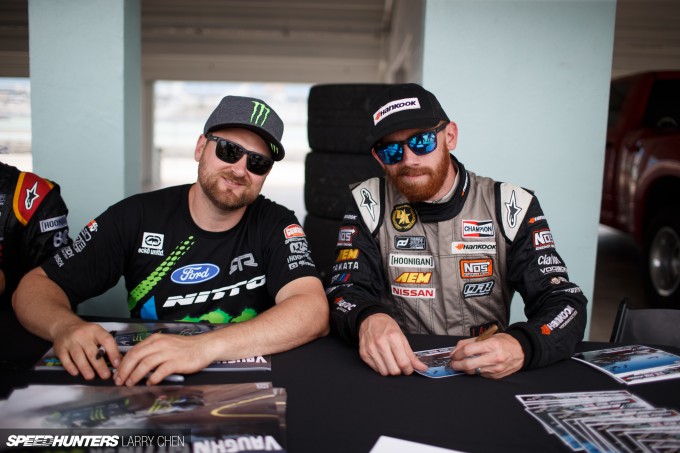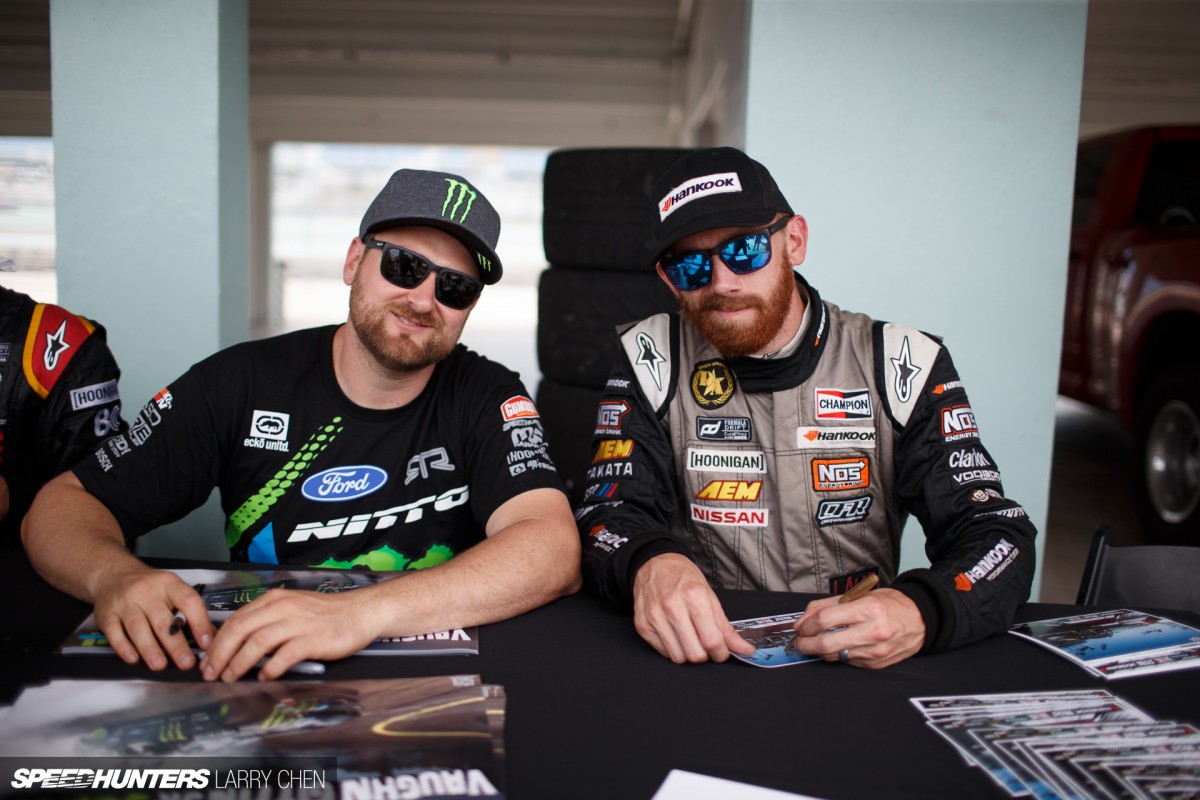 Our win in Atlanta put us in second overall in the points Championship behind this bro, Chris Forsberg – someone I am happy to call one of my best friends. The stories of our experiences together over the last 12 years are enough to write a pretty epic book! There is no question – he is one of the best drivers in the world.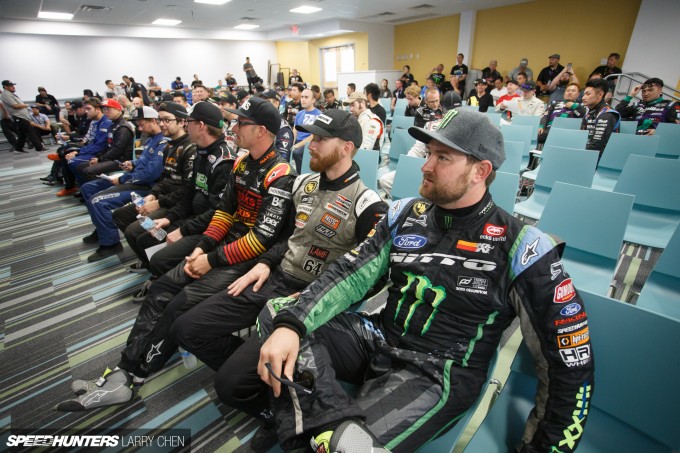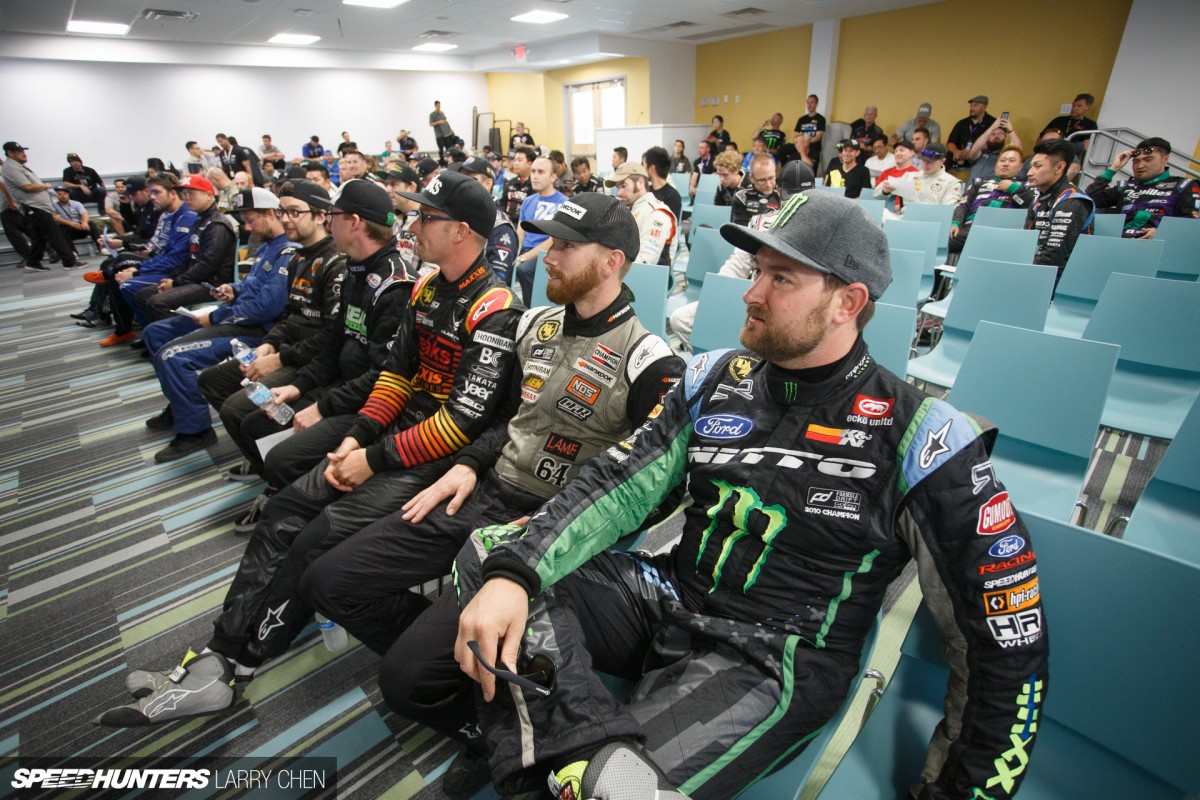 Miami was a clean slate for everyone. No one has setup data from previous rounds, so no one showed up with an advantage in that respect. It was  a true test of who could work best as a team to get the car dialed, and learn the track in the quickest time.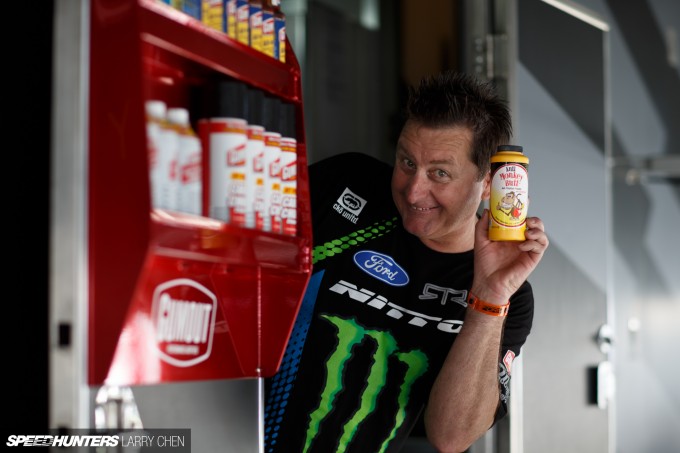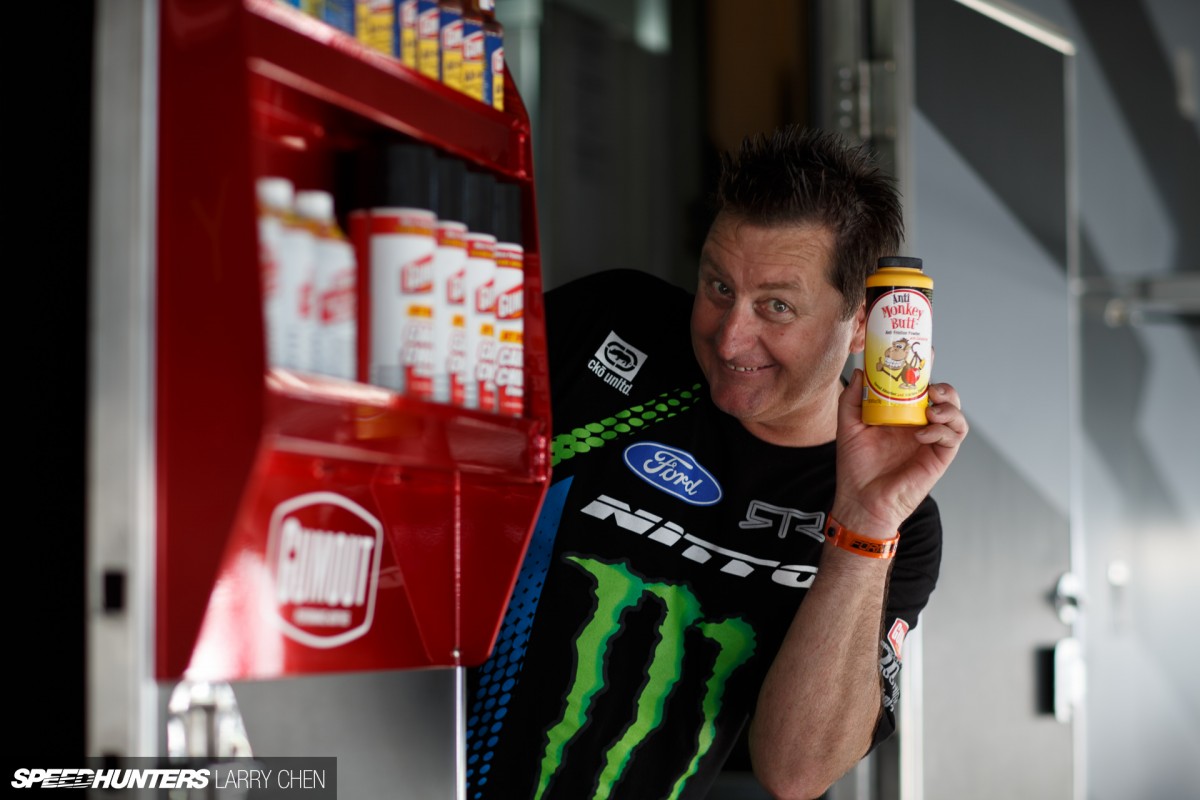 Speaking of advantages… I take that back. Those who know about 'Monkey Butt' powder are sure to have an advantage in the swampy conditions that Florida is nice enough to offer. My lead mechanic Dean sure knows about it!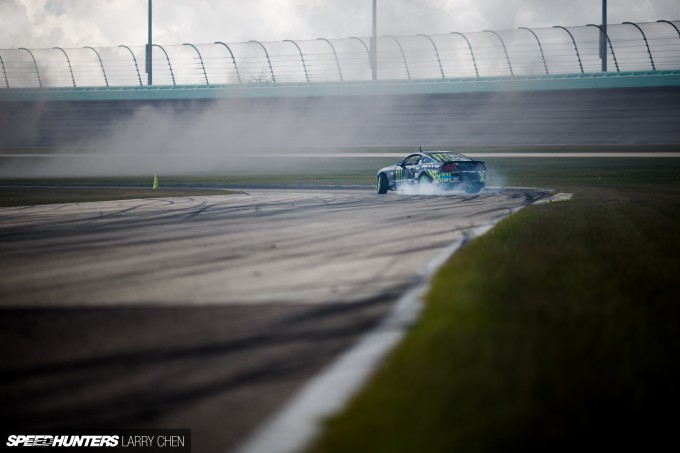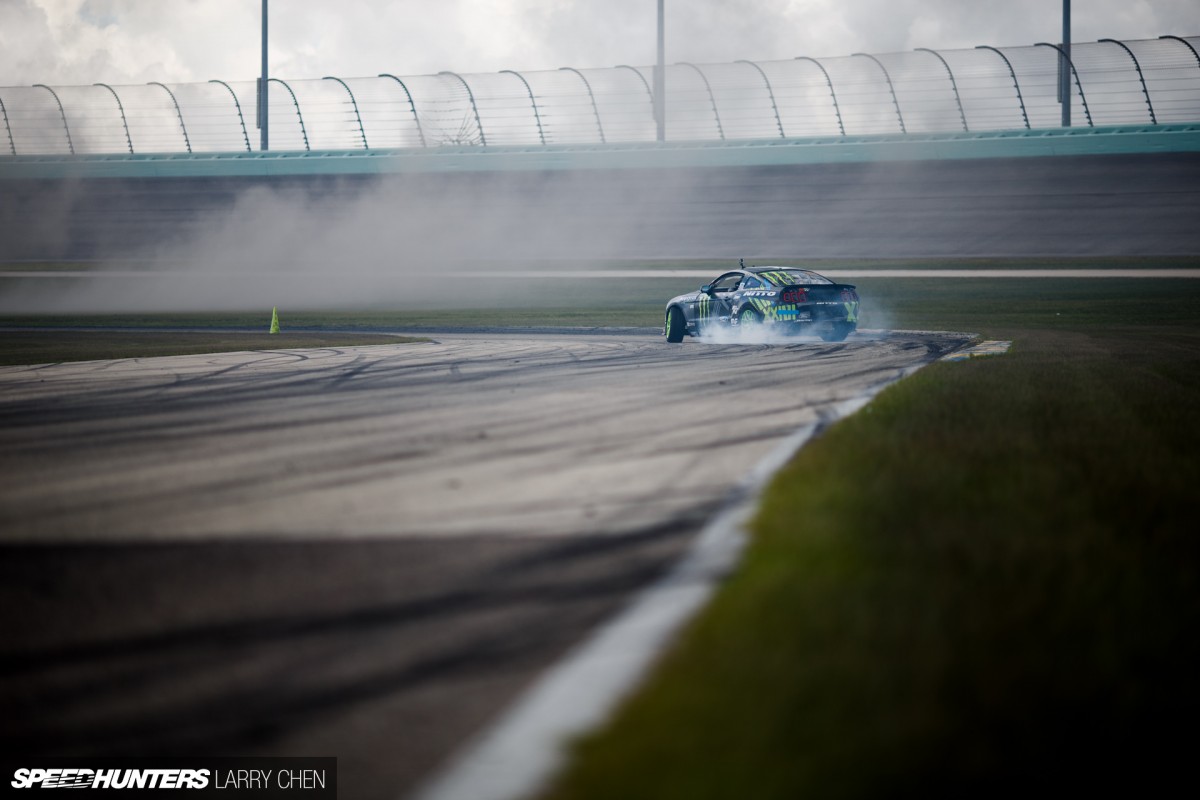 Aside from swampy conditions going into this track, I have to admit I was not very excited about it. The link between turns one and two seemed impossible from Google Maps and I was not excited about the view for the spectators. Upon my arrival to the track, I figured out the line in my rental car. It was then that I realized there was only one line to make the huge link between one and two work. While from a driver's perspective the track was very challenging which equals fun, I knew this was going to be a bummer in this area for tandem, as the risk for a mistake being on someone's door through this section – versus the reward – was very off-balance due to the fine line of making the link in general.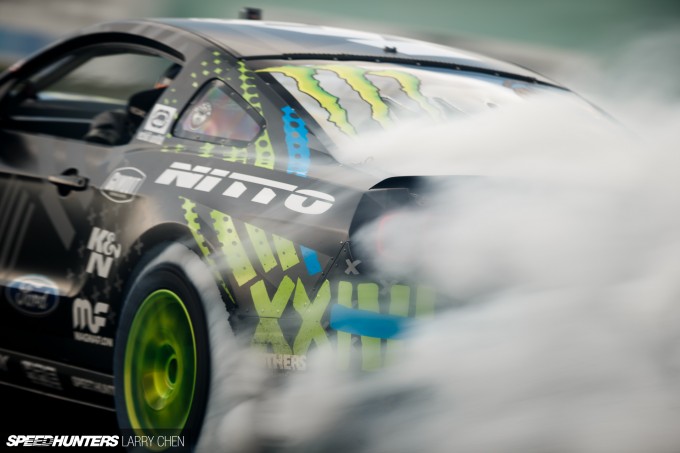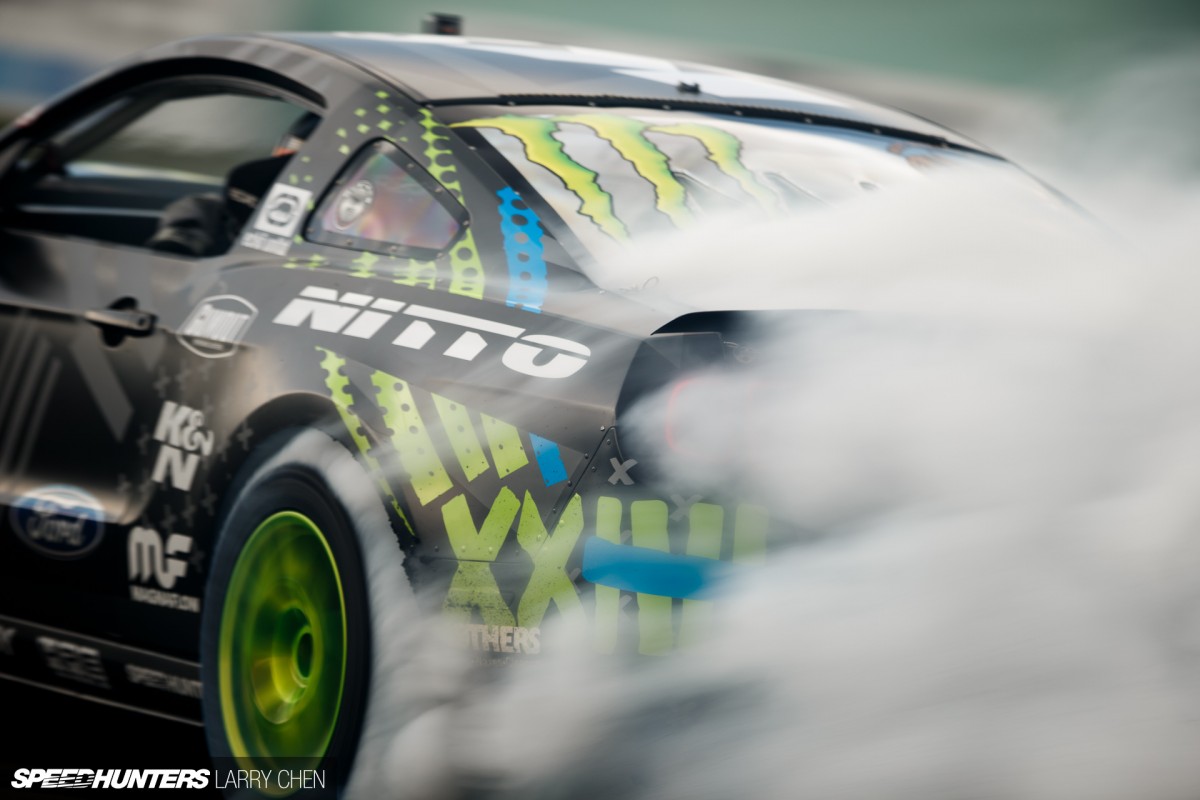 Regardless, we were all in the same box and we hit the ground running through practice and qualifying. The line I chose in my Ford Fusion rental car translated perfect to my Ford Mustang RTR. We quickly got a setup under the car so that I could start focusing on hitting my marks. We ended up tying Chris Forsberg for 1st in qualifying. We had the exact same score and exact same style points, so he bumped me because of overall series standings points. Regardless, we were on target with our goals, not just the result, at the end of Friday.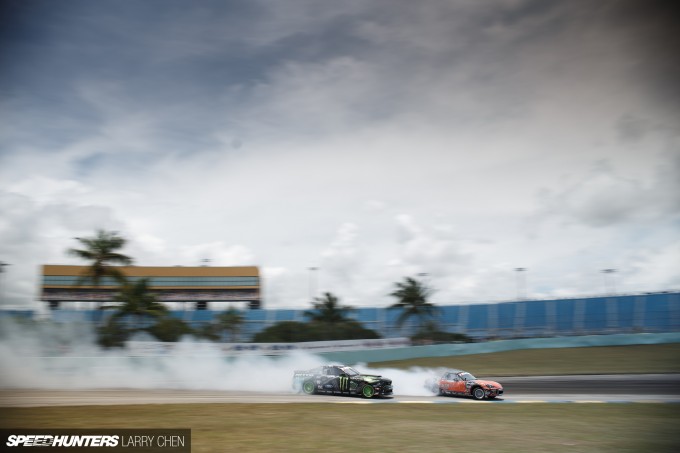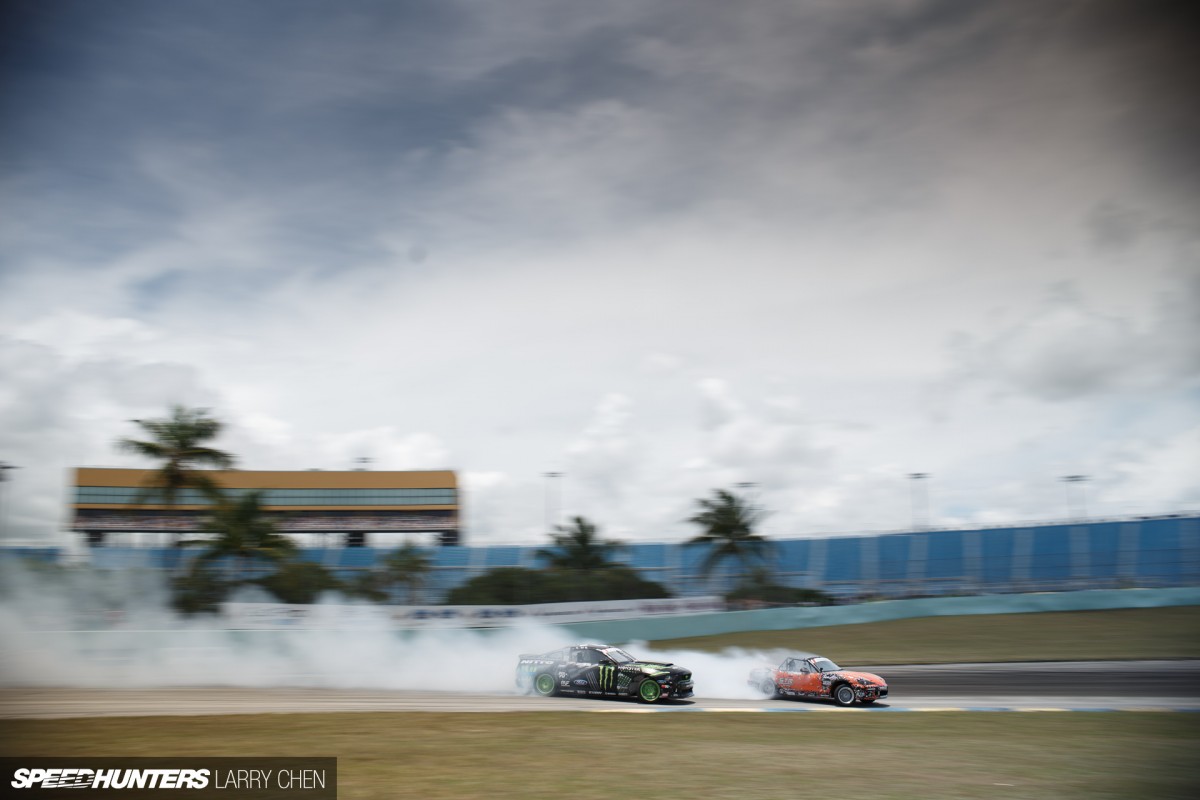 Saturday's first battle in the Top 32 was Danny George. His progression over the last couple years has been cool to watch. He is starting to really put it together and that little machine of his is super-quick, especially coming out of slower turns!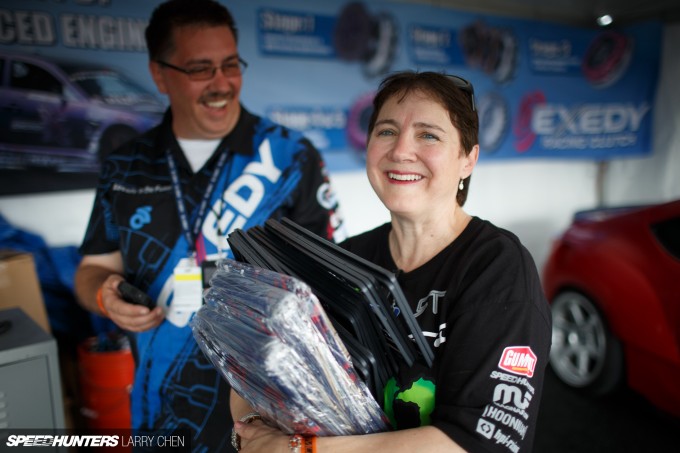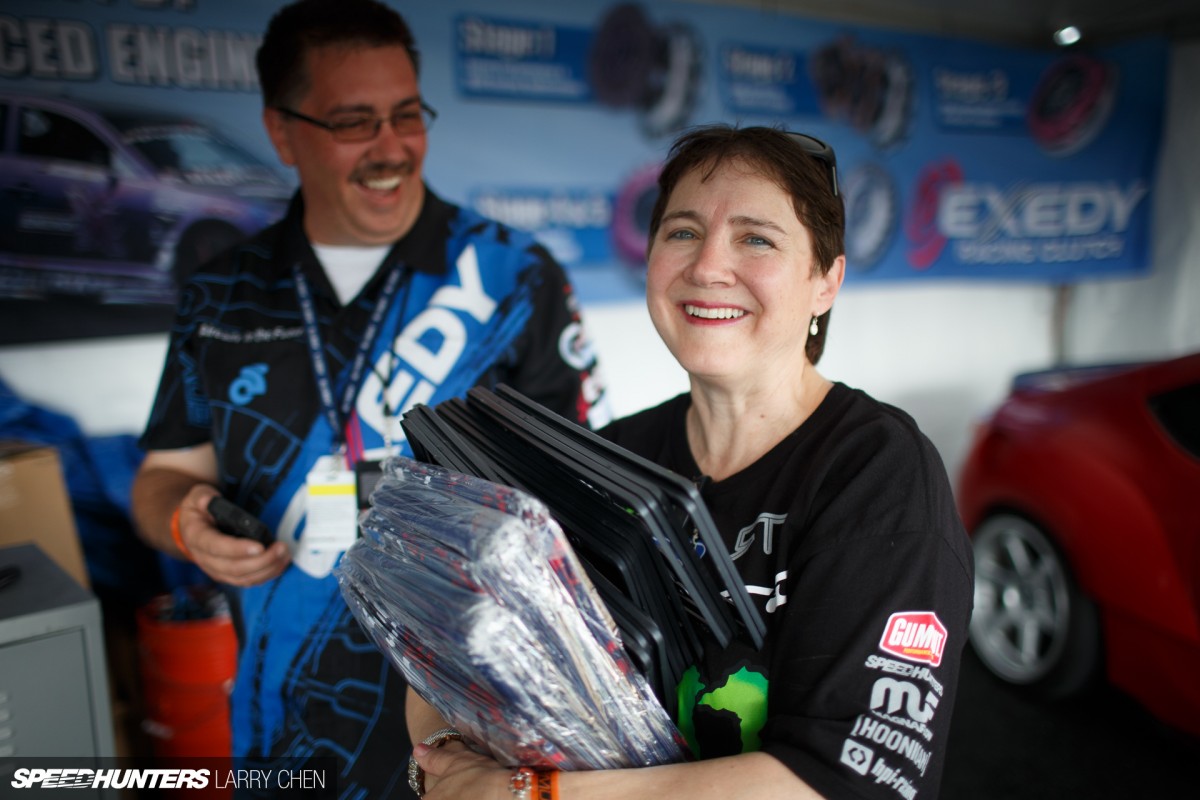 Here is my wonderful and always-supportive mother stealing some Exedy Clutch swag to probably give away to everyone that was near her in the stands. I love putting smiles on people faces and I think I get that from her.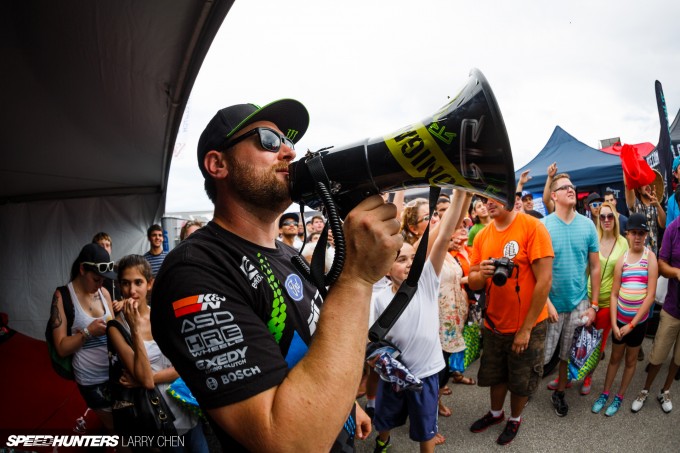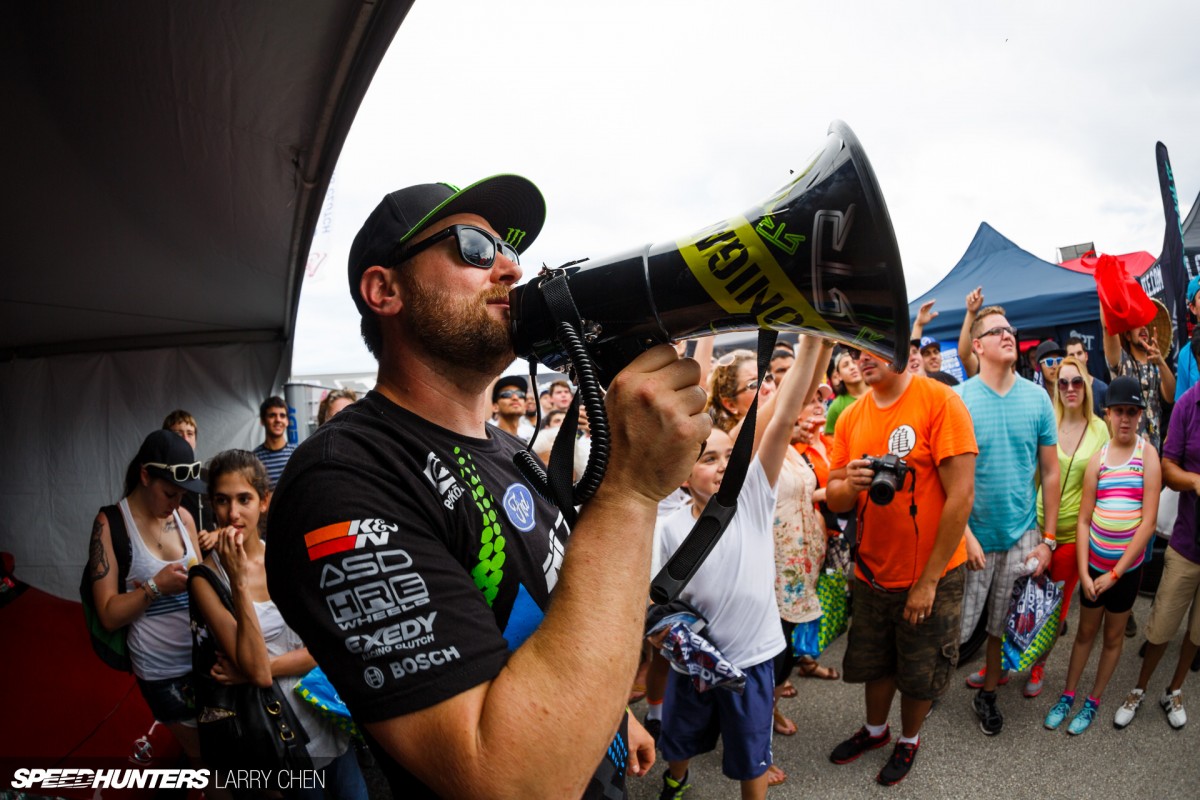 Speaking of smiles on faces, I sure do love half-time on Saturday, since it's the only time we really get to spend with our fans. I do a 'pit party' at our rig and at the Exedy Clutch booth every round. We always have a good time and I do my best to make sure that everyone leaves with a smile!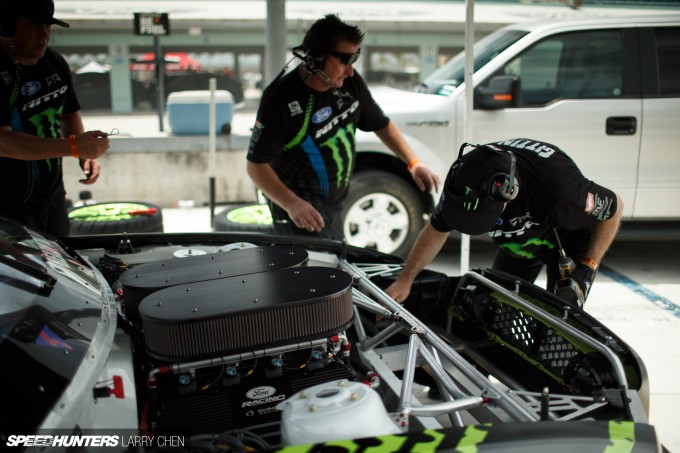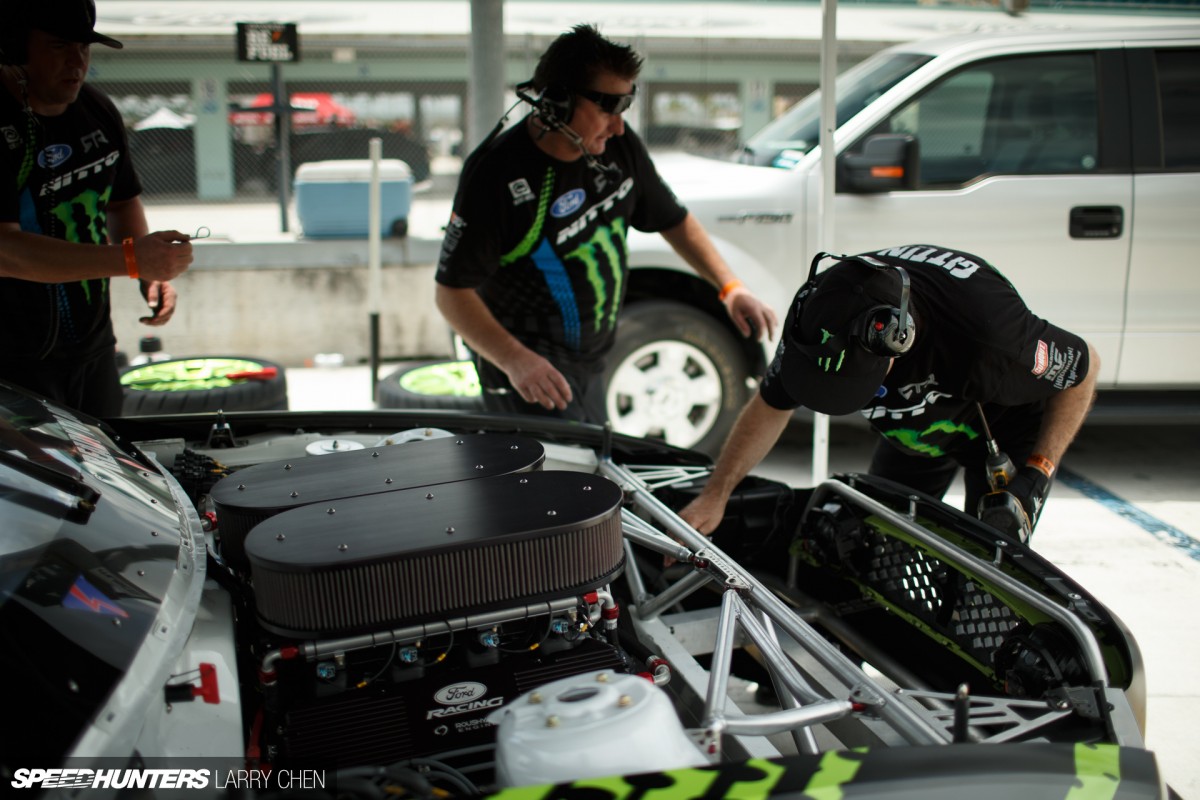 While I am out having fun, my team is working their asses off making sure our Mustang RTR is ready for battle. Here is Dean, Flash, and Eric doing something.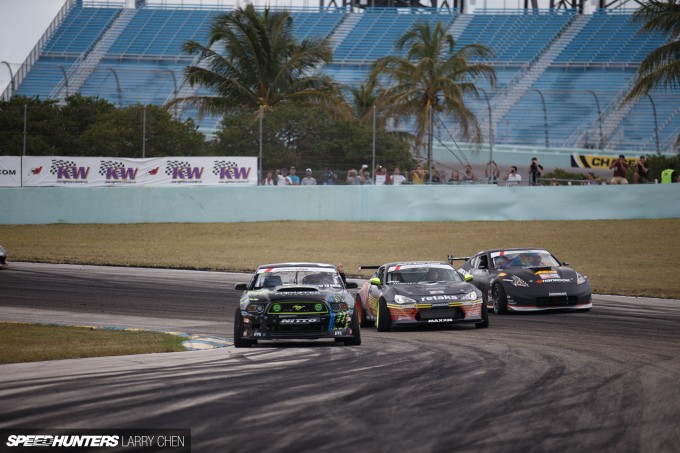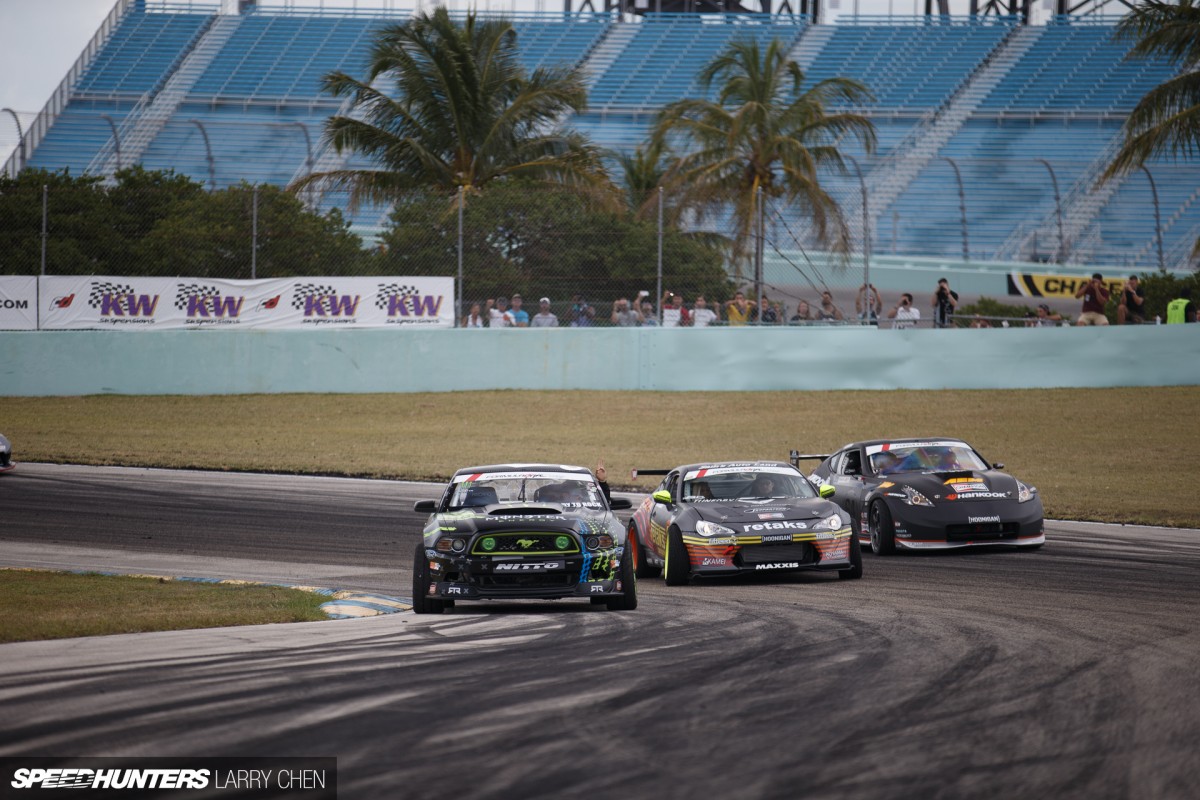 Once the free-spirited fun has ended it's just about time to get serious. Here's my Drift Alliance brothers and I leading the pack out for Top 16 ceremony.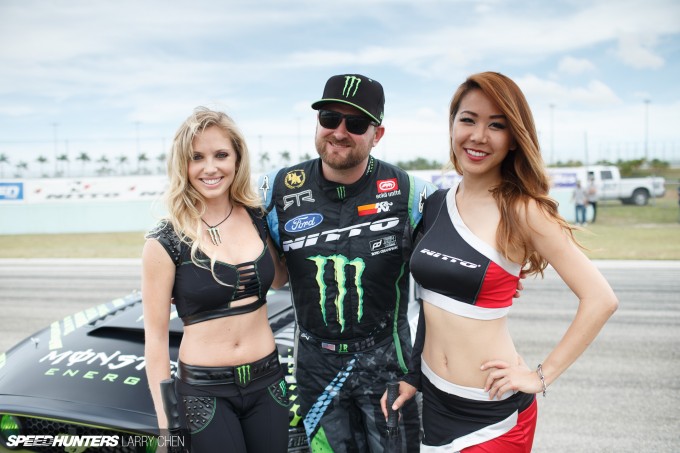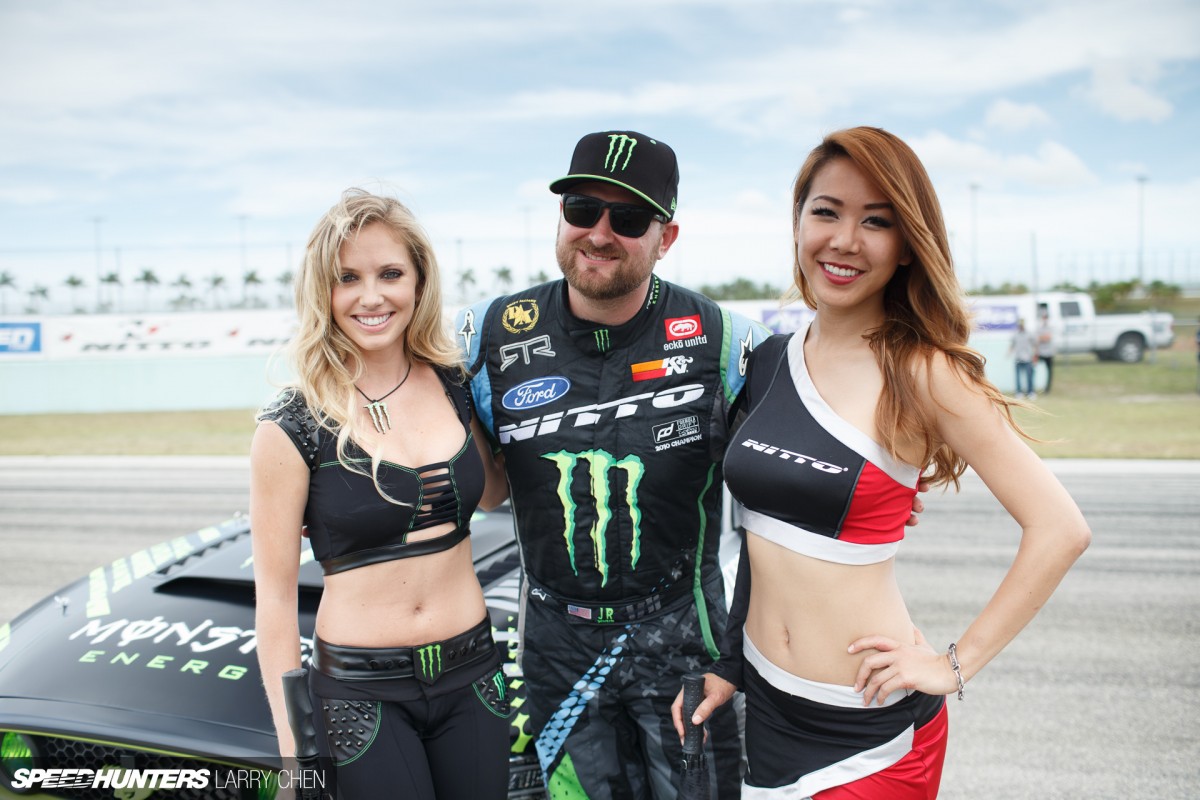 See, Monster Energy and Nitto Tire also like to put smiles on faces!
Mind In The Game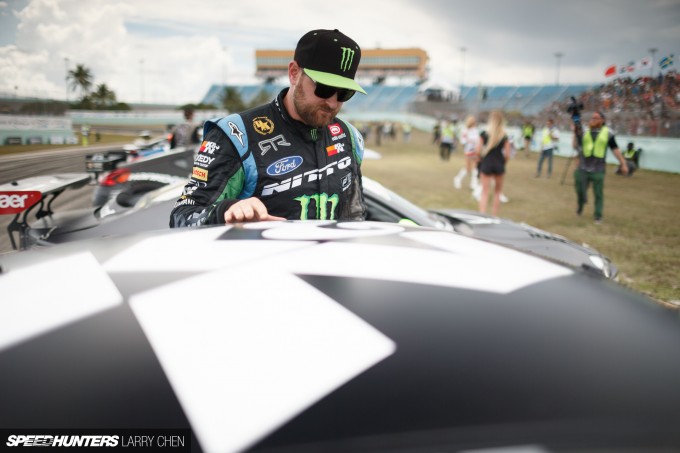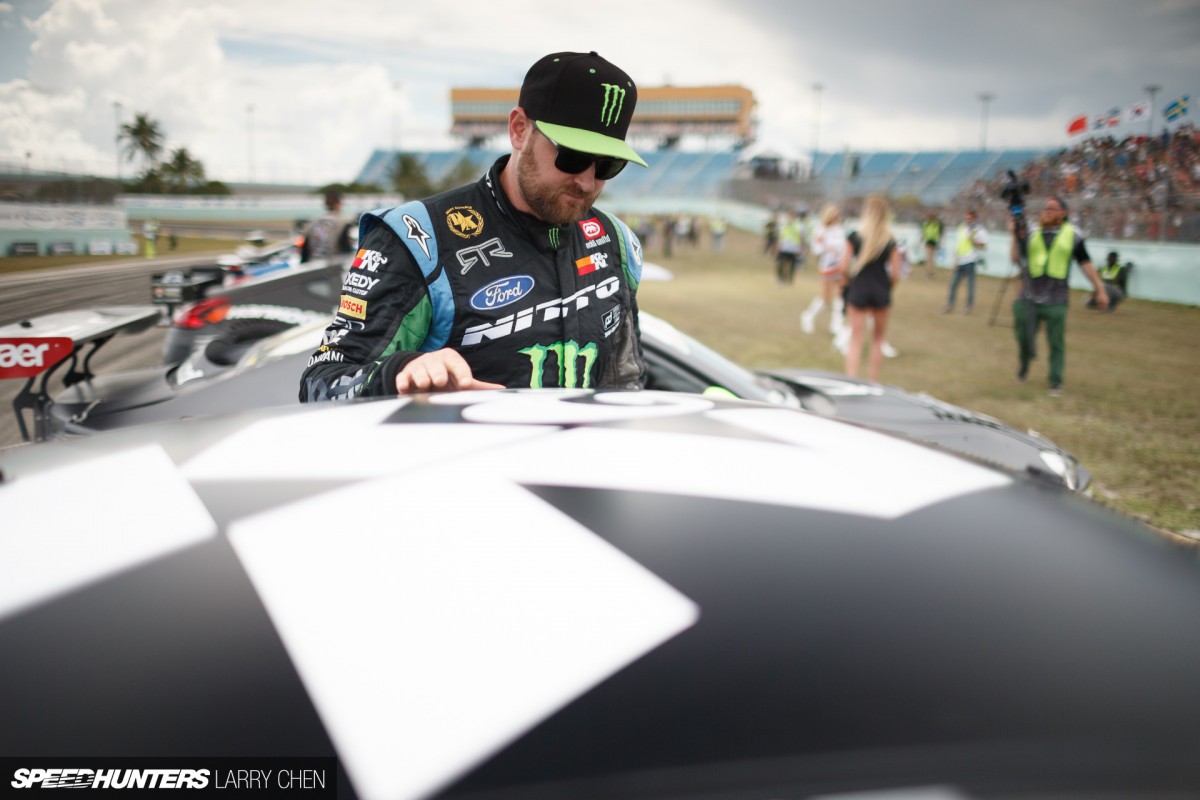 The opening ceremony comes to an end and it's game time. This right here captures the start of me focusing on the challenges ahead.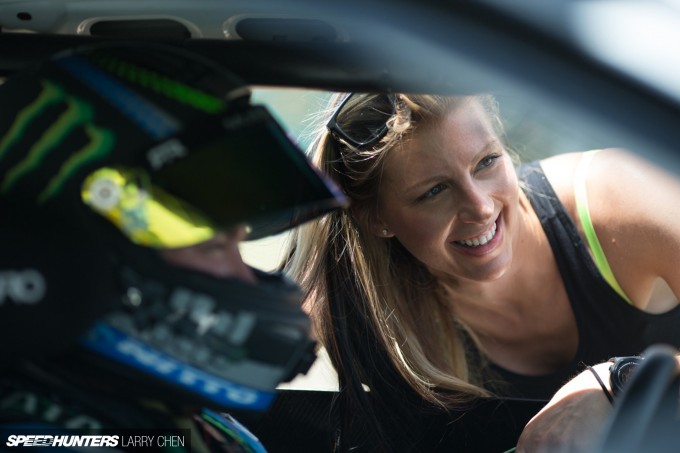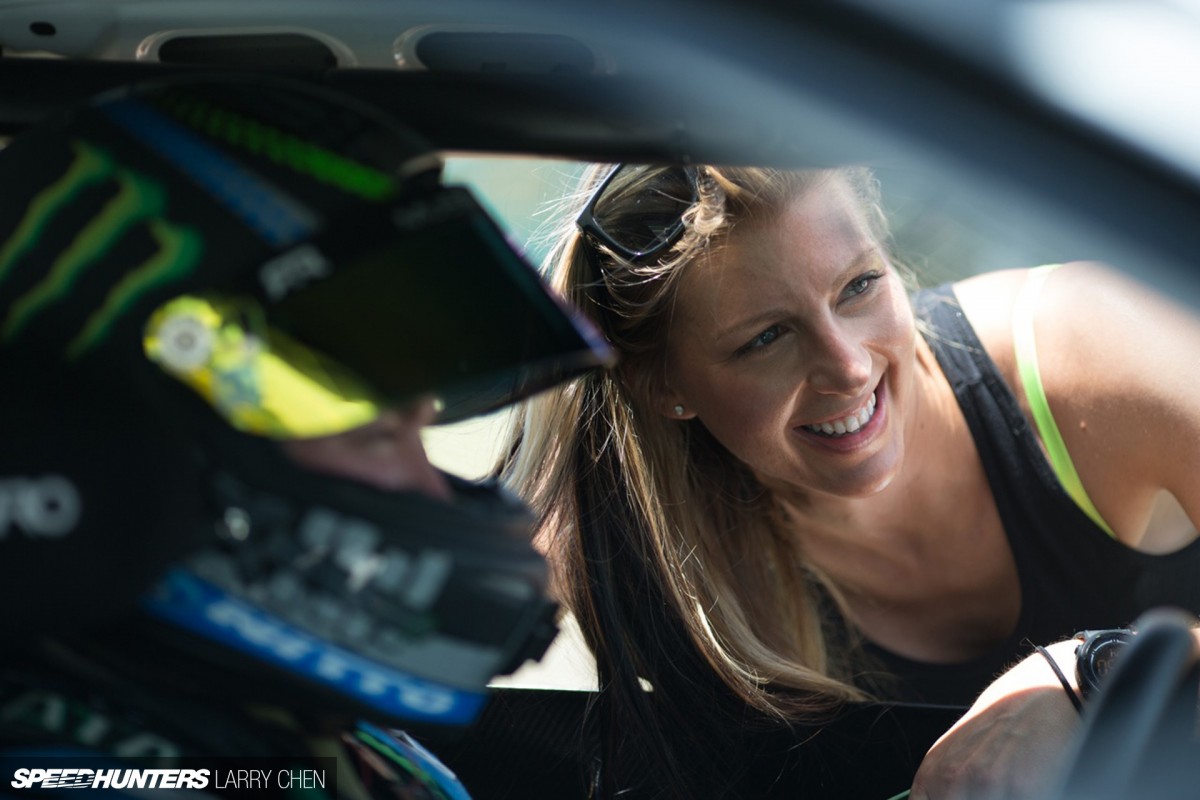 My amazing wife, who wears so many hats on an event weekend, always takes the time to come put a smile on my face before I go out for my first battle.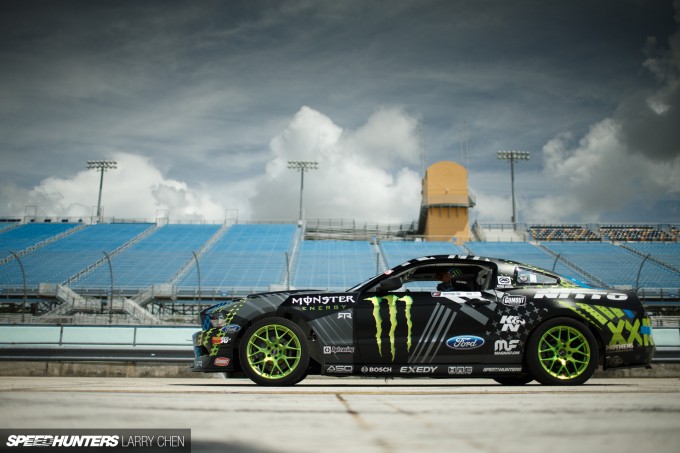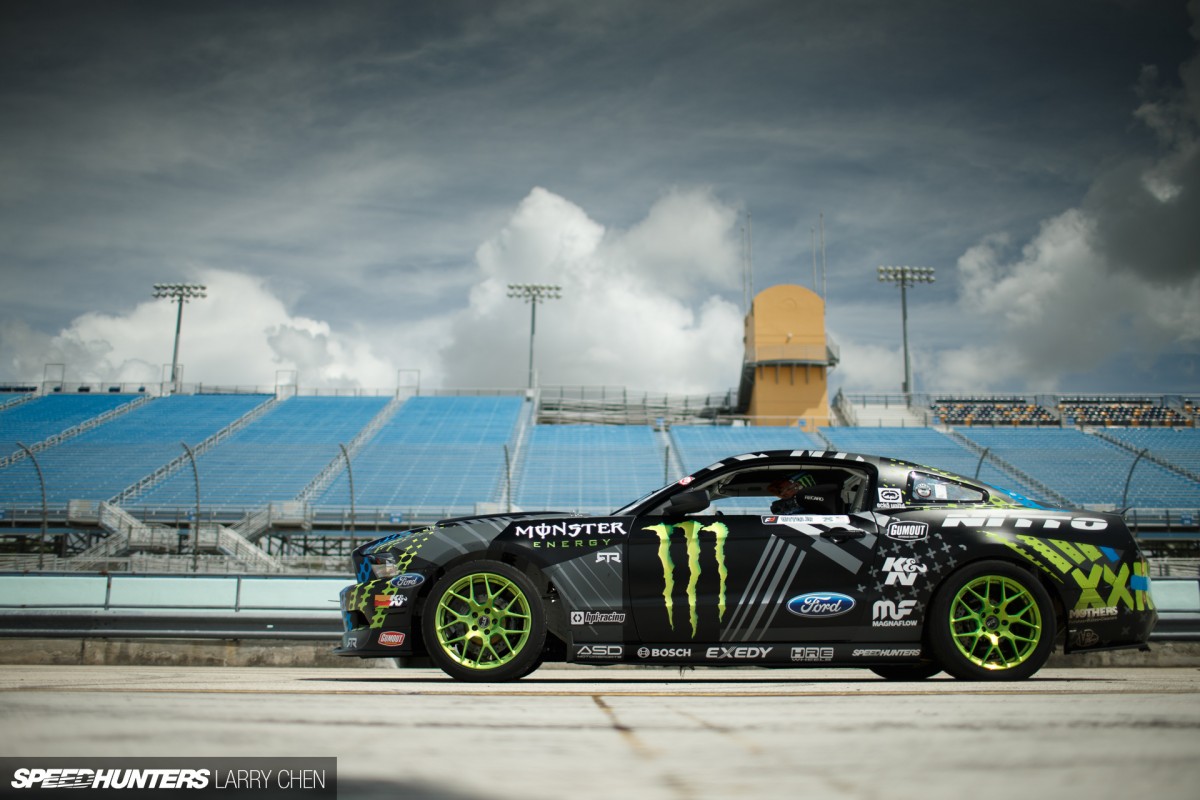 Now I'm in full effect, trying to get to that mental place that I need to be before my first battle of the Top 16 with Johnathon Castro. He was on-point all weekend and really getting to grips with his new car. He also put on an amazing fight in the battle.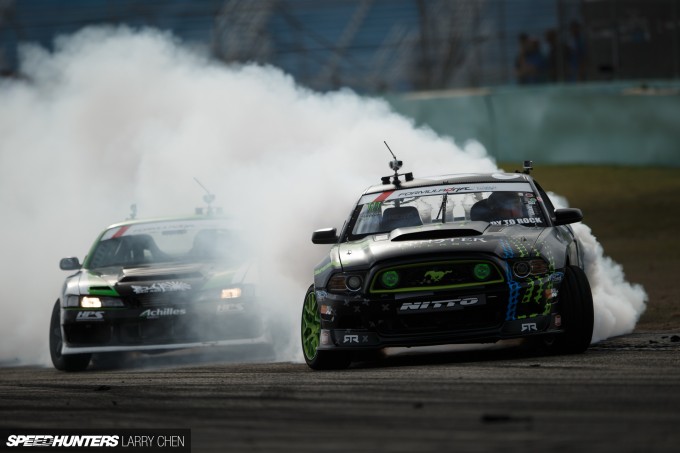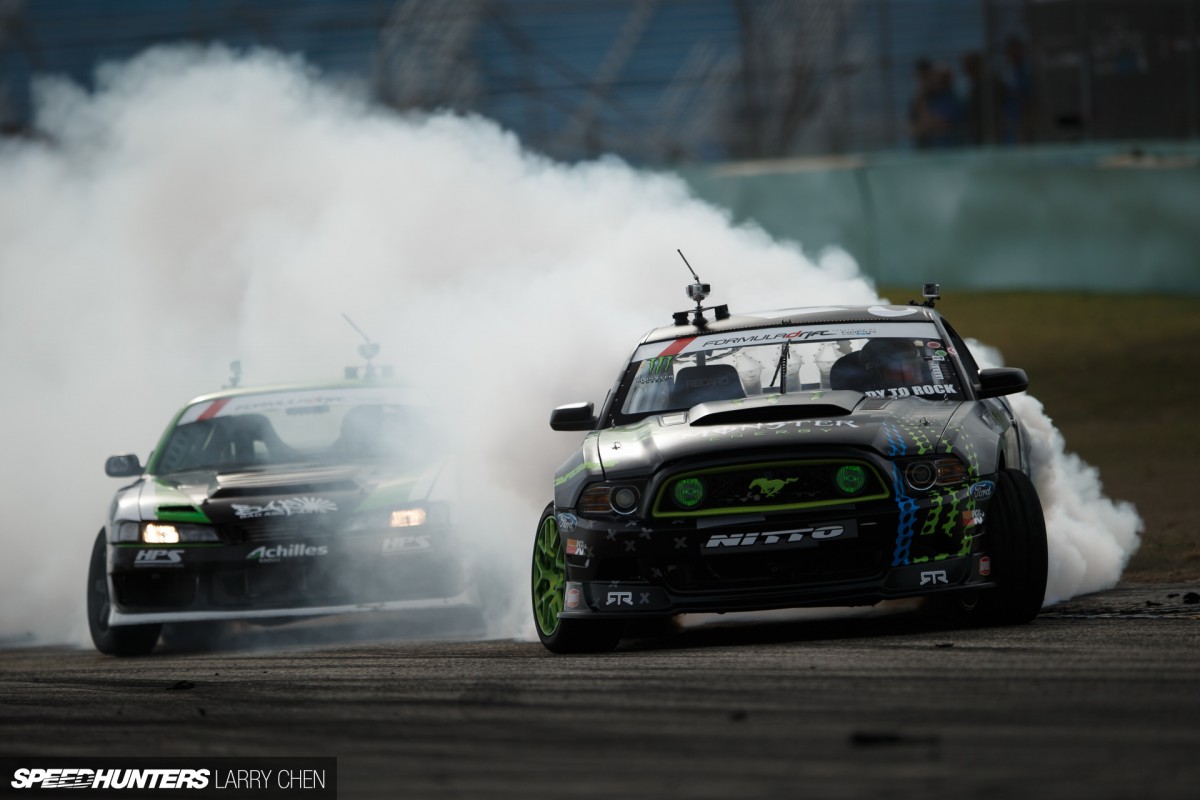 I remember feeling that I had gotten to the place where I needed to be just after my Top 16 battle. That was perfect timing, because I was going to need everything I could for my Great 8 battle against Fredric. (Sorry for the lack of a photo of us battling – blame Larry!). I knew Fredric wanted his revenge from Atlanta and I was determined not to give it to him! After one round, we were the clear winners and that moved me into the Final 4, in which I was paired with Kenny Moen, who we had battled and defeated in Atlanta. He has been on fire since Long Beach and no doubt was a killer on this new track.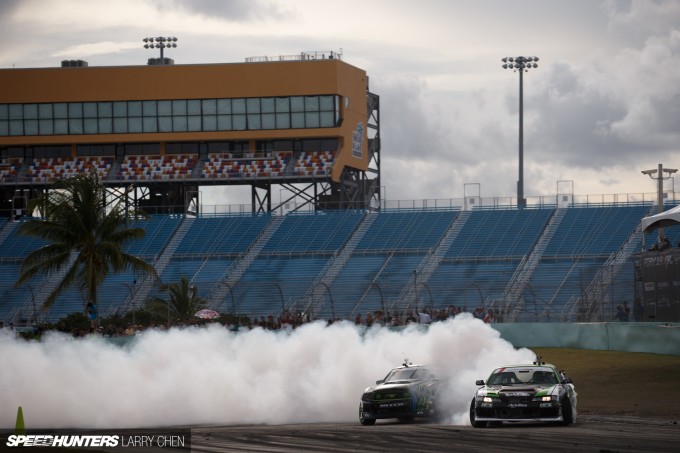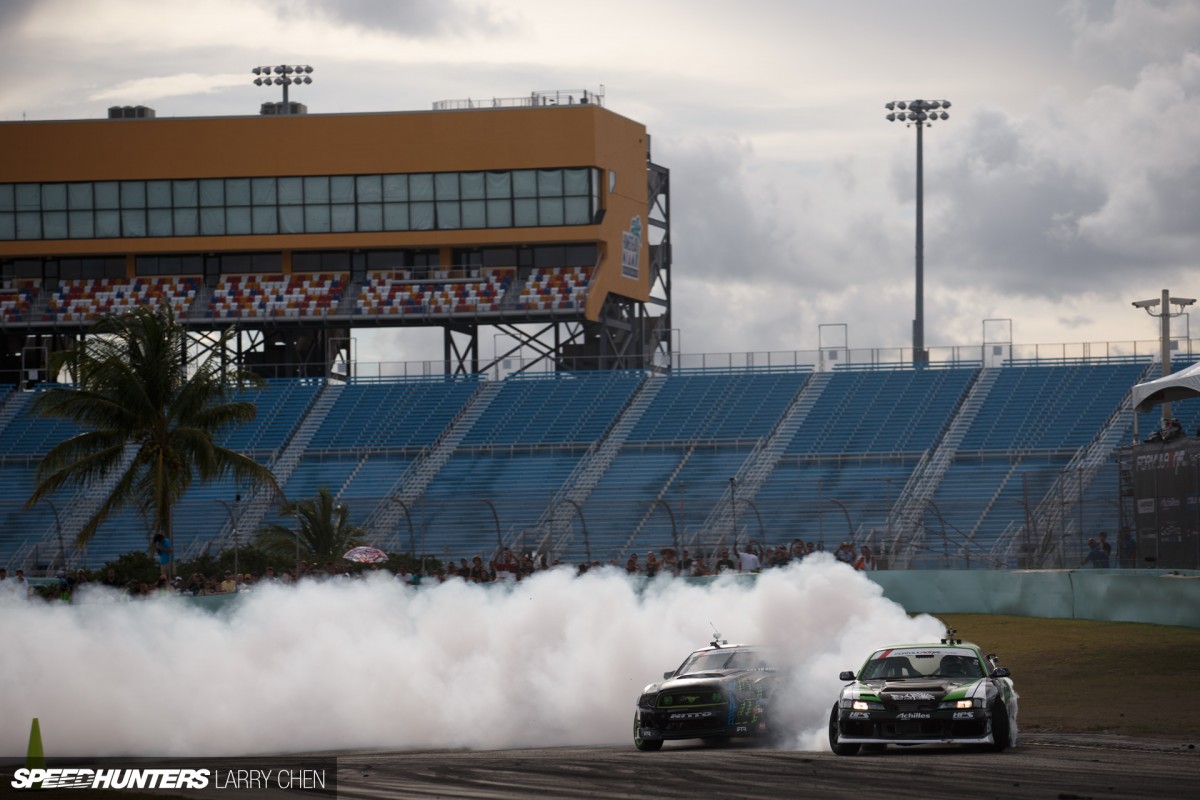 Our battle went into a One More Time and after two hard fought rounds, we were declared the victor. We were now heading straight to the finals!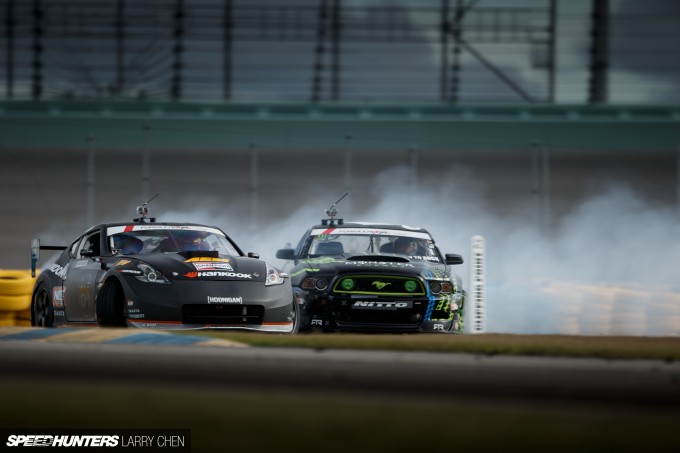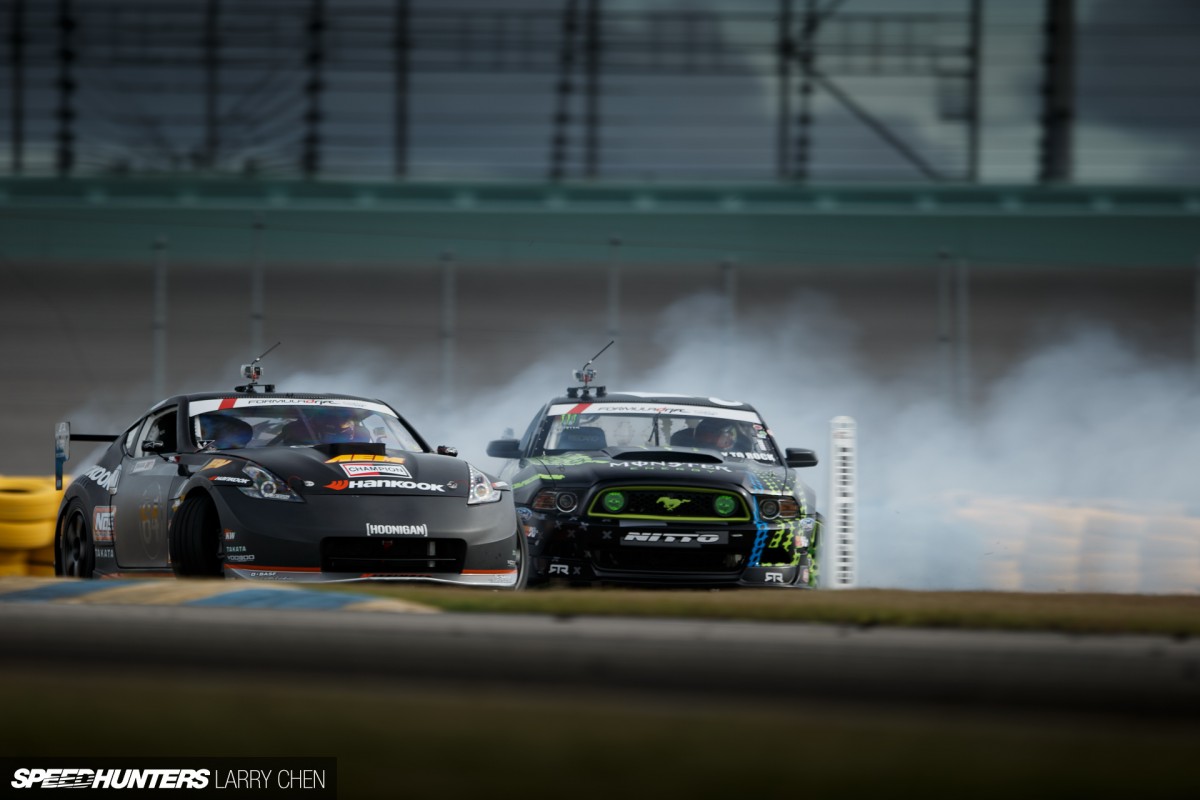 It was time to battle none other then my great friend and current points leader, Chris Forsberg. We have been driving together for 12 years now, and I think in all of our battles, we have had maybe one clean fight. Every other time there has been something that went wrong in the battle, robbing one of us from the opportunity of truly going all-out for the duration of the battle. I have a great deal of respect for him on the track and I knew this battle was going to be nothing short of epic if we could get that clean battle!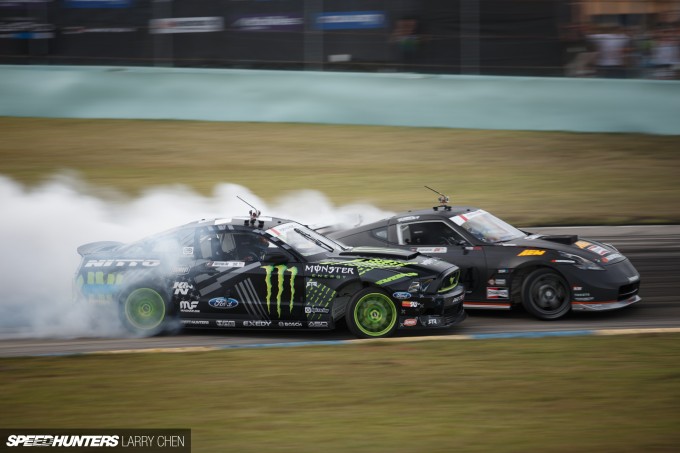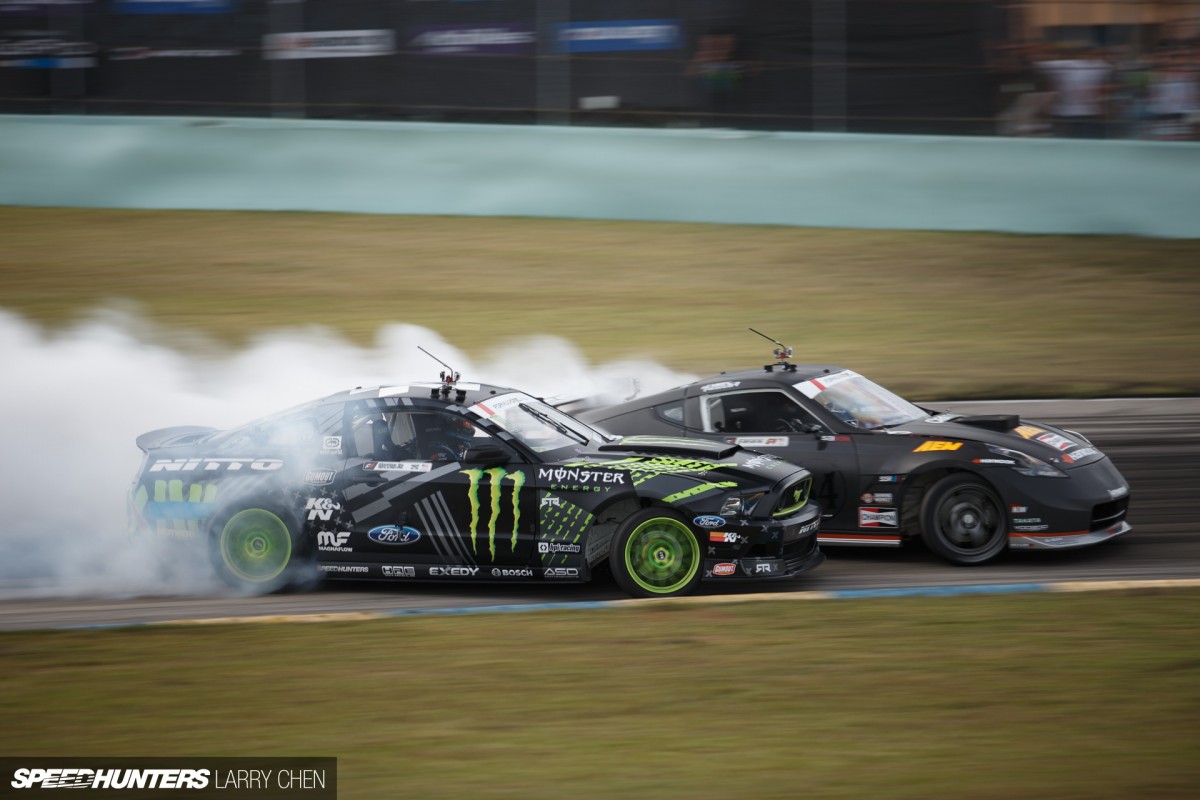 It seemed Chris took us into turn one with a little less speed than was needed, and the lack of momentum started to straighten my car when I was able to jump back on the throttle. From that point on, I did everything I could to stay on his door. I had a feeling something was wrong because it is not like Chris not to fire it into the first turn as fast as he can, so it came as no surprise when he called five minutes after our first battle.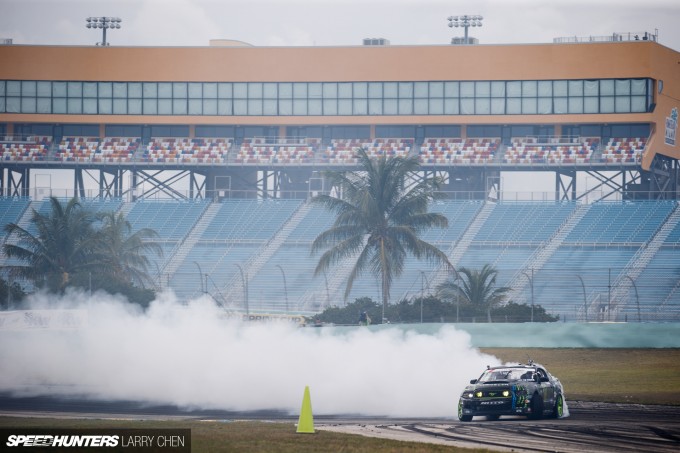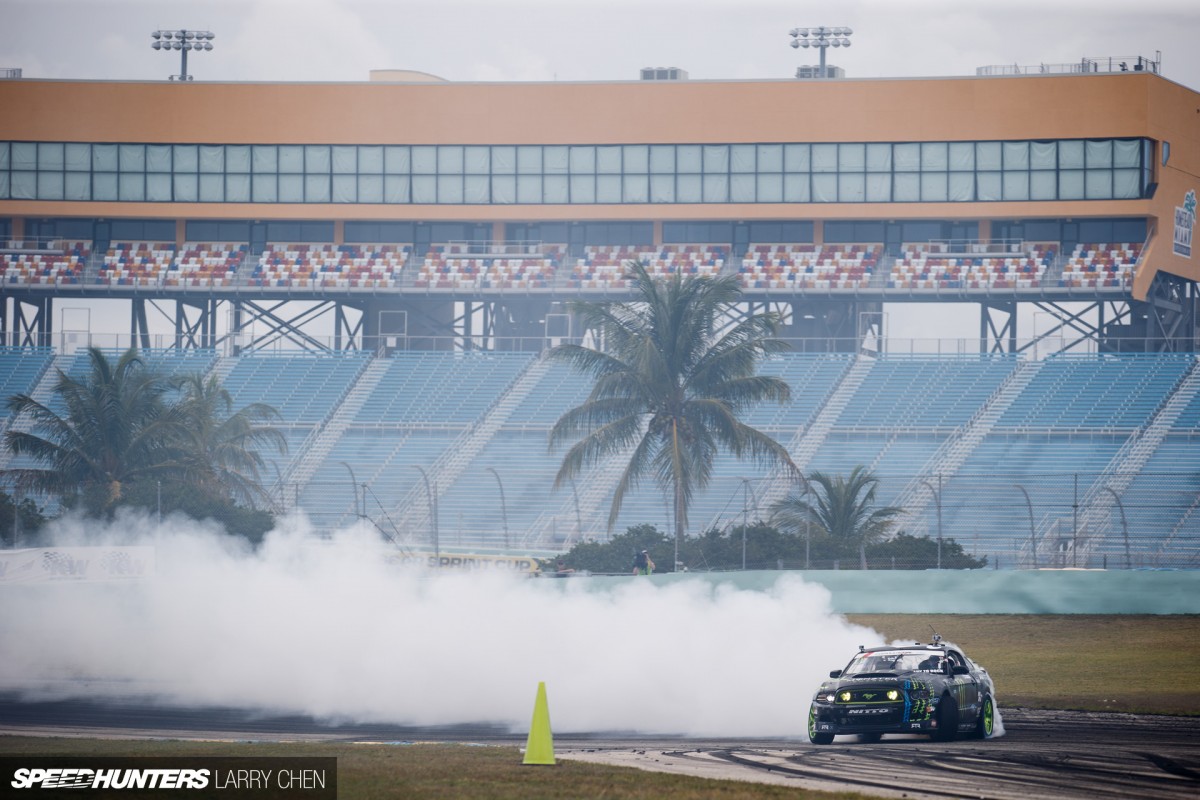 It was now my time to lead and after we entered turn one I went absolutely as hard as possible hitting all my marks and pushing the limits of our car on this track. I knew we were fast, but the lack of Chris's presence on my door – or even within a couple car lengths – was a clear indication that his car was likely not 100%.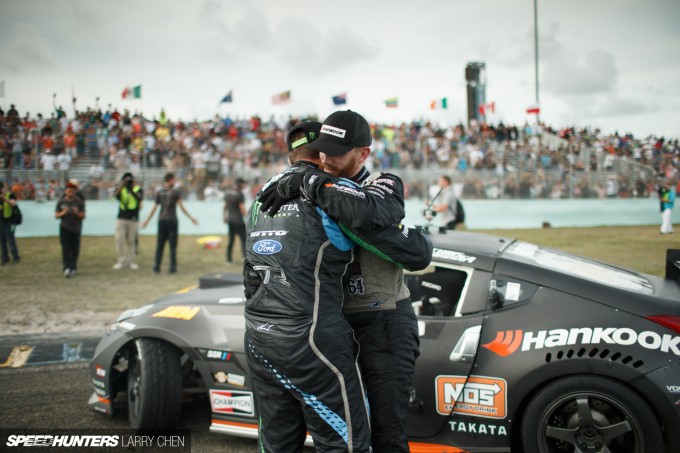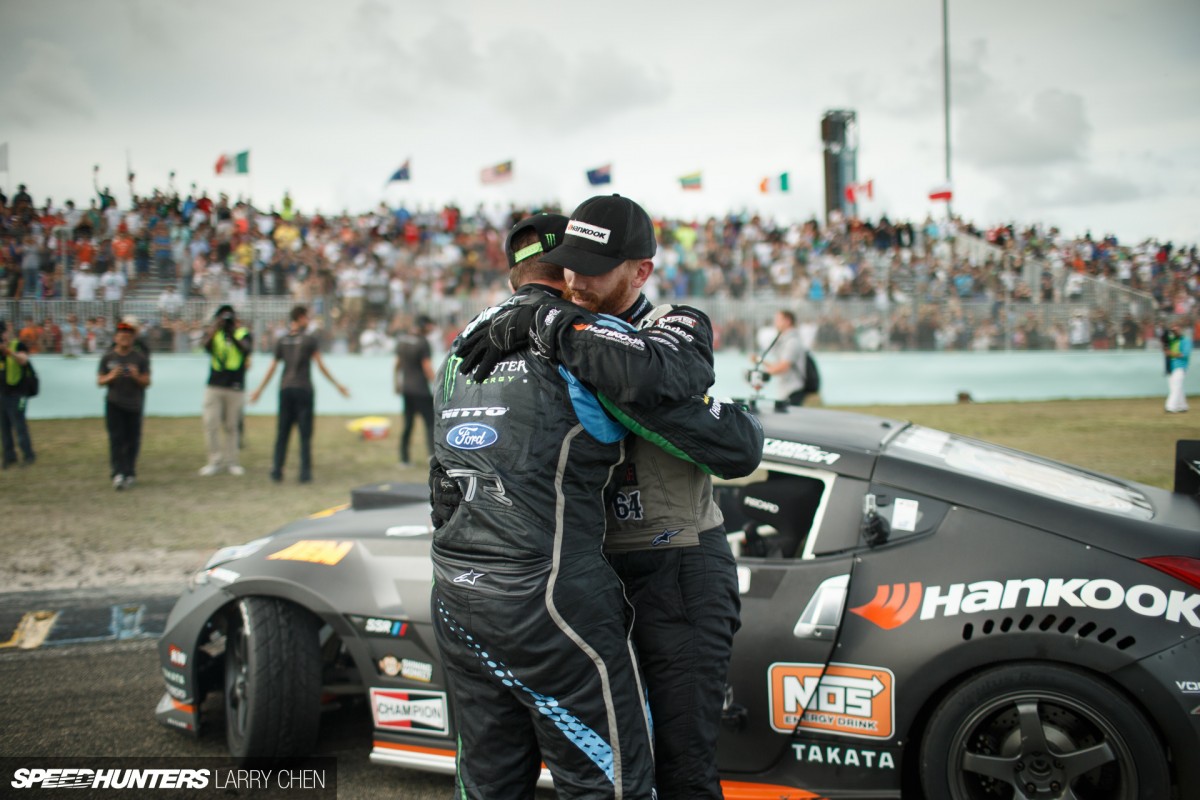 Sure enough, after talking with Chris he said that he seemed to be losing power from his Top 8 battle.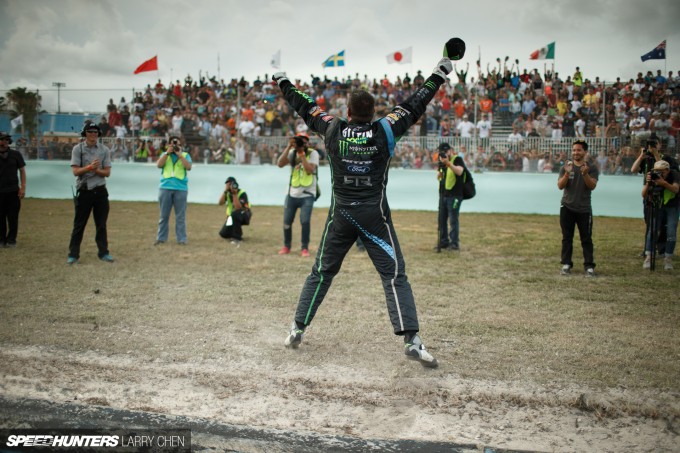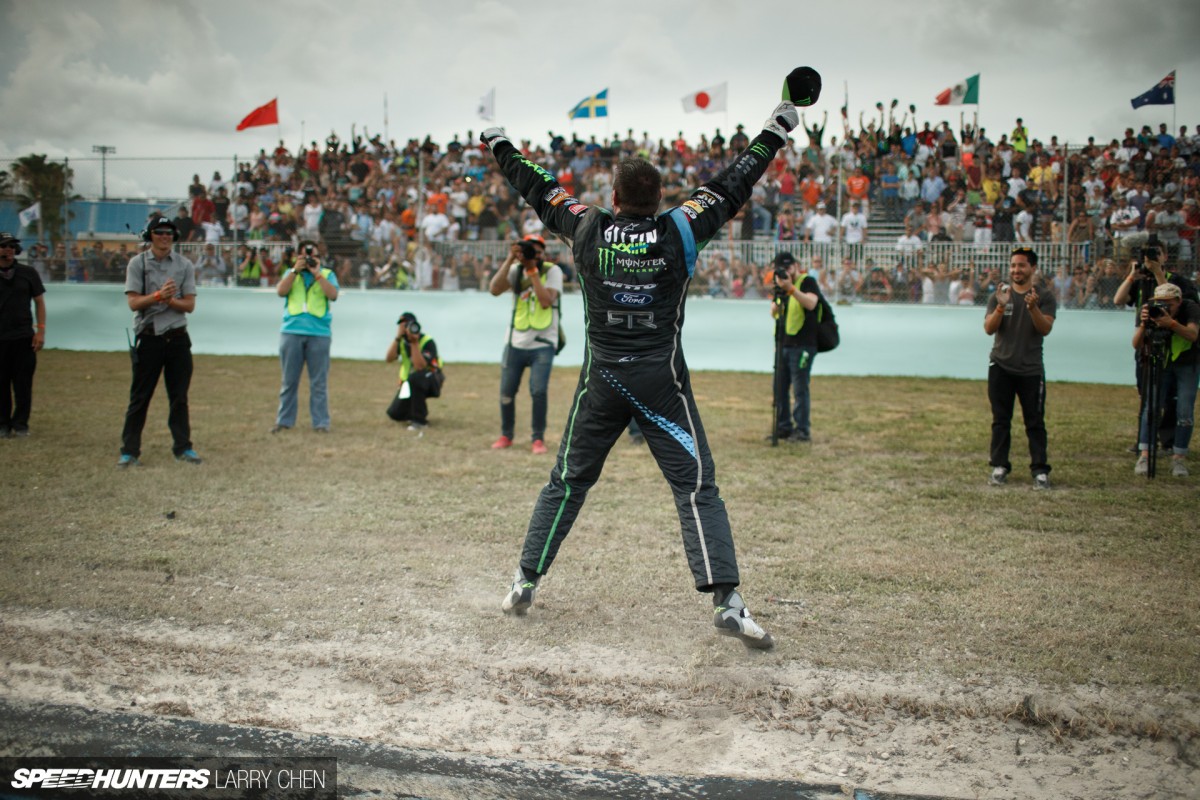 While anyone would much rather win a heated, door-to-door battle, it felt amazing to win the event.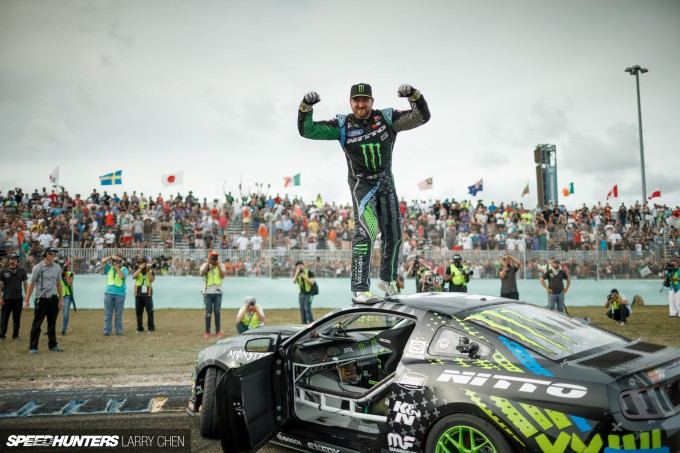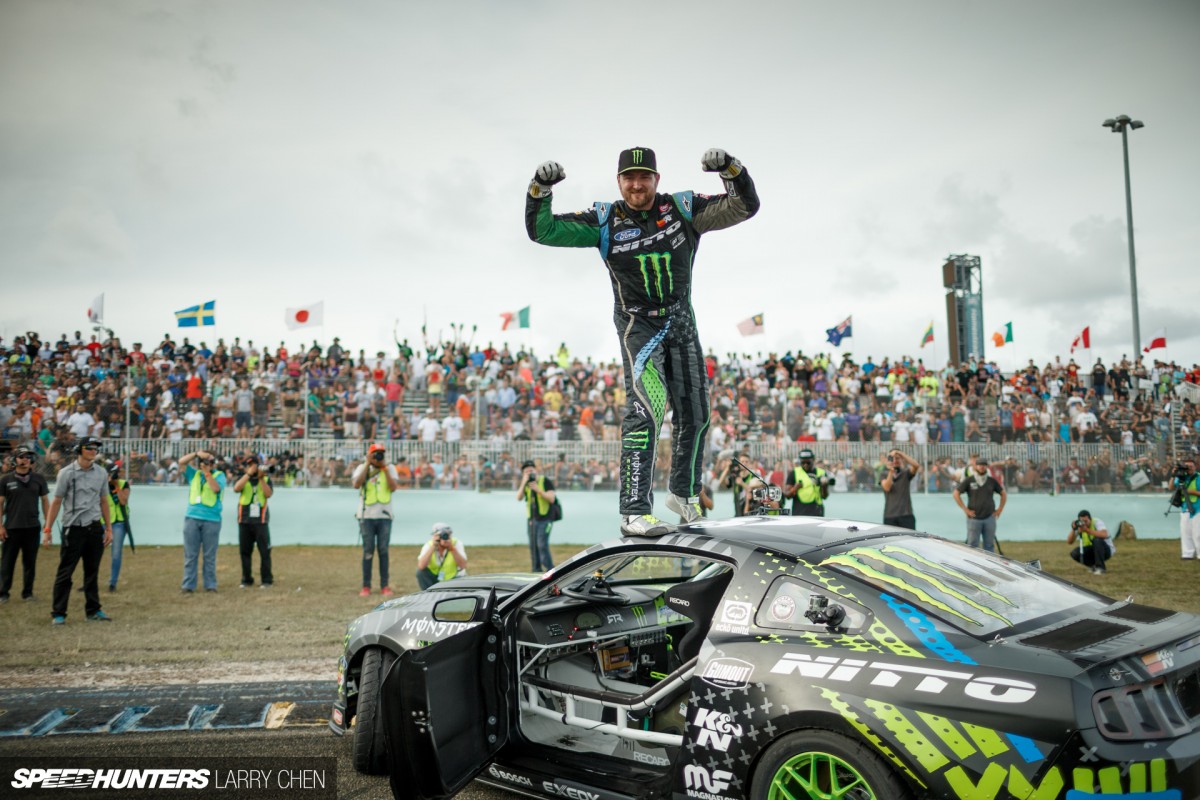 Back-to-back Formula Drift wins is something that you don't really think of as being possible. I achieved this in 2012 and to do it again feels good!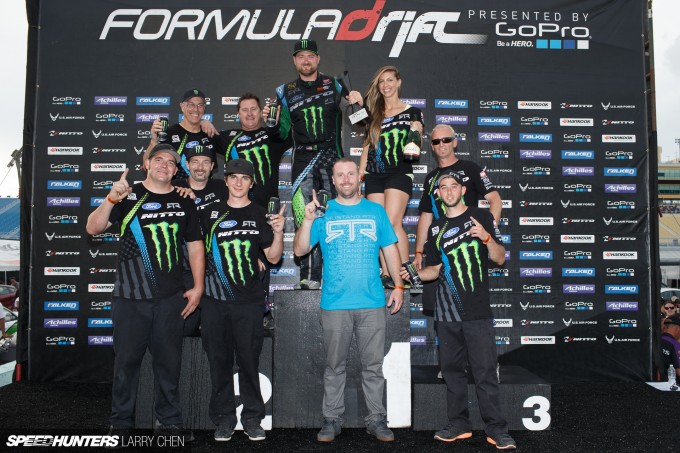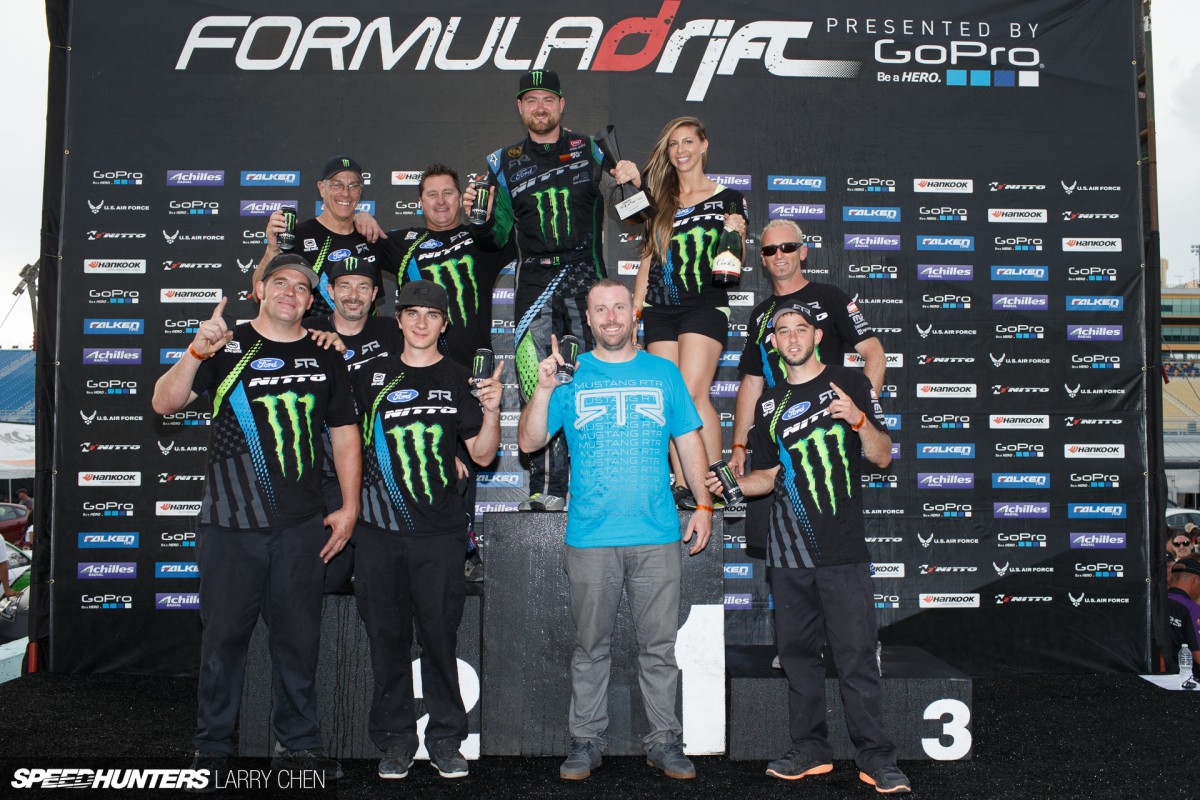 Achieving this win at this new track is a huge testament to the group right here. Communication, preparation, and 100% commitment to the challenges that are tossed our way is without a question why we were able to experience the success of the last two rounds.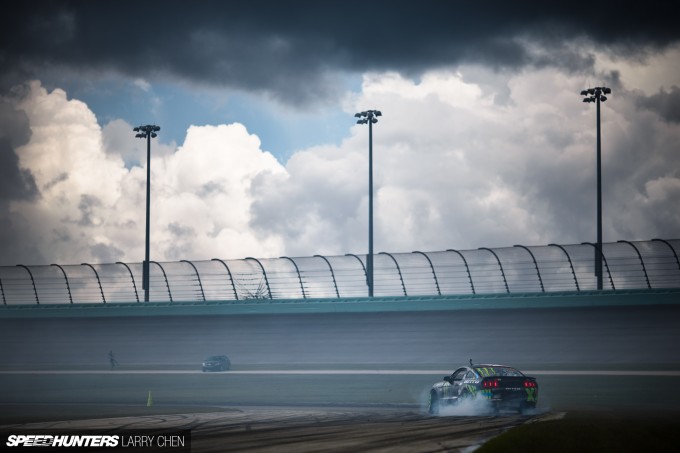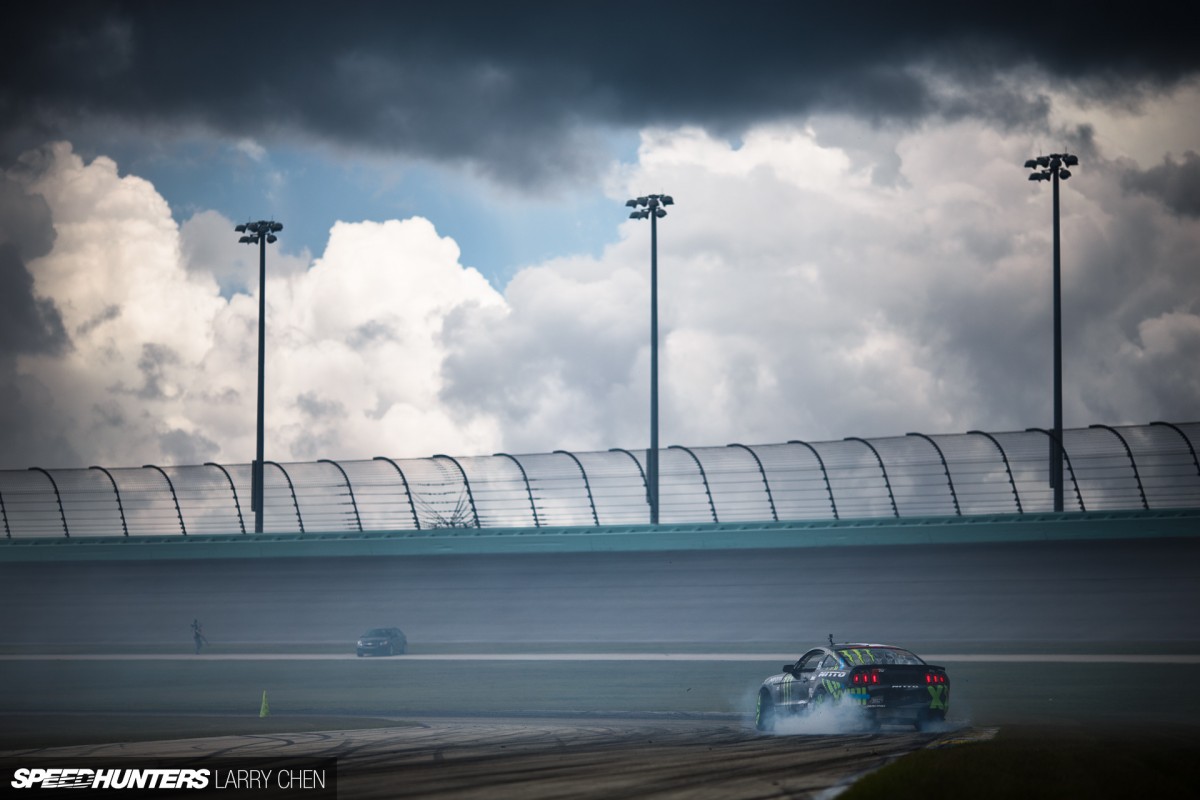 In the end, winning is not really the goal. Yes, winning is something we all want to do and it's the result we all want – but it's harnessing what it takes to win that is what I want, and why I continue to show up year after year. That connectedness and teamwork; seeing the challenges that scare you and then overcoming them;conquering the internal battles that we drivers fight every time we are at the line; and truly becoming one with the mind, body, and machine to push the limits of what should be possible. All of these things are what makes a win fulfilling. A huge shoutout to all of my fellow drivers and teams that continue to show up year after year and push the limits of our sport to the next level – you continue to inspire me and my team, and for that I sincerely thank you. I'm looking forward to seeing everyone in New Jersey this weekend. Let's do it big!
Vaughn Gittin Jr.
Instagram: vaughngittinjr
Photos by Larry Chen
Instagram: larry_chen_foto
larry@speedhunters.com