Good Roots
Leaving Gatebil Mantorp Park on Sunday evening after nearly four days, I was left a little tired and confused. But my ever-ticking brain still had some questions. What exactly had I just experienced? A track day? A motorsport event? A festival? The answer might seem obvious until you apply some thought to it. What just happened?
As ever, my images have told me the truth. So here is what I captured last weekend, and more specifically, what I think Gatebil is all about. Time attack cars, outright racers, turbos, burnouts, crowds of partygoers and a couple of VIPS. And a tank, driven by a girl. But trust me, it's all very serious.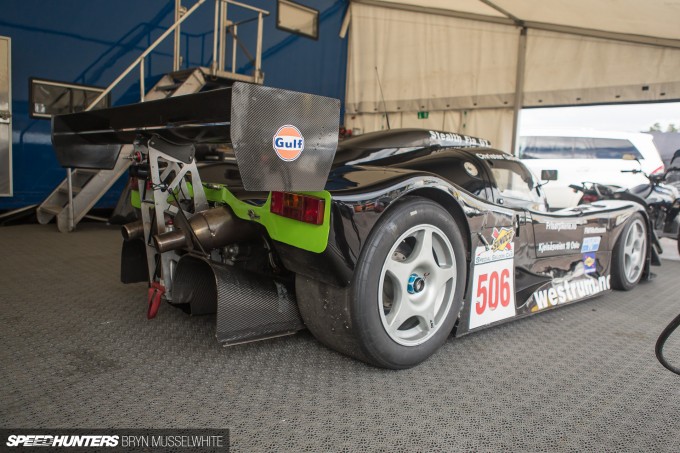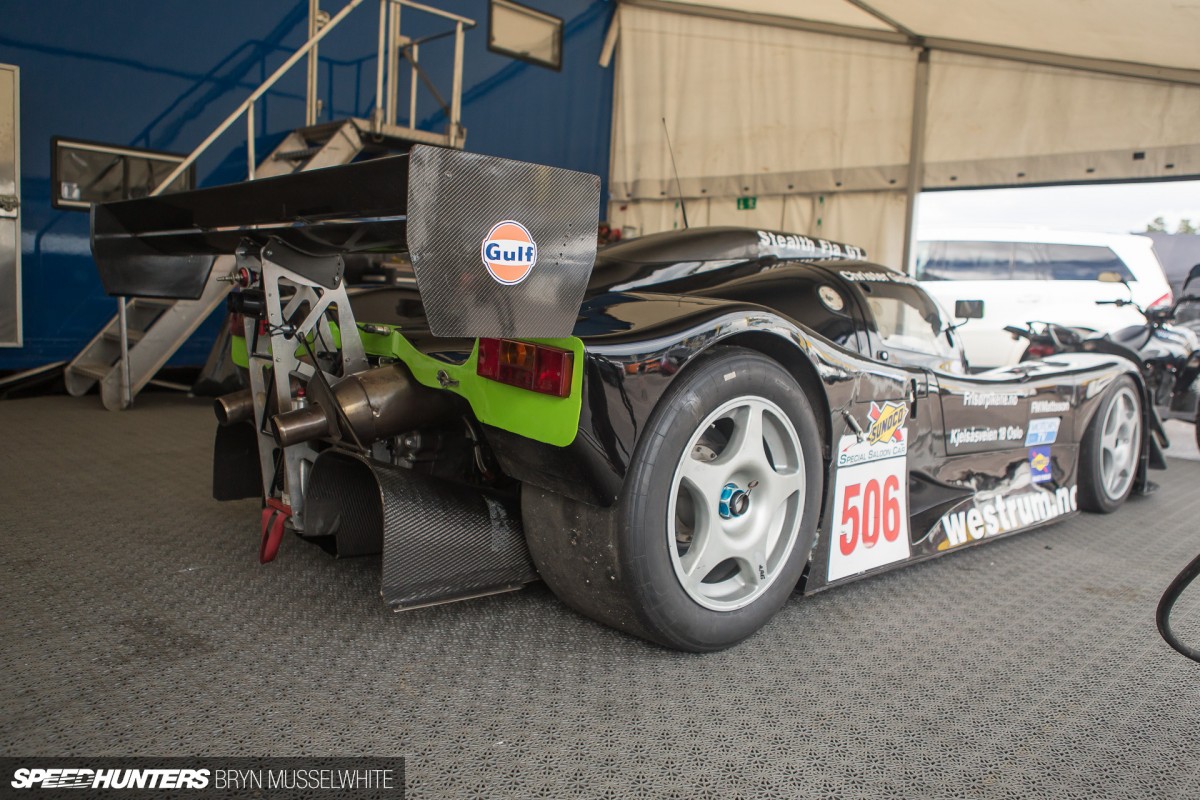 First and foremost, the reason why the Gatebil series of events work so well is because they're based on a sound idea. Hold a track day at a good circuit, open it up to all comers and give them plenty of time to enjoy their passion. Oh, and don't worry, I'll come back to the machine above shortly. But you should probably know now, it's road legal.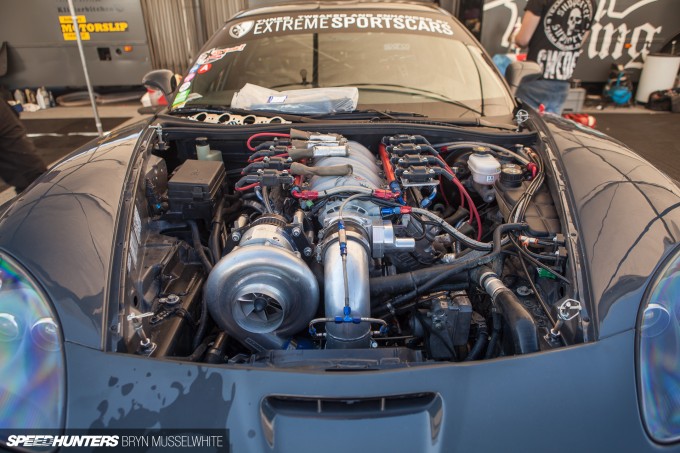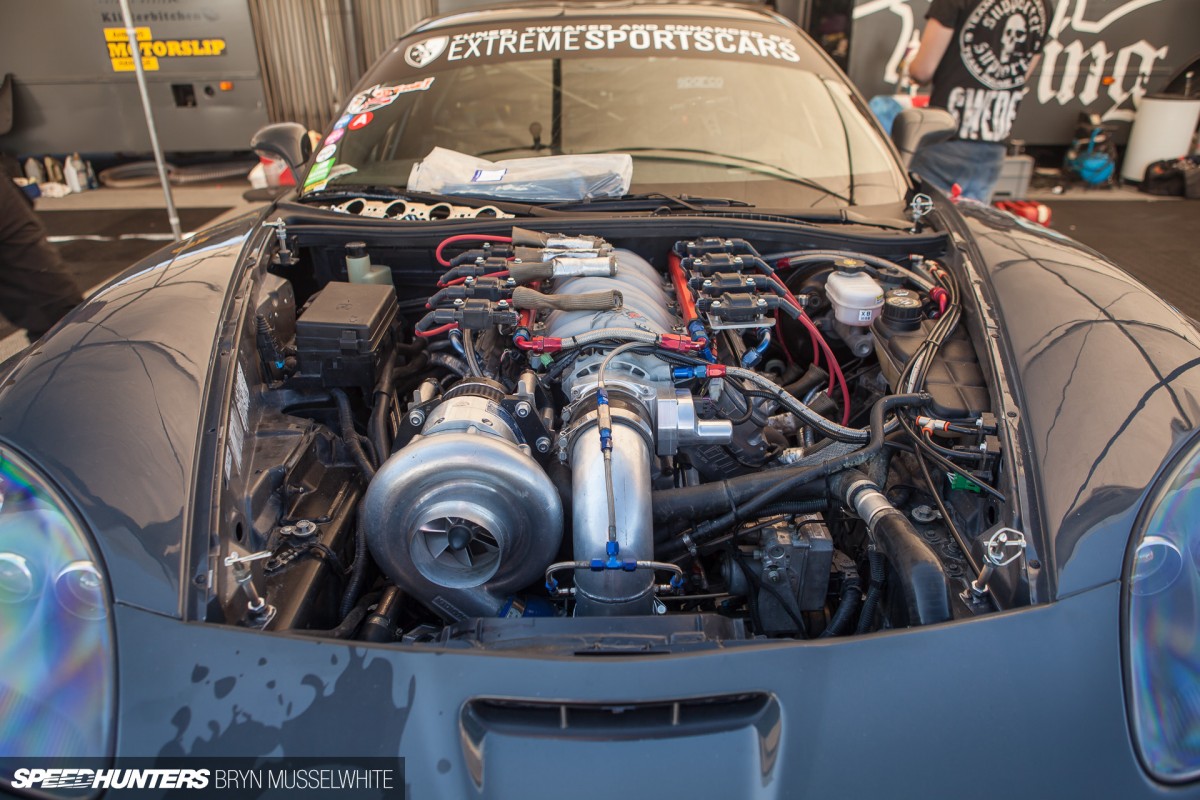 Getting back to the event itself, this isn't the result of a creative team sitting down and trying to start a brand or successful venture (which Gatebil is both by the way), then putting the track day, evening stage, static car show, camping and trade aspects together like LEGO. No, Gatebil has organically grown over two decades from that simple ethos of having fun on a track. Thankfully, it's something still at the core of what goes on, and just like the event the cars that take part have grown with it.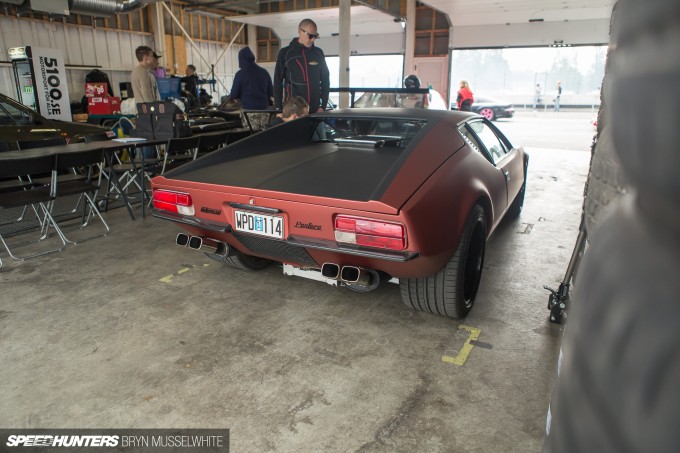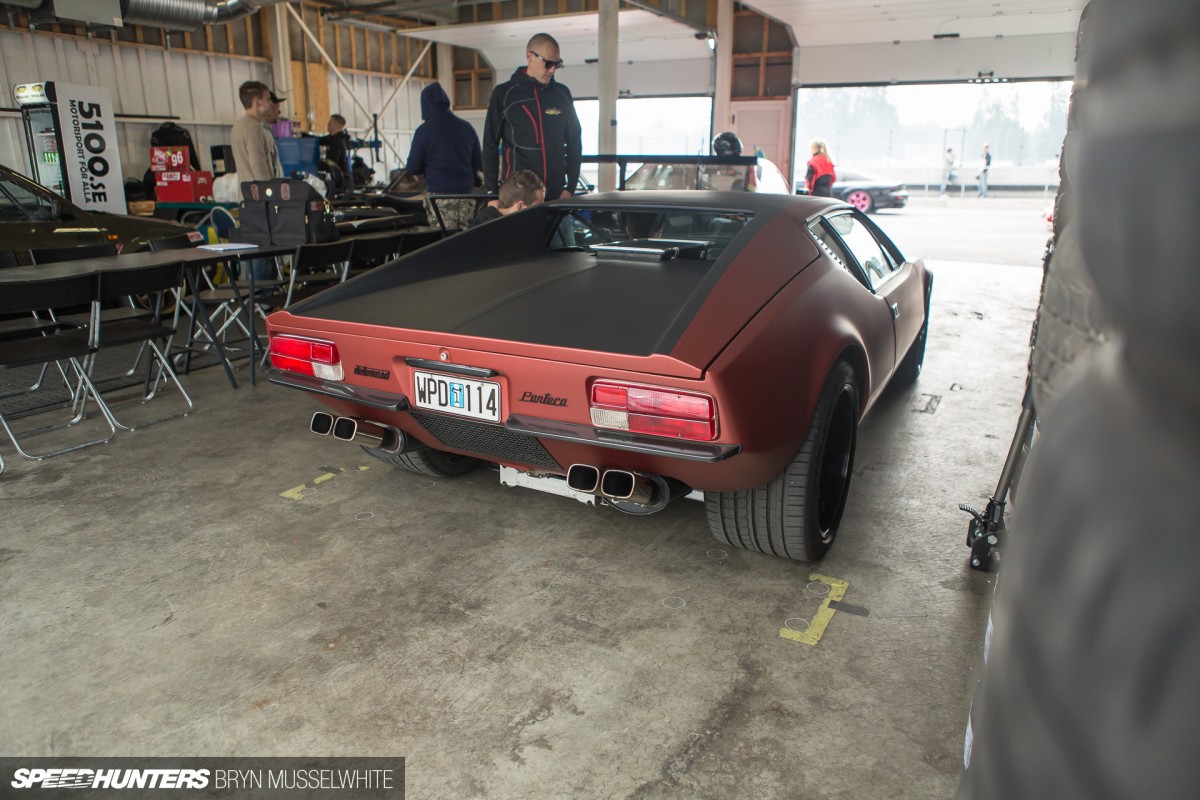 Walking through the pits, there's literally something to stop you every few feet. As you can see from the little I've shown you already, variety is key here. With the event growth the net has widened in so many ways and now it captures people from all walks of life. So you'll find dedicated big-money supercars rubbing tyres with home-brew builds and other exotica. I've always been a fan of the De Tomaso Pantera – Italian styling and an American Ford V8 as standard. The example above was lightly modified, but shared garage space with a couple of Nissan drift cars, and a crazy-power, sequential-boxed Mk3 Golf VR6 turbo that I will show you more of in a full feature. Just this one garage could sum it up, but I'm not stopping here…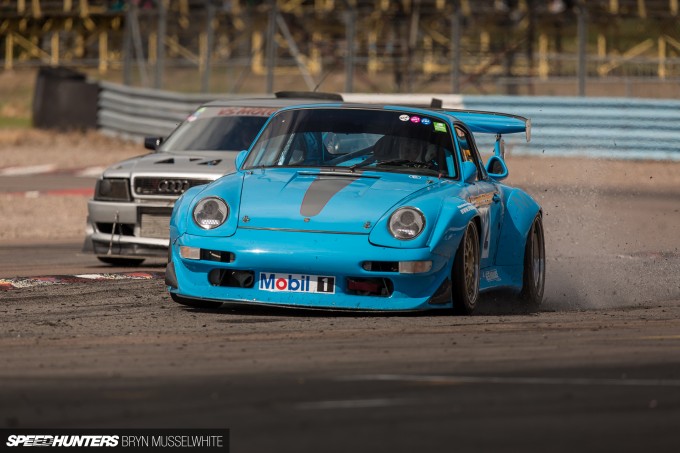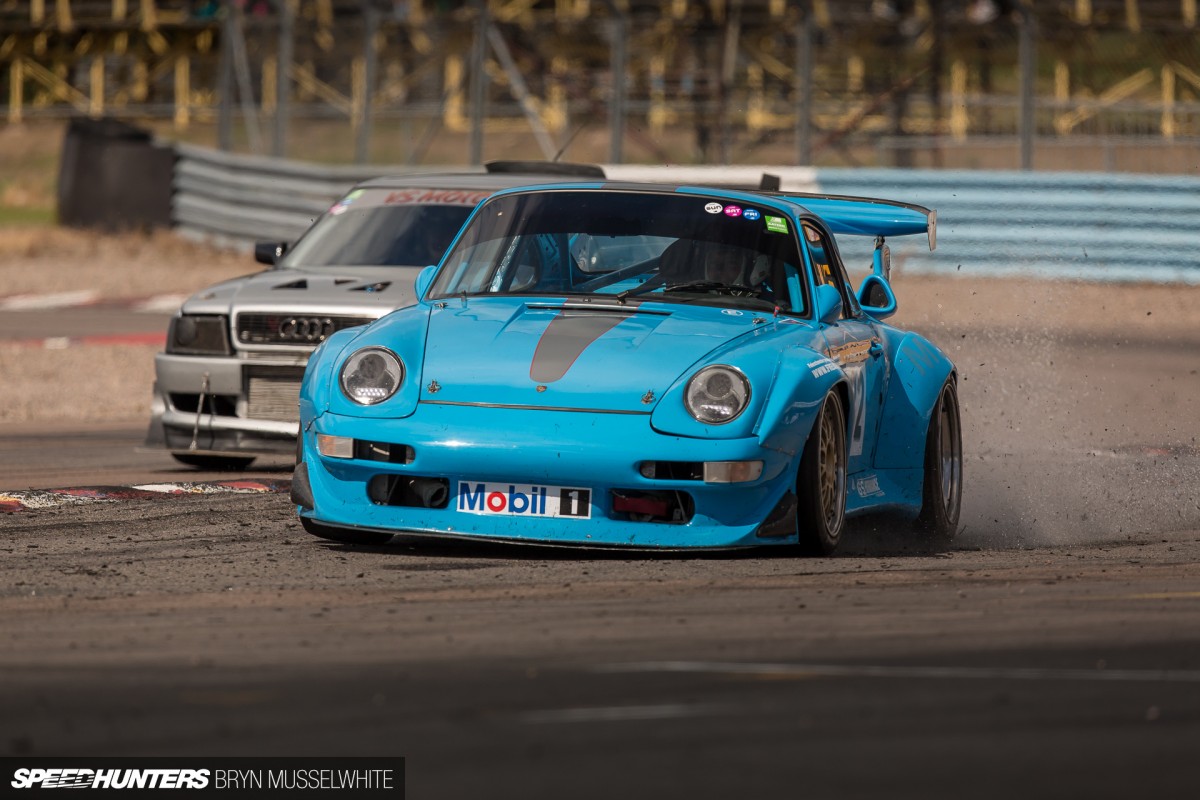 I'm going to get to the track in a while, but first I need to show you more of the pits. For me it's the first part of the puzzle I check out when attending a motorsport venue. It's all very well seeing cars run rings around a track, but I get excited about the sensory overload you get from being up close and personal with so much great metal. At Mantorp I definitely wasn't disappointed. We were based in the thick of it and got there before just about everybody else. As you can see in Larry's excellent overhead story, the place filled up around us.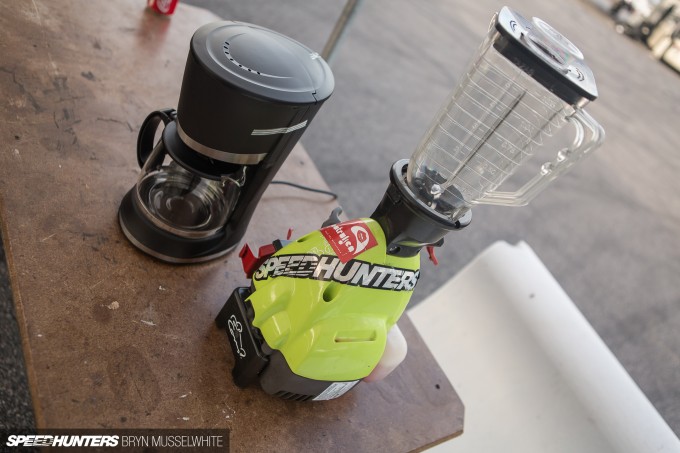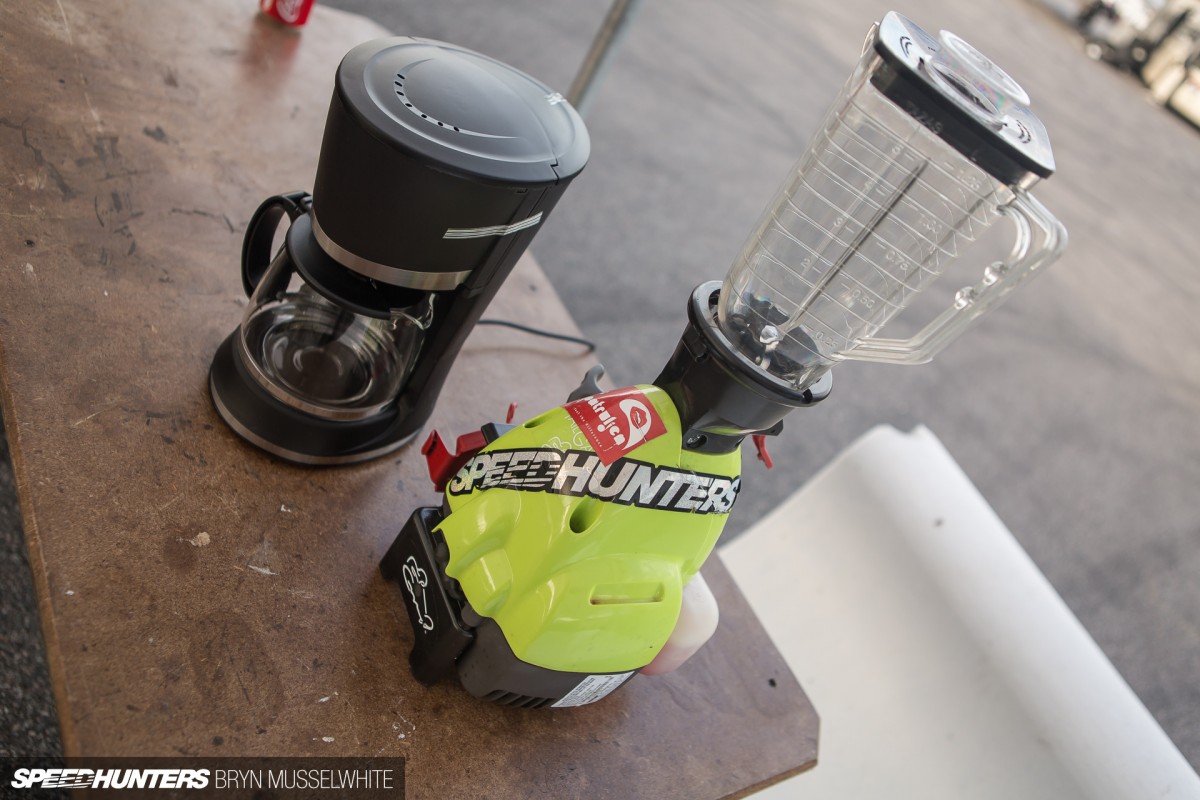 In between Captain Larry Chen flying around the place, we both took a quick walk on Thursday afternoon to see who else had arrived early. As you can see in the background here, it's still pretty empty in the pits but the coffee machine and cocktail blender are all set in this pit. Wisely, these guys had added a Speedhunters sticker which increases the rev limit of the blender to a perfect pulp-making 42,000rpm whilst reducing the after-effects of the alcohol.*
*Some facts are lies.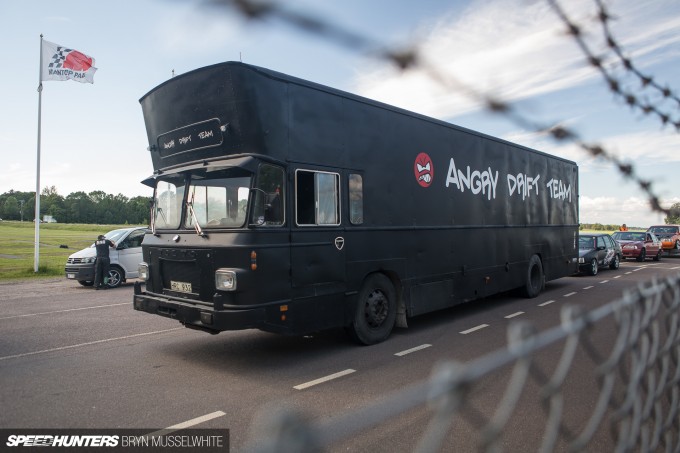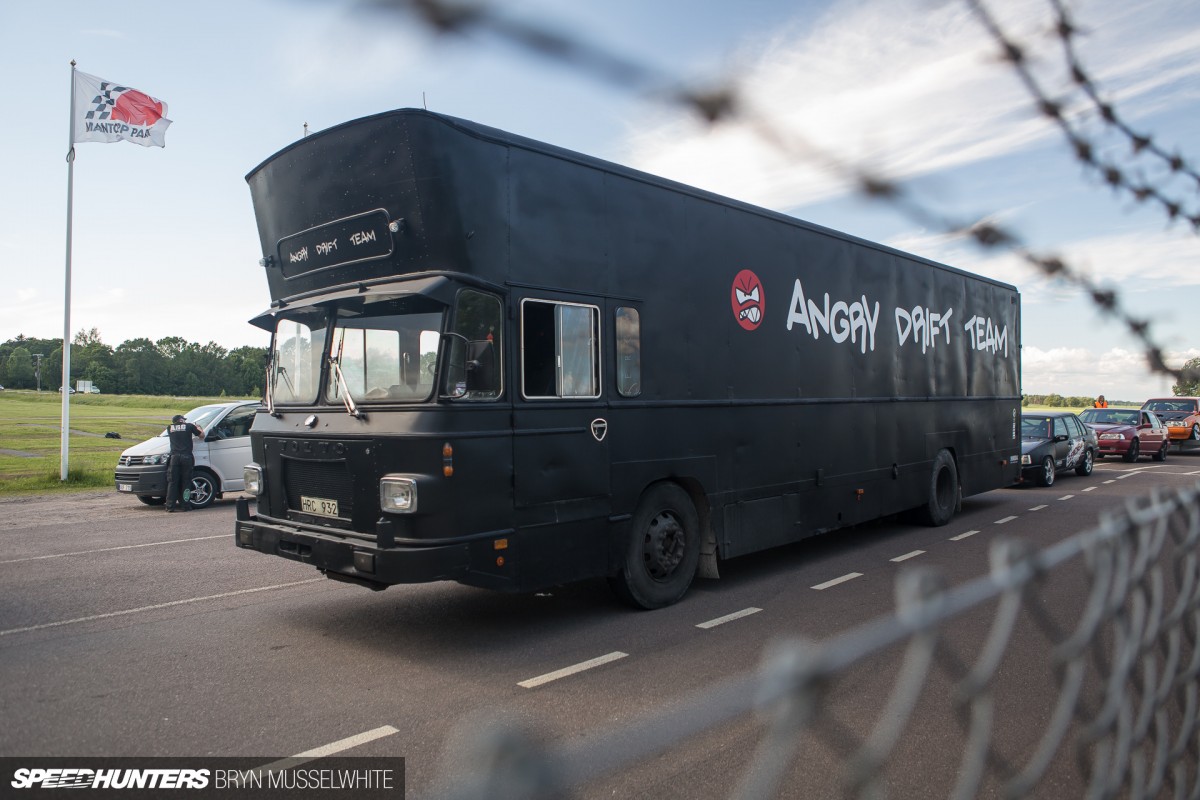 Ever since I travelled to race tracks as a young boy with my father, another thing that's fascinated me are the vehicles that people use to transport their cars in or on. It's only natural that as you start out you drive to the track, but maybe then you get a trailer or a van to tow it with, and then move up to a dedicated transporter to get more than one car in and a whole bunch of mates. This Volvo truck really appealed to me and as much as I like a hotel, next year I think we need to look at staying on-site!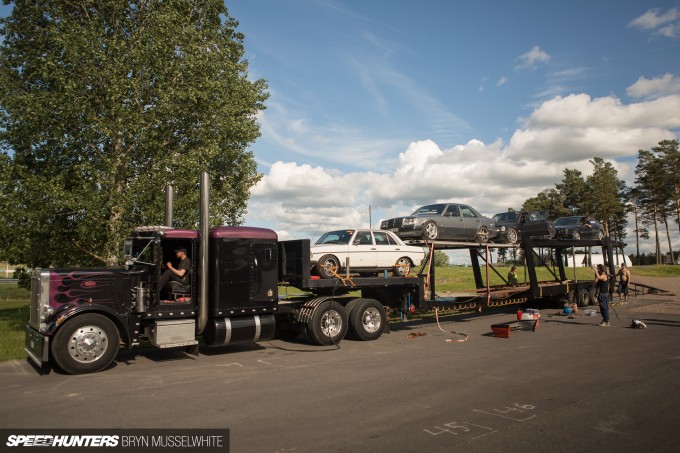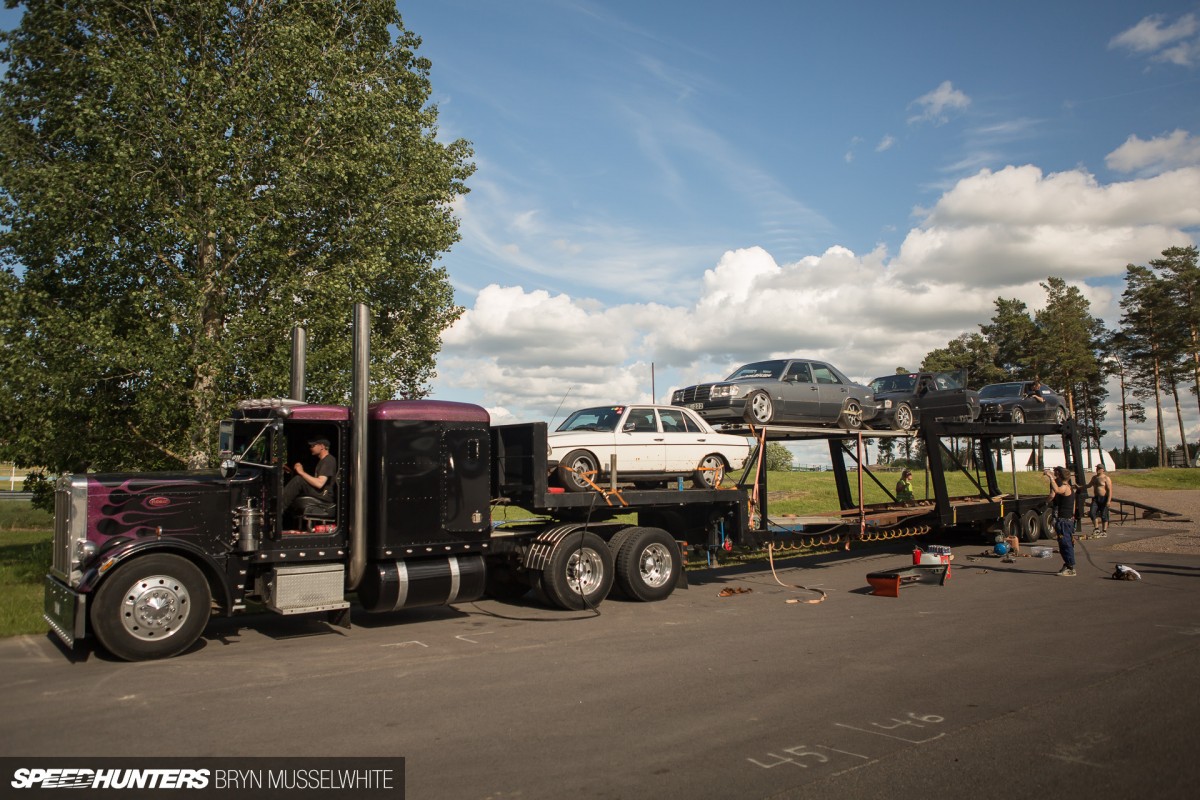 There were two main paddocks for the all the track cars and in one corner I found this Peterbuilt being unloaded. It did have seven assorted drift/track cars on the back, so although at first it might look expensive, it probably makes financial sense… As well as looking damn cool!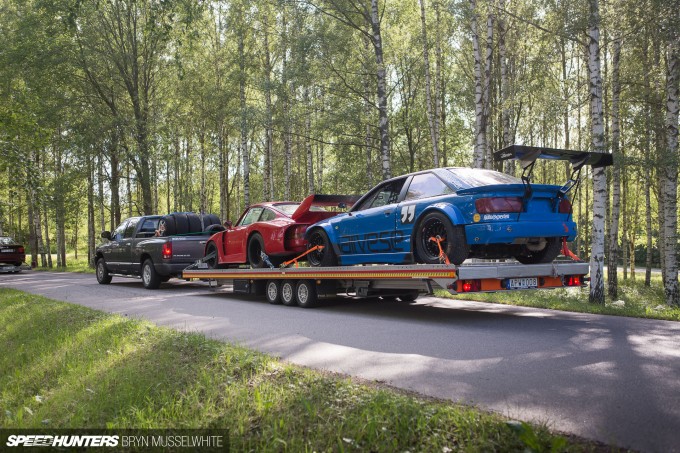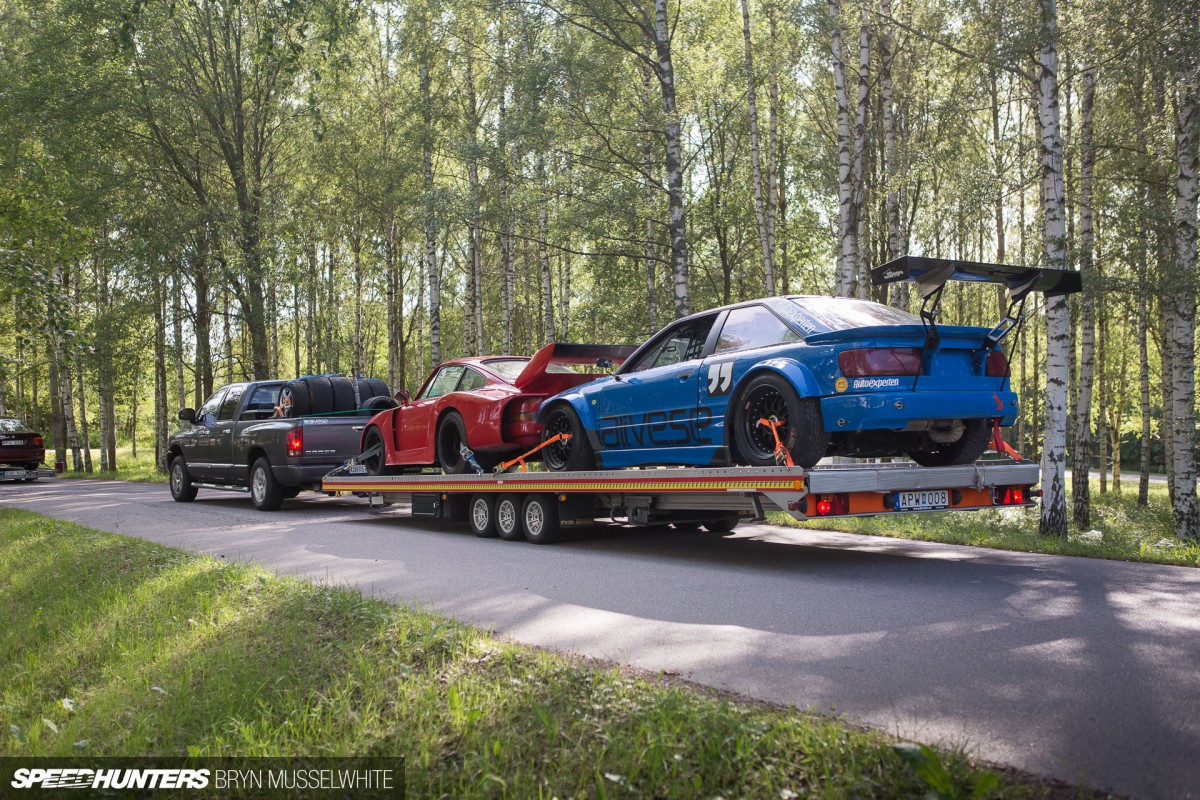 Then you've got something in the middle. I'd only seen these two-car trailers in the USA before as they're illegal in the UK, but as a combo goes, I'll take it and hold the fries.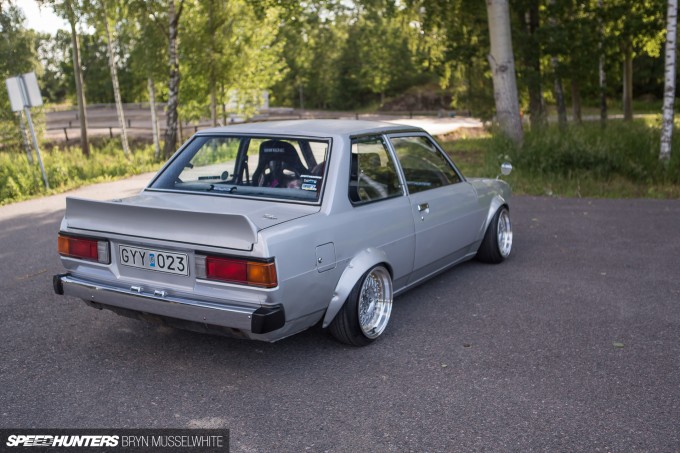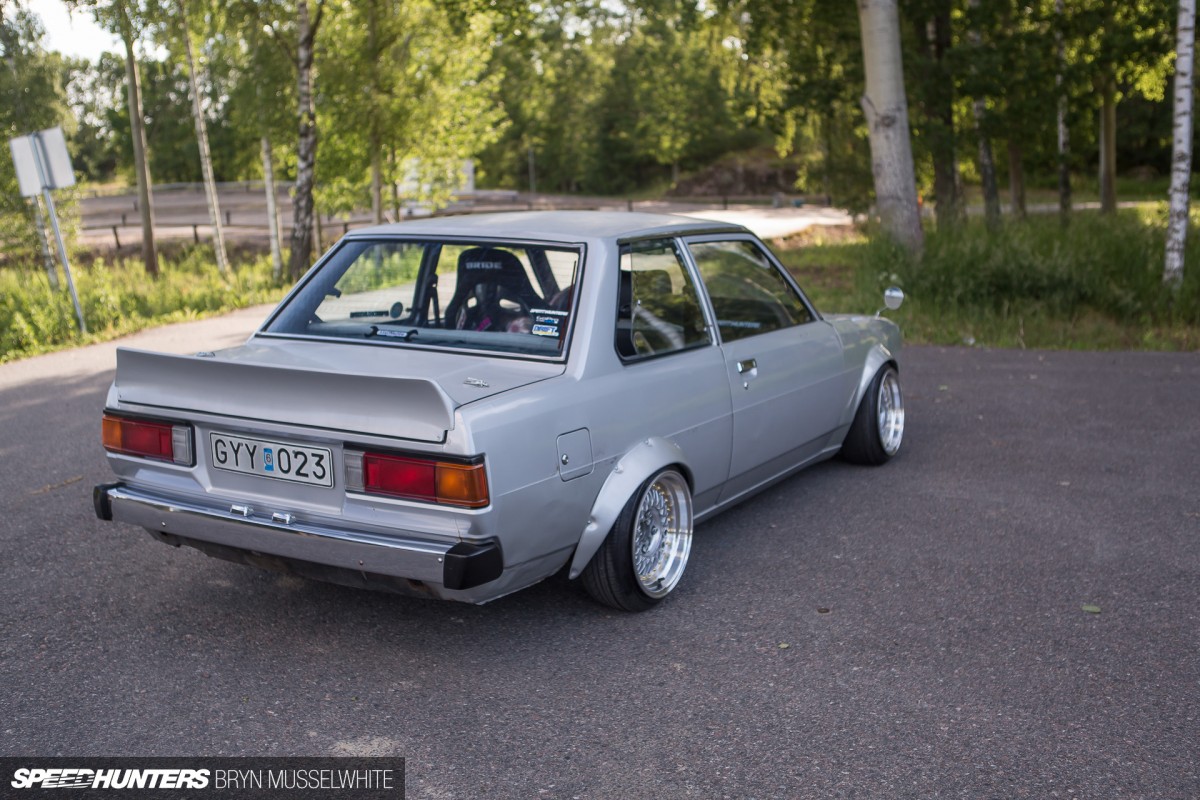 While I was walking back to the pit through the lower paddock I spotted this KE70. My radar for Speedhunters stickers was strong and I shot a Spotlight feature right then and there – the big-power SR20 in the front going some way to convince me I should. So far I'd seen a whole lot of proper stuff getting set up, so the promise was there. But could it all deliver? And if so, what?
It's A Fight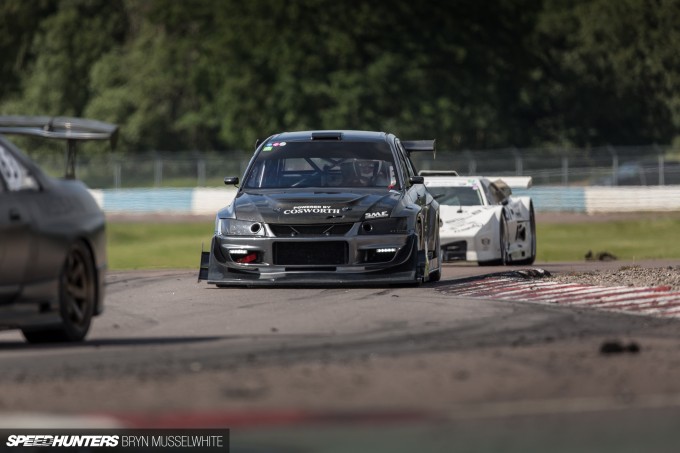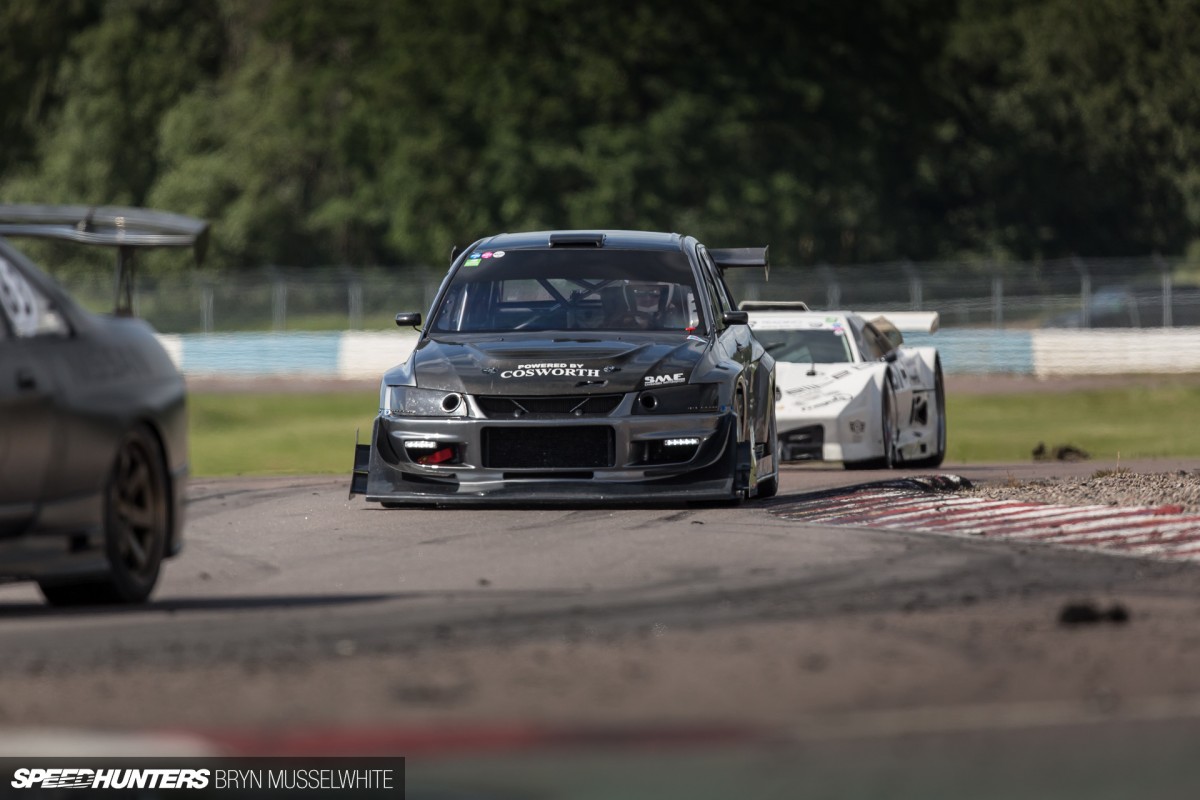 Action and variety – those are my two watchwords from Mantorp Park. Looking through my pictures it does feel like I'm taking a couple of different events in, but like I said, the main core is track action.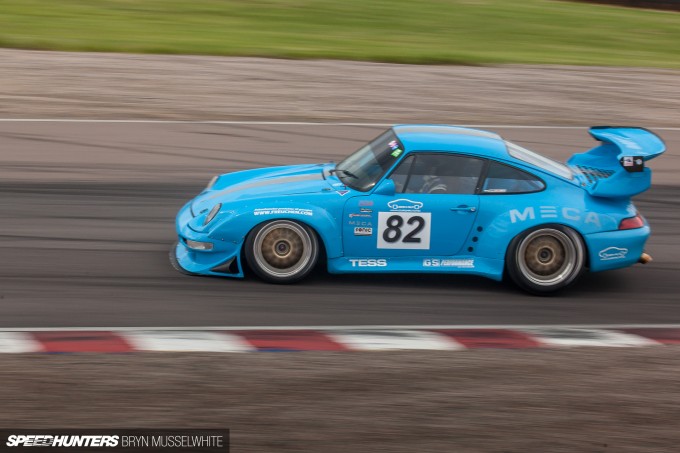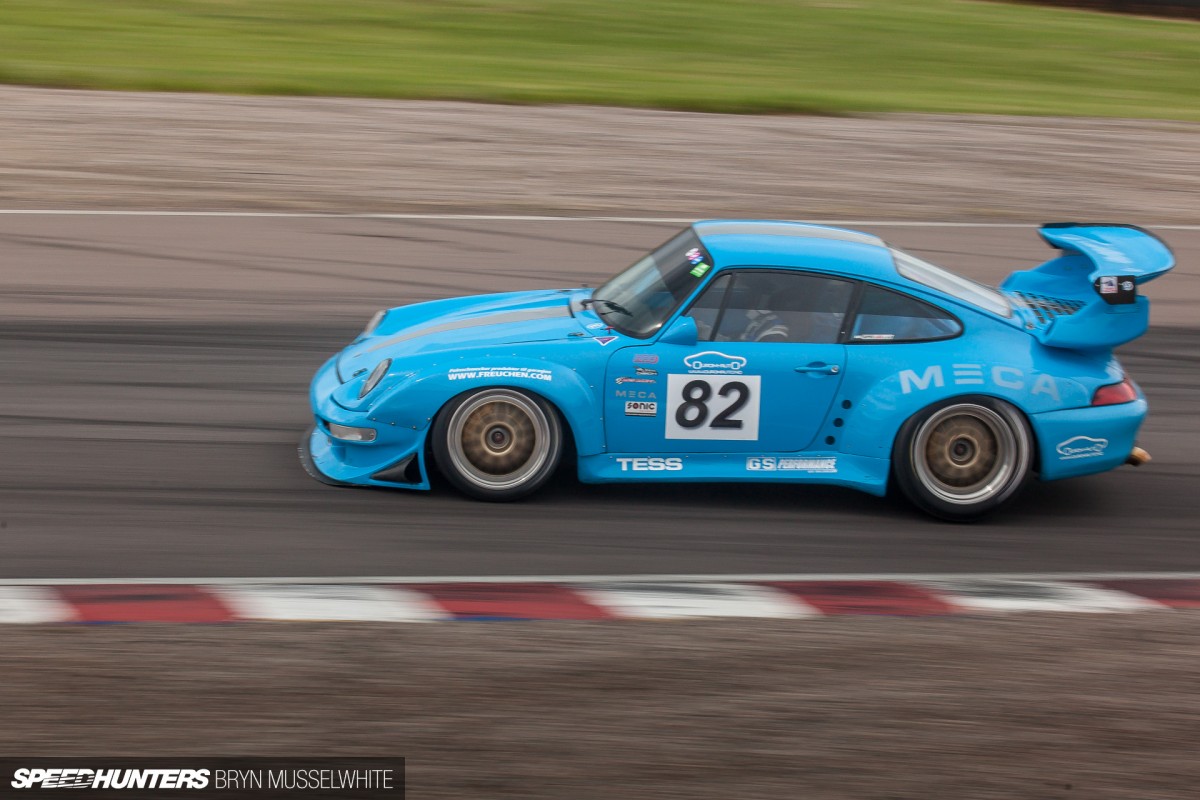 On-track there are drift and grip sessions, but it goes further than that with a Time Attack challenge in the mix too. I didn't get close enough to this 993 to find out exactly what it was, but what I do know is somehow the front splitter never got ripped off, even though it was forced to skim tarmac under heavy braking. Another thing I noted was the half tinted windows which a lot of the more race-oriented cars seemed to have now. I get the logic behind them, but wonder why the entire window hasn't been done? Does it mean you have better visibility when up close with a competitor?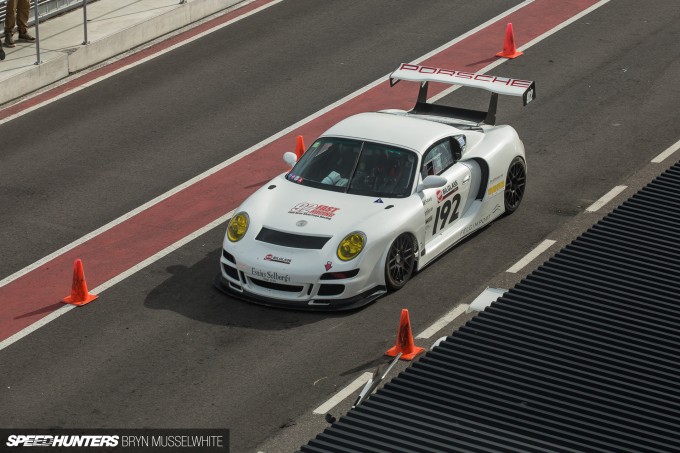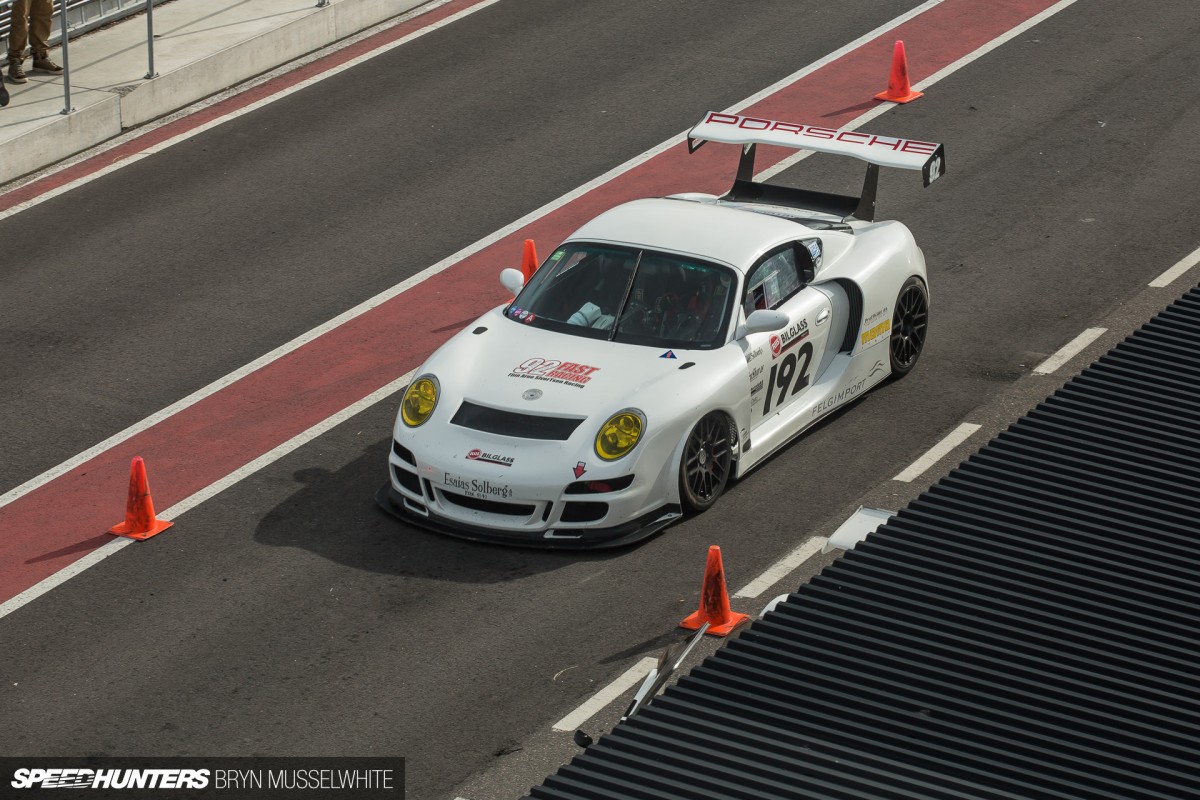 Another Porsche that had Rod and I scratching our heads was this one. We had to know what it was, so I tracked down the owner and found out that it's actually a Boxster. No, really! Okay, so it's now got Cayman-esque bodywork with a 997 front end, and a wheelbase that's been stretched to accomodate the wildest modification: a twin turbo 928s-sourced V8. This is another Gatebil car we hope to be bringing you more of in the future.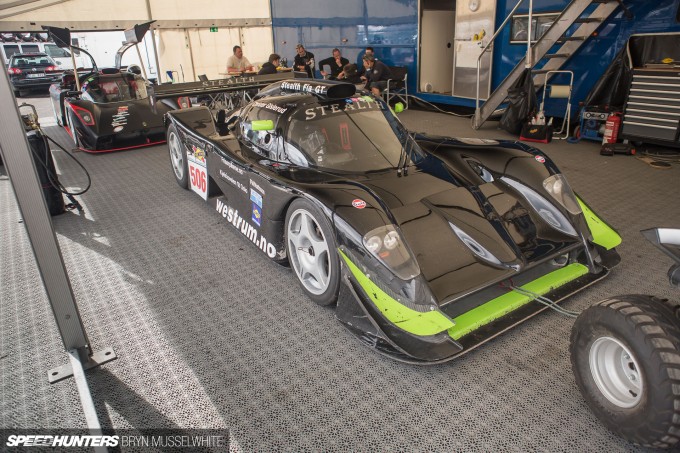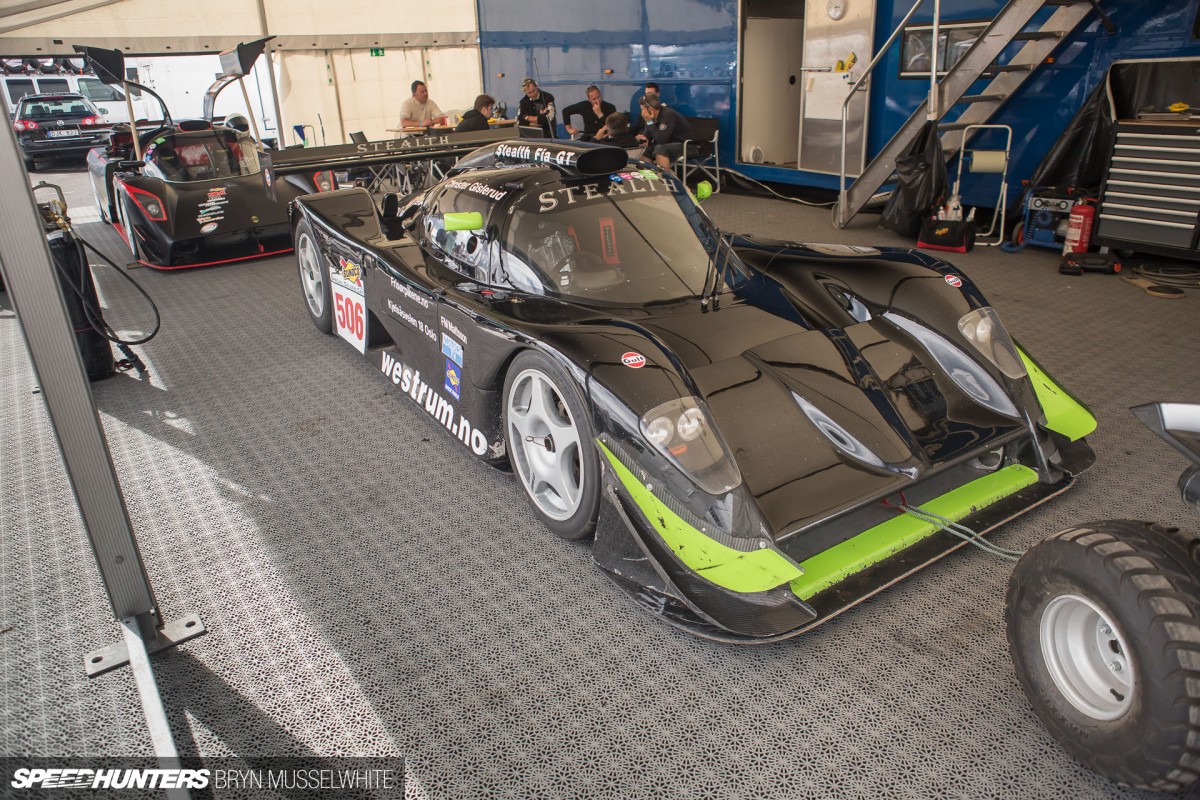 Which brings me neatly back to the Stealth B6 from the opening chapter – a British built supercar that I'd never seen before. Built in very low numbers back in the early '00s, the Group C-inspired machine runs an over-bored, small block Chevy and is very similar in concept to the Ultima.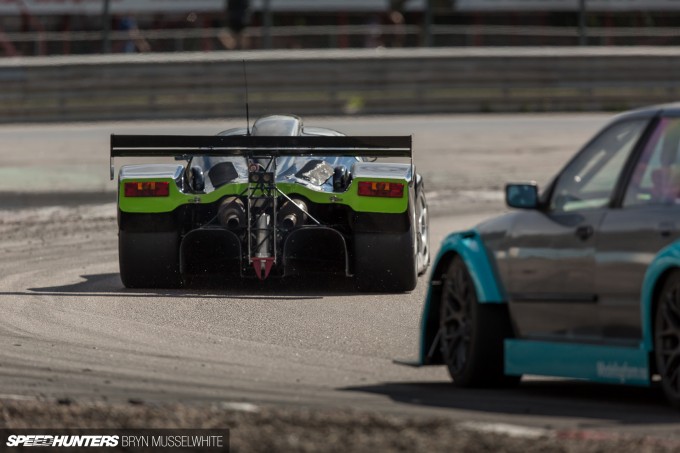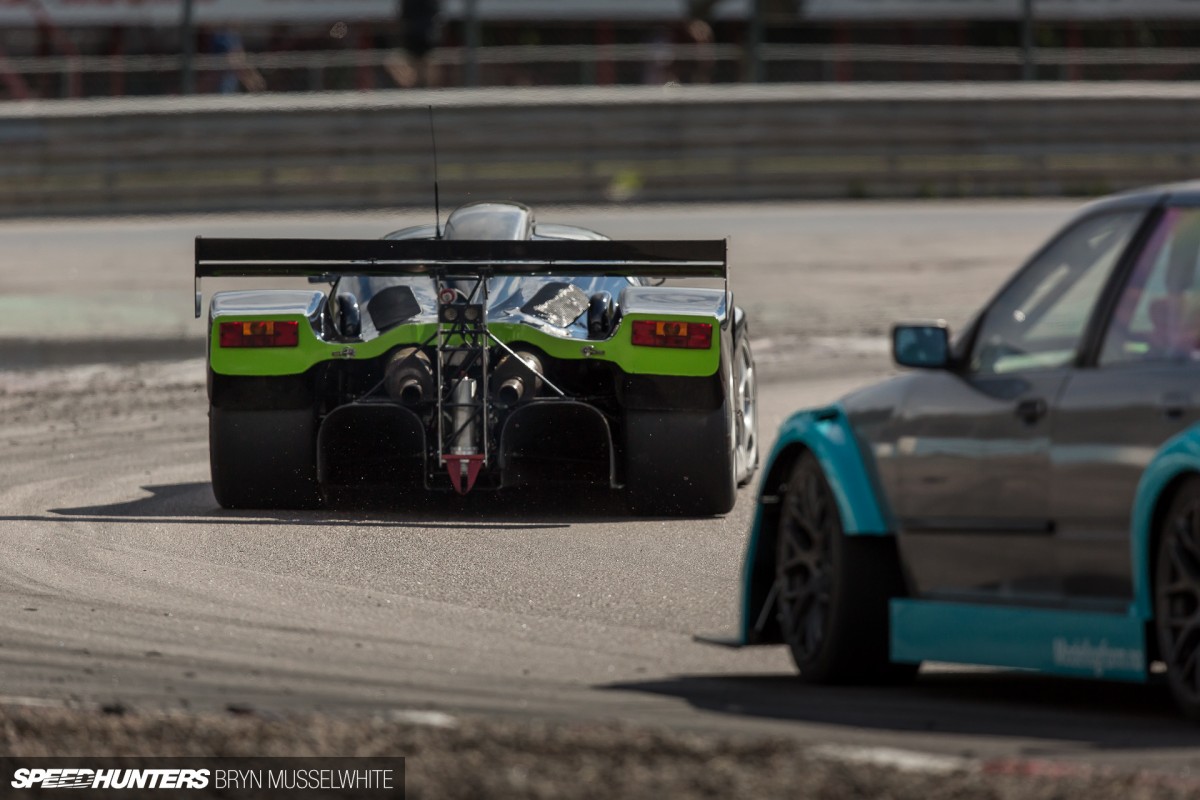 Those rear lights look pretty comprehensive, because – as I said before – it's actually road legal. Even better, the owners said that the next time we're in Oslo they'll show us just how streetable it is.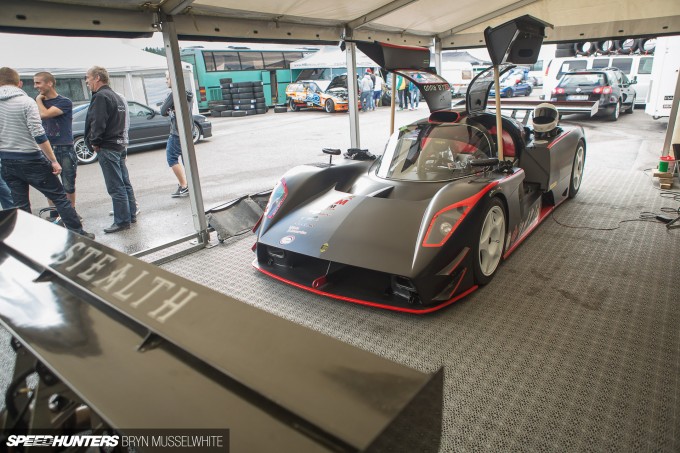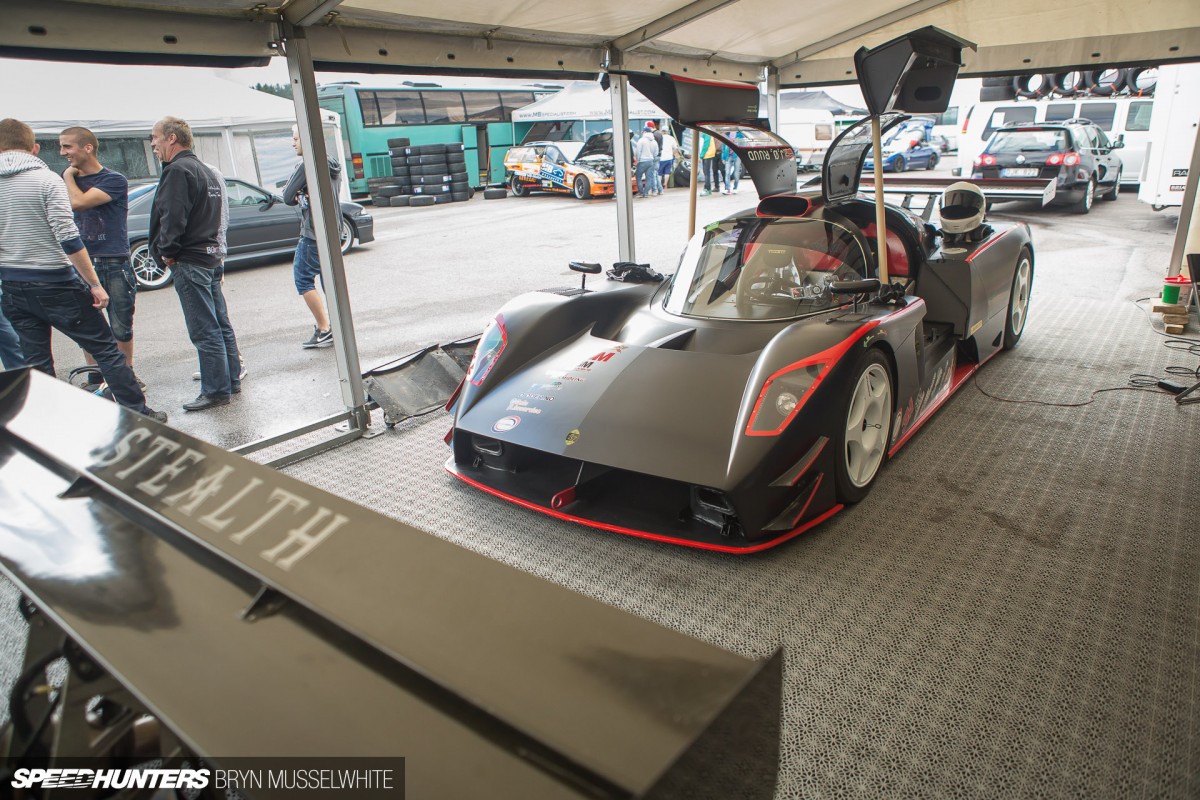 As if that wasn't enough, sat behind it in the pits and never far from it on track was this Stealth B7. The team were pretty thin on details, but a little bit of research tells me this is possibly the only model of its kind in existence as it was built as a prototype on a B6 platform – which ties in with what little I was told. I found an advert for what I think is the same car from summer 2013 and it talks of a 650bhp NASCAR-sourced V8, a magnesium-cased Hewland six-speed gearbox and more. I think we should head for the Norwegian capital at the earliest opportunity!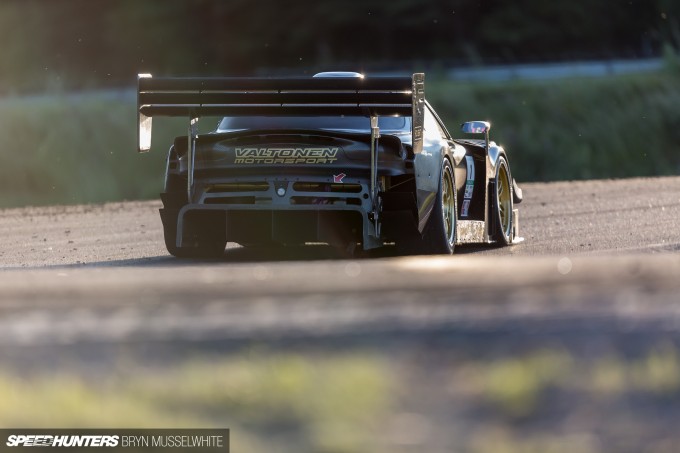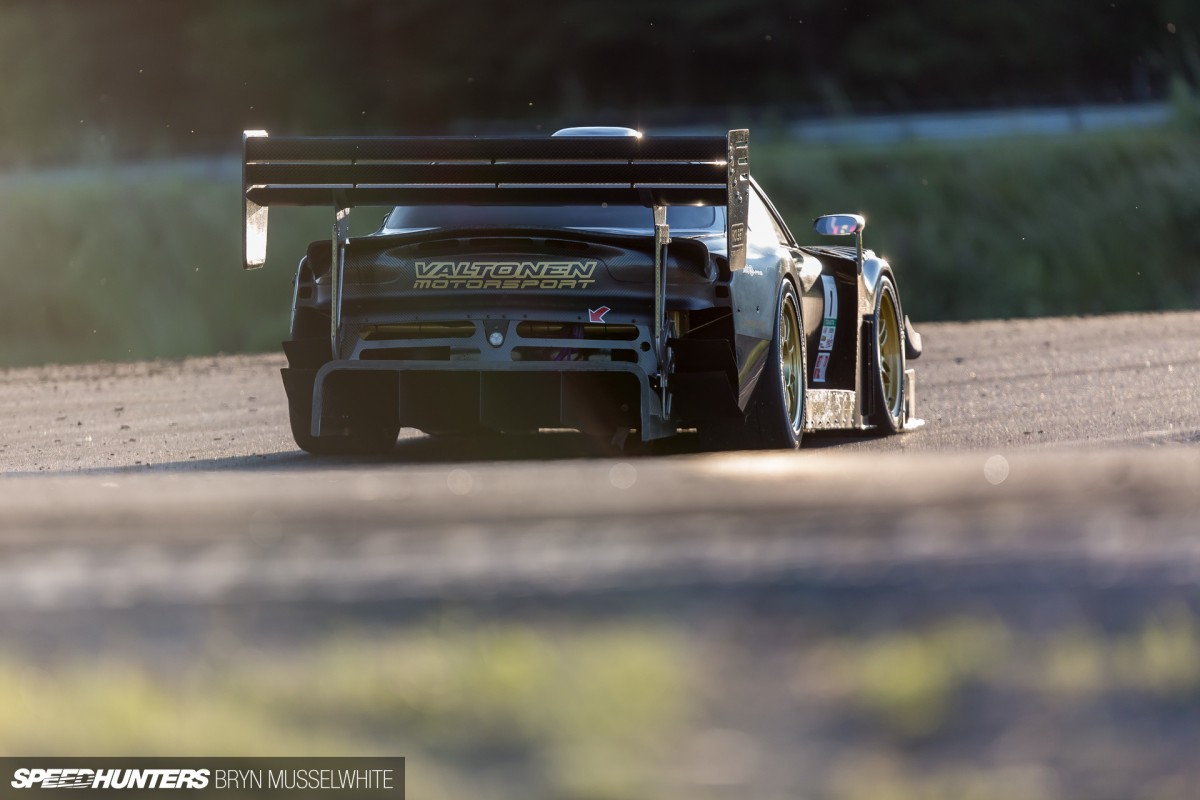 Another complete weapon running in the Time Attack Pro class was the Valtonen Motorsport RX-7 from Finland. We've hinted and teased at how amazing this build is, so you'll be pleased to know that I completed a full shoot with it after play finished on track one evening. On Sunday I even managed to get a couple of hot laps in the passenger seat! Skinned in carbon fibre and powered by a Nissan SR20VET, the guys had a compression issue so pulled the head off and made some changes during the course of the weekend.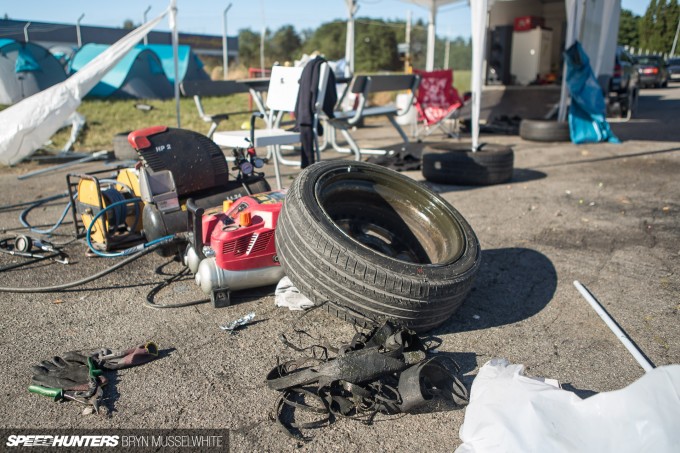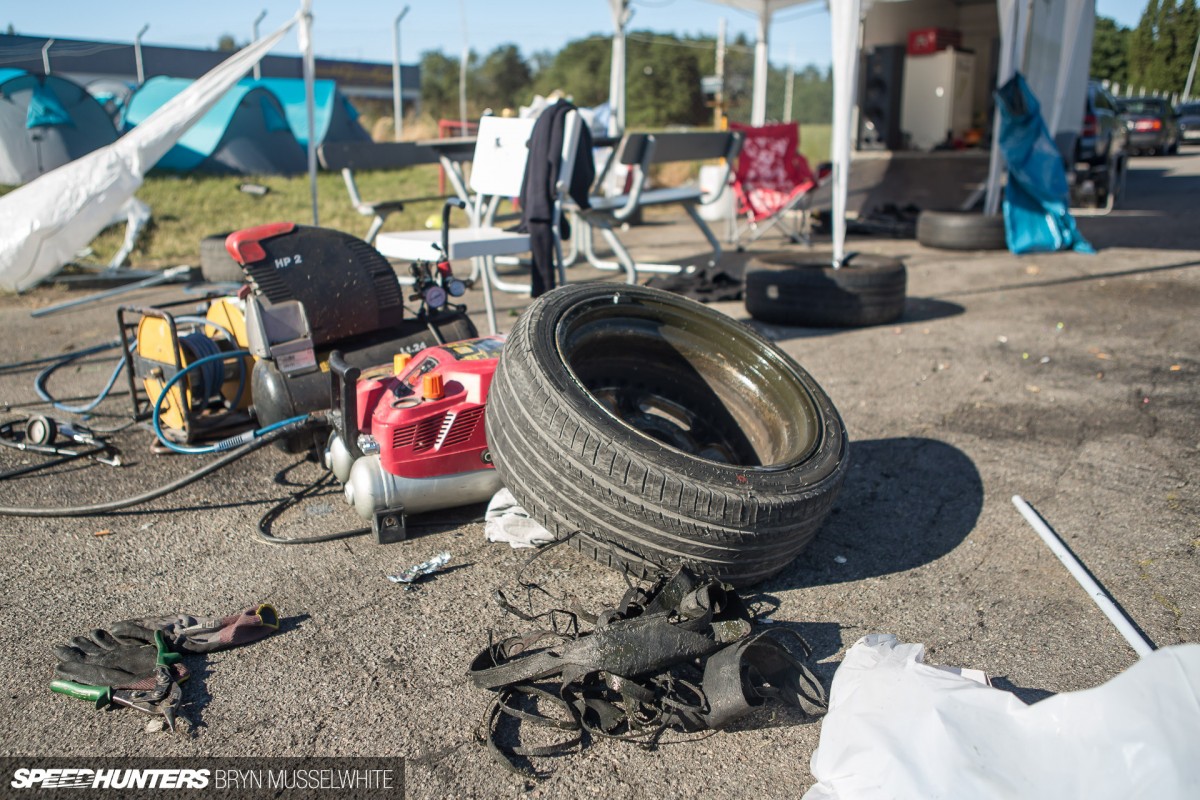 With all forms of motorsport you get passion and dedication, but another thing that strikes me looking back at Mantorp is the level of commitment shown by all involved. The lengths people will go to when a car is damaged or a vital component fails amazes me. It's as though nothing is a problem, and having been in a lot of paddocks around the world, I don't think it would be unfair to say where others might call it a day, here a car would be back out on track after a marathon overnight rebuild.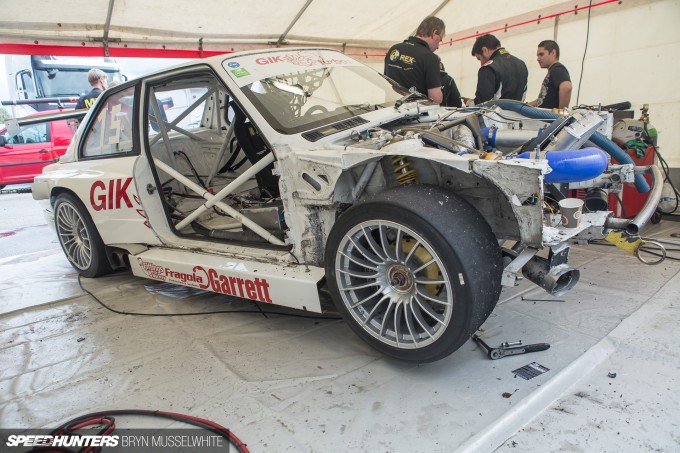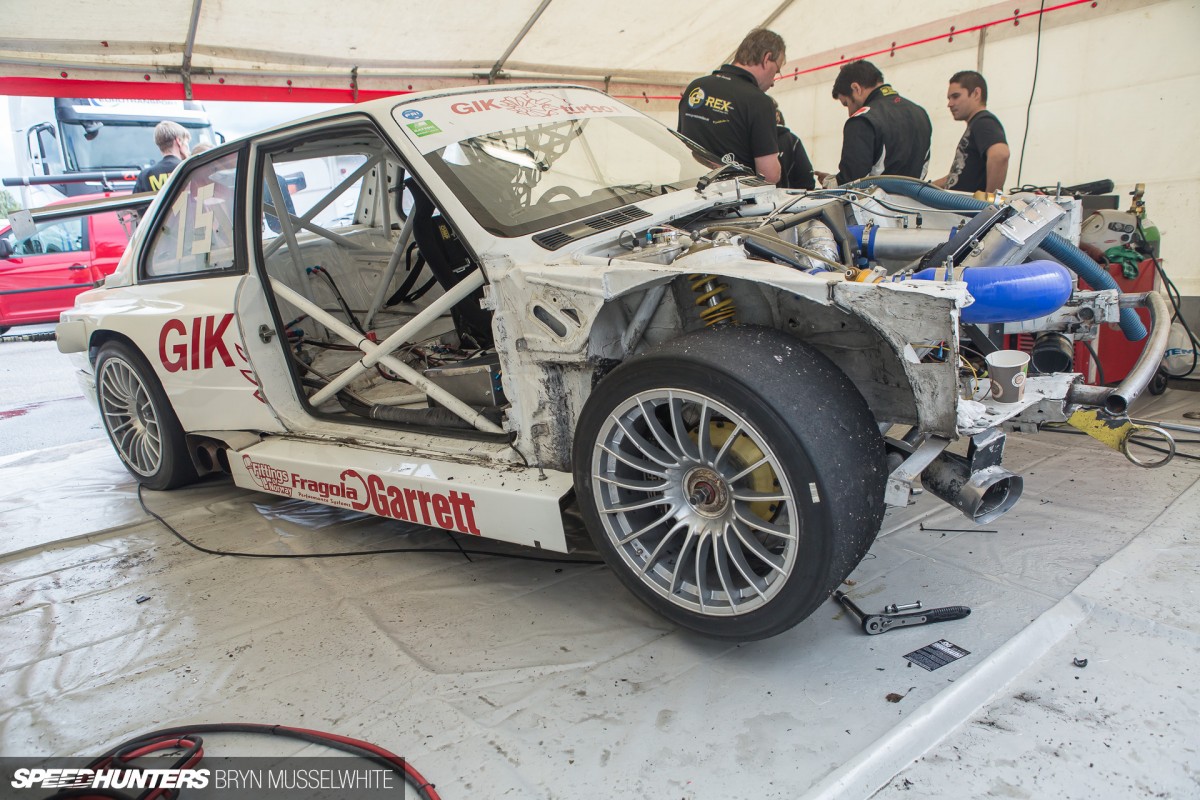 I'd say that's a direct result of the creations here being so wild in the first place. The sort of freedoms that shines through also instills a sense of dedication. A kind of 'nothing will stop us doing this' attitude -whether that's putting a turbocharged BMW V8 in a genuine 1992 E30 M3 DTM car, or keeping it on track. They will overcome.
The Battleground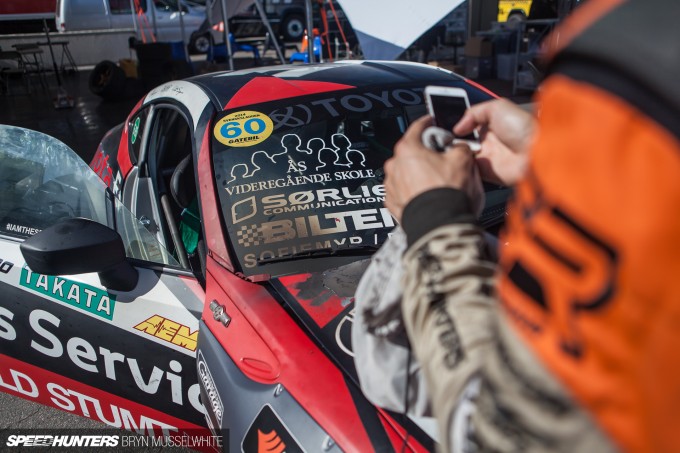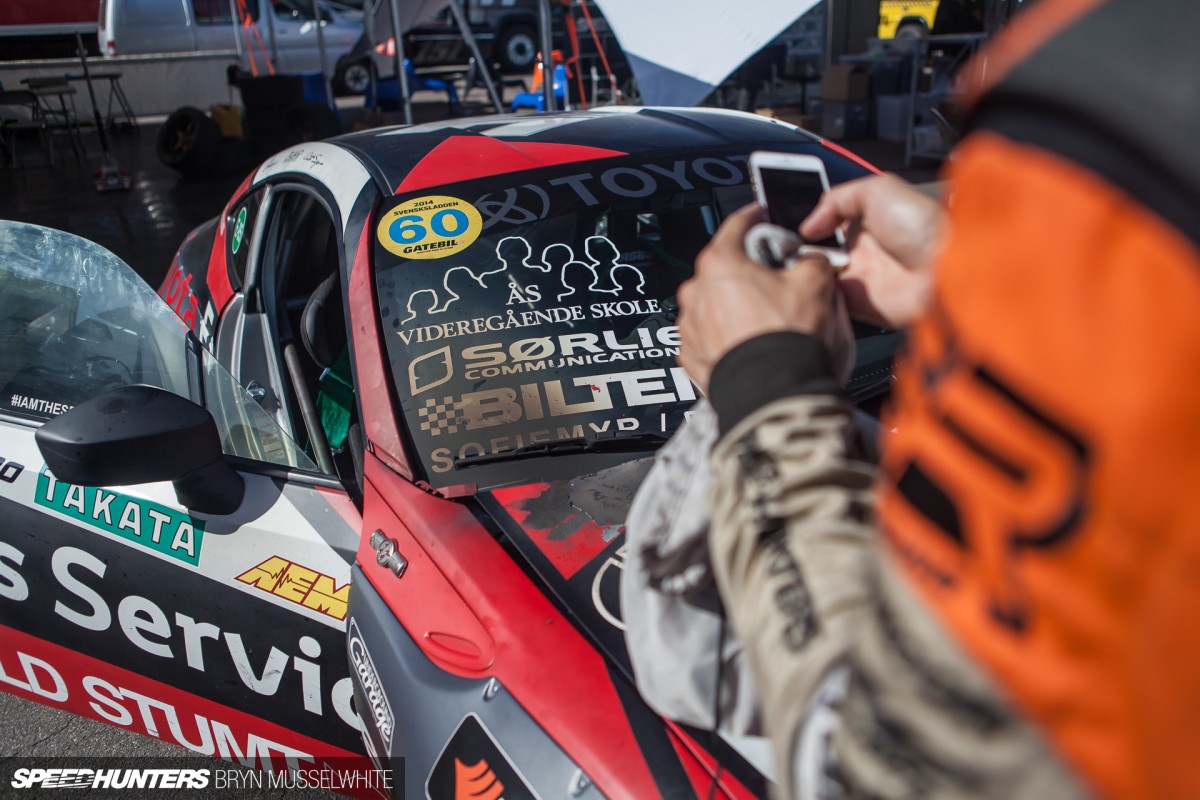 By now you may know that our own Fredric Aasbø had a big weekend. After a pretty heavy shunt punched hole in the drivers side rear quarter of the Angry Bird 86-X, David from Underground Garage and friends from KRB Trading waded in and pulled and pushed the shell back in to place while a crowd watched on. I'll let Fredric explain more in a future driver blog, but here you can see him capturing some more damage after his turbo screamer pipe had shifted and started melting the bonnet!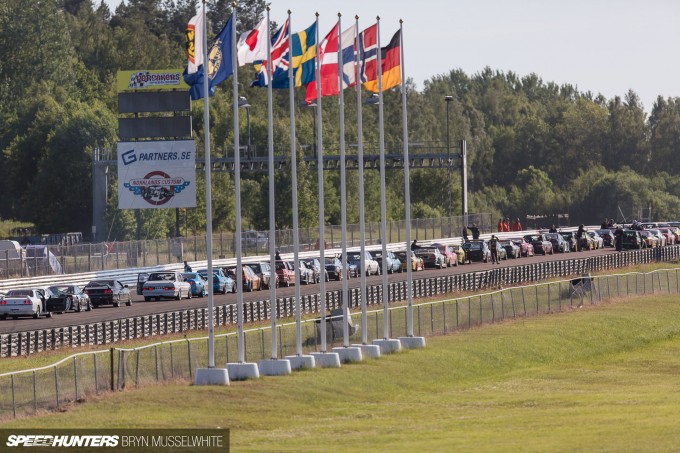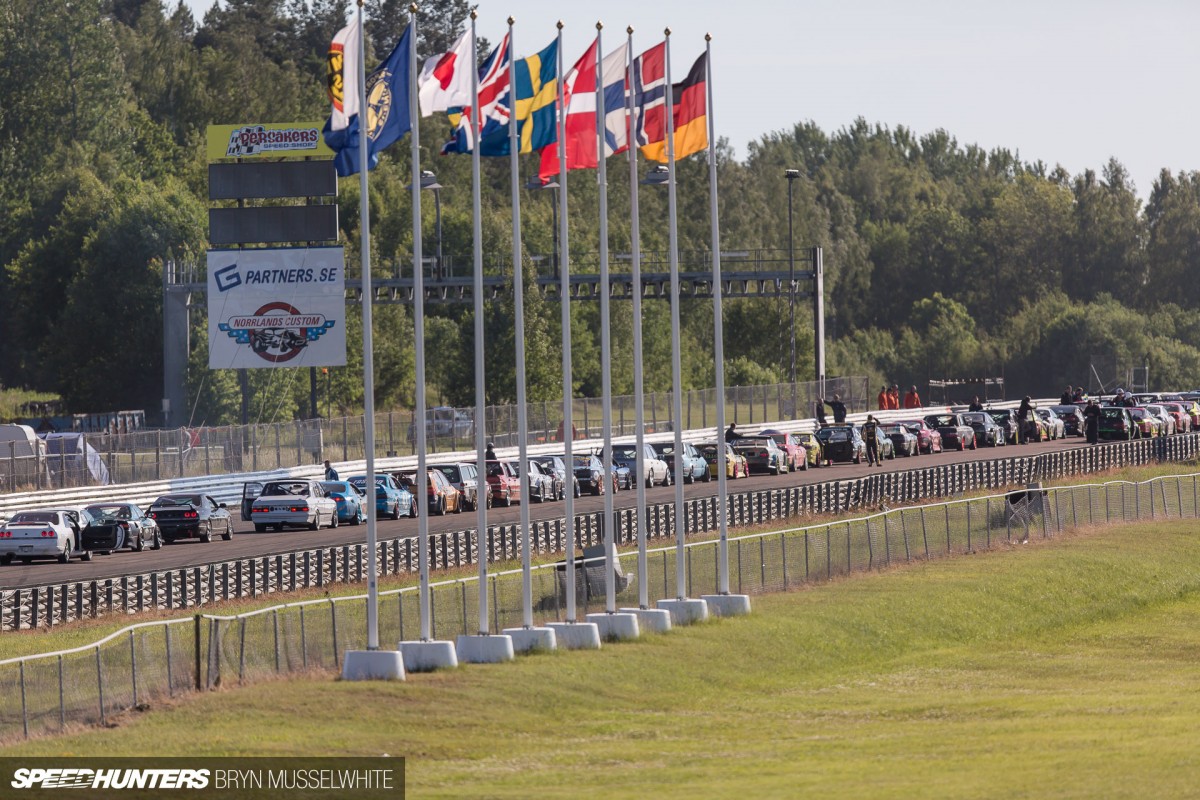 It was only when the competitors lined up for the Breisladd (read: Powerslide) competition on Saturday evening that I realised just how many drift cars there were at Mantorp. This is maybe half of them… And they're just the ones that entered the competition! The main straight of the circuit is also a world-class drag strip, and with a cut-through bringing you back on the start/finish straight, it makes for the perfect collection area.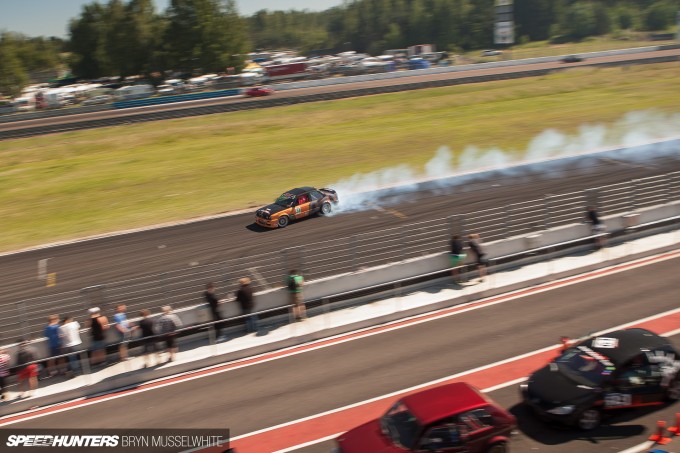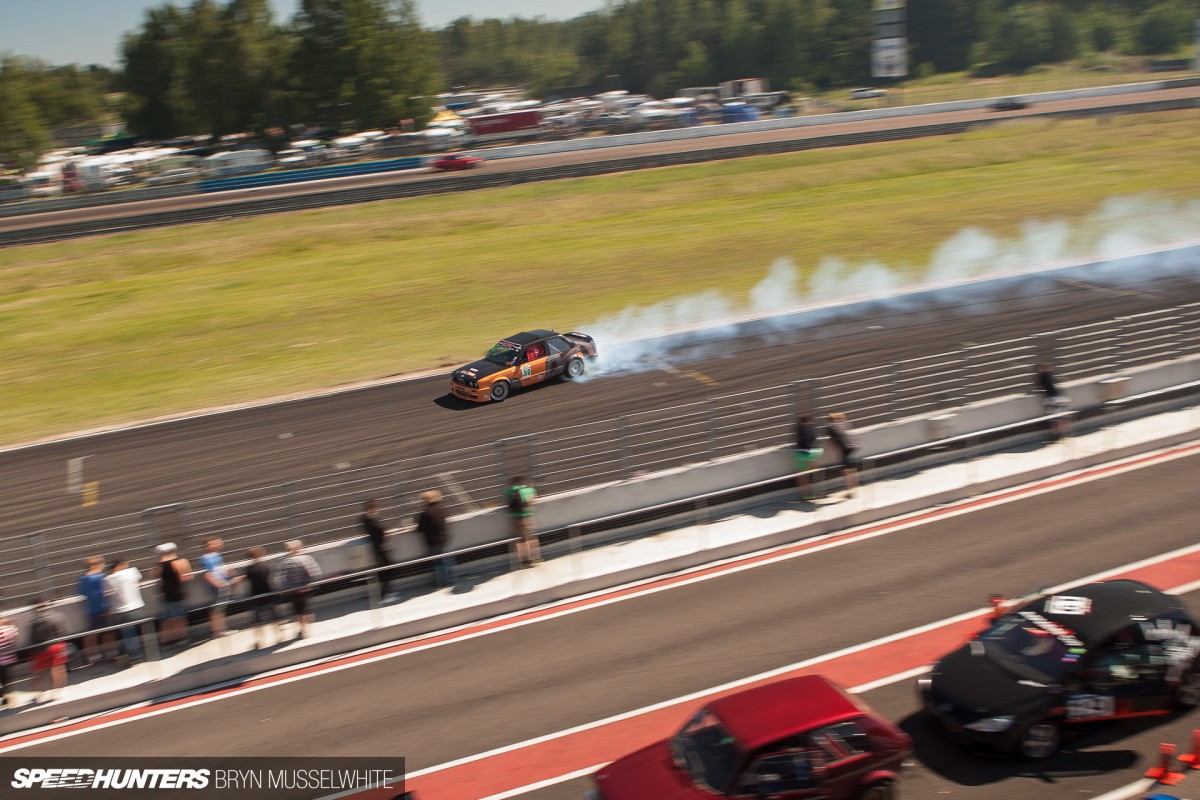 It's a part of the track where many drivers had been demonstrating their manji skills during the open sessions. From on top of the hospitality block you get a great view looking across the track.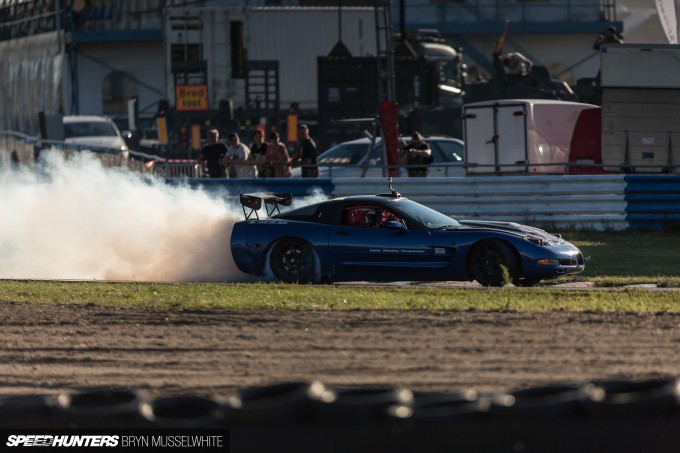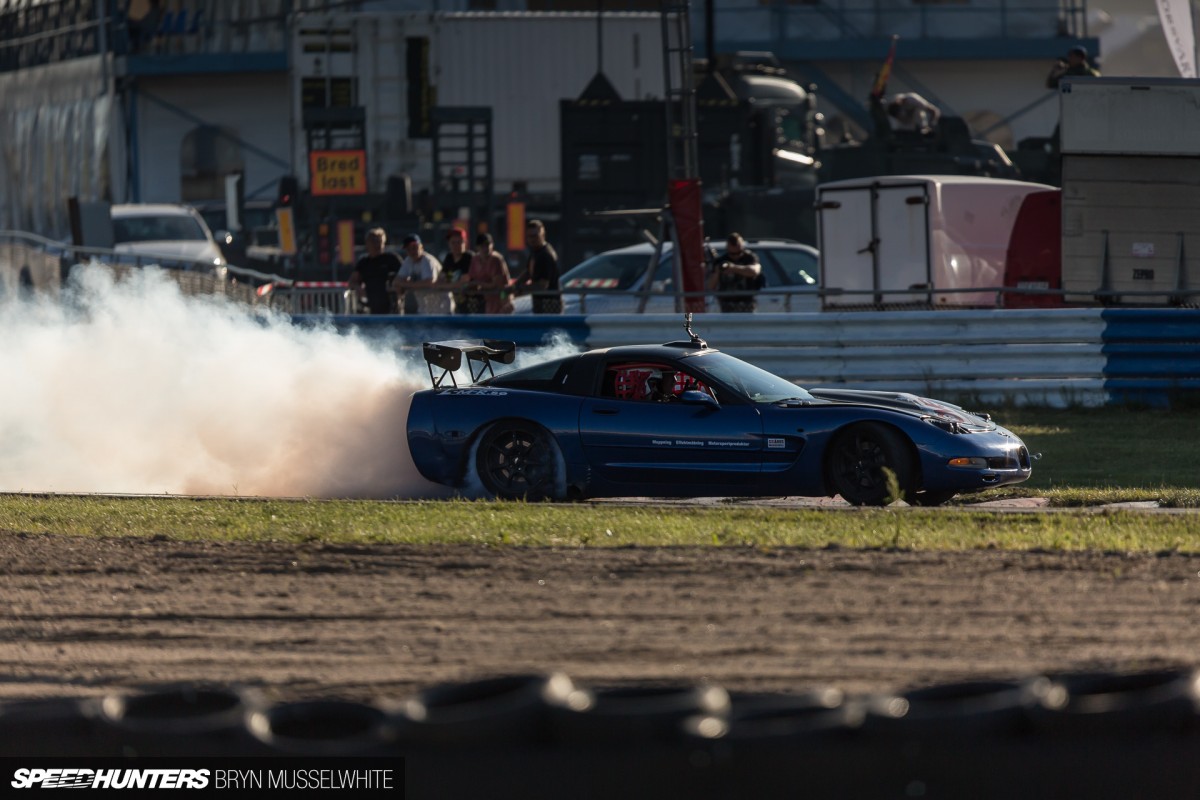 But back to the competition, it was the first corner of the circuit being where the judging started. Take a look at Larry's story from yesterday and you can see the whole course from above to get an idea of the scale. What you need to know is that it's fast – all the way through.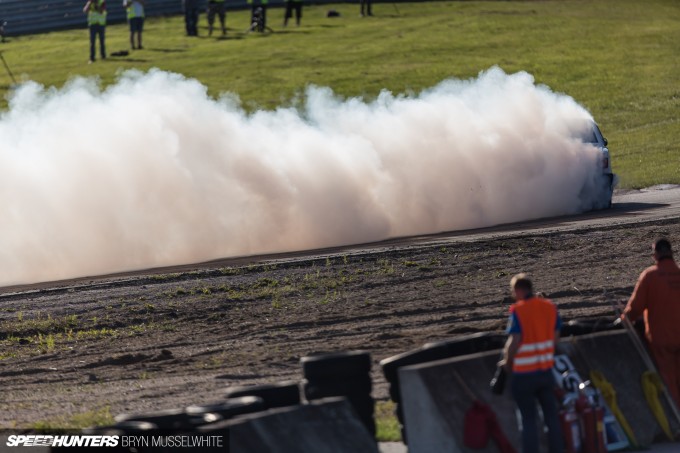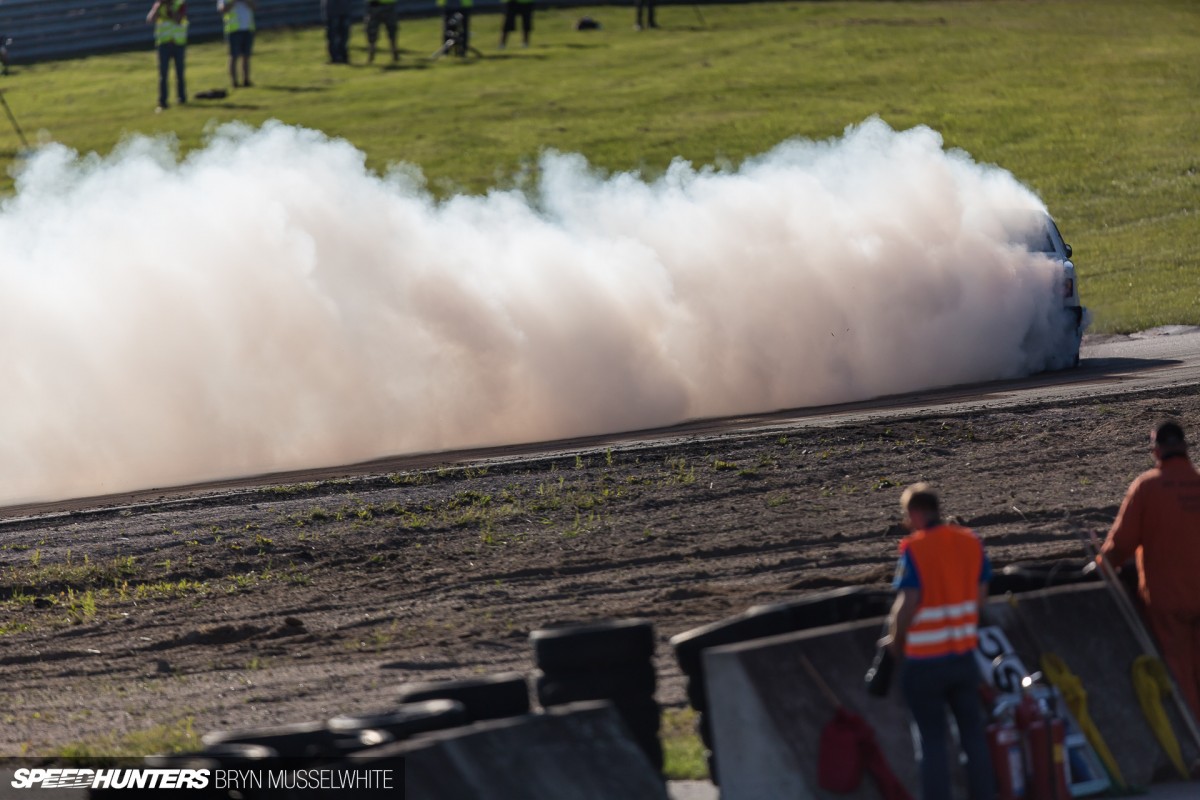 By the time the cars were exiting the corner, the wall of tyre smoke was usually massive and I became transfixed with how the light bursts through the foul smelling, fluffy white clouds.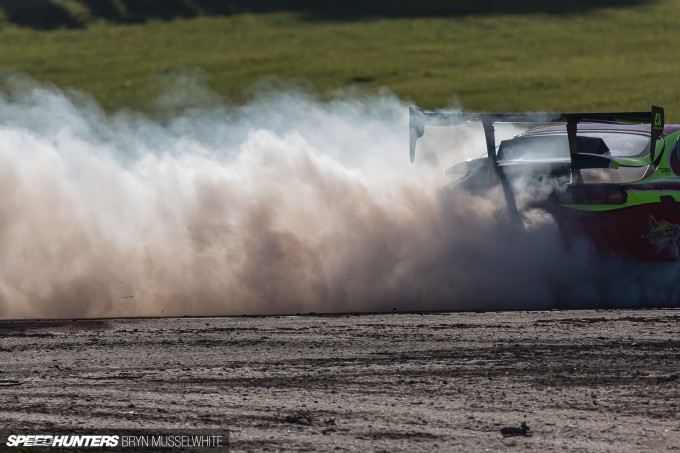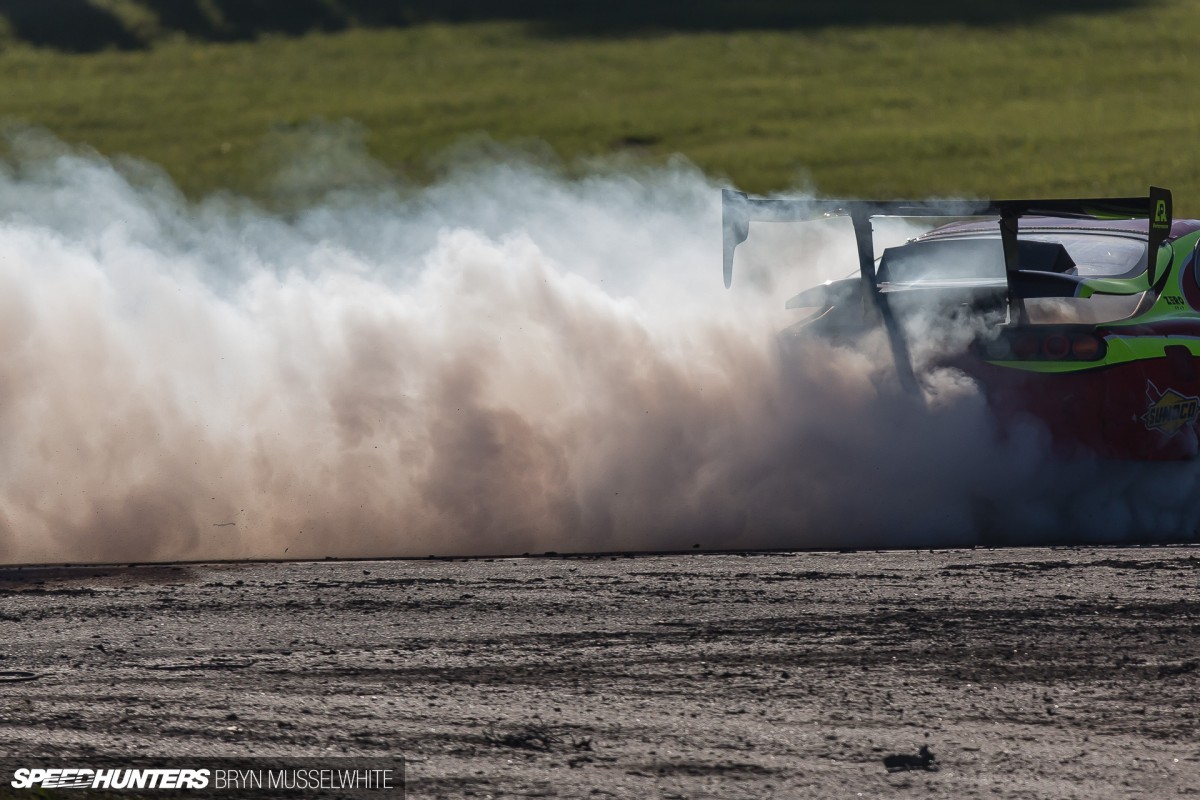 It actually reminded me of flying over an electric storm in a plane. That moment when lightning bursts and flashes through the cloud; the random density dealing with the intense burst in different ways.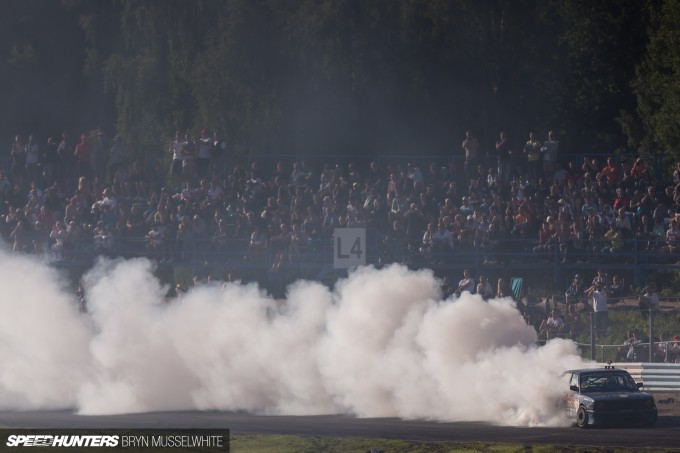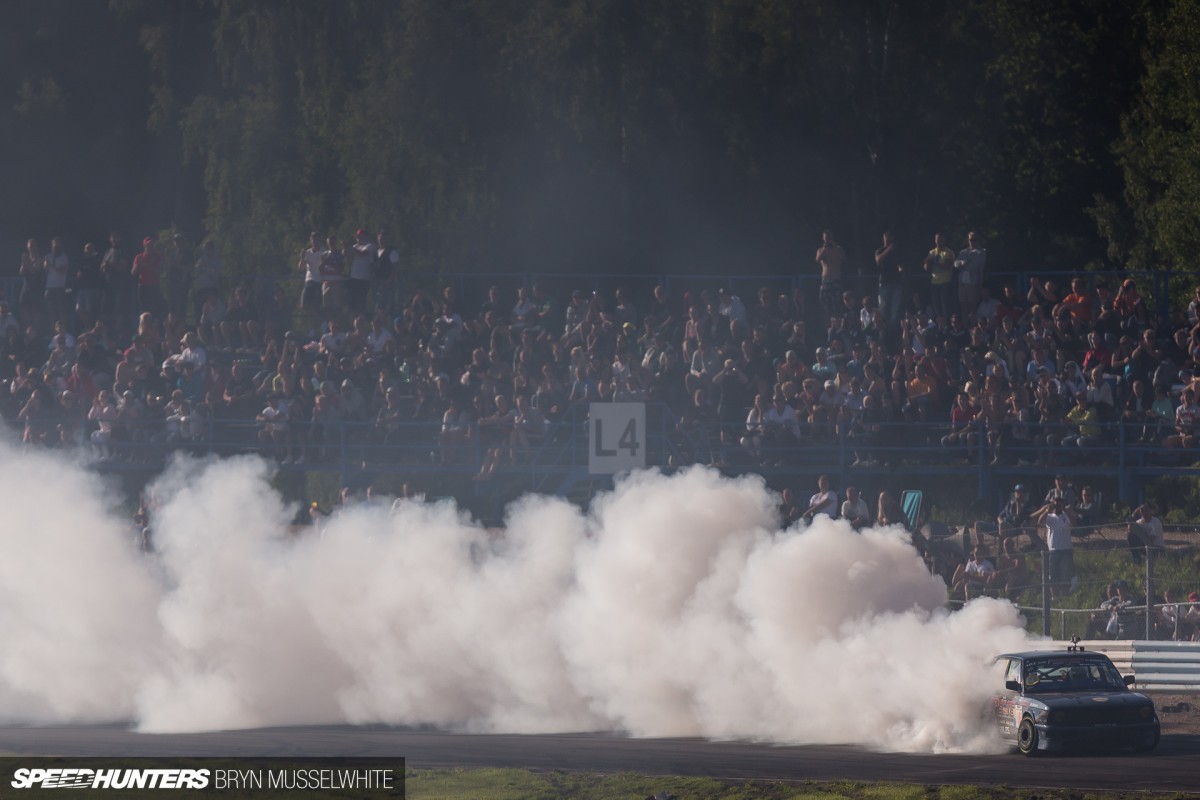 When you immerse yourself in an event like we do, you can find yourself mentally removed from a situation when it's still happening around you as your mind tries to find some momentary peace. So, it's like a certain stillness descends on me when I'm shooting action, and although this isn't a slow shutter speed panning shot, the way it freezes the action gives you a chance to take in the scale of what is happening. I guess this is where my mind goes when I hit the shutter. Looking back now it reminds me of how the capacity crowd would howl and clap with approval when somebody put in a great run. As a commentator I really appreciate it when people don't need prompting to show some love!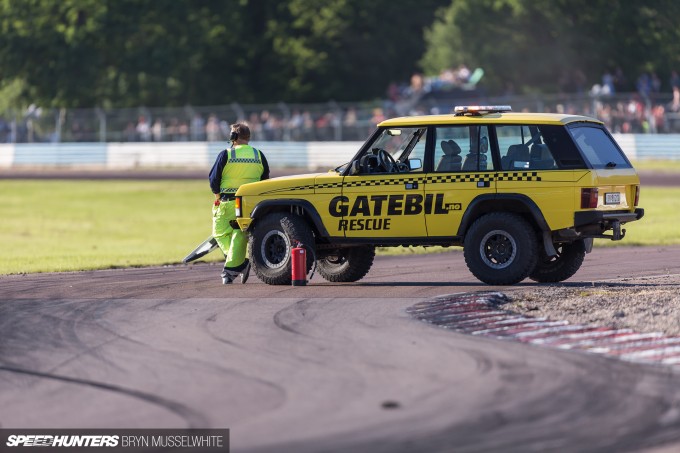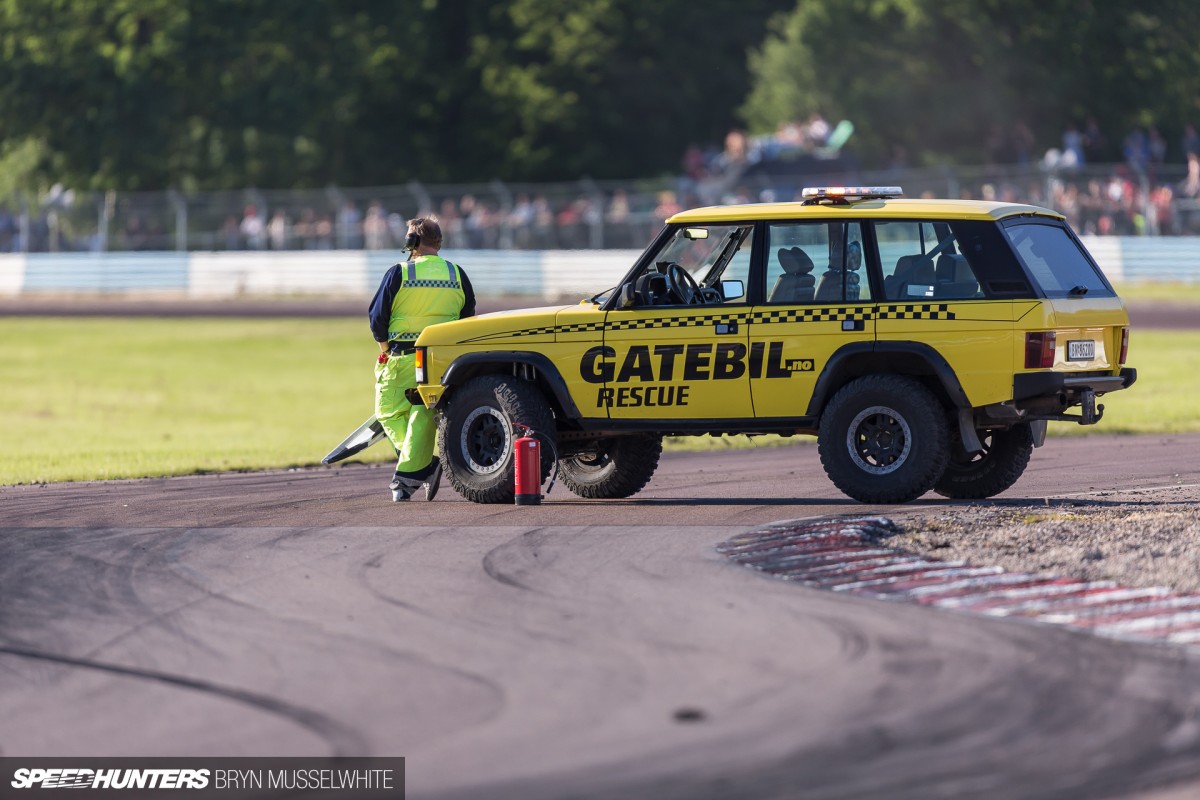 This is what the Gatebil crew do and enjoy though, and yet another reminder that it all started from a bunch of friends having a good time. As a not-so-closet Range Rover fan, it was great to see Morgan Strand's Classic out on duty again after I first saw it at Rudskogen in 2013. Naturally it's a V8.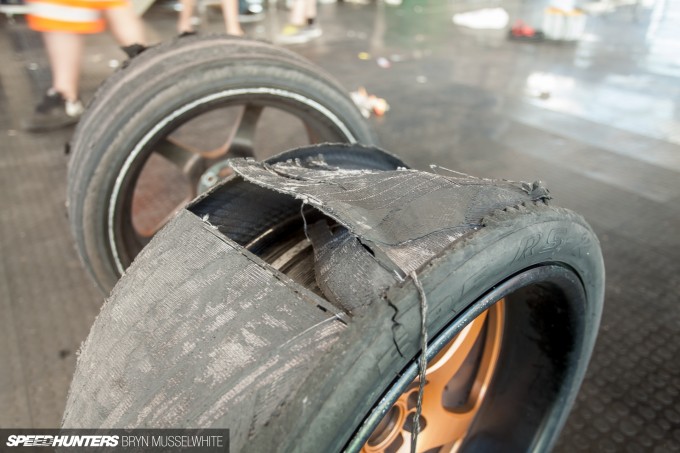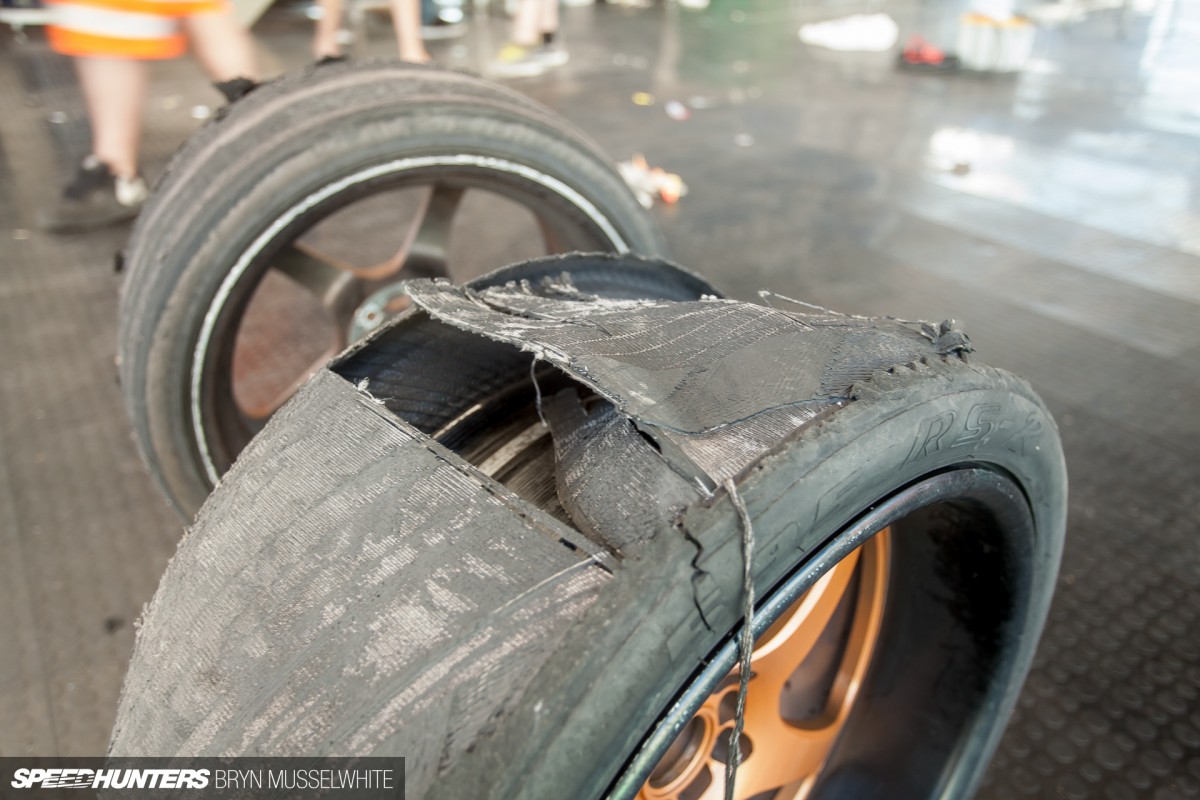 As a mentioned a while back, I took a ride in the Valtonen Motorsport FD3S later on Sunday and it amazed me how battle scarred the track gets. Nothing major, but the debris spread about over the weekend is crazy! It gave me a whole new perspective on what the drivers have to deal with, because chunks of tyre and gravel were everywhere. Of course, our own Fredric picks up every single piece of used rubber after a run…
Armoured And Not Dangerous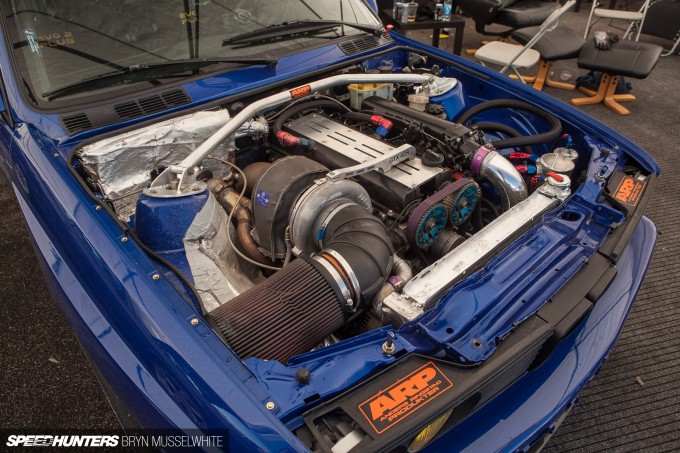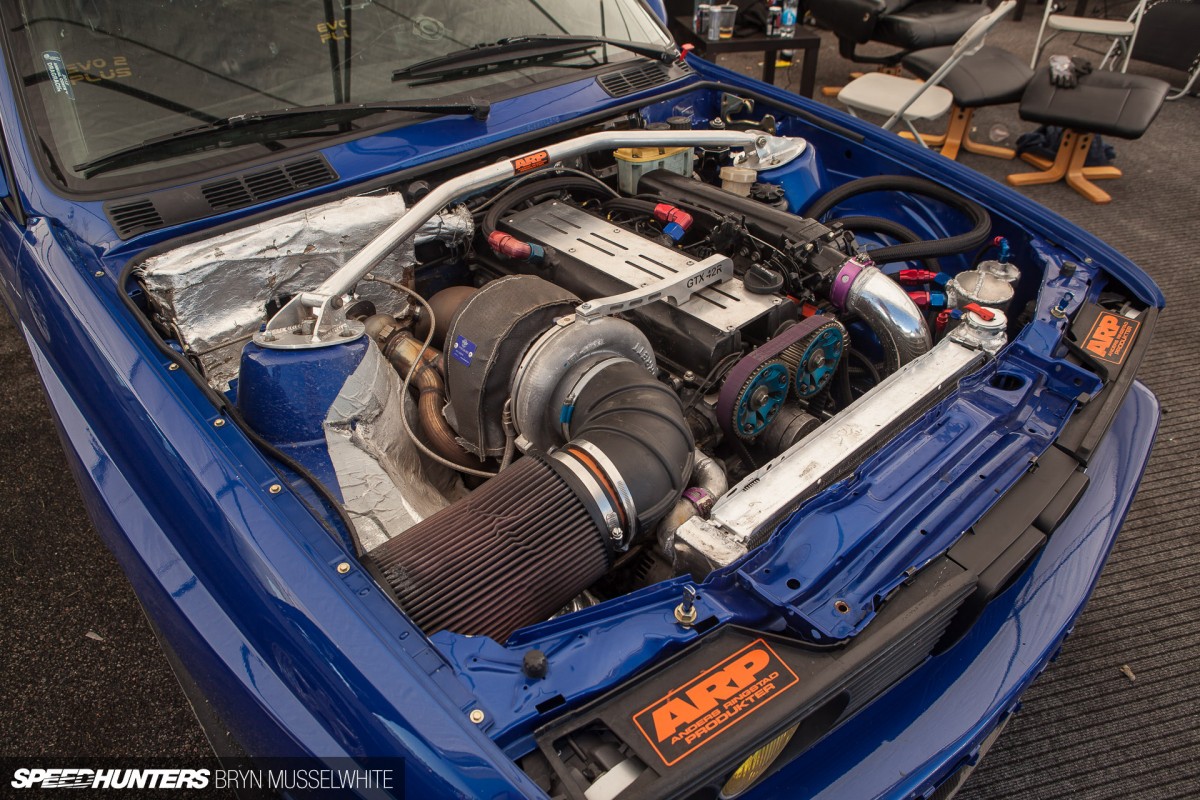 So what is Gatebil then? In truth it's what you want it to be. A round of time attack, a drift competition or just a chance to get some track time with like-minded friends. But you must come armed. Turn up with a knife to a gun fight and you're not going to have much fun.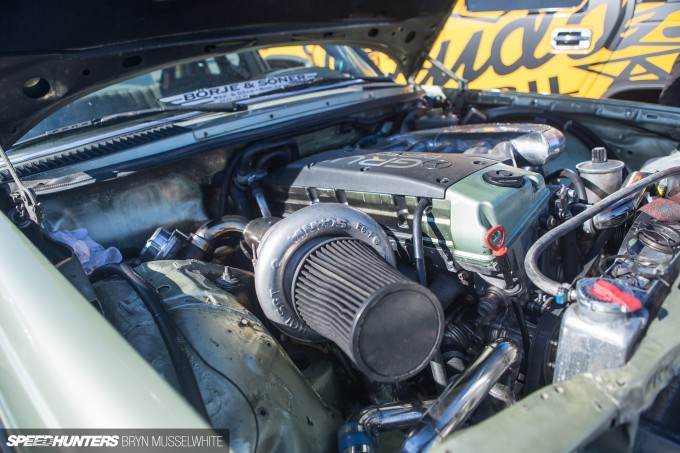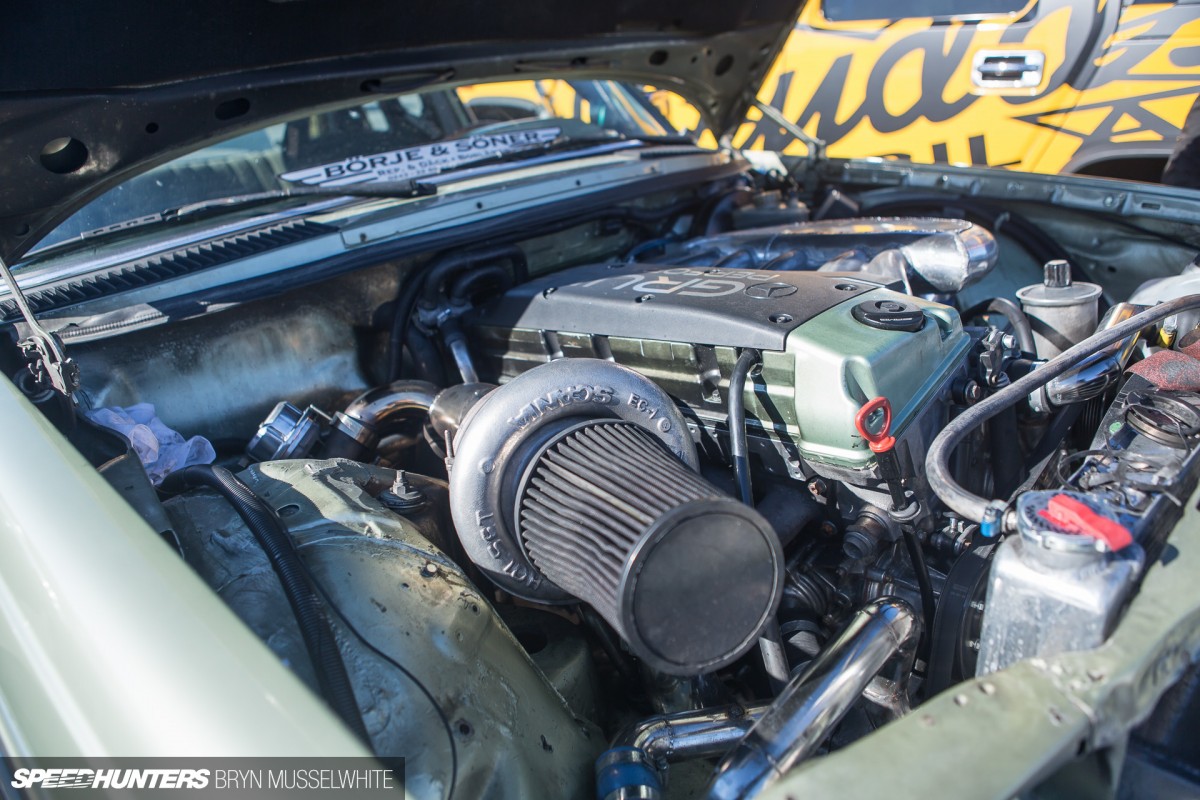 Which is quite possibly why it feels like everything is turbocharged. Quite literally, everywhere you look there are snails hanging off all kinds of engines. Forced induction on any engine is a relatively quick and inexpensive way of getting a considerable power increase, which is exactly what's needed here. Now, I know how hard it is to turbo convert anything, so don't think I'm trying to make it sound easy. But with truck turbos, uprated fuelling and an efficient intercooler, a cheap base-model BMW or Mercedes saloon can kick ass in a short time.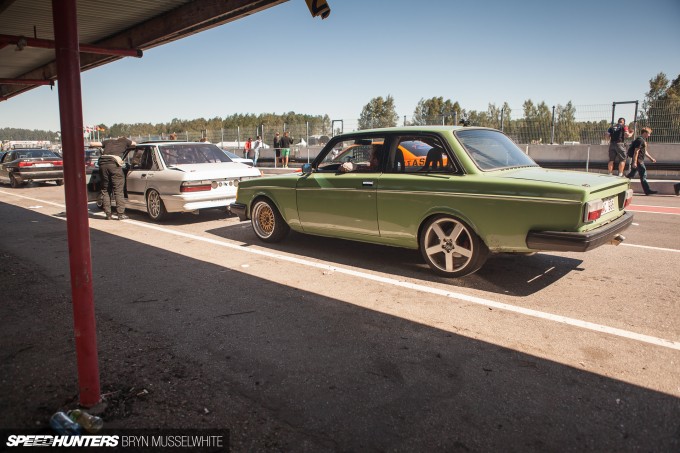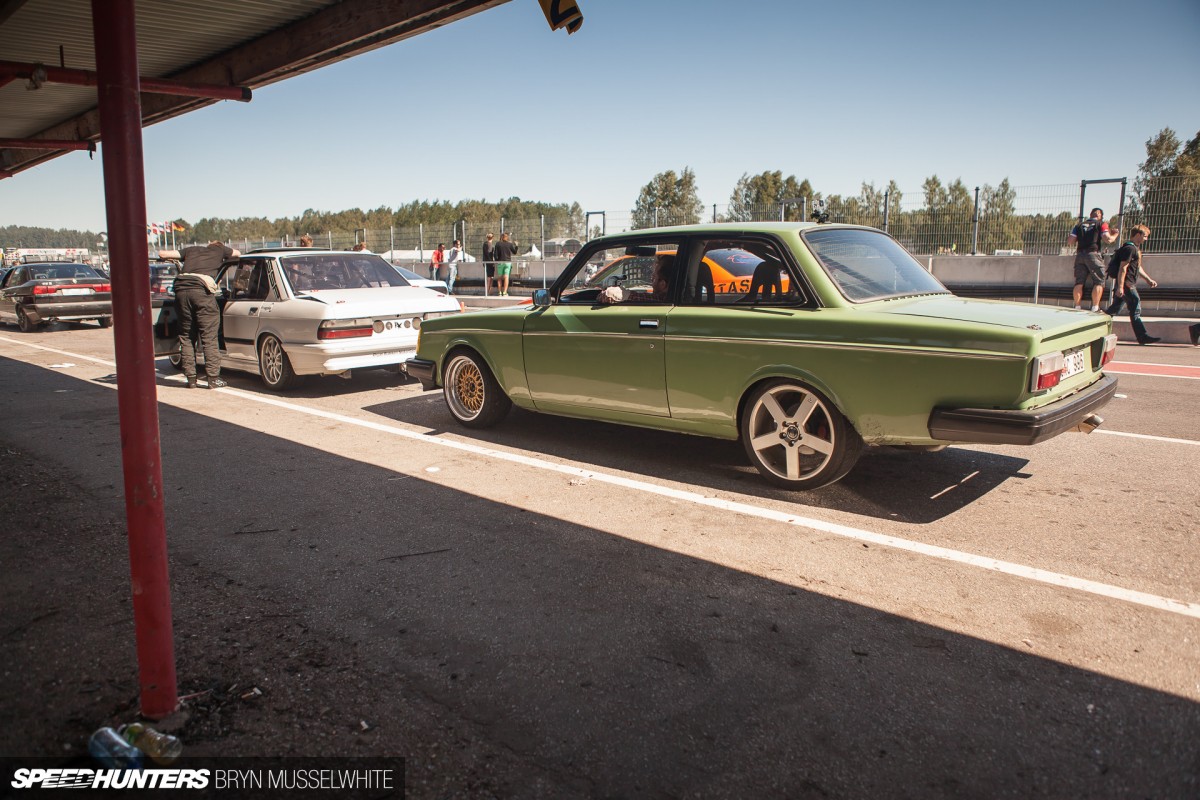 How far you want to take it is up to you, but in talking to Gatebil regulars it seems the longer they've been attending the more extreme the modifications get.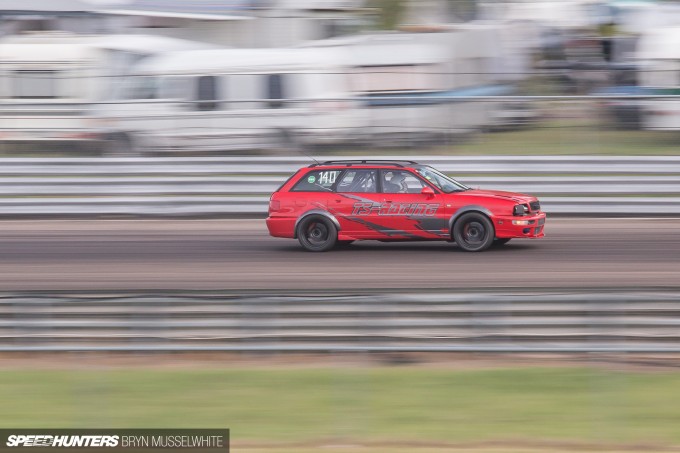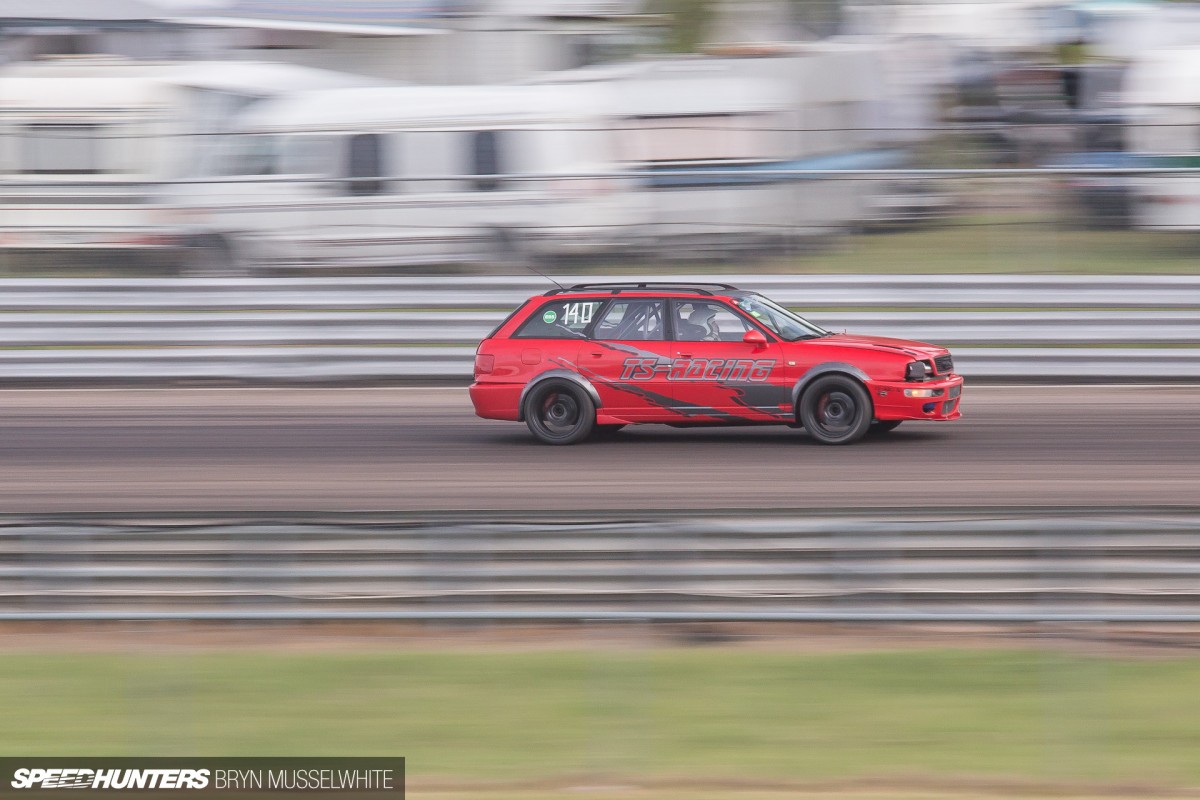 Another feature that Larry shot was of Jan Edstrom's Audi RS2. And yes, before you ask, it is the genuine article. He's owned it for 14 years and with the help of TS Racing it's slowly developed into a 700hp, E85-drinking animal. After Jan got pulled over around five or six years ago by six policeman (you join the dots…) he decided it was time to get serious. Now the Audi is strictly track use only, and as a long-time Gatebil attendee the wagon has grown with him.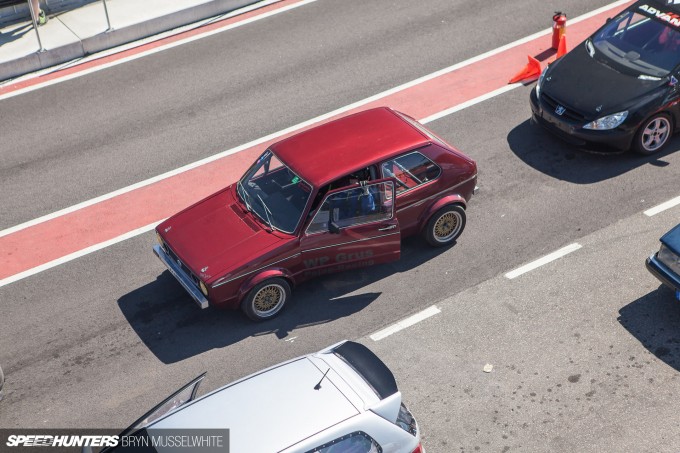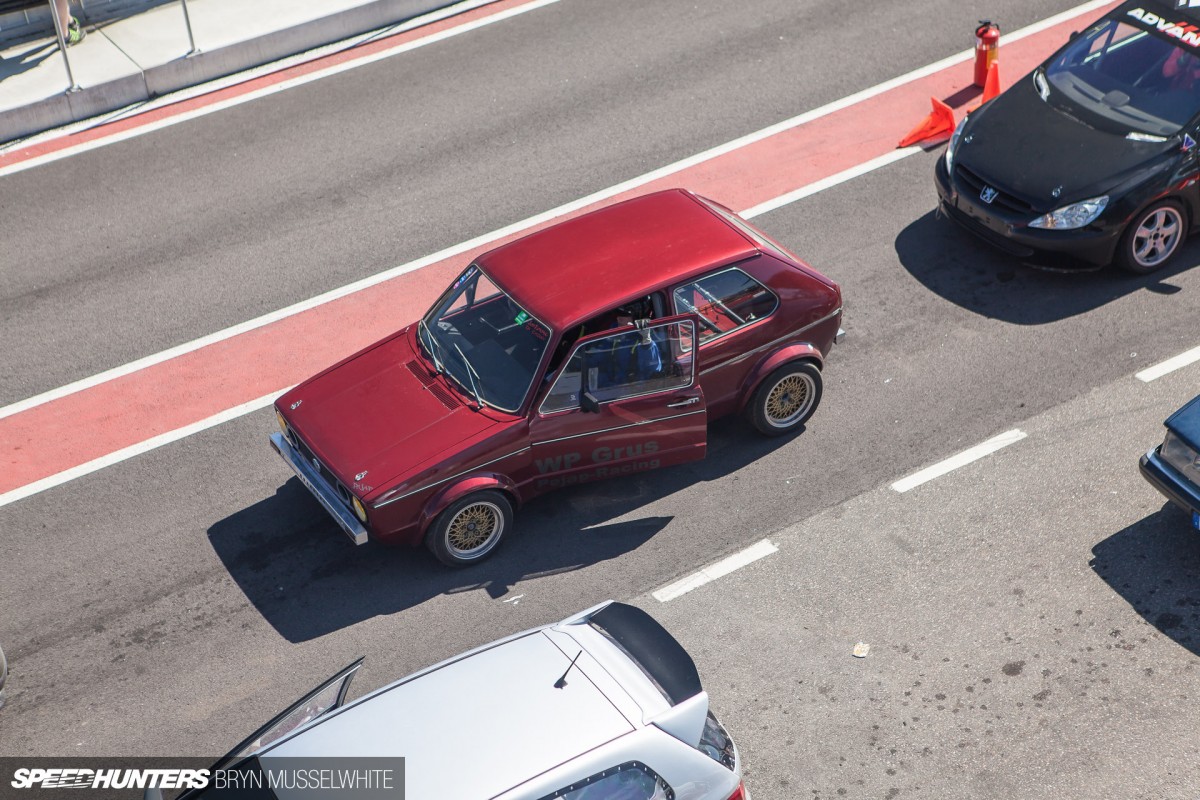 Then there are the oddball builds, like this Mk1 Golf that I spotted on the campsite and Larry subsequently shot. Nothing fancy, right?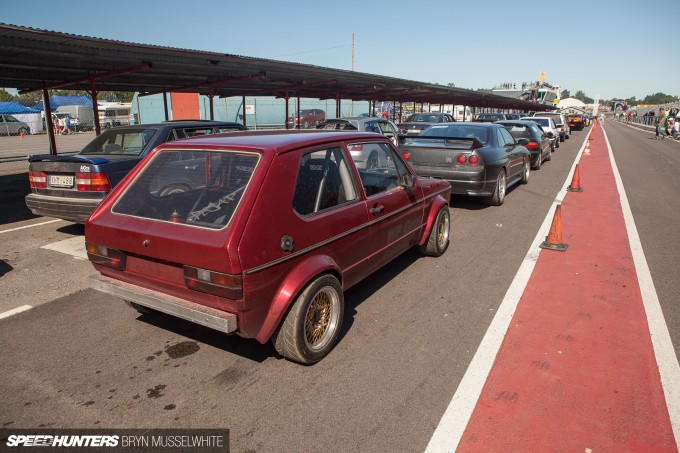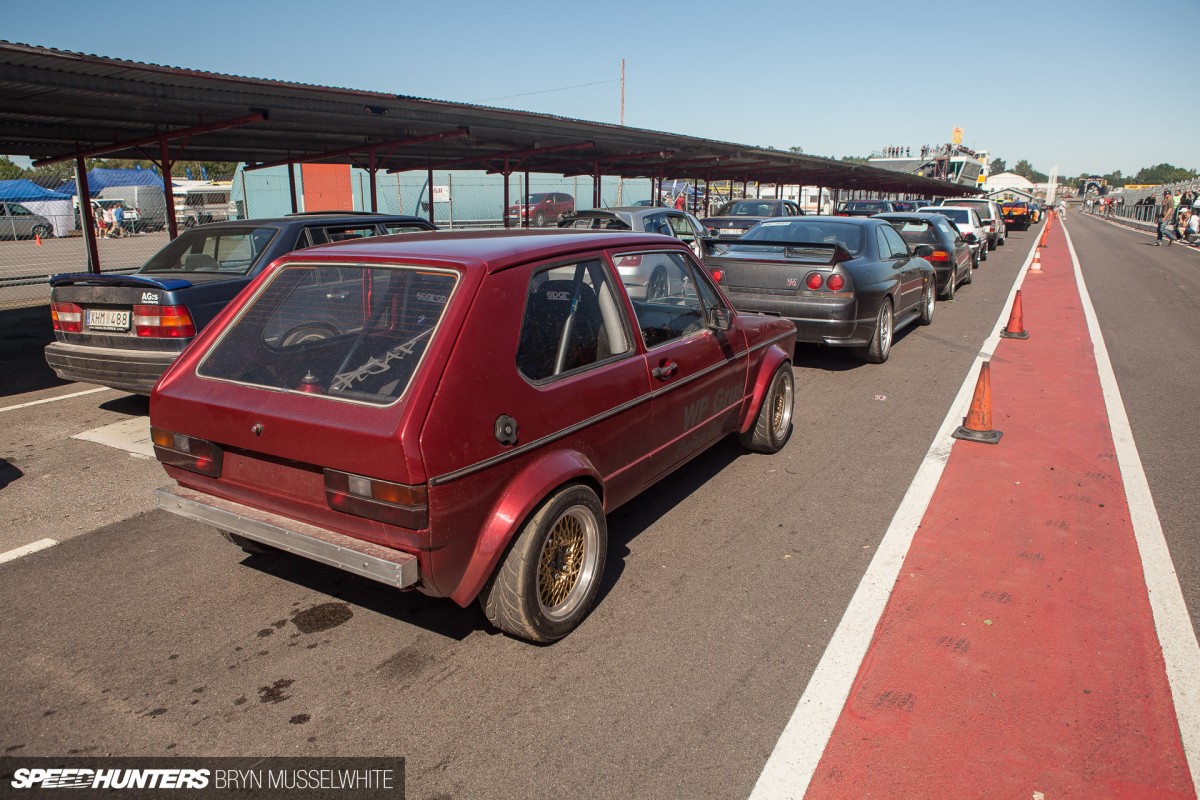 Maybe there's something going on with the track? Are those arches widened? Until it moves, the colour is the biggest clue here as it's a Volvo hue. And that's because under the bonnet is a 260hp Volvo B230FT motor with a BMW five-speed gearbox helping the power to the Volvo rear axle. Like I say, more to come on this one.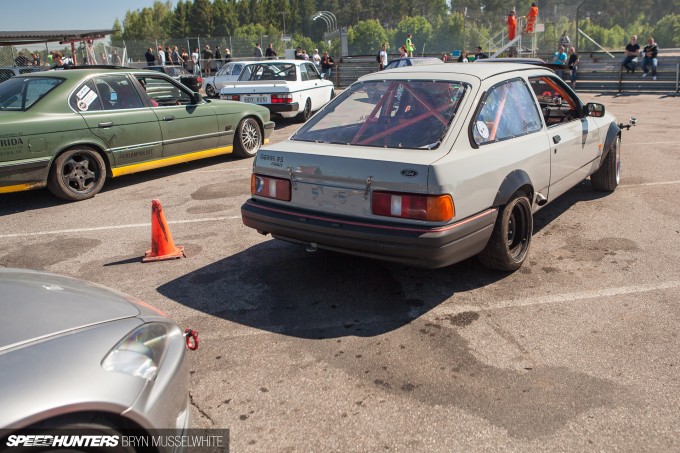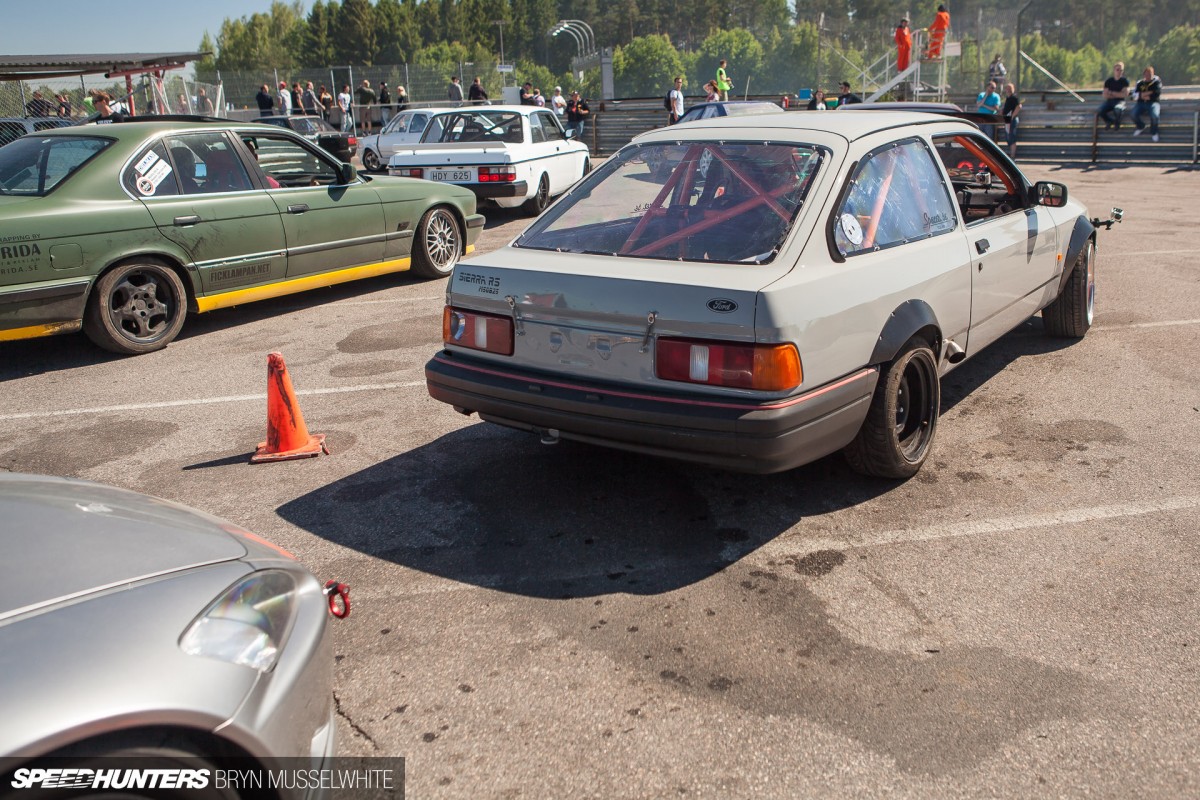 This Sierra has dodged the Cosworth clone route and now has a BMW straight-six in the front. I was really digging the base-model colour with orange highlights, too. The Ford marque isn't particularly well represented at the Gatebil events, so it was good to see this out there and getting sideways.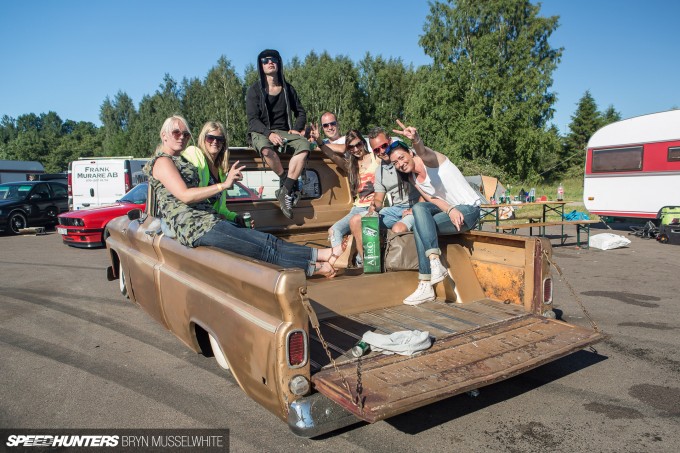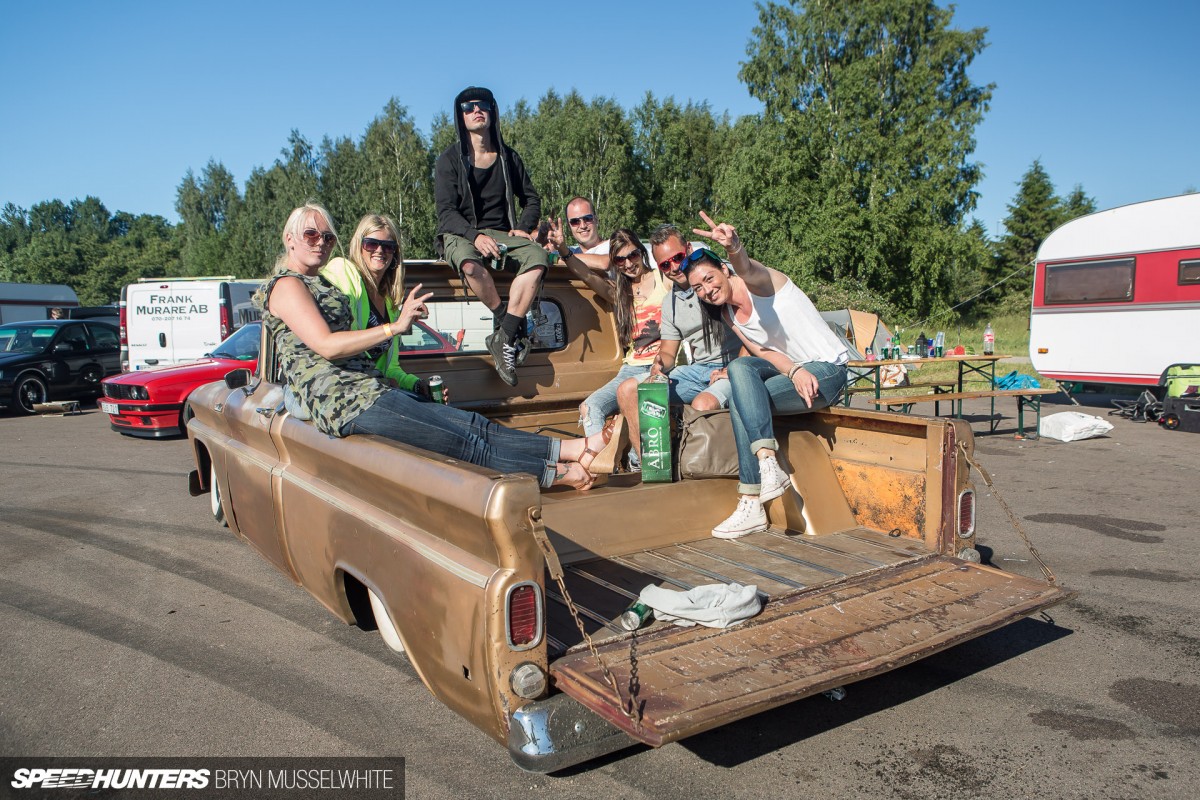 So we've had performance, both grip and drift, and I've shown you high-end and more grassroots. But then there's the party, which at Mantorp Park wasn't as obvious as Rudskogen in July. Although this group really wanted me to drive their air-equipped Chevy truck around the site, I couldn't – I just had to keep moving in case I missed anything.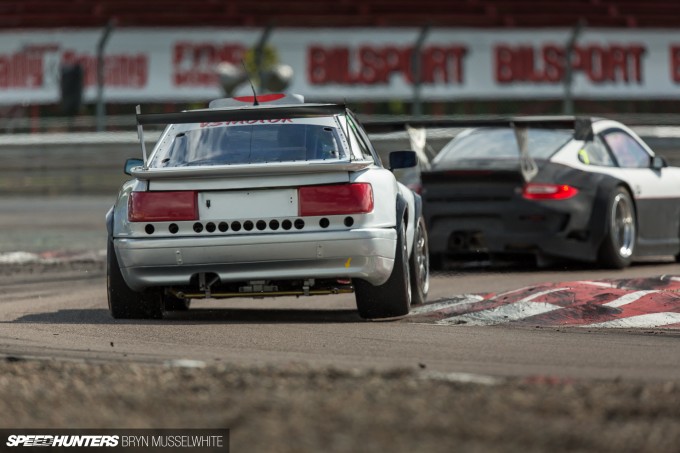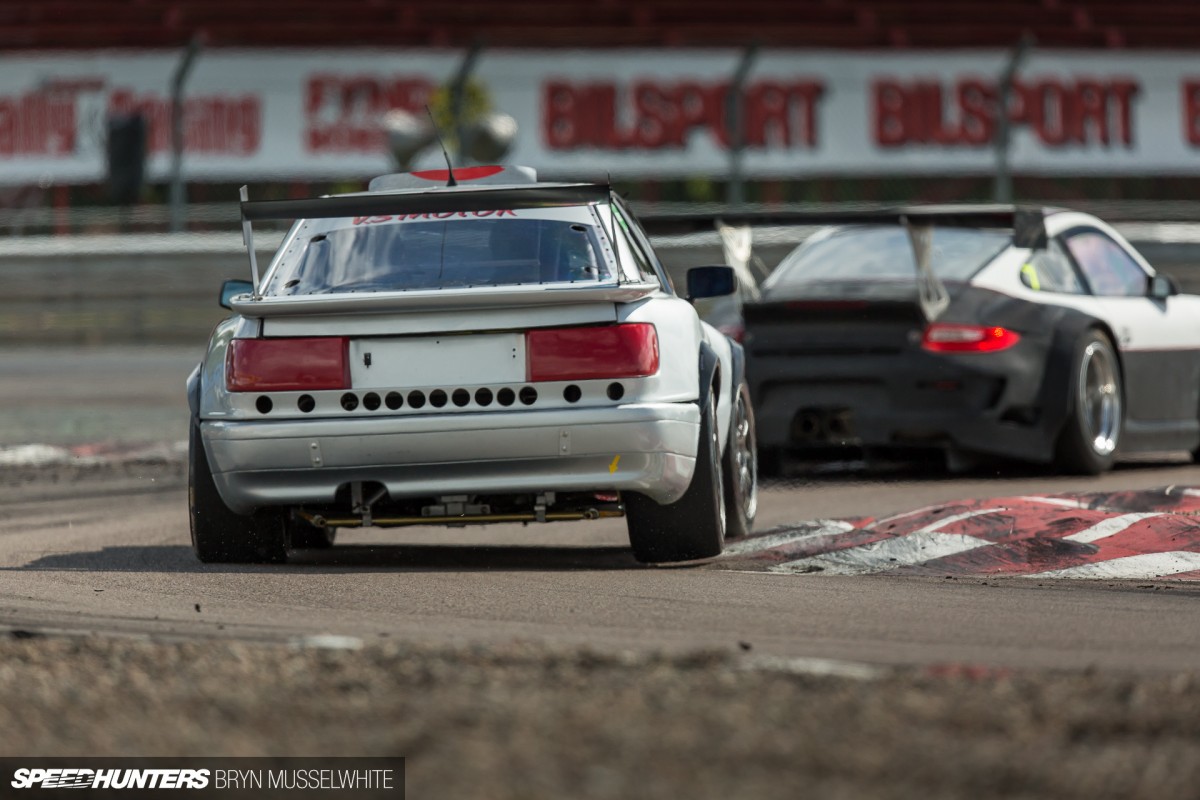 Because it just does not stop. As an example, this and the Chevy picture above could have been taken roughly five minutes apart.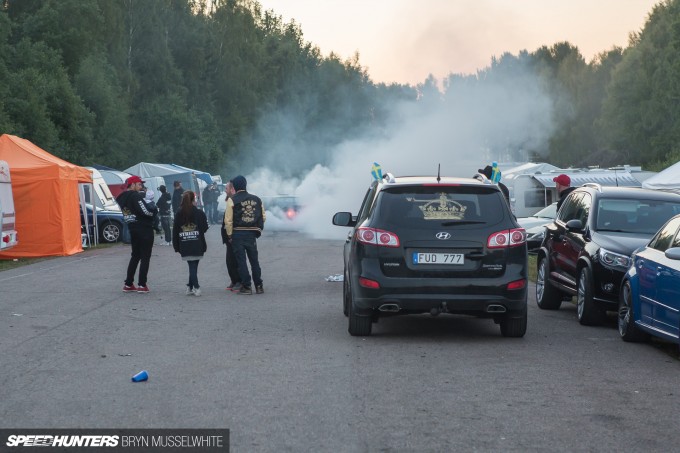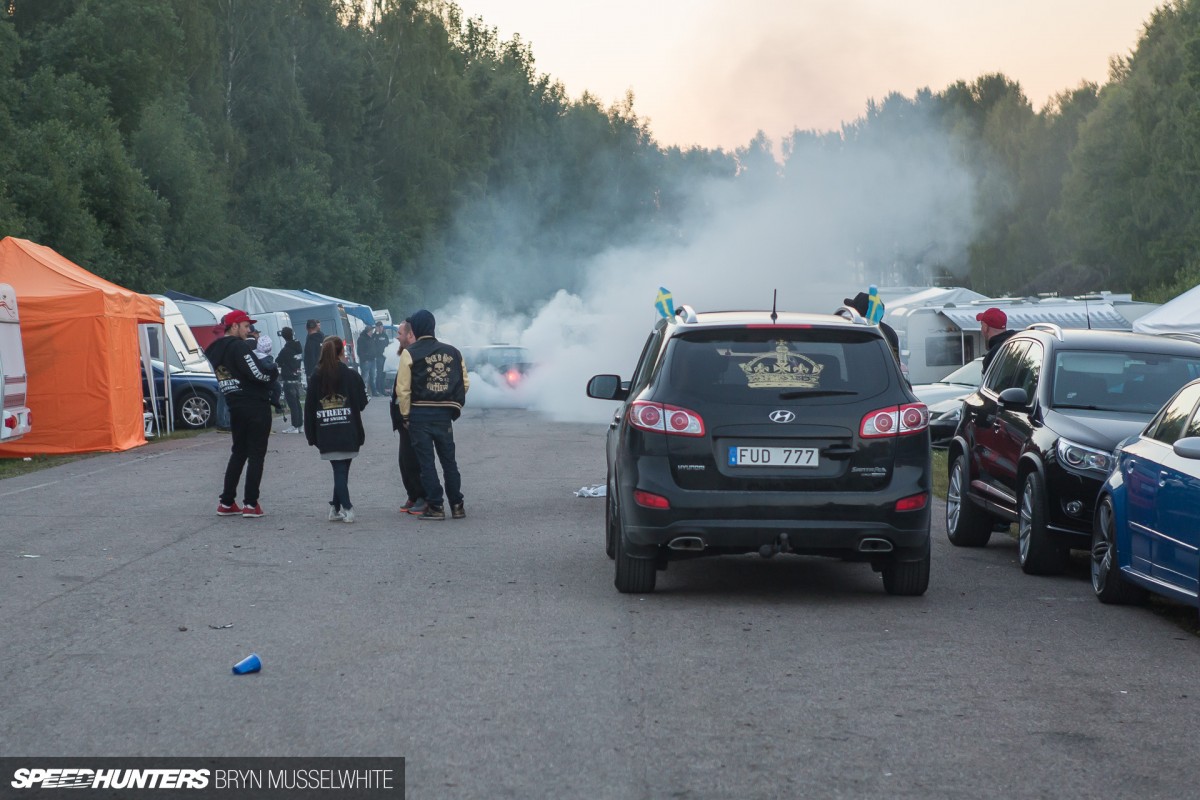 Some campsite areas were noisier than others, but it was always good humoured. It seems like nobody has time for any aggression and, like the action on track, it's all about having a good time but doing it properly!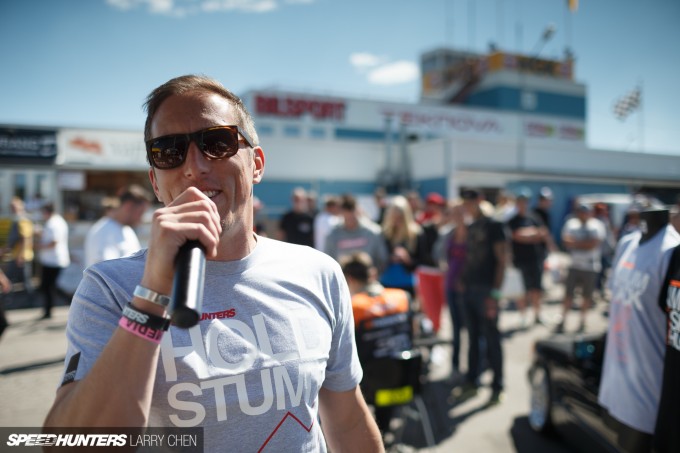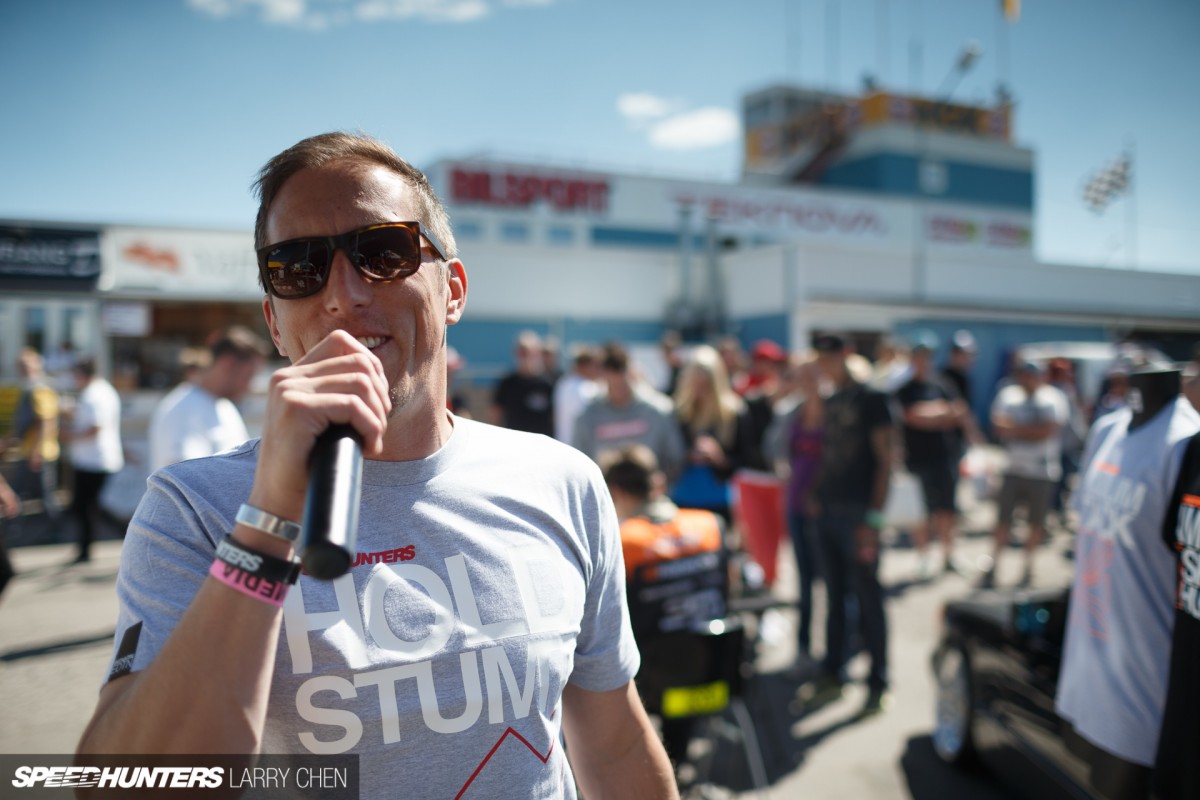 So that was my Gatebil. If you've skipped to the end to find out how I'd sum it up, well, it's like this. The team have been doing this a long time and they've turned it in a to an art form. Everybody that heads for a Gatebil event then gets swept up in this tidal wave of enthusiasm, from going further than normal with modifications to running everything smoothly and efficiently to ensure maximum time on track for all involved. It's whatever you want it to be. Right now I just have to show you how we wrapped things up…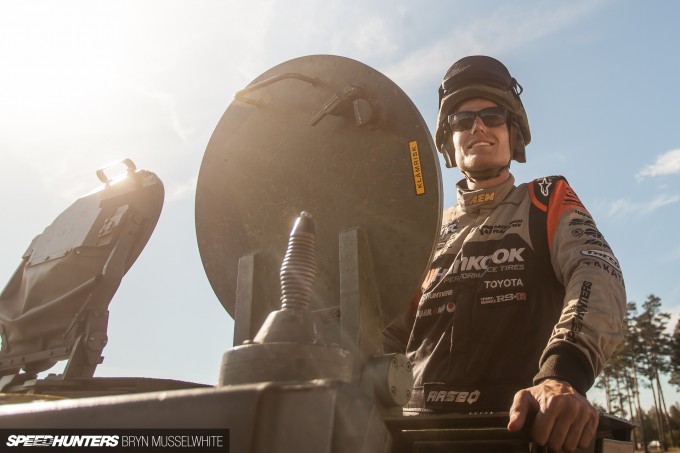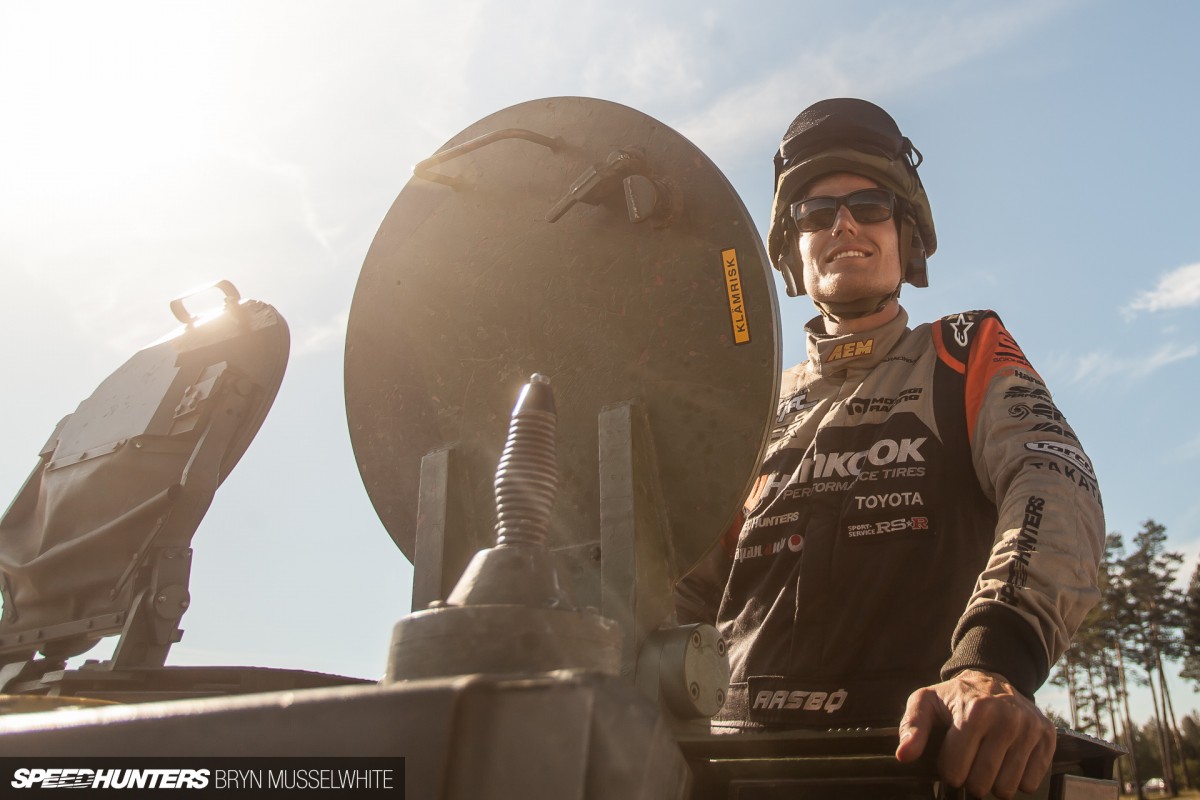 It's physically rigorous going through an event like Gatebil; you average five or less hours sleep a night and walk miles on end laden with camera kit. You have to be ready as you never know what is going to happen next, and staying sharp pays dividends. So as we were packing up on Sunday I saw Fredric talking to a couple of attractive females in army fatigues. Maybe I shouldn't have passed it off like I did (I blame my tiredness for thinking they were looking for an autograph), because what I didn't realise is that Fredric had given them a passenger ride and they wanted to return the favour…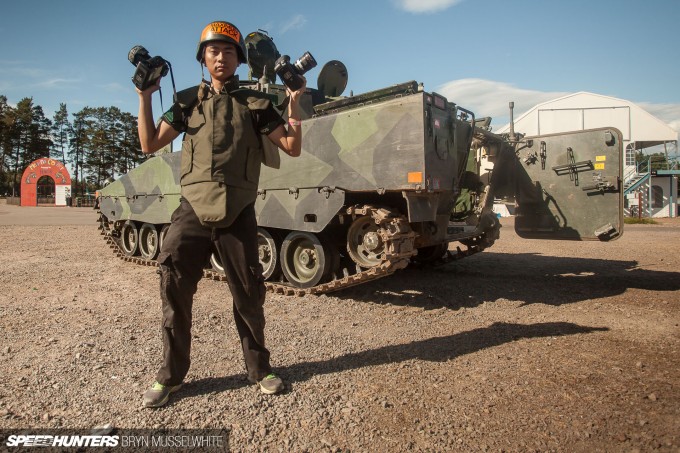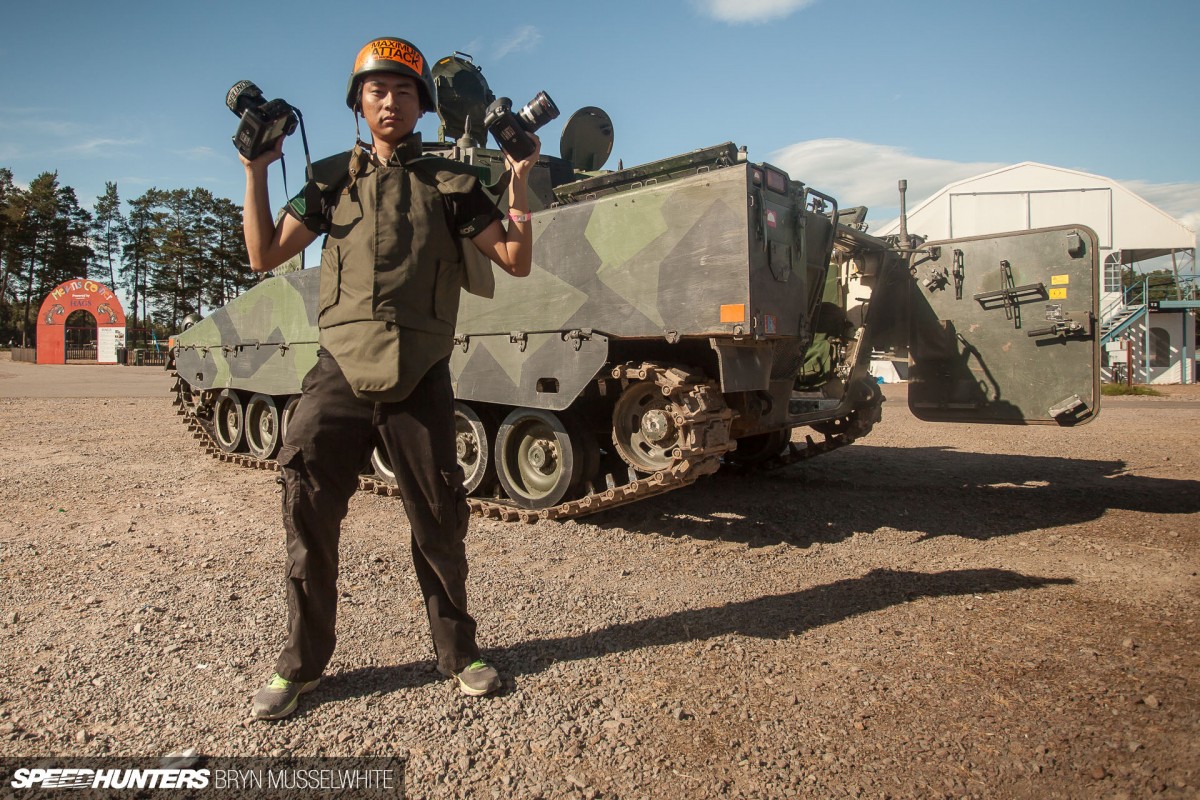 A minute later he nonchalantly told me that there was a tank with a couple of spare seats ready for a lap of the track if I fancied it. One shout of 'LARRY!' later and we were in business. So here is the one picture that sums up Gatebil for me. You never know quite what will happen next – but when it does it will be impressive and burn some memories into your brain.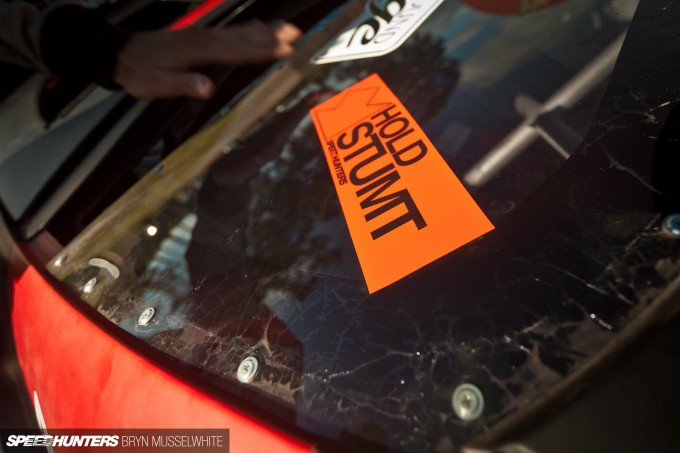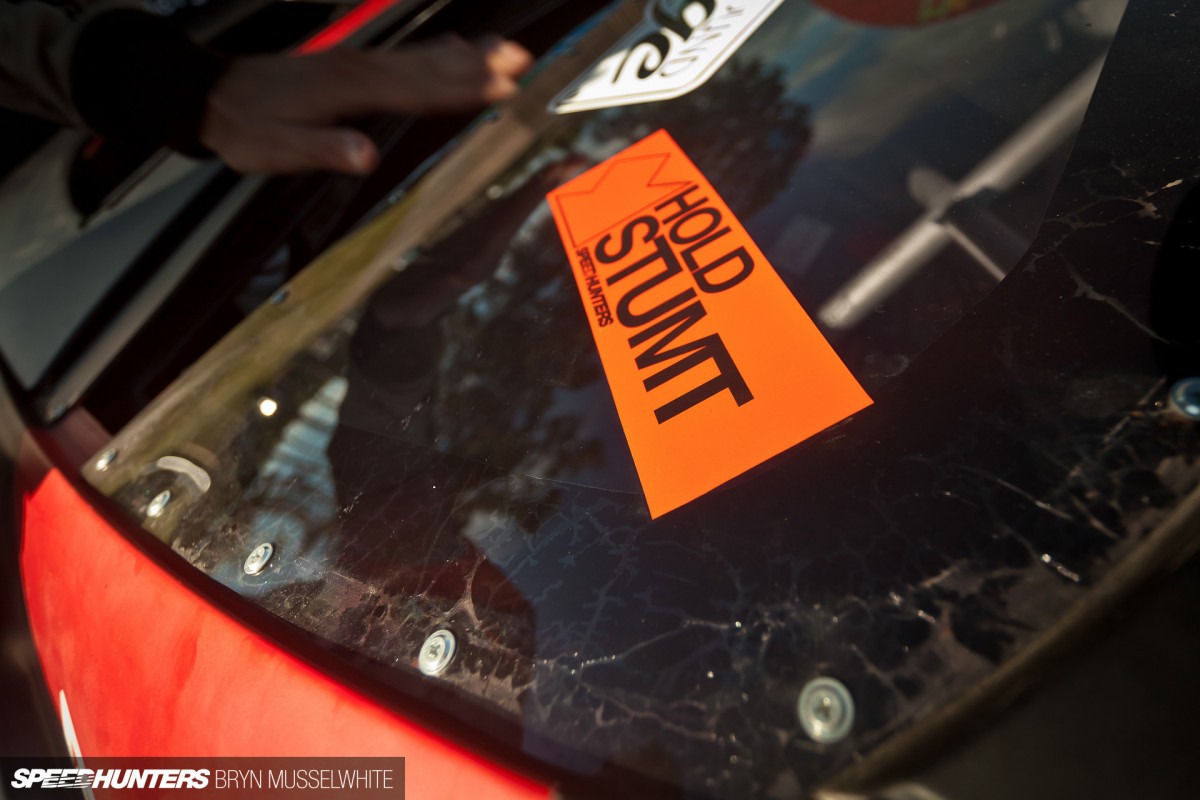 So, if you have the right attitude, Gatebil can be whatever you choose. It's like a label for good times, track, drift and party all rolled in to one. Immerse yourself or simply dip a toe – you decide. Expect the unexpected and you'll get along fine. As the old saying goes, 'We're here for a good time, not a long time.'
Bryn Musselwhite
Instagram: speedhunters_Bryn
bryn@speedhunters.com
Cutting Room Floor