Late Nights With Craigslist
It seems to me that we acquire our project cars in one of two drastically different ways.
On one hand there are those who know exactly what car they want. They spend months scouring classified ads, reading books and browsing internet forums. They will sometimes look at dozens of candidates before finally handing over their money for the right car. Most would consider this the logical way to do it.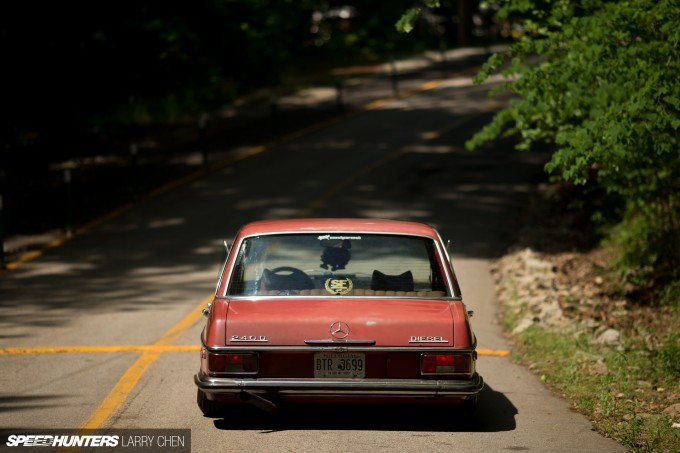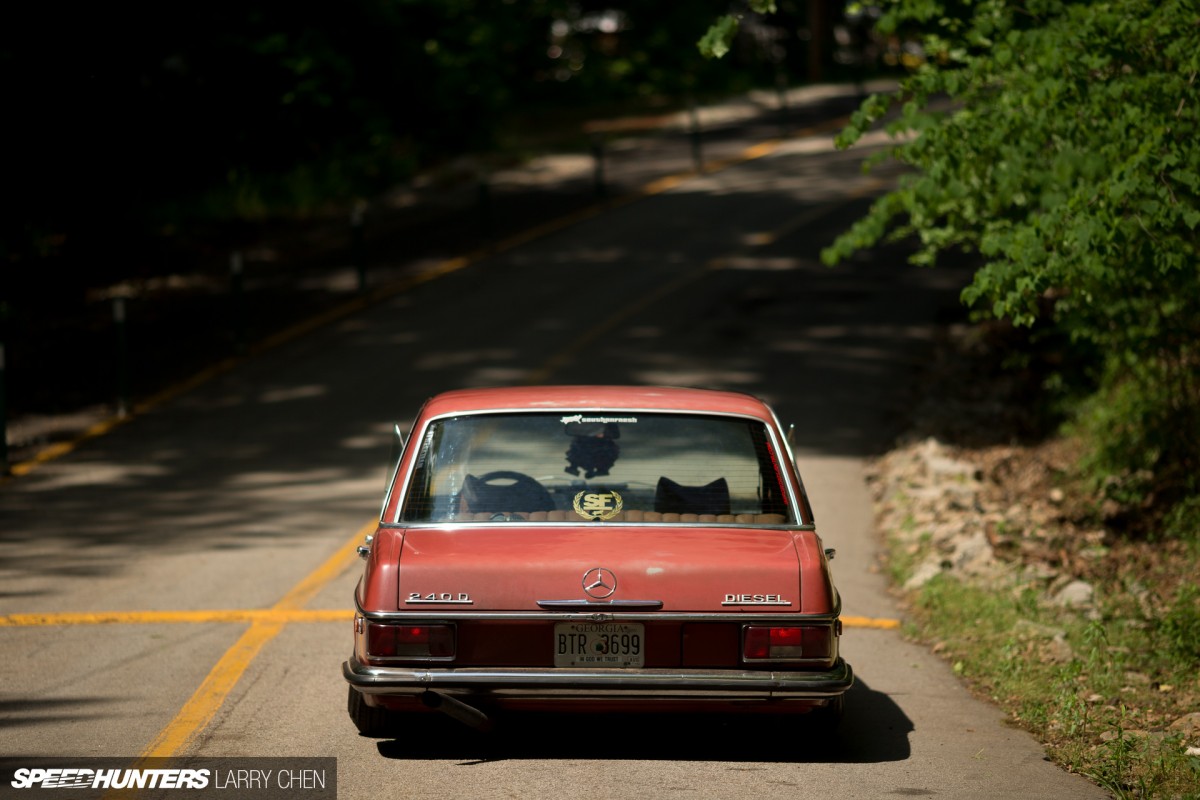 Yet, it often ends up working out completely different than that. Many of us have experiences where we've bought project cars totally out of the blue. This is often brought about by too many late nights surfing craigslist, and maybe one too many alcoholic beverages. The response from friends and family when they see our newfound vehicles is usually along the line of, 'what were you thinking?'.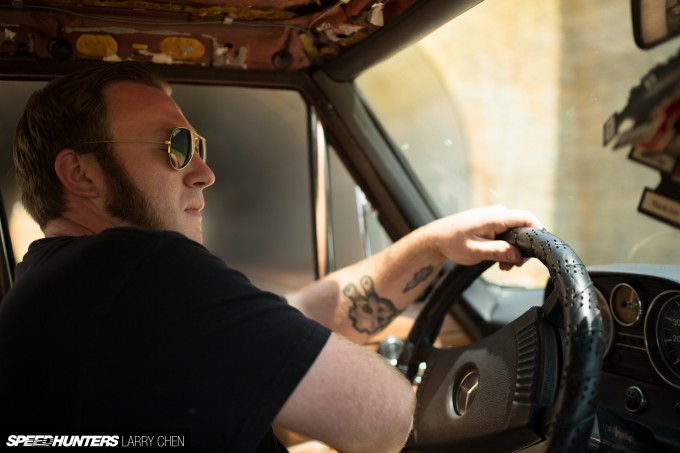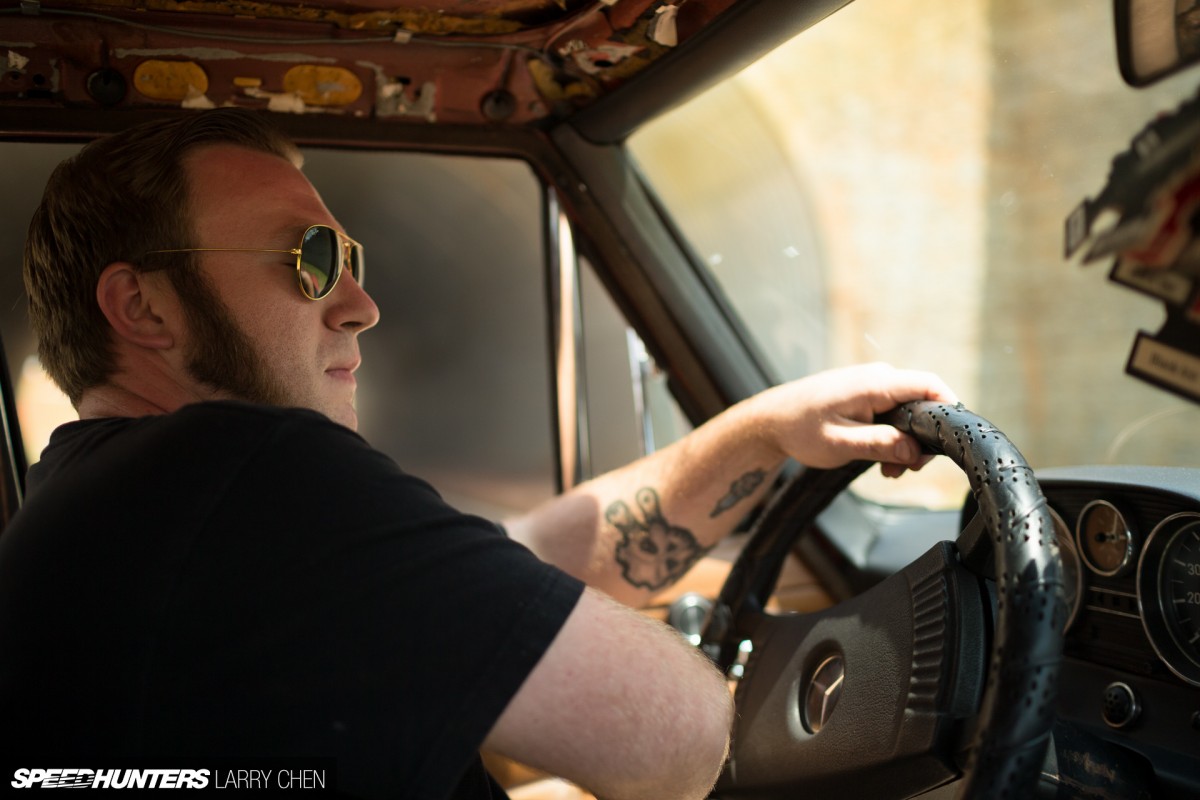 This brings me a to a gentleman by the name of Luke Smith. One day Luke was browsing the aforementioned craigslist when he found an ad for a 1974 Mercedes-Benz 240D in the town of Cumming, Georgia. Luke wasn't looking for an old Mercedes, and as is often the case on internet classified sites, the photos in the ad weren't great. But still, there was something that drew him to the car.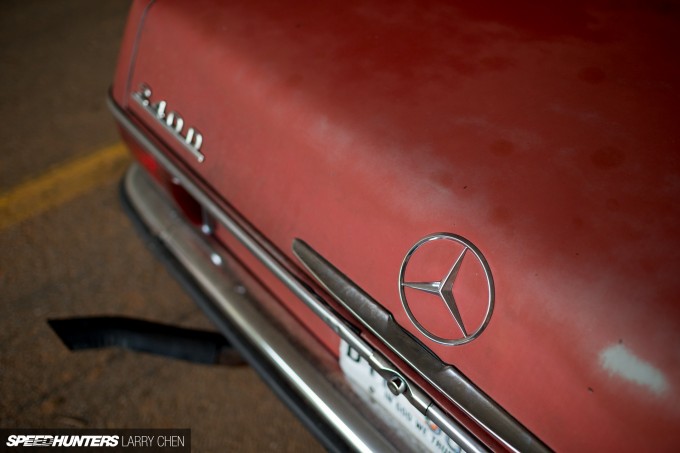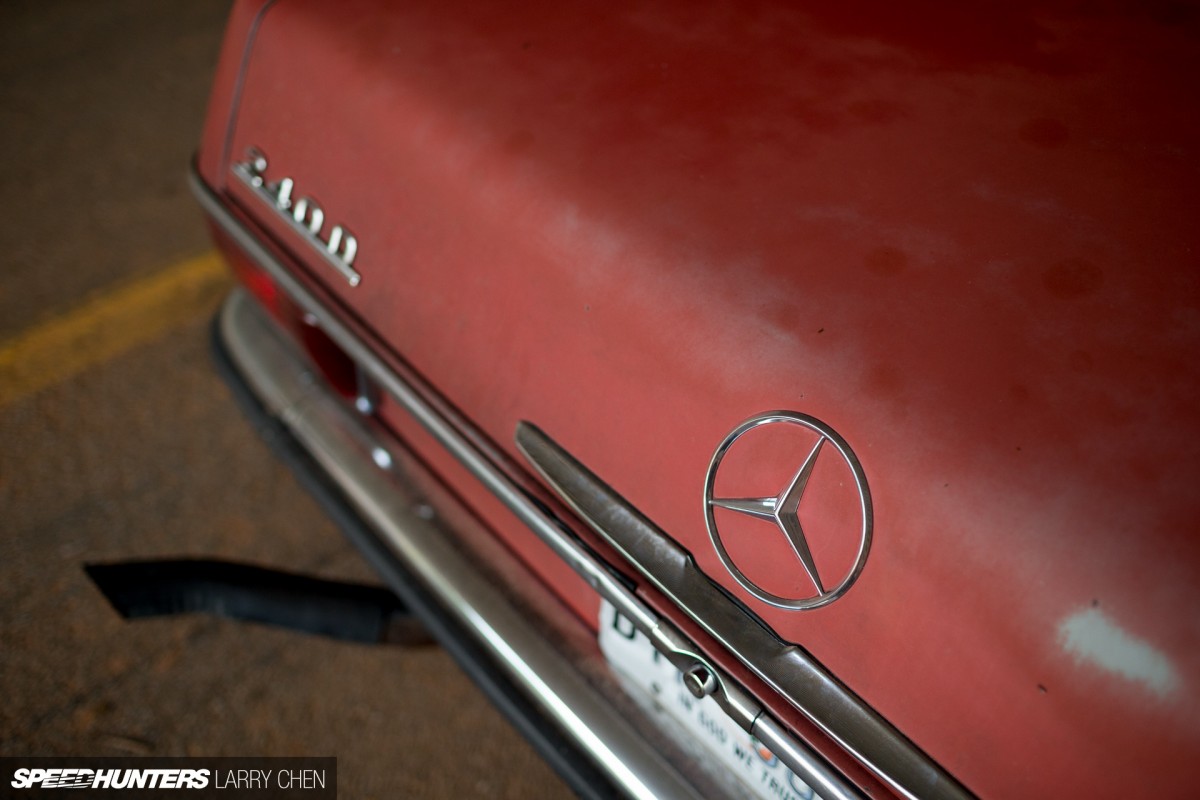 So he soon found himself dialing up the phone number in the ad, only to learn that the owner wasn't available to show the car until after 10:00pm. Despite this, Luke and his buddy hopped in his truck and headed out to see the old Mercedes, arriving some time around midnight.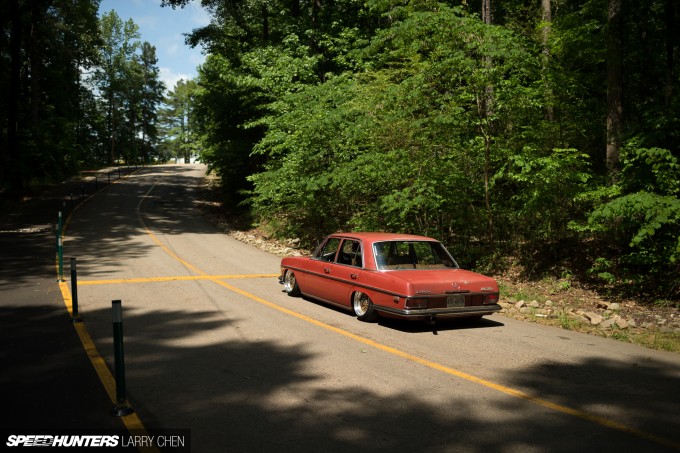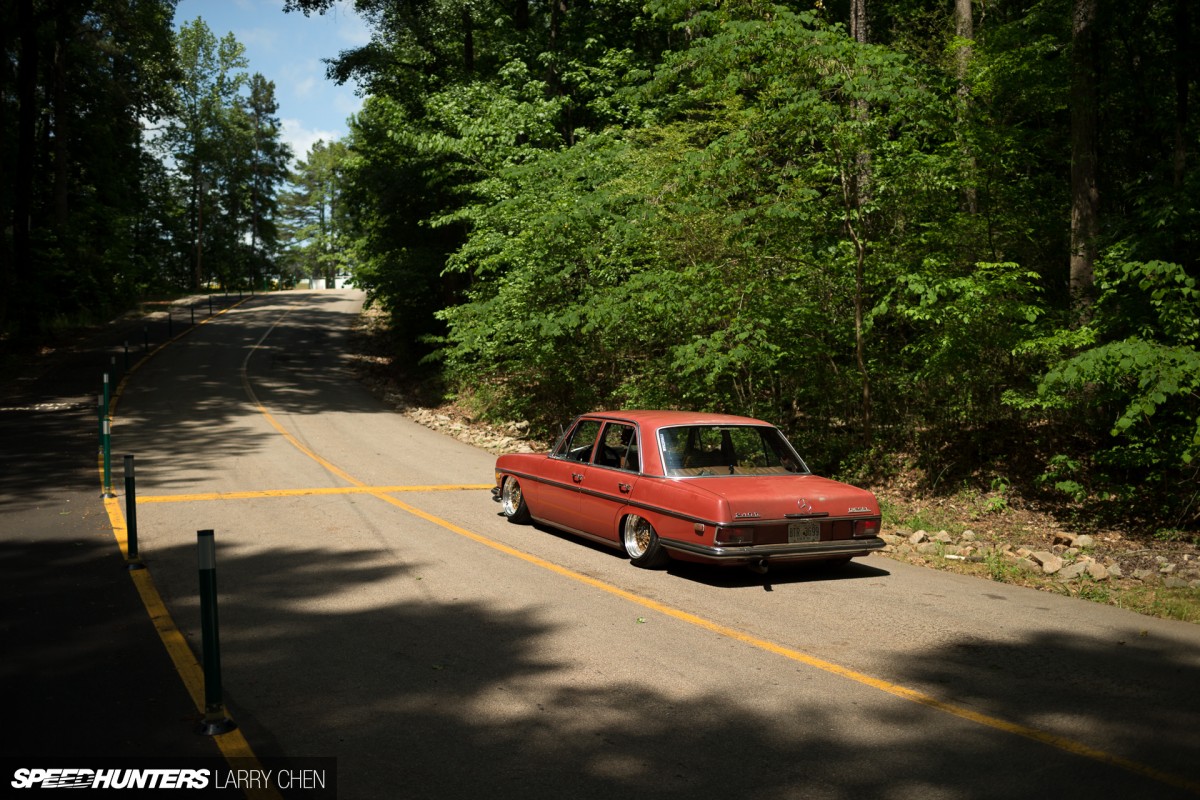 If you've ever tried to buy a car (or anything else for that matter) off a site like craigslist, you know that you can find yourself in some questionable, if not plain sketchy places. Needless to say, Luke and his friend were a little nervous about showing up at a strange place in the middle of the night.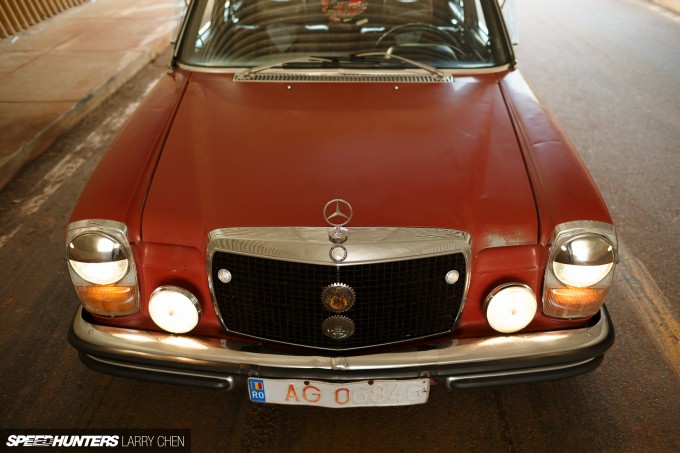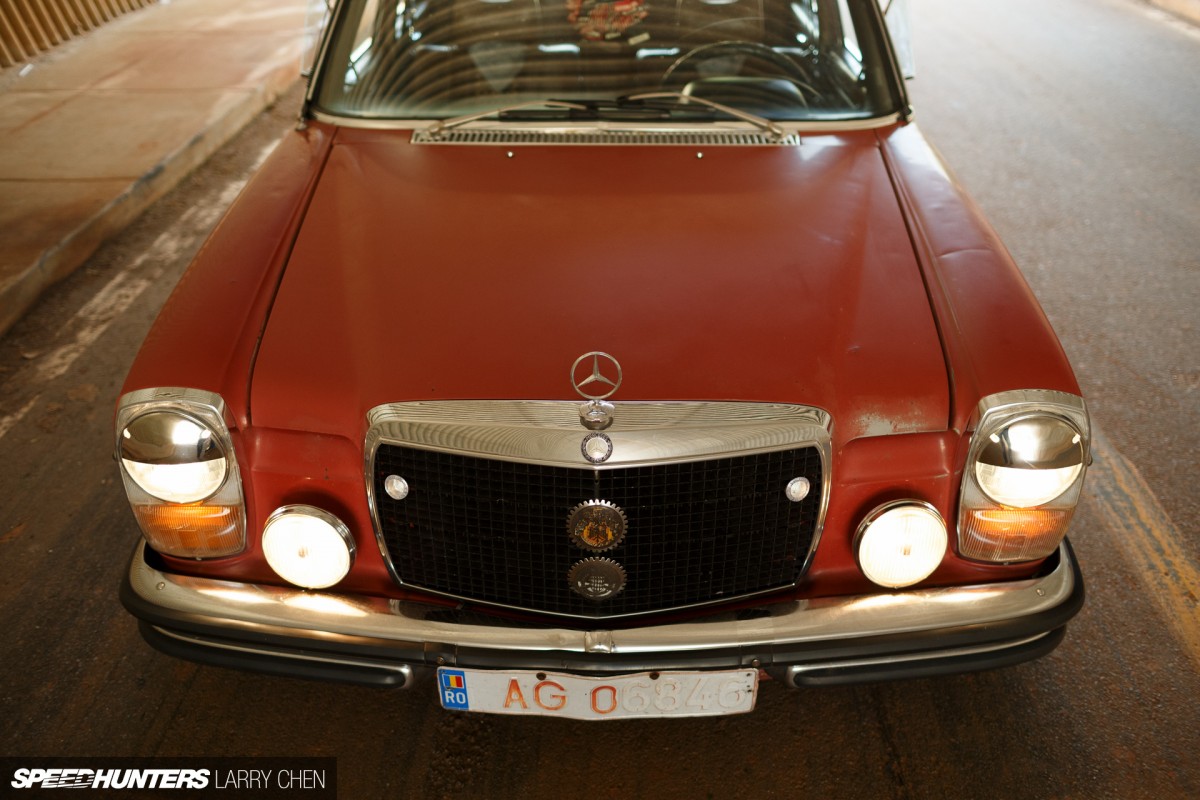 To make matters even stranger, when the seller answered the door, Luke found himself staring at Elvis Presley – or at least a guy that looked just like him. He was wearing a wife beater, he had the Elvis hair and was sporting a pair of black dress shoes. It turns out the guy was in fact an Elvis impersonator and had just finished a gig, thus the late hour.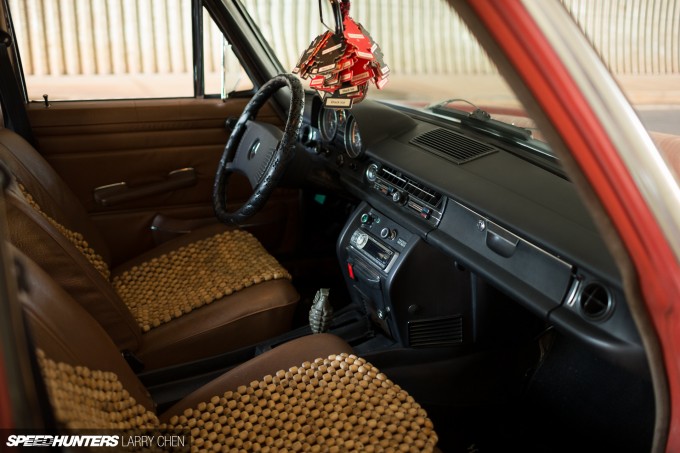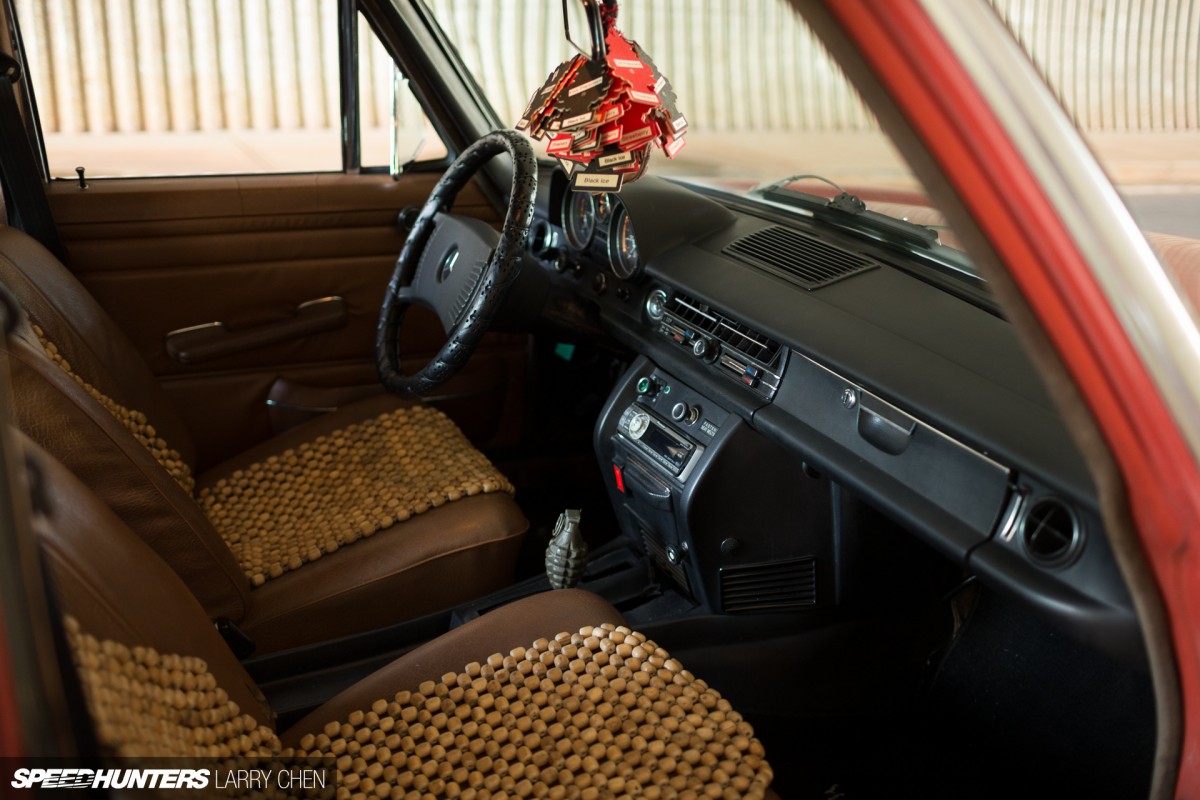 There was something Luke liked about this guy, and it was right there that the Benz earned its nickname, Elvis. The car itself was pretty beat. The floors were rotted, the interior was wet, and overall it looked pretty neglected.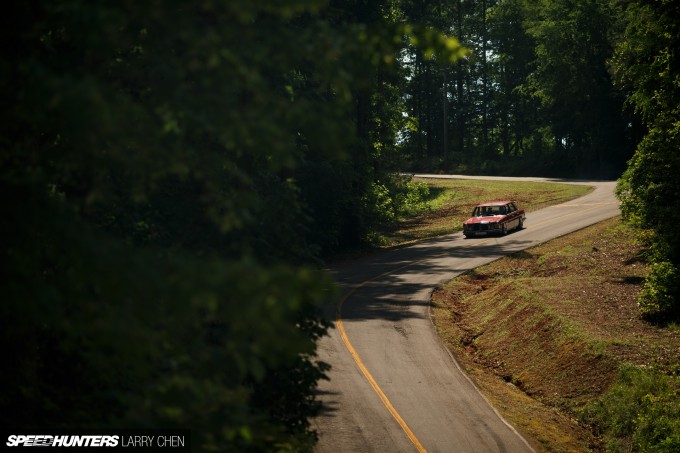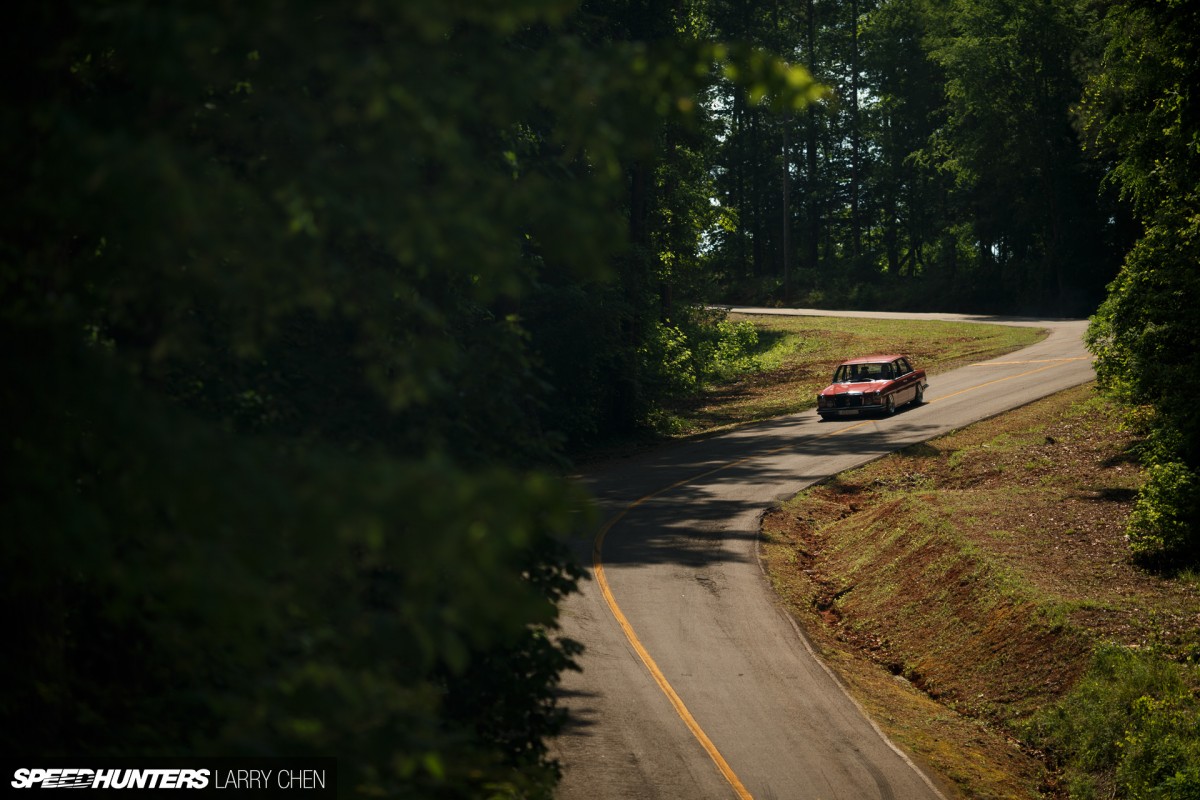 While most normal people probably would have walked away this point, Luke decided to take the car for a spin around the block. He found that things didn't get much better once he had the car on the road. The only things that worked inside were the high beams and the horn. How about the drive? Well, Luke colorfully describes the car's road manners as being like 'a boogie board tied to a sack of potatoes in the ocean'.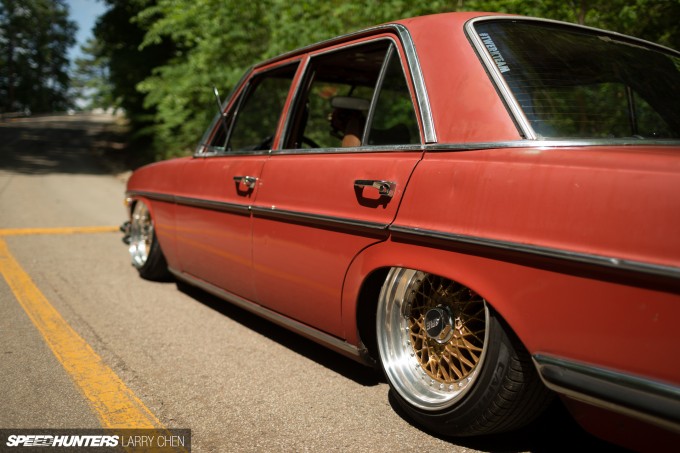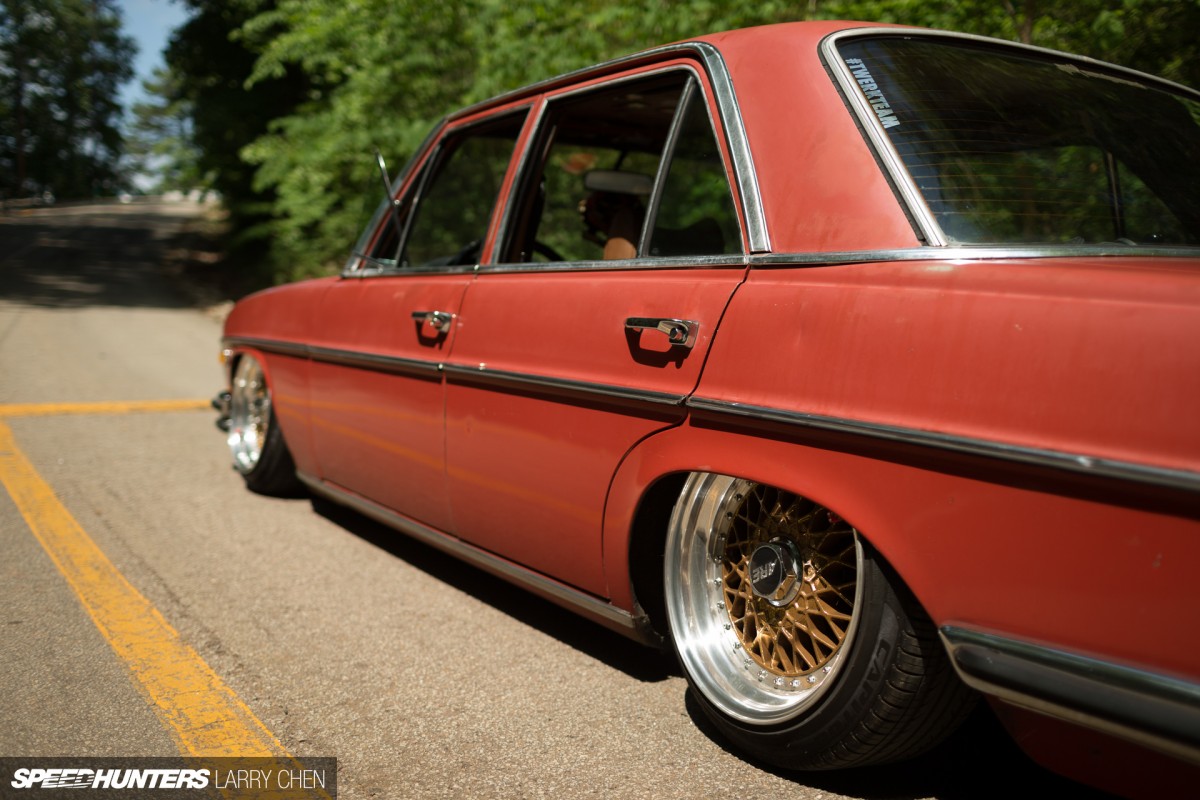 But despite all this, there was something about the car that he couldn't resist. It even had the right smell. After returning from the test drive, money was exchanged, spare parts were loaded into the pickup and the guys set off on the long journey home. The real adventure had just began…
The Adventure Begins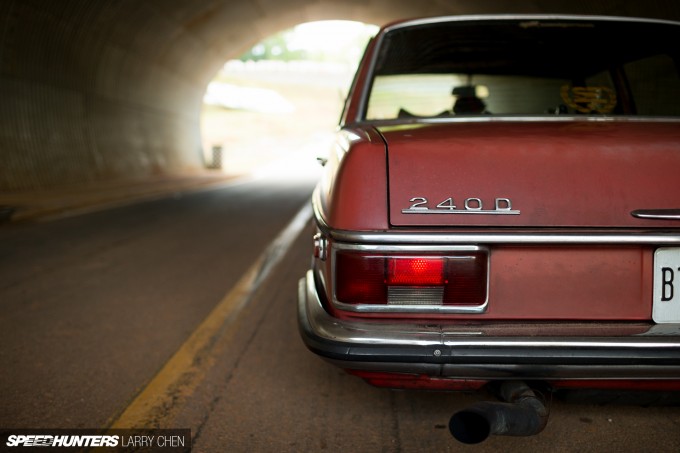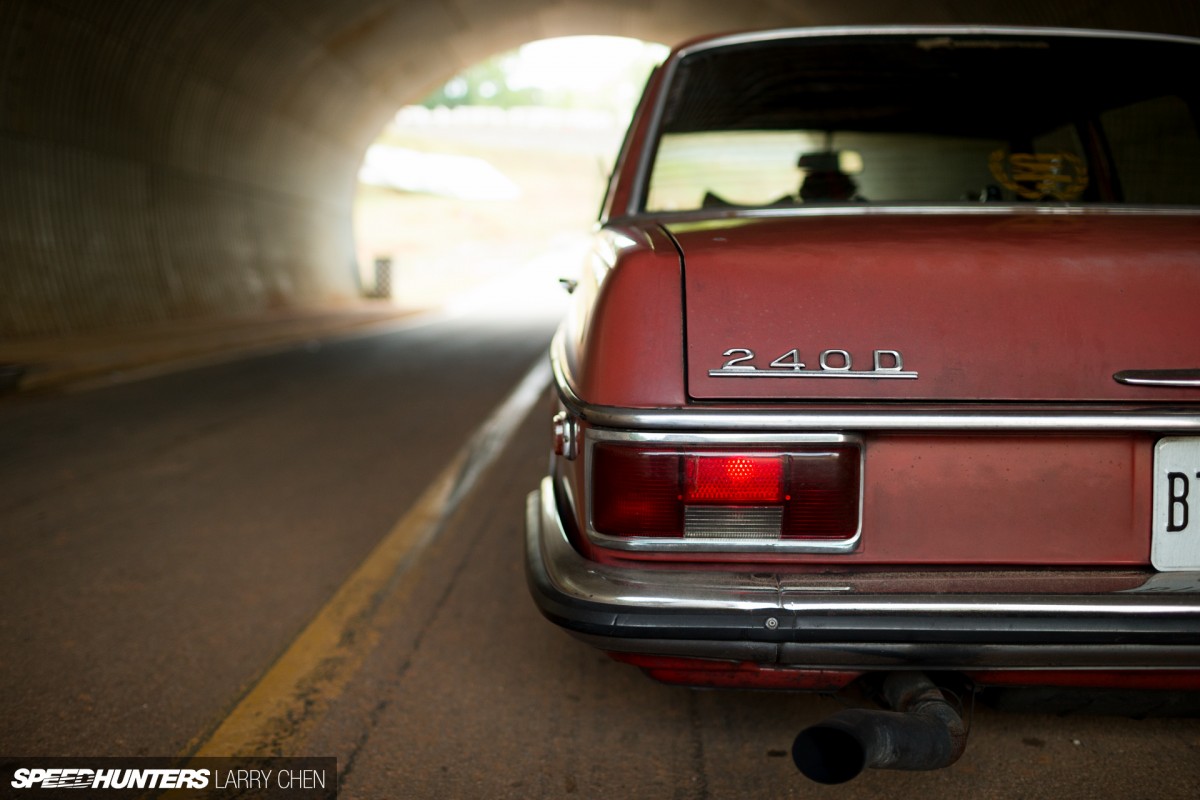 During the ride home, the car broke down once and Luke was literally pulled over six times. Amazingly though, none of the cops actually wrote him a ticket. Maybe they looked over the car and felt sorry for him? Whatever the case, the Benz eventually arrived at its new home in one piece.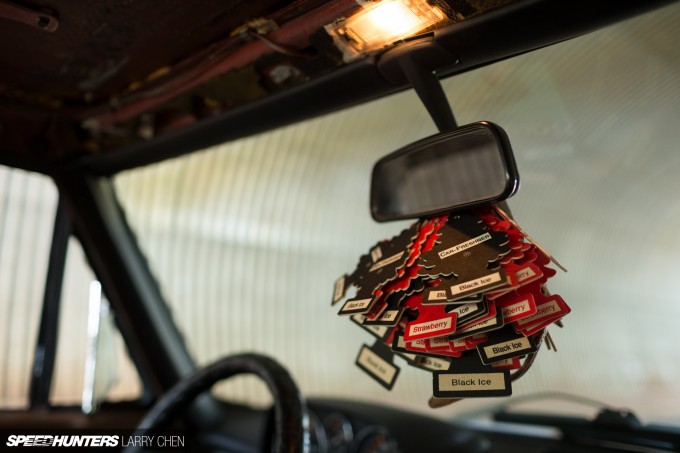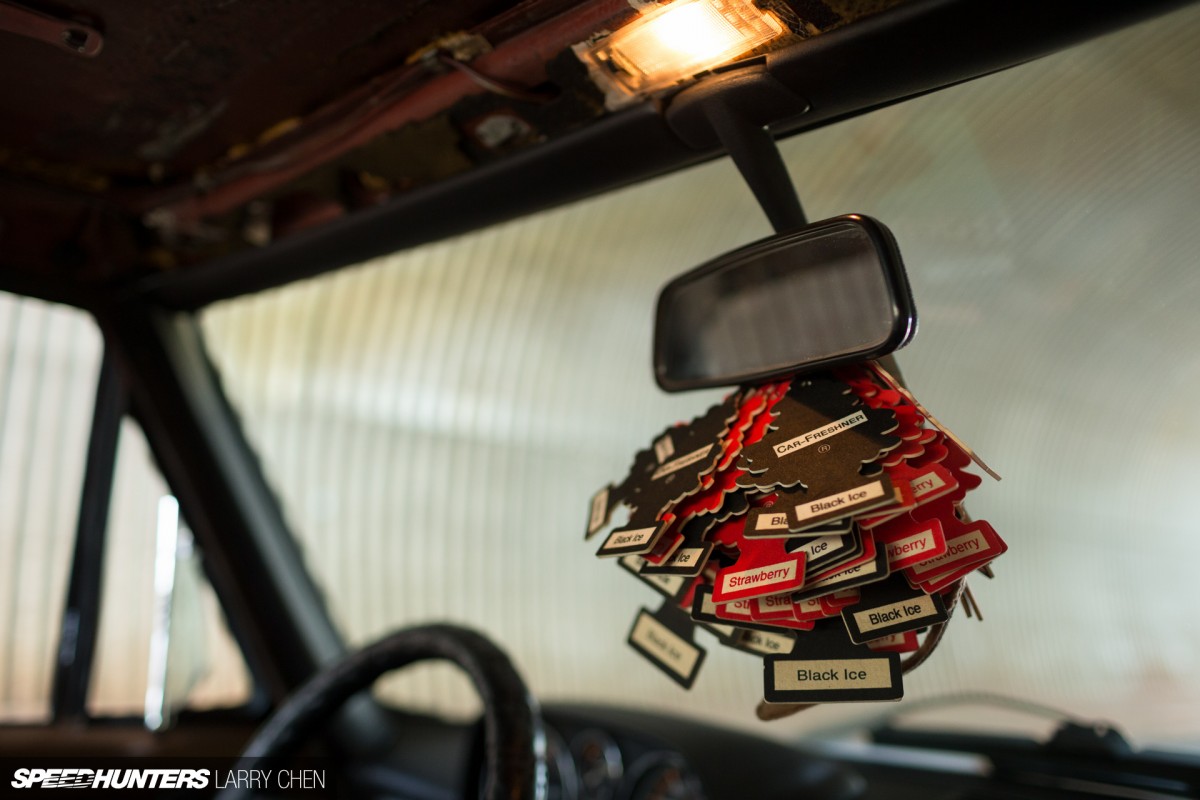 Seeing as how he stumbled across and bought the car randomly, it's not like Luke had any specific plans for the Mercedes. It was obvious that the car needed a lot of work, but he certainly wasn't planning on giving the 240D a full factory restoration or turning it into a gleaming show car. This build was going to be about having fun.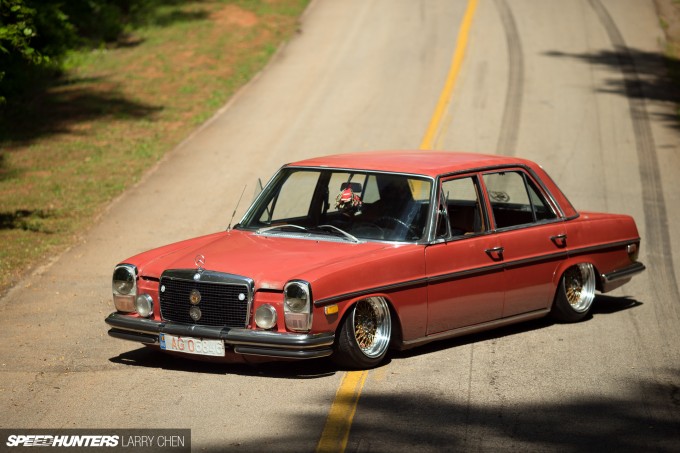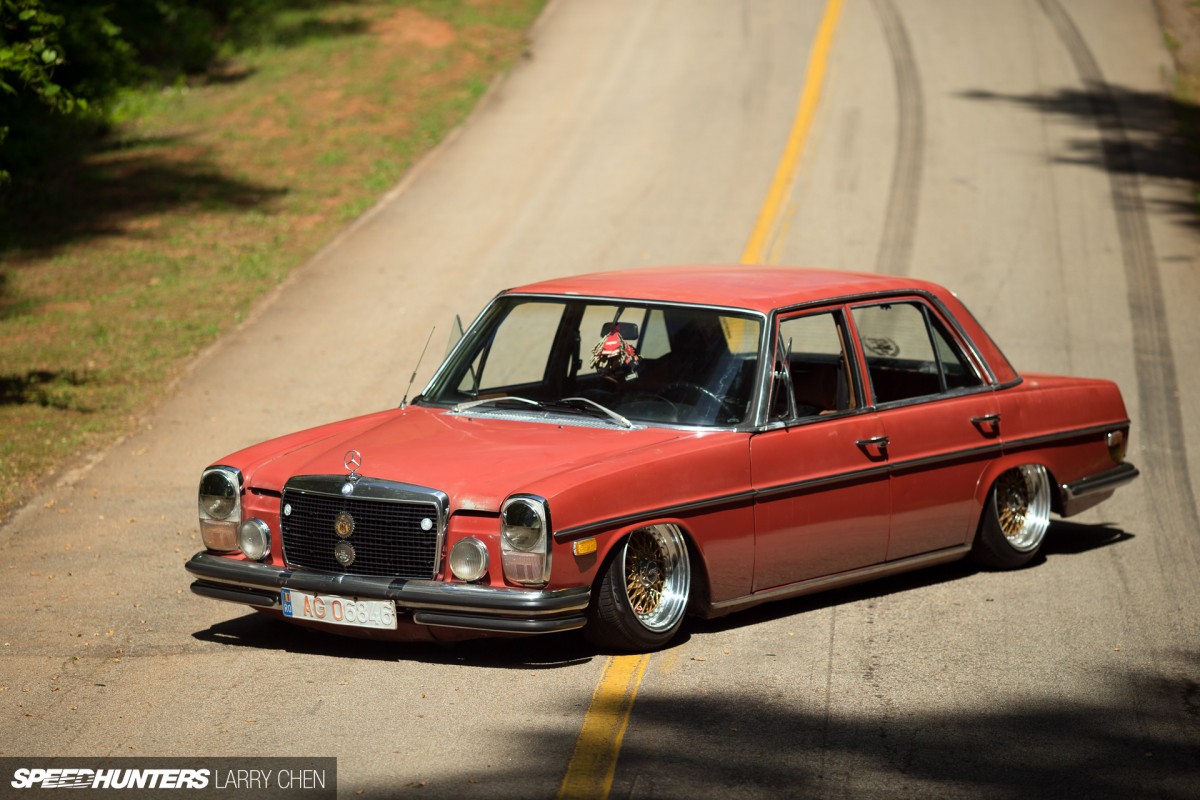 Fast forward three and a half years, and according to Luke, the car actually doesn't look terribly different than it did when he found it – save for its dramatically altered ride height and wheels. It was with this combination of old school appeal and homegrown custom touches that won us over when we found the 240D at Offset Kings in Atlanta last month and gave it our #FeatureThis award.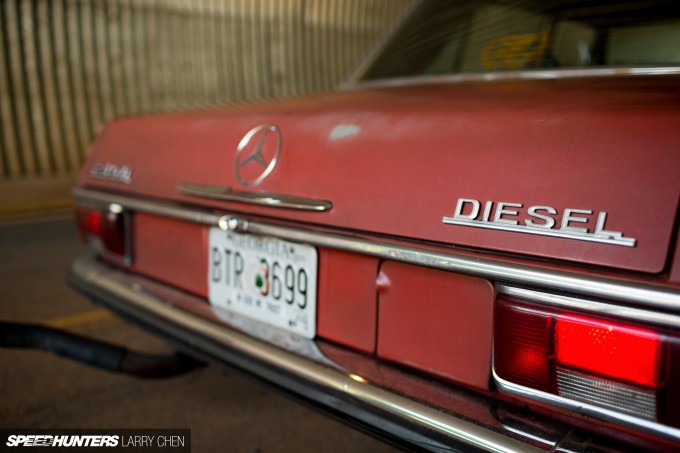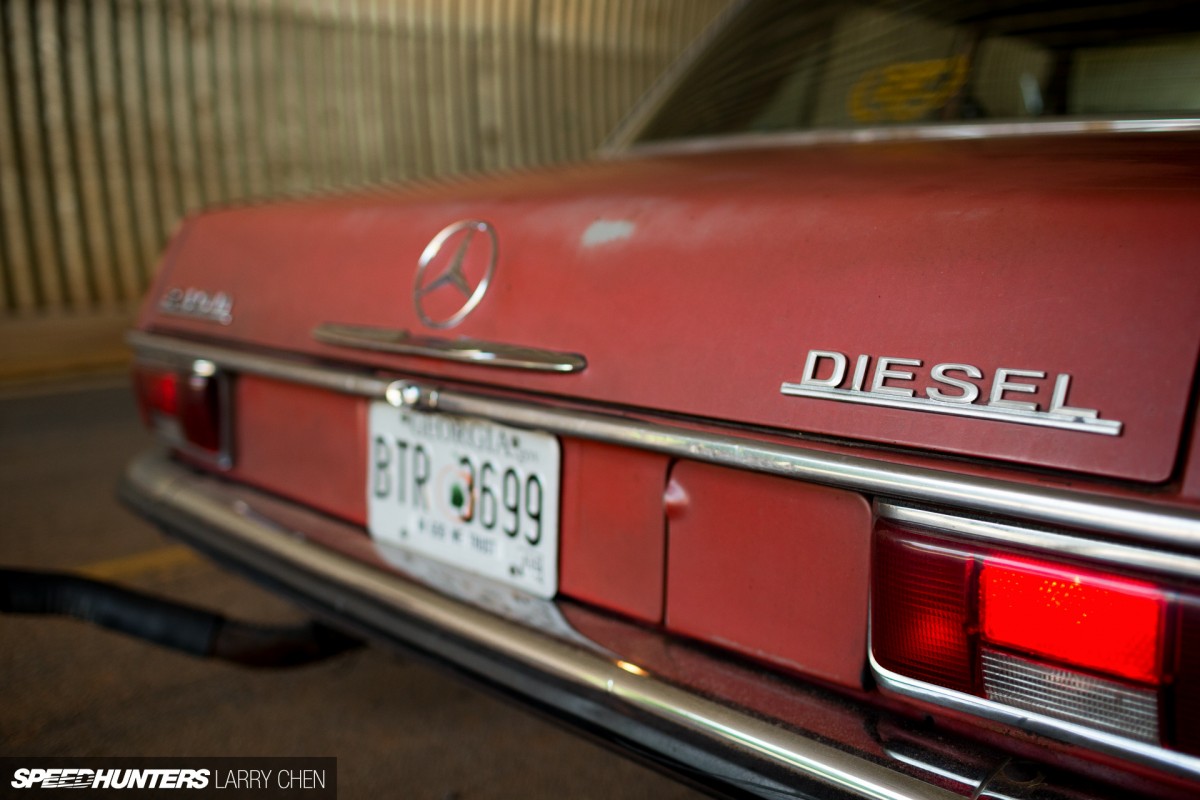 Patina was a big part what attracted Luke to the car in the first place, and it also caught our eyes. The body hasn't been touched since 1974, and we don't expect to ever see this car wearing anything but its factory faded paint job.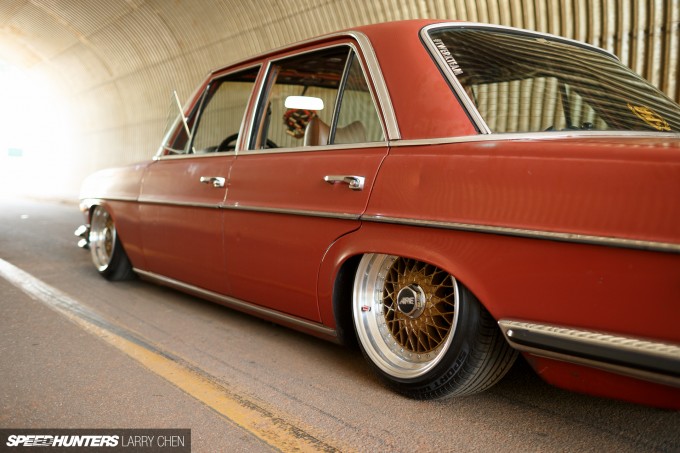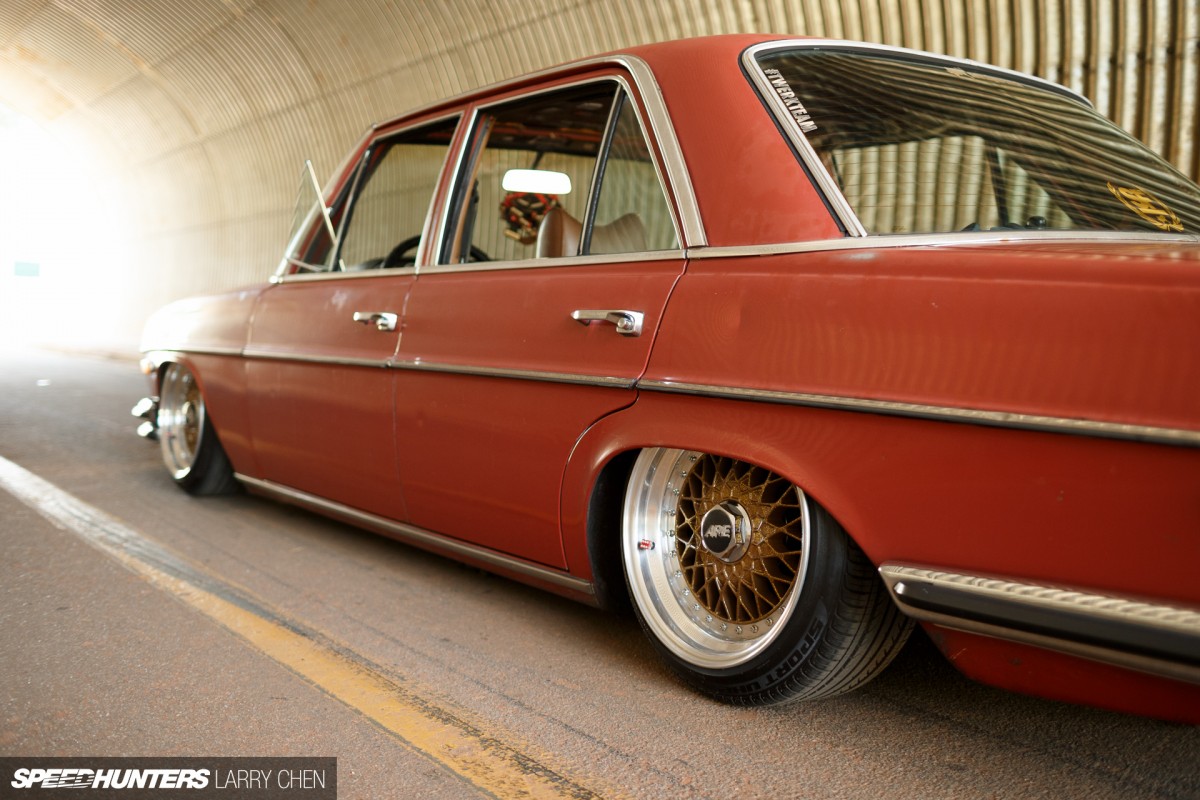 On the other hand, one area where the Mercedes has received lots of attention is the suspension and chassis. There's something very cool about an old luxury car that lays frame, and Luke put a lot of work into getting the Benz to sit right.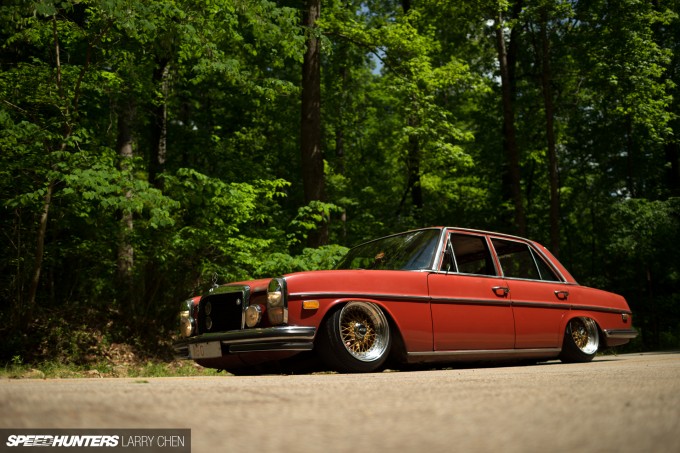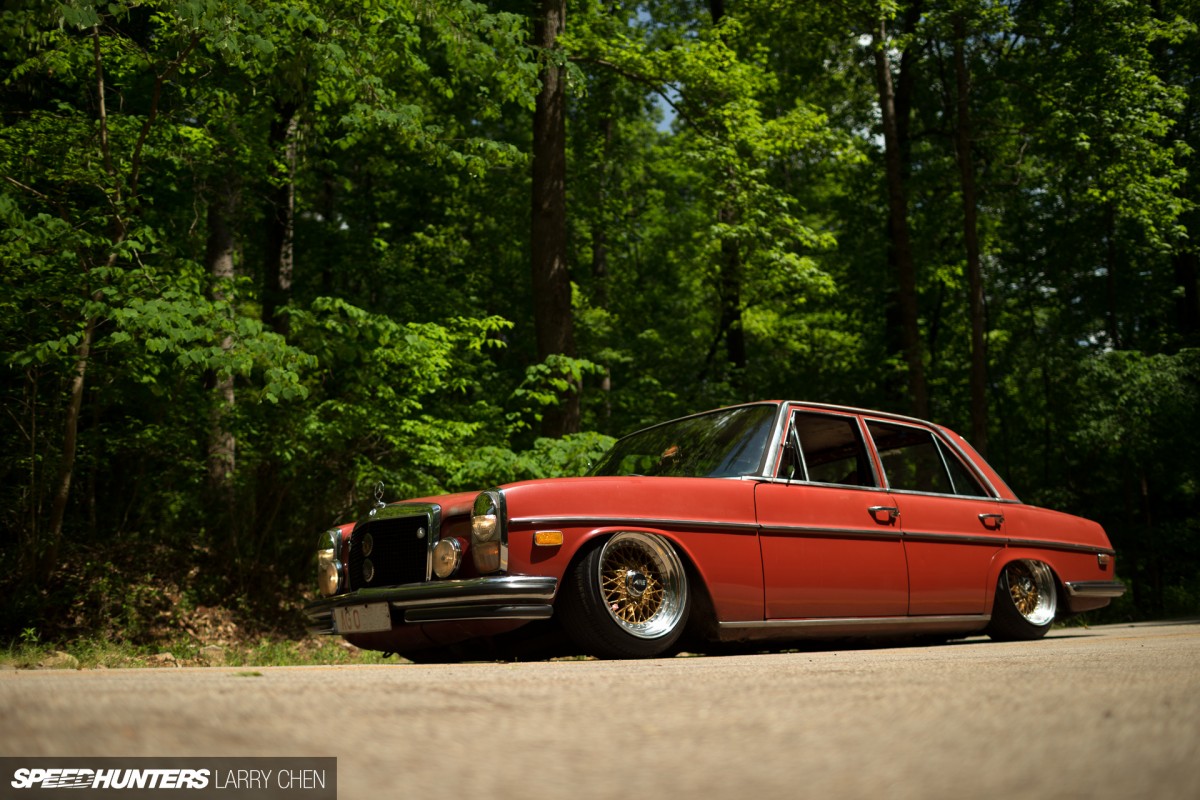 The car is running a custom air suspension setup that uses Slam Specialties bags on custom mounts all around, and '69 Camaro shocks up front.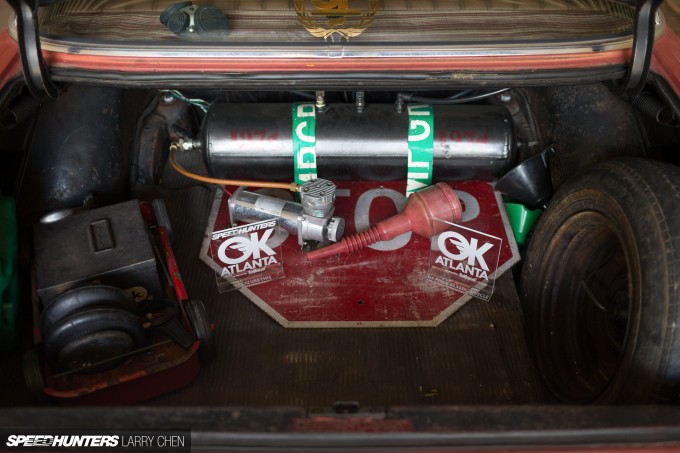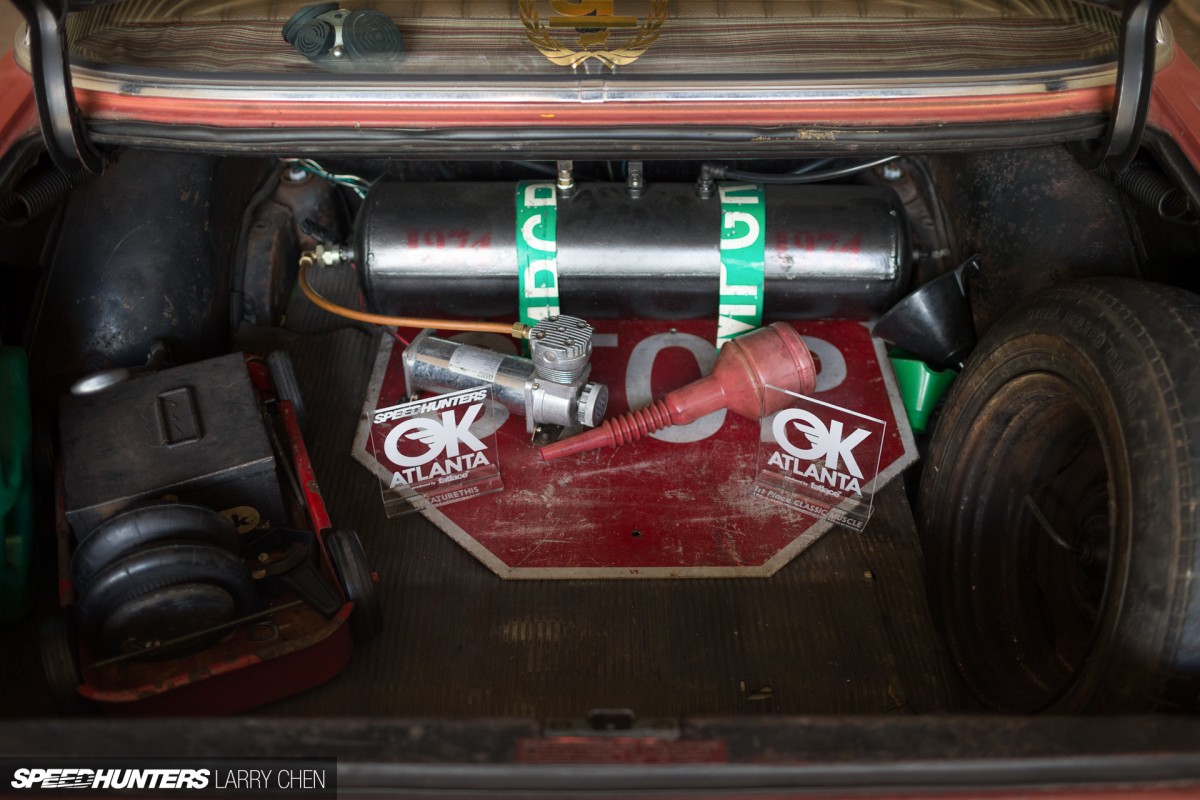 Open the trunk and you'll see the single 10-gallon air tank that's been mounted up using old road signs that Luke found somewhere.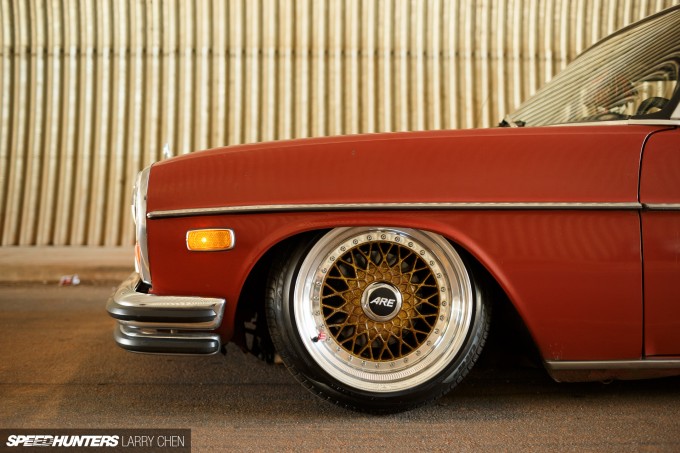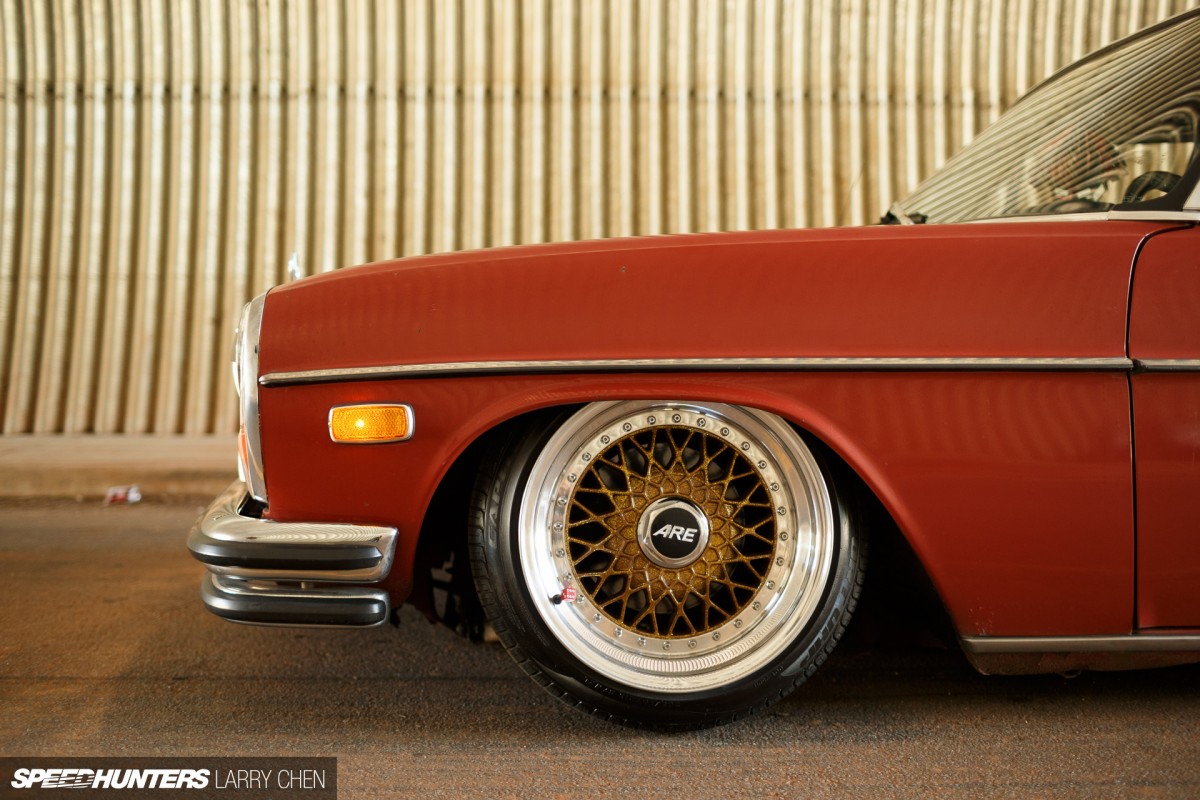 Tucked into the fenders are a set of ARE/Enkei mesh wheels that measure 16×9.5-inch at each corner with 205/40R16 tires all around.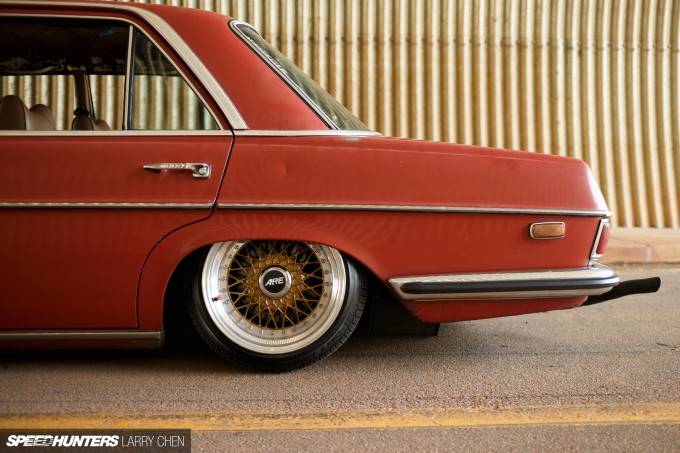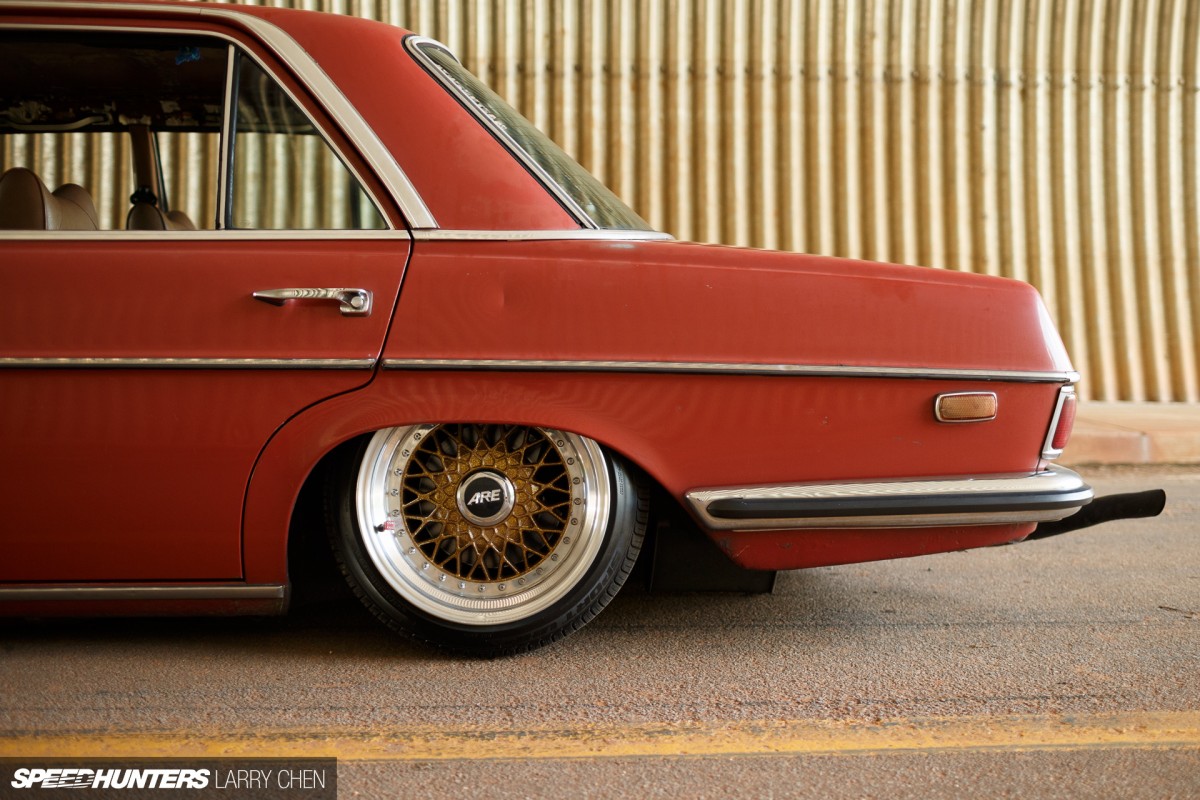 Before mounting the wheels on the car, Luke had the lips completely refinished at Wildman's Rod Shop and painted centers himself, giving the just right amount of contrast against the patina-covered body.
Retro Feels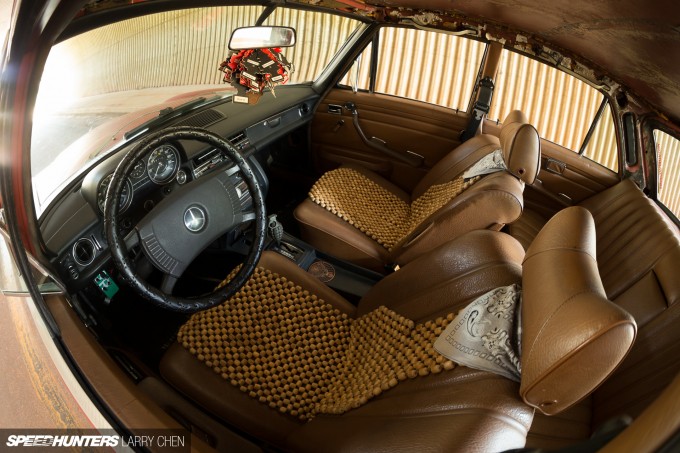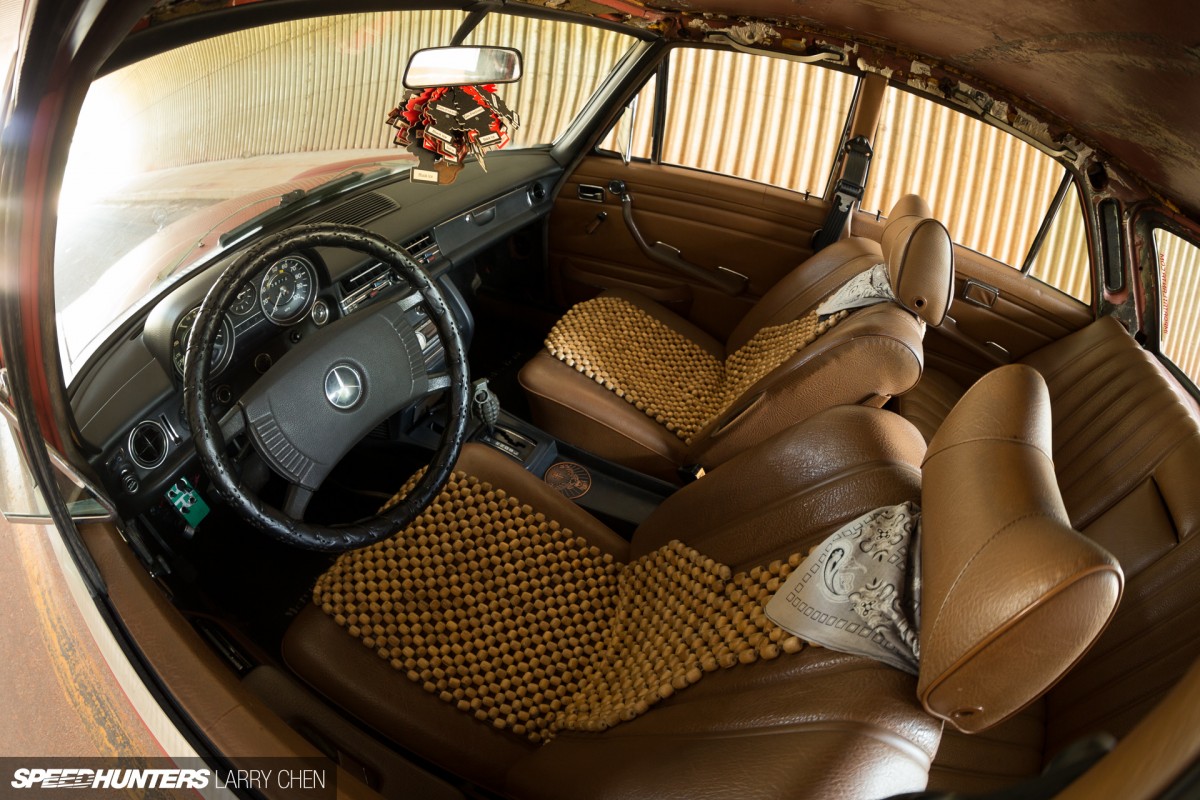 Inside, Luke ended up swapping out most of the trashed interior parts in favor of those from a W114 Mercedes-Benz. It's certainly not show quality, but it's not a bad place to be for road trips.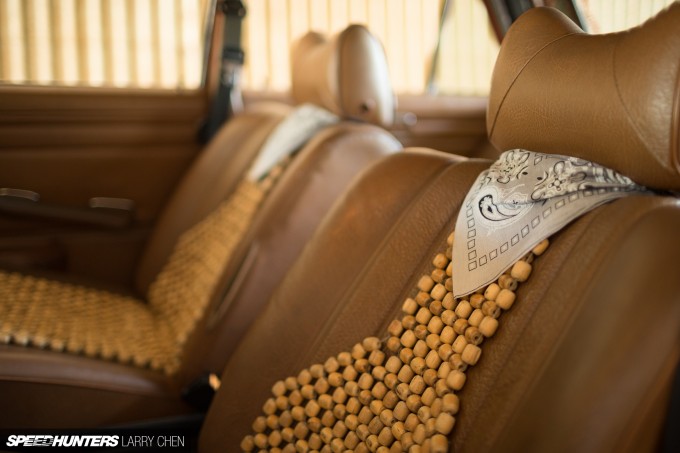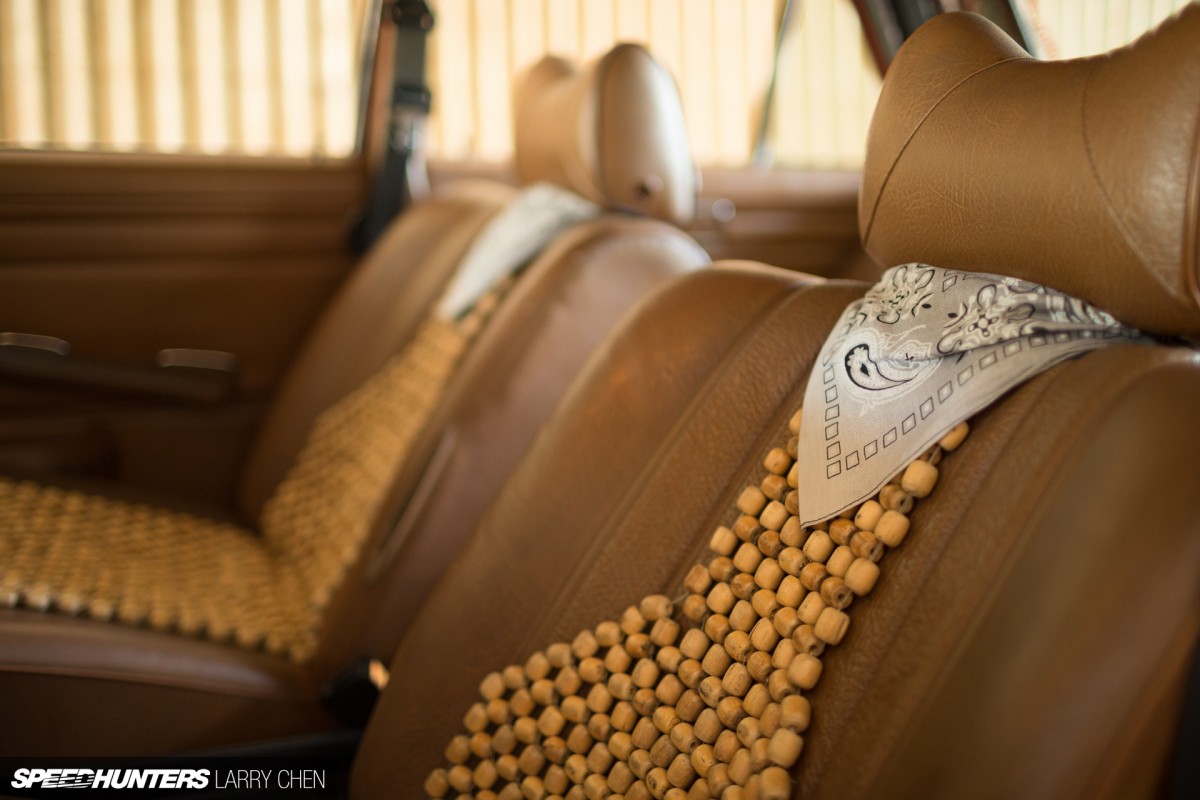 He's also added some beaded seat covers which give the interior just the right retro look. Remember when these things used to be in almost every car?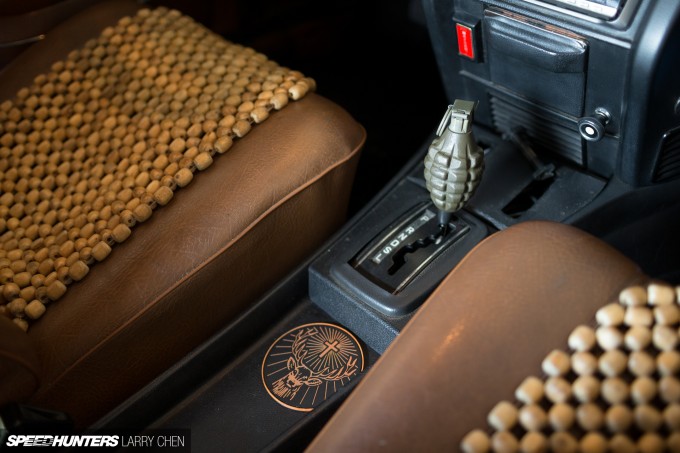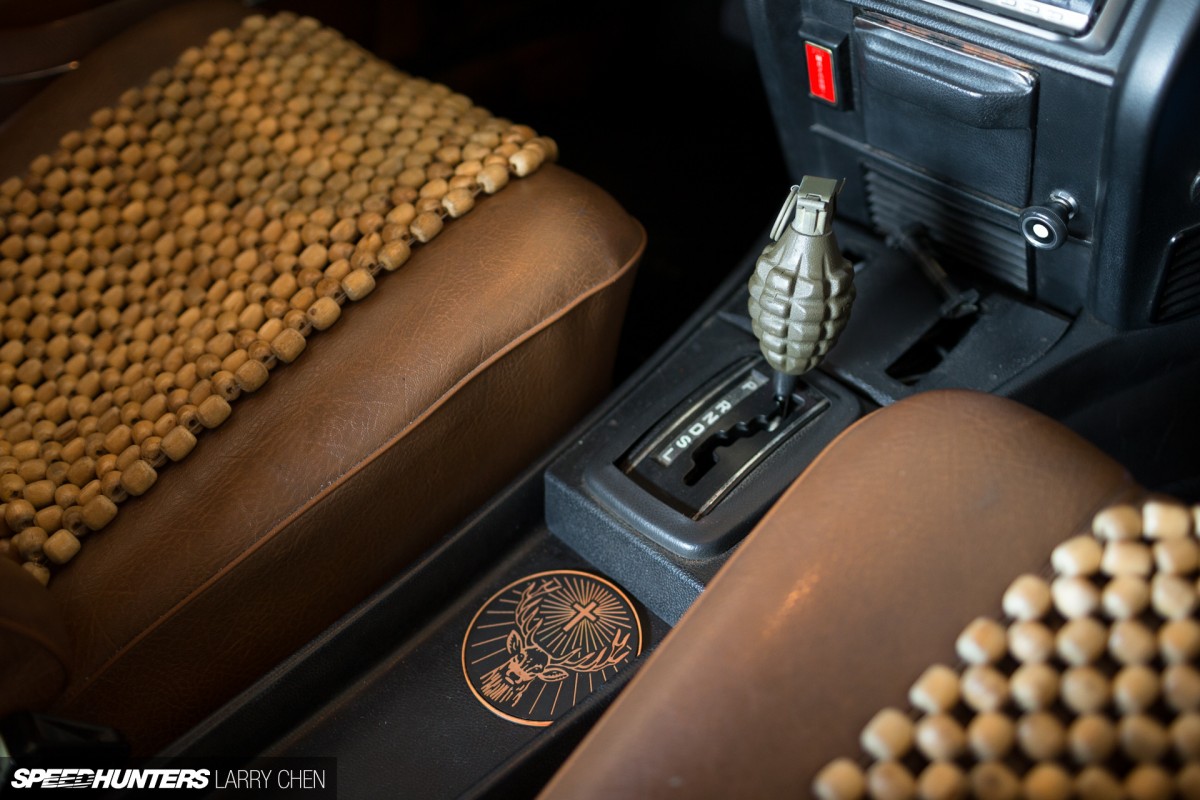 Other creative touches include things like a hand grenade shifter and a whole stack of Little Trees air fresheners. As you can see, this is not a car that takes itself too seriously.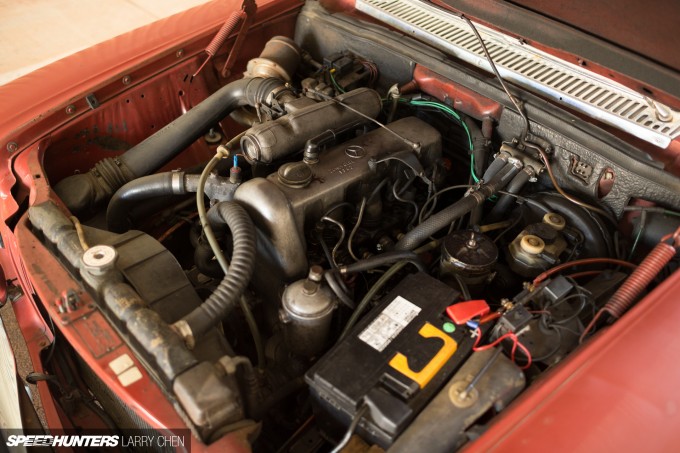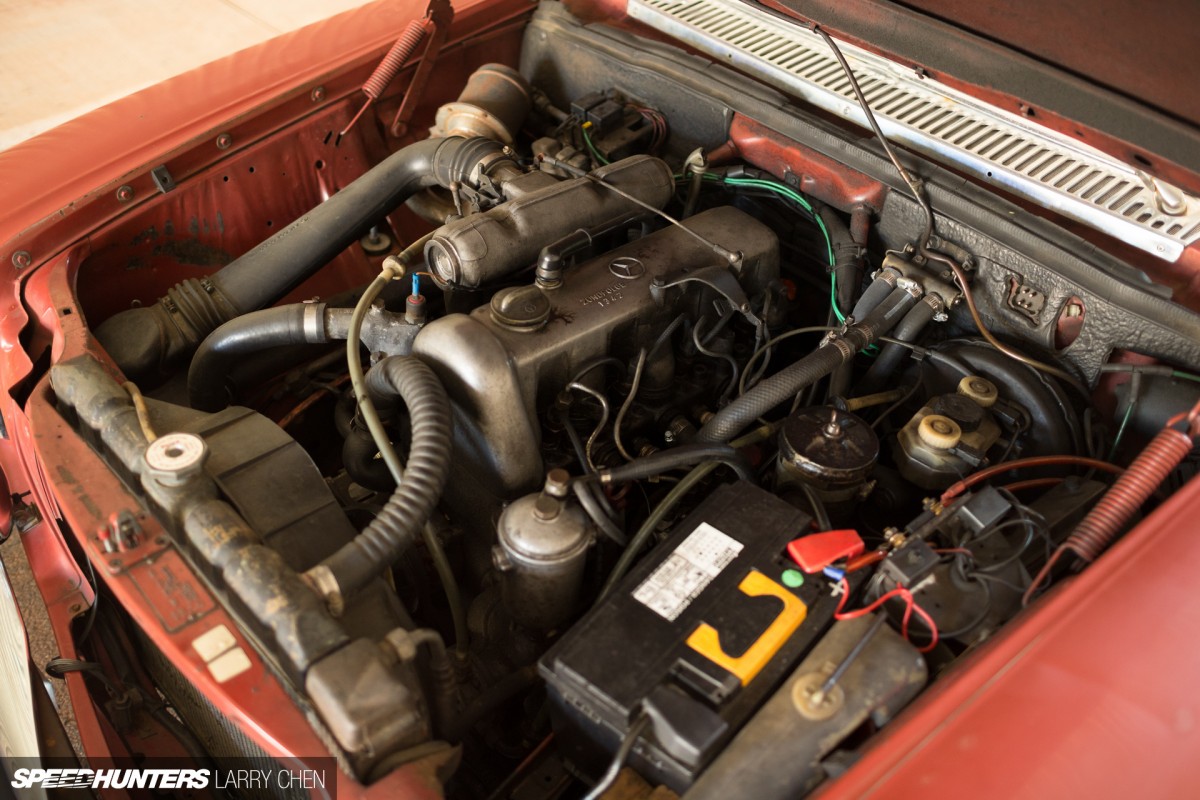 Under the hood you'll find the stock 2.4-liter diesel four cylinder which has kept the old Mercedes trucking down the road without major issue. Eventually Luke says he'd like to swap in a Cummins Turbo Diesel motor.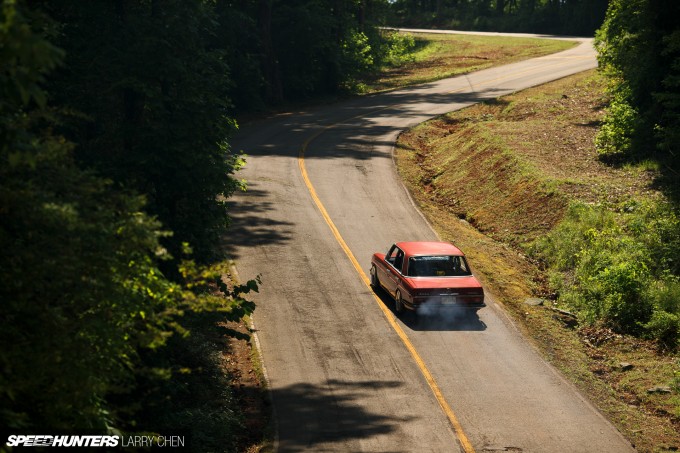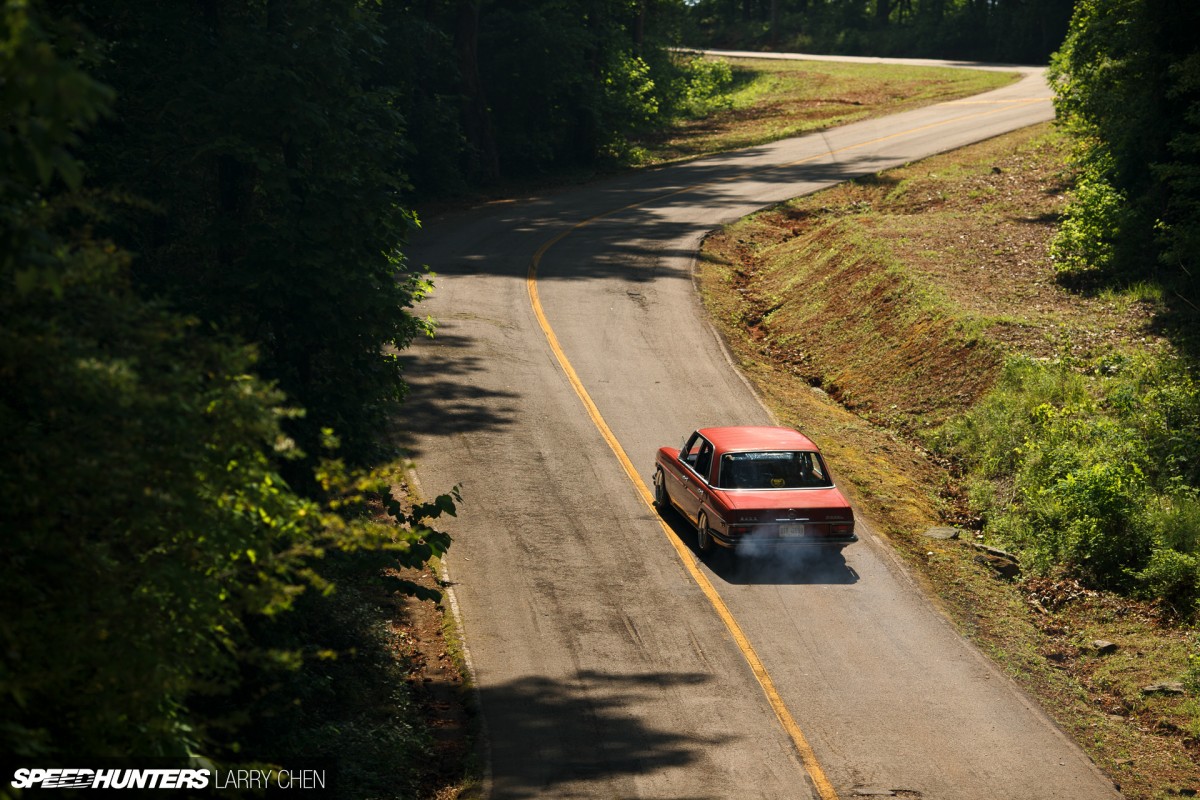 Other than that, he just plans to keep driving and enjoying the car. He has no plans to ever sell it, and he'll only say goodbye when the car gets wrecked or rusts into the ground.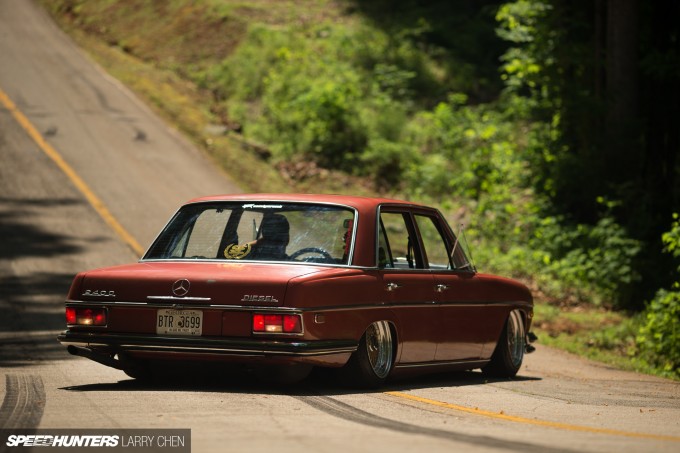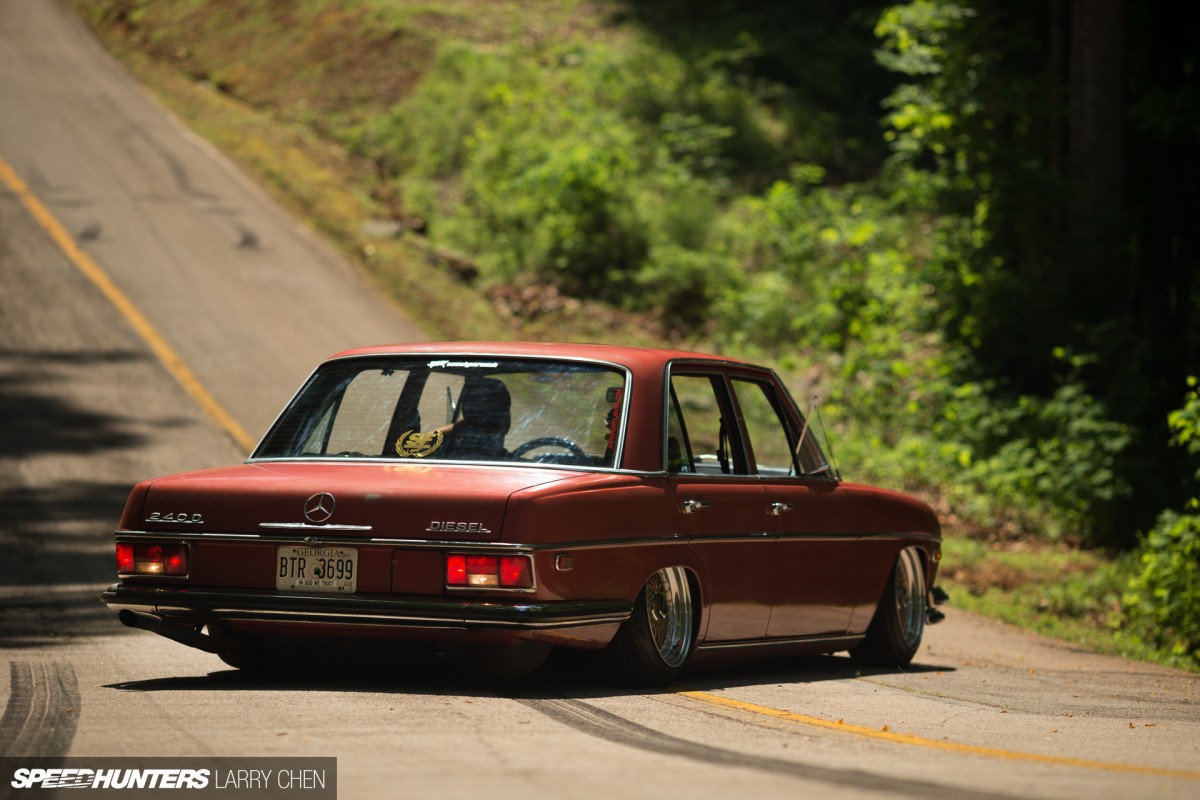 Many of life's biggest moments seem to come out of nowhere, and when it comes to cars things aren't much different – as we've seen with the journey that Luke and a Benz named Elvis have been on together.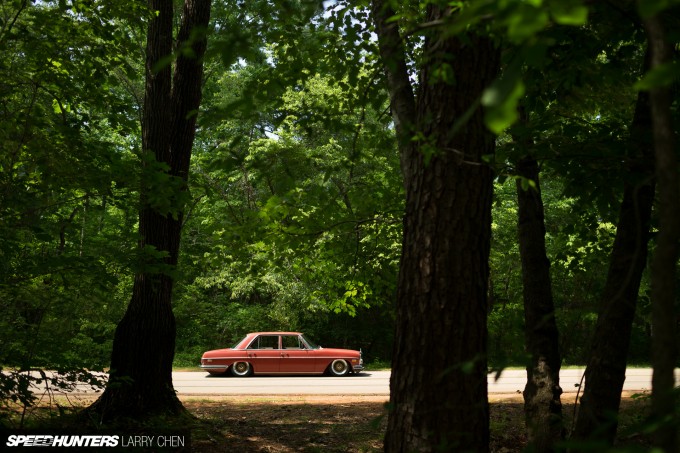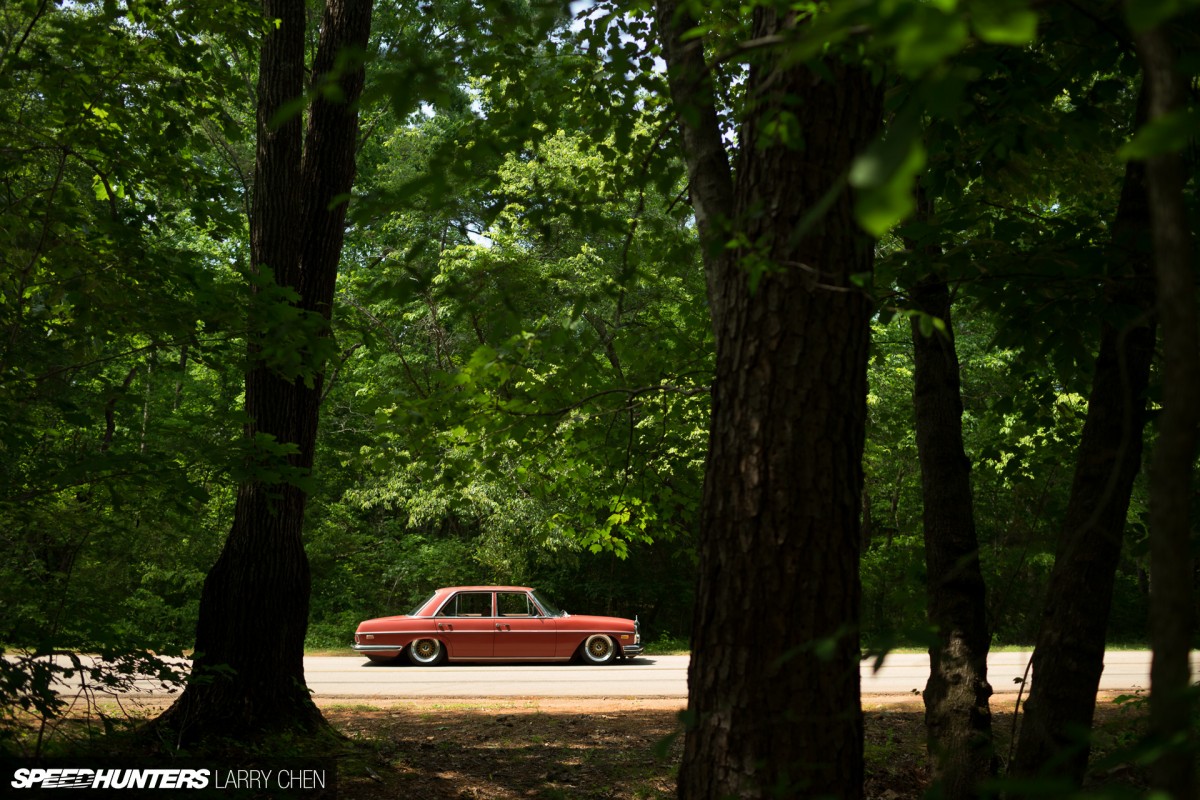 Who knows what kind of life-changing adventures you could wind up on the next time your take a browse through your local classifieds?
Mike Garrett
Instagram: speedhunters_mike
mike@speedhunters.com
Photos by Larry Chen
Instagram: larry_chen_foto
larry@speedhunters.com
Cutting Room Floor