Built To Beat Down On
It's two in the morning, my deadline is approaching and my new Speedhunters email account is binging off the Richter scale with incoming messages as I'm rewriting this story for the third time in effort to find any possible way to describe this beast that sits before your eyes. But in reality, I can't. I just can't…
It's not because it's a Euro and I've grown up on a staple diet of Japanese cars, nor because of its domestic stripes. It's because it's a one-of-a-kind, 100-percent-garage-built, tire-slaying monster unlike any other; that's had enough blood, sweat and tears sunk into it to make your eyes bleed. Quite simply, if the devil drove a Volkswagen Caddy this would be it.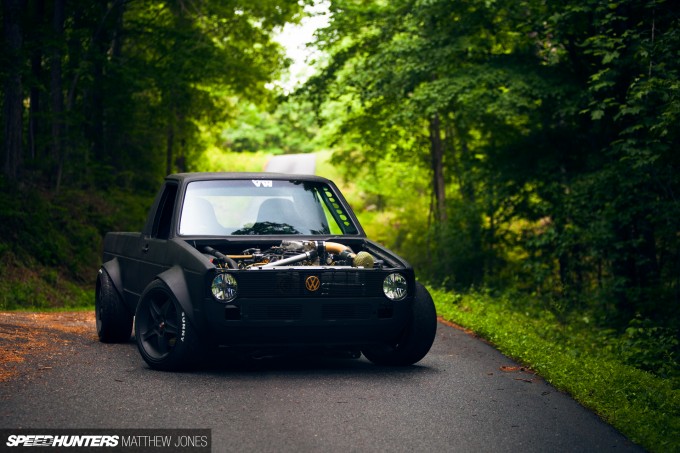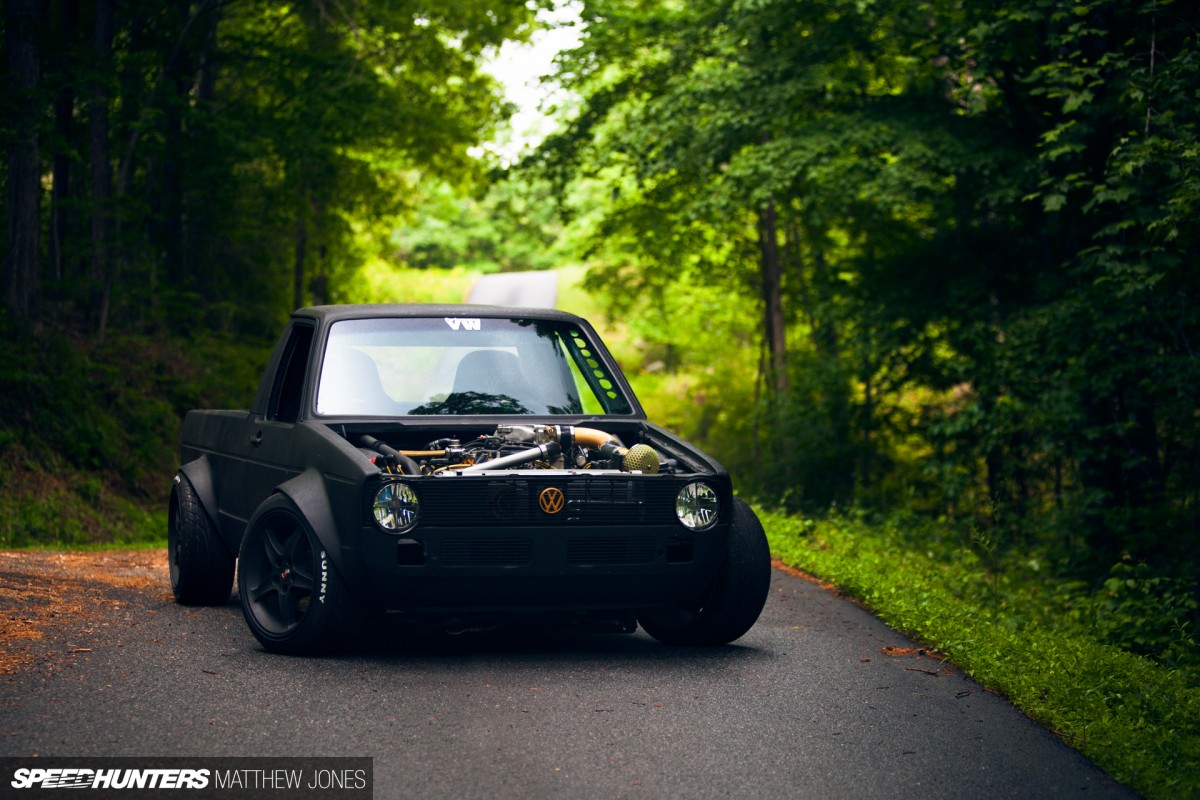 I wanted to go the creative route and start this story by talking about how I built skate ramps as a kid and always mixed and matched a variety of different elements in relation to this badass MK1's interracial constructionism. But that just seemed way too fluffy.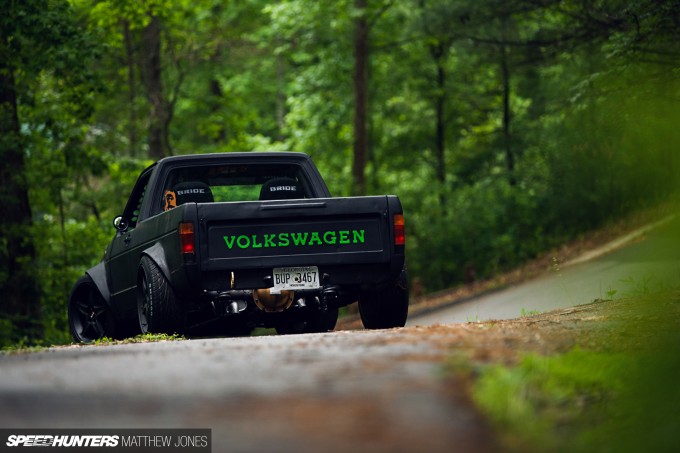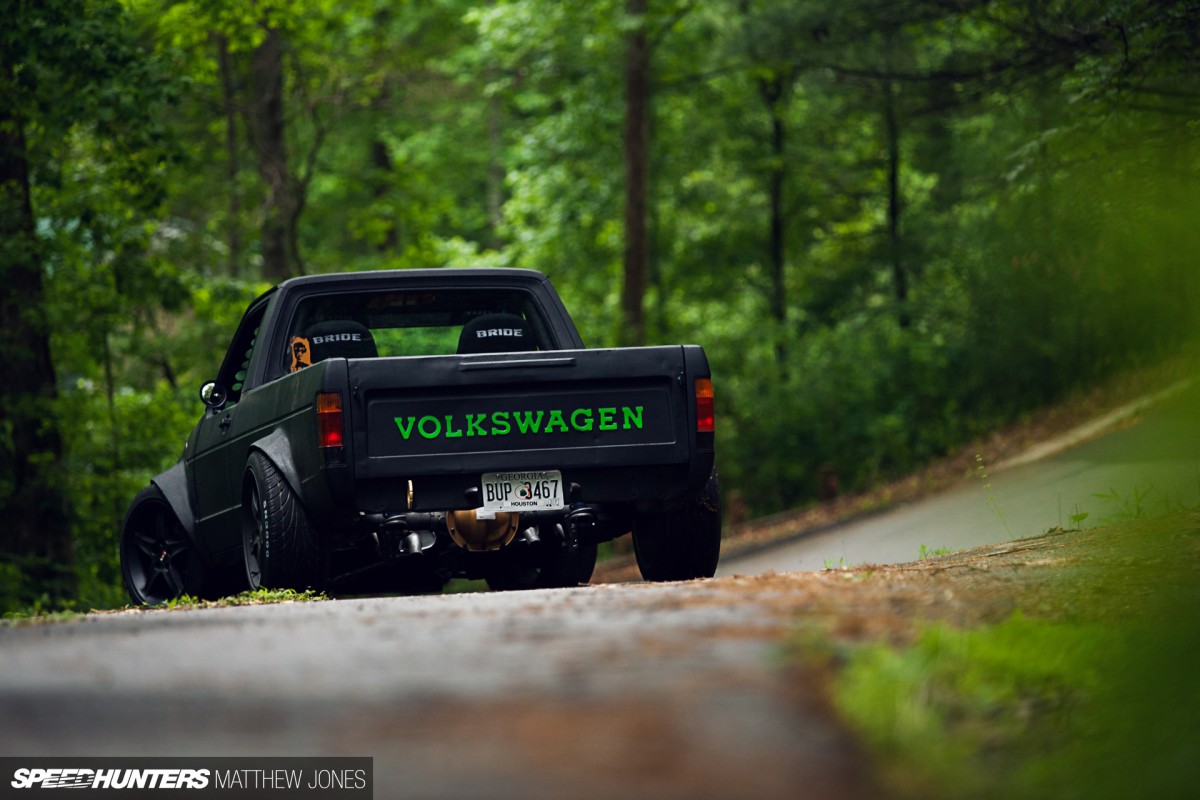 I tried a few different angles, but every time I closed the computer I kept rethinking what I had just jotted down and couldn't escape the fact that it all sounded flat-out weak. And I couldn't let it happen. This truck is just too damn raw. It deserves nothing more than to be portrayed in the purest form of sincerity as possible.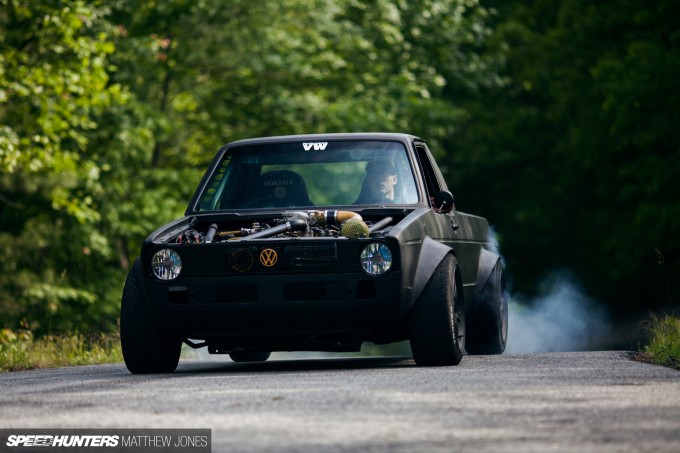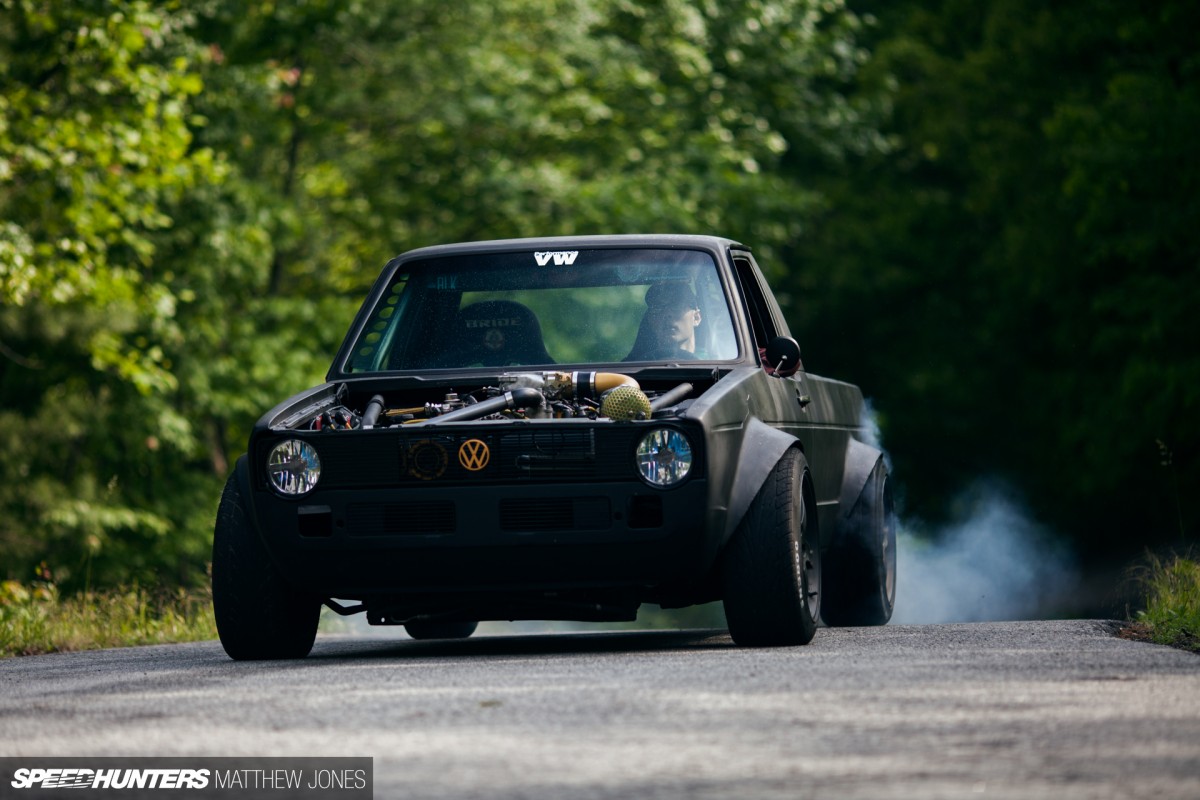 Can you blame me? Thats the way it should be, right? The owner didn't try and fluff the build with perfect panels and a showroom shine, so why would I dress this text up in red lingerie and stilettos?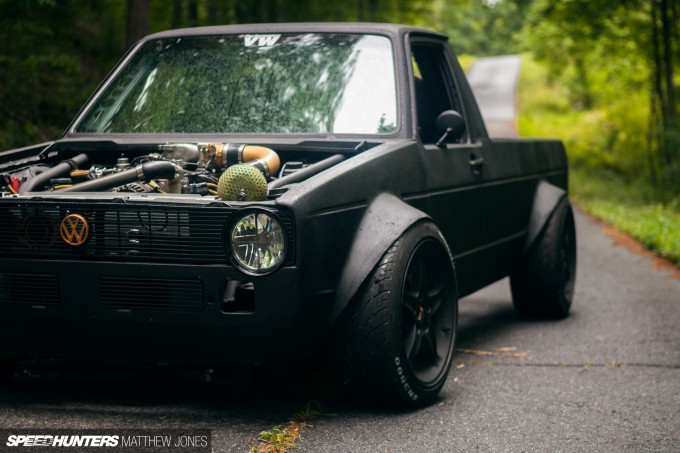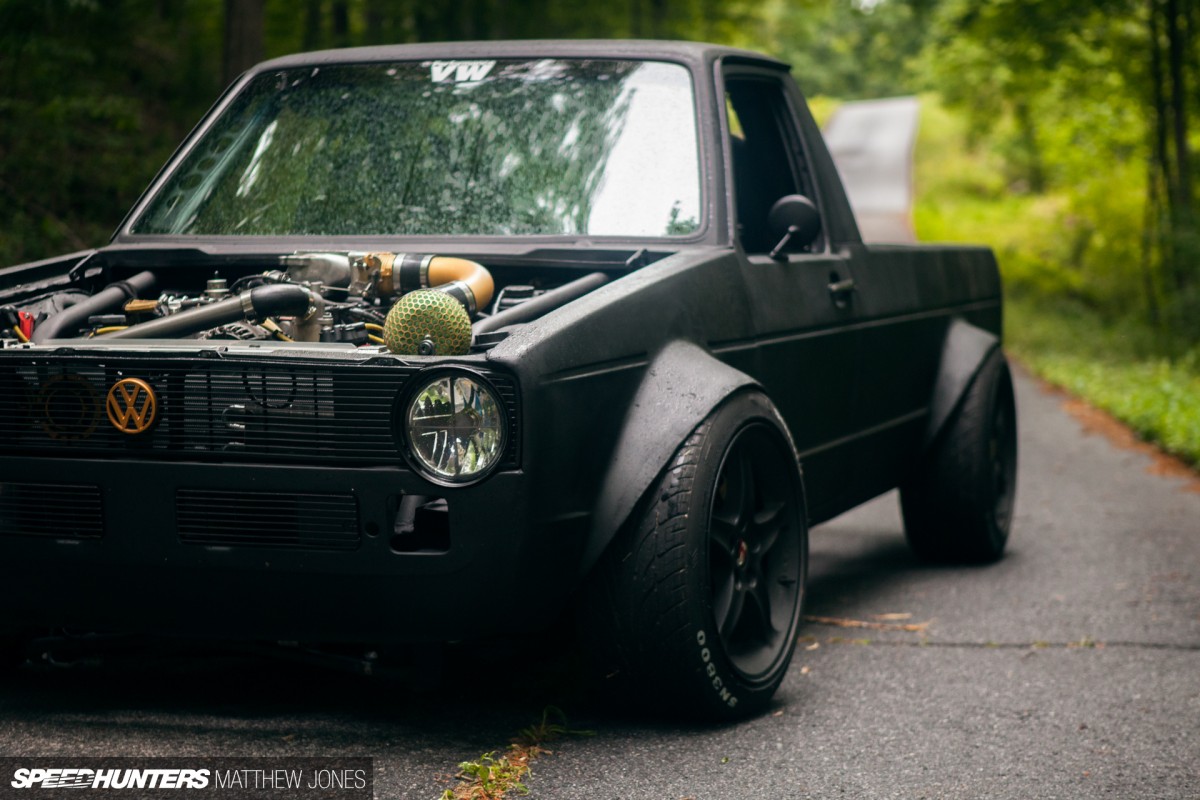 Fox example, just look at those fenders. Gnarly right? The Caddy's owner, Shane Drake, had previously never even spent a single hour on body work, did them himself. And the paint job? You'd better believe it's none other than a coat of that rattle can matte black special.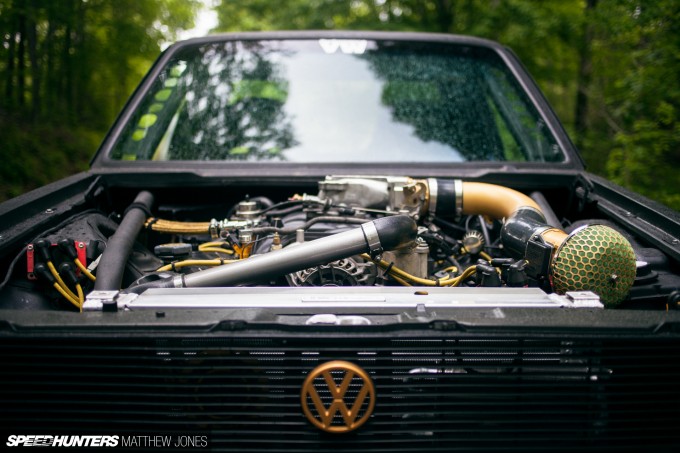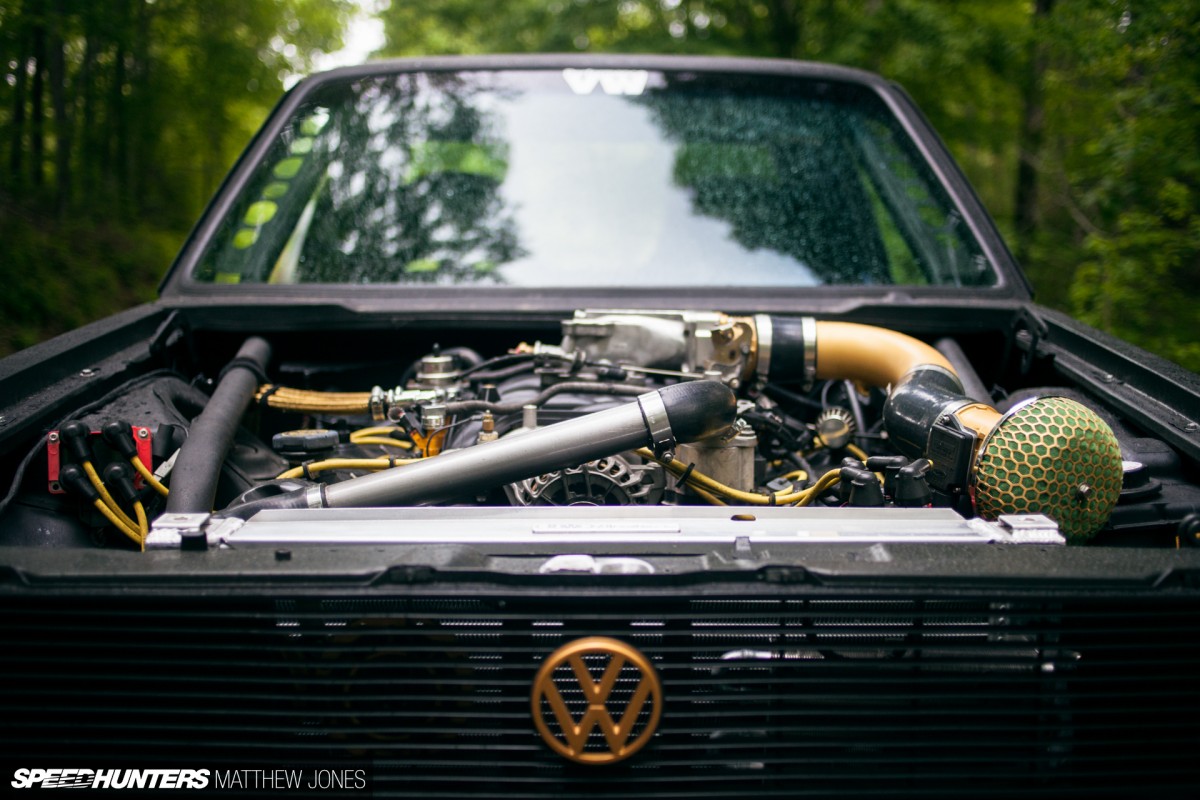 Not to be offensive, but I think the more you look it at, the more it really becomes one of those 'cute from a far, but far from cute' situations. But then again, who really cares when your hand-built MK1 Volkswagen Caddy has a 5.4L Triton V8 sitting in-between its front shock towers. And since when have monsters ever been beautiful anyways?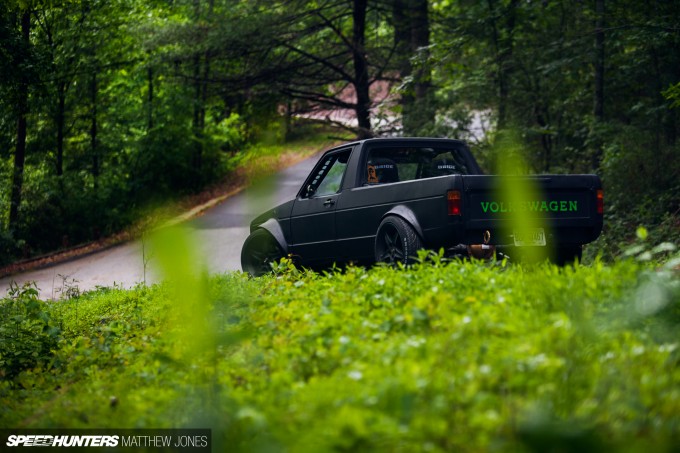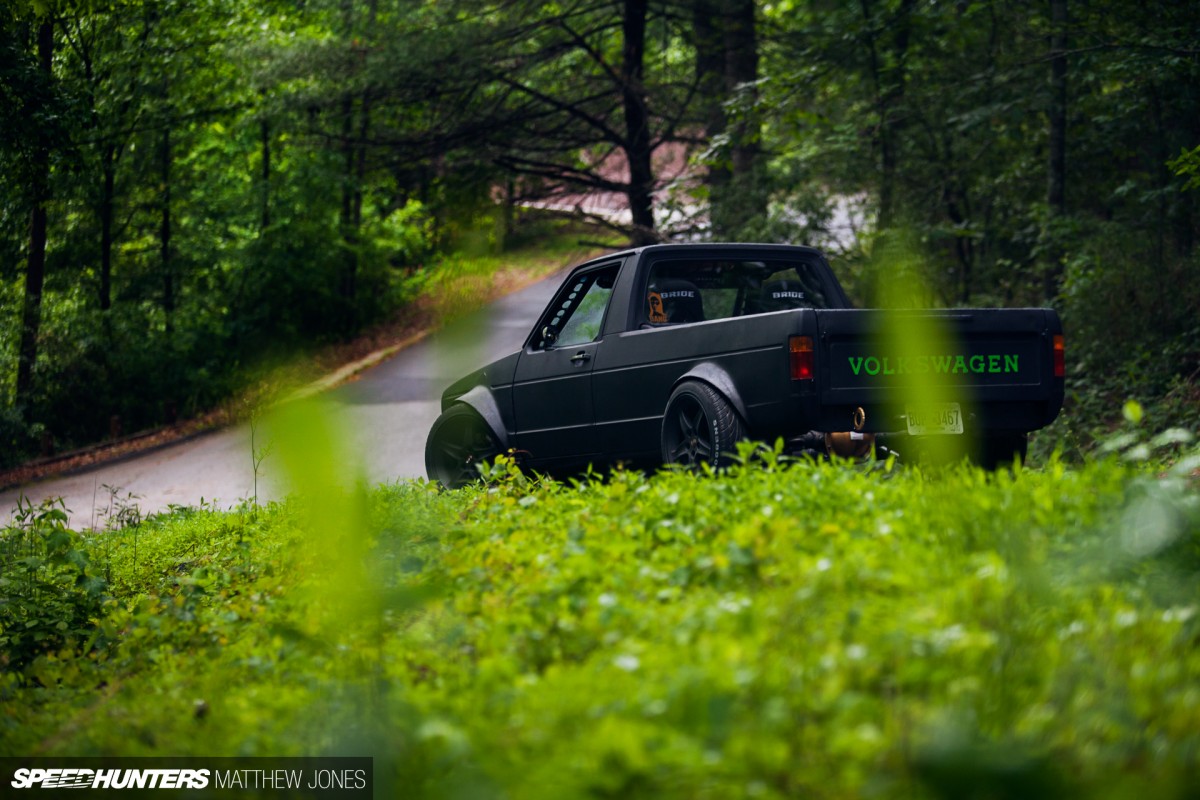 Oh, yeah, when they have a budget, a real work space with industry-standard equipment and more sponsor stickers than window space – that's when. Well my friends, throw all that crap out of the equation immediately before clicking the next chapter, because this Frankenstein is all but that.
An iPhone For An Engine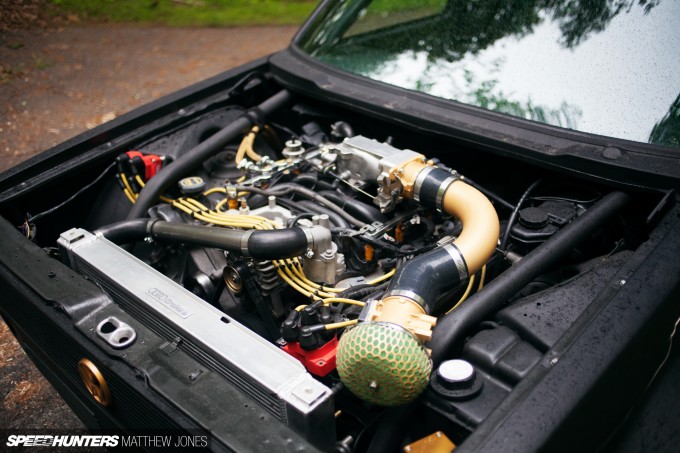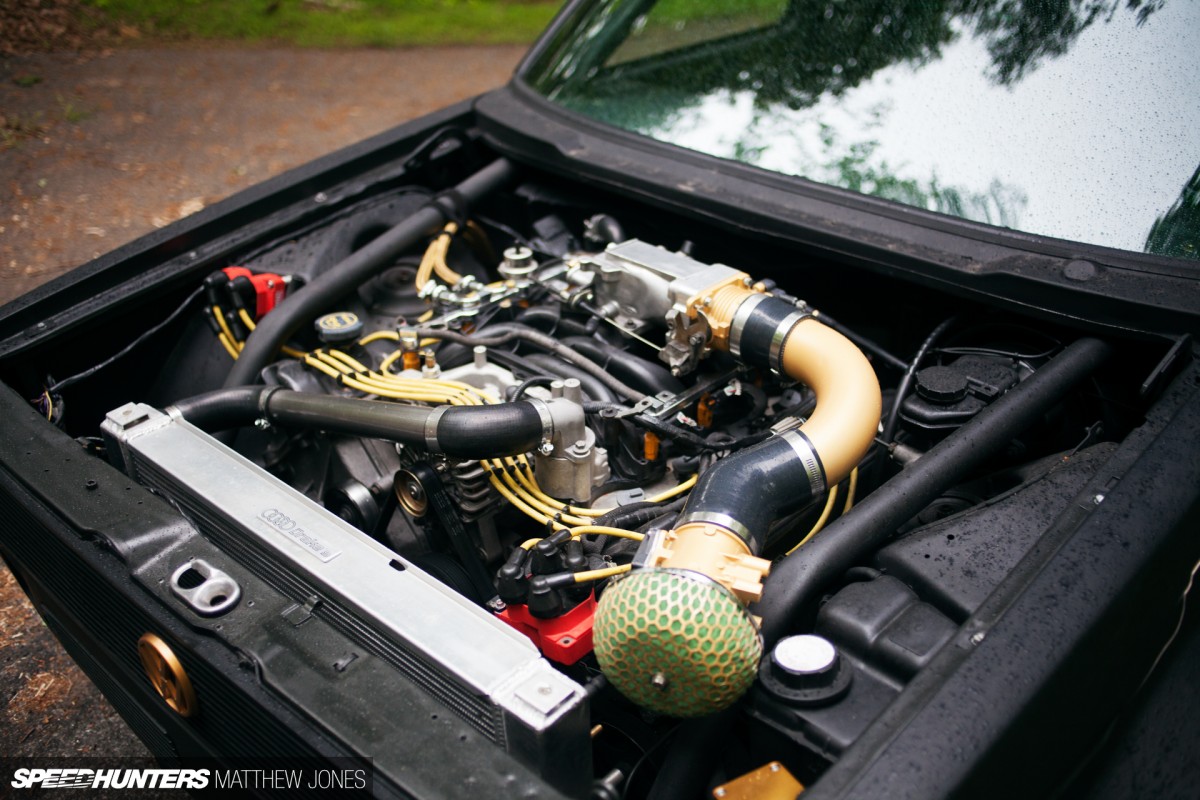 As I mentioned a few sentences ago, this bad boy is powered by a vicious Triton engine. To bring those of you who are unfamiliar with the platform up to speed, this 5.4L hunk of V8 metal is the block Ford uses for all of their most heavy-duty work trucks. Then, when produced in all aluminum rather than aluminum/cast iron form, it's the engine that Ford uses to bring its GT500 to life. Crazy, right? Hardly…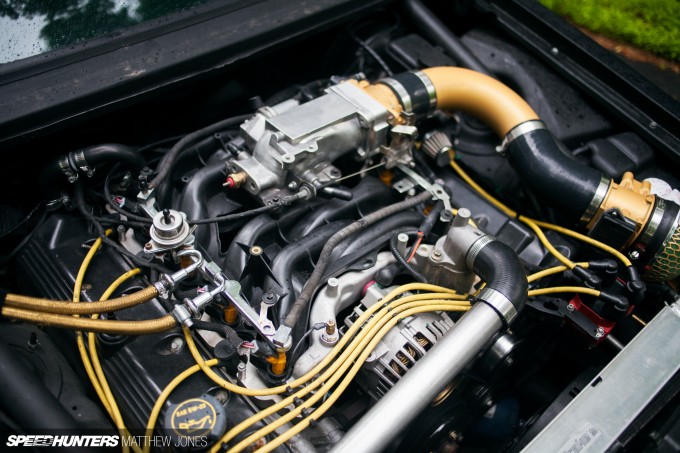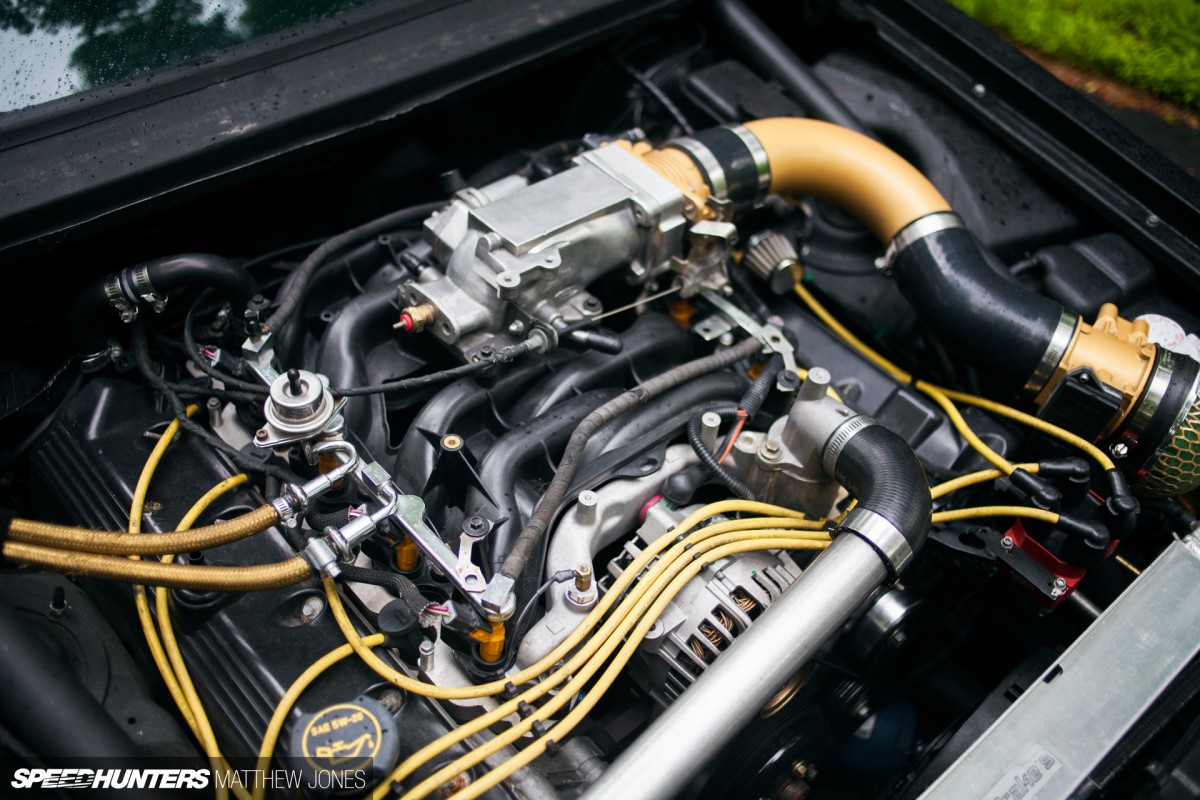 What's crazy is how the engine was acquired. You'd be amazed and what you can find on the greater Atlanta area craigslist, and when looking for a plug-and-play powerplant for his donor Caddy, Shane found an interesting post for a Triton V8 listed 'for trade'.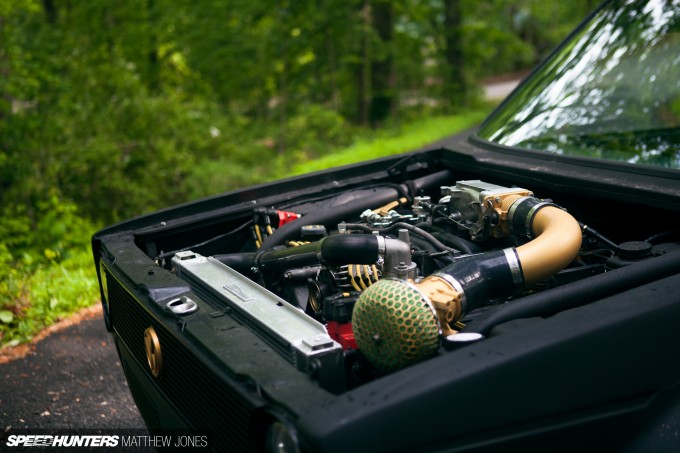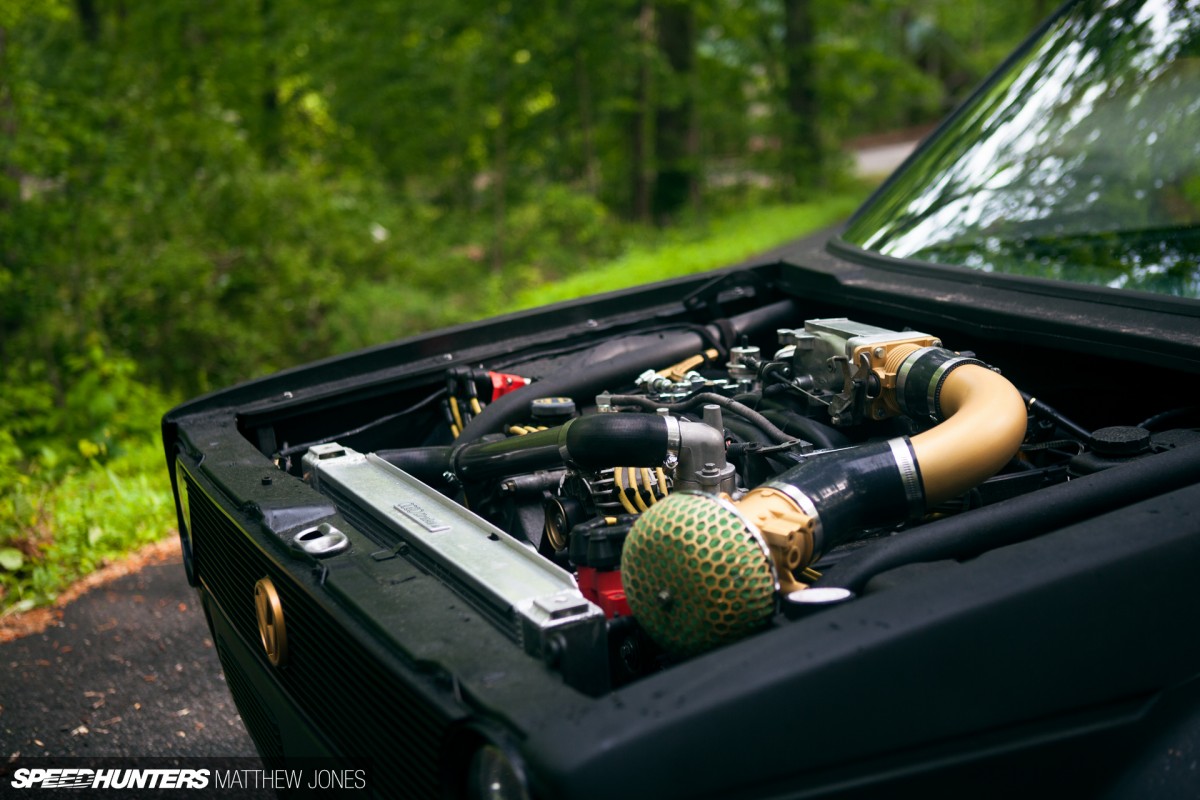 For trade? For trade for what? A few text messages later and the deal was all set. A Triton V8… for an iPhone 4. The same iPhone 4 that was actually dropped in the Chattahoochee river at Southern Worthersee in 2010… Regardless of the engine's history, I think we all know that once a work truck engine goes up for sale on Atlanta's craigslist its pretty much too far gone anyways. So with a Caddy in one hand and an engine in the other, the work begun. See how I can't fluff this story? The blatant facts are just too good.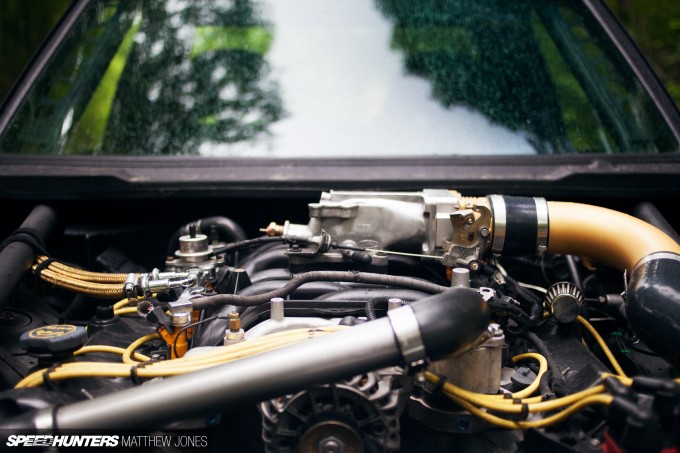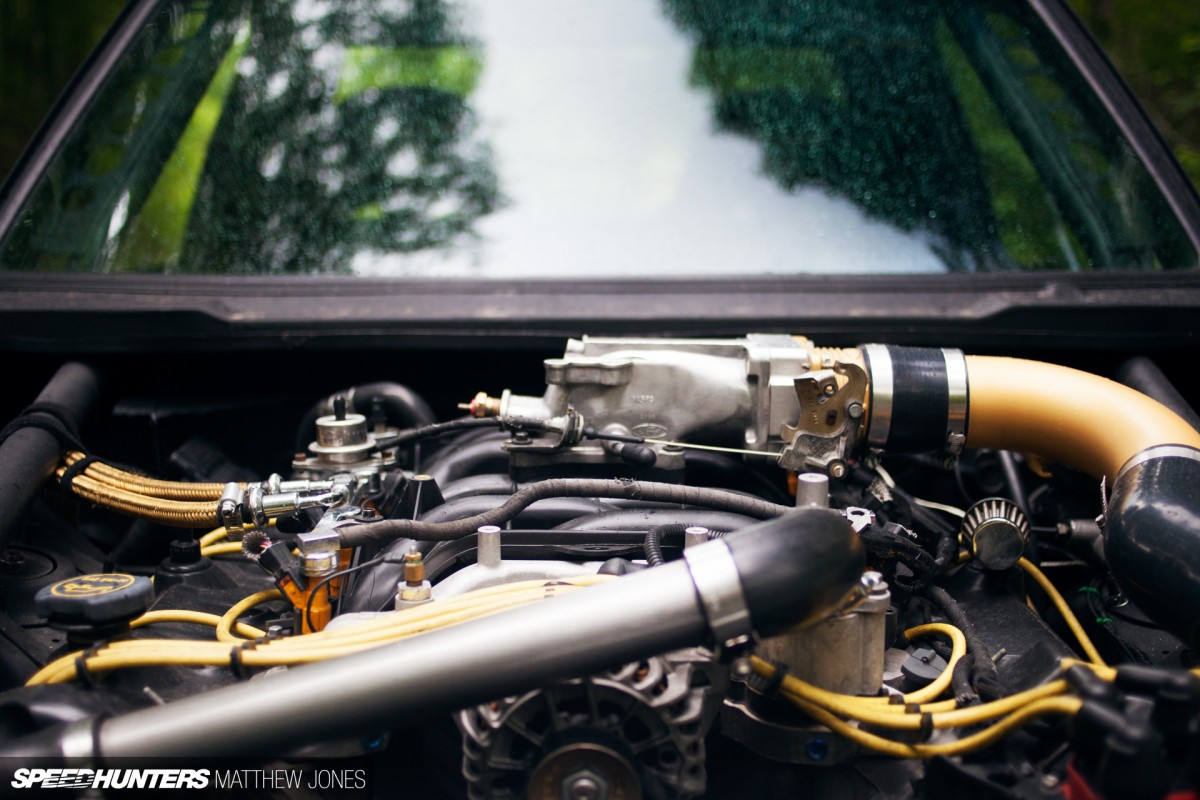 You have to keep in mind there's really no instruction manual on how to shoehorn a 5.4L into a crooked 81′ Caddy. And though Shane has studied and worked as a Ford technician in the past, he still knew he was stepping into unknown waters. But day-by-day he worked his project; rebuilding bits and pieces of the motor and addressing one issue at time.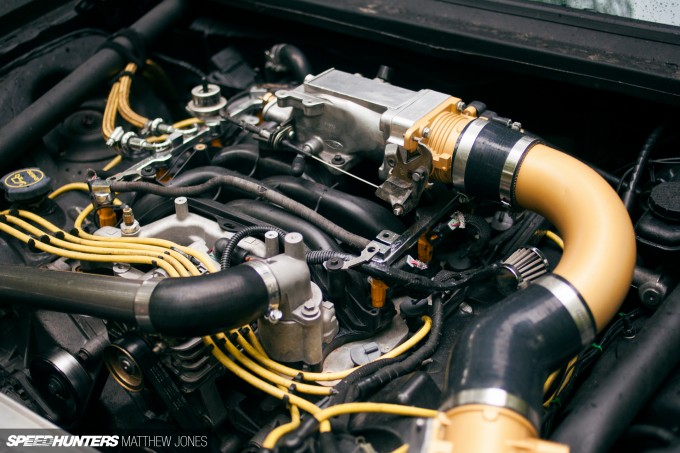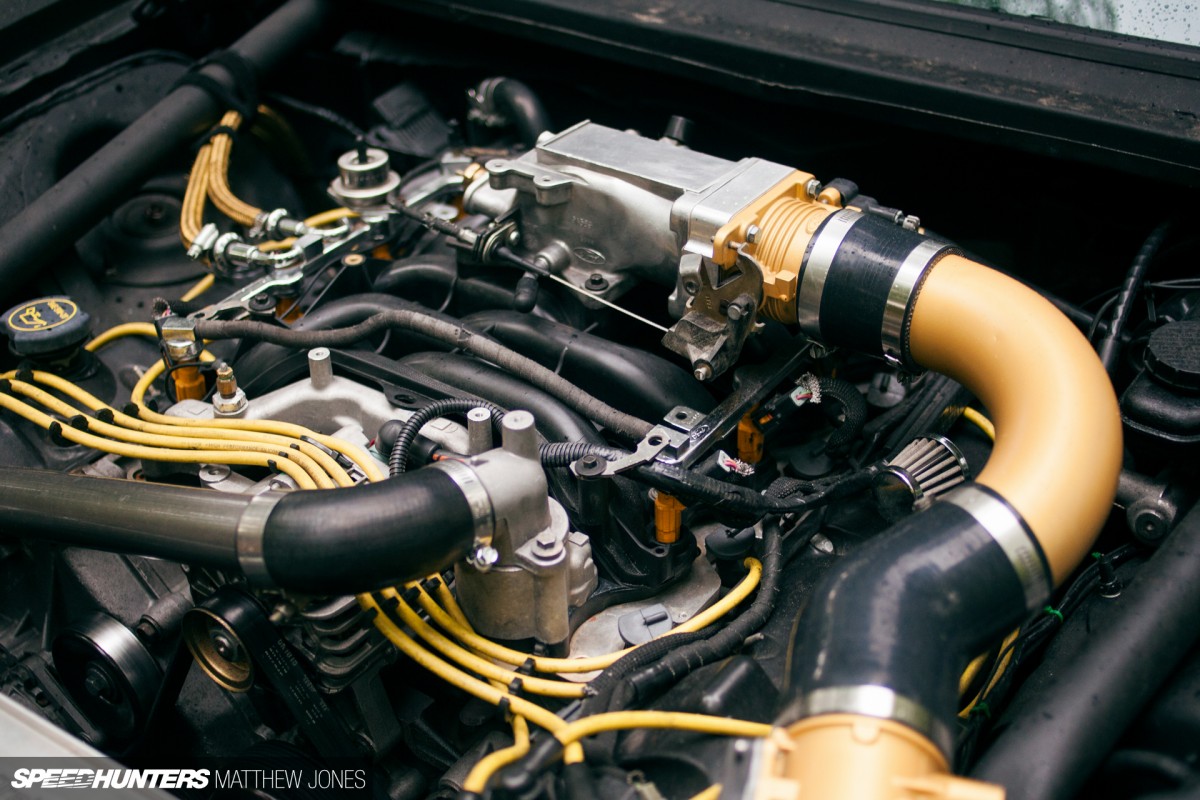 Some of you may have already questioned the deceiving 4.6 intake manifold adapted to the head. The purpose was actually a failed attempt to fit a hood. Oh well, on to the next issue… I'd like to think you gearheads out there ought'a know the feeling off the bat. Where you give a project your all, only to be smacked in the face and knocked down time and time again. Blood, sweat and tears.
The Guts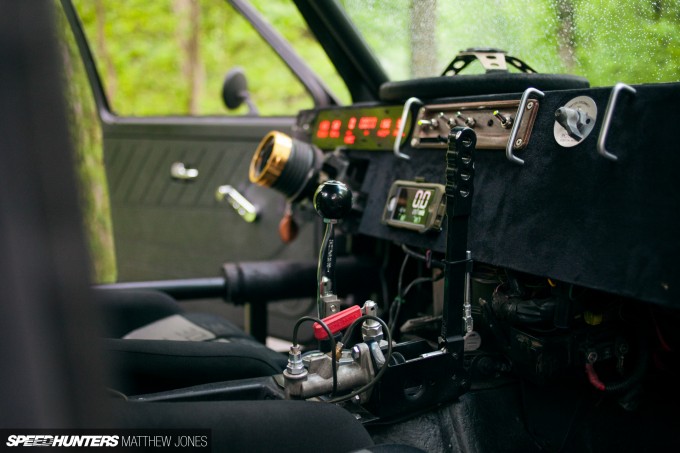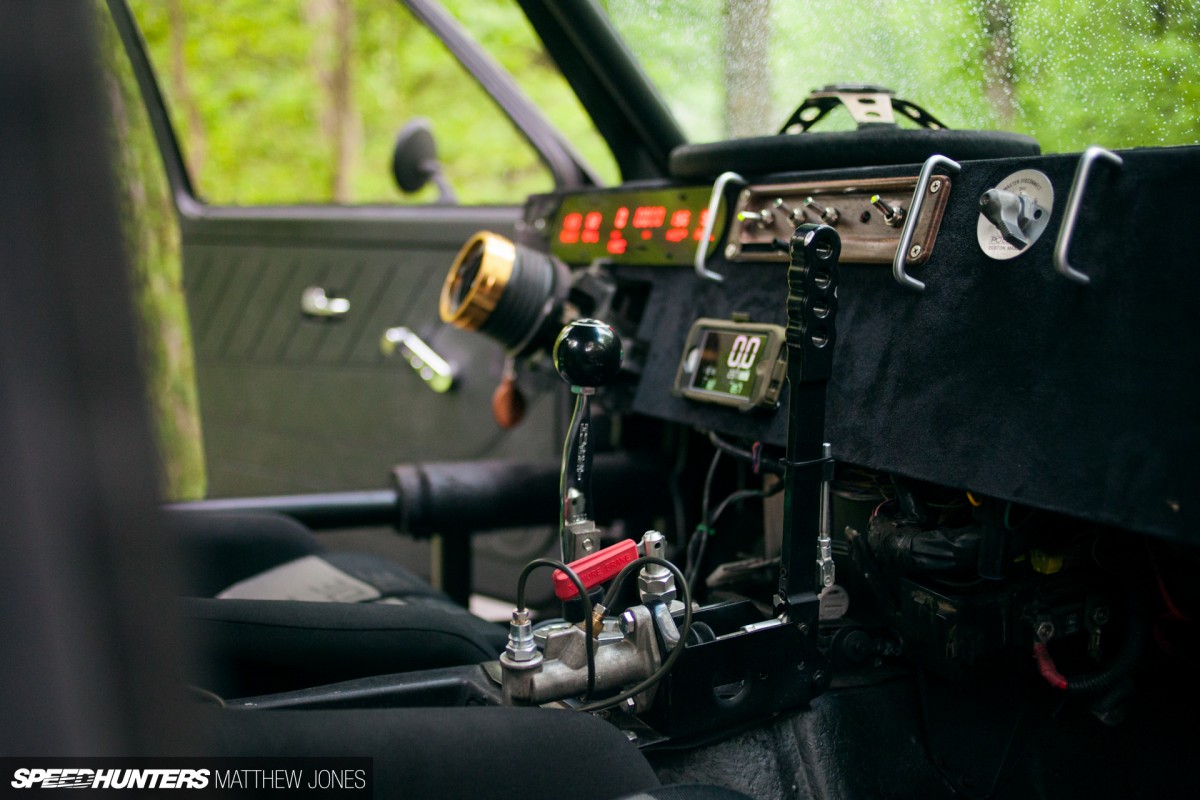 Wiring? Yeah, you can believe it was a pain in the ass. Shane admits that wiring is his game, but again, who else has attempted this task before? And after building the front clip from scratch, every wire and cord was stuffed behind the fully hand-built dash. Even the battery is back there.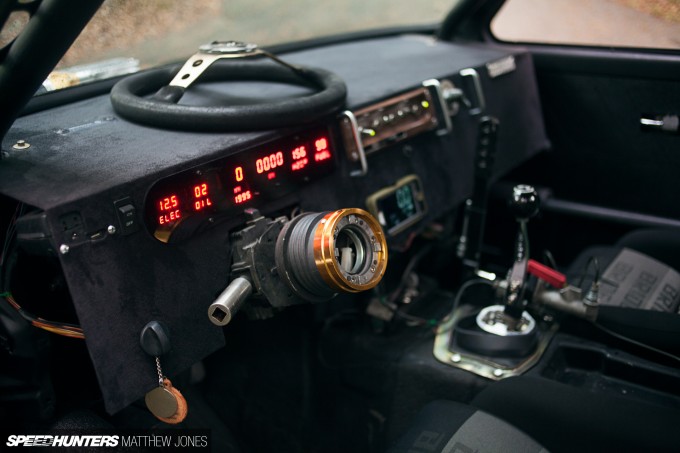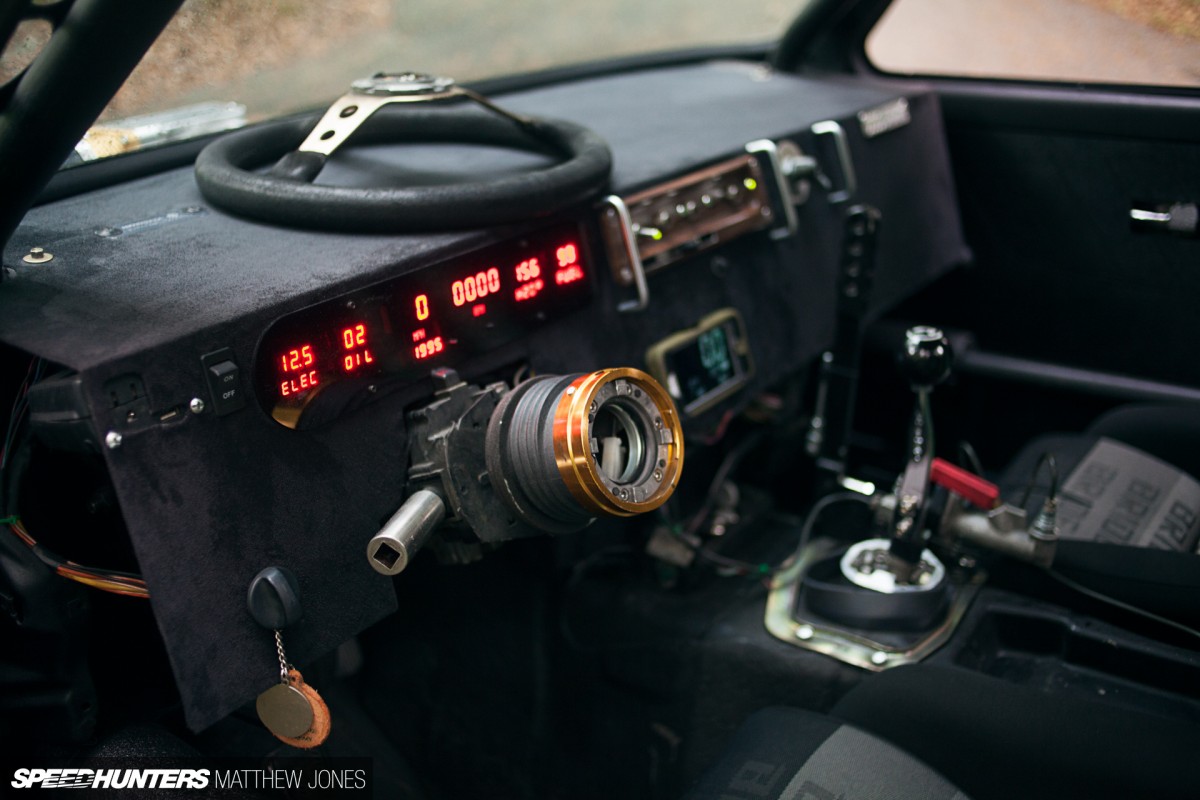 And when I say hand-built, I mean 100 percent garage built, hot rod inspired, with an electric dash cluster, iPhone bracket and USB/AC outlets included. Or as Shane explains, "I took a piece of aluminum, bent it at a 90 and boom, I had a dash." You really can't make this stuff up.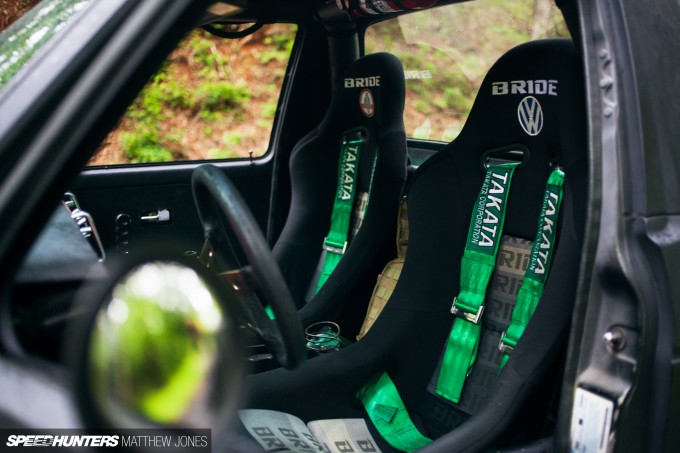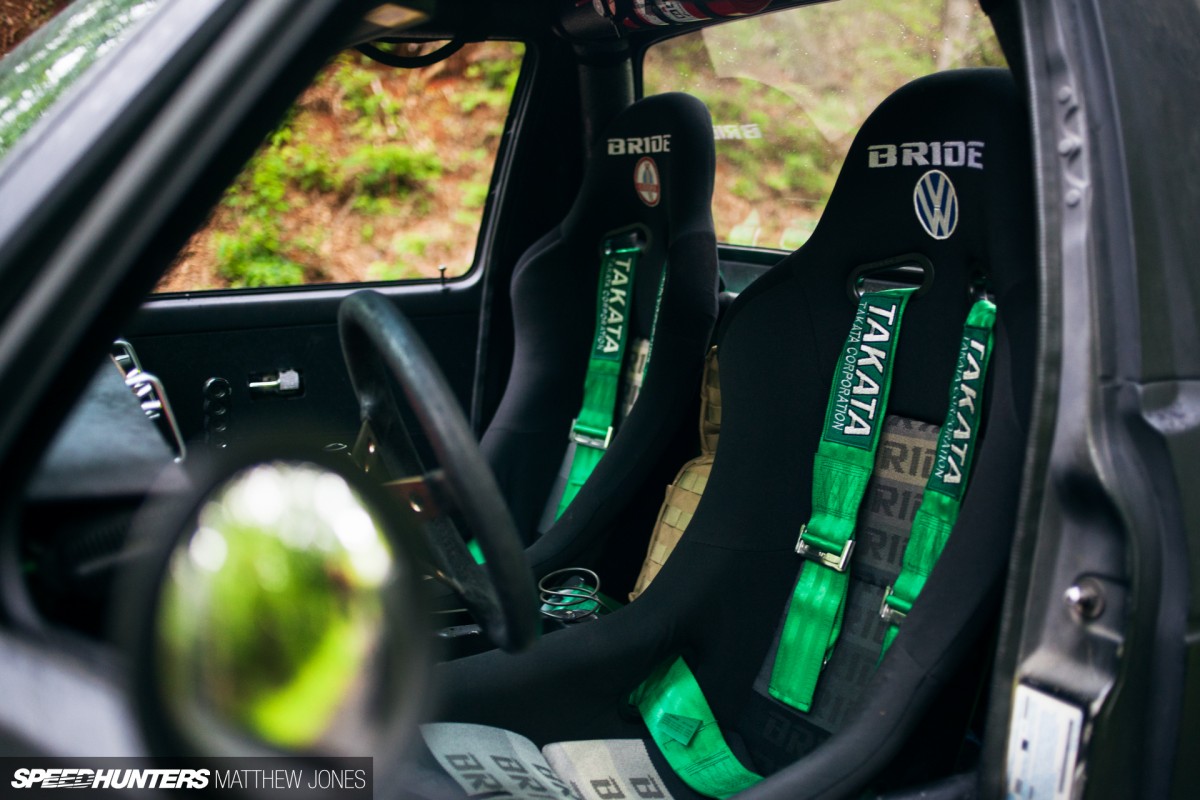 I suppose in the typical fashion, It'd be about this point where I'd make something up about how its rugged Bride seats and fresh Takata harnesses skyrocketed the blasphemous factor through the roof. But why? You should all know that already. What you don't know is that the 'windows' you saw earlier are actually solid plates of plexiglass bracketed into the the door sills.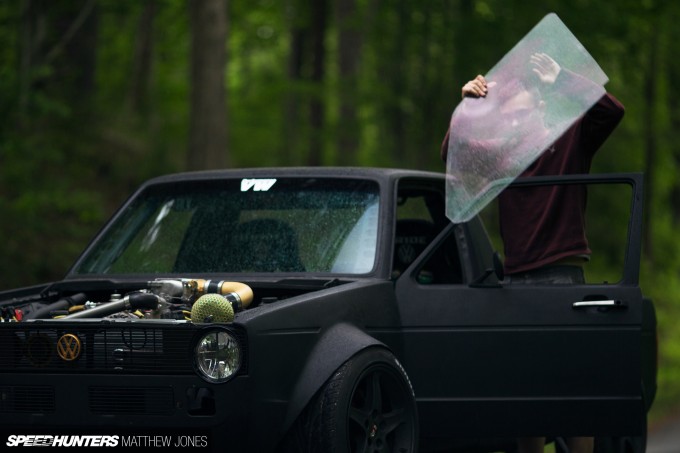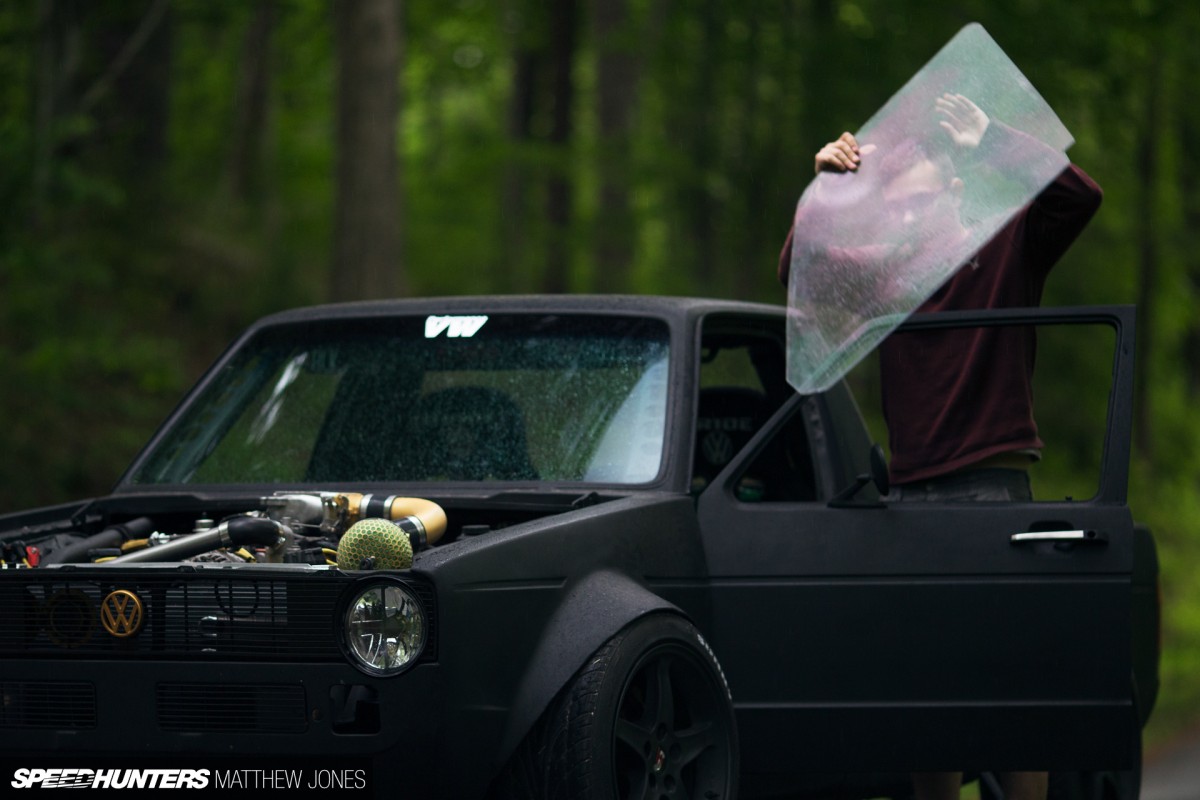 But what about whens it's hot out? Or he wants to run errands with the windows down? I did mention this is his daily driver, didn't I? Oh, and street legal too… Well, the slabs of plexi slide right into a little customized compartment in the cabin's roof for a quick, spaceless stowaway. Sick, right?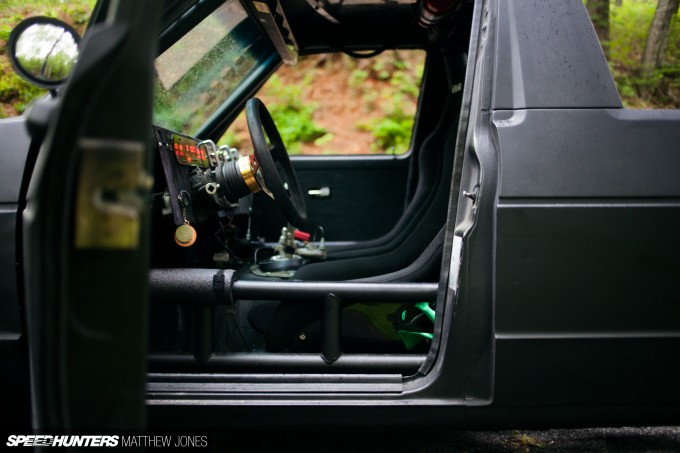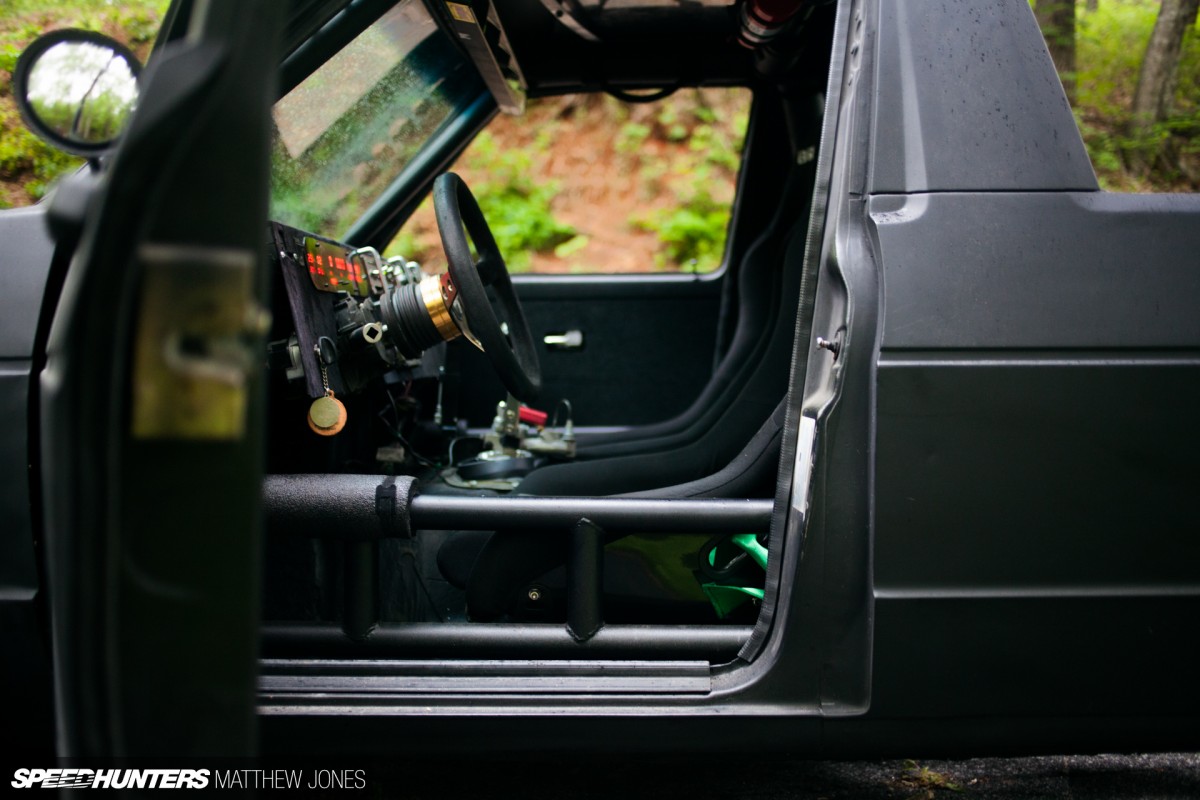 Totally. But what makes it even better is that the special roof bracket was made with an $80 welder from Harbor Freight. The same Harbor Freight welder that was used to cage, tube and entirely prepare this frail little chassis for battle. Could you imagine?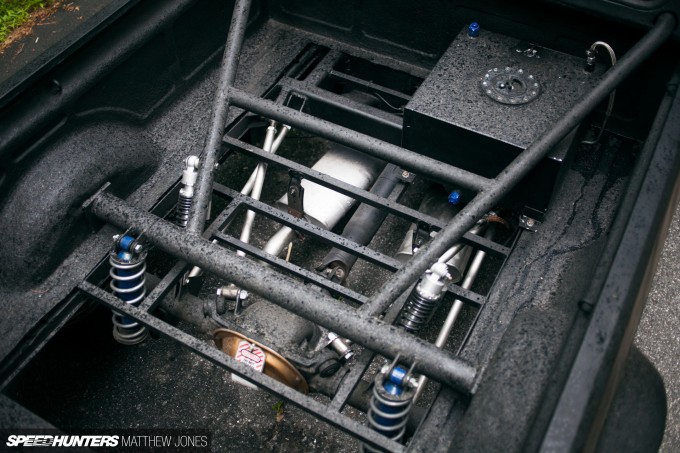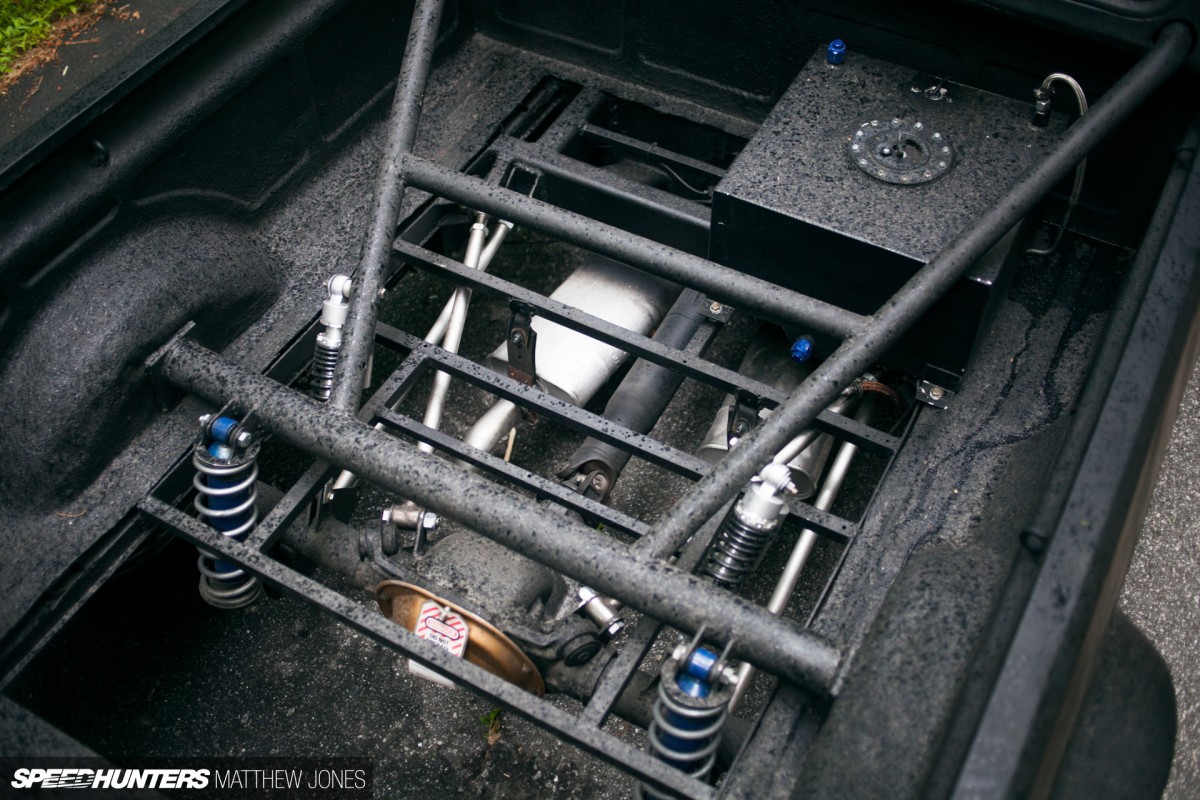 You'll notice the welds aren't perfect, but give the guy some slack – not only did he build a cage with a Harbor Freight welder it was his first time really welding in general. Yes, it's still strong, sturdy and ready to take on a fight at any moment — because it has to be.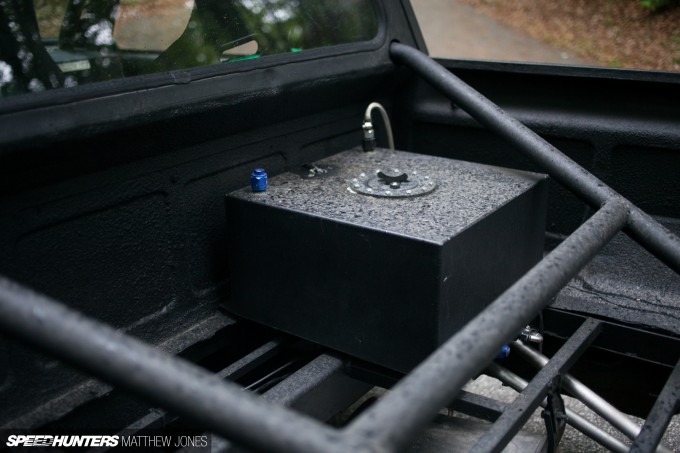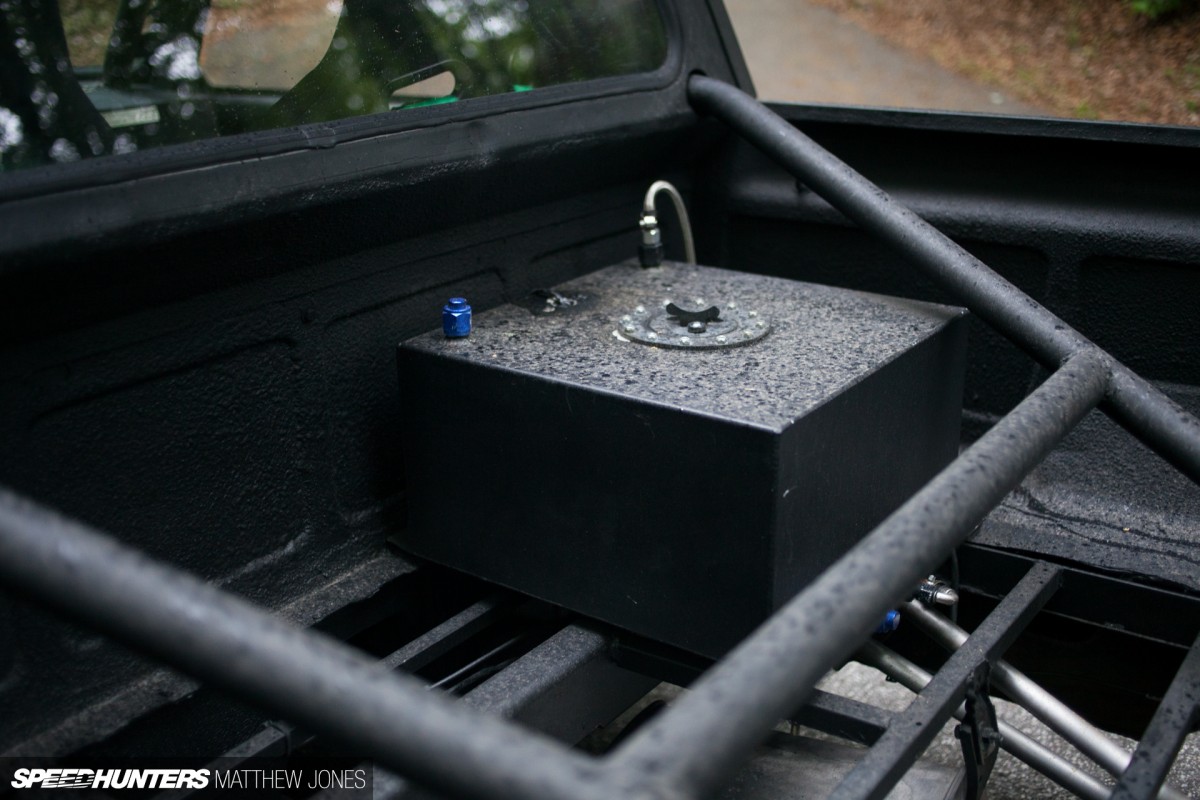 All the weight is in the front, the power is blasting from the rear and the shell itself weighs next to nothing. I was honestly surprised the whole thing didn't just rip in half upon initial acceleration. But no. This is a garage-built project car to the T, with enough attention to detail to potentially melt our server. Even the fuel cell placement couldn't be more on point.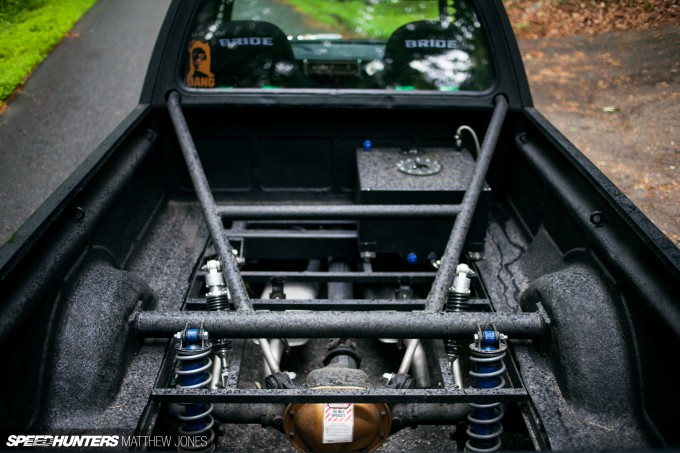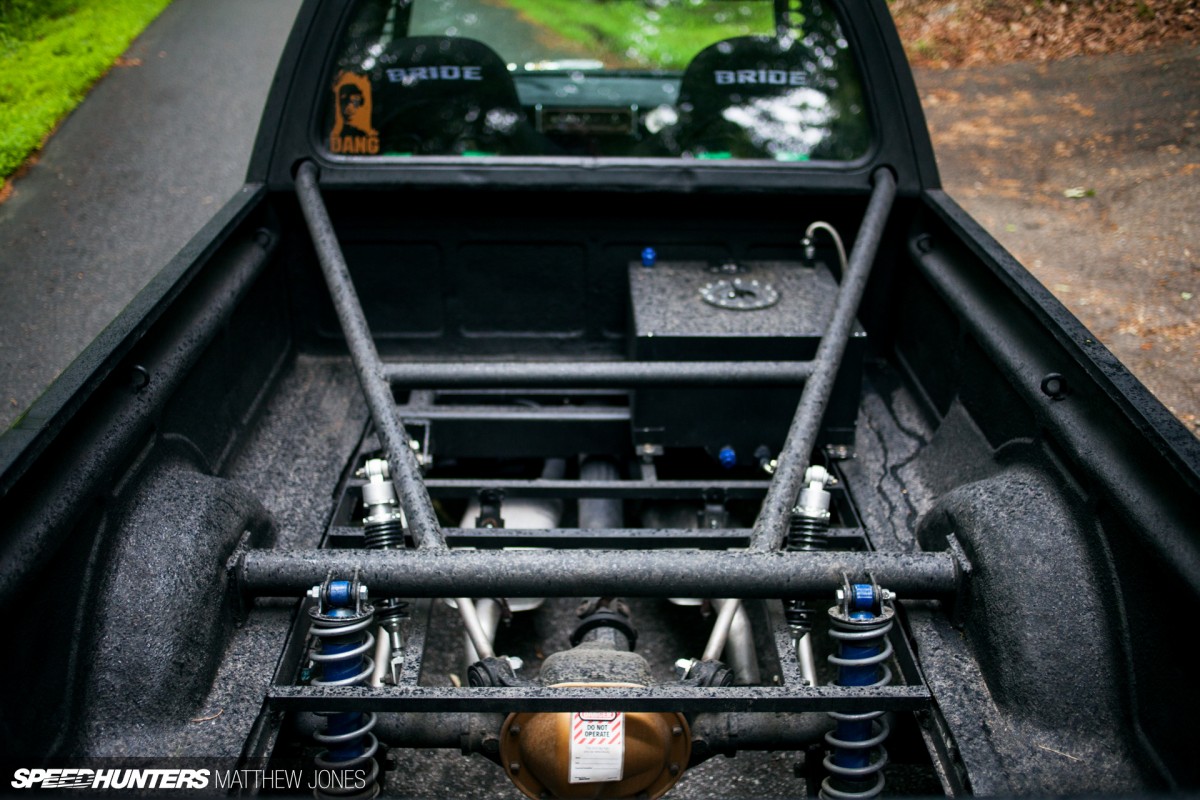 Which reminds me – I feel like I've been rambling on for a hot minute now without touching on one actual crucial factor: the rear-wheel drive conversion. If I hadn't already, I'll make it quick before I totally lose you. It was a pain and it was almost nearly impossible, simply because its just not meant to be. But just as with the majority of this car, the four-link suspension was crafted from scratch allowing Shane to dial in the geometrics and make the dream a reality.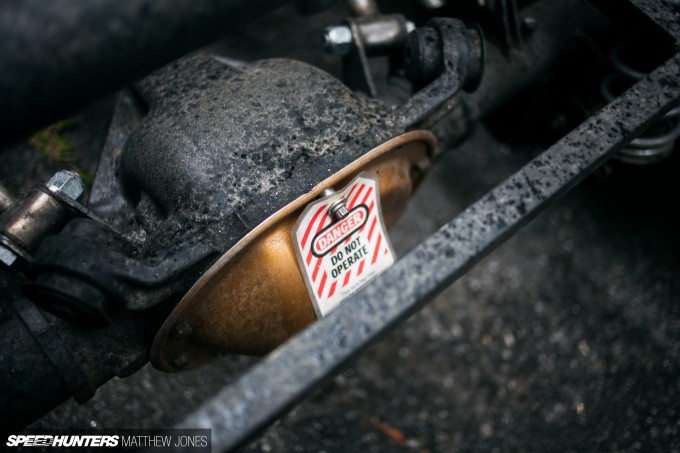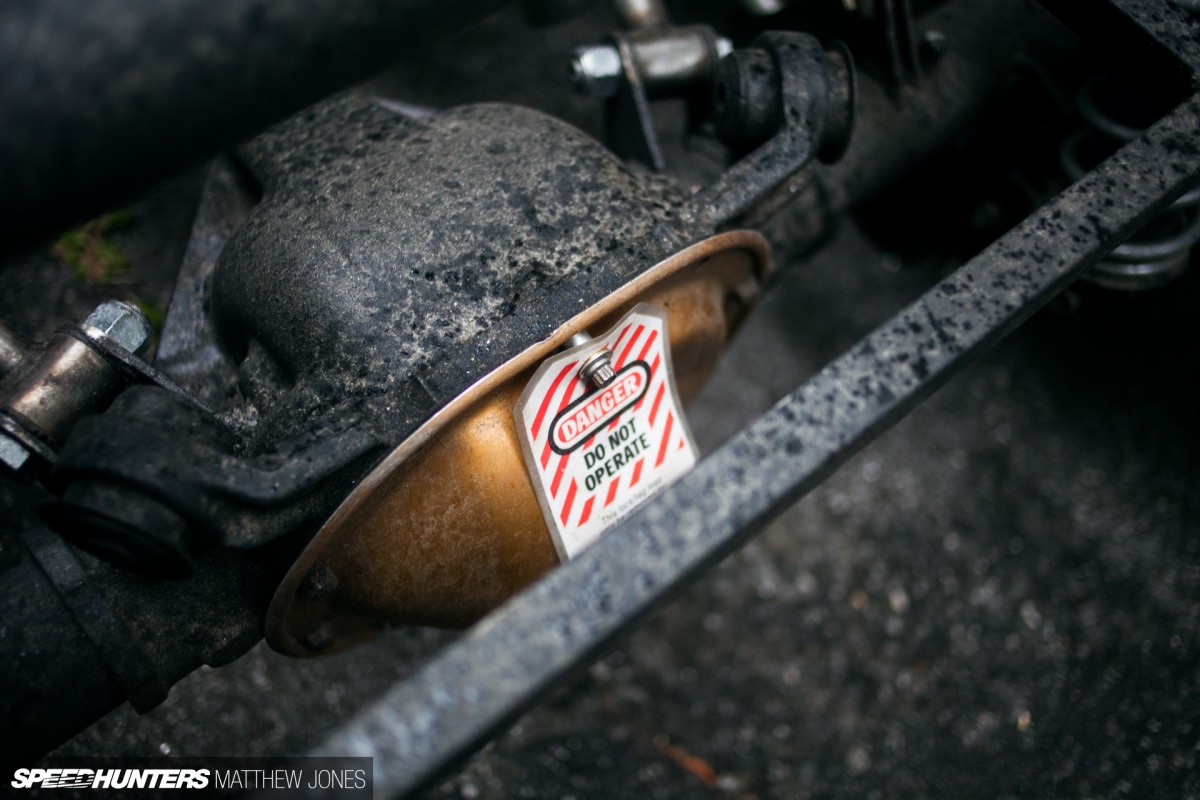 The obviously-welded diff was sourced from an older Mustang, and after demolishing a couple of automatic transmissions Shane finally popped a good ol' manual in and has been sliding dirty ever since.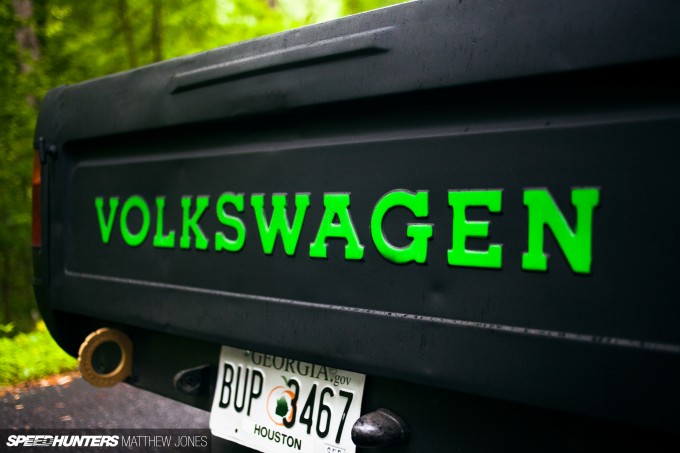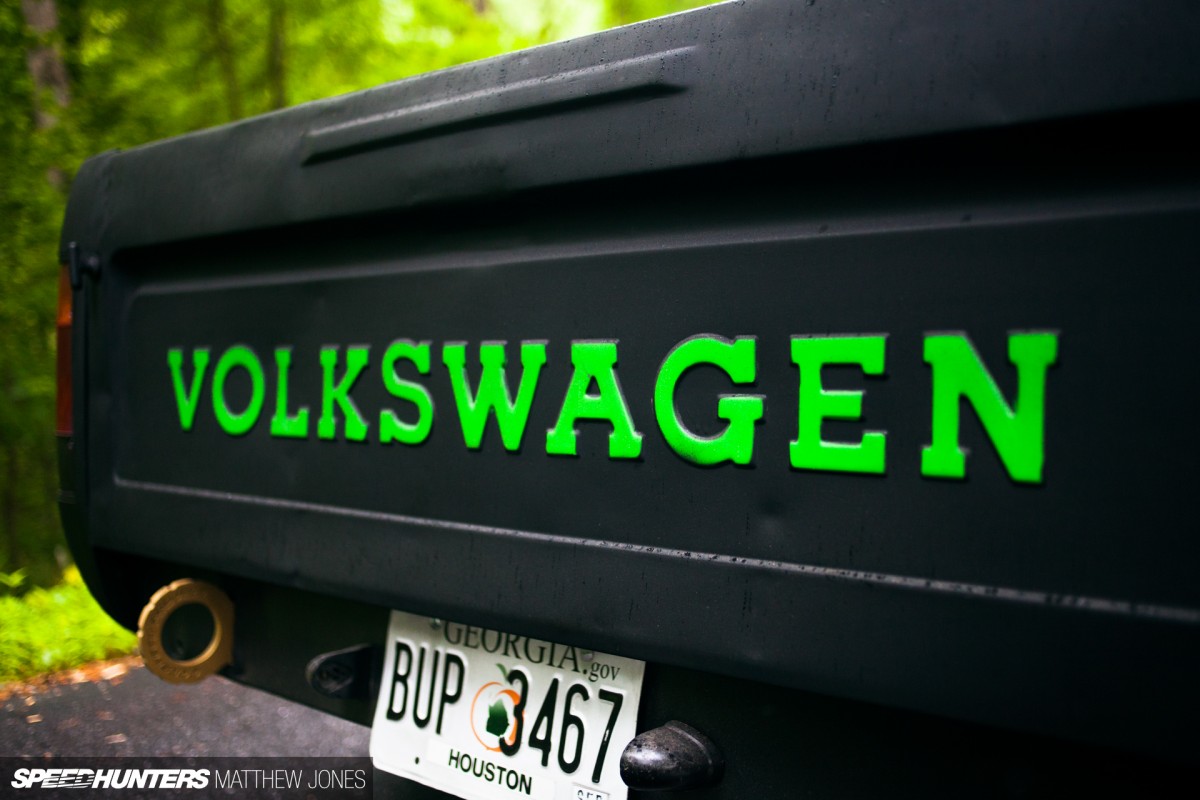 In a close, to throw one piece of fluff into this pile of words I'm passing off as a story, I'd like to express to you how many times throughout my shooting adventures I've been asked what the coolest car I've ever shot was. Honestly, the first thing that pops in my mind is usually, 'the ones that actually run.'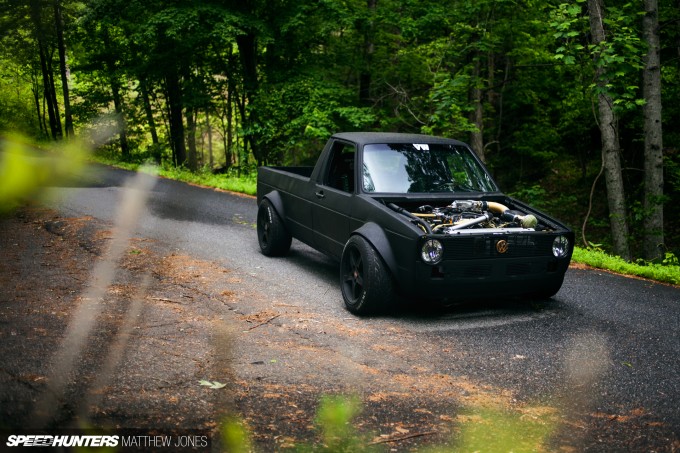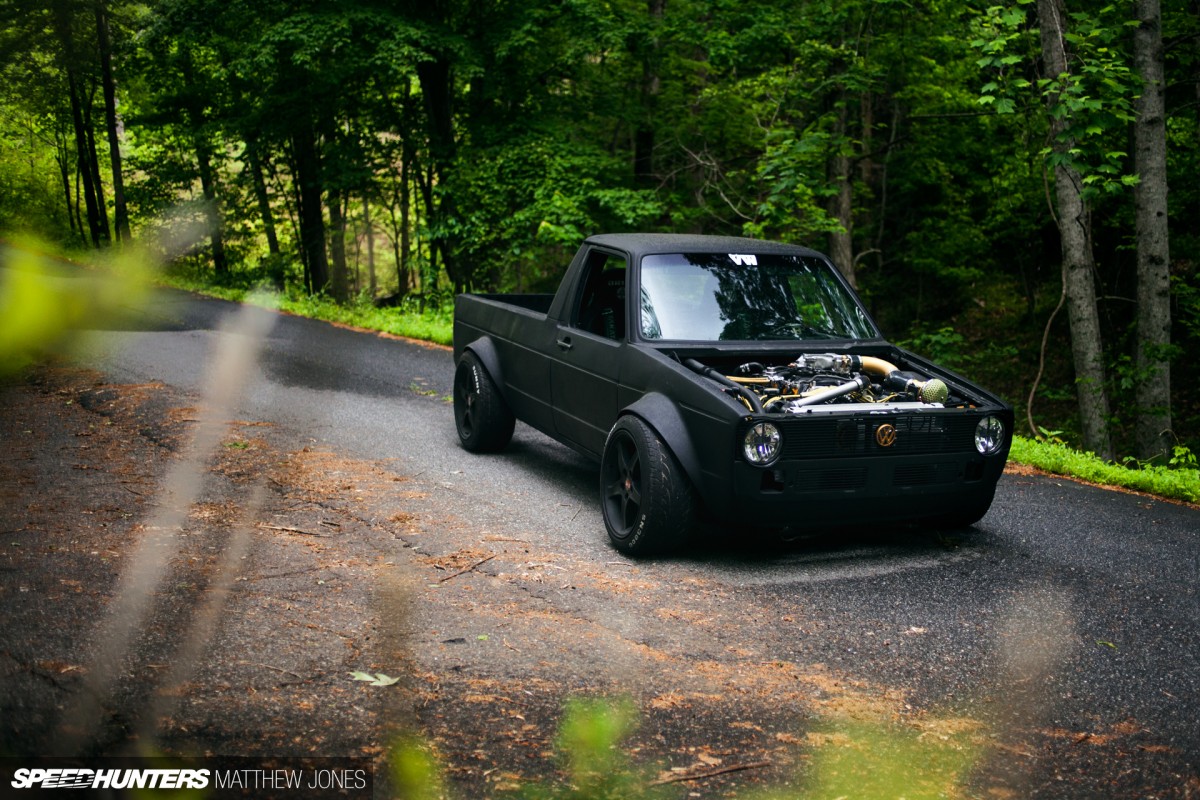 But to dig a bit deeper, it's the monsters that really make me weak in the knees. The AWD, Honda K-swapped Minis, the blasphemous Toyota-swapped Nissans, and in general – the cars that just don't make a damn bit of sense. These are the builds that inspire you to get down, get dirty and be as creative as possible. Where there are no instruction manuals, no diagrams and no boundaries. It is here where the limits of automotive tuning truly begin to be pushed; in the garages of our own.
Matthew Jones
Instagram: matthewjonesphoto
matt@speedhunters.com
BURN OUT! Bonus Video
One last thing… How often is it that you click a link and are thoroughly disappointed with the content provided, or lack thereof? Too often I bet. In the days following this shoot I realized that in the short amount of rainy time I had to photograph this demon I didn't feel like I was fully able to capture its true hooning capabilities. And how fair would that be? To create a post rambling on about how sick and functional this truck is without properly providing an example? No sir, not by me.
So in effort to feed our addiction, I swung by Shane's residence on my way down to Florida for a quick, dirty – and possibly out of focus – video clip of his baby ripping a perfect standstill while exiting stage right. Enjoy.