Roots Are Deep
In 1963, Ferruccio Lamborghini set up shop in Sant'Agata Bolognese in Northern Italy to compete with nearby Ferrari in the worldwide sports car market. Just like anything born of passion, it's been an emotional and amazing road to where the company is today and after a meteoric rise in the mid-'60s, troubled times came. Then, in the late 1990s, the Volkswagen Audi Group took control of this most Italian of manufacturers.
When I had the chance to go behind the scenes and tour the production line, I wanted to know just how Italian everything still is. Does that passion which drove Ferruccio still exist? Is it instilled in every build? And just how do you put together a V12 supercar like the Aventador!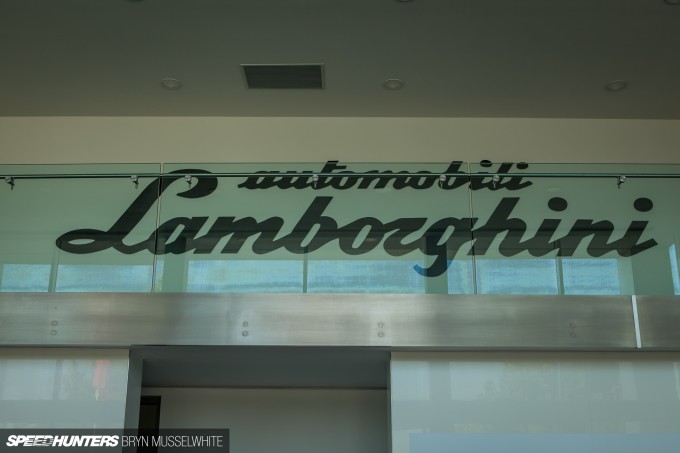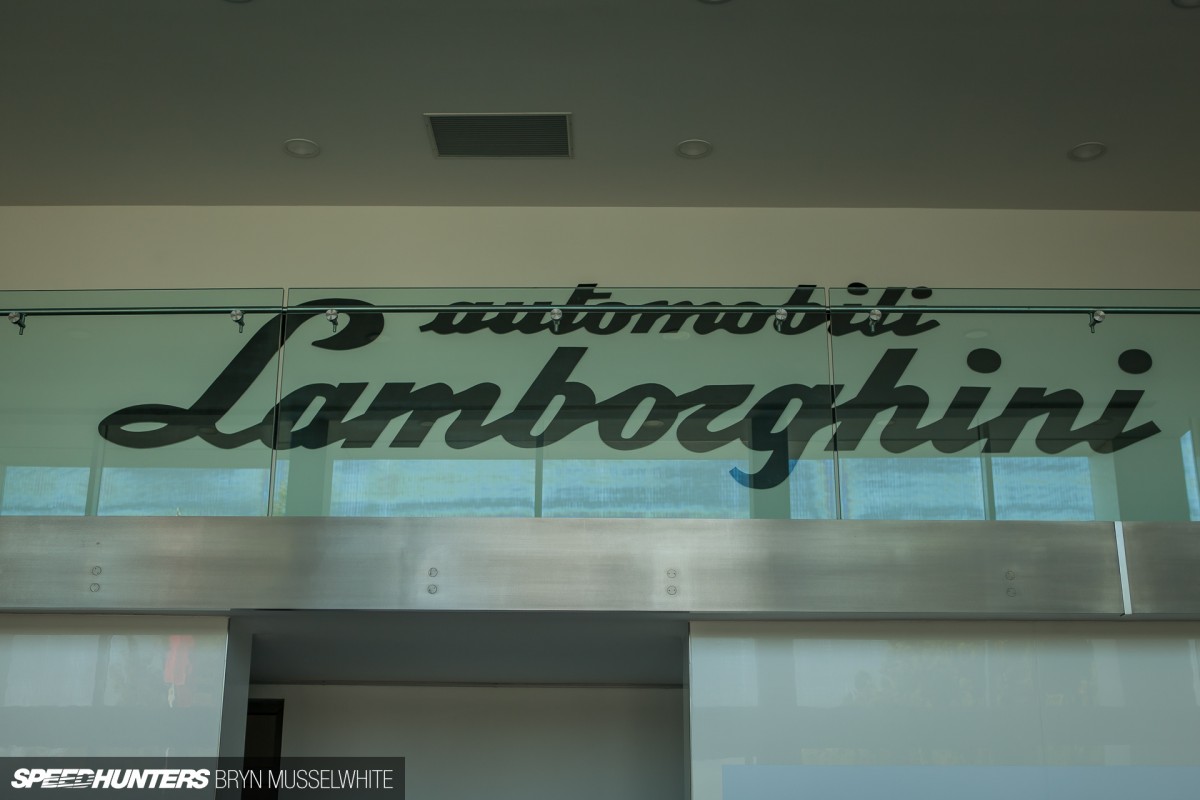 Just being at the facility makes your blood pump a little faster. Italy has this way of doing everything the rest of the world does, but making it feel different - cooler, chic and somehow more stylish than others. So the question that's bumped around my head is how that attitude sits with the German way of doing things, which at first might seem opposite. Clinical, technical and exacting.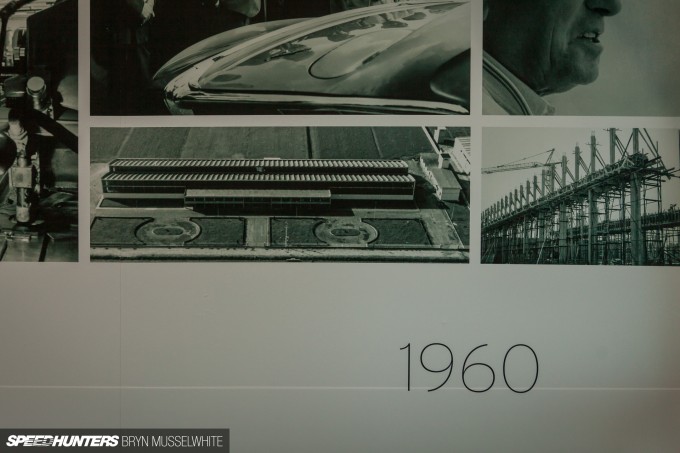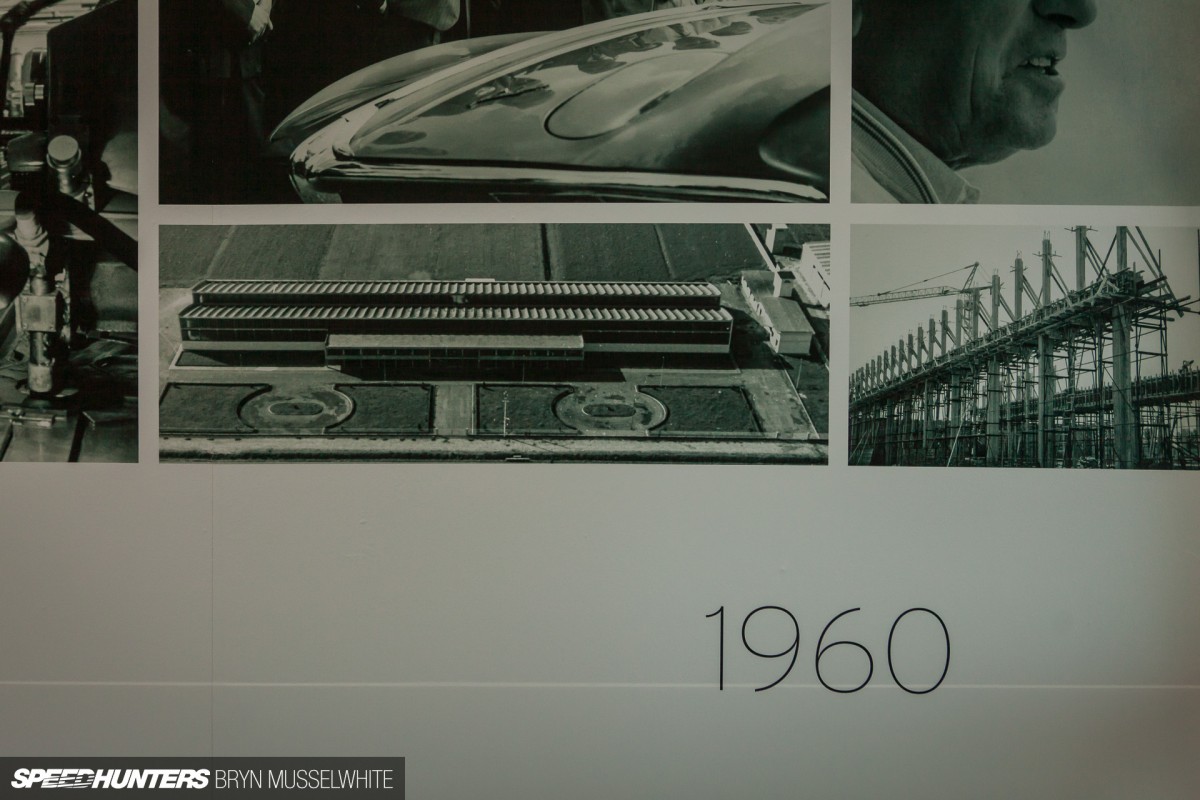 The truth is there to see at first glance though. There are a lot of similarities in the approach and that's because they're both based on a solid bedrock of automotive passion. For all the colour and style of Italy, the Lamborghini factory isn't hidden away behind miles of private driveway or high hedges, it's typically '60s industrialist in its appearance. The building you see in the picture above is still there today, albeit now surrounded by more modern structures. If you split it in two by using the horizontal roof lines, one housed the Miura production line and the other was for the 350GT. Note the thick black strips just below the actual roof surface, these are in fact glass which allows natural light to flood in to the factory floor.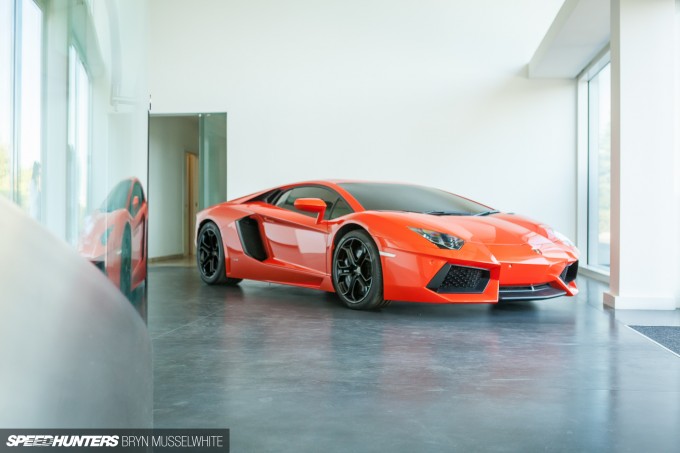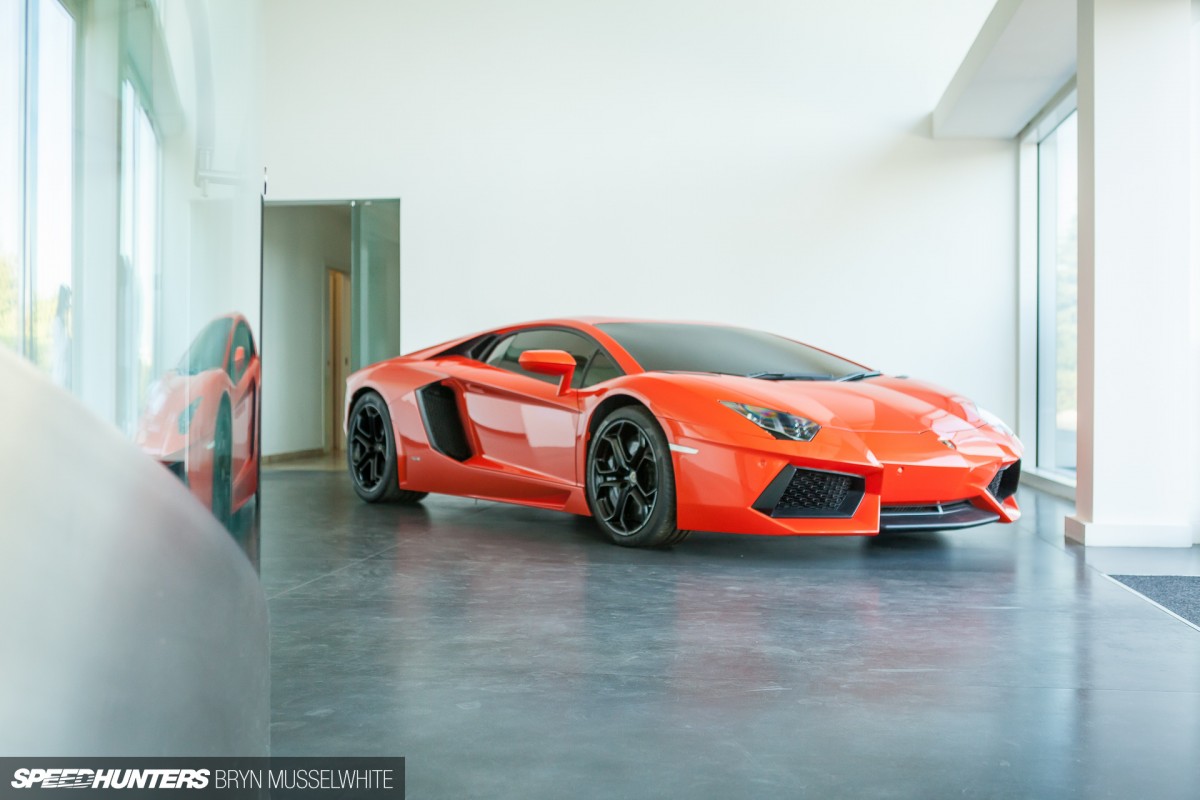 Now the V12 Aventador is assembled here, along with the V10 Huracan. At the time of my visit though, the part of the production line responsible for the latter was well off limits!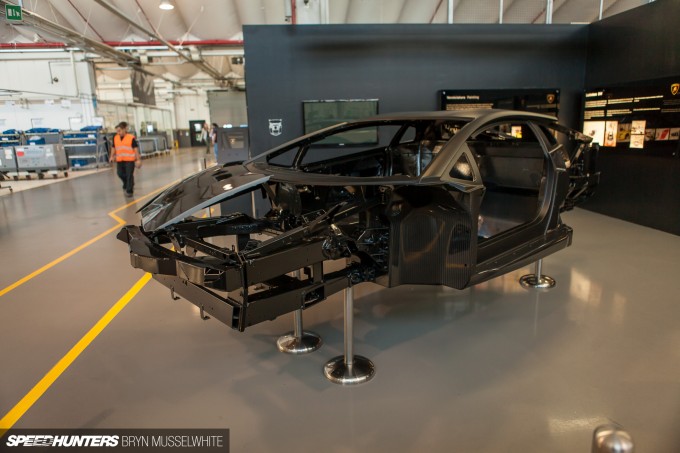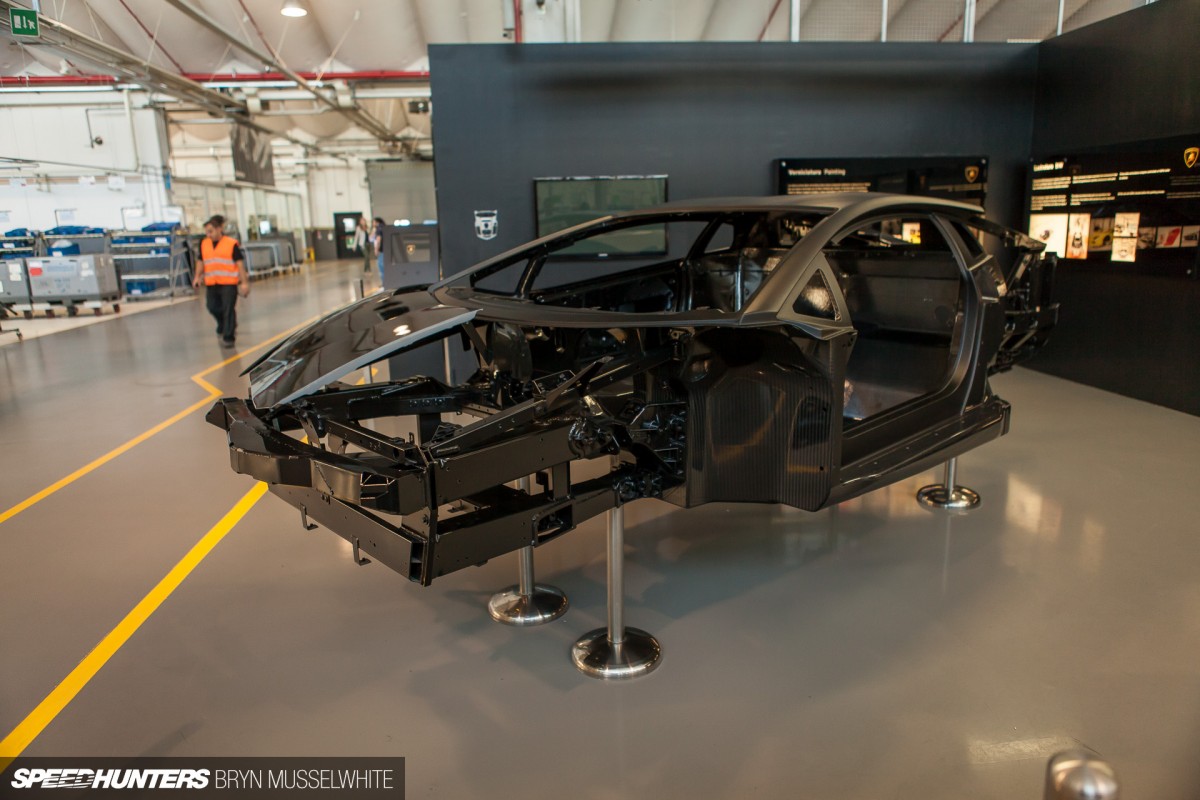 However, everything else seemed to be laid bare for me. There was no mystery about the line – no hidden processes where they inject the spirit of Lamborghini. Which shows another Italian trait – the pride that is obvious in everything they do here. These cars will go on to become the stuff of bedroom wall posters, game hero cars, excited smartphone photos in crowded cities.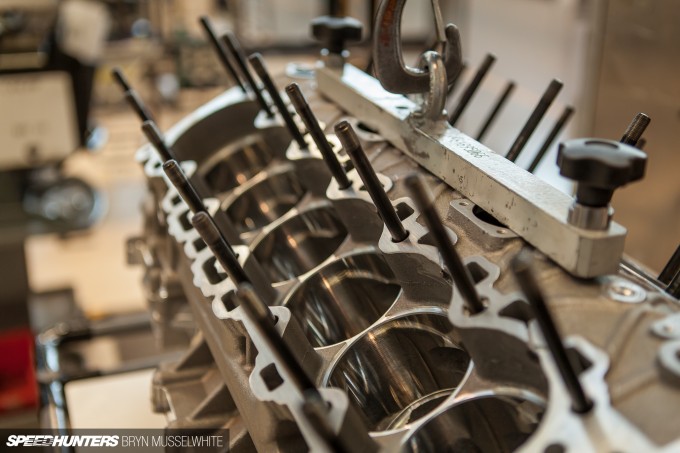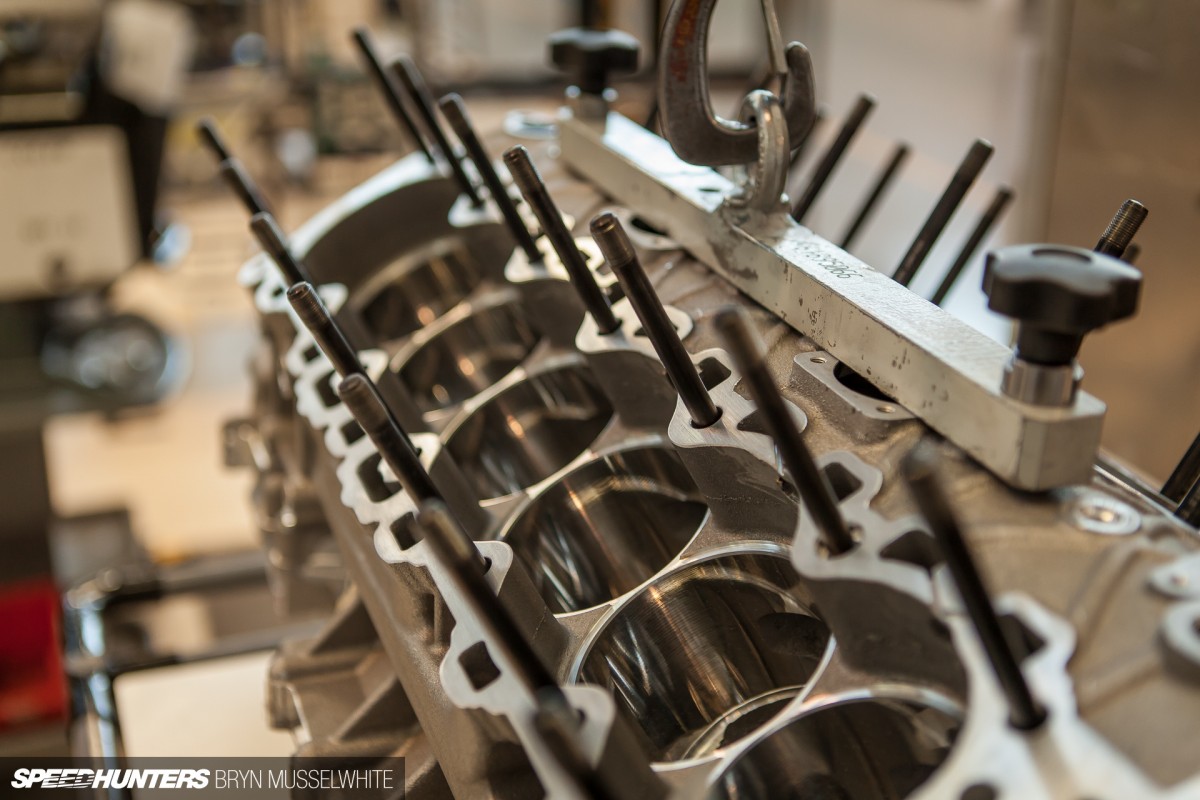 The first area you arrive at is the motor assembly stations. I've been in a lot of different factories around the world and the lighting always interests me. It's a personal thing but it can make such a difference to your state of mind. In here I instantly feel relaxed.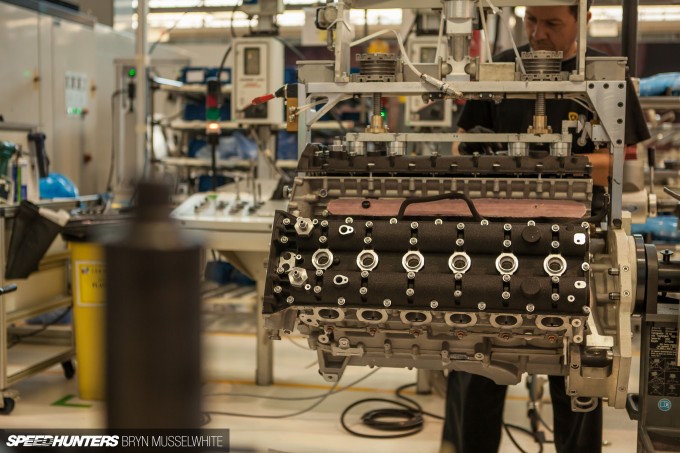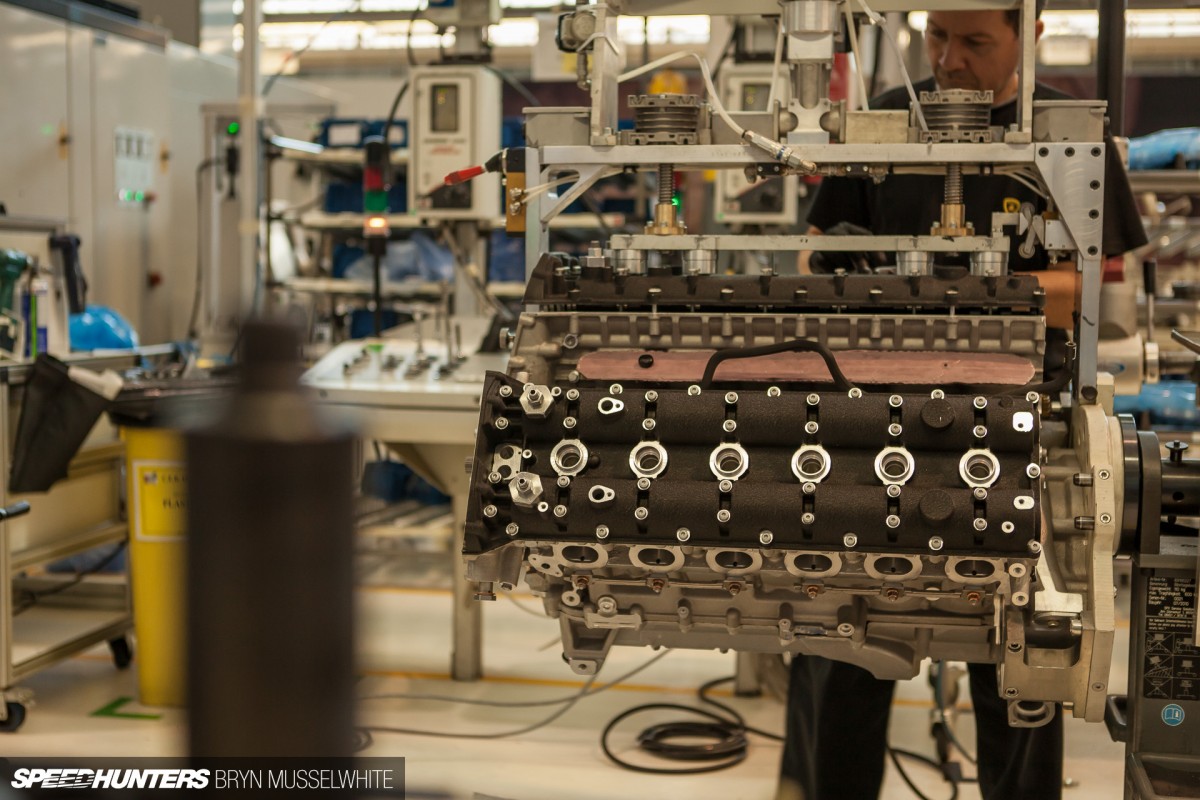 Remember what I said about the windows all along the roof line? Well, here's the result of that forward thinking. Of course it rains in northern Italy, but the climate around Sant'Agata Bolognese is pretty good in general, so it makes sense to make the most of the natural conditions. How good does that crackle black finish rocker cover look? That row of six spark plug holes signifying only half the fire power of the mighty V12.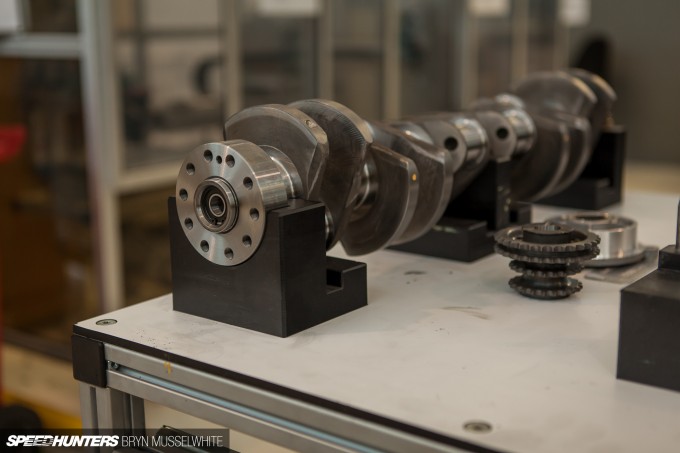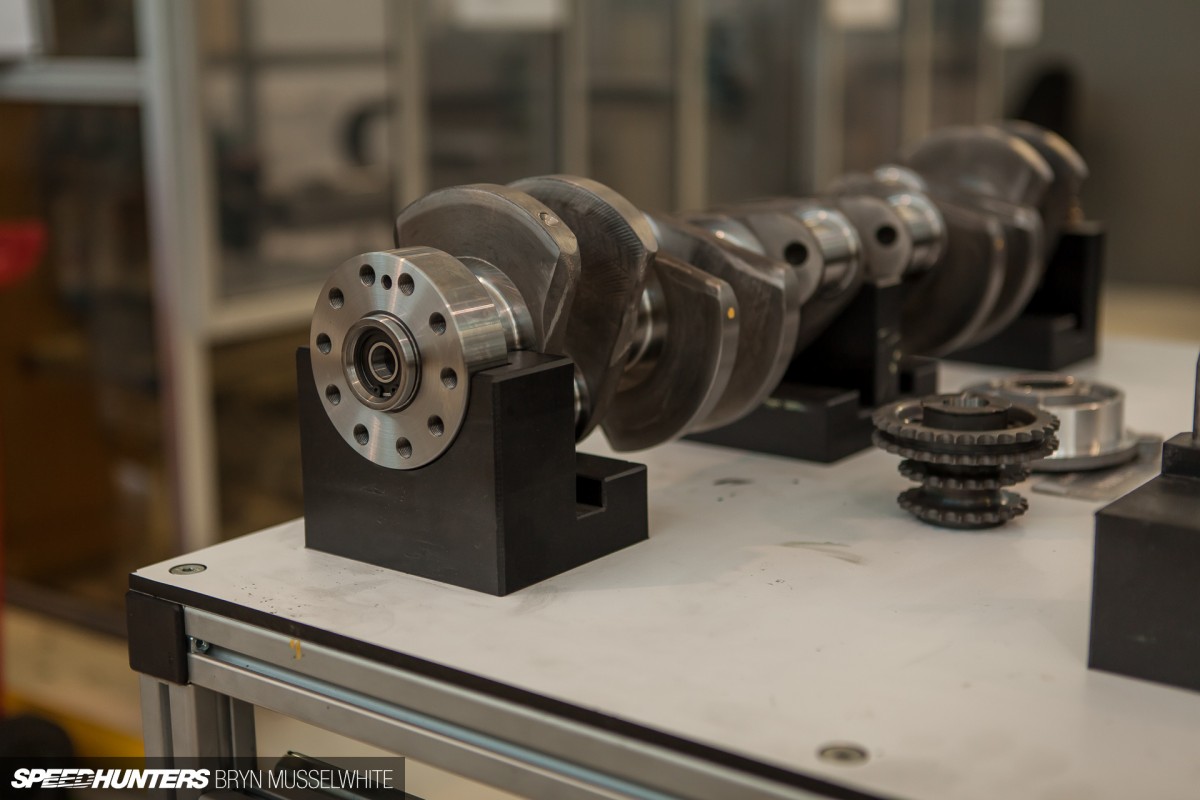 The Lamborghini V12 is something of a legend. It was first introduced in 1963 when Mr Lamborghini commissioned Giotto Bizzarrini to create a power plant that would make Ferrari and the world sit up and take notice of this new name on the scene. Designed from the start as a quad cam, with an alloy block and head it had a capacity of 3465cc just over 50 years ago. That same basic design has been modified and developed, with its final iteration appearing in the Murciélago LP670-4 SuperVeloce.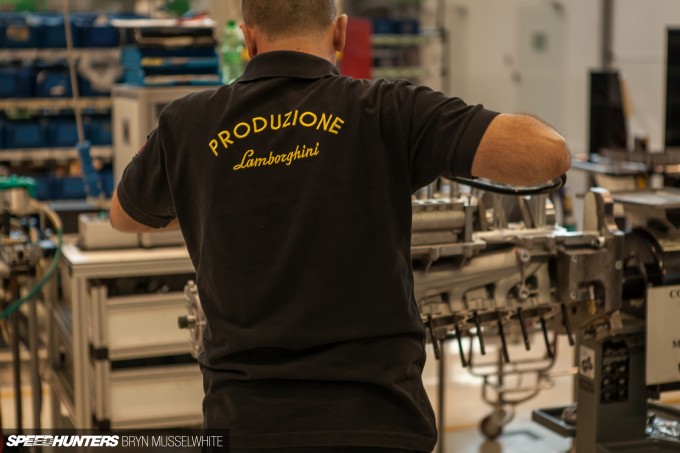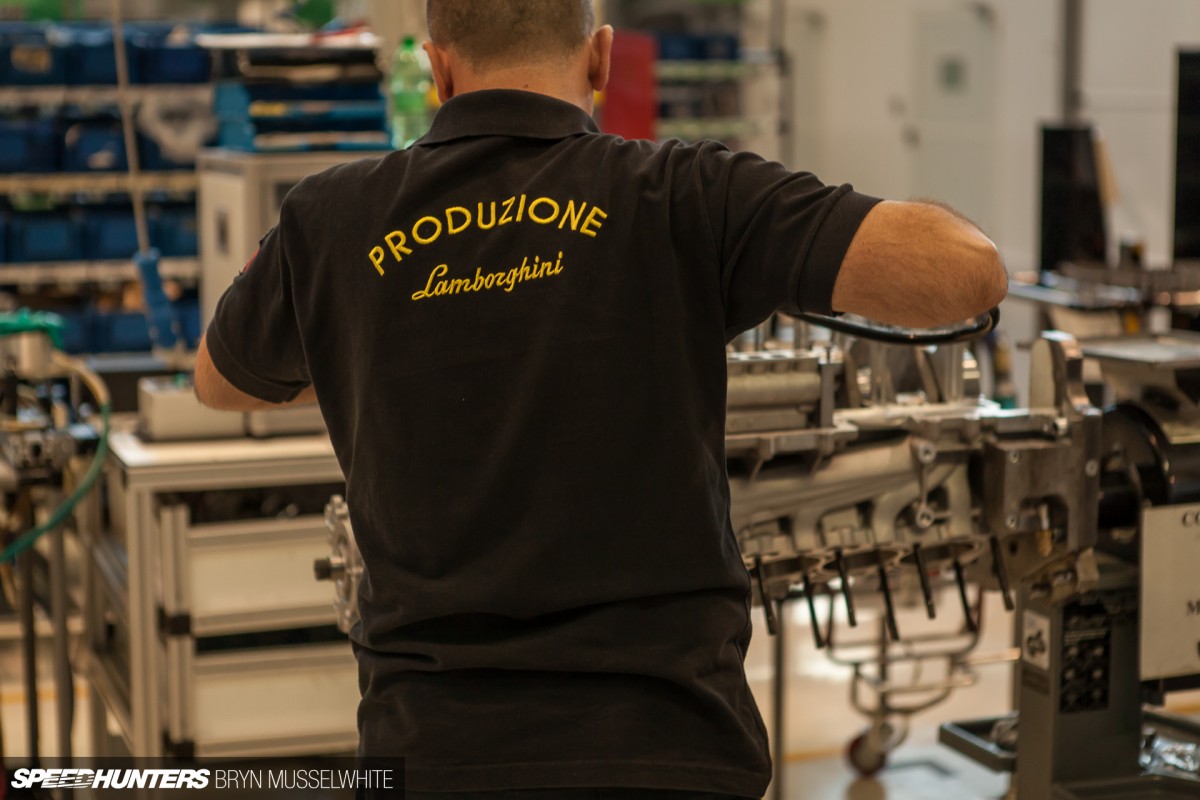 If you ever thought that the VAG group had diluted the blood line, rest assured that the original heart of all those amazing models like the Miura, Daytona and Countach has been beating on until now. I wonder if anybody had dared believe that engine design would have stood the test of time and performance so well? Okay, so it grew a few valves and an extra three litres in capacity, but I don't care! I'm enjoying the romance of it all, and I'm still only at the hard metal stage!
Soft & Alluring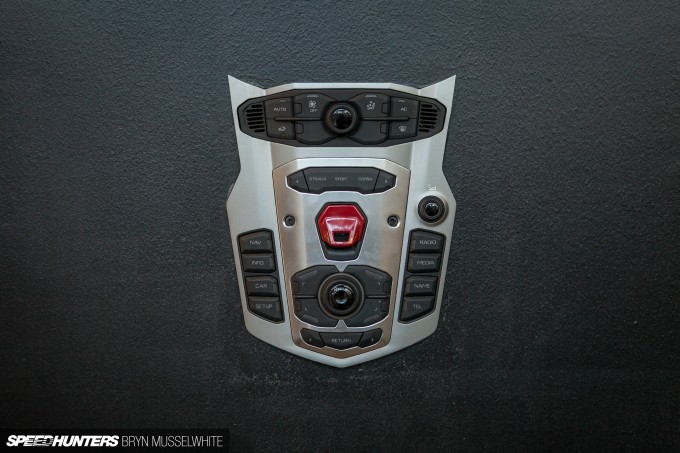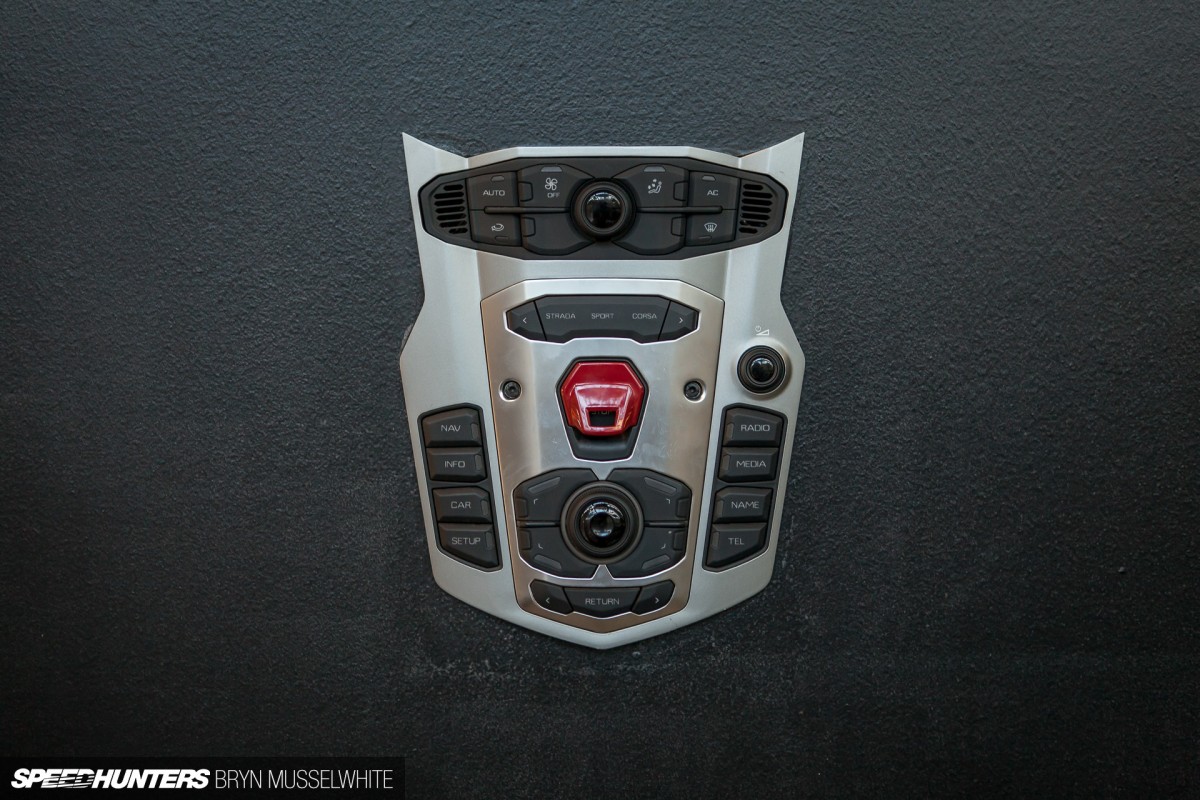 Looking for all the world like a Transformers mask, this is the centre console of an Aventador. Sitting above it in the car would be another row of switches and a screen, but here in isolation you can take in the details. That's what I enjoy about watching a car being built – it reminds you that all the individual components have been lovingly considered and designed. You can see subtle curves here that might not be so obvious when the panel is in place, but with sharp overall lines too.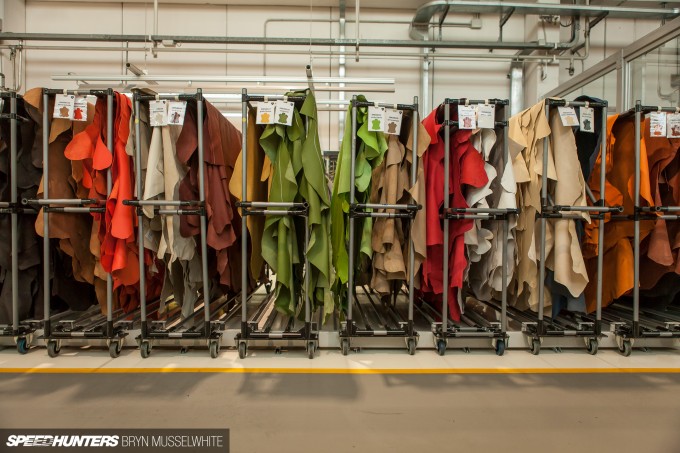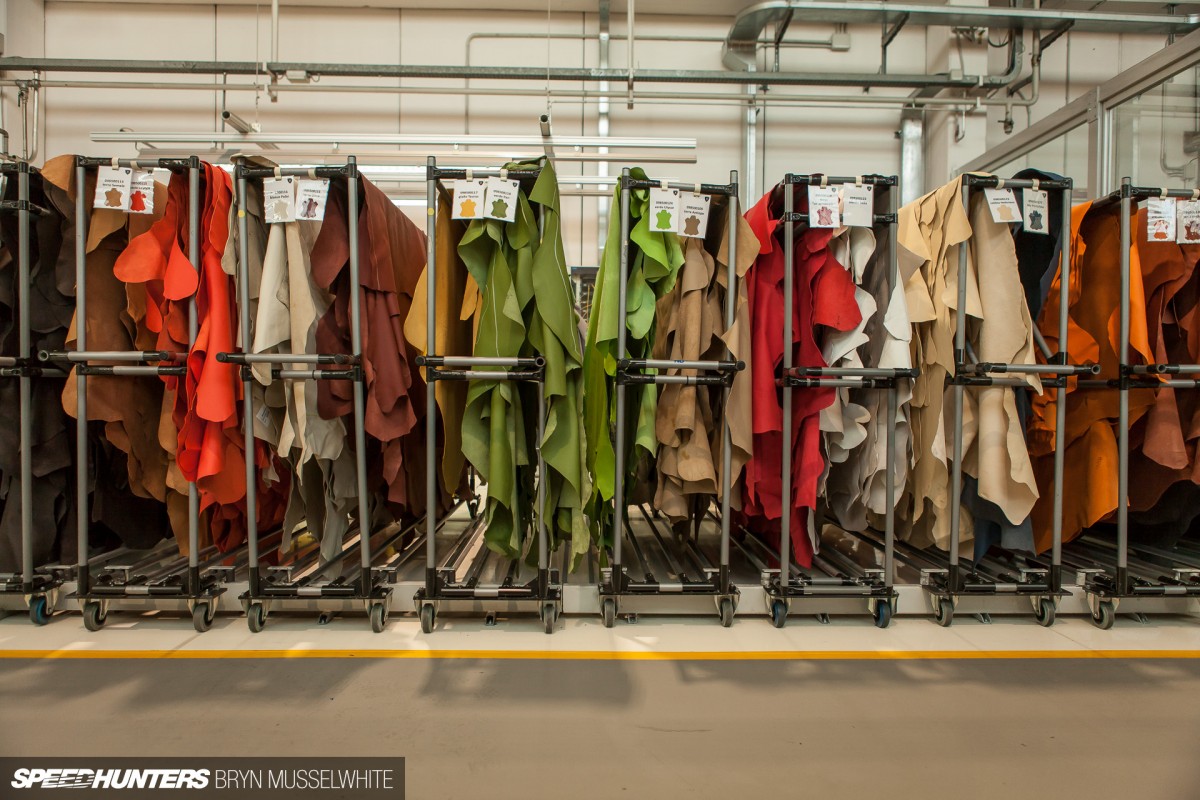 Lamborghini are one of the world's premier brands. Mention the name and it will always get a response. Just to be in the position where so many people know who you are through relatively few products is a testament to the brand. Of course, there are many reasons for that and one of them is quality. Because when you're spending the kind of money on a car which could buy you a house, you expect it.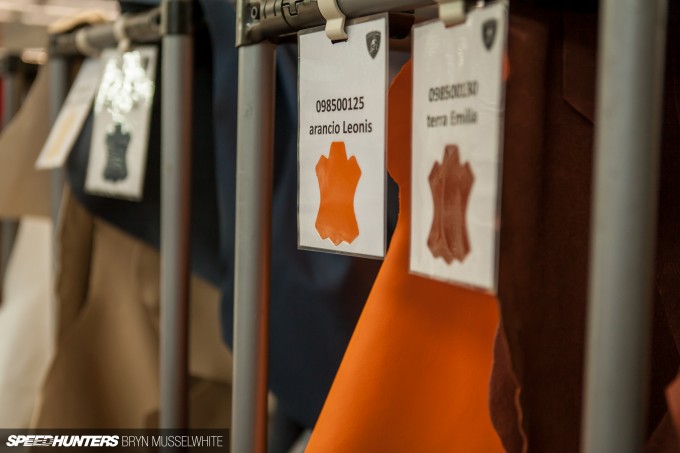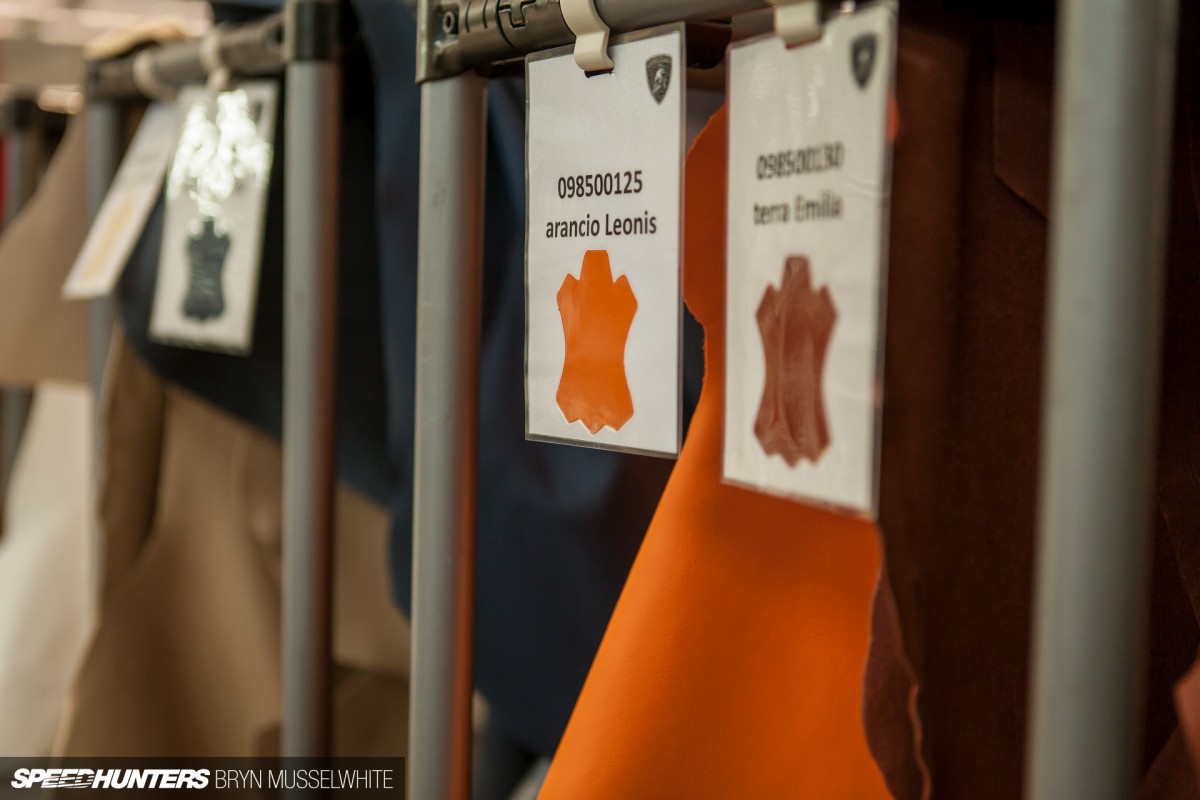 Artisan skills are another thing Italy is known for, and the hides lined up for dissection and forming into interior pieces are impressive. The names of colours like arancio (orange) are mixed with words that are literally plucked from stars; here everything has a sense of drama to it.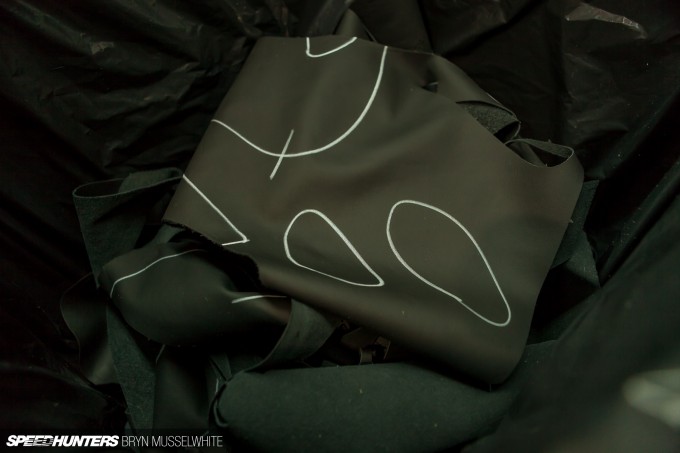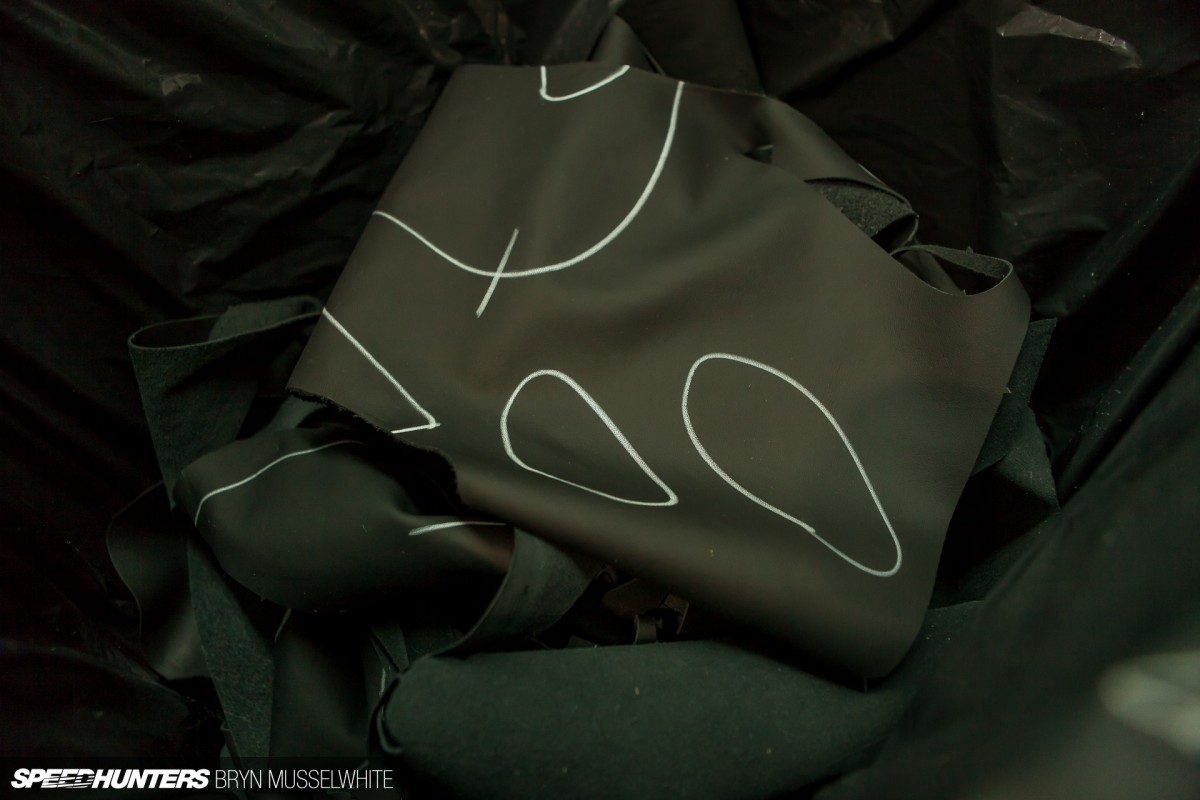 Once a hide has been treated, coloured and delivered it is then inspected once again – this time by eye and computer. Any imperfections are circled in chalk. These could be from a cow being bitten or catching itself on fencing, stretch marks or any other form of defect.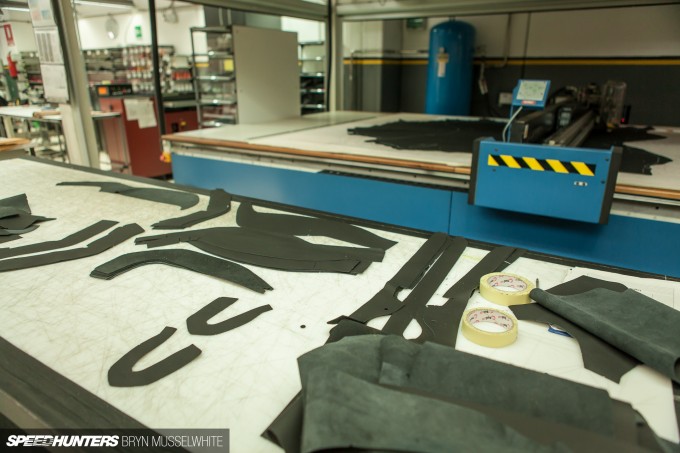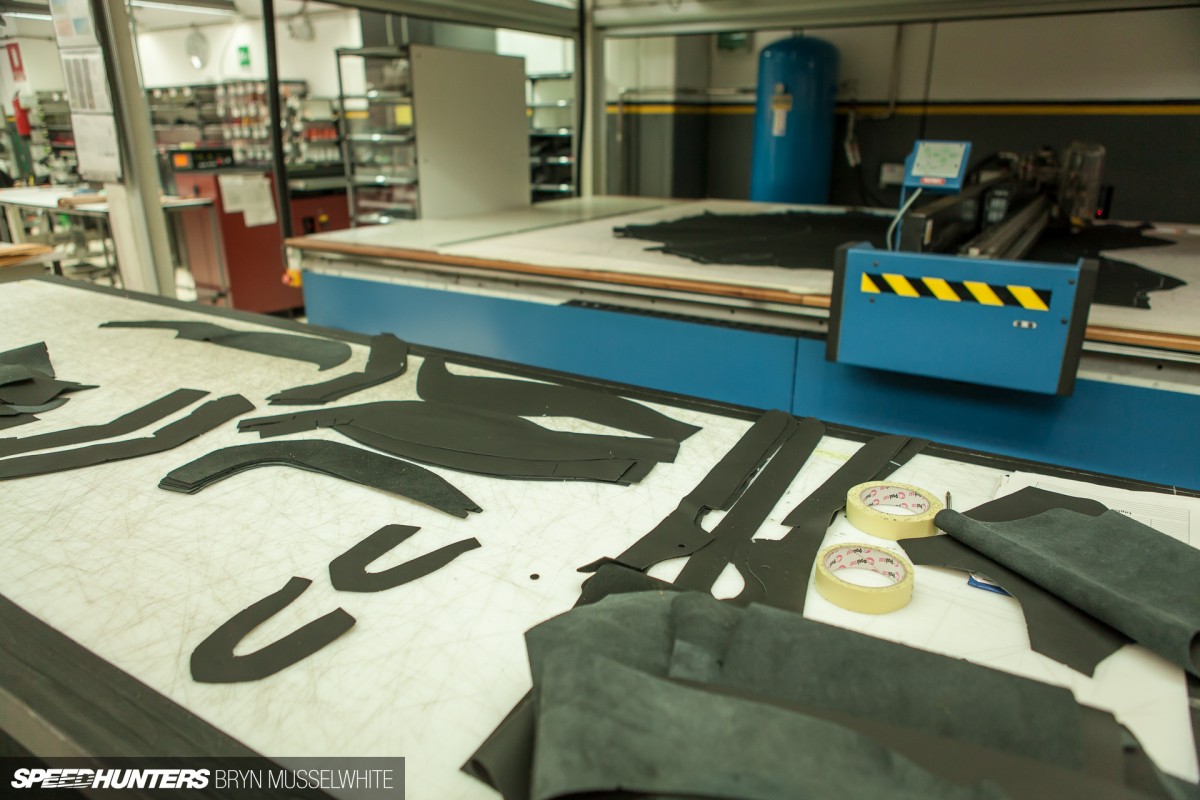 With the hide stretched out, a computer-controlled cutting machine works around the imperfections and optimises the number of panels that can be cut from the remaining material.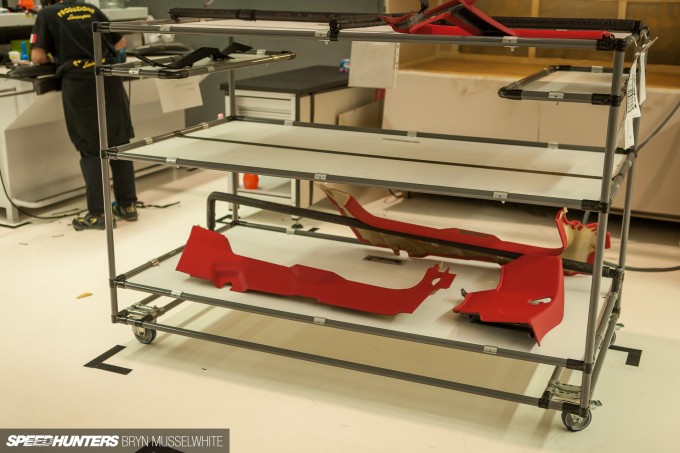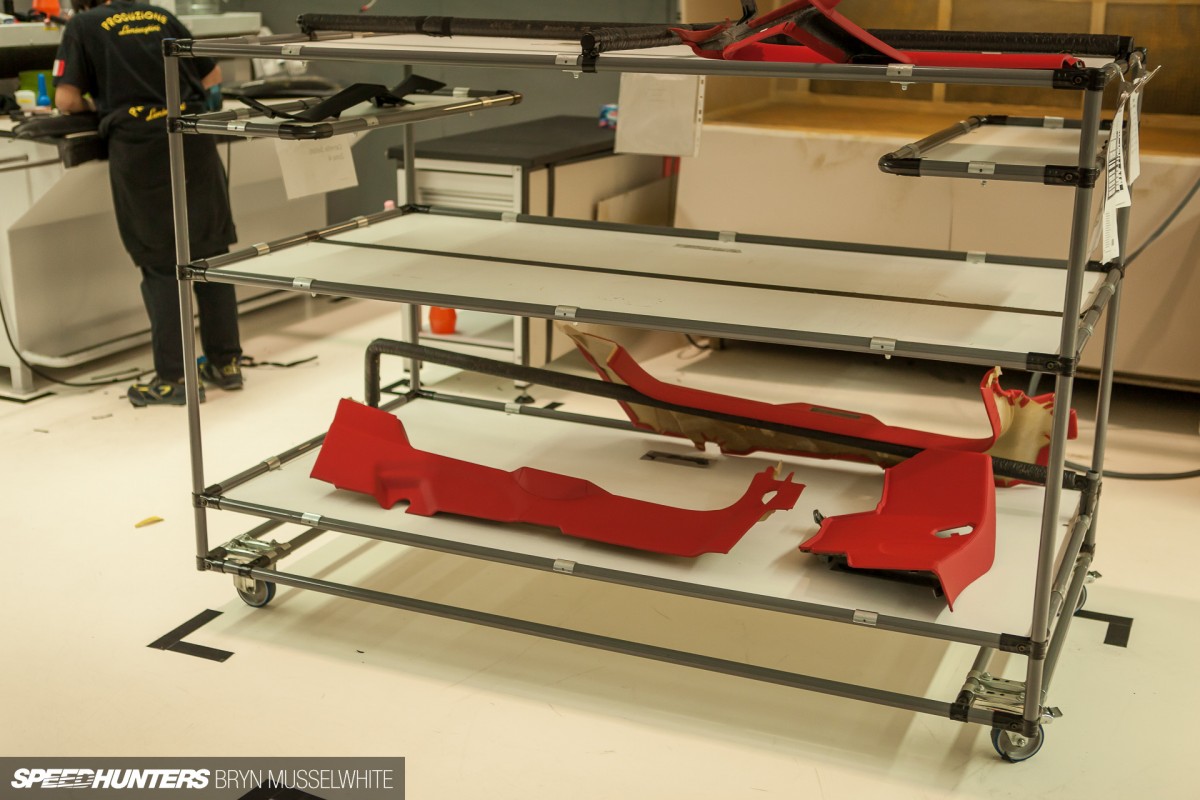 Right across from that station, they're then moulded and secured to the interior trim panels. The smell in this part of the factory is amazing. We're no more than 50 meters from where we started with the engines, but the rich aroma of leather holds this part of the floor and marks it as its own.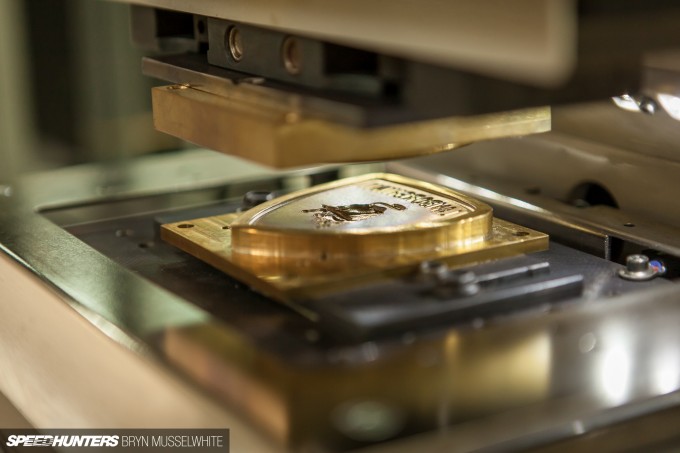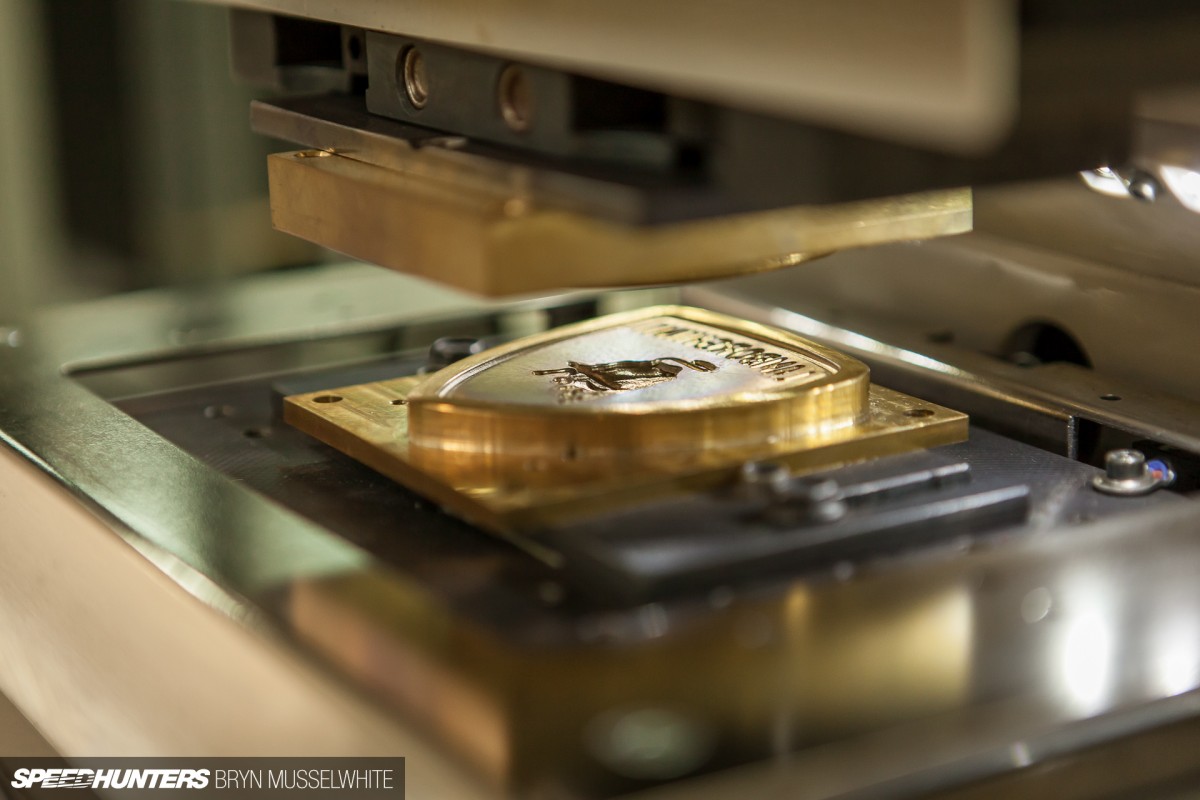 My host (well, you didn't think I'd be allowed in here alone did you?) points out the raging bull stamp. In an age of economy and ecology, I think it's pretty glorious that you can celebrate a car this way. Yes, I want a raging bull stamped into as many surfaces as possible. In one hundred years time it might be an archaic attitude, but right now this one element means so much.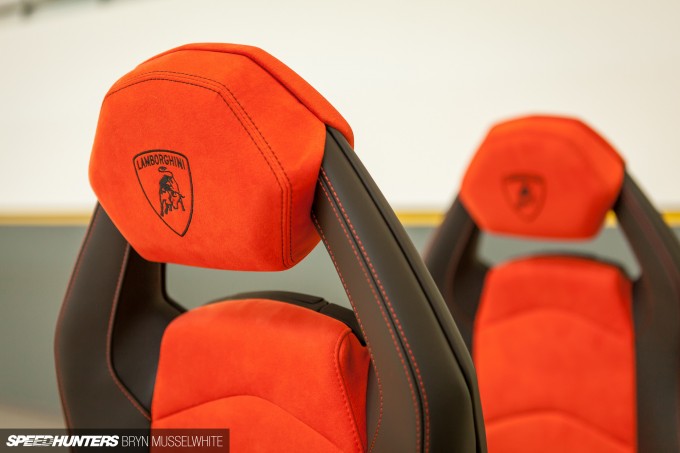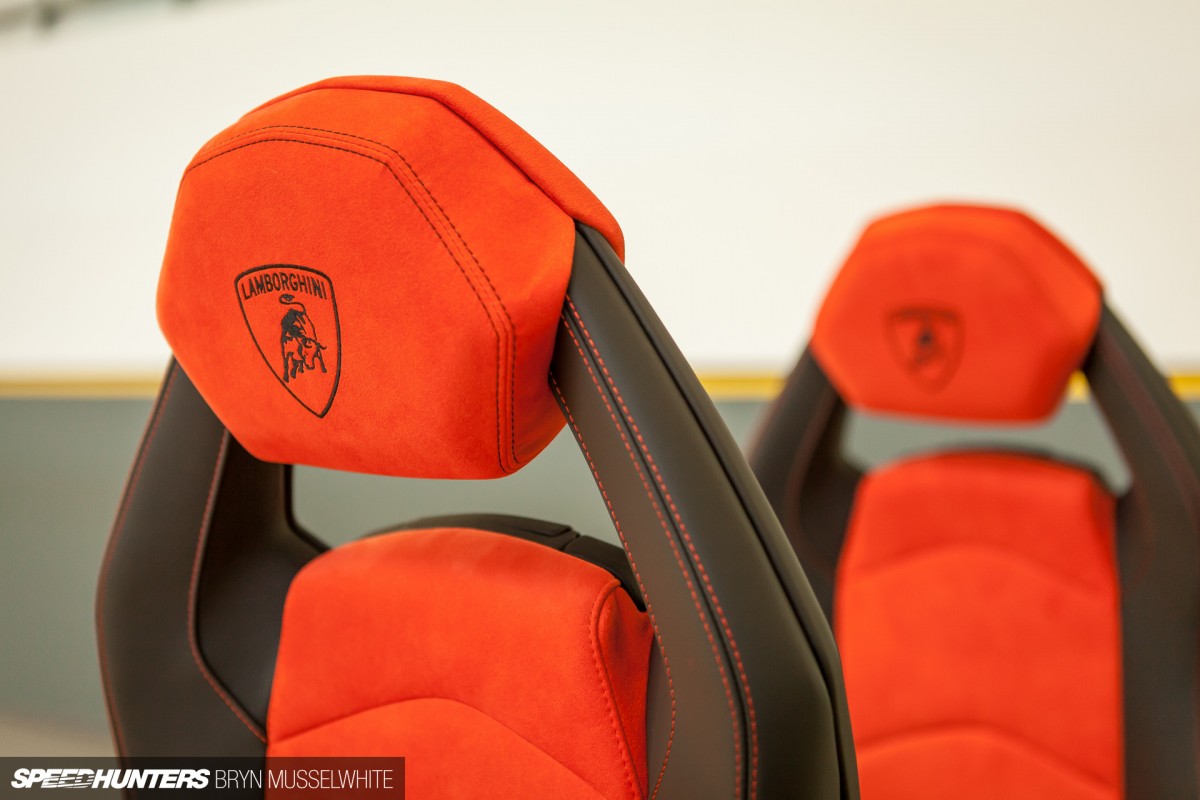 The finished seats sit waiting to be delivered to their specified model, because although this is a production line it's about as far removed from mass production as you can get. Everything here is handled by hand with the aid of tools, but not in a dominant, controlling way.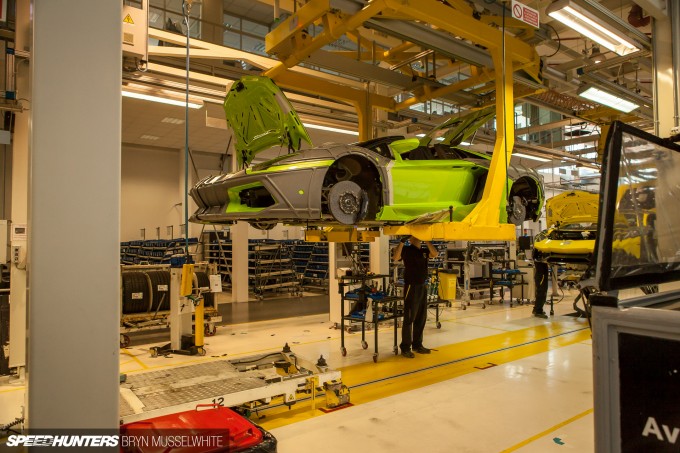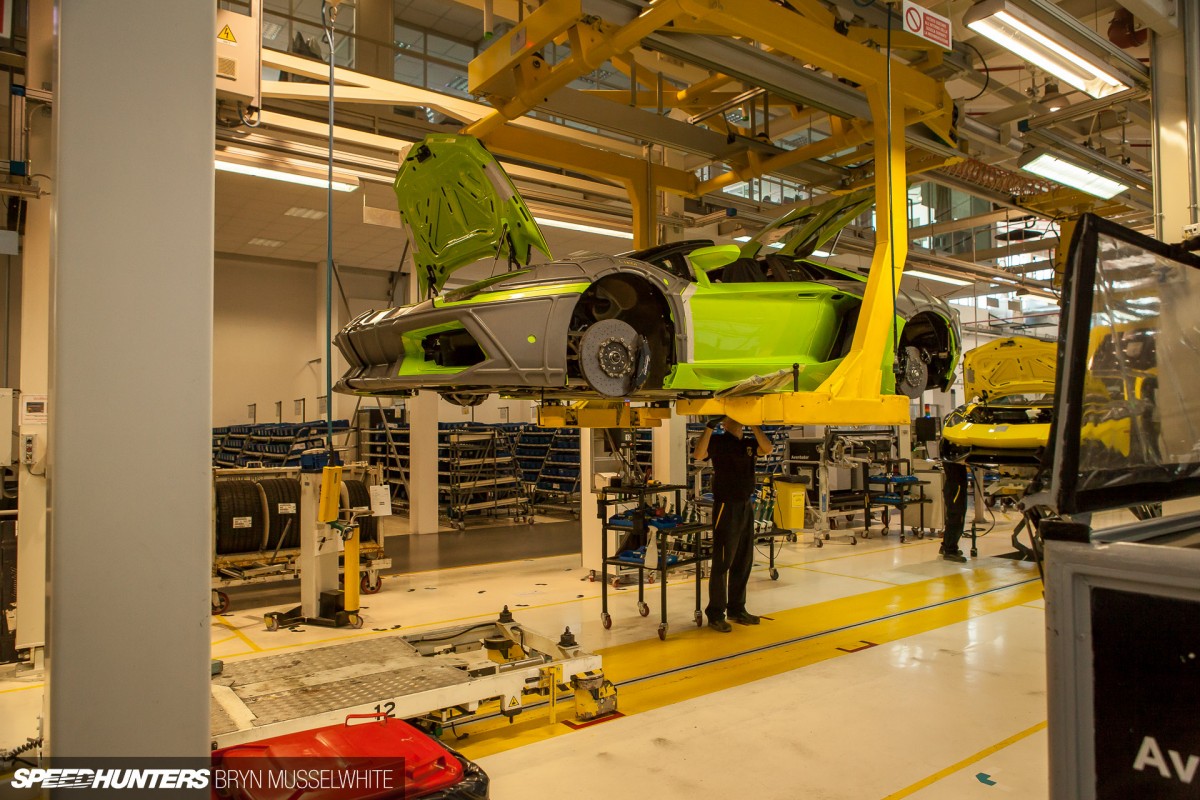 So I'm glad real people still put Lamborghinis together. They're everywhere and they're not wrapped up in clinical white gowns or hairnets!
Come Together, Right Now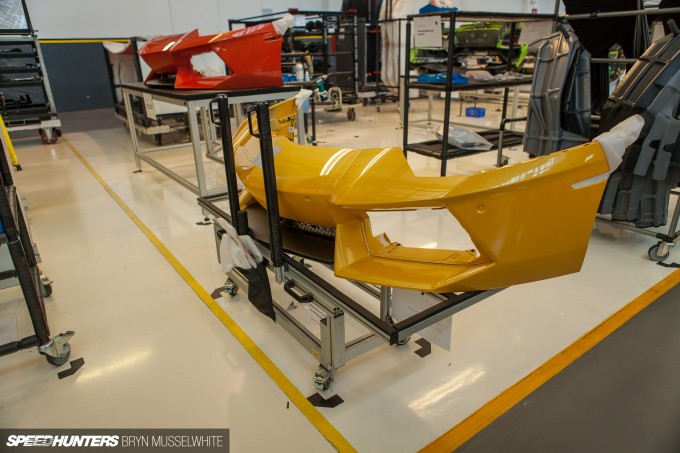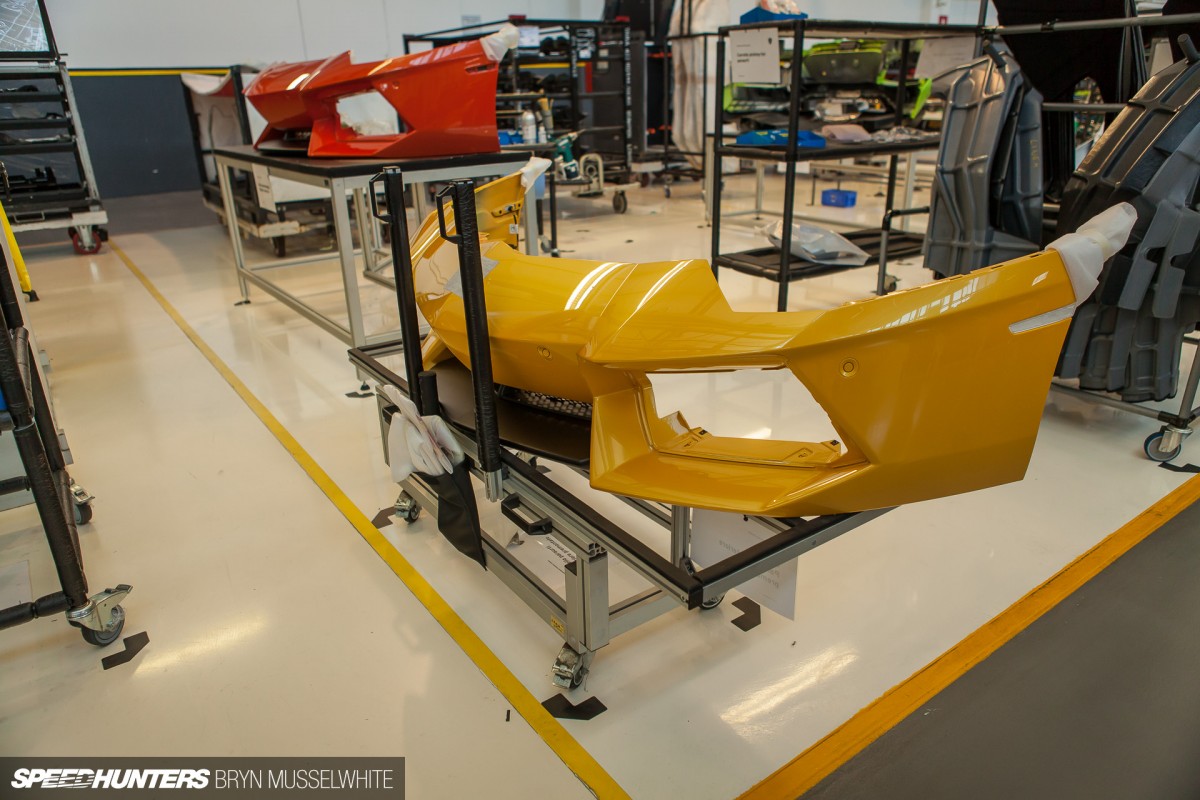 Just like the centre console back near the start, I love seeing these bumper assemblies standing alone. Again, I'm drawn in to their individual details and lines; each element having their own signature features.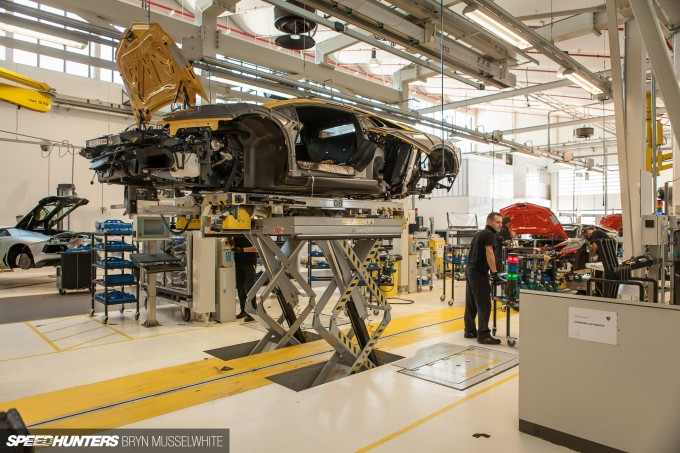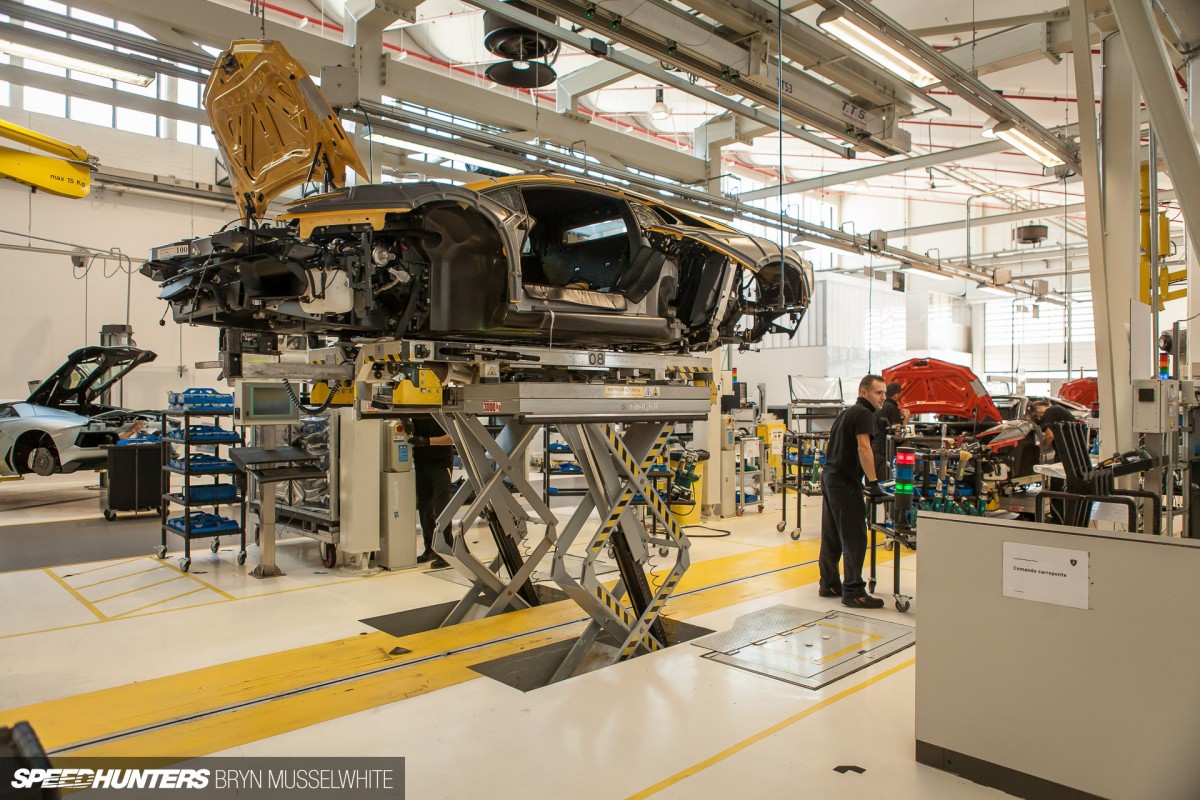 It feels quick, but in reality maybe four or five completed cars leave here each day, so my tour is very much an accelerated version of events. Rubberised protective panels are placed over the bodywork to protect it as the rest of the components come together underneath the skin.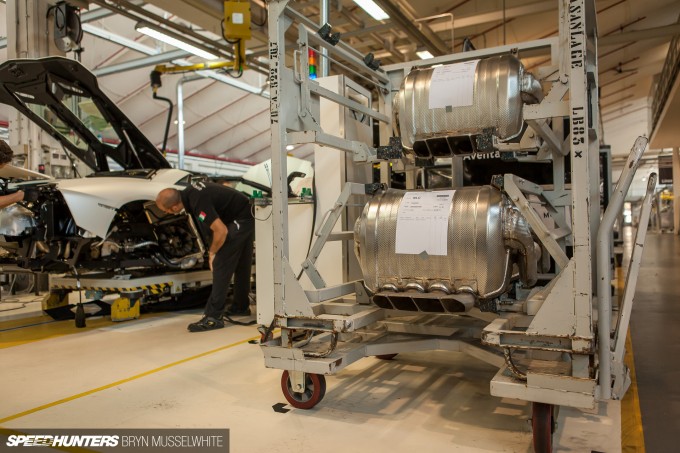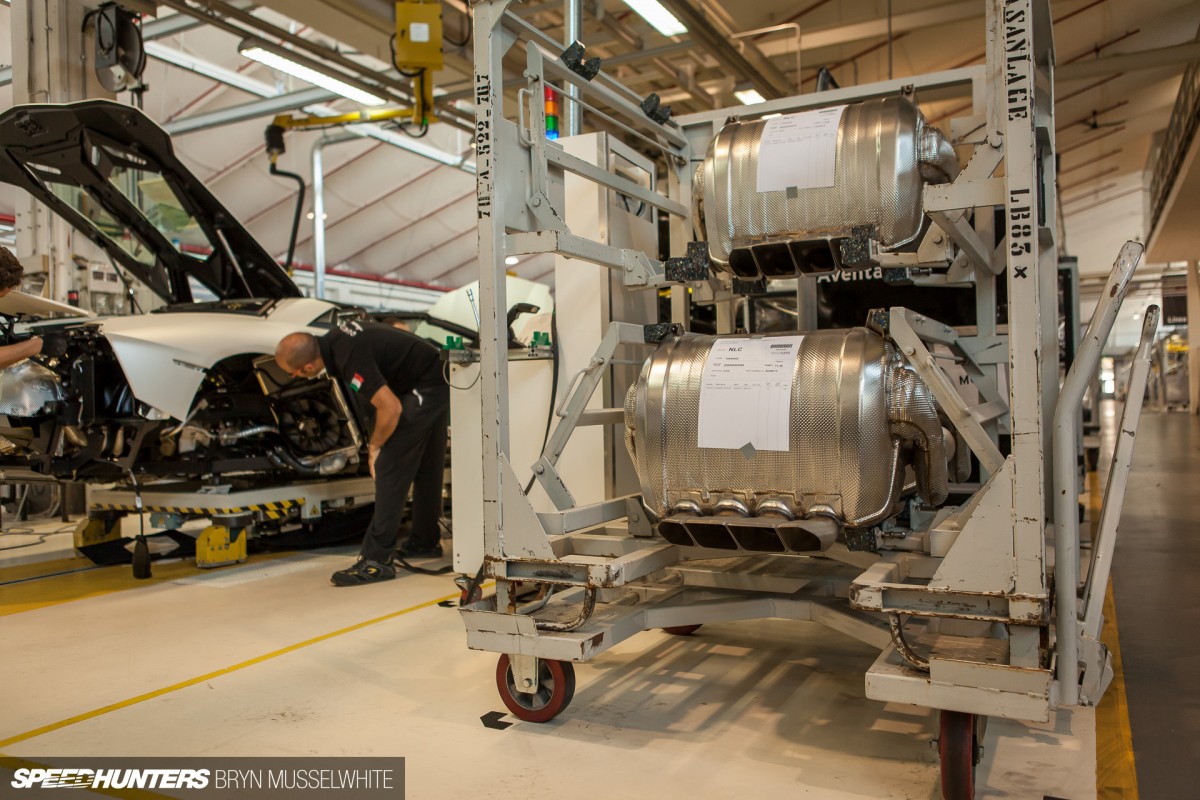 The number of components that are hidden away never ceases to amaze me. Surely it's not just me that finds the rear exhaust of the Aventador interesting? Just look at the size of it! Clever packaging is an indication of the superior technology employed here. For all my talk of the small, personal company, Lamborghini just wouldn't be here without the massive advances they've made in the last decade and a half.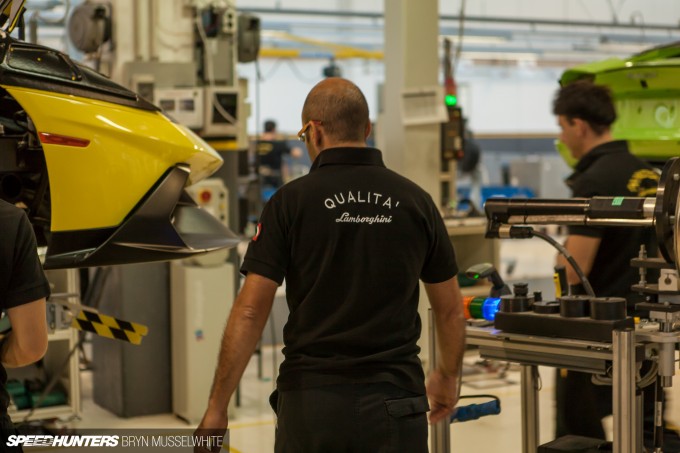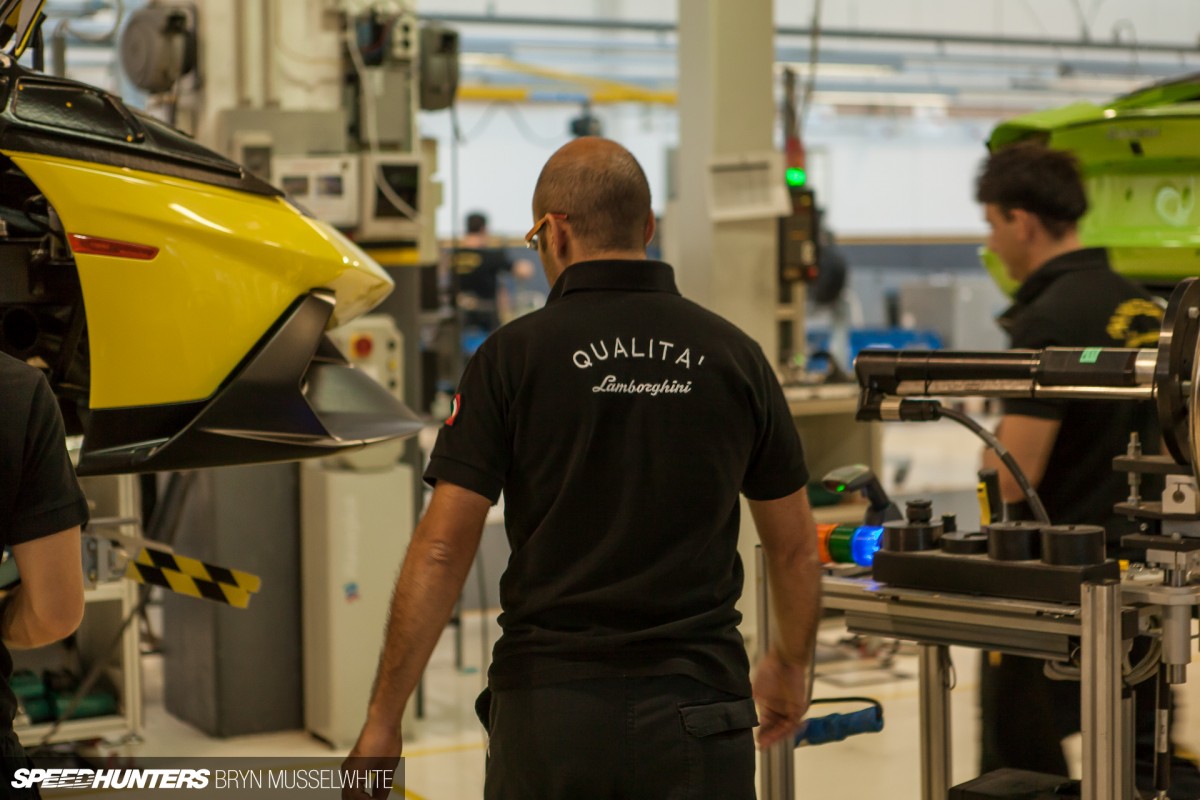 At every stage I also see people with different polo shirts on. These simple and stylish pieces of clothing seem totally fitting; the timeless script telling those around them who is responsible for what.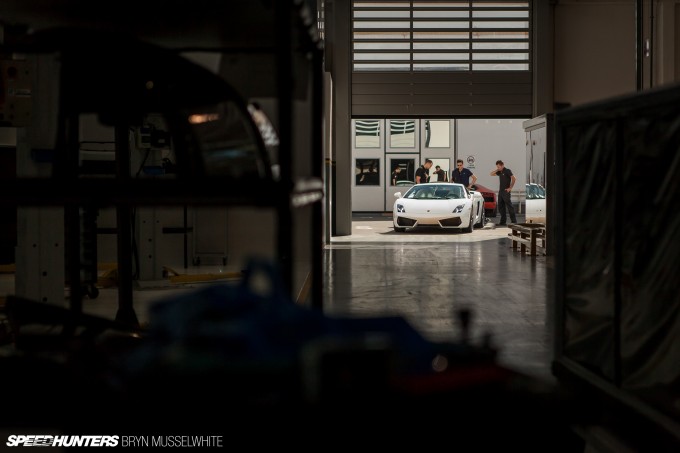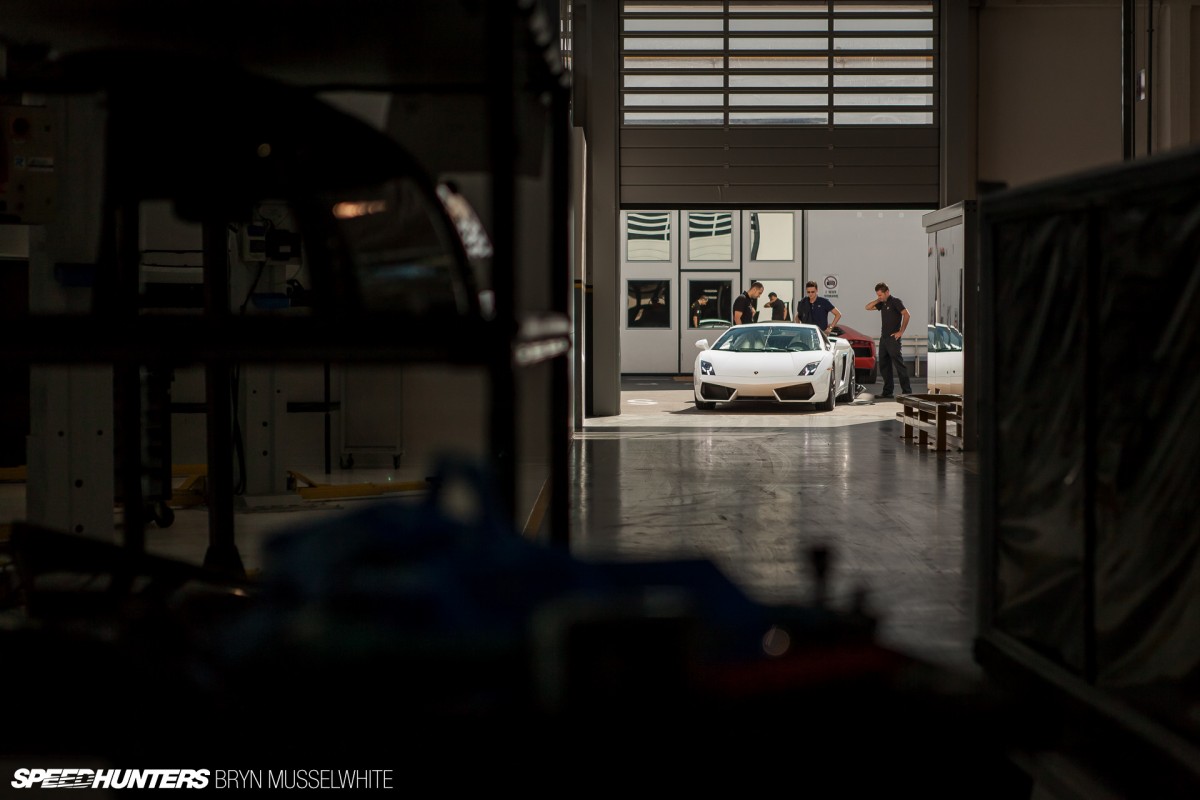 The factory has got a definite buzz about it – there's an energy around the place which the people bring with them. They're obviously used to cameras and journalists peering in at what they're doing and again, but I love the access I'm getting here. Sure, I'd like to checking out what's hidden away from sight, but that's for another time maybe…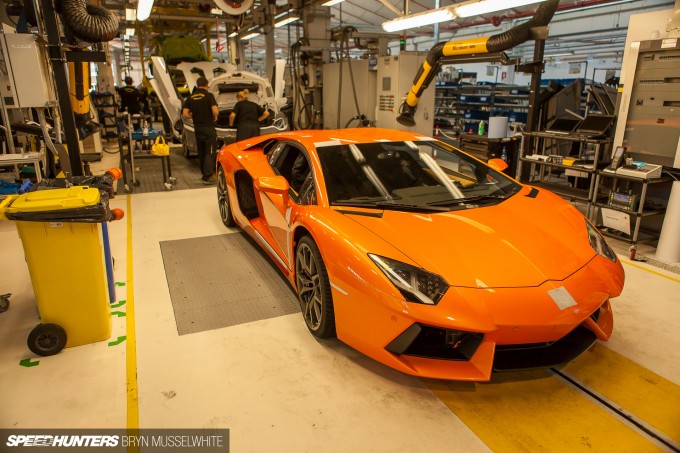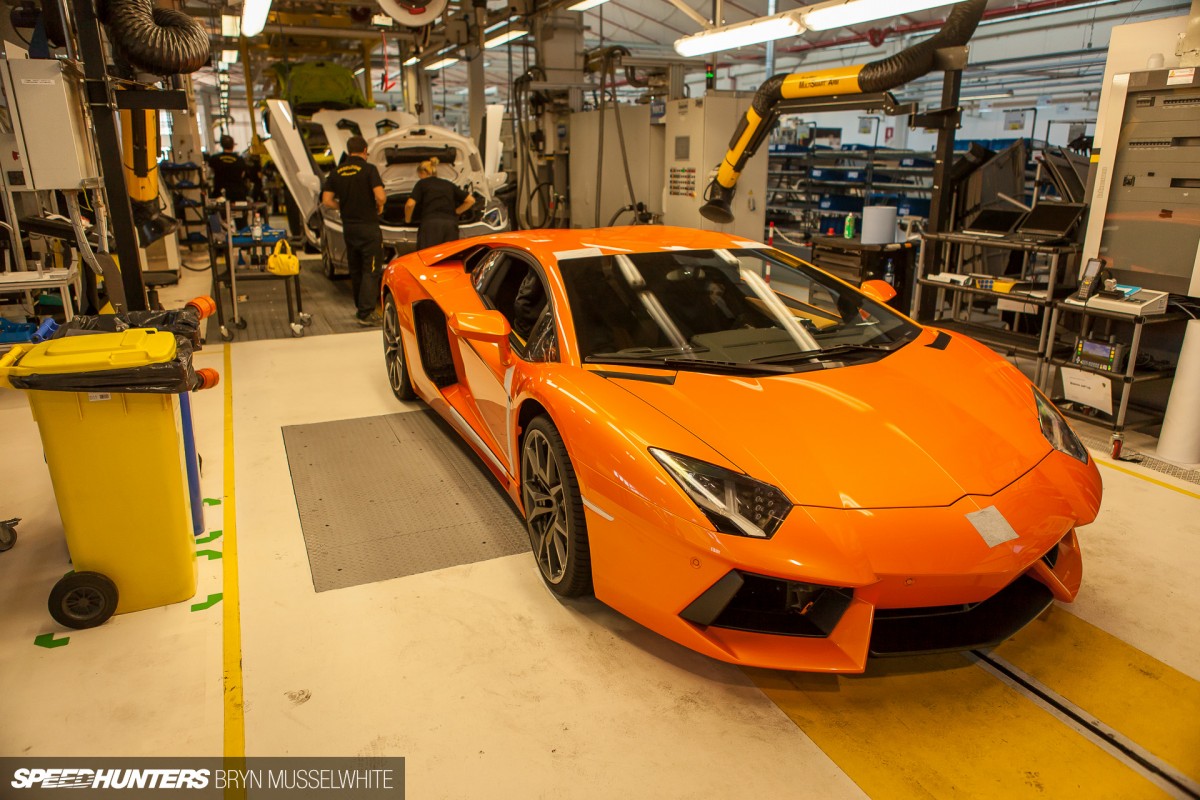 Finished Aventadors end their production line journey almost back at the spot where I started my tour – the other side of the walkway I'm stood with my back too in this shot is the engine assembly area. With no 'mass' in the production, the factory can be smaller and more compact, the skill concentrated in to each vehicle that passes through it.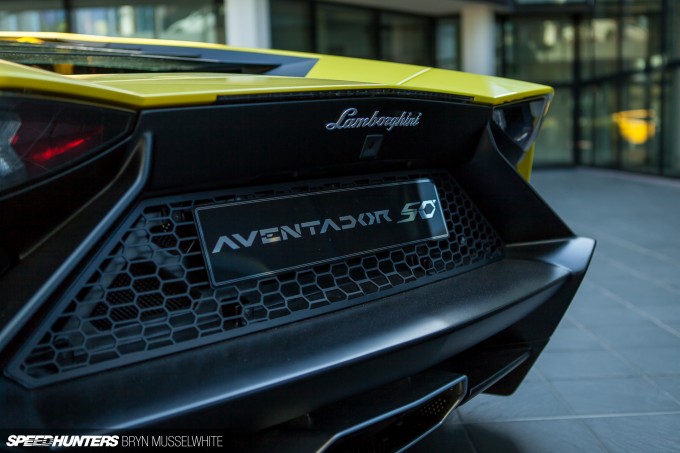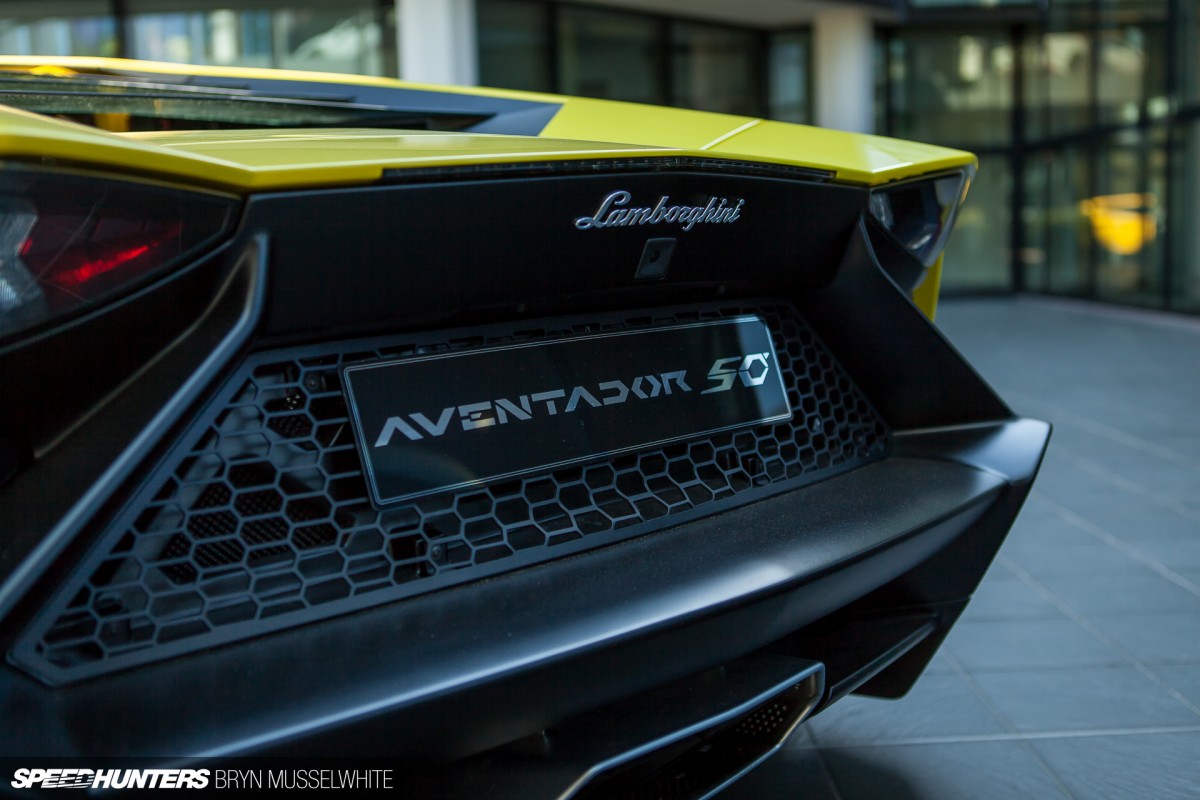 Headed back outside, the museum and administration offices are a 30-second walk from where I've been watching everything come together. Here an Aventador 50th Anniversary has been placed in front of the museum building for me to photograph, although I can't move it like Rod did when he drove an Aventador in California. The light is playing wonderful games with the glass walls that surround this small public area.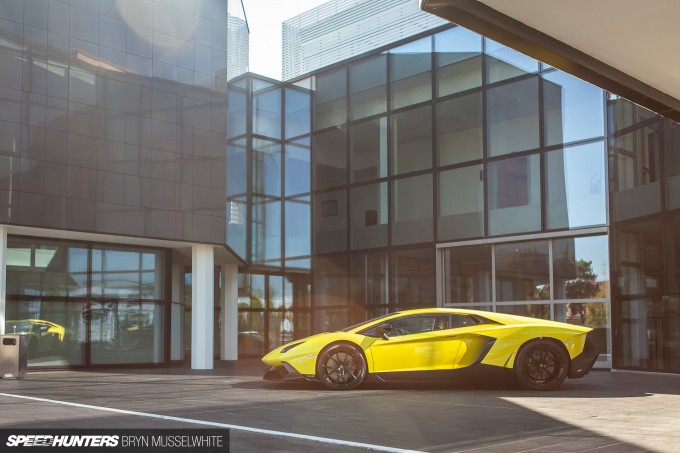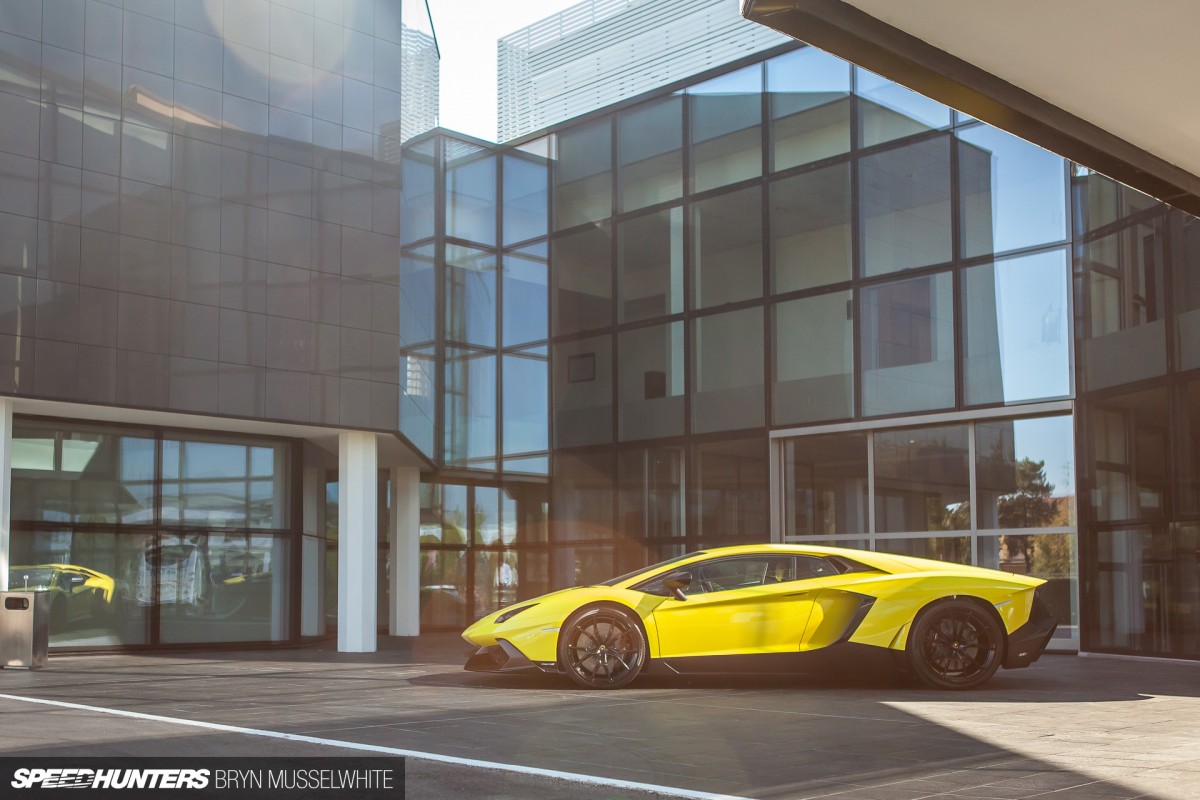 So I get to see the finished article in all its glory – those separate components I've individually admired brought together in one dramatic place.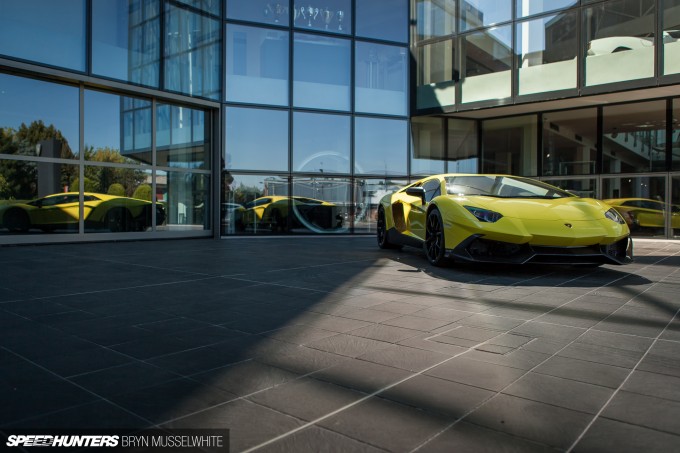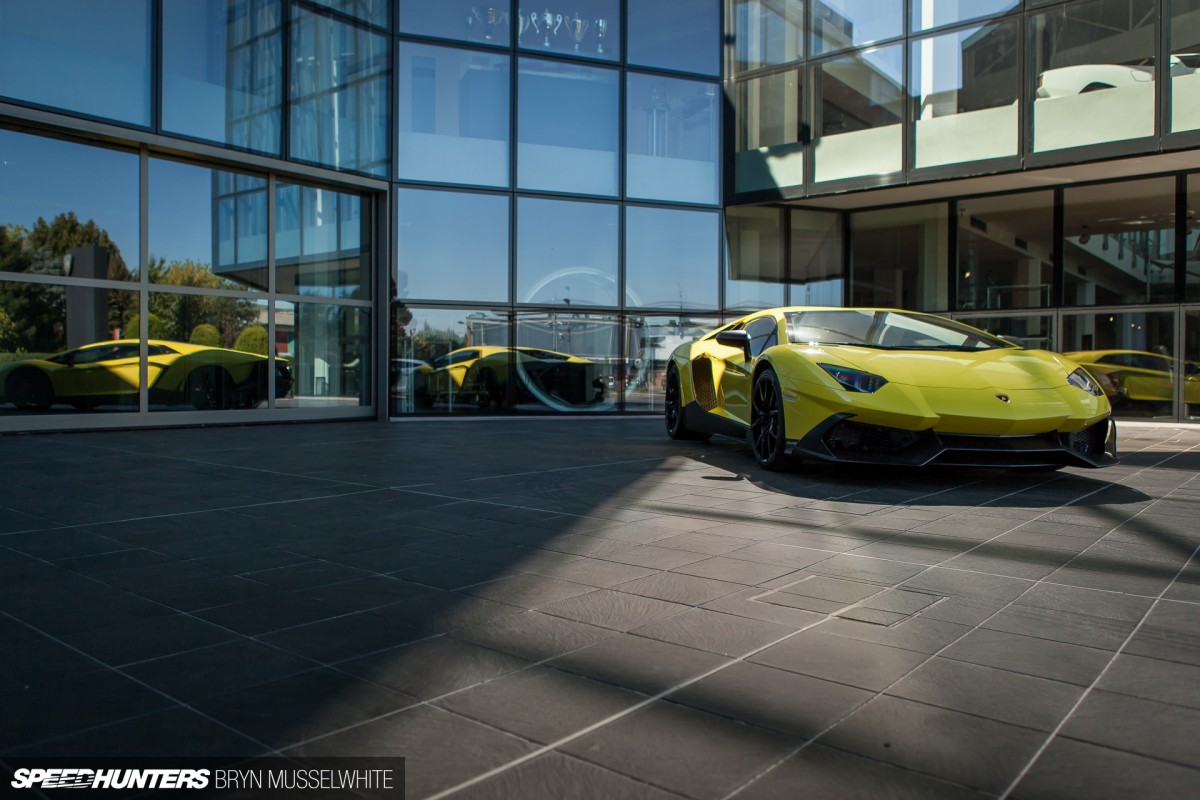 Top right in this picture you can see the first floor of the museum – a constant and local reminder to everybody of just how far – and yet at the same time – how little distance has been travelled since those early days. The Aventador will be the last in a long line to use the V12 engine that can trace its roots back to the original, but just like Lamborghini itself, I genuinely believe that although change is inevitable the original spirit will remain as strong as ever.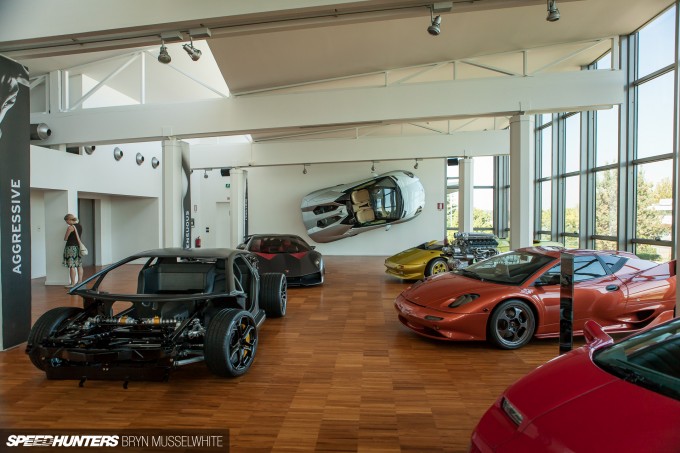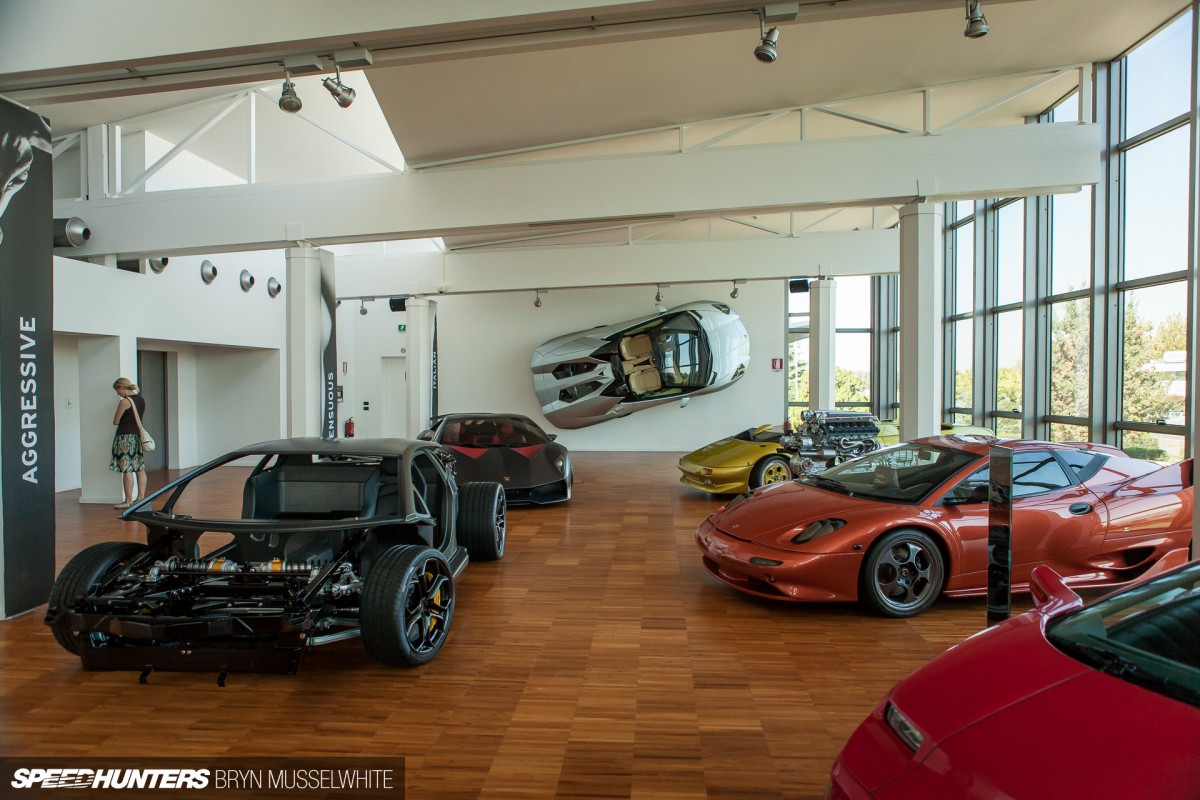 We've shown you the museum before, so I'm going to put the camera down now and enjoy the view for myself. It's been an interesting visit and to be completely honest, I didn't wholly know what to expect. But what I found is very much a specialist company who operate on a global scale making incredible cars. Lamborghini has managed to survive with a handmade feel to the highest of precision, computer-controlled standards.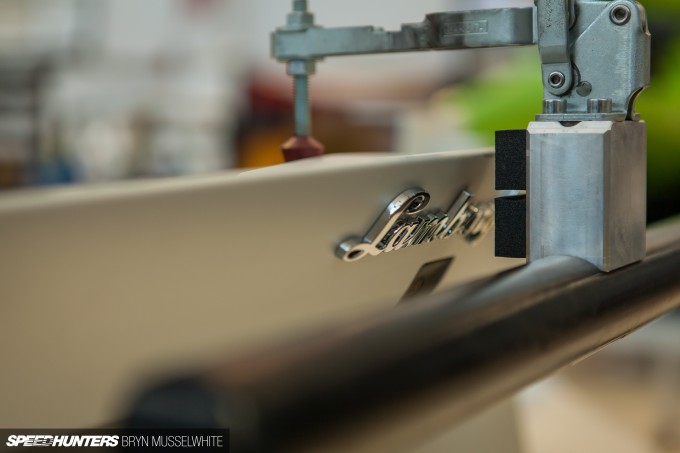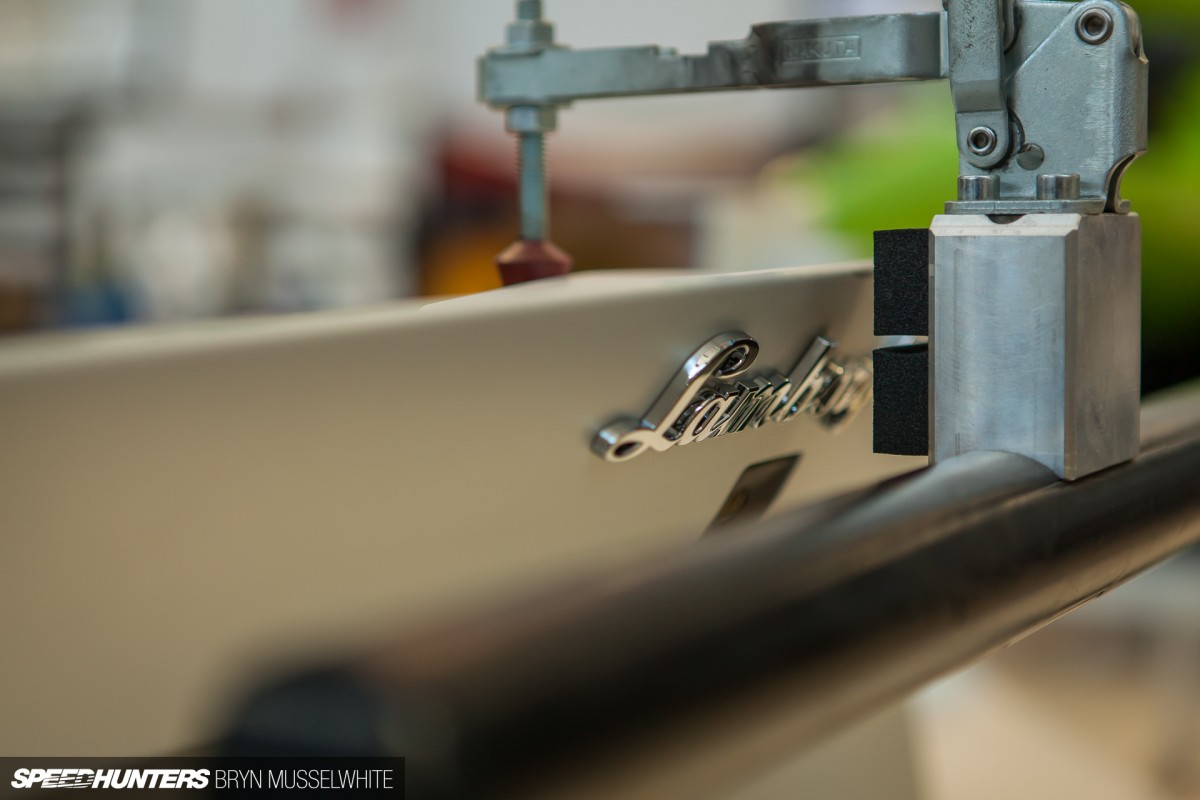 So yes, the passion is still very much alive. From the factory to museum floor, it's everywhere. Now all I need is a set of raging bull keys to complete the experience… Maybe not today, but now more than ever I've got this overriding sense that I need to feel a Lamborghini for myself!
Bryn Musselwhite
Instagram: speedhunters_Bryn
bryn@speedhunters.com
Cutting Room Floor